This post shows you how to install Dynasty Kodi addon on any device. The instructions work on FireStick and other Kodi-compatible devices, including Fire TV Cube, Mobiles (Android & iOS), Google TV with Chromecast, Nvidia Shield, and other Android TVs and TV Boxes, Linux, Mac, and more.
⚠ WareHouse Repo is Down ⚠

The WareHouse Repository is currently unavailable. So, unfortunately, the Dynasty Kodi Addon cannot be installed. However, there are several other options to explore from our collection of

Best addons for Kodi

.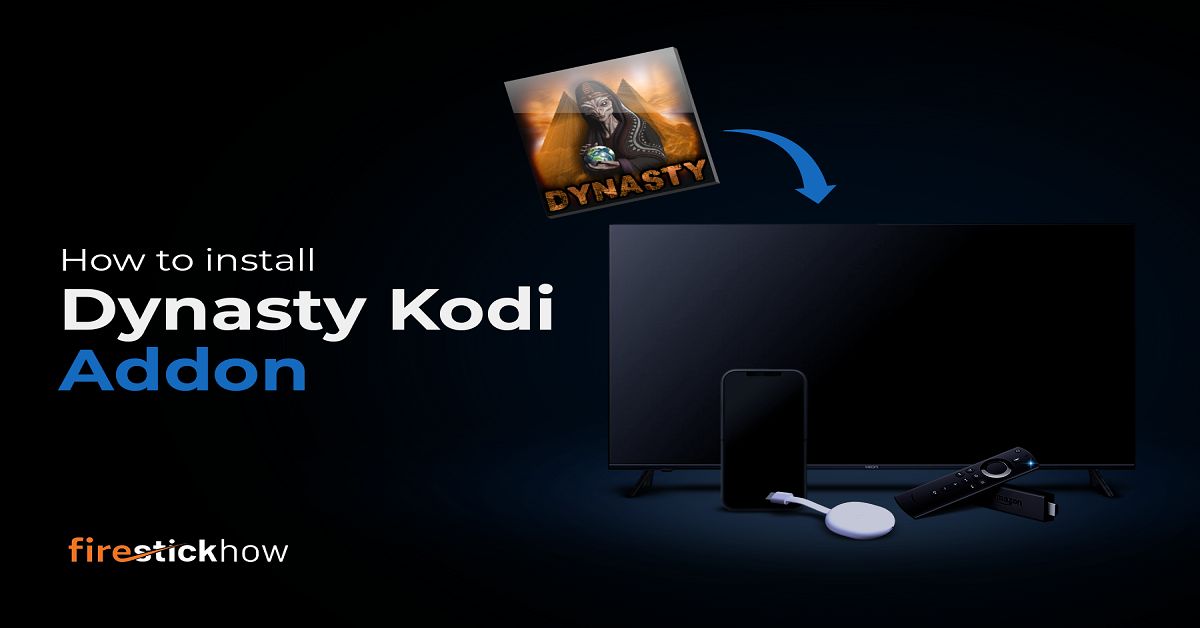 What is Dynasty?
Dynasty is a multipurpose video addon for Kodi that provides on-demand movies, shows, documentaries, standup comedy, and even live TV. You can install this addon from the famous Warehouse Repository.
Dynasty works great with Real Debrid and Trakt services. It offers one-click playback of films and episodes. The addon has a neat and clutter-free interface. In addition, it features familiar and user-friendly categories to help you quickly browse videos.
Dynasty is undoubtedly one of the best Kodi addons to have at this time.
Attention KODI Users: Read before you continue
Government and ISPs endlessly monitor your online activities using your IP address 66.249.79.227 (exposed to everyone). Kodi is an excellent platform for streaming movies, TV shows, and sports, but streaming copyrighted content can get you into legal trouble. 
You should use a reliable Kodi VPN and protect your streaming activities and privacy. A VPN will hide your IP address and bypass government surveillance and geo-restrictions.
I trust and use ExpressVPN, the fastest and most secure Kodi VPN. It's easy to install on any Kodi device, including Amazon FireStick, PCs, and Smartphones. In addition, it offers a 30-day money-back guarantee, and 3 free months with the annual plan.
Read: How to Install & Use the best VPN for Kodi.
Is Dynasty Safe?
At FireStickHow.com, we aren't any security experts. Therefore, we cannot claim that Dynasty is one hundred percent safe, especially since it is a third-party addon from an unofficial repository, The Warehouse.
However, I cannot dismiss it as unsafe because it runs on my devices and has given me no reason to worry. Furthermore, I tested the zip file of the Warehouse Repository with Virus Total. This antivirus checked the file with 95 security vendors, and all of them gave it a green flag. The following image is the proof: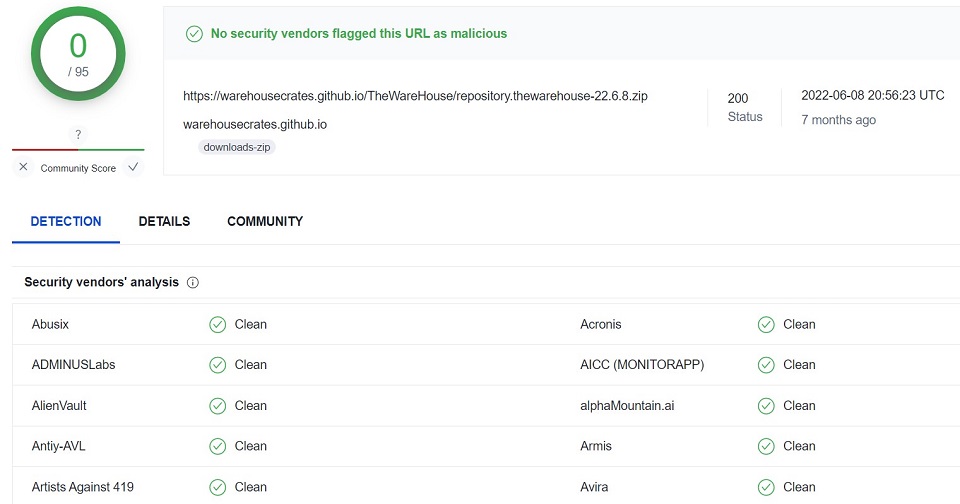 Is Dynasty Legal?
It is impossible for us at FireStickHow.com to determine the legal status of the Dynasty Kodi addon. This addon does not host any videos on its server. Instead, it pulls streaming links from several unofficial providers. Unfortunately, we do not have the means to determine if all these providers have obtained the copyright license from the original creators or copyright holders.
Streaming from Dynasty may cause you to overstep legal boundaries. However, you can avoid it easily. You can watch public-domain movies and shows from any verified or unverified provider. Such videos are copyright free.
However, it is not always easy to make a distinction between copyright-free and copyrighted material. We do not condone piracy. However, your privacy is important to use. Therefore, I recommend using ExpressVPN with Dynasty to keep your online activities anonymous and safe.
How to Install Dynasty Kodi Addon
The process to install Dynasty is simple, but it could get a bit wordy. Therefore, I am breaking it down into multiple sections. Each section is essential for the outcome. Therefore, follow every step carefully.
Part 1: Enable Unkown Sources and Add Dynasty Repository Source
The Dynasty addon belongs to a third-party repository called The Warehouse. You can install addons from third-party repositories. However, you must first enable Unknown Sources (a security setting that blocks unofficial addons) and add the WareHouse repository source. Here is how it is done:
1. Click the Settings icon on the home screen of Kodi (the cogwheel in the upper-left corner, under the Kodi logo)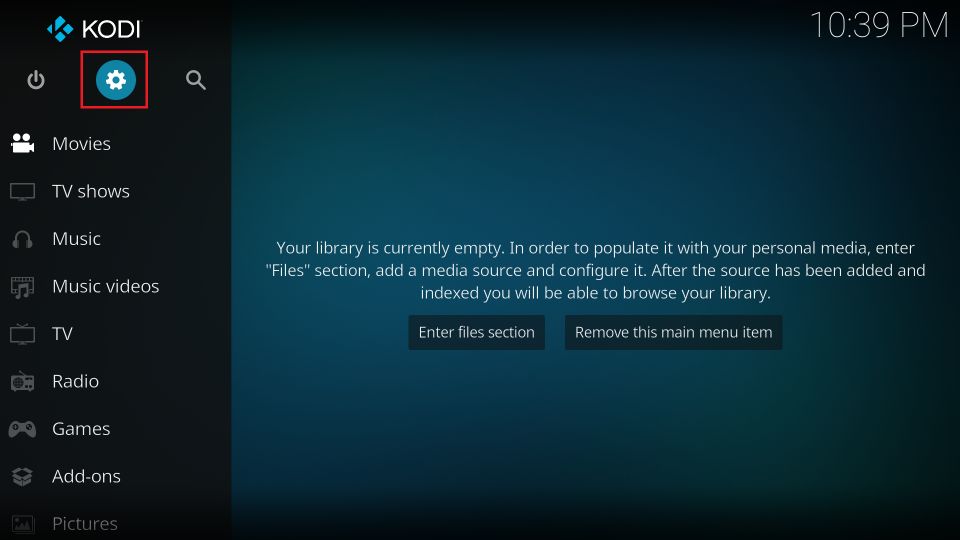 2. Next, navigate to and open the option System.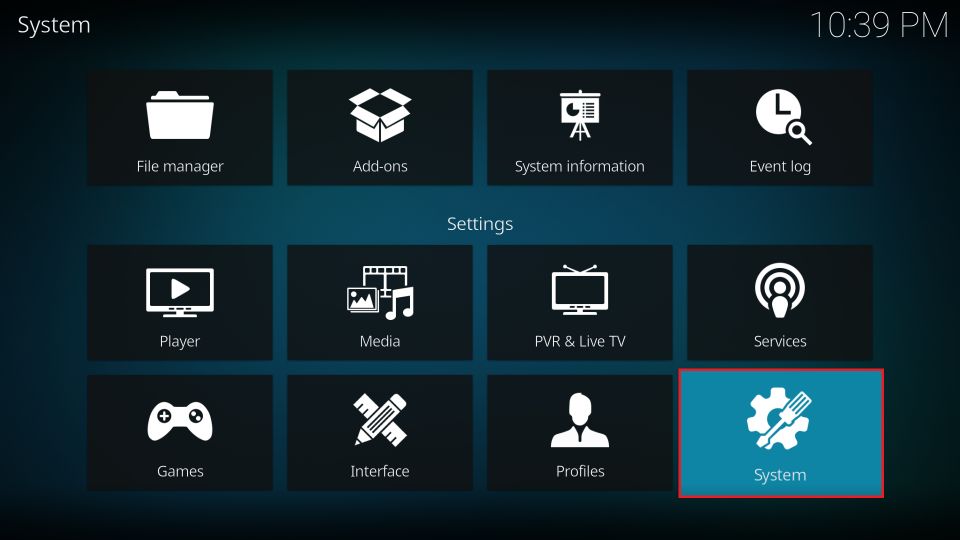 3. You should see this window now. Go to Add-ons in the sidebar on the left and then check whether Unknown Sources is disabled or enabled. If it is OFF or disabled, click the switch and enable it.
4. A prompt will ask you to confirm if you wish to keep the changes. Click OK.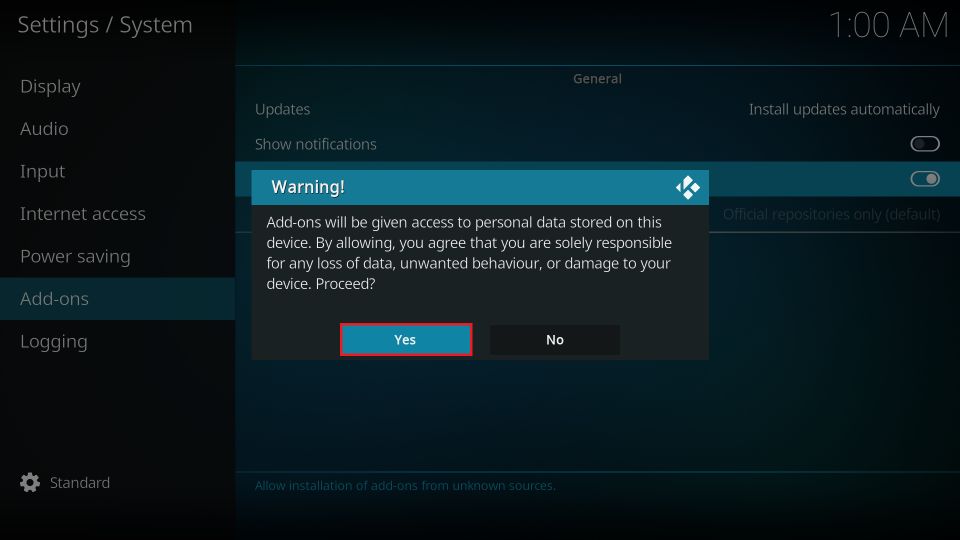 5. Since you are already here, click the option Update official add-ons from. This step is optional, but I always go for it.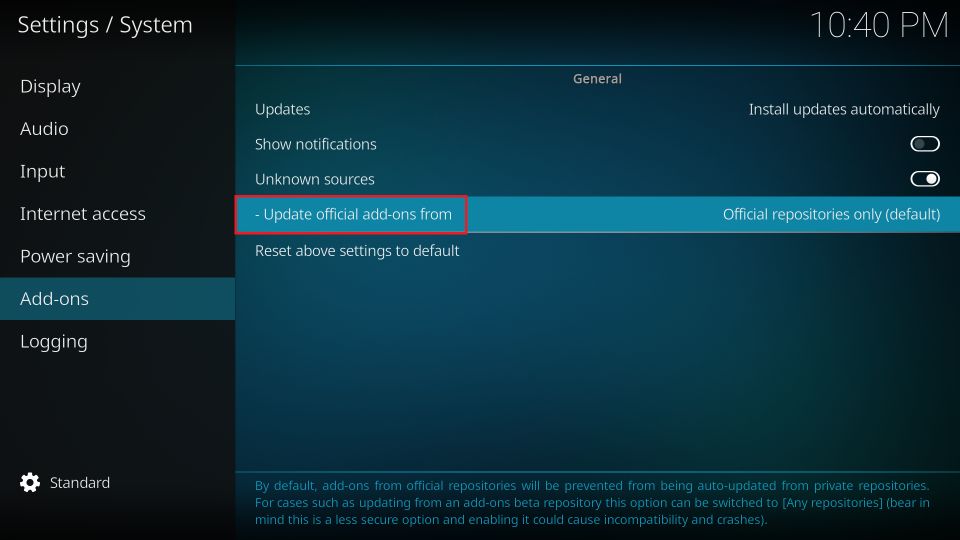 6. On the following popup window, choose Any repositories and click OK to confirm. You have allowed addons to get updated from any available repository.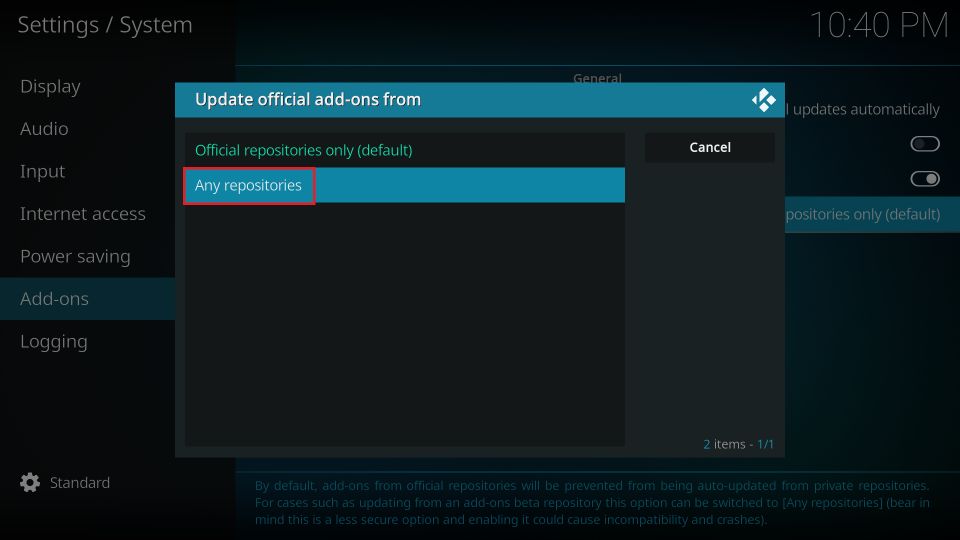 7. Press the back button on the remote to return to the Settings page. Click File manager when you are here.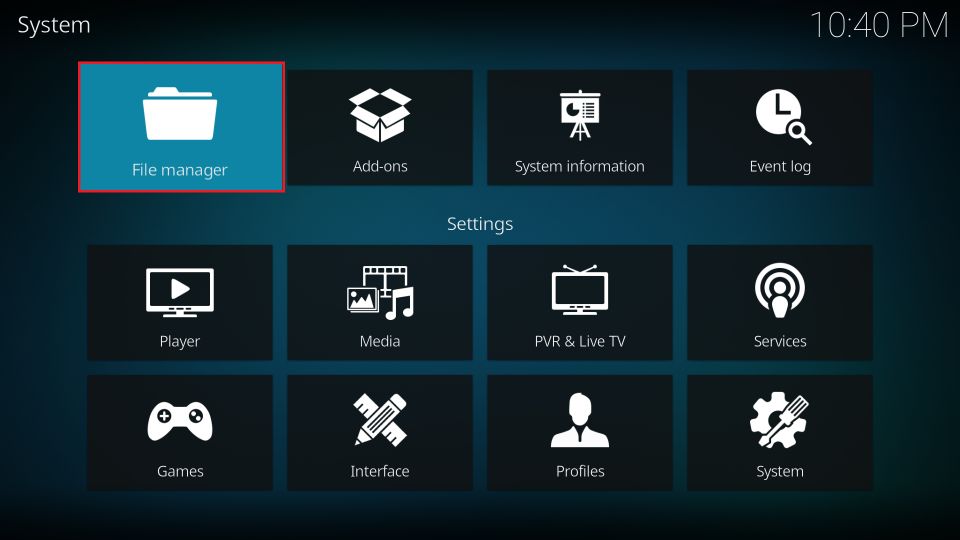 8. The following screen is divided into two similar sections. Choose and click Add source on one of the sides. You may need to click it twice on some devices.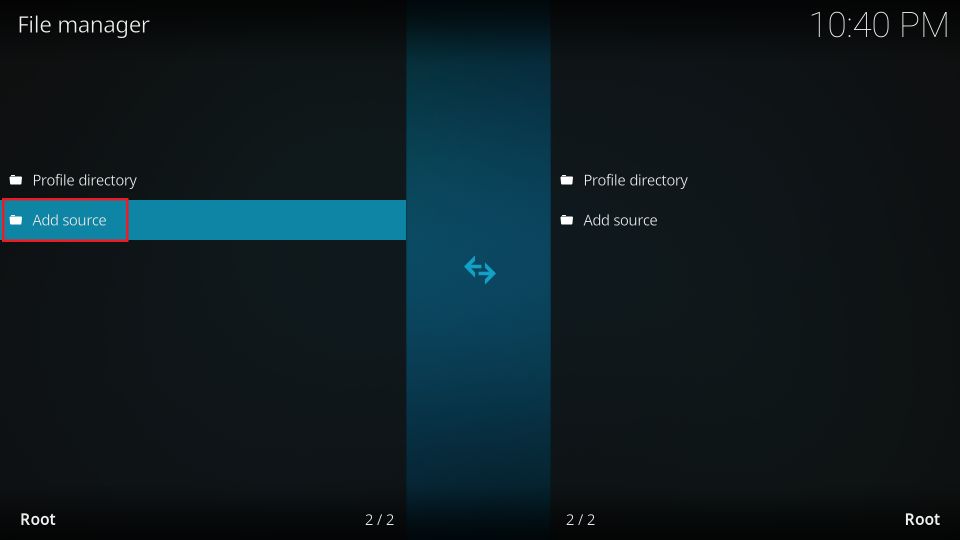 9. A small dialog box should appear. Go ahead and click <None>.
10. On this screen, you are going to type the WareHouse Repository source URL https://tiny.one/warehouse
You will use this source later to install the WareHouse Repository. Recheck the path for any typing errors and then click OK.
Disclaimer: This URL is a shortened version of the longer URL https://warehousecrates.github.io/TheWareHouse. It points to the original source of the WareHouse repository. We are not associated with the repository developers or the Dynasty addon.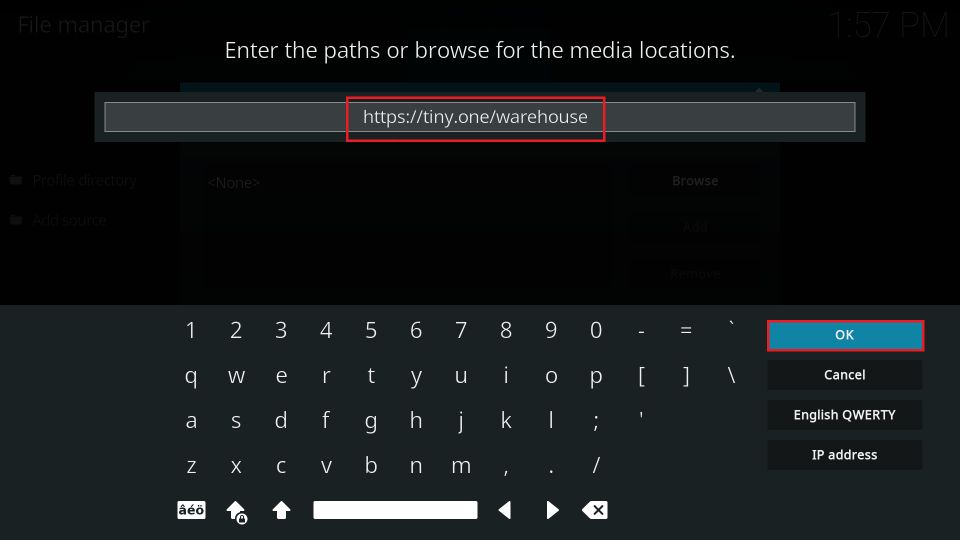 11. Kodi will automatically set the last part of the above URL warehouse as the media source name. I am keeping this name because it clearly identifies with the WareHouse Repository. However, if you want another name, you may click the text box and type a new one. Click OK.
Part 2: Install The WareHouse Repository
Since you have added the source, you may now install the repository from it. Follow these instructions:
1. Click the cogwheel icon again on the Kodi home screen and open Settings.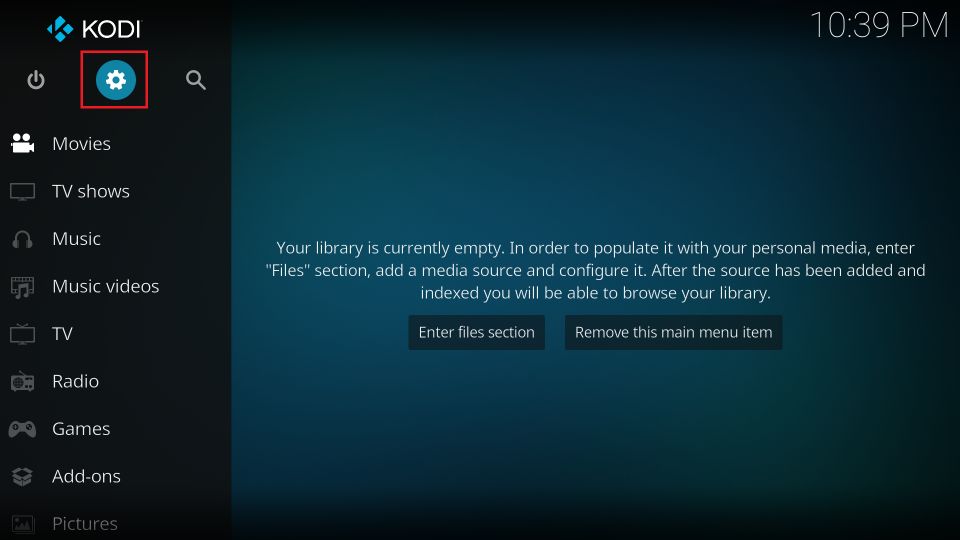 2. On the Settings page, click Add-ons.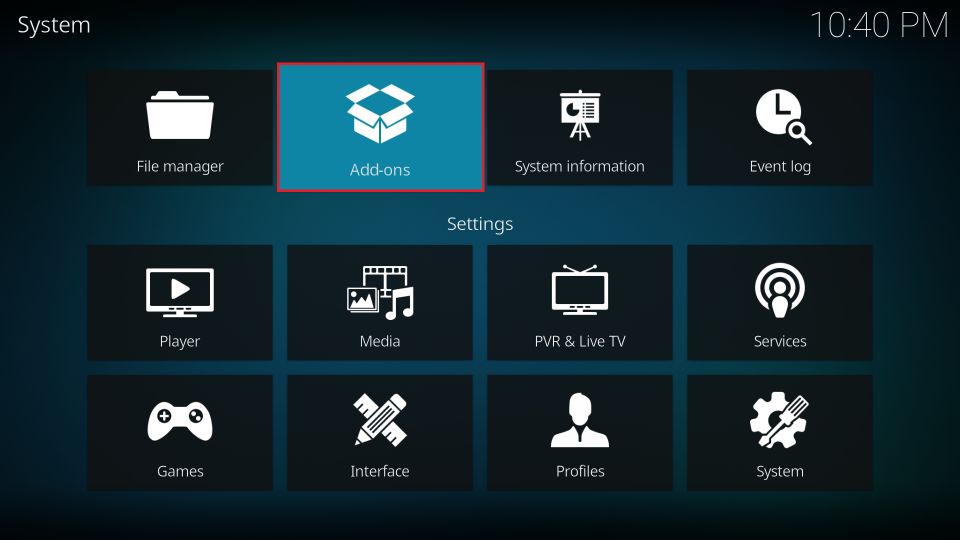 3. Choose the option Install from zip file.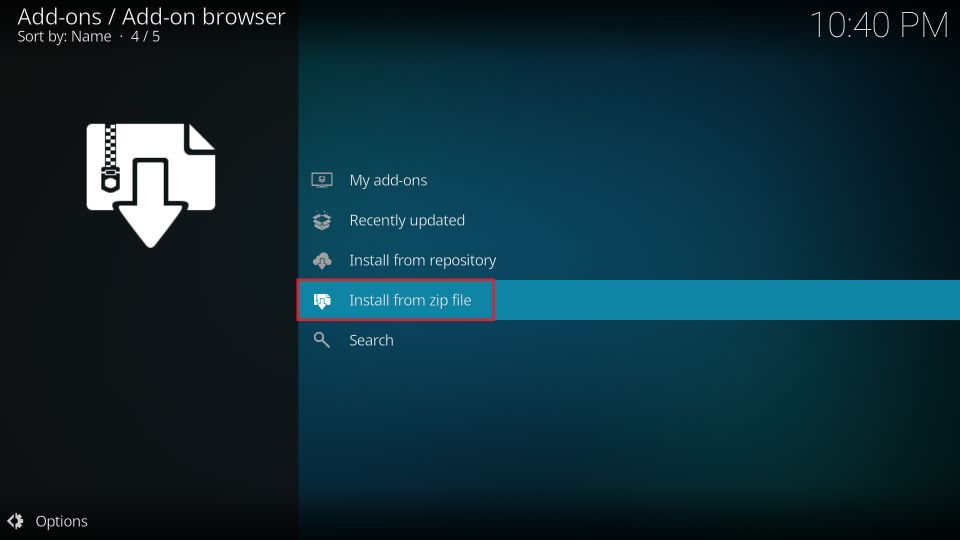 4. Click the source name warehouse (or any other name you replaced the default name with) on this screen.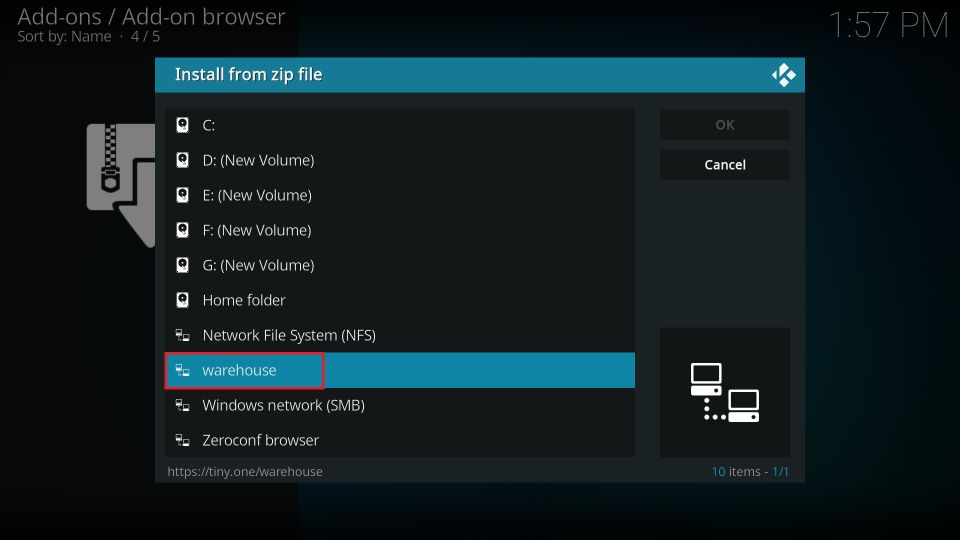 5. Click the zip file on the next page (repostiory.thewarehouse) and install the WareHouse Repository.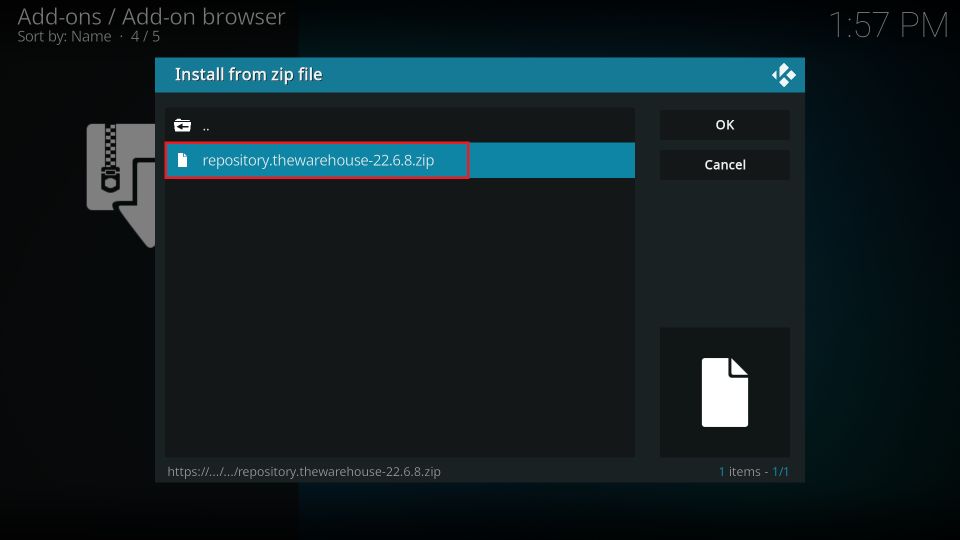 6. It should not take more than a minute to install this repository. Wait for the confirmation in the top-right area of the screen.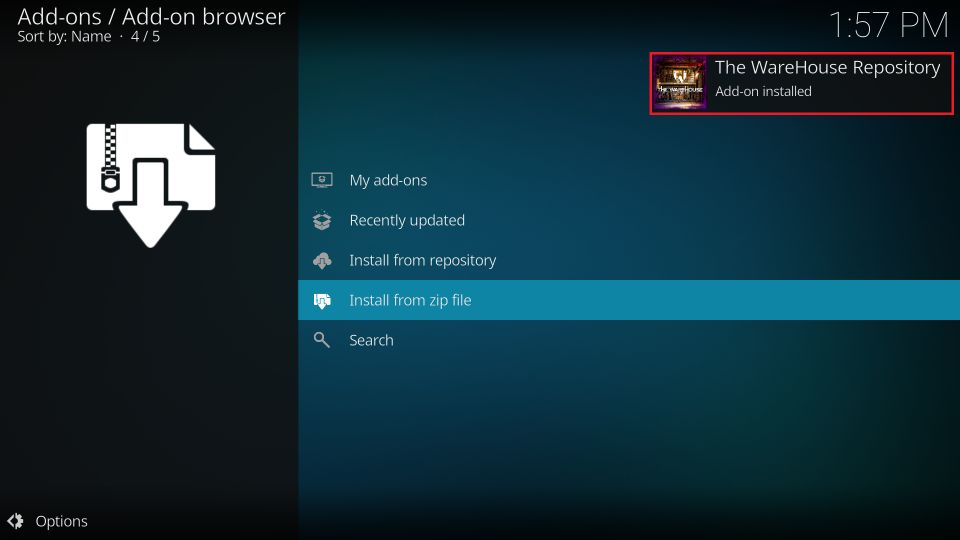 Great! You have successfully installed the Warehouse repository.
Part 3: Steps to Install Dynasty Addon
Finally, you can install the addon from the repository. Here are the steps:
1. Click Install from repository on the same window where you clicked Install from zip file in the previous section (or navigate to this window from Kodi home screen > Settings > Add-ons).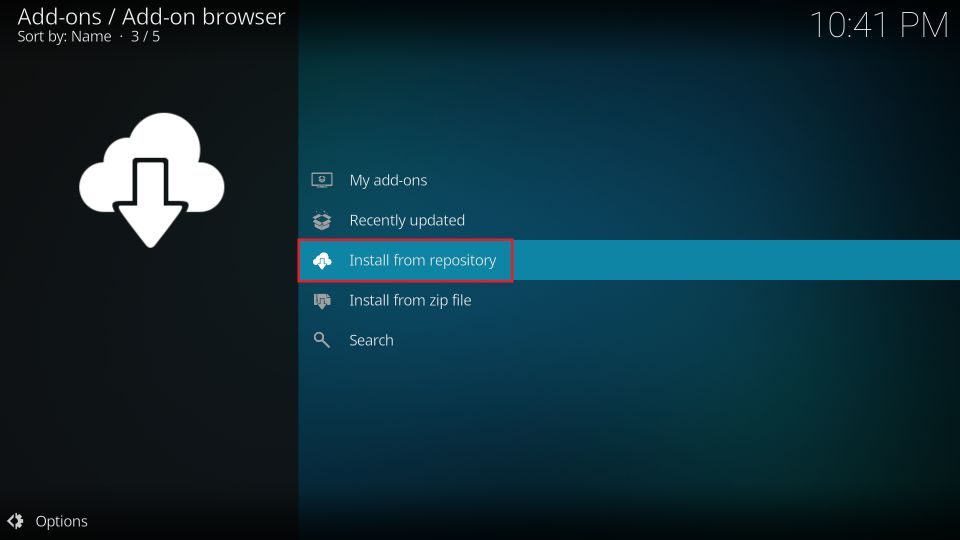 2. Click the folder The WareHouse Repository.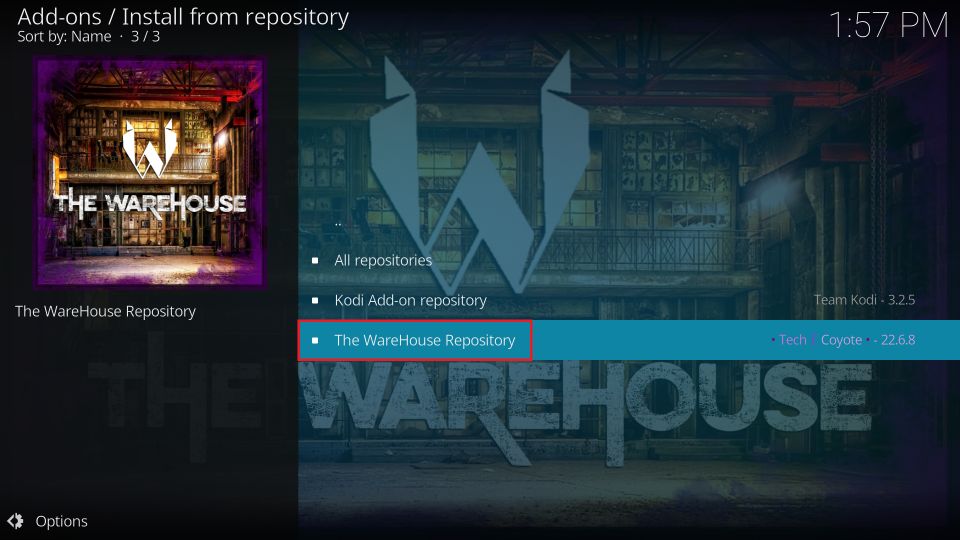 3. Choose the option Video add-ons.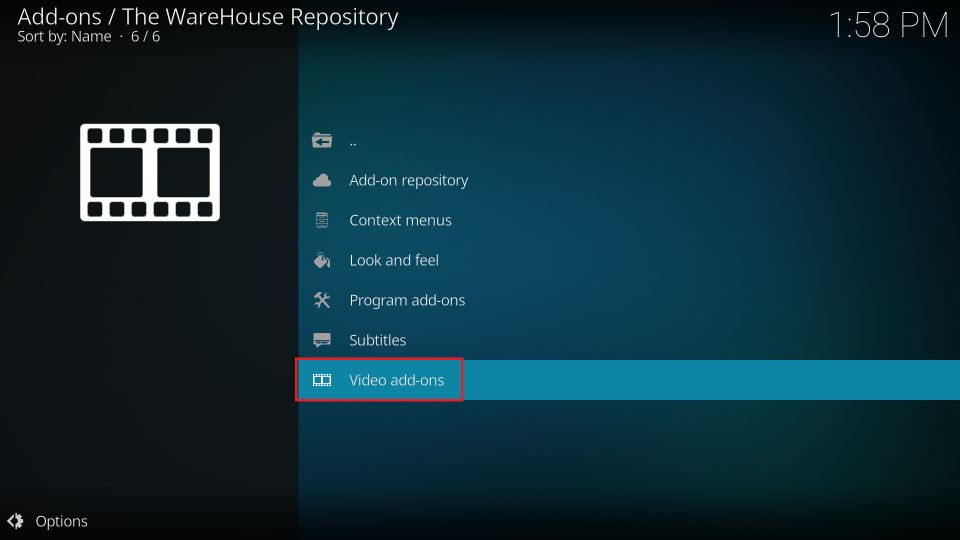 4. This window shows you the list of all the addons hosted by the WareHouse Repository. Click Dynasty to proceed.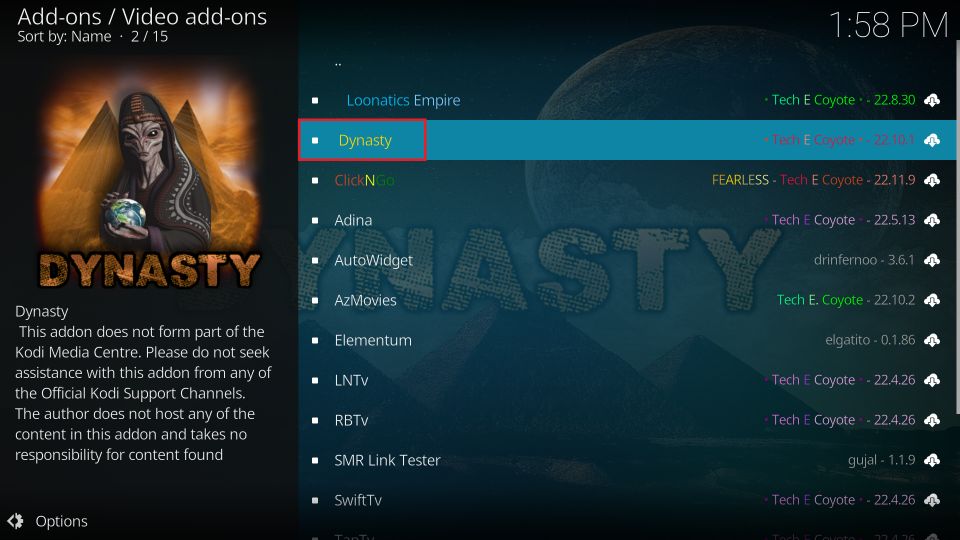 5. Click Install on the following window.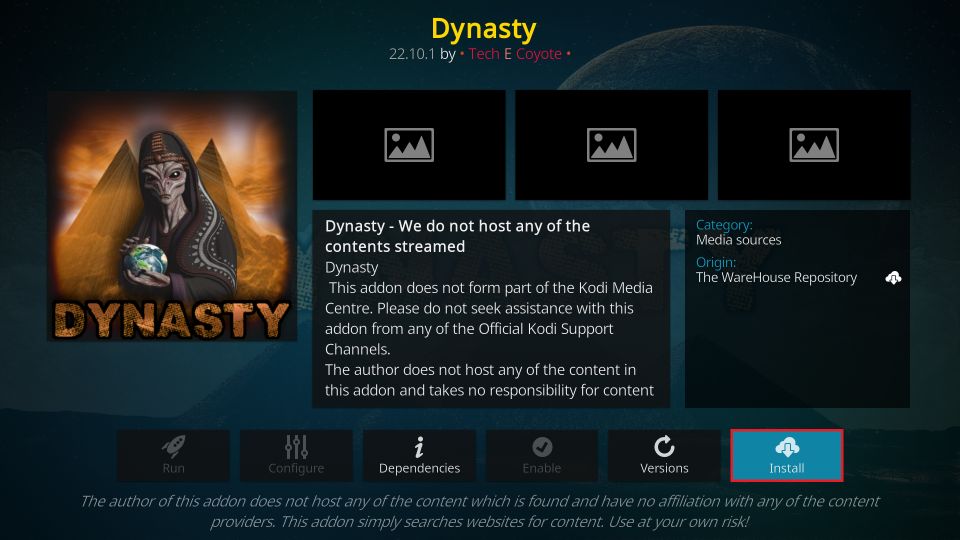 6. A bunch of supporting addons will also be installed with the Dynasty Kodi addon. Click OK to accept.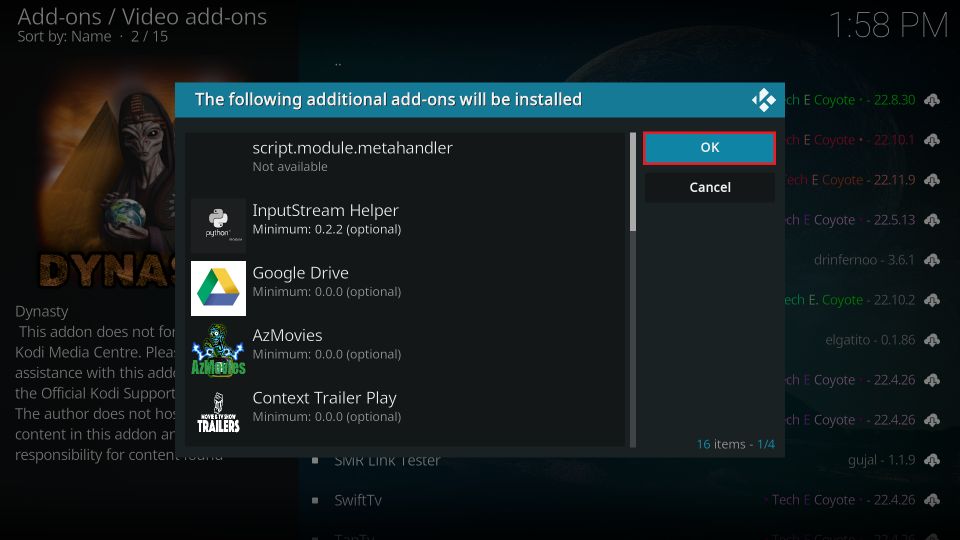 7. The Dynasty addon files will download and install on your device. Your Kodi screen displays the installation progress. Wait for about a minute.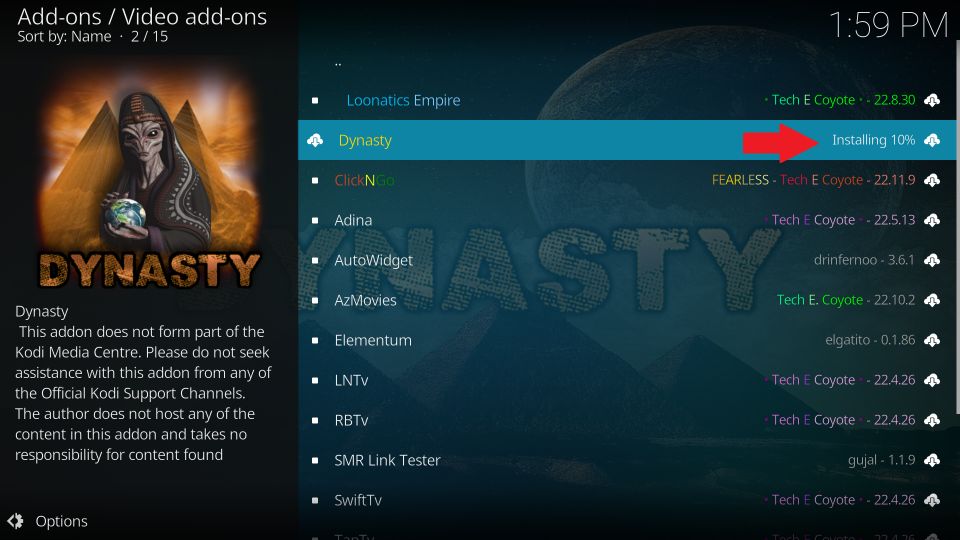 8. When the installation is complete, a notification appears in the upper-right area.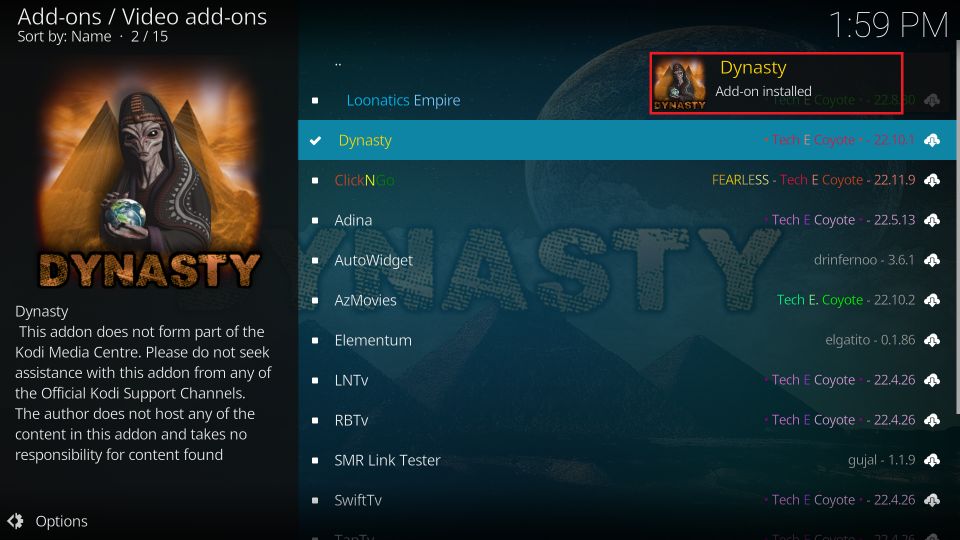 The installation of the Dynasty Kodi addon is complete.
Wait! It looks like you are all set to start watching your favorite content on Kodi. But have you protected your online identity yet? You are under constant surveillance by the Government and ISP. They use your IP address 66.249.79.227 to track you. Streaming free or copyrighted videos may get you into legal trouble.
Thankfully, you can use a VPN to easily protect your privacy and go invisible from your Government and ISP. I use and recommend ExpressVPN with Kodi.
ExpressVPN is the fastest, most secure, and streaming-friendly VPN. It is easy to install and set up on any Kodi device, including FireStick, Smartphones, PCs, and more.
ExpressVPN, offers an unconditional 30-day money-back guarantee. So, if you do not like the service (I don't see why), you can get a full refund within 30 days.
Please remember that we encourage you to use a VPN to maintain your privacy. However, we do not condone breaking copyright laws.
Before you start using Kodi for streaming, here is how you can protect yourself with ExpressVPN:
Step 1: Sign up for ExpressVPN Here
Step 2: Download ExpressVPN on your device by clicking HERE
Step 3: Open the ExpressVPN app on your device. Sign in with your account. Click the connect/power button to connect to the VPN

Great! You have successfully secured yourself with the best Kodi VPN.
Overview of the Dynasty Kodi Addon
The addon is straightforward. You will get used to it quickly. First, however, let me give you a quick rundown.
Go to the home screen of the Kodi app and then click Add-ons.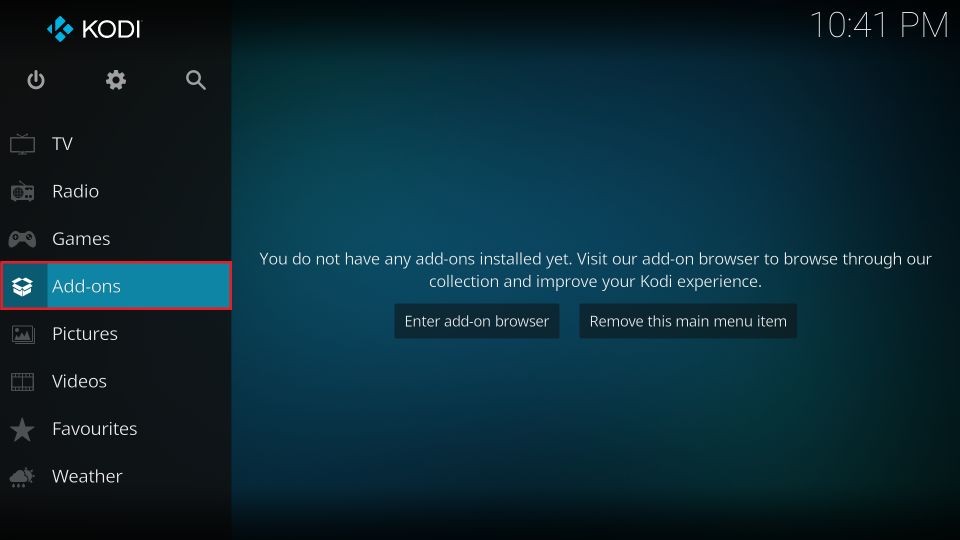 Go to Video add-ons > Dynasty to launch the addon.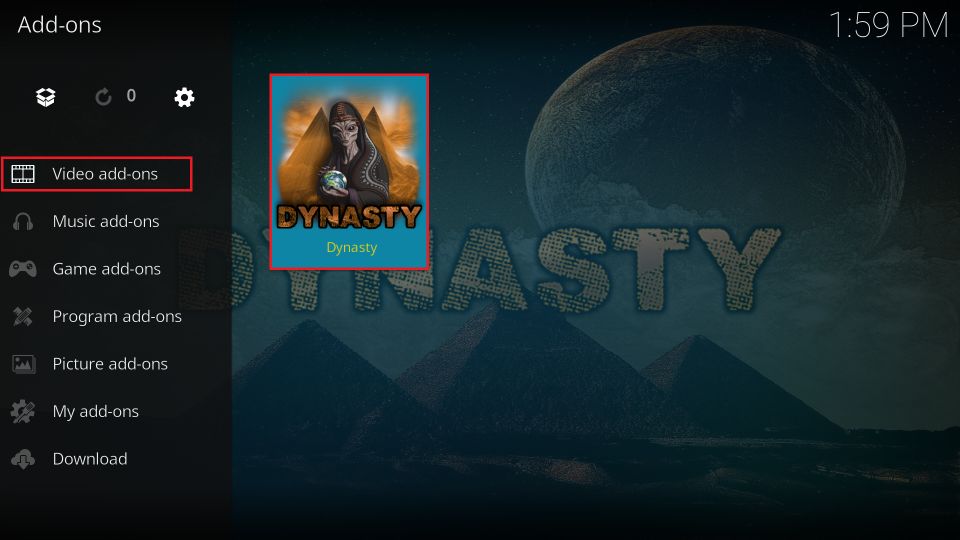 If you see a changelog window, press the back button to remove it.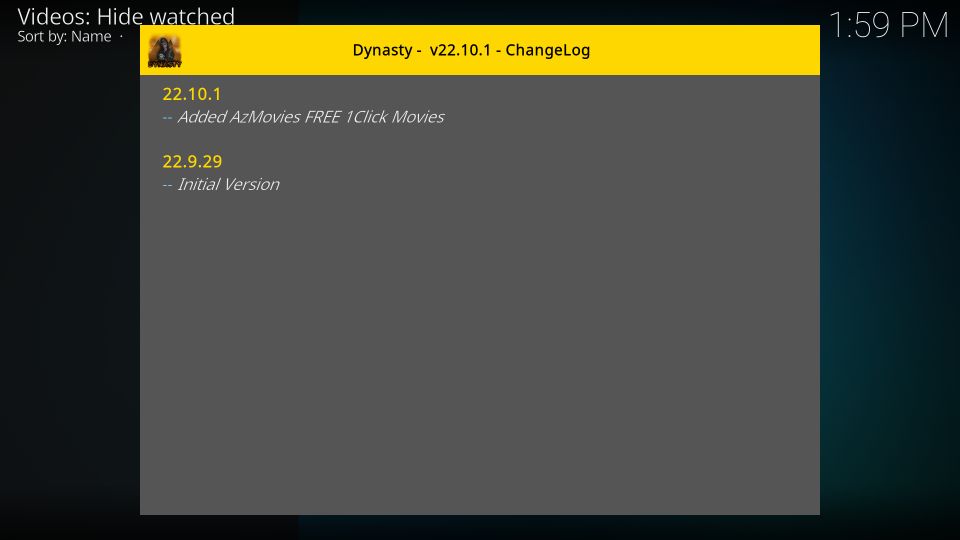 You land on the main screen of the Dynasty addon. You may now explore videos in various categories, including Movies, Shows, IPTV, 1Click Movies, and more.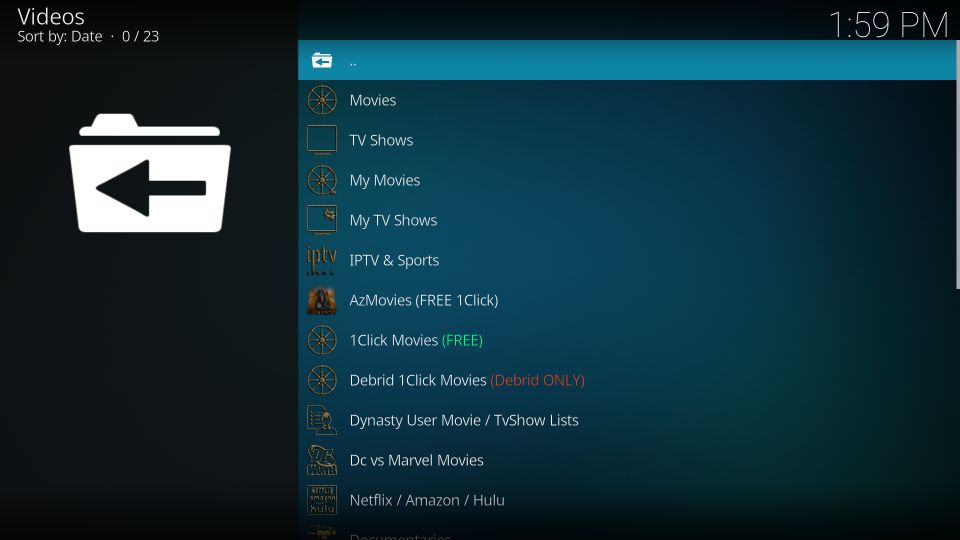 You will find subcategories within categories. For example, open the Movies folder on the main screen for more options, such as In Theaters, Now Player, Anticipated, and more.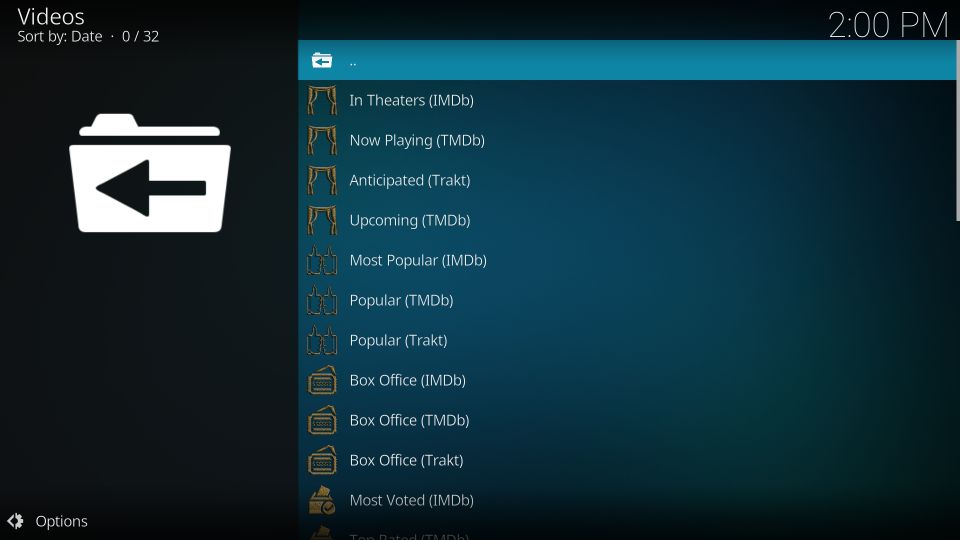 Dynasty addon also has a live TV section called IPTV & Sports. Unfortunately, it is not the most reliable, but you can still find many streaming options here.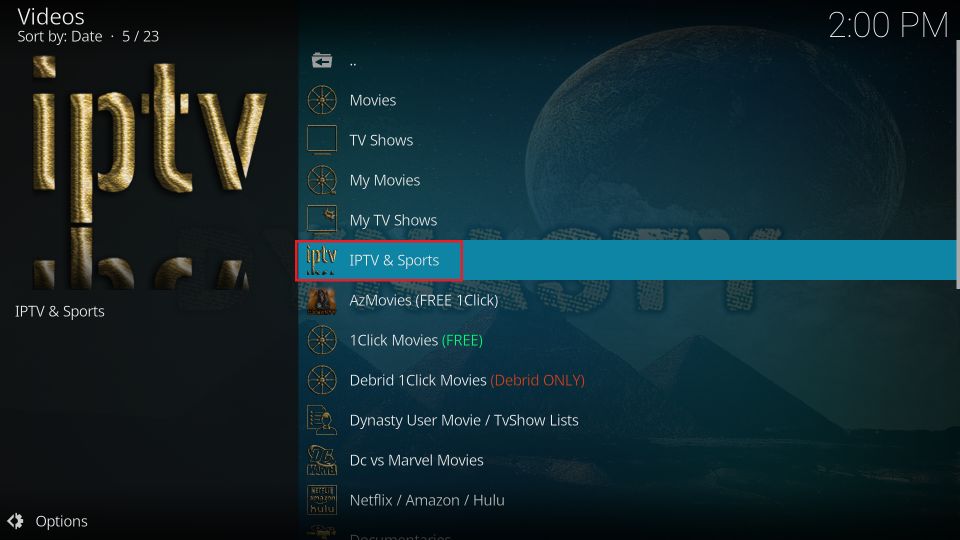 The IPTV & Sports section features USGoTV, TapTV, LnTV, and other live-streaming services.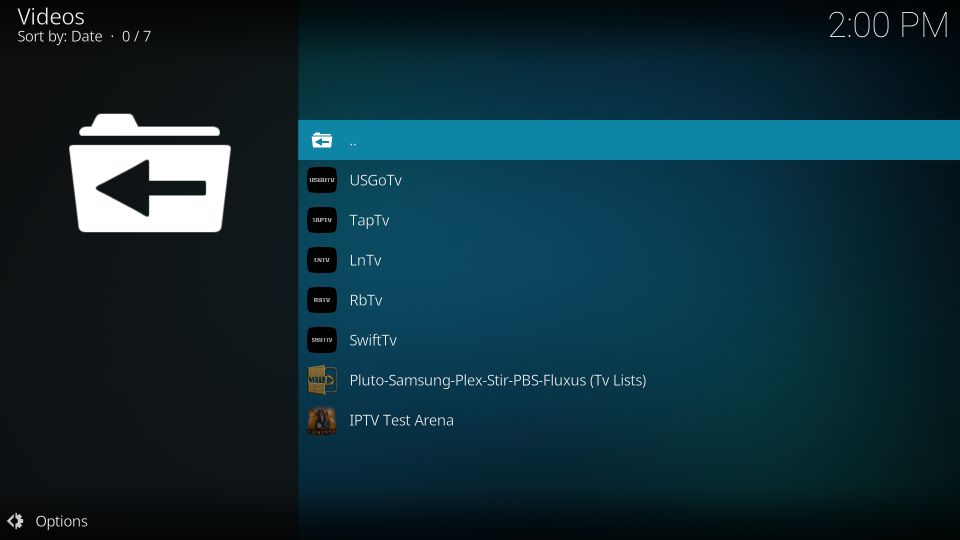 How to Get Real Debrid with Dynasty
You must have noticed that the addon has some Debrid categories. These categories offer faster playback through high-quality links. However, you can use the Debrid categories only when you sign in to Dynasty with your Real Debrid (or other premium debrid) account.
Read: Step-by-step guide on Real Debrid
You can buy Real Debrid online. It costs under $5 a month but adds a lot of value to your viewing experience.
After activating your RD account, follow the steps to use it with the Dynasty Kodi addon:
1. Open Dynasty and scroll down to the bottom of the home screen. Click Premium Services.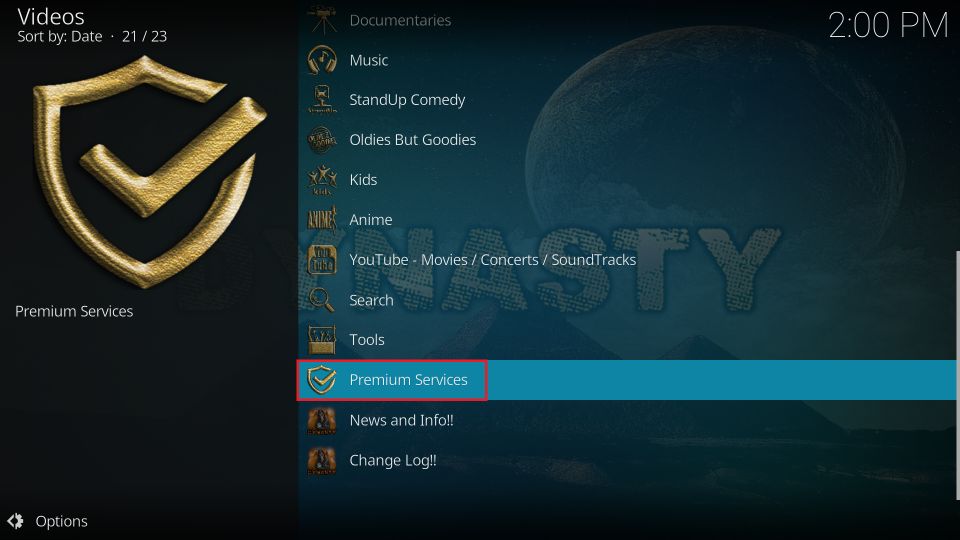 2. Click Real-Debrid on the next screen.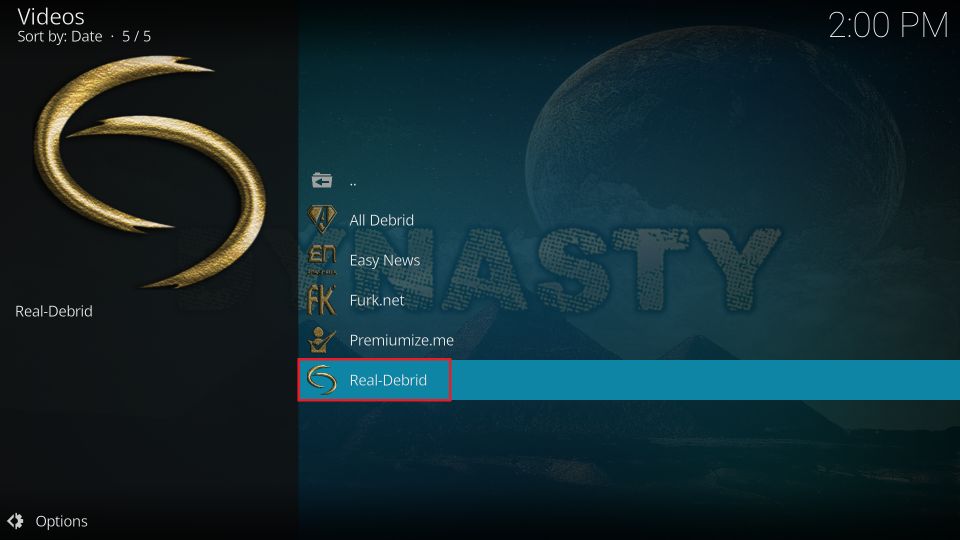 3. Click the account setup option on your screen, which is highlighted in the image below.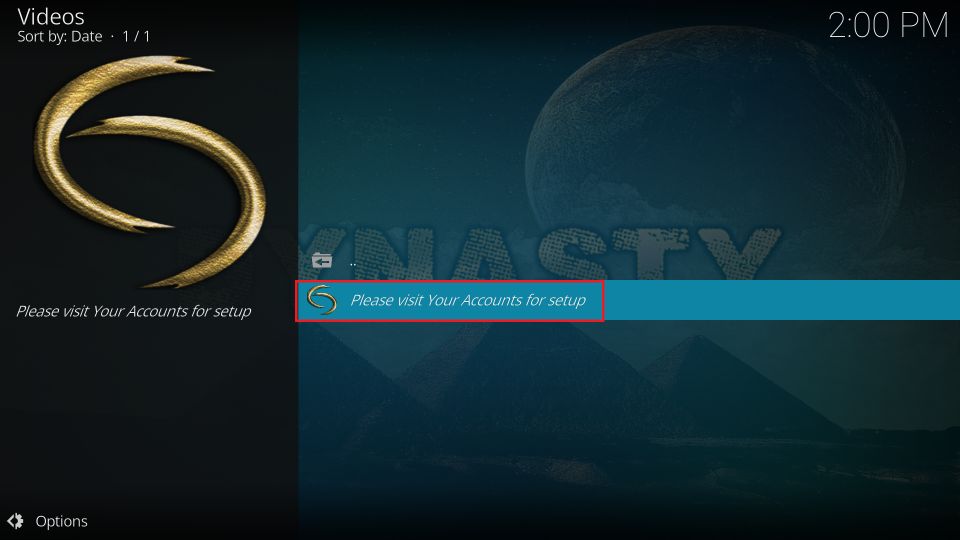 4. Click the Debrid tab and then click Authorize under Real-Debrid.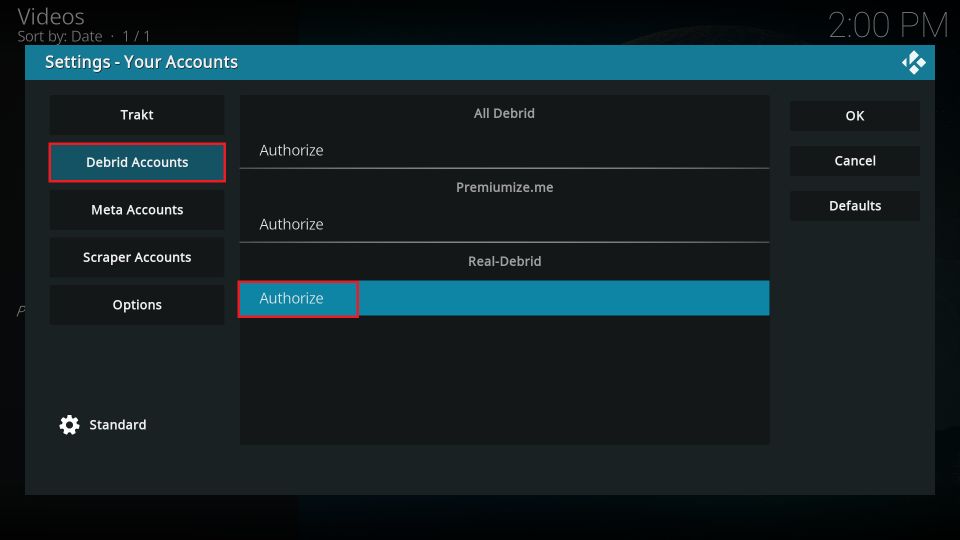 5. Your Kodi window displays a code in a popup. Authorize Real Debrid on Dynasty at real-debrid.com/device. Sign in to your RD account if prompted.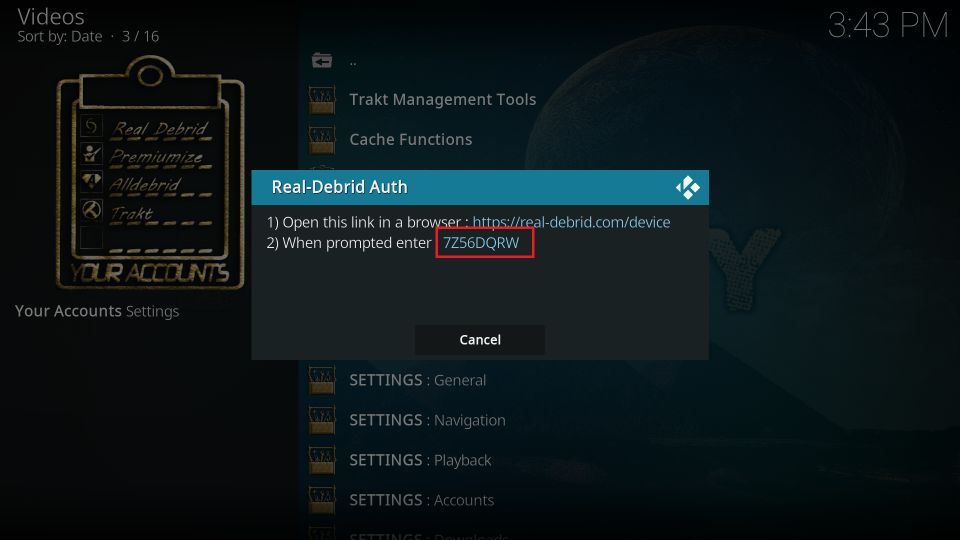 How to Get Trakt on Dynasty
The Dynasty Kodi addon has dedicated several sections to Trakt. You can now easily sync your streaming history, watchlist, and favorites across devices by signing in to Trakt.
Read: Step-by-step guide on Trakt.
Get a free Trakt account and follow these steps to sign in to Dynasty:
1. Click Tools on the main window of the addon.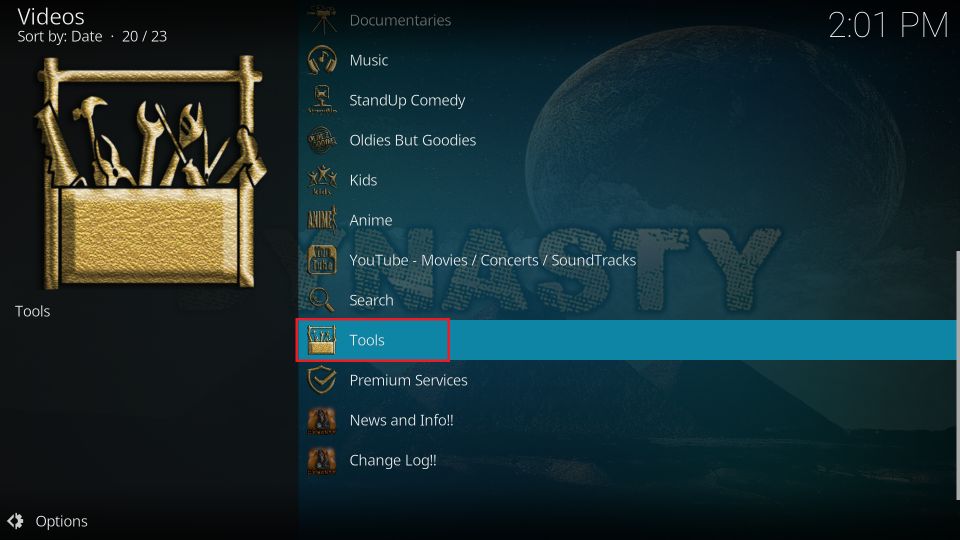 2. Click Accounts on the next screen.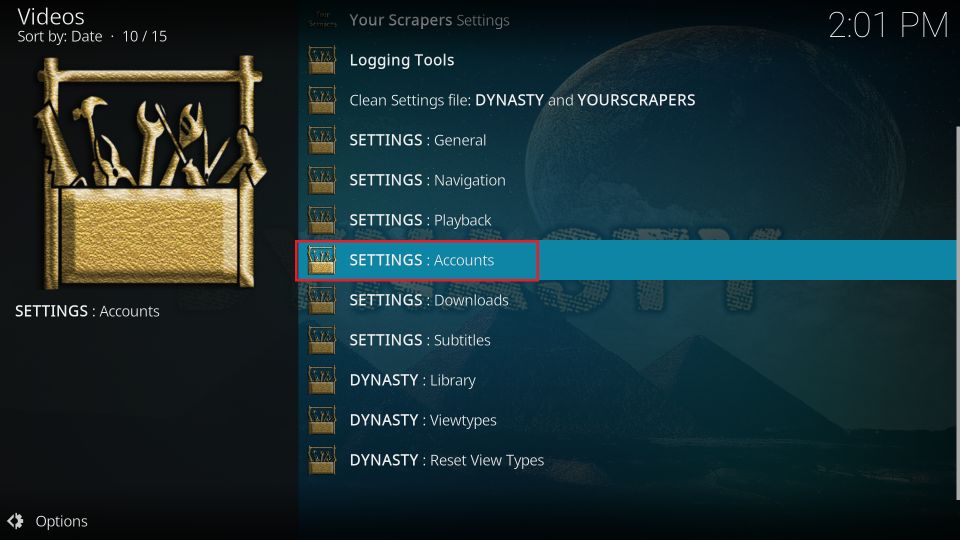 3. Click the Trakt tab followed by Open Your Accounts Addon.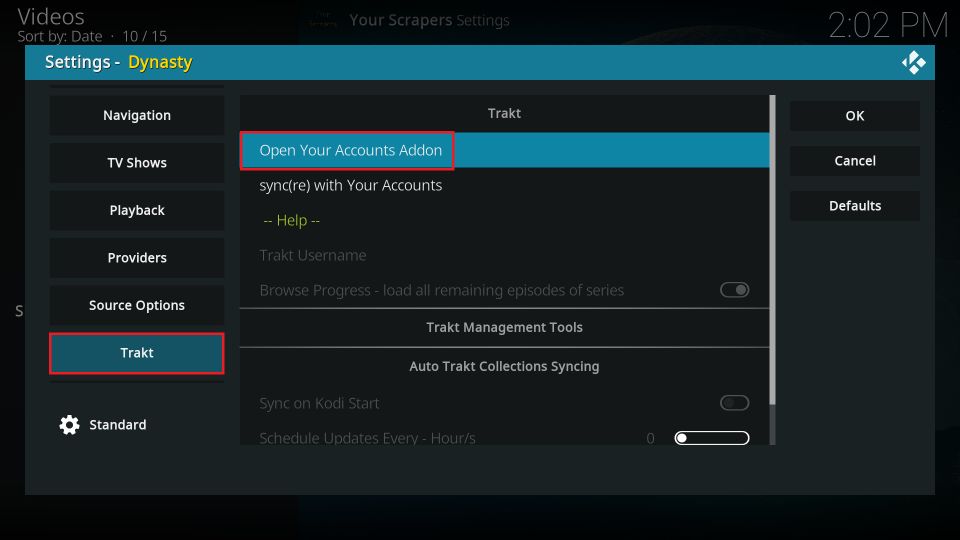 4. Click the Trakt tab again on the next screen, followed by Authorization.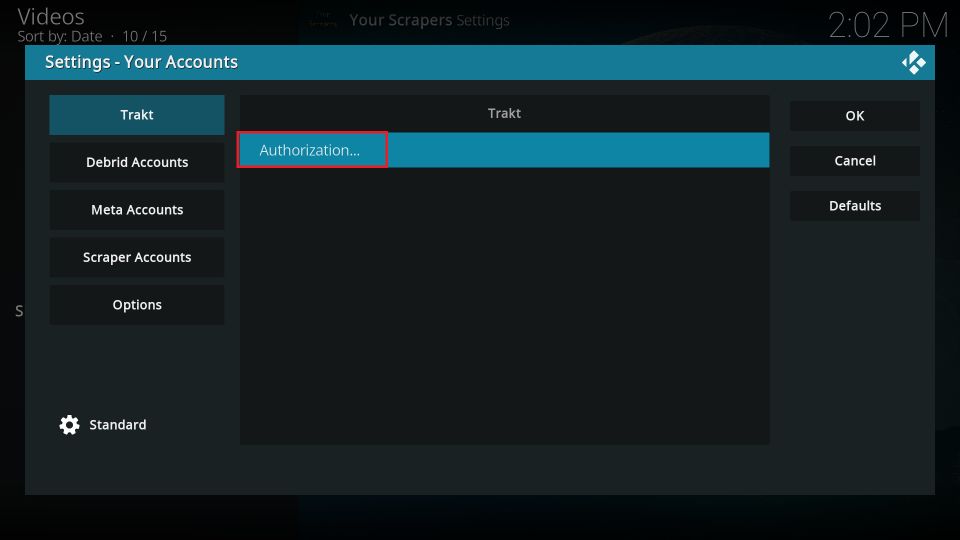 5. Your Kodi screen shows a code. Authorize Trakt on Dynasty by entering the code at https://trakt.tv/activate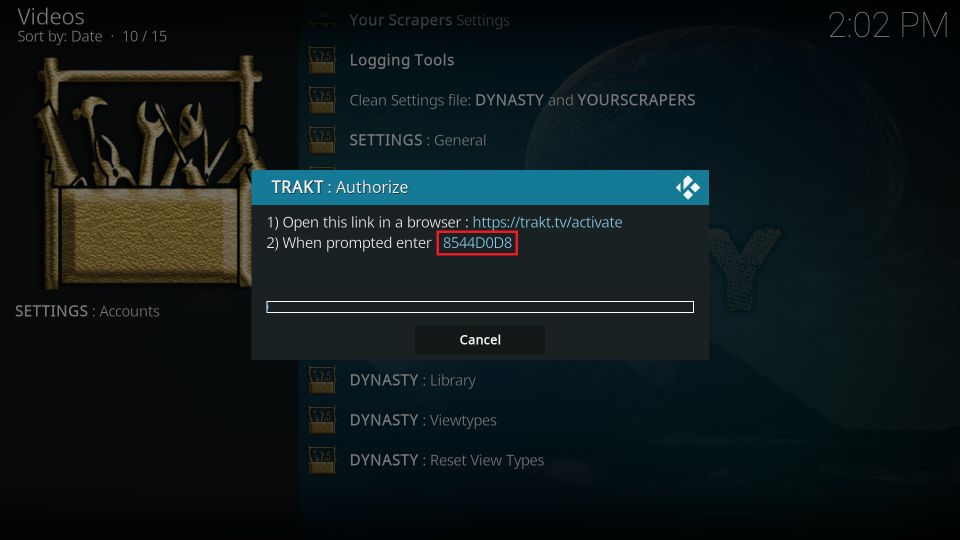 Winding Up
This post demonstrated how to install the Dynasty Kodi addon. Did you find the process easy to follow? Are you using the addon? Please share your feedback in the comments box below.
Related: