This guide demonstrates how to install IPTV Smarters Pro on FireStick. The steps apply to all Fire TV devices, including Fire TV Cube, FireStick 4K, and FireStick 3rd Generation Android TVs and iOS devices.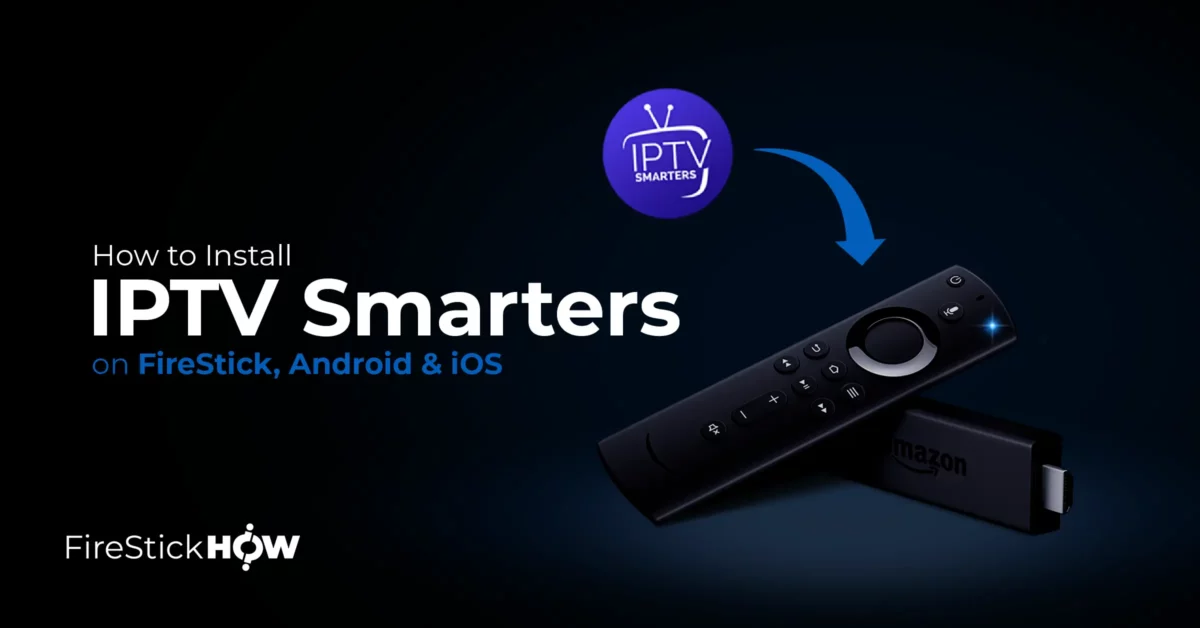 What Is IPTV Smarters Pro?
IPTV Smarters Pro is a media player that allows IPTV you to watch live channels, TV series, movies, sports, and catch-up TV.
While some IPTV services have stand-alone apps, others require IPTV players. This is where IPTV Smarters Pro comes in.
To use IPTV Smarters Pro, you must first subscribe to an IPTV service. After your subscription is approved, you will receive login data, including a username, password, and URL. You'll input this data into the IPTV Smarters Pro to stream content.
IPTV Smarters Pro is a feature-rich player with a lot to like. The first is an intuitive, streamlined interface that makes navigation seamless. It also comes with a search function, so you don't have to spend time browsing through the channel and VOD library.
IPTV Smarters Pro also features an Electronic Program Guide (EPG) that lets you view the schedule. It also has picture-in-picture support and a Chromecast function.
This IPTV player includes an automated next-episode play function. It also has a built-in speed test tool to measure your internet connection strength when you're experiencing buffering and lagging.
IPTV Smarters Pro supports video and audio files, has a manual and automatic clear cache function, and allows VPN integration. It updates its features regularly to ensure you have the best user experience.
I liked that IPTV Smarters Pro has several functions to help you control your viewing experience. I also liked opening a channel list on the video player and the ability to add other external players.
As noted earlier, IPTV Smarters Pro works with various devices, including Android TVs, phones, streaming devices, other smart TVs, iOS devices like iPads and iPhones, and Windows and macOS PCs.
IPTV Smarters Pro is free, but you can upgrade to the paid version to access exclusive features like parental control, picture-in-picture support, managing EPG sources, and external player selection and support.
Attention FireStick Users: Read before you continue
Your government and ISP are probably monitoring your streaming activities using your IP address 3.17.249.235 (exposed to all). You may get into serious legal trouble for streaming copyrighted videos on FireStick. 
I strongly recommend getting a trusted VPN for FireStick to hide your IP address and protect your online identity.
I use ExpressVPN on all my devices as it is the most secure, fastest, and easy-to-use VPN. It comes with an unconditional 30-day money-back guarantee, and you get 3 free months with the yearly plan.
Don't miss out on the peace of mind and online security ExpressVPN provides.
Read: How to Install & Set up the best VPN on FireStick.
Is IPTV Smarters Pro Safe?
IPTV Smarters Pro is an unofficial app not hosted on registered app stores like Google Play Store. For this reason, FireStickHow.com can't accurately verify the safety of this app. Ensure you ascertain IPTV Smarters Pro's security before installing it on your Fire TV stick or Android TV.
Thankfully, it did not throw any red flags after running it through VirusTotal.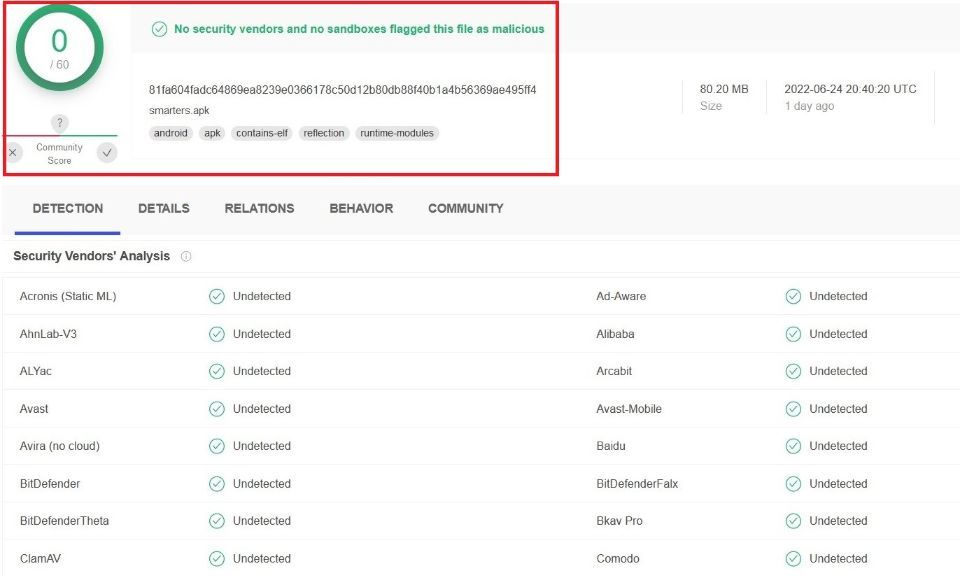 Is IPTV Smarters Pro Legal?
Like safety, FireStickHow.com doesn't have first-hand information on the legality of this app. Therefore, it's recommended you verify the app's legitimacy before setting it up on your devices.
Additionally, you can install a high-quality and dependable VPN service like ExpressVPN to protect yourself from any legal repercussions.
Remember, using third-party apps to stream copyrighted content is illegal and can have legal repercussions involving authorities. We do not endorse copyright violations and piracy. However, we do champion your right to privacy.
ExpressVPN masks an IP address and encrypts your device history so it's unreadable to the government, internet service provider, or anyone who intercepts it.
Masking your IP address allows you to stream content from other countries and locations that were previously inaccessible. Another benefit of using ExpressVPN is it maintains your privacy by browsing anonymously.
Features of IPTV Smarters Pro
Let's give a quick breakdown of this app's best features:
IPTV Smarters app has an intuitive, user-friendly layout.
Comes with an EPG.
IPTV Smarters Pro has a search function to find content directly.
IPTV Smarters support TV. Catch up on streaming and resume watching live TV.
It works with audio and video files.
You can integrate a VPN with the app.
Supports external video player integration.
It has a built-in speed test tool to test your IPTV service's internet speed.
This IPTV Smarters app player has automatic and manual clear cache functions.
It can open channel lists on the video player.
IPTV Smarters has an automatic next-episode play function for convenient watching.
Supports M3U and URL files.
It regularly supports its features to provide the best user experience.
It is free, but you can upgrade to the premium version.
Works with various streaming apps and devices like Android TV boxes, Fire TV sticks, and other IPTV service providers.
How to Install IPTV Smarters Pro on FireStick
Installing IPTV Smarters on FireStick is relatively easy. Just follow the instructions below:
Disclaimer: This guide is purely educational. We neither own nor operate any of the services mentioned. Some of these may not be legally licensed, and we don't verify their legality in all regions. If you opt to use unverified apps/services/websites, ensure you're streaming only public-domain content. You bear the responsibility for any media you access.
Part 1: Set Up FireStick for Sideloading IPTV Smarters
As we've established, IPTV Smarters is an unofficial app not hosted on Amazon App Store. This means you can't download this IPTV app directly to your FireStick. Instead, you'll need to sideload the app with an app called a Downloader.
Here's a complete guide on downloading and installing the Downloader app to your FireStick. Alternatively, you may use these summarized instructions to install the Downloader app:
1. Go to your device's home page, click Find> Search, and install the Downloader.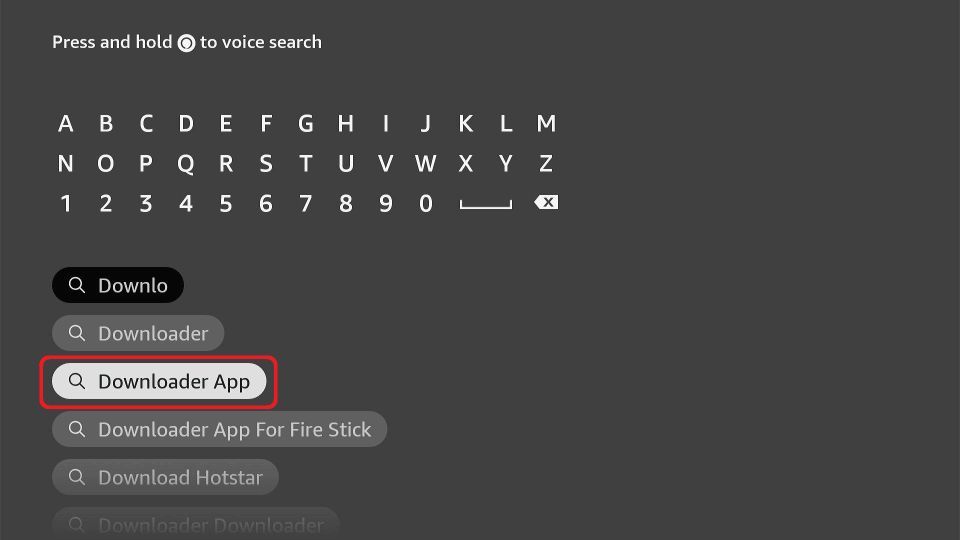 2. Next, go to Settings> My Fire TV> Developer Options> Install Unknown Apps.
Note: If you see the Apps from Unknown Sources option instead of Install Unknown Apps, click ON.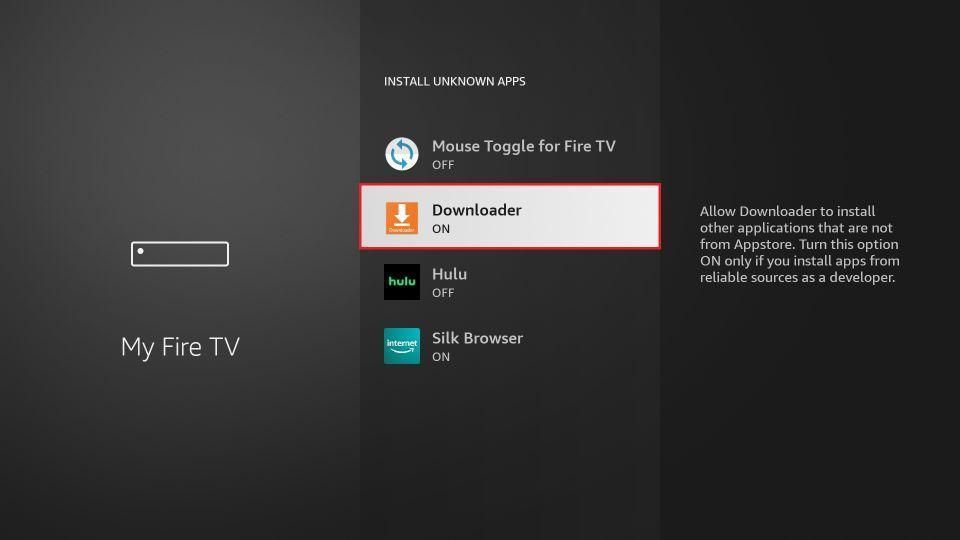 Part 2: Installation Steps
Once you're down with the Downloader app, install the  IPTV Smarters Pro app. Here's how to do it:
1. Click the Apps icon on your Fire TV home page.
2. Click the Downloader App.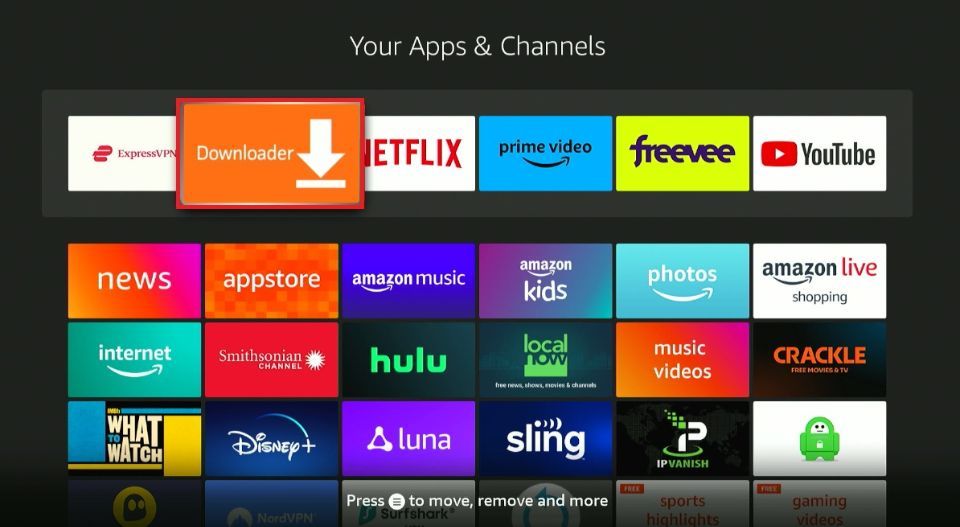 3. Click on the Search URL box.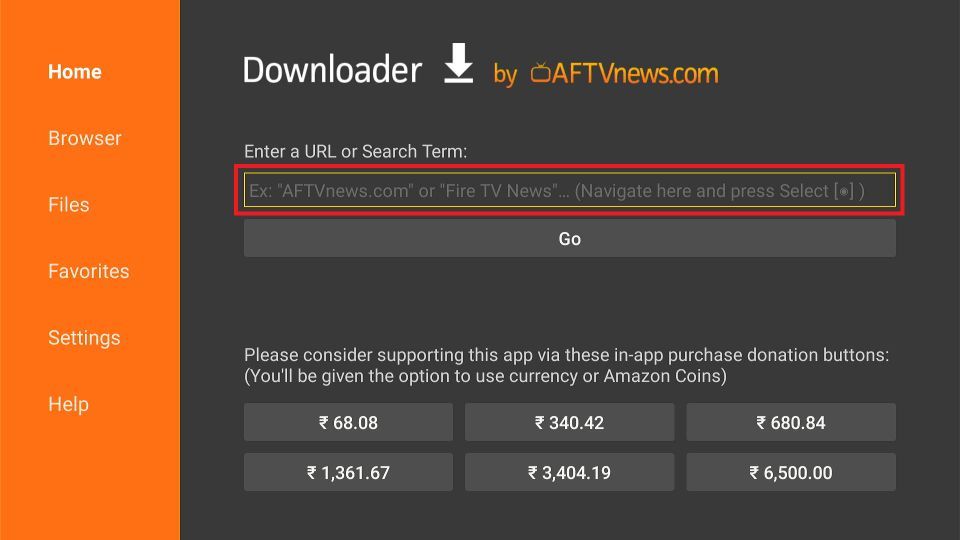 4. Type this URL: firestickhow.com/smarters and click Go.
Disclaimer: FireStickHow is not associated with the developers of this repository. The URL points to a source where the app is located.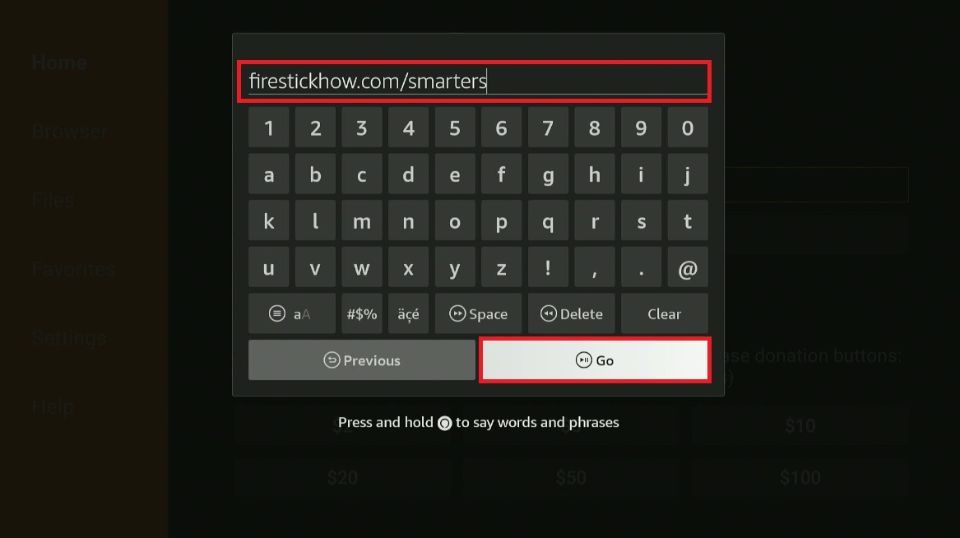 5. Wait for the IPTV Smarters Pro download and installation to complete.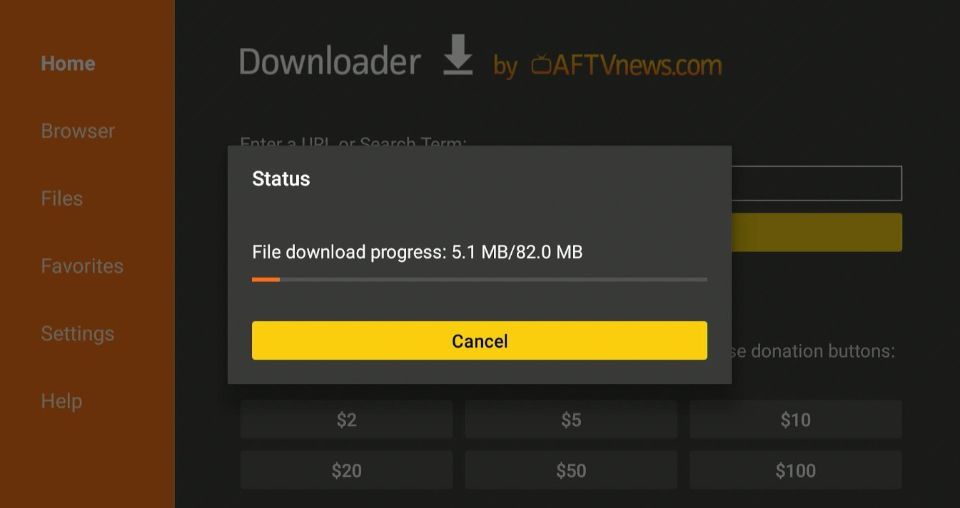 6. Click Install.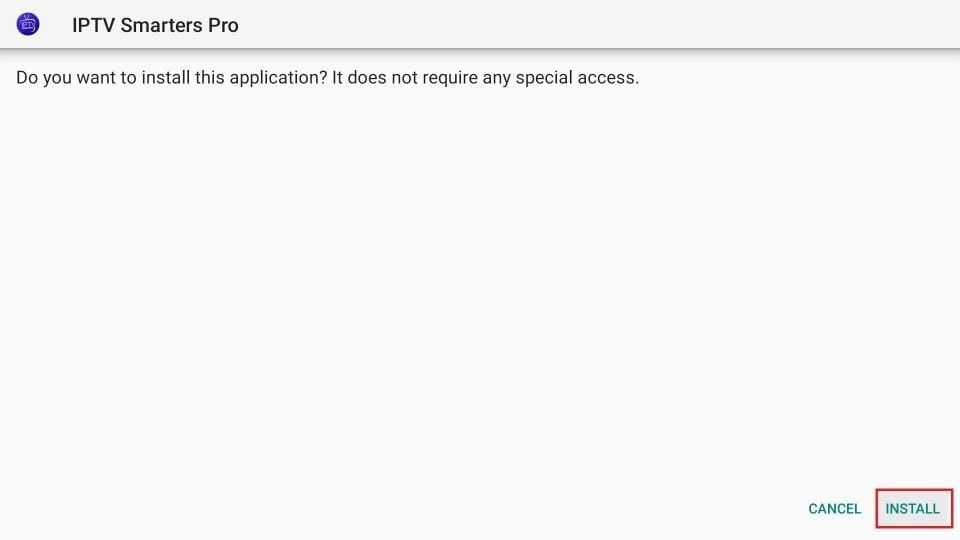 7. Click on Done.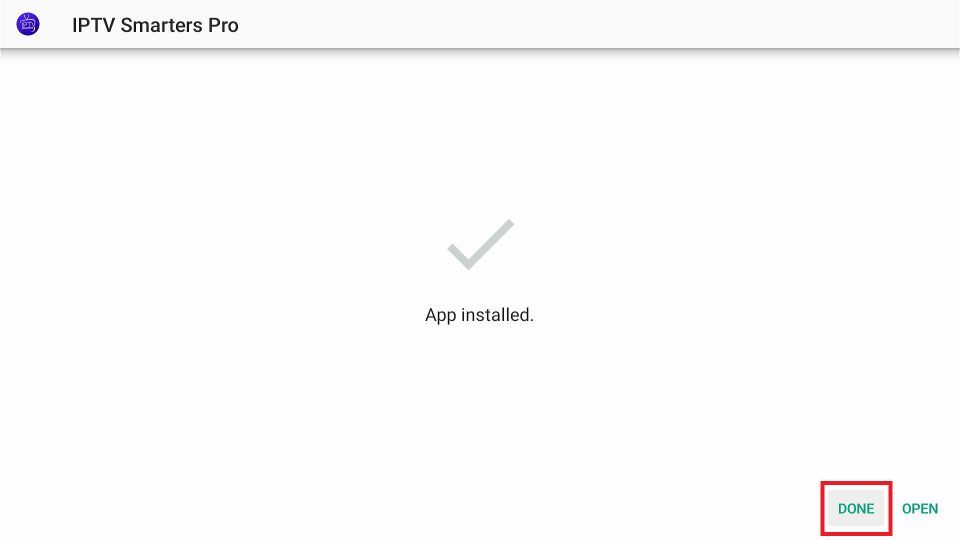 8. Click Delete on the popup status window to delete the downloaded file.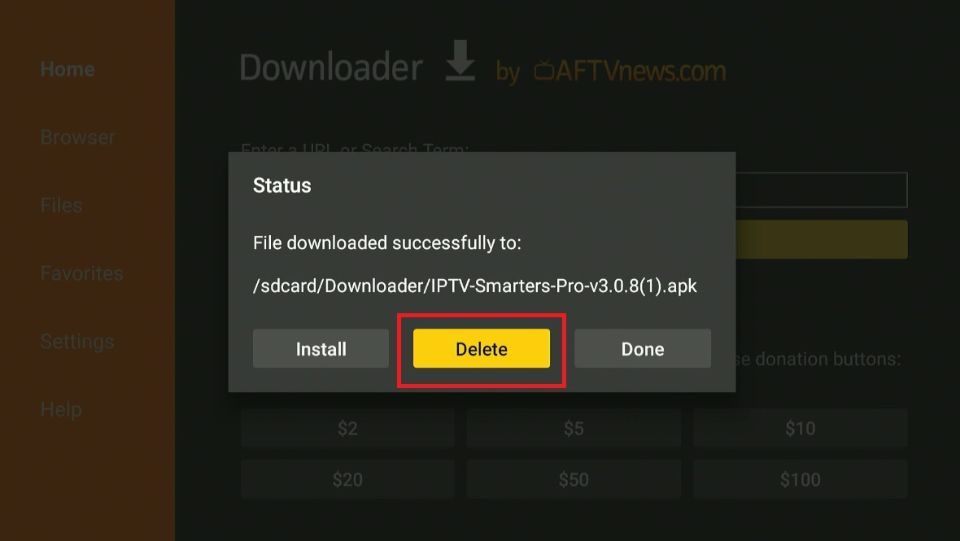 9. Click Delete again to confirm.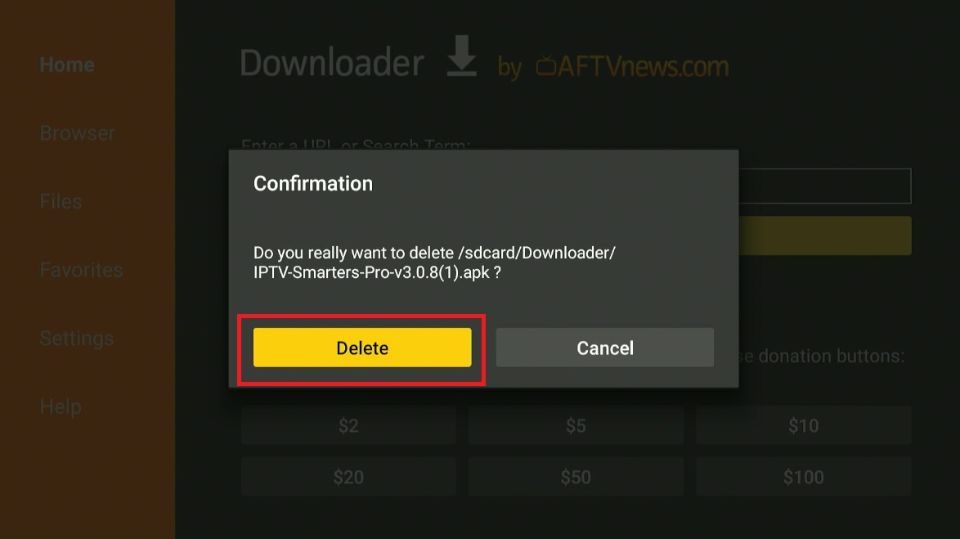 You have now successfully downloaded IPTV Smarters Pro on your FireStick.
Wait! It looks like you are all set to start watching your favorite content on FireStick. But have you protected your online identity yet? You are under constant surveillance by the Government and ISP. Free streaming of copyrighted videos may get you into legal trouble.
Thankfully, you can easily avoid online monitoring and safeguard your privacy with a trusted VPN on FireStick. A VPN will hide your IP address and online identity by encrypting your internet connection.
Please note that I am not encouraging you to violate any copyright laws. You should always watch the content available in the public domain. I am simply recommending the use of a VPN to maintain your privacy. You have every right to your privacy, which is constantly being breached these days.
I personally use ExpressVPN and have found it to be the fastest and most secure FireStick VPN. It is also the most streaming-friendly VPN I have ever used. Therefore, I highly recommend getting ExpressVPN for FireStick.
Here is how you can quickly get the ExpressVPN app on FireStick:
Step 1: Click HERE to subscribe to ExpressVPN and enjoy a 49% discount with 3 months of extended service. You are also eligible for a 30-day, full money-return guarantee.
Step 2: Download and install ExpressVPN on FireStick
Choose the Find > Search option on the FireStick home screen on the menu bar.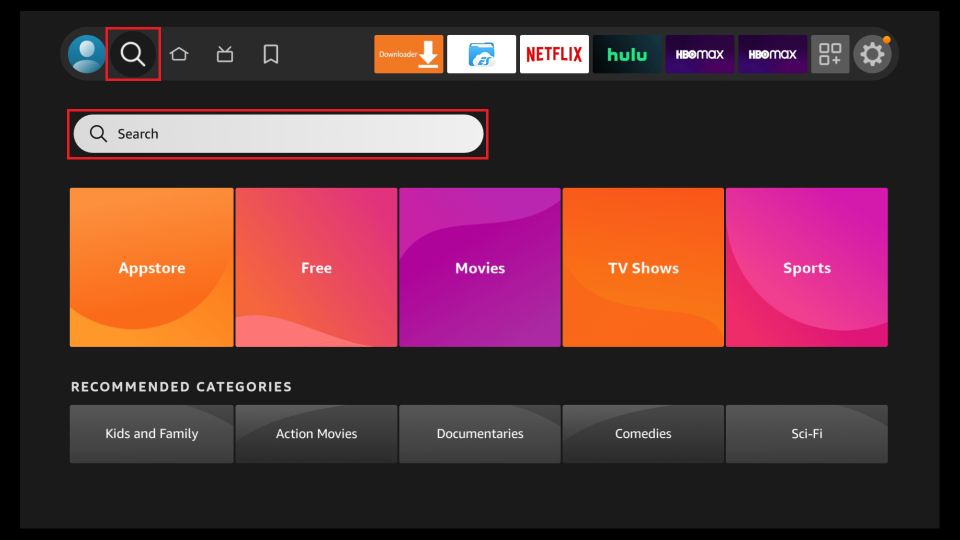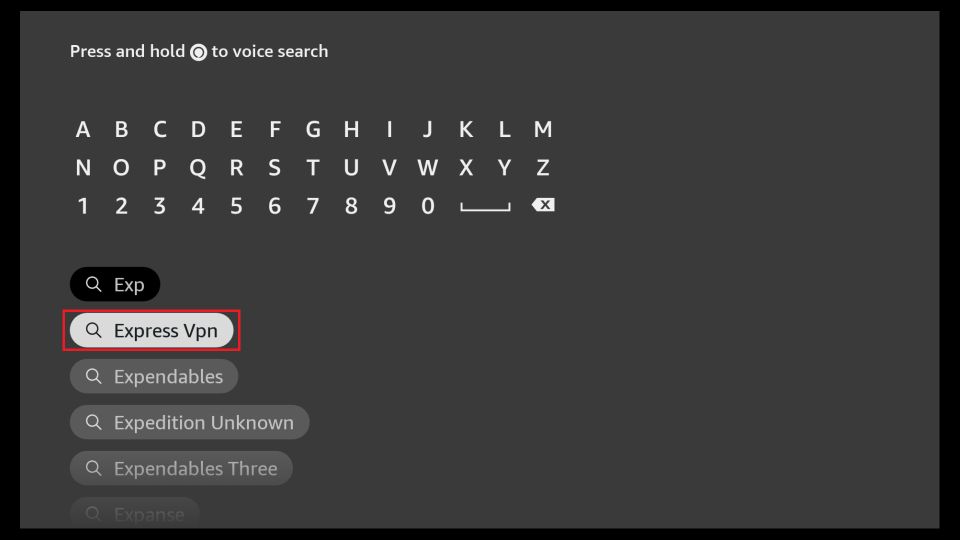 Click the ExpressVPN icon on the following window.

Click Download or Get on the next window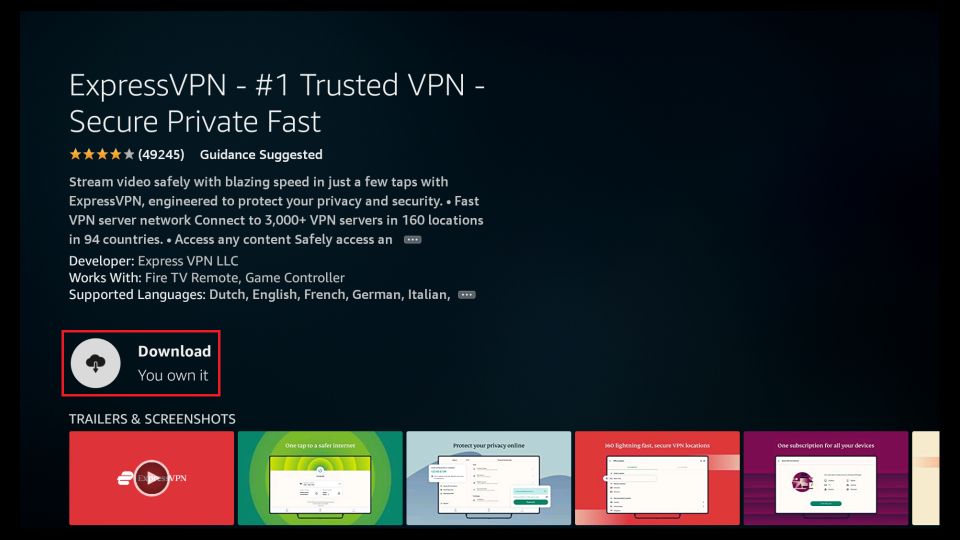 Step 3: Open ExpressVPN once you have downloaded it. Sign in with your account.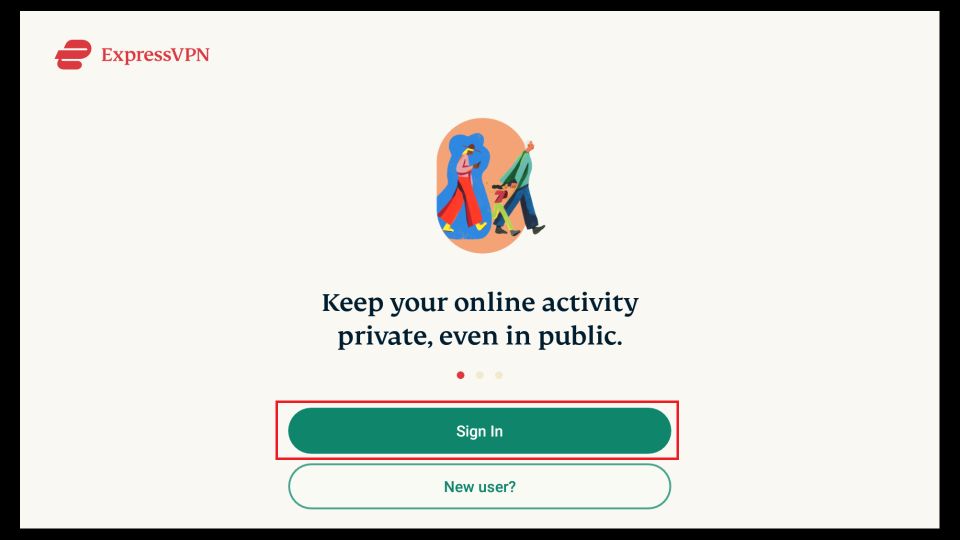 Step 4: Choose a server and click the Connect/Power button

Put your mind at ease now! You have successfully secured your streaming activities with ExpressVPN.
Overview of IPTV Smarters
If you intend to use the IPTV Smarters app frequently, I suggest creating its shortcut on the FireStick home screen. This will make it easier to find it whenever you wish to stream.
Using IPTV Smarters is straightforward. You'll need to subscribe to an IPTV service. Launch the IPTV Smarters Pro player when you have the logins, then choose your device option and click the blue Save button.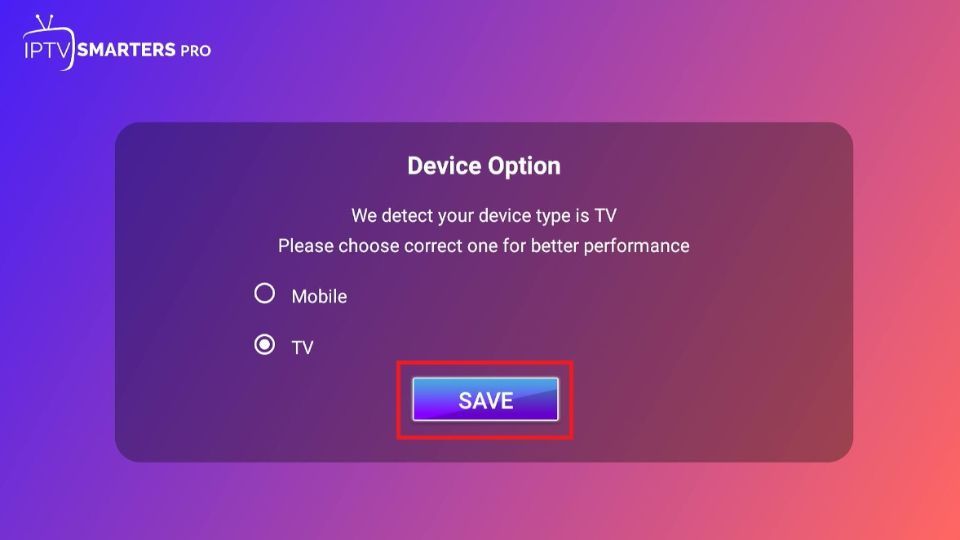 After that, accept the terms and conditions.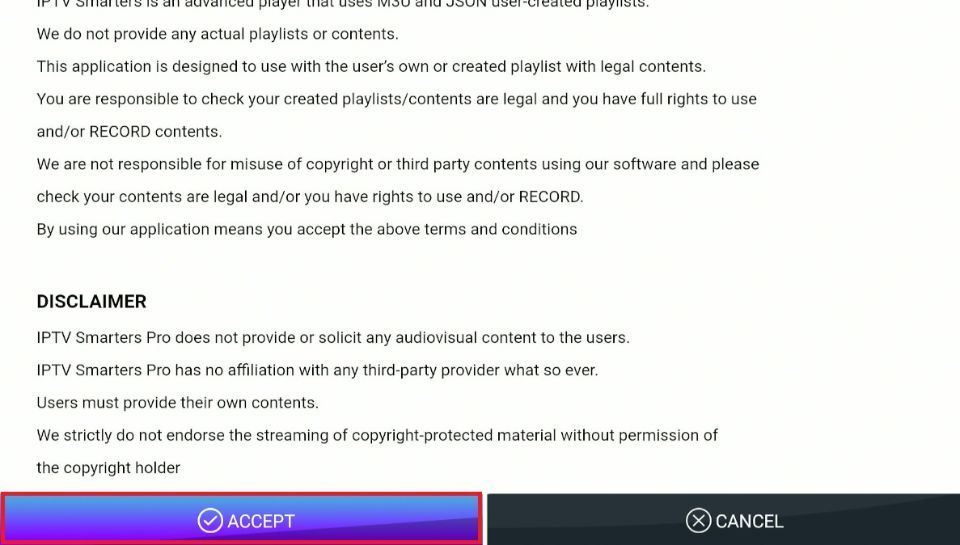 When you open the app, you'll see different file support tabs. These tabs include Load Your Playlist or File/URL, Load Your Data from Device, Login with Xtreme Codes API, Play Single Stream, and List Users.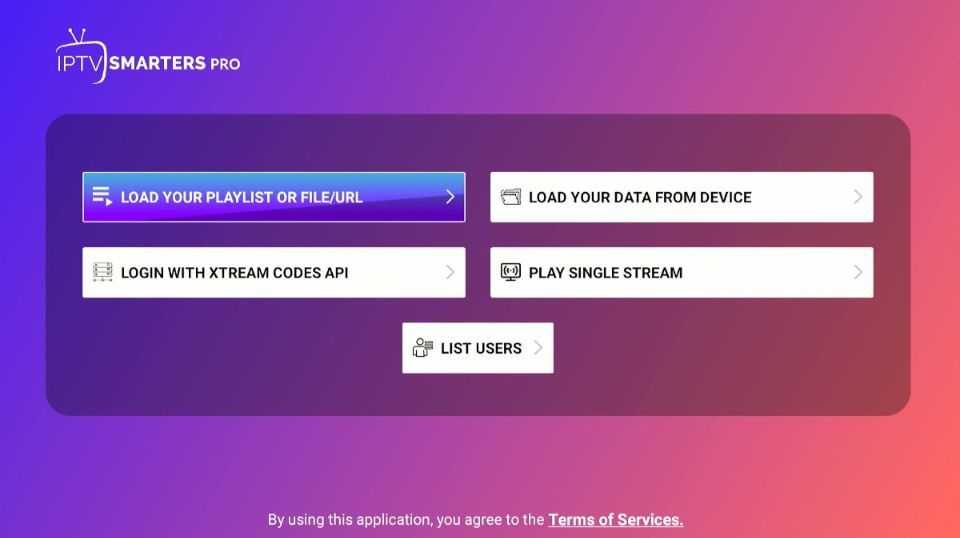 Each tab supports a different content provider type. For example, IPTV players without stand-alone apps frequently share user logins, including an email and password for access.
If you're subscribed to such a service, click on the Login with Xtreme Codes API tab, then enter the required details to stream, then click the Add User button at the bottom.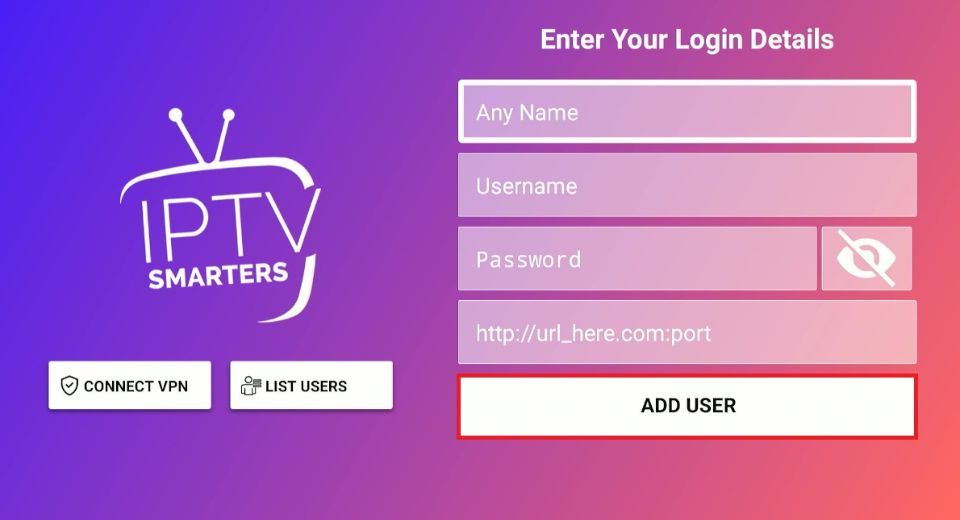 If you have an IPTV provider URL, click on the first Load Your Playlist of File tab. IPTV Smarter Pro will then ask permission to access your device's photos, media, and files. Select Allow.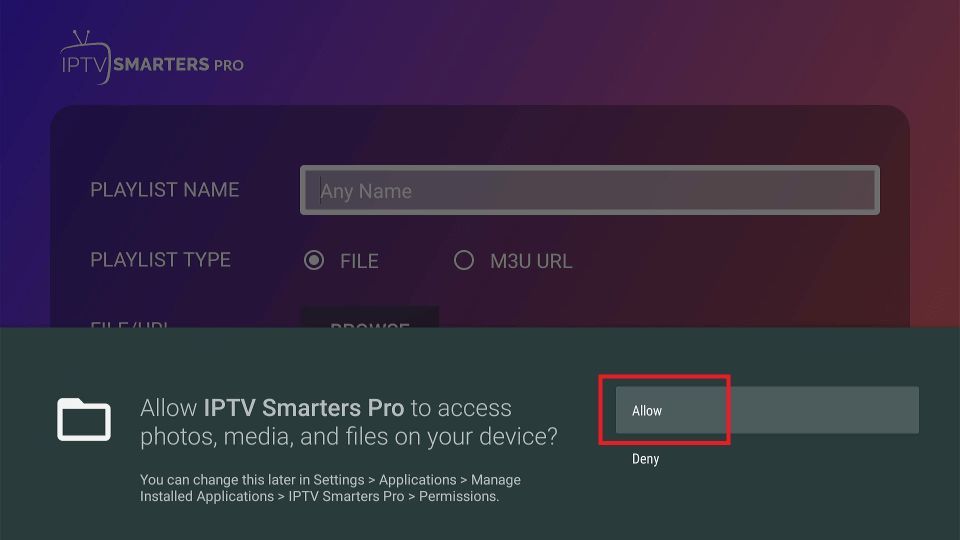 After that, type the provider's Name, File, or M3U URL, then click the Add User button.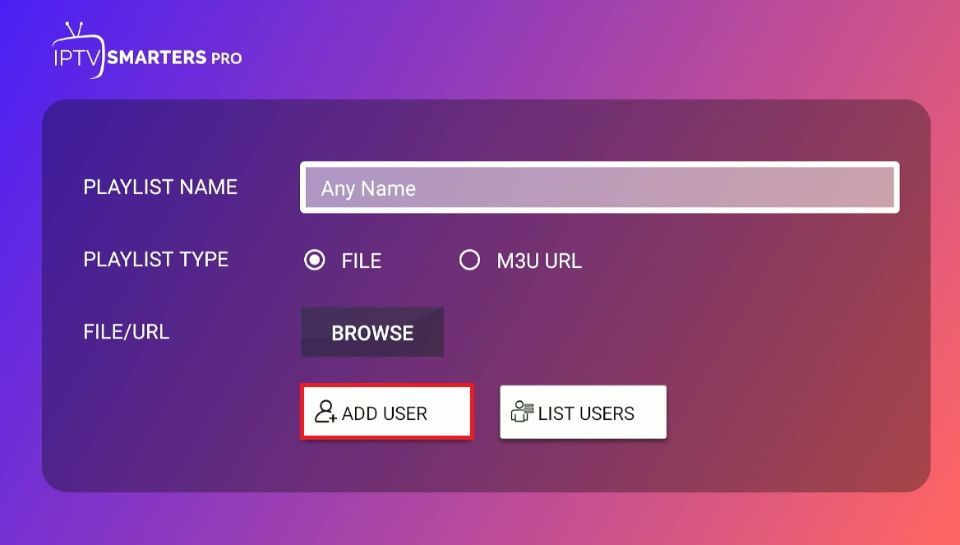 As noted earlier, IPTV Smarters is compatible with multiple platforms, including Android TVs, Fire TV streaming devices, and iOS devices.
How to Install IPTV Smarters on Android TV
IPTV Smarters Pro is an unlicensed app not hosted on well-known app stores like Google App Store. This means you'll have to sideload instead of downloading directly.
To sideload, you'll require an app called the Downloader. Follow the steps below to set up the Downloader on your Android TV.
Part 1: Prepare Android TV to Download IPTV Smarters Pro
Navigate to the Settings option on the TV.
Tap on the Device Preferences tab.
Select the Security & Restrictions option.
Enable Unknown sources by sliding the toggle to ON.
Press the Home button on your TV remote.
Select the Settings option on the screen.
Click the Apps tile.
Select Google Play Store on the apps list, then click on it to open.
Type Downloader in the search bar, then click Enter.
Click the Downloader app from search suggestions.
Click the Install button.
Part 2: Install IPTV Smarters Pro on Android TV
Once you're done with the Downloader, proceed with these instructions to install IPTV Smarters Pro:
 Navigate to the Apps icon on your  TV
Select  Downloader from the apps list.
Click the Text box at the center.
Type this link: https://www.firestickhow.com/smarters, and then tap the Go button at the bottom-right corner.
Wait a few minutes for  IPTV Smarters Pro to download and install.
Click the Install button.
Click on Done.
Tap the Delete button on the status window popup to remove the file you just downloaded.
Confirm file removal by clicking the Delete button again.
How to Install IPTV Smarters on iOS
As we've established, IPTV Smarters is an unofficial app unavailable on the App Store. Consequently, you'll need to sideload the app to your iOS device to stream from supported IPTV providers.
Sideloading apps to iOS can sometimes require jailbreaking. However, finding alternatives is best so you don't have to change your device's core OS.
The first step to sideloading IPTV Smarters on your device is to set up a sideloading app. Here's how to do it.
Part 1: Prepare iOS Device to Sideload IPTV Smarters
You'll need two apps to sideload IPTV Smarters Pro to your iOS device: AltServer and AltStore.
To install AltServer, you'll need a good internet connection, a secondary Apple ID so you're not locked out of your device by Apple security mechanisms, and a lightning cable. The installation process is pretty straightforward. Just go to the alstore.io link and install the app. Remember to use the secondary Apple ID details.
Next, install AltStore on your iPhone. To do this, you'll need to sync your iPhone and PC and launch iTunes on your iPhone. After your PC and iPhone sync, open AltServer on your PC. Click the Install AltStore option, then select your iPhone from the list. AltStore will install on your iPhone. Ensure you confirm installation by checking your iPhone's VPN and Device Management section.
Part 2: Sideload IPTV Smarters Pro on iOS
After setting up AltStore on your iPhone, install the IPTV Smarters Pro app. Follow the steps below:
Enable Developer mode on your iPhone.
Next, open AltStore.
Navigate to where downloaded files are stored.
Search for the IPTV Smarters Pro IPA file.
Click on it to begin the installation.
Wrapping Up
IPTV Smarters Pro is an excellent media player for IPTV services without stand-alone apps. This app has several high-quality features, including a simple and clean interface, dynamic language switching, a search button, VPN integration, and automatic or manual clear cache support. It is compatible with various platforms and devices, works with audio and video files, and has a built-in speed test tool to measure your internet connection strength.
It only takes a few uncomplicated steps to install IPTV Smarters on FireStick. Do you have this app installed on your device? Please share your experience of the app in the comments below.