In this post, I will introduce you to the best VPN for FireStick. The same VPN and instructions also apply to Amazon Fire TV, Fire Stick 4K, and Fire TV Cube. You will also learn why it is important to have a VPN on FireStick. This post also provides instructions to install, set up and use the best FireStick VPN.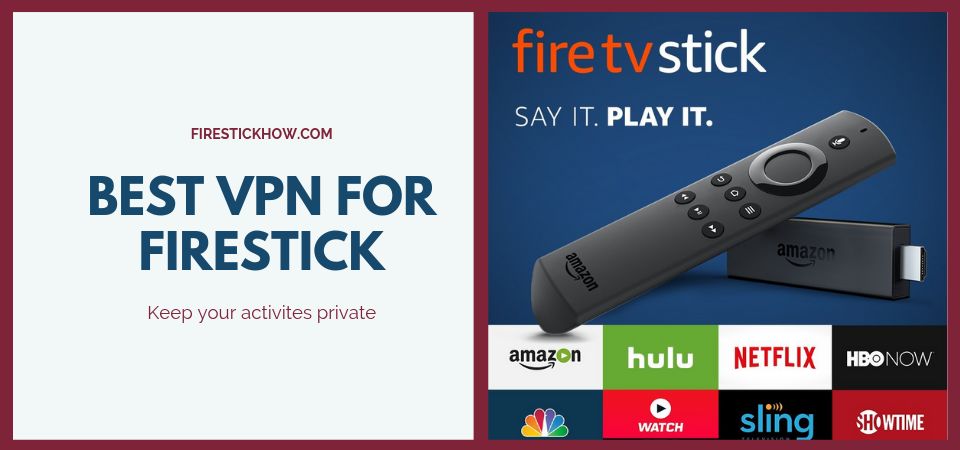 Over the years, Fire Stick has become the most widely used streaming device. It is a cost-effective way to transform your regular TV into a smart TV. This Android-based device is a perfect option to watch Movies, Shows, IPTV, and just about everything you could stream over the internet.
FireStick is great. But when you connect it to the internet, just like any other device, it gets exposed and becomes vulnerable to online monitoring, identity theft, and government surveillance. We hear a lot about privacy breaches these days. I am convinced that there is no smoke without fire.
It gets more worrisome when you stream with popular tools like Kodi and third-part apps like Cinema APK, Mobdro, etc. We don't encourage the violation of copyright laws. Always watch free content available in the public domain. But, we also know that your privacy is paramount.
Thankfully, you can use a VPN and put your worries aside. A VPN shields your internet activities with an unbreakable encryption protocol. It masks your IP address and lets you connect to the Internet privately and anonymously. FireStick VPN is essential for the streamers. In the following section, you will learn why. Keep reading!
Best VPN for FireStick 2021
If you are in a hurry, here's the quick overview of the top VPN for Amazon FireStick. You can keep reading for the detailed discussion of all the features, installation, and set up process.
Jurisdiction
British Virgin Islands
Money-back guarantee
30 Days
Works with
Kodi, Netflix, Torrenting, Amazon Prime Video, BBC iPlayer, Sky, Hulu, HBO
Likes
VPN Servers in 94 Countries
Super fast speed – great for streaming
Great No Logs Policy
Unlimited Bandwidth
Secure 256-bit encryption
Network Lock (Killswitch)
Allows P2P and torrent use
Unblocks Netflix and BBC iPlayer
5 simultaneous connections
24/7 Live chat support
Bitcoin payment accepted
30-day money-back
Why Do You Need a VPN for FireStick?
VPN is a must for Fire Stick because it gives you the freedom to stream whatever you want without staying concerned that someone might be watching. It gives you complete peace of mind.
Online Surveillance is happening and everything we do on the internet is being monitored. Do you know that your ISP has complete access to your online activities and it is compelled to share all your details if the Government asks? This is a breach of privacy and trust. Thankfully, with a VPN, you encrypt your Internet connection and hide your activities. It lets you maintain your privacy.
A VPN also helps you bypass ISP Throttling, which is a practice common among most Internet providers. Your ISP is free to slow down your internet connection and throttle your bandwidth in order to regulate traffic and reduce bandwidth congestion. It is usually your streaming activities that are affected due to this practice. As a result, you experience slow streaming and buffering issues. However, when you use a VPN while streaming, your ISP has no way of knowing whether you are streaming or doing something else. Hence, they cannot cut down your internet bandwidth.
Bypassing geo-restrictions is another great advantage of having a FireStick VPN. Netflix and many other streaming platforms limit access to some of their content within specific regions. If your IP address is not from those regions, you cannot watch the geo-restricted videos. However, with a VPN you can connect to one of the servers in the geo-restricted region and channel your internet through the IP address of that region. In other words, you can unblock region-restricted content.
A VPN also lets you avoid any legal troubles. When you use apps like Kodi or Cinema APK, you may inadvertently access copyrighted content. This may have your Internet connection flagged and get you involved in legal issues. With a VPN, you have nothing to worry about.  VPN will mask all your internet activities and it cannot be traced back to you.
ExpressVPN – Our Pick for best FireStick VPN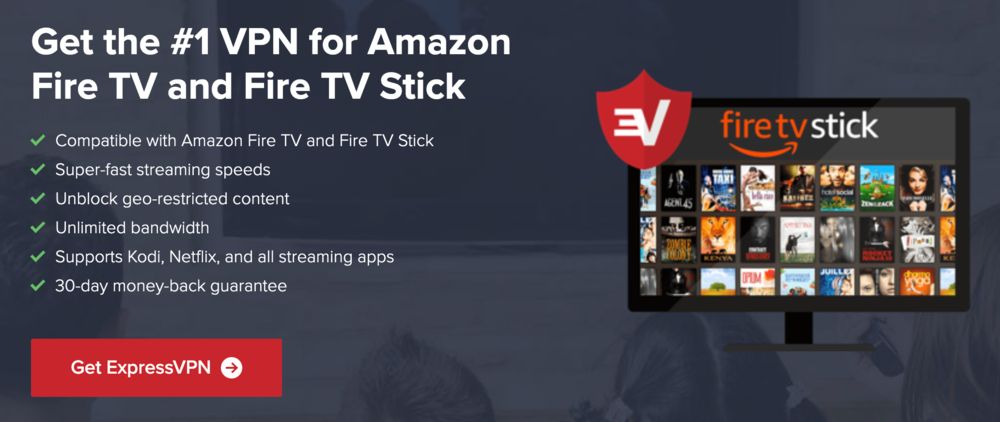 High-speed connectivity and ironclad security protocols make ExpressVPN an unmistakable choice as the best VPN for FireStick.
We conducted numerous tests over several server locations and ExpressVPN emerged as the fastest VPN. It is a perfect companion to those who want to stream safely and privately.
ExpressVPN has servers in over 160 locations in more than 90 countries. This gives you plenty of connection options and also lets you bypass geo-restrictions and unblock content from any region of your choice.
ExpressVPN uses military-grade encryption technology and safeguards your streaming activities from anyone who could be snooping. The highly effective Kill-Switch technology instantly blocks internet connection when you get disconnected from the VPN server. This, in turn, makes sure your IP address is never leaked.
The company maintains a strictly zero-log policy. It is headquartered in the British Virgin Islands, which places it outside the jurisdiction of any surveillance alliances of the world.
The lightweight ExpressVPN app for Amazon Fire TV Stick does not make its presence felt while you are connected and streaming safely. It goes well with all your streaming apps for FireStick – official or third-party. The app is available on the Amazon Store and it is incredibly easy to set up and use.
Split Tunnelling feature of ExpressVPN lets you decide which apps you wish to connect through the VPN servers and which ones you would like to go online directly through your ISP.
Several payment modes are available including PayPal and Credit Card. If you are looking to go even discreet, Bitcoin transactions are also supported.
ExpressVPN also has round the clock customer support to answer your questions or concerns via Live Chat and Email.
All in all, ExpressVPN is a wonderful choice as the best VPN for FireStick.
Reader's Deal: For a limited time, you can get 3-months free on ExpressVPN's annual plan. All the plans come with a 30-day money-back guarantee and offer up to 5 simultaneous connections.
How to Install ExpressVPN on FireStick
ExpressVPN is available on Amazon Store and you can install it within minutes. Here are the detailed instructions to get started with ExpressVPN on FireStick:
1: The first thing you want to do is get ExpressVPN subscription. Click HERE to get the ExpressVPN service
2: Turn on your Amazon Fire TV or Fire Stick. When the home screen appears, select the magnifying glass icon in the upper-left part to open the Search function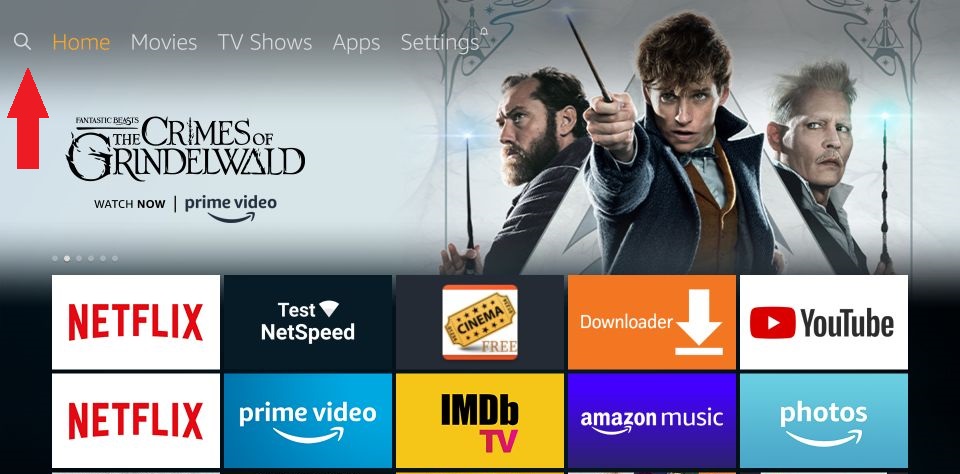 3: Type ExpressVPN using the onscreen keyboard to search for its FireStick app. Click the app name in the search results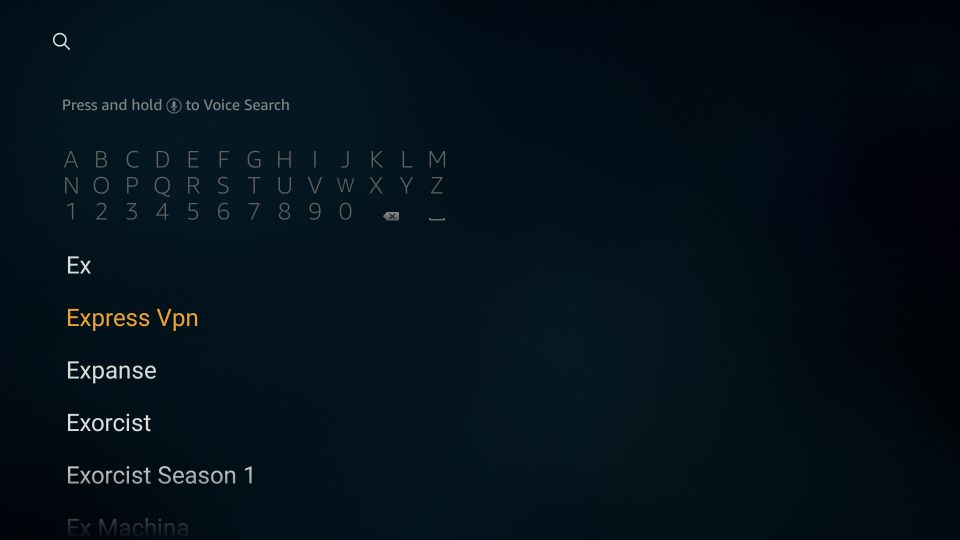 4: You should now see the following window with ExpressVPN in the Apps & Games section. Click the icon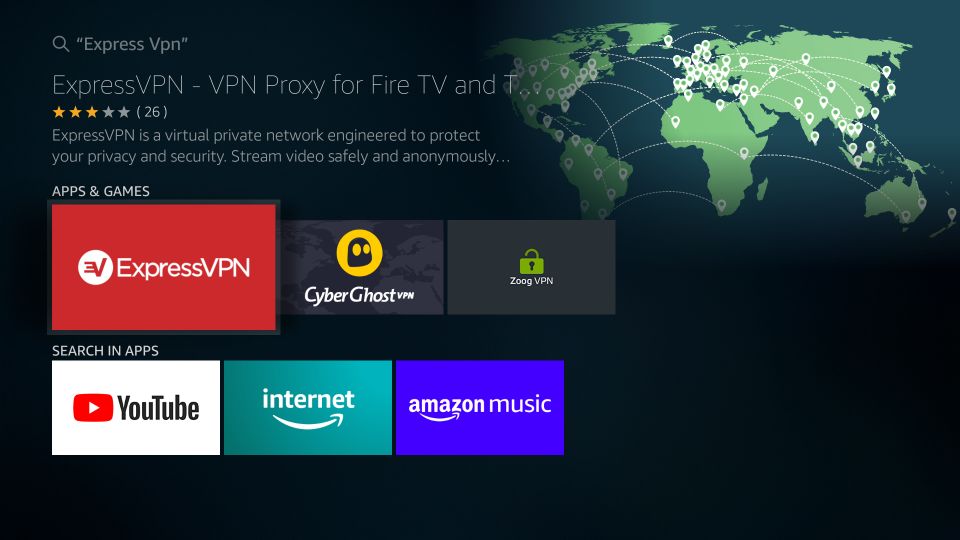 5: Click Get (if you are installing ExpressVPN for the first time). If you don't see Get, click Download instead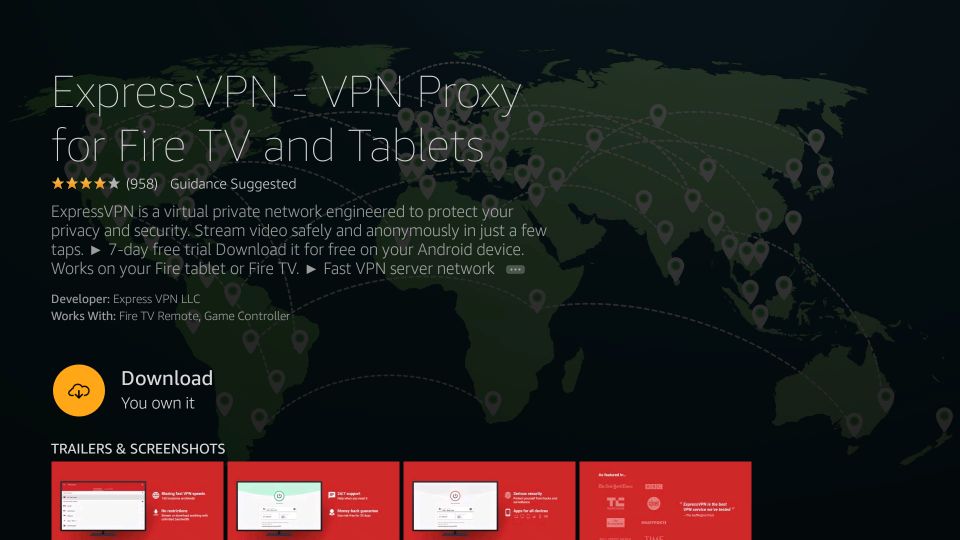 6: Wait for ExpressVPN to download and install. It shouldn't take more than a couple of minutes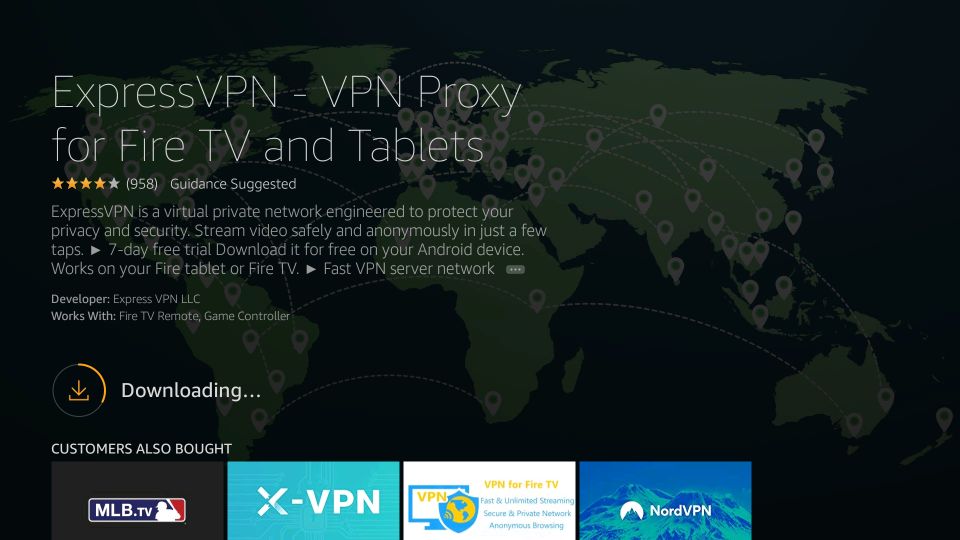 That's how you get ExpressVPN on FireStick
How to use ExpressVPN on FireStick
Go ahead and open ExpressVPN. Now, follow these steps:
1: Click Sign In button when this first window is displayed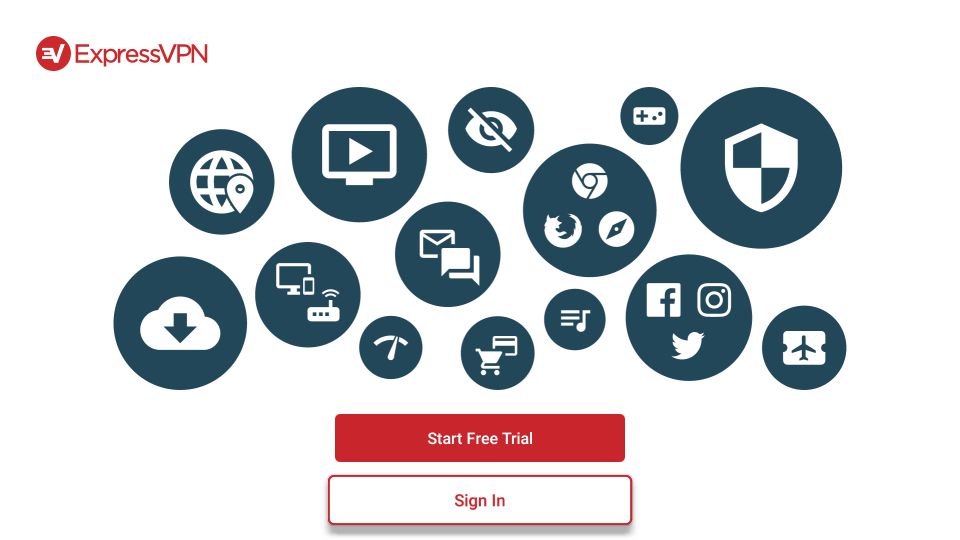 2: Enter the email address you used while buying the ExpressVPN subscription. Also, enter the ExpressVPN password you chose during signup
Click Sign In


3: Choose No Thanks when this prompt is displayed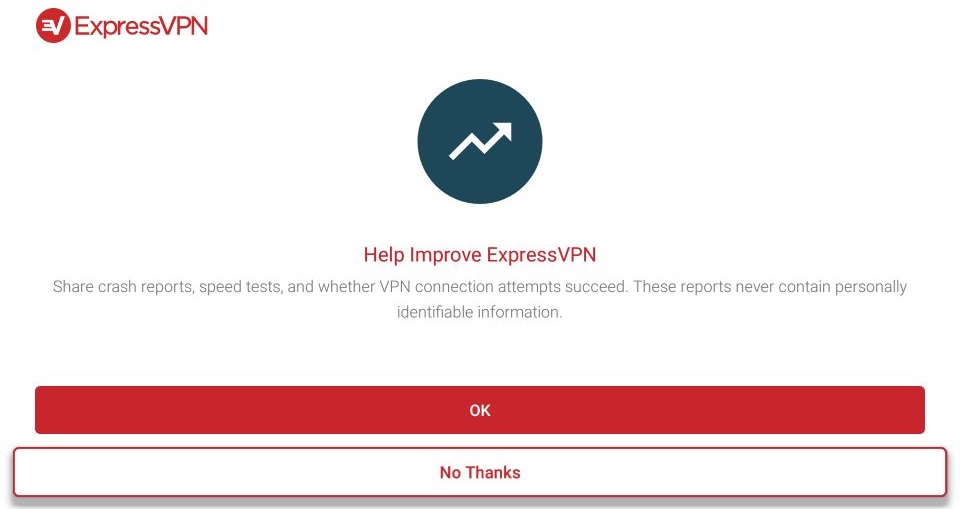 4: ExpressVPN now tells you that your Fire Stick will ask for permission to complete the setup.
Click OK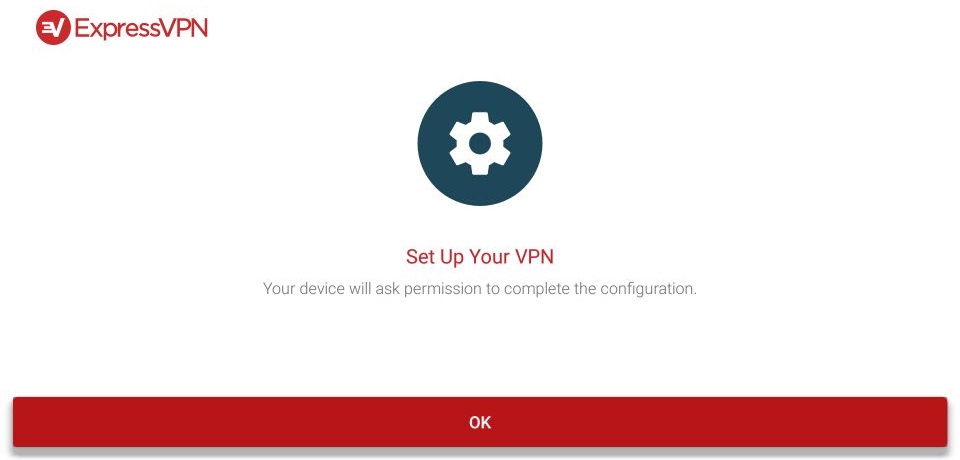 5: You must now see this Connection Request window. Go ahead and click OK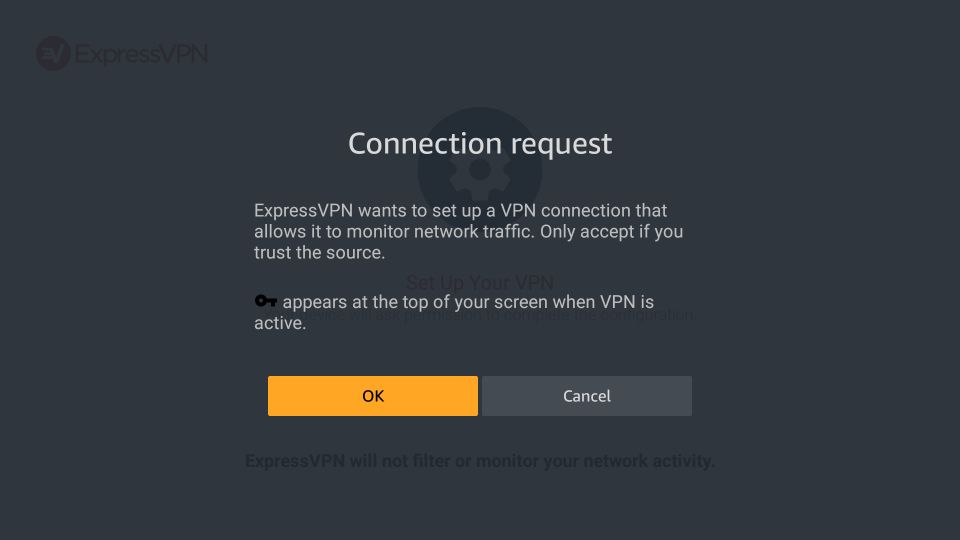 6: The straightforward interface of ExpressVPN lets you connect to the default Smart Location with just a push of the button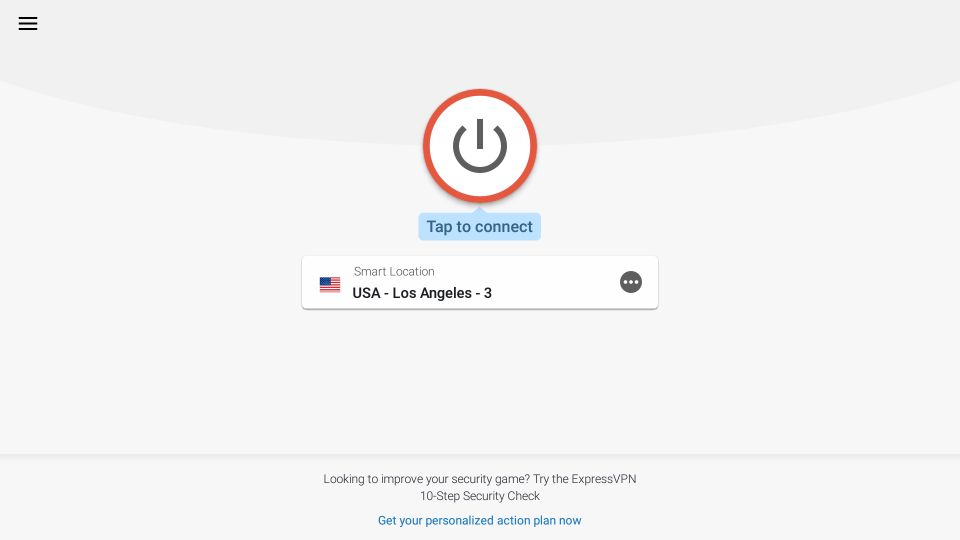 If you do not wish to connect to the recommended location, you could choose a different one. Just click the Smart Location option
7: You may now choose from one of the two tabs: Recommended and All Locations
Recommended tab has a bunch of handpicked server locations
All Locations tab lets you explore all the locations and servers
Let's go with All Locations for now
Here, you may pick one of the available regions


8: Once you have picked a region, you can explore the cities/server locations country-wise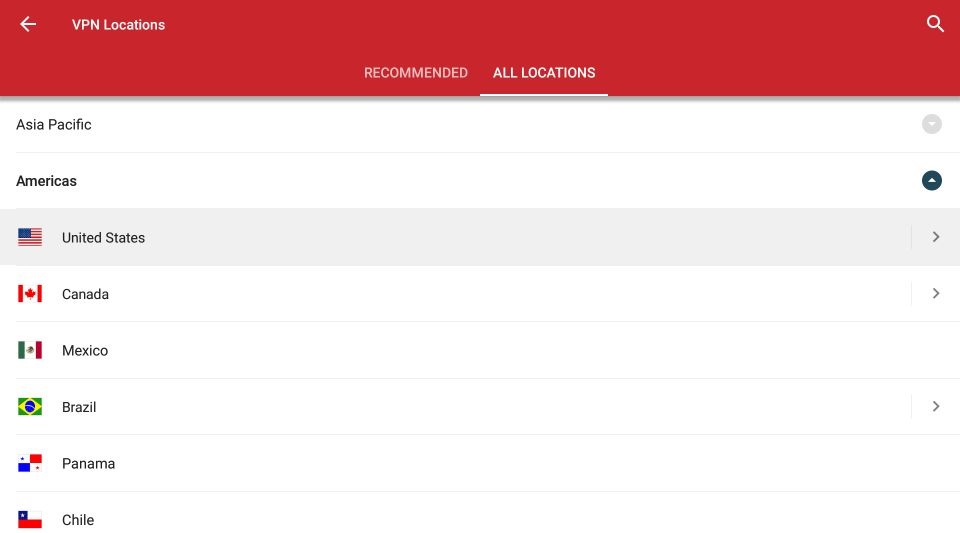 Best ExpressVPN Settings for FireStick
Let us now explore the ExpressVPN settings and get the best configuration for FireStick. Here are the steps:
1: Click the Hamburger Menu (3 horizontal lines) in the upper-left corner of the main window of ExpressVPN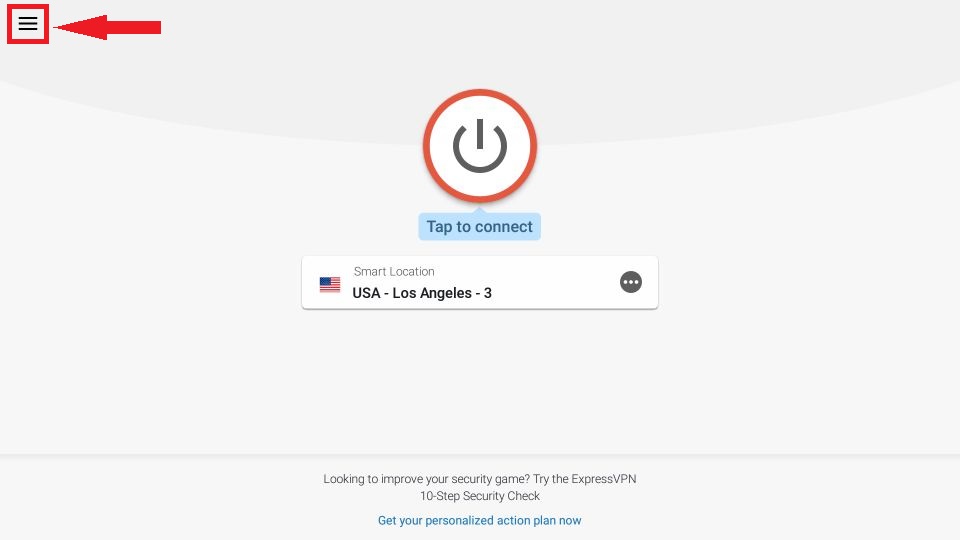 2: Click Settings on the following window

3: Here is the Settings window. We need to concern ourselves only with the options under VPN Settings
I have provided a brief summary of each option right after the following image

– VPN Protocol: There are three options, Automatic (Recommended), UDP and TCP. Automatic is the default selection and it is also the best option for FireStick
– Connect on Android Startup: If you would like to connect ExpressVPN to the last connected location every time you reboot your FireStick, go ahead and enable this option. If you like to connect manually, leave it as is
– Split Tunnelling: This option lets you decide which apps use ExpressVPN and which do not when you are connected to a VPN server. It has three options: All Apps Use the VPN (default), Do Not Allow Selected Apps to Use the VPN, Only Allow Selected Apps to Use the VPN
– Network Protection: This is the section where you can enable or disable the Kill Switch. It is disabled by default but I highly recommend turning it on for complete network protection. Kill Switch blocks internet connectivity on your FireStick when you are unable to connect to VPN server, have been accidentally disconnected, you are trying to reconnect, or you are switching VPN servers.
This section has another option Local Network that lets you stay connected to local devices, such as printers, FTP, when the VPN is ON. It is enabled by default and I recommend keeping it that way
Why ExpressVPN?
There are hundreds of VPN providers out there and every single one of them claims to be the best. Zeroing in on one VPN wasn't easy. It took us extensive research and hundreds of tests to finally arrive at this conclusion. Of course, in the end, ExpressVPN emerged as the most obvious choice.
Initially, I was thinking about lining up the top 5 or 10 best VPNs for FireStick, like the others. However, I believe, multiple options without any clear choice only add to more confusion. Therefore, after the painstaking process of testing multiple VPNs such as IPVanish, NordVPN, CyberGhost, ExpressVPN, I made this choice.
Here are some of the reasons why ExpressVPN is the best VPN for FireStick.
1: Speed
ExpressVPN is widely considered as the fastest VPN. We put those claims to test and were convinced of their validity.
No VPN can offer 100% of the original speed of your connection. But ExpressVPN gets very close by going as high as 95%. I consistently achieved the speed of 95-96 Mbps on various ExpressVPN servers on a 100 Mbps connection. IPVanish and CyberGhost could barely manage 70-75%.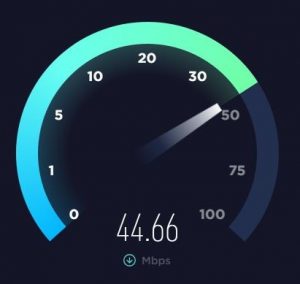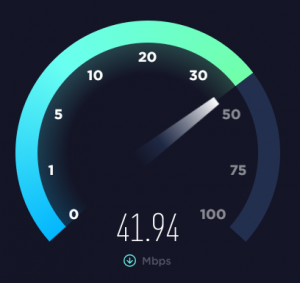 All ExpressVPN servers are not as fast. Speed depends upon the server you are connected to and its proximity from your location. However, compared to the same server locations of other VPN services, ExpressVPN servers are faster.
2: Encryption and Security
ExpressVPN uses the OpenVPN powered by the AES 256-Bit encryption protocol. It is the strongest encryption technology in the world. It is also used by the US Military.
ExpressVPN also comes with several important security and privacy features that make sure your online activities are never compromised. It has the Kill-Switch feature that instantly blocks your internet connection when you get disconnected from the VPN server. ExpressVPN also offers complete protection against DNS Leak, IP Leak, and WebRTC Leak. The Split Tunnelling feature of this VPN lets you choose which apps you want to connect to a VPN and which you do not.
3: Zero Log Policy
ExpressVPN is headquartered in the British Virgin Islands where there are no data retention laws. ExpressVPN maintains a strict and unwavering Zero-log policy. Even if they are forced to, they will have nothing to disclose.
4: Easy to use app
ExpressVPN app for Amazon Fire TV Stick is probably the easiest to use. All you have to do is push a button and get connected either to the last connected location or the app recommended location. The app also lets you quickly and easily choose any other server in any location.
5: Jurisdiction
As I told you, ExpressVPN is based in BVI, which does not fall under any major or minor surveillance alliance such as 5, 9 or 14-Eyes. Your online activities are completely safe.
6: Customer Service
ExpressVPN offers round the clock support via Live Chat and Email. Only a very few VPN services provide Live Chat service. It could be very handy if you wish to get instant support, which is not possible via email.
7: 30-Day Money-back Guarantee
ExpressVPN offers a 30-day full refund guarantee. It gives you ample time to test and try it. However, if you intend to use a VPN for FireStick, I am confident you will not feel the need to go for the return.
Best VPN for FireStick: Final Words
Now that you know the benefits of having a FireStick VPN – more specifically ExpressVPN – the next step would be to get yourself a subscription. It will only take minutes to safeguard your streaming activities on your favorite device.
The good thing about ExpressVPN is that it gives you a 30-Day return guarantee. You can take the VPN for a test drive. You will see it for yourself how ExpressVPN makes streaming a better experience, especially because you don't have to worry about online safety anymore. Go ahead and give it a try!