This tutorial will show you how to jailbreak FireStick. By jailbreaking your FireStick, you will gain free access to unlimited movies, shows, sports, live TV and much more. You can jailbreak FireStick 2nd/3rd Generation, FireStick 4K, Fire TV Stick Lite, and your Fire TV Cube with the help of this guide.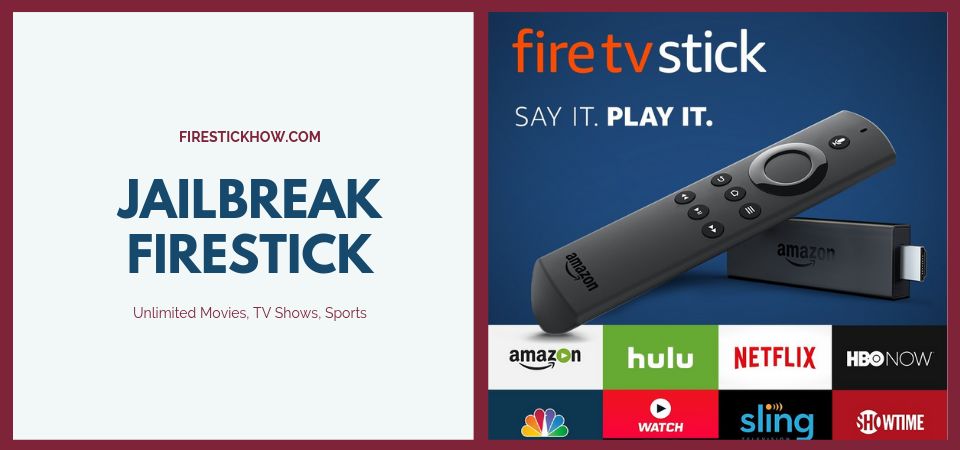 Amazon FireStick is the most popular and most cost-effective streaming device these days. This streaming tool is so incredibly simple that you just need to plug it into your TV through the HDMI port, set it up on the first run, and start streaming right after that. With Netflix, Hulu, Amazon Prime, there is truly no dearth of media sources. However, you must pay the subscription fee to each service in order to watch the content you desire.
This is exactly where jailbreaking comes into the picture. When you jailbreak FireStick, you allow yourself access to free content without having to pay any subscription fee.
What is Jailbreak FireStick
Jailbreaking is a simple process of installing some third-party apps onto FireStick.
When you jailbreak your phone, you modify the core files of the operating system. However, that's not the case with FireStick. You are not touching any system or core files. You are simply installing some apps.
Honestly speaking, it is not jailbreaking. Some FireStick resellers started this term (jailbreak) as a selling strategy, and now more and more new FireStick users lookup for the jailbreaking of FireStick. Hence we named the article so. This helps users get to the right content.
Why should you Jailbreak your FireStick?
You have every reason to jailbreak your FireStick. First of all, it will give you unrestricted access to tons of content. You can watch just about whatever you want to.
Secondly, jailbreaking does not change your FireStick irreversibly. It is completely safe.
When I first heard of jailbreaking FireStick, it sounded a little overwhelming. I am not a geek. I am a simple user seeking avenues for entertainment and with limited technical know-how. But it didn't take me long to realize that there is truly nothing technical or complicated about jailbreaking at all. In fact, technically speaking, it is not even jailbreaking.
We are not modifying the original Amazon OS or installing manipulated firmware. Jailbreaking FireStick is as simple as installing apps on your device. Yes, all we are going to do is install third-party apps. Jailbreaking is 100% safe, legal, and risk-free.
Is it legal to jailbreak FireStick?
As I said, jailbreaking is a 100% safe and legal process. You are simply installing some third-party apps on your device. Since you own your FireStick device, you can do whatever you like with it.
I have used the jailbreak app Kodi in this guide. Kodi itself is a completely legal app. In fact, it is available on Google Play Store and Microsoft Windows Store. Only legal apps are allowed in these stores.
However, streaming copyrighted content isn't legal. So be sure not to indulge in unauthorized streaming and stick to the content that is available in the public domain.
How to Jailbreak FireStick
In the following section of the guide, I will show you how to jailbreak your Amazon Fire Stick and start streaming all your favorite movies, TV shows, Live TV, and sports content. The whole process is simple and can be performed by any non-techie person. All you have to do is follow the simple step-by-step instructions given below.
Attention FireStick Users: Read before you continue
Your streaming activities are probably getting monitored constantly by your Government and your ISP. If you are caught streaming copyrighted videos on your FireStick, you are likely to get into serious legal trouble.
Your IP address 49.15.138.244 is exposed to anyone who is watching. That is how they will track you. Therefore, I strongly recommend that you get a trusted VPN for Firestick right now and hide your online identity.
I am using ExpressVPN on all my devices as it is the most reliable, most secure, and the fasted VPN in the market. You can easily install and set up ExpressVPN on FireStick or any other device within minutes.
ExpressVPN offers you a money-return guarantee of 30 days. Also, you can claim 3-months free and save 49% on its annual plans.
READ:
How to install and use VPN on Amazon FireStick / Fire TV
1. Set up FireStick for Jailbreaking
FireStick jailbreak involves the installation of third-party apps. The security system of FireStick is designed to prevent the default installation of such apps. However, you can always change the security setting and allow the device to install any third-party apps you like.
In this guide, we will only install trustworthy, tested, and safe apps. I use them every day and confidently vouch for their safety.
Follow the steps to change security settings before you jailbreak FireStick:
1) Select Settings from the menu bar on the top, on the home screen of your Amazon FireStick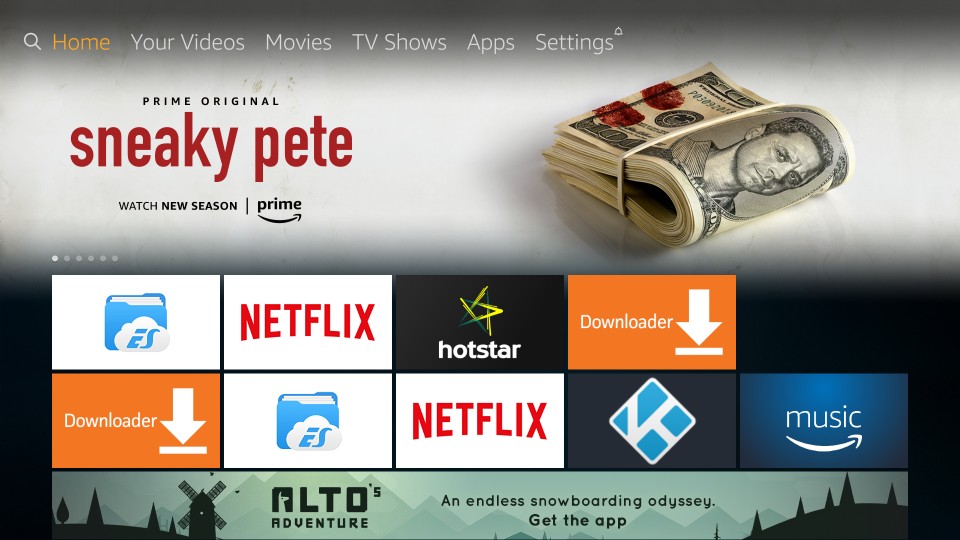 2) Click My Fire TV (or Device if you still have an older FireStick OS)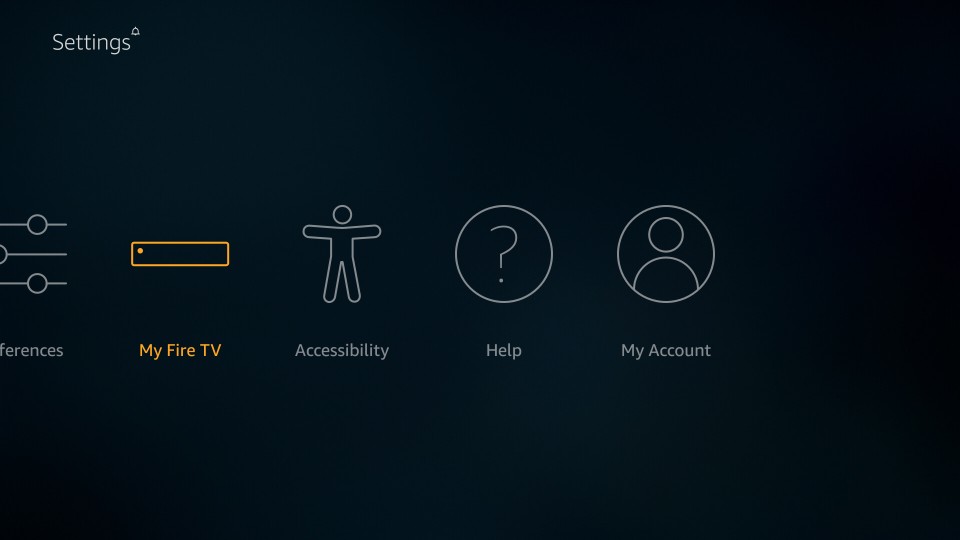 3) Click Developer Options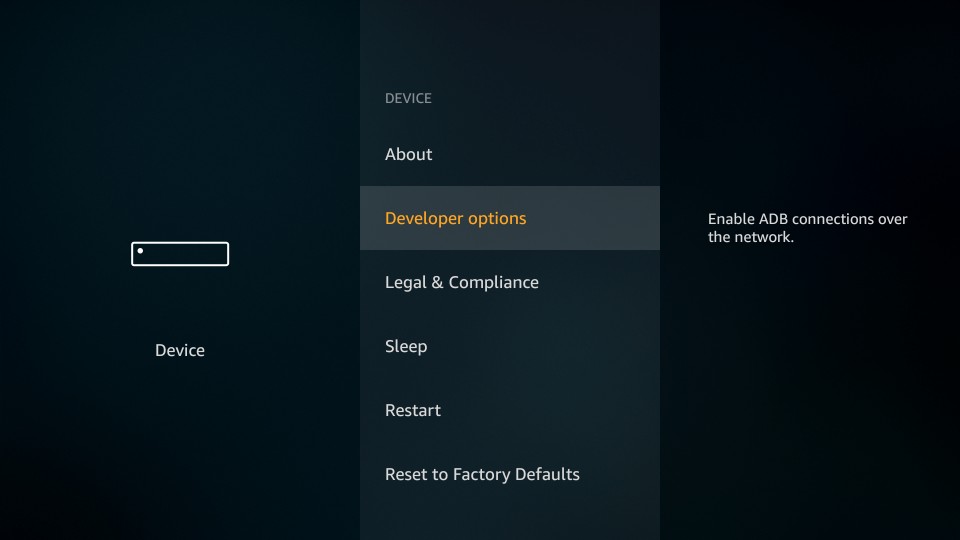 4) Make sure Apps from Unknown Sources is ON. If it is OFF as you see in the following image, click it to switch it ON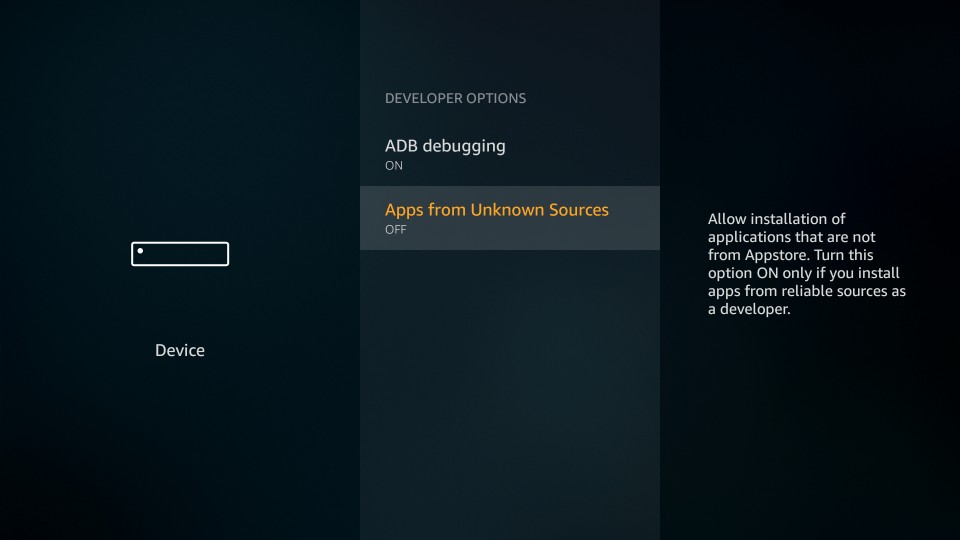 5) Choose Turn On to continue. Don't worry about the warning because the jailbreaking process we are going to perform is a hundred percent safe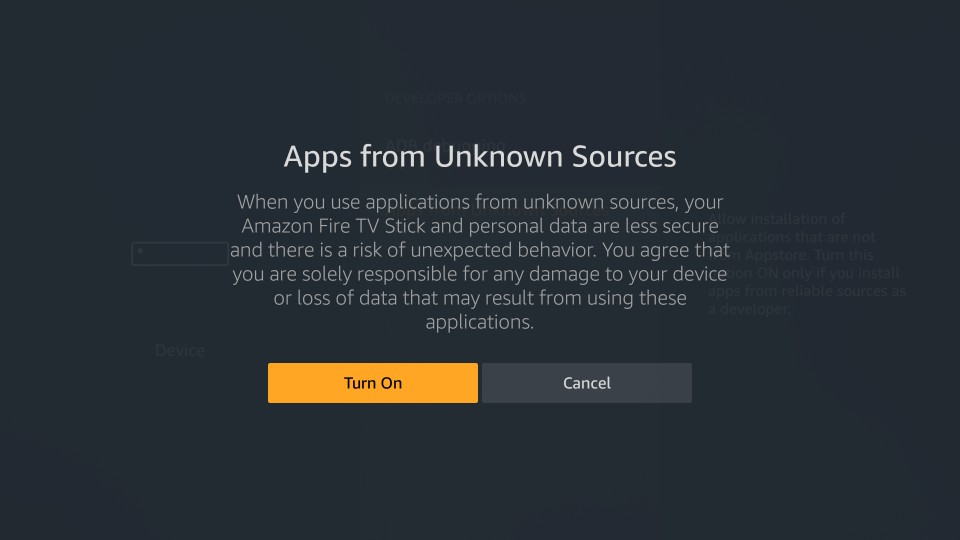 We can now continue with the process of FireStick jailbreak.
#2: Install Downloader App on FireStick
To install any third-party apps, you must first download its APK from the source. Due to security reasons, Amazon FireStick does not support file download directly through browsers like Silk Browser, Firefox etc. To enable the download, you need an additional app.
There are a bunch of such apps for FireStick, but none quite like Downloader. This app is incredibly easy to install and use. And, it is available on the Amazon App Store. So, let's first download and install the Downloader app on your device:
1) From the home screen of your FireStick device, choose the lens icon in the far top-left to open the Search function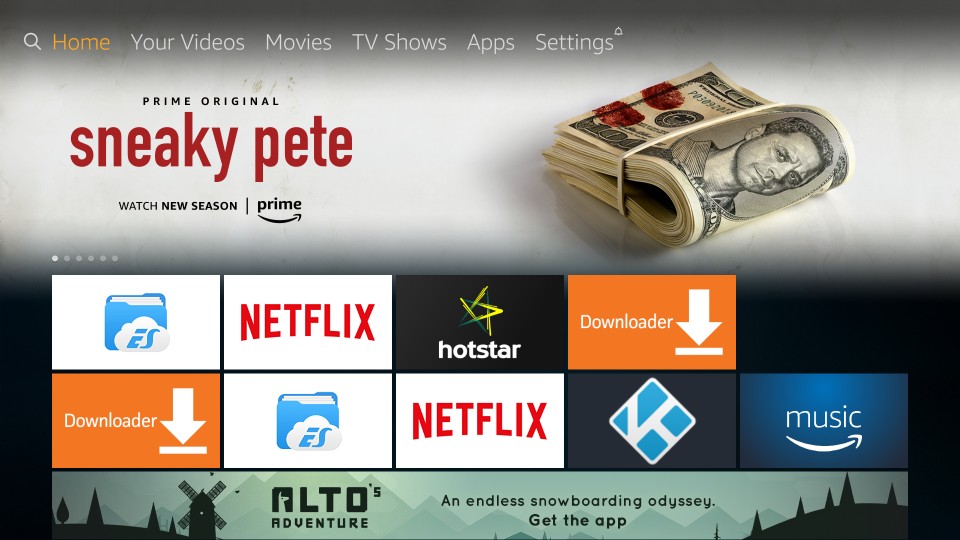 2) Now look up for Downloader app using the onscreen keypad and click it in the search results below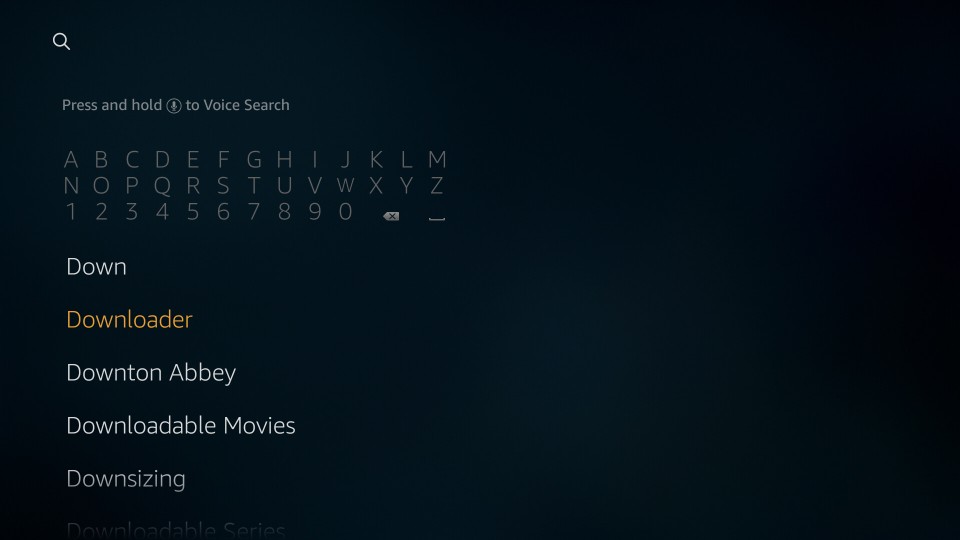 3) Choose the Downloader icon on the following window. Now, click Download when you see the screen like this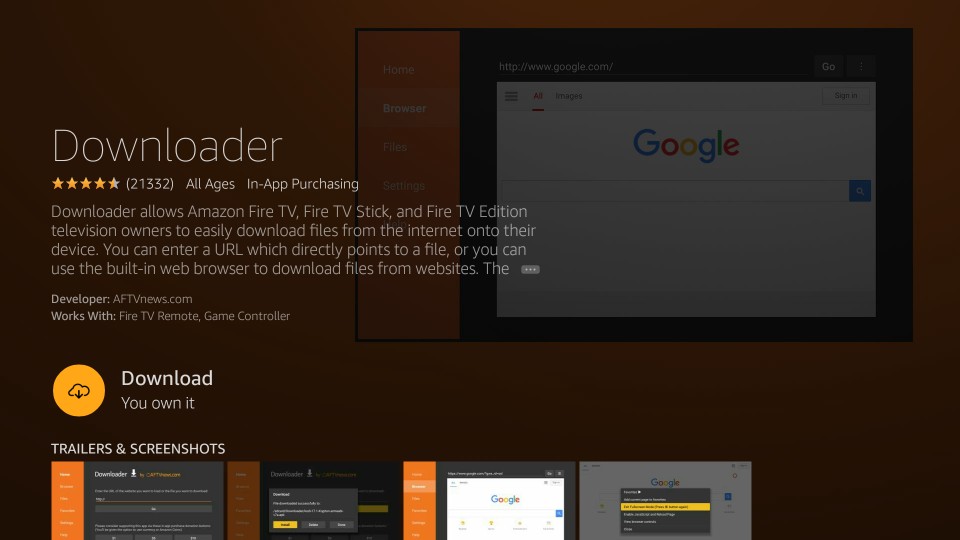 4) Wait while the Downloader app is downloaded and installed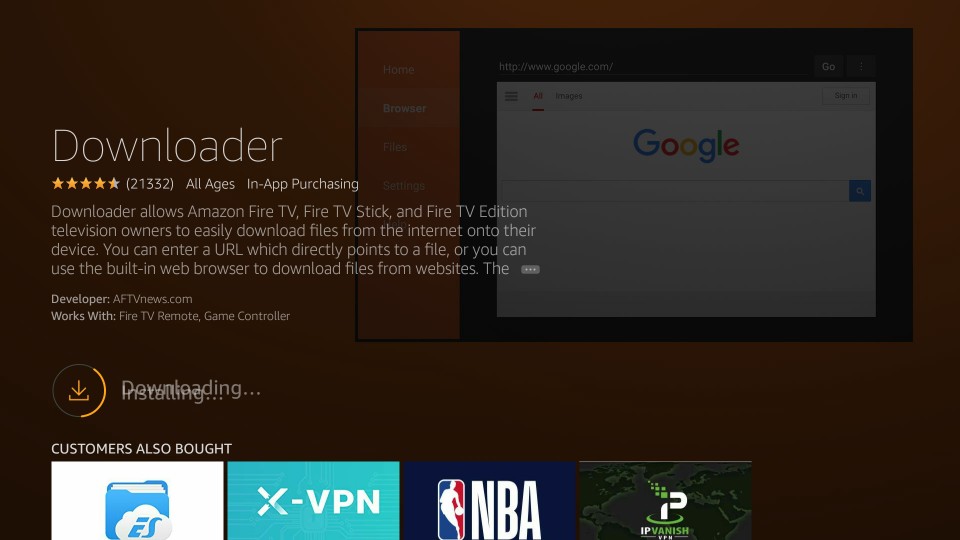 5) You may now click Open and run the Downloader app. If you want to use the app later, you can run it from the Your Apps & Channels segment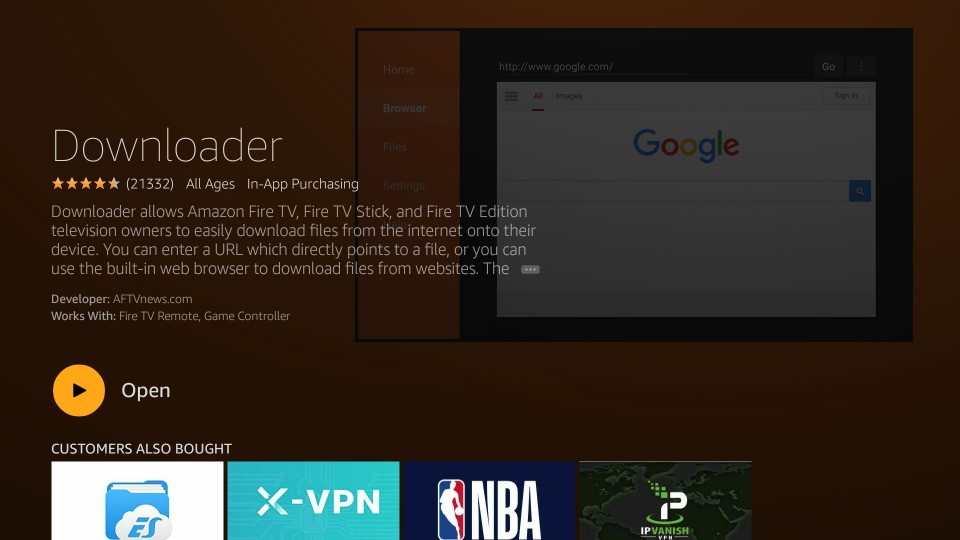 #3: Install Kodi to Jailbreak FireStick
This is the last part of the process where you install Kodi to jailbreak FireStick. We will use the Downloader app we just installed to get Kodi.
Kodi is a media player that can play videos and music both from your local storage and from online sources. However, the true potential of Kodi lies in enabling free online streaming. This media player is hugely popular because it gives you access to unlimited free entertainment through various Addons and Builds.
Since Kodi is a third-party app and not available on the Amazon Store, we will sideload it with the Downloader app. Kodi is a safe application in itself. In fact, it is available through various official channels on some platforms like Google Play Store for Android and Microsoft Store for Windows 10.
Here is how you install the latest stable version of Kodi (one of the iterations of v18) on FireStick:
1) Run the Downloader app and click the URL field on the right part of the window (which is by default populated with 'http://')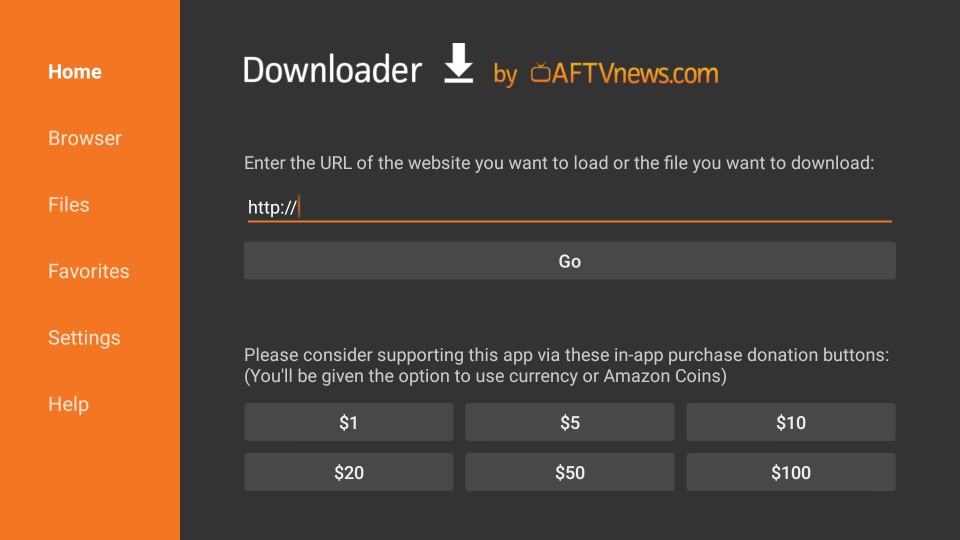 2) Downloader will now display an on-screen keyboard. Use this keyboard to enter the following URL: https://www.firestickhow.com/kodi
Click GO to start downloading the Kodi 18 Leia APK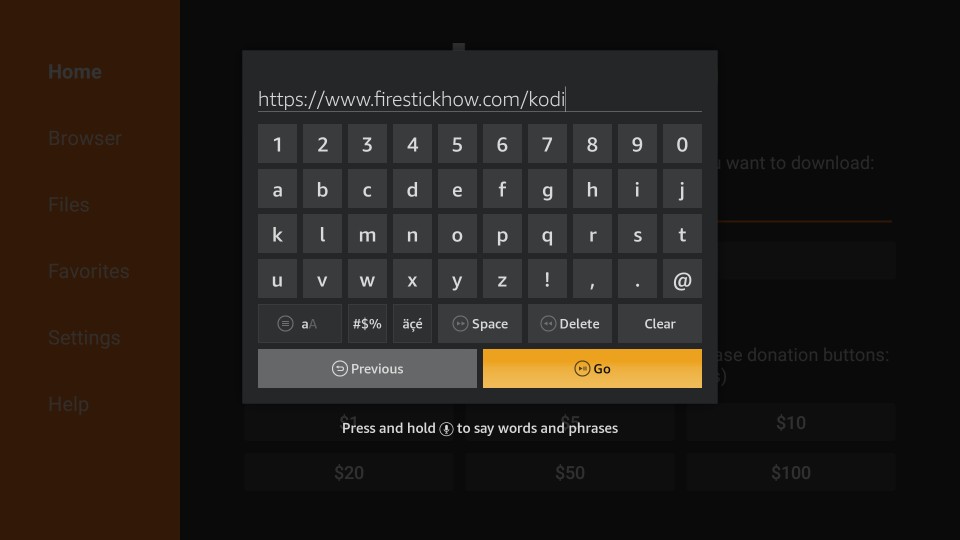 3) Downloader app will establish a connection with the server in which the APK is stored and within a few seconds start downloading the Kodi APK file.
Wait for the file to download. This may take a few minutes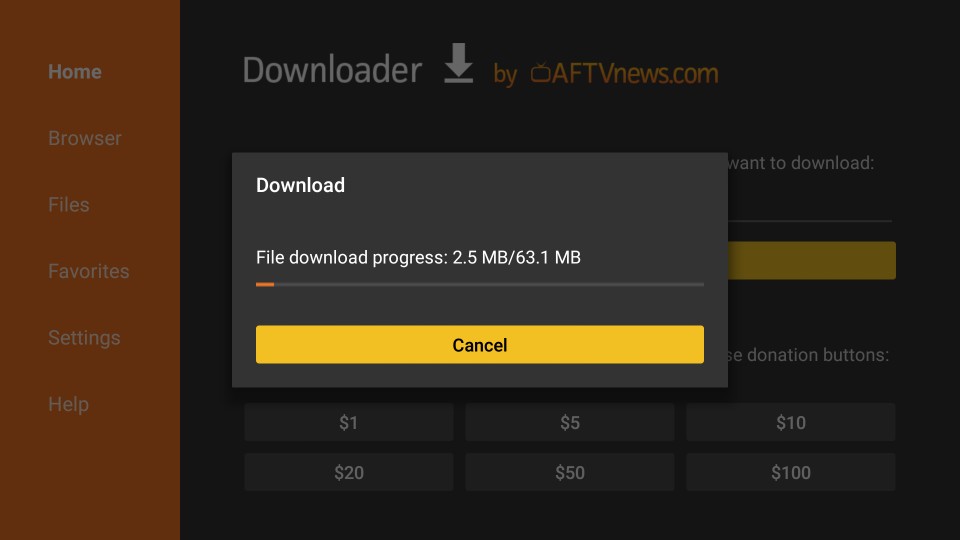 4) You should now see the window with the Next button on the bottom right. Scroll down a bit and you will see the Install button instead in its place.
Click Install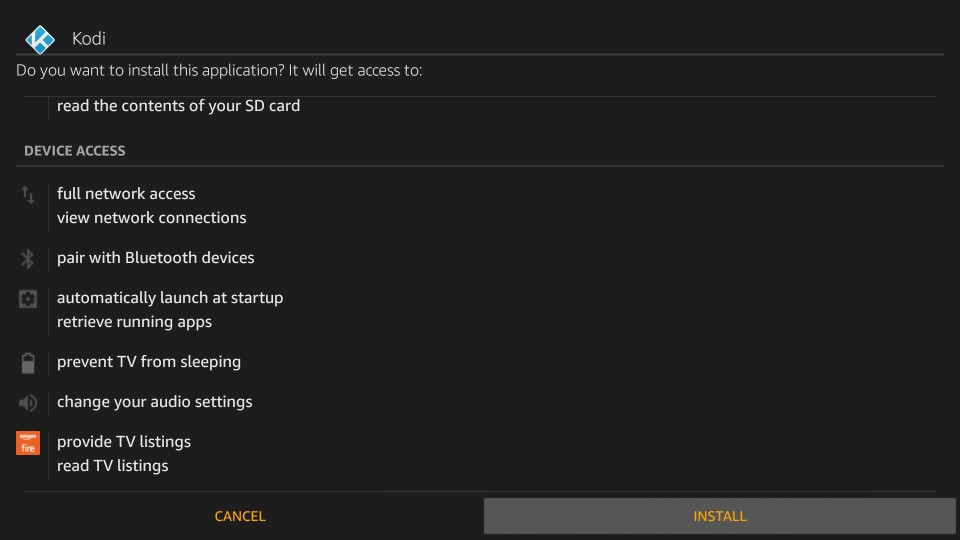 5) Kodi will take about a minute to install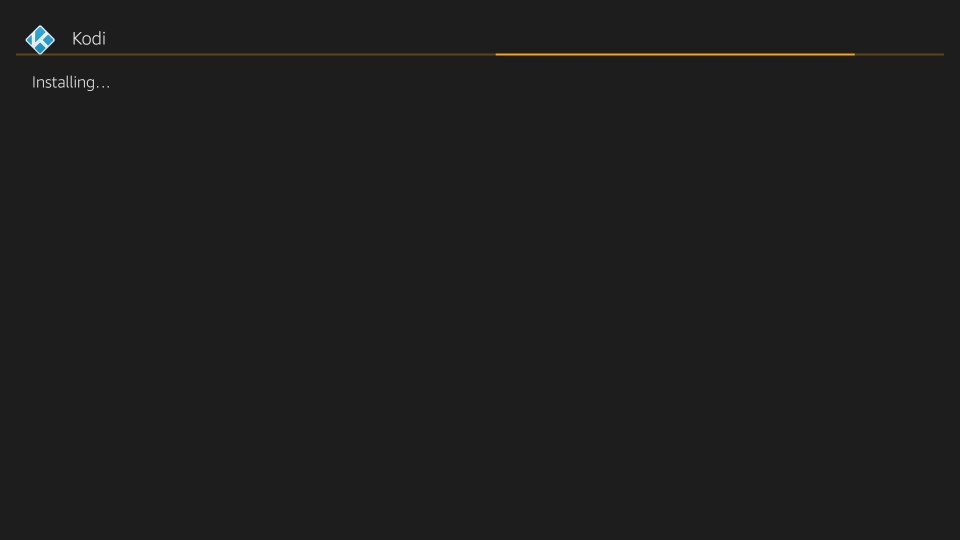 6) You should now see the App installed message. This means you have successfully installed Kodi on FireStick. You may choose Open and run Kodi. You may also choose Done to run Kodi later from the Your Apps & Channels section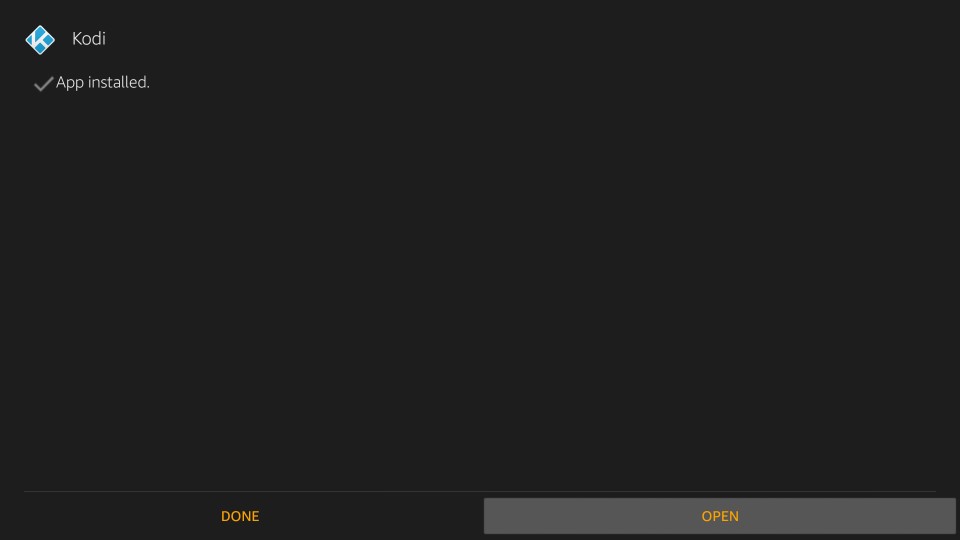 Here is the home-screen of Kodi. Don't worry if it looks complicated. Things will appear similar as you will progress through this guide.
How to Use a Jailbroken FireStick
Jailbreaking FireStick was just the start. There is so much more you can do with your device now. You can now unravel the limitless world of entertainment.
As I said earlier, Kodi is a media player, which plays both local and online content. But, the real fun lies in the online streaming of your favorite Movies, TV Shows, Live TV, Sports, and so much more.
However, before you start using your jailbroken Fire Stick for online streaming, there is something incredibly important you must know. All your online activities are subject to surveillance and monitoring by your ISP as well as your Government. Streaming licensed or copyrighted videos for free could land you in legal trouble.
The good news is that you can hide all your online and streaming activities from anyone who might be watching and that includes your ISP, Government or any third-party entity. What you simply need is a suitable VPN for your FireStick. With a VPN, you can stream with complete peace of mind as it will encrypt your internet connection and keep it hidden from the prying eyes.
I am not encouraging you to stream content illegally. I do not condone such activities. However, your privacy matters and it must be maintained. What if you do not intend to stream copyrighted content and still end up doing it anyway? You would not want to be penalized for an unintentional mistake.
I have been using ExpressVPN for a long while and confidently recommend as the best, fastest and safest VPN for your FireStick. This streaming-friendly VPN works perfectly with Kodi.
Now that you know you must use a VPN with Kodi and FireStick, let me show you how to get it.
1. Subscribe to ExpressVPN: Click HERE to subscribe to ExpressVPN. You can save up to 49% on the annual plan. ExpressVPN also offers a 30-Day full refund guarantee in the event you are not satisfied with it. However, if you intend to use a VPN, I don't see any reason why you would want to opt-out of it.
2. Look up for ExpressVPN on FireStick: You can download ExpressVPN from Amazon Store. From the home-screen of your FireStick, select the Search function (top-left) and look up for ExpressVPN.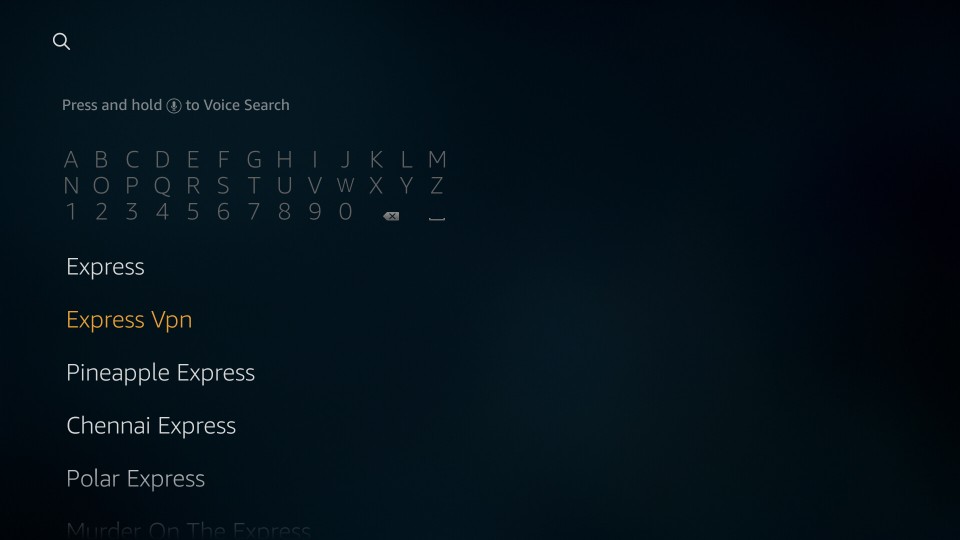 3. Download & Install ExpressVPN on FireStick: Open the ExpressVPN icon on the next screen. Now click the Download option as you see on this window. Wait for the ExpressVPN app to download and install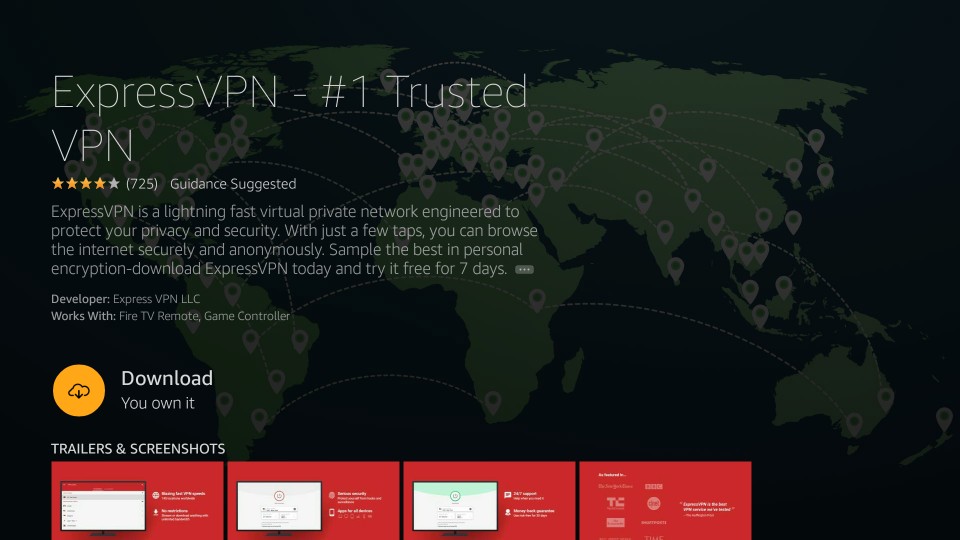 4. Sign into ExpressVPN on FireStick: Launch ExpressVPN on your device and click Sign in on the bottom of the first screen. Enter your login credentials on the following window and click Sign in again

5. Connect ExpressVPN on FireStick: Click the connection button to connect to VPN. You can connect to the default server ExpressVPN has already chosen for you based on your location or you could pick any other region/server of your choice.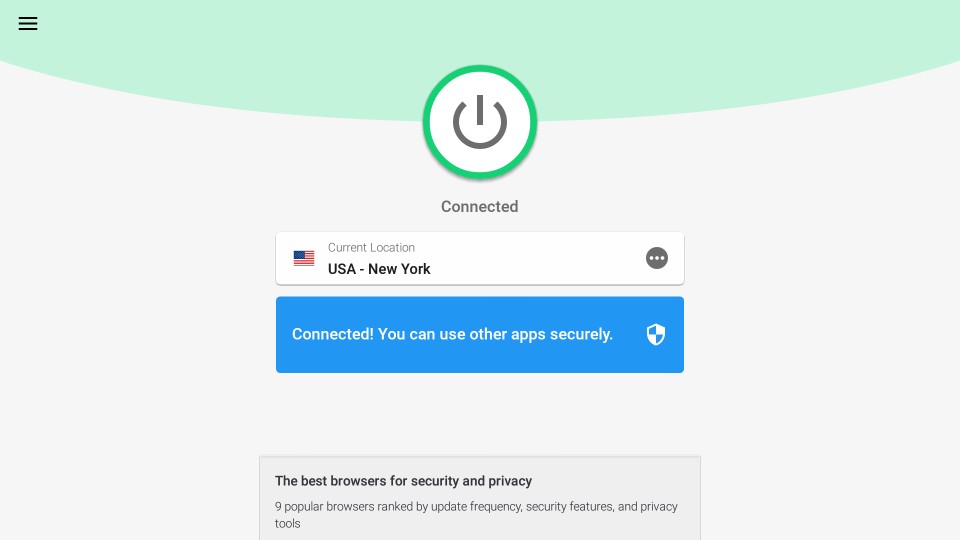 Once you have secured FireStick with ExpressVPN, you can start streaming with your jailbroken Fire Stick. Let me tell you how.
Kodi app which you just installed on your device is just a media player and it cannot stream anything on its own until you have sourced some media to play. You may use Kodi to play the media on your local storage. However, that's something any media player can do; then what do you need Kodi for.
The real use of Kodi is in streaming media over the internet. To do so, the most important thing you need is – Kodi Video Addons.
Let's talk about addons now.
Video Addons
Kodi is a media player installed locally on your devices such as FireStick, computer, mobiles etc. Then, there is virtually unlimited availability of video content on the internet. Addons are simply the software programs that connect Kodi on your device to that pool of content on the web. You must have at least one video addon to stream videos online through Kodi. There is no way to watch your favorite videos without addons.
We have compiled a list of Best Kodi Addons that line up all types of video addons for Kodi you could ask for. Most popular addons include –
Builds for Kodi
Builds are the plugins that lend a complete visual makeover to Kodi. They change the layout of Kodi and make this media player more organized. To stream videos, addons are a must. You can do without a build if you like the default interface of Kodi. However, besides transforming Kodi visually, builds also make it more intuitive and usually more exciting.
One of the biggest advantages of installing a build is that it comes with several preloaded video addons for all sorts of content categories such as movies, shows, live TV, sports, etc. This saves you from the trouble of installing the addons individually, which could be a tiring and time-consuming process.
The top Kodi builds of today prepack the top addons out there. Usually, these builds also keep the addons up to date with the new versions. Explore our list of Best Kodi Builds and get introduced to the finest builds there are. Here are some of the top builds I recommend:
How to Jailbreak FireStick with ES File Explorer
If you have jailbroken your FireStick with the above method where I showed the downloader app, please do not follow these steps and move to the next section of the guide where we will talk about some of the popular apps. However, if you could not find or use the Downloader app, you may try this alternative method using ES File Explorer.
The following are the exact steps to jailbreak FireStick 4K and other Fire TV variants:
Power on your FireStick and go to Settings > My Fire TV

Click Developer Options

Turn on Apps from Unknown Sources

Go to the home screen and click the Search icon in the top-left corner

Search ES File Explorer

Click ES File Explorer and then click Download

Once installed, open ES File Explorer app

On the right sidebar of the ES File Explorer application, click the item Downloader

Click +New at the bottom bar

Type https://www.firestickhow.com/kodi in the Path field. You can leave Name field blank

Hit the Download Now button

Once the download process completes, click Open file

Click Install on the next screen

Scroll down and click Install again

As soon as you see the App installed notification, you will have a jailbroken FireStick.
Best Jailbreak Apps for FireStick
NOTE: The following apps are not listed on official app stores such as Google Play and Amazon. I can't vouch for their legal status. 
Kodi makes for an incredible FireStick jailbreak. However, if you are not interested in Kodi, I have some jailbreak apps for FireStick that could be just as good if not better. I will round up some third-party jailbreak apps that are easy to install and even easier to use. These apps will let you watch your favorite movies, shows, Live TV, Sports and a lot more.
You will need to set up your FireStick by enabling Apps from Unknown Sources as you did earlier (by going to Settings > My Fire TV > Developer Options).
Once you are ready, here are the FireStick jailbreak apps for you.
Cinema APK: Jailbreak for Movies & TV Shows
Ever since Terrarium TV got shut down, Cinema APK has consistently featured as the top Android app for Movies & TV Shows. While there are a bunch of other such apps, there is none quite like Cinema APK. That's why I am going to show you how to jailbreak a FireStick with this app.
This Android app has been coded to be a hundred percent compatible with your Fire TV line of devices. It works on FireStick, Fire TV Stick 4K, Fire TV Cube and even on some older Fire TV models. The app is fully remote-friendly allowing quick and easy navigation.
Cinema APK lets you explore a huge database of movies and TV shows. It supports SD, 720p and 1080p streaming. With Real-Debrid sign in to the app, the app delivers even higher quality streaming. It also lets you sync your data back and forth with your Trakt account. Here is how you can install Cinema APK on FireStick:
1. Launch Downloader app on your device and go to the right part of the screen to click the URL field section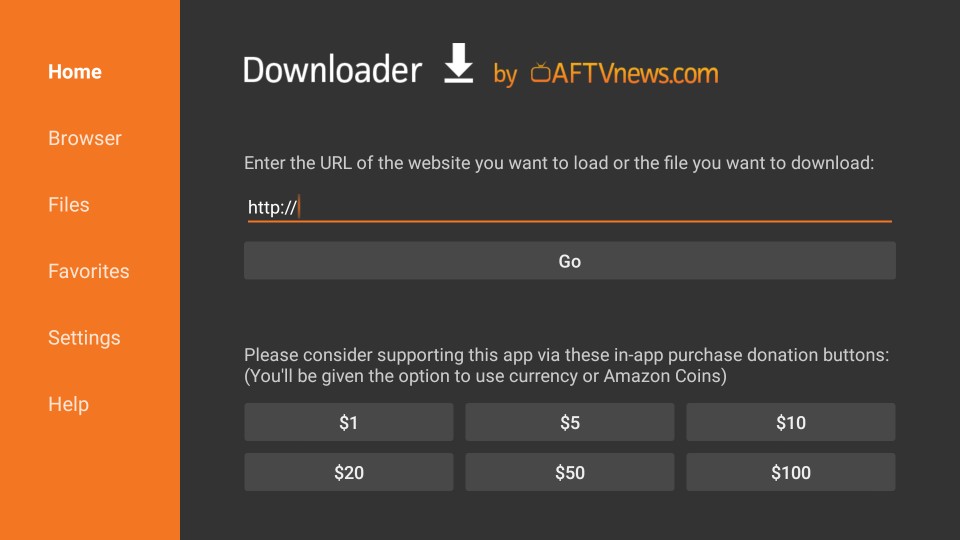 2. Go ahead and enter the URL: https://www.firestickhow.com/cinema
Click Go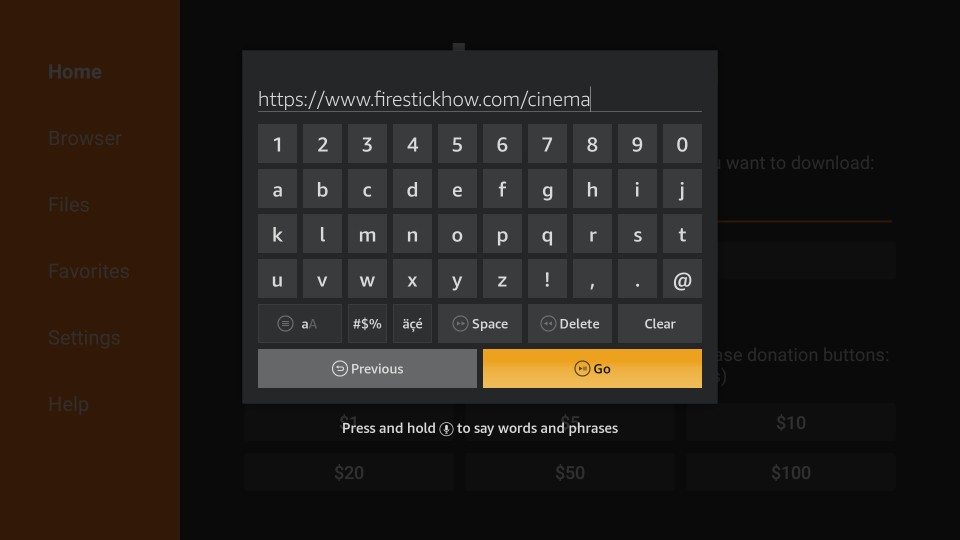 3. Wait while Cinema APK file is downloaded onto your FireStick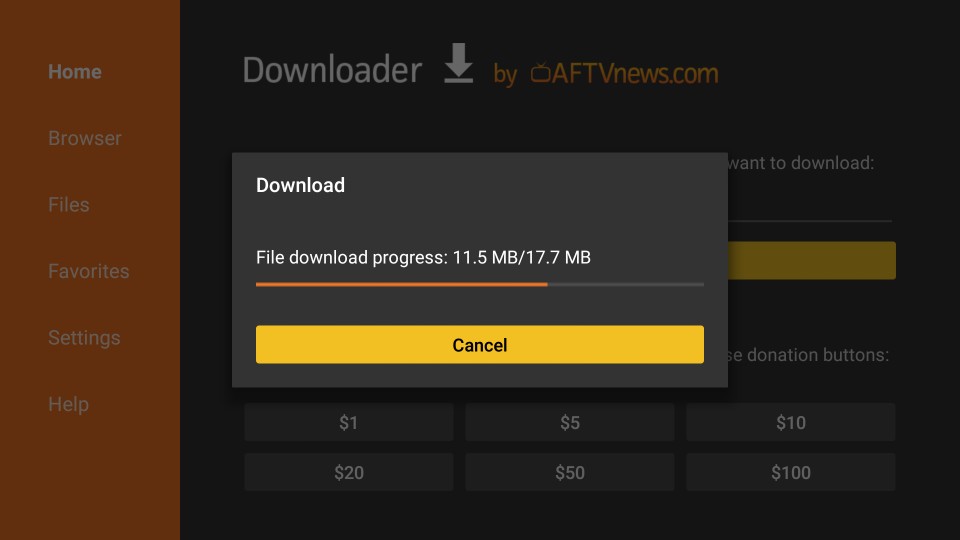 4. Click Install button on the bottom right of the following screen after the file has downloaded.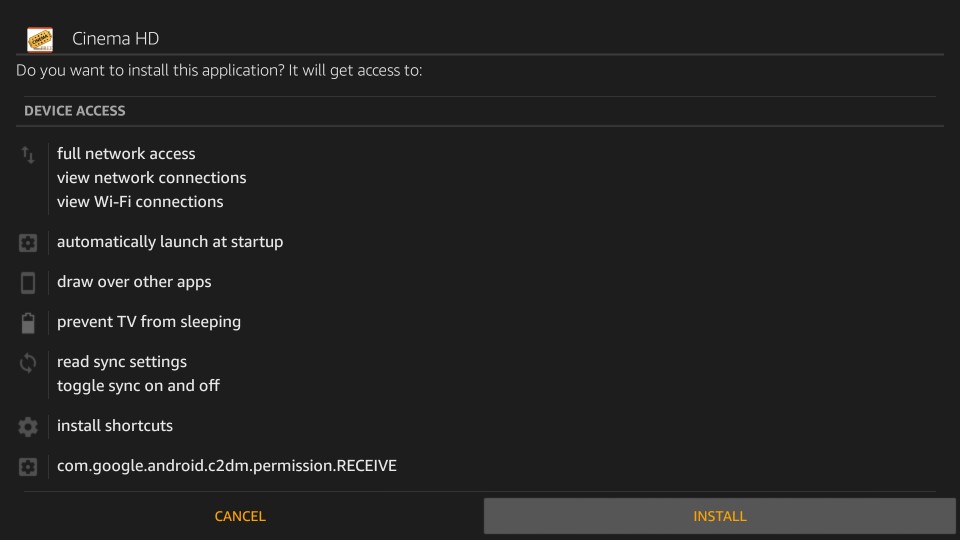 5. Click Open and run Cinema APK.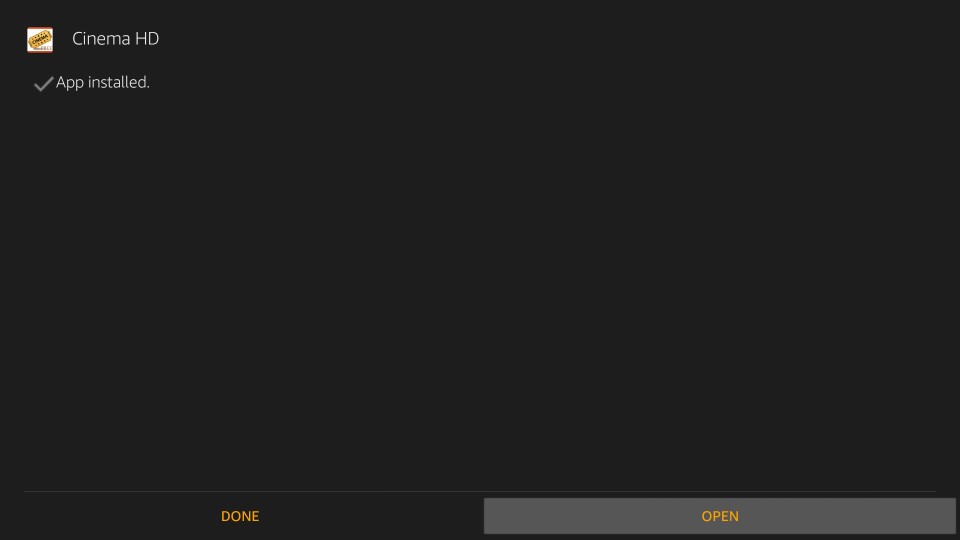 Mobdro: Jailbreak for Live TV
When it comes to Live TV on FireStick, Mobdro is probably the first name that runs across our minds. With a huge collection of satellite channels from the USA and all parts of the world, quick and user-friendly interface, and fast playback, this app has become the favorite of many FireStick users and experts alike.
Mobdro has been around for a while and continues to provide a great Live TV experience. It features literally hundreds of TV channels. This free app does not require any signup, login or account registration. Simply install the app and get started streaming in no time.
Here is how to jailbreak FireStick with Mobdro:
1. Run the Downloader app. Click URL text box on the right.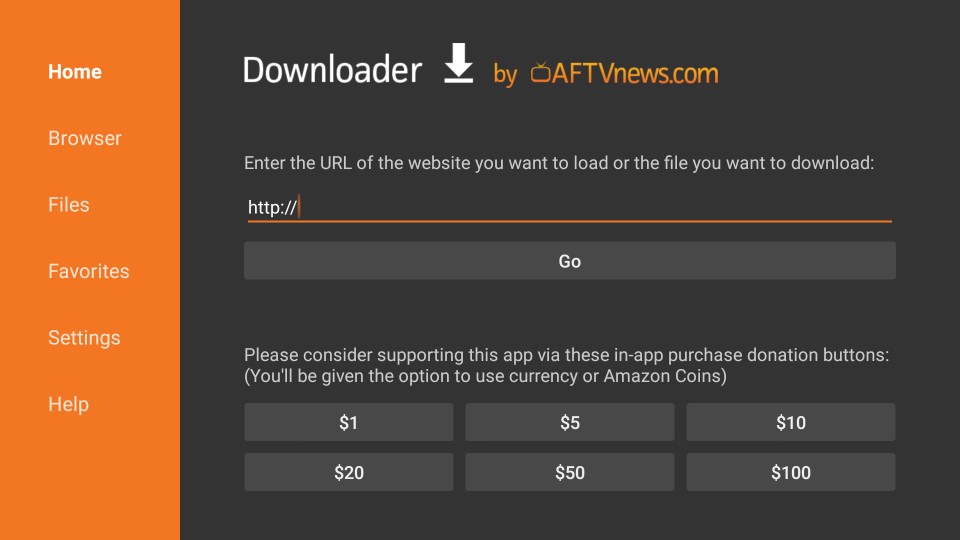 2. Enter the following path: https://www.firestickhow.com/mob
Click GO to proceed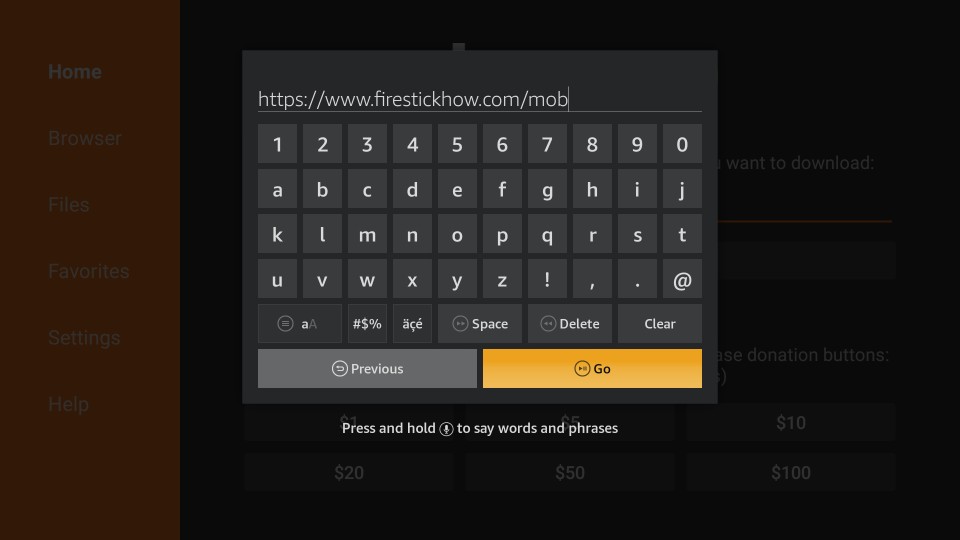 3. Wait while the Mobdro APK is downloaded.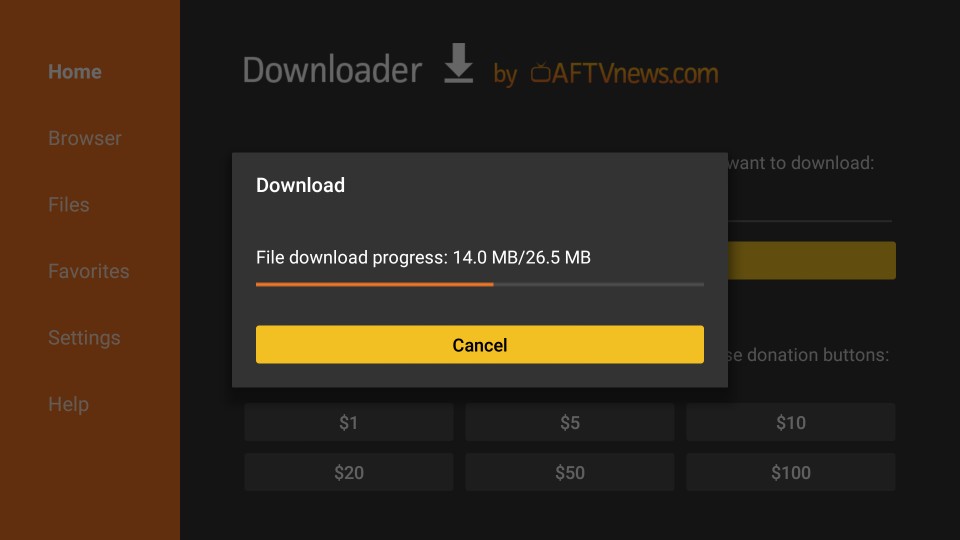 4. Click Install next.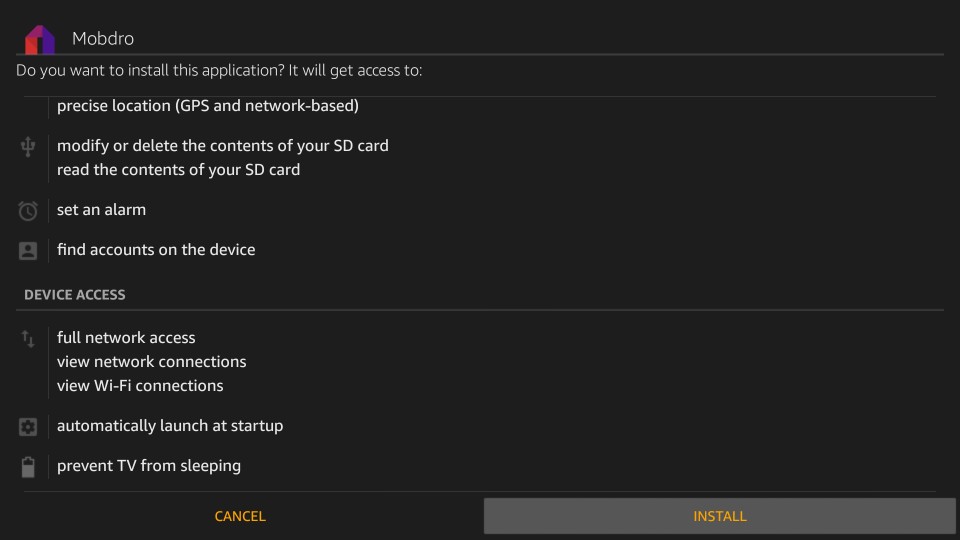 5. Wait for Mobdro to install. When it's done, click Open and run the app.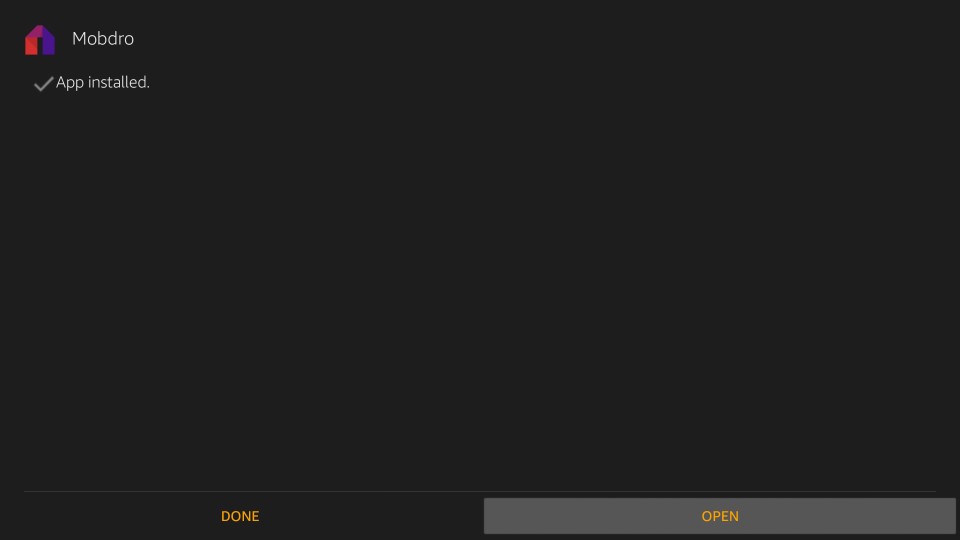 Jailbreak FireStick FAQs
Let's take a look at some of the most common questions around FireStick Jailbreak.
Why should I jailbreak a FireStick?

With your jailbroken FireStick, you gain access to a huge supply of free content, which you would otherwise pay a lot of money for. You can jailbreak with Kodi and install add-ons for free entertainment or install one of the jailbreak apps I have mentioned in this guide.
How much does it cost to jailbreak a FireStick?

Nothing at all! Jailbreaking FireStick involves installing third-party apps like Kodi, Cinema APK, Mobdro. These apps are free.
What happens to FireStick warranty when it is jailbroken?

Nothing! The warranty remains intact when you jailbreak FireStick. You are simply installing some third-party apps and that does not void the warranty.
Is it really safe to jailbreak the Amazon FireStick?

Yes, it is 100% safe to jailbreak your FireStick. I will tell you why. First, you are not actually jailbreaking the device. Jailbreak would mean manipulating the Operating System and the core files. All you are doing is installing third-party apps like Kodi, which are known to be completely safe. So, again, jailbreaking is completely safe.
Does jailbreak affect the performance of my FireStick or slow it down?

Usually, it should not! All the jailbreak apps, including Kodi, I have mentioned in this guide are lightweight. I have never had any performance issues per se. However, if your FireStick storage is already crammed with existing apps and utilities, I would suggest you clear it up a bit before jailbreaking.
Can I jailbreak my latest FireStick 4K?

Of course! The jailbreak methods in this guide work for FireStick 4K, FireStick 2nd Generation, and Fire TV Cube.
Why not just buy a jailbroken FireStick?

Not a good idea! You don't know what else they might have installed on your Fire TV Stick, like malware or virus. Those who sell jailbroken FireStick are not authorized dealers. In fact, I have heard that some of them have been served legal notices. It is best to buy a brand new Amazon FireStick and jailbreak it yourself.