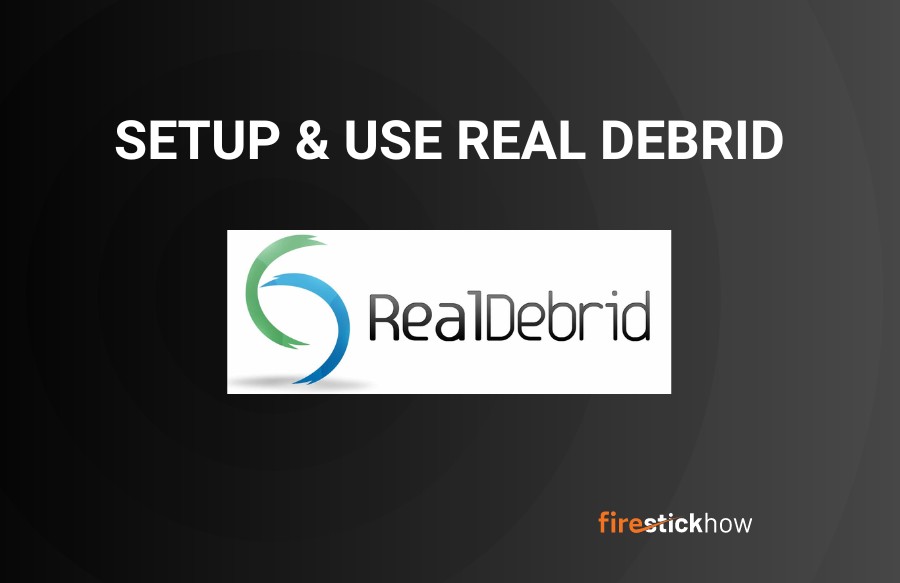 In this tutorial, you will find the complete set of instructions to set up Real Debrid on Kodi and streaming apps. You can configure and use Real Debrid through Kodi / apps on your FireStick, Fire TV, Fire Stick 4K, Android Tablets & Mobiles, iOS devices, Mac, Windows & Linux computers and more.
Real Debrid is a multihoster that gives you access to the premium streaming hosters. This service can only be used on Kodi with an addon. It is not an addon in itself. Thankfully, almost all the addons support Real Debrid.
Kodi addons scrape the web for the streaming links and line up the free ones for you to stream. These links are available freely to everyone who is looking for them. As a result, the free links experience heavy traffic and eventually cause slow loading and buffering issues. This changes with Real Debrid.
Real Debrid supports more than 50 premium hosters. The streaming links from these hosters can only be accessed if you have a Real Debrid subscription. Since these links are less frequently scraped, they are faster to stream, offer buffer-free playback, and higher resolution links. Yes, you are more likely to find 4K or 1080 streams with Real Debrid than without.
I personally use Real Debrid and can tell you confidently that with it your streaming experience will enhance dramatically.
While Real Debrid is most commonly used with Kodi, you can also configure it with various FireStick apps. I will touch upon it briefly later in this guide.
Attention KODI Users: Read before you continue
Government and ISPs endlessly monitor your online activities using your IP address 207.46.13.218 (exposed to everyone). Kodi is an excellent platform for streaming movies, TV shows, and sports, but streaming copyrighted content can get you into legal trouble. 
You should use a reliable Kodi VPN and protect your streaming activities and privacy. A VPN will hide your IP address and bypass government surveillance and geo-restrictions.
I trust and use ExpressVPN, the fastest and most secure Kodi VPN. It's easy to install on any Kodi device, including Amazon FireStick, PCs, and Smartphones. In addition, it offers a 30-day money-back guarantee, and 3 free months with the annual plan.
Read: How to Install & Use the best VPN for Kodi.
How to Set Up Real Debrid on Kodi
Setting up Real Debrid or RD is a two-part process as follows:
Creating an RD Premium Account Online
Configuring RD on Kodi
Both the parts are elaborated a bit later. First, let's talk a bit about Real Debrid premium plans.
Benefits of Premium Real Debrid Service
You can use Real Debrid with a free account. However, your options will be greatly restricted. First, there is only a 6-hour window for free usage between 5 to 11 in the morning GMT. For most users, this isn't the most ideal period to watch movies and shows. Second, during this timeframe, very few premium RD hosters are online.
If you want to enjoy the entire range of features offered by Real Debrid, getting yourself a premium plan only makes sense.
Here are some more benefits of premium membership:
Simultaneous streaming on multiple devices
High-speed streaming support (up to 300Mbps)
Dozens of high-quality streams with up to 4K resolution
Faster scraping and playback
Important!! Please note that Premium Real Debrid offers multi-device support. However, simultaneous streaming must happen within the same network/Wi-Fi. If the same account is used for concurrent streaming on different networks through multiple IP addresses, Real Debrid will block your account.
 If you wish to stream on a different network, make sure you are disconnected from RD on the previous network.
What are the Available Premium Plans?
As I write this guide, Real Debrid offers 4 premium plans to choose from as follows:
3 Euros (3.36 USD approx.): With 15 days of validity and 150 fidelity points
4 Euros (4.48 USD approx.): With 30 days of validity and 200 fidelity points
9 Euros (10.08 USD approx.): With 90 days of validity and 450 fidelity points
16 Euros (17.92 USD approx.): With 180 days validity and 800 fidelity points
With every 1000 fidelity points gathered, you gain additional 30-day of premium Real Debrid for free.

Part 1: Create a Real Debrid Premium Account Online
You must register the Real Debrid account through a mobile or PC web browser. Follow the instructions below:
1- Go to https://real-debrid.com/
2- Click the Sign Up option on the web page

3- Enter your Username, Password and Email address in the sign-up form. Also, select Yes in the Terms of Service and Privacy Policy dropdown (I recommend that you read them first).
Click the Sign Up button when you are ready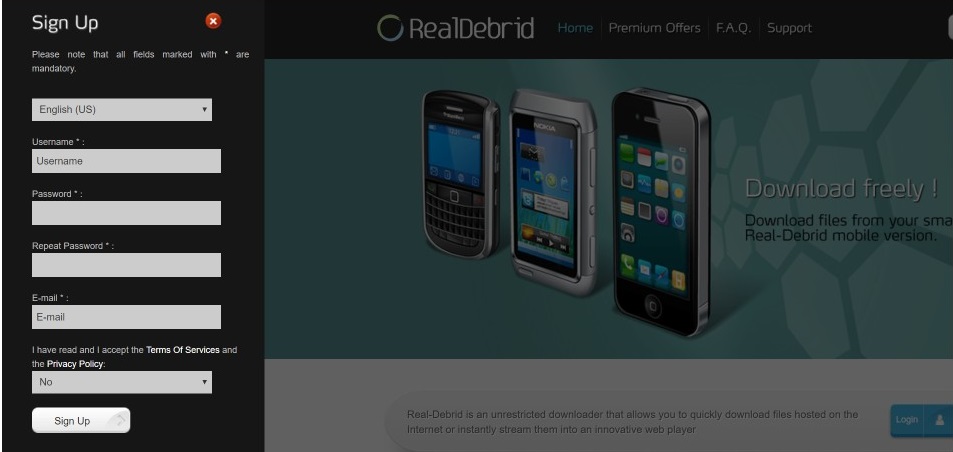 4- Now, open your email inbox and click the link sent by the Real Debrid team to validate your account. If you don't find the email in the Inbox, check the Spam folder
5- Once the account is validated, again go to https://real-debrid.com/ and click Login
Enter your email address/username and password to log in to your Real Debrid account

6- While you can continue with free Real Debrid account, your options will be restricted. I recommend buying a premium plan. Click Premium Offers on the top after logging in
7- You can choose one of the following premium plans as described above

Part 2: Configure Real Debrid on Kodi 18
Before we start setting up Real Debrid on Kodi, I would like you to be aware of two widely used Kodi dependencies:
We don't need to get into deeper depths of what these dependencies are and how they function. You probably just need to know that all Kodi addons 'depend' on either of these dependencies and they play a vital role in the Real Debrid setup.
Also, Real Debrid needs to be configured separately with URLResolver and ResolveURL. I will show you how.
When you install an addon, the required dependency is installed along with it. Therefore, you must first install the addon with the dependency. You may install the following Kodi addons to access the dependencies:
Exodus Redux: ResolveURL
The Magic Dragon: URLResolver
Let us get started with the setup process. Follow these steps:
1- Go to Kodi Settings from the home screen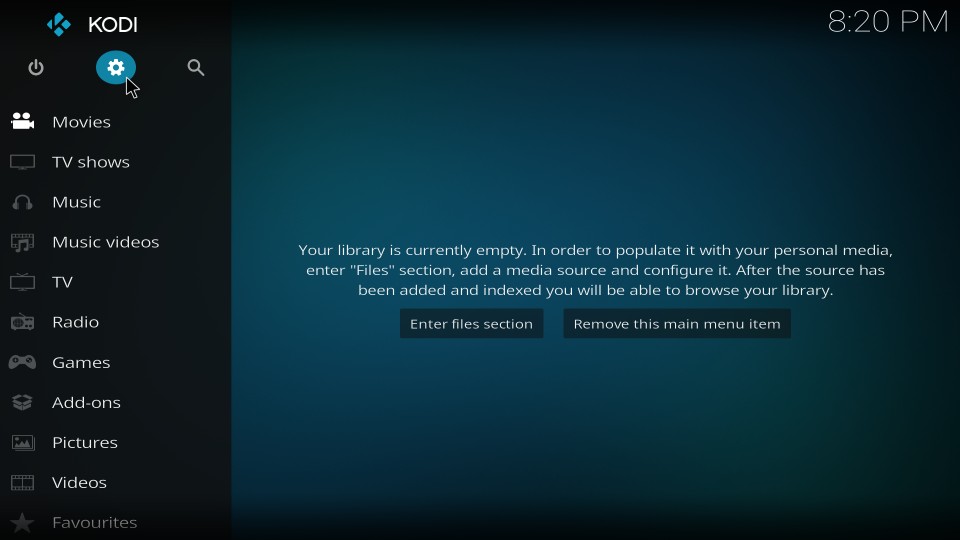 2- Click System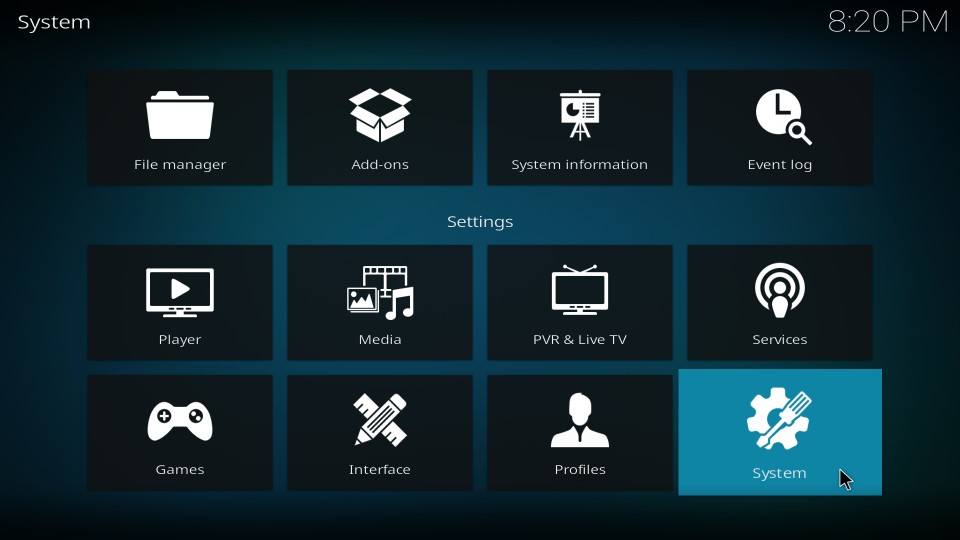 3- Change the Settings level either to Advanced or Expert (by clicking the gear/cog icon in the bottom left corner)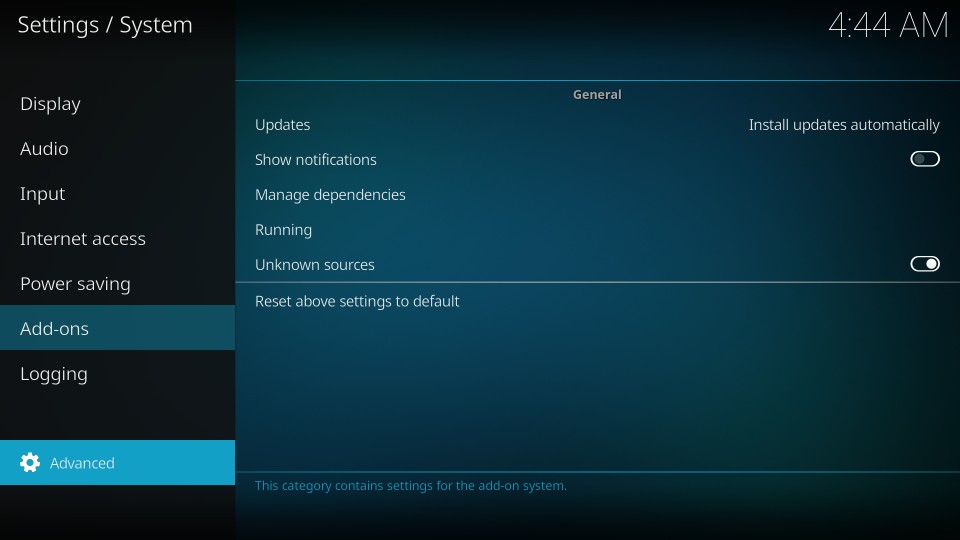 4- Now select Add-ons > Manage dependencies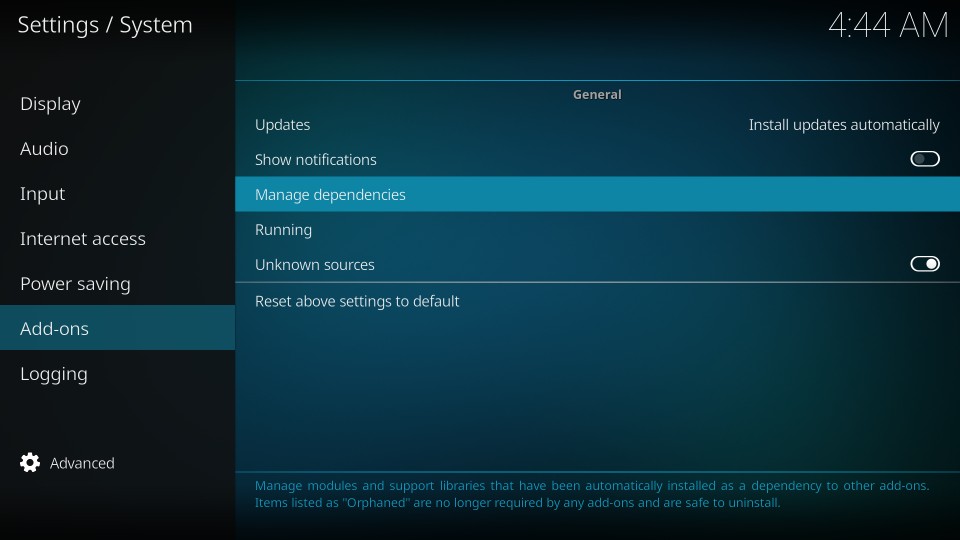 5- Click ResolveURL on the following window (we will repeat the steps for URLResolver later)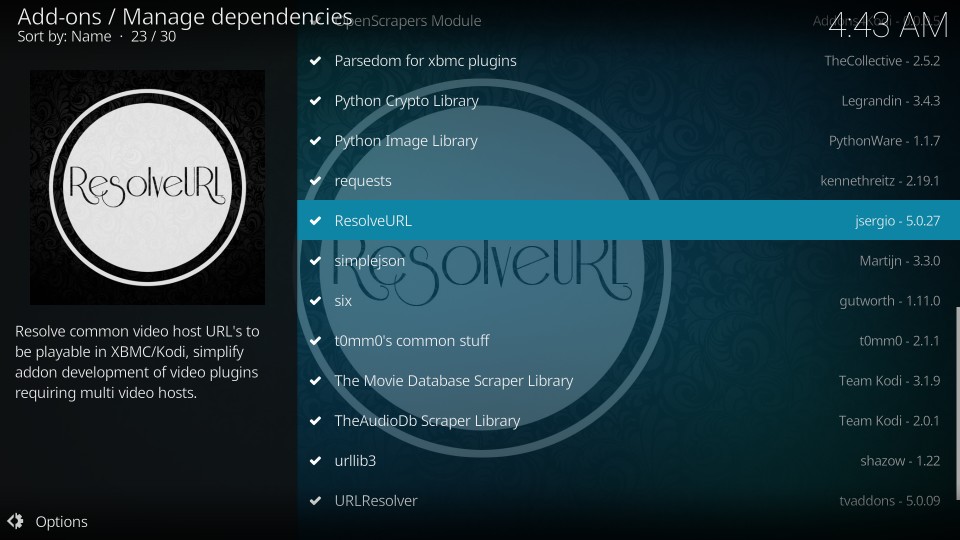 6- Click Configure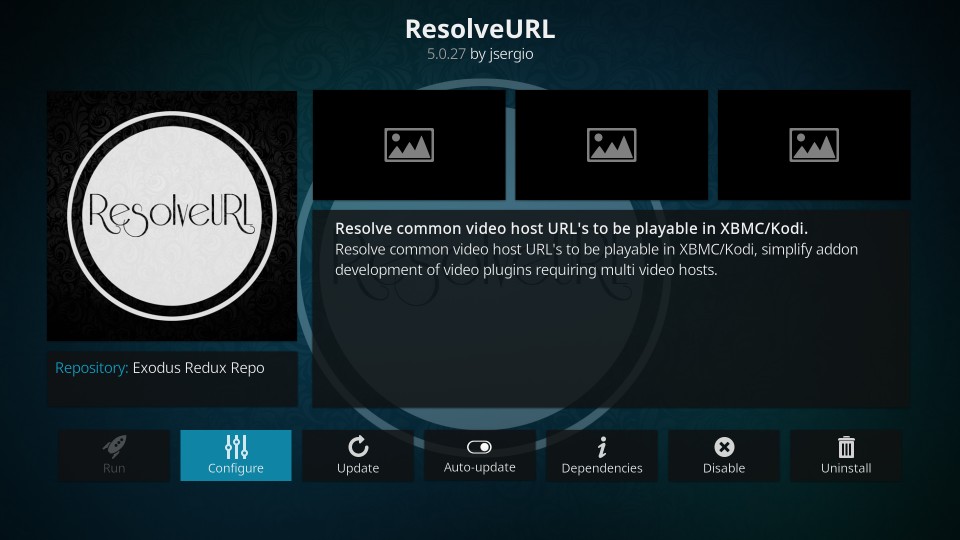 7- Select Universal Resolvers on the left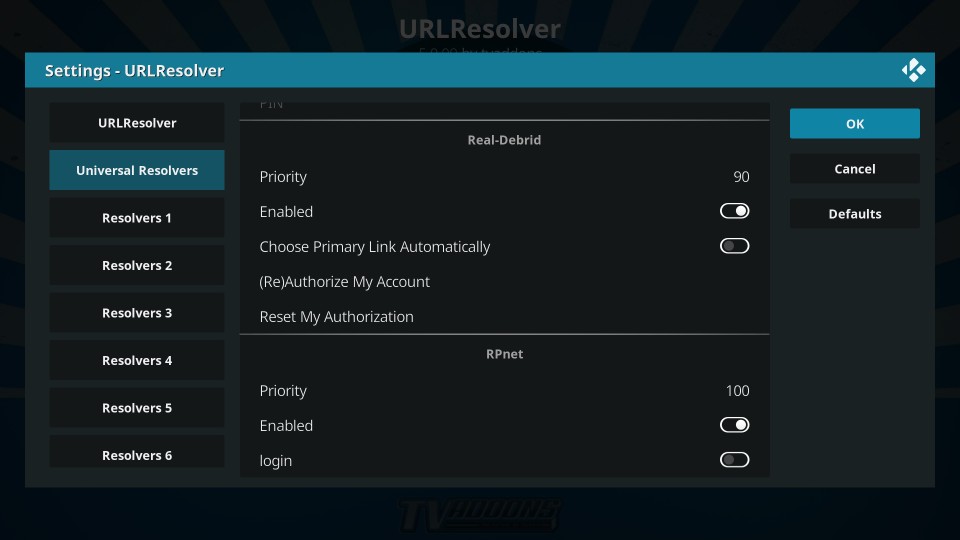 8- Now, scroll down to the Real-Debrid category
First, make sure Real-Debrid is enabled.
Now, Click Priority and change the value from 100 to 90 (important!!!)
Click OK on the right when your window also looks like mine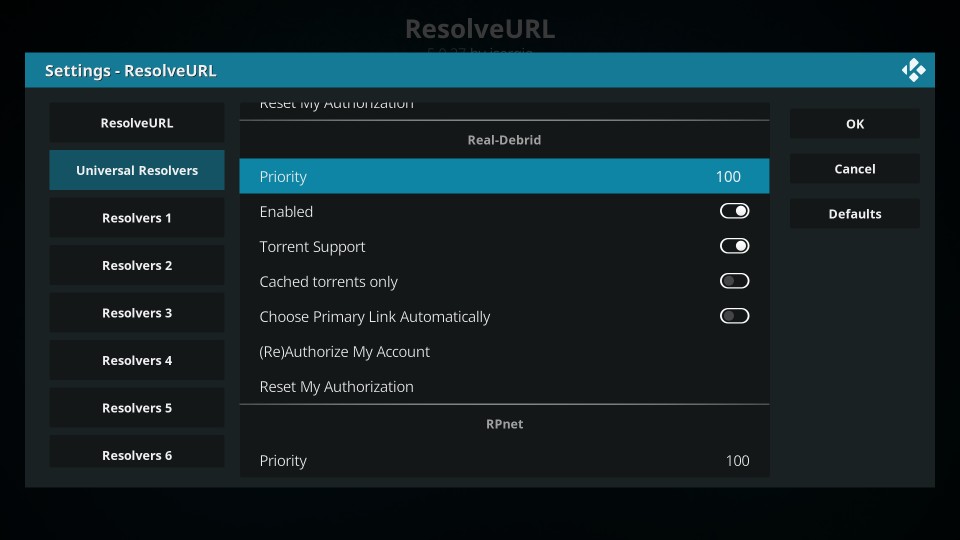 9- Click the Configure button one more time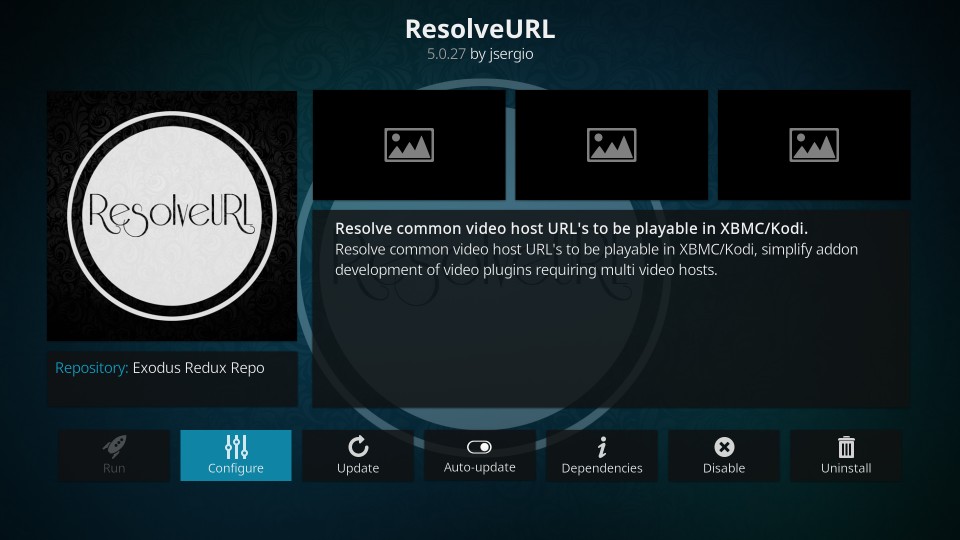 10- Again, click Universal Resolvers. Scroll down all the way to Real-Debrid.
This time click (Re)Authorize My Account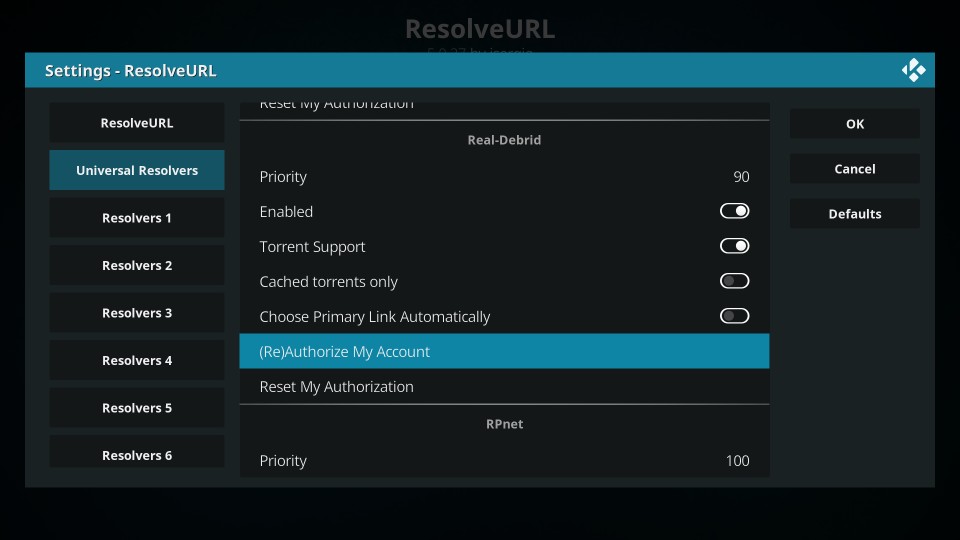 11- A prompt with a code will appear. Note down the code as you cannot copy/paste it.
Note: Once generated, code is effective/valid for 120 seconds/ 2 minutes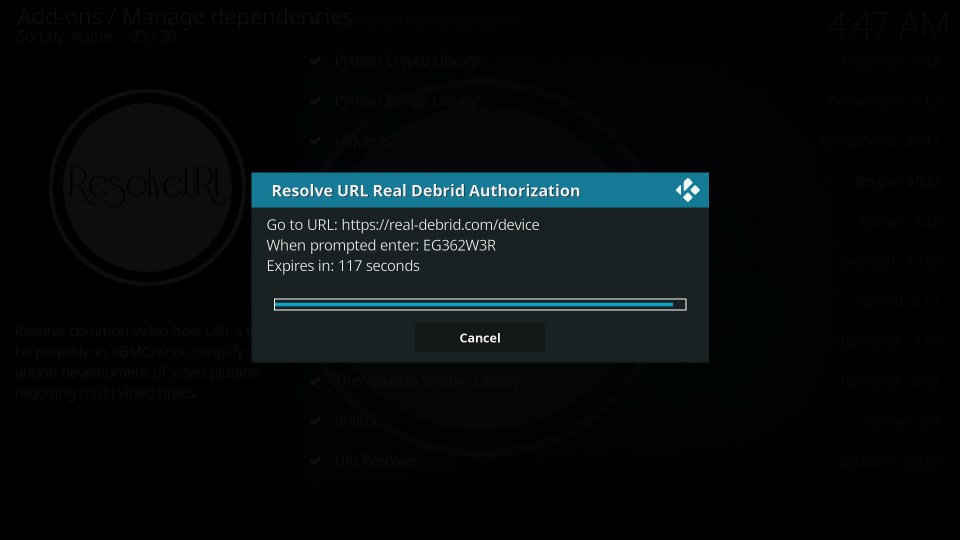 12- As instructed, access https://real-debrid.com/device on a computer or mobile
Enter the code and click Continue
Note: The code for authentication is NOT case-sensitive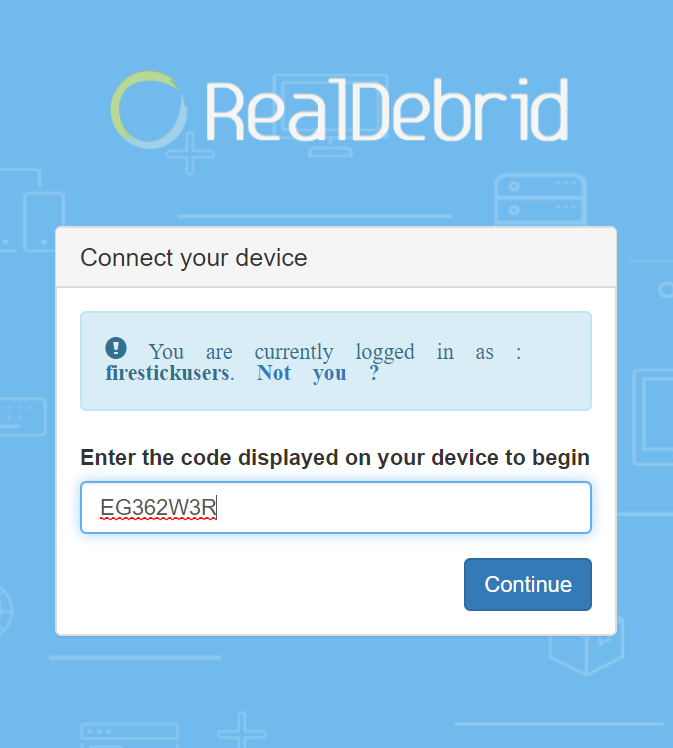 13- If you aren't already logged in to your Real-Debrid account, you will be first prompted to log in. If you already are, you will see the Application allowed message when the authentication is successful.
You may set the name for the device if you like or leave it blank.
Go back to Kodi now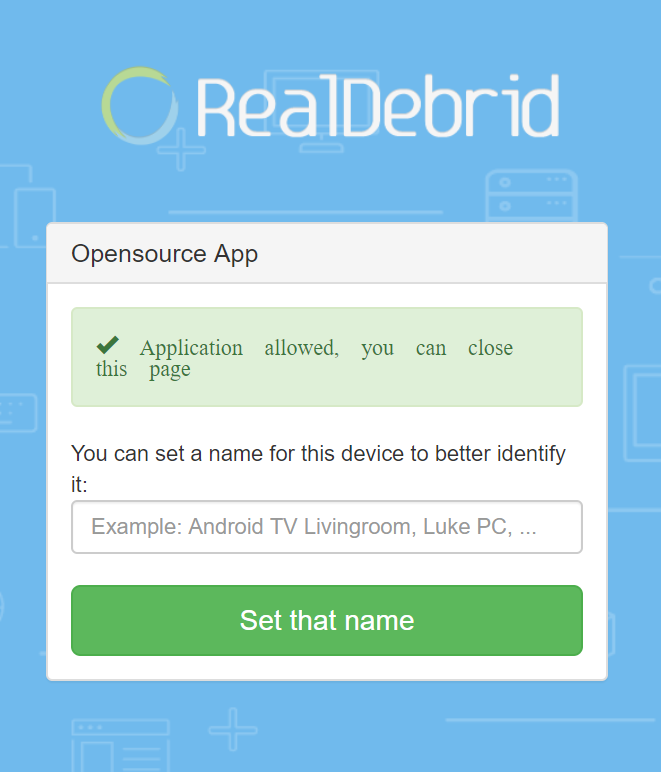 14- You should see the Resolver Authorized notification on the top-right when the authorization is successful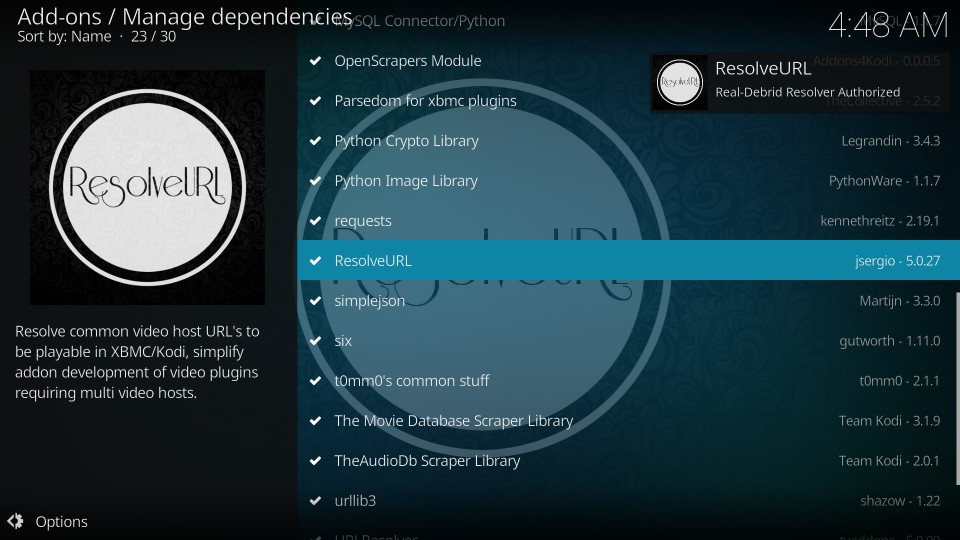 15- Now follow the steps 1 through 14 and configure Real-Debrid with URLResolver
Note: This is an important step. It will make sure all the addons using URLResolver dependency get the Real-Debrid streams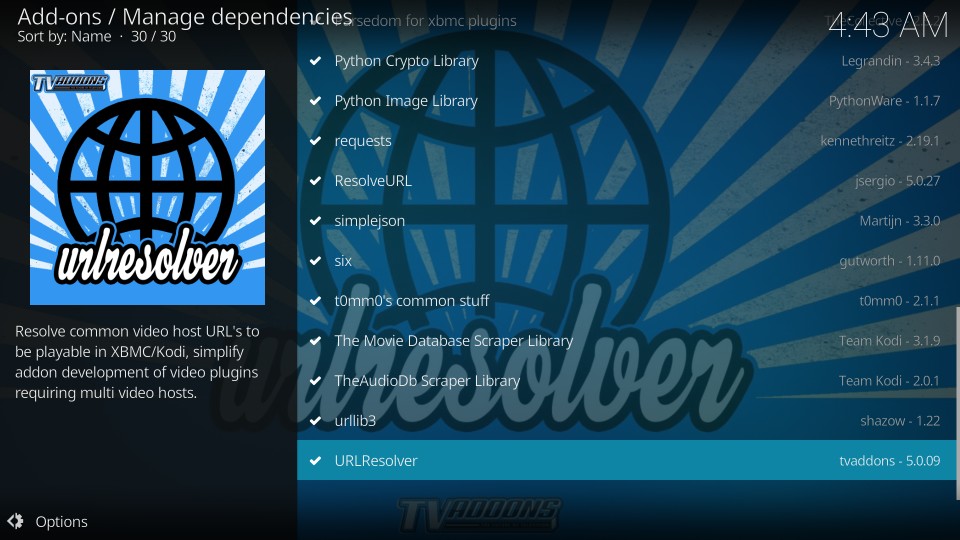 That's it! You have successfully set up Real Debrid on Kodi.
How to Use Real Debrid Service on Kodi
Now that you have set it up, you would want to start using Real Debrid on Kodi. That's easy.
With most add-ons, Real Debrid is enabled by default. However, you may need to manually enable Debrid services in certain add-ons. If Real Debrid isn't working even after the successful authorization, open the addon and find the option to access its Settings. Now, go to the Providers settings and enable Debrid if it is disabled.   
The good thing is that no extra effort is required to use Real-Debrid. All you need to do is use your favorite video-addon as you used it before. Once you click an episode or a movie, you will automatically find new RD streams.
These streams either have 'RD' written somewhere in their description or they appear in a different color from the regular streams. They are easily identifiable.
I have taken the following screenshot from Exodus Redux and you can clearly see the RD streams.  They are in yellow and have 'RD' in the description. The regular streams are in white.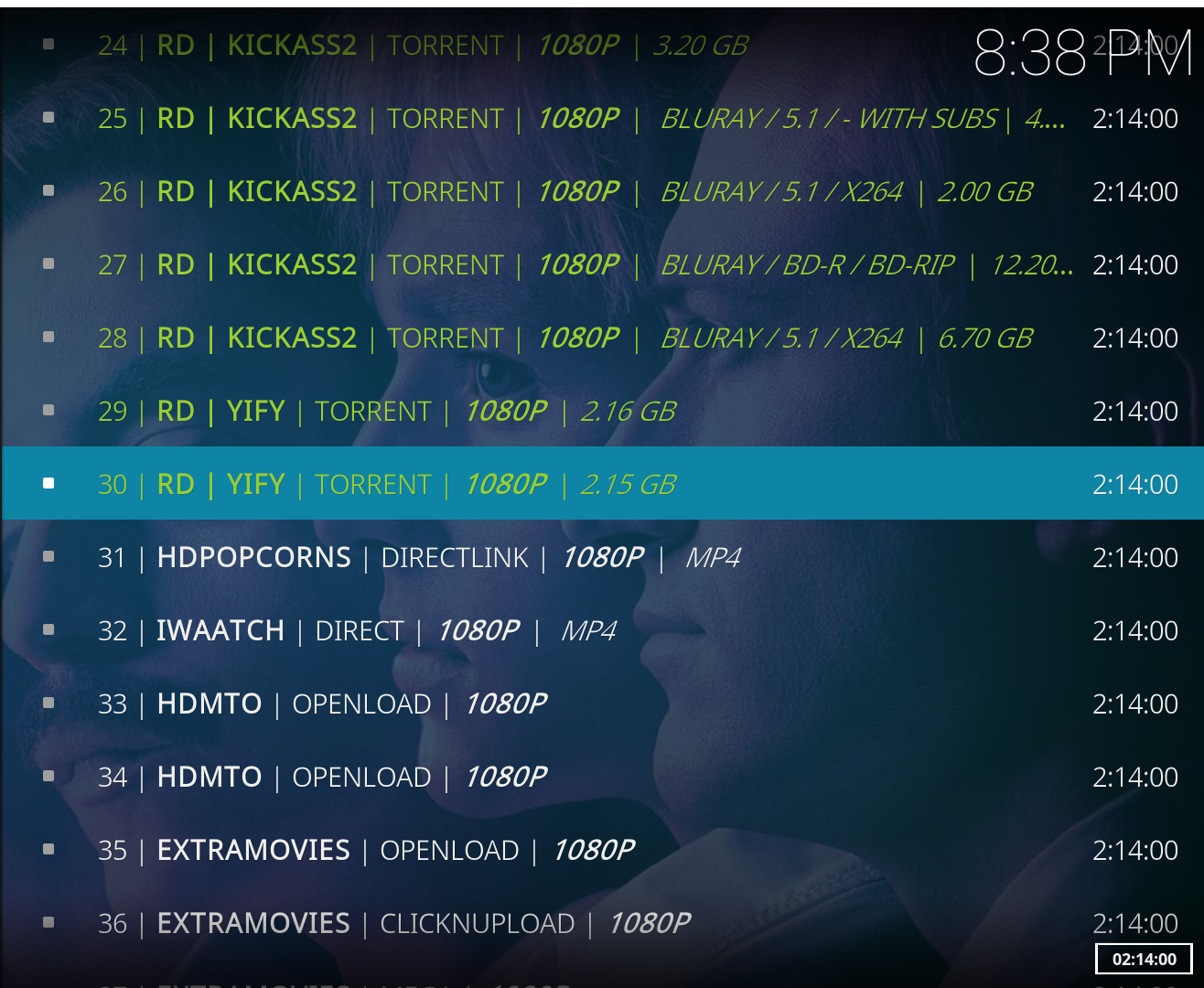 Wait! It looks like you are all set to start watching your favorite content on Kodi. But have you protected your online identity yet? You are under constant surveillance by the Government and ISP. They use your IP address 207.46.13.218 to track you. Streaming free or copyrighted videos may get you into legal trouble.
Thankfully, you can use a VPN to easily protect your privacy and go invisible from your Government and ISP. I use and recommend ExpressVPN with Kodi.
ExpressVPN is the fastest, most secure, and streaming-friendly VPN. It is easy to install and set up on any Kodi device, including FireStick, Smartphones, PCs, and more.
ExpressVPN, offers an unconditional 30-day money-back guarantee. So, if you do not like the service (I don't see why), you can get a full refund within 30 days.
Please remember that we encourage you to use a VPN to maintain your privacy. However, we do not condone breaking copyright laws.
Before you start using Kodi for streaming, here is how you can protect yourself with ExpressVPN:
Step 1: Sign up for ExpressVPN Here
Step 2: Download ExpressVPN on your device by clicking HERE
Step 3: Open the ExpressVPN app on your device. Sign in with your account. Click the connect/power button to connect to the VPN

Great! You have successfully secured yourself with the best Kodi VPN.
How to Configure Real Debrid on a FireStick Streaming App
There are plenty of Fire Stick Apps that support Real Debrid including Cinema HD APK, CyberFlix TV, TeaTV and more.
I will quickly show you how to set it up on Cinema HD APK. The method works more or less the same way for other apps. Here are the steps:
1- Open the desired apps and go to the Settings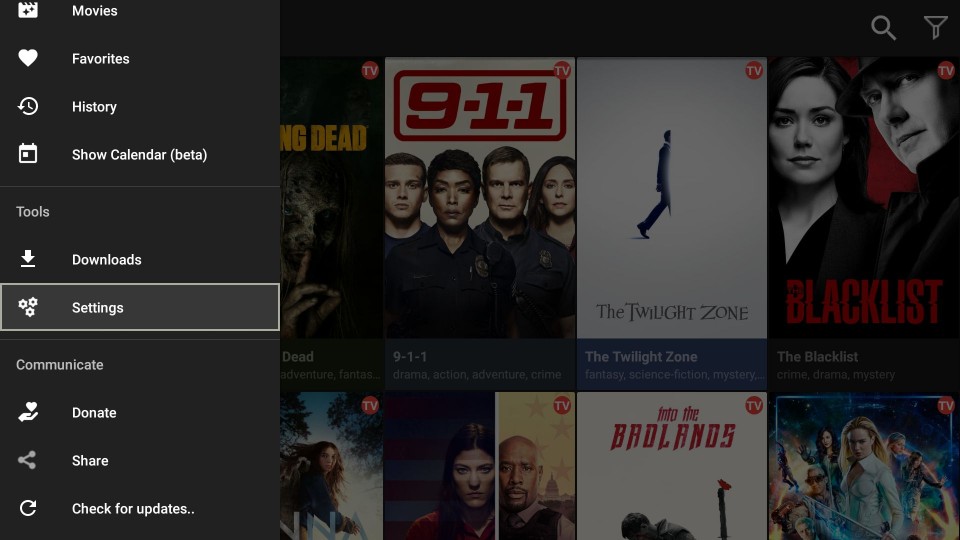 2- Go to the Real Debrid section and click Login to Real-Debrid

3- You will see a prompt like this. Go to https://real-debrid.com/device and enter the displayed code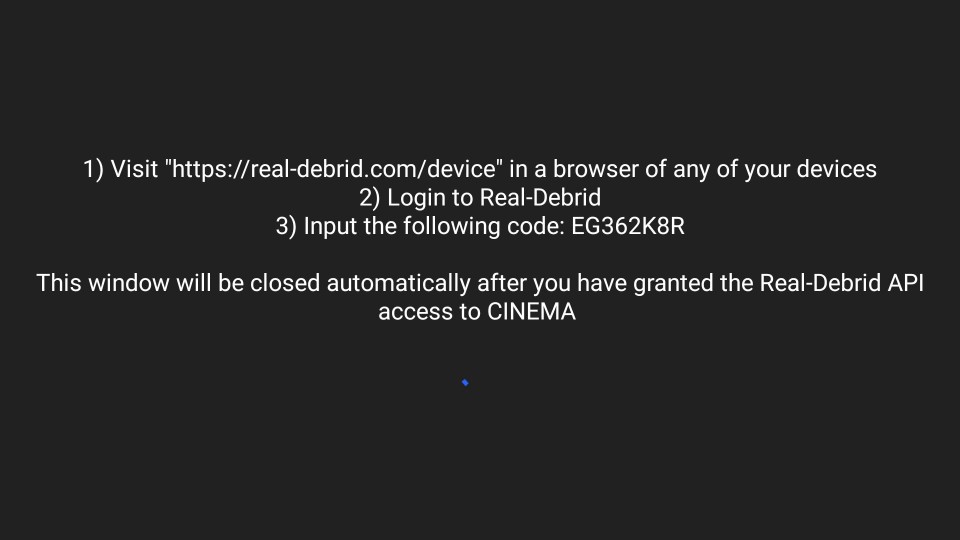 That will be all! You will find several new links through RD when you request a video playback on the app.
Conclusion
If you like watching movies and shows on Kodi, Real Debrid is a must-have service for you. This multhihoster makes sure you always have working streams available for your favorite content. It has partnered with the finest premium hosters and gives you access to those streams you would never find with the free hosters. Real Debrid is also one of the best ways to fix buffering issues on Kodi. Furthermore, you can also use it with numerous FireStick apps.
You may also like:
How to install Kodi on FireStick
How to install Seren Kodi Addon
How to install Mouse Toggle on FireStick
How to install 13 Clowns Kodi Addon