In this tutorial, you'll find the complete instructions to set up Real Debrid on Kodi and FireStick streaming apps. The steps in this guide are valid for Kodi-compatible devices and Fire TVs. This includes FireStick 4K, FireStick Lite, New FireStick 4K, New FireStick 4K Max, Android Tablets and Mobiles, Mac, Windows, and Linux computers.

What's Real Debrid?
Real Debrid is an unrestricted downloader that gives you access to premium streaming links. You can use this service with Kodi addons and supported FireStick apps.
Real Debrid supports more than 50 premium hosts. These hosts give you access to tons of high-quality streams.
Unlike free streaming links, these sources are less frequently scraped. Thus, they are faster to stream, offer buffer-free playback, and have higher-resolution links.
I use Real Debrid and can confidently tell you that your streaming experience will be dramatically enhanced. Also, you are more likely to find 4K or 1080p streams with Real Debrid.
Attention KODI Users: Read before you continue
Government and ISPs endlessly monitor your online activities using your IP address 3.17.249.235 (exposed to everyone). Kodi is an excellent platform for streaming movies, TV shows, and sports, but streaming copyrighted content can get you into legal trouble. 
You should use a reliable Kodi VPN and protect your streaming activities and privacy. A VPN will hide your IP address and bypass government surveillance and geo-restrictions.
I trust and use ExpressVPN, the fastest and most secure Kodi VPN. It's easy to install on any Kodi device, including Amazon FireStick, PCs, and Smartphones. In addition, it offers a 30-day money-back guarantee, and 3 free months with the annual plan.
Read: How to Install & Use the best VPN for Kodi.
Features of Real Debrid
You can use Real Debrid with a free account. However, your options will be significantly restricted.
First, there is only a 6-hour window for free usage between 5 and 11 in the morning GMT.
During this timeframe, very few premium RD hosts are online.
If you want to enjoy the entire range of features Real Debrid offers, getting yourself a premium plan only makes sense. Here are some more benefits of premium membership:
Simultaneous streaming on multiple devices.
High-speed streaming support (up to 1,00Mbps).
HTML 5 streaming.
Dozens of high-quality streams with up to 4K resolution.
Faster scraping and playback.
Parallel downloading with unlimited traffic.
Pricing & Plans of Real Debrid
As I write this guide, Real Debrid offers the following plans:
3 Euros: With 15 days of validity and 150 fidelity points
4 Euros: With 30 days of validity and 200 fidelity points
9 Euros: With 90 days of validity and 450 fidelity points
16 Euros: With 180 days validity and 800 fidelity points
Note: With every 1000 fidelity points gathered, you gain an additional 30 days of premium Real Debrid for free.

What are Real Debrid Fidelity Points?
Fidelity points are more like a loyalty program for Real Debrid. They let you access the premium service for extra days than what is included in your subscription. For example, if you accumulate 1000 fidelity points, you can use Real Debrid for free for the next 30 days, and so on.
So, how does one accumulate fidelity points? Well, these come with the subscriptions offered by Real Debrid. For example, the 15-day plan offers 150 fidelity points, while the 180-day package offers 800.
Moreover, you can also get fidelity points by referring Real Debrid to new users. The fidelity points let you enjoy discounts, free Debrid days, and more. However, you can't share or send them to other users.
How to Create a Real Debrid Account
Register the Real Debrid account through a mobile or PC web browser. Follow the instructions below:
1. Go to https://real-debrid.com. Then, click the Sign Up option on the web page.
Disclaimer: FireStickHow does not host this URL. We are also not affiliated with Real Debrid developers.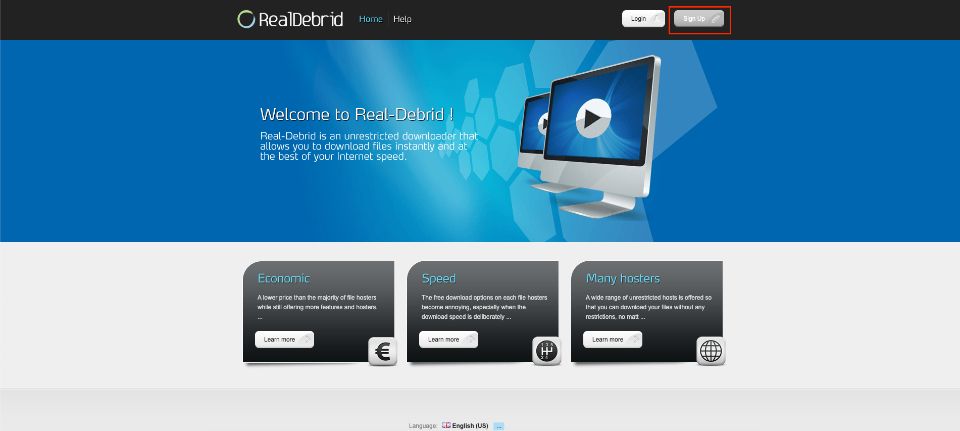 2. Enter your Username, Password, and Email address in the sign-up form. Also, select Yes to the Terms of Service and Privacy Policy dropdown (I recommend reading them first). Then, click the Sign Up button when you are ready.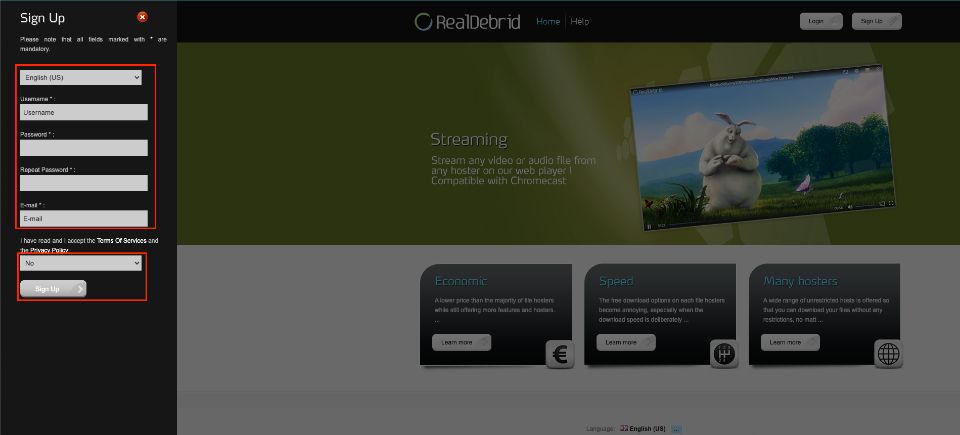 3. Real Debrid will notify you that a verification email has been sent to your Email Address. Now, open your email inbox and click the link sent by the Real Debrid team to validate your account.
Note: Check the Spam folder if you don't find the email in the Inbox.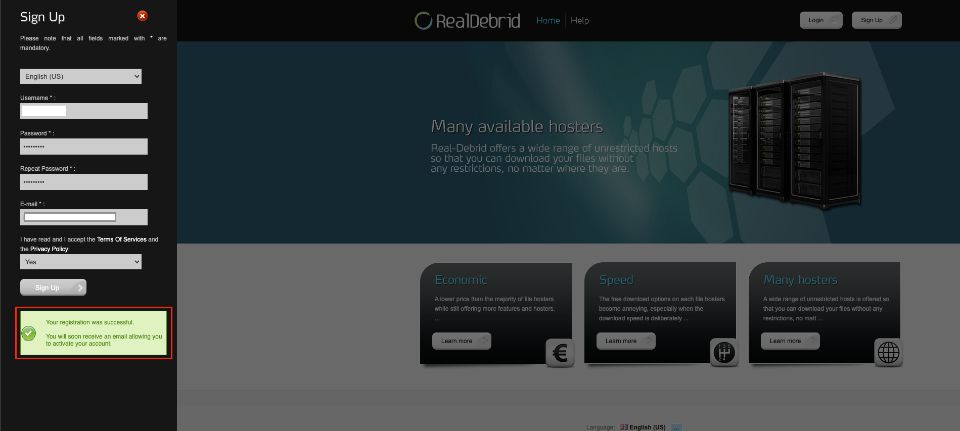 4. Once the account is validated, go to https://real-debrid.com/ and click Login.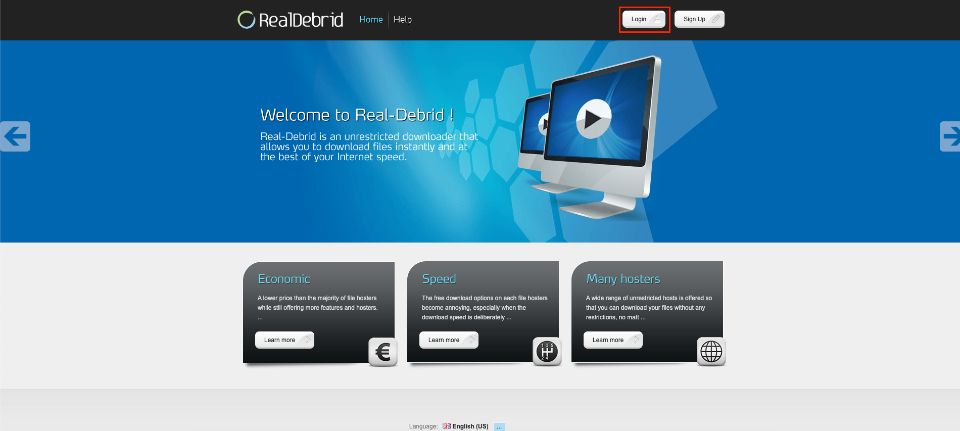 5. Enter your Email address/Username and Password. Then, click Login!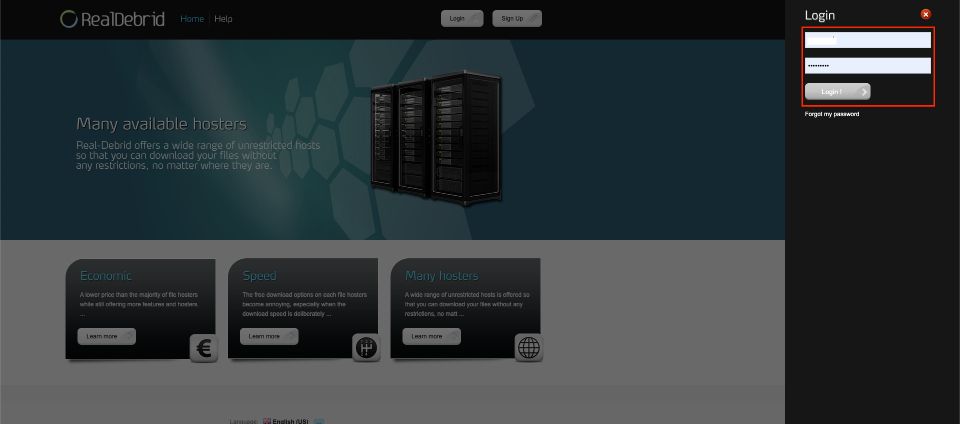 6. You can continue with a free Real Debrid account. However, your options will be restricted. So, I recommend buying a premium plan. Choose the plan that suits your needs and click Subscribe.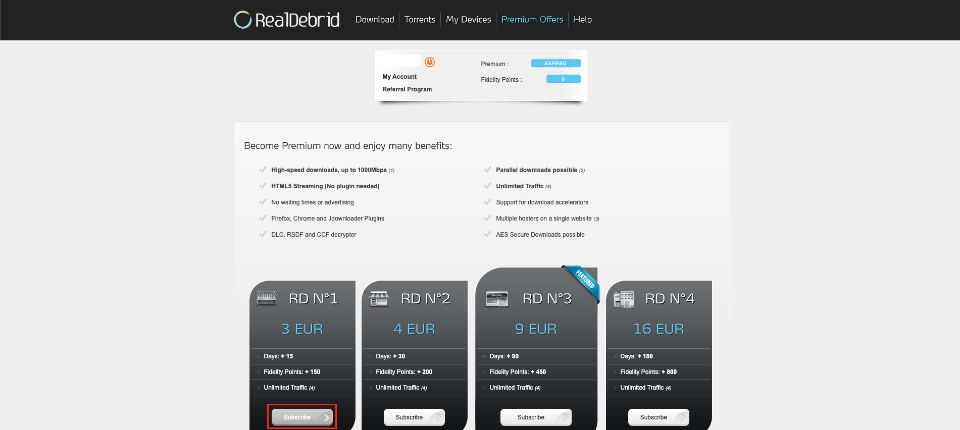 7. Check I accept the immediate execution of the purchase…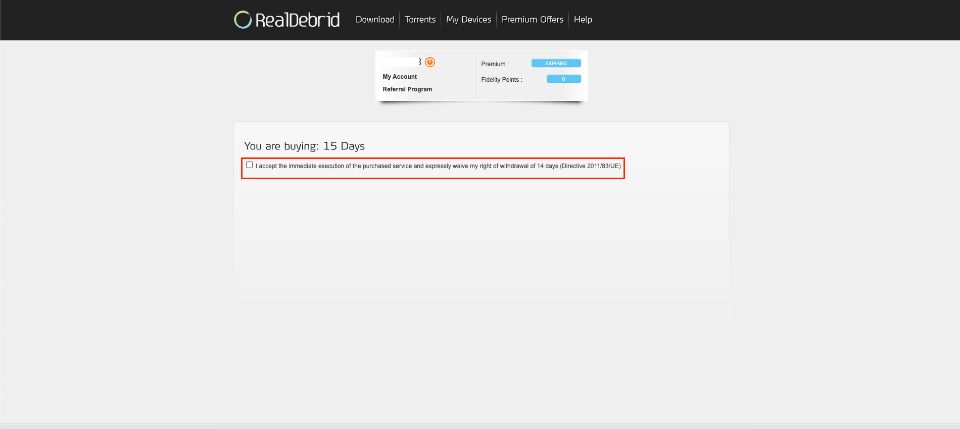 8. There are four payment options: Credit Cards, Amazon Pay, Prepaid Tickets, and Crypto money. Click on your preferred payment method and follow the on-screen instructions to complete the Real Debrid purchase.
Note: Premium Real Debrid offers multi-device support. However, simultaneous streaming must happen within the same network or WiFi. If the same account is used for concurrent streaming on different networks through multiple IP addresses, Real Debrid will block your account. If you wish to stream on a different network, make sure you are disconnected from RD on the previous network.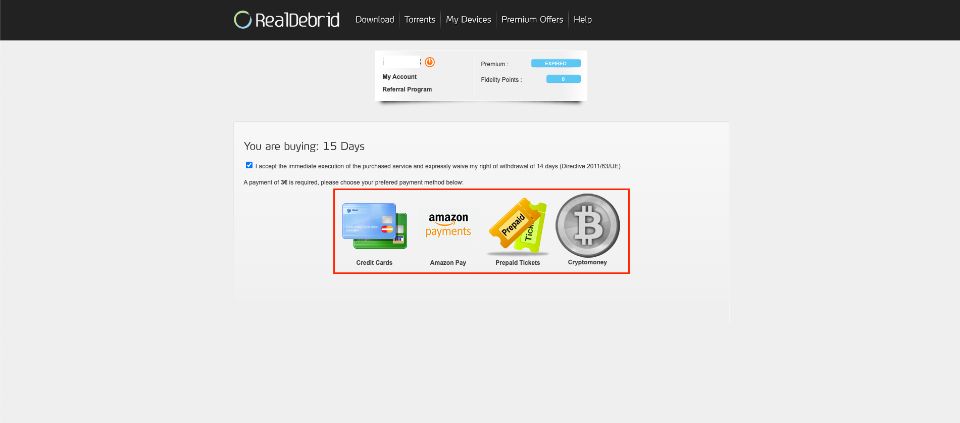 How to Setup Real Debrid on Kodi
This section contains step-by-step instructions on configuring ResolveURL to set up Real Debrid on Kodi. This dependency lets other addons use external links from the internet. When you install a video addon, ResolveURL dependency is installed.
Therefore, you must first install a video addon to access it. For instance, you can install an addon like The Crew or Asgard.
Let us get started with the setup process. Follow these steps:
Disclaimer: This guide is purely educational. We neither own nor operate any of the services mentioned. Some of these may not be legally licensed, and we don't verify their legality in all regions. If you opt to use unverified apps/services/websites, ensure you're streaming only public-domain content. You bear the responsibility for any media you access.
1. Go to Kodi Settings from the home screen.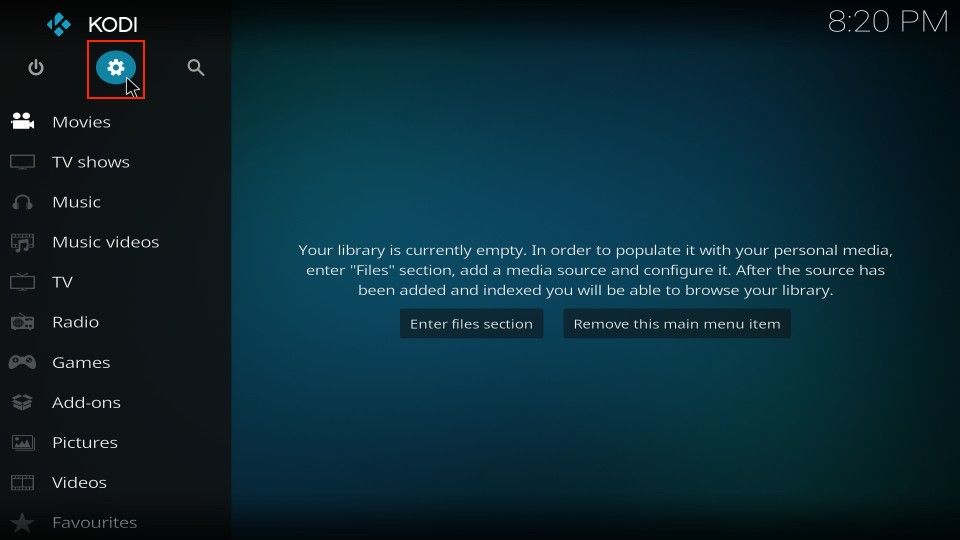 2. Click System.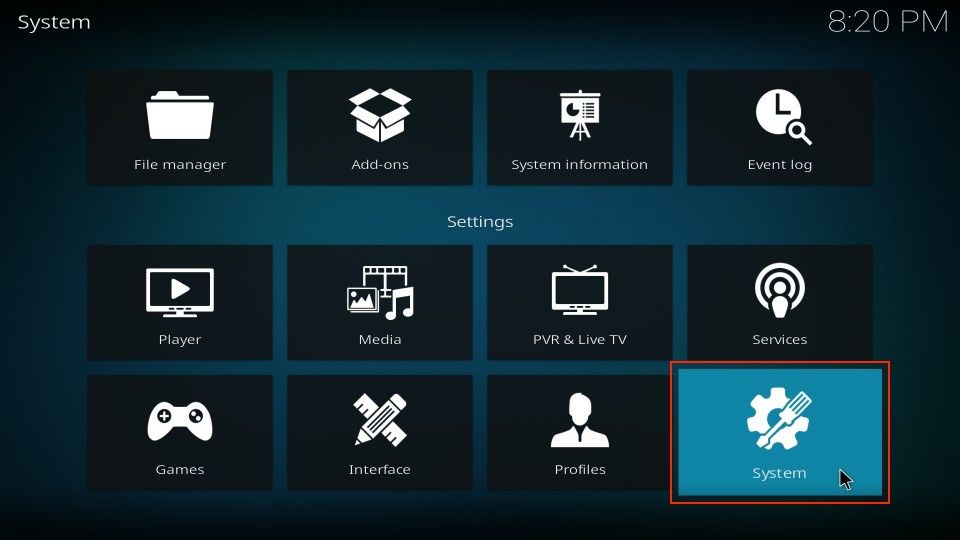 3. Change the Settings level to Advanced or Expert (by clicking the gear/cog icon in the bottom left corner).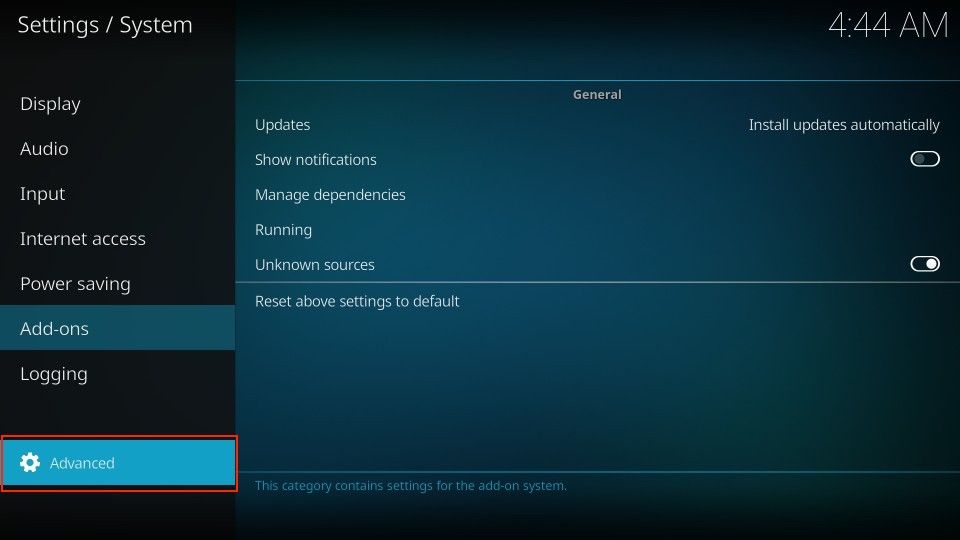 4. Now select Add-ons > Manage dependencies.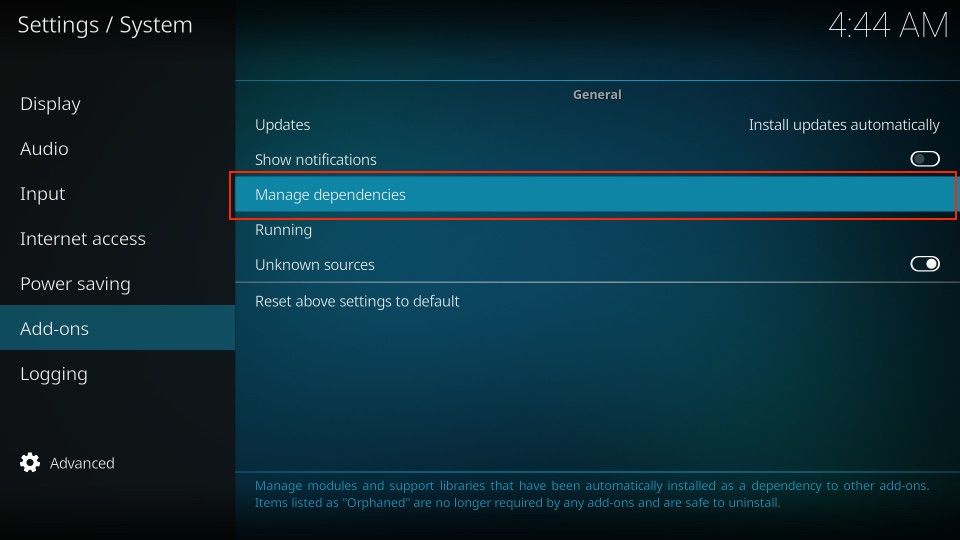 5. Click ResolveURL on the following window.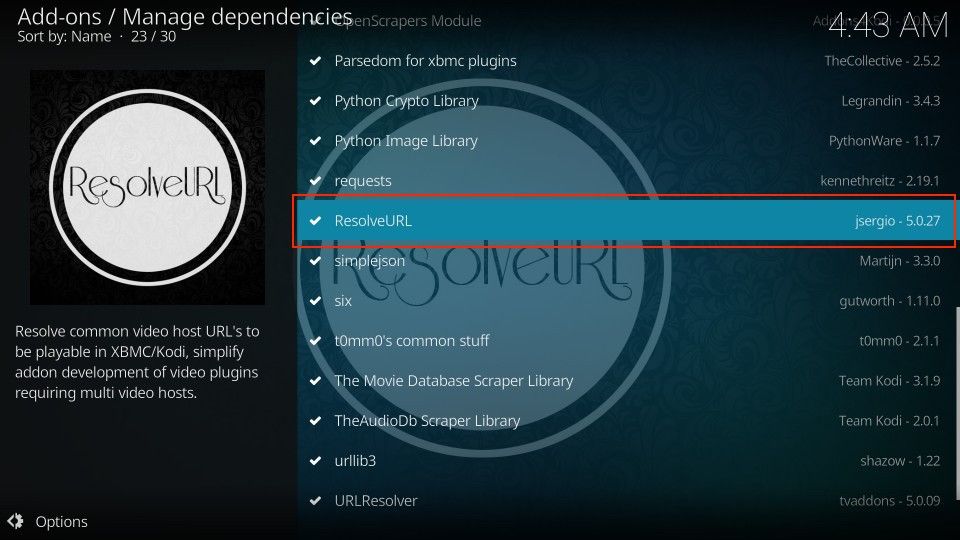 6. Click Configure.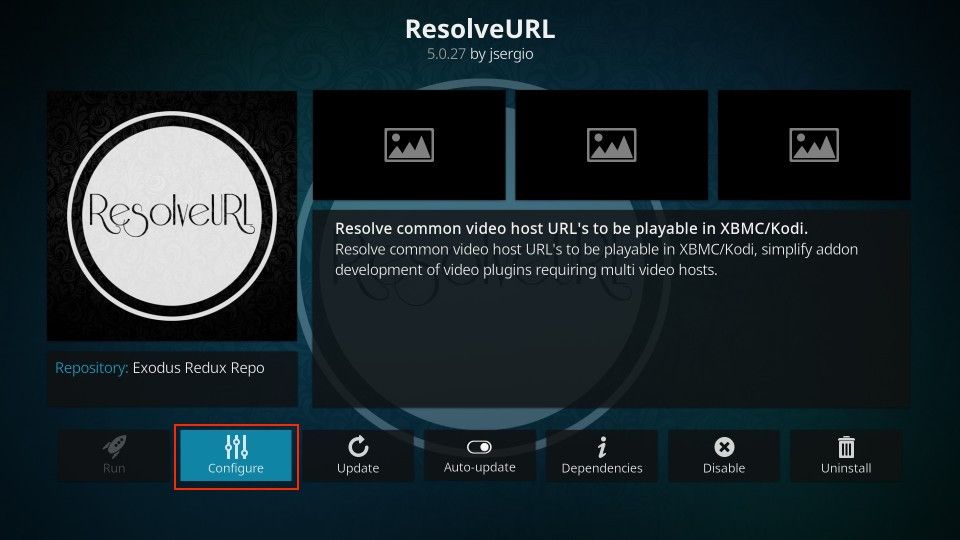 7. Select Universal Resolvers on the left. Now, scroll down to the Real-Debrid category and ensure the Enabled option is turned on.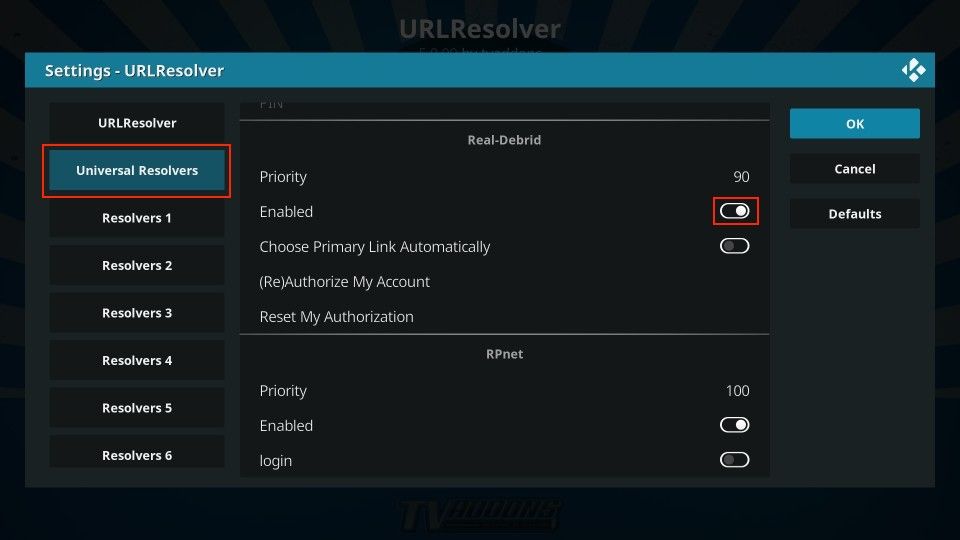 8. Click Priority and change the value from 90 to 100. Click OK when done.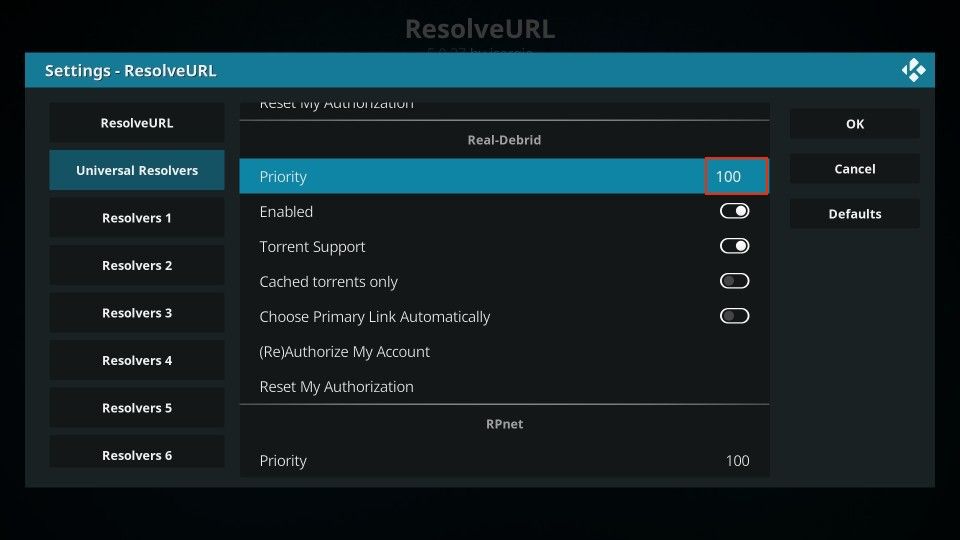 9. Click (Re)Authorize My Account.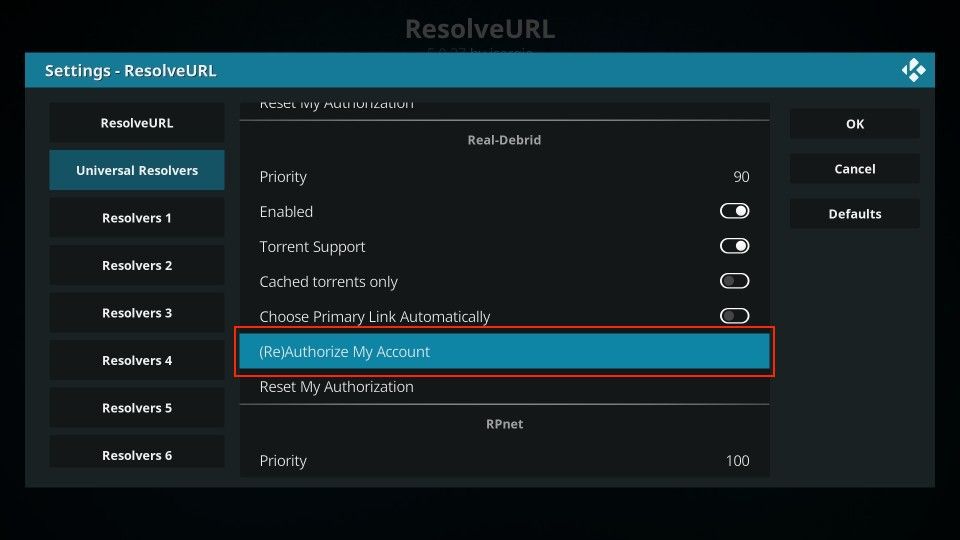 10. A prompt with a code will appear. Note down the code, as you cannot copy/paste it.
Note: Once generated, the code is effective/valid for 120 seconds/ 2 minutes.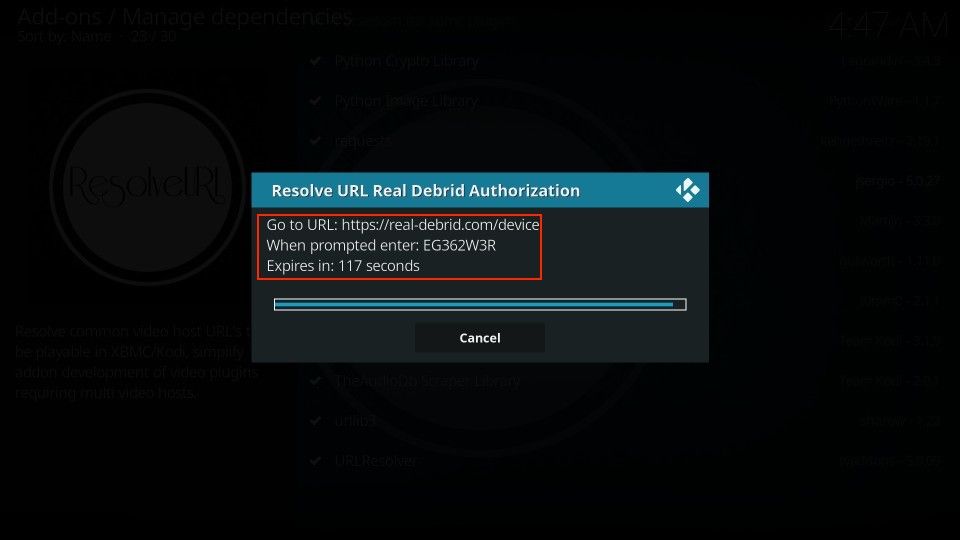 11. As instructed, access https://real-debrid.com/device on a computer or mobile. Enter the code and click Continue.
Note: The code for authentication is NOT case-sensitive.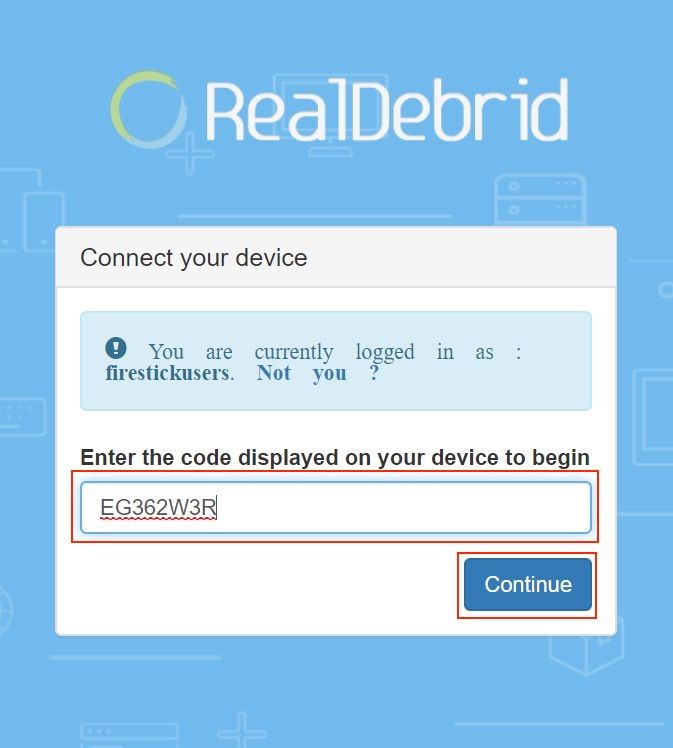 12. If you aren't already logged in to your Real-Debrid account, you will be first prompted to log in. Then, enter the name and click Set that name.
Note: You may set the name for the device if you like or leave it blank.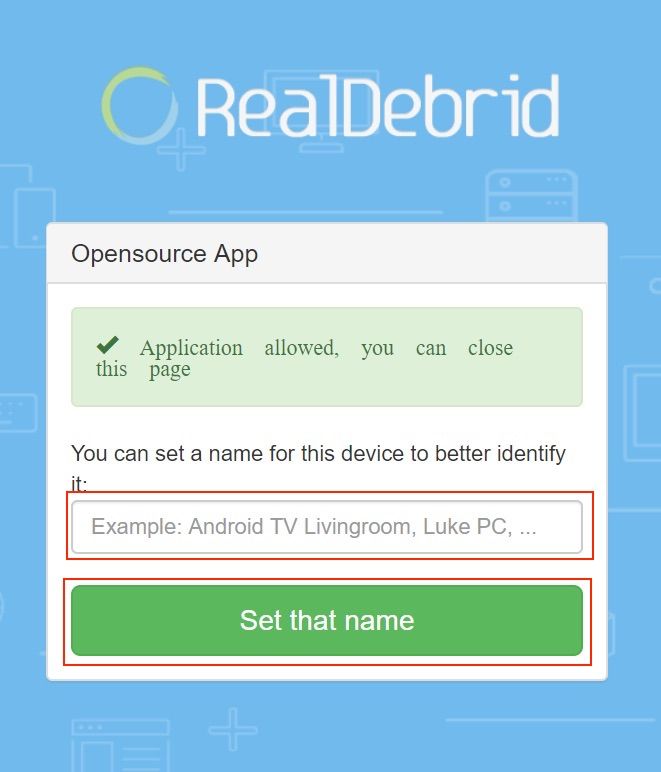 13. When the authorization is successful, You should see the ResolveURL Real-Debrid Resolver Authorized notification on the top right.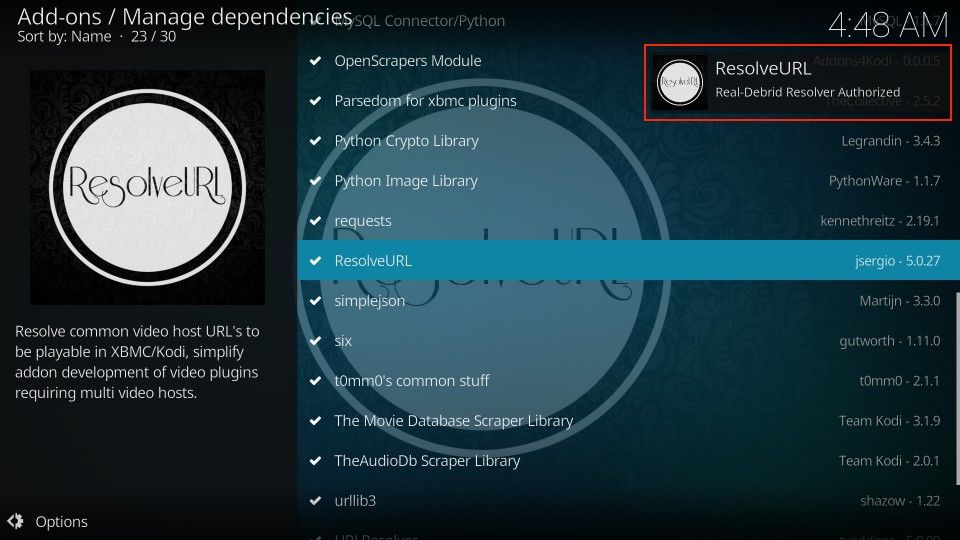 That's it! You have successfully set up Real Debrid on Kodi.
Wait! It looks like you are all set to start watching your favorite content on Kodi. But have you protected your online identity yet? You are under constant surveillance by the Government and ISP. They use your IP address 3.17.249.235 to track you. Streaming free or copyrighted videos may get you into legal trouble.
Thankfully, you can use a VPN to easily protect your privacy and go invisible from your Government and ISP. I use and recommend ExpressVPN with Kodi.
ExpressVPN is the fastest, most secure, and streaming-friendly VPN. It is easy to install and set up on any Kodi device, including FireStick, Smartphones, PCs, and more.
ExpressVPN, offers an unconditional 30-day money-back guarantee. So, if you do not like the service (I don't see why), you can get a full refund within 30 days.
Please remember that we encourage you to use a VPN to maintain your privacy. However, we do not condone breaking copyright laws.
Before you start using Kodi for streaming, here is how you can protect yourself with ExpressVPN:
Step 1: Sign up for ExpressVPN Here
Step 2: Download ExpressVPN on your device by clicking HERE
Step 3: Open the ExpressVPN app on your device. Sign in with your account. Click the connect/power button to connect to the VPN

Great! You have successfully secured yourself with the best Kodi VPN.
How to Setup Real Debrid from within The Addon
Setting up Real Debrid from within any addon is easy. You'll be done in no time if you follow the instructions correctly.
I am using THE CREW addon for the sake of demonstration. However, the setup steps are pretty similar for all other add-ons. Here they are:
1. Access THE CREW Home menu and navigate to the Tools section.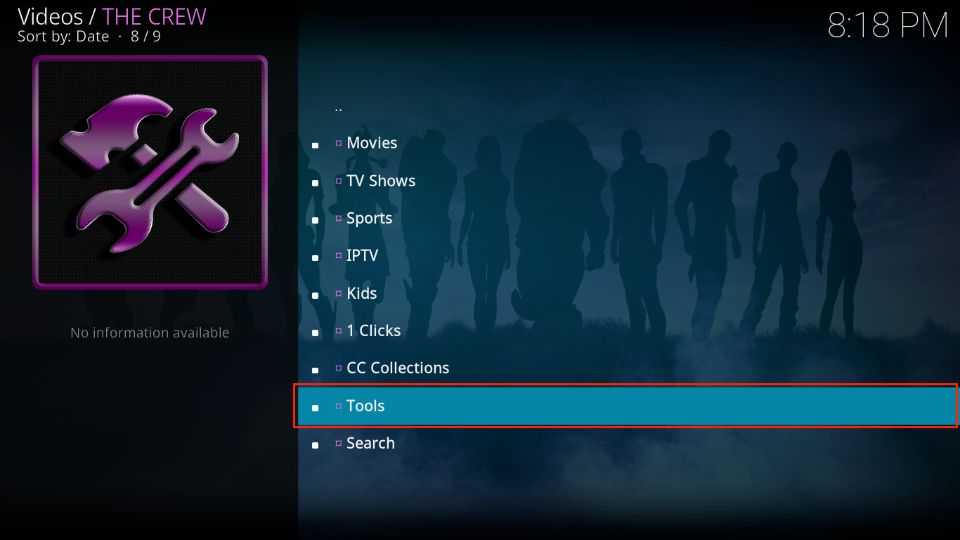 2. Access the RESOLVEURL: Settings tab.
3. A popup menu will open. First, select Universal Resolvers 2 from the left menu.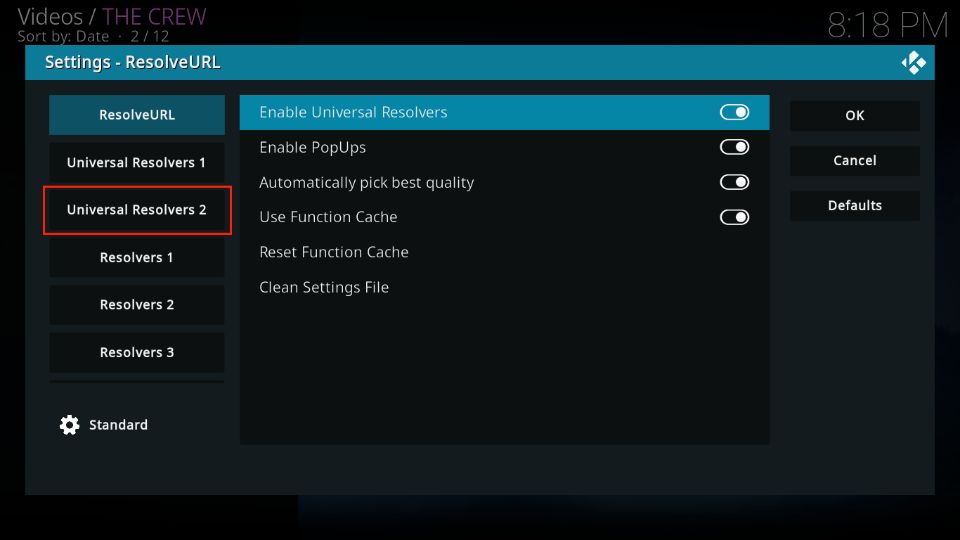 4. Next, scroll to the Real-Debrid section and press (Re)Authorize My Account.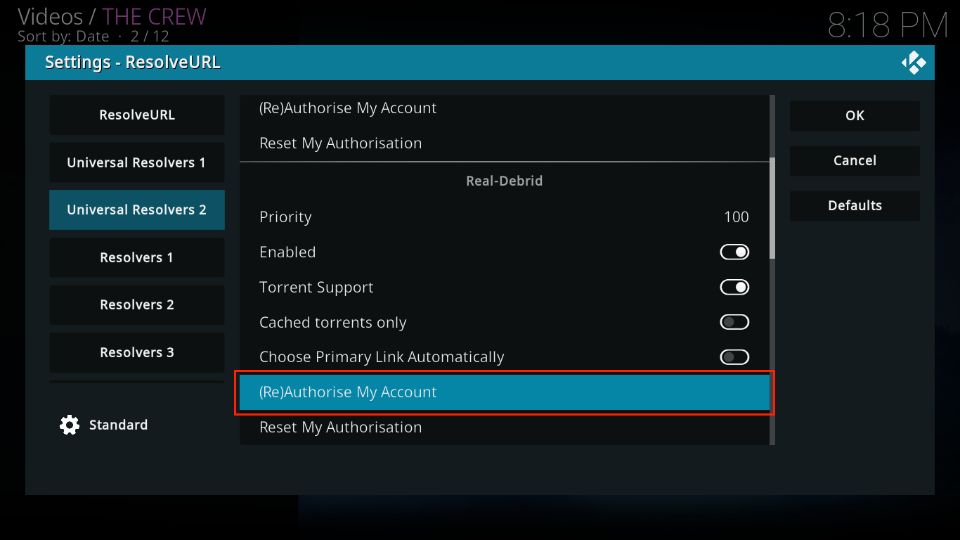 5. Now, go to https://real-debrid.com/device via a web browser. Then, enter the displayed code and complete the authorization.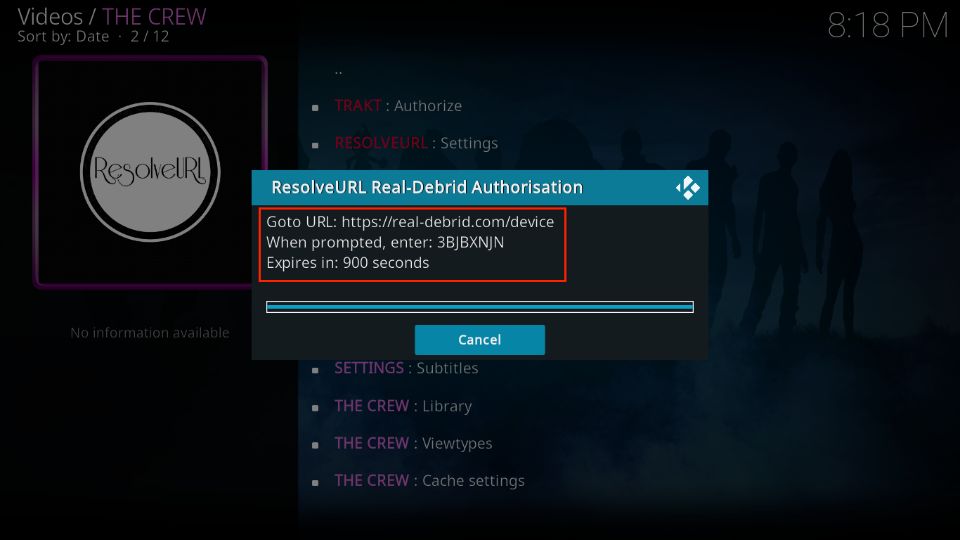 6. Wait for the Real-Debrid Resolver Authorized notification.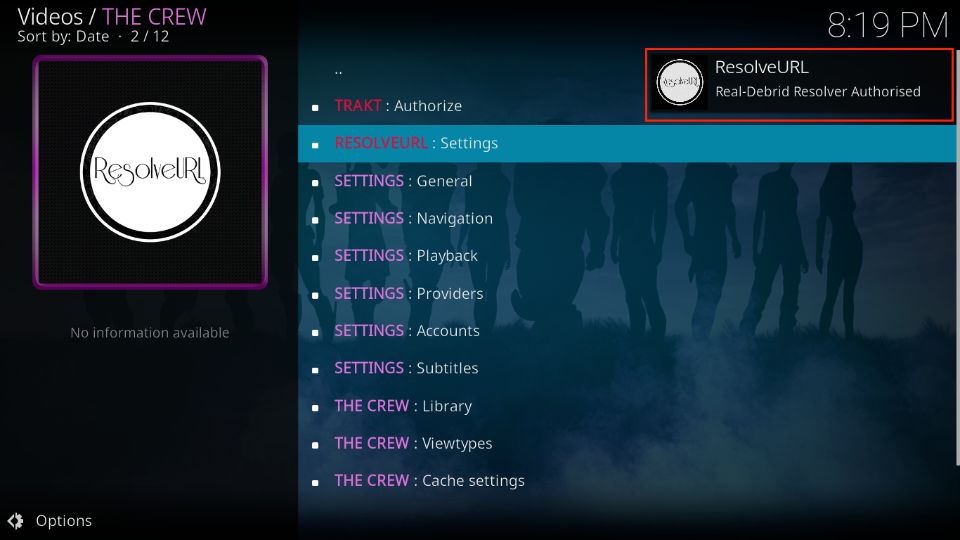 How to Use Real Debrid Service on Kodi
Now that you have set up Real Debrid, you would want to start using Real Debrid on Kodi. That's easy.
Note: With most add-ons, Real Debrid is enabled by default. However, you may need to enable Debrid services in specific add-ons manually. 
The good thing is that no extra effort is required to use Real-Debrid. All you need to do is use your favorite video addon as you did before. You will automatically find new RD streams once you click on an episode or a movie.
These streams have 'RD' written somewhere in their description or appear in a different color from the regular streams. They are easily identifiable.
I have taken the following screenshot from Exodus Redux; you can see the RD streams. They are in yellow and have 'RD' in the description. The regular streams are in white.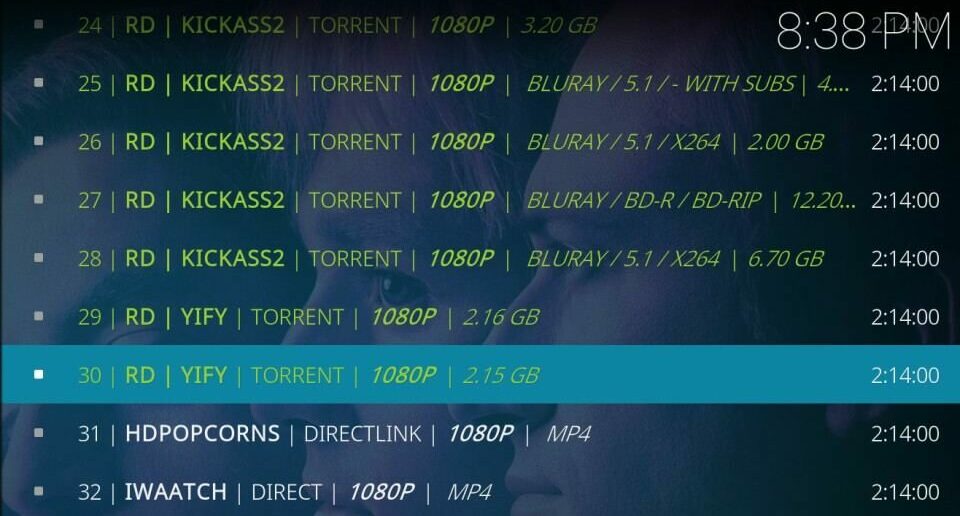 How to Configure Real Debrid on a FireStick Streaming App
Many Fire Stick Apps support Real Debrid, including Cinema HD APK, CyberFlix TV, TeaTV, and more.
I will quickly show you how to set it up on Cinema HD APK. The method works more or less the same way for other apps. Here are the steps:
1. Open the desired apps and go to Settings.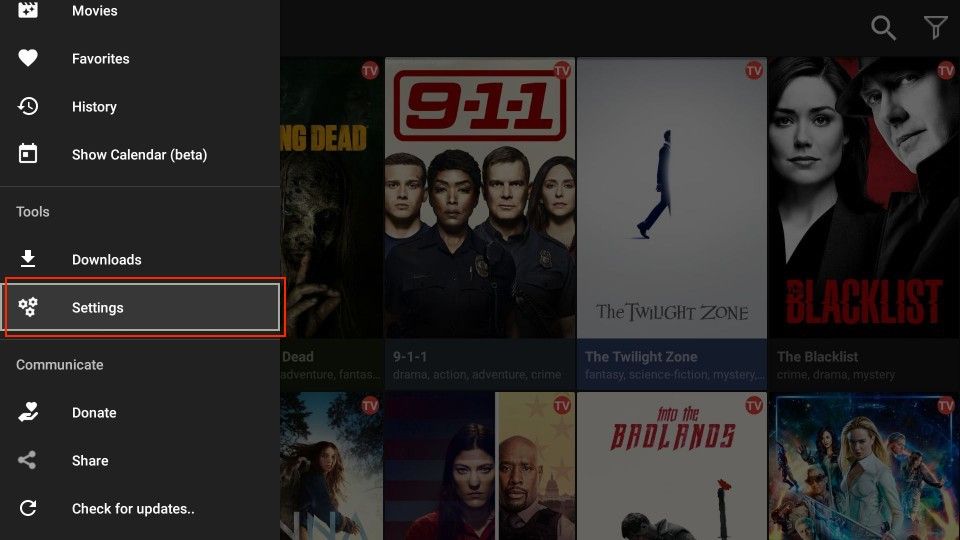 2. Go to the Real Debrid section and click Login to Real-Debrid.

3. You will see a prompt like this. Go to https://real-debrid.com/device and enter the displayed code.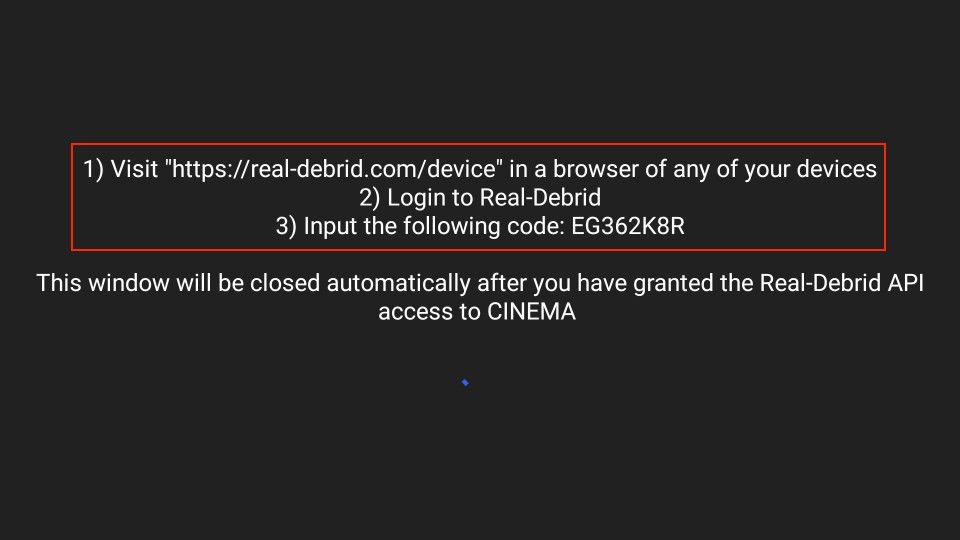 That will be all! You will find several new links through RD when you request a video playback on the app.
Does Real Debrid Work with ExpressVPN?
Yes, fortunately, Real Debrid works well with ExpressVPN. It's recommended that you use ExpressVPN to secure your online activities completely. Real Debrid has some significant issues on the privacy front.
It logs your IP address and stores your online activities. Moreover, the platform may also share the data with third-party agencies. Therefore, a Real-Debrid compatible VPN like ExpressVPN is great for securing your online presence.
Real Debrid & Your Privacy
Again, as I mentioned earlier, Real Debrid severely lacks privacy features. Many users believe their activities on Real Debrid are entirely encrypted, as all the data travels through Real Debrid servers. However, that's not the case.
Real Debrid's privacy policy states that the platform tracks and stores your IP address, online activities, downloads, email address, and approximate location. Moreover, it reserves the right to share this information with the concerned authorities for legal reasons.
So, to keep your activities secure and save you from potential data leaks, you must use a high-quality VPN. A VPN like ExpressVPN ensures that Real Debrid doesn't access your online activities.
How to Delete Real Debrid Streaming History
Luckily, you can delete the Real Debrid streaming history. The process is pretty straightforward and can be done via a web browser.
1. Access the official Real Debrid website and ensure you are logged in. Then, press the My Account tab.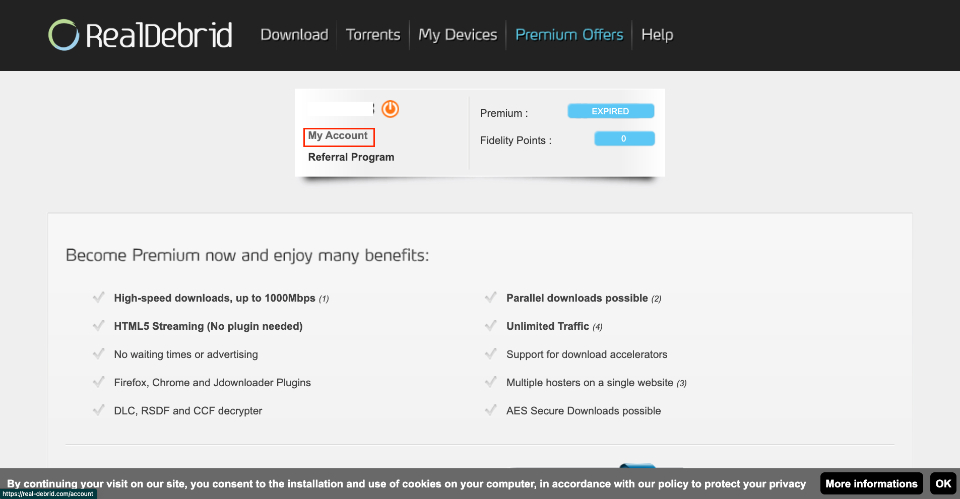 2. Next, navigate to the Account History section. Then press the See button beside the Downloads history tab.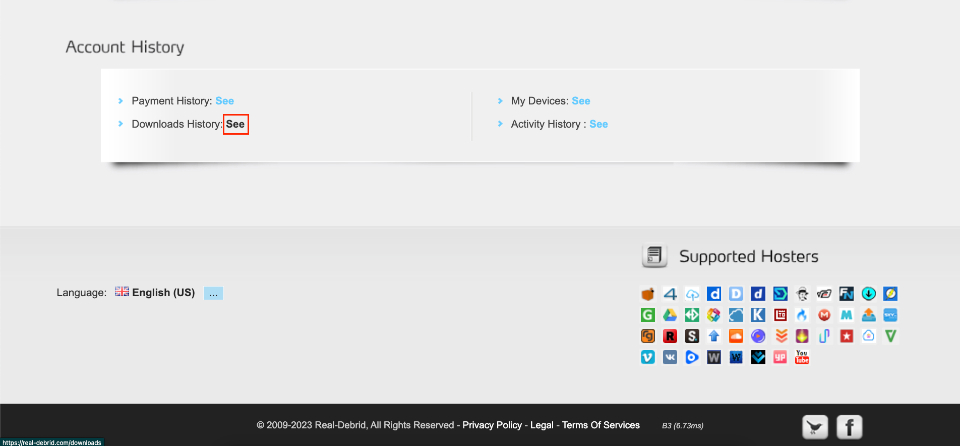 3. You will view a My Downloads section. Lastly, press the Cross icon to delete all the Real Debrid history.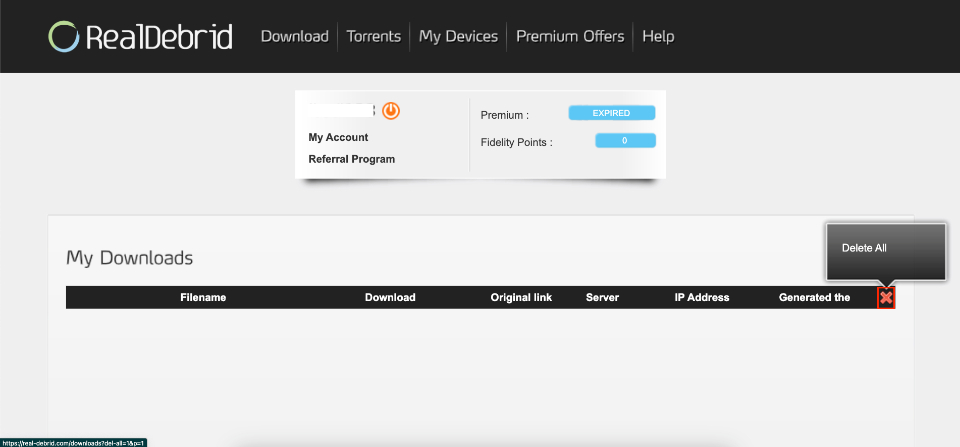 Real Debrid Not Working on Kodi – Quick Fixes
Even though Kodi fully supports Real Debrid, the service may occasionally stop working. If that happens, follow the quick fixes below to solve the issue.
Restart Device
A restart is the most common fix for various system glitches or errors. It will clear temporary data and reestablish your device's connection. You can start by exiting Kodi and relaunching the app. However, if that doesn't work, you can try restarting your device and see if the issue persists.
Ensure You Have An Active RD Subscription
The subscription may have expired if your Real Debrid account suddenly stops working. Real Debrid is a premium service, so if your subscription needs to be renewed, it won't work. So, access the Real Debrid website and enter your login details. You can then view your account status at the top and get it activated.
Check VPN Compatibility with Real Debrid
Unfortunately, Real Debrid doesn't support all VPNs. The service blocks IPs of specific Virtual Private Networks while supporting a few others. You can check out the complete list of compatible VPNs on the Real Debrid site. It includes CyberGhost, ExpressVPN, IPVanish, and more. So, if you're using an incompatible VPN, Real Debrid won't work.
Try Another VPN Server
VPN servers may not run smoothly 24/7. Sometimes, a server may become overcrowded or go down for maintenance. It may slow down the connection or shut down the server completely. If that's the issue, try using another server and see if the problem is fixed.
Ensure You Have Set Real Debrid Correctly
Setting up Real Debrid on Kodi is a bit technical. To authorize it correctly, you must set Priority to 100 on URLResolver. Moreover, you must complete the authorization correctly. Otherwise, Real Debrid won't work smoothly.
FAQs
Here are some popular Real Debrid FAQs on Kodi:
Is it safe to use Real Debrid with Kodi without a VPN?
A Real Debrid privacy policy is not the best. The company claims to track your IP address, online activities, and approximate location. Moreover, it may share the information with higher authorities. Therefore, you must use a high-quality VPN like ExpressVPN to secure your activities completely.
Is Real Debrid legal?
Sometimes, the service may also fetch links for pirated content. It can cause legal trouble for you, so I recommend always watching content from public domain sources and using a VPN with Real Debrid.
Which add-ons are compatible with Real Debrid?
Many Kodi addons can work seamlessly with Real Debrid. Some include The Crew, Venom, CimemaHD, Exodus, and more.
Can Real Debrid be used for live content?
Unfortunately, Real Debrid won't help with streaming live content. It's a premium service solely dedicated to VOD content. So, although you can watch movies, TV shows, documentaries, and more via Real Debrid, live content can't be streamed.
What are some Real Debrid alternatives?
LinkSnappy, Premiumize, and AllDebrid are a few Real Debrid alternatives. All these services fetch high-quality streaming links, work quickly, incur minimal buffering, and offer other premium features. Moreover, many Kodi add-ons support these services.
From where does Real Debrid pull links?
Real Debrid fetches the streaming links from various torrent sites and hosters. Some of them include Mega, Big4Shared, Easybytez, Mixdrop, Data File, Mixloads, Vimeo, Zippyshare, YouTube, Userscloud, YouPorn, Ulozto, Redtube, and more.
Which Kodi version supports Real Debrid?
All Kodi 18 and later versions support entirely Real Debrid.
Conclusion
This post demonstrated how to set up Real Debrid with Kodi and FireStick. Real Debrid is a must-have service for watching content the premium way. This multi-hoster ensures you always have working streams for your favorite content. Real Debrid has partnered with the finest premium hosters to give you access to high-quality streaming links. From buffering to video quality issues, this service fixes everything.
You may also like: