This article is a round-up of the best Kodi builds for all Kodi compatible platforms including Amazon FireStick, Mobile devices (Android & iOS), Computers (Linux, Mac & Windows) and more. This list contains builds for both Kodi 18 Leia and Kodi 17.6 Krypton. 
Whether you are a new or long-time user, a build will give you a completely new and exciting way to experience Kodi. A build gives Kodi a complete visual transformation with a new layout, a more graphically appealing interface, and a more interactive navigation system. It also preinstalls multiple best Kodi addons for all sorts of video content so that you don't have to get them individually.
There are literally hundreds of free builds out there. However, finding the right build isn't always easy. Since Kodi is an open-source platform, anyone is free to develop addons and builds for it. As a result, there are more substandard Kodi builds than the quality ones. You might spend several hours wading through the huge pool of builds before you find the right one.
We decided we would make things easier for you. Therefore, we started testing out all the Kodi builds we could possibly get our hands-on. And, after testing hundreds of them, we picked up the best Kodi builds for you.
We check new builds regularly and keep updating this list whenever we run into a build, we feel you should be aware of. However, this list may not be conclusive. Kodi world is unpredictable and the build that's functional today may go defunct tomorrow. In case we missed, and you spotted a non-working build, please let us know through the comments section below. And, if you believe there is a Kodi build that must be the part of our collection of top Kodi builds, again, we will love to hear from you.
Attention KODI Users:
 Read before you continue
FireStickHow.com does not guarantee the legality, authenticity, or safety of any streaming services, addons, or builds covered on the website.
I highly recommend you to use a tested and trusted Kodi VPN to protect your online identity while using free or low-cost third-party streaming services. A secure VPN connection will mask your IP address with an encrypted connection and keep you 100% safe from any and all types of surveillance by your Government, ISP, and even hackers.
Your IP 2607:5300:203:2226:: is exposed right now.
I personally use ExpressVPN and recommend it as the best Kodi VPN. ExpressVPN is exceptionally fast and protects your streaming activities with military-grade encryption. It also maintains a strict zero-log policy.
ExpressVPN offers an unconditional 30-day money-return guarantee as well.
Click HERE to save 49% on ExpressVPN and enjoy 3-months of additional coverage.
What are Kodi Builds?
Before I start lining up the best Kodi builds, I would like to give a little rundown of what exactly the Kodi builds are. It will help new users have a better understanding of what they are getting into.
When you install Kodi and run it, you notice that it has a certain style of interface. The home-screen of Kodi has menu items on the left and the right part is mostly blank. The interface is not exactly very user-friendly, especially for the new users. When you start using Kodi, you notice that it has a predominantly blue and black theme throughout. Also, the default Kodi doesn't offer any streaming choices. You must install video addons separately to watch your favorite content.
When I first started using Kodi, it took me a while to get used to it. I hoped it had a more interactive and appealing interface. Everything appeared plain and boring. Then I learned about Kodi builds.
The builds take care of two very important aspects of Kodi. First, they make the user interface visually more appealing, more user-friendly and definitely more intuitive. Second, they automatically install a wide range of video add-ons so that you don't have to install them manually and individually.
So, with a Kodi build you get a more exciting user interface and plenty of addons to get you started streaming right away.
Best Kodi Builds
So, here is our rally of the top Kodi builds. The list has been sorted on the basis of usability, performance, and popularity. I am confident you will have a better media experience with these builds. Take a look!
No Limits Magic Build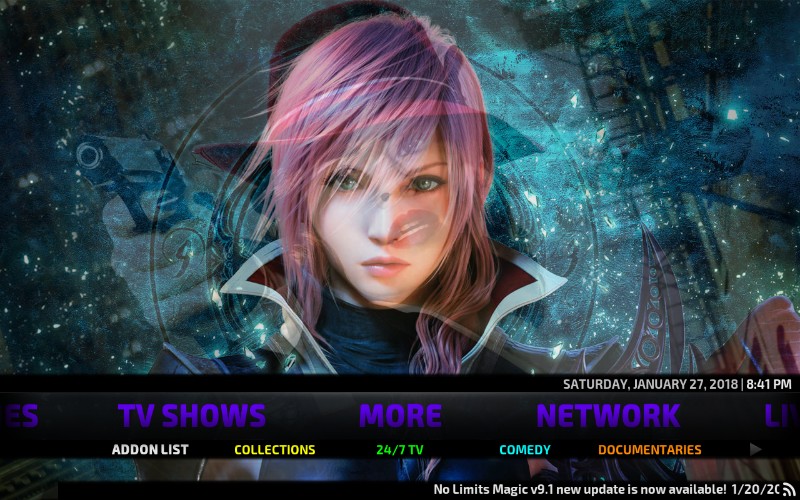 No Limits Magic Build is another very well-known name among the Kodi users. The build comes in two variants – Regular and Lite. While the Lite build is for low-spec devices, I have observed that the Regular version also works almost flawlessly on my FireStick. Lite is the stripped-down version, but it still offers all the basic features you would need to get going.
This build comes with plenty of preinstalled video addons for all your streaming needs. You can watch Live TV, Sports or stream Movies or Shows. You can also watch Kids related videos too. cCloud TV, The Magic Dragon, Sports Devil, Exodus Redux, Yoda are some of the popular addons that come prepacked with No Limits Magic Build.
For the reasons above and more, No Limits Magic Build makes it to the list of our best Kodi builds. You will also notice that this build has active developers behind it who make sure it is regularly maintained and updated with new and working addons.
How to Stay Safe While Streaming with Kodi
Looks like you are all set to start watching your favorite content. However, do not forget that all your streaming activities and your online identity are still unprotected and exposed to your Government and your ISP. Streaming with third-party services may cause legal trouble.
Thankfully, you can easily protect yourself and go invisible from your Government and ISP by using a VPN. Whenever I am streaming with Kodi, I always connect to ExpressVPN and recommend the same to you.
ExpressVPN is the fastest and the most streaming-friendly VPN. It is also the most secure VPN.
With ExpressVPN, you get a 30-day money-back guarantee as well. Although I don't see any reason why, if you do not like the service, you will get a full refund within 30 days.
Please remember that we encourage you to use a VPN to maintain your privacy. We do not condone breaking the copyright laws.
Before you start using Kodi for streaming, here is how you can protect yourself with ExpressVPN:
Step 1: Sign up for ExpressVPN Here
Step 2: Download ExpressVPN on your device by clicking HERE
Step 3: Open the ExpressVPN app on your device. Sign in with your account. Click the connect/power button to connect to the VPN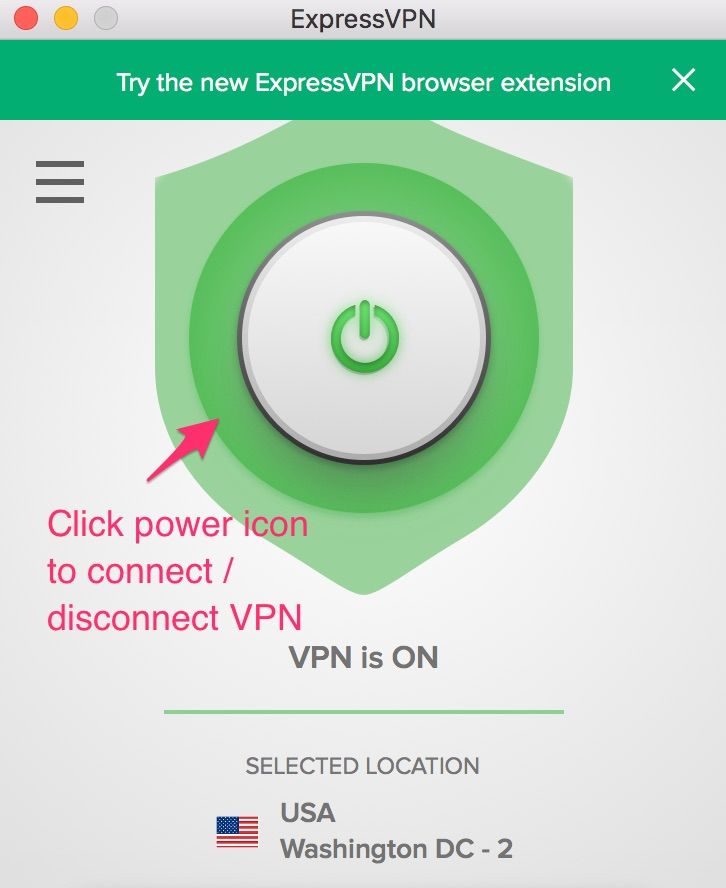 Great! You have successfully secured yourself with the best Kodi VPN.
Now that your connection is encrypted with the top Kodi VPN, you can start installing the Kodi builds. To start, here's how to install No Limits Magic Build.
Titanium Build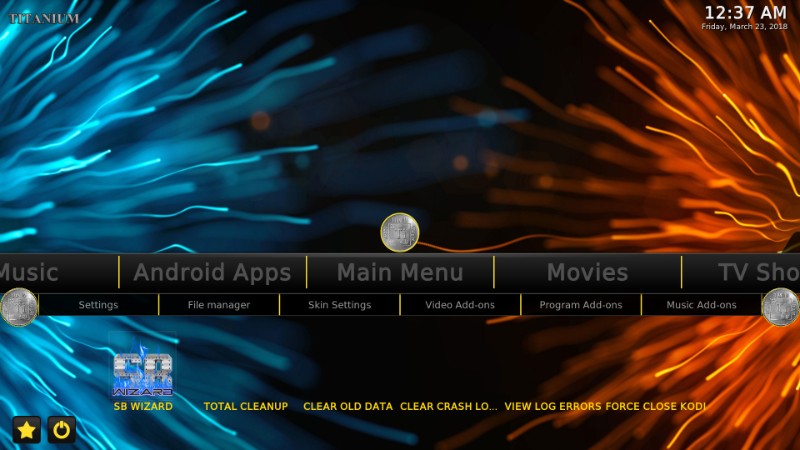 Titanium Build has consistently featured as one of the best Kodi builds for quite a while now. This build offers you a whole new way to experience Kodi. Not only does it lend Kodi a complete and delightful visual transformation, but it also comes packed with loads of top-rated addons that make sure you are never short of streaming choices.
With addons like Exodus Redux, Yoda, SportsDevil, Deceit, you can watch your favorite movies and shows, live TV, sports videos and a great deal more. Titanium Build features an interface that's not just visually appealing but also incredibly user-friendly. You can access popular options right from the home-screen and for what's not on the front, there is an easy navigation system.
This build is moderately sized and hence works smoothly on all Kodi platforms, including your FireStick. It comes from the source Supreme Builds Wizard, a very popular name in the Kodi world. Titanium Build is backed by an active team of developers who offer regular updates and maintenance. Whether you are new to Kodi or an experienced user, Titanium is one of the Kodi builds that are suited for all. Go ahead and give it a try.
Guide – How to install Titanium Kodi Build
Xanax Build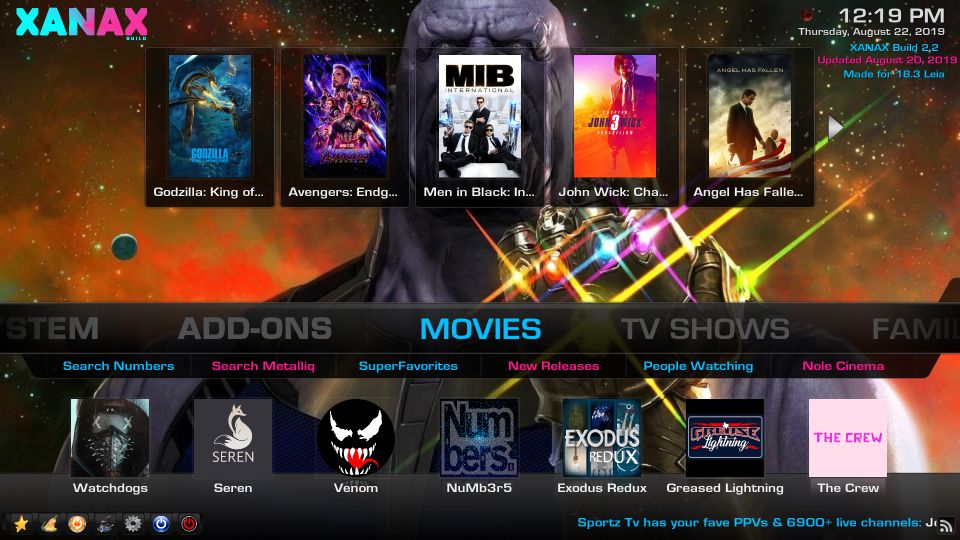 Xanax Build is often called the clone of the – once very popular and now non-functional – Durex build. Introduced a few months ago, Xanax build has climbed the popularity chart quite rapidly. This moderately-sized build if known for its swift performance on all sorts of devices. It works smoothly on FireStick as well as other low-spec streaming devices.
The build has an intuitive and user-friendly interface. The menu and submenu strip on the home screen allows for easy navigation. The main screen features the most used addons and also lines up the featured content based on the menu item you choose. With categories like Movies, Shows, Family, Sports, you can quickly start streaming. Xanax Build gets you the streaming sources from the popular addons like DejaVu, Venom, Luxray Video, Mercury, 7 of 9, cCloud TV, Deceit, Numbers, Exodus Redux, Loki and more.
Xanax is one of the best Kodi builds I have used and it certainly deserves a spot on this list. Try it!
How to Install Xanax build on Kodi
Streamline Kodi Build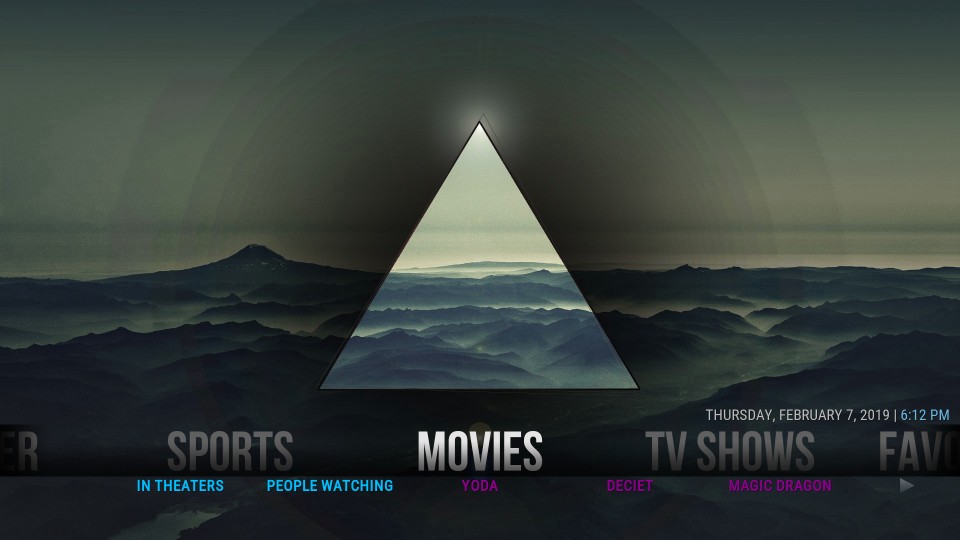 Simplicity in design is one of the aspects I look for while including any build to this rally of Best Kodi Builds. Streamline was a no-brainer addition for me. It is one of the most uncomplicated Kodi builds I have seen recently.
Without creating a lot of fuss, Streamline lets gives you access to a wide range of streaming choices. With a decently sized collection of video add-ons, you can stream Live TV, Movies, Sports, TV Shows and a lot more for hours. The minimal design gives the build an elegant appeal and also makes sure it is incredibly easy to use.
Popular options like Movies, TV Shows, Sports etc can be accessed directly through the menu bar on the home-screen that extends across the width of the build. It is a lightweight build and it works swiftly on FireStick, Android TV Boxes, and other low-spec devices. All in all, Streamline is one great build to have.
Guide – How to install Streamline Kodi Build
OneNation Portal
Update: This build is not working now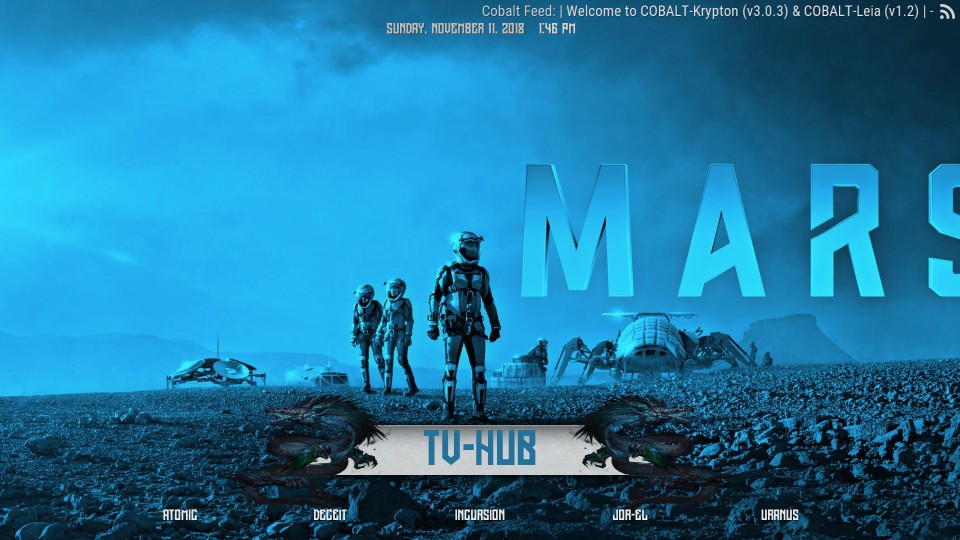 OneNation Portal is not a single build but a whole catalog of some exceptional Kodi builds. The developers behind this collection of builds make sure that all the builds are well maintained and updated. The builds that have gone defunct are instantly removed. You will find plenty of in-house as well as externally sourced builds from other third-party developers.
This repository hosts all kinds of builds for all sorts of devices. For instance, if you use FireStick and are looking for something that runs smoothly on your device, you will find a build for it. If you are looking for a feature-rich build for your spec-rich device, there will be a build waiting for you.
OneNation Portal has Kodi builds for Kodi 18 Leia as well as Kodi 17.6 Krypton.
Guide – How to install One Nation Builds
Diggz Xenon Build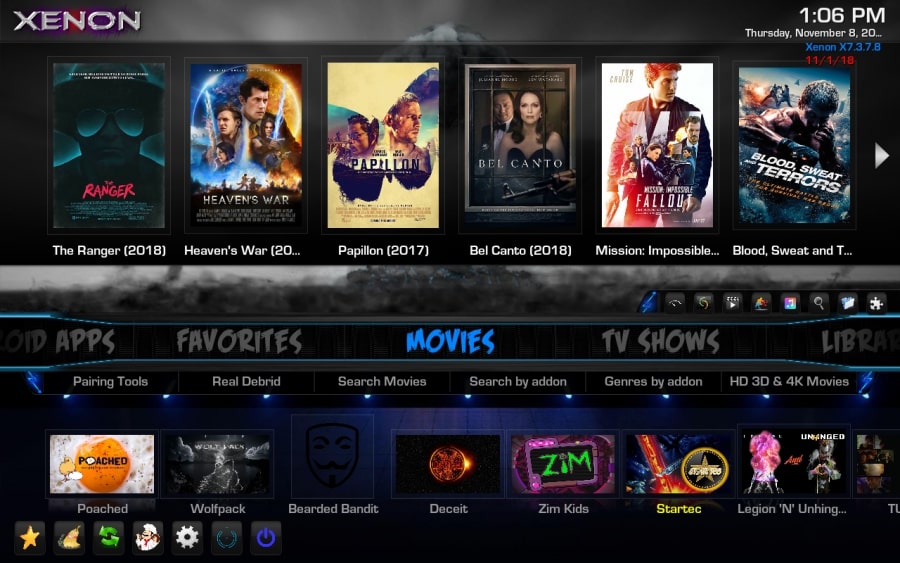 Xenon is one of the most widely used Kodi builds these days. Small size, ease of use, user-friendly interface, and a wide range of streaming choices make this build a great choice for all your streaming devices. Whether you have FireStick, mobile, computer, or Android TV, Xenon works superbly on all.
The build features a familiar layout with main menu and submenu strips on the main screen. The main menu accommodates multiple streaming categories including Movies, TV Shows, Kids Zone, Sports, etc. When you choose a streaming category, say Movies, the featured add-ons are displayed below the menu and trending content lines up above it. This gives you quick and easy access to streaming content.
IT, Venom, Debrid Cave, Numbers, cCloud, IT, The Magic Dragon, SportsDevil are some of the video add-ons from which Xenon build gets its streaming sources. All in all, it is a great build to have.
How to Install Diggz Xenon build on Kodi
Misfit Mods Lite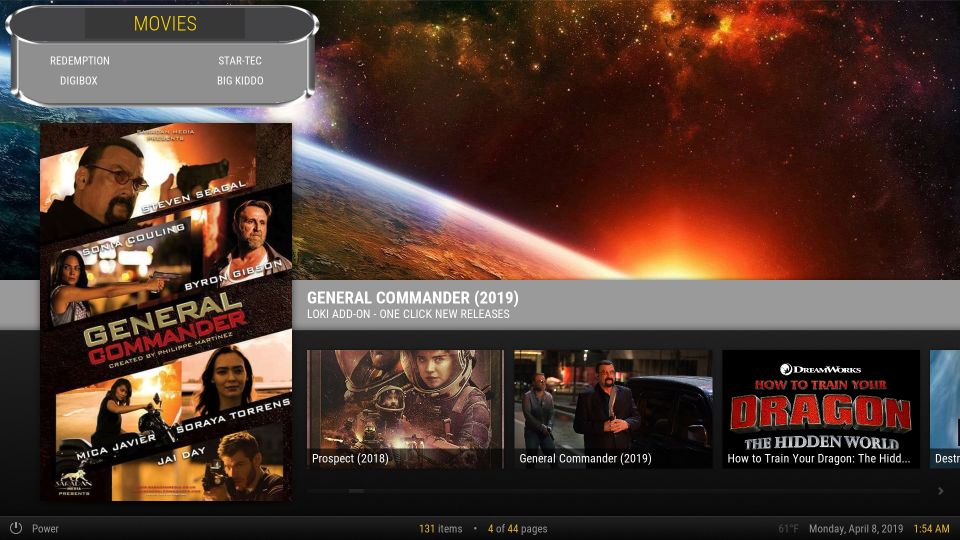 Misfit Mods Lite is a perfect build for those who are looking for a lightweight build for rather less-powerful media devices like FireStick. This build has cut down all the bells and whistles and offers only the most basic features. That said, one must not assume the build is not good enough. In fact, it is pretty good. That's why it is the part of this family of top Kodi builds.
This build takes care of the fundamentals very well. It doesn't have a huge collection of video addons. However, it has enough to help you stream any type of content you want including Live TV, Sports, Shows, Movies and more.
The interface of this build is also rather unique and departs from the convention. The menu bar and submenu bar are snapped to the top edge. The bottom section of the build is usually populated with the addons related to the options chosen in the menu above.
Misfit Mods Lite is one of the older builds and has been around for a while. It has been well maintained and regularly updated. I don't say anything that could go wrong with the build. So, try it!
Guide – How to install Misfit Mods Lite Build
Diamond Build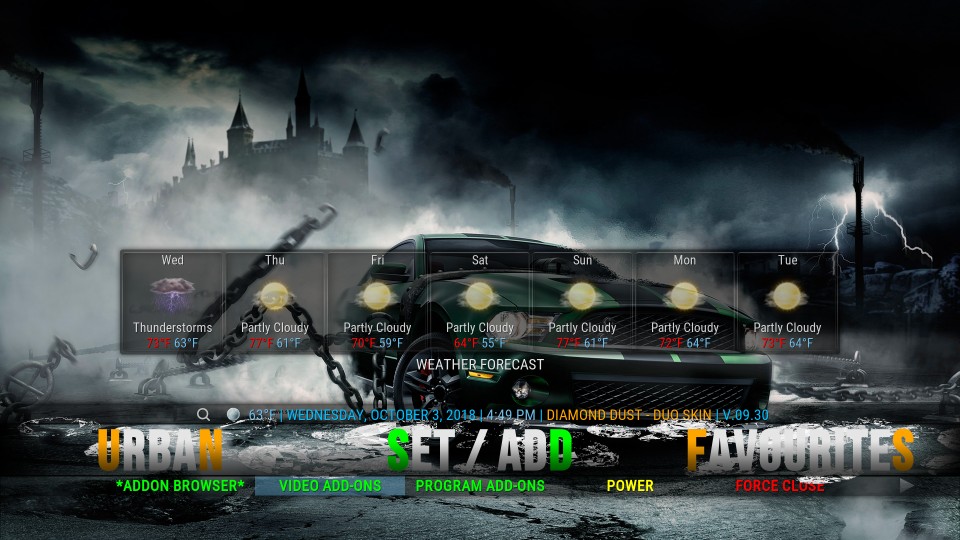 Once I used Diamond Build, I had no speck of doubt that it will be the part of our list of top Kodi builds. Formerly known by the name Diamond Dust, this build brings the touch of freshness to the Kodi interface. The graphical layout of Diamond Build gives a futuristic feel to the appearance. With menu items and various elements properly organized on the home-screen, the developers have made sure this build is easy to use for new and experienced users alike.
Addons are the most important aspect of a build and Diamond Build comes with plenty of them. With video addons like Exodus Redux, Yoda, The Magic Dragon, SportsDevil, DeathStar, Diamond Build serves you lots of options to you to stream all kinds of content you desire including Movies, Shows, Sports, Live TV and a lot more.
Diamond Dust tends to get a bit heavy, owing to its size. So, it could be a bit slow on your FireStick or other low-spec devices. But, it does work smoothly on even the moderately equipped hardware platforms like mobiles and computers.
Go ahead and try the build for its amazing user interface and collection of video addons.
How to install Diamond Kodi Build
Slamious Build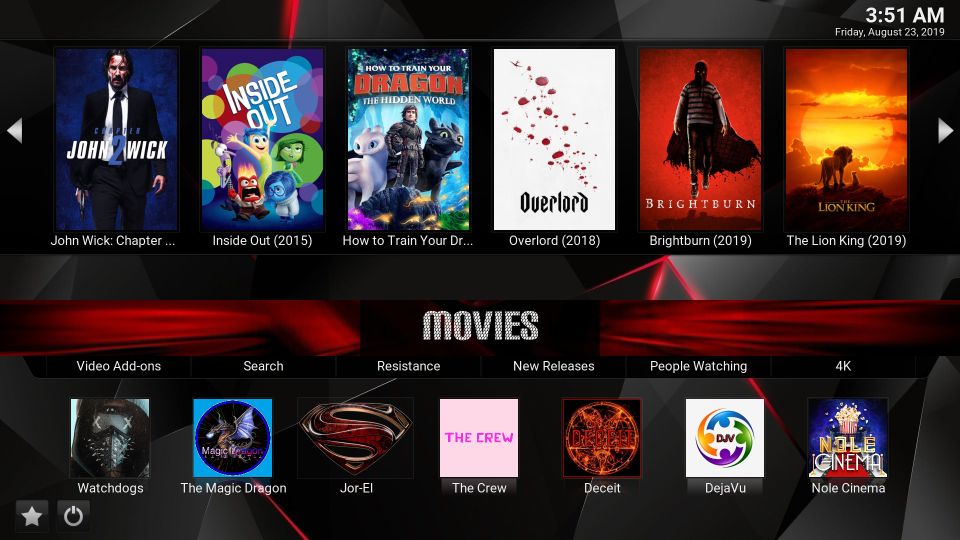 There are several reasons to love Slamious Kodi build. Though, what I like the most is its design simplicity. While it has an all-too-familiar layout with the menu and sub-menu packed as a horizontal stripe across the width, the overall finishing makes Slamious stand out.
Movies, TV Shows, Live TV, Sports, Kids, Music are the streaming categories you could quickly get access to from the main menu. The home screen of the build picks the best video add-ons and lines them up around the bottom for your easy picking. The home screen also displays the trending titles above the menu bar allowing you to start streaming instantly.
How to Install Slamious build on Kodi
Grindhouse Kodi Builds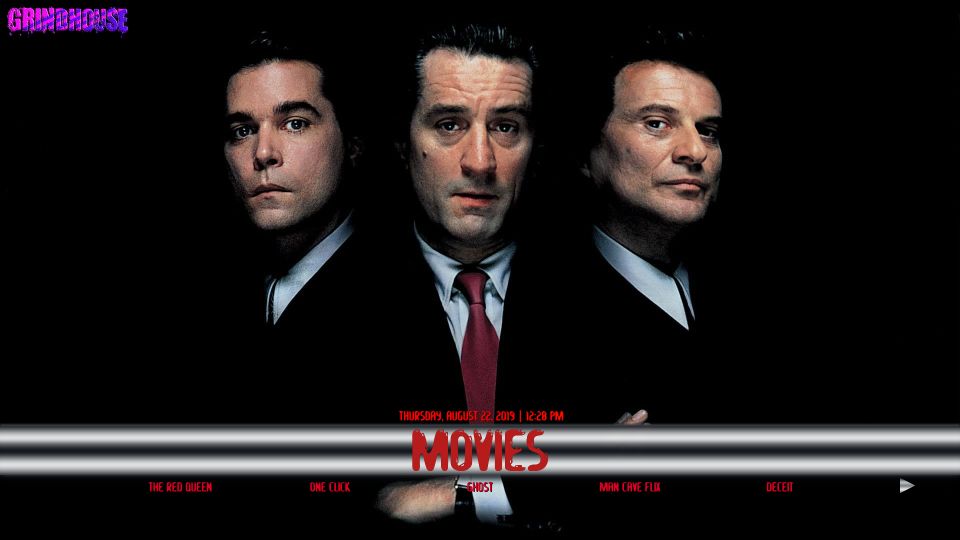 The Grindhouse Builds are a fine set of Kodi builds for Kodi 18 and Kodi 17.6. These builds give a pleasing makeover to your default Kodi interface making it not only visually more appealing but also more functional. You will find both lightweight and feature-rich builds in the Grindhouse Wiz collection. The developers of these builds seem to know a wide range of user choices.
These builds also make sure you never run out of streaming options. They pack a number of popular Kodi video-addons including Deceit, Numbers, Loki, Exodus Redux, The Magic Dragon, SportsDevil, etc. You may not find the same collection of addons in all the builds, but there will always be enough for a decent streaming experience. These builds are definitely worth a try.
How to Install Grindhouse builds on Kodi
DaButcher Builds
DaButcher was also an easy choice while picking the best Kodi builds. DaButcher is a collection of Kodi builds for both Kodi 18 and Kodi 17.6. The builds are the part of the in-house DaButcher Repository.
While you can count DaButcher builds on your finger, almost every build I have used has appealed to me. DaLight and DaBs Basic are the definite standout among others. These builds are small in size but they get you everything you need for an amazing Kodi experience. Whether you use a low-spec device like FireStick or a high-end computer system, performance will never be a problem. All in all, DaButcher Kodi builds are a great choice for all sorts of users.
Two Kingdoms Build

Quite like One Nation Portal, Two Kingdoms is an assortment of a variety of builds. Even though its collection is not as big as that of One Nation Portal's, it is still decent. And, the reason why it is among our top Kodi builds is that it has some quality builds. I have personally tested most of them.
As you would expect, Two Kingdoms Build repository offers builds for a range of devices. There are some heavy and feature-rich builds that require at least moderately high-spec devices. Then there are builds that do not exceed 100 MB upon installation and work smoothly on low-spec devices. All in all, it is a good collection of Kodi builds to explore.
Silvo Build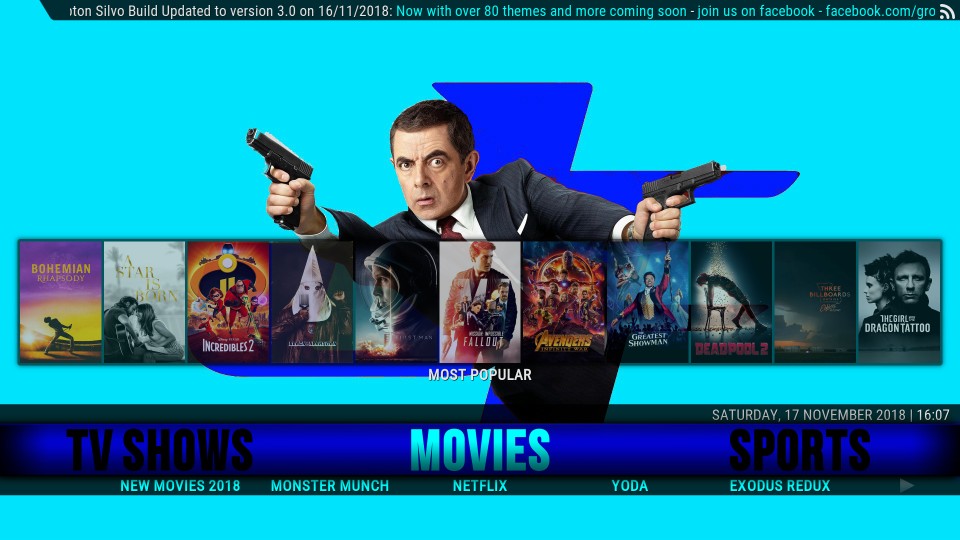 Silvo Build comes with a solid library of popular video addons that make sure you get to stream everything you love to. This build has Exodus Redux, Numbers, Deceit, DeathStar, The Magic Dragon, and several other well-known Kodi addons. With these addons you may watch Live TV, Movies, TV Shows, Sports and just about everything you want.
If you are using a media device with humble specs, you don't have to worry about the performance with Silvo Kodi Build. This build is lightweight and works trouble-free on every device I tested it on. The build also comes with a neat, clutter-free interface that's just incredibly easy to get used to. I recommend this build to beginners as they will get familiar with it in no time. However, it is just as good for experienced Kodi users. Silvo Build is the part of our Best Kodi Builds line up and deservingly so. Go take a test drive!
Xontech Kodi Build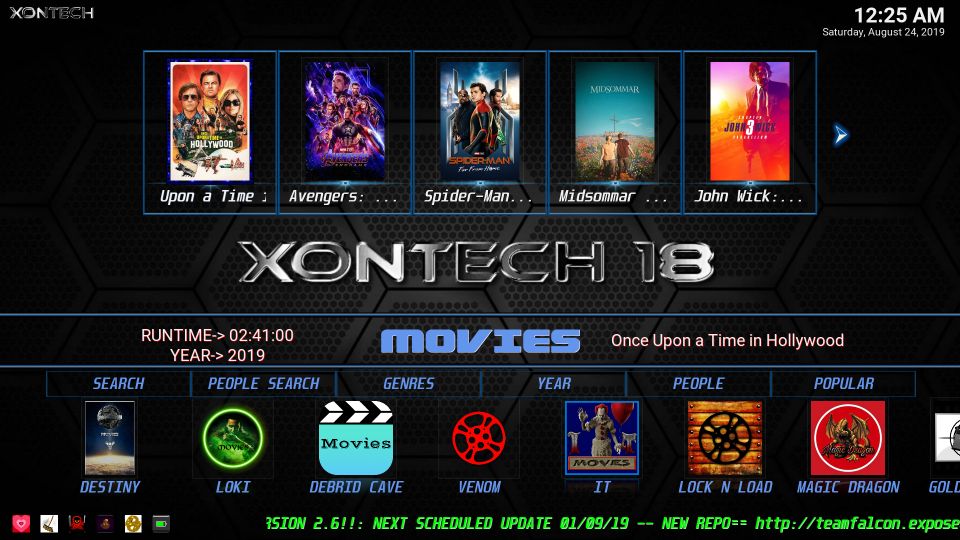 Xontech build has a neat, clutter-free interface and offers incredible ease of use. The build has a somewhere between modern and futuristic feel to it. The familiar layout is meant for smooth and easy navigation. The build installation data could cost you more than 400 MB of the storage. It still works alright on FireStick and Android Boxes and decently fast on most computer configurations.
The build lets you access your favorite addons from the home screen. You will also find the trending movies and shows on the home screen for your easy pickings. If you wish to explore the content by addons, there are plenty to choose from including Loki, IT, The Magic Dragon, Debrid Cave, Deceit, DejaVu, and many more.
There are various streaming categories in the main menu on the home screen, such as Movies, Shows, Live TV, Kids, Sport, 1-Click, 3D/4K, etc. Xontech is a promising build, which is likely to get very popular soon. Therefore, it is also a part of our list of the best Kodi builds.
Innovation Kodi Builds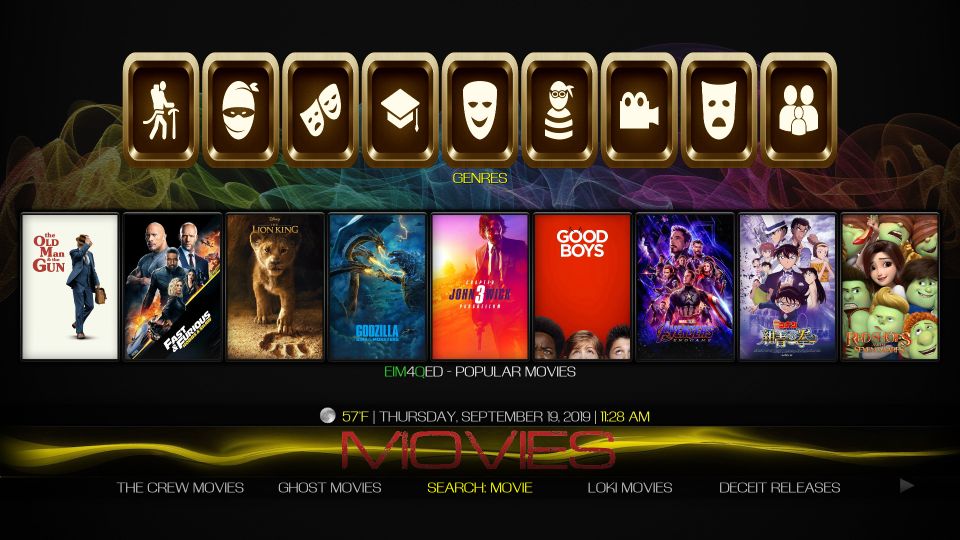 As I write this, you can install two variants of the Innovation Kodi Builds – Colors Family and Colors Adult. As is evident by the name, the Adult version comes with the additional section for adult content. Otherwise, both these versions are essentially the same.
In order to keep the builds lightweight, the developers have included only a handful of preinstalled addons. However, there are enough of them for all sorts of streaming options including Shows, Movies, Live TV, Sports, etc.
The builds have a familiar layout with standard menu and submenu bars. You can also pick the popular titles and categories from the home screen. The builds are user-friendly, offer smooth navigation, and are easy to use. Give them a try!
How to install Innovation builds
EzzerMacs Kodi Builds
EzzerMacs is one of the biggest collections of builds in the Kodi world. The developers have created dozens of inhouse builds for both Kodi 18 and Kodi 17.6 Krypton. The myriad collection lets you pick builds in various sizes, themes, layouts, and skins. From the lean, lightweight to heavy and feature-loaded Kodi builds, there is everything you could ask for.
Besides their in-house Kodi builds, EzzerMacs also sources builds from various third-party developers. If you have EzzerMacs, you probably wouldn't need any other repository. These Kodi builds also offer a lot of streaming options with the popular preinstalled addons. Explore this huge pool of Kodi builds and get ready to experience Kodi in a whole new style.
Plutonium Kodi Build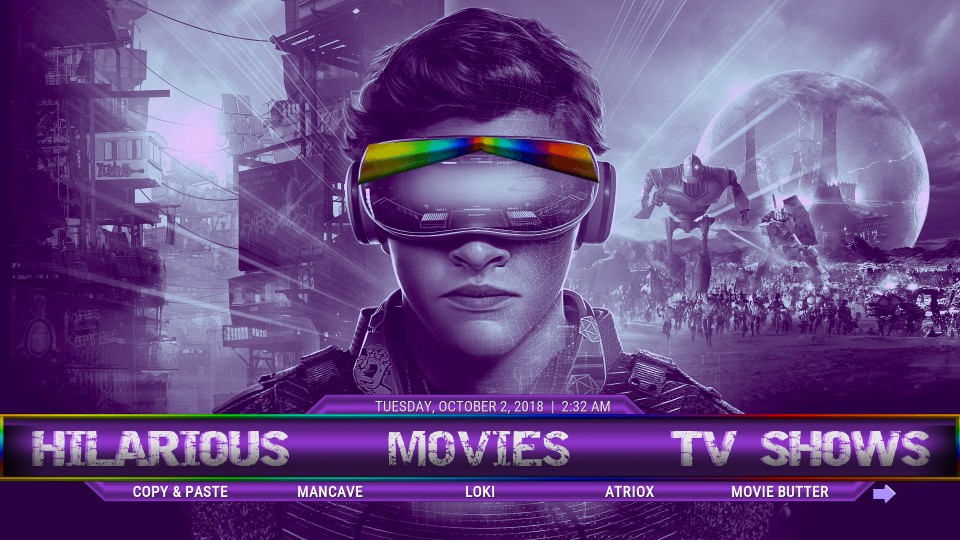 EzzerMacs source is known for a huge collection of Kodi builds and addons. Plutonium Build is but one part of its massive inventory. Plutonium has earned its way into this catalog of best Kodi builds for a number of reasons.
For the starters, this build features an impressive library of video addons. Whether you like to watch Live TV or sports streams, movies or latest episodes, documentaries or animation, you will find plenty of choices here. The Magic Dragon, 7 Of 9, are some of the addons that come preinstalled with Plutonium Kodi build.
Plutonium Build has a simple-looking interface with a futuristic feel. However, it follows the standard layout with menu and submenu bars on the home-screen. The build offers an acceptable level of performance even on devices with low RAM and slower processors.
CellarDoor TV Kodi Build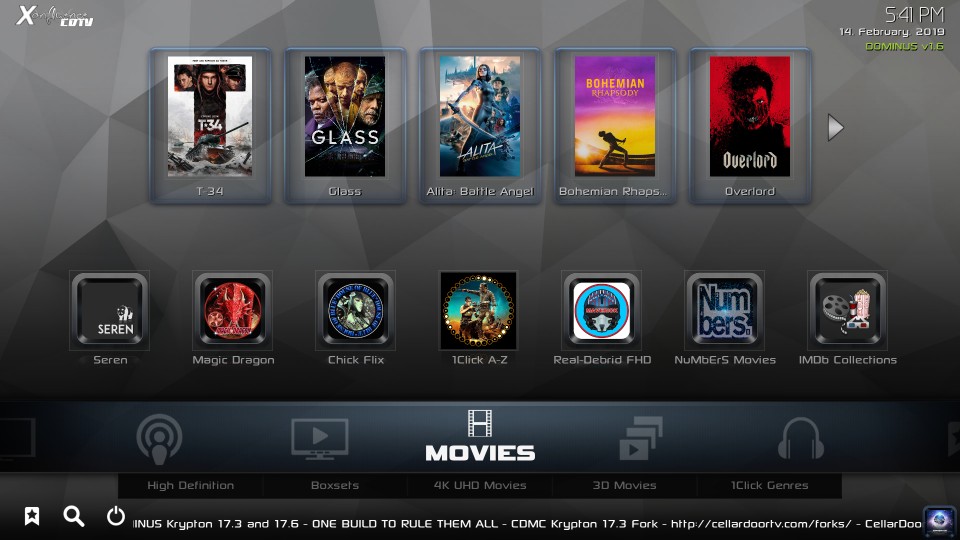 CellarDoor builds come from the CellarDoor source, a popular name in the world of Kodi. However, this source was taken down for a few months and has come back to business only recently. This time though, CellarDoor offers new builds and more addons than before. Sadly, there isn't anything for Kodi 18 Leia yet. If you have updated to the latest version of Kodi, CellarDoor TV builds are of no use to you.
If you still use Kodi 17.6 Krypton, there are a bunch of builds like Infusion, Dominus, and Sonar. All these builds look and work much the same. They all have a decent line up of addons as well. The builds are stable and come with functional addons for Kodi Krypton.
Lobo Kodi Build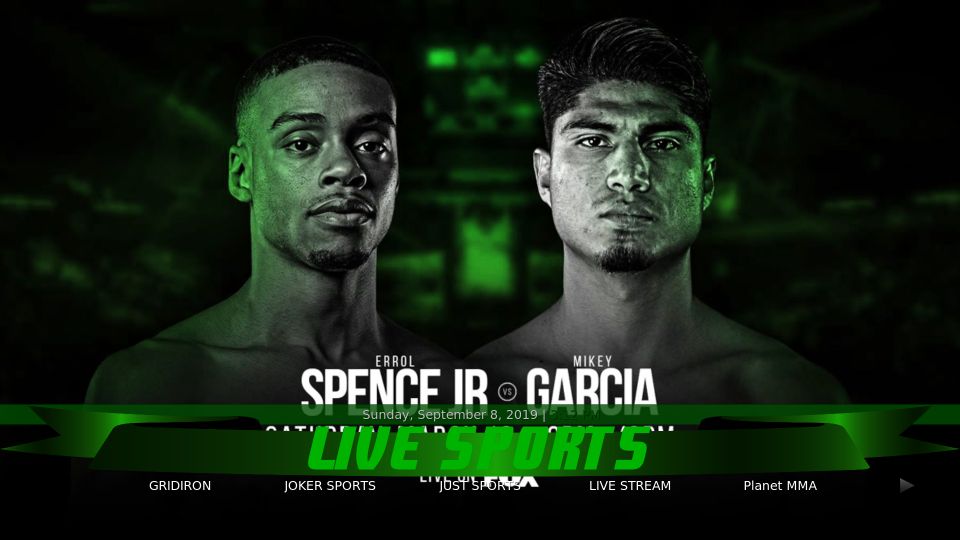 This moderately sized build offers top performance even if you use it on FireStick or for that matter any other low-spec devices. Lobo build also offers a wide range of preinstalled addons for all kinds of streaming. With the best in the industry addons like Exodus Redux, The Magic Dragon, Yoda, you can watch anything you want. Despite the interface that leaves us wanting for a bit more, this build makes it to our Best Kodi Builds due to its speed and quality.
Lobo Build is only available on Kodi 17.6. Most users have already migrated to one of the versions of Kodi 18 Leia. It seems the build is also not updated very frequently. It still has some defunct addons. If you have Kodi Leia, you may try one of the other Kodi builds here.
DoomzDay Kodi Builds
This is another storehouse of some fine Kodi builds that has gained quite a bit of popularity over the months. There are dozens of builds for Kodi 18 Leia and Kodi 17.6 Krypton. Kev's Angels, Endura, Simplex, Easy Rider are some of the top picks. The builds have been optimized for computers, mobiles as well as TV devices such as FireStick and Android TV boxes.
The DoomzDay Kodi builds pack some of the top Kodi addons for video streaming. There are quality addons for movies, shows, live TV, sports, kids, documentaries and more. The developers have been adding new builds regularly to the collection. The builds are being constantly updated and well maintained. Give it a try!
Winding Up
So, here is our rally of best Kodi builds for you to explore and try. As I have already said in the beginning, not all the builds may continue to function. Some of them are likely to go defunct. That's the sorry state of Kodi addons and builds. We keep rechecking and try our best to make sure this list only contains the working builds at any point in time. We also test new builds to find out if they can be a part of this list. If you come across something you think we should be aware of – like a non-working build on this list or a great new build not included here – we would greatly appreciate if you would let us know through the comments section below.
You may also like:
How to install Kodi on FireStick
Best Kodi Addons
How to jailbreak a Firestick
Best VPN for FireStick