Today, I'll show you how to install Stirr Kodi Addon. Moreover, I'll cover the legality and safety matters of Stirr, how you can use it, some of its features, etc. You can use this guide as the one-stop reference for any Kodi-eligible operating system, including Android, Windows, Mac OS, and Linux.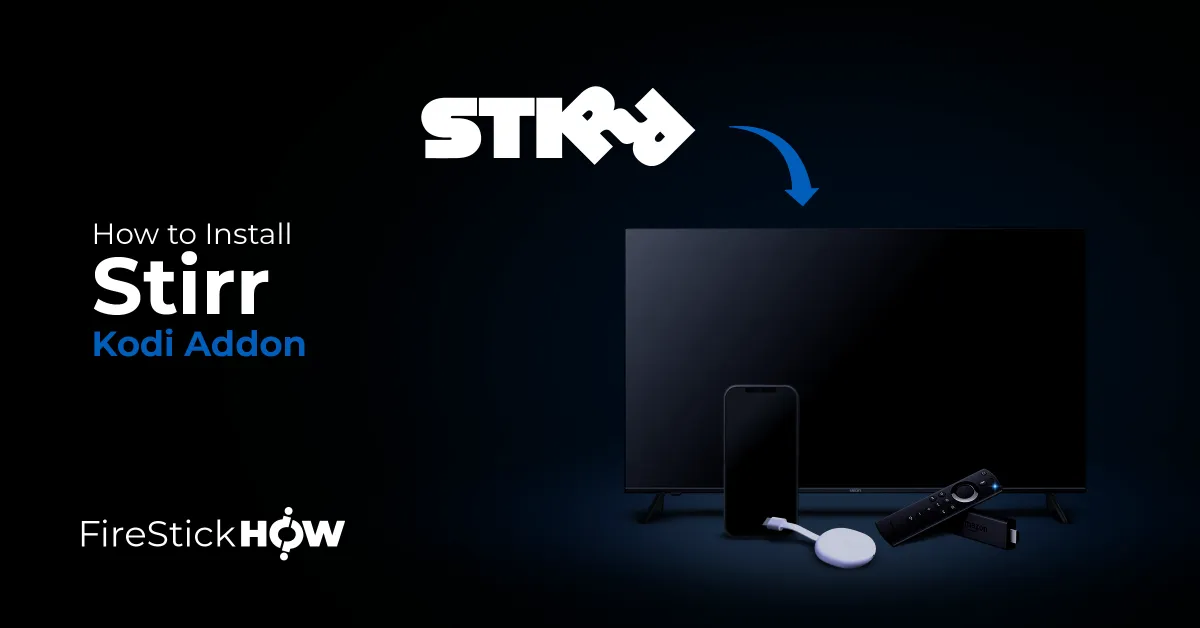 What Is the Stirr Addon?
The Stirr addon is an unofficial plugin to access the official, American ad-supported live-streaming service owned by Sinclair Broadcast Group on Kodi. With this addon, you can watch over 100 channels available on Stirr.
With the Stirr Kodi addon, you can watch live TV channels, save them to your favorites, and search for them. In addition, this plugin gives you clean and lag-free access to the famous free channels broadcasted by Stirr.
On the Stirr addon, you can access channels from various genres like Sports, Crime, Documentaries, Films, and more. That's why this addon is one of the best ways to watch multiple types of channels on Kodi.
Stirr is one of the best Live TV addons.
Attention KODI Users: Read before you continue
Government and ISPs endlessly monitor your online activities using your IP address 20.15.240.94 (exposed to everyone). Kodi is an excellent platform for streaming movies, TV shows, and sports, but streaming copyrighted content can get you into legal trouble. 
You should use a reliable Kodi VPN and protect your streaming activities and privacy. A VPN will hide your IP address and bypass government surveillance and geo-restrictions.
I trust and use ExpressVPN, the fastest and most secure Kodi VPN. It's easy to install on any Kodi device, including Amazon FireStick, PCs, and Smartphones. In addition, it offers a 30-day money-back guarantee, and 3 free months with the annual plan.
Read: How to Install & Use the best VPN for Kodi.
Is the Stirr Addon Safe?
SlyGuy – a third-party developer, makes the Stirr Kodi addon. Unfortunately, although the repo contains addons for all the official services, no official Kodi authority has given them a pass regarding safety.
So, there's no official statement regarding the safety of Stirr. It might be entirely safe for your device, but we can't be sure as it's an addon from an unknown source. 
At FireStickHow.com, we don't have the tools to check whether it's safe. So, you are on your own.
But gladly, the SlyGuy Repository zip passed the rigorous VirusTotal analysis – here's the proof: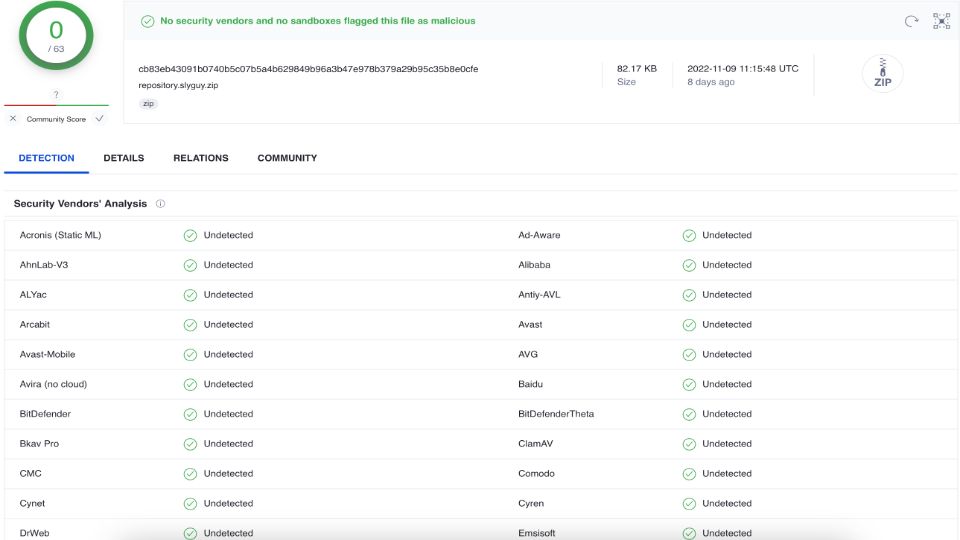 Is the Stirr Addon Legal?
Stirr, the service itself is 100% legal. You can find the official apps of Stirr on iOS, Android, and TV devices like Amazon FireStick. But as there's no official addon on Kodi's repository, legality might be a thing when using the third-party Stirr addon by SlyGuy.
There are a bunch of pointers that make an addon legal or illegal. And as Stirr is a third-party addon, it makes the matter even more complex. Moreover, at FireStickHow, we don't have the resources to verify the addon's legality.
There's only one resort to keep your data safe and stay away from legality issues when using Stirr. And that's using ExpressVPN or any other trusted VPN service with the addon. 
Features of Stirr Kodi Addon
The following are some of the best features of the Stirr Kodi Addon:
Access over 100+ channels

Availability of channels in multiple categories

You can choose the video streaming quality

Superbly organized sections  
Installing Stirr Kodi Addon
As SlyGuy Repo isn't available by default on Kodi's repo list, you'll need to take the long route to access and install the Stirr addon. I have made a detailed guide with three parts that break down the complete installation process of the addon on your Kodi app.
Part 1 – Enable Unknown Sources
Start by enabling Kodi Unknown Sources. Without this, Kodi won't let you add any third-party repo from the internet – the SlyGuy Repository in this scenario. 
1. Open the Settings Gear Cog from the top-right of the Kodi home screen.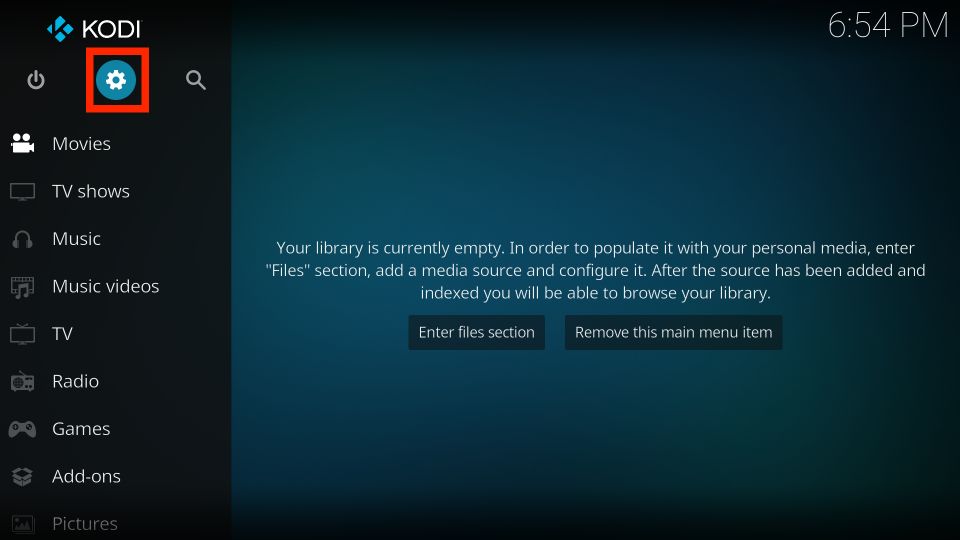 2. Choose the Gear & Screwdriver Icon on the footing right side of your screen.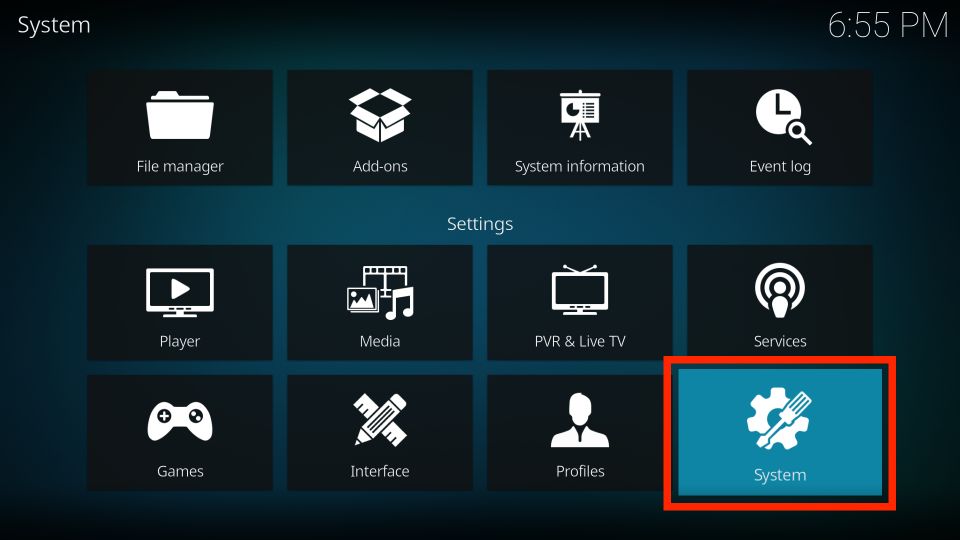 3. To access Unknown sources, scroll down to Add-ons.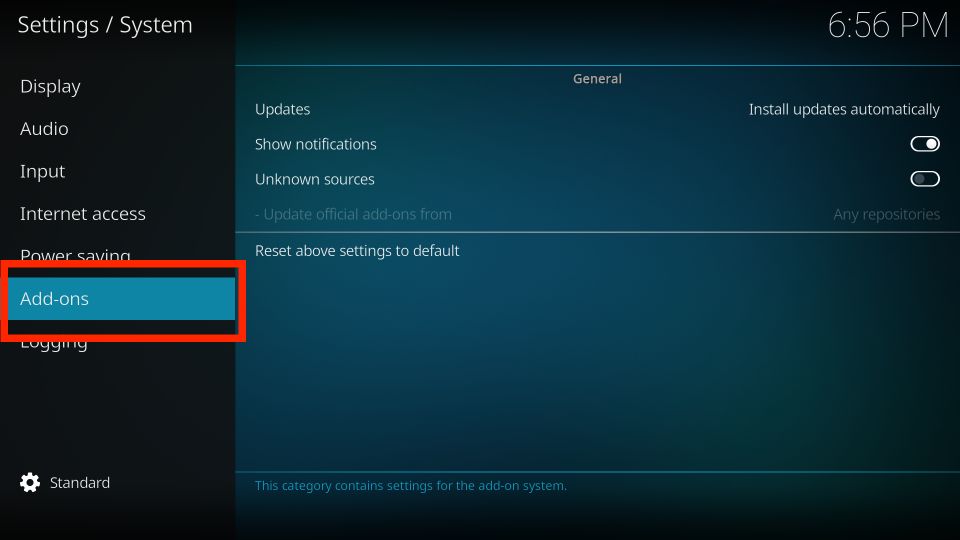 4. Switch to the right pane, locate Unknown sources, and turn it on.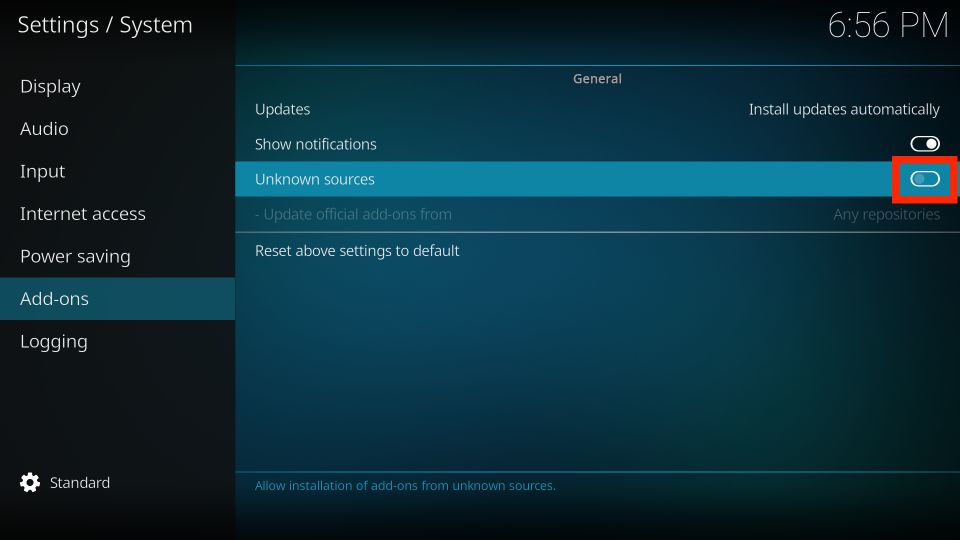 5. A notification from Kodi will arise about adding unknown sources to the app. Click Yes.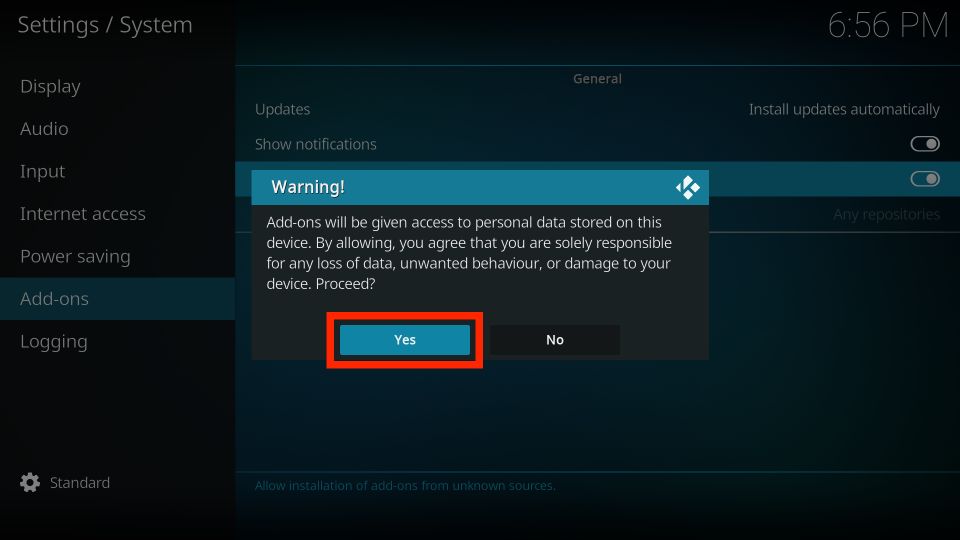 6. To update all Addons from any repository, explore -Update official add-ons from below Unknown sources.
7. Click Any repositories.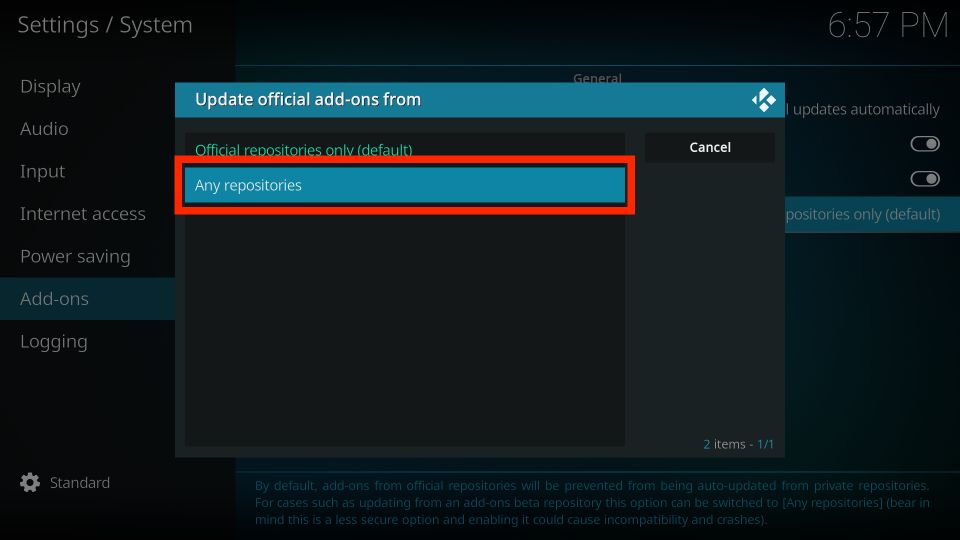 Part 2 – Install SlyGuy Repository
Here are the steps to install the SlyGuy Repository on Kodi.
1. Again, go to the Kodi system settings screen by choosing the Cog icon under the Kodi logo.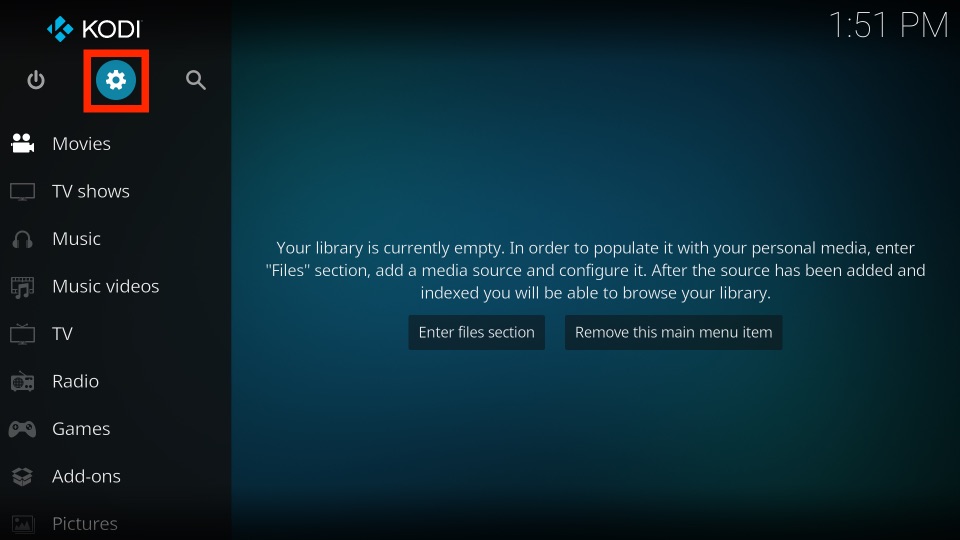 2. Now, open File manager, as this section lets you add unknown sources.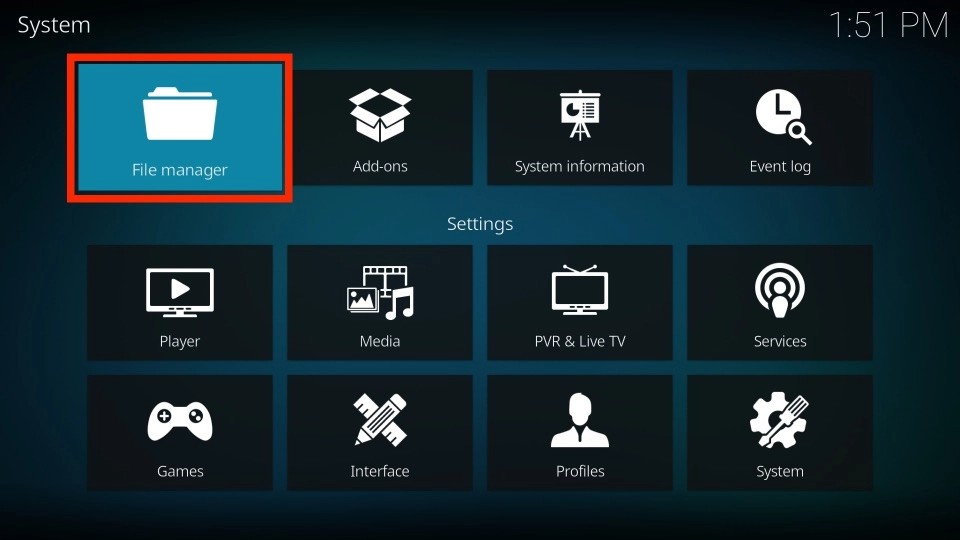 3. To add a source, pick Add source.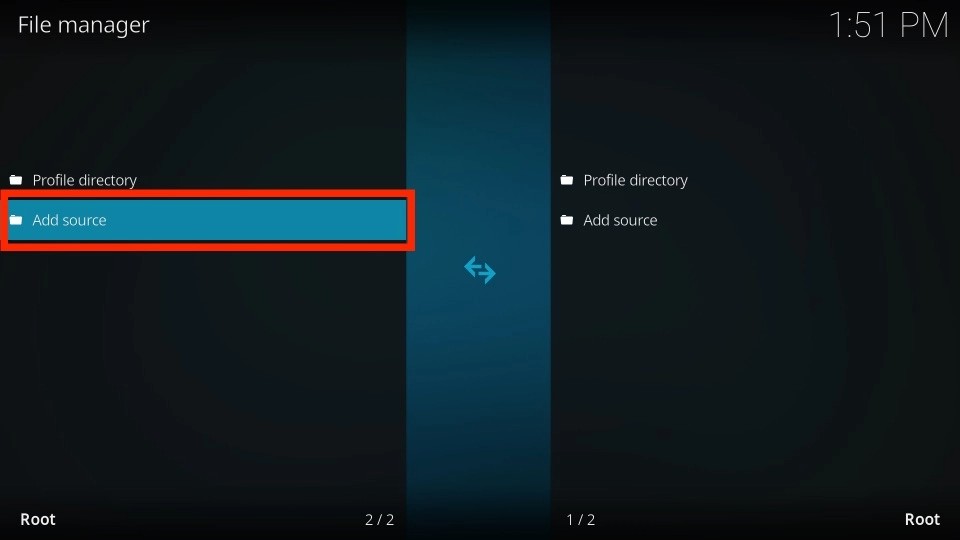 4. Add file source dialogue will pop up on your screen. Choose <None>.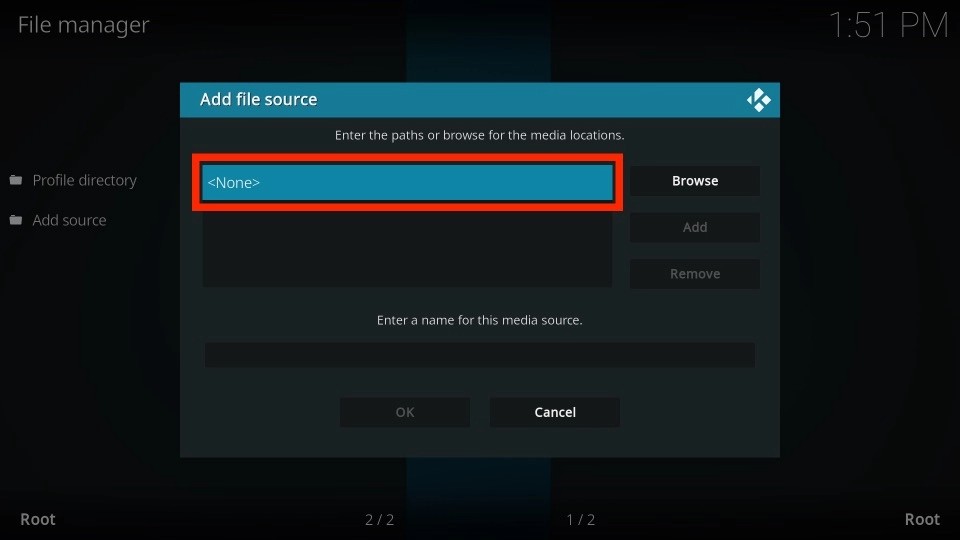 5. Now, enter the official URL link of the SlyGuy Repository in the input box – https://k.slyguy.xyz or https://slyguy.uk. Hit OK to save.
Note: Both URLs are the official gateway to the SlyGuy Repository zip file. I have only mentioned them here for educational purposes. At FireStickHow, we don't promote any third-party repo or addon.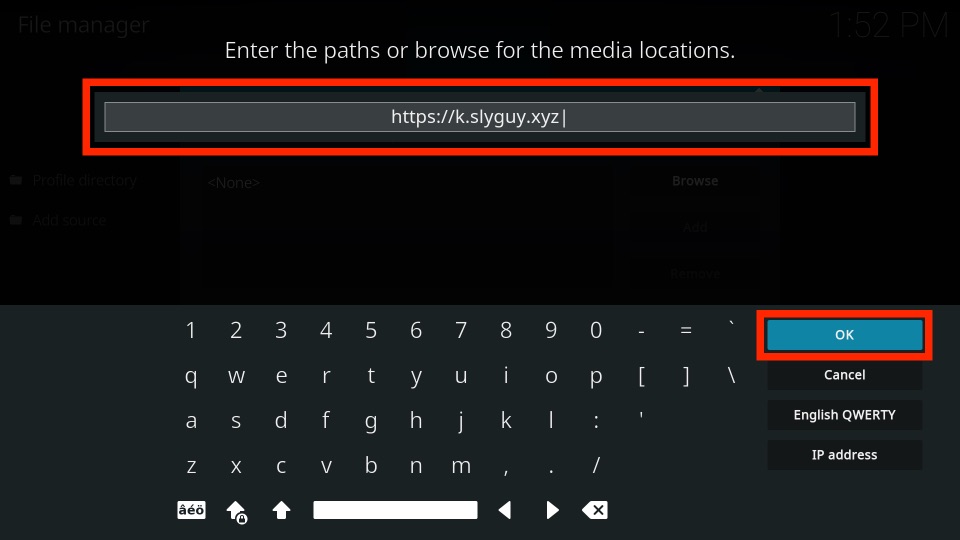 6. Select the Empty Box under Enter a name for this media source.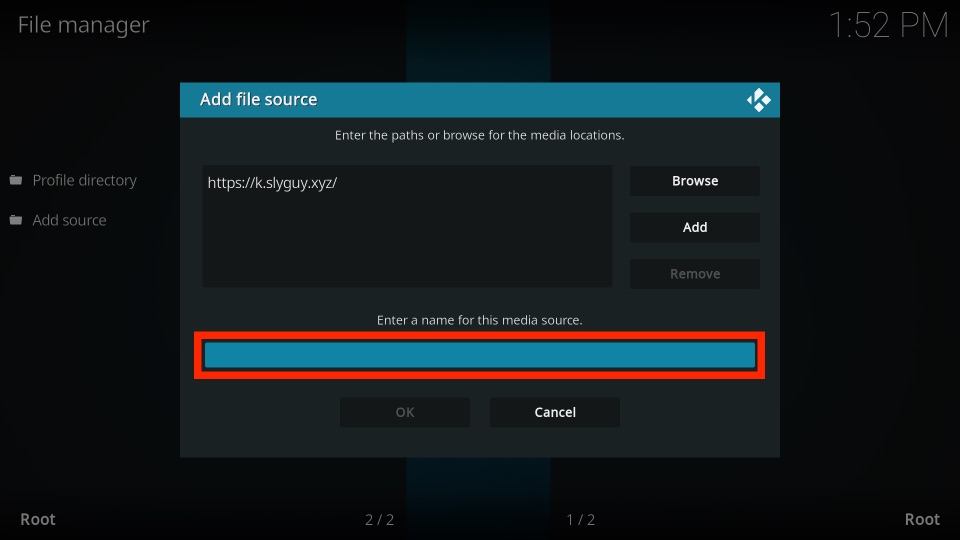 7. Enter a name for the source so you can identify it later. Then, click OK.
Note: I'm choosing slyguy as it's simple and relevant to the repo's name. But you can pick any alias. However, be practical when selecting one.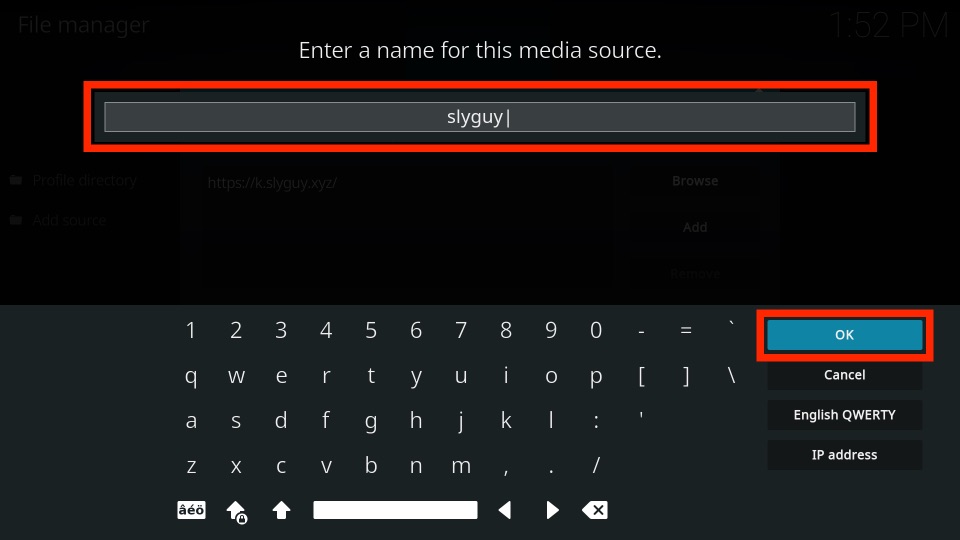 8. Make sure you have not made a typo, and click OK.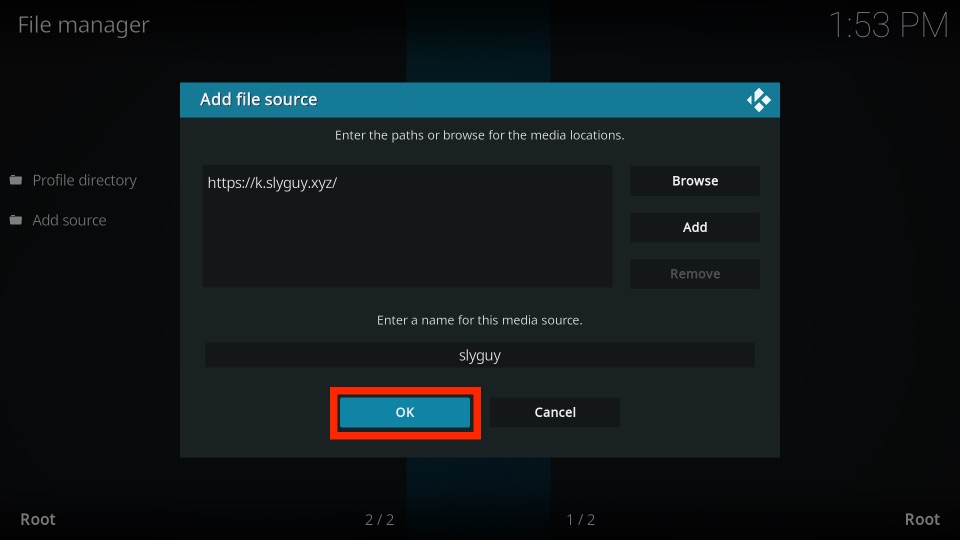 9. This window should also display the source name you just added.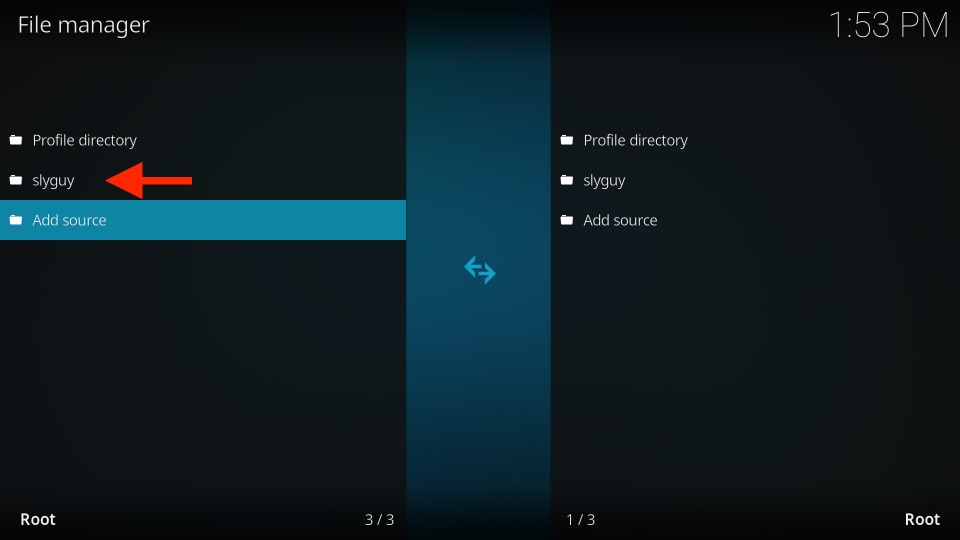 10. Head to the Kodi settings menu and launch the Add-ons tab.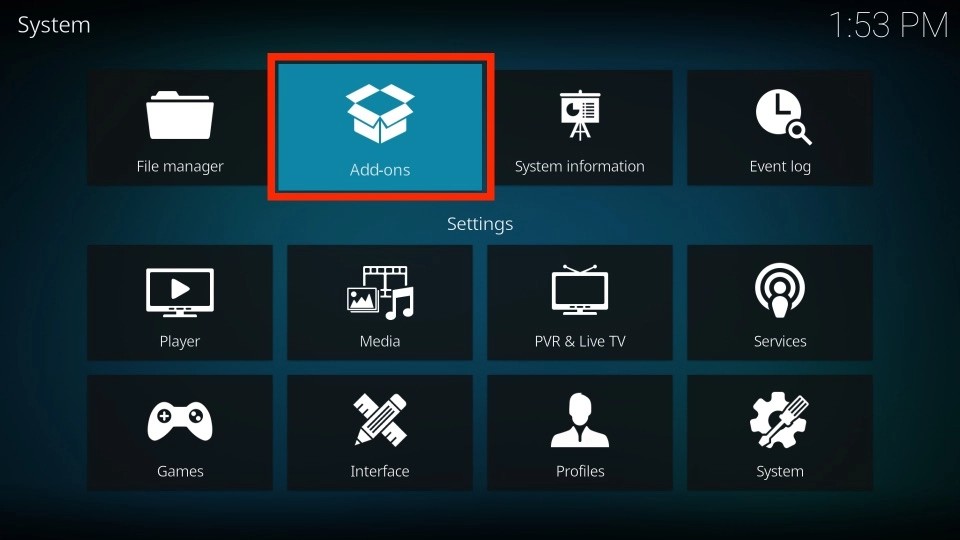 11. Go to the Install from zip file option and open it.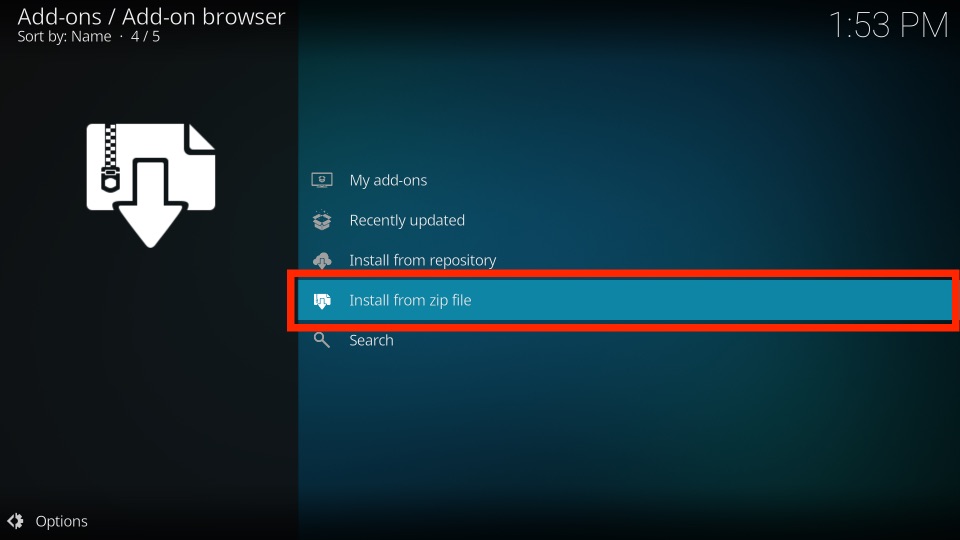 12. Acknowledge Kodi's warning about auto-updates and click the Yes button to continue.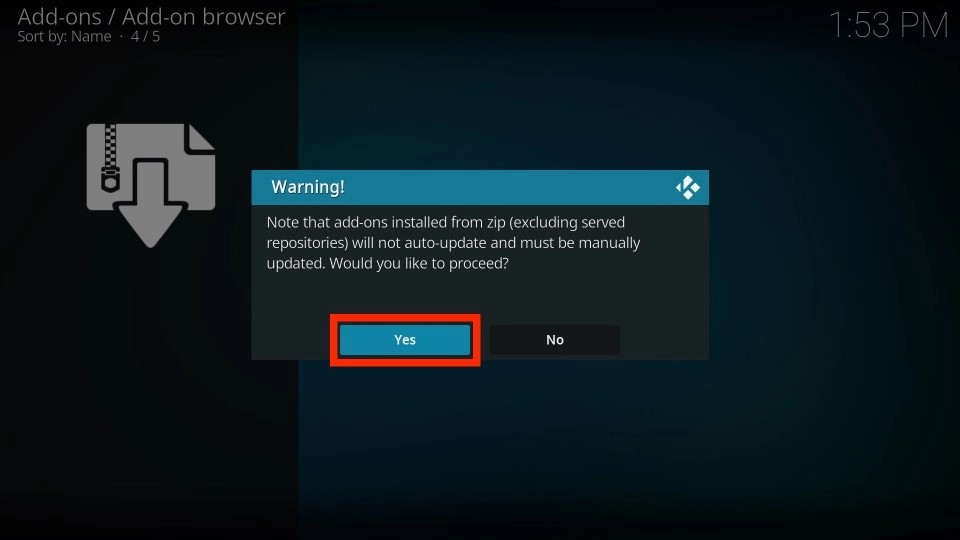 13. Click the repo name you have set in step number 7.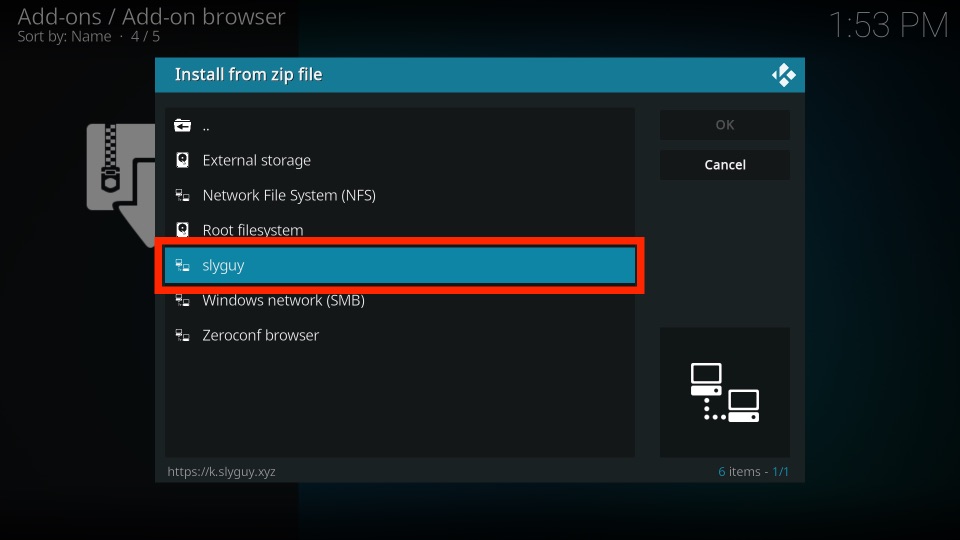 14. You'll see the zip file of the SlyGuy Repository. Choose it to start the installation.
Note: The name of the zip file at the time of the demonstration was repository.slyguy.zip. However, you can expect it to change when you are installing it.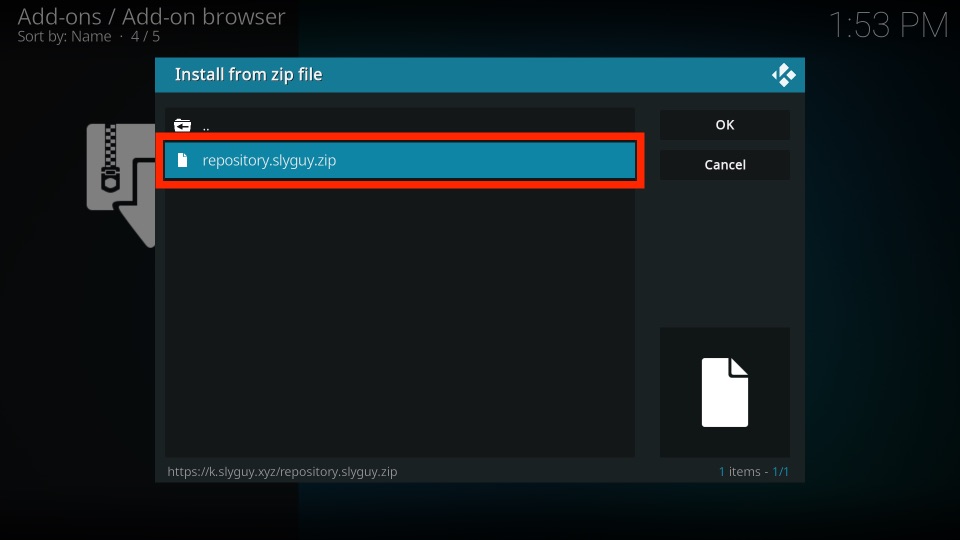 15. Wait for the installation notification on your screen's top right.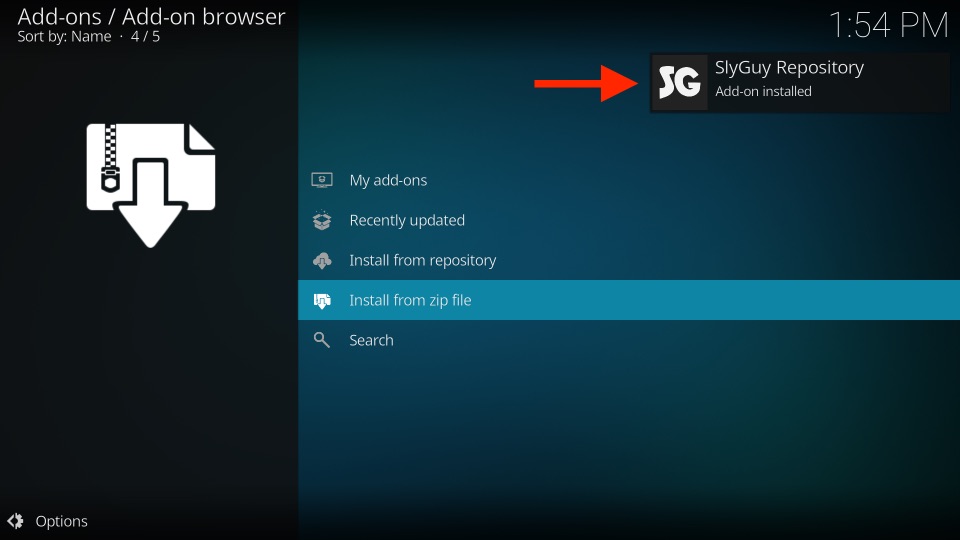 You can now access the Stirr Kodi addon via the SlyGuy Repository installed on your Kodi.
Part 3 – How to Install Stirr Kodi Addon
Here are the final steps to install the Stirr Kodi addon:
1. Scroll up to choose Install from repository.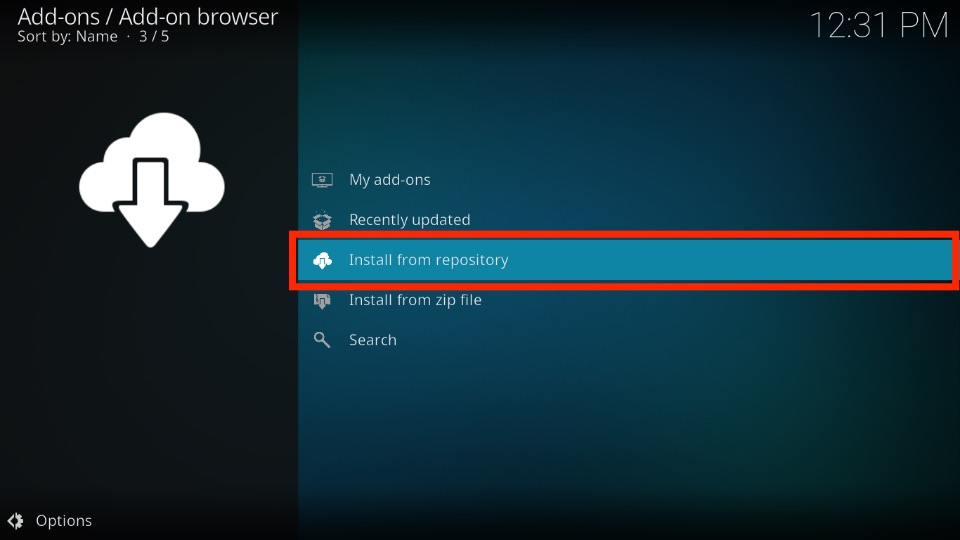 2. Locate and open the SlyGuy Repository (slyguy.uk).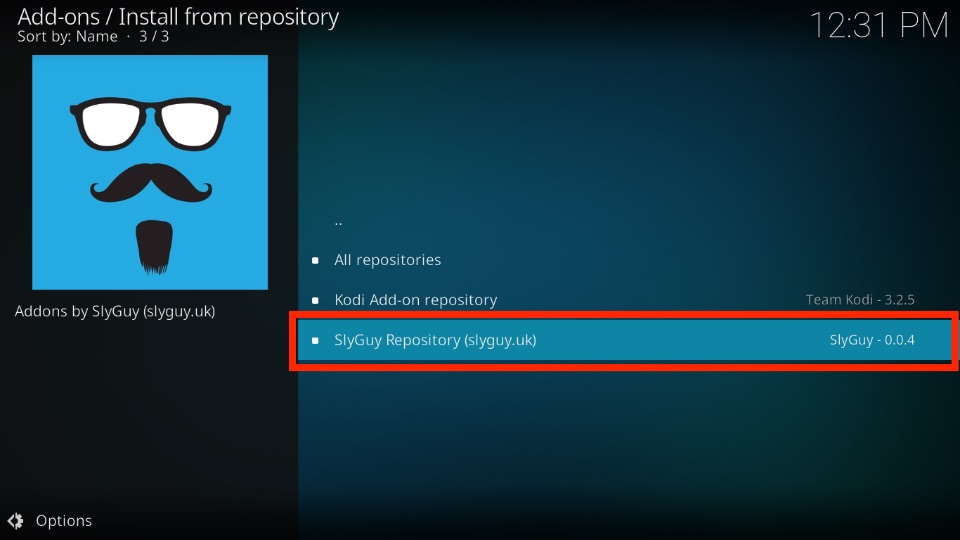 3. As Stirr is a video Addon, you'll find it inside the Video add-ons subfolder.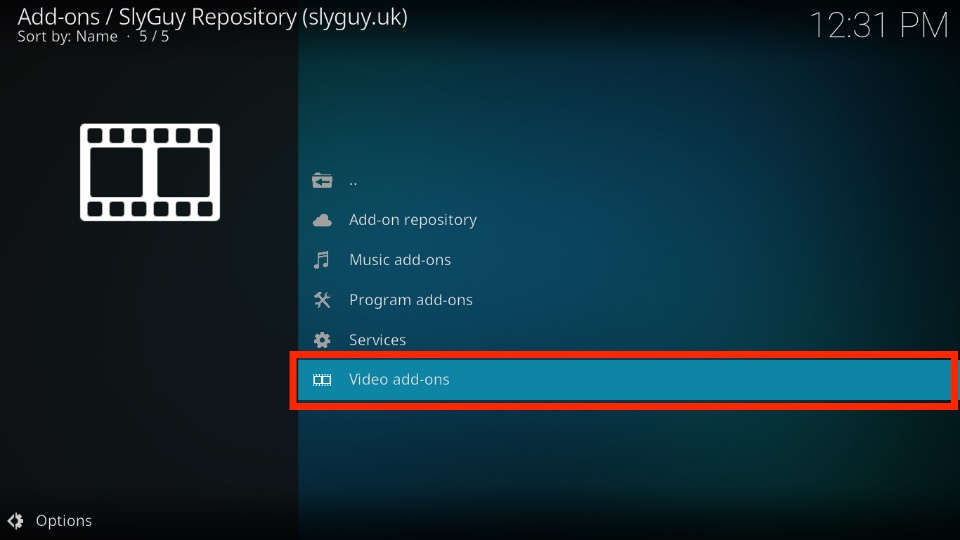 4. Navigate to the S section of the list and choose STIRR.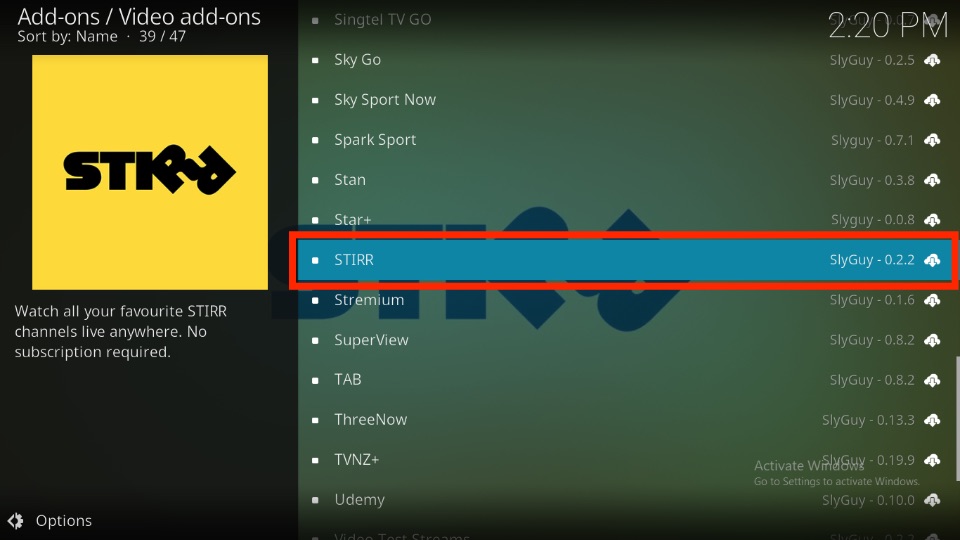 5. You'll see multiple options on the Stirr dashboard, like Dependencies, Versions, etc. Pick Install.
Note: You might be prompted to install additional addons with Stirr. Click OK to confirm, as they are important.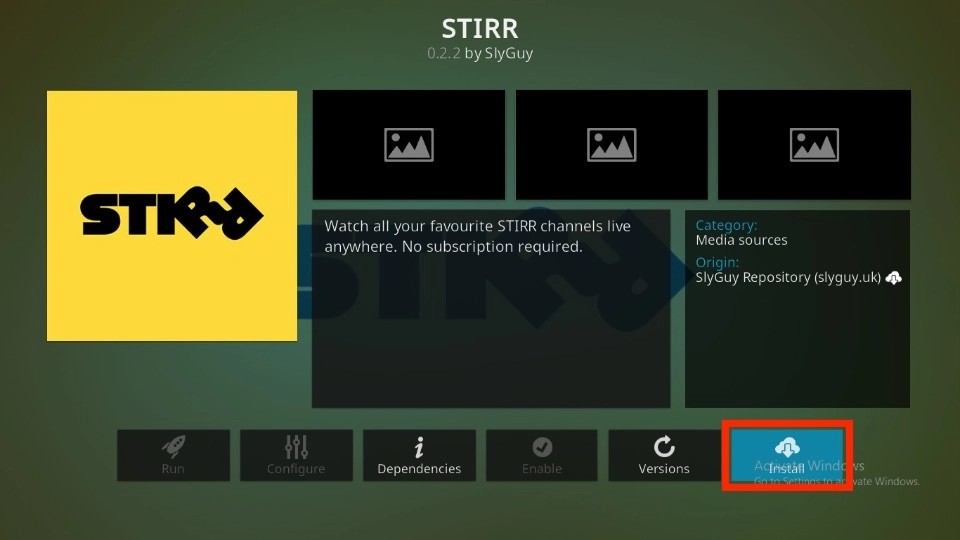 6. You will see the download and installation progress.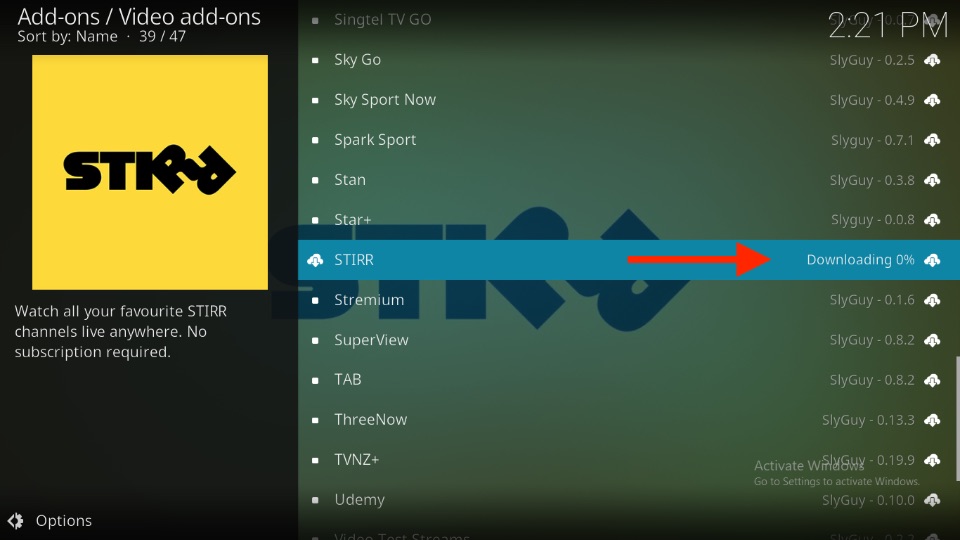 7. Wait for the app to notify you about the installation success – Stirr Add-on installed.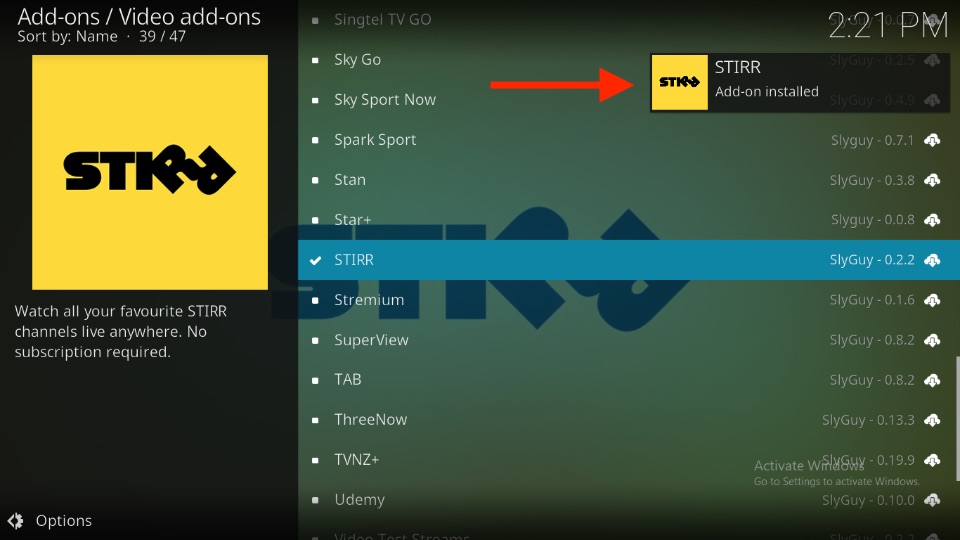 Congratulations! STIRR is now available in your local Kodi Add-ons library.
Wait! It looks like you are all set to start watching your favorite content on Kodi. But have you protected your online identity yet? You are under constant surveillance by the Government and ISP. They use your IP address 20.15.240.94 to track you. Streaming free or copyrighted videos may get you into legal trouble.
Thankfully, you can use a VPN to easily protect your privacy and go invisible from your Government and ISP. I use and recommend ExpressVPN with Kodi.
ExpressVPN is the fastest, most secure, and streaming-friendly VPN. It is easy to install and set up on any Kodi device, including FireStick, Smartphones, PCs, and more.
ExpressVPN, offers an unconditional 30-day money-back guarantee. So, if you do not like the service (I don't see why), you can get a full refund within 30 days.
Please remember that we encourage you to use a VPN to maintain your privacy. However, we do not condone breaking copyright laws.
Before you start using Kodi for streaming, here is how you can protect yourself with ExpressVPN:
Step 1: Sign up for ExpressVPN Here
Step 2: Download ExpressVPN on your device by clicking HERE
Step 3: Open the ExpressVPN app on your device. Sign in with your account. Click the connect/power button to connect to the VPN

Great! You have successfully secured yourself with the best Kodi VPN.
How to Use Stirr Kodi Addon
Here's a complete walkthrough of the Stirr Kodi addon:
On your Kodi home, scroll down and explore the Add-ons tab.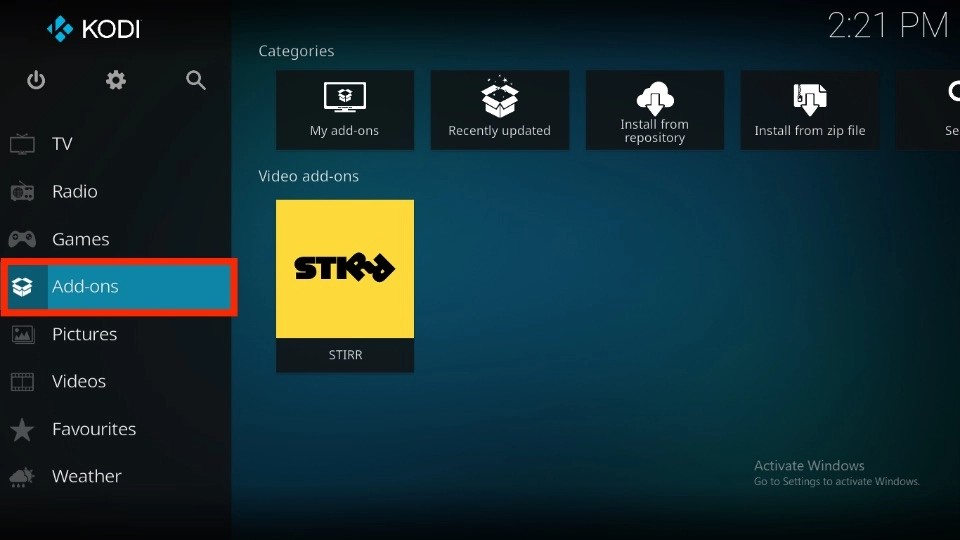 Then, on the Video add-ons page, locate and choose STIRR to launch it.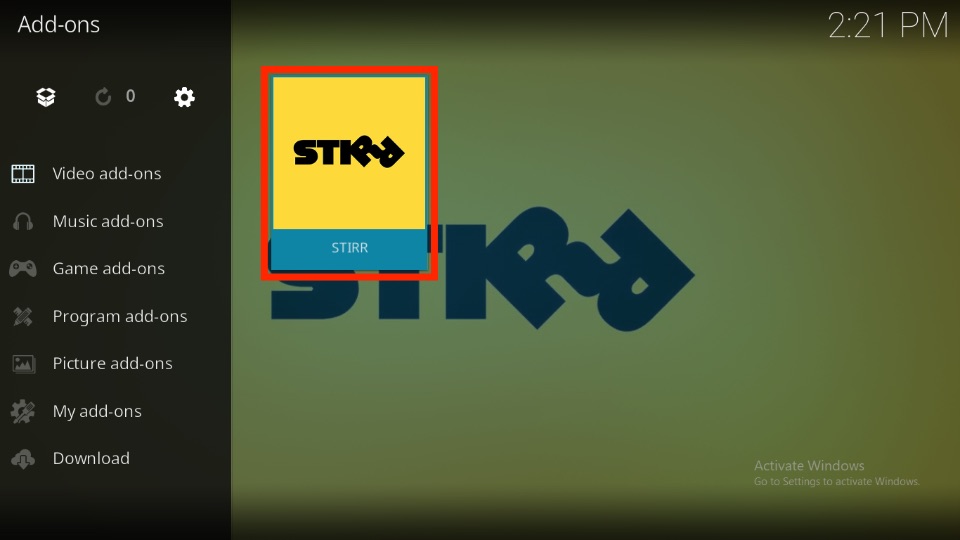 Click OK to close the SlyGuy news dialogue box about donations.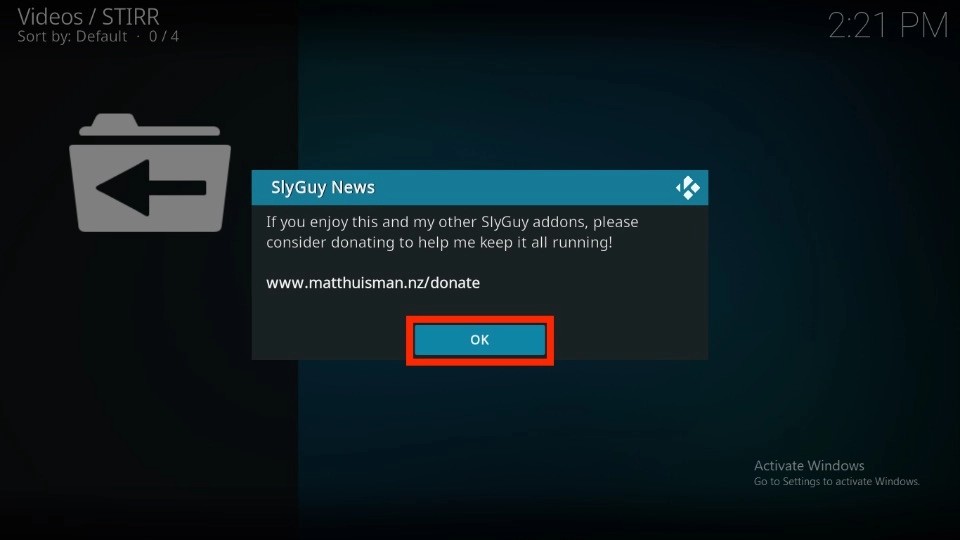 The Stirr Kodi addon features four main sections, Live TV, My Channels, Search, and Settings.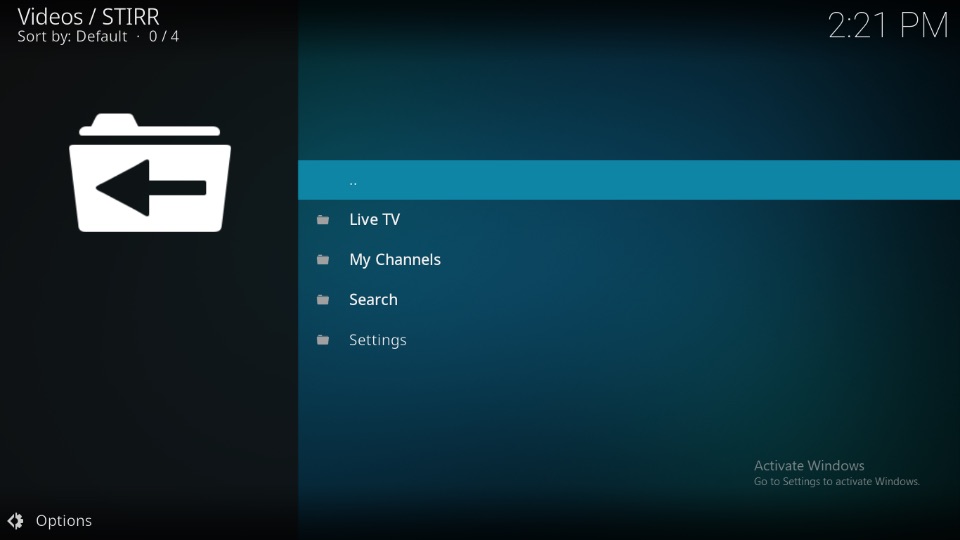 To watch live channels, open Live TV.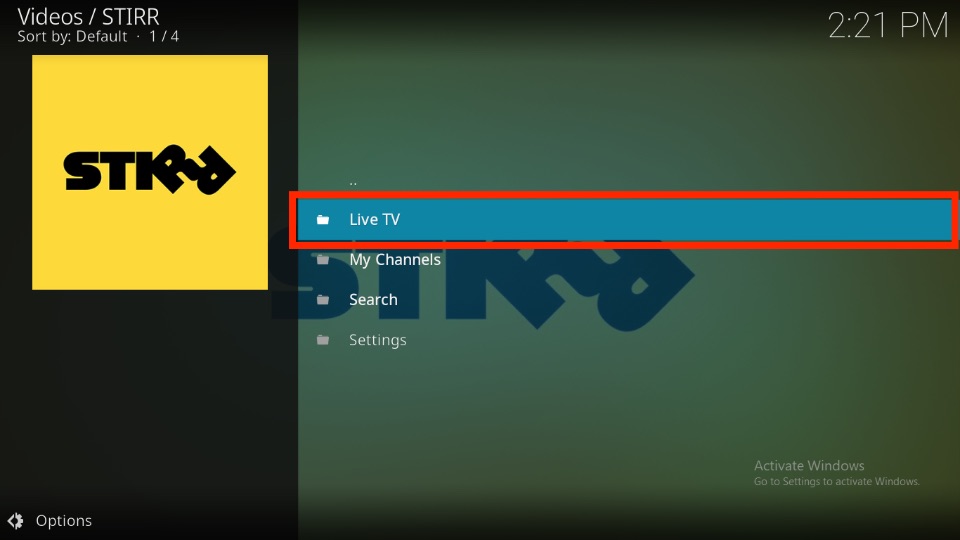 Inside are ten category sections like Classic TV, Shopping, Movies, Music, etc., including the one All folder.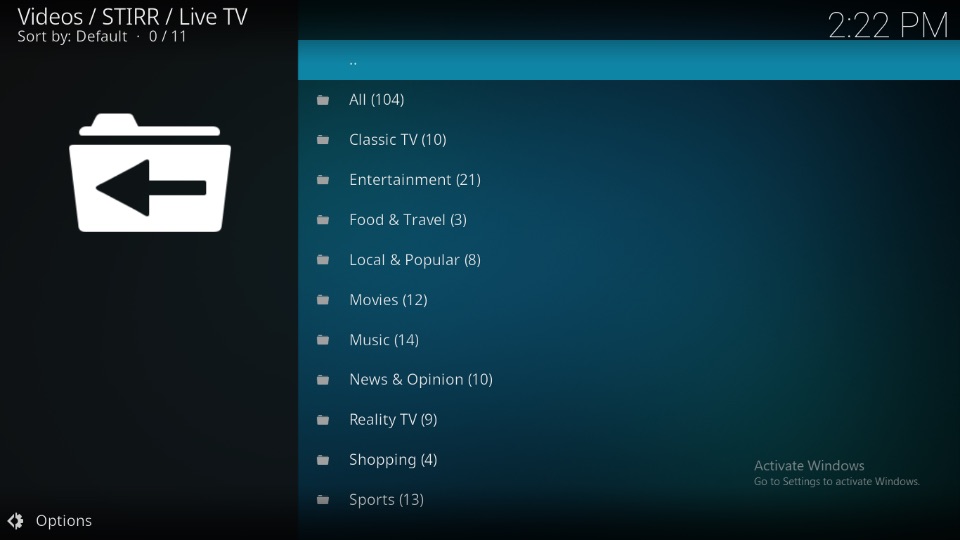 To see the list of all available TV channels on Stirr, Open All.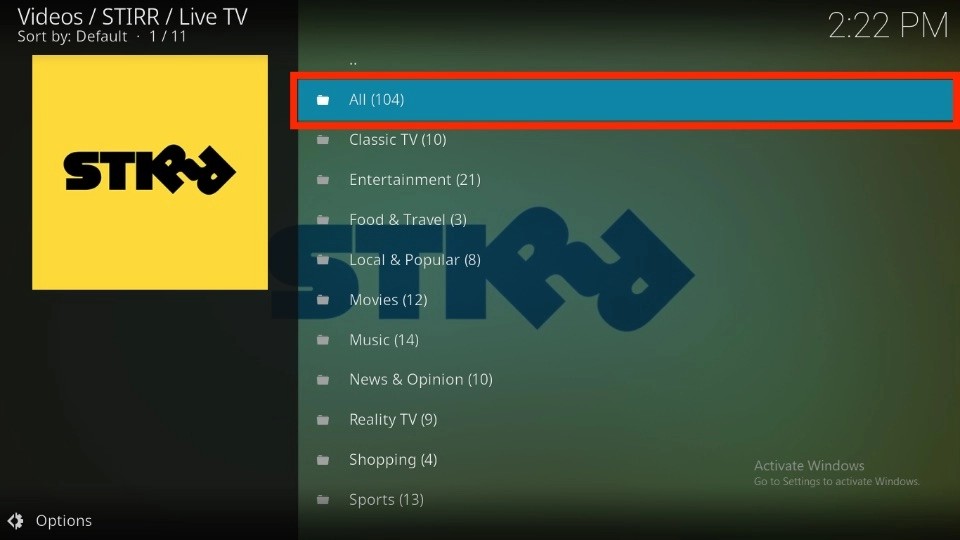 This section contains a total of 104 channels. To play one, select it.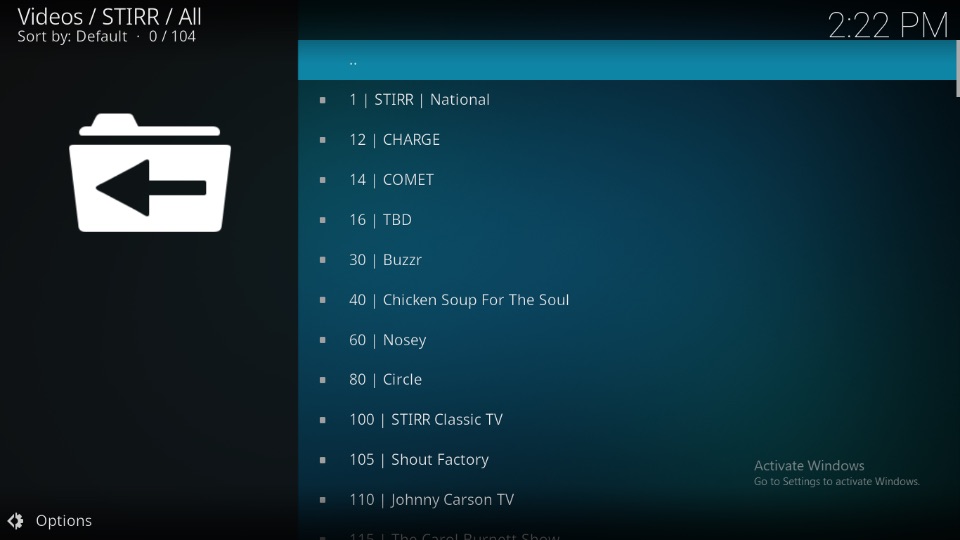 You can also browse channels genre-wise using the ten category sections. I'm choosing News & Opinion for demonstration.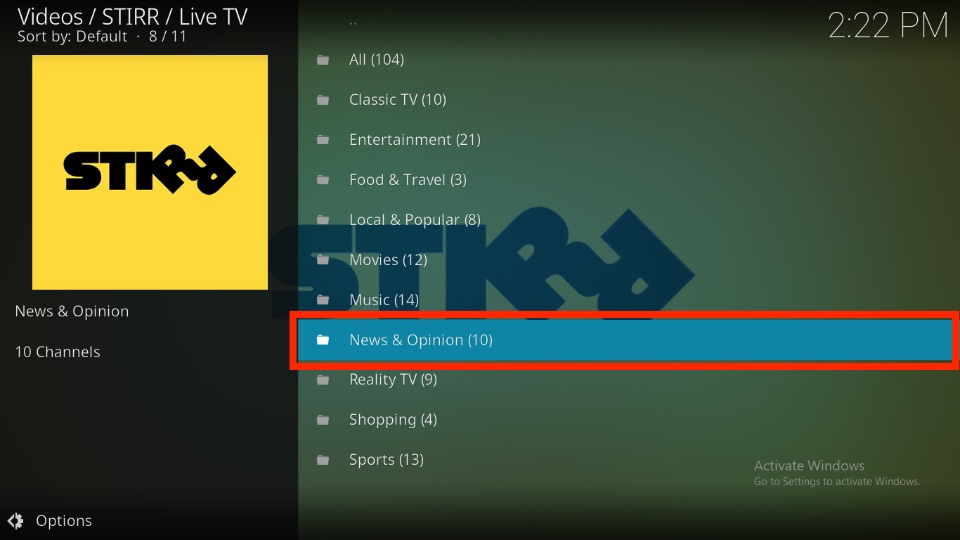 Inside, I can see 10 news channels.
To find a channel, select the Search section.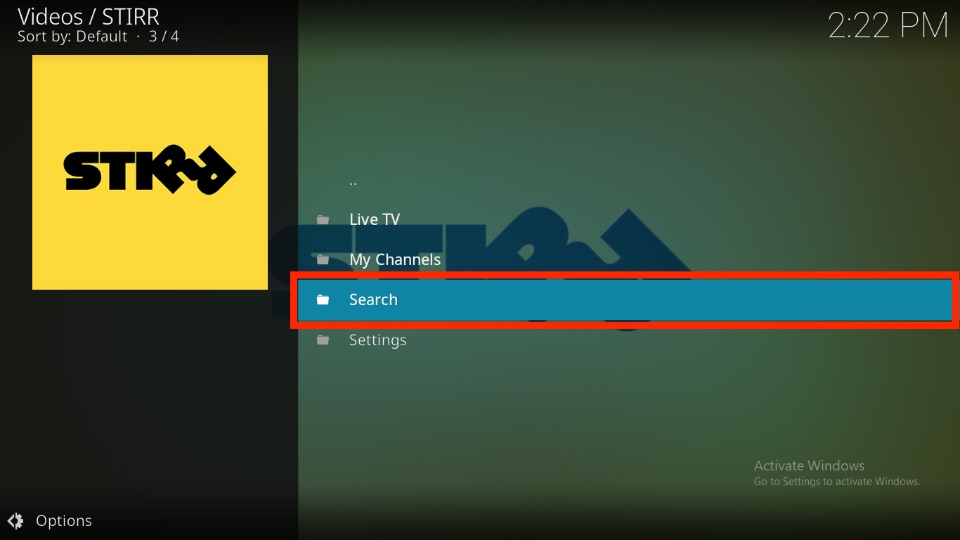 Pick New Search to initialize the search.
Note: Your search history will be available as a list under the New Search option.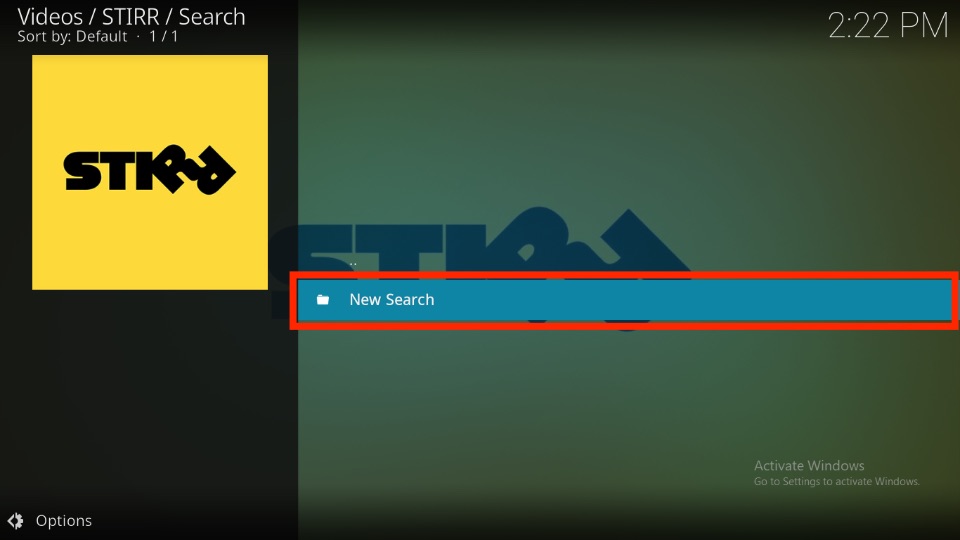 Enter your search terms and click OK to start the process.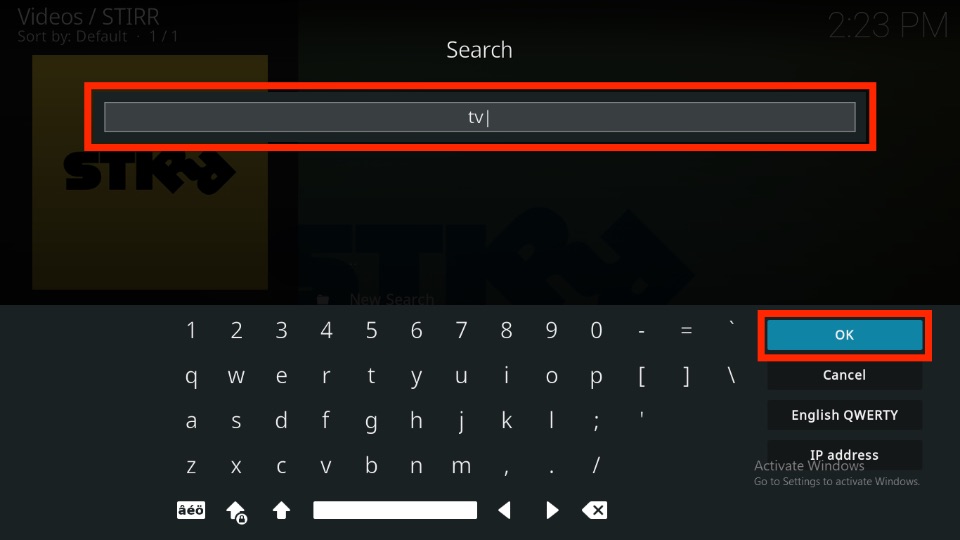 Now, pick your search term from the list.
You'll see a list of channels matching your search keywords.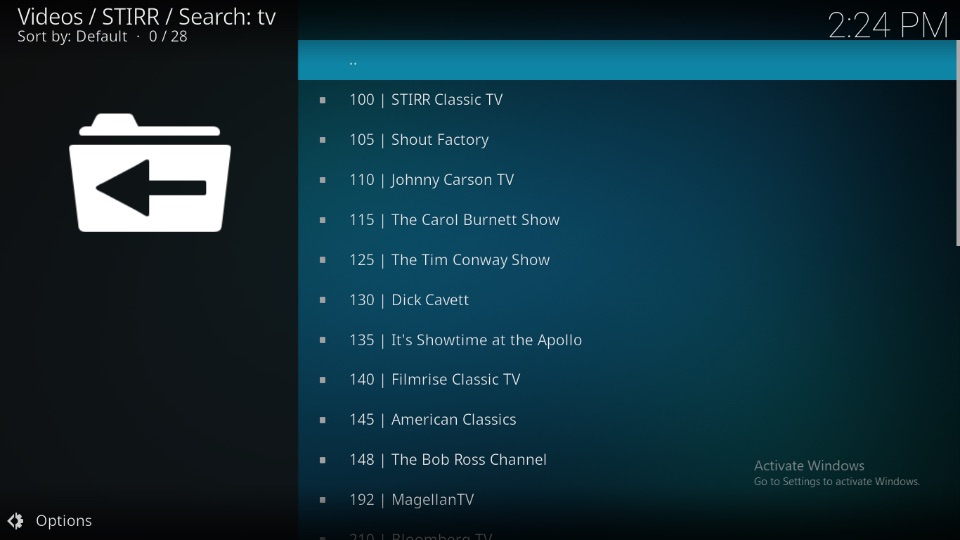 To access the Stirr Kodi addon settings, open Settings.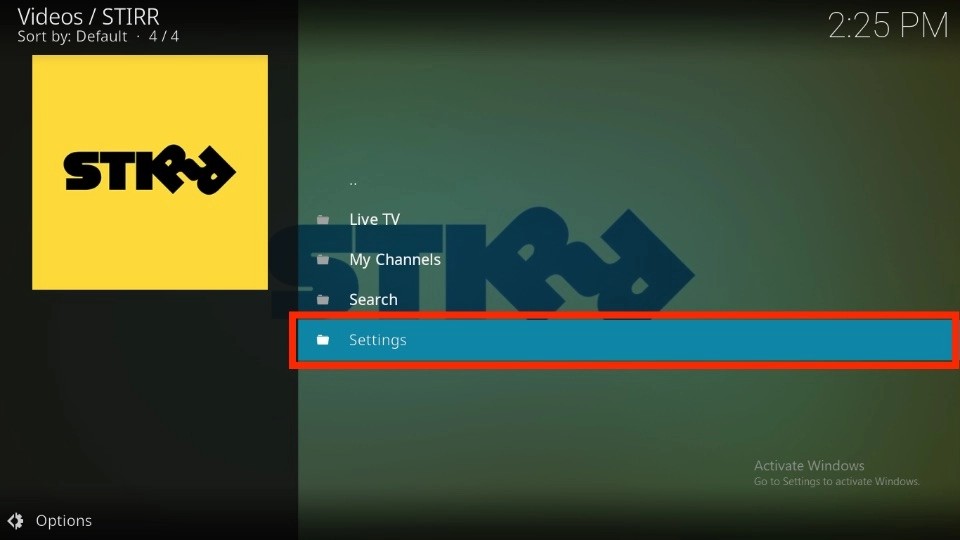 The Stirr Addon settings feature tabs like Look & Feel, Playback, Live TV & EPG, and Advanced.
Note: Don't play with any settings if you don't know much about Kodi third-party addons.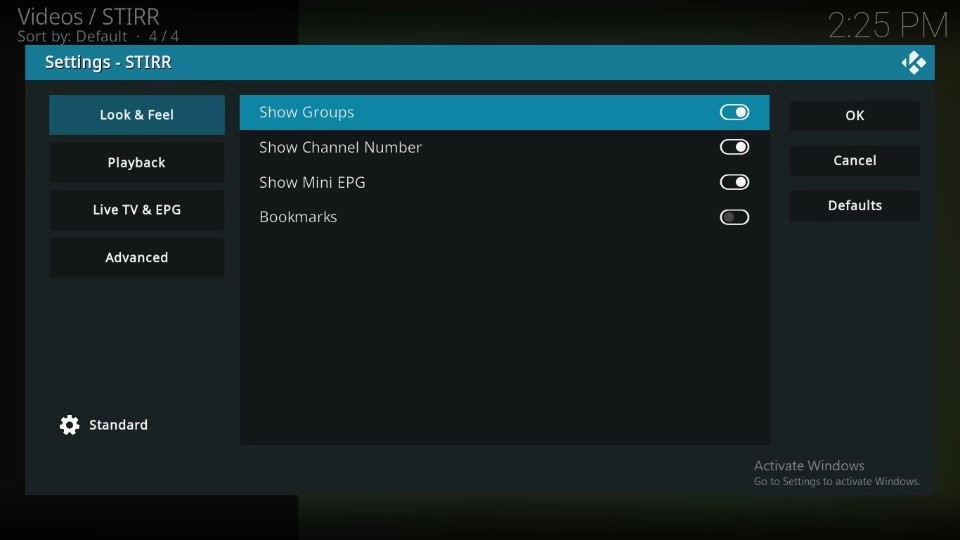 Lastly, to access the channels you have saved, open My Channels.
Conclusion
With the Stirr addon, you can stream over 100 free channels on your Kodi app. Use this guide on how to install Stirr Kodi addon to learn all about the addon. Finally, leave your helpful suggestions and feedback in the comments section. 
Related: