I'll tell you how to install Fido K19 Kodi addon in this article. Also, I'll cover what's Fido K19, whether it's safe and legal, some of its features, how to use the addon, and how to set up Real Debrid and Trakt. You can use the instructions on any Kodi-supported device, including Amazon FireStick, Nvidia Shield, Mac OS PC, Android phones, and more.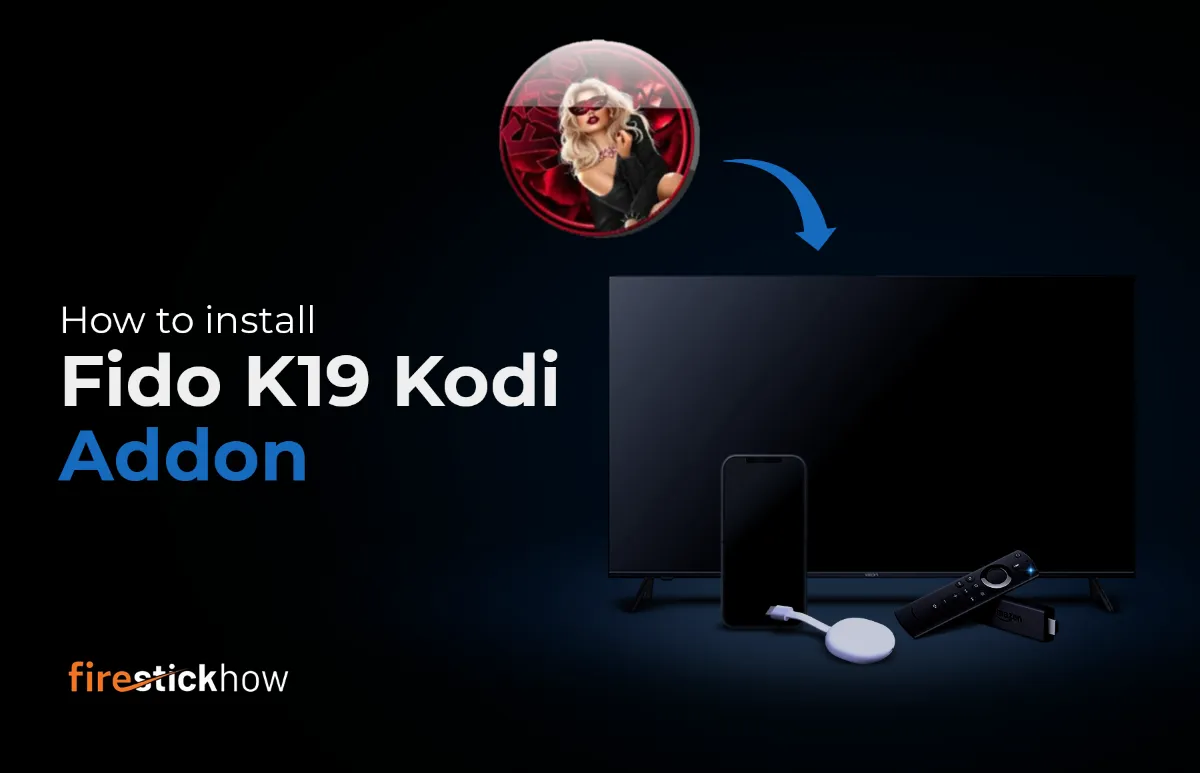 What Is the Fido K19 Addon?
Fido K19 is an AIO (all-in-one) addon that lets you stream live channels, movies, classic shows, documentaries, kids' content, and more for free! There are 18 sections on the addon that let you stream absolutely any content.
Inside each Fido K19 section, you'll find tons of relevant content. For instance, Classic TV Shows boast over 700 shows from the past. Also, you'll see everything well-categorized. For example, the Movies section is further split into 82 categories.
Amongst the AIO (all-in-one) addons available on Kodi, Fido K19 is hands down one of the best.
Attention KODI Users: Read before you continue
Government and ISPs endlessly monitor your online activities using your IP address 3.17.249.235 (exposed to everyone). Kodi is an excellent platform for streaming movies, TV shows, and sports, but streaming copyrighted content can get you into legal trouble. 
You should use a reliable Kodi VPN and protect your streaming activities and privacy. A VPN will hide your IP address and bypass government surveillance and geo-restrictions.
I trust and use ExpressVPN, the fastest and most secure Kodi VPN. It's easy to install on any Kodi device, including Amazon FireStick, PCs, and Smartphones. In addition, it offers a 30-day money-back guarantee, and 3 free months with the annual plan.
Read: How to Install & Use the best VPN for Kodi.
Is Fido K19 Safe?
Kodi doesn't provide support to third-party addons. So, we can't tell whether Fido K19 is safe for your device. At FireStickHow.com, we don't have the authority in terms of safety to push out a ruling in favor or against the addon.
Personally, I didn't find anything odd about Fido K19. There's no section or option in the settings that made me question the addon's safety. However, that's my take. And that doesn't answer whether Fido K19 is safe or dangerous.
Out of interest, I tested the Fido Repository zip file with a reputable online antivirus too, VirusTotal. Thankfully, it passed all tests – look:
Is Fido K19 Legal?
There's so much content available on Fido K19. Although it's the best-case scenario for a user, in legal terms, it's questionable. Many points support while others go against whether Fido K19 is legal. Either way, at FireStickHow.com, we don't have the resources to test whether Fido K19 is legit.
All that leads us to one way out. Using ExpressVPN to safeguard one's data and internet activity. With a VPN, you can stream content via Fido K19 without worrying about safety and legality.
Features of Fido K19 Addon
The following is a list of Fido K19's best features:
18 sections filled with different types of content

The All-in-one nature of the addon makes it the one-stop-shop for users

Support for Real Debrid

Clear Cache shortcut on the addon's home to fix any issues
How to Install Fido K19 Kodi Addon
Fido K19 is not available on Kodi's official repository. Hence, you have to access it via the Fido Repository. So, this section contains three parts that teach you all about installing Fido.K19 on Kodi:
Part 1 – Allow Unknown Sources
First and foremost, let's enable Unknown Sources which allows us to install third-party repos on Kodi:
1. Click Settings.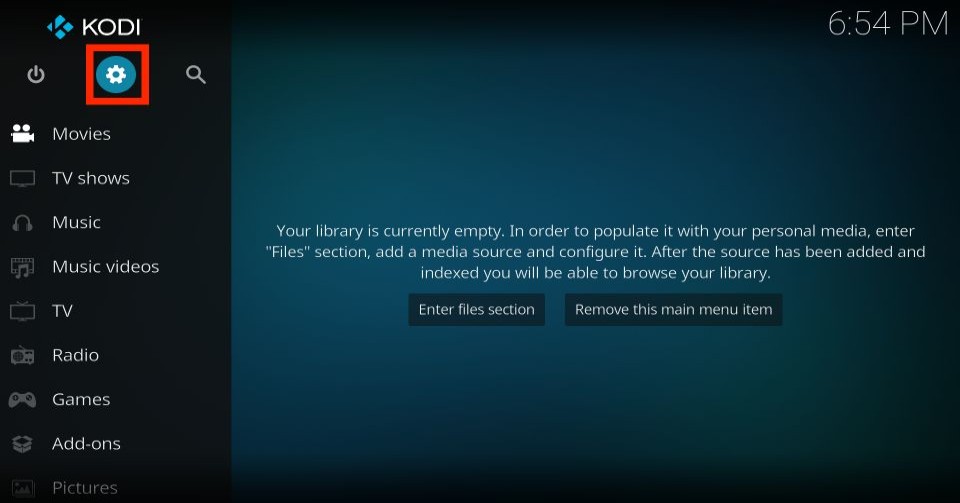 2. There are a bunch of options available on Kodi settings. Select System.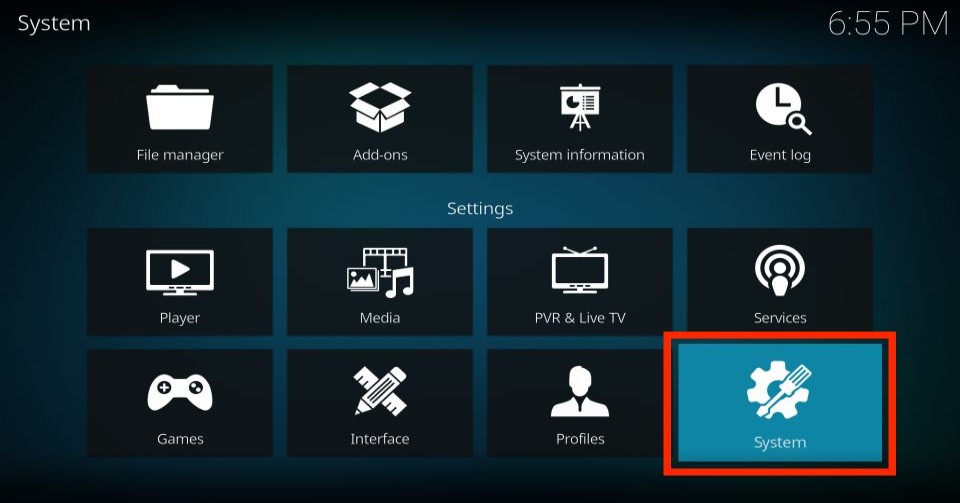 3. Use the left pane to scroll down to Add-ons.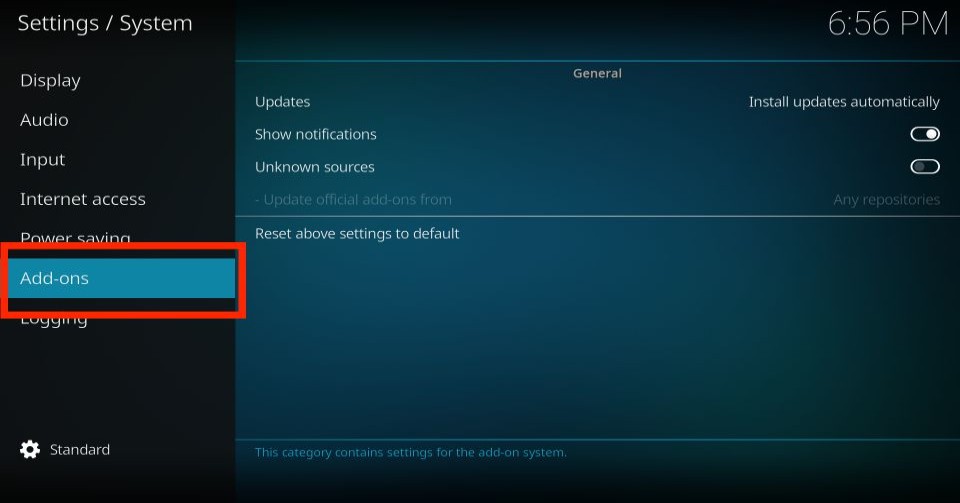 4. Under General on your right, locate and enable Unknown sources.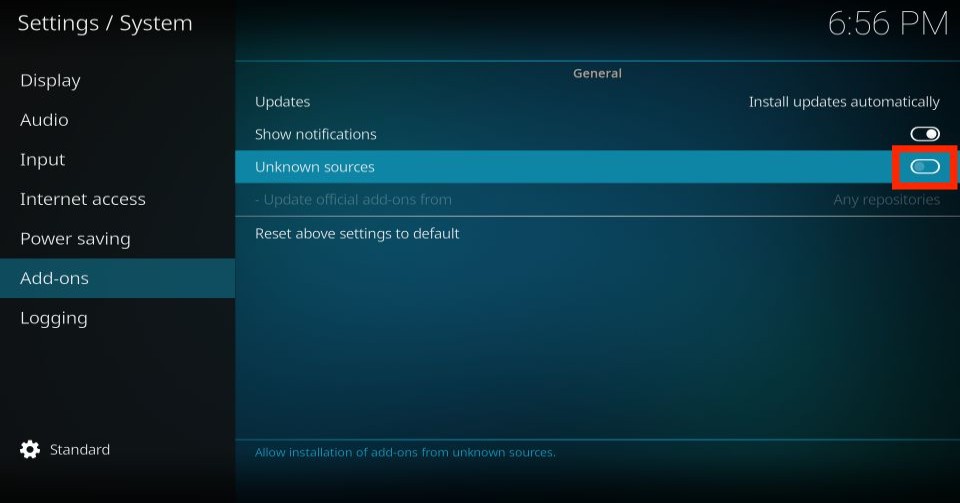 5. Hit Yes to move ahead.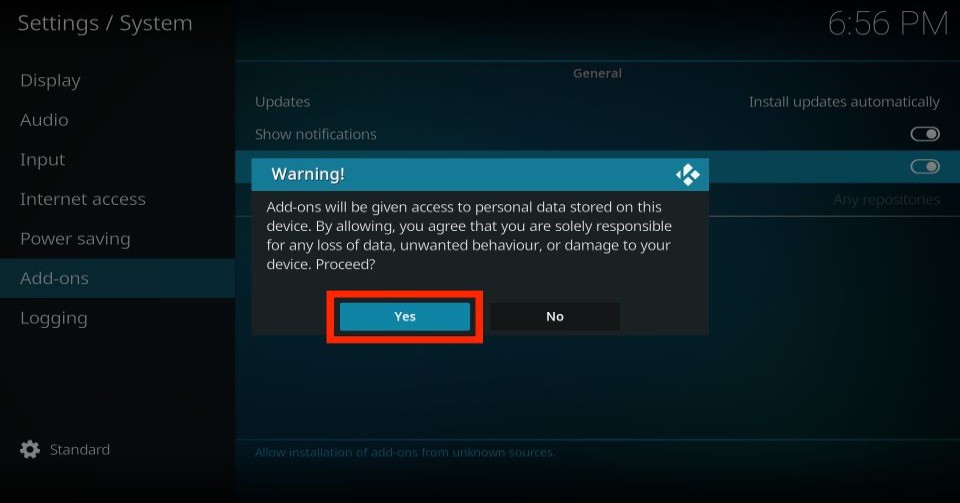 6. To change updating addons automatically from only official repositories, choose -Update official add-ons from.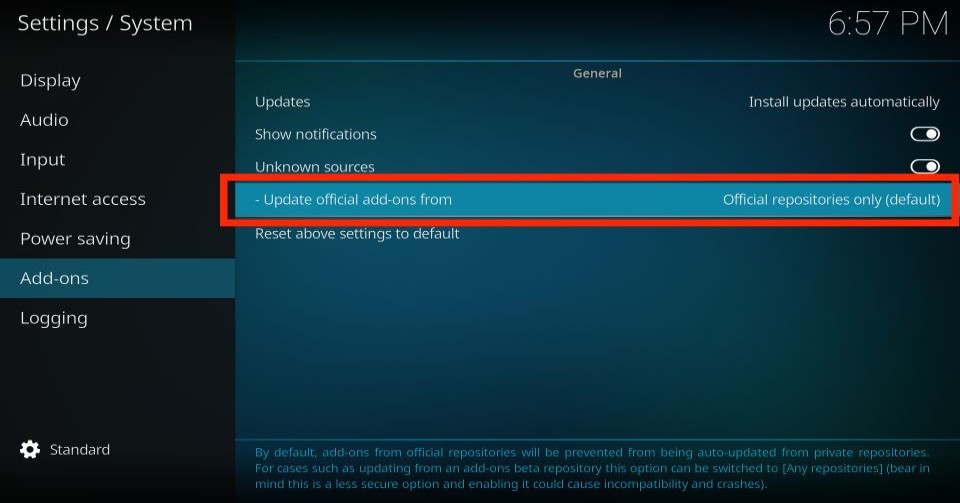 7. On the new window, choose Any repositories. Now, your addons will get updated via any repo.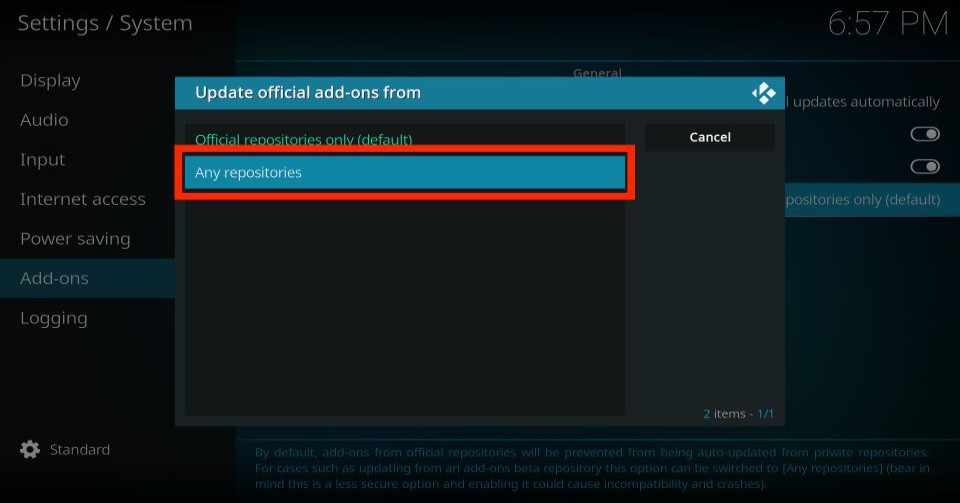 Part 2 – Install Fido Repository
With Unknown sources enabled, let's add the Fido Repository URL source and install its zip file:
1. Explore the app's Settings menu by choosing Cog Gear – under Kodi's logo.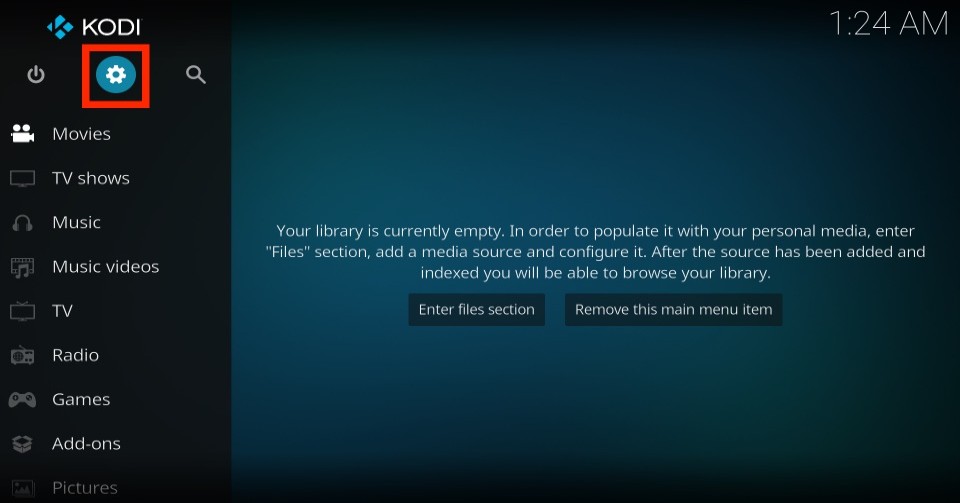 2. Click File manager.
Note: This section lets you add sources from the world wide web.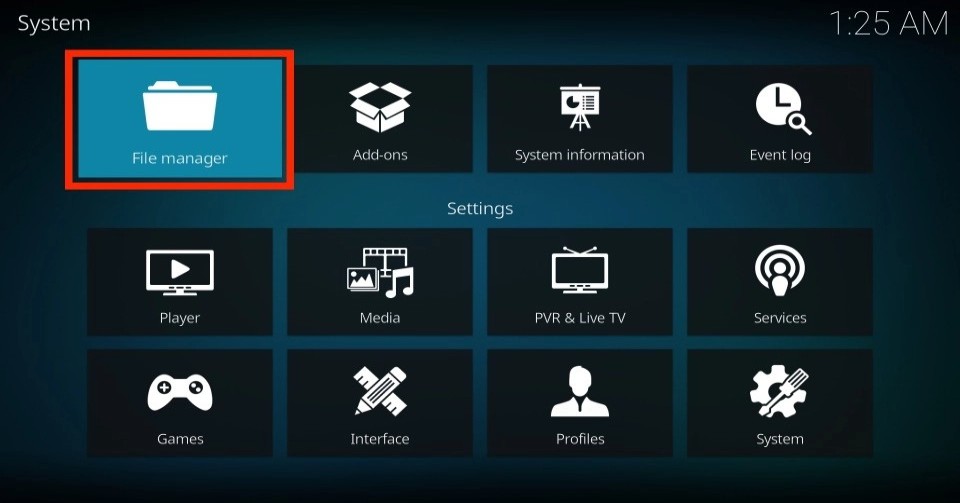 3. On your left and right, you'll see Add source. Choose any one option.
Note: Scroll down to the bottom if you don't see Add source on the top.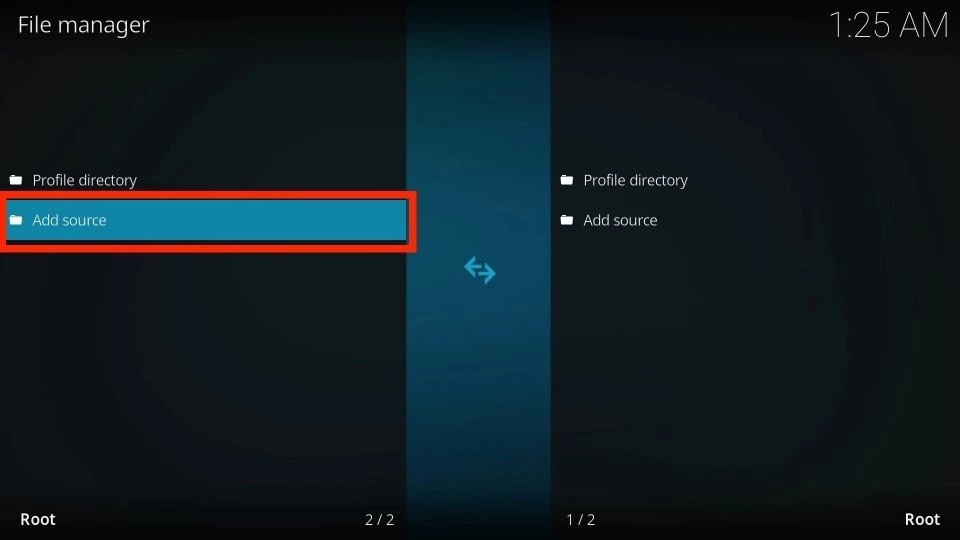 4. On the appearance of Add file source dialogue box, choose <None>.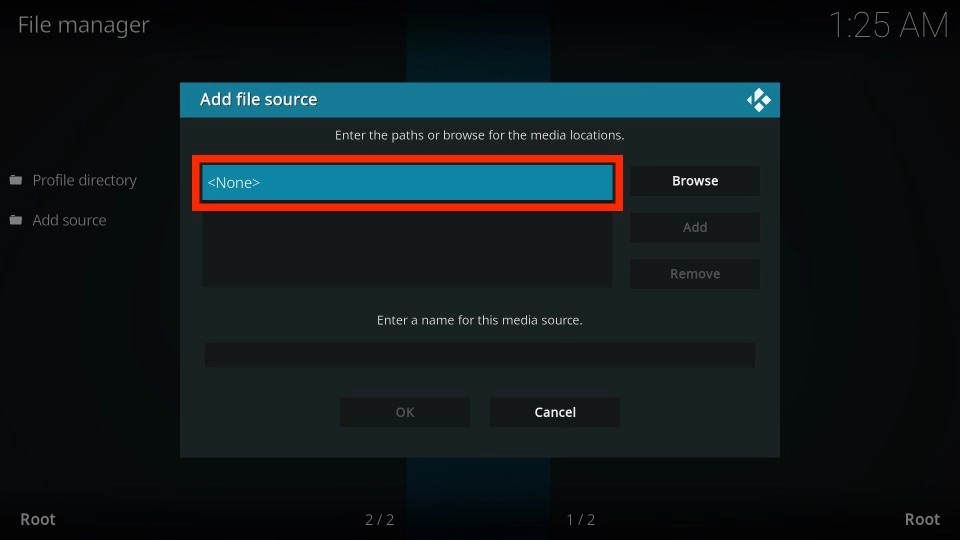 5. Type http://fantazyrepo.uk/repo and hit OK. 
Note: FireStickHow.com is not associated with the Fido Repository. I have mentioned its official URL only so you can easily copy and paste it into your Kodi app.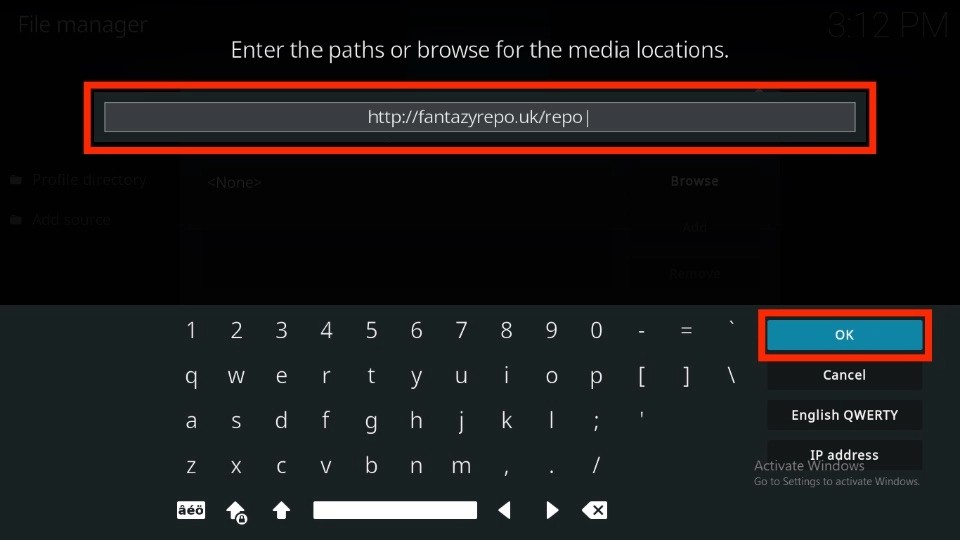 6. Default name of the source, repo, is misleading. So, it's better to change it by selecting the input box that says repo.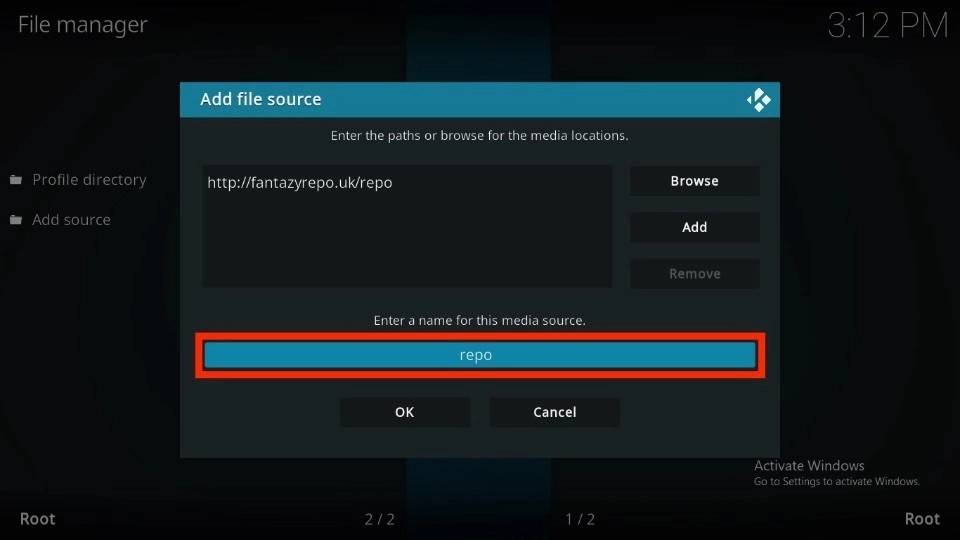 7. I'm naming the source fantazy. However, you can pick any name but make sure it's simple and relevant. Then, click OK.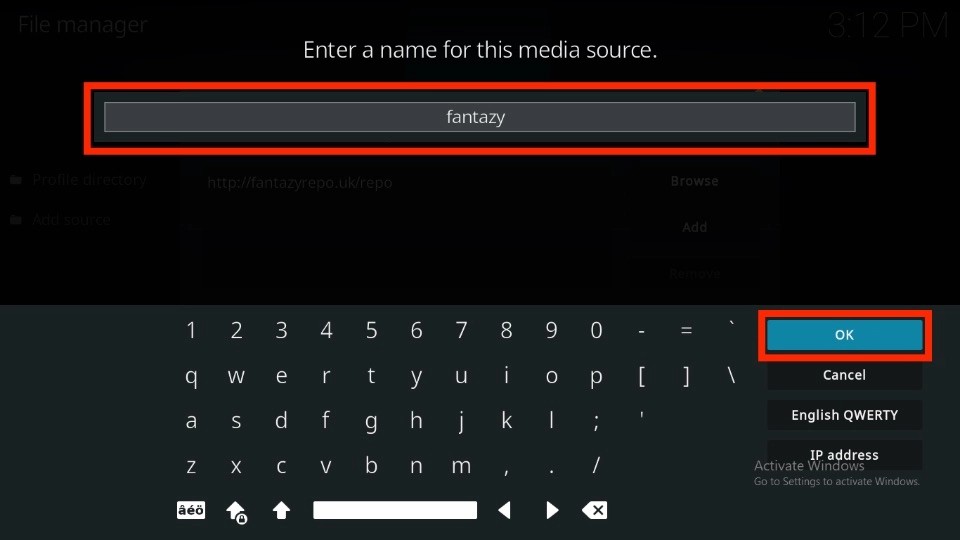 8. Give a final look at the changes—once satisfied, press OK.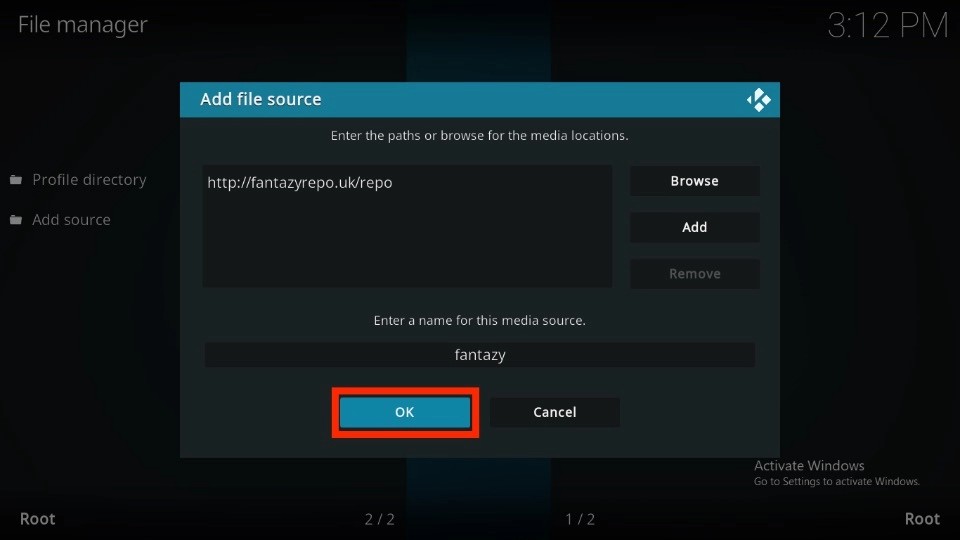 9. You'll see that the source name will be added to the File Manager list.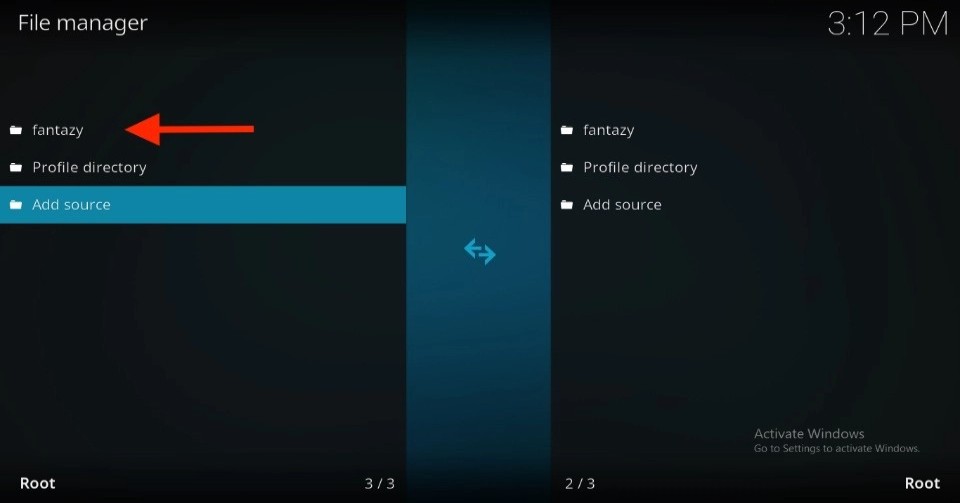 10. Go back to the Kodi settings and open Add-ons adjacent to the File manager.
Note: The Add-ons section deals with installing and accessing repos, addons, and zip files.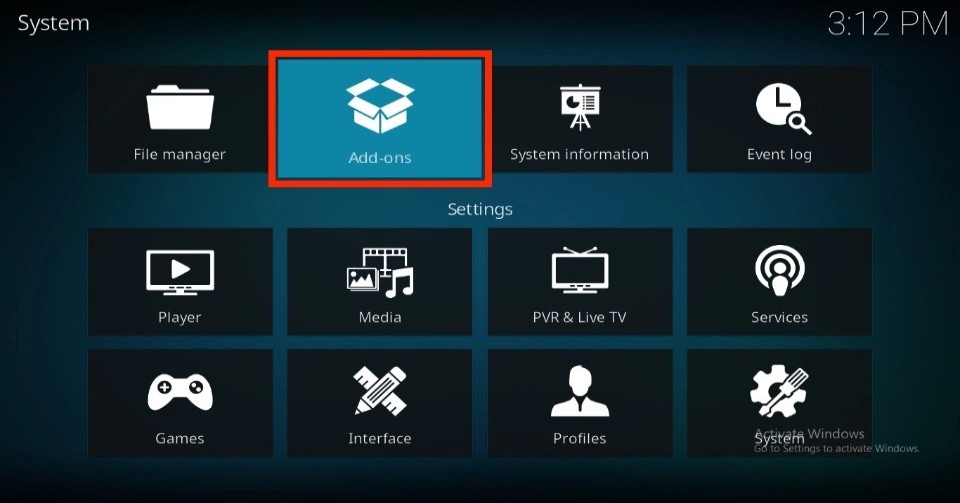 11. Go inside Install from zip file to access the sources you have added in File manager.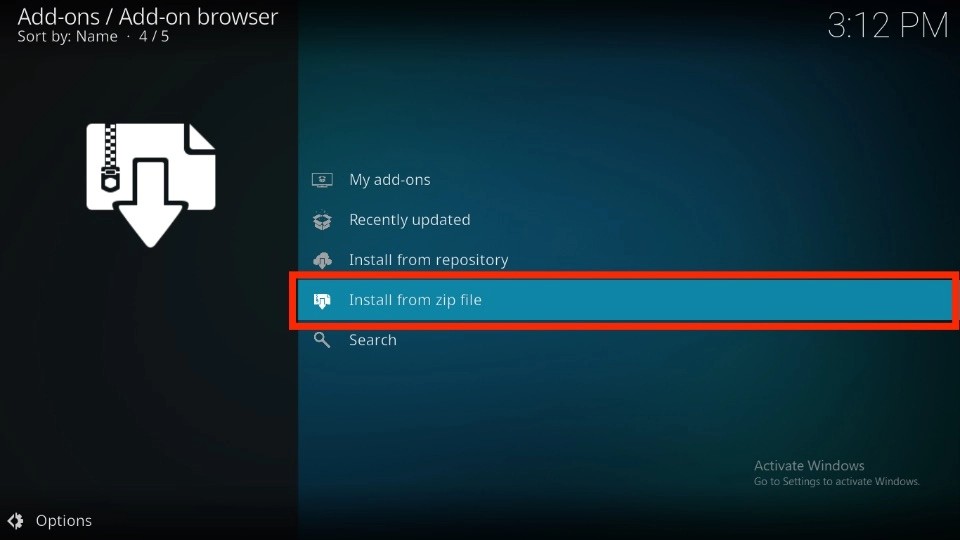 12. Click Yes to continue.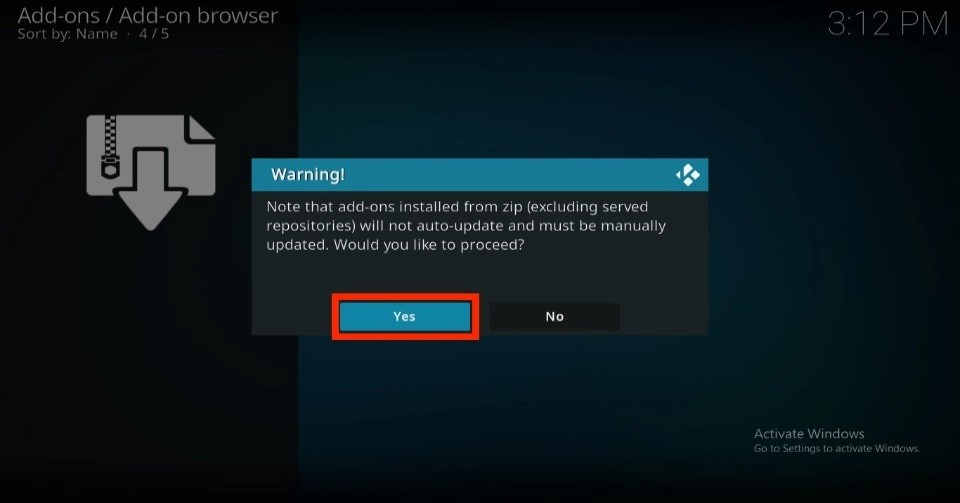 13. Pick the source name you have chosen in step 7. For me, it's fantazy.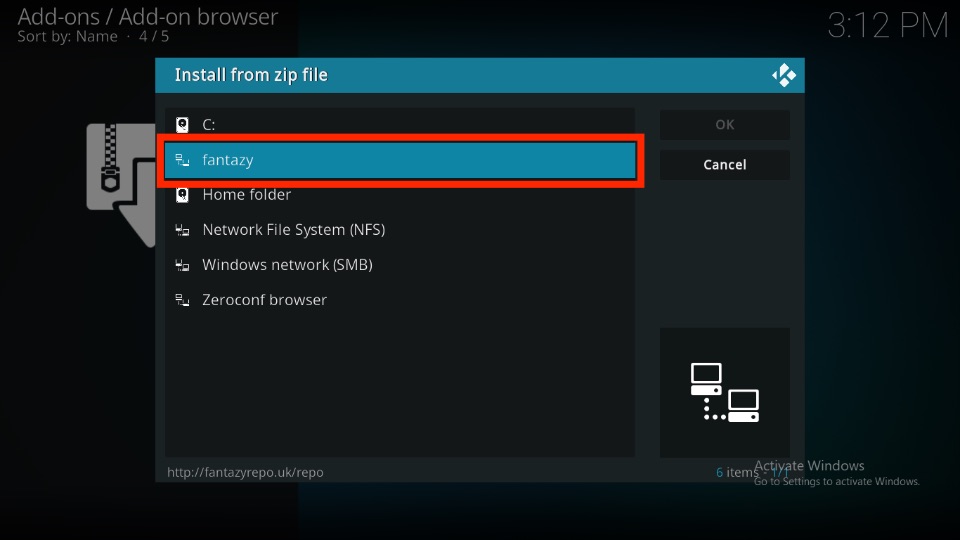 14. Open repository.Fido-1.5.zip.
Note: At the time of writing, the Fido Repository version was at 1.5. But as it receives frequent updates, it can change when you install it.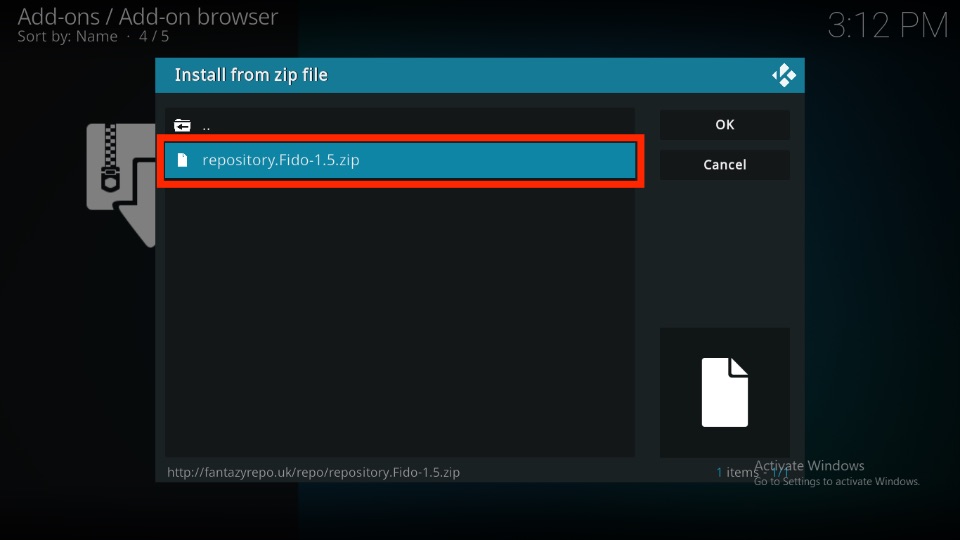 15. Finally, a message will appear in the top right confirming the installation of the repository.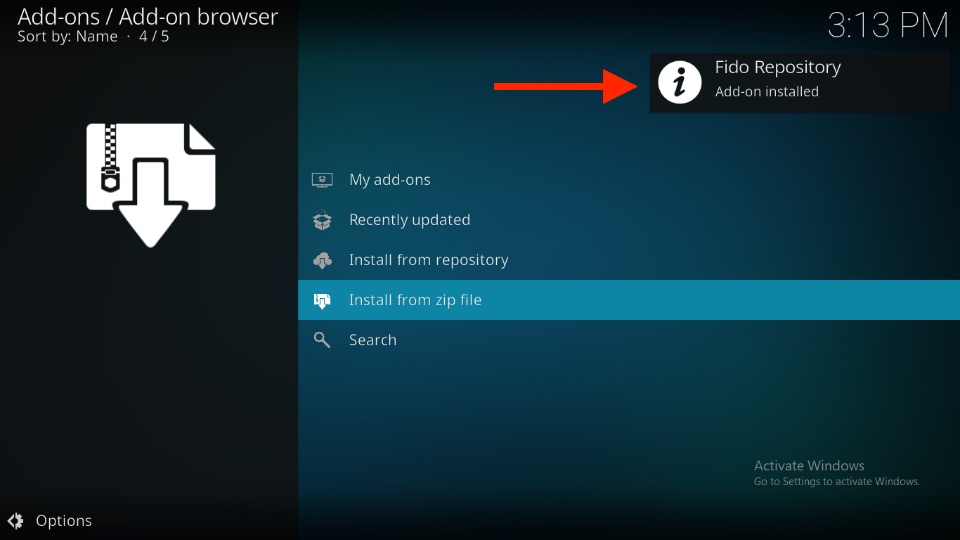 Hurray! One of the most popular repos, Fido Repository, is now installed on your Kodi.
Part 3 – How to Install Fido K19 addon
At last, use the instructions below to install Fido K19:
1. Open the Install from repository folder.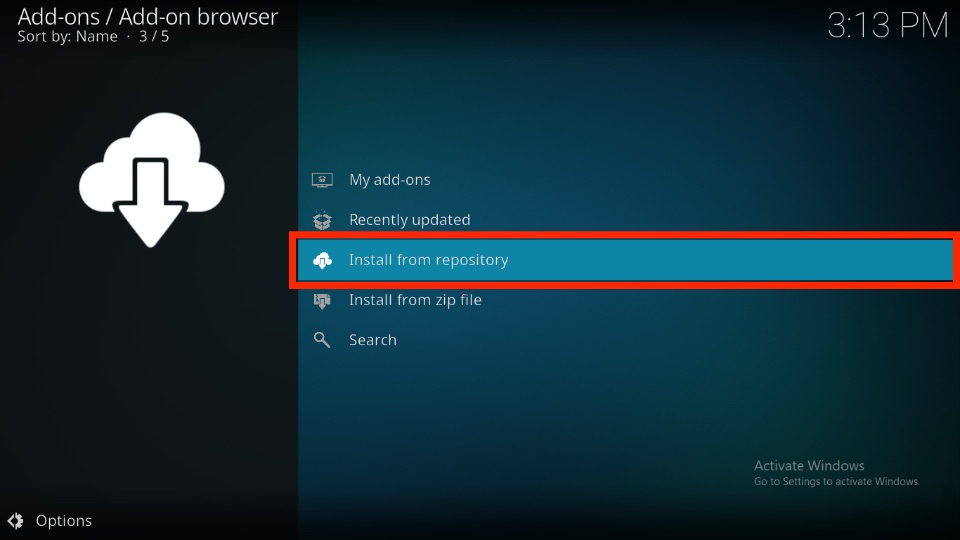 2. Here, choose Fido Repository.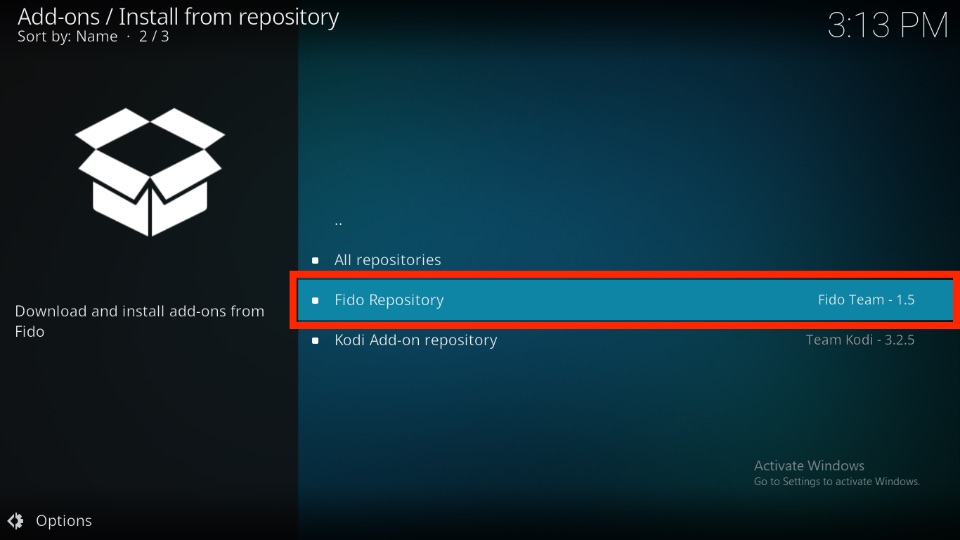 3. Fido Repository features three sections. Access Video add-ons.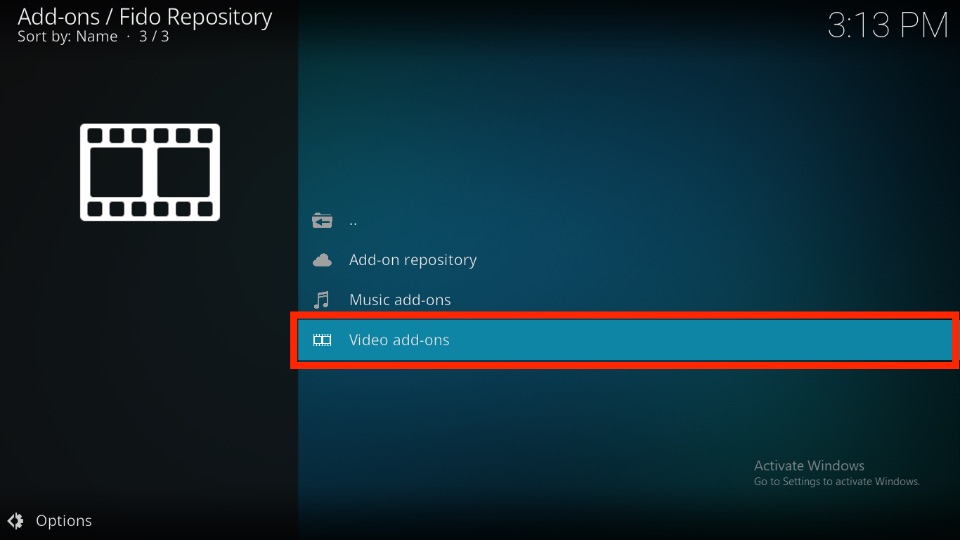 4. Open Fido.K19.
Note: Don't select the last addon, Xmas.Fido.K19.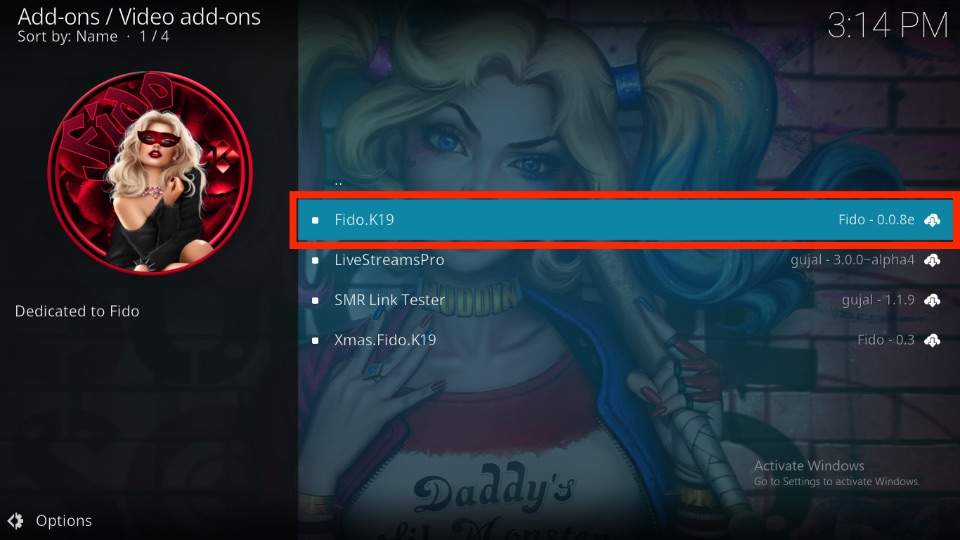 5. On Fido.K19 menu, choose Install.
Note: On the addon dashboard, you can check its dependencies, versions, category, origin, and summary.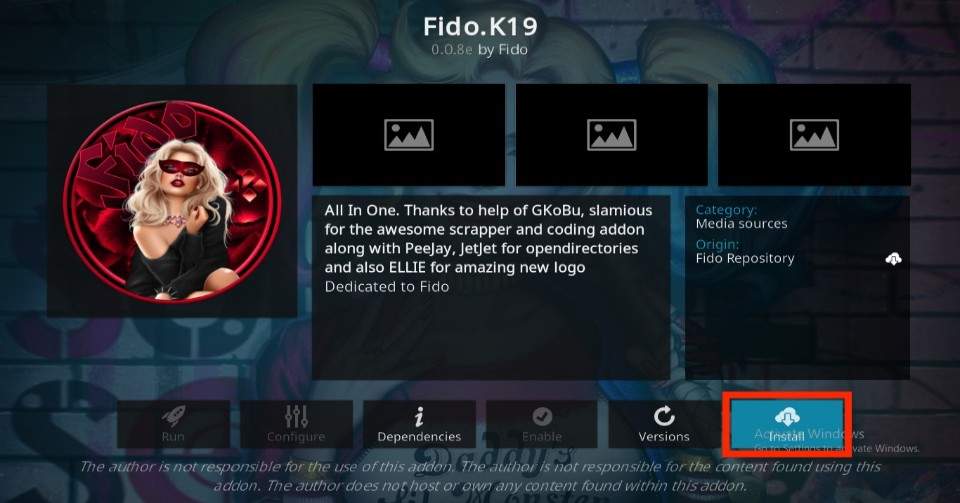 6. Fido.K19 will install additional addons alongside it as they are essential. Pick OK to allow.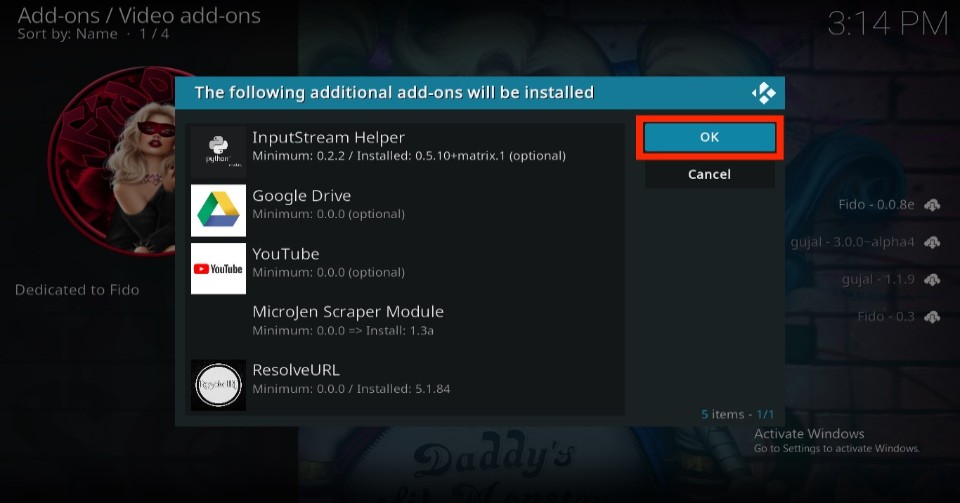 7. Downloading will continue, followed by installing Fido.K19 and other additional addons.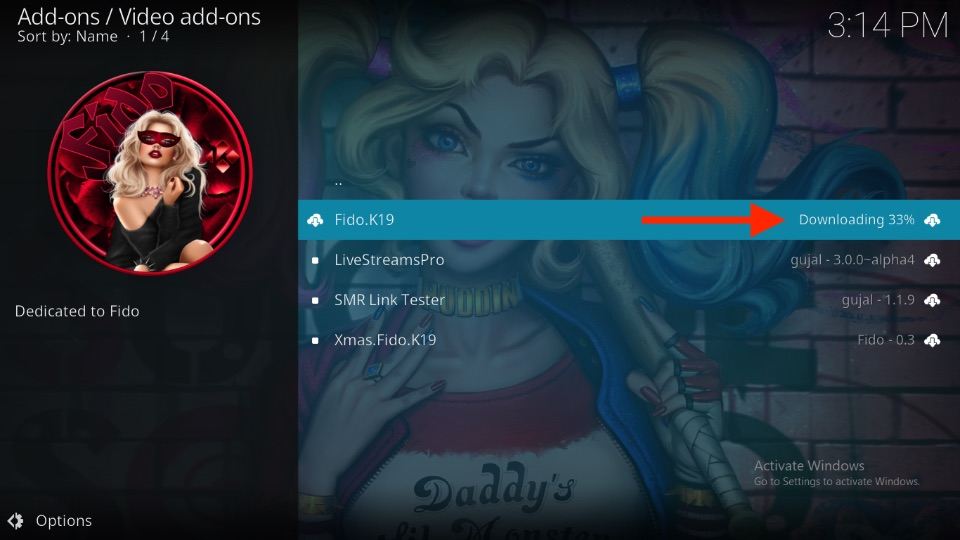 8. Once installed, a message will pop on your screen's top right – Fido.K19 Add-on installed.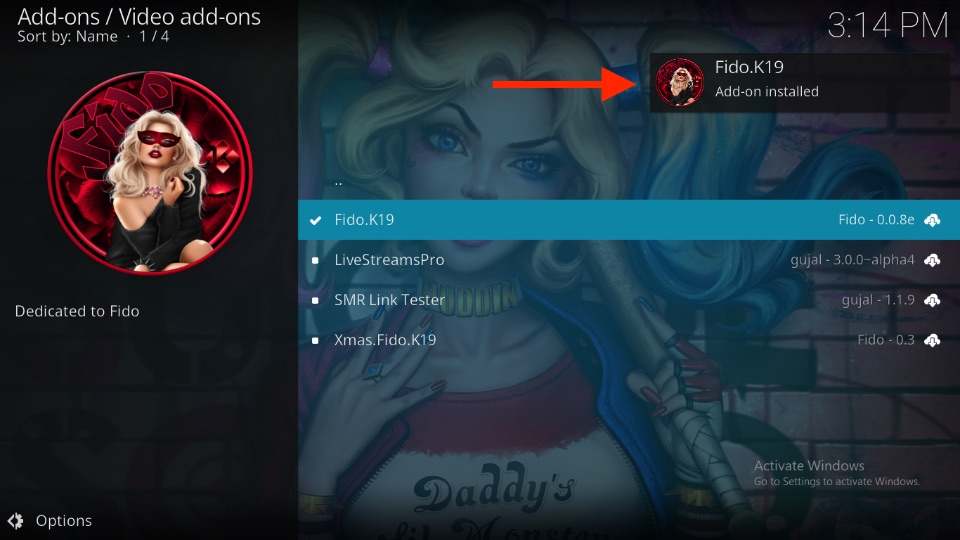 This is how you install Fido 19 Kodi Addon.
Wait! It looks like you are all set to start watching your favorite content on Kodi. But have you protected your online identity yet? You are under constant surveillance by the Government and ISP. They use your IP address 3.17.249.235 to track you. Streaming free or copyrighted videos may get you into legal trouble.
Thankfully, you can use a VPN to easily protect your privacy and go invisible from your Government and ISP. I use and recommend ExpressVPN with Kodi.
ExpressVPN is the fastest, most secure, and streaming-friendly VPN. It is easy to install and set up on any Kodi device, including FireStick, Smartphones, PCs, and more.
ExpressVPN, offers an unconditional 30-day money-back guarantee. So, if you do not like the service (I don't see why), you can get a full refund within 30 days.
Please remember that we encourage you to use a VPN to maintain your privacy. However, we do not condone breaking copyright laws.
Before you start using Kodi for streaming, here is how you can protect yourself with ExpressVPN:
Step 1: Sign up for ExpressVPN Here
Step 2: Download ExpressVPN on your device by clicking HERE
Step 3: Open the ExpressVPN app on your device. Sign in with your account. Click the connect/power button to connect to the VPN

Great! You have successfully secured yourself with the best Kodi VPN.
How to Use Fido K19 Kodi Addon
Here's a quick Fido.K19 how-to-use guide for you:
To launch Fido K19, click Add-ons on the home screen of the Kodi app.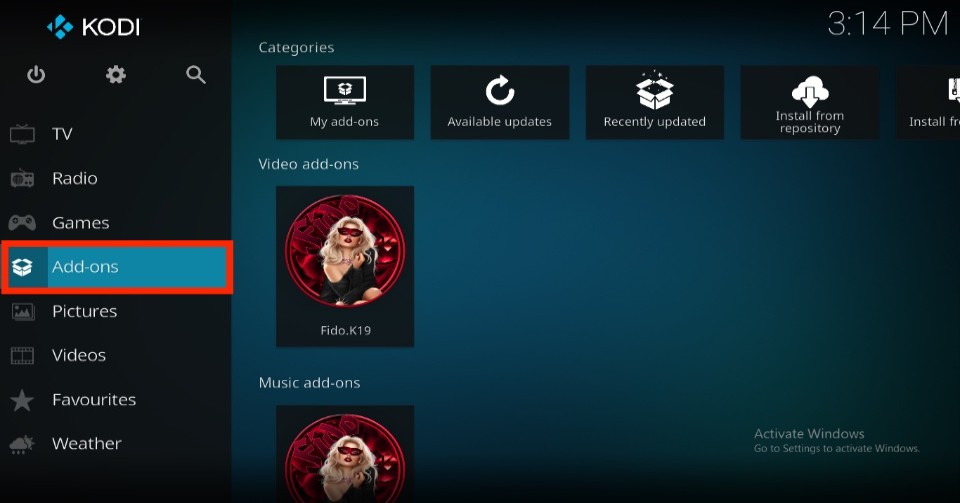 After that, open Fido.K19 while staying in the Video add-ons sub-folder.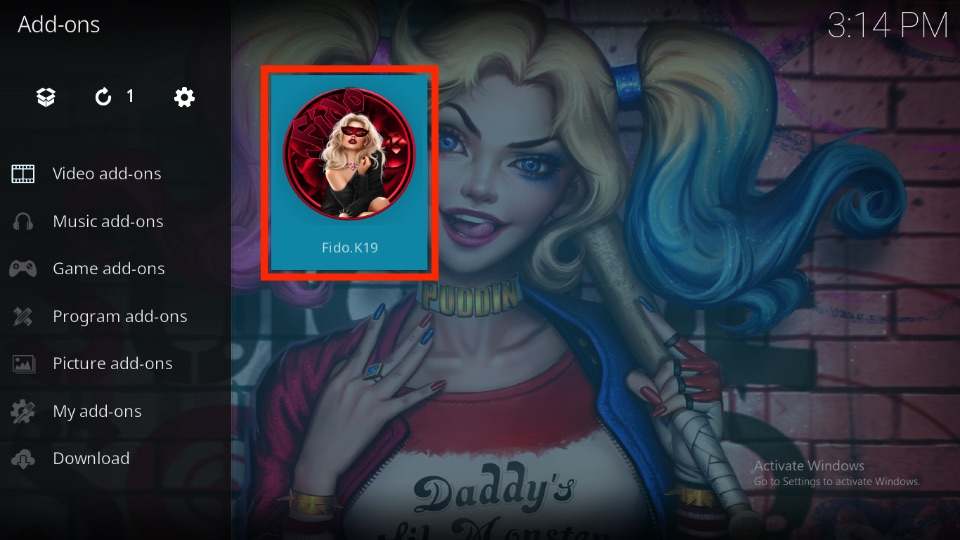 Here are the 18 sections found on the Fido K19 home: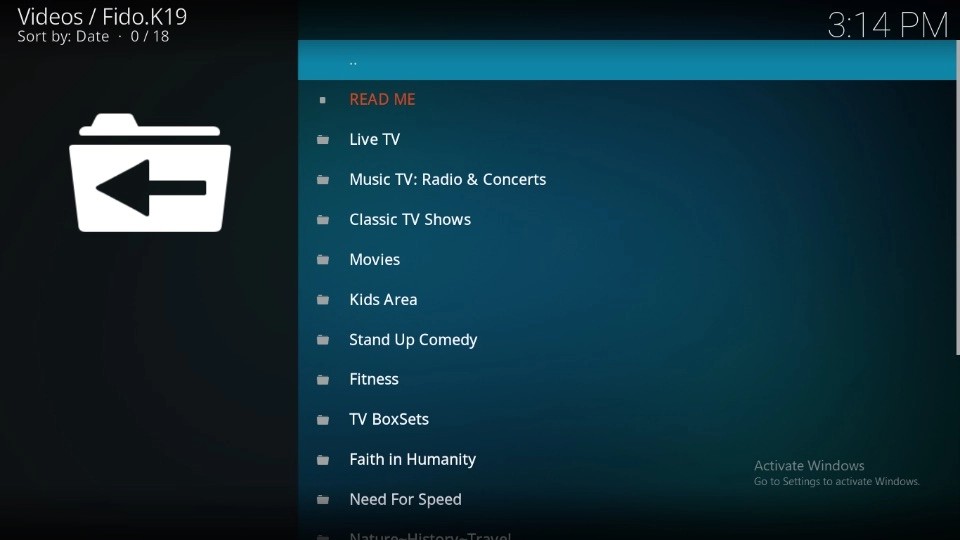 Let's start by opening the second section of Fido K19, Live TV.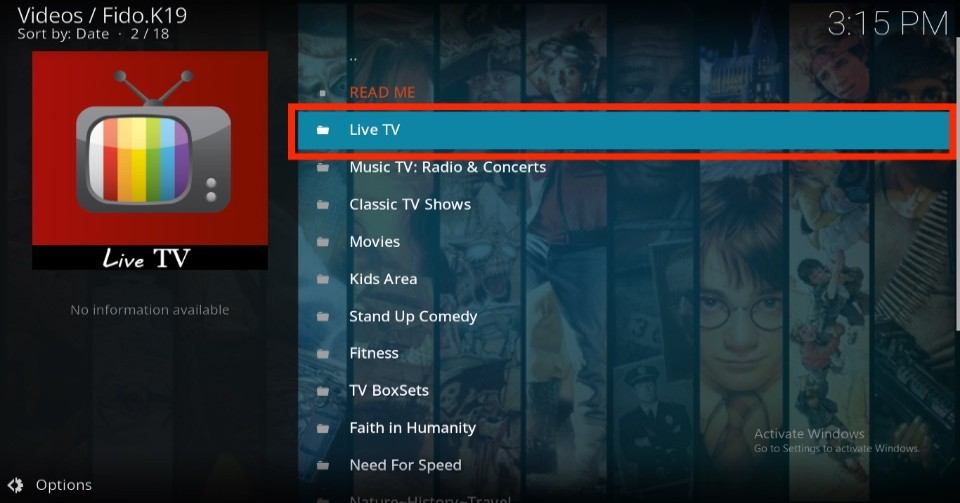 Inside, 24 sub-sections let you access multiple types of TV channels. From the US to the UK, this section has all the channels.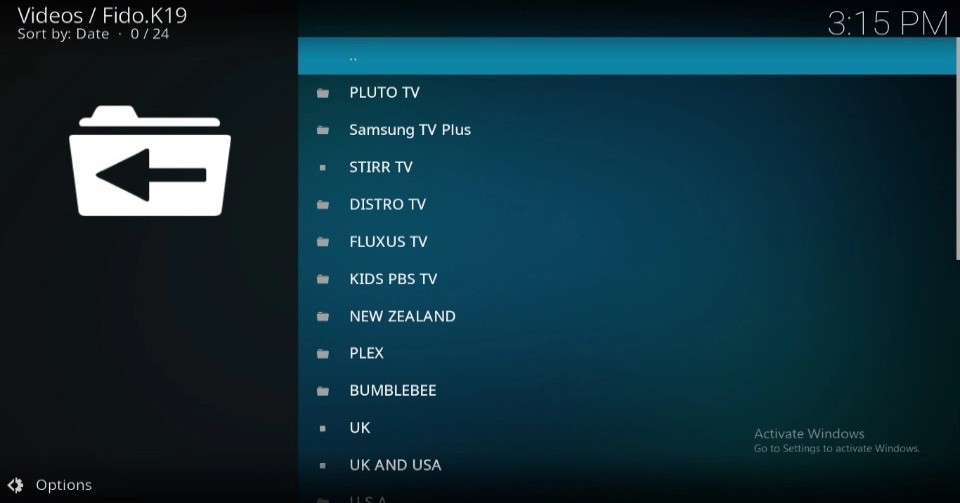 To watch the good old TV series, open Classic TV Shows.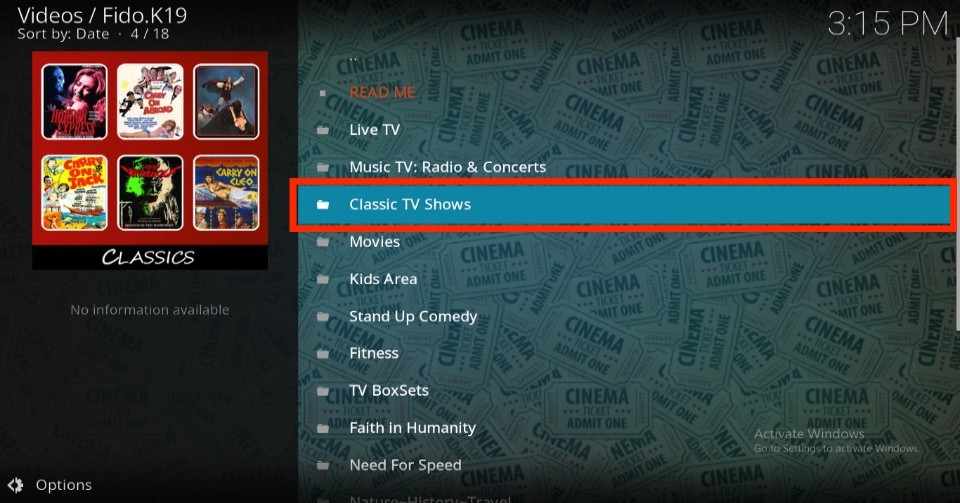 This section lines up 730 classic TV shows in alphabetical order. Select a show you like; inside, it'll be split into seasons (if available) and episodes.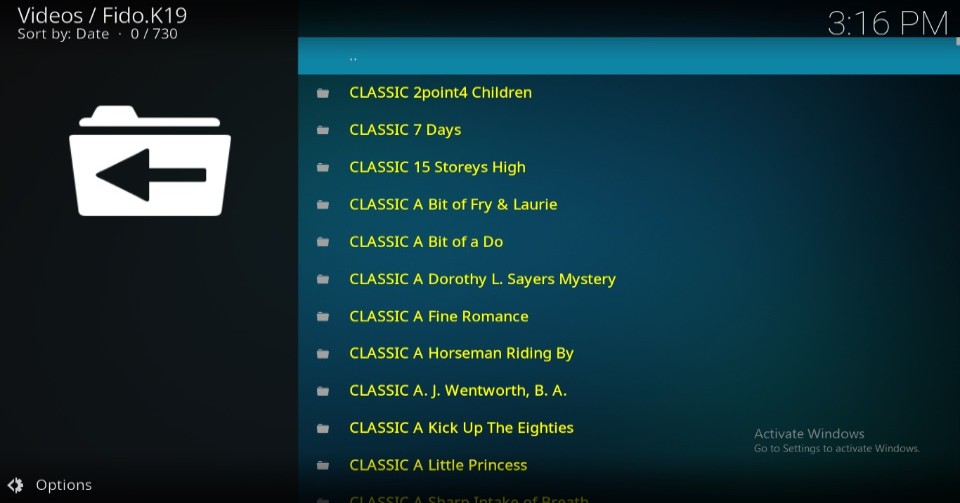 To watch your favorite films, open the Fido K19's Movies section.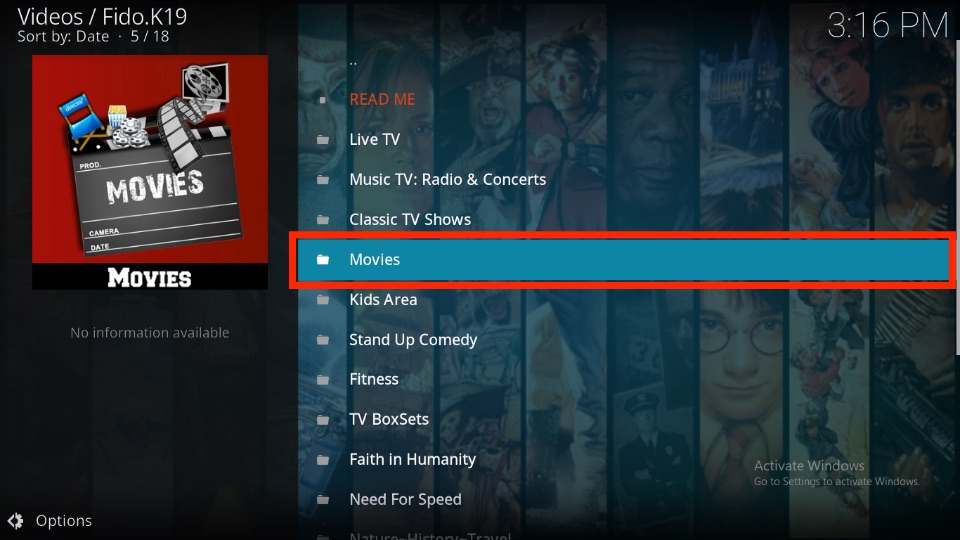 You'll find 82 folders inside, like TMDB Now Playing, TMDB Popular Movies, TMDB Top Rated Movies, etc. As per the title, each folder contains relevant movie content.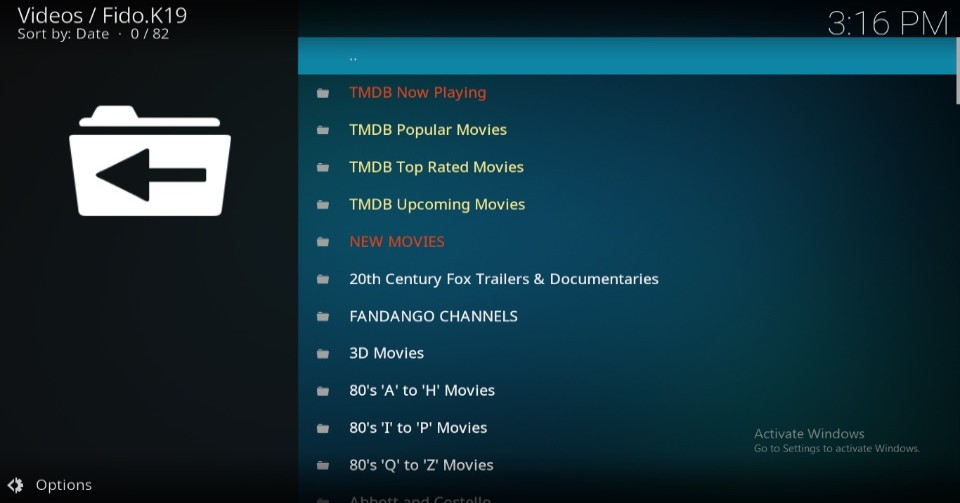 You'll find the Fitness section of Fido K19 quite useful if you are into a healthy lifestyle.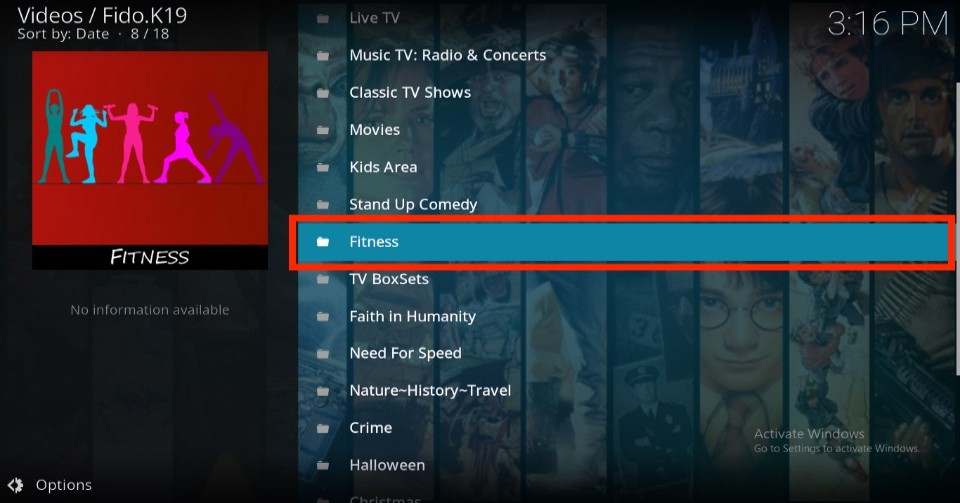 Inside, the fitness content is split into 12 folders like 30 Mins Aerobic Dance Workout, BeFit, etc.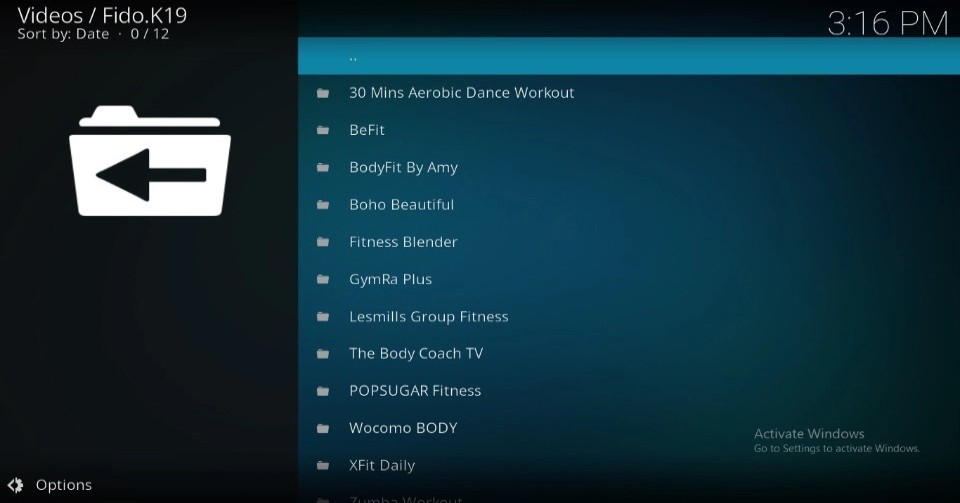 To watch real-life non-fiction content, open Nature~History~Travel.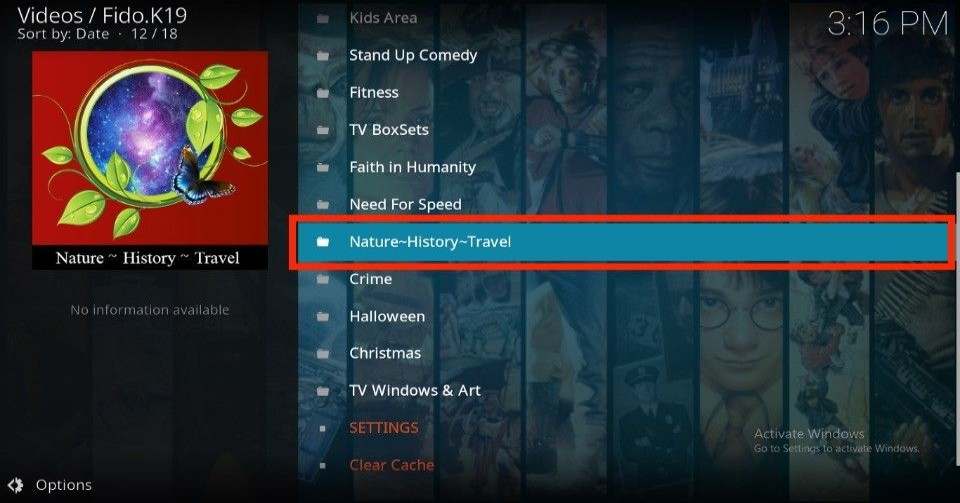 This section gives you access to 119 and counting content related to nature, history, and travel.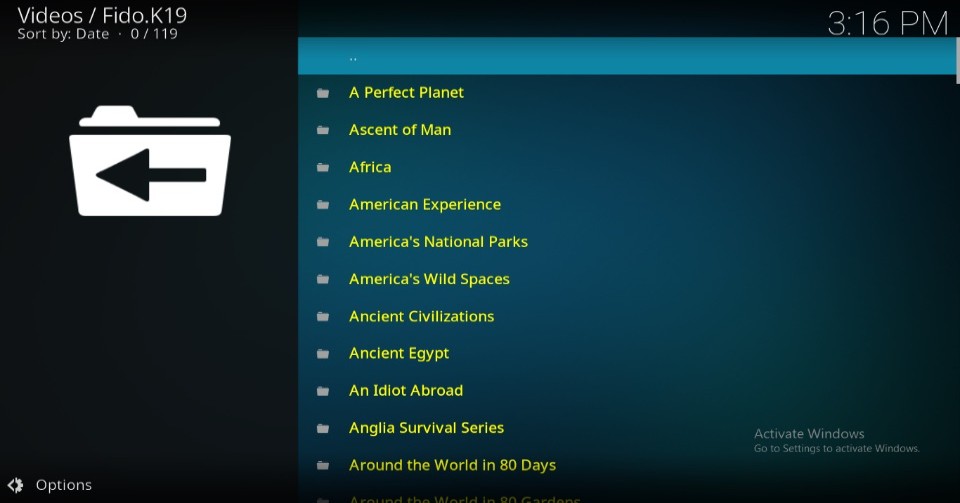 Lastly, you can explore other great sections of Fido K19, like Christmas, Halloween, Need For Speed, Crime, Kids Area, and more.
How to Set up Real Debrid on Fido K19
For those who don't know about Real Debrid, it's a service that scrapes premium links of various content from the internet. To get more knowledge about it, refer to our definitive guide on RD. 
Use the instructions below to set up RD on Fido K19.
1. Click Settings Cog on Kodi's home to open app settings.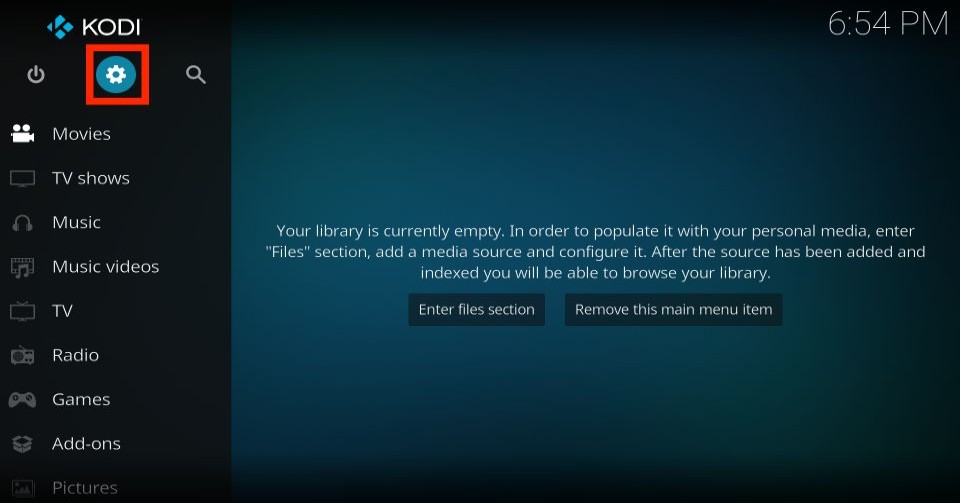 2. Choose System – the tile with the Cog and Screwdriver icons.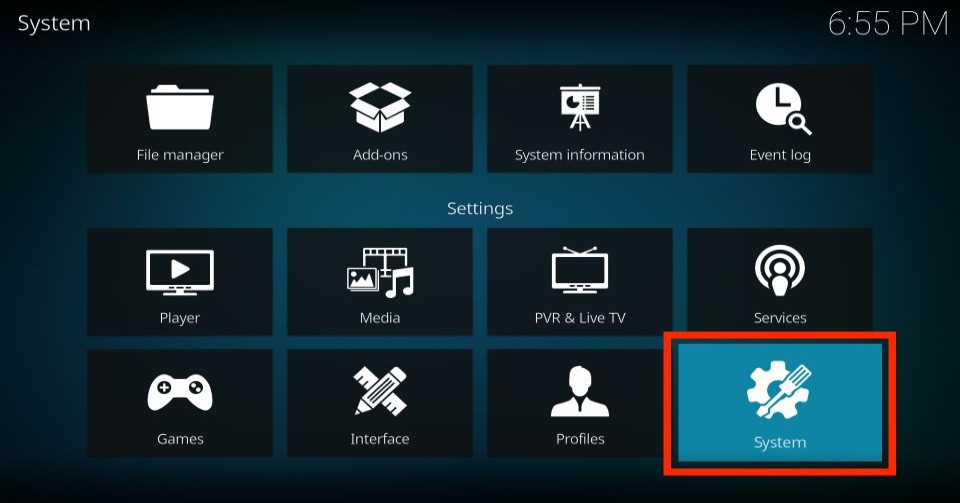 3. Go to the left tab and press Standard to switch it to Advanced.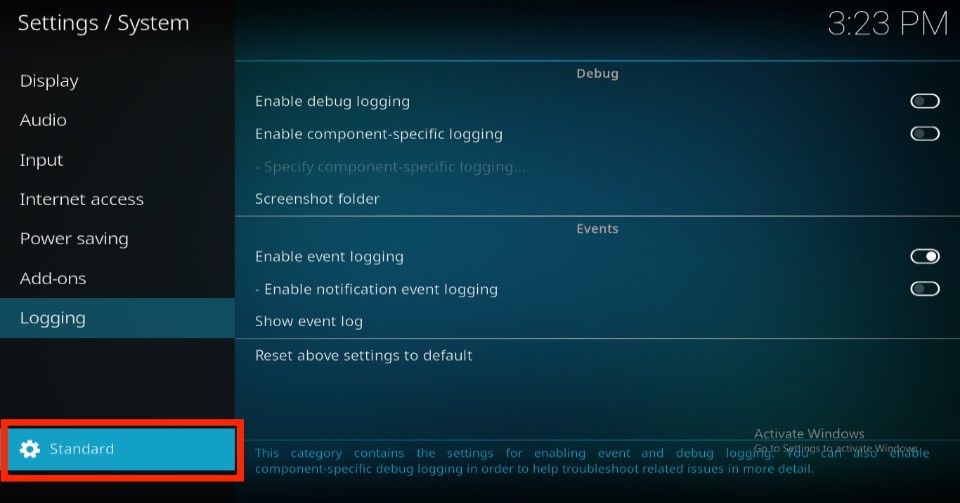 4. Scroll up to land on Add-ons.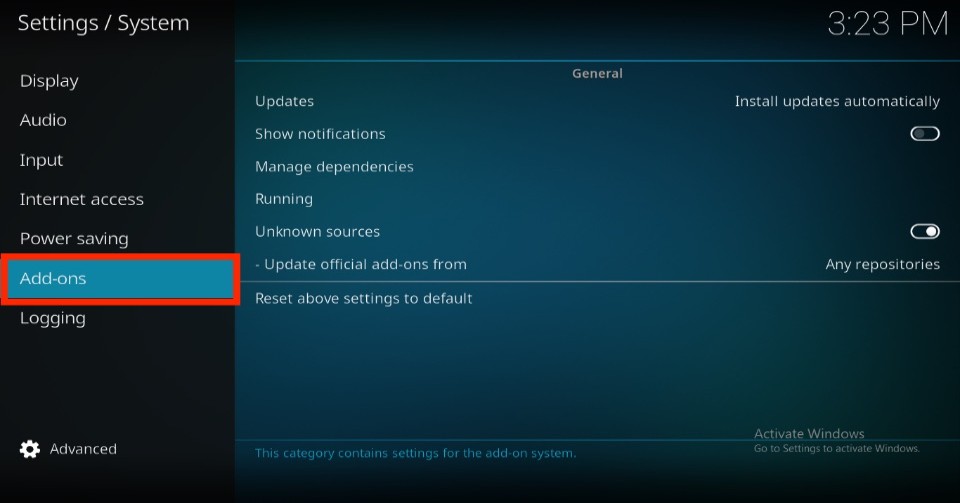 5. Inside Add-ons on the right side, open Manage dependencies.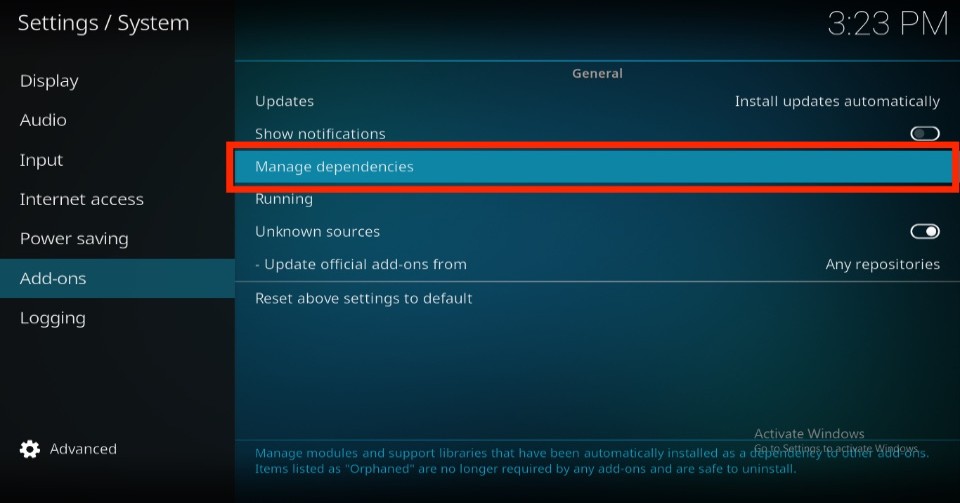 6. Locate and open ResolveURL.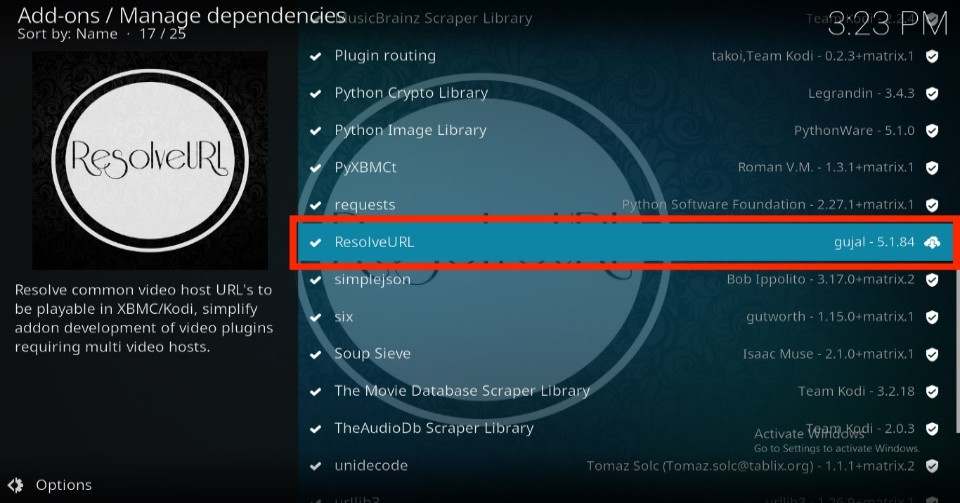 7. Hit Configure.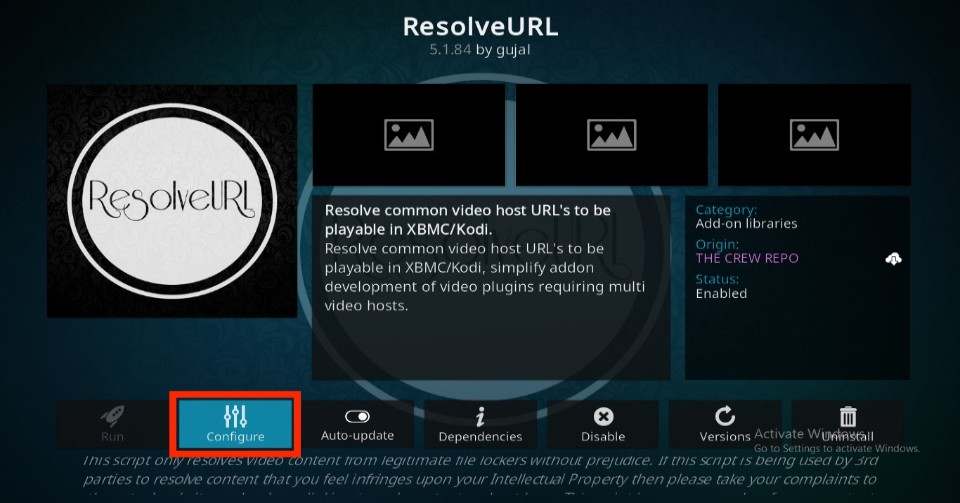 8. Go to Universal Resolvers 2.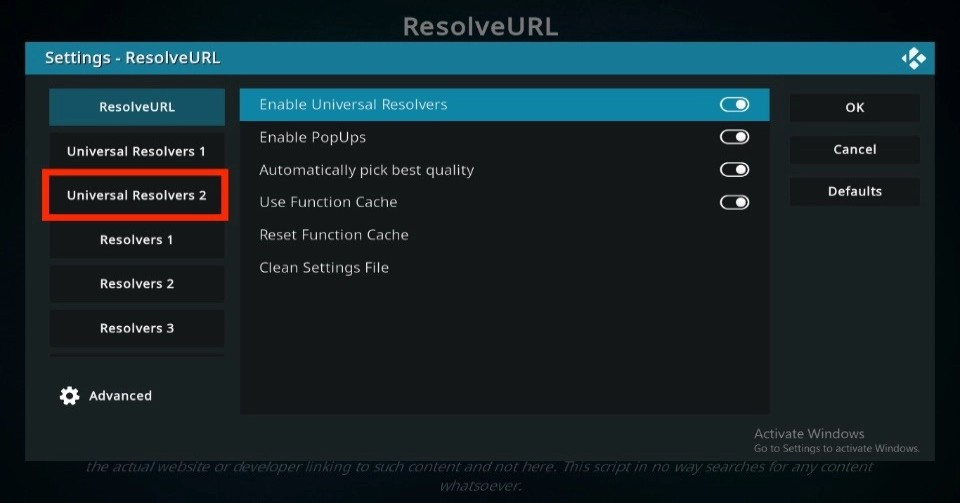 9. Select (Re)Authorise My Account.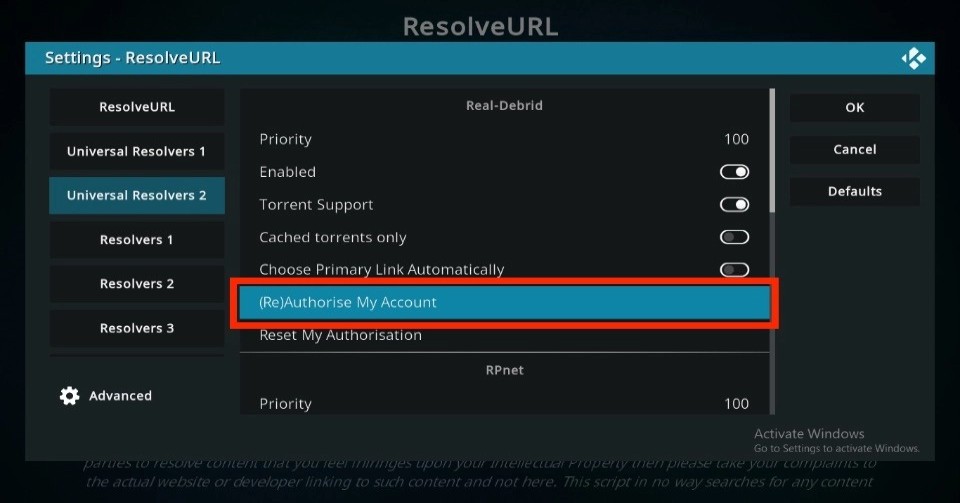 10. Go to real-debrid.com/device on your PC/phone. Then, enter the code you see on Kodi. After that, finish the setup by following the instructions on your screen.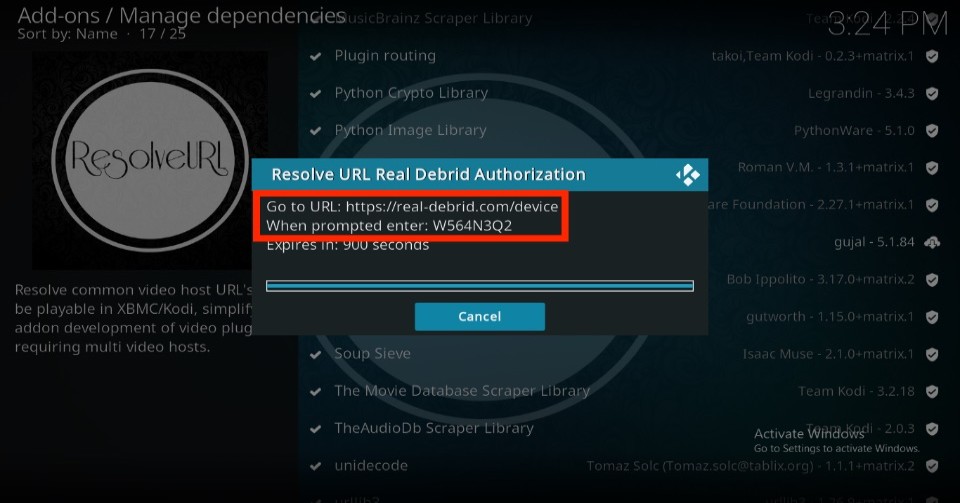 11. A notification about successful authorization will appear in the top-right corner.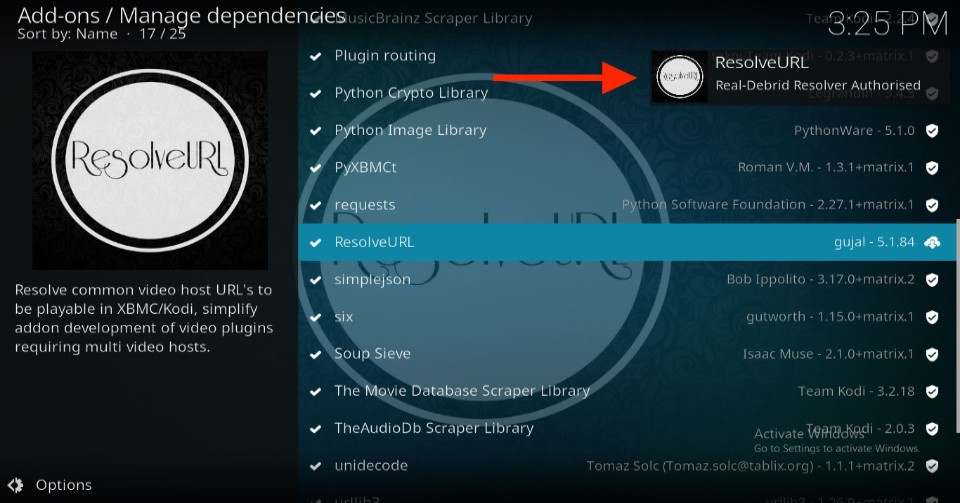 That's it! You are done setting up Real Debrid with Fido K19.
Conclusion
Today, I demonstrated how to install Fido K19 Kodi addon and other important information about it. If you want more guides like this, drop your suggestions in the comments section.
Related: