Have you heard about the famous Odds 'n' Ends Kodi addon? Today, I'll demonstrate how to install Odds' N' Ends Addon on Kodi. This article applies to all Kodi-compatible devices like FireStick, Windows PCs, Android tablets/phones, Linux computers, Nvidia Shield, and more.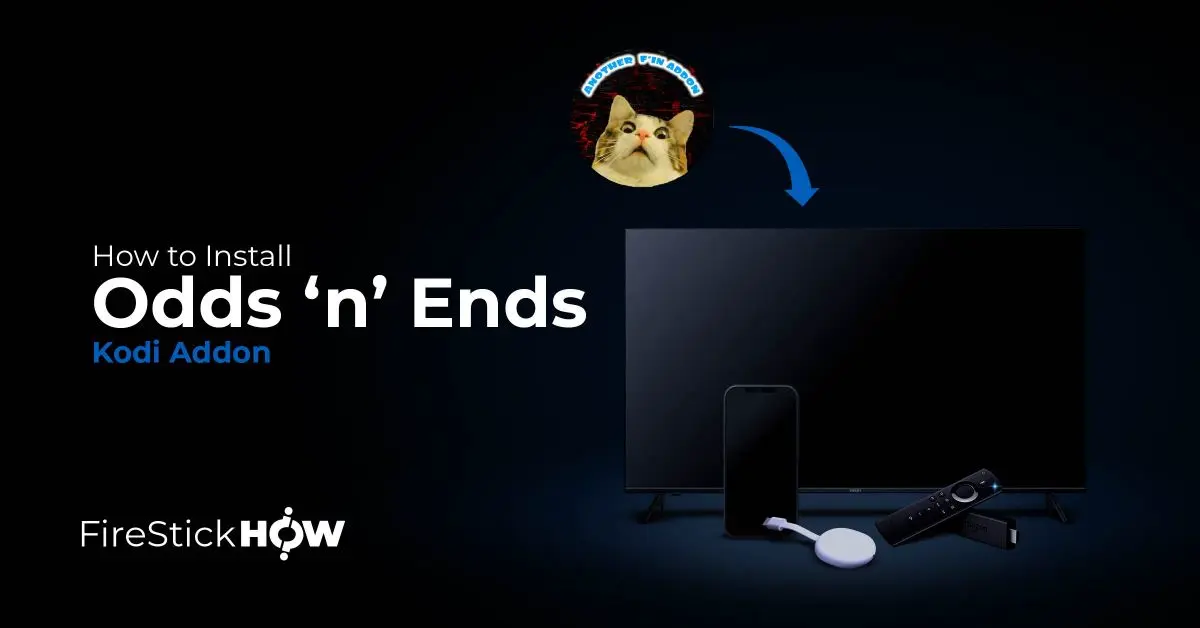 What Is Odds' n' Ends?
Odds 'N' Ends is your multipurpose addon to watch tons of content! Plays, holiday stuff, TV shows, movies, and you name it, Odds' n' Ends serves you everything.
And guess what? You can also connect premium services like Real Debrid and make it even more capable! Odd 'N' Ends is presently one of the best Kodi addons. This addon also comes preinstalled with many Kodi builds. 
Attention KODI Users: Read before you continue
Government and ISPs endlessly monitor your online activities using your IP address 3.17.249.235 (exposed to everyone). Kodi is an excellent platform for streaming movies, TV shows, and sports, but streaming copyrighted content can get you into legal trouble. 
You should use a reliable Kodi VPN and protect your streaming activities and privacy. A VPN will hide your IP address and bypass government surveillance and geo-restrictions.
I trust and use ExpressVPN, the fastest and most secure Kodi VPN. It's easy to install on any Kodi device, including Amazon FireStick, PCs, and Smartphones. In addition, it offers a 30-day money-back guarantee, and 3 free months with the annual plan.
Read: How to Install & Use the best VPN for Kodi.
Is Odds' n' Ends Safe?
Being a third-party addon, you can't trust Odds' n' Ends in terms of safety. Nor can you completely label it as dangerous. At FireStickHow, we can't check whether Odds' n' Ends is 100% safe for your device. However, I checked the Grindhouse Repository zip file for viruses and found nothing – here's the screenshot: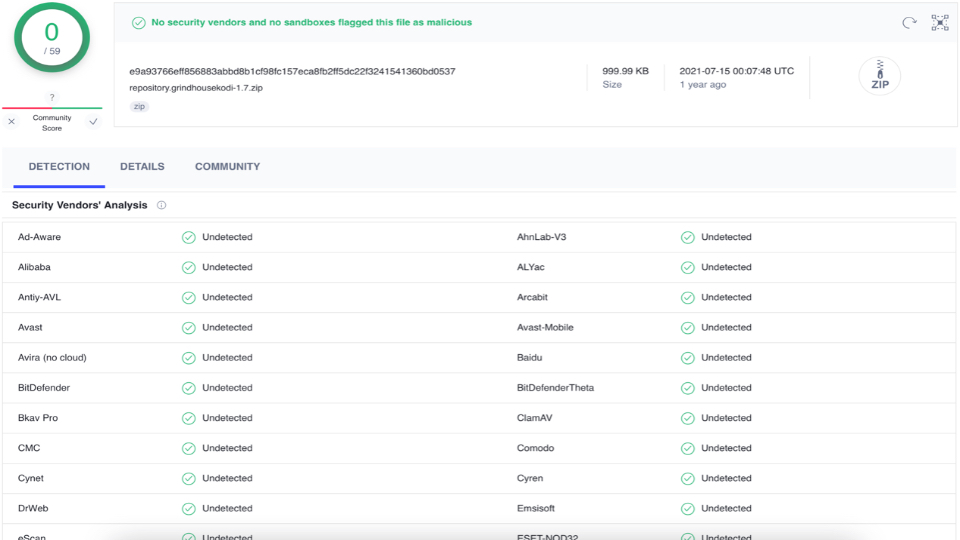 Is Odds' n' Ends Legal?
Odds' n' Ends scrapes content that's already freely available on the internet. So, the addon itself isn't illegal.
However, we can't verify the legality of the content provided by Odds' n' Ends. Hence, the matter remains in the middle of nowhere.
There's no litmus test to check whether Odds' n' Ends is legal or illegal. Therefore, I advise using ExpressVPN with Odds' n' Ends to keep any legal or safety issues at bay.
Features of Odds' n' Ends Addon
Here are some reasons why Odds 'n' Ends is so popular:
100% free

Unique sections like Plays, Misc, etc.

Reliable streaming

No region restrictions
How to Install Odds' n' Ends Kodi Addon
Here are three parts that break down the installation of Odds' n' Ends into digestible steps:
Part 1: Enable Unknown Sources
Start by enabling unknown sources on Kodi:
1. Click the Setting Cog button on the Kodi home screen to open the app settings menu.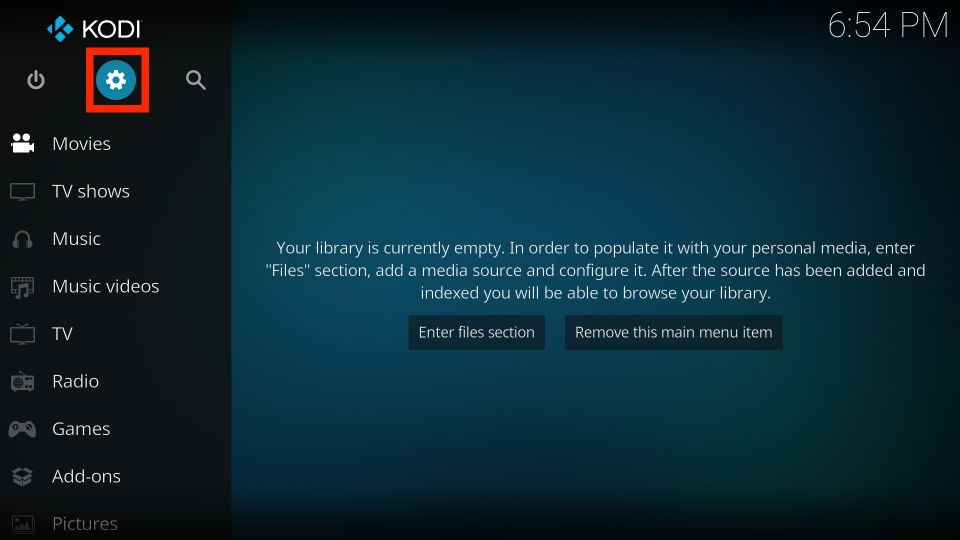 2. Choose System down at the bottom right side.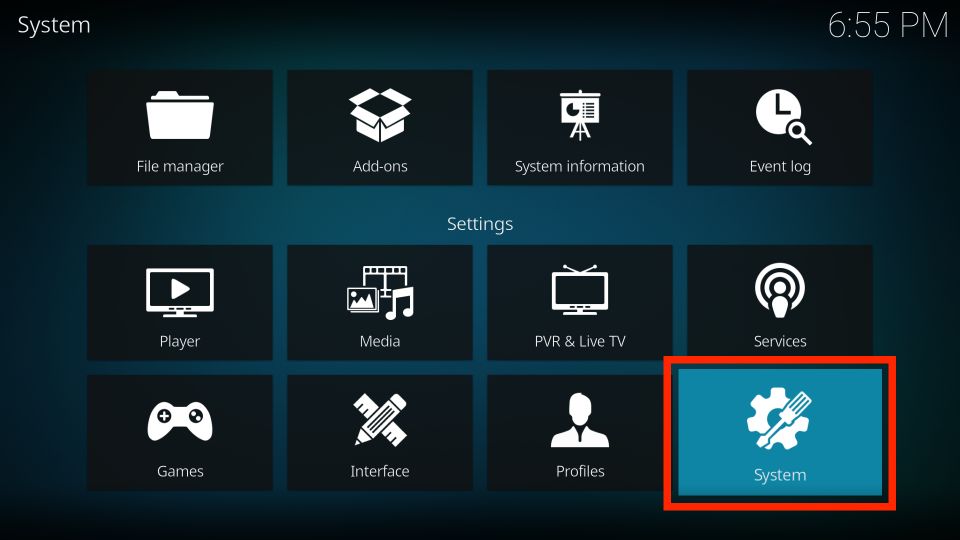 3. Click the Add-ons menu on your left-hand side menu panel.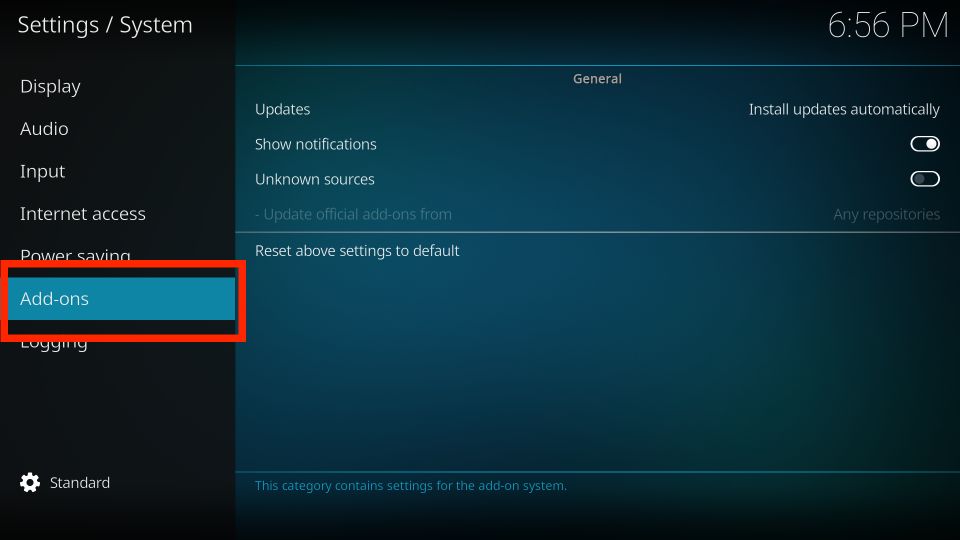 4. Toggle on Unknown sources.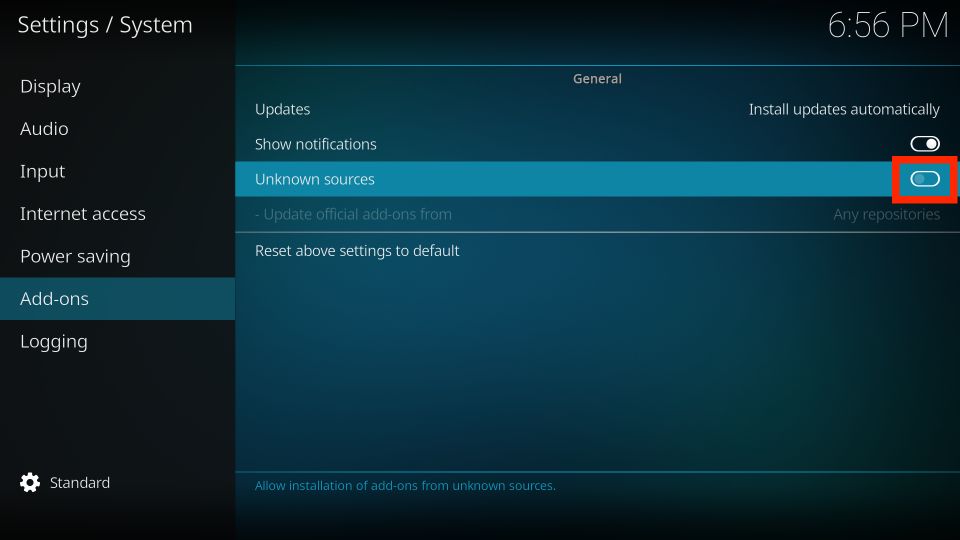 5. Kodi will inform you about the problems that may occur if you add third-party addons/repos, click Yes to continue.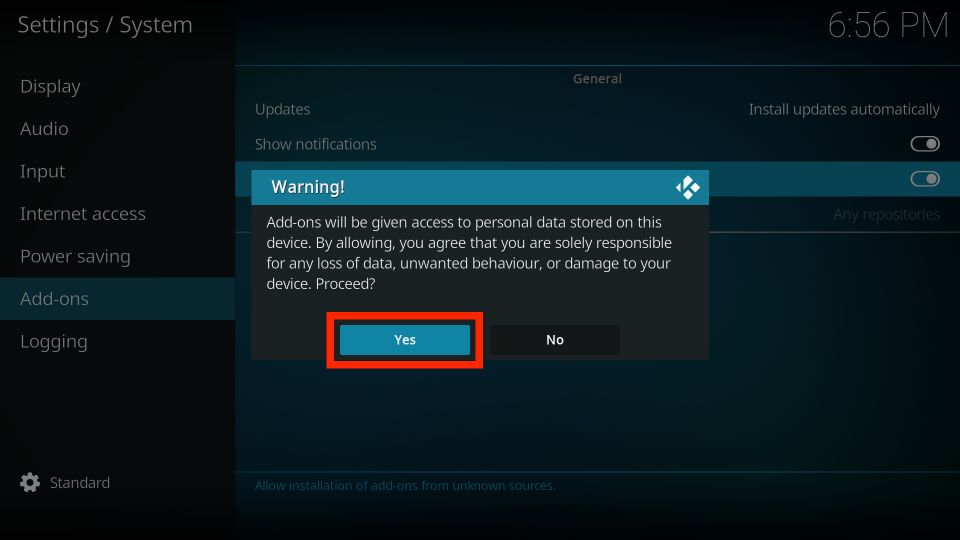 6. Explore the -Update official add-ons from option.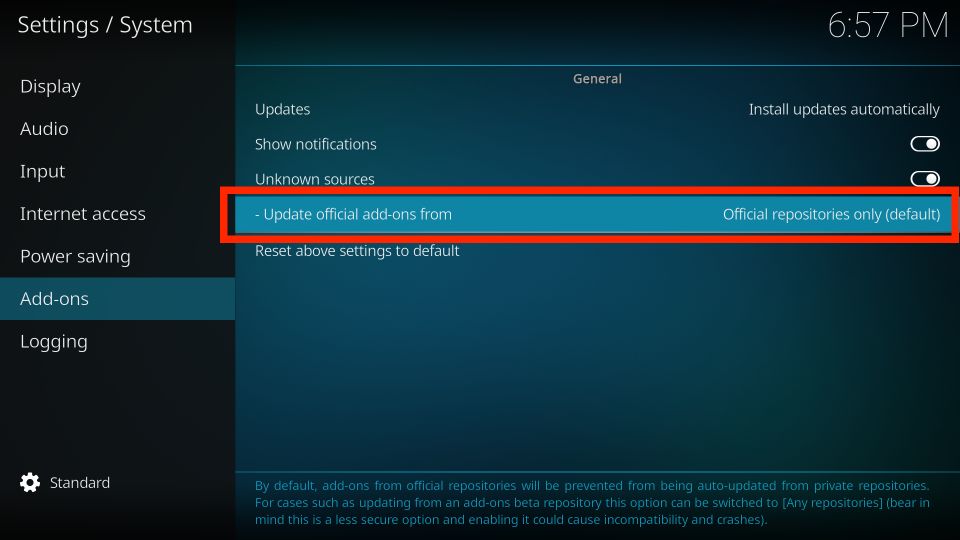 7. Choose Any repositories from the list.
Note: Steps 6 and 7 are optional but enable automatic updates for official and unverified repos/addons.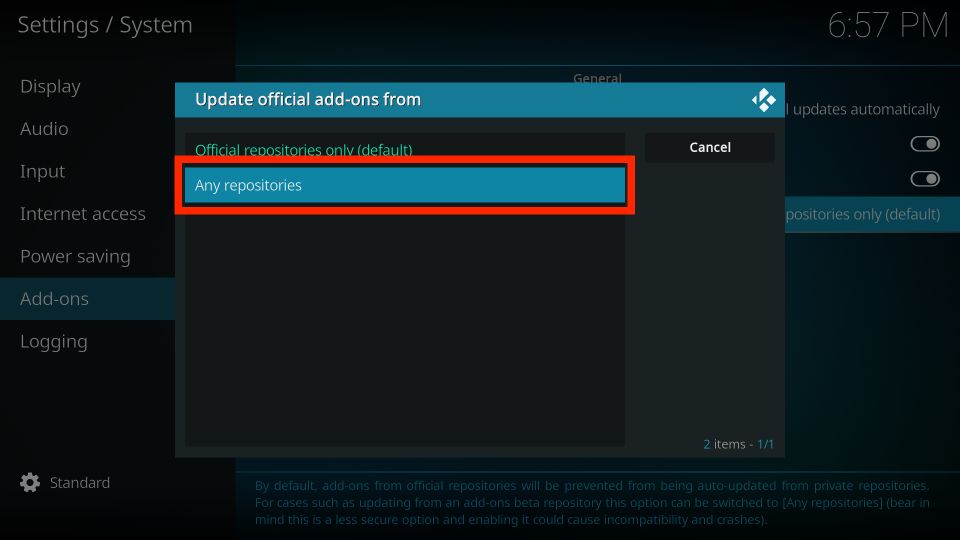 Part 2: Install Grindhouse Repository
Load the Grindhouse Repository where Odd 'n' Ends resides:
1. Launch the Kodi settings menu by pressing the Cog Gear button.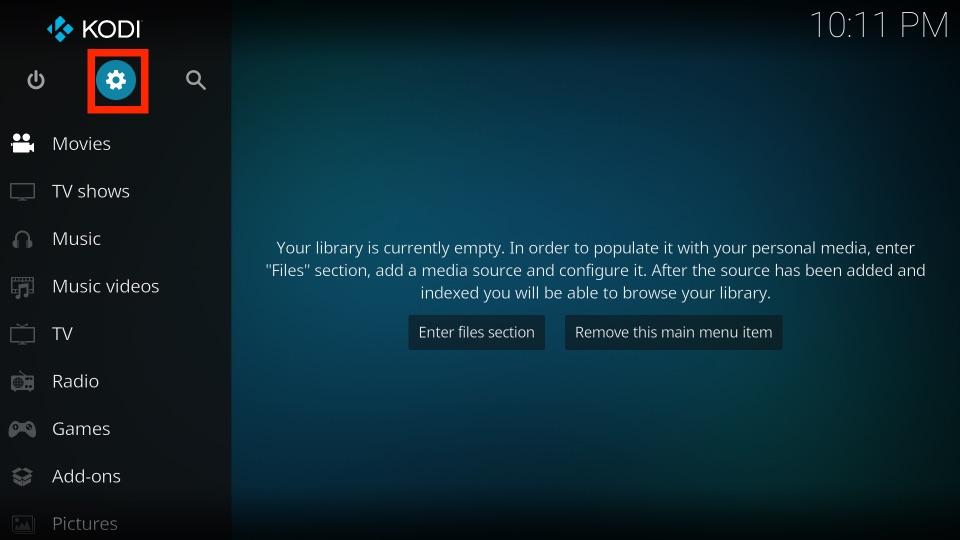 2. Open File manager.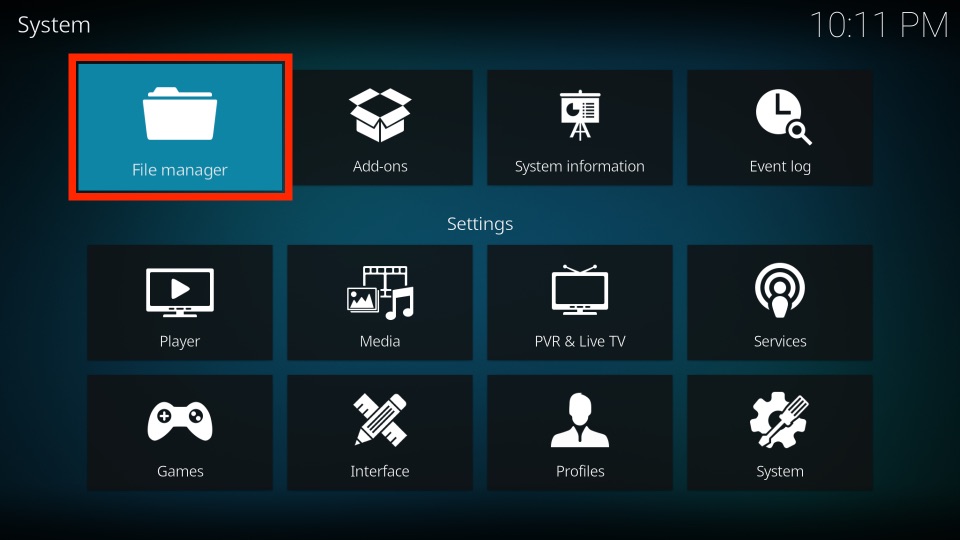 3. Click Add source on your screen's right or left side.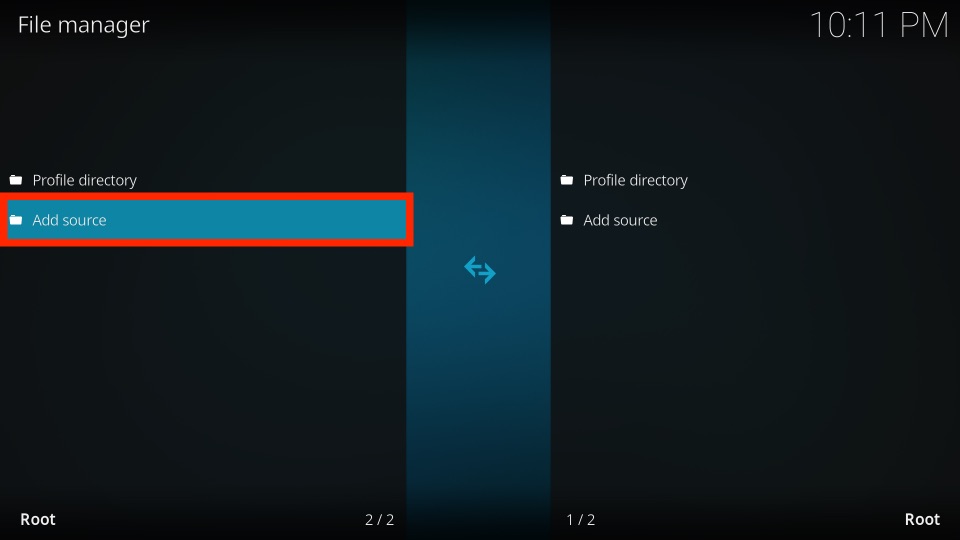 4. When the Add file source prompt appears, pick <None>.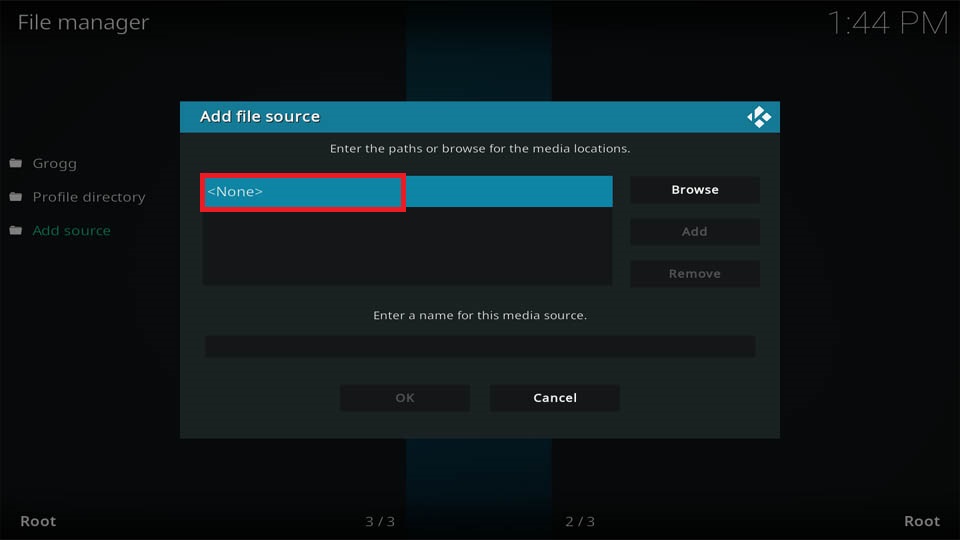 5. Now, it's time to enter the official URL of the Grindhouse Repository – http://grindhousekodi.us/repo. Make sure to enter the exact URL. Click OK.
Note: I have mentioned Grindhouse Repository's URL for educational purposes only. We are not affiliated with the creators of the repo.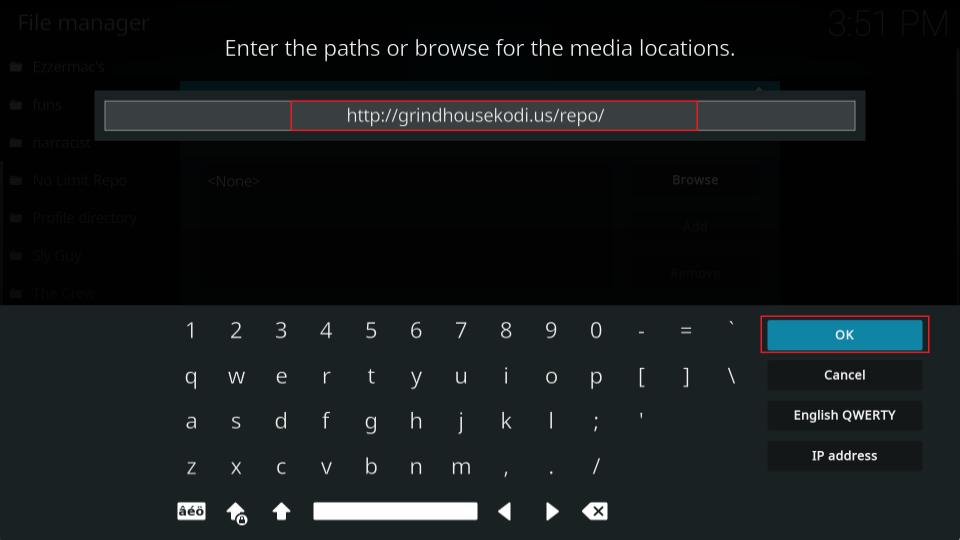 6. Choose the input box with repo as the default value for the media source name.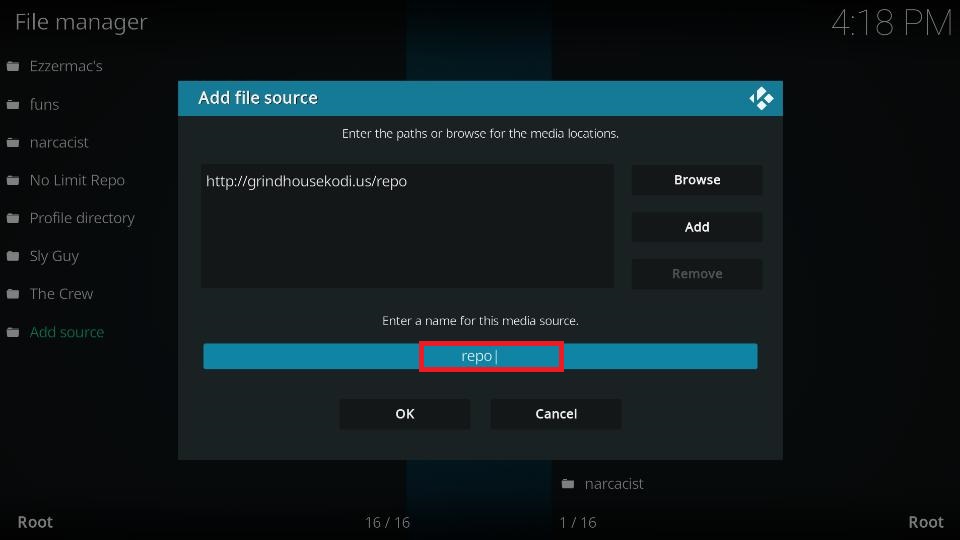 7. Change the default name to GH and click OK.
Note: You can name the source something else, but I recommend going with something easy like GH.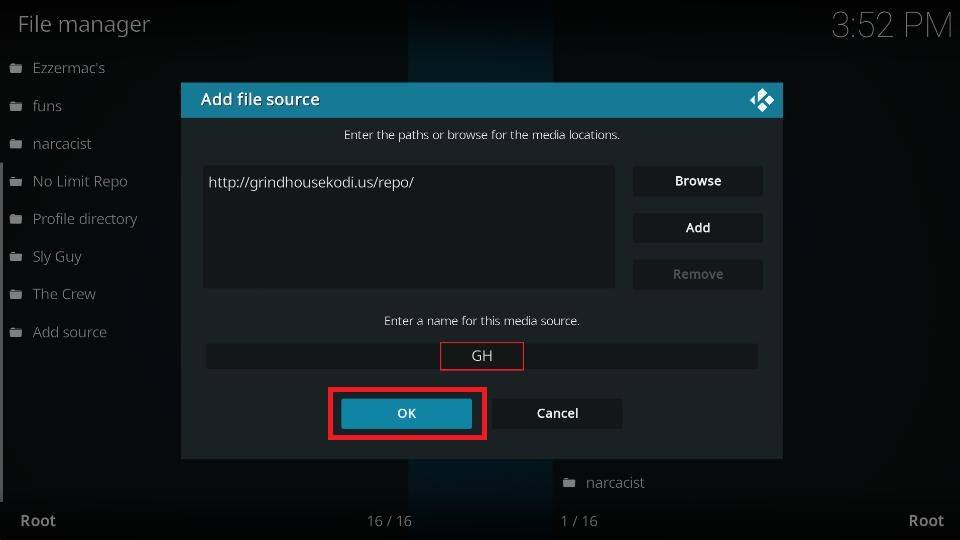 8. Seeing the repo name in the Add source list? This means everything has been smoothly flowing up till now.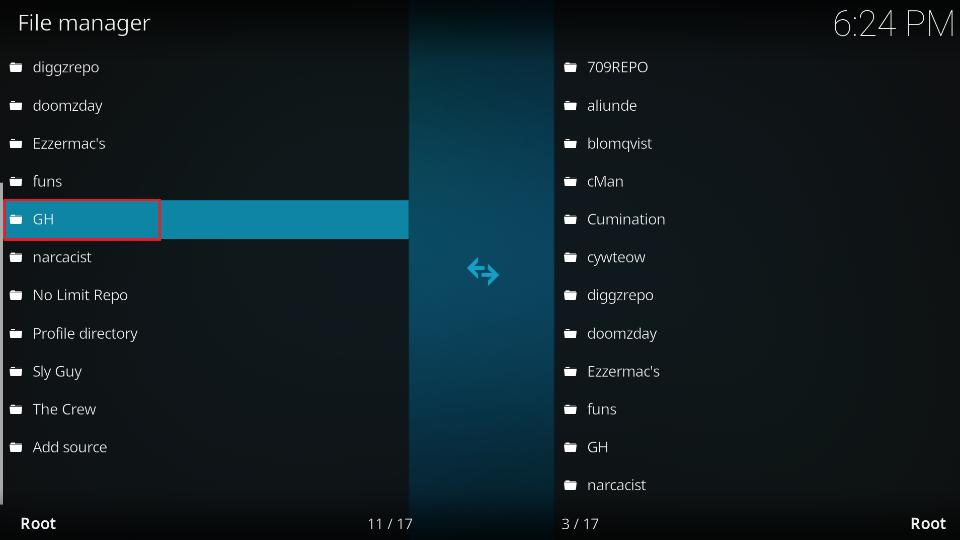 9. Exit File manager and click open the Add-ons section.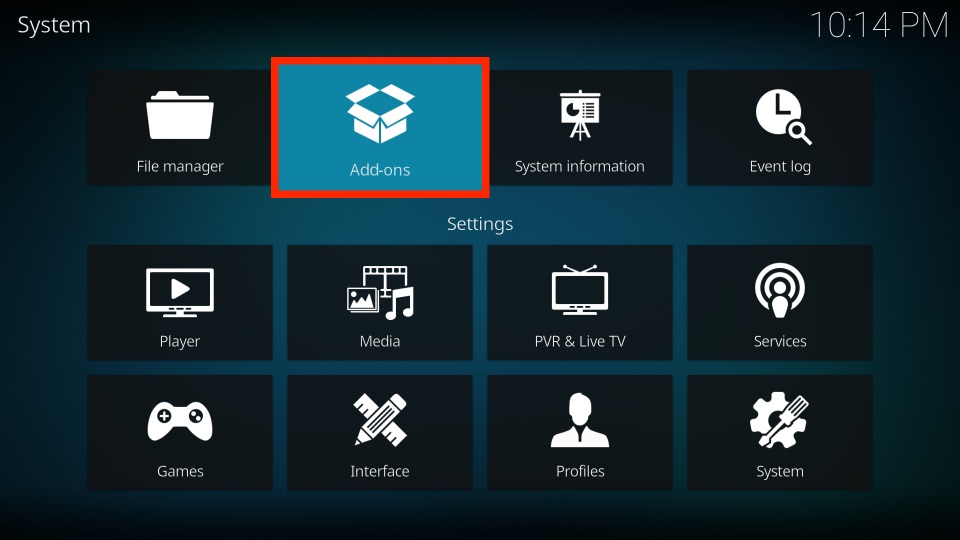 10. Scroll down and choose Install from zip file.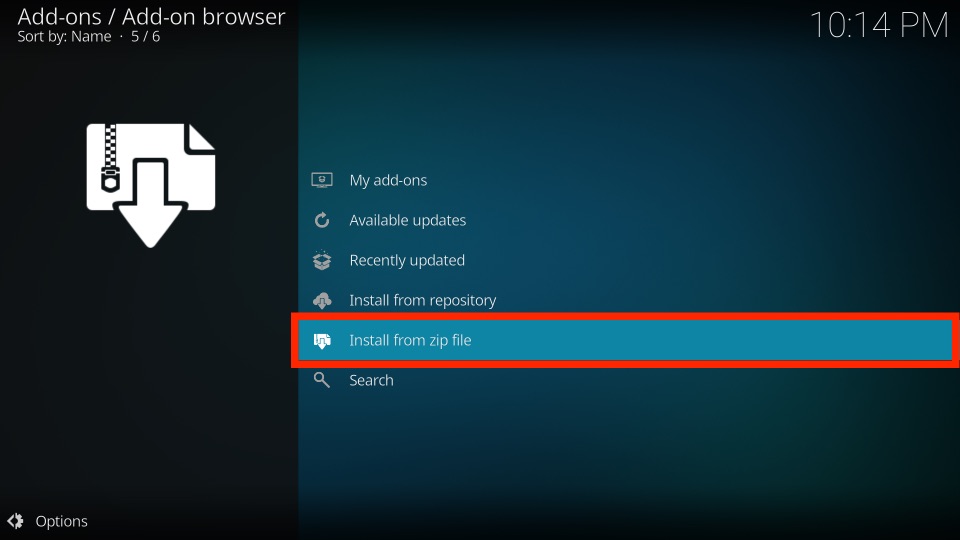 11. Click Yes to get past the warning prompt sent by Kodi.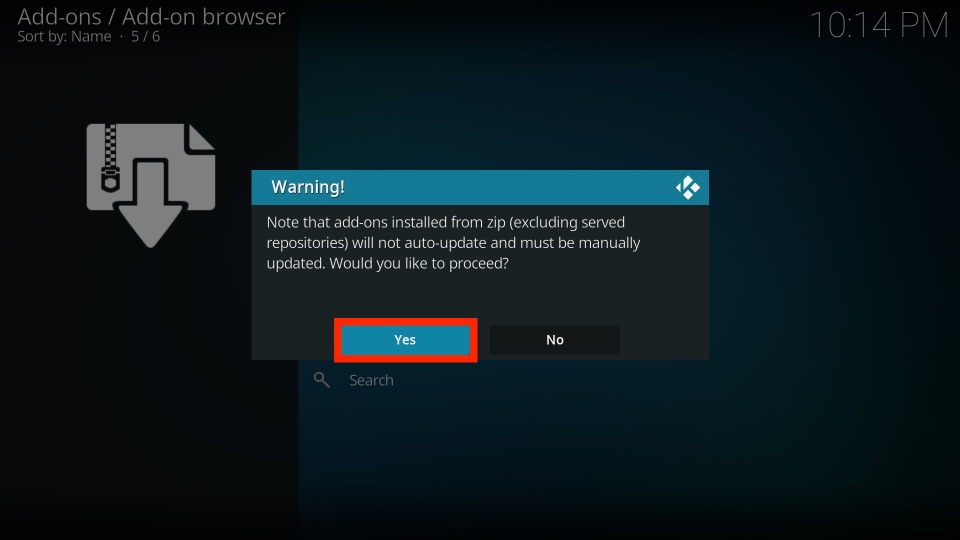 12. From Install from the zip file window, choose the repo name you have set. For me, it's GH.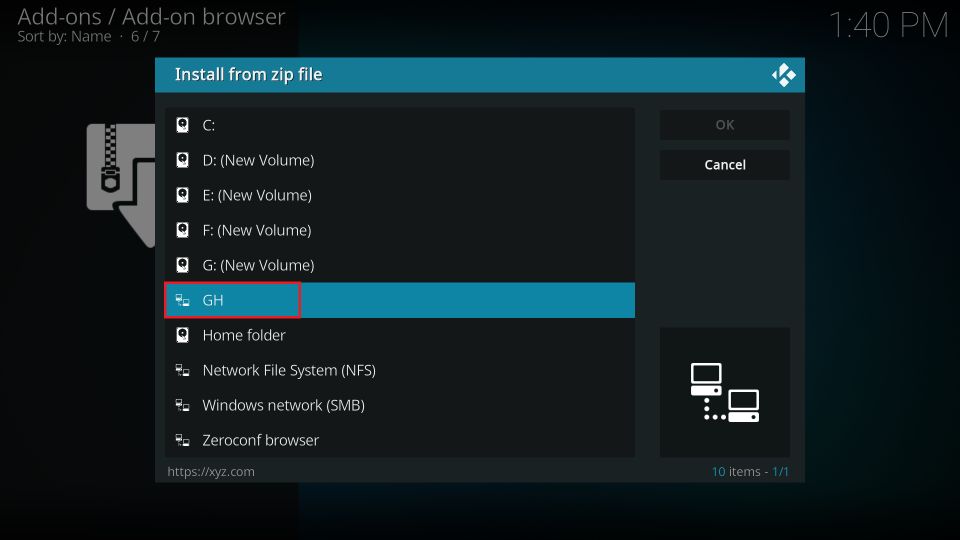 13. Choose repository.grindhousekodi-x.x.zip.
Note: 1.7 is the repository version number at the time of writing. As developers frequently roll out updates, it can change in the future.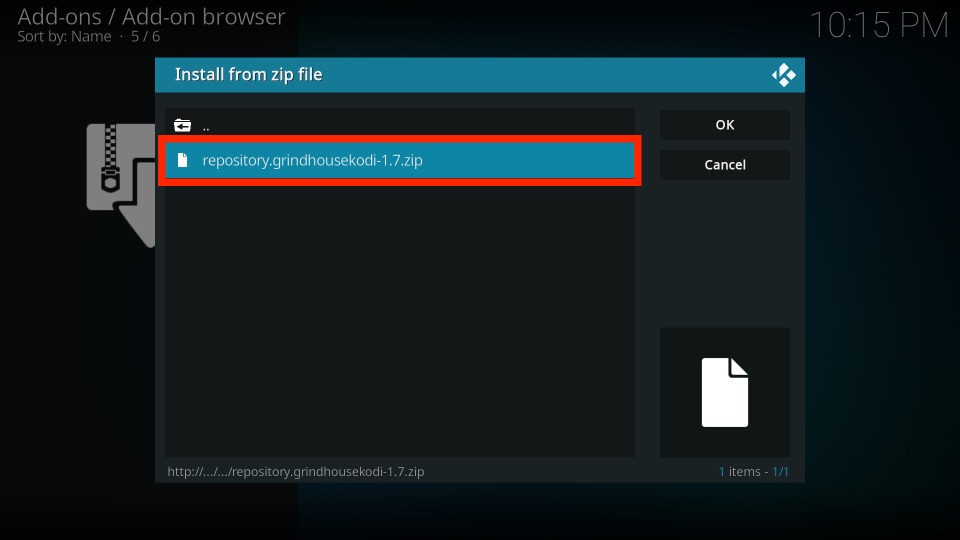 15. Wait for the notification before you move forward.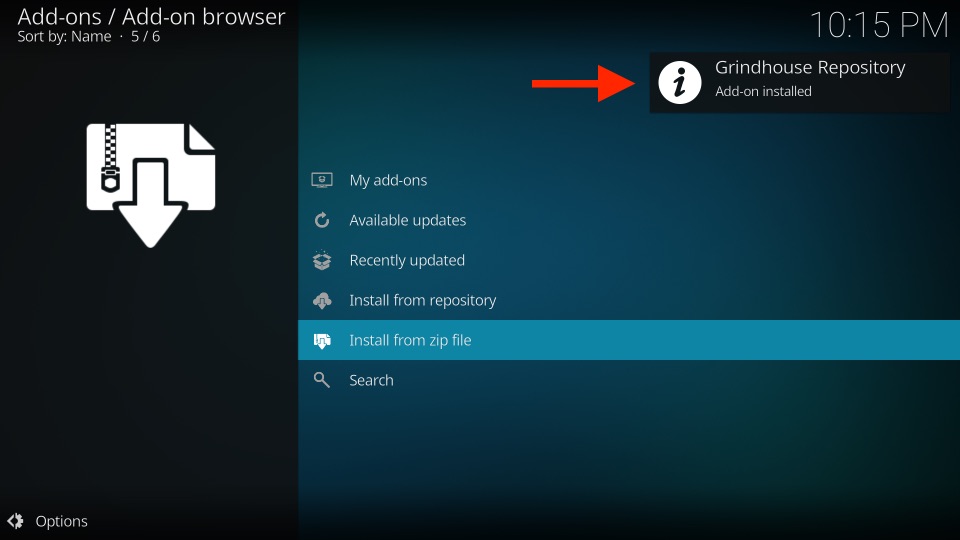 Part 3: How to Install Odds' n' Ends addon
Use the Grindhouse Repository to install Odds "n' Ends:
1. Click the Install from repository section inside the Add-ons screen.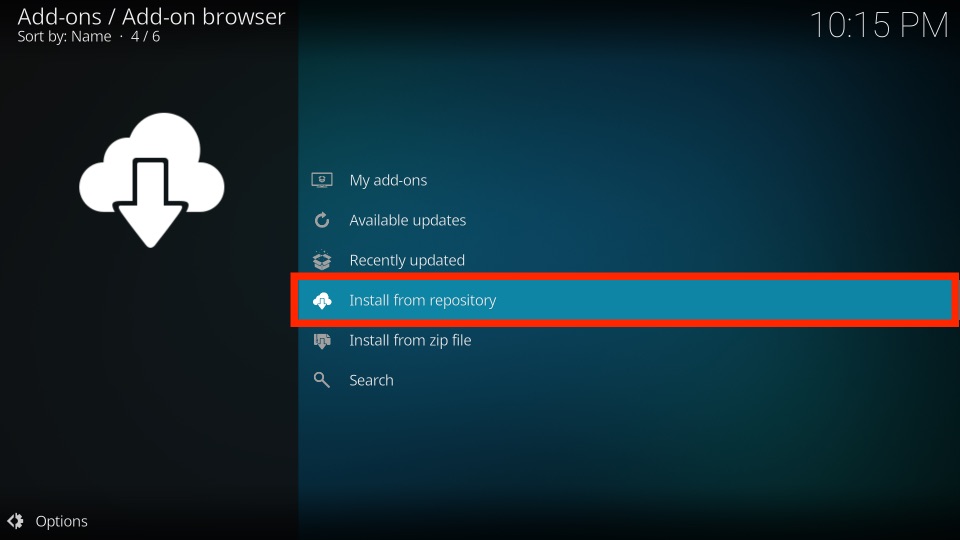 2. Choose Grindhouse Repository from your Kodi app's list of installed repos.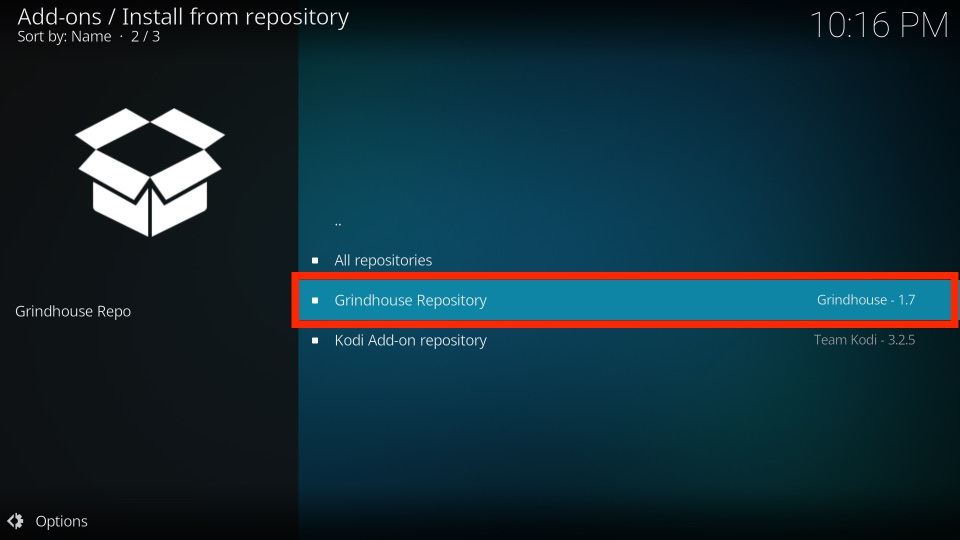 3. Explore the last sub-folder, Video add-ons.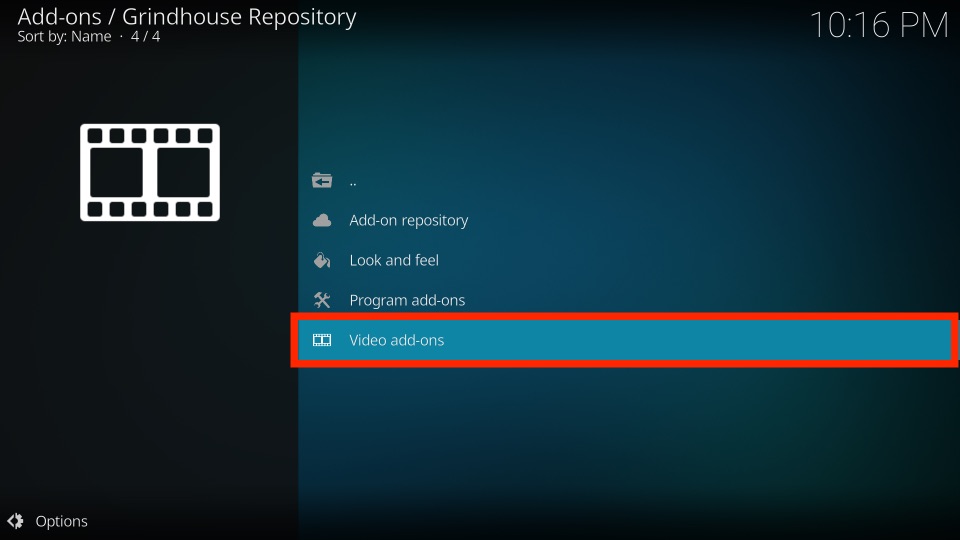 4. Pick Odds' N' Ends from the list of video add-ons.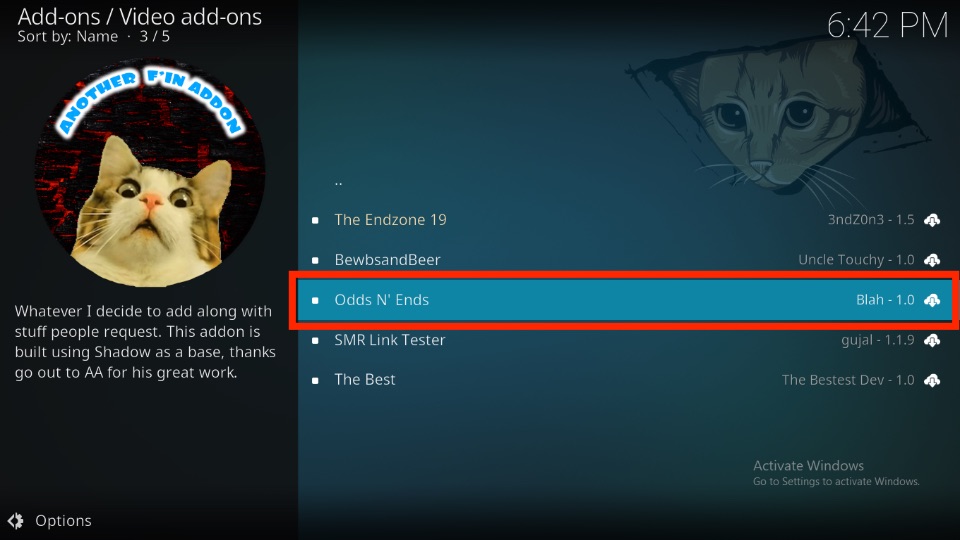 5. Click Install on the dashboard menu of the Odds' N' Ends Kodi addon.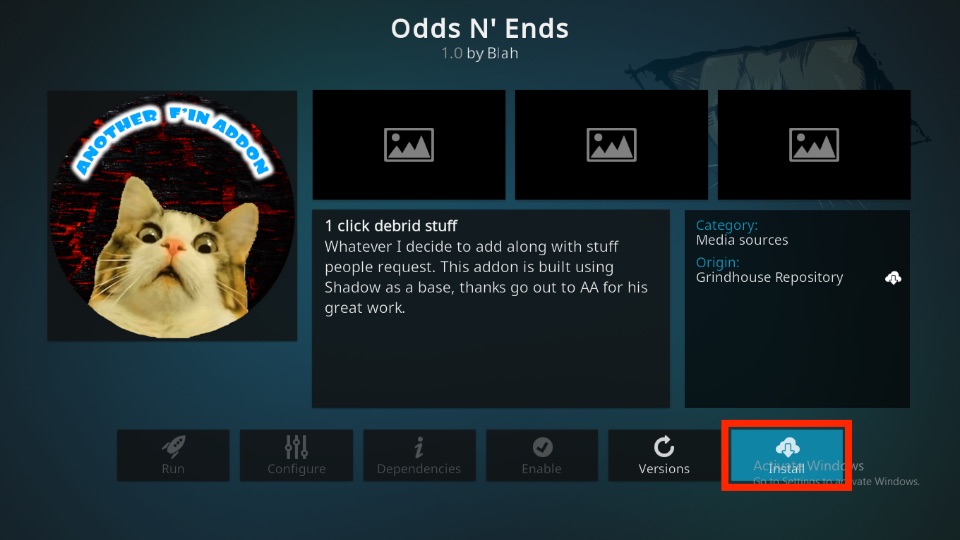 6. Kodi will download the required files for Odds' N' Ends. And then it'll install them.
The whole process will take merely a few seconds.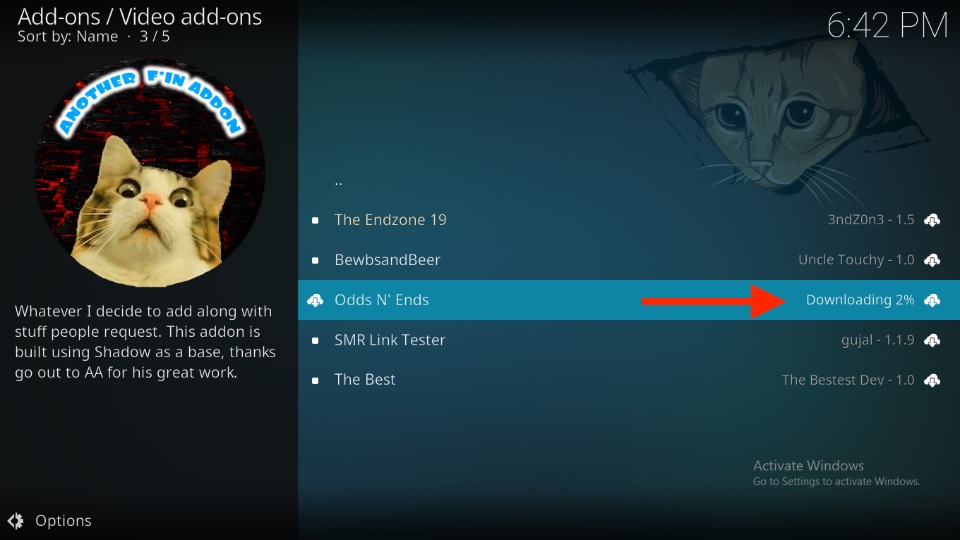 7. Appearance of Odds' N' Ends Add-on installed notification means you are all set and done!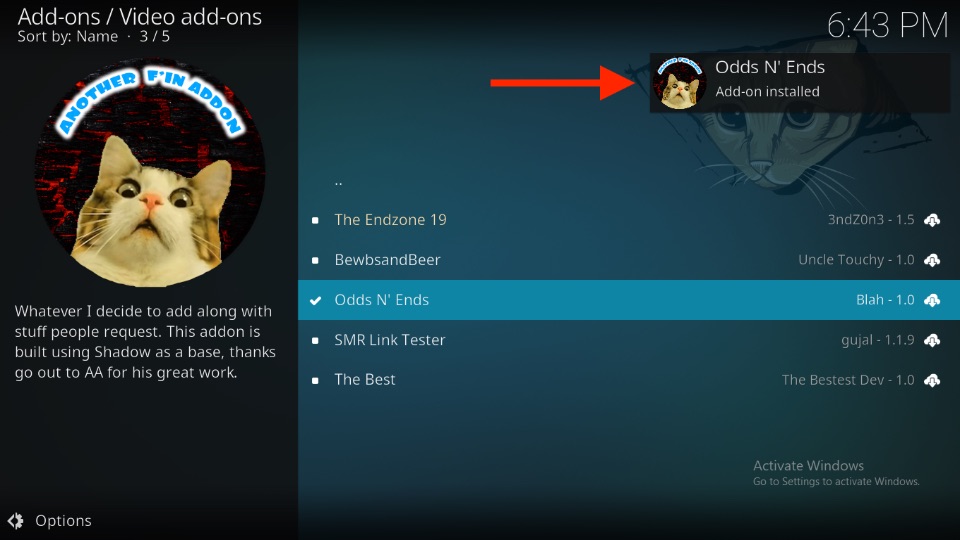 Big congratulations on successfully installing one of the most loved Kodi addons, Odds' N' Ends.
Wait! It looks like you are all set to start watching your favorite content on Kodi. But have you protected your online identity yet? You are under constant surveillance by the Government and ISP. They use your IP address 3.17.249.235 to track you. Streaming free or copyrighted videos may get you into legal trouble.
Thankfully, you can use a VPN to easily protect your privacy and go invisible from your Government and ISP. I use and recommend ExpressVPN with Kodi.
ExpressVPN is the fastest, most secure, and streaming-friendly VPN. It is easy to install and set up on any Kodi device, including FireStick, Smartphones, PCs, and more.
ExpressVPN, offers an unconditional 30-day money-back guarantee. So, if you do not like the service (I don't see why), you can get a full refund within 30 days.
Please remember that we encourage you to use a VPN to maintain your privacy. However, we do not condone breaking copyright laws.
Before you start using Kodi for streaming, here is how you can protect yourself with ExpressVPN:
Step 1: Sign up for ExpressVPN Here
Step 2: Download ExpressVPN on your device by clicking HERE
Step 3: Open the ExpressVPN app on your device. Sign in with your account. Click the connect/power button to connect to the VPN

Great! You have successfully secured yourself with the best Kodi VPN.
How to Use Odds' n' Ends Kodi Addon
On Kodi's home page, fire up the Add-ons section.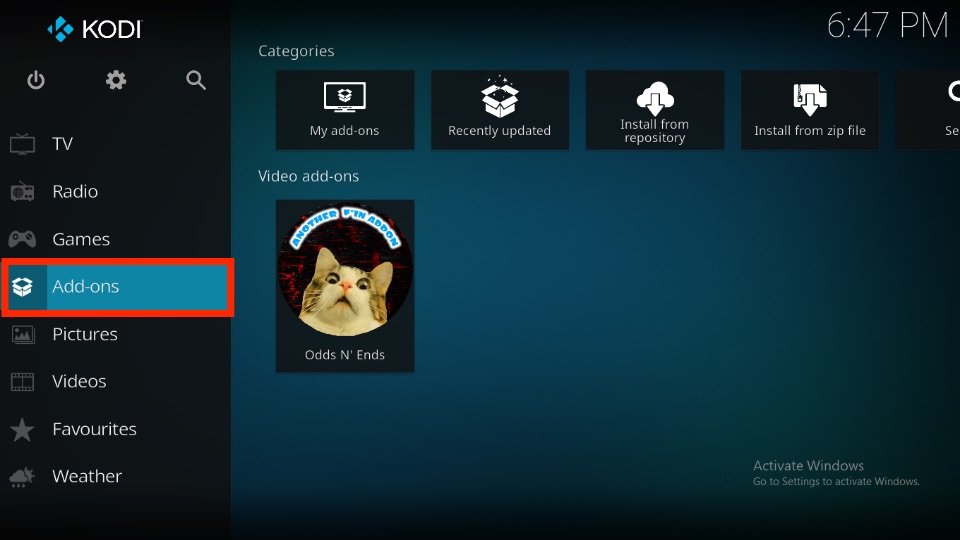 Stay on the Video Add-ons tab and open the mighty Odds 'N' Ends.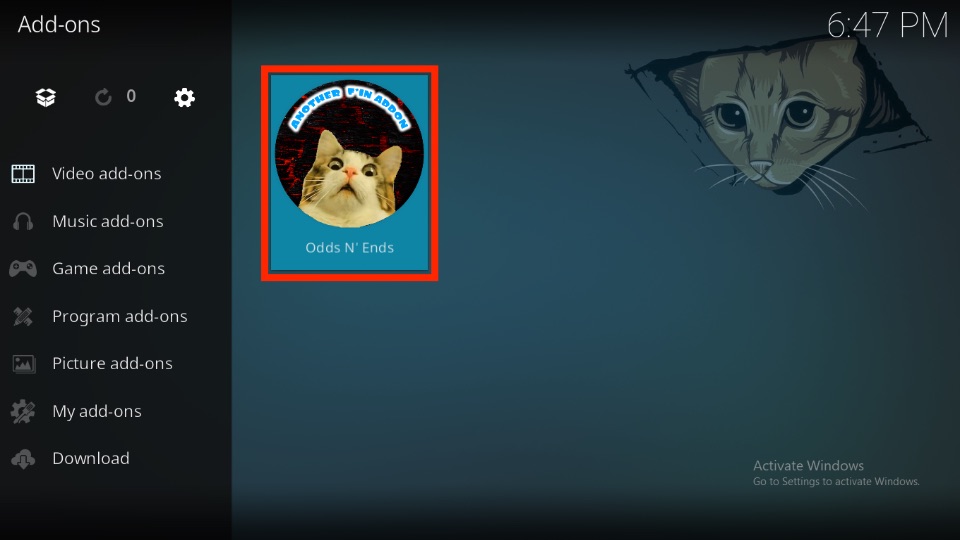 Open the Odds N' Ends folder.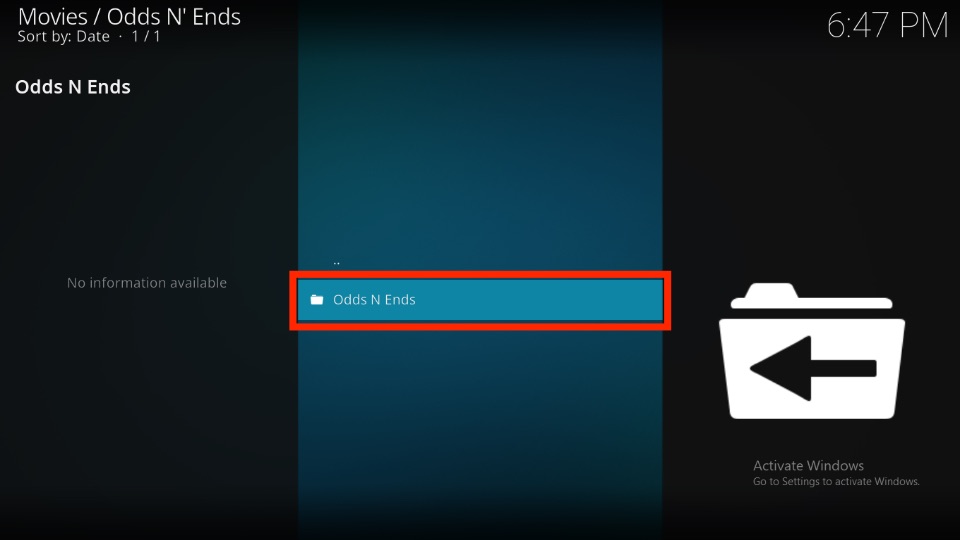 You'll find the following ten sections of the addon's home screen:
Documentaries

Movies

TV Shows

Music docs and concerts

Stand-up comedy

Exercise

Holiday Stuff

Plays

Misc. odd stuff

New shit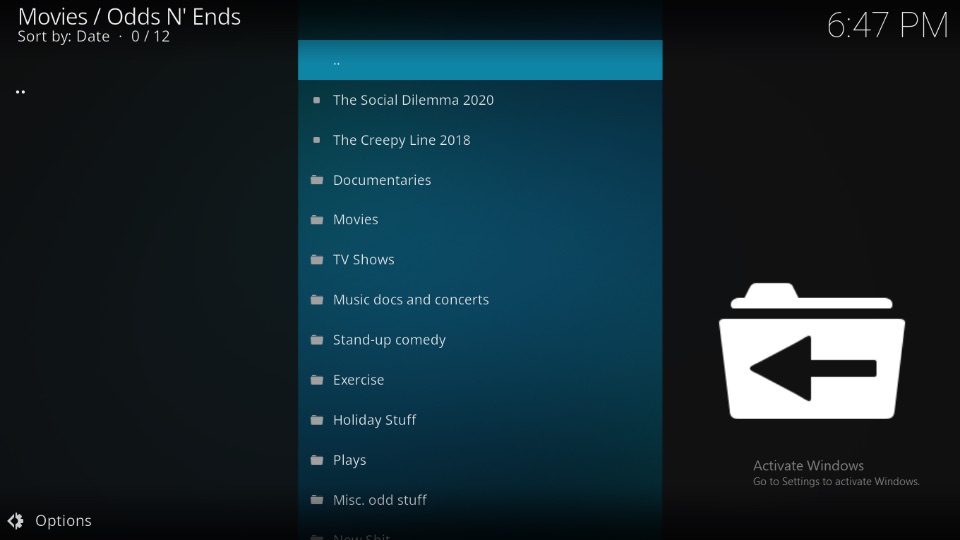 Open the Documentaries section to explore available documentaries on Odds' N' Ends.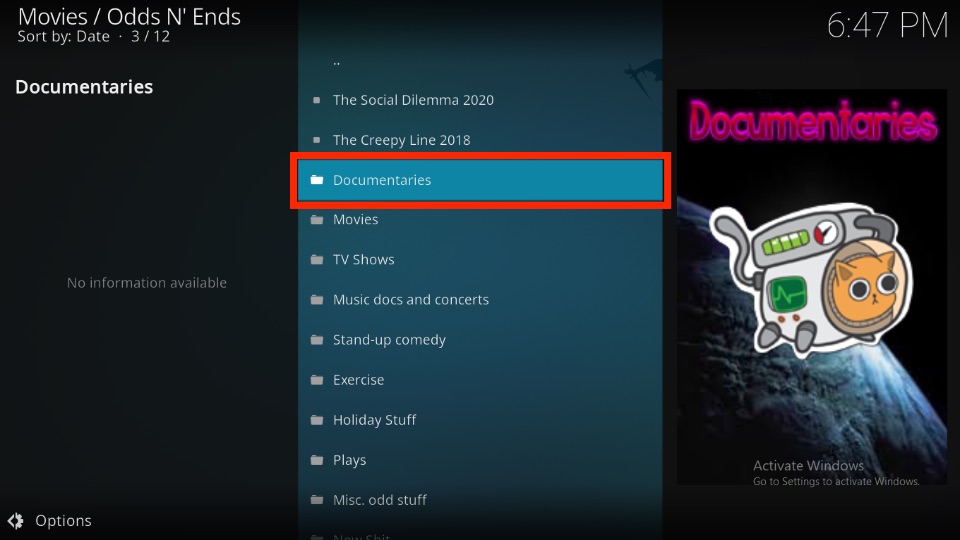 You'll be greeted with sub-folders like Dinos & Stuff, Crime, Mystery, & Stuff, Gory Stuff, Must Watch Stuff, and more.
Want to watch your favorite movies? Open the Movies section.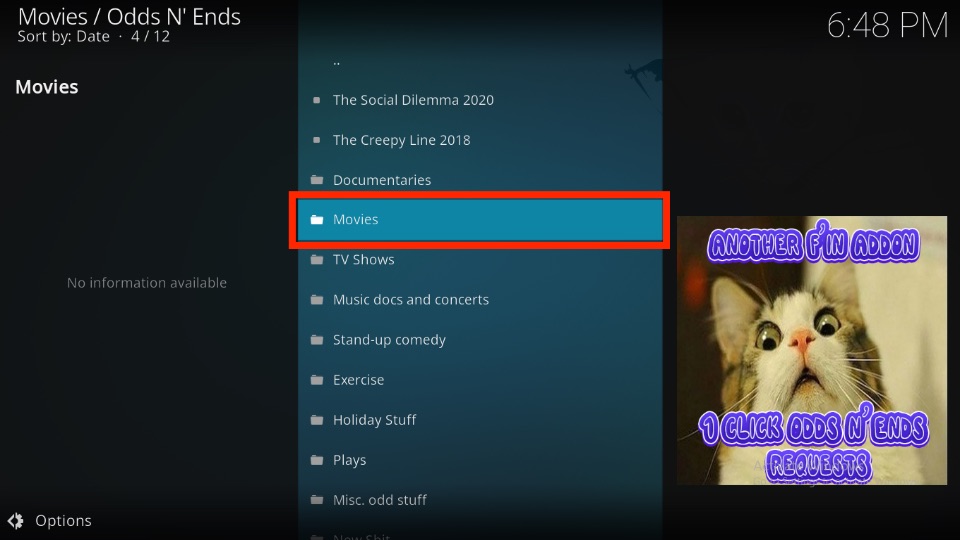 The section is further divided into categories like Action & Adventure, Comedy, Horror, Kids & Family, Music Themed, etc.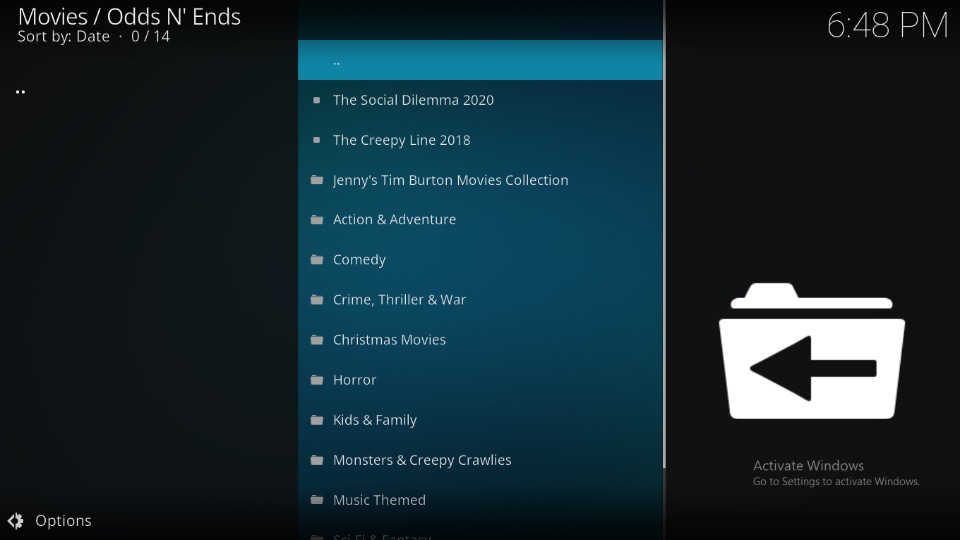 Who doesn't watch TV series in this era? That's why Odds' N' Ends features a separate TV Shows section.
Inside, the shows are split into years folders like 30's, 40's, 60's, 90's, 00's, and more.
Are you into music? Well, Odds' N' Ends has something for you – Music docs and concerts.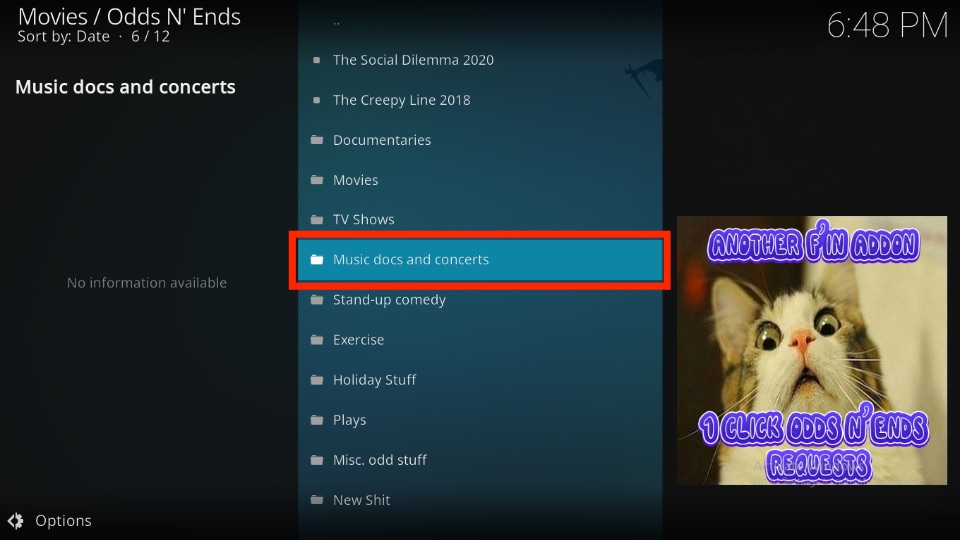 There are hundreds of documentaries and concerts from different artists available inside for you to watch.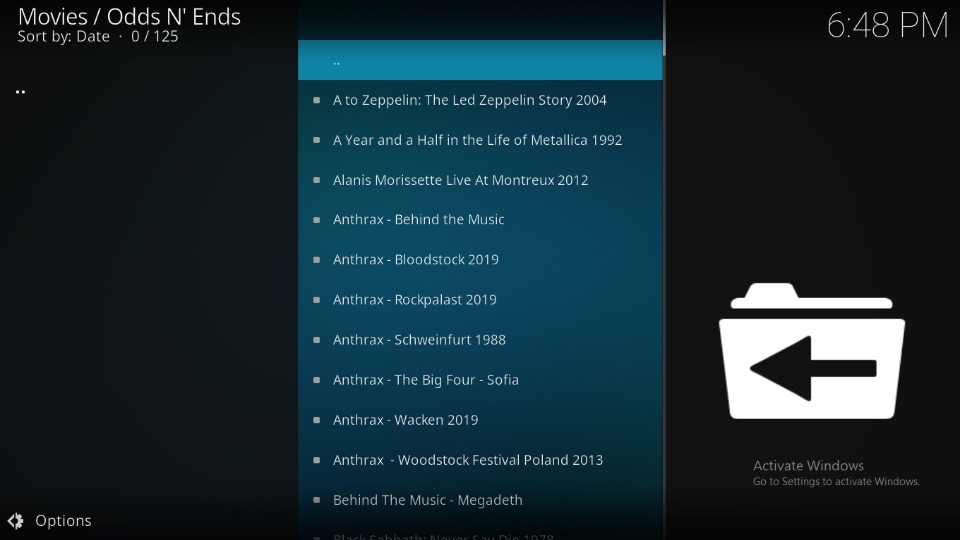 No one has ever regretted having a few giggles! So, open the Stand-up comedy section if you want to cheer yourself up.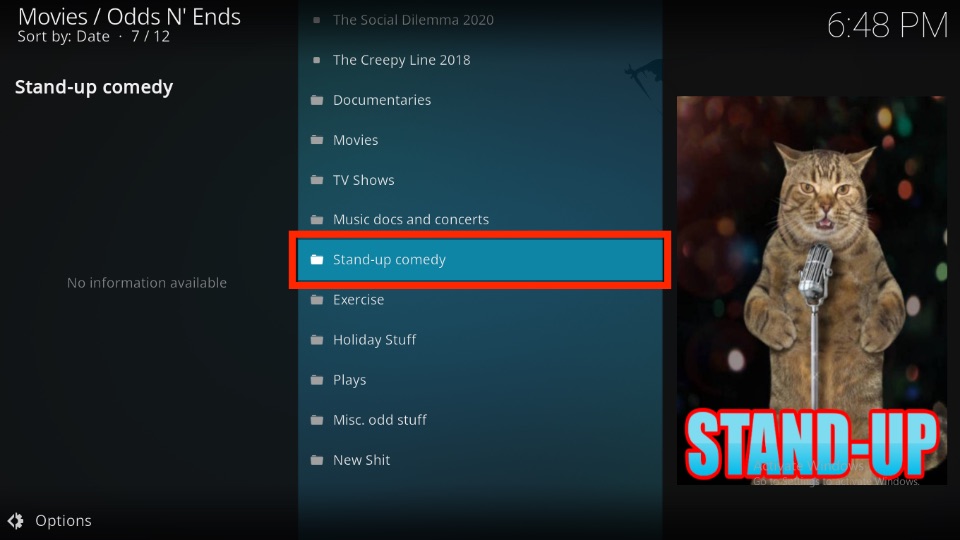 Inside, you'll find hundreds of shows from famous comedians.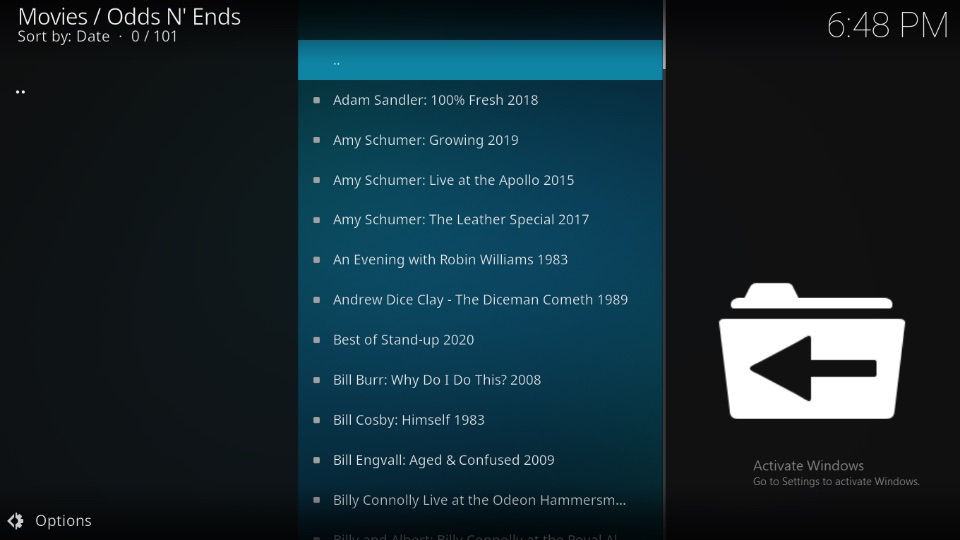 Are you into plays and stage dramas? Good news! The Odds' N' Ends section has a separate section: Plays.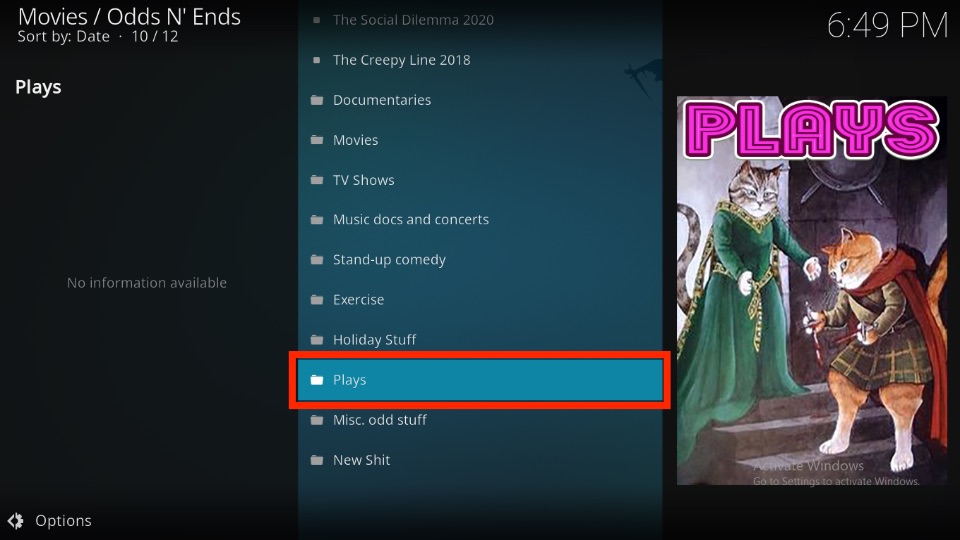 You'll find different plays in random order inside.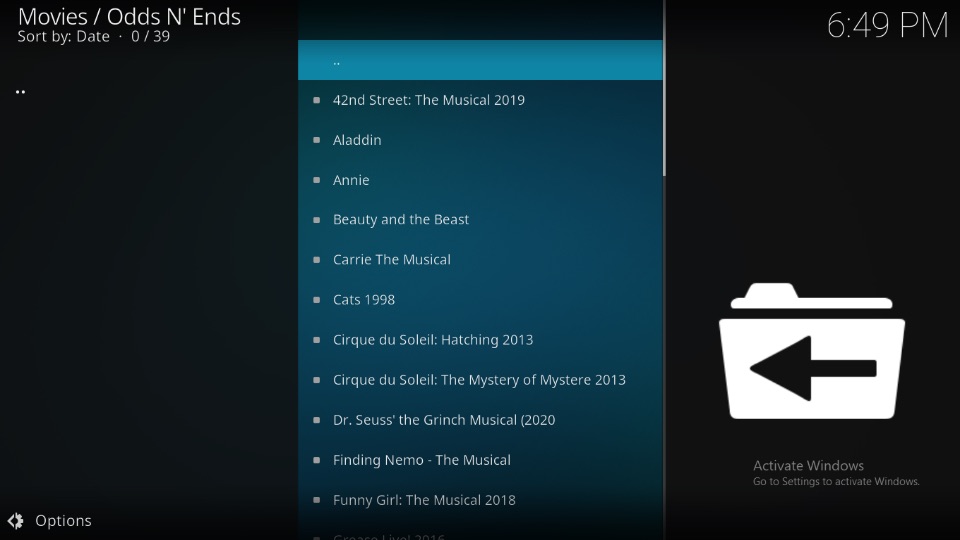 Lastly, explore other sections, like Exercise, Holiday Stuff, and Misc. Odd Stuff and New Shit.
How to Set Up Real Debrid with Odds' n' Ends
Are you familiar with Real Debrid? It's a premium link scraping service supported by various Kodi addons and other Android apps. And gladly, Odds' n' Ends supports it! So, if you have access to a paid Real Debrid account, here's how to link it with Odds' n' Ends:
1. Go to Odds' n' Ends Kodi addon and long-press it. When the menu appears, select Settings.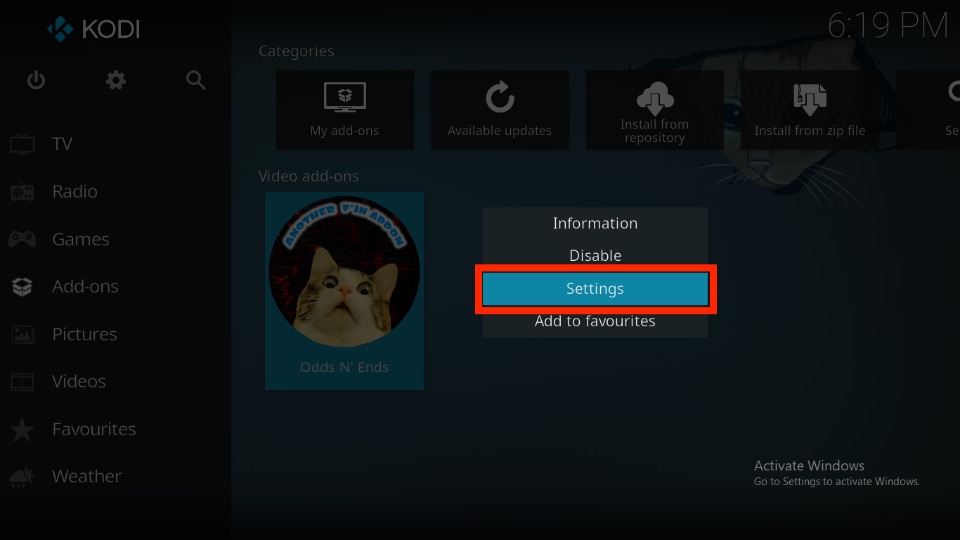 2. On Settings – Odds' n' Ends window, select the Debrid tab.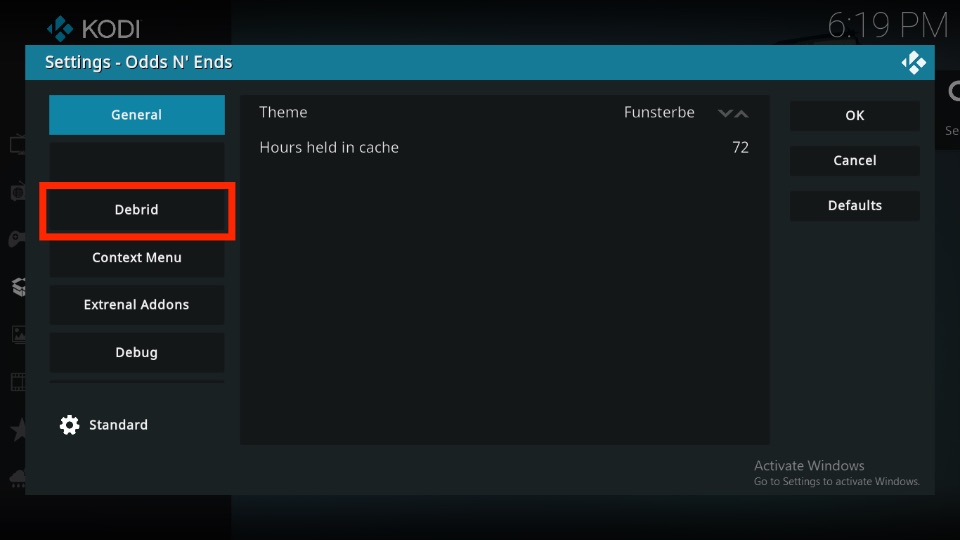 3. Ensure the Enable debrid service option is turned on and then choose Re-Authorize Real Debrid.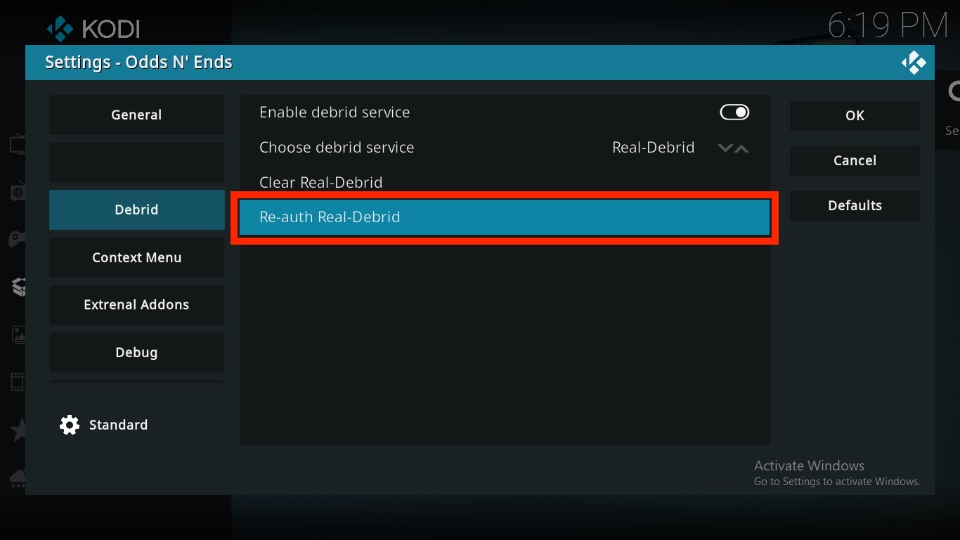 4. Odds 'n' Ends will require an additional addon to access the Real Debrid feature. Click Yes.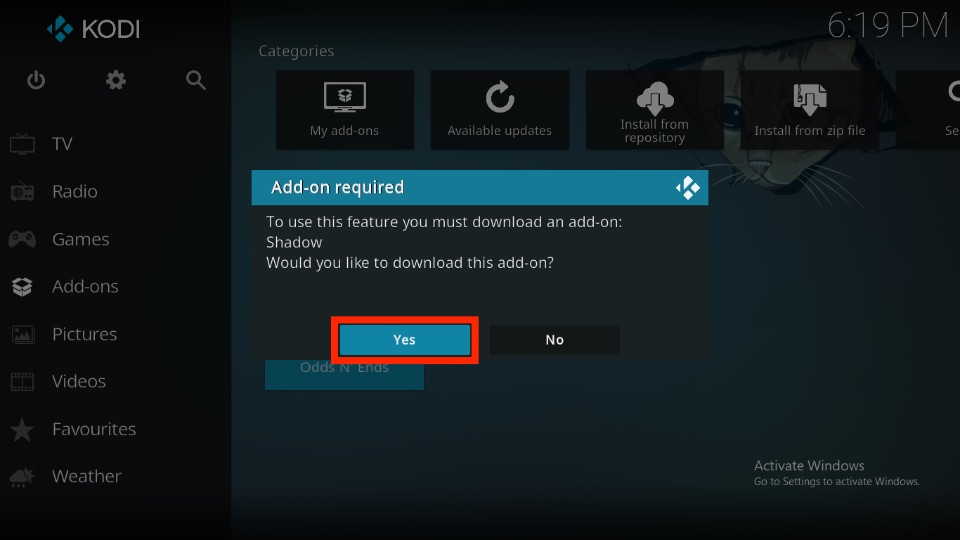 5. Wait for Kodi to download and install the Shadow Kodi addon.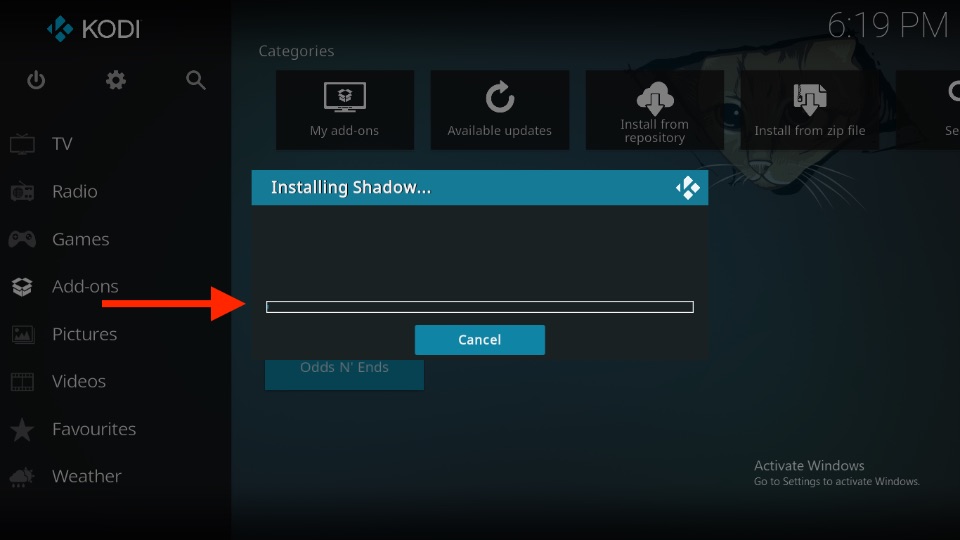 6. On completion, the Real Debrid authentication prompt will automatically appear on your screen. Open real-debrid.com/device on your PC or phone's web browser. Enter the code and follow the steps on-screen to complete the Real Debrid integration.
Note: If you are logged out of your Real Debrid account, you'll be asked to log in to continue the activation process.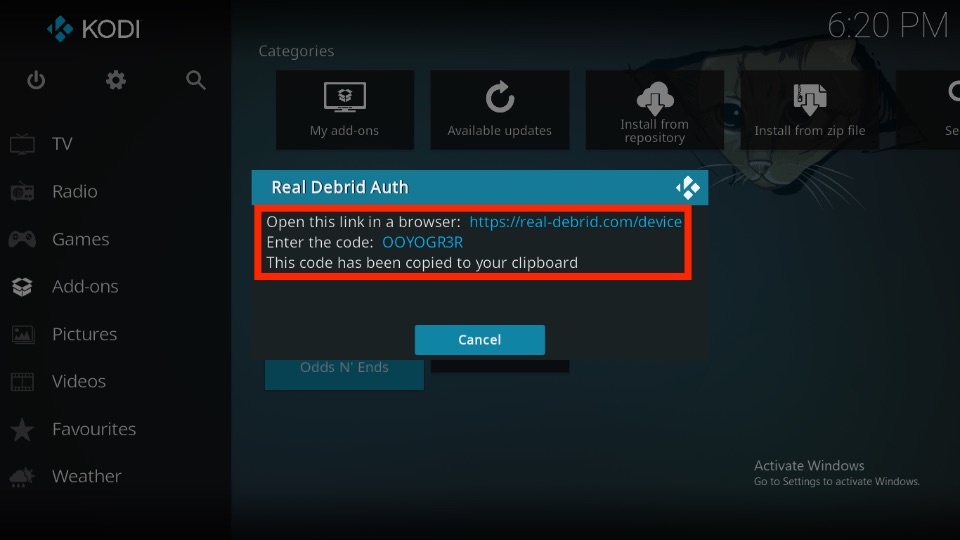 7. Wait for Shadow OK notification. This means Real Debrid is now active on Odds' n' Ends.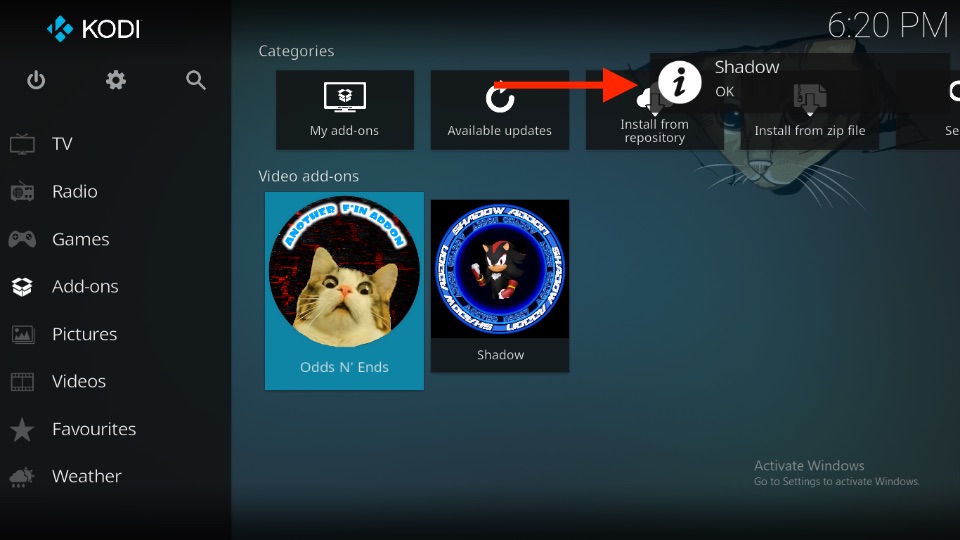 How to Integrate Trakt with Odds' n' Ends
Trakt is known for tons of great things! But the primary purpose of Trakt is to keep track of TV shows and movies you watch. Already have a Trakt account (if not, you can get one at the Trakt Official Website. Use the steps below to connect it with the Odds' n' Ends Kodi addon:
1. Access the Odds 'n' End Settings by long-pressing the addon thumbnail.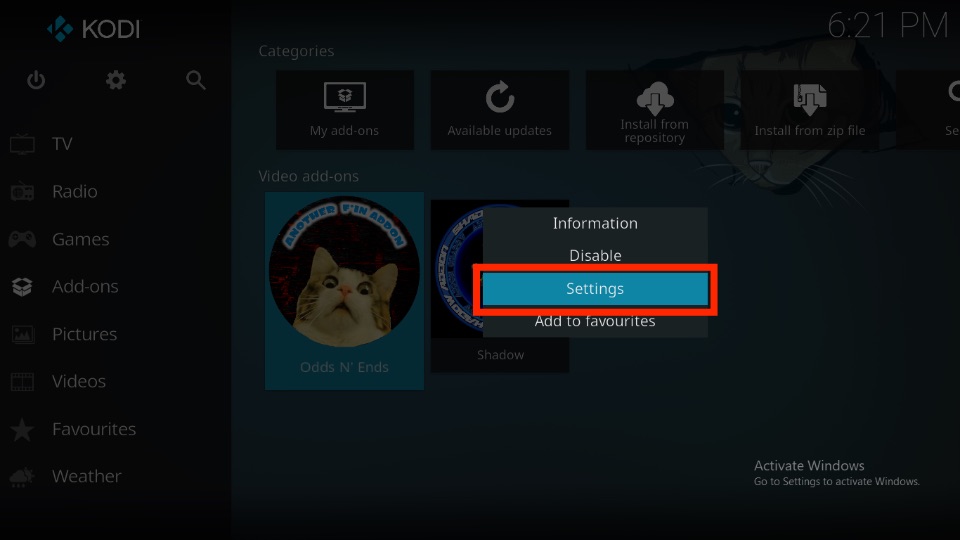 2. Explore the Trakt tab when the addon settings window pops up.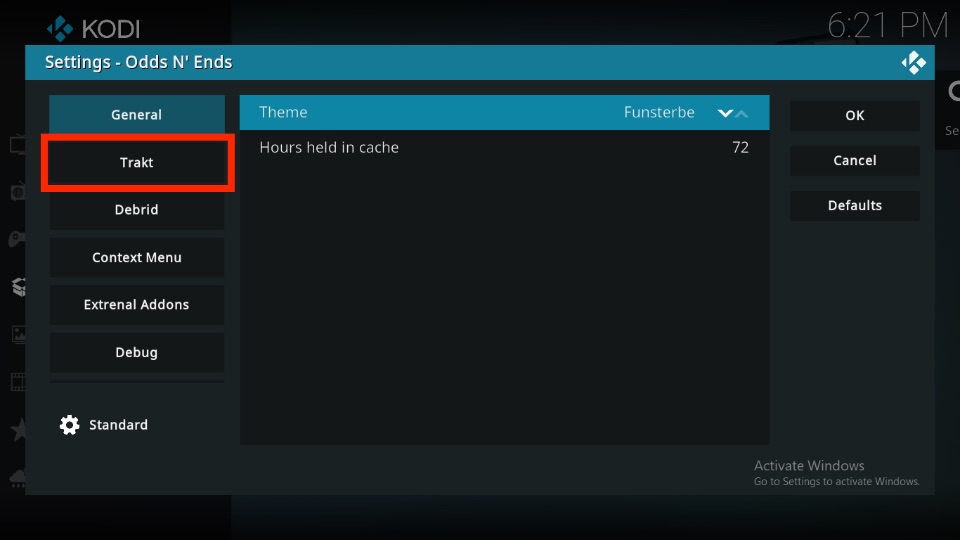 3. Choose ***Sync track to DB***.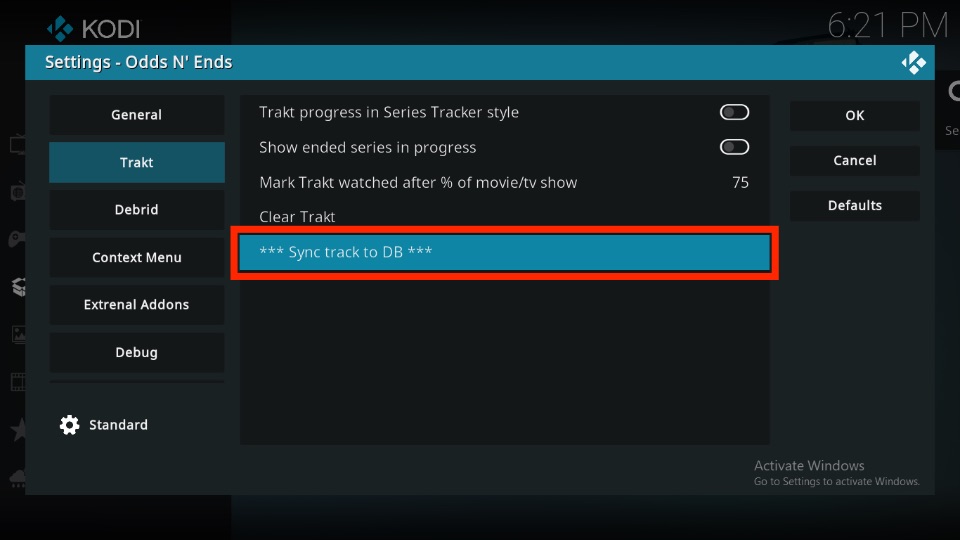 4. Click Yes to override the local DB data of Trakt.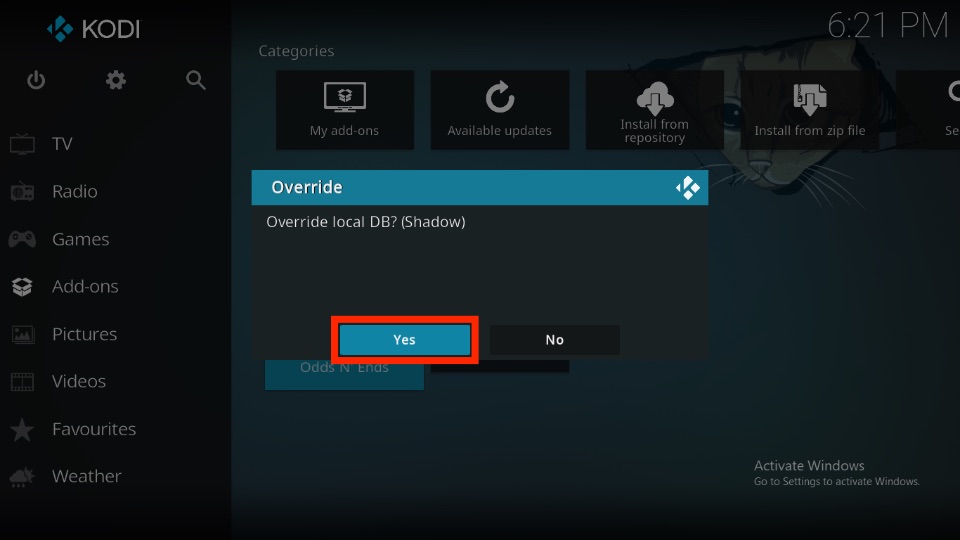 5. On Authenticate Trakt prompt, click Yes to authenticate now.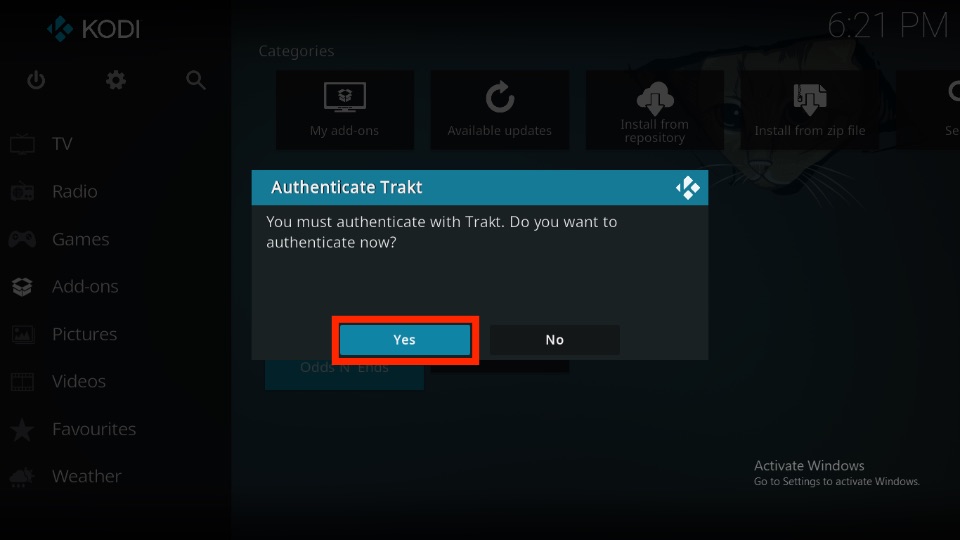 6. Use your PC, android phone, or tablet, open a web browser and go to https://trakt.tv/activate.
Enter the code you see on the Kodi Authenticate Trakt prompt and follow the instructions to finish the integration.
Note: Log into your Trakt account if you aren't already signed in.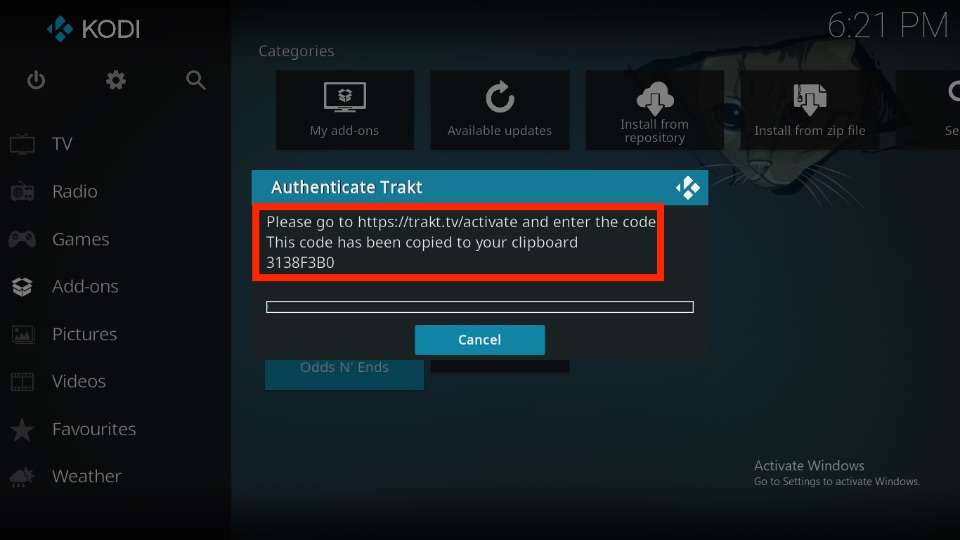 7. On success, the Trakt plugin screen will appear on your Kodi app.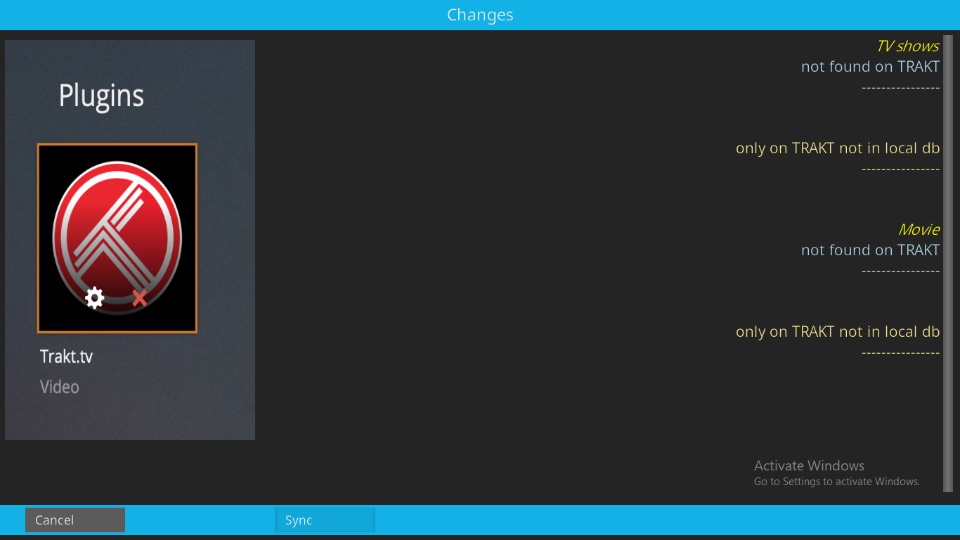 8. Click the Sync button to let Trakt do its magic!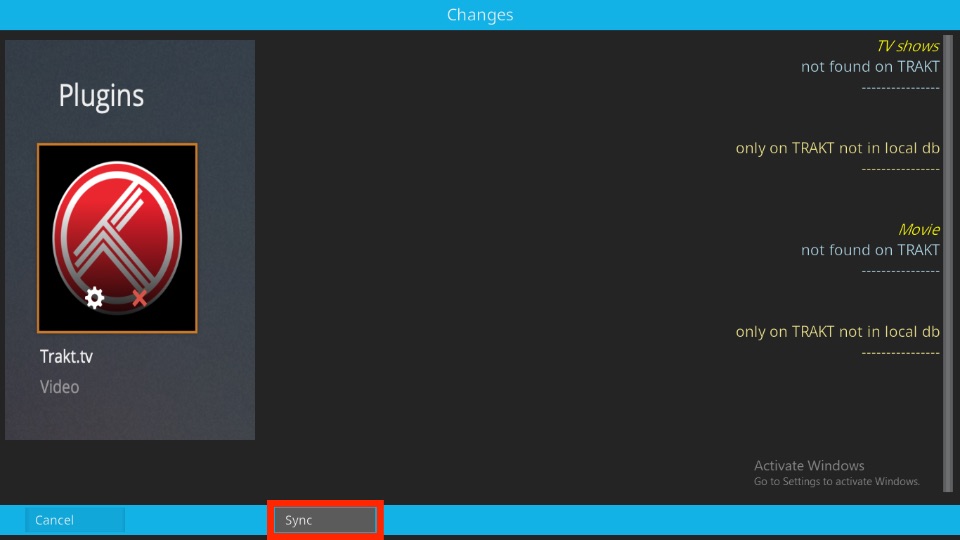 Wrap Up
This post showed you how to install Odds n' Ends Kodi addon. How do you like Odds n' Ends? Please let us know in the comments box below.
Related: