This tutorial provides detailed steps to install the Shadow Kodi addon. These steps apply to all Kodi devices, including FireStick and Fire TV, Linux, Windows, macOS, Raspberry Pi, Android Mobiles, Android TV, iOS, and more.
What Is Shadow Addon?
Shadow is a streaming service that lets you watch on-demand movies and shows through its Kodi addon. This addon comes from a third-party repository, Magnetic.
Shadow addon has a massive library of video content. The addon also adds new content as soon as it is available.
Shadow Kodi addon is compatible with Real Debrid. You will find the steps to set up Real Debrid with the addon later in this guide. Shadow also supports Trakt.
The addon has made it to our list of Best Addons for Kodi. It also comes preinstalled with many Kodi builds.
Attention KODI Users: Read before you continue
Kodi is an excellent platform for streaming movies, TV shows, and sports, but it's important to remember that streaming copyrighted content can get you into legal trouble. Your IP address 3.17.249.235 is exposed to everyone. You should use a reliable Kodi VPN while streaming to protect yourself online. A VPN will keep your streaming activities private and bypass government surveillance and geo-restrictions.
I use ExpressVPN, the fastest and most secure Kodi VPN out there. It's easy to install on any device, including Amazon FireStick. Plus, it offers a 30-day money-back guarantee, and if you sign up for an annual plan, you get 3 extra months free. 
Read: How to Install & Use the best VPN for Kodi.
Is Shadow Addon Safe?
I use this addon without any trouble. However, I keep running its parent repository through antivirus to ensure there is nothing to be concerned about. Here is the latest scan with Virus Total:
As you see, Virus Total checked the file with more than 90 security vendors, and none of them flagged it as malicious.
Is Shadow Addon Legal?
The Shadow addon is an unverified service. It fetches video streams from hundreds of sources spread worldwide. This makes it impossible for FireStickHow to determine whether all the sources have obtained licenses to distribute the videos from the copyright holders.
Watching only the public domain videos on the Shadow addon would be best. However, if you are concerned about privacy and wish to avoid any legal problems, you should use the Shadow addon with ExpressVPN.
Features of Shadow Addon
Here are the top features of the addon:
A vast collection of movies and shows.
Regularly updated with new content.
Free to install and use.
1080 Full HD 1080 streaming.
4K streaming with Real Debrid.
Supports Trakt.
Easy to use.
How to Install Shadow Kodi Addon
There are two types of addons – official and unofficial. Shadow is an unofficial addon because it is unavailable on the official Kodi repository.
The official addons are straightforward to install. However, the unofficial ones are to be sideloaded from an external source. Therefore, they add several additional steps to the process.
I am breaking down the instructions into smaller sections. This will make it easier for us to follow. Here is what it involves:
Part 1: Bypassing the sideloading restriction on Kodi.
Part 2: Adding the external source URL.
Part 3: Installing Magnetic Repo and the Shadow addon.
We are getting started now.
Part 1: Bypassing the sideloading restriction on Kodi
Kodi comes built-in with a default setting that blocks sideloading of third-party addons and builds. But it also lets you change the setting and unblock sideloading.
To remove the sideloading restrictions, follow these steps:
1. Access the Kodi Settings from the home window of the Kodi app (it is the gear symbol in the top-right, as marked in the image below).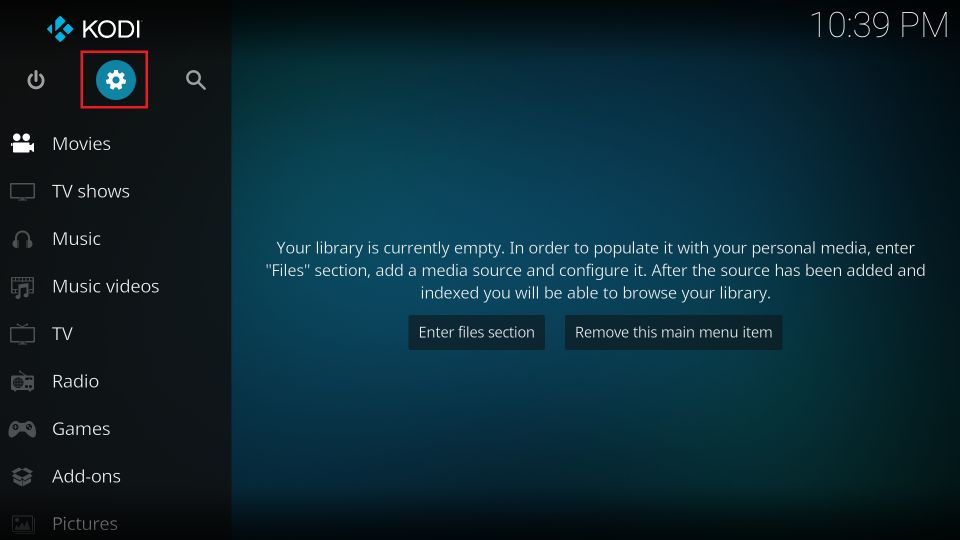 2. Next, you want to open the System menu.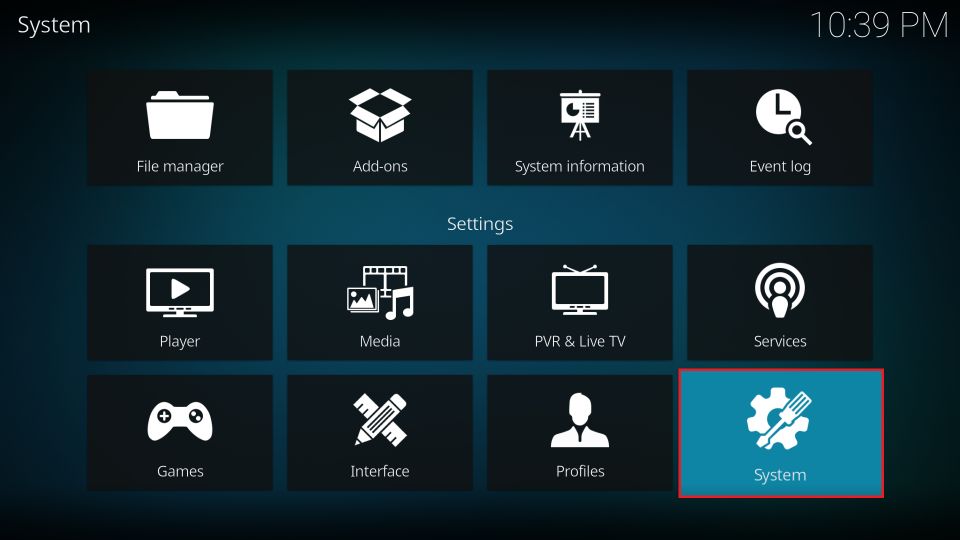 3. Click or highlight the option Add-ons in the left panel. Then, on the right of the same screen, toggle the Unknown Sources entry to the ON position.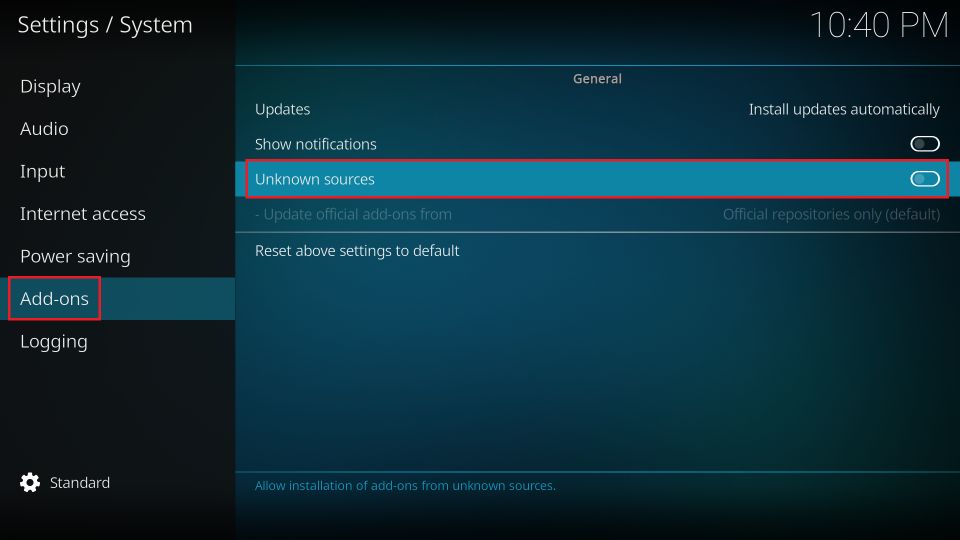 4. Don't worry about this prompt. Click Yes.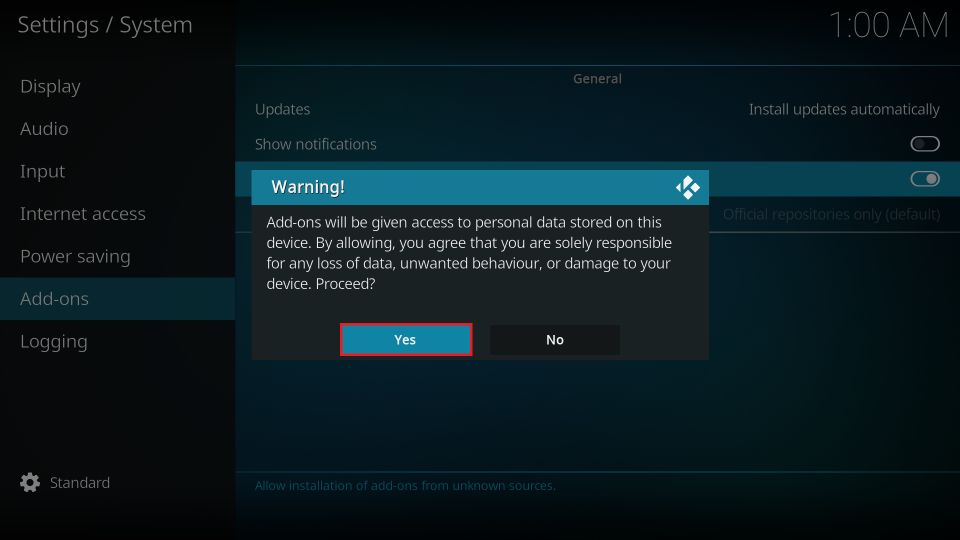 5. You may want to click Update official add-ons from while you are here.
6. Select Any repositories. While this step is optional, it is an excellent practice to follow it to ensure the addons are up to date.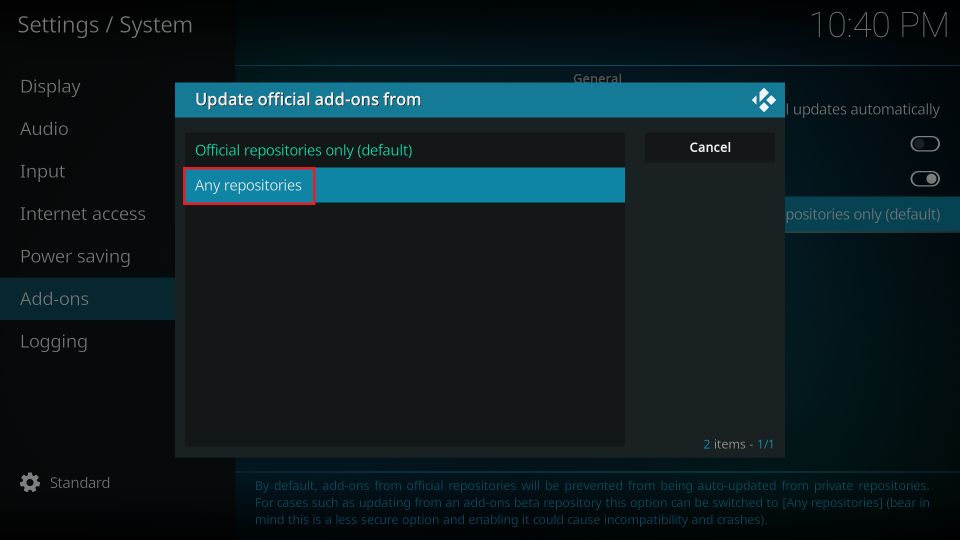 You have allowed sideloading on Kodi. We now go to the next part.
Part 2: Adding the External source URL
Adding the external source means pointing Kodi to the source website of the Magnetic repository from which you will install the Shadow addon. Here is how it is done:
1. Navigate to the Settings menu again from the home window and open File manager on this screen.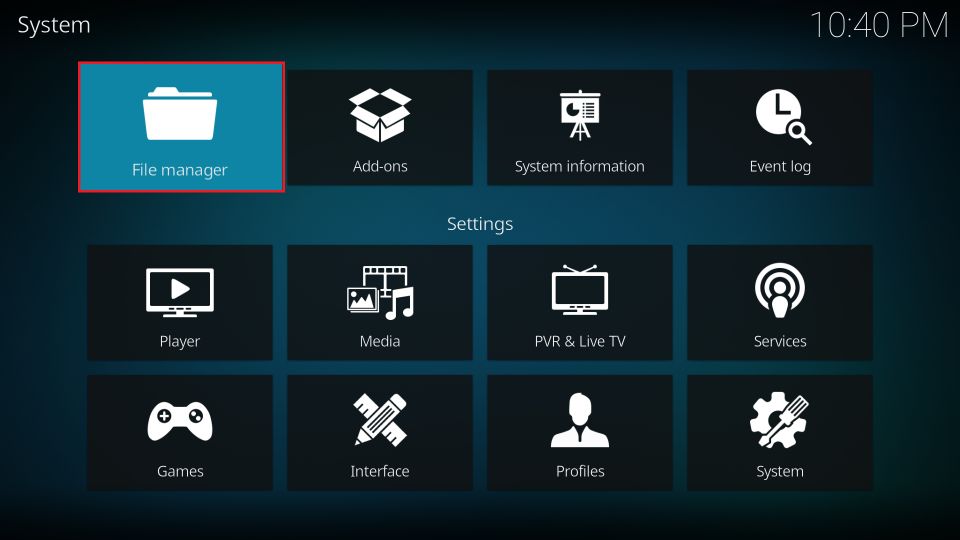 2. On this screen, click Add source. You may need to double-click it if you are using a computer.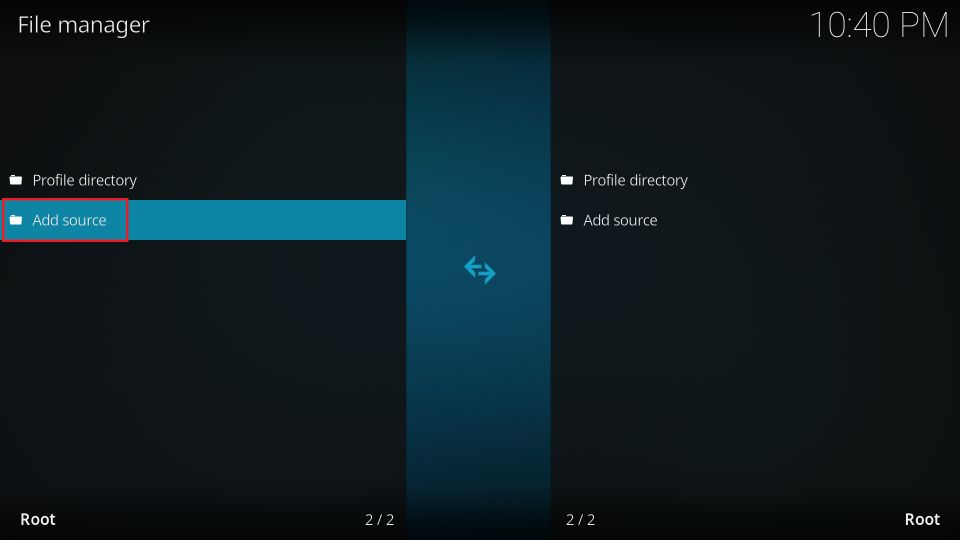 3. A window now pops up within Kodi. Click <None>.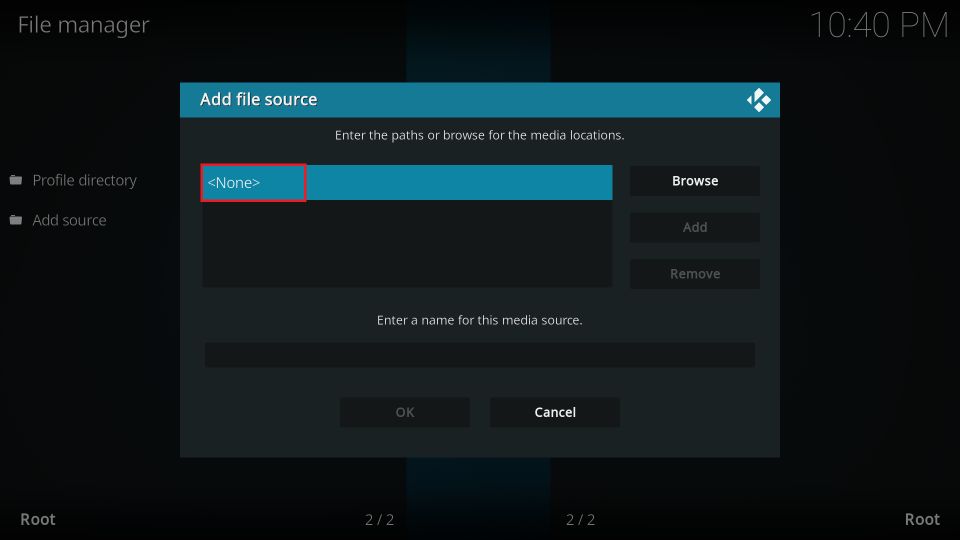 4. The source address of the Magnetic repository is http://magnetic.website/repo
Please ensure you input the URL correctly. Then, click OK after double-checking it.
Note: The Magnetic Repo is hosted on an external server. FireStickHow does not have any affiliation with the developers or those who host this URL.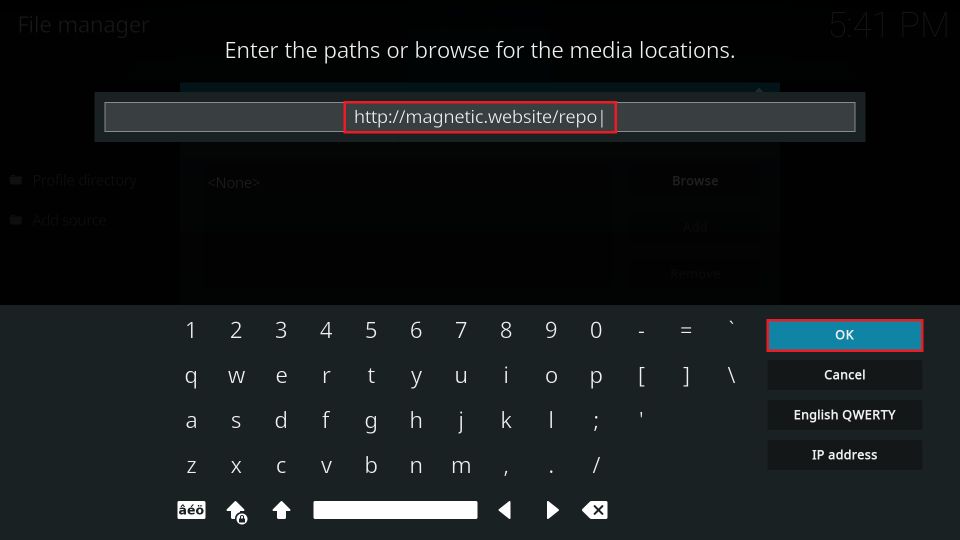 5. The source name takes the default value repo. However, I want to make it more identifiable. Therefore, I will click the source name input box.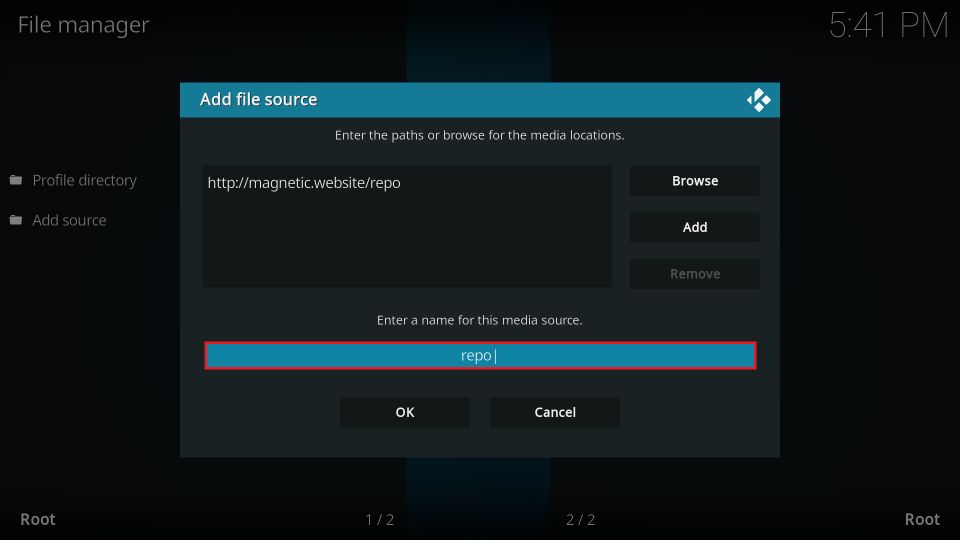 6. Clear the existing entry and type magnetic, which is the repository's name. However, you may pick any other name with which you want to identify the source. Click OK.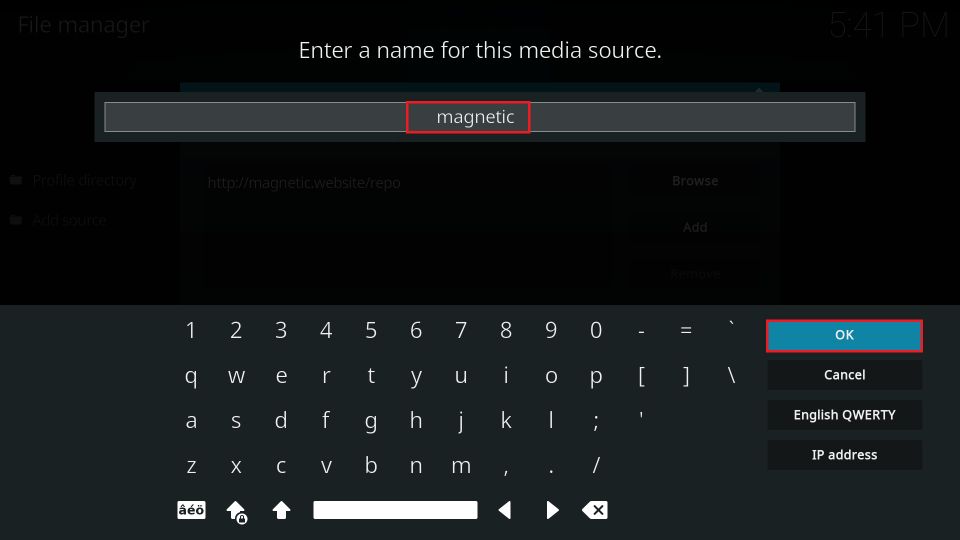 7. As you can see, the source name is now magnetic.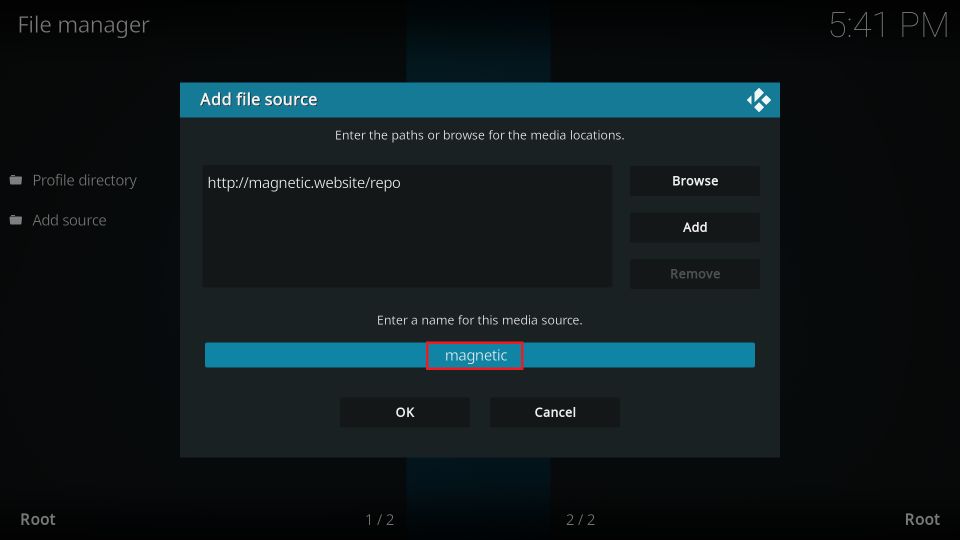 8. Click OK.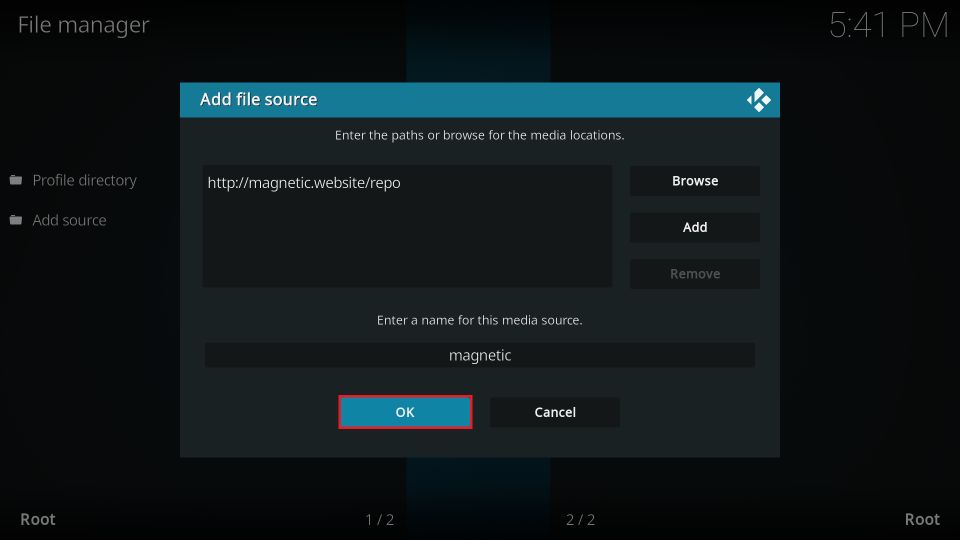 9. You should see the source name on the window where you clicked Add source a few steps ago.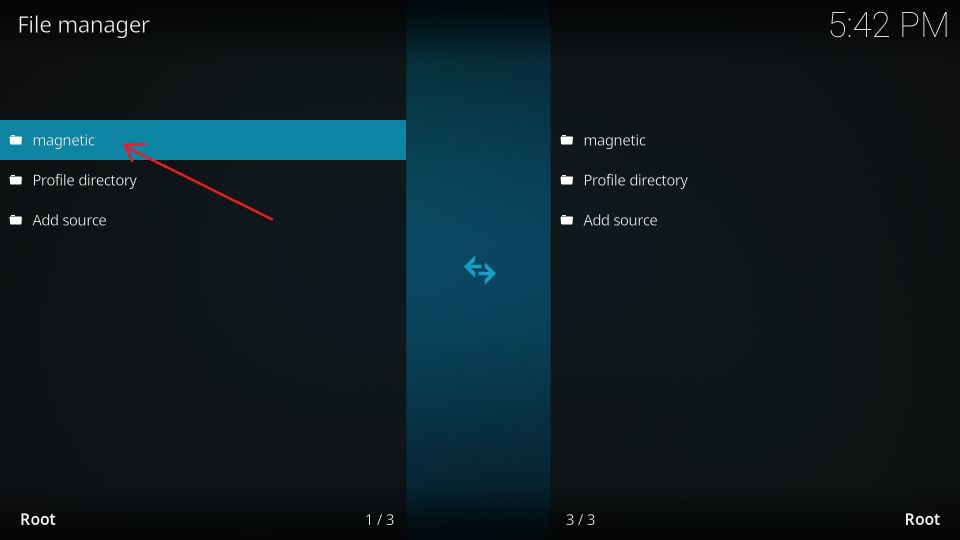 You have successfully added the source URL. You may now install the Magnetic repository, followed by the Shadow addon.
Part 3: Install the Shadow Kodi addon
As I said, we will install the repository and then the addon from the repository. Follow these steps:
1. Go back to the Settings window if you are not there already and click Add-ons.
2. Click Install from zip file.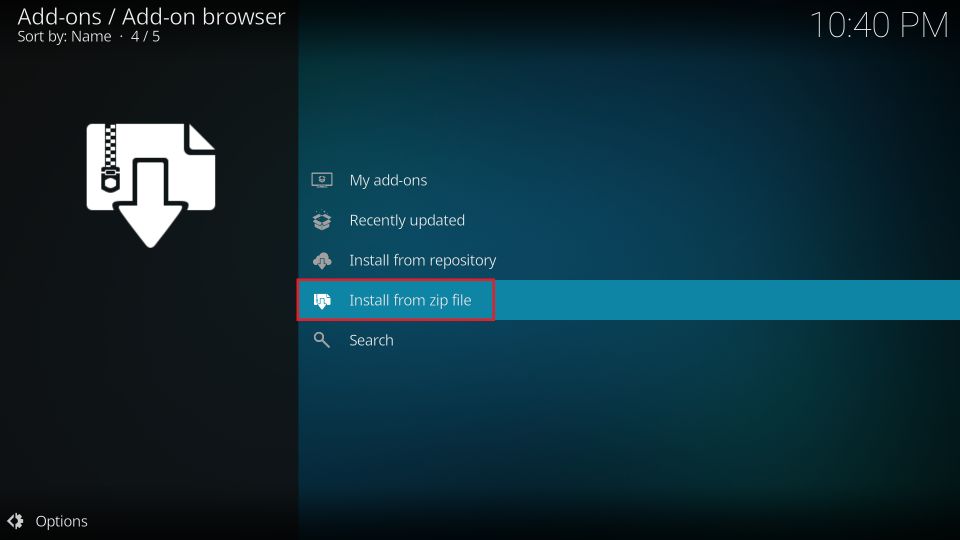 3. This window displays all the sources you have added. Click magnetic or the source name you picked in the previous section.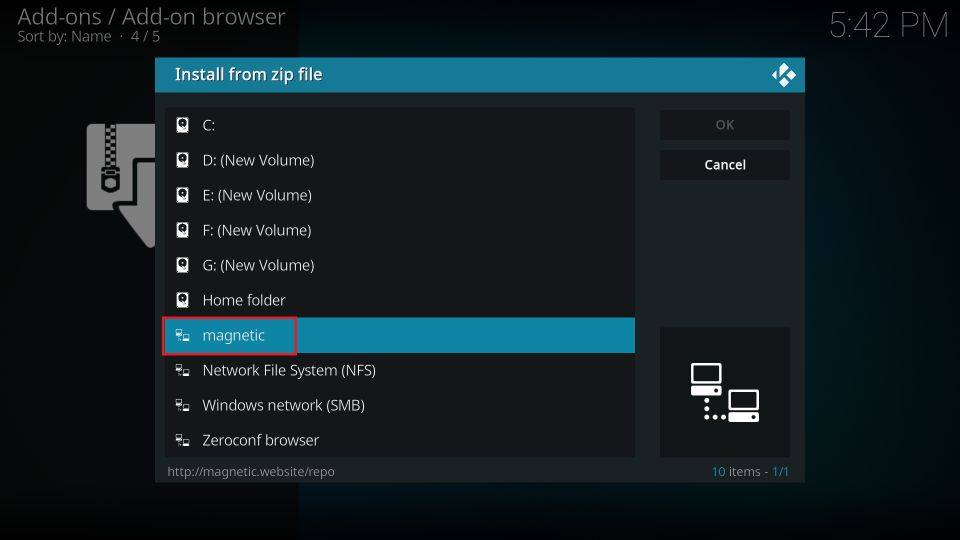 4. Click the zip file of the Magnetic repository displayed on the next screen.
Note: The version number of the file shown in the image below may have changed.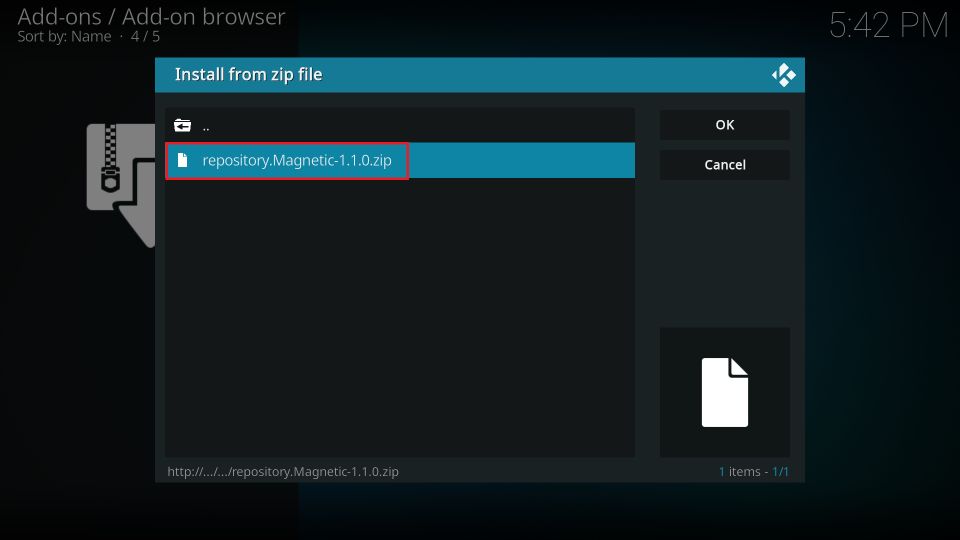 5. The Magnetic Repo Add-on installed confirmation message appears in the top-right.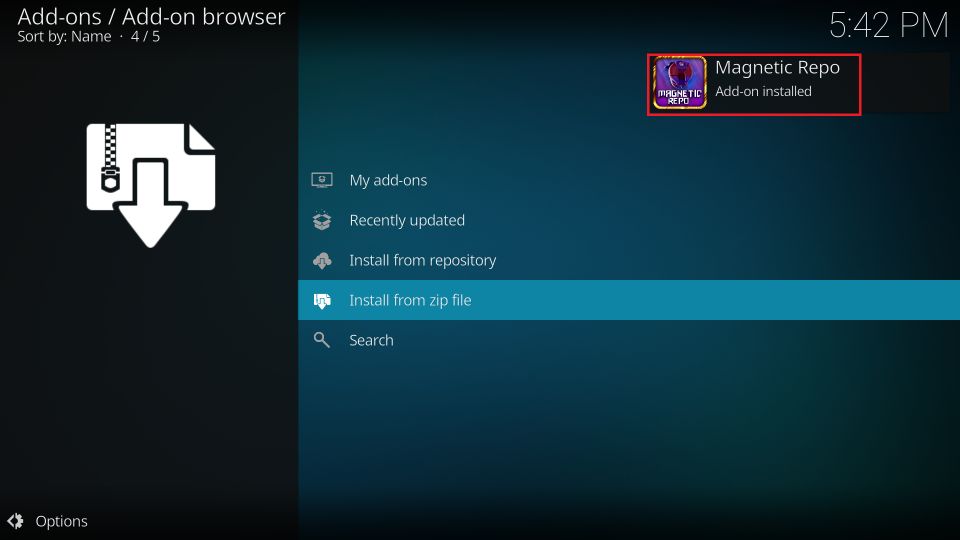 6. The repository installation is complete. We now install the addon from it. So, click Install from repository.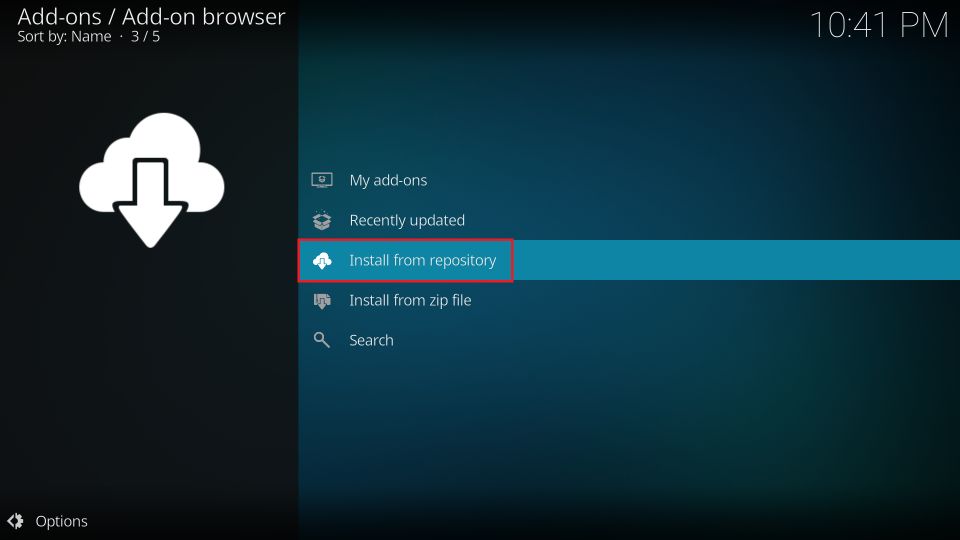 7. Open the Magnetic Repo folder.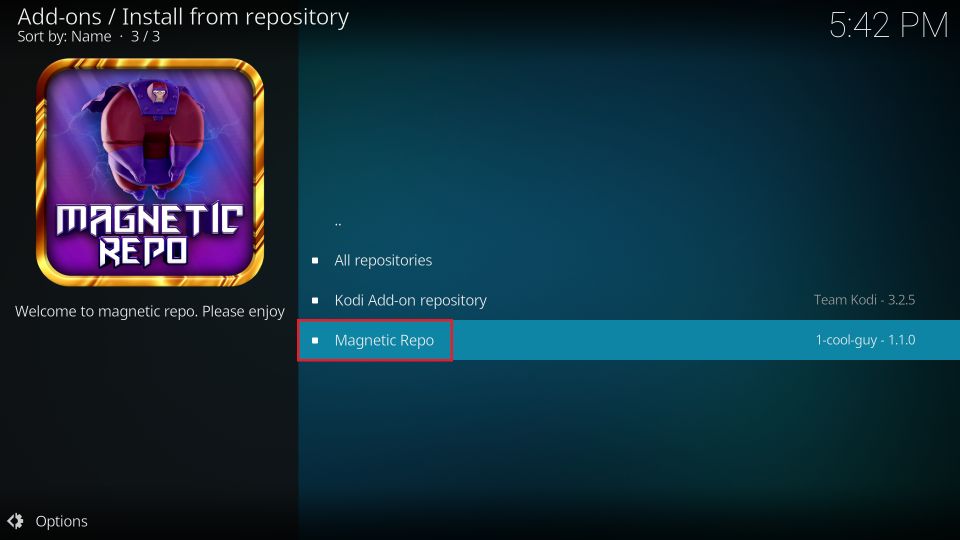 8. Click Video add-ons on the next window.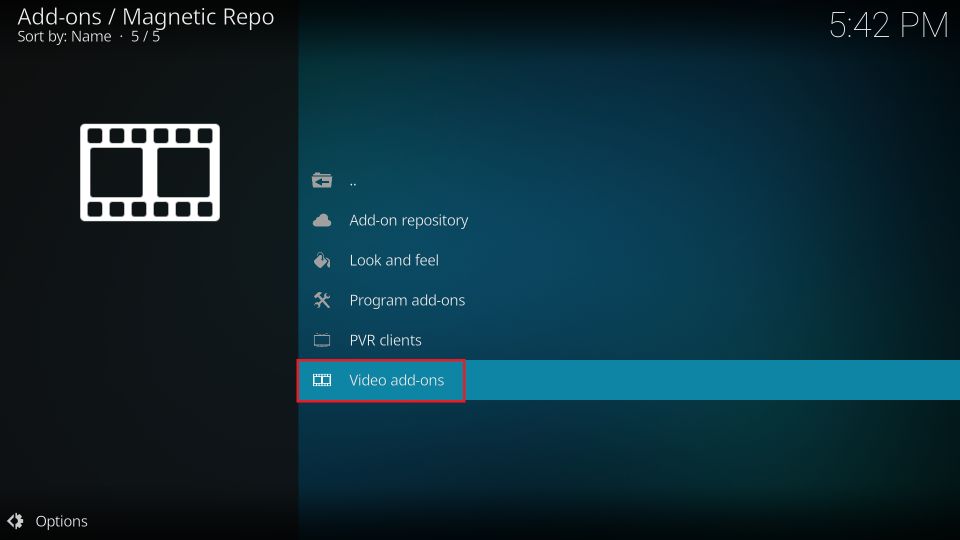 9. Choose Shadow on this list of addons.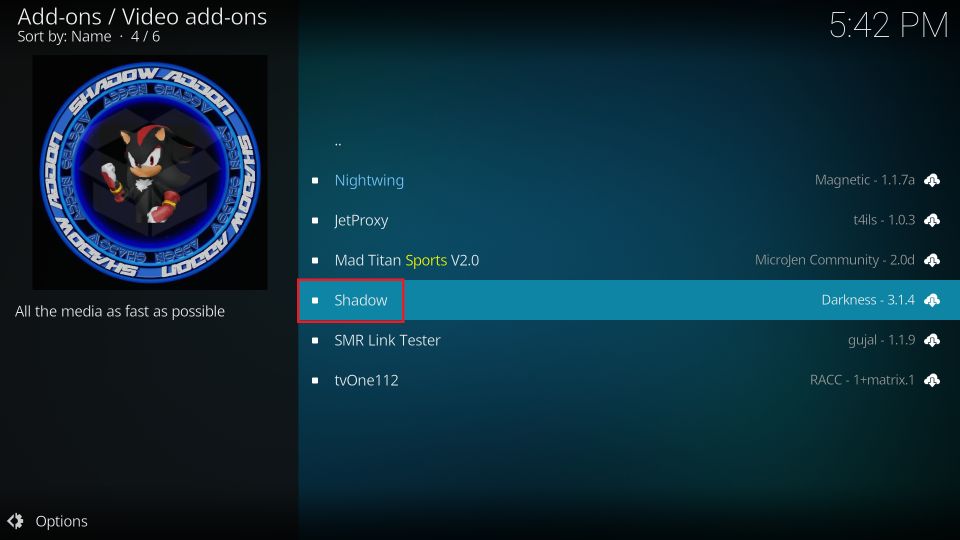 10. On the following dashboard, hit the Install button in the lower-right part.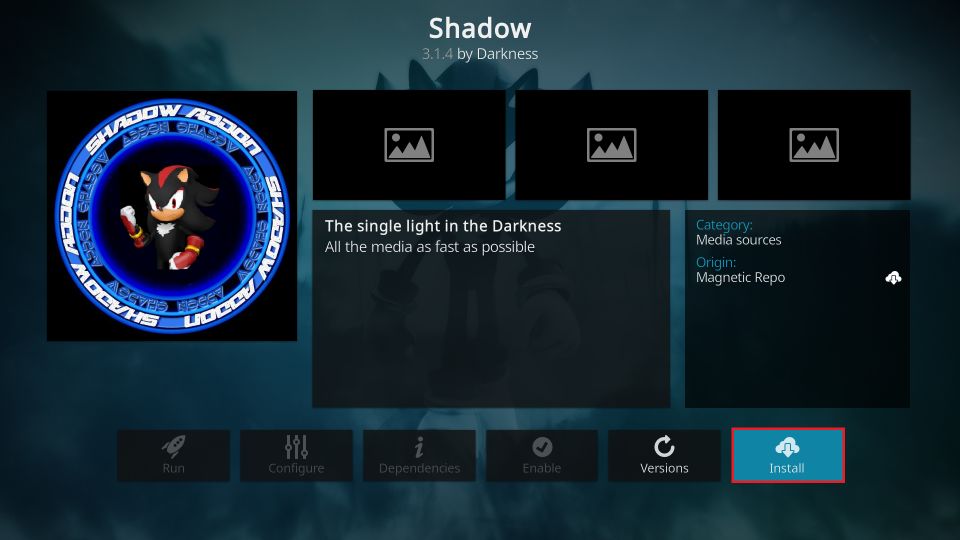 11. Installing the addon will probably take less than 60 seconds. The Shadow Add-on installed confirmation notification pops up on the top-right.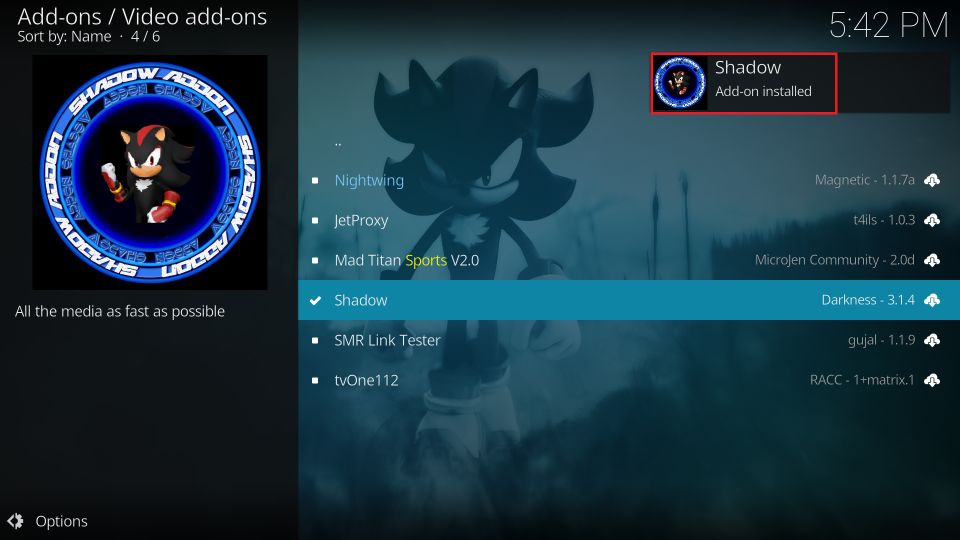 You have successfully installed the Shadow addon on Kodi.
It looks like you are all set to start watching your favorite content. However, do not forget that all your streaming activities and online identity are unprotected and exposed to your Government and your ISP. In addition, streaming with third-party services may cause legal trouble.
Thankfully, you can easily protect yourself and go invisible from your Government and ISP by using a VPN. Whenever I stream with Kodi, I always connect to ExpressVPN and recommend the same to you.
ExpressVPN is the fastest and the most streaming-friendly VPN. It is also the most secure VPN.
With ExpressVPN, you get a 30-day money-back guarantee as well. So if you do not like the service (I don't see why), you will get a full refund within 30 days.
Please remember that we encourage you to use a VPN to maintain your privacy. We do not condone breaking copyright laws.
Before you start using Kodi for streaming, here is how you can protect yourself with ExpressVPN:
Step 1: Sign up for ExpressVPN Here
Step 2: Download ExpressVPN on your device by clicking HERE
Step 3: Open the ExpressVPN app on your device. Sign in with your account. Click the connect/power button to connect to the VPN

Great! You have successfully secured yourself with the best Kodi VPN.
Overview of the Shadow Kodi Addon
Now that you have installed the addon, it is time to explore it. For that, you want to head back to the home screen of Kodi and click Add-ons.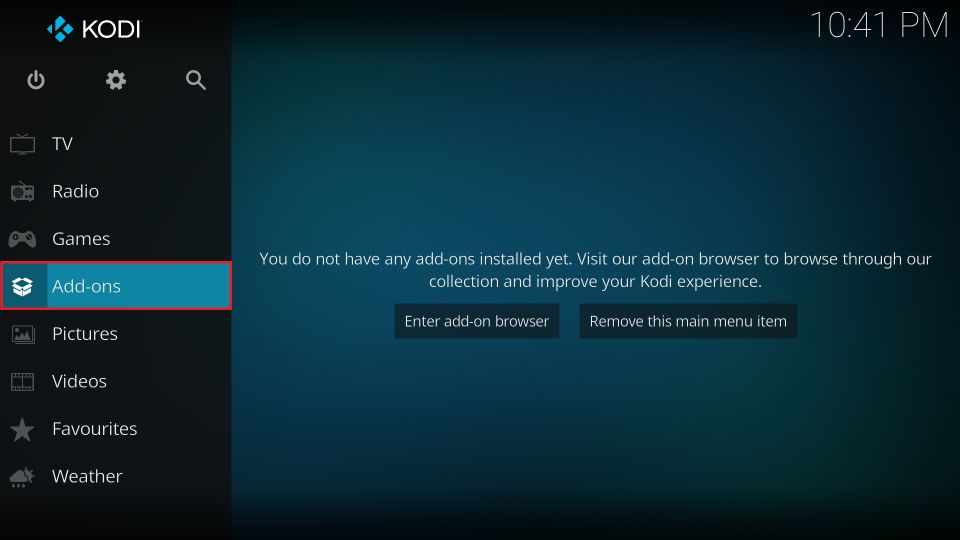 On the following window, select Video add-ons and click Shadow on the right.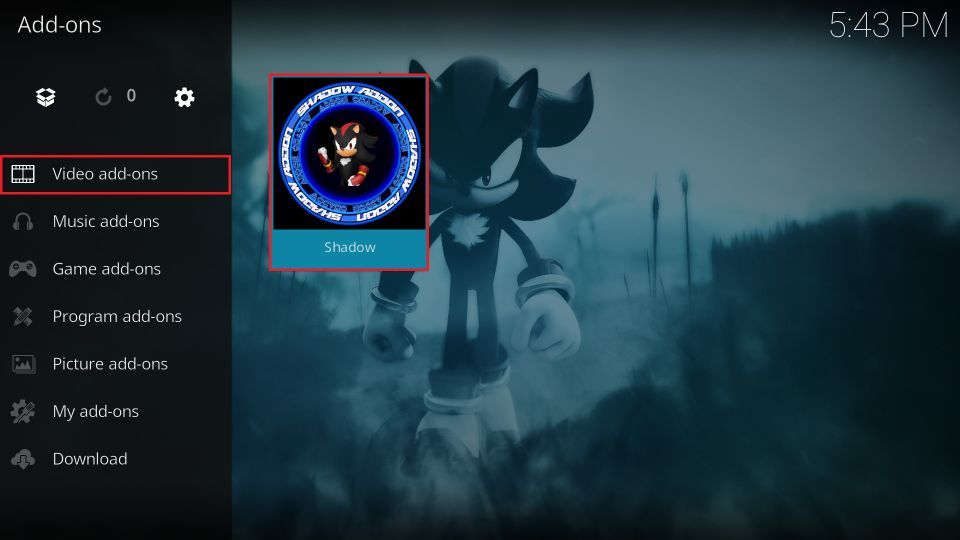 You may (or may not) encounter this change log popup on the first run. Next, press the back button or click Close.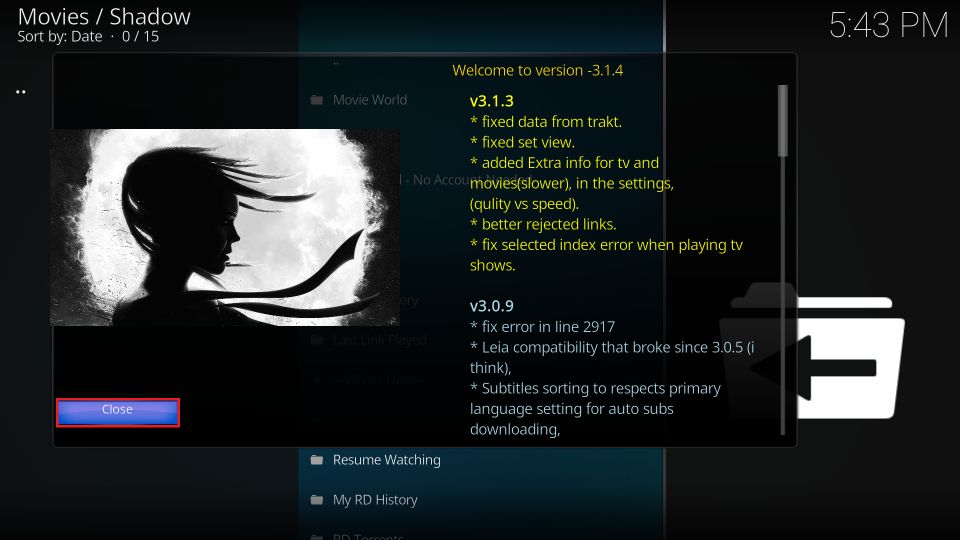 The following image shows the main menu of the Shadow Kodi addon. You can explore content by navigating primary categories, such as Movie World, TV World, Trakt World, etc.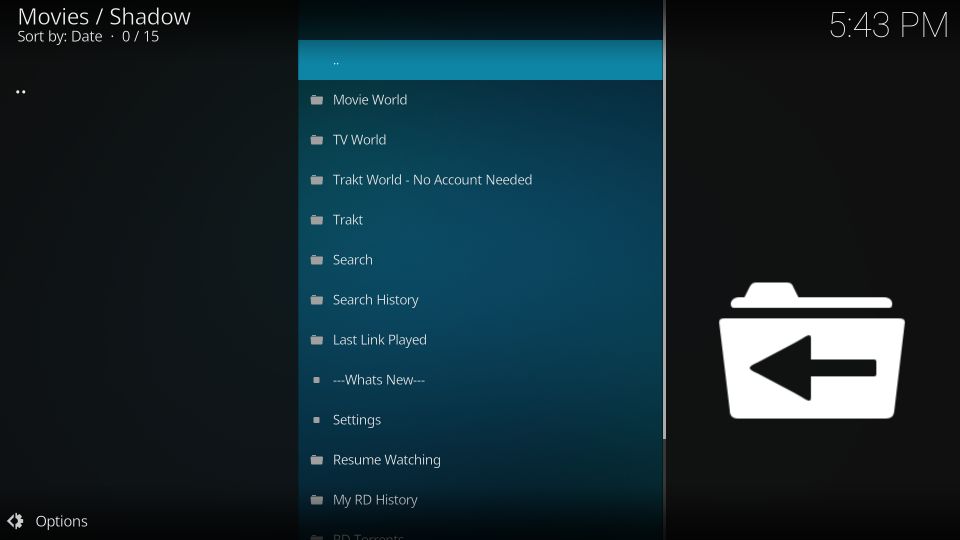 You are further presented with submenus or subcategories. For instance, the Movie World has numerous subcategories, including Theaters, Popular Movies, Released Movies, Genre, 3-D Movies, Years, and many more.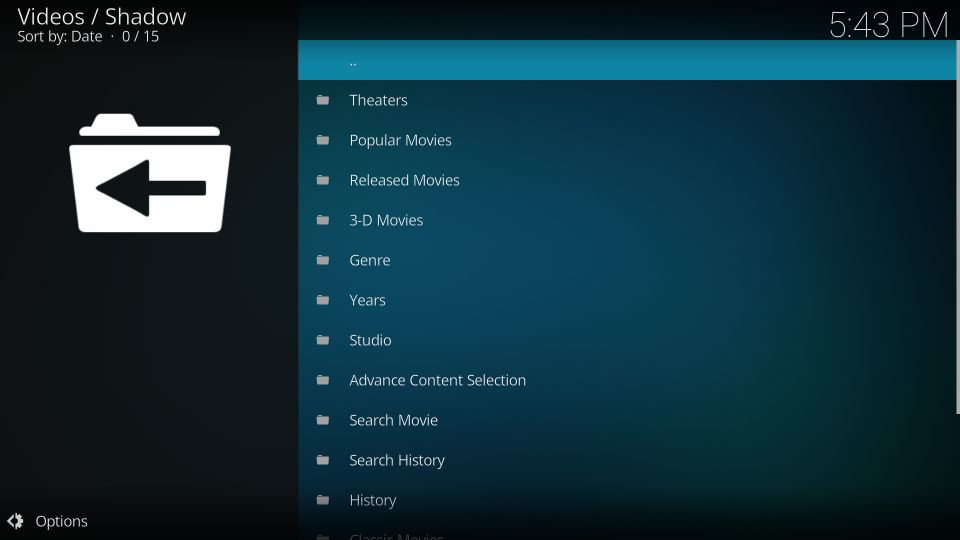 If you want to use subtitles with the Shadow addon, please enable subtitles in the addon settings. Click Settings on the main screen: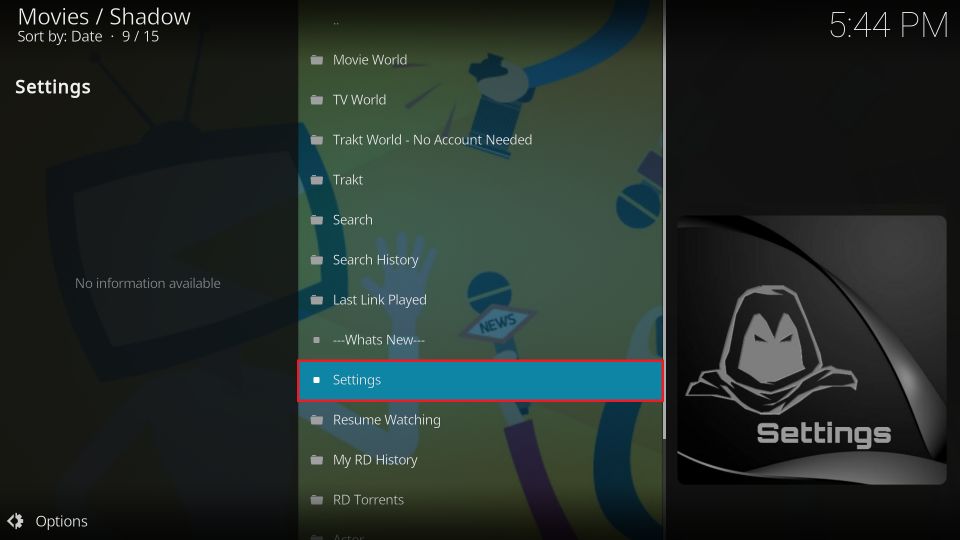 Choose Subtitles in the menu on the left.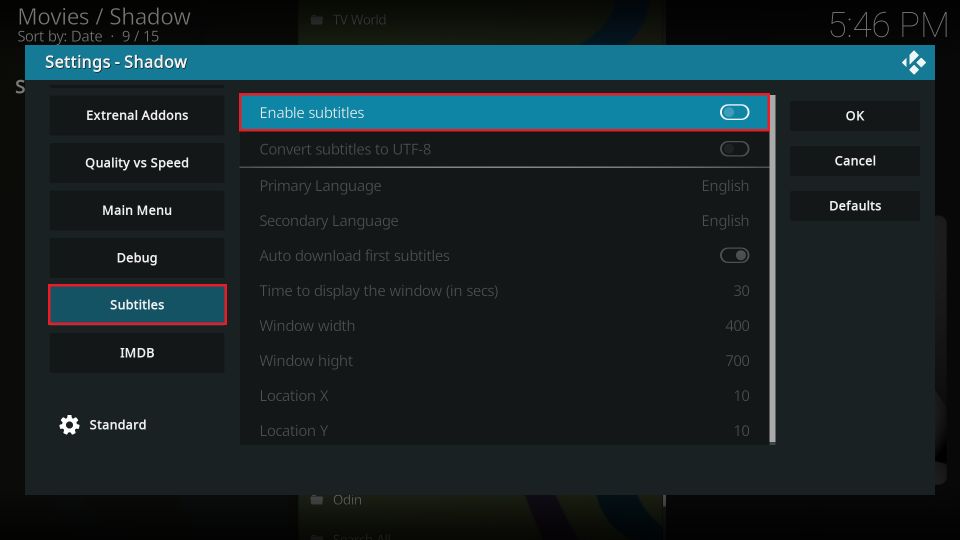 Turn on the Enable Subtitles toggle.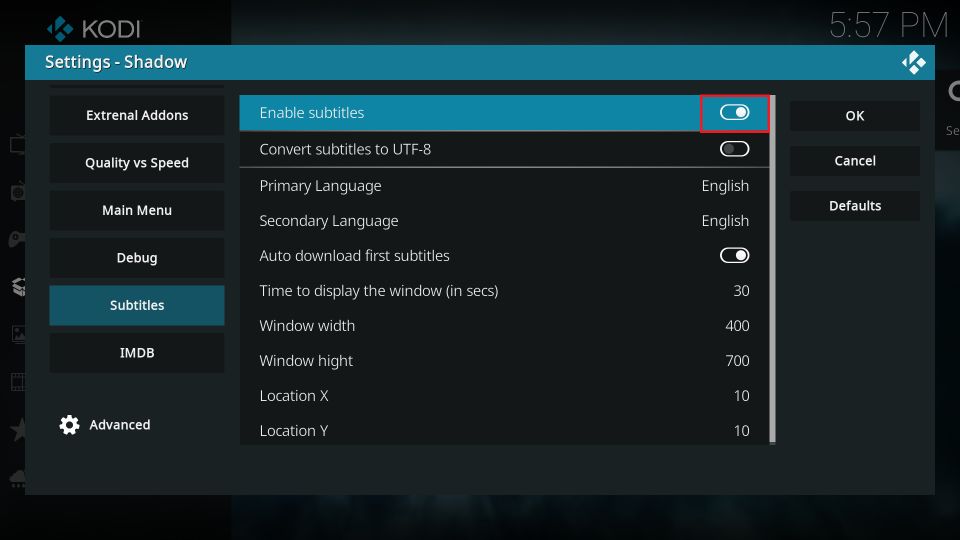 The addon looks straightforward to me. So start exploring and if you need any help, let me know through the comments section below.
Real Debrid Sign-In with Shadow Addon
The Shadow addon will get you multiple free streams for movies and episodes. However, the free ones may not always be reliable. Therefore, it would be a good idea to use this addon with Real Debrid.
If you are new to Real Debrid, follow our guide on how to sign up for Real Debrid and use it with Kodi.
You will find the instructions to sign up for the service and create an account. Once you have the Real Debrid subscription, follow these steps to integrate it with the Shadow addon:
1. Click Settings on the main menu.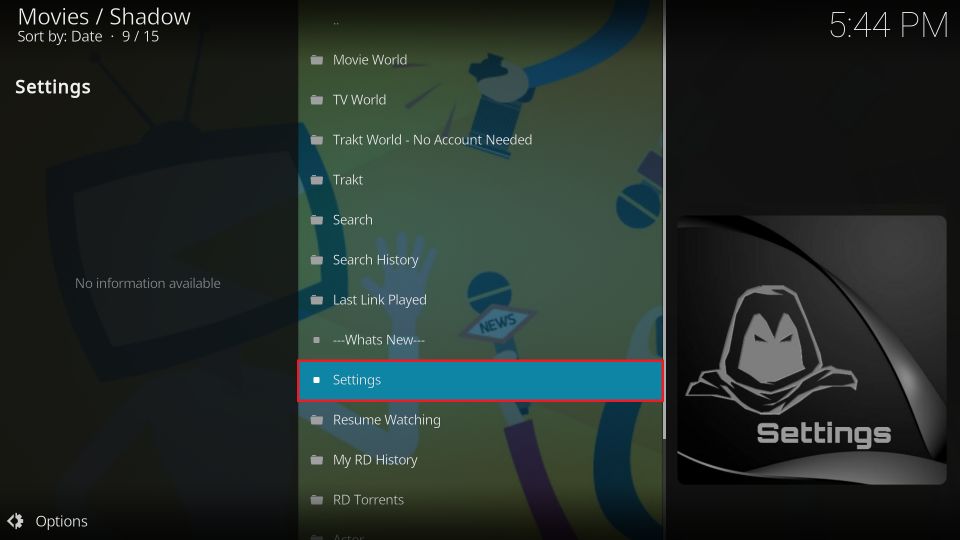 2. Select the Debrid tab on the left.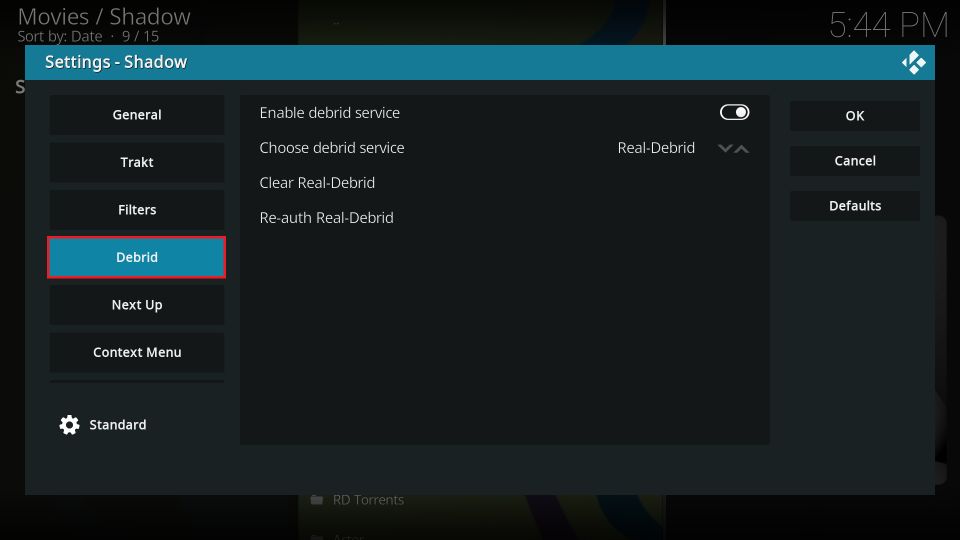 3. First, you want to ensure that Enable debrid service option is enabled.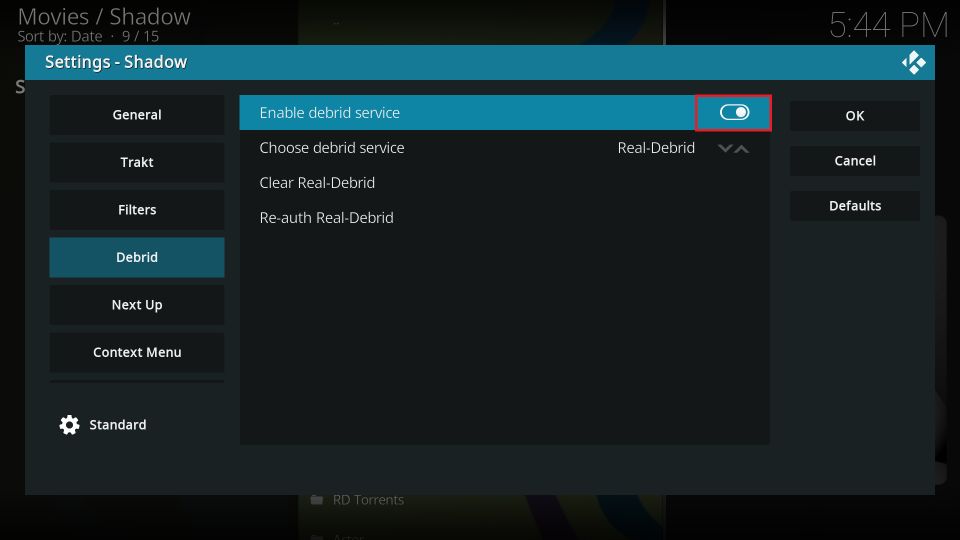 4. Next, confirm that Real-Debrid is selected for the Choose debrid service option.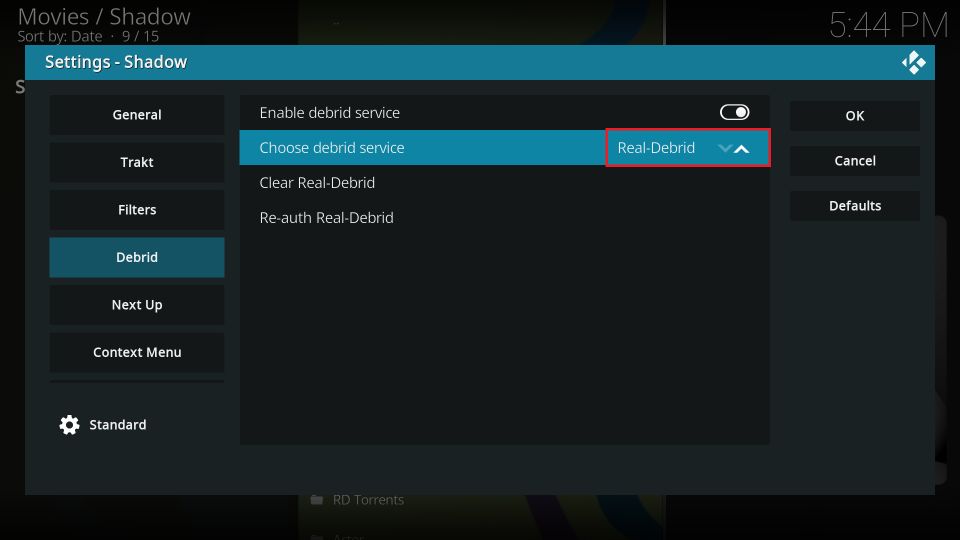 5. Now, click Re-auth Real-Debrid.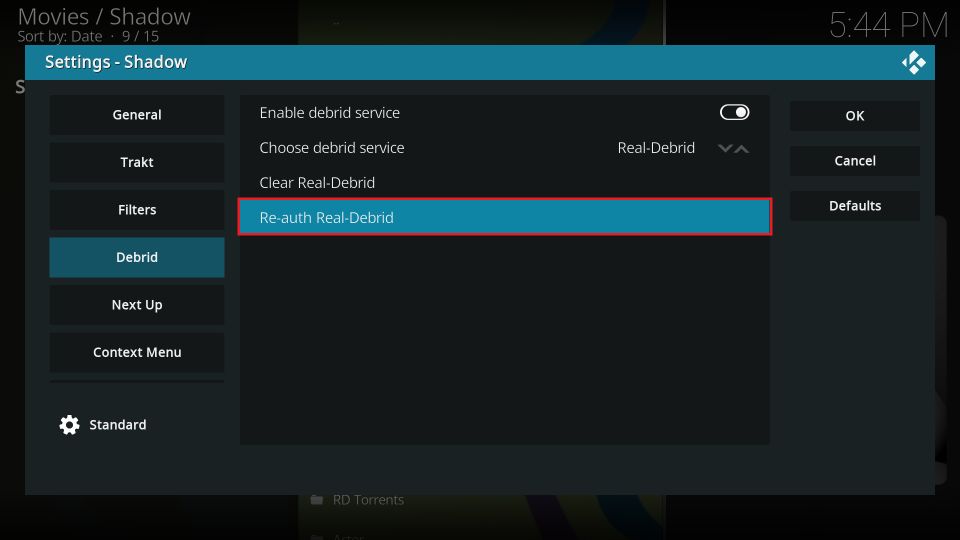 6. A popup appears in a couple of seconds. This popup contains the authorization code. Use any browser to go to real-debrid.com/device and authorize Real Debrid on Shadow with this code.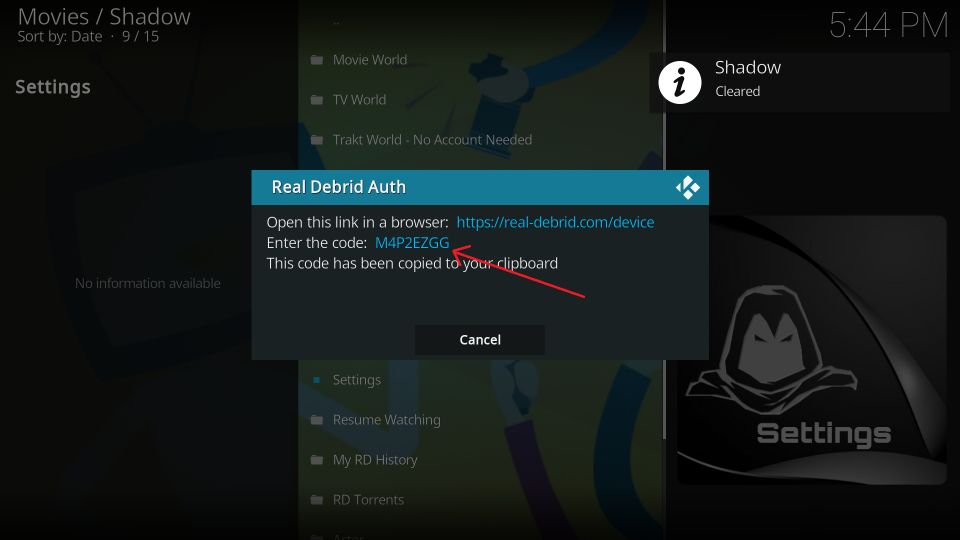 7. You should see Shadow OK confirmation in the top-right upon successful authorization.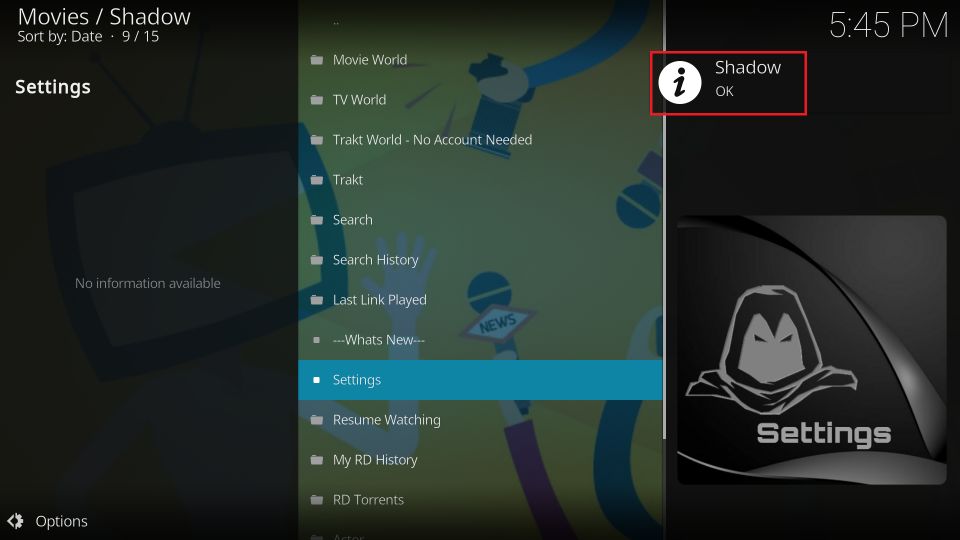 Wrapping Up
In this post, you learned how to install the Shadow Kodi addon. This on-demand addon lets you watch all your favorite movies and shows. It works with Real Debrid and Trakt. Do you like Shadow? Please share your experience using the comments box below.
Related: