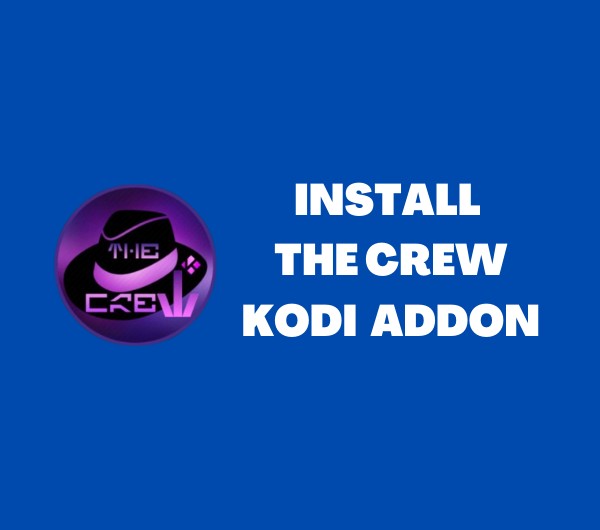 In this guide, I'm going to share how you can install the famous The Crew Kodi addon on your FireStick, Android TV Box, or any other Kodi-compatible device. This article will also cover the debate on the legal status of the Crew Kodi addon, along with its short description and usage walkthrough. And lastly, note that the addon available on the Crew Repo is supported on both Kodi 18 Leia and 19 Matrix.
The other day, I installed a new add-on that was getting quite popular amongst the Kodi community. From sports to movies and TV shows, the add-on had everything. But after a few days, it stopped working. And then, I came to realize, many come, many go, the true and dedicated stays – The Crew Kodi addon punchline.
The Crew addon, and specifically the Crew repository, has been serving Kodi users for a long time. And in this piece, I'm going to cover how you can install and use the Crew addon on your Kodi-supported device like Amazon Fire TV, Nvidia Shield, PC, Android, etc.
But before that, let's get going with…
What Is The Crew Kodi Addon?
The Crew available on the Crew Repository is an all-in-one addon that provides customers with 24/7 entertainment. Sports, movies, TV shows, live events, live TV channels, and you name it; you can stream almost anything you like using the addon.
Creators of the popular The Crew Kodi addon have made it super-friendly and easy to use. On the home screen of the addon, you'll see various sections like TV shows, movies, etc. Then, inside those sections, there are related sub-folders in which you'll find further relevant content.
The Crew Kodi addon has been made to let entertainment freaks catch up with their favorite latest TV series episodes, decade-old documentaries, and more for free. And to quickly access any type of streaming content, you can use the addon's search feature.
All in all, The Crew add-on by The Crew Repo has been the longest-serving and the most reliable service in the game. With the add-on, you get to redefine your entertainment experience without paying a penny.
Now that you and I are past the basics of The Crew Kodi addon, there's one more thing worth mentioning. And that's:
Is The Crew Kodi Addon Safe & Legal?
Safety and legality are two different things. And that's why I'm going to cover each one of them separately with respect to The Crew Kodi addon.
Is Crew Kodi Addon Safe?
The Crew addon by The Crew repository has been serving the Kodi community for a long time. And I personally have never seen any user complaining about the addon in terms of safety and privacy on online forums, websites, etc.
Creators of the Crew addon are professionals. They have made the addon to give Kodi users access to all types of entertainment for free. And while doing that, they have made sure that user security, privacy, and safety aren't compromised.
However, as I haven't looked at the underlying code, I can't say that the addon is 100% safe.
Is Crew Kodi Addon Legal?
All third-party Kodi addons (including THE CREW addon) aren't available on the official marketplace of Kodi add-ons. Despite being one of the finest, The Crew is also nowhere to be found there. And that's because such add-ons are created by unknown developers without any regulation whatsoever.
You see The Crew bringing everything you need to enjoy your weekends and chill. As a consumer, there's nothing wrong with it. But as a provider, you have to check geo-restrictions, copyrighted content, and regulate thousands of things to provide access to one single episode legally.
Unfortunately, on The Crew Kodi addon, there's no regulation party handling the content providing responsibility. The add-on basically pulls out free links from all over the internet to bring you your desired content.
Indeed, Crew also provides legally free available things. But other times, the add-on also fetches content with shady tricks. And as I don't have sufficient resources to prove the legal status of the content provided by Crew, I can't truly label it as legal or illegal.
So, I want you to take responsibility. Make sure to safely browse the Crew Kodi addon as you might accidentally access content that's illegal. My team and I at FireStickHow aren't responsible for your actions.
Attention KODI Users:
 Read before you continue
FireStickHow.com does not guarantee the legality, authenticity, or safety of any streaming services, addons, or builds covered on the website.
I highly recommend you to use a tested and trusted Kodi VPN to protect your online identity while using free or low-cost third-party streaming services. A secure VPN connection will mask your IP address with an encrypted connection and keep you 100% safe from any and all types of surveillance by your Government, ISP, and even hackers.
Your IP 116.211.9.108 is exposed right now.
I personally use ExpressVPN and recommend it as the best Kodi VPN. ExpressVPN is exceptionally fast and protects your streaming activities with military-grade encryption. It also maintains a strict zero-log policy.
ExpressVPN offers an unconditional 30-day money-return guarantee as well.
Click HERE to save 49% on ExpressVPN and enjoy 3-months of additional coverage.
How To Install The Crew Kodi Addon On FireStick
Finally, it's about time! In this section, I'm going to show how you can install the all-time favorite The Crew addon. And for the ease of my readers, I have divided this segment into three parts. Make sure to follow each part in the drafted order to avoid any problems during installation. So without further ado, let's get started.
Note: The step-by-step guide applies to all Fire TV devices, Nvidia Shield, Mac, Windows, Android TV boxes, and other Kodi-compatible devices.
Part 1: Enable Unknown Sources
In the first part, I'm going to show how you can turn on unknown sources on your Kodi app. Without enabling the option, we won't be able to add any third-party repo (like The Crew Repo) and install their add-ons. So, here's how you can enable unknown sources on Kodi:
1. Turn on your Kodi app or go to its home page. Then, select the Settings Cog icon located just below the Kodi logo on the top left side of your screen.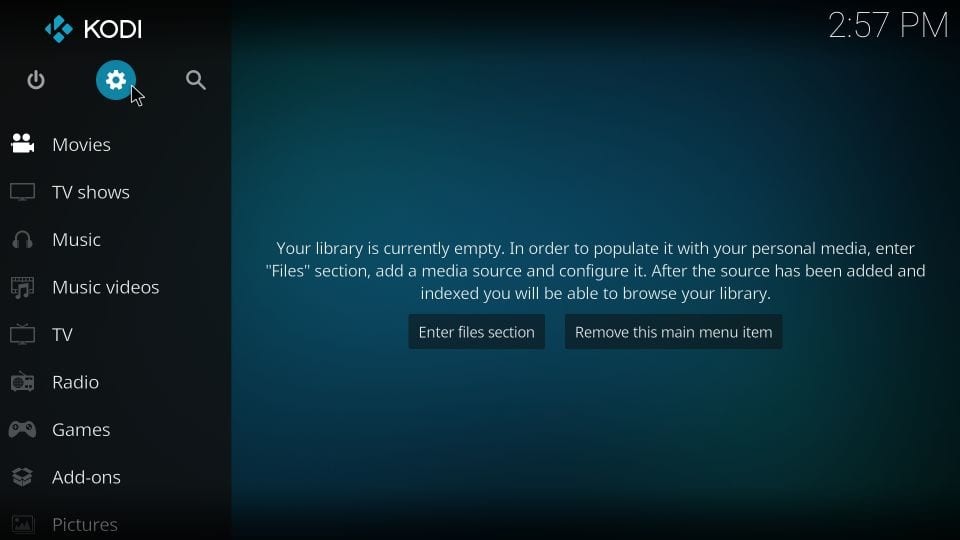 2. On the Settings page, select the System icon tile located on the bottom right side of your screen.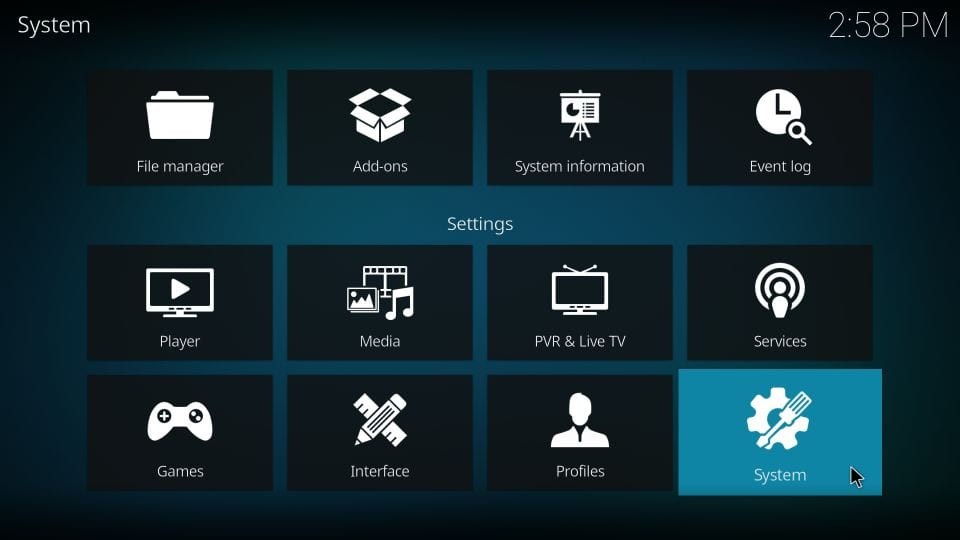 3. On the System page, go to the Add-ons tab on the left-hand-side menu panel.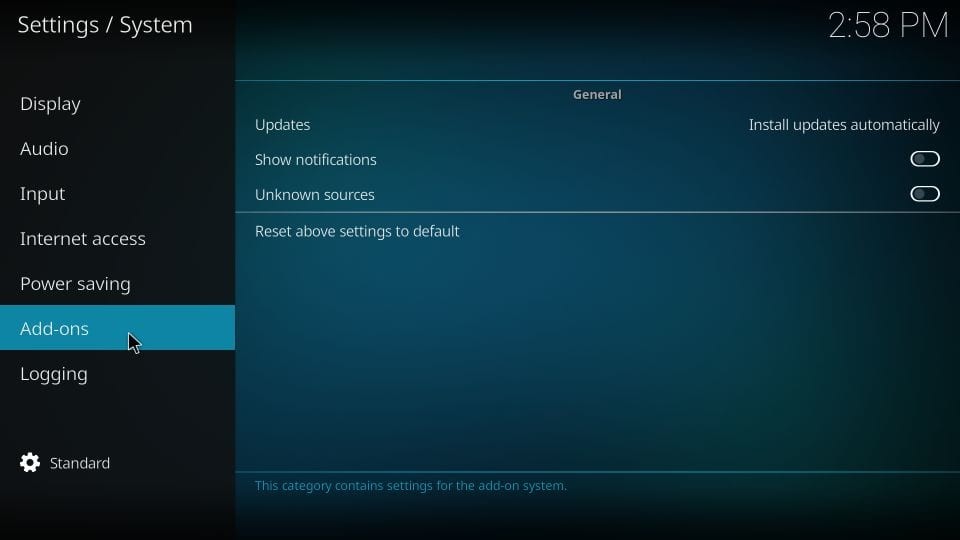 4. Then, turn on the Unknown Sources slider.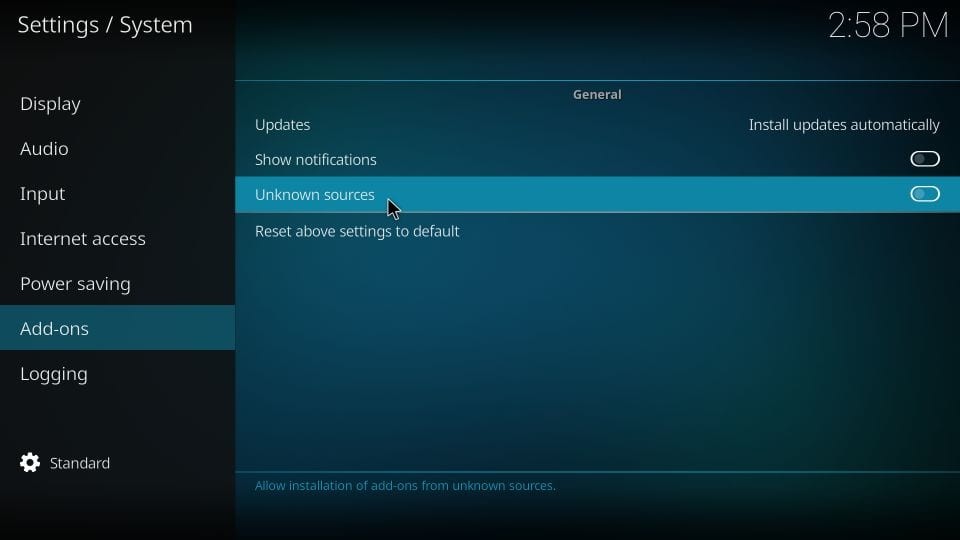 5. You'll receive a pop-up warning window. Read the message and click on the Yes button to continue.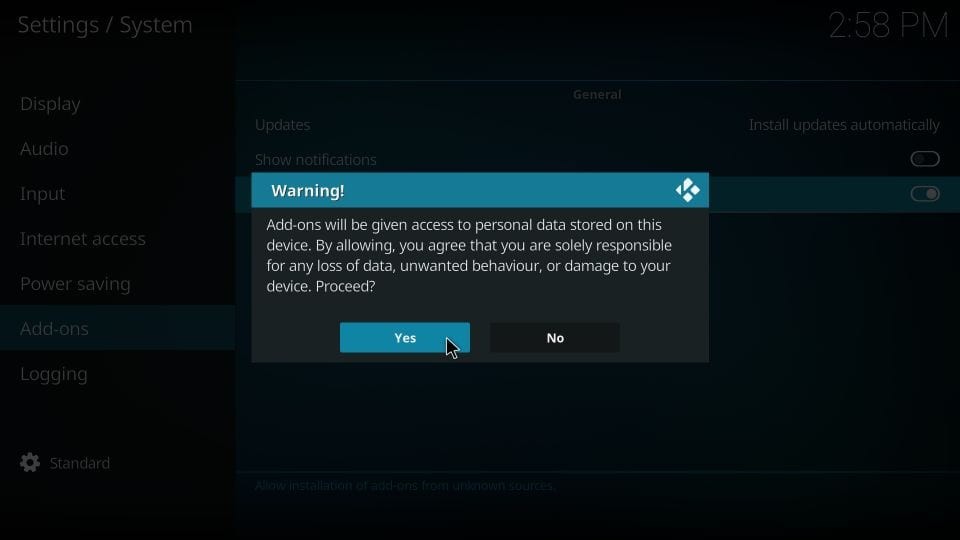 6. Lastly, make sure that the Unknown Sources slider is switched on.
Note: I'm using Kodi 18 Leia to illustrate the installation process. If you are using the latest Kodi version (19 Matrix), you might see some additional options when you have turned on Unknown Sources.
Part 2: Install The Repository With The Crew Kodi Addon
We have successfully allowed our Kodi to allow unknown sources (third-party repos and add-ons). Next up, to install the crew addon on Kodi, we'll have to load The Crew repository. So, here's how you can add the CREW repo to your Kodi repository list:
1. Return back to the Kodi Settings menu and select the File manager tile located on the top left corner of your screen.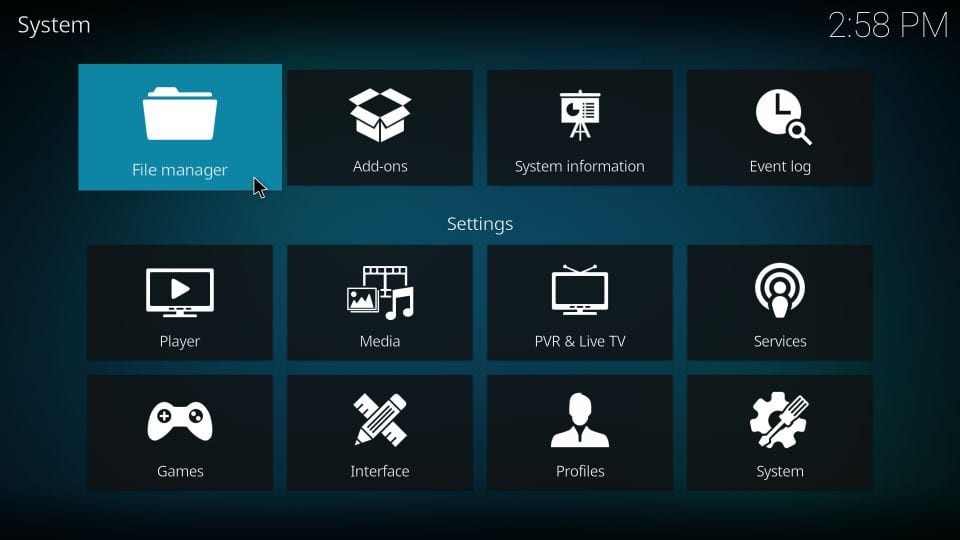 2. On the File Manager page, select Add source.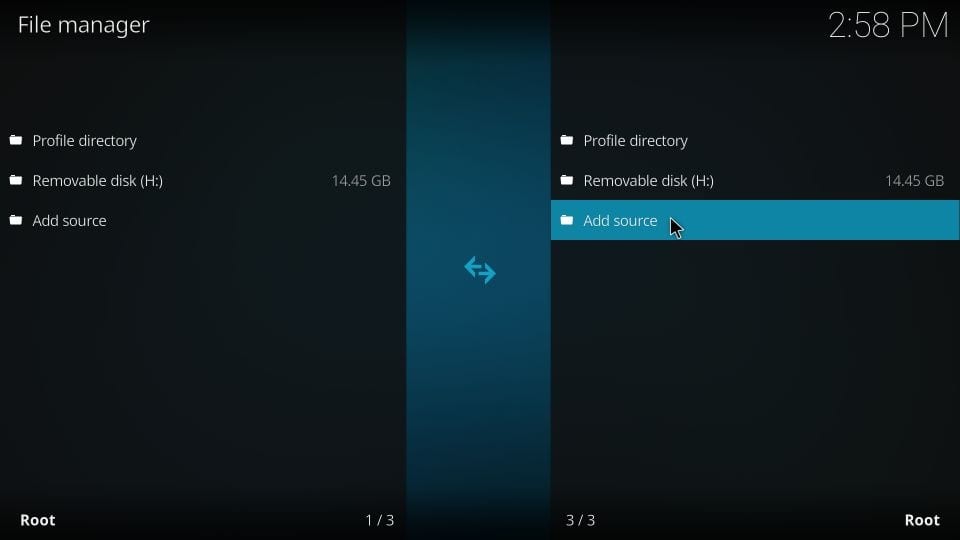 3. Add file source window will appear. Click on the input box to enter the Crew repository URL.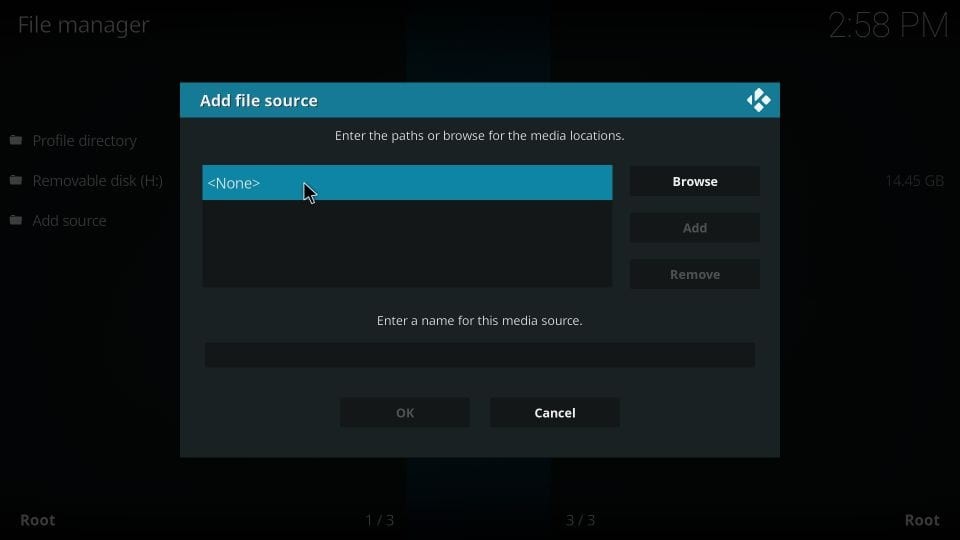 4. Now, enter https://team-crew.github.io in the input box and click on the OK button.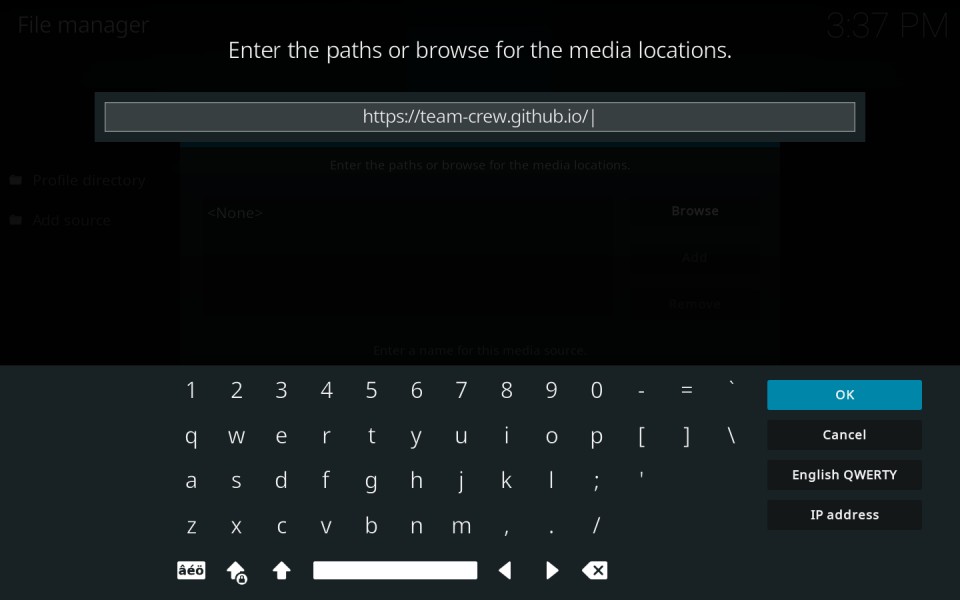 Note: My team and I at FSH don't host the crew repository. We have just provided the official link of the repo so you can add it to your Kodi app.
5. Next, click on the input box under the Enter a name for this media source heading to set a name for the repo.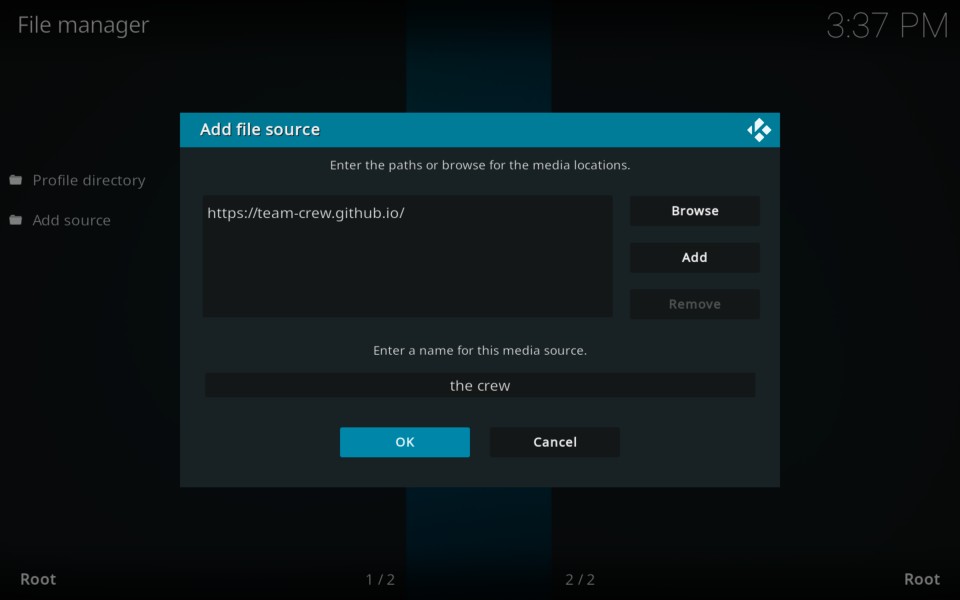 6. Now, enter a name for the crew repo. You can also set a custom name, but I recommend you simply set crew as the name. Once you are done, click OK.
7. Now, return to the main menu System page and select the Add-ons tile.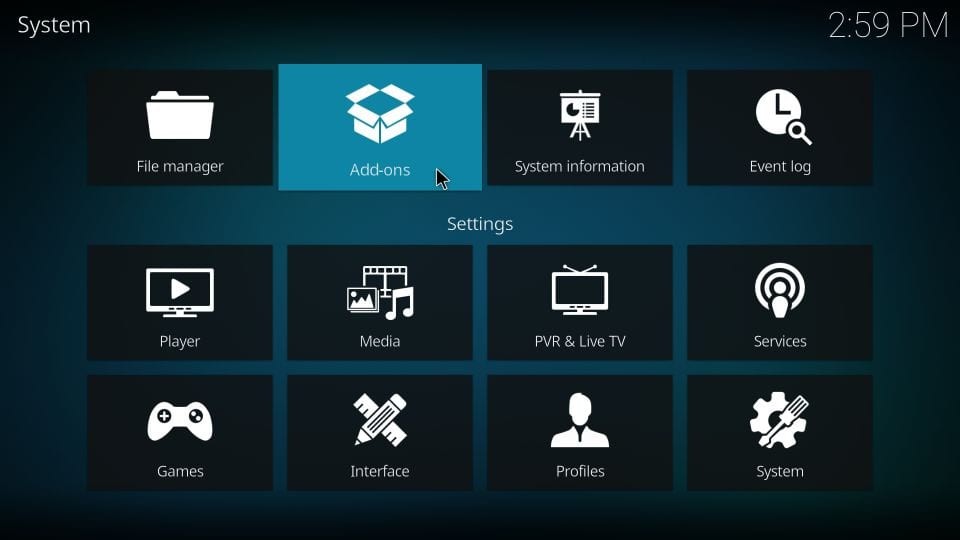 8. On the Add-ons page, scroll down and select the Install from zip file option.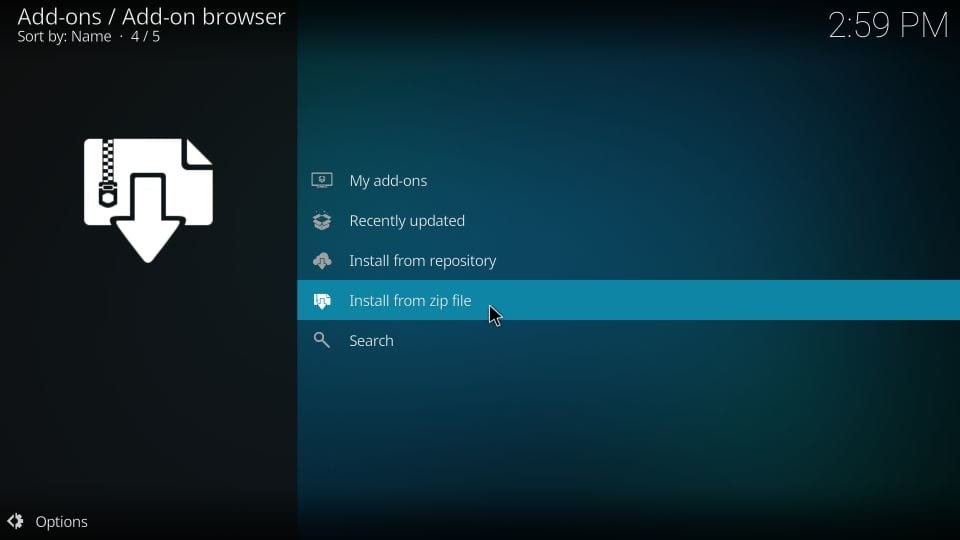 9. Install from zip file window will appear. From the list, select the name you have set for the Team Crew repository zip file; in my case, it's the crew.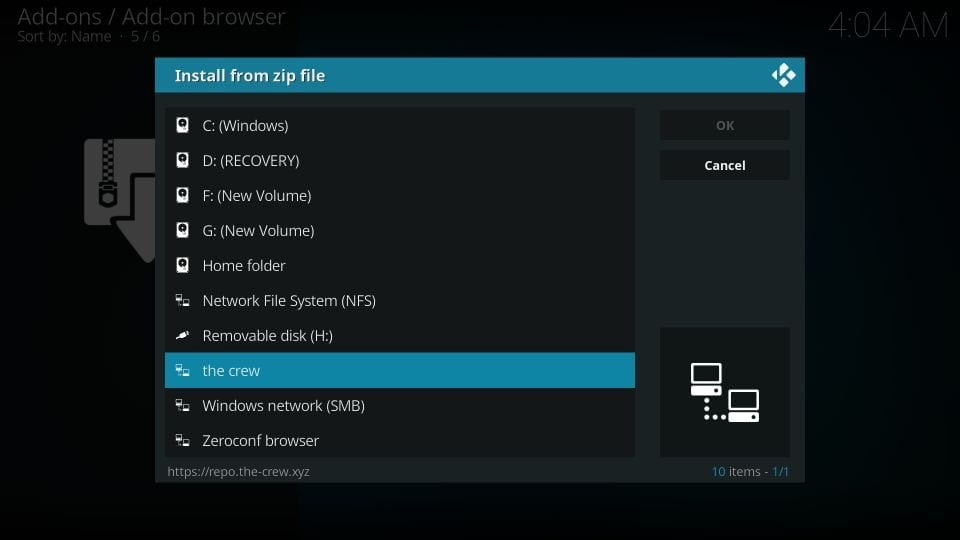 10. Then, you'll see the zip files/file of the Crew Kodi add-on repository. Select the first one or click OK.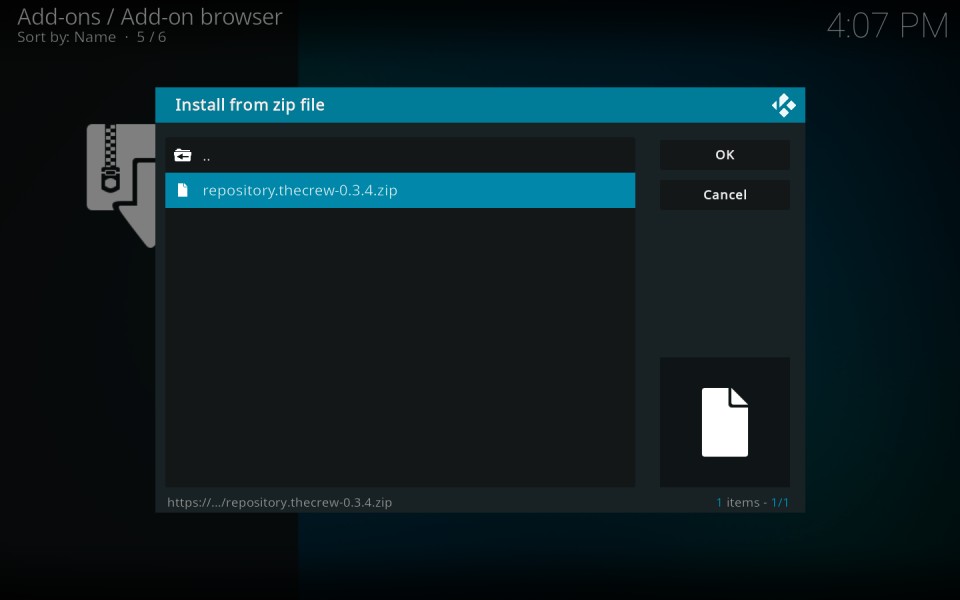 11. The Crew addon repo will start downloading and installing. And once it's loaded on your Kodi app, you'll receive a notification.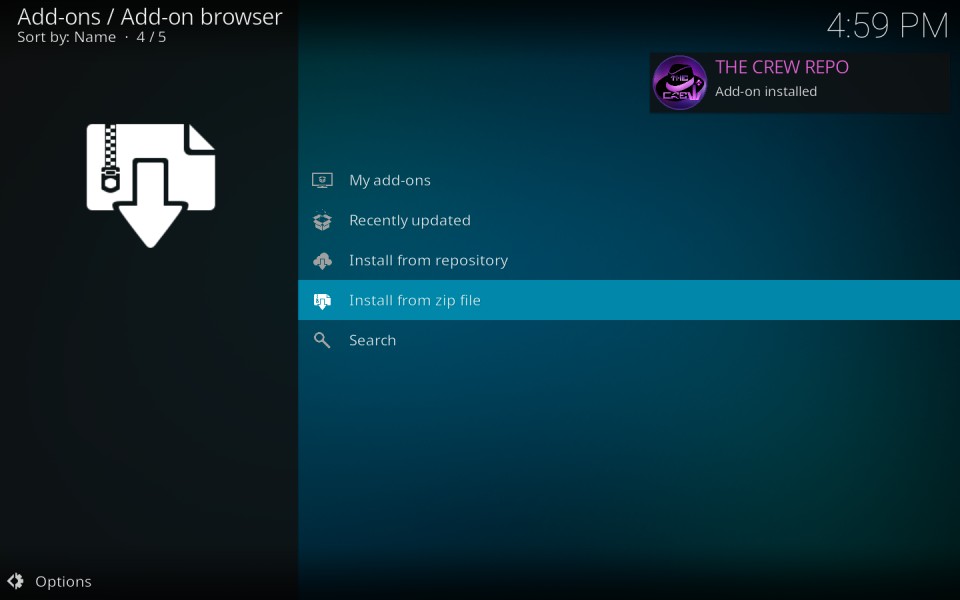 Part 3: Install The Crew Kodi Addon
Now, we are finally going to install the Crew addon using the repo we have loaded in the previous section.
1. On the same Add-ons tab main menu, select Install from repository.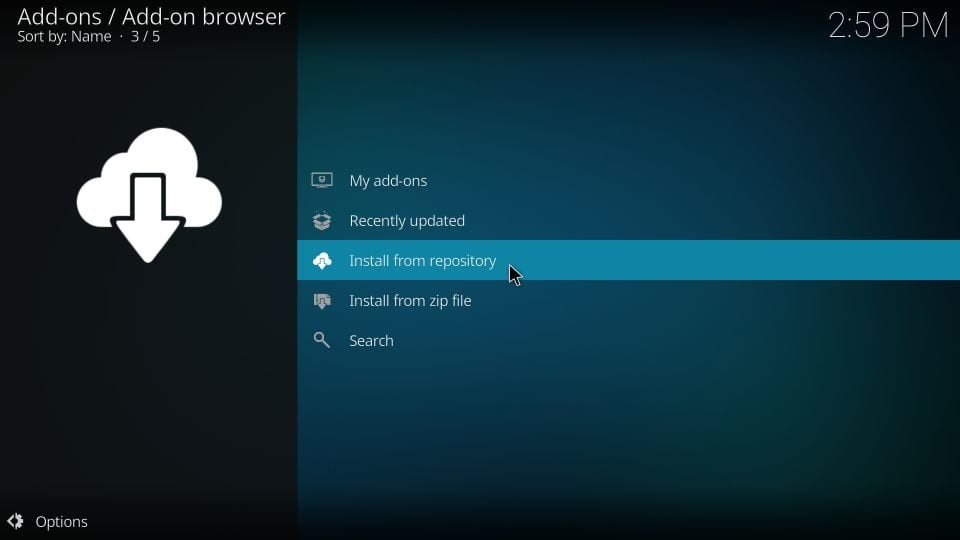 2. On the next page, select THE CREW REPO.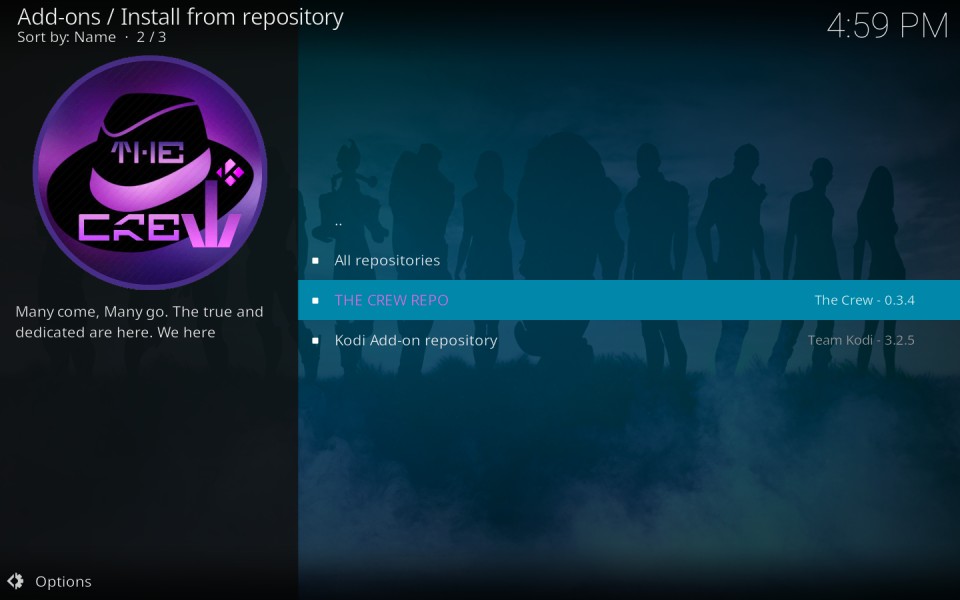 3. Then, scroll down and select Video add-ons.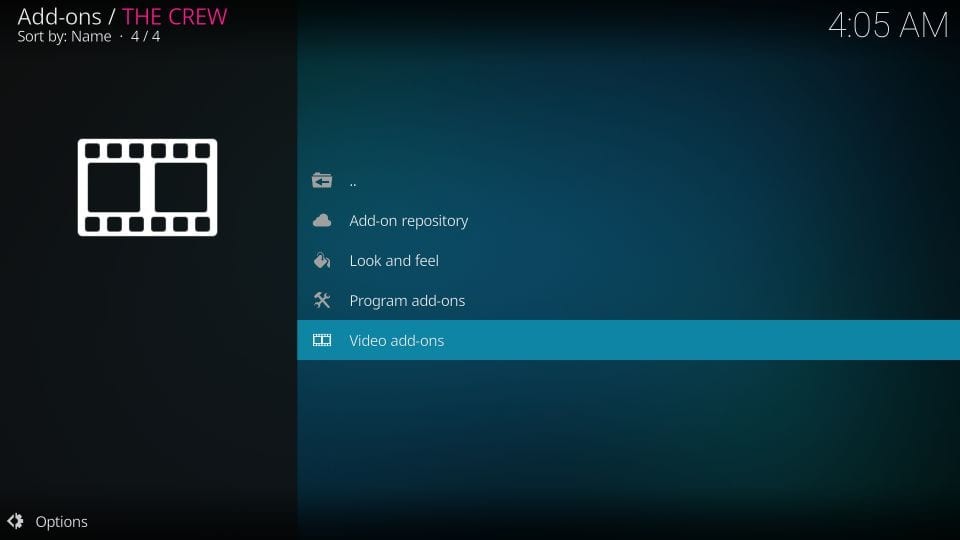 4. On the next page, you'll see all the video addons provided by the repo. Scroll down and select THE CREW.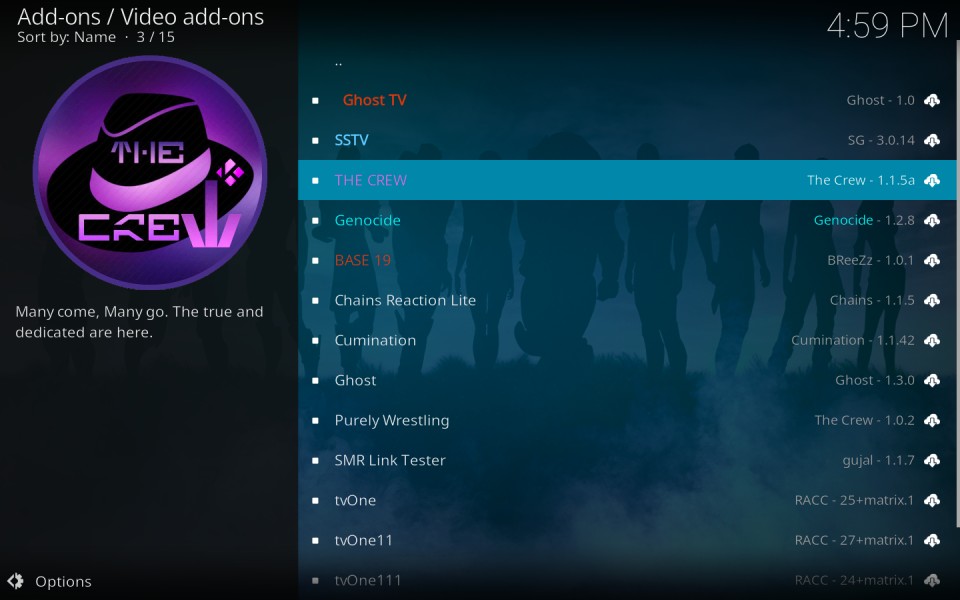 5. THE CREW dashboard will open up. Select the Install icon located on the bottom right side of your screen.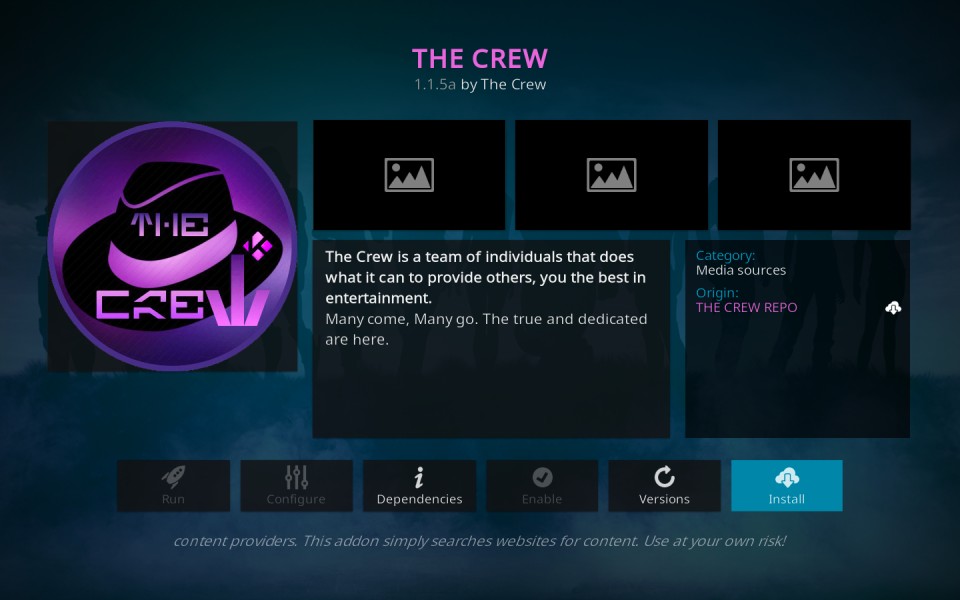 6. Another pop-up window will appear asking you that the following add-ons will also be installed as dependencies. Click OK.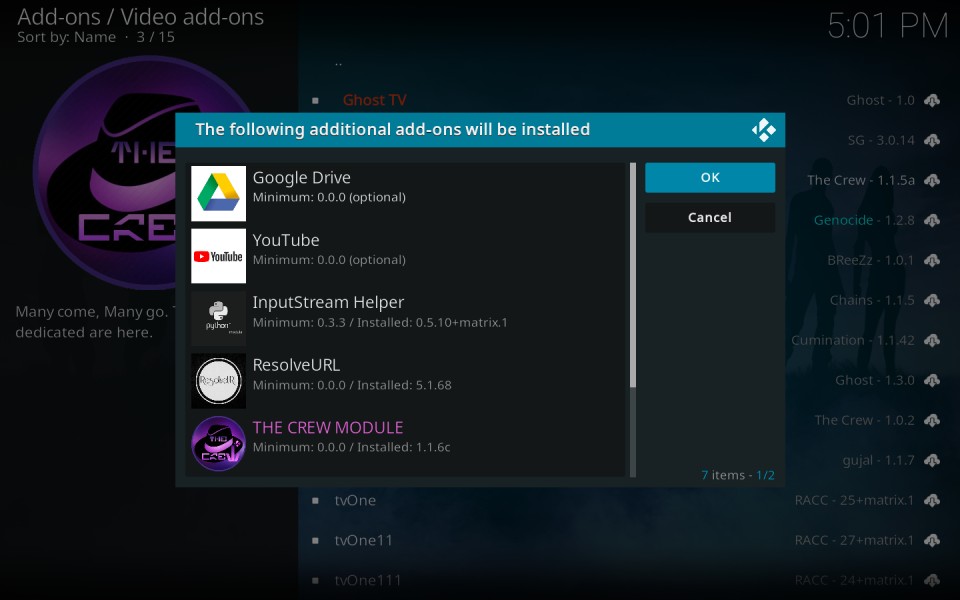 7. Wait for the Kodi app to download the files to install the Crew Kodi addon.
Then, wait for a few seconds to let the app install the dependencies of the add-on.
And lastly, you'll receive notification that the Crew add-on on Kodi has been installed successfully.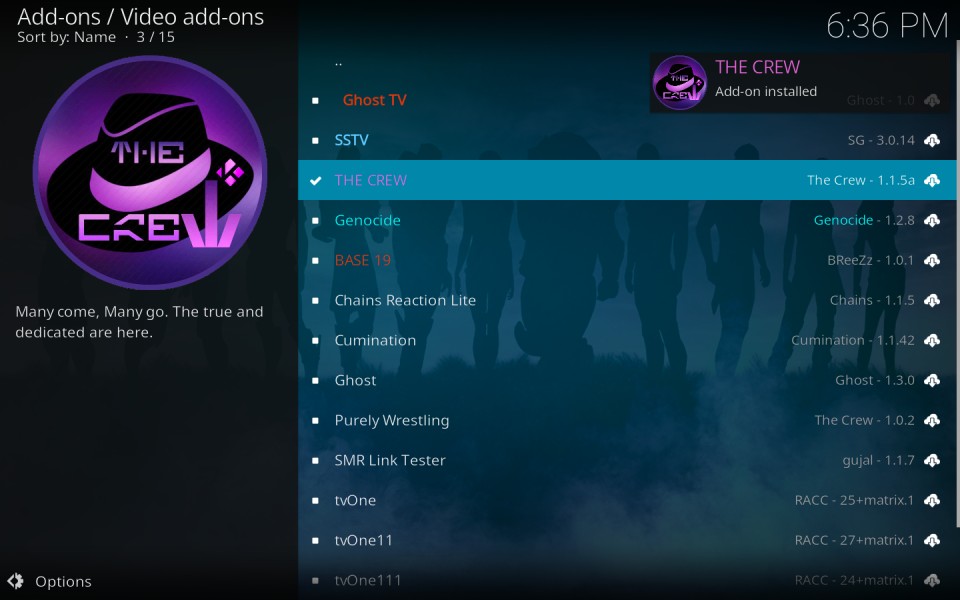 Congratulations! You have installed the Crew addon on your Kodi app. You can access it via the Add-ons tab on your home screen or the installed addons sub-menu inside the Add-ons Settings menu.
Looks like you are all set to start watching your favorite content. However, do not forget that all your streaming activities and your online identity are still unprotected and exposed to your Government and your ISP. Streaming with third-party services may cause legal trouble.
Thankfully, you can easily protect yourself and go invisible from your Government and ISP by using a VPN. Whenever I am streaming with Kodi, I always connect to ExpressVPN and recommend the same to you.
ExpressVPN is the fastest and the most streaming-friendly VPN. It is also the most secure VPN.
With ExpressVPN, you get a 30-day money-back guarantee as well. Although I don't see any reason why, if you do not like the service, you will get a full refund within 30 days.
Please remember that we encourage you to use a VPN to maintain your privacy. We do not condone breaking the copyright laws.
Before you start using Kodi for streaming, here is how you can protect yourself with ExpressVPN:
Step 1: Sign up for ExpressVPN Here
Step 2: Download ExpressVPN on your device by clicking HERE
Step 3: Open the ExpressVPN app on your device. Sign in with your account. Click the connect/power button to connect to the VPN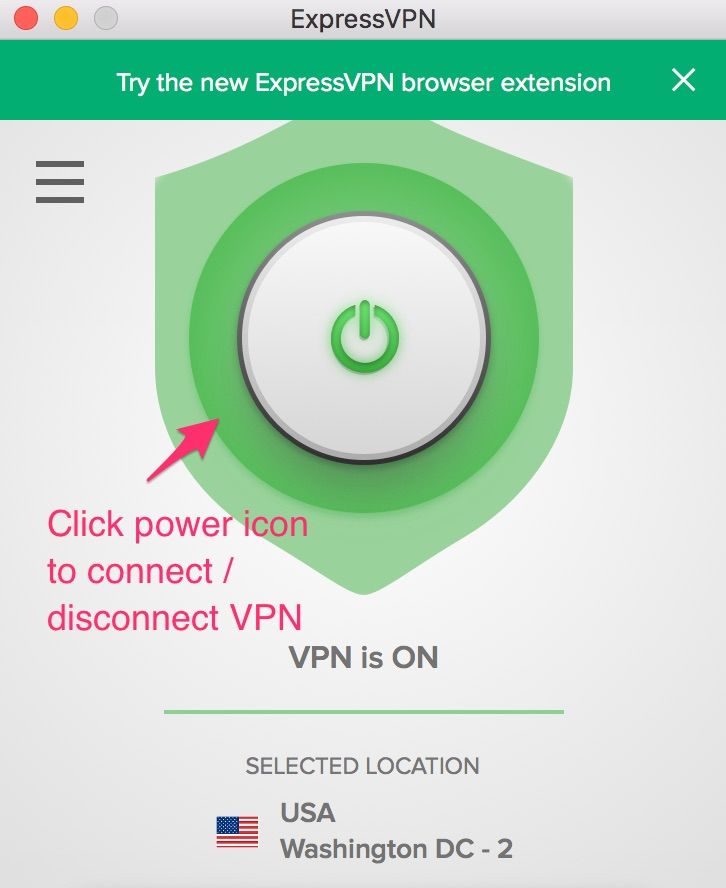 Great! You have successfully secured yourself with the best Kodi VPN.
How To Use The Crew Kodi Addon
As mentioned above, I'm also going to walk you through the Crew add-on. So without further ado, let's see how you can stream movies, watch stand-up comedy, and more using the addon.
First, launch Kodi on your device or return to the app's home screen. After that, go to the Add-ons tab located on the left-hand-side menu panel. Then, select Crew add-on.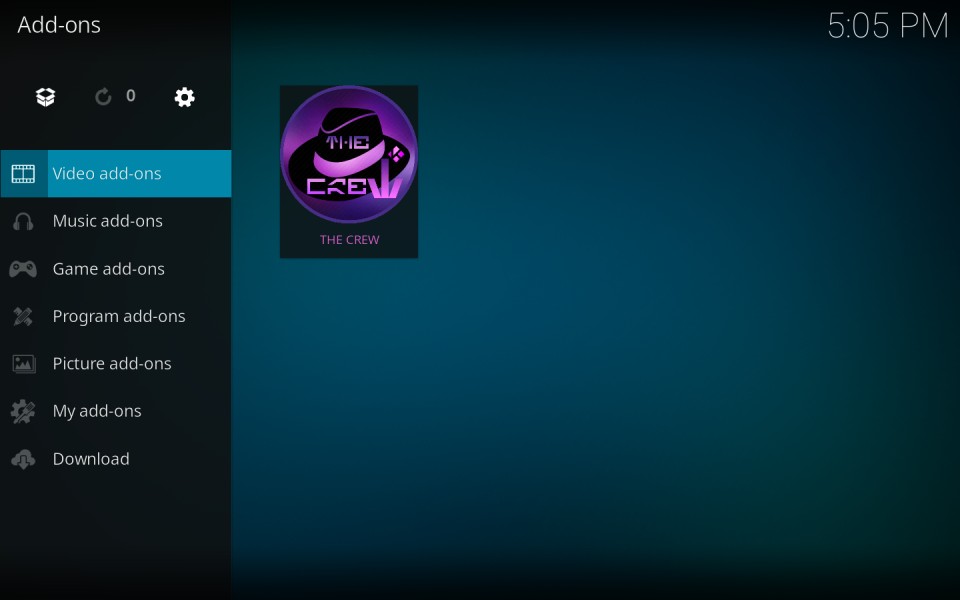 After that, you'll land on the home page of the add-on. You'll see various sections like Movies, TV shows, IPTV, Kids, 1 Click, Stand Up Comedy, and more.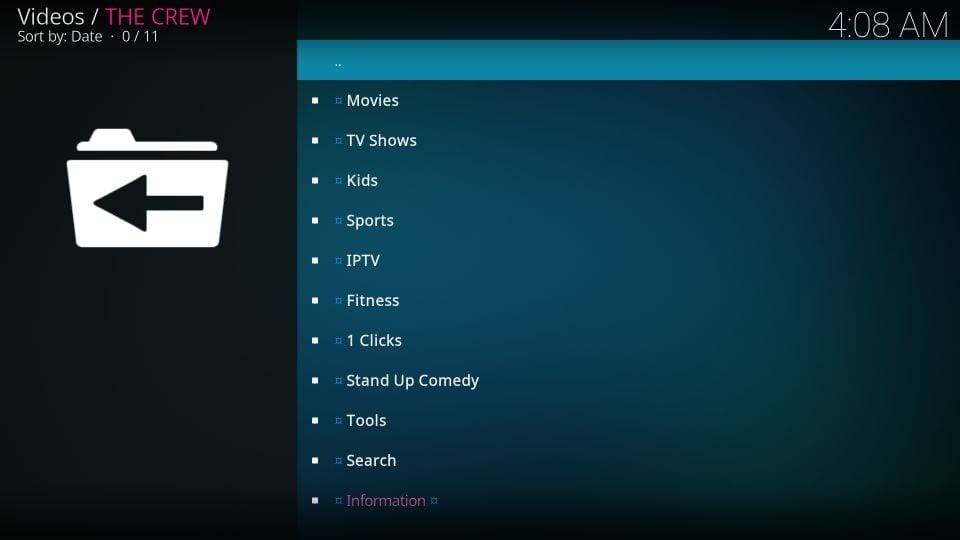 To watch movies, select the Movies section. Inside, you'll find tons of categories like Trending, Most Popular, Box Sets, Box Office, etc. And inside the folders, you'll find relevant content.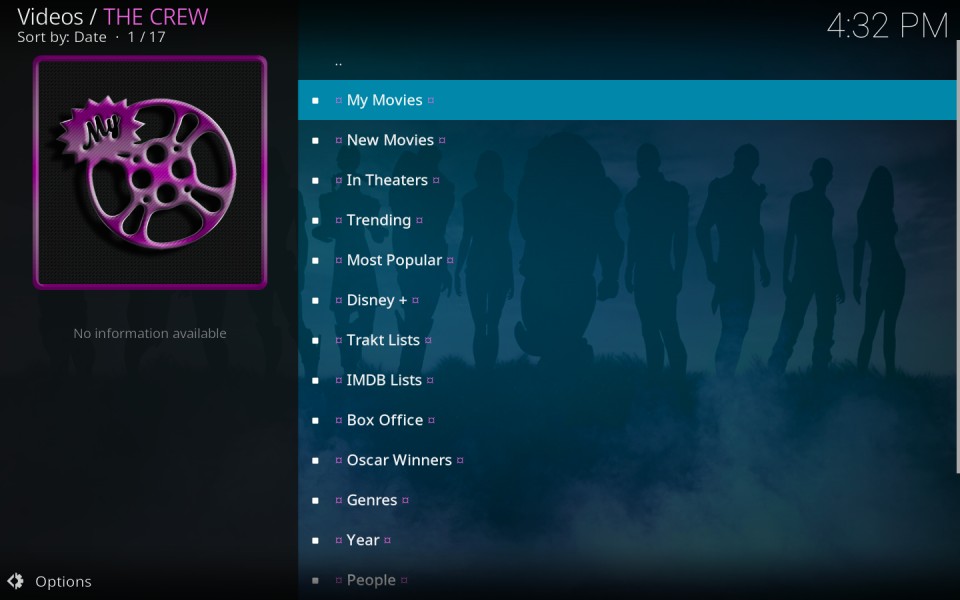 Pick any sub-section, like I picked New Movies. Inside the section, you'll see all the related titles or, in some cases, more folders.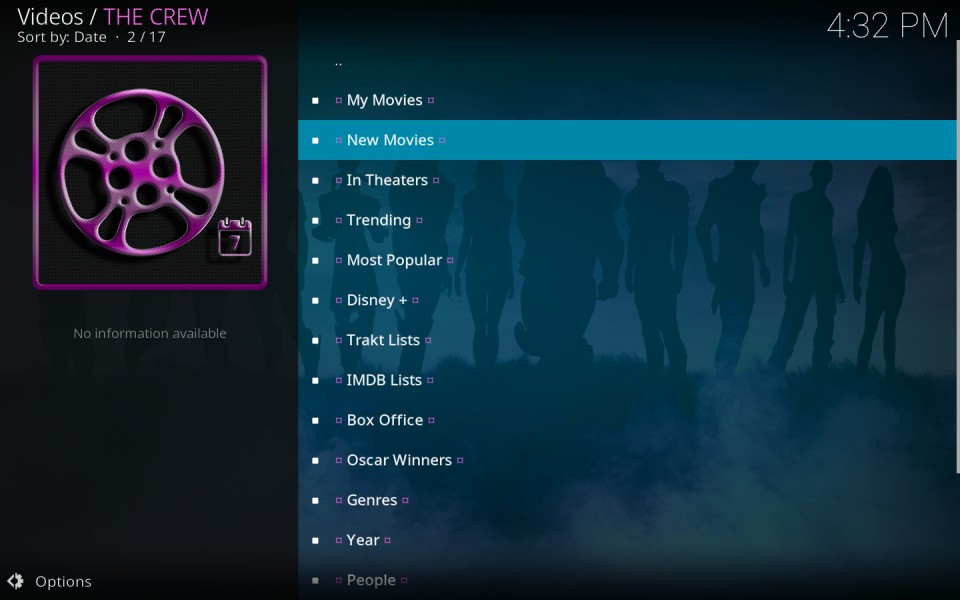 Select a title and wait for the Crew add-on to scrap links. After a few seconds, you'll be presented with the links. Pick one and let it load to play your desired content.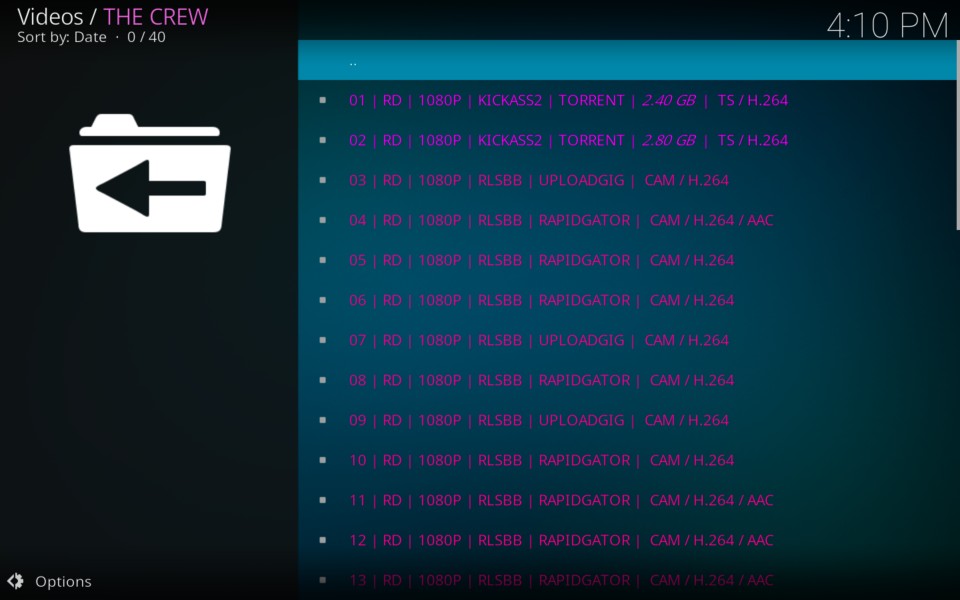 Next up, to stream TV shows, select the TV Shows section on the addon's home screen.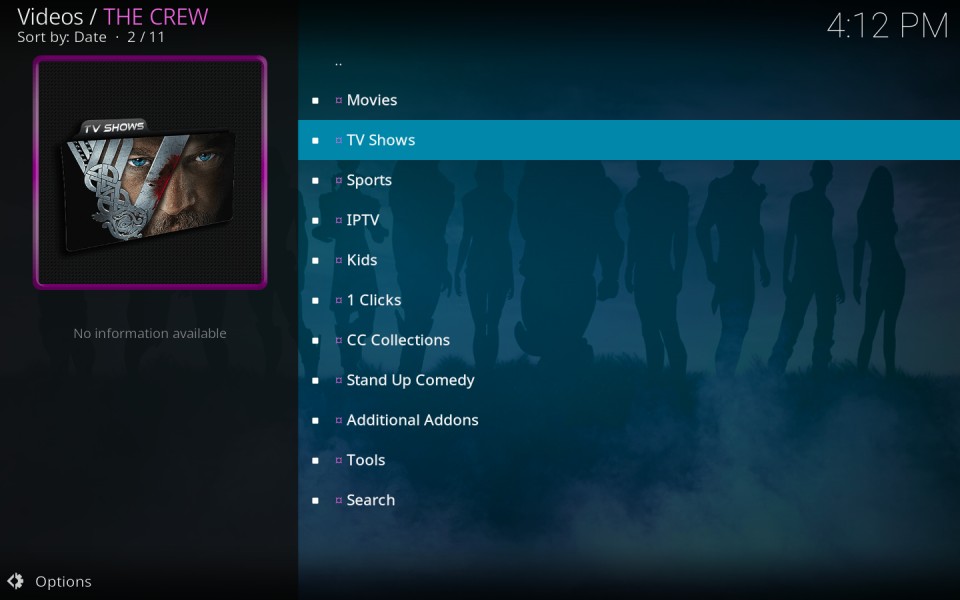 Inside, once again, you'll come across various categories. Pick one, like I picked New Episodes. And then, you'll see all the relevant content.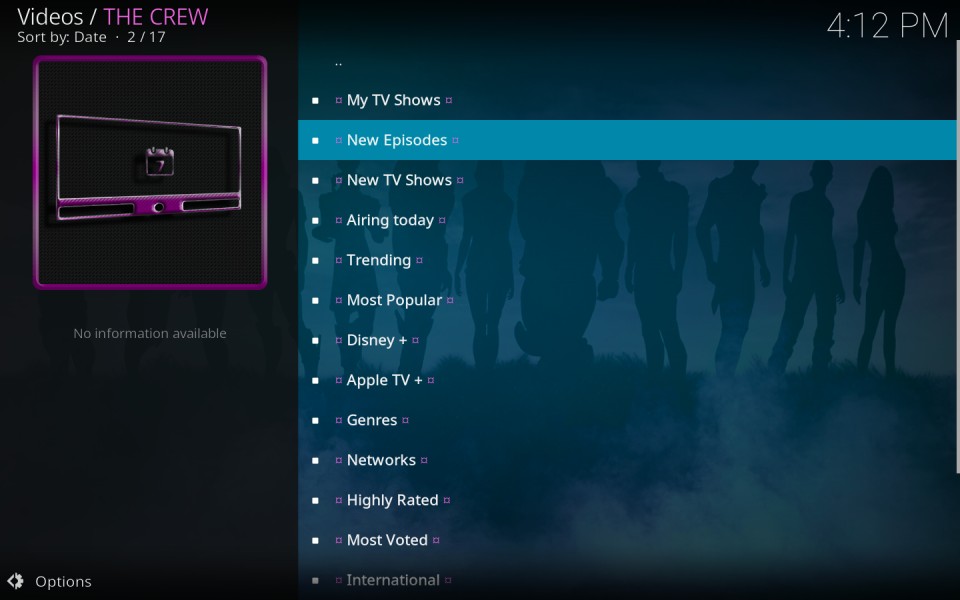 To watch high-quality streams of sports events, select the Sports section.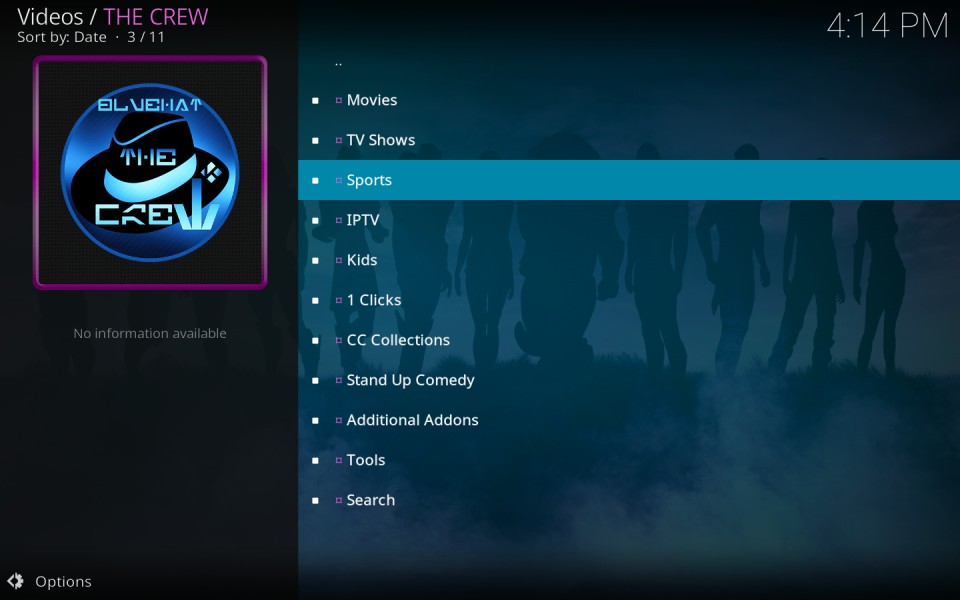 You'll see a long list of all types of sports. Select any category to catch up with the upcoming or live events. The Crew add-on also lets you watch internet protocol television. To do that, select IPTV on the home page. Again, you'll see some categories; select any one (like I did Live Channels DL) to access hundreds of free TV channels.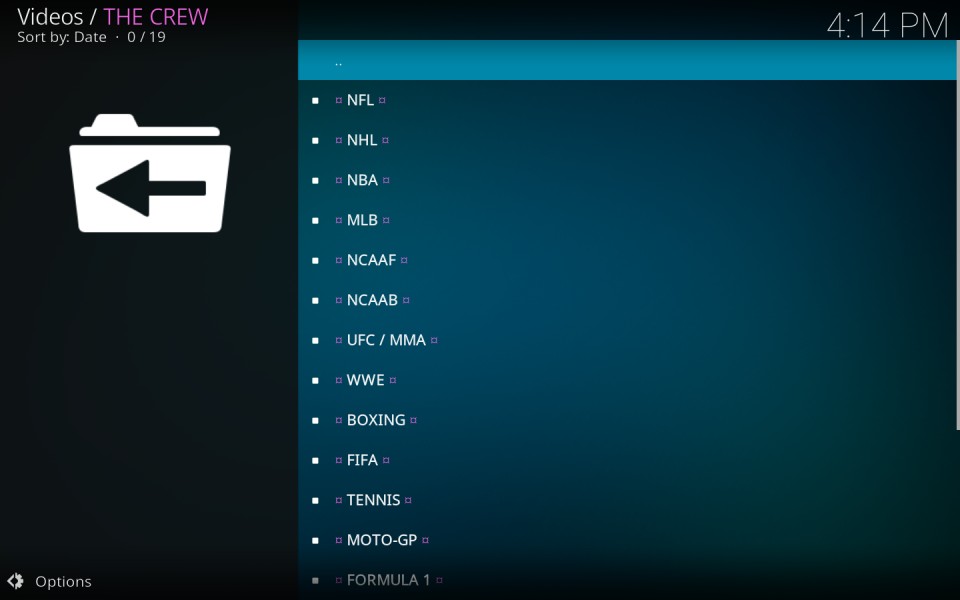 Lastly, to search for specific content, select Search. Then, select a sub-option like Movies, TV Shows, People – Movies, or People – TV Shows according to your search term. After that, click New search…, enter search terms and click OK. You'll see all the results that matched your query.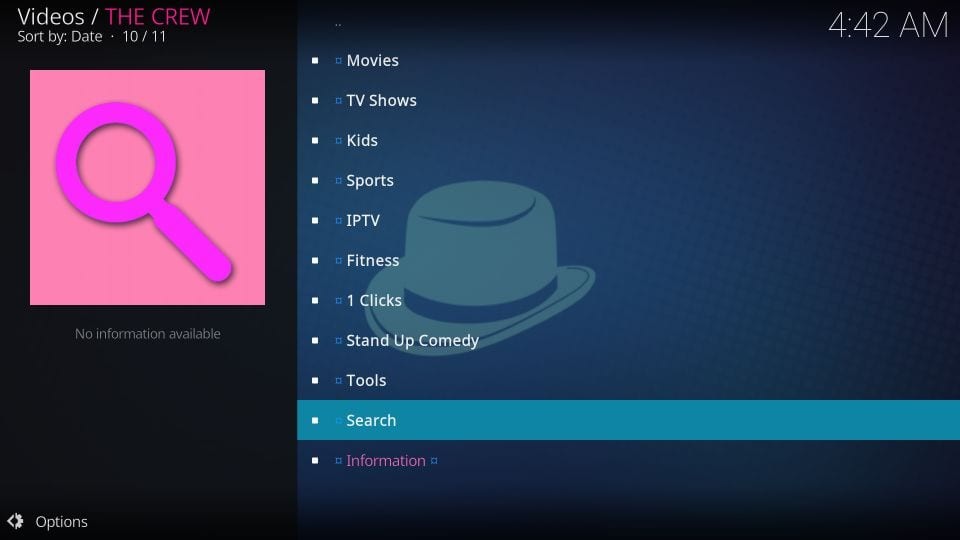 Final Words
FireStick, PC, Android, Mac, and you name it, Crew addon on Kodi can be installed on any supported device. And then, you can use it to watch free movies, popular TV shows, and more.
So what are you waiting for? Install The Crew Kodi addon today to delve yourself into the ocean of entertainment.
Related: