This tutorial will lay out the steps to install Gaia Kodi addon. This guide applies to Kodi installed on FireStick, Mobiles, Computers and all the compatible devices.
Gaia Kodi addon has made a solid comeback after a long absence from the Kodi world. The addon was shut down and later revived. As of now, Gaia looks like a pretty decent video-addon for Kodi. With a sizeable database of movies, shows, documentaries, sports, and kids' videos, it provides several hours of streaming.
At the time of writing this guide, Gaia employs two popular scrapers – Civitas and Open Scrapers. Both are known for providing quality streams. However, I have noticed that this addon works better with Real Debrid integration.
Gaia seems to be a little resource-intensive. Hence, it might get a bit slow on some devices sometimes. However, usually, it works alright.
While the installation of Gaia addon is quite regular, it requires special setup. If you don't want to go through the setup process, you may explore other options on our list of Best Kodi Addons.
Here is what you should expect from this guide:
Steps to install Gaia Kodi addon
Steps to set up the addon
Steps to sign in to Real Debrid
How to access and use Gaia addon on Kodi
Attention KODI Users:
 Read before you continue
FireStickHow.com does not verify the legality or security of any addons / builds / services covered on this website.
I strongly suggest you protect your identity and security with a good Kodi VPN when using low-cost or free streaming services. A VPN will encrypt your connection and hide your original IP address that makes impossible for ISPs, hackers, and Governments to find out what you are doing online.
I personally use and recommend ExpressVPN due to its blazing fast speeds, 256-bit strong encryption, zero-log policy, and incredible 24×7 support. It also comes with a risk-free 30-day money-back guarantee.
How to Install Gaia Addon on Kodi
Follow these steps to install Gaia Kodi addon:
1- Go to the Settings first from the main screen. You should be looking at the cog/gear icon under the Kodi logo in the upper-left corner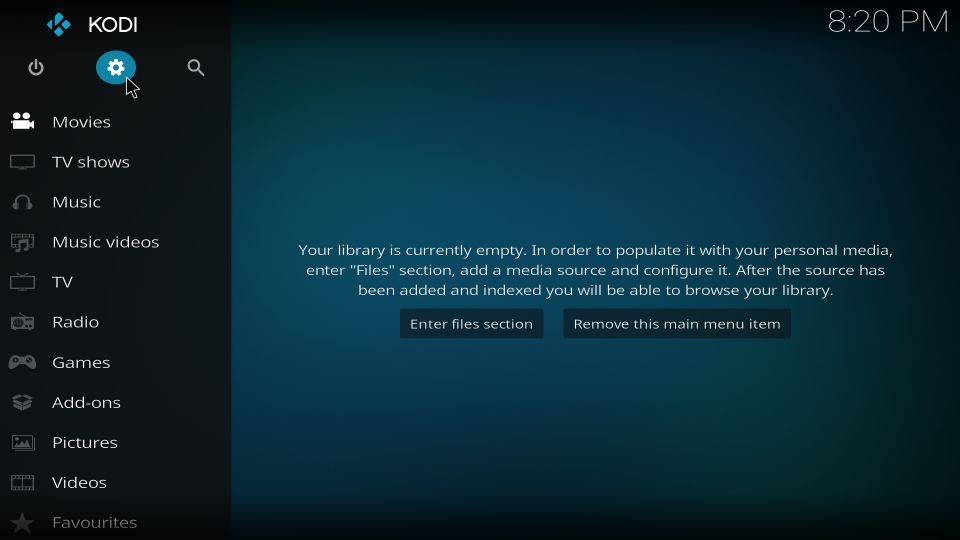 2- Open the option Systems next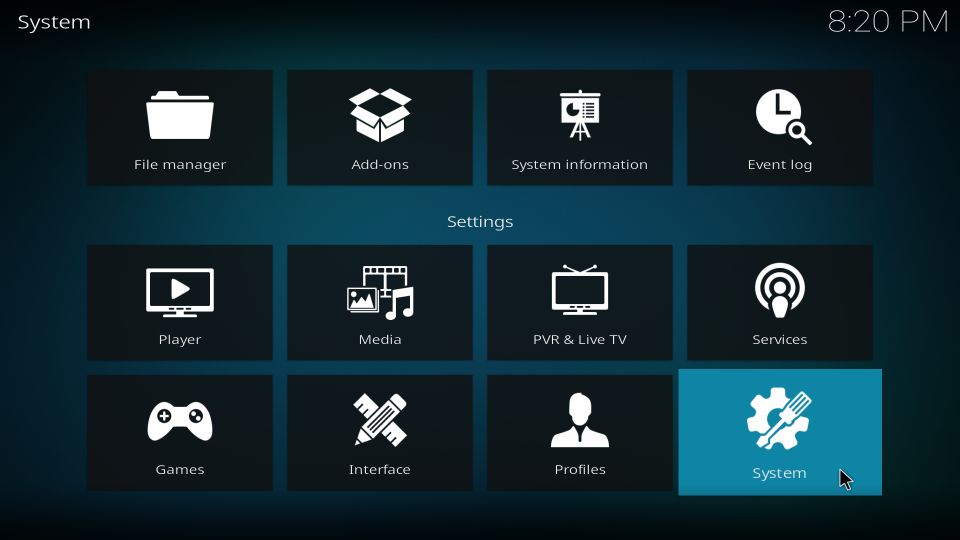 3- On this screen, click the Add-ons menu item (left). Now, enable the option Unknown Sources (right)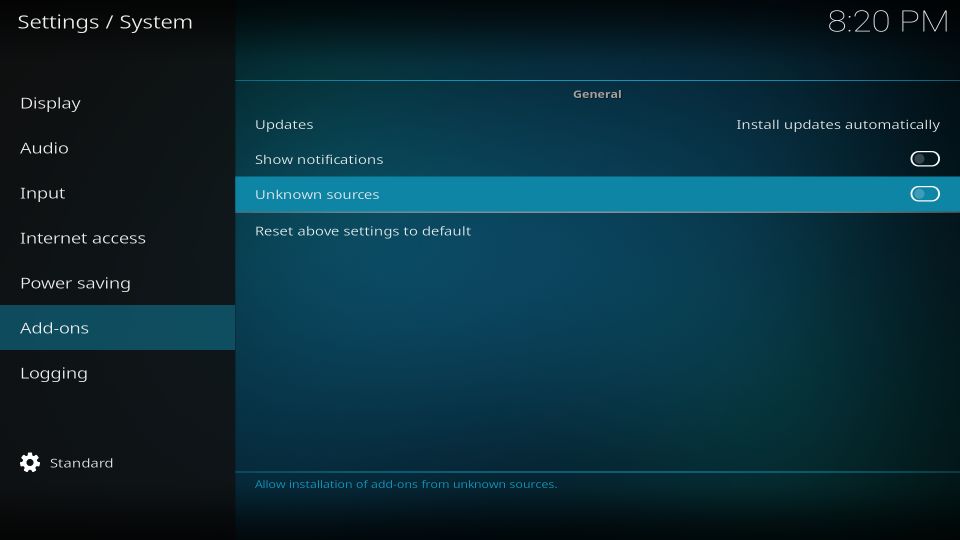 4- This is a warning message. It tells you how the add-ons from unknown sources could harm your device. But, that applies to malicious addons. Gaia is a well-known, safe Kodi addon. No worries here at all!
Click Yes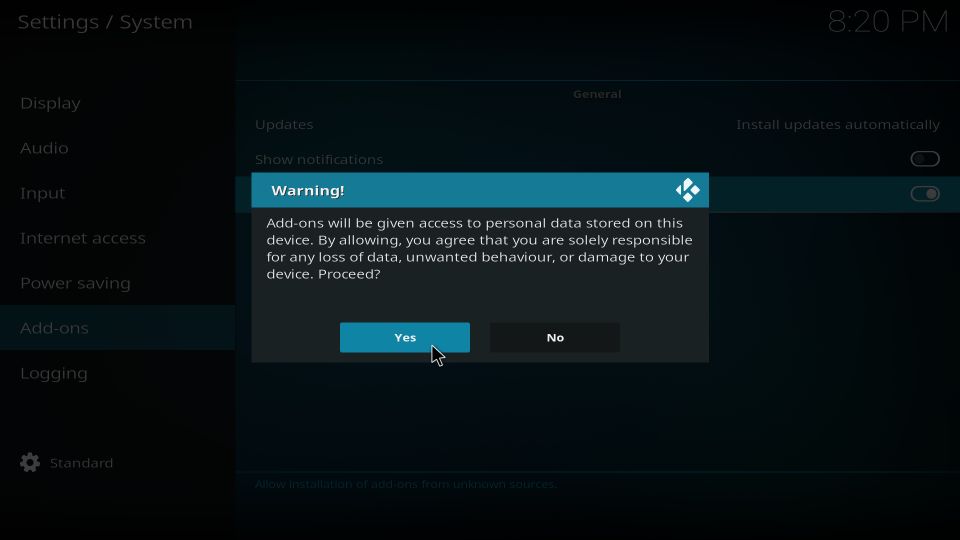 5- Press the back button once or head back to Kodi home screen and open Settings again. On this window, click File manager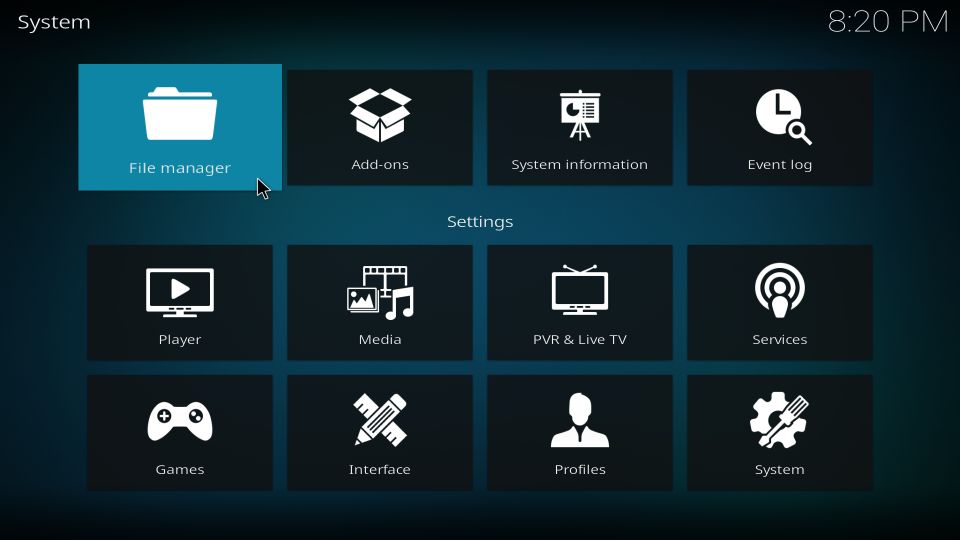 6- Click and access the item Add source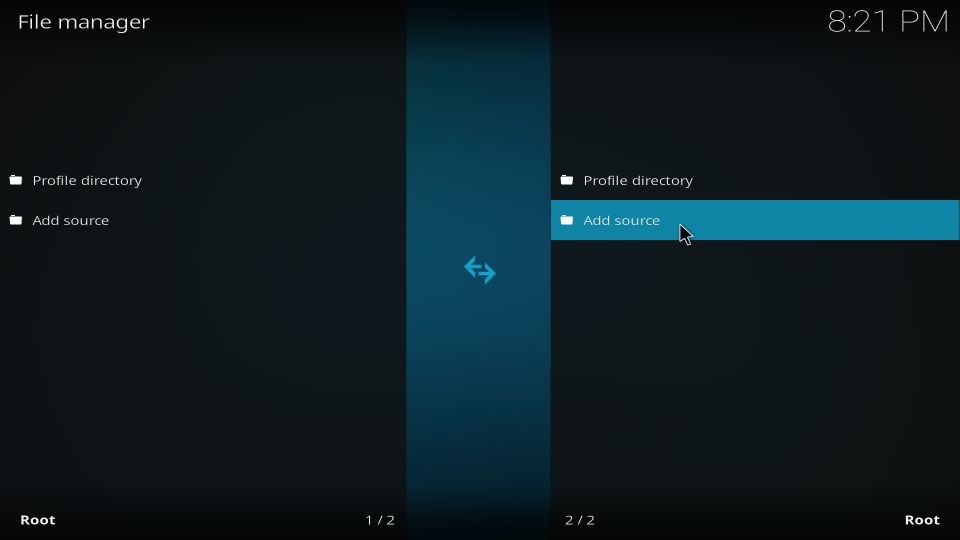 7- This is the window where you will supply the source path and source name. First, click <None>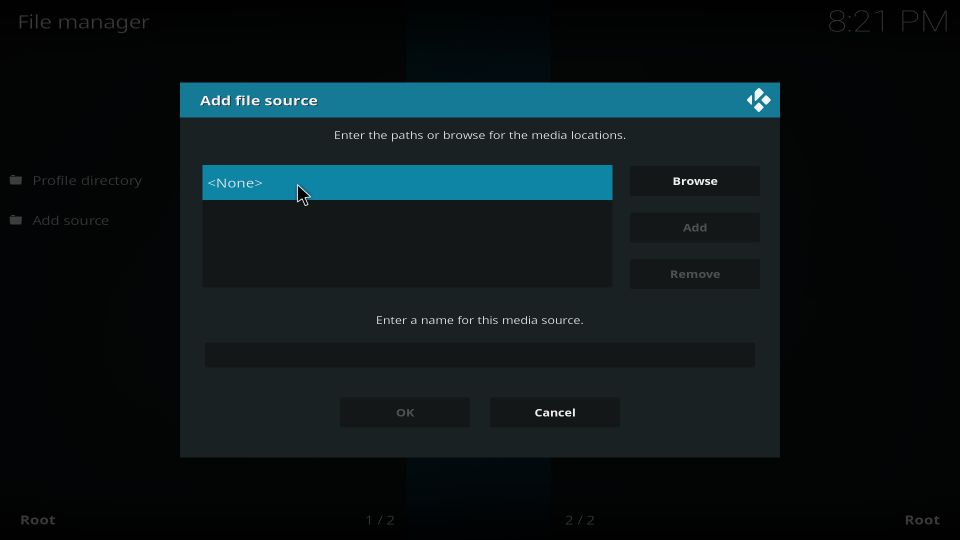 8- Following is the URL for Gaia Kodi Addon: https://repo.gaiakodi.com/
Type it carefully to avoid any mistakes.
Click OK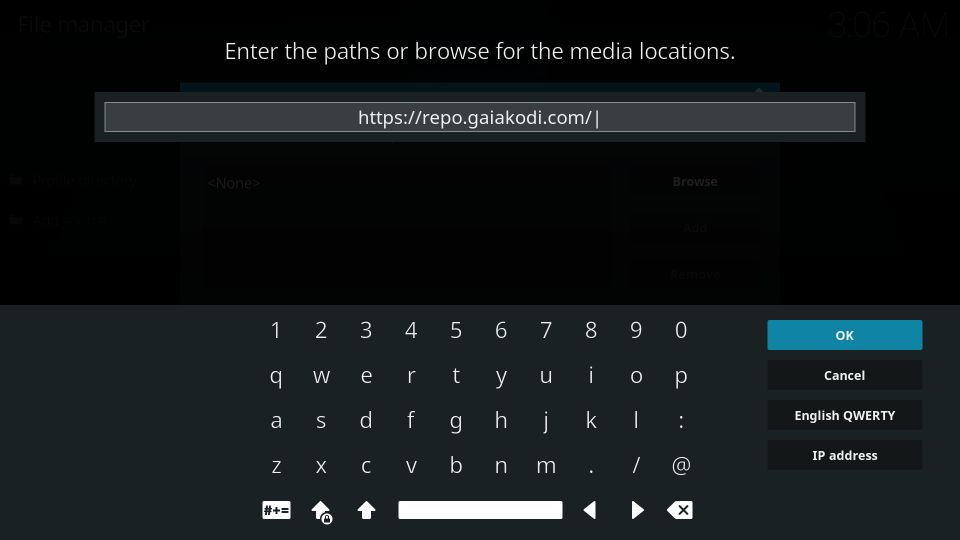 9- Now add the source name. It is completely up to you what name you choose. Just make sure you remember it later. For the sake of relevance, let's call it gaia
Click OK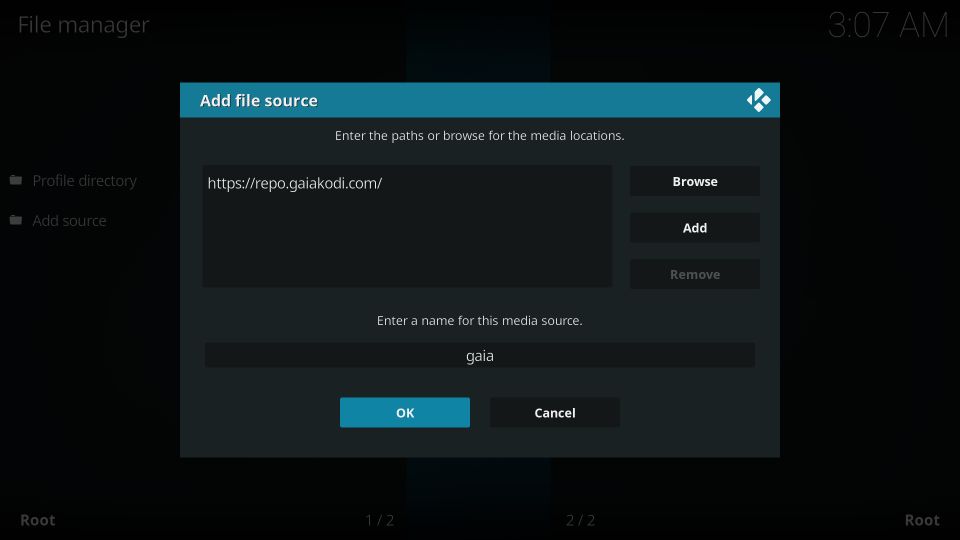 10- Again, press the back button multiple times until you are back on the Settings menu or simply access Settings from the Kodi main screen
When you are here, click Add-ons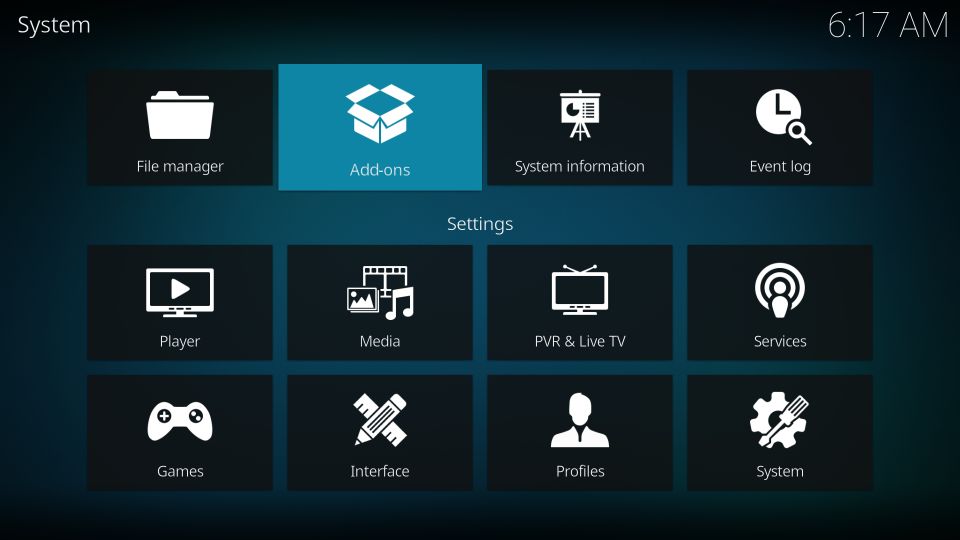 11- On the screen that appears next, open Install from zip file
12- Choose gaia or whatever source name you provided earlier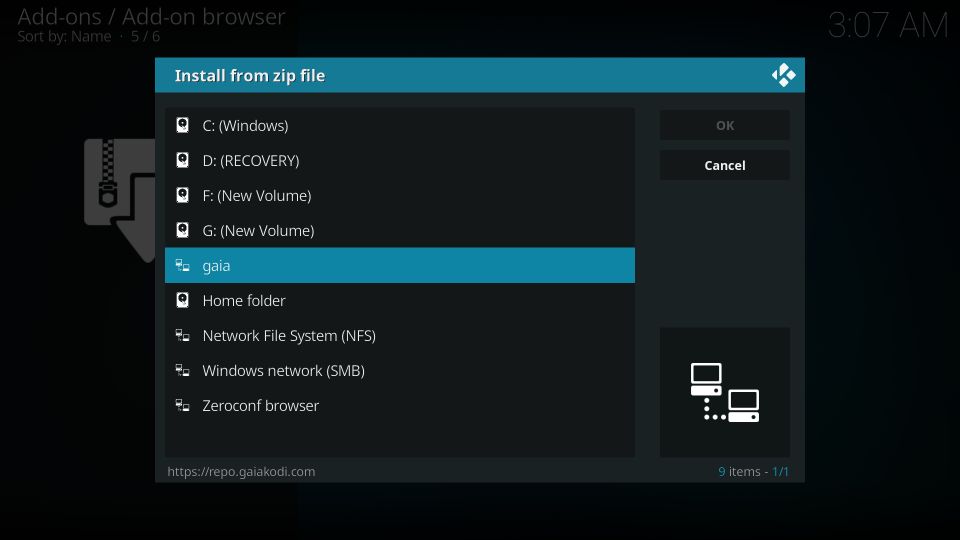 13- Go ahead and click the file repository.gaia.zip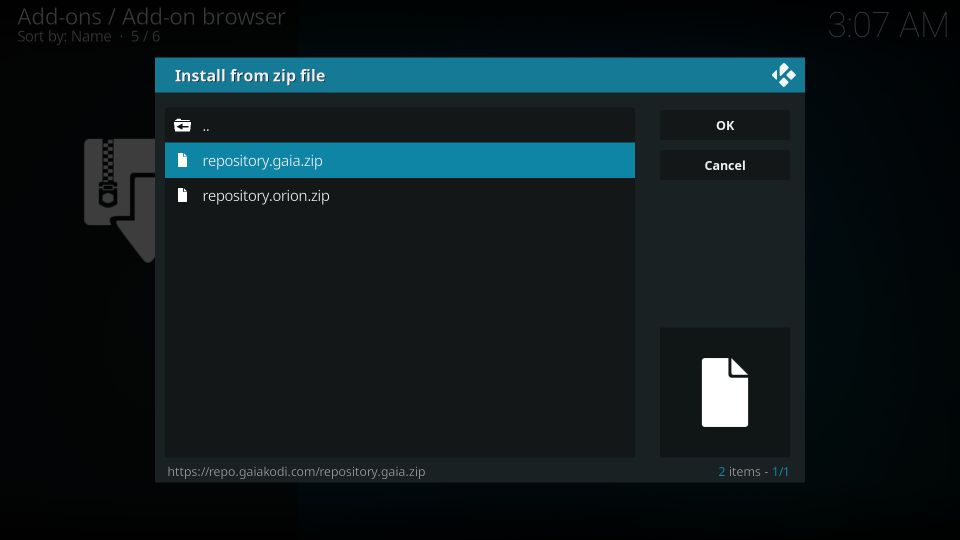 14- Wait for about a minute. Repository installed notification will appear soon on the upper right of the window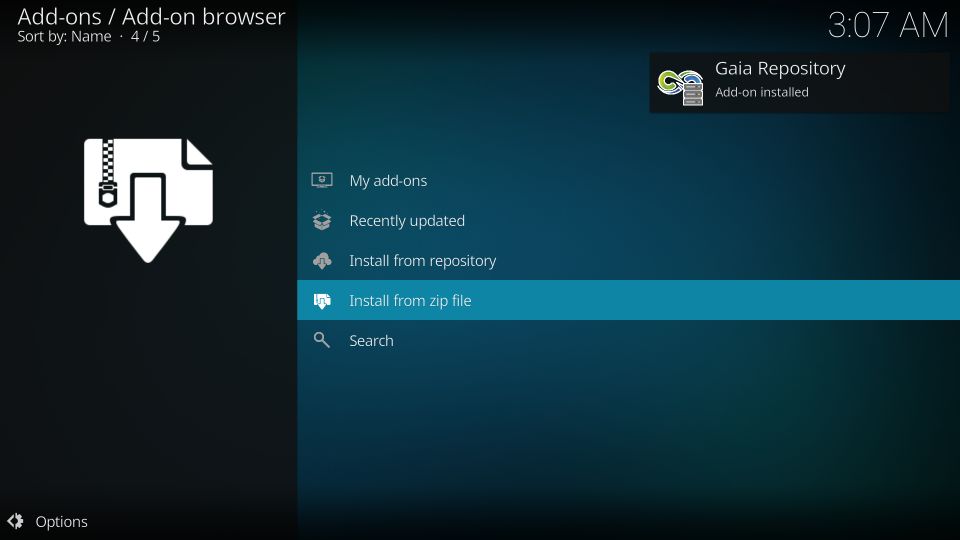 15- Now open Install from repository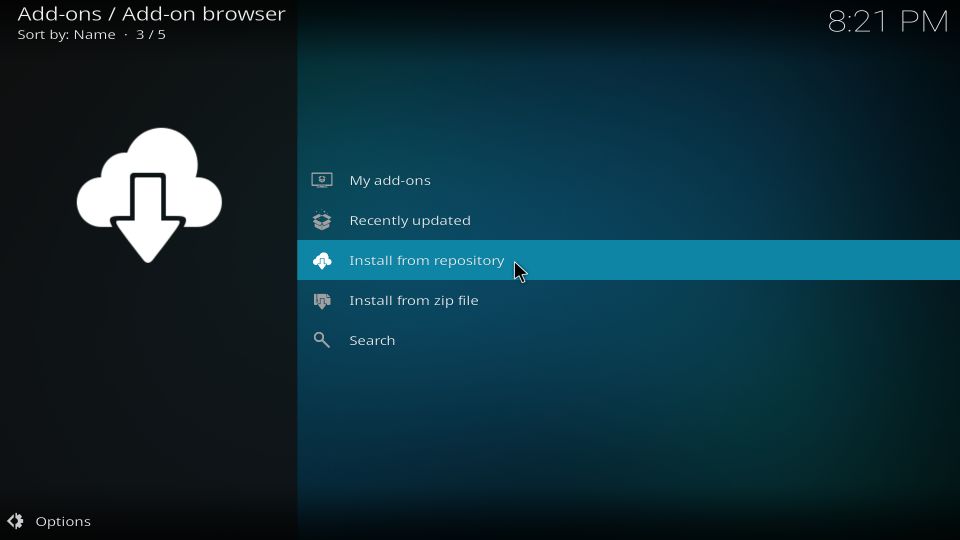 16- Open Gaia Repository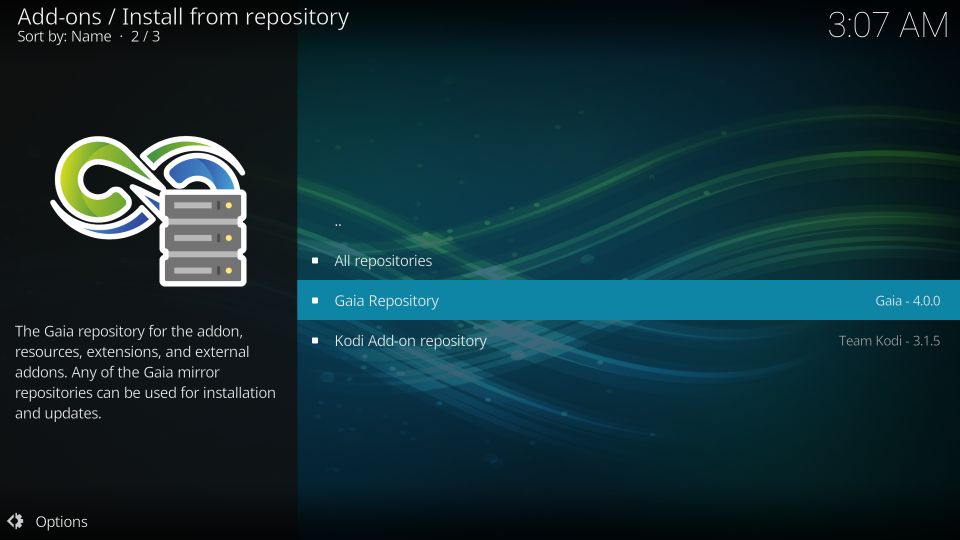 17- Choose Video add-ons next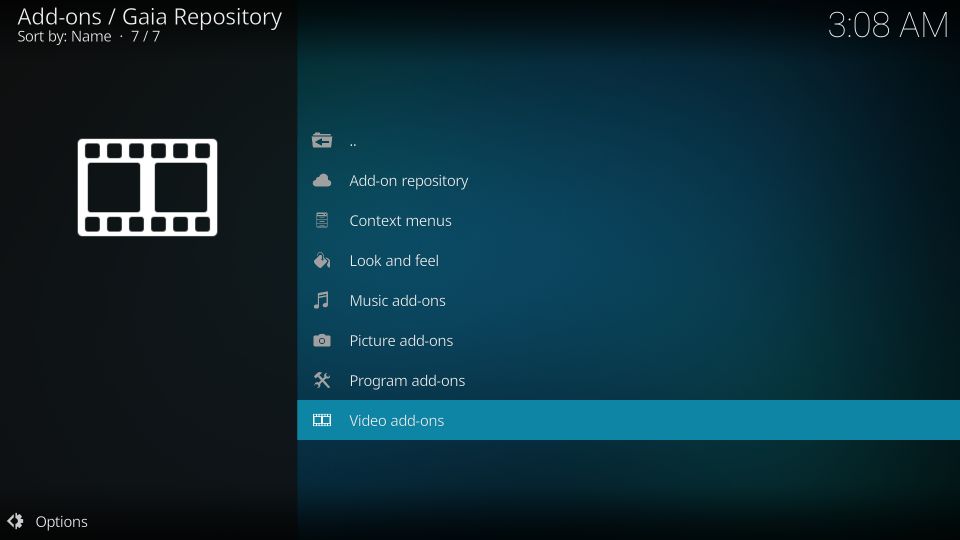 18- Click Gaia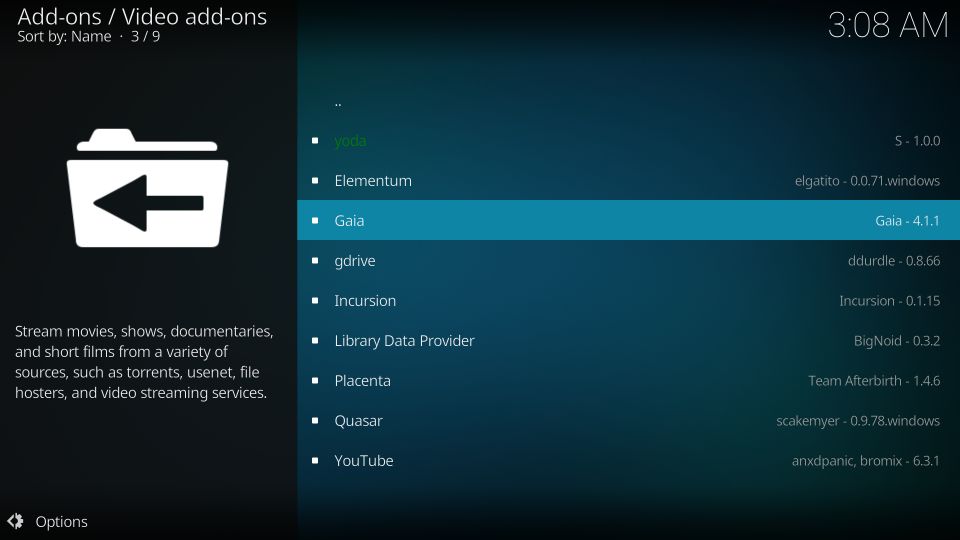 19- Now click the Install button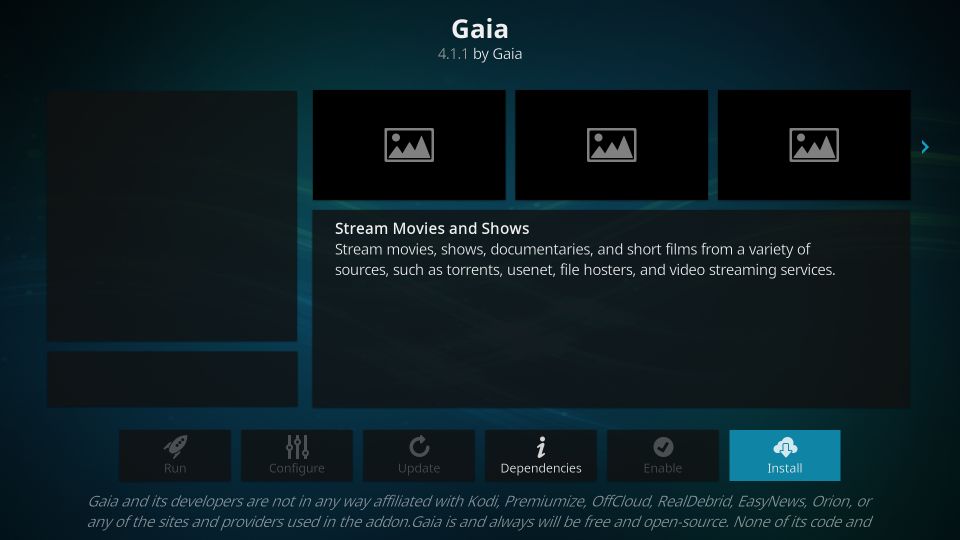 20- Click OK when you see this additional add-ons window. It displays all the supporting add-ons that get installed with Gaia add-on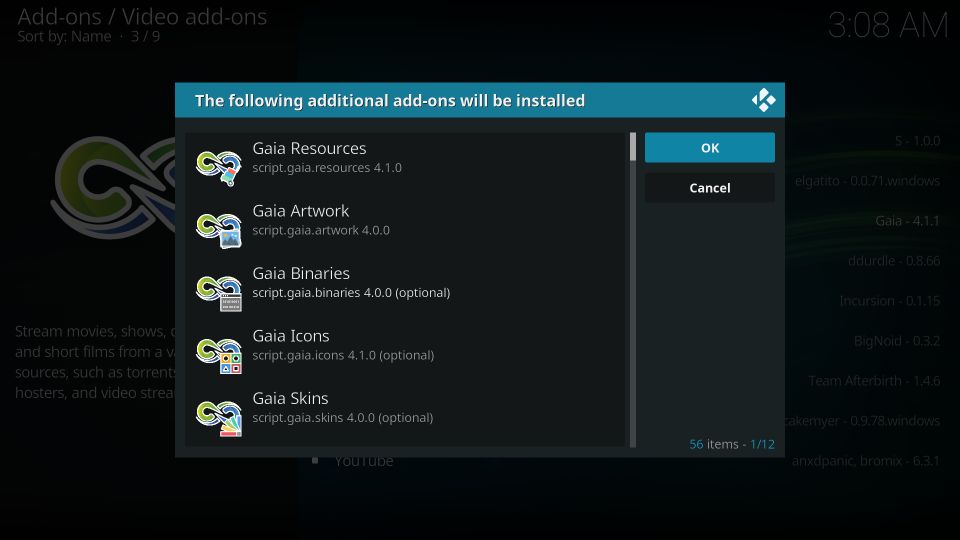 21- Gaia addon will be installed in a minute or probably less. Depends on your network connection. Just wait until you see the Add-on installed message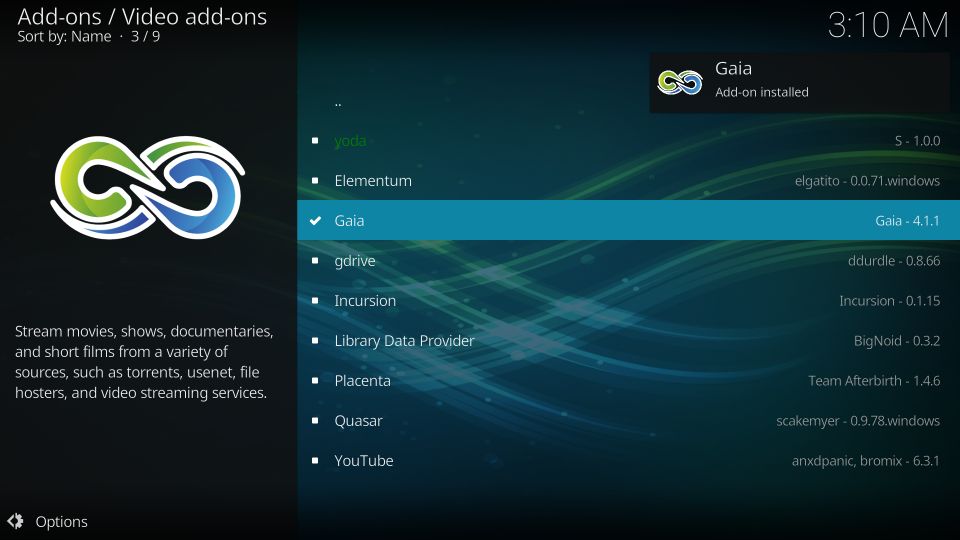 You have installed Gaia addon on Kodi. We will learn to use this addon later. First, let us set it up.
Steps to Set Up Gaia Kodi Addon
Gaia isn't like most Kodi addons. It first needs to be set up before it can be used. If it is not set up properly, it will not stream any content. The set-up process is a bit long and might get a bit confusing. Make sure you follow each step very carefully. Don't worry, it's not that difficult. Just make sure you don't miss any step.
To make it simpler, I will divide the process into two parts as follows:
Part 1: Configure Providers
Part 2: Authenticate Real Debrid
Let's cover both the parts one by one.
Part 1: Configure Providers
Here we go:
1- On the first run, and during the setup process, you should see this message.
Click OK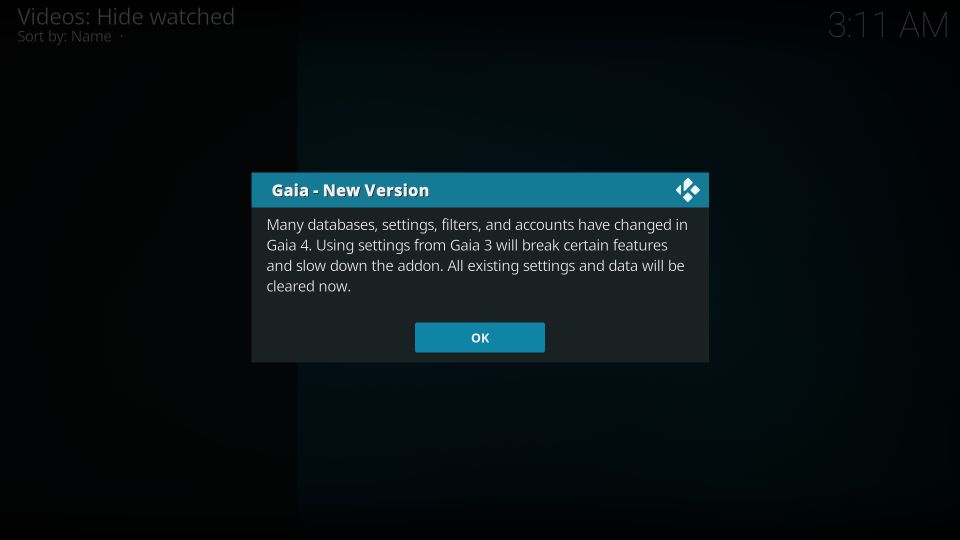 2- You must now see this disclaimer. Choose Agree to continue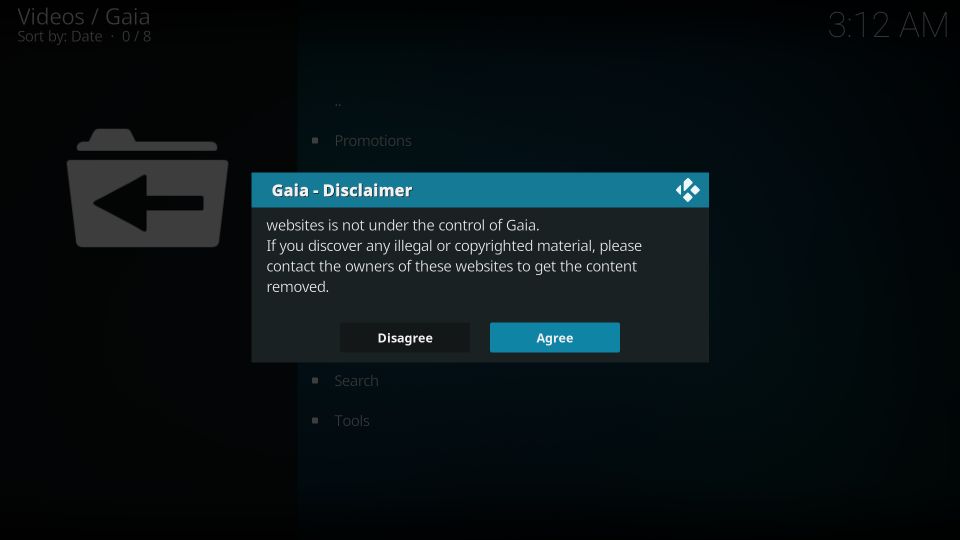 3- This is the configuration wizard prompt. Click OK to proceed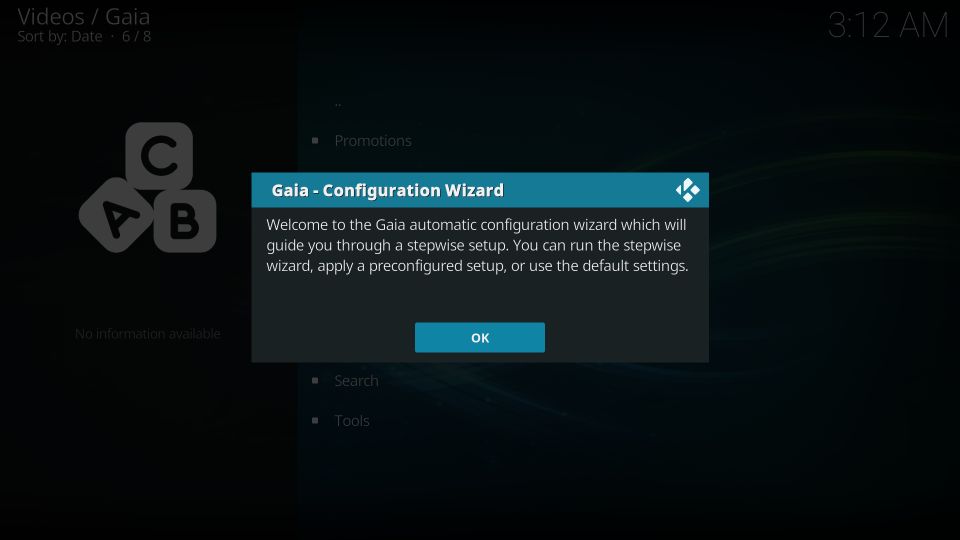 4- Hit OK one more time
5- Choose the following option when prompted: Settings without help labels
If you are a Kodi 17.6 user, choose the first option, Full Settings instead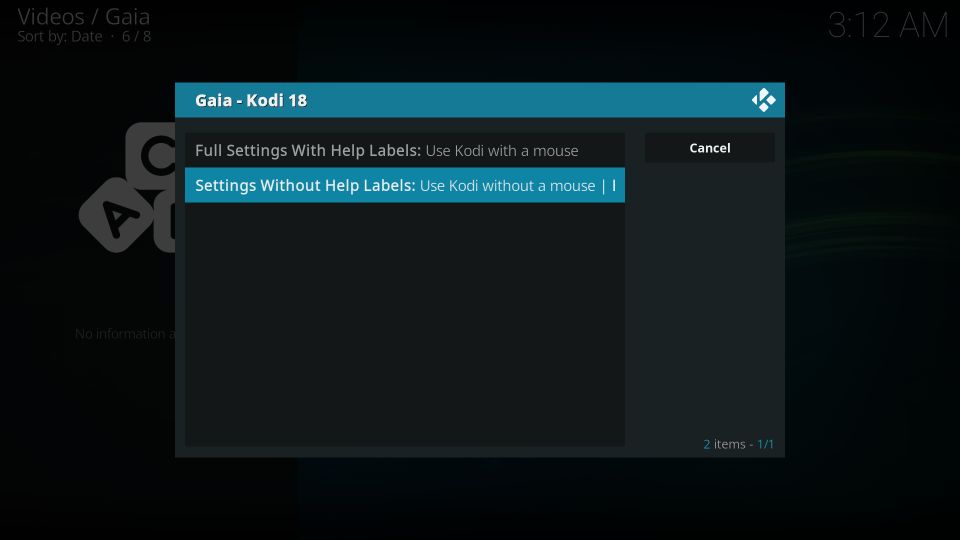 6- The next thing you want to choose is Reaper Setup (2nd option on the following prompt)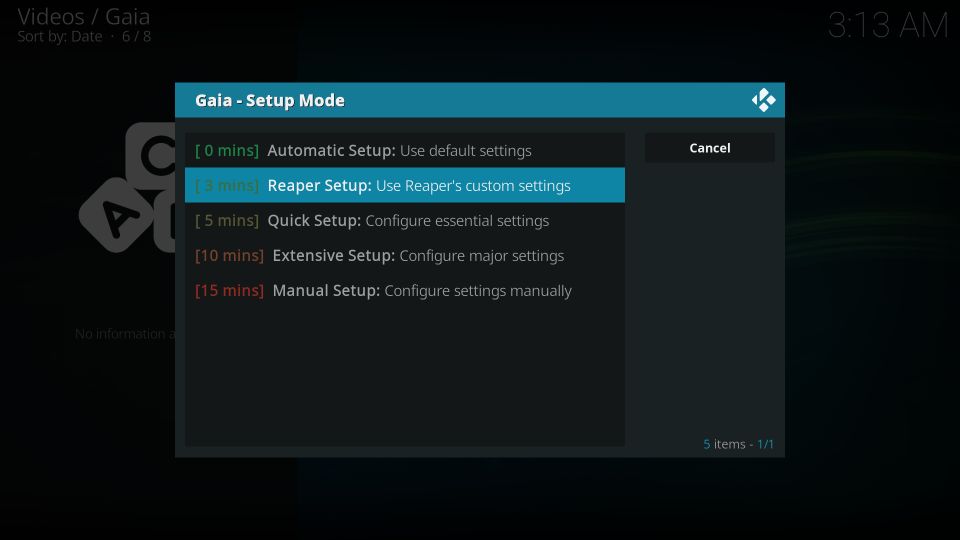 7- Hit OK again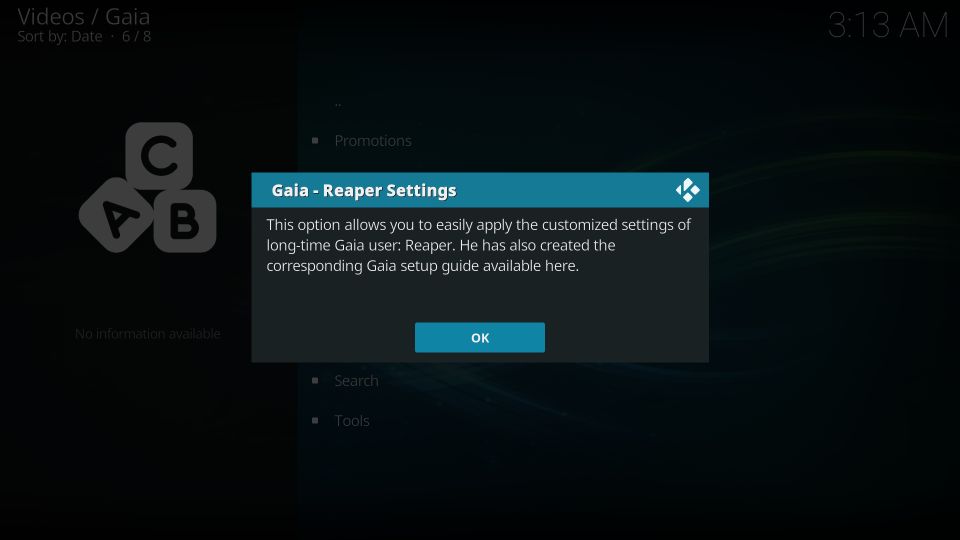 8- Choosing Yes is the only way forward. So, do it
9- Configuration wizard prompt shows up again. Click Continue to proceed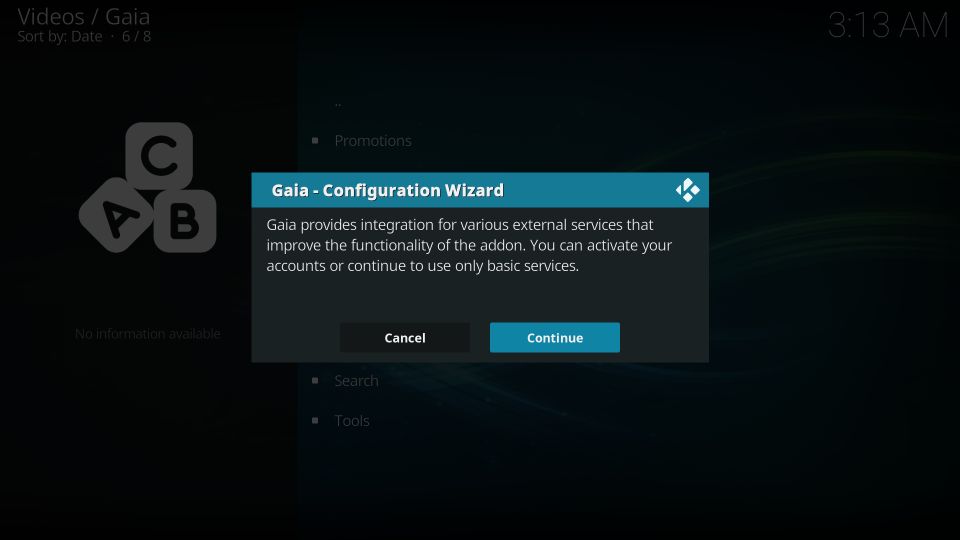 10- Choose the first option Continue on this Gaia – Accounts prompt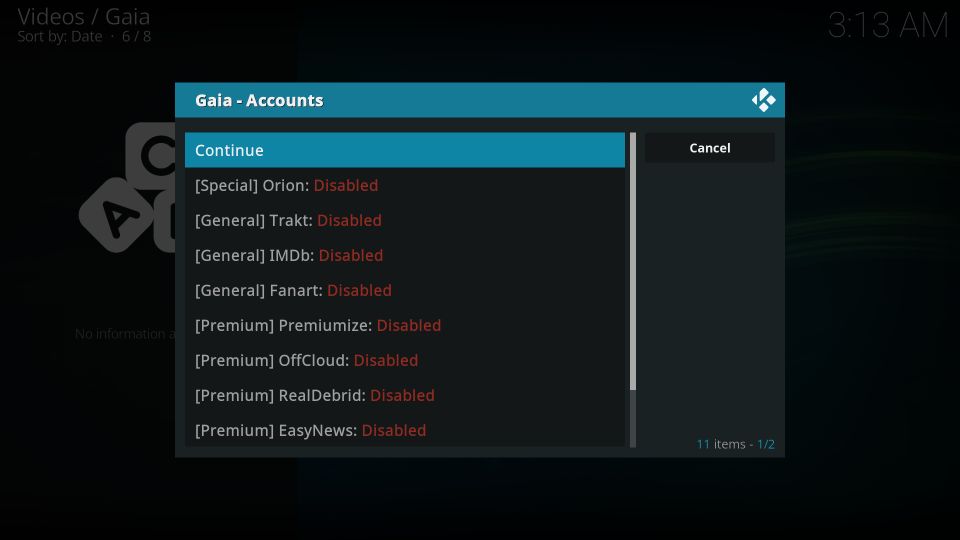 11- Choose Continue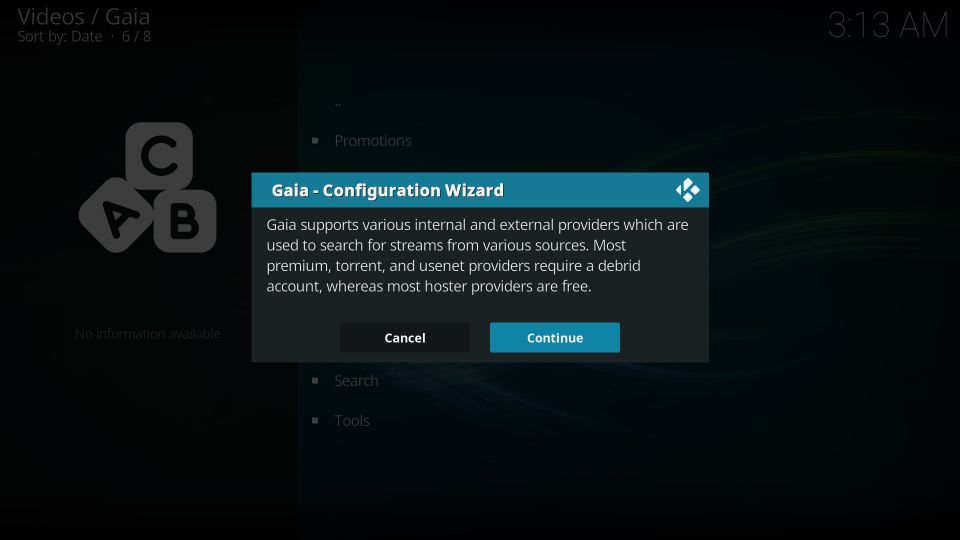 12- Again, select Continue on this Gaia – Providers prompt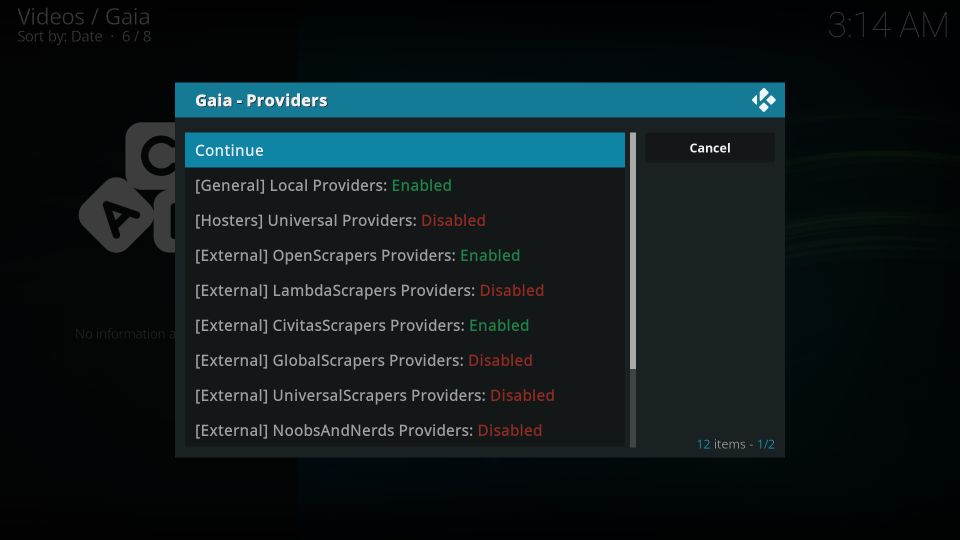 13- When this prompt is displayed, click Manual
Note: You may also choose Automatic if you like auto-playback. But, Manual is usually better as it allows you to choose the playback links instead of the addon making that choice for you.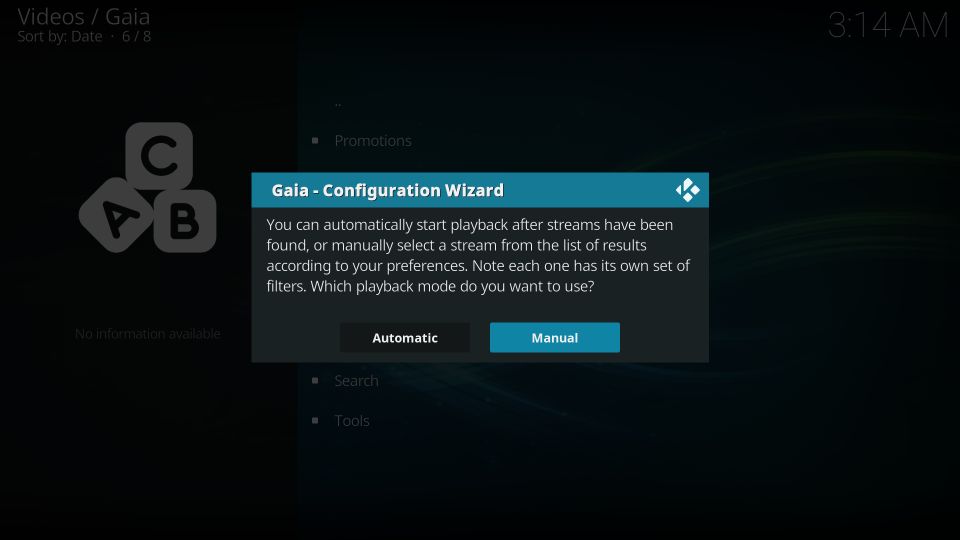 14-Click Finish and then dismiss the next window by clicking any spot outside of this prompt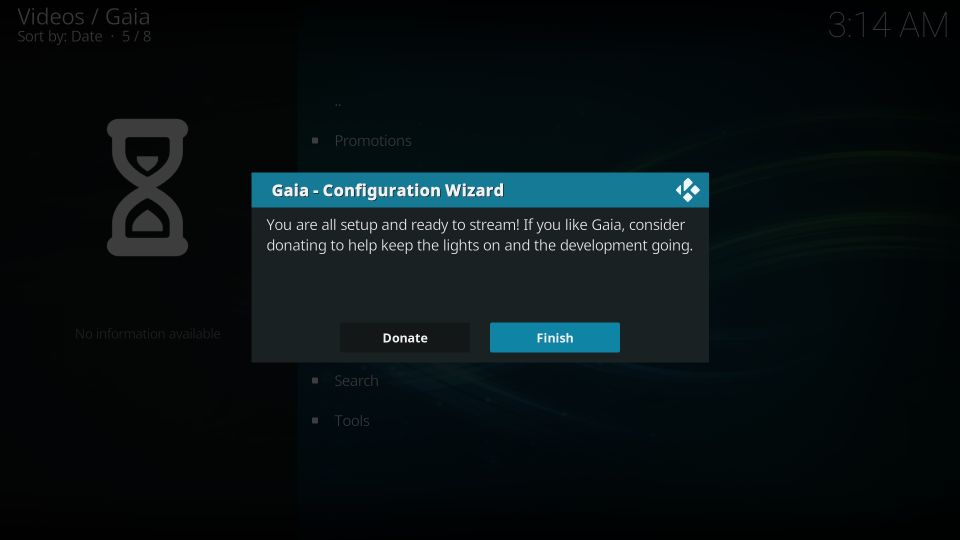 15- Gaia addon home screen will load up. Open Tools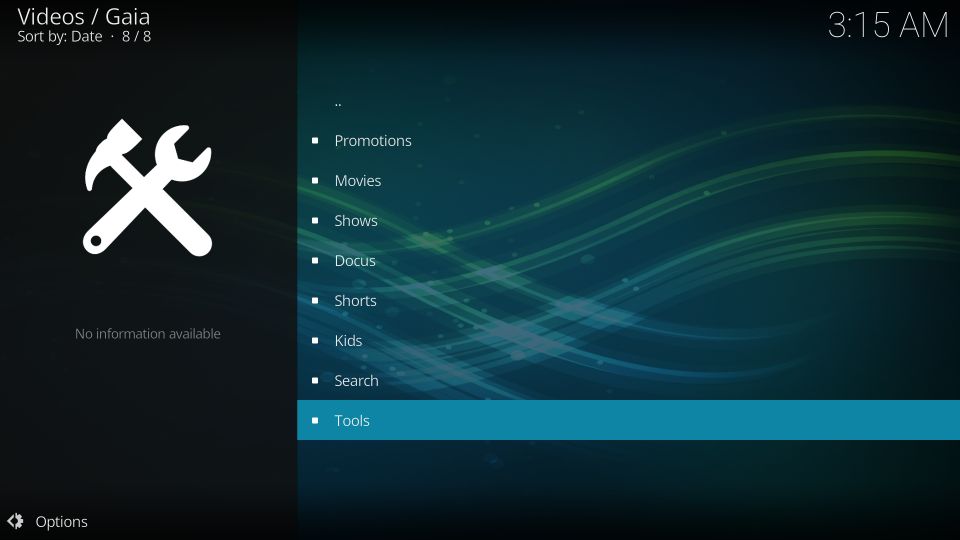 16- Choose Settings next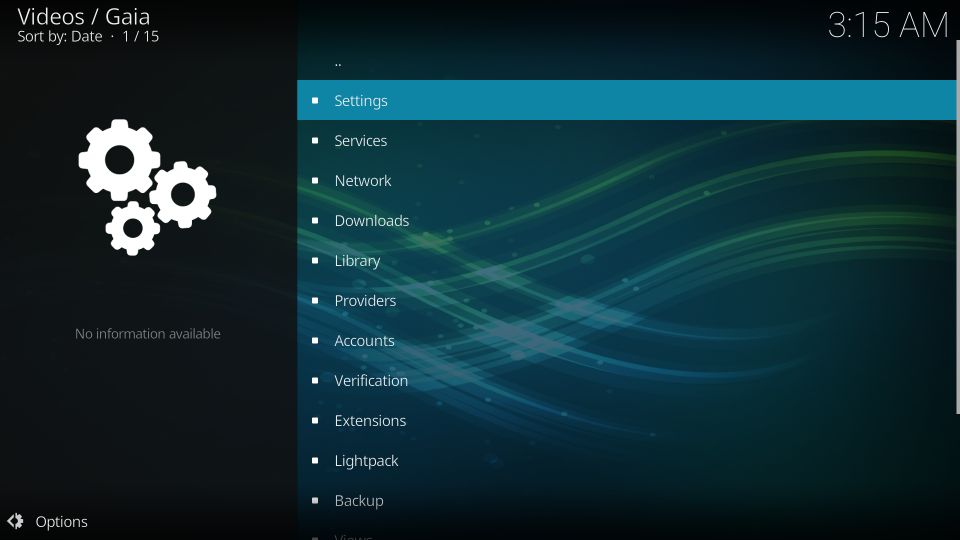 17- Open Advanced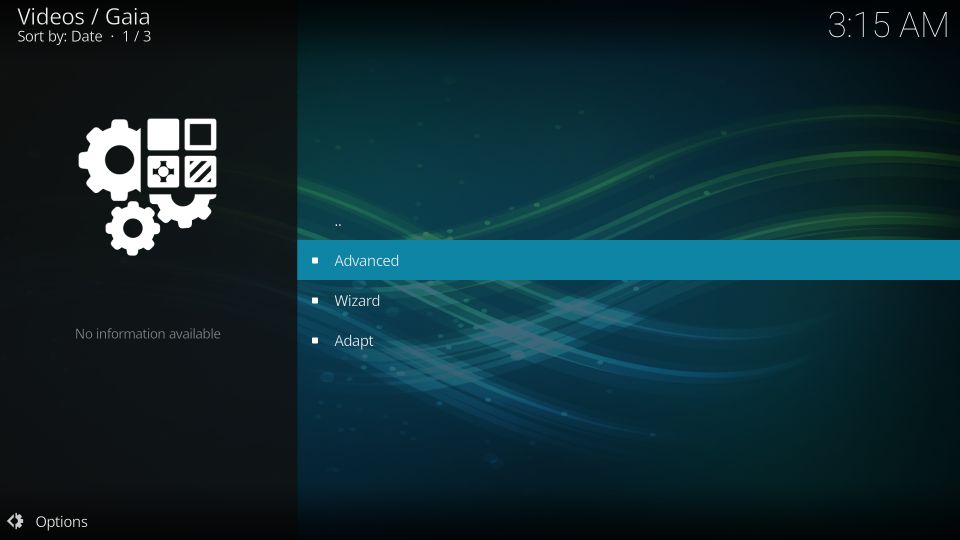 18- Go ahead and choose Providers 1 on the left side of this pop-up window
Now, scroll down to the section External Providers
Under Civitas Scrapers click Installation
Note: We will repeat these steps for Open Scrapers later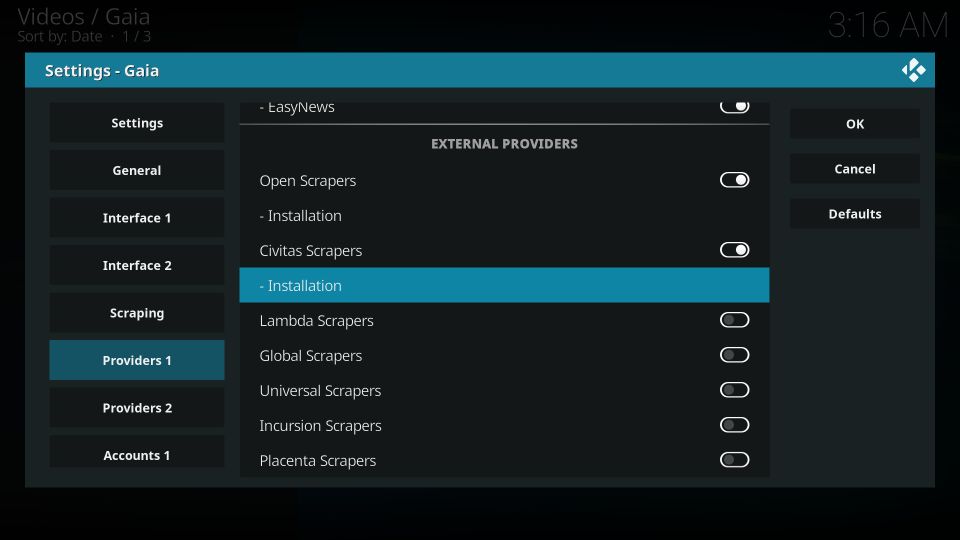 19- Choose Yes
Allow the scraper to be installed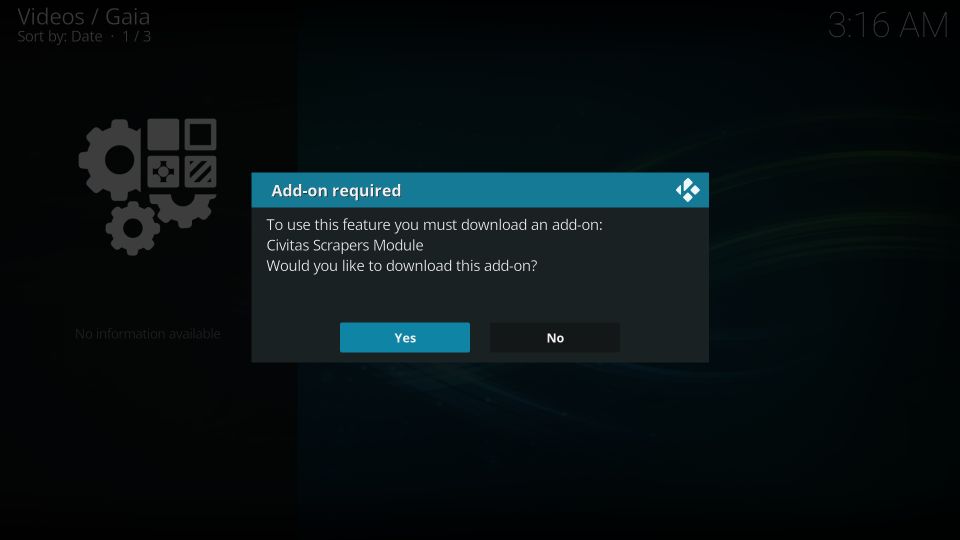 20- Again open the Advanced option (from Tools > Settings) and highlight Providers 1
Go down to External Providers again and open Providers under Civitas Scrapers
Note: If you don't see the Providers option, repeat steps 18 and 19. Sometimes it takes twice to make this option appear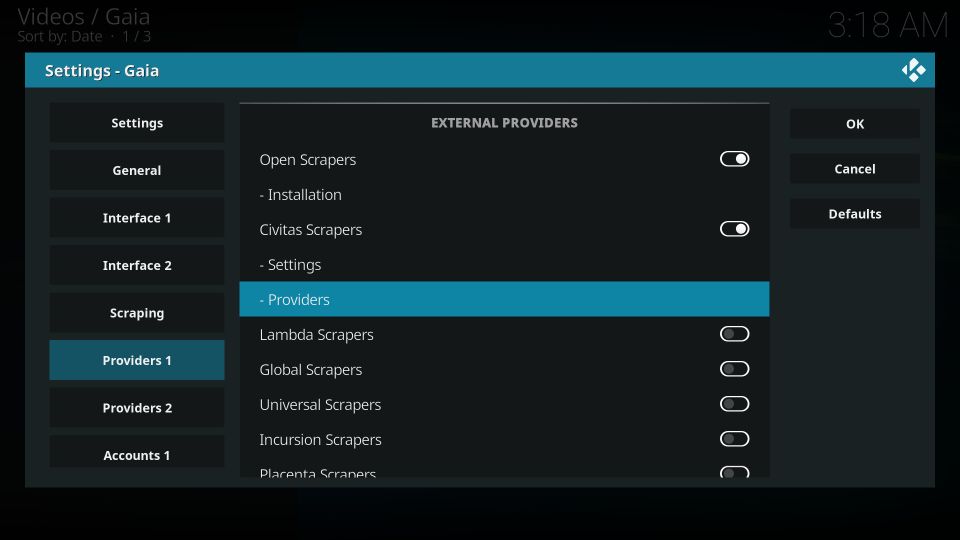 21- Choose Disable All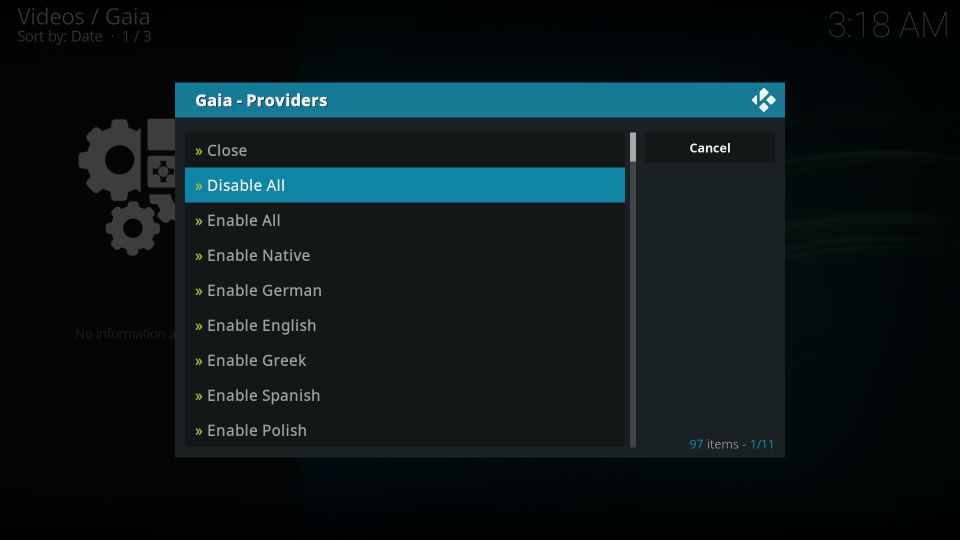 22- Choose Enable English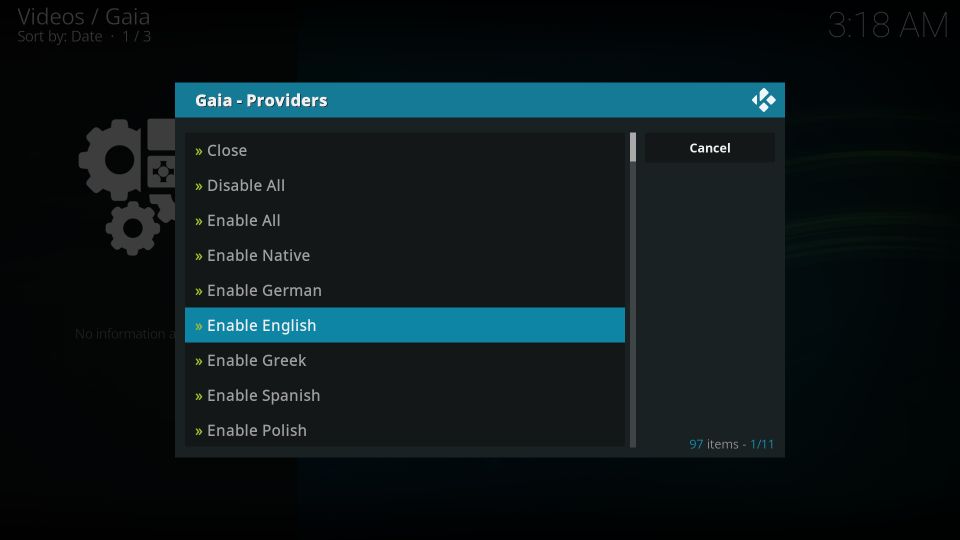 23- Now go ahead and choose Close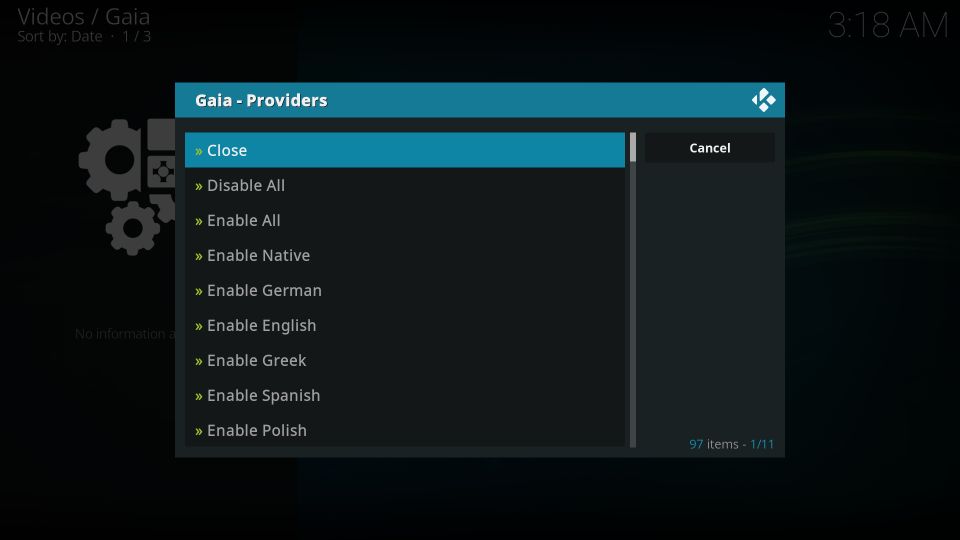 24- Now repeat the steps 18 through 23 for Open Scrapers
25- Pres the back button repeatedly until you are back on the Gaia Kodi addon main screen. Click Tools.
Now click Verification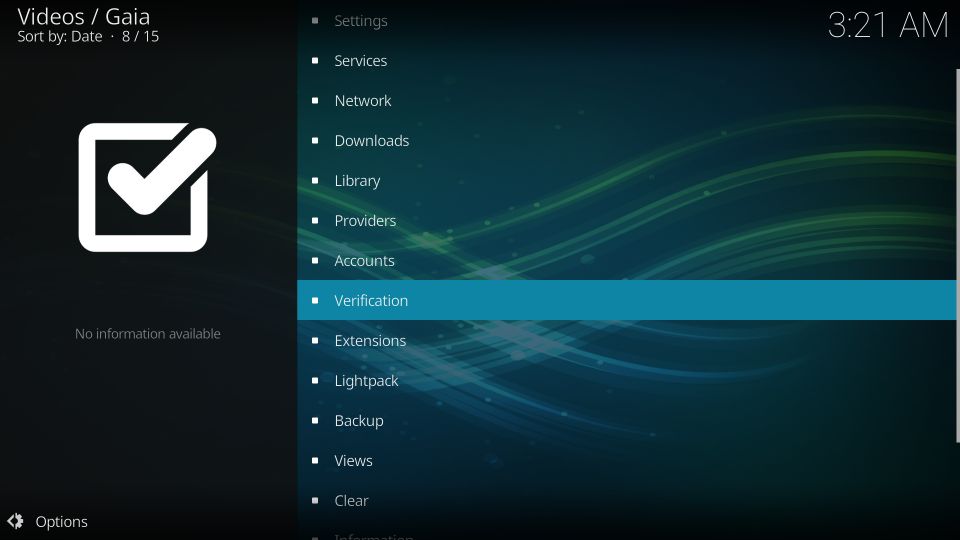 26- Choose Providers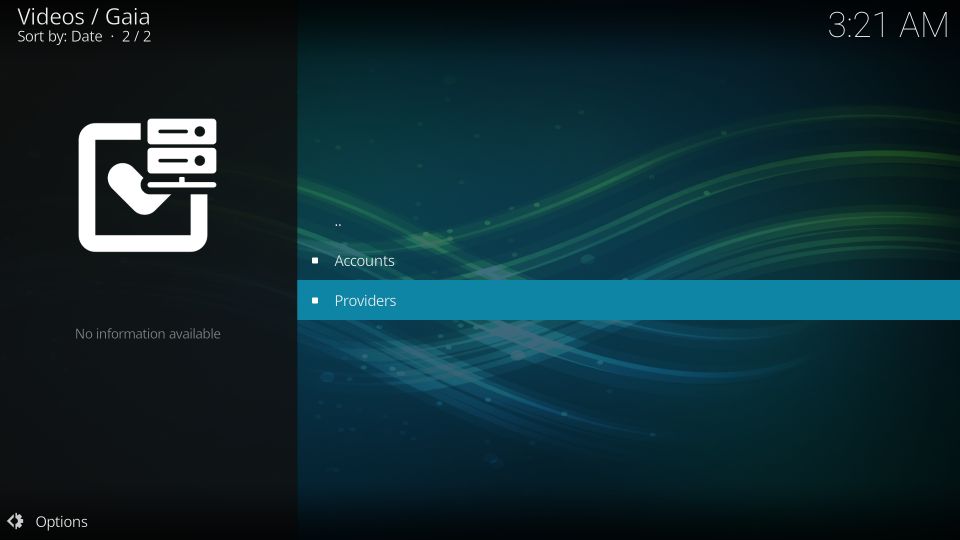 27- Allow the verification process to finish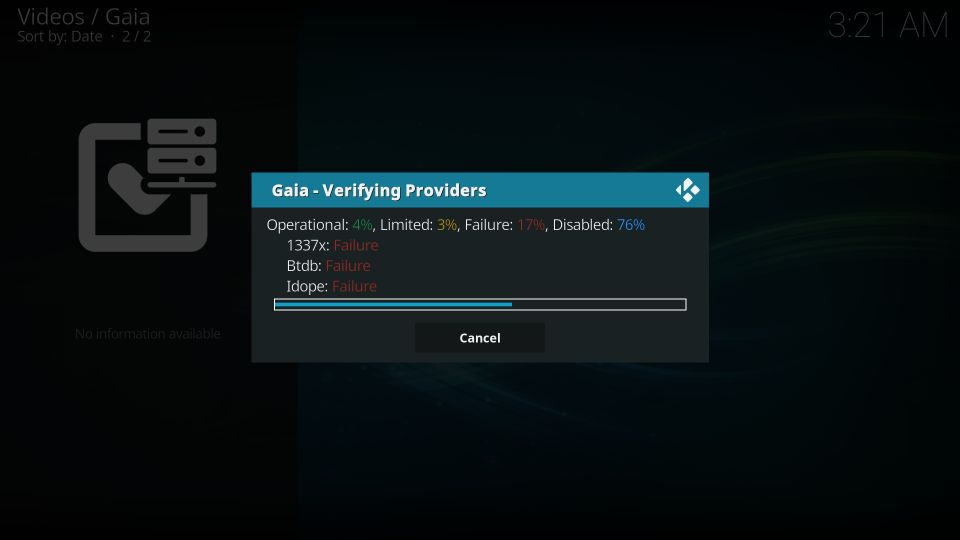 28- Click Cancel or press the back button when you see this window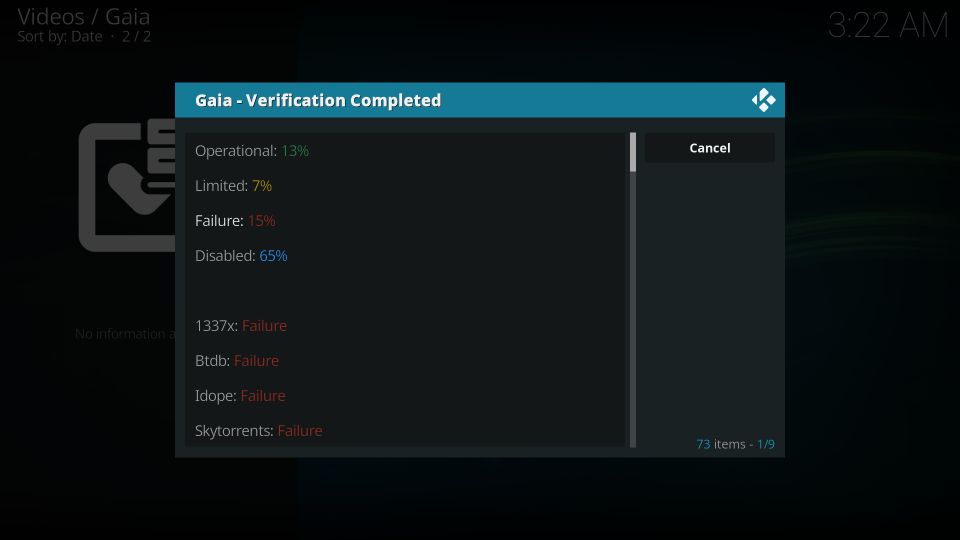 29- Click Yes when prompted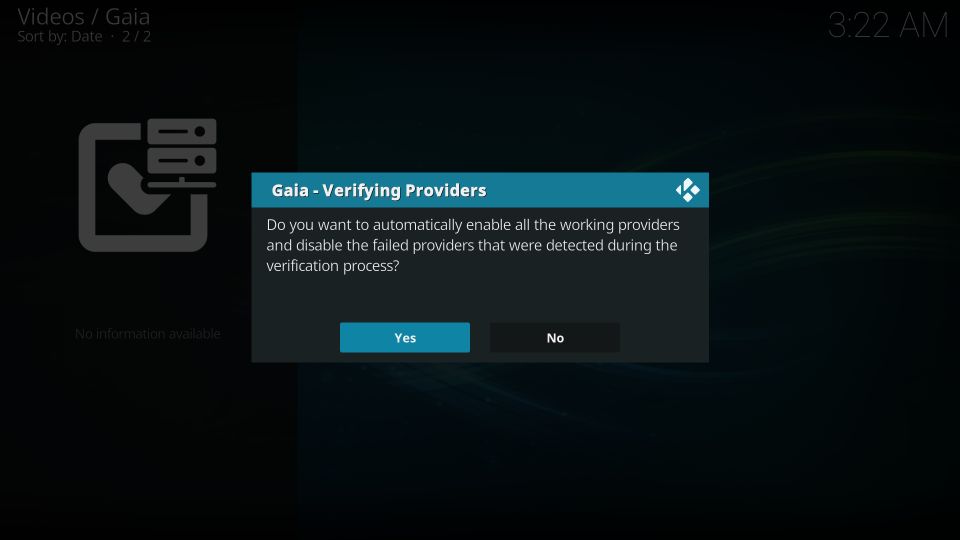 The providers have thus been configured.
Part 2: Authenticate Real Debrid
Let us now set up Real Debrid on Gaia Kodi Addon. Here are the steps:
1- Return to the main screen of Gaia addon and click Tools
Navigate to Settings > Advanced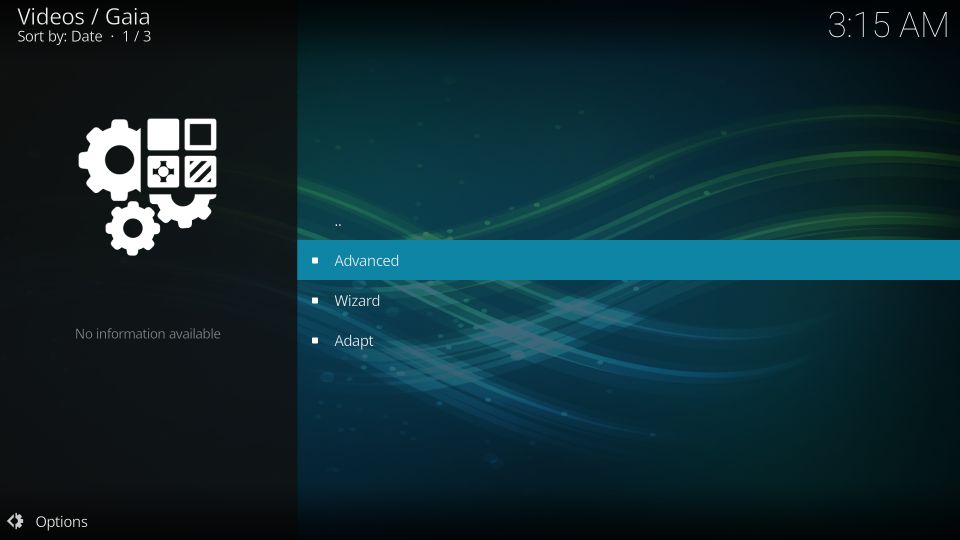 2- Select Accounts 1
Go to the Real Debrid section and click Enable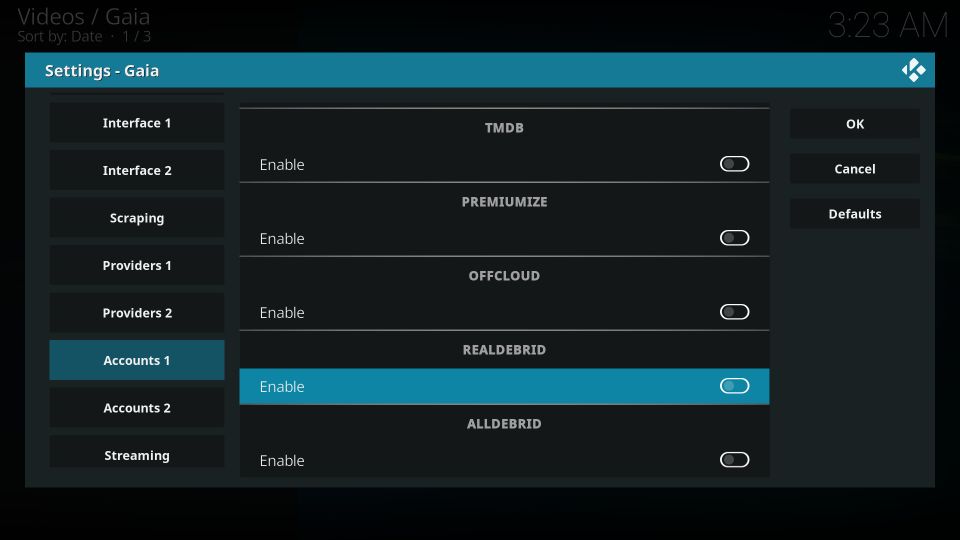 3- The moment you enable Real Debrid, new options will appear. Click Authentication
4- You should now see a prompt with a code.
Go to https://real-debrid.com/device
Enter the code to authorize Real Debrid (you may need to log in to your Real Debrid account if you aren't already)
Read our Real-Debrid Guide to learn more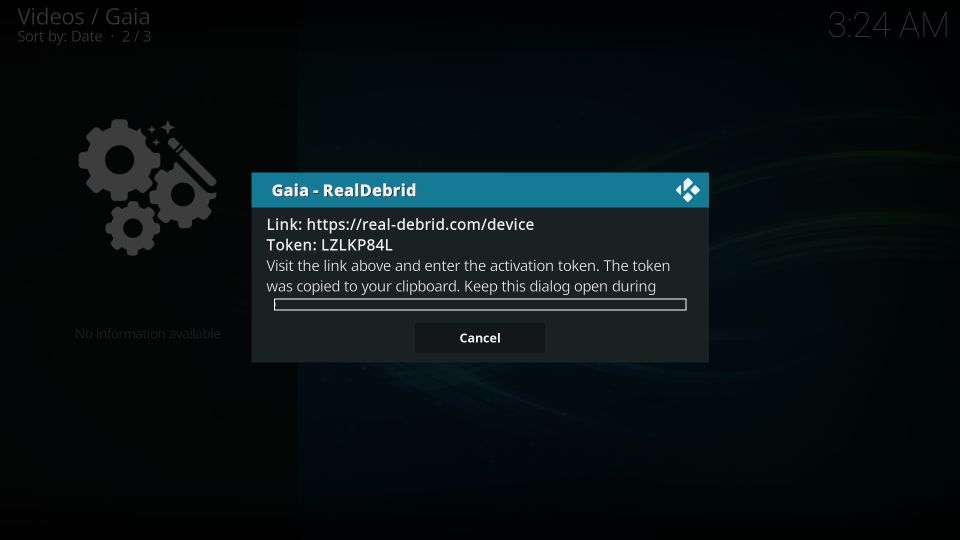 5- Real Debrid authentication confirmation will be displayed on your Kodi screen once the authentication is successful.
You have successfully signed in to your RD account on Gaia Kodi addon.
You are now all set to start streaming. However, before you do, I would like to warn you that your online identity is unprotected and everything you stream is visible to your ISP and Government. This means, watching free movies, TV shows, Live TV, Sports might get you into legal trouble.
Most Kodi users are nowadays using a Kodi VPN to hide their IP from anyone who might be tracking you including your ISP and Government. I always connect ExpressVPN on all my streaming devices and I suggest you do the same.
ExpressVPN is the fastest and most secure VPN. It comes with a 30-day money-back guarantee. Meaning, you can use it freely for the first 30-days and if you are not satisfied with the performance, you can ask for the full refund.
NOTE: We do not encourage the violation of the copyright laws. A VPN should be used to protect your privacy, not for streaming pirated content. 
So, before you start streaming on Kodi, here's how to get a VPN protection in 3 simple steps.
Step 1: Subscribe to ExpressVPN HERE.
Step 2: Click HERE to download and install the ExpressVPN app on your device.
Step 3: Open ExpressVPN app and Click the Power icon to connect a VPN server.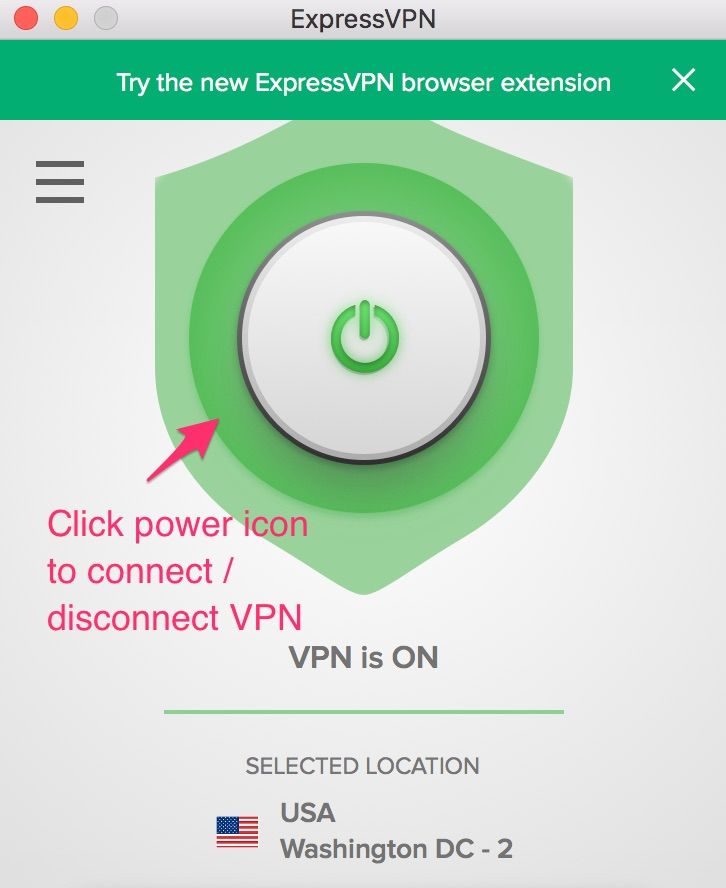 That's all. Your connection is now secure with the fastest and best VPN for Kodi.
How to Access and Use Gaia Kodi Addon
Once you are done setting up Gaia, you can start using it. Go to Add-ons > Video add-ons from the home screen and run Gaia: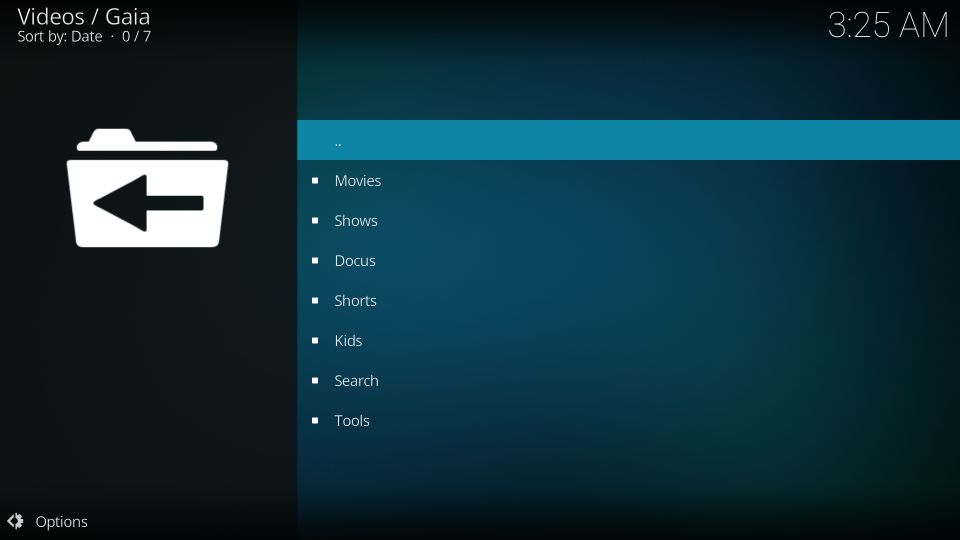 It is a regular on-demand streaming addon with the following categories:
Movies
Shows
Docus (for documentaries)
Sports (misspelled as 'Shorts')
Kids
To use Gaia addon on Kodi, simply pick one of these categories and start streaming.
Wrap Up
Gaia addon has made an emphatic return to the Kodi landscape. It is now equipped with powerful scrapers and with Real Debrid integration, it is pulling top-notch streams. It seems a bit slow, but overall it looks good. Give it a try.
You may also like:
How to install Exodus Redux Addon
How to install Seren Addon
How to install Tempest Addon
How to install Kodi on FireStick