In this article, I will guide you on how to install the Kodi Patriot addon on FireStick. The installation guide will work on all Kodi-supported devices, including Amazon FireStick, FireStick Lite, FireStick 4K, FireStick 4K Max, Fire TV Cube, iOS & Android, Windows PC, Mac, Android TV boxes, and other Kodi devices.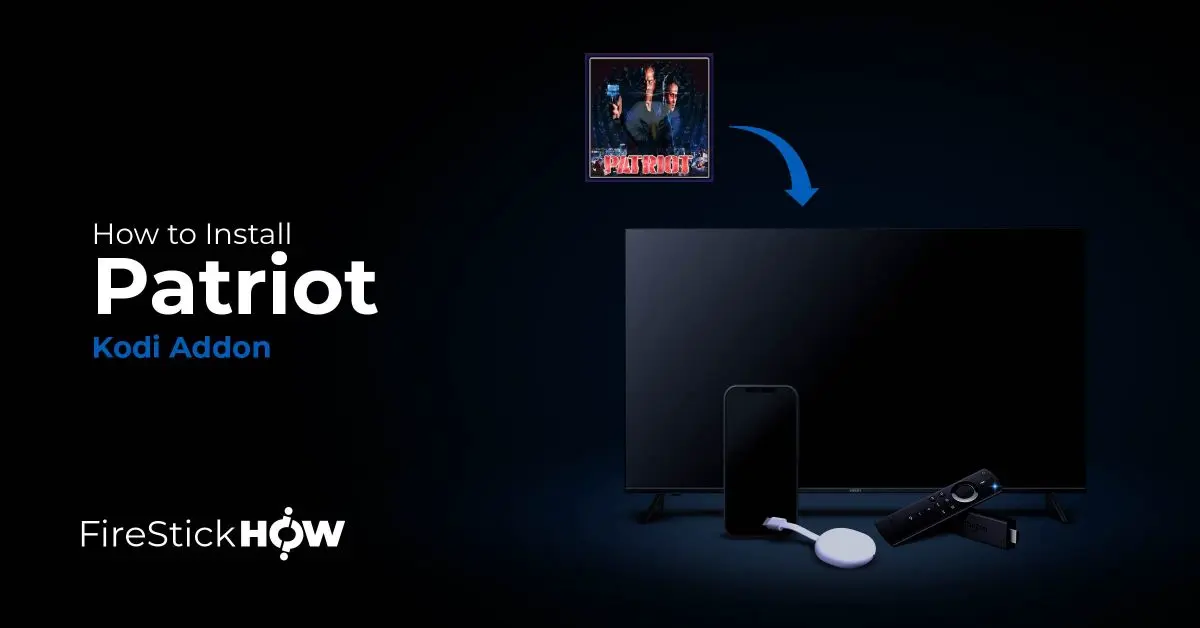 What Is Patriot Addon?
Patriot is a well-equipped video streaming addon. It lets you watch a ton of content across multiple categories. The categories include movies, TV Shows, documentaries, comedy, kids' shows, music, and art movies. Each category is filled with content, so you don't have to go anywhere else. 
Patriot deploys sophisticated scrapers to bring the best content. Like other addons, Patriot doesn't host its content. Instead, it scrapes from a slew of compatible host websites. In addition, Patriot supports Real Debrid integration. In other words, you only get access to top-quality links. Furthermore, Trakt integration helps keep a tab on TV shows and movies you have already watched. 
Overall, the Patriot is a well-equipped addon that offers a superior viewing experience. 
Attention KODI Users: Read before you continue
Government and ISPs endlessly monitor your online activities using your IP address 3.17.249.235 (exposed to everyone). Kodi is an excellent platform for streaming movies, TV shows, and sports, but streaming copyrighted content can get you into legal trouble. 
You should use a reliable Kodi VPN and protect your streaming activities and privacy. A VPN will hide your IP address and bypass government surveillance and geo-restrictions.
I trust and use ExpressVPN, the fastest and most secure Kodi VPN. It's easy to install on any Kodi device, including Amazon FireStick, PCs, and Smartphones. In addition, it offers a 30-day money-back guarantee, and 3 free months with the annual plan.
Read: How to Install & Use the best VPN for Kodi.
Is Patriot Addon Safe? 
It is not uncommon for attackers to deploy malware in the guise of the Kodi addon. This is the reason I constantly scan repository links using an anti-virus. I scanned the repository with the Virus total. Thankfully, VirusTotal didn't find any viruses or malware. Now let us go ahead and install the Patriot Kodi addon.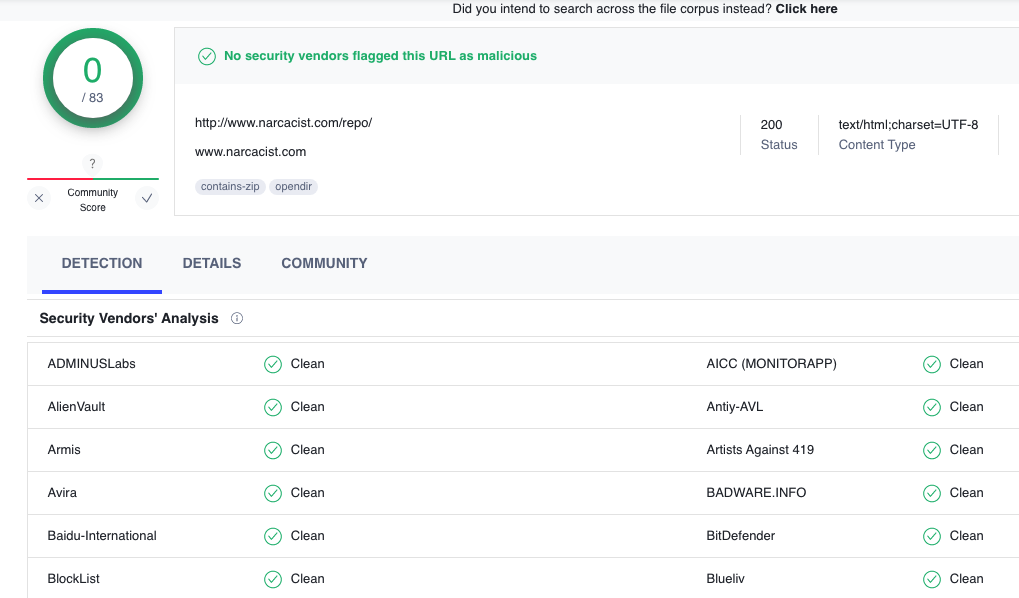 Is Patriot Addon Legal?
One of the first questions that pop into your mind is whether or not Patriot is legal. Especially since Patriot is not available in Kodi's official repository, you install it after tweaking a security Setting of Kodi (more on that later).
Patriot is part of the Narcacist repository. The addon in itself is not illegal. However, FireStickHow can't verify the entire content library. The addon fetches video streams from unverified providers who may not have secured distribution licenses from the copyright holders. Streaming videos from such providers could drag you into legal trouble. 
You can easily avoid legal hassles by restricting yourself to the content in the public domain. However, if you are unsure of the distinction, always use ExpressVPN with the Patriot addon to encrypt and hide your streaming activities.
Patriot Addon Best Features?
Here are some of the salient features of the addon:
Patriot is a simple-to-use video addon with tons of content to choose from.
The addon offers Real Debrid, Premiuize, All-Debrid, and Trakt integration. I suggest signing up for Real-Debrid before installing Patriot.
Furthermore, the Whats-New section lists the latest content in one place.
Vast content library with tons of videos.
How to Install the Patriot Kodi Addon
I will explain how to install the Patriot Kodi addon in multiple parts. Firstly, you need to enable unknown sources on Kodi. Once enabled, Kodi lets you install any third-party addons. This step is only required for unofficial addons. Next up, download the Narcacist repository. Finally, download and install the Patriot addon using the Narcacist repository. 
Part 1: Enable Unknown sources
1. Open Kodi Settings. Click on the gear cog icon in the top left corner.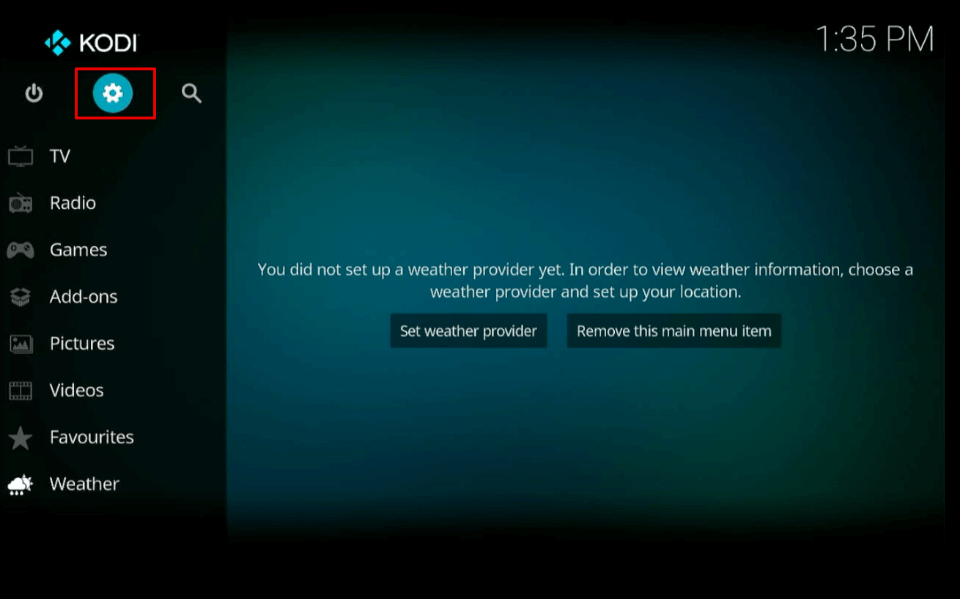 2. Select System from the Settings menu.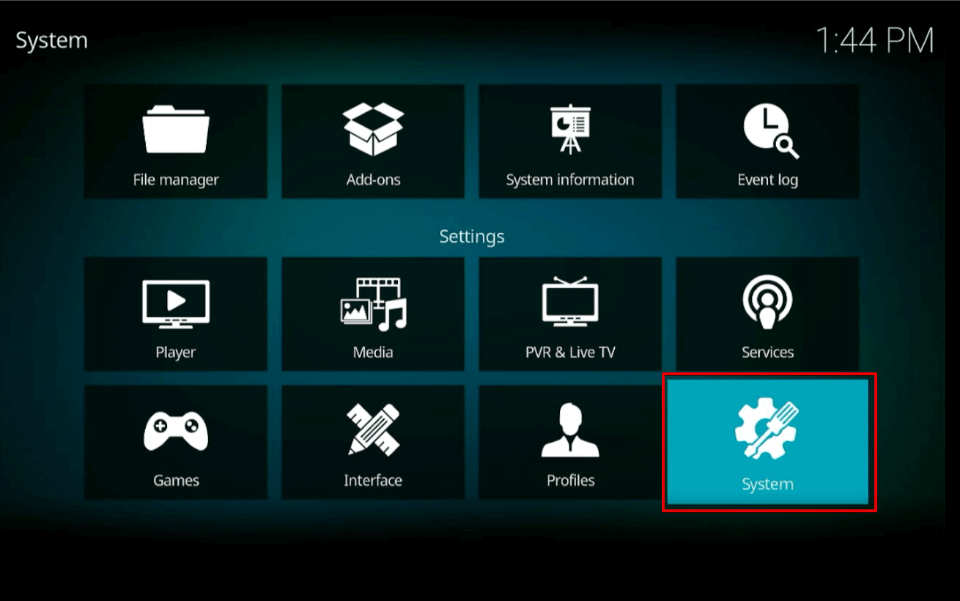 3. Click Add-ons from the left menu pane. (Refer to screenshot for better understanding.)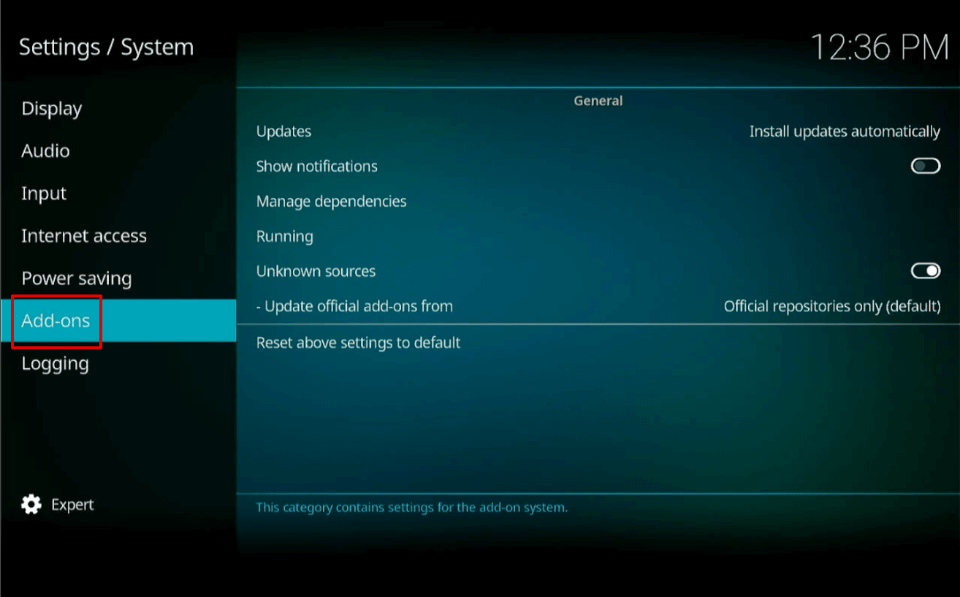 4. Unknown Sources option appears on the right side. Toggle Unknown Sources on.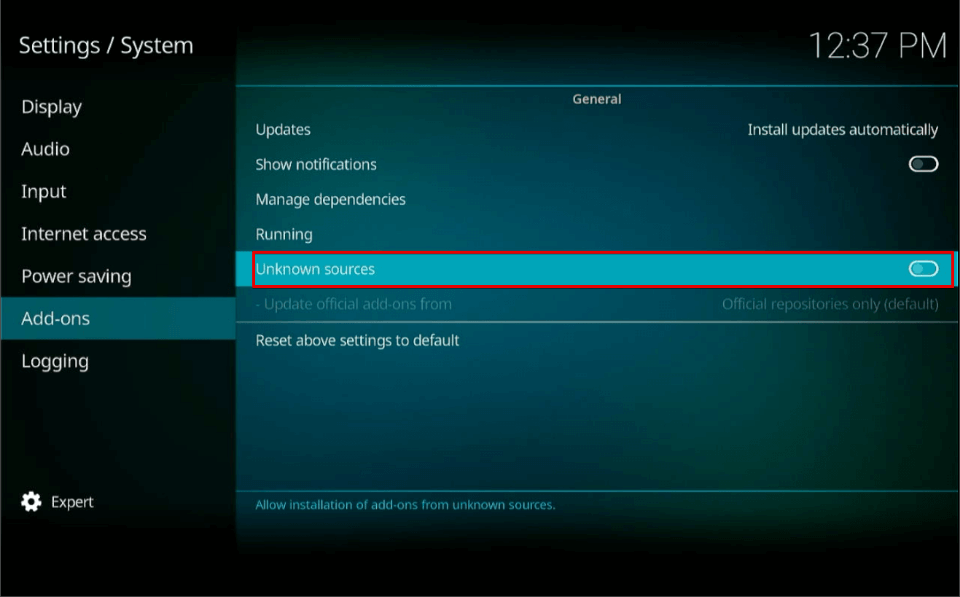 5. Kodi displays a warning prompt. Click Yes to confirm the change in Settings.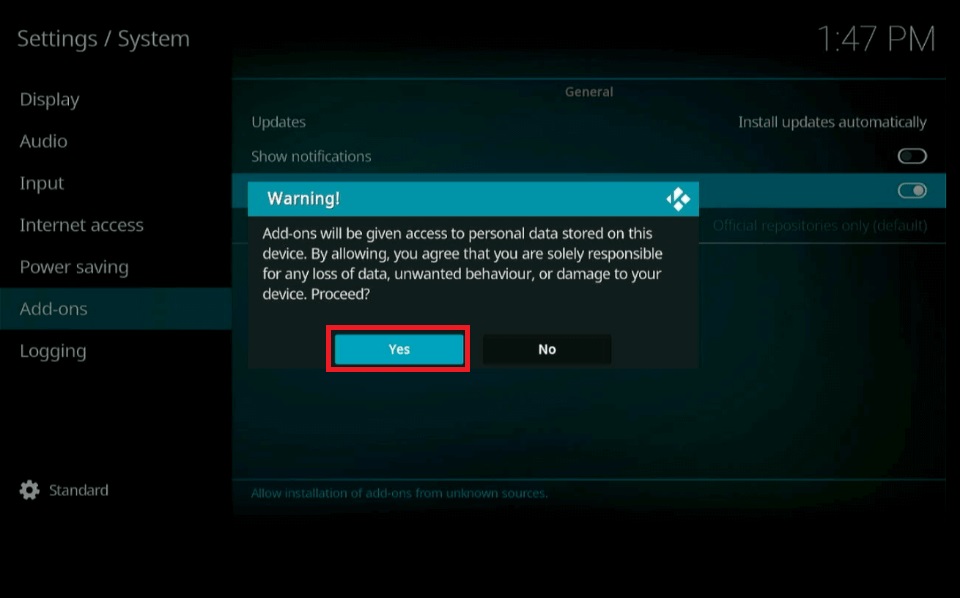 Part 2: Install the Narcacist's Repository
Narcacist is a famous repository offering addons like Asgard, 4K, Black Lightning, and others. You need to install the repository to access Patriot. Skip this step if you have already installed the Narcacist repository. If not, follow the steps below. 
1. Return to the Kodi home screen. Once again, click Settings.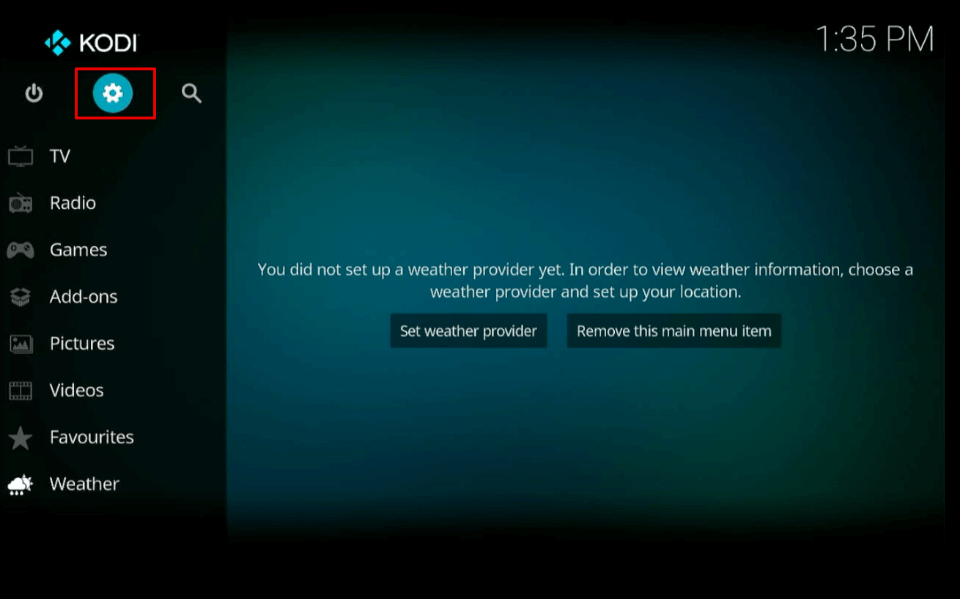 2. Select File Manager.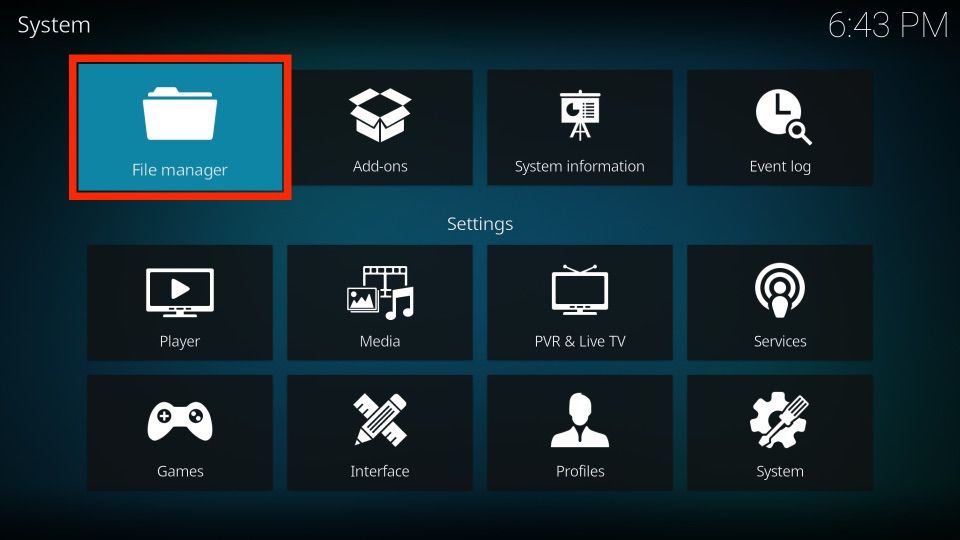 3. Click Add source on either side of the screen.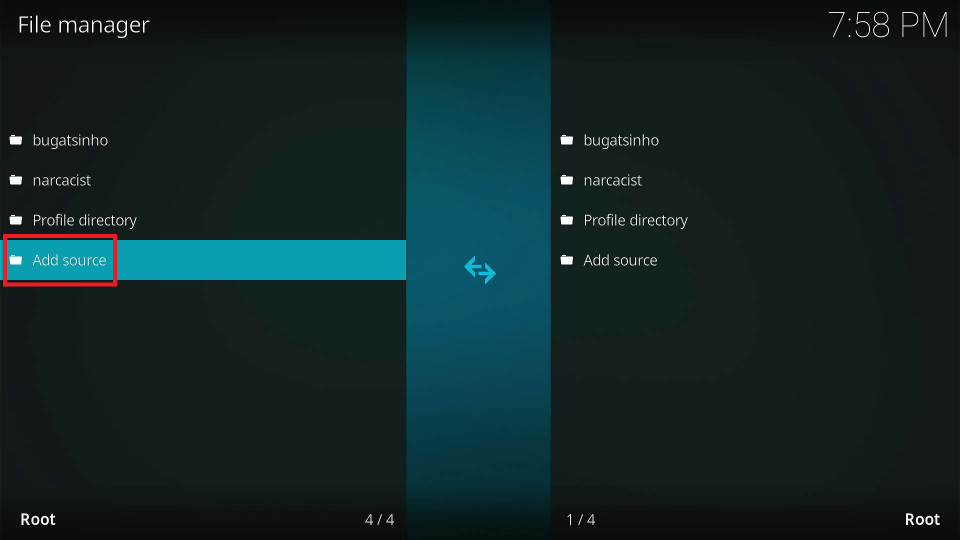 4. Select the <None> option from the popup window.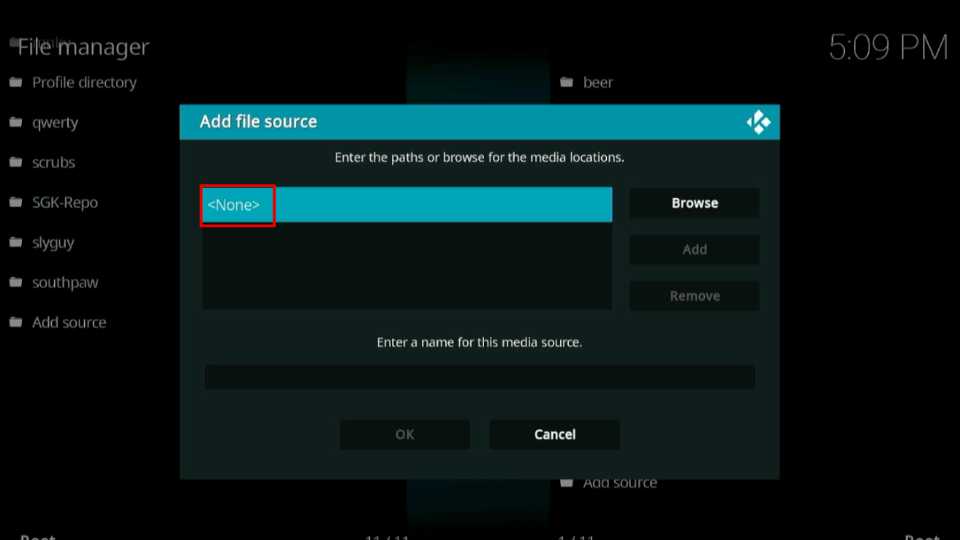 5. In this step, you must type the source repository URL. Use the FireStick remote and onscreen keyboard to enter the URL given below- https://mylostsoulspace.co.uk/repo. Click OK once done. Please make sure there is no typo. You will not be able to install Narcacist if the URL is improper. 
Note: FireStickHow.com is not associated with the developers of the repository downloaded via this URL. This URL belongs to third-party developers and points to an external source.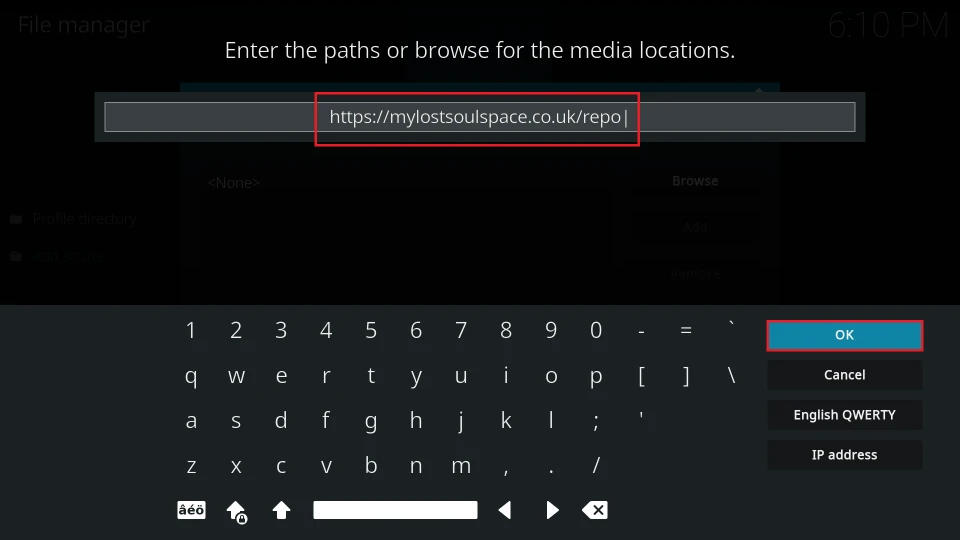 6. Select the box titled Enter the name for this media source. Choose any name you like. Just make sure you remember the name. For example, I have entered the name narc. Once done, click OK.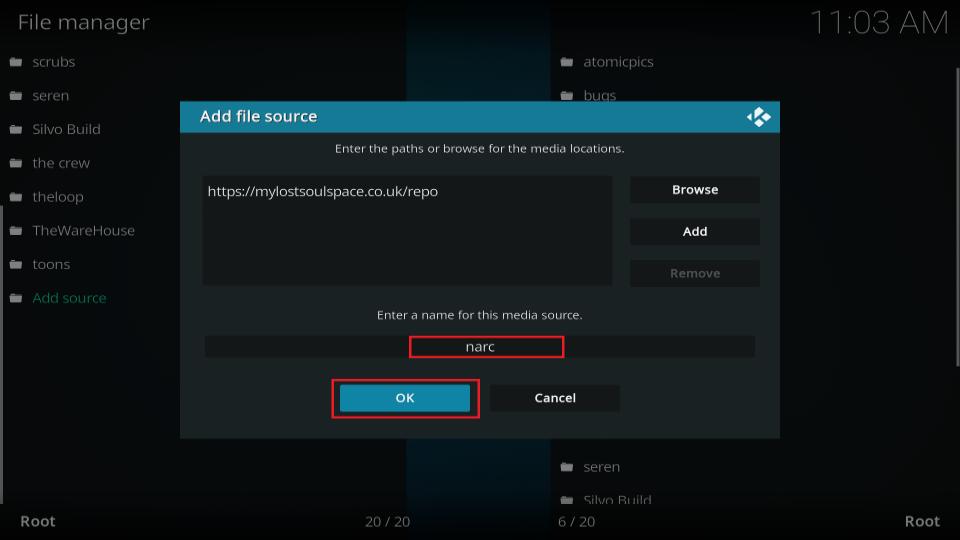 7. Once again, head back to Kodi Homepage. Click Settings.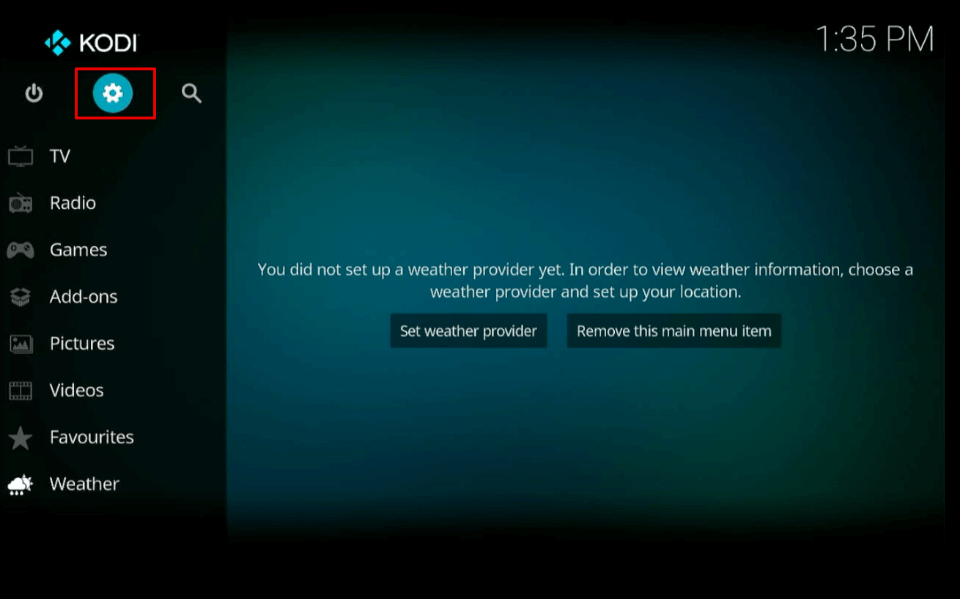 8. Open Add-ons from the menu.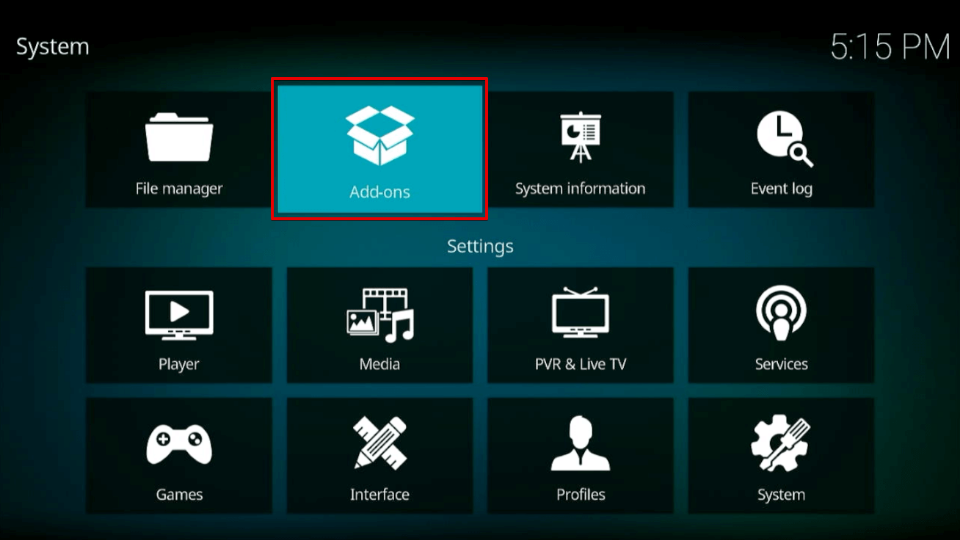 9. Click Install from the zip file on the menu.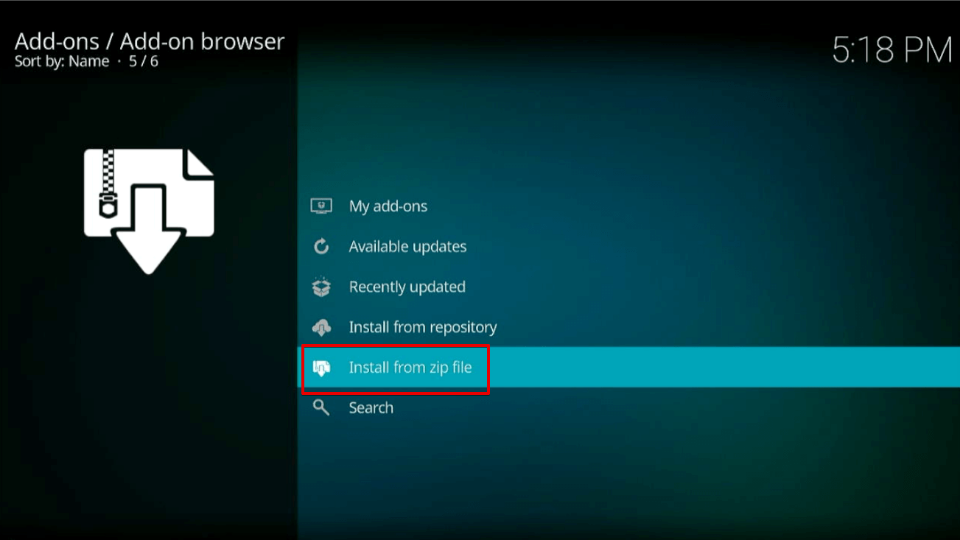 10. Kodi shows a warning about installing third-party addons. Click Yes to proceed.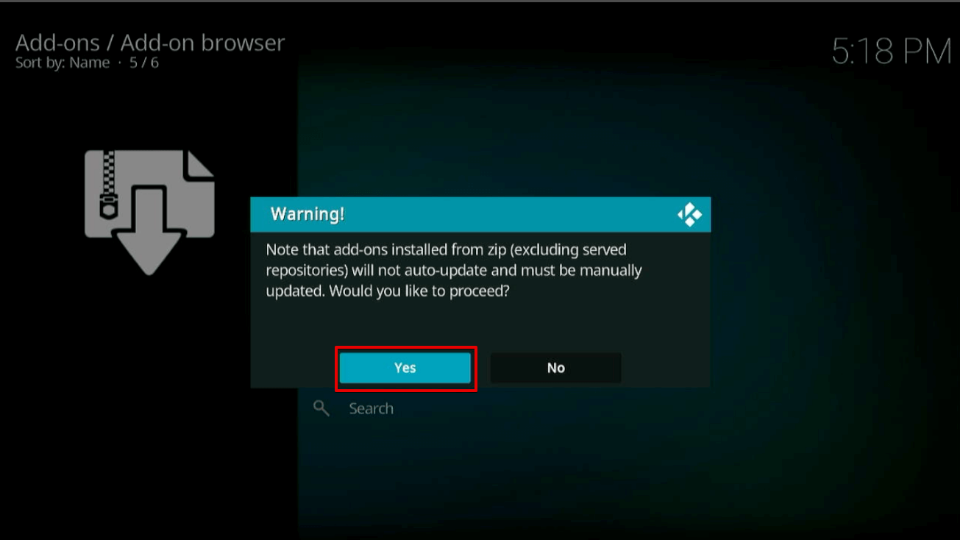 11. Select Narc from the list or any other name you have chosen earlier.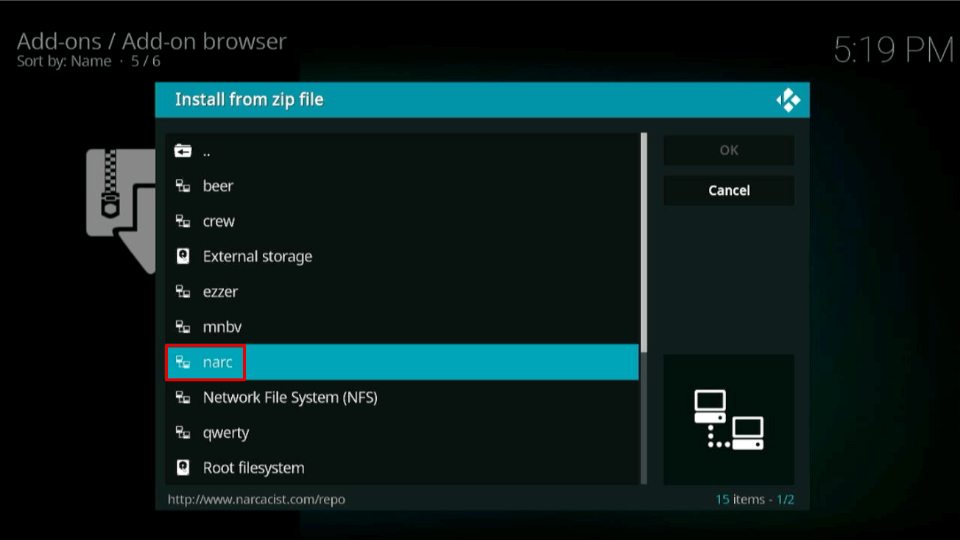 12. Select the Zip file. It reads repository.NarcacistWizard-1.1.6.zip. Disregard the version number, as it is bound to change. Installation takes some time.
13. After installation is complete, you will see a notification in the top right corner. Stay on the same screen and follow the steps detailed in the next part—Pat yourself on the back. You have successfully installed the Narcacist repository. 
Part 3: Steps to Install Patriot Kodi Addon
Now for the final part. You have to install Patriot from the Narcacist repository. Follow the steps below to do so –
1. Click Install from repository.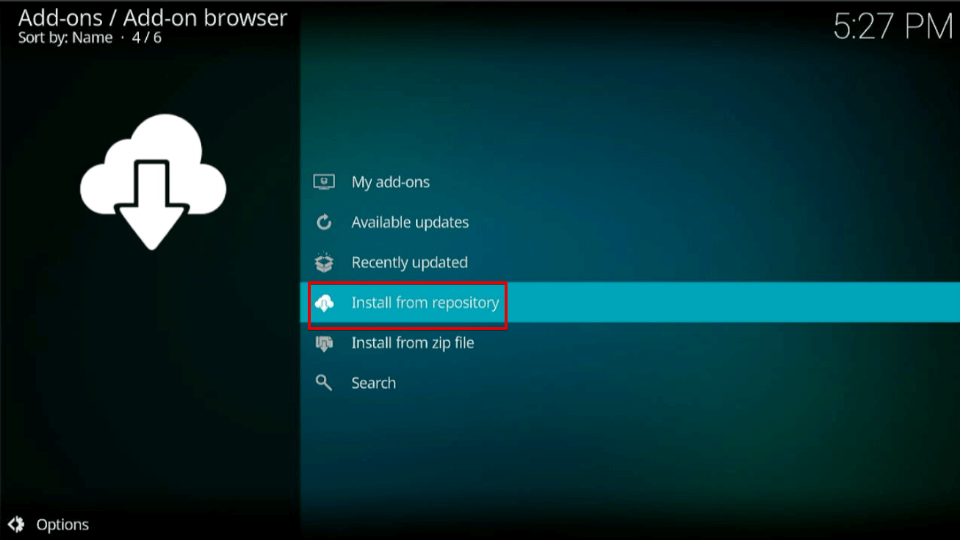 2. Scroll down and select Narcacist's Wizard Repository from the list.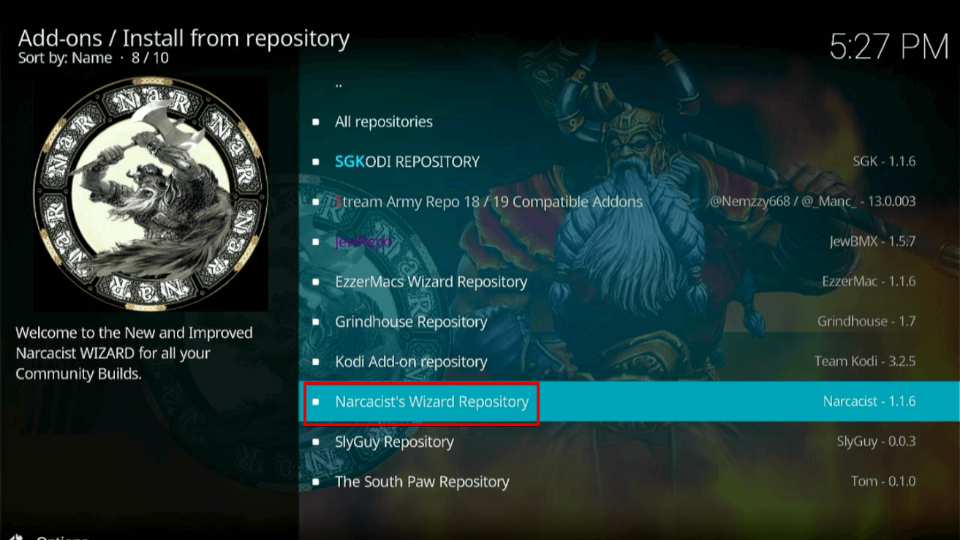 3. Click Video add-ons.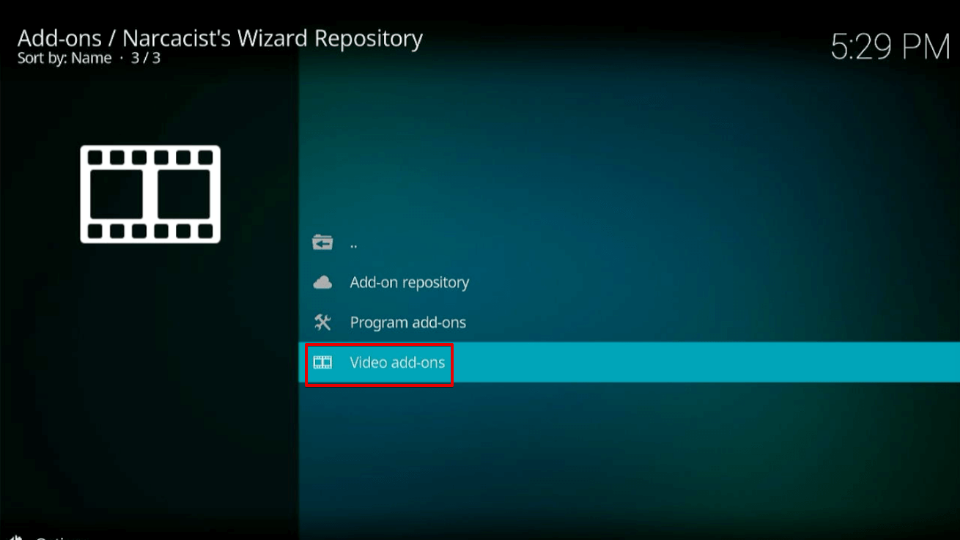 4. Select Patriot from the list of addons.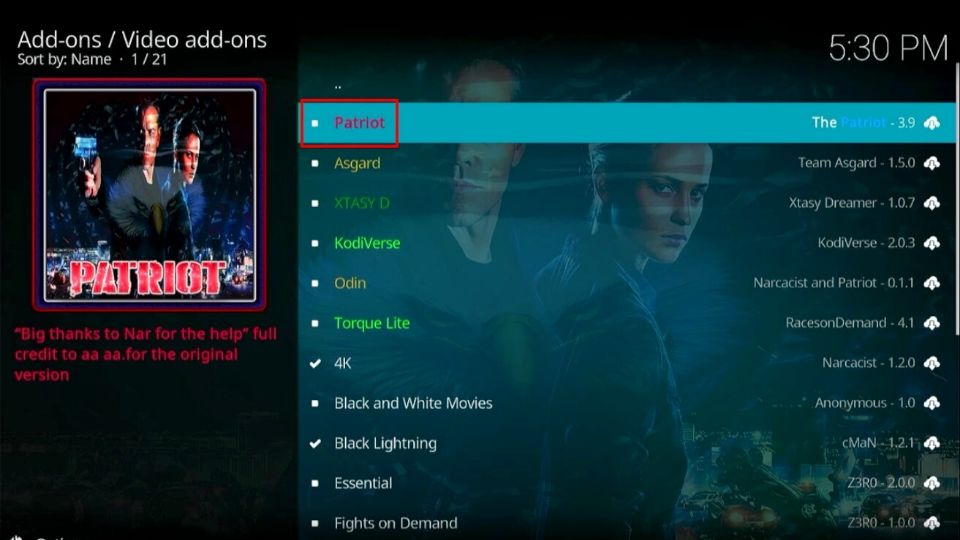 5. Click Install on the addon listing screen.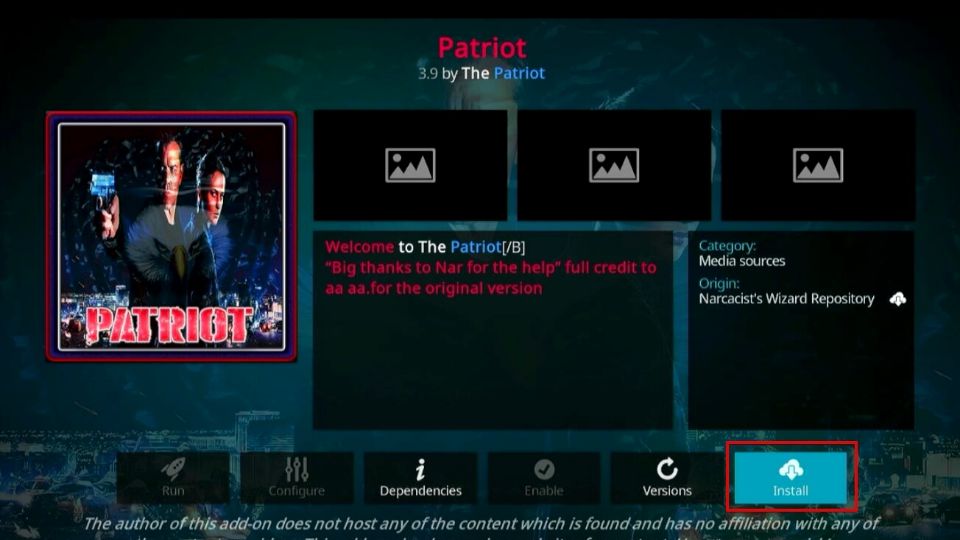 6. The new popup displays all the additional files/dependencies the addon will install. Click Ok to proceed.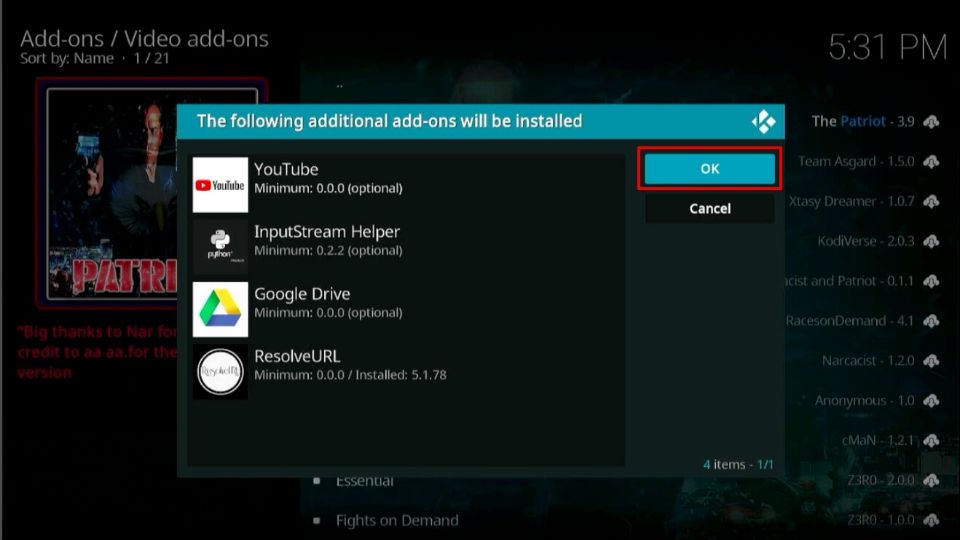 7. Now, Kodi will install the Patriot addon. After a few seconds, you will see a notification in the top right corner. It means Patriot is successfully installed on Kodi. Not sure how to use Patriot? Fret not. I have detailed it in the next section.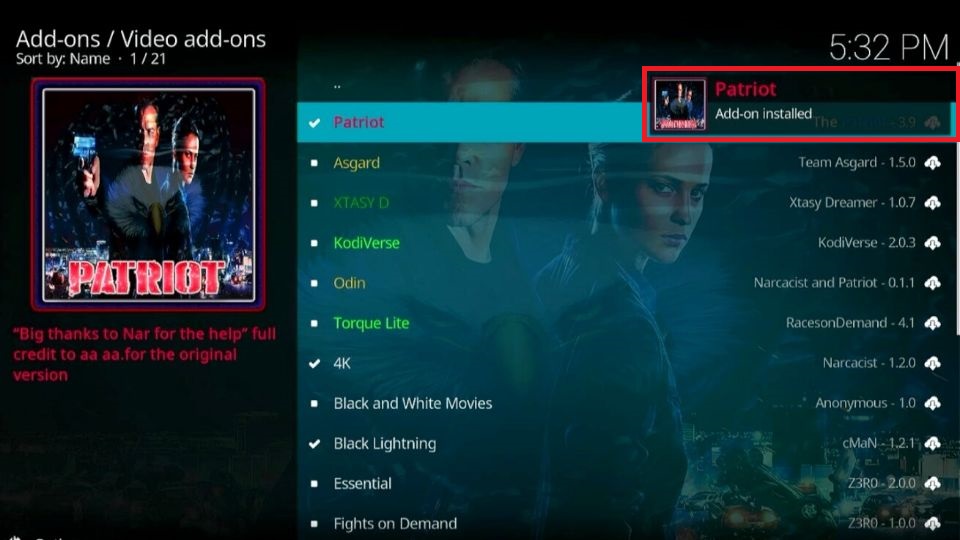 You have successfully installed Patriot Kodi Addon.
Wait! It looks like you are all set to start watching your favorite content on Kodi. But have you protected your online identity yet? You are under constant surveillance by the Government and ISP. They use your IP address 3.17.249.235 to track you. Streaming free or copyrighted videos may get you into legal trouble.
Thankfully, you can use a VPN to easily protect your privacy and go invisible from your Government and ISP. I use and recommend ExpressVPN with Kodi.
ExpressVPN is the fastest, most secure, and streaming-friendly VPN. It is easy to install and set up on any Kodi device, including FireStick, Smartphones, PCs, and more.
ExpressVPN, offers an unconditional 30-day money-back guarantee. So, if you do not like the service (I don't see why), you can get a full refund within 30 days.
Please remember that we encourage you to use a VPN to maintain your privacy. However, we do not condone breaking copyright laws.
Before you start using Kodi for streaming, here is how you can protect yourself with ExpressVPN:
Step 1: Sign up for ExpressVPN Here
Step 2: Download ExpressVPN on your device by clicking HERE
Step 3: Open the ExpressVPN app on your device. Sign in with your account. Click the connect/power button to connect to the VPN

Great! You have successfully secured yourself with the best Kodi VPN.
How to Use Patriot Addon 
Thankfully, Patriot is relatively simple to use. Open Patriot by going to Kodi's home screen. Scroll down and select Add-ons from the left menu. You should see Patriot listed on the right menu. Click the icon to launch Patriot.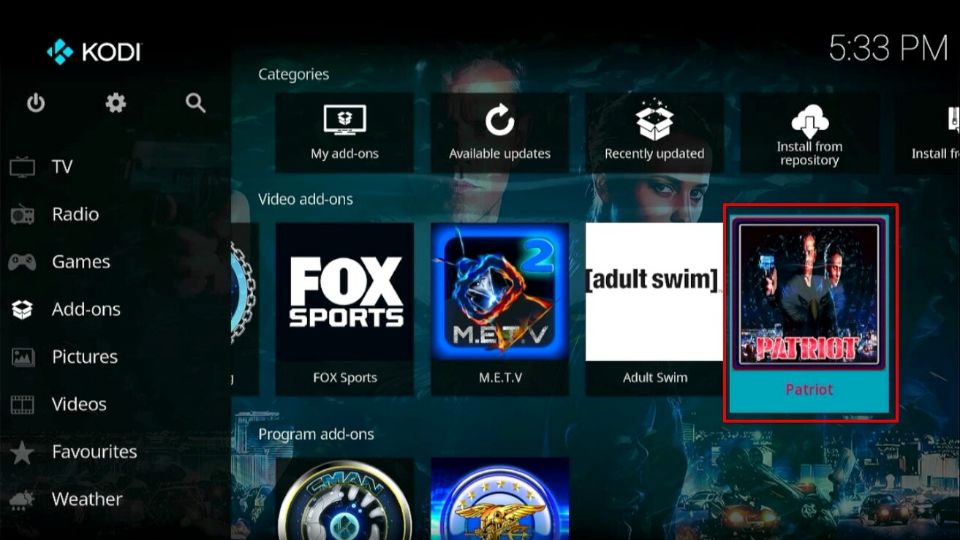 Patriot Home Screen lists movies and TV shows based on different categories. It includes movies, TV shows, kids, and more. 
The search feature on Patriot is robust and accurate. It is beneficial in content discovery. For instance, you can stream using Search History, Last Link Played, and Continue Watching. In addition, I liked how Patriot has nested subcategories within primary categories. It helps fine-tune your search. Here's an example- The movies section is further divided into Popular Movies, Movies in Theatres, Genre, and Studio Search.
Patriot offers a slew of settings aimed at enhancing the viewing experience. It lets you select cache size, open collection feature, display lock, and an adult filter. Parents can use the adult feature to safeguard kids from age-inappropriate content. The silver lining is that you get Trakt and Debrid accounts as well. 
How to Integrate Patriot with Trakt
We have a sea of content to choose from in the current age. It is always good to have more choices. However, it becomes difficult to track the content you have already watched. trakt.tv is a super helpful service that helps you track watched content across multiple devices and platforms. You need to sign up for a trakt.tv account first. Once done, here's how you can link it with Patriot. 
1. Open Patriot Settings. Select Patriot Trakt Account from the left side menu.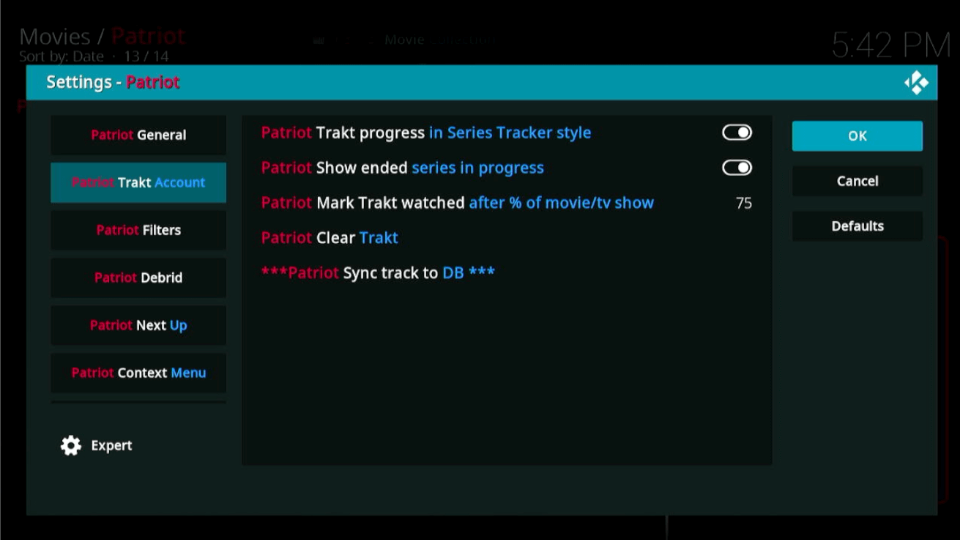 2. Toggle on Patriot Trakt Progress.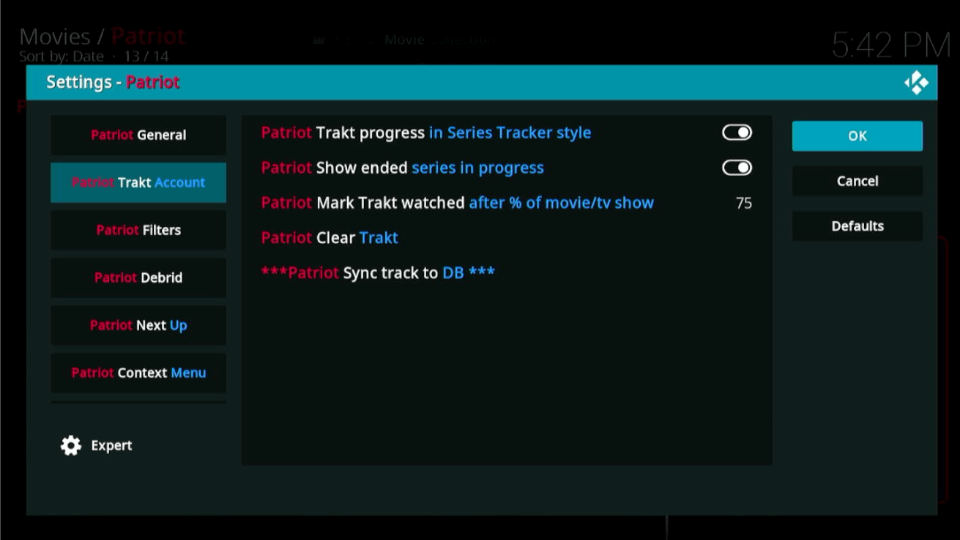 3. Prompt appears asking for Trakt authentication confirmation. Select Yes.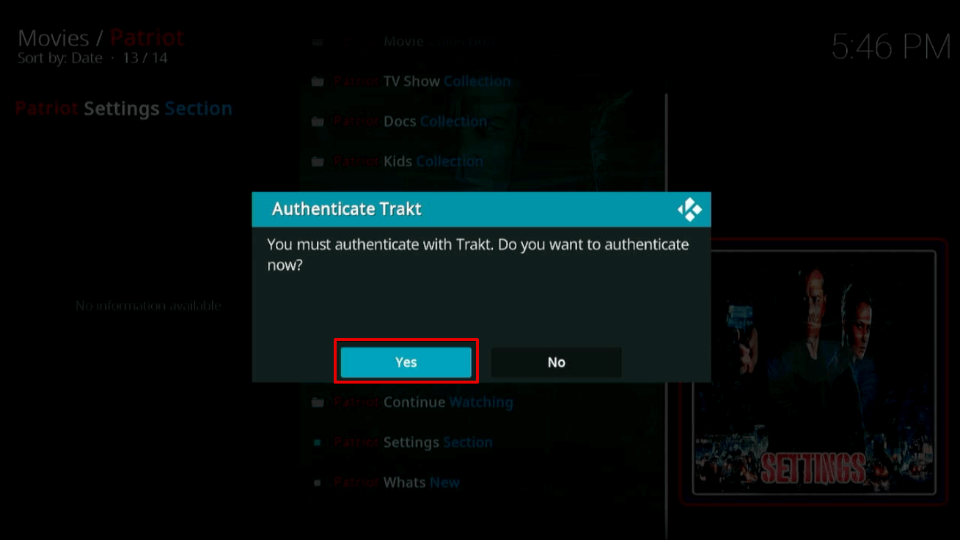 4. You will get an authentication code. Note it down.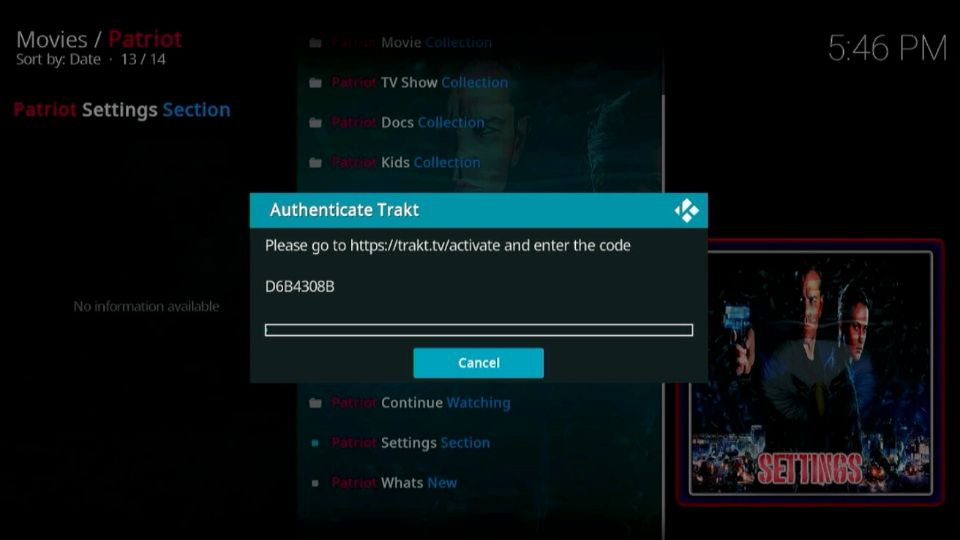 5. Head over to https://trakt.tv/activate on your laptop browser. Log in to your Trakt account by following the onscreen instructions.
Steps to Integrate Patriot with Real Debrid
Real Debrid offers premium links for movies and TV Shows. Once you sign-up for Real Debrid, you can integrate with multiple Kodi addons. Patriot supports Real-Debrid integration. It has a separate section listing movies and TV shows that don't require debris. However, Real-Debrid integration is needed for watching a majority of content. Follow the steps below to integrate Patriot with Real Debrid. 
1. Head over to Patriot Settings.
2. Select Patriot Debrid from the left menu.
3. Toggle on Patriot Enable Debrid services.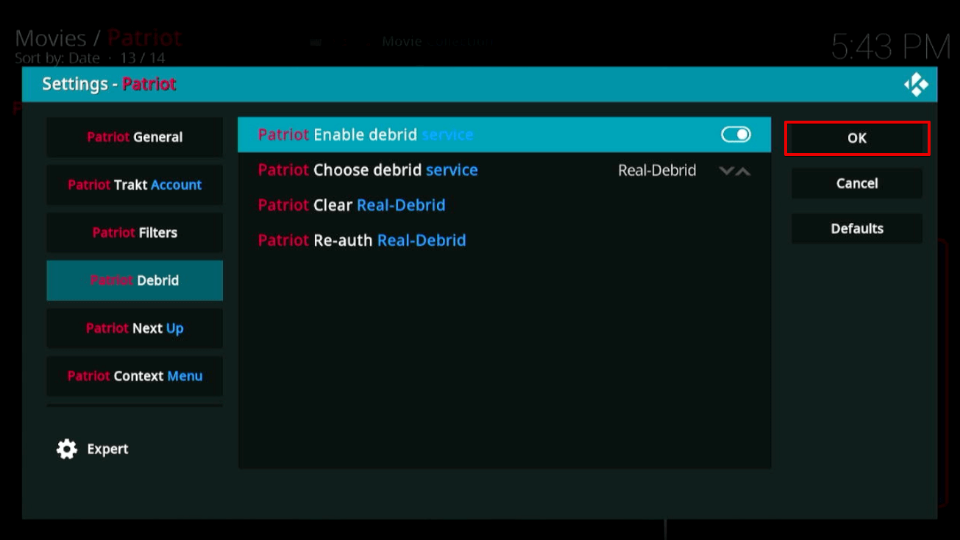 4. Ensure Patriot Choose debrid service is showing Real-Debrid. If not, choose the same from the drop-down menu. 
5. Click Patriot Re-auth Real-Debrid.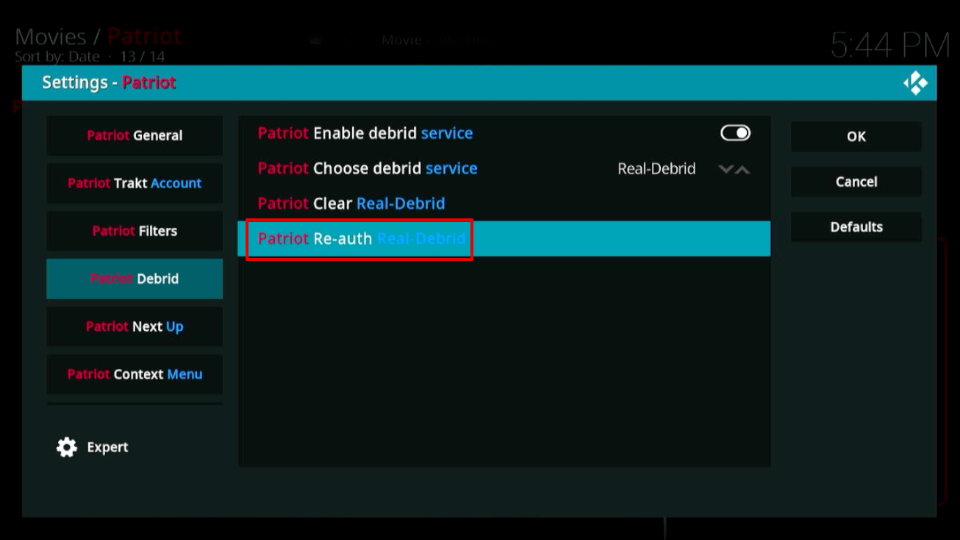 6. Note down the authentication code shown on the screen.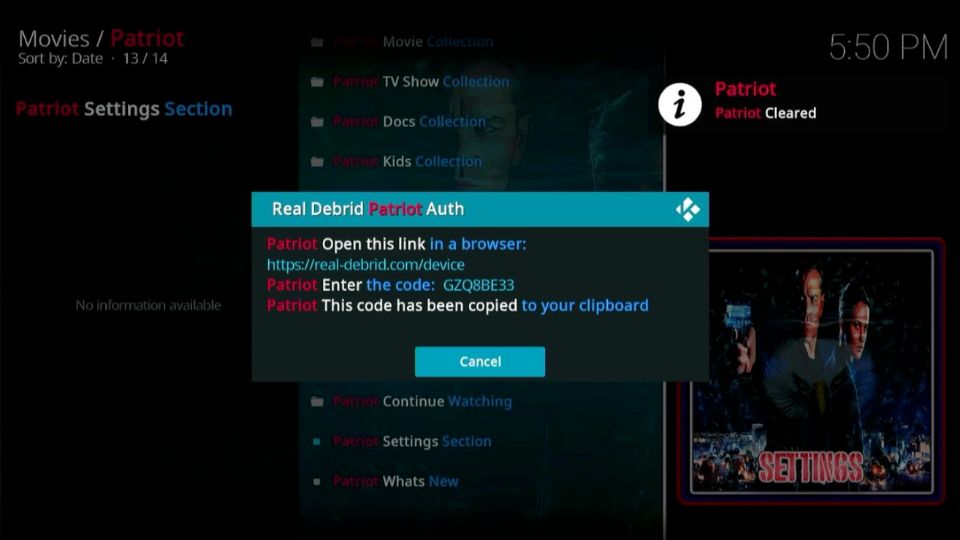 7. Open https://real-debrid.com/device on your PC browser. 
8. Enter the code and click continue. Now enter your debrid credentials and complete the integration.  
Wrapping up
You can rely on Patriot for a vast range of content. In this guide, I have shown how to install Patriot on FireStick. The installation steps largely remain the same for all devices that support Kodi. Please let us know in the comments below if you have any thoughts or suggestions.
Related: