Today, I will show you how to install MediaBox HD on FireStick and Fire TV range of devices (Fire TV Cube, Fire TV Stick 4K, etc.)
MediaBox HD is an on-demand streaming platform that covers a range of content categories including Movies, TV Programs, Music, Cartoon, and Anime. The Android version of the app has been optimized for touch as well as remote-control devices, such as FireStick and Android TV Boxes.
The service fetches plenty of high-quality streams in up to 1080p resolution. It can also be paired with Real Debrid for access to several premium links.
MediaBox HD also has the Trakt support if you are looking to sync your viewing data.
While MediaBox HD is largely free, it also offers premium subscriptions via VIP membership. The paid version of the app is ad-free and supports multi-user connection. However, the free version should be good enough for most users.
Attention FireStick Users: Read before you continue
Governments and ISPs across the world monitor their users' online activities. If found streaming copyrighted content on your Fire TV Stick, you could get into serious trouble. Currently, your IP 35.172.195.82 is visible to everyone. I strongly recommend you to get a good FireStick VPN and hide your identity so that your movie viewing experience doesn't take a bad turn.
I use ExpressVPN which is the fastest and most secure VPN in the industry. It is very easy to install on any device including Amazon Fire TV Stick. Also, it comes with a 30-day money-back guarantee. If you don't like their service, you can always ask for a refund. ExpressVPN also has a special deal where you can get 3 months free and save 49% on annual plan.
READ:
How to install and use VPN on Amazon FireStick / Fire TV
How to install MediaBox HD on FireStick
There are three important aspects of the installation process and we will go through them one by one:
Enable Apps from Unknown Sources in the FireStick Settings
Install the Downloader app from the Amazon Store
Sideload the MediaBox HD app on FireStick with the Downloader app
The above points are elaborated via the step-by-step instructions below:
1: Access the FireStick Settings
For this, highlight Settings option in the menu bar on the top on the FireStick home screen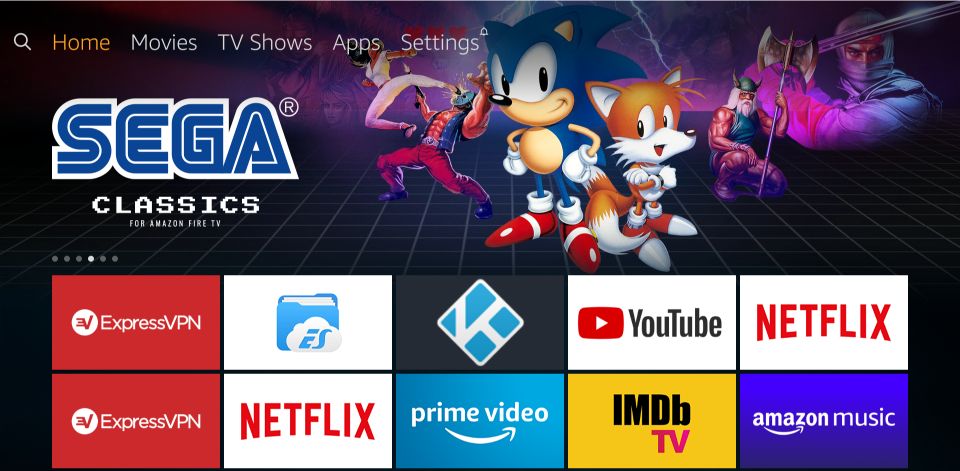 2: Go to My Fire TV and open it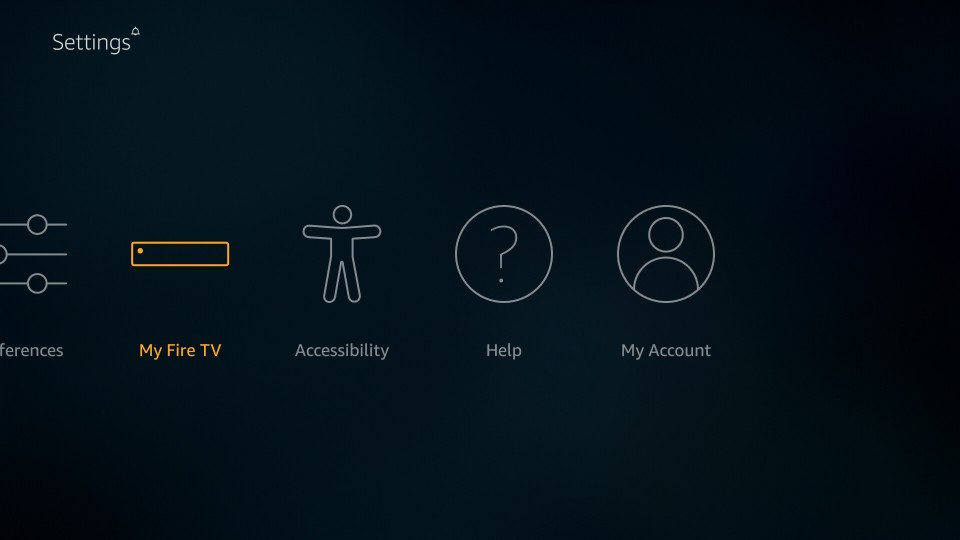 3: Access the option Developer Options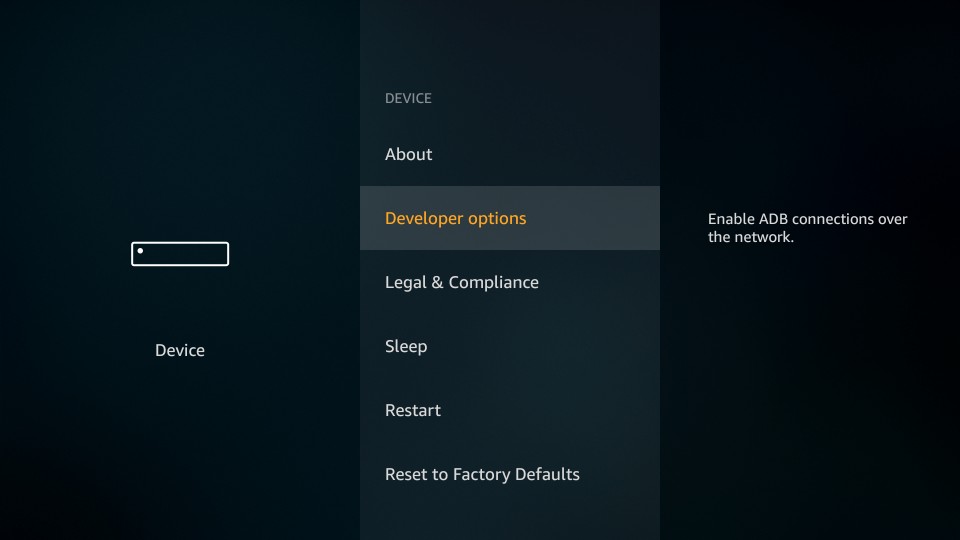 4: To enable the installation of third-party apps, the option Apps from unknown Sources should be ON
If it is OFF, click it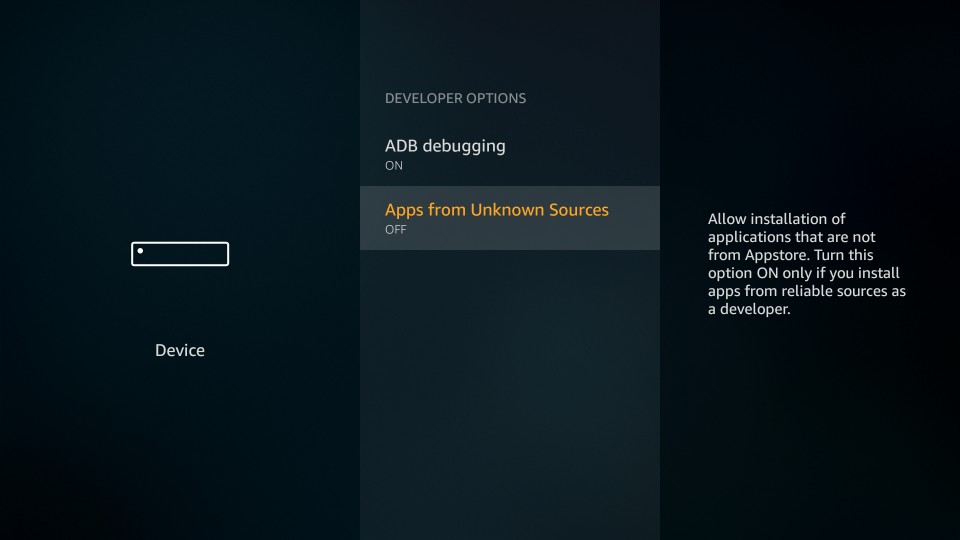 5: In order to proceed, click Turn on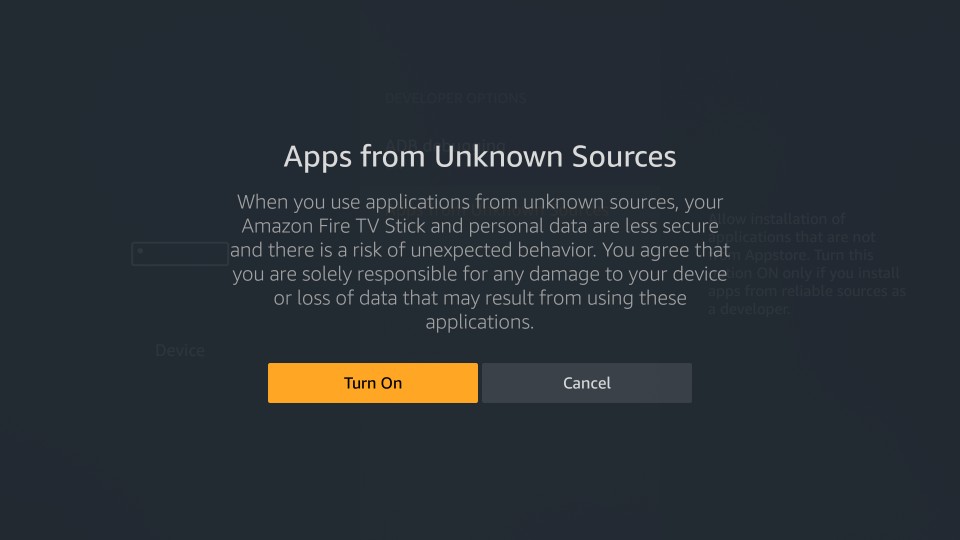 Now, we install the Downloader app
6: Go to the Search option on the FireStick home screen by selecting the lens icon in the top-left corner
7: Now, simply look up for the Downloader app
The on-screen instructions on the following screens will help you install the app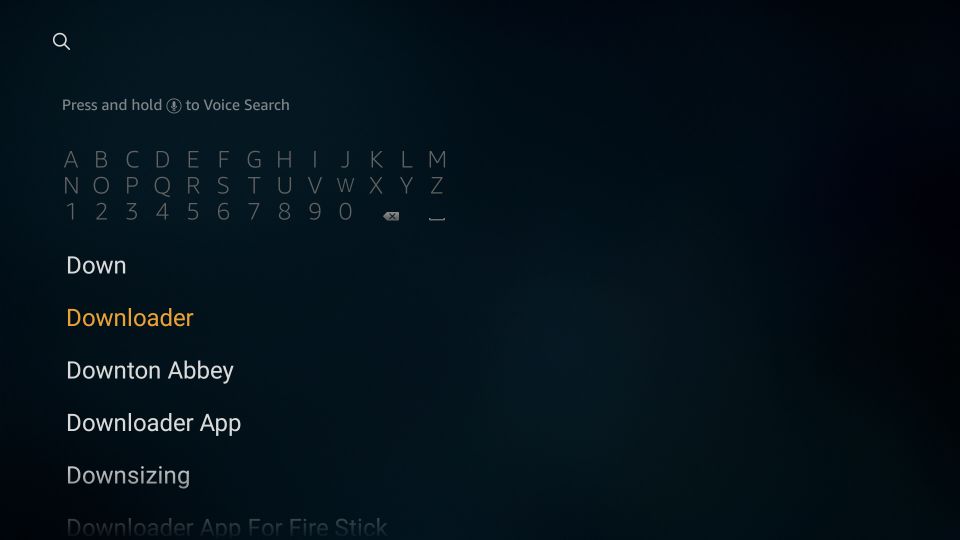 8: When the Downloader app has installed, open it
If this is the first run, a couple of prompts are likely to appear. Choose the suitable options to get rid of the popups.
You should see this home screen of the Downloader app
Click Browser in the left menu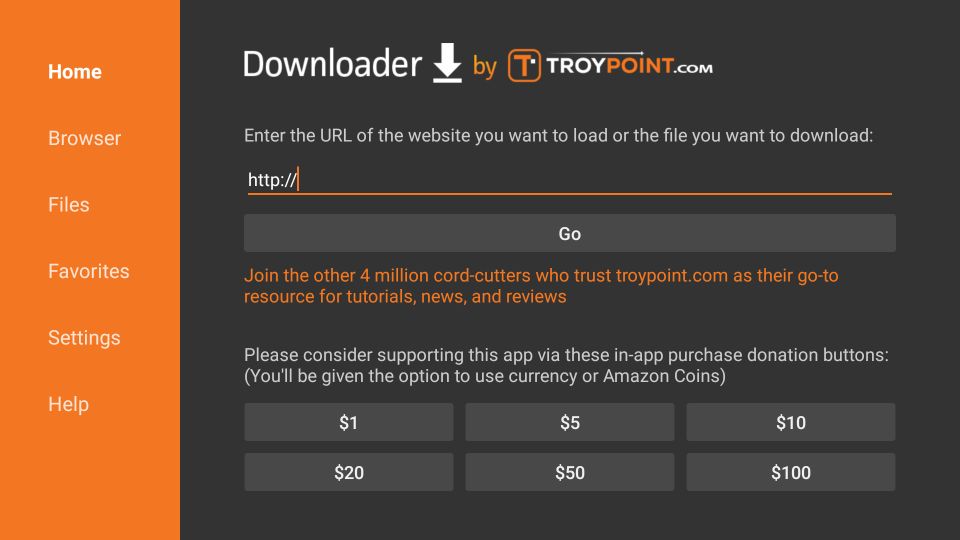 9: Click the address bar on the top
The following onscreen keypad is displayed
Click the Clear button to delete any existing URL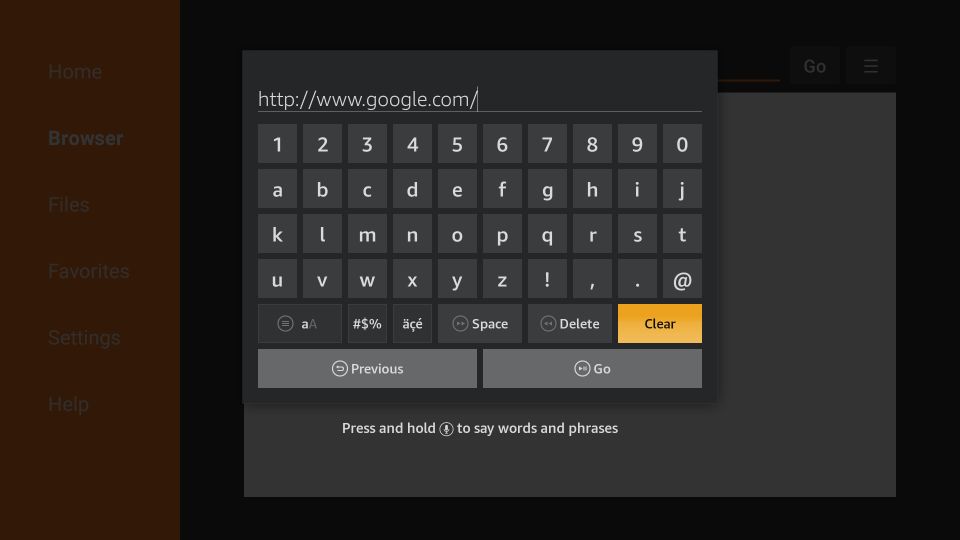 10: Now type the following URL: https://mediaboxhd.net
OR, you may also type the partial URL mediaboxhd.net
Click GO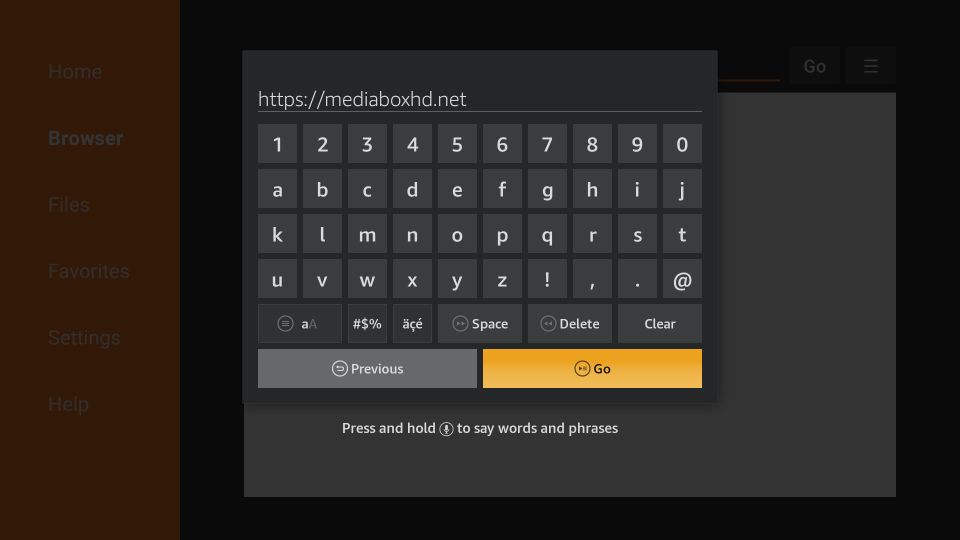 11: When the webpage has loaded completely, scroll down until you see the Download section
Choose the option for Android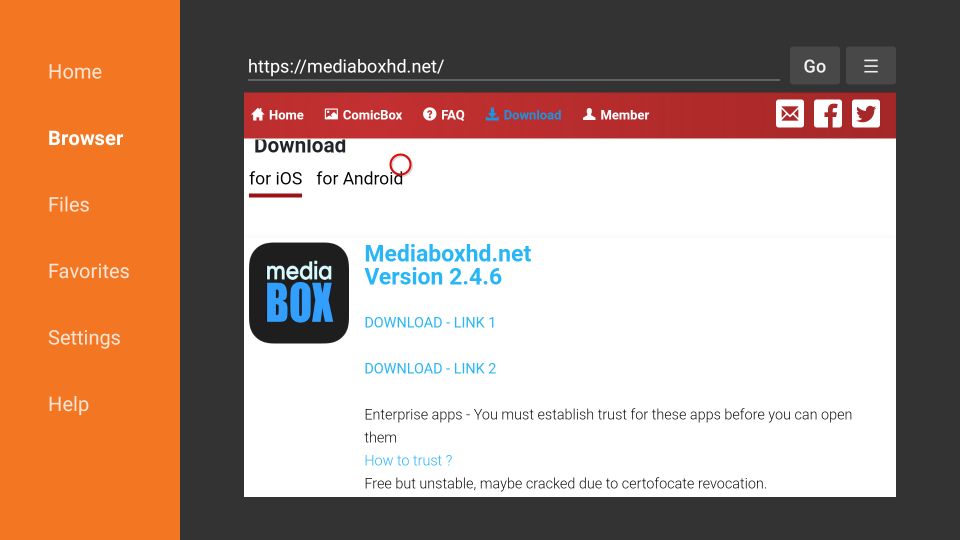 12: Now, click the MediaBox HD download link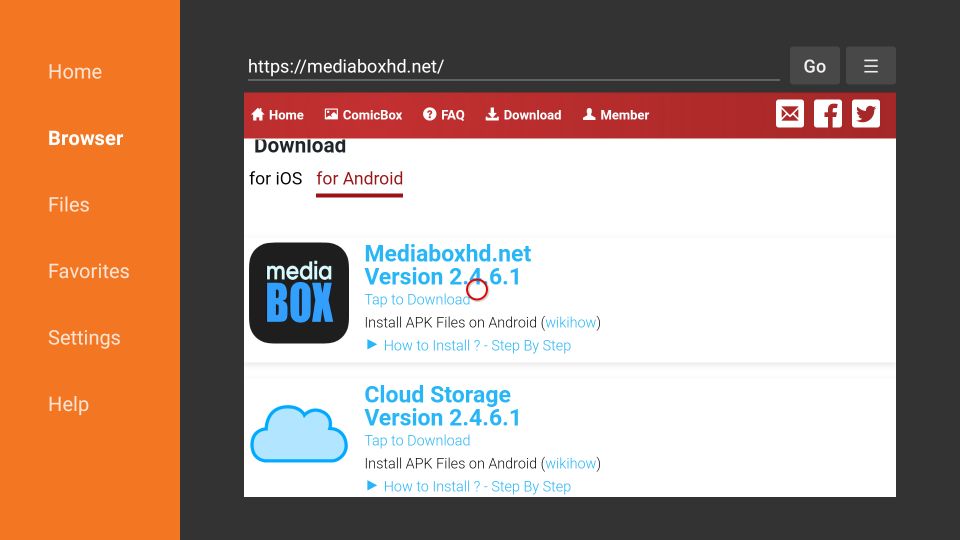 13: Downloader app will start downloading the MediaBox HD APK
This may take a couple of minutes depending upon the speed of your internet connection
Wait!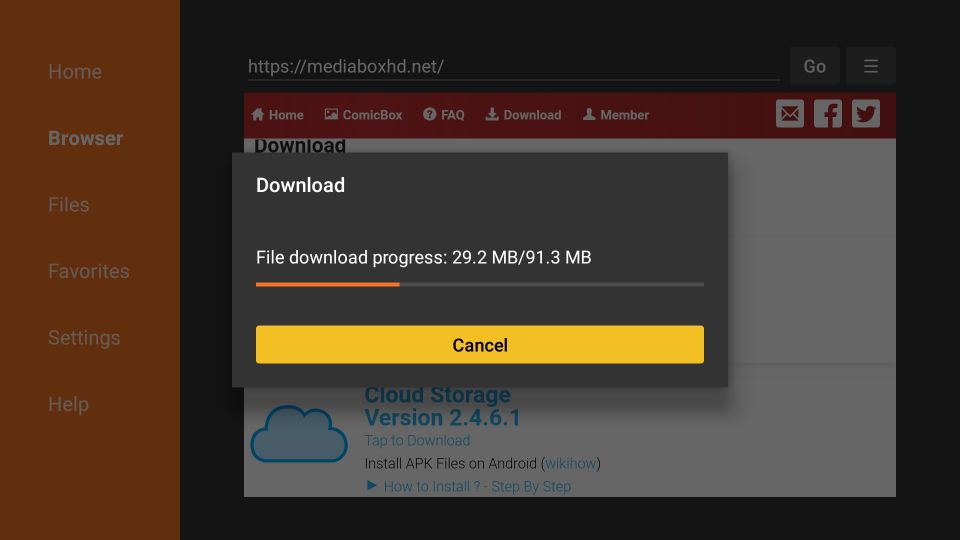 14: When the MediaBox HD file is downloaded, you don't need to run it manually
Downloader app will run it for you
Click INSTALL at the bottom of this prompt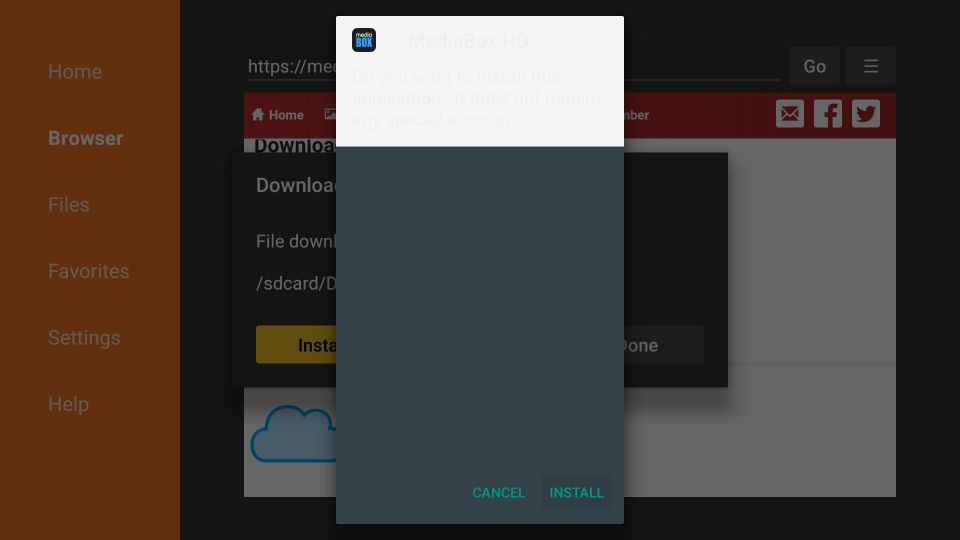 15: MediaBox HD app is now installed on FireStick
Wait for a minute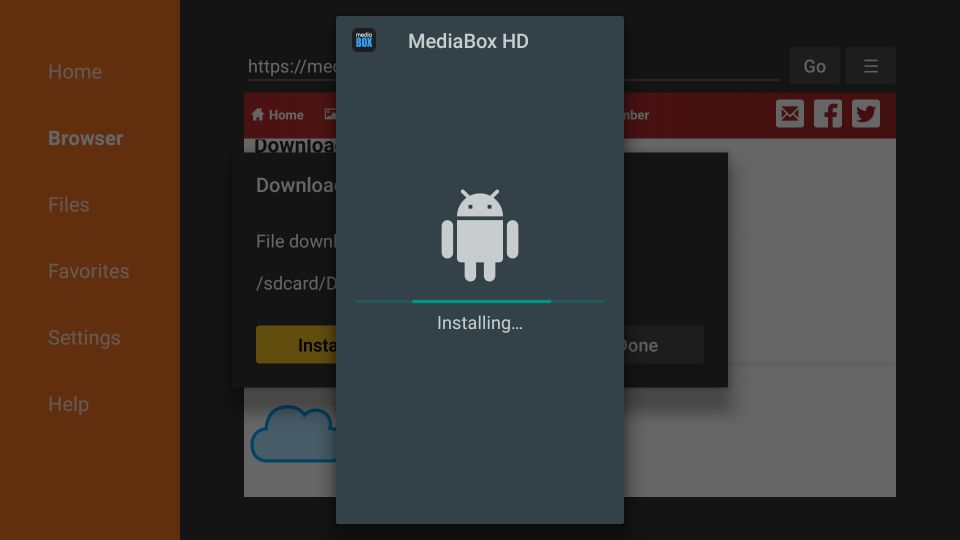 16: When the MediaBox HD app has installed, you will see the App installed message
If you would click OPEN, you will be able to run the app
I suggest we click DONE first and delete the 90+ MB APK file that was downloaded. It is a good storage management practice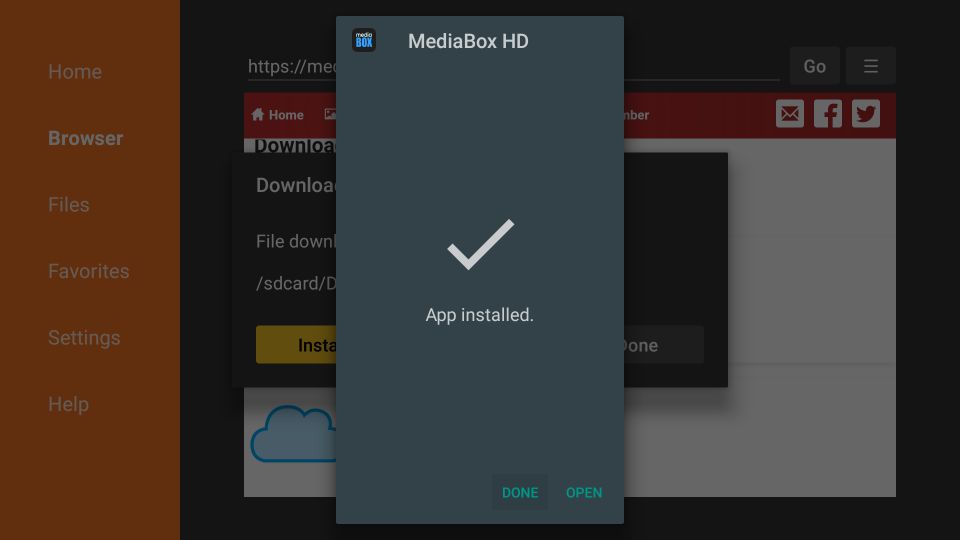 17: Click Delete to delete MediaBox HD APK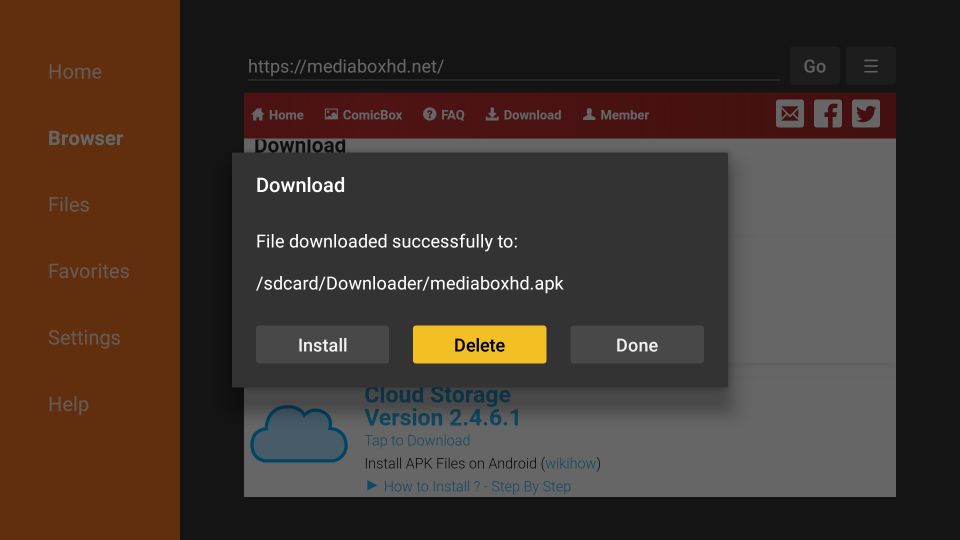 18: Choose Delete again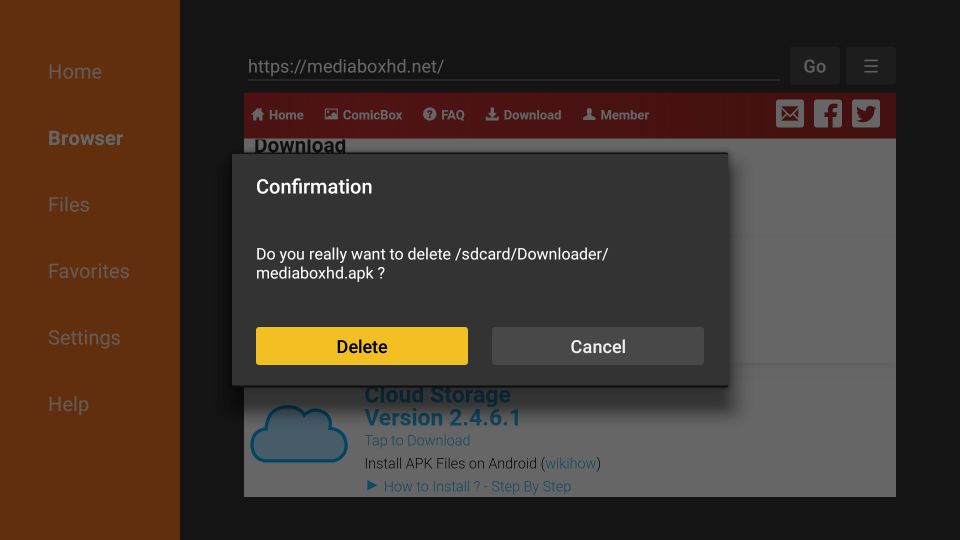 This is how you install MediaBox HD on FireStick and other Fire TV devices. Since we didn't open the app earlier, we will explore it in the next section.
How to use MediaBox HD on FireStick
Any app you install on FireStick is available via the Your Apps & Channels section
If you don't know how to access this section, here is the quick look:
Method 1: Press the Home key on the Amazon FireStick remote for about five seconds. Click Apps on the popup window
Method 2: Click See All in the Your Apps & Channels section on the home screen
When you are on the window that shows the list of your installed apps, scroll down right to the bottom to select MediaBox HD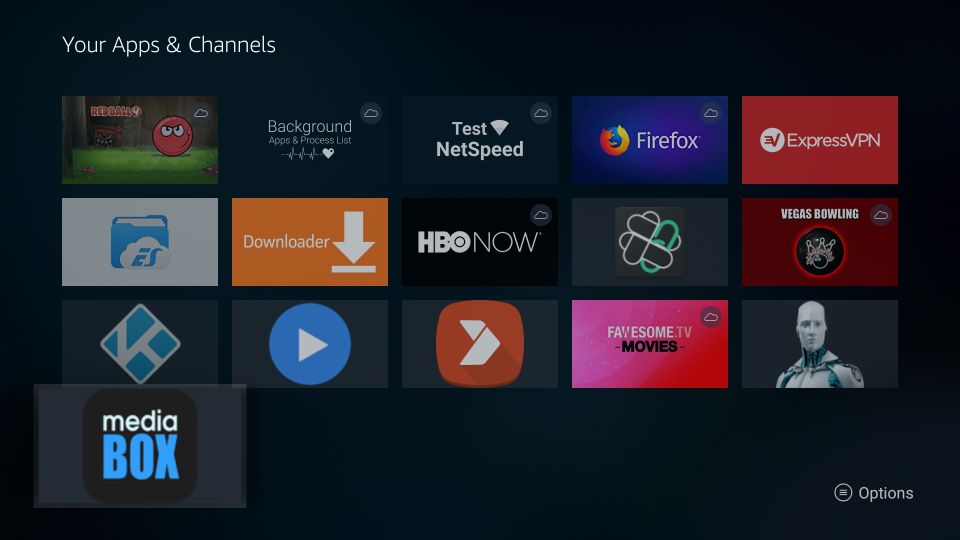 You may now run the app
If you think you will use MediaBox HD frequently, it would be a good idea to have it on the home screen of FireStick
Just press the menu key on your Amazon Fire TV remote (the key with three lines). On your TV, click Move on this bottom-right popup menu. I recommend moving the app to the first row on the top for quick access from the home screen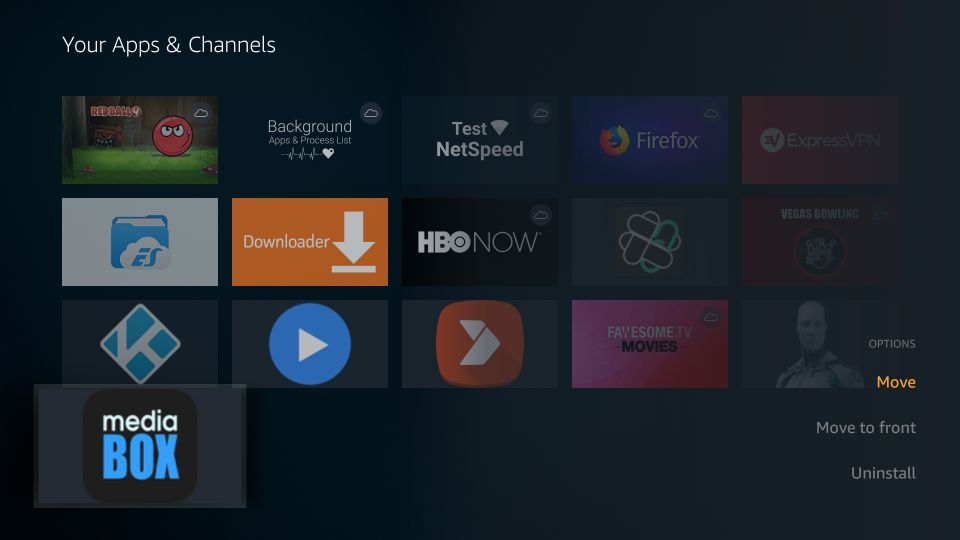 Let us now see how to use MediaBox HD on Amazon Fire TV/FireStick
MediaBox HD main screen
Click Allow when this prompt is displayed on the first run of the MediaBox HD app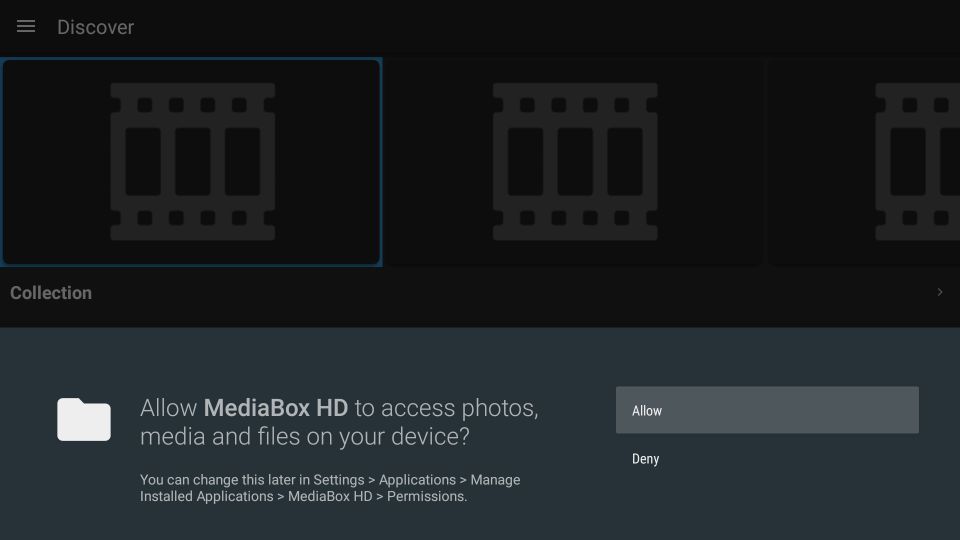 Now, this is the home screen of MediaBox HD
There is a menu bar on the bottom that gives you access to the following screens:
Note: You can activate the menu bar by pressing the back button once
Discover: Displays the featured content in various categories
Movies
TV Shows
Search: Look up for movies and shows by titles. You can also look up for actors, directors, etc.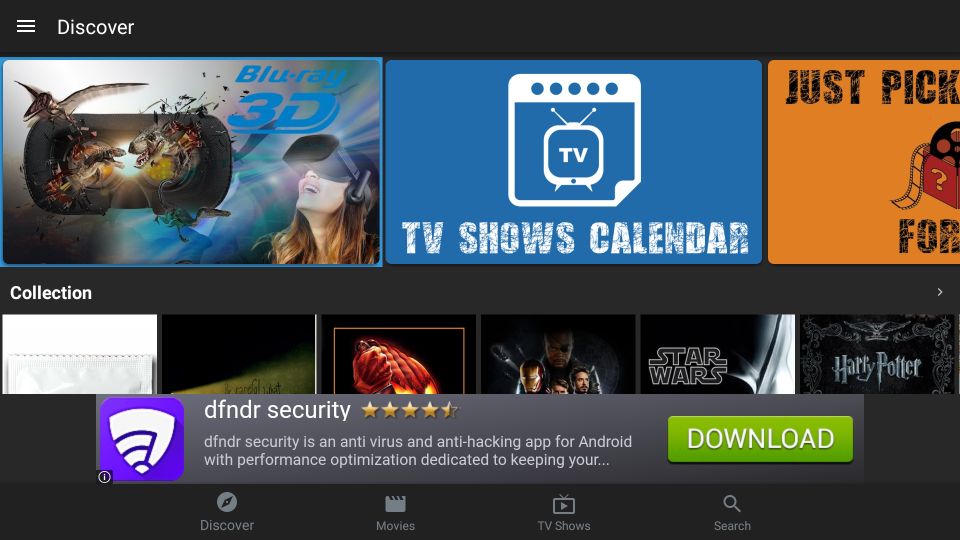 The Discover window features the following categories
Collection
Most Watched Movies on MediaBox HD
Most Watched TV-Show on MediaBox HD
Recently added Movies
Recently added TV-Show
Asian Drama
Cartoons
Anime
Music Charts
On the Movies or TV Shows window, you can sort the content by various categories. The filter option is also available
To sort the videos, click the upside-down arrow next to the 3-line menu in the top-left.
To filter the video, click the other upside-down triangle in the top-right corner. Here are the filter options:
Let us now explore the menu options
To open the MediaBox HD menu, click the 3-line icon in the top-left corner
OR
You may press the 3-line key on your FireStick remote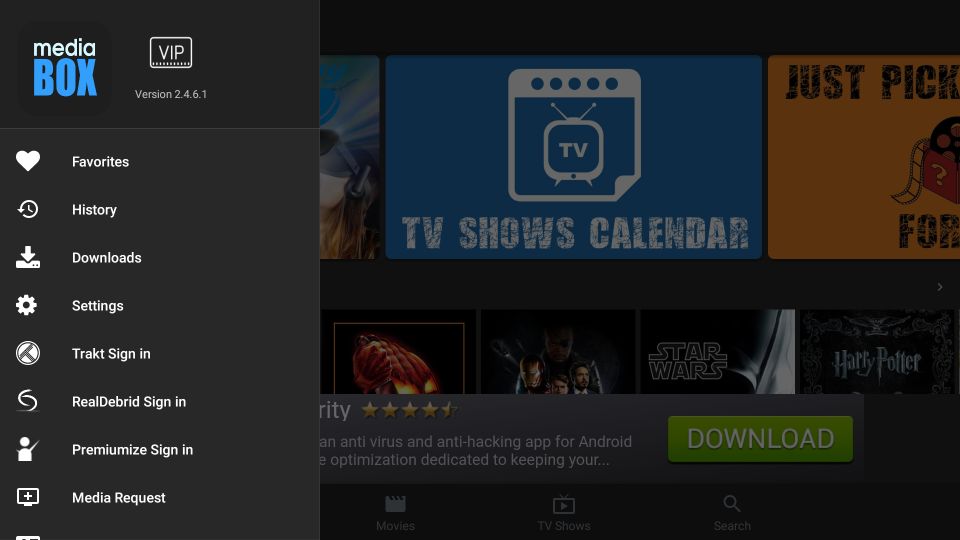 Here is a quick look at some of the menu options:
Favorites: displays the movies and shows you have marked as Favorite
History: displays your streaming history
Downloads: lets you access any videos you have downloaded
Settings: gives you access to app Settings (explored next in detail)
Trakt Sign in: Sign in to your Trakt account to sync your viewing history, favorites across apps
Real Debrid Sign in: Sign in to Real Debrid account for premium streaming links (recommended)
MediaBox HD app Settings
To open MediaBox HD Settings, click Settings in the menu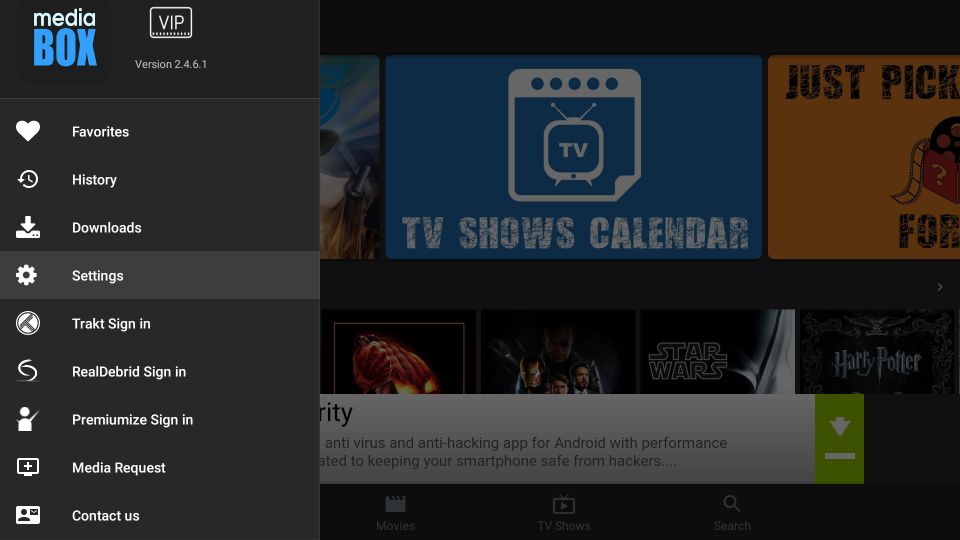 In the Player section, you can choose the video player for playback. If you don't specify, MediaBox HD will automatically pick a player for you
I recommend using MX Player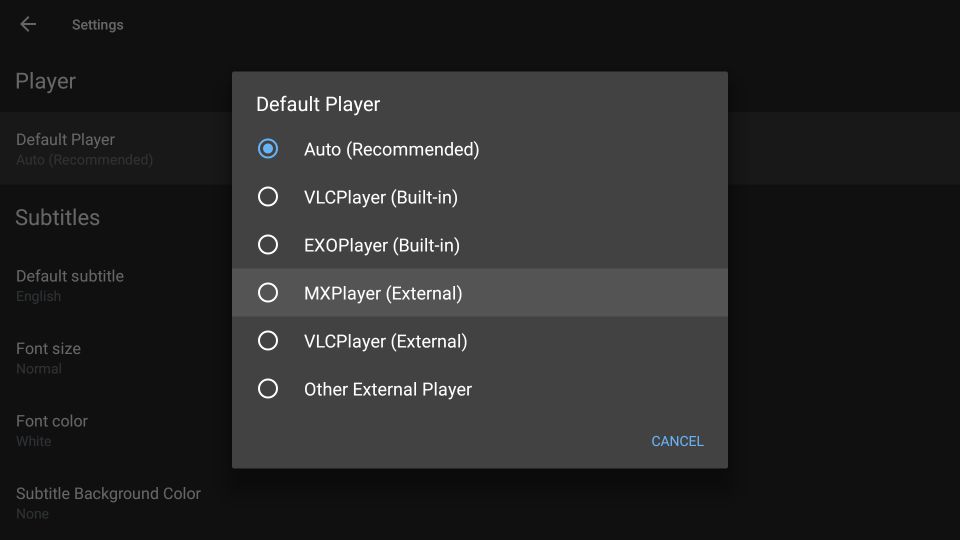 The Subtitles section lets you customize subtitles settings
In the User Interface section, you can change the Poser Size. Small, Normal, Large are the available options
Kid Mode is probably the most interesting option in the MediaBox HD Settings. When you enable Kid Mode, the app only displays the content suitable for kids. With one click, you can convert this regular, on-demand app into an app for kids.
Before you start streaming with your Fire Stick, there is something incredibly important you must know. All your online activities are subject to surveillance and monitoring by your ISP as well as your Government. Streaming licensed or copyrighted videos for free could land you in legal troubles. 
The good news is that you can hide all your online and streaming activities from anyone who might be watching and that includes your ISP, Government or any third-party entity. What you simply need is a reliable VPN for your FireStick. With a VPN, you can stream with complete peace of mind as it will encrypt your internet connection and keep it hidden from the prying eyes.
I am not encouraging you to stream content illegally. I do not condone such activities. However, your privacy matters and it must be maintained. What if you do not intend to stream copyrighted content and still end up doing it anyway? You would not want to be penalized for an unintentional mistake. 
I have been using ExpressVPN for a long while and confidently recommend it as the best, fastest and safest VPN for FireStick.
Let me show you how to start using a VPN on FireStick under 2-minute.
#1. Subscribe to ExpressVPN: Click HERE to subscribe to ExpressVPN. You can save up to 49% on the annual plan. ExpressVPN also offers a 30-Day full refund guarantee in the event you are not satisfied with it. However, if you intend to use a VPN, I don't see any reason why you would want to opt out of it.
#2. Look up for ExpressVPN on FireStick: You can download ExpressVPN from Amazon Store. From the home-screen of your FireStick, select the Search function (top-left) and look up for ExpressVPN.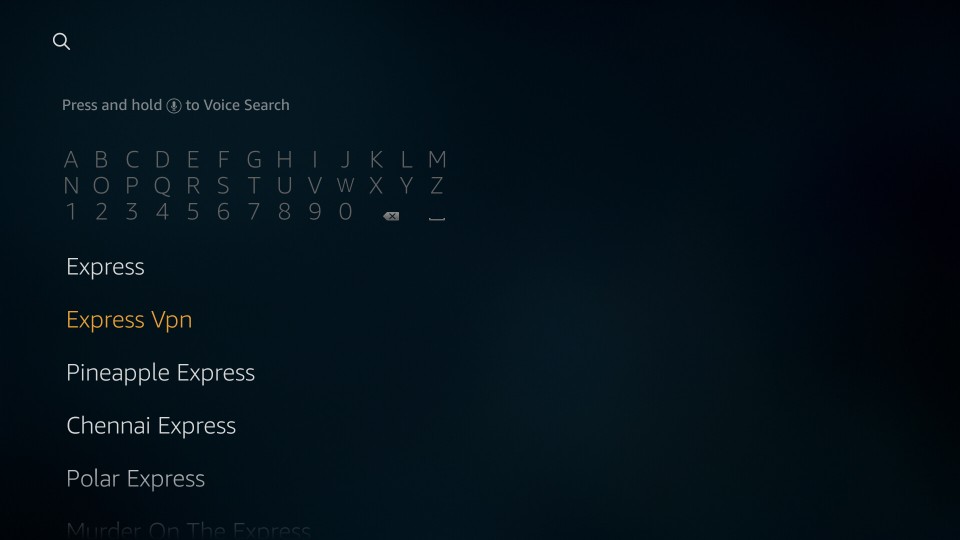 #3. Download & Install ExpressVPN on FireStick: Open the ExpressVPN icon on the next screen. Now click the Download option as you see on this window. Wait for the ExpressVPN app to download and install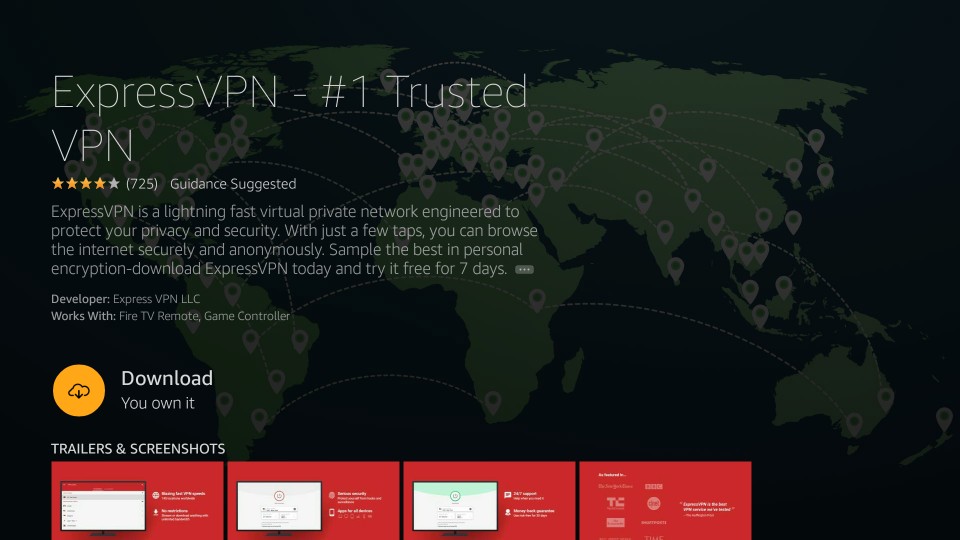 #4. Sign into ExpressVPN on FireStick: Launch ExpressVPN on your device and click Sign in on the bottom of the first screen. Enter your login credentials on the following window and click Sign in again

#5. Connect ExpressVPN on FireStick: Click the connection button to connect to VPN. You can connect to the default server ExpressVPN has already chosen for you based on your location or you could pick any other region/server of your choice.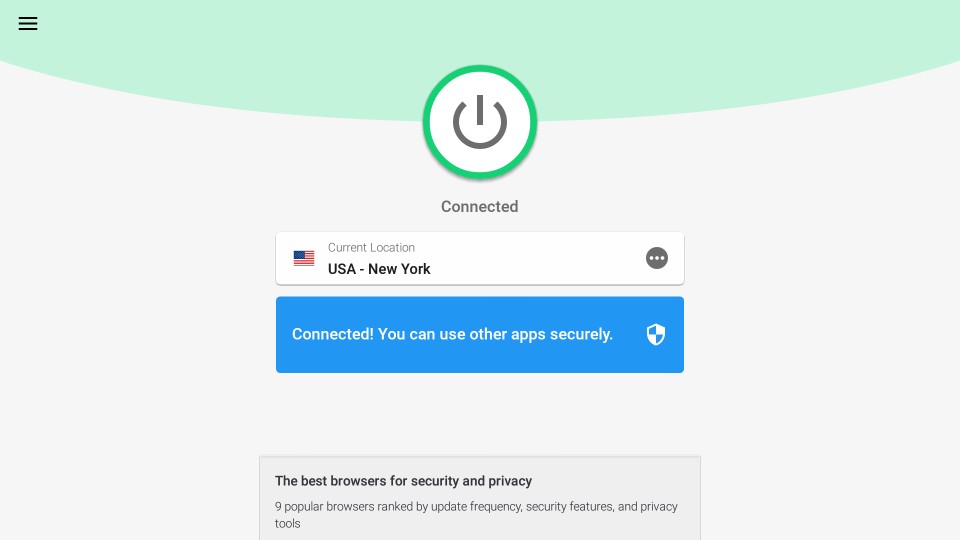 Once you have secured FireStick with ExpressVPN, you can start streaming with peace of mind.
MediaBox HD VIP Membership
MediaBox HD free version is ad-supported and offers limited features. The app also has a premium version available via VIP Membership. The premium version has the following benefits:
Ad-free experience
Dedicated streaming services for fast streaming
Early access to new features and services
Multiple connections on up to 5 devices
To become a VIP member, register for an account HERE and choose a subscription plan. You can pay by PayPal or CoinBase.
Following plans are available:
$1.99 for 1 Month
$8.99 for 6 Months
$11.99 for 12 Months
In the end…
MediaBox HD is an incredible on-demand app with access to hundreds of movie titles and episodes. The app is remote-friendly for the most part. However, you may experience rare issues with navigation from time to time. In such a case, you may use the Mouse Toggle app.
The app gets you some quality streaming links. However, Real Debrid sign in makes it even more exciting. Trakt integration is also supported, allowing you to sync your data across various apps. The app is ad-supported. You can sign up for the paid VIP Membership to remove ads and to gain access to premium app features.
Overall, MediaBox HD for FireStick is a great streaming option.
You may also like:
How to Jailbreak a Firestick
How to install Kodi on Firestick
How to install Cinema APK on Firestick
How to install Cyberflix TV APK on Firestick