Today, I will show you how to install Mouse Toggle on FireStick. The instructions also work on Fire TV Cube as well as Fire Stick 4k.
Mouse Toggle is an app that lets you use mouse functions with your remote on FireStick. It is a handy tool to have and is the part of our Best Apps for FireStick list too.
FireStick is a popular, Android-based streaming device and supports dozens of applications. The supported apps are designed for use on the larger screen of a television set with the help of the Amazon FireStick remote controller. Numerous apps created for Android mobiles offer hundred percent remote-compatibility on FireStick. However, there are some apps that do not offer such support.
What I mean to say is that the interface of certain Android mobile apps is designed only for touch-friendly interaction and navigation. Even if you sideload such apps on FireStick, you may not be able to use it completely or partially with your remote. There may be certain sections of the app your remote wouldn't simply reach.
This is where Mouse Toggle app comes into the picture. This app lets you navigate the touch-friendly apps with the help of a mouse pointer.  You can make the pointer appear or disappear at will. In other words, you can switch between Mouse Toggle functions and normal remote functions whenever you like.
Let us first learn how to install Mouse Toggle on FireStick. Later, you will see how to set up and use it.
Attention FireStick Users: Read before you continue
Your streaming activities are probably getting monitored constantly by your Government and your ISP. If you are caught streaming copyrighted videos on your FireStick, you are likely to get into serious legal trouble.
Your IP address 2607:5300:203:2226:: is exposed to anyone who is watching. That is how they will track you. Therefore, I strongly recommend that you get a trusted VPN for Firestick right now and hide your online identity.
I am using ExpressVPN on all my devices as it is the most reliable, most secure, and the fasted VPN in the market. You can easily install and set up ExpressVPN on FireStick or any other device within minutes.
ExpressVPN offers you a money-return guarantee of 30 days. Also, you can claim 3-months free and save 49% on its annual plans.
READ:
How to install and use VPN on Amazon FireStick / Fire TV
How to Install Mouse Toggle on FireStick
Mouse Toggle app has been created by the independent, third-party developers and is not supported by the official Amazon Store. This means the app must be sideloaded onto your FireStick. And, to do that, first, follow these set of instructions:
1- Go to the FireStick/Fire TV Settings from the home screen and open My Fire TV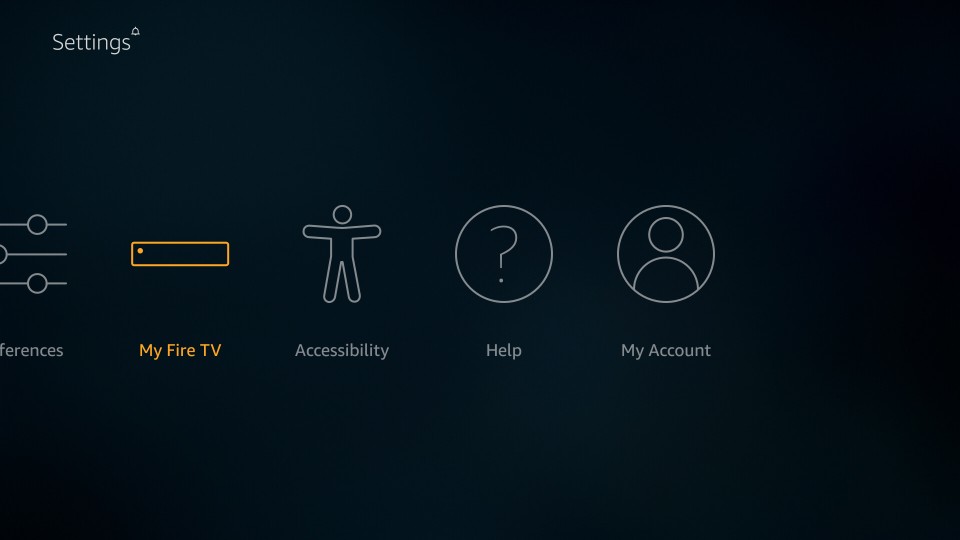 2- Now, choose the item Developer Options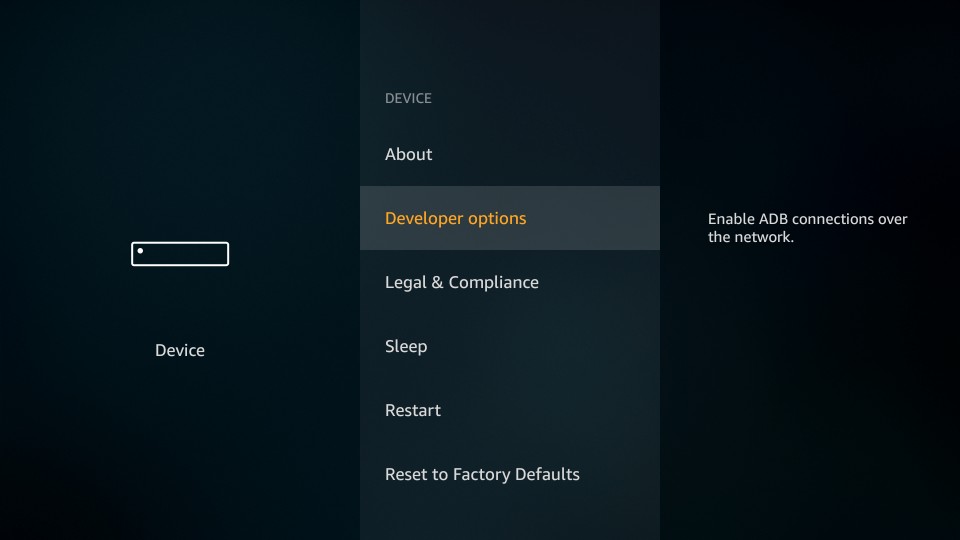 3- Make sure ADB Debugging and Apps from Unknown Sources options are ON.
Note: Do not forget to enable ADB Debugging or the Mouse Toggle app will not work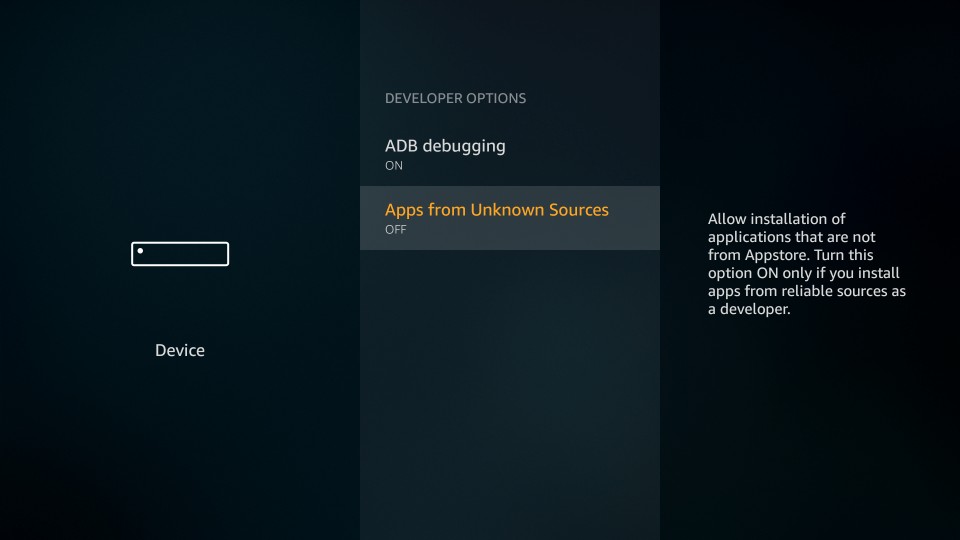 4- When you enable Apps from Unknown Sources, this prompt is displayed. Click Turn on

You can now sideload the Mouse Toggle app on FireStick
Installation Instructions (Downloader App)
You are going to need an additional application to install Mouse Toggle (or for that matter any third-party app).
Let's do this with the very popular Downloader app. If you don't have it already, here is how you get Downloader:
Go to FireStick Search section from the home-screen
Type "Downloader" (without quotes)
You will see the app in the search results. Click it.
Simple onscreen instructions will now guide you through the rest of the process
You may now start with the steps to install Mouse Toggle on FireStick:
1- Click the address bar on the Downloader app home screen (the area where it asks you to enter the URL)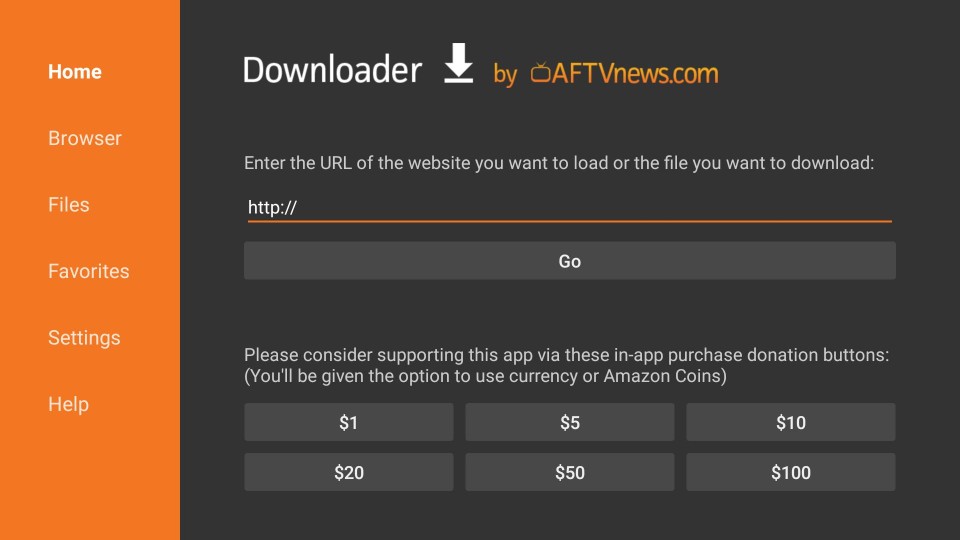 2- Type the following path: https://www.firestickhow.com/mouse
Click Go

3- Mouse Toggle APK download should take less than a minute (though it depends on your network connection)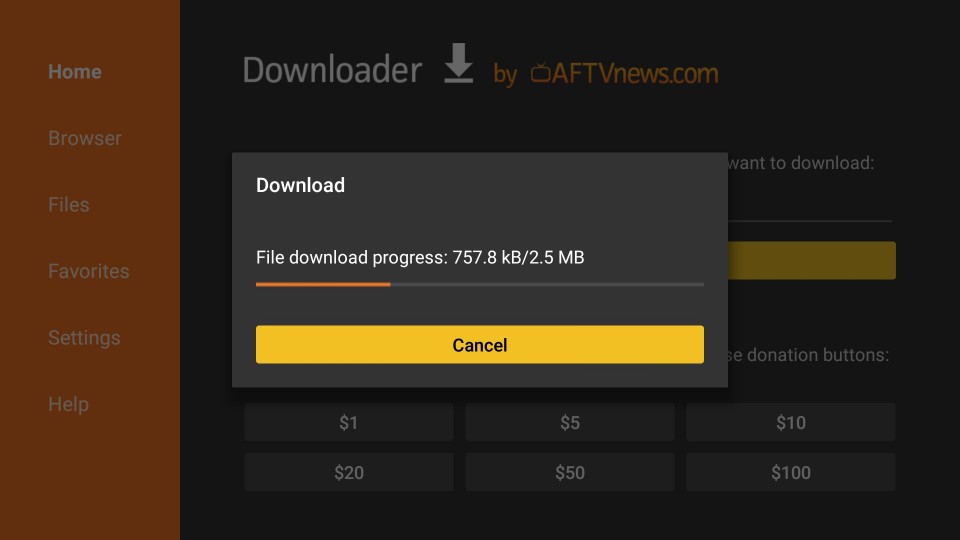 4- Scroll down a bit on the next window and click Install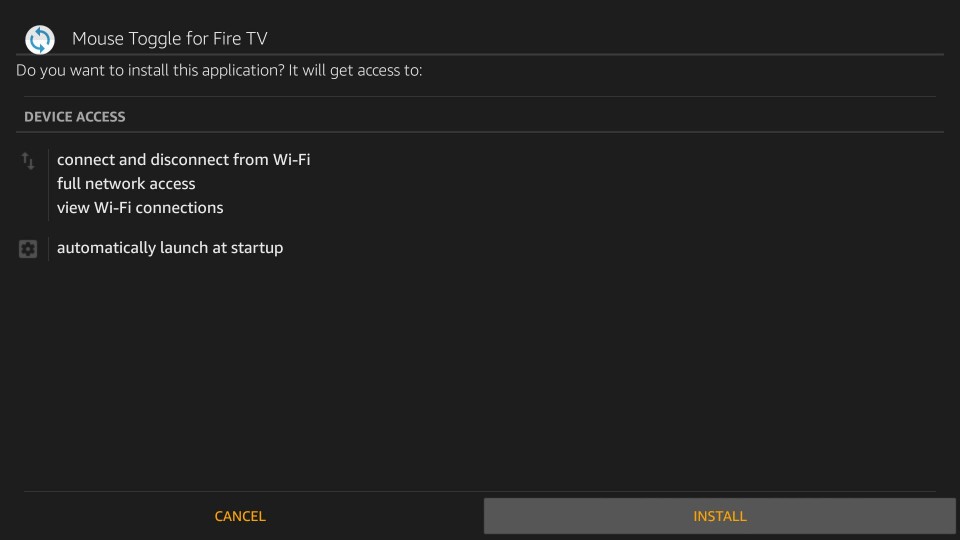 5- Wait for the App Installed notification and then click Done. You may Open the app later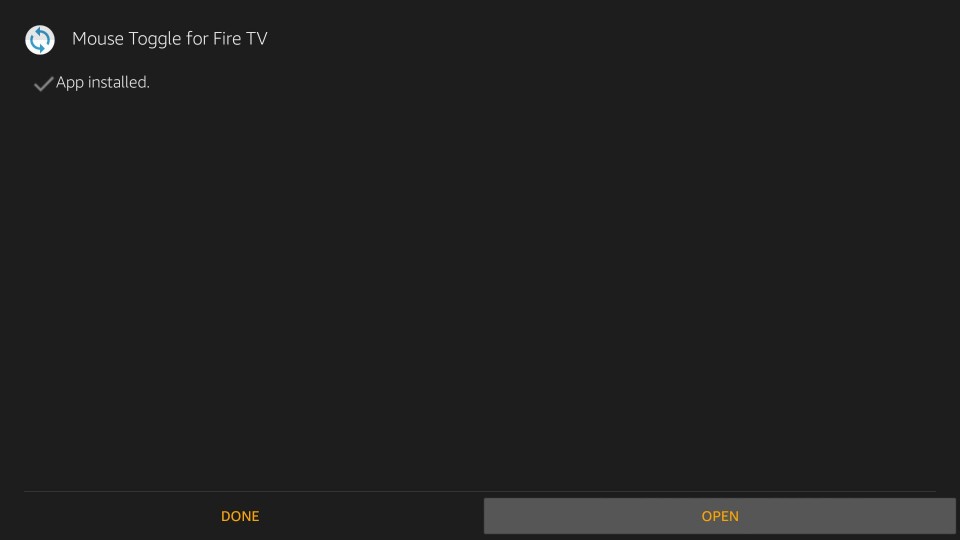 6- You are now guided back to the Downloader app. Click Delete and click Delete again
Note: in this step, you delete the Mouse Toggle APK file, which isn't needed on your storage anymore. Keep freeing up space whenever you can
Mouse Toggle App has been successfully installed.
How to Set up and Use Mouse Toggle FireStick app
Go to FireStick home screen. Now navigate to Settings >> My Fire TV >> Developer Options. Make sure ADB Debugging is ON. 
Important!!! If Mouse Toggle is not working, disable and enable ADB Debugging. This usually helps.
Press the Home button on your remote to return to the FireStick home screen. You should see the Mouse Toggle icon in the Your Apps & Channels category. If it is not there, navigate all the way to the right (while Your Apps & Channels category is selected) and click See All. You will find all your applications here, including Mouse Toggle. Open it.
Alternately, you may access the Mouse Toggle app from Settings > Applications > Manage Installed Applications > Mouse Toggle > Launch Application
This is the main (and only) screen of the app.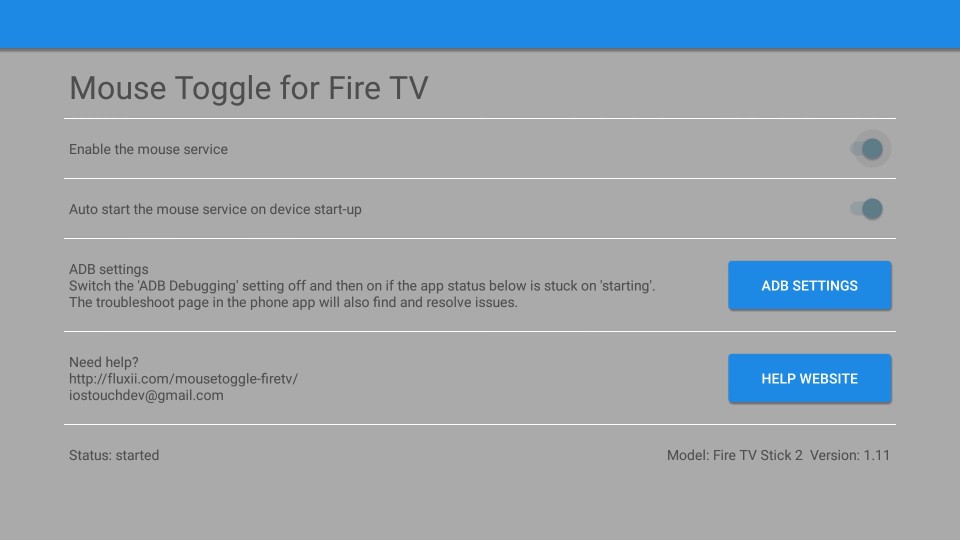 Make sure the following options are enabled:
Enable the mouse service
Auto start the mouse service on device start-up (if this option is disabled, you will need to enable it manually every time your FireStick is restarted)
When the mouse service is enabled and working, on the bottom-left you will see the Status as started.
The app interface also lets you access ADB Settings directly.
Now coming to how to use Mouse Toggle on FireStick. It's incredibly easy.
All you need to do is quickly press the Play/pause button twice on your remote. This will display the mouse pointer on the TV screen. You can guide the pointer around the screen with the navigation keys on the remote (left, right, up, down).
When you don't need to mouse pointer and wish to return to the normal remote functions, press Play/pause button once and press any navigation key.
How to fix: Mouse Toggle is not working
First, you have to make sure ADB Debugging is ON.
Now, as I said before, if Mouse Toggle is still not working, go to FireStick Settings >> My Fire TV >> Developer Options and turn off ADB Debugging. Now, turn ADB Debugging back ON. This solution works almost all the time.
On certain devices, you may need to change the Display settings. Go to Settings >> Display & Sounds >> Display >> Video Resolution and select 1080p 50 Hz. It won't affect your viewing experience on FireStick.
Alternate Method to Install Mouse Toggle on FireStick
If you have already used the Downloader method to install Mouse Toggle on FireStick, there is no need to follow this method.
We will now use the ES File Explorer app to install Mouse Toggle. Just in case the Downloader method doesn't work, this will be your failsafe.
Let's install ES File Explorer first from the Amazon Store:
Use the Search tool on the FireStick home screen and search for ES File Explorer
Click ES Explorer in the search results
Online instructions will now help you install ES File Explorer on FireStick
When that's done, follow these steps and install Mouse Toggle:
1- Open the Downloader option on ES File Explorer as you see in the image below
Or, on the left menu go to Tools > Download Manager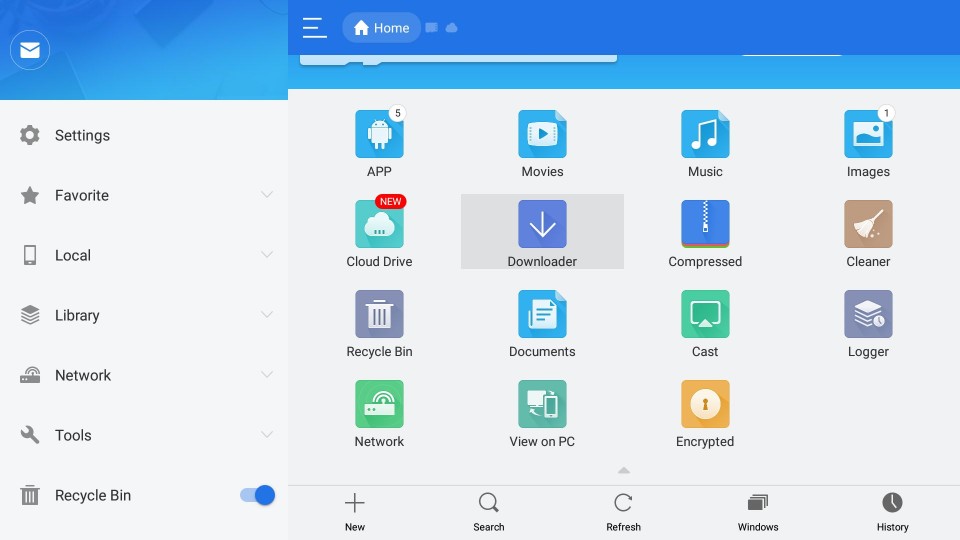 2- Click +New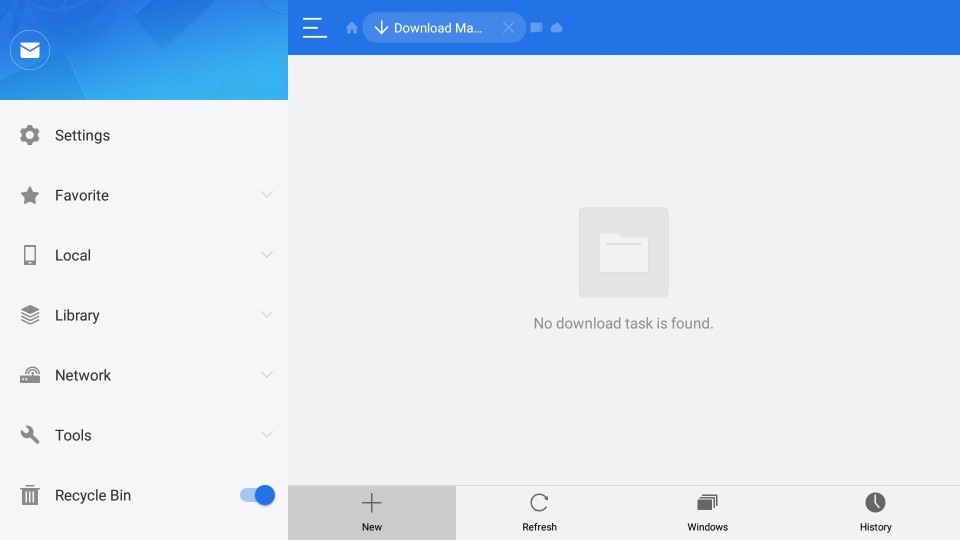 3- You must see this 'Download' dialog window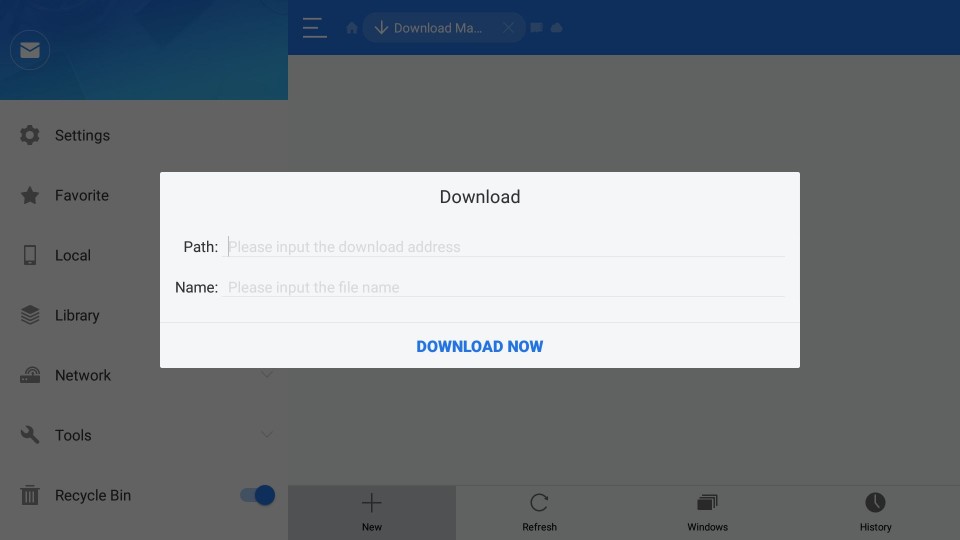 4- Your path will be https://www.firestickhow.com/mouse
Whether or not you type any name wouldn't matter
Click Download now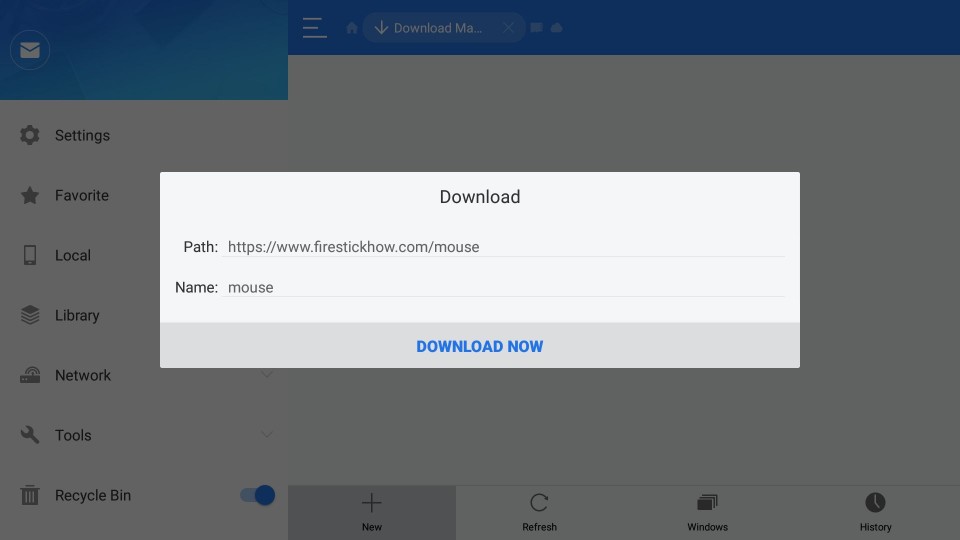 5- Click Open file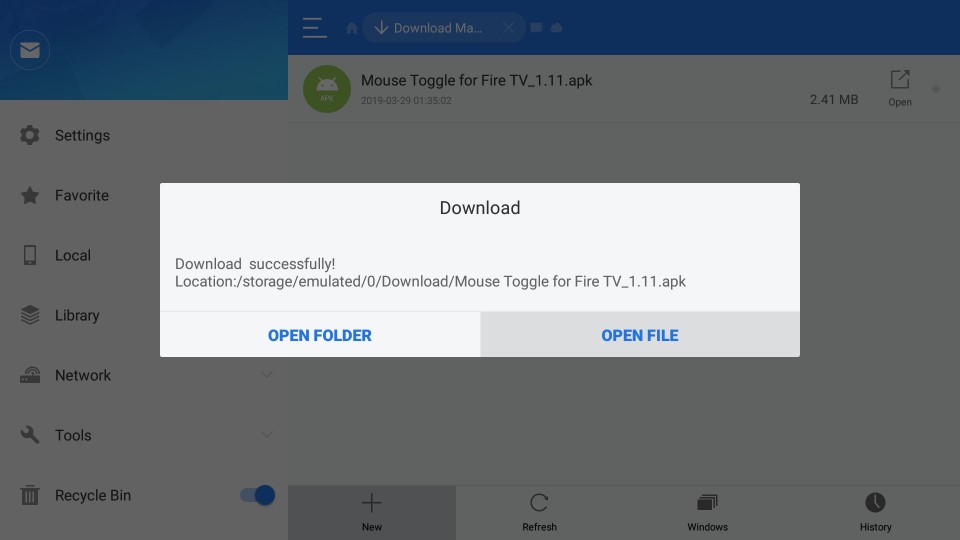 6- Click Install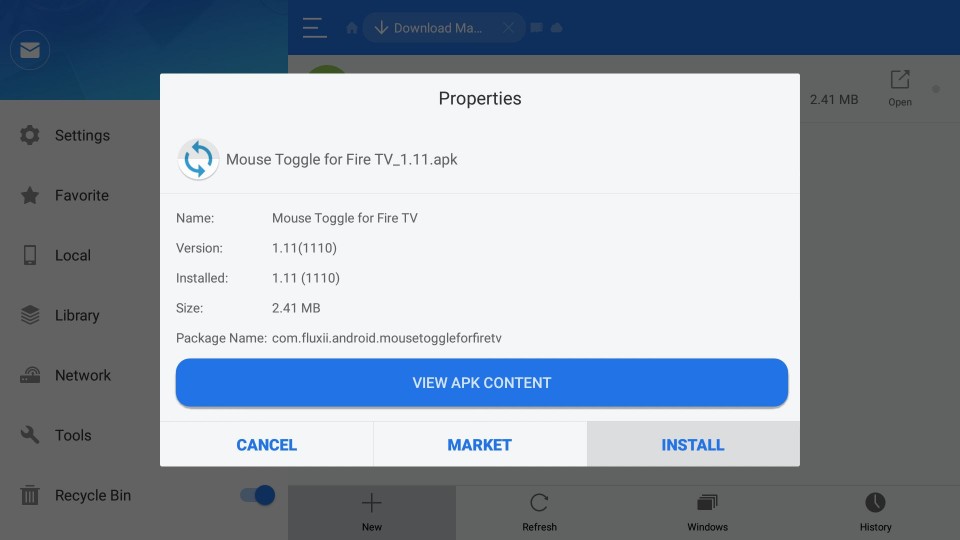 7- Click Install again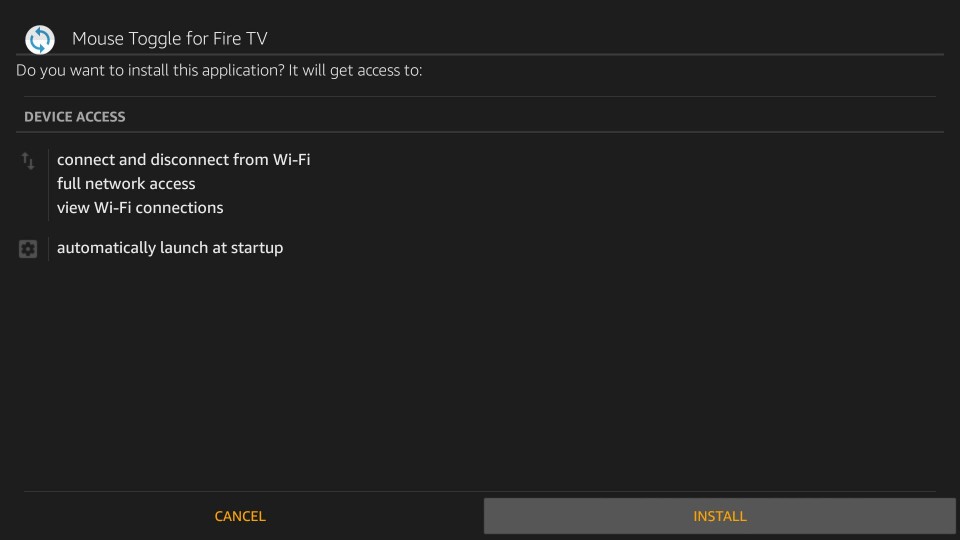 8- Wait for App installed message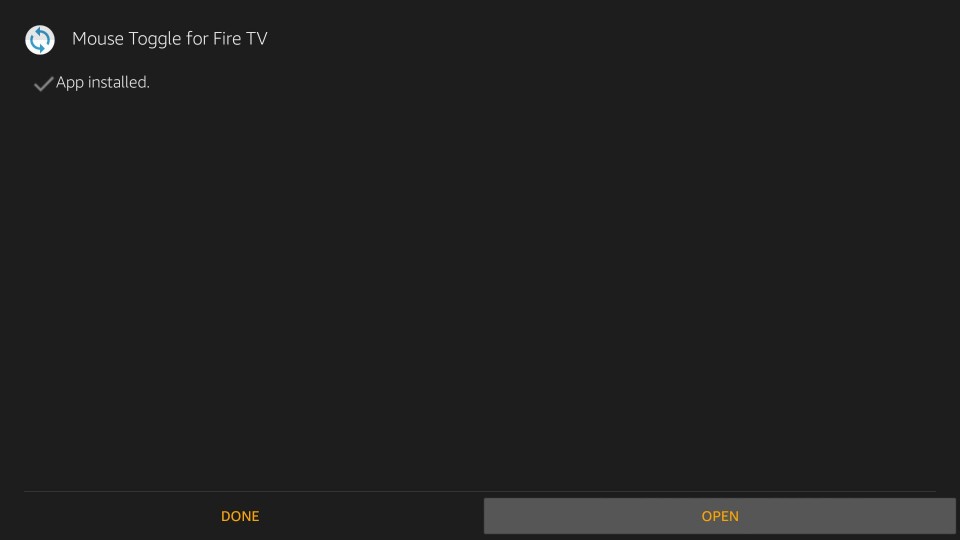 Mouse Toggle app has been installed
Conclusion
Mouse Toggle is a great utility to have on FireStick if you intend to use the Android apps that are not fully compatible with your remote. In fact, there are a bunch of cool apps you wouldn't want to miss just because they are not remote-friendly. Mouse Toggle is a perfect solution in this case. This lightweight app runs in the background and you can summon the mouse pointer whenever you need it. I believe, everyone who uses FireStick must have this app.
You may also like:
How to Jailbreak FireStick
How to install Cinema APK
How to install Kodi on Fire Stick