This post contains the instructions to install CyberFlix TV on FireStick. These instructions are also applicable to Fire TV Cube and Fire Stick 4K.
This app is designed to deliver Movies & TV Shows on your FireStick device. This streaming service features an inexhaustive list of content for hundreds of hours of entertainment. It is a scraping-based app that fetches streaming links from multiple sources allowing you the opportunity to pick the best playback options.
You can also sign in with Real-Debrid if you are looking for more top-grade streams in up to 1080p resolution. The app is also Trakt compatible and lets you exchange your viewing activities back and forth. After some recent updates, CyberFlix TV works smoothly and offers top-notch performance. Since the app is fully compatible with the Amazon FireStick Remote, navigation and interaction are not a problem at all. It is a good streaming app for FireStick. You should try it!
Attention FireStick Users: Read before you continue
Your government and your ISP are probably constantly monitoring your streaming activities. You will likely get into serious legal trouble if you are caught streaming copyrighted videos on your FireStick.
Your IP address 72.186.10.135 is exposed to anyone who is watching. That is how they will track you. Therefore, I strongly recommend getting a trusted VPN for FireStick right now and hiding your online identity.
I am using ExpressVPN on all my devices as it is the most reliable, most secure, and the fastest VPN in the market. You can easily install and set up ExpressVPN on FireStick or any other device within minutes.
ExpressVPN offers you a 100% money-return guarantee for 30 days. Also, you can claim 3 months free and save 49% on its annual plans.
How to install CyberFlix TV on FireStick
Quite like the Android mobiles, the Android-based FireStick also has a security mechanism which prevents the download and installation of third-party applications. However, this security setting can be easily bypassed for trustworthy and safe apps like CyberFlix TV. Follow the instructions below:
1- Access the FireStick Settings. That you can do by selecting the Settings option on the FireStick home screen. It is on the top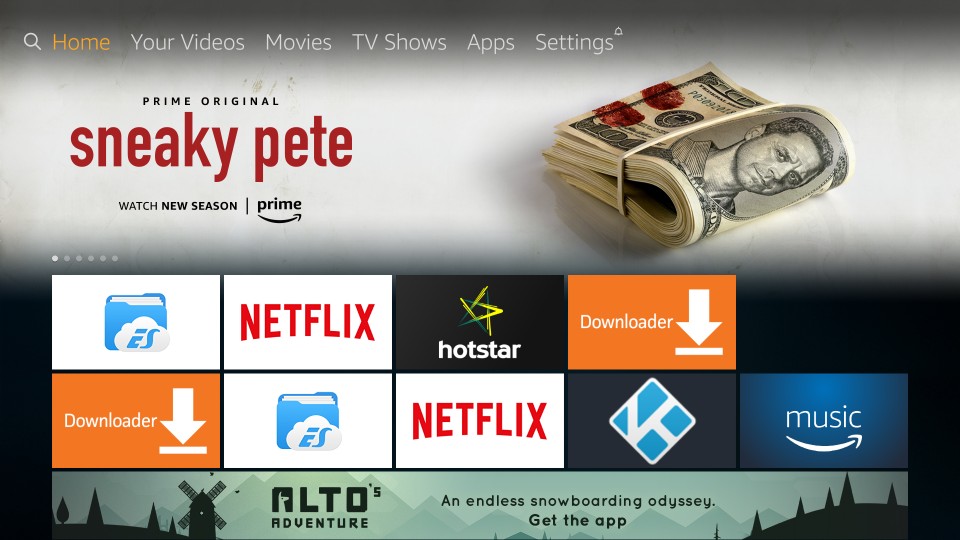 2- Now we will open My Fire TV (which may be available as Device on older devices)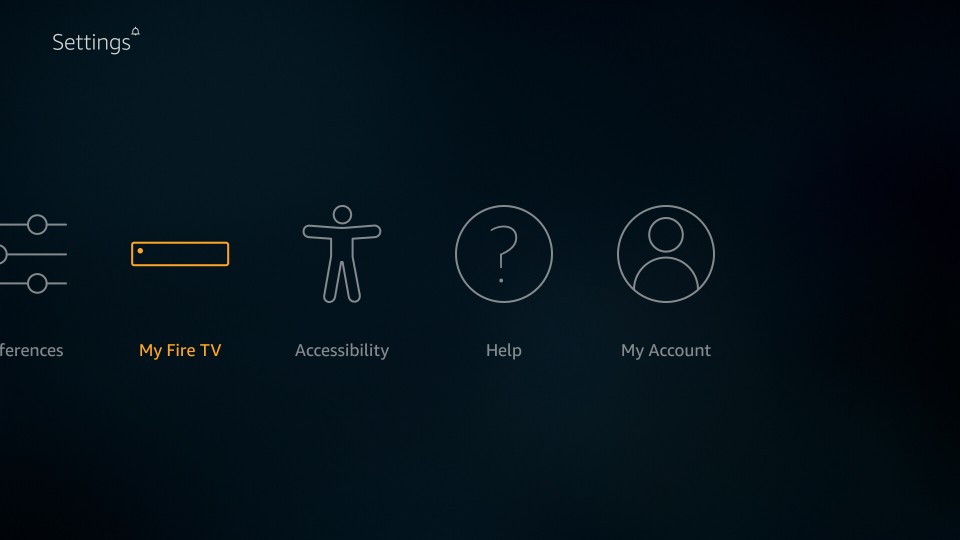 3- Choose Developer Options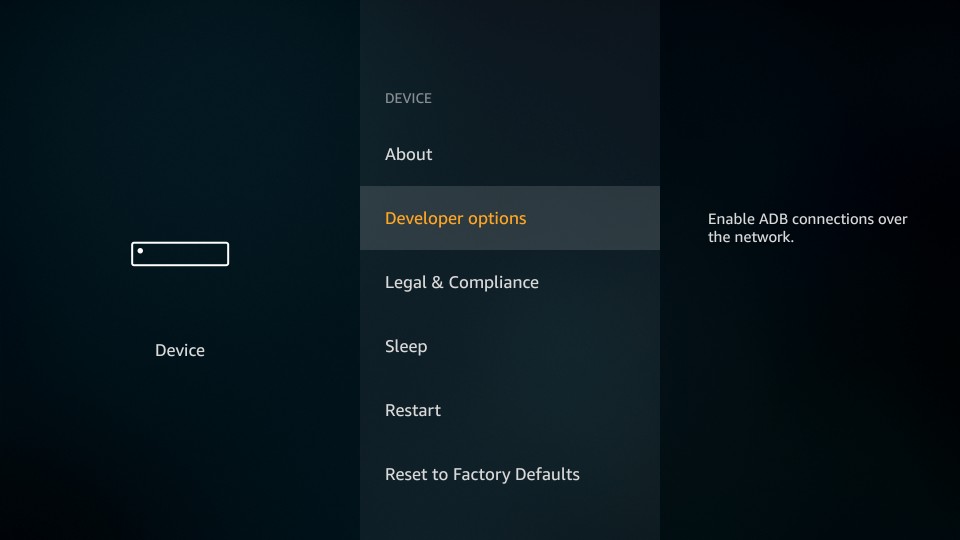 4- You want to make sure that Apps from unknown sources is switched ON. Click this option if it is OFF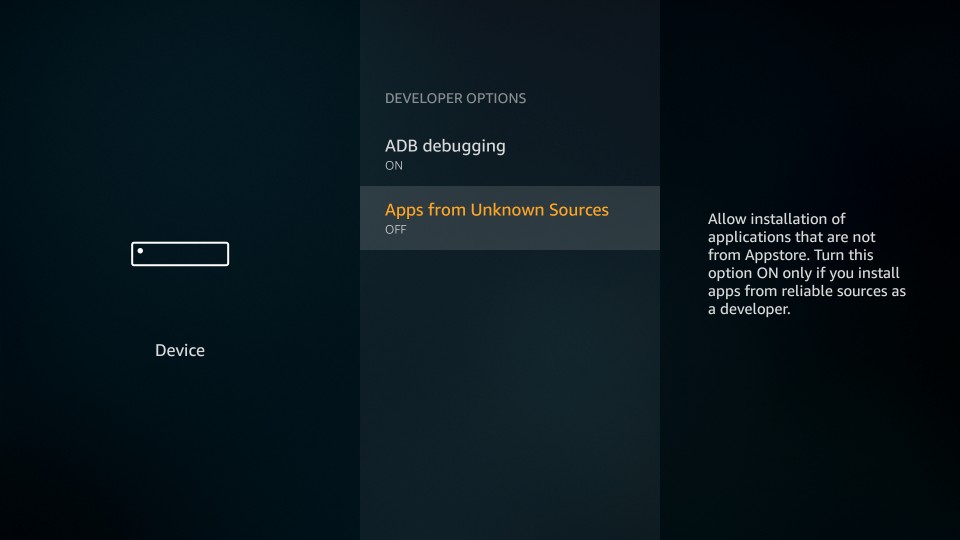 5- This warning message will discourage you from enabling unknown sources. As I said, CyberFlix TV is safe. Go ahead and click Turn on.
Note: As a precautionary measure, you may disable the option again after downloading CyberFlix TV on FireStick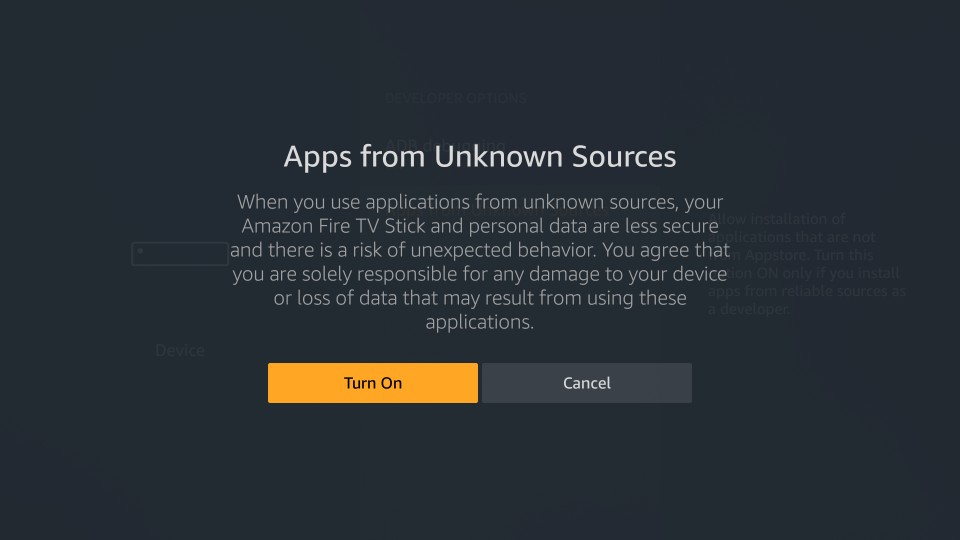 When that's taken care of, you can start with the process.
Installation instructions for CyberFlix TV on FireStick
Even though FireStick is Android-based, it is different in many ways. For example, it does not support file downloads from browsers. Therefore, to sideload apps like CyberFlix TV on FireStick, you need special utility apps design for sideloading. Downloader is one such very popular and highly effective app.
Let's get Downloader on FireStick first. Follow these quick steps:
Open the Search window on FireStick by selecting the lens icon on the home screen. This option is on the top and far left
Type the name of the app Downloader
Click the app when you see it in the search results
Click Downloader icon on the screen that follows and then click Download
You can run Downloader from your app drawer (hold down the home button on the remote for a few seconds and click Apps on the popup window).
Now, follow these steps and install CyberFlix TV on FireStick:
1- The home screen of the Downloader app looks like this. Click the text box on the right where it asks you to enter the URL
2- Now, following is the path/URL you need to enter when this window with keypad appears: https://www.firestickhow.com/cftv
Hit GO to continue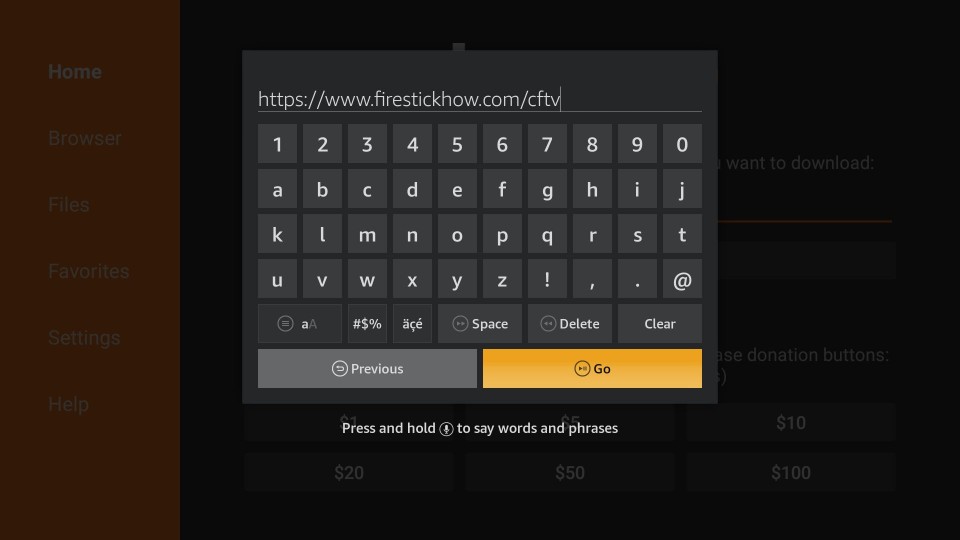 3- It will take about a minute to download the APK depending upon your network connection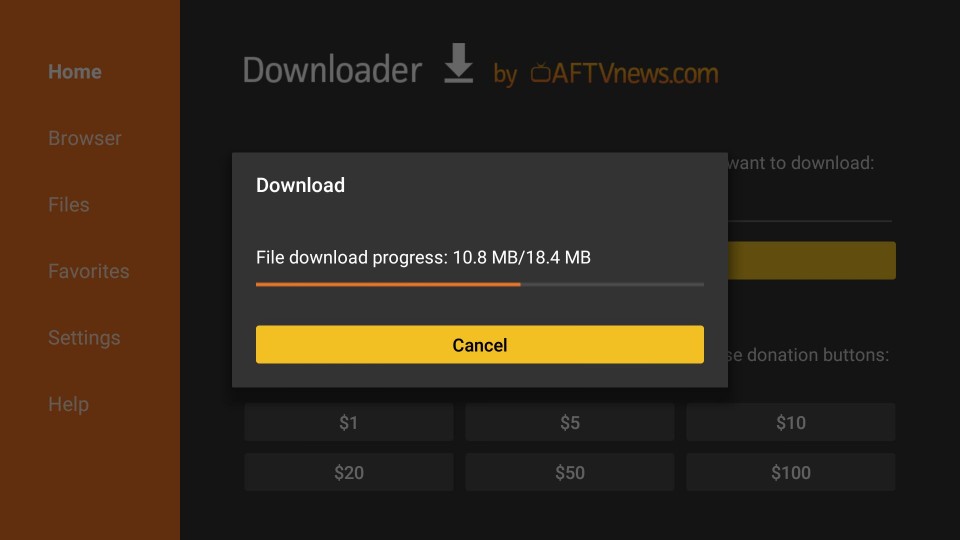 4- You don't need to run the APK separately. Downloader app will run it for you. Navigate down to the lower-left corner where you see Next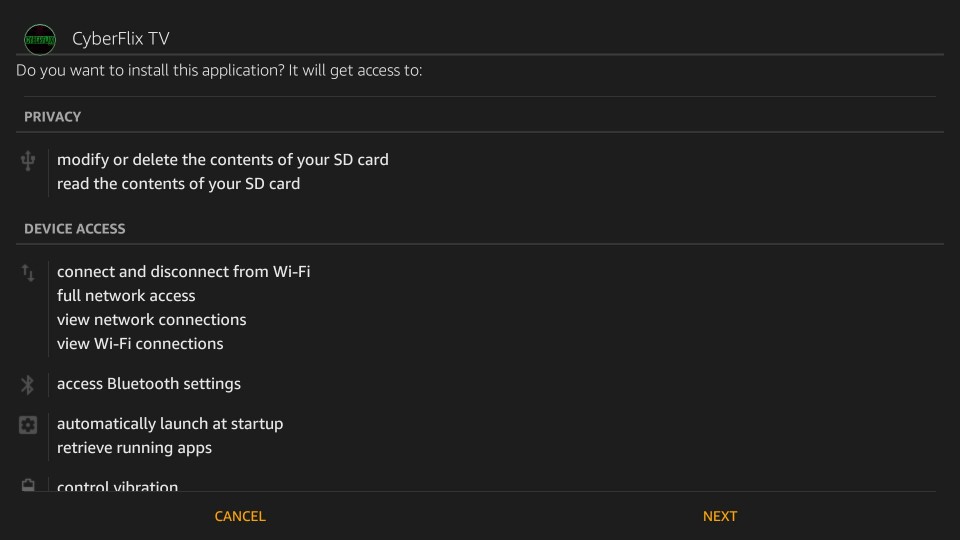 5- Click Install in the lower-left corner when the option appears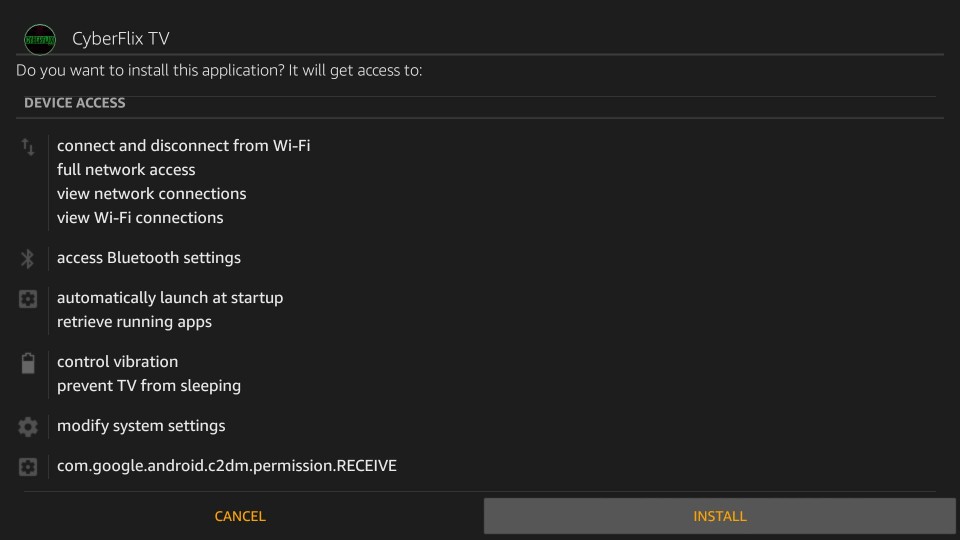 6- It will again take only a minute to install the CyberFlix TV app on FireStick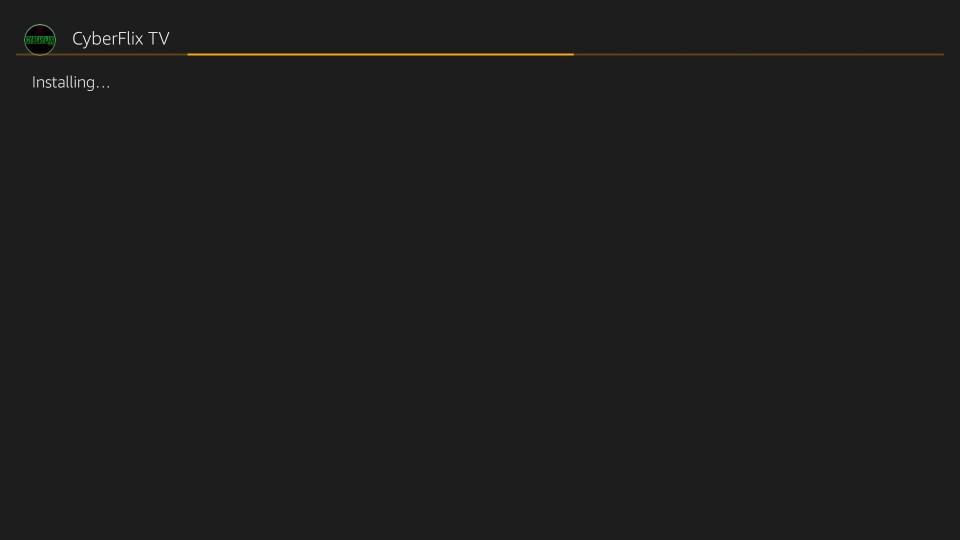 7- Now, when you see App installed message click Done
That's because we are going back to Downloader app to delete the CyberFlix TV APK file. It will save you some storage space. However, if you get started with the app instantly, you may always click Open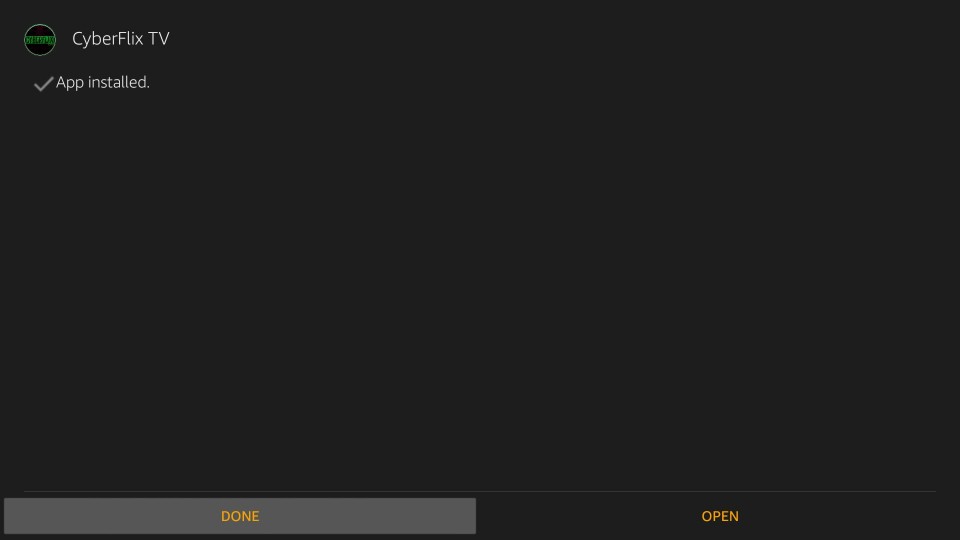 8- Click Delete when you are back to the app. Click Delete once more and delete the APK file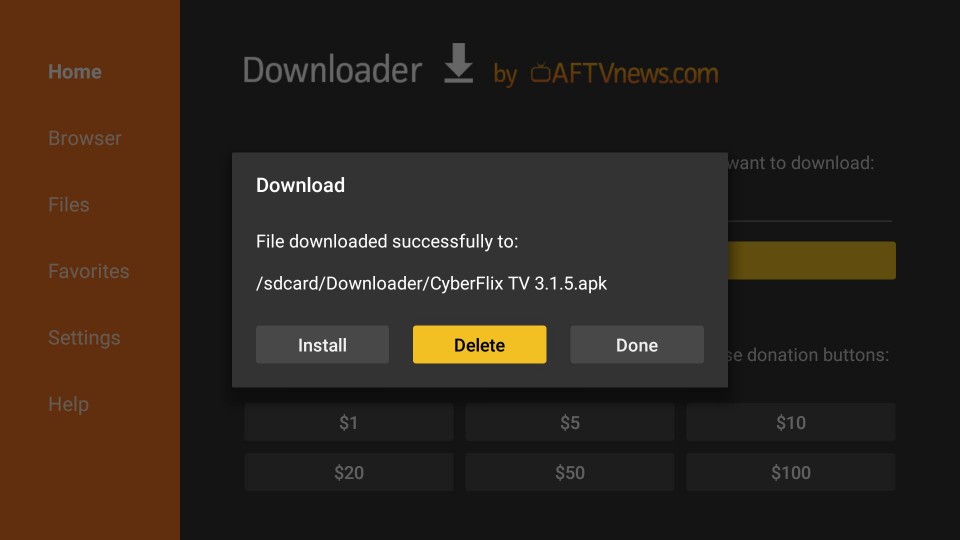 That's it! You are all set. You may access the app by following this path: Home screen > Applications > Manage Installed Applications > Launch application 
Wait! Before you start watching your favorite content on FireStick, make sure you have protected your online identity. Your streaming activities are likely being monitored and logged by your Government as well as your ISP. Free streaming of copyrighted videos may get you into legal trouble.
Thankfully, you can easily avoid the surveillance and monitoring of your online activities and completely maintain your privacy. All you need to do is connect to a trusted and reliable VPN on FireStick. A VPN will hide your IP address and your online identity by encrypting your internet connection.
Please note that I am not encouraging you to violate any copyright laws. You should always watch the content available in the public domain. I am simply recommending the use of a VPN to maintain your privacy. You have every right to your privacy, which is being constantly breached these days.
I personally use ExpressVPN and have found it to be the fastest and most secure FireStick VPN. It is the most streaming-friendly VPN I have ever used. Therefore, I highly recommend getting ExpressVPN for FireStick.
Here is how you can quickly and easily get the ExpressVPN app on FireStick:
Step 1: Click HERE to subscribe to ExpressVPN and enjoy a 49% discount with 3 months of extended service. You are also eligible for a 30-day money-return guarantee
Step 2: Download and install ExpressVPN on FireStick
Choose the Search option on the FireStick home screen in the top-left corner and search for ExpressVPN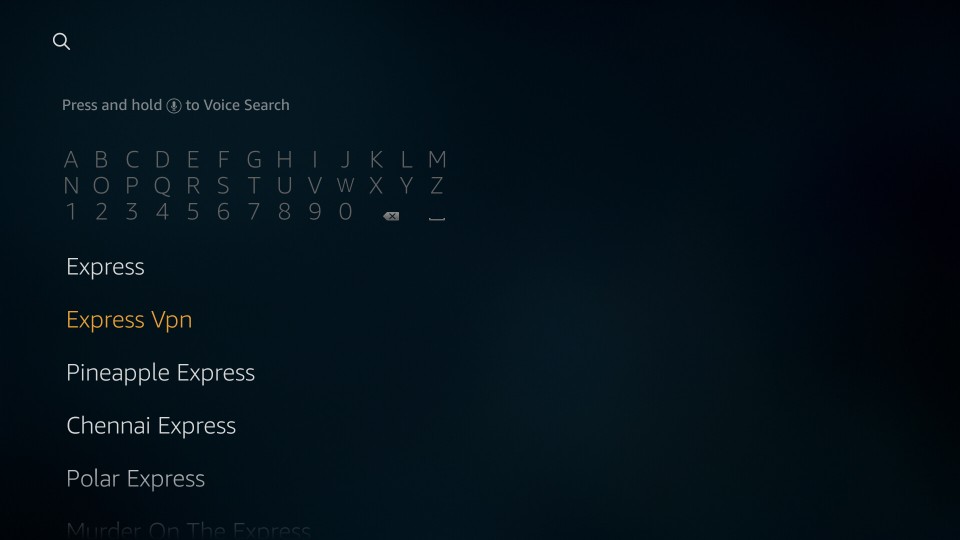 Click ExpressVPN icon on the following window. Click Download or Get on the next window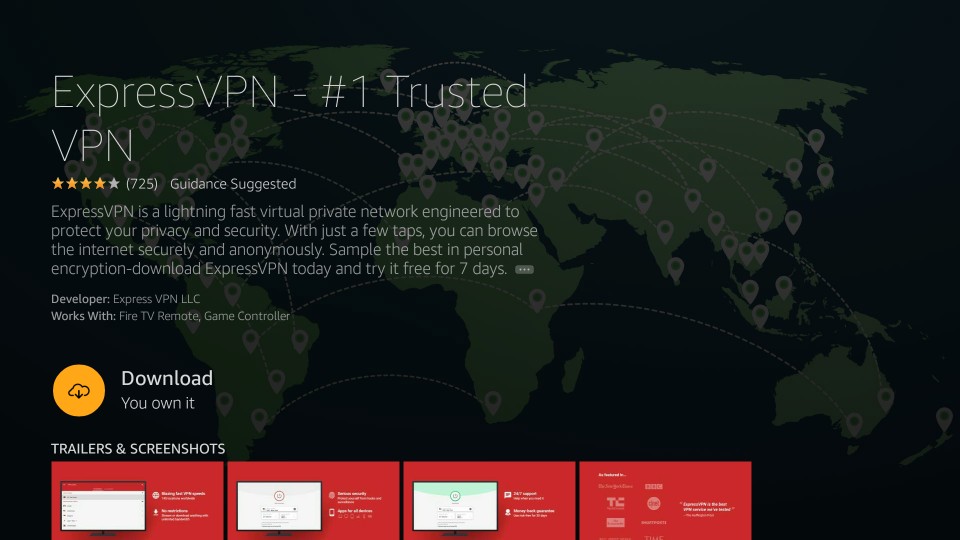 Step 3: Open ExpressVPN once you have downloaded it. Sign in with your account

Step 4: Choose a server and click the Connect/Power button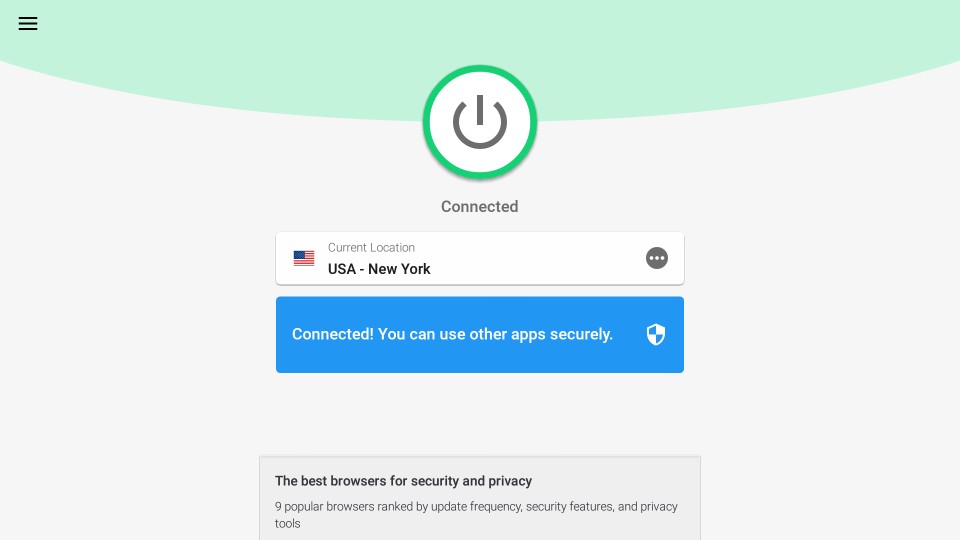 Put your mind at ease now! You have successfully secured your streaming activities with ExpressVPN.
Alternate Method to install CyberFlix TV on FireStick
In the previous method, we used the Downloader tool and installed CyberFlix TV. There is another sideloading tool I am very fond of – ES File Explorer. This multipurpose app makes the sideloading process incredibly easy.
Please note that this is an alternate method. If you have already installed CyberFlix TV through Downloader, you don't need to follow this method.
Let us first install ES File Explorer from the official Amazon Store. You can do that by using the search option on the home screen. Just lookup for the app and follow the simple onscreen instructions.
Now you may follow these instructions and install CyberFlix TV:
1- Click Downloader option on the home screen of ES Explorer (from the right part of the window where you see a set of icons)
Alternately, you may expand Tools menu on the left and click Download Manager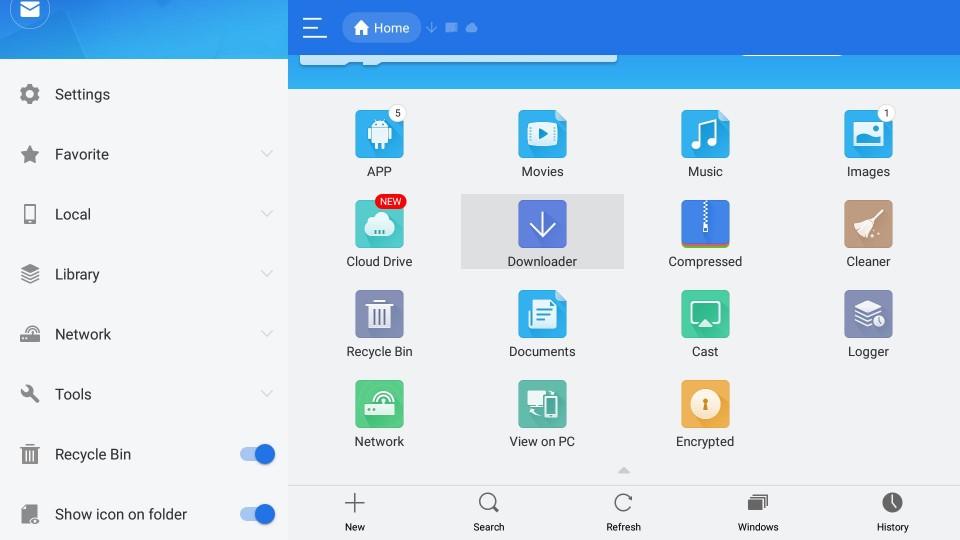 2- Navigate to the bottom and click the +New icon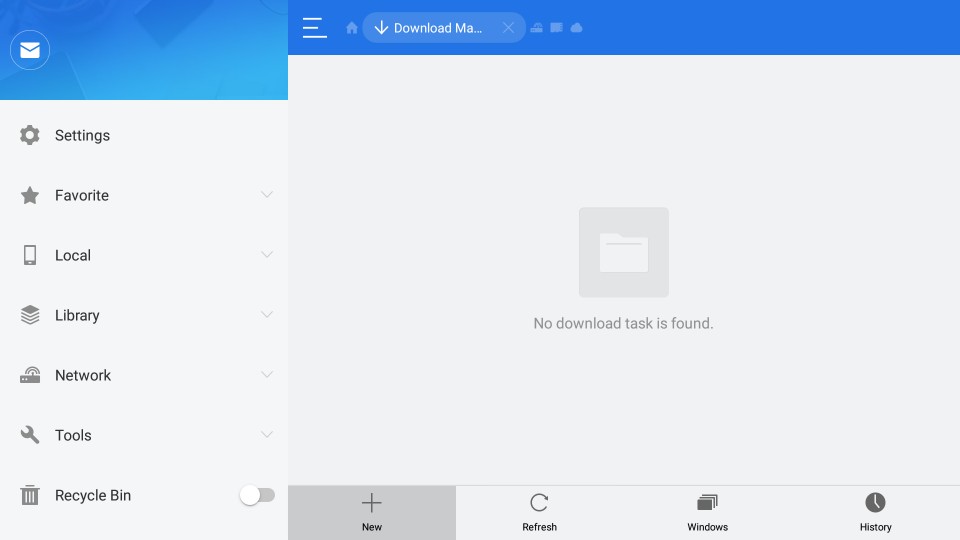 3- This dialog box will appear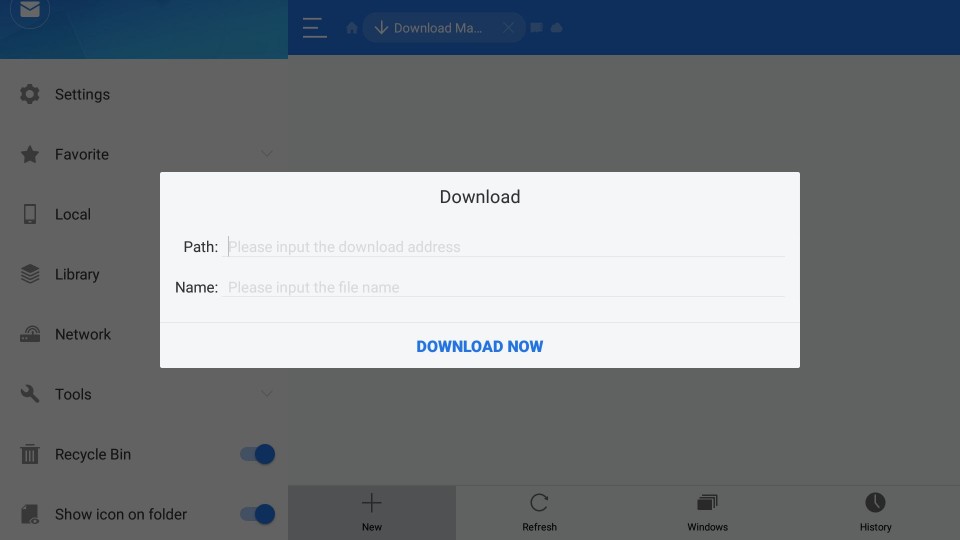 4- Type in the following Path: https://www.firestickhow.com/cftv
You may choose to type any Name. In fact, if you like you may even leave it blank. It will not affect the download process
Click Download Now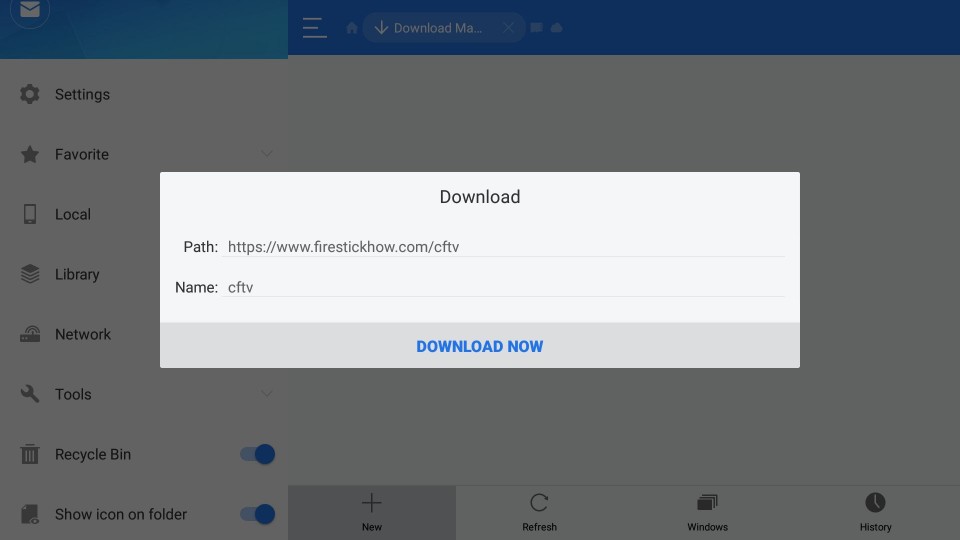 5- Allow ES File Explorer a minute or two to download the app APK. When that's finished, select Open File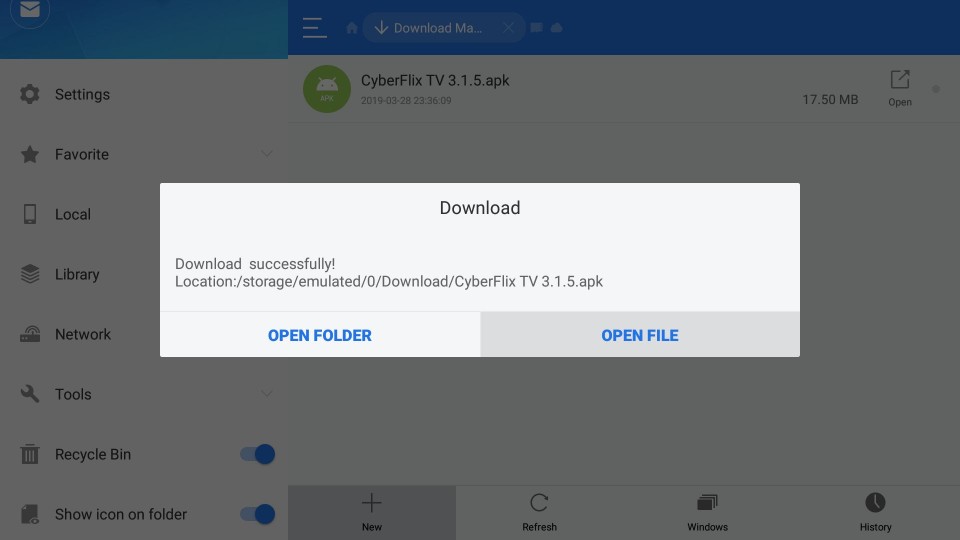 6- Now go ahead and click Install to run the APK file you just downloaded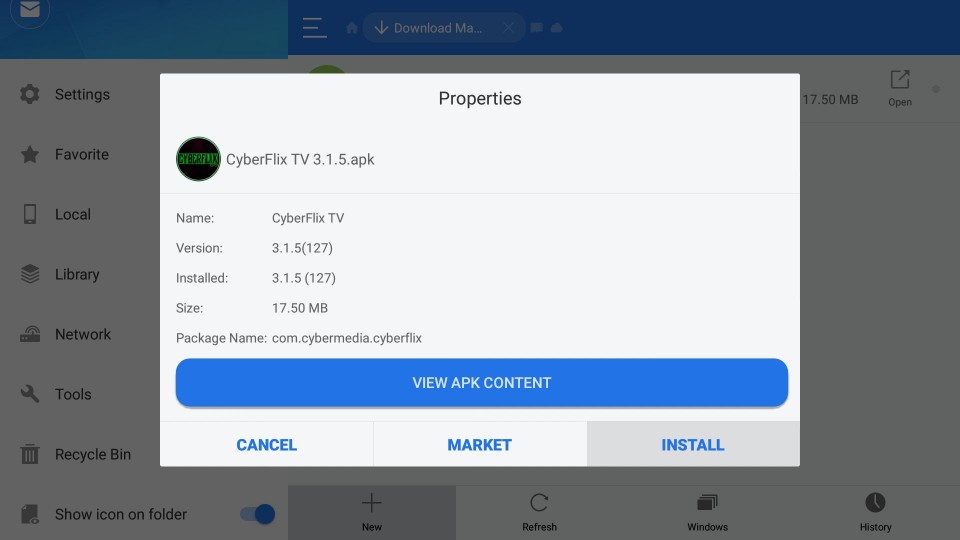 7- Go to the bottom-right to Next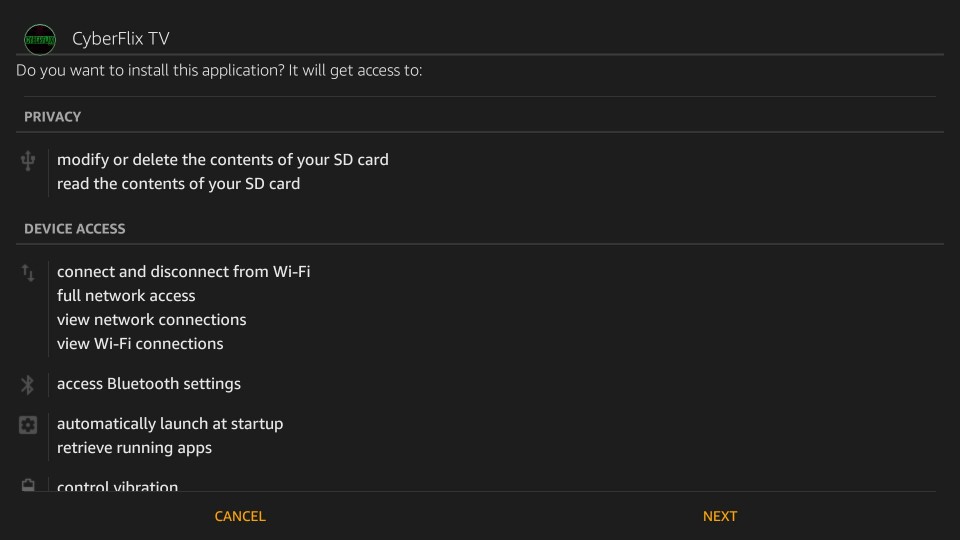 8- Click Install (it will appear in place of Next)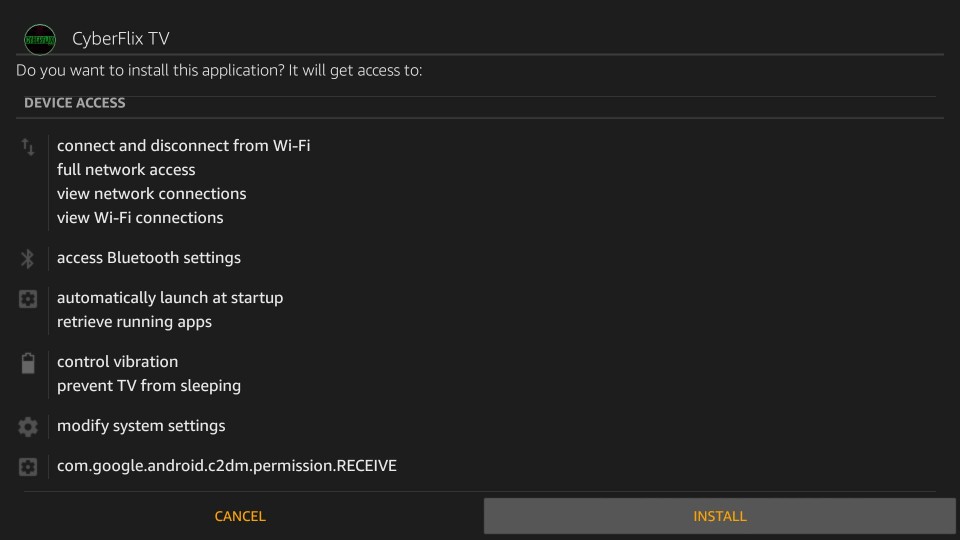 9- CyberFlix TV FireStick app is now installed as confirmed by this notification. If you intend to start watching your favorite shows and movies immediately, click Open. To use the app sometime later, click Done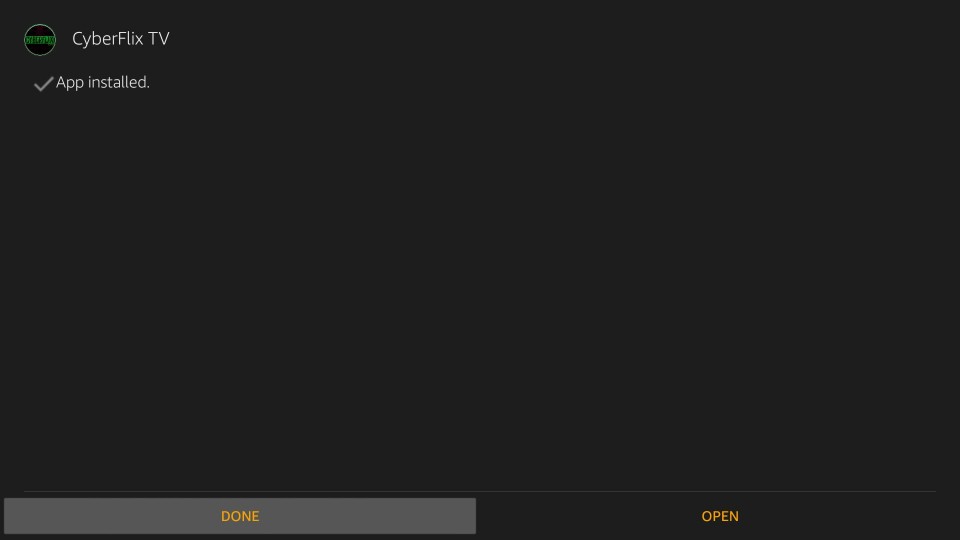 How to Use the CyberFlix TV on FireStick
Let me first tell you how to access the app. There are three ways to do that:
Go to FireStick Settings from the home screen and navigate to Applications > Manage installed applications > CyberFlix TV > Launch Application
Long press the Home button on your remote until a popup window is displayed. Click Apps
Go to Your Apps & Channels row on the FireStick home screen. Now, navigate all the way to the right and click See All
In fact, I have noticed that now the newly installed apps appear first in the Your Apps & Channels row on the home screen. You can open the app directly from there.
Note: If the app prompts you to install an update when you run it the first time, follow the onscreen instructions and install the update (recommended)
Upon the first run, CyberFlix TV will ask you to choose the default video player. I always use MX Player. It is a fast, error-free player. You can install it using the Downloader app from this link: https://www.firestickhow.com/mx
If you don't want to install any additional video player app, you may choose ExoPlayer, which is built-in to the CyberFlix TV app.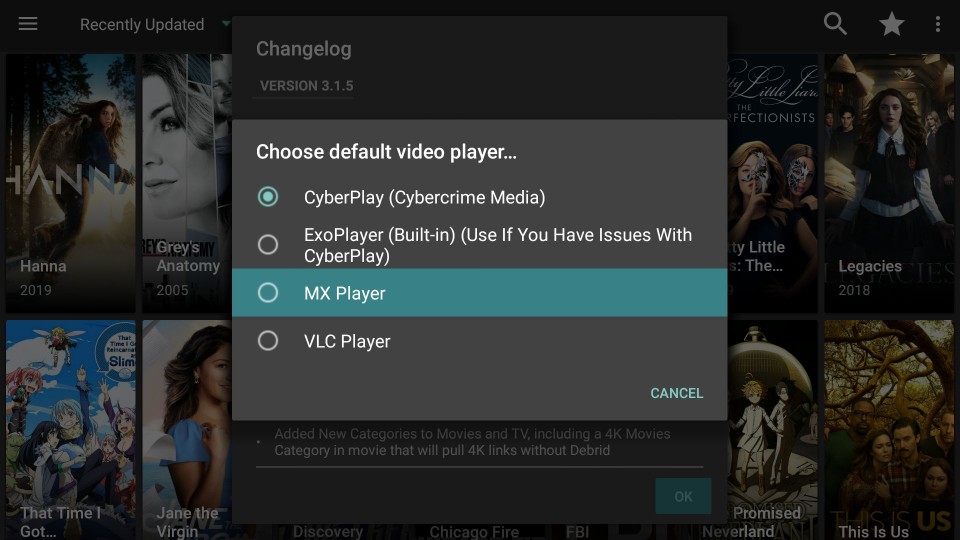 You may encounter Changelog window too. Click OK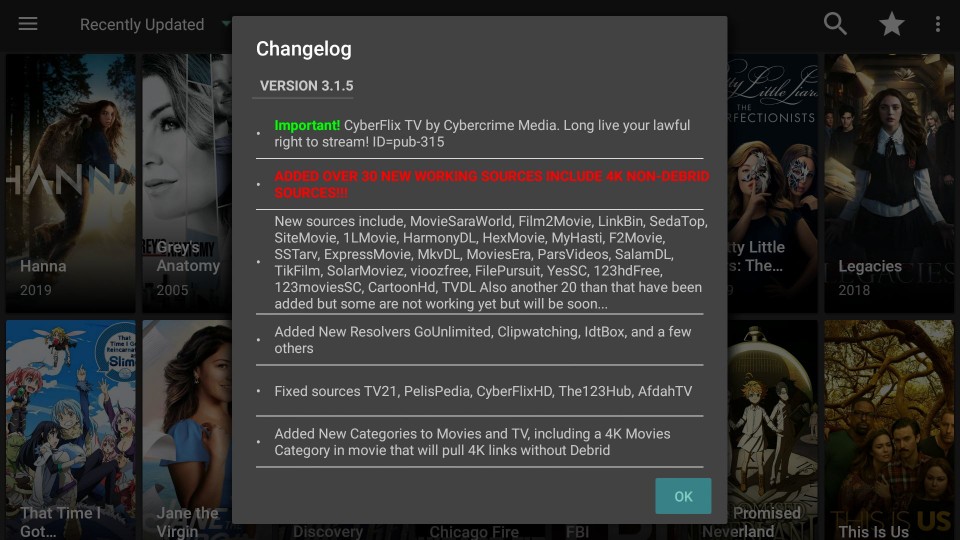 Click Accept on this Disclaimer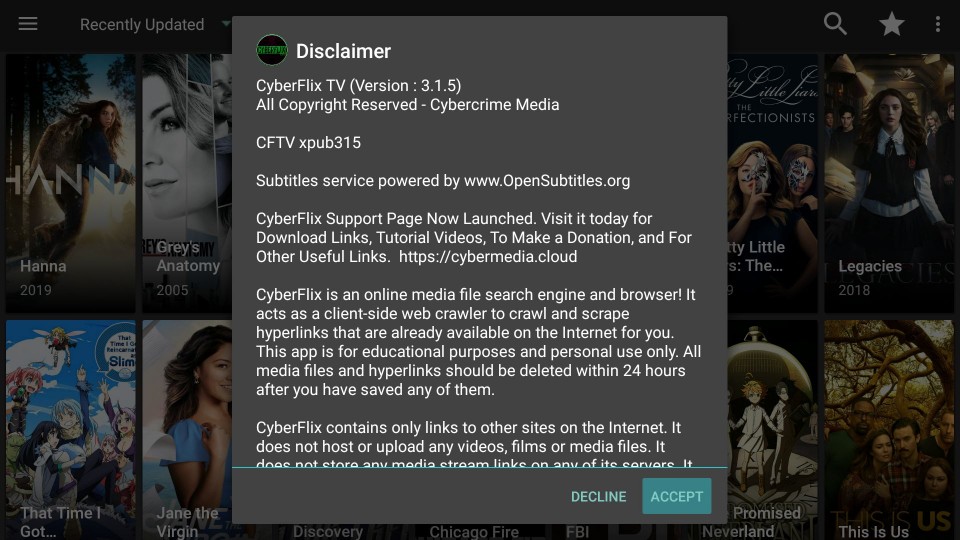 The main window of CyberFlix TV will display the TV shows by default. To switch to Movies, click the menu icon in the upper-left corner (hamburger menu) and click Movies.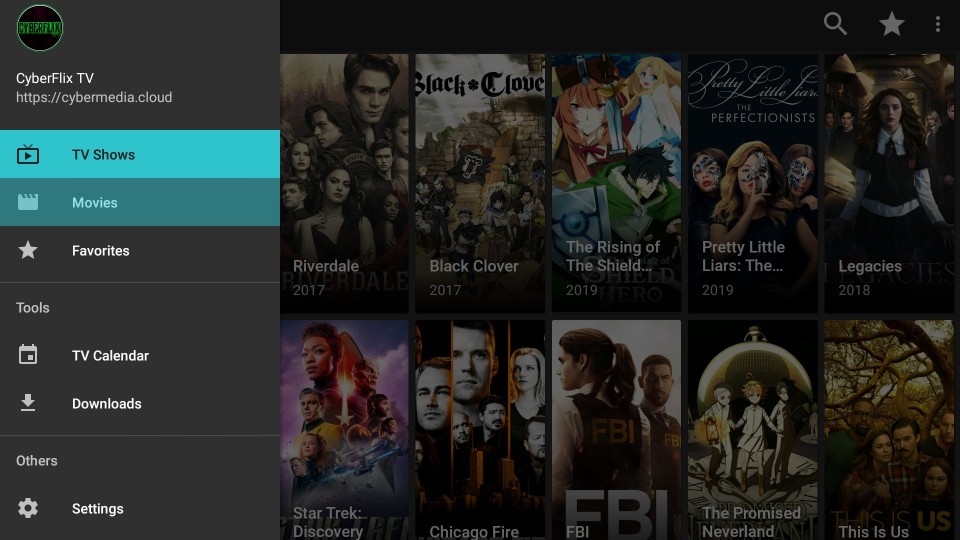 If you want Movies to appear by default on the launch screen, you can change the default in Settings.
Again, the Settings option is accessed through the hamburger menu in the top-left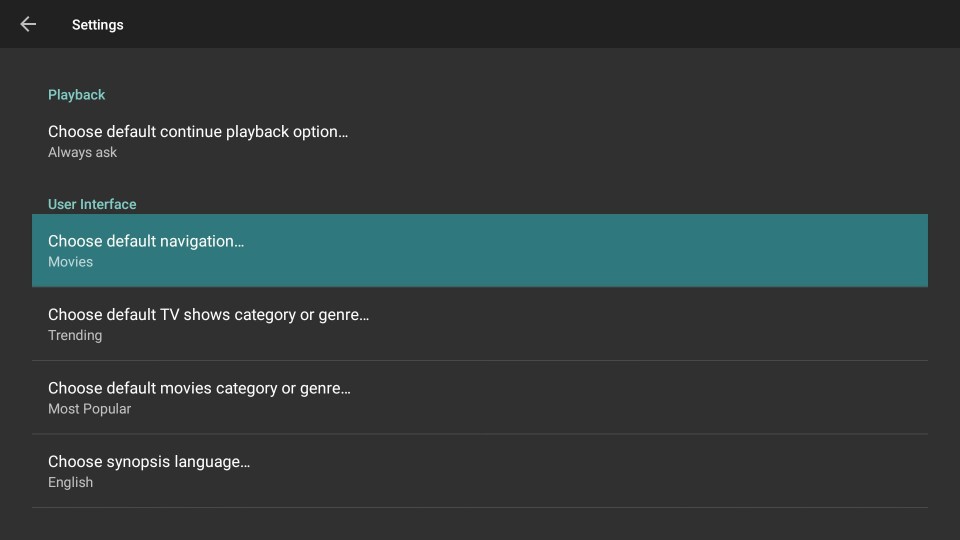 The app Settings lets you customize the app in numerous ways. Go ahead and explore it.
On the main screen of the app, next to the hamburger menu on the top, you will find a small triangle. When clicked, this triangle displays a dropdown menu with categories relevant to the type of content chosen (Movies or TV Shows).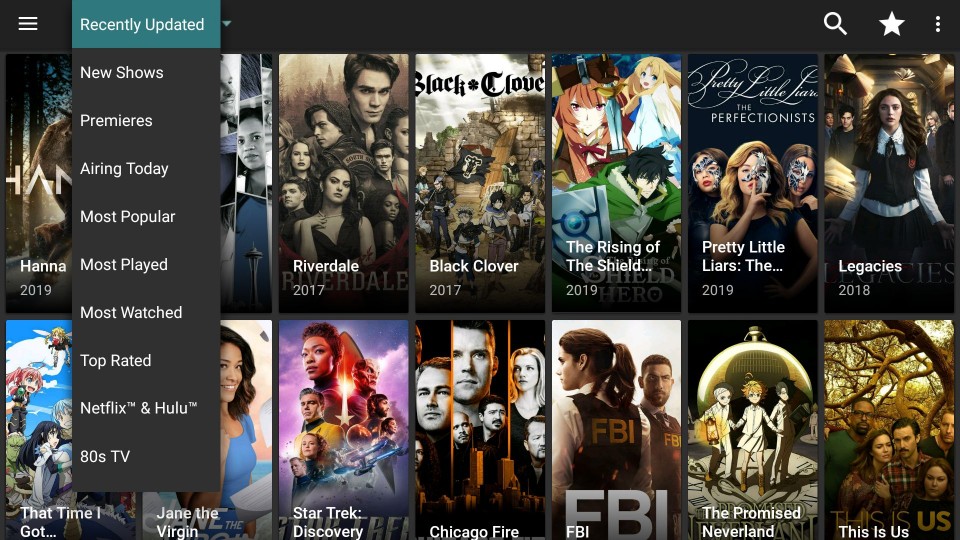 On the far top right, you can use the Search option to find for any specific movie, TV show or episode even. Next to the search option is the Star icon, which lets you quickly access your favorites.
The three vertical dots on the extreme right on the top let you access CyberFlix Support Page, CyberFlix Team, Contact, etc.
To get started, you simply need to choose the video content you want to watch and follow the onscreen instructions to start streaming.
Conclusion
CyberFlix TV is a convenient and simple way to watch movies and shows on FireStick. There is a huge database of content to explore for probably unlimited binge-watching. The user interface of the app is straightforward. Install the app to start streaming instantly. Due to its small size, the CyberFlix TV FireStick app offers smooth performance. It is also fully compatible with the FireStick remote.
You may also like:
How to Jailbreak Amazon FireStick
How to install Cinema APK on Firestick
How to install TVZion on FireStick
How to install Mobdro on Fire Stick