This article contains a detailed guide on how to install KodiVerse addon on Kodi. Also, how to use it, whether it's safe & legal, features of the addon, and everything in between. You can use this piece as a reference on any Kodi-eligible device like a PC, Android phone, FireStick, Nvidia Shield, Mac, Linux, and more.
What Is KodiVerse Addon
KodiVerse is a collection of multiple third-party Kodi addons. It lets you access popular addons directly via its home page, including Essential, Magic Dragon, 4K, and more.
KodiVerse has various sections and subsections to keep the content beautifully categorized and managed.
Also, you connect premium services like Real Debrid to make the most out of the KodiVerse addon.
All-in-all, KodiVerse is a dream all-in-one video addon that surpasses the expectations of most Kodi users.
Attention KODI Users: Read before you continue
Government and ISPs endlessly monitor your online activities using your IP address 3.17.249.235 (exposed to everyone). Kodi is an excellent platform for streaming movies, TV shows, and sports, but streaming copyrighted content can get you into legal trouble. 
You should use a reliable Kodi VPN and protect your streaming activities and privacy. A VPN will hide your IP address and bypass government surveillance and geo-restrictions.
I trust and use ExpressVPN, the fastest and most secure Kodi VPN. It's easy to install on any Kodi device, including Amazon FireStick, PCs, and Smartphones. In addition, it offers a 30-day money-back guarantee, and 3 free months with the annual plan.
Read: How to Install & Use the best VPN for Kodi.
Is Kodiverse Safe?
KodiVerse is a third-party Kodi addon, so there's no way to check if it's completely safe. Indeed, KodiVerse has gained quite a reputation amongst Kodi fanatics. But that doesn't make it safe.
And at FireStickHow, we can't take the risk of labeling KodiVerse as a safe addon for your device. However, I checked the zip file of the Narcacist's Wizard Repository on an online virus checker. The results were quite pleasing – check them out: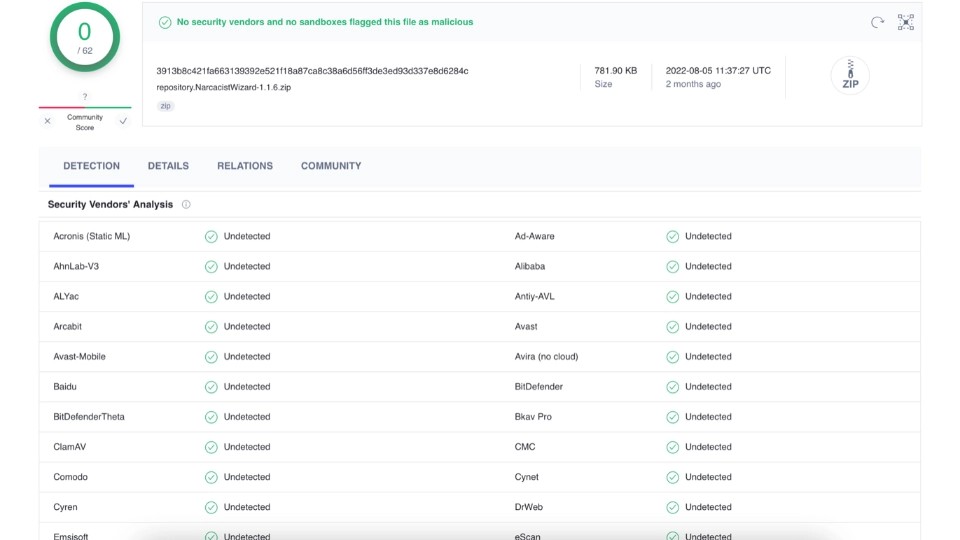 Is Kodiverse Legal?
You can find absolutely any type of content on KodiVerse. But how is it providing you with so much entertainment? That's where things get puzzling.
KodiVerse scrapes free access to streaming links via the world wide web. However, the authenticity of those links is questionable.
At FireStickHow, we don't have the proper resources to check whether the links are legal or illegal. So, what can you do? To access KodiVerse with peace of mind, use ExpressVPN and hide all your streaming activities. 
Features of Kodiverse Addon
Here are some pointers that make KodiVerse stand in a league of its own:
Easy access to multiple popular addons right within itself

Supports multiple integrations

Backed by Trakt and TMDB

Versatile sections
How to Install Kodiverse Kodi Addon
I have divided the installation of KodiVerse into three parts to help you easily install the addon. 
Part 1 – Unknown Sources
Firstly, we'll have to enable Unknown sources:
1. Launch the Kodi settings screen by pressing the Gear Cog icon on the screen's top left side.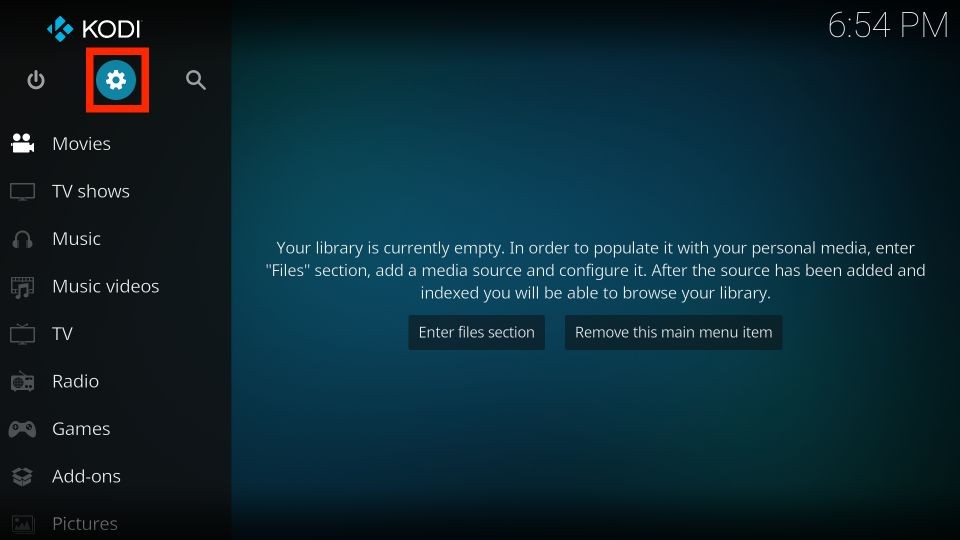 2. Go inside the System tab.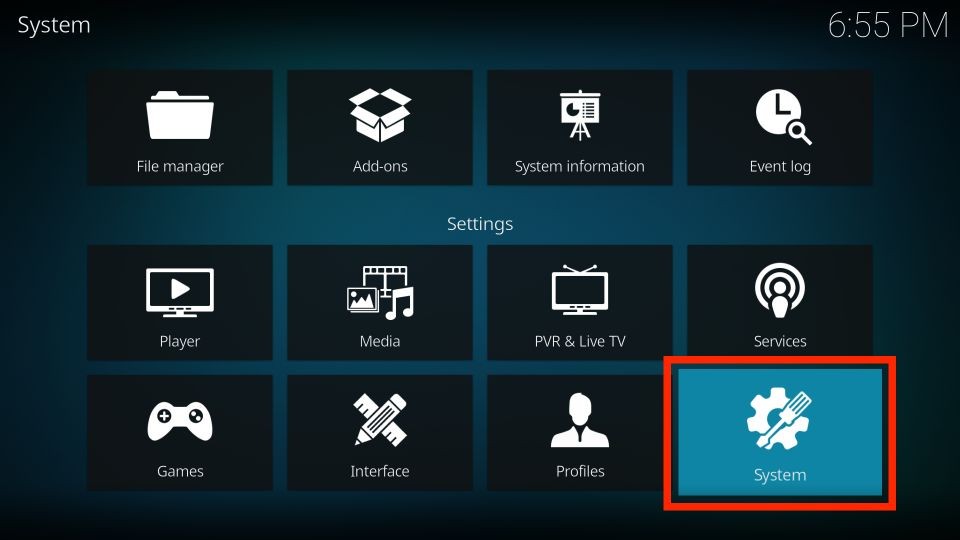 3. Explore the Add-ons tab from the left menu pane.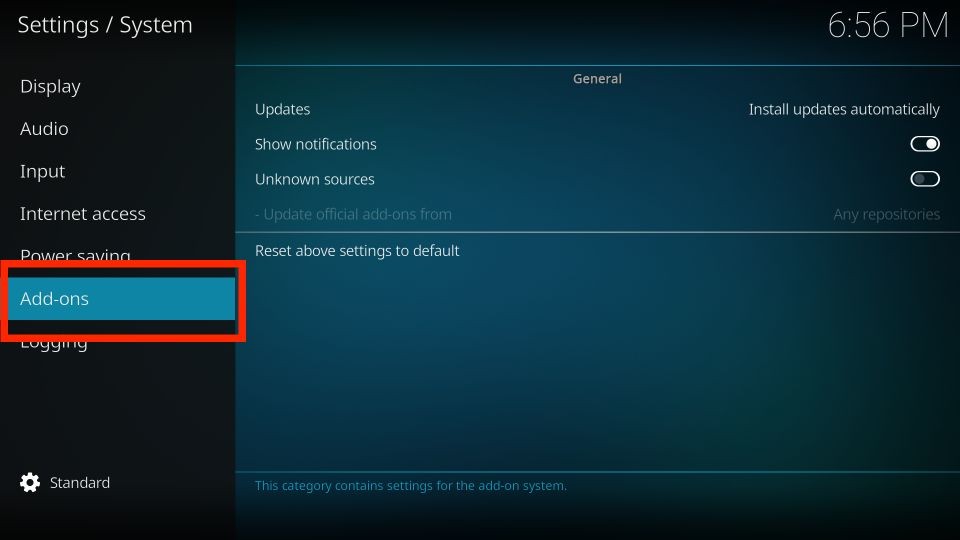 4. Turn on Unknown sources, located on the right menu.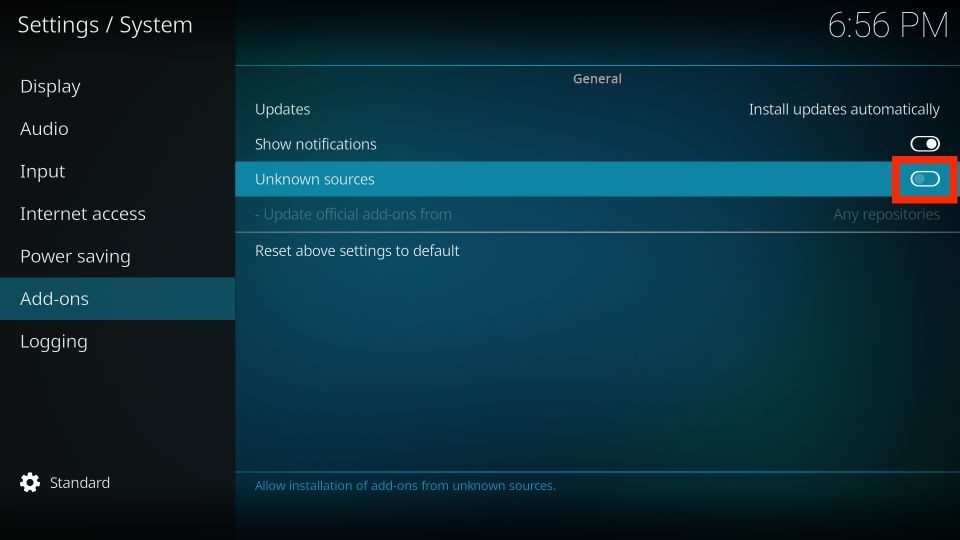 5. Kodi will warn you that third-party sources will get access to your data, click Yes to confirm.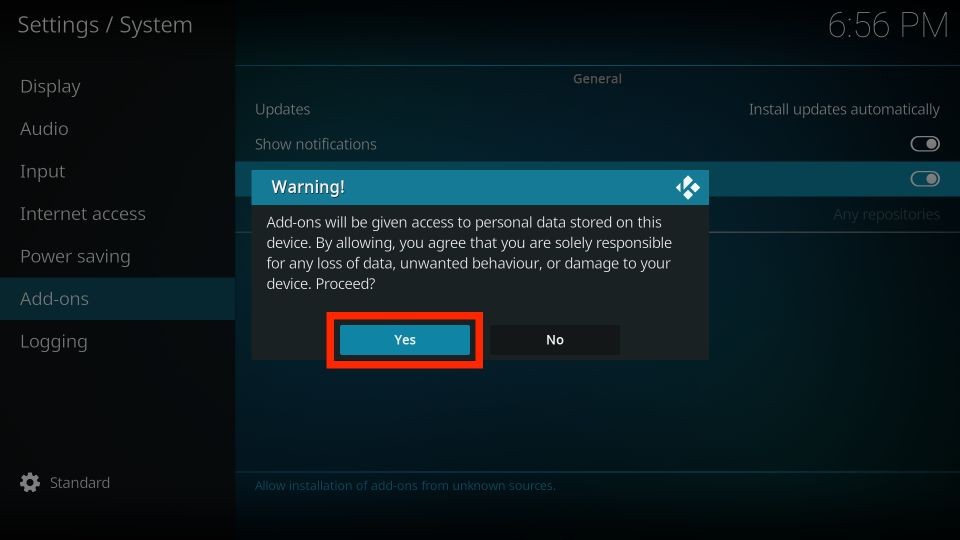 6. Open -Update official add-ons from under the Unknown sources option.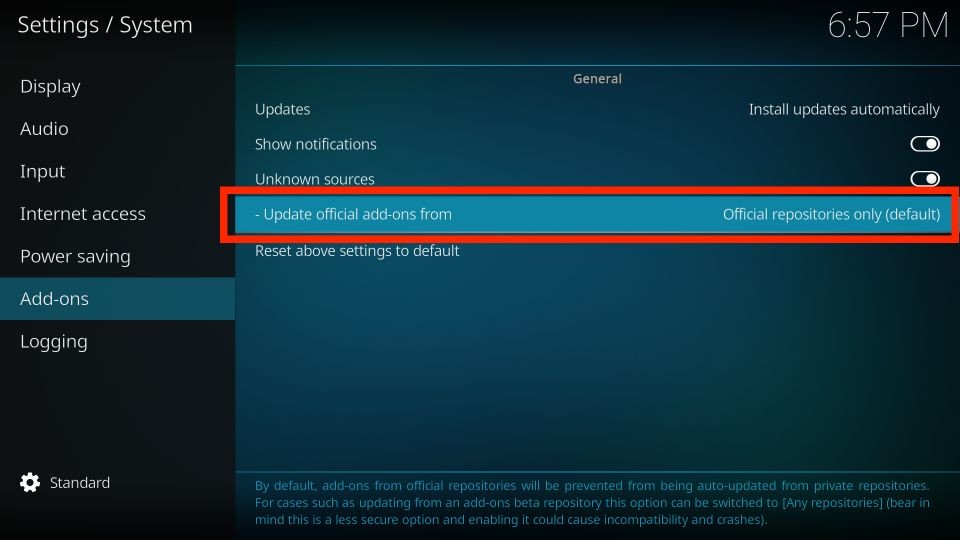 7. Choose Any repositories.
Note: Steps 6 and 7 tweak your Kodi app to provide automatic updates for both official and unofficial addons.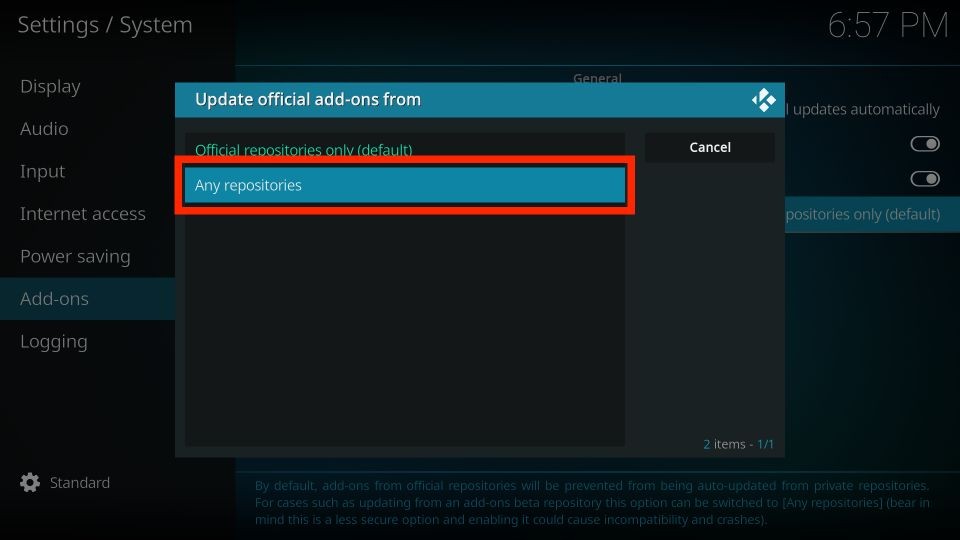 Part 2 – Install Narcacist's Wizard Repository
Loading Narcacist's Wizard Repository comes next in line:
1. Choose the Settings Gear icon on your screen's top left side just below the Kodi logo.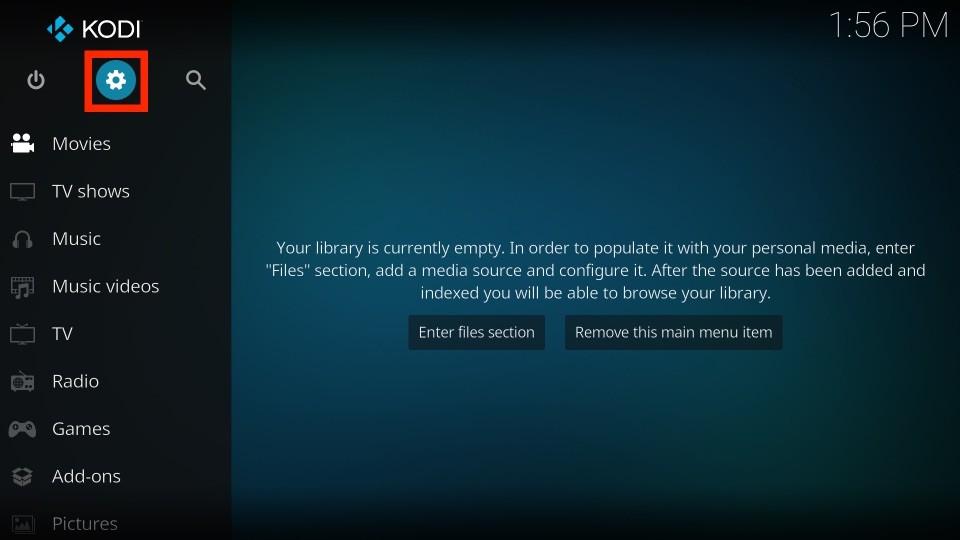 2. Explore File manager.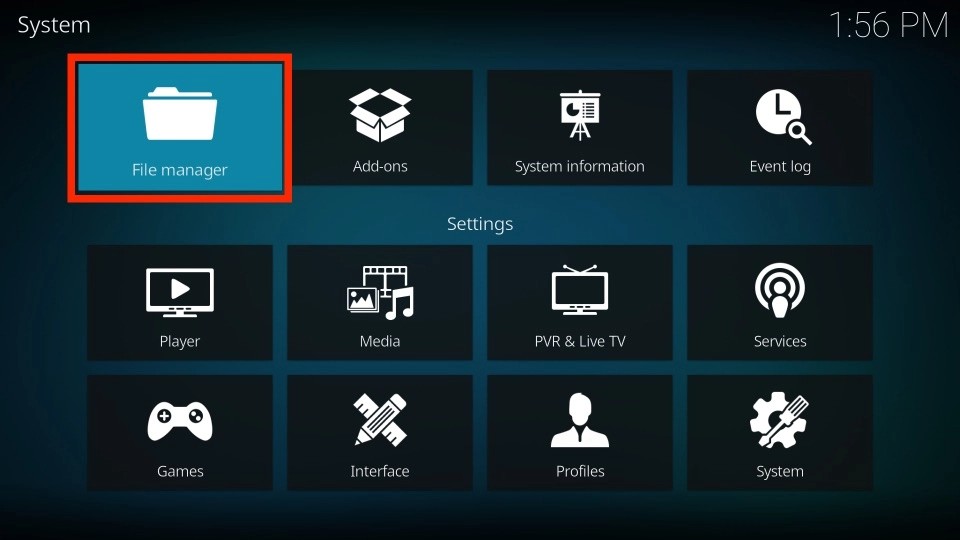 3. Open Add source.
Note: You'll see Add source on your screen's left and right sides.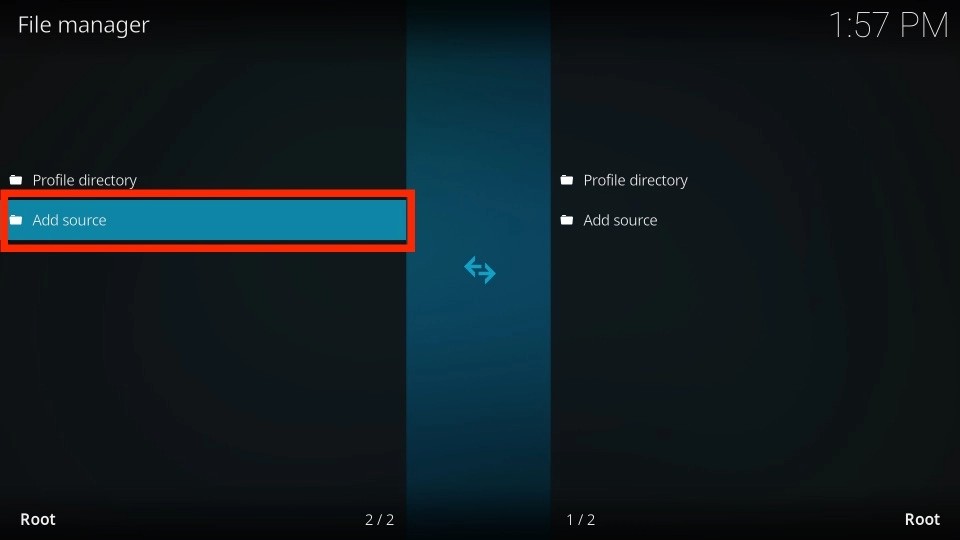 4. Add file source window will pop up; locate and select the <None> option.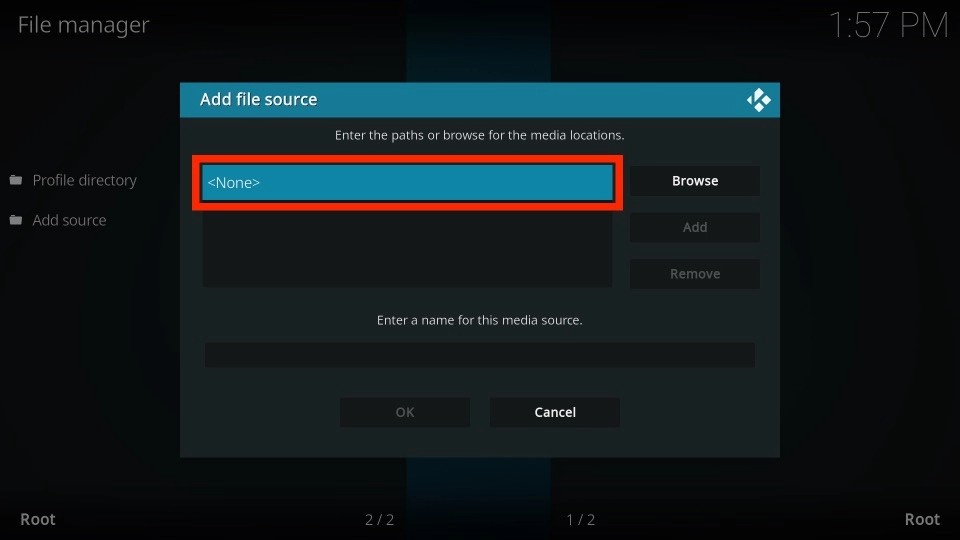 5. Enter the official URL of the Narcacist's Wizard Repository http://narcacist.com/repo and click OK.
Note: Addressing the repo URL of Narcacist's Wizard Repository doesn't mean we are connected with the repository. I have only mentioned the official website here so you can use it to access the repo.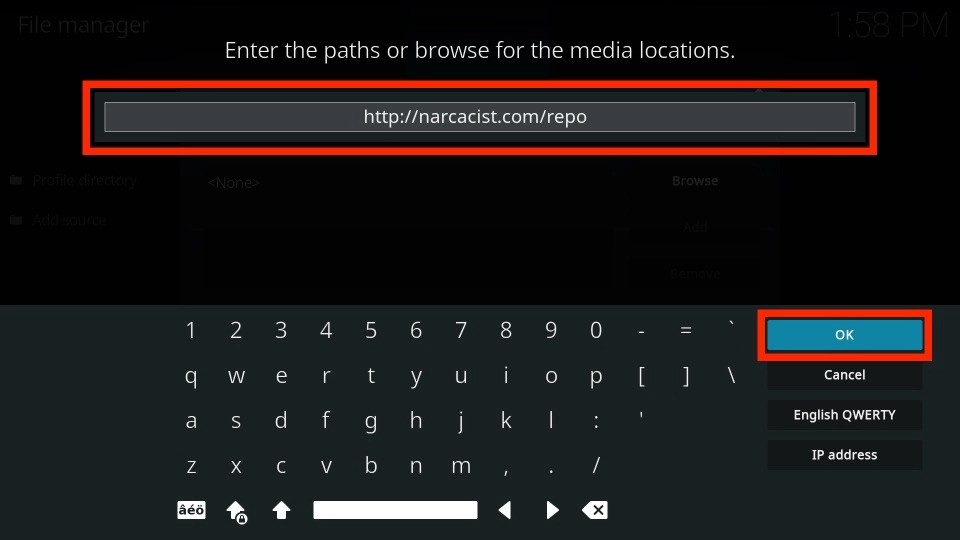 6. By default, the repo will be the source's name. But as it's misleading, we'll change it. To do that, click the repo input box under Enter a name for this media source.
Delete the default name and set Narcacist as the new alias. To save the name, click OK.
Note: You can set the name to anything but make sure to pick something recallable.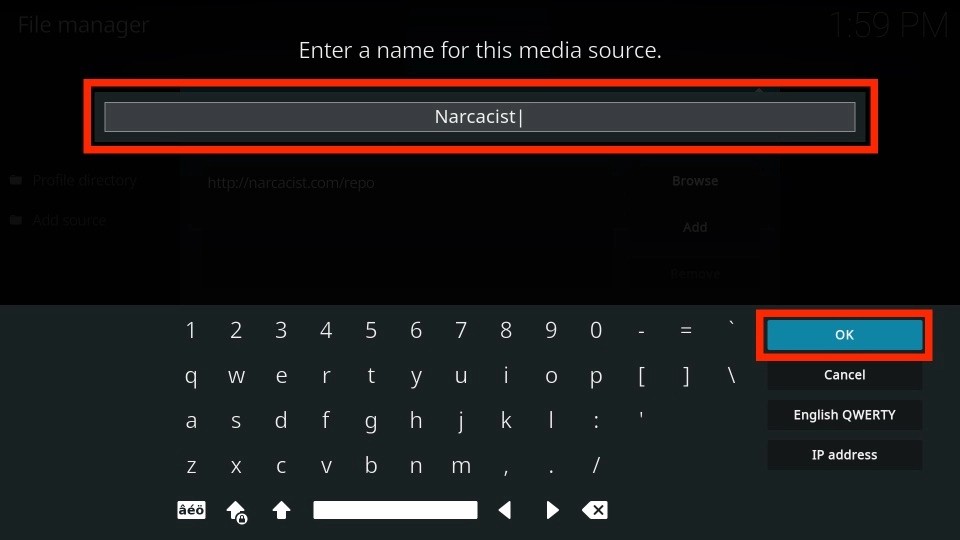 7. Re-check your changes and click OK to save the source.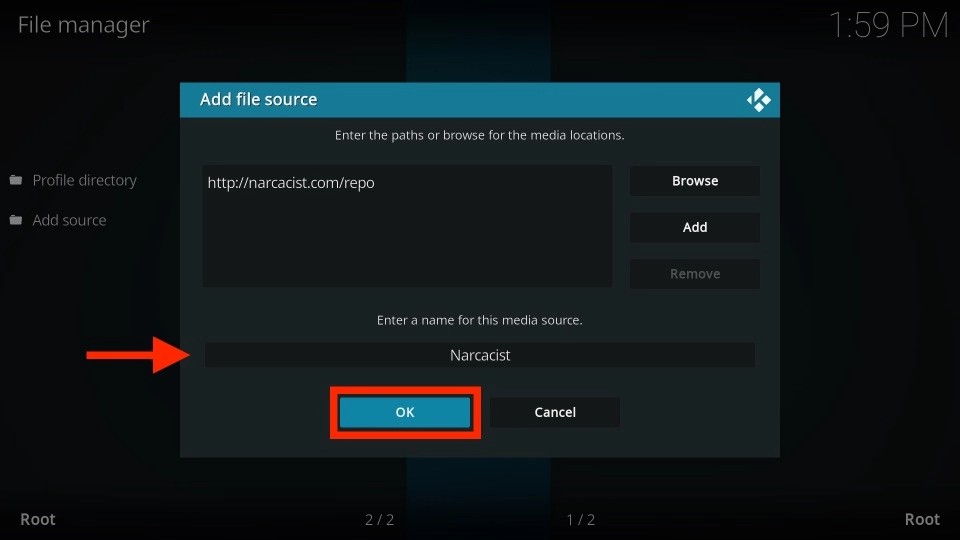 8. On success, you'll see the repo name in the File manage source list.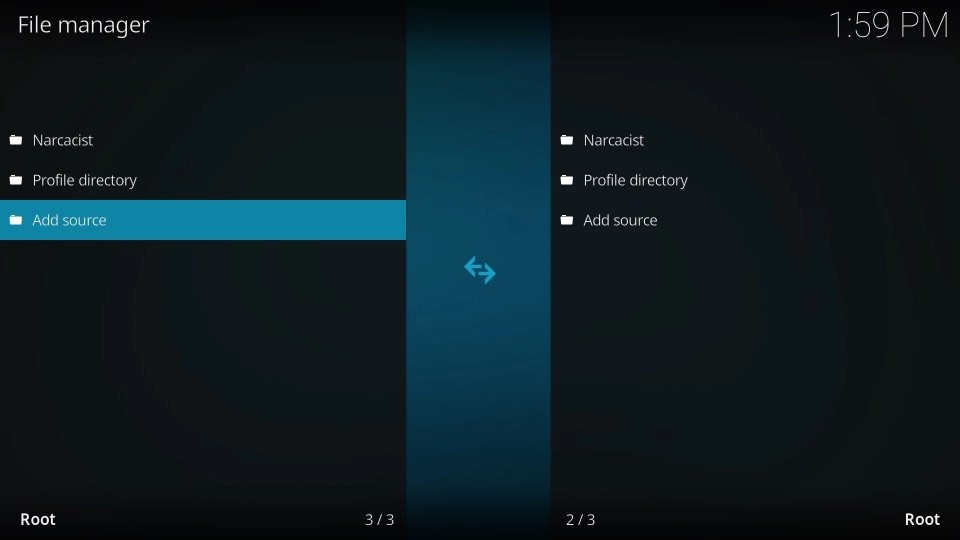 9. Return to the Kodi Settings screen and choose the Add-ons folder beside File manager.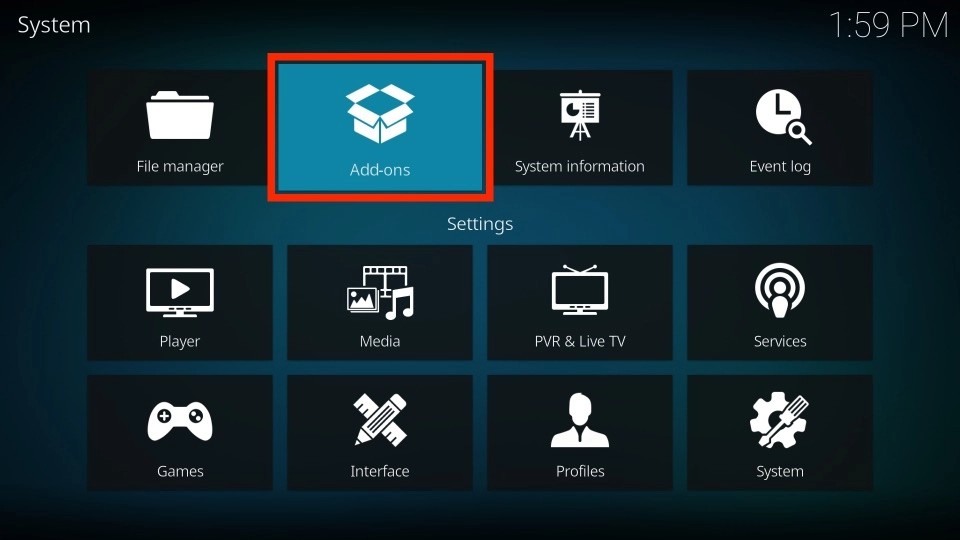 10. Choose Install from zip file to access the zip source menu.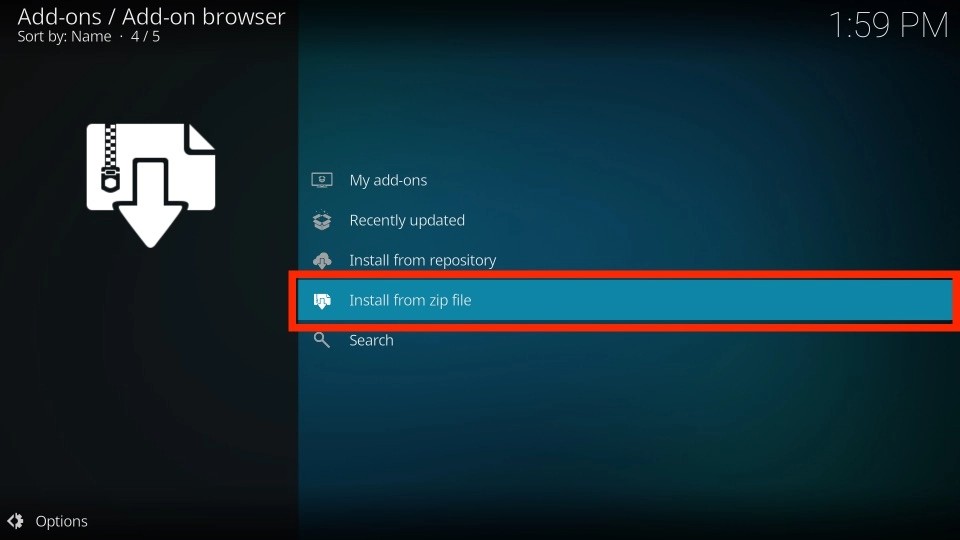 11. Read Kodi's warning sign regarding the manual updates and click Yes to move ahead.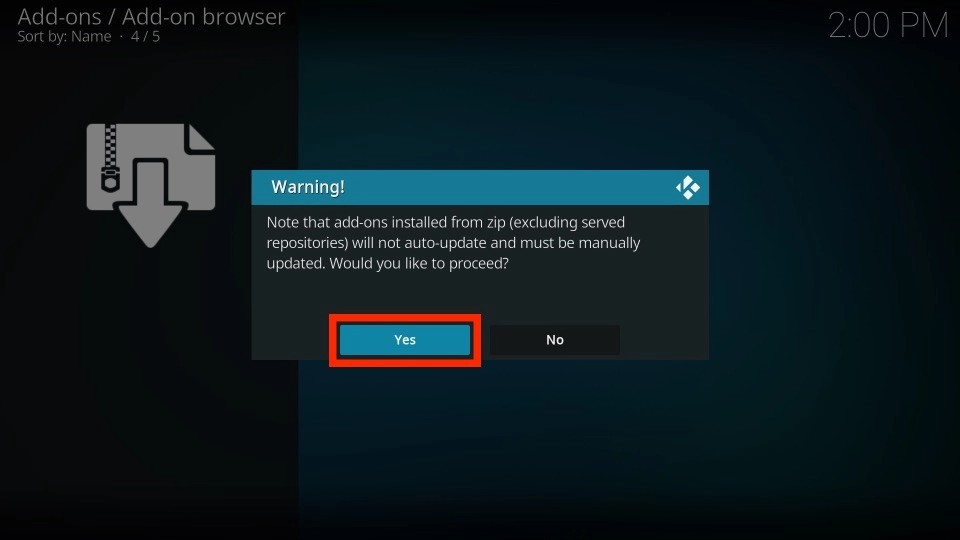 12. Choose the repo name, Narcacist, from the list.
Note: You pick the one you have set for the Narcacist's Wizard Repository in step number 6.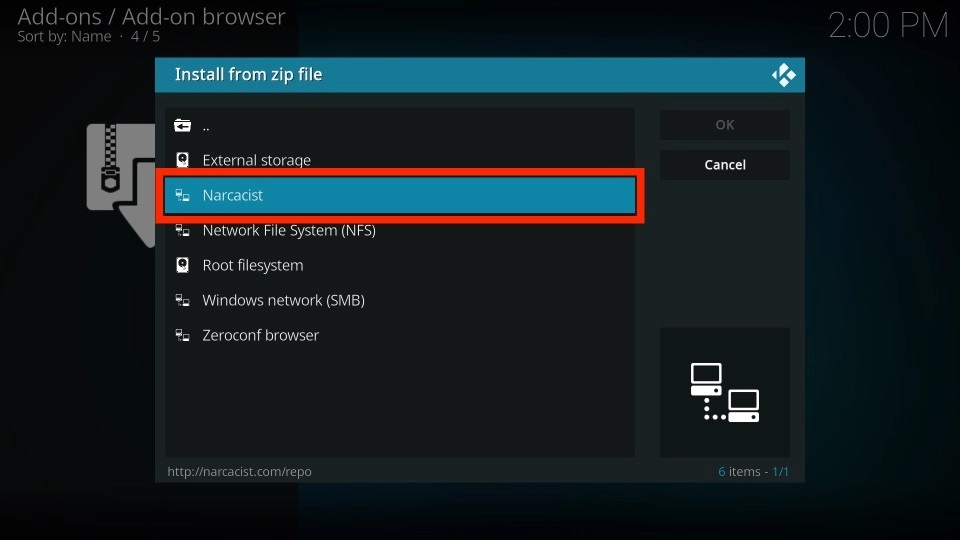 13. Open repository.NarcacistWizard-1.1.6.zip.
Note: The name of the Narcacist's Wizard Repository zip file can change.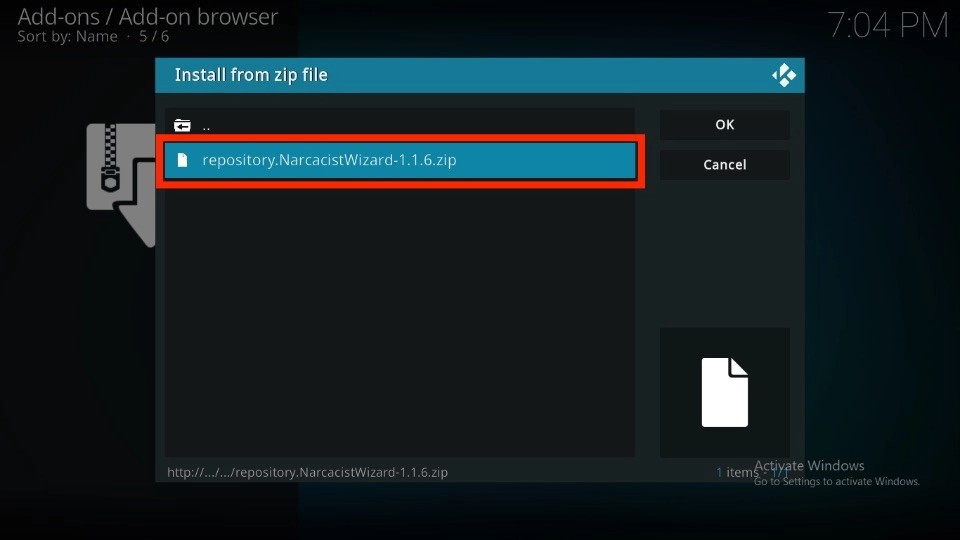 14. On installation completion, Kodi will notify you – Narcacist's Wizard Repository Add-on installed.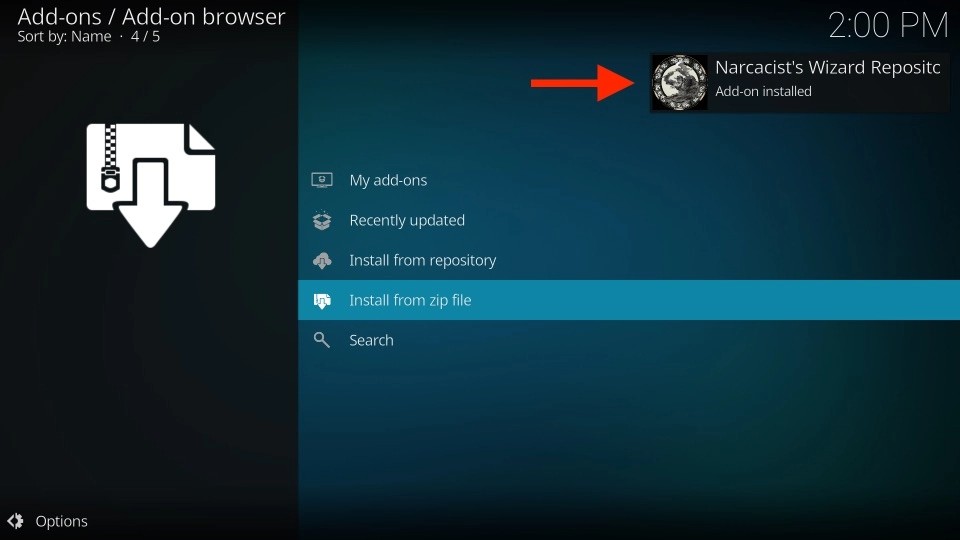 Part 3 – How to Install Kodiverse addon
And finally, use the repo to access and install KodiVerse:
1. Open the Install from repository section.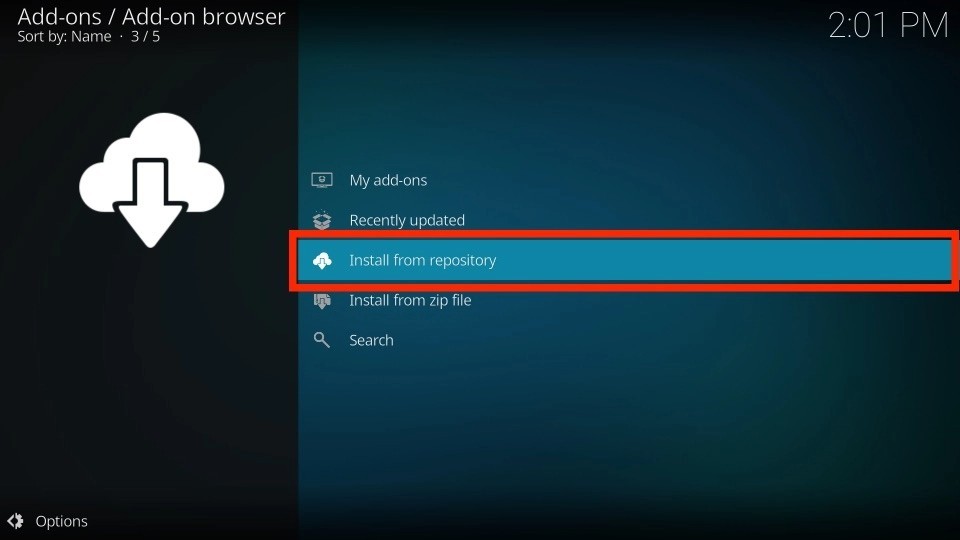 2. Go inside Narcacist's Wizard Repository.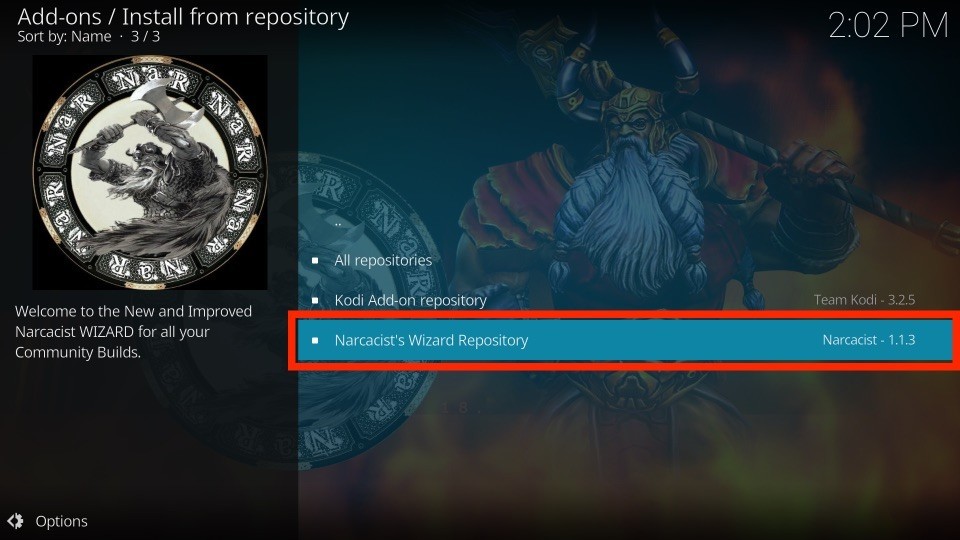 3. Open Video add-ons.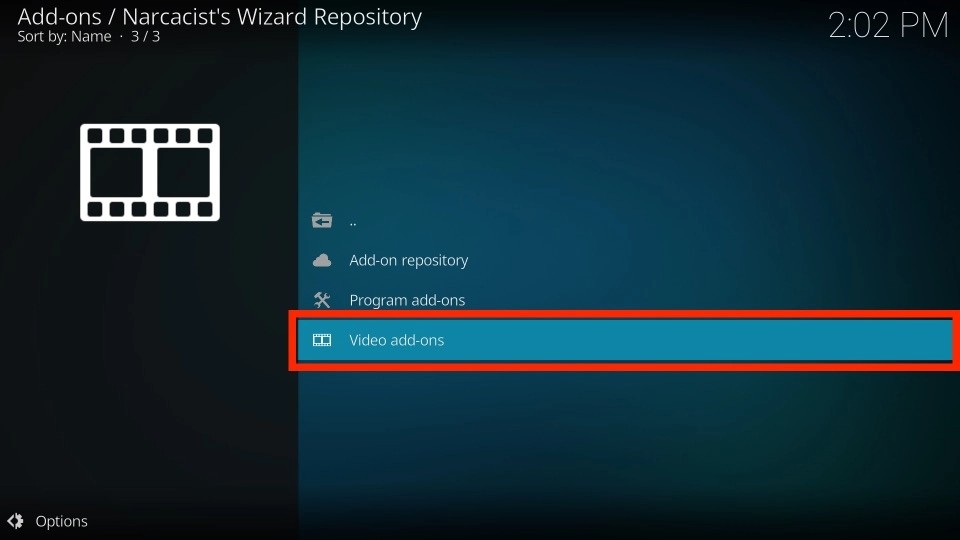 4. From the video addons list, choose KodiVerse.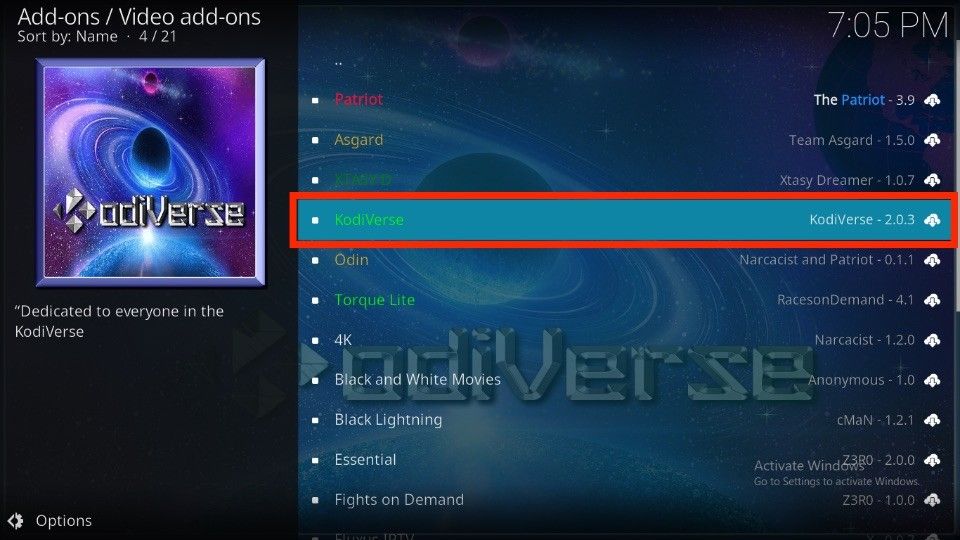 5. KodiVerse menu board will appear on your screen; click Install.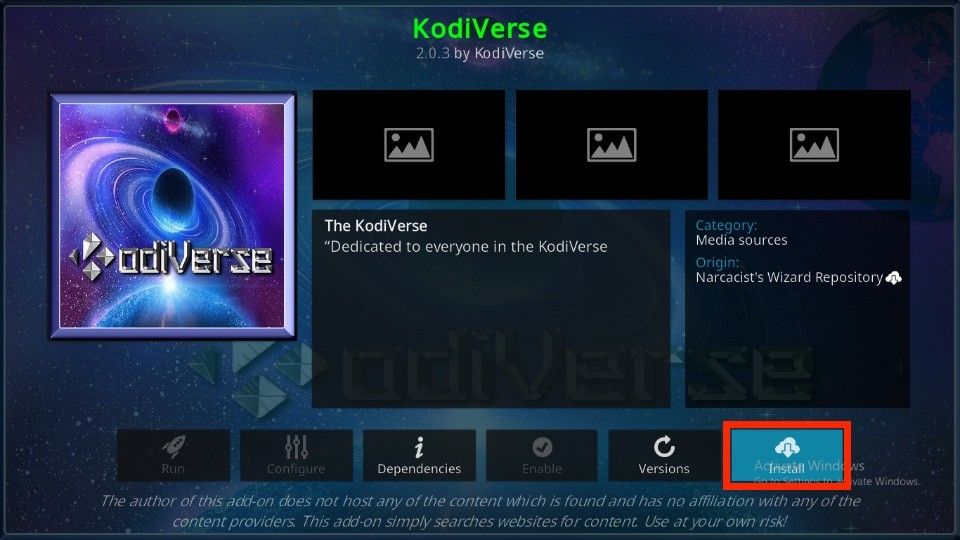 6. Kodiverse requires some additional supporting addons. Click OK to install these addons.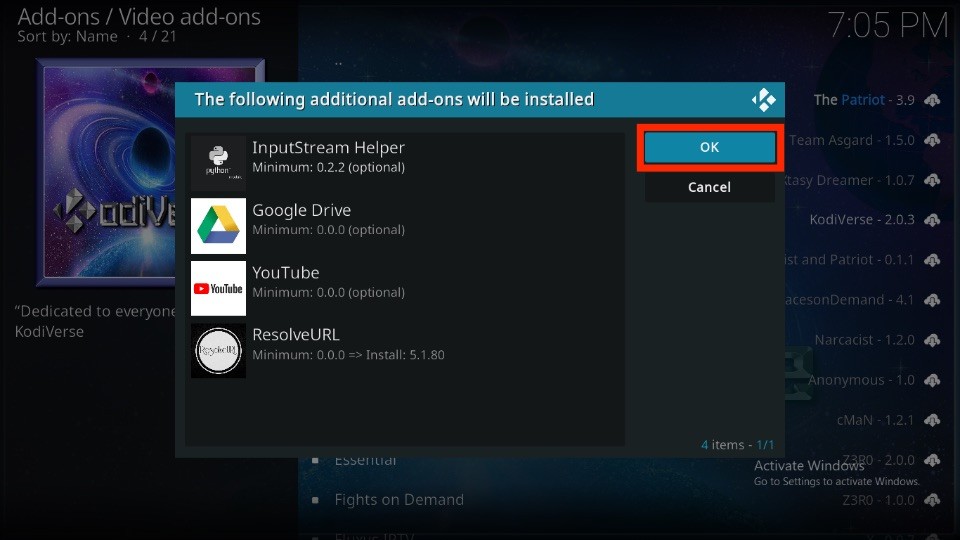 7. Wait for Kodi to download the required files for KodiVerse and additional add-ons.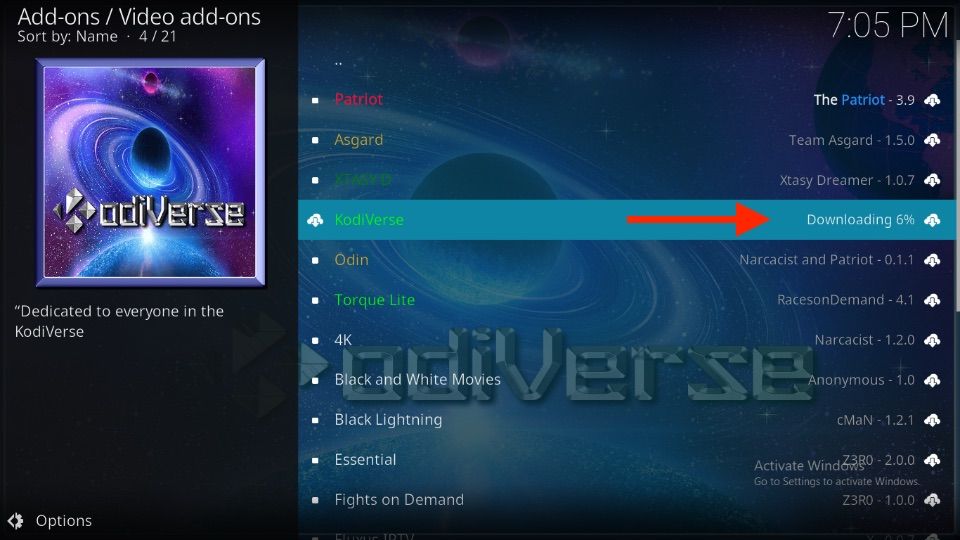 8. Once Kodi is done installing the files, you'll see a notification – KodiVerse Add-on installed.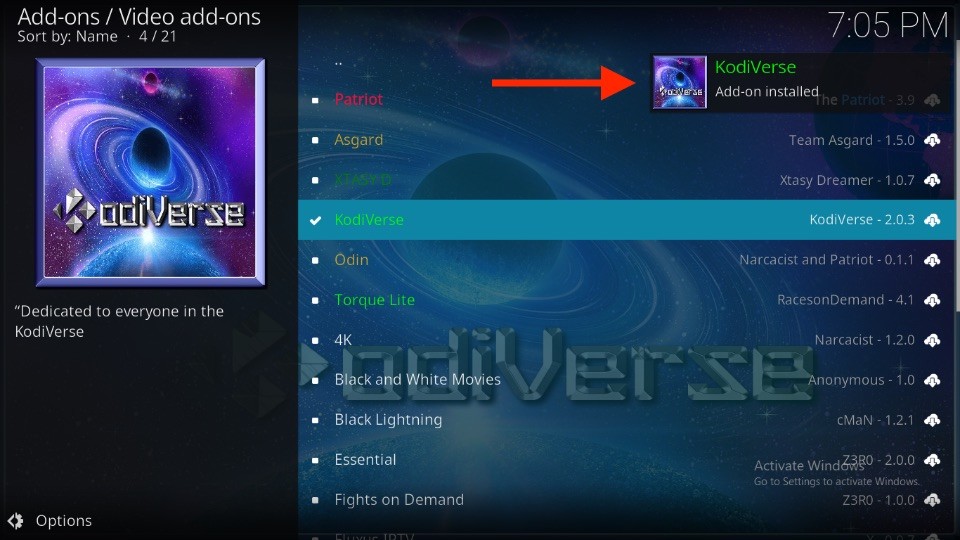 That's about it! You can now access the KodiVerse addon on your Kodi app. 
Wait! It looks like you are all set to start watching your favorite content on Kodi. But have you protected your online identity yet? You are under constant surveillance by the Government and ISP. They use your IP address 3.17.249.235 to track you. Streaming free or copyrighted videos may get you into legal trouble.
Thankfully, you can use a VPN to easily protect your privacy and go invisible from your Government and ISP. I use and recommend ExpressVPN with Kodi.
ExpressVPN is the fastest, most secure, and streaming-friendly VPN. It is easy to install and set up on any Kodi device, including FireStick, Smartphones, PCs, and more.
ExpressVPN, offers an unconditional 30-day money-back guarantee. So, if you do not like the service (I don't see why), you can get a full refund within 30 days.
Please remember that we encourage you to use a VPN to maintain your privacy. However, we do not condone breaking copyright laws.
Before you start using Kodi for streaming, here is how you can protect yourself with ExpressVPN:
Step 1: Sign up for ExpressVPN Here
Step 2: Download ExpressVPN on your device by clicking HERE
Step 3: Open the ExpressVPN app on your device. Sign in with your account. Click the connect/power button to connect to the VPN

Great! You have successfully secured yourself with the best Kodi VPN.
How to Use Kodiverse Kodi Addon
Go inside the Add-ons section available on Kodi's home screen.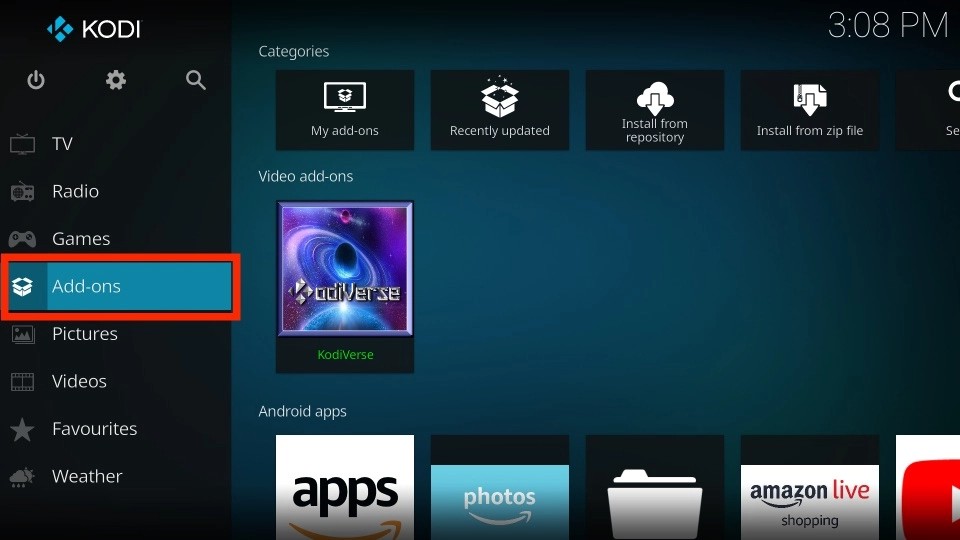 Stay on the Video add-ons tab and open KodiVerse.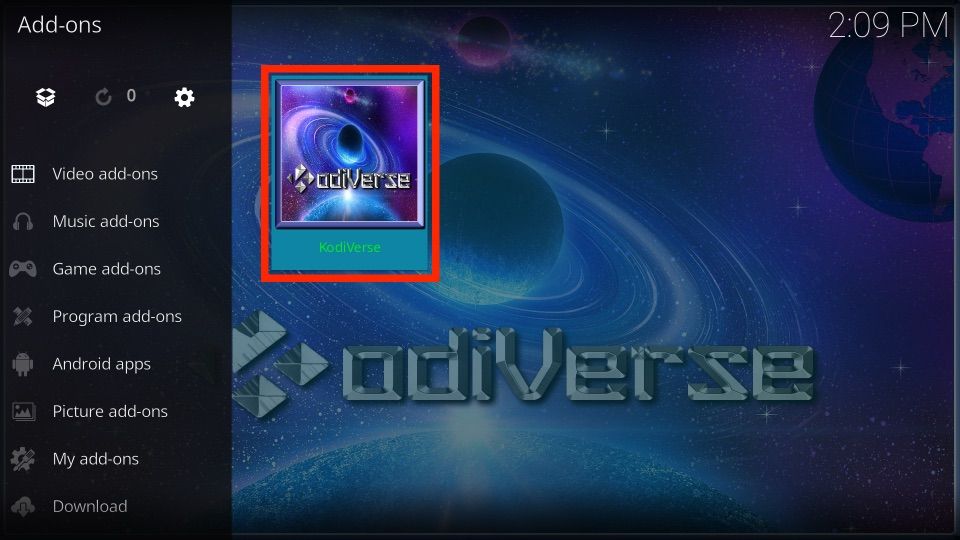 And welcome to the home of KodiVerse! You'll see the following 21 sections on the addon's landing page (image below):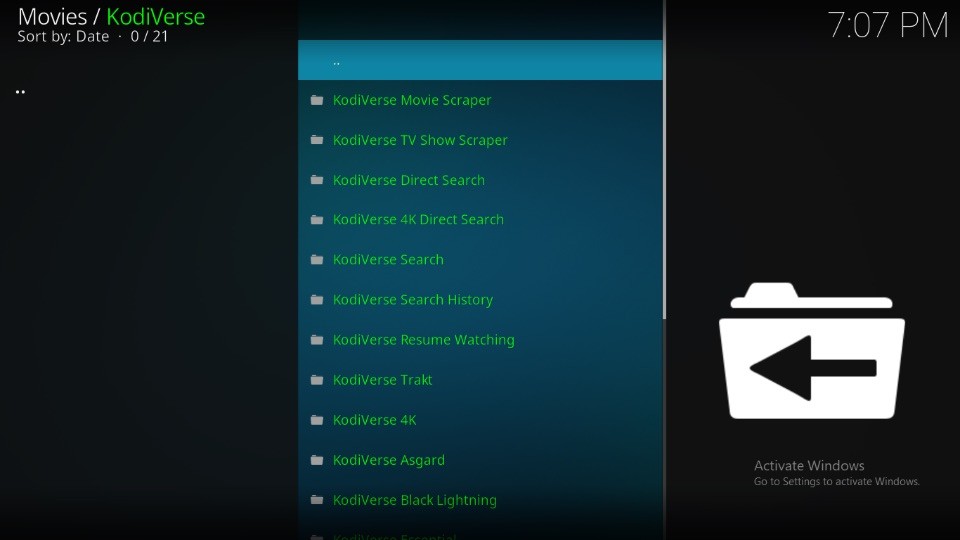 Let's kick things off with the first section of KodiVerse, Movie Scraper.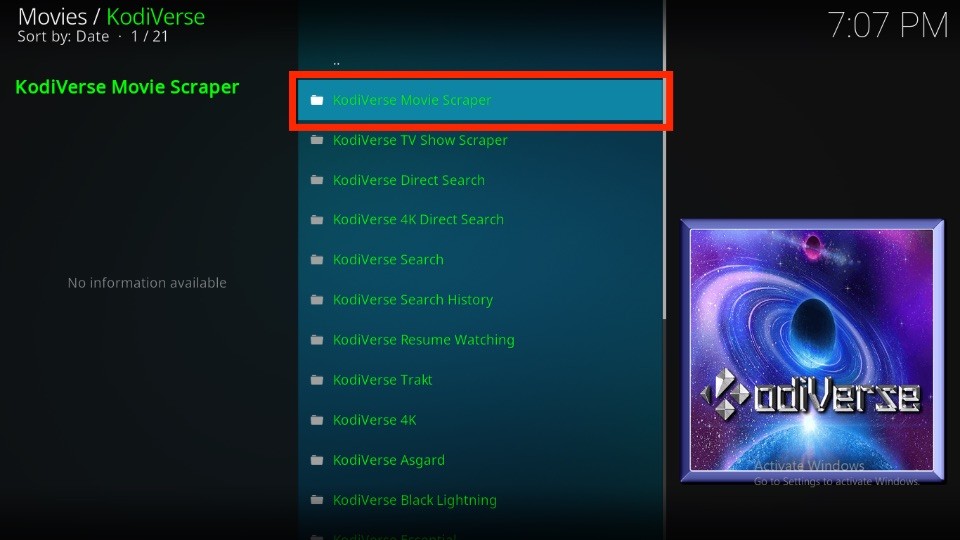 KodiVerse Movie Scraper is all you need related to films and cinema. You'll find all functions inside the section, from searching actors to browsing movies by genre.
So, for instance, if you want to check out the popular movies, select KodiVeres Popular Movies.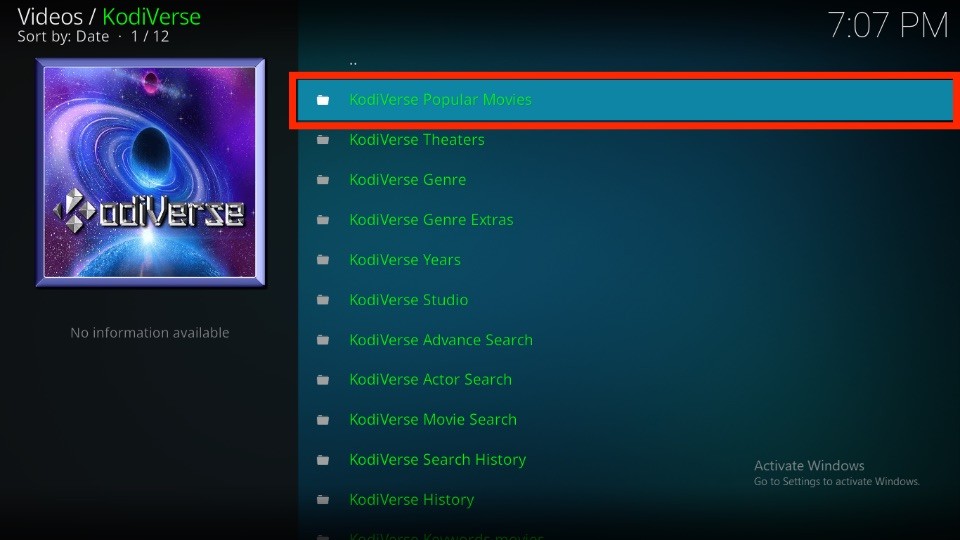 Inside, you'll get a hand-picked list of movies currently popular among film lovers.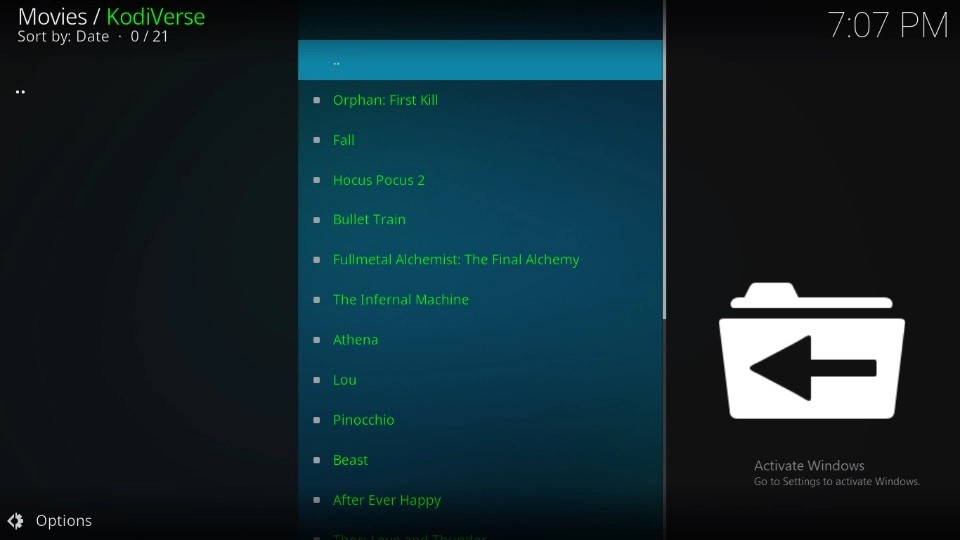 Not the movie type? Prefer something with a deep story and proper character-building? KodiVerse TV Show Scraper has your six.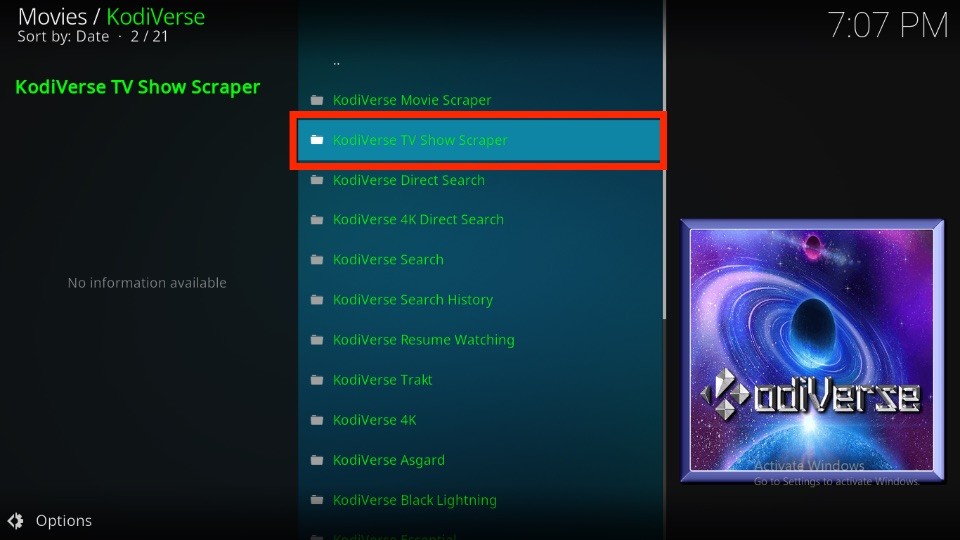 You'll find sub-sections like On The Air, New Tv Shows, New Episodes, Genre, Years, Networks, and more.
Let me quickly show you what's inside a sub-section, KodiVerse Popular.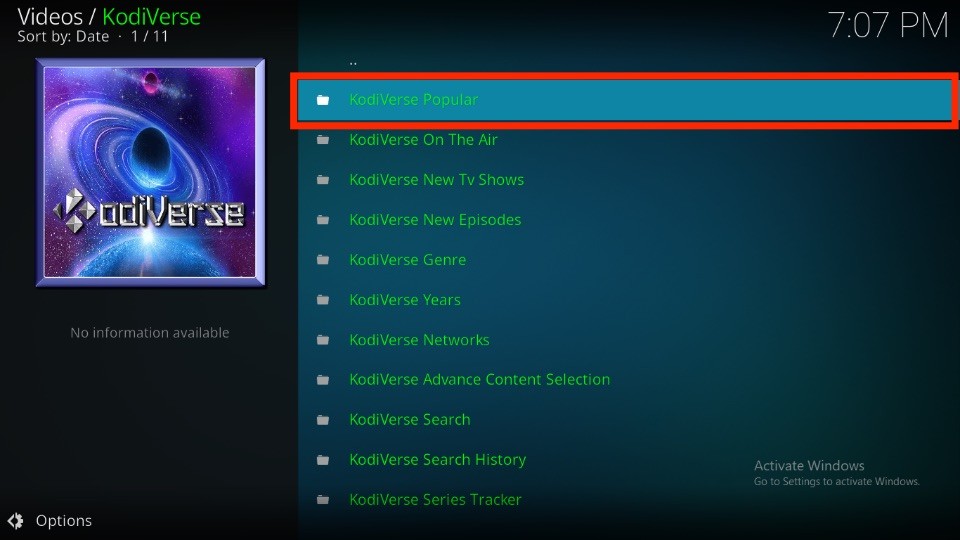 There's a list of popular TV shows that TV series enthusiasts like you are watching.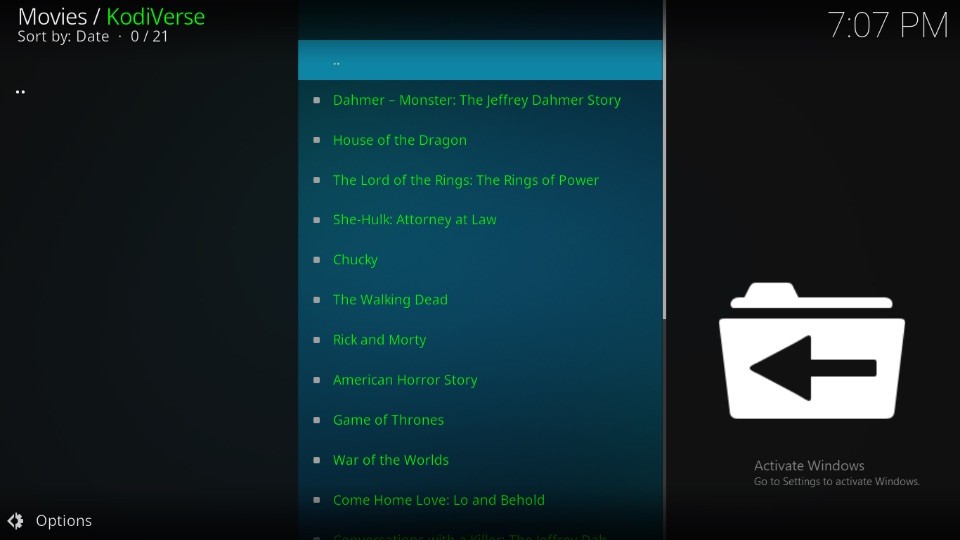 Do you have something in mind? Great! Use the Direct Search section of KodiVerse.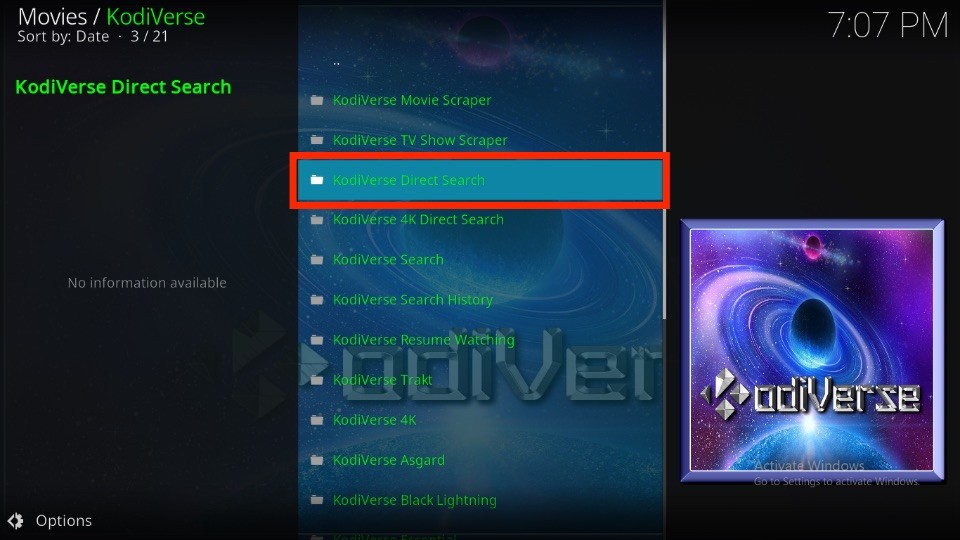 Enter your search term and click OK.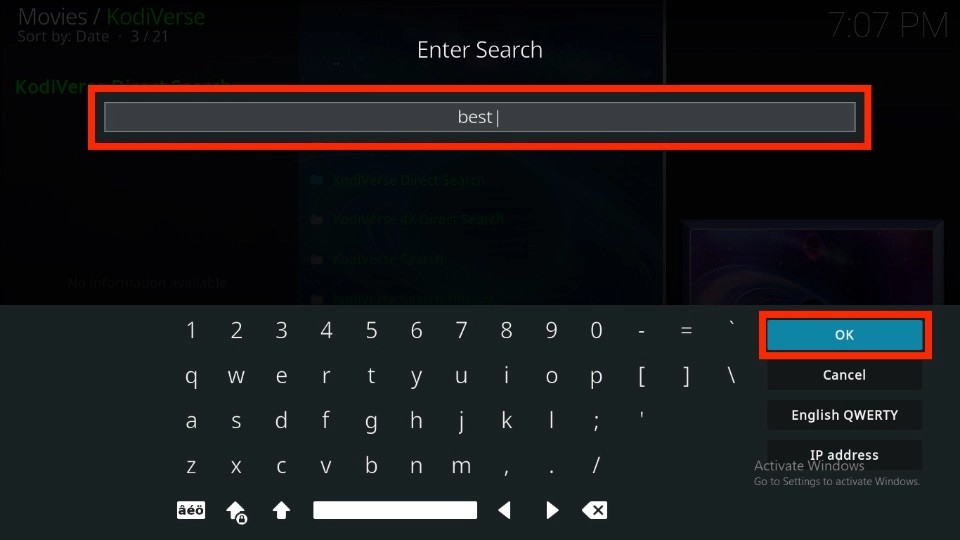 Wait for KodiVerse to find everything related to your search.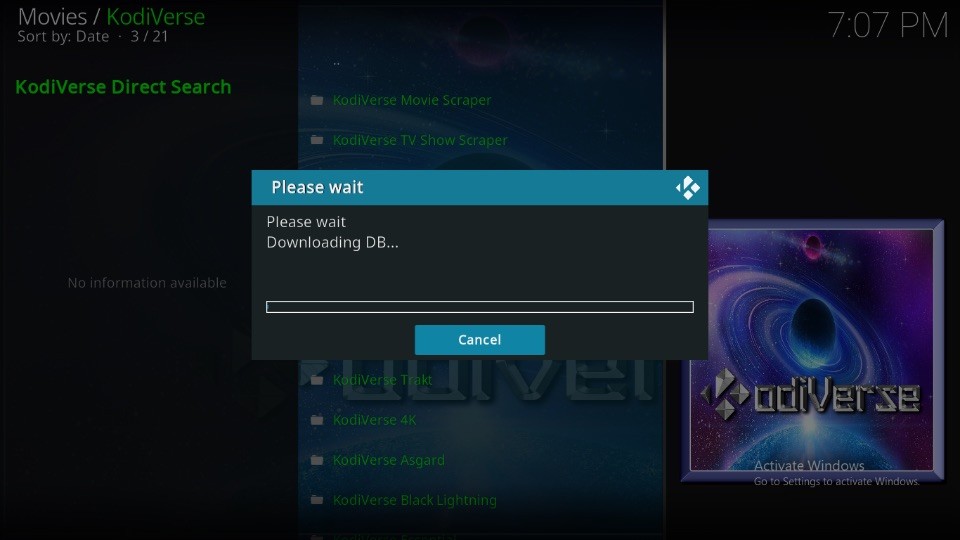 After a few seconds, you'll see a long list of titles matching your search term. In my case, it showed me everything related to best.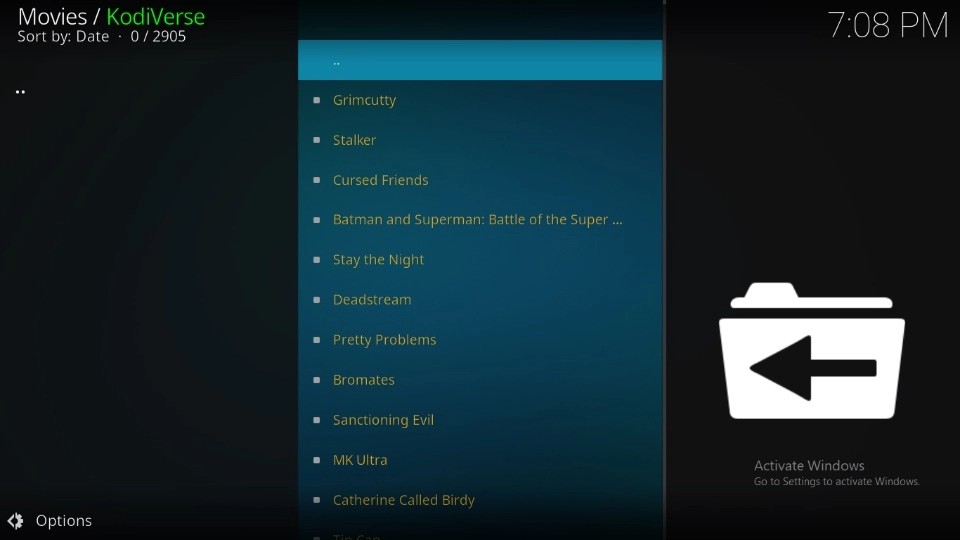 There are tons of surprises waiting for you when you go down the list of KodiVerse home sections.
And those are the immediate access to popular Kodi addons. So, let's start exploring some.
Open Kodiverse 4K.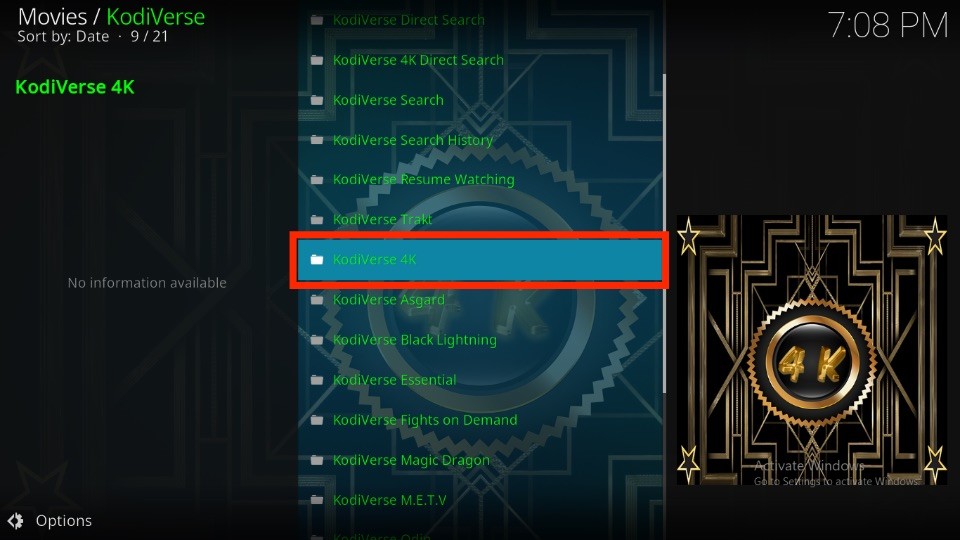 You can access the 4K Kodi addon sections like 4K Movies, 4K TV Shows, 4K A-Z Movies, 4K Classic Movies, etc.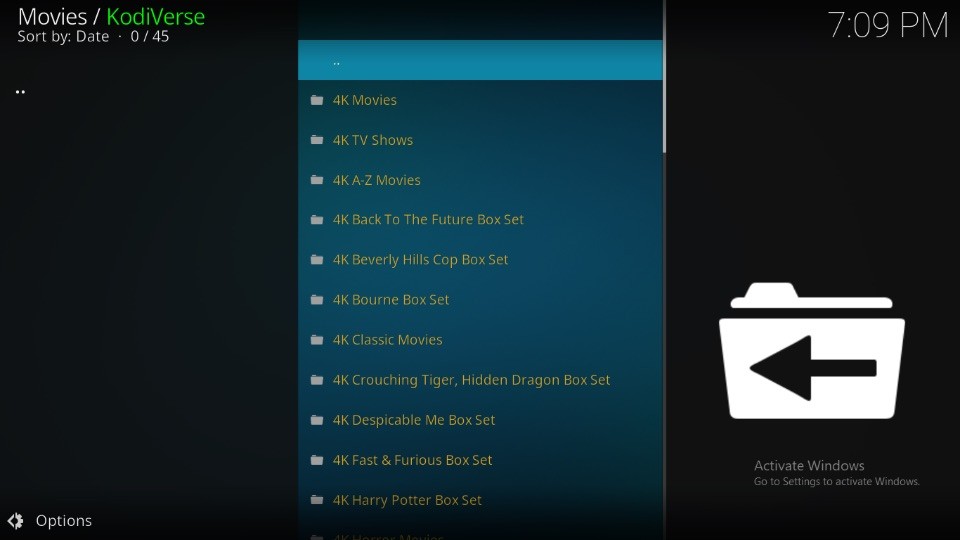 Next up, we have the famous Essential Kodi addon.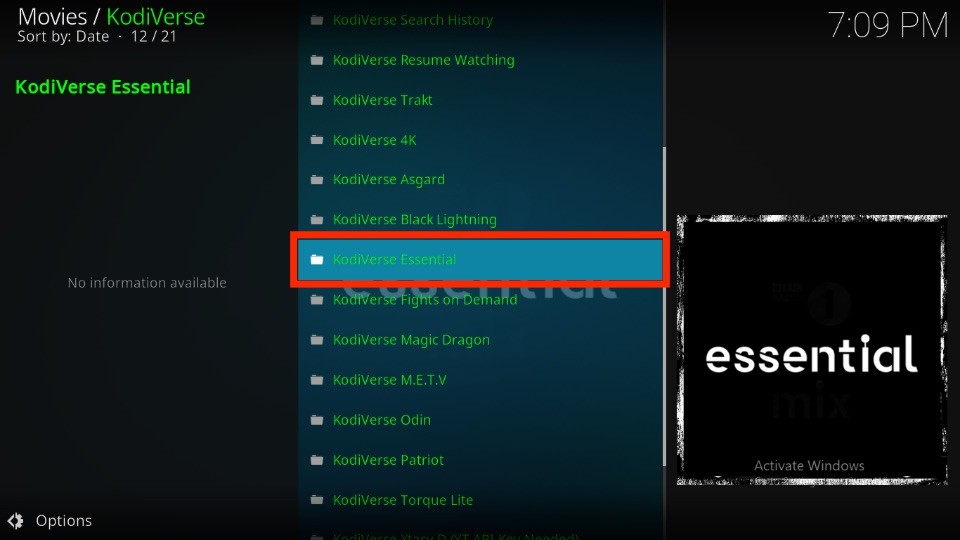 You'll see sub-folders like 2022 ESSENTIAL COLLECTION, 2021 ESSENTIAL COLLECTION, and more.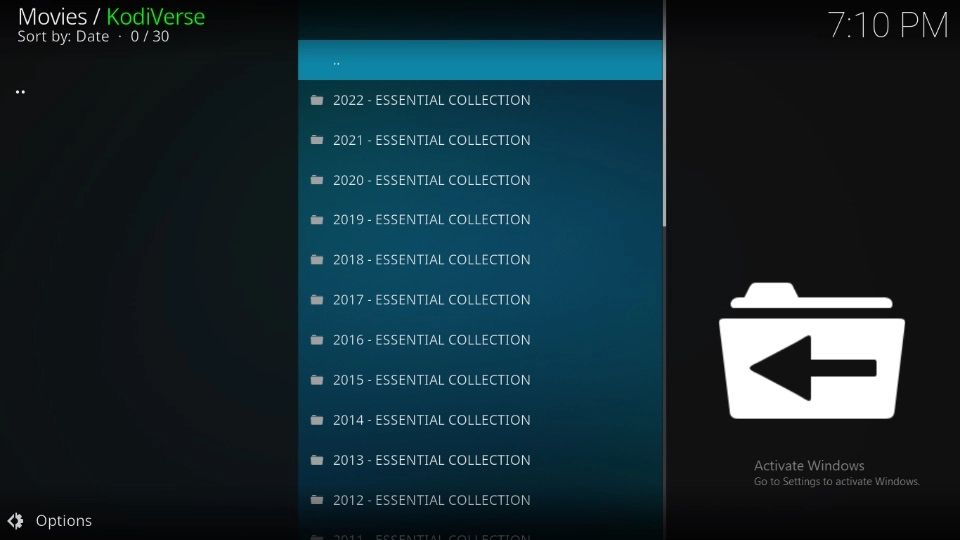 Are you into motorsports? Guess what? You can access the famous Torque Lite Kodi addon via KodiVerse.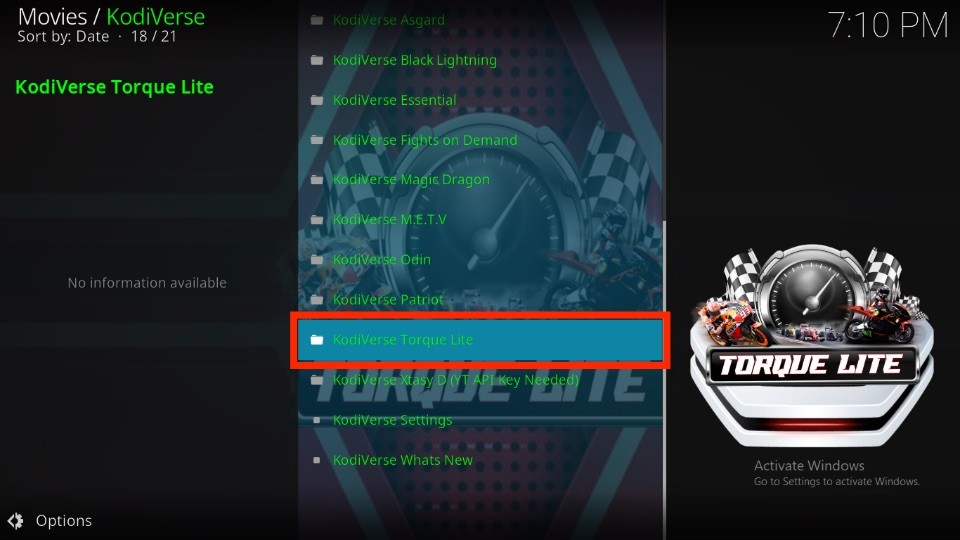 You can directly access the Torque Lite addon, including its content like Live Zone, Super Cars, Super Bikes, Car Shows, Test Zone, etc.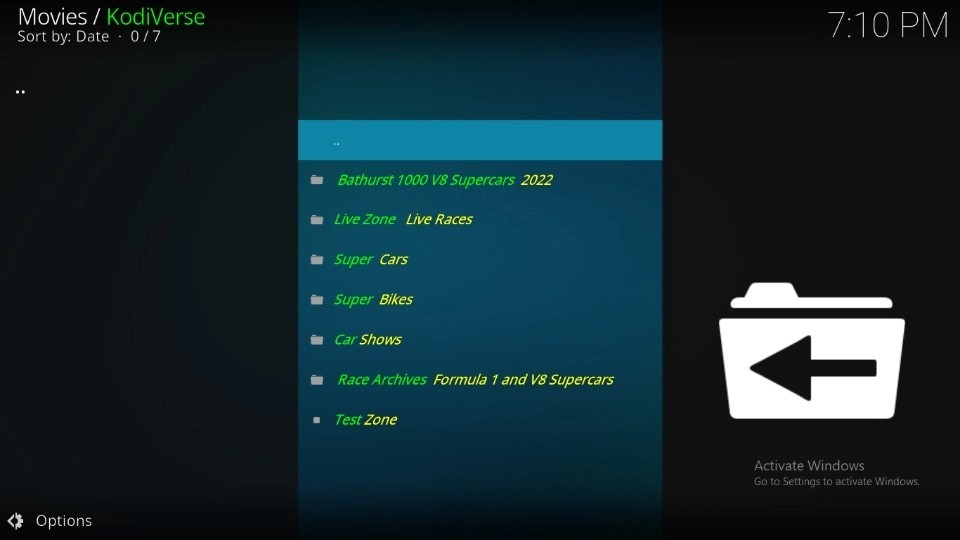 Lastly, discover all the other sections I haven't shown you guys, as KodiVerse packs a lot of exciting stuff.  
How to Set Up Real Debrid with Kodiverse
With the power of Real Debrid, KodiVerse can do a lot more.
Here's how to integrate your Real Debrid with KodiVerse:
1. Open KodiVerse Settings at the end of its home screen list.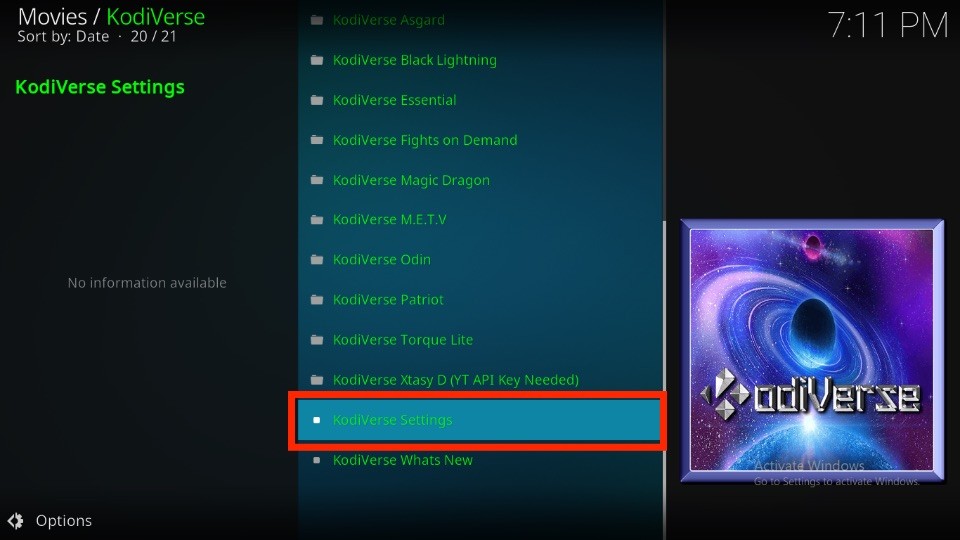 2. When the Settings – KodiVerse window appears, scroll down to KodiVerse Debrid.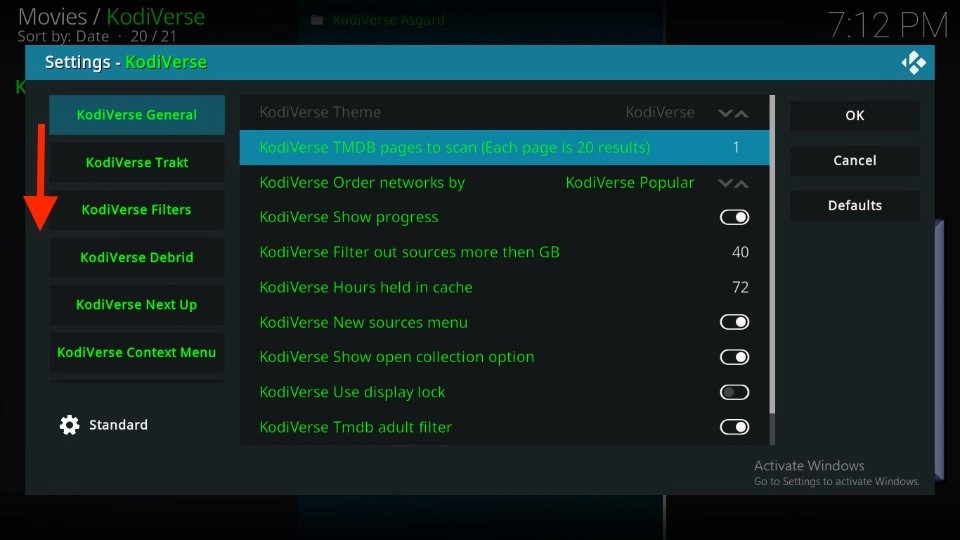 3. Make sure KodiVerse Enable debrid service is turned on. Then, choose KodiVerse Re-auth Real-Debrid.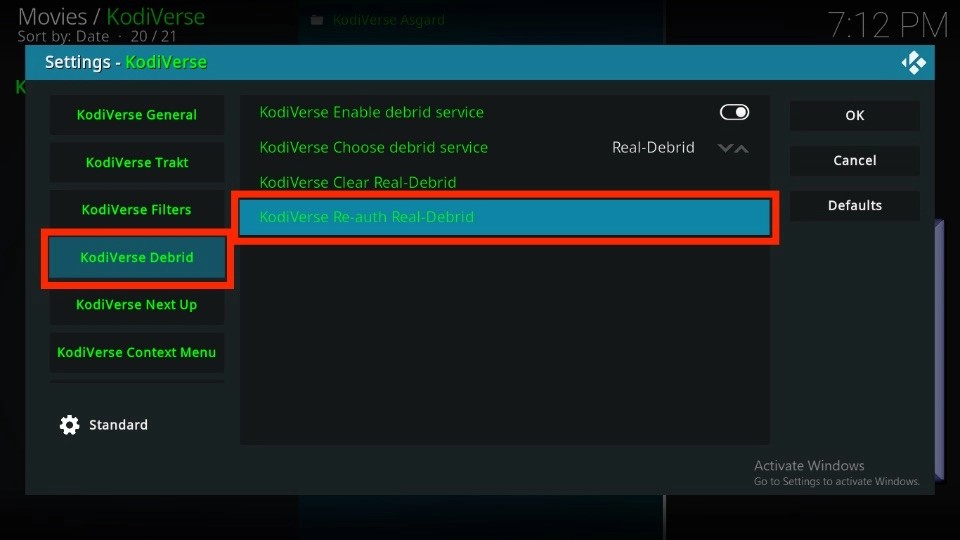 4. Open the Real Debrid device activation link (https://real-debrid.com/device) on your phone/PC/tablet web browser and enter the code.
Follow on-screen instructions on the Real Debrid website to complete the integration.
Note: Enter your Real Debrid account details to sign in if you aren't logged in.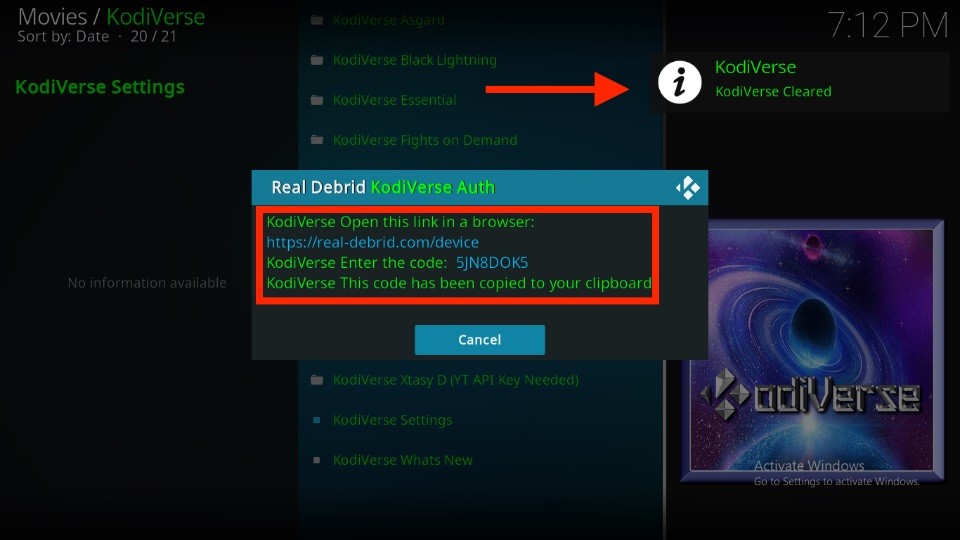 5. Once everything is done, you'll receive an OK notification from KodiVerse.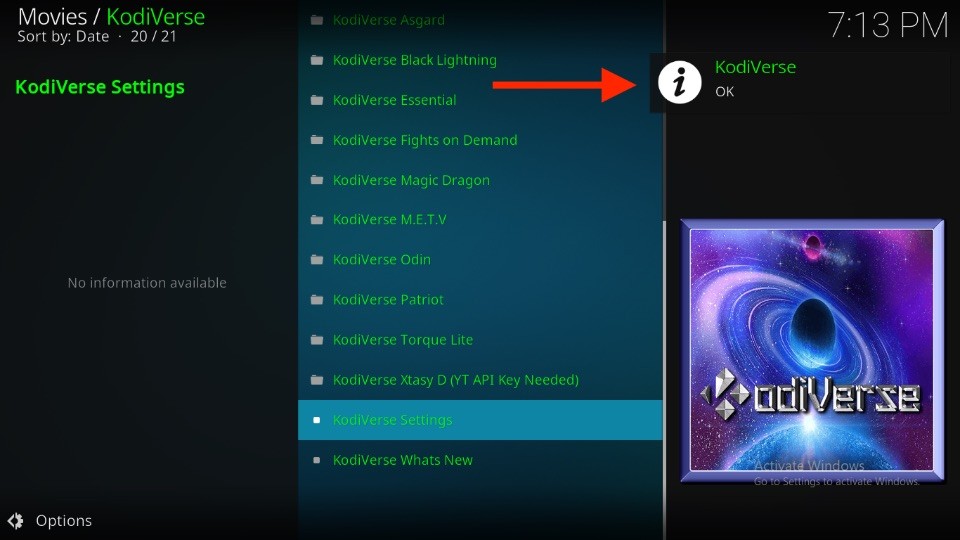 How to Set Up Trakt with Kodiverse
Here are the steps to set up Trakt with KodiVerse:
1. Go to the end of the KodiVerse home page section list and explore KodiVerse Settings.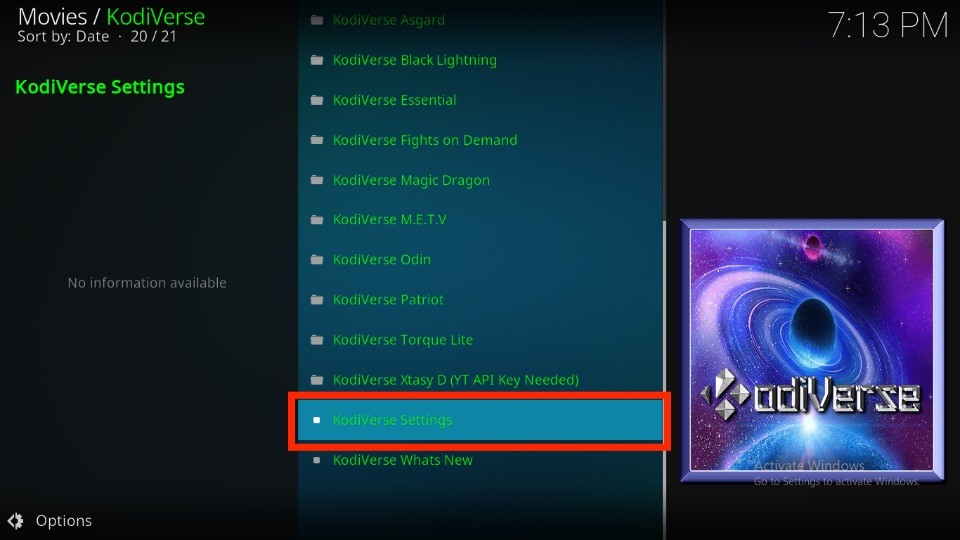 2. Scroll down and choose KodiVerse Trakt on the addon's settings window.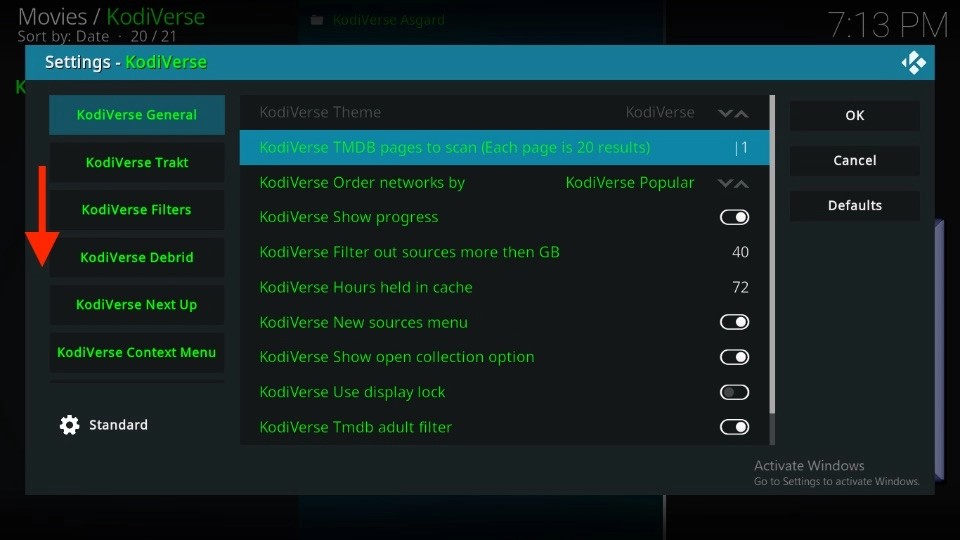 3. Select KodiVerse ***Sync track to DB***.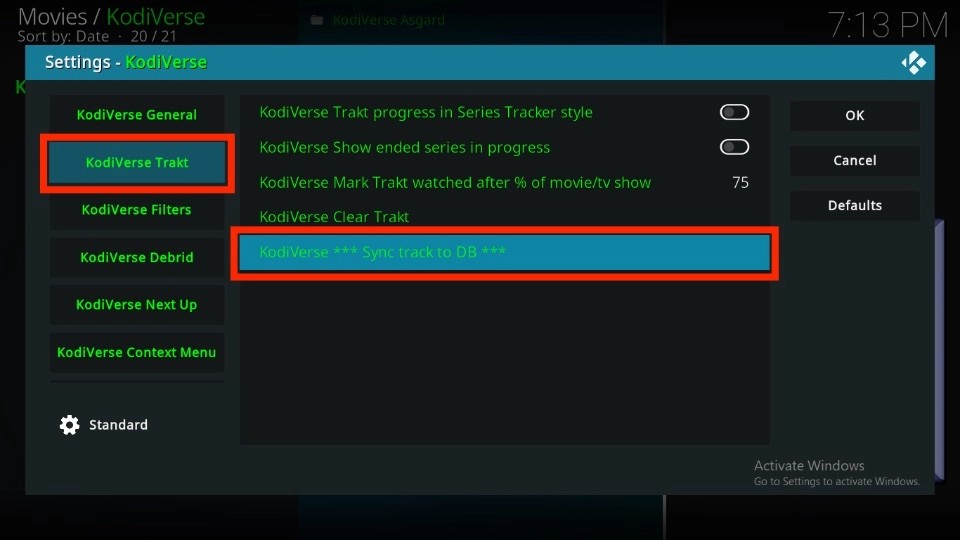 4. Click Yes to override the local DB.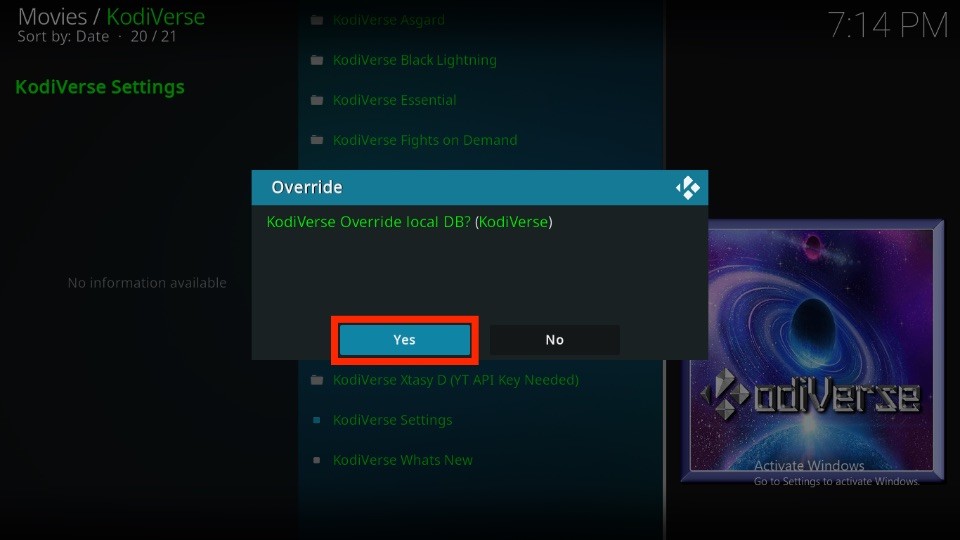 5. Choose Yes to start the process of Trakt authentication.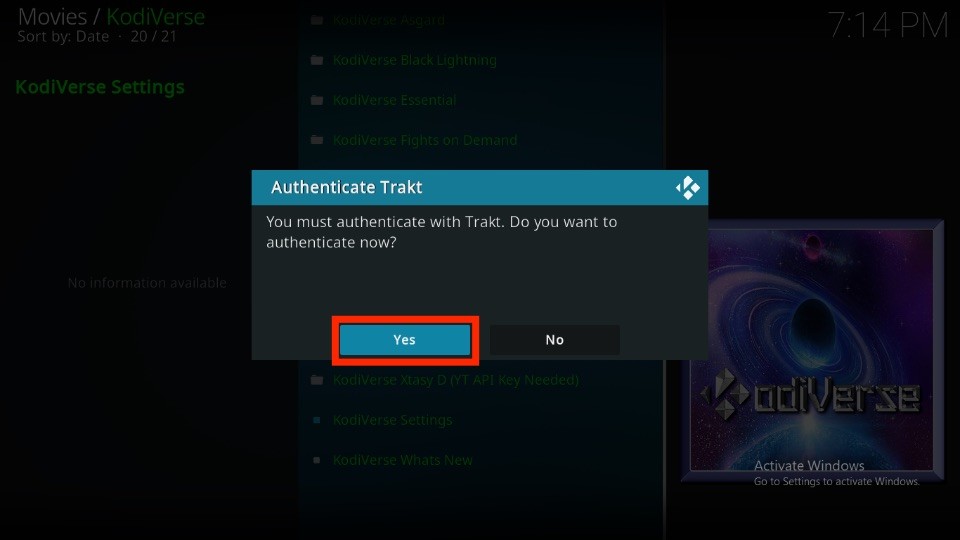 6. Visit https://trakt.tv/activate on your smart device's web browser and enter the code.
Also, log in to your account if you are signed out of Trakt. Then, follow the instructions to complete Trakt authentication.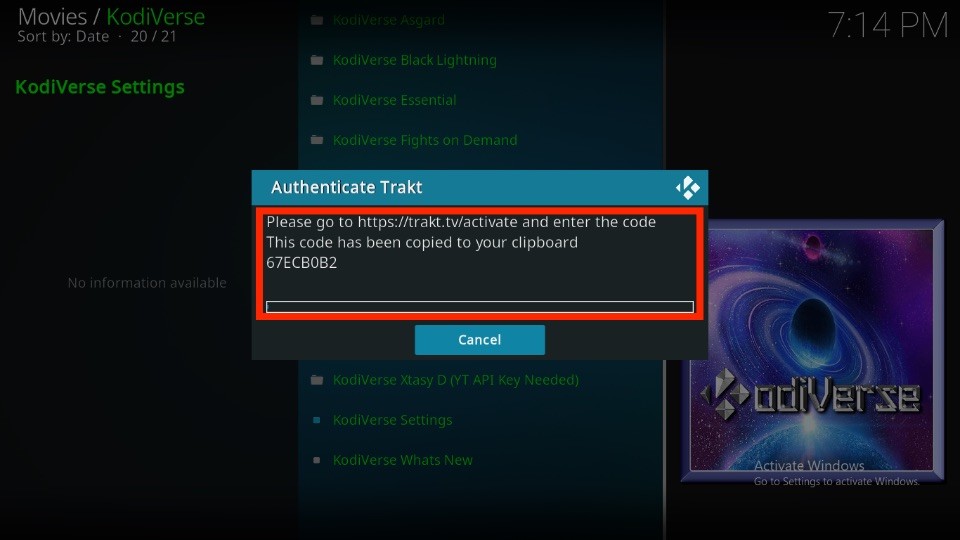 7. A Trakt window will appear on your KodiVerse when the authentication is complete.
8. Choose the Sync | KodiVerse button to sync the changes.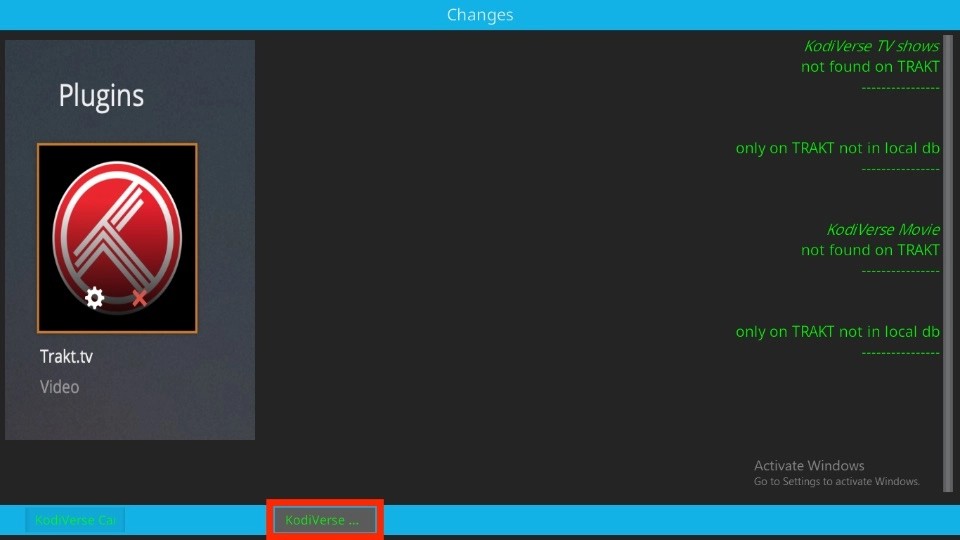 Conclusion
Kodiverse gives you access to multiple Kodi addons in one place. It lets you watch movies, shows, and more. Install Kodiverse Kodi addon to enjoy your favorite content.
Related: