In this blog, I will demonstrate the step-by-step process of how to install Torque Lite Kodi addon. I will also cover a basic overview of the addon and how to navigate it. This article also contains the safety and legal status of the addon. You can use the guide for all Kodi-compatible devices. Let's begin!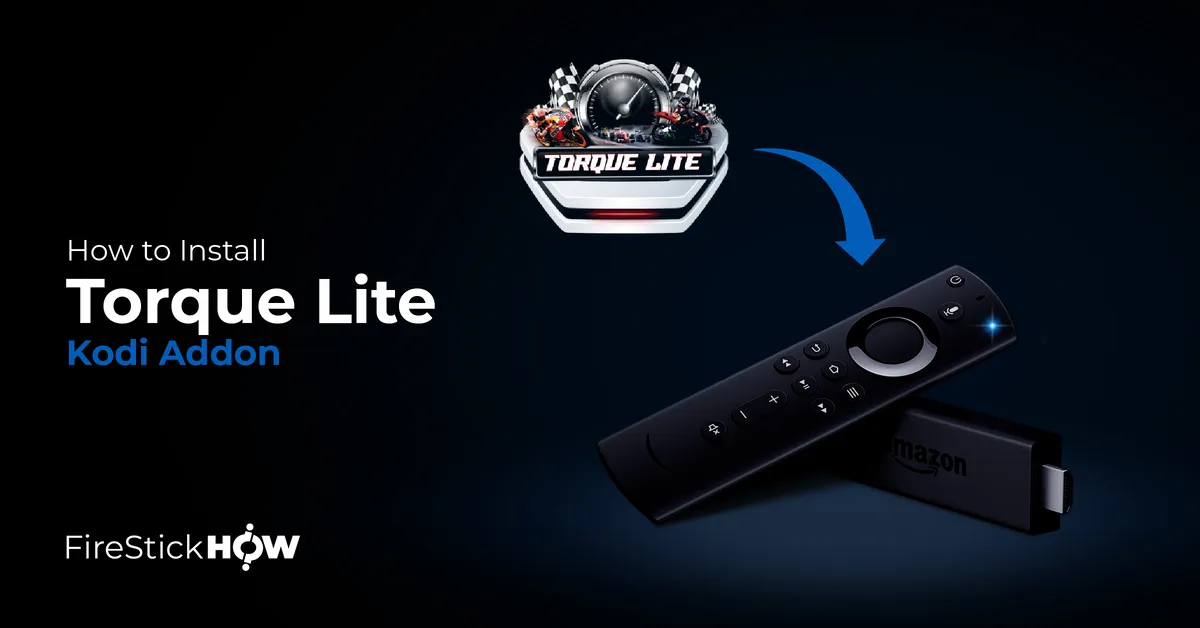 What is Torque Lite addon?
Torque Lite is a Kodi addon based around motorsports and racing content. It has everything from on-demand and recorded content to decades-old archives and lives. It is a third-party addon available in the Narcacist's Wizard Repository.
The main page of Torque Lite offers a wide variety of content from various motorsports categories. You can enjoy streaming racing tournaments or individual races. The addon is fast and streams high-quality videos.
Torque Lite also features a Driver's Club section where you can watch movies, TV shows, and more.
It also supports the integration of Read Debrid and Trakt for an even better streaming experience. In addition, you can enjoy the addon on Kodi-supported devices like FireSticks, smartphones, Android, iOS, and more.
Attention KODI Users: Read before you continue
Government and ISPs endlessly monitor your online activities using your IP address 3.17.249.235 (exposed to everyone). Kodi is an excellent platform for streaming movies, TV shows, and sports, but streaming copyrighted content can get you into legal trouble. 
You should use a reliable Kodi VPN and protect your streaming activities and privacy. A VPN will hide your IP address and bypass government surveillance and geo-restrictions.
I trust and use ExpressVPN, the fastest and most secure Kodi VPN. It's easy to install on any Kodi device, including Amazon FireStick, PCs, and Smartphones. In addition, it offers a 30-day money-back guarantee, and 3 free months with the annual plan.
Read: How to Install & Use the best VPN for Kodi.
Is Torque Lite Safe?
Torque Lite is from a well-known unofficial repository called the Narcacist's Wizard Repository. Although the repository is famous and contains some fantastic addons, it's still unofficial. Therefore, the safety status of the repo and the Torque Lite addon is under question.
Unfortunately, I can not say whether the addon is entirely safe. However, I ran the repository's URL through an online antivirus. Fortunately, the tool didn't catch any malware, malicious activity, or anything suspicious.
Here are the results.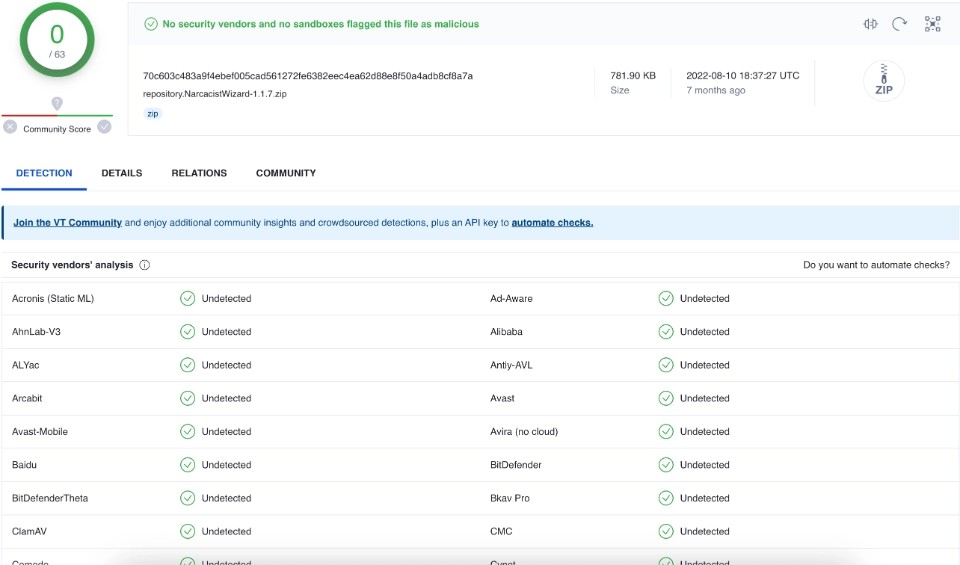 Is Torque Lite Legal?
The legal aspect of Torque Lite is another thing to look out for. Although the addon is relatively safe, you never know if the platform has the license to distribute the racing content. As a result, it can put you in legal trouble if you accidentally come across copyrighted content.
Therefore, the best thing to do is use a reliable VPN while streaming on Torque Lite. ExpressVPN is a safe, reliable, fast VPN service that will help conceal your identity as you watch content on Torque Lite.
Features of Torque Lite Addon
Here are some features of Torque Lite that make it unique:
It supports the integration of Real Debrid and Trakt.
Easy to use and has a simple interface.
All the content is divided into well-marked categories and sections.
Option to view live content or stream recorded races.
Available in the well-reputed Narcacist's Wizard repository.
High-quality streaming.
How to Install Torque Lite Kodi Addon
Torque Lite is a third-party addon. Therefore, you can't just install it from the official repository and call it a day. Getting the Torque Lite addon on your device is an extensive three-part process that requires time and effort. However, don't let the work intimidate you. Follow the step-by-step guide below, and you'll be done before you know it. Let's begin
Part 1: Enable Unknown Sources
The initial phase of the process doesn't deal with getting the addon. Instead, it's about preparing Kodi for installation. For that, you need to enable Unknown sources in the Settings menu. Kodi recommends not installing third-party downloads; therefore, the unknown sources option is turned off by default.
Here is how you turn it on:
1. Turn Kodi on and access the main menu. Then, move to the Cog icon and click it to launch Settings.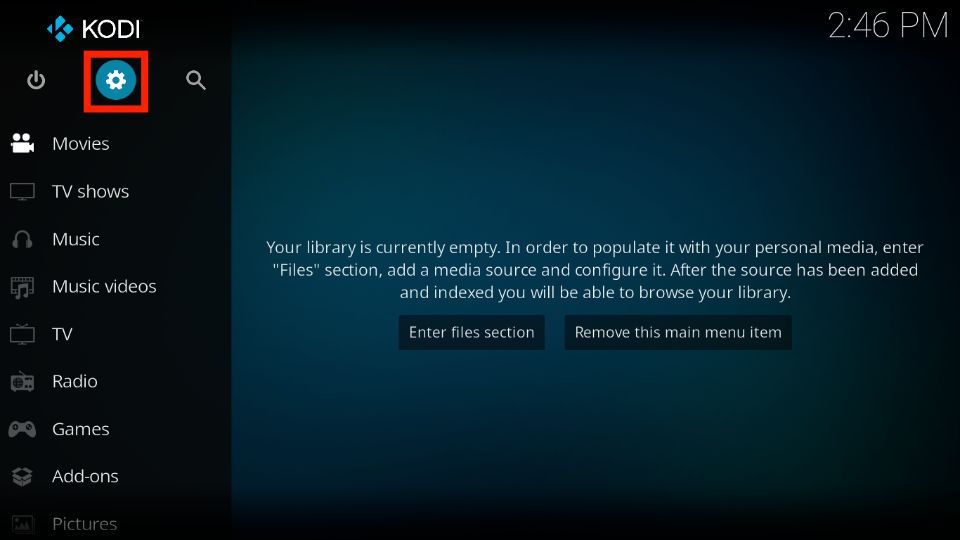 2. In the menu, you'll see various categories for different settings. Navigate down to the bottom and press the System icon.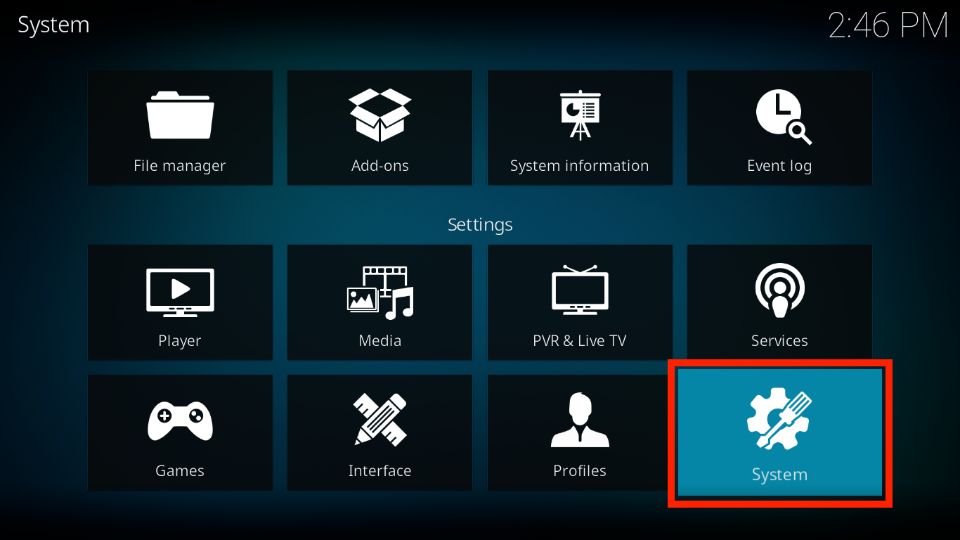 3. Now, move the pointer to the Add-ons tab and click it.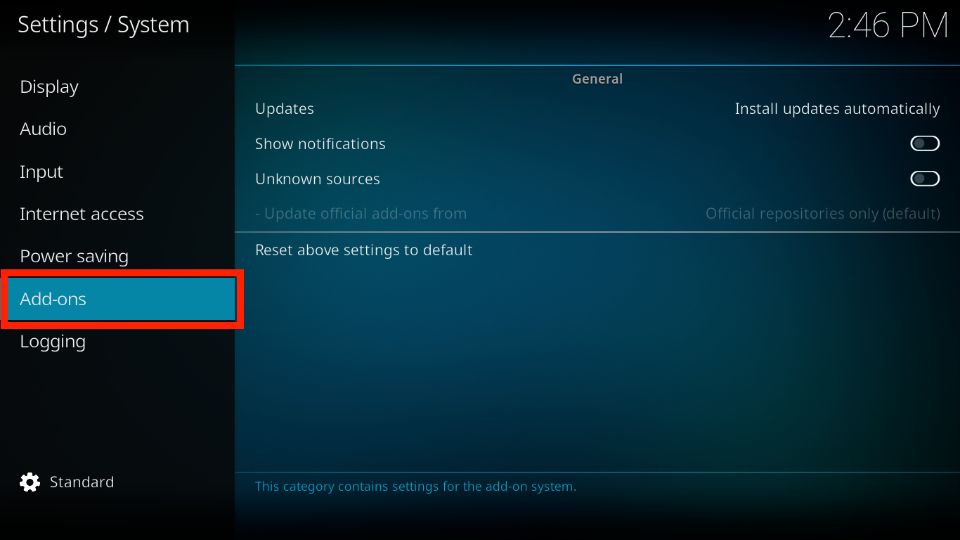 4. On the right, you can see the switch for Unknown sources. Navigate and toggle the switch to turn it on.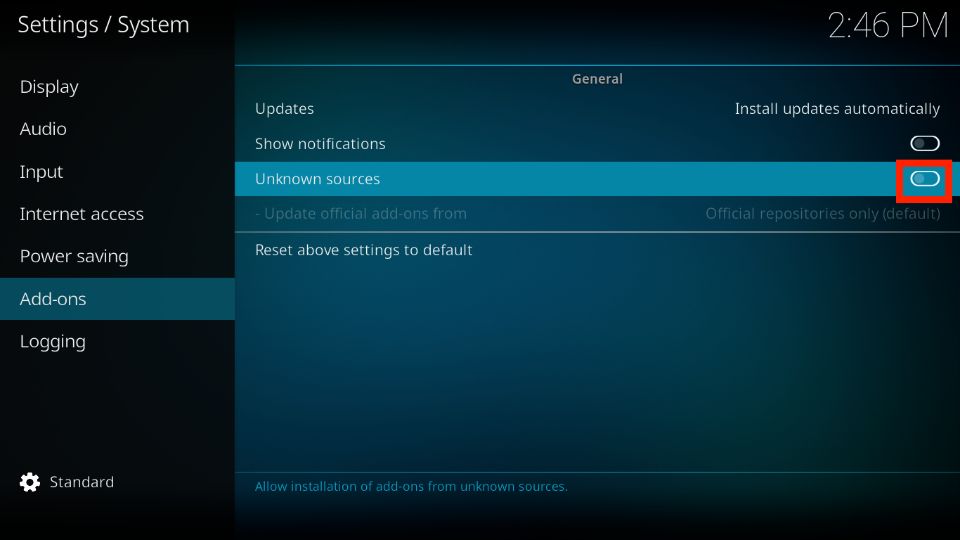 5. Kodi will send you a privacy warning. Hit Yes to proceed.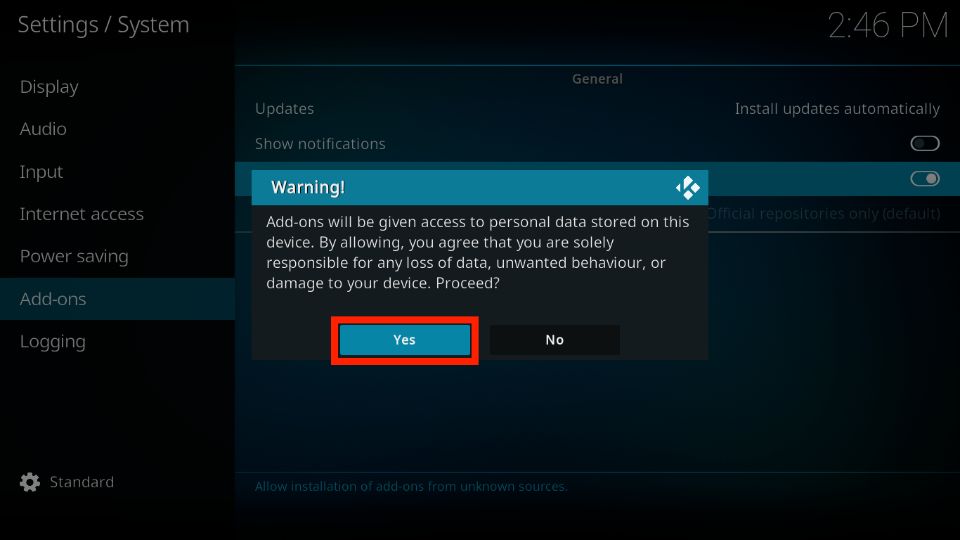 The Unknown sources option is turned on. You can get any third-party addon/repository without hassle. Let's explore how!
Part 2: Install Narcacist's Wizard Repository
Now is the time to install the repository that contains the addon – Narcacist's Wizard Repository. Again, as Torque Lite is available in the Narcacist's Wizard repository, you must install it first.
Follow these easy steps:
1. Again, load the settings menu by hitting the Gear icon on the Kodi home page.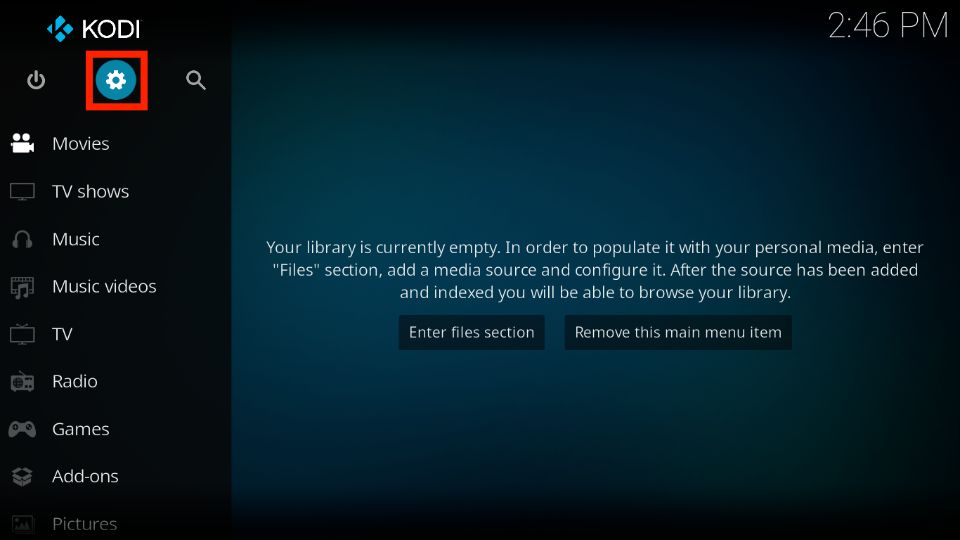 2. Select File manager at the top of the list.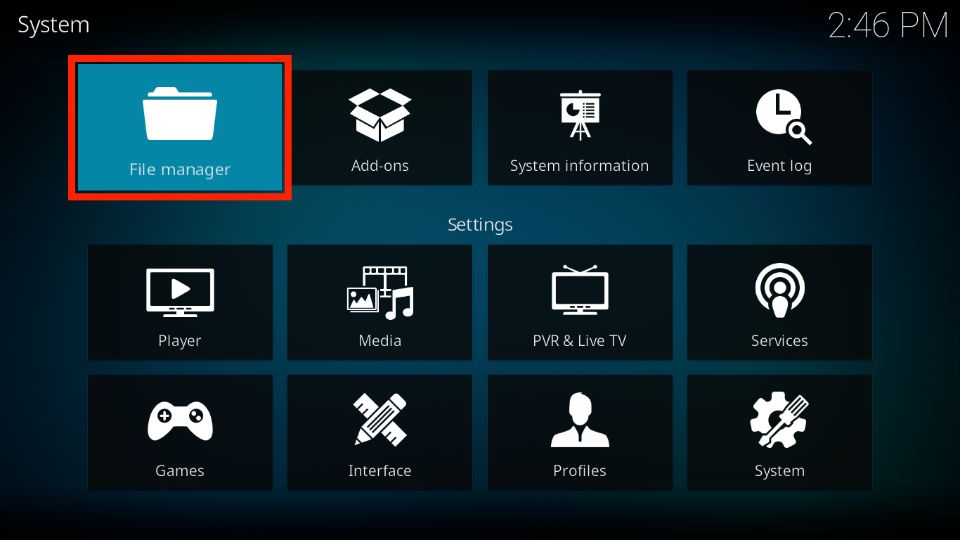 3. Now, you need to add the file source for the Narcasist repository. First, press the Add source tab.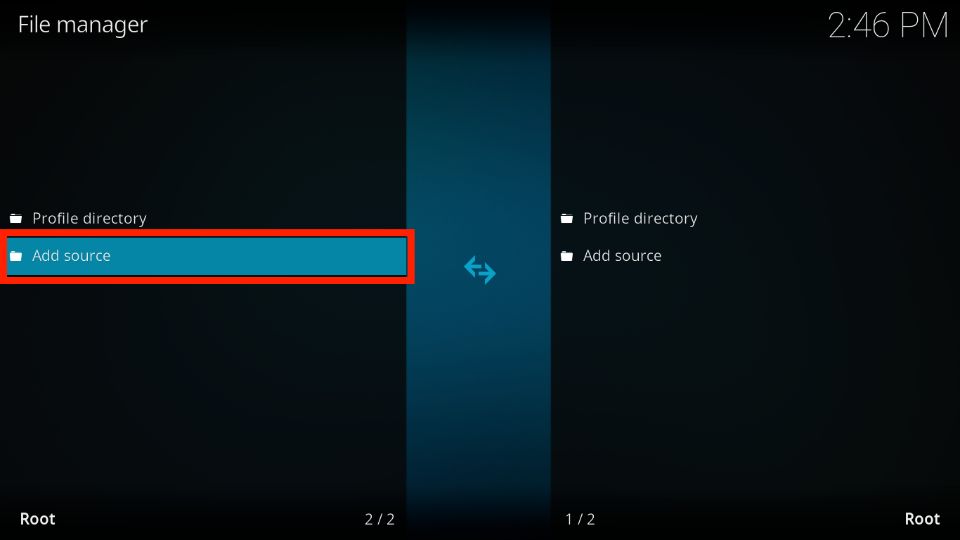 4. Select the <None> bar from the Add file source menu.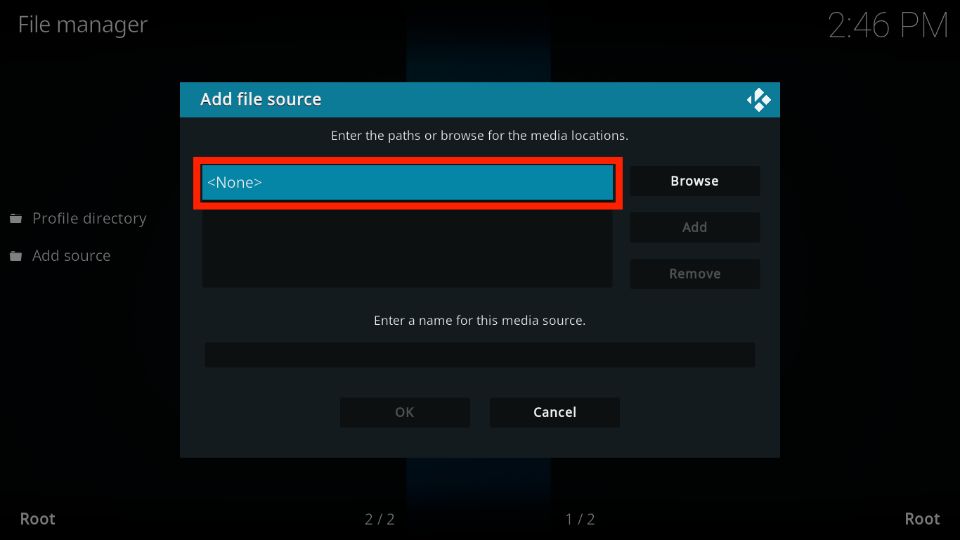 5. Next, type http://narcacist.com/repo in the bar and press OK.
Note: We don't have any link with Narcacist's Wizard Repository at FireStickHow.com. The link points to an external source.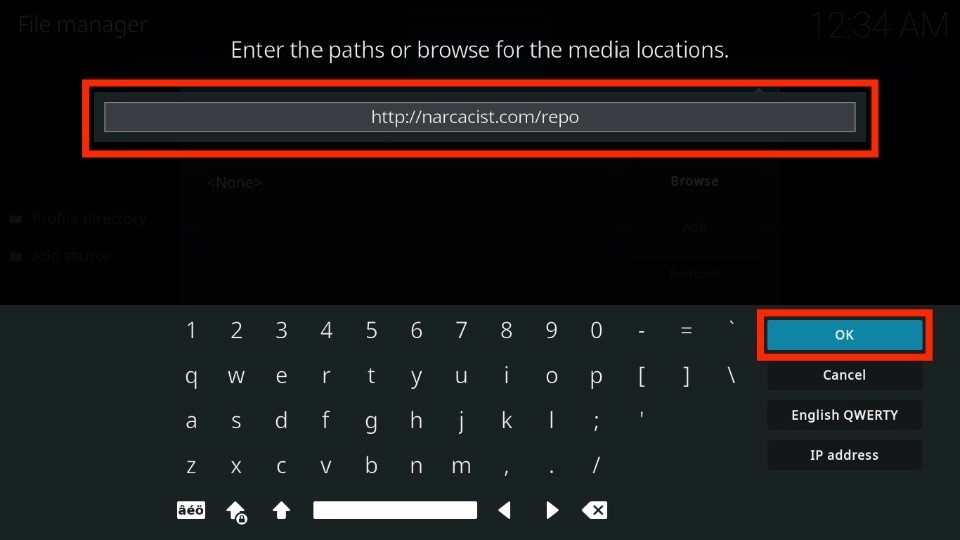 6. Click repo to change the default repository name given to Narcacist's source.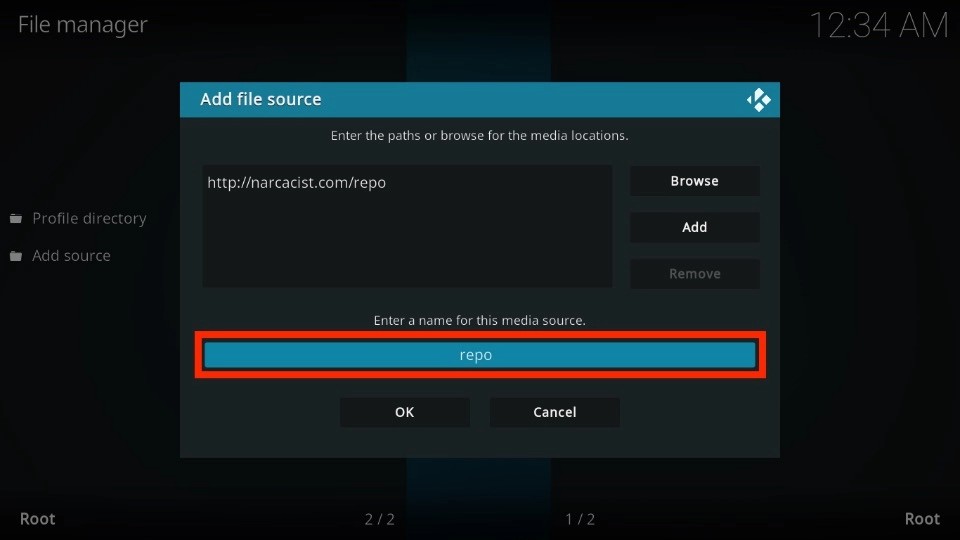 7. Name the file for future reference. I am naming it narcacist (the repository's name.) Then hit OK.
Note: You may set any other easily memorable name for you.
8. When you've filled the file source menu, quick it a glance to see if everything's correct. Then press OK.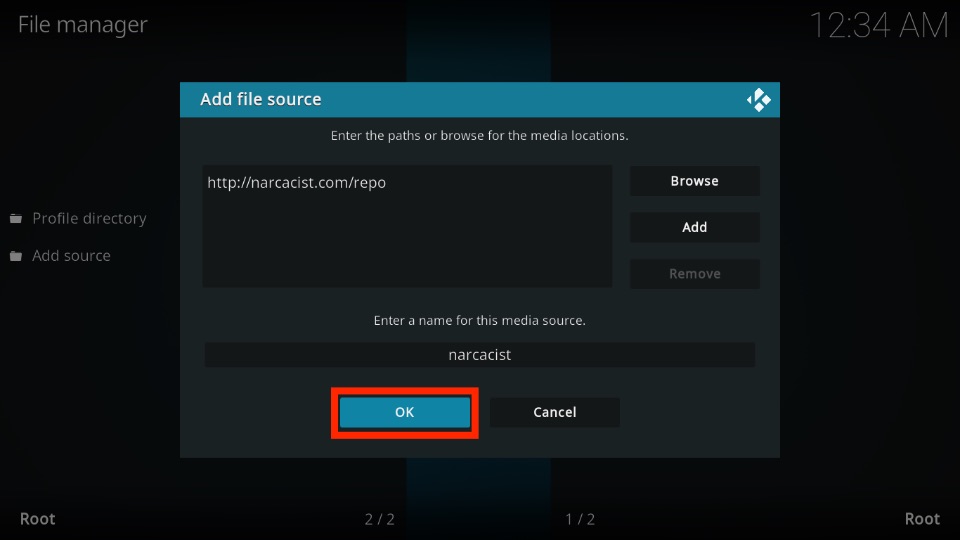 9. The narcacist file source is now added to Kodi. You can also view narcacist beside the Add source menu below.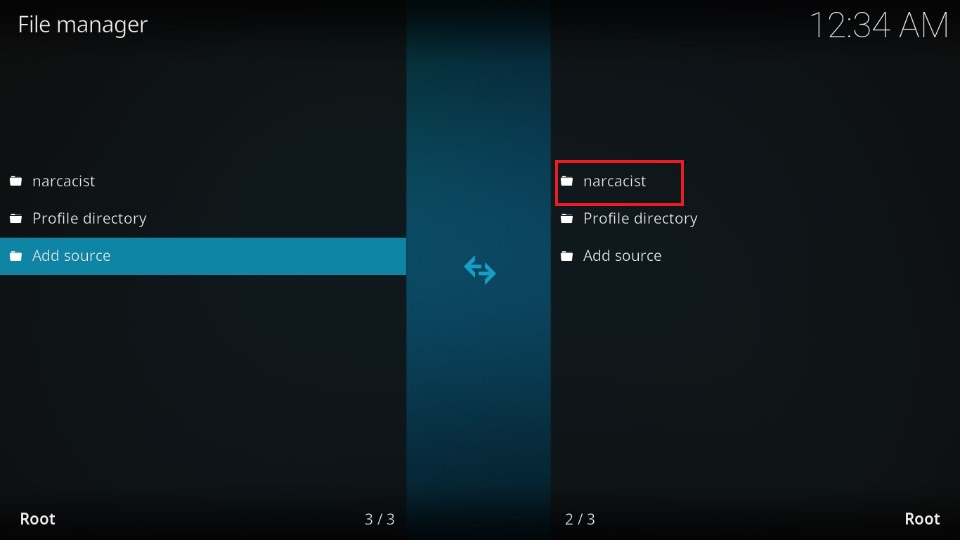 10. Now, go to the Settings menu and select Add-ons.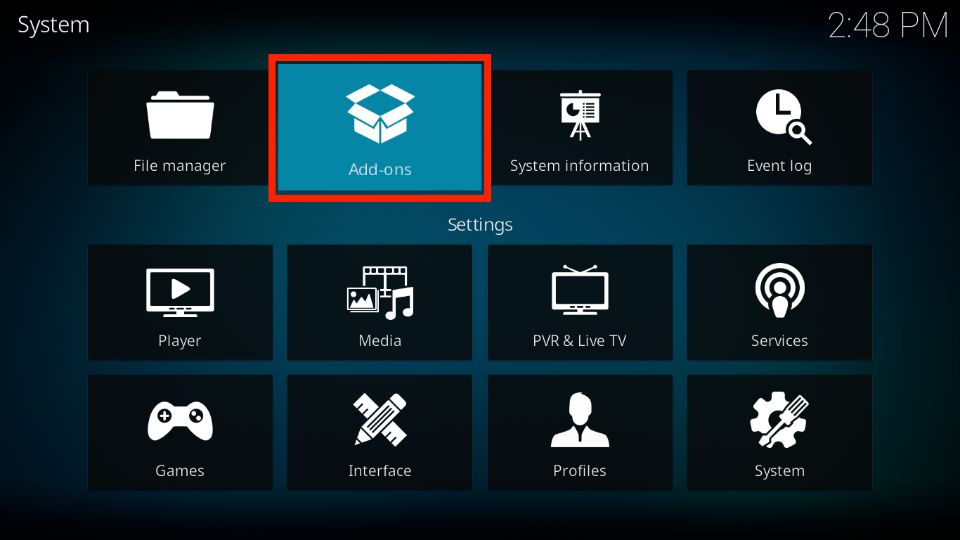 11. Move down the list and press Install from zip file.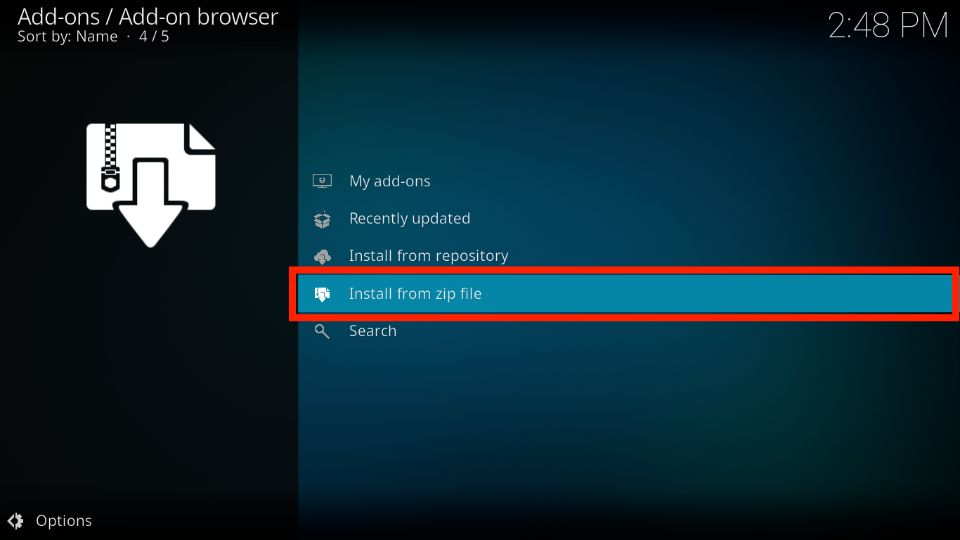 12. Select narcacist (or whichever name you entered for your file source.)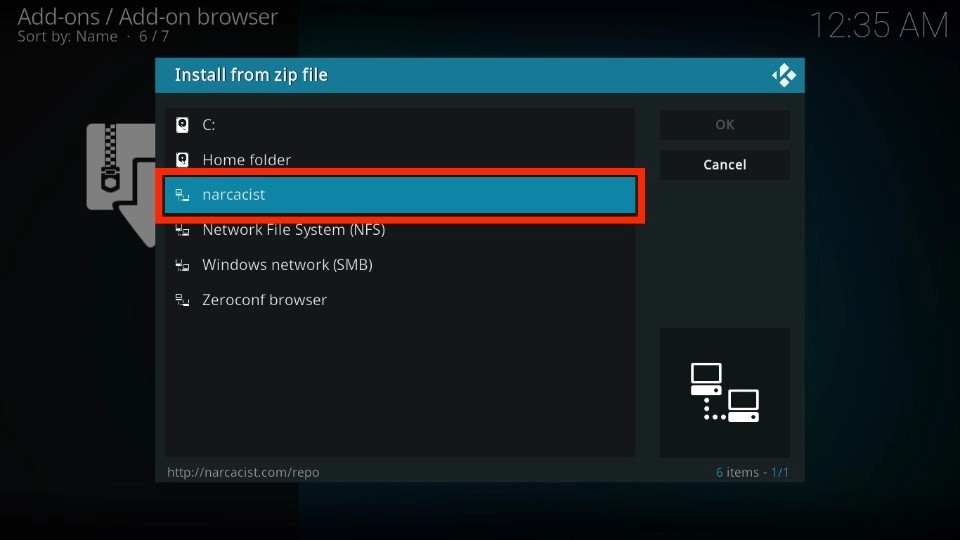 13. Then choose repository.NarcacistWizard-x.x.x.zip.
Note: Narcacist's Wizard Repository's version might be changed when you are extracting it.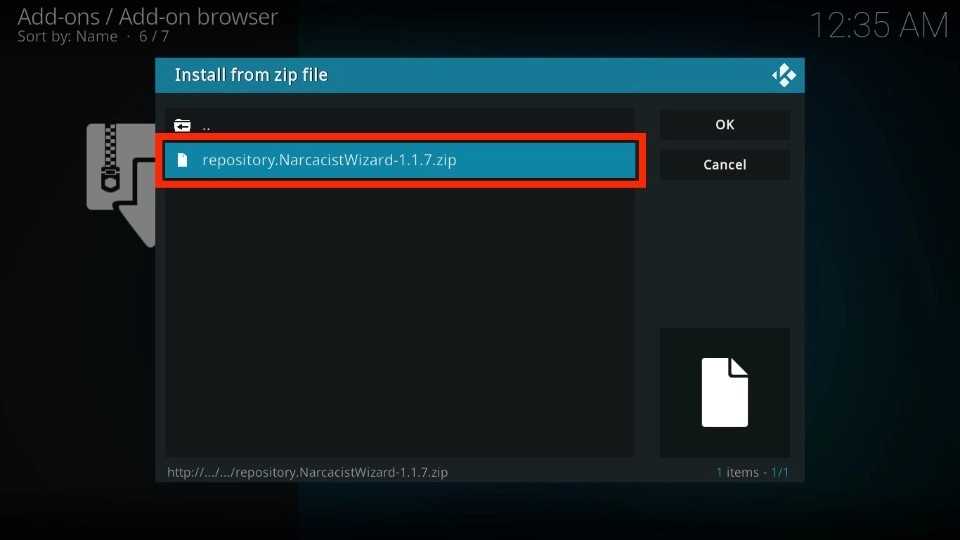 14. The Narcacist Wizard Repository will begin to install on Kodi. Wait for the Add-on installed notification to appear.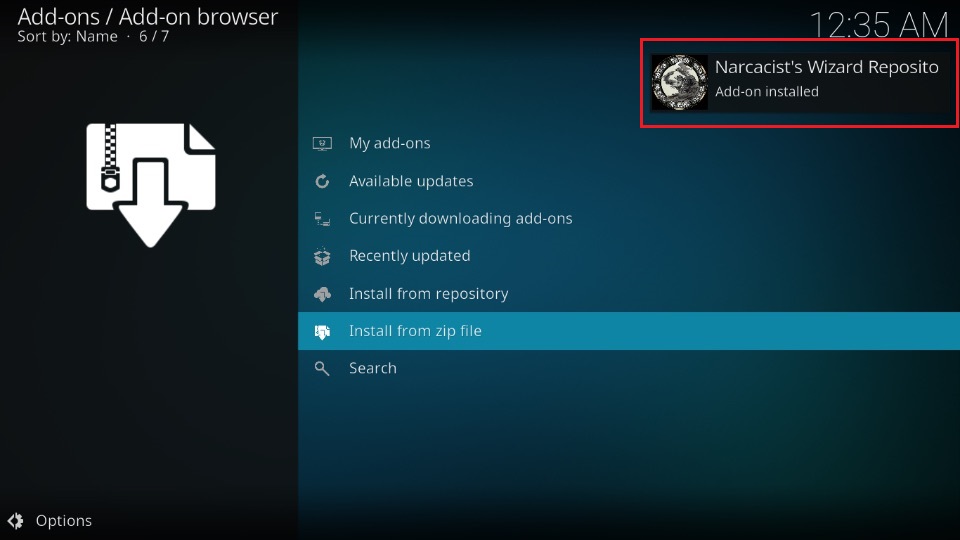 You now have the Narcacist repo on Kodi. It means getting the Torque Lite addon is the next step. Let's move on!
Part 3: How to Install Torque Lite addon
Installing the Torque Lite addon is the last step. It's also relatively simple and swift.
Here are the steps you need to follow:
1. On the Add-ons section, press the Install from repository tab.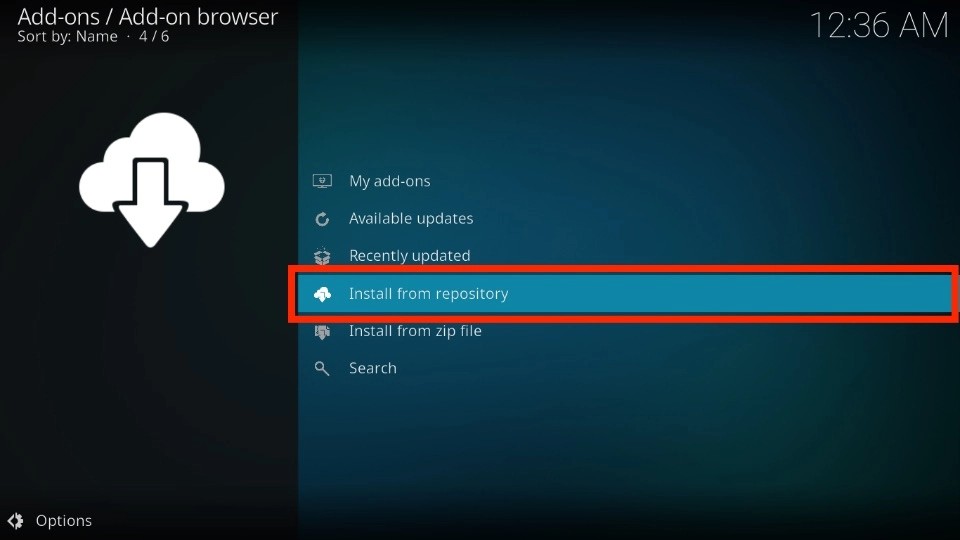 2. A list of available repositories on Kodi will appear. Select Narcacist's Wizard Repository from the list.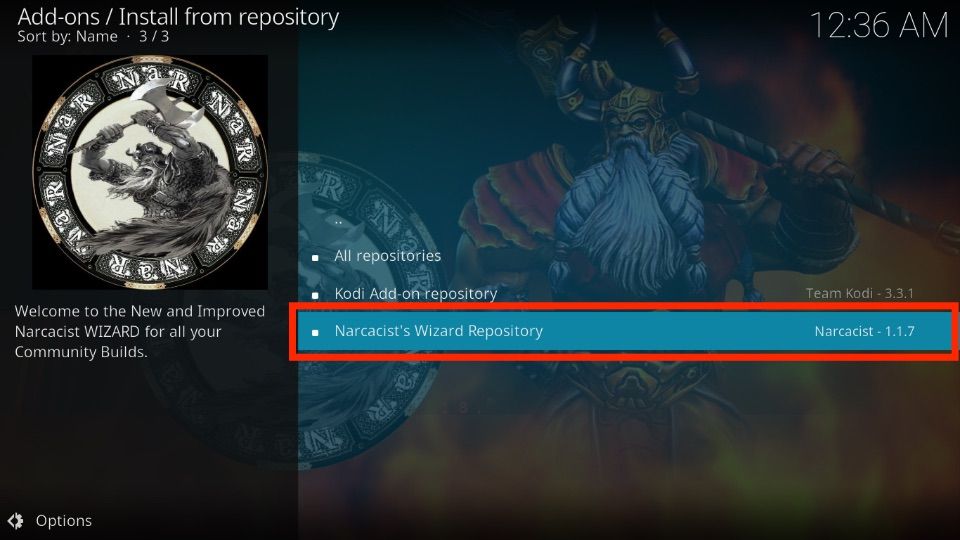 3. Swipe down and choose Video add-ons.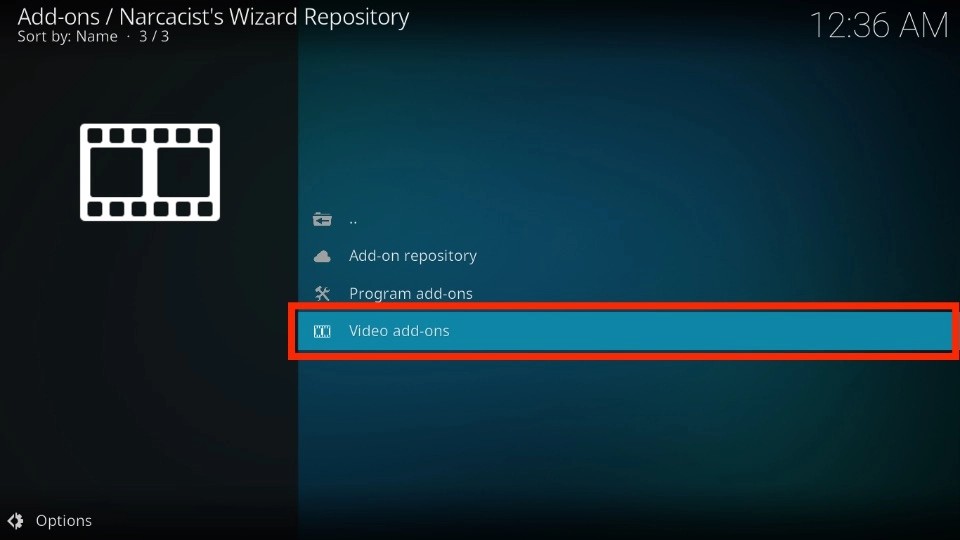 4. You can see tons of video addons available on the Narcacist repository. Browse through the list and click on Torque Lite.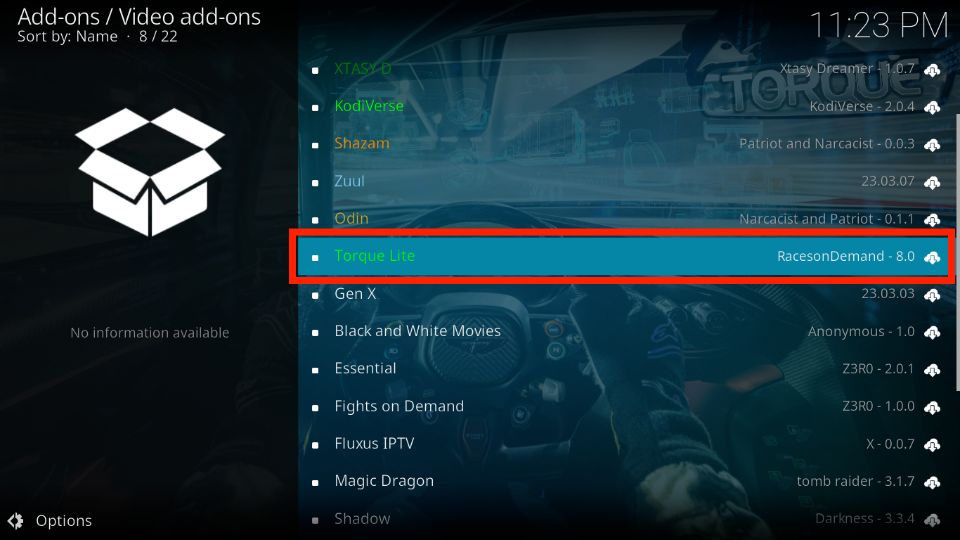 5. The Torque Lite dashboard will appear. Navigate and hit the Install icon to begin the process.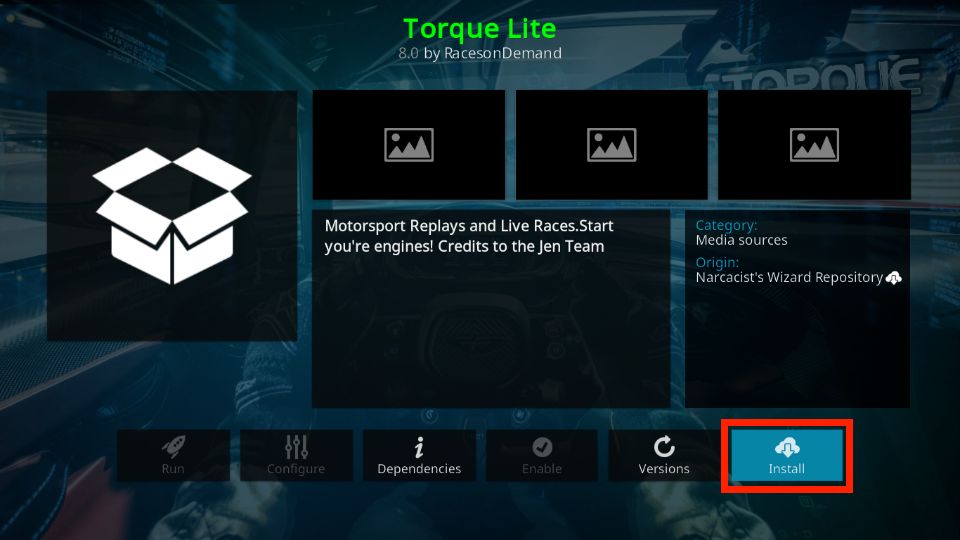 6. You will get a pop-up alert of all the additional addons installed with Torque Lite. Hit OK to continue.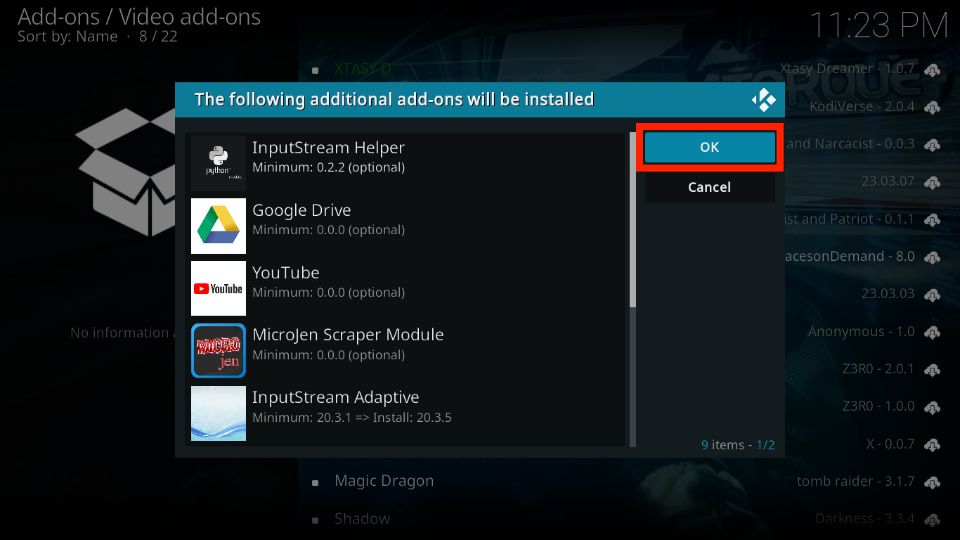 7. The addon will begin to install. You can view the downloading progress on the screen.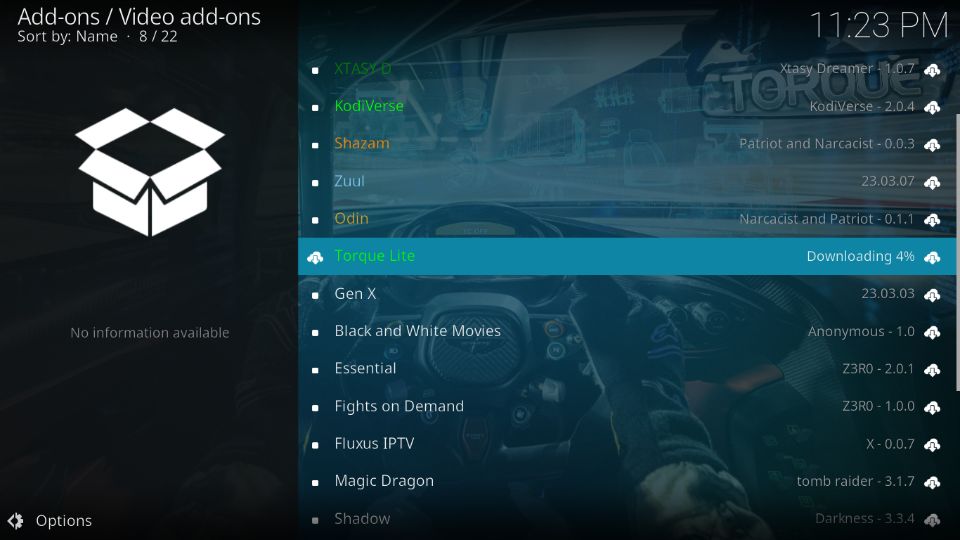 8. Soon, a Torque Lite Add-on installed notification will pop up.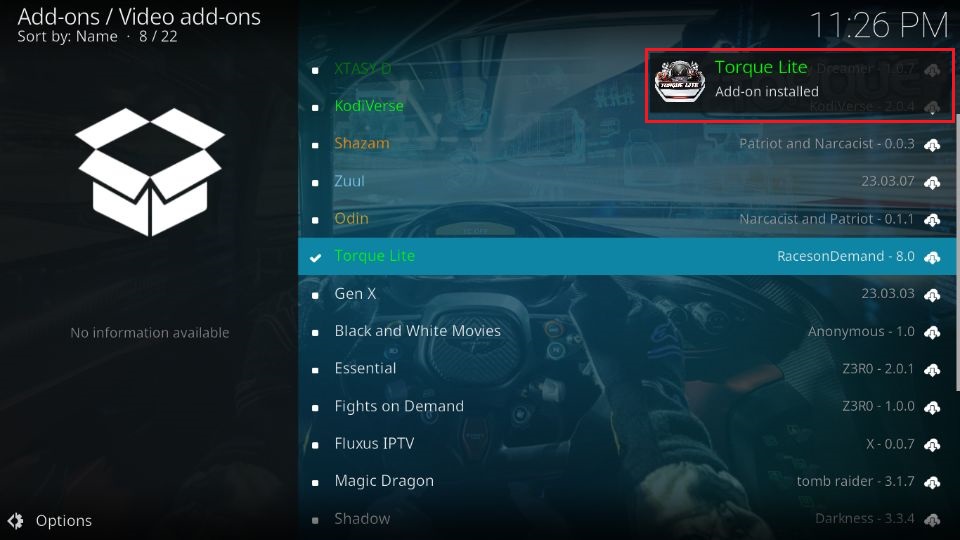 You have now installed Torque Lite Kodi Addon. Let's explore how to use it.
Wait! It looks like you are all set to start watching your favorite content on Kodi. But have you protected your online identity yet? You are under constant surveillance by the Government and ISP. They use your IP address 3.17.249.235 to track you. Streaming free or copyrighted videos may get you into legal trouble.
Thankfully, you can use a VPN to easily protect your privacy and go invisible from your Government and ISP. I use and recommend ExpressVPN with Kodi.
ExpressVPN is the fastest, most secure, and streaming-friendly VPN. It is easy to install and set up on any Kodi device, including FireStick, Smartphones, PCs, and more.
ExpressVPN, offers an unconditional 30-day money-back guarantee. So, if you do not like the service (I don't see why), you can get a full refund within 30 days.
Please remember that we encourage you to use a VPN to maintain your privacy. However, we do not condone breaking copyright laws.
Before you start using Kodi for streaming, here is how you can protect yourself with ExpressVPN:
Step 1: Sign up for ExpressVPN Here
Step 2: Download ExpressVPN on your device by clicking HERE
Step 3: Open the ExpressVPN app on your device. Sign in with your account. Click the connect/power button to connect to the VPN

Great! You have successfully secured yourself with the best Kodi VPN.
How to Use Torque Lite Kodi Addon
The Torque Lite Kodi add-on is fast, fun, and dependable. In short, it's a treat for motorsports lovers. Here's how you can navigate the addon and find your desired content.
But before that, load the addon by following this step:
First, choose the Add-ons menu from the Kodi home page.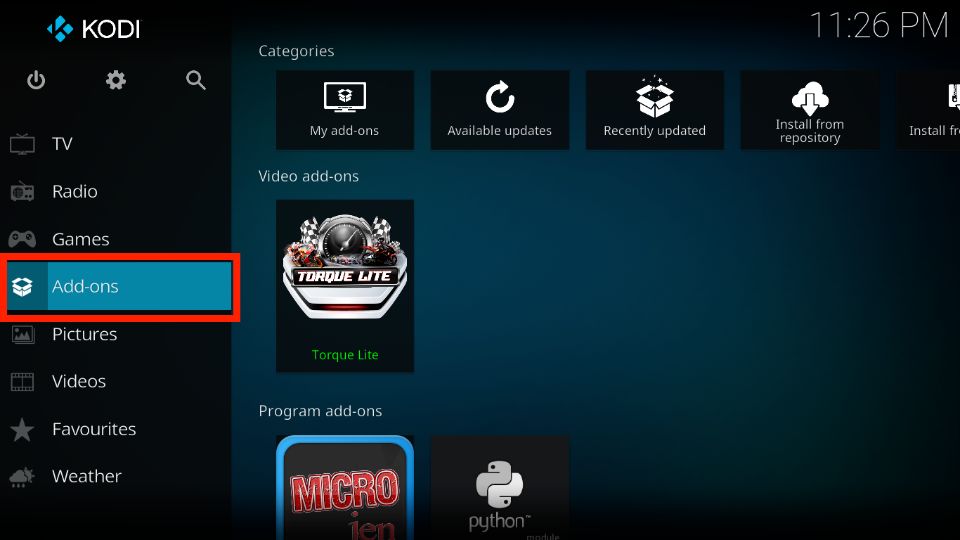 Then, select the Torque Lite addon from the Video add-ons to launch it.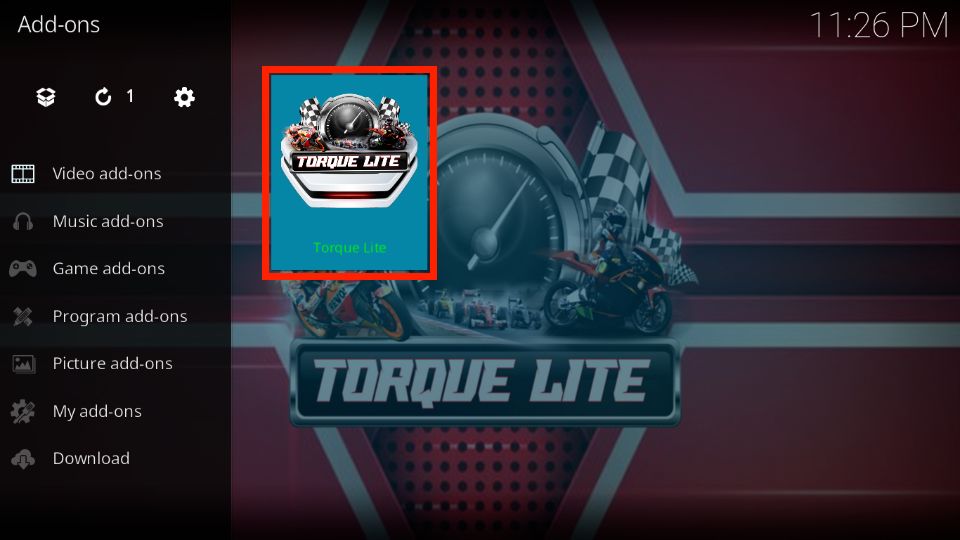 The home page of Torque Lite will appear first. Here you can see various racing content divided into different categories. They are titled:
Live Zone
Super Cars
Super Bikes
Race Archives
Click the Live Zone Live Races category.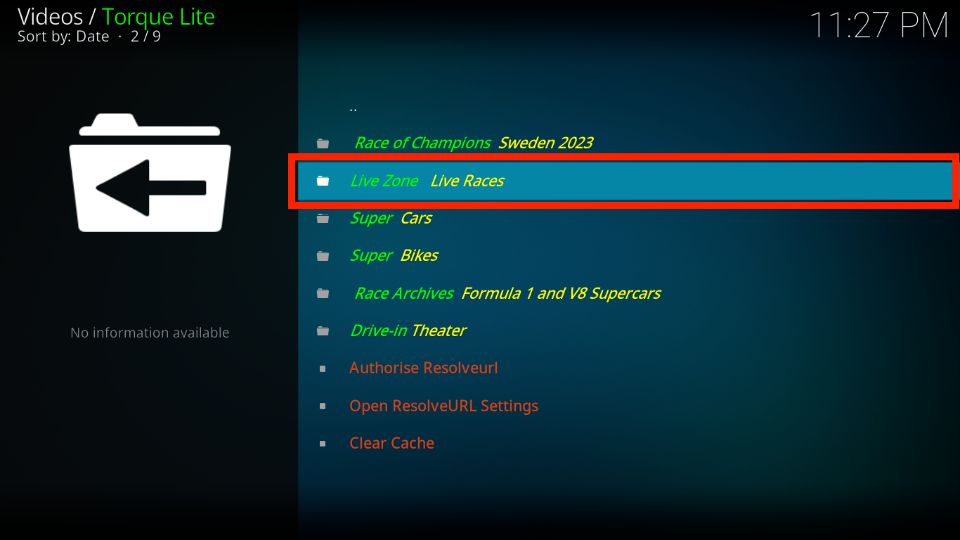 Here is what the menu entails. First, select your favorite motorsport category to explore the relevant content.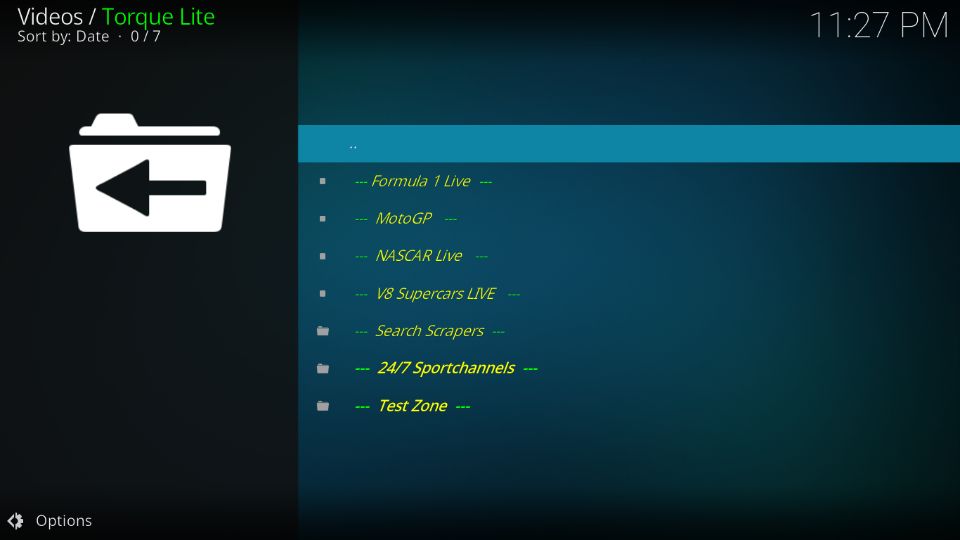 You can also watch live sports channels. Click the 24/7 Sportchannels tab.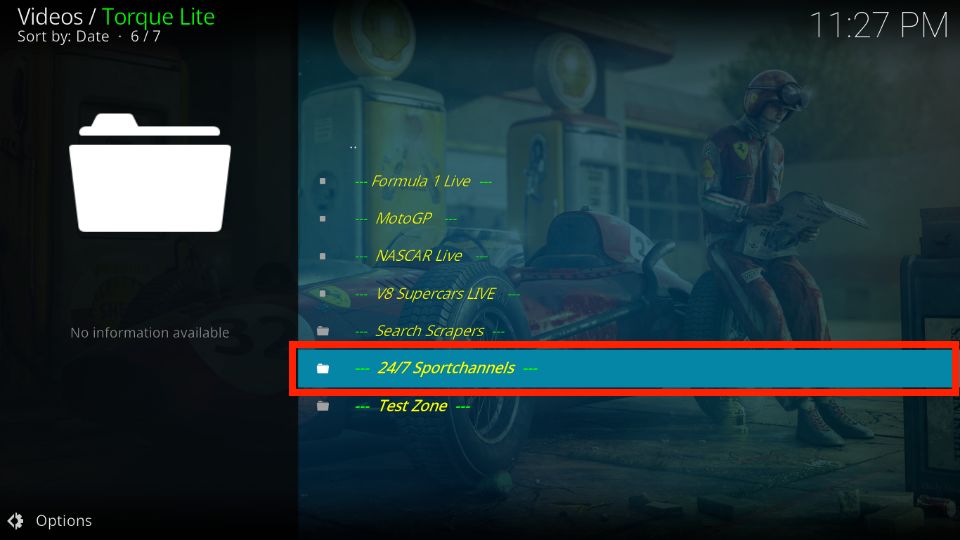 You will view tons of sports channels available on the addon.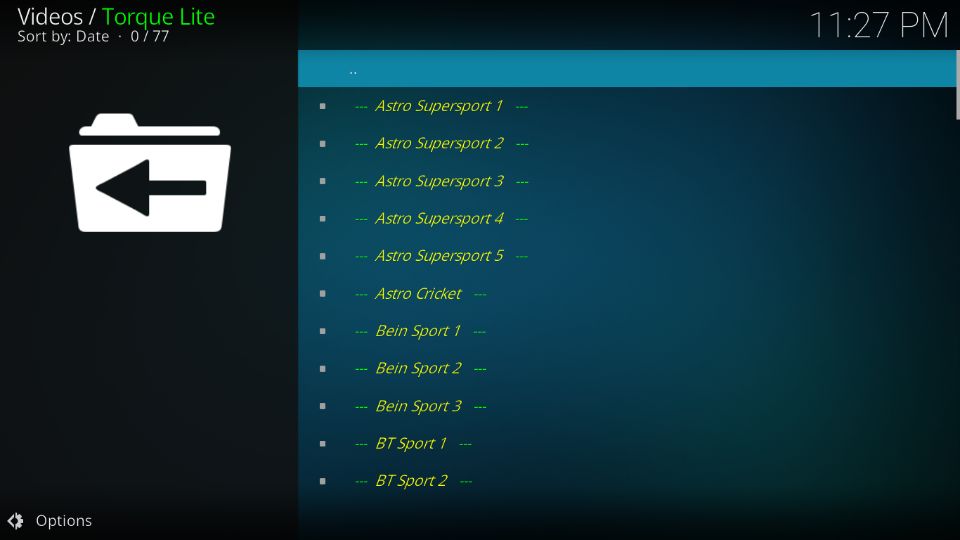 Next, open the Super Cars tab to load the menu.
You will view all the supercars videos and content available on the platform.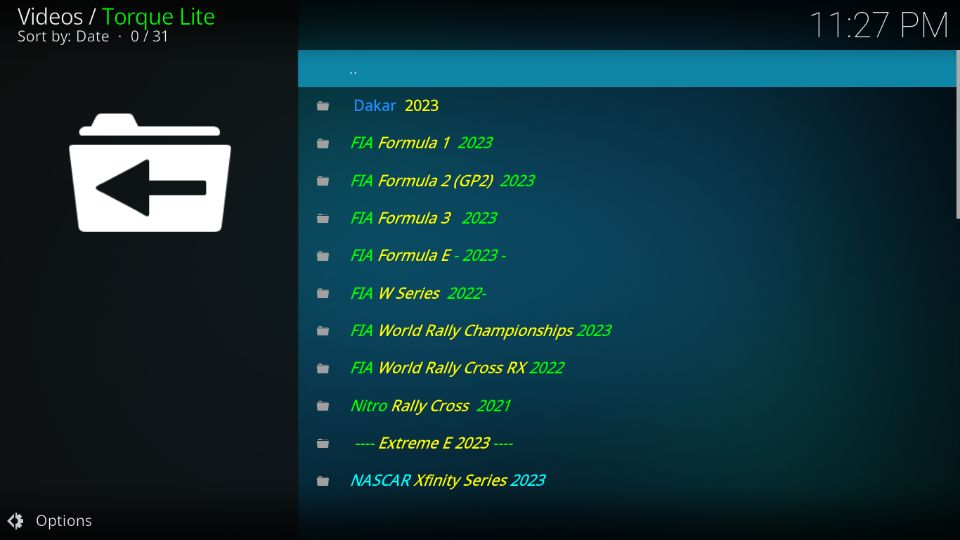 To watch bike-related content, open the Super Bikes category.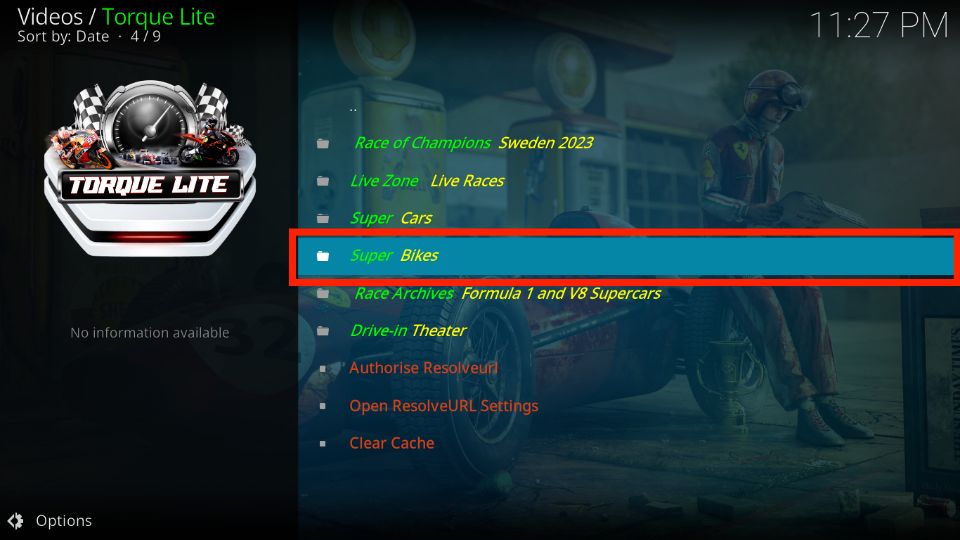 Here you can view races and different video content of various superbikes.
Choose the Race Archives menu next.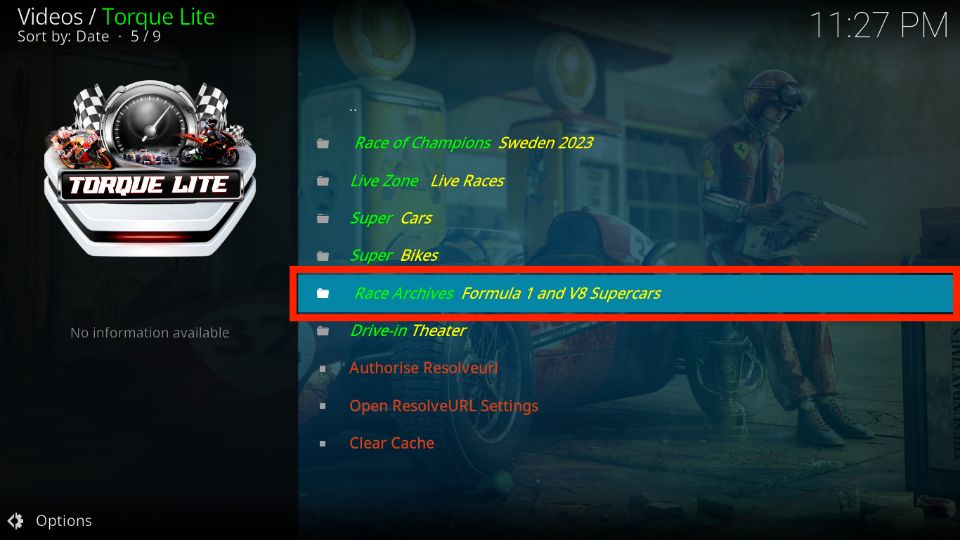 You will come across racing archives. Select any archive category to watch it.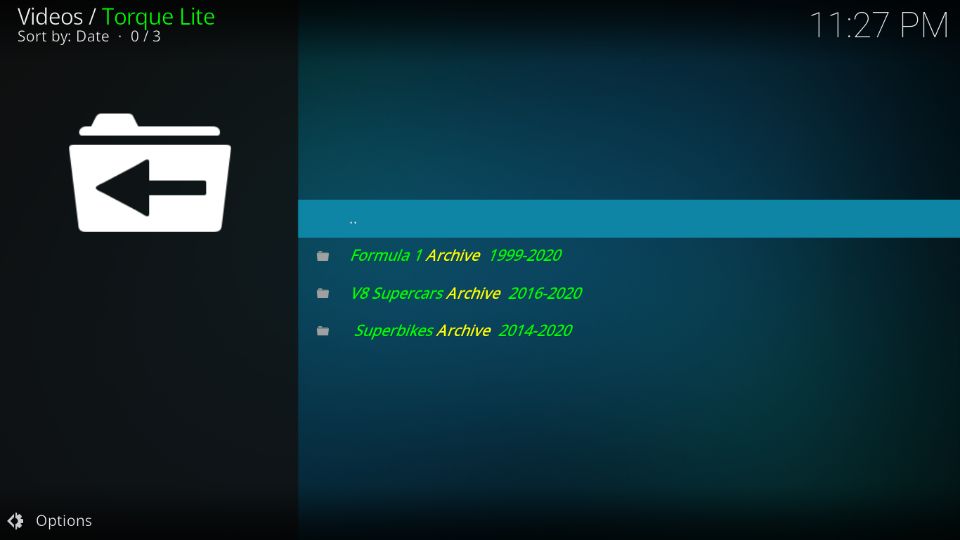 Now, load the Drive-in Theater menu by tapping it.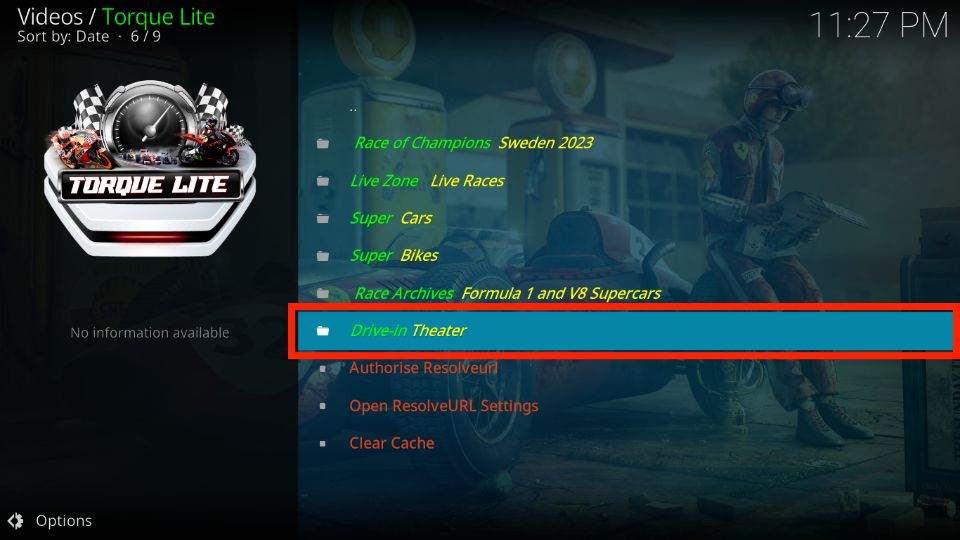 You can view Movies, TV Shows, and Torque Picks for the category here.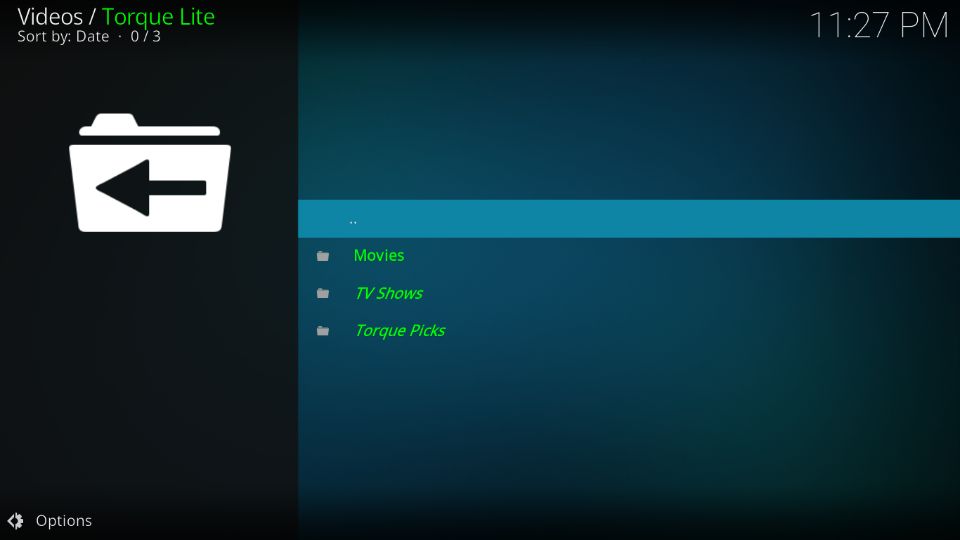 How to Connect Real Debrid with Torque Lite
Real Debrid is a link-hosting platform that provides a premium and high-quality viewing experience. Many videos available on Torque Lite require you to link your Real Debrid account for added viewing experience.
So, if you are subscribed to Red Debrid, here is how you connect it with Torque Lite.
1. Go to the Torque Lite home page. Then swipe down and choose Authorize Resolveurl.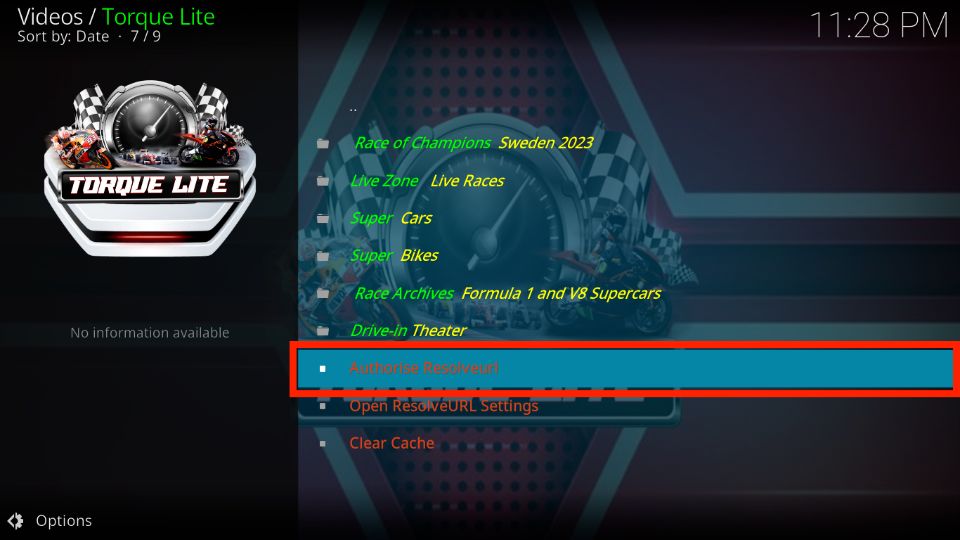 2. For Authorization, you need to follow the on-screen instructions. First, note the code displayed on the screen. Then, go to https://real-debrid.com/device and enter the code. Finally, complete the setup by using on-screen details.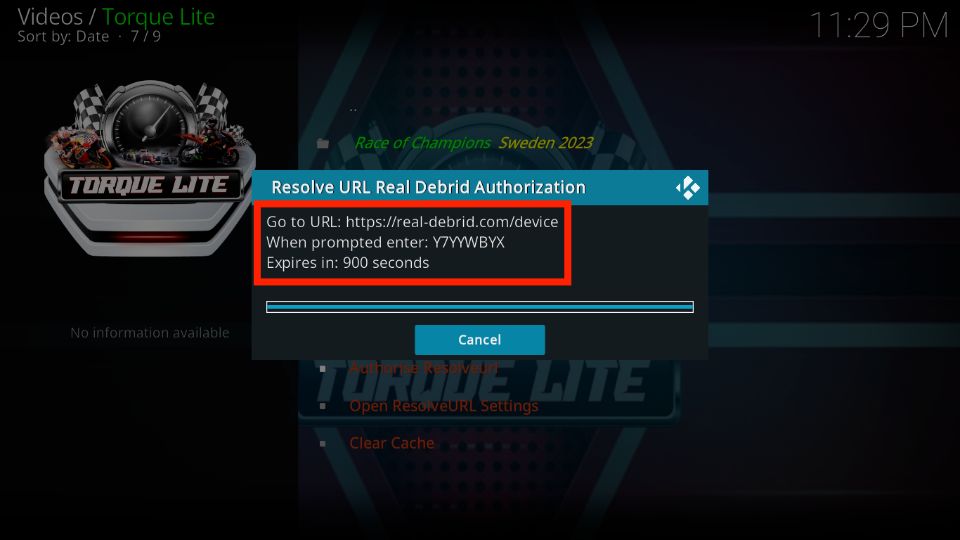 3. You will get a ResolveURL Real-Debrid Resolver Authorized notification. Your Real Debrid account is now linked to Torque Lite.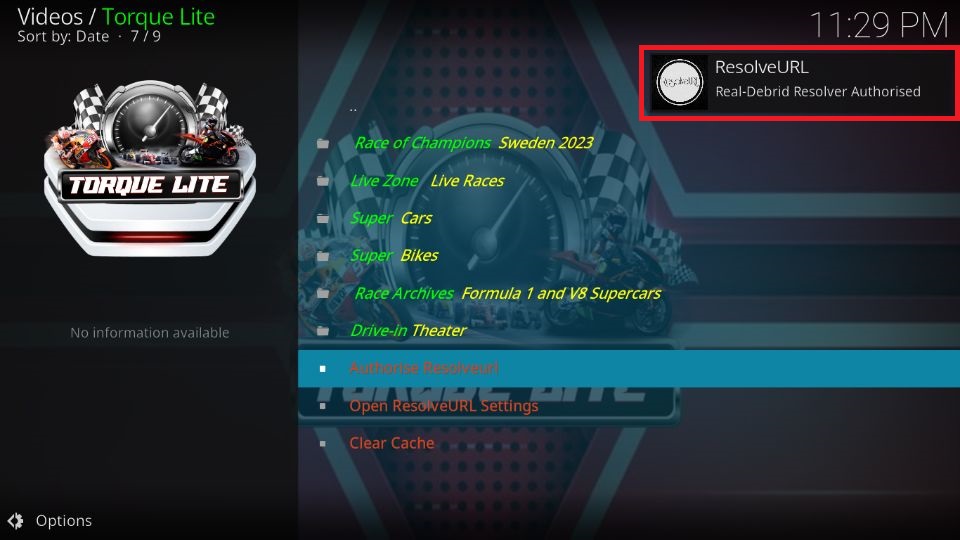 How to Connect Trakt with Torque Lite
Torque Lite also supports Trakt accounts. So you can link your Trakt account for an added viewing experience and fun. Here's what you have to do:
1. Long-press the Torque Lite tab to bring up its menu. Then, click Settings.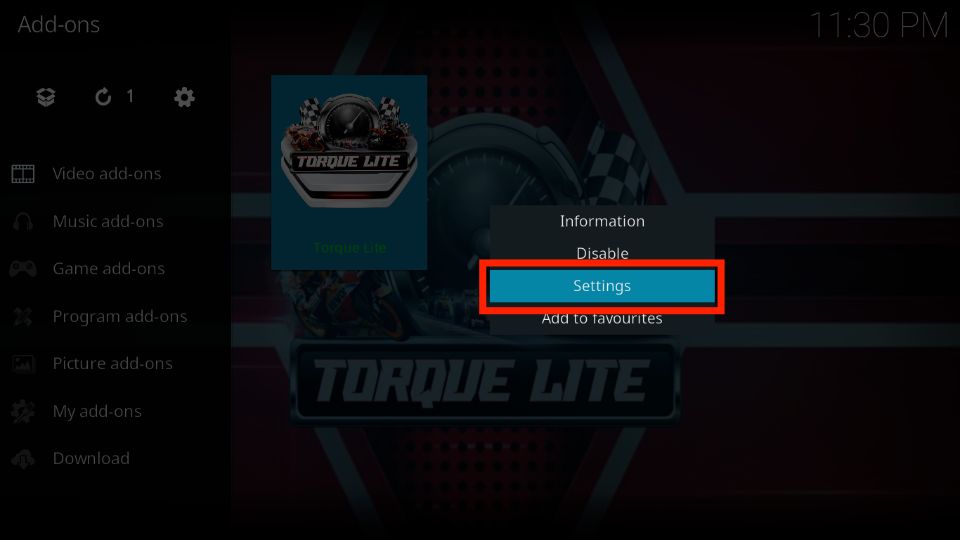 2. Swipe down to the Trakt tab and choose it.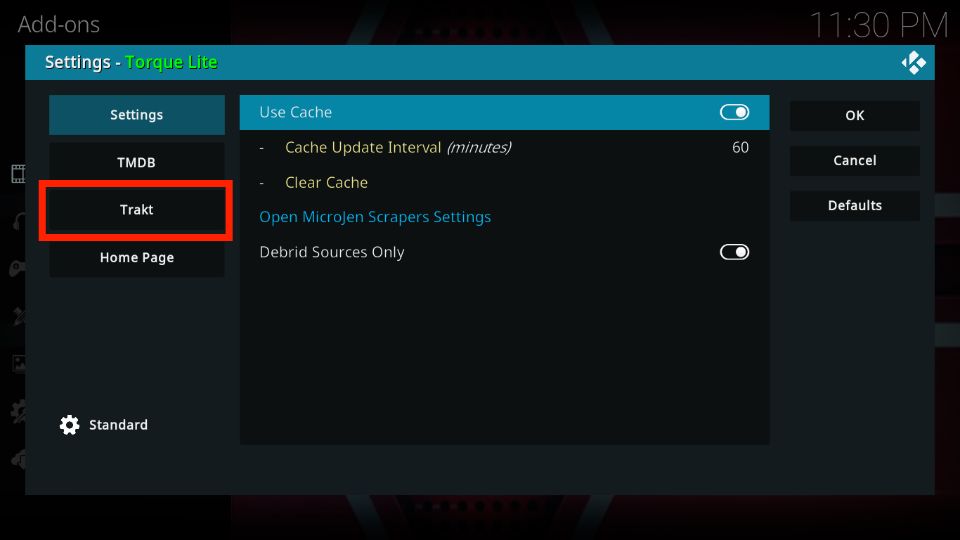 3. Select Authorize and complete the process. Linking your Trakt account to Torque Lite will open up a new world of fantastic streaming experiences.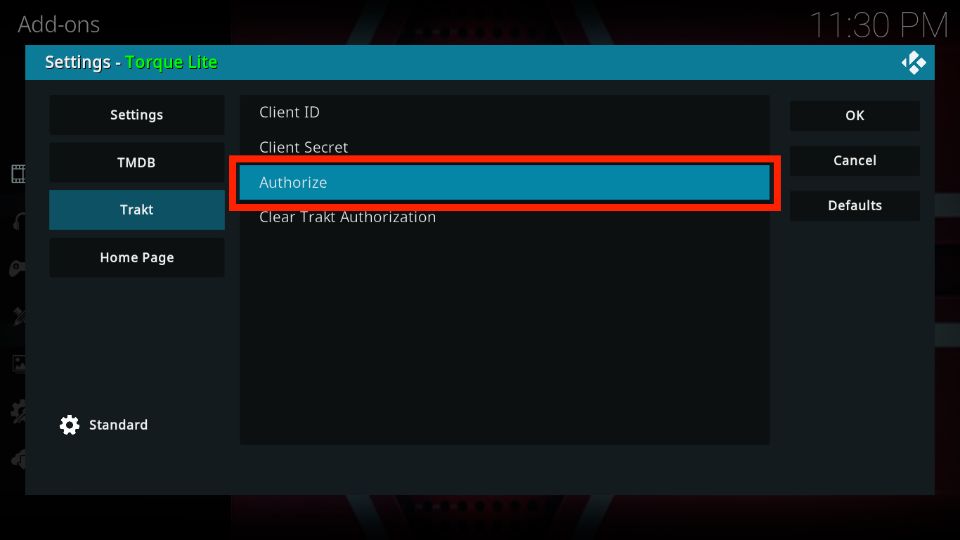 Conclusion
I hope now you know how to install Torque Lite Kodi addon. The Torque Lite addon is a must-have for motorsports lovers. It contains many live and featured content on supercars, bikes, races, and more. Furthermore, there's a special folder that lets you watch movies and TV shows. Moreover, you can double the streaming joy by linking your Real Debrid and Trakt accounts to Torque Lite. Installing the Torque Lite addon requires effort, but the results are worth it.
Related: