This guide shows how to install Ghost addon on Kodi. Moreover, it covers what Ghost addon is, whether it's safe and legal, some of its key features, how to use it, and more. This all-in-one Ghost guide is for all eligible Kodi devices like Amazon FireStick, Windows PC, Android smartphones, Android TV Boxes, Nvidia Shield, and more.
What Is Ghost Addon
Ghost is an all-in-one video Kodi addon available on THE CREW REPO. This addon lets you stream movies, TV shows, sports replays, and live TV channels. The Ghost Kodi addon features separate sections for different types of content. And those have sub-folders relevant to their content nature, making them easy to discover.
The addon requires you to authorize real-debrid in order to stream the content. With Ghost, you can connect your Real Debrid and Trakt account to make it even more powerful. Also, the addon lets you tweak its advanced settings for a completely customized streaming experience. Out of all the powerful addons available on THE CREW REPO, Ghost is amongst the top-tier streaming addons.
Attention KODI Users: Read before you continue
Government and ISPs endlessly monitor your online activities using your IP address 3.17.249.235 (exposed to everyone). Kodi is an excellent platform for streaming movies, TV shows, and sports, but streaming copyrighted content can get you into legal trouble. 
You should use a reliable Kodi VPN and protect your streaming activities and privacy. A VPN will hide your IP address and bypass government surveillance and geo-restrictions.
I trust and use ExpressVPN, the fastest and most secure Kodi VPN. It's easy to install on any Kodi device, including Amazon FireStick, PCs, and Smartphones. In addition, it offers a 30-day money-back guarantee, and 3 free months with the annual plan.
Read: How to Install & Use the best VPN for Kodi.
Is Ghost Addon Safe?
Ghost is a third-party Kodi addon available via THE CREW REPO. And just like all other similar addons, we can't be 100% sure about its safety. As Ghost isn't created by the official addon developers of Kodi, we can't trust it to be entirely safe. Nor can we say that it's unsafe.
However, I tested THE CREW REPO zip file on an online virus check. Thankfully, it passed all the tests – here's the proof: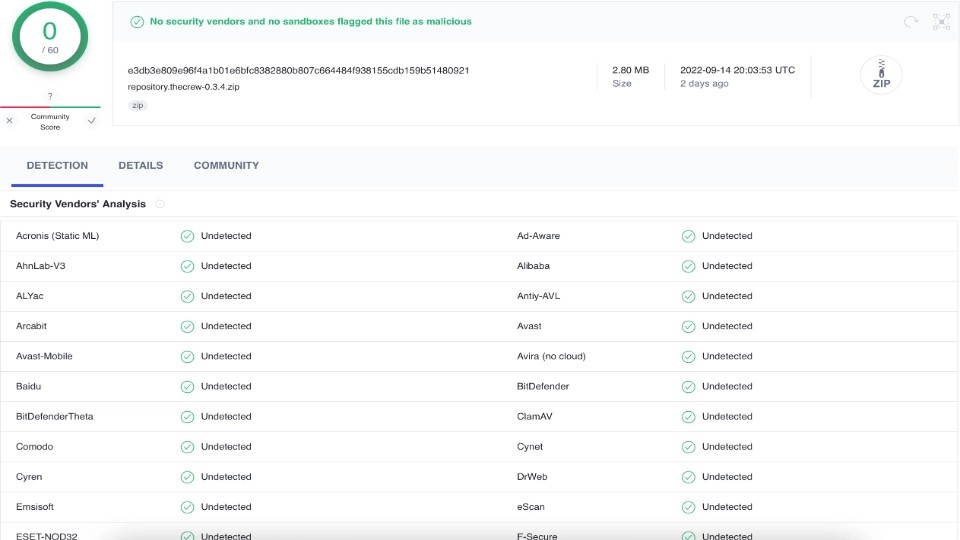 Is Ghost Addon Legal?
The Ghost Kodi addon uses universal scrapers to make content available for you. Keep in mind that it doesn't host/own any content. So, it's legal to some extent if we only look at it using this particular perspective.
However, FireStickHow.com can't test the legality of links scrapped by Ghost. And that gives us no authority to mark the addon legal or illegal for our readers.
In conclusion, always use a VPN like ExpressVPN to keep your device safe and out of any legality concerns.
Features of Ghost Addon
Here are some of the key features of the Ghost Kodi addon:
Clean, simple, and non-laggy user-friendly
Allow users to stream sports replays, movies, TV shows, and live channels
Supports Trakt and Real Debrid integrations
A powerful master search feature
How to Install Ghost Kodi Addon
There are three separate steps to install the Ghost addon on your Kodi app. I'll cover each one by one. Just make sure to follow them in order.
Part 1 – Turn on Unknown Sources
Firstly, we'll have to enable Unknown Source so that we can load THE CREW REPO on the Kodi app.
1. Select the Settings Gear icon on Kodi's top left side, just under the Kodi logo.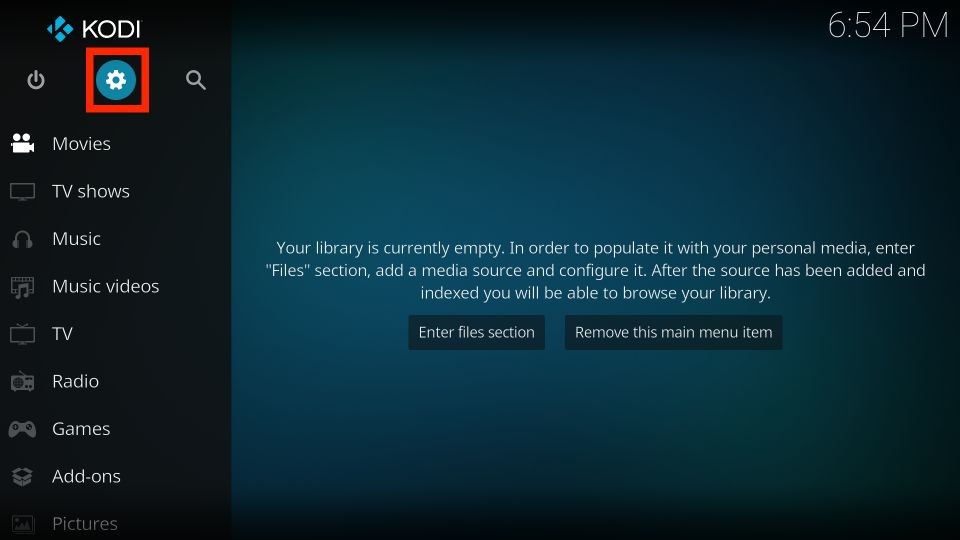 2. Choose System.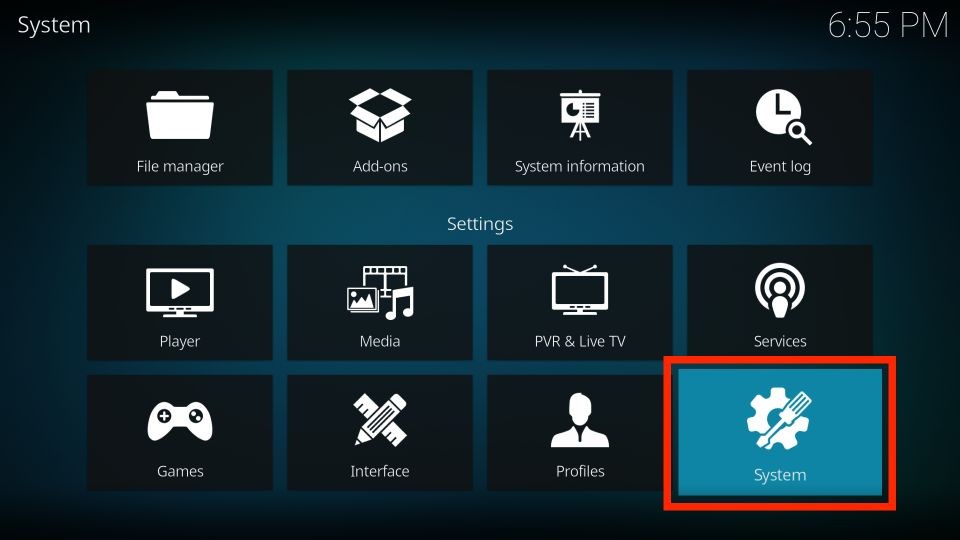 3. Go to the Add-ons tab by scrolling down on the left menu pane.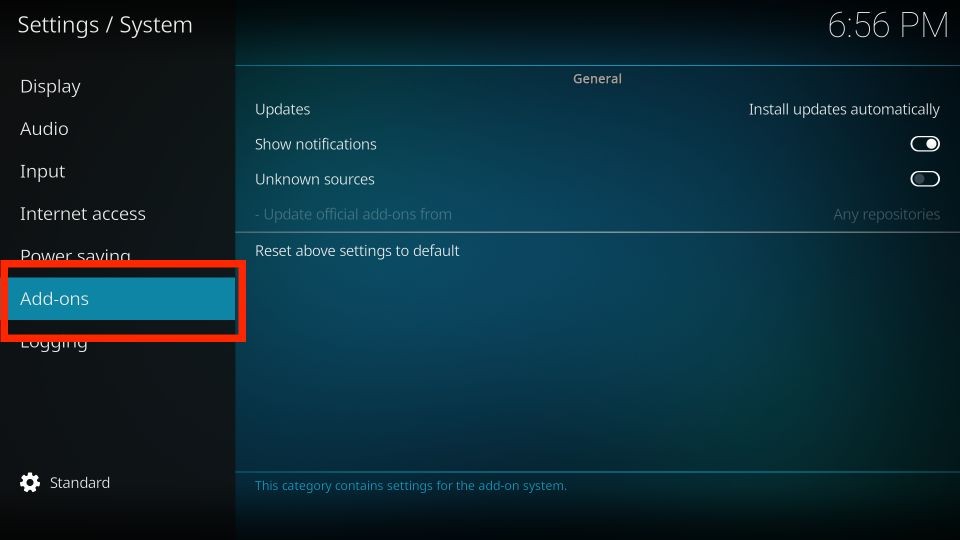 4. Enable Unknown sources on the right side of your screen.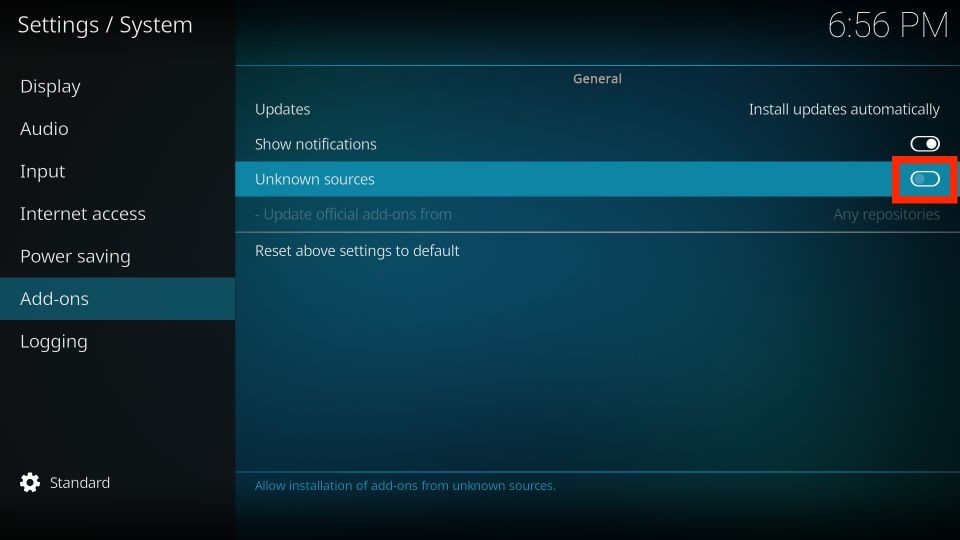 5. Read the Warning dialogue box by Kodi and click Yes to continue.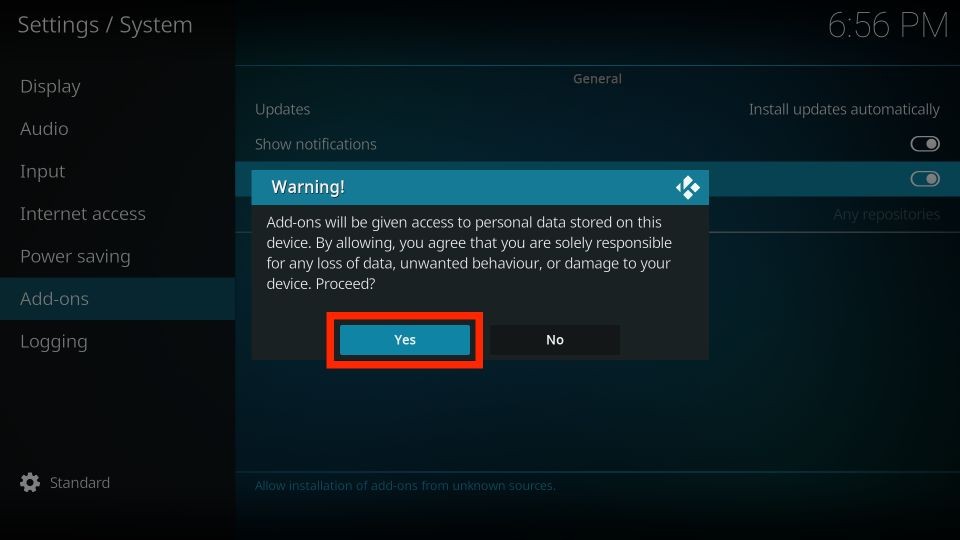 6. Choose –Update official add-ons from under Unknown sources.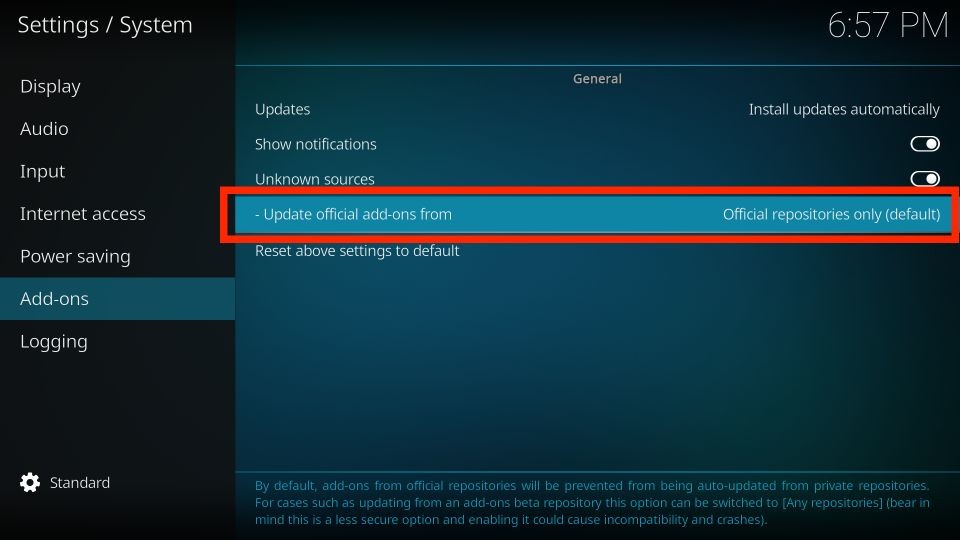 7. Select Any repositories on the Update official add-ons from the window.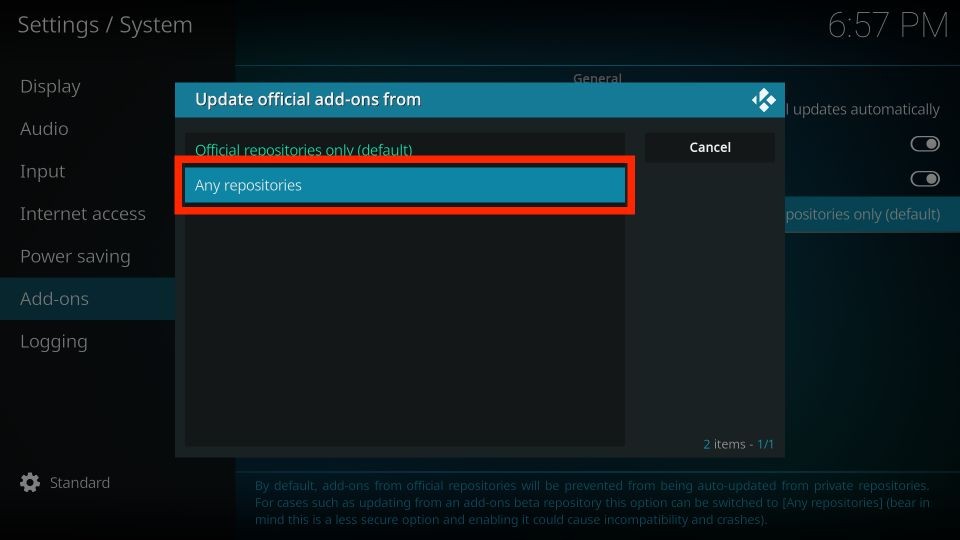 Part 2 – Install The Crew Repository
This part shows how to install THE CREW REPO – which is crucial to accessing and installing Ghost.
1. Open the Settings dashboard of Kodi by selecting the Gear Cog icon on the top left side of your screen.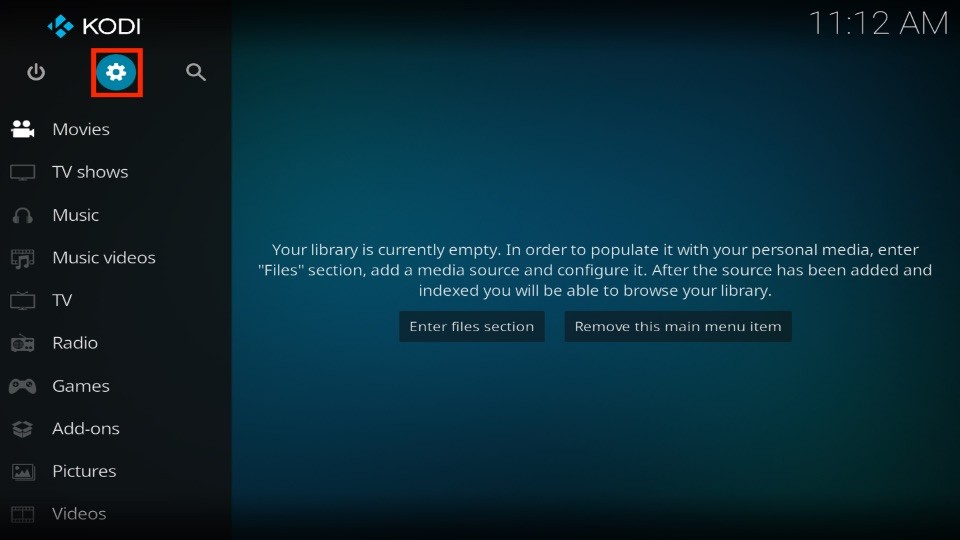 2. Explore File manager.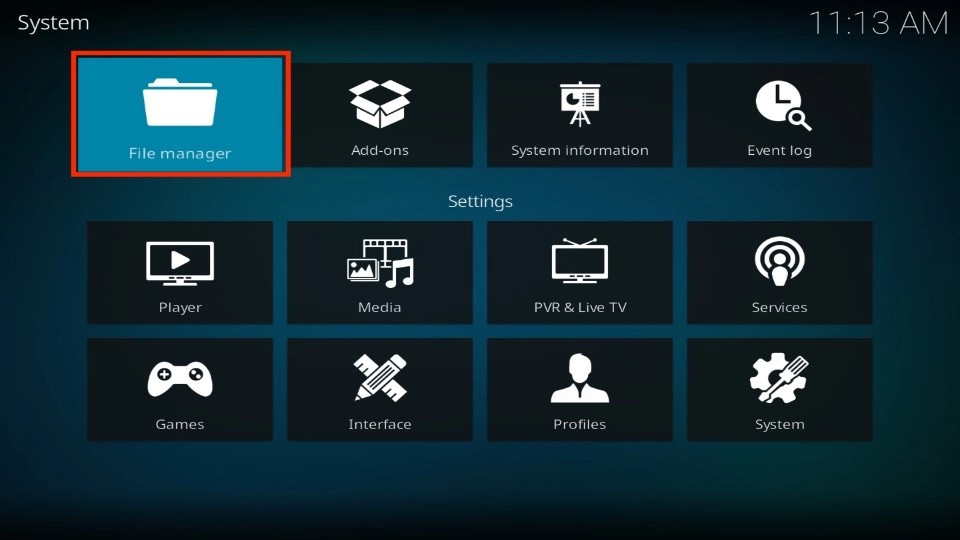 3. On the File manager screen, select Add source.
Note: There are two Add source options available on the screen; you can choose any one of them.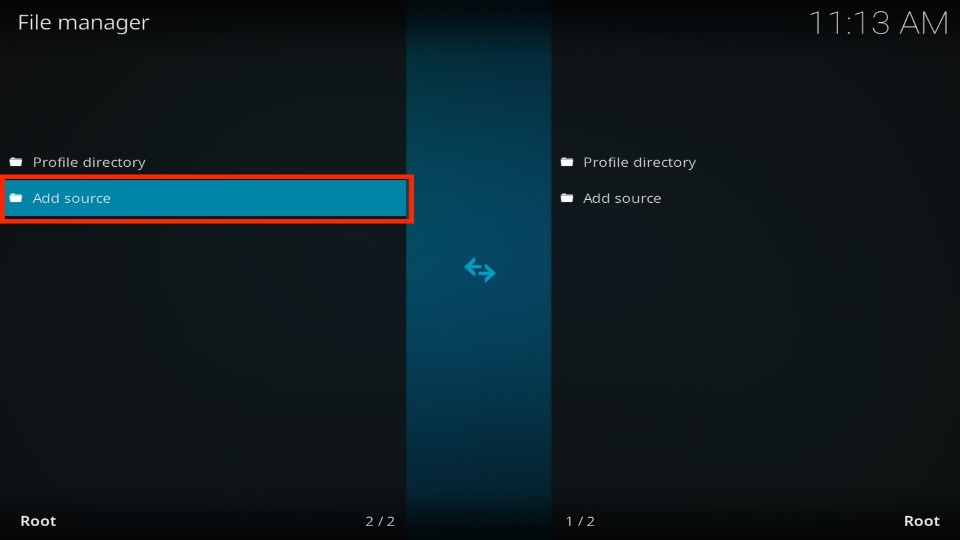 4. When the Add file source window appears, choose <None> the option.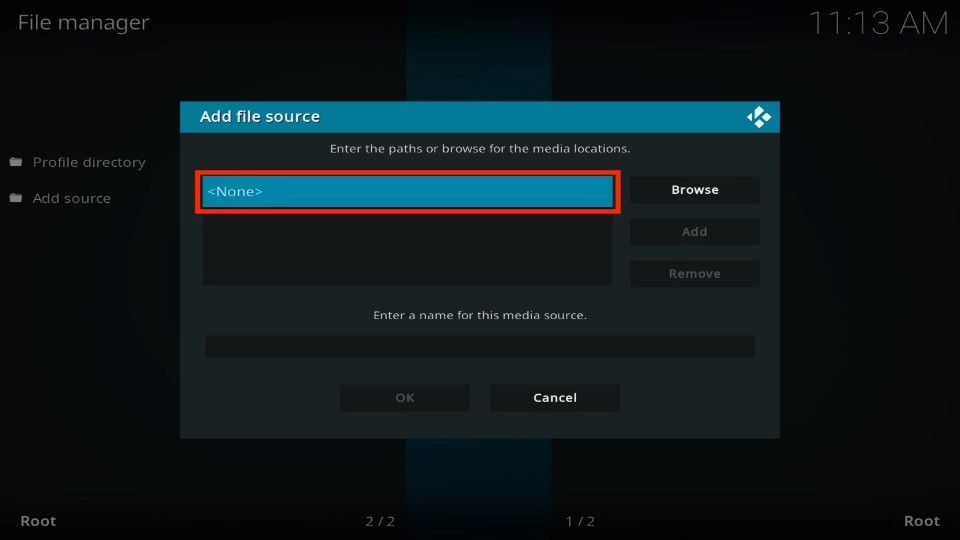 5. Enter the official URL of THE CREW REPOSITORY – https://team-crew.github.io and select OK.
Note: Mentioning the URL of THE CREW REPO doesn't mean we at FireStickHow.com are connected with it. I have added it so you can easily copy and paste it into your Kodi app.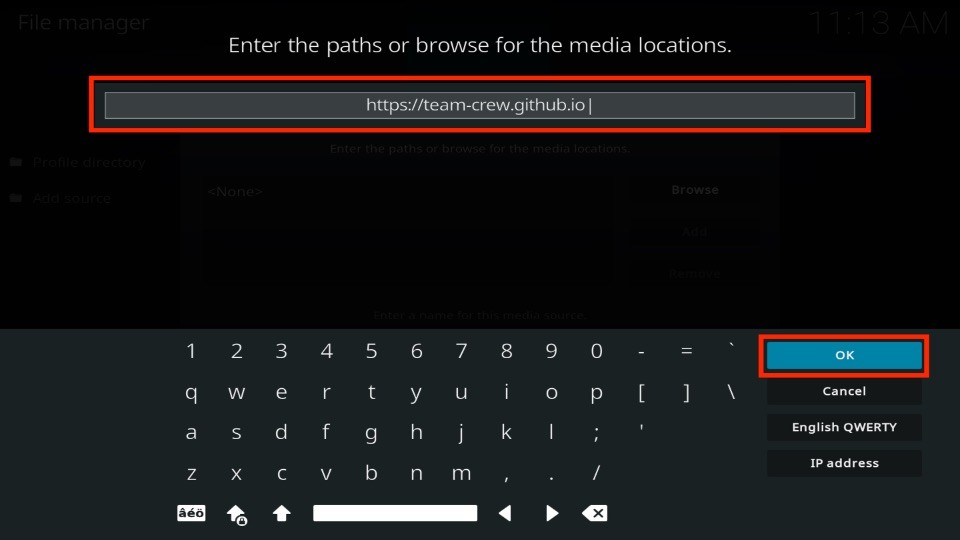 6. You can't save the source with a blank name. To set a name, pick the input box under Enter a name for this media source.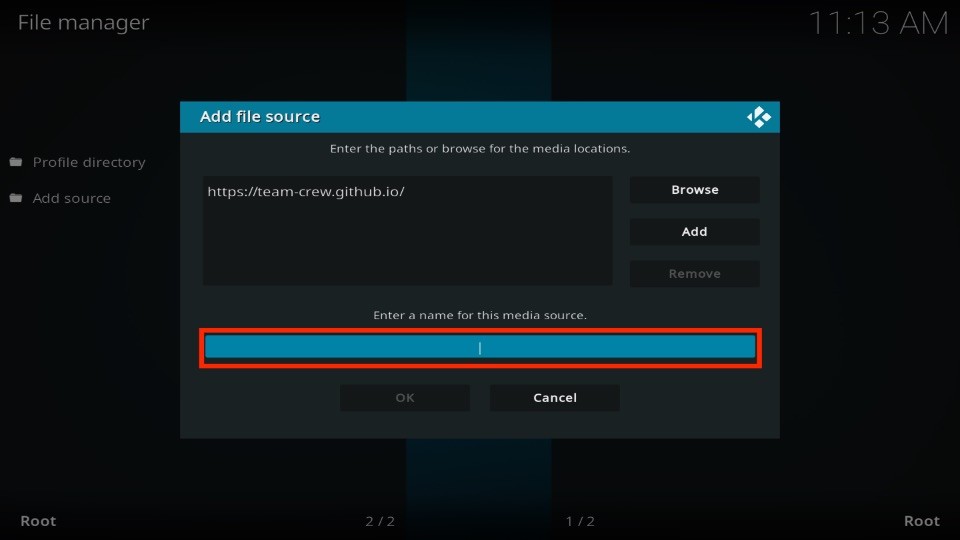 7. Enter The Crew and click OK.
Note: You can set any name you like, but choosing something simple is recommended. So, it's better to go with The Crew.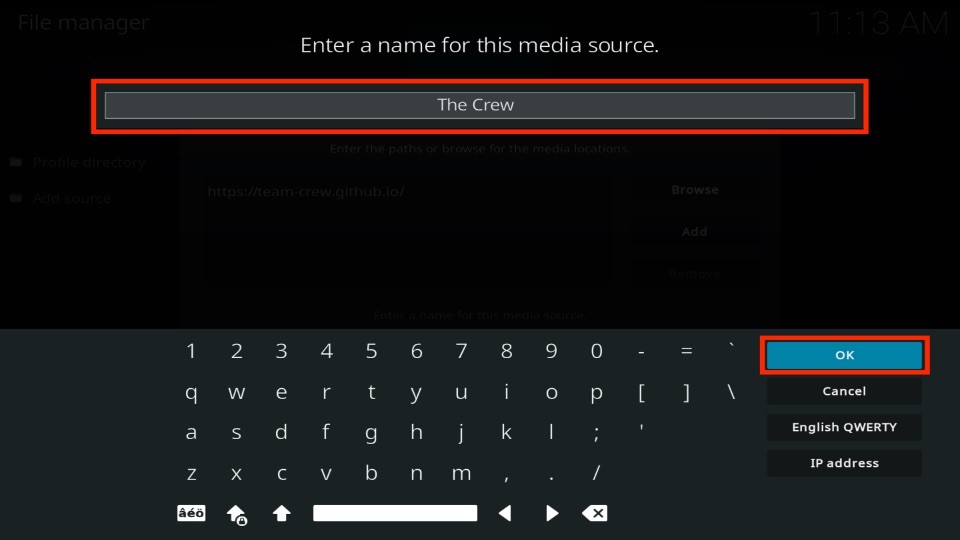 8. Re-check your entered info and click OK to save the source.
Note: If you see the source's name on the File manager list without any error, you are all set to follow the upcoming steps.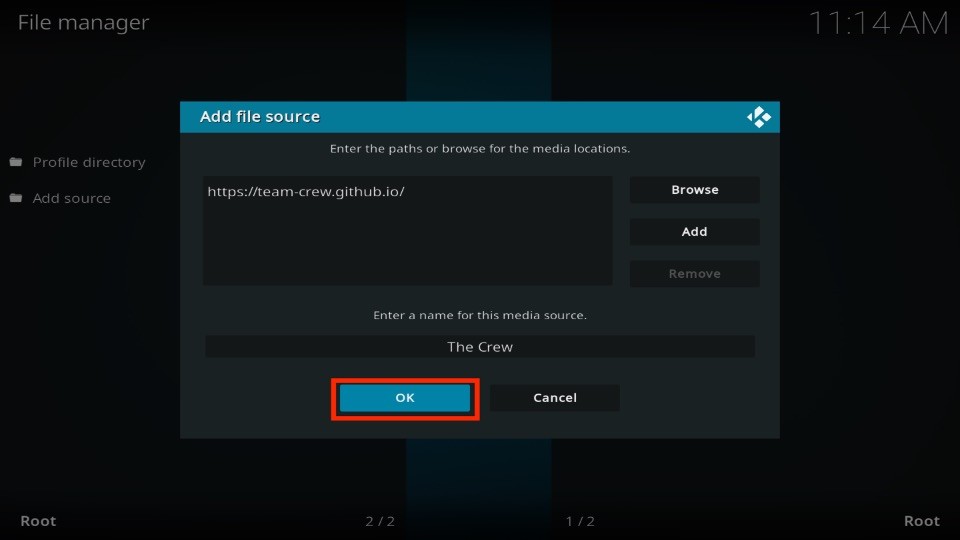 9. Head to the Kodi Settings dashboard and open the Add-ons tile.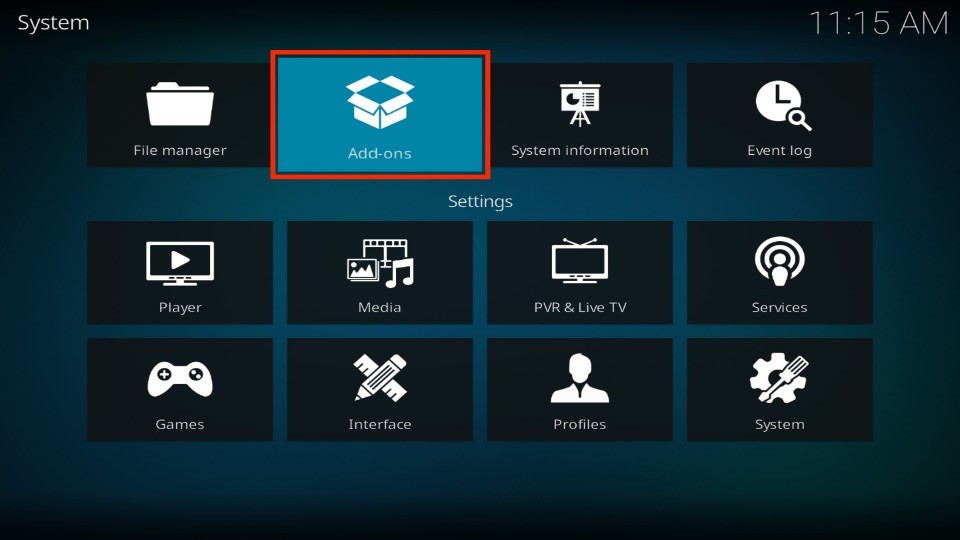 10. Scroll down and choose Install from zip file.
11. Acknowledge the Warning sent by Kodi and choose Yes to continue.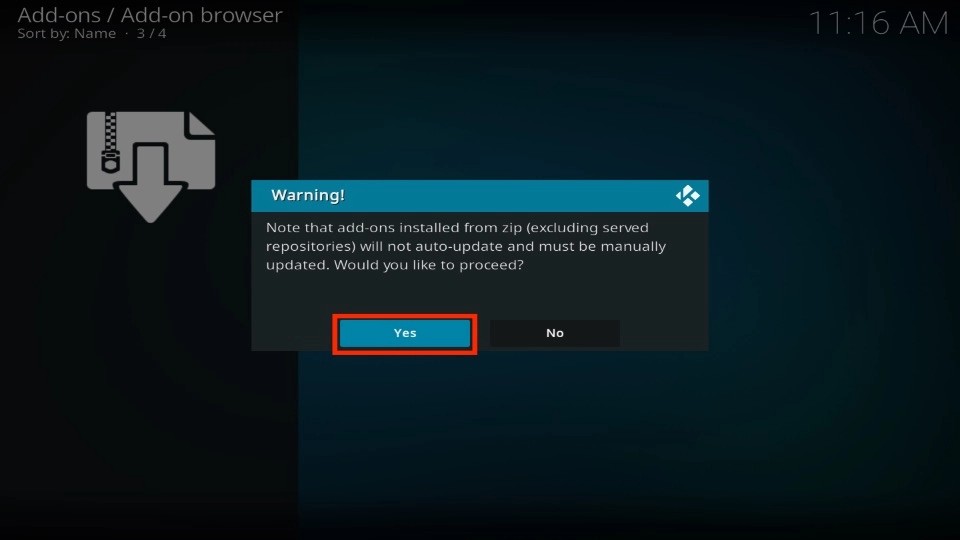 12. Pick the repo name, The Crew (in my case), from the Install from zip file list.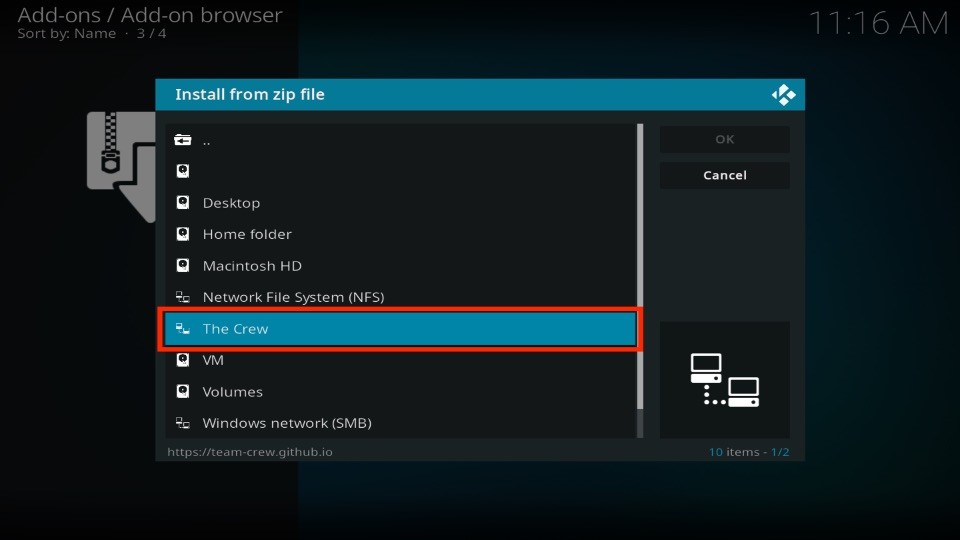 13. Select repository.thecrew-0.3.4.zip.
Note: The version number of THE CREW REPO (0.3.4) might be different for you at the time of installation.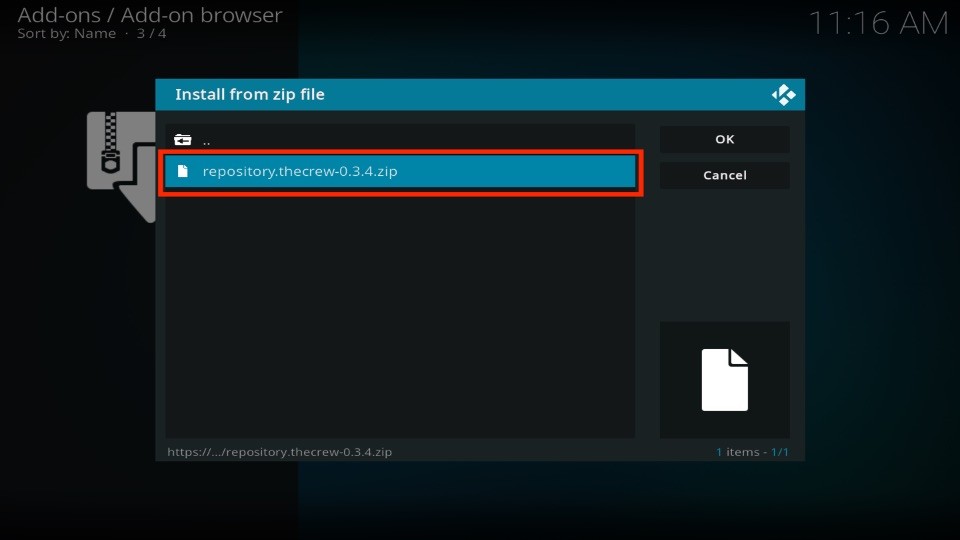 14. Wait for the installation notification to appear – THE CREW REPO Add-on installed.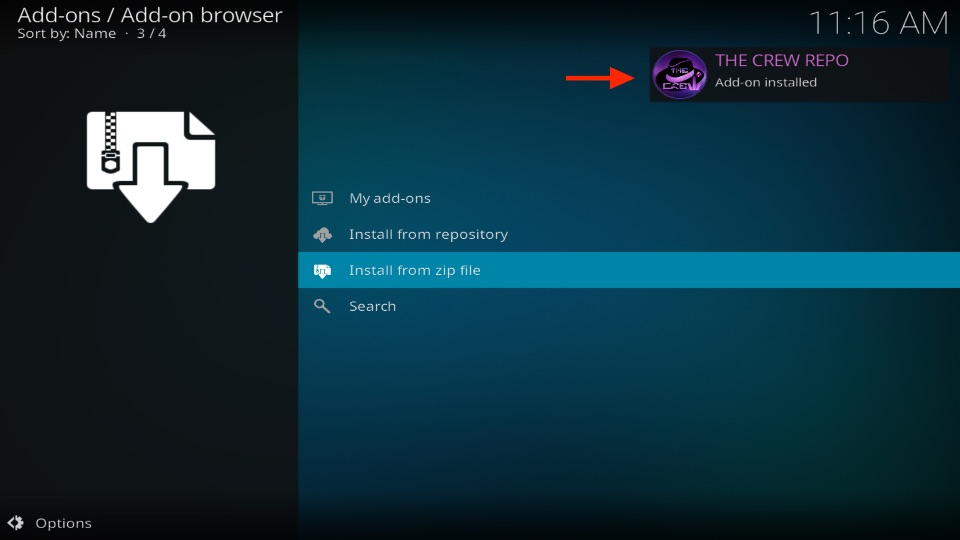 Congratulations! THE CREW REPO is now available on your Kodi app.
Part 3 – How to Install Ghost Addon
At last, here are the steps to install Ghost using THE CREW REPO:
1. After the notification, choose Install from repository.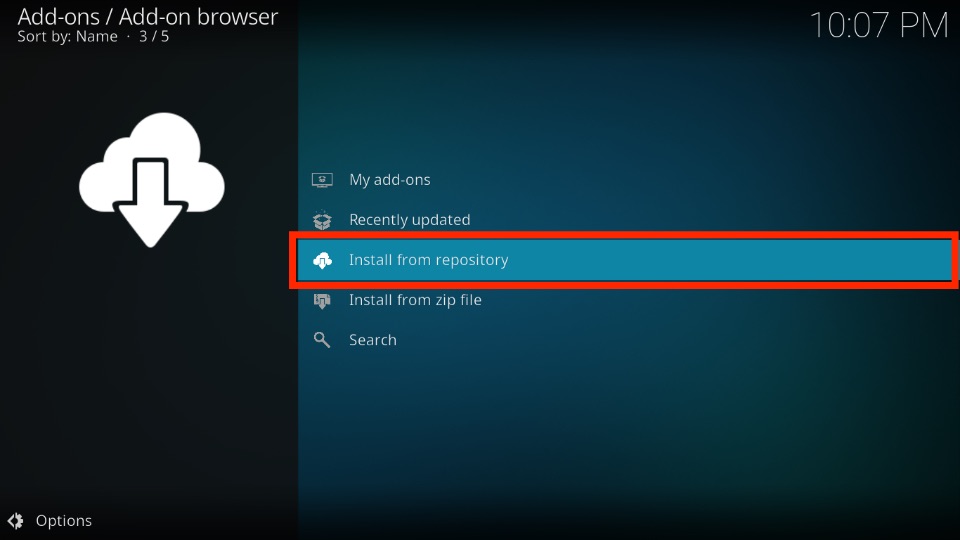 2. On the repo menu, choose THE CREW REPO.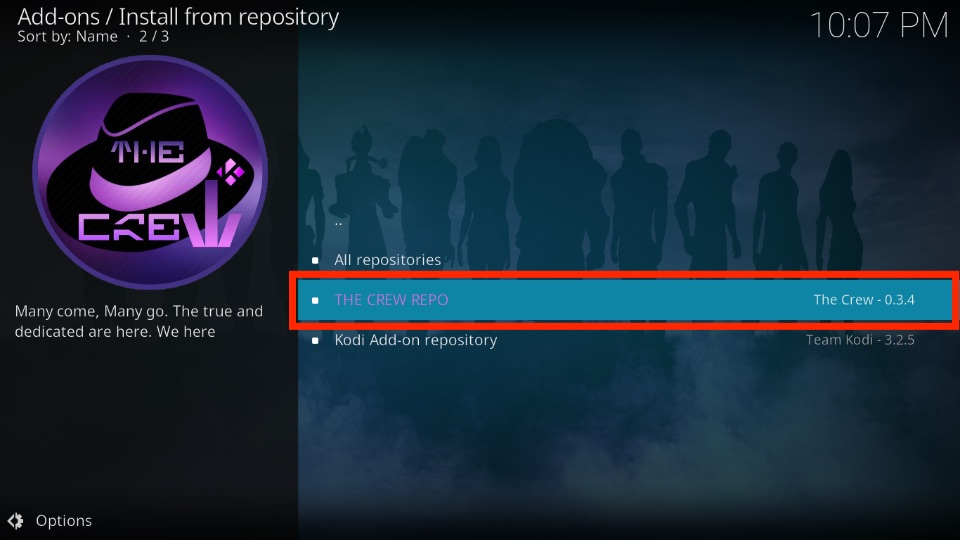 3. Go inside the Video add-ons folder at the end of the list.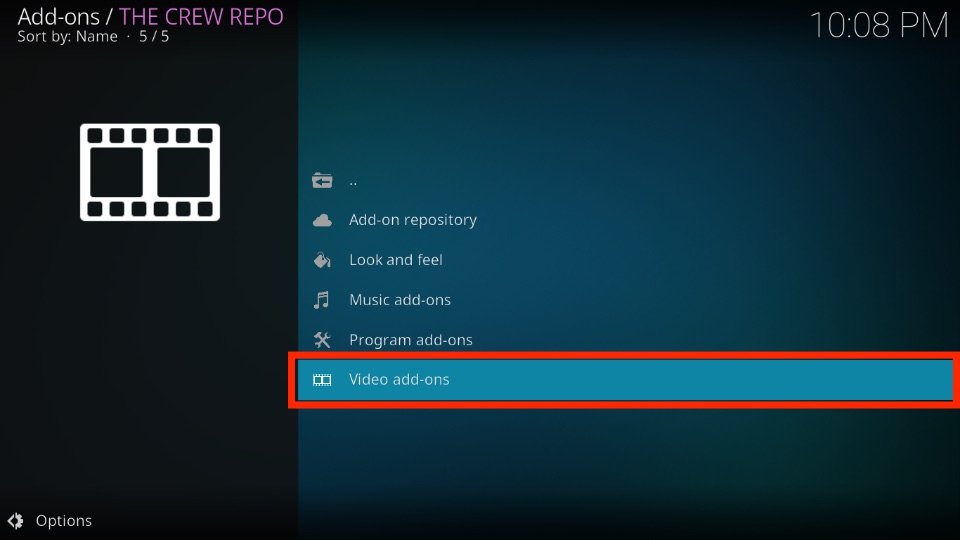 4. Keep scrolling down until you see the Ghost Kodi addon. Then, open it.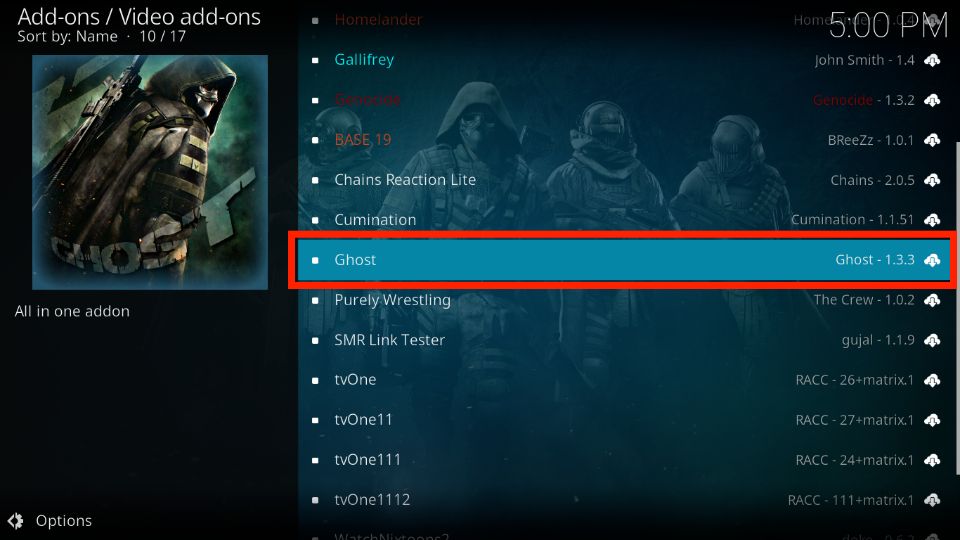 5. On the Ghost dashboard, choose Install on the bottom right side of your screen.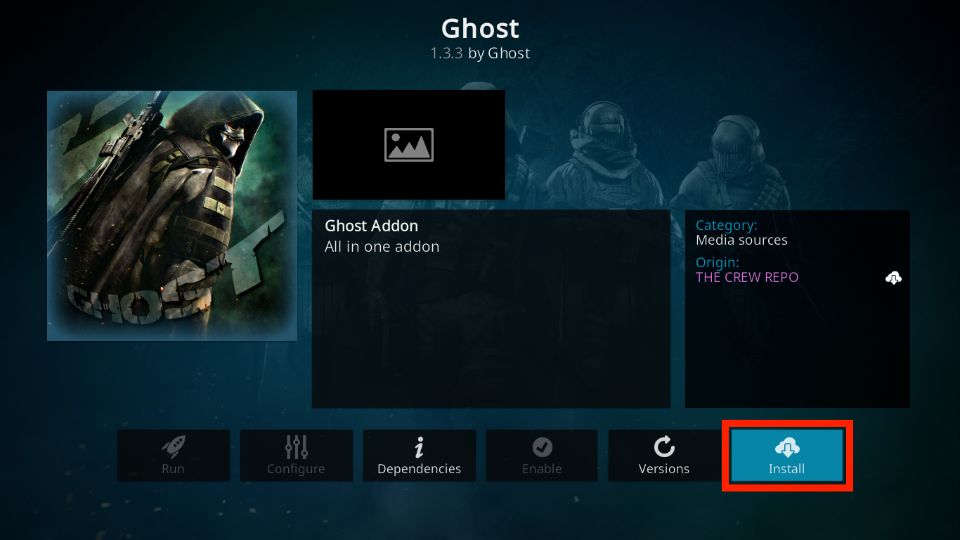 6. Click OK to allow the additional add-ons to get installed with the Ghost Kodi addon.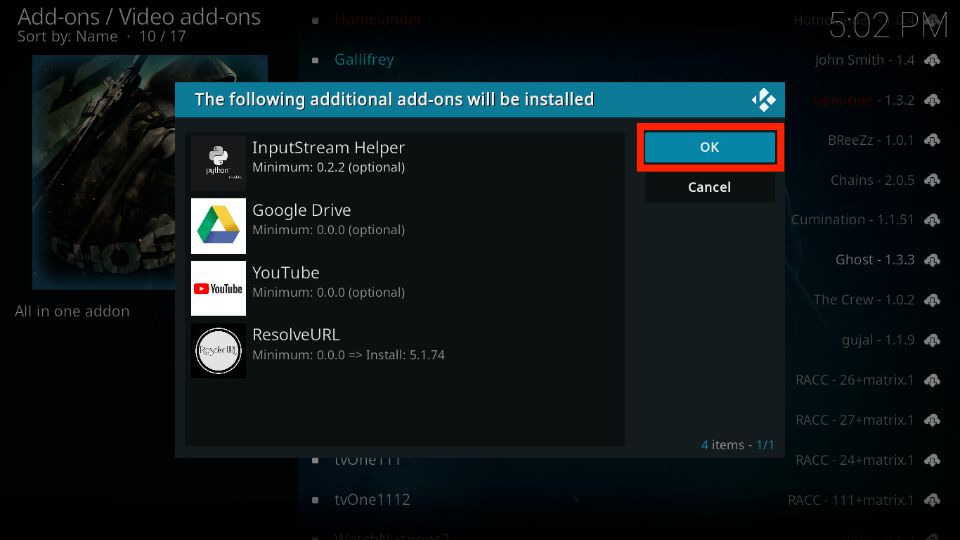 7. Let Kodi download the essential files to install Ghost.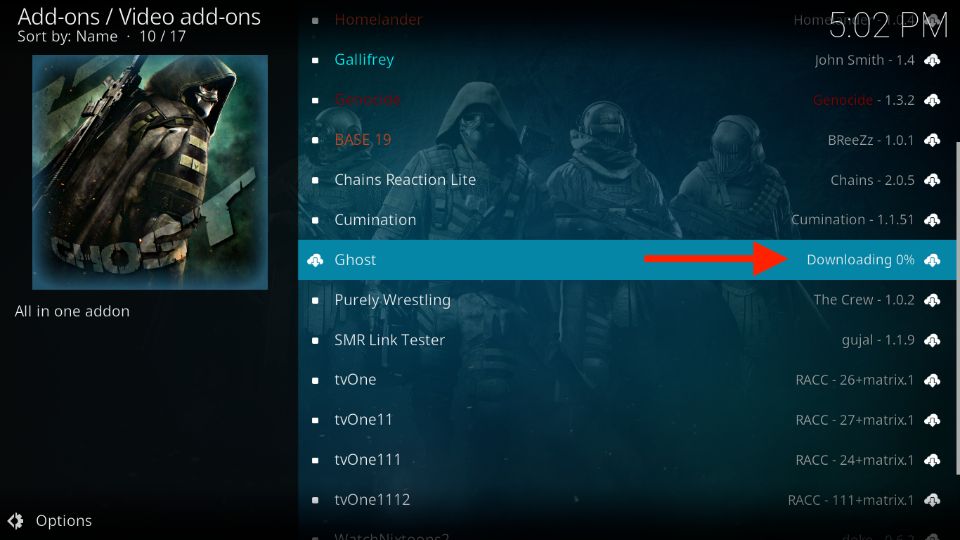 8. Ghost Add-on installed notification will appear on the successful install.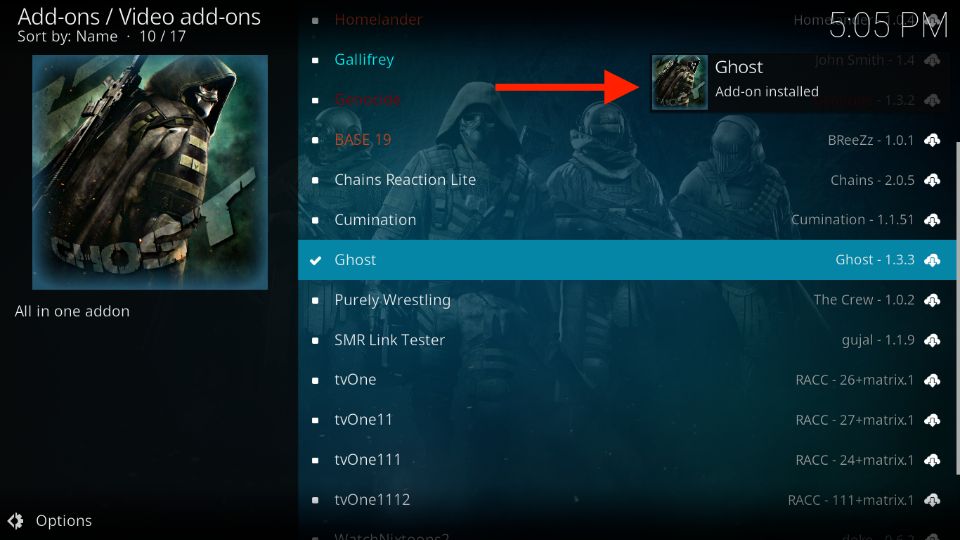 Yippee! The famous Ghost Addon is now ready to roll on your Kodi app.
Wait! It looks like you are all set to start watching your favorite content on Kodi. But have you protected your online identity yet? You are under constant surveillance by the Government and ISP. They use your IP address 3.17.249.235 to track you. Streaming free or copyrighted videos may get you into legal trouble.
Thankfully, you can use a VPN to easily protect your privacy and go invisible from your Government and ISP. I use and recommend ExpressVPN with Kodi.
ExpressVPN is the fastest, most secure, and streaming-friendly VPN. It is easy to install and set up on any Kodi device, including FireStick, Smartphones, PCs, and more.
ExpressVPN, offers an unconditional 30-day money-back guarantee. So, if you do not like the service (I don't see why), you can get a full refund within 30 days.
Please remember that we encourage you to use a VPN to maintain your privacy. However, we do not condone breaking copyright laws.
Before you start using Kodi for streaming, here is how you can protect yourself with ExpressVPN:
Step 1: Sign up for ExpressVPN Here
Step 2: Download ExpressVPN on your device by clicking HERE
Step 3: Open the ExpressVPN app on your device. Sign in with your account. Click the connect/power button to connect to the VPN

Great! You have successfully secured yourself with the best Kodi VPN.
How to Use Ghost Kodi Addon
Here's a detailed overview of how to use the Ghost Kodi addon:
First, go to the Kodi home page and open the Add-ons tab.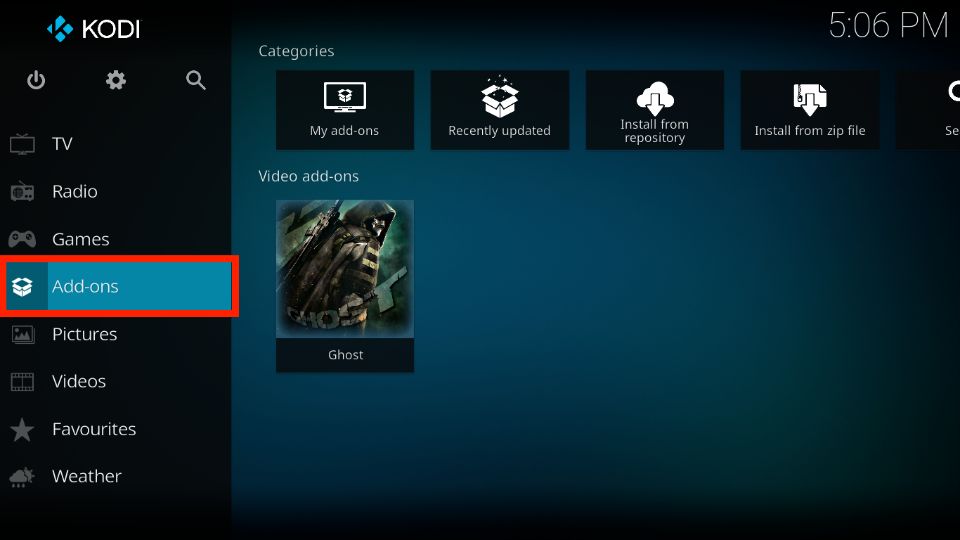 Then, stay on the Video add-ons tab and launch Ghost.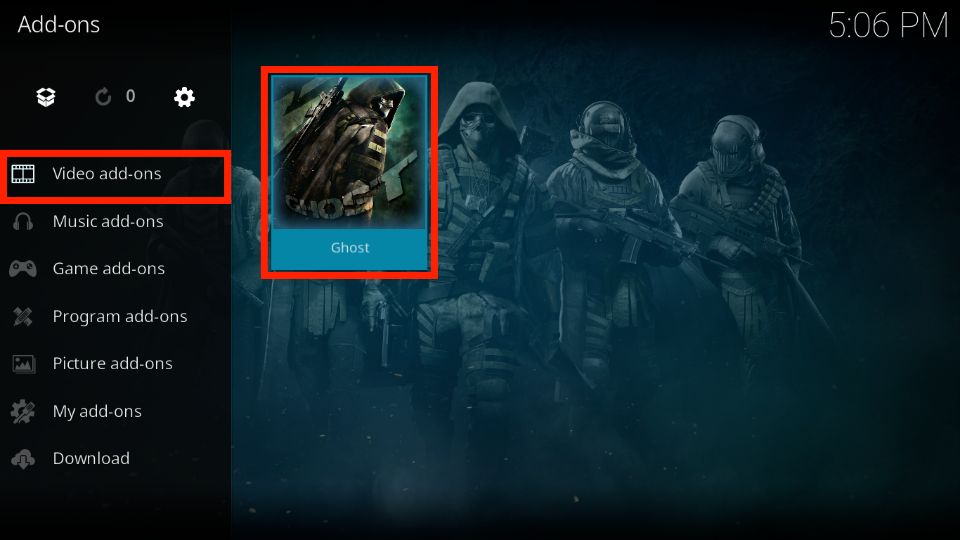 On the Ghost home screen, you'll see the following seven sections:
Movies
TV Shows
Replays
Live TV
Trakt
Search
Settings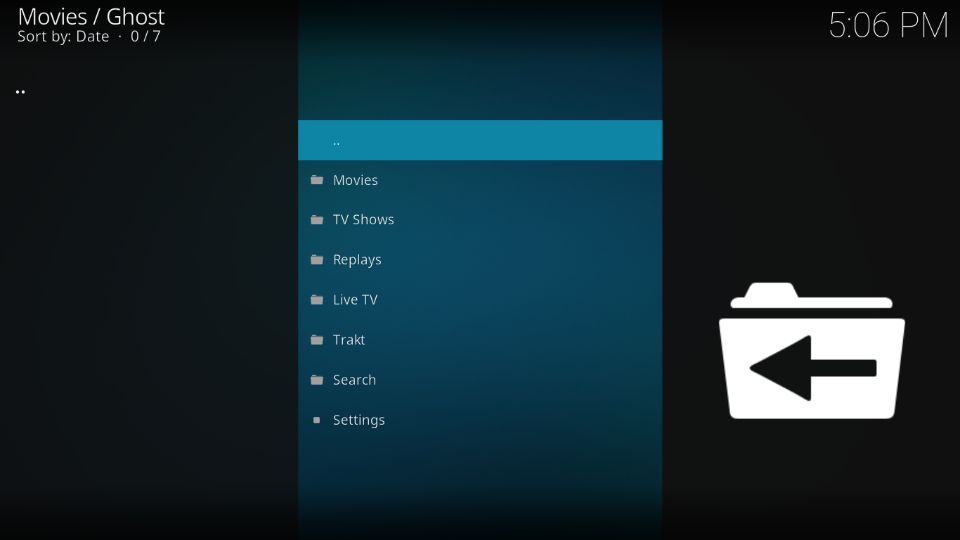 I'll quickly walk you through each section, starting with my personal favorite, Movies!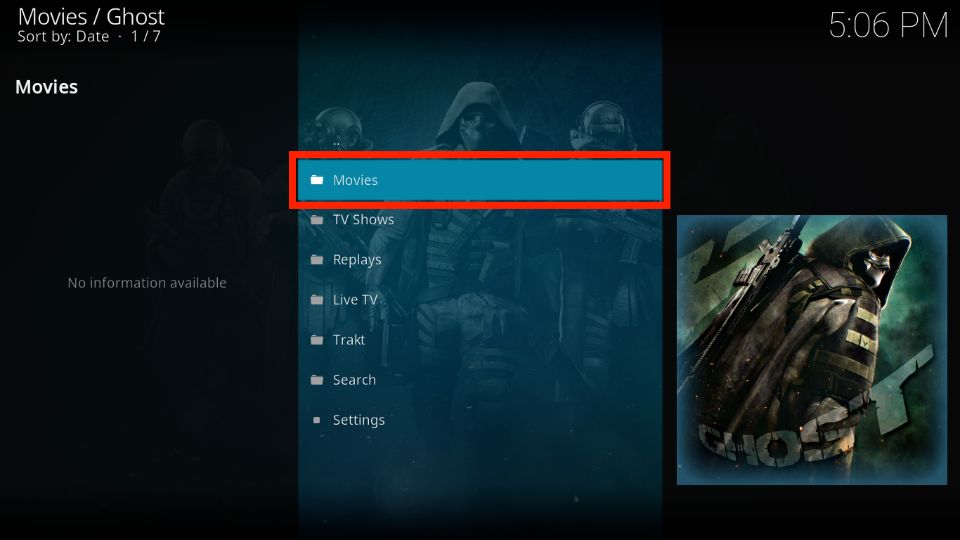 This section comprises sub-folders like 1Click, Theaters, Popular Movies, Released Movies, 3D Movies, and more. So, for instance, if you want to see what's hot in the Theaters, explore the Theaters folder.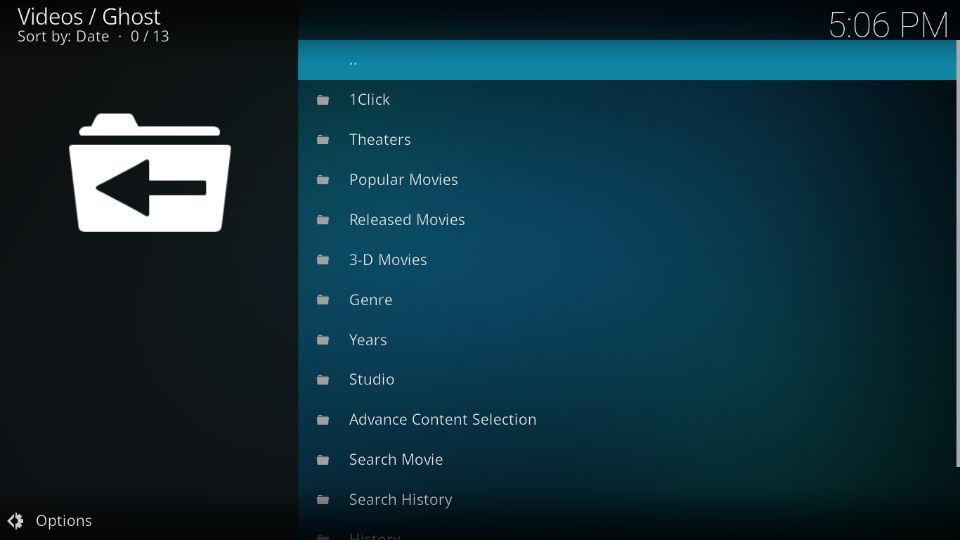 If you prefer watching TV Shows, click the TV Shows category.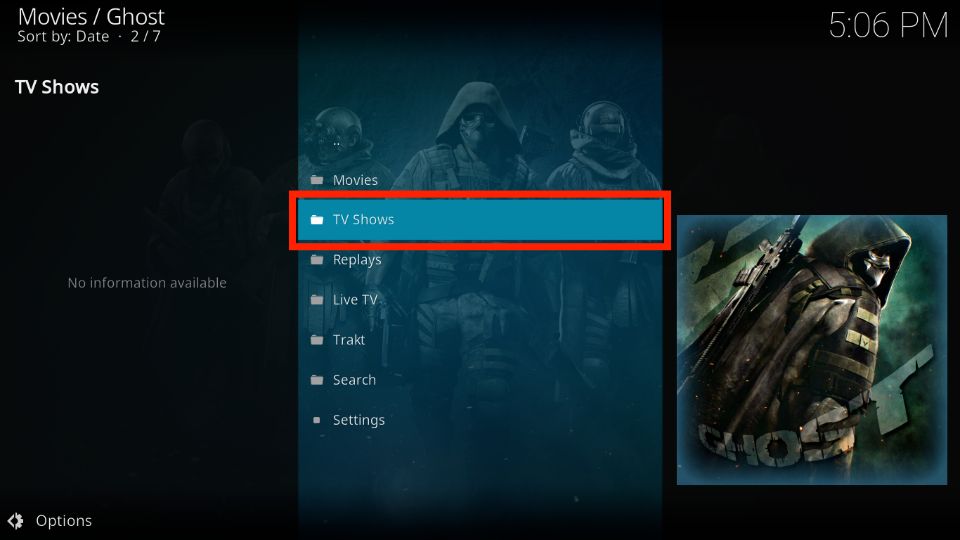 It's pretty much lined up like the Movies tab. TV Shows feature sub-sections like On The Air, New Tv Shows, New Episodes, Networks, etc. So, for example, to access the newest shows, open the New Tv Shows section.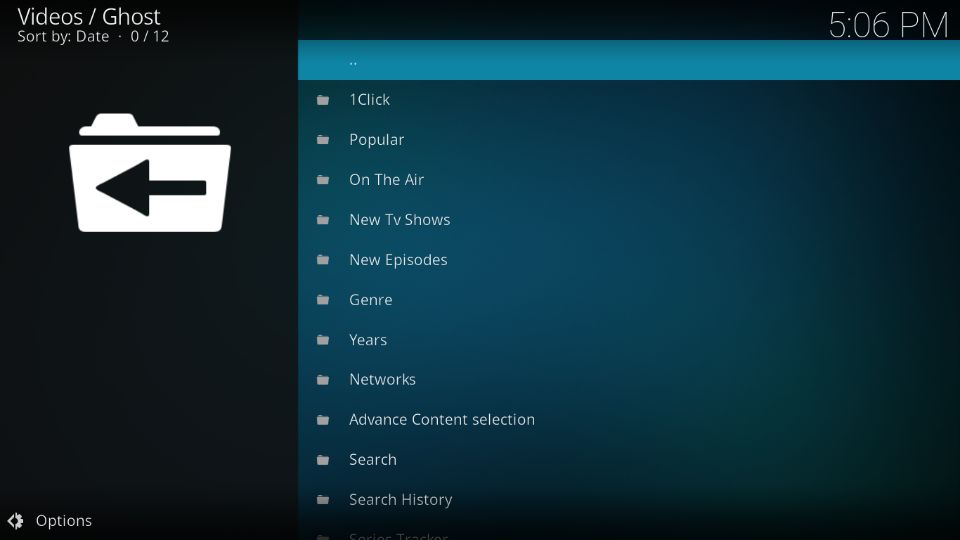 Missed a sports match? No worries! Ghost's Replays section takes care of it.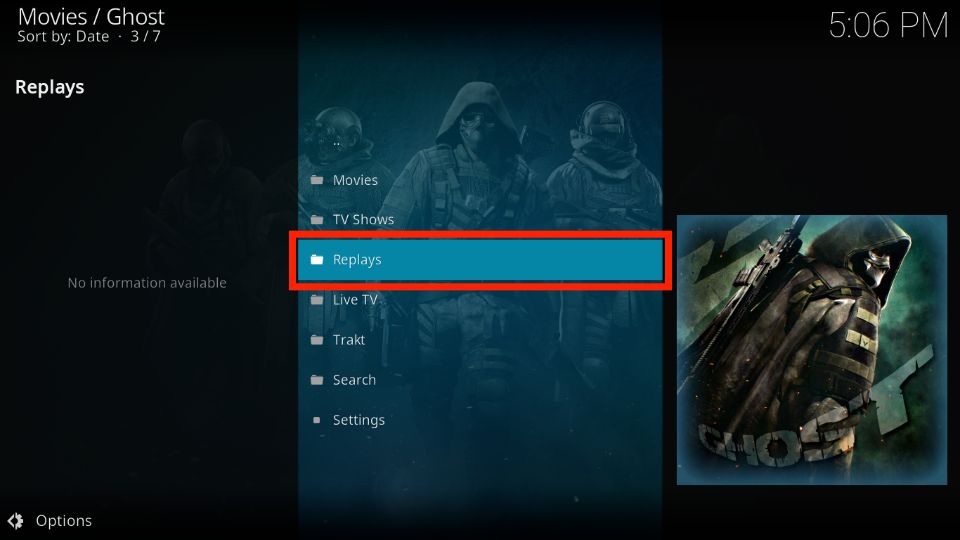 You'll find highlights, fully recorded events, and more of your favorite sports like wrestling, martial arts, boxing, racing, etc.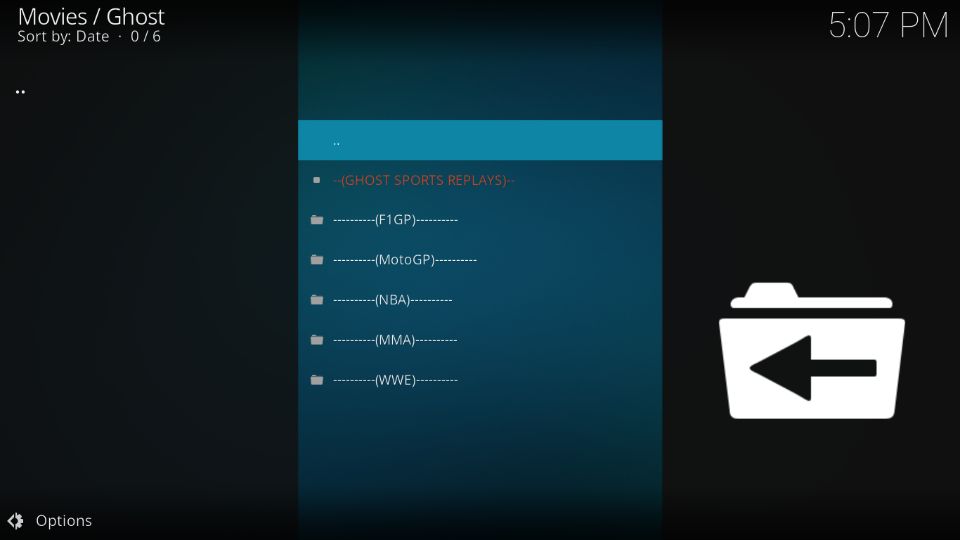 Feel like streaming live channels? Open the Live TV section of Ghost.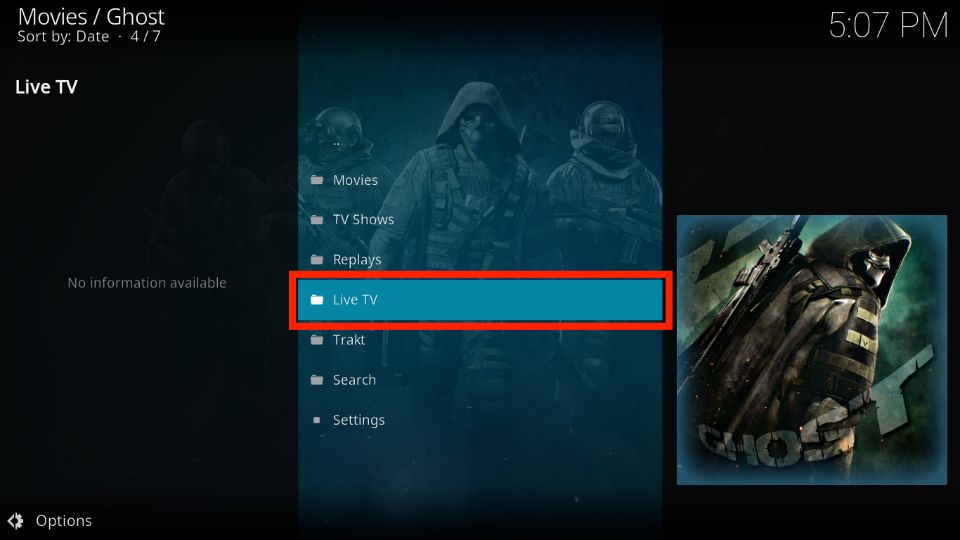 Ghost features 17 different live TV streaming providers. You can choose any one of them and explore the channels available inside it. There are hundreds of live TV channels, from sports to entertainment, lifestyle, and beauty.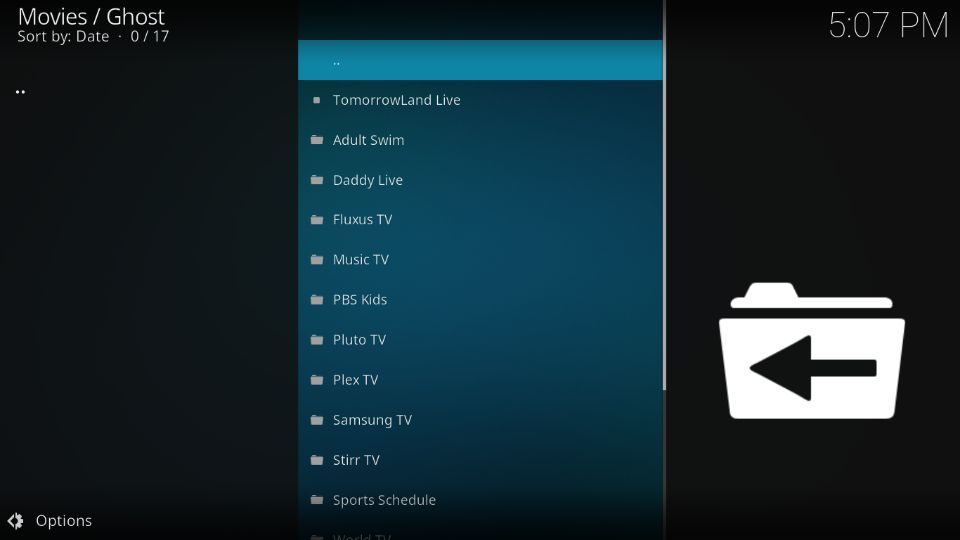 A separate Trakt section is also available on the Ghost Kodi addon. By default, it's linked to a dummy account. But you can connect your Trakt account to load your history, settings, and more.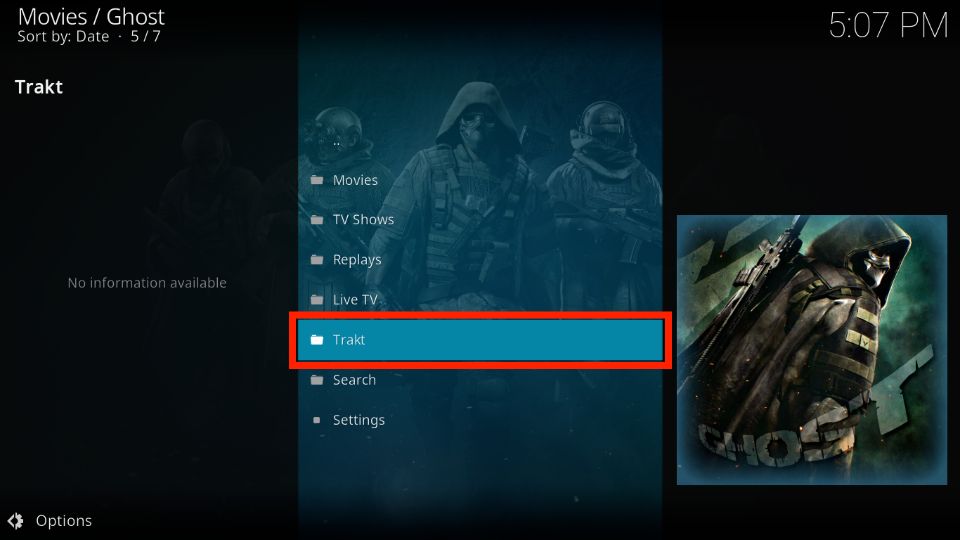 Inside Trakt, there are 17 sub-folders like Movie Lists, Tv Lists, Tv Calendar, Progress, Episodes Watchlist, etc., to give you full Trakt support.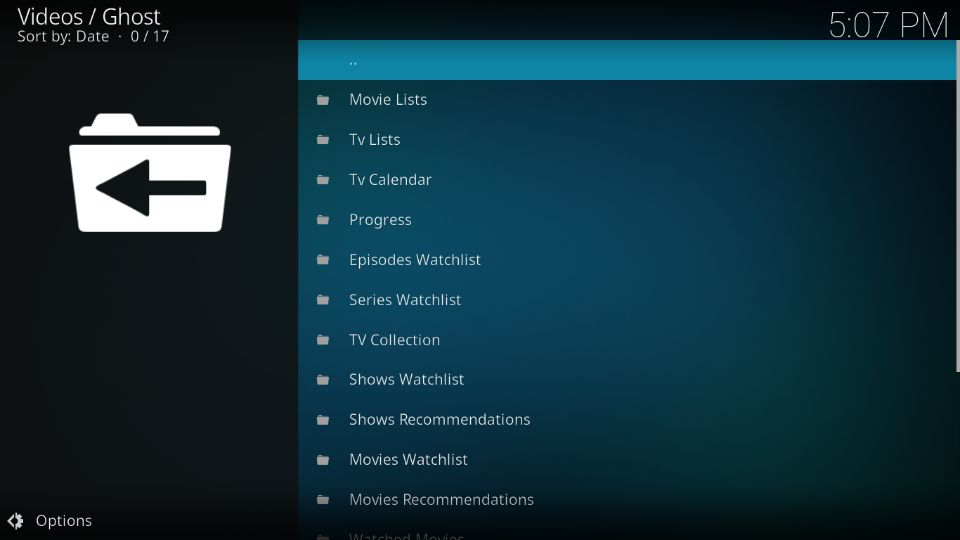 The master Search section of Ghost lets you find any movie/TV show in seconds.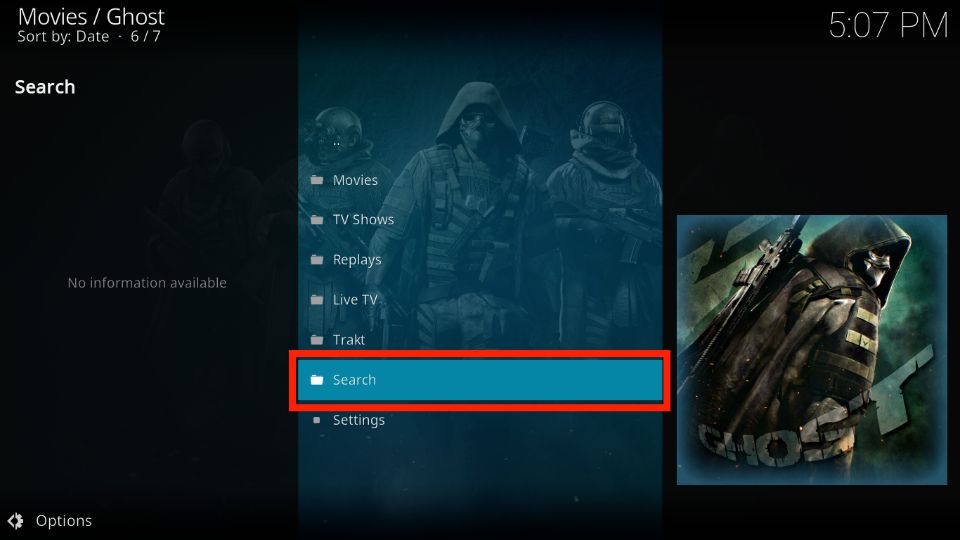 Enter your search terms and click on the Go button.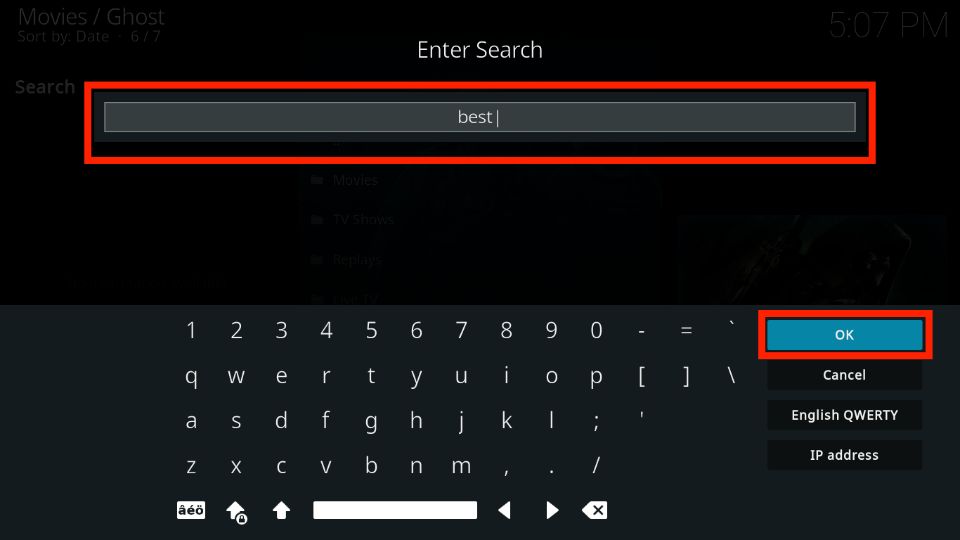 I searched for Best, so I'm getting movies and TV shows matching the term Best.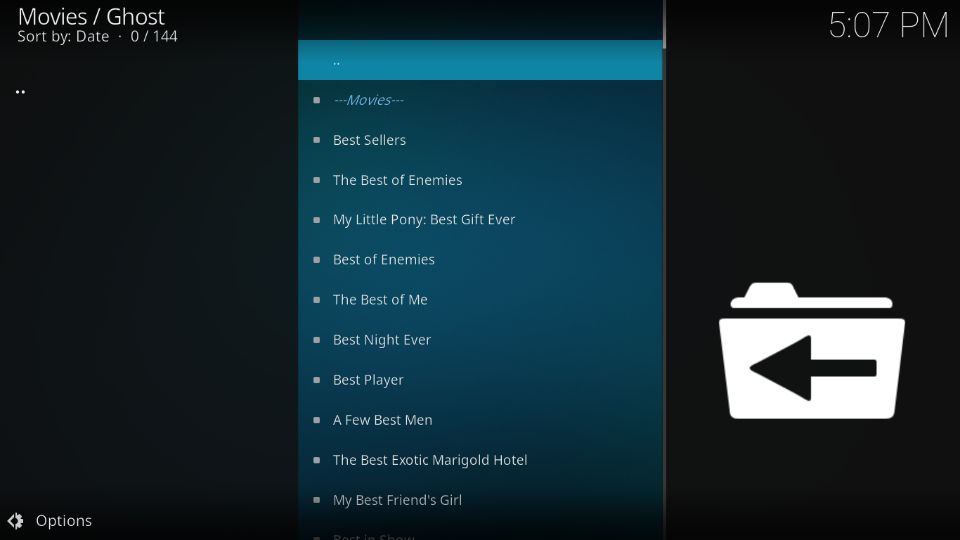 Lastly, we have the Settings section.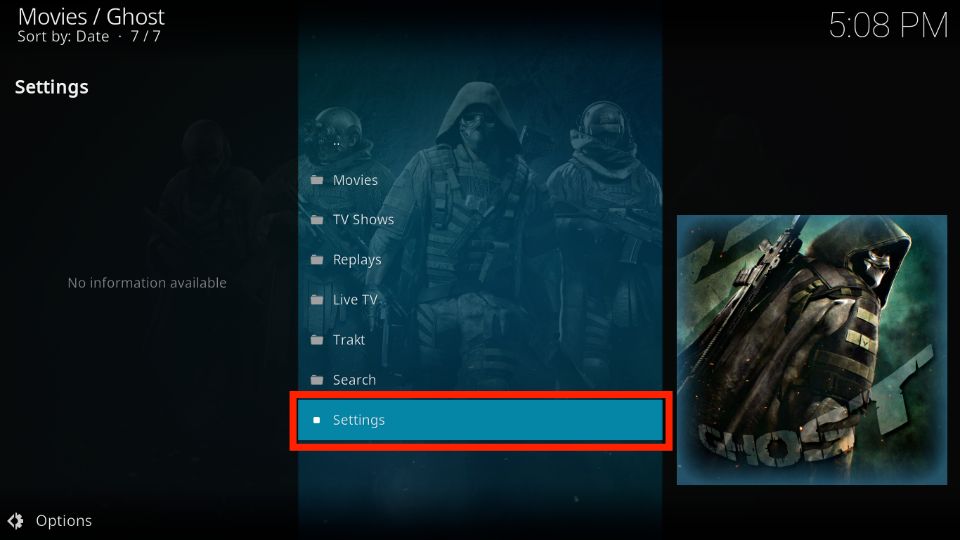 You'll see sub-menus in the Settings window like General, Trakt, Filters, Debrid, Next Up, Context Menu, and more.
Note: If you aren't familiar with third-party Kodi addons, I recommend not tinkering with any settings.
How to Set Up Real Debrid with Ghost
Real Debrid is a paid service that provides you access to premium links to movies and TV shows. Learn more about Real Debrid by reading our dedicated guide.
Here are the instructions to connect your Real Debrid account with Ghost:
1. Launch the Settings menu of Ghost located at the end of the home screen.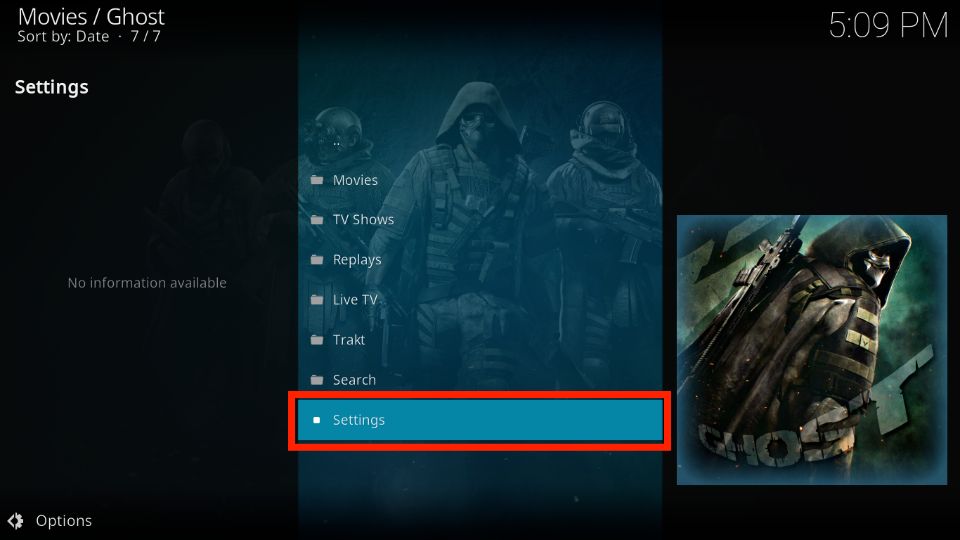 2. Go to the Debrid tab.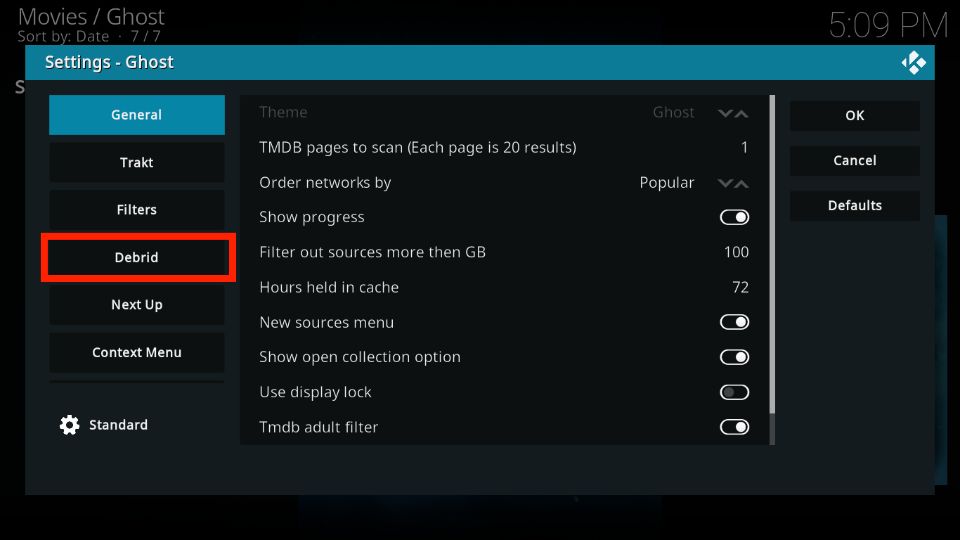 3. Make sure that the Enable debrid service is turned on.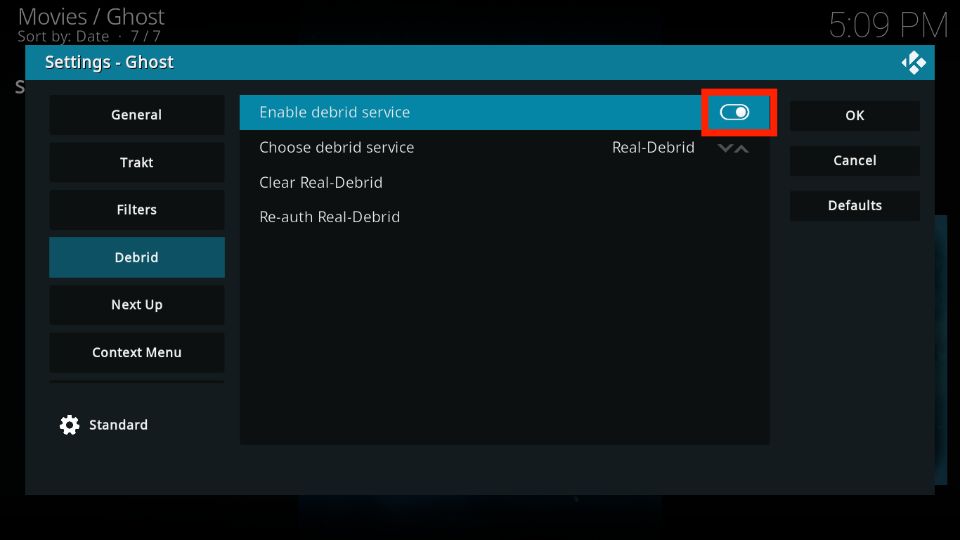 4. Choose Re-auth Real-Debrid.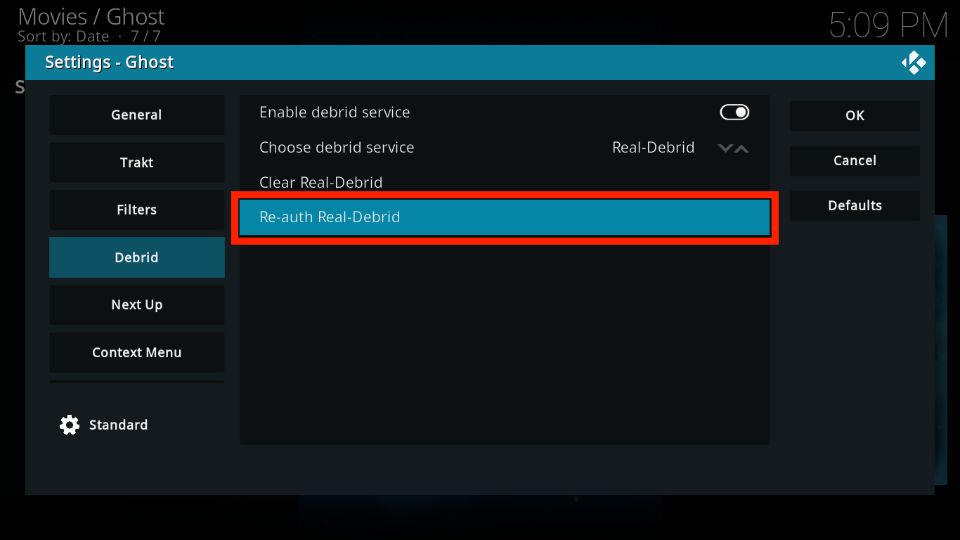 5. Ghost Kodi addon will clear the default Real Debrid account.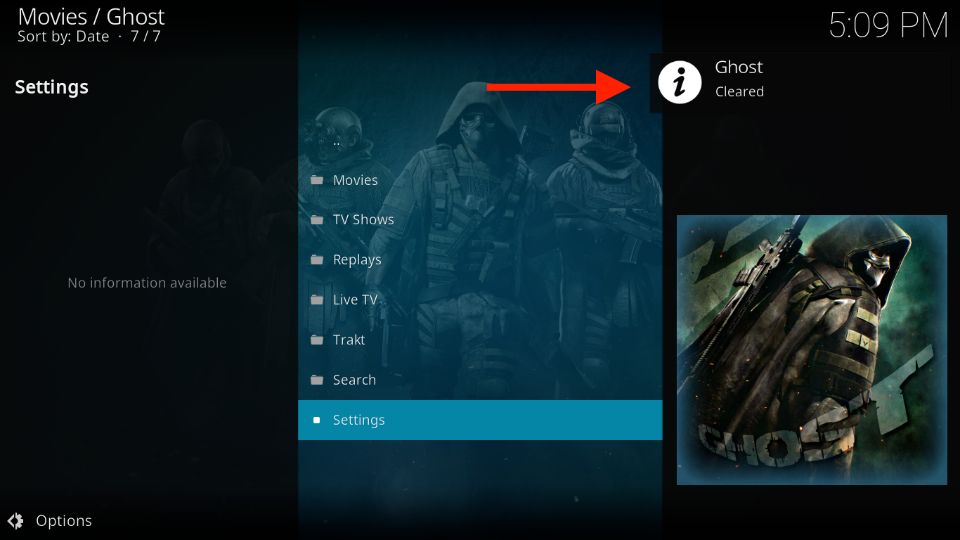 6. Using your PC/phone, open a web browser and visit https://real-debrid.com/device.
Enter the code and log into your account if required. Then, complete the setup by following the on-screen details.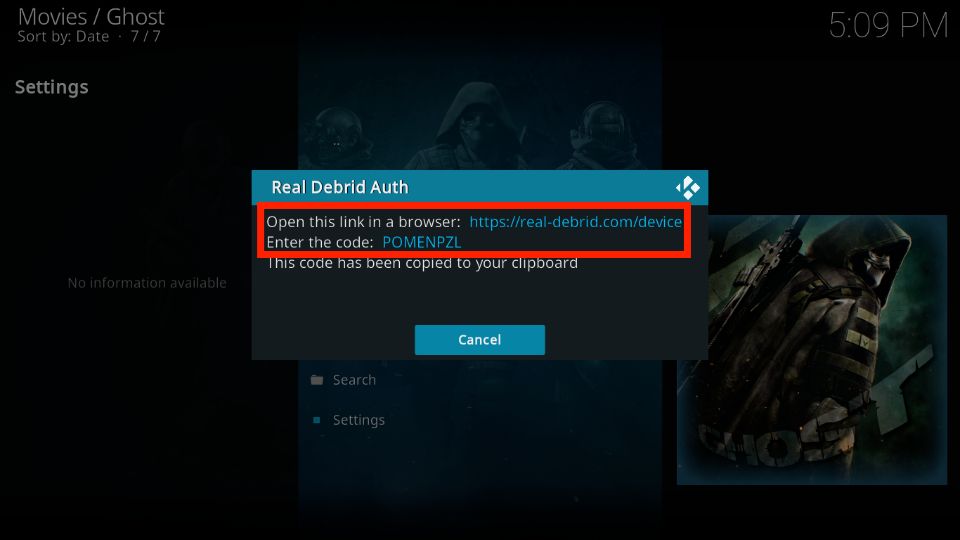 7. When the Ghost OK notification appears, your Real Debrid account is connected with Ghost.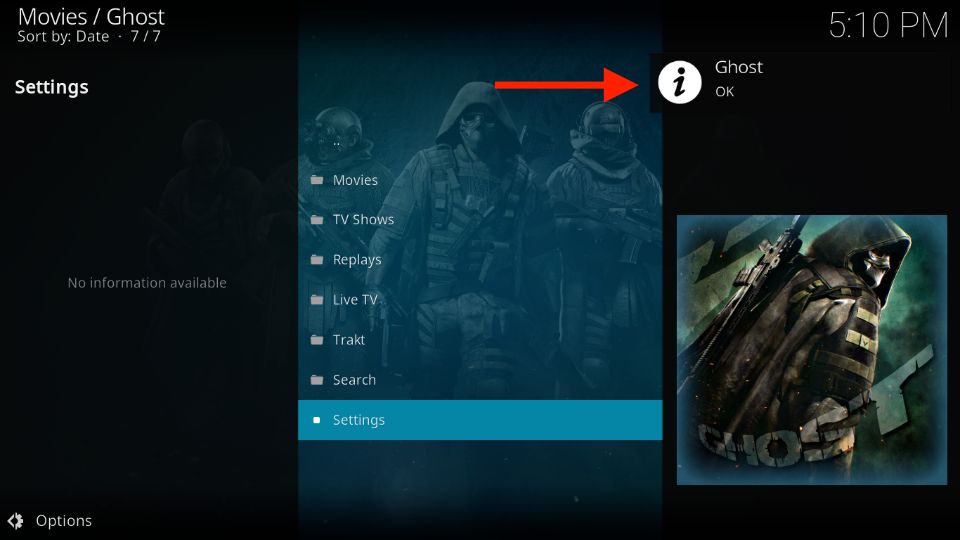 Now, enjoy premium links by Real Debrid to maximize the potential of the Ghost Kodi addon.
How to Set Up Trakt with Ghost
As the name goes, Trakt tracks whatever you are watching across the supported platforms. Check out How to Use Trakt on Kodi and FireStick to Sync Your Watchlist.
Use the guide below to set up your Trakt account with the Ghost Kodi addon:
1. Select the Settings section at the end of the Ghost home page.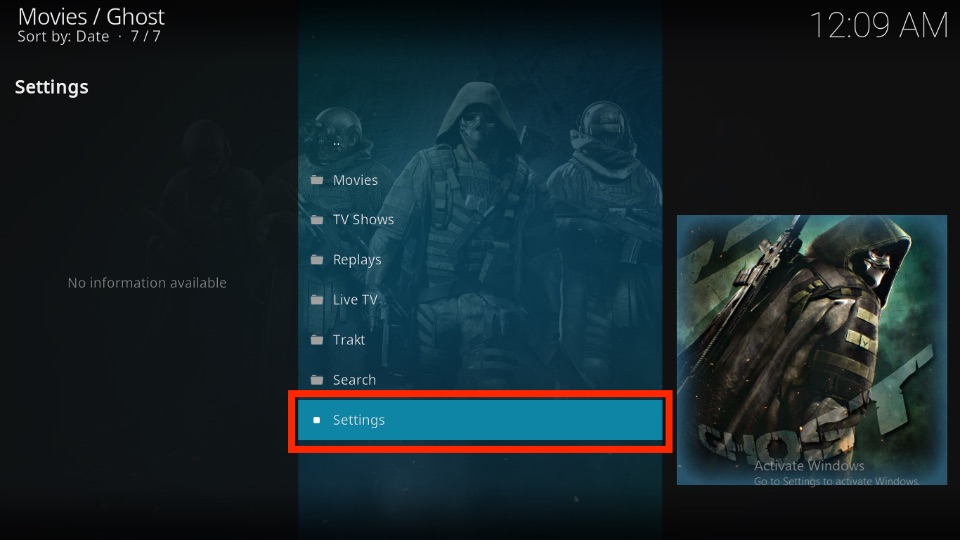 2. Choose the Trakt tab.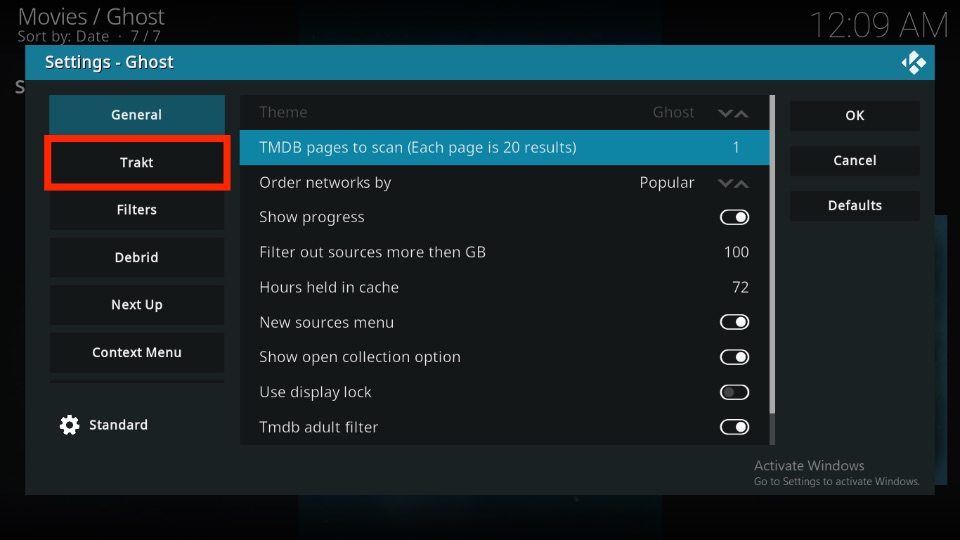 3. Select *** Sync track to DB *** on the right side of your screen.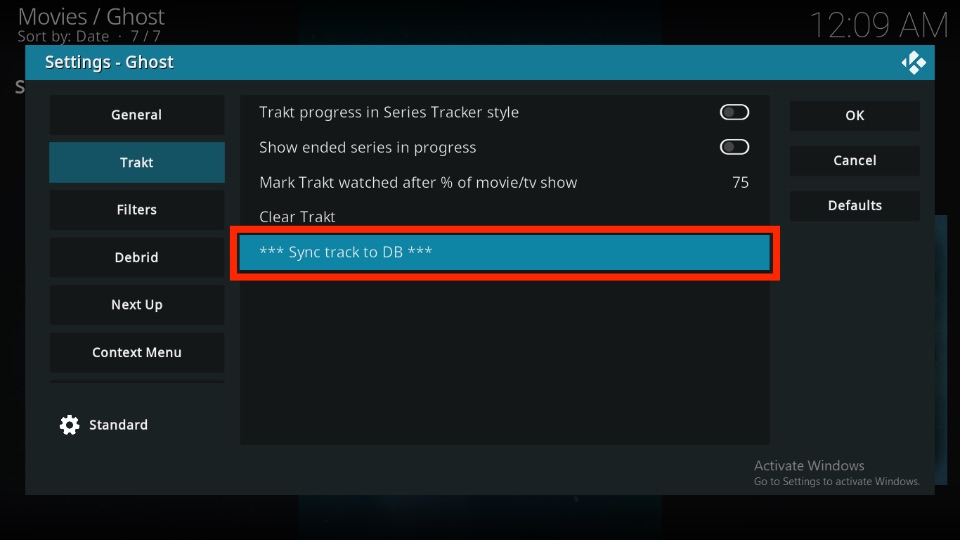 4. Pick Yes to override the local DB.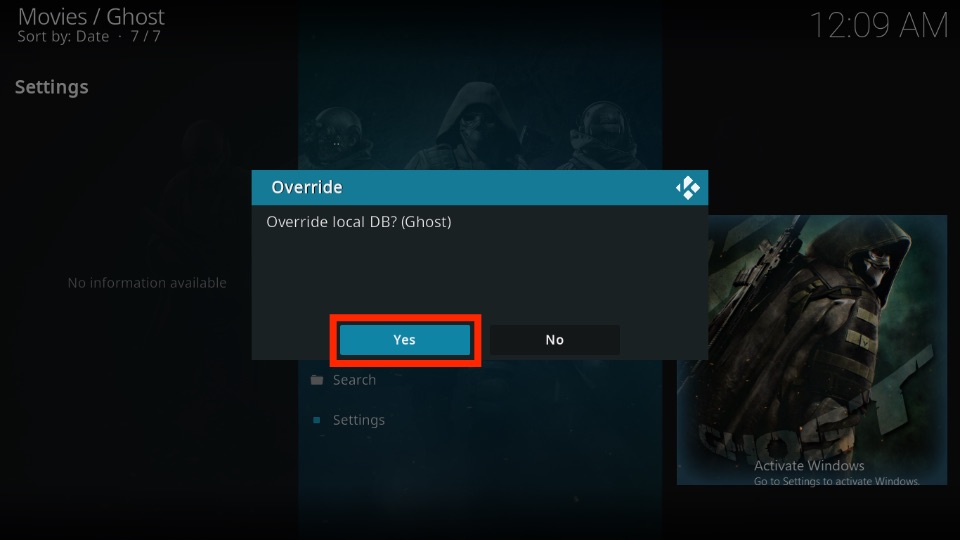 5. Let Ghost clear the local database.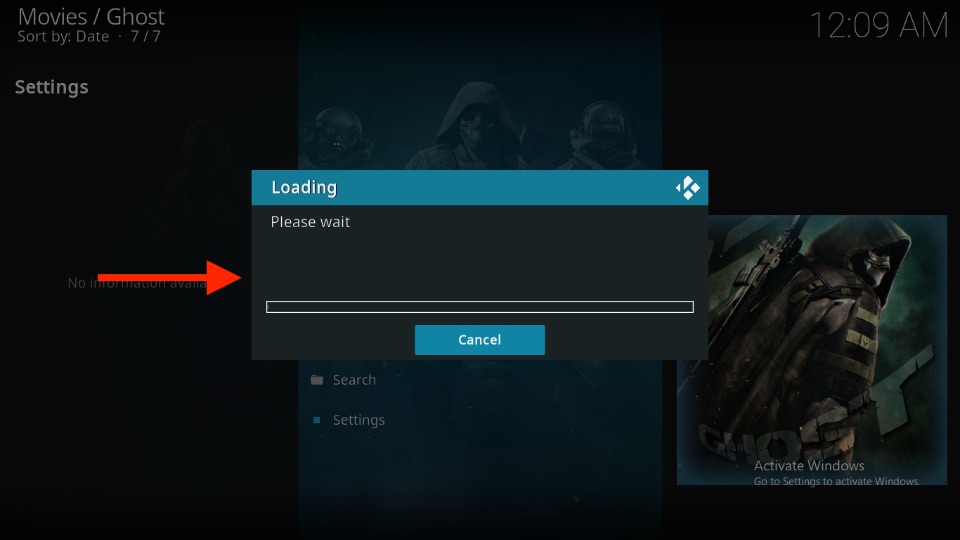 6. Click Yes to confirm your choice of authenticating with Trakt.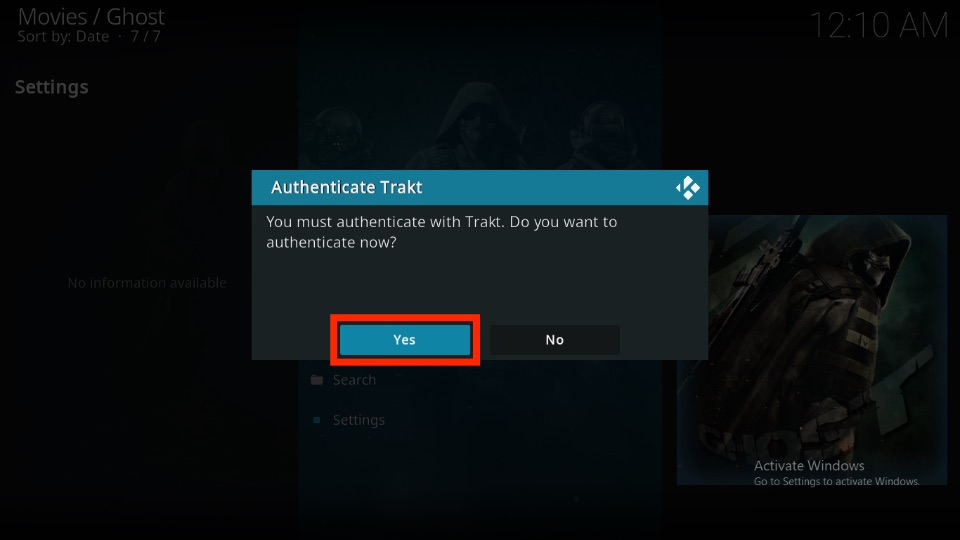 7. Open a web browser on your computer/phone and go to https://trakt.tv/activate. Then, enter the code. After that, use the on-screen instructions to finish the setup.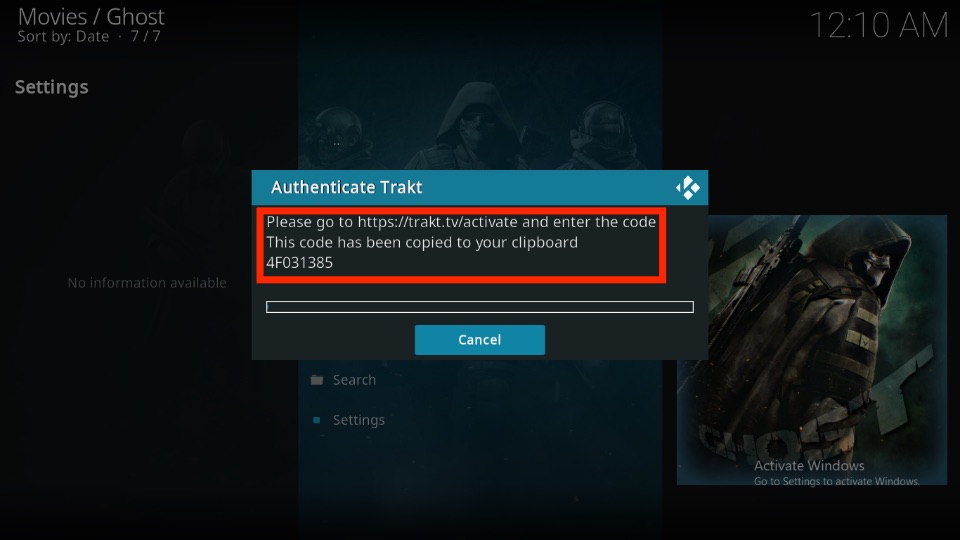 8. On your Kodi app, the Trakt window will appear. Choose Sync to upload/download your Trakt data.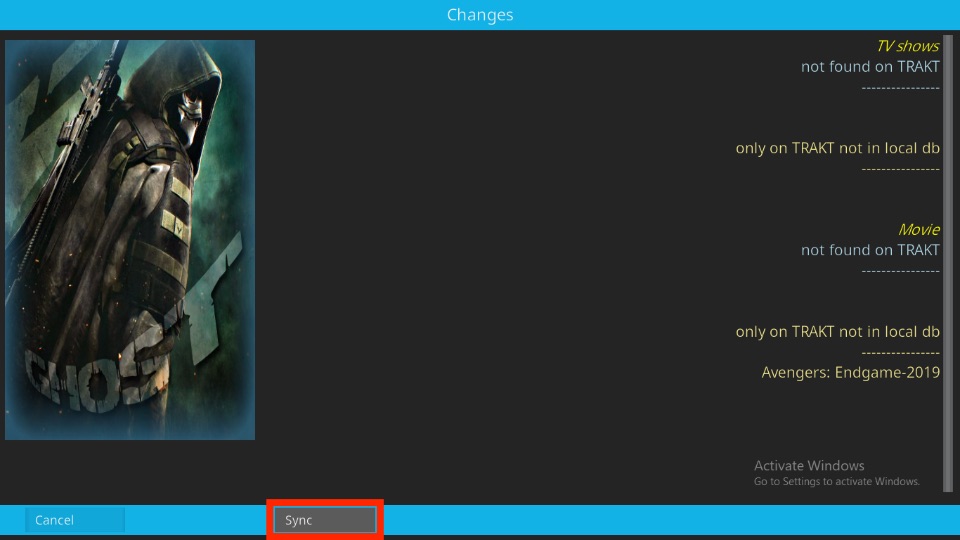 That's how easily you can link your Trakt account with the Ghost Kodi addon.
Conclusion
From live TV channel streams to movies and TV shows, Ghost brings it all under one hood. This article showed you how to Install Ghost Addon on Kodi. Got any questions? Comment them down below. And I'll answer them in a flash!
Related: