This tutorial teaches you how to install Chain Reaction Kodi addon. The addon works on any device that uses Kodi. For example, you can install it on FireStick Lite, FireStick 4K Max, FireStick 4K, Fire TV Cube, Android TV, PC, Mobiles, Tablets, and more.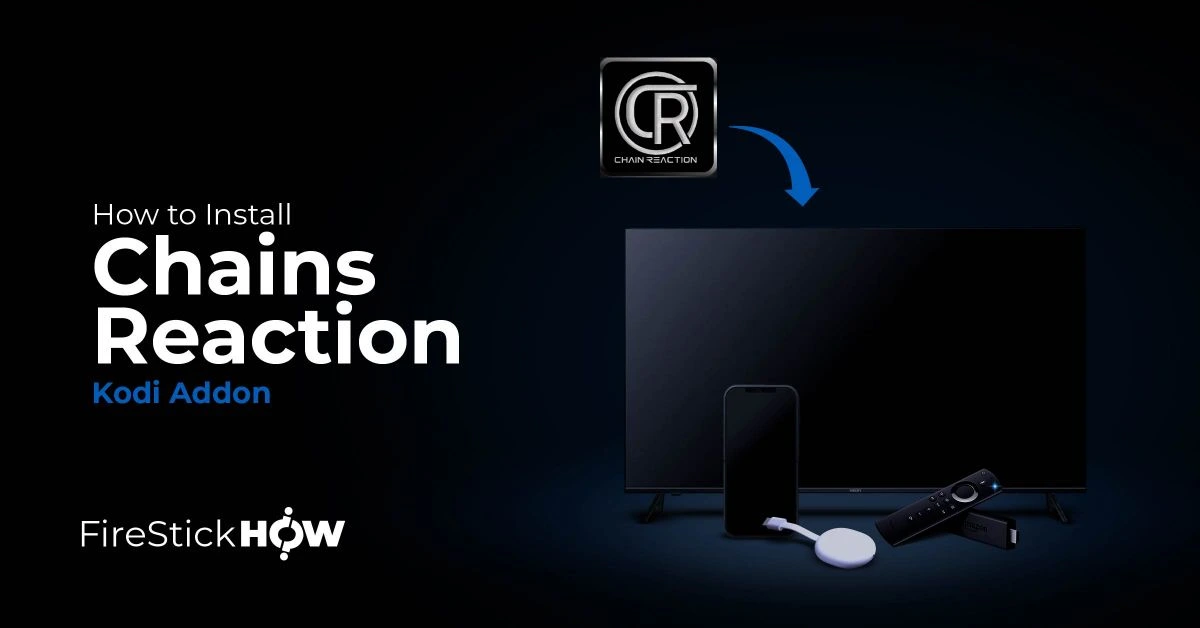 What Is Chain Reaction?
Chain Reaction is an unofficial Kodi addon that lets you watch movies and shows. This addon contains a catalog of on-demand videos.
You can install Chain Reaction from the Crew Repo.
The Chain Reaction addon works with Real Debrid and Trakt services. It is one of the most popular Kodi addons presently.
Attention KODI Users: Read before you continue
Government and ISPs endlessly monitor your online activities using your IP address 3.17.249.235 (exposed to everyone). Kodi is an excellent platform for streaming movies, TV shows, and sports, but streaming copyrighted content can get you into legal trouble. 
You should use a reliable Kodi VPN and protect your streaming activities and privacy. A VPN will hide your IP address and bypass government surveillance and geo-restrictions.
I trust and use ExpressVPN, the fastest and most secure Kodi VPN. It's easy to install on any Kodi device, including Amazon FireStick, PCs, and Smartphones. In addition, it offers a 30-day money-back guarantee, and 3 free months with the annual plan.
Read: How to Install & Use the best VPN for Kodi.
Is Chain Reaction Safe?
It seems to be safe on my devices. The addon hasn't tried to install any malware or virus. However, it is a third-party addon. Therefore, we at FireStickHow cannot say it is entirely safe with complete confidence. We aren't any security experts.
Let's see what the security experts have to say. The following image shows the Virus Total scan result of the Crew Repo. The Virus Total antivirus has cleared the file.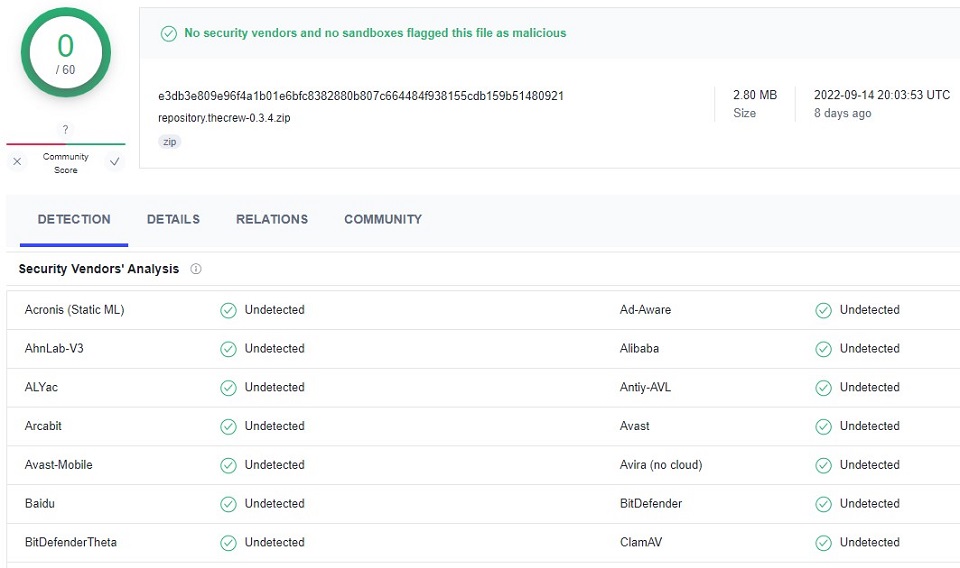 Is It Legal?
Chain Reaction is a content aggregator. It does not host any content. Instead, it relies completely on various providers on the internet for video streams. Unfortunately, FireStickHow does not have the means to determine if these providers have secured distribution licenses. Therefore, streaming from a link they provided may tangle you in a legal hassle.
Thankfully, you can easily avoid it by limiting your streaming activities to public-domain videos. Even better, use ExpressVPN with Chain Reaction and hide your streaming activities in case you can't tell the difference.
How to Install Chain Reaction Kodi Addon
Installing third-party addons like Chain Reaction involves more steps than addons from the official source. As a result, the process tends to get long-drawn and sometimes confusing. Therefore, I am simplifying the process by breaking it into three parts. Here is what we will follow:
Part 1: Allow Installation of Third-party Addons
Part 2: Add the Source Repository of the Chain Reaction
Part 3: Install the Chain Reaction  from the Repository
We are getting started now.
Part 1: Allow Installation of Third-party Addons
Why do we need to "allow" the installation? Kodi has a security check that prevents you from installing third-party addons. However, you can easily change this setting and bypass the restrictions. The steps are as follows:
1. Open the Kodi Settings window. For that, you will click the gear icon on the home screen in the top-left area.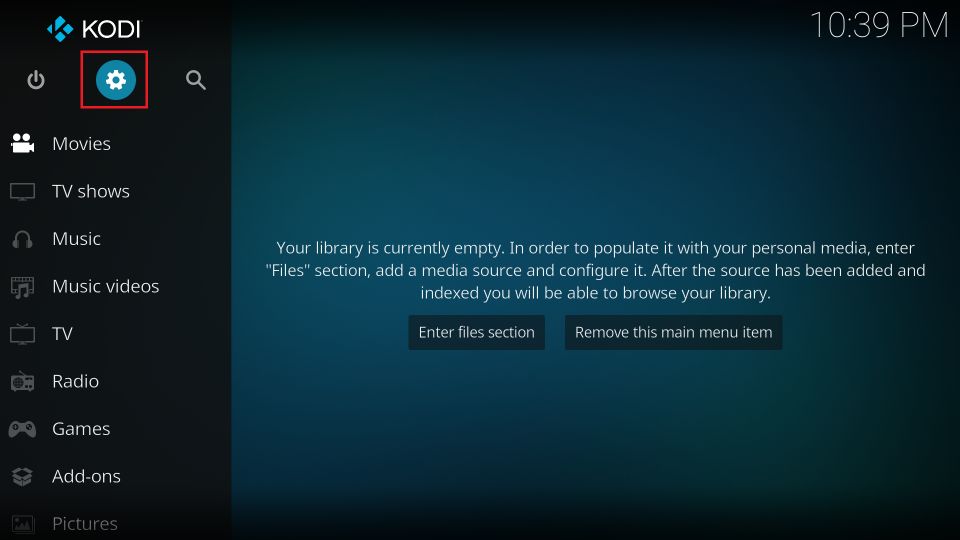 2. Now, go to System.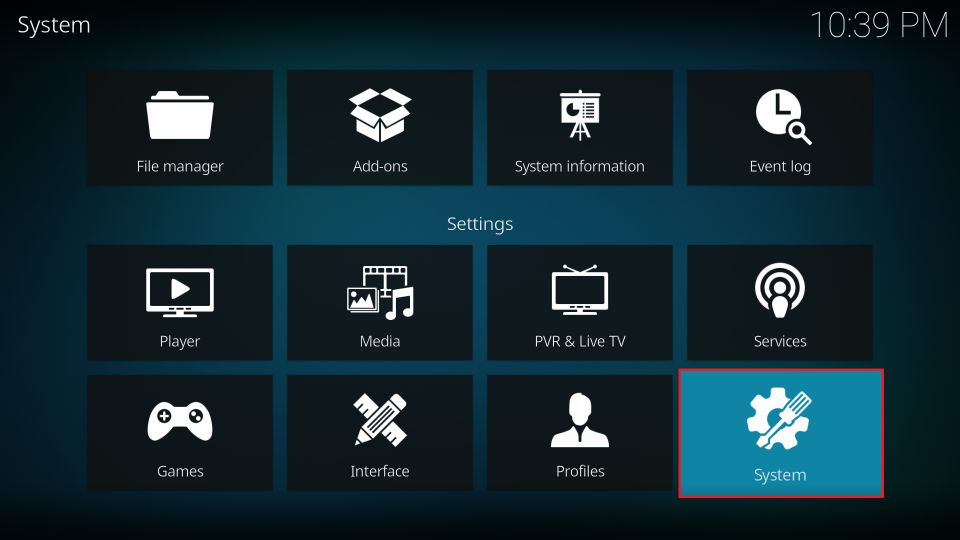 3. A new menu window appears. First, click the option Add-ons in the sidebar on the left. Next, switch on the button for Unknown Sources (flip the switch to the right).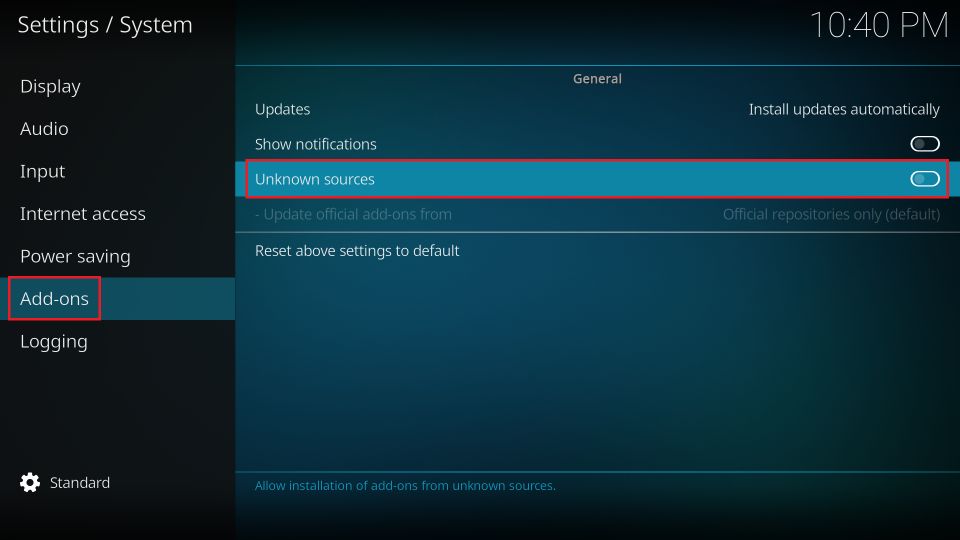 4. To save the changes, click Yes.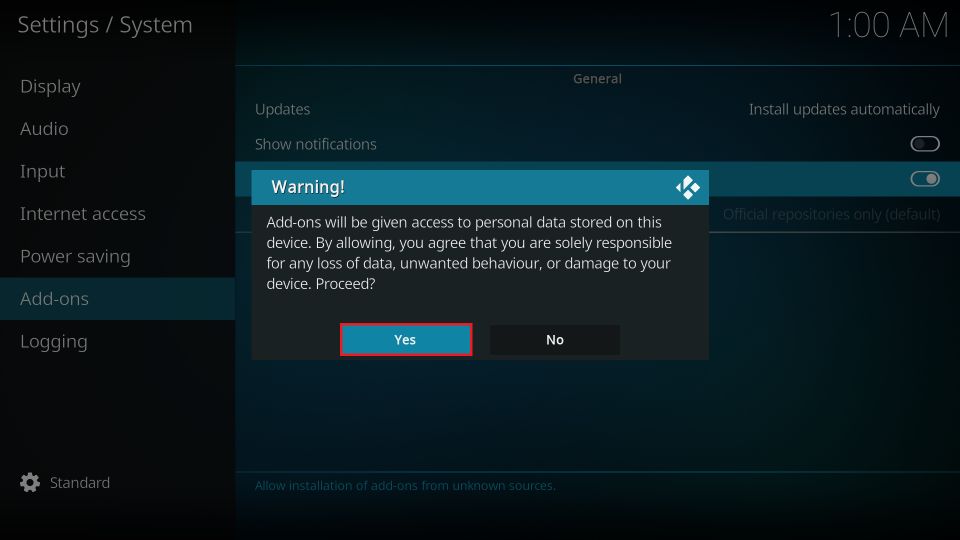 5. While this step is optional, It would be a good idea to go through it. Click the option Update official add-ons from.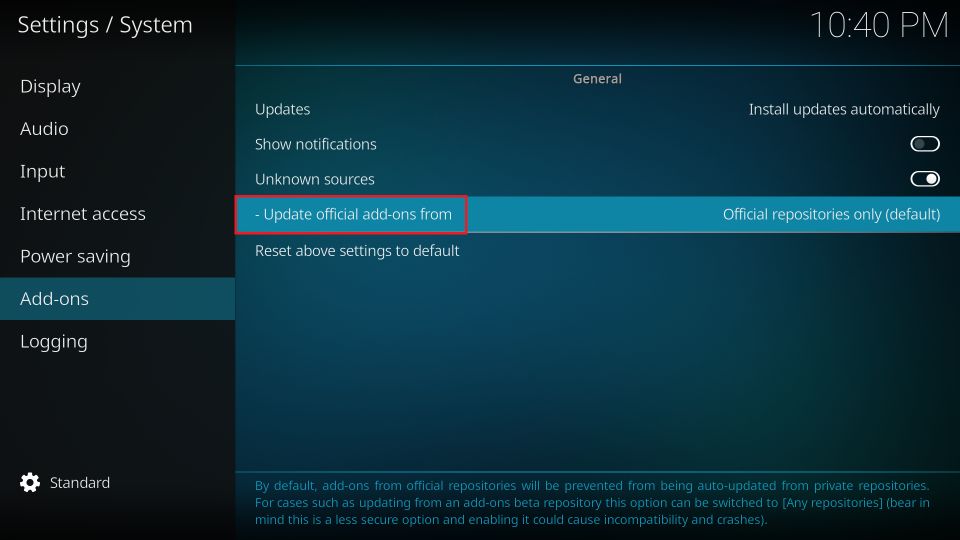 6. Choose the option Any repositories on the subsequent prompt. Now, Kodi will update addons from any repository available.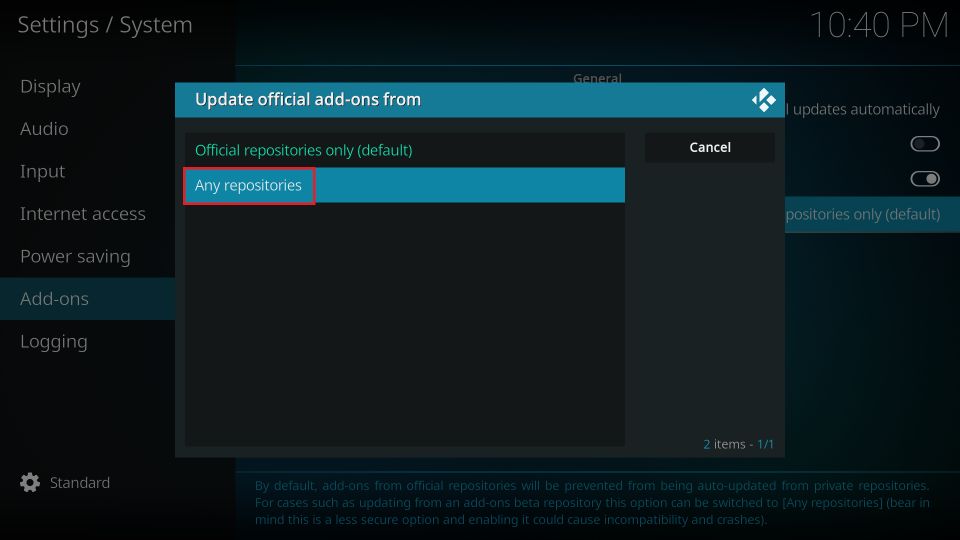 You have successfully changed the Kodi setting to allow third-party addons. Let's keep moving.
Part 2: Add the Repository Source
The Crew is the repository we are using to install the Chain Reaction addon. You can download this repository from an external source. Therefore, this section will provide the path to the external source to install the repository. Follow the steps below:
1. You want to go to the Settings window from the Kodi home screen again.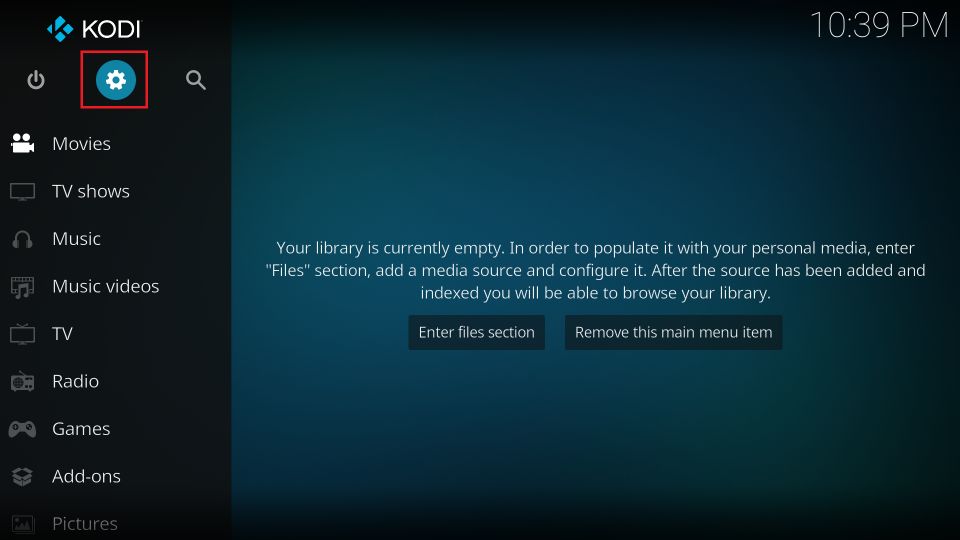 2. Open the item File manager on this screen.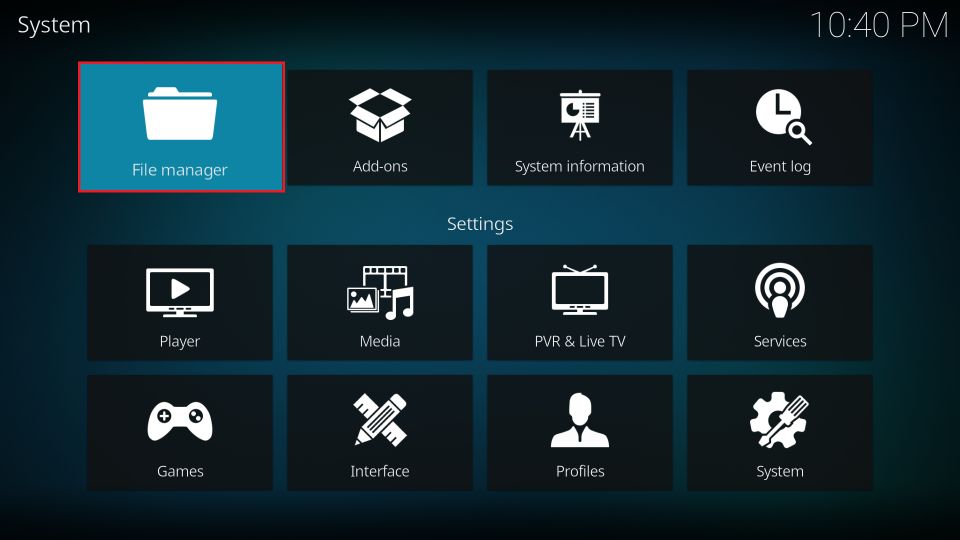 3. Click and open the item Add source (you may pick it either on the left or right). If you use Kodi on Windows or macOS, double-click it.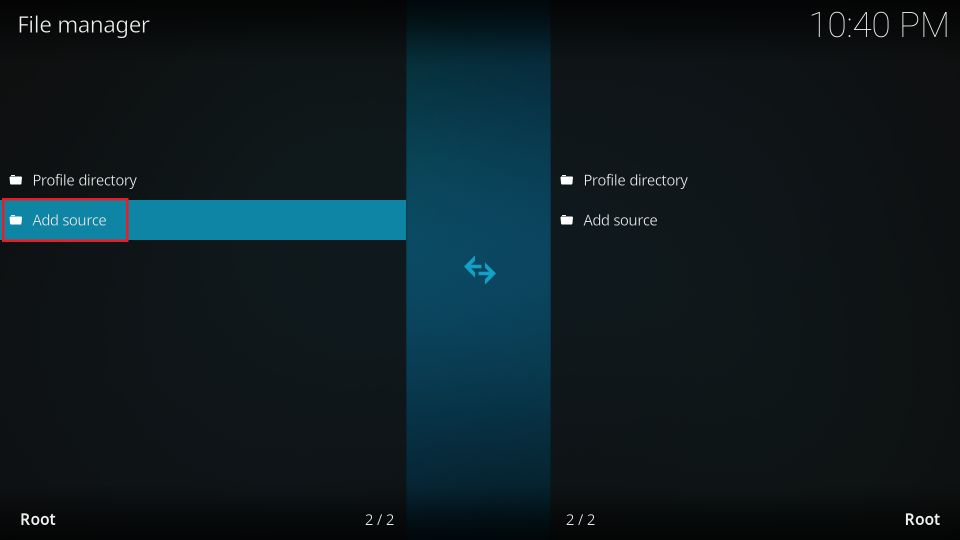 4. The following window opens within Kodi. Click <None>.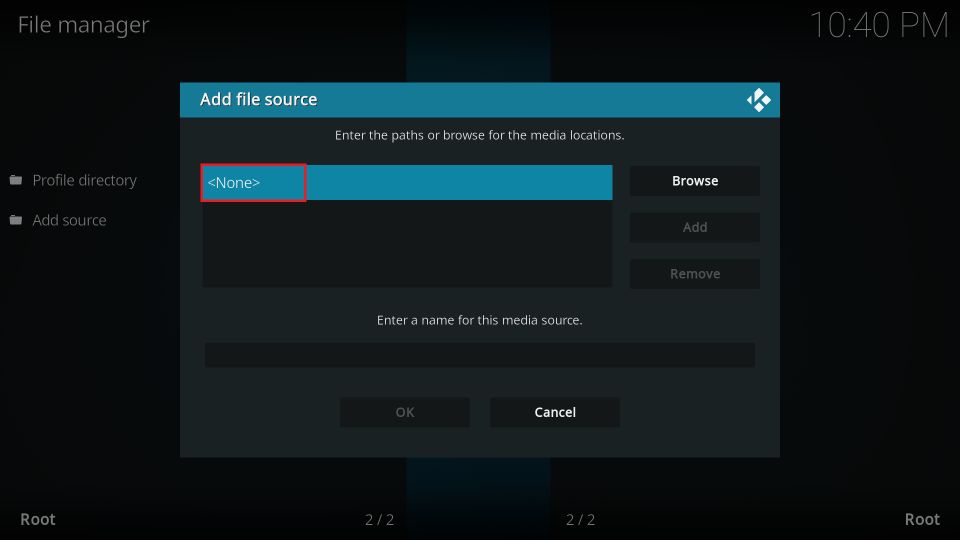 5. Go ahead and type the following path in the URL box on the next screen: https://team-crew.github.io. I usually recheck the URL to ensure there is no typo or error before clicking OK.
Note: This URL does not belong to FireStickHow.com. It belongs to the third-party developers of the Crew Repository. We are not associated with the developers.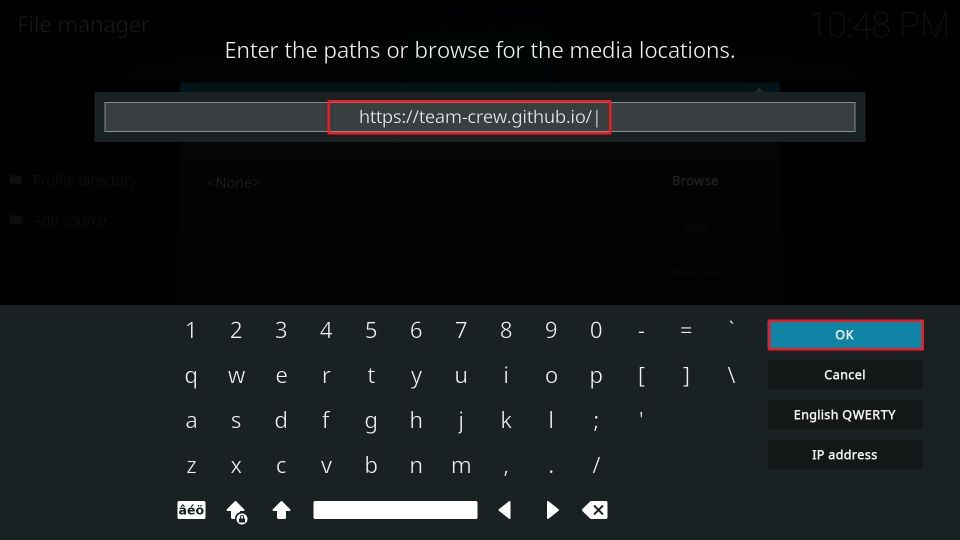 6. Next, click the empty input box where it asks you to enter the media source name.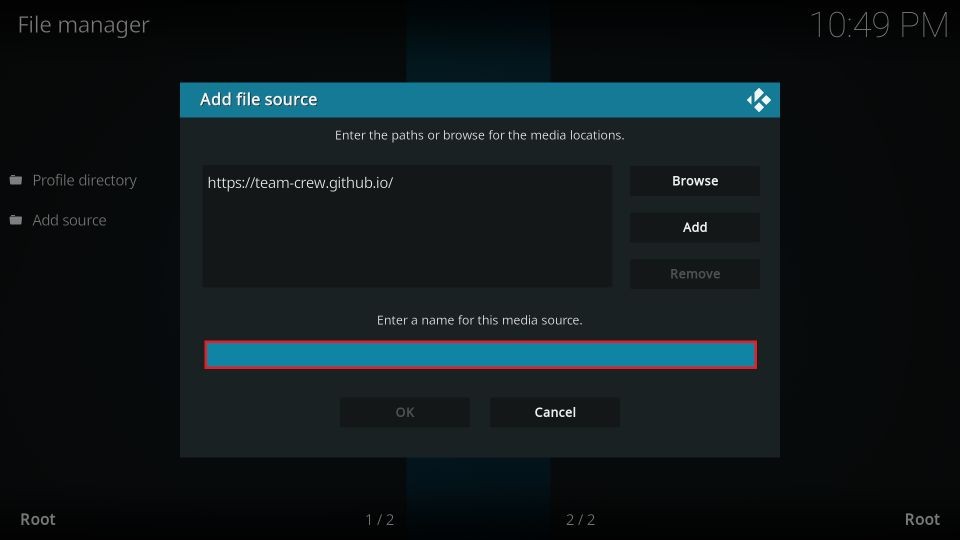 7. Type a source name. Let's go with Crew (or you may type any other name). Click OK.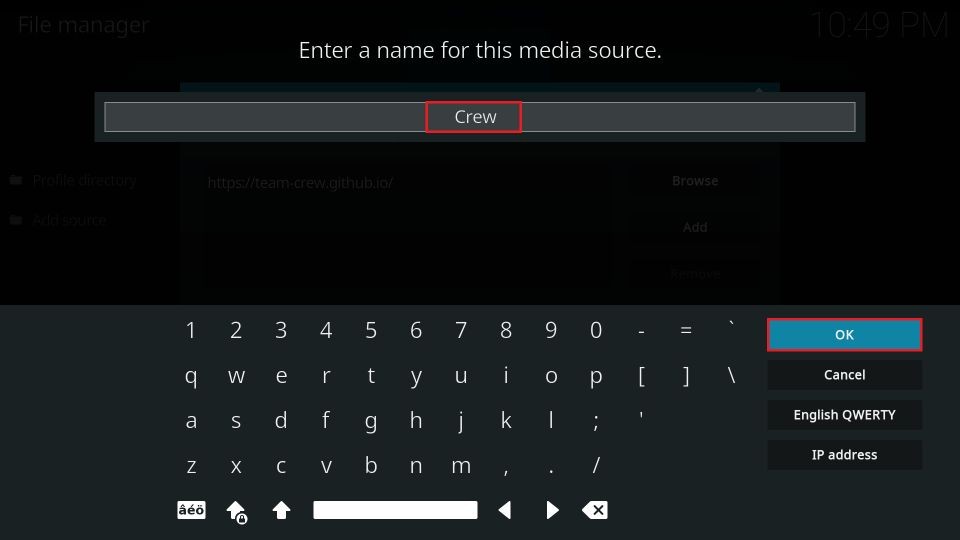 8. The name you typed now appears on this window in place of the empty box. Click OK to continue.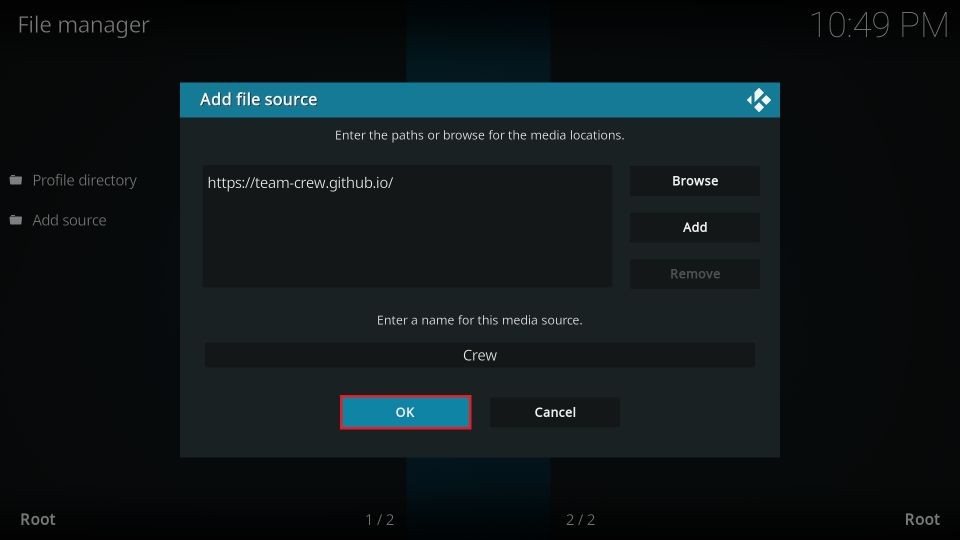 9. The name also appears on the next window.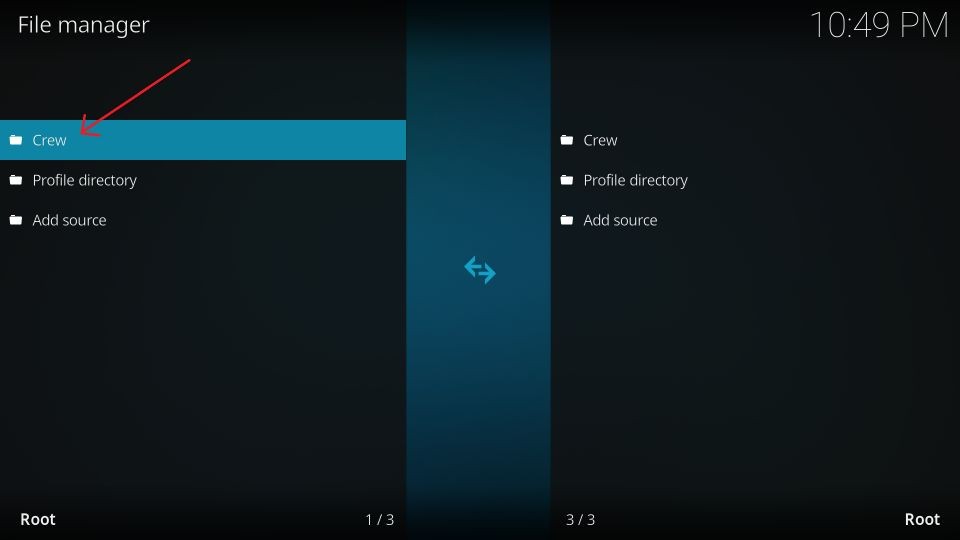 Wonderful! You have successfully added the Crew Repo source.
Part 3: Steps to Install Chain Reaction Kodi Addon
You will not install the addon directly from the source. Instead, you will install the Crew repository and Chain Reaction from it. Here is how it is done:
1. Again, go to the Settings menu. This time, we will open Add-ons.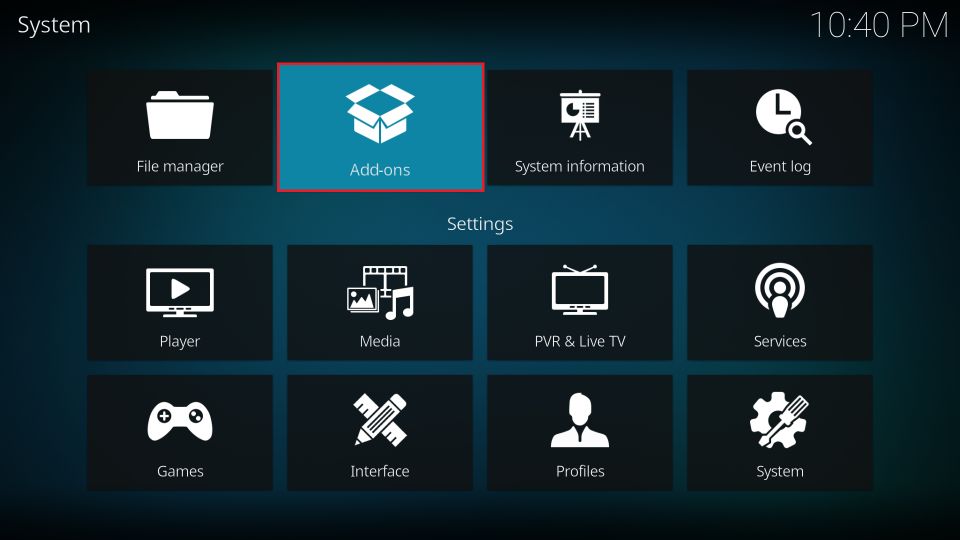 2. When you are here, click Install from zip file.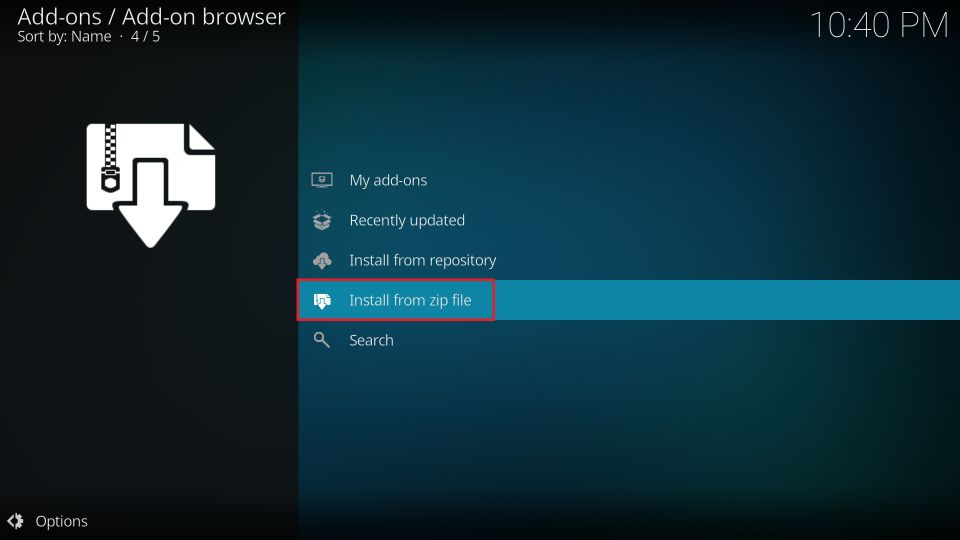 3. Go ahead and click Yes in order to continue.
4. This is the window where you see the source name you provided earlier. I picked the name Crew. Let's click it.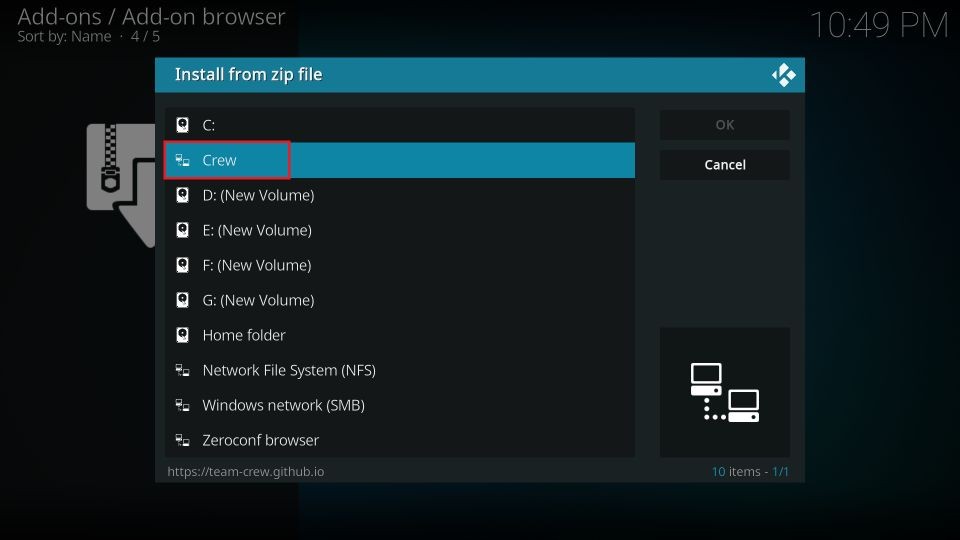 5. To install the Crew Repo, click the zip file on this screen. It is repository.thecrew-x.x.x.zip. You may see a different version number on your screen if there has been an update to the repo.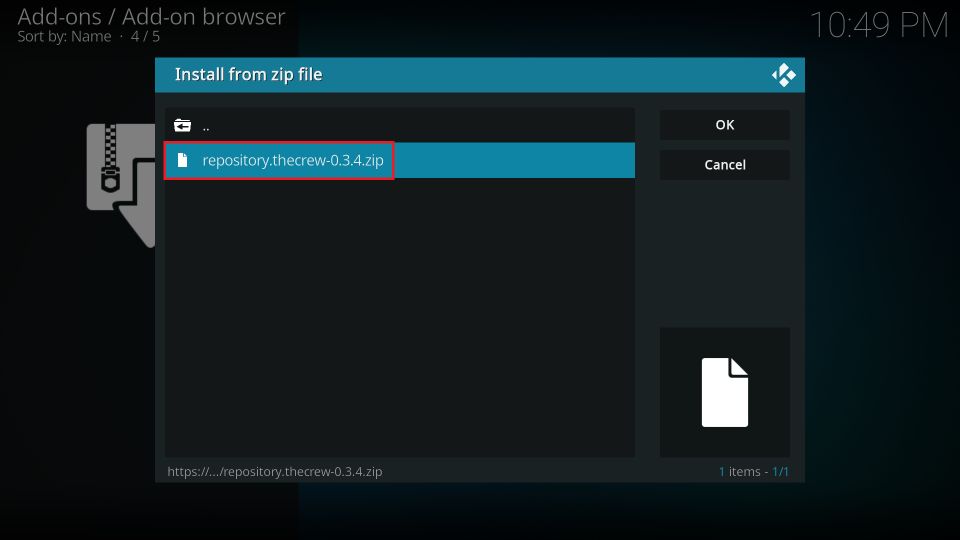 6. It usually takes only a few seconds to install the Crew Repo. A notification in the top-right part means the repo has been installed.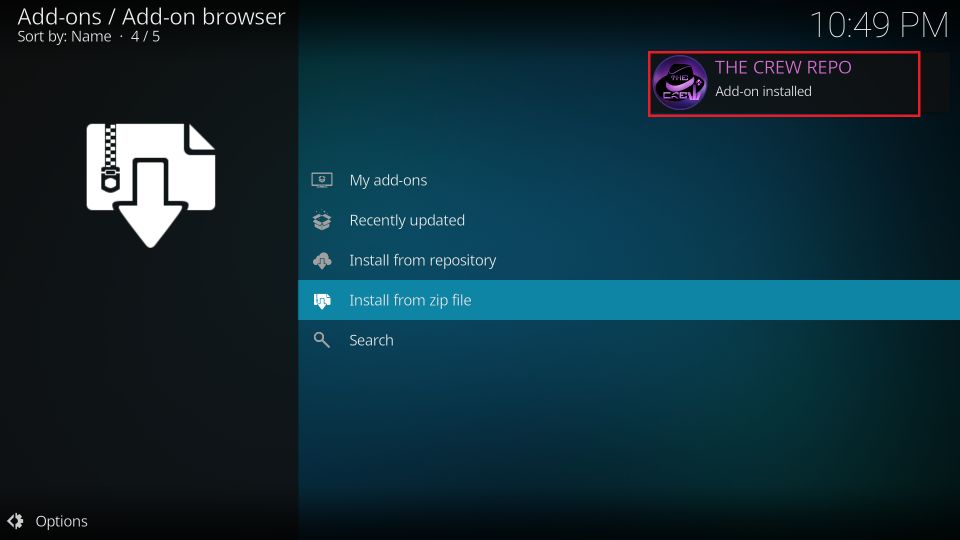 7. While staying on the same window, click Install from repository.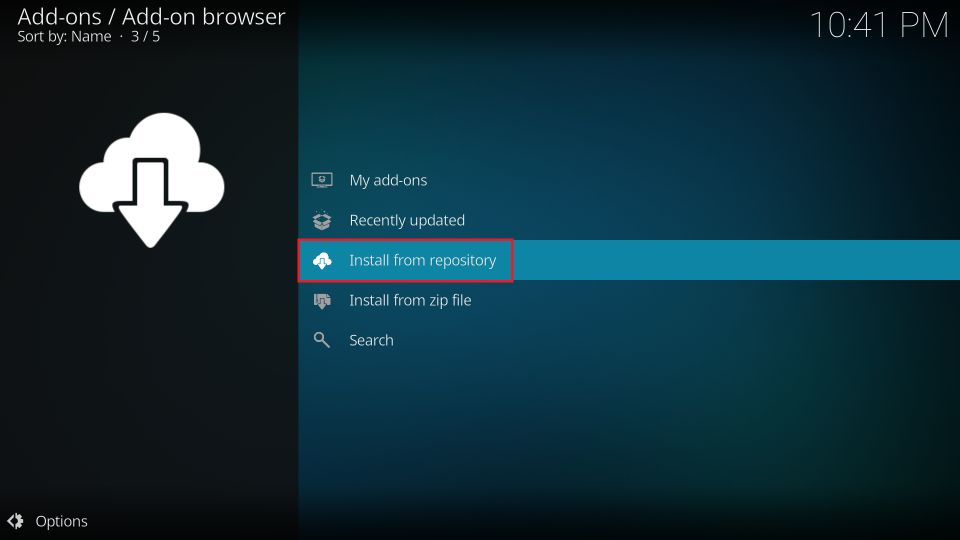 8. Open The Crew Repo on the next window.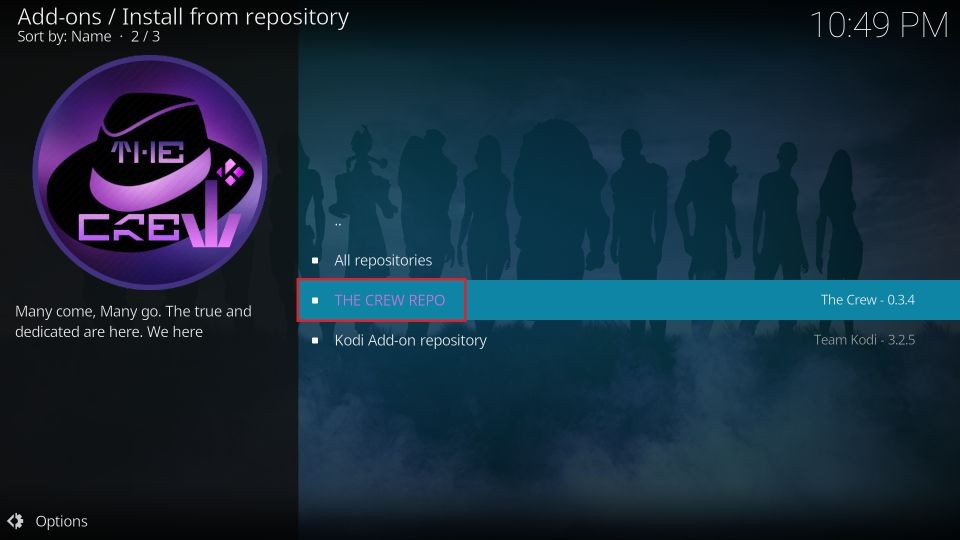 9. Click Video add-ons.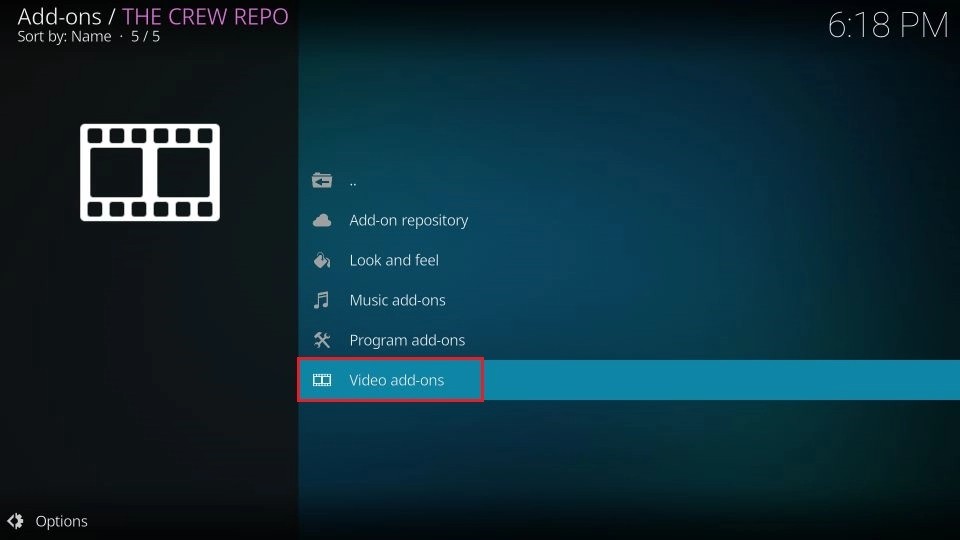 10. Scroll down and click Chain Reaction.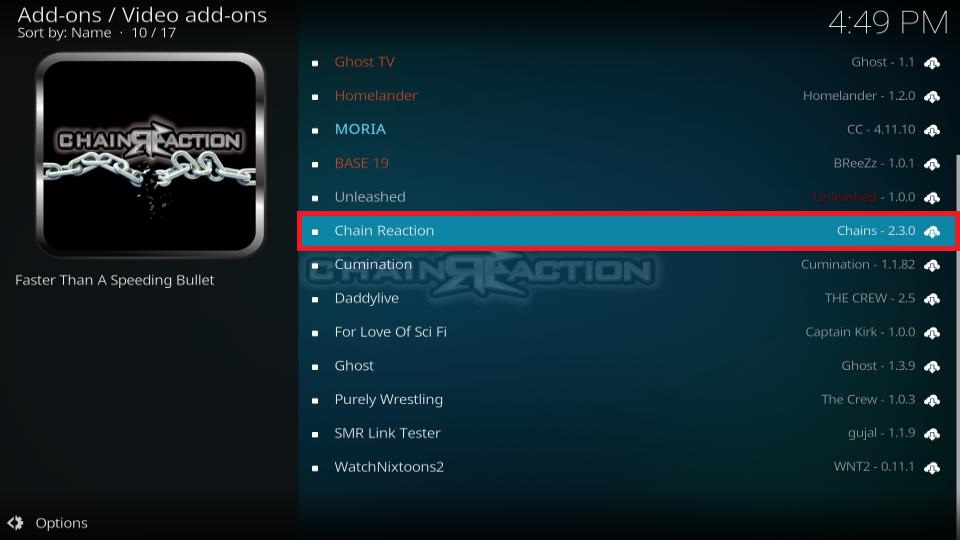 11. You may now click the Install button on this screen.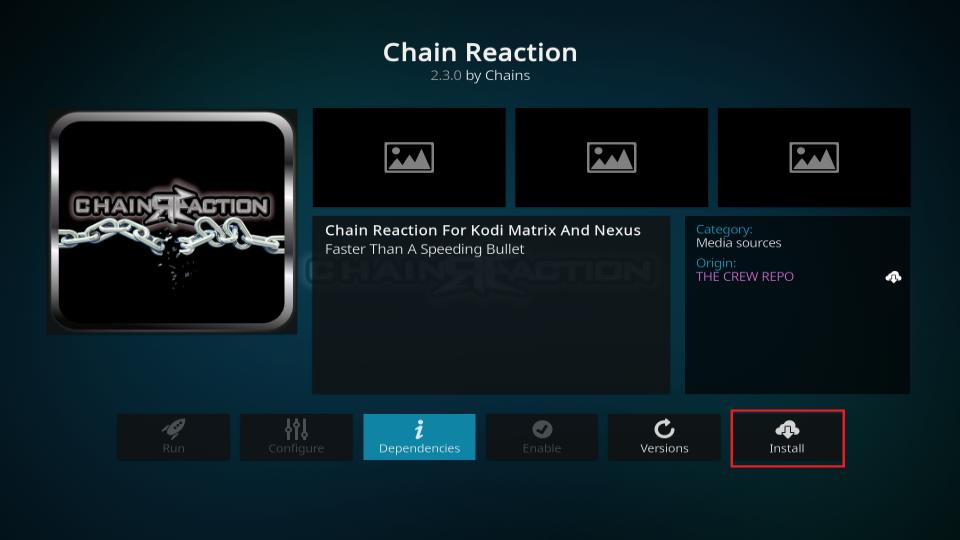 12. When prompted, click OK to confirm you agree with the installation of additional addons.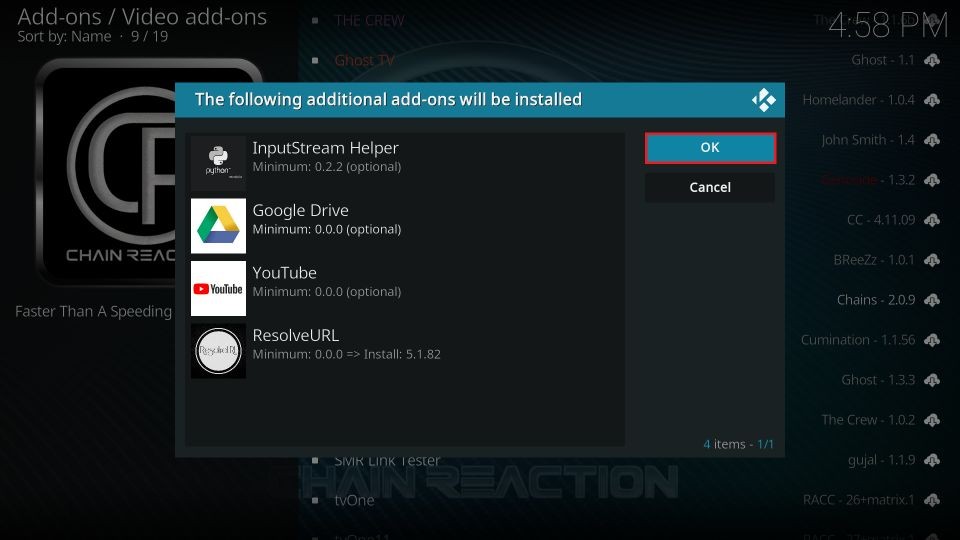 13. You can see the addon download and installation live update on the screen. A notification appears in a minute or two saying the Chain Reaction addon has been installed.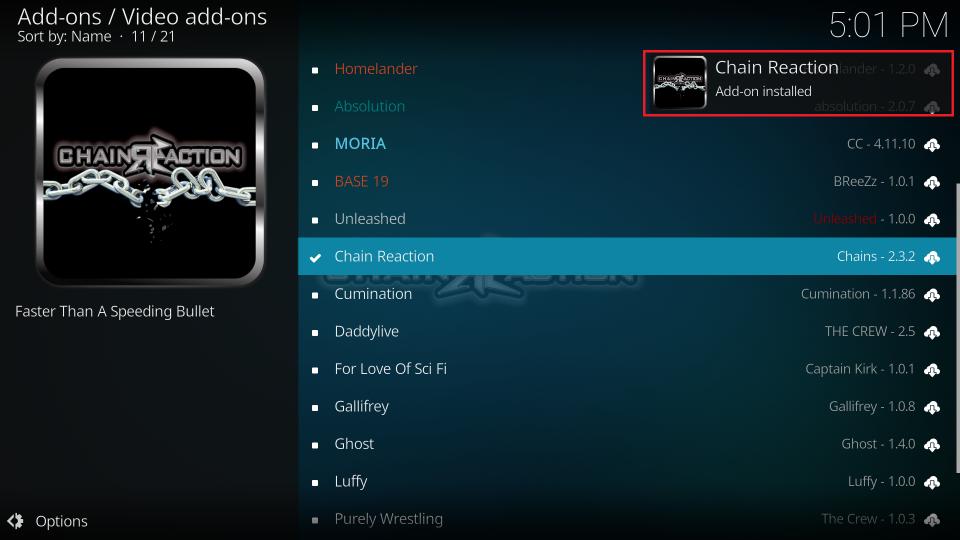 Well, this is how you install the Chain Reaction Kodi addon.
Wait! It looks like you are all set to start watching your favorite content on Kodi. But have you protected your online identity yet? You are under constant surveillance by the Government and ISP. They use your IP address 3.17.249.235 to track you. Streaming free or copyrighted videos may get you into legal trouble.
Thankfully, you can use a VPN to easily protect your privacy and go invisible from your Government and ISP. I use and recommend ExpressVPN with Kodi.
ExpressVPN is the fastest, most secure, and streaming-friendly VPN. It is easy to install and set up on any Kodi device, including FireStick, Smartphones, PCs, and more.
ExpressVPN, offers an unconditional 30-day money-back guarantee. So, if you do not like the service (I don't see why), you can get a full refund within 30 days.
Please remember that we encourage you to use a VPN to maintain your privacy. However, we do not condone breaking copyright laws.
Before you start using Kodi for streaming, here is how you can protect yourself with ExpressVPN:
Step 1: Sign up for ExpressVPN Here
Step 2: Download ExpressVPN on your device by clicking HERE
Step 3: Open the ExpressVPN app on your device. Sign in with your account. Click the connect/power button to connect to the VPN

Great! You have successfully secured yourself with the best Kodi VPN.
Overview of Chain Reaction Addon
Let me give you a quick rundown of the addon.
You can easily find the Chain Reaction or any other addon within the Video add-ons section. First, go to the Kodi home screen and click Add-ons.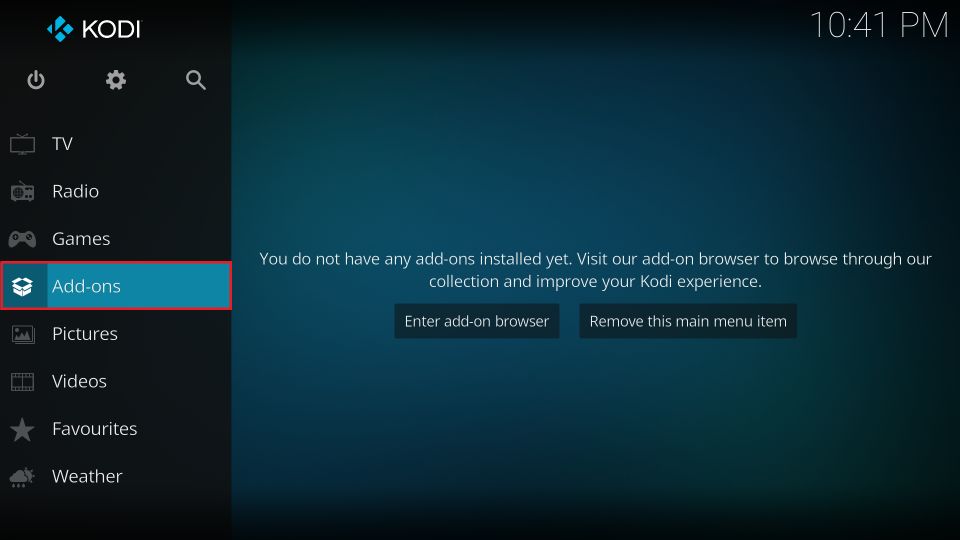 Now, navigate to the Video add-ons on the left. You may click the Chain Reaction logo on the right.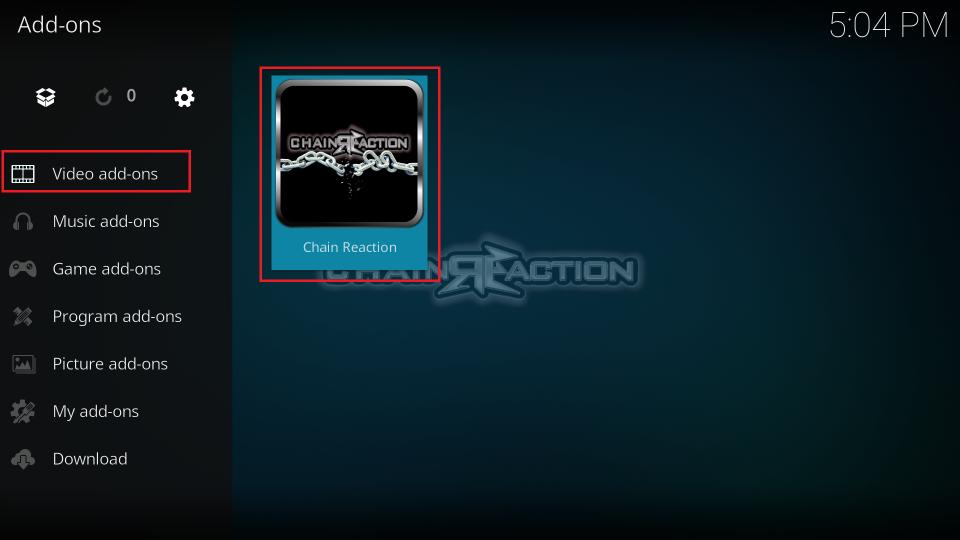 Here is the landing window of the addon. You can explore your favorite content in various categories, including Chain, King and Queens, Retrowave, Siren, and more.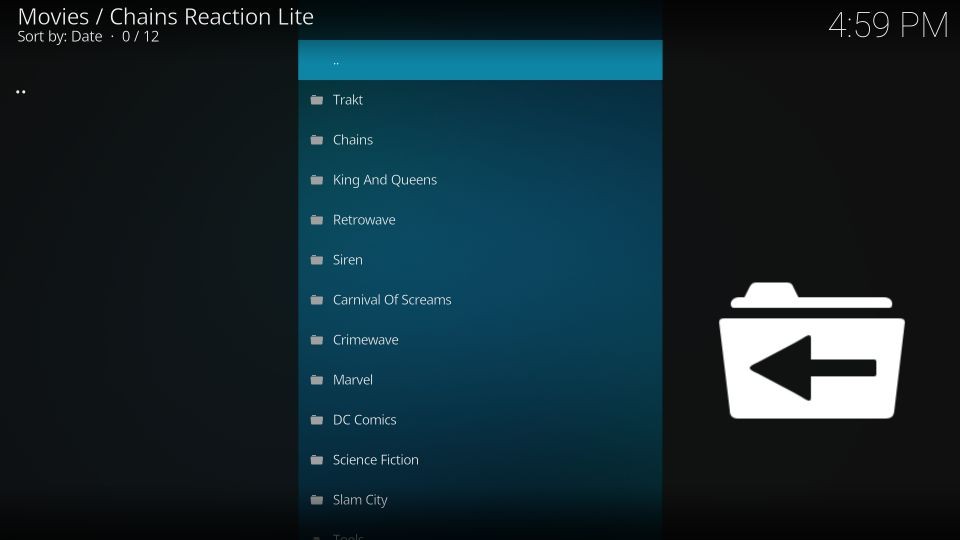 These main categories on the home screen of the addon will typically have subcategories. So, for example, when I clicked Chain in the home screen menu, it gave me the following options: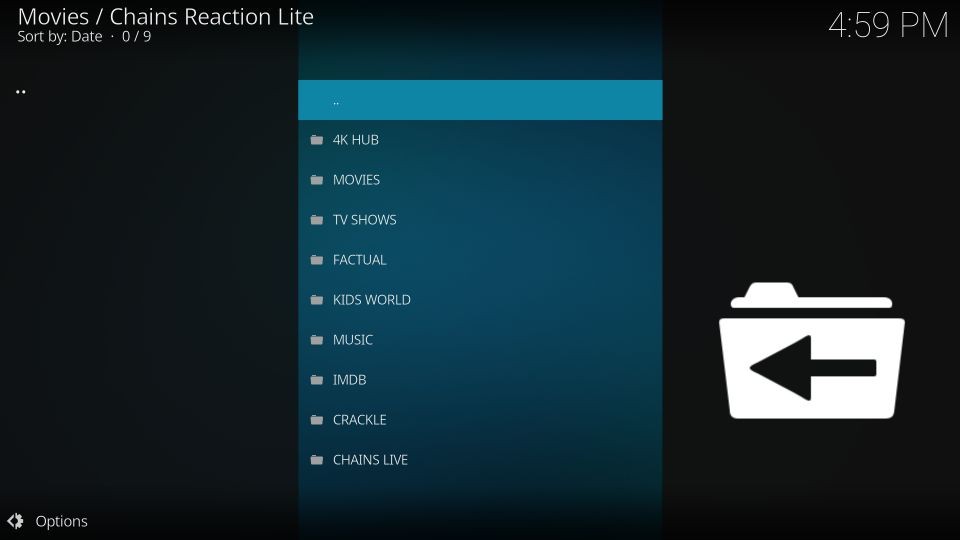 Similarly, the Retrowave main category is sectioned into the following subcategories: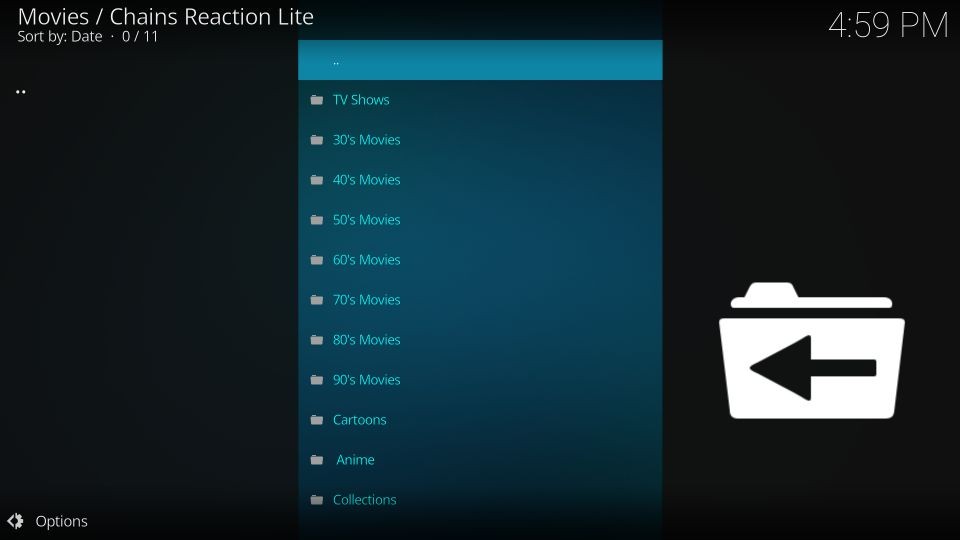 You can explore the categories and subcategories to find and watch your favorite movies and shows. Surprisingly, the Chain Reaction addon does not feature a search function. Therefore, you cannot look up the name of the movie or series.
How to Set Up Real Debrid with Chain Reaction
It is a good idea to integrate Real Debrid with the addon. You will get tons of high-quality and fast video links. You can read more about Real Debrid or sign up for a premium account on the official website. When your account is ready, follow these steps:
1. Click Tools on the main window of the addon (at the bottom).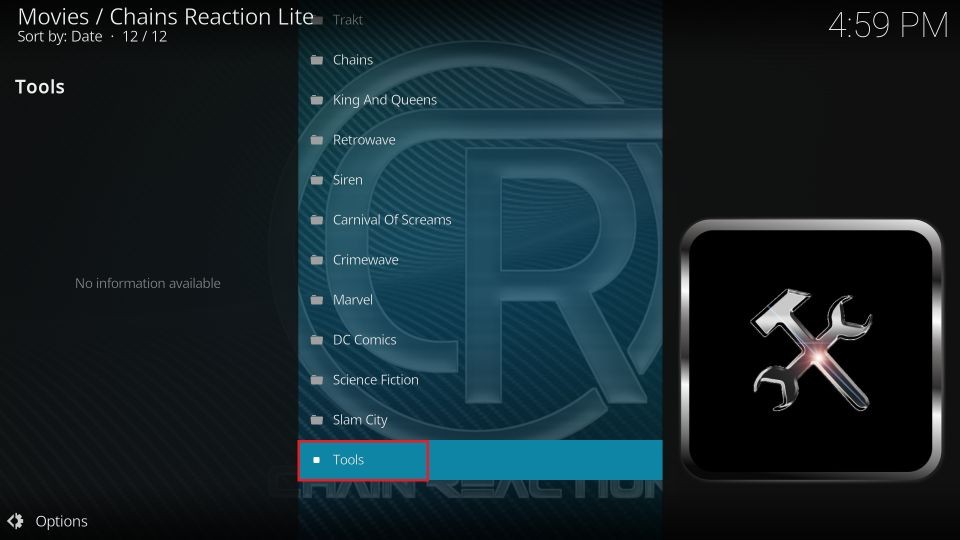 2. Click the Debrid tab in the vertical menu on the left. Please ensure debrid service is enabled on the right.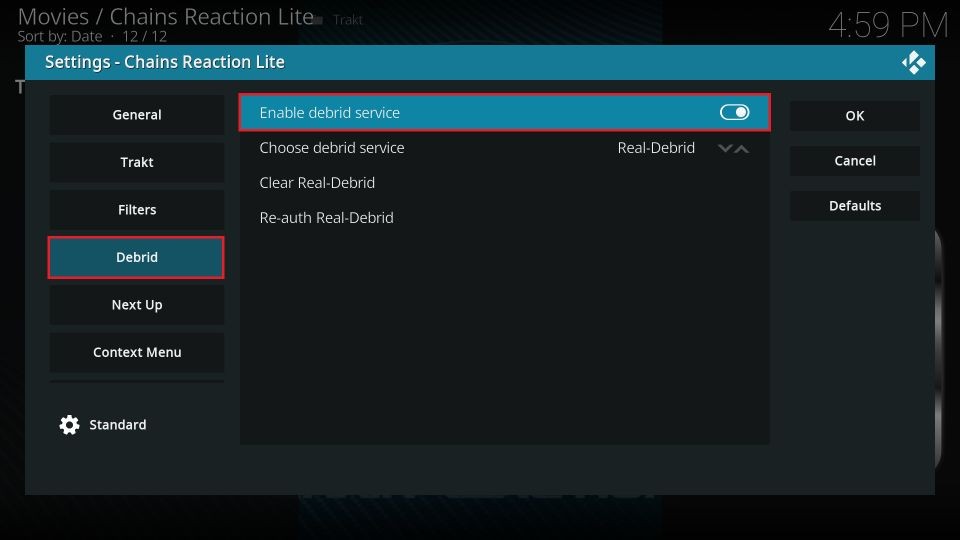 3. Also, ensure that Real-Debrid is selected.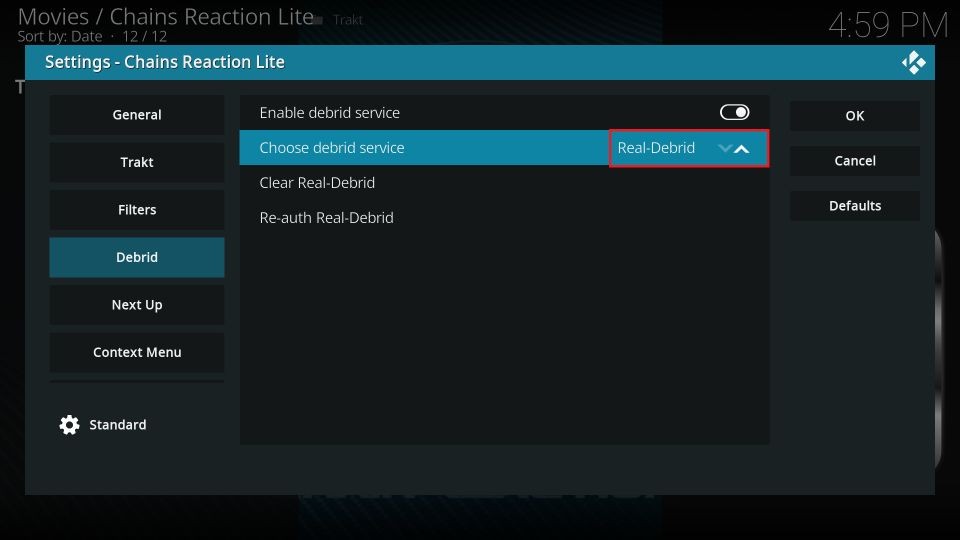 4. Click Re-auth Real Debrid.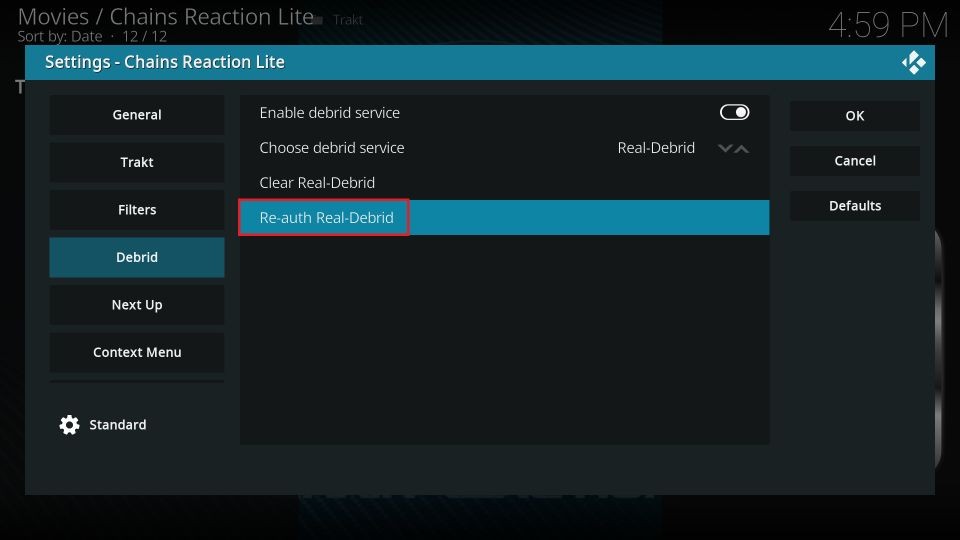 5. Chain Reaction will prompt you to install the Genocide addon. You must download this addon to set up Real Debrid. Click Yes and wait for a few moments.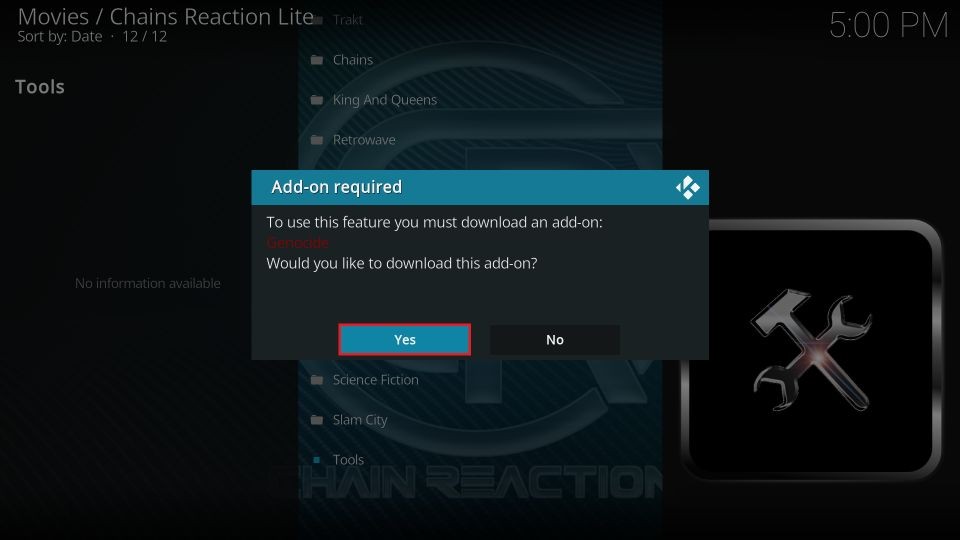 6. A popup is displayed on your Kodi screen. This popup contains a code. Visit the website real-debrid.com/device and enter this code in order to authorize Real Debrid on Chain Reaction.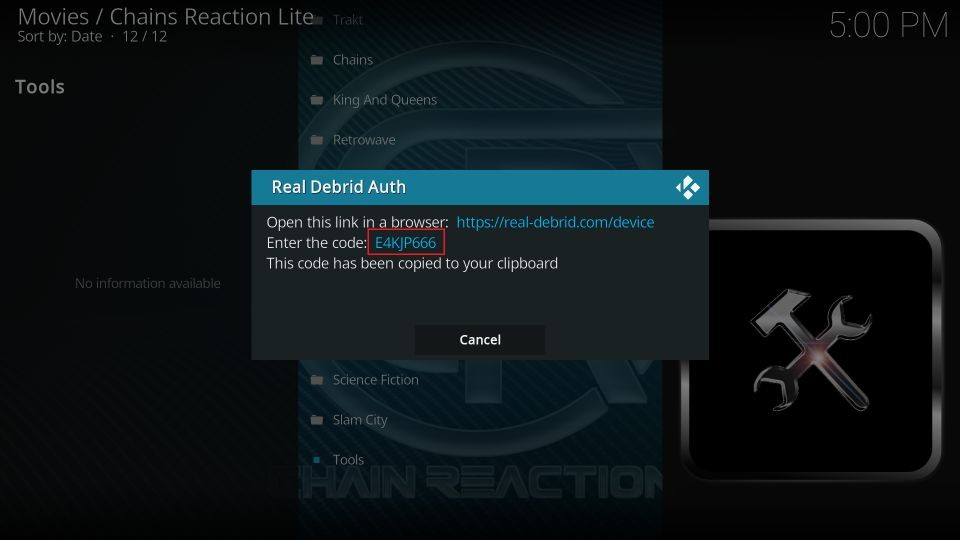 That's it!
How to Set Up Trakt on Chain Reaction
Trakt is a great way to sync your watchlist across devices or compatible streaming services. Trakt is free, but it also offers a premium plan. The free plan is good enough for most users (such as me). You may learn more about Trakt and sign up for an account on their official website. When you have a Trakt account, follow these steps to use it with Chain Reaction:
1. Click Tools on the main screen.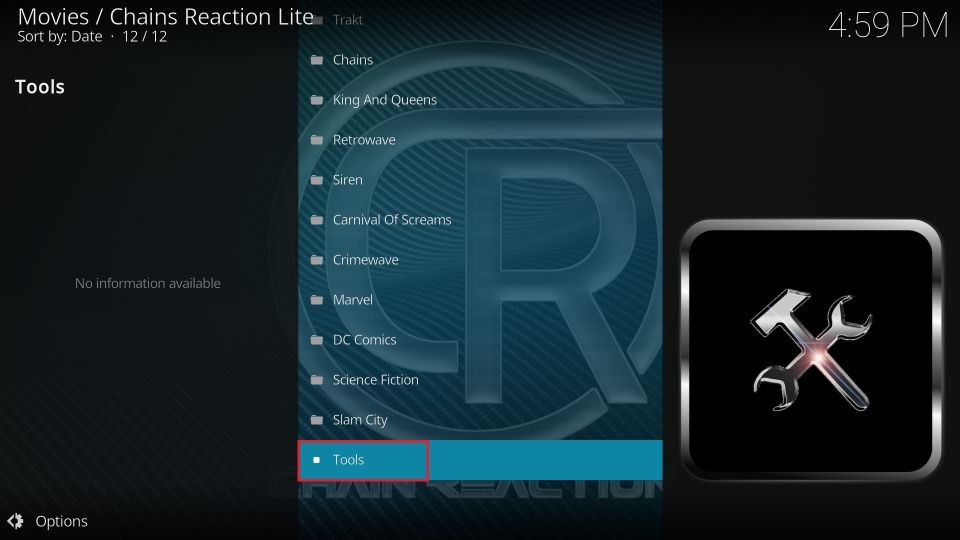 2. Click Trakt in the vertical menu on this popup.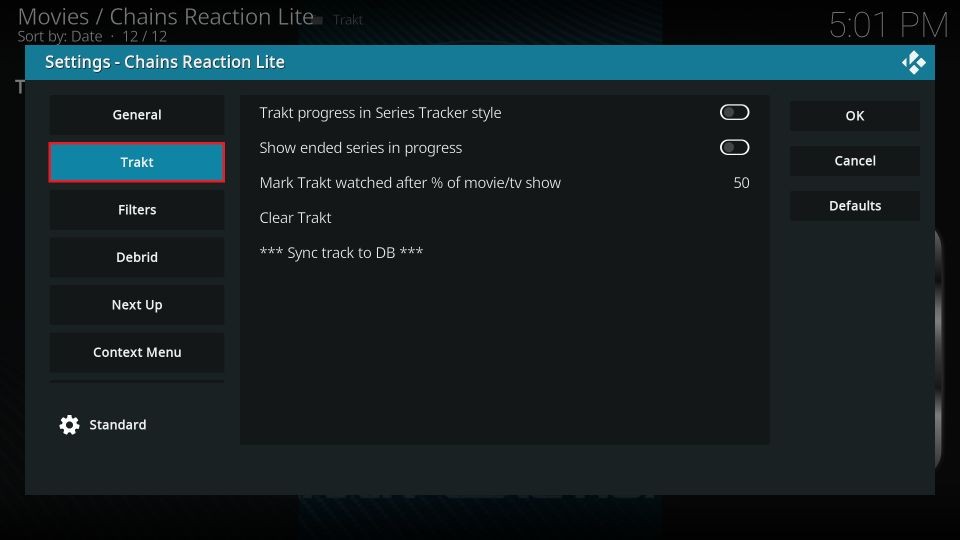 3. Click Sync track to DB.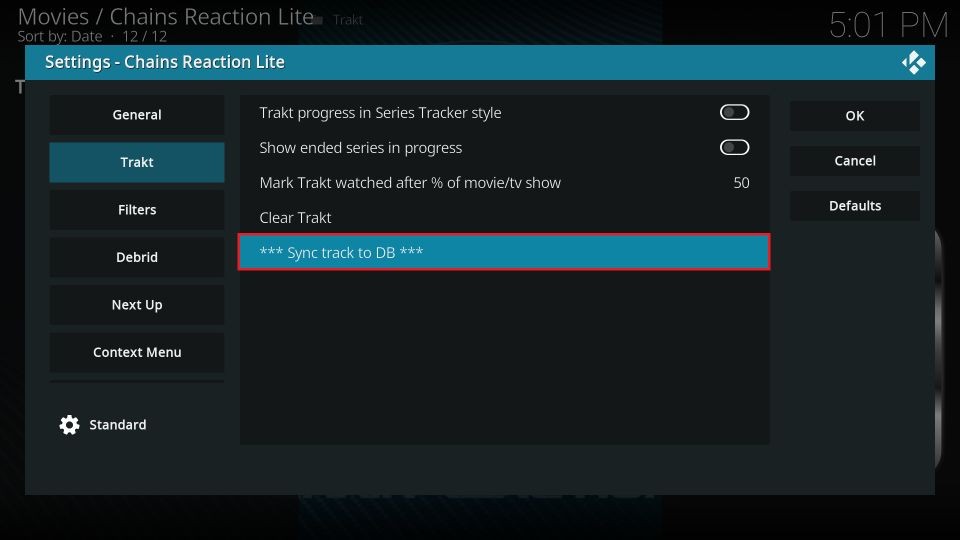 4. Click Yes on this prompt.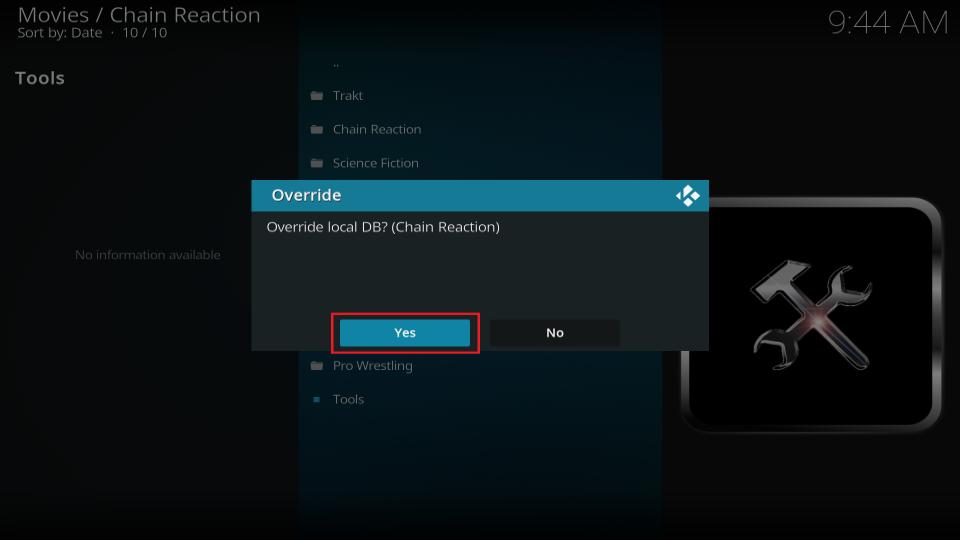 5. Click Yes again to authenticate Trakt.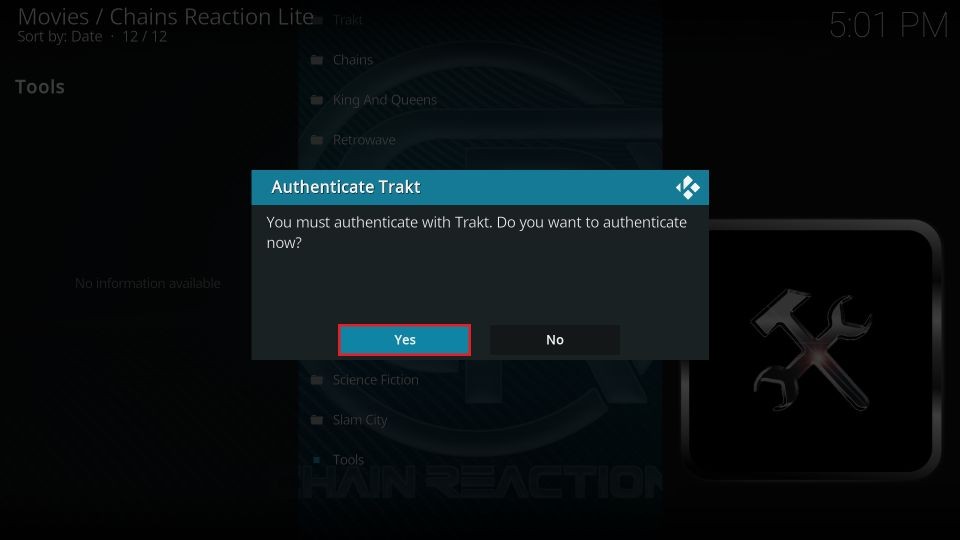 6. Go to trakt.tv/activate and authenticate with the code on your screen.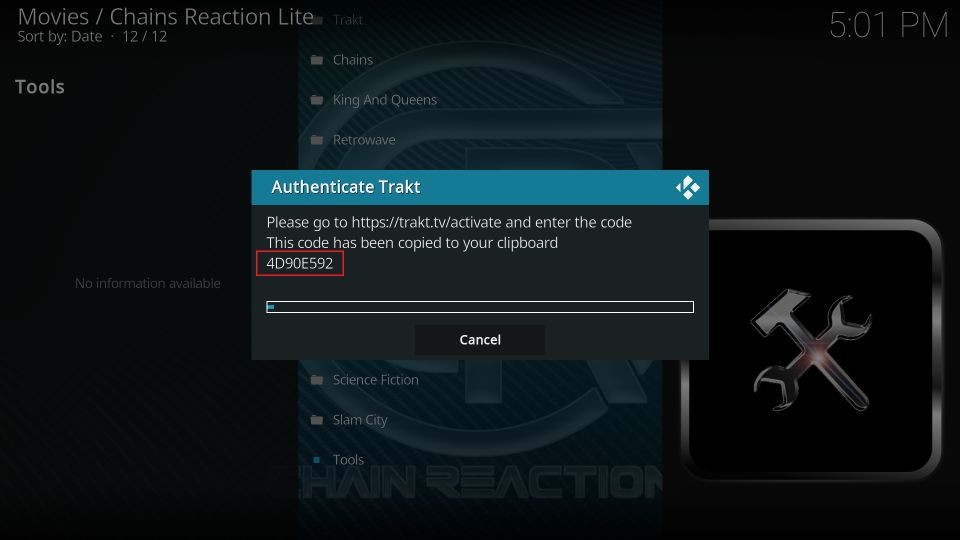 Winding Up
So, this is how you install the Chain Reaction Kodi addon. Are you enjoying the addon? How do you like it? Please fill us in through the comments box below.
Related: