In this article, I'll show how to install Elementum Addon on Kodi. Furthermore, I will touch upon what Elementum is, whether it is safe & legal, the features of the addon, how to use it, and more. This guide is eligible for all Kodi-supported platforms like Mac, FireStick, Android, Windows, Linux, and more.
What's Elementum?
Elementum is your go-to Kodi addon for watching movies and TV series. Elementum uses the Peer-to-Peer (P2P) protocol. It utilizes BitTorrent to stream and download various titles quickly.
The Elementum Kodi addon features a simple-to-use interface. The Home menu is divided into Movies, TV Shows, Search, Providers, Changelog, Torrents, Status, and more.
Moreover, you can also link your Trakt account to sync the content library and access high-quality links.
Although Elementum is an excellent place for entertainment lovers, there's one downside.
The service is based on torrents, and you can't only stream content. You must continuously upload and download to allow other users a smooth streaming experience. However, this should not be an issue if you have a fast internet connection.
All things considered, Elementum is one of the best addons to have in your collection.
Attention KODI Users: Read before you continue
Government and ISPs endlessly monitor your online activities using your IP address 3.17.249.235 (exposed to everyone). Kodi is an excellent platform for streaming movies, TV shows, and sports, but streaming copyrighted content can get you into legal trouble. 
You should use a reliable Kodi VPN and protect your streaming activities and privacy. A VPN will hide your IP address and bypass government surveillance and geo-restrictions.
I trust and use ExpressVPN, the fastest and most secure Kodi VPN. It's easy to install on any Kodi device, including Amazon FireStick, PCs, and Smartphones. In addition, it offers a 30-day money-back guarantee, and 3 free months with the annual plan.
Read: How to Install & Use the best VPN for Kodi.
Is Elementum Safe?
The safety of any Kodi addon depends on a few factors.
First, the availability of the addon in the official Kodi repository is a significant determining factor. It's because Kodi keeps tabs on all the official addons and ensures they remain safe and malware-free.
Unfortunately, Elementum is unavailable in the official repository. It's a third-party addon from the unofficial repository called the Gaia Repository.
Third-party addons may contain malware or fishy programs. It can affect your device and risk its safety. Therefore, we suggest you individually research the Elementum Kodi addon and only get it after ensuring its safety.
For instance, I used VirusTotal to scan the Gaia repository installation file. Thankfully, no vendor marked it as malicious or suspicious.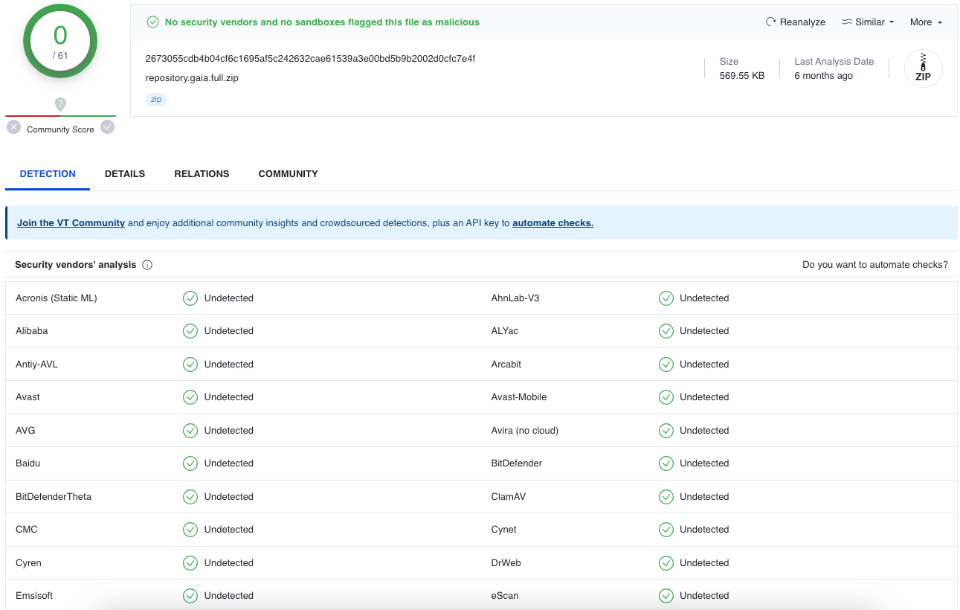 Is Elementum Legal?
Again, the legal status of Kodi addons also greatly depends on their availability in the official Kodi repository. So, the legal status of Elementum is ambiguous. In all honesty, we do not have the resources to confirm Elementum's legality.
Therefore, we'd advise you to be safe. Illegal addons may contain pirated content. It can put your safety at risk and may cause legal issues. Please only stream content in the public domain.
Furthermore, use a reliable Virtual Private Network (VPN) with Elementum to minimize the privacy risk. ExpressVPN will keep you safe by encrypting your streaming activities.
Features of Elementum Addon
Here are some promising features of the addon:
Elementum supports Trakt integration. So you can sync your content library across multiple devices.
Elementum utilized BitTorrent to play and download the titles. Therefore, it offers fast and lag-free streaming.
You can watch various movies in 1080p and 4K.
Elementum offers integrated subtitle support.
The addon is user-friendly and offers a simple design.
How to Install Elementum Kodi Addon
To install Elementum, you'll go through the three-part process. Follow the parts in the right order to make the most out of the guide:
Disclaimer: This guide is purely educational. We neither own nor operate any of the services mentioned. Some of these may not be legally licensed, and we don't verify their legality in all regions. If you opt to use unverified apps/services/websites, ensure you're streaming only public-domain content. You bear the responsibility for any media you access.
Part 1: Unknown Sources
The first step is to enable unknown sources on Kodi – here's how it breaks down:
1. Click the Settings icon on your screen's top left side under the Kodi logo.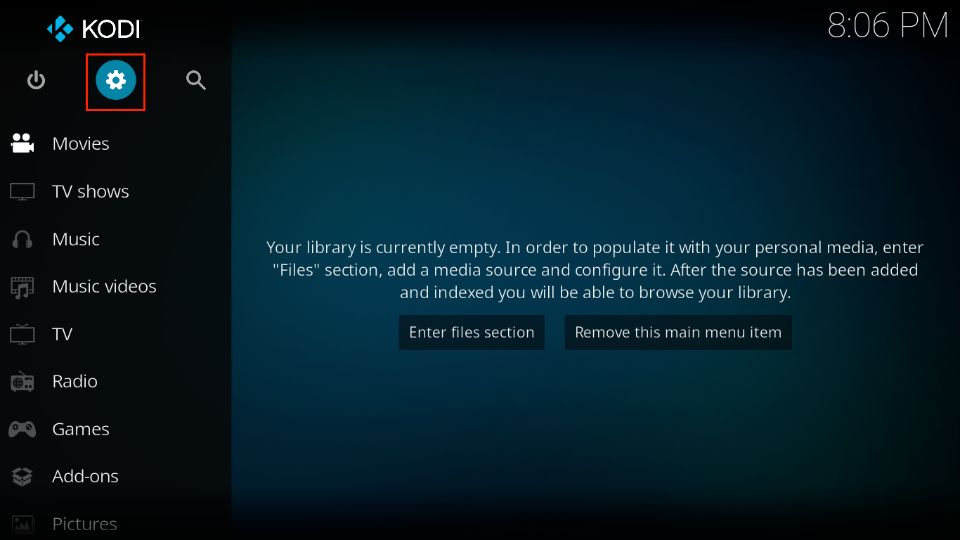 2. On the Kodi settings menu, pick System – in the bottom right corner.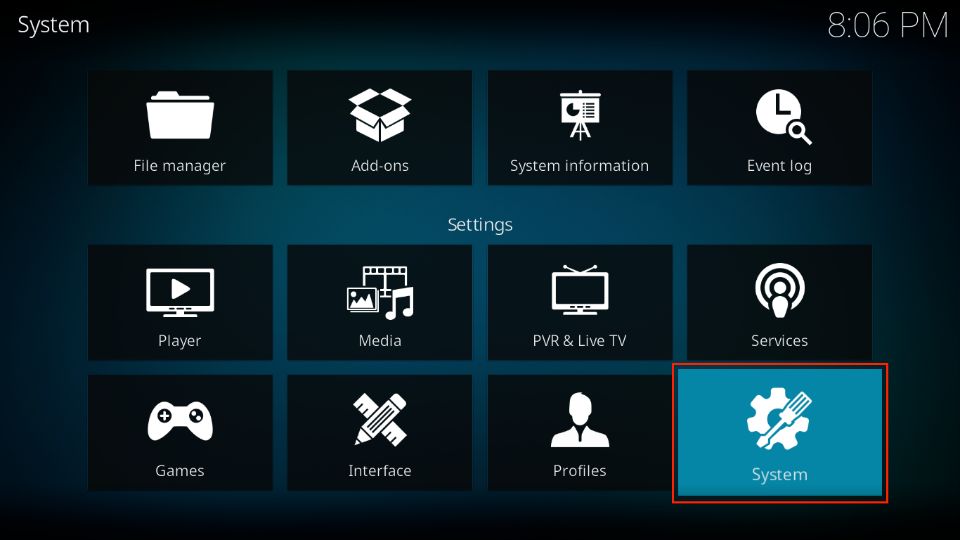 3. On the left pane, go to the Add-ons tab.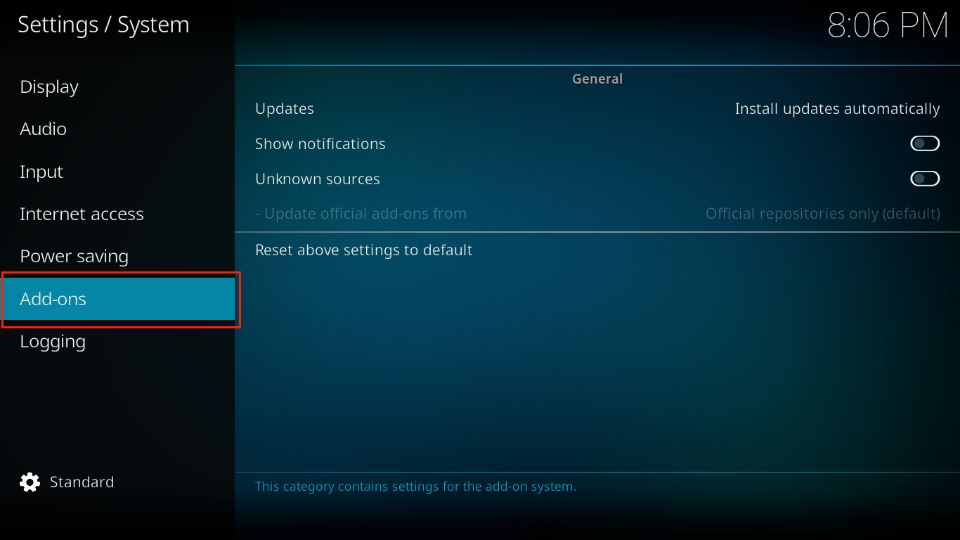 4. Toggle on the Unknown sources option on your right side.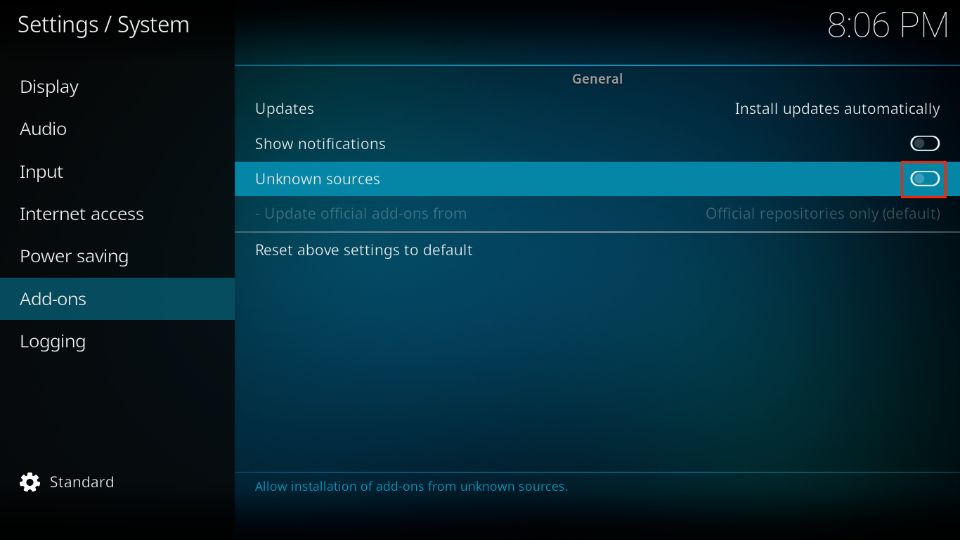 5. A warning message from Kodi will appear. Click Yes to continue to turn on Unknown sources.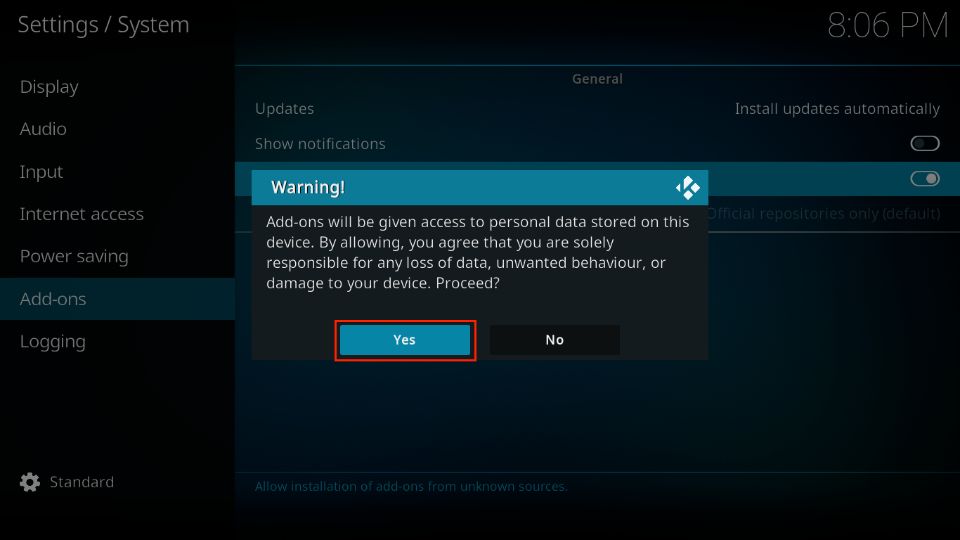 6. Under Unknown sources, choose -Update official add-ons from.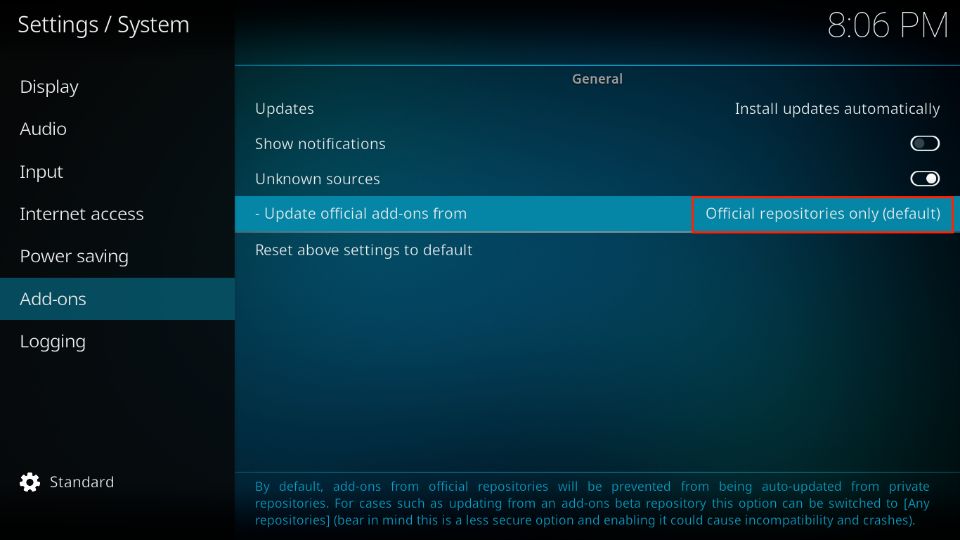 7. When the window appears, choose Any repositories.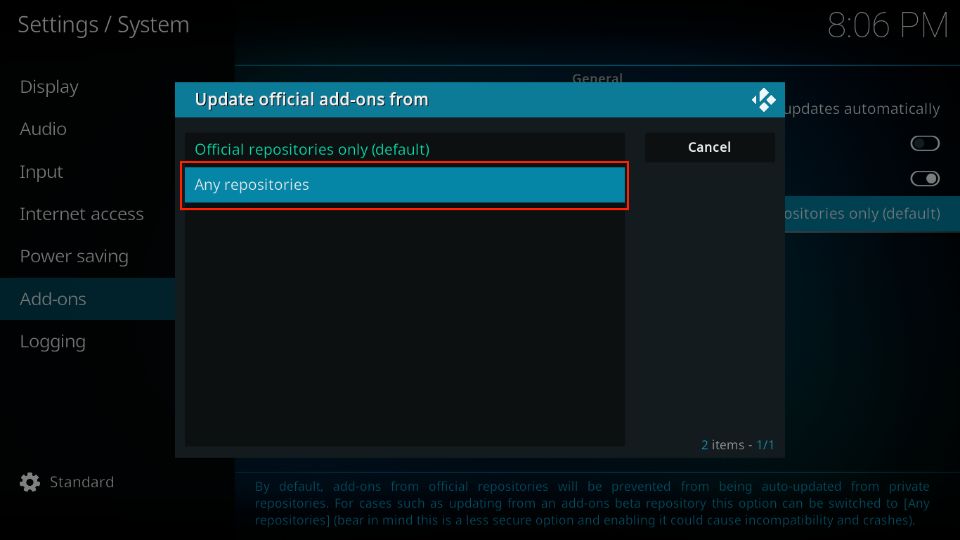 Part 2: Install The Gaia Repository
Next up, you have to load the Gai Repository to access Elementum:
1. Access the Kodi settings menu by clicking the Gear Cog icon.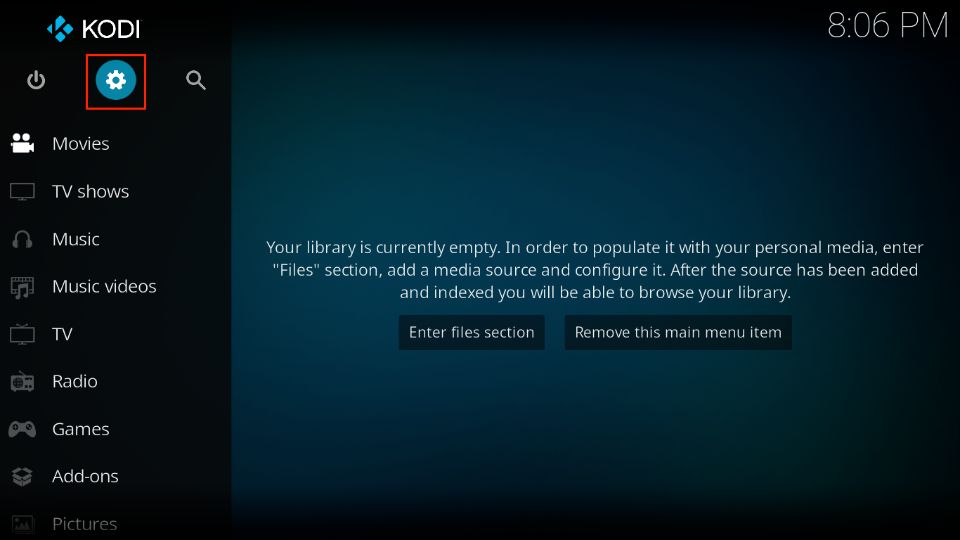 2. Explore File manager.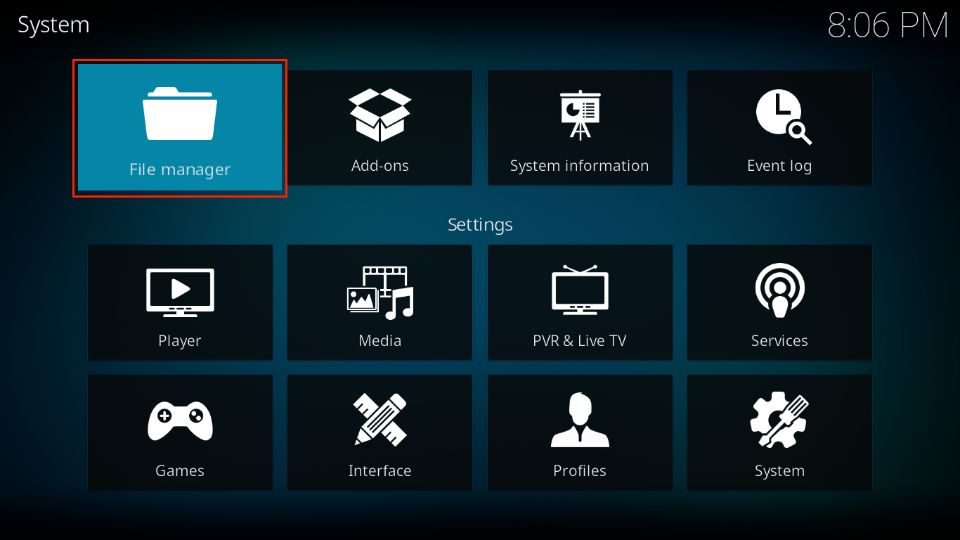 3. Choose the Add source option.
Note: If your file manager list is crowded with sources, the Add source option will be available at the end of the list.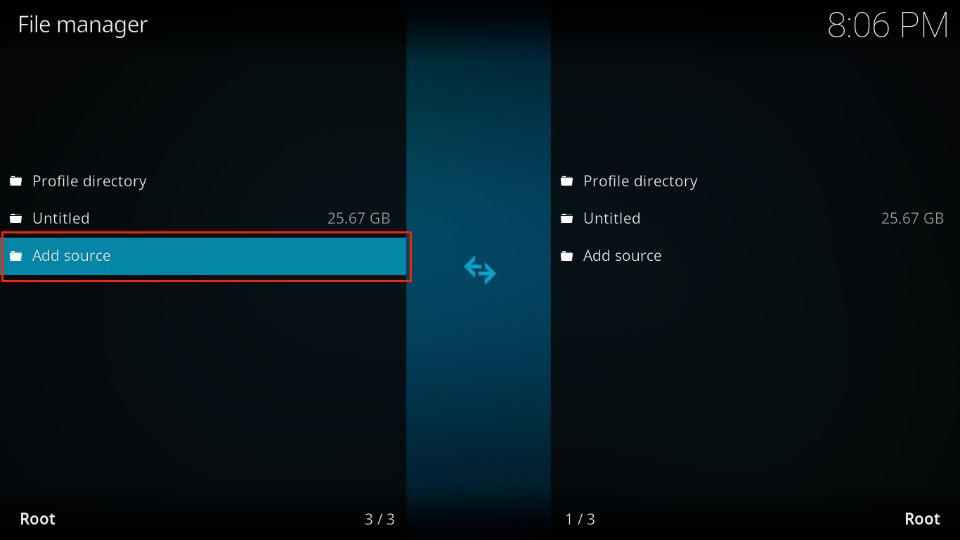 4. Open <None> under the Enter the paths or browse for the media locations heading.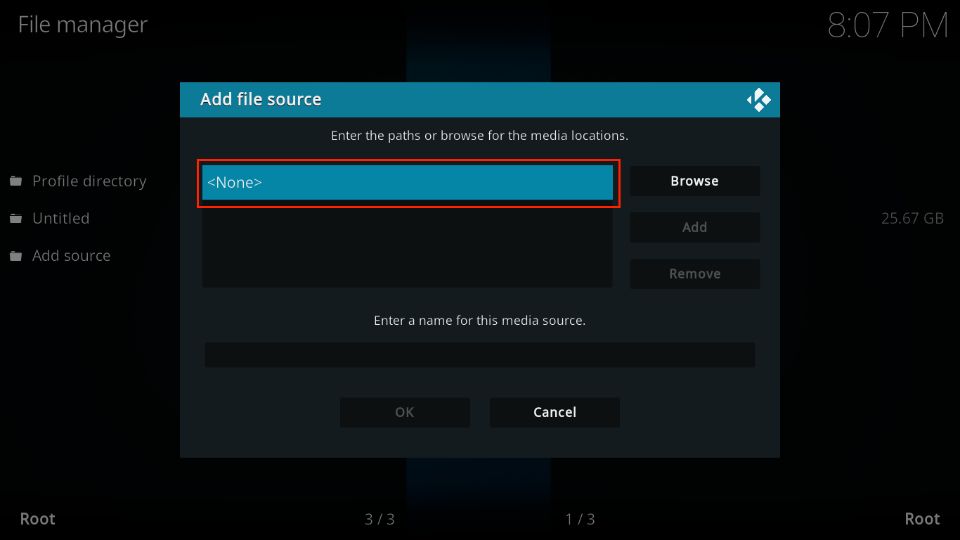 5. Enter https://repo.gaiakodi.com and press OK.
Disclaimer: The URL points to the Gaia Kodi repository server location. We are not affiliated with the developers of the addon or the repository.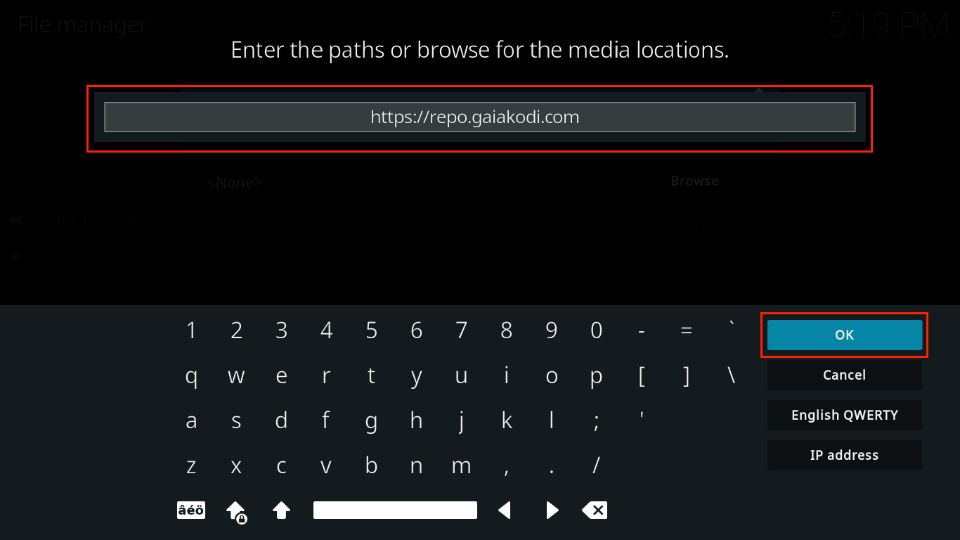 6. There's no default name of the source. But you can add it. To do so, select the input box under Enter a name for this media source. Enter Gaia and click OK. 
Note: You can select any name, but I recommend choosing something easy like Gaia. 
Click OK on the Add file source window to save the source.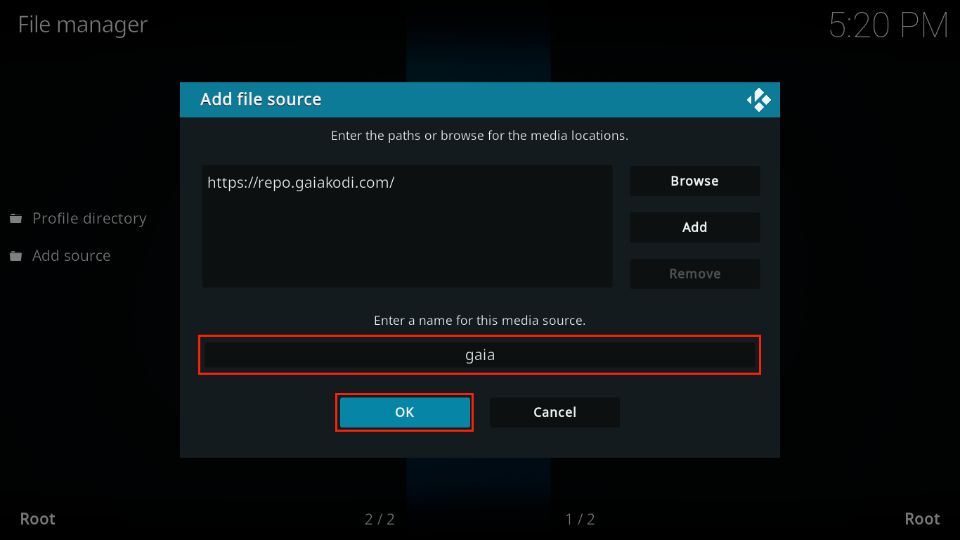 7. Go back to the settings screen of Kodi and choose Add-ons.
8. Choose Install from zip file.
Note: An auto-update reminder will appear on your Kodi 19 screen regarding unofficial addons/repos. Click Yes to continue.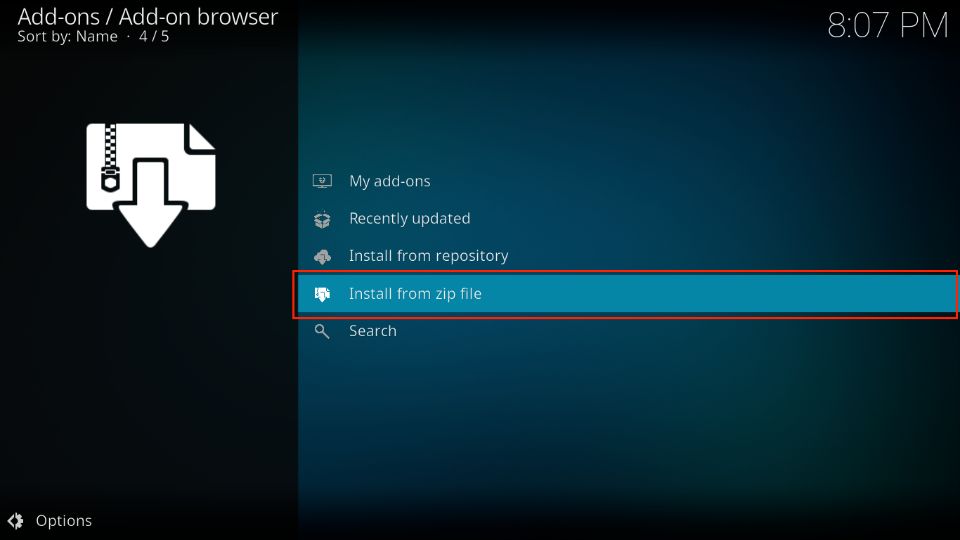 9. Select Gaia.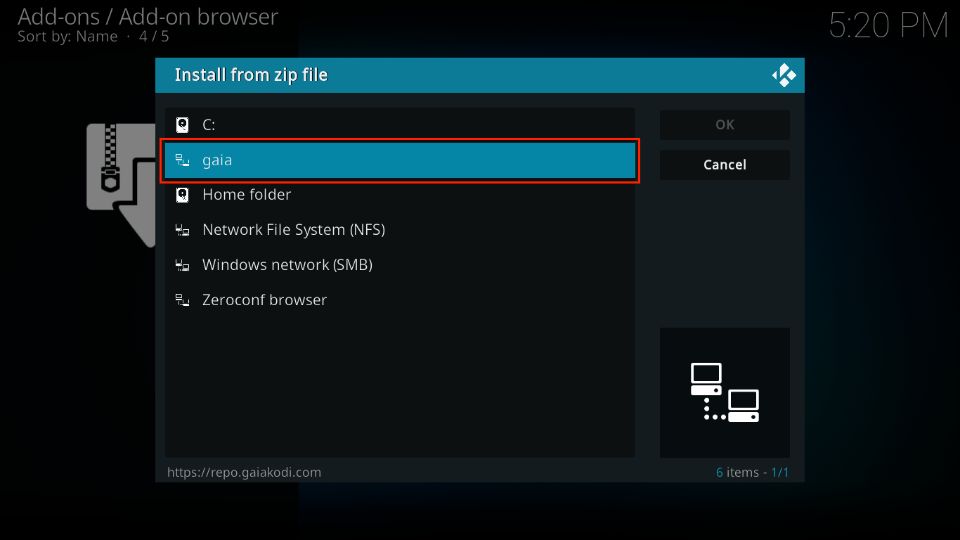 10. Choose repository.gaia.full.zip.
Note: There's always a possibility that the version number of the repo or the zip file's name may change.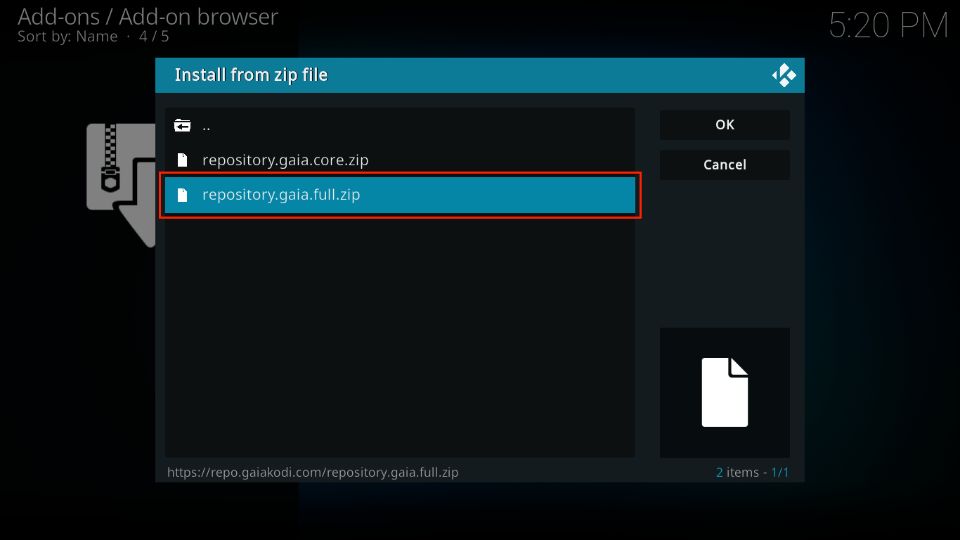 11. When you see the Gaia Repository (Full) Add-on installed notification, it's time to move on to the next part.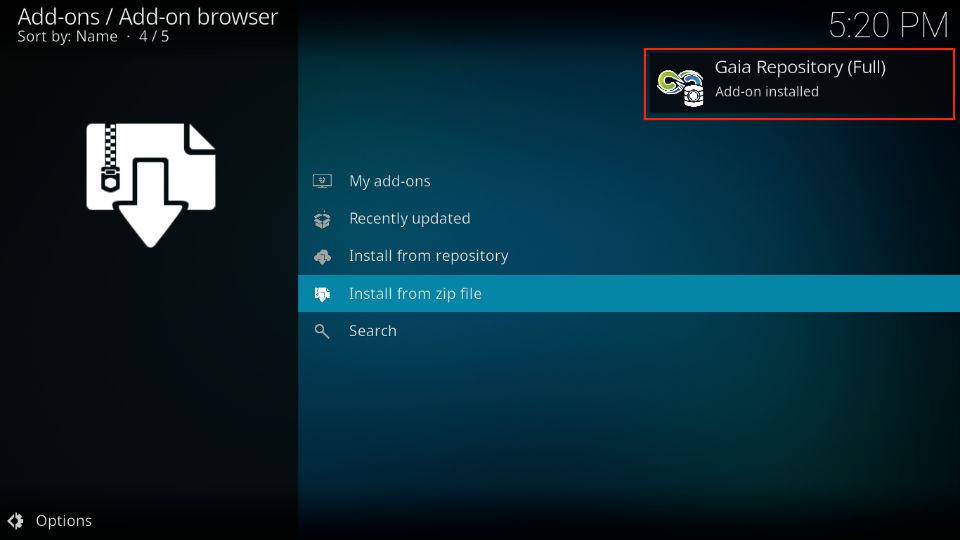 Part 3: How to Install Elementum addon
Finally, use the steps below to install the Elementum Kodi addon:
1. On the Add-ons page, go inside Install from repository.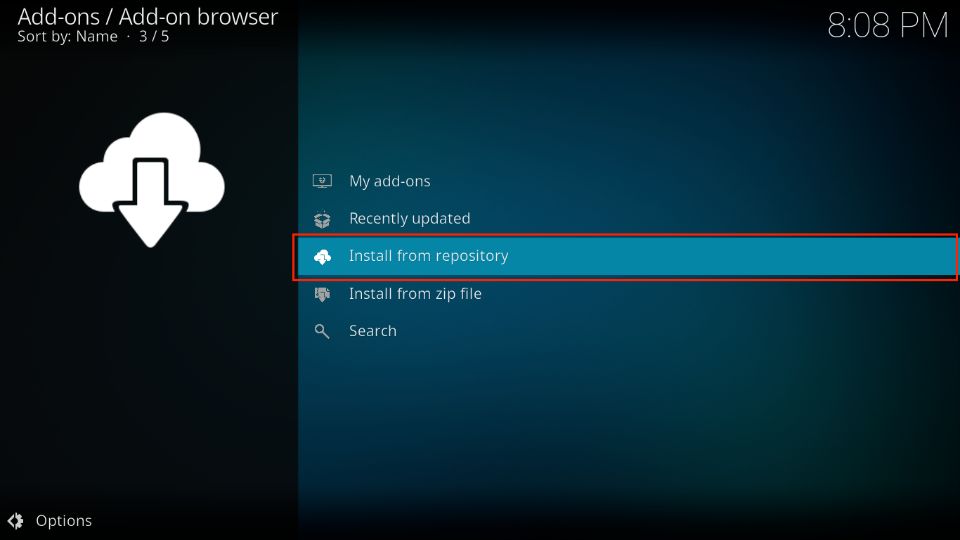 2. Open Gaia Repository (Full) by Gaia.
3. Discover the Video add-ons folder.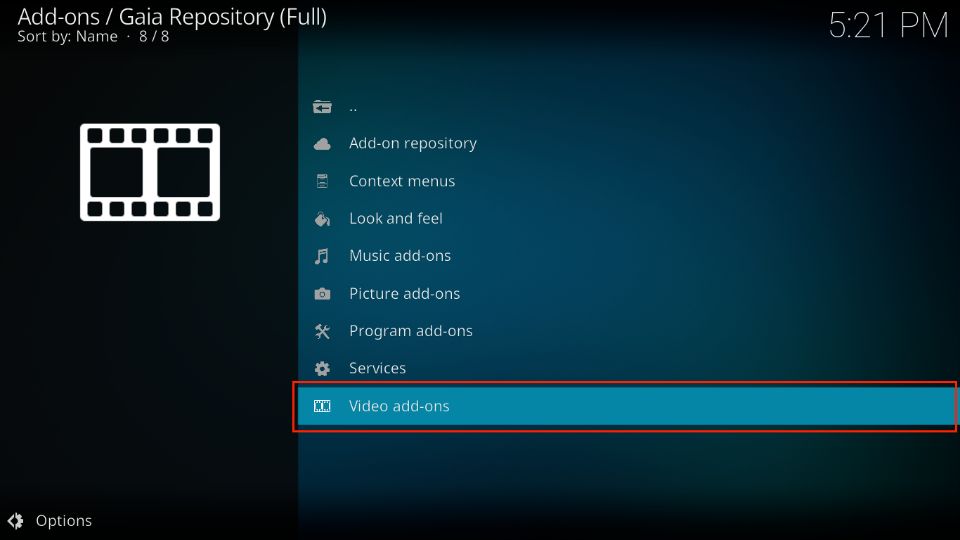 4. Go to the E section and choose Elementum.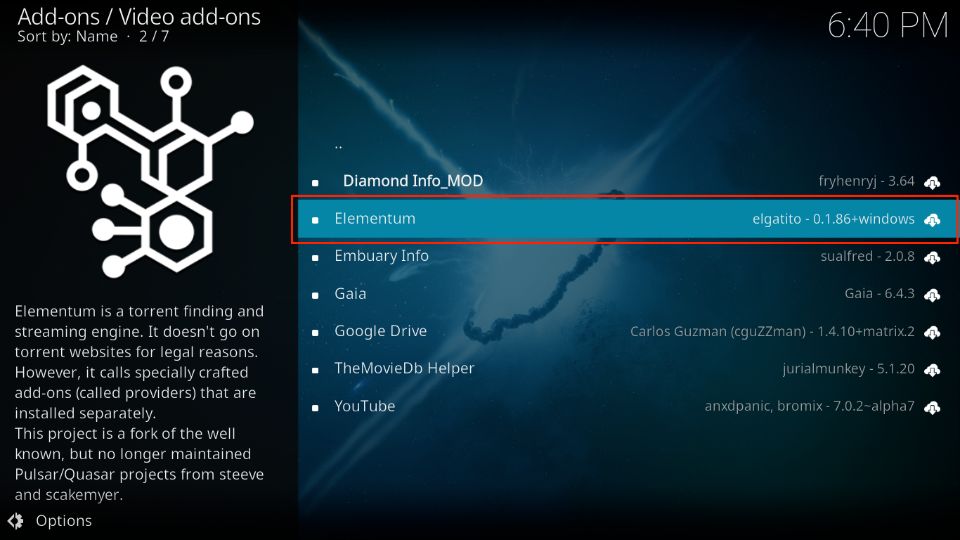 5. Elementum dashboard will appear. Pick Install on the bottom right side.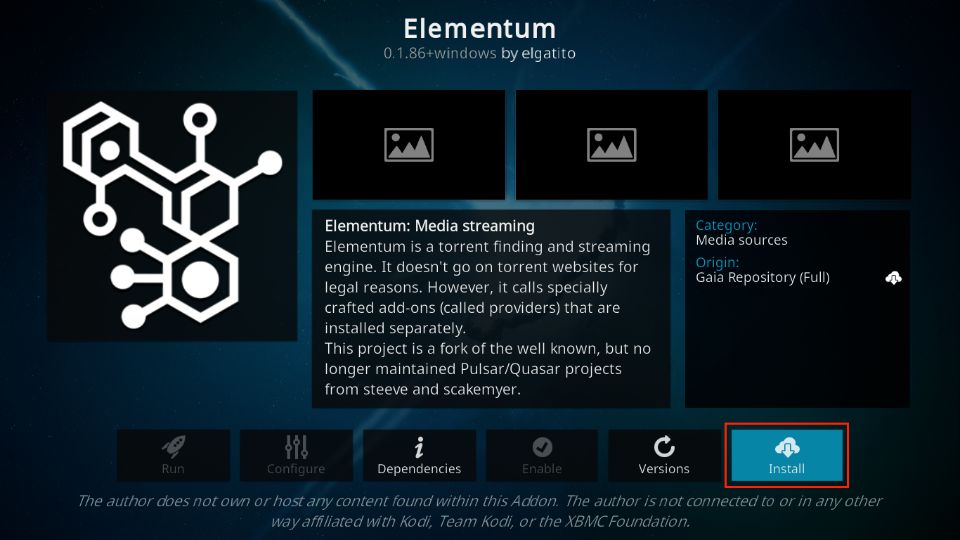 6. Kodi will inform that some additional addons will also be installed with Elementum. Click OK to allow.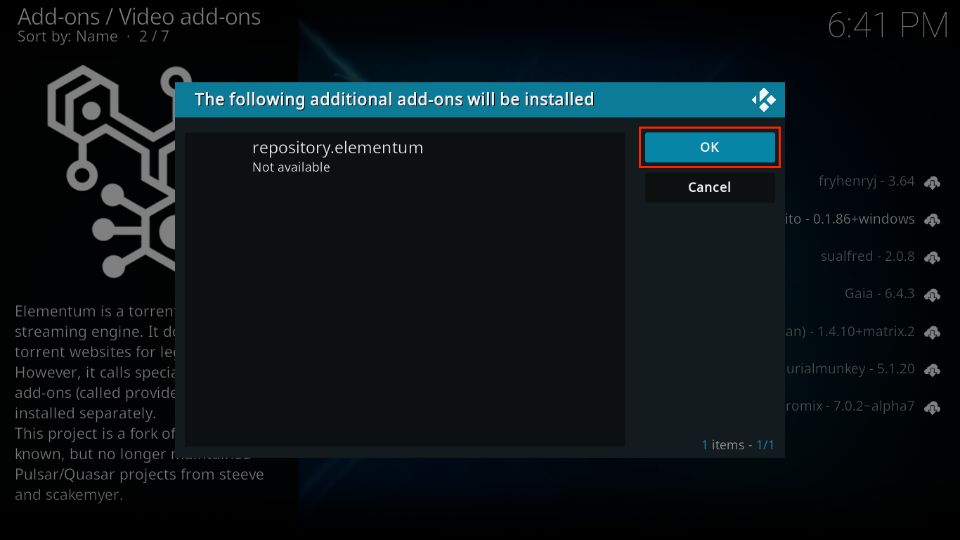 7. Wait for Kodi to fetch the necessary files from the repository. And then it'll install them.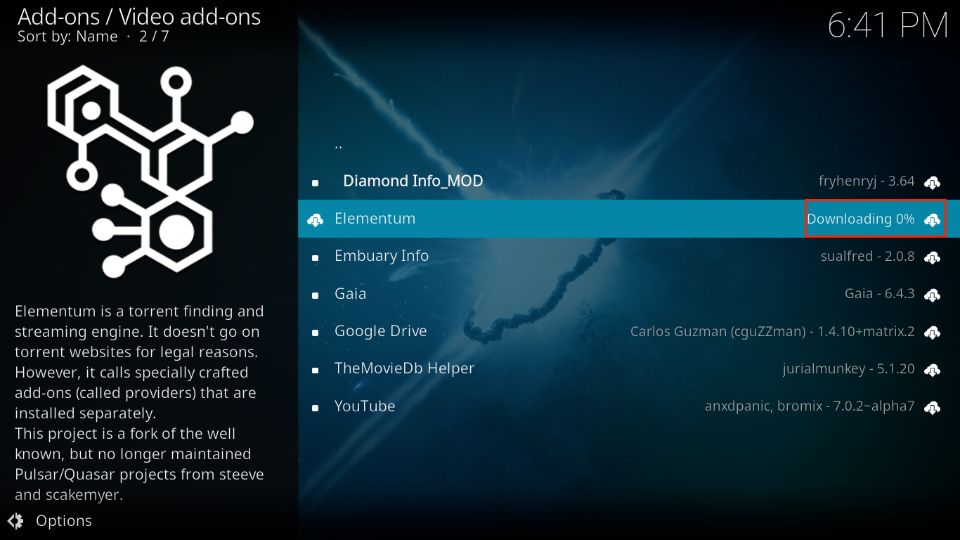 8. Elementum Add-on installed notification will pop up on the success.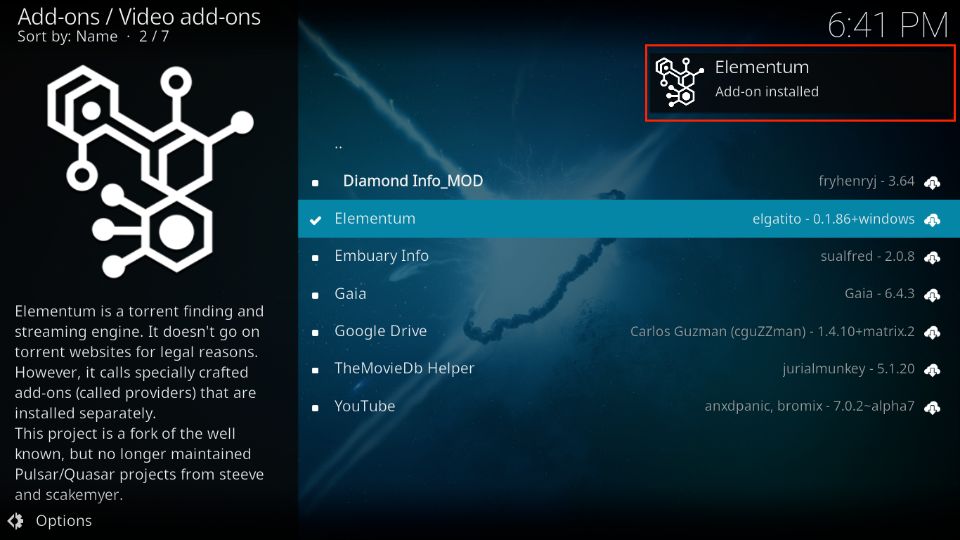 9. An Elementum prompt will appear asking you about installing its official multi-provider, Burst. Click Yes.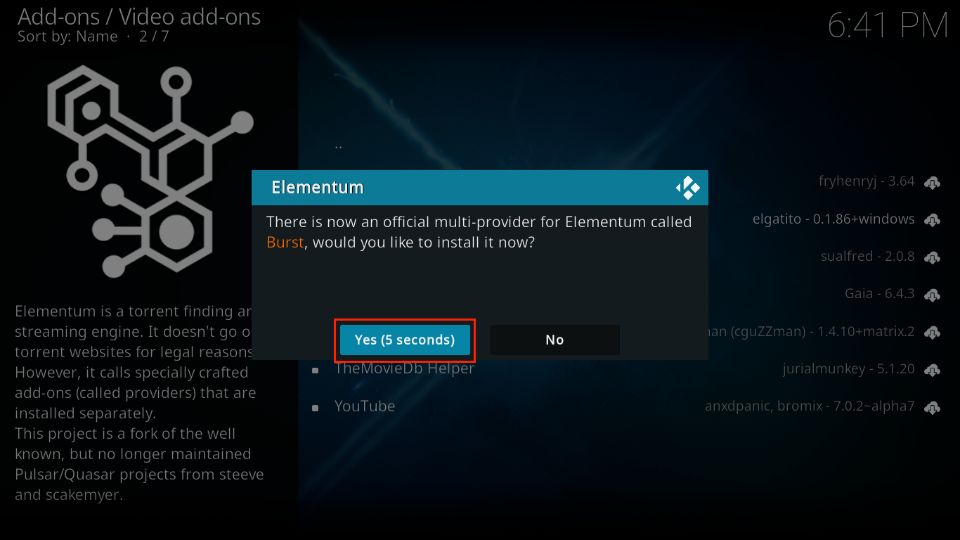 10. You'll be asked to download Burst. Choose Yes.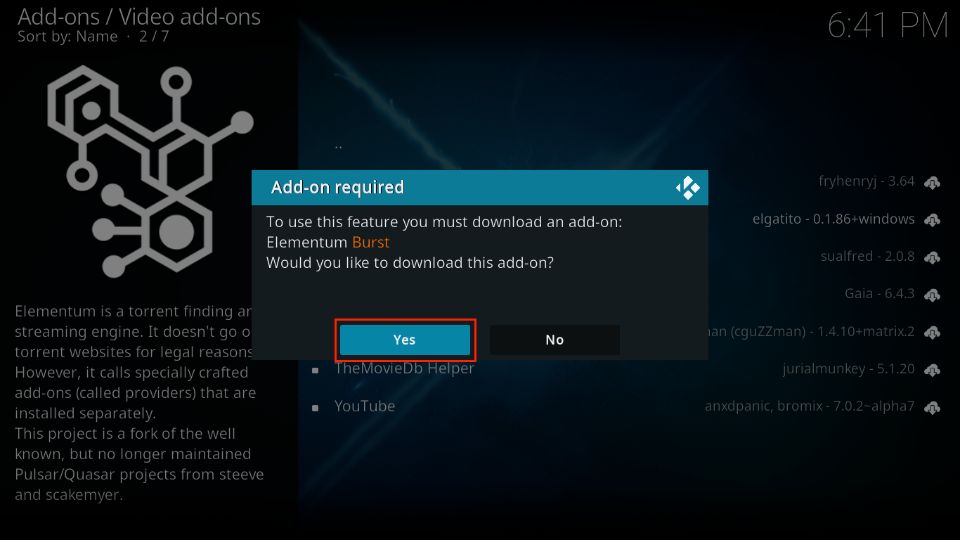 Let Elementor handle downloading required files and installing them. When everything is done, you'll see a message – Elementum Installation successful, enjoy Elementum Burst.
You have successfully installed the Elementum addon on Kodi!
Wait! It looks like you are all set to start watching your favorite content on Kodi. But have you protected your online identity yet? You are under constant surveillance by the Government and ISP. They use your IP address 3.17.249.235 to track you. Streaming free or copyrighted videos may get you into legal trouble.
Thankfully, you can use a VPN to easily protect your privacy and go invisible from your Government and ISP. I use and recommend ExpressVPN with Kodi.
ExpressVPN is the fastest, most secure, and streaming-friendly VPN. It is easy to install and set up on any Kodi device, including FireStick, Smartphones, PCs, and more.
ExpressVPN, offers an unconditional 30-day money-back guarantee. So, if you do not like the service (I don't see why), you can get a full refund within 30 days.
Please remember that we encourage you to use a VPN to maintain your privacy. However, we do not condone breaking copyright laws.
Before you start using Kodi for streaming, here is how you can protect yourself with ExpressVPN:
Step 1: Sign up for ExpressVPN Here
Step 2: Download ExpressVPN on your device by clicking HERE
Step 3: Open the ExpressVPN app on your device. Sign in with your account. Click the connect/power button to connect to the VPN

Great! You have successfully secured yourself with the best Kodi VPN.
How to Use Elementum Kodi Addon
Here's a detailed walkthrough of the Elementum Kodi addon:
First, go to Kodi's home and launch the Add-ons tab.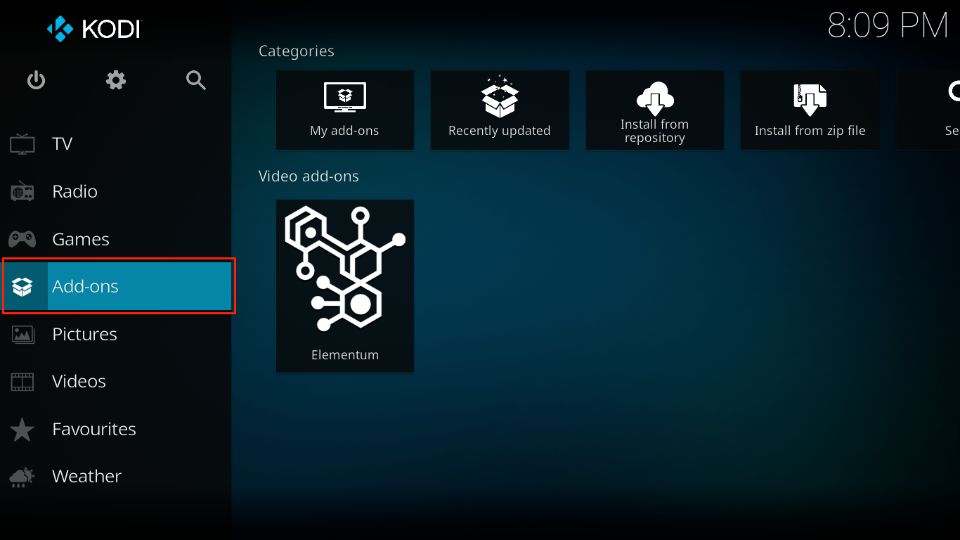 Then, from the Video add-ons sub-tab, open Elementum.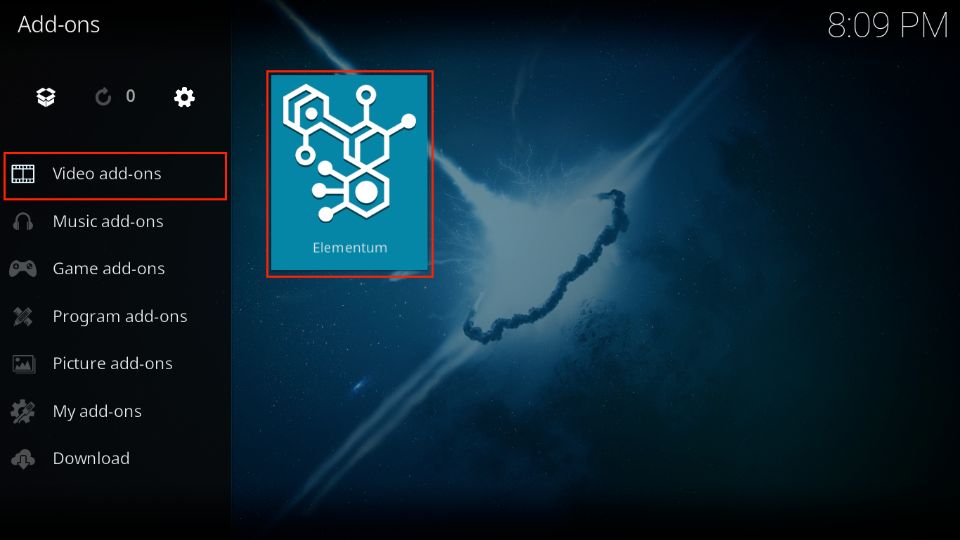 Elementum has twelve sections: Movies, TV Shows, Torrents, Search, and more.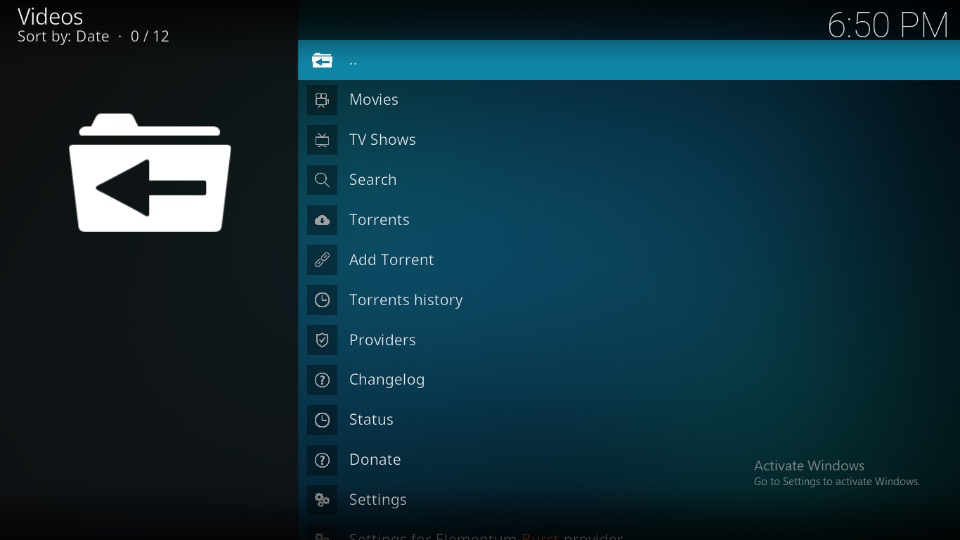 Unless you are a Kodi power user, you'll only find two sections attractive – Movies and TV Shows. Let's explore some sections of the Elementum Kodi addon. Open the Movies tab.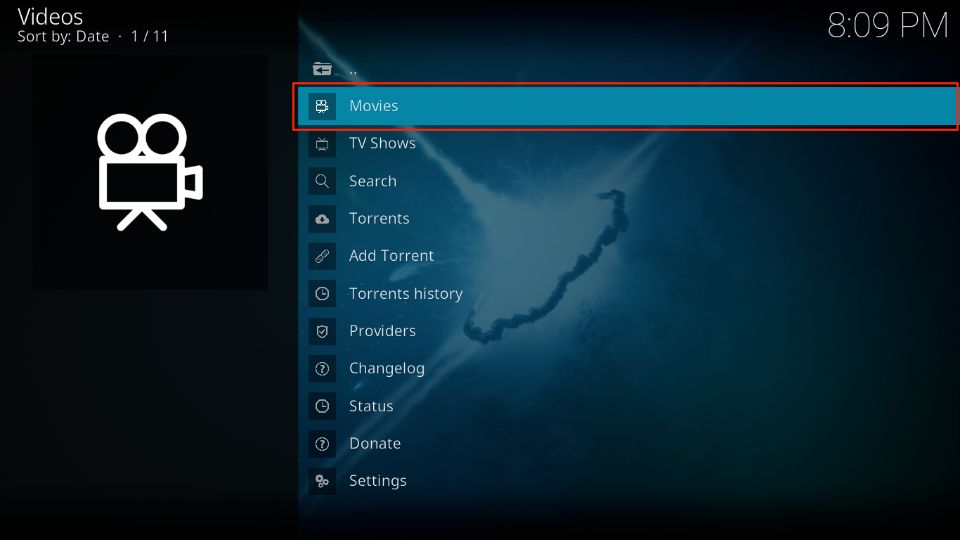 You'll find sections based on Trakt and TMDB like Popular lists, Trending, Most Collected, Box Office, Top Rated, and more. I want to explore the popular lists on Trakt, so I choose the second sub-section – Trakt > Popular lists.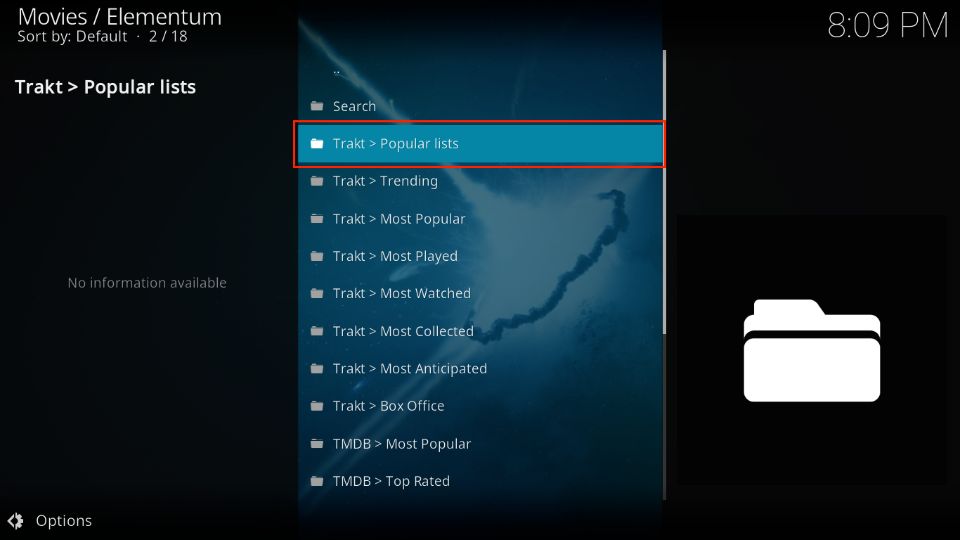 I see all the lists currently popular on the Trakt platform, like the Latest 4K Releases, the Latest Releases, and more.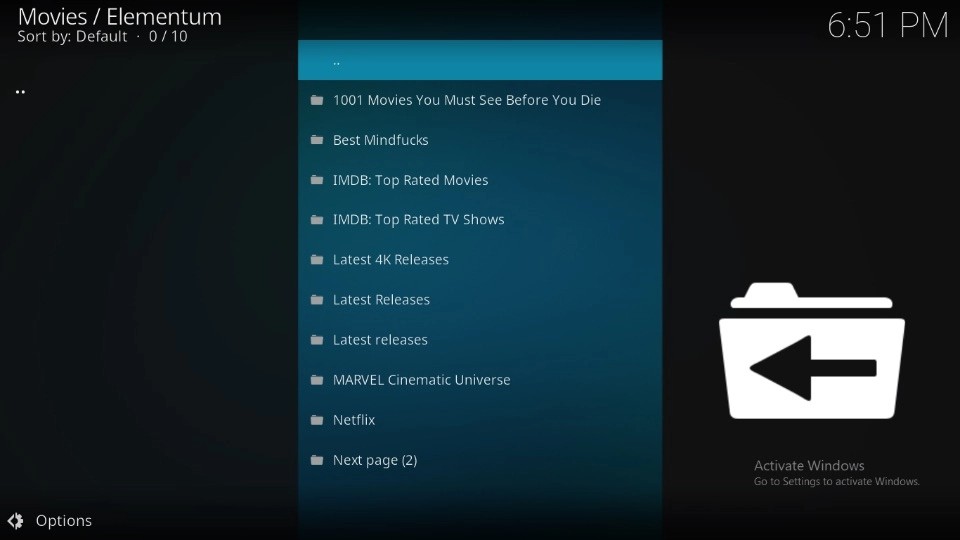 Head towards the TV Shows section of Elementum.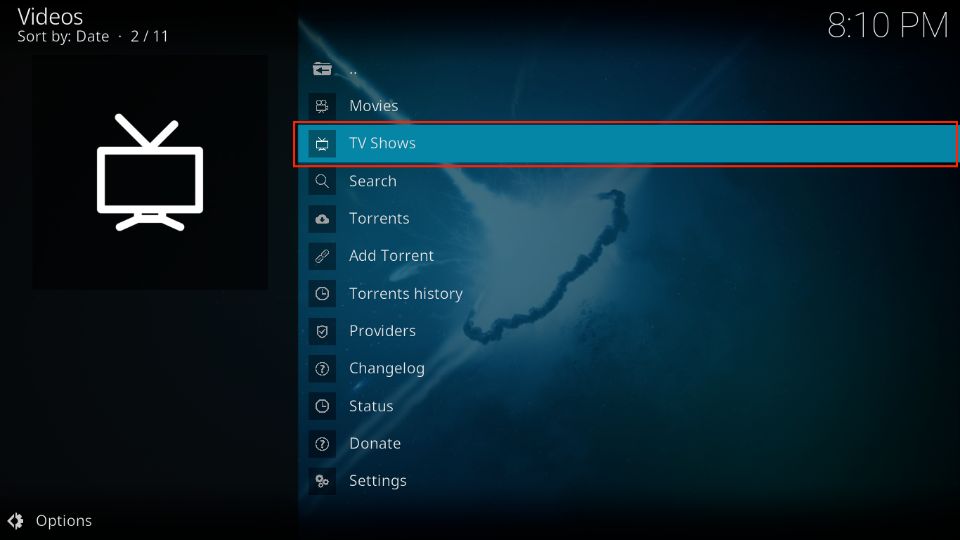 You'll find folders similar to the Movies section, like Most Watched, Top Rated, Trending, etc. And some unique ones like Recent Episodes, Recent Shows, and more.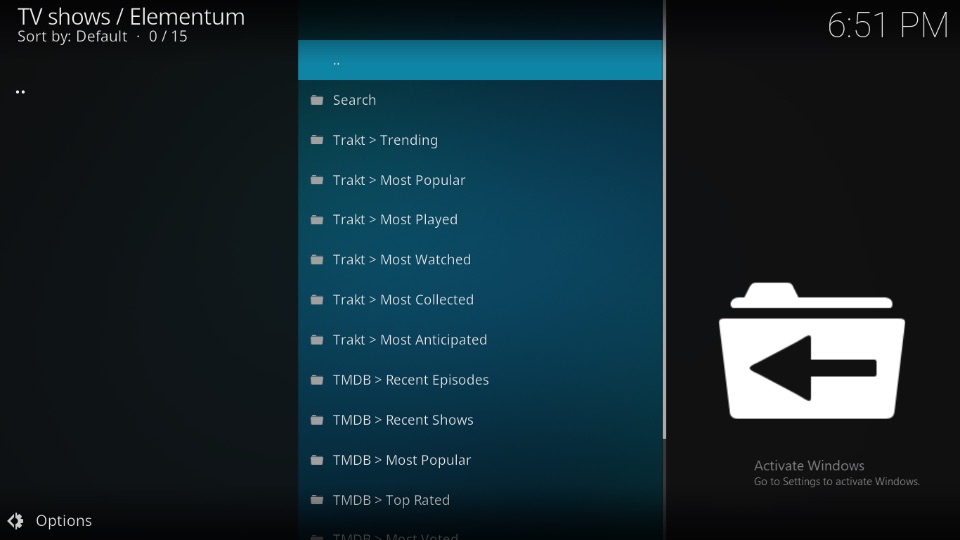 Want to find a TV show or movie? Go to the Search section.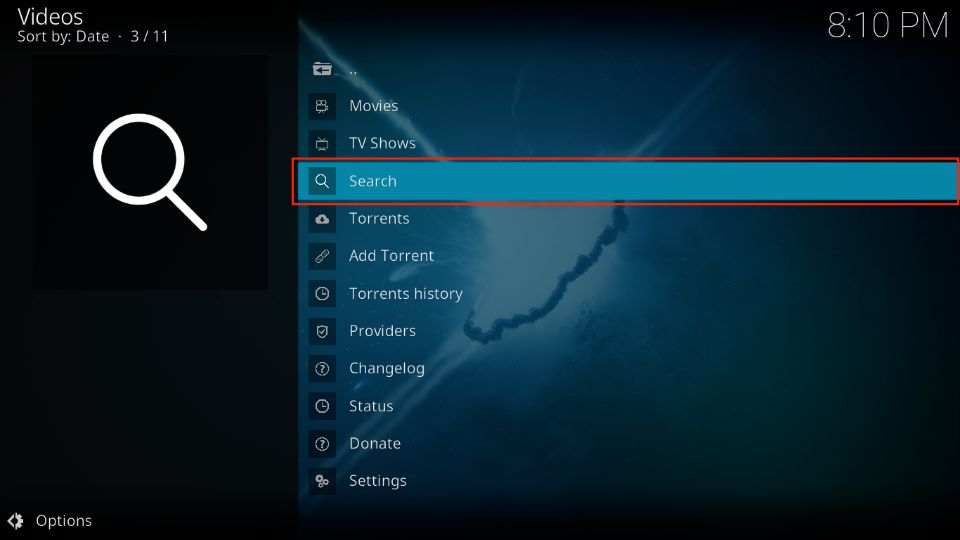 Select New search.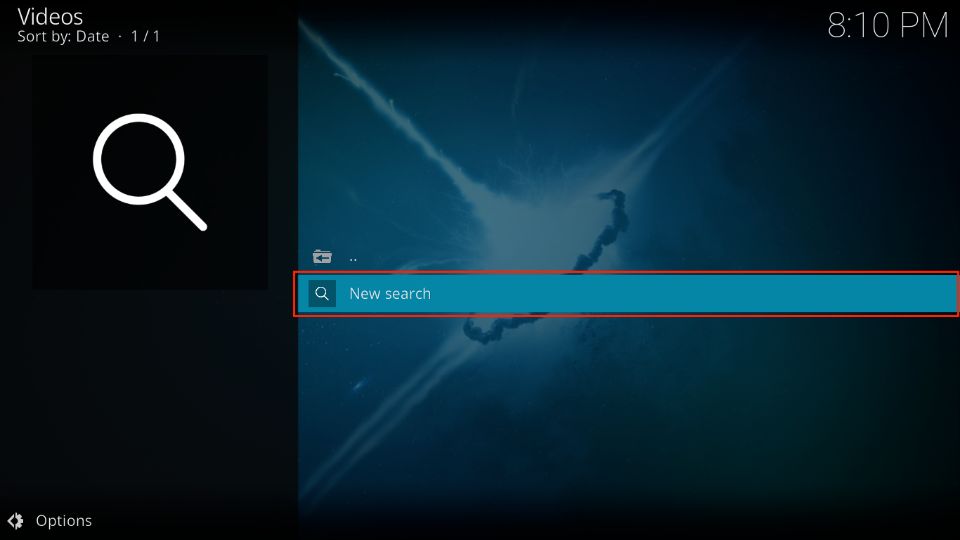 Enter any search term. I'm entering best. Then, click OK.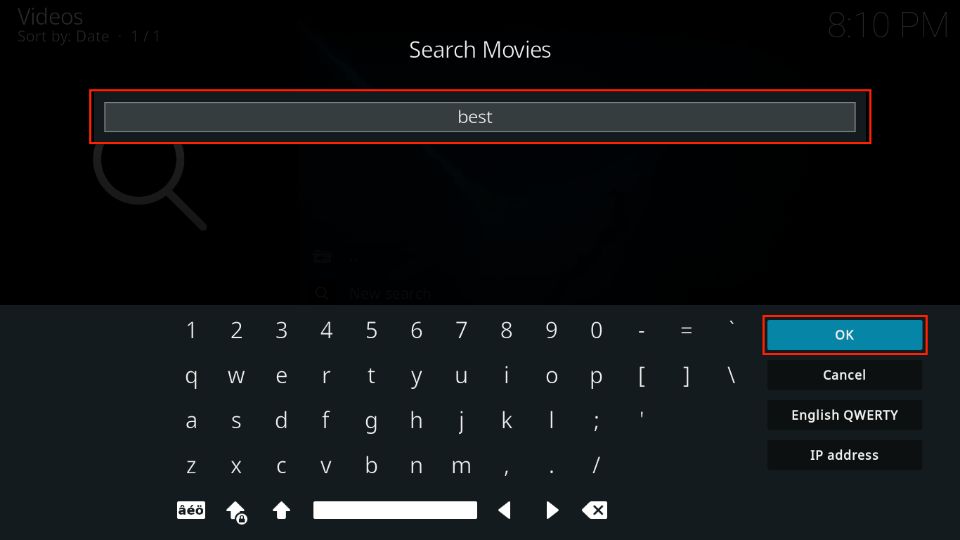 Let Elementum Burst, the addon's official provider, find what you want.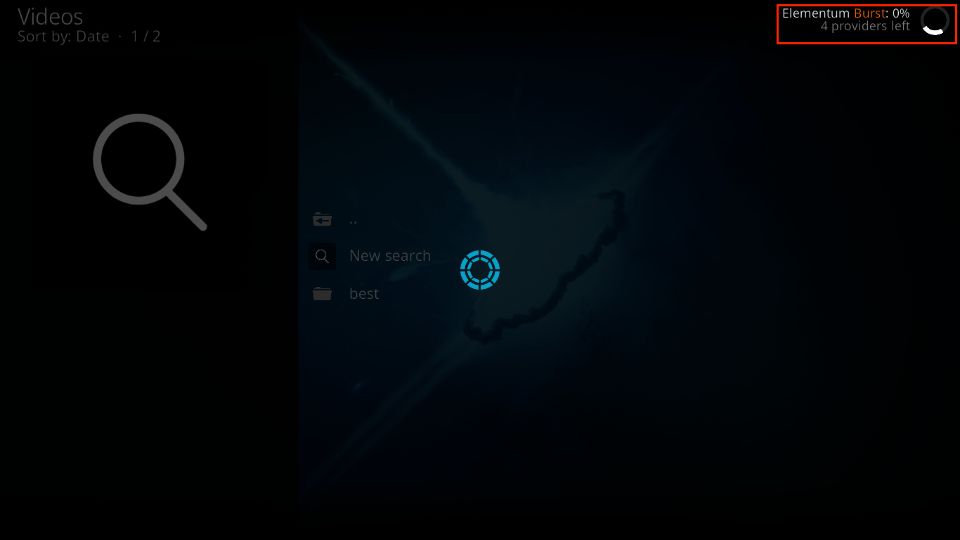 Next, you'll get the list of the best available streams matching your search terms. Then, to play a link, click on it.
Other sections like Torrents, Add Torrent, Torrents History, Providers, and Changelog are for pro users. Lastly, there are special settings menu Settings for Elementum Burst providers.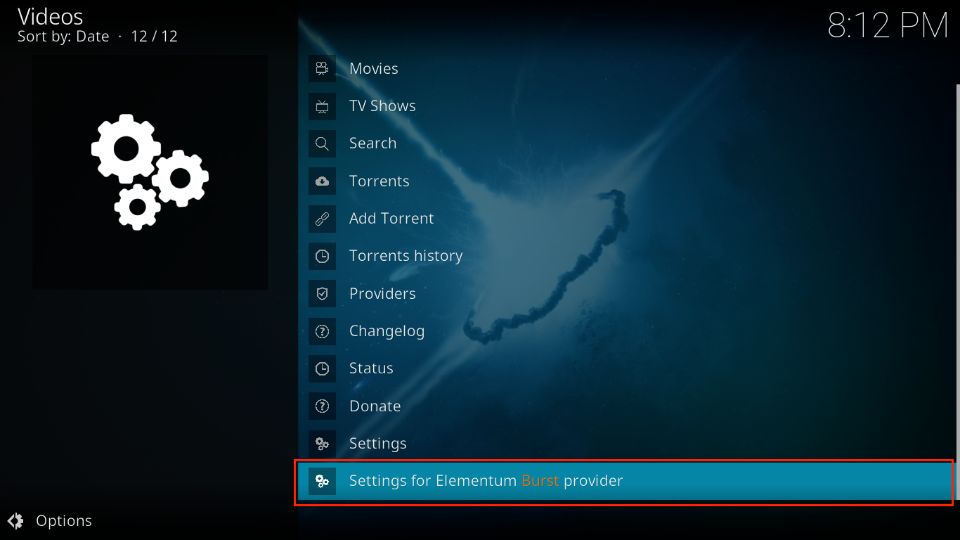 Here, you can configure the settings of the Elementum Burst provider to find the best content links.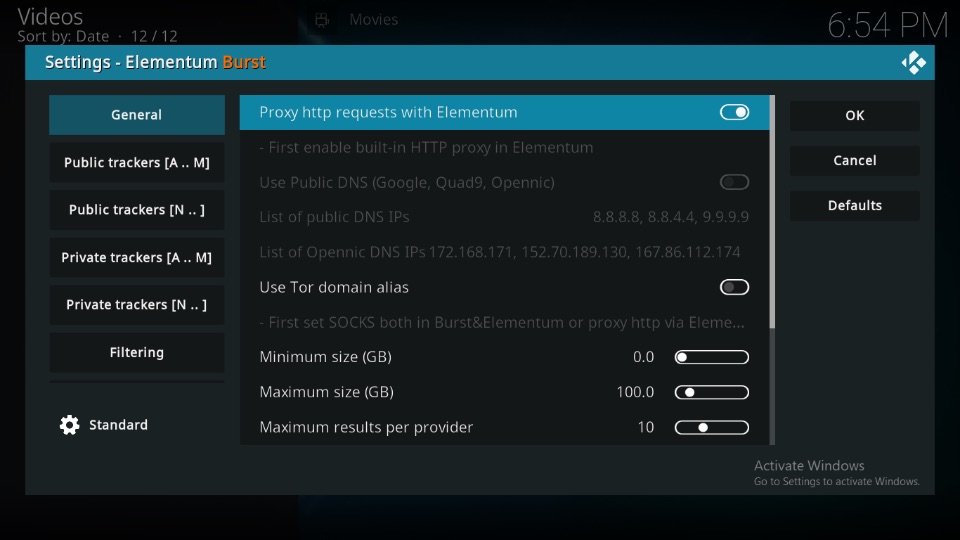 But again, don't change any settings inside it if you are uncomfortable with Kodi third-party apps.
How to Set Up Trakt with Elementum
Trakt provides the convenience of syncing your content history, watch hours, and more amongst supported services. By following the steps below, you can easily integrate your Trakt account with Elementum:
1. On Elementum home, scroll to the end and choose Settings.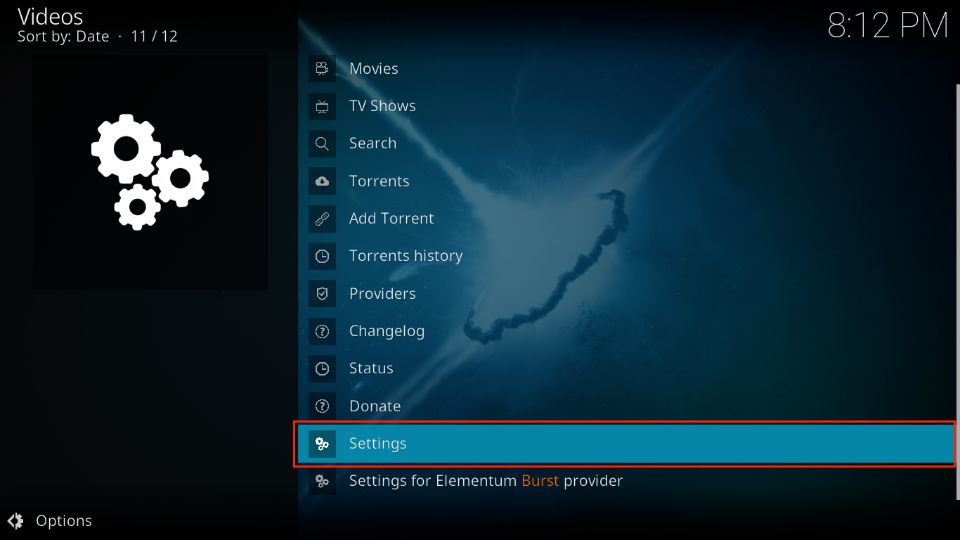 2. When the Elementum – Settings window opens, scroll down its tab.
On the Trakt tab, select Authorize Elementum on Trakt.tv.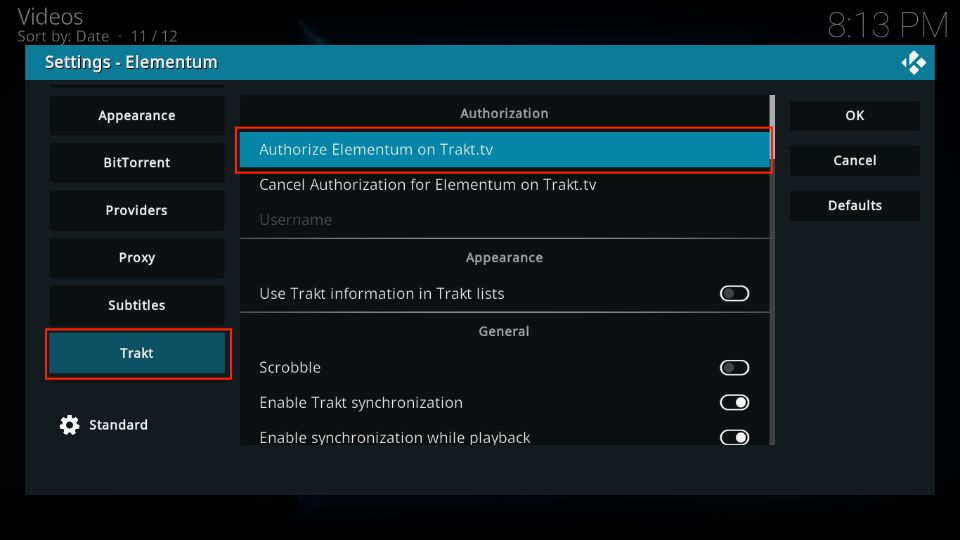 3. Using your smartphone or PC, visit trakt.tv/activate on a web browser. Enter the code and sign into your account if you aren't logged into Trakt. Complete the setup by following the on-screen steps.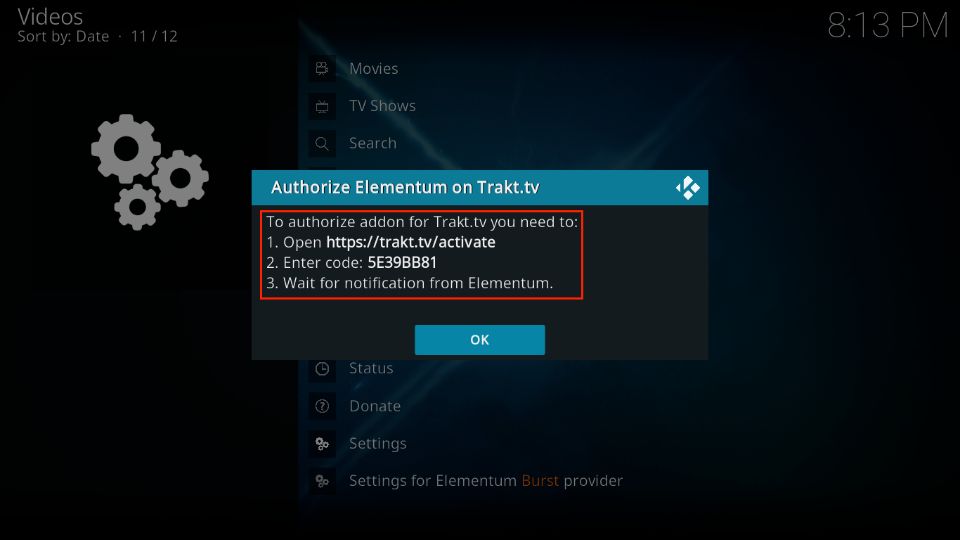 4. On completion, you'll receive a notification on Kodi – Elementum Successfully authorized for Trakt.tv.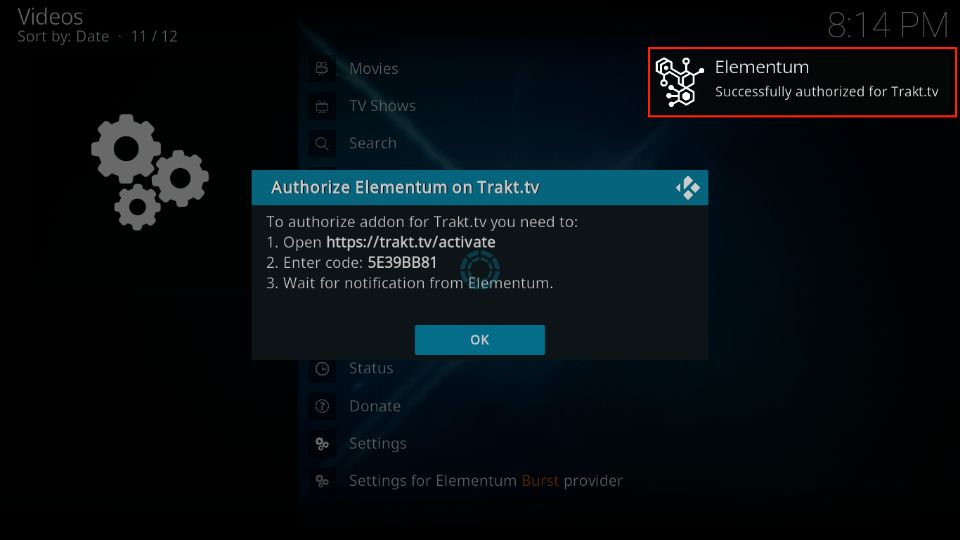 Conclusion
This guide demonstrated how to install the Elementum Kodi addon. How does it work for you? Please feel free to share your experience in the comments box below.
Related: