In this article, I'll show how to install Frankenstein Kodi addon. Also, what's Frankenstein addon, its legality and safety issues, how to use it, and everything in between. You can use this guide as a reference on any Kodi-compatible device, including Windows PC, Mac machines, Android phones, Amazon Fire TVs, and more.
What Is Frankenstein Addon?
Frankenstein is a horror-based video streaming Kodi addon that features scary stuff, movies, TV shows, and more.
With Frankenstein, you can stream whole franchises of your favorite scary content, popular & new TV shows, old stuff, etc.
On Frankenstein, you'll also find gore and random stuff. Similarly, the addon features 24/7 feeds of popular scary and normal content collections.
Mostly, you'll find horror content on Frankenstein. However, the addon also features all the other good stuff like kids' content, new movies, new TV episodes, etc.
Overall, Frankenstein is one of the best horror and mixed random content streaming video addons.
Attention KODI Users: Read before you continue
Government and ISPs endlessly monitor your online activities using your IP address 66.249.75.209 (exposed to everyone). Kodi is an excellent platform for streaming movies, TV shows, and sports, but streaming copyrighted content can get you into legal trouble. 
You should use a reliable Kodi VPN and protect your streaming activities and privacy. A VPN will hide your IP address and bypass government surveillance and geo-restrictions.
I trust and use ExpressVPN, the fastest and most secure Kodi VPN. It's easy to install on any Kodi device, including Amazon FireStick, PCs, and Smartphones. In addition, it offers a 30-day money-back guarantee, and 3 free months with the annual plan.
Read: How to Install & Use the best VPN for Kodi.
Is Frankenstein Addon Safe?
Like other third-party Kodi addons, Frankenstein's safety concern remains unknown to the Kodi community. Why? Simple because there's no way (at least for folks who aren't security professionals) to check whether the addon is 100% safe for their device.
At FireStickHow, we lack the resources to determine the safety status of Frankenstein. However, I ran a quick virus analysis on the zip of Where The Monsters Live Repository. Thankfully, it cleared all the tests – take a look yourself: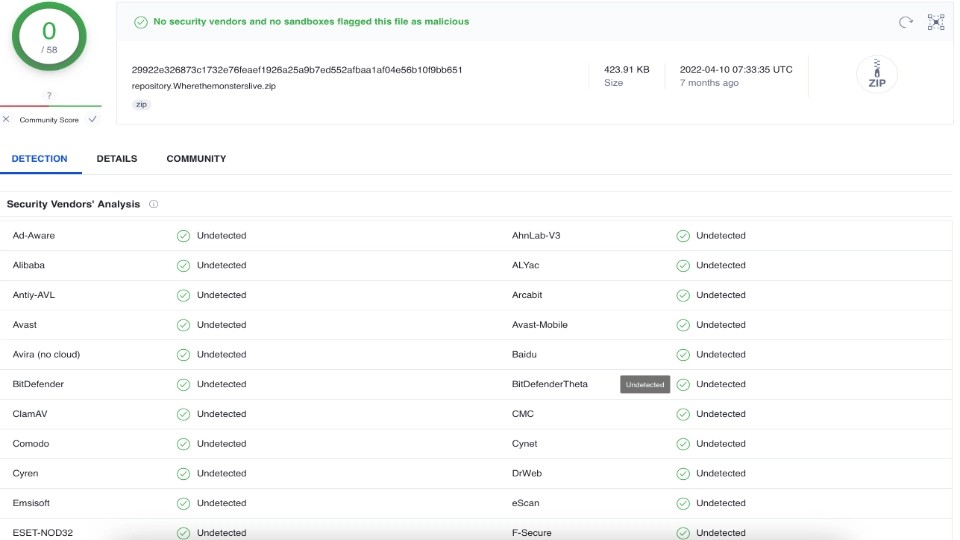 Is Frankenstein Addon Legal?
With Frankenstein, you can watch almost any TV show or movie. Although it's great, certainly, it's not so convincing on the legality side.
In terms of legality, Frankenstein's status is questionable. As it's an addon that only scrapes links of different content, one can't label it illegal. But on the split side, the fishy nature of those links makes it hard to coin the addon status as legal.
So, once again, we stand in the middle of nowhere. And as we don't possess the proper resources, we can't answer your question.
And that leads the debate to only one solution – using a VPN. Set up a VPN like ExpressVPN on your Kodi device and turn it on when using Frankenstein.
Features of Frankenstein Addon
Here are the top features that make Frankenstein one of the best Kodi addons:
16 content-full sections
Support for Trakt and Real Debrid
Super-advanced and customizable settings menu
Special 24/7 feeds of popular franchises libraries
How to Install Frankenstein Kodi addon?
In this section, I'll show you how to install Frankenstein Kodi addon. Note that I have split it into three parts so you can easily follow the instructions. So without further ado, let's start.
Part 1 – Turn On Unknown Sources
We'll start by enabling an option in Kodi settings called Unknown Sources.
1. Go to the Kodi Settings screen by clicking the Settings Cog icon on your screen's top left.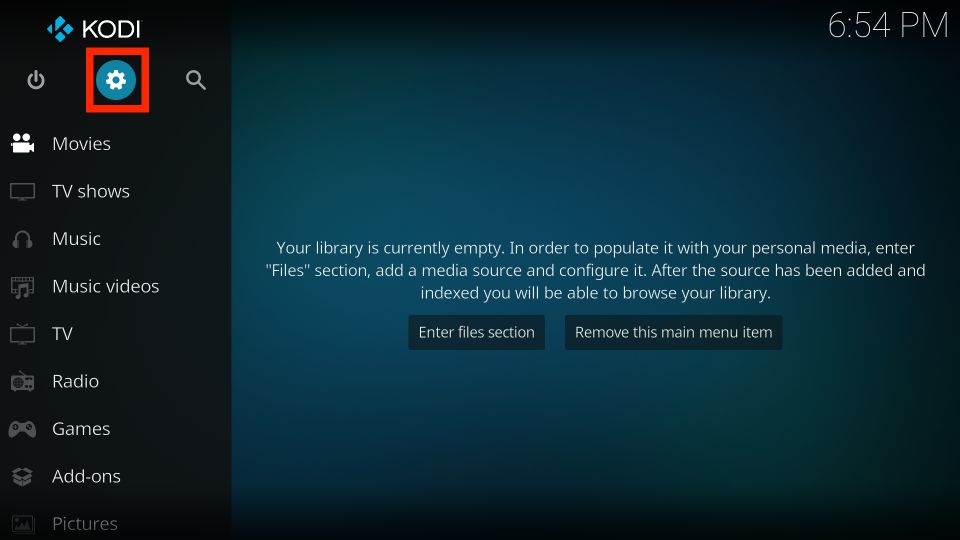 2. Open the System tile.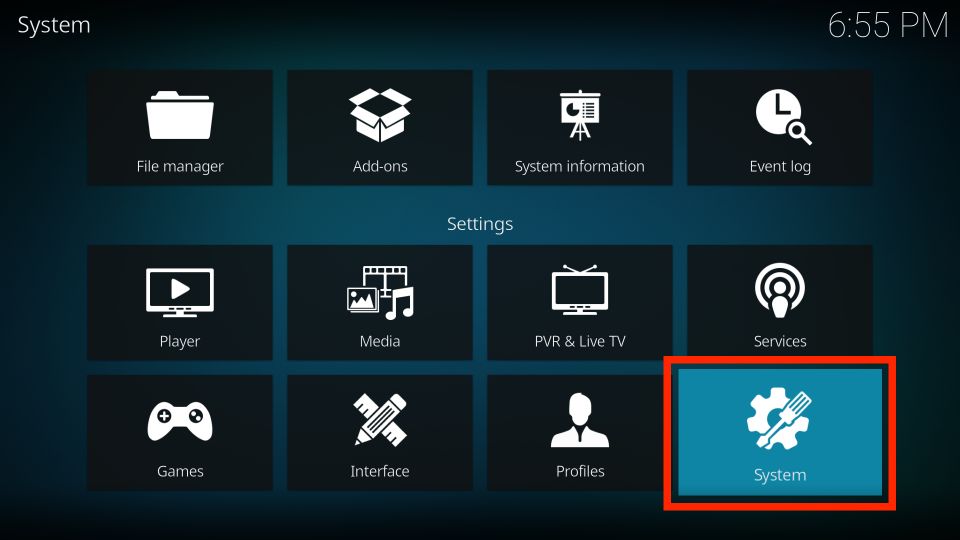 3. Scroll down and choose the Add-ons tab.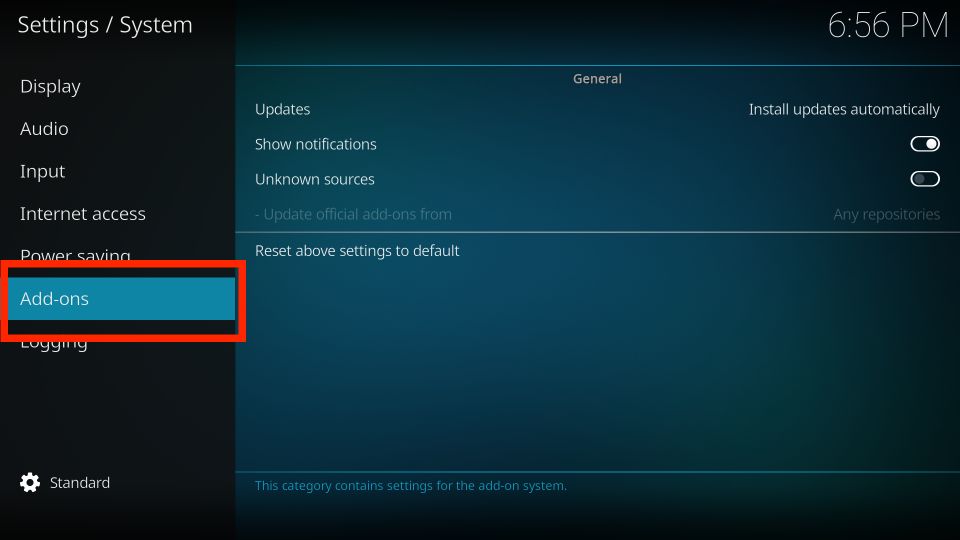 4. Turn on Unknown sources, located on the right-hand side of your page.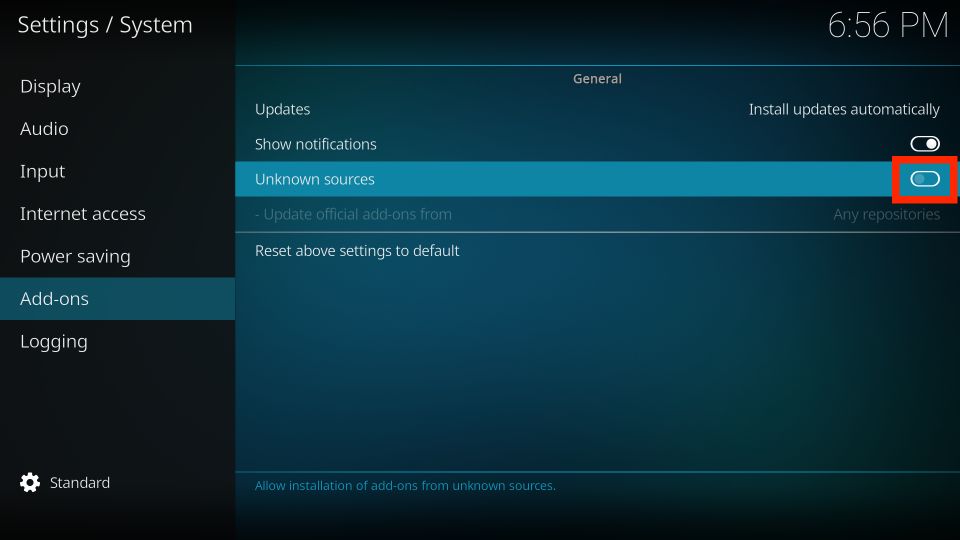 5. Kodi will send a warning sign regarding the consequences of allowing unknown sources. Click Yes to accept.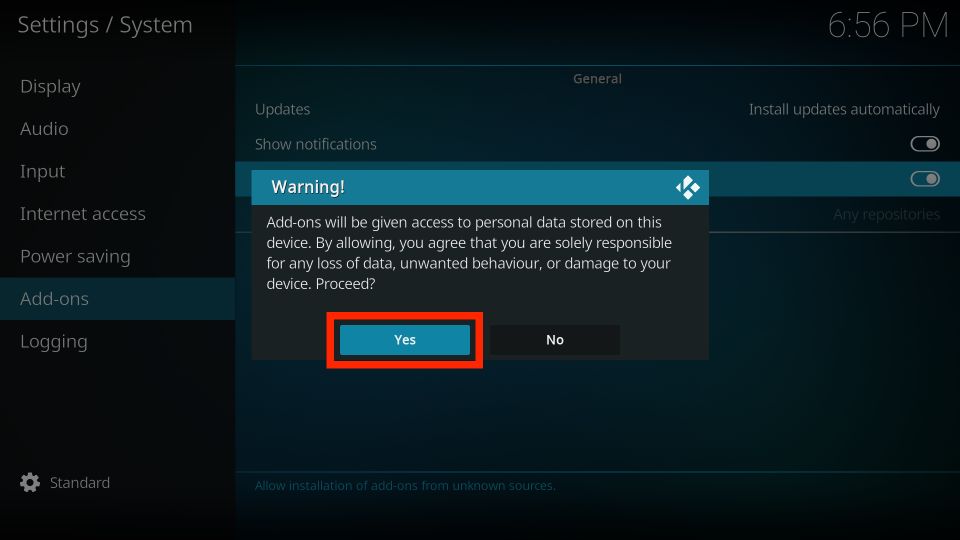 6. To automatically update addons, choose the – Update official add-ons from option.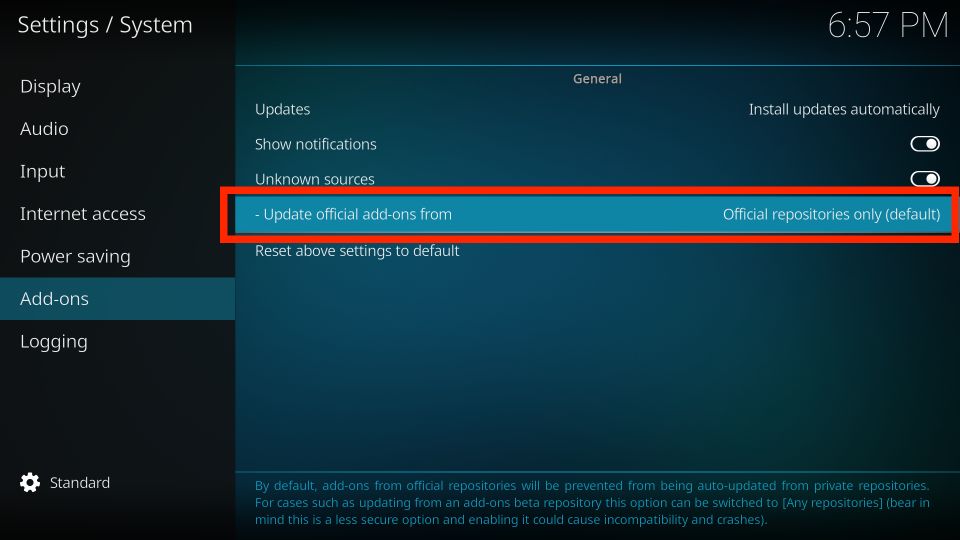 7. Select Any repositories.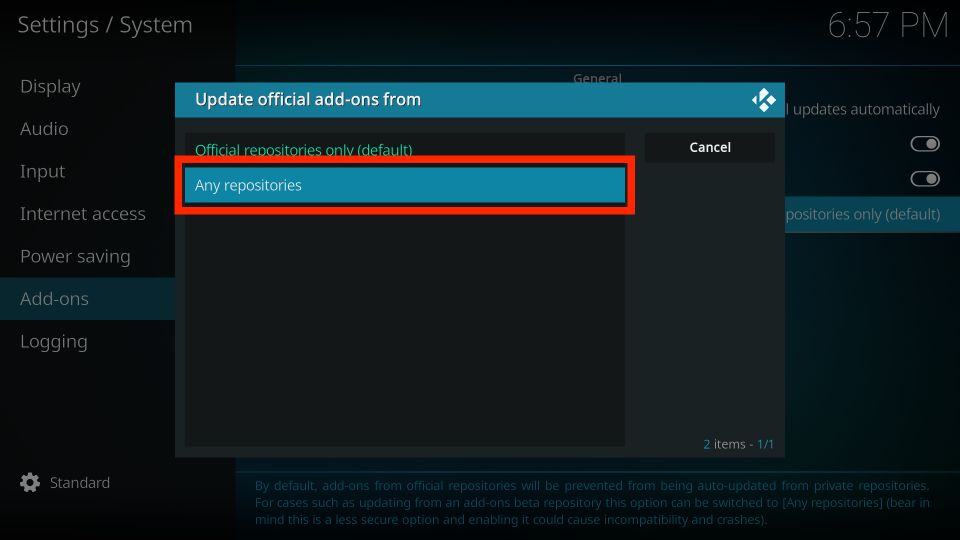 Part 2 – Install Where The Monsters Live Repository
Now, we'll load the Where The Monsters Live Repository that hosts the Frankenstein Kodi addon:
1. Click the Settings Gear Cog on the top left side of your screen, under the Kodi logo.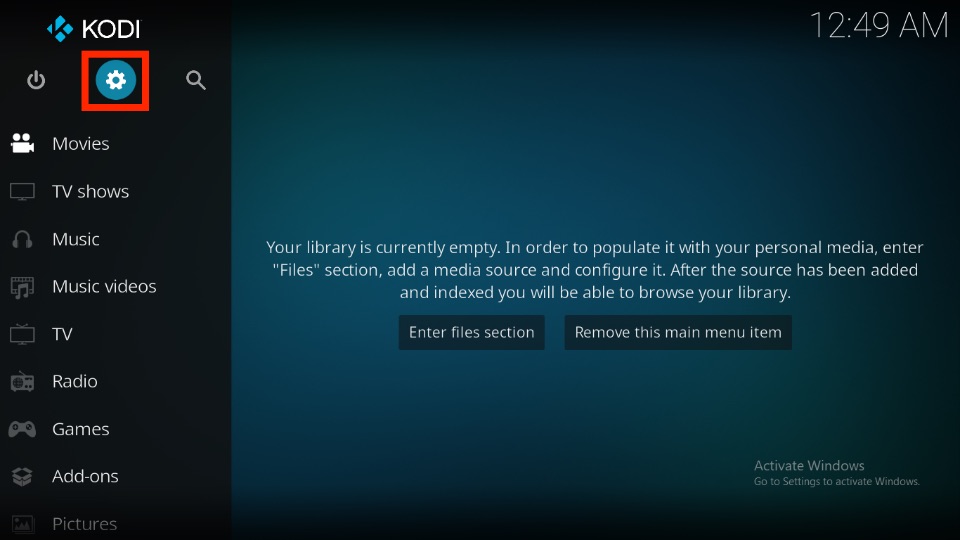 2. Open File manager from the Settings screen.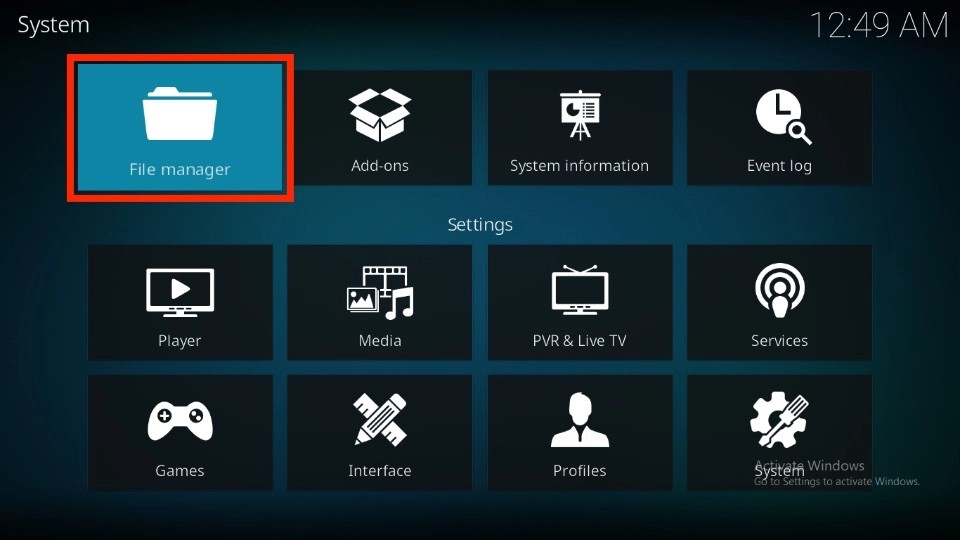 3. Inside, choose Add source.
Note: Add source options is available on both sides of the File manager page. You can select anyone.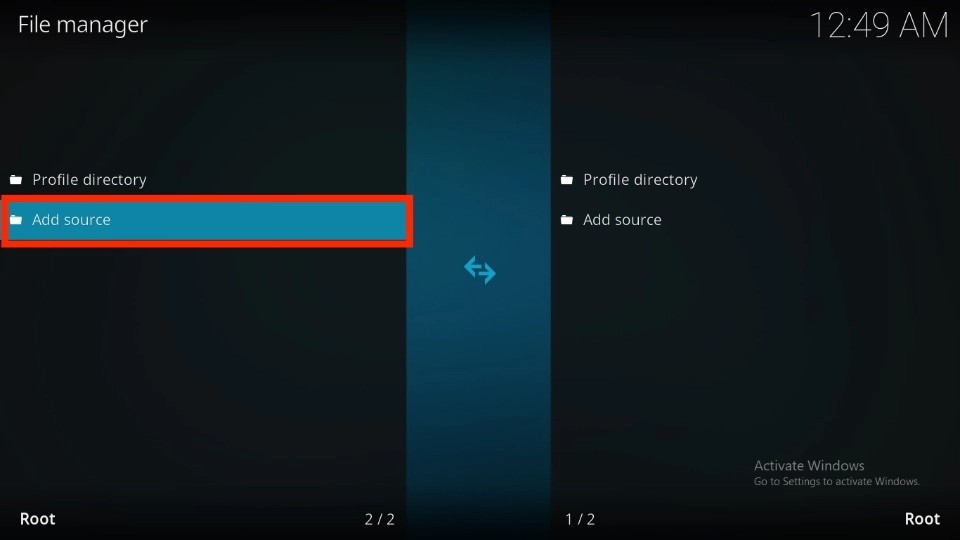 4. Under Enter the paths or browse for the media locations on Add file source window, choose <None>.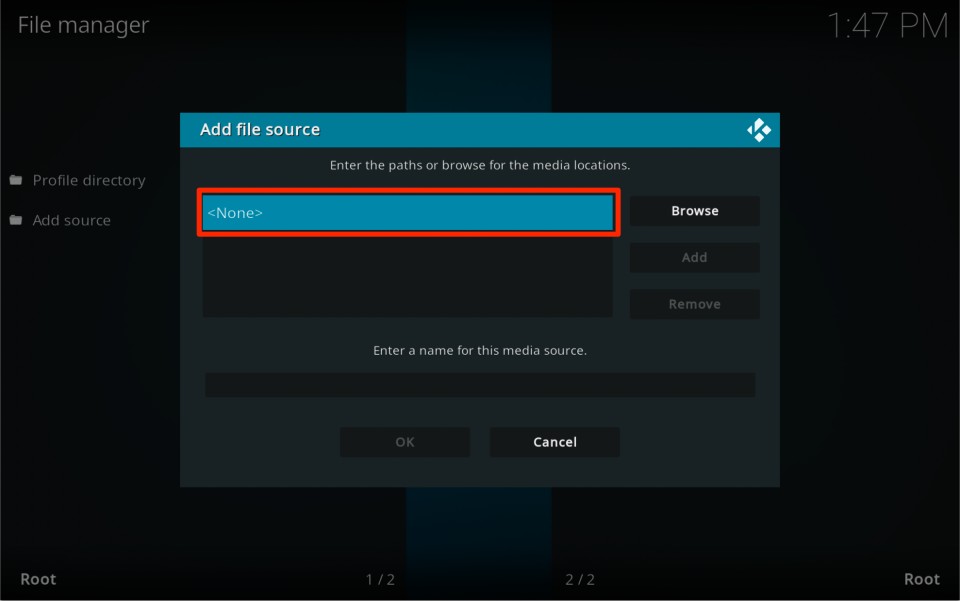 5. Enter https://tiny.one/midianrepo in the input box and click OK to save it.
Note: The URL of Where The Monsters Live Repository is long. So, I have made it short using a free tool. However, at FireStickHow.com, we aren't linked with the creators of the repo, nor do we host the URL.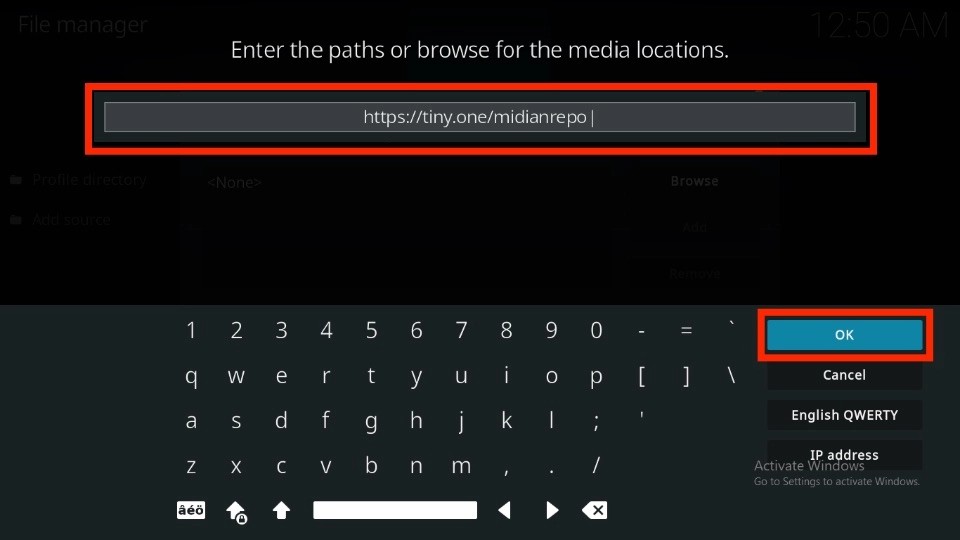 6. Automatically, a repo name, midianrepo, will appear under Enter a name for this media source. To change it, select it.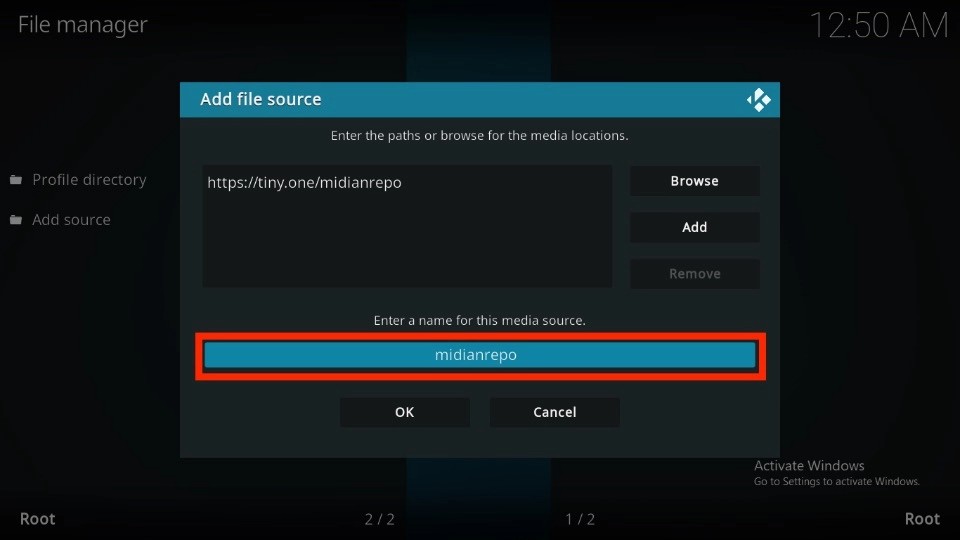 7. Make the required changes and click the OK button to save it.
Note: I'm not changing the default name as it's easy to remember. However, you can change it (if you like) but make sure to pick something simple.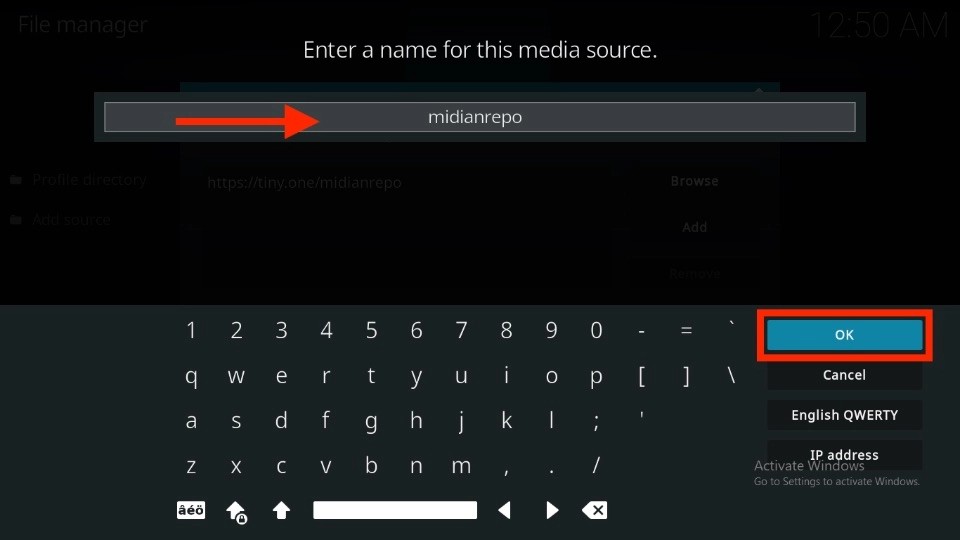 8. Click OK to save The Where Monsters Live Repository source.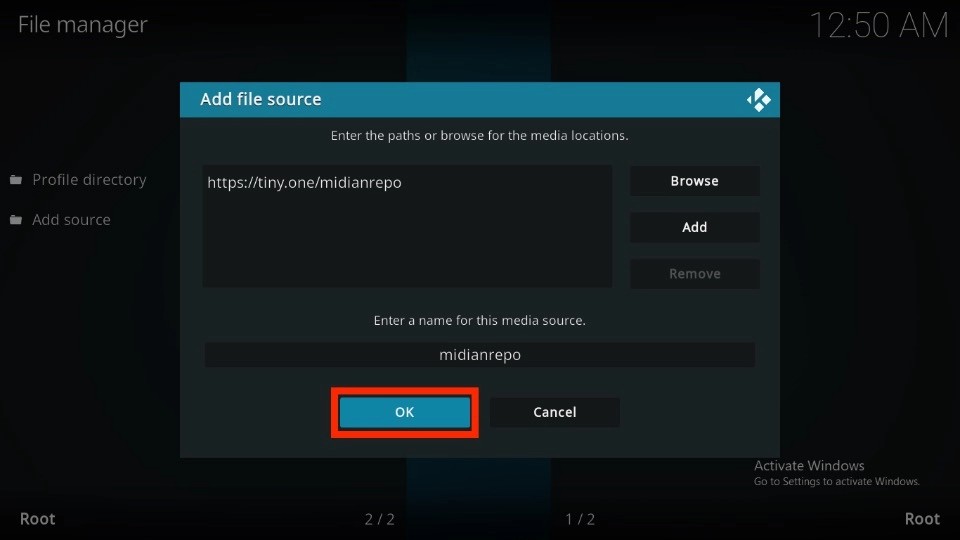 9. If everything goes perfectly, you won't encounter any errors and will see the source name on the list.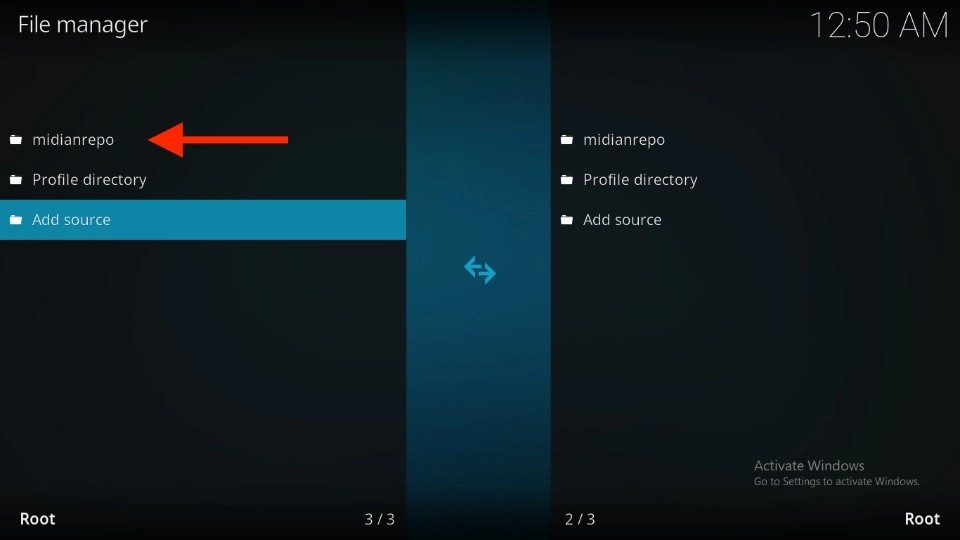 10. Return to the Kodi System Settings dashboard and go inside Add-ons.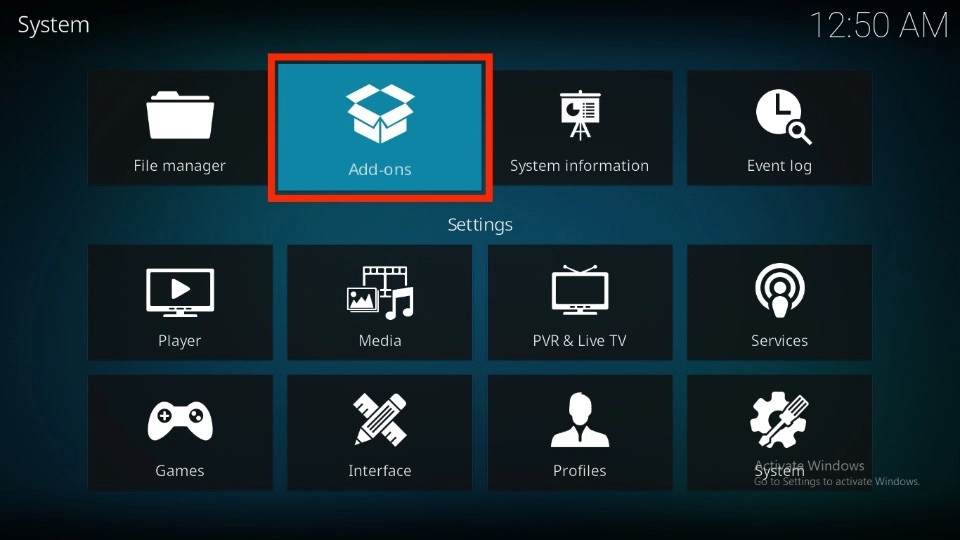 11. Explore Install from zip file.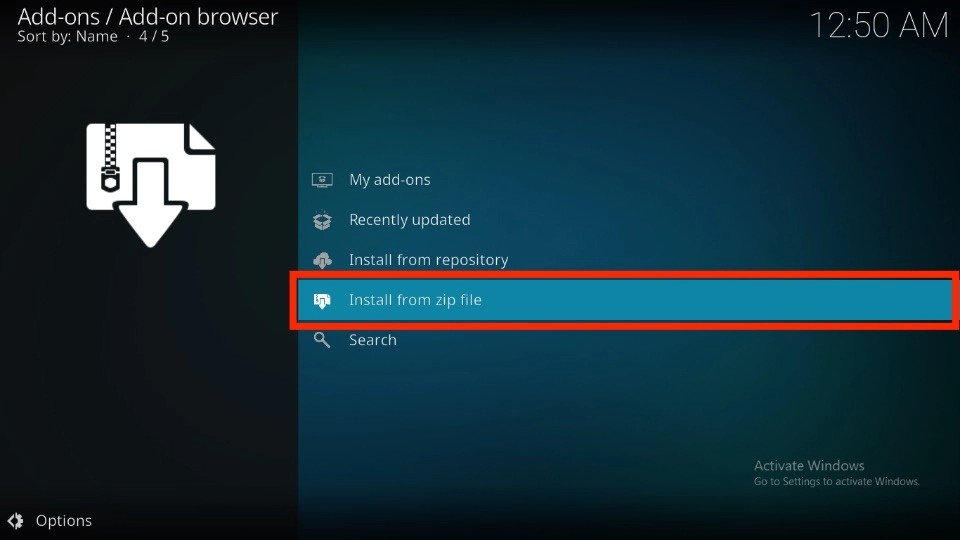 12. Skip the warning message regarding updates by choosing Yes.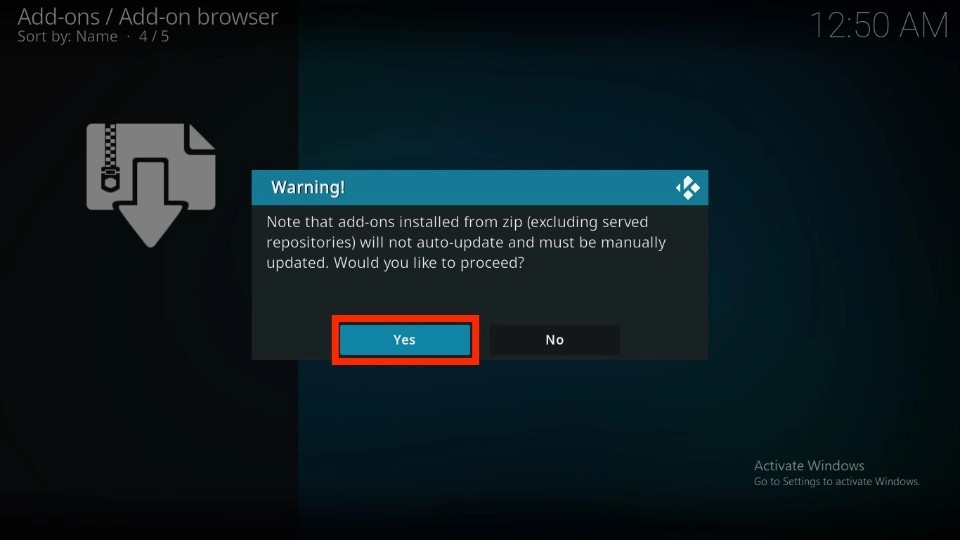 13. On Install from zip file dialogue box, choose midianrepo or the repo name you have set.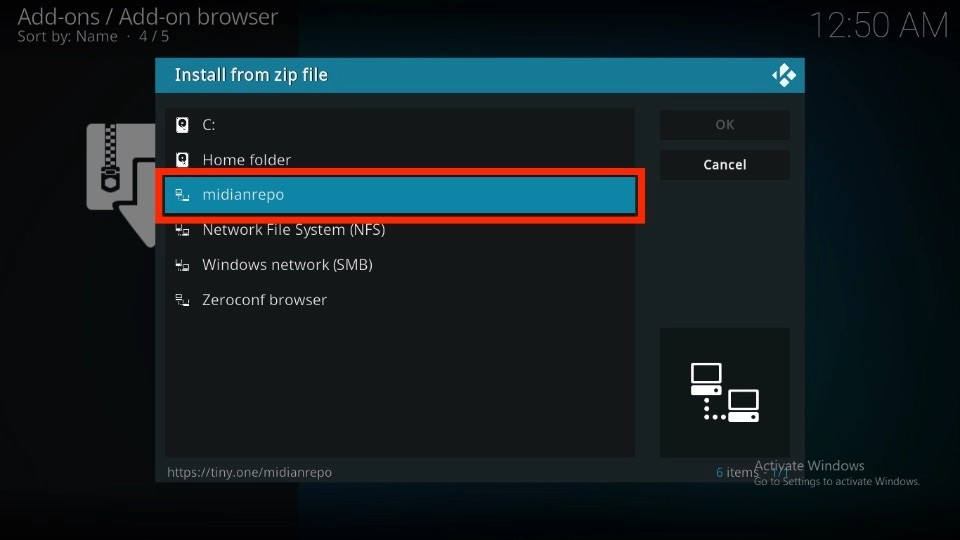 14. Choose repository.Wherethemonsterslive.zip.
Note: Don't choose the xbmc.python.zip. It's not related to Where The Monsters Live Repository.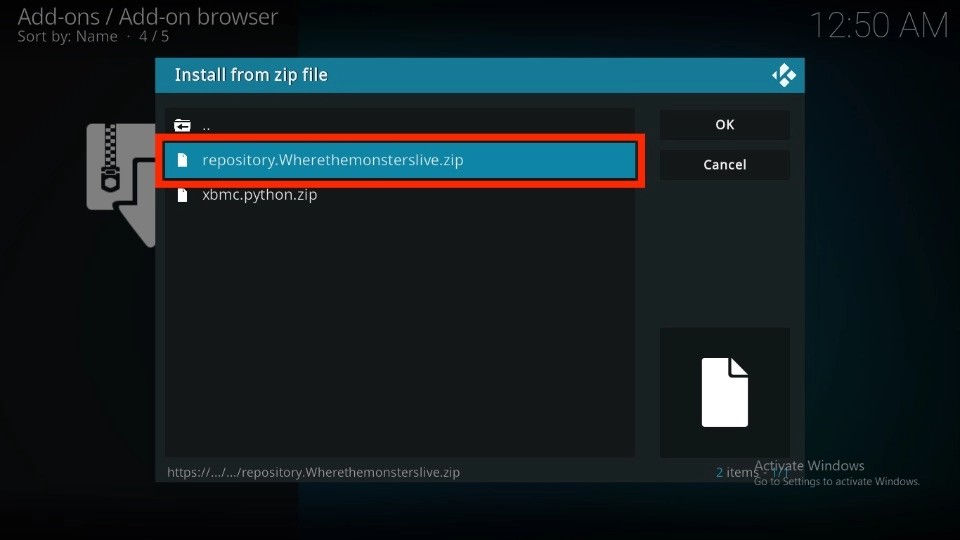 15. Wait for the notification to appear on your screen's top right side – Where The Monsters Live Repository Add-on installed.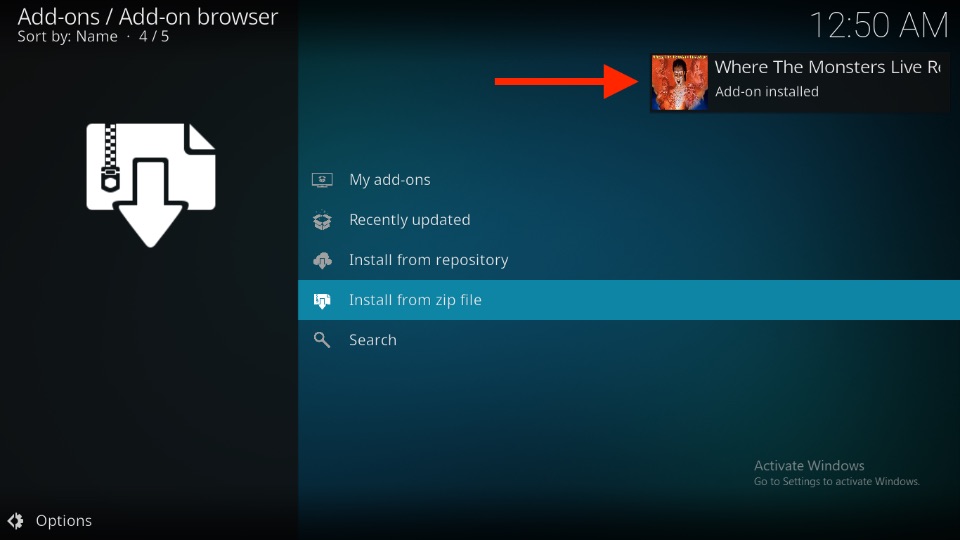 Finally, Where The Monsters Live Repository is now accessible via your Kodi app.
Part 3 – How to Install Frankenstein addon
Finally, here's how the installation of the Frankenstein addon breaks down:
1. On the same Add-ons page, select Install from repository.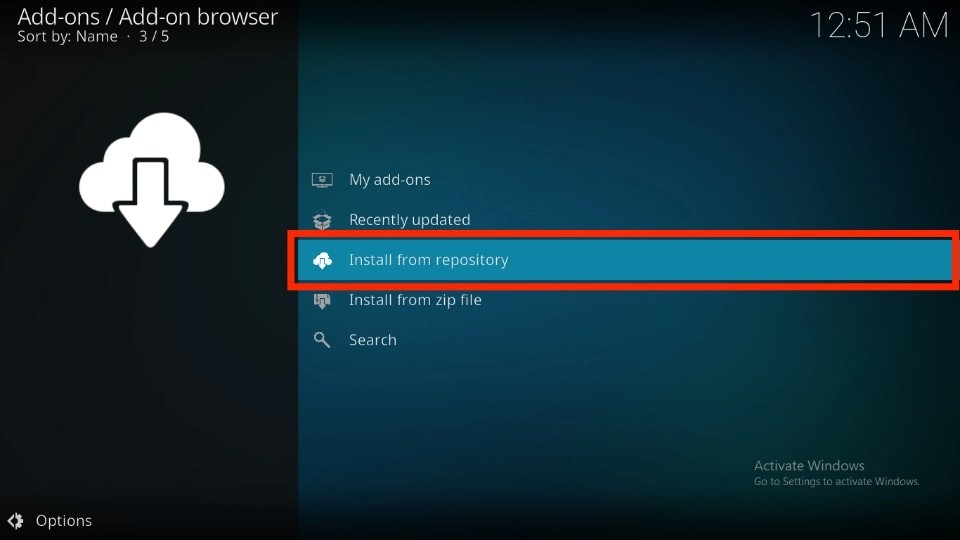 2. From the repository list, choose Where The Monsters Live Repository by Wolfey B.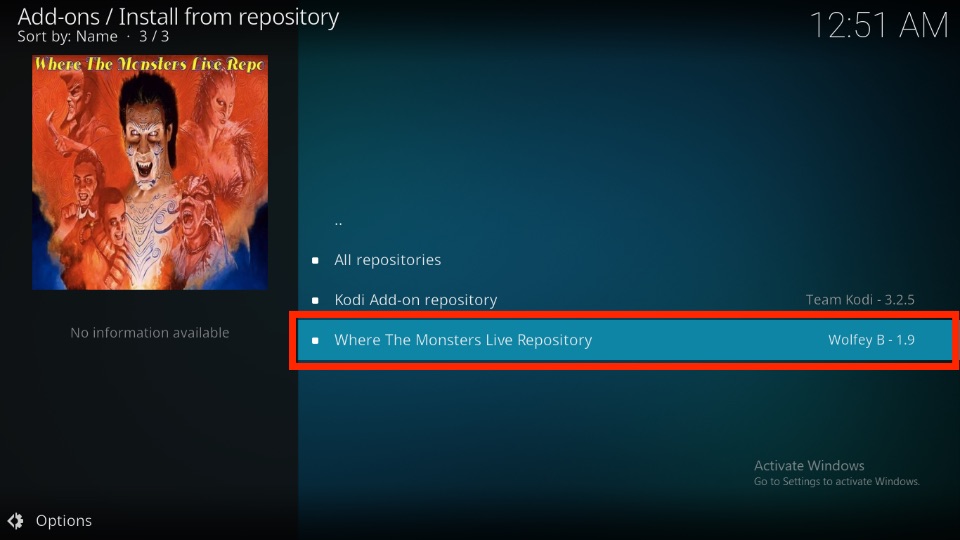 3. Explore the Video add-ons sub-folder.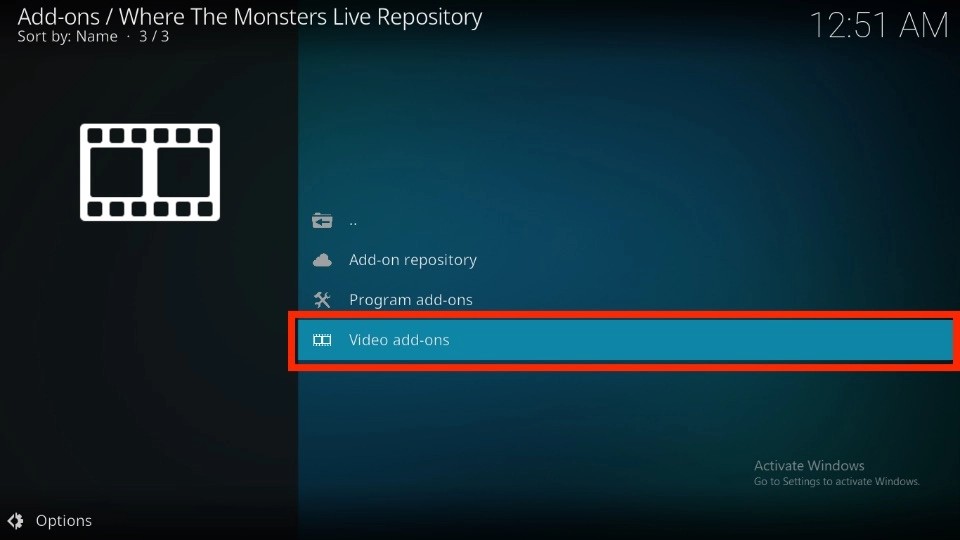 4. Open the Frankenstein Kodi addon by Bones.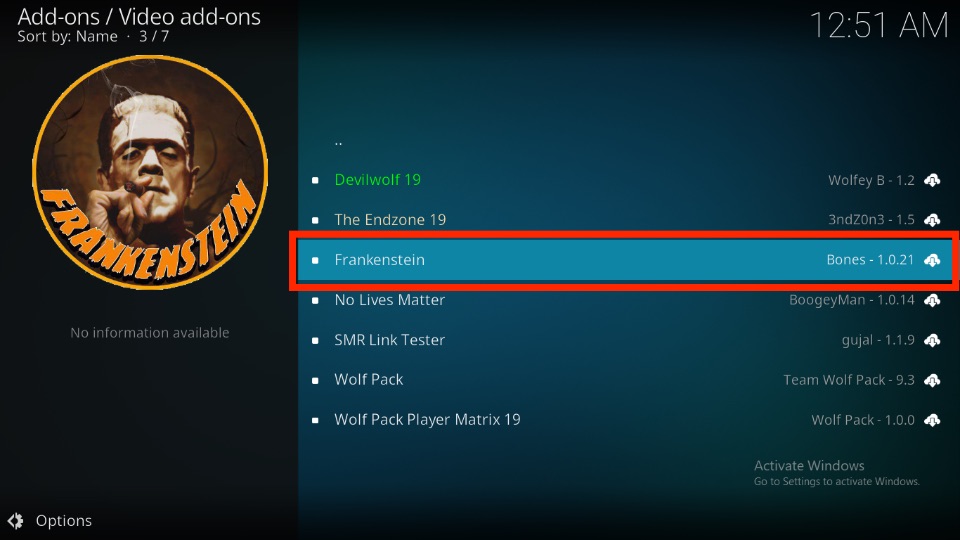 5. On the Frankenstein dashboard, you'll see information about the addon, like its category, summary, origin, etc. Click Install.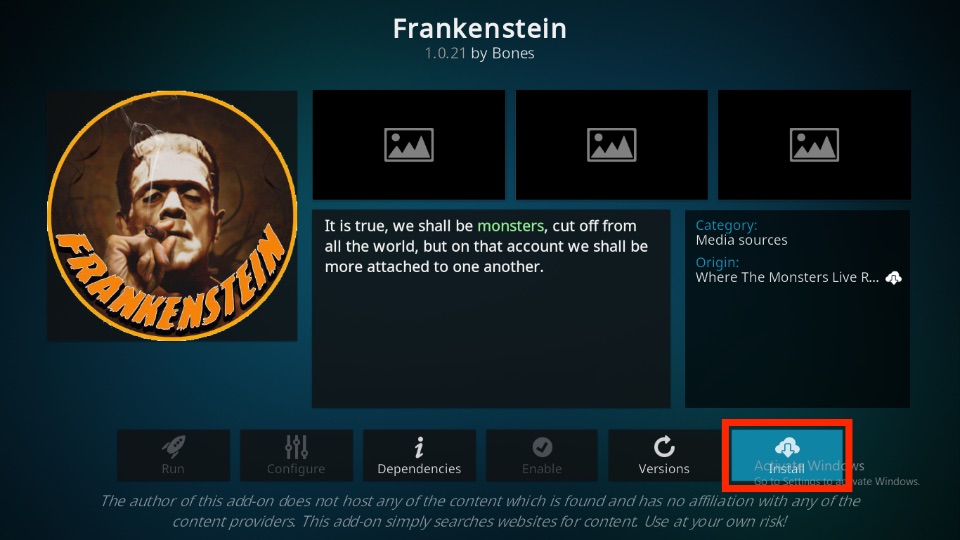 6. Some additional add-ons will get installed along with Frankenstein. Click OK to give the green light.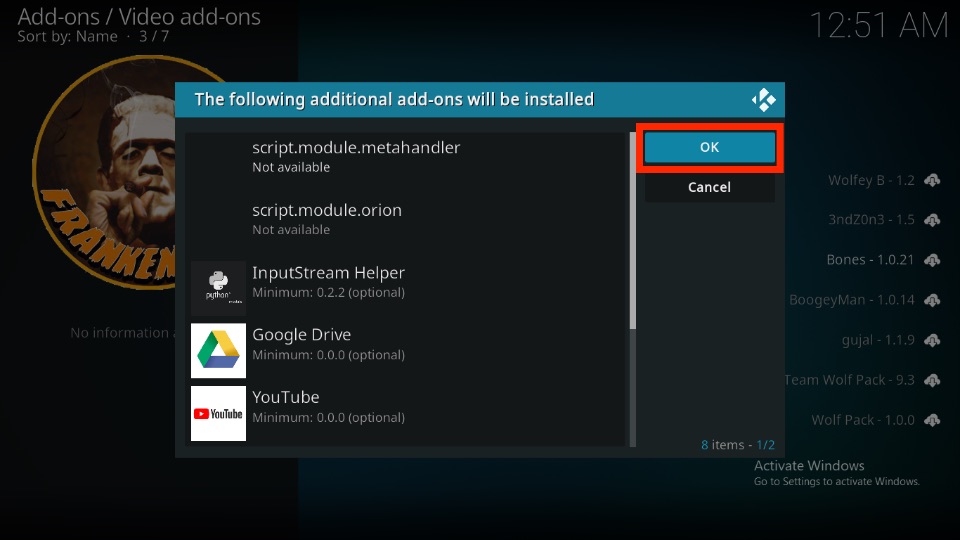 7. Let Kodi finish downloading and installing additional addons and Frankenstein.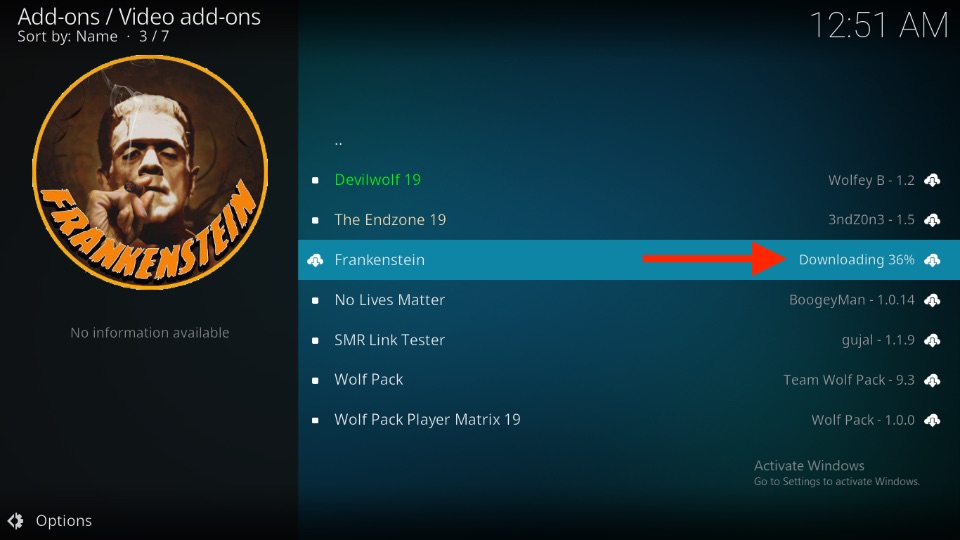 8. When Frankenstein Add-on installed notification pops up, you are all set to use the addon.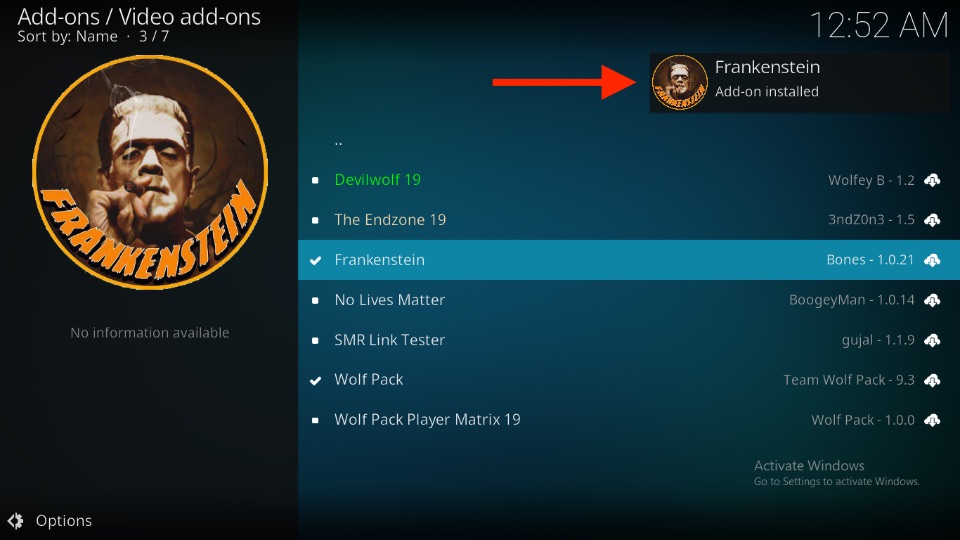 Hurray! Frankenstein is now available in the list of your Kodi addons.
Wait! It looks like you are all set to start watching your favorite content on Kodi. But have you protected your online identity yet? You are under constant surveillance by the Government and ISP. They use your IP address 66.249.75.209 to track you. Streaming free or copyrighted videos may get you into legal trouble.
Thankfully, you can use a VPN to easily protect your privacy and go invisible from your Government and ISP. I use and recommend ExpressVPN with Kodi.
ExpressVPN is the fastest, most secure, and streaming-friendly VPN. It is easy to install and set up on any Kodi device, including FireStick, Smartphones, PCs, and more.
ExpressVPN, offers an unconditional 30-day money-back guarantee. So, if you do not like the service (I don't see why), you can get a full refund within 30 days.
Please remember that we encourage you to use a VPN to maintain your privacy. However, we do not condone breaking copyright laws.
Before you start using Kodi for streaming, here is how you can protect yourself with ExpressVPN:
Step 1: Sign up for ExpressVPN Here
Step 2: Download ExpressVPN on your device by clicking HERE
Step 3: Open the ExpressVPN app on your device. Sign in with your account. Click the connect/power button to connect to the VPN

Great! You have successfully secured yourself with the best Kodi VPN.
How to Use Frankenstein Kodi Addon
Stay with me to see what's inside the Frankenstein Kodi addon:
First, open the Add-ons tab on Kodi's home screen.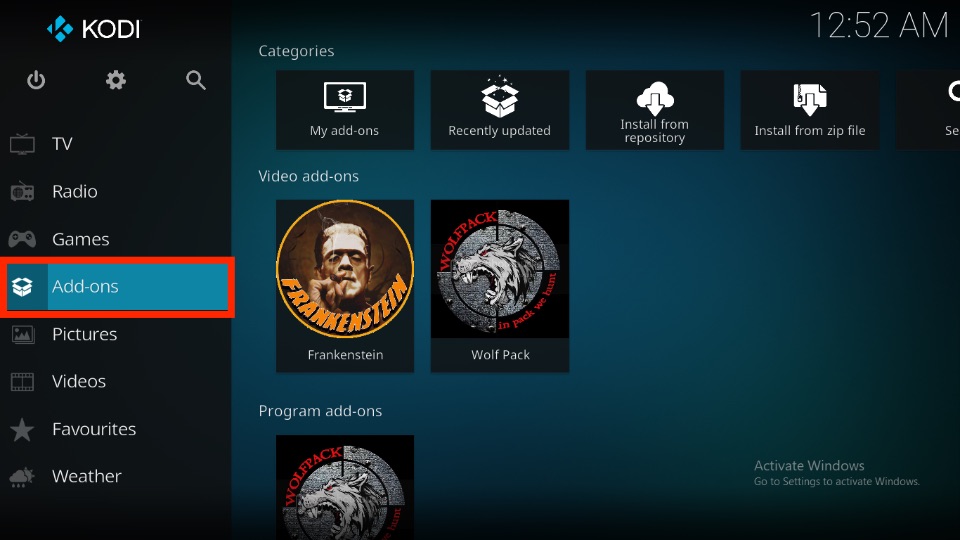 Then, go to Video add-ons and choose Frankenstein.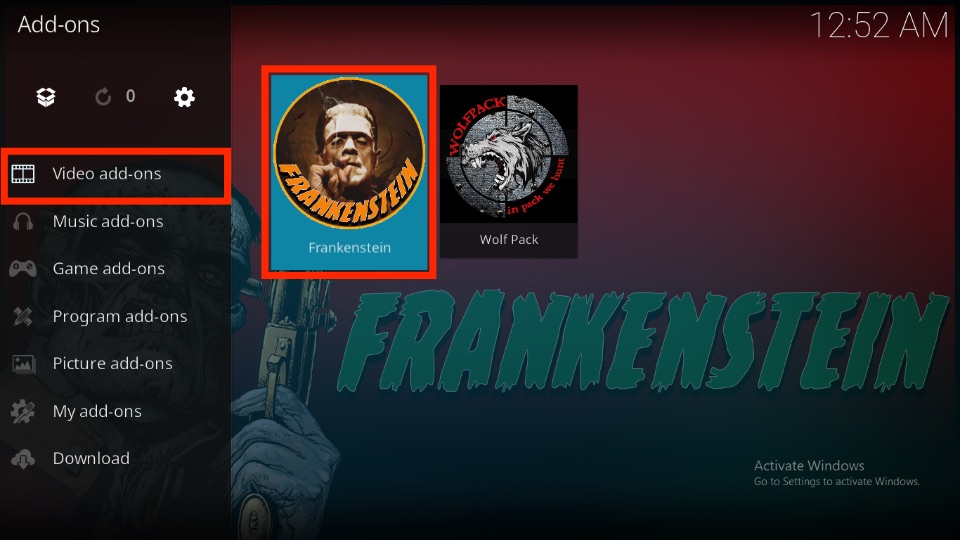 The Frankenstein home screen features the following sections:
Movies
TV Shows
One Click
Tv Shows Libraries And One Click
Franchises Libraries And One Click
Random movies gore and stuff
Random Indexes Of movies Tv Shows One Click
Playlists
Frankenstein 24/7
24/7 Horror
Random Genre
Twenty Four Seven
My Movies
My TV Shows
New Movies
New Episodes
Tools
Search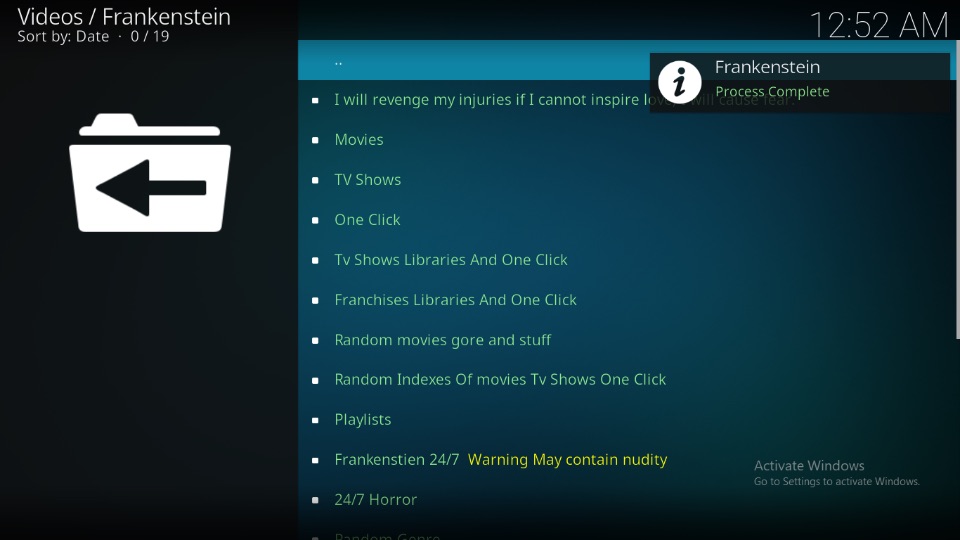 We first have the I will revenge my injuries if I cannot inspire love, I will cause fear section. Technically, it's not a section but a title, so you can't open it.
Next, for movie lovers, we have the Movies section of Frankenstein.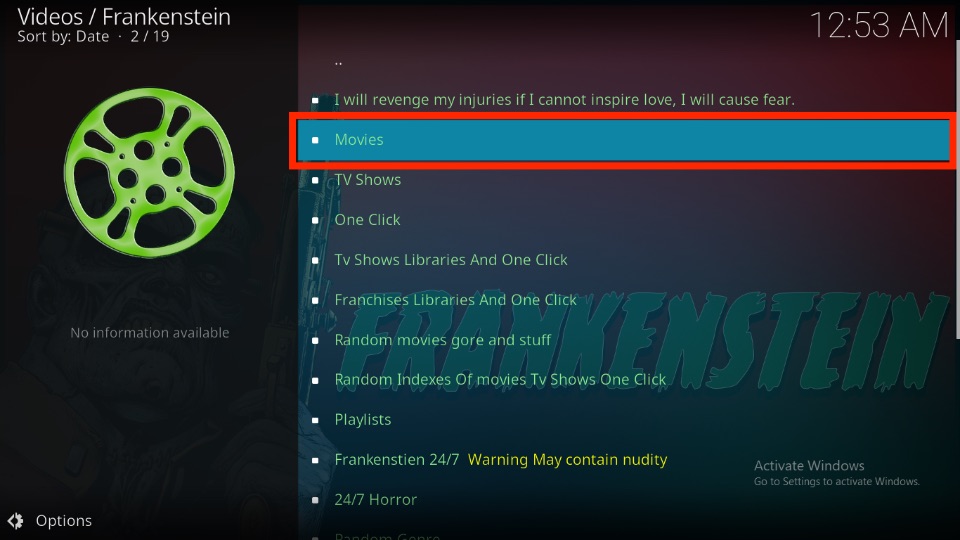 This contains 17 sub-folders like Year, Decade, Certificates, Box Office, People Watching, New Movies, and more. So, as I want to check out the popular movies, I'm exploring the Most Popular section.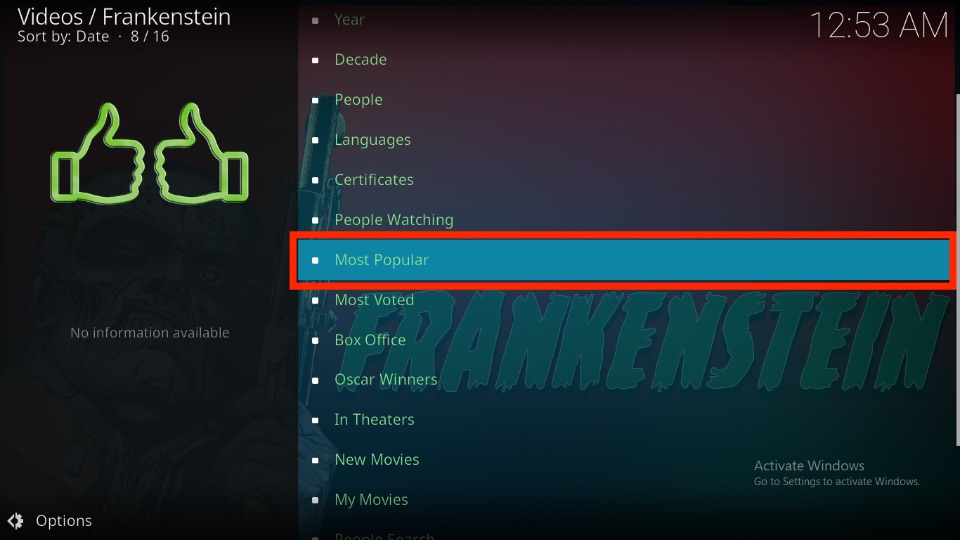 Inside, Frankenstein loaded 41 most popular movies for me to watch!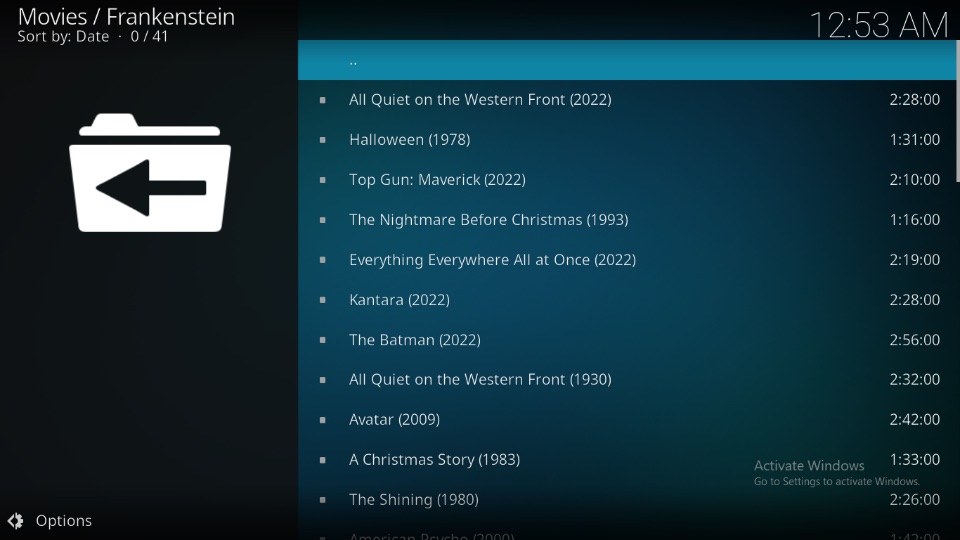 After Movies, we have the TV Shows section for the binge-watchers!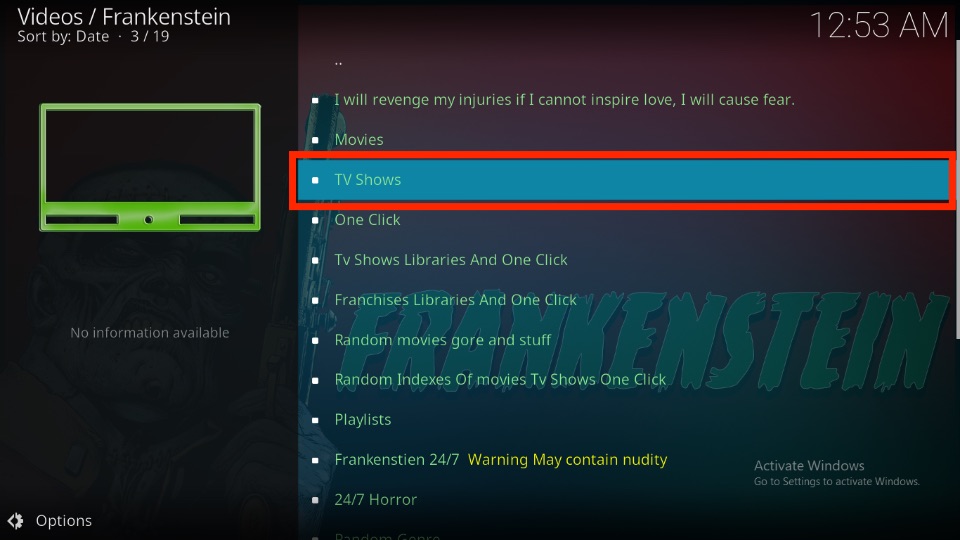 Like Movies, the TV Shows section lists sub-folders like People Watching, TV Calendar, Search, My TV Shows, Most Voted, Highly Rated, etc. So, for example, I can open the New TV Shows section if I want to see what's new.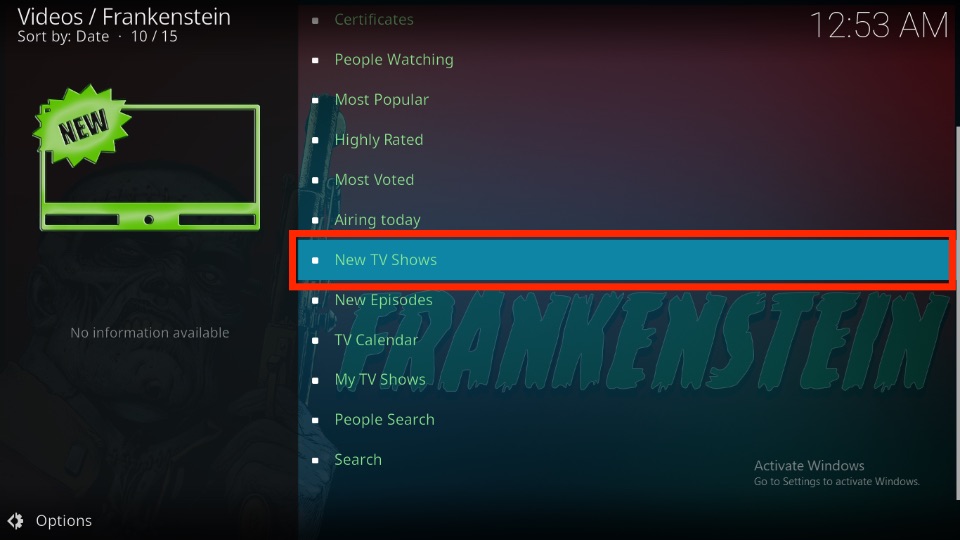 And just like that, the addon presented me with a list of 38 new TV shows!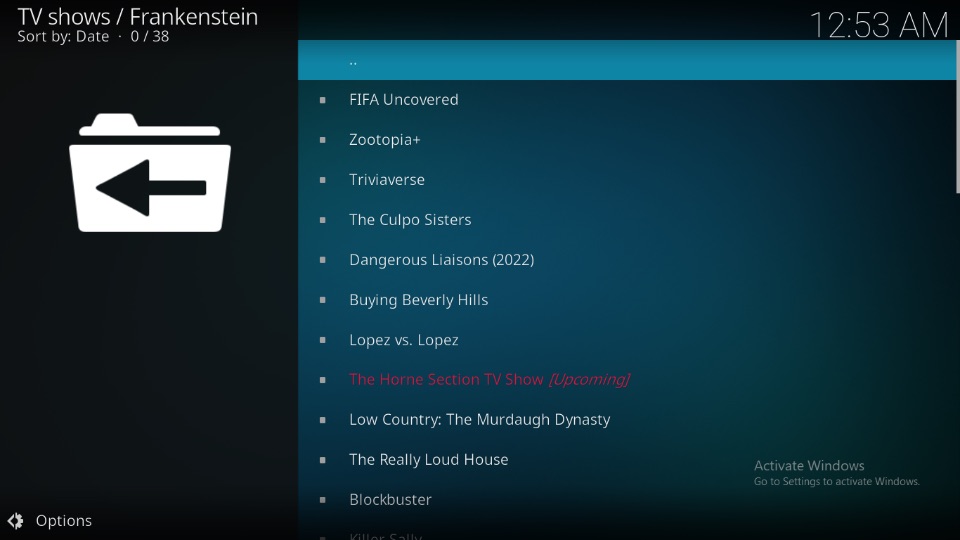 Next, let's march onto one of the most anticipated sections, One Click.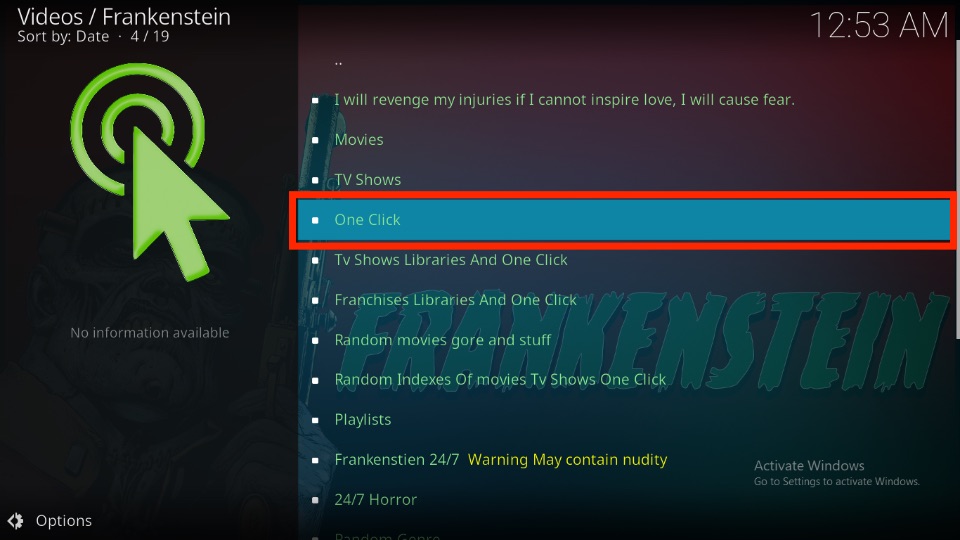 This section features sub-sections like Indexers 1, Indexers 2, All Movies, All Horror Franchises, and more. And inside those are all one-click play content.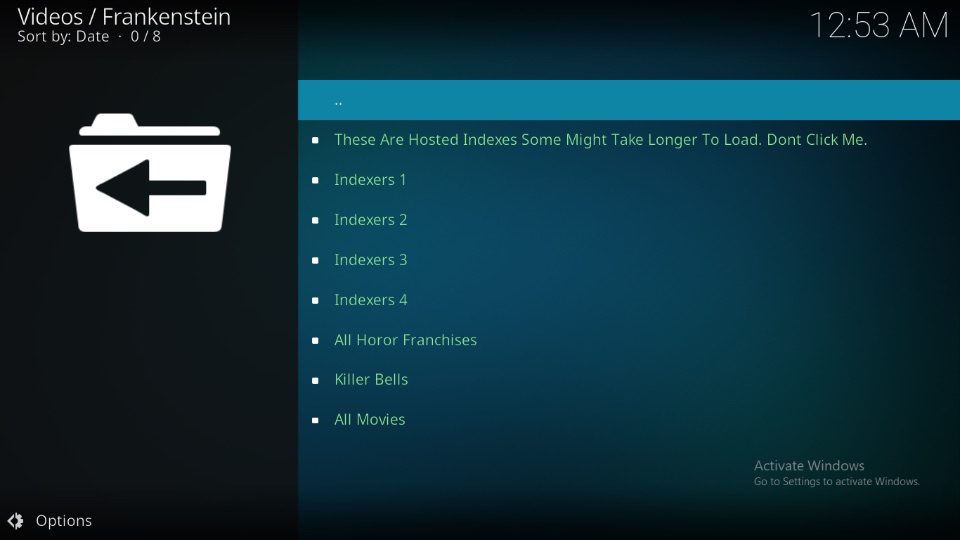 Want to access the collection of famous TV shows? Open Tv Shows Libraries And One Click.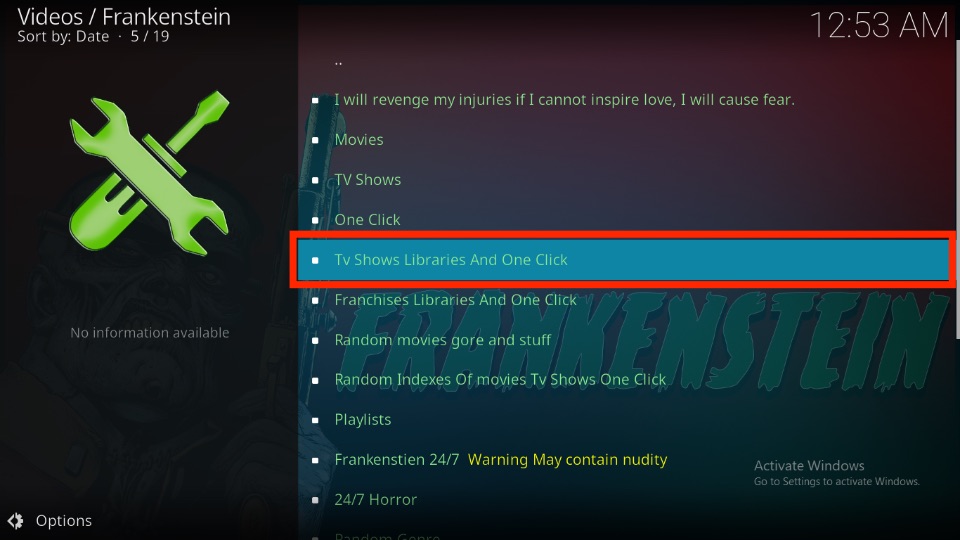 Here, you'll find 22 libraries of popular TV shows.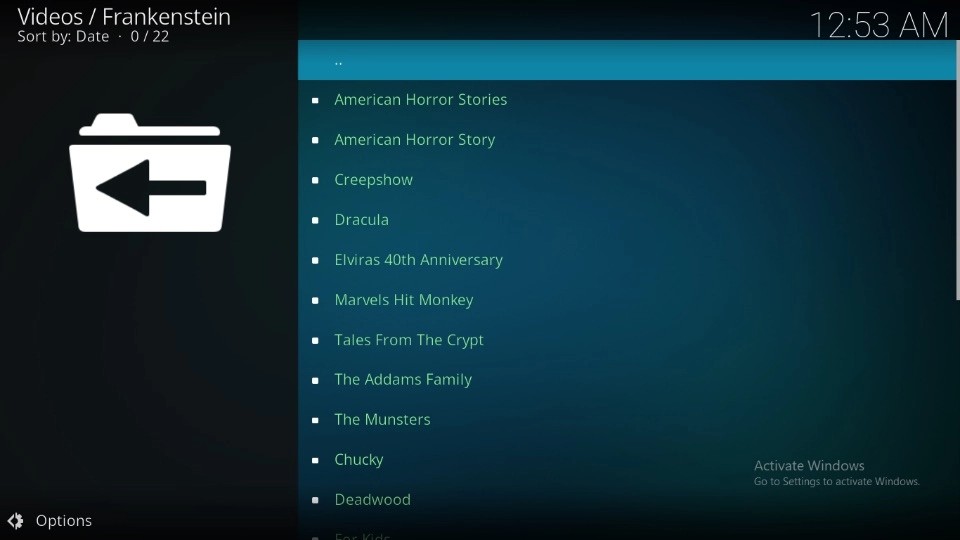 Want to access the libraries of famous franchises? Explore Franchises Libraries And One Click.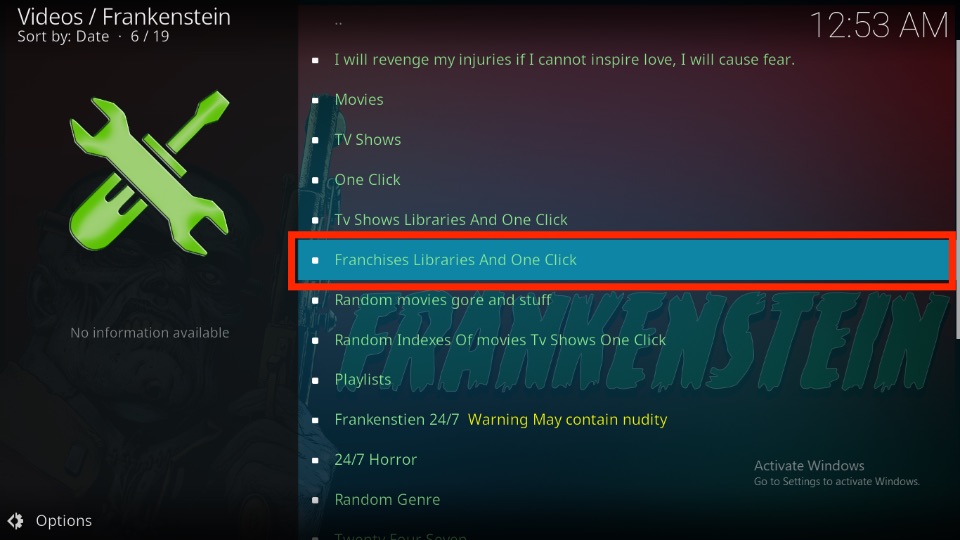 Inside, there are 41 libraries of the most popular franchises.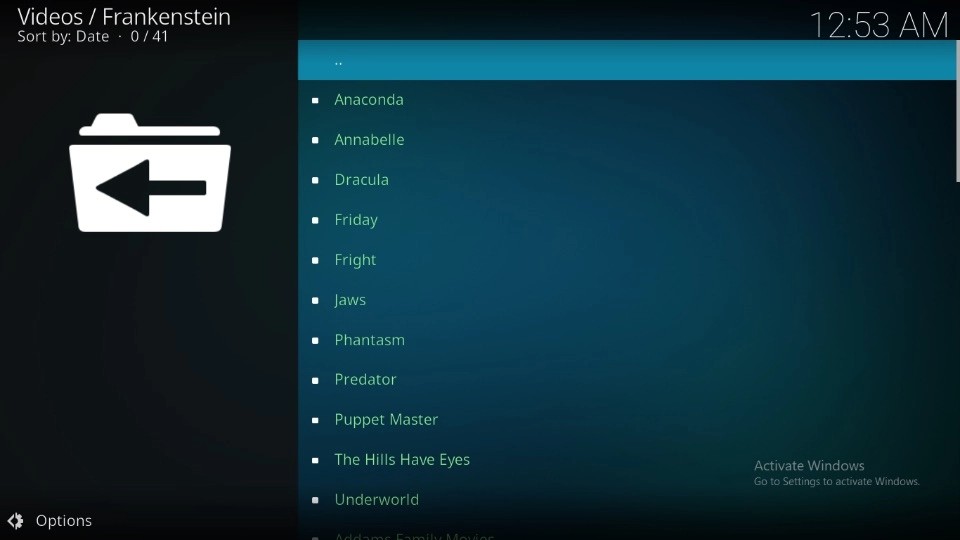 Are you unsure about what to watch? Then, the Random movies gore and stuff section are for you.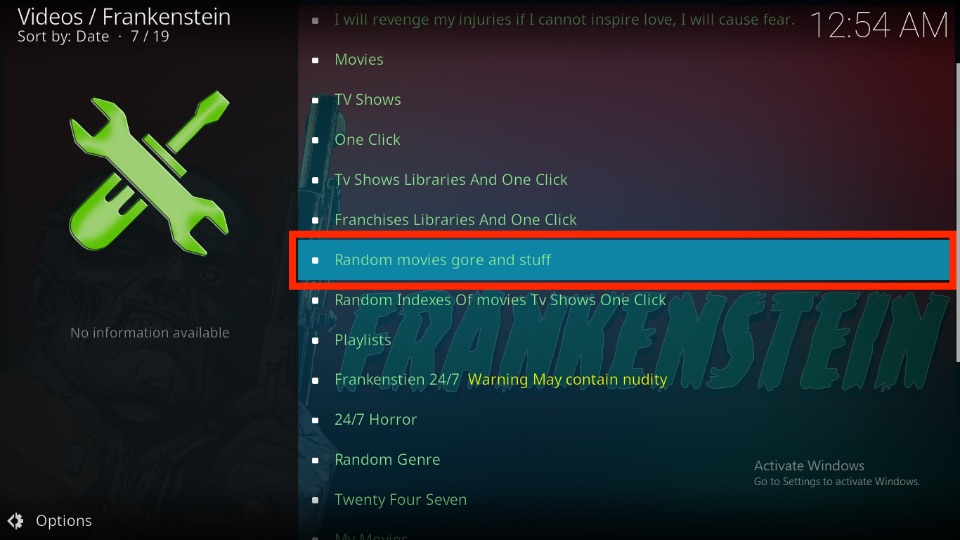 This section features folders like Movies Based on Folklore, Classic Horror, Random Movies, Movies for Kids, and more.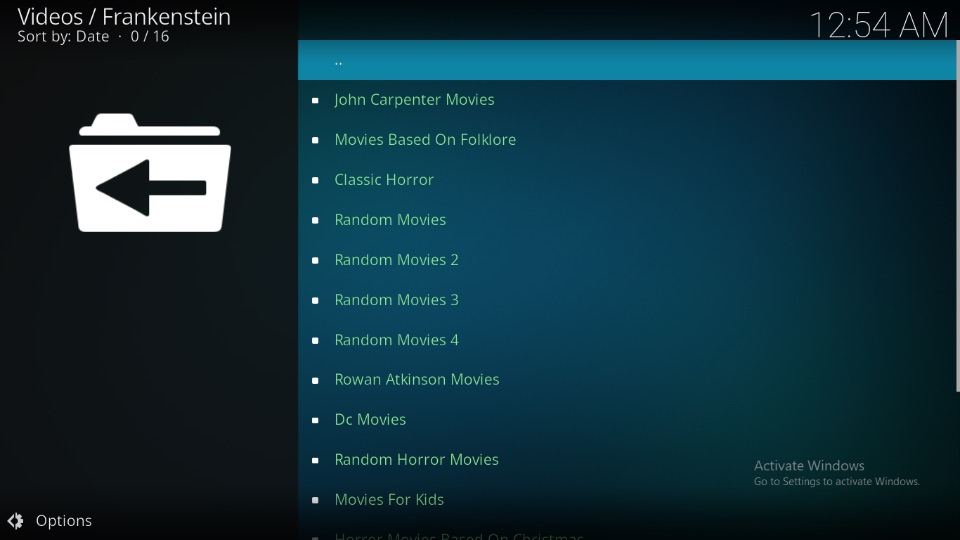 Inside the 24/7 Horror section, there are special horror 24/7 feeds available.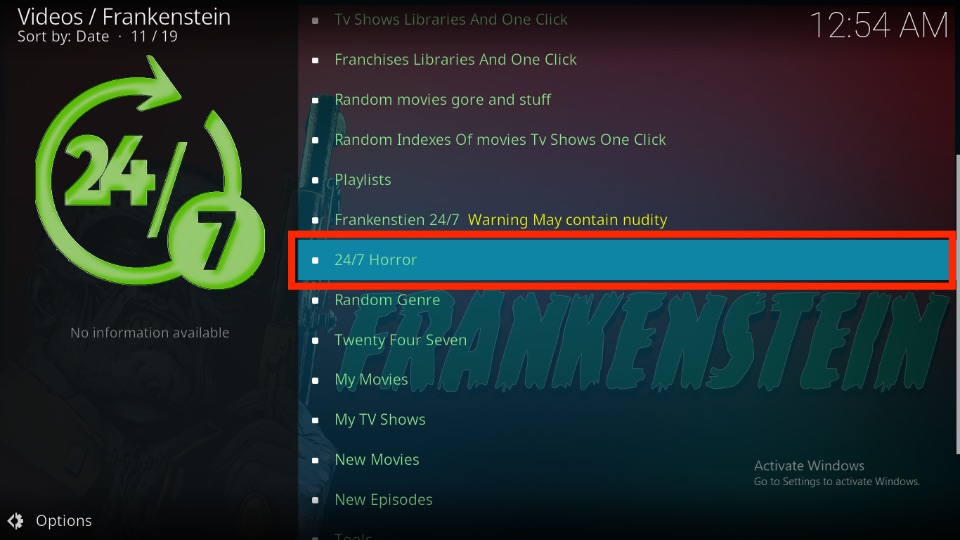 There are 36 24/7 live feeds of different horror movies and TV show franchises.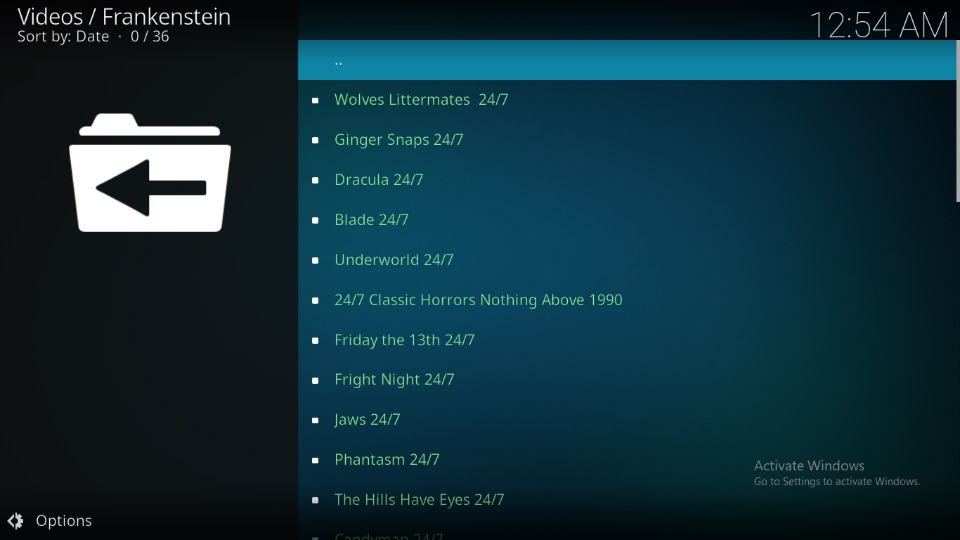 To access the list of fresh movies, select New Movies.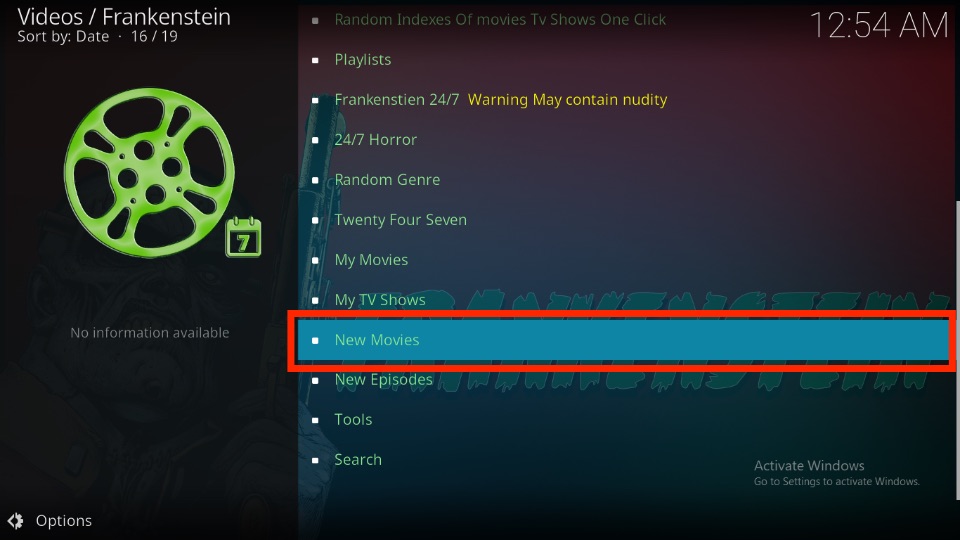 You'll see the list of all the latest movies!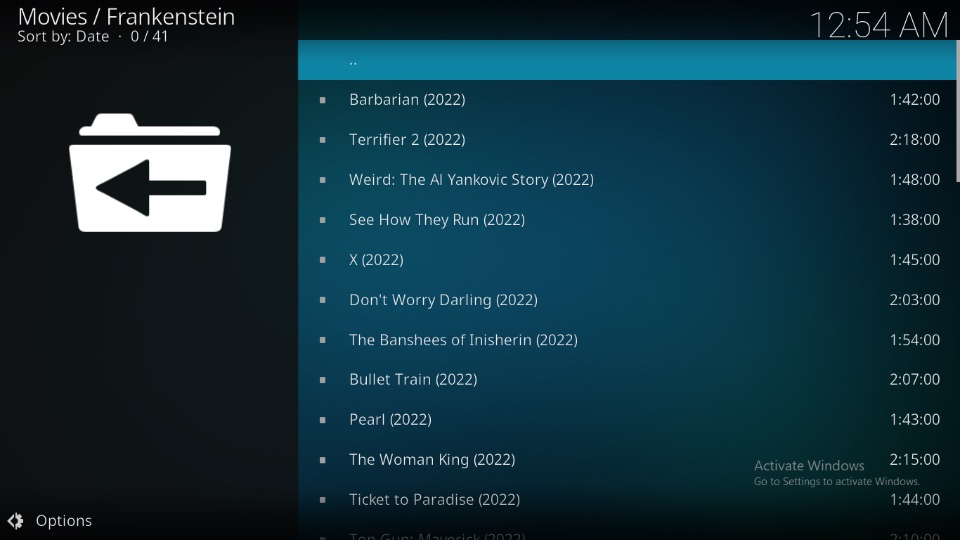 Lastly, discover the missed sections, like Random Genre, Playlists, Frankenstein 24/7, and more.
How to Set up Real Debrid with Frankenstein
Real Debrid offers premium and fast links to movies and TV shows. Learn all about how to set up and use Real Debrid.
Follow the steps below to connect your Real Debrid account with Frankenstein:
1. Open the Tools sections at the end of the Frankenstein home page.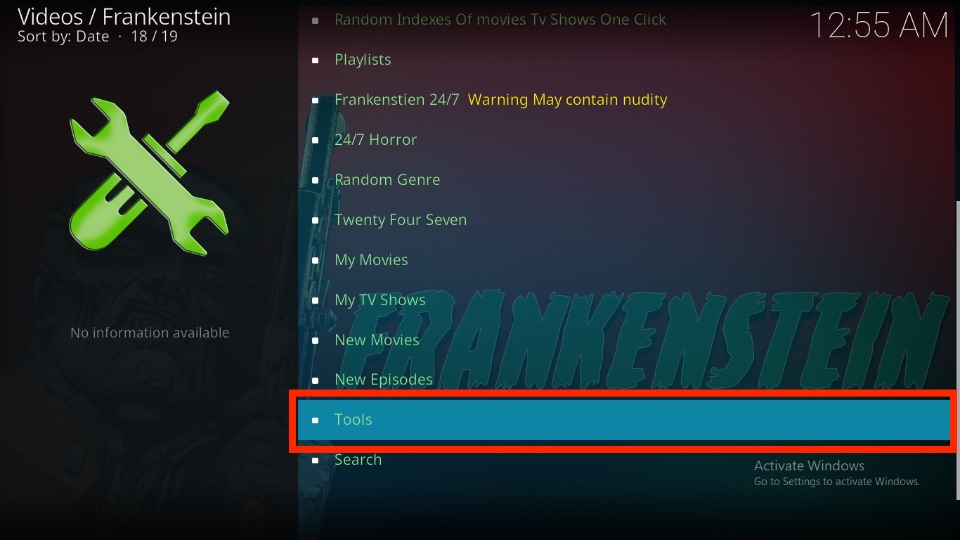 2. Choose Frankenstein: Settings to access the addon's settings menu.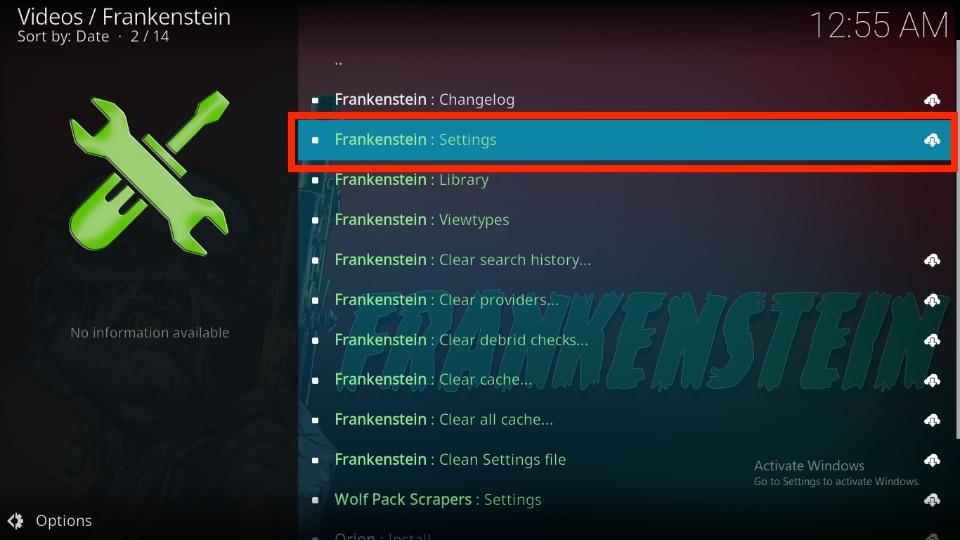 3. Open the Resolvers tab.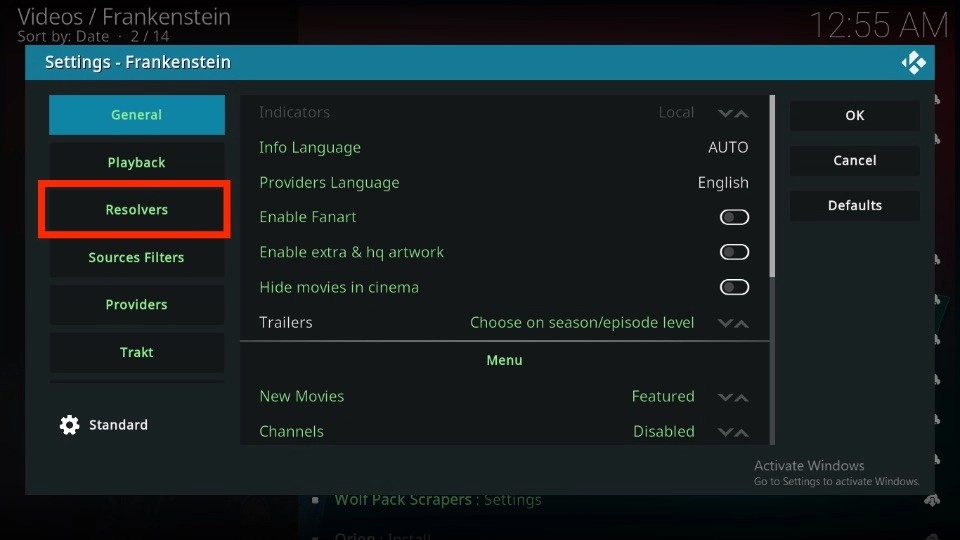 4. Select Authorize Real Debrid.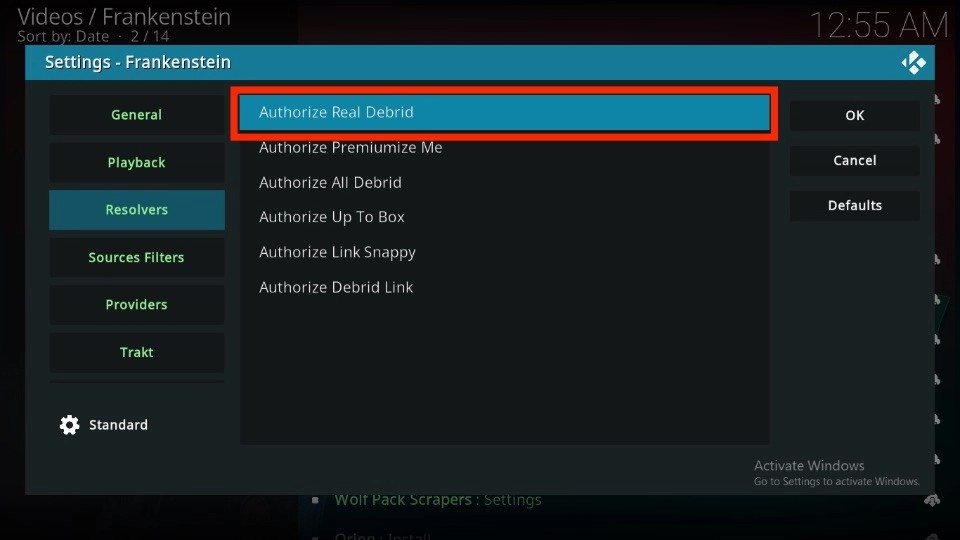 5. Go to https://real-debrid.com/device using a web browser on your phone/PC. And enter the code when prompted. Then, follow the instructions on the screen to complete the setup.
Note: You must sign in if you are logged out of your Real Debrid account.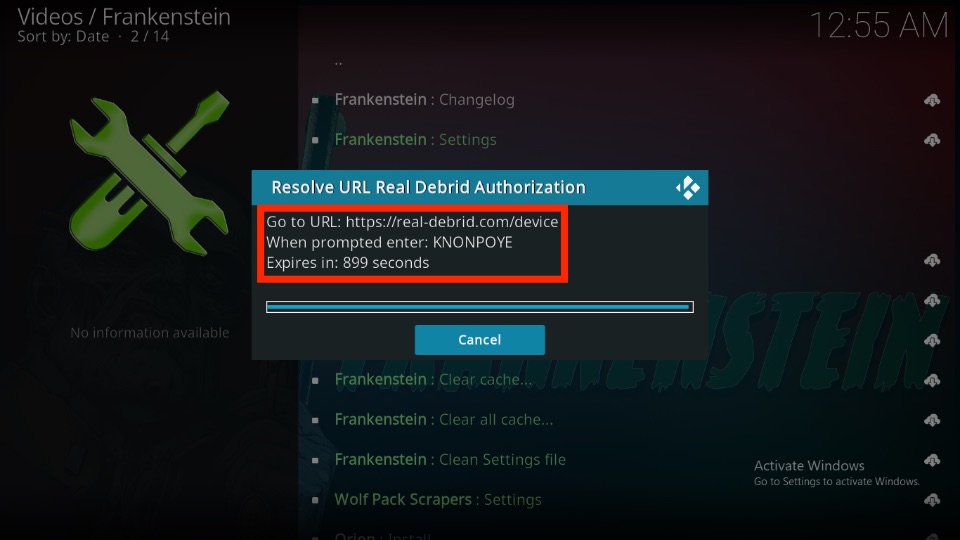 6. Wait for the notification to appear – ResolveURL Real-Debrid Resolver Authorised.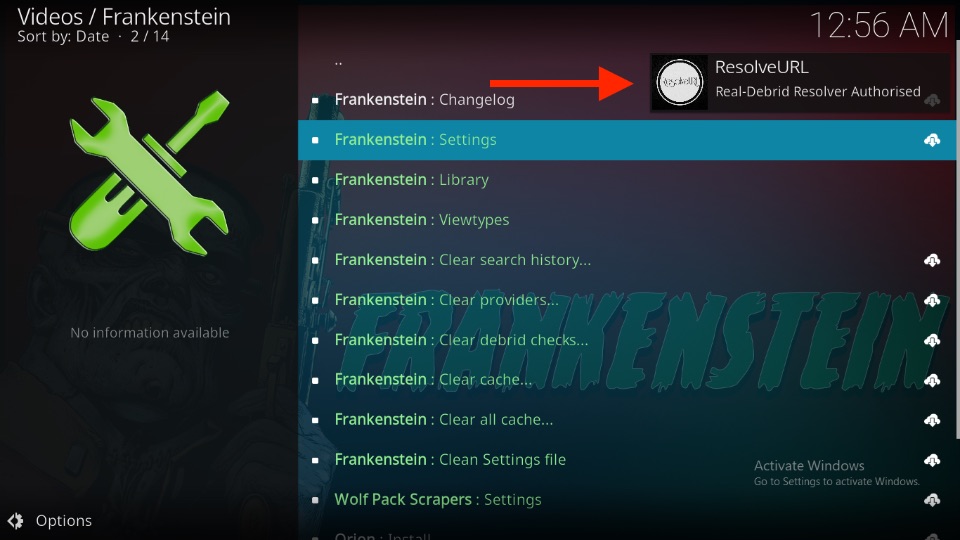 Your Real Debrid account is now connected to the Frankenstein addon, enjoy!
How to Set Up Trakt with Frankenstein
Discover, find what to watch, and track your watch history across multiple platforms with a single service, Trakt. Want to learn more about it? See How to Use Trakt on Kodi and FireStick to Sync Your Watchlist.
Finally, see how you can connect your Trakt account with Frankenstein in a few easy steps:
1. Choose the Tools section at the second-last position of the addon's home.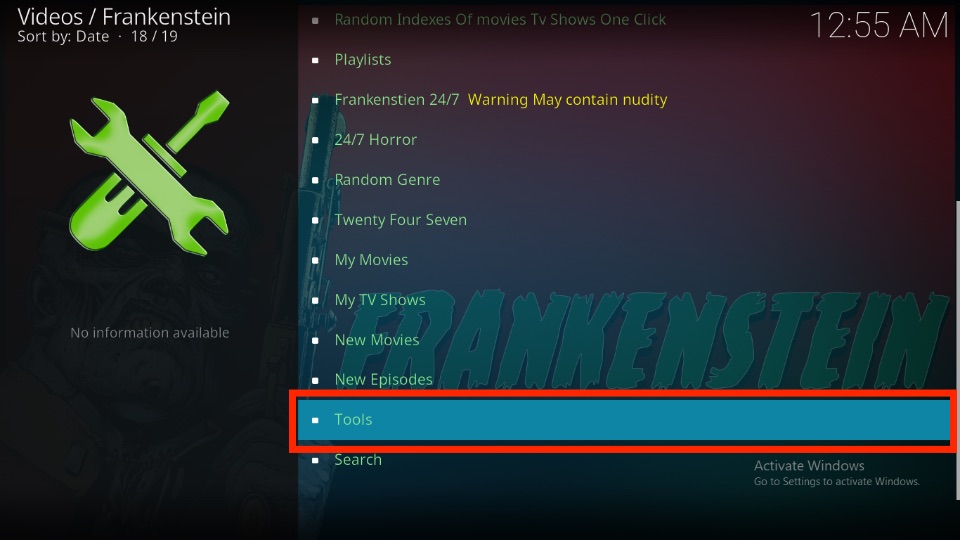 2. Pick Frankenstein: Settings to launch the addon's settings window.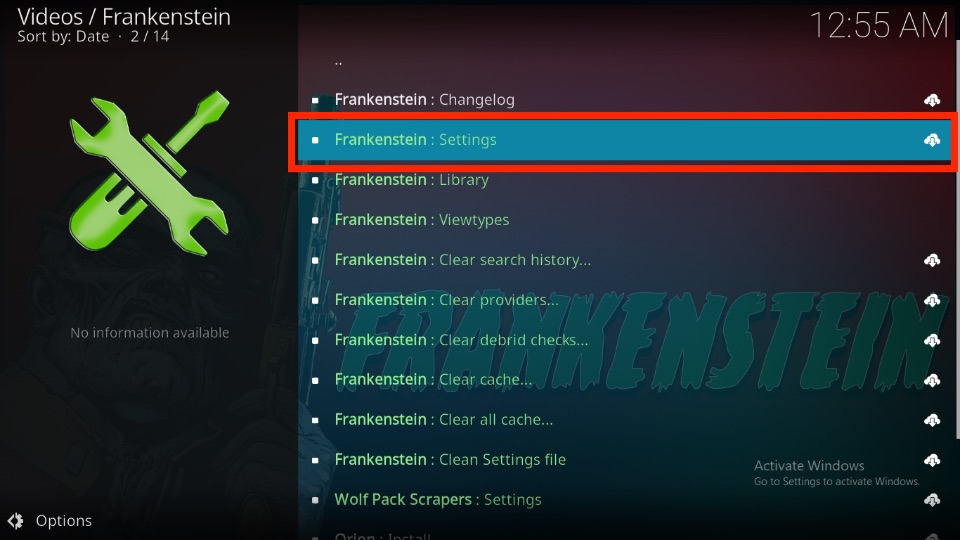 3. Choose the Trakt tab.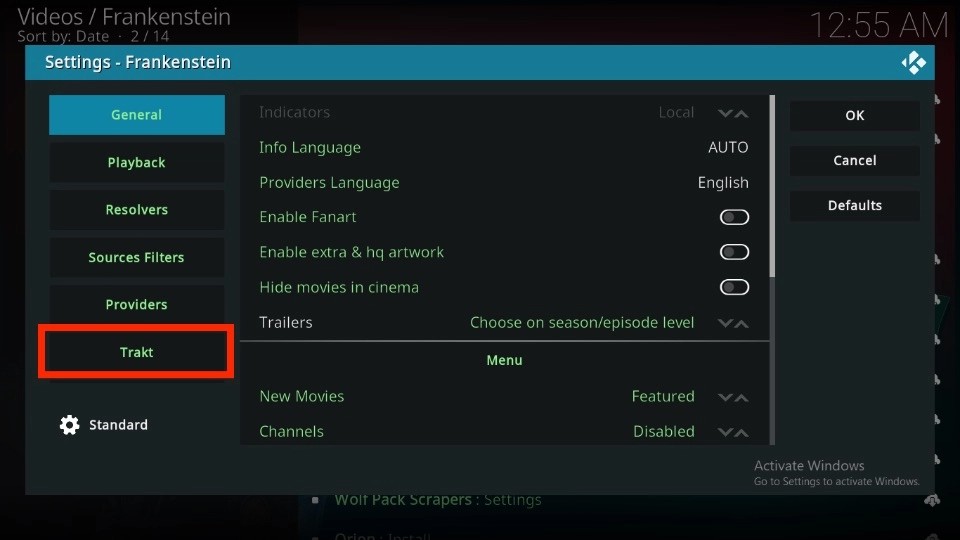 4. Select Authorise.
5. Launch a web browser on your mobile/computer and go to https://trakt.tv/activate. After that, enter the code when asked. Then, finish the setup by completing the instructions on the Trakt website.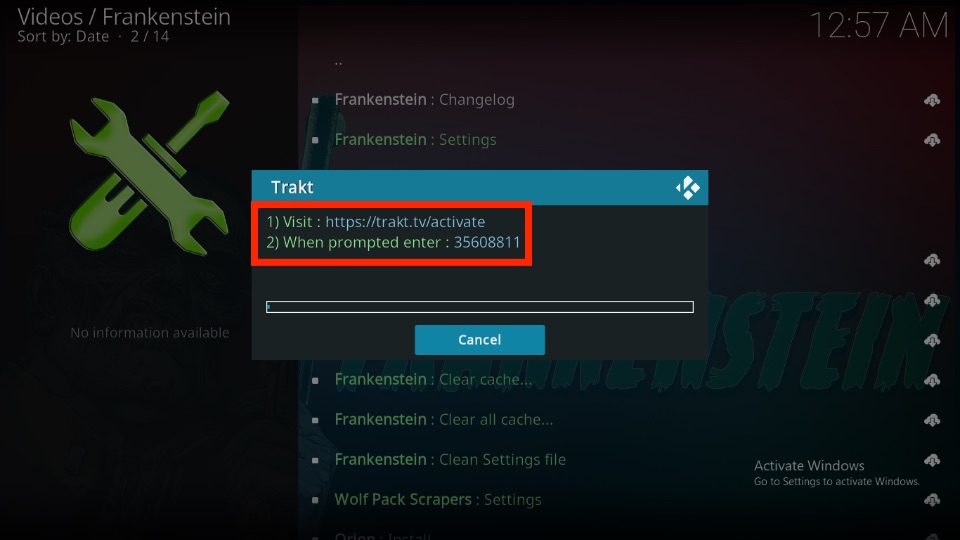 6. Once done, the Trakt box will close. Go to the Trakt tab, and you'll see your username on the extreme right of the Authorise lane.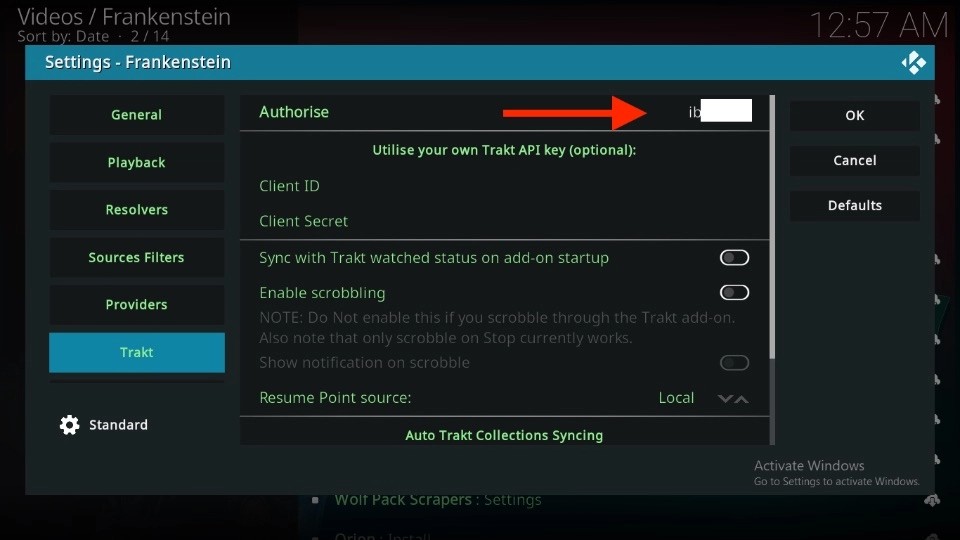 You can now sync your local changes with/to your Trakt account.
Wrap Up
Frankenstein is your go-to place to stream free horror stuff, new movies, fresh TV shows, and more. In this article, I showed you how to Install Frankenstein Kodi addon. If you are stuck somewhere or have any questions, comment down below!
Related: