Are you tired of the default Kodi menu, skins, and addons? Then, say hello to the Fallout build by cMaN's Wizard. This article introduces you to all the elements of Fallout. You'll learn all about the Fallout Kodi build from installation to use. Furthermore, the piece is valid for all Kodi-eligible devices like Amazon Fire TVs, PC, Nvidia Shield, Mac, Linux, Android, and more.   
What Is Fallout Build?
Brought to you by the famous wizard, cMaN Wizard 19, Fallout is a custom-made Kodi build. Fallout build gives your Kodi app a new life by adding new screens, skins, icons, menus, add-ons, and more.
With Fallout build, you have separate menus for different content like videos, sports, live, and more. Inside the build, you can access all the famous addons, which are preloaded and fully up-to-date. Also, all addons get automatic updates in the future. 
The user interface of Fallout is pretty attractive and straightforward. There are sections with sub-folders inside and relevant addons available on section footers.
Fallout build is inspired by the famous series of post-apocalyptic role-playing games. All-in-all, Fallout is a pretty solid yet lightweight build that runs fast on most devices. 
Attention KODI Users: Read before you continue
Government and ISPs endlessly monitor your online activities using your IP address 2603:9001:957f:ff0f:a9b4:8884:468e:7553 (exposed to everyone). Kodi is an excellent platform for streaming movies, TV shows, and sports, but streaming copyrighted content can get you into legal trouble. 
You should use a reliable Kodi VPN and protect your streaming activities and privacy. A VPN will hide your IP address and bypass government surveillance and geo-restrictions.
I trust and use ExpressVPN, the fastest and most secure Kodi VPN. It's easy to install on any Kodi device, including Amazon FireStick, PCs, and Smartphones. In addition, it offers a 30-day money-back guarantee, and 3 free months with the annual plan.
Read: How to Install & Use the best VPN for Kodi.
Is Fallout Safe?
Like any other third-party build, users are concerned about Fallout's safety. Although Fallout belongs to a reputable wizard, cMaN's Wizard 19, it is from unknown developers.
We at FireStick How aren't exactly security professionals. So I can't give Fallout a safety getaway pass.
However, I ran a virus check on cMaN's Wizard Repository zip file. And the result was surprising! Check it out yourself: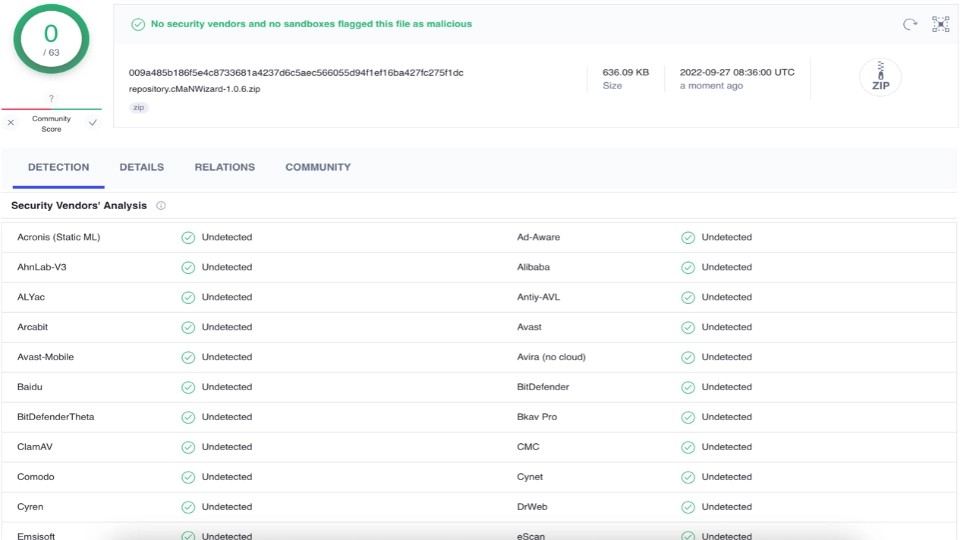 Is Fallout Legal?
Again, we can't draw a line regarding legality – let me explain. 
There's nothing wrong with customizing Kodi with addons and skin packs. However, users streaming content via unofficial addons is a deal breaker.
FireStick How's technical team lacks the resources to check the authenticity of links available via Fallout. In short, I can't comment on Fallout's legality.
Using a trusted VPN like ExpressVPN is the only way to keep you safe and out of any legal concerns.
Features of Fallout Build
Fallout Kodi build features the following attractions:
Lovely UI theme

Tons of content sections

Preloaded with popular addons

Support for Trakt & Real Debrid
How to Install Fallout Kodi Build?
Don't miss any detail! All are essential for a successful Fallout Kodi build to install.
Part 1 – Enable Unknown Sources
We'll start by enabling unknown sources on Kodi:
1. Open the Kodi settings menu by clicking the Gear icon on the home screen's top left side.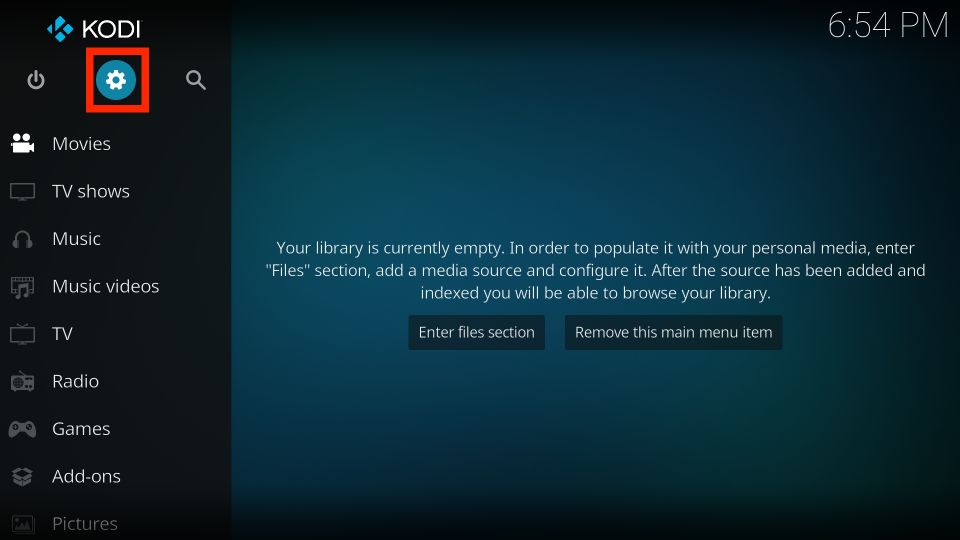 2. Choose the System tile.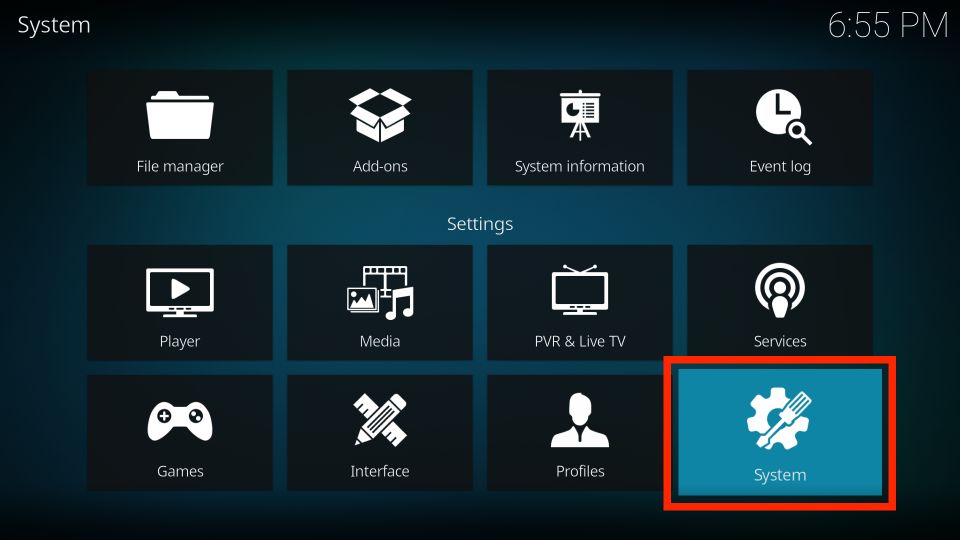 3. Move down to the Add-ons tab on the left-hand menu pane.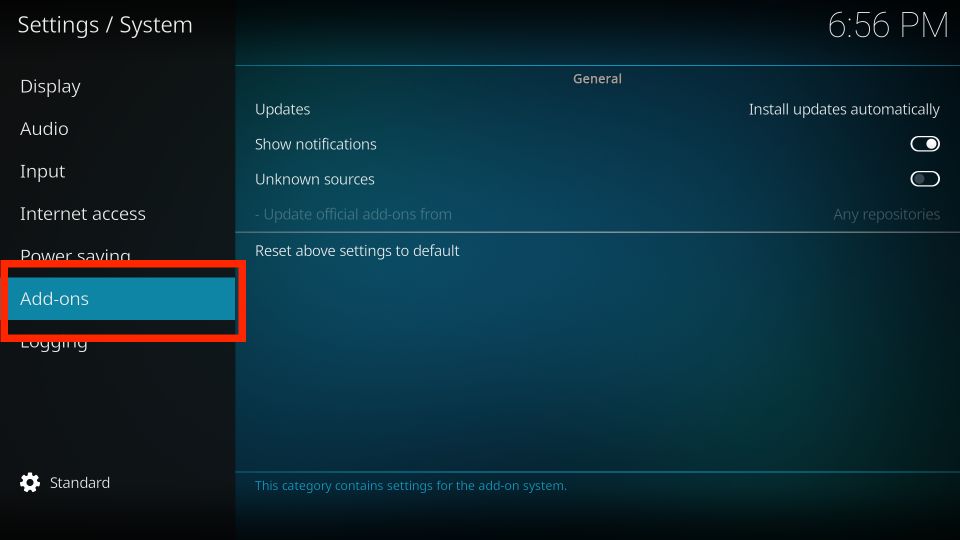 4. Switch on Unknown sources on your screen's right side.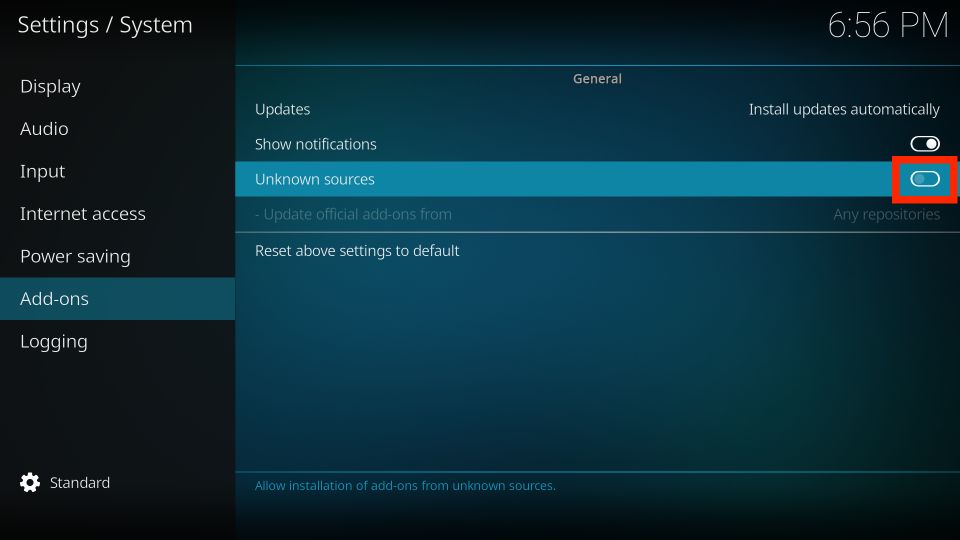 5. Acknowledge the Warning text sent by Kodi regarding the consequences of allowing unverified sources. Click Yes to accept and continue.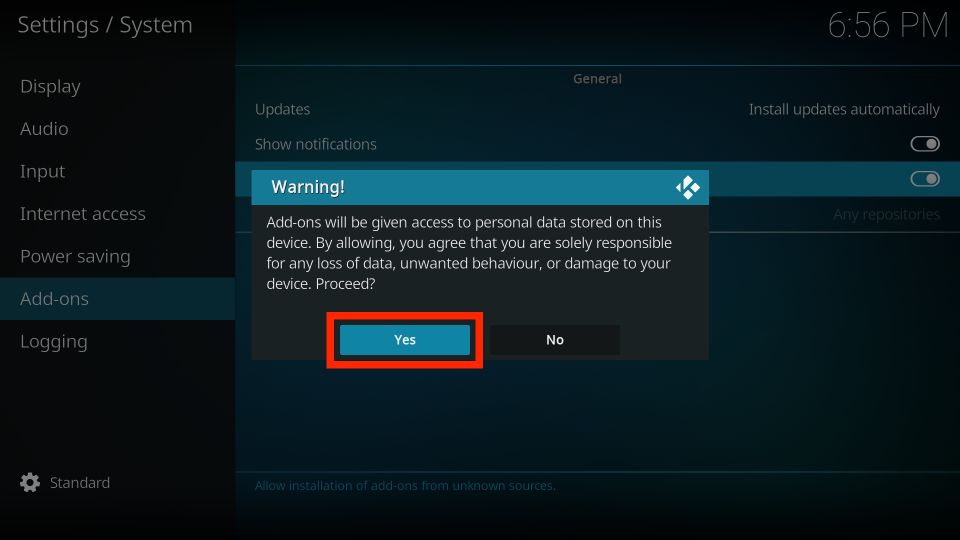 Part 2 – Add cMaN's Wizard Repository Source
The next step is to add cMaN's Wizard Repository to access cMaN Wizard 19:
1. Launch the settings window of Kodi by choosing the Cog icon located right below the Kodi logo.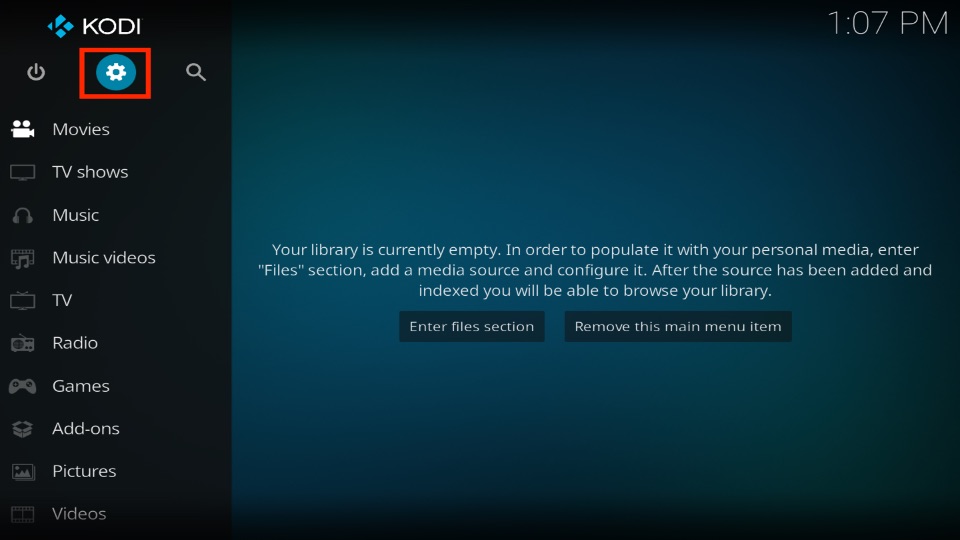 2. Explore the File manager tile tab.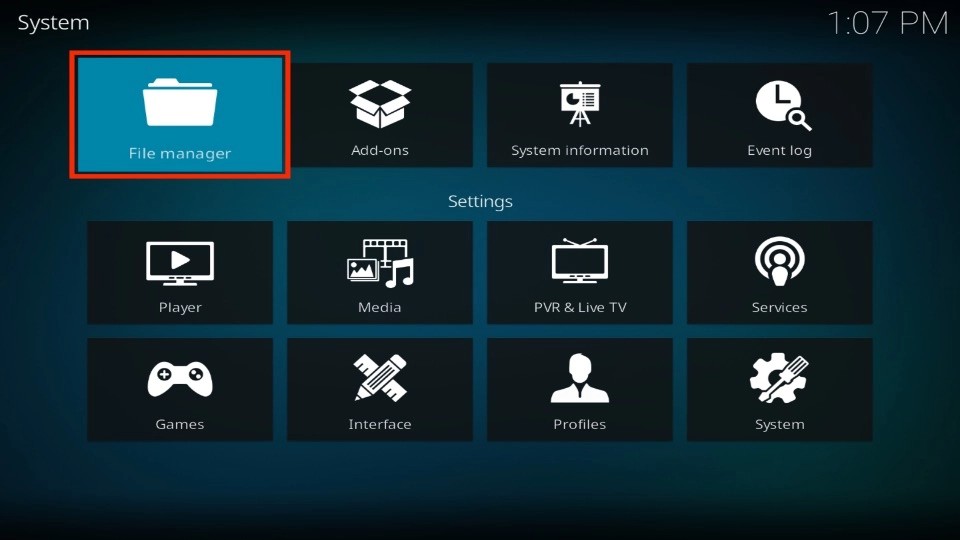 3. You'll see the Add source option on your screen's right and left side; select one.
Note: The Add source option gets to the lower part of the list once you add third-party sources to the file manager.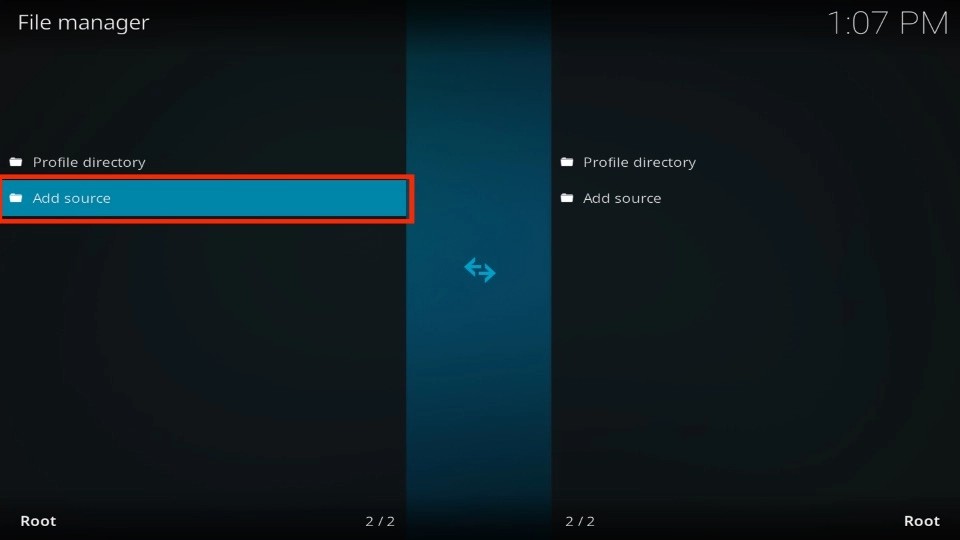 4. Under the Enter the paths or browse… heading, select the <None> option.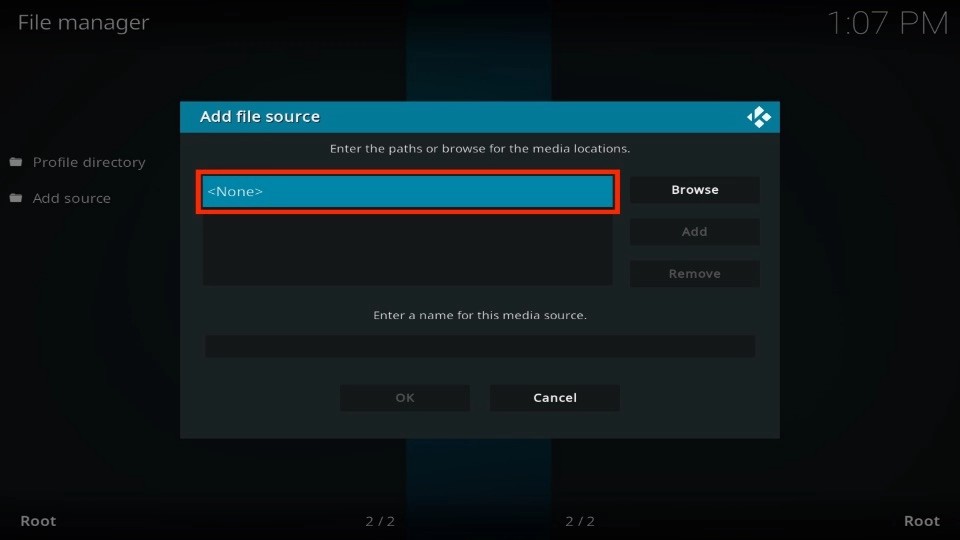 5. Now, enter the official link of the cMaN's Wizard Repository – http://cmanbuilds.com/repo
Press OK to save the source. 
Note: Mentioned website is the official URL to access the cMaN's Wizard Repository. We are not affiliated with the developers of the repository or the build. I have added it only for educational purposes.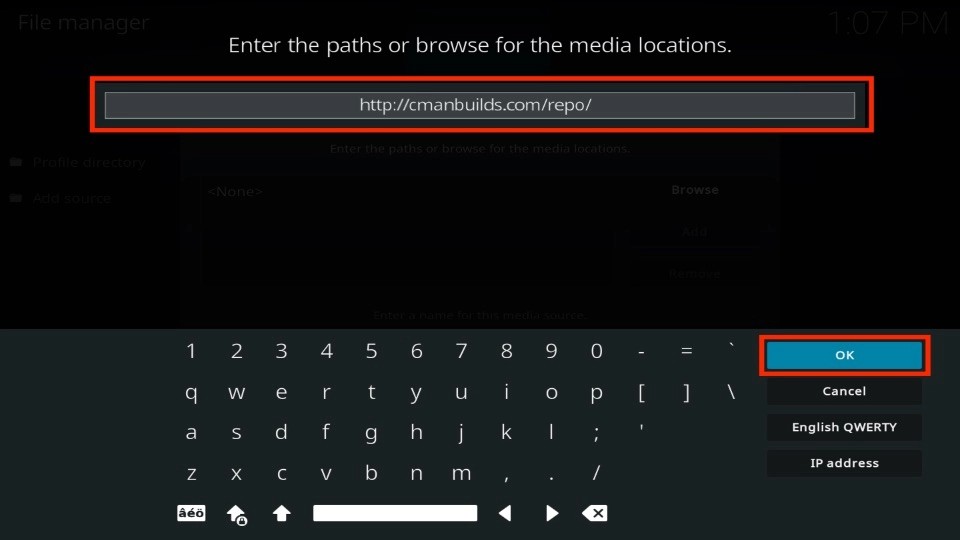 6. It's better to change the default name of the cMaN's Wizard Repository. To do that, select the input box that contains the default name, repo.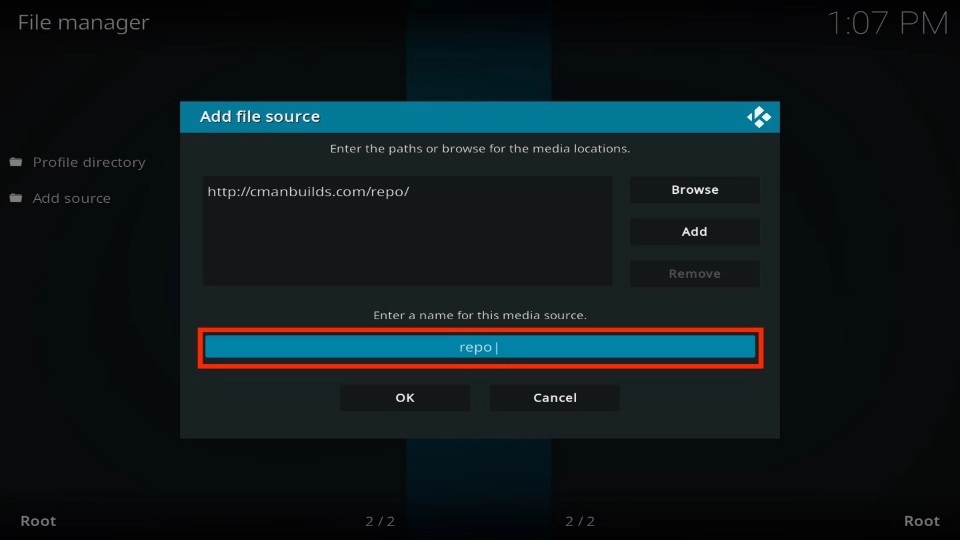 7. Replace the default name with cman or anything else you can easily recall in the future. Click OK.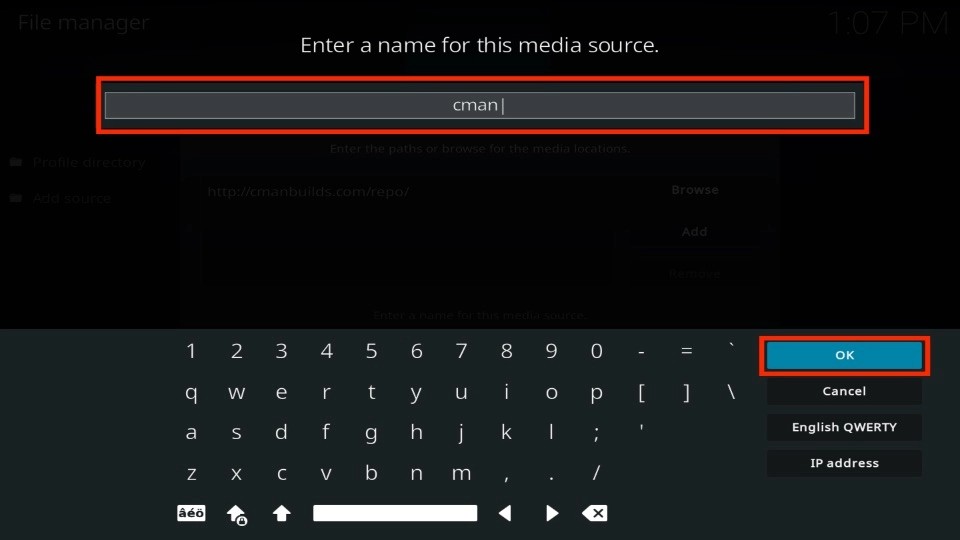 8. Complete the source-adding process by clicking the OK button.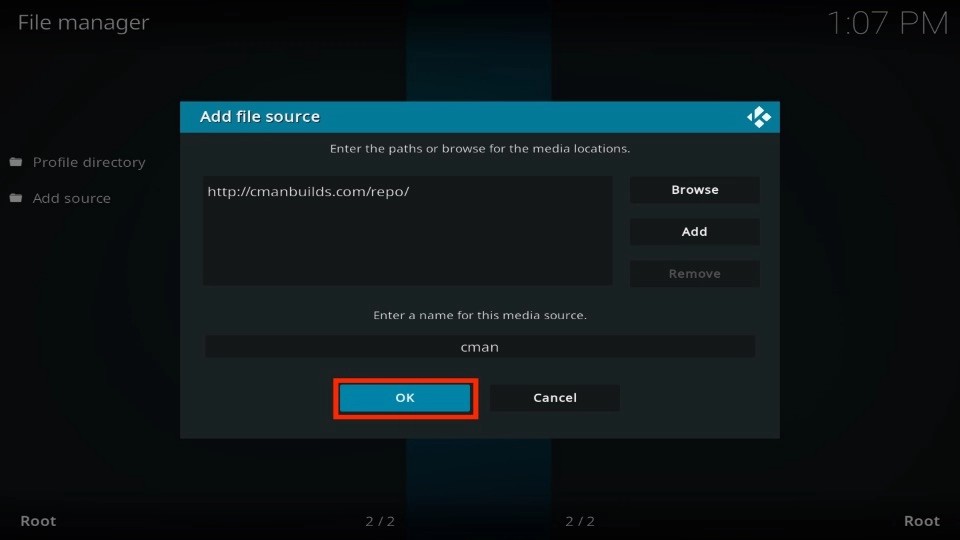 9. The repo source name appears on this window.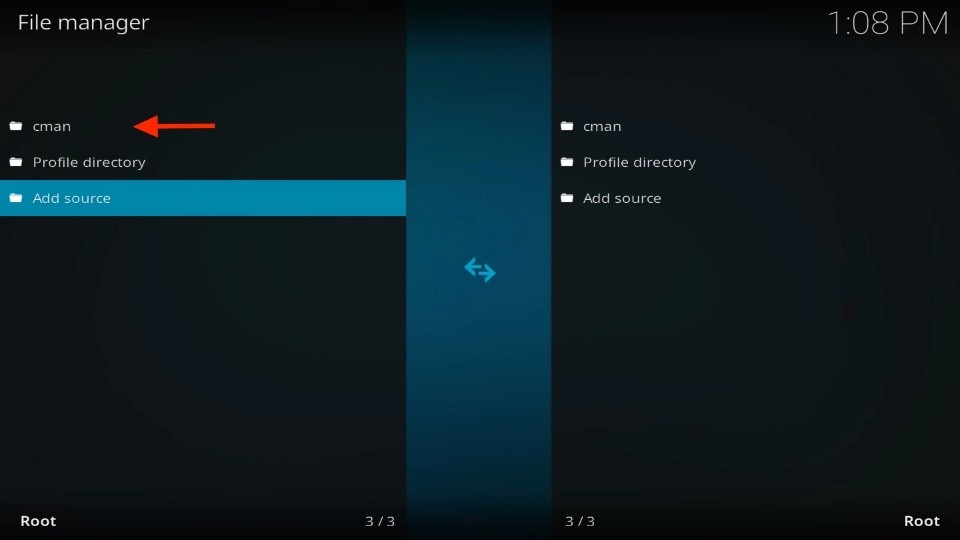 10. Go back to Kodi settings and choose the Add-ons tile.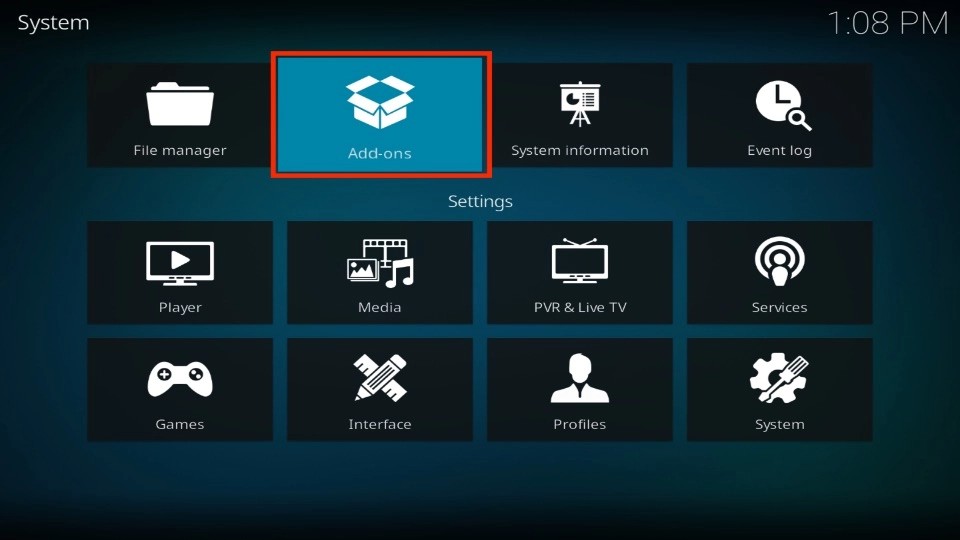 11. Fire up the Install from zip file option.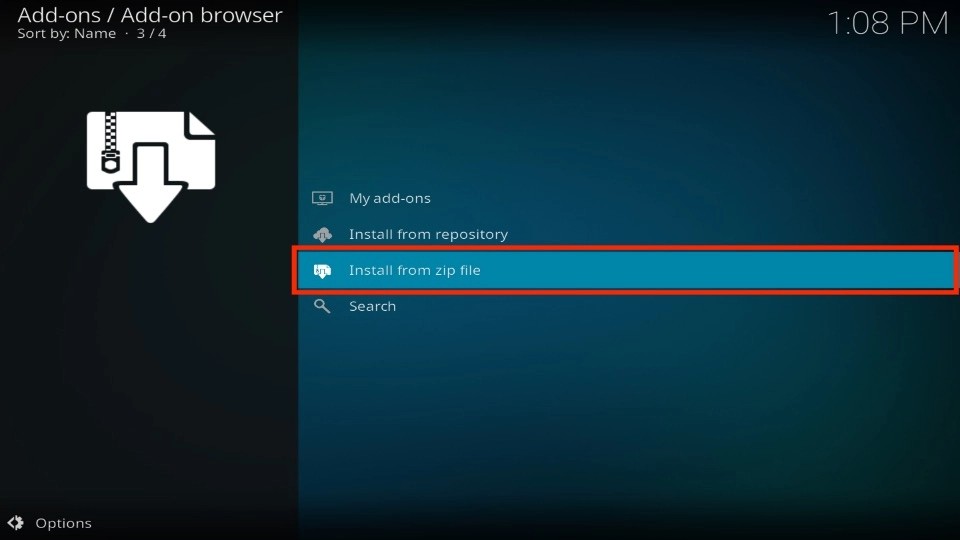 12. Accept the warning sign by Kodi by clicking on the Yes button.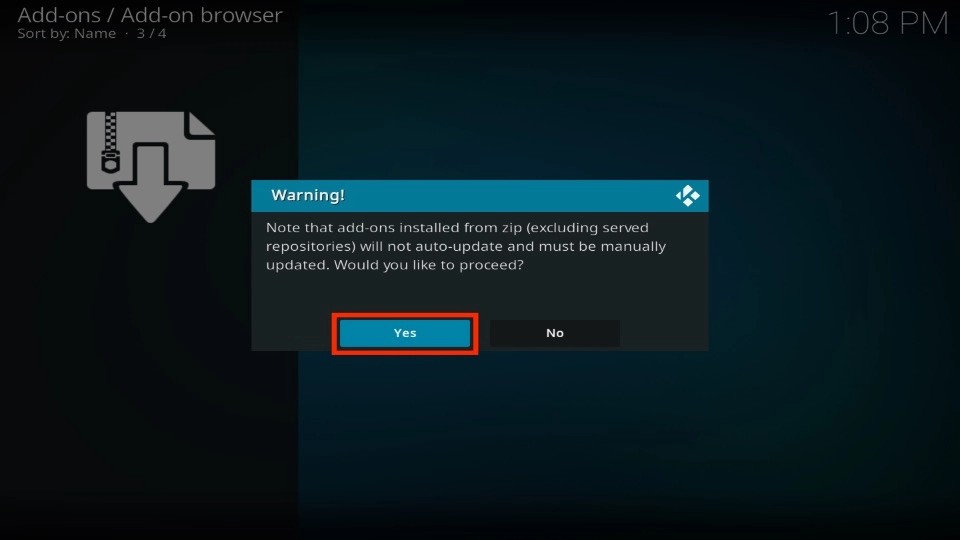 13. Select the source name you have set in step number 7. I'm selecting the one I picked, cman.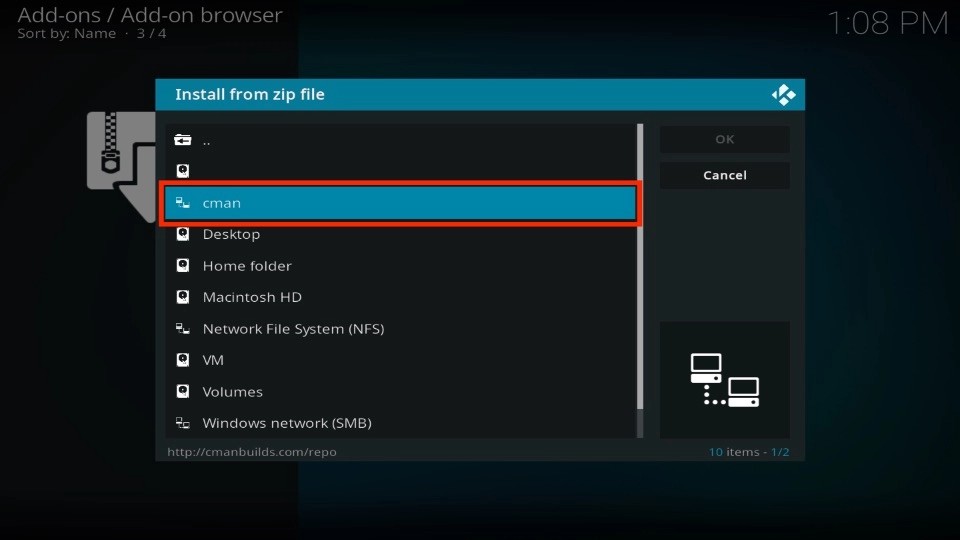 14. Click repository.cMaNWizard-1.0.6.zip.
Note: Don't worry if you see a different version number, as cMaN's Wizard Repository gets frequent updates.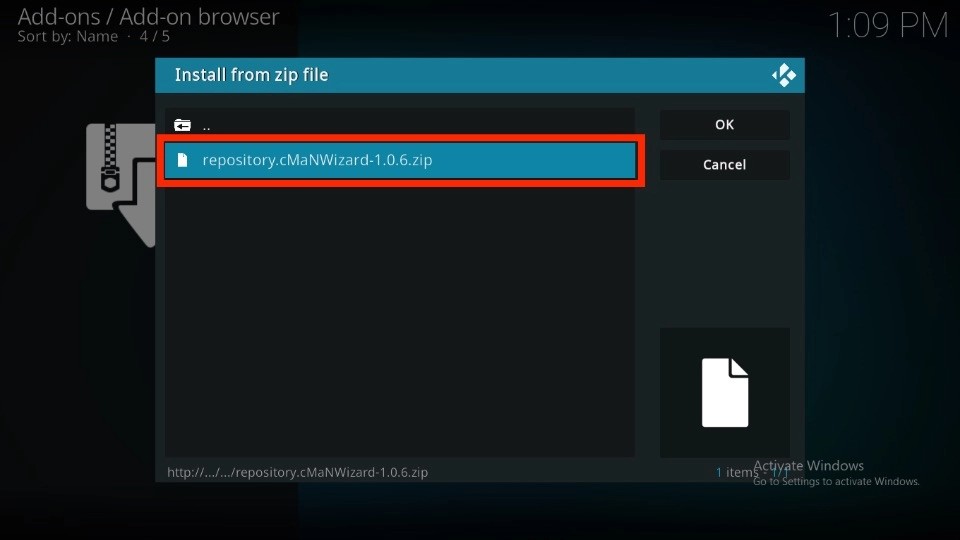 15. Arrival of the cMaN's Wizard Repository Add-on installed notification suggests the repo is now added to your app.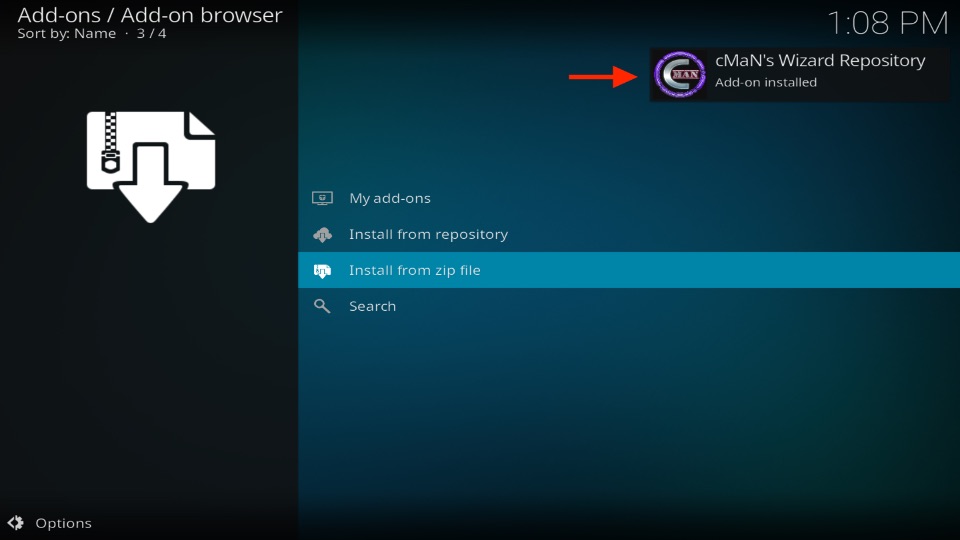 Part 3 – Install the cMaN Wizard
I'll show you how to load the cMaN Wizard 19:
1. On the same screen, fire up Install from repository.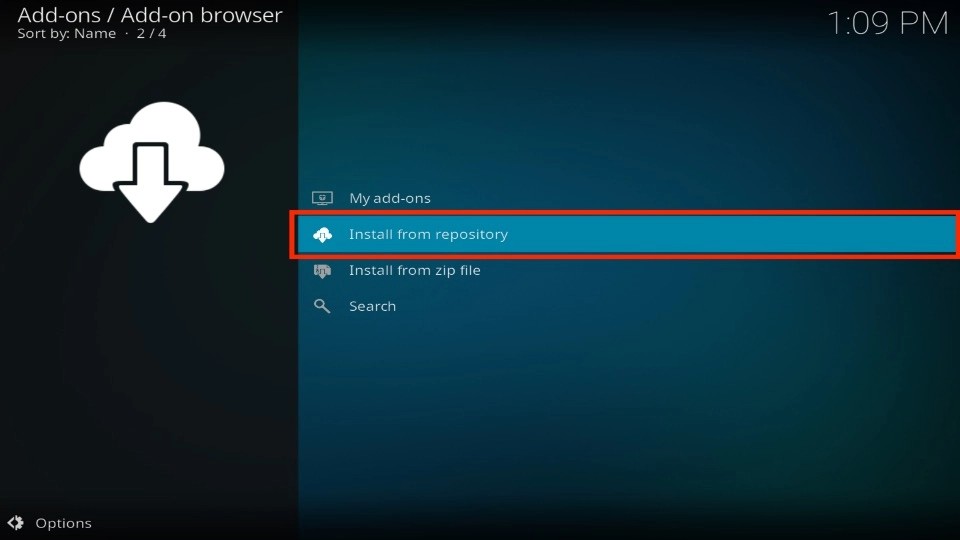 2. Pick cMaN's Wizard Repository from the repo list.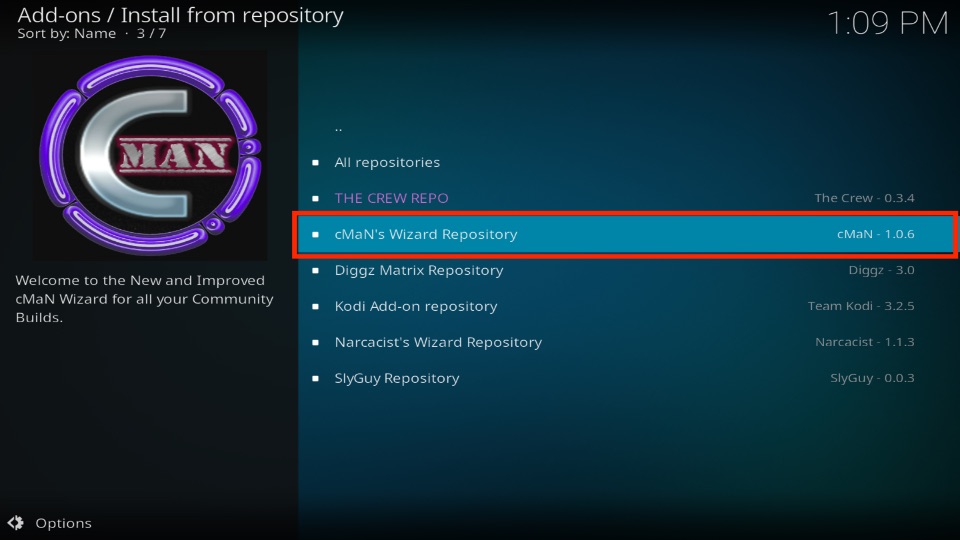 3. Explore the Program add-ons section.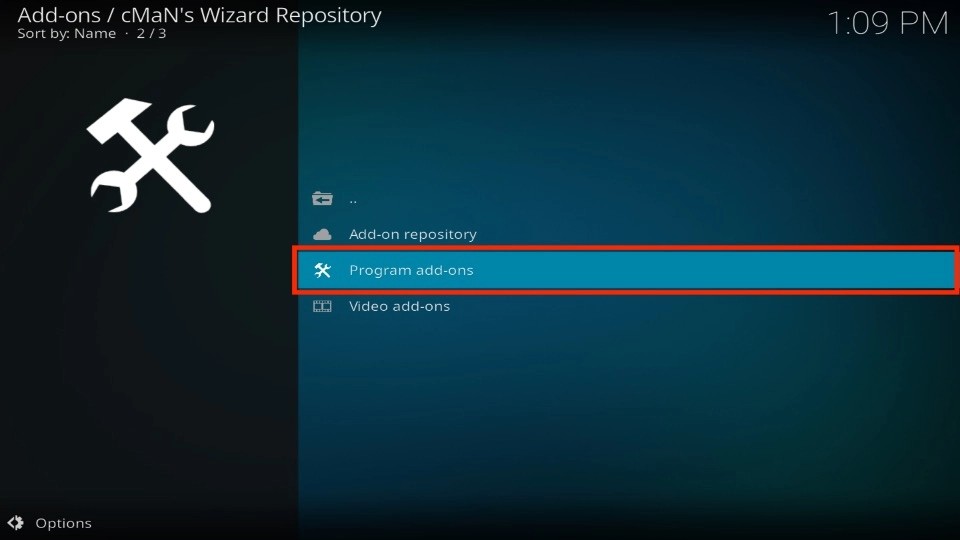 4. Choose the only available option, cMaN Wizard 19.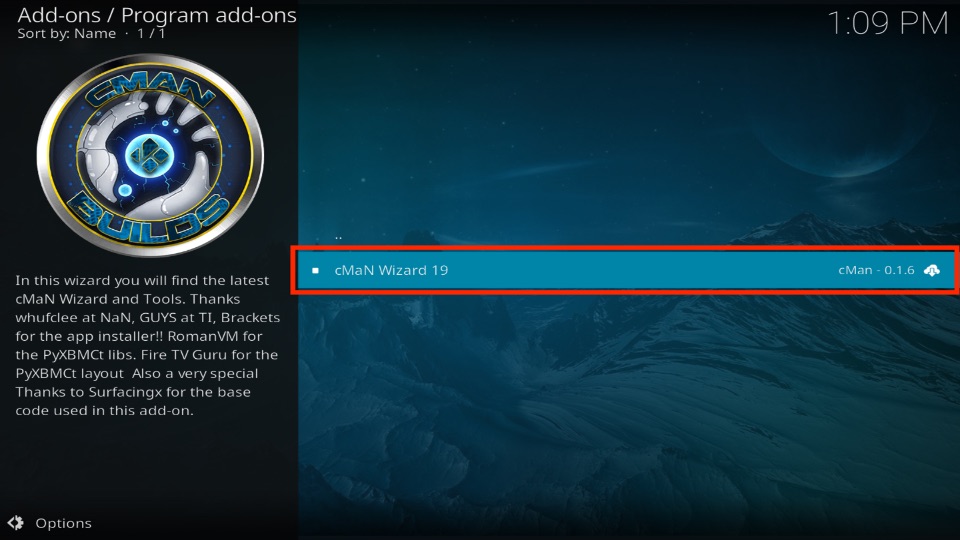 5. On the wizard's dashboard, select Install.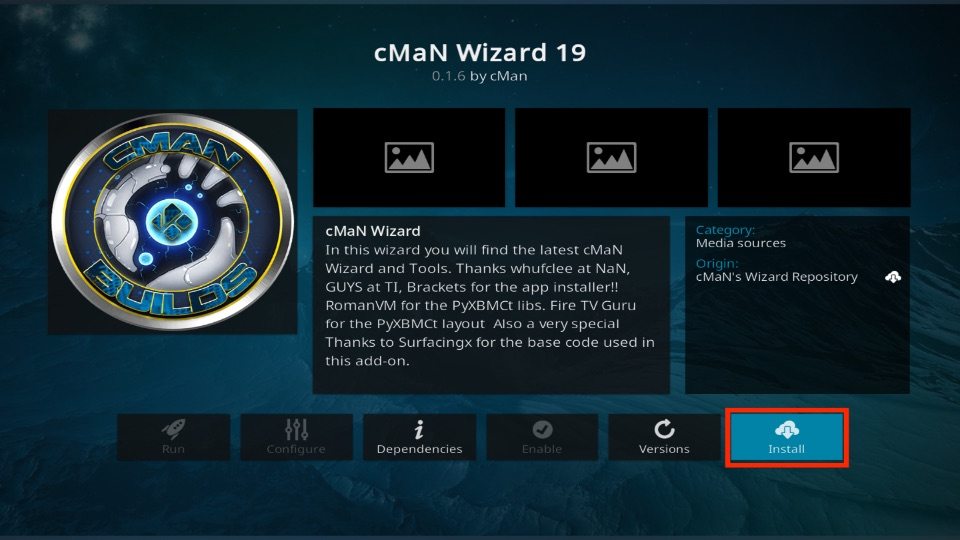 6. Let Kodi download and install cMaN Wizard 19 in the background.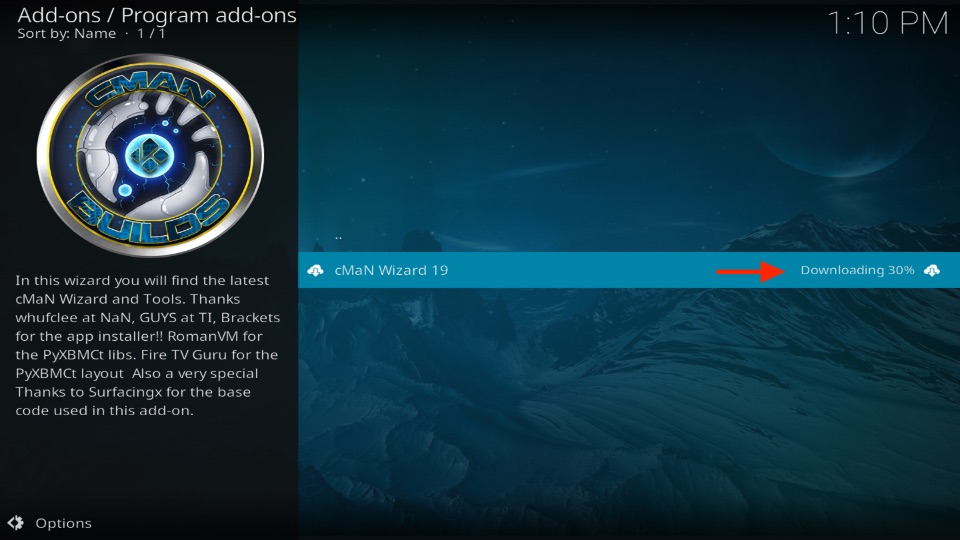 7. Once everything is done, a message will appear – cMaN Wizard 19 Add-on installed.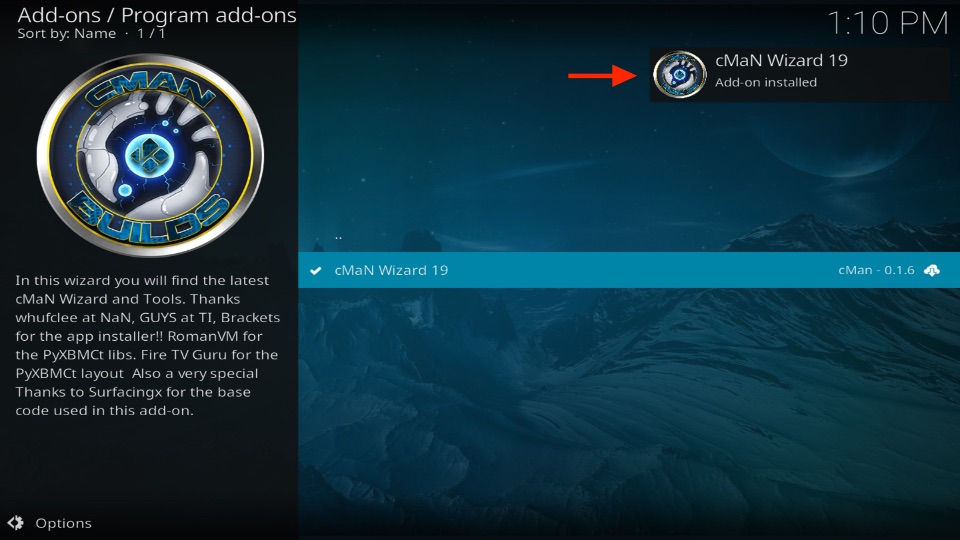 Part 4 – Install the Fallout Build
And finally, this round shows how to install Fallout from cMaN Wizard 19:
1. cMaN Wizard first-time run menu will appear on your screen.
Choose the options you want to enable and click the blue Continue button to save the changes.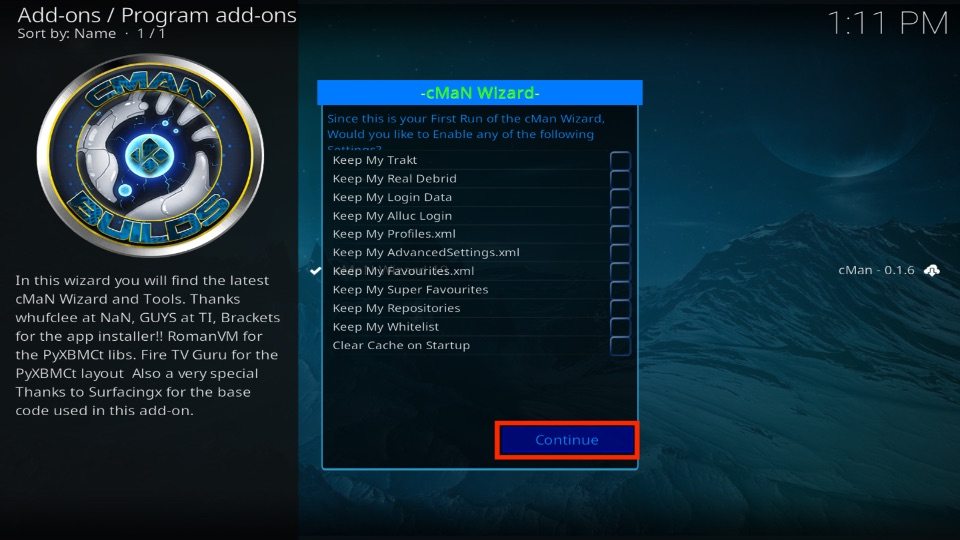 2. cMaN Wizard build menu will appear; select Close.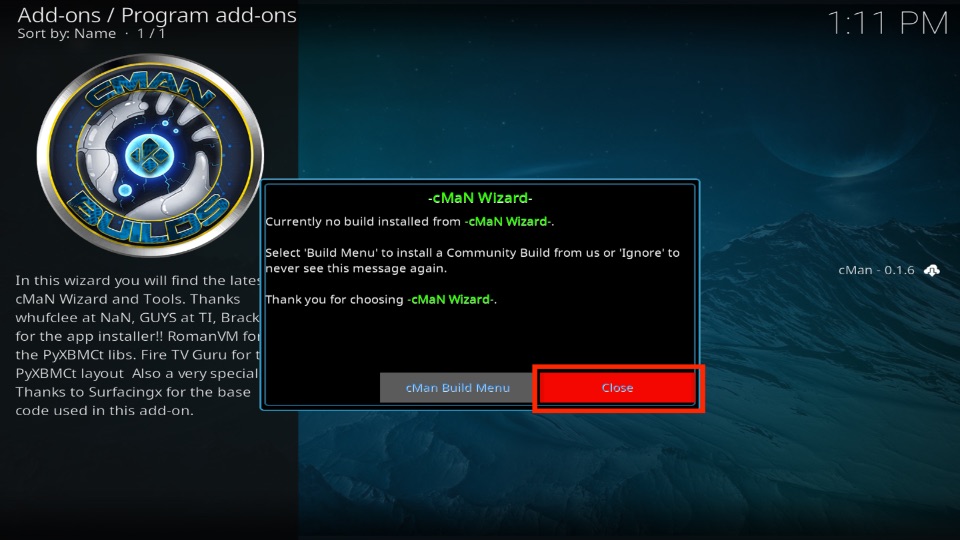 3. Go to the Kodi home and choose the Add-ons menu.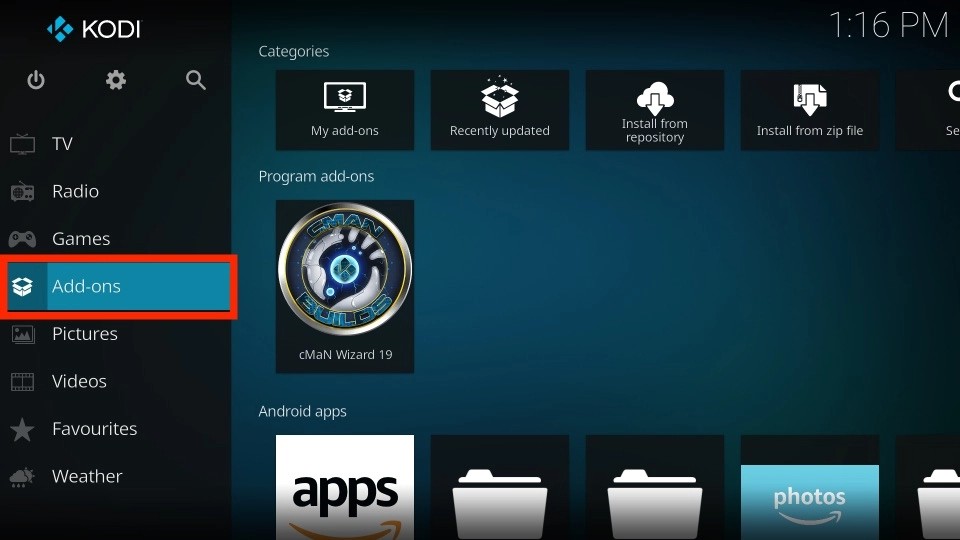 4. Scroll down to Program add-ons and open cMaN Wizard 19.
5. Choose the Builds tab on the top left side of your screen when the GUI of cMaN Wizard 19 appears.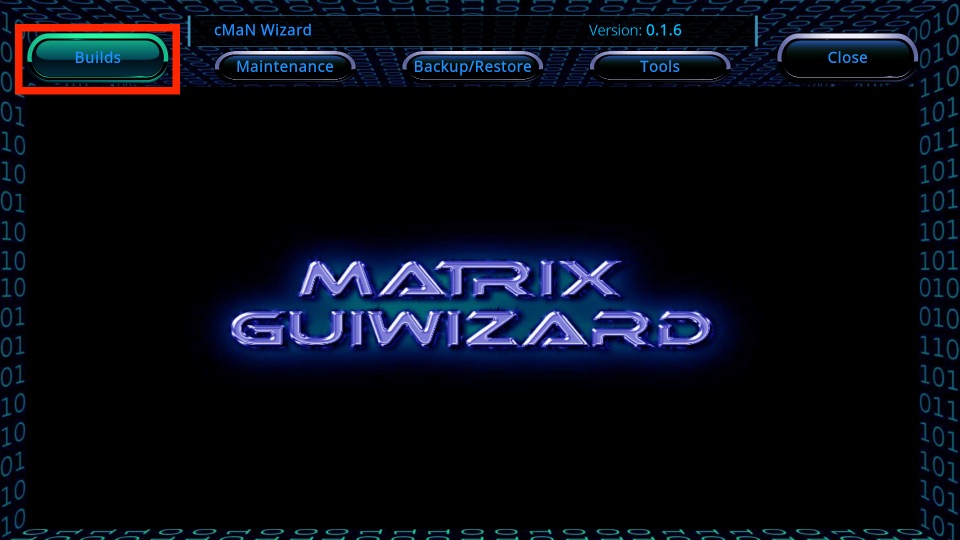 6. You'll see a long list of builds available via the cMaN Wizard 19.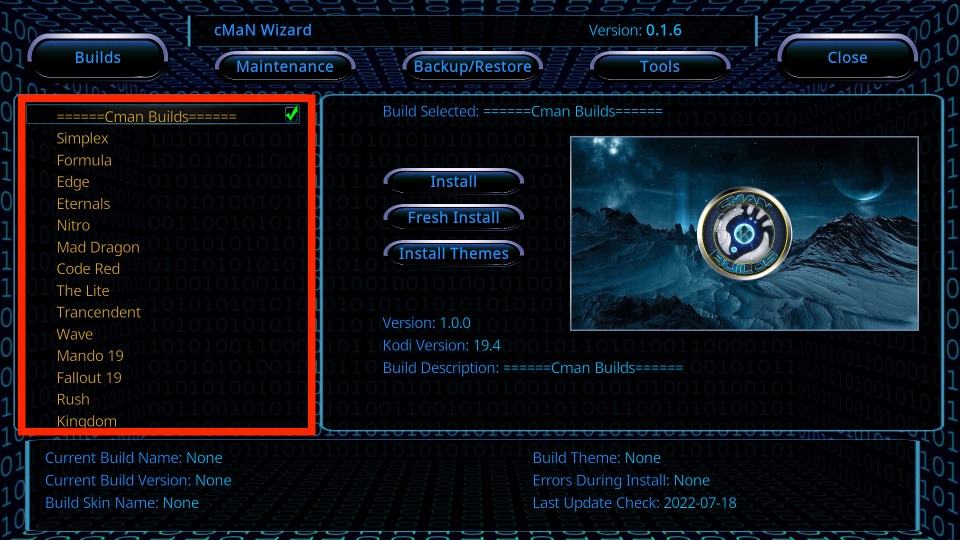 7. Pick Fallout 19.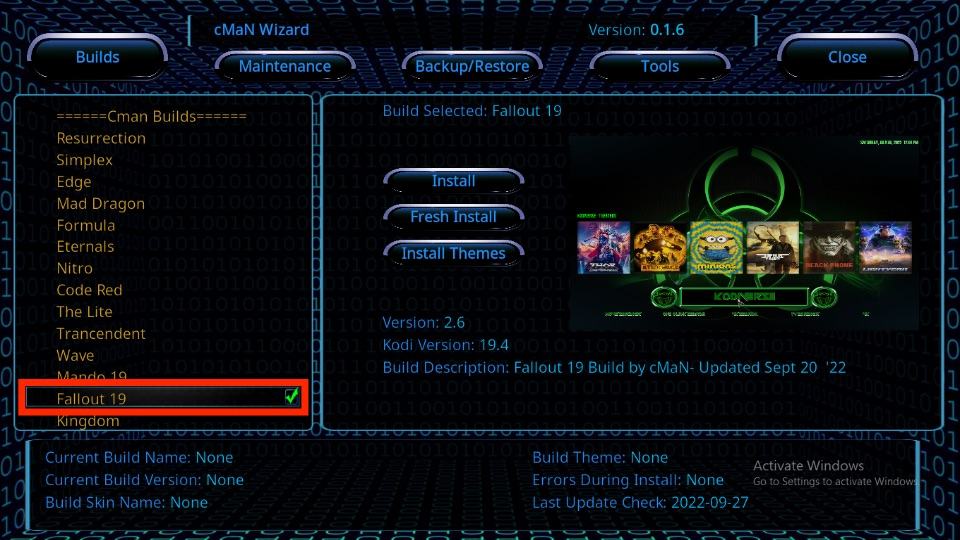 8. Choose Fresh Install from the right-hand side build menu.
Note: Picking Fresh Install is recommended as it wipes everything from your Kodi app and installs the build from scratch.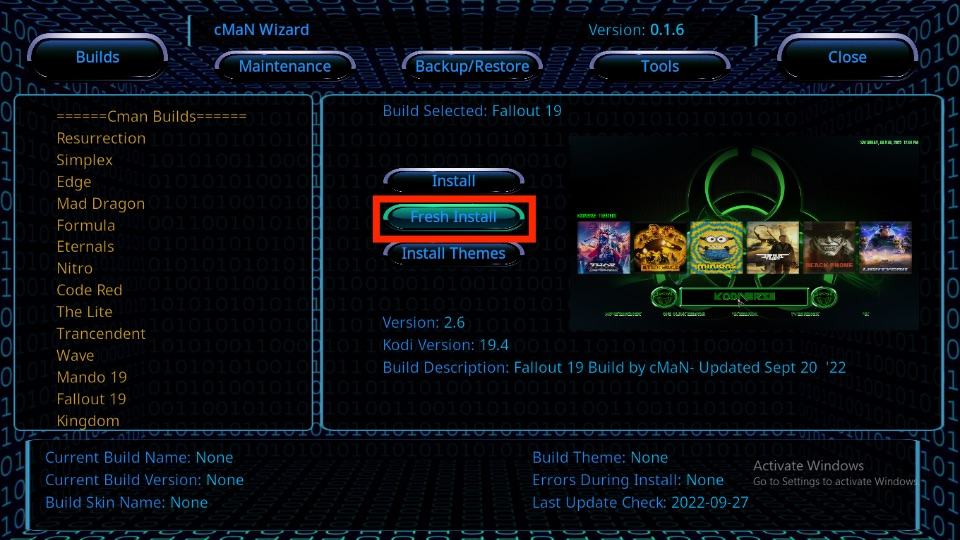 9. cMaN Wizard will confirm if you want to erase the content on your app; click Yes.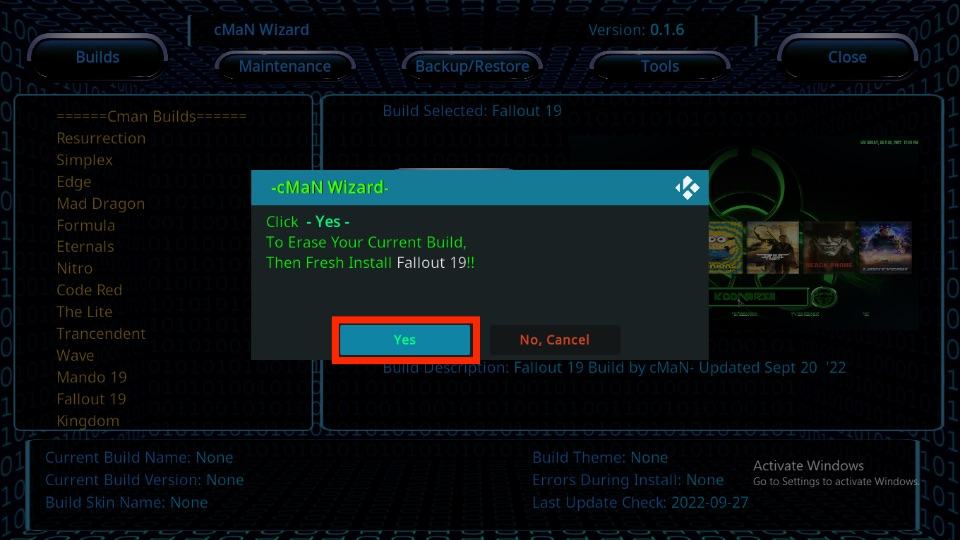 10. Files of the Fallout 19 build will start downloading.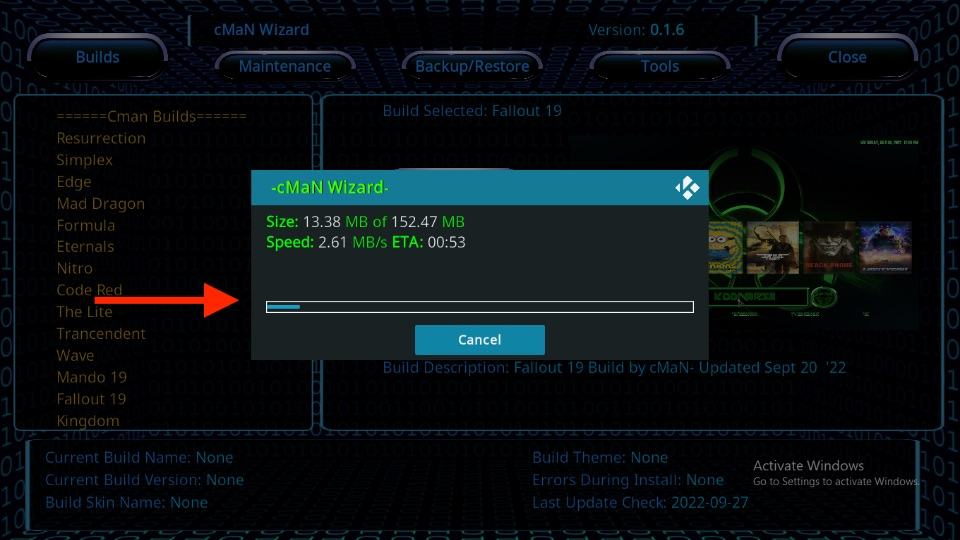 11. Kodi will start installing the files of Fallout 19.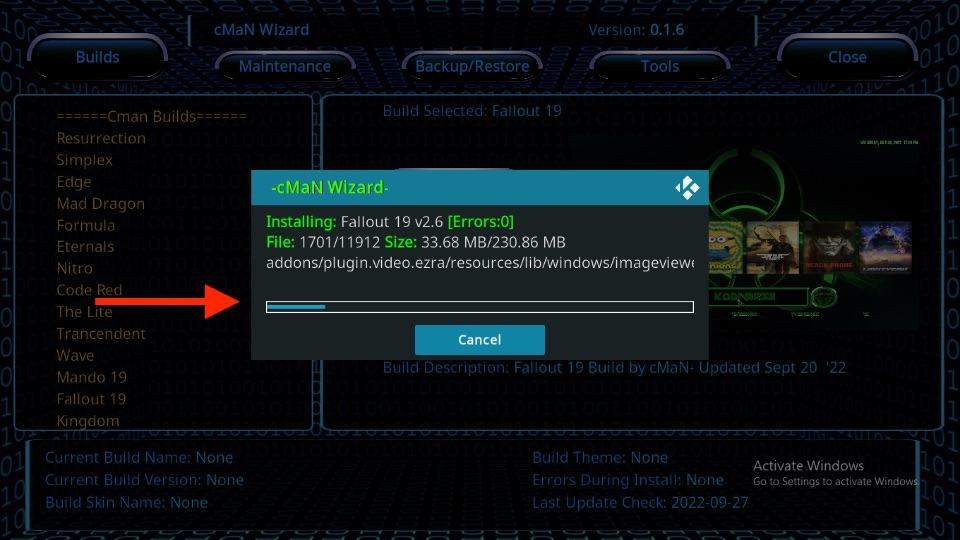 12. Click OK to save changes and force close the Kodi app.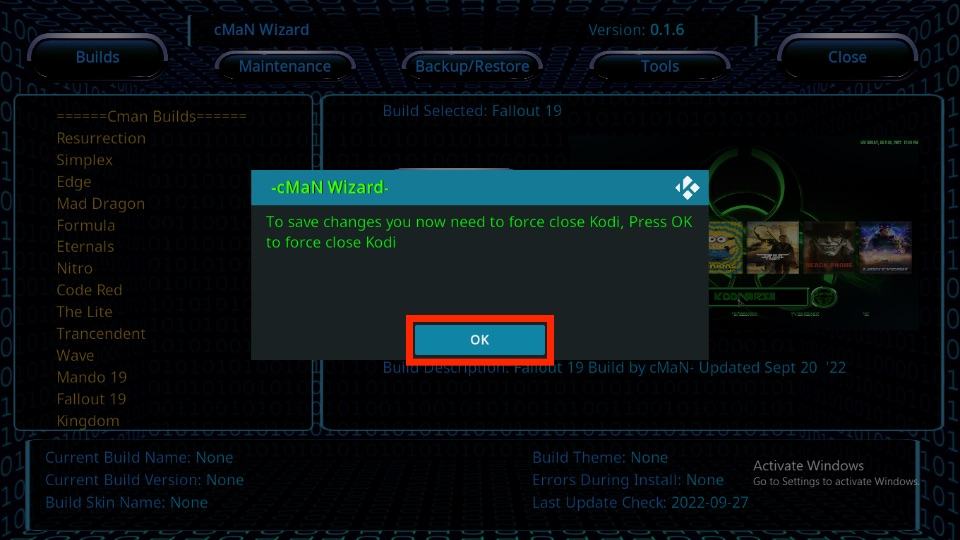 Congratulations! Fallout build is now installed on your Kodi app.
Wait! It looks like you are all set to start watching your favorite content on Kodi. But have you protected your online identity yet? You are under constant surveillance by the Government and ISP. They use your IP address 2603:9001:957f:ff0f:a9b4:8884:468e:7553 to track you. Streaming free or copyrighted videos may get you into legal trouble.
Thankfully, you can use a VPN to easily protect your privacy and go invisible from your Government and ISP. I use and recommend ExpressVPN with Kodi.
ExpressVPN is the fastest, most secure, and streaming-friendly VPN. It is easy to install and set up on any Kodi device, including FireStick, Smartphones, PCs, and more.
ExpressVPN, offers an unconditional 30-day money-back guarantee. So, if you do not like the service (I don't see why), you can get a full refund within 30 days.
Please remember that we encourage you to use a VPN to maintain your privacy. However, we do not condone breaking copyright laws.
Before you start using Kodi for streaming, here is how you can protect yourself with ExpressVPN:
Step 1: Sign up for ExpressVPN Here
Step 2: Download ExpressVPN on your device by clicking HERE
Step 3: Open the ExpressVPN app on your device. Sign in with your account. Click the connect/power button to connect to the VPN

Great! You have successfully secured yourself with the best Kodi VPN.
Overview of Fallout Kodi Build
What to expect from Fallout? How to use it? 
Read on to learn the answers to all your questions about what's next after installing Fallout.
Open Kodi, and you'll see the loading screen of the Fallout 19 build.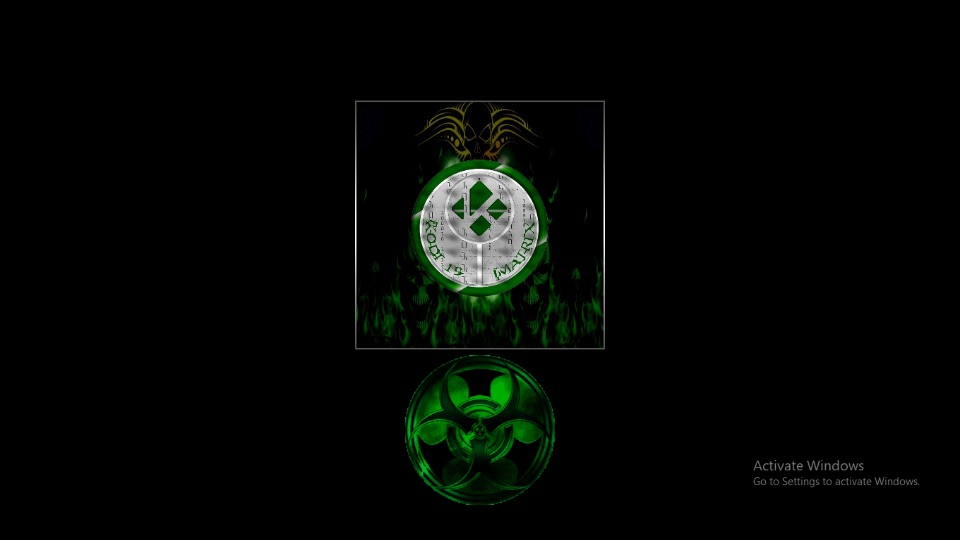 After launch, wait some time to let Fallout 19 update its collection of addons.
You'll see the notifications of updated addons on your screen's top-middle side.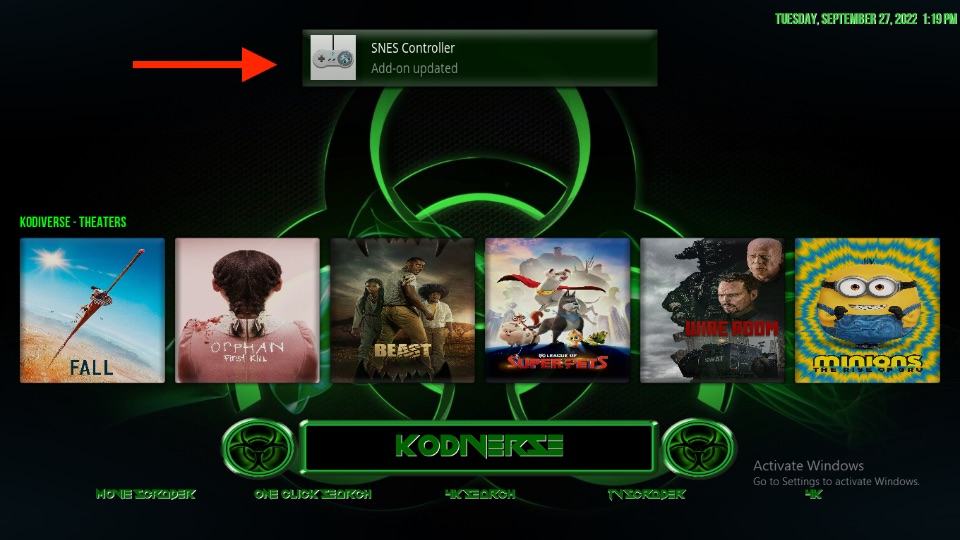 Once set, I recommend exiting and re-opening Kodi to avoid any problems.
Here's the list of Fallout 19 sections:
X-plore

Free

Sports

Live

Favourites

Add-ons

Wizard

System
Let's start with the first section, Kodiverse.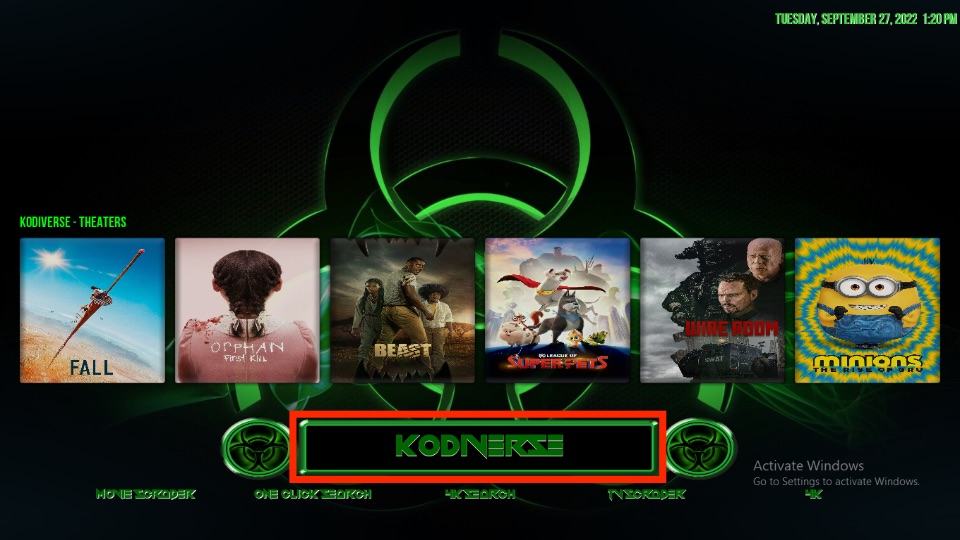 You can access a list of famous video addons like 4K, Asgard, Black Lightning, Essential, Fights on Demand, Magic Dragon, etc.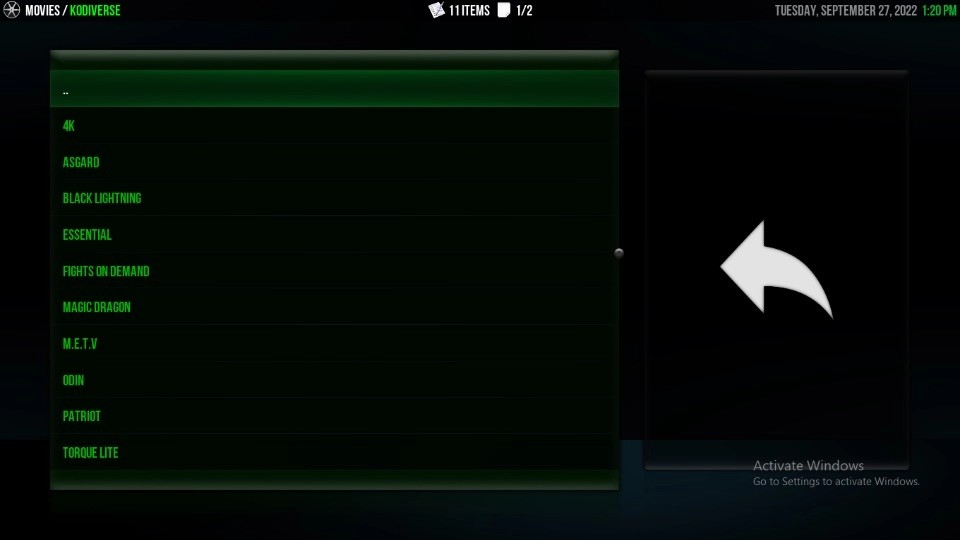 Choose an addon to explore it. For instance, I'm selecting the popular Black Lightning Kodi addon.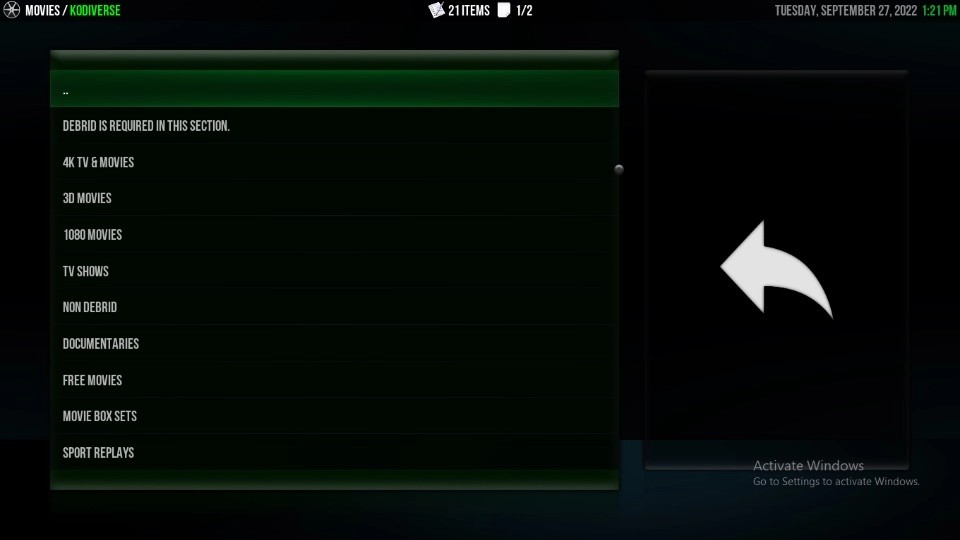 I can access all the addon content, like 4K TV & Movies, 3D Movies, 1080 Movies, TV Shows, Free Movies, and more.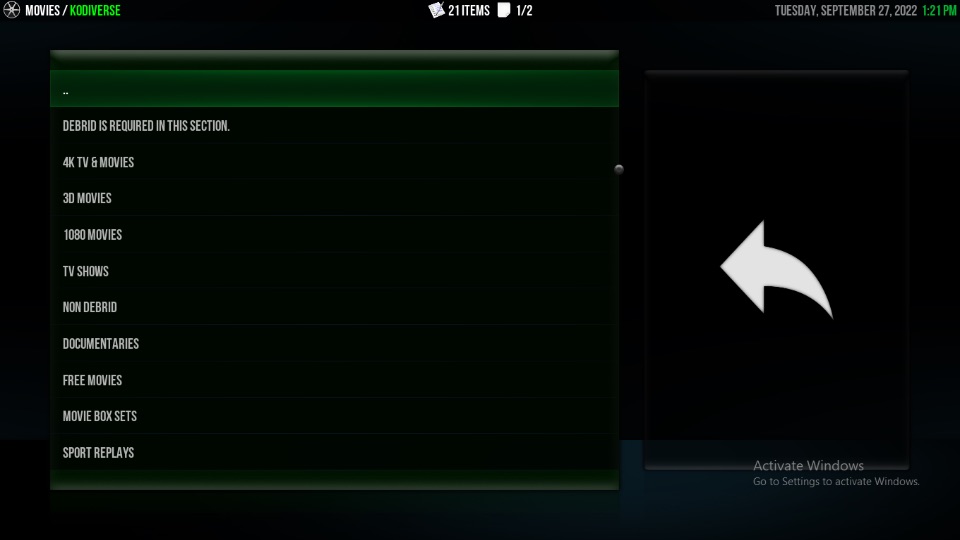 Next up, we have the X-plore section. This section is for people who want to explore movies, TV shows, and more.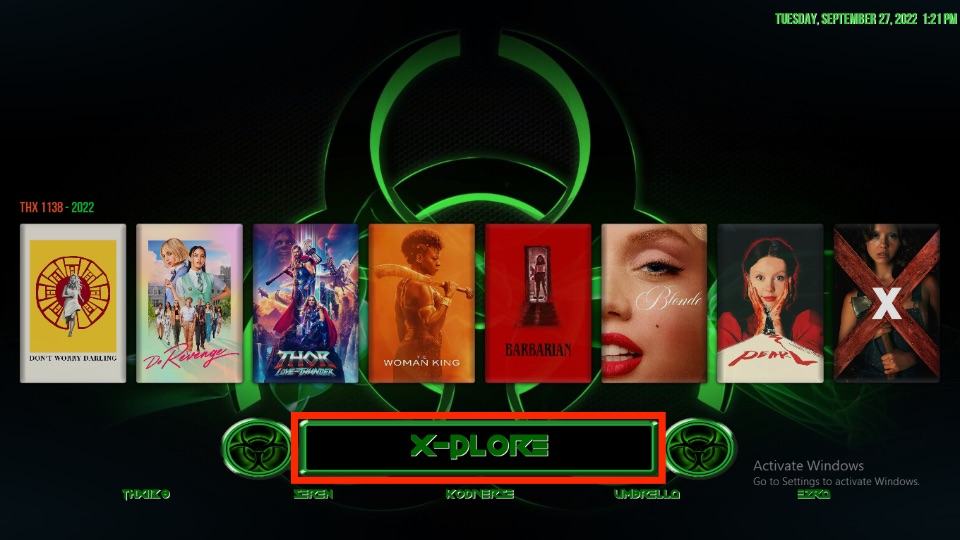 You'll see sub-folders like Discover Movies, Discover TV Shows, Search, Tools, and more.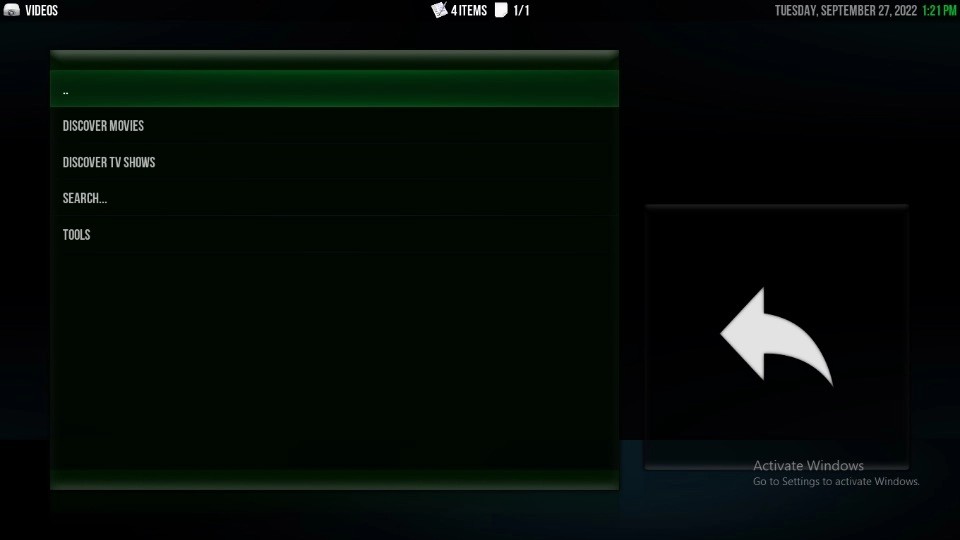 Don't have access to premium services like Real Debrid? Don't worry; the Free section of Fallout 19 has your six.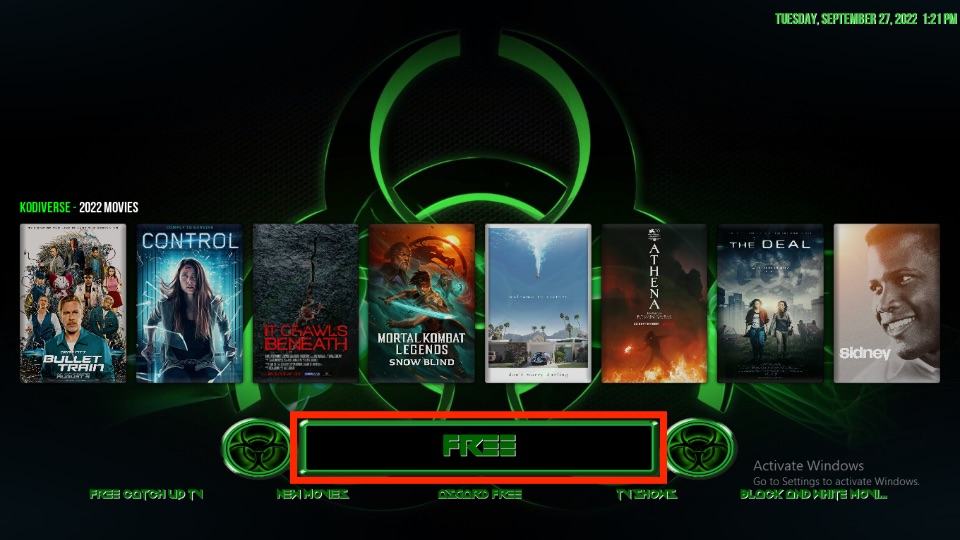 The section will welcome you with sub-tabs like Black & White Movies, TV Shows, Movies, Free Catch-Up TV, Movie Boxsets, and more. For instance, explore the Movies section to watch free films.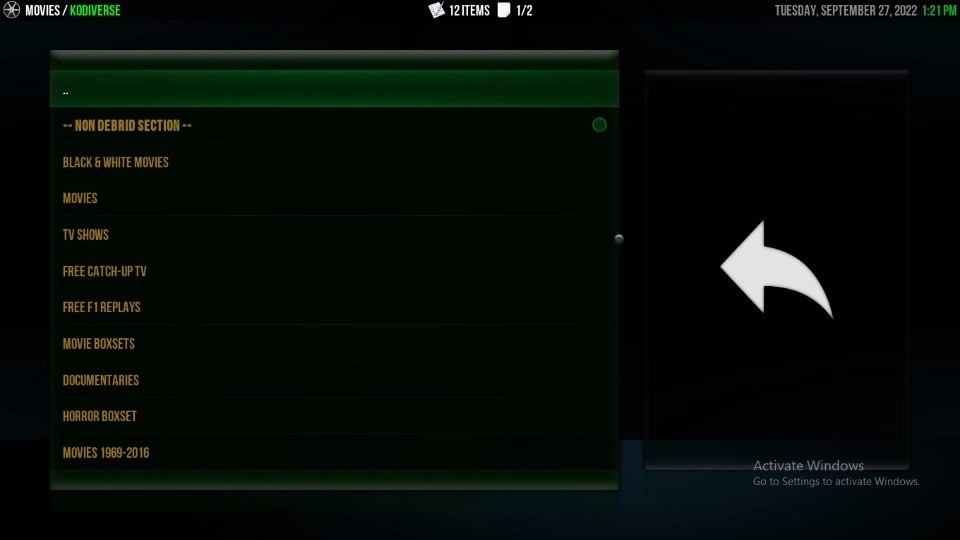 Are you into sports? You'll love the dedicated Sports section of Fallout 19.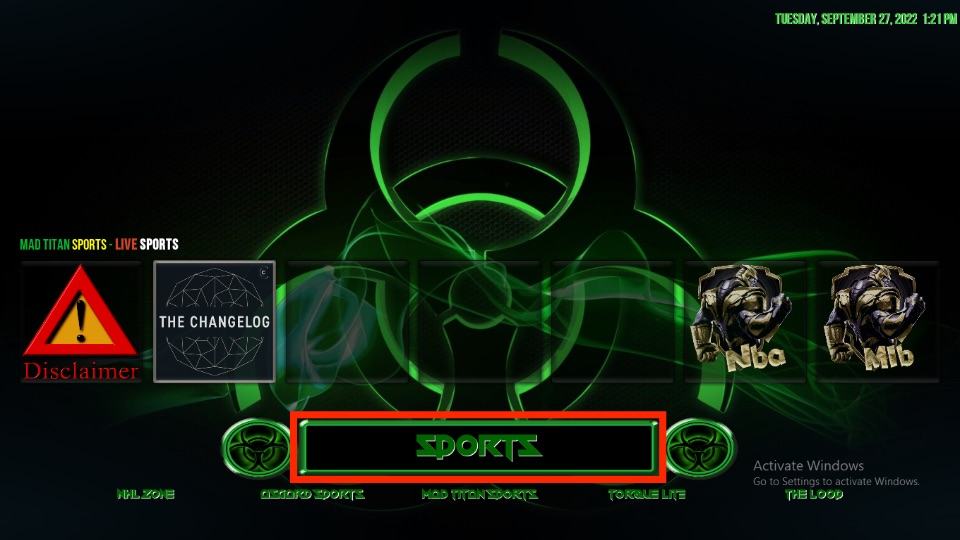 By default, the section takes you inside the famous The Loop addon. You'll see sections like Live Darts, Today's Rugby, Today's Golf, etc.
Also, you can access other sports addons that come with the build, like Mad Titan Sports, Torque Lite, etc.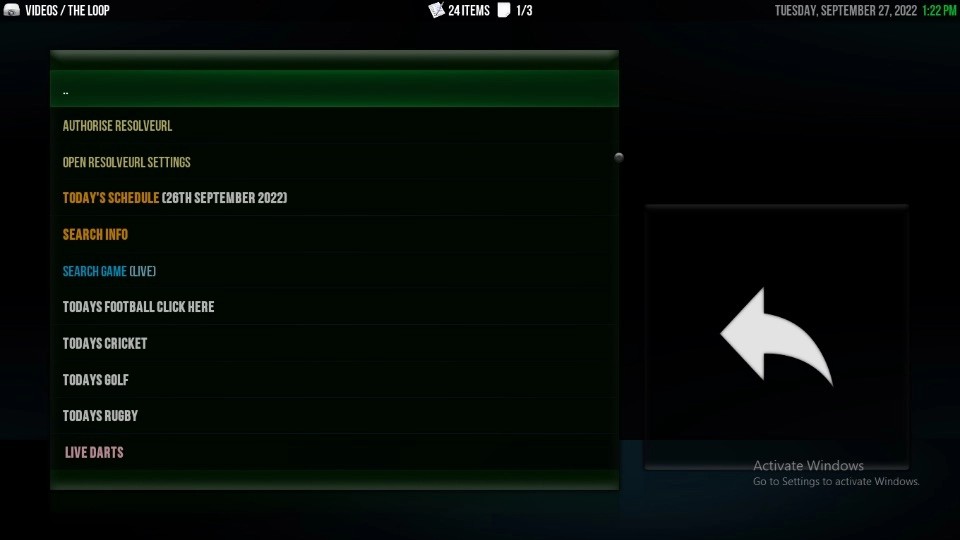 Moving forward, we have the Live section.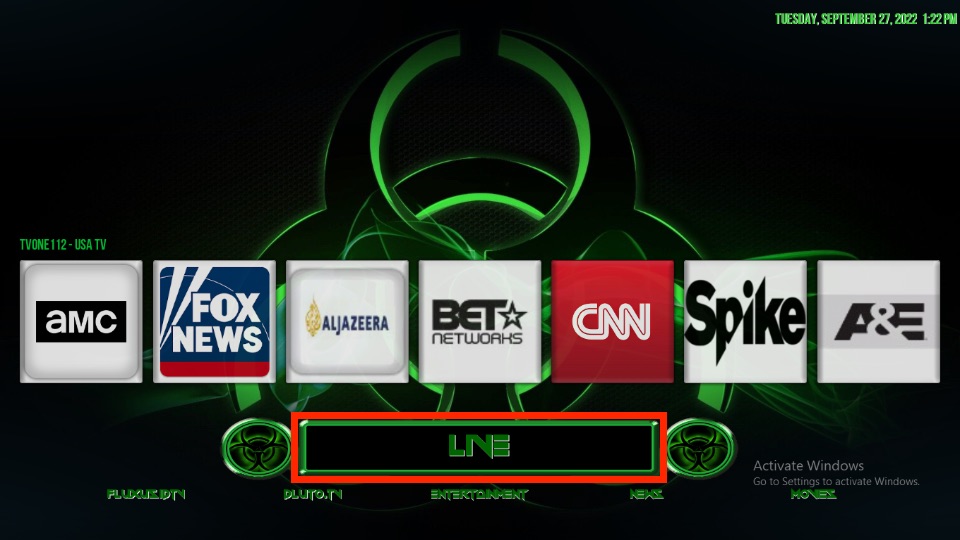 Whether you want to stream sports, news, or movies channel, the Live section has you covered. Inside are separate sections for Documentary, Entertainment, Food, Kids, Movies, Music, News, Sports, and more.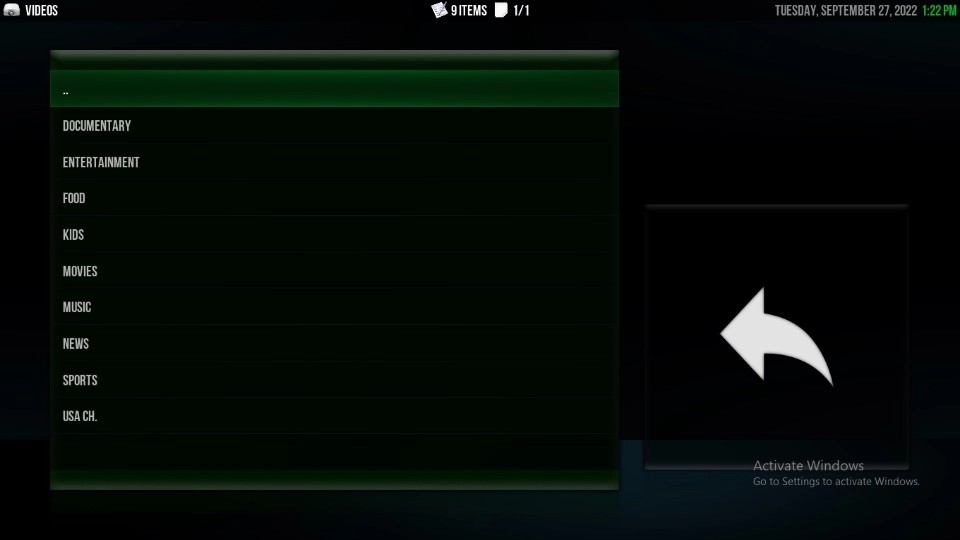 Added something in your favorites list while using an addon? You'll find it inside the Favourites section.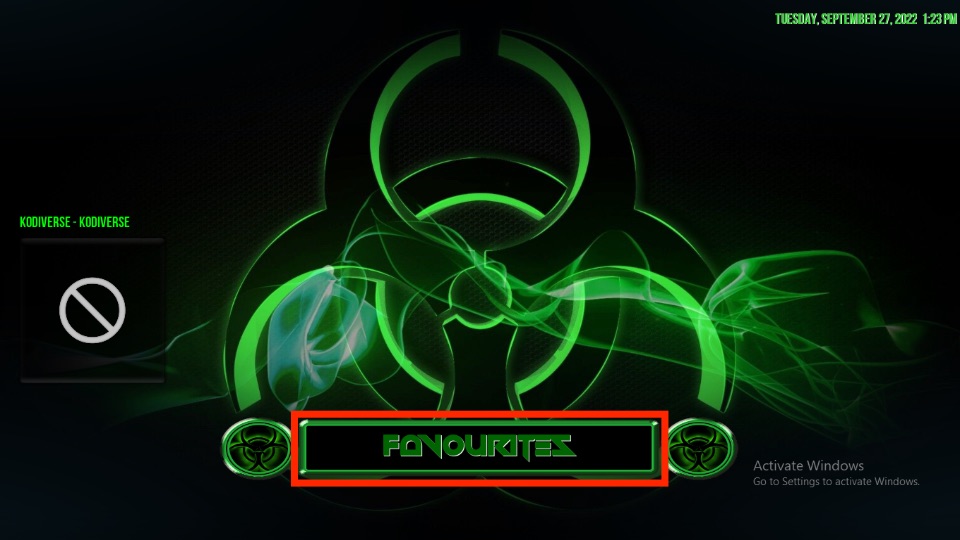 I didn't save anything, so my list is empty!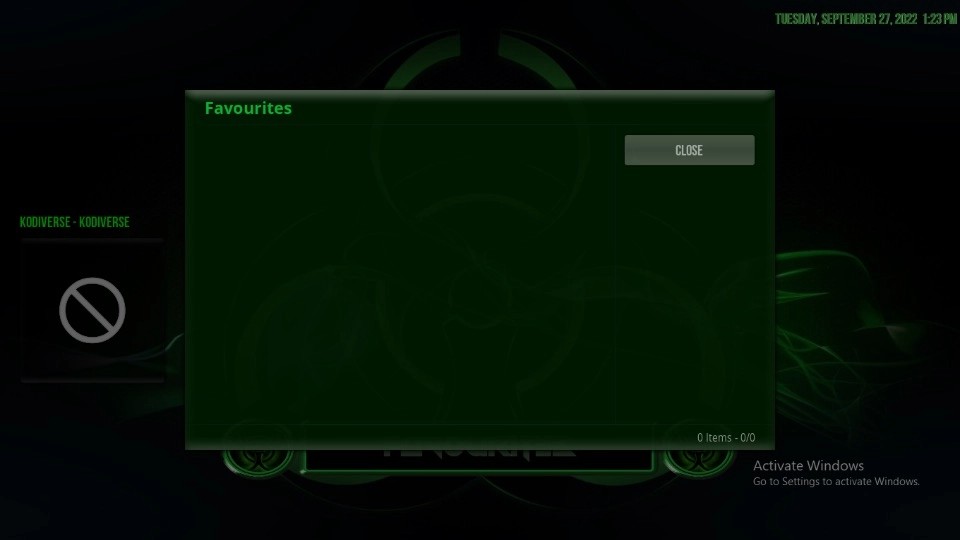 Want to see all the addons available with Fallout 19? Head towards the Add-ons section.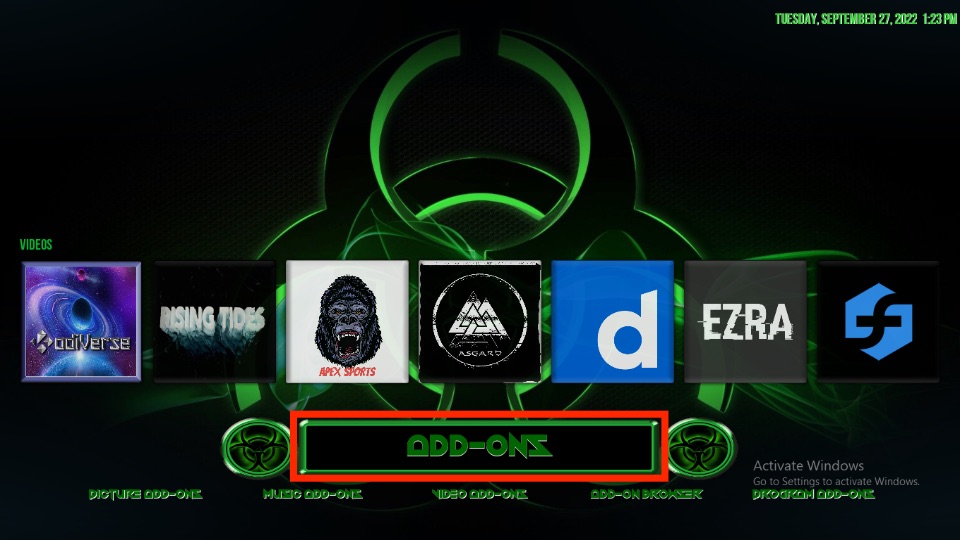 All installed addons are split into categories like video, music, program, picture, and more.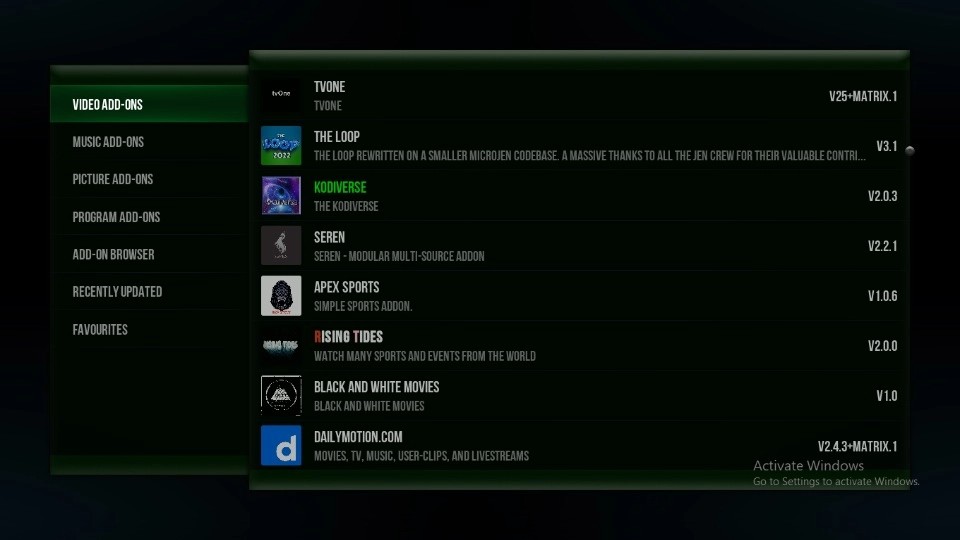 Go to the Wizard section to access the entire GUI of cMaN Wizard 19.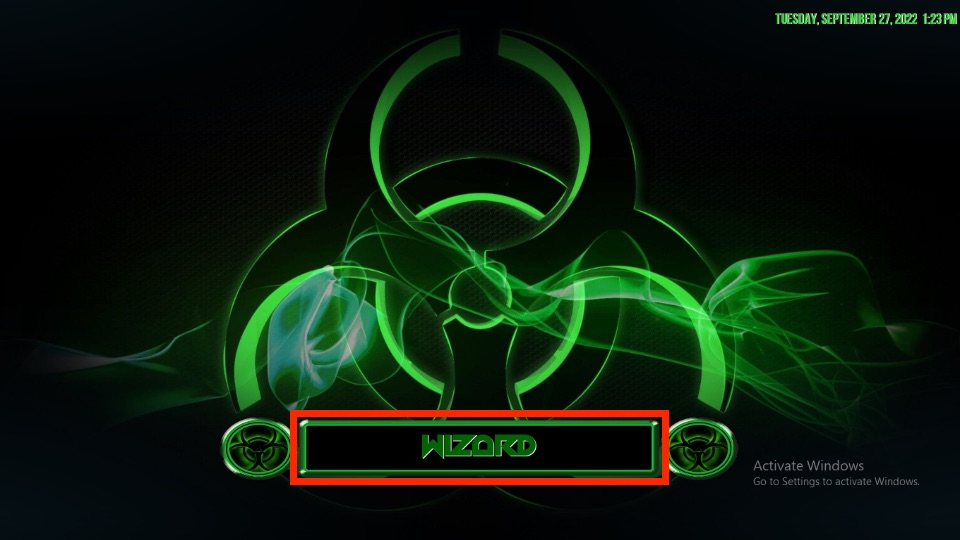 From builds to maintenance and tools, you'll find everything inside it.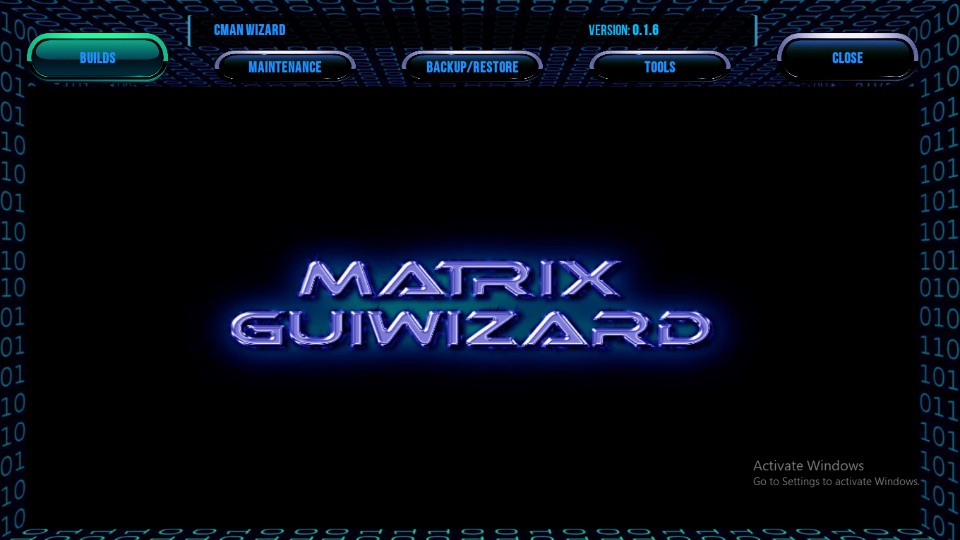 Lastly, we have the System section of Fallout 19.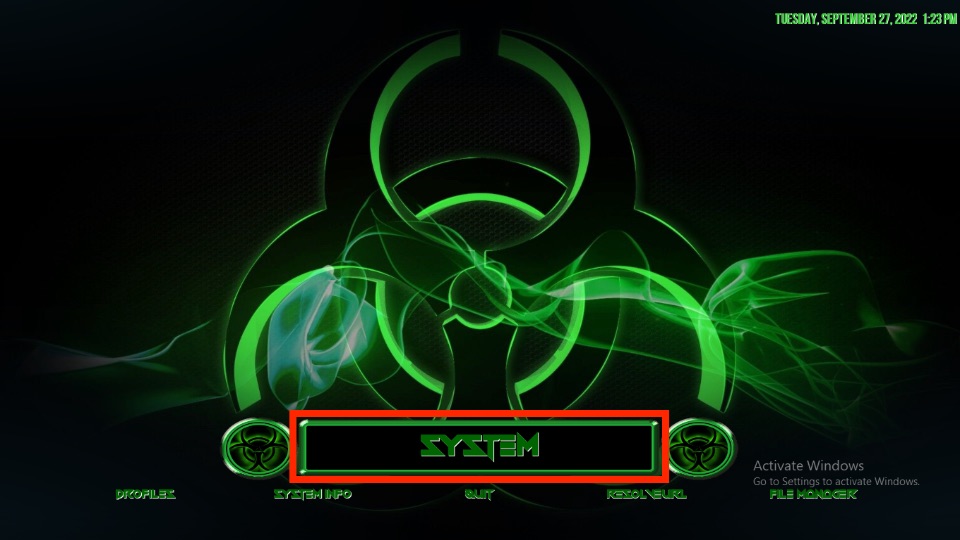 Here, you can access File Manager, Add-ons, System Information, Media Settings, Player Settings, and all the jazz.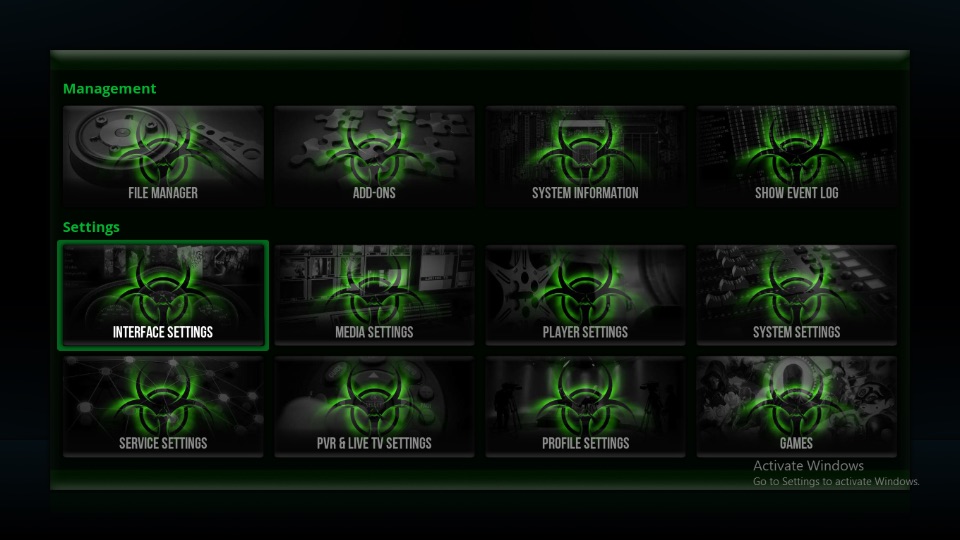 Conclusion
This post shows how to install Fallout Kodi build. This build offers many preloaded addons and a new interface. Do you like it? Let me know in the comments box below.
Related: