This article illustrates how to install The Loop Kodi addon. Also, it covers other info about the addon, like legal and safety issues, features, etc. Finally, this piece refers to all Kodi-eligible operating systems like Mac OS, Android, iOS, Linux, etc.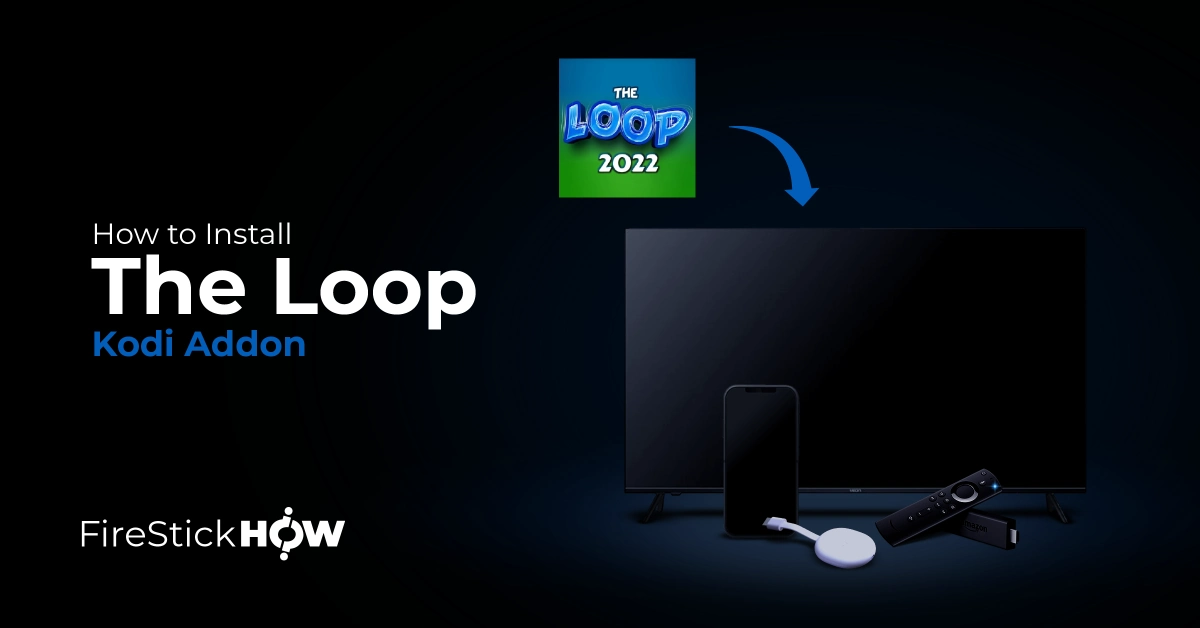 About The Loop Addon
The Loop lets you stream live events, recaps, highlights, interviews, and more of sports like basketball, soccer, rugby, football, hockey, racing, and more. This addon is an all-in-one sport streaming addon.
On The Loop, you'll find multiple sections hand-made for different types of sports. Also, there's a 24/7 Zone that features live TV channels for sports and various other categories. Moreover, all sections feature the latest schedules, so you can easily see what's next.
The Loop is amongst the top third-party sports streaming Kodi addons to exist. From hockey to racing and soccer, this addon features every sport.
Attention KODI Users: Read before you continue
Government and ISPs endlessly monitor your online activities using your IP address 3.17.249.235 (exposed to everyone). Kodi is an excellent platform for streaming movies, TV shows, and sports, but streaming copyrighted content can get you into legal trouble. 
You should use a reliable Kodi VPN and protect your streaming activities and privacy. A VPN will hide your IP address and bypass government surveillance and geo-restrictions.
I trust and use ExpressVPN, the fastest and most secure Kodi VPN. It's easy to install on any Kodi device, including Amazon FireStick, PCs, and Smartphones. In addition, it offers a 30-day money-back guarantee, and 3 free months with the annual plan.
Read: How to Install & Use the best VPN for Kodi.
Is The Loop Safe?
The Loop is an addon that belongs to an unofficial repository known as Loop Repository. And like other unofficial add-ons, no authority/body guarantees the safety of the addon. For some, it's safe, while others are skeptical.
Similarly, my team at FireStickHow.com can't guarantee whether The Loop is safe. Although I personally didn't experience any fishy stuff, we don't have the authority to certify its safety.
However, my curious nature pushed me to check the Loop Repository zip on VirusTotal. And gladly, the results were great – see for yourself: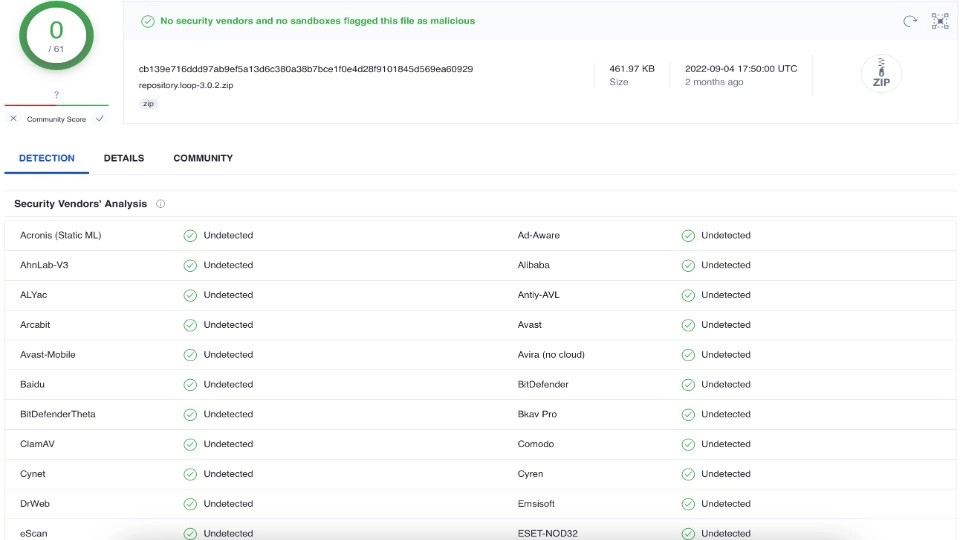 Is The Loop Legal?
The Loop is a scraper that finds free links to live sports events, recaps, and more from the internet. Although there's no harm in scraping the internet, the lawfulness of links is the issue.
At FireStickHow.com, our team doesn't have the proper resources to verify the legality of links found by The Loop. Hence, there's no way for us to determine whether The Loop is legally sound or not.
However, you can entrust a VPN similar to ExpressVPN to keep your data and internet activity safe when using The Loop.
Features of The Loop Addon
Some of the best features found on The Loop are:
Superbly categorized sports folders known as Zones

Pack sports live events, recaps, highlights, and more

Feature multiple types of sports

Supports Real-Debrid.
Installing The Loop Kodi Addon
There are some extra measures you have to take when installing The Loop, as it's not available on Kodi's official repo. Here's a definitive guide on how to install the addon on your Kodi app: 
Part 1 – Turn On Unknown Sources
Start by turning on Unknown Sources so your Kodi app can install/access third-party sources.
1. Launch the Kodi settings menu by clicking on Gear Cog on the upper left side.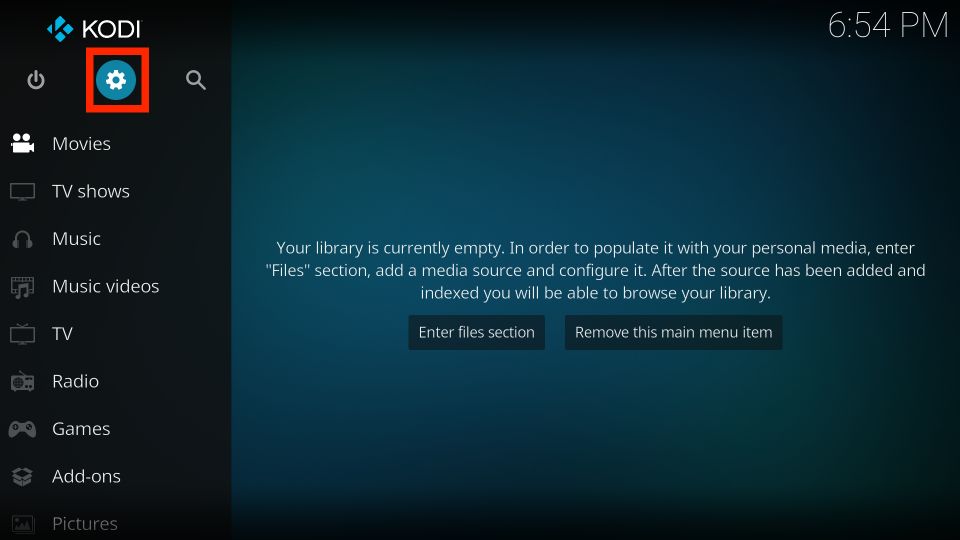 2. Explore the tile with the Cog and Screwdriver Icon on your screen's bottom right.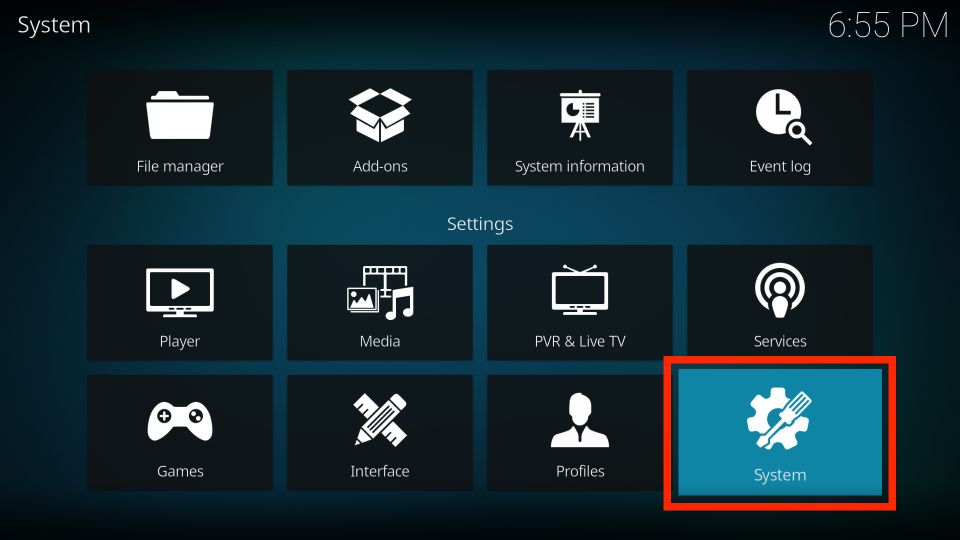 3. Inside System, over down to Add-ons on the left pane.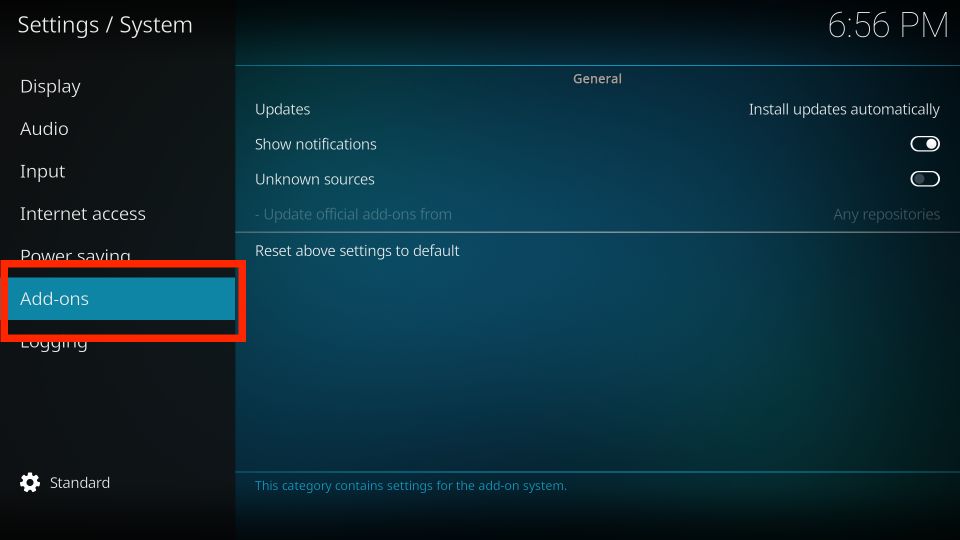 4. Towards your right, under General, scroll down and enable Unknown sources.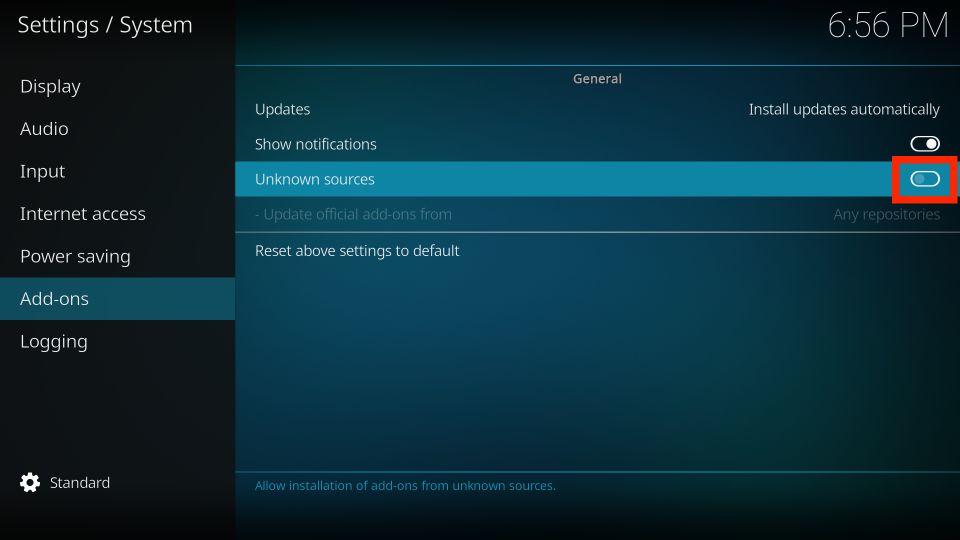 5. Kodi will warn you about giving access to addons/repos from unknown websites. Click Yes and proceed.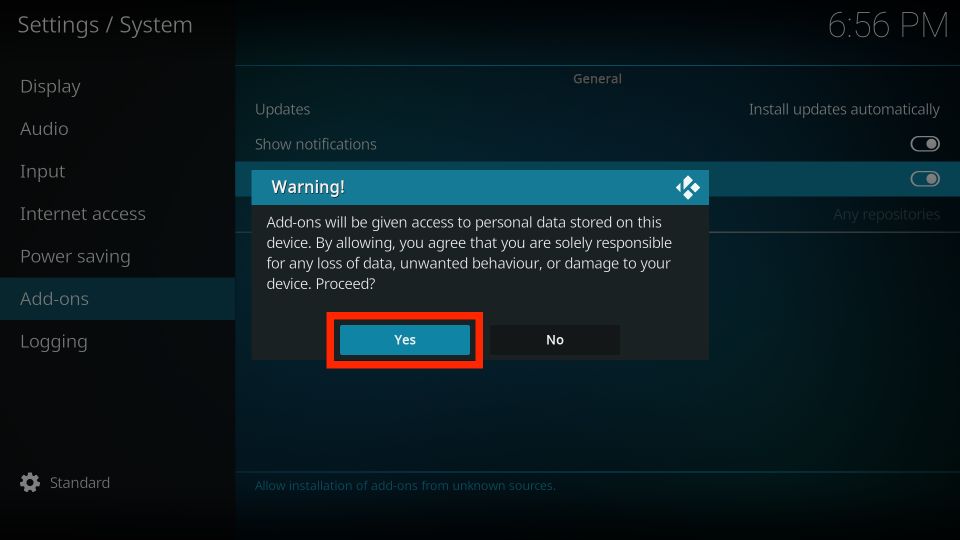 6. Right below Unknown sources, open -Update official add-ons… to change the setting of how an addon gets updated.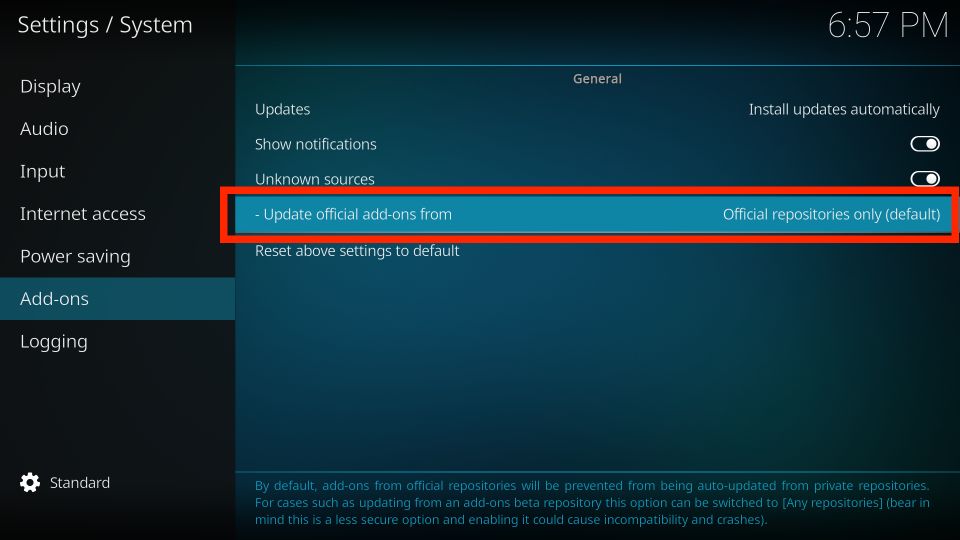 7. Pick Any repositories to let Kodi update addons using any repo.
Part 2 – Load Loop Repository
Next, here's how to install the Loop Repository:
1. To access Kodi settings, tap the Cog icon on your screen's top left under Kodi's logo.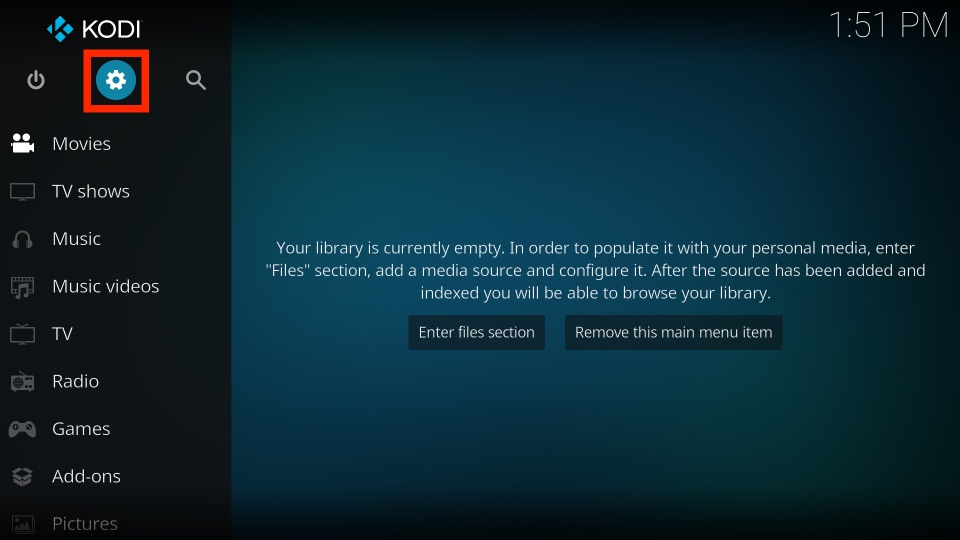 2. Open File manager to access the menu for adding repositories.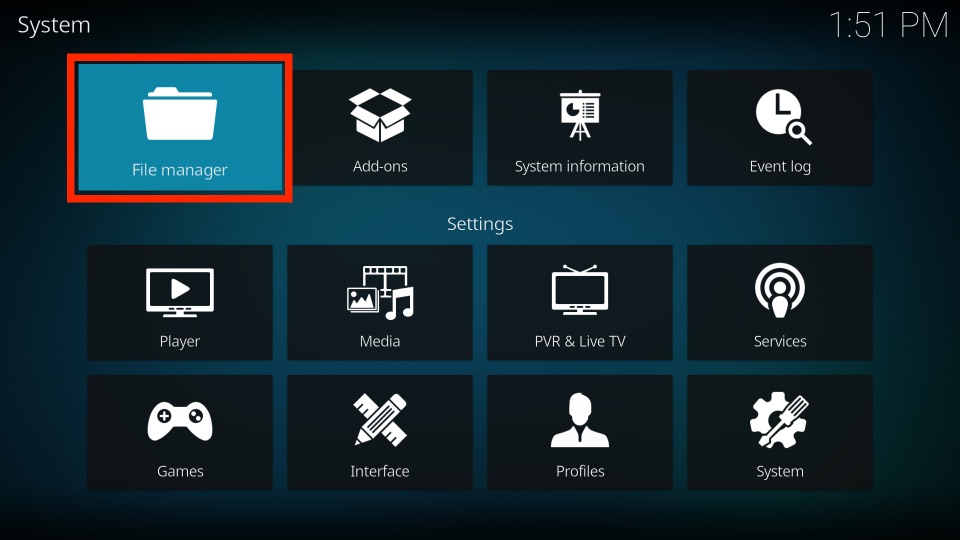 3. Choose Add source to open the window for adding the Loop Repository source.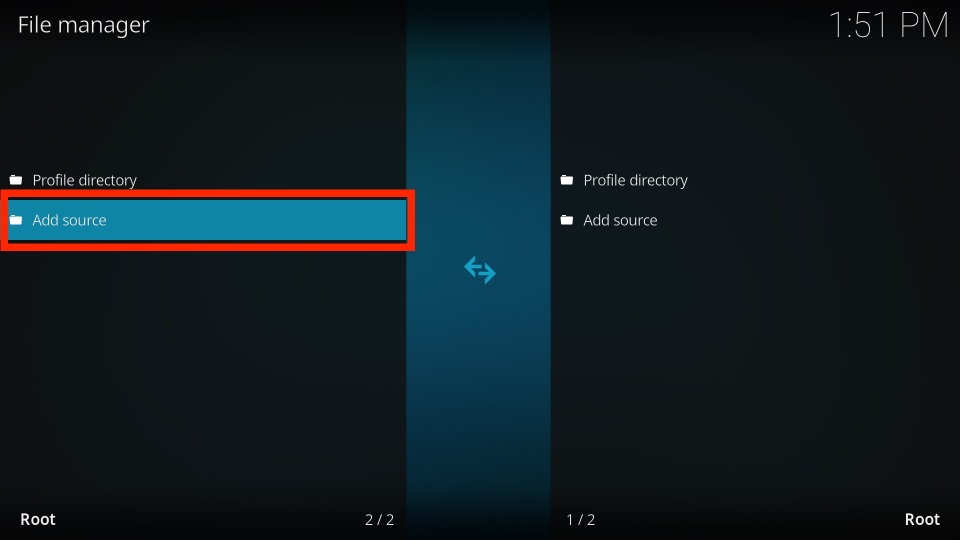 4. Open <None> from the Add file source dialogue box.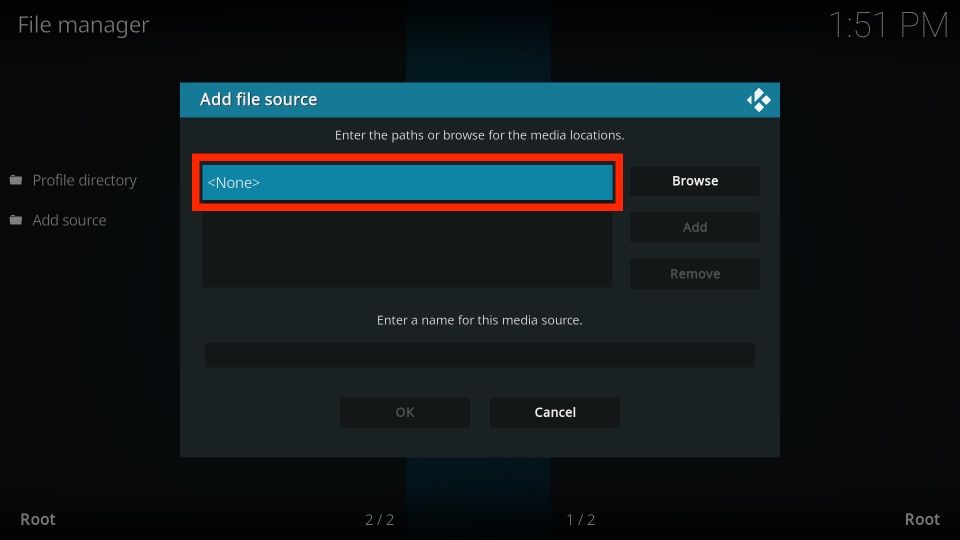 5. Enter the official URL of the Loop Repository – https://loopaddon.uk/loop19/. When done, hit OK. 
Note: Loop's URL above is the sole property of the Loop Repository. We at FireStickHow don't have any affiliation with the developers of the repo.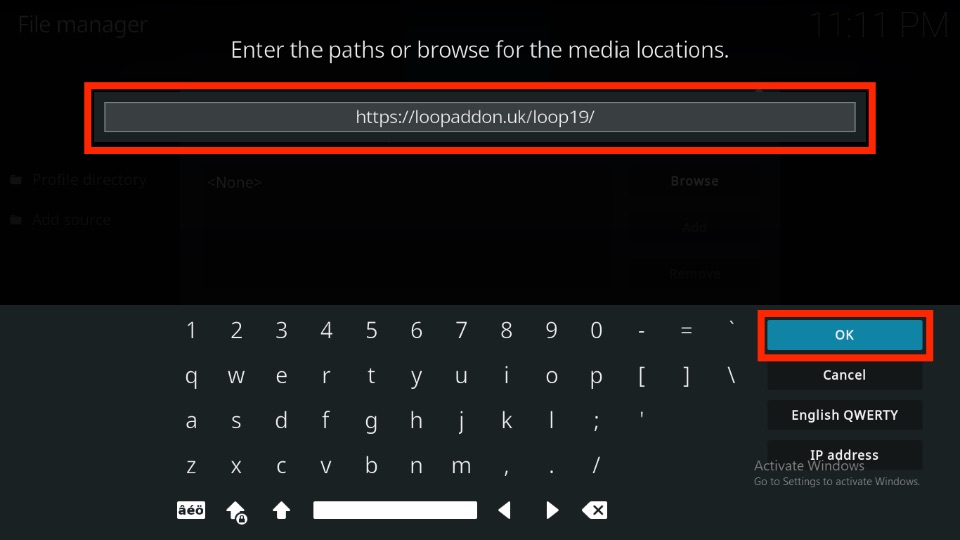 6. Loop19 will be the default alias. To change it, select the Box under Enter a name for this…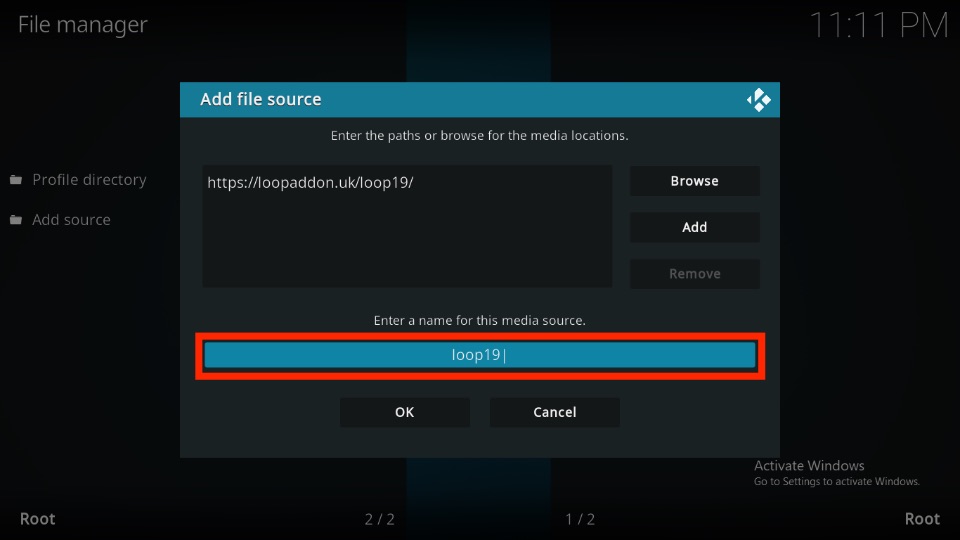 7. I find the default name perfect, so I'm not changing it. But you can clear it, set a different name, and press OK to preserve changes.
Note: Set a simple name so you can remember it.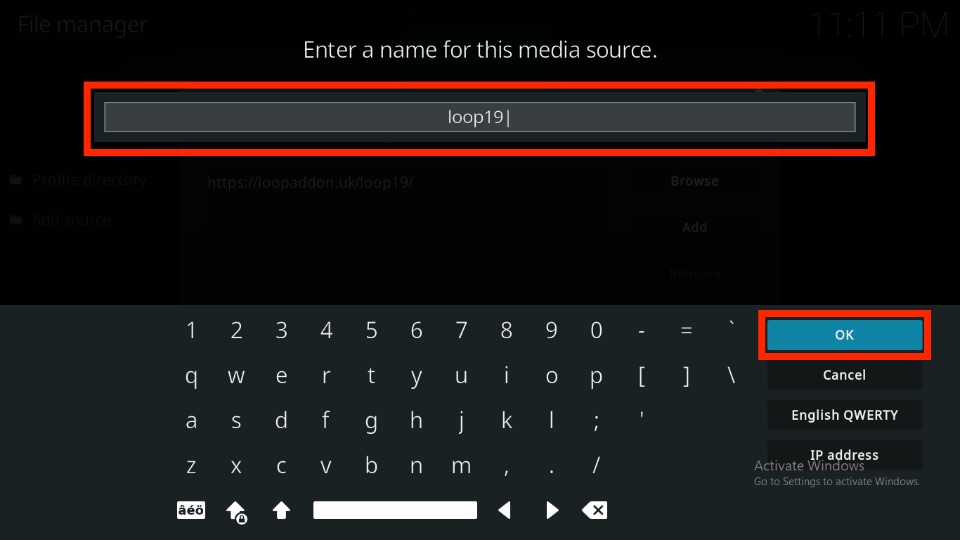 8. Press OK to save the source.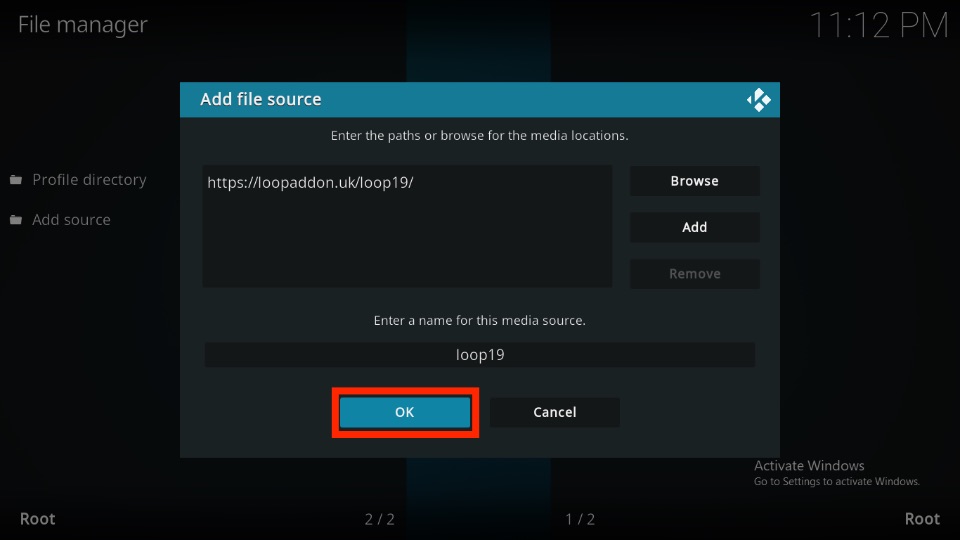 9. You'll see the repo name on the Add source list. And this means you have successfully added the repo.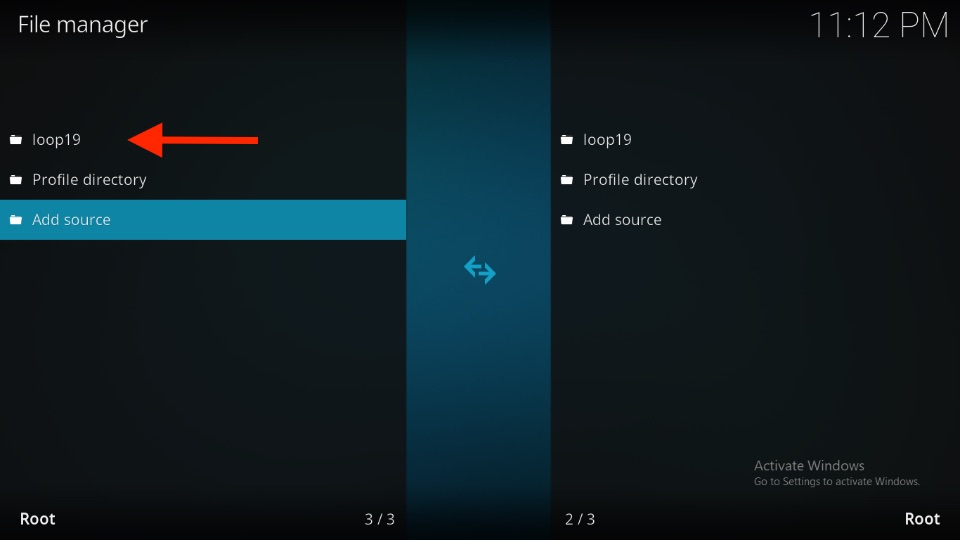 10. Go to Kodi settings and launch Add-ons.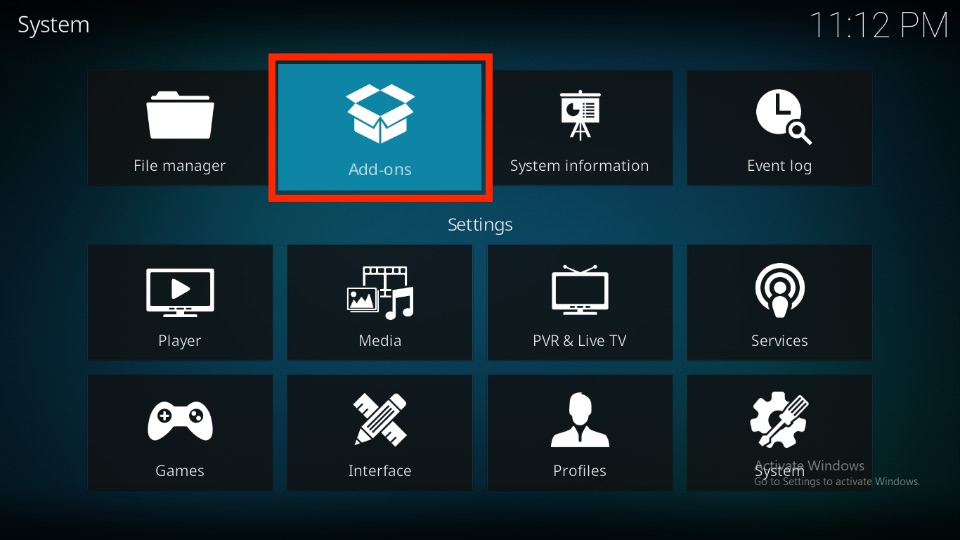 11. To access and install the source you have added in previous steps, select Install from zip file.
Note: Press Yes to close and continue when the warning sign appears.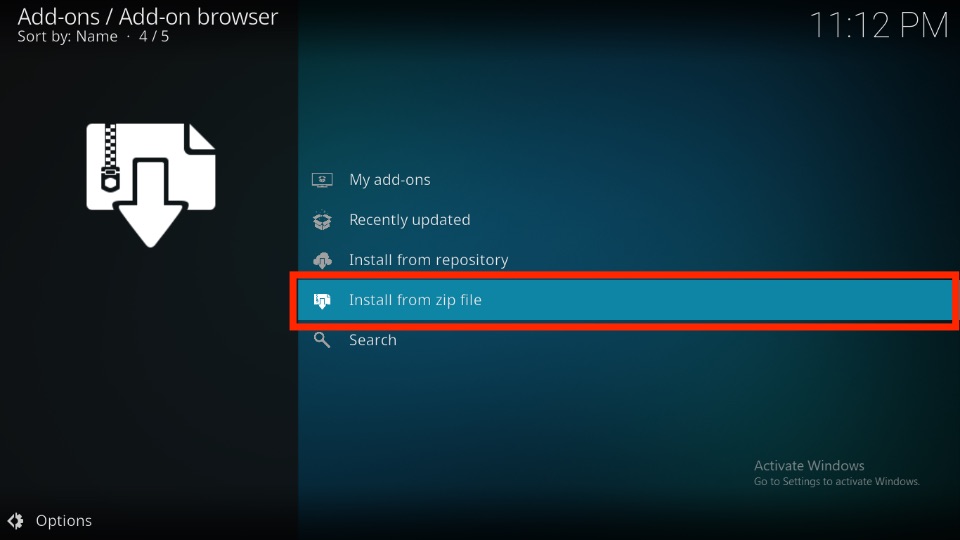 12. Choose loop19 or the name you set in step 7.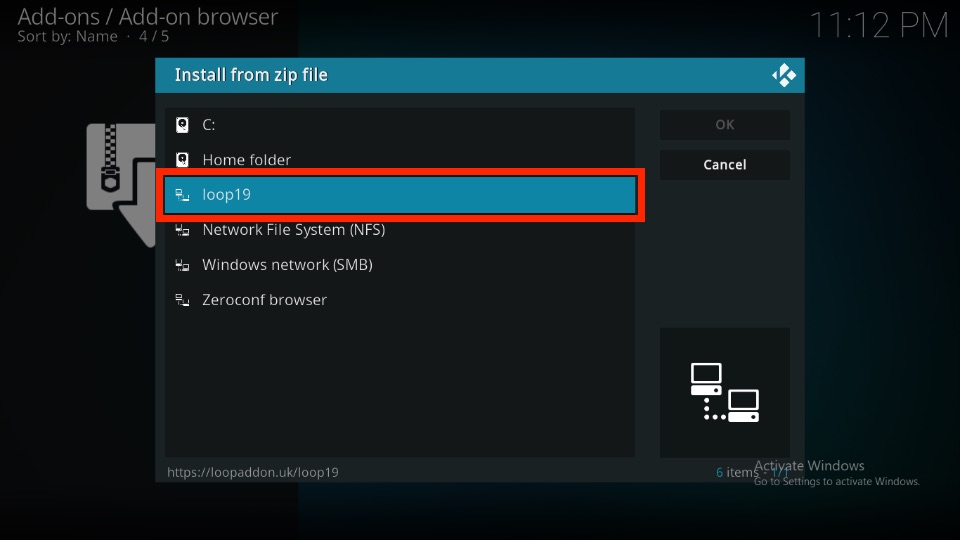 13. Open repository.loop-3.0.2.zip.
Note: At the demonstration time, the zip version of the Loop Repository was 3.0.2. But it might be something different when you are accessing it. 
14. Within seconds, you'll receive a notification – Loop Repository Add-on installed.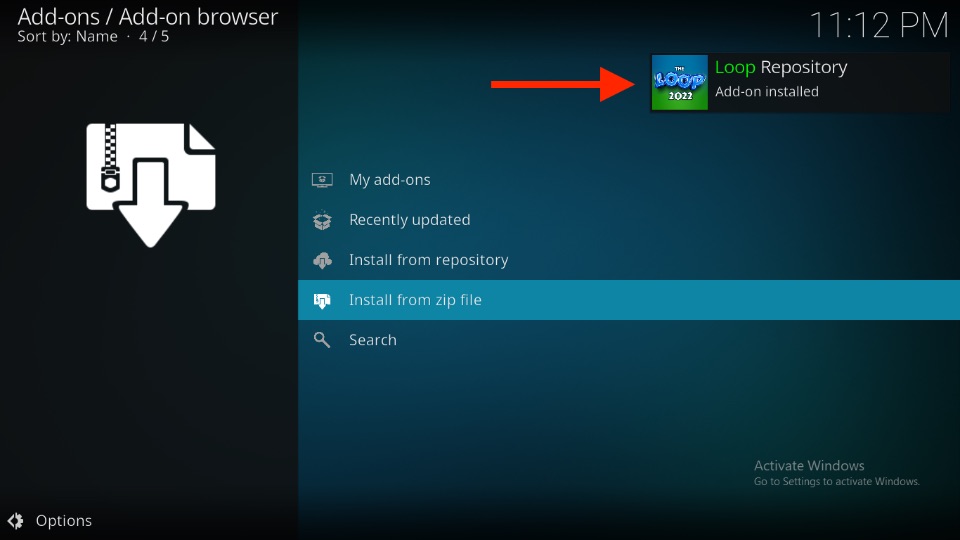 This is it. You can now easily access the Loop Repository from your Kodi app.
Part 3 – Installing The Loop Addon
Finally, here's how to load The Loop using the Loop Repository:
1. After the notification, choose Install from repository to access the available repos on your Kodi app.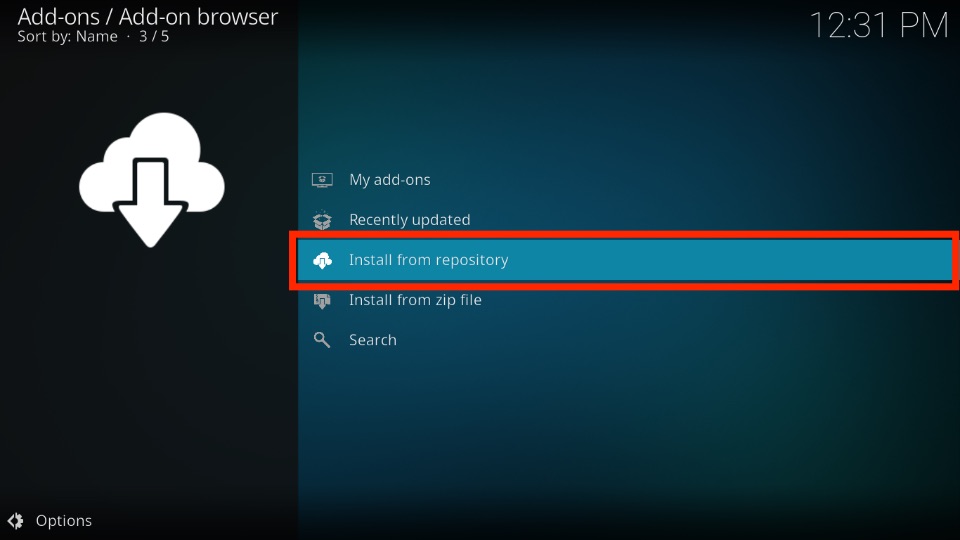 2. Locate and tap on the Loop Repository to open it.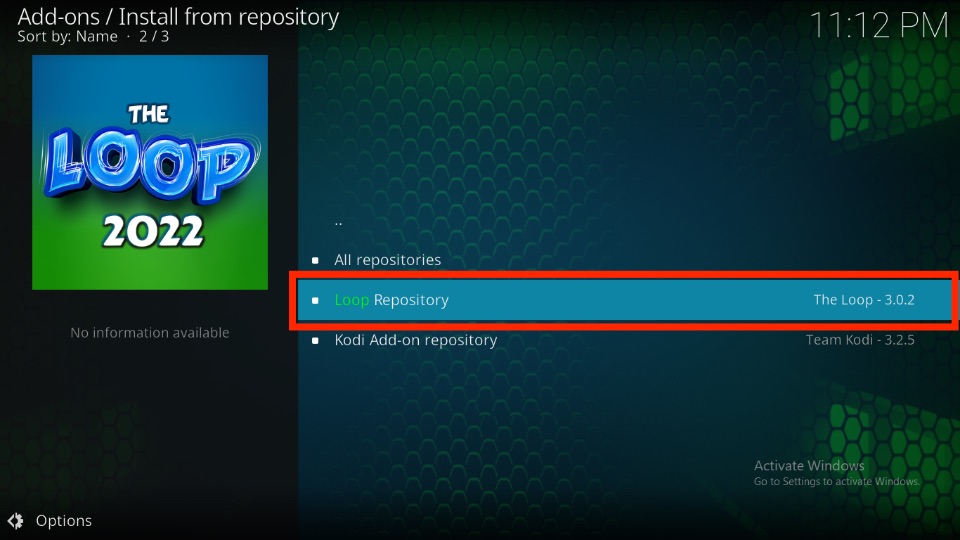 3. There are two folders available. Select Video add-ons.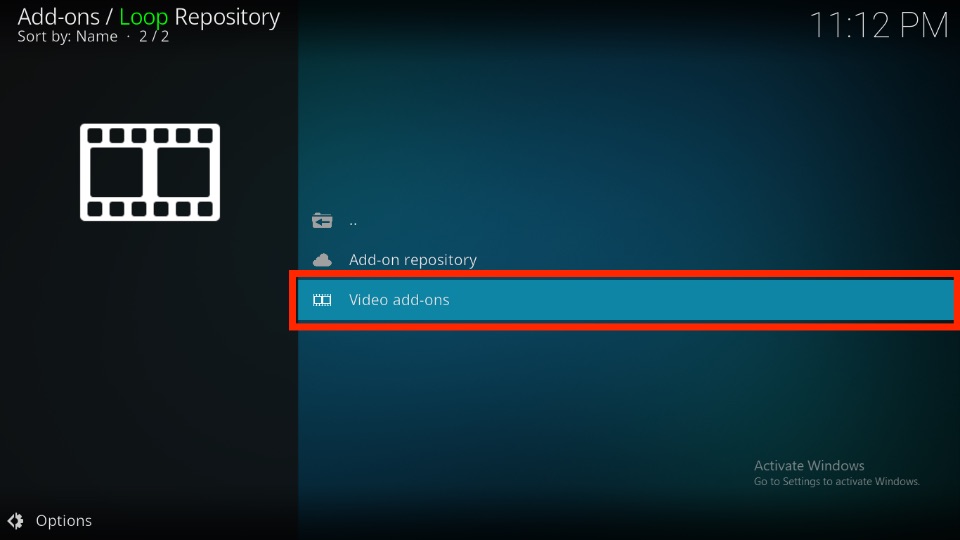 4. Select The Loop.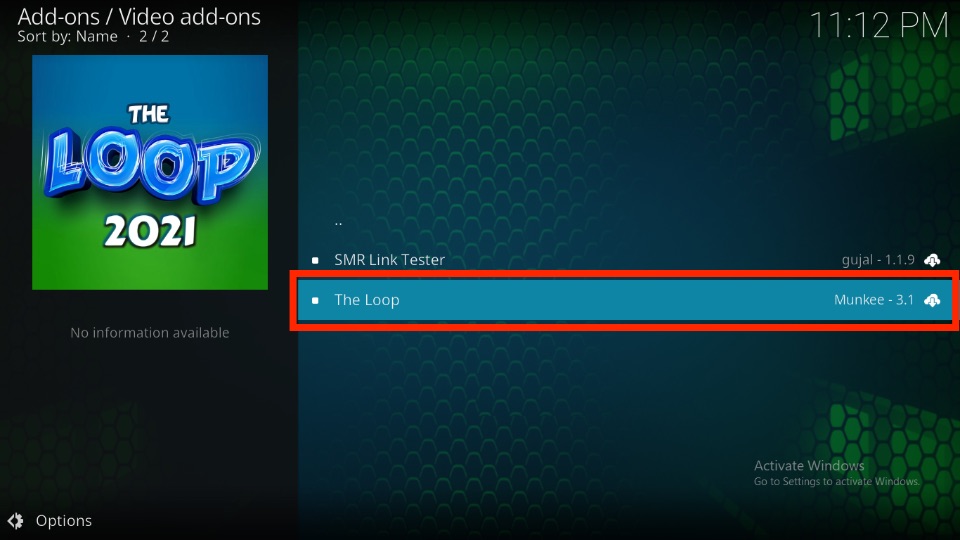 5. On the addon's menu, multiple options and information are available, like Category, Origin, Versions, Dependencies, etc. Select Install.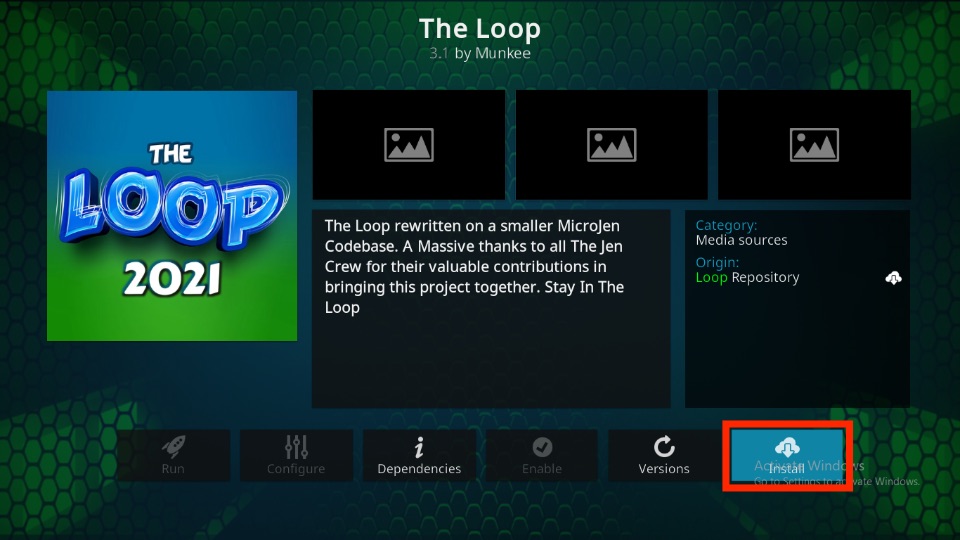 6. The Loop will require you to install additional addons like InputStream Helper, Google Drive, YouTube, etc. Press OK to confirm.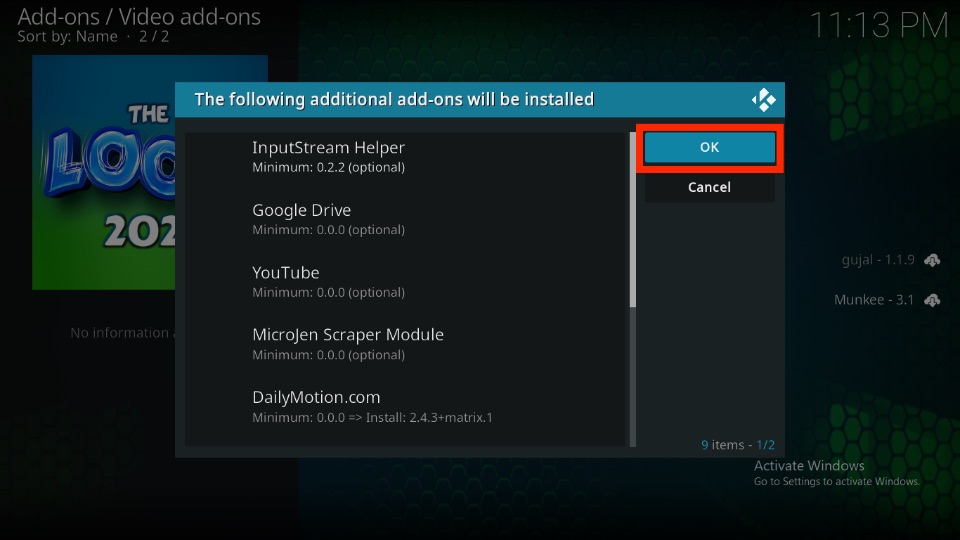 7. Within seconds, Kodi will download the required files. And then, it'll install those files.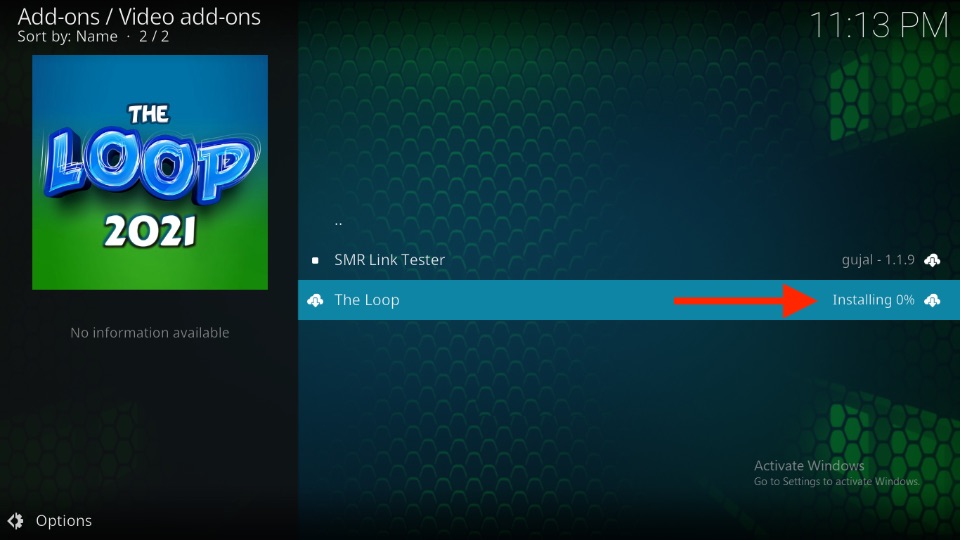 8. On successful installation, a message will appear on the top right side – The Loop Add-on installed.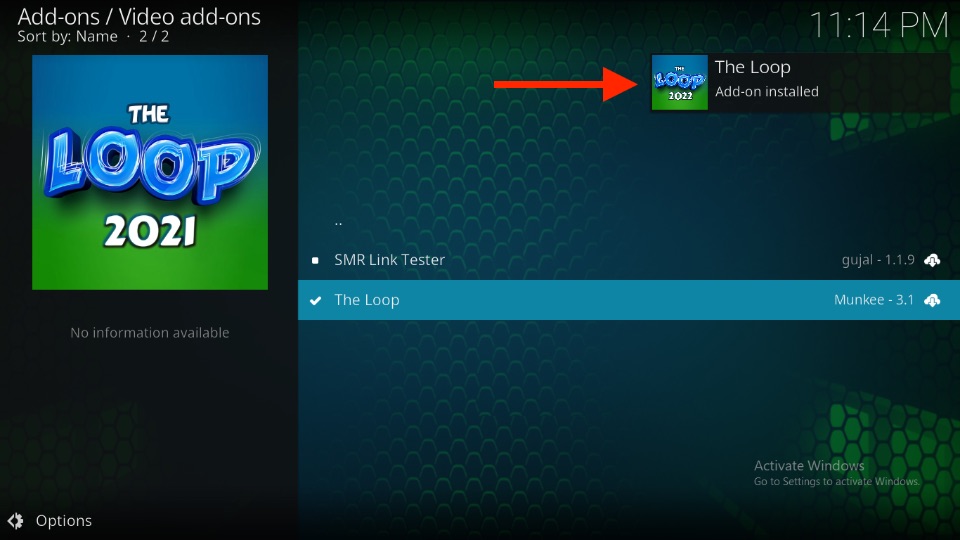 Congratulations! You can now use The Loop Kodi addon. 
Wait! It looks like you are all set to start watching your favorite content on Kodi. But have you protected your online identity yet? You are under constant surveillance by the Government and ISP. They use your IP address 3.17.249.235 to track you. Streaming free or copyrighted videos may get you into legal trouble.
Thankfully, you can use a VPN to easily protect your privacy and go invisible from your Government and ISP. I use and recommend ExpressVPN with Kodi.
ExpressVPN is the fastest, most secure, and streaming-friendly VPN. It is easy to install and set up on any Kodi device, including FireStick, Smartphones, PCs, and more.
ExpressVPN, offers an unconditional 30-day money-back guarantee. So, if you do not like the service (I don't see why), you can get a full refund within 30 days.
Please remember that we encourage you to use a VPN to maintain your privacy. However, we do not condone breaking copyright laws.
Before you start using Kodi for streaming, here is how you can protect yourself with ExpressVPN:
Step 1: Sign up for ExpressVPN Here
Step 2: Download ExpressVPN on your device by clicking HERE
Step 3: Open the ExpressVPN app on your device. Sign in with your account. Click the connect/power button to connect to the VPN

Great! You have successfully secured yourself with the best Kodi VPN.
How to Use The Loop Kodi Addon
If you want to see what The Loop looks like from the inside, here's a quick walk along:
Start by exploring Add-ons on the home page of Kodi.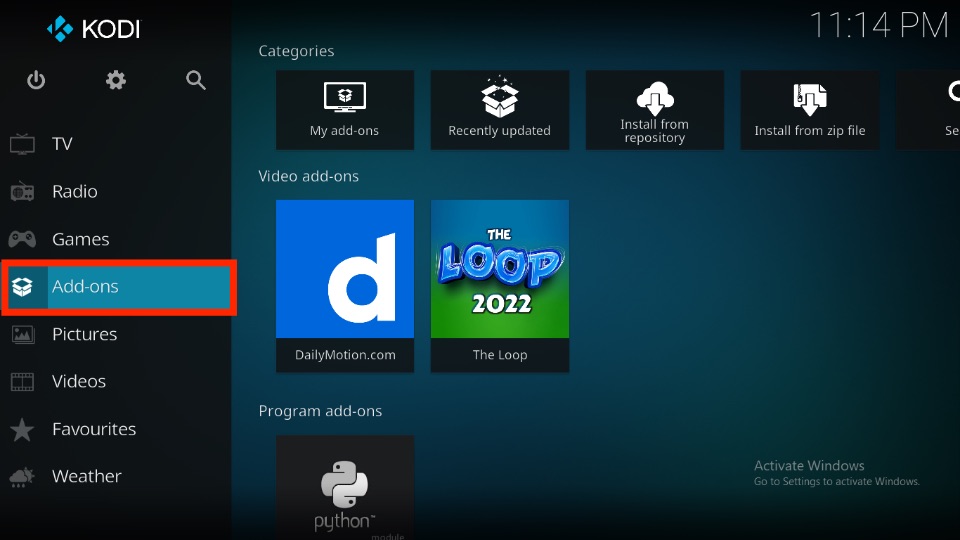 Launch The Loop after selecting Video add-ons on the left.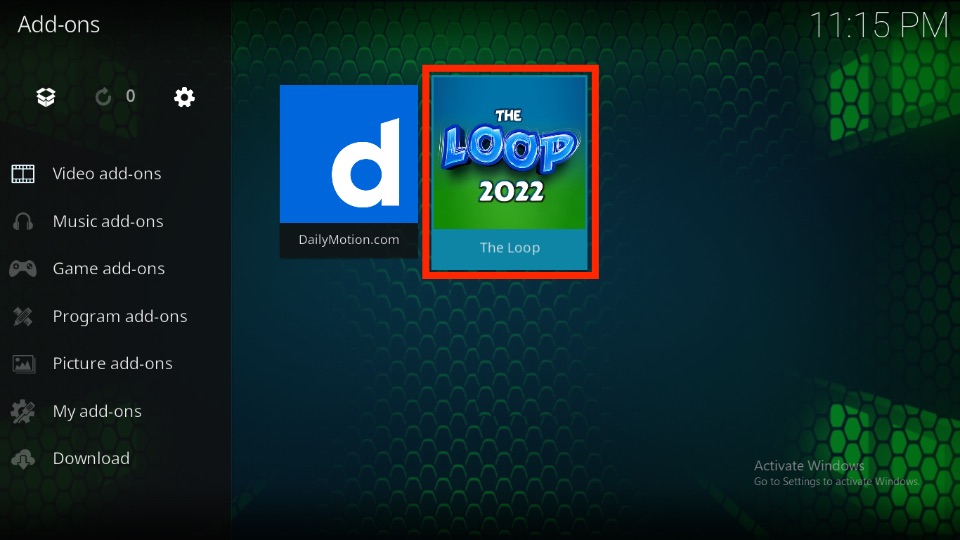 Welcome to the home screen of The Loop! Multiple sections are available based on different sports, like Auto Zone, 24/7 Zone, Fight Zone, Replay Zone, Score Zone, Soap Zone, and more.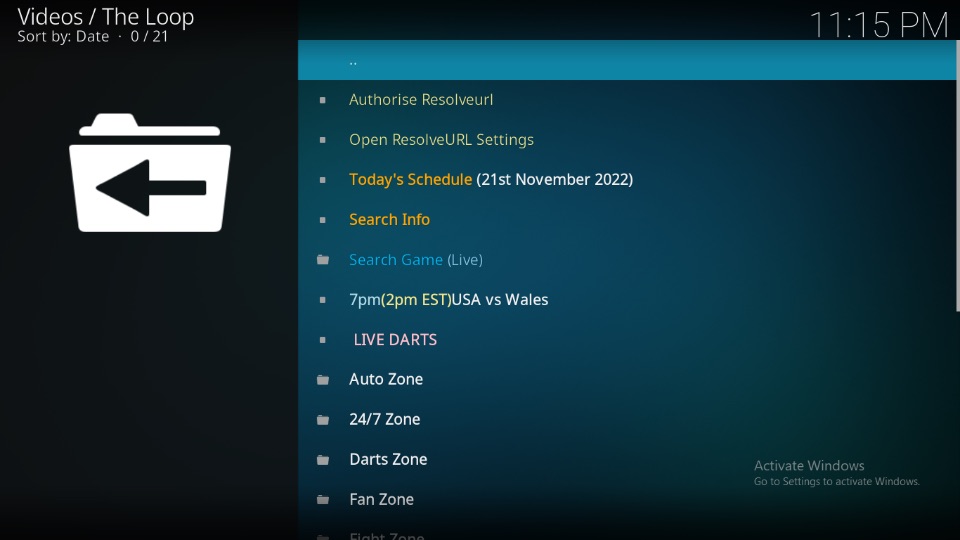 To explore different racing sports, open Auto Zone.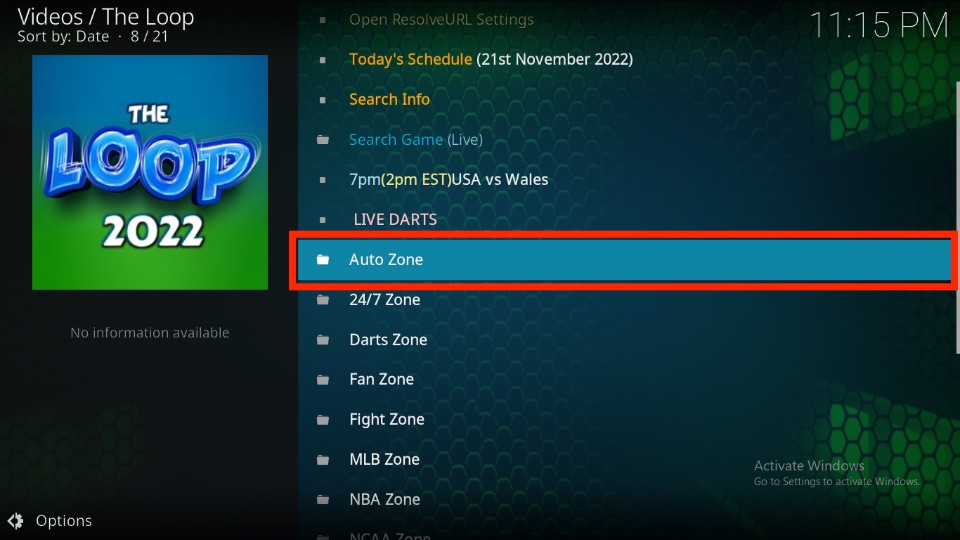 Inside, the section is split into sub-sections of racing cars and bike sports.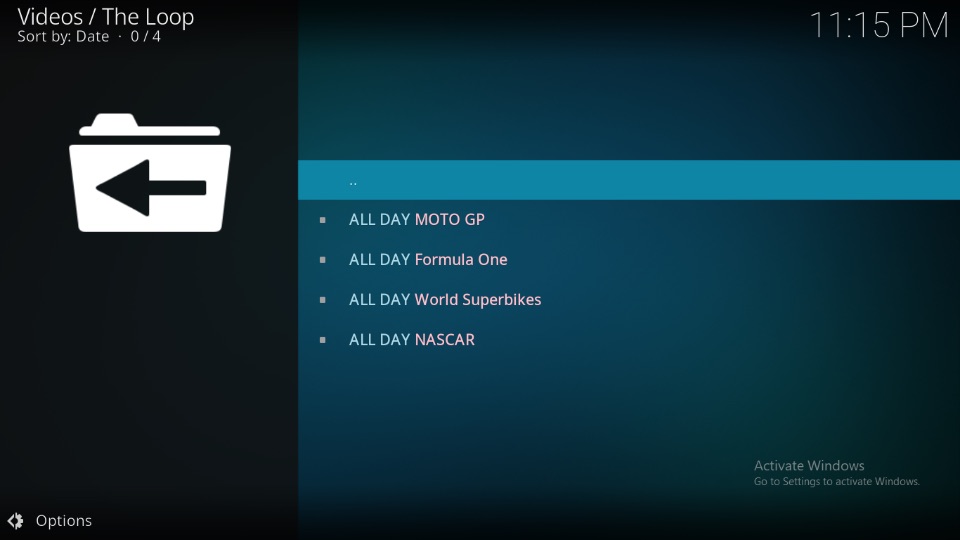 To watch live TV channels related to sports and other genres, open 24/7 Zone.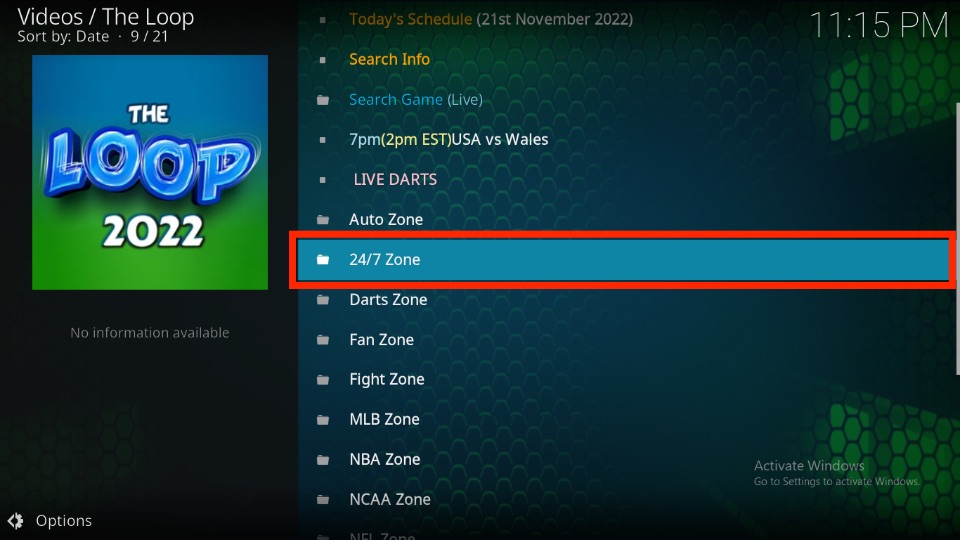 There are 15 live TV sections inside, containing different TV channels.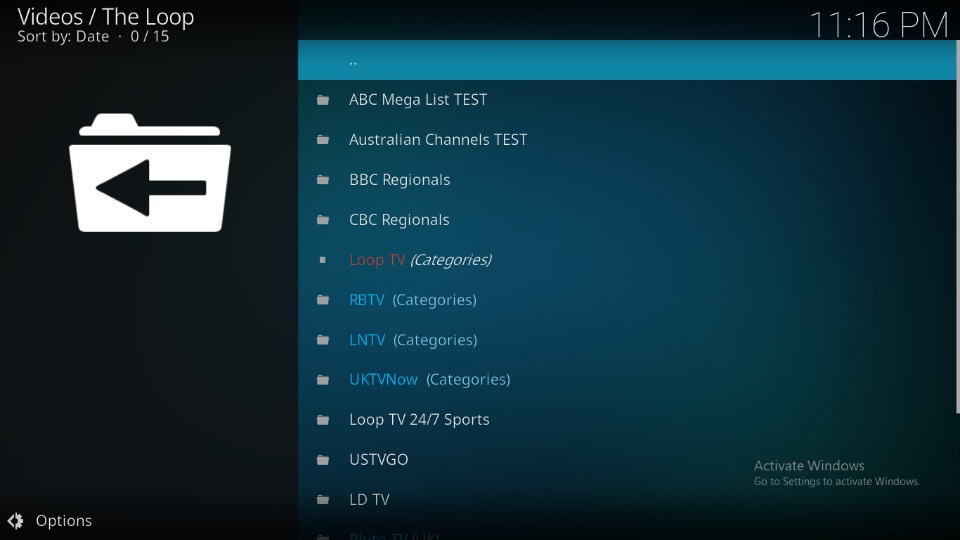 Are you into fighting? Then, access the Fight Zone.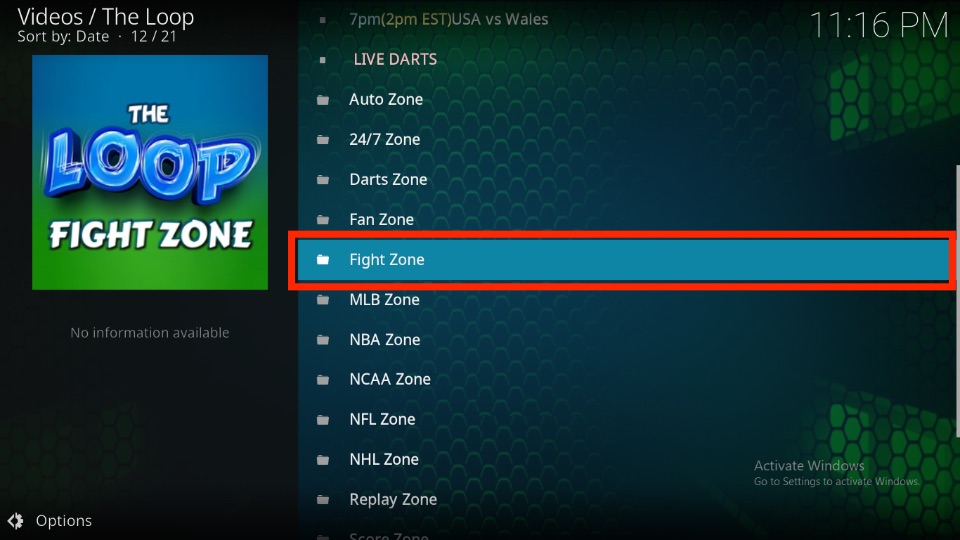 This section contains all about fighting sports events, live channels, schedules, and more.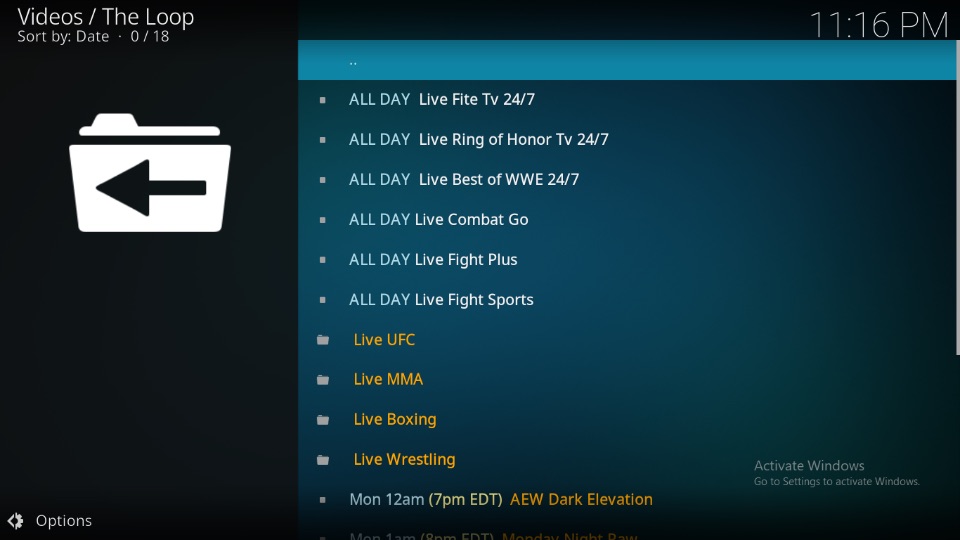 To watch replays of your favorite sports, discover Replay Zone.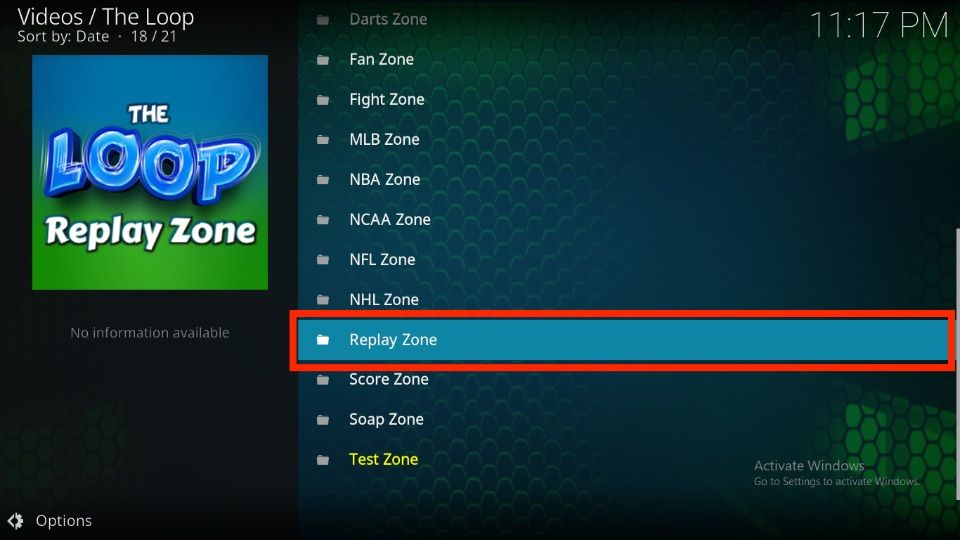 There are 12 sections inside consisting of different replay sub-folders of multiple sports like Boxing, Rugby, Hockey, etc.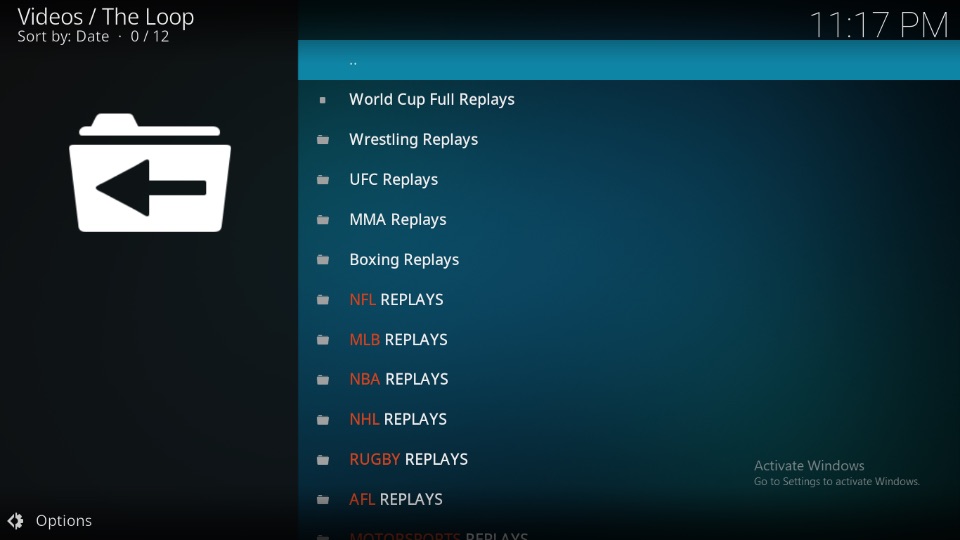 Are you into football (soccer)? Then, discover Score Zone.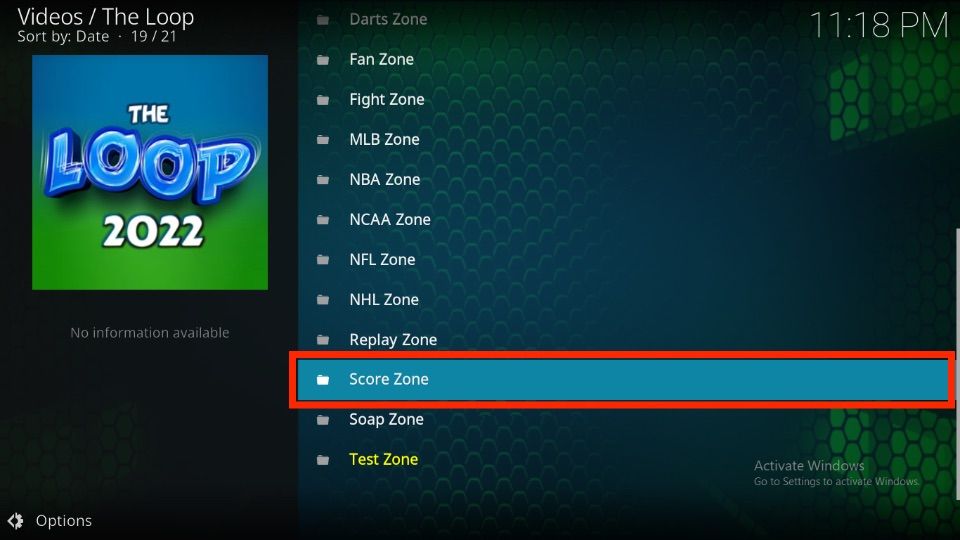 This section is split into five sub-folders of popular leagues happening worldwide.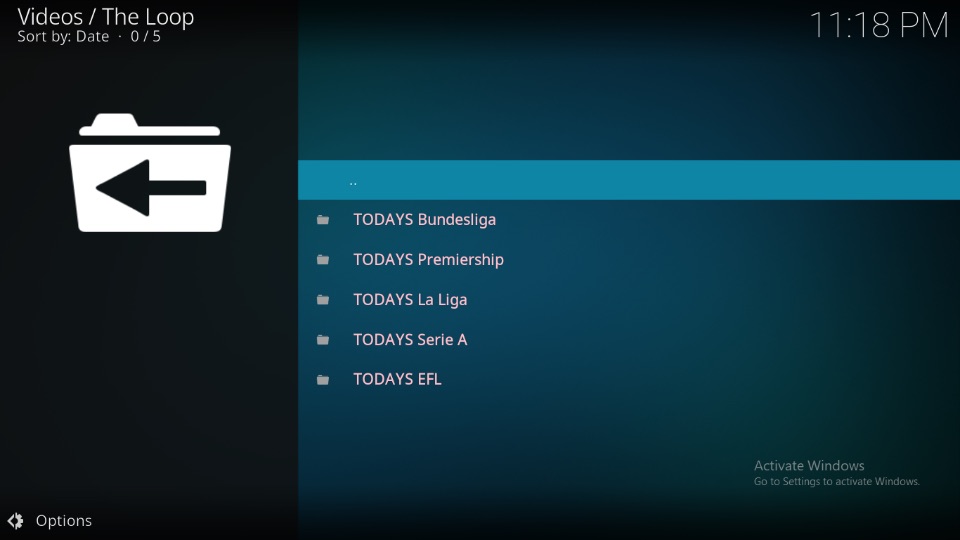 The Loop also lets you search for a game. To do that, select Search Game (Live).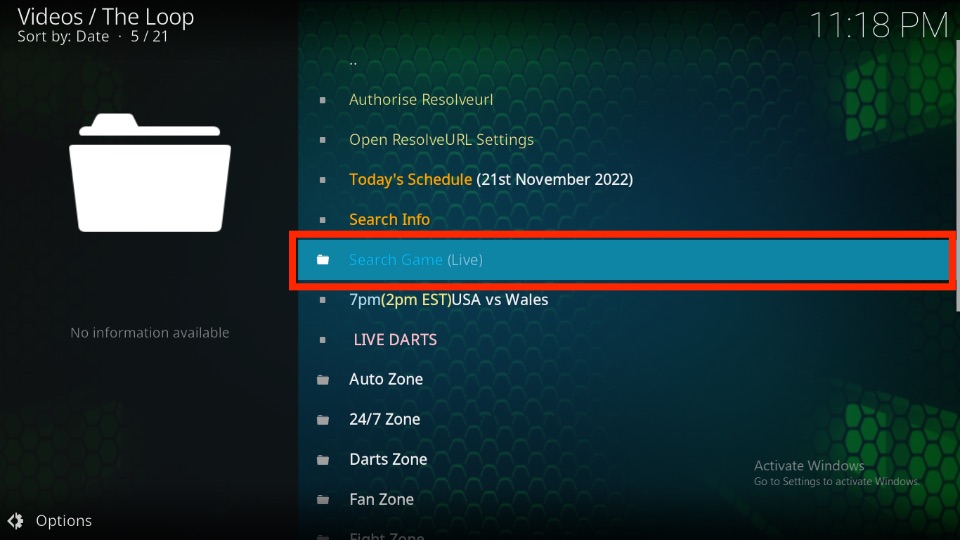 Enter your search terms and click OK to see the results matching your search.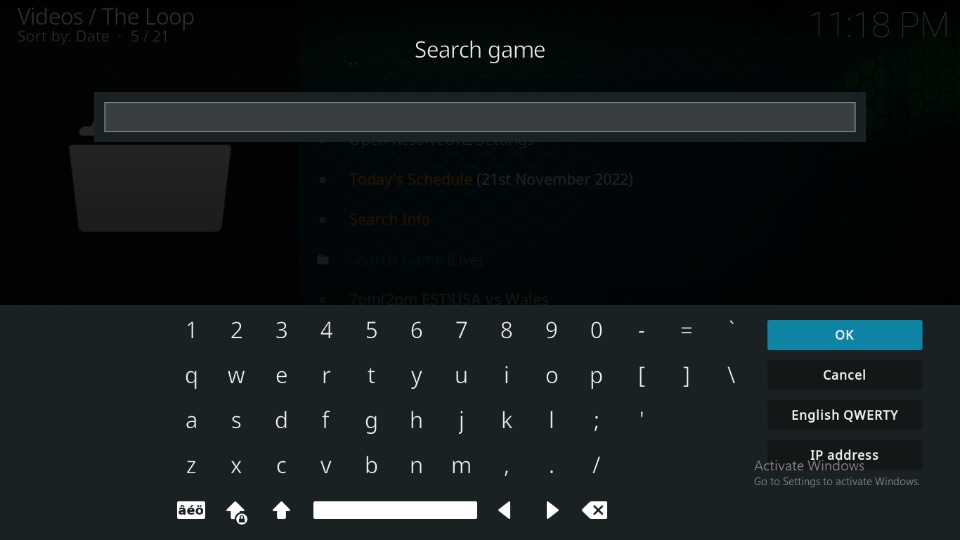 Set Up Real-Debrid on The Loop
With Real-Debrid, you can access premium links to all types of content. Here's our detailed guide on how to set up and use the service. With that said, here's how to integrate your RD with The Loop: 
1. Select Open ResolveURL Settings on the top side of The Loop home.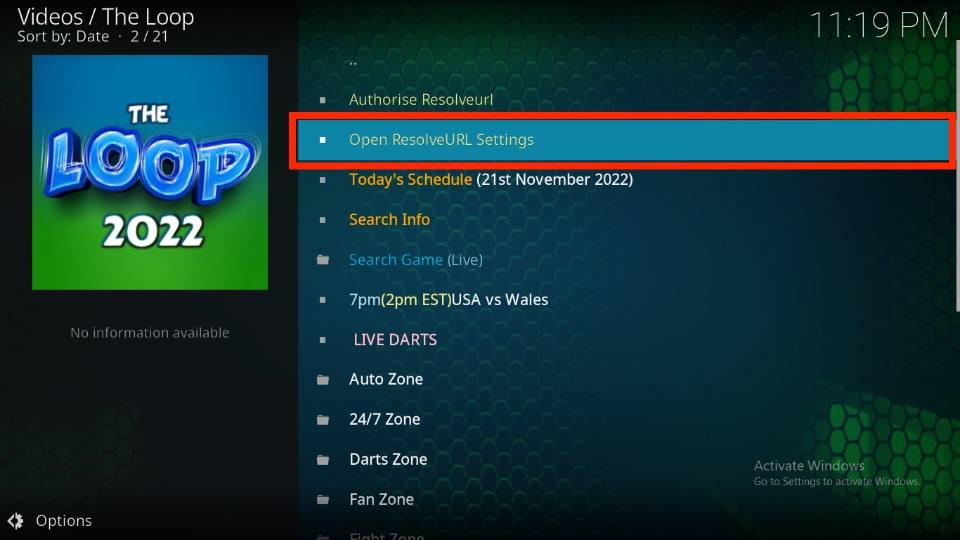 2. On Settings – ResolveURL menu, choose the Universal Resolvers 2 tab.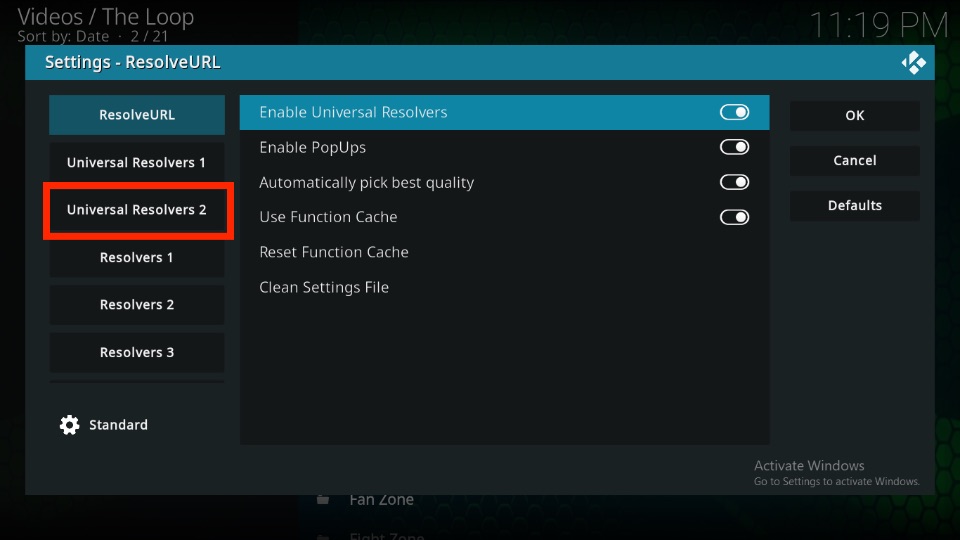 3. Under Real-Debrid on your right, select (Re)Authorise My Account.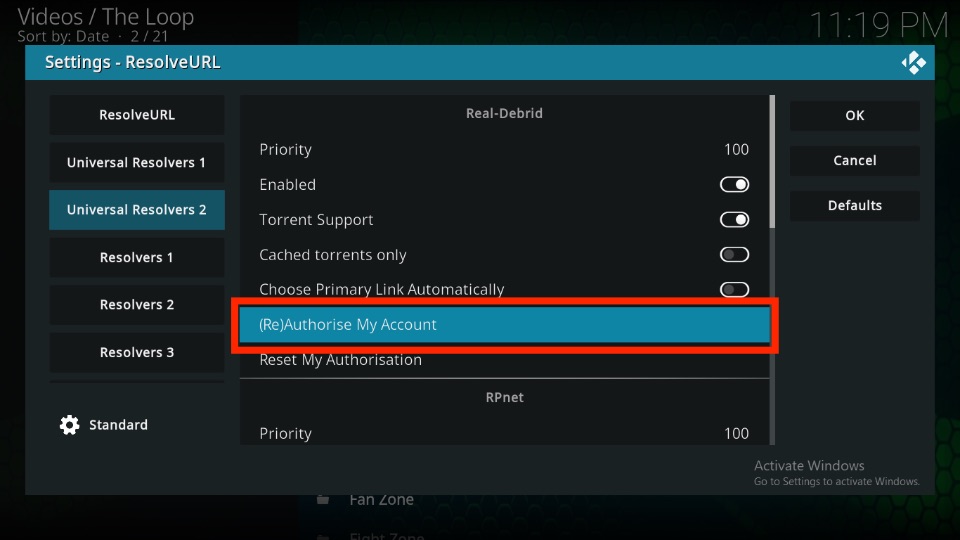 4. On your computer/phone, go to https://real-debrid.com/device using an internet browser. Then, type the code and follow the on-screen instructions to conclude the setup.
Note: Before visiting the URL, ensure you are signed in to your Real Debrid account.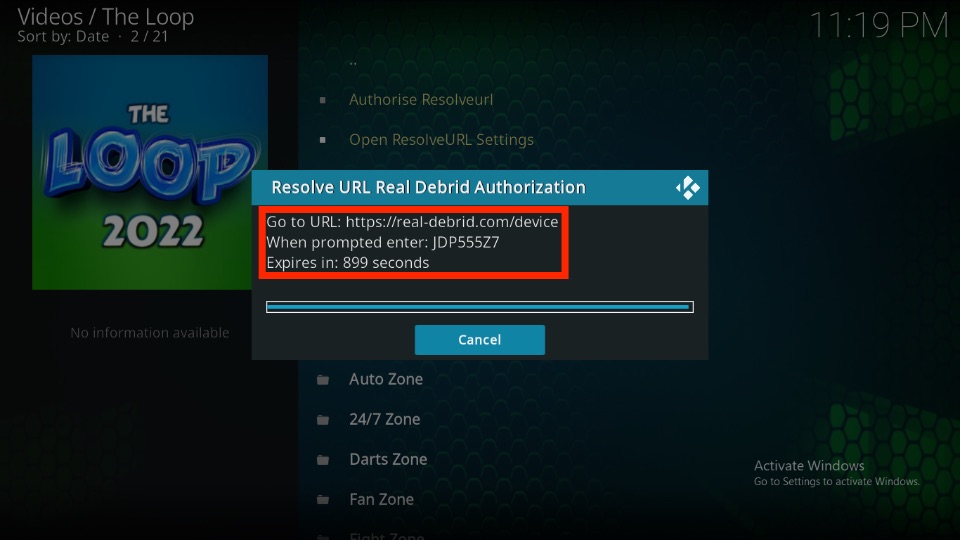 5. A message will appear on your screen – ResolveURL Real-Debrid Resolver Authorised.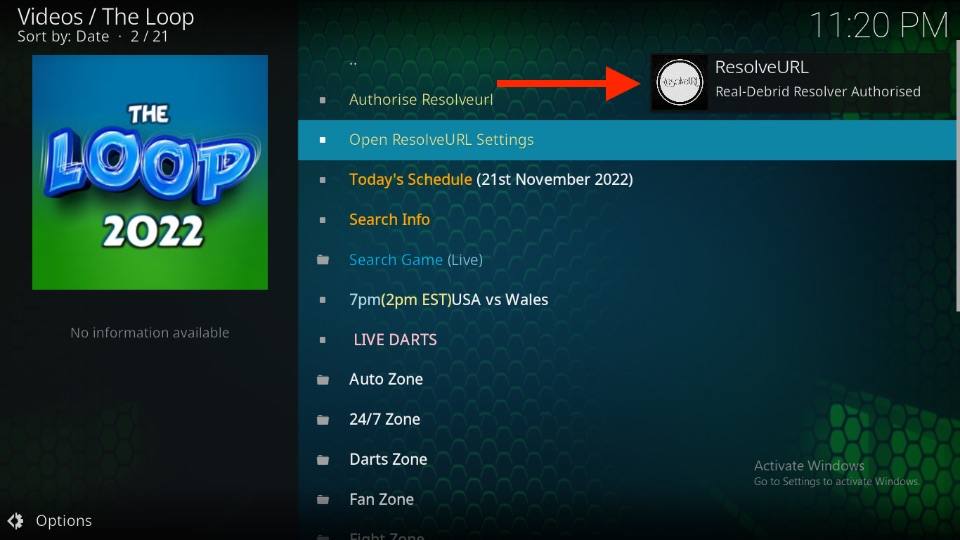 Your Real-Debrid account is now successfully connected to The Loop.
Conclusion
With The Loop addon on your Kodi Addon list, you are just a few clicks away from streaming all the sporting action. Use the guide to learn how to install The Loop Kodi addon. And lastly, share your feedback and suggestions below.
Related: