This tutorial covers all the tried and tested tips on how to fix YouTube TV not working on FireStick. I have divided the blog into various sections depending on the type of issue. The instructions mentioned here apply to FireOS devices such as FireStick Lite, New FireStick 4K, and New FireStick 4K Max. You can also find some common YouTube TV FAQs at the end. Let's dive in!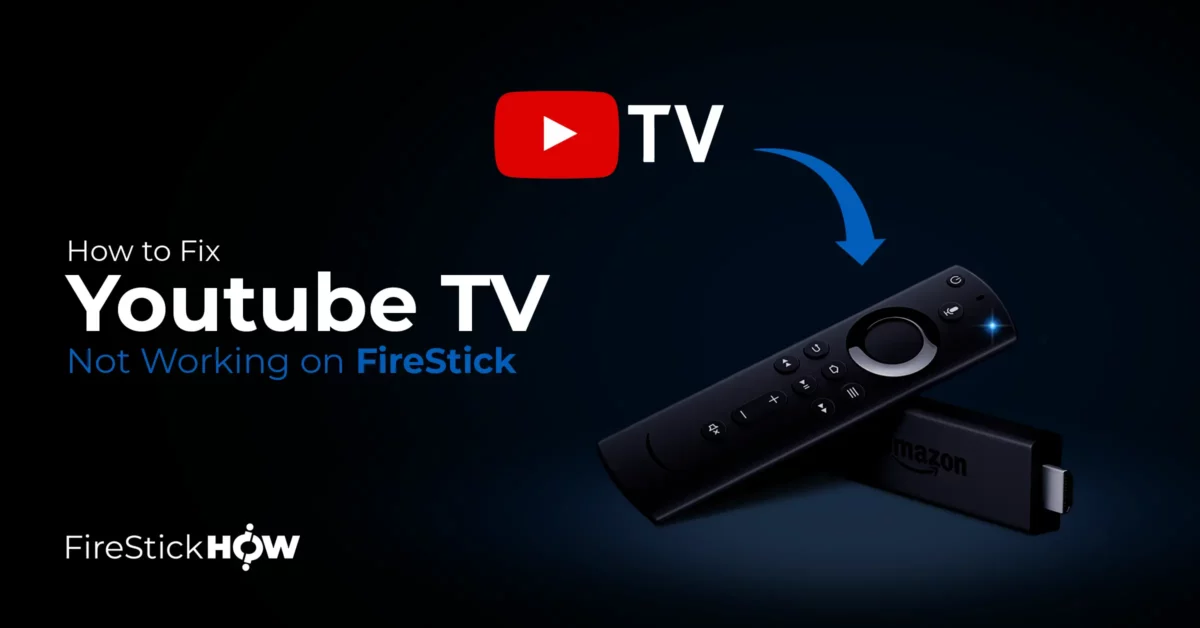 YouTube TV is a live and on-demand subscription service with over 85 local and international channels. It costs $72.99 per month for one membership for up to six households. Although it's one of the best TV channel streaming apps on FireStick, it does encounter some issues.
If you use YouTube TV more often, you might have experienced sudden crashes, lags, and buffering issues while streaming. Luckily, solving these issues is simple. The following sections will tell you exactly what to do next time the YouTube TV app crashes.
You may also try YouTube TV alternatives if the app doesn't work for you.
Attention FireStick Users: Read before you continue
Your government and ISP are probably monitoring your streaming activities using your IP address 3.17.249.235 (exposed to all). You may get into serious legal trouble for streaming copyrighted videos on FireStick. 
I strongly recommend getting a trusted VPN for FireStick to hide your IP address and protect your online identity.
I use ExpressVPN on all my devices as it is the most secure, fastest, and easy-to-use VPN. It comes with an unconditional 30-day money-back guarantee, and you get 3 free months with the yearly plan.
Don't miss out on the peace of mind and online security ExpressVPN provides.
Read: How to Install & Set up the best VPN on FireStick.
Resolving YouTube TV FireStick Not Working Errors
YouTube TV FireStick app errors are not uncommon. An error may often cause the YouTube TV app to close unexpectedly while you're streaming. Luckily, the issue is mainly minor and can be fixed quickly. Here are the top ways to resolve the YouTube TV application error on FireStick.
1) Force Stop The YouTube TV App
Force-stopping an app shuts it down completely. It stops the background activities and tasks and clears up the RAM space and the application. The app will remain dormant until your launch.
Force-stopping the YouTube TV app can fix any minor glitches or errors. It will also restart the application and may eliminate old bugs. To force stop the YouTube TV application on FireStick, follow these steps:
1. Go to FireStick Settings.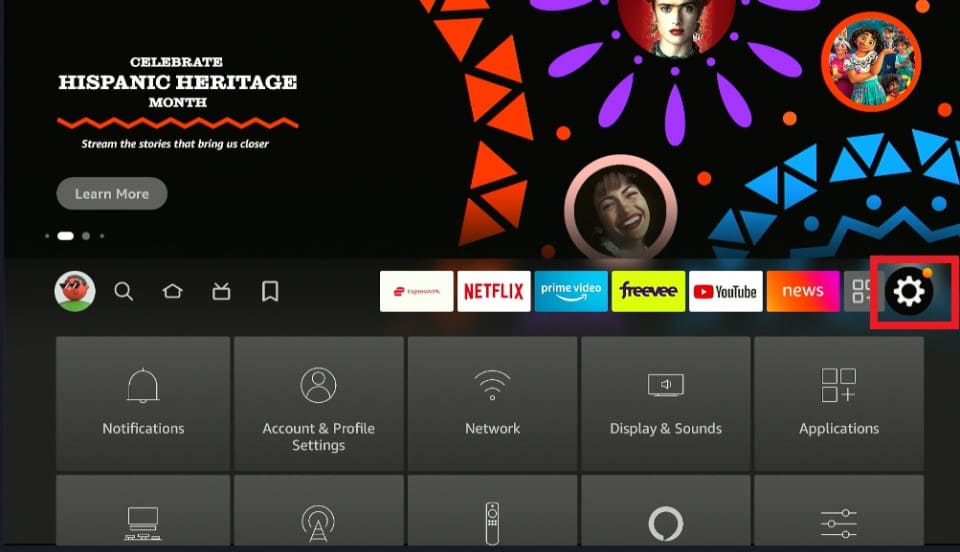 2. Choose Applications.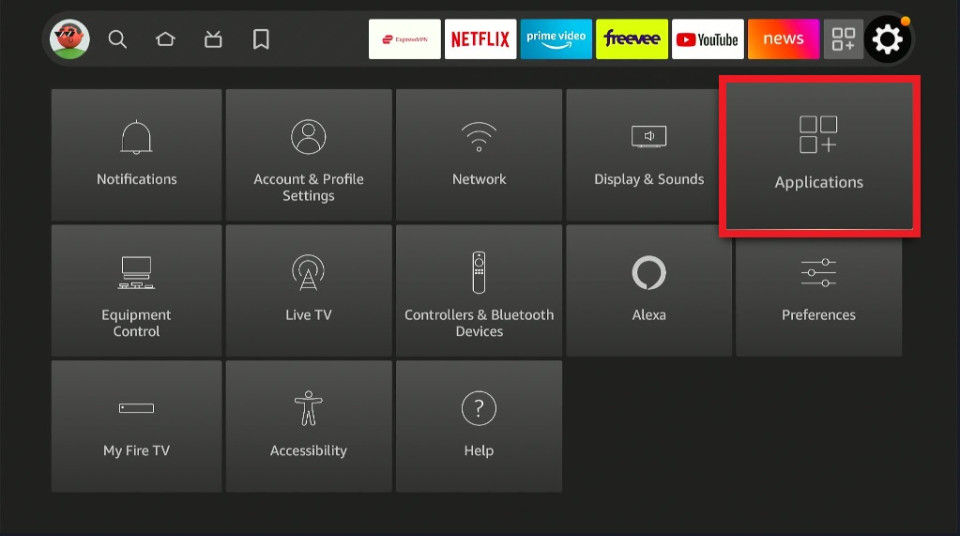 3. Navigate to Manage Installed Applications.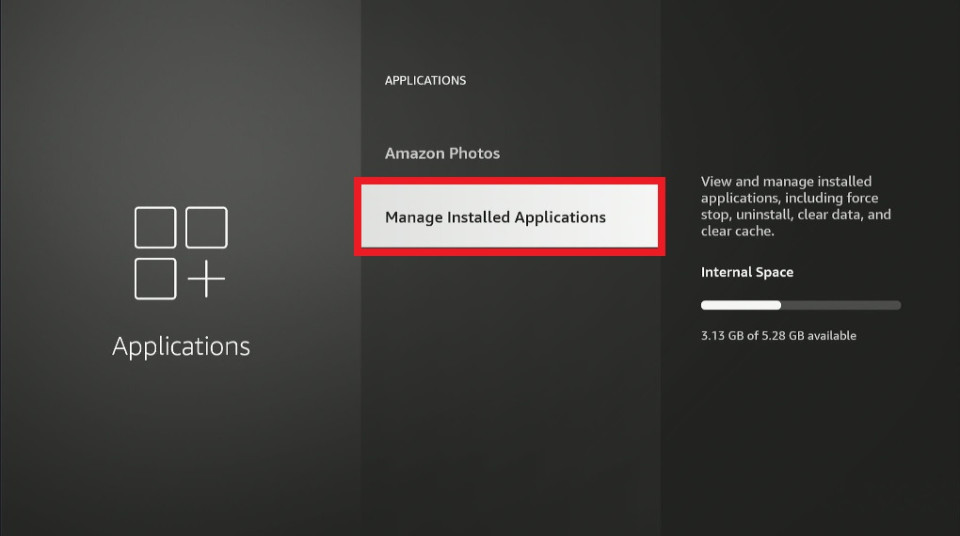 4. Click on YouTube TV.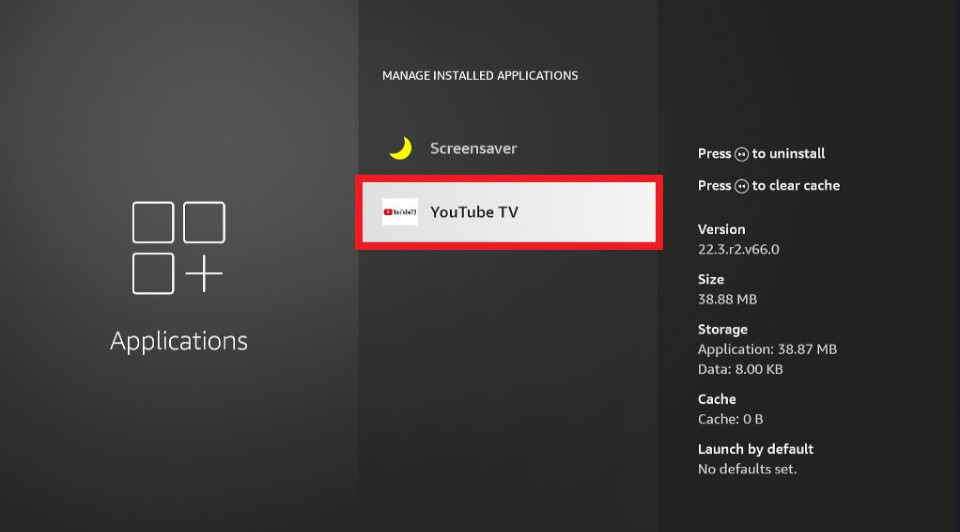 5. A menu will pop up, like in the following image. Press Force Stop to proceed.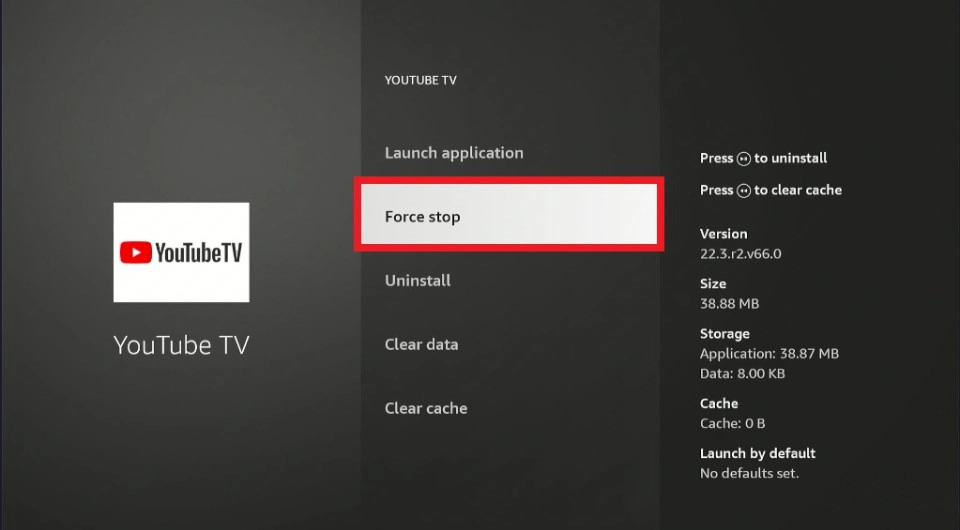 2) Clear Data of YouTube TV
Clearing the data of an app helps reset it. The process also frees up space and gives the application a boost.
It's, unfortunately, a temporary fix, as the application will start taking up space soon. However, giving it a try may fix the issue.
So, the next time you face a YouTube TV application error on FireStick, try to clear the application's data. It will hopefully fix the problem. Here's how you do it:
1. As demonstrated in the previous section, open FireStick Settings and select Applications. Click Manage Installed Applications. Next, Select YouTube TV.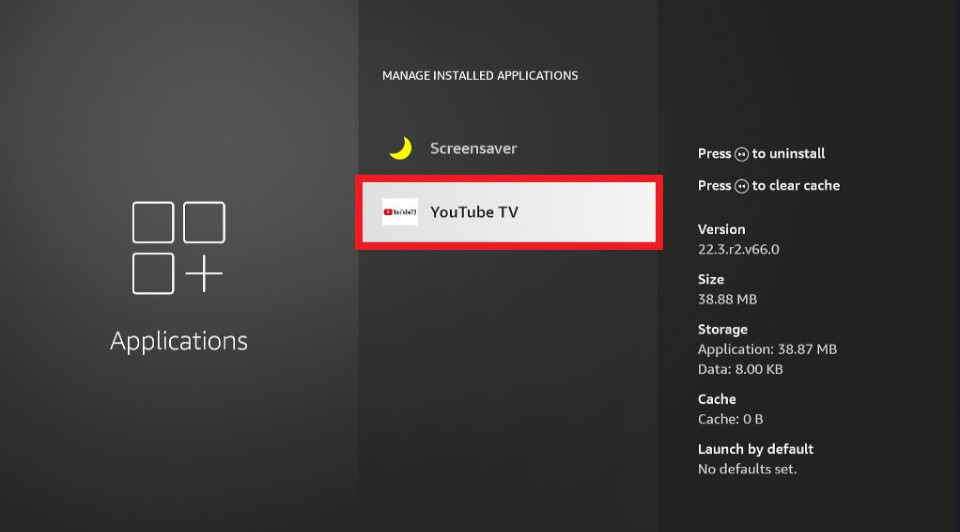 2. Click Clear data on this screen and Clear data on the following screen.
Note: Clearing data will reset the YouTube TV. You will need to log in again to the app with your credentials.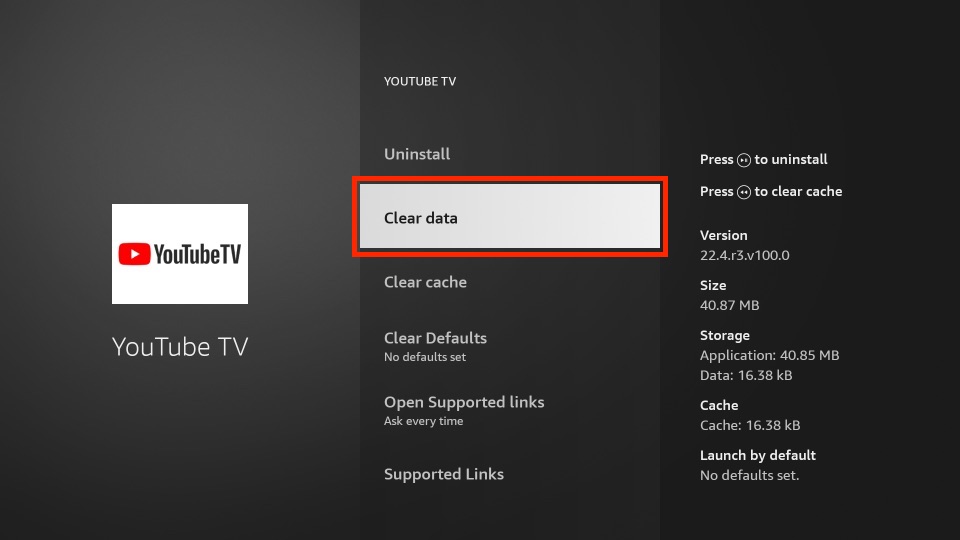 3) Clear Cache
Clearing the cache is another option to fix an application's error. Clearing the cache is a bit similar to clearing data. Clearing the cache is done to free up storage space. Although storing cache helps an application load faster, too much of it can cause an application's performance to degrade.
Note: If you have already cleared YouTube TV data by following the steps in the previous section, you don't need to clear the cache separately. Clearing data automatically clears the cache.
Clearing the cache is a quick way to fix YouTube TV app FireStick errors. Here's how you do it:
1. Go to FireStick Settings> Applications > Manage Installed Applications > YouTube TV.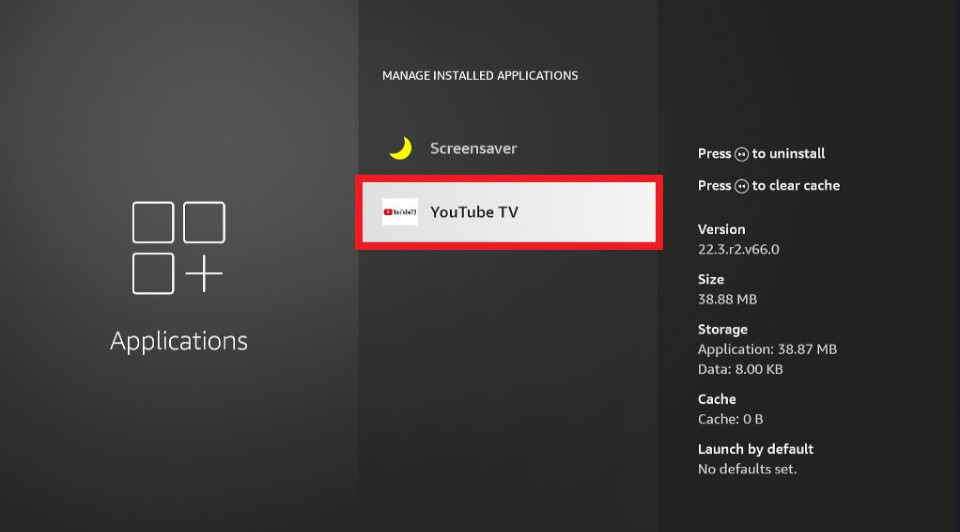 2. Scroll down and choose the Clear cache option.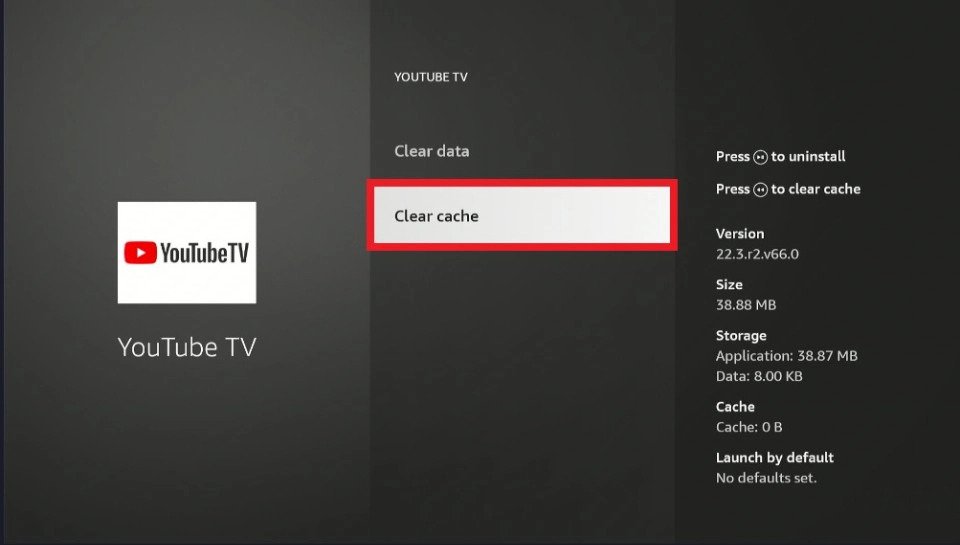 Uninstall & Reinstall YouTube TV
If none of the above tips work, try uninstalling and reinstalling the YouTube application. It will remove all the data from YouTube TV and reinstall it from scratch. This tip will work if any minor glitches or bugs cause the application to display errors.
Here's a quick rundown on how to proceed with uninstalling and reinstalling an application:
1. Go to FireStick Settings> Applications > Manage Installed Applications > YouTube TV.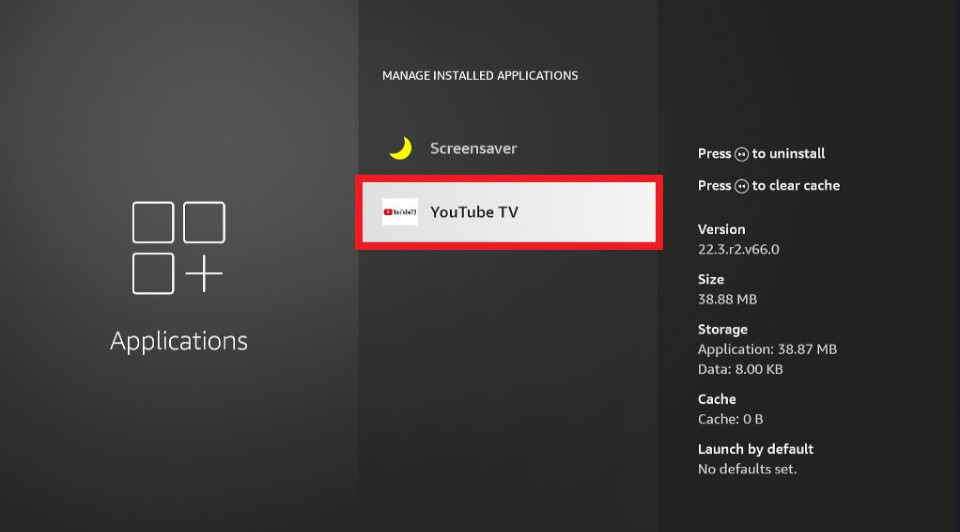 2. Pick the Uninstall button to get rid of the application.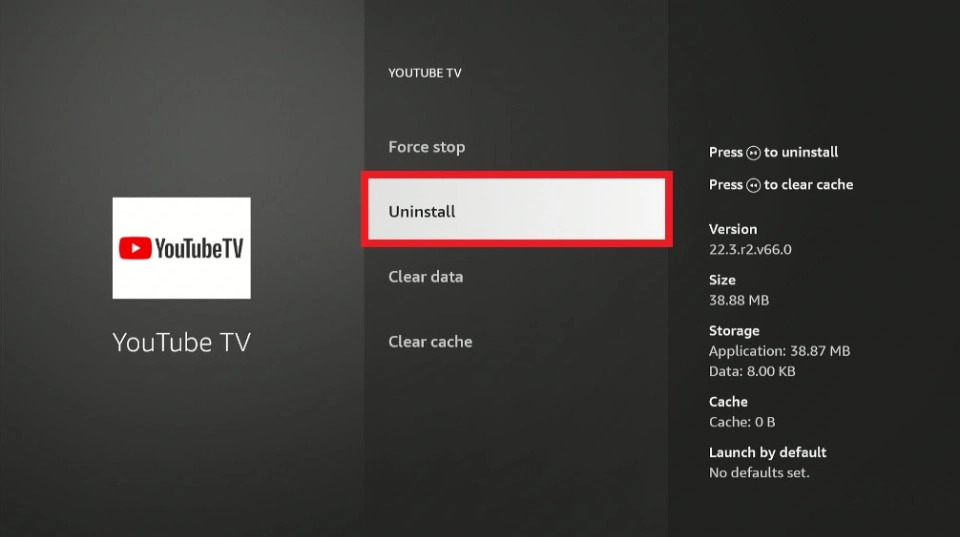 Once YouTube TV uninstalls, go to the Amazon app store to get the app again. After the download completes, sign in to the app and enjoy streaming content. Although the process is elaborate, it is a tried and tested method to fix errors.
Dealing With YouTube TV App on FireStick Not Opening
Sometimes, the YouTube TV application closes down immediately after you launch it. If it happens once or twice, you can restart the application. But if the YouTube TV app crashes frequently, an underlying problem may exist.
Here are some ways to deal with the issue of YouTube TV not opening on FireStick.
1) Restart Fire TV
It's not always necessary that there is an issue with the YouTube TV app. Sometimes, glitches in the FireStick software can also cause apps to close suddenly.
To gauge the issue's root cause, try opening another application on your FireStick. If it also shuts down immediately, the problem is with the streaming device.
A quick restart can put things back in order. Just switch off the FireStick by unplugging its power. Then, plug it back in after 15 seconds to switch it back on. Lastly, run the YouTube TV application to see if the issue is fixed.
2) Update FireStick
When was the last time you updated your FireStick? Using older FireStick software is another reason YouTube TV might keep crashing. So, always keep your FireStick version up-to-date to prevent bugs from acting up. Here's how you check for new updates:
1. Navigate to the Settings icon.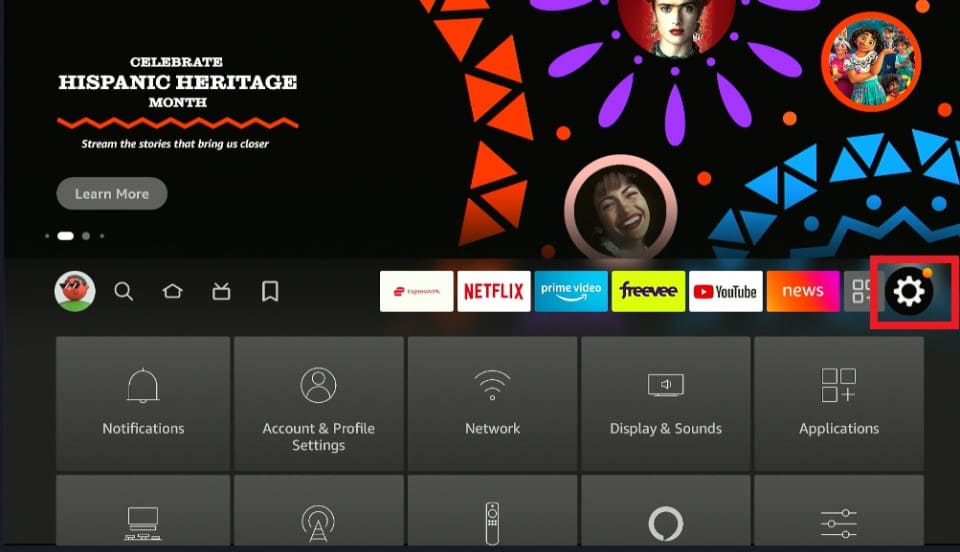 2. Choose the My Fire TV tab.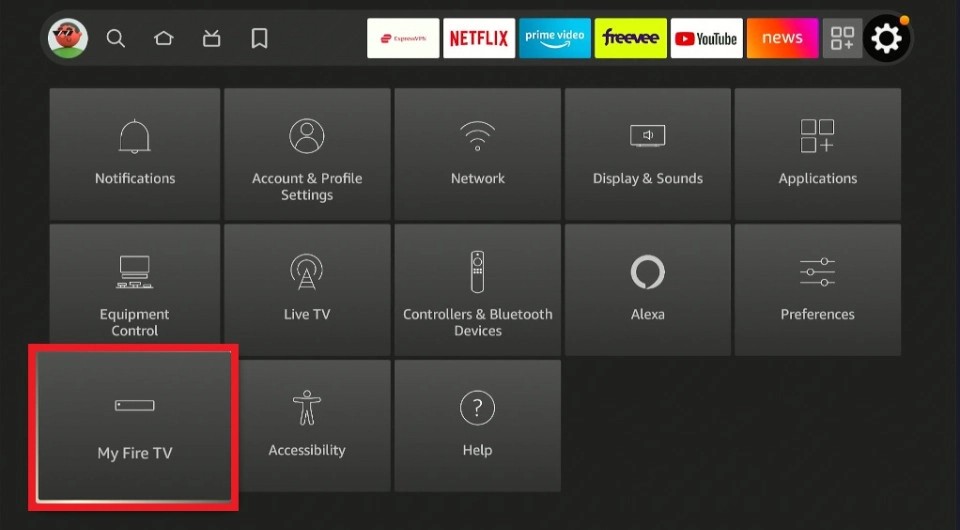 3. Next, click the About section.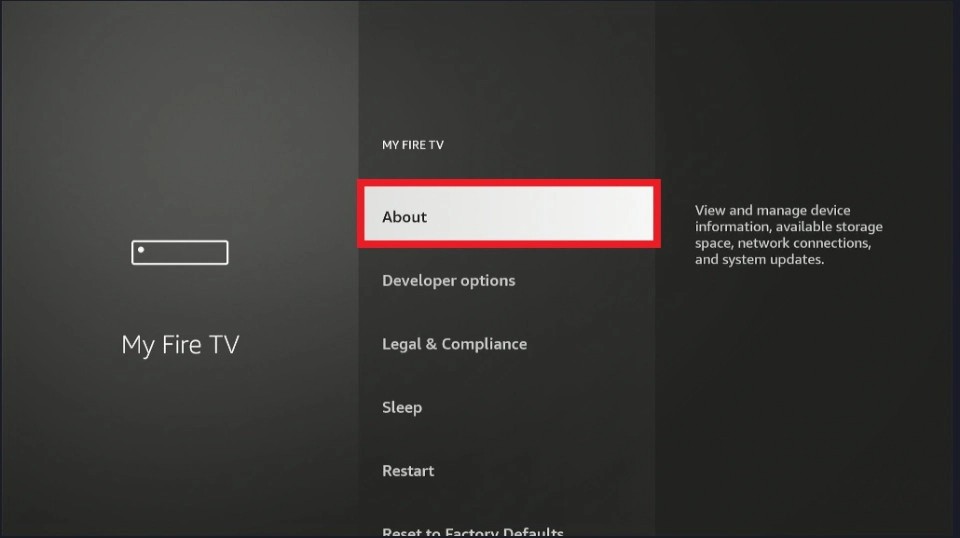 4. Below the About section is the Install Update button. Click it to start the update.
Note: It may take some time for the update to complete. Please wait a while and try opening YouTube TV again after the update downloads.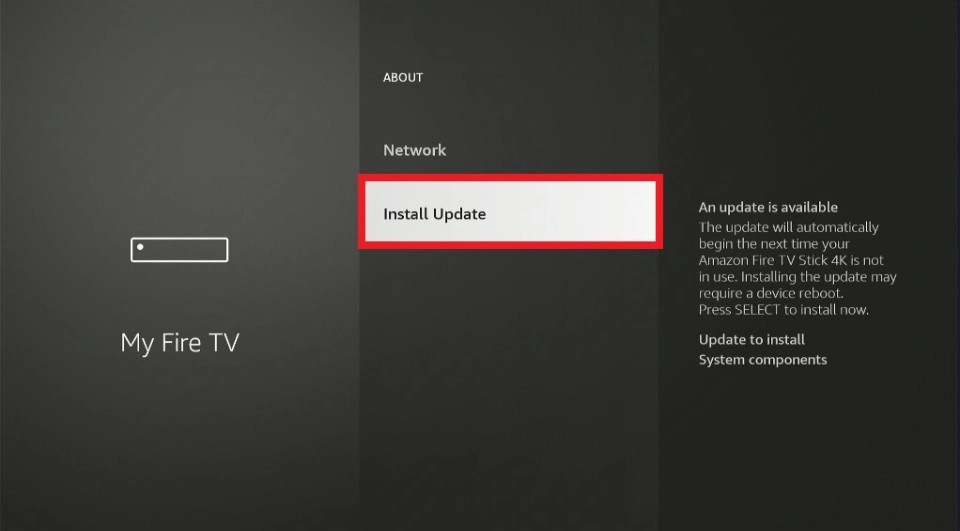 5) Update YouTube TV App
Updating applications is vital to availing of their full features and benefits. Moreover, It helps fix application errors, bugs, and glitches. Hence, developers roll out app updates now and then.
Unfortunately, not updating YouTube TV for a long time is another common reason for the app not opening. Outdated applications encounter many issues, including sudden app crashes, errors, etc. If your YouTube TV app runs on an older version, try updating it.
FireStick updates apps automatically by default. However, go to Settings > Applications > Appstore and make sure Automatic Updates is enabled.
6) Fix the Time and Date on Your FireStick
Some applications depend on time and date settings to stream content. If the settings are incorrect, the program guides won't appear correctly. The same goes for YouTube TV.
If the FireStick clock is wrong, it will cause errors in the application. So always keep the time and date updated on your FireStick. Please go to Settings > Preferences > Time Zone to fix the time.
Fixing the time and date settings will hopefully solve the YouTube TV issue. If it doesn't fix the problem, you can use the alternative methods mentioned in the guide.
7) Ensure Device Limit is not Reached
The YouTube TV subscription currently supports up to three simultaneous devices. The app won't work if you are trying to use it on a fourth device.
So, first, check all your devices and log out of the ones you're not using. Then, try signing in on the FireStick YouTube TV application and see if it works.
Alternatively, you can also upgrade to the 4K Plus package. It offers unlimited streaming over the home network.
Fixing YouTube TV Buffering
Buffering, as irritating as it is, is common in video streaming applications, including YouTube TV.
Buffering lets the application preload some data before playing a video. But excessive buffering can cause service lags. If YouTube TV has been stalling a lot recently, here's what you can do:
1) Make Sure Your Internet Connection is Suitable for YouTube TV
Internet connection and speed play a considerable role in buffering. YouTube TV is a demanding service that requires a fast and stable connection. If there's any lag in the network, you will face buffering while streaming live TV and on-demand content.
Here's a breakdown of the required internet speed:
YouTube TV recommends at least 3 Mbps for a smooth streaming experience. Anything less than this can cause buffering.
The platform also recommends a 7 Mbps speed to stream high-quality content.
Lastly, YouTube TV recommends 13 Mbps speed to experience HD-quality live streaming.
You can use any online speed testing utility to gauge whether your internet's speed is fine. These tools are free to use and show reliable results every time.
2) Restart Your Wi-Fi Router
An issue with the wireless router can often disrupt your device's signals. It can also cause excessive buffering on YouTube TV.
If the internet speed is stable, but the signal is weak, try restarting the router. Rebooting the Wi-Fi router can boost signal strength and fix the buffering issue.
Just switch off the power button on the device to turn it off. Then, please wait for a few moments before turning it back on. Press the power button again and wait for the router to complete setup.
Once you've restarted the router, launch the YouTube TV app to see if the issue persists.
3) Ensure if YouTube TV Service is Working Properly
YouTube TV errors and buffering issues are not always due to connection problems. YouTube service outages can also cause the application to crash. If YouTube TV is not loading on any of your devices, chances are there's an outage.
You can visit YouTube TV's official site to see if there's any news regarding the service. If the servers are down, you have no choice but to wait it out. Keep checking YouTube's announcements to see when they'll be back online.
Final Resort – Reset FireStick to Factory Defaults
Have you tried all the fixes mentioned above, yet the issue persists? Don't fret. There's one last thing left to do. If none of the other methods work, you can try resetting FireStick to Factory defaults as a last resort.
A factory reset will remove every application and stored data from your device. It will also delete your saved settings, account information, and in-app purchases. However, the Amazon purchases will reappear when you log in again. Therefore, only opt for this option if you've tried everything else. You can easily reset your FireStick by following these steps:
1. Go to the FireStick Settings.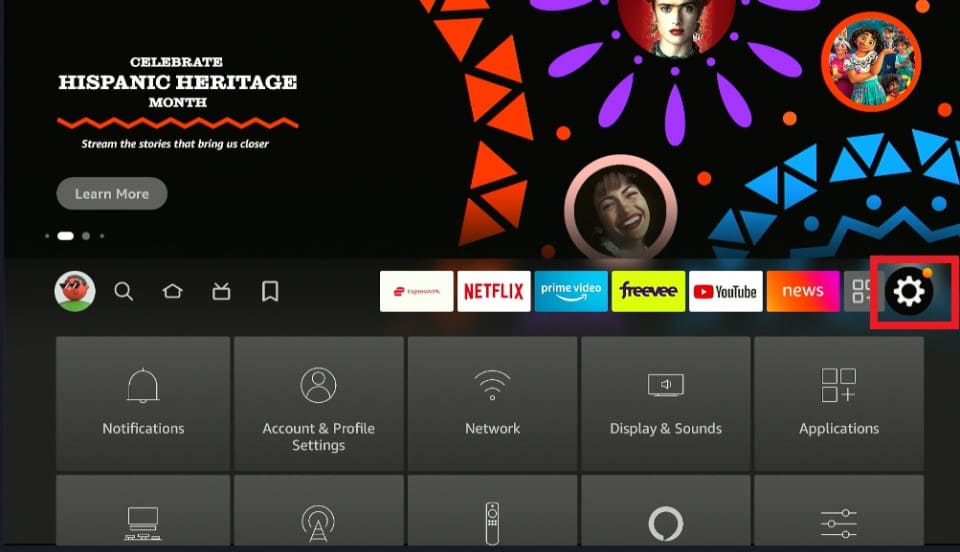 2. Enter the My Fire TV section.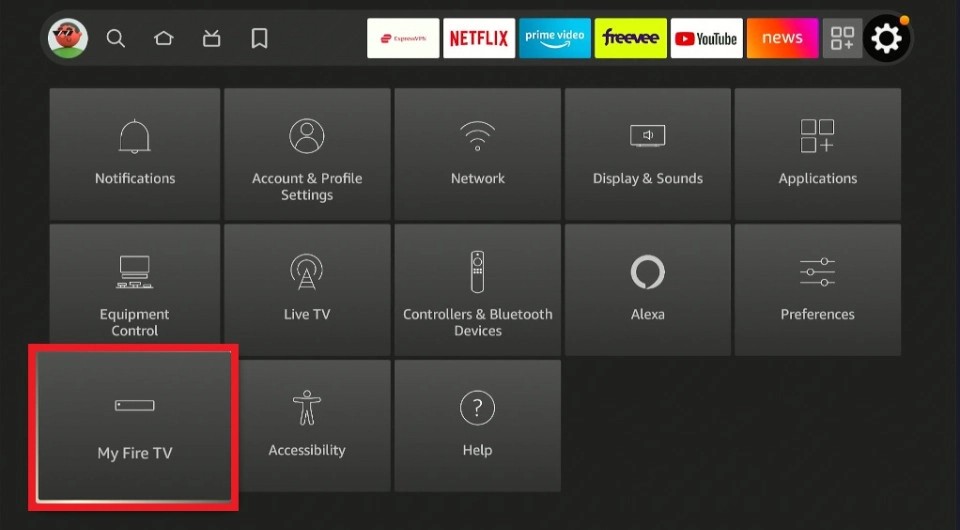 3. Scroll and click the Reset to Factory Defaults option when it appears.

FAQ's
Here are some YouTube TV on FireStick FAQs.
Should I reset my FireStick right away to fix YouTube TV?
No, resetting your FireStick should be the last resort to fixing your YouTube TV. It is because a factory reset will wipe the device clean. It will also remove your information, saved settings, in-app purchases, and everything else you have downloaded on the streaming device. Therefore, only reset the FireStick after you've exhausted all other options.
What are the recommended internet speeds for YouTube TV?
YouTube TV recommends a connection of at least 3 Mbps for smooth viewing. Anything lower than that will most definitely cause buffering issues. For an optimal YouTube TV streaming experience, you should have a connection of 5 to 10 Mbps. It will provide fast and buffer-free streaming at all times.
Is YouTube TV available outside of the US, and how to access it?
Unfortunately, YouTube TV is currently only available in the USA. You can only enjoy the service within the country. However, the available content also varies by local location. If you want to use YouTube TV outside the United States, the best option is to pair it up with a reliable VPN like ExpressVPN. The VPN will mask your identity and allow you to run the application from anywhere in the world.
Wrap Up
This tutorial covered everything about how to fix YouTube TV not working on FireStick. YouTube TV is an excellent live-streaming platform. It offers many movies, shows, live news, and sports channels. Like any application, the YouTube TV app can encounter errors and glitches. So, consult this guide whenever you face an issue to fix the problem quickly. Good luck!
Related: