This post shows the exact steps to reboot your FireStick. The steps in this guide work on all Fire TV products, including FireStick 4K, FireStick Lite, FireStick 4K Max, Fire TV Cube, New FireStick 4K, New FireStick 4K Max, and FireStick 3rd Gen.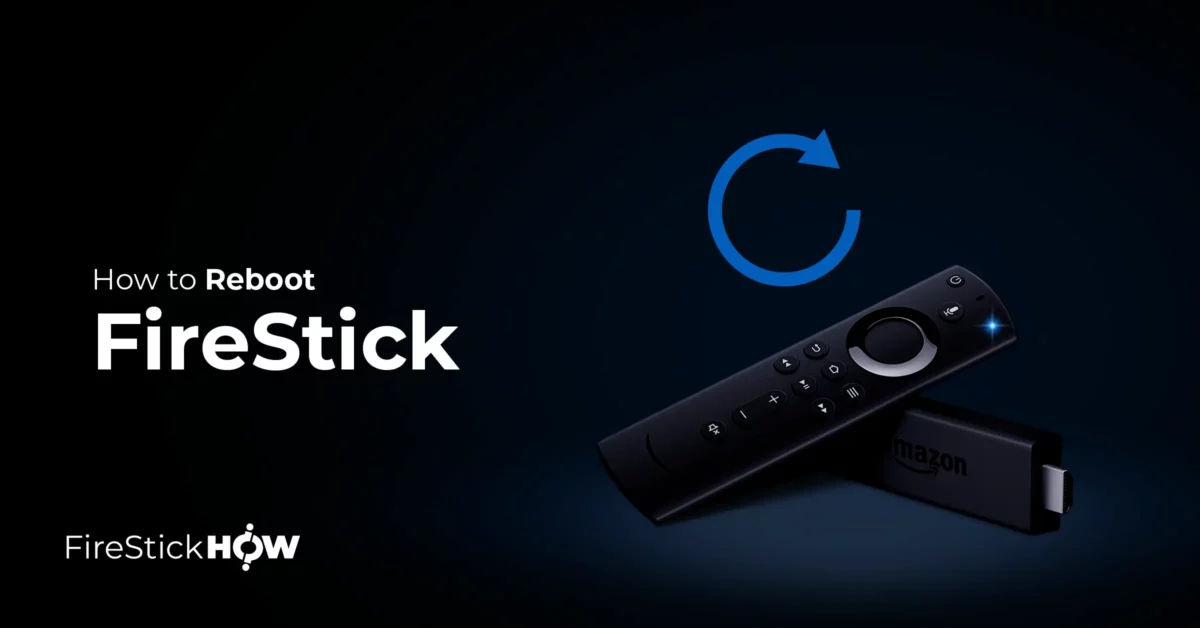 Your FireStick can freeze or fail to work for several reasons. The most common causes include Wi-Fi connection problems, freezing, or overheating.
Internet connection issues may occur if your ISP is throttling your internet or when the Wi-Fi signals are weak.
Furthermore, too many apps running in the background sometimes leave FireStick without enough bandwidth to function optimally.
It's common for the device to overheat and freeze if running for several hours.
If you're experiencing frequent FireStick freezes and failures, rebooting could be the most straightforward solution. Rebooting refreshes the system, allowing the device to reconnect and usually function smoothly.
There are different ways to reboot FireStick. We discuss these methods in depth in the section below.
Attention FireStick Users: Read before you continue
Your government and ISP are probably monitoring your streaming activities using your IP address 31.121.80.154 (exposed to all). You may get into serious legal trouble for streaming copyrighted videos on FireStick. 
I strongly recommend getting a trusted VPN for FireStick to hide your IP address and protect your online identity.
I use ExpressVPN on all my devices as it is the most secure, fastest, and easy-to-use VPN. It comes with an unconditional 30-day money-back guarantee, and you get 3 free months with the yearly plan.
Don't miss out on the peace of mind and online security ExpressVPN provides.
Read: How to Install & Set up the best VPN on FireStick.
Method #1: Rebooting Using Your FireStick Remote
The first way to reboot your Fire TV is by using the remote. This method is relatively easy because you don't need to navigate the app settings.
It also works well if the app is frozen and won't work when navigating to a different section.
Here are the steps to reboot the FireStick using the remote:
Press and hold the remote's Select and Pause/Play buttons simultaneously for approximately 5–10 seconds. The device will shut down without any notification.
Wait until you see a Fire TV logo on your screen and the apps on the home screen before attempting to stream on the FireStick.

Method #2: Reboot FireStick Through Settings
Another way to restart FireStick is using the reboot option within the device settings. However, it may not work if the device is frozen because you can't navigate the screen.
Additionally, your Fire TV remote should be working and responding well to the commands.
If your remote is functional and you can still navigate the app, please follow the steps below to reboot:
1. From the FireStick home screen, use the right navigation key to scroll to the cogwheel icon at the far right corner of the menu bar and click on it.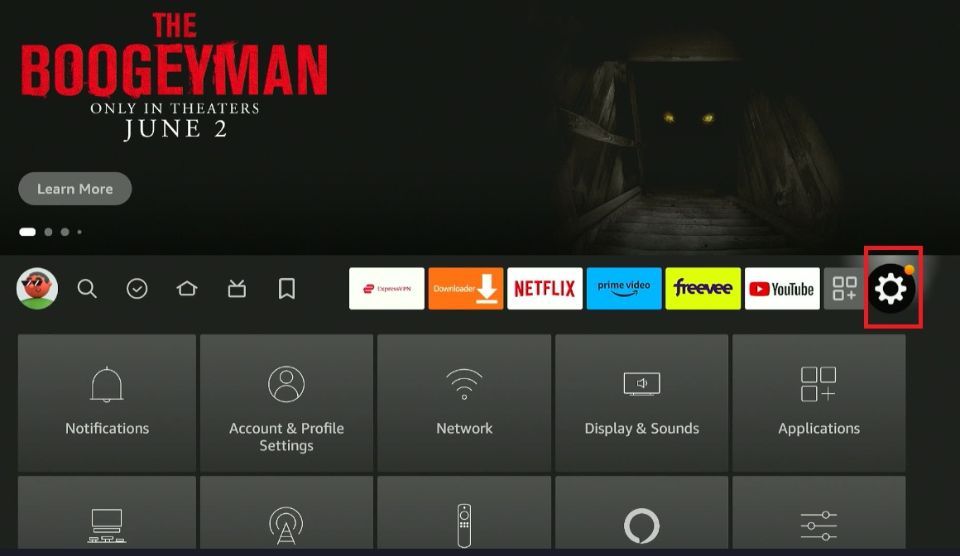 2. Click on the My Fire TV tile at the lower-left corner of the screen.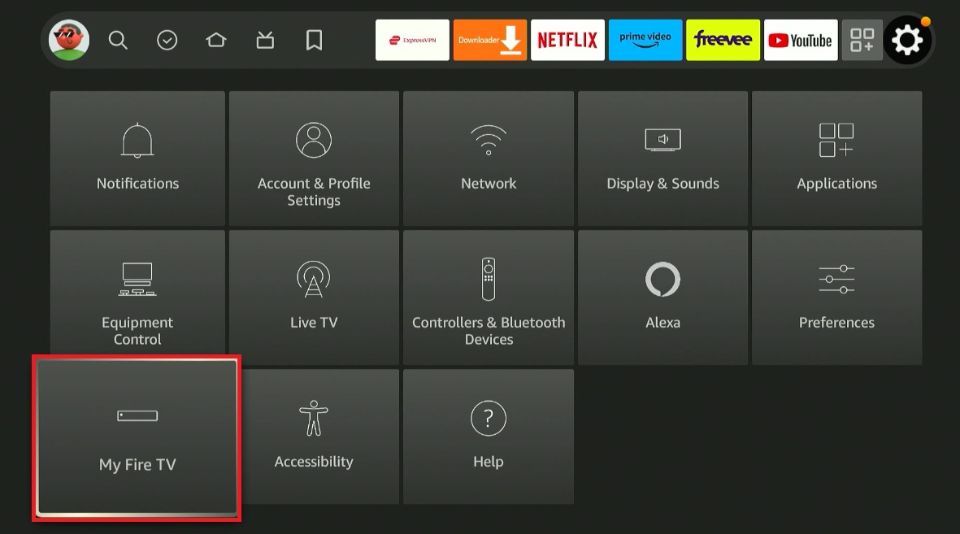 3. Click the Restart option.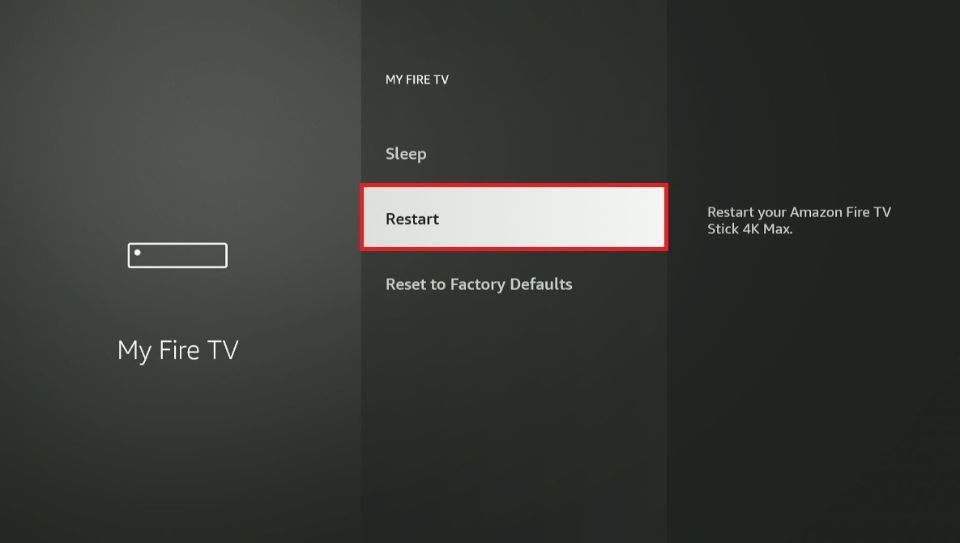 4. Click Restart again on the prompt.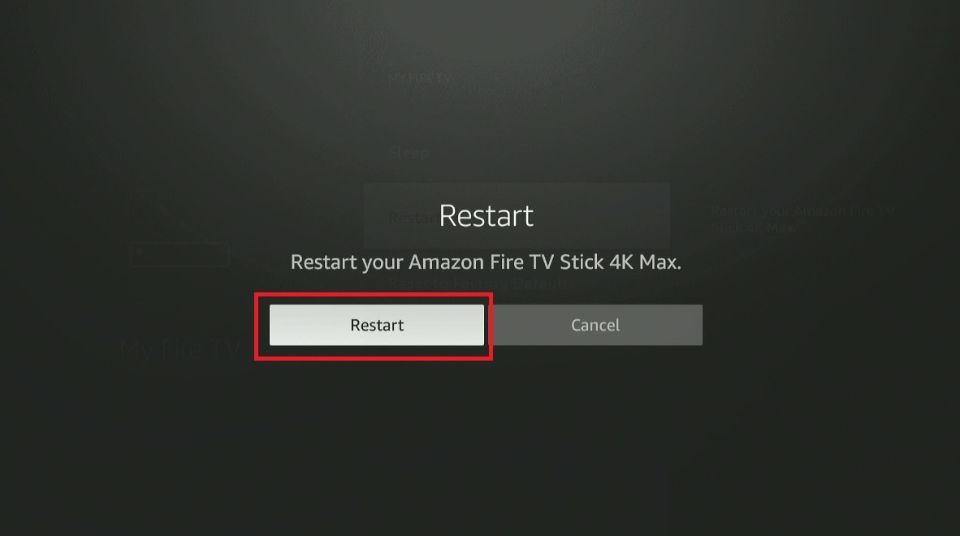 5. You will see a Powering off notification indicating that the Fire TV is rebooting.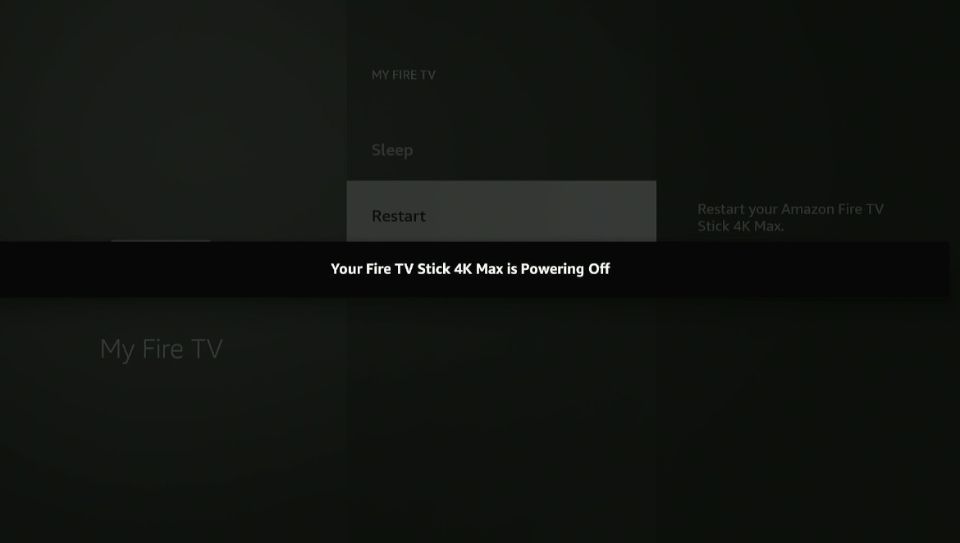 Wait until the device reboots and your home screen refreshes. Click on any app and see if FireStick is working well.
Method #3: Unplug FireStick From The Power Source
If using the remote or settings doesn't work, try unplugging the Fire TV from the power source. This method is handy when the remote and the control center are unresponsive. When you unplug FireStick, wait for about 5 minutes before reconnecting.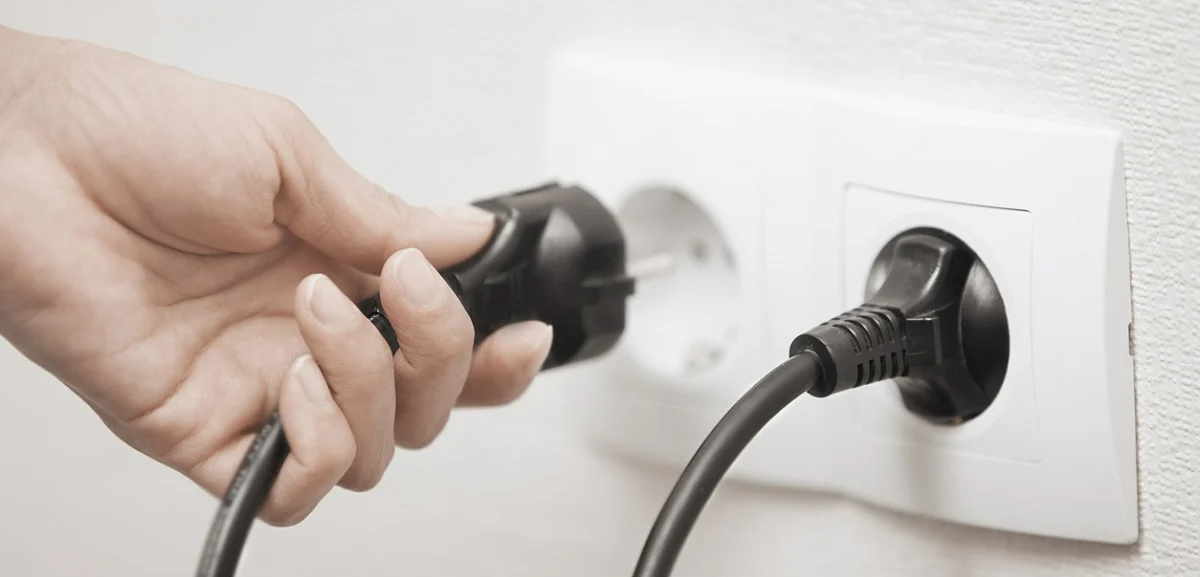 If the device is frozen or buffering after plugging it in for the first time, unplug it again and wait a little longer before reconnecting. This time, the device should work without any issues.
More Troubleshooting Steps
If your FireStick problem persists, contact the Amazon customer service team for help. Before doing so, ensure you have exhausted your potential solutions, including the reboot steps discussed in the sections above.
Additionally, check your internet connection and clear your cache if you're experiencing buffering or lag. If these fixes fail, check for system updates by resetting the device to its factory settings.
You would also like to keep your device updated. Here's how to check for a system update:
1. Select the settings icon at the far right corner of the menu bar (at the center of the screen).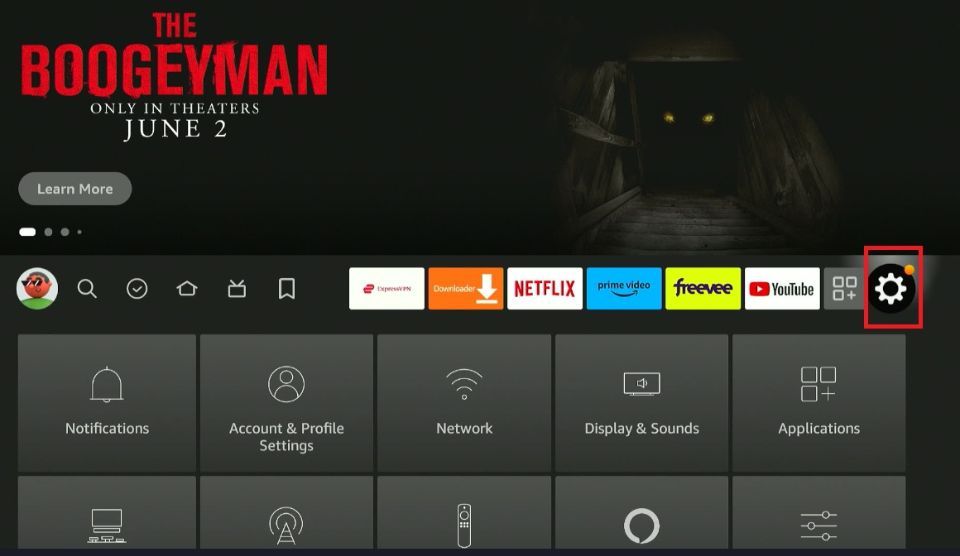 2. Click the My Fire TV option in the bottom-left corner.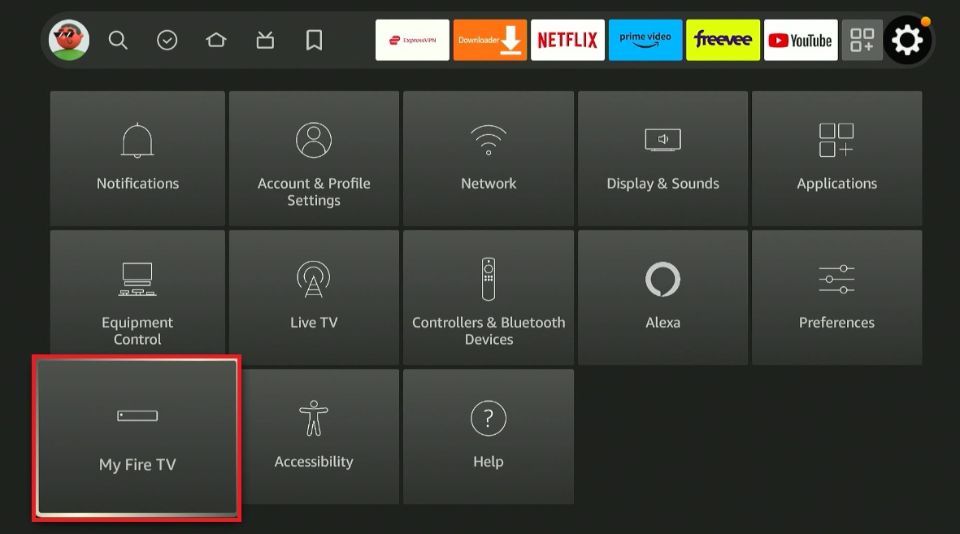 3. Click the About tab.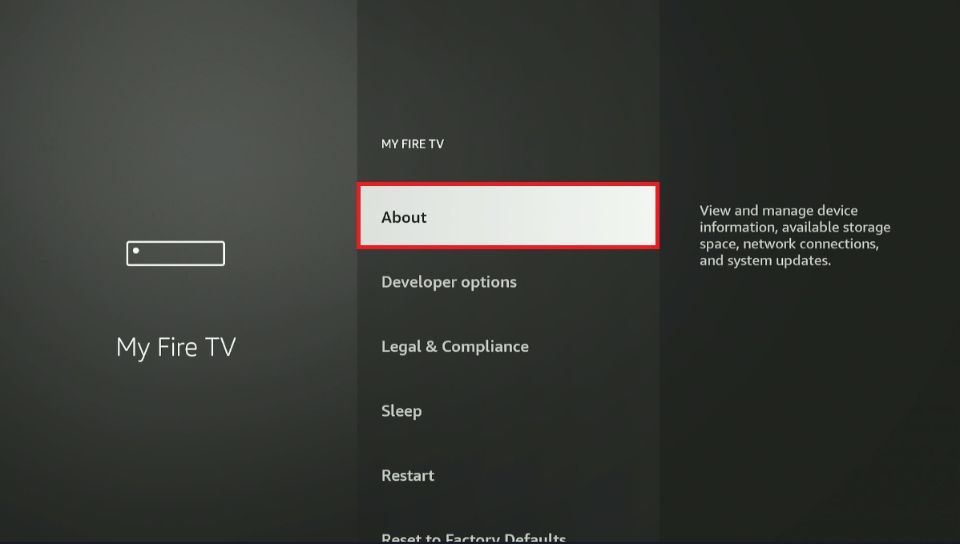 4. Click Check for Updates. There'll be an Install Update option if there's an available update. Click on it.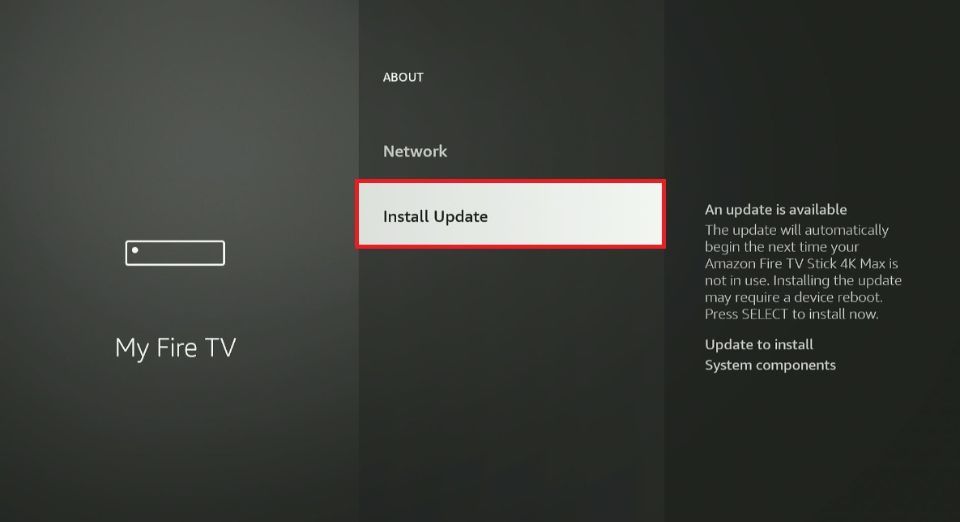 An update will usually fix any issues your Fire TV may be experiencing, especially freezing or connection problems. If there's no update or the update doesn't work, you may need to factory reset the device. Follow the steps below:
1. Select the cogwheel icon to open the FireStick Settings menu.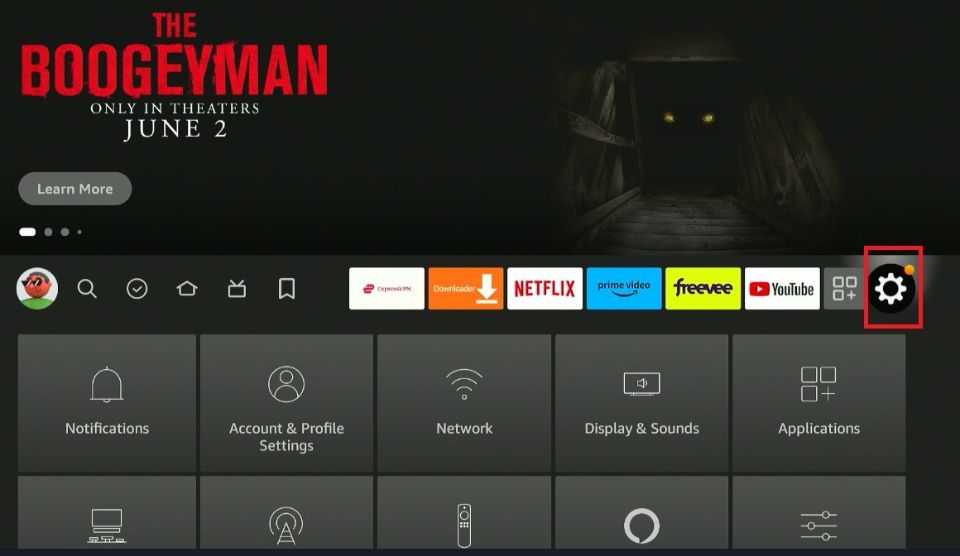 2. Click My Fire TV next.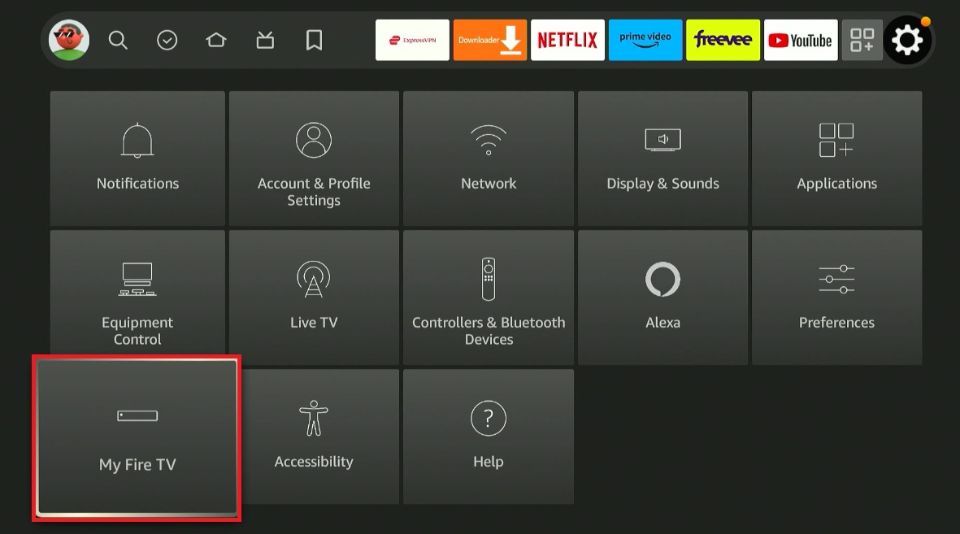 3. Click the Reset to Factory Defaults option.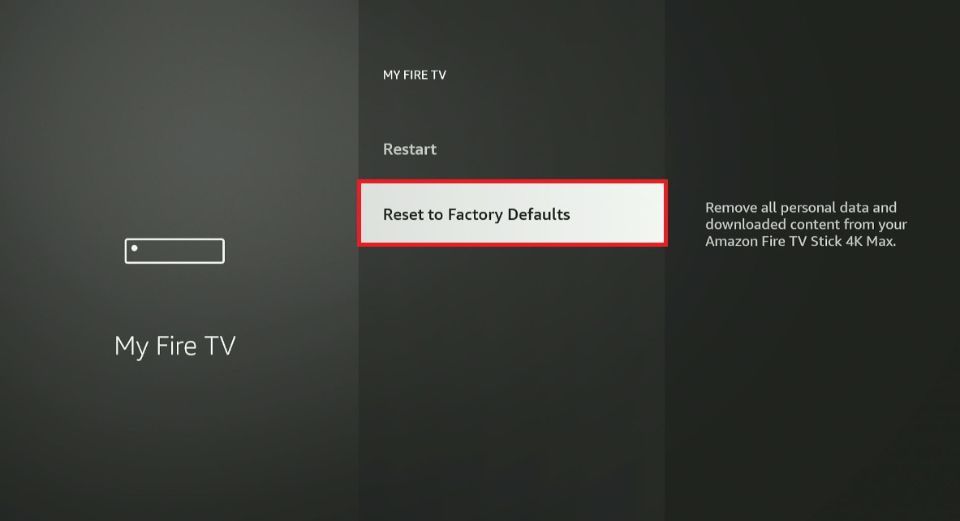 4. Click Reset to confirm.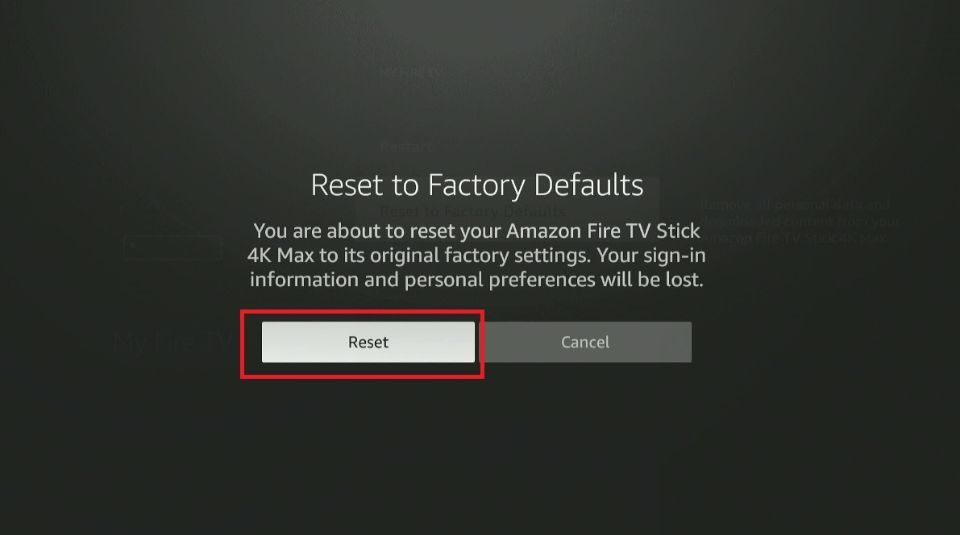 Besides the Settings method, you can factory reset your Fire TV using the remote. Follow these steps:
Press and hold down your remote's right navigation and back buttons for approximately 10-15 seconds.
A popup window will appear on your screen. Click OK to confirm the reset.
Note: You should only try to factory reset your device after attempting all other solutions, including rebooting your FireStick. This is because a factory reset erases all your stored data and apps. You must set up your device again, including connecting it to your Wi-Fi.
It's also crucial to remember that power supply issues can prevent your FireStick from rebooting correctly. If you're stuck in a reboot loop and suspect the power supply is the issue, try unplugging your FireStick from your TV and instead connecting it directly to a power source.
Additionally, ensure you're using original Amazon accessories, including an adapter, HDMI cable, and power cable. You can also try disconnecting and reconnecting all related power connectors before rebooting the FireStick.
Check out this post on how to stop buffering on FireStick.
Wait! It looks like you are all set to start watching your favorite content on FireStick. But have you protected your online identity yet? You are under constant surveillance by the Government and ISP. Free streaming of copyrighted videos may get you into legal trouble.
Thankfully, you can easily avoid online monitoring and safeguard your privacy with a trusted VPN on FireStick. A VPN will hide your IP address and online identity by encrypting your internet connection.
Please note that I am not encouraging you to violate any copyright laws. You should always watch the content available in the public domain. I am simply recommending the use of a VPN to maintain your privacy. You have every right to your privacy, which is constantly being breached these days.
I personally use ExpressVPN and have found it to be the fastest and most secure FireStick VPN. It is also the most streaming-friendly VPN I have ever used. Therefore, I highly recommend getting ExpressVPN for FireStick.
Here is how you can quickly get the ExpressVPN app on FireStick:
Step 1: Click HERE to subscribe to ExpressVPN and enjoy a 49% discount with 3 months of extended service. You are also eligible for a 30-day, full money-return guarantee.
Step 2: Download and install ExpressVPN on FireStick
Choose the Find > Search option on the FireStick home screen on the menu bar.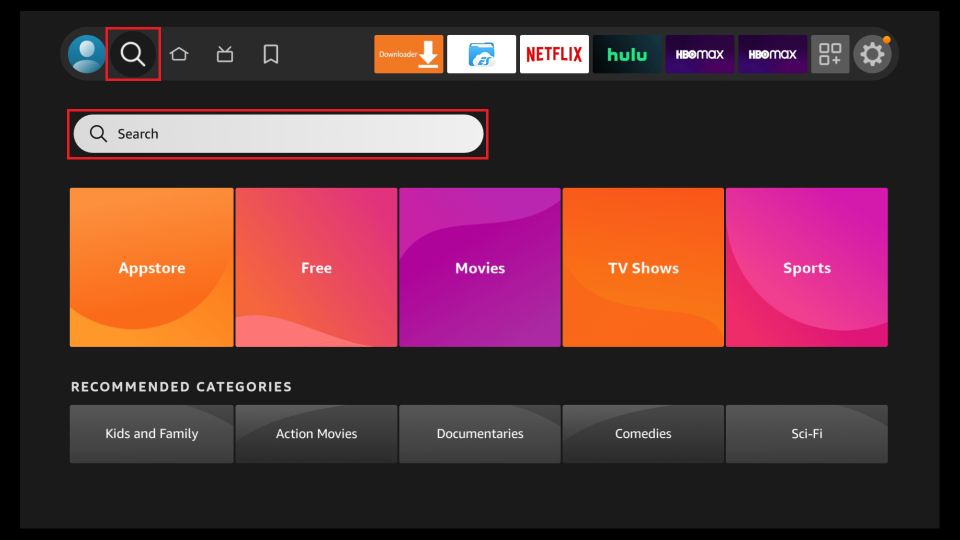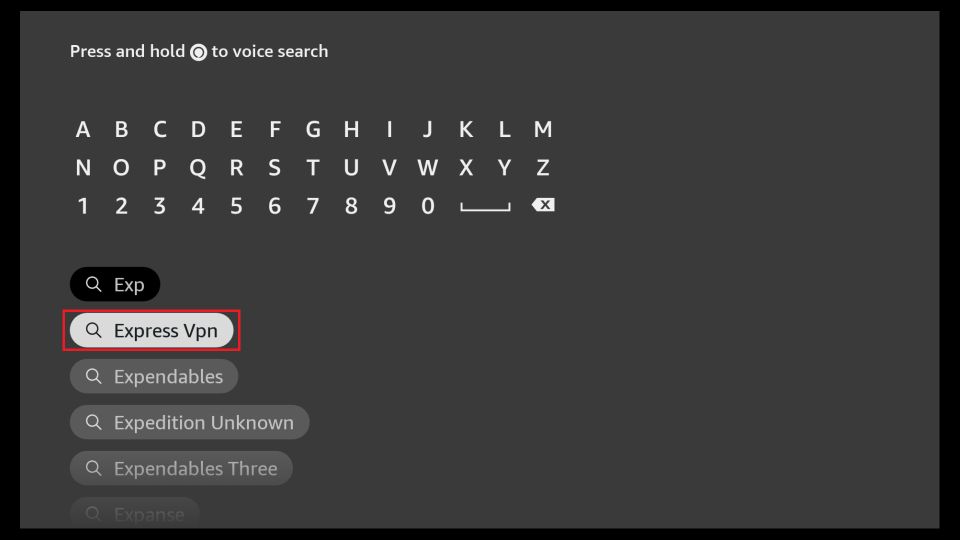 Click the ExpressVPN icon on the following window.

Click Download or Get on the next window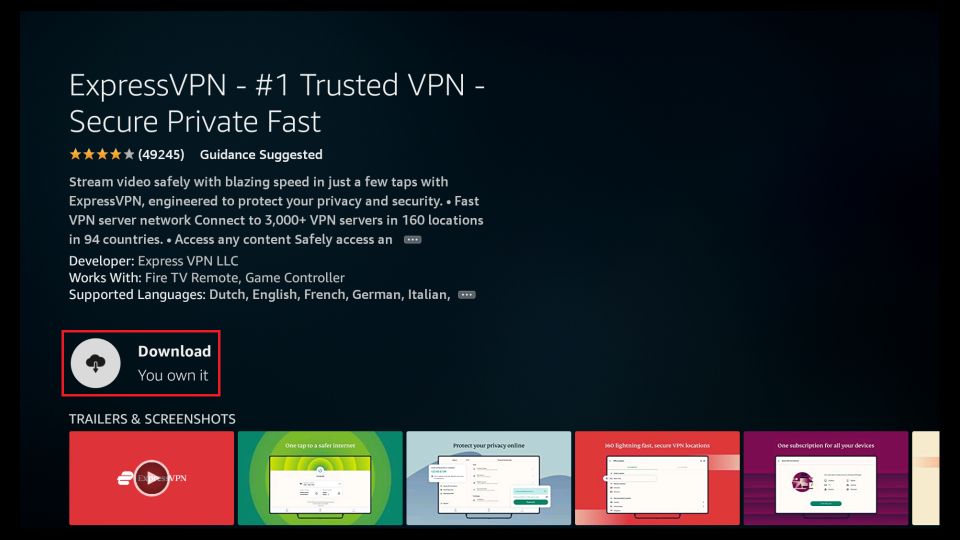 Step 3: Open ExpressVPN once you have downloaded it. Sign in with your account.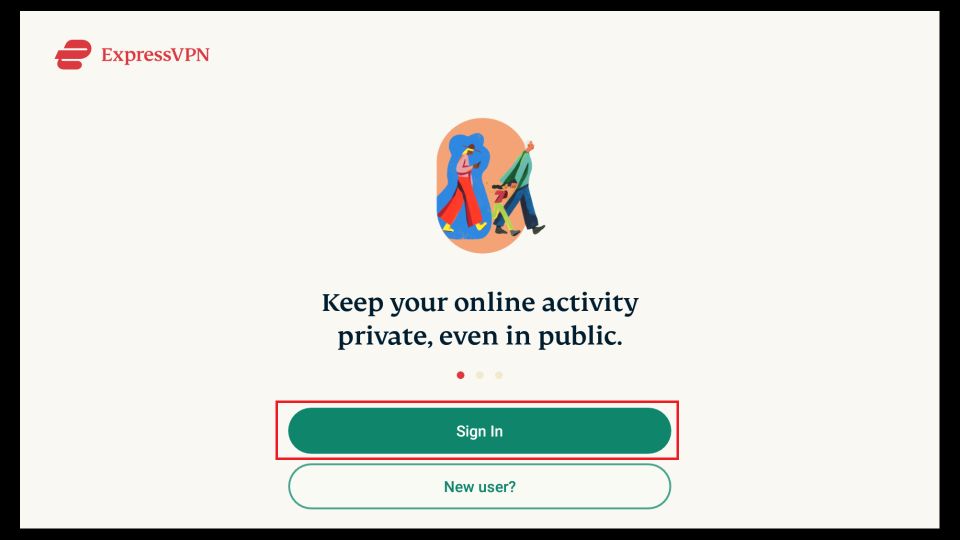 Step 4: Choose a server and click the Connect/Power button

Put your mind at ease now! You have successfully secured your streaming activities with ExpressVPN.
Wrapping Up
This post highlights various ways to reboot or restart FireStick. The most straightforward method to restart your device is to use the remote. If this method isn't convenient, try using the settings tab or unplugging the FireStick from the power source. Power supply issues can prevent the FireStick from rebooting correctly, so you should plug the device directly into a power source instead of the TV's USB port.
Related: