This guide is your go-to piece to install MegaBox HD on FireStick. Additionally, you'll learn about MegaBox HD safety, legality, how to use it, how to play content on it, and more. You can use this post on the latest Amazon Fire TV devices, including FireStick 4K Max, FireStick 3rd Generation, Fire TV Cube, FireStick 4K, FireStick Lite, etc.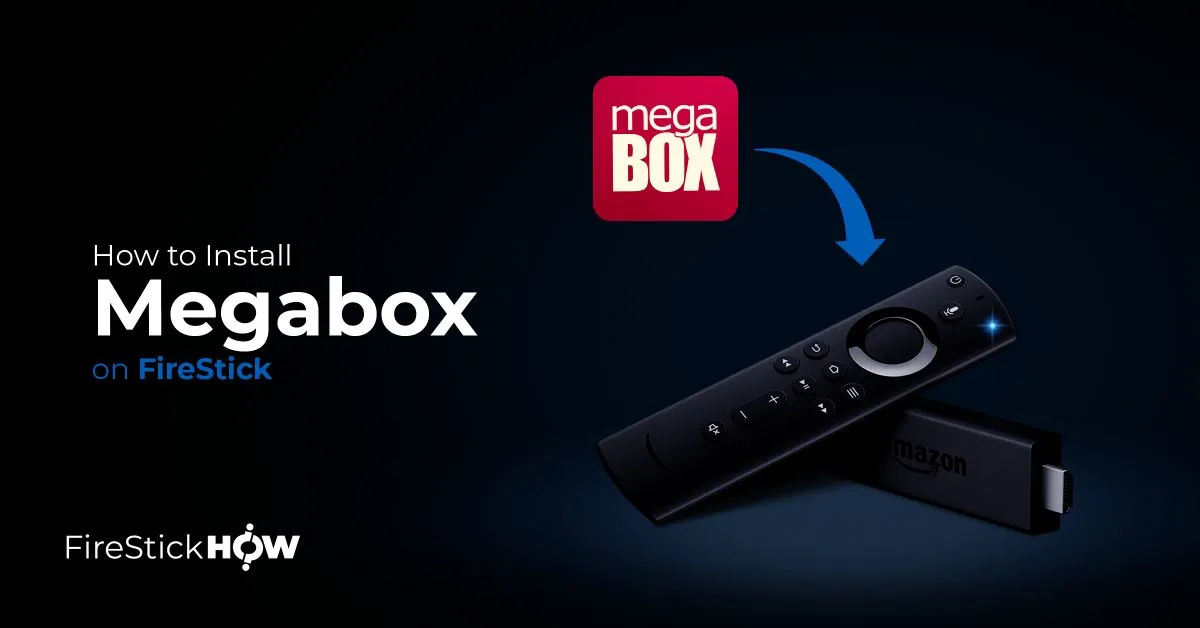 What Is Megabox HD
Made for entertainment lovers worldwide, MegaBox is your one-stop destination to stream movies and TV shows for free. You'll find everything from cult classics to the latest and trending content on MegaBox HD.
MegaBox HD features two main sections, Movie and TVShow. And they include sub-sections like Update, Rating, Popular, and New. Other than that, all sub-folders of Movie and TVShow on MegaBox HD let you filter content using Genres.
MegaBox HD features other valuable sections like Favorites, Downloads, and History. It is a free powerful app to watch your favorite content on FireStick. 
Attention FireStick Users: Read before you continue
Your government and ISP are probably monitoring your streaming activities using your IP address 3.17.249.235 (exposed to all). You may get into serious legal trouble for streaming copyrighted videos on FireStick. 
I strongly recommend getting a trusted VPN for FireStick to hide your IP address and protect your online identity.
I use ExpressVPN on all my devices as it is the most secure, fastest, and easy-to-use VPN. It comes with an unconditional 30-day money-back guarantee, and you get 3 free months with the yearly plan.
Don't miss out on the peace of mind and online security ExpressVPN provides.
Read: How to Install & Set up the best VPN on FireStick.
Is Megabox HD Safe?
Well, that's a tricky question. Any third-party/unofficial FireStick app doesn't guarantee 100% safety to its users. Indeed, many popular apps seem reliable as they have been in the game for ages. But you can't blindly trust them.
And at FireStickHow, we are FireStick and Kodi experts, not security geeks. So, we can't give MegaBox HD a green flag. However, I ran a popular online virus check on the APK of MegaBox HD. And the results were quite unexpected – see yourself: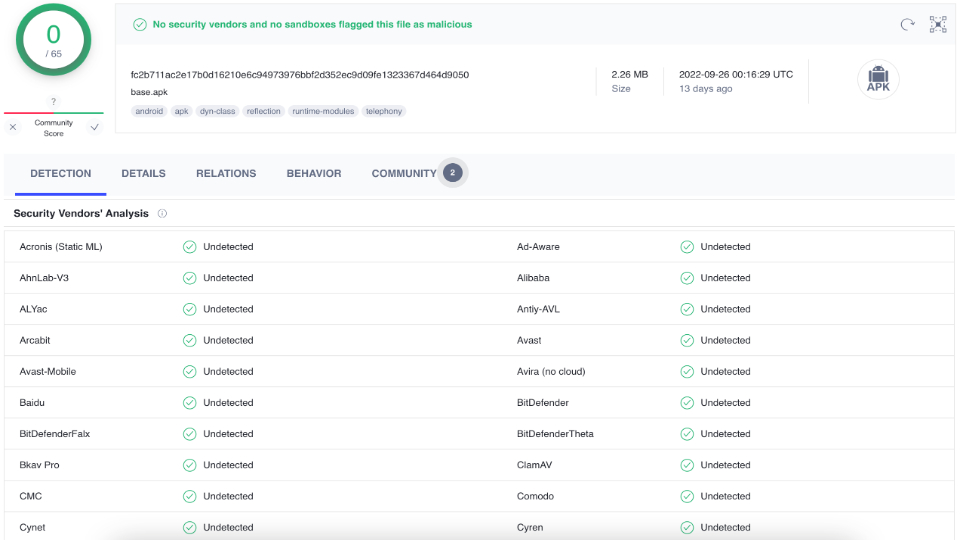 Is Megabox HD Legal?
MegaBox HD gives you access to thousands of free movies and TV shows paid for on other platforms. Unfortunately, although it's exciting as a user, from the legal perspective, it's too good to be true.
Indeed, MegaBox HD only scraps what's already freely available on the internet. But is it legal? At www.FireStickHow.com, we don't possess the resources to verify the source legality of a single movie/TV show on MegaBox HD, let alone thousands.
However, I know a way out! Use ExpressVPN with MegaBox HD to erase the tension of safety and legality matters.
How to Install Megabox HD on FireStick
As third-party apps like MegaBox HD aren't available on Amazon App Store, their installation takes multiple steps. So, I have split the whole process into two easy-to-digest parts. Ensure maintaining the order of elements and steps when following to avoid any problems.
Part 1: Prepare Your FireStick to Download Megabox HD
Sideloading is the keyword used to install unofficial apps on FireStick on any other Android-based device. And for that, you have to prepare your FireStick. We have a detailed guide on preparing FireStick for sideloading. Here are the quick steps:
1. Firstly, install an app called Downloader from Amazon App Store. This app lets you download any file on your FireStick and install it.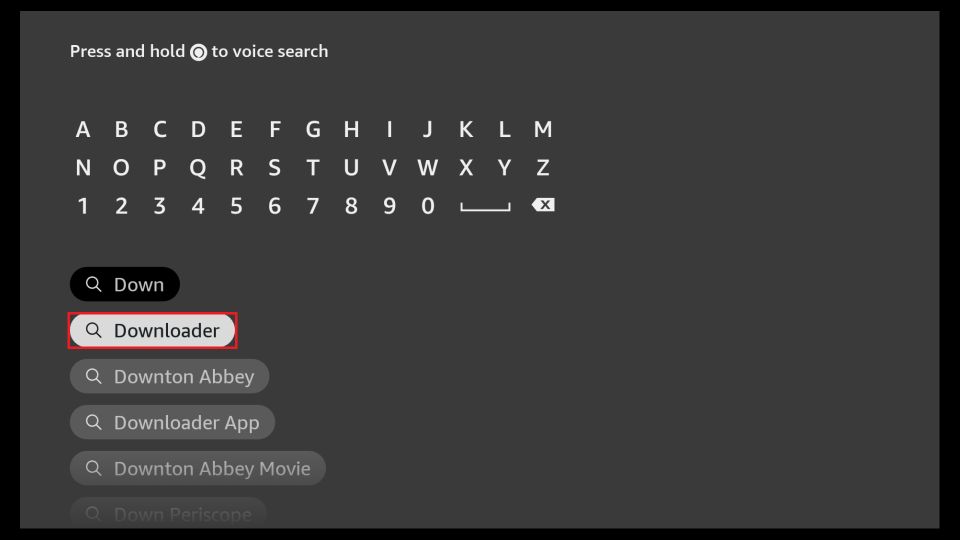 2. Lastly, allow the Downloader to install files downloaded from the internet. You can find this option inside Settings > My Fire TV > Developer Options > Install Unknown Apps > Downloader ON.
Note: Some devices have Apps from Unknown Sources and not Install Unknown Apps.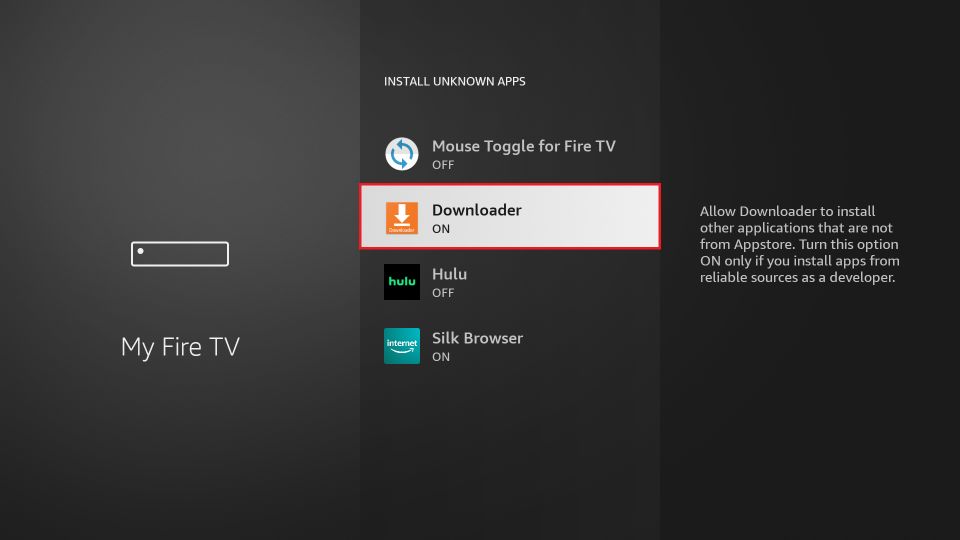 Part 2: Install Megabox HD on Your FireStick
Prepared your FireStick? If yes, you are halfway there! Here's how to install MegBox HD on your FireStick using Downloader:
1. Hold the home button on your Fire TV remote and wait for the shortcut menu to appear. Then, select Apps.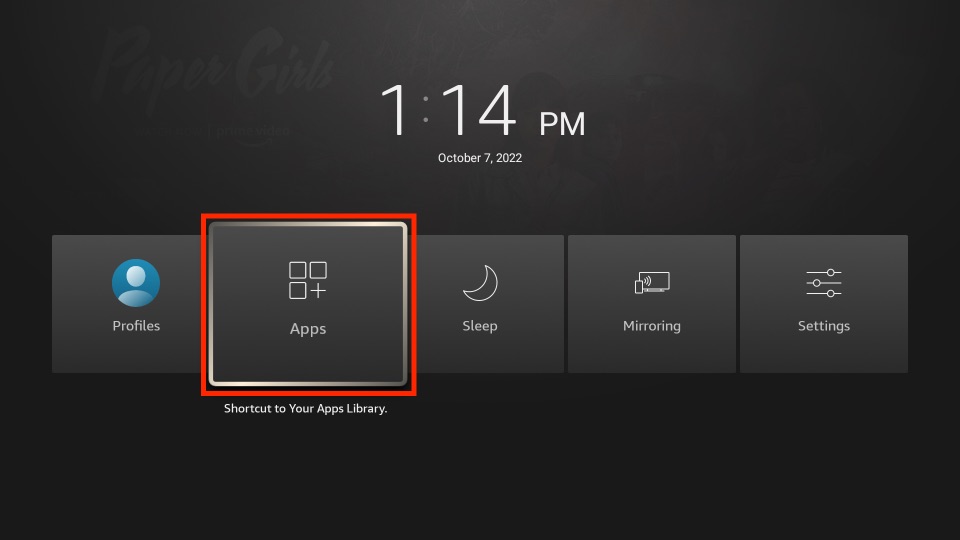 2. Fire up Downloader.
Note: Unable to locate Downloader? Explore the App Library tile to discover all apps installed on your FireStick.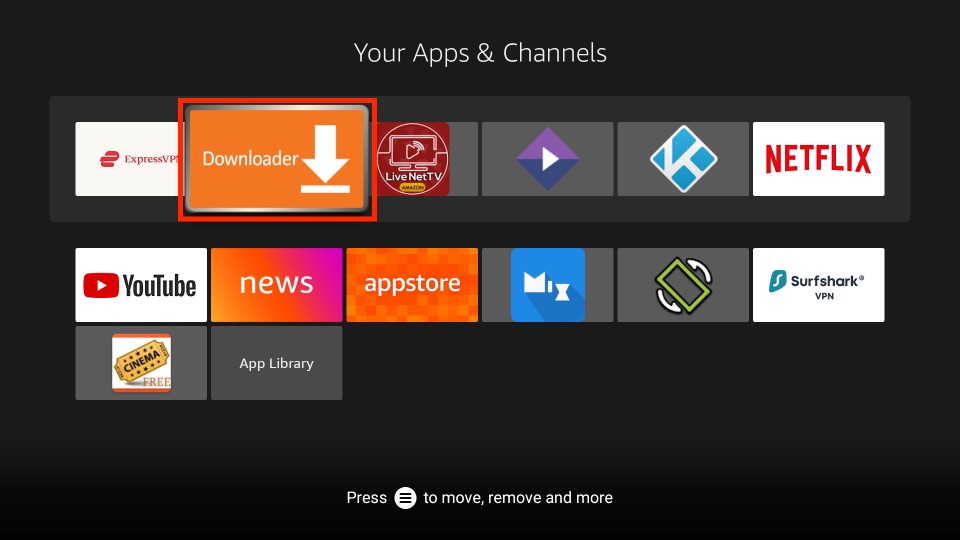 3. On the Downloader's Home tab, select the input box under Enter a URL or Search Term: heading.
Note: Allow access to your files and folders if you are opening Downloader on your Fire TV for the first time.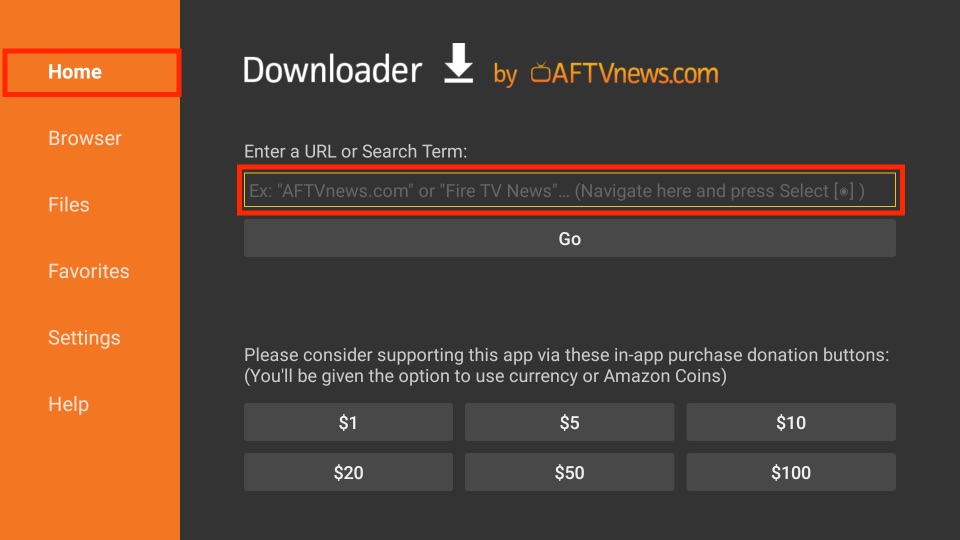 4. Enter firestickhow.com/megab in the input field and click Go. 
Note: For ease, we have shortened the website URL where the MegaBox HD APK is hosted. By no means do we host or own the APK file at www.FireStickHow.com.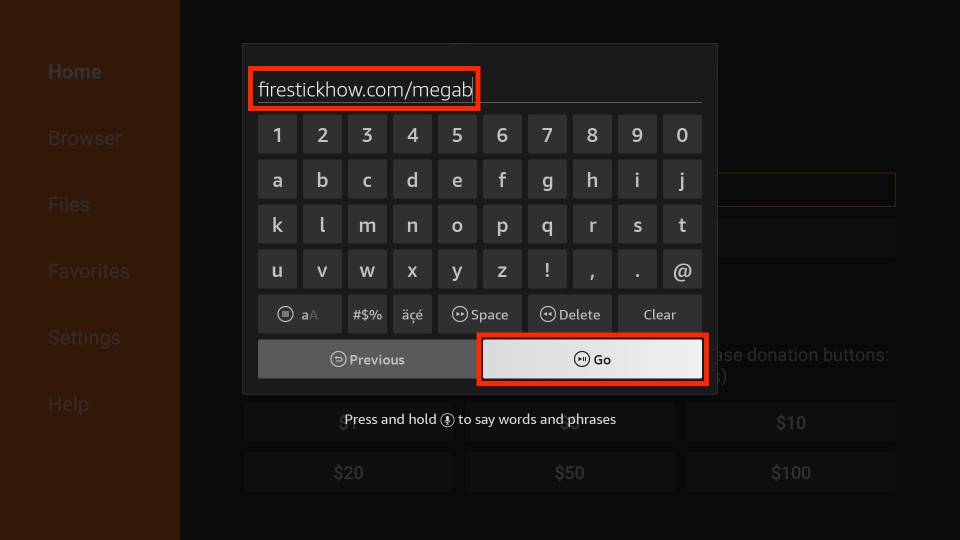 5. Wait for Download to connect to the servers of the URL back-link.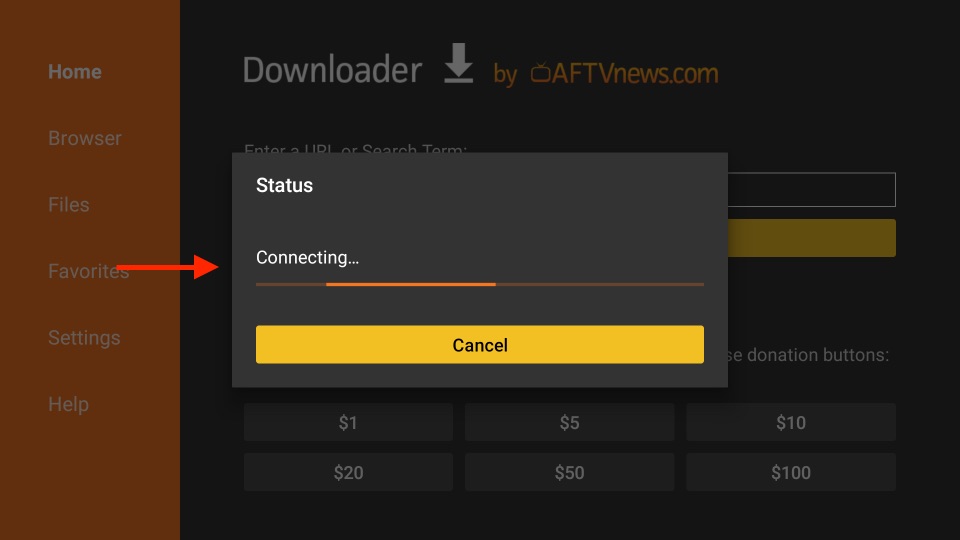 6. Let Downloader download the APK file of MegaBox HD from the server.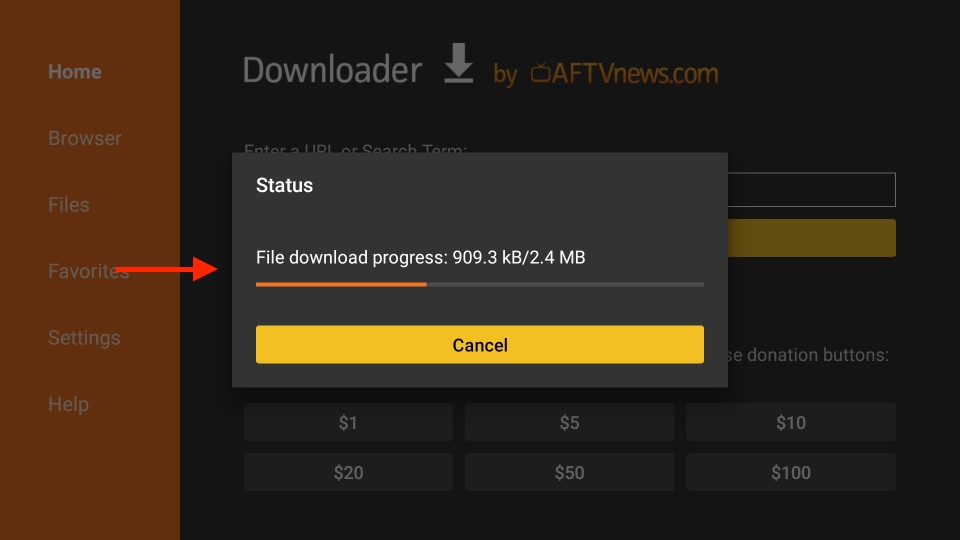 7. After downloading is complete, the Downloader will stage the app for installation. Click INSTALL.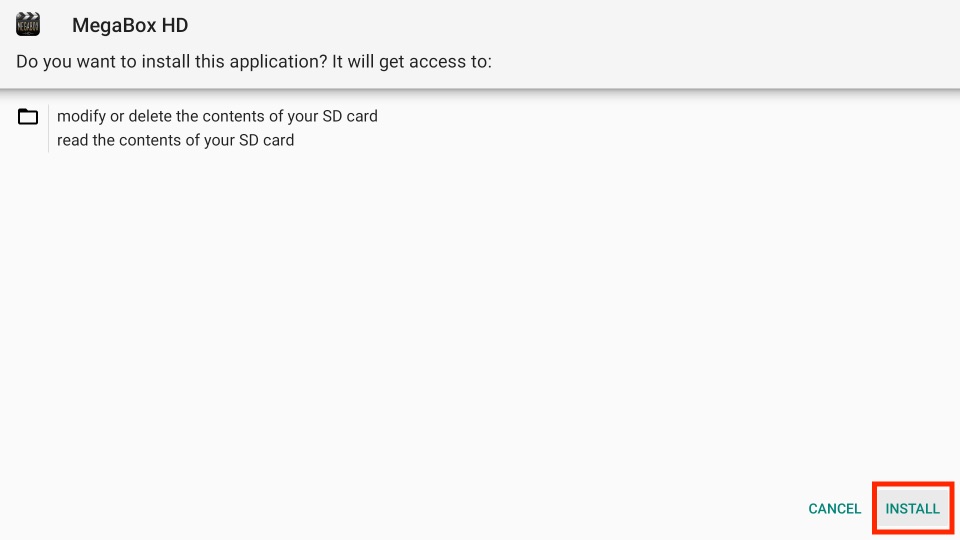 8. FireStick will take some seconds to install MegaBox HD.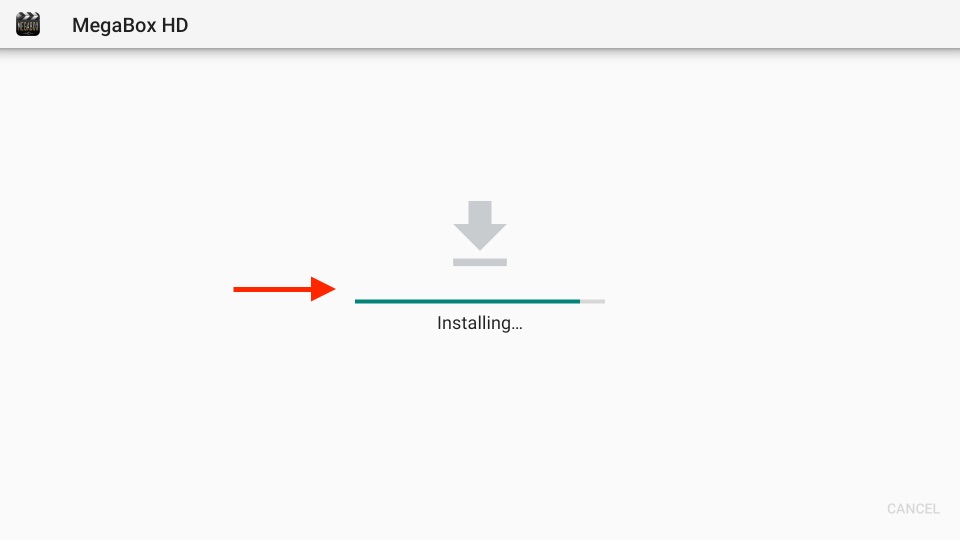 9. Click DONE to close the installation window.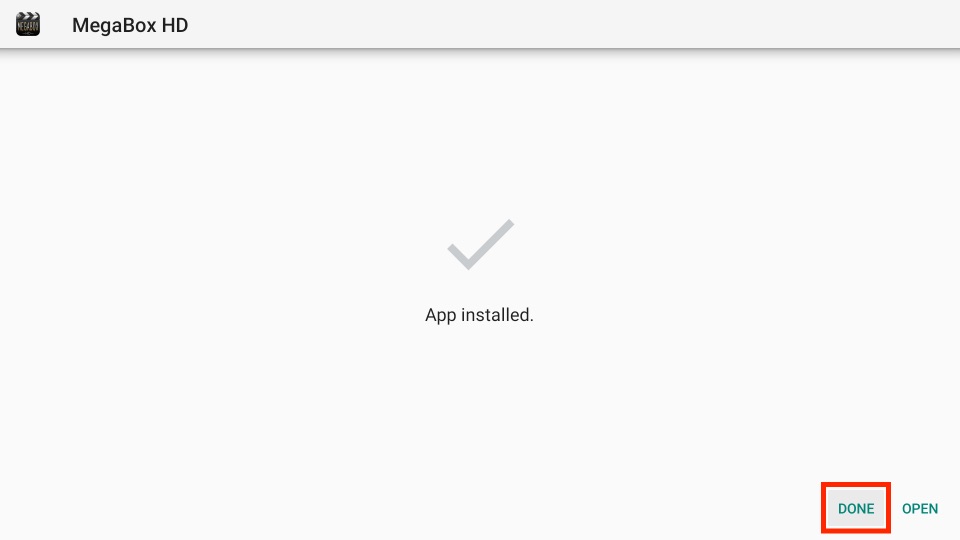 10. You'll return to Downloader and see a prompt containing the MegaBox HD APK file details. Click Delete to remove the APK file, as the app is now installed on your FireStick.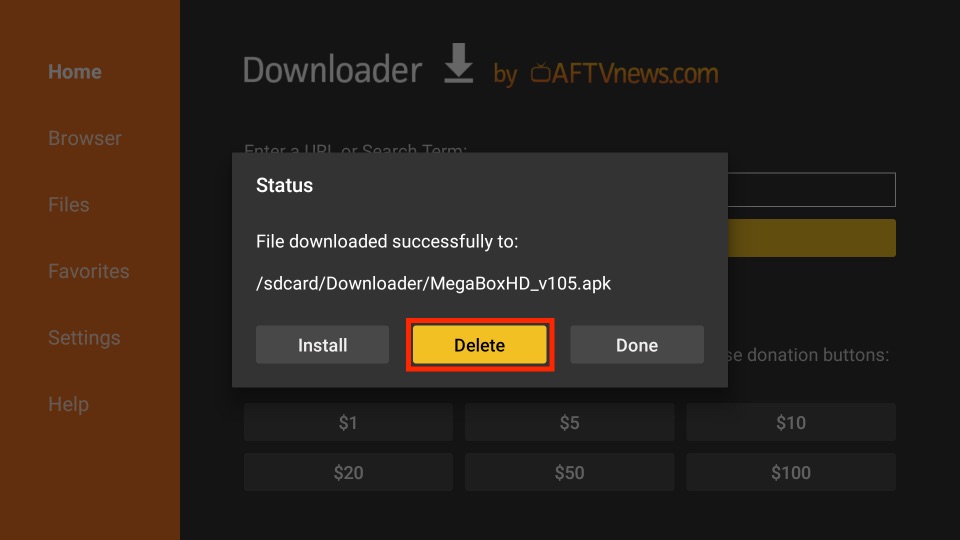 11. Choose Delete once again to confirm your decision.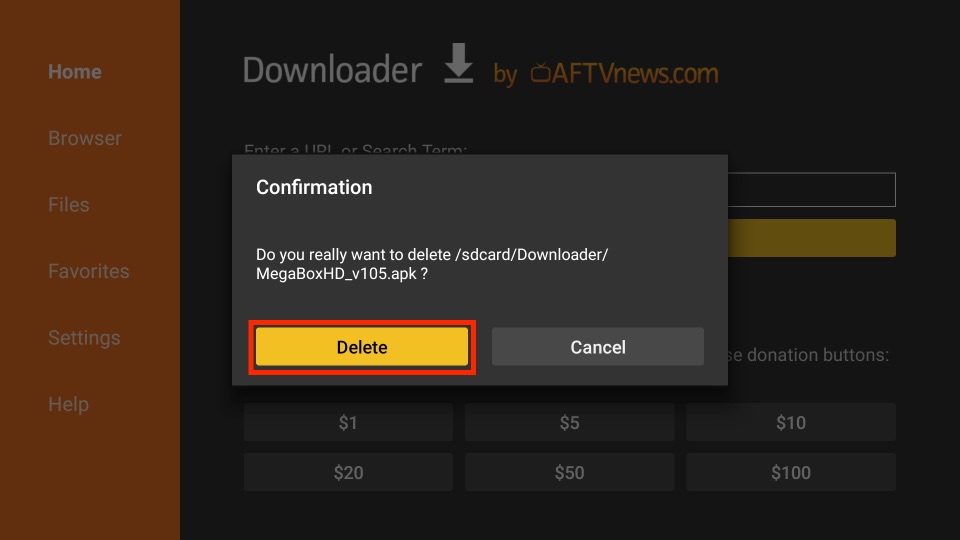 Hooray! The MegaBox HD app is waiting in your FireStick app library for you to launch and use it.
Wait! It looks like you are all set to start watching your favorite content on FireStick. But have you protected your online identity yet? You are under constant surveillance by the Government and ISP. Free streaming of copyrighted videos may get you into legal trouble.
Thankfully, you can easily avoid online monitoring and safeguard your privacy with a trusted VPN on FireStick. A VPN will hide your IP address and online identity by encrypting your internet connection.
Please note that I am not encouraging you to violate any copyright laws. You should always watch the content available in the public domain. I am simply recommending the use of a VPN to maintain your privacy. You have every right to your privacy, which is constantly being breached these days.
I personally use ExpressVPN and have found it to be the fastest and most secure FireStick VPN. It is also the most streaming-friendly VPN I have ever used. Therefore, I highly recommend getting ExpressVPN for FireStick.
Here is how you can quickly get the ExpressVPN app on FireStick:
Step 1: Click HERE to subscribe to ExpressVPN and enjoy a 49% discount with 3 months of extended service. You are also eligible for a 30-day, full money-return guarantee.
Step 2: Download and install ExpressVPN on FireStick
Choose the Find > Search option on the FireStick home screen on the menu bar.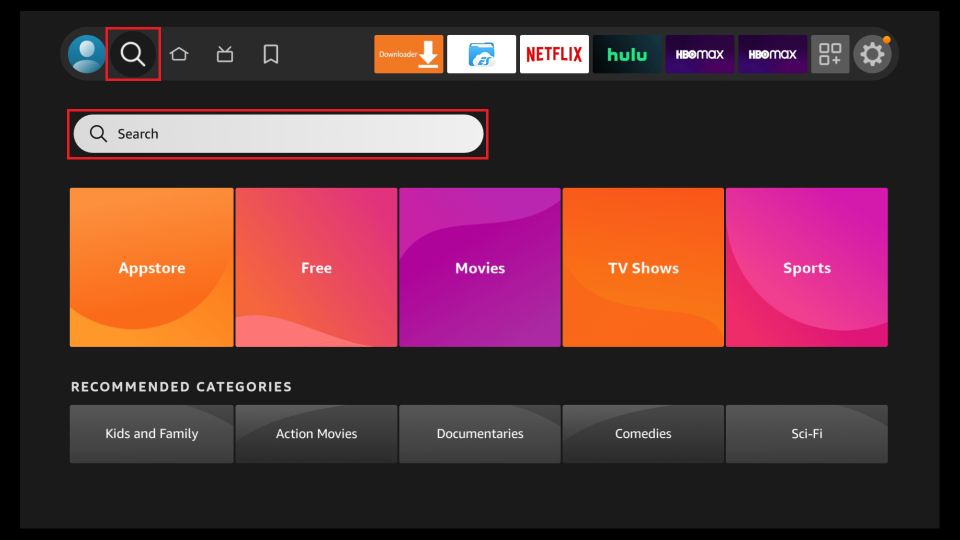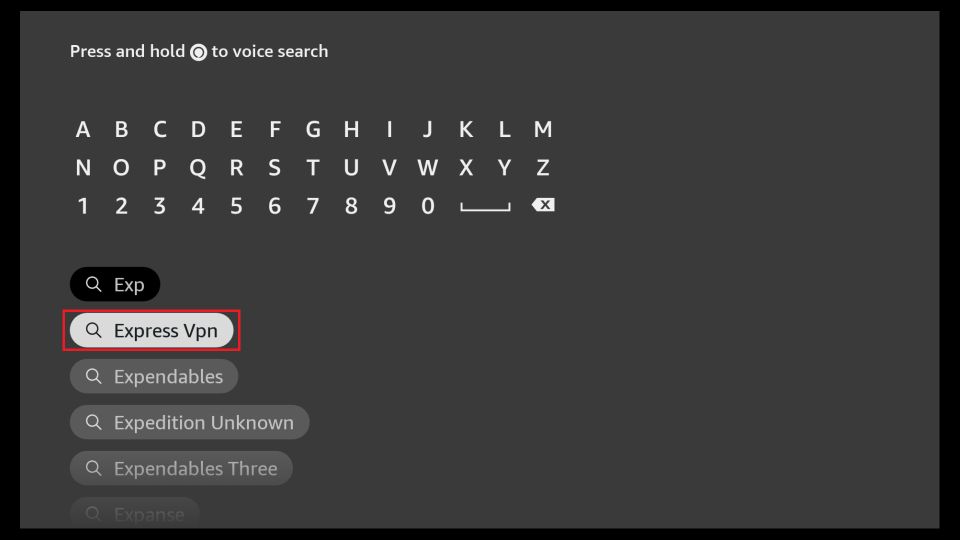 Click the ExpressVPN icon on the following window.

Click Download or Get on the next window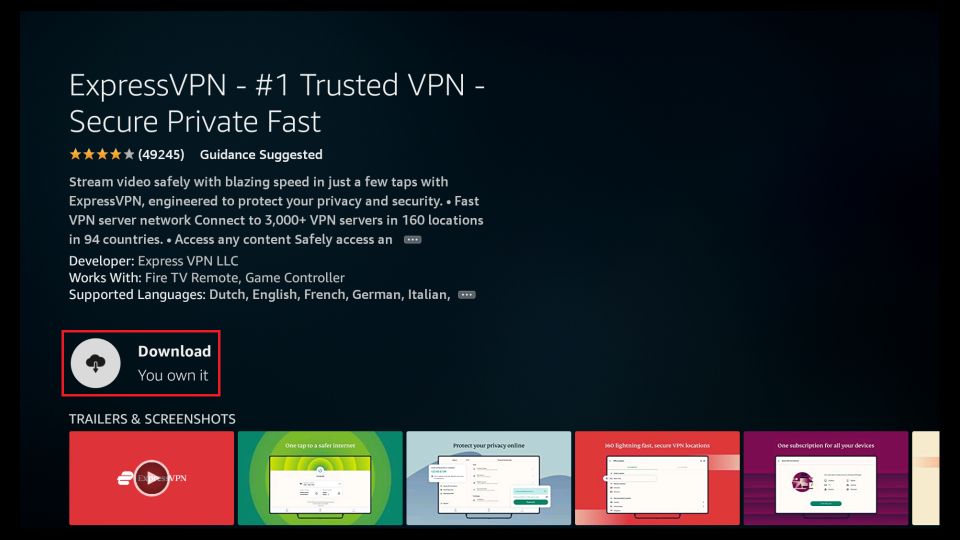 Step 3: Open ExpressVPN once you have downloaded it. Sign in with your account.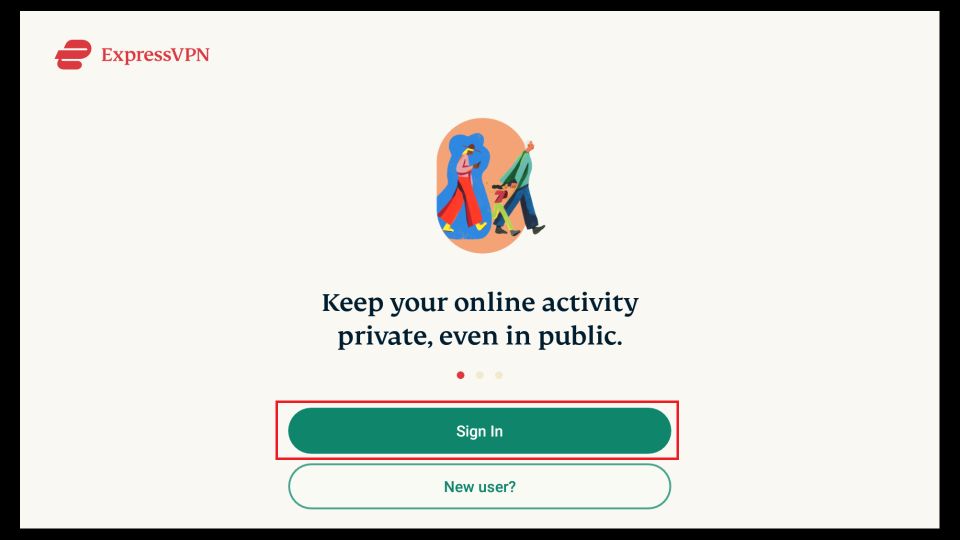 Step 4: Choose a server and click the Connect/Power button

Put your mind at ease now! You have successfully secured your streaming activities with ExpressVPN.
How to Use Megabox HD on FireStick
Here's a detailed run-down and usage guide of MegaBox HD:
Go to Your Apps & Channels page by long-pressing the FireStick remote home button and choosing Apps. Launch MegaBox HD.
You may also add the home screen shortcut for the app on your FireStick.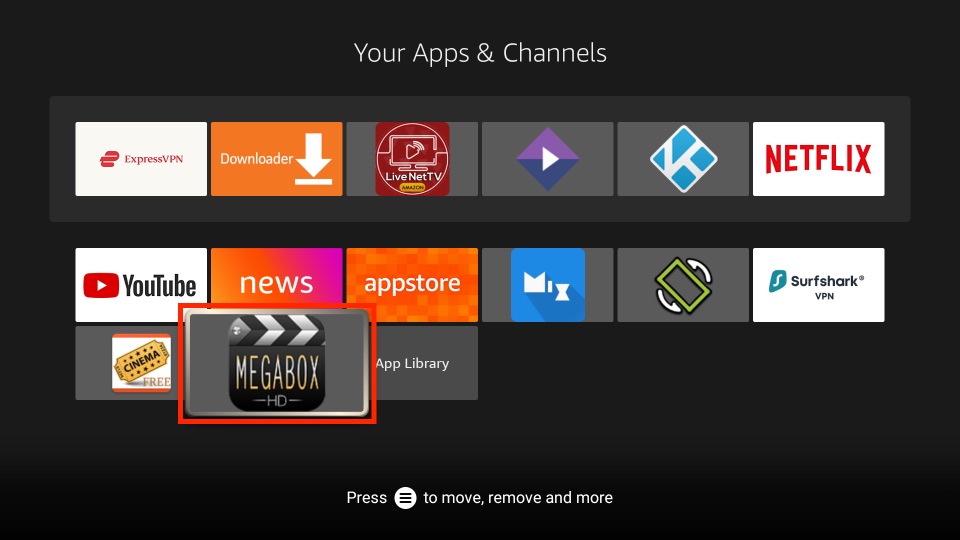 You'll land on the Movie – Update section of MegaBox HD. Here, you'll see multiple titles that have received the update by MegaBox HD.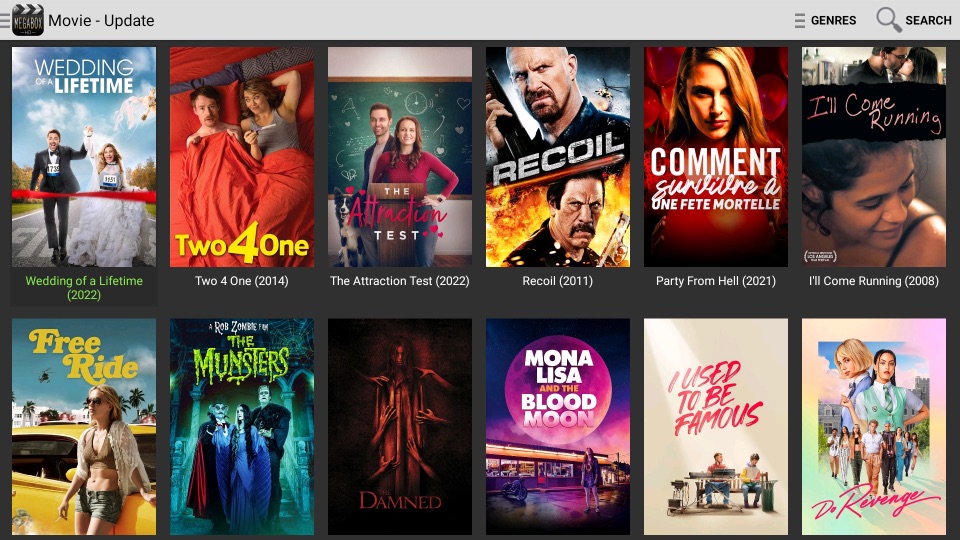 MegaBox HD features the following sections:
Movie

TVShow

Favorites

Downloads

History
A GENRES button on the top right side of your screen in every section lets you filter content as per your mood.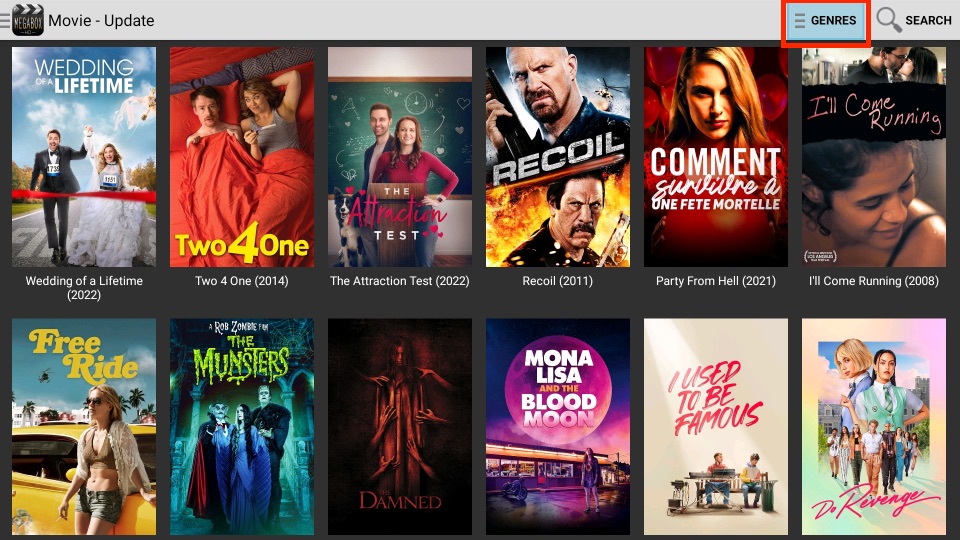 You can pick Action, Animation, Comedy, and more to see only the relevant content in the Movie/TVShow sections.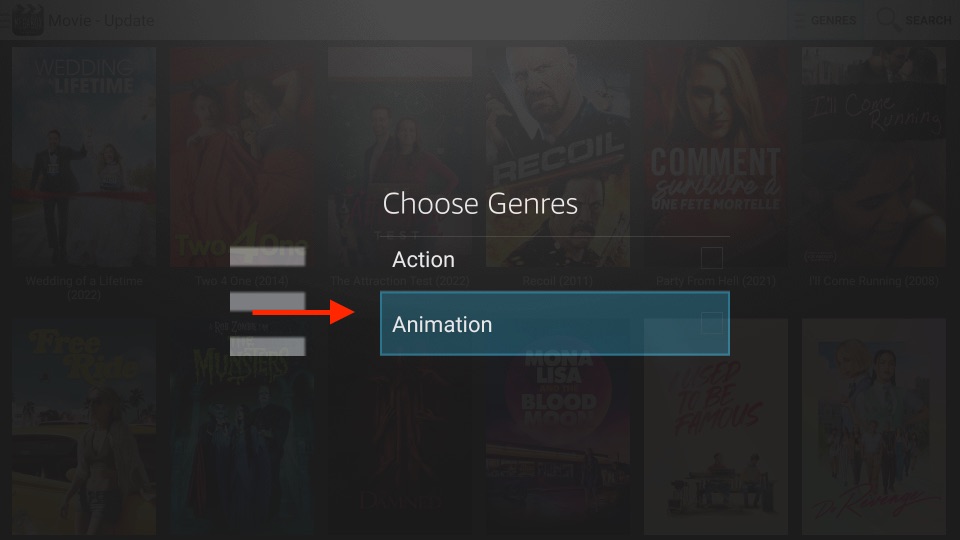 To find a specific film or TV series, hit the SEARCH button on your screen's top-right corner.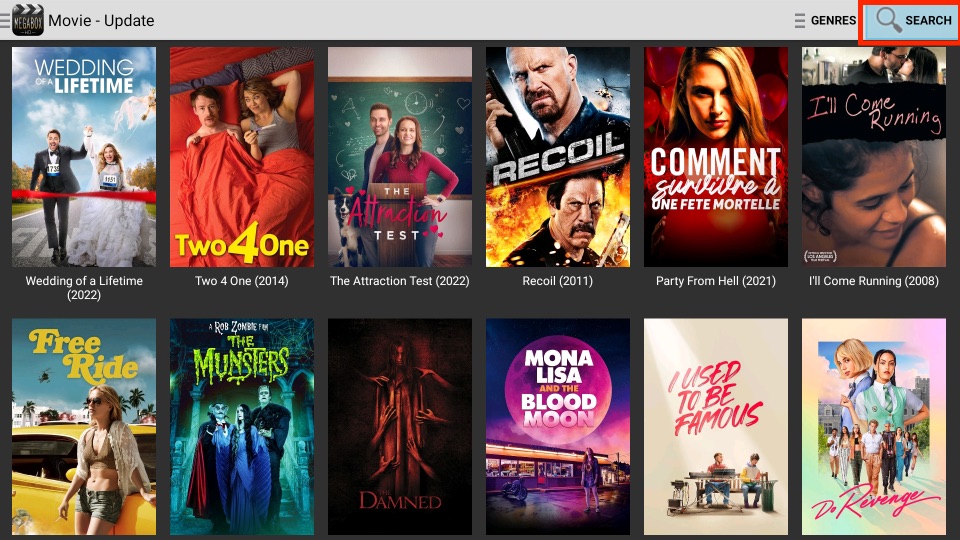 Enter your search terms and click the Next button.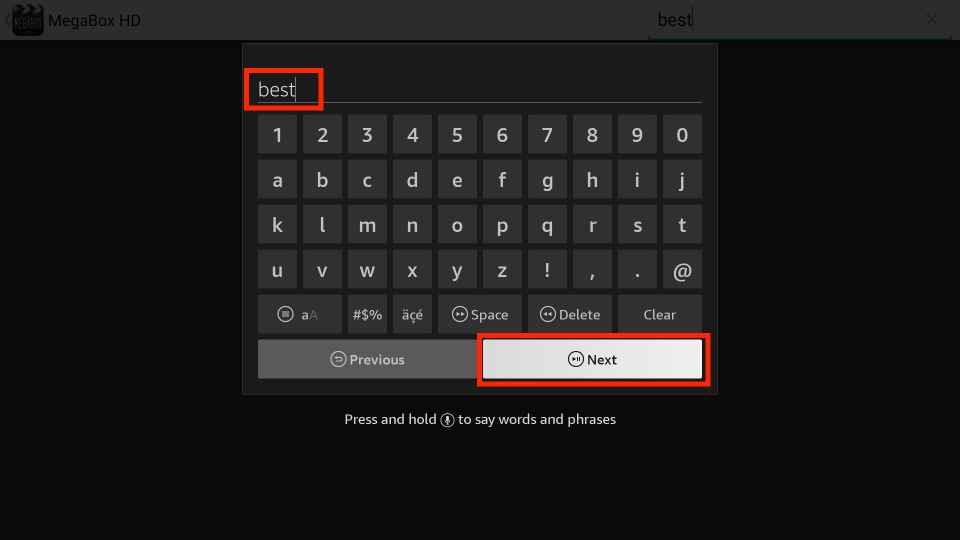 You'll see the search results within seconds. Next, open the side menu by choosing the MegaBox HD icon on the top left side of your screen.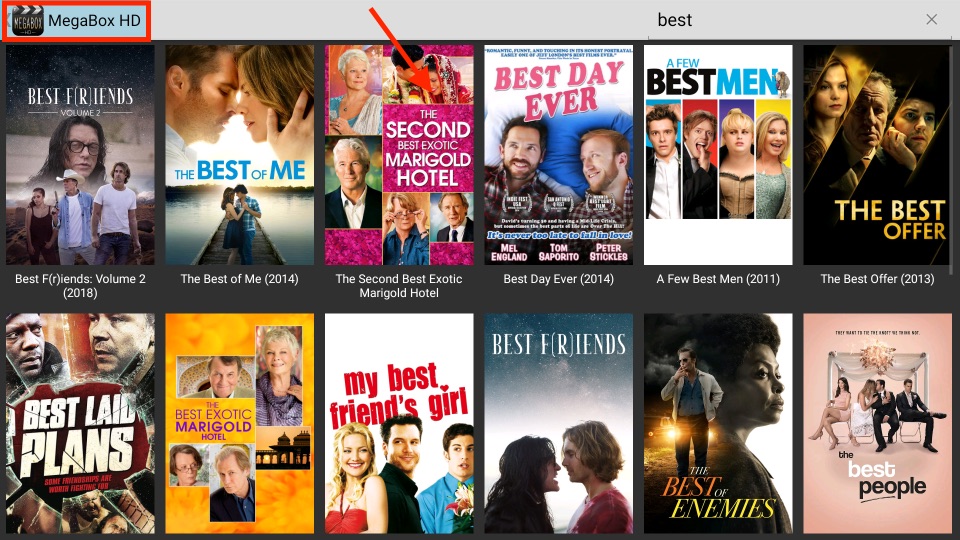 Here, you'll see the sub-sections of Movie and TVShow – Update, Rating, Popular, and New. Scroll down to select and explore any sub-folder of the TVShow section.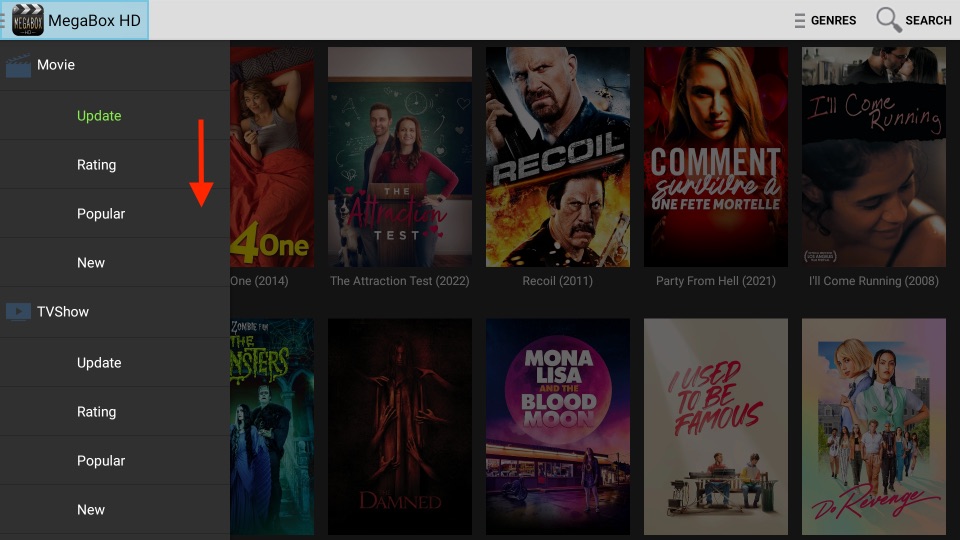 I'm choosing the New folder of the TVShow section.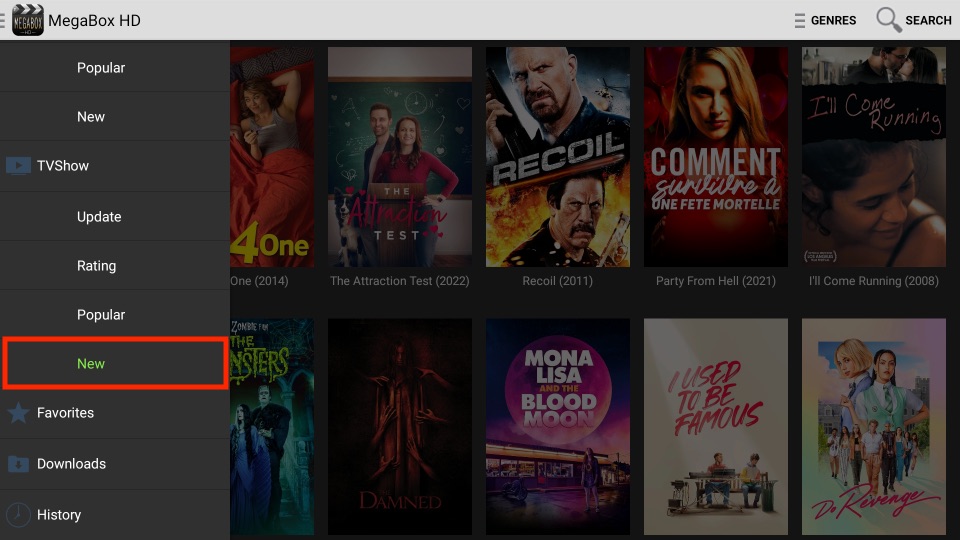 Inside, I can access all the latest TV shows available.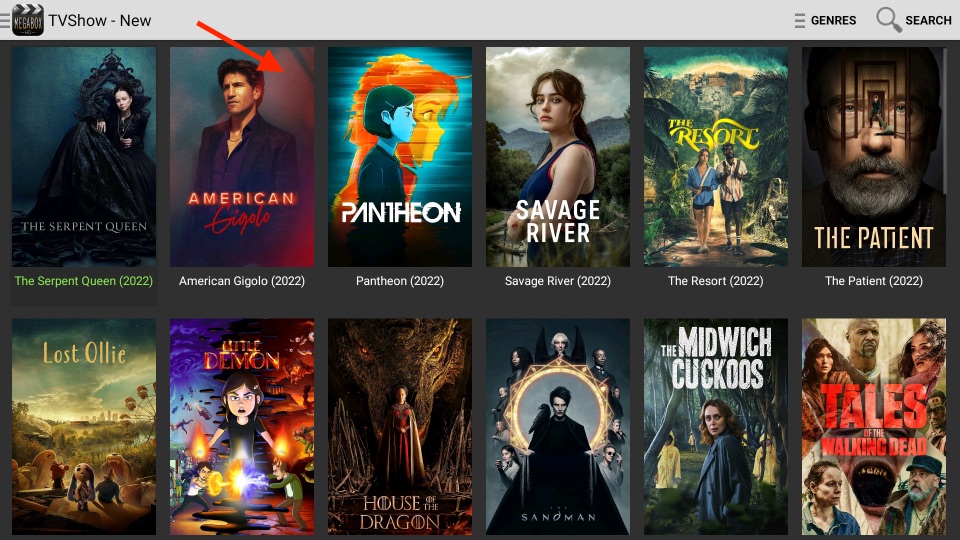 Want to check your watch history? Open the side menu and choose History.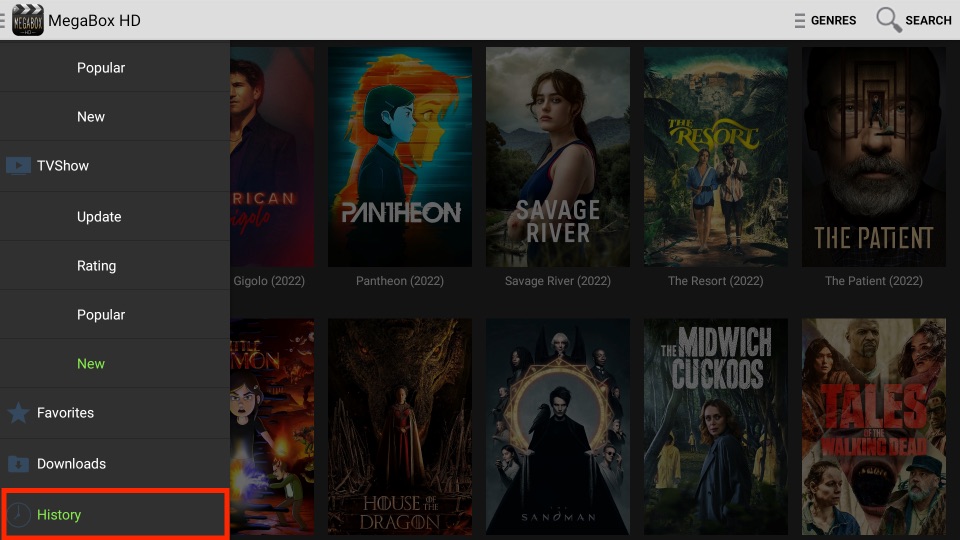 My history is empty because I haven't watched anything on MegaBox HD.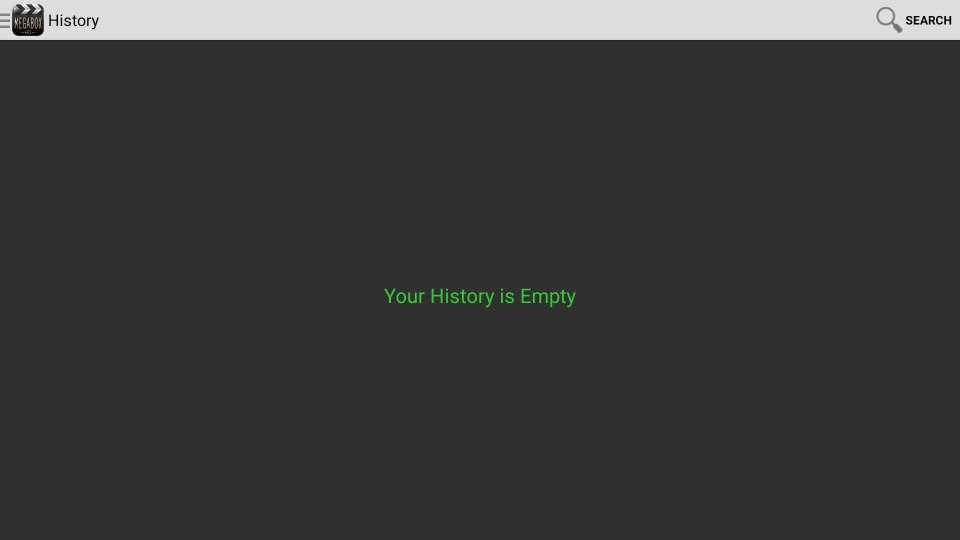 Lastly, you can access the content you have favorited and downloaded by going to the Downloads and Favorites sections.
How to Play Content on MegaBox HD
You must install a special app before watching anything on MegaBox HD – MV CastPlayer. You'll receive the following screen if you don't install MV CastPlayer on your FireStick. Click OK.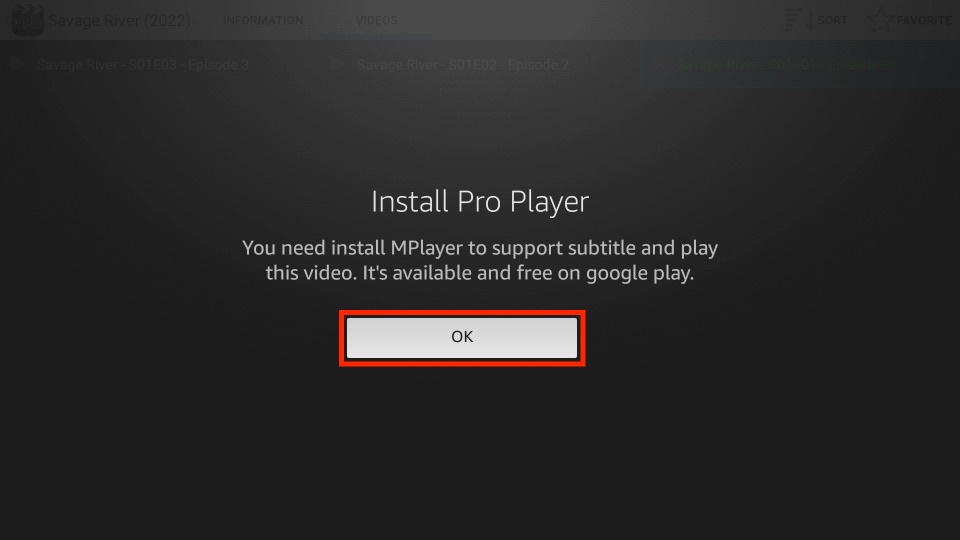 Next, MegaBox HD will try opening an external link to download the MV CastPlayer. Click Cancel as the app isn't available on Amazon App Store.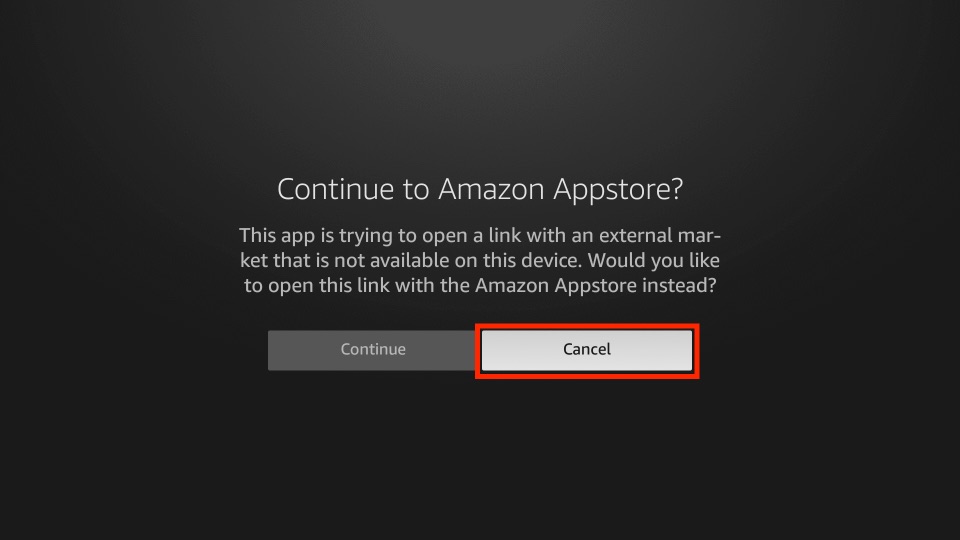 You'll need to sideload MV CastPlayer, and here's how to do it:
1. Launch the quick menu of Fire TV by holding the home button on the FireStick remote. Then, click Apps.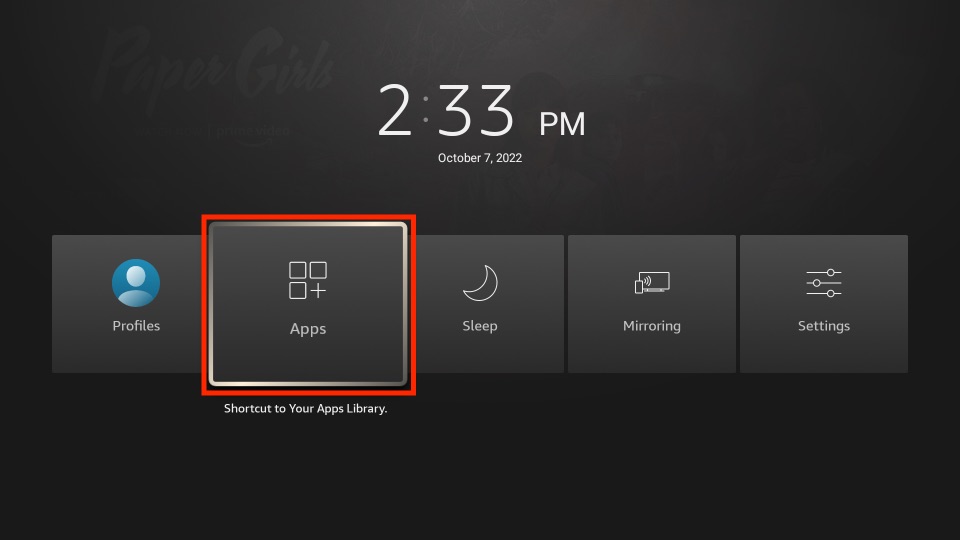 2. Open Downloader.
Note: Can't see Downloader? Check inside App Library.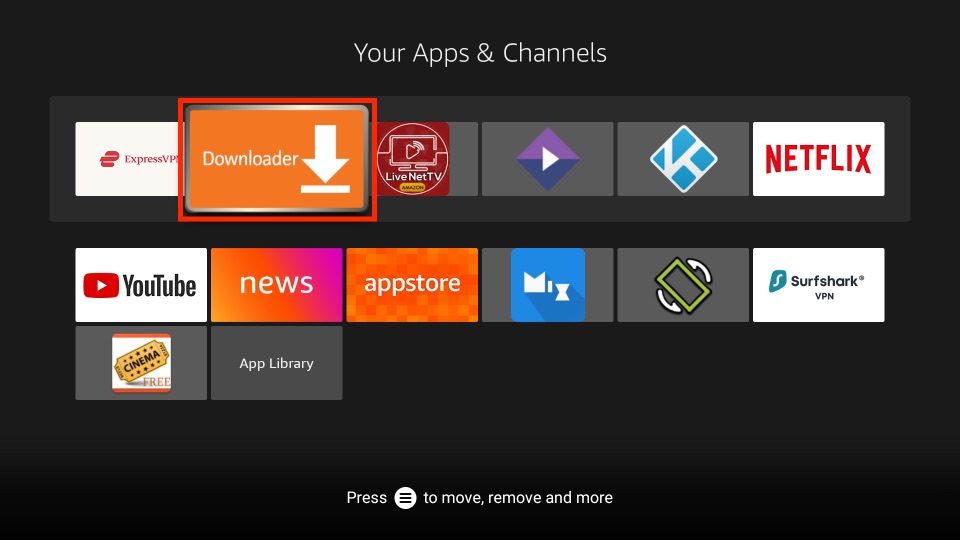 3. On the app's Home tab, choose the input box under Enter a URL… on your right side.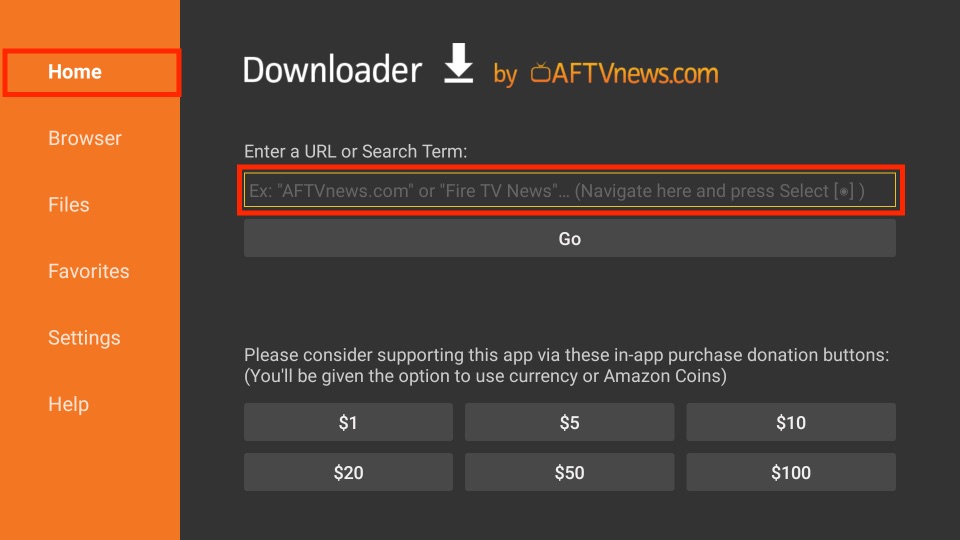 4. Enter the short link I have made to download MV CastPlayer APK – firestickhow.com/mv and click OK.
Note: We at FireStickHow don't own/host the APK of MV CastPlayer. I have just shortened the host's long website URL for you guys.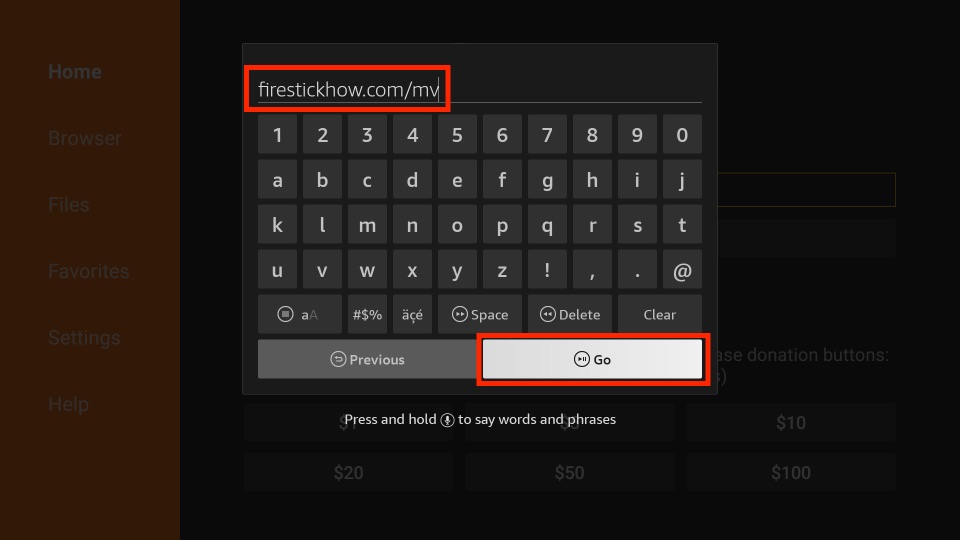 5. FireStick will take some time to connect with the server of the MV CastPlayer APK host.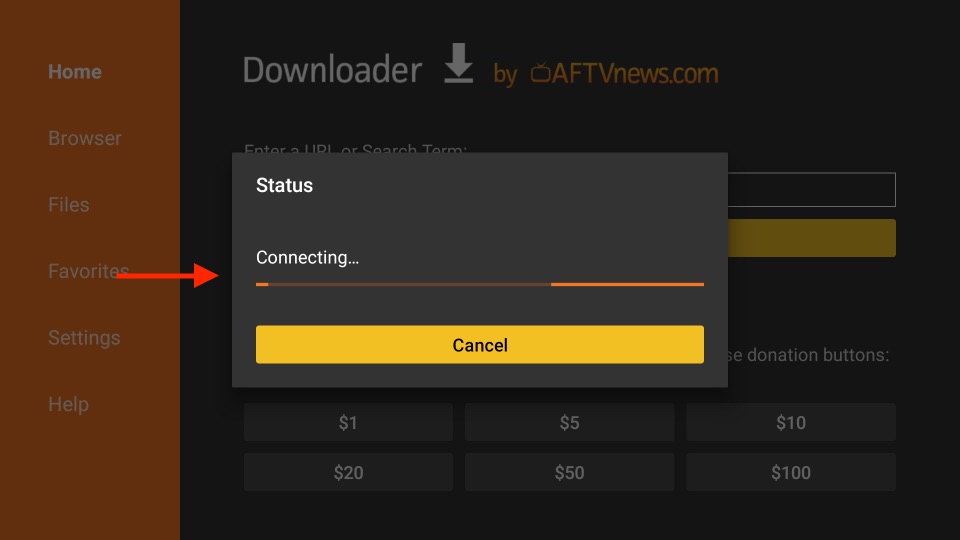 6. Let Fire TV download the APK file.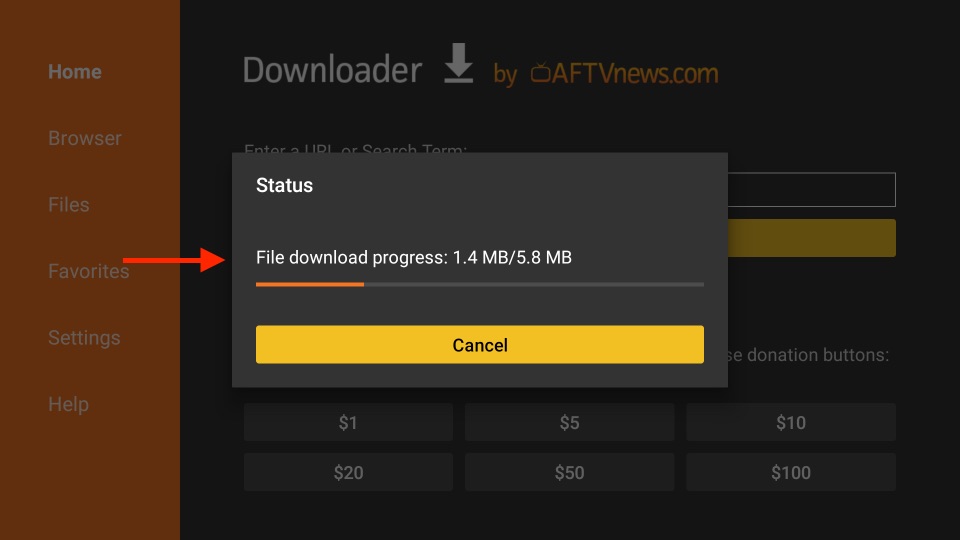 7. Once the download is finished, you'll automatically be taken to install MV CastPlayer. Select INSTALL.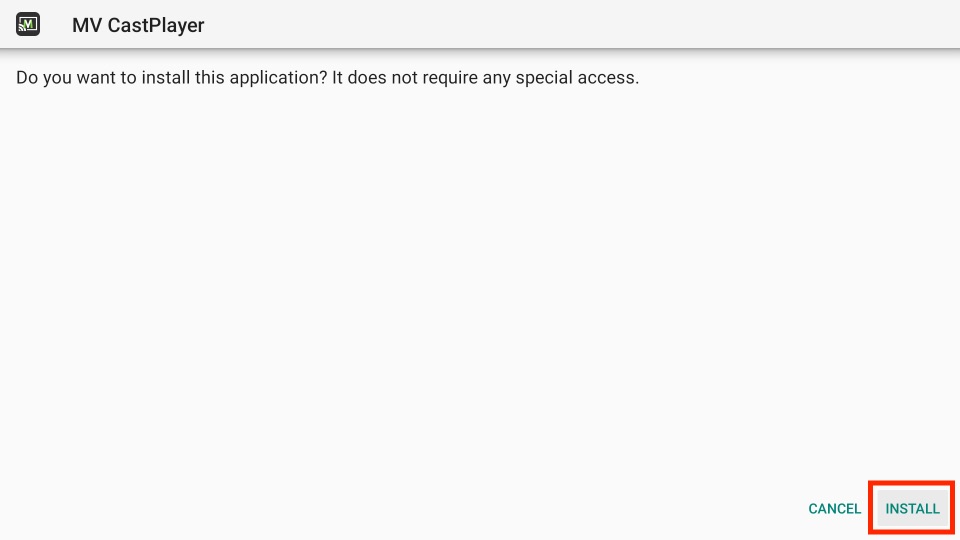 8. Wait for the completion of the MV CastPlayer installation.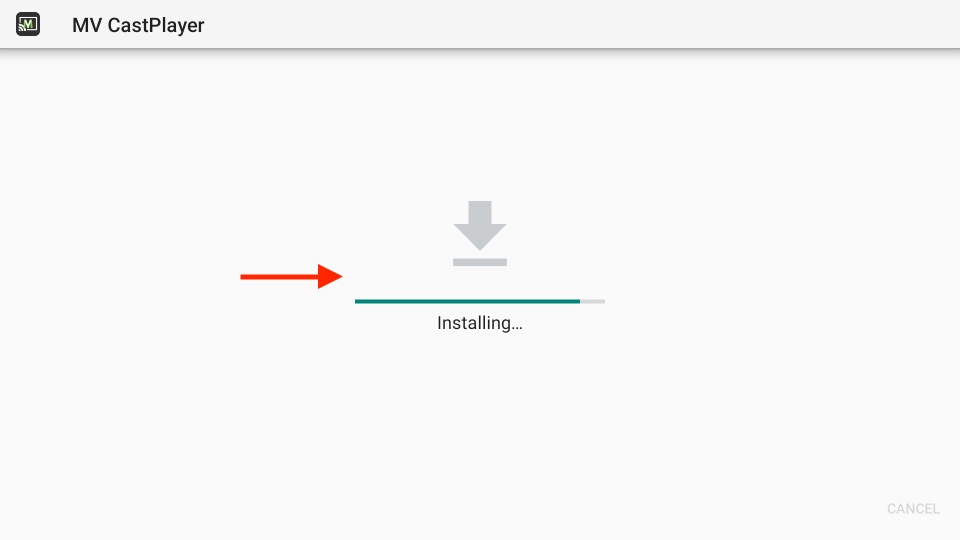 9. Click DONE when the installation is complete.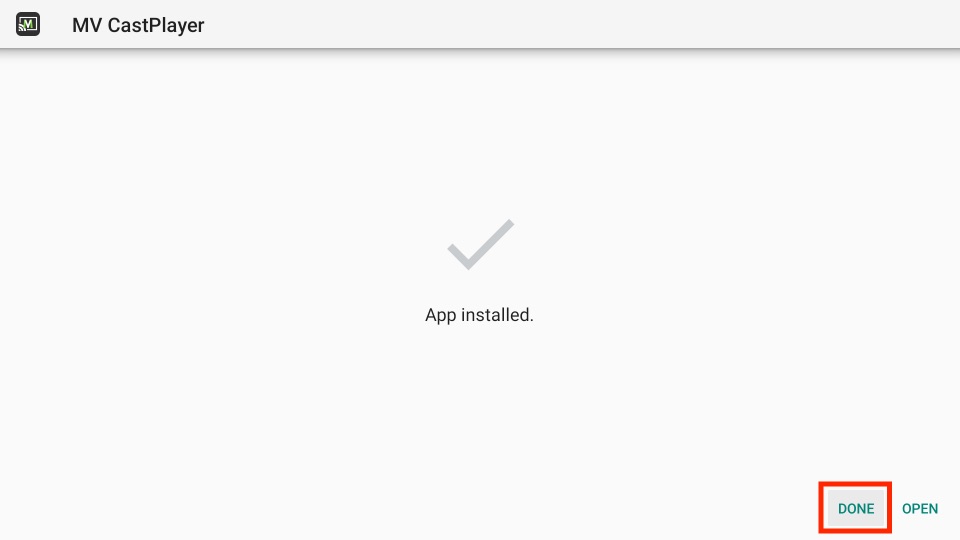 10. APK status prompt will be waiting for you when you return to Downloader. As MV CastPlayer APK serves no purpose, it's better to remove it. So, click Delete.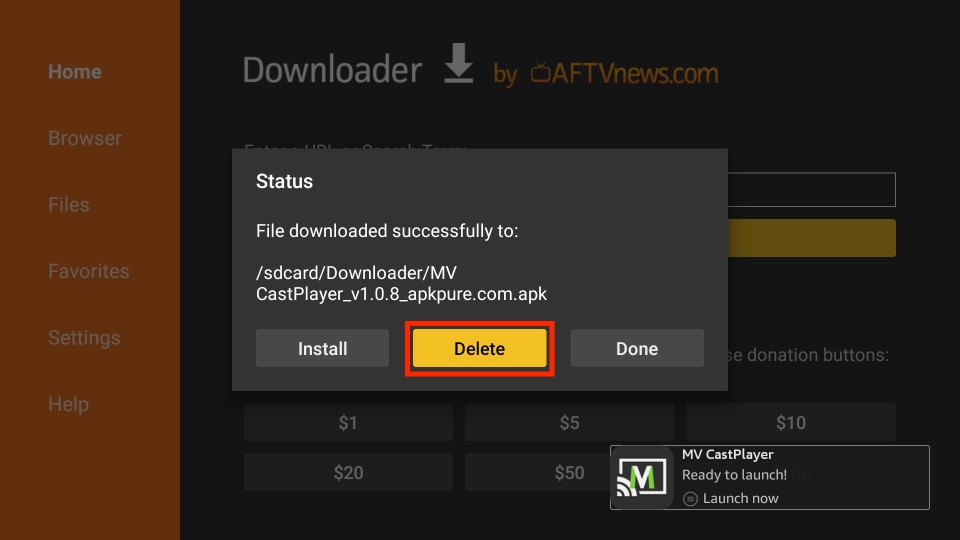 11. To finalize your decision, press Delete.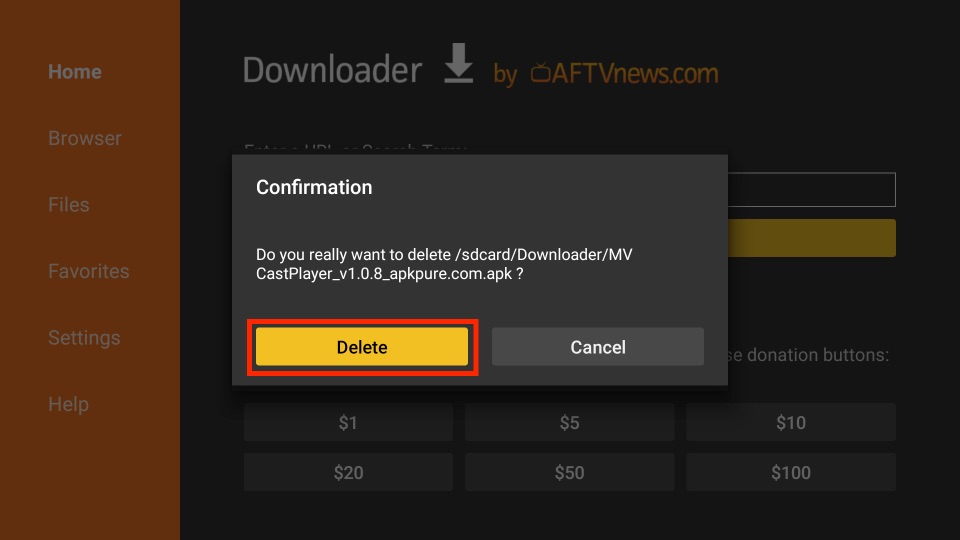 After installing MV CastPlayer, you'll see the following screen when you play something on MegaBox HD. Click Allow to let MV CastPlayer access your data.
MV CastPlayer will start loading the content you have picked on MegaBox HD.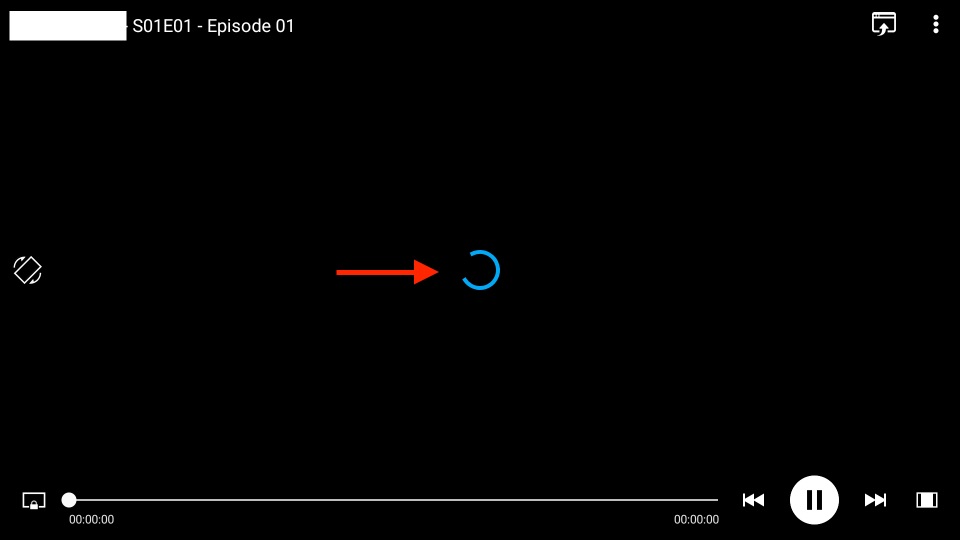 An ad will appear; click X to close it.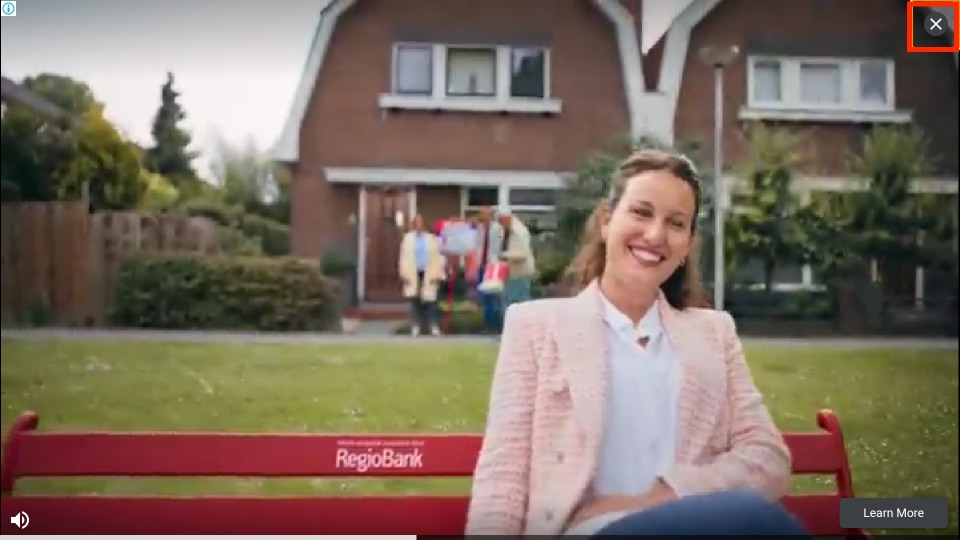 Lastly, the video you choose in MegaBox HD will start playing.
FAQ's
The following are some of the frequently asked questions about MegaBox HD:
Is MegaBox HD free?
Absolutely! There's no sign-up or hidden catch on MegaBox HD, just thousands of free movies and TV shows ready to stream with a single click.
No! MegaBox HD believes in providing free streams of movies and TV shows to the masses.
Where are MegaBox HD settings?
Unfortunately, there's no settings menu found on MegaBox HD.
Conclusion
This post showed how to install Megabox HD on FireStick. Do you like this app? Let me know through the comments section below.
Related: