Today, I'll cover how to install LNTv Kodi addon. Furthermore, I'll share what LNTv is, its features, how to use it, etc. You can follow this guide on any operating system that supports Windows, macOS, Android, Linux, and more.
What Is LNTv?
LNTv is your one-stop solution for streaming live TV channels. This addon is available on The WareHouse Repository.
With LNTv, you can watch channels from different parts of the world. Also, you can stream genres like comedy, crime, documentaries, cooking, and more.
Furthermore, LNTv also gives you access to a special section – [VOD]. You can access hundreds of English, Hindi, Pakistani, and Animated movies.
Overall, LNTv is one of the best Live TV Kodi addons to watch free channels anytime and anywhere.
Attention KODI Users: Read before you continue
Kodi is an excellent platform for streaming movies, TV shows, and sports, but it's important to remember that streaming copyrighted content can get you into legal trouble. Your IP address 3.17.249.235 is exposed to everyone. You should use a reliable Kodi VPN while streaming to protect yourself online. A VPN will keep your streaming activities private and bypass government surveillance and geo-restrictions.
I use ExpressVPN, the fastest and most secure Kodi VPN out there. It's easy to install on any device, including Amazon FireStick. Plus, it offers a 30-day money-back guarantee, and if you sign up for an annual plan, you get 3 extra months free. 
Read: How to Install & Use the best VPN for Kodi.
Is LNTv Safe?
Well, nobody knows whether LNTv is safe or dangerous. Being a third-party addon, there's no legit way to check whether it's suitable for installation.
Personally, LNTv looks & feels like any other safe addon on the Kodi Add-on repository. However, at FSH, we can't determine its actual safety status.
But out of curiosity, I checked its repo zip file on a famous virus checker, VirusTotal. Gladly, the results were clean.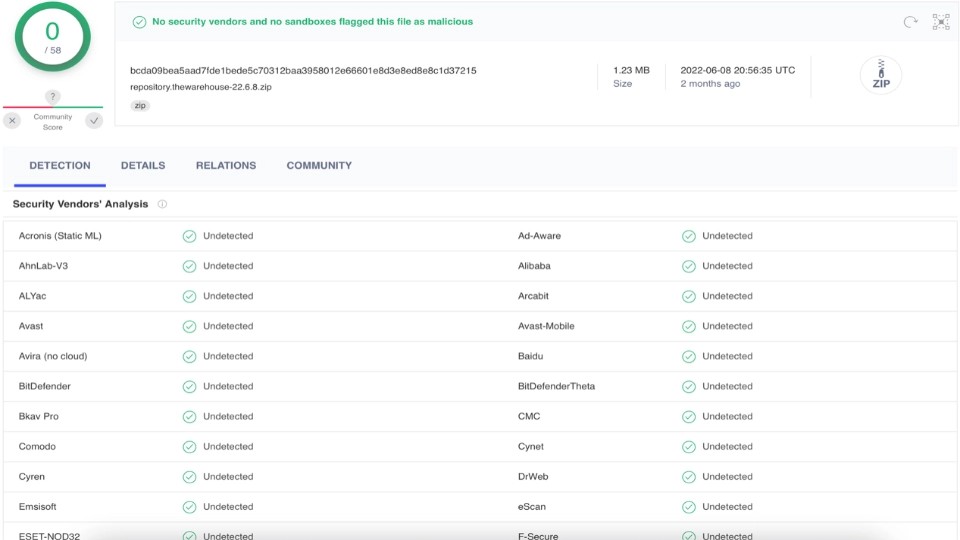 Is LNTv Legal?
LNTv scrapes TV channel streaming links freely available on the internet and compiles them into one place. Although there's nothing wrong with scraping data, the legality status of the links may be questionable.
At FireStickHow.com, we lack the equipment and human resources to check the sources behind LNTv. I always recommend you trust a VPN like ExpressVPN to protect yourself while using a third-party addon.
Features of LNTv Addon
LNTv presents you with the following features:
A special on-demand section
Channels split into genres, regions, and languages
Simple user interface
No need to connect any premium service
How to Install LNTv Kodi Addon?
Installing LNTv is a long ride. That's why I have split the instructions into the following three parts:
Part 1 – Turn On Unknown Sources
Start by enabling Unknown sources:
1. Open Settings Gear.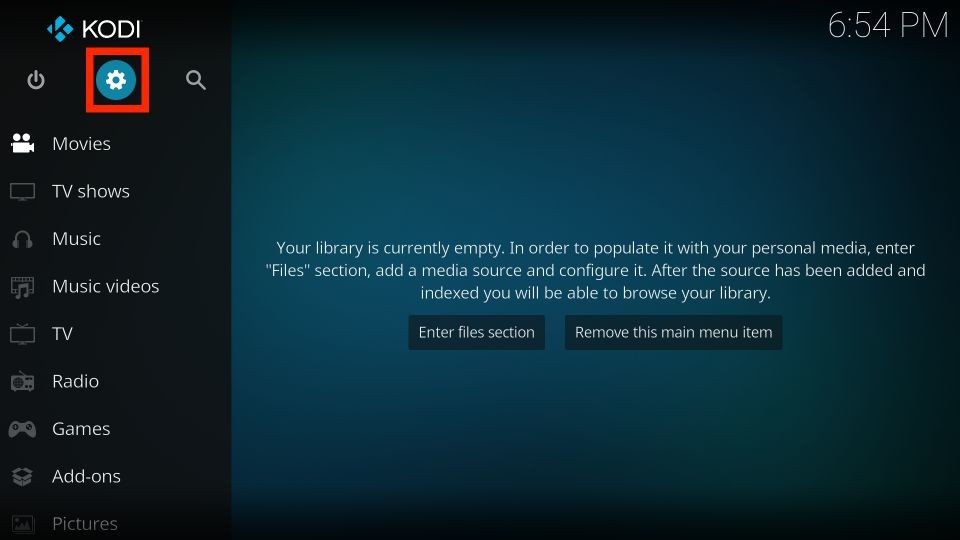 2. Choose the tab with Screw drive & Cog icon – System.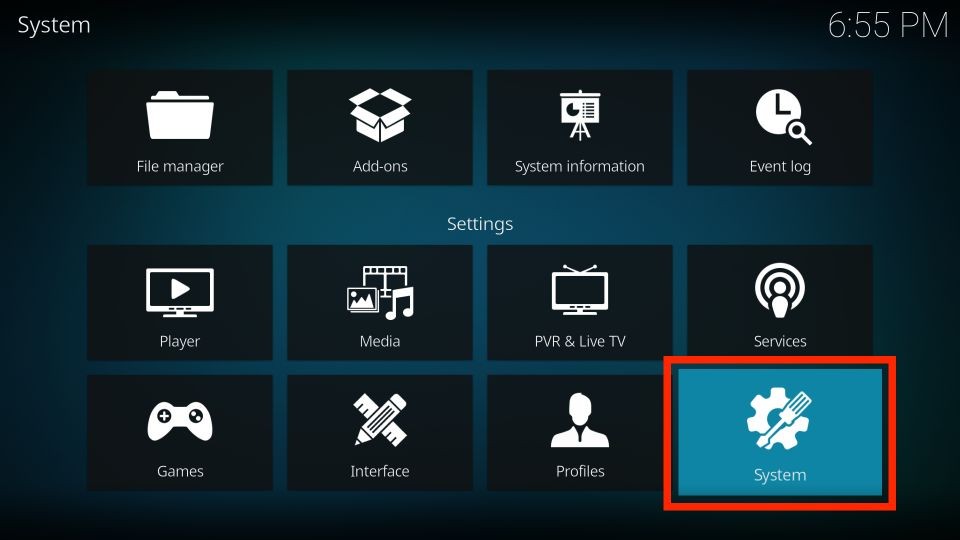 3. Go to Add-ons.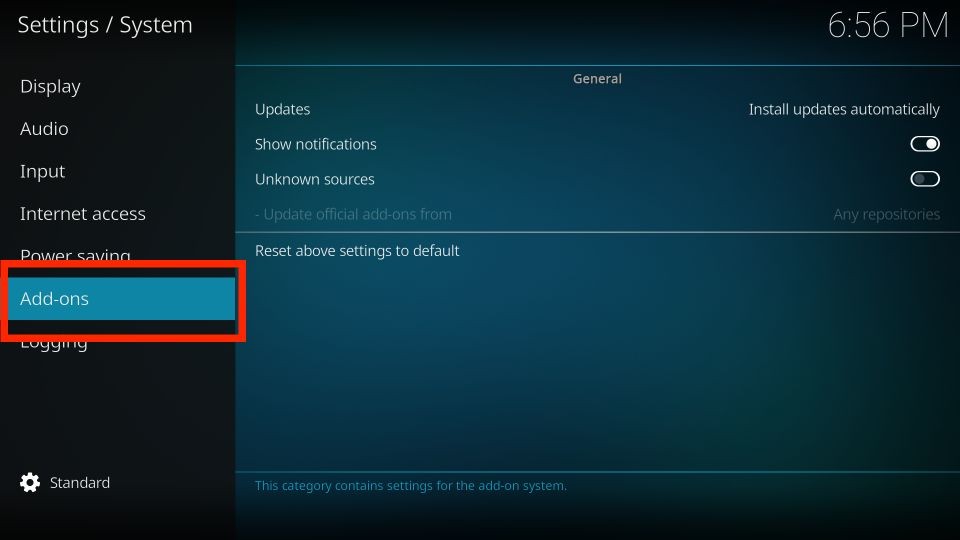 4. Toggle on Unknown sources.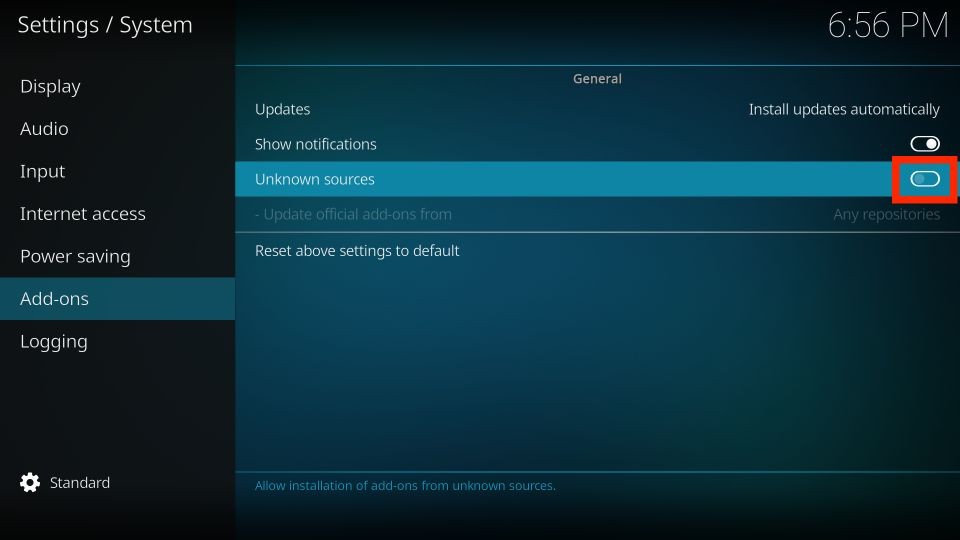 5. Kodi will send a warning sign, press Yes to proceed.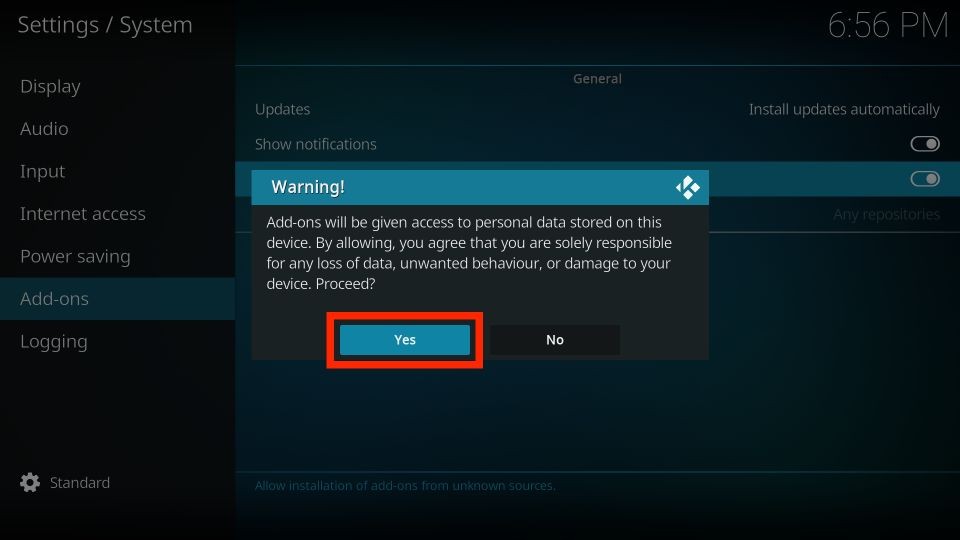 6. Open -Update official add-ons from.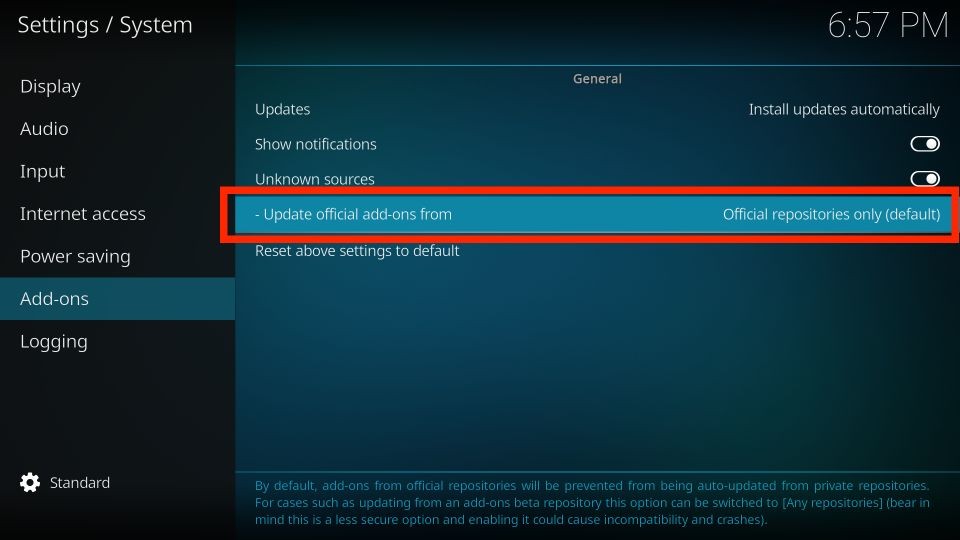 7. Select Any repositories.
Note: By following steps 6 and 7, you are letting Kodi update addons from any repo.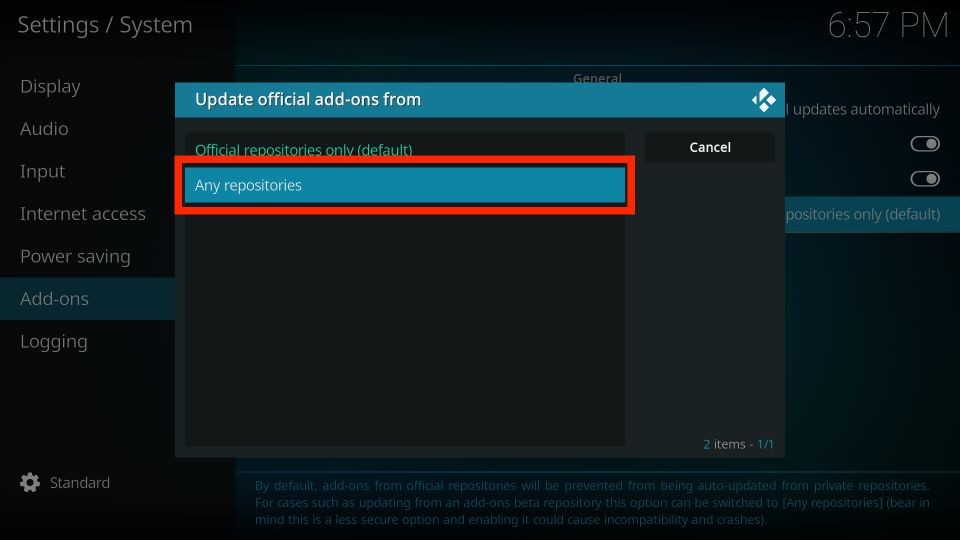 Part 2 – Install The WareHouse Repository
Now, add & install The WareHouse Repository:
1. Return to the Kodi menu and open File manager.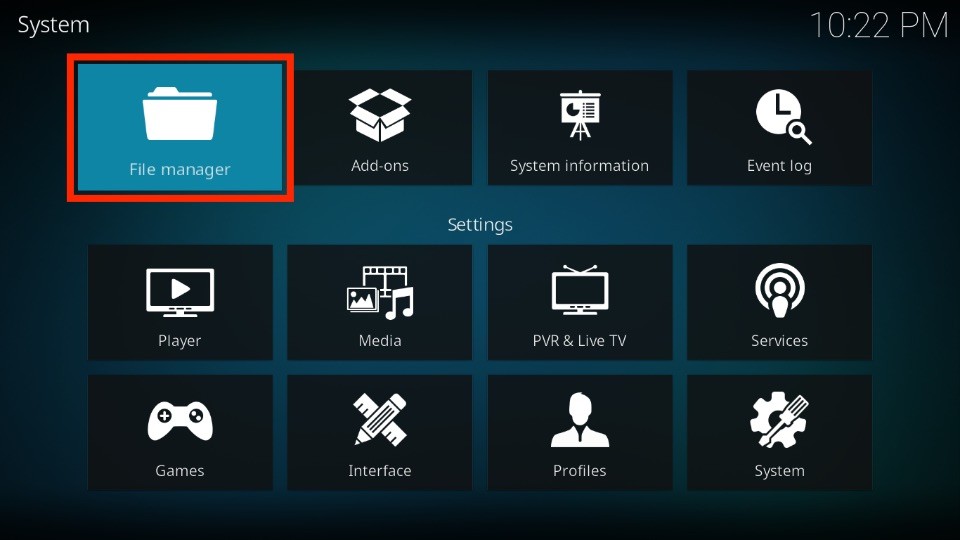 2. Select Add source.
Note: Add source option is available at the end of the list on both sides. You can choose any one of them.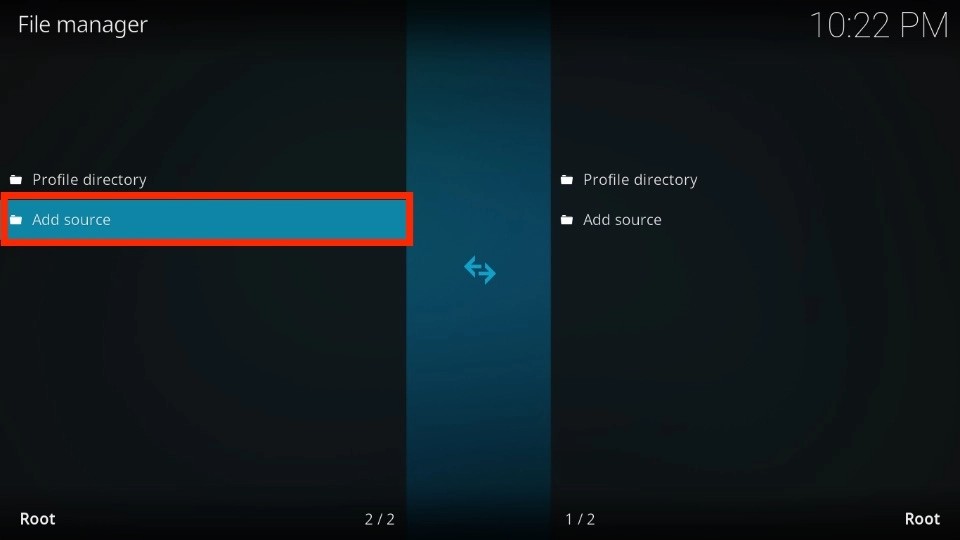 3. Press <None>.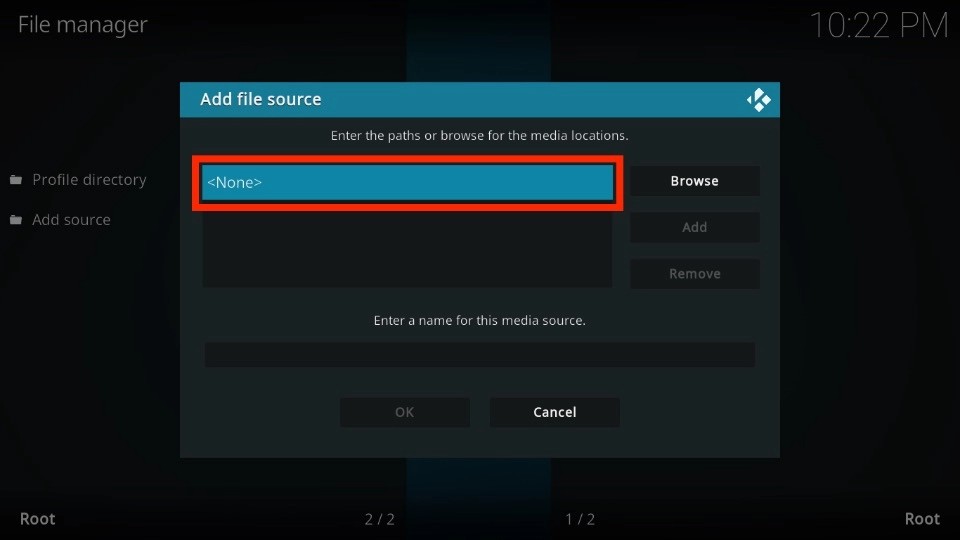 4. Now, enter The WareHouse Repository short URL I made – https://tiny.one/TheWH. Then, hit OK.
You may also enter the original but longer URL https://warehousecrates.github.io/TheWareHouse.
Note: I made the short URL as the original one is long. However, at FireStickHow.com, we don't host the URL and aren't linked with The WareHouse Repository.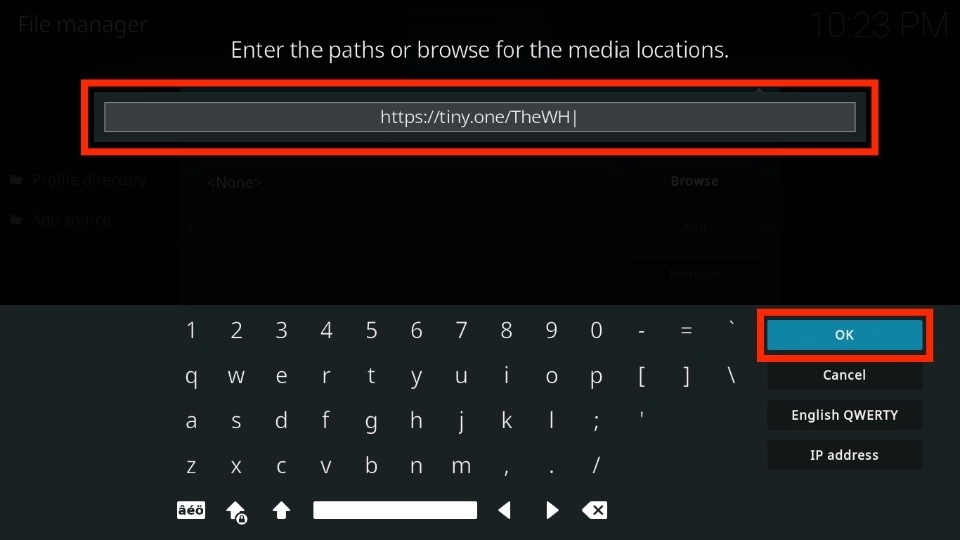 5. Select Box under Enter a name for the media source.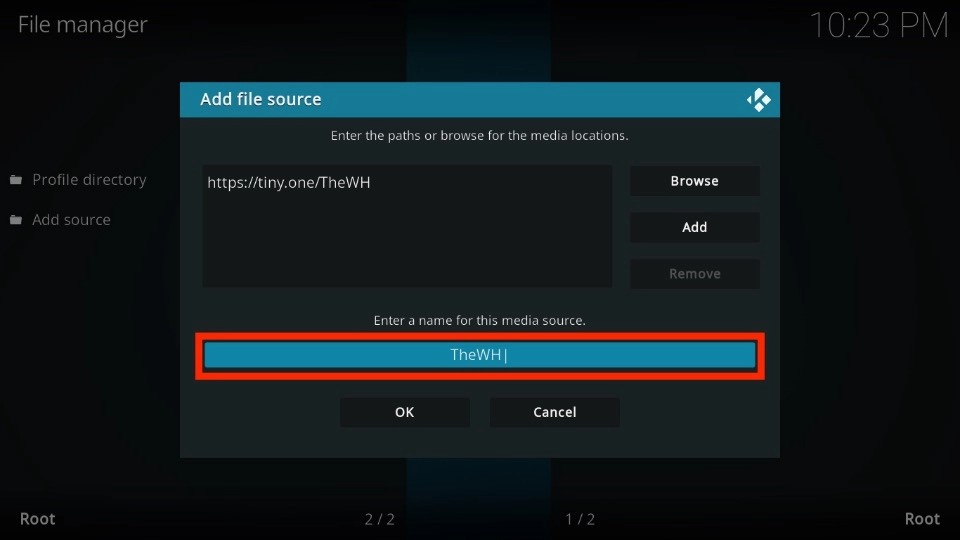 6. Although the default source alias is perfect, you can change it. Then, click OK to confirm the change.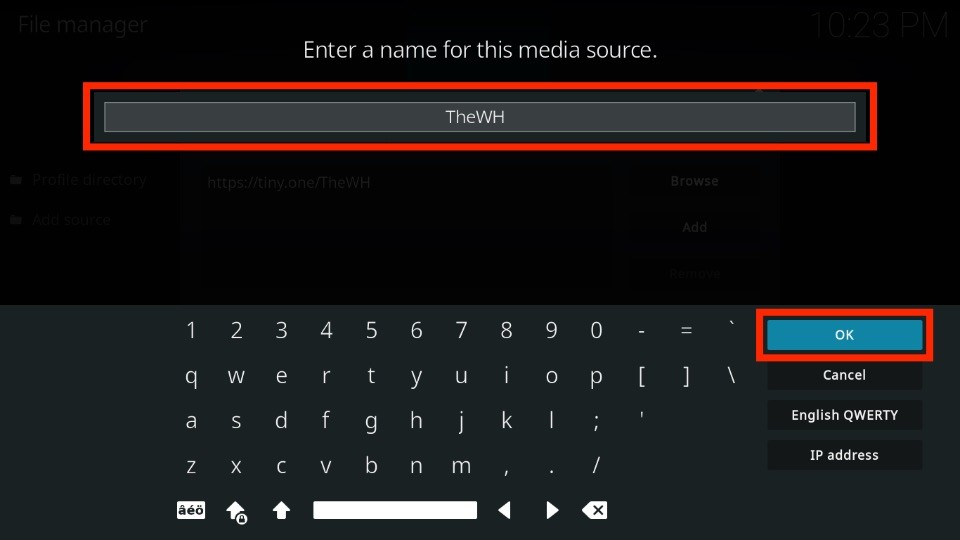 7. To confirm adding The WareHouse Repository source, choose Yes.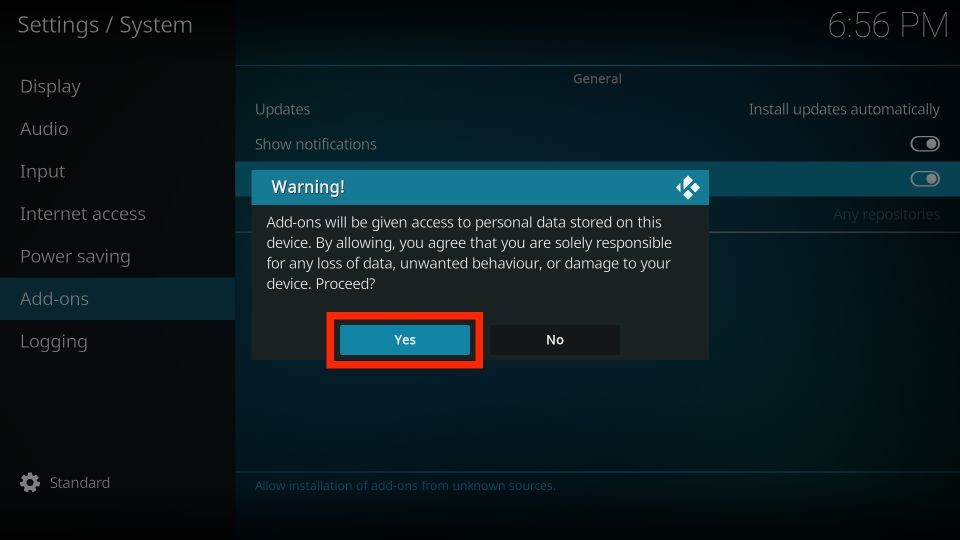 8. You'll notice the alias name on the File manager's list if everything went successfully.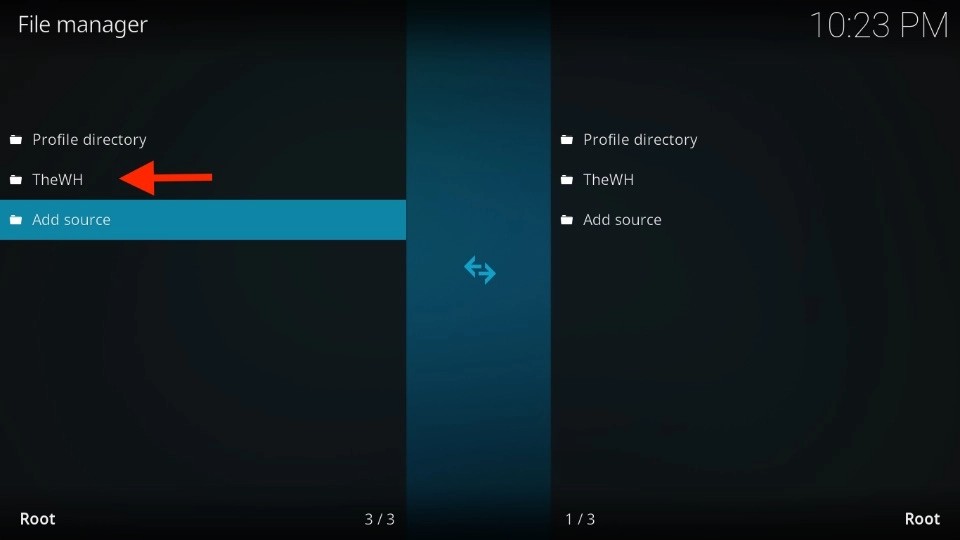 9. Head to the Kodi menu and hit Add-ons.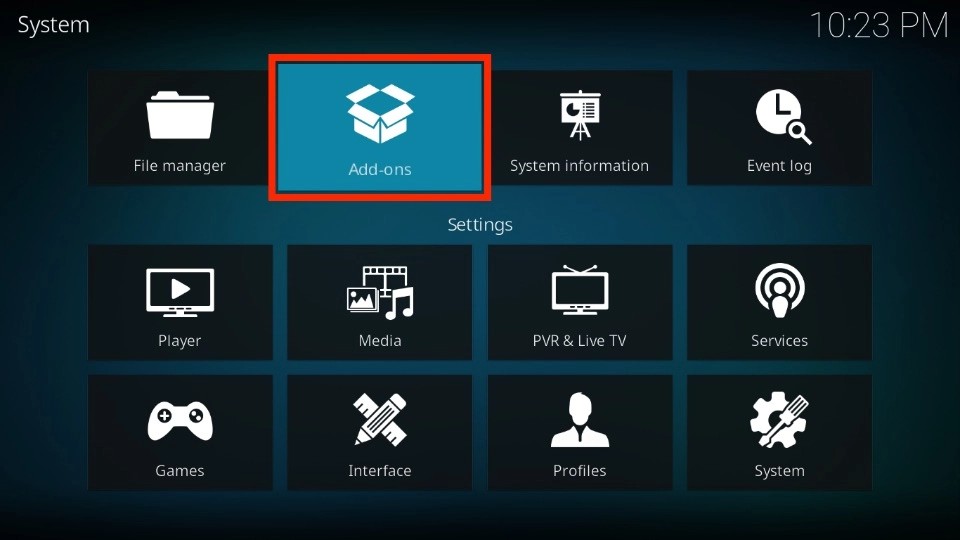 10. Select Install from zip file.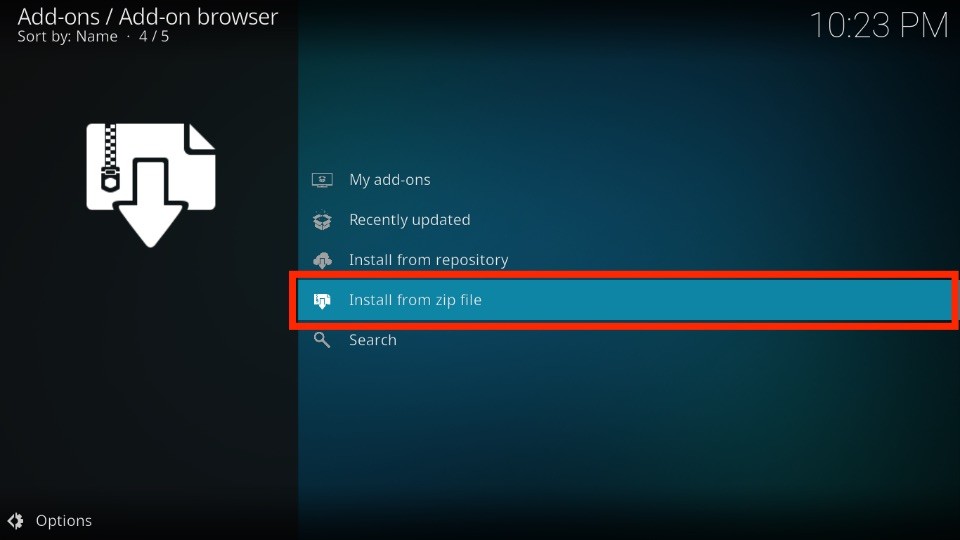 11. Read Kodi's warning about updates and press Yes to continue.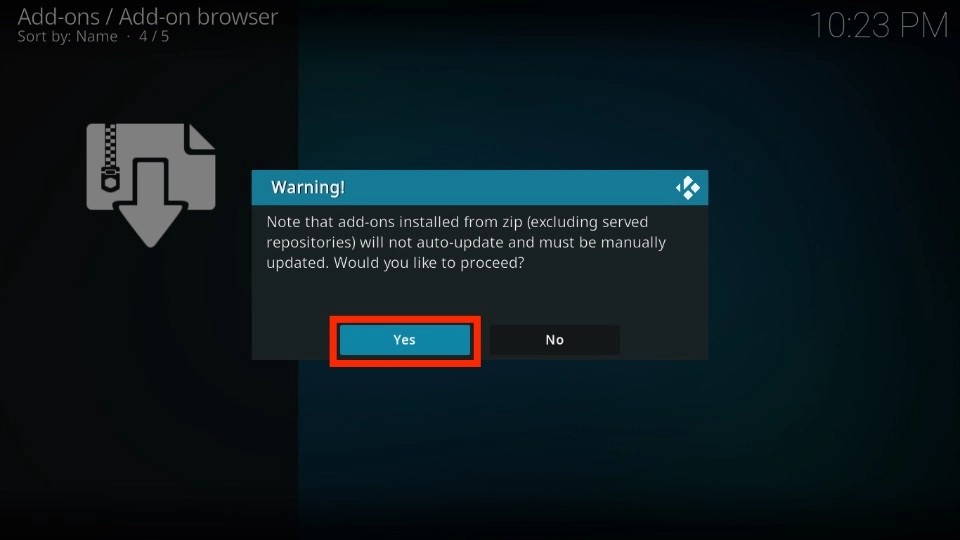 12. Choose an alias name. For me, it's TheWH. However, you select the one you saved in step 6.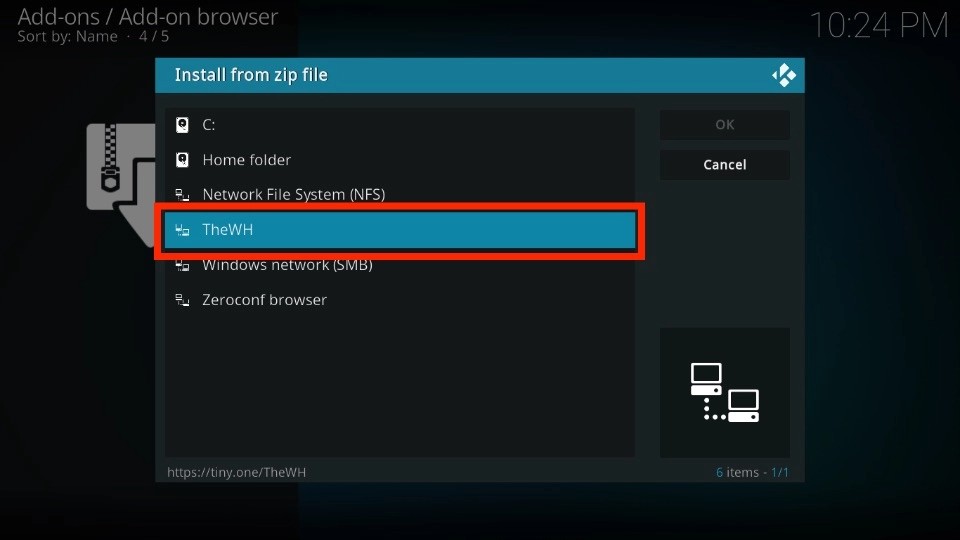 13. Select repository.thewarehouse-22.6.8.zip.
Note: 22.6.8 is The WareHouse Repository zip file's version number. However, it may change in the future.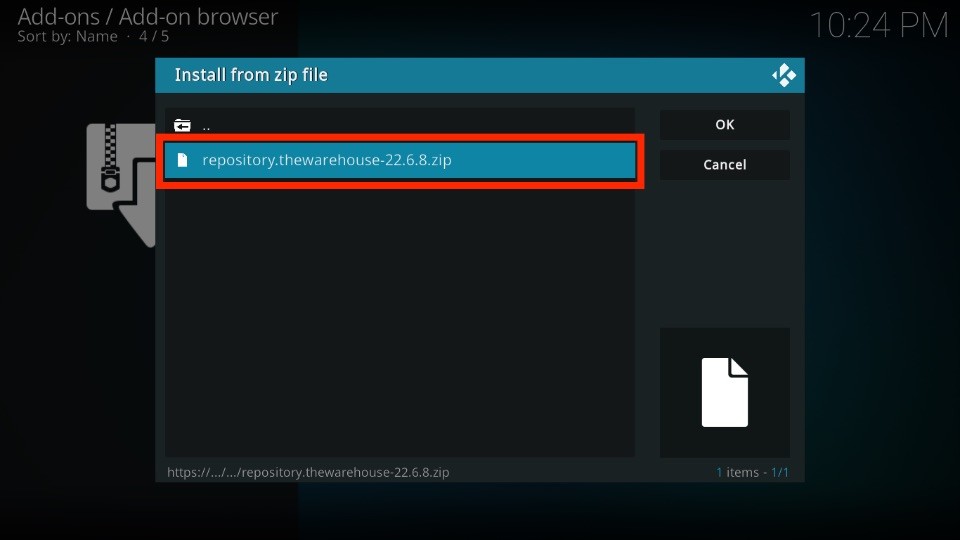 14. Finally, a notification will appear – The WareHouse Repository Add-on installed.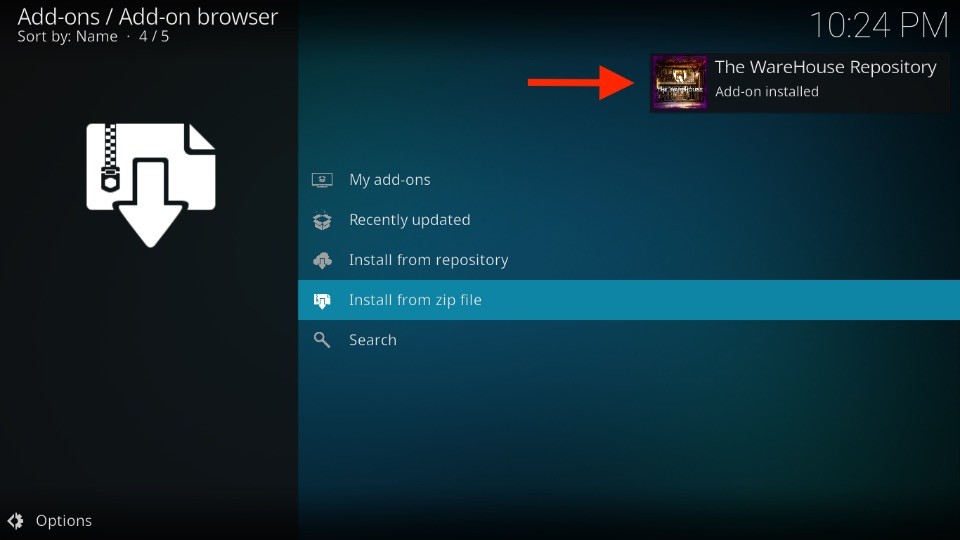 The WareHouse Repository is waiting for you to access its video addons, programs, and more.
Part 3 – How to Install LNTv Addon
Use The WareHouse Repository to install LNTv:
1. Select Install from repository to open the menu that holds the list of repos on your Kodi app.
2. Open The WareHouse Repository.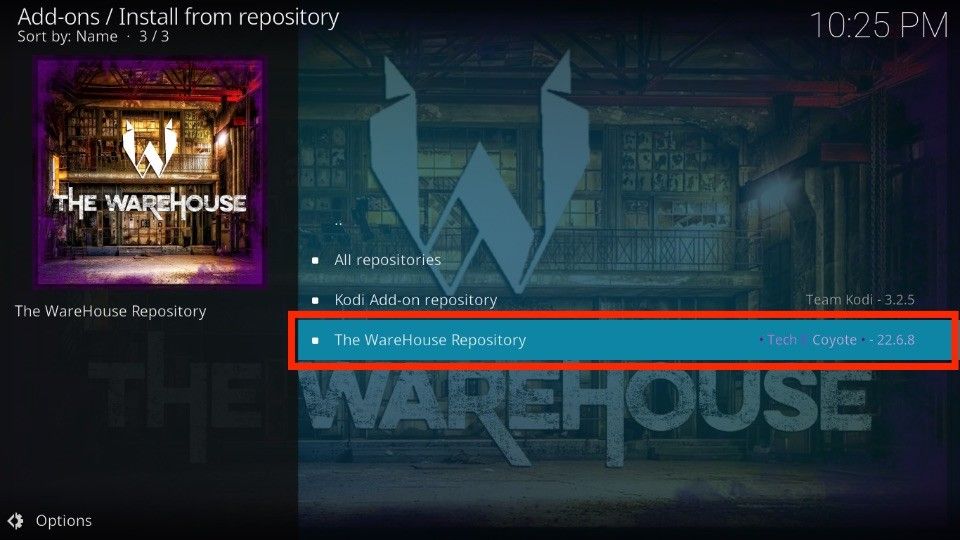 3. There are six sub-folders inside The WareHouse Repository. Pick Video add-ons.
4. From The WareHouse Repository Video add-ons list, choose LNTv.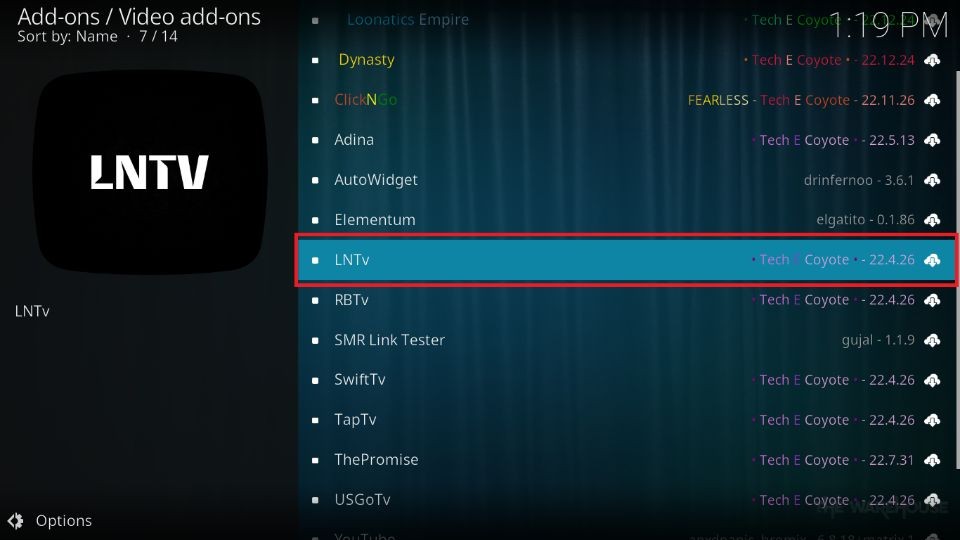 5. LNTv's menu will appear with all sorts of info about the addon. Select Install.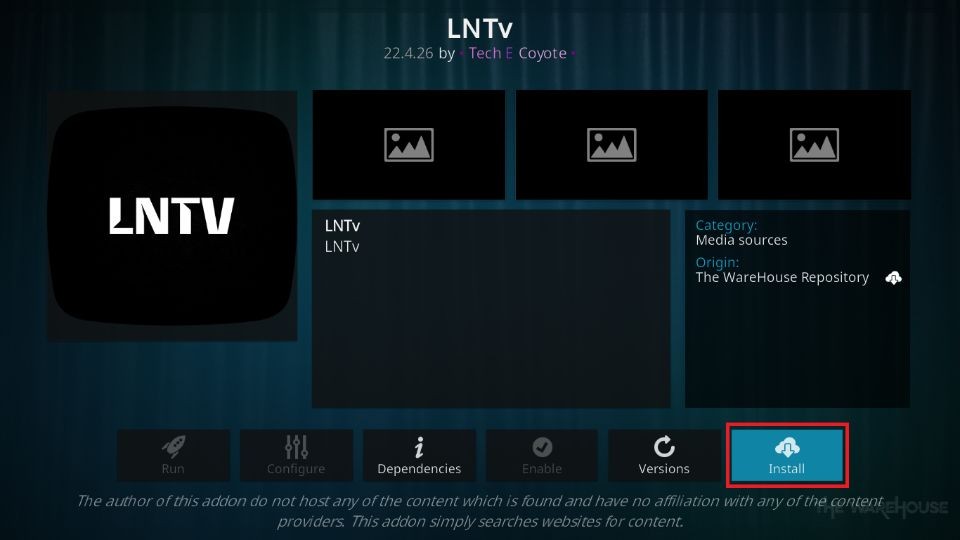 6. On success, a notification will appear – LNTv Add-on installed.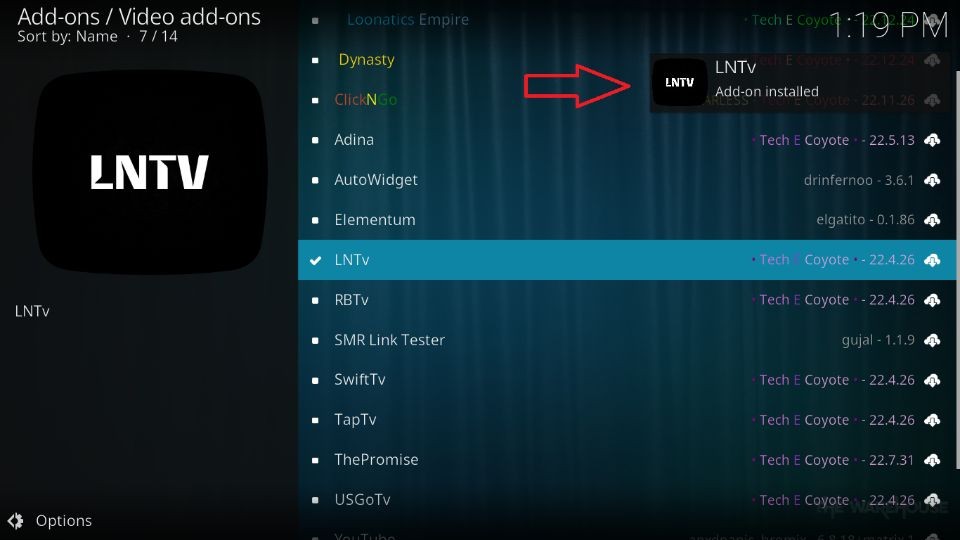 Congratulations! You can now watch your favorite channels on LNTv.
It looks like you are all set to start watching your favorite content. However, do not forget that all your streaming activities and online identity are unprotected and exposed to your Government and your ISP. In addition, streaming with third-party services may cause legal trouble.
Thankfully, you can easily protect yourself and go invisible from your Government and ISP by using a VPN. Whenever I stream with Kodi, I always connect to ExpressVPN and recommend the same to you.
ExpressVPN is the fastest and the most streaming-friendly VPN. It is also the most secure VPN.
With ExpressVPN, you get a 30-day money-back guarantee as well. So if you do not like the service (I don't see why), you will get a full refund within 30 days.
Please remember that we encourage you to use a VPN to maintain your privacy. We do not condone breaking copyright laws.
Before you start using Kodi for streaming, here is how you can protect yourself with ExpressVPN:
Step 1: Sign up for ExpressVPN Here
Step 2: Download ExpressVPN on your device by clicking HERE
Step 3: Open the ExpressVPN app on your device. Sign in with your account. Click the connect/power button to connect to the VPN

Great! You have successfully secured yourself with the best Kodi VPN.
How to Use LNTv Kodi Addon
Check out how you can use LNTv on your Kodi app:
Open Add-ons from Kodi's home.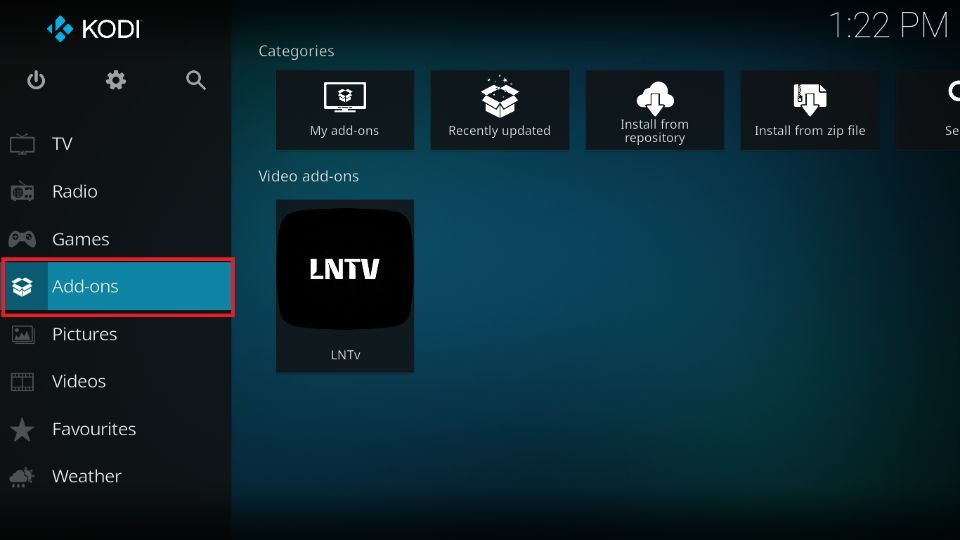 Access Video add-ons and launch LNTv from the list.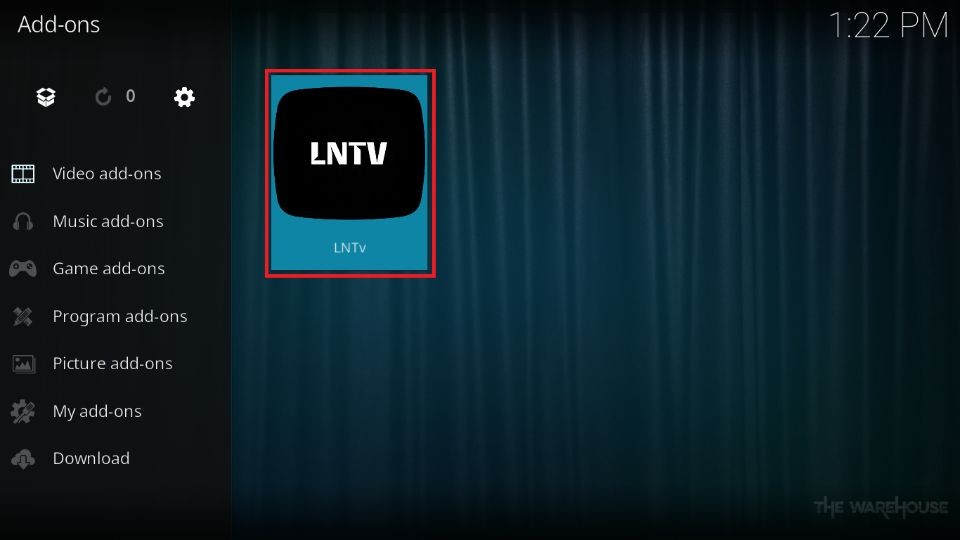 There are 24 sections on LNTv's home screen:
Sports
Entertainment
News
Cooking
Music
Kids
Religious
Movies
Documentaries
French
Australian
Bangla
Punjabi
South Indian
Afghan
Filipino
German
Portugal
Thailand
Canada
Indonesia
24/7 Channels
[VOD]
[Live]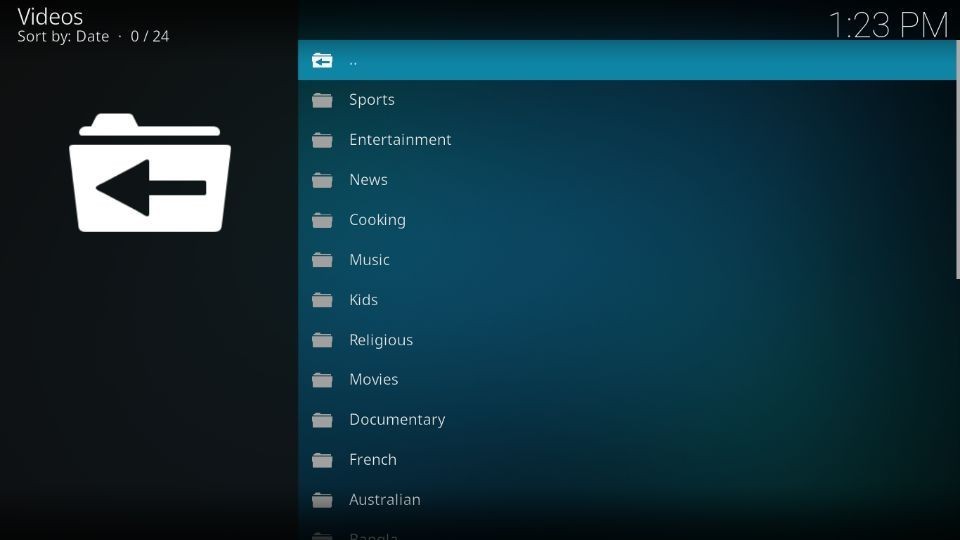 To discover all available sports channels on LNTv, select Sports.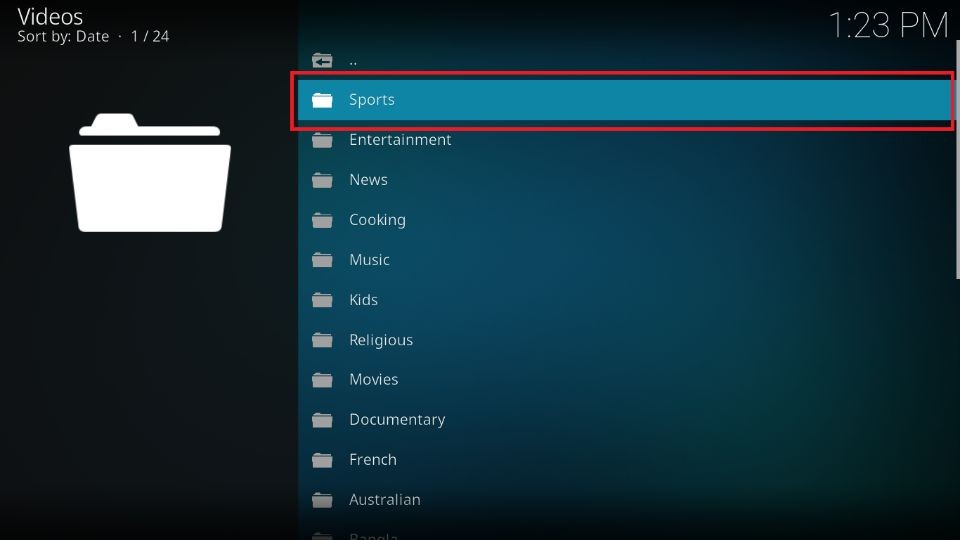 I see over 140 sports channels inside this section.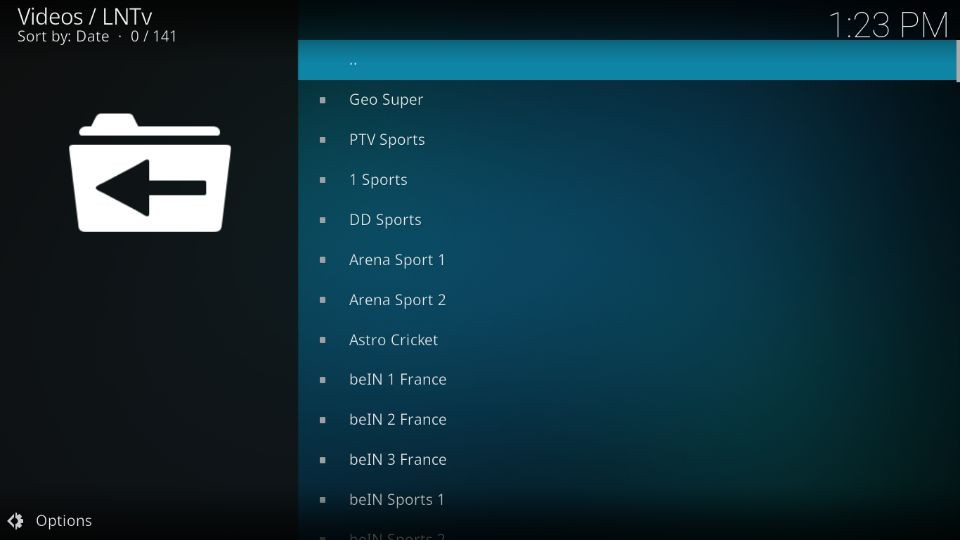 To watch cooking content, open Cooking.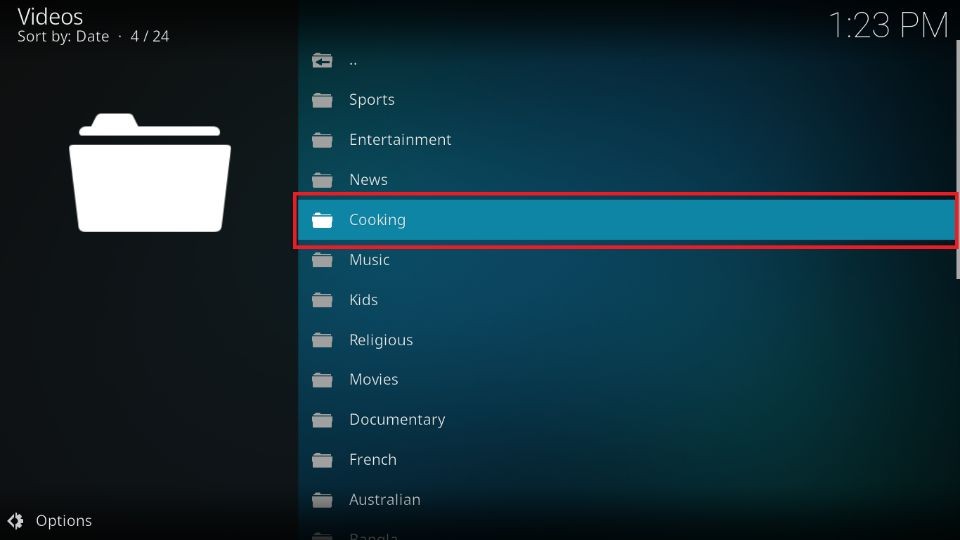 Here, I can see 10+ cooking channels.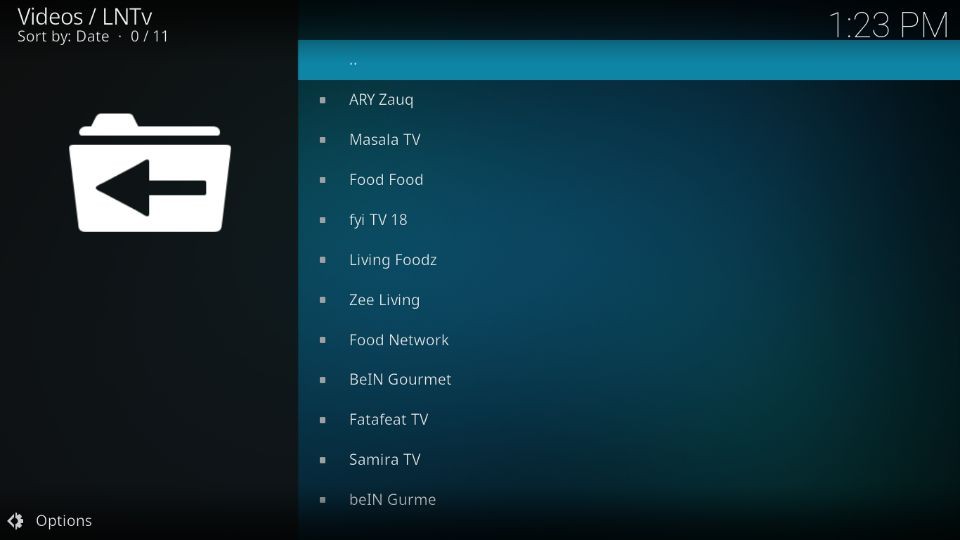 You can also access channels via their region. For instance, I'm choosing Canada to access Canadian channels.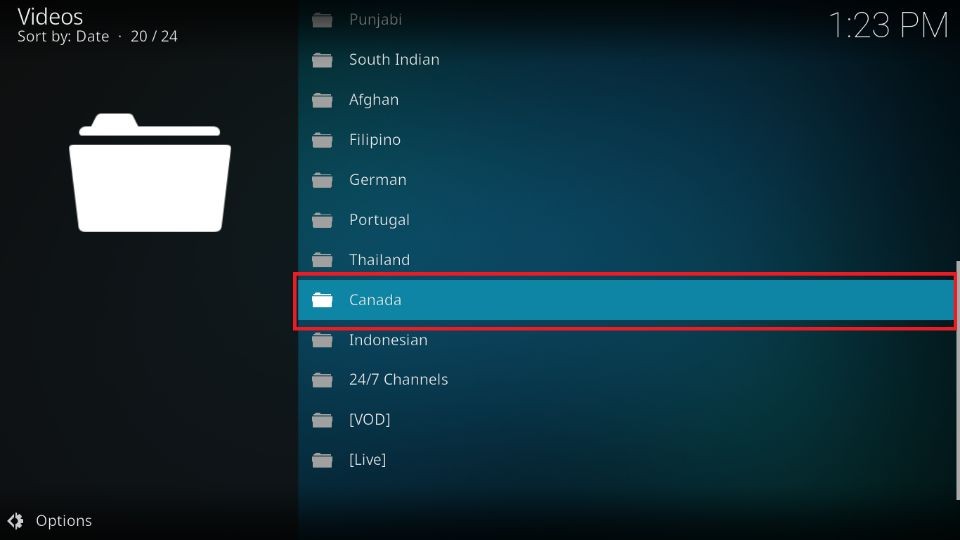 Inside the LNTv Canada section, I see over 70 channels.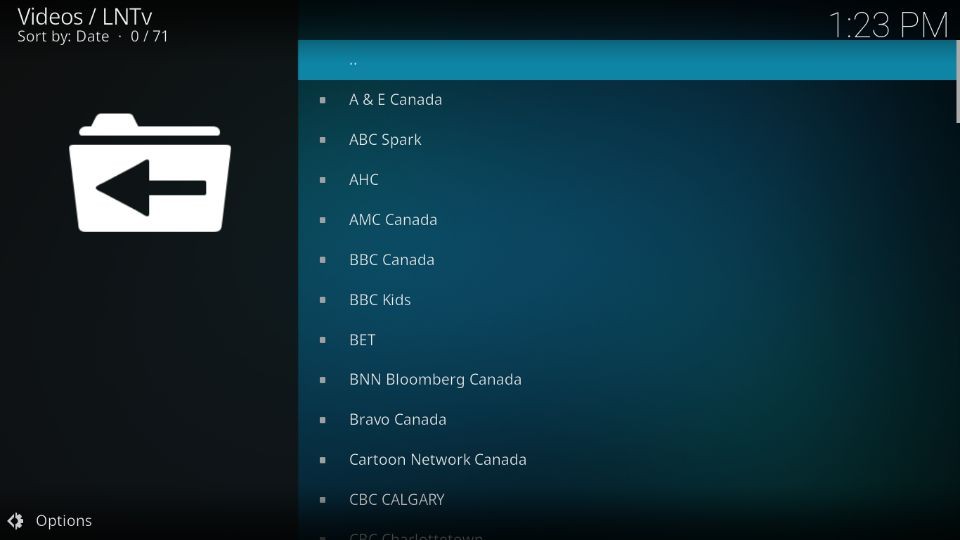 There's a special video-on-demand section of LNTV, [VOD].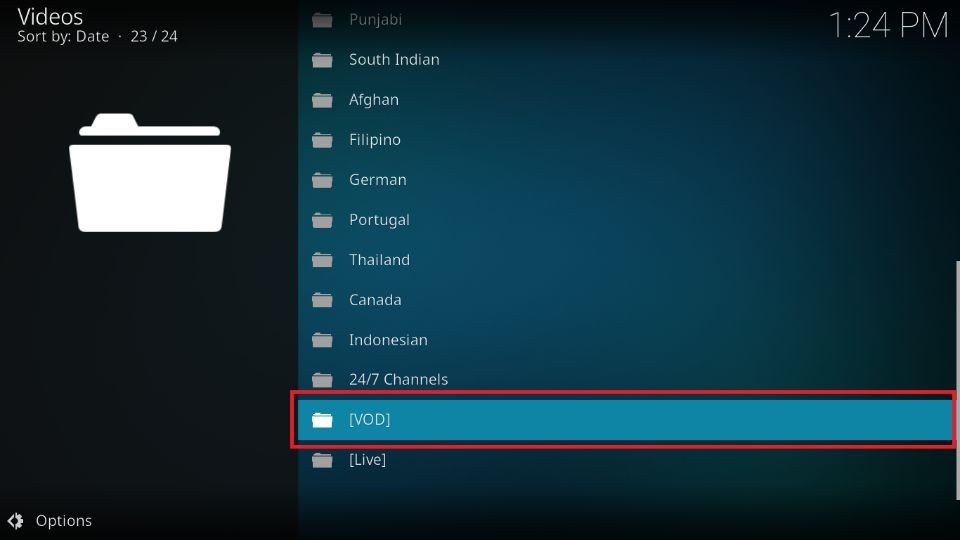 You can access Indian, English, Pakistani, Hindi Dub, Punjabi, and Animated movies.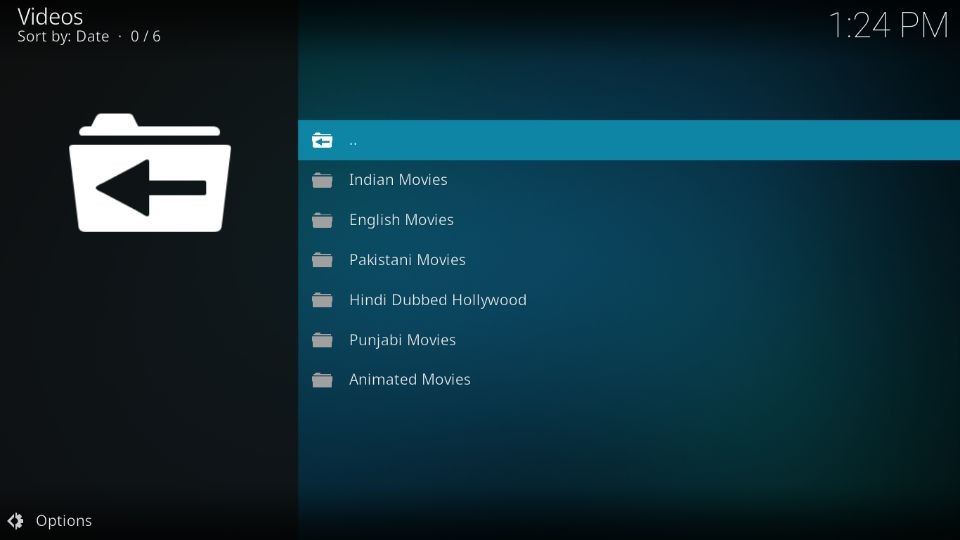 All-in-all, LNTv offers a great variety of channels from across the world.
Conclusion
LNTv is a free Kodi addon that lets you stream dozens of live channels from across the globe. This guide showed you how to install LNTV Kodi addon. Please let us know via the comments box below if you have any questions.
Related: