The reason why Kodi users often look for Deceit addon is because of its content richness. Call it an allrounder addon, as it provides a broad collection of videos and more. In this guide, we are going to take you through the steps that are required to install Deceit Addon on Kodi. Whether you use Kodi on Fire Stick, Windows PC, Mac, Android TV, Android Phone, or any other device, the steps are going to be the same.
Talking a bit more about the Deceit addon, there are videos under several categories that you can watch here. Apart from Movies and TV Shows, you get to stream Sports videos, Live TV, Cartoons, Anime, and more. A healthy collection of Podcasts under various categories is also available to stream on Deceit addon. On top of that, you also get to stream UK Radio channels on Kodi.
Deceit also provides integration with Trakt and Real Debrid. With these integrations, you can further expand the capabilities of Kodi. We will discuss this briefly later in the guide.
The Deceit Kodi addon is provided for Kodi by OneNation Repository. Let us begin with the steps to install Deceit Addon on Kodi.
Update: One Nation Portal is down. Deceit Addon doesn't work anymore. Try another addon from Best Addons for Kodi
Attention KODI Users:
 Read before you continue
FireStickHow.com does not verify the legality or security of any addons / builds / services covered on this website.
I strongly suggest you protect your identity and security with a good Kodi VPN when using low-cost or free streaming services. A VPN will encrypt your connection and hide your original IP address that makes impossible for ISPs, hackers, and Governments to find out what you are doing online.
I personally use and recommend ExpressVPN due to its blazing fast speeds, 256-bit strong encryption, zero-log policy, and incredible 24×7 support. It also comes with a risk-free 30-day money-back guarantee.
Steps To Install Deceit Addon on Kodi
The installation of Deceit Addon on Kodi involves multiple steps that are divided into different parts. The first part involves enabling add-on installation from Unknown Resources. Then, you will need to add the One Nation Repository to Kodi. After that, the third and last part includes the installation of One Nation Repository, followed by the installation of Deceit Addon on Kodi.
The steps are mentioned clearly below along with respective screenshots. Just follow the steps carefully and you will be streaming videos on Kodi using Deceit addon in no time.
1. Enable Addon Installation from Unknown Sources on Kodi
Kodi doesn't let you install add-ons by default that are not native to Kodi, and Deceit add-on falls in that category. If you are installing an add on from an unknown source or a third party, you will have to make a little tweak in Kodi settings. By following these steps, you will be able to enable the installation of add-ons from unknown sources:
Step 1: Go to the Kodi main page. There, select the Settings icon (gear/cog wheel icon), which is available at the top of the left panel.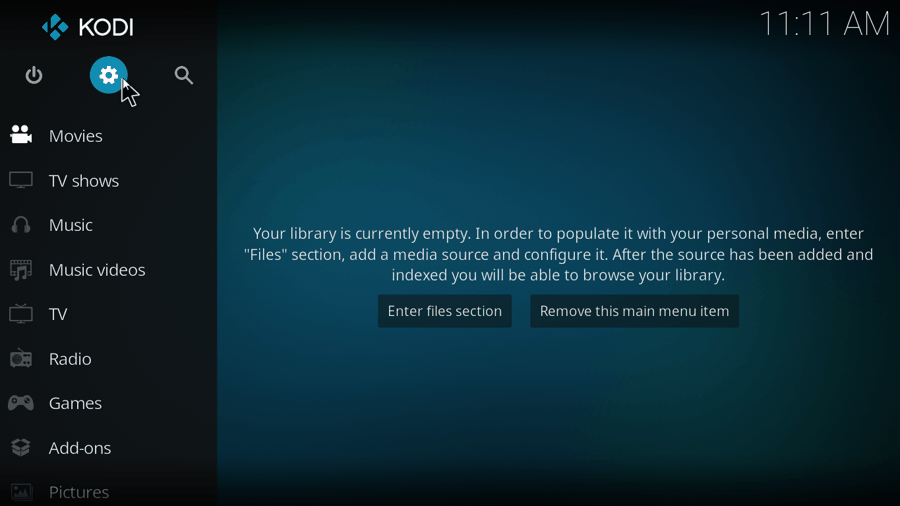 Step 2: In the Settings menu, you need to select the System option. To find it, scroll down and look at the bottom right side.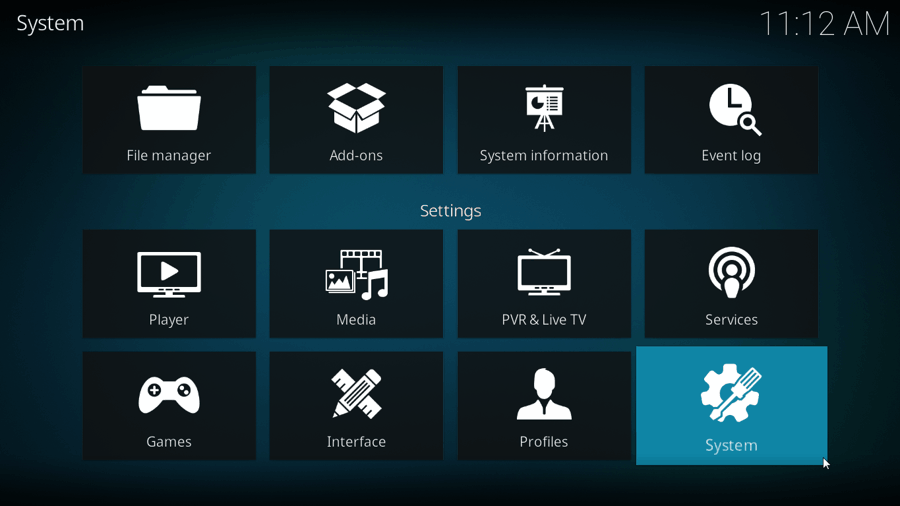 Step 3: On the left panel, you will find Add-ons option now; select it.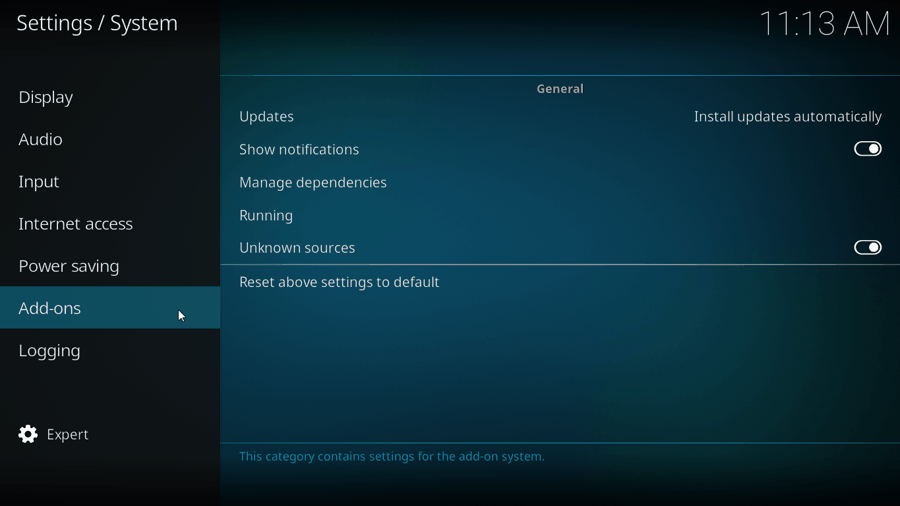 Step 4: As soon as you select the Add-ons option, the Add-on system settings will open up. There, go to the Unknown Sources toggle button, which is turned off by default. Use the toggle button to turn it on.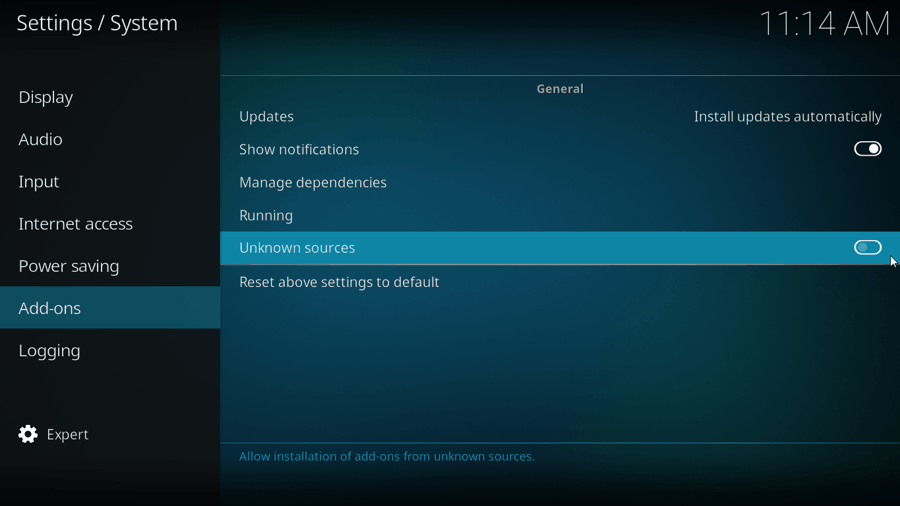 Step 5: Now, you need to confirm if you really want to turn on the installation of add-ons from unknown resources. Select the Yes option to continue.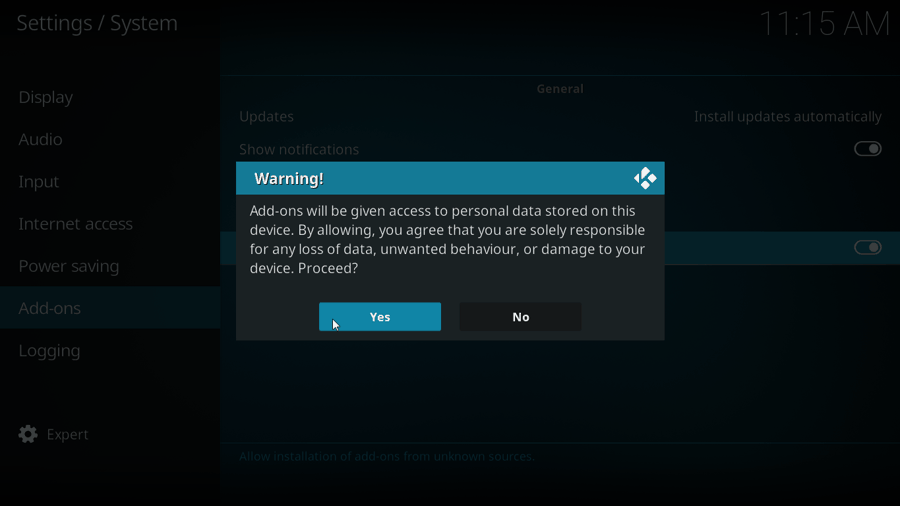 Note: We test out all the add-ons and make sure they are safe for our users before we decide to write about them. Deceit addon for Kodi is safe and you can use it on your device without any issue. When you have installed Deceit addon on Kodi, you can go back to Add-on system settings and turn off the installation of add-ons from unknown resources on Kodi.
2. Adding the OneNation Repository To Kodi
The Deceit add-on on Kodi is provided by OneNation Repository. In order to install the add-on, you will need to add the corresponding repository to Kodi first. This requires adding the repository URL in Kodi and below are the steps to do so:
Step 1: Go to the Kodi main page again and select the Settings icon.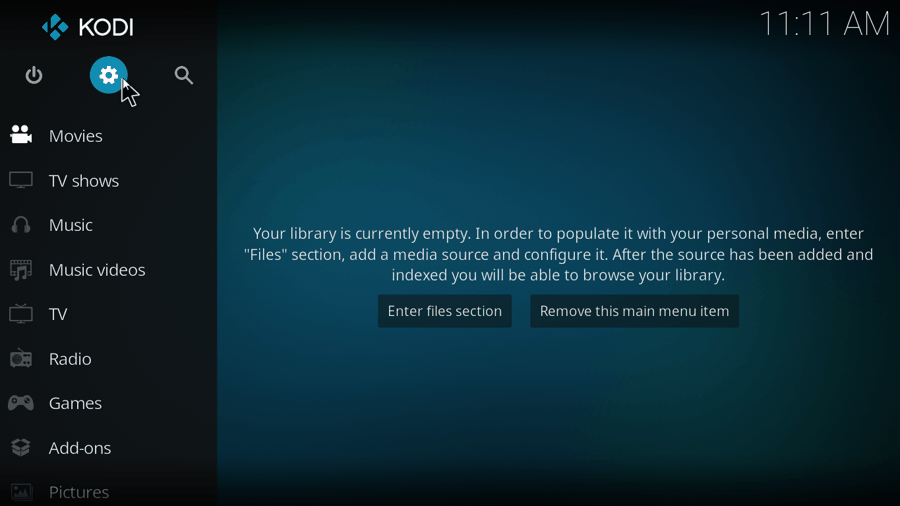 Step 2: You will find the File Manager option in the Settings menu; select it.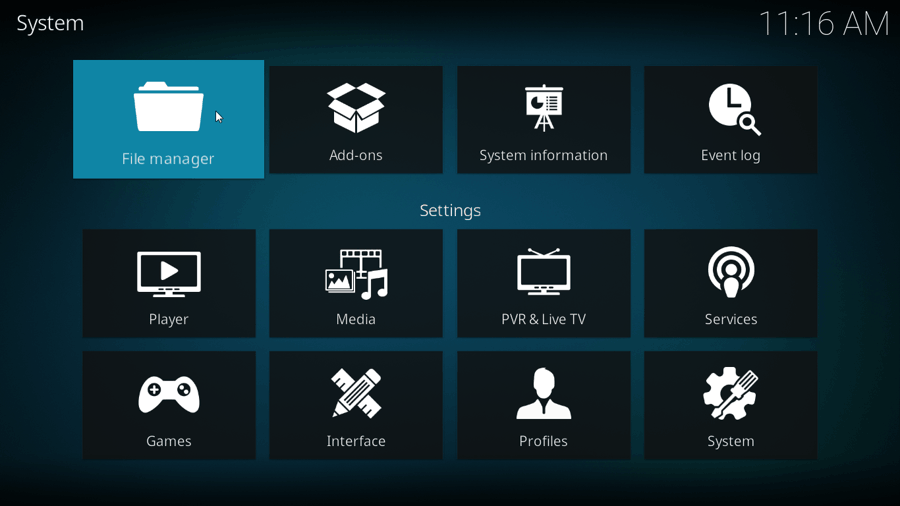 Step 3: In the File Manager screen, select the Add Source option.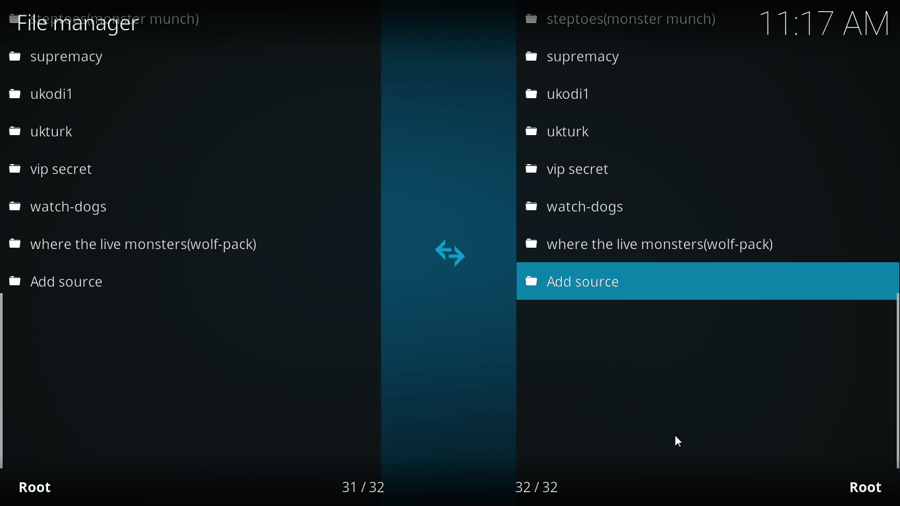 Step 4: A pop-up window will open to add file source to Kodi. Select the <None> option here.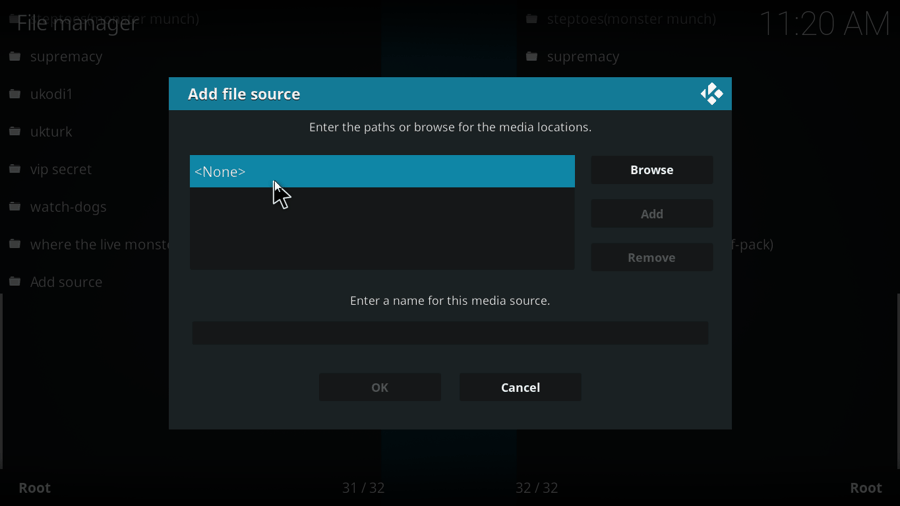 Step 5: You will get a text window on the screen where you should enter the following URL (exactly as given) to add the OneNation Repository on Kodi: http://onenation.info/Repo
After entering URL, click Ok.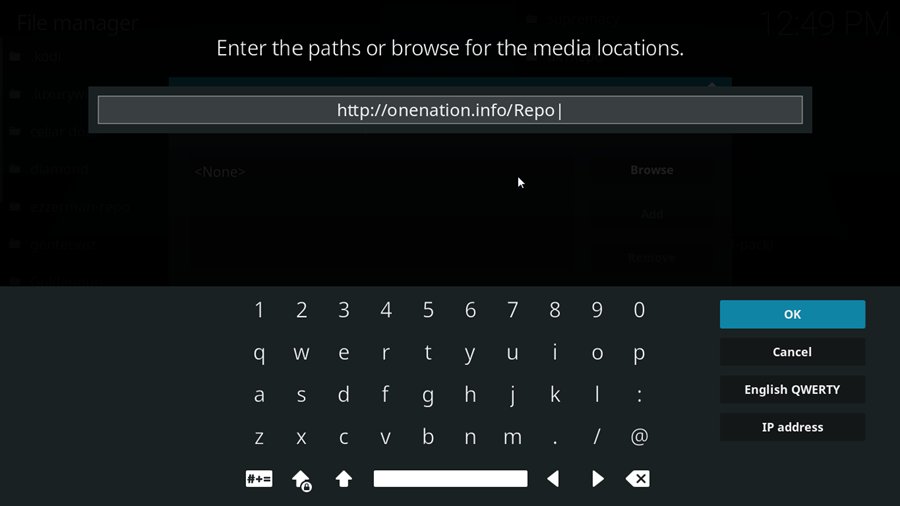 Step 6: You will now get back to the previous pop-up. Here, you will need to give the repository a name. Let us name it "onerepo". Now, click on Ok.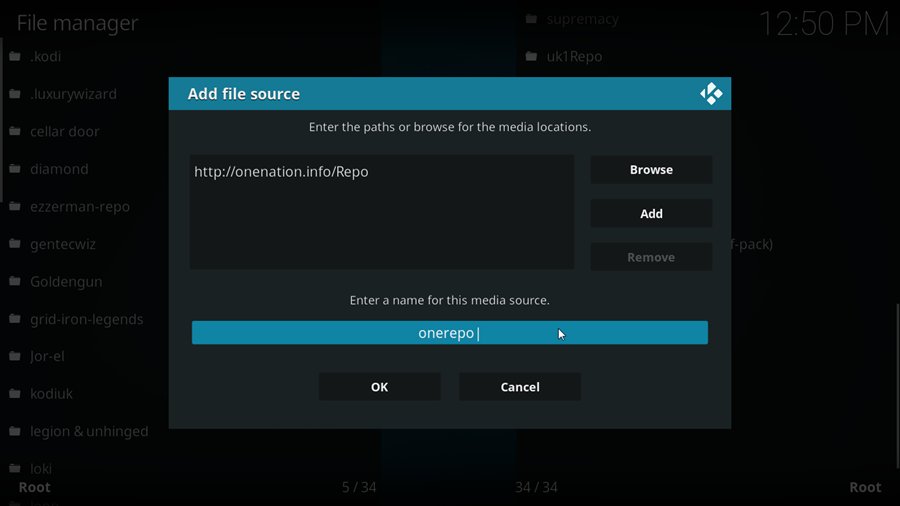 You have now successfully added the OneNation Repository to Kodi. Now let us get to the part where we install the repository, then the Deceit addon.
3. Installing OneNation Repository, Deceit Addon on Kodi
These are the final and crucial steps to successfully install Deceit add-on ok Kodi. Follow the steps as given below:
Step 1: Again, open the main page of Kodi. There, select the Settings icon from the left panel.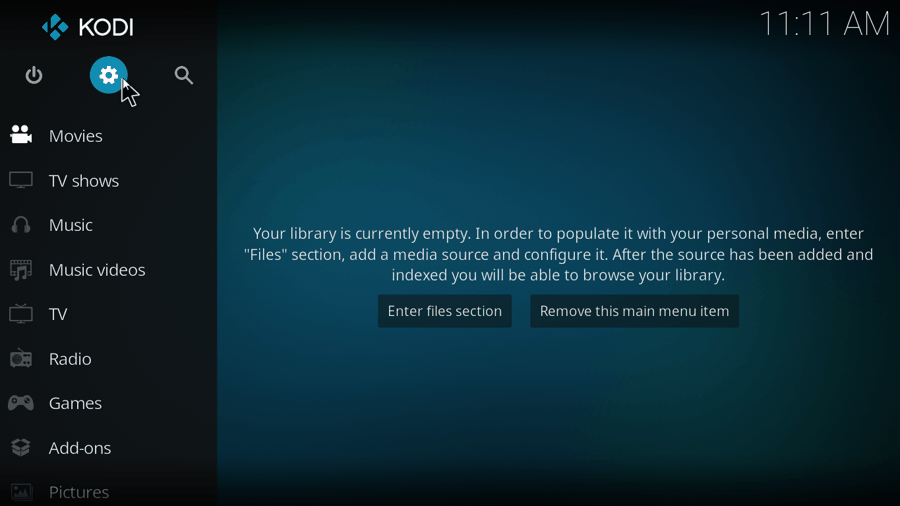 Step 2: The Settings menu will open. Select the Add-ons option.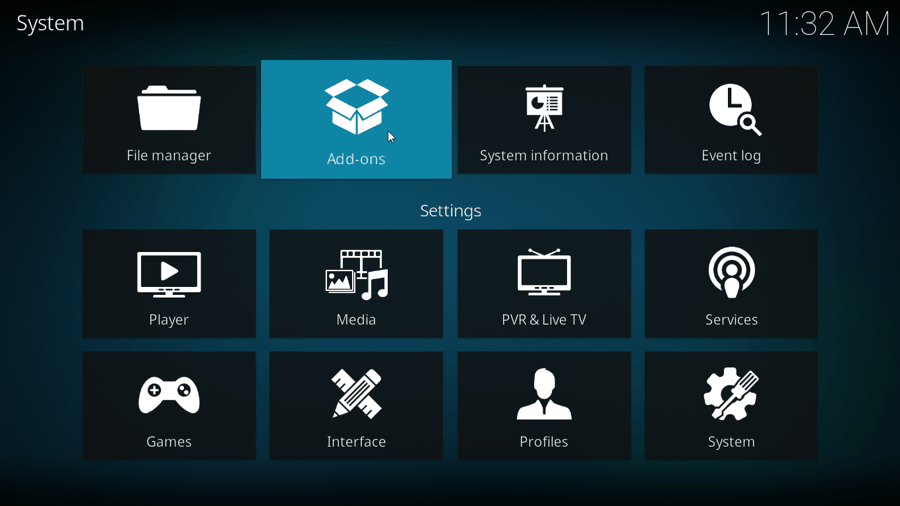 Step 3: From the next screen, select the Install from ZIP file option.
Step 4: You will see a pop-up window named "Install from zip file". It has the list of ZIP files added to Kodi. Select the OneNation file from here, which is named onerepo.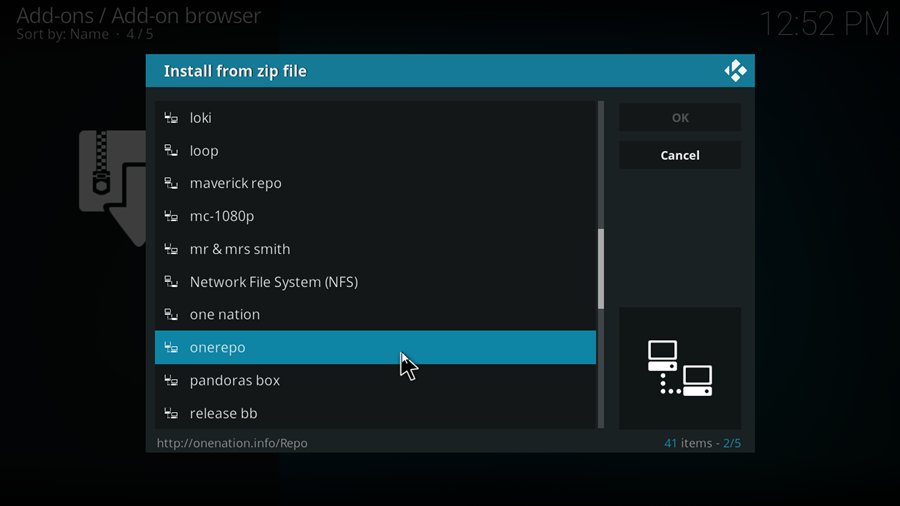 Step 5: Now, you need to select the OneNation ZIP file. The ZIP file is named "repository.onenation-1.0.5.zip".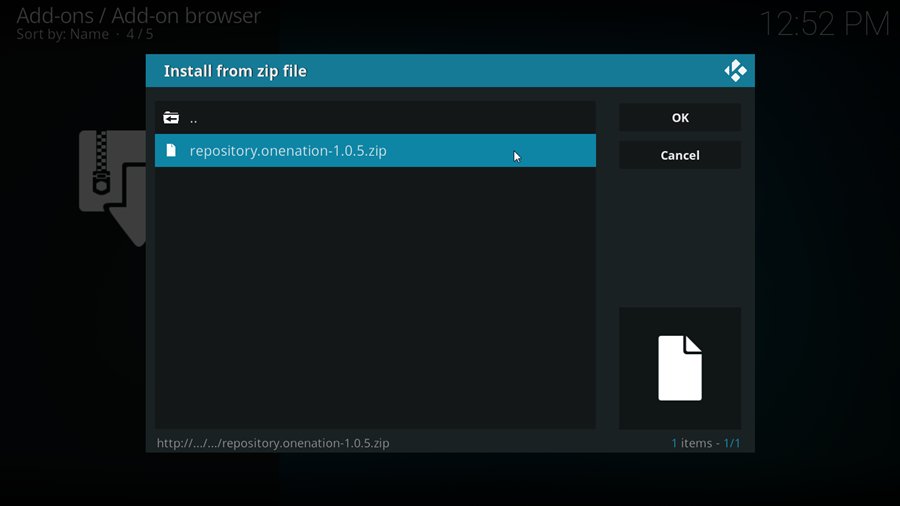 Step 6: This will initiate the download and installation of the OneNation repository on Kodi. You will see a notification on the top right corner of Kodi screen with the message "OneNation Repo Addon Installed". In my case, the notification read "Addon Updated" as I already had the OneNation Repository added on Kodi.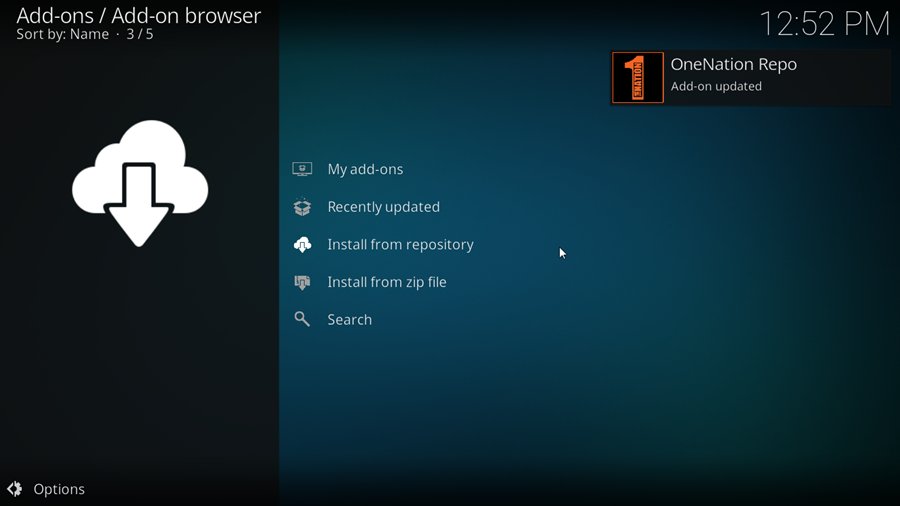 Step 7: For the next step, you will need to select the Install from repository option from Addon setting menu.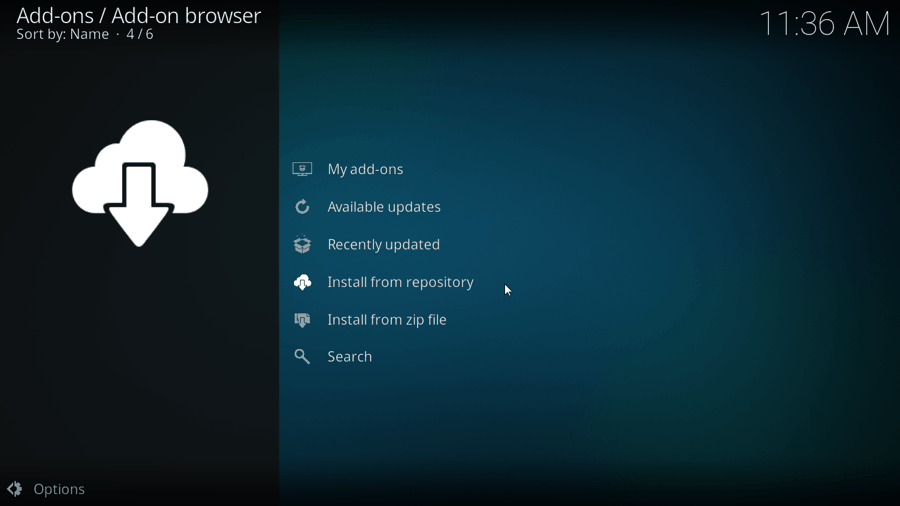 Step 8: You will get a list of repositories installed on Kodi now. Here, select OneNation Repo from the list.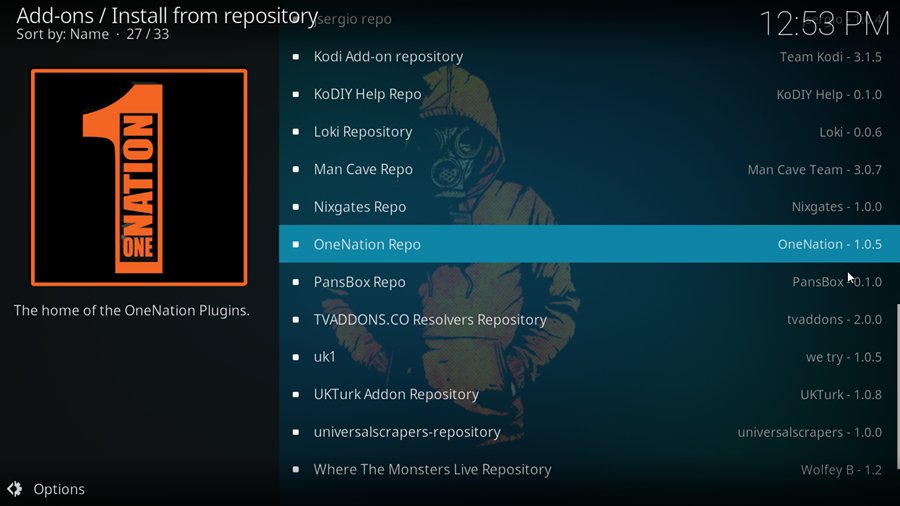 Step 9: From the next screen, select the Video add-ons option.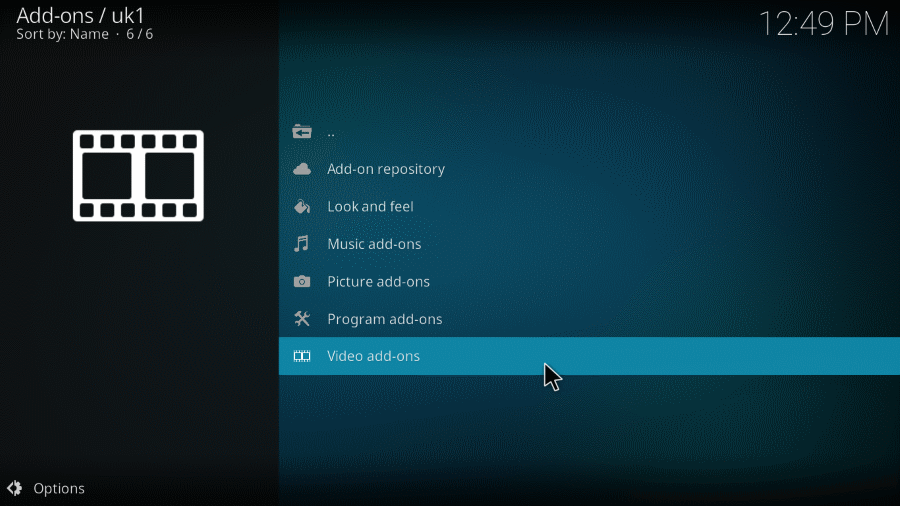 Step 10: Here, you get the list of video add-ons under the OneNation Repository. Select the Deceit option from the list.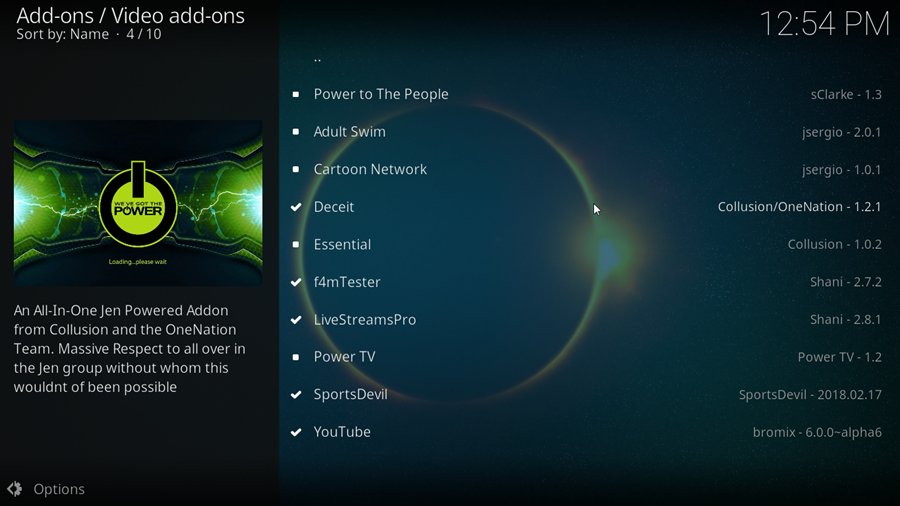 Step 11: Next screen is the installation page of Deceit add-on. Select the Install button present at the bottom right of the screen.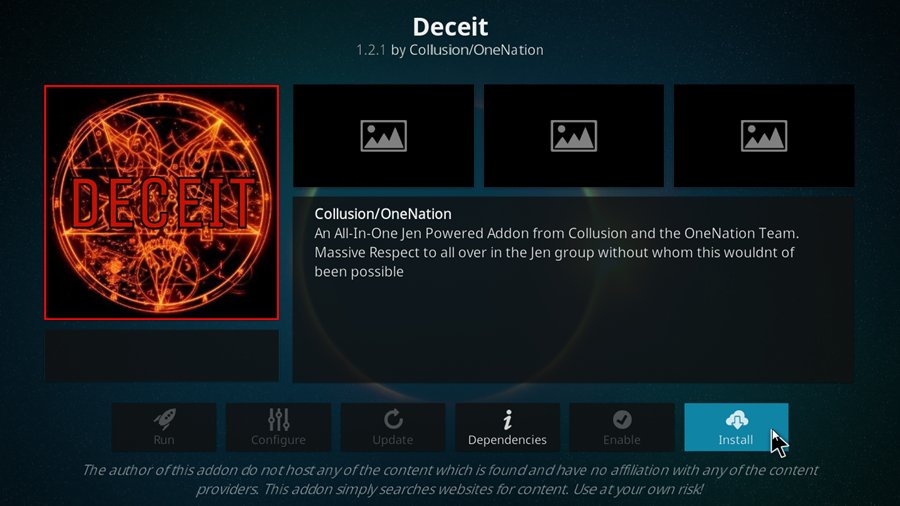 Step 12: A pop up will open now which will show the list of add-ons that will be installed along with Deceit add-on. To proceed, click on Ok.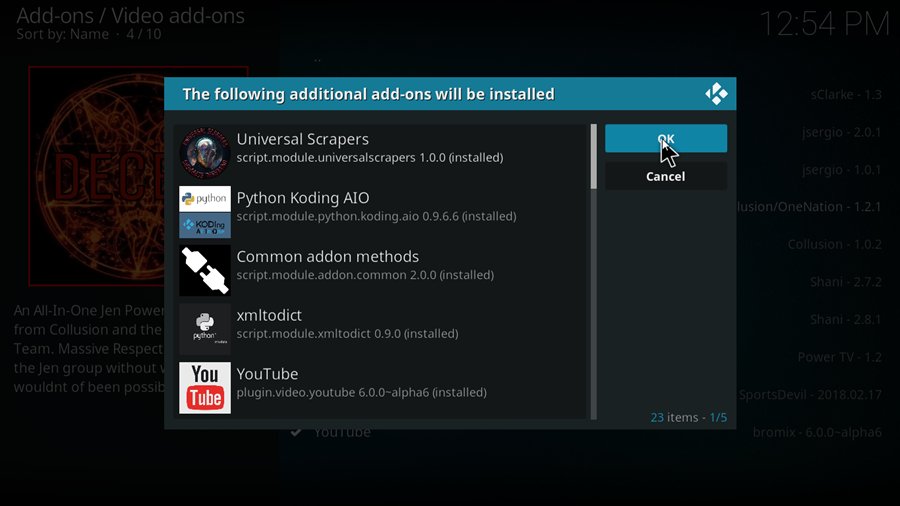 Step 13: A notification from the top-right of the screen will show up with the message "Deceit Add-on installed".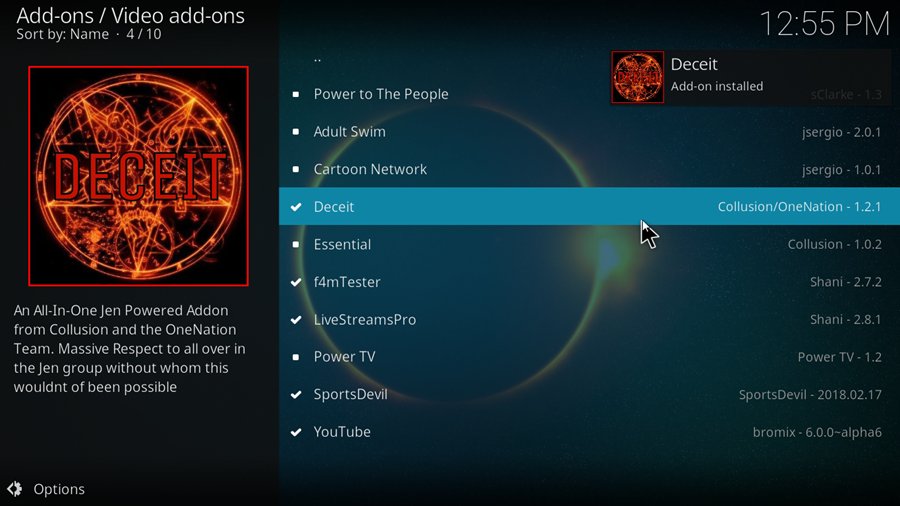 That is it. Now, you can go to the Add-on page of Kodi to access the Deceit addon and start watching movies and shows of your choice.
You are now all set to start streaming. However, before you do, I would like to warn you that your online identity is unprotected and everything you stream is visible to your ISP and Government. This means, watching free movies, TV shows, Live TV, Sports might get you into legal trouble.
Most Kodi users are nowadays using a Kodi VPN to hide their IP from anyone who might be tracking you including your ISP and Government. I always connect ExpressVPN on all my streaming devices and I suggest you do the same.
ExpressVPN is the fastest and most secure VPN. It comes with a 30-day money-back guarantee. Meaning, you can use it freely for the first 30-days and if you are not satisfied with the performance, you can ask for the full refund.
NOTE: We do not encourage the violation of the copyright laws. A VPN should be used to protect your privacy, not for streaming pirated content. 
So, before you start streaming on Kodi, here's how to get a VPN protection in 3 simple steps.
Step 1: Subscribe to ExpressVPN HERE.
Step 2: Click HERE to download and install the ExpressVPN app on your device.
Step 3: Open ExpressVPN app and Click the Power icon to connect a VPN server.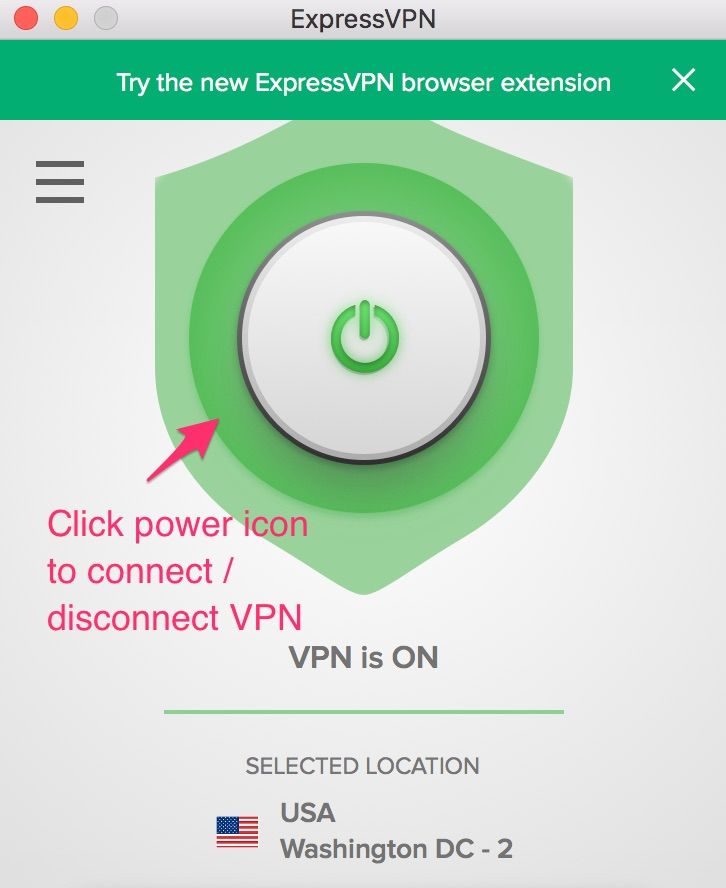 That's all. Your connection is now secure with the fastest and best VPN for Kodi.
Overview of Deceit Add-on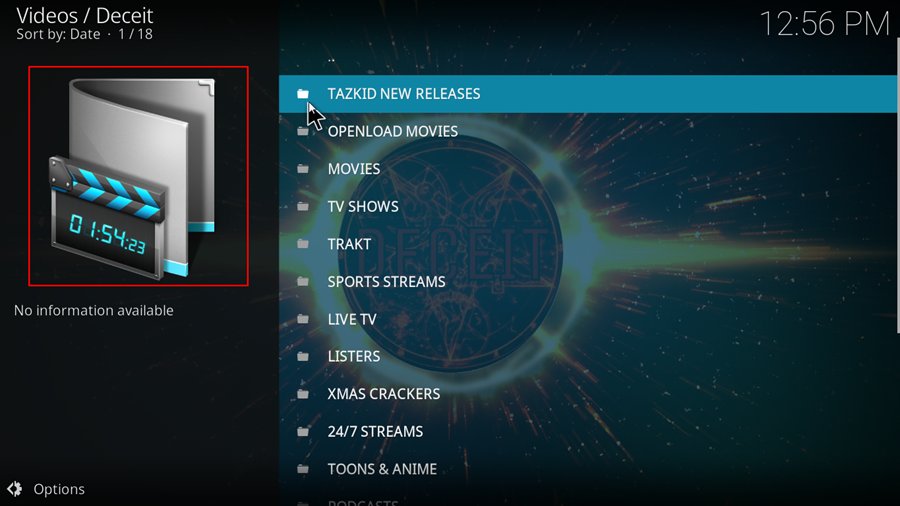 Let us have a brief look on the Deceit addon that we just installed on Kodi. It has a vast collection of movies for you to watch. You can watch new releases, trending movies, popular movies, or search for movies based on Years or Genres. Or, simply look for a movie by searching its name.
Talking about TV shows, you can look out for shows that are trending, shows airing today, and other popular shows. You can also watch Netflix shows here without the hassle of subscription. All the shows are well categorized, so you will not find it difficult to look for a show that you like.
Apart from Movies and Shows, you get Sports Stream here. Here, you get Sports related shows from around the world. It includes Live streams, replays and off-event broadcasts as well.
24/7 Streams offer 24/7 movie and cable channels on Deceit. And you also get a vast collection of Cartoons and Animes, all categorized very nicely, so that one can find videos based on latest release, movies, series, populars, dubbed animes, and more.
Integration options with Trakt and Real Debrid make Deceit an even better entertainment experience. With Trakt integration, you can access your Trakt TV Watchlist and TV Collection right on Kodi. The Real Debird integration makes streaming with Deceit faster and better. Moreover, you can watch 4K movies and TV shows once Real Debrid integration is done.
Wrapping Up
The Deceit is a great Kodi add-on to add to your collection for an overall entertainment experience. We highly recommend this add-on to movie and TV show lovers.
Let us know about your experience with Deceit.
You may also like:
How to install Exodus Kodi addon
How to install Seren Addon
How to install Gaia Addon
How to install Loki addon