In this article, you'll learn how to install Endzone 19 Kodi addon. Also, the piece cover topics like what's Endzone 19, whether it's safe and legal, and how to use it, to name a few. Feel free to use this guide as a reference on any Kodi-supported OS like FireStick, Android, iOS, Windows, Linux, Mac, etc.
What Is Endzone 19 addon?
Endzone 19 is a place where you can stream several sporting events for free. From American football to racing, basketball, and more, the addon feature live streams of multiple games.
On Endzone 19, the schedule of sporting events gets updated daily. You'll see both live and upcoming events in respective sports folders. To play, you just need to select an event and choose a stream from available links.
All-in-all, Endzone 19 addon is one of the best Kodi addons to stream live sports events of US-centric sports. It also features on our list of best Live TV addons for Kodi.
Attention KODI Users: Read before you continue
Government and ISPs endlessly monitor your online activities using your IP address 3.17.249.235 (exposed to everyone). Kodi is an excellent platform for streaming movies, TV shows, and sports, but streaming copyrighted content can get you into legal trouble. 
You should use a reliable Kodi VPN and protect your streaming activities and privacy. A VPN will hide your IP address and bypass government surveillance and geo-restrictions.
I trust and use ExpressVPN, the fastest and most secure Kodi VPN. It's easy to install on any Kodi device, including Amazon FireStick, PCs, and Smartphones. In addition, it offers a 30-day money-back guarantee, and 3 free months with the annual plan.
Read: How to Install & Use the best VPN for Kodi.
Is Endzone 19 Addon Safe?
I can't be 100% sure about the safety of Endzone 19 as it's a third-party Kodi addon. However, I checked the Grindhouse Repository zip file for any viruses. Thankfully, it was free of any viruses or malicious programs – here's the proof: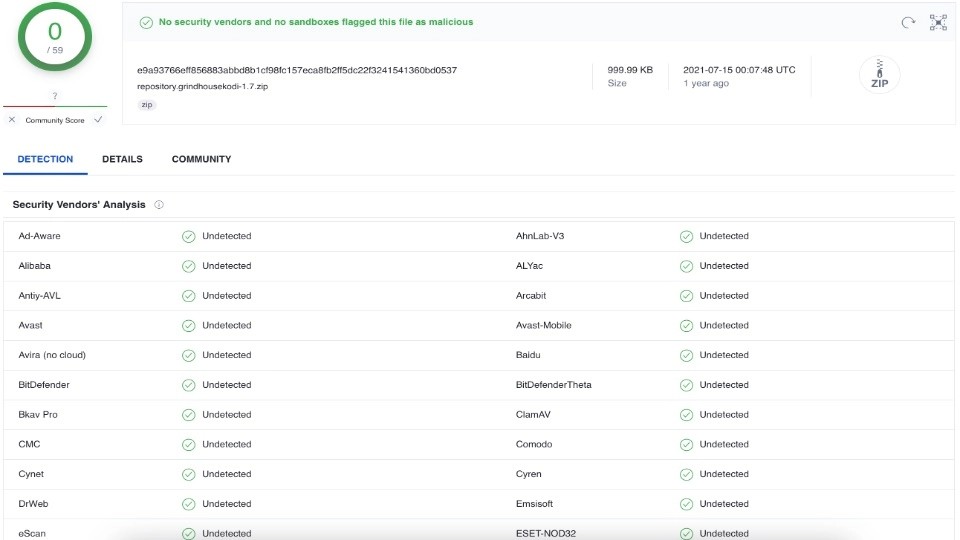 Is Endzone 19 Addon Legal?
There's a reason why Endzone 19 is not listed on the official repository of Kodi – its complex status of legality. Endzone 19 uses scraping tools to find links to your favorite live sporting events – there's no problem with it. But as those links' origins are unknown, the complexity kicks in.
At FireStickhow.com, we can't test if those links are legal or illegal. So, we can't say if Endzone 19 is legal or illegal. Therefore, I suggest using a VPN like ExpressVPN. It will keep both concerns at bay by hiding your online activities.
Features of Endzone 19 Addon
Here are some of the best features of Endzone 19:
Gets updated daily with fresh links

Separate sections for all popular sports in America

Easy-to-navigate interface
How to Install Endzone 19 Kodi addon?
I have split the installation of Endzone 19 into three parts, as it's not as straightforward as installing an official Kodi addon. Each piece has its significance, and skipping it may result in unexpected errors.
Part 1: Enable Unknown Sources
Here's how to enable Unknown Sources on your Kodi app:
1. On your Kodi home screen's top left side, click on the Gear Cog icon.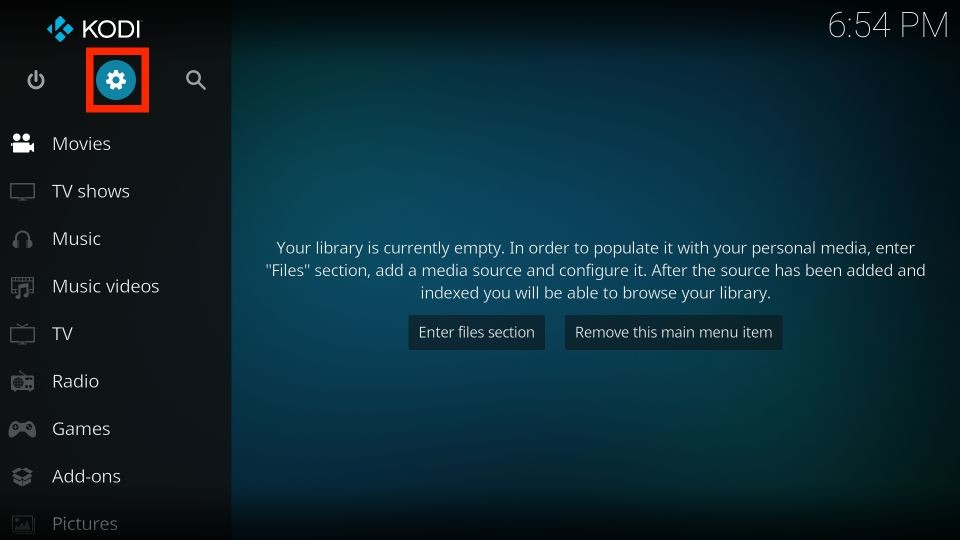 2. Select System located on the bottom row of the settings page.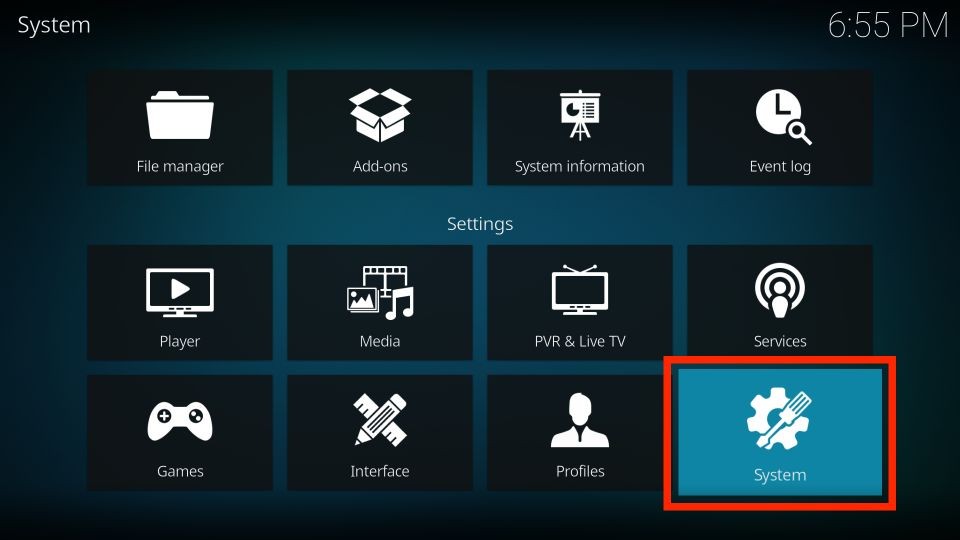 3. Go to the Add-ons tab by scrolling down on the left-hand-side menu pane.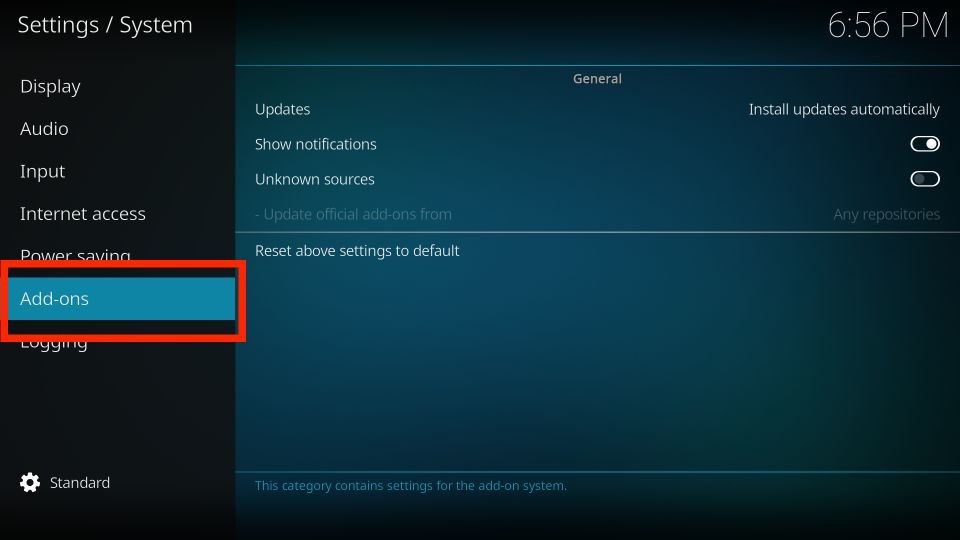 4. Switch on the Unknown sources option on your right side.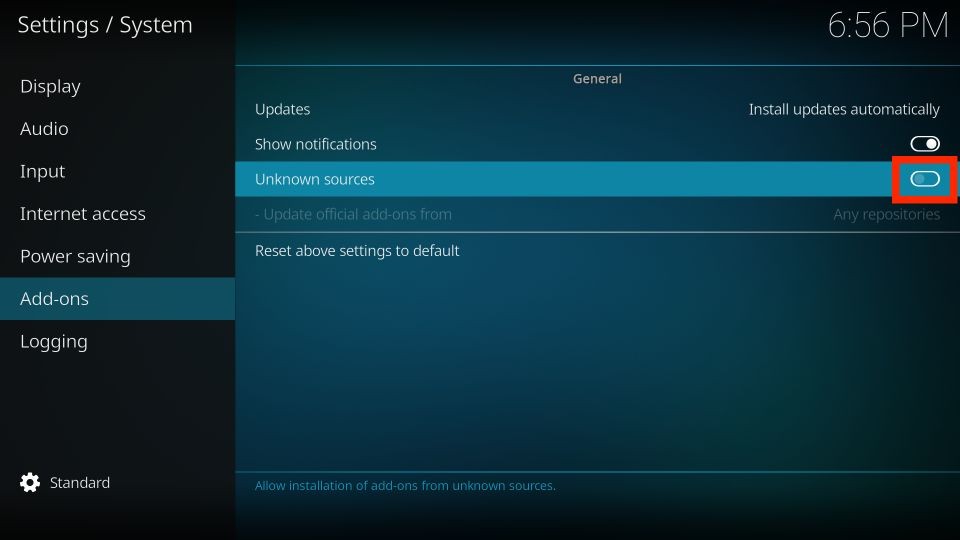 5. Click Yes when Kodi sends you a warning pop-up regarding allowing unknown sources.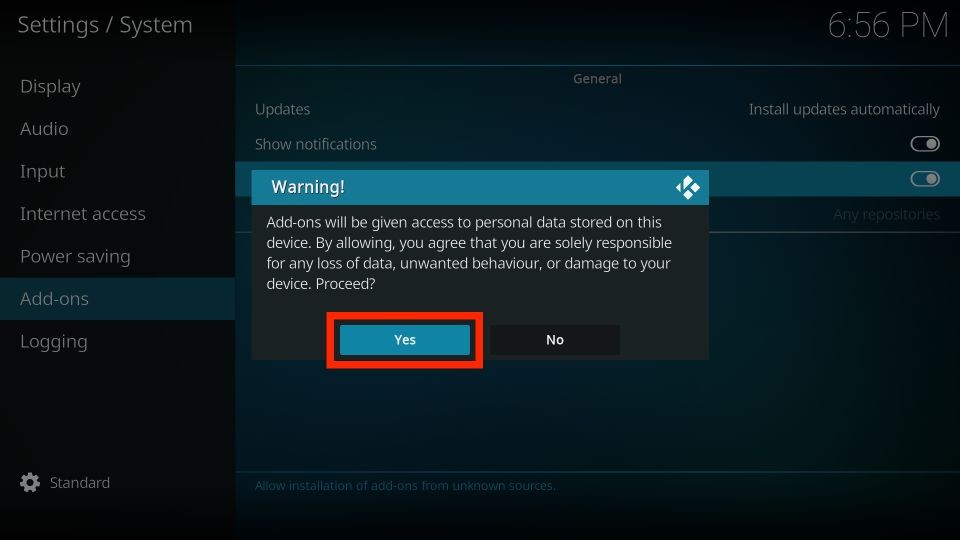 6. Choose -Update official add-ons from under Unknown sources.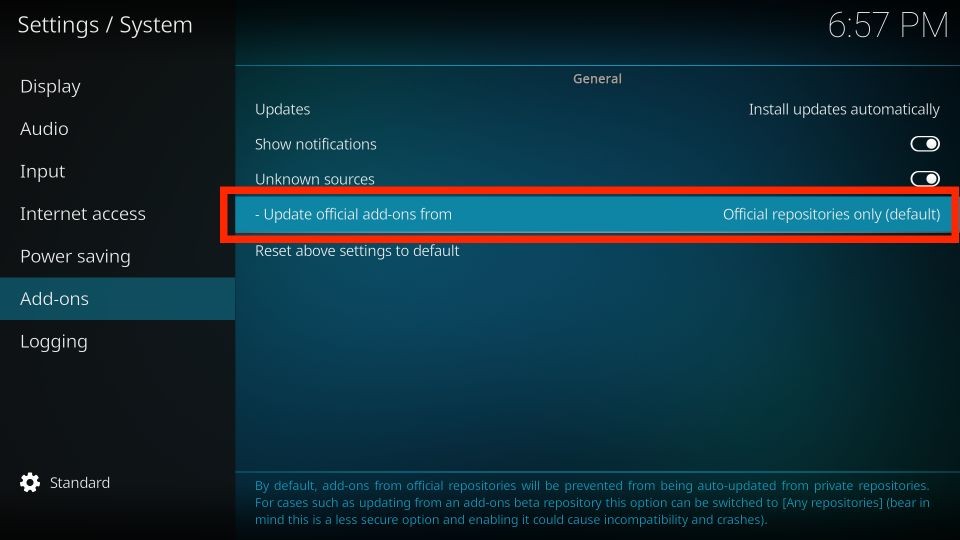 7. Select Any repositories to allow Kodi to automatically update addons from any repository.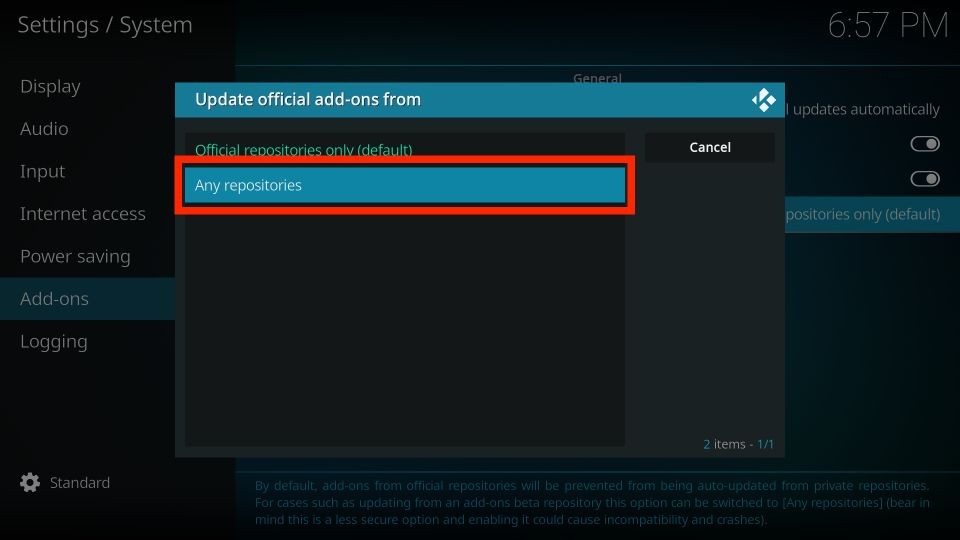 Part 2: Install Grindhouse Repository
Here are the steps to install the Grindhouse Repository:
1. Open Kodi settings by selecting the Settings icon on your screen's top left.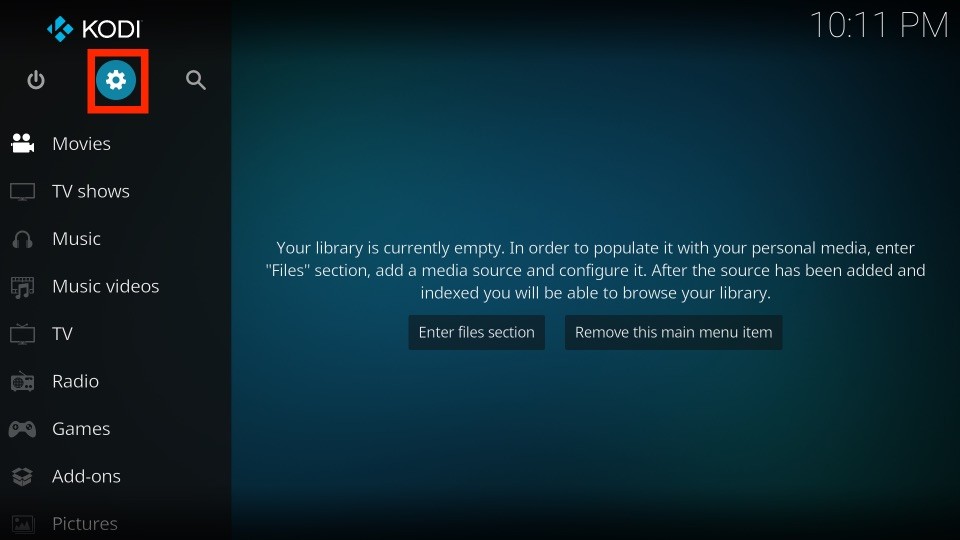 2. Launch the File manager menu.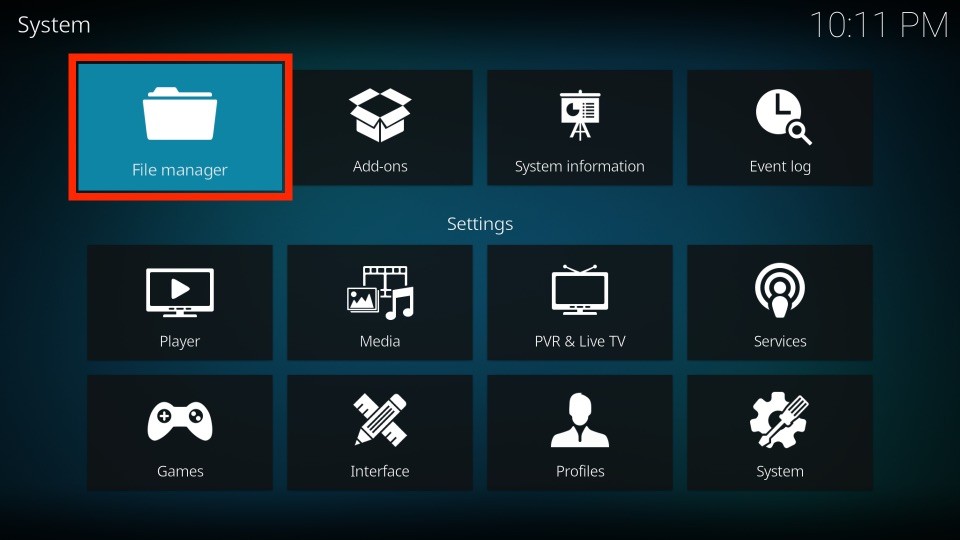 3. On the File Manager page, select Add source.
Note: If you have added multiple sources, the Add source option will be available at the end of the list.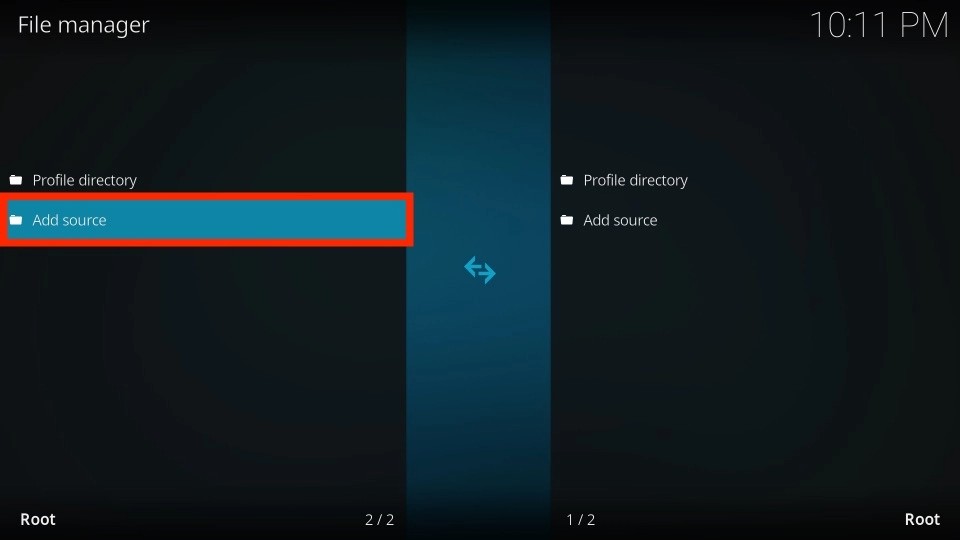 4. Choose <None> on the Add file source window under the heading of Enter the paths…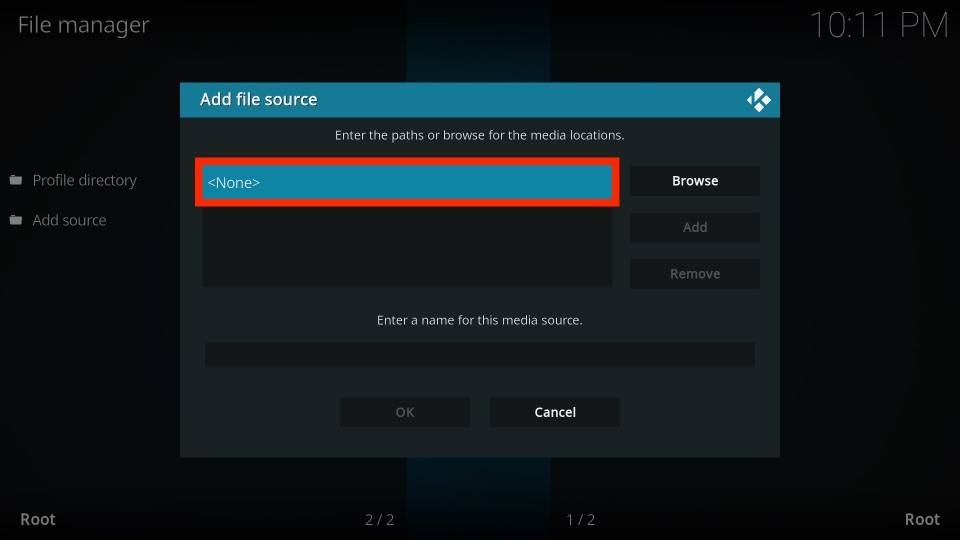 5. Type the URL of the Grindhouse Repository – http://grindhousekodi.us/repo. After that, choose OK to save. 
Disclaimer: We do not host this URL or the Grindhouse Repository. The URL is of the original source of the addon. FireStickHow has no association with the developers.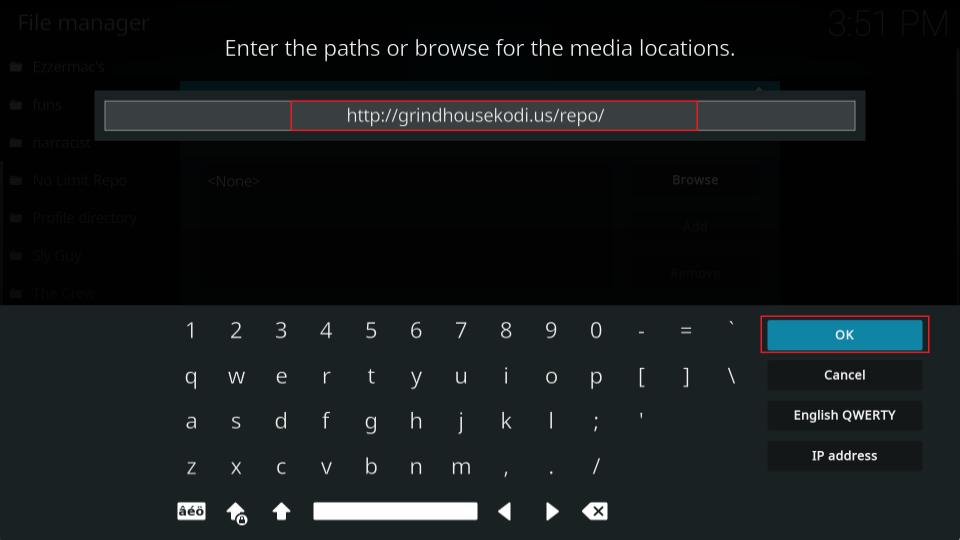 6. The default name given to the source will be repo. Select the repo input box to change it.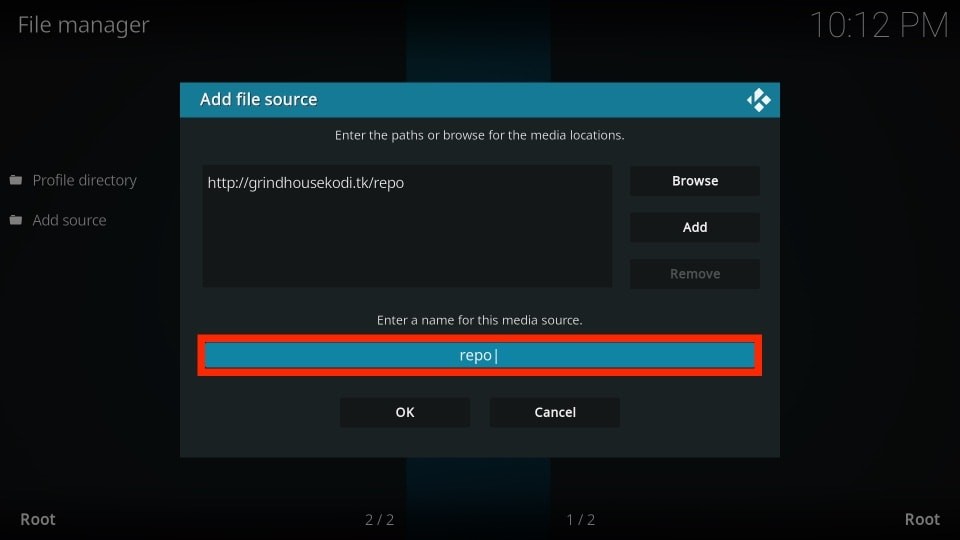 7. I'm renaming the default name to GH as it's relevant and easy to recall. But, of course, you are free to set a different name. Once done, click OK.
Note: Set a simple name so you can remember it. Otherwise, go with the one I have set.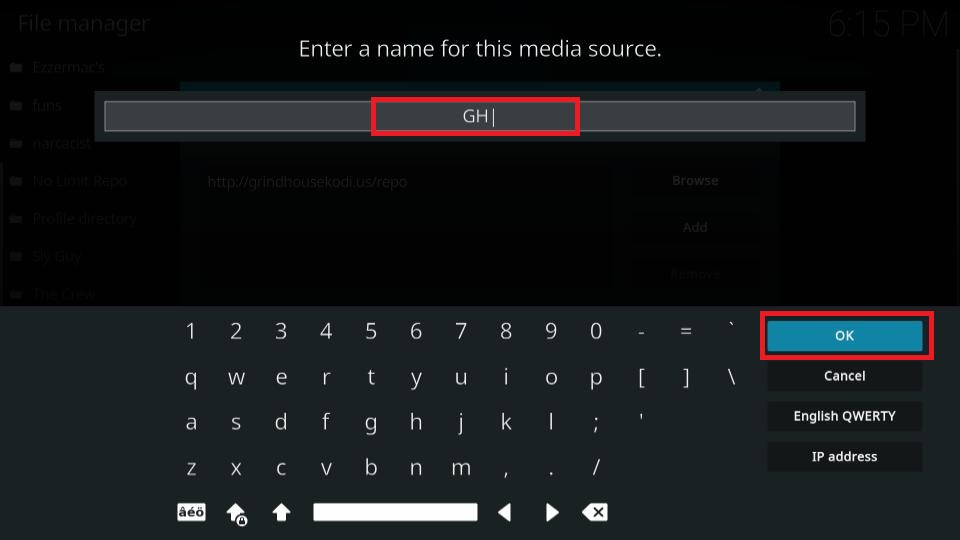 8. Double-check your entered information and click OK to save it.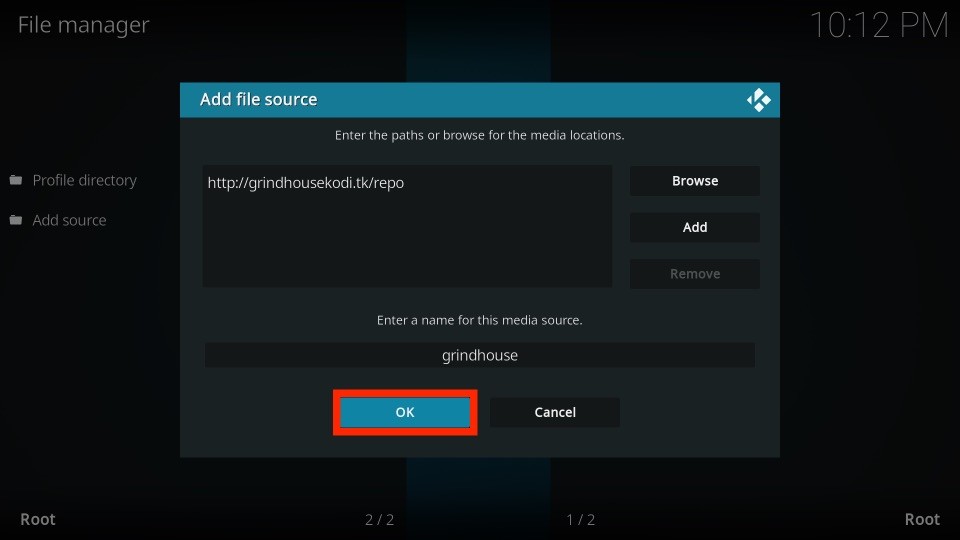 9. If you see grindhouse (or the repo name you have set) in the list, it means you successfully added the source.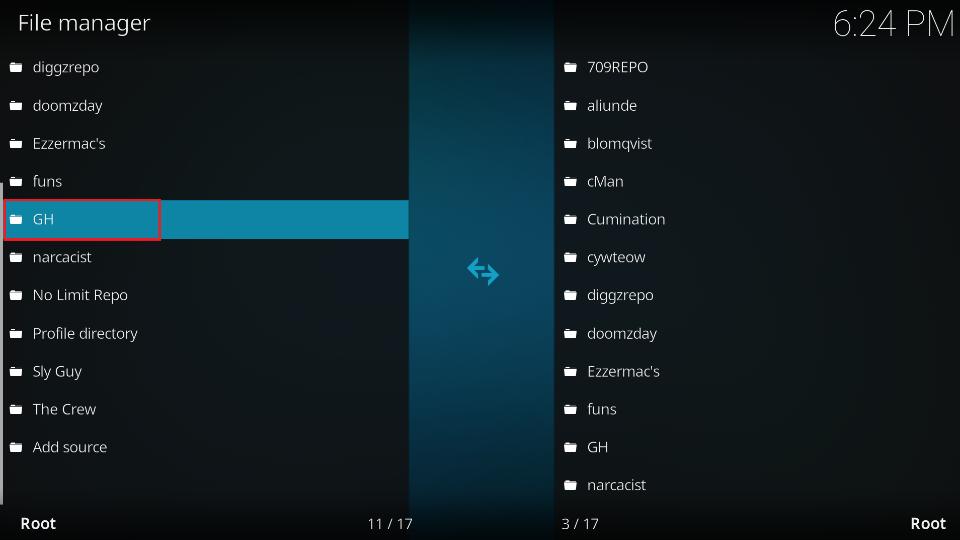 10. Return to the settings menu of Kodi and launch the Add-ons tab.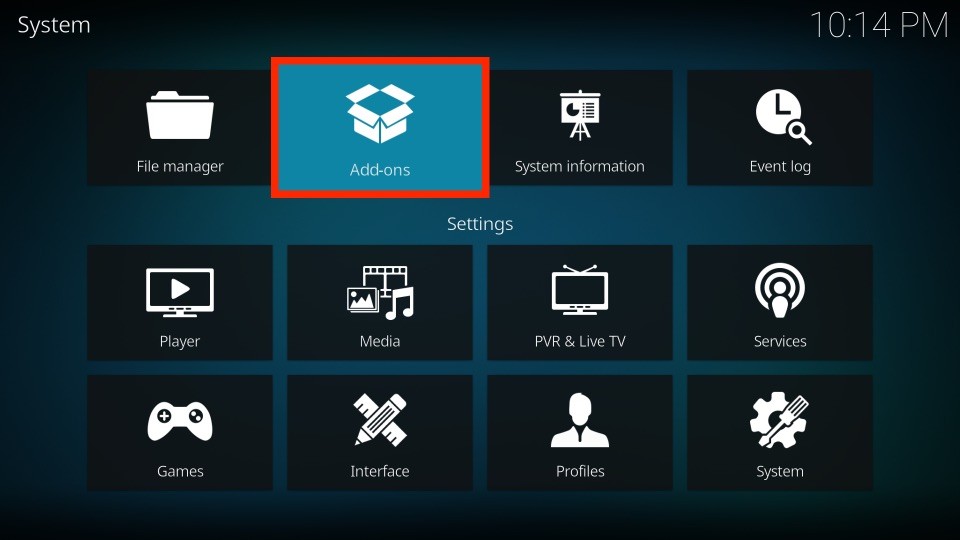 11. Head to Install from zip file option and open it to access the list of sources added in the File manager.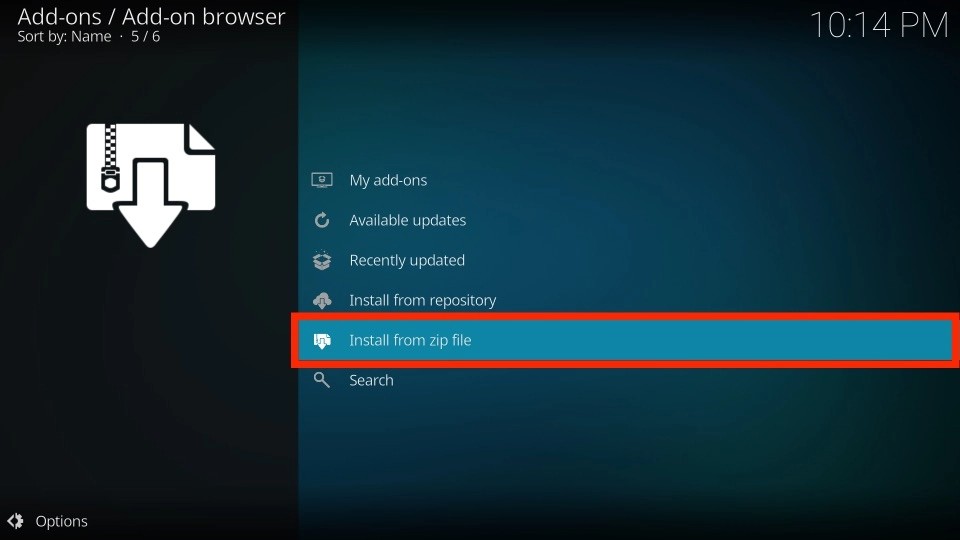 12. Proceed by clicking Yes after you have read the Kodi warning about manual updates.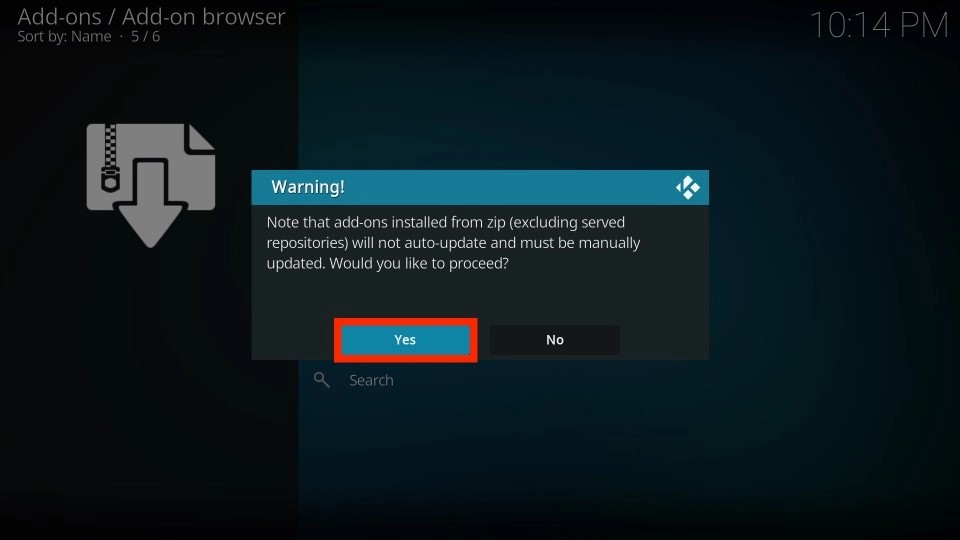 13. Choose GH from the Install from zip file list.
Note: If you haven't named the source grindhouse, pick the name you have chosen from the list.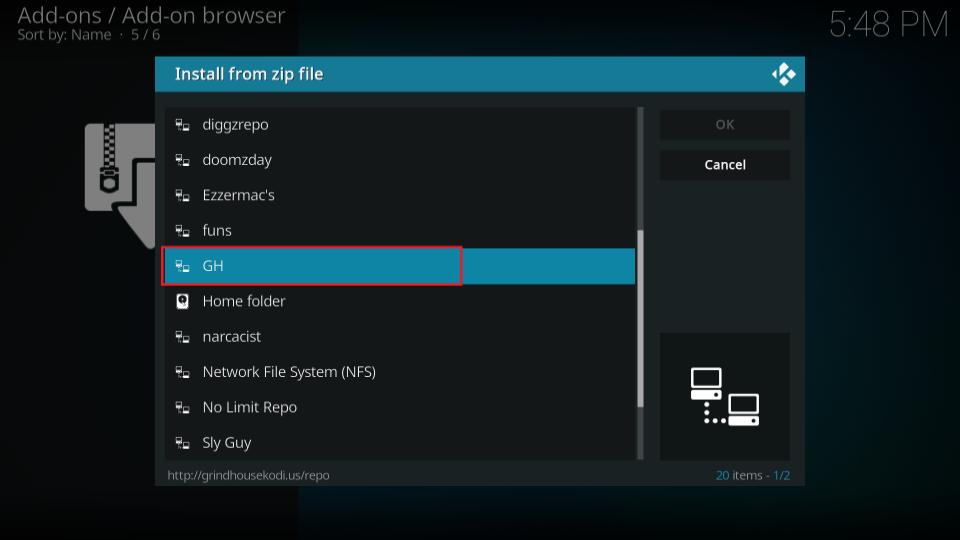 14. Select repository.grindhousekodi-x.x.zip.
Note: At the time of the demonstration, the Grindhouse Repository version is 1.7. However, you can expect it to change in the future.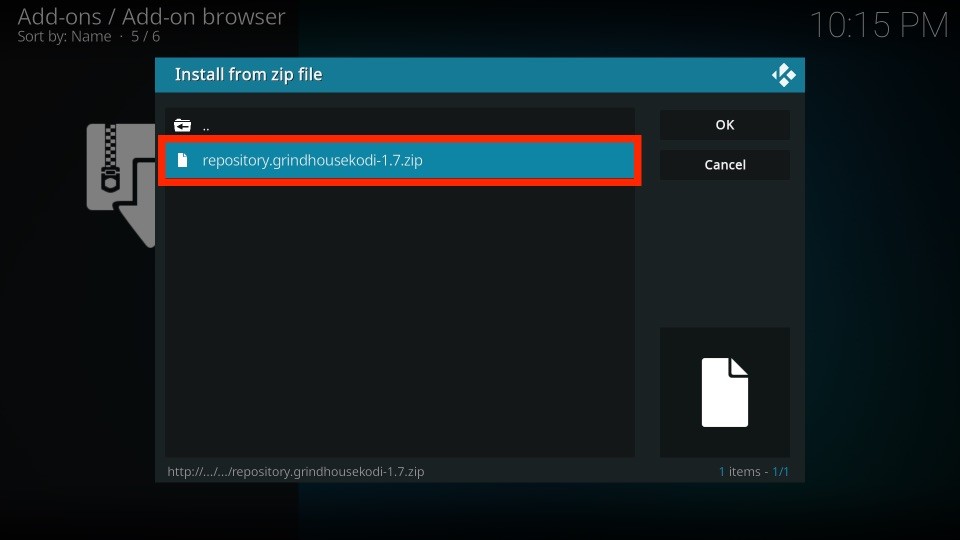 15. Wait for the notification to come – Grindhouse Repository Add-on installed.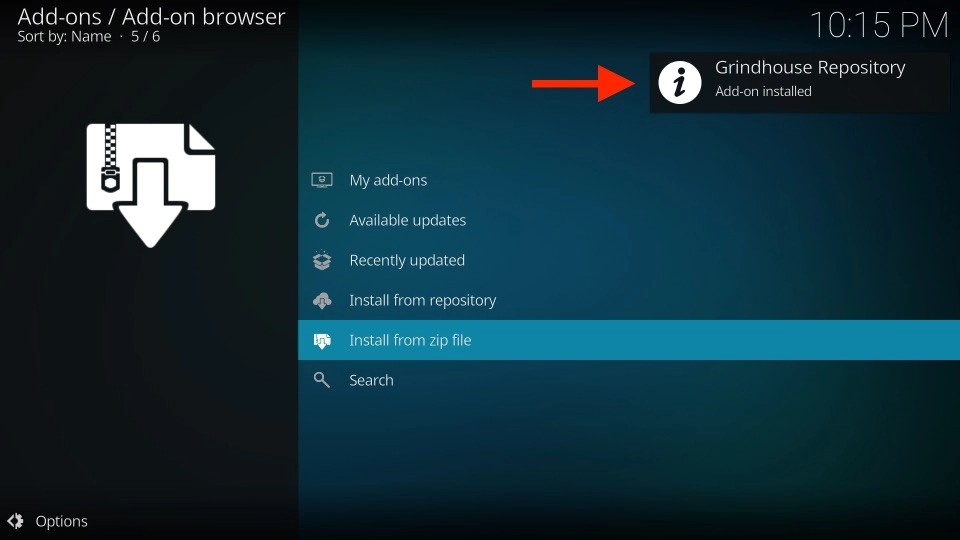 This is it. You have installed the Grindhouse Repository on your Kodi app. 
Part 3: Steps to Install Endzone 19 Addon
Finally, use the instructions below to install Endzone 19:
1. Choose Install from repository on the same screen to access the Kodi repositories.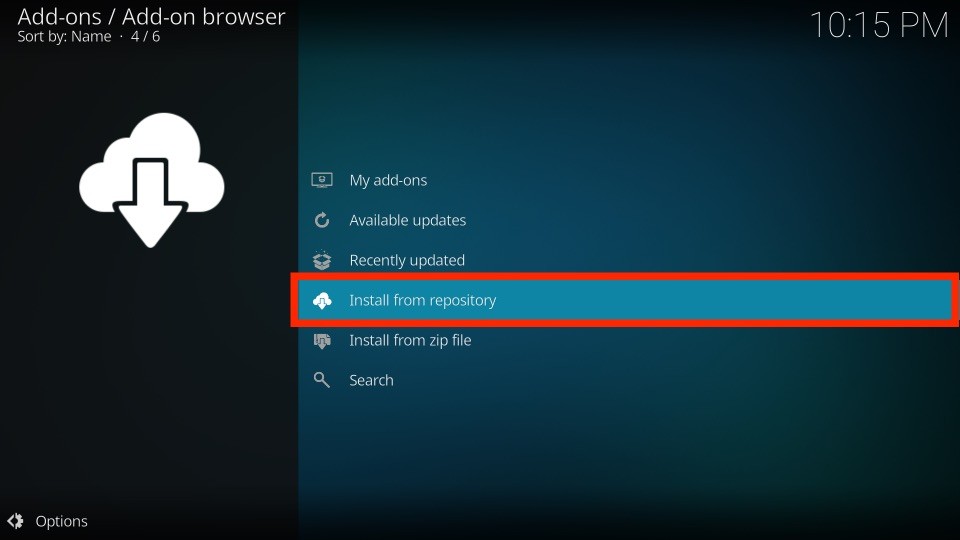 2. Open Grindhouse Repository.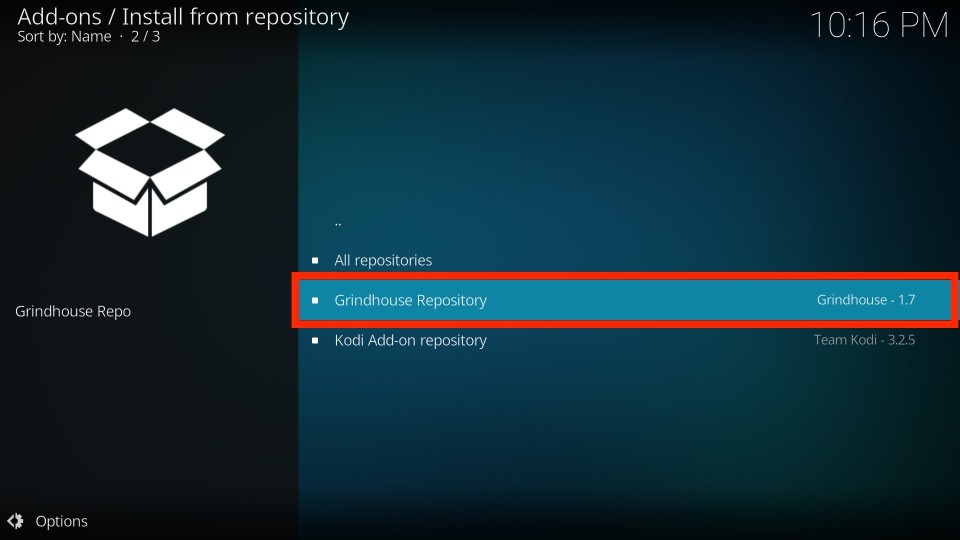 3. Explore Video add-ons, as Endzone 19 is a video addon.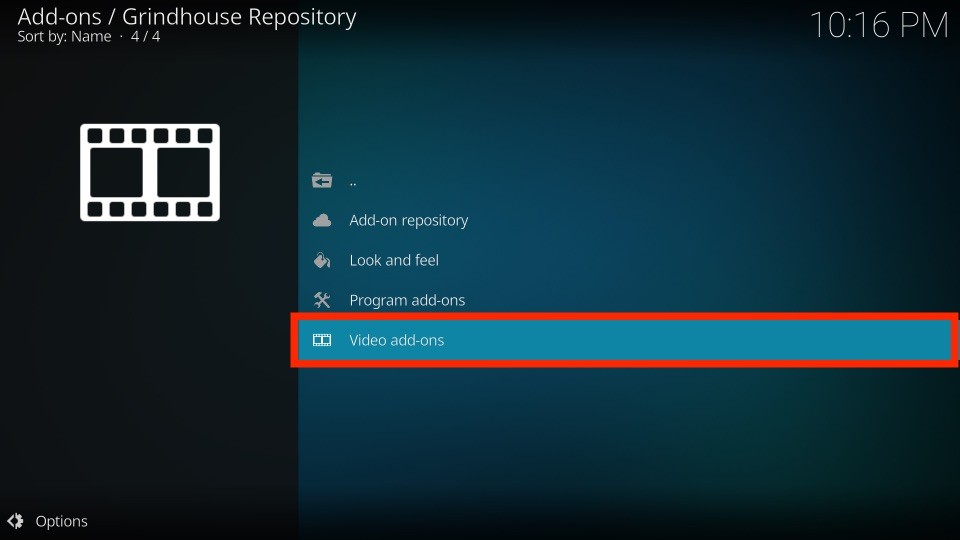 4. Select The Endzone 19 by 3ndZ0n3.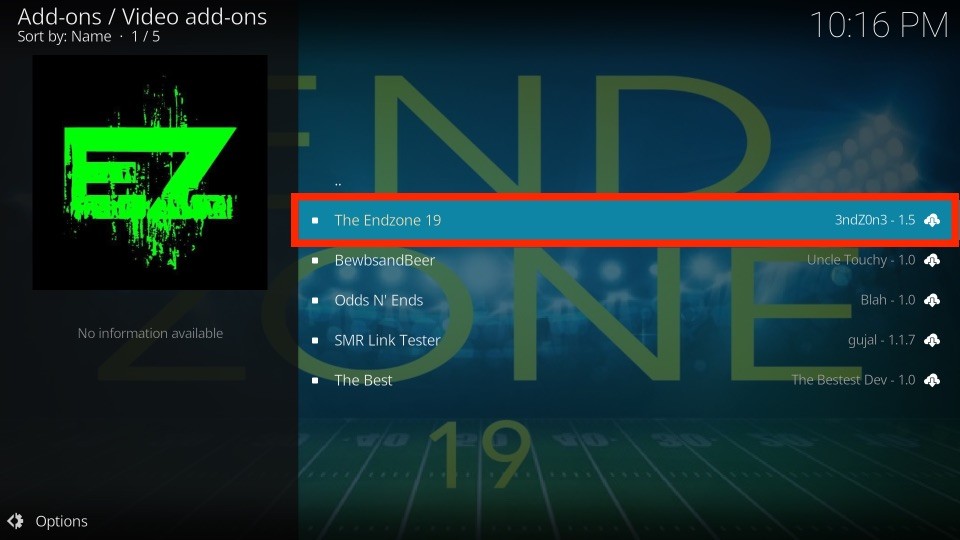 5. On Endzone 19 dashboard, click the Install button on your screen's bottom right.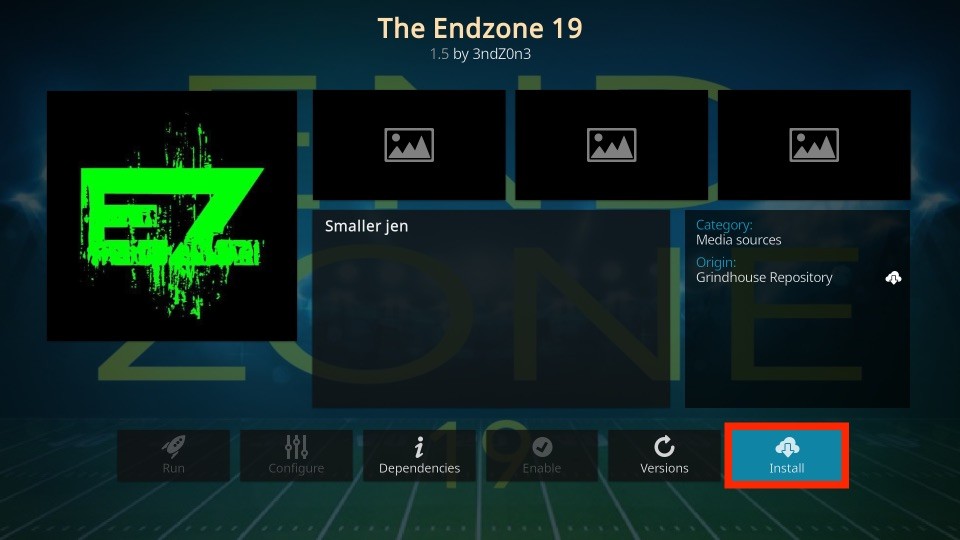 6. Additional addons like YouTube, Google Drive, etc., will also be required by Endzone 19. Click OK to install them too.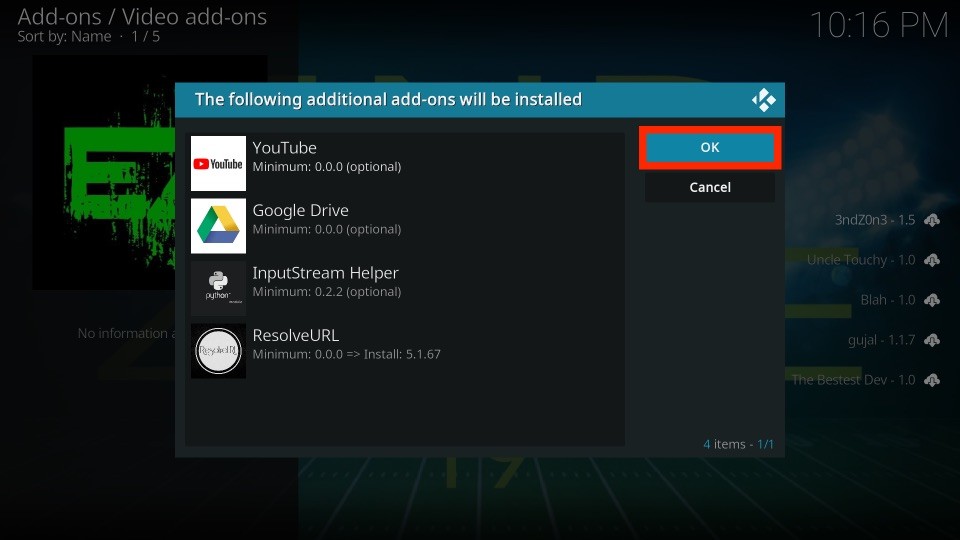 7. Check the progress of Endzone 19 as Kodi download and install its files.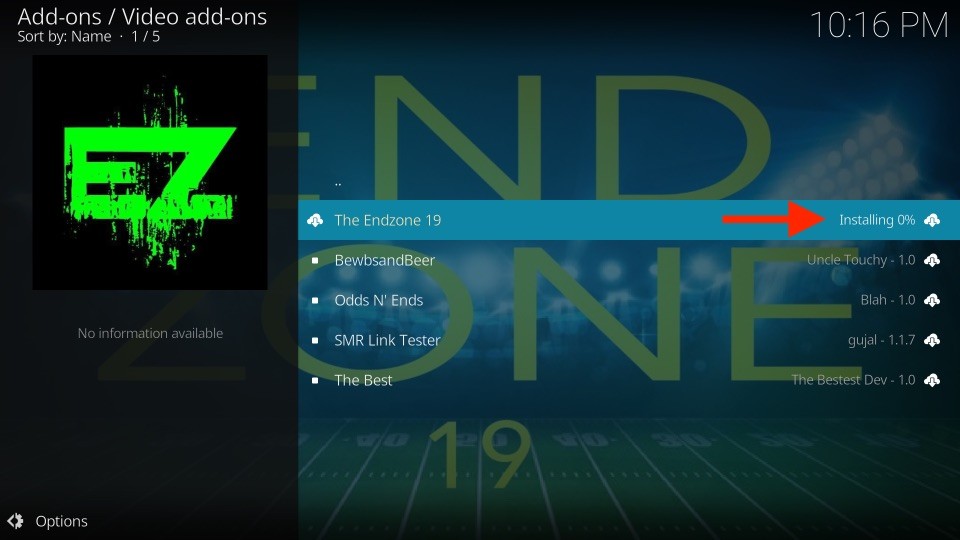 8. And finally, you'll receive a notification – The Endzone 19 Add-on installed.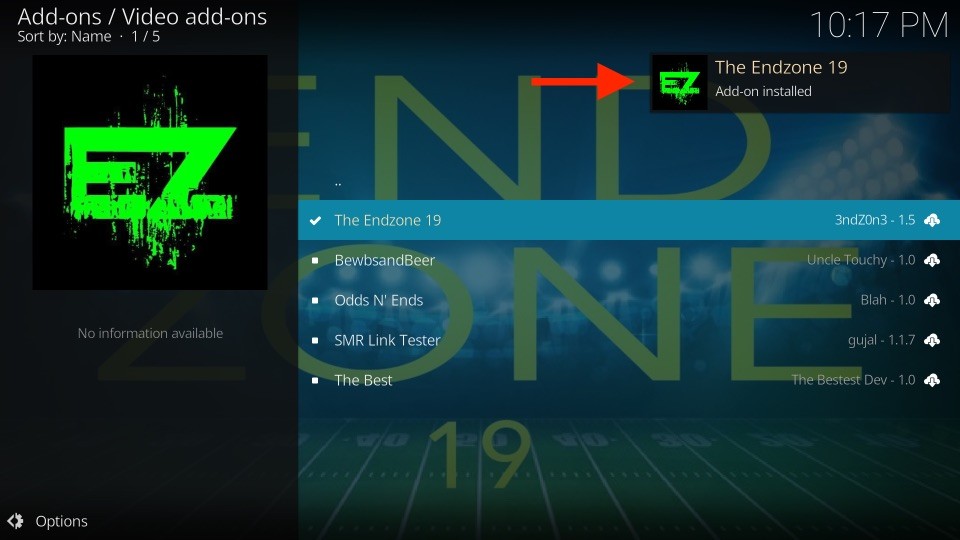 That's how you install Endzone 19 Kodi Addon.
Wait! It looks like you are all set to start watching your favorite content on Kodi. But have you protected your online identity yet? You are under constant surveillance by the Government and ISP. They use your IP address 3.17.249.235 to track you. Streaming free or copyrighted videos may get you into legal trouble.
Thankfully, you can use a VPN to easily protect your privacy and go invisible from your Government and ISP. I use and recommend ExpressVPN with Kodi.
ExpressVPN is the fastest, most secure, and streaming-friendly VPN. It is easy to install and set up on any Kodi device, including FireStick, Smartphones, PCs, and more.
ExpressVPN, offers an unconditional 30-day money-back guarantee. So, if you do not like the service (I don't see why), you can get a full refund within 30 days.
Please remember that we encourage you to use a VPN to maintain your privacy. However, we do not condone breaking copyright laws.
Before you start using Kodi for streaming, here is how you can protect yourself with ExpressVPN:
Step 1: Sign up for ExpressVPN Here
Step 2: Download ExpressVPN on your device by clicking HERE
Step 3: Open the ExpressVPN app on your device. Sign in with your account. Click the connect/power button to connect to the VPN

Great! You have successfully secured yourself with the best Kodi VPN.
How to Use Endzone 19 Kodi Addon
Here's a quick guide on how to use Endzone 19:
Go to the Add-ons tab on Kodi's home screen and open it.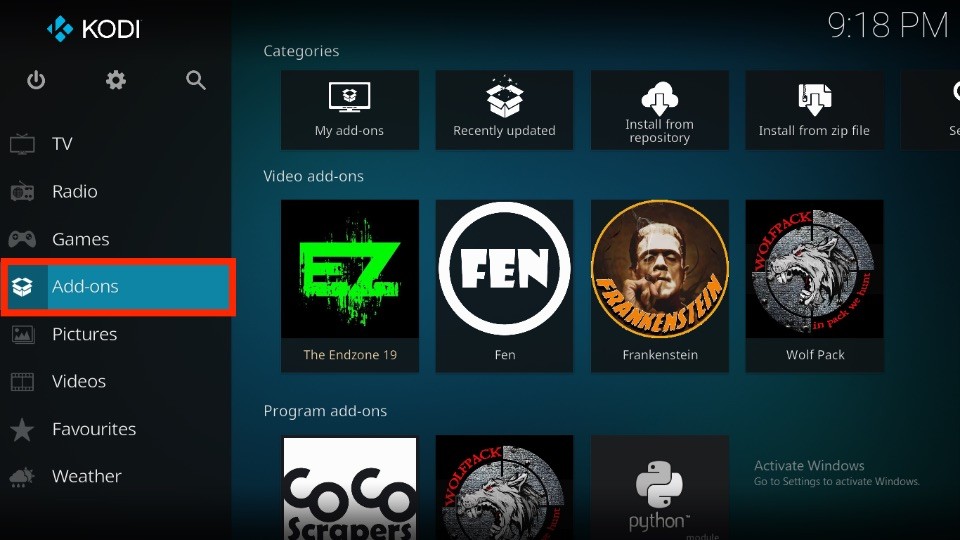 On the Video add-ons sub-tab, launch The Endzone 19.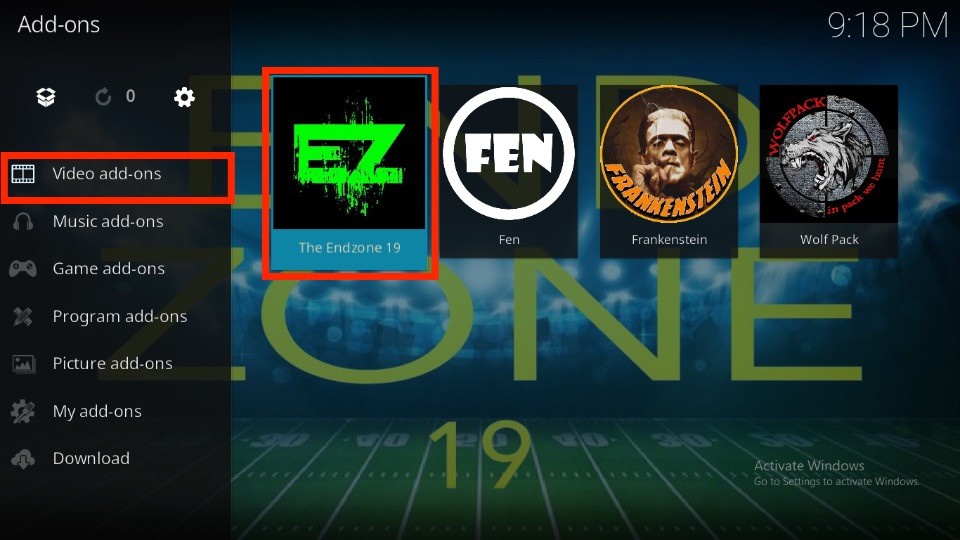 On the top, you'll see the current date. And then The Endzone 19 is split into the following sections:
American Football

Basketball

American College Football

Boxing & Mixed Martial Arts

Wrestling

Racing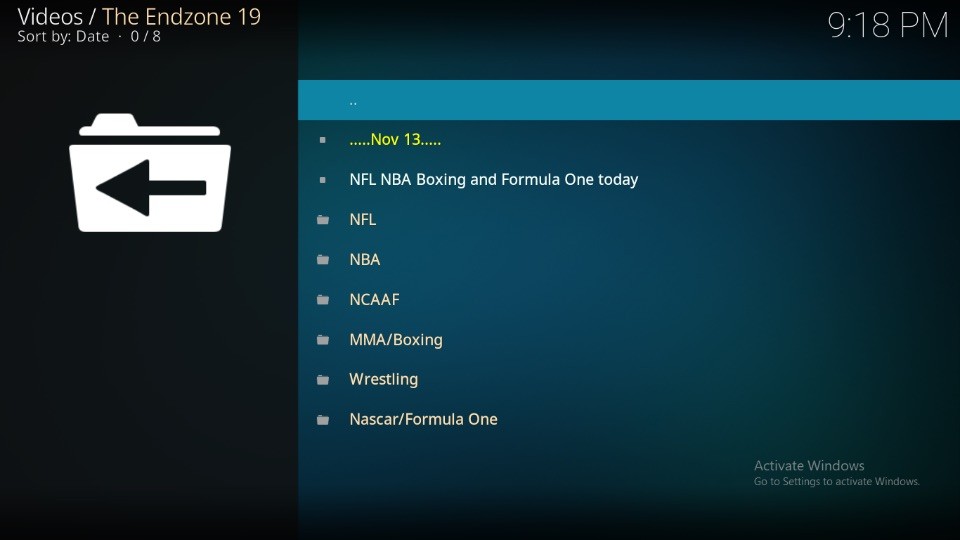 If you are into American Football, open the first section.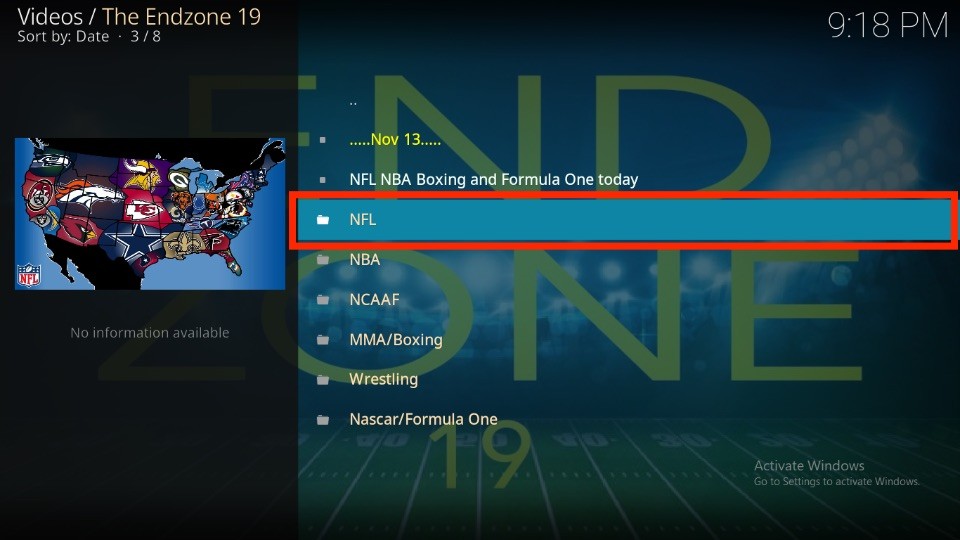 Inside, you'll see the current week at the top and then the list of live/upcoming football games.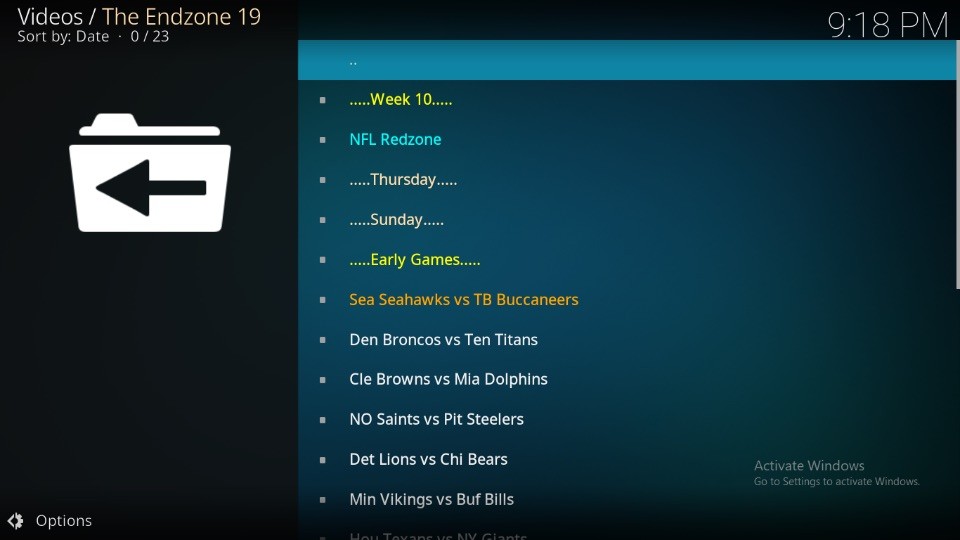 Next, we have Basketball.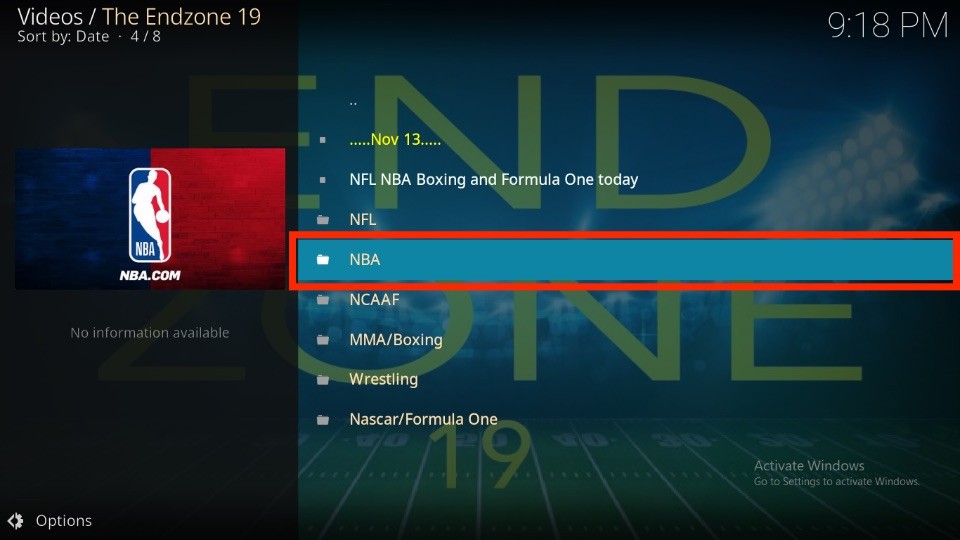 This section features the matches of live and upcoming basketball matches.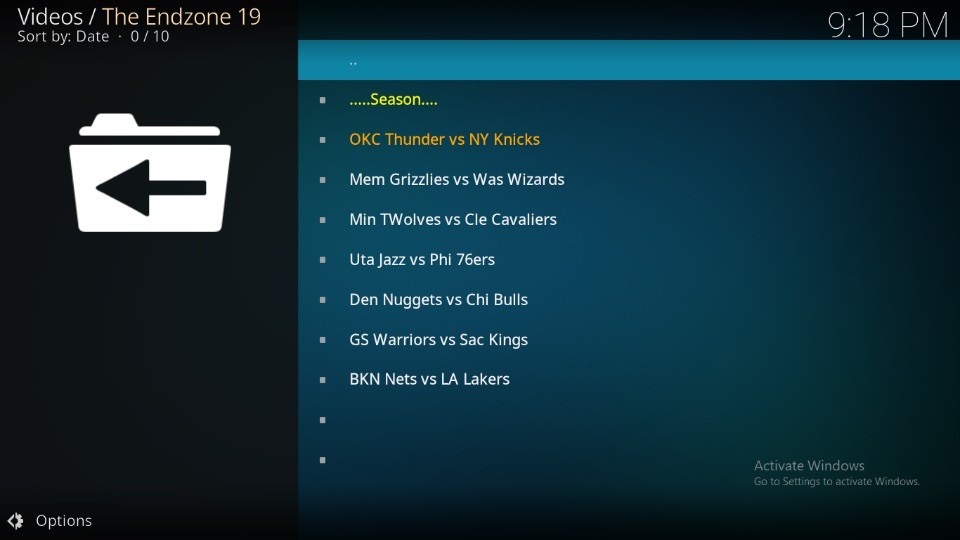 After that, we have American College Football.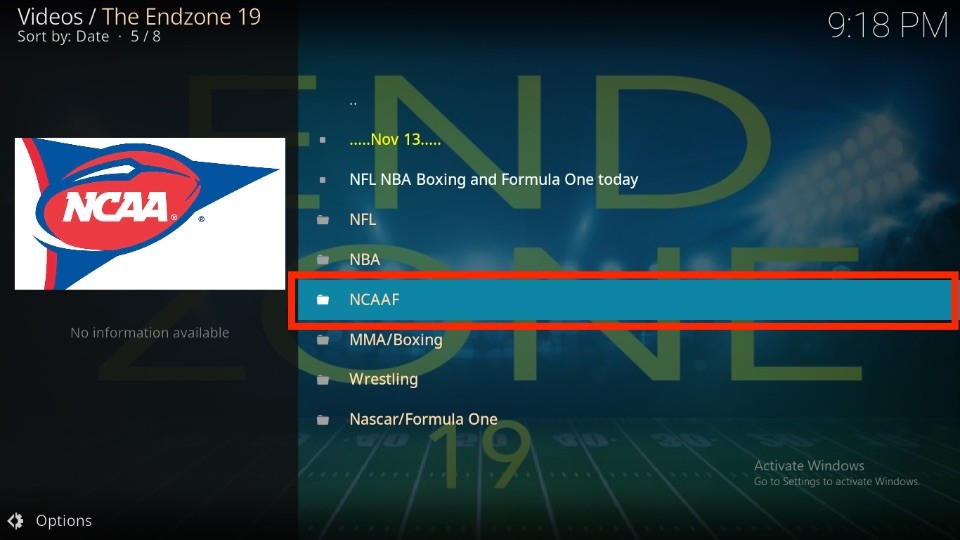 Similar to other sports sections, this section also contains events in the date and time order.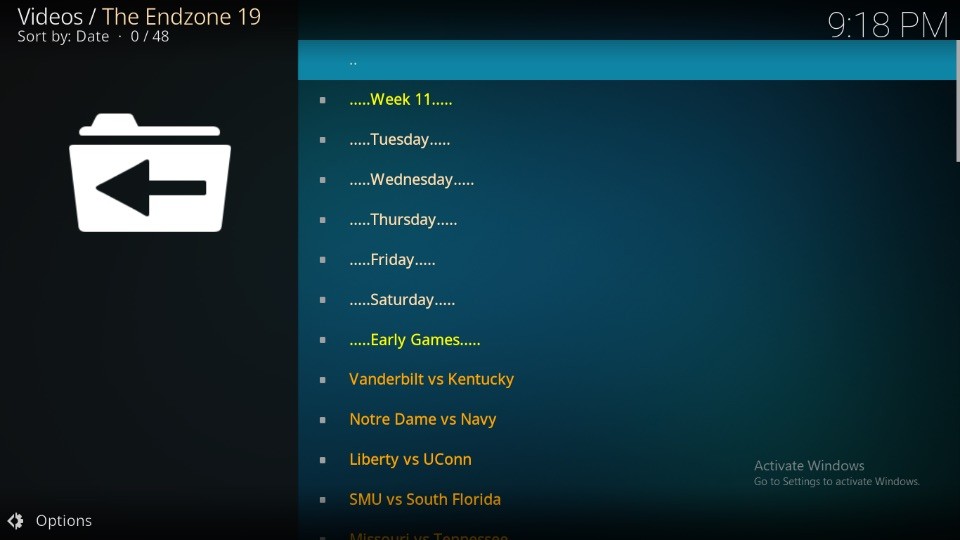 Next, we have Boxing and Mixed Martial Arts.
As soon as any boxing/mixed martial arts events line up, you'll see it listed in this section.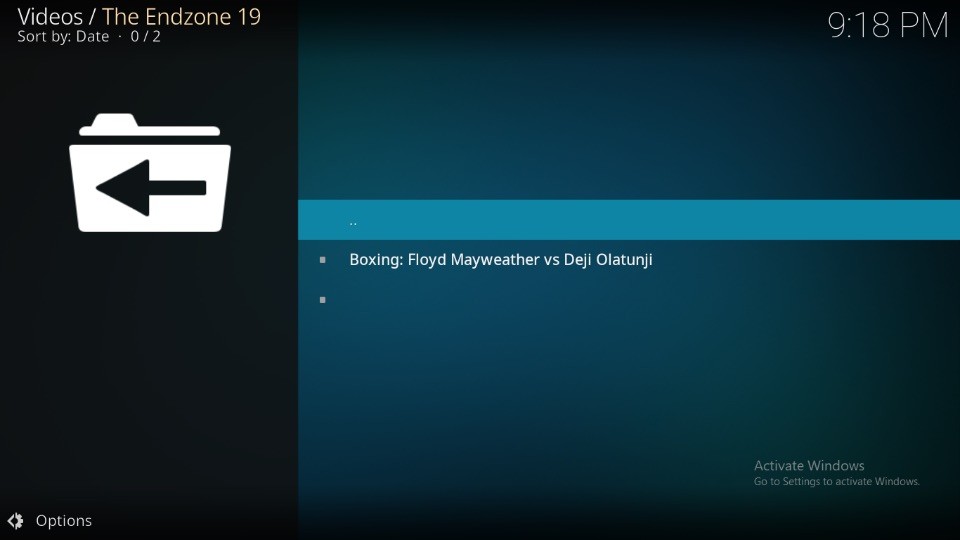 For those of you who are into wrestling, open Wrestling.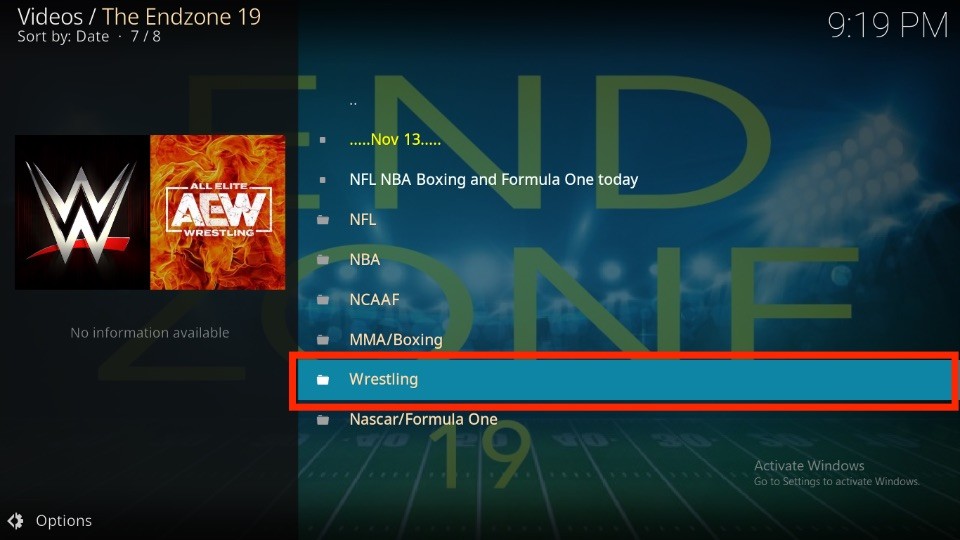 Inside, the section is split into sub-sections of different wrestling entertainment shows.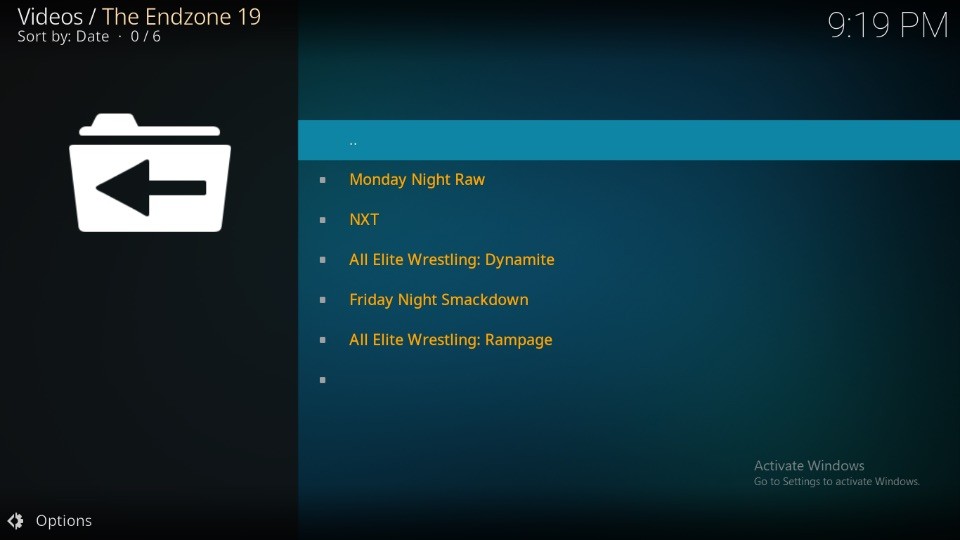 Lastly, we have Racing.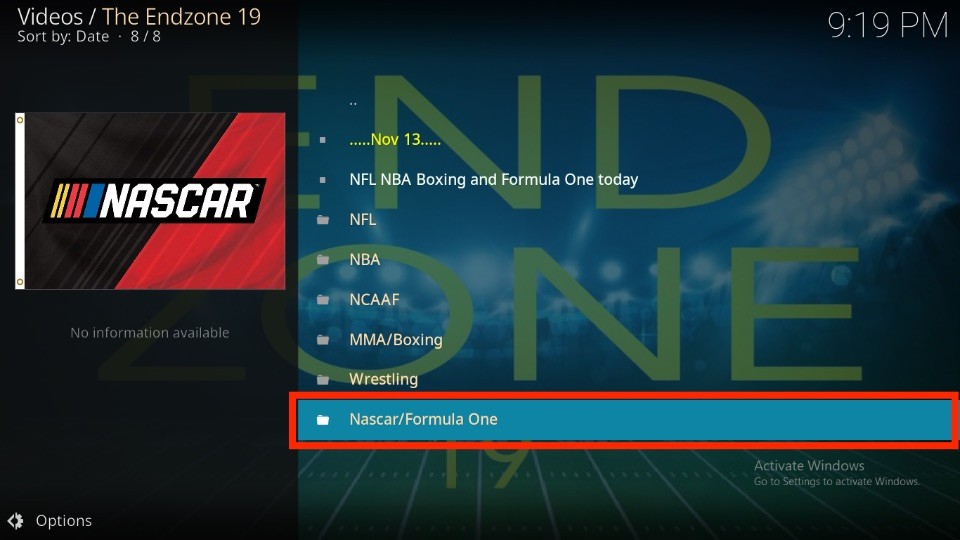 You'll find all live and upcoming events of the motor world inside this section.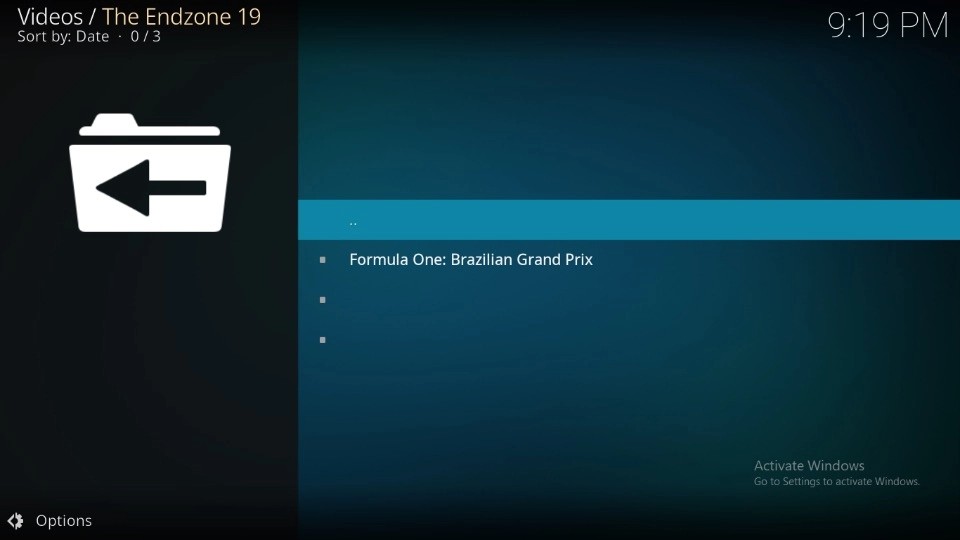 Wrap Up
Endzone19 is one of the best Kodi addons to stream live sporting events. In this article, I showed how to install Endzone 19. If you want more similar guides, please express your thoughts in the comments section.
Related: