This article showcases how to install Doomzday Kodi builds. Furthermore, it covers what's Doomzday Wizard, are Doomzday builds safe and legal, and how to use a build, to name a few. This guide is the all-in-one reference for systems that support Kodi, like FireStick, Linux PCs, Mac machines, Android tablets/smartphones, Amazon Fire TVs, etc.
What Is Doomzday Wizard?
Available on the Doomzday Repo, Doomzday Wizard is a program addon that lets you install several Doomzday builds. On Doomzday Wizard, you'll find builds like Beer Time, Kodeine, Serene, The Small Build, Nova TV, Sports 101, and more.
Also, the Wizard features Kodi builds from many other developers. Doomzday Wizard brings frequent updates to its builds and removes the ones that aren't working anymore.
Overall, Doomzday Wizard is a promising addon that features a handful of great builds for all types of Kodi devices.
Attention KODI Users: Read before you continue
Government and ISPs endlessly monitor your online activities using your IP address 3.17.249.235 (exposed to everyone). Kodi is an excellent platform for streaming movies, TV shows, and sports, but streaming copyrighted content can get you into legal trouble. 
You should use a reliable Kodi VPN and protect your streaming activities and privacy. A VPN will hide your IP address and bypass government surveillance and geo-restrictions.
I trust and use ExpressVPN, the fastest and most secure Kodi VPN. It's easy to install on any Kodi device, including Amazon FireStick, PCs, and Smartphones. In addition, it offers a 30-day money-back guarantee, and 3 free months with the annual plan.
Read: How to Install & Use the best VPN for Kodi.
Are Doomzday Kodi Builds Safe?
Doomzday Wizard is amongst the reputable addons of Kodi. But as it's a third-party creation, no person, forum, or website can guarantee that it packs safe-to-use Kodi builds.
Indeed, we don't suggest that the Doomzday builds are dangerous for your device. But, to put it simply, we can't comment on it. We are just Kodi/FireStick experts, not any security pros.
However, for my security, I checked the Doomzday Repo zip file before installing the build. And gladly, VirusTotal passed it – here's the proof: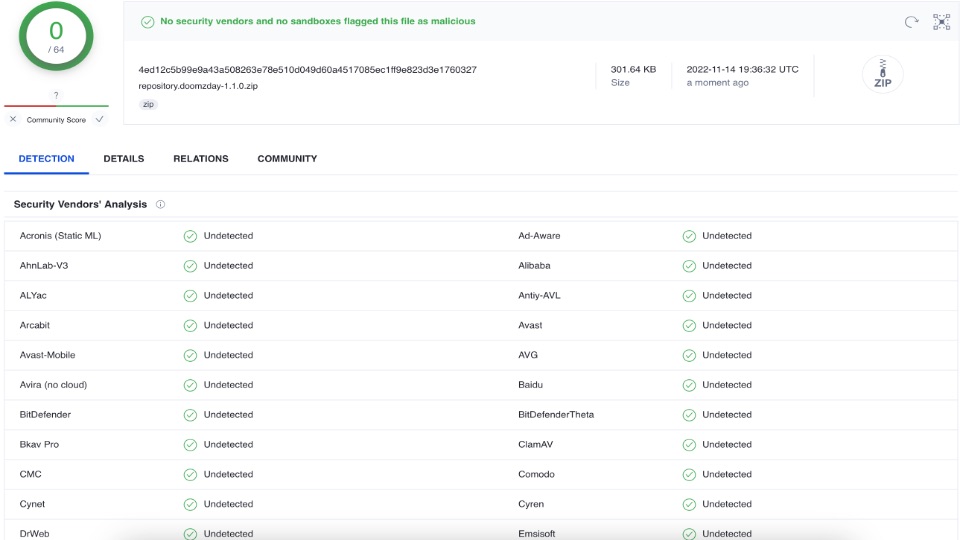 Are Doomzday Kodi Builds Legal?
There are many builds available on the Doomzday Wizard. And all are filled with numerous third-party addons. Unfortunately, at FireStickHow.com, we can't test the legality of a single addon, let alone multiple Doomzday builds with X number of third-party Kodi addons.
Using a VPN like ExpressVPN is the only way to keep your data safe and secure from legal concerns.
Features of Doomzday Kodi Builds
Here are some of the best Doomzday Kodi builds feature:
A range of different types of builds.
Packed with up-to-date, new, and working Kodi addons
Content-full sections
User-friendly interfaces
How to Install The Doomzday Kodi Builds?
To install the Doomzday Kodi builds, you'll have to follow the steps I have split into four parts. Note that all parts are essential to achieve the end goal. So, don't miss anything, and let's roll now!
Part 1: Allow Unknown Sources
This part covers how to enable Unknown Sources on Kodi:
1. Click the Settings Cog icon on your screen's top left side under the Kodi logo.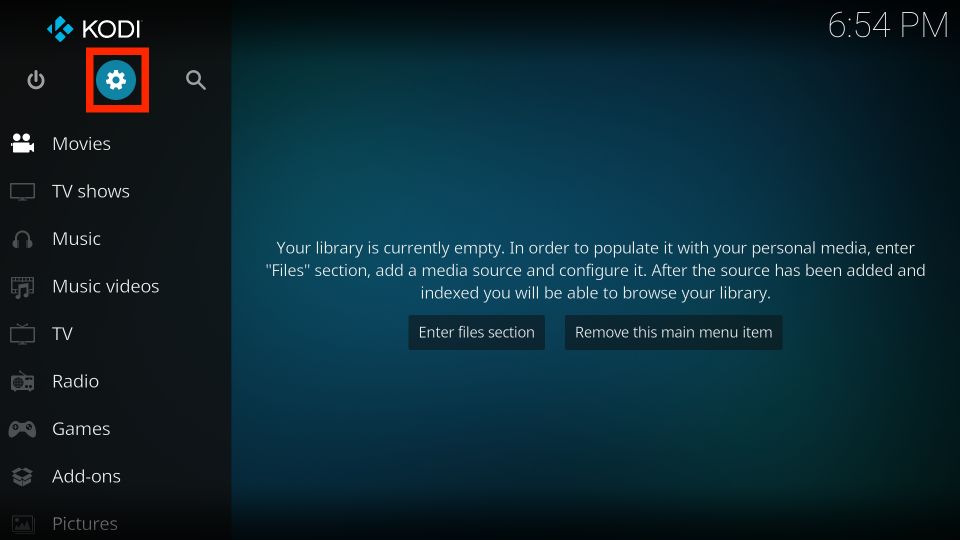 2. On the Settings screen, choose System.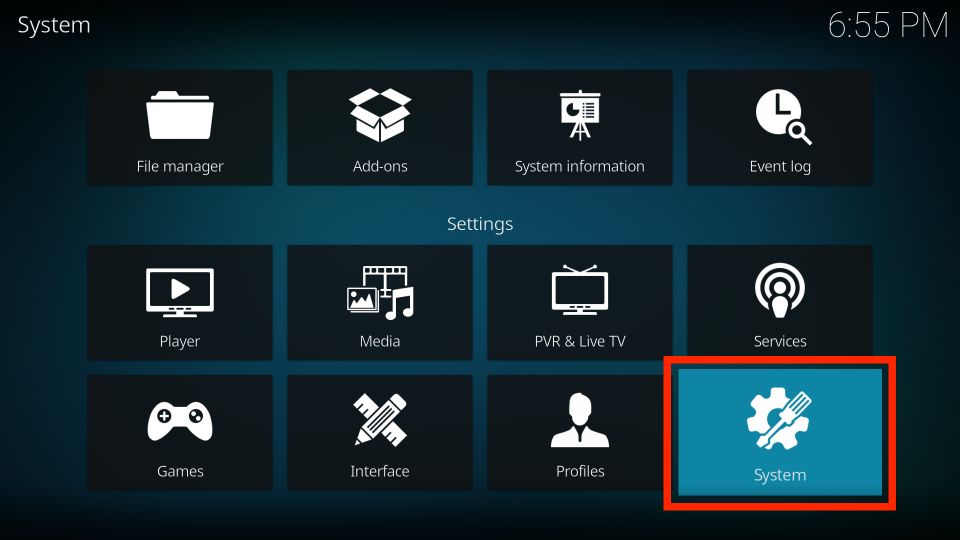 3. Scroll down to the Add-ons tab.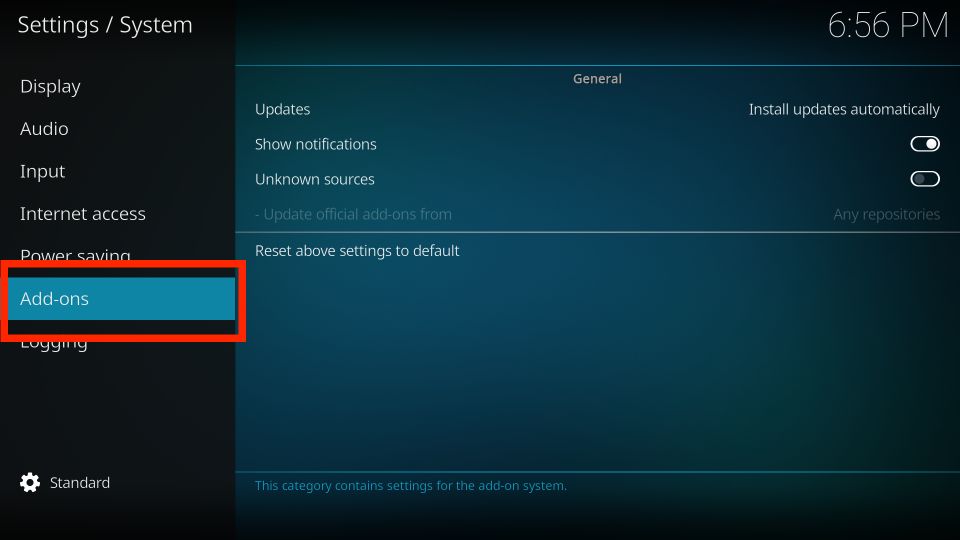 4. Turn on the Unknown sources option located on the right pane.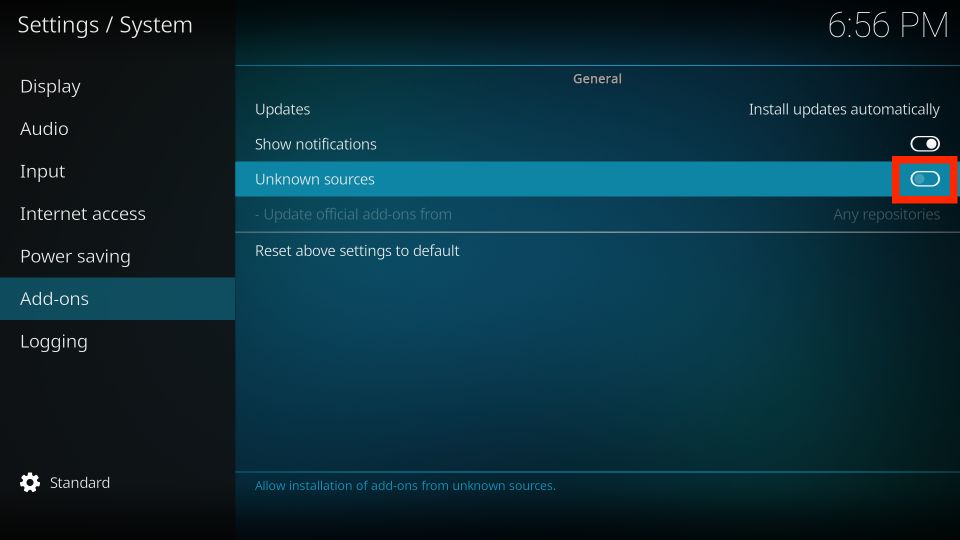 5. Click Yes to confirm that you are aware of the consequences of allowing unknown sources on your Kodi app.
Note: Don't press No as it will toggle the Unknown sources option back to its default – off.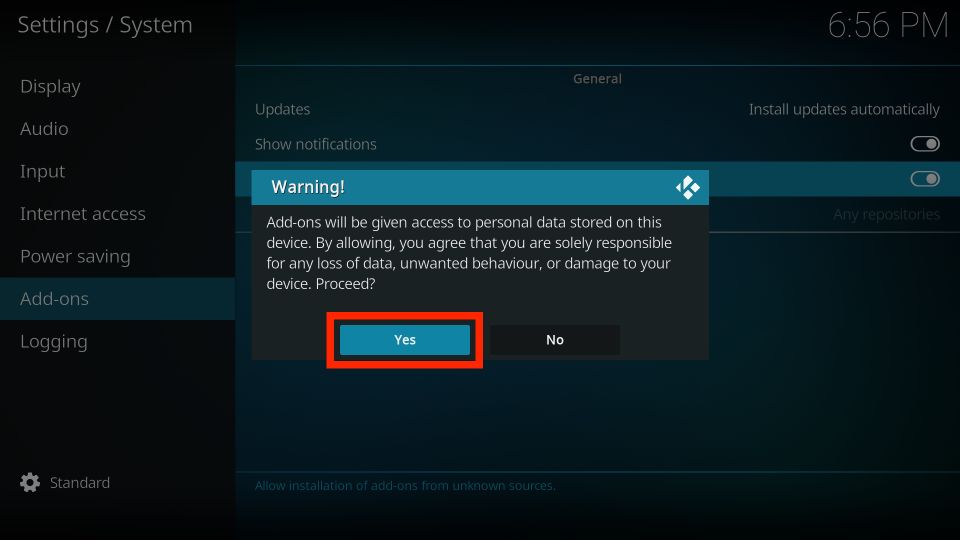 Part 2: Add Doomzday Repo
Here's how to install the Doomzday Repo on your Kodi app:
1. Press the Cog Gear icon on your screen's top left under the Kodi logo.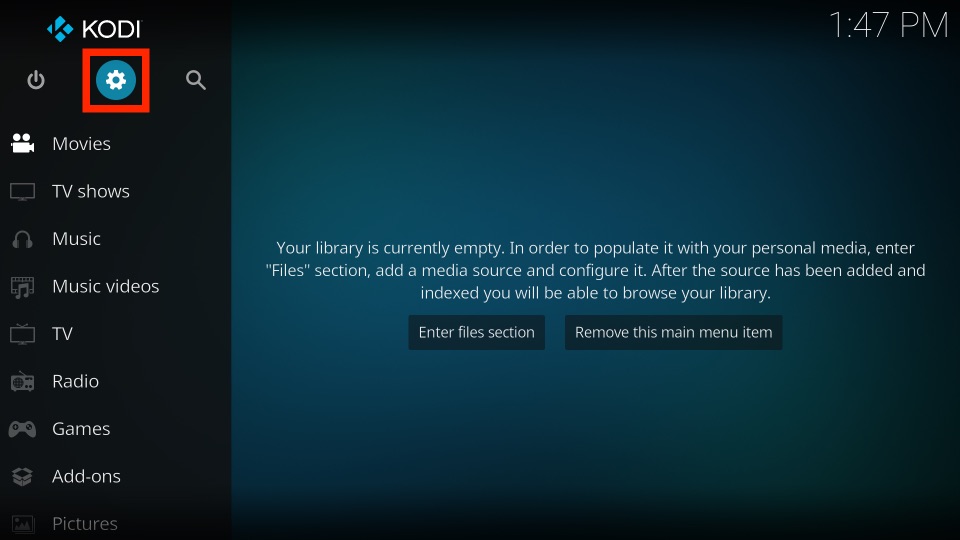 2. Explore the File manager folder on the top left side of your screen.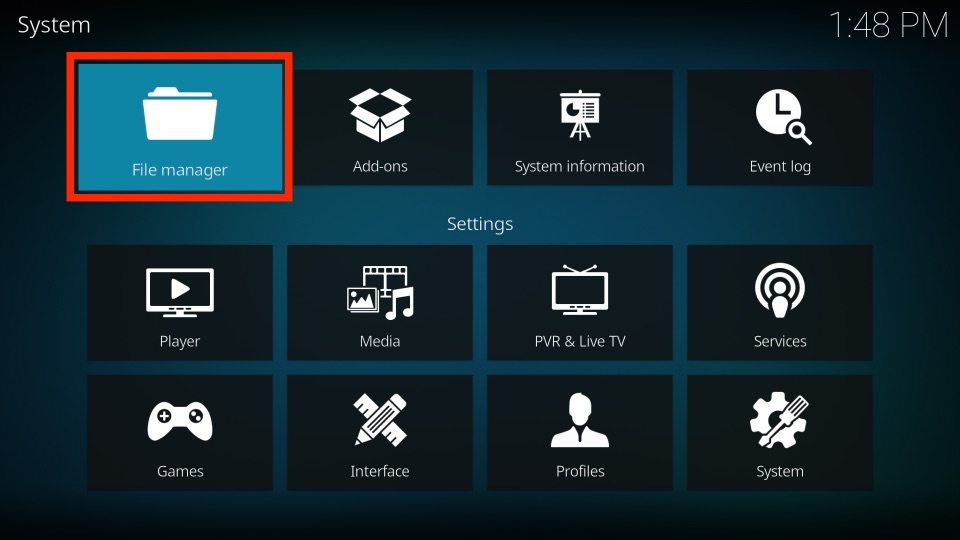 3. You'll see two Add source options, one on your left and one on your right. Select anyone you like.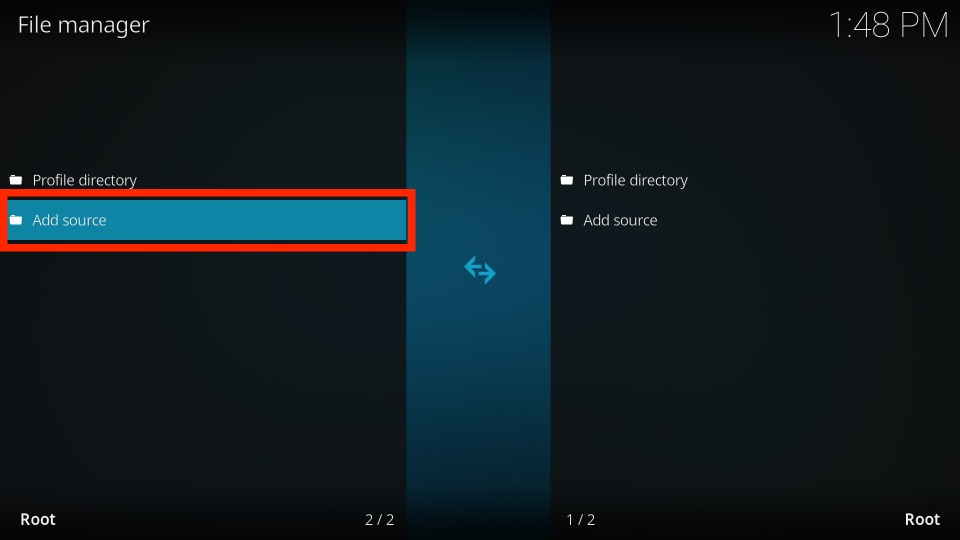 4. Choose <None> under the Enter that paths or browse for the media locations heading.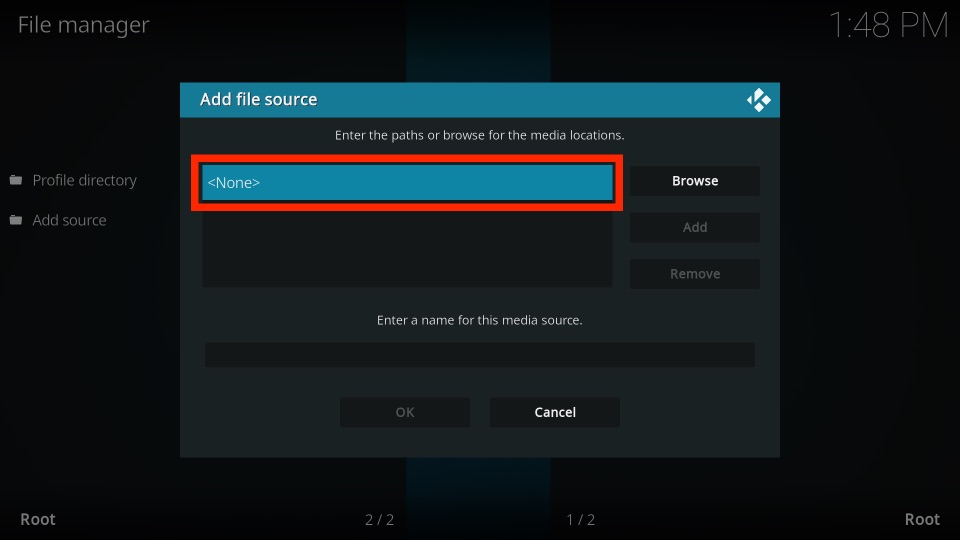 5. Enter https://doomzdayteam.github.io/doomzday and click OK to save the URL.
Note: The above URL is the official website of the Doomzday Repo, and I have only mentioned it for educational purposes. By no means is FireStickHow.com connected with the repo creators or in favor of third-party repos or addons.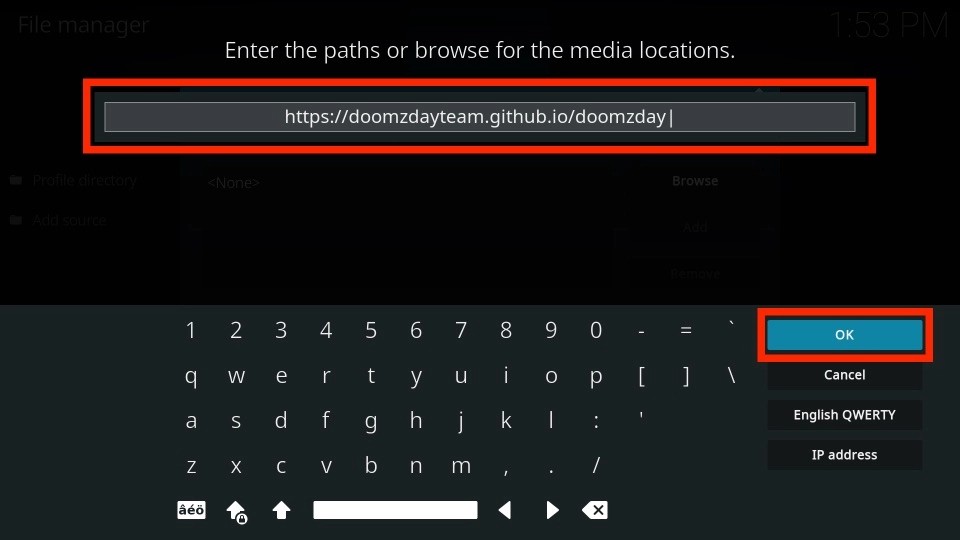 6. Give a final check to the entered information and click OK to save.
Note: Doomzday will be the default name of the repo. You can change it by selecting it,  re-entering a new name, and clicking OK. However, I recommend sticking with the same repo name as it's easy to remember.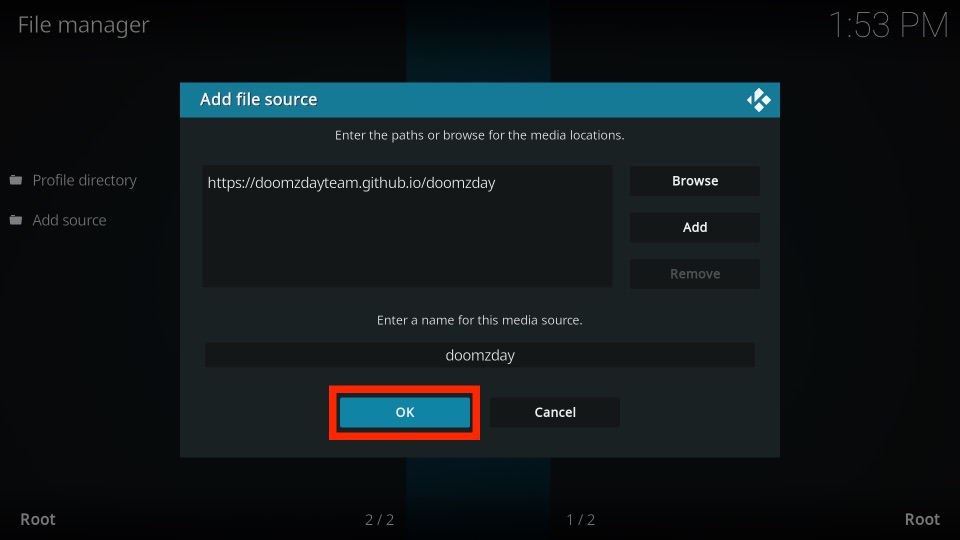 7. Go back to the Kodi settings page and browse the Add-ons section.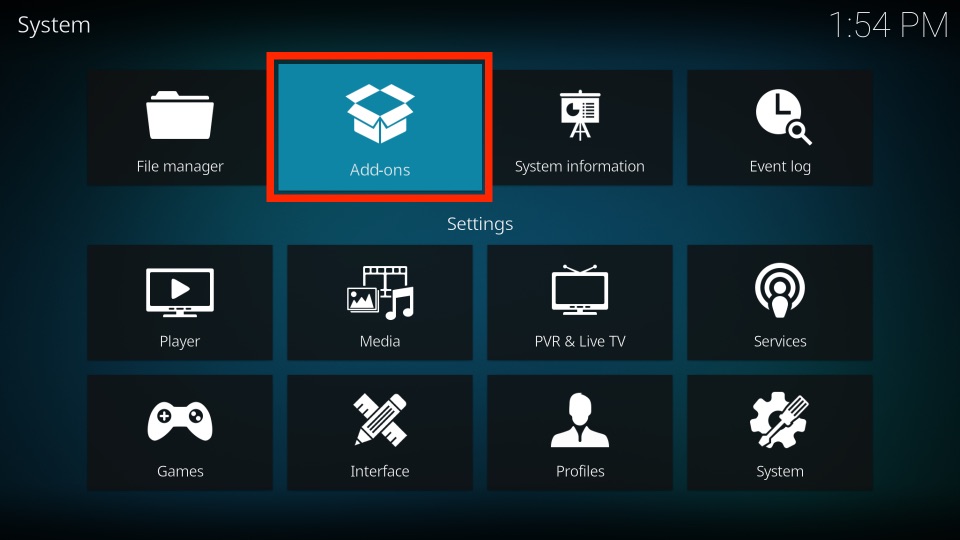 8. As we are installing the Doomzday Repo zip, select Install from zip file.
9. Kodi will inform you that the third-party addons won't get automatic updates, so choose Yes to continue.
Note: Selecting No will not open the window required to access and install the Doomzday Repo zip file.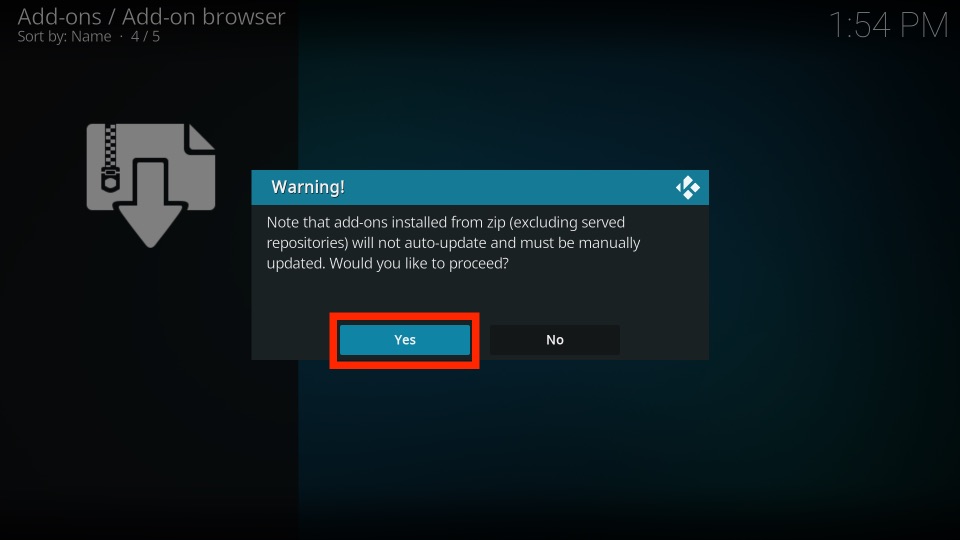 10. Select doomzday from the list. Or the repo name you have set.
11. Choose repository.doomzday.x.x.x.zip.
Note: At the demonstration moment, the version number of Doomzday Repo is 1.1.0, but it can change when you install it.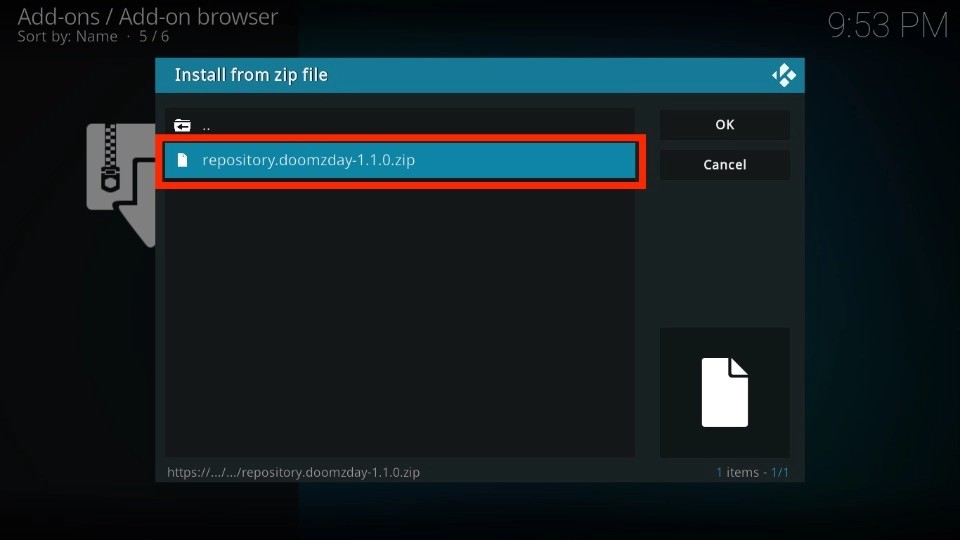 12. On success, you'll see a Kodi notification – Doomzday Repo Add-on updated.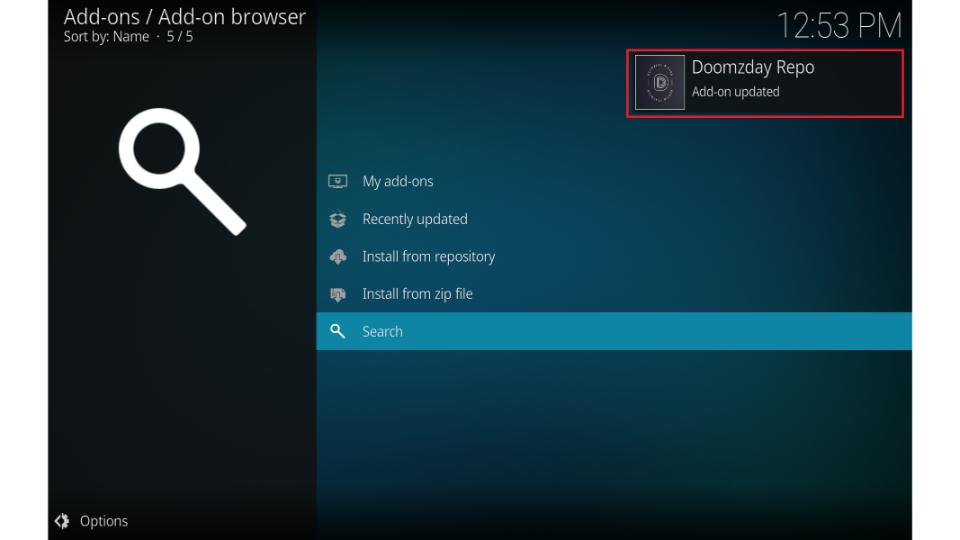 Hurray! We can now easily access the Doomzday Wizard from the Doomzday Repo.
Part 3: Install Doomzday Wizard
The following instructions show how to install Doomzday Wizard:
1. On the same screen, scroll up and open the Install from repository file, as we now have access to Doomzday Repo.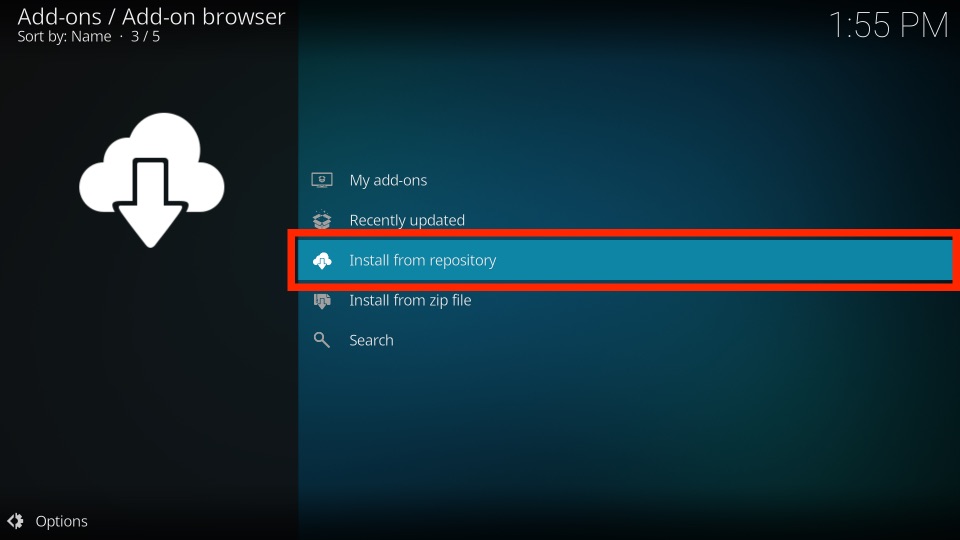 2. From the available repos, select Doomzday Repo by DD Team.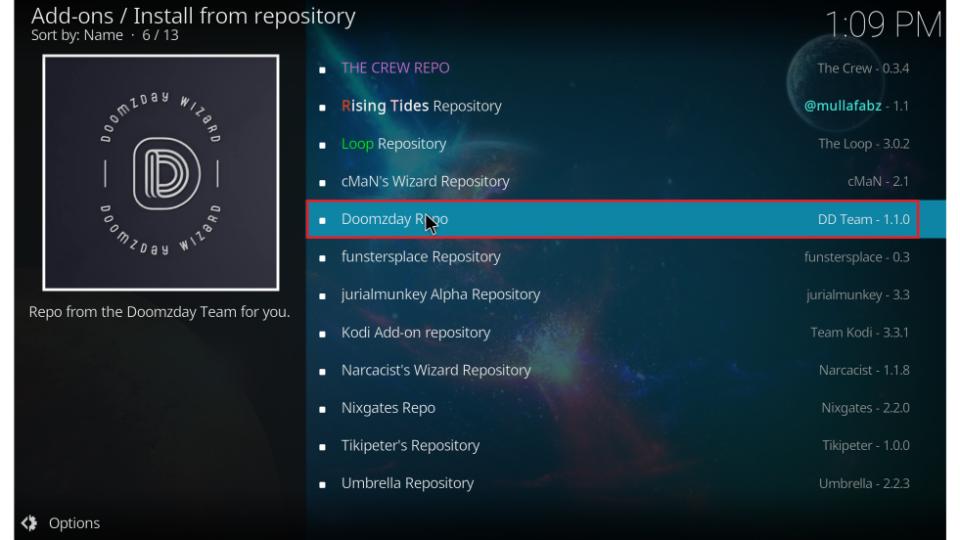 3. Pick Program add-ons, as Doomzday Wizard is a program.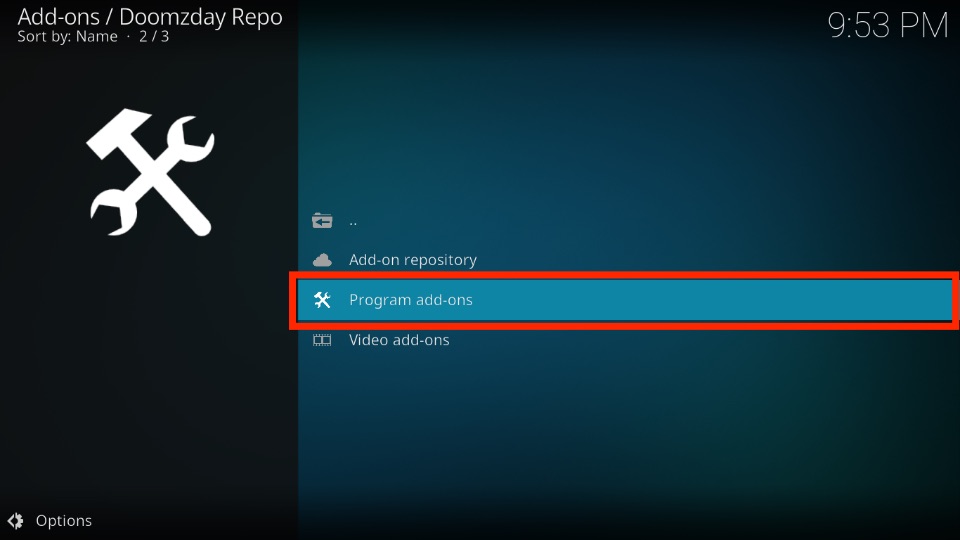 4. Click Doomzday Wizard.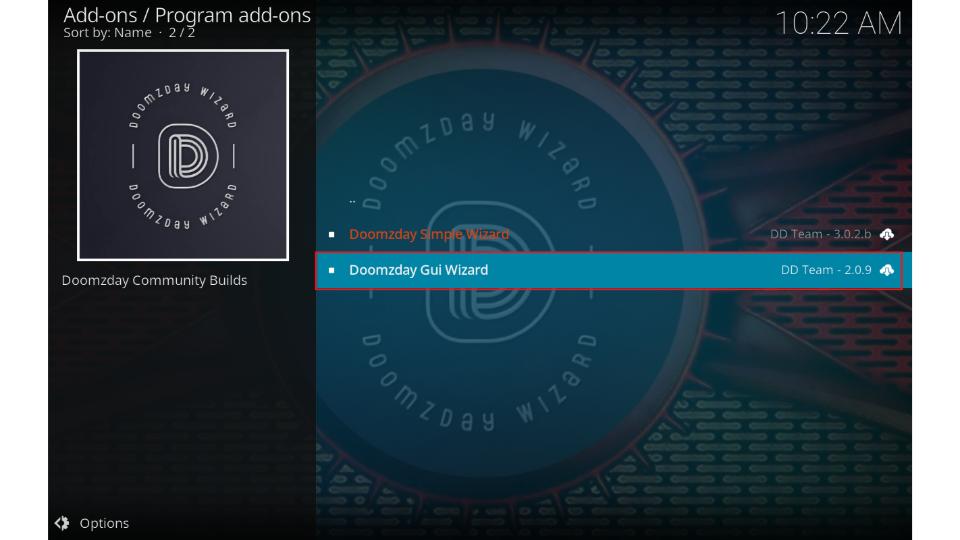 5. On the Doozmday Wizard dashboard, click on the Install button on the bottom right.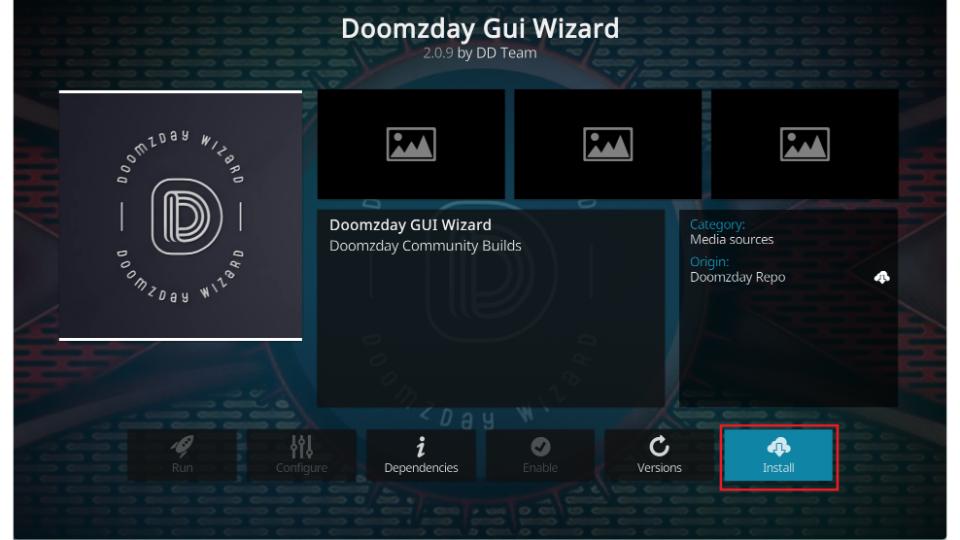 6. Let Kodi extract the required files from the Doomzday Repo to install the Doomzday Wizard.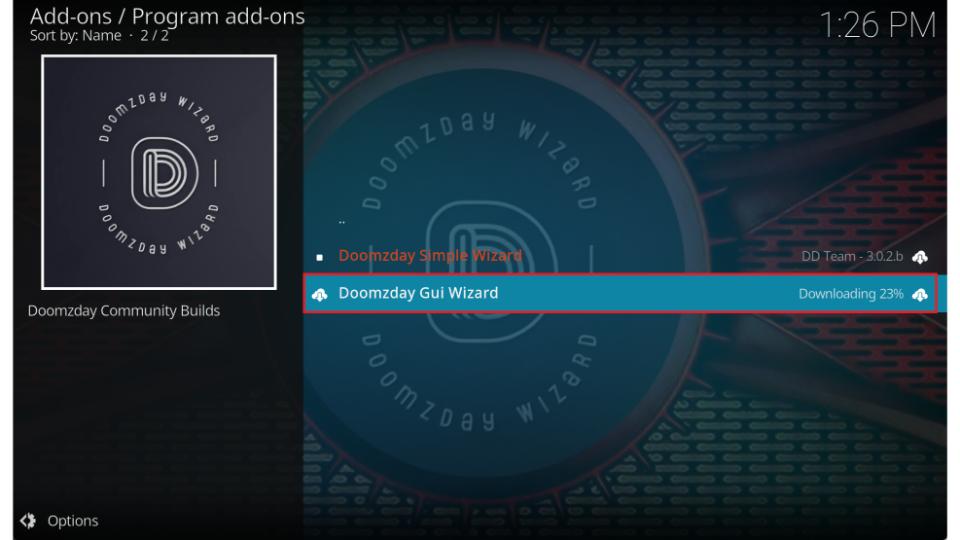 7. Once installed, a notification, Doomzday Gui Wizard Add-on installed.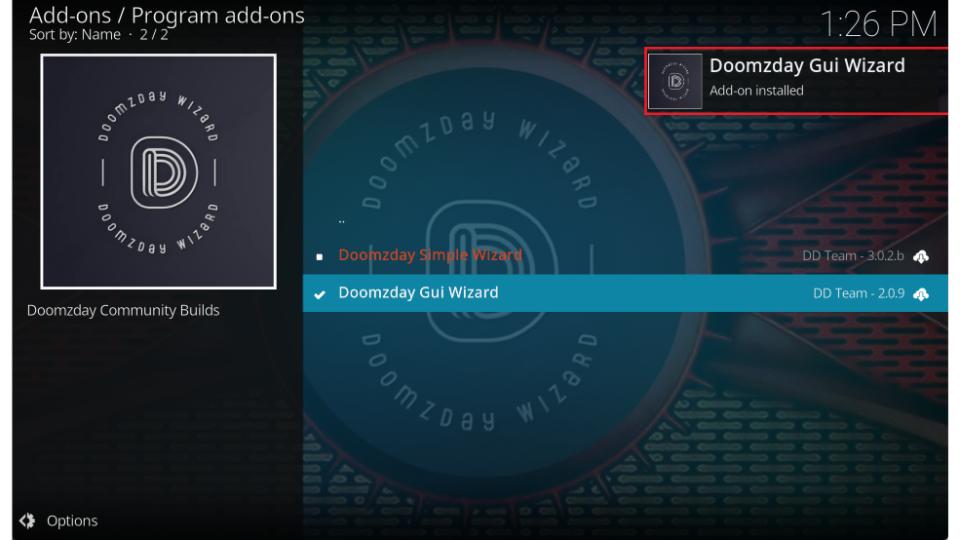 Installing Doomzday Wizard gets us one step closer to installing a Doomzday Kodi build.
Part 4: Install A Doomzday Build
These are the glory steps to install a Doomzday Kodi build:
1. A Doomzday Wizard window will appear, informing you about the latest developments. Choose Dismiss to close it.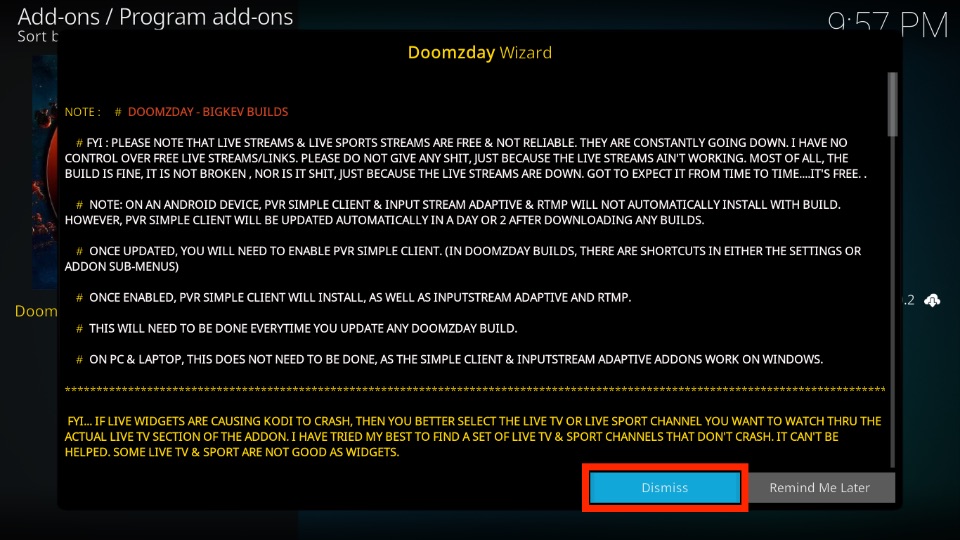 2. Return to Kodi's home screen and open the Add-ons tab.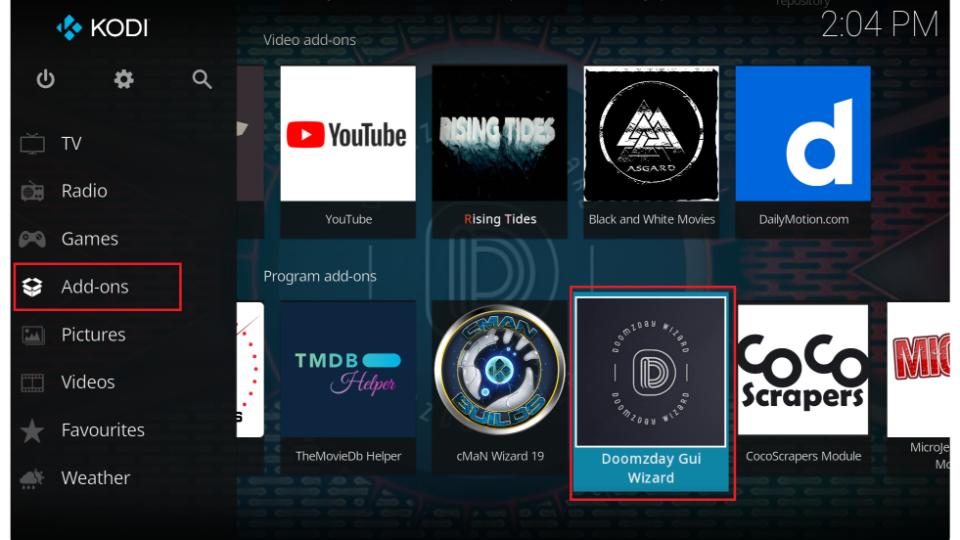 3. You will see the Doomzday GUI Wizard dashboard. Select Builds.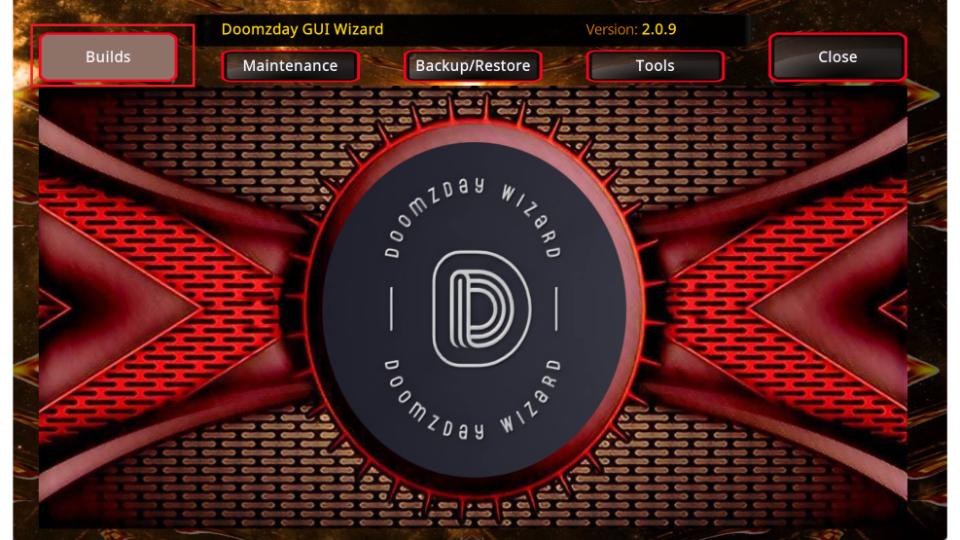 4. On the build menu, select Kev Doomzday.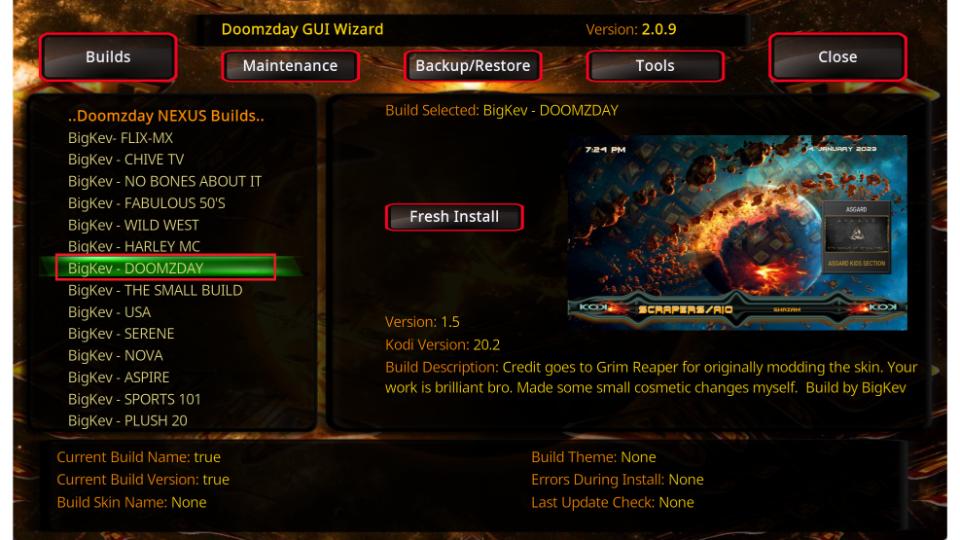 5. Doomzday Wizard will ask if you want to download and install the build you picked, click Yes, Install to continue.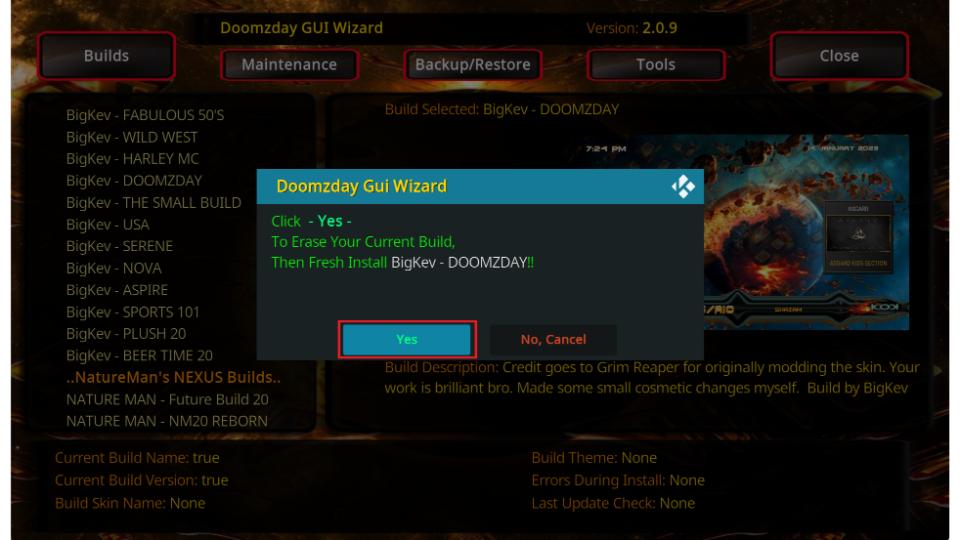 6. Allow the clock to run as Kodi downloads the build files.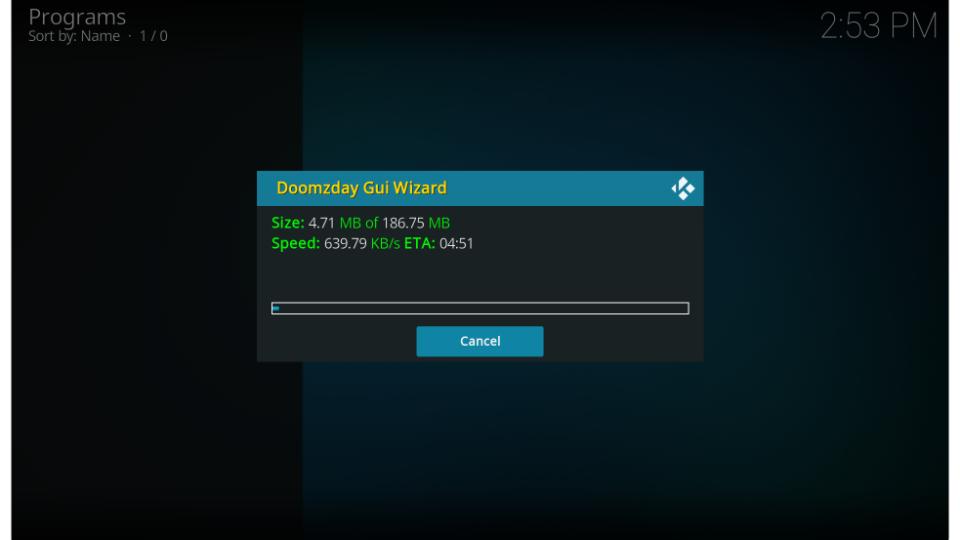 7. Click OK to save changes and force close the Kodi app.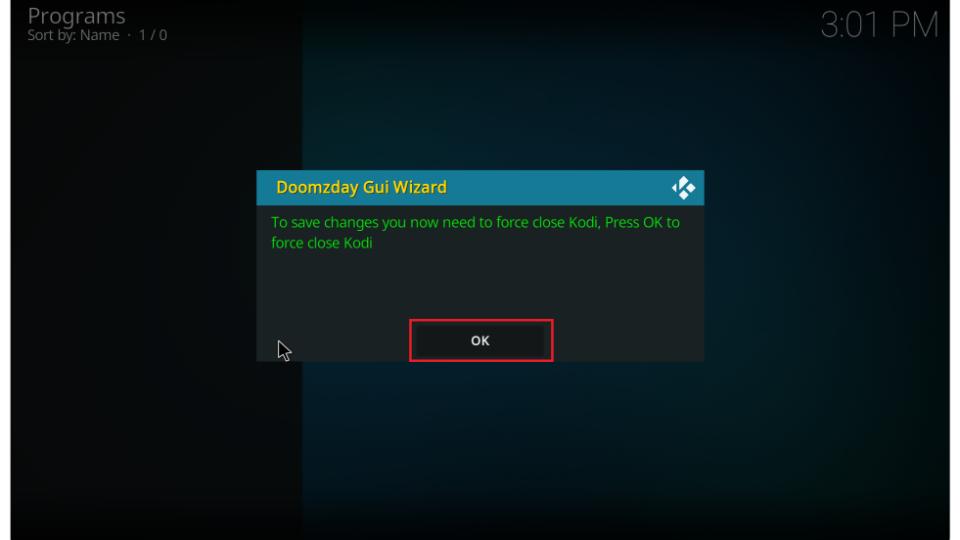 That's how you can easily install any build available on the Doomzday Wizard.
Wait! It looks like you are all set to start watching your favorite content on Kodi. But have you protected your online identity yet? You are under constant surveillance by the Government and ISP. They use your IP address 3.17.249.235 to track you. Streaming free or copyrighted videos may get you into legal trouble.
Thankfully, you can use a VPN to easily protect your privacy and go invisible from your Government and ISP. I use and recommend ExpressVPN with Kodi.
ExpressVPN is the fastest, most secure, and streaming-friendly VPN. It is easy to install and set up on any Kodi device, including FireStick, Smartphones, PCs, and more.
ExpressVPN, offers an unconditional 30-day money-back guarantee. So, if you do not like the service (I don't see why), you can get a full refund within 30 days.
Please remember that we encourage you to use a VPN to maintain your privacy. However, we do not condone breaking copyright laws.
Before you start using Kodi for streaming, here is how you can protect yourself with ExpressVPN:
Step 1: Sign up for ExpressVPN Here
Step 2: Download ExpressVPN on your device by clicking HERE
Step 3: Open the ExpressVPN app on your device. Sign in with your account. Click the connect/power button to connect to the VPN

Great! You have successfully secured yourself with the best Kodi VPN.
Overview of Doomzday Kodi Build
Here's a walkthrough of the Doomzday build I have installed from the Doomzday Wizard.
Doomzday Wizard welcomes its users to the SCRAPERS/AIO section.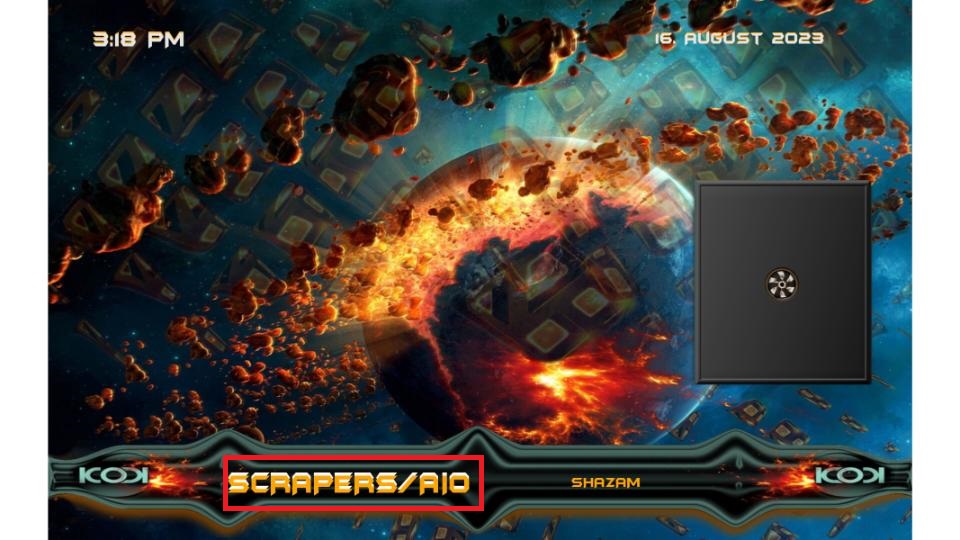 Opening SCRAPERS/AIO redirects you to a new screen where you can access sections like Shazam, Movies, TV Shows and more.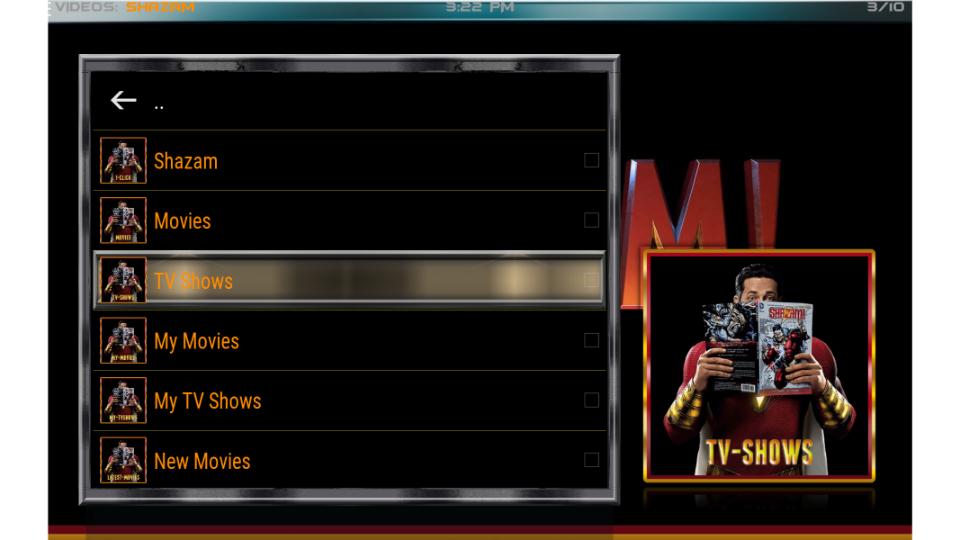 Besides SCRAPERS/AIO, there's a tray with all-in-one addons like Asgard, TWISTED, Magic Dragon, Ghost, and more. Select an addon to open it – I'm choosing Asgard.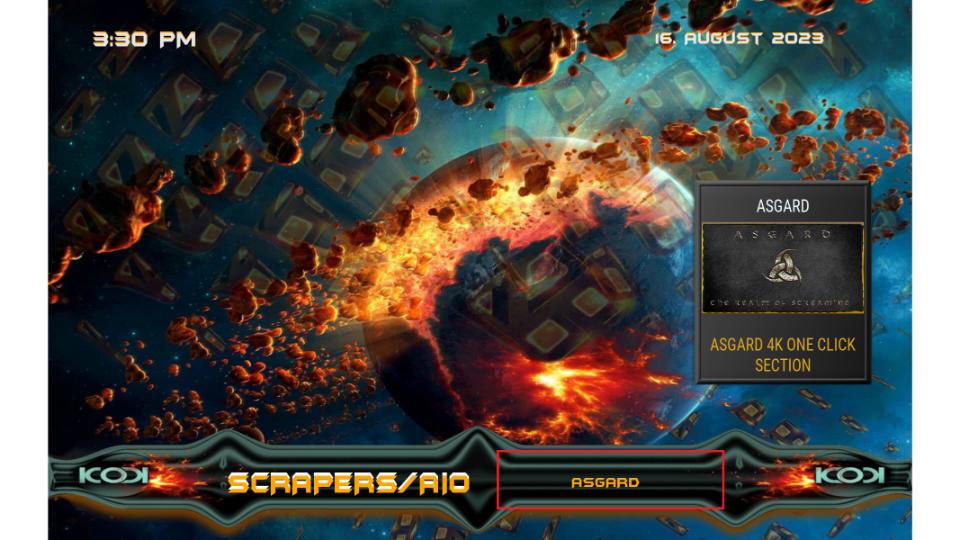 You'll be taken to the home of the addon you pick. I see all sections of Asgard, like Asgard Movie Scrapers, Asgard TV Scrapers, Asgard Kids Section, Asgard Apps Section, and more.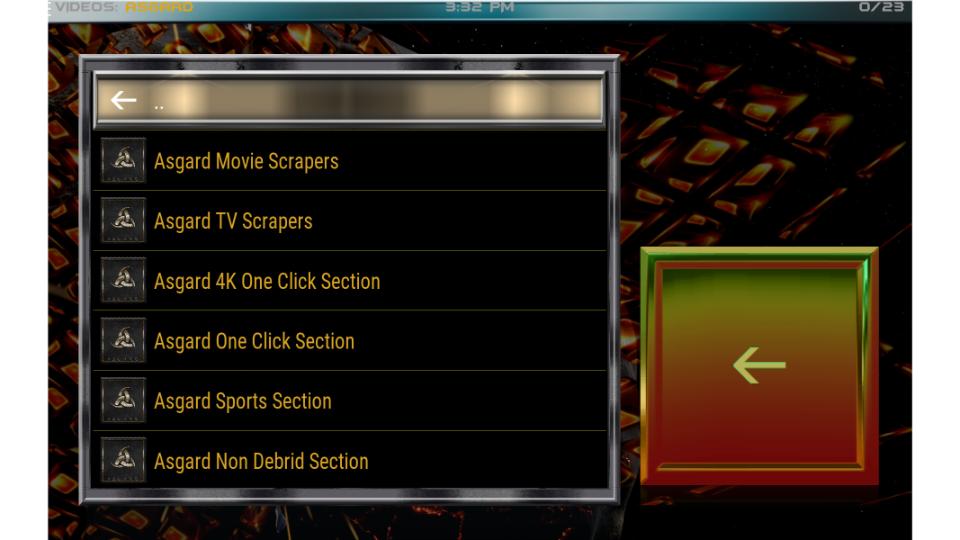 Next, we have TV SHOWS.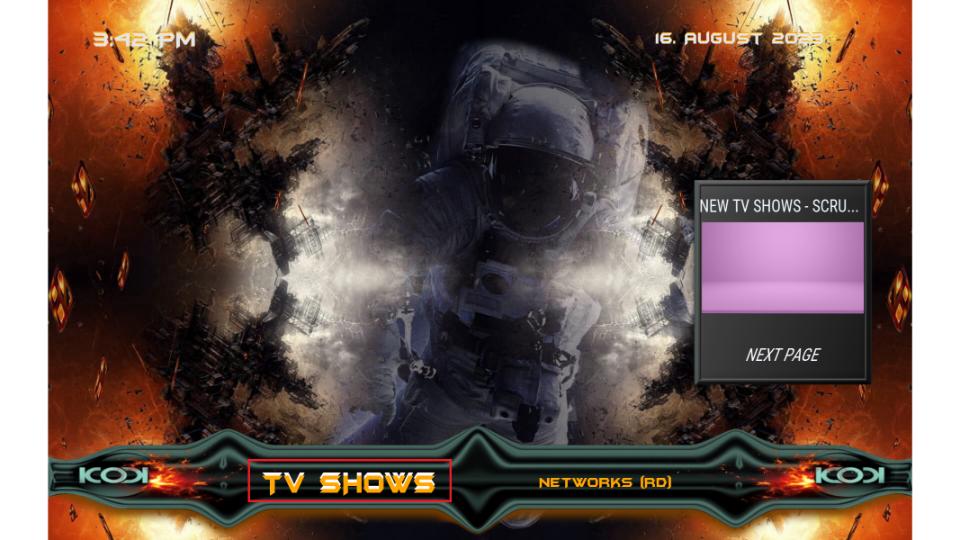 By default, opening TV SHOWS takes you to the TV shows section of the Asgard Kodi addon.
Note: You can choose addons from the bottom tray of the FREE TV SHOWS section to explore different TV show sections.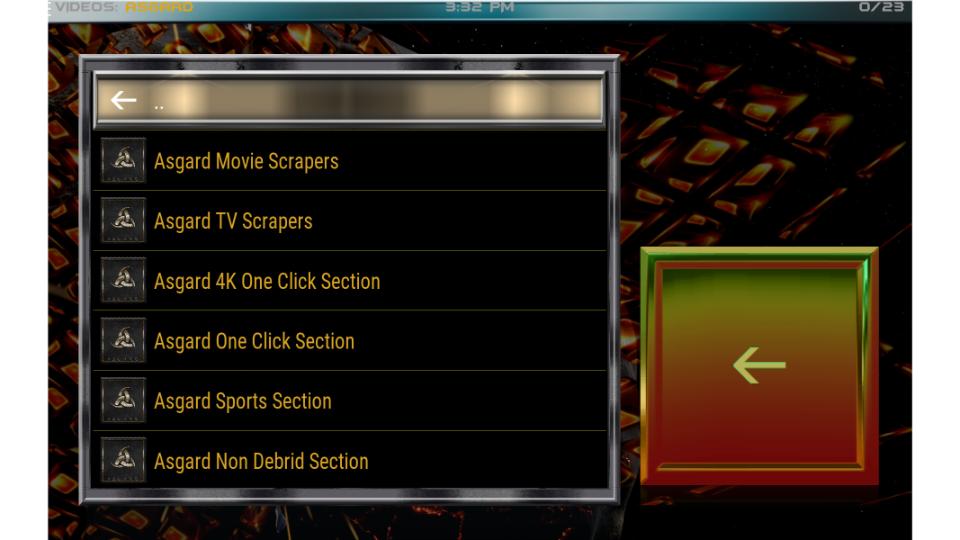 To stream live TV channels, open LIVE TV.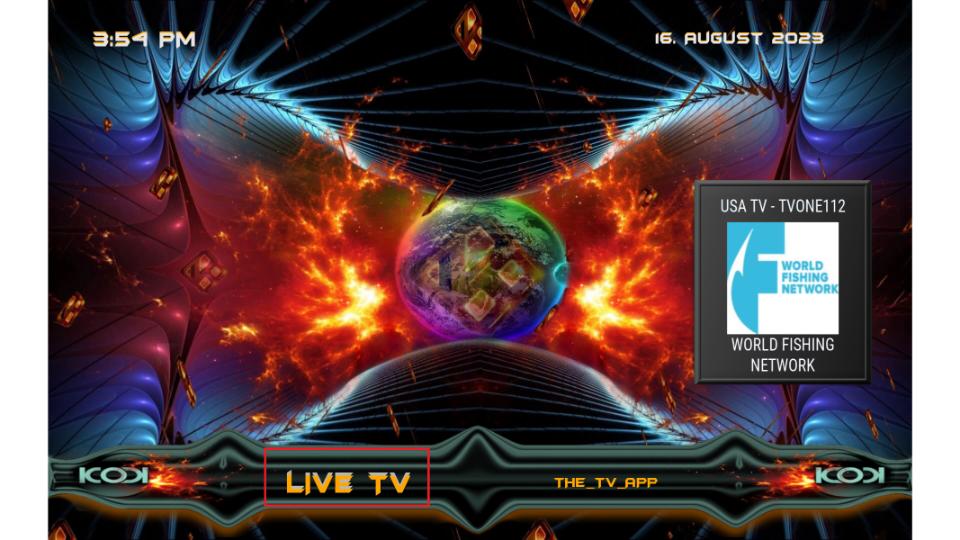 Conclusion
Today, you learned how to install Doomzday Kodi builds. If you have any questions, do not hesitate to ask them in the comments box below. Or you can suggest anything related to Kodi or FireStick you would like me to cover next.
Related: