Today, I'll cover how to install & play Asphalt 8 on FireStick. Furthermore, what Asphalt 8 is, some FAQs, and its features. This article is your go-to Asphalt 8 guide for any FireStick, including Fire TV Cube, FireStick 4K Max & 4K, FireStick Lite, FireStick 3rd Gen, and more.
What Is Asphalt 8?
Asphalt 8 needs no introduction! This sensational title was first released in August of 2013; since then, it hasn't looked back.
Asphalt 8 is considered to be one of the racing game benchmarks. Some of the game's top features are excellent visuals, easy controls, realistic environments, challenging maps, and multiple fun game modes.
With Asphalt 8, you get 300+ licensed high-performing cars to give you a boost in action-packed races. Also, you can customize the cars and bikes in your garage to look different than others.
There are more than 75 tracks available on Asphalt 8. Some of the popular ones are Nevada Desert, Tokyo, and Barcelona. And the variety of modes makes the tracks even more challenging.
Asphalt 8 lets you hit the ramps, do backflips, drift, and go beyond the laws of physics. Moreover, your way through the track by beating the opponents and collecting items to be the undisputed king of the game.
Asphalt 8 easily qualifies as one of the topmost games for FireStick & Fire TV.
Attention FireStick Users: Read before you continue
Your government and ISP are probably monitoring your streaming activities. You will likely get into serious legal trouble if caught streaming copyrighted videos on your FireStick. Your IP address 66.249.70.181 is exposed to everyone. Therefore, I strongly recommend getting a trusted VPN for FireStick and hiding your online identity.
I use ExpressVPN on all my devices as it is the most reliable, secure, and fastest VPN. Enjoy effortless installation on any device and a 30-day money-back guarantee. Plus, when you sign up for the annual plan, you'll get 3 months free. Don't miss out on the peace of mind and online security ExpressVPN provides.
Read: How to Install & Set up the best VPN on FireStick.
Features of Asphalt 8
Here are some gold Asphalt 8 features:
300+ high-performing licensed cars from manufacturers like Lamborghini, Bugatti, Porsche, and many more.
Beat gravity by performing barrel rolls, wild 360 jumps, drifts, and more.
Race in 75+ tracks set in various exciting environments.
Get yourself familiar with the track by discovering shortcuts.
Simultaneous multiplayer action amplifies the fun.
Get access to limited challenges and modes rolled out by the Asphalt team.
How to Install Asphalt 8 on FireStick
Follow the steps below to install Asphalt 8 on FireStick:
1. Go to Find > Search icon on the FireStick Home screen.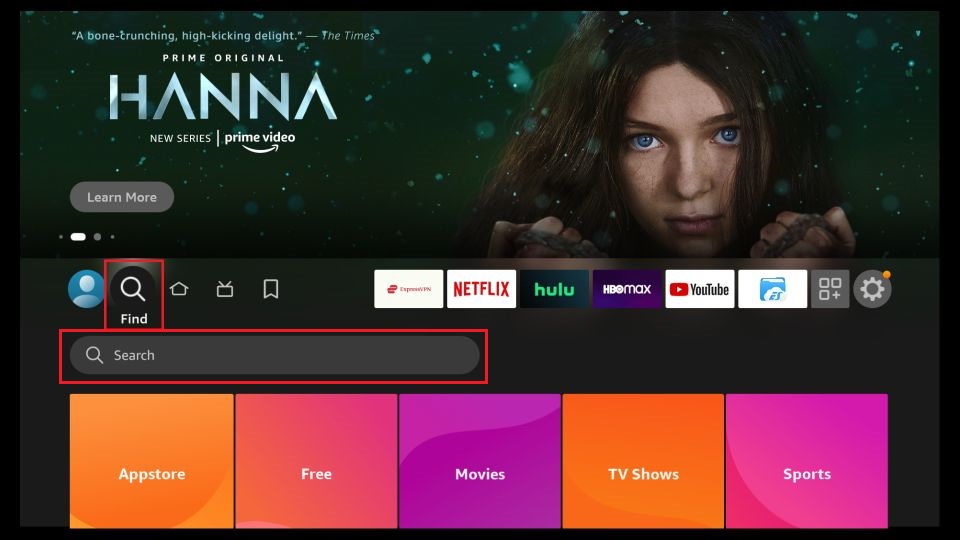 2. Enter Asphalt 8 and select it to proceed with the search.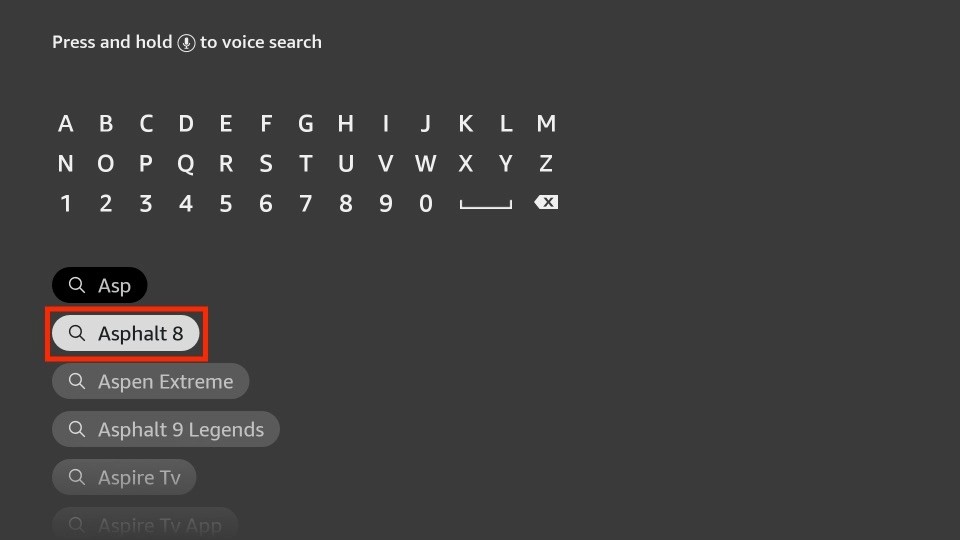 3. Open Asphalt 8 Car Racing Game – Drive & Drift.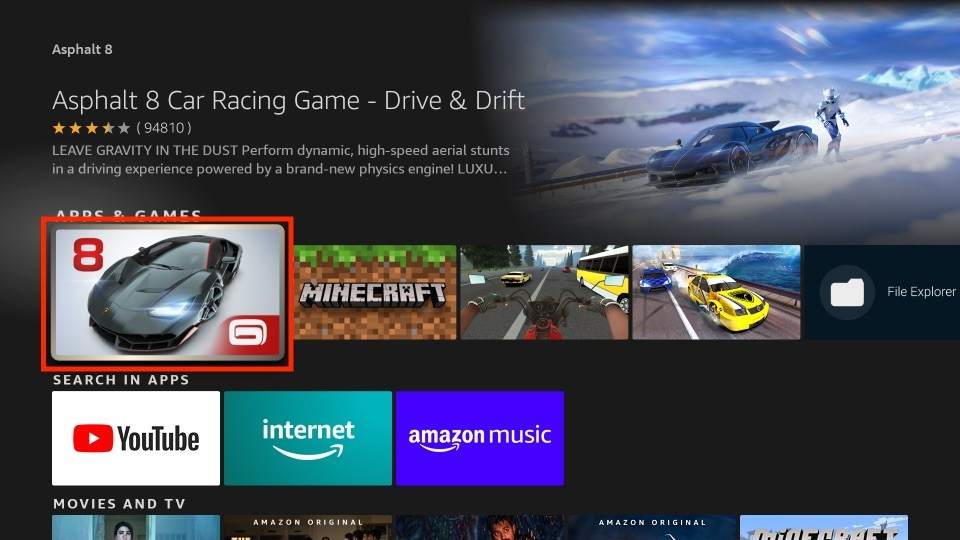 4. Inside Asphalt 8's dashboard, click Get to download & install the game for free.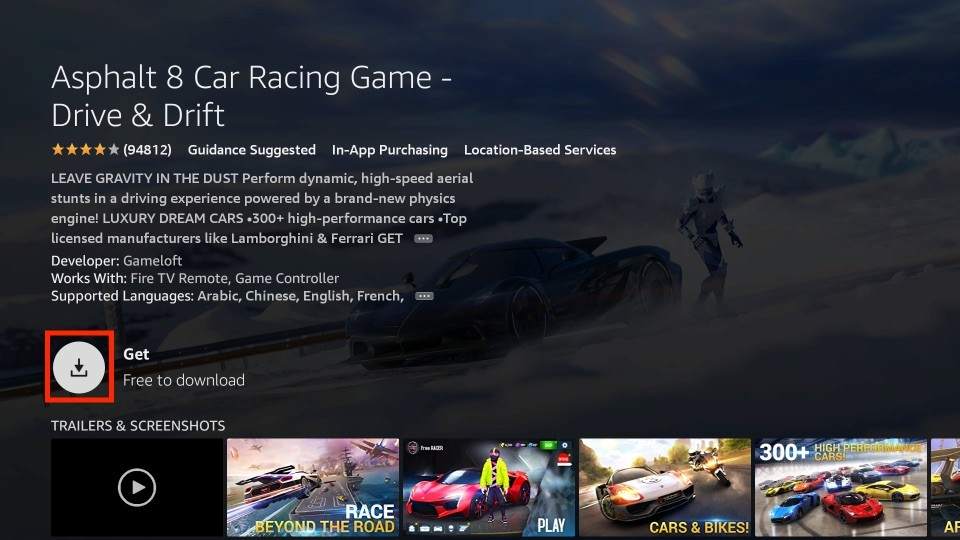 5. Wait for the notification to appear – Asphalt 8 Car Racing Game – Drive & Drift Ready to play!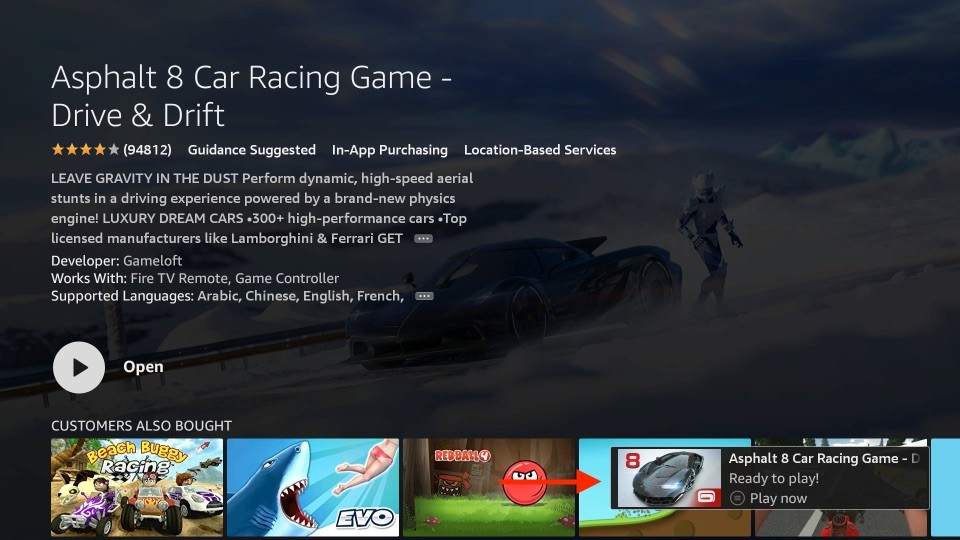 You can now play Asphalt 8 on your FireStick device for free.
Wait! Before watching your favorite content on FireStick, ensure you have protected your online identity. Your streaming activities are likely being monitored and logged by your Government as well as your ISP. Free streaming of copyrighted videos may get you into legal trouble.
Thankfully, you can easily avoid the surveillance and monitoring of your online activities and completely maintain your privacy. All you need to do is connect to a trusted and reliable VPN on FireStick. A VPN will hide your IP address and your online identity by encrypting your internet connection.
Please note that I am not encouraging you to violate any copyright laws. You should always watch the content available in the public domain. I am simply recommending the use of a VPN to maintain your privacy. You have every right to your privacy, which is constantly being breached these days.
I personally use ExpressVPN and have found it to be the fastest and most secure FireStick VPN. It is the most streaming-friendly VPN I have ever used. Therefore, I highly recommend getting ExpressVPN for FireStick.
Here is how you can quickly and easily get the ExpressVPN app on FireStick:
Step 1: Click HERE to subscribe to ExpressVPN and enjoy a 49% discount with 3 months of extended service. You are also eligible for a 30-day, full money-return guarantee.
Step 2: Download and install ExpressVPN on FireStick
Choose the Find > Search option on the FireStick home screen on the menu bar.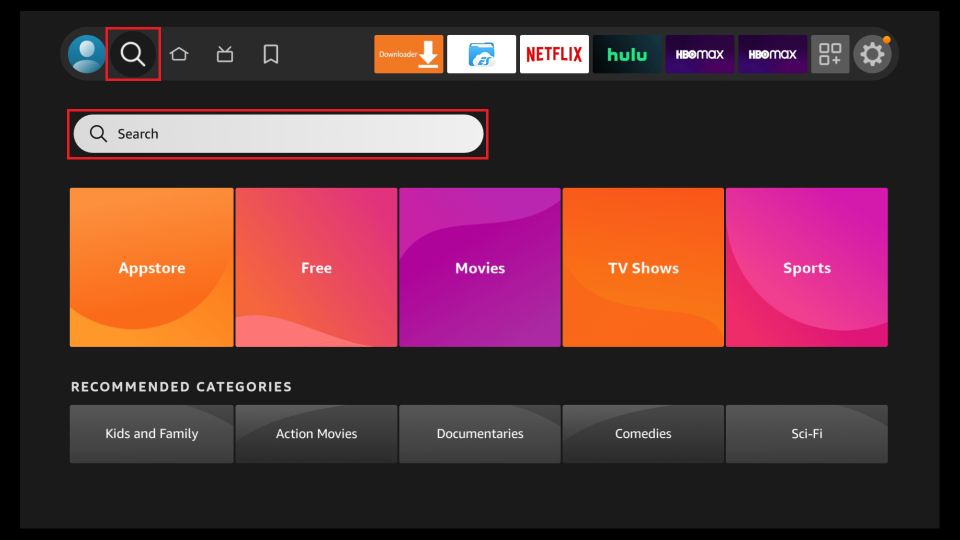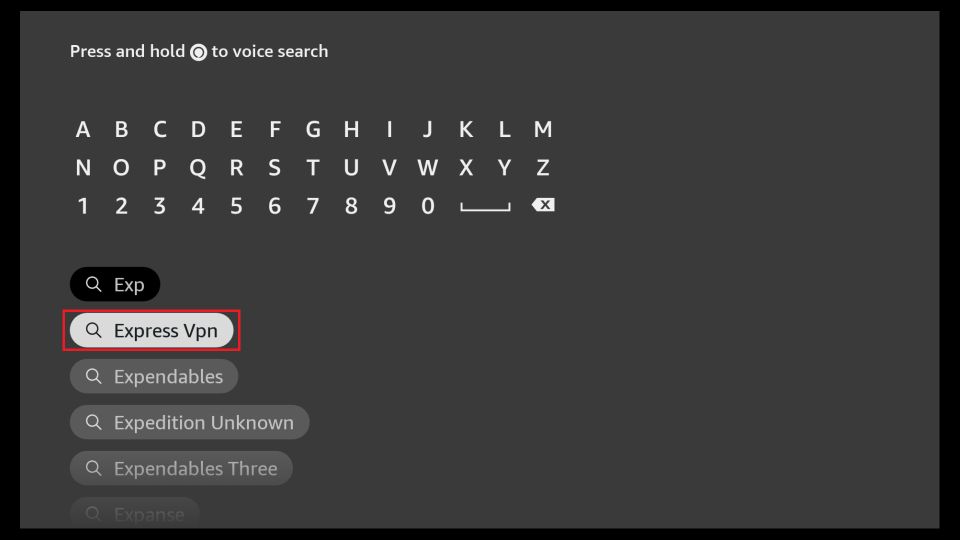 Click the ExpressVPN icon on the following window.

Click Download or Get on the next window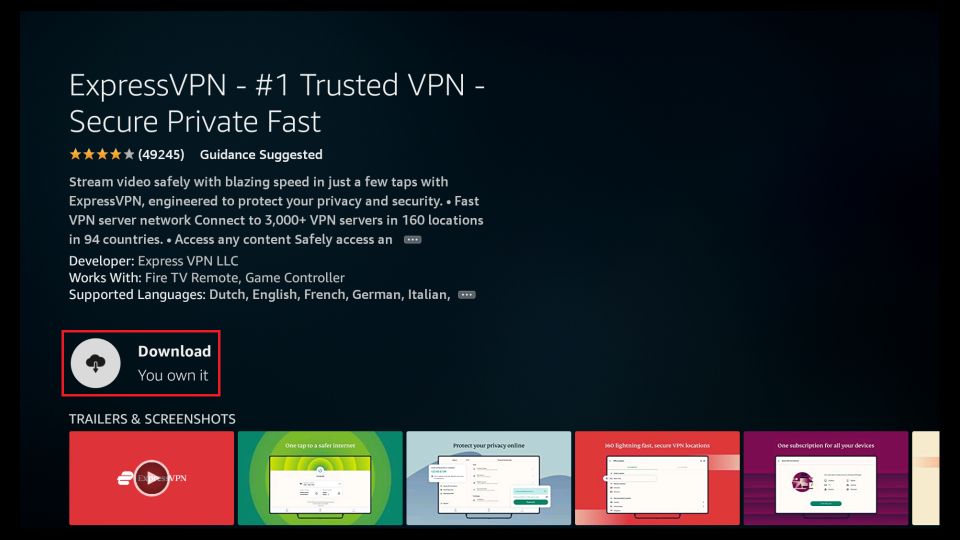 Step 3: Open ExpressVPN once you have downloaded it. Sign in with your account.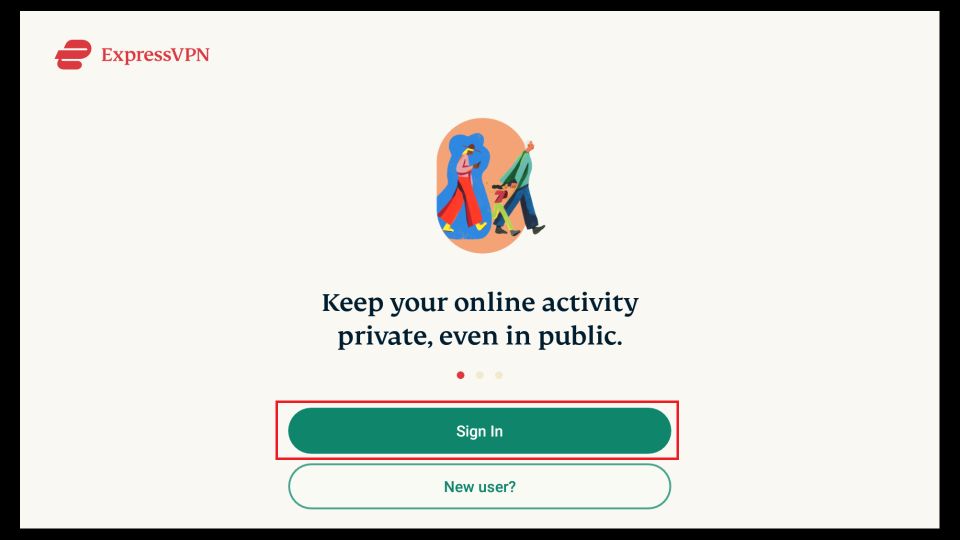 Step 4: Choose a server and click the Connect/Power button

Put your mind at ease now! You have successfully secured your streaming activities with ExpressVPN.
How to Play Asphalt 8 on FireStick
Take a look at the following Asphalt 8 walkthrough on FireStick:
Before you launch Asphalt 8, it's better to move its icon to your FireStick home.
Press the Apps button on your remote and then click Asphalt 8. If your remote does not have the Apps button, you can navigate to the Your Apps & Channels window from the FireStick home screen.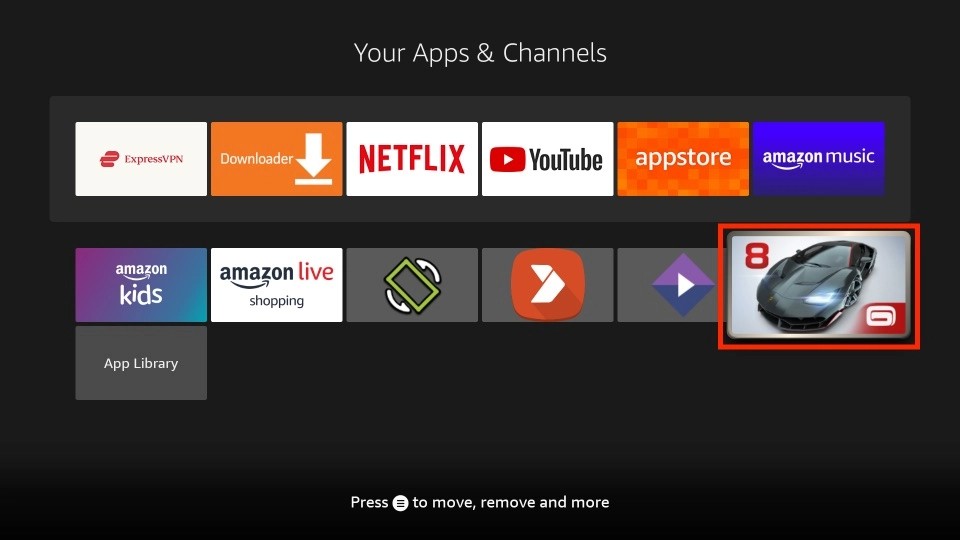 The good old Gameloft icon will appear on your screen.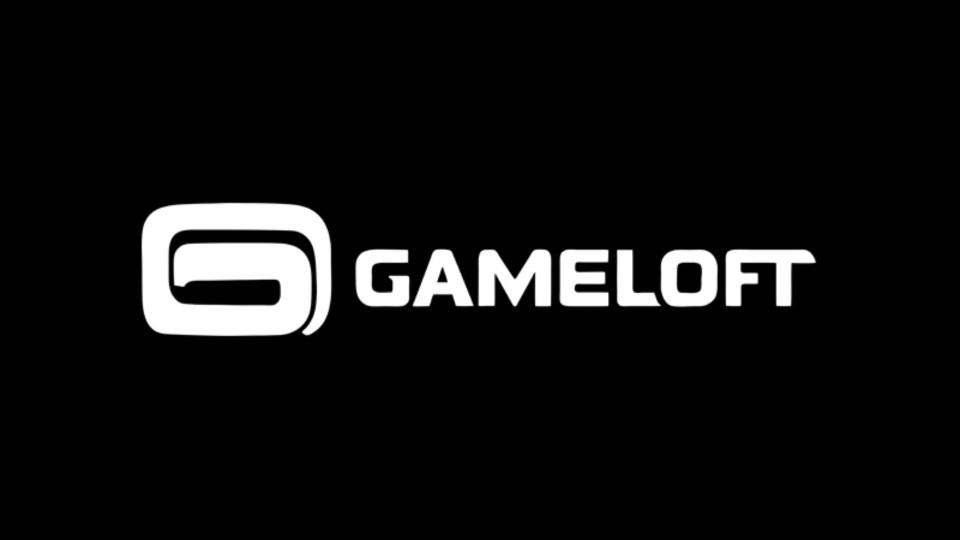 Let Asphalt 8 load for the first time on your Fire TV.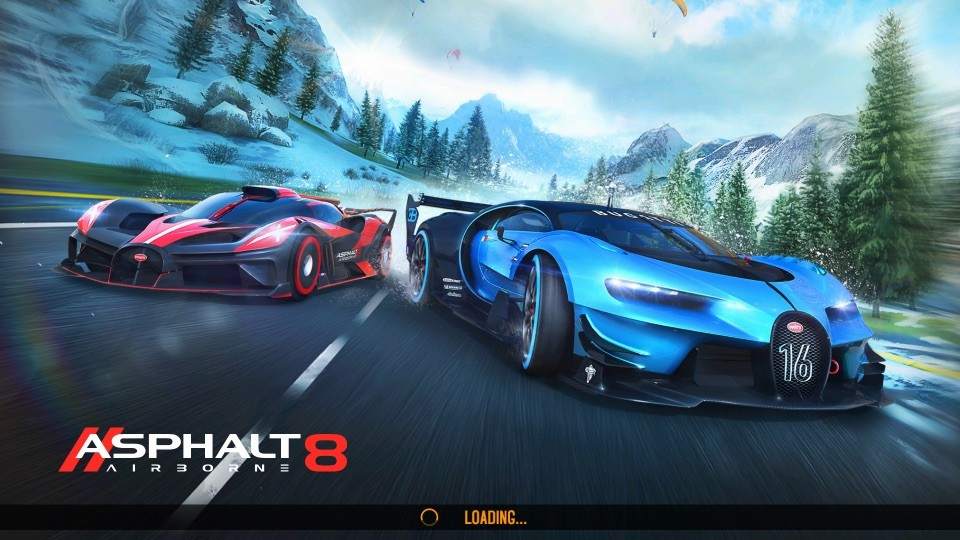 You'll receive the following error if your FireStick doesn't have enough space for Asphalt 8.
Note: Your device must have 250 MB (recommended) of free space to install Asphalt 8. So, if you see a low-storage prompt like this (image below), please delete some data on FireStick before installing the game.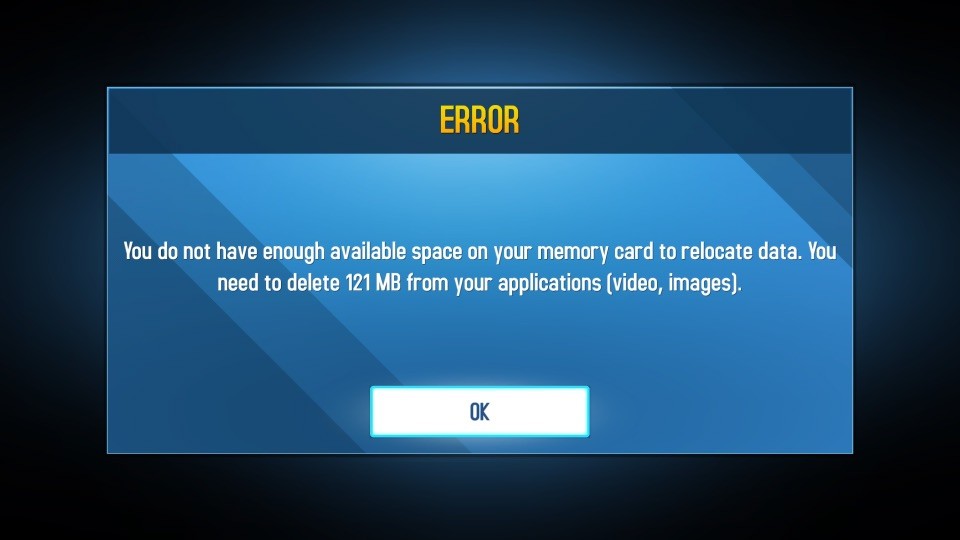 Let Asphalt 8 fetch the necessary files to complete its installation. Till then, let's take a quick peek inside the game. And for that, select RACE NOW!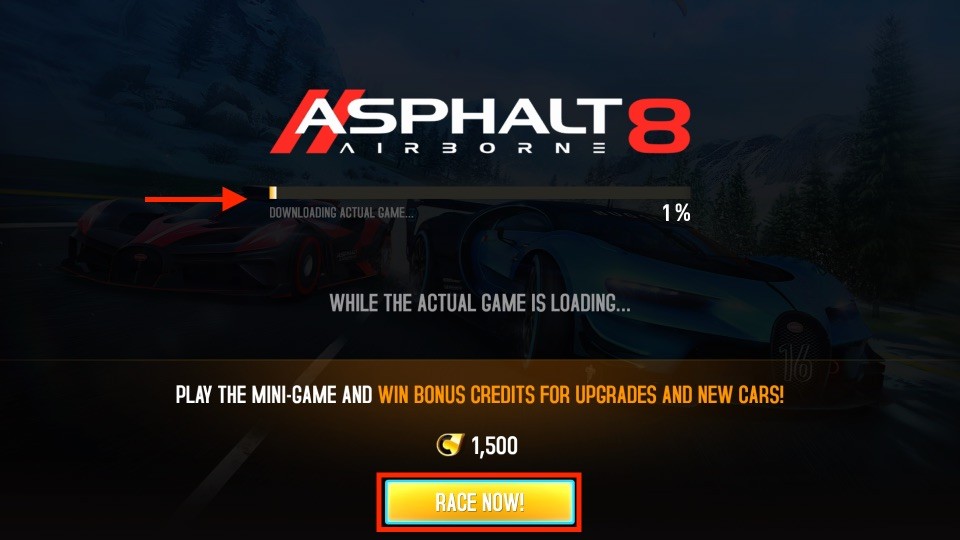 Choose TUTORIAL.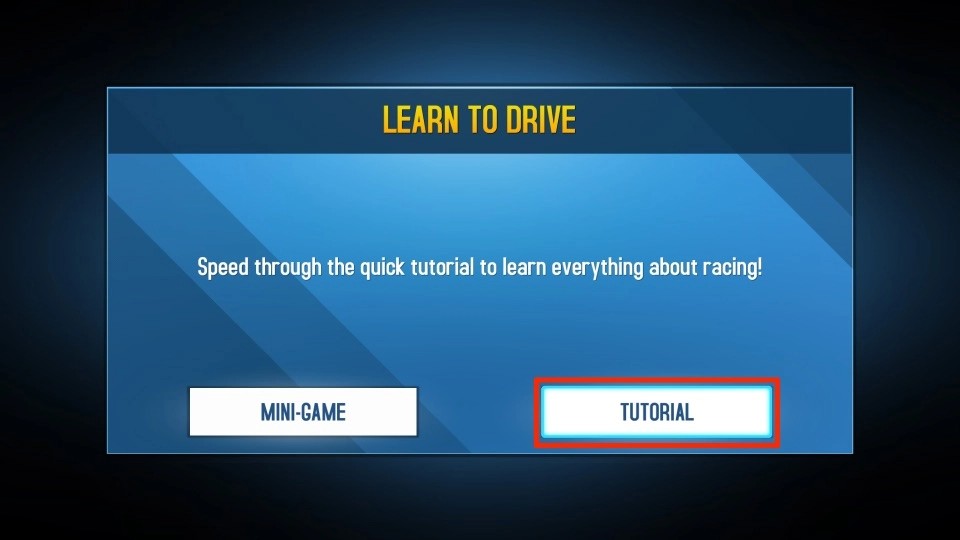 Asphalt 8's famous Barcelona track will load up.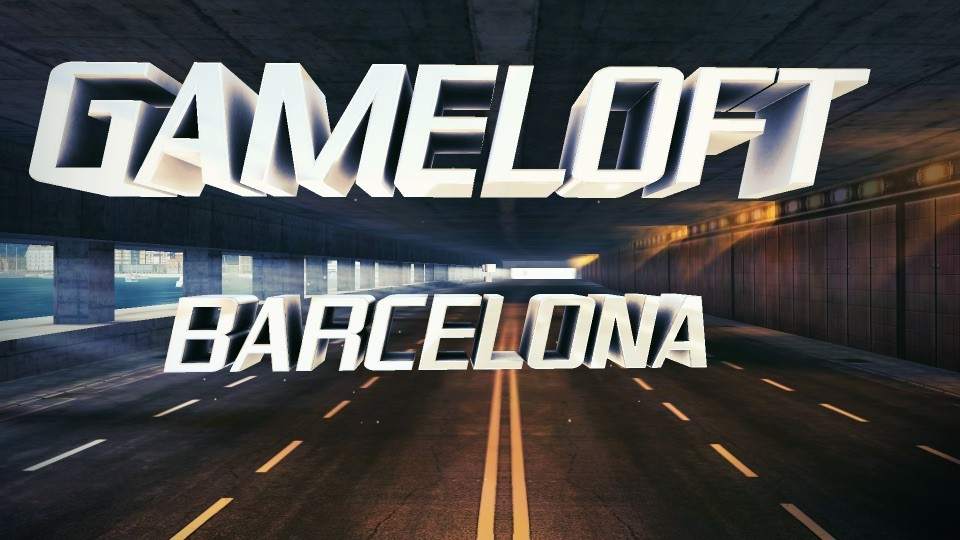 Press the A/Select button on your Fire TV remote to accelerate the car.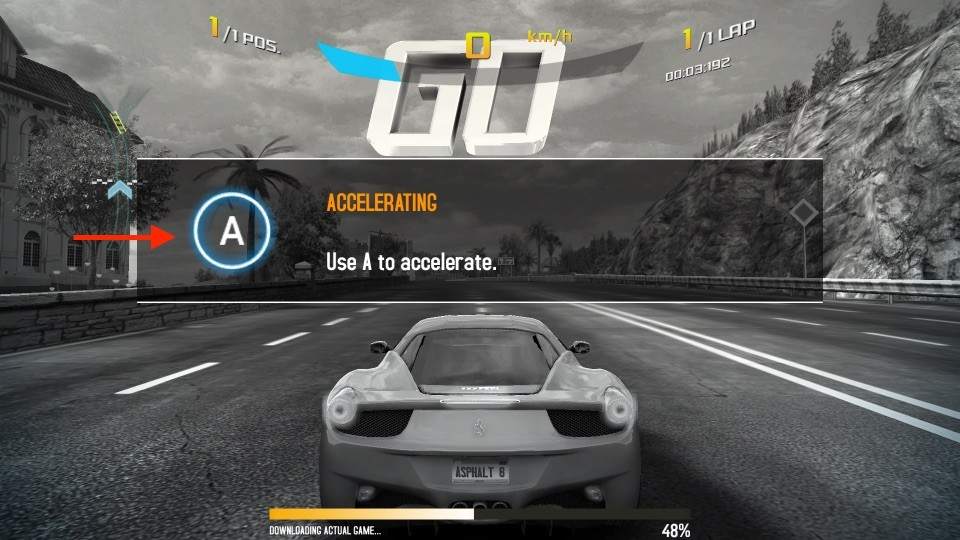 Hold/Select the X/Down button on your FireStick remote to slow down/stop.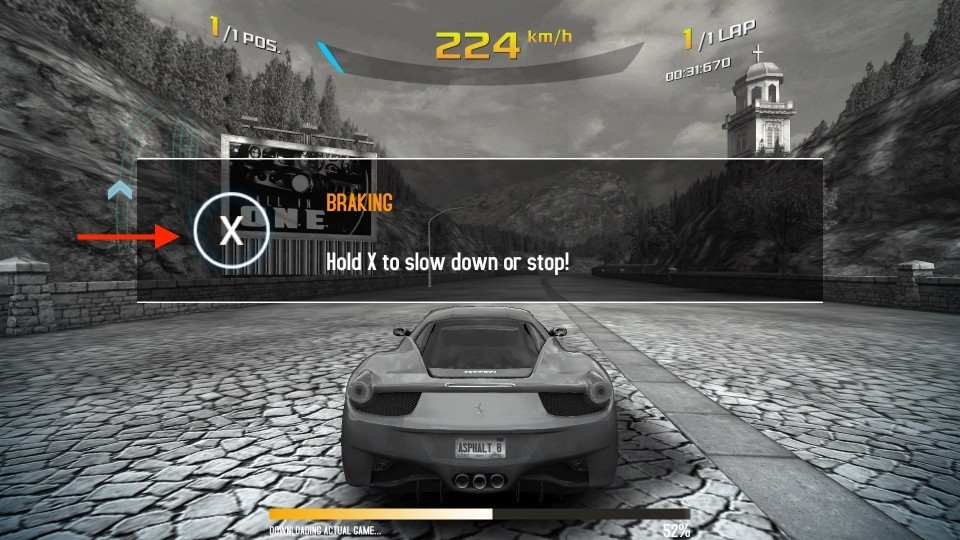 To steer the car left/right, use the Left/Right button.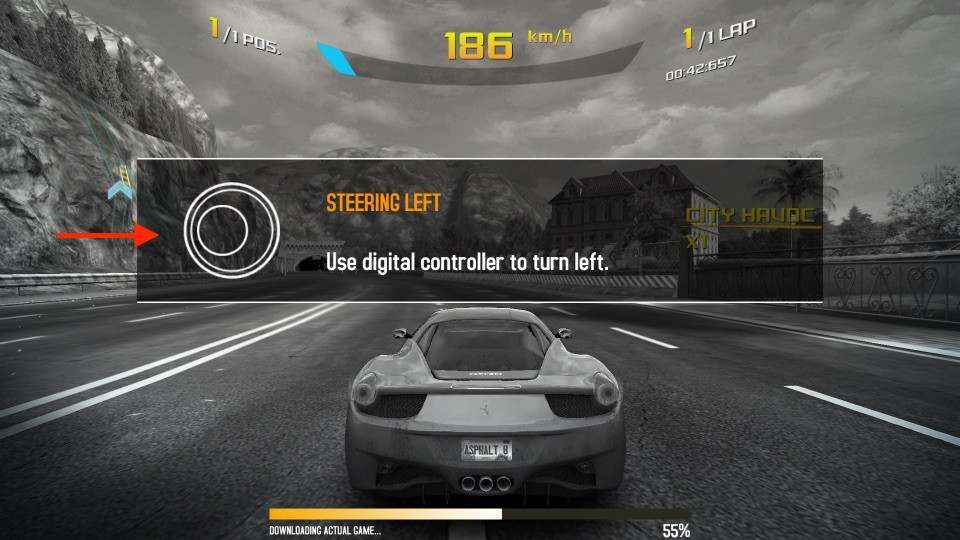 To fire up your car's nitro, press the Up button.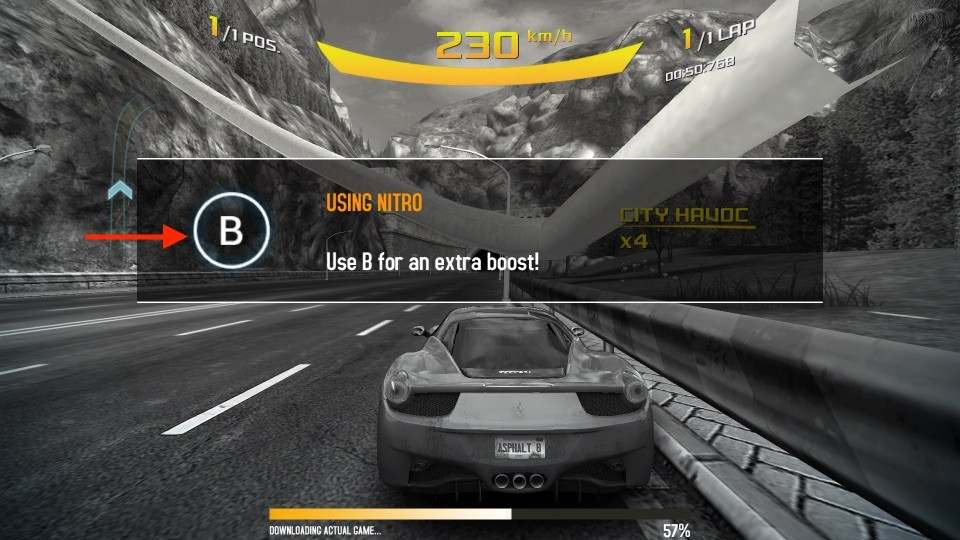 Press X/Down while Steering to enter Drift Mode.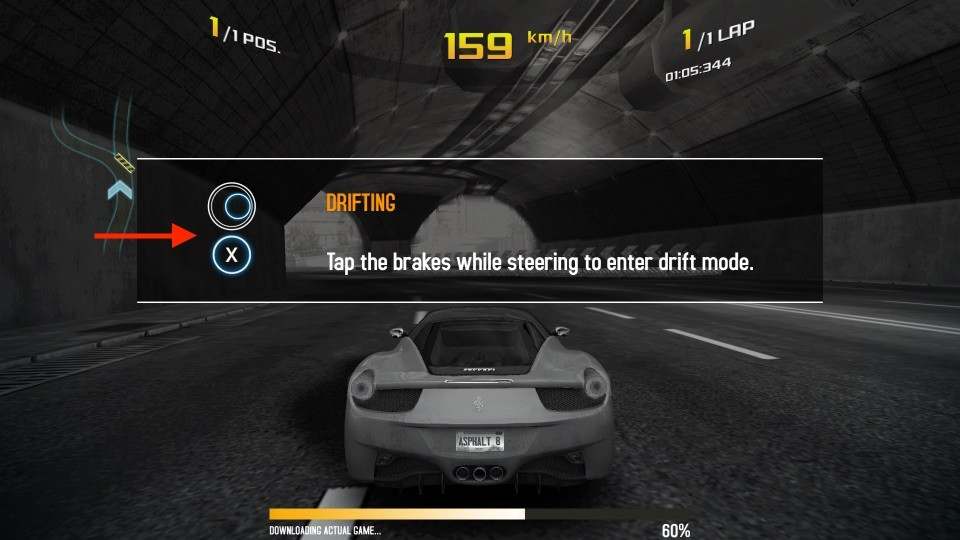 Complete the tutorial race, and you'll see the following prompt. Click OK to continue.
Note: You may get a High-Temperature notification from Amazon while playing Asphalt 8. Ensure to ventilate the area where your FireStick is plugged in.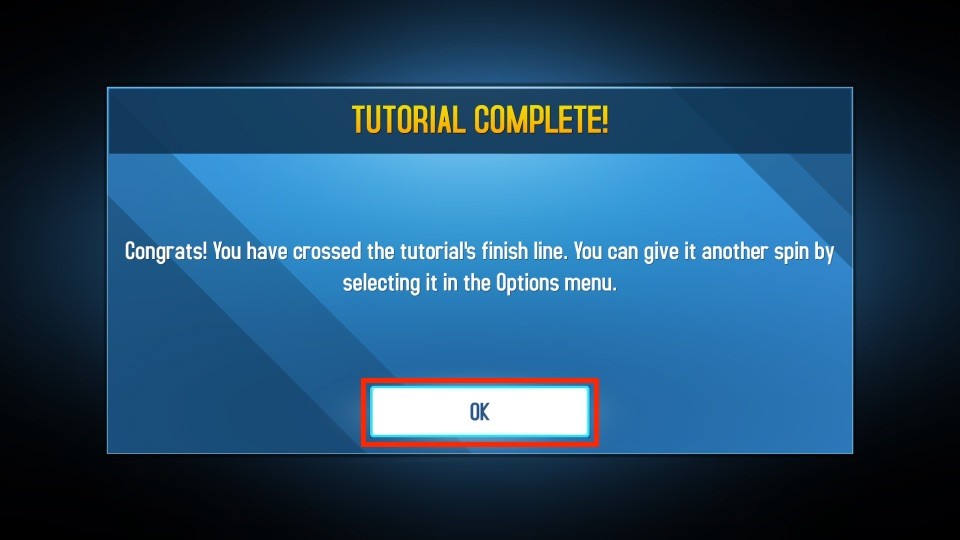 My download is complete, so I'm finally on the information and license screen of Asphalt 8. Select the Age Box.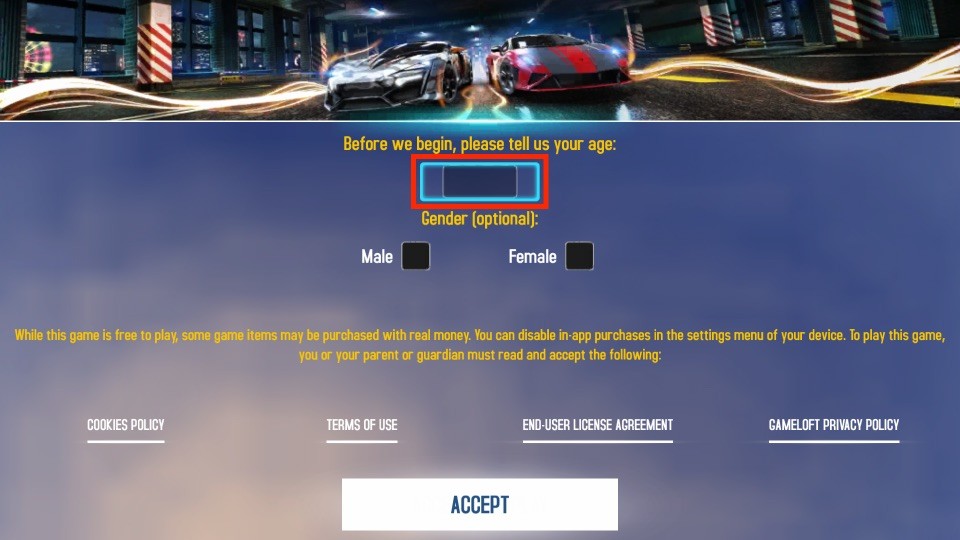 Enter your Age and click Next to continue.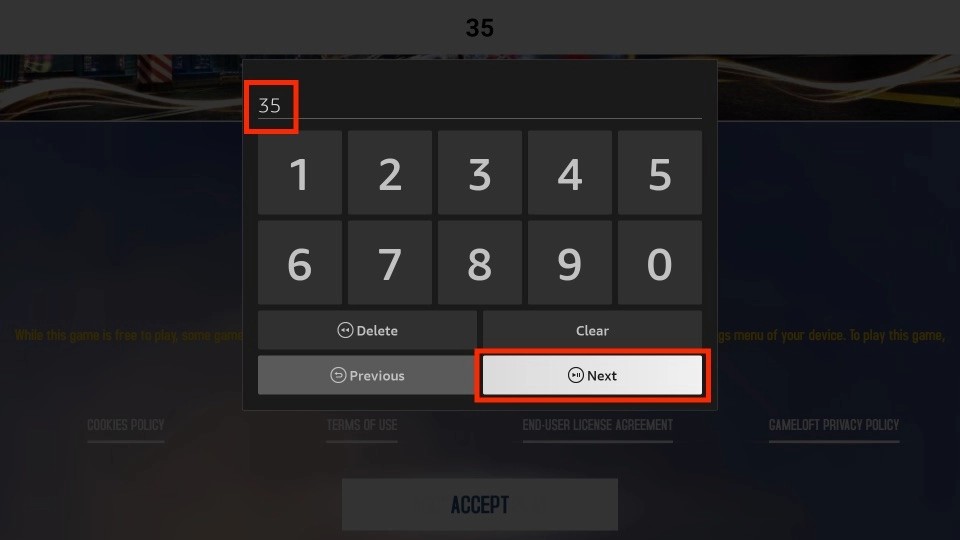 Select your Gender.
Finally, click ACCEPT to complete the initial Asphalt 8 set-up.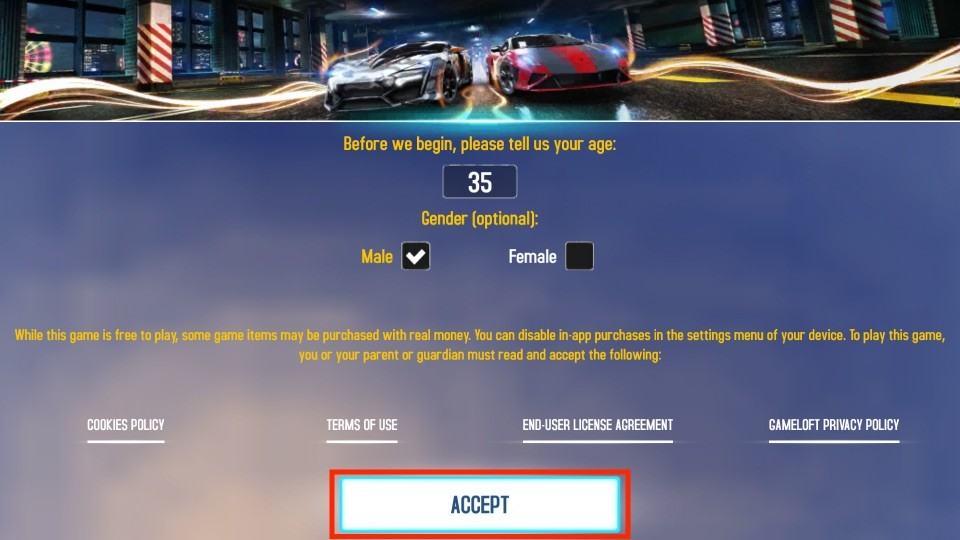 Before you press any button, carefully go through the Button-Maping.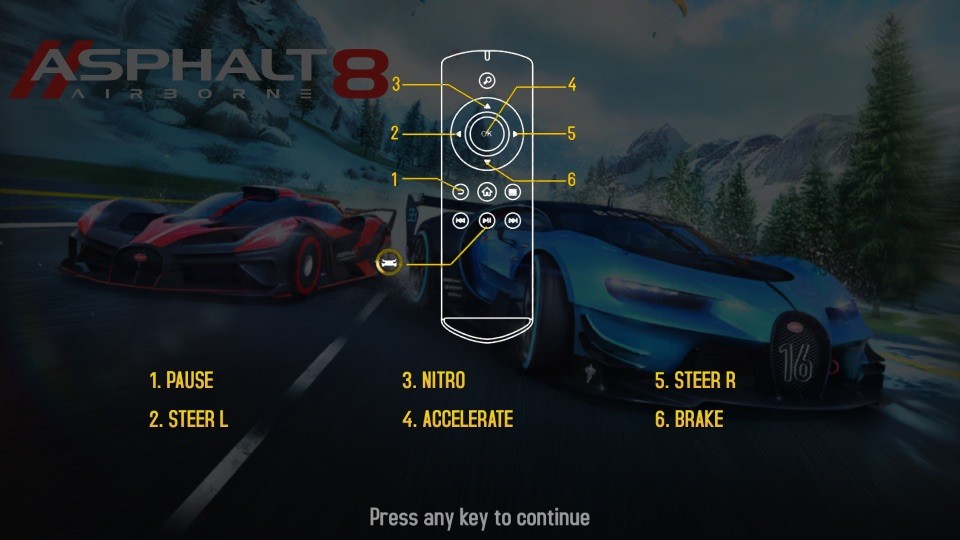 And finally, you are on Asphalt 8 home!
Note: You'll be asked to customize your username, avatar, and more.
Select PLAY.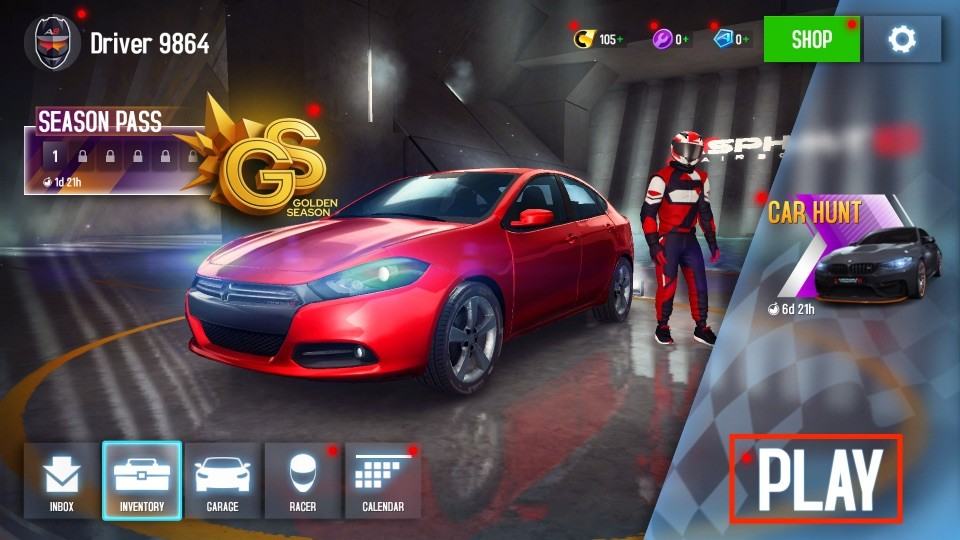 Inside are multiple modes like Single Player, World Series, Gauntlet, Events, Quick Race, etc.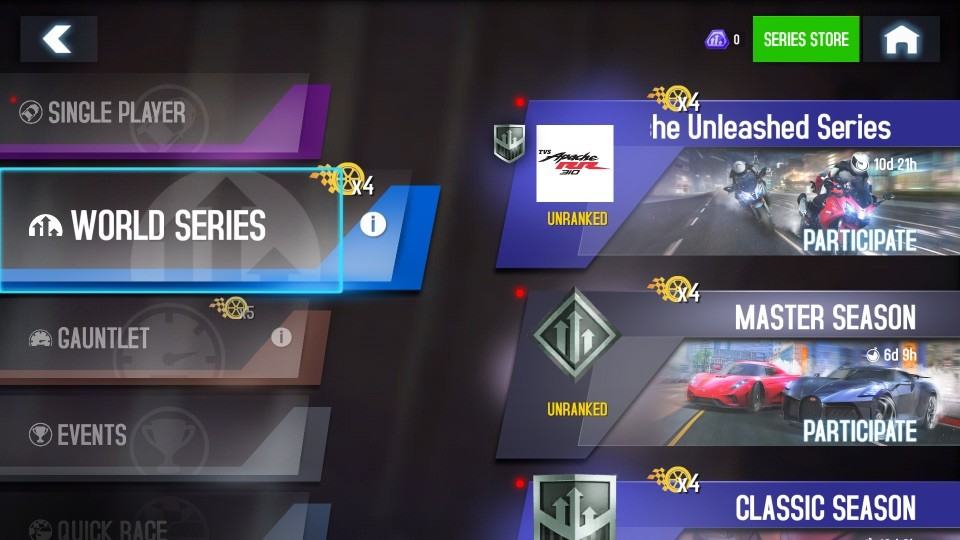 I'll leave you with it! Feel free to explore different Race Modes, Settings, Inventory, Garage, Calendar, Racer, and other features/menus of Asphalt 8.
FAQ's
Take a look at the following Asphalt 8 on FireStick FAQs:
How much space do I need to install Asphalt 8 on FireStick?
You need at least 250 MB of free space on your FireStick to install Asphalt 8.
I see a high-temperature notification when playing Asphalt 8. What to do?
That happens when there's no ventilation near your FireStick device. Place a portable fan near the device so it can quickly cool down.
Is Asphalt 8 paid?
No! Asphalt 8 is entirely free to download and install. But it contains in-app purchases.
Final Words
Experience a world-class racing experience on your big TV by playing Asphalt 8! I showed you how to install and play Asphalt 8 on FireStick. For more posts on games like this, please let me know via the comments box below.
Related:
How to Install & Play Taxi Driving 3D on FireStick