In this guide, I will guide you on how to install Titanium Build on Kodi. Please note that the instructions laid out in our guide work with all the devices which support Kodi including your Amazon FireStick and Fire TV devices (including FireStick 4K), computer platforms (Mac, Linux, Window), Mobiles (Android & iOS), Raspberry Pi and more.
Titanium Build is a very popular and widely used Kodi build. It has been around for many years and continues to provide excellent performance and user experience. The build comes from Supreme Builds, which is a very trustworthy source in the Kodi world today.
The build isn't popular for no reason. It gets you everything you could ask for. It works smoothly on any platform. There is a decent catalog of preloaded addons for all your streaming needs. The interface is thoughtfully designed allowing for ease of use. You can interact with the build and navigate with a mouse, keyboard, touch or remote. All in all, it is a perfect build to have. It is also the second build on our list of Best Kodi Builds.
How to Install Titanium Build on Kodi
Titanium Kodi build installation is going to be a four-part process as follows:
Step 1: Enabling Unknown Sources in Kodi Settings
Step 2: Addition of Source Path
Step 3: Installation of Supreme Builds Kodi Wizard
Step 4: Installation of Titanium Build
Here is how it goes.
Attention KODI Users: Read before you continue
Kodi is an excellent platform for streaming movies, TV shows, and sports, but it's important to remember that streaming copyrighted content can get you into legal trouble. Your IP address 3.17.249.235 is exposed to everyone. You should use a reliable Kodi VPN while streaming to protect yourself online. A VPN will keep your streaming activities private and bypass government surveillance and geo-restrictions.
I use ExpressVPN, the fastest and most secure Kodi VPN out there. It's easy to install on any device, including Amazon FireStick. Plus, it offers a 30-day money-back guarantee, and if you sign up for an annual plan, you get 3 extra months free. 
Read: How to Install & Use the best VPN for Kodi.
Step 1: Enabling Unknown Sources
This part is the prerequisite. Kodi would not let you proceed with the installation of third-party build Titanium without it. Follow the steps below:
#1: Go to the Settings on Kodi by selecting the cog/gear icon on the main screen. This icon is located on the upper-left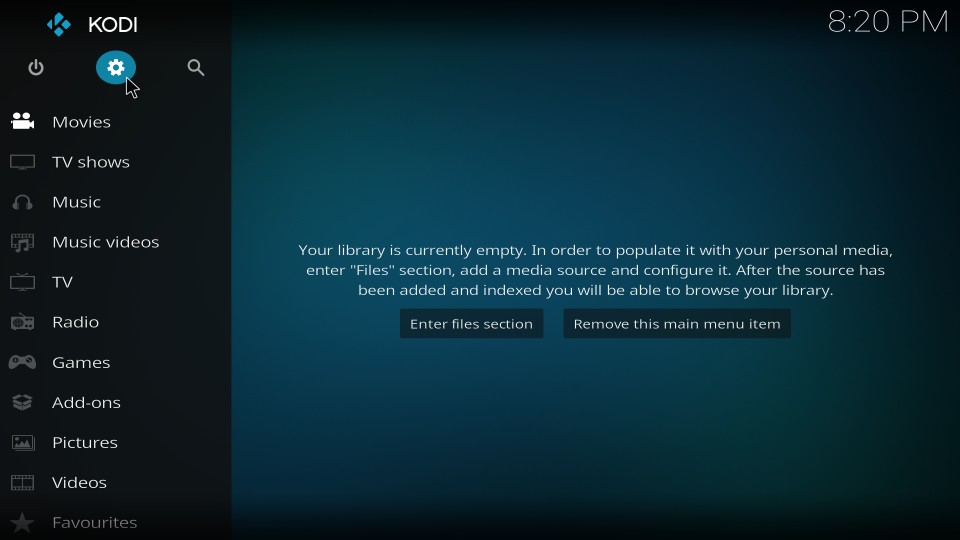 #2: Access the option System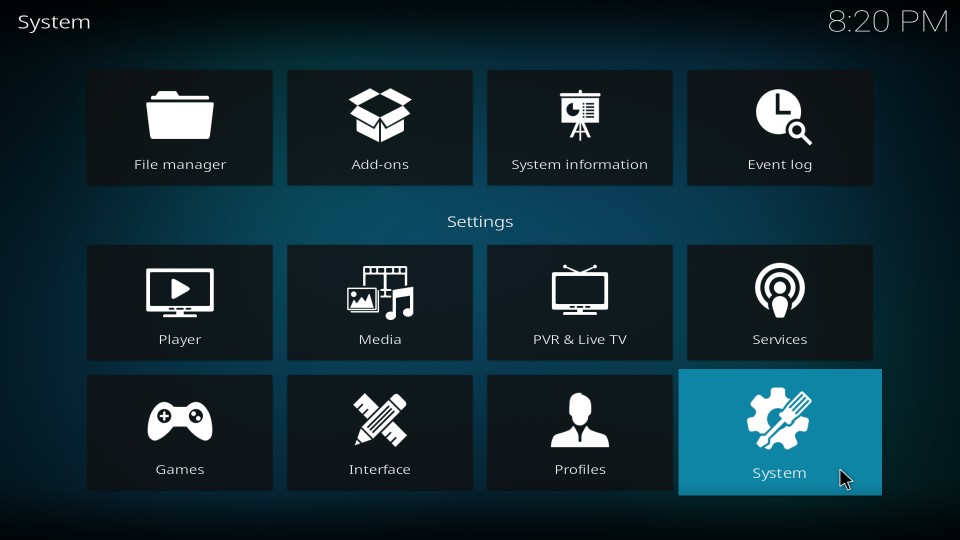 #3: Go on and select the menu item Add-ons. It is towards the left of the  following window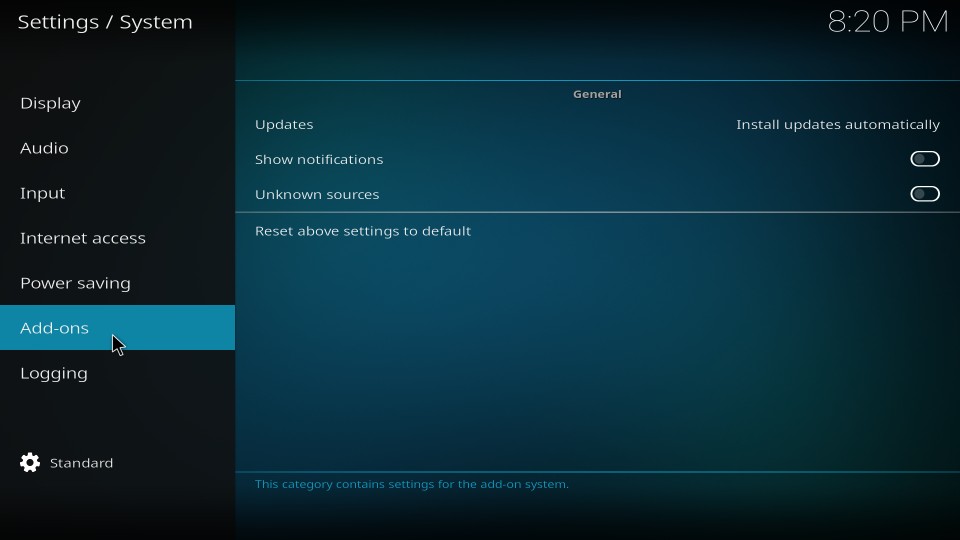 #4: Now switch on the toggle next to Unknown Sources on the right part of the same window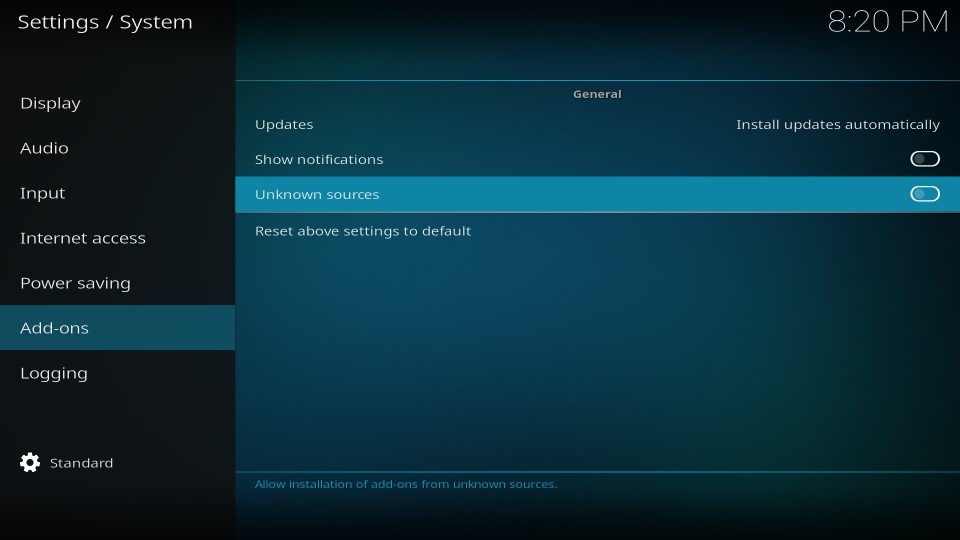 #5: You should see a warning message. You may safely ignore this message as Titanium Kodi build is from a trusted and safe source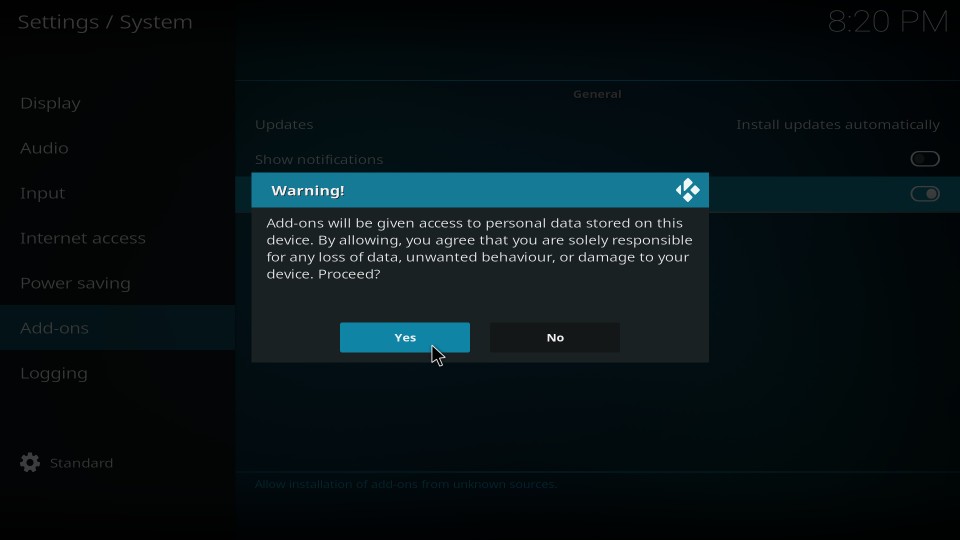 Step 2: Addition of Source Path to Kodi
In this part, you will direct the Kodi app to the Supreme Build server from where we will eventually install the build. Here are the steps:
#1: Go to the Kodi Settings again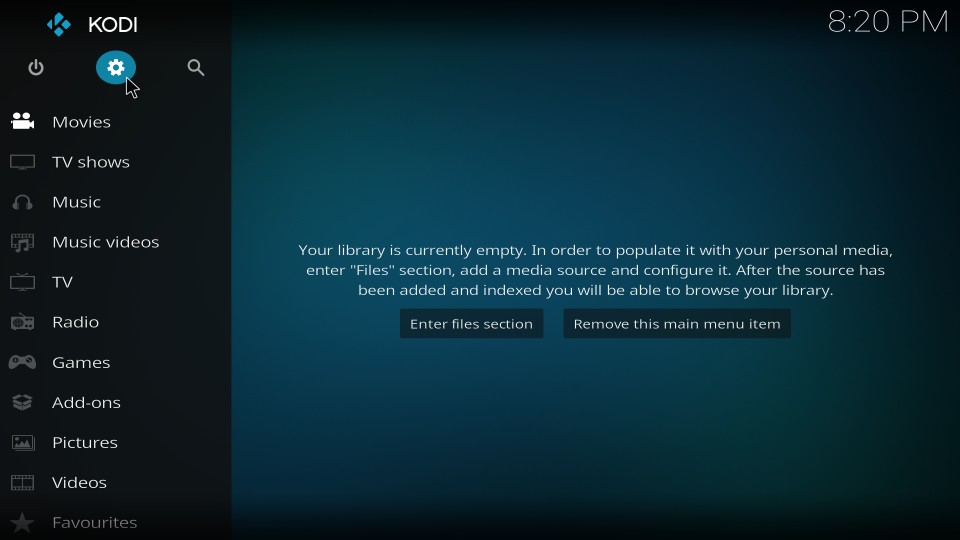 #2: Access the option File manager when the following window appears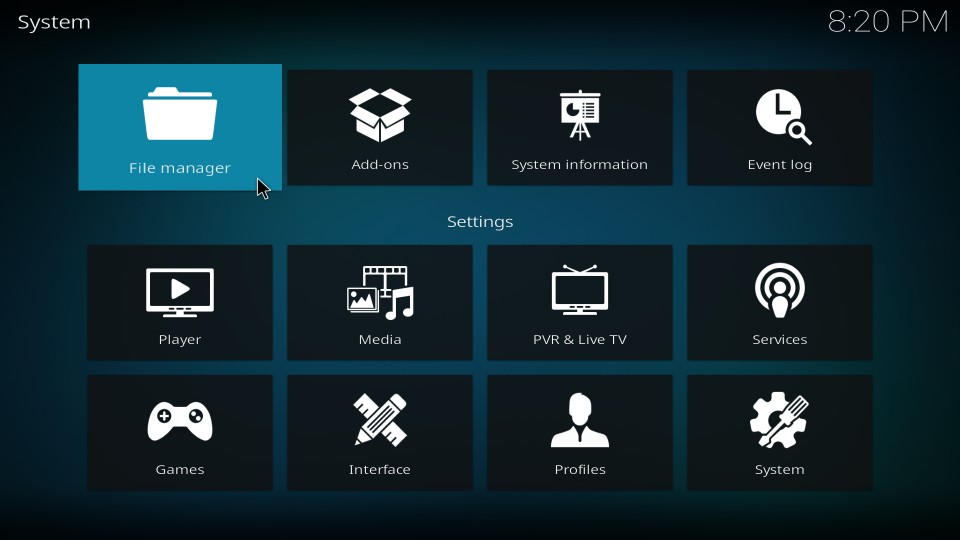 #3: You will find Add-source option on the right as well as left. Click either to proceed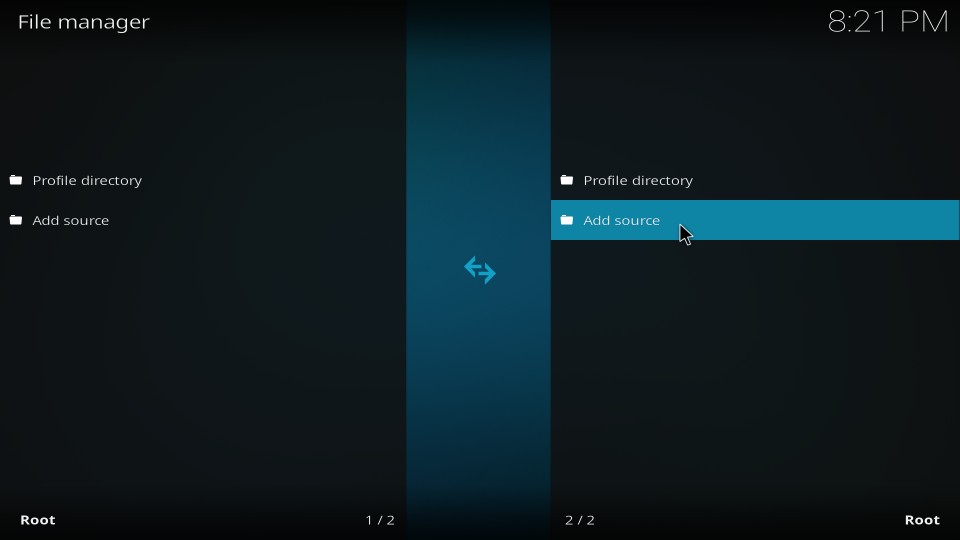 #4: Now click on the next window where you see <None>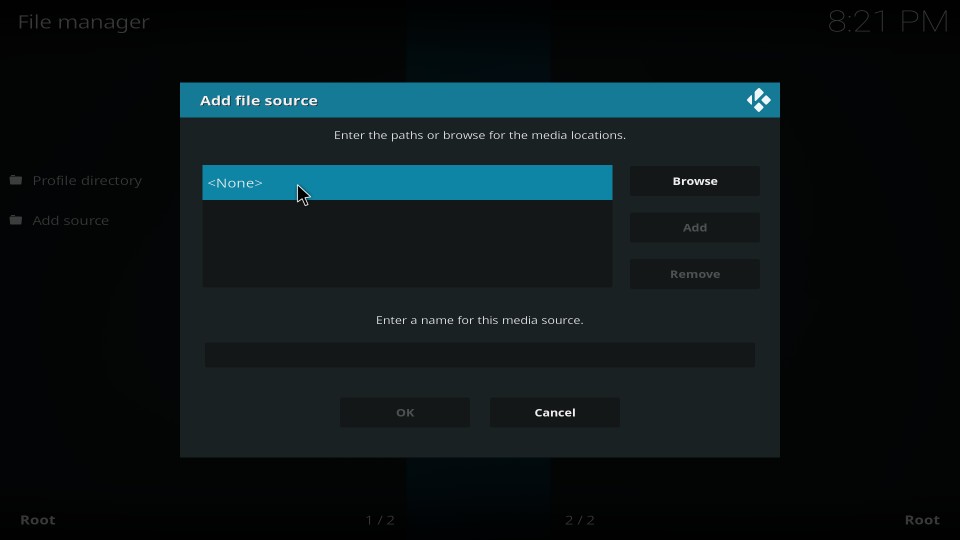 #5: Please ascertain you enter this URL exactly as given here: http://repo.supremebuilds.com
Click OK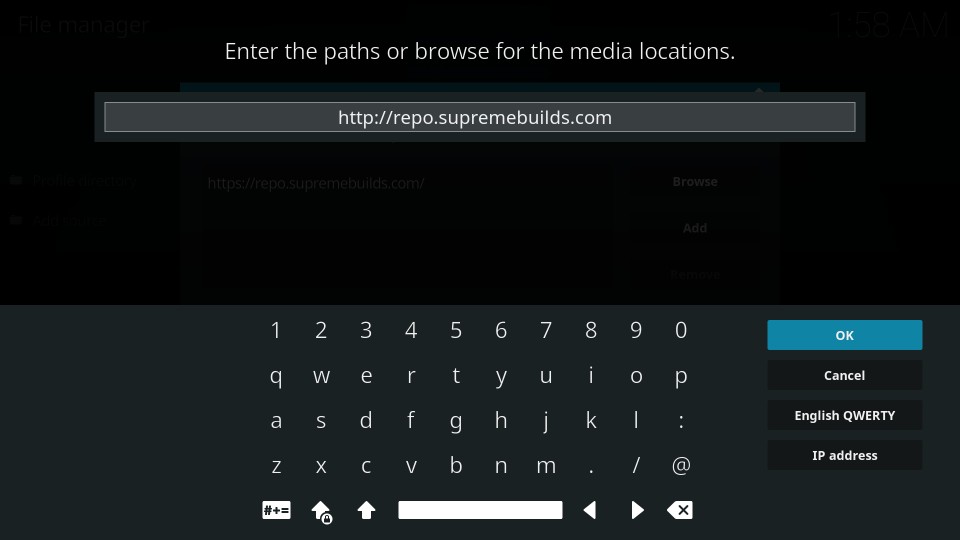 #6: Provide the name of the source in the appropriate field as you see on this window. It could be any name you would like to recognize the added source with. For example, I am giving it the name supreme
Click OK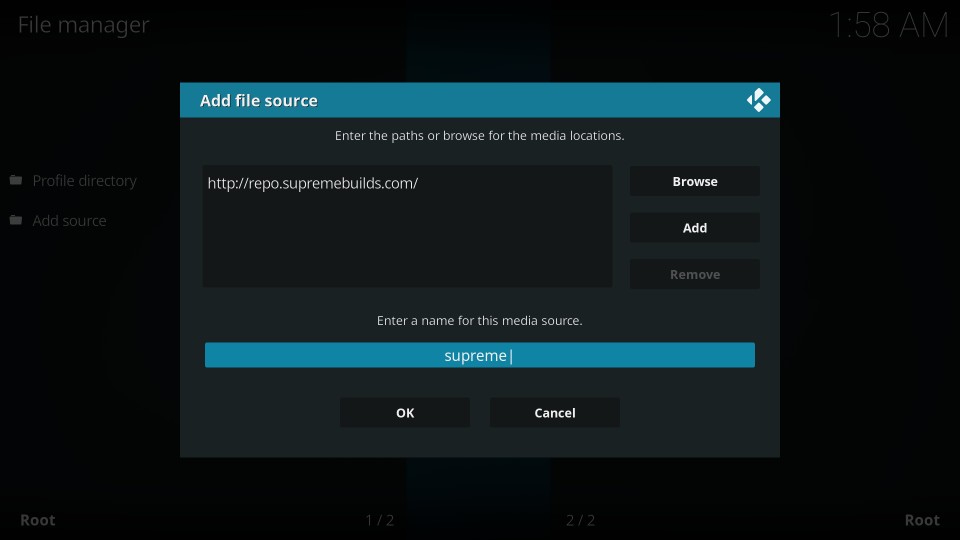 The source for Titanium Kodi build has thus been added.
Step 3: Installation of Supreme Builds Wizard
Supreme builds wizard is the inventory of multiple Kodi builds including Titanium Build. Here is how you install it:
#1: Go back to the Kodi home/main screen and open Settings again
#2: Access the item Add-ons
#3: When you see the following set of items, open Install from zip file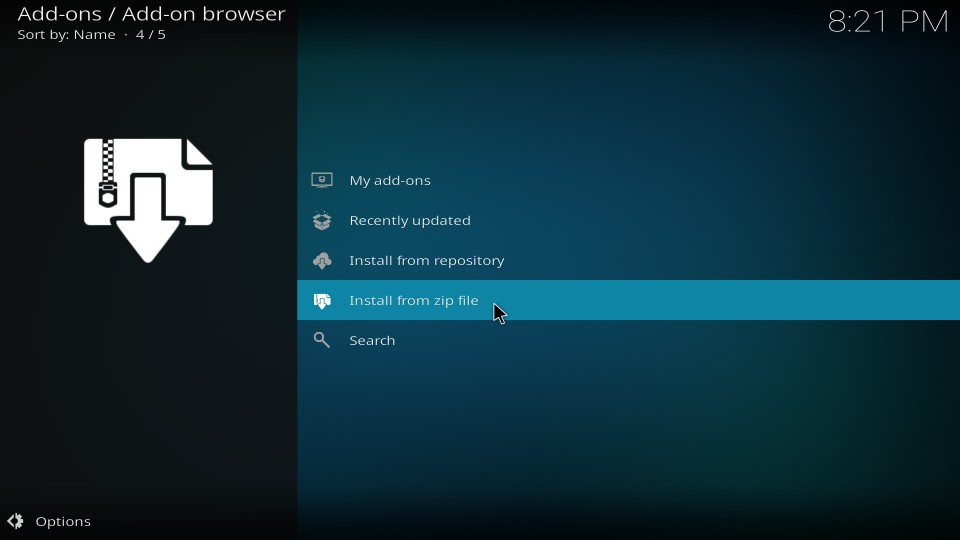 #4: Go ahead and click supreme or any other name you might have added when you named the source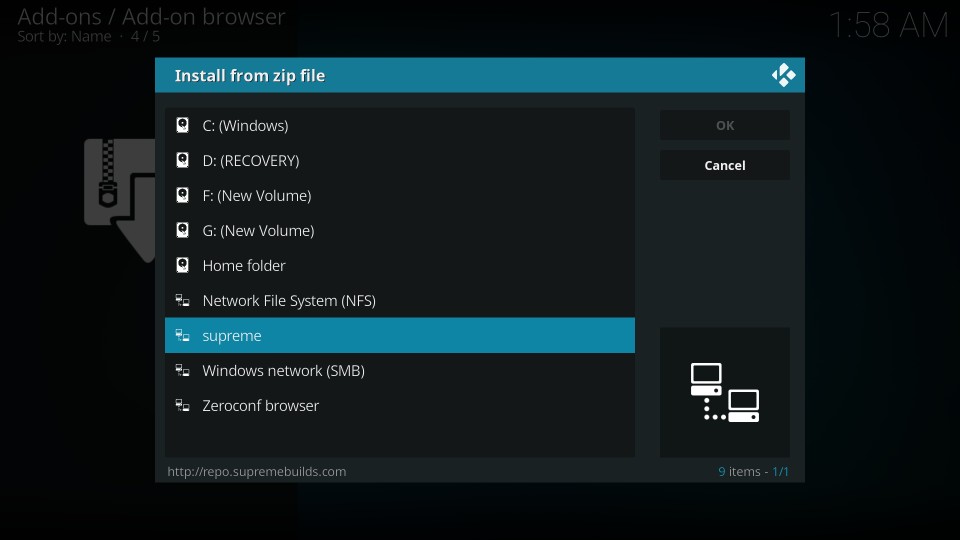 #5: Open the file repository.supremebuilds-x.x.x.zip
#6: Now wait for the alert on the top-right that says Supreme Repository Add-on installed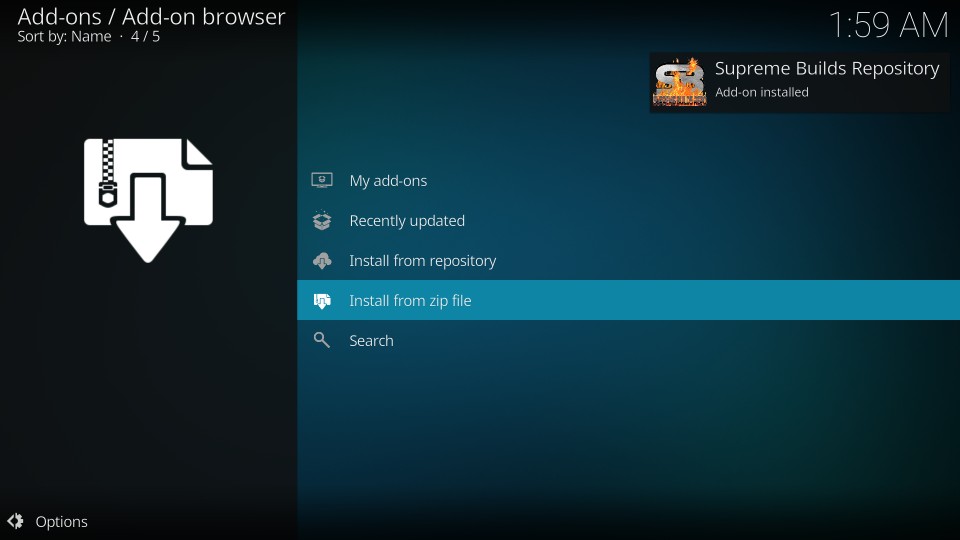 #7: Now access Install from repository while staying on the same Kodi window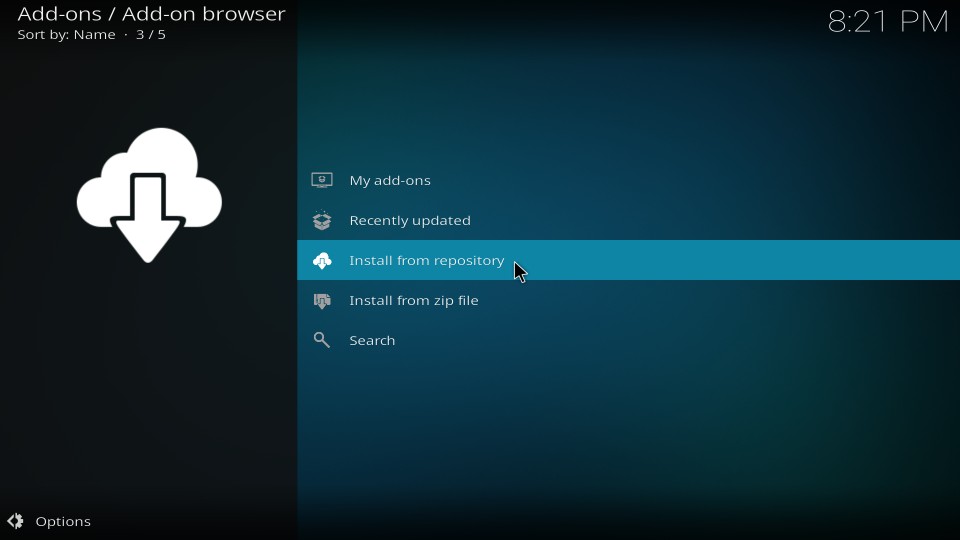 #8: Click Supreme Builds Repository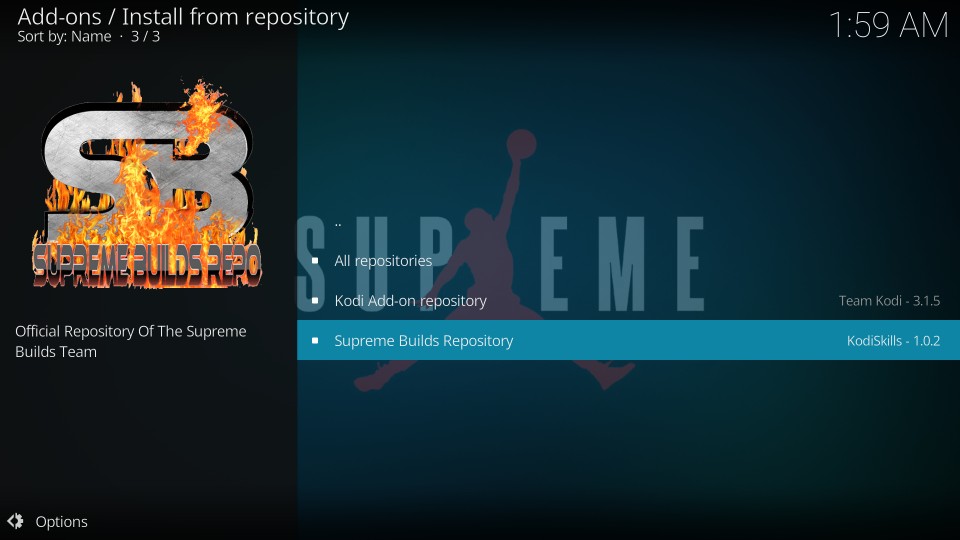 #9: Click Program add-ons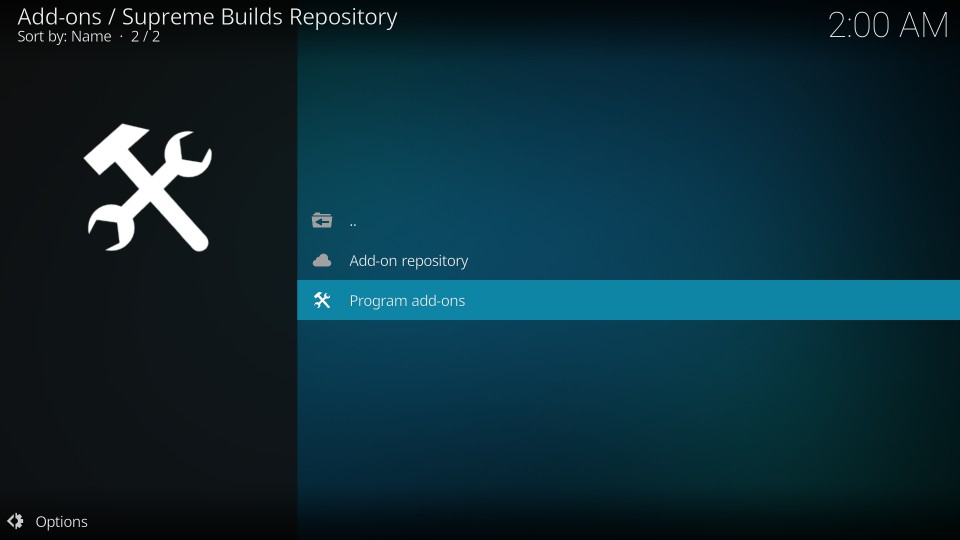 #10: Open Supreme Builds Wizard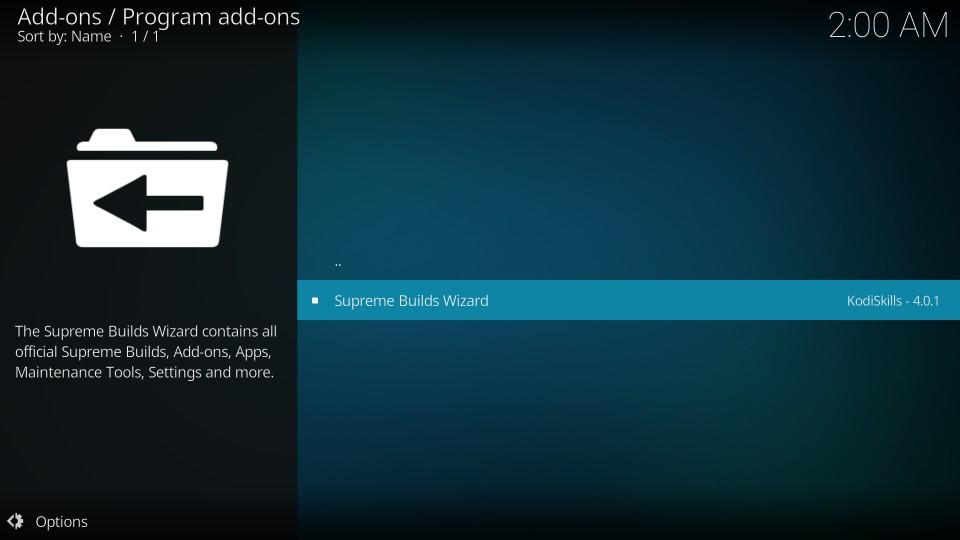 #11: Click Install on the lower right of the following window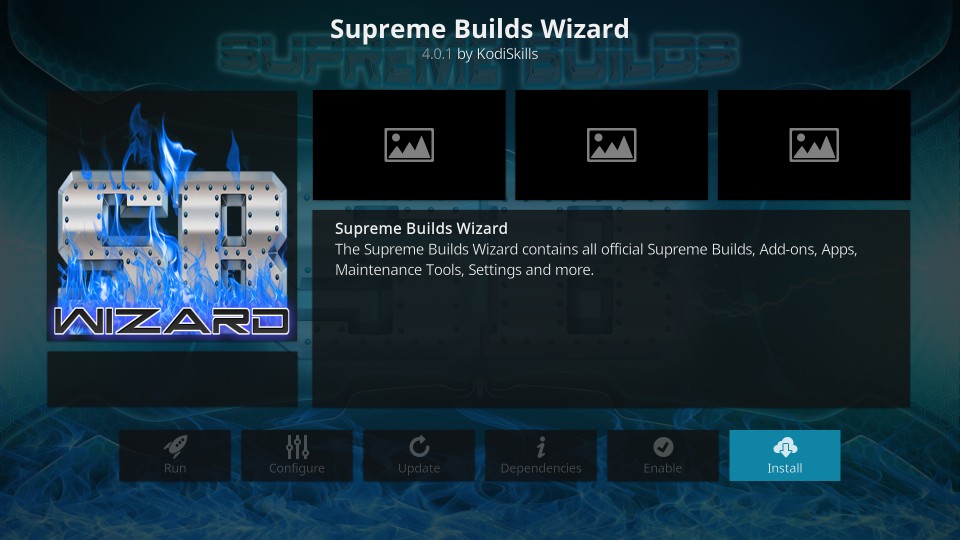 #12: Wait until the notification on the upper right appears confirming the installation of Supreme Builds Wizard. Please note that it may take a minute or two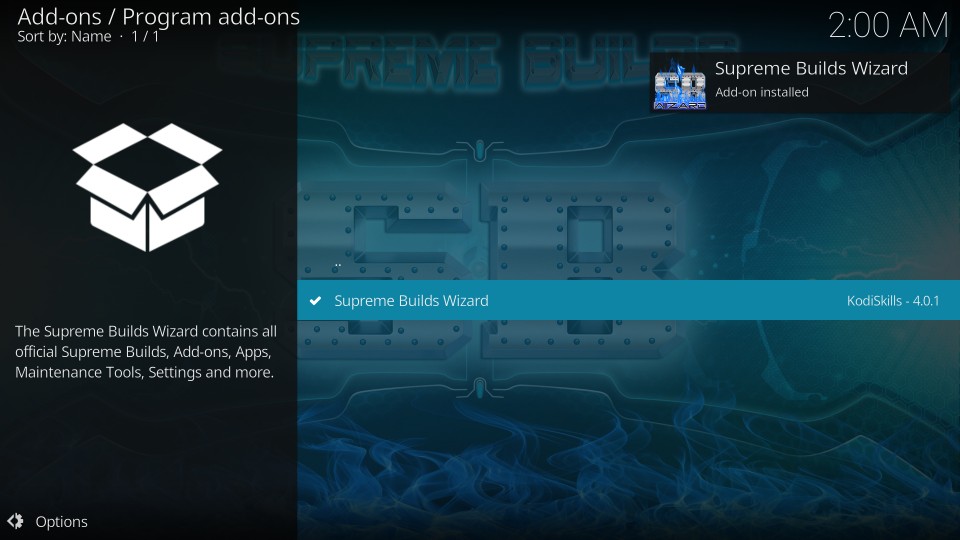 #13: This popup window will appear next. Click Dismiss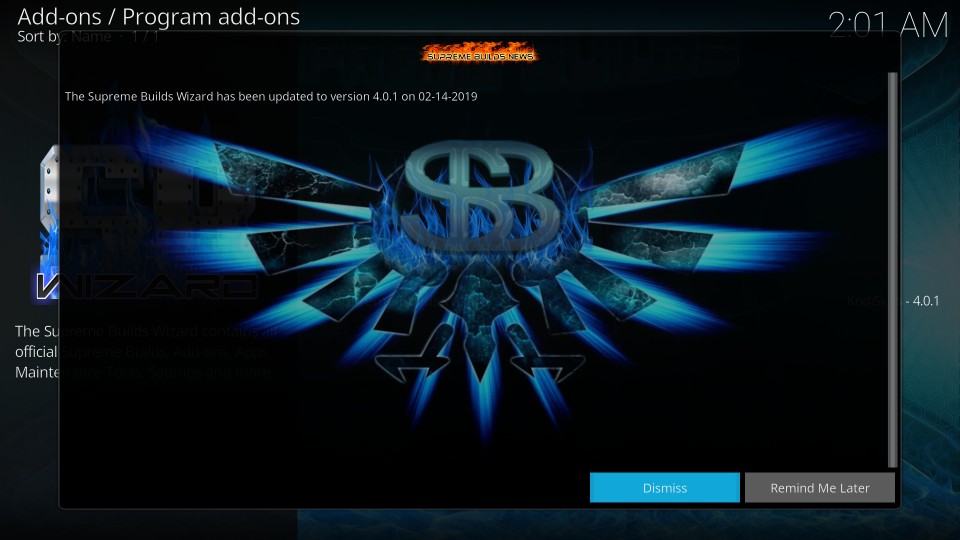 #14: Click Continue when you see the following list of settings. You may choose any settings you want to change before proceeding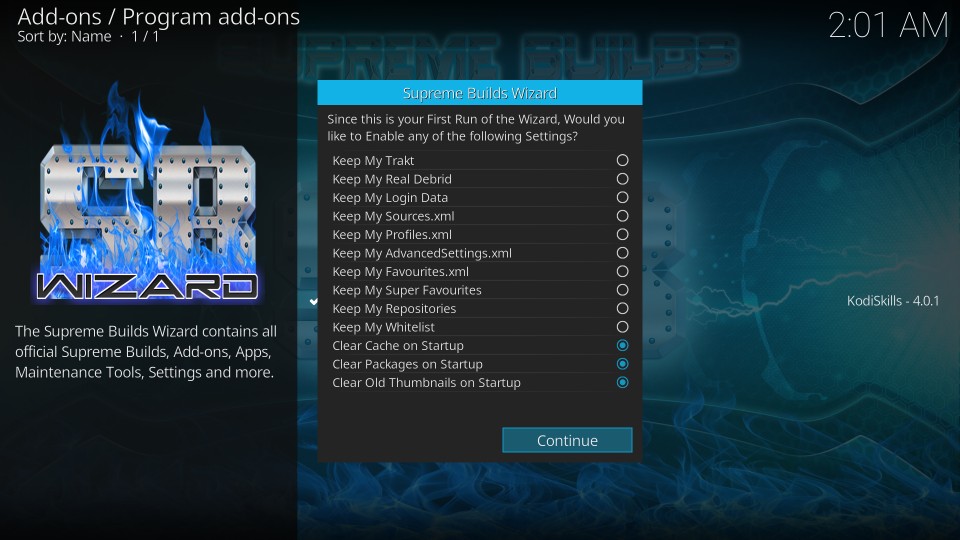 #15: If you want to directly go to the builds list, click Build Menu and continue from Step 3 in Part 4. If you want to go to the build menu later, click Ignore.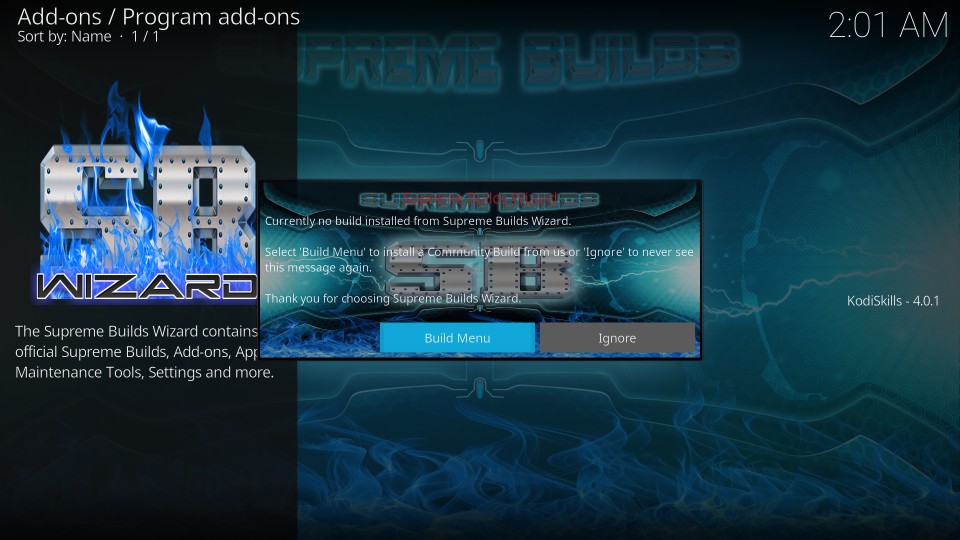 Step 4: Installing Titanium Build on Kodi
Now, this is the part where we finally install the Titanium build. Here is what you need to do:
#1: Return to Kodi main-screen. From there, head to Add-ons >> Program add-ons and access the Supreme Builds Wizard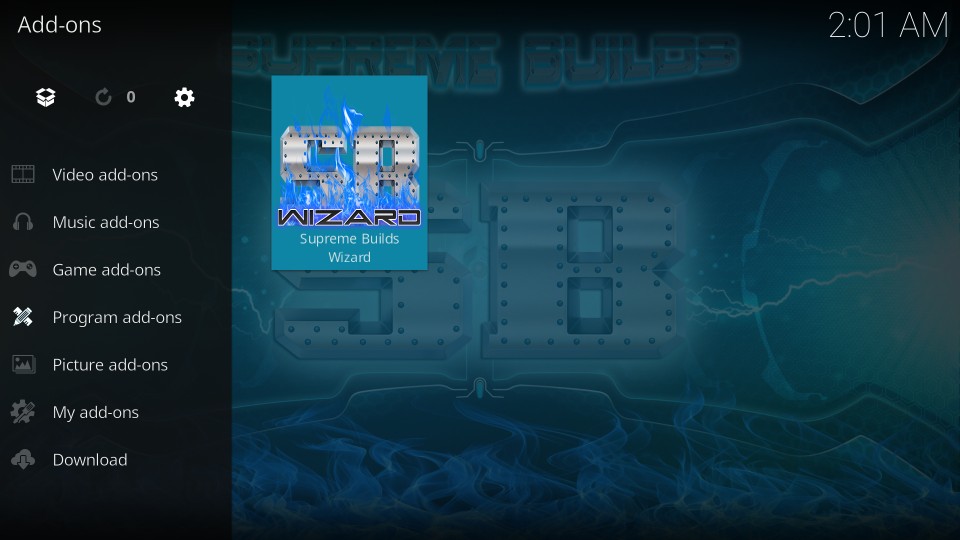 #2: Click Builds on the following window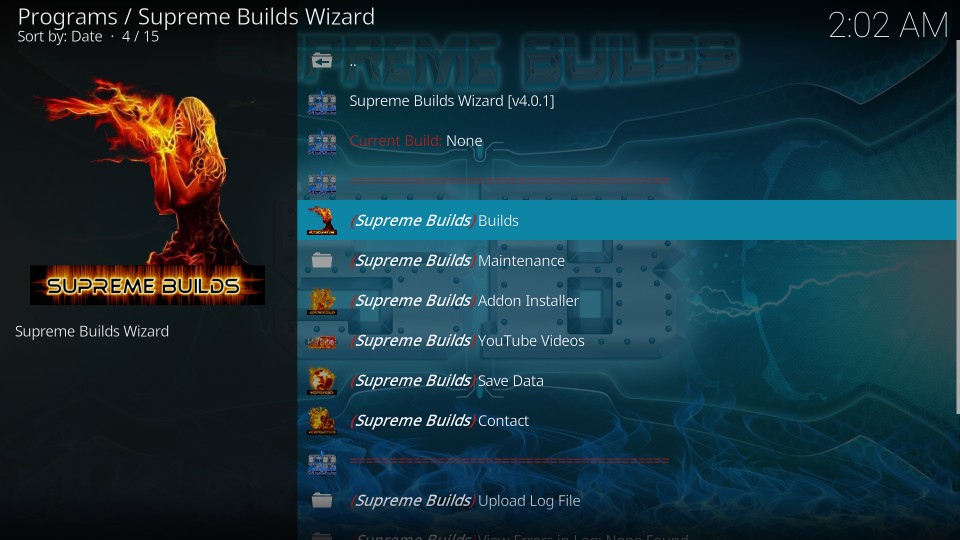 #3: You should now find Titanium Build available for installation from multiple servers. Click the server closes to you. If the build doesn't install from the chosen server, pick the other one. I pick the USA server.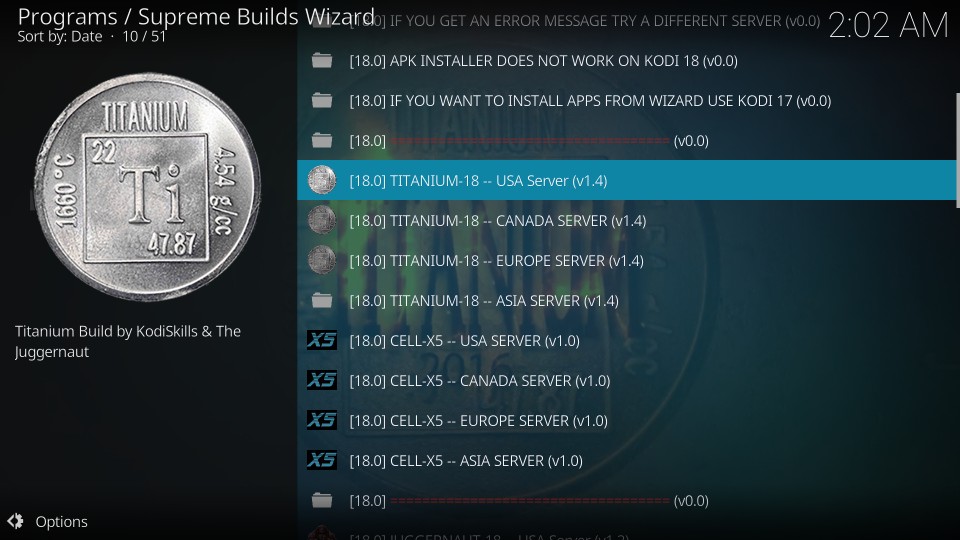 #4: Go ahead and click Fresh Install
Note: You may also go with the Standard Install. However, in my experience starting fresh is a great idea with any build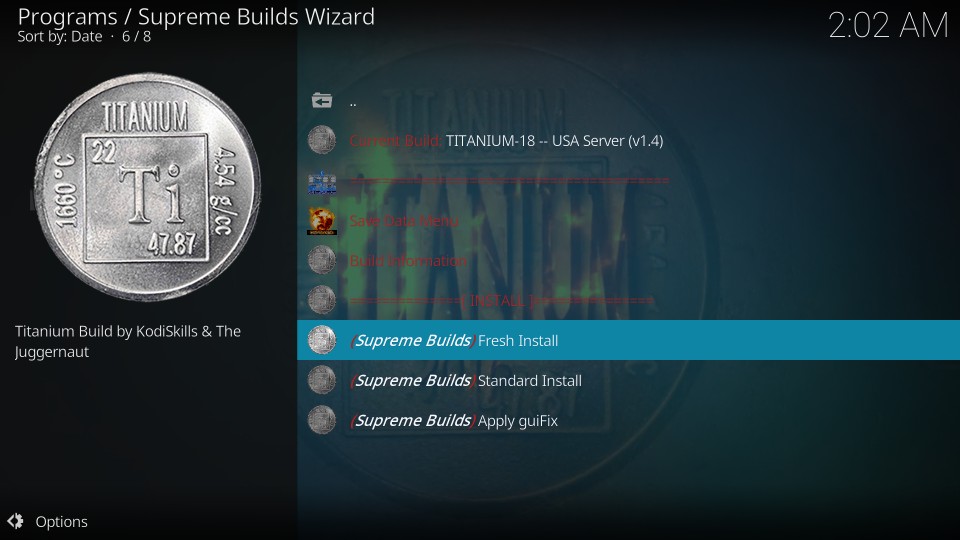 #5: Click Continue to give your final consent to install the Titanium Kodi build. This popup may take a few seconds to appear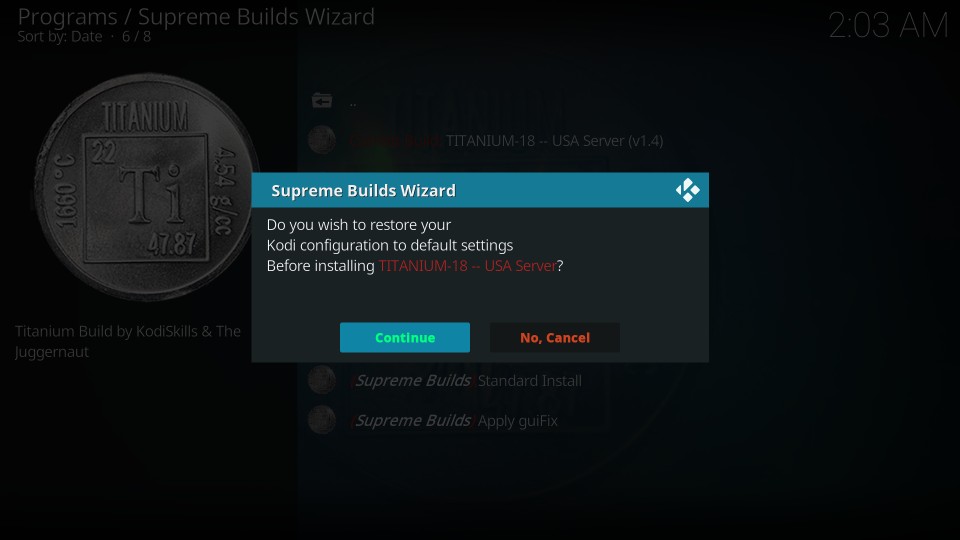 #6: Wait until the Build is downloaded and installed. This process may take a few minutes. It depends upon your network connection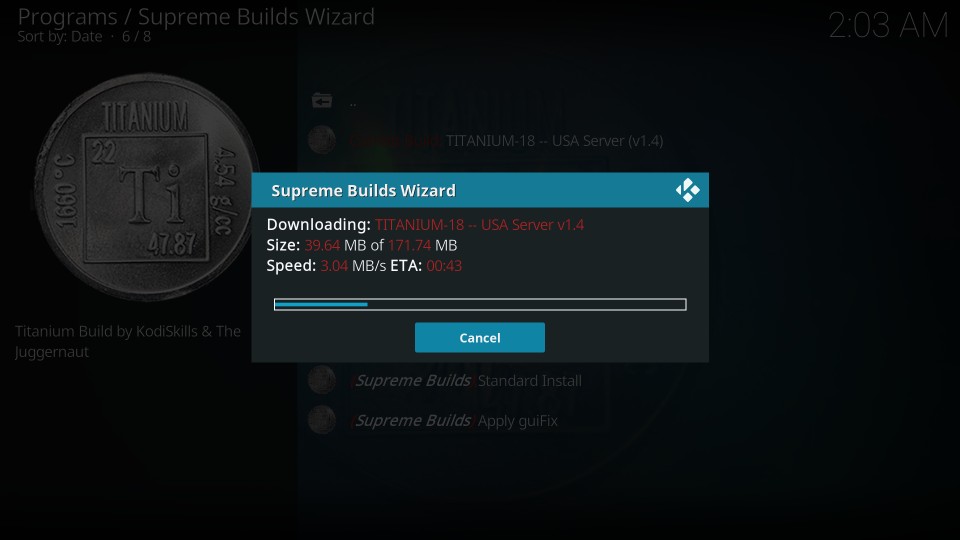 #7: When the build has installed, you may or may not see another popup asking you to choose between Reload Profile and Force Close.
Always choose Force Close
This is the way you install the Titanium Kodi build. You now simply need to restart Kodi to access the build.
It looks like you are all set to start watching your favorite content. However, do not forget that all your streaming activities and online identity are unprotected and exposed to your Government and your ISP. In addition, streaming with third-party services may cause legal trouble.
Thankfully, you can easily protect yourself and go invisible from your Government and ISP by using a VPN. Whenever I stream with Kodi, I always connect to ExpressVPN and recommend the same to you.
ExpressVPN is the fastest and the most streaming-friendly VPN. It is also the most secure VPN.
With ExpressVPN, you get a 30-day money-back guarantee as well. So if you do not like the service (I don't see why), you will get a full refund within 30 days.
Please remember that we encourage you to use a VPN to maintain your privacy. We do not condone breaking copyright laws.
Before you start using Kodi for streaming, here is how you can protect yourself with ExpressVPN:
Step 1: Sign up for ExpressVPN Here
Step 2: Download ExpressVPN on your device by clicking HERE
Step 3: Open the ExpressVPN app on your device. Sign in with your account. Click the connect/power button to connect to the VPN

Great! You have successfully secured yourself with the best Kodi VPN.
A Brief Rundown of Titanium Build on Kodi
When you access the Titanium Build the first time, make sure you give it a few minutes to update the addons and apply the necessary settings. This will ensure that your build performs smoothly.
The Kodi main-screen of Titanium Kodi build looks like this: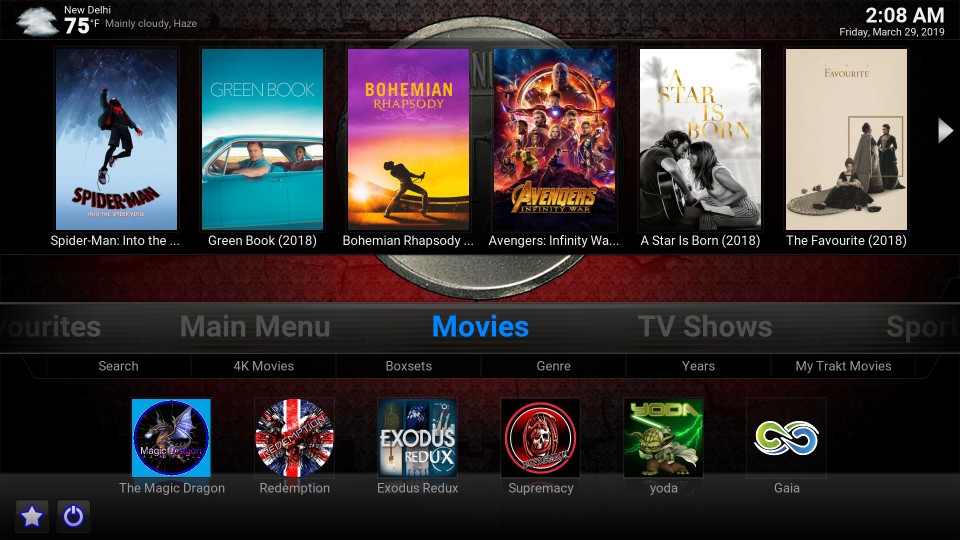 It is a straightforward build with a standard layout common among a lot of popular builds. There is the main menu bar running from the left to right of the main screen. There is the submenu bar too snapped to the main menu, which displays contextual items according to what you choose in the main menu. For example, when you choose Movies, options like 4K Movies, Boxsets, Genre, Years, etc are lined up in the submenu.
Immediately below the menu bar, the featured addons are lined up, again depending upon the item chosen in the main menu. In the image above, for Movies category, addons like The Magic Dragon, Exodus Redux, Yoda and Gaia are displayed.
Besides Movies, here are some more categories on the main menu:
TV Shows
Sports
Kids Zone
Fitness
Each of these categories displays the related addons on the bottom. However, there are more addons than what is displayed on the main screen of the build. You can see the complete list of addons by going to Main Menu > Video add-ons: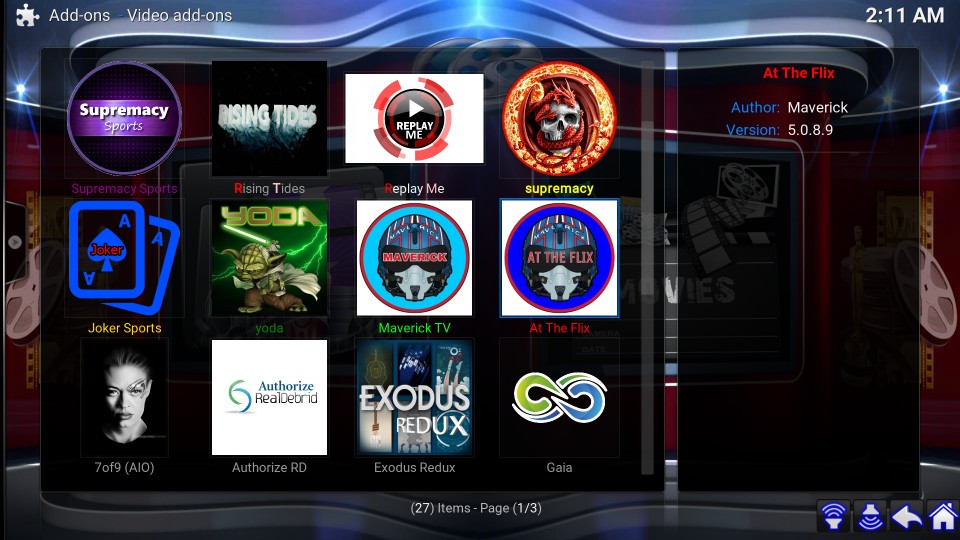 Titanium Build offers various customization options too. You can change the labels of the menu items on the menu bar. You can also rearrange the menu items. To do that, open Main Menu > Skin Settings. You can also choose which addons are displayed for each category on the home/main screen of the build including Movies, TV Shows, etc.
Conclusion
Titanium Kodi build is a powerful, yet moderately sized build that is known to offer smooth performance on all the devices. I have used it on a FireStick for very long and barely experienced any issues. It works great on Android TV Boxes, computers, and mobile devices as well.
The build comes with a decent library of video-addons, mostly the popular and working ones. This gives you the freedom to stream unlimited content including Live TV, TV Shows, Movies, Sports and whatnot.
The interface of Titanium Build is one of its biggest draws. The design is simple and allows for incredible ease of use. Whether you are a beginner or an experienced Kodi user, you will want to have a build like this.
You may also like:
How to install No Limits Magic Build
How to install Misfit Mods Lite Build
How to install Streamline Build
How to install Kodi on FireStick