In this guide, I will demonstrate how to install Exodus Redux and Exodus addons on Kodi. You can install these addons on FireStick, New FireStick 4K, New FireStick 4K Max, Android & iOS mobile devices, Linux, Mac & Windows computers, and other Kodi platforms.
Update: Exodus Redux addon may be temporarily available. You may encounter the error "Could not connect to the Repository." If the addon installation fails, please try one of the other addons from our list of Best Addons for Kodi.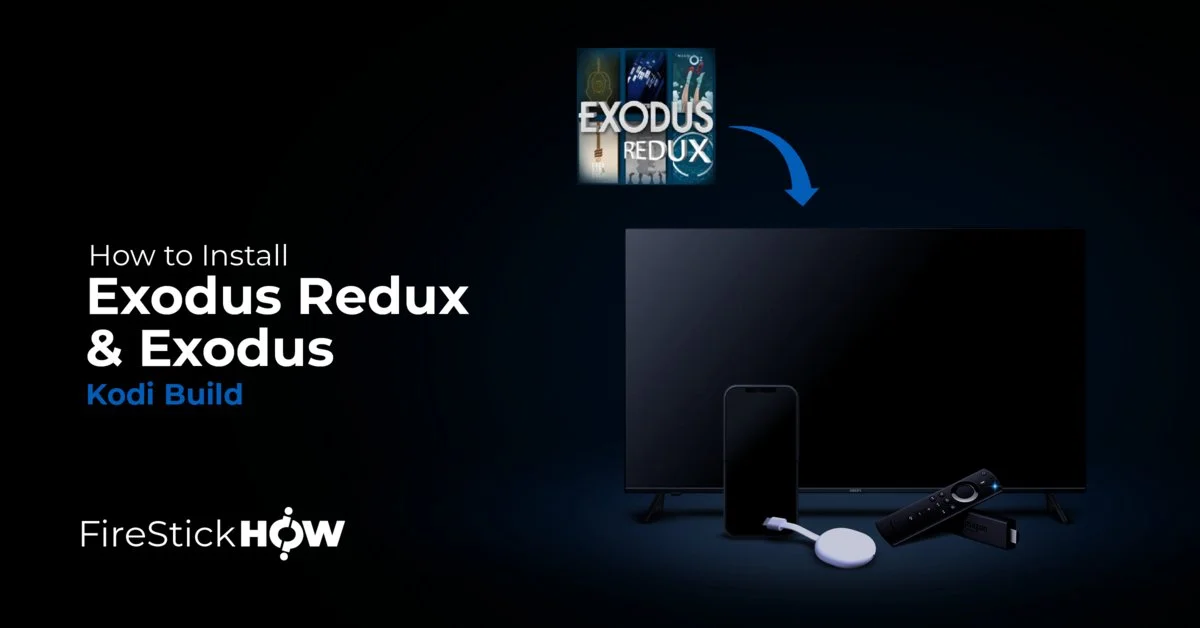 Exodus has been one of the most popular Kodi addons. It has been around for a few years now. The addon used to work really well but was abandoned by its original developers. It was later revived by another team of developers. This team has recently released the upgraded version Exodus v8.2.0. This version takes care of many bugs and issues that plagued this addon for a long time.
Several clones of Exodus have spawned in the past. Only a few stood out. Exodus Redux is one of them. You can say that now there are two variants of Exodus Kodi addon – Exodus V8.2.0 (basically Exodus itself) and Exodus Redux.
Exodus Redux is newer and has top-rated scrapers. The original Exodus with its new version 8.2.0 is also doing a fabulous job now.
But before moving on to the installation part of Exodus Kodi addon and Exodus Redux addon, there's something I need to discuss.
Is Exodus Redux & Exodus Safe?
When it comes to safety, both Exodus Redux and Exodus addons have maintained a good reputation over the days. Although they both are third-party add-ons, I haven't seen any of their users complain.
Developers of Exodus Redux and Exodus have made their tools super safe and secure for users. Nor do they ask for any special access to your device or collect your personal information. I myself did a quick inspection of the Kodi addons, and I didn't find anything suspicious.
With that being said, it's quite possible that the add-ons might be posing an underlying threat to your security. But on the surface, they are all clear.
Is Exodus Redux & Exodus Legal?
Right here, things get complicated. Indeed, inspecting Kodi addons in terms of safety is quite the job. But labeling them illegal or legal is way more complex.
First things first, Exodus Redux and Exodus both are third-party Kodi addons that aren't available on the official Kodi addon store. So now, let's take a minute and think about why the team of Kodi hasn't listed them in their marketplace despite their popularity. And that's where you start to pick up the gist of whole addon legality.
Basically, all third-party addons are created by independent developers without any regulating party on board. So that's why we get to enjoy tons of content on such Kodi add-ons. But as there's no check and balance on how the content is being brought to your screens, the legality kicks in.
Indeed, there are many third-party add-ons that don't host any content and only provide what's freely available on the internet. However, as it's impossible to check the true legal status of the content, things get trickier.
The same story checks out for both Exodus Redux and Exodus Kodi addons. Surely, one can't say they only provide access to geo-locked or copyright content. But one can't also be sure that their hands are all clean.
So, long-story-short, the legality status of Exodus Redux and Exodus is unknown to us atleast. We don't have the proper resources to figure out the exact legal status of both addons. Hence, we don't take any responsibility for any legal scenario you might accidentally throw yourself into while using the add-ons.
How to Install Exodus Redux and Exodus on Kodi
Before installing any of these two addons, please make sure you have allowed the installation of the third-party Kodi addons. If you are not sure what I am talking about, follow these steps:
1. After launching Kodi, on the home-screen you need to open Settings. For this, look in the top-left and click the gear icon.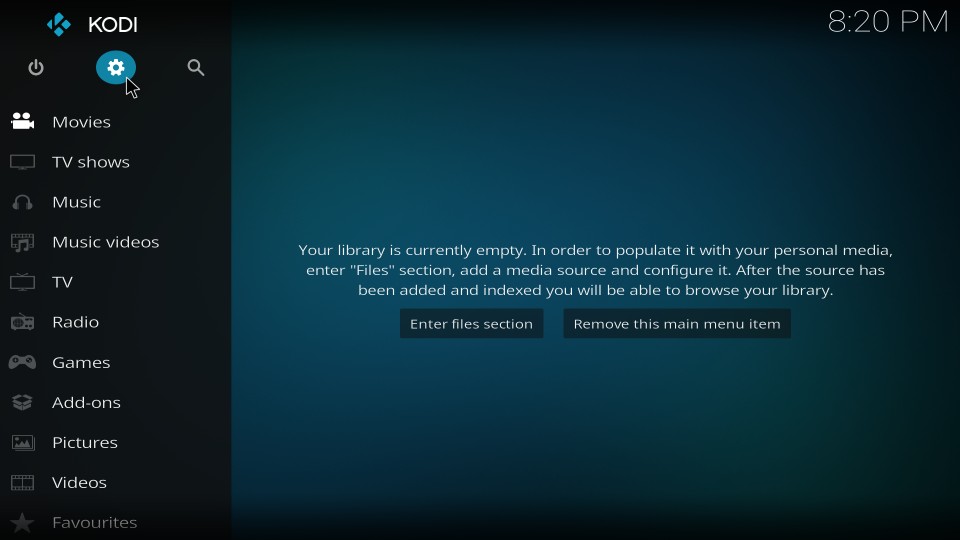 2. Now when you are here, open System settings (if you happen to have Kodi 17.6, click System instead).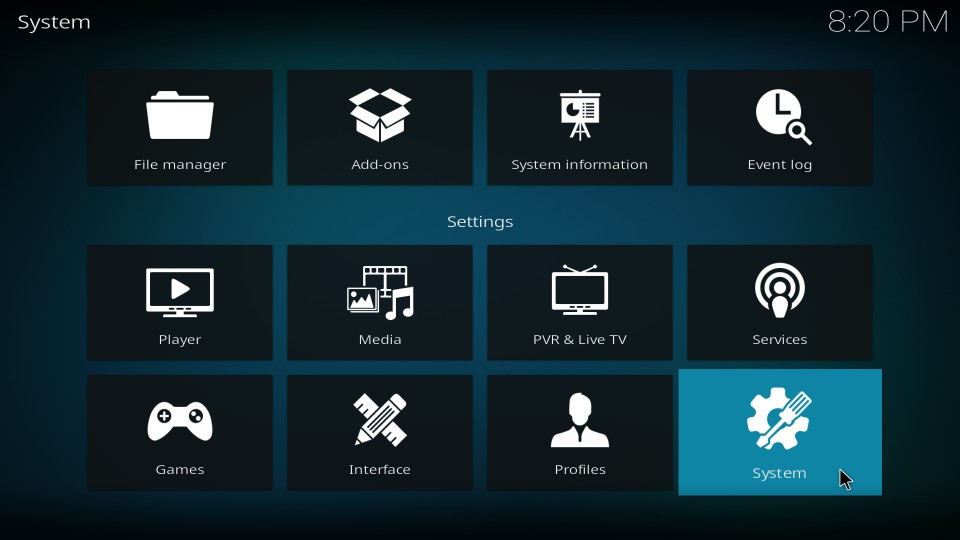 3. Look on the left of the screen where there is a sidebar menu. Highlight Add-ons in that menu.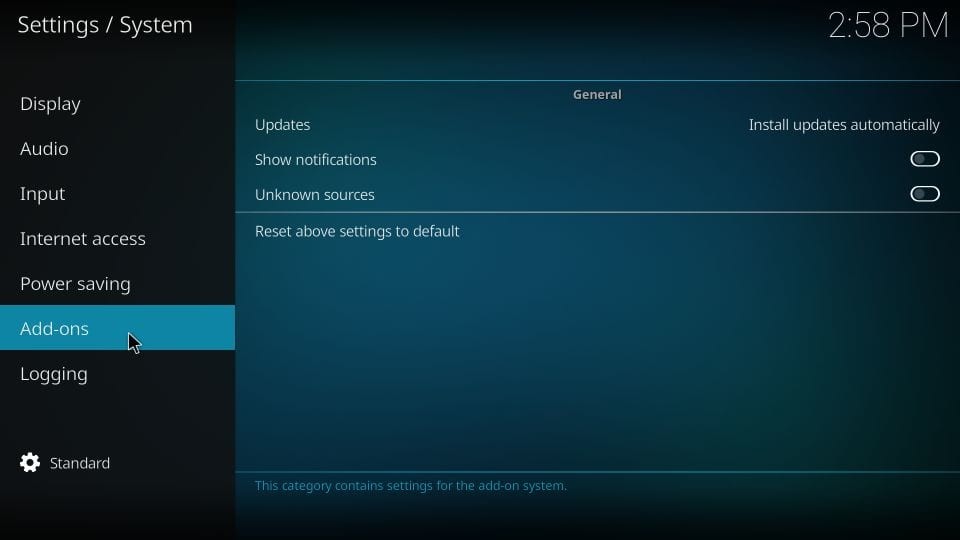 Now you want to go to the right side of the same window and make sure the option Unknown Sources is enabled by clicking the toggle next to it.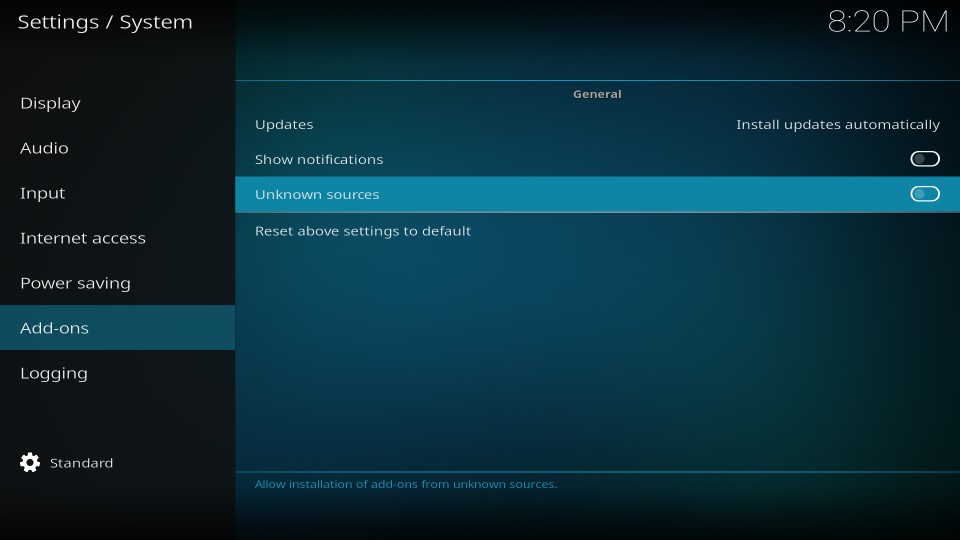 4. You will be warned. But don't worry about it. Both Exodus v8.2.0 and Exodus Redux are tried, tested and totally safe Kodi addons.
So, click Yes.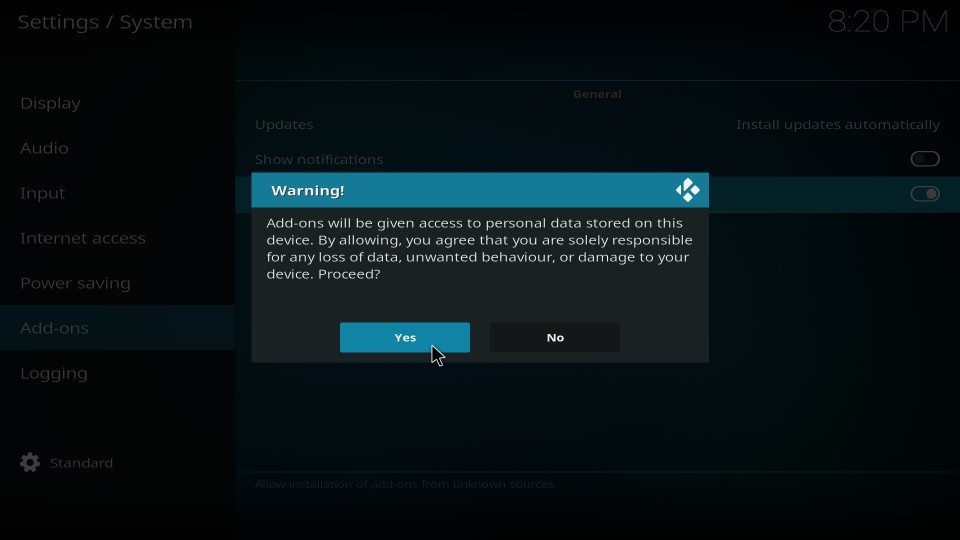 Looks like you are now all set to install the addons.
How to Install Exodus Redux Kodi Addon
As I said, I will first cover the installation of Exodus Redux Kodi addon. So, let's get started:
1. Go to the Kodi Settings again from the home-screen.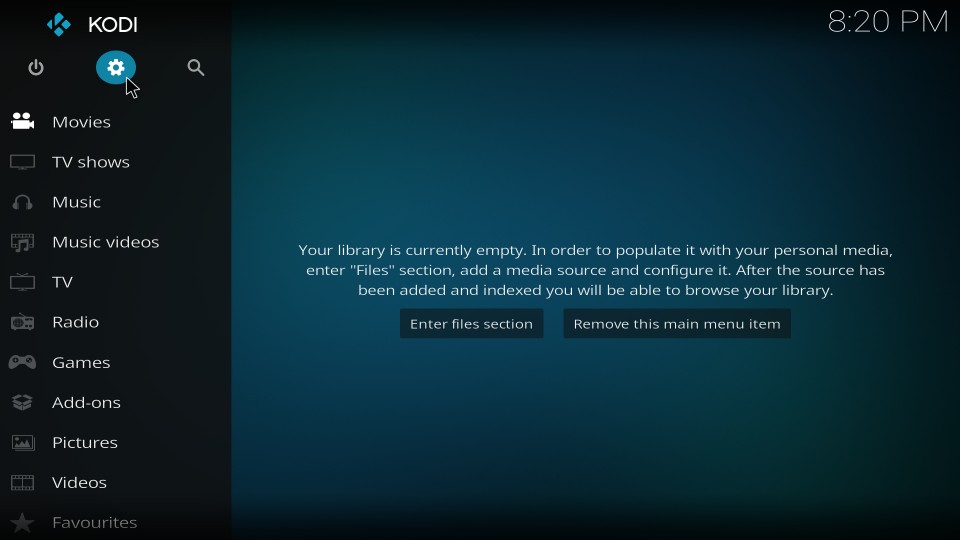 2. Open the File manager option.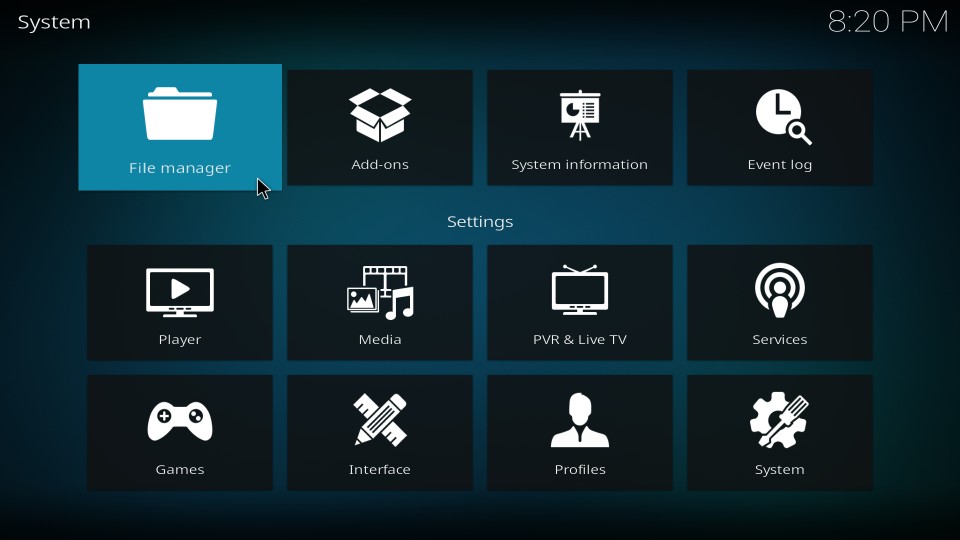 3. Go ahead and click Add-source on the following window (you may click it either on the left or right).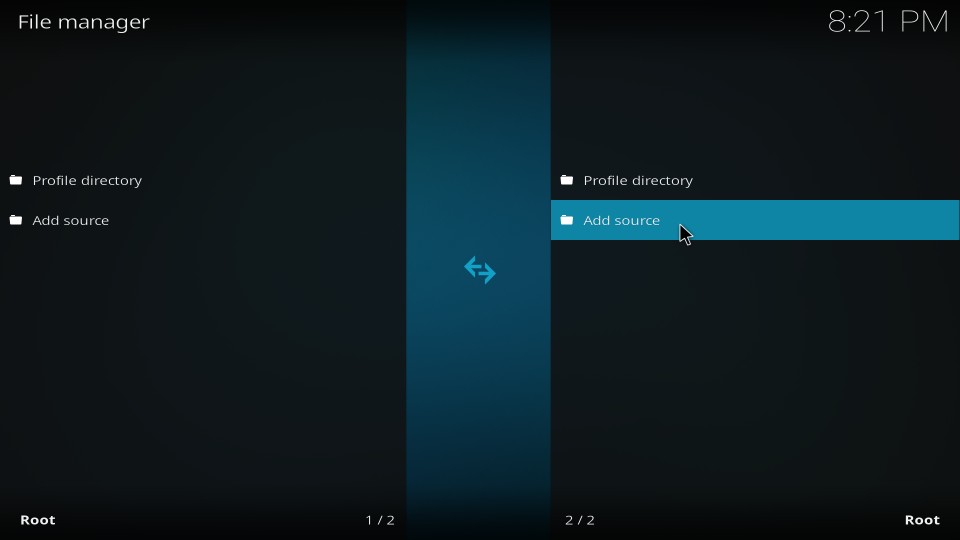 4. Now you want to click  when this window pops up.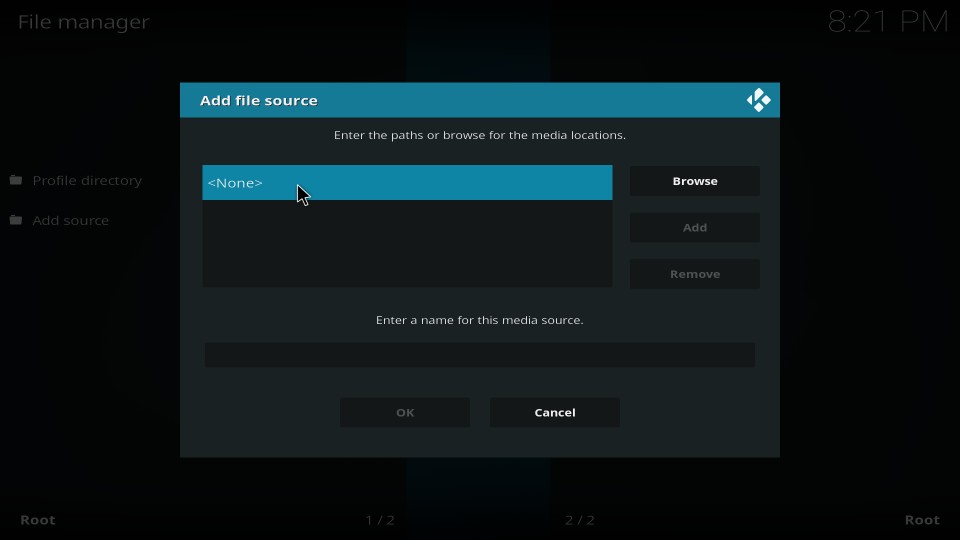 5. You should see a blank field on the top to enter the URL. Type in the following path: https://i-a-c.github.io/
Click OK
Make sure you enter the URL correctly.
Update: Exodus Redux addon may be temporarily available. You may encounter the error "Could not connect to the Repository." If the addon installation fails, please try one of the other addons from our list of Best Addons for Kodi.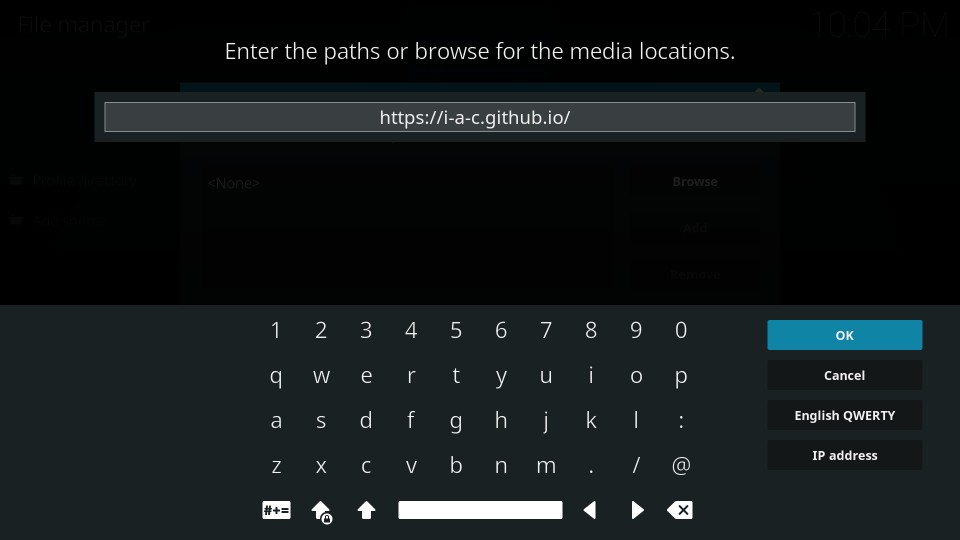 6. When you return to this window, highlight the field to enter the name for the media source and type in ER (in fact, you may choose any name you want; just make sure you remember it)
Recheck everything again and click OK.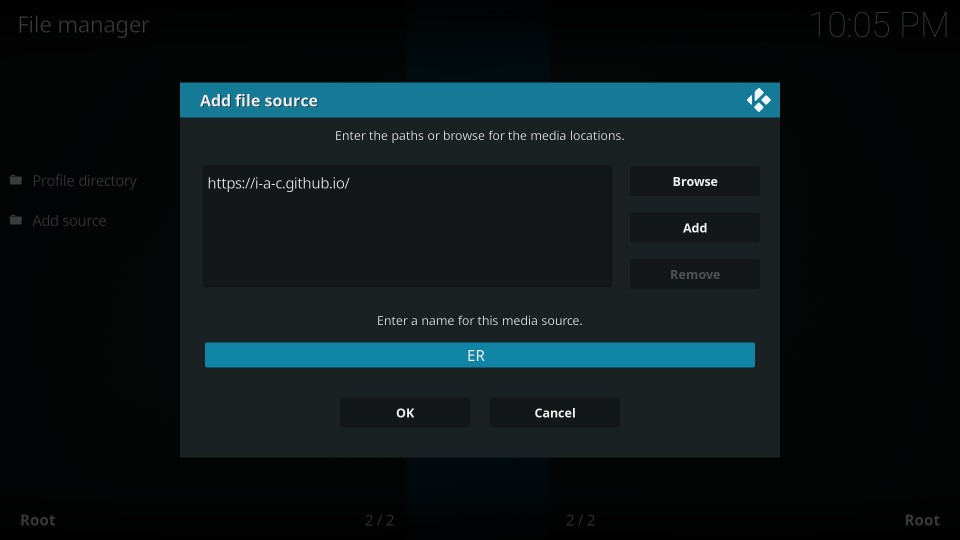 7. Now you want to return to the Settings window again. You can click the gear icon again on the home-screen. Or, after adding the source, press the back button/backspace repeatedly until you are back on the following window.
Click Add-ons.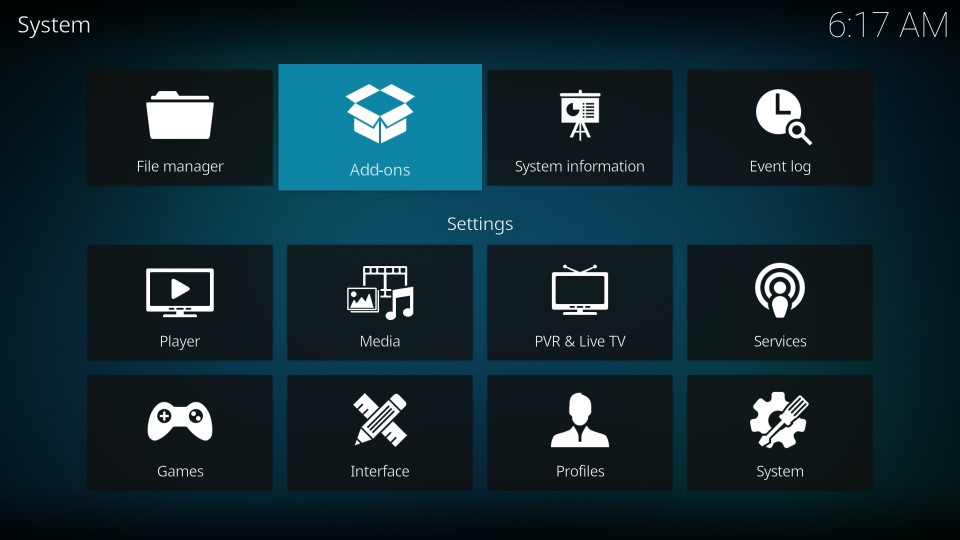 8. Select Install from zip file.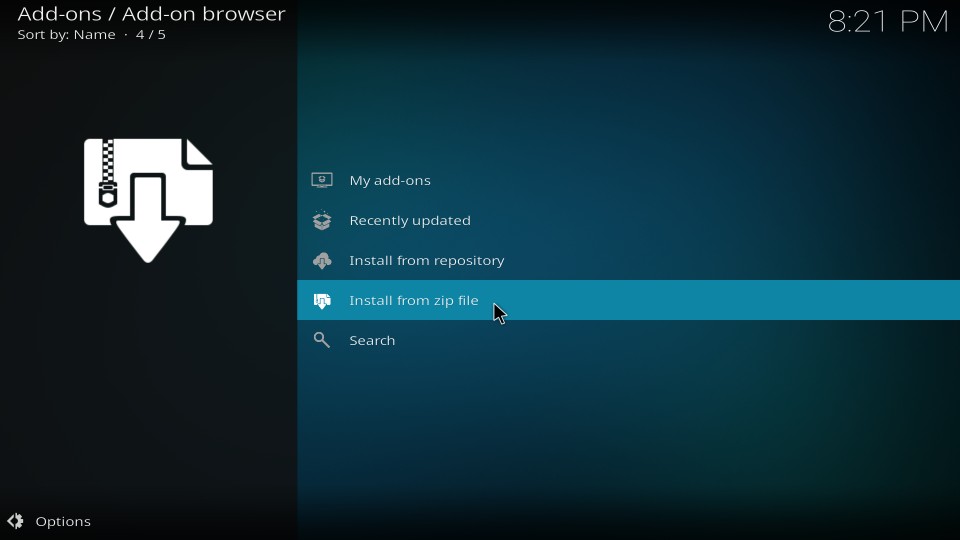 9. Go ahead and click ER or the source name you provided in one of the steps above.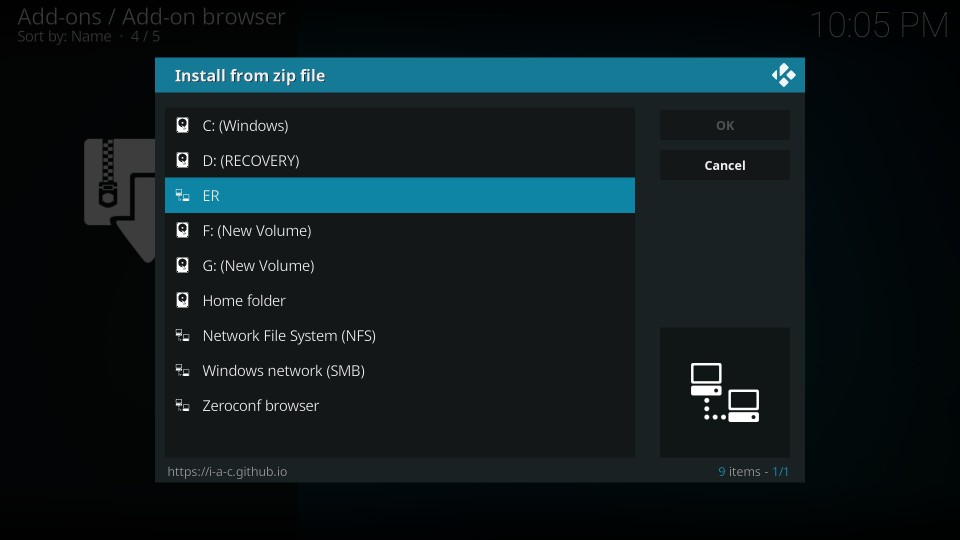 10. Click the zip file repository.exodusredux-x.x.x.zip.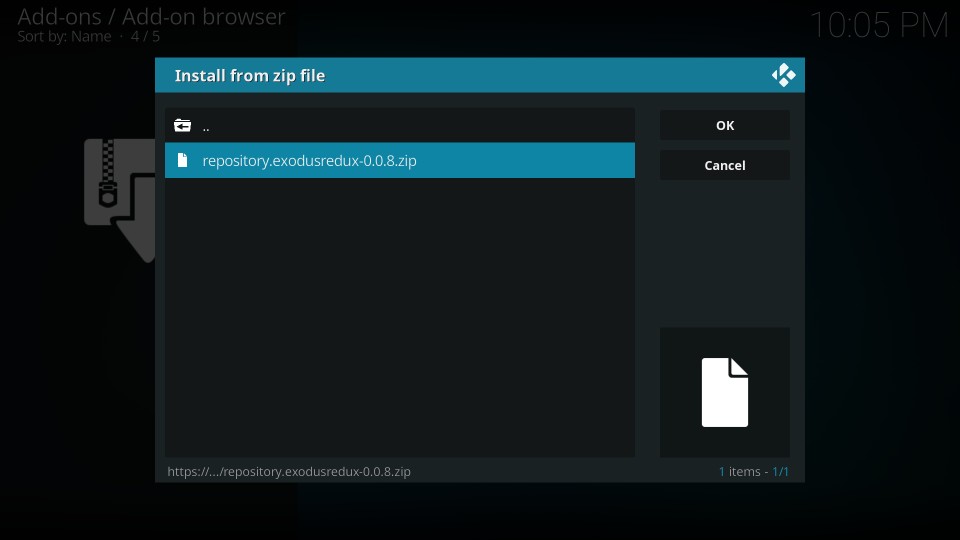 11. Wait for a minute until the Exodus Redux Repo Add-on installed notification appears on the top-right of your display.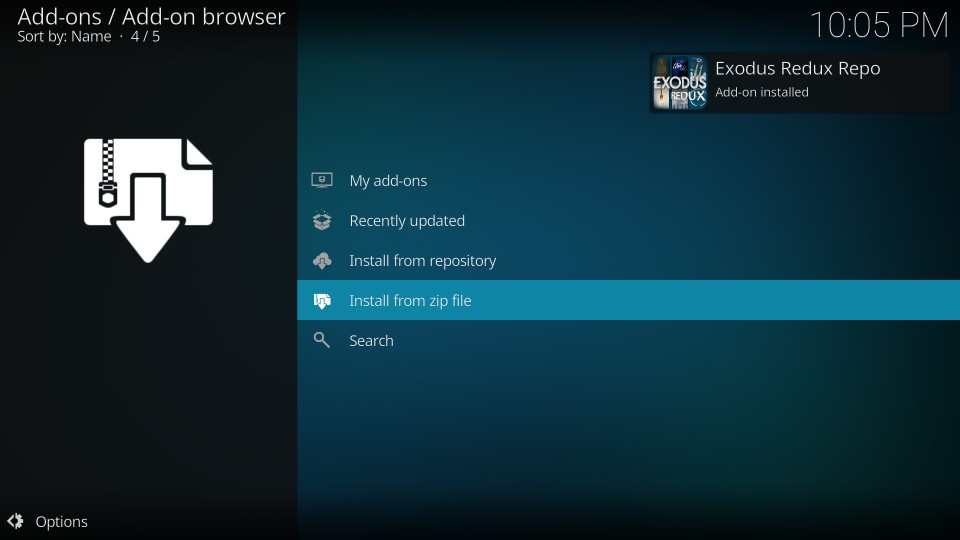 12. Now open the option Install from repository.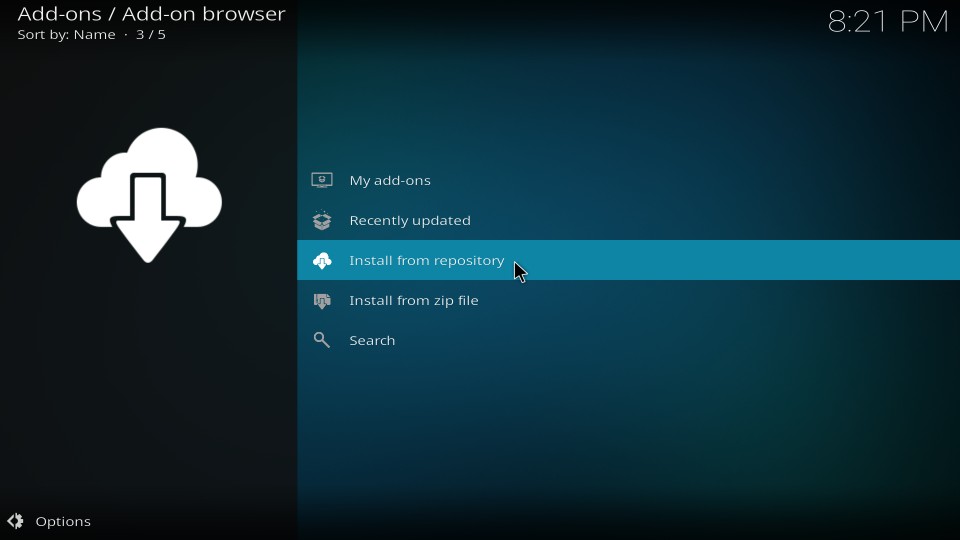 13. Click Exodus Redux Repo.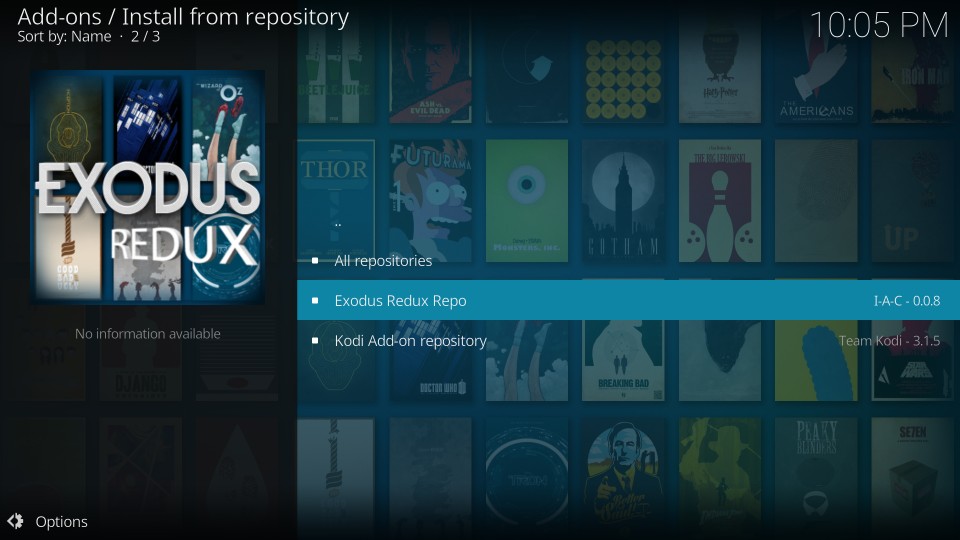 14. Open Video add-ons.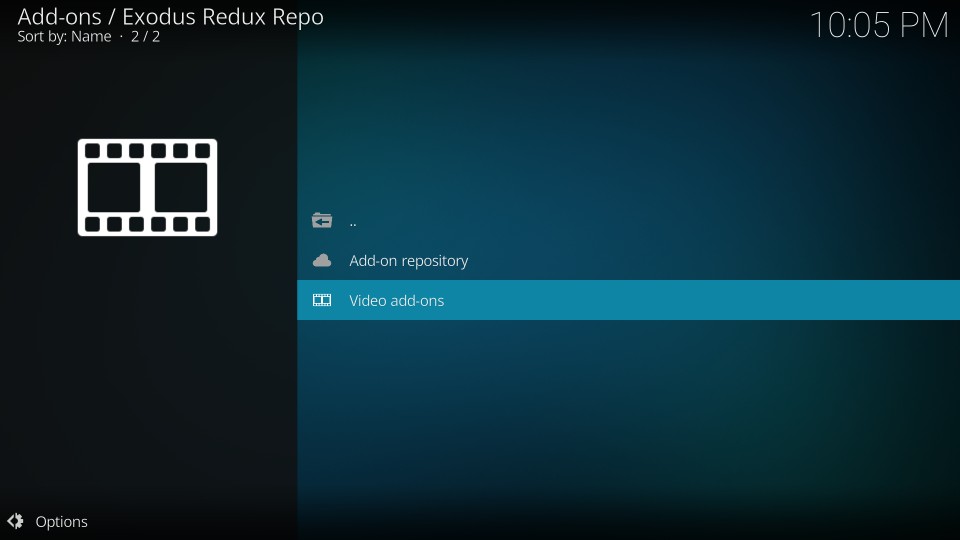 15. Click Exodus Redux.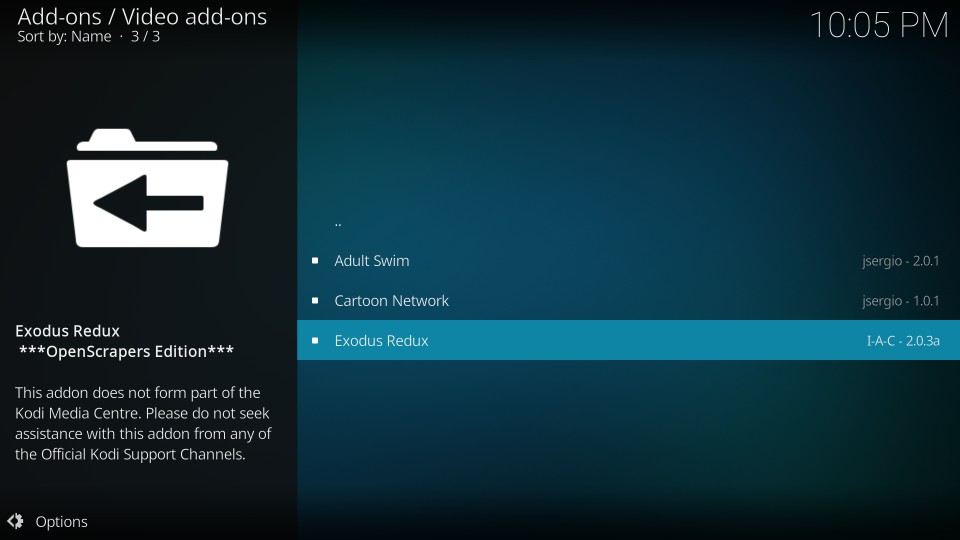 16. Click Install next.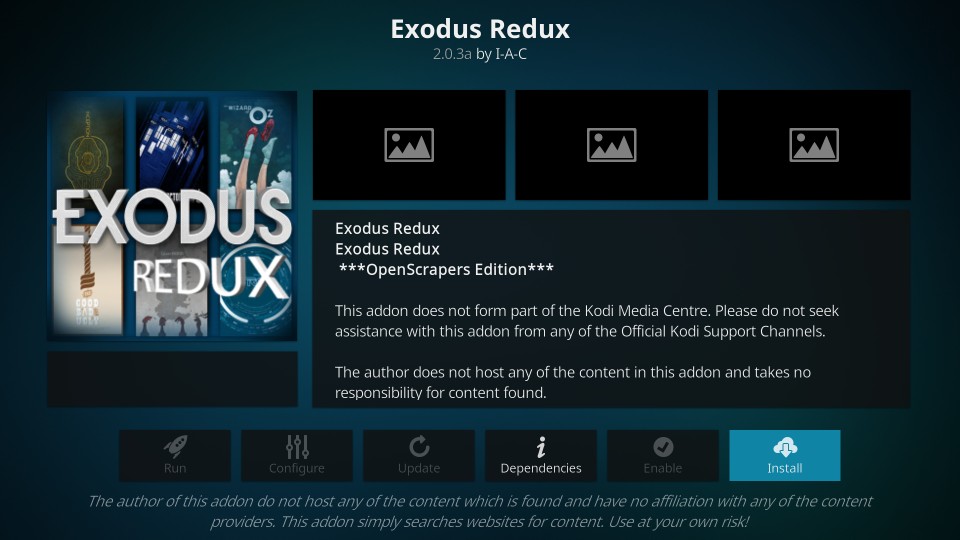 17. Click Ok when the following pop-up is displayed.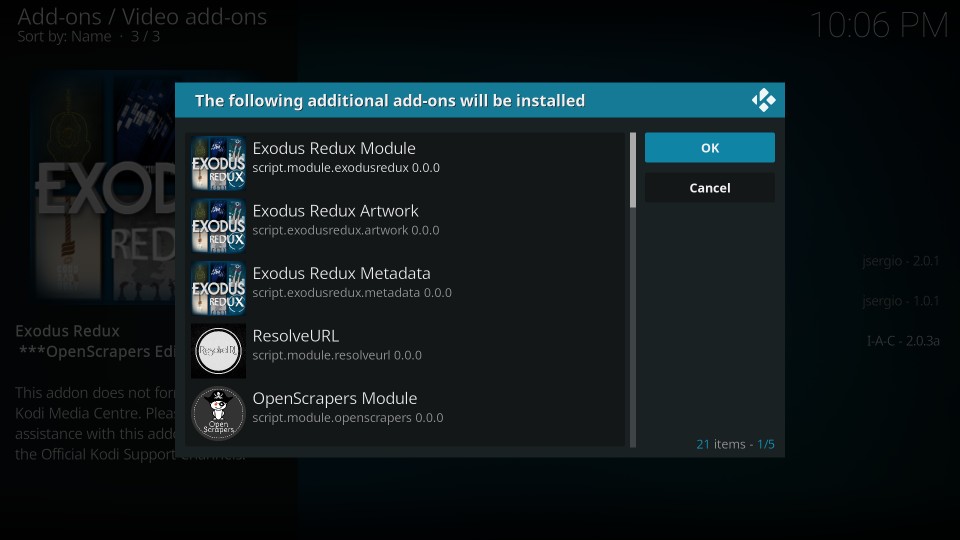 18. Wait while Exodus Redux Kodi addon is installed. It takes nearly two minutes. You will see the Exodus Redux Add-on installed message when it is done.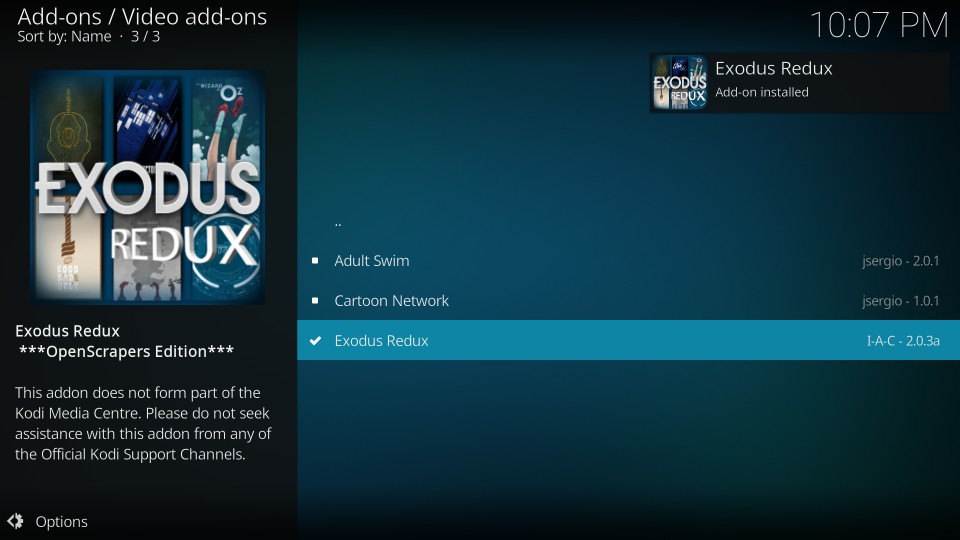 Well, that will be all! You have Exodus Redux on Kodi. Go ahead and enjoy!
How To Use Exodus Redux Kodi Addon
Exodus Redux addon is an all-in-one entertainment space to watch movies, TV shows, documentaries, and everything in between.
And if you have installed the addon for the first time, allow me to take you to its not-so-quite overview. So, to open the addon, select the Add-ons tab located on your Kodi home screen from the left-hand-side menu panel. Then, select Exodus Redux.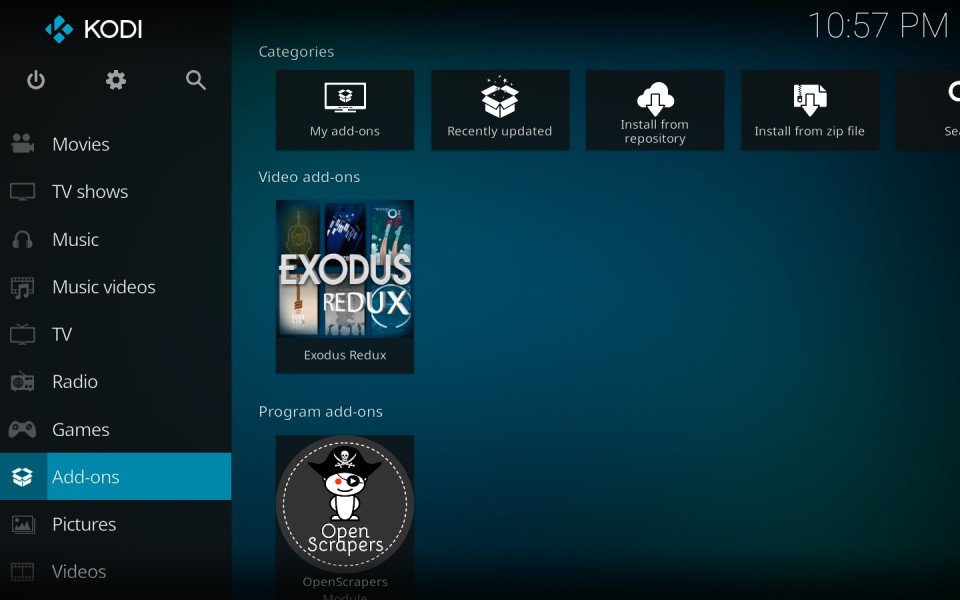 On startup, you'll be bombarded with an Update and Information window, quickly read it, and continue.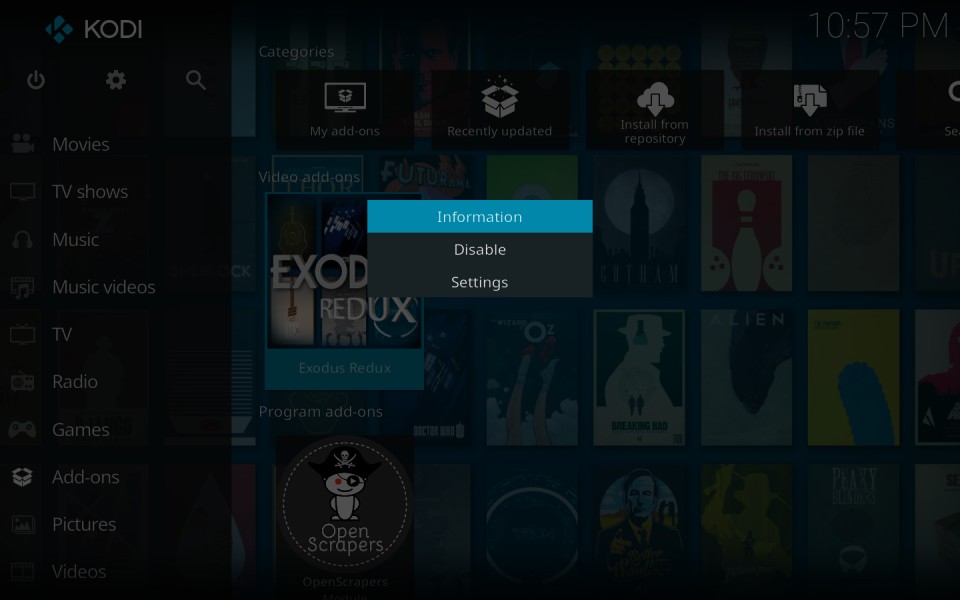 After that, you'll land on the home screen of Exodus Redux. At your first glance, you'll see all the available sections like Movies, TV shows, New Movies, New Episodes, Search, Tools, and more. To access any section, just select it. And then, you'll see all the related sub-folders with the relevant content inside them. Now let's one by one explore each section of the addon.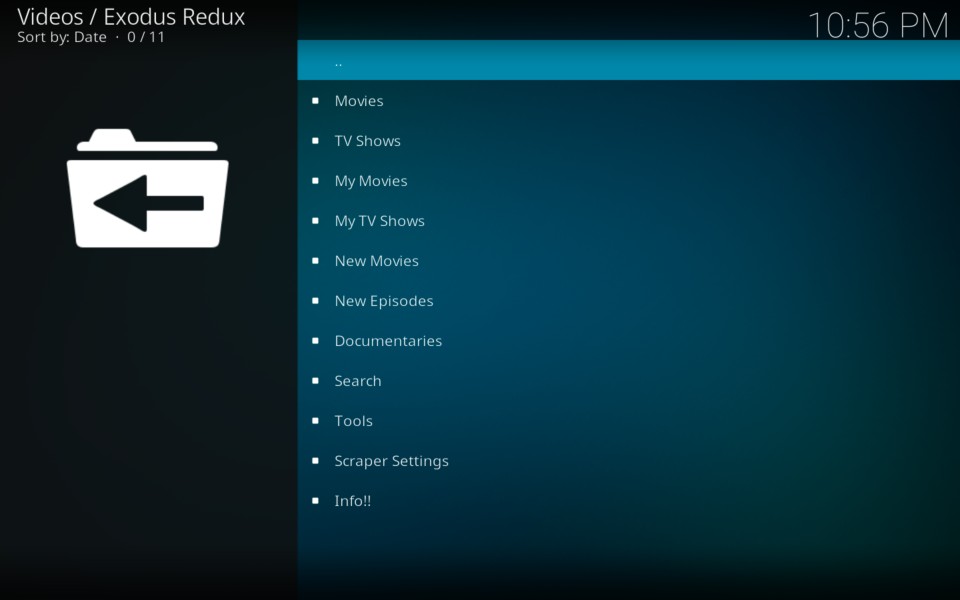 So first, select the Movies section. Inside, you'll see folders like Genres, Year, People, Languages, Certificates, People Watching, Most Popular, etc.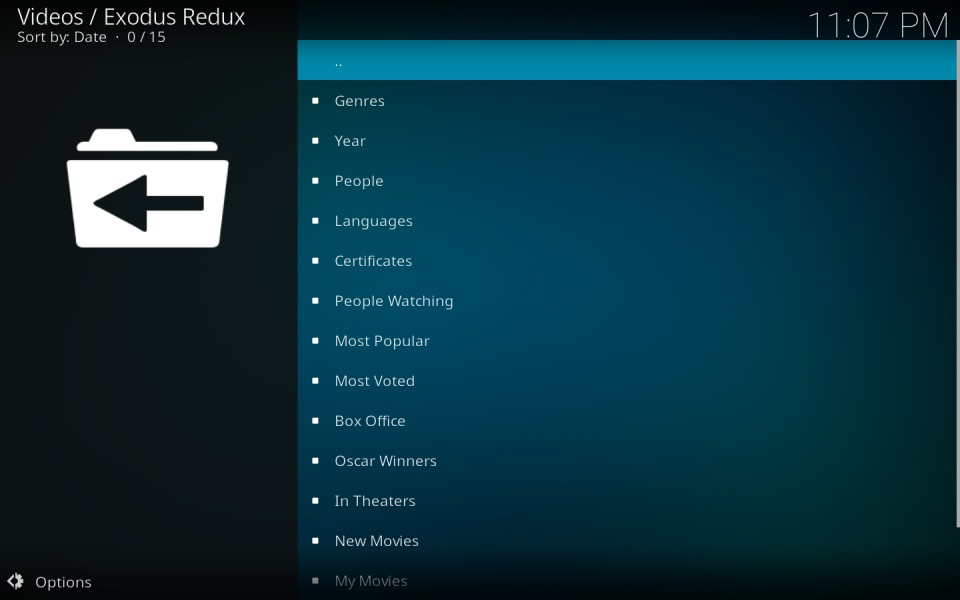 Inside each sub-folder, you'll find relevant content. For instance, in Genres, there will be more sub-folders of each genre and then there would be related movies inside of them. Select any genre, like I selected Most Popular. Then, according to the folder you have selected, the add-on will display further content. So in Most Popular, there's a list of all the popular movies.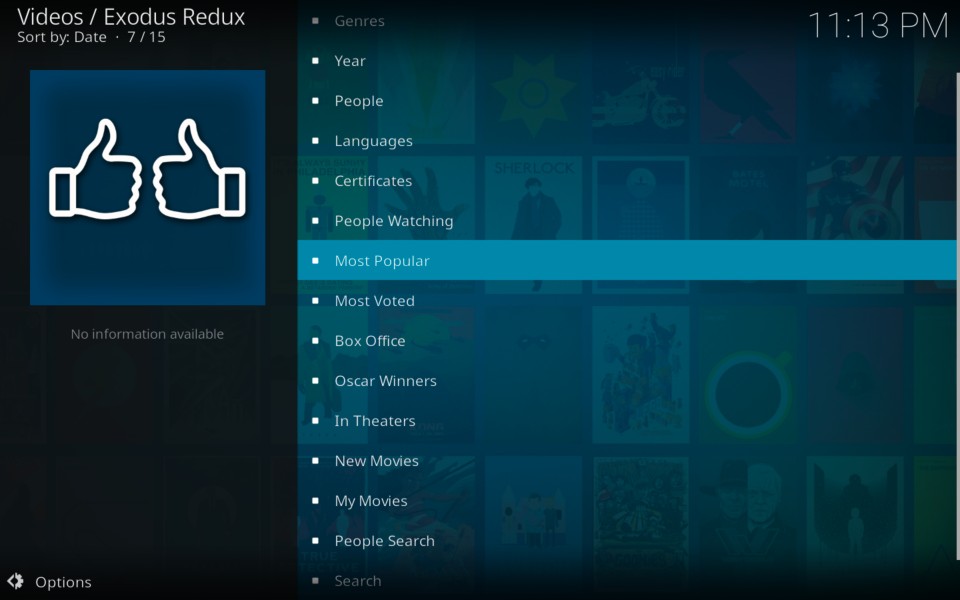 Select a movie and wait for the addon to load up the links. After that, you'll be presented with the links that have been found. Select any link and wait for it to play your selected content.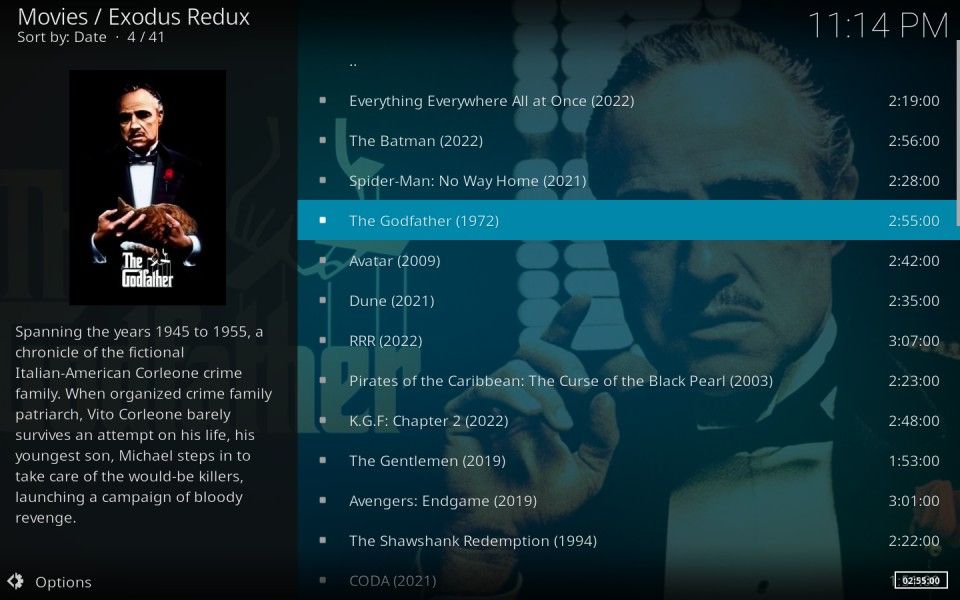 Next up, there's the TV Shows section. Select it, and just like the Movies page, you'll see all the sub-folders related to the category.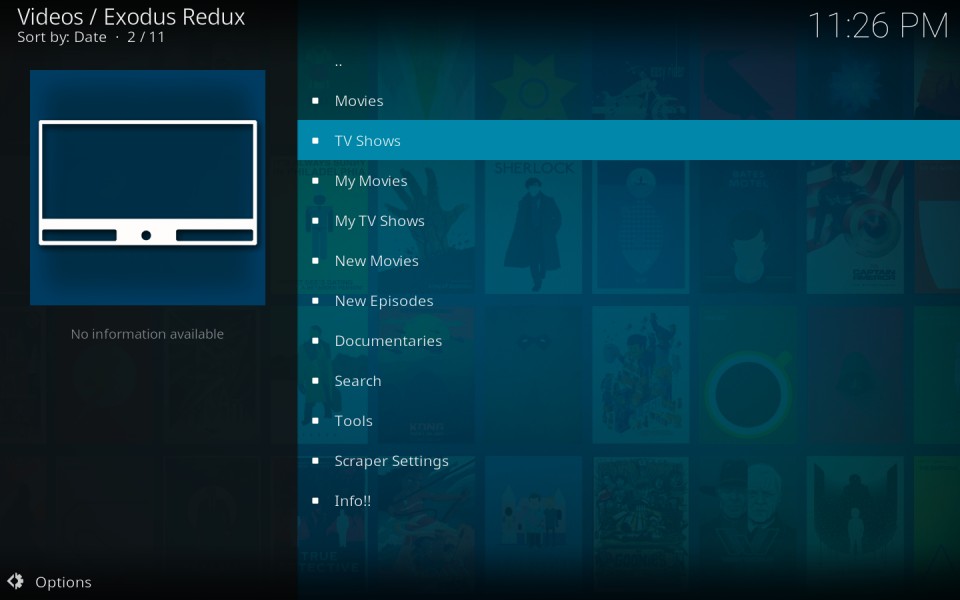 I selected Most Popular, once again, and that showed me the list of all popular TV series in the game.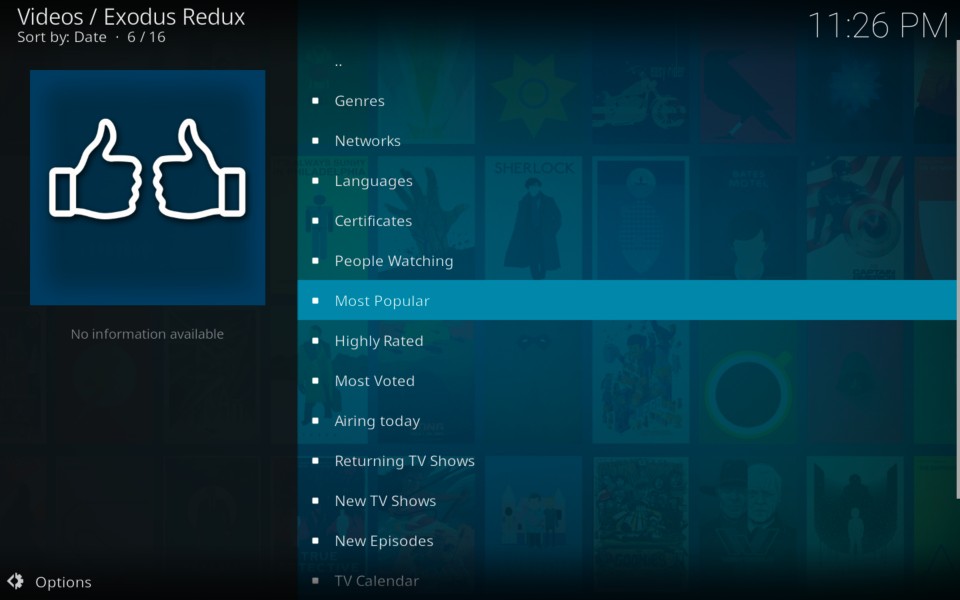 You can select any content you like and follow the instructions I have listed in the previous paragraph to play your desired show.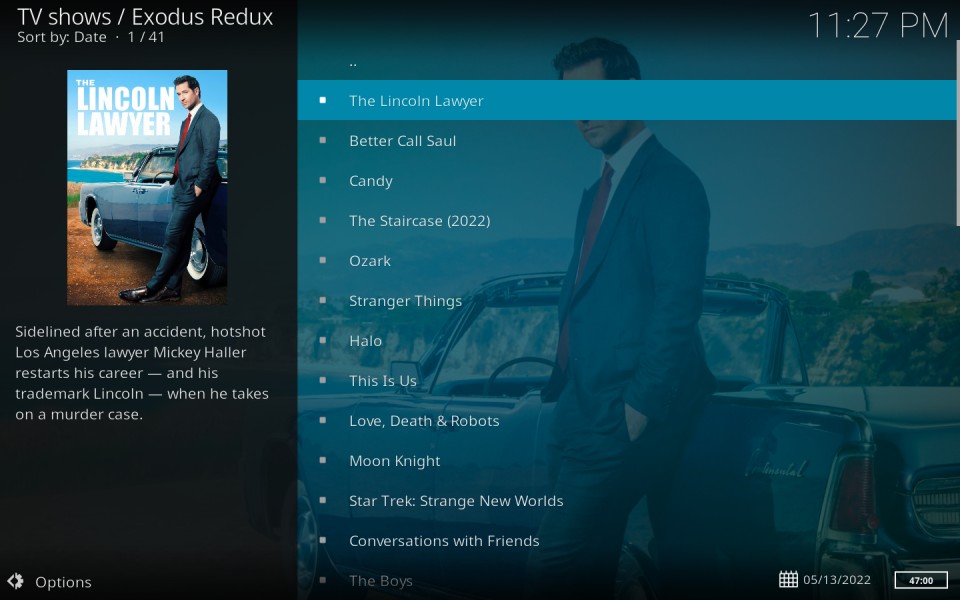 You'll find the TV shows and movies you have watched in the My Movies and My TV Shows section. After that, we have the New Movies page. Here, you'll be able to access all the new movies that have been released. Then, there's a New Episodes section. Inside it, you guessed it; you'll see the full list of TV series episodes that have just been released.
Now, if you are looking forward to searching for a specific movie or show, the Search section has got you covered.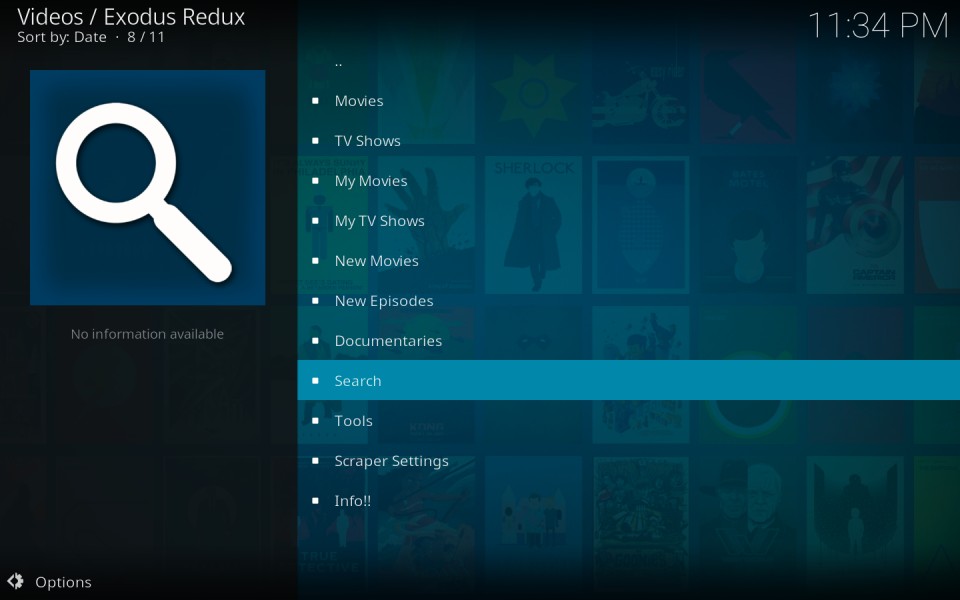 Select it, and you'll see four options, Movies, TV Shows, People (Movies), and People (Shows). To search for a movie, select Movies, and to search for a movie by person, select People (Shows) and vice versa. Then, click New Search… Enter your search terms and click OK. You'll see all the search results that have matched your term.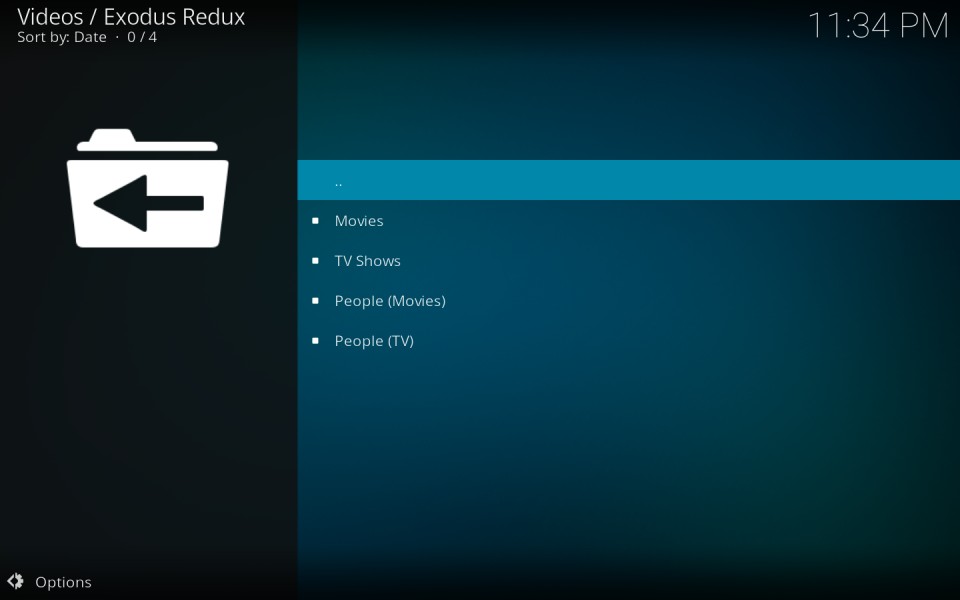 Next, if you want to adjust the settings of the Exodus Redux Kodi addon, select the Tools section.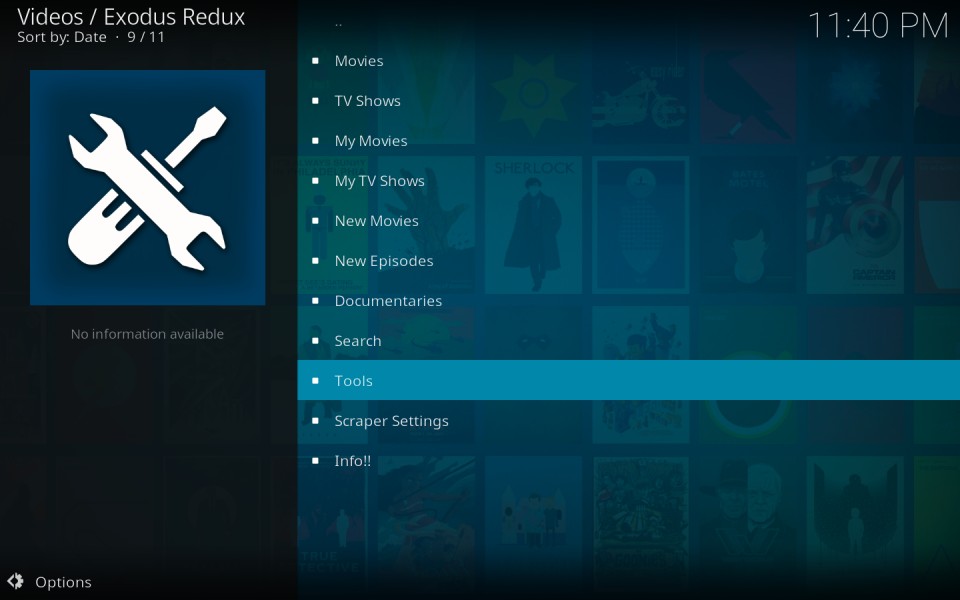 Here, you'll be able to access addon settings related to navigation, playback, providers, accounts, subtitles, downloads, library, TRAKT, etc. But we don't recommend a newbie to tweak anything listed here.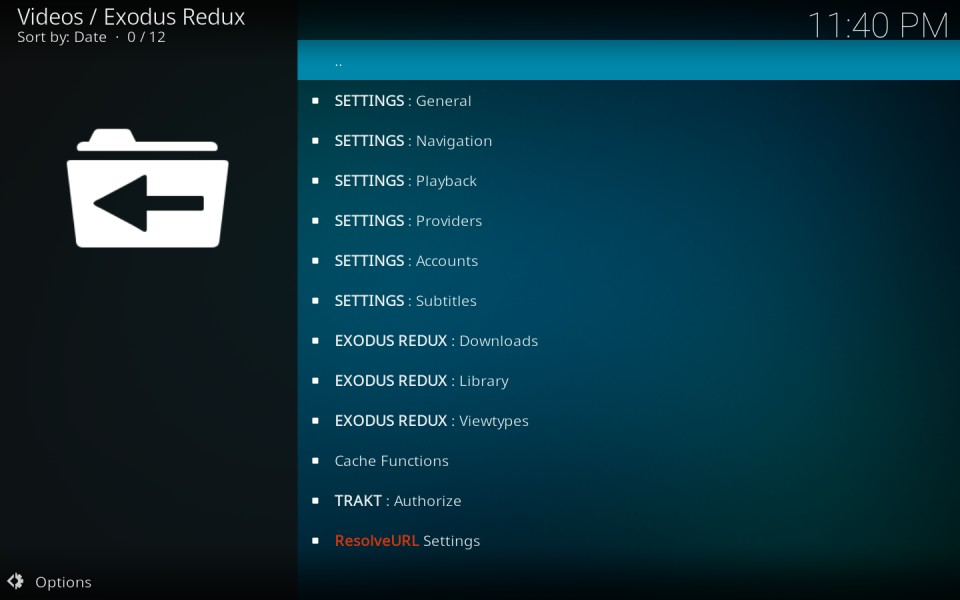 Last and certainly not least are the Scraper Settings.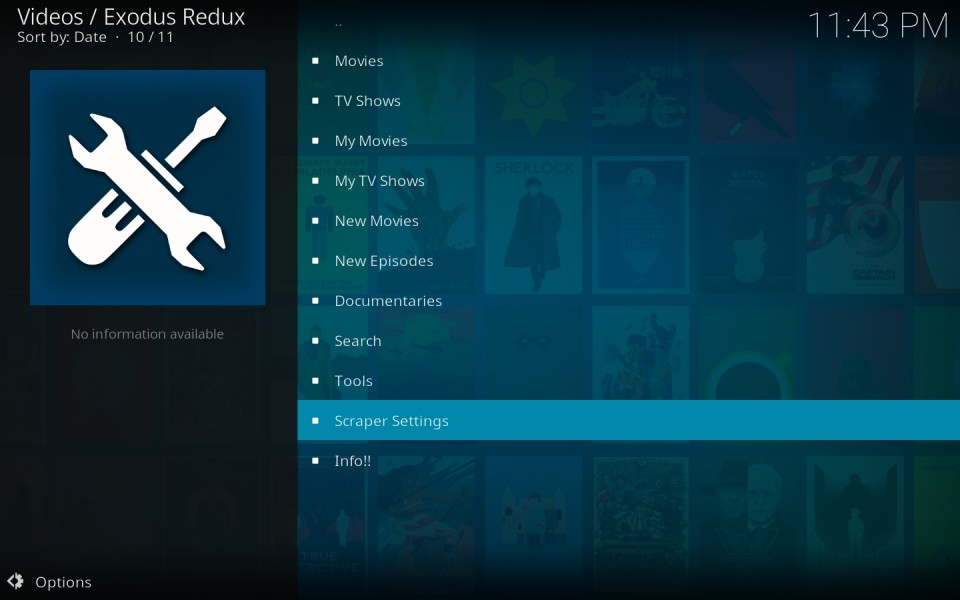 Here, you'll find all the basic, advanced, and expert options related to the scrapers that come with Exodus Redux. But Hey, if you don't have good knowledge about the Kodi third-party addon scraping system, just exit the page.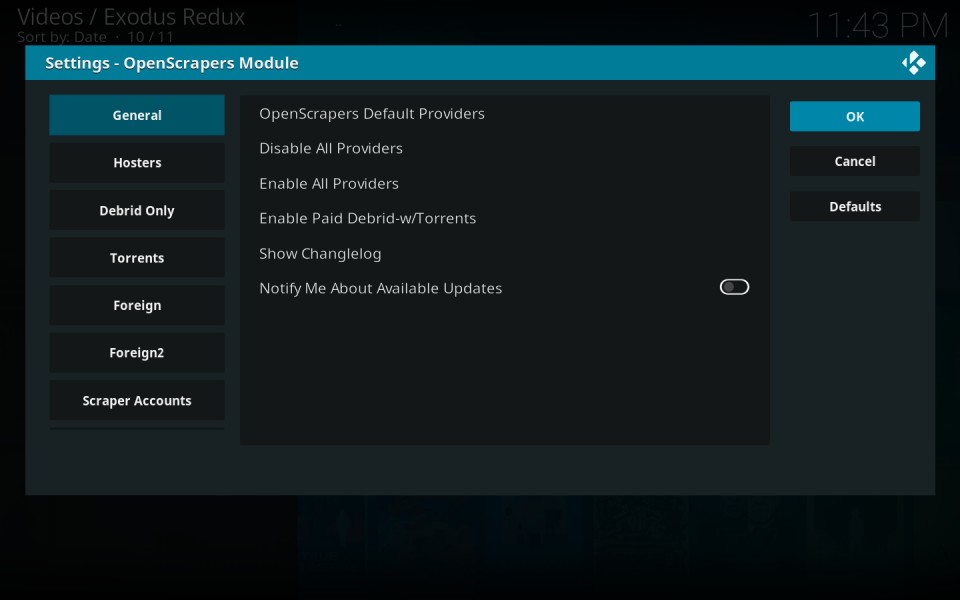 Fix Exodus Redux Streaming Error
Are you facing a streaming error on Exodus Redux? Don't worry! I'll show how you can fix it without diving deep into the addon settings. Firstly, open Exodus Redux. Then, scroll all the way down and select Tools.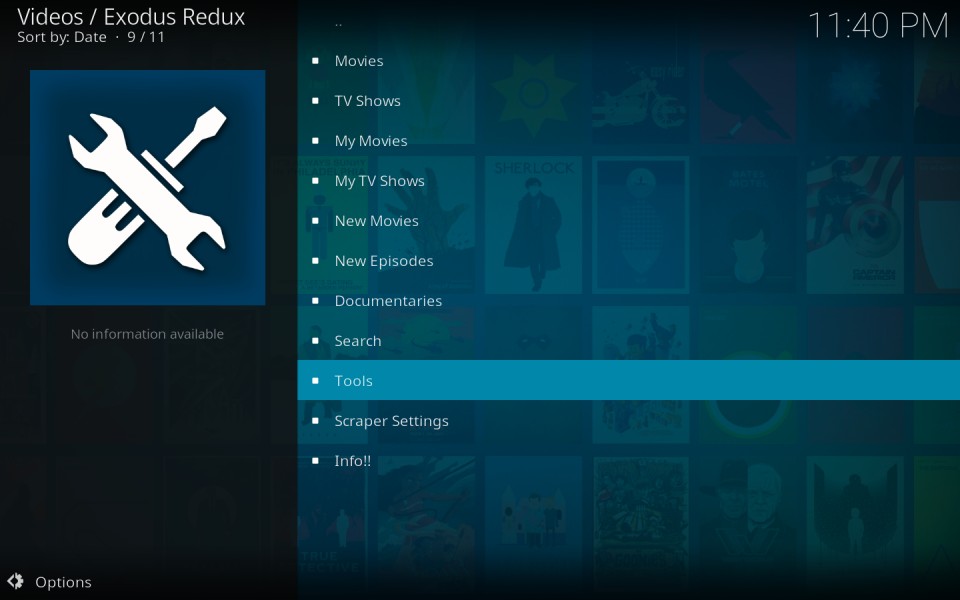 After that, select the first option, SETTINGS: General. Make sure you are on the General tab.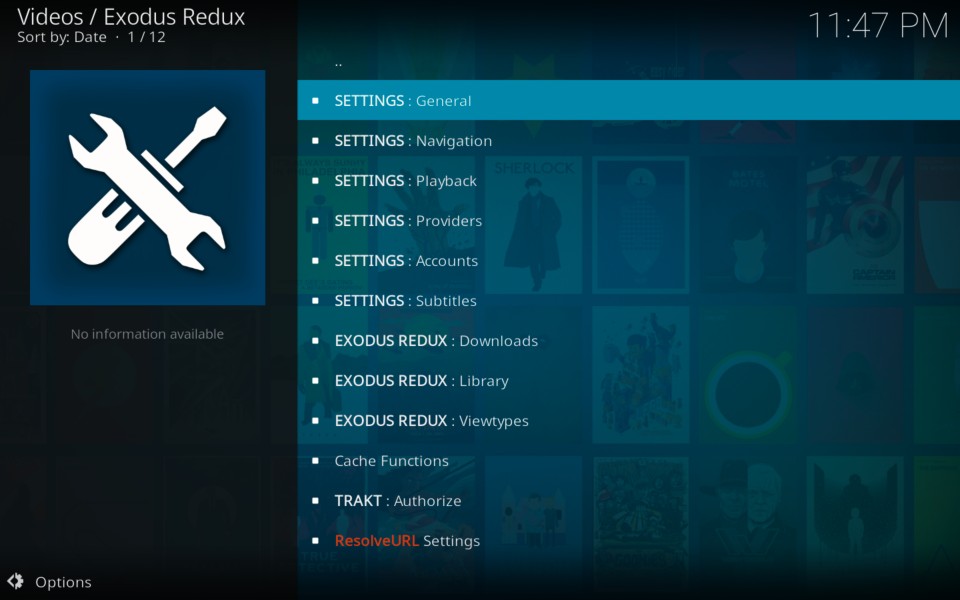 Next, click on the Defaults option. And then select the Yes button.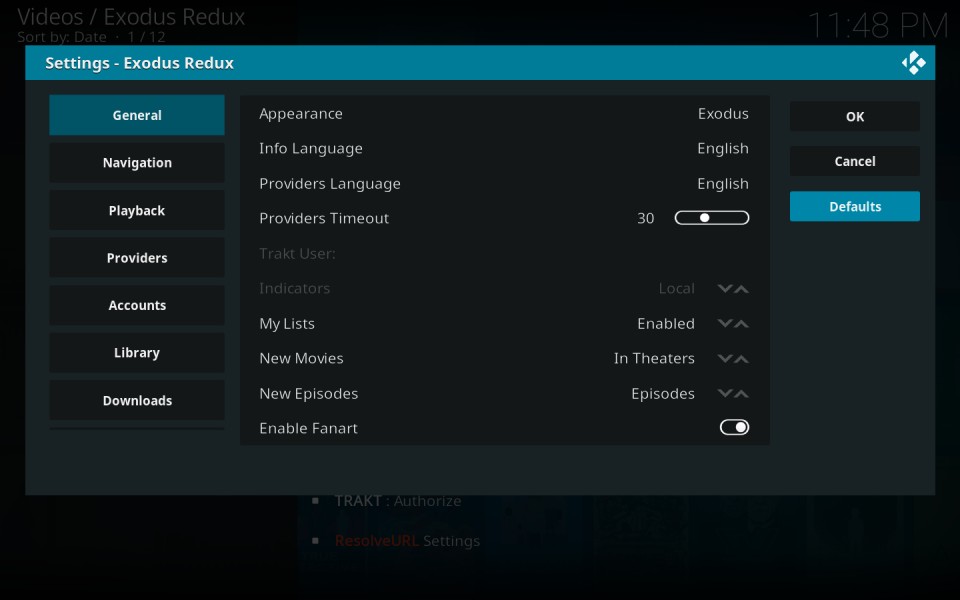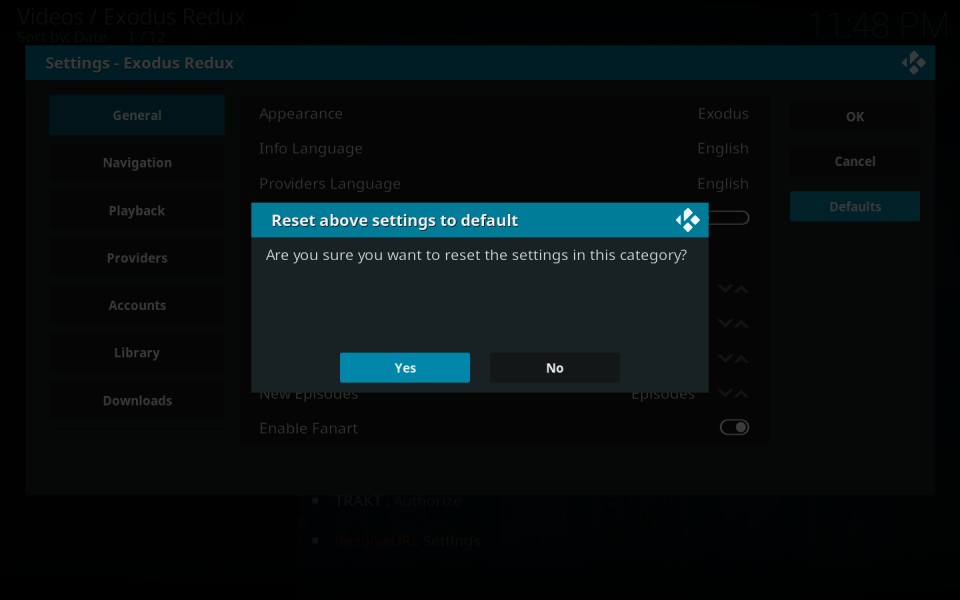 You have now reset the Exodus Redux to its default settings. Now, play your desired content to see if you are still facing the issue. Most probably, the error would no longer be there.
How to Install Exodus Addon on Kodi
The installation process is much the same. The only difference is that both these addons come from different sources and repositories. Here is how to install Exodus v8.2.0 on Kodi:
Note: Currently, Exodus Kodi addon isn't working. Inside the Exodus addon repo (https://kodibae.github.io/), you'll only find Exodus VPN. I'm going to update the section as soon as the Exodus Kodi addon will start working.
1. Open Kodi Settings > File manager > Add Source just like before. When you see this window, click.
2. Enter the following path in the designated area on the top: http://mega-tron.tv/transform
Click OK after rechecking that you have entered the URL correctly.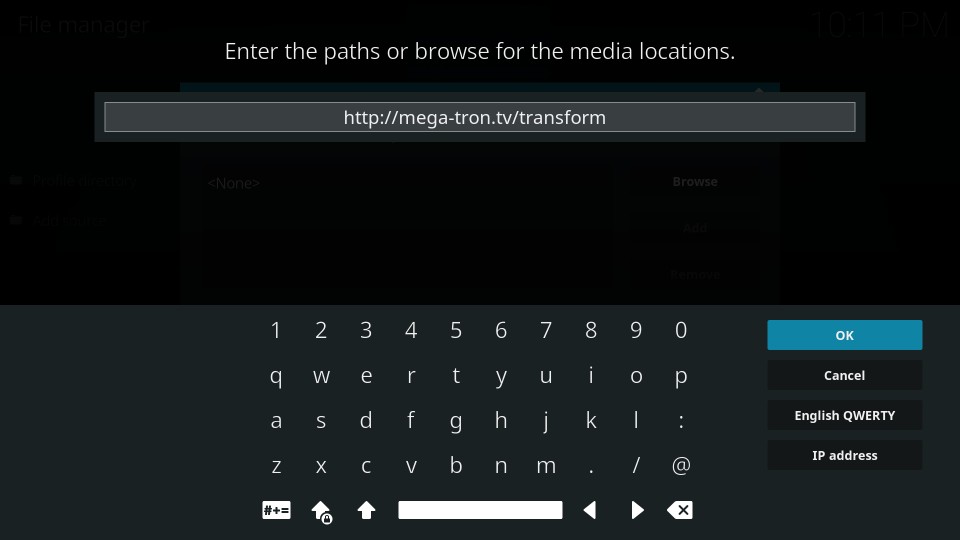 3. Type the source name in the field marked as Enter a name for the media source.
You may choose any name of your liking or leave it to default entry transform like I am doing.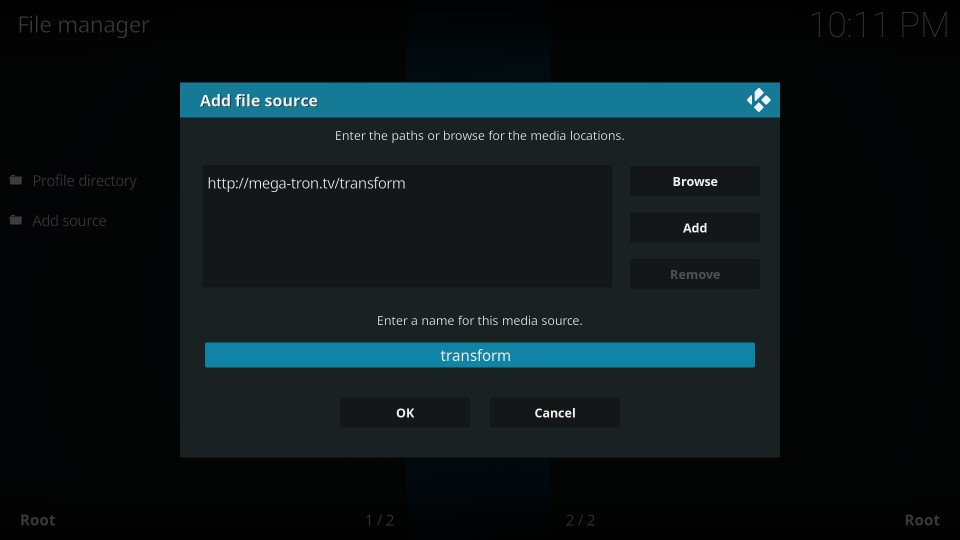 4. Go back to the Settings window of Kodi again by clicking the gear icon on the home-screen and click Add-ons.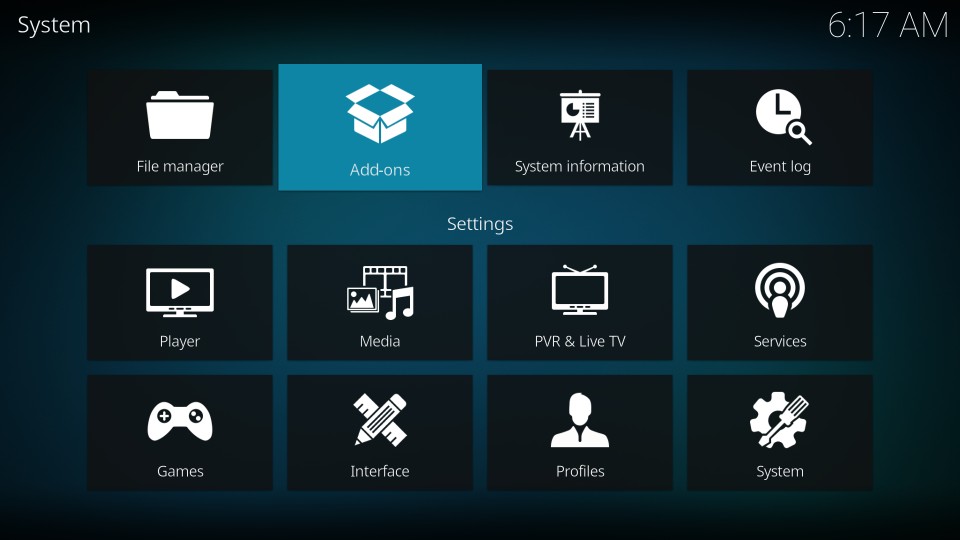 5. On the following window, click Install from zip file.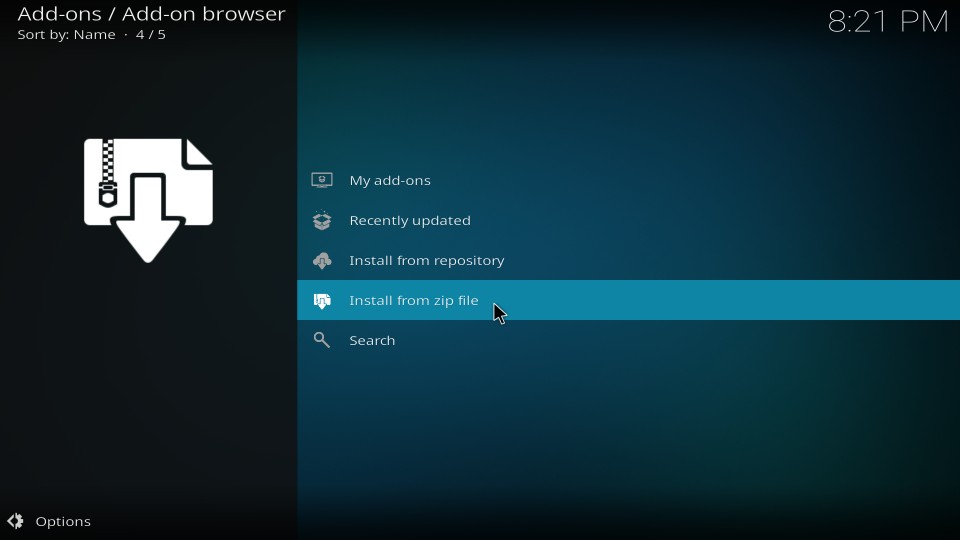 6. Click the name transform or the name of the source you chose earlier.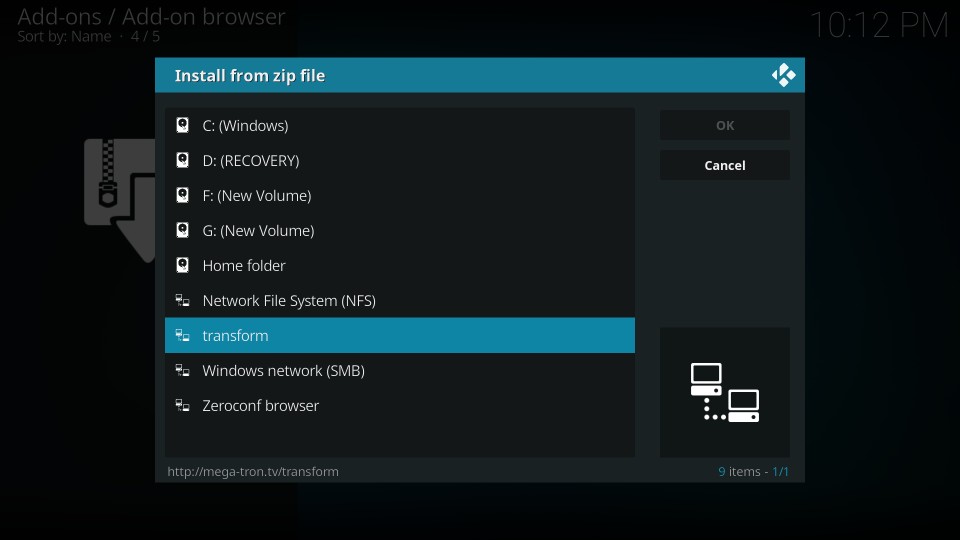 7. Now open the Repos folder.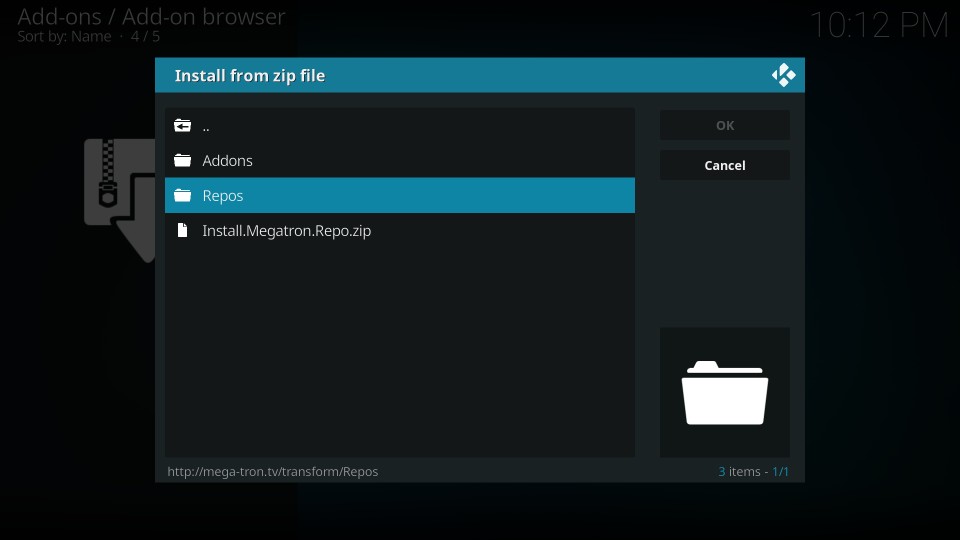 8. Click the zip file repository.kodibae-x.x.x.zip.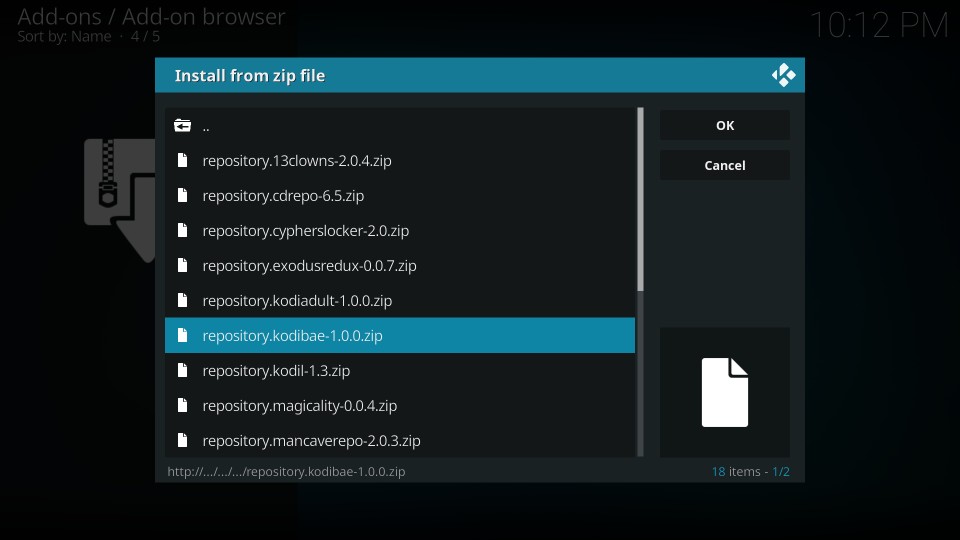 9. Wait for the repository to install. Proceed when you see the notification Kodi Bae Repository Add-on installed.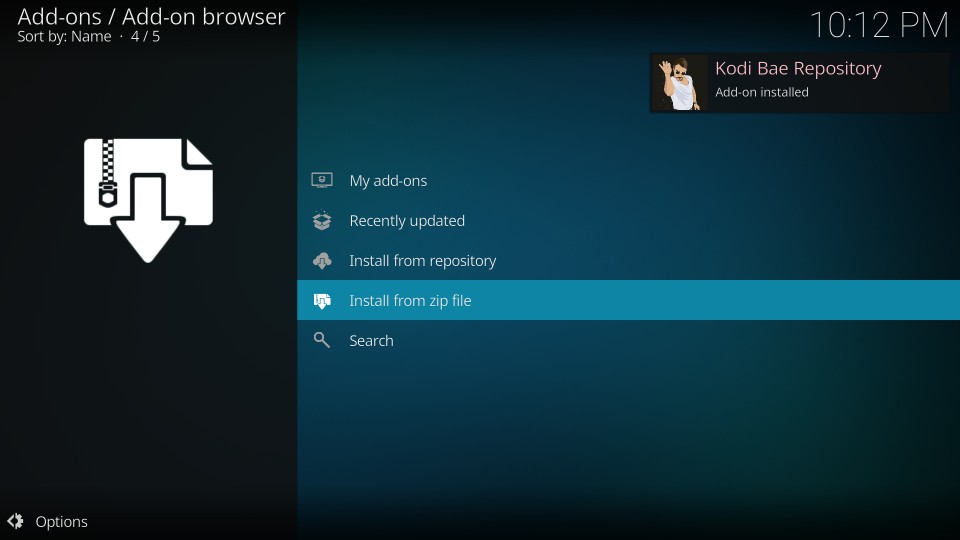 10. Open the option Install from repository.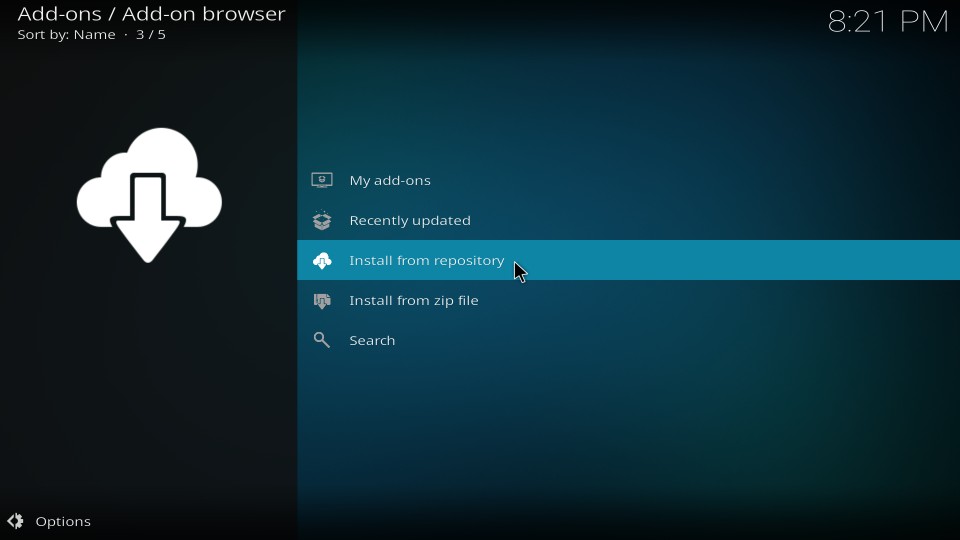 11. Open Kodi Bae Repository.
12. Choose Video add-ons.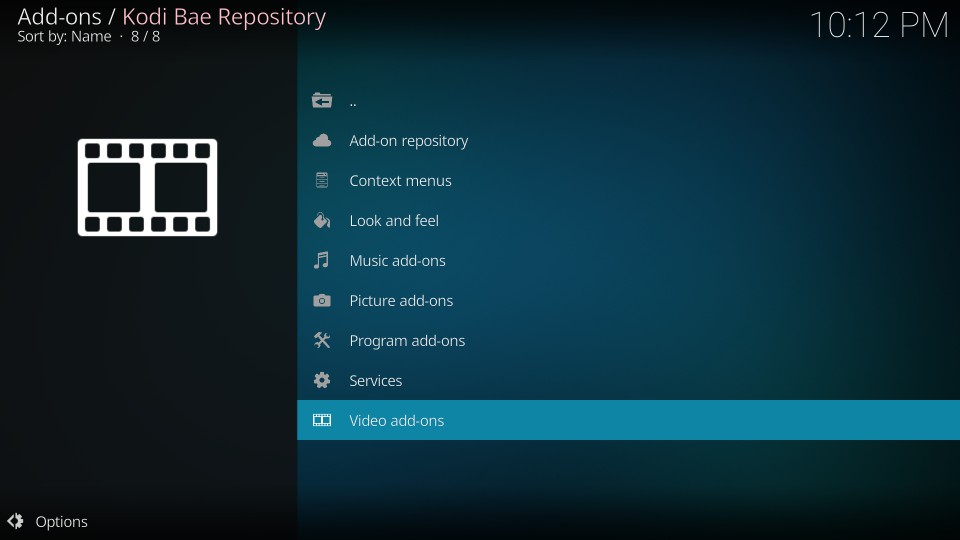 13. Find and click Exodus.
14. Click Install when the following window is displayed.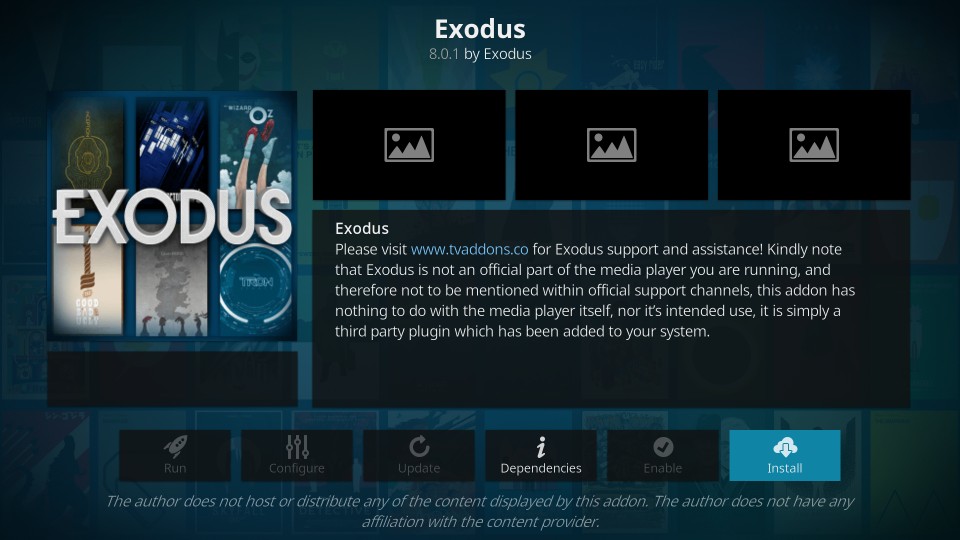 15. Click OK when the following prompt appears.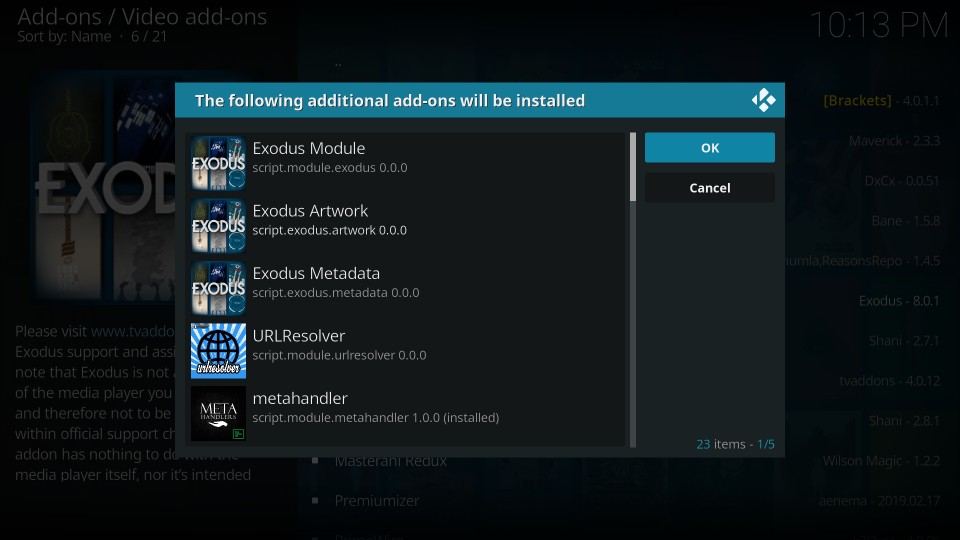 16. Exodus Add-on installed notification should appear after about a minute.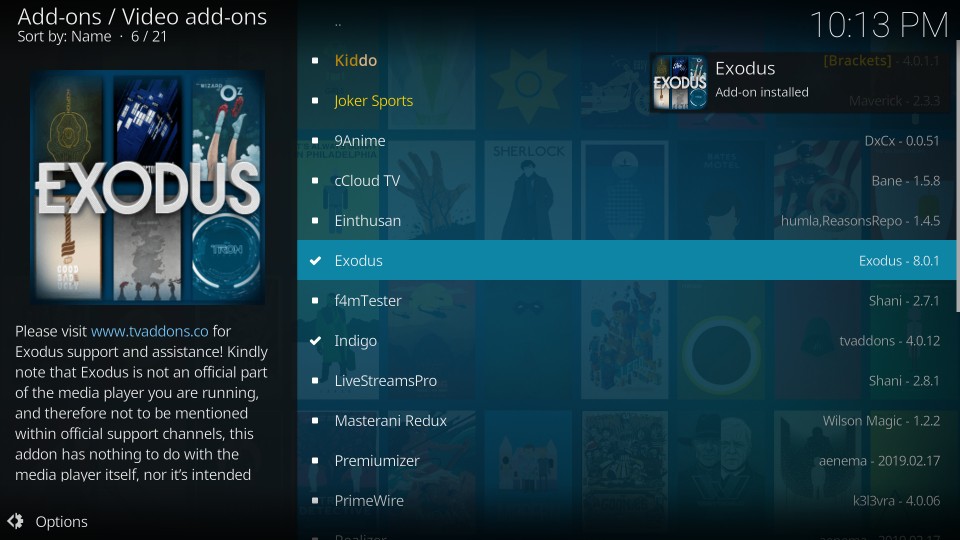 You have successfully installed the Exodus V8.2.0 addon on Kodi. Enjoy!
Quick Overview and Comparison of Exodus v8.2.0 & Exodus Redux Kodi Addons
Let's first quickly see how to access these addons. You will find them in the Video add-ons section. To access it go to your Kodi home-screen and click Add-ons. Next, select Video add-ons on the left. On the right, you will find the add-on icon.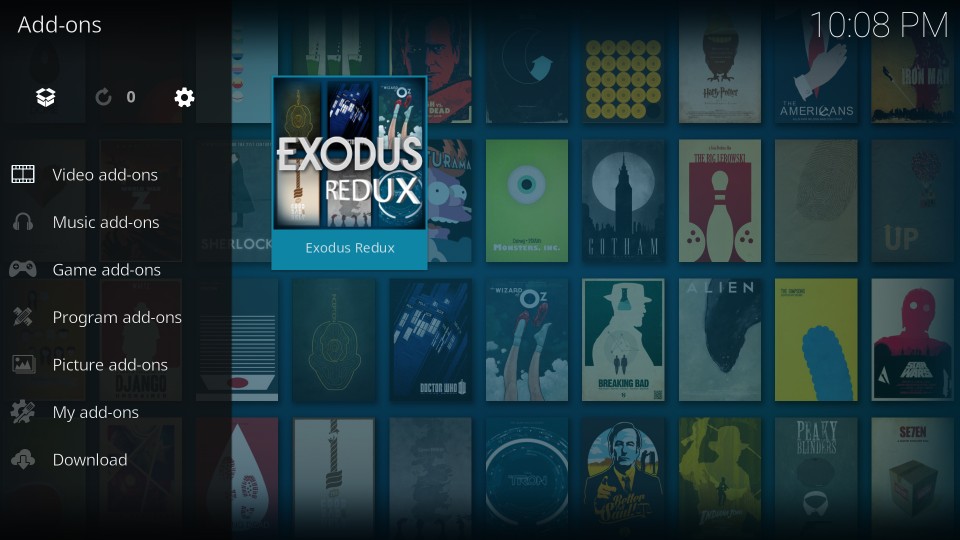 Here are the screenshots of the main-screen of both addons:
Exodus V8.2.0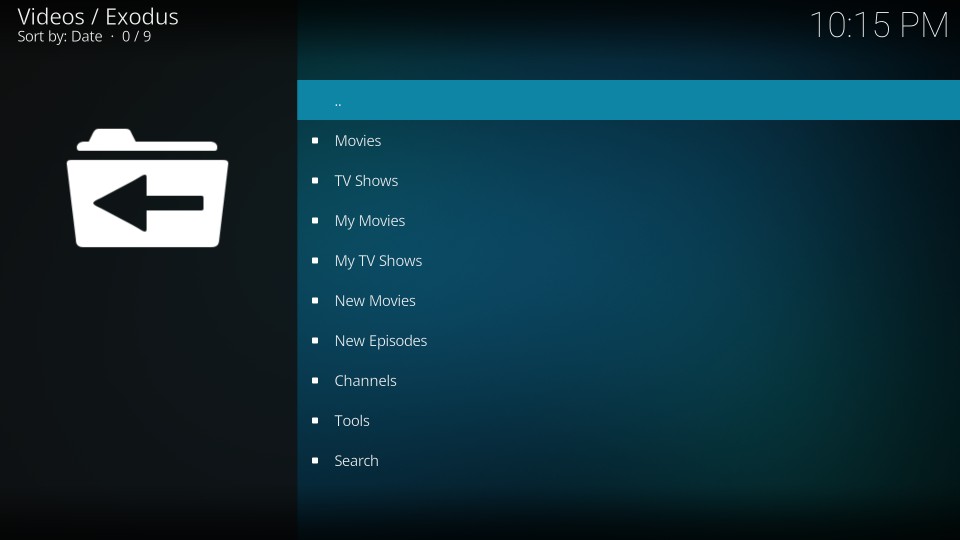 Exodus Redux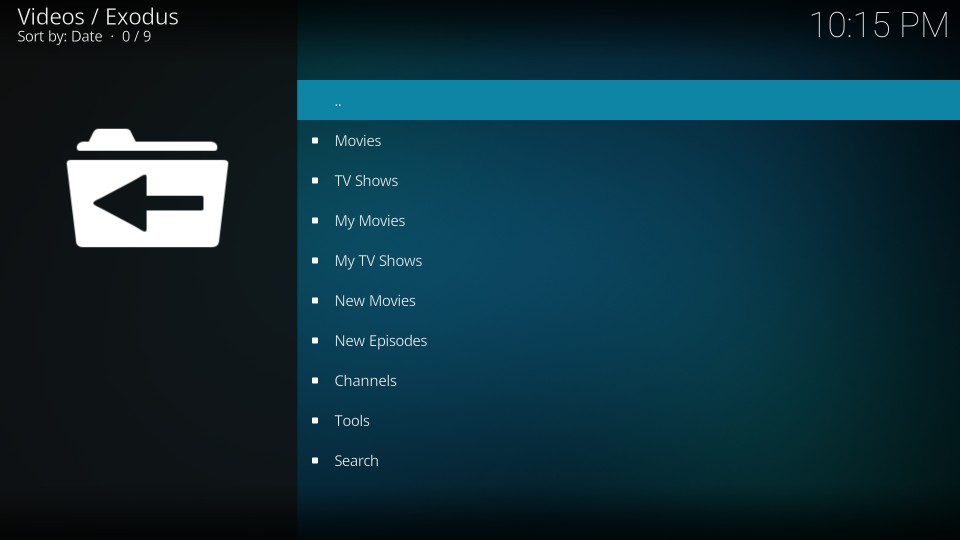 As you see, there isn't a lot to choose between the two. Especially since the release of Exodus v8.2.0.
Both these add-ons allow Real-Debrid and Trakt integration.
Both these add-ons feature further subcategories that sort the content appropriately.
Conclusion
With the release of Exodus v8.2.0, the competition between the two add-ons is likely to get tougher. It will be a bit difficult to pick one of the two. But, that should not be a problem. You can keep them both now and enjoy the seamless streaming experience.
Related: