In this article, I'll cover how to install The Crew Wizard Kodi builds. Moreover, I will also talk about safety & legality issues, what's The Crew Wizard, what are their prominent features, and more. You can use this guide as a reference on any Kodi-compatible device like Amazon FireStick, Nvidia Shield, Android smartphones/tablets, Windows PCs, Android TV Boxes, and more. 
What Is The Crew Wizard?
The Crew Wizard features multiple builds, maintenance tools, and more. This addon houses a number of all-in-one builds that let you stream TV shows, movies, live TV, kids' content, and more.
From lightweight to fully loaded, The Crew Wizard features builds for all devices. Try the builds on the addon and see which one suits your preference.
Attention KODI Users: Read before you continue
Kodi is an excellent platform for streaming movies, TV shows, and sports, but it's important to remember that streaming copyrighted content can get you into legal trouble. Your IP address 65.60.182.8 is exposed to everyone. You should use a reliable Kodi VPN while streaming to protect yourself online. A VPN will keep your streaming activities private and bypass government surveillance and geo-restrictions.
I use ExpressVPN, the fastest and most secure Kodi VPN out there. It's easy to install on any device, including Amazon FireStick. Plus, it offers a 30-day money-back guarantee, and if you sign up for an annual plan, you get 3 extra months free. 
Read: How to Install & Use the best VPN for Kodi.
Is it Safe to Install The Crew Wizard Builds?
The Crew Wizard hosts multiple builds, but as they are all created by unknown third-party developers, their safety isn't guaranteed. However, this doesn't mean they can harm your device.
At FireStickHow, we are a bunch of FireStick and Kodi experts. However, we aren't security professionals. And that doesn't give us the authority to label The Crew Wizard builds safe or unsafe.
I ran the VirusTotal virus analysis on the .zip file of The Crew Repo for reassurance. And gladly, it passed the test – here's the result: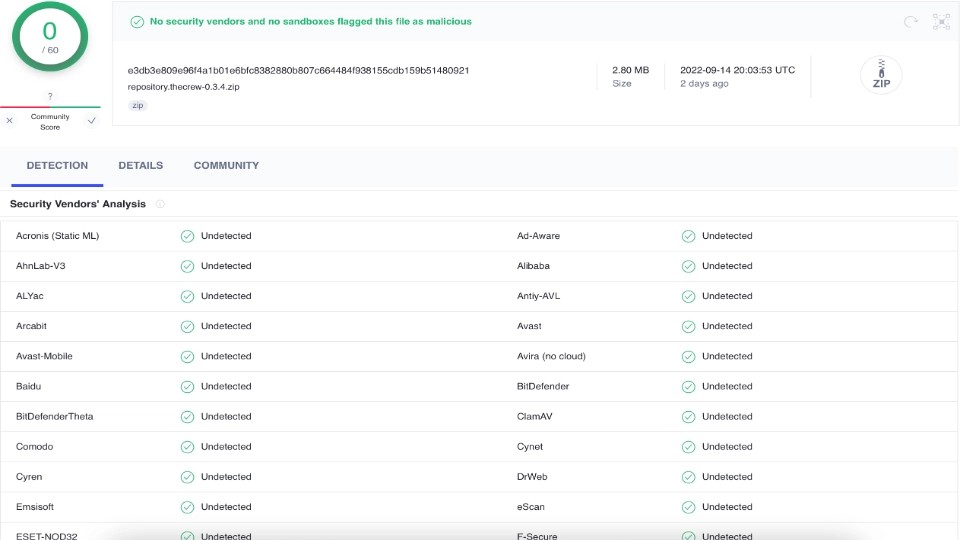 Is it Legal to Install The Crew Wizard Builds?
The Crew Wizard Kodi builds are loaded with multiple unknown Kodi addons. And as unknown developers make all those, it's hard to determine whether they are legal or illegal.
Most third-party addons are mere scrapers that find free-to-watch links from the internet. But as there's no way to verify the legality of the links, things get a bit clumsy.
We at FireStickHow.com lack the resources to verify the legal status of The Crew Wizard builds.
In conclusion, I recommend you use a VPN service like ExpressVPN when using a Kodi build by The Crew Wizard. 
Features of The Build by Crew Wizard
The Crew Wizard Kodi builds pack the following features:
Availability of a variety of builds

All builds receive updates from time to time

Loaded with new Kodi addons

Multiple sections
How to Install The Crew Wizard Kodi Builds?
In order to access and install a build from The Crew Wizard, you'll need to go through a series of steps. I have mentioned the steps in the required order and split them into sub-sections so you can easily follow along.
Part 1 – Enable Unknown Sources
We'll start by enabling an option called Unknown Sources, the most vital step in the installation.
1. Select the Settings Gear icon on the top left corner of the app home.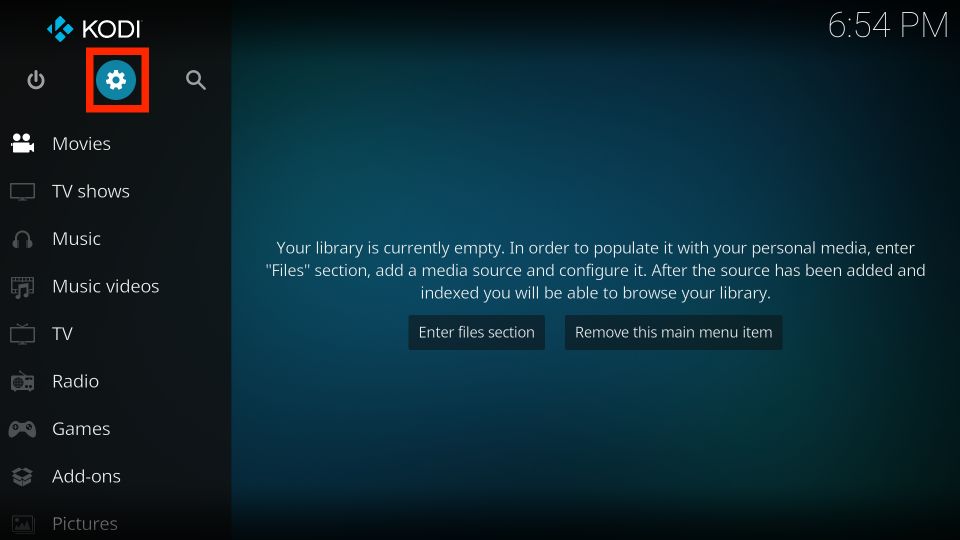 2. Choose the System tab on the bottom right side of your screen.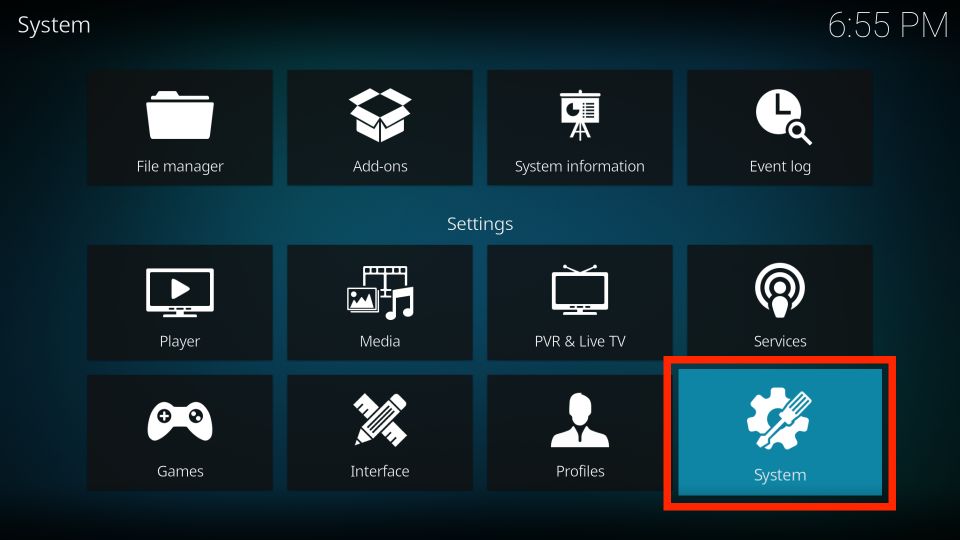 3. Select Add-ons by scrolling down on the left-hand menu.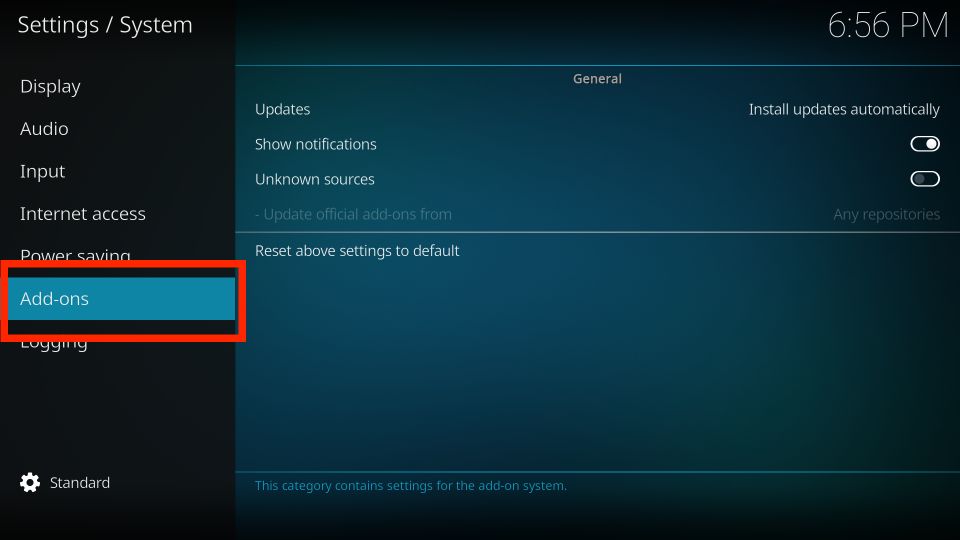 4. Switch to the right side and toggle on Unknown sources.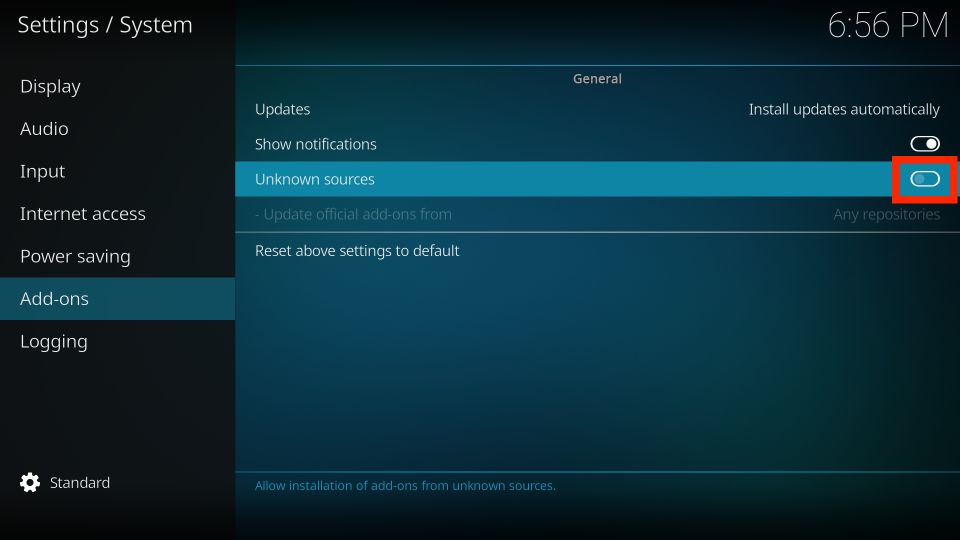 5. Kodi will warn you about adding third-party Kodi addons/repos. Acknowledge and confirm by tapping Yes.
Note: If you select No, Kodi will turn off Unknown sources.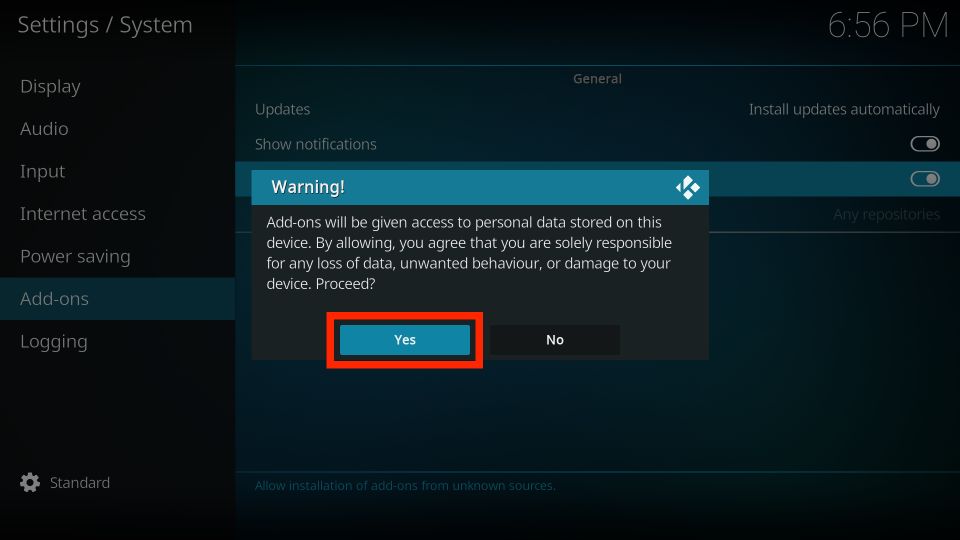 Part 2 – Install THE CREW REPO
Next, it's time to install THE CREW REPO on the Kodi so we can use it to access The Crew Wizard.
1. Launch the Kodi settings menu by clicking the Gear Cog on your display's top left.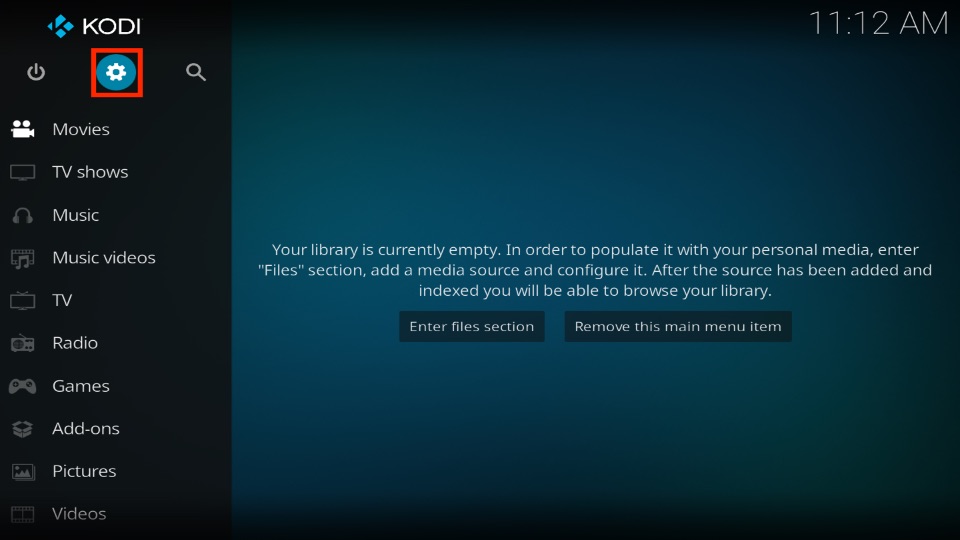 2. Explore the top left side tile – File manager.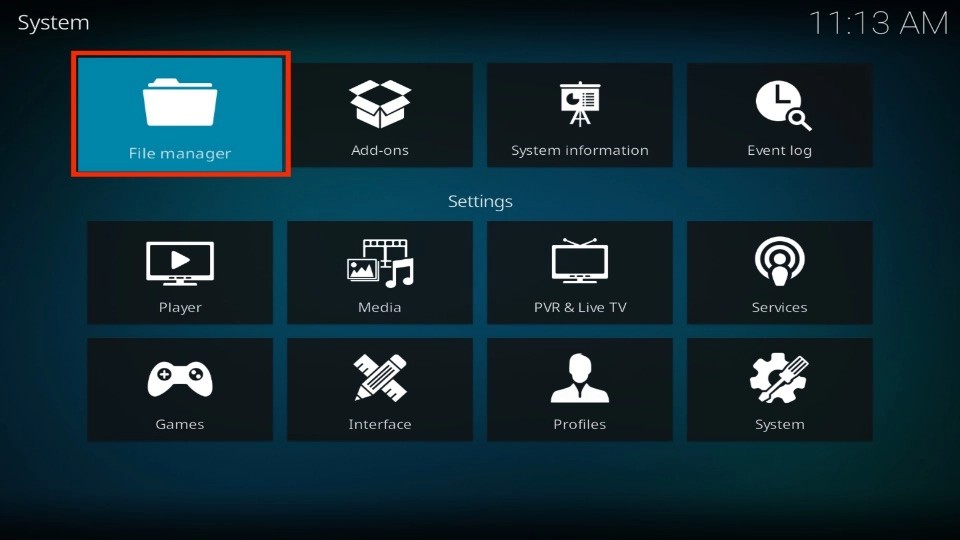 3. Click Add source.
Note: There are Add source options on your left and right on the File manager page. You can select any one of them.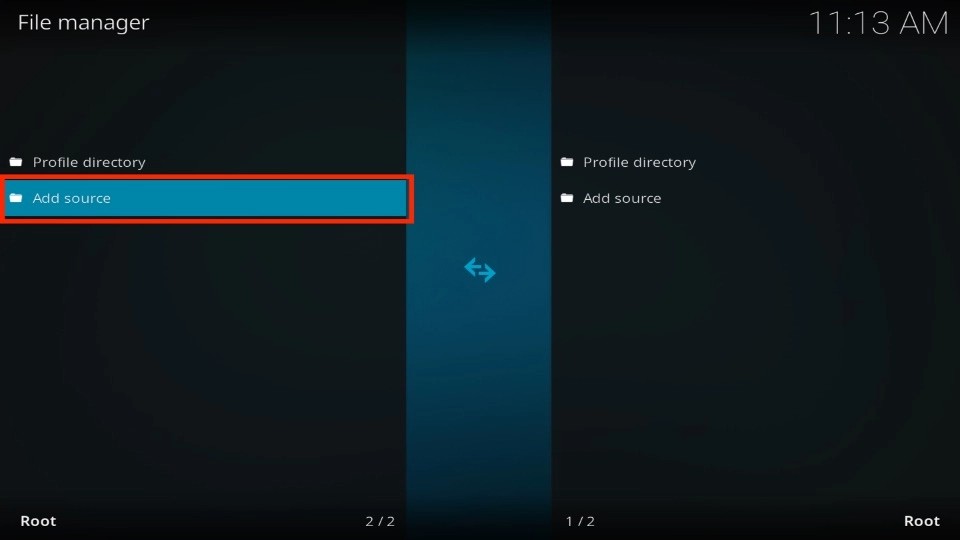 4. When the Add file source window appears, choose the <None> option.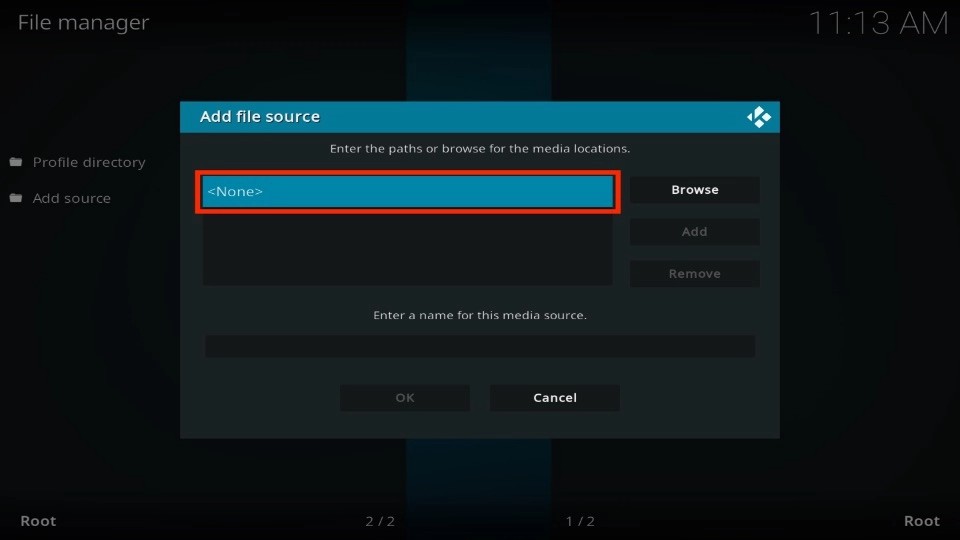 5. Enter THE CREW REPO's official URL – https://team-crew.github.io. Press OK to preserve the website. 
Note: At FireStickHow.com, we don't promote nor are we associated with third-party repositories. I have added the URL for educational reasons only so you can access the repo.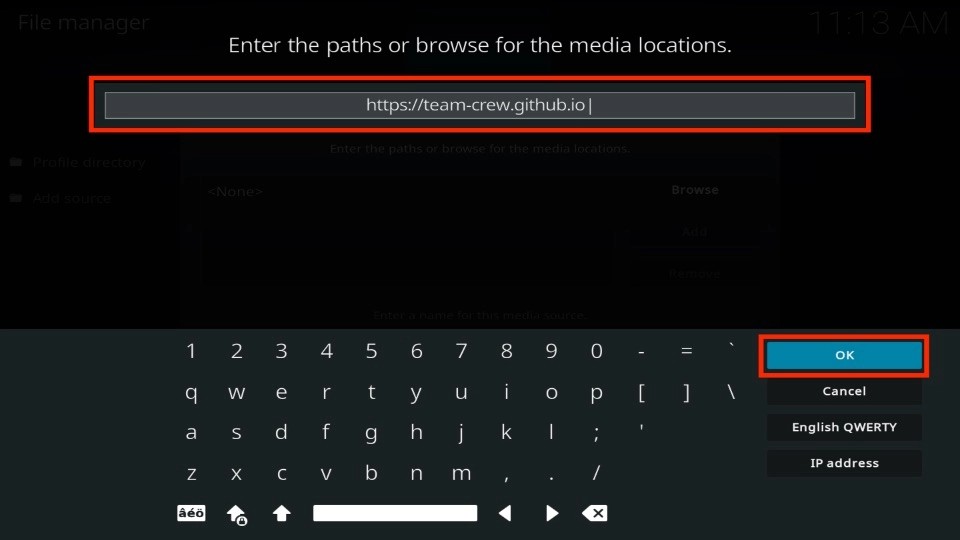 6. Choose the Input Space under Enter a name for this media source.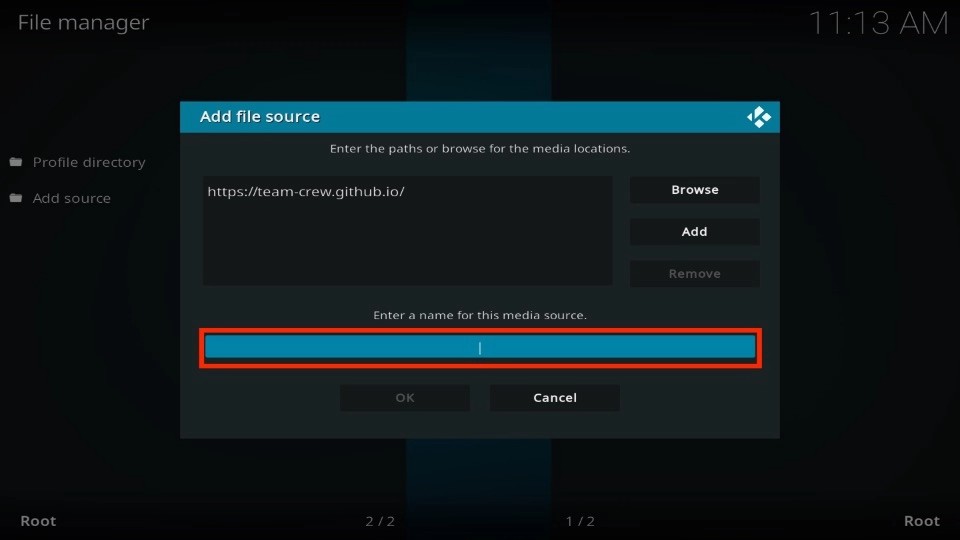 7. Type in a name you like for THE CREW REPO URL. I selected The Crew as it's recallable and related. Press OK to commit changes.
Note: Feel free to set any name but remember that it should be something you can recall.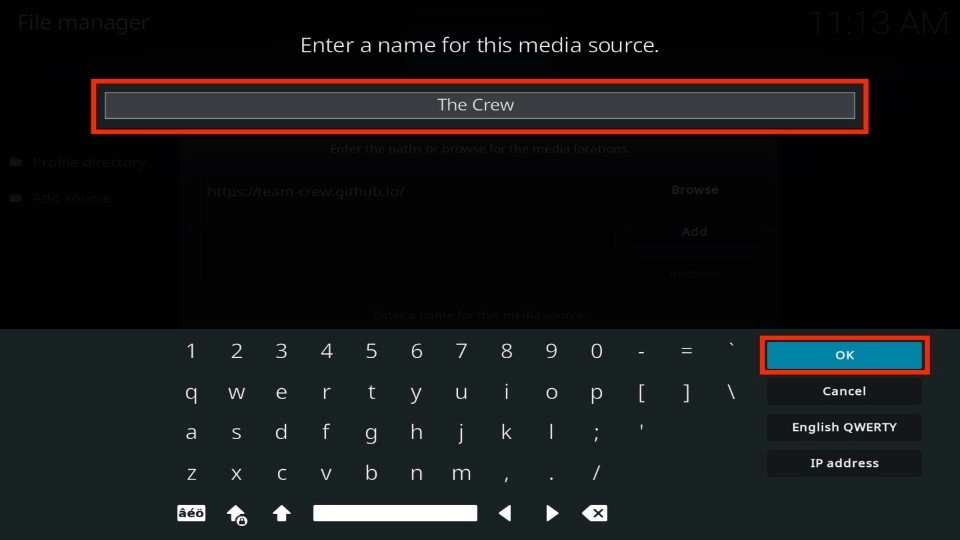 8. Take a final look at the entered information and click OK to save everything.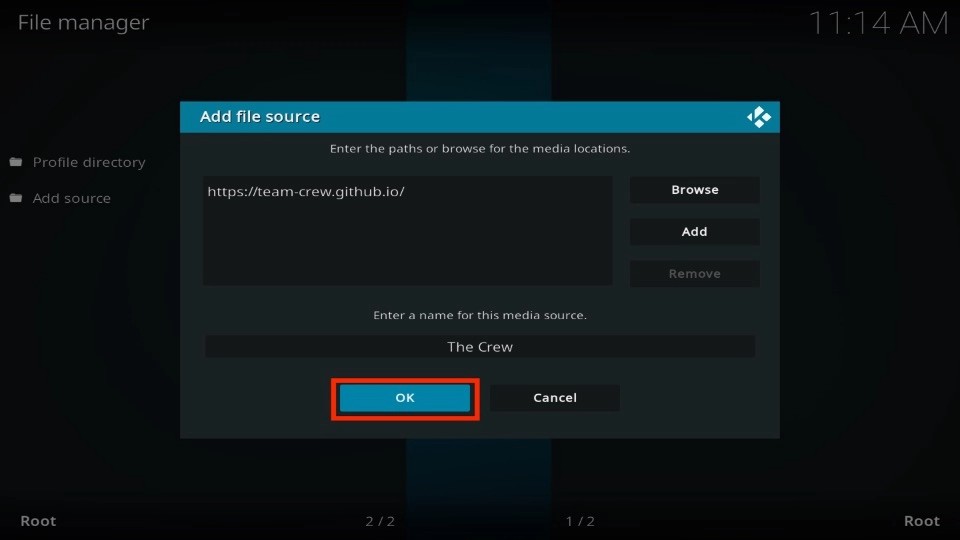 9. Press back to Return on the app settings menu. Then, tap Add-ons beside File manager.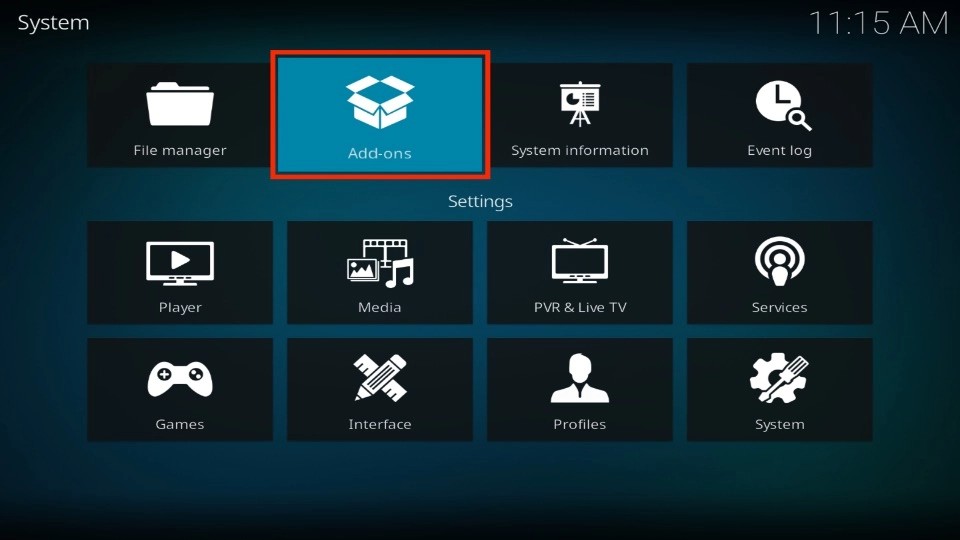 10. Launch Install from zip file as we'll be accessing and installing the zip file of THE CREW REPO.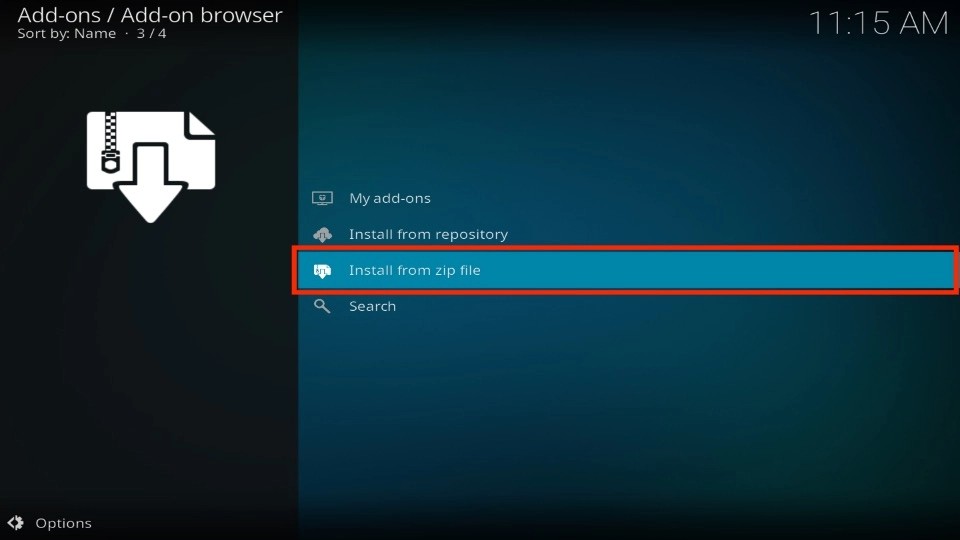 11. Acknowledge Kodi's warning sign about manual updates and click Yes to open the Install from zip file section.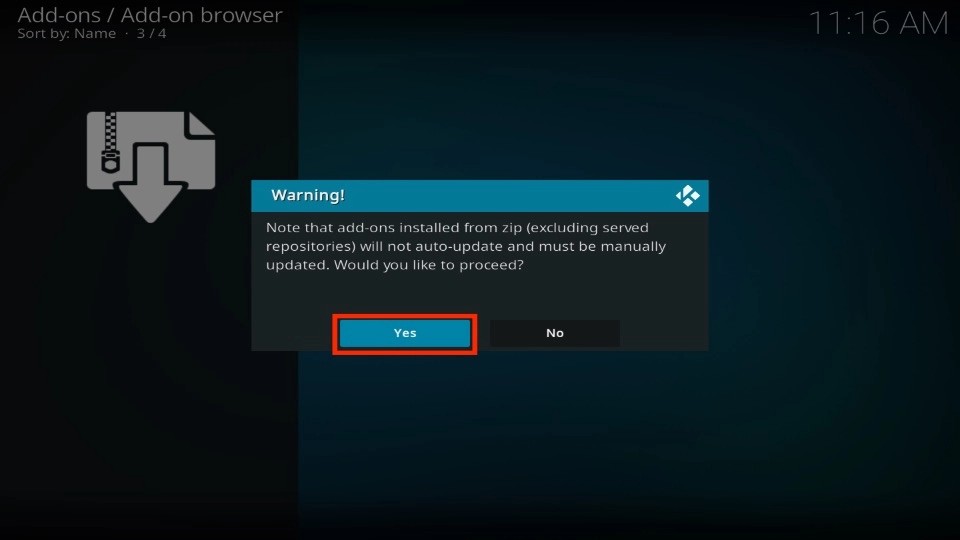 12. Choose the repo name from Install from zip file options. It's The Crew, in my case.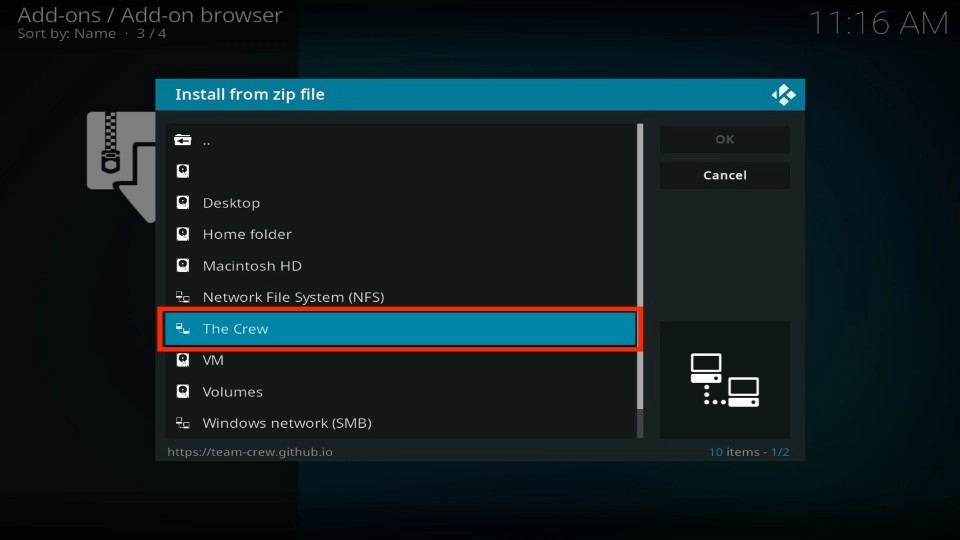 13. Select repository.thecrew-0.3.4.zip.
Note: At the time of writing, THE CREW REPO version is 0.3.4. However, it can update when you are loading it.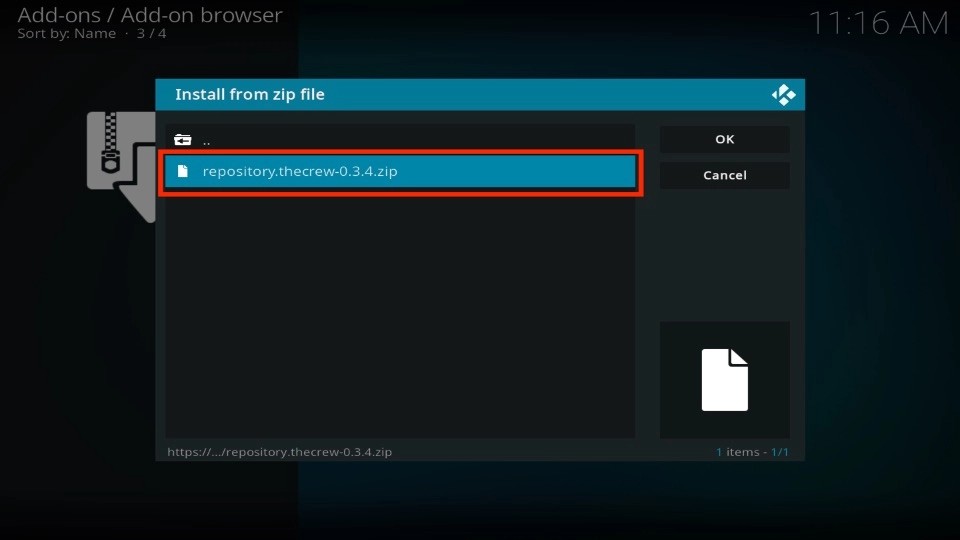 14. Wait for the success notification to appear – THE CREW REPO.
Congratulations! You have installed THE CREW REPO on your Kodi app.
Part 3 – Install THE CREW WIZARD
Now, I'll show you how to install The Crew Wizard via THE CREW REPO.
1. After the notification disappears, navigate and select Install from repository.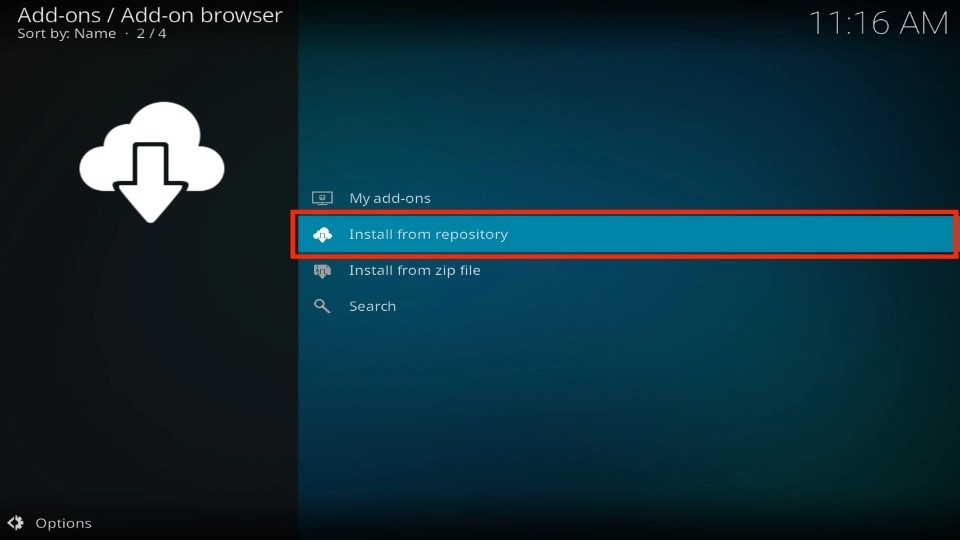 2. Open THE CREW REPO from the available repos on your Kodi app.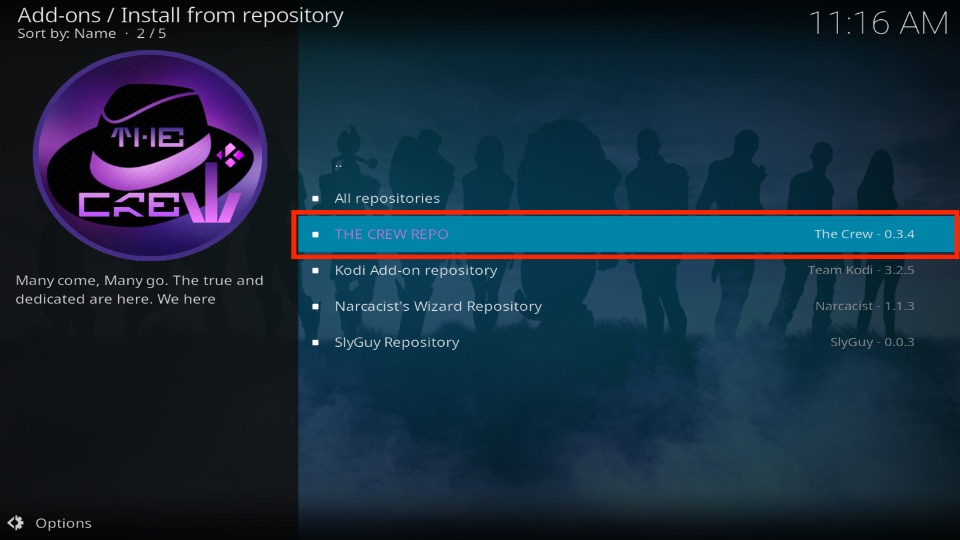 3. Explore the Program add-ons.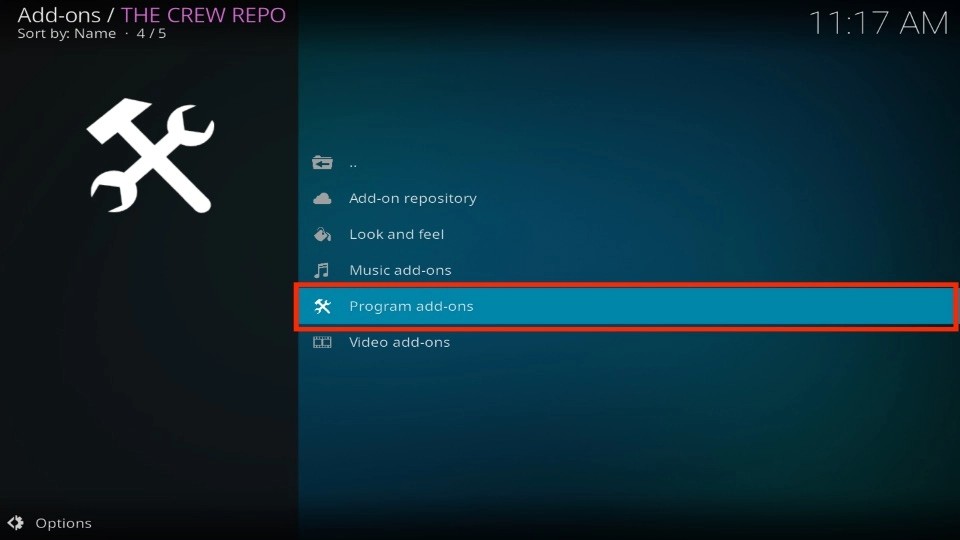 4. Open THE CREW WIZARD.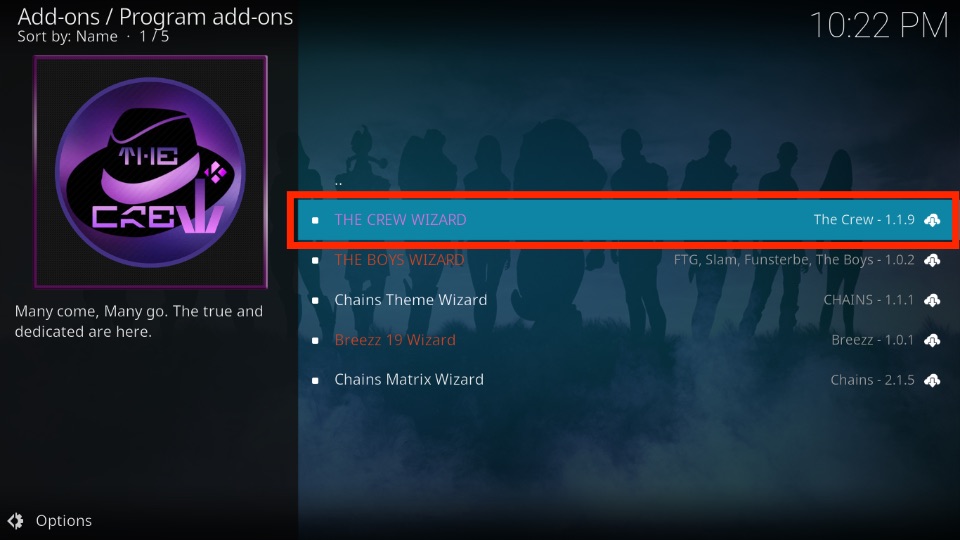 5. THE CREW WIZARD dashboard will feature info like its Summary, Origin, Category, Versions, and more. Press Install.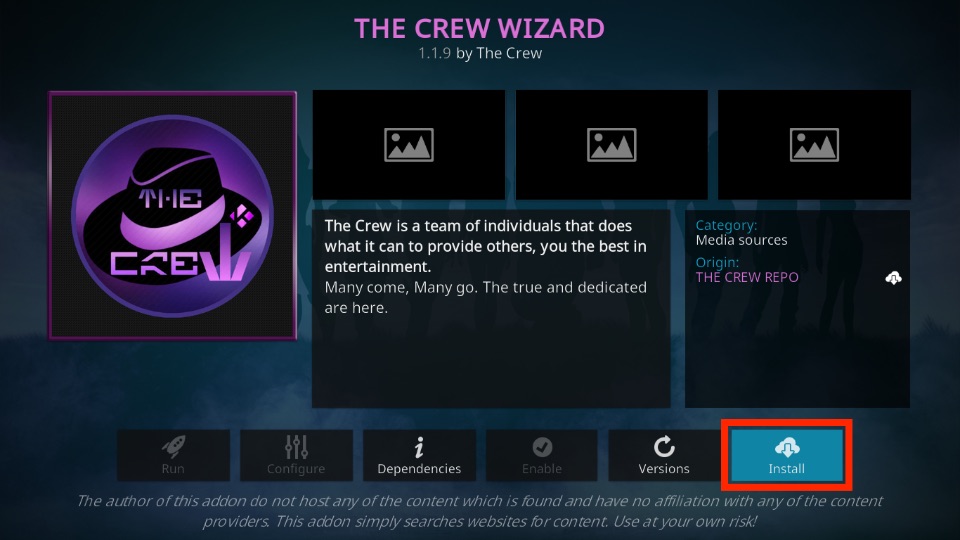 6. Allow Kodi to take some time to download and install THE CREW WIZARD.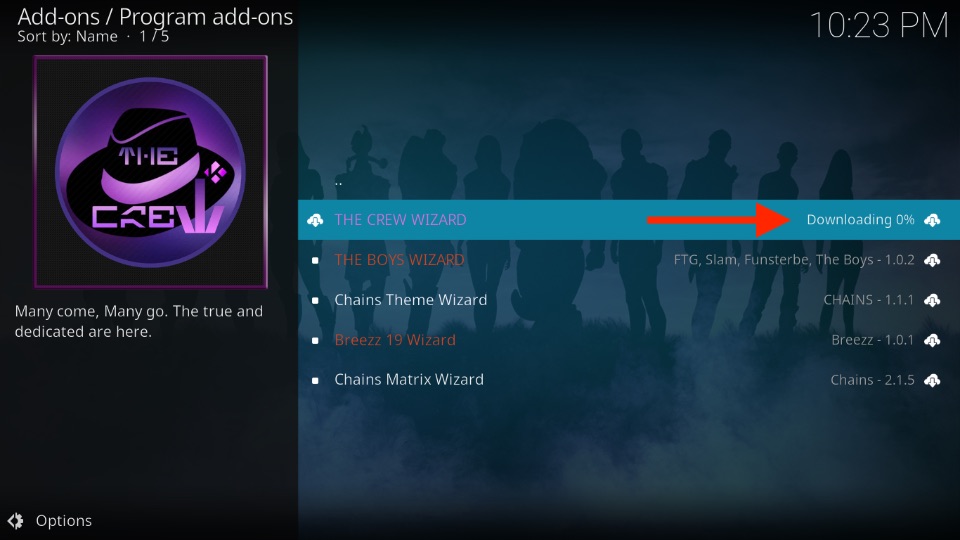 7. After the installation, you'll see a notification – THE CREW WIZARD Add-on installed.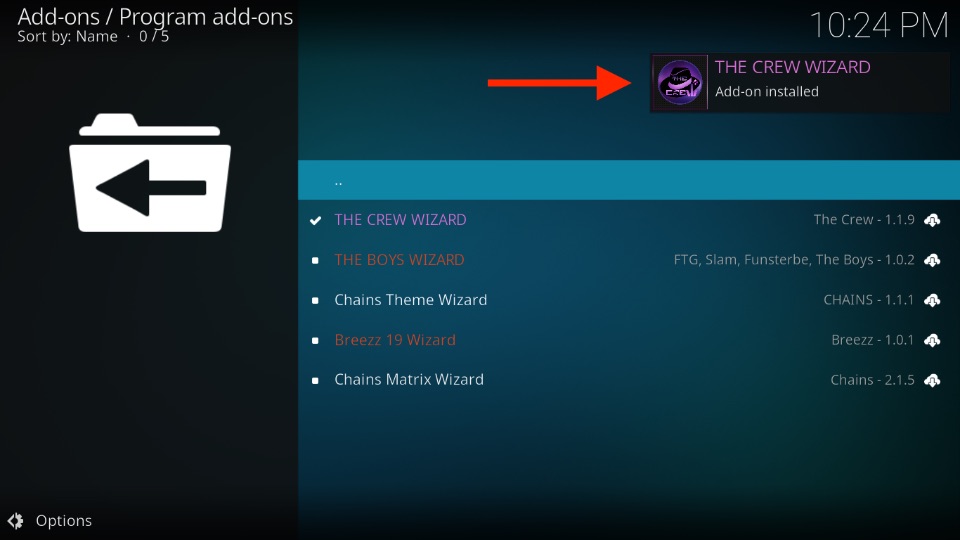 Hurray! THE CREW WIZARD is now available on your Kodi app.
Part 4 – Use The Crew Wizard to Install a Build
Lastly, here's what you need to do to load a build using The Crew Wizard:
1. THE CREW WIZARD will show you a notification welcoming you onboard and providing updates. Click the Dismiss button.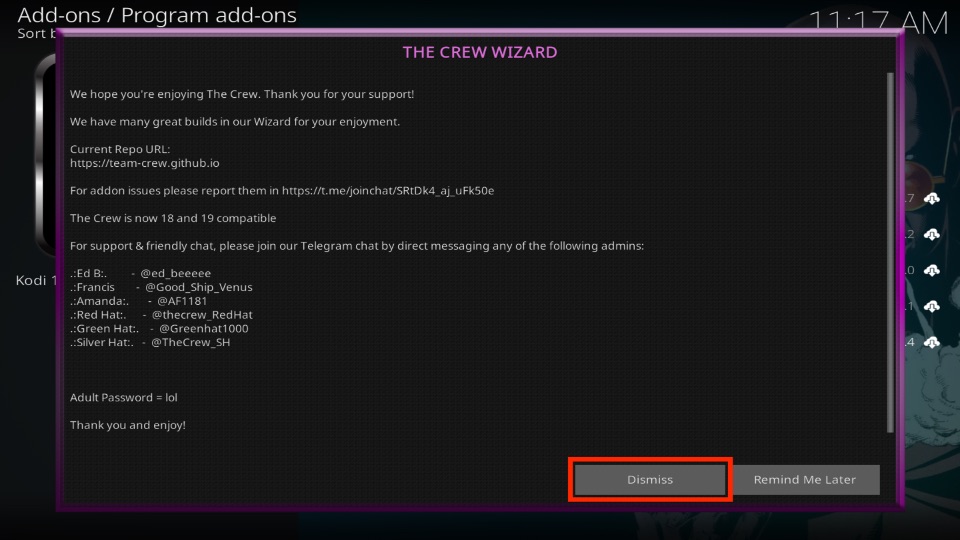 2. As it's your first run, THE CREW WIZARD will prompt a smart menu that lets you tweak stuff. Enable/disable options as you like and click Continue.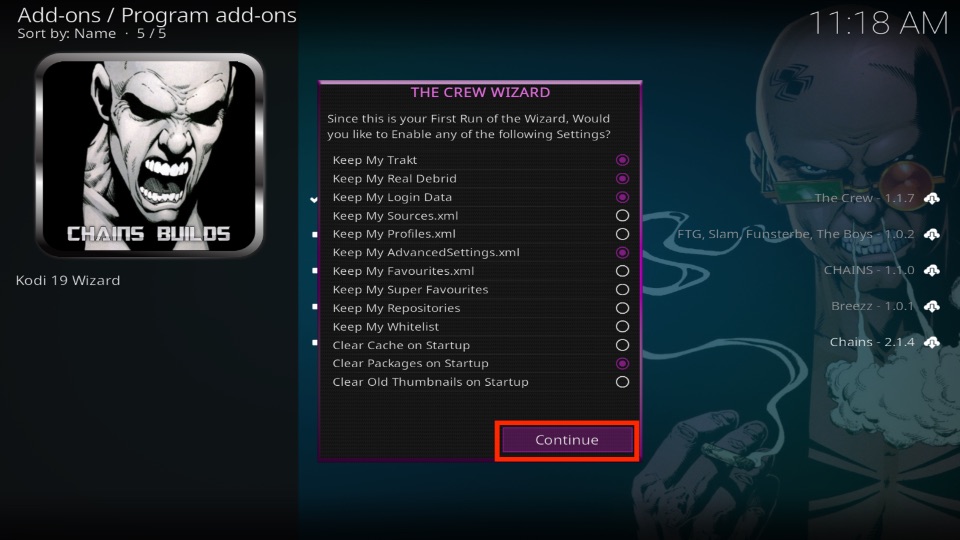 3. One more dialogue box about build-menu will appear from THE CREW WIZARD; select Ignore.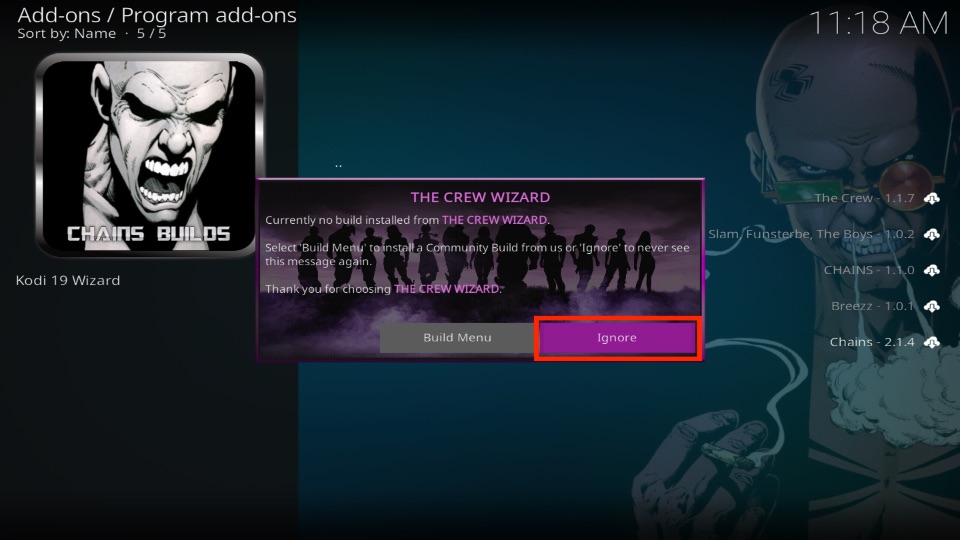 4. Go to app home and go to Add-ons by scrolling down.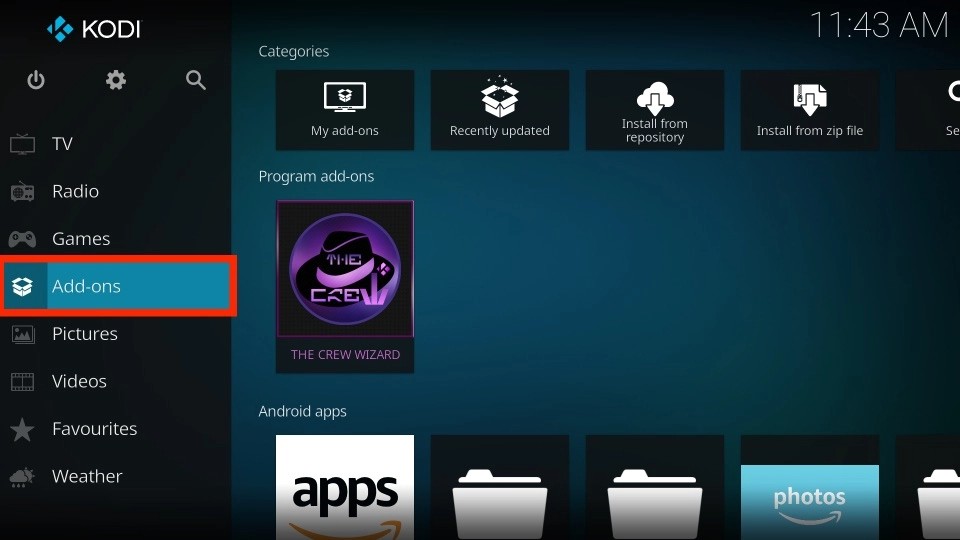 5. Navigate down to Program add-ons. Then, open THE CREW WIZARD.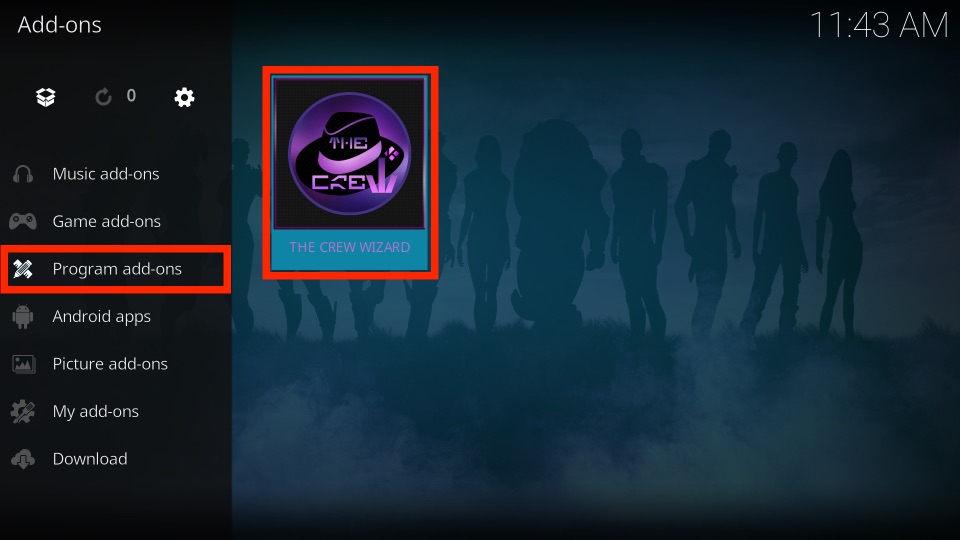 6. Welcome to THE CREW WIZARD! Select Builds to open the builds menu.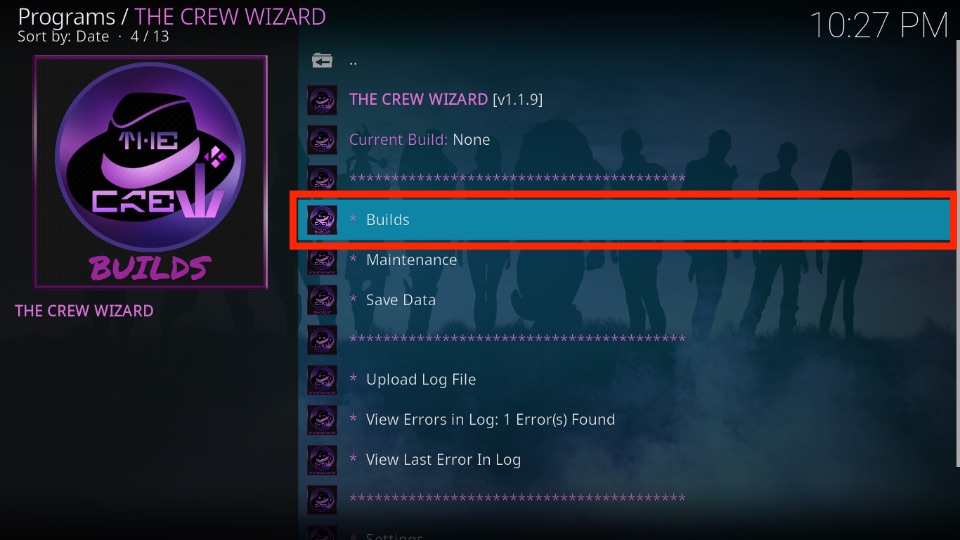 7. I see 59 builds for Kodi 19.5 Matrix. Go through each build and select any one you like for installation.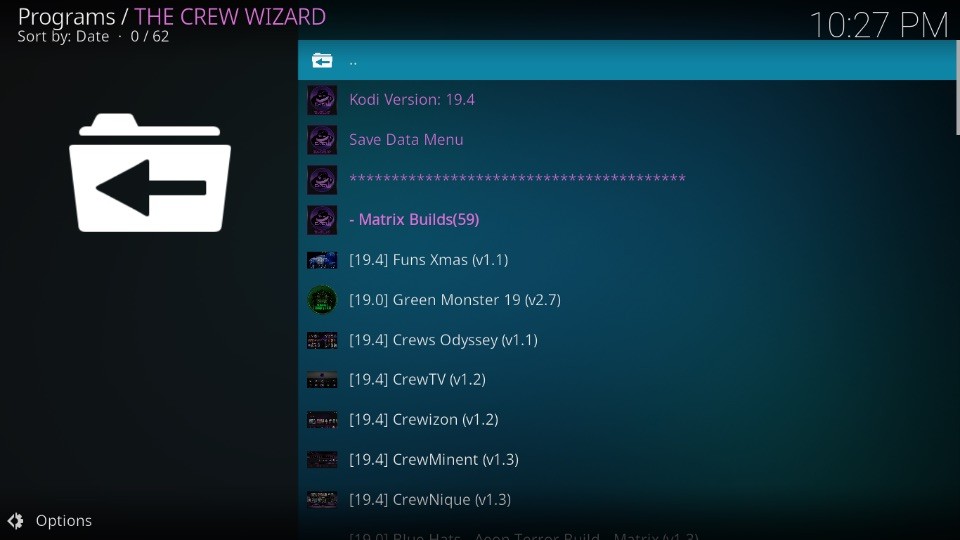 8. I'm choosing Crewizon.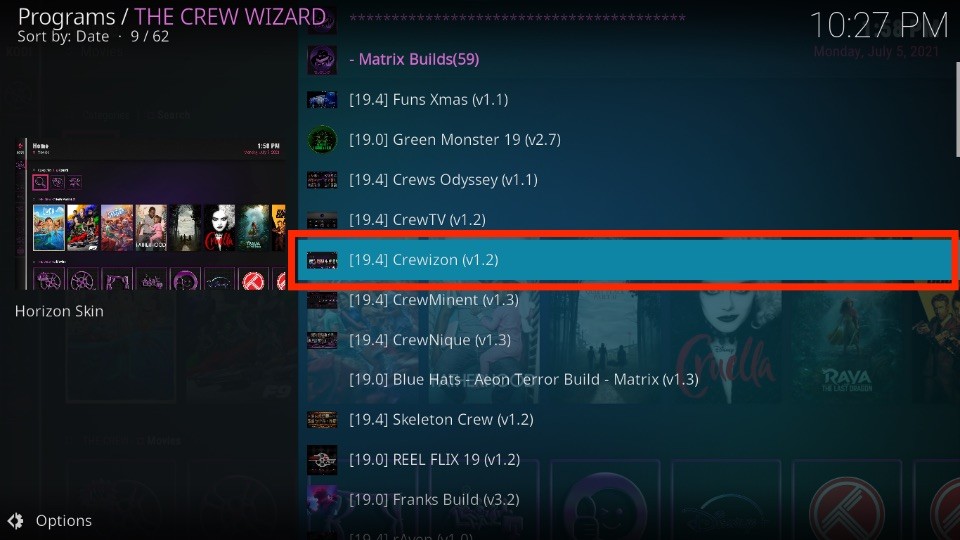 9. Choose Fresh Install when you are on the build dashboard.
Note: You can select Standard Install to retain your Kodi data, but it's recommended to pick Fresh Install as it factory resets the app for the new build.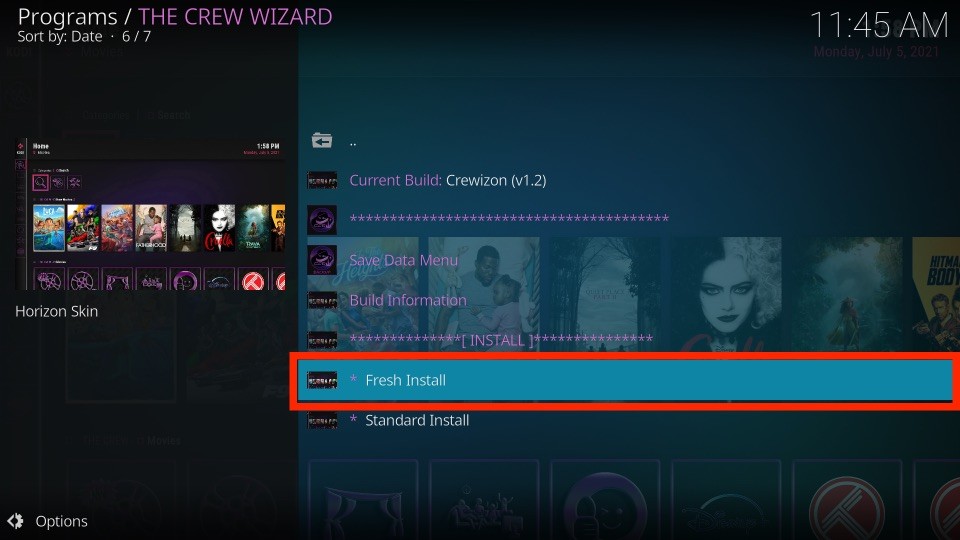 10. Click Continue to allow THE CREW WIZARD to reset Kodi before installing the build.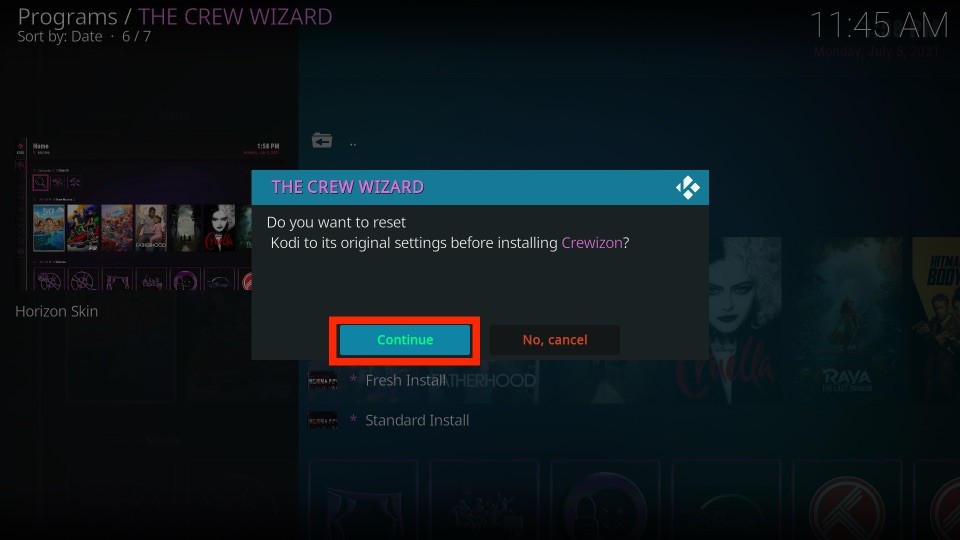 11. Let Kodi clear the temporary files and other data.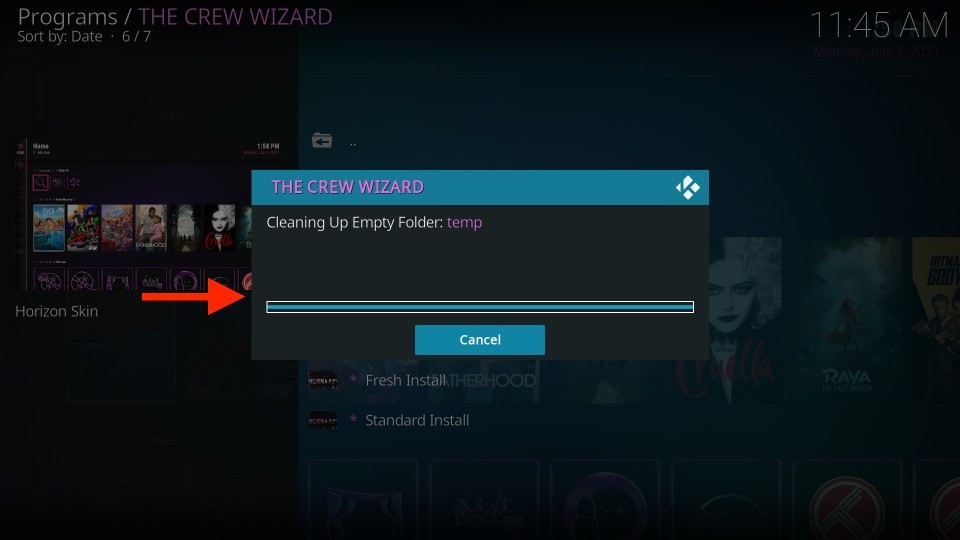 12. Wait for THE CREW WIZARD to download the required files for the build you have picked.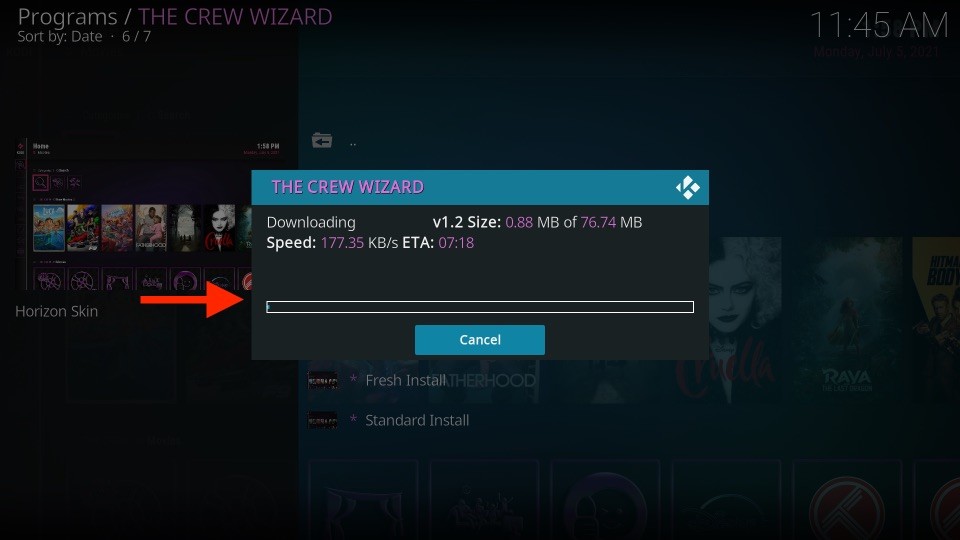 13. Let Kodi install the downloaded files, and once it's done, Kodi will automatically close.
Note: Kodi might send you a prompt to force-close the app; click OK.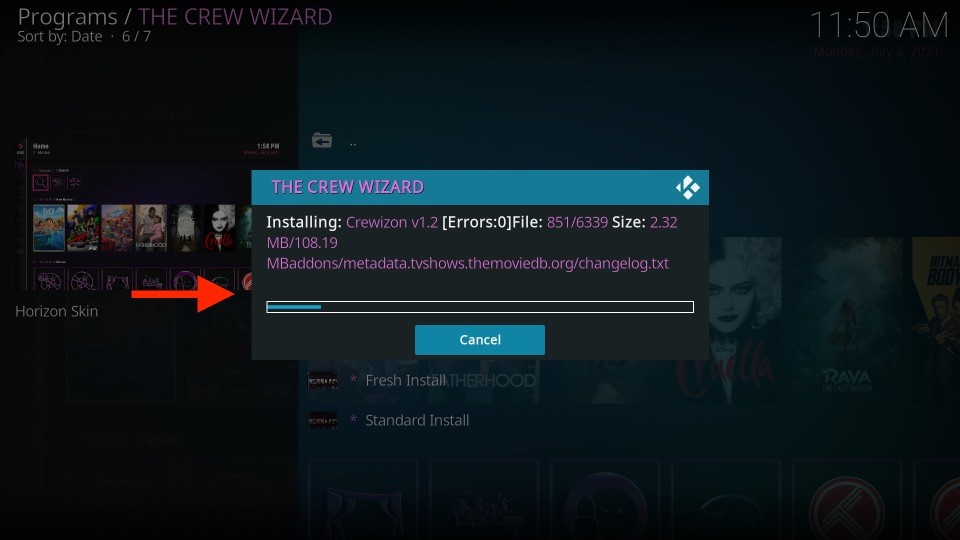 Finally! You have successfully installed one of THE CREW WIZARD Kodi builds. 
It looks like you are all set to start watching your favorite content. However, do not forget that all your streaming activities and online identity are unprotected and exposed to your Government and your ISP. In addition, streaming with third-party services may cause legal trouble.
Thankfully, you can easily protect yourself and go invisible from your Government and ISP by using a VPN. Whenever I stream with Kodi, I always connect to ExpressVPN and recommend the same to you.
ExpressVPN is the fastest and the most streaming-friendly VPN. It is also the most secure VPN.
With ExpressVPN, you get a 30-day money-back guarantee as well. So if you do not like the service (I don't see why), you will get a full refund within 30 days.
Please remember that we encourage you to use a VPN to maintain your privacy. We do not condone breaking copyright laws.
Before you start using Kodi for streaming, here is how you can protect yourself with ExpressVPN:
Step 1: Sign up for ExpressVPN Here
Step 2: Download ExpressVPN on your device by clicking HERE
Step 3: Open the ExpressVPN app on your device. Sign in with your account. Click the connect/power button to connect to the VPN

Great! You have successfully secured yourself with the best Kodi VPN.
Overview of The Crewizon Kodi Build
Down below is a quick review of The Crewizon Kodi build I loaded via The Crew Wizard:
On your first launch, The Crewizon build by THE CREW WIZARD will take a moment to initialize its skin.
You'll land on the home of the Crewizon build. Wait for some time to let the build install all the updates automatically.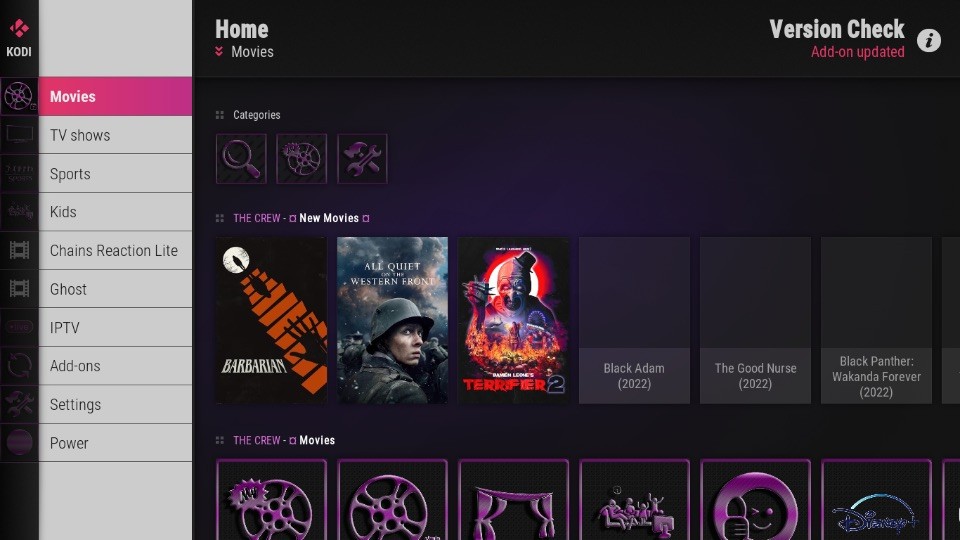 Explore the Movies section to discover Categories, Search, and other sub-sections.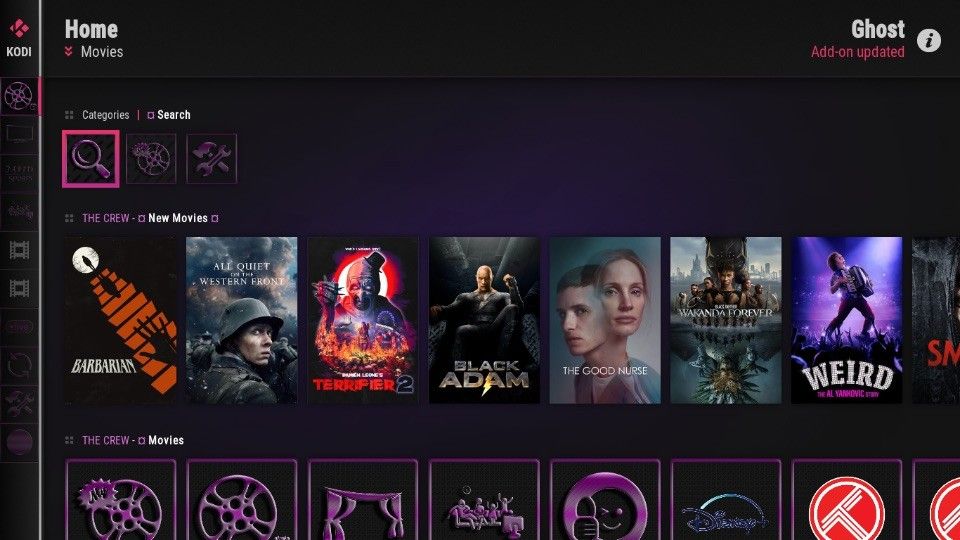 Please scroll down and select a sub-section like I'm choosing New Movies.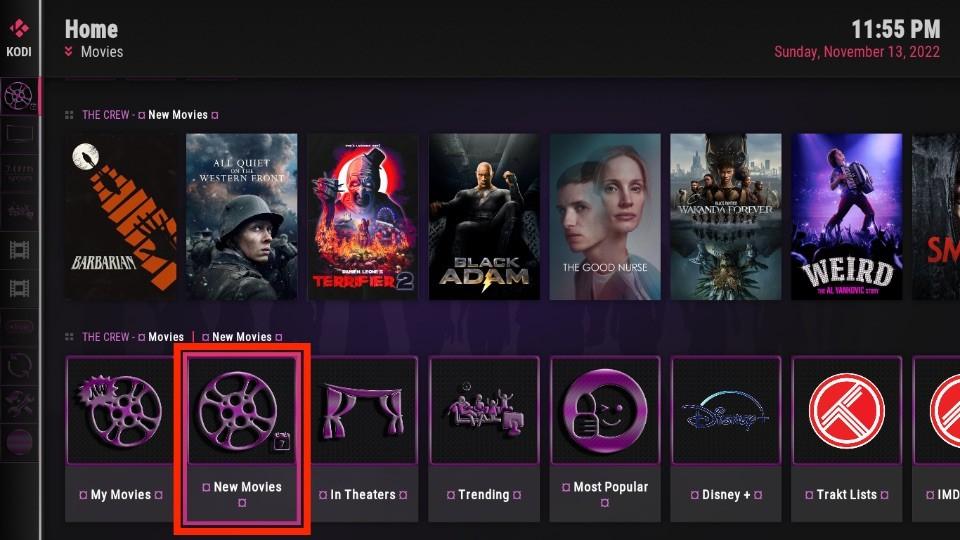 You'll see the list of New Movies that are currently available.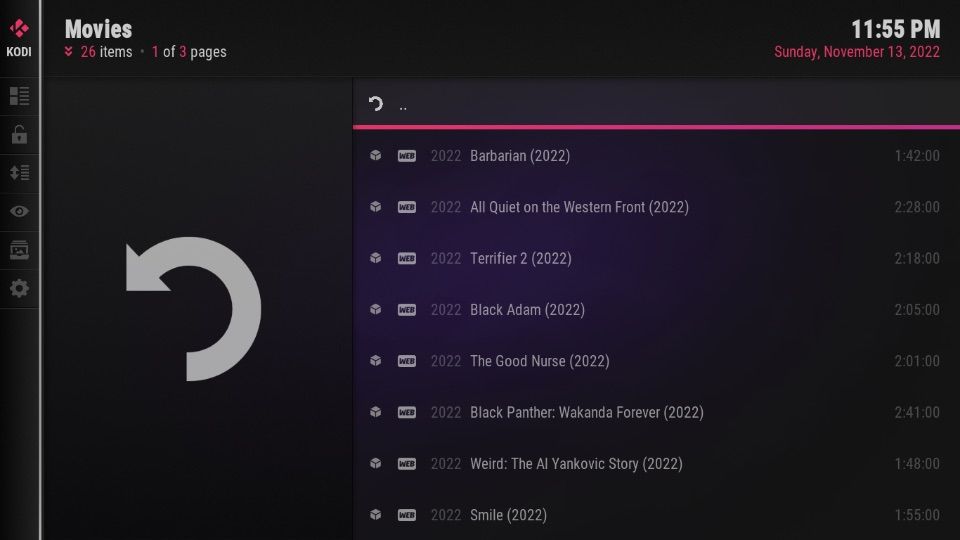 If you are into TV shows, browse the TV shows tab.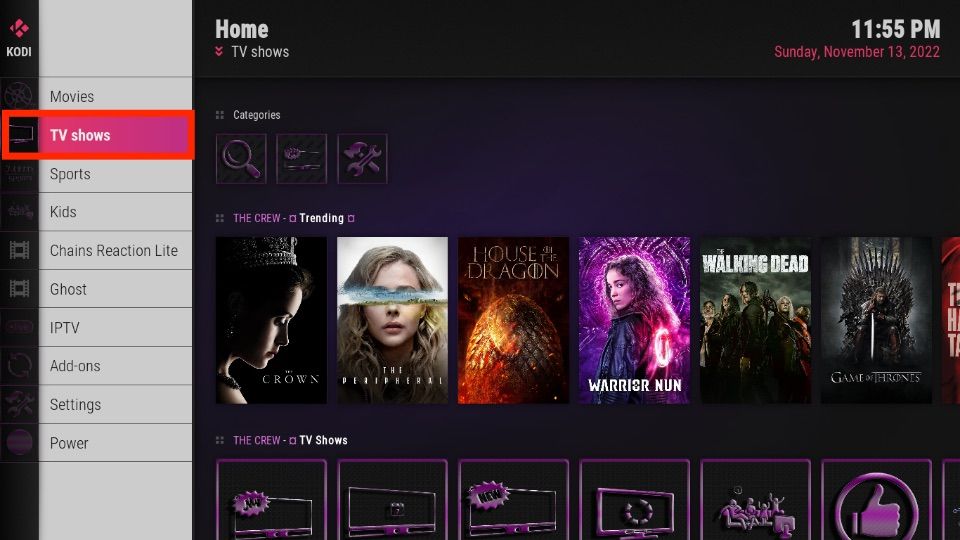 You can check out the default Trending section or explore other available ones, like New Episodes.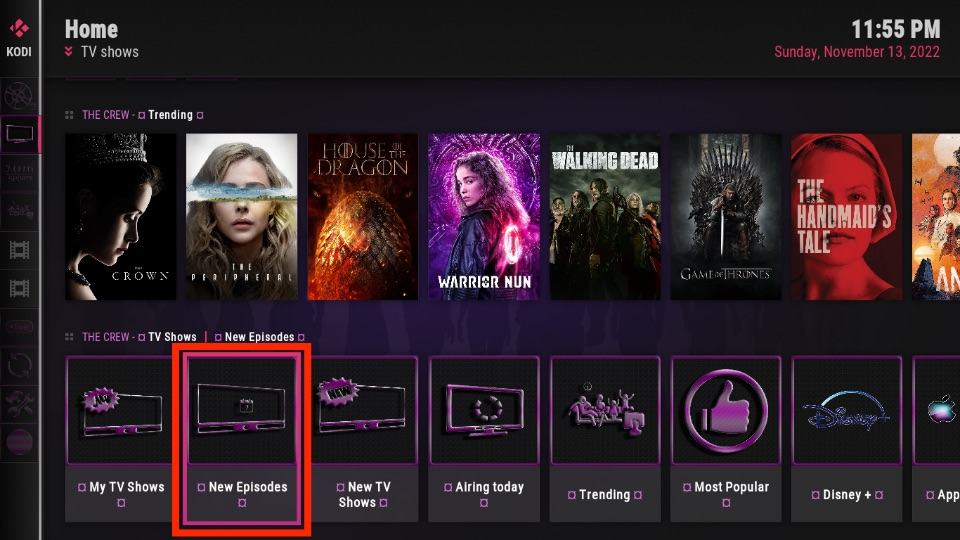 Inside, I see a list of newly released episodes.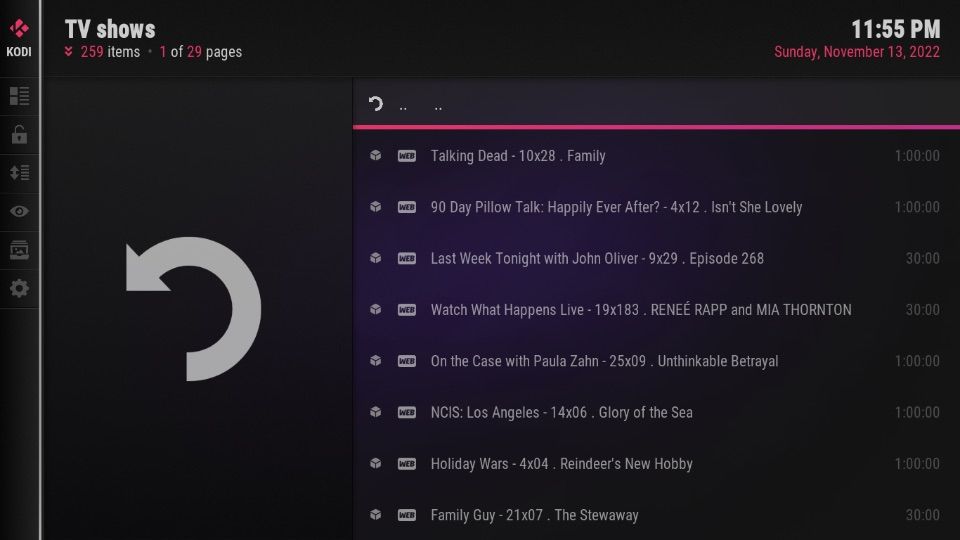 Like football, cricket, basketball, and more? Open Sports.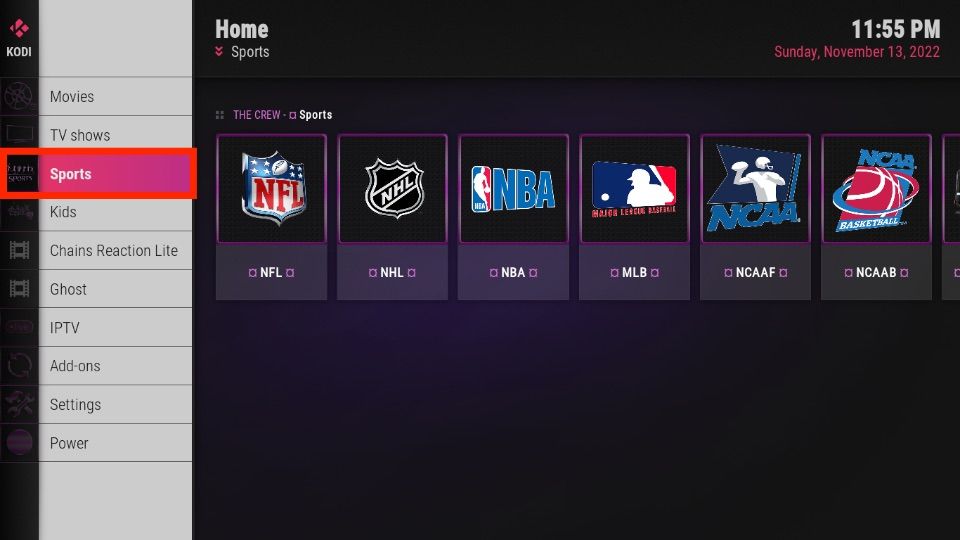 Select the sub-section of sports that attracts you the most.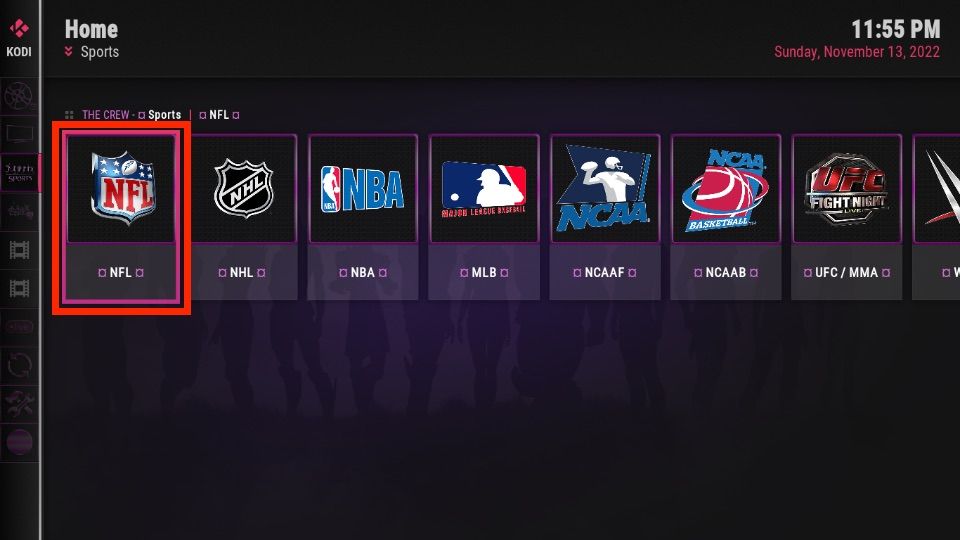 And inside, you'll see tons of content related to it, like TV channels, live events, upcoming matches, schedules, and more.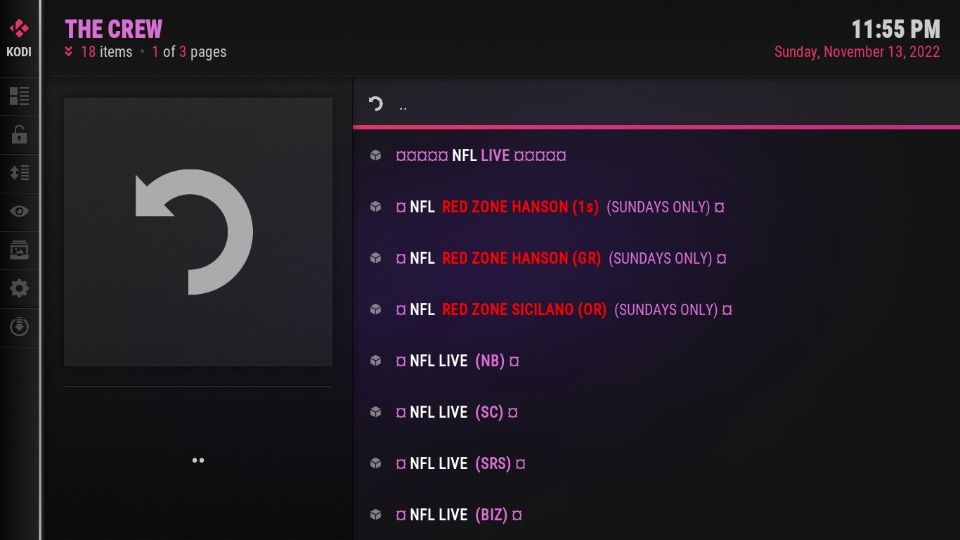 Crewizon also boasts a separate section for Kids!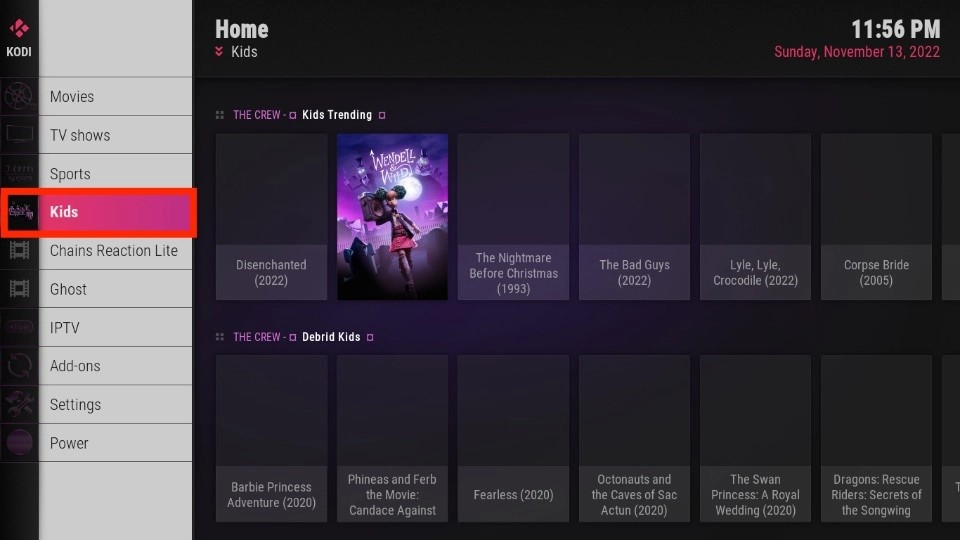 Inside, it's split into sub-section trays with kids' content.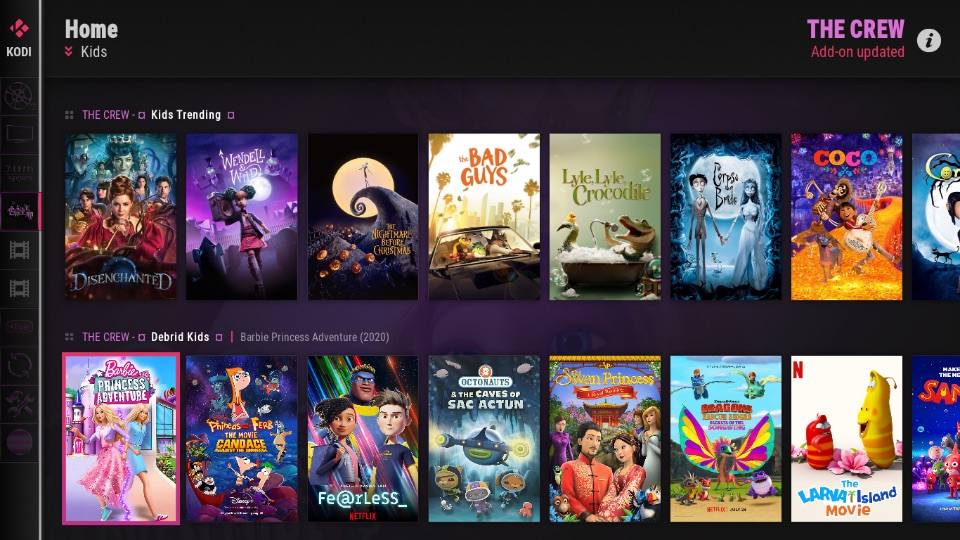 Next, we have a separate section dedicated to Chains Reaction Lite.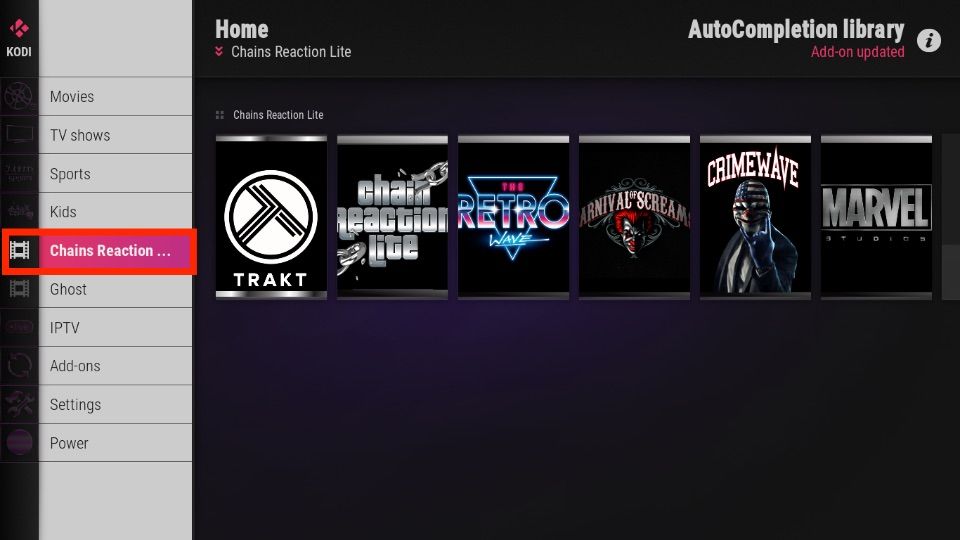 Inside, the sub-sections are mere folders of the addon, like Chains.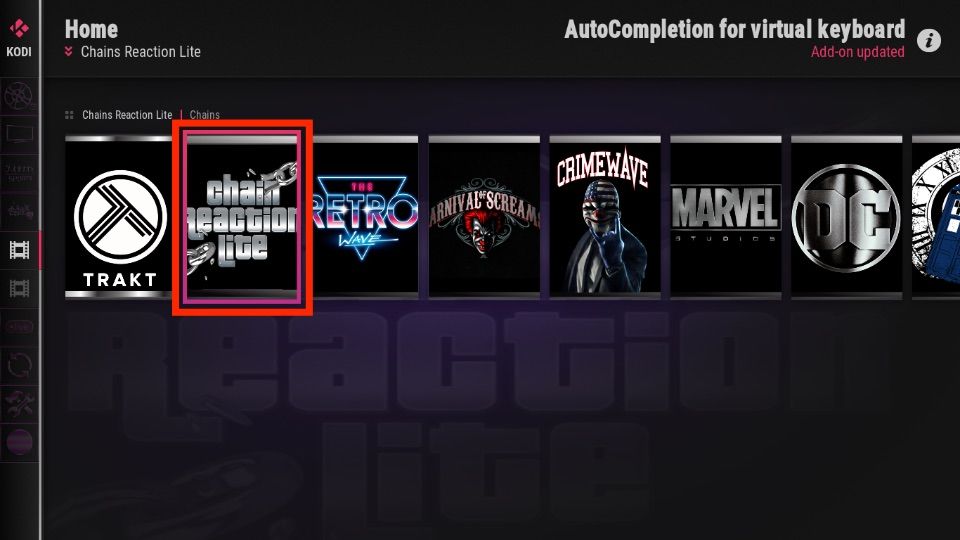 On exploring a section called Chains, I can access its sub-content like CHAINS CHRISTMAS, 4K HUB, MOVIES, TV SHOWS, etc.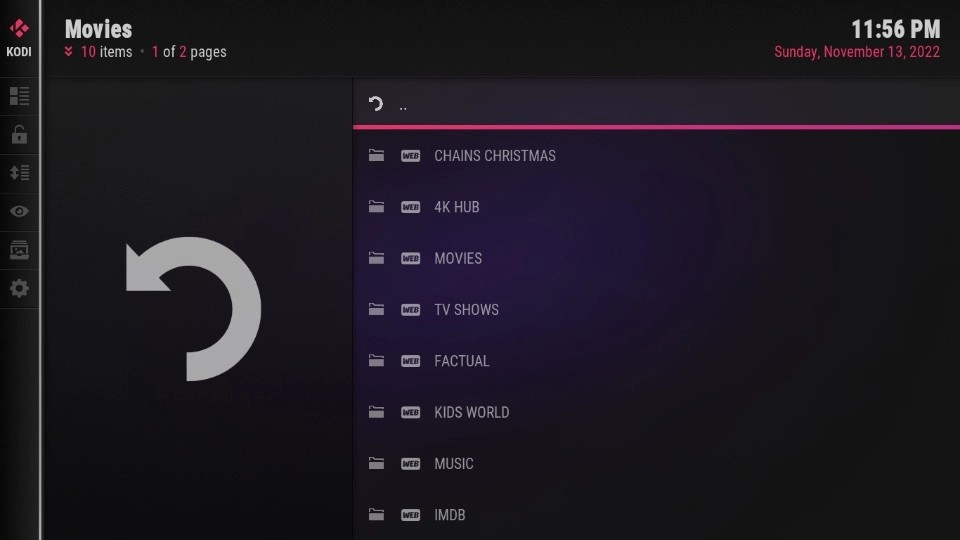 To watch live TV channels, open the IPTV section.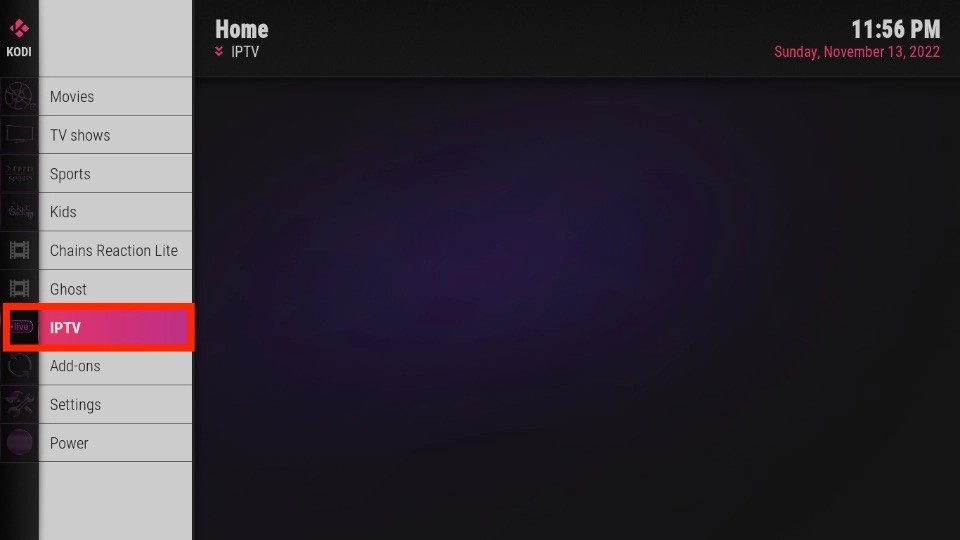 You'll be re-directed to THE CREW addon's IPTV section.
Conclusion
This article showed you how to install The Crew Wizard Kodi builds on any Kodi-supported device. If you want me to show you how to install a build from any other popular wizard, suggest me in the comments section.
Related: