This tutorial details the steps to install Strix on FireStick. The instructions below apply to all Fire TV products, including FireStick 3rd Gen TVs with built-in Fire OS, FireStick 4K Max and 4K, Fire TV Lite, and Fire TV Cube.
What Is Strix?
Strix is a free content streaming app offering access to movies and TV series, live TV channels, adult content, and much more. It's one of the Best FireStick streaming apps and was initially created for Android devices only, but it currently works well on other platforms, including Fire TV devices.
Several factors stood out about the Strix app. The first is the simple layout that makes navigation straightforward. The other is the massive library of current and old movies and TV shows. You don't have to worry about missing out on any latest releases because this app receives regular updates.
Another feature I enjoy is the well-partitioned home screen that makes browsing the library convenient. If you prefer searching for specific titles directly instead of reviewing the sub-categories, there's also a search button. Strix also features all the popular content genres, including Action, Comedy, Drama, Thriller, Horror, Sci-fi, and others.
Besides the vast content library, Strix has a massive selection of live news, sports channels, documentaries, and kids' content. It also supports several popular external players and Real Debrid.
Attention FireStick Users: Read before you continue
Your government and ISP are probably monitoring your streaming activities. You will likely get into serious legal trouble if caught streaming copyrighted videos on your FireStick. Your IP address 3.17.249.235 is exposed to everyone. Therefore, I strongly recommend getting a trusted VPN for FireStick and hiding your online identity.
I use ExpressVPN on all my devices as it is the most reliable, secure, and fastest VPN. Enjoy effortless installation on any device and a 30-day money-back guarantee. Plus, when you sign up for the annual plan, you'll get 3 months free. Don't miss out on the peace of mind and online security ExpressVPN provides.
Read: How to Install & Set up the best VPN on FireStick.
Features of The Strix App
Here's a quick run-down of some of the features you'll enjoy after installing Strix on FireStick:
A simple, clutter-free interface that's easy to navigate.
A vast library of on-demand content, live TV channels, and Adult content.
Excellent video resolution that goes up to full HD.
Strix supports various popular external players.
A favorites section to add your regular channels and TV series.
Real-Debrid support.
Fast playback and loading times with minimal lagging.
The app is ad-free
Strix receives regular updates.
The Live TV section is one-click-play
How to Install Strix on FireStick
Strix is an official app available for direct download on Amazon App Store. Follow the steps below to install Strix on FireStick:
1. Click Find on your FireStick home screen.
2. Select Search.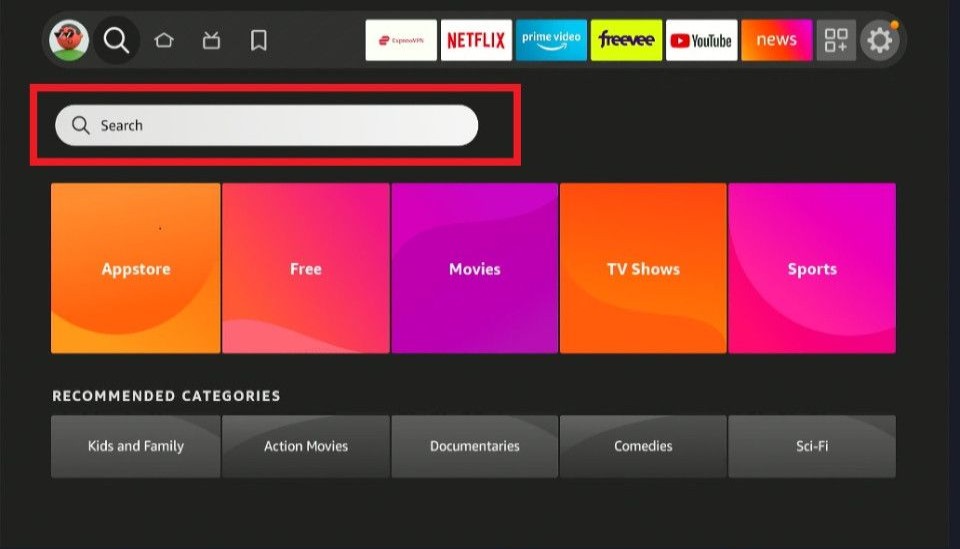 3. Type Strix on the Search bar, then select Strix from the suggested search results.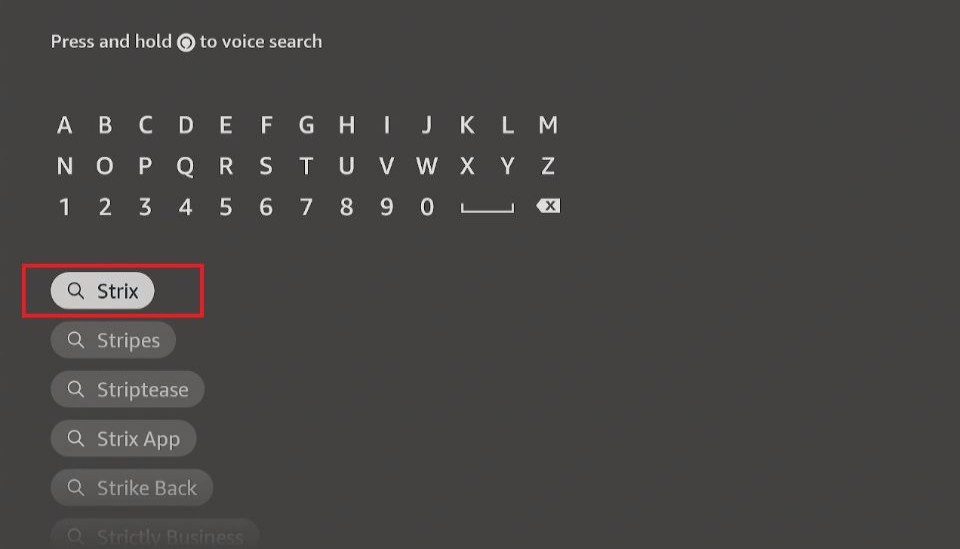 4. Go to Apps & Games and click on the Strix tile.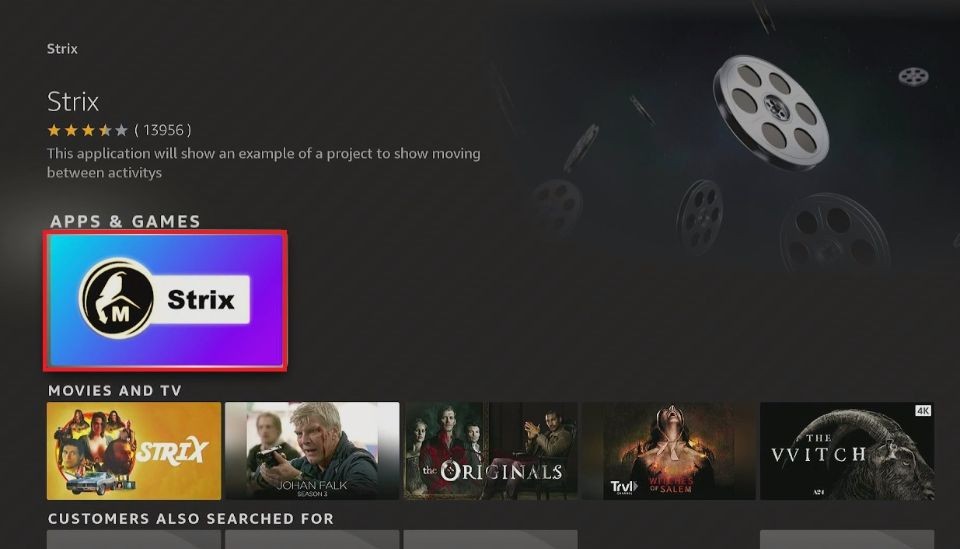 5. Click Download or Get depending on the on-screen option.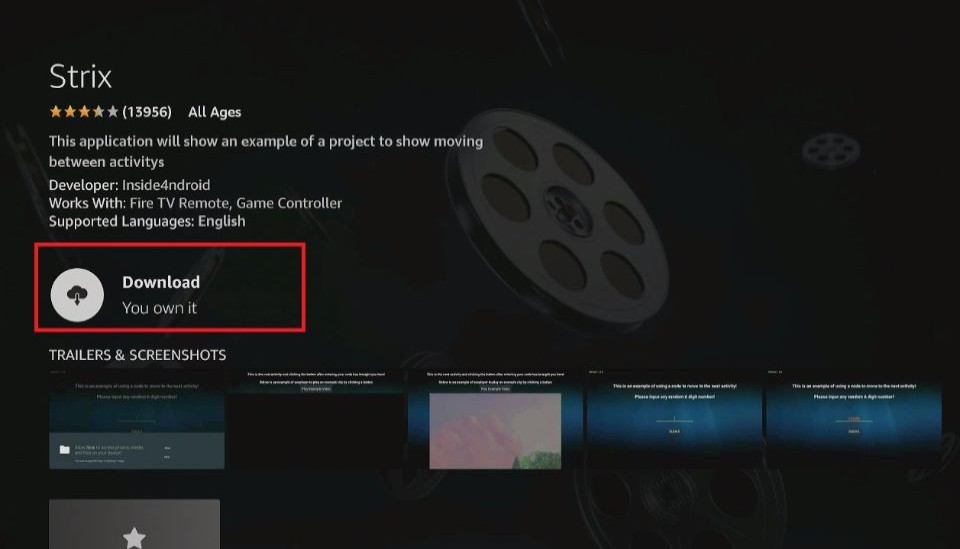 6. Wait for the Strix app download and installation to complete.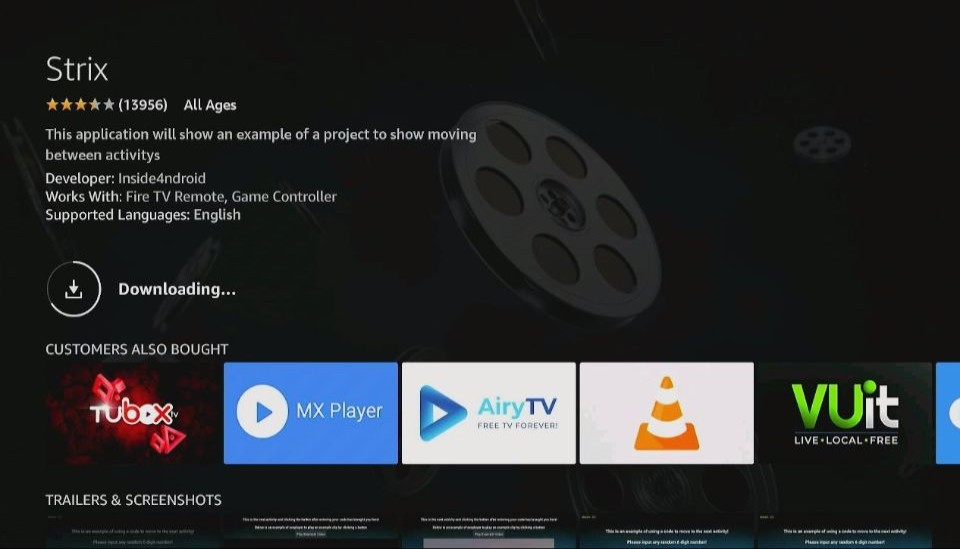 7. Click Open or hold down the remote's menu button to open.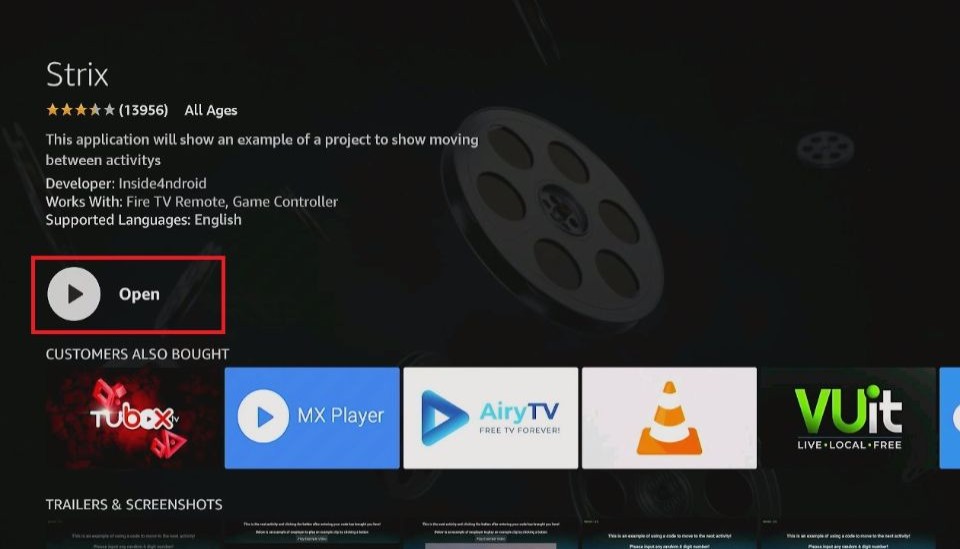 This is how you install Strix on FireStick.
Wait! Before watching your favorite content on FireStick, ensure you have protected your online identity. Your streaming activities are likely being monitored and logged by your Government as well as your ISP. Free streaming of copyrighted videos may get you into legal trouble.
Thankfully, you can easily avoid the surveillance and monitoring of your online activities and completely maintain your privacy. All you need to do is connect to a trusted and reliable VPN on FireStick. A VPN will hide your IP address and your online identity by encrypting your internet connection.
Please note that I am not encouraging you to violate any copyright laws. You should always watch the content available in the public domain. I am simply recommending the use of a VPN to maintain your privacy. You have every right to your privacy, which is constantly being breached these days.
I personally use ExpressVPN and have found it to be the fastest and most secure FireStick VPN. It is the most streaming-friendly VPN I have ever used. Therefore, I highly recommend getting ExpressVPN for FireStick.
Here is how you can quickly and easily get the ExpressVPN app on FireStick:
Step 1: Click HERE to subscribe to ExpressVPN and enjoy a 49% discount with 3 months of extended service. You are also eligible for a 30-day, full money-return guarantee.
Step 2: Download and install ExpressVPN on FireStick
Choose the Find > Search option on the FireStick home screen on the menu bar.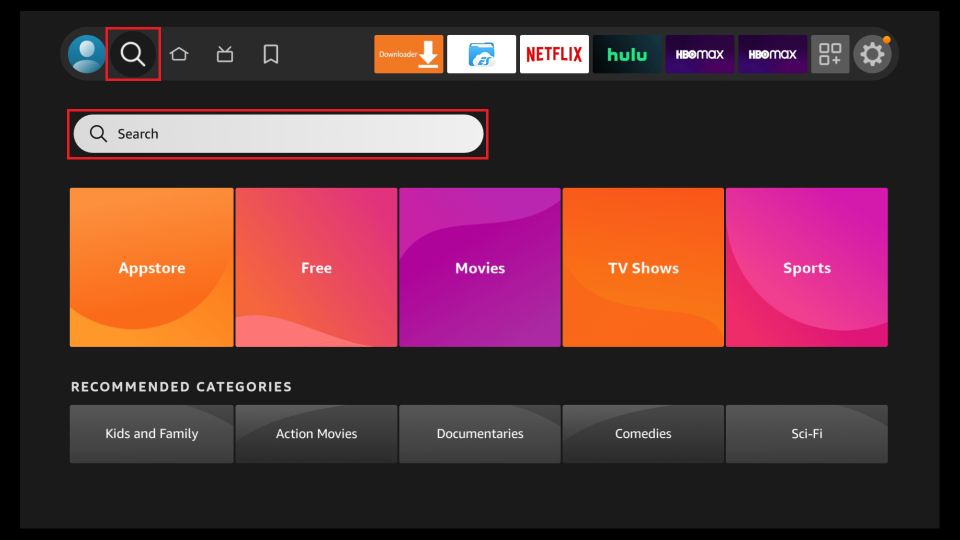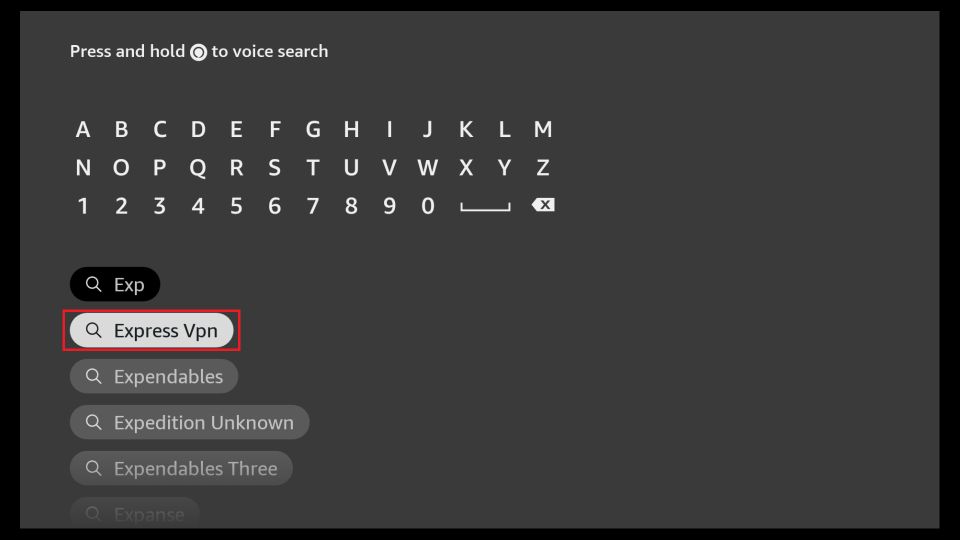 Click the ExpressVPN icon on the following window.

Click Download or Get on the next window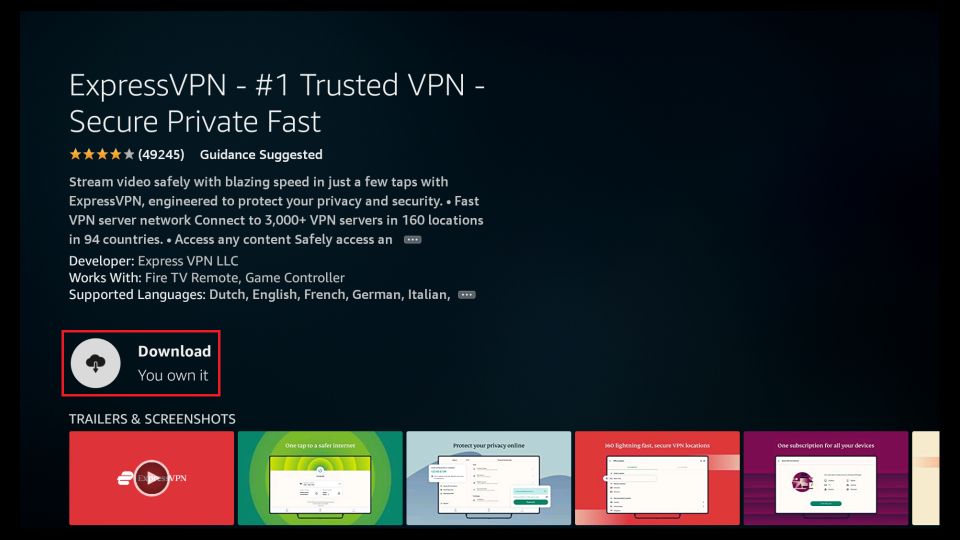 Step 3: Open ExpressVPN once you have downloaded it. Sign in with your account.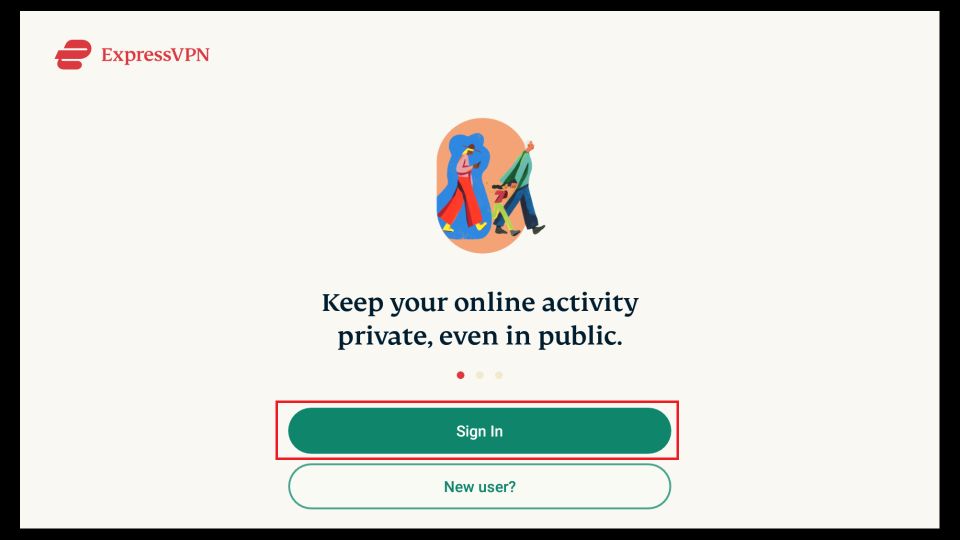 Step 4: Choose a server and click the Connect/Power button

Put your mind at ease now! You have successfully secured your streaming activities with ExpressVPN.
Overview of the Strix App
Before streaming movies or shows on the Strix app, I recommend creating an app shortcut on your FireStick home screen. This is a simple way to ensure you locate and launch the Strix app conveniently whenever you wish to use it. Here's a comprehensive guide on creating a FireStick shortcut.
Launching the Strix app first prompts you to enter a code to move to the next activity. Enter the code 229156, then click Submit.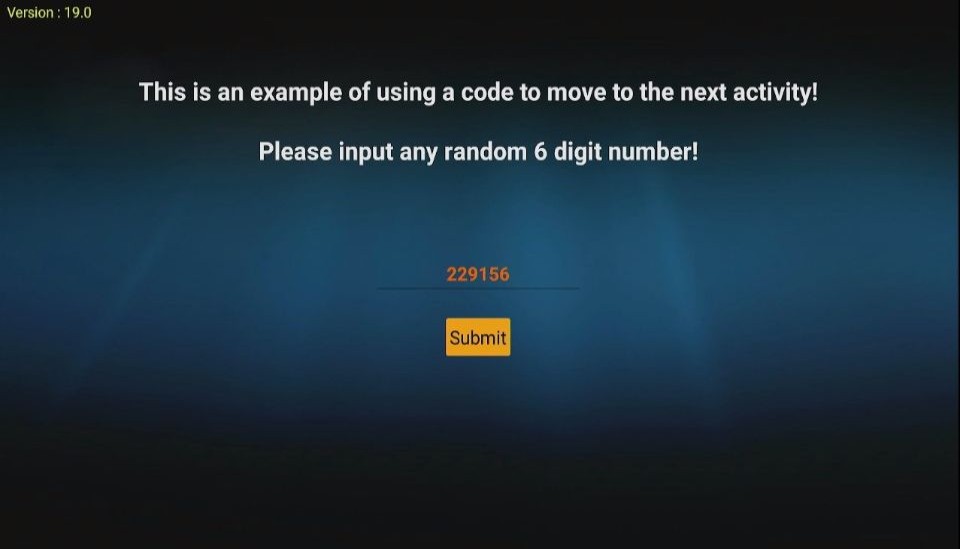 After that, set a parental pin, then click OK. This pin is meant to prevent children from accessing the adult section. After entering the parental pin, the app redirects you to the home screen.
It has a simple and navigable layout with the library on the main home screen and the menu to the left of the home screen.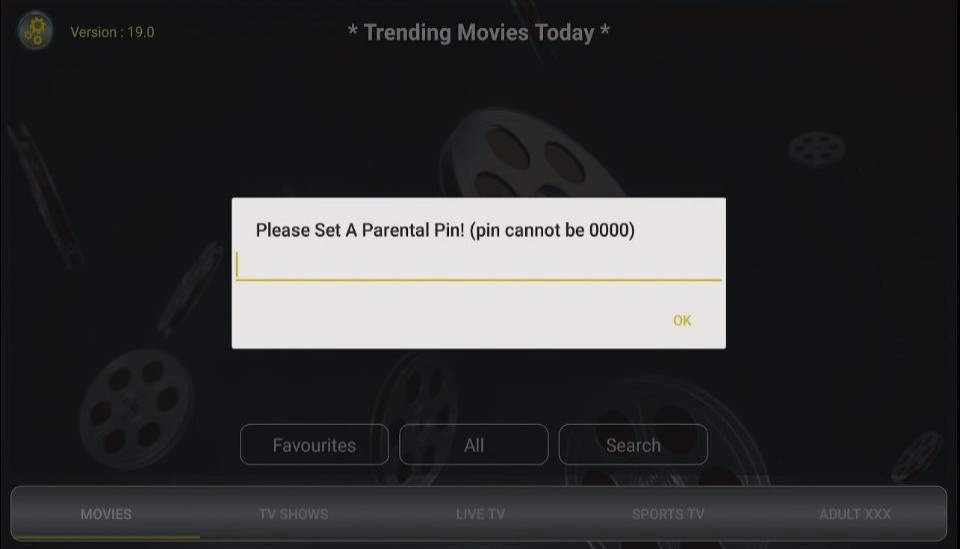 There's another navigation bar at the bottom of the home screen with the buttons: Movies, TV Shows, Live TV, Sports TV, and Adult XXX. The Favorites, All, and Search buttons are above the navigation toolbar.
The home screen features only one sub-category, Movies Trending Today. You can select a movie by browsing through this section or clicking the All button to view the entire library.
When you click on All, a menu categorizing content in genres appears on the left. Use this menu to select content, or click the Search button to find a specific title.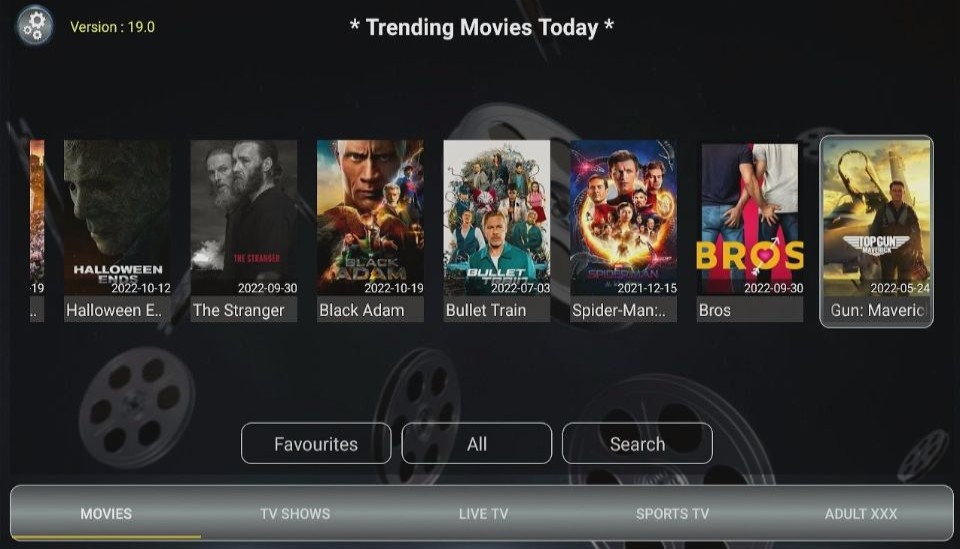 Content genres available on Strix include Comedy, Drama, Thriller, Action, Romance, Western, Documentaries, Horror, Sci-fi, Fantasy, and Animation. The menu also features a music tab at the bottom.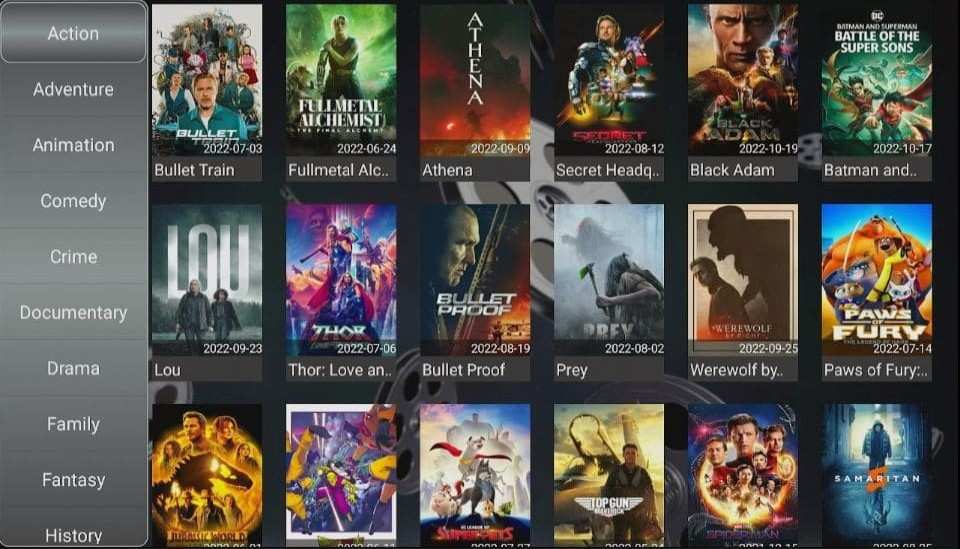 As you browse the library, you'll notice Strix's content collection is far more extensive than other streaming apps.
You can find movies and shows from as far back as the 90s. Additionally, the app updates the library regularly so that you will find even the latest TV shows.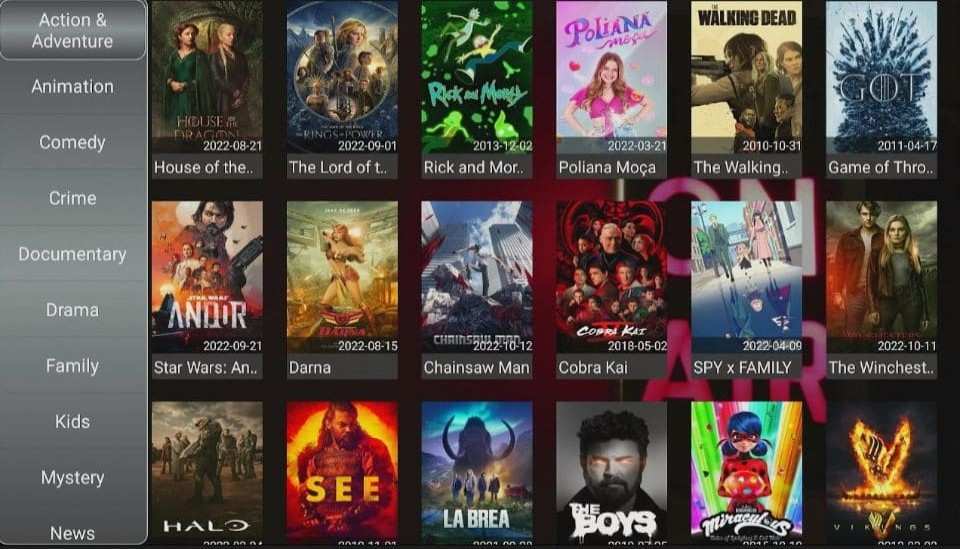 The app redirects you to a different window when you click on any show on the home screen. Under this window, you can view the number of seasons, overview, and other related content.
Still on this window is a Favorites icon that you can click on to add that show to your favorites list.
To start streaming, you'll need to click on the TV show banner and then on any episode. Videos load quickly with minimal buffering, and the resolution ranges between 720p to 1080p.
If you'd like to make the Strix app more of a family entertainment app, you can hide the adult content category by clicking on Settings and selecting Hide Adult content.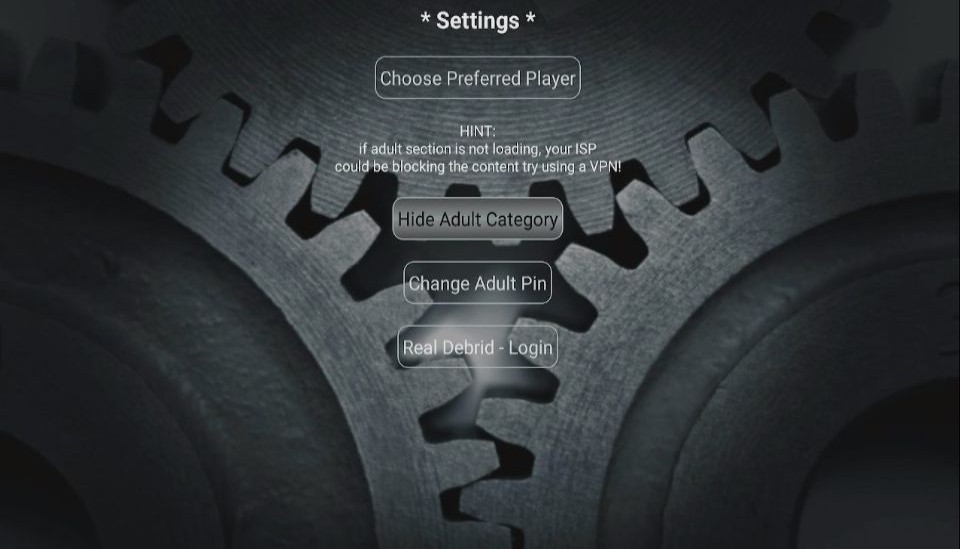 Click on the Live TV button to review the available Live TV channels. Here you'll find options like All IPTV, Search IPTV, and Set Default Country. To view available channels, click on All IPTV. To view channels from a particular country, click Set Default Country.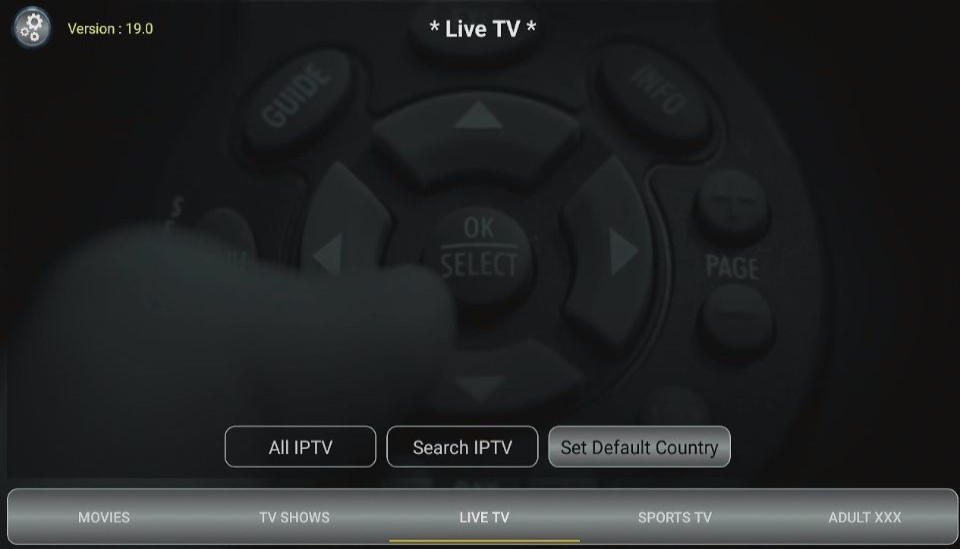 Real Debrid Section
Real-Debrid is a premium subscription service that offers access to high-quality streaming links. Instead of relying on low-quality links with poor resolution, Real-Debrid lets you access additional hosters with premium links.
Read our detailed guide on Real Debrid to learn how to subscribe to the service and use it with Kodi and FireStick.
Below are steps to link your Real-Debrid account to the Strix app:
1. Go to Settings.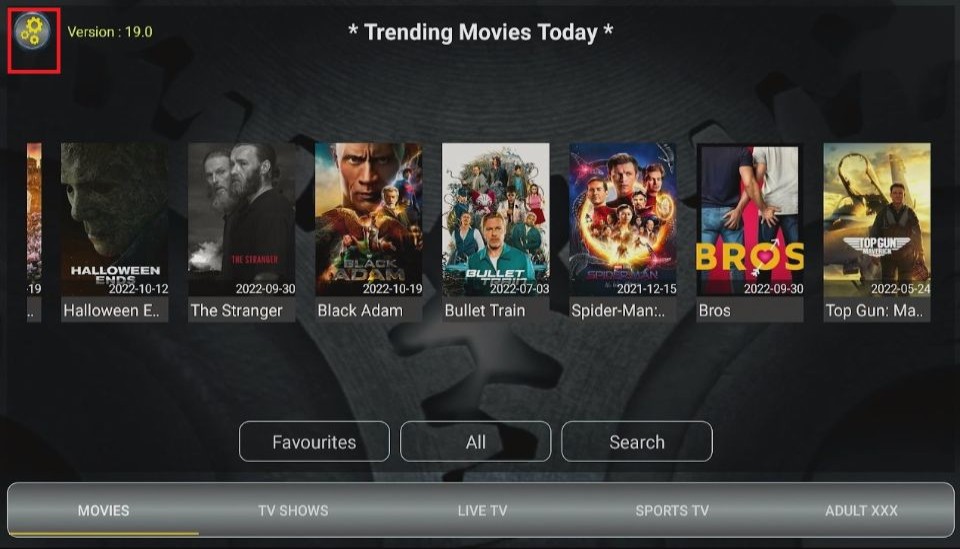 2. Click Real Debrid Login.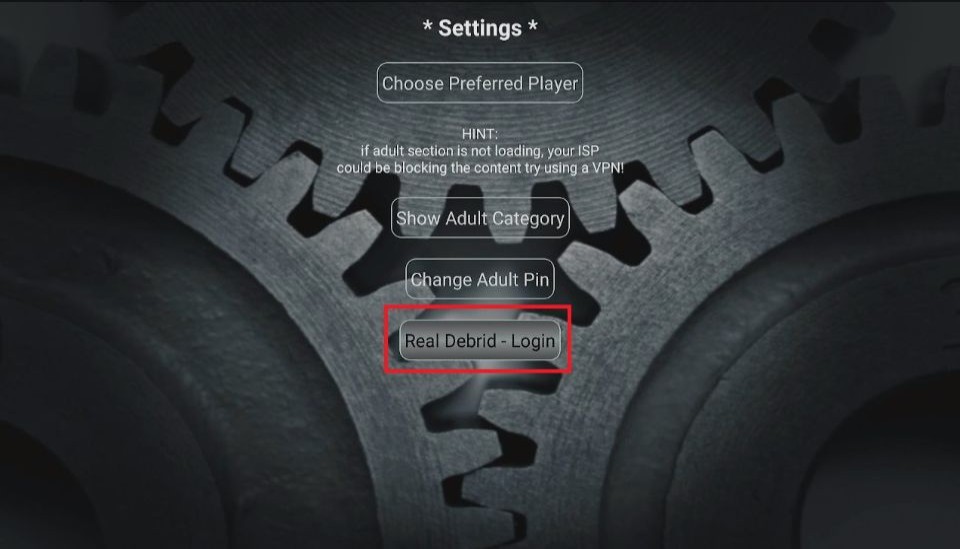 3. Use your phone or computer to go to https://real-debrid.com/device. Then, enter the code displayed on your TV screen.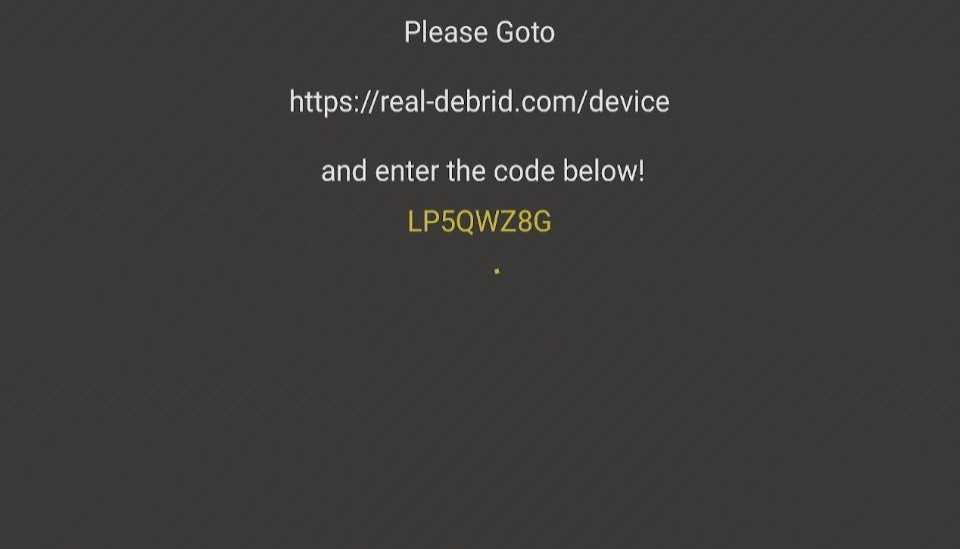 Wrapping Up
Strix is an all-inclusive content streaming app with everything you need for entertainment, from movies and TV series to live news, sports channels, and kids' sections. Some features I liked on this app include the massive library with shows from the 90s, the sleek interface, and the Real-Debrid integration. Strix also works perfectly with many external players.
The app has a vibrant menu that categorizes content into genres. It also has a search icon you can use to find content directly. As you'll note from this article, it's relatively easy to install Strix on FireStick.
If you have learned how to install Strix on FireStick, we'd love to hear your opinion of the app in the comments below.
Related: