In this article, I will show you how to install Stremio on FireStick. I will also cover how to use the Stremio app properly, add addons you can use to watch content on FireStick, etc. You can use this guide for any Fire TV, including FireStick Lite, Fire TV Cube, FireStick 3rd Gen, FireStick 4K Max & 4K.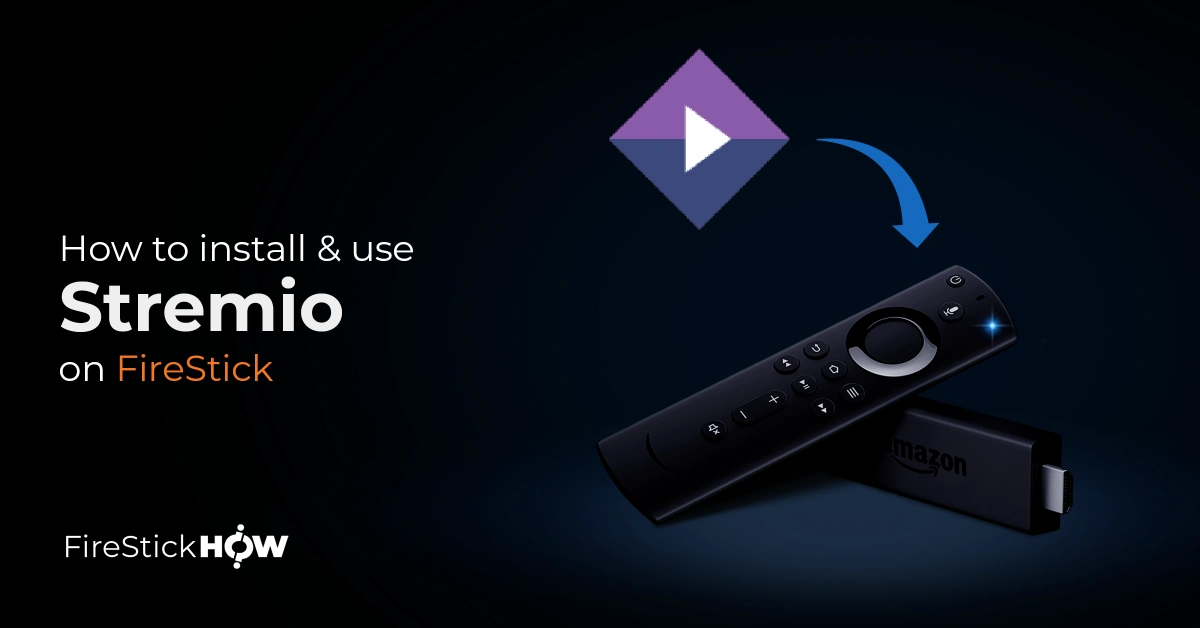 What Is Stremio?
The Stremio app is a media content streaming service that works with add-ons – similar to Kodi but less versatile. This service supports platforms like Android TV boxes, mobiles, Android devices, and Fire TV devices.
Thanks to a great library of one-touch install add-ons, Stremio is quite convenient. Stremio stores add-ons for movies, TV shows, live channels, etc., online so you can easily access them.
Stremio is an excellent app for streaming content for relatively low-spec devices like Fire TVs. Moreover, The app works on accounts. So, you install an addon once, and it'll stay with the account forever.
For these reasons and several more, Stremio is part of our collection of best apps for FireStick.
Attention FireStick Users: Read before you continue
Your government and ISP are probably monitoring your streaming activities using your IP address 3.17.249.235 (exposed to all). You may get into serious legal trouble for streaming copyrighted videos on FireStick. 
I strongly recommend getting a trusted VPN for FireStick to hide your IP address and protect your online identity.
I use ExpressVPN on all my devices as it is the most secure, fastest, and easy-to-use VPN. It comes with an unconditional 30-day money-back guarantee, and you get 3 free months with the yearly plan.
Don't miss out on the peace of mind and online security ExpressVPN provides.
Read: How to Install & Set up the best VPN on FireStick.
Is Stremio Safe?
Well, Stremio is a third-party app. And because of its type, we can't really test whether it's 100% safe or unsafe for your device.
That said, I checked the Stremio APK file on VirusTotal – an excellent online tool that scans viruses inside files within seconds. Thankfully, VirusTotal didn't find any issue with it – check for yourself: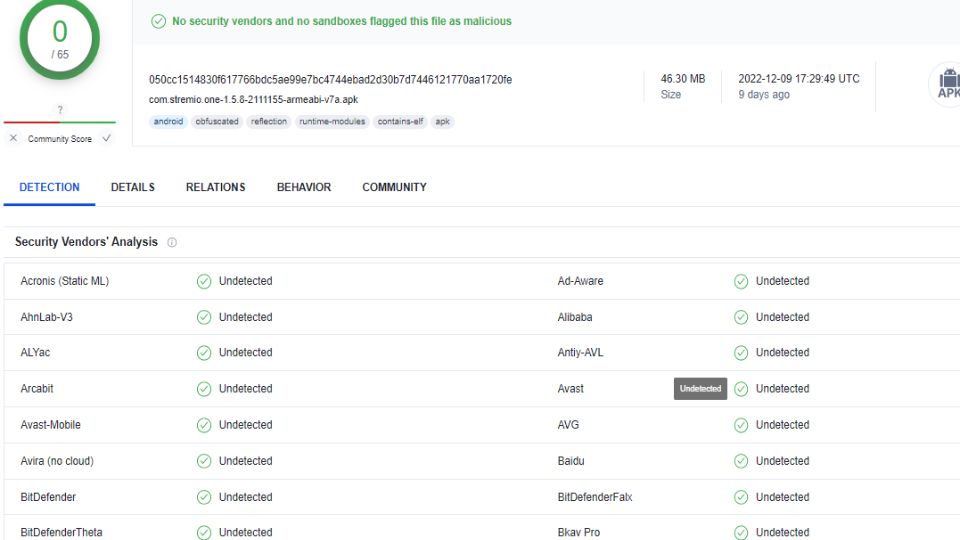 Furthermore, Stremio is available as an official app on Google Play Store.
Is Stremio Legal?
Is Stremio completely legal? It does not violate copyright laws, making Stremio legal to use.
But there's a catch! You must be careful when installing third-party Stremio addons. These addons fetch streaming links to your favorite shows and movies. So, ensure that the installed addons are verified.
You can also enjoy community addons if you are using them to stream publicly available content. However, I advise using a VPN like ExpressVPN to hide your online identity and maintain complete privacy.
Best Stremio Features
Stremio is loaded with quality features. Here are some of them:
Discovering new content has been made incredibly easy with the filters and search feature of the app
You can sort addons by their content category
Brings all of your video content under the umbrella of one streaming site with HD streaming links
Organize the library into neat categories to easily find the type of content you want
Maintains a comprehensive history of whatever you watch.
How to Install Stremio on FireStick
I have divided the Stremio on FireStick installation process into two parts for your understanding. So, let us begin.
Set Up FireStick for Stremio Sideloading
We'll need to sideload the Stremio app on Amazon Fire Stick to install it. This means fetching the APK of Stremio from its official website and installing it.
For that, we'll first need the Downloader app. Then, we will tweak it to allow the installation of third-party apps on FireStick. Sounds hard? You can use our detailed Downloader setup guide.
Anyways, here are two steps to set up your FireStick for Stremio sideloading:
1. Go to the Find option on your FireStick. Next, select the Search option and type Downloader. Then, open Downloader. Once inside, hit Get.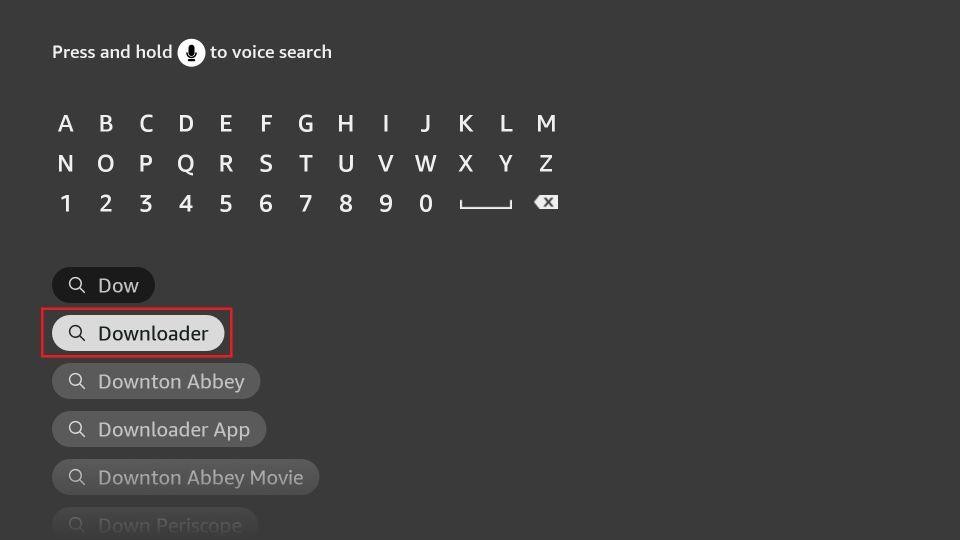 2. Open FireStick Settings. Next, explore My Fire TV. Then, select Developer options. Choose Install Unknown Apps. Lastly, turn Downloader ON.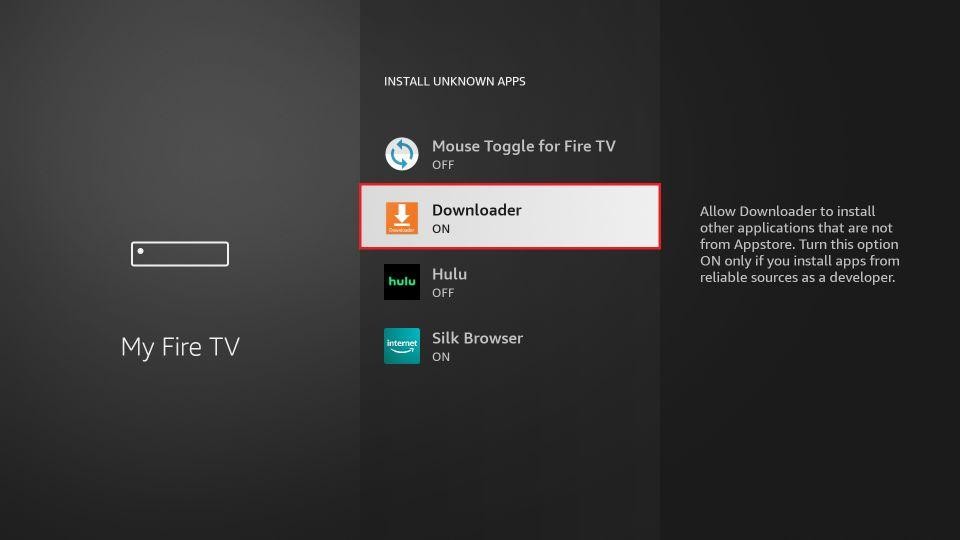 Stremio Sideloading Instructions
Now that you have made the necessary preparations, I will show you the steps of installing Stremio on FireStick.
1. Select Three-Tiles on FireStick home.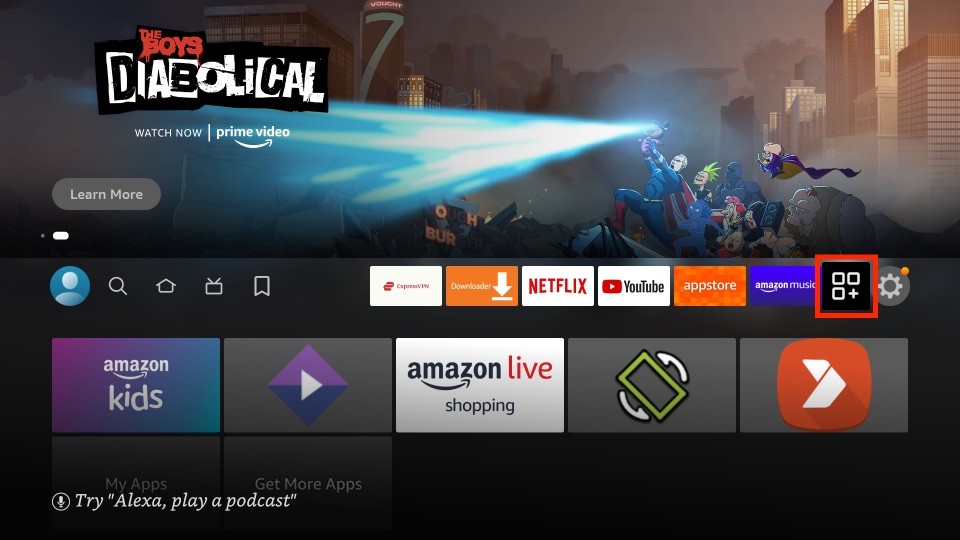 2. Launch the Downloader app.
Note: Always look inside App Library if you can't locate Downloader on Your Apps & Channels screen.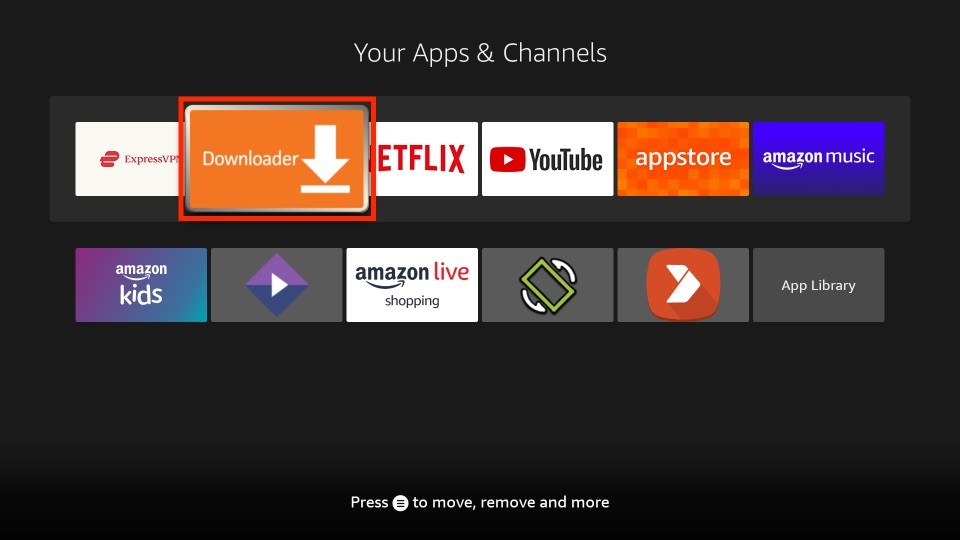 3. On the app's Home, choose Input under Enter a URL… on your right.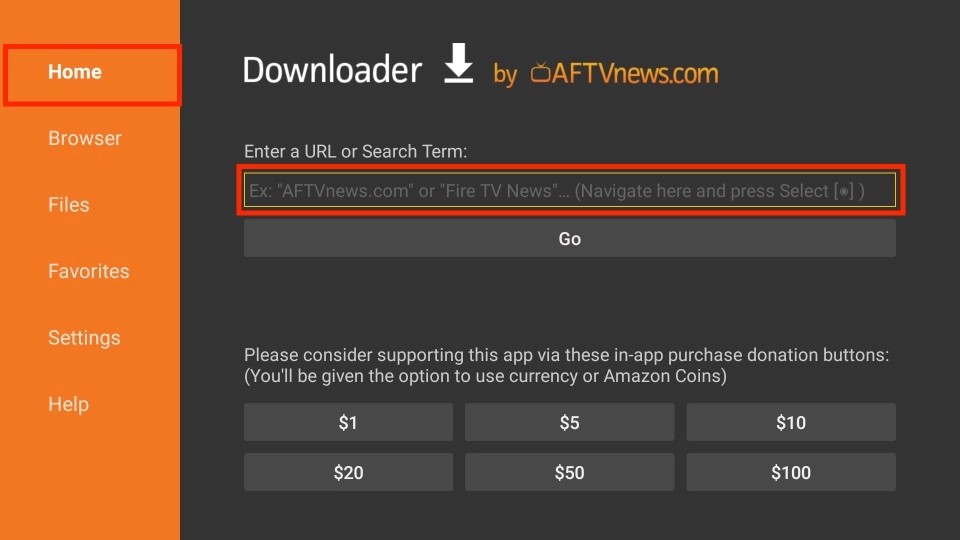 4. Type strem.io and select Go.
Note: We at FSH don't host/own Stremio. The above URL is the official website of Stremio.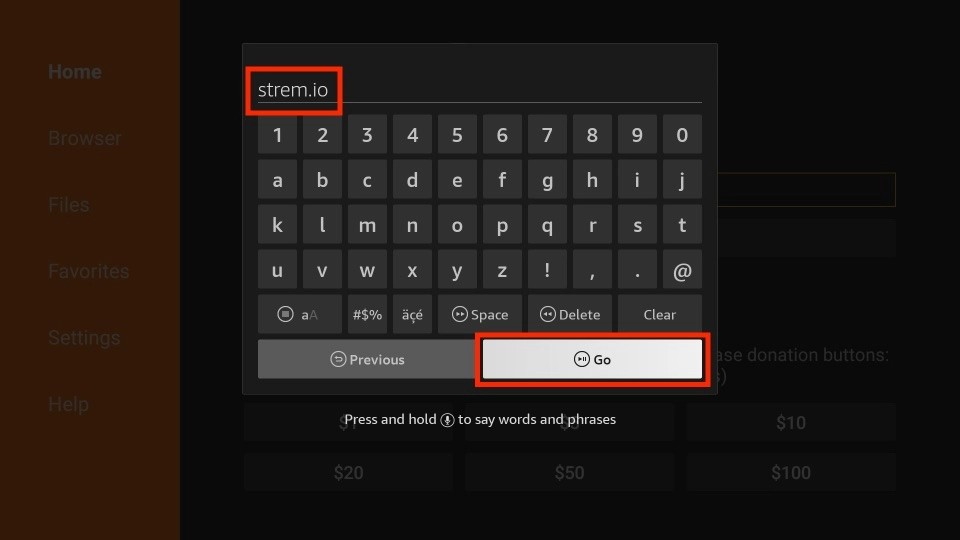 5. On the Stremio website home, Scroll Down.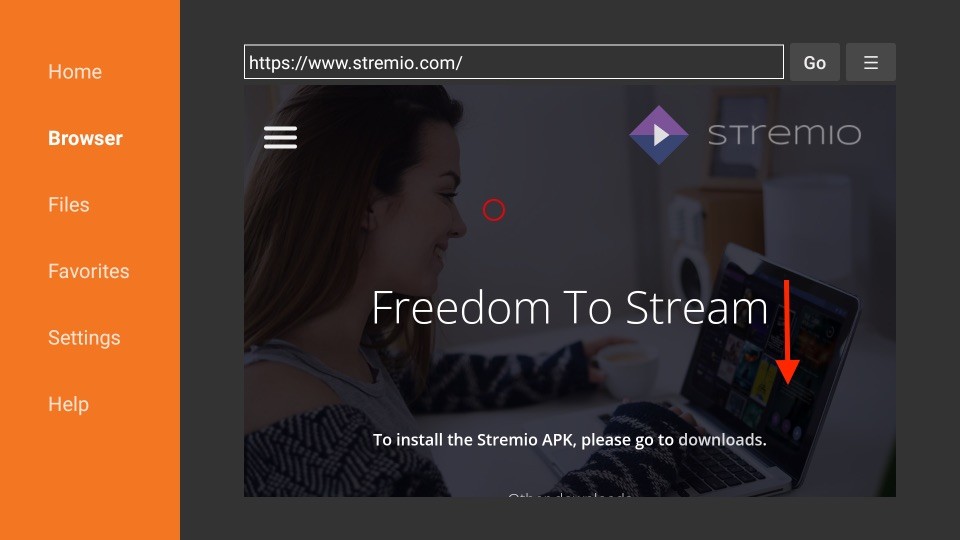 6. Select Other downloads.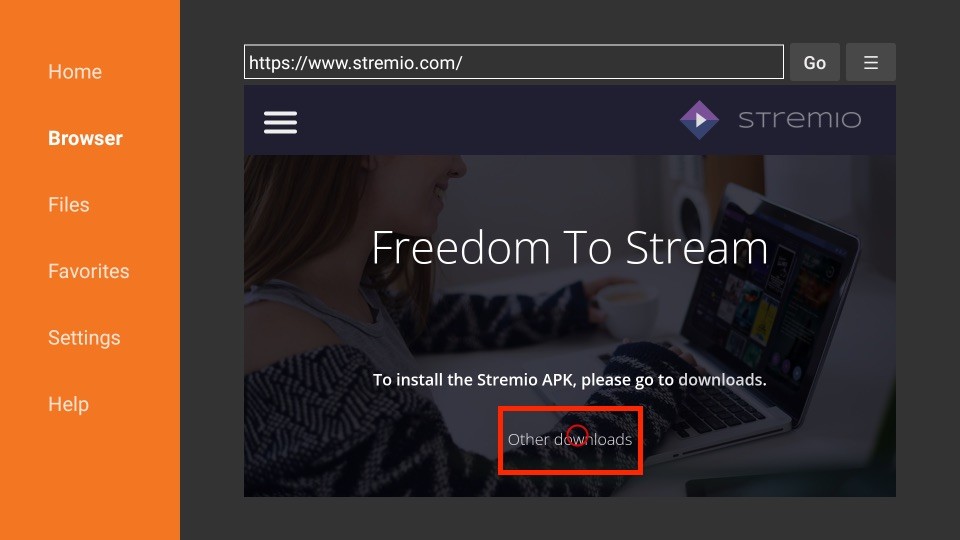 7. Scroll down the Downloads section.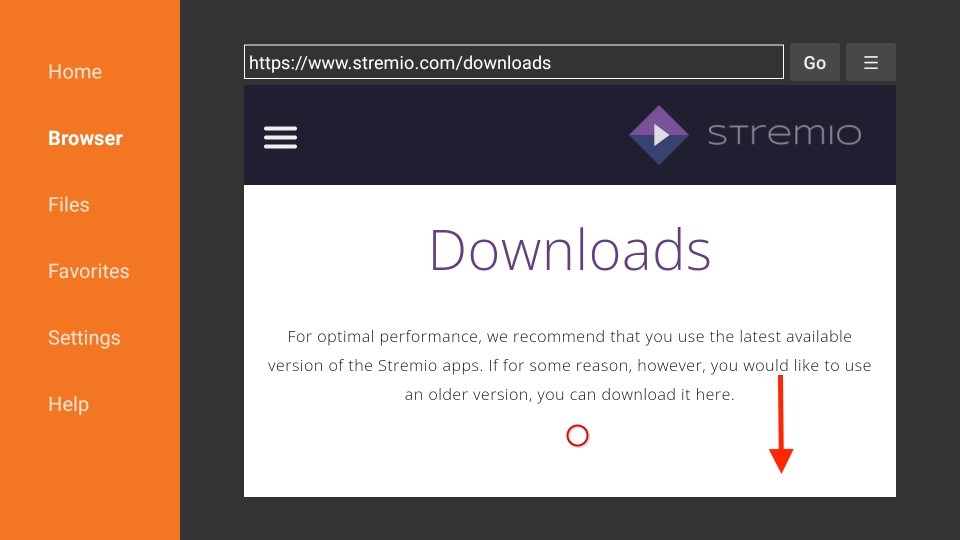 8. Under Stremio for Android Mobile, choose Recommended download Stremio X.X.X ARM APK.
Note: X.X.X is the version number of Stremio. The current one is 1.5.8, but it can change in the future.
9. Let Downloader finish downloading the Stremio APK file.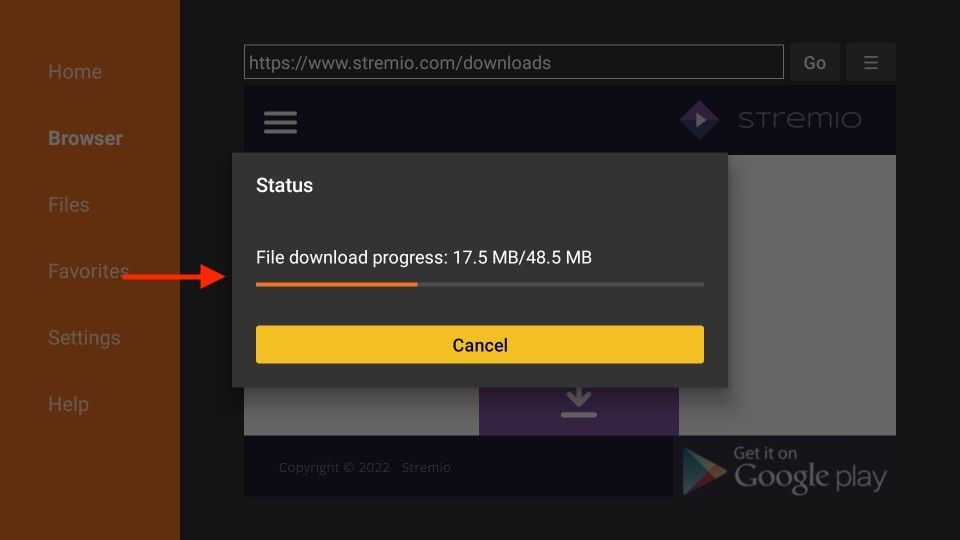 10. Stremio installation will automatically be prepared on the download completion. Click INSTALL To run it.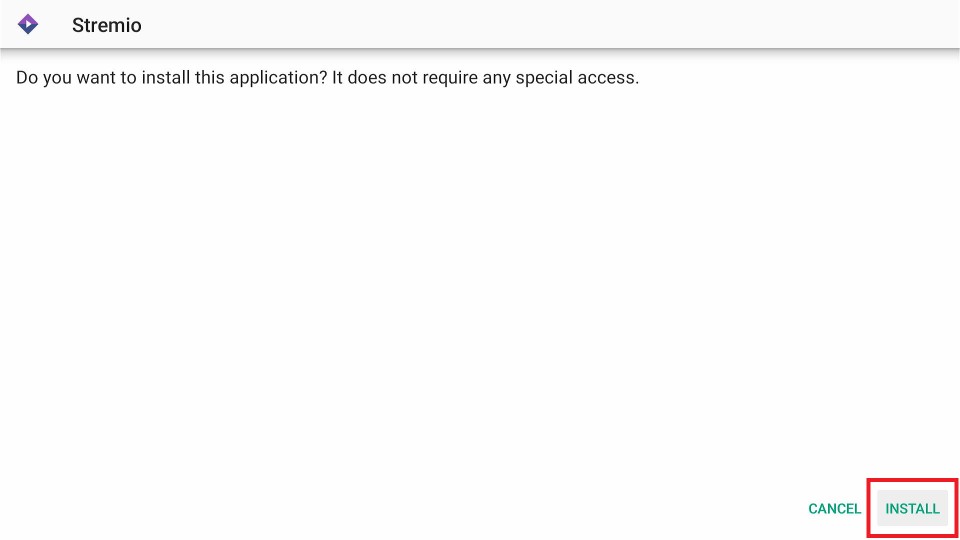 11. Once the Stremio app is installed, a notification appears. Next, you will see another prompt on the screen. Select Done. This will take you back to the APK file download screen.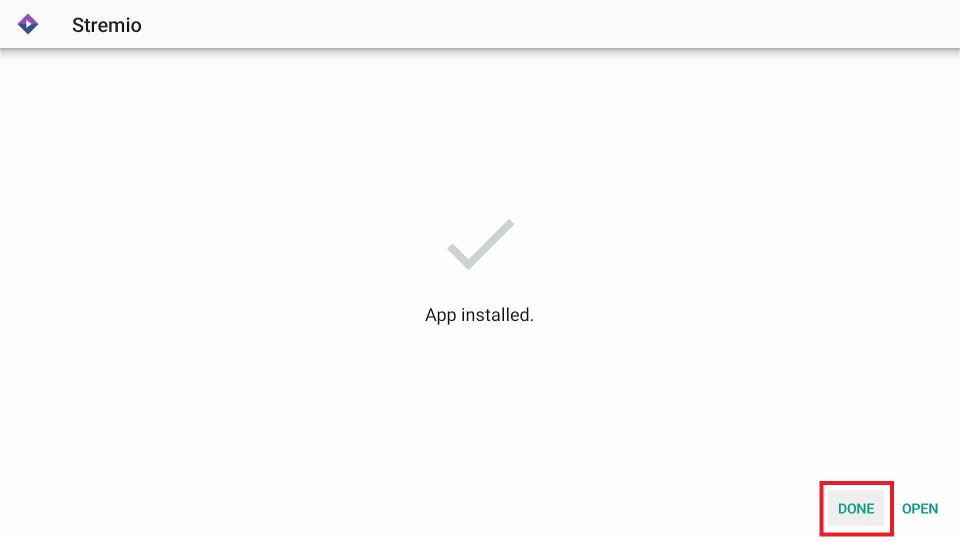 12. Select the Delete option to delete the apk file as you no longer need it.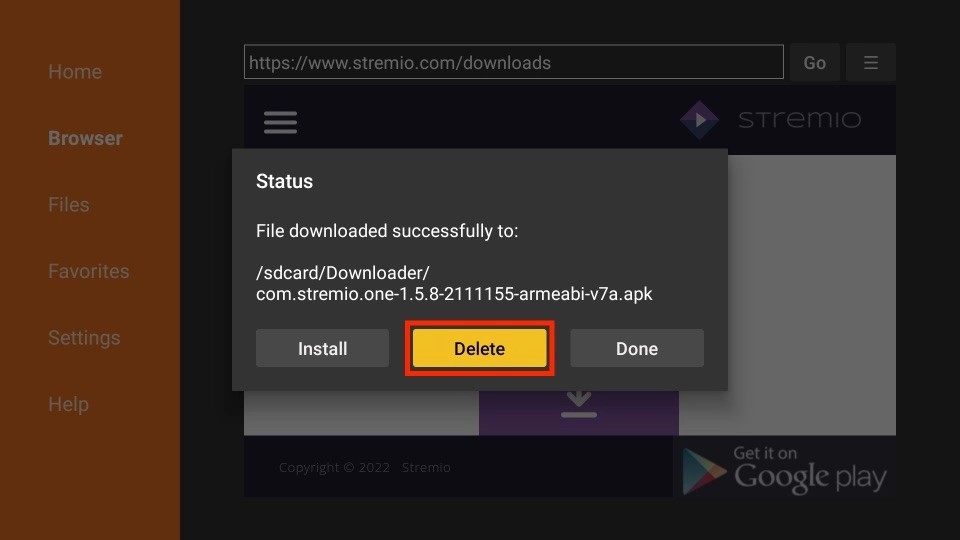 13. In the next window, you will have to confirm the deletion of the APK. So select Delete.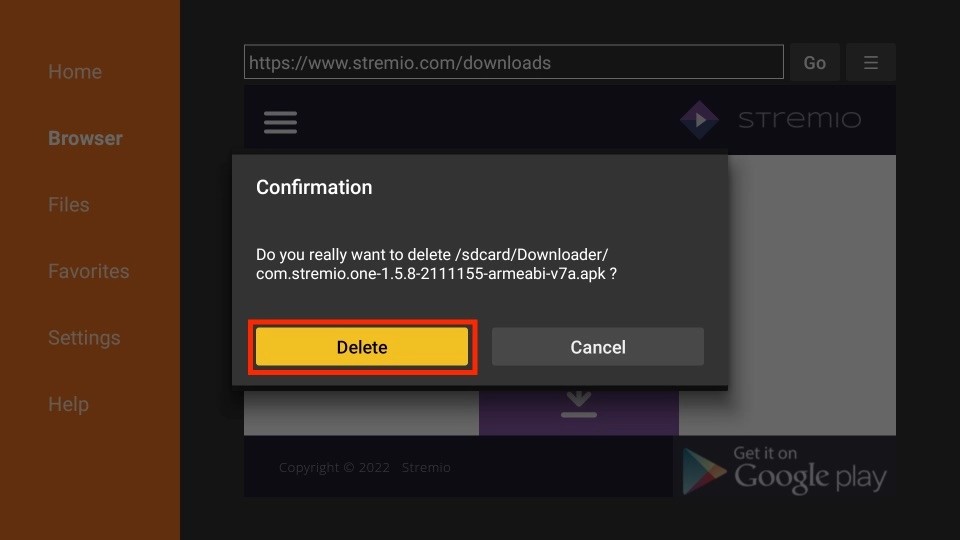 Congratulations! Stremio is now available in your FireStick app library.
Wait! It looks like you are all set to start watching your favorite content on FireStick. But have you protected your online identity yet? You are under constant surveillance by the Government and ISP. Free streaming of copyrighted videos may get you into legal trouble.
Thankfully, you can easily avoid online monitoring and safeguard your privacy with a trusted VPN on FireStick. A VPN will hide your IP address and online identity by encrypting your internet connection.
Please note that I am not encouraging you to violate any copyright laws. You should always watch the content available in the public domain. I am simply recommending the use of a VPN to maintain your privacy. You have every right to your privacy, which is constantly being breached these days.
I personally use ExpressVPN and have found it to be the fastest and most secure FireStick VPN. It is also the most streaming-friendly VPN I have ever used. Therefore, I highly recommend getting ExpressVPN for FireStick.
Here is how you can quickly get the ExpressVPN app on FireStick:
Step 1: Click HERE to subscribe to ExpressVPN and enjoy a 49% discount with 3 months of extended service. You are also eligible for a 30-day, full money-return guarantee.
Step 2: Download and install ExpressVPN on FireStick
Choose the Find > Search option on the FireStick home screen on the menu bar.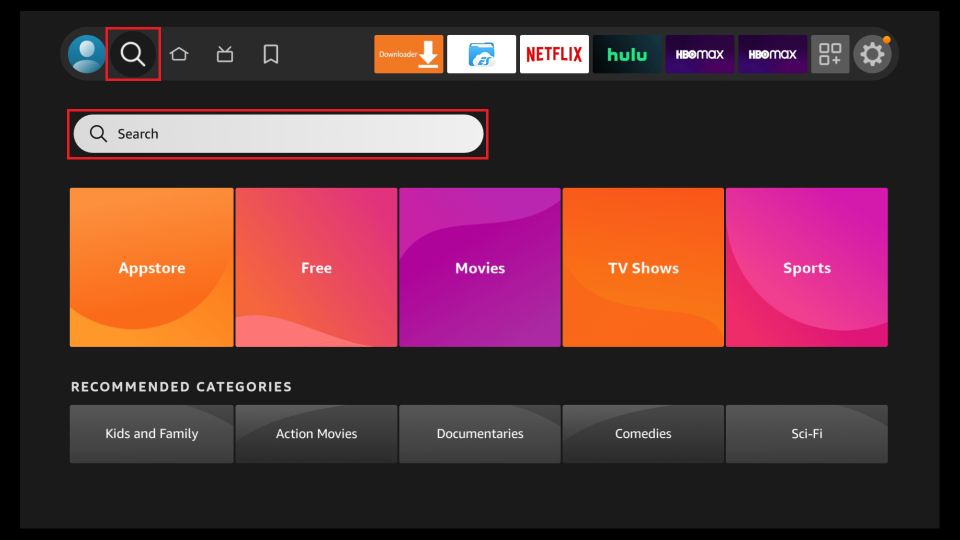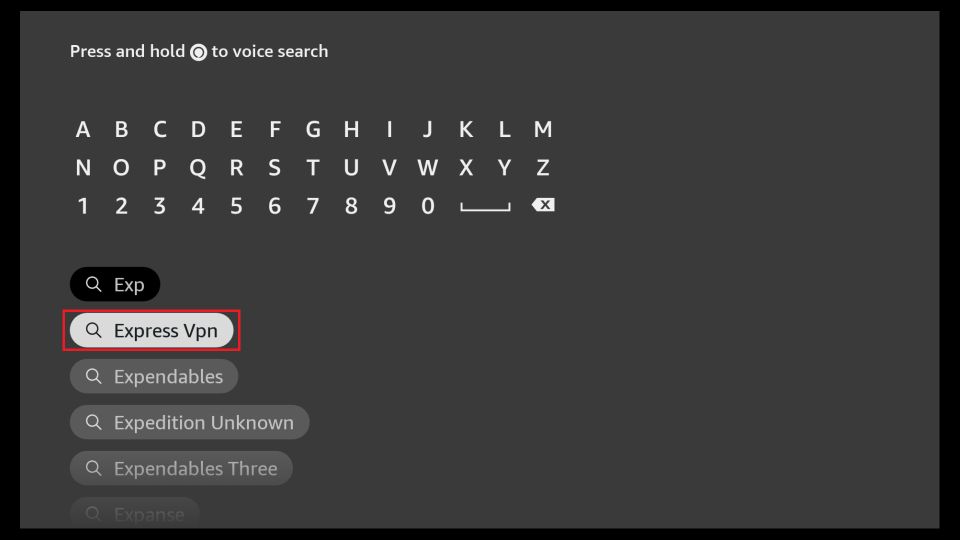 Click the ExpressVPN icon on the following window.

Click Download or Get on the next window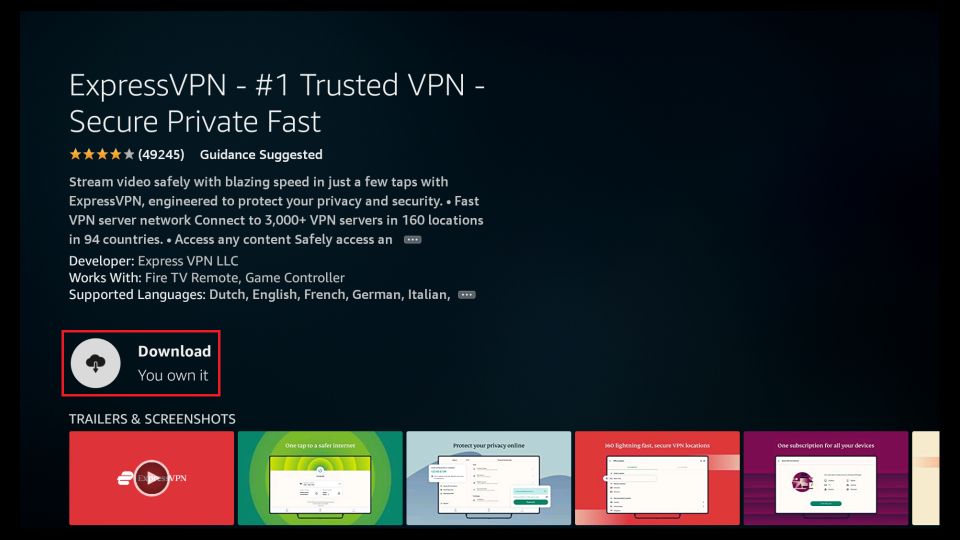 Step 3: Open ExpressVPN once you have downloaded it. Sign in with your account.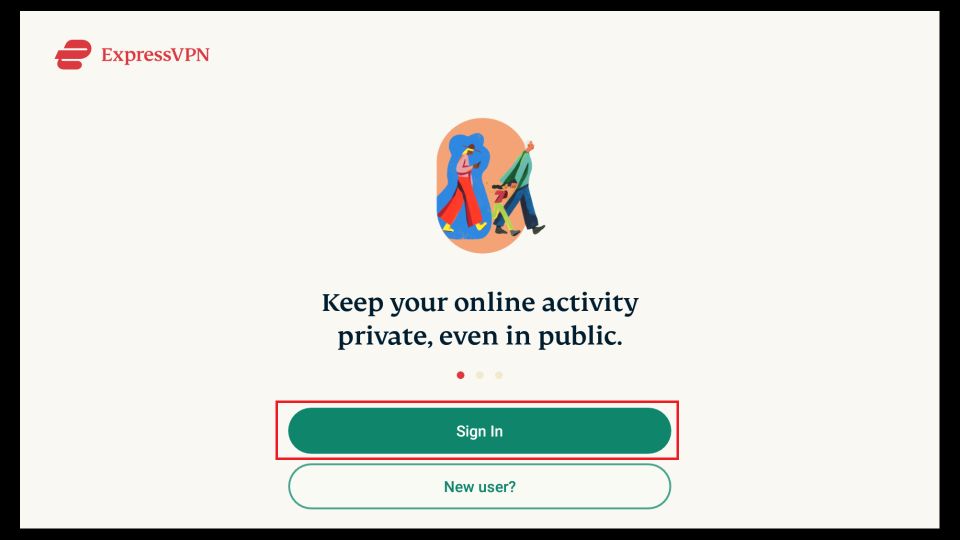 Step 4: Choose a server and click the Connect/Power button

Put your mind at ease now! You have successfully secured your streaming activities with ExpressVPN.
How to Use Stremio on FireStick
Now that you are done with installing Stremio on FireStick, you will need to familiarize yourself with how to use Stremio on FireStick. We'll start with creating a free Stremio account as it's necessary.
Sign up for Stremio
Open Your Apps & Channels section on FireStick and launch Stremio.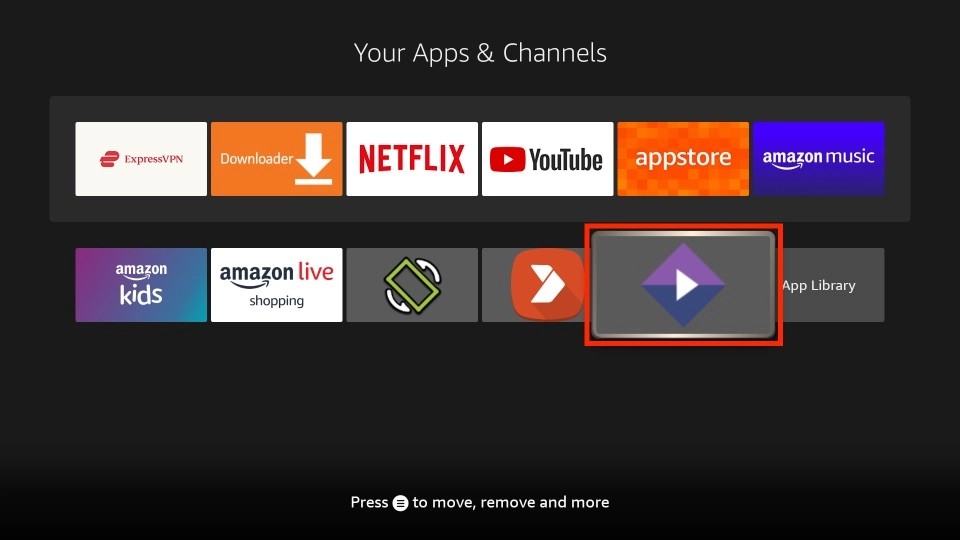 Click Allow to let Stremio send automatic anonymous reports to its development team.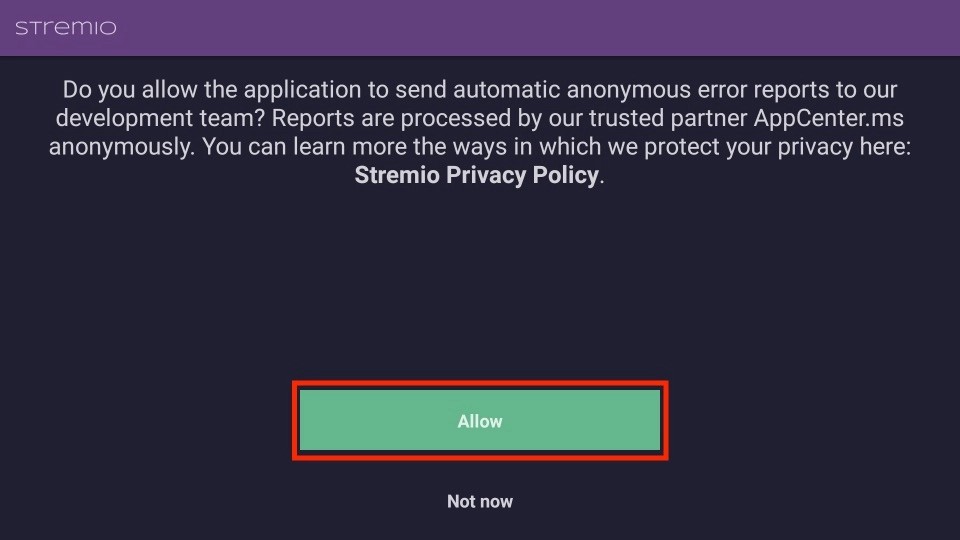 The signing-up process for the Stremio app is easy and can be completed on a mobile, computer, or FireStick. As we are on FireStick, the best way is to select SIGN UP.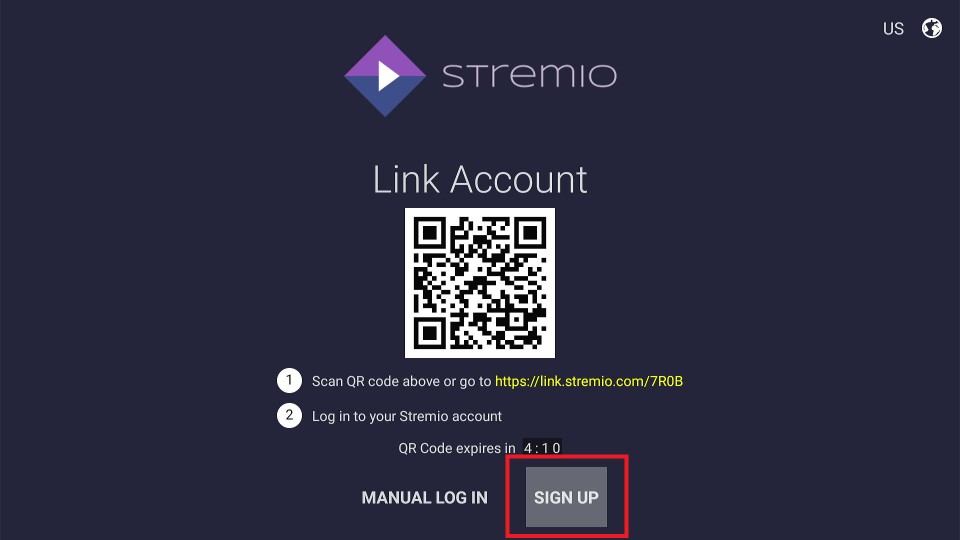 Next, enter your Email, Password, and Re-confirm Password. Then, check the first two boxes and continue to complete the Stremio sign-up process.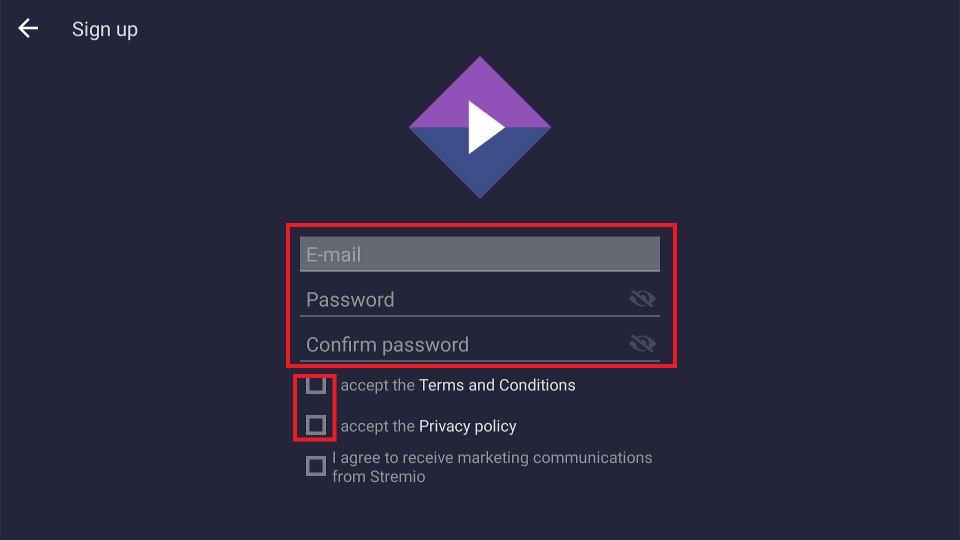 And you are done! Let's proceed to the app's overview.
Stremio Overview
Stremio's Home Screen will come into view once you log in. After that, you'll land on the Boards section.
You can view all the recent and recommended movies and TV shows on this screen. You can select any one of those options and get the streaming links for the desired content.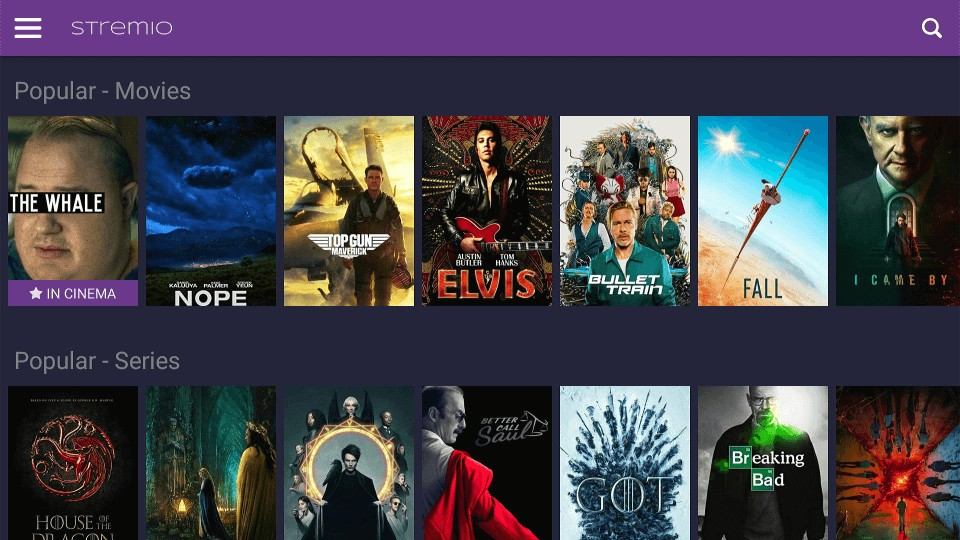 Select the Three-Lines icon at the top left of the screen to open the Stremio side menu.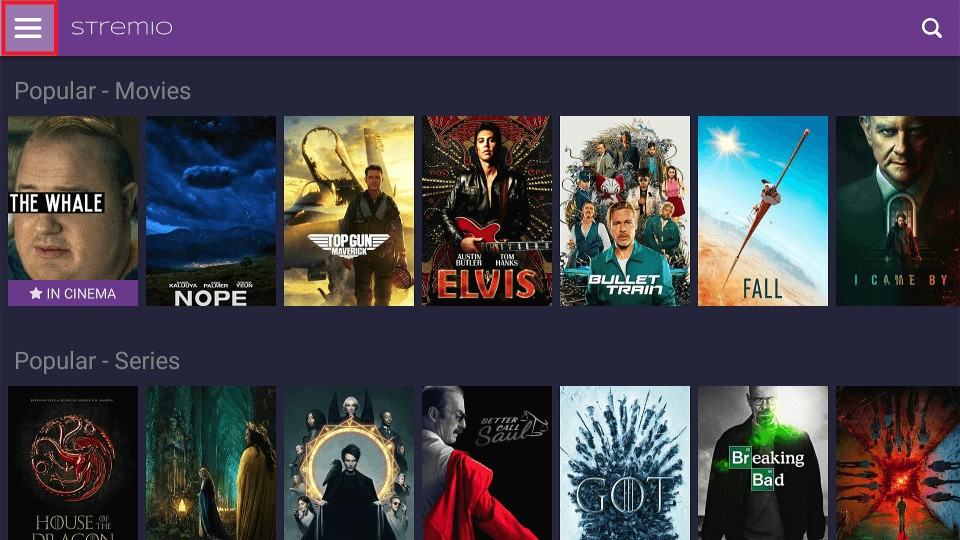 To explore content, open Discover.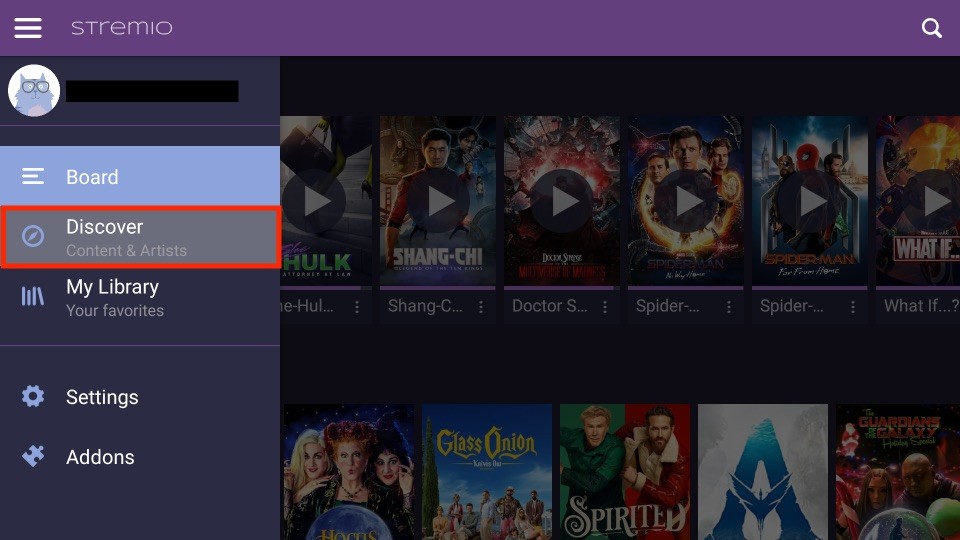 Discover includes sub-sections like Series, Channels, TV Channels, Others, etc. Open Movies to explore films.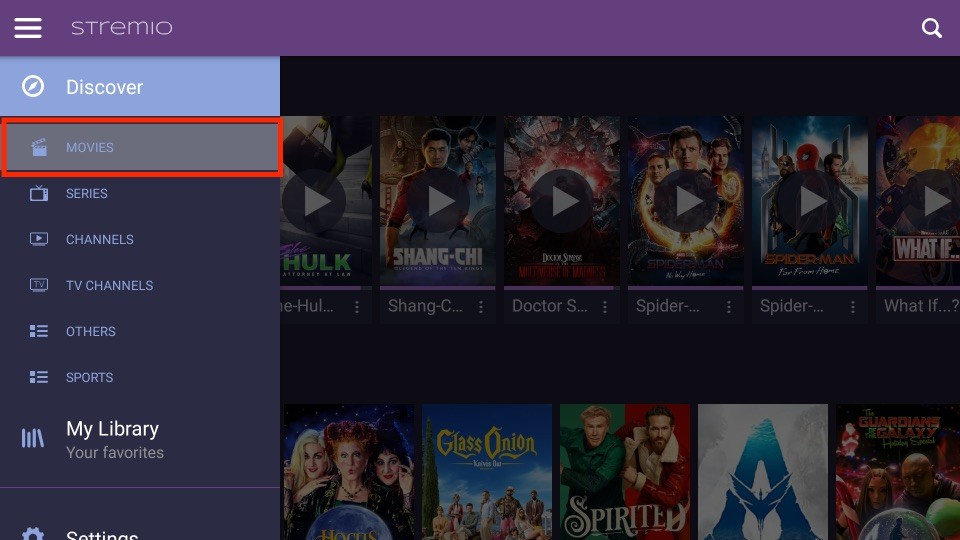 Here, you'll see Popular movies by default. You can change the filter or view content Genre-wise.
To view saved content, open My Library.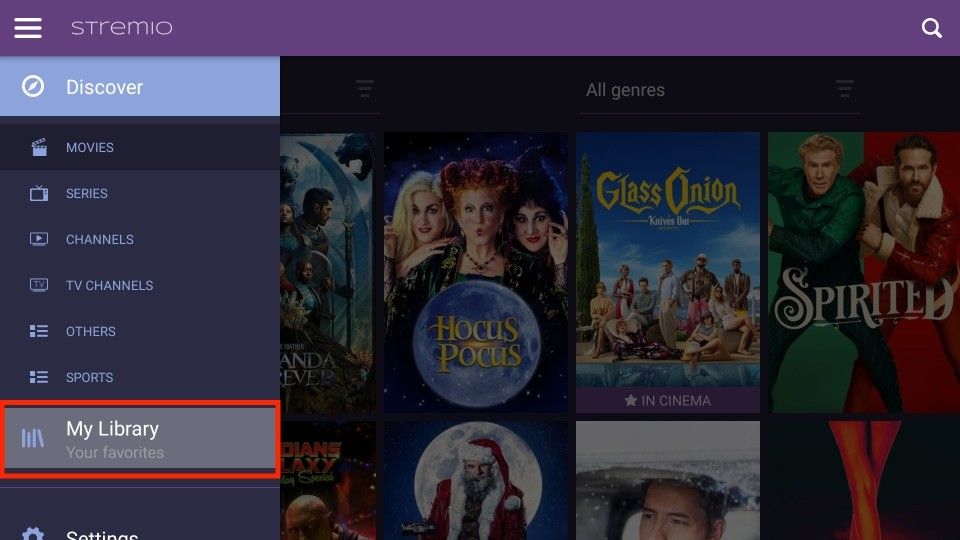 My Library is empty as I haven't favorited any content on Stremio.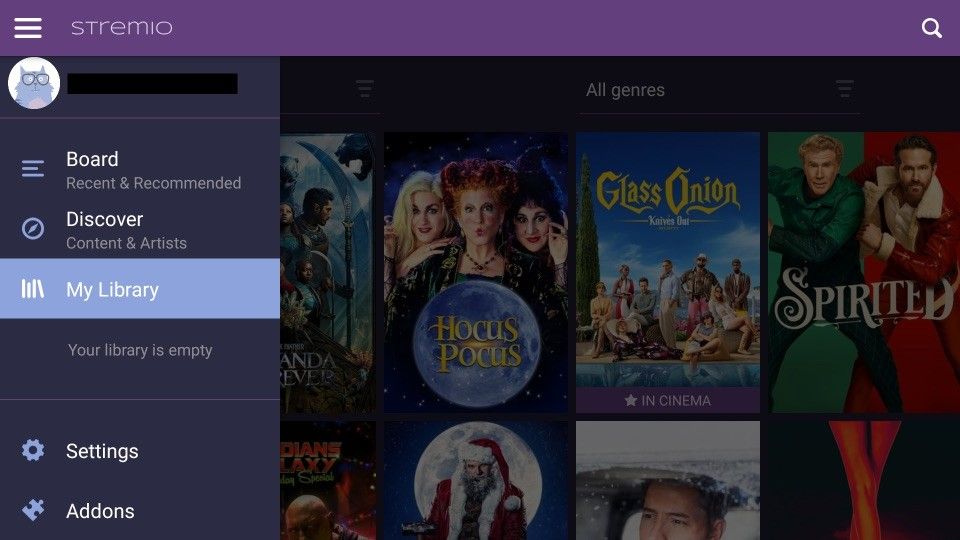 But to watch content, you'll need to install add-ons, remember? So the next section teaches you just that.
How to Install Stremio Addons
Unlike Kodi addons, Stremio add-ons are like plugins that get attached to your account for a lifetime once you install them. So, you can install as many addons as you wish without worrying that you will run out of space on your FireStick.
There are two types of Stremio add-ons, Official and Community. Stremio developers create the official ones. In contrast, independent third-party creators develop others. Here are the steps to install Stremio addons:
1. Go to Menu on the top left-hand side corner of the Stremio home screen. Then select Addons.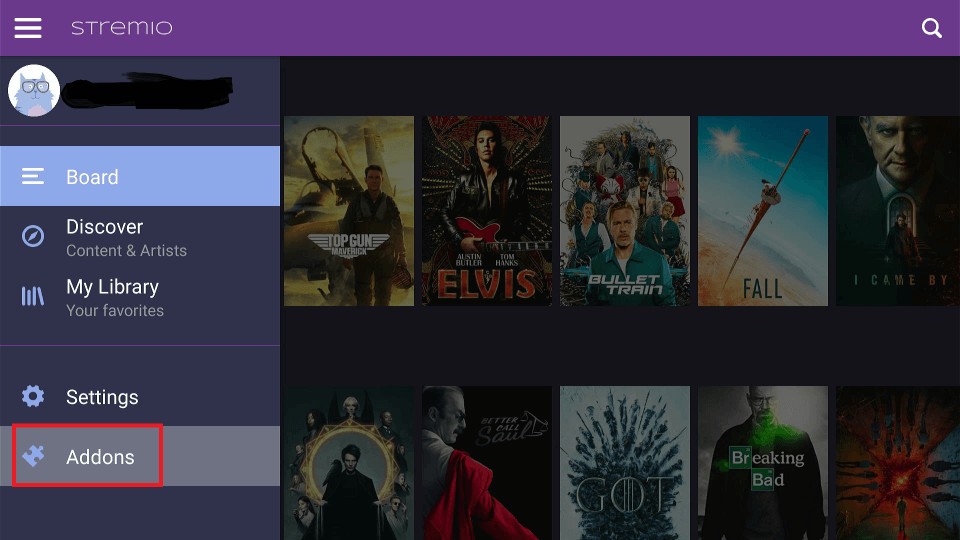 2. You will see two filters, Official & Community. I have changed the filter to Community. Now, to install an addon, click the green Install button.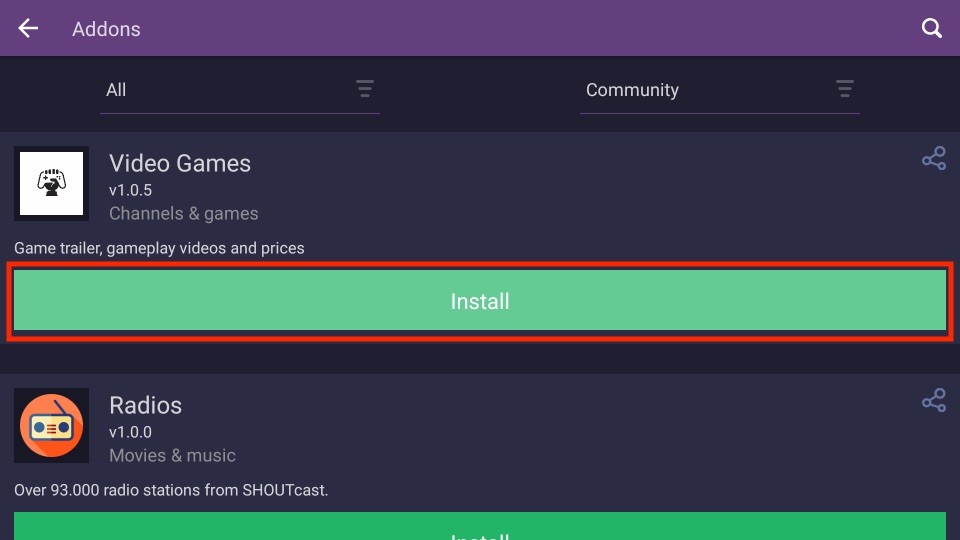 3. When installing Community addons, the following warning will appear. Click INSTALL to continue.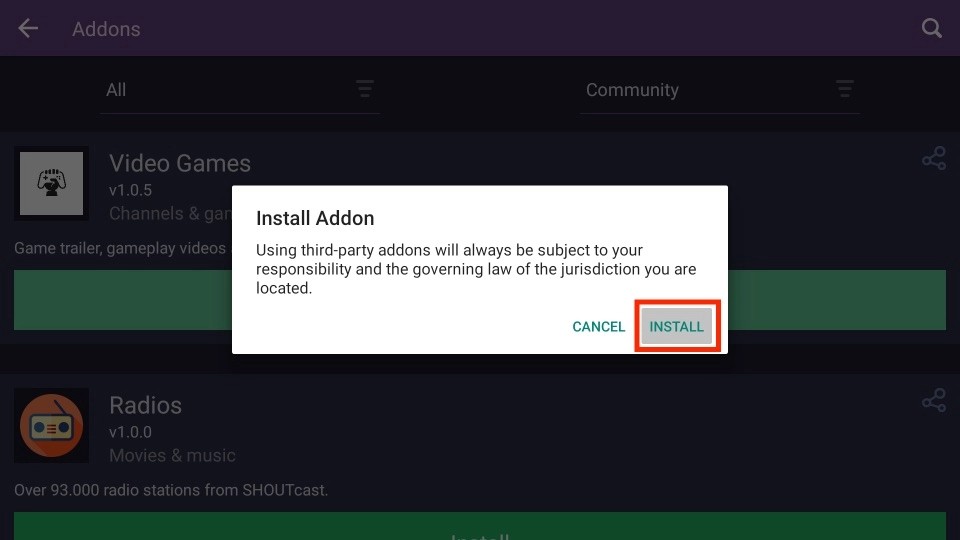 4. Explore the list of Community addons and install them one by one!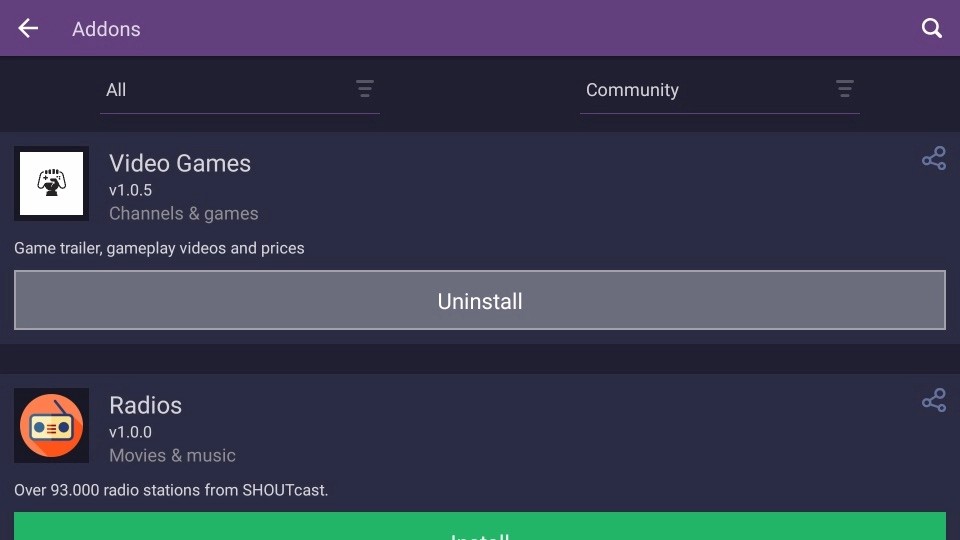 Wrapping up
Stremio is a great app to watch movies or stream movies on FireStick. It is free and easy to use and has a vast content library, thanks to add-ons.
This guide demonstrated how to install Stremio on FireStick. Which app do you use to stream online? Is there any app you require a guide to install or want me to review? Do let me know in the comments.
Related: