In this guide, I will demonstrate how to install Simple Wizard Kodi Builds on your device. The steps shown are common for all Kodi-enabled devices, including Smartphones, Computers, Android TV, Fire TV, Google TV, Nvidia Shielf, Rasberry Pi, and Fire TV Cube. I have also attached a screenshot with each step so that you can relate to the process while doing the installation.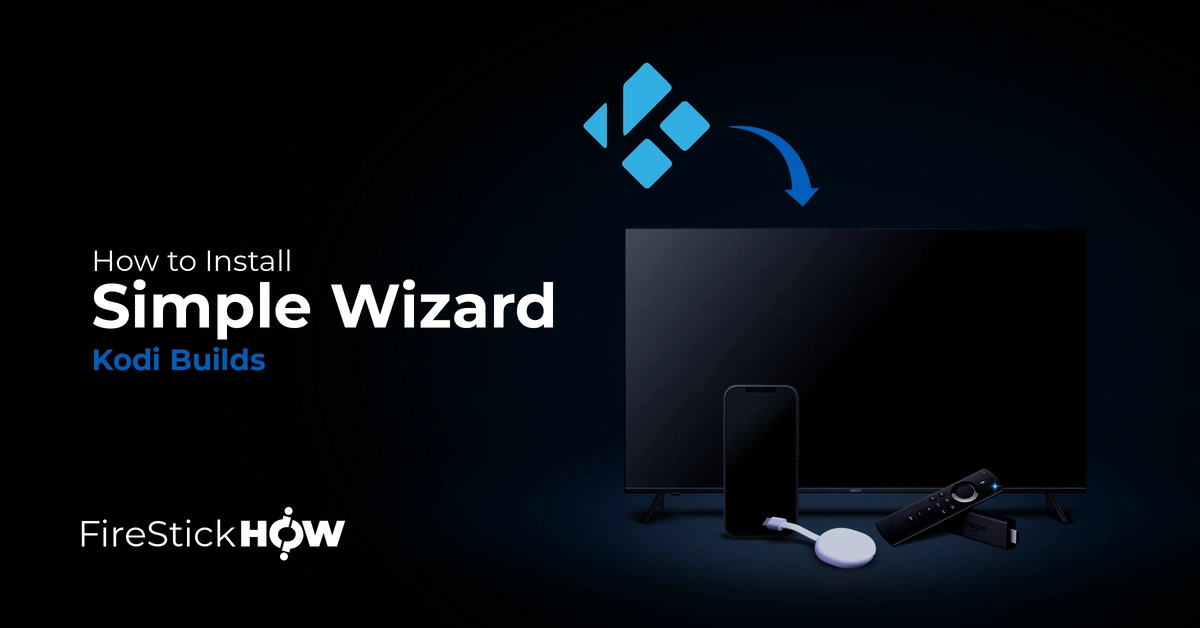 What is Simple Wizard Kodi Builds?
Simple Wizard is a lightweight Maintenance Tool and Template for installing builds onto Kodi 19/20. It comes with some code from Aftermath Wizard by Surfacing and is positioned on GSource Repository.
Kodi builds are a pre-packaged version of Kodi and offer a selection of preinstalled addons. It has repositories already linked and comes up with its own look and feel. They have other settings already customized for a better experience.
Attention KODI Users: Read before you continue
Government and ISPs endlessly monitor your online activities using your IP address 3.17.249.235 (exposed to everyone). Kodi is an excellent platform for streaming movies, TV shows, and sports, but streaming copyrighted content can get you into legal trouble. 
You should use a reliable Kodi VPN and protect your streaming activities and privacy. A VPN will hide your IP address and bypass government surveillance and geo-restrictions.
I trust and use ExpressVPN, the fastest and most secure Kodi VPN. It's easy to install on any Kodi device, including Amazon FireStick, PCs, and Smartphones. In addition, it offers a 30-day money-back guarantee, and 3 free months with the annual plan.
Read: How to Install & Use the best VPN for Kodi.
Is Simple Wizard Kodi Builds Safe?
Simple Wizard is a third-party Kodi Build. Therefore, I can't comment on the safety of using this Wizard. Unfortunately, I lack the tools to identify this Wizard's complete safety. Hence, I can say that it does not come with any guarantee card for safety.
Before installation, I ran a virus scan test on VirustTotal and found that all 89 security vendors marked this build's URL as safe and non-malicious. So this is a respite for you.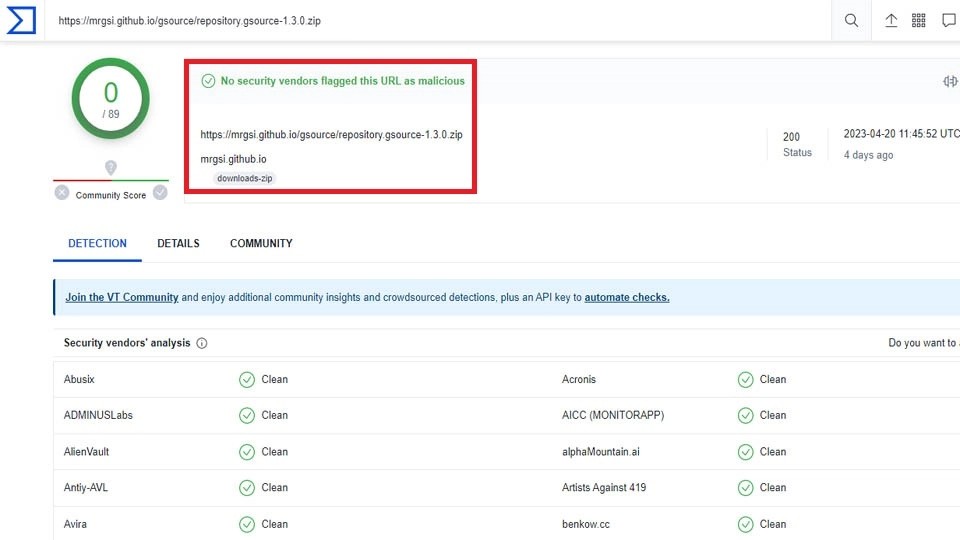 I suggest you also run this test for yourself on any trusted virus scan website or VirusTotal and see the results.
Is Simple Wizards Kodi Builds Legal?
It is hard to comment on whether any third-party addon or build is absolutely legal or not. There is no way I could claim the legality of this build.
However, if you use a good VPN service, all your online activity will be masked, saving you from any legal problems with using the build. There are several reliable VPN service providers available these days. For example, I use ExpressVPN, which has worked great for me. Just visit the ExpressVPN website and signup for the service.
How to Install Simple Wizard Kodi Builds
The process of installation of this wizard build comprises four main parts:
Allowing Unknown Source: It will enable third-party addons and builds to be recognized by the app.
Adding Media Source: Through this, we will add the repository source link to Kodi.
Installation of Repository: The repository is necessary before the builds or addons on the repository are installed.
Installation of Simple Wizard Build: Final installation of the Simple Wizard Builds.
Let us cover all of them in the same order. I have attached screenshots of every step for your convenience.
1. Open Kodi on your device and press Settings (Gear Icon) on the top left of the home screen.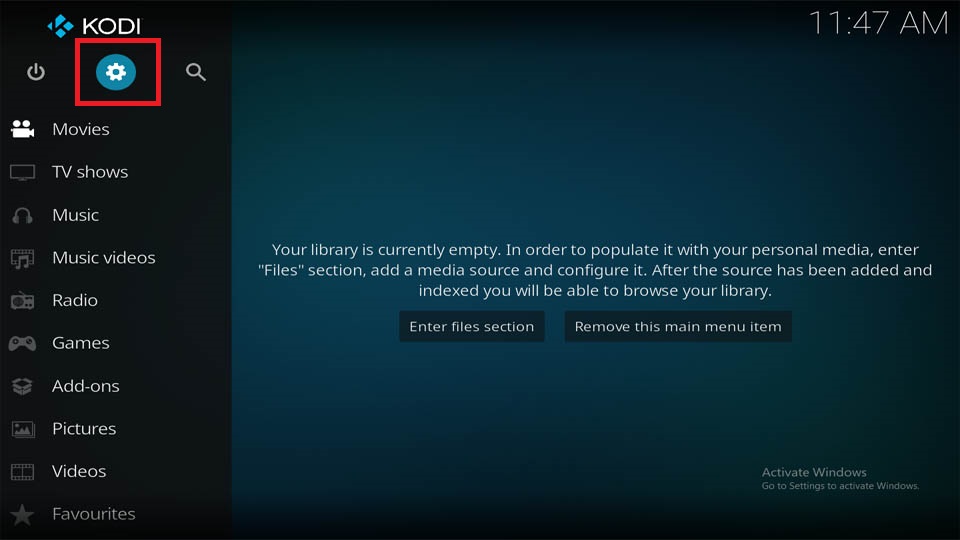 2. Press System.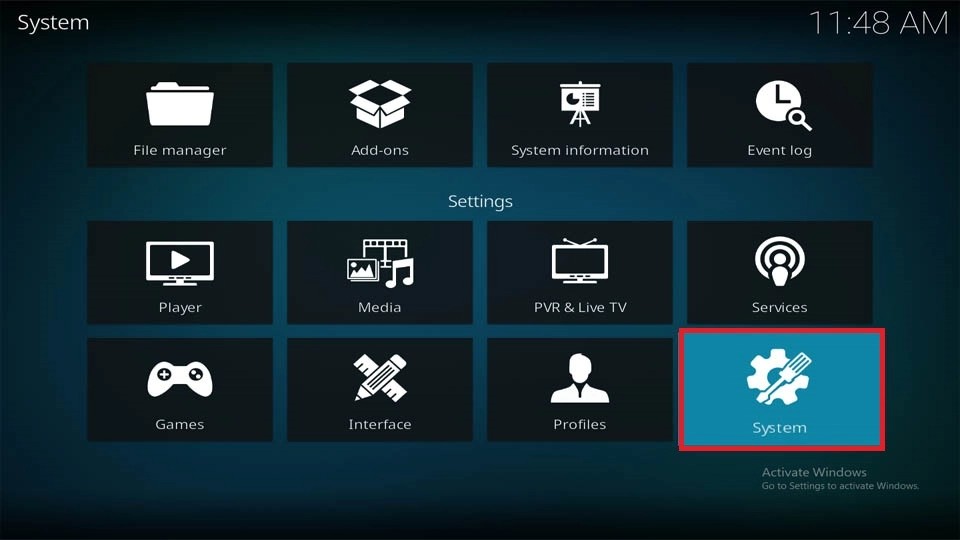 3. Select Add-ons on the left panel of the screen and then Switch ON the Unknown Sources (which would be seen in the center of the screen). Usually, it's switched off by default.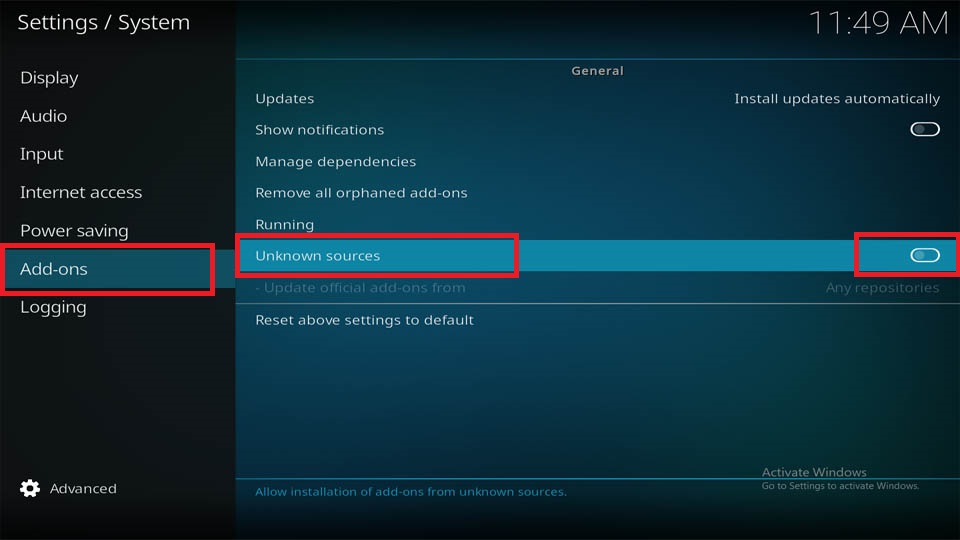 4. Say YES to the prompt message and return to the home screen.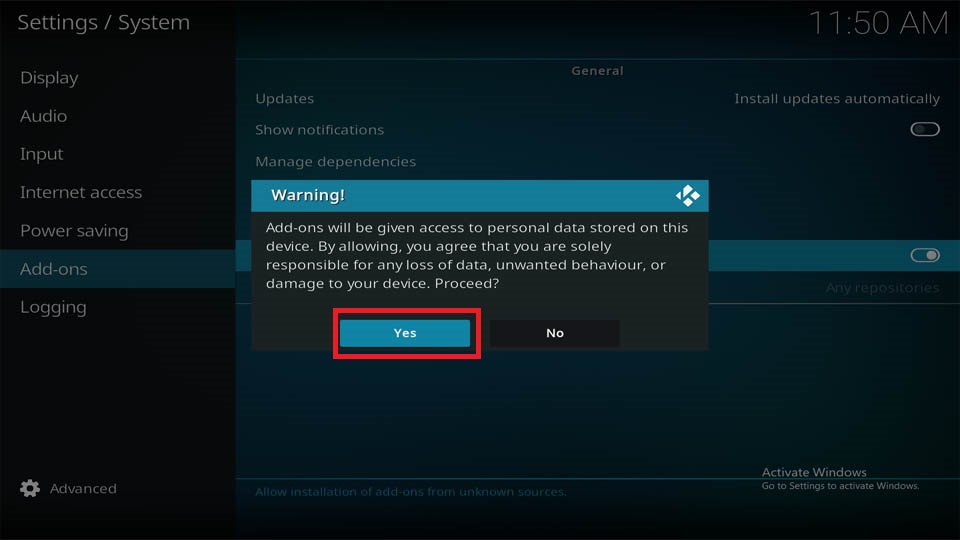 5. Press the Settings icon.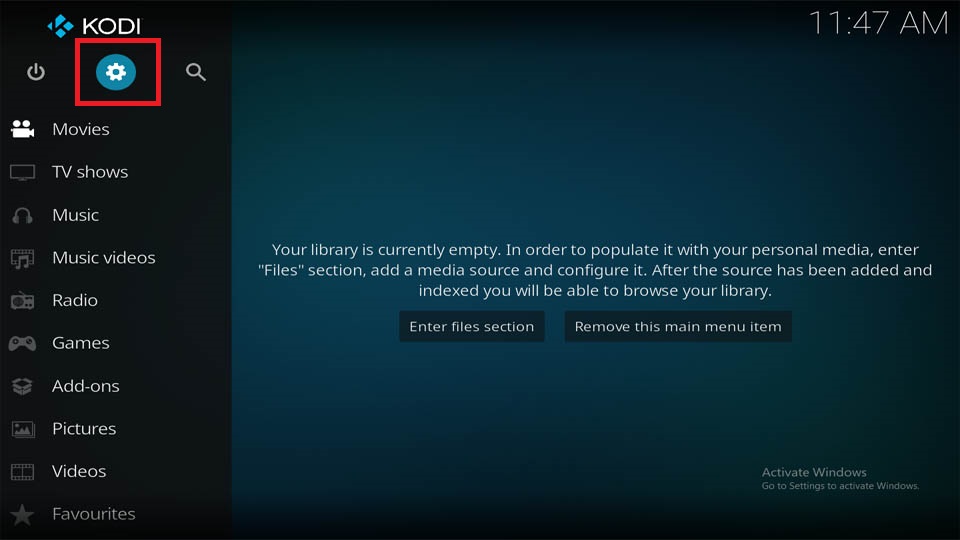 6. Press File Manager.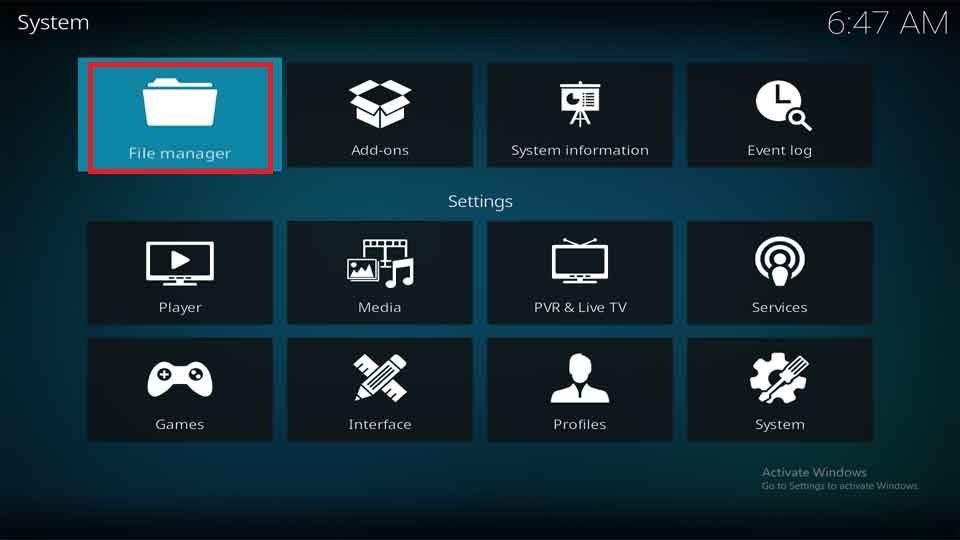 7. Press Add Source. If you are using a PC, double-click on the link.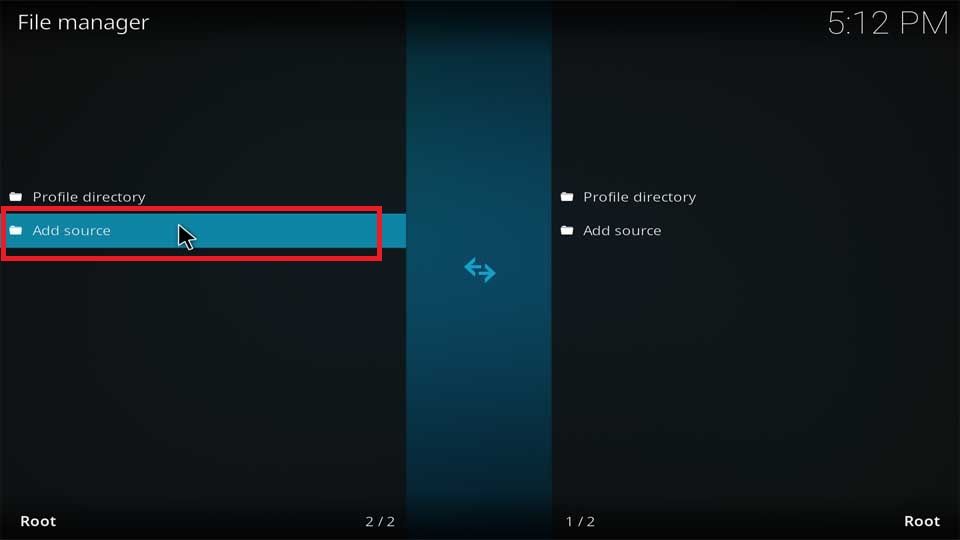 8. Press on <None>.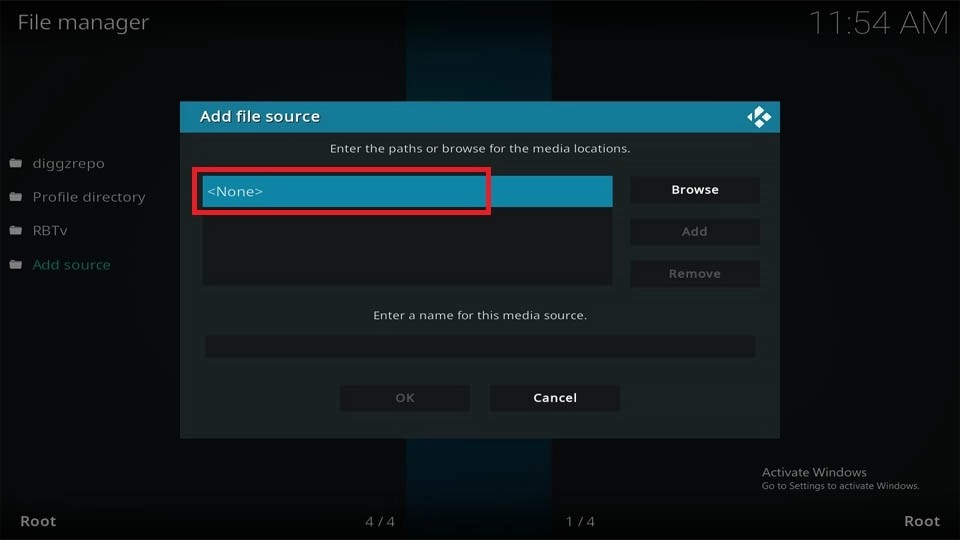 9. In the new screen that appears, type in https://mrgsi.github.io/gsource/ and press OK at the bottom.
Disclaimer: FireStickHow.com is not affiliated with the individuals or entities that host this URL.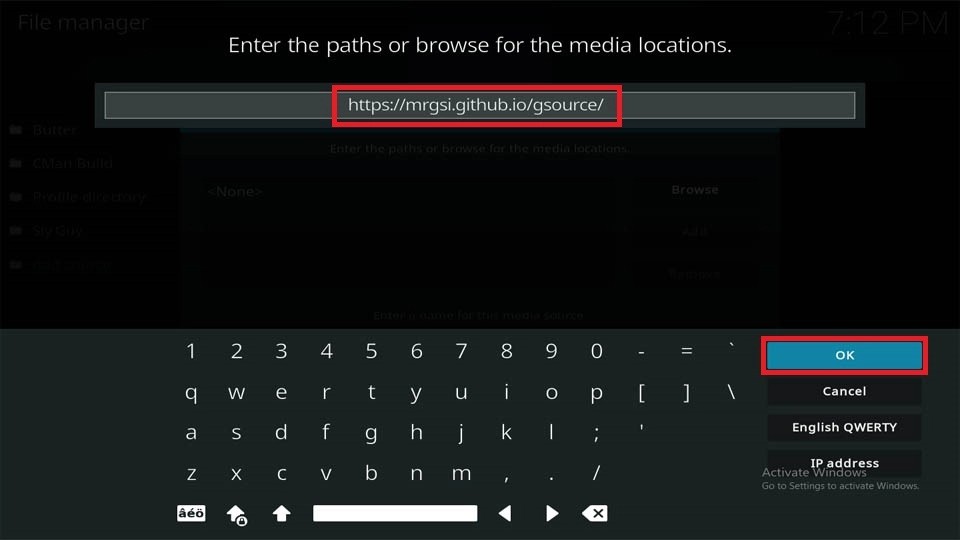 10. You need to name the media source file. Press the box (as highlighted in the screenshot), and a new screen will appear.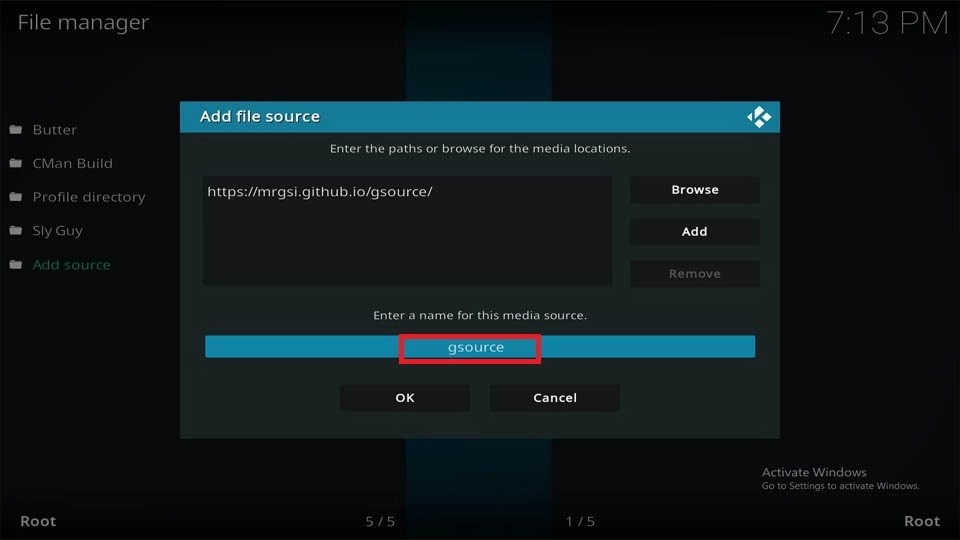 11. Provide a proper name to the source link. For example, I have named GSource Repo. Use the keypad on the screen if you are not using a computer.
We must remember this name because we will have to use this later during installation. Once done, press OK.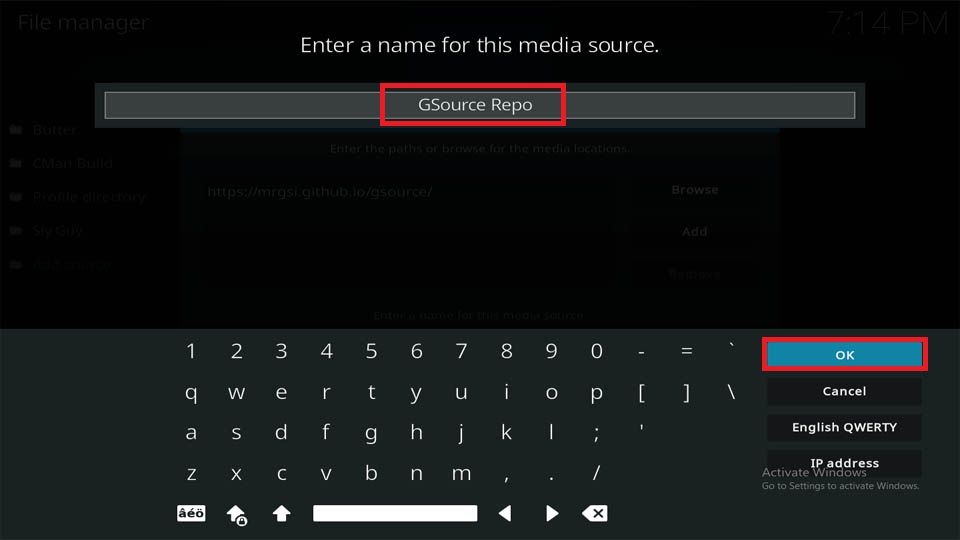 12. Press OK.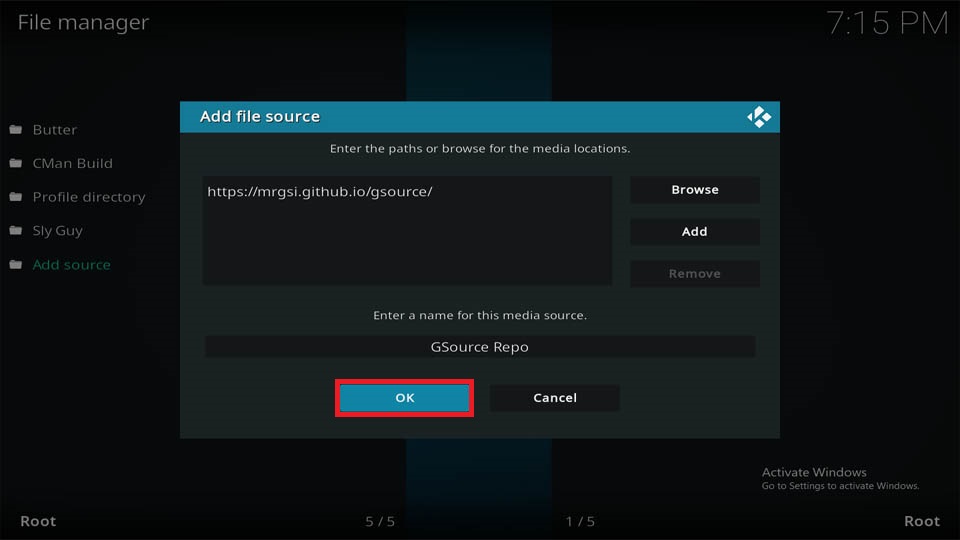 13. Check on this screen whether the name of the media link we provided is listed here.
If yes, do nothing and move back to the main home screen.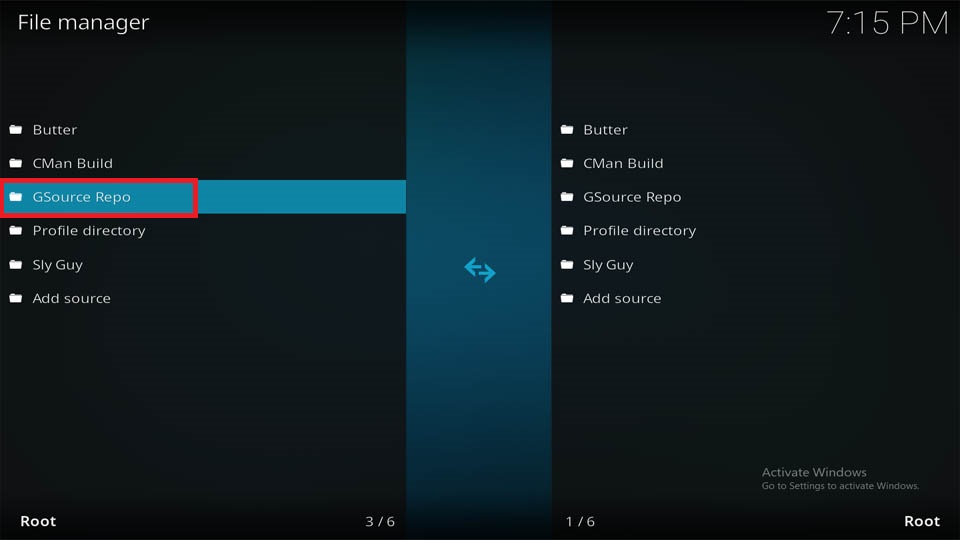 14. Press the Settings icon.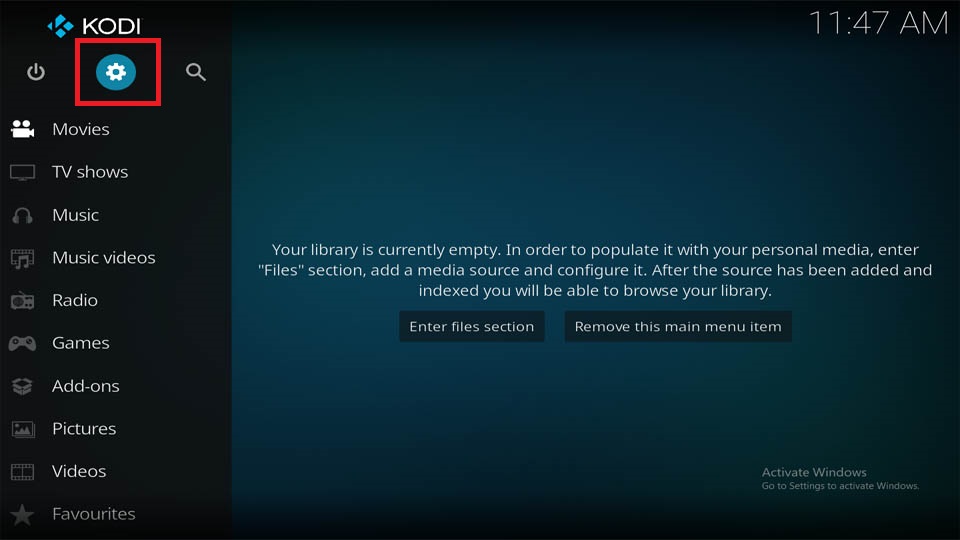 15. Press Add-ons.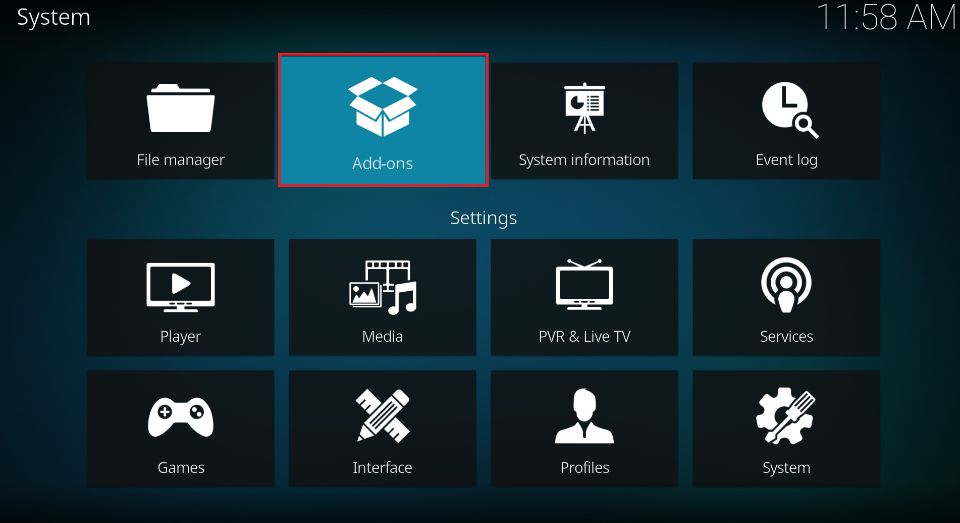 16. Press Install from zip file.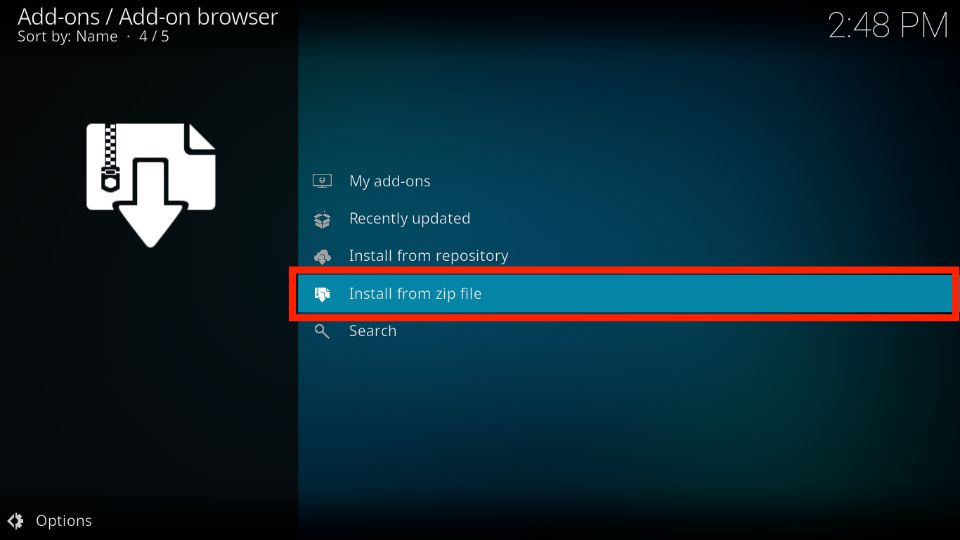 17. Find the name of the media link and press on it.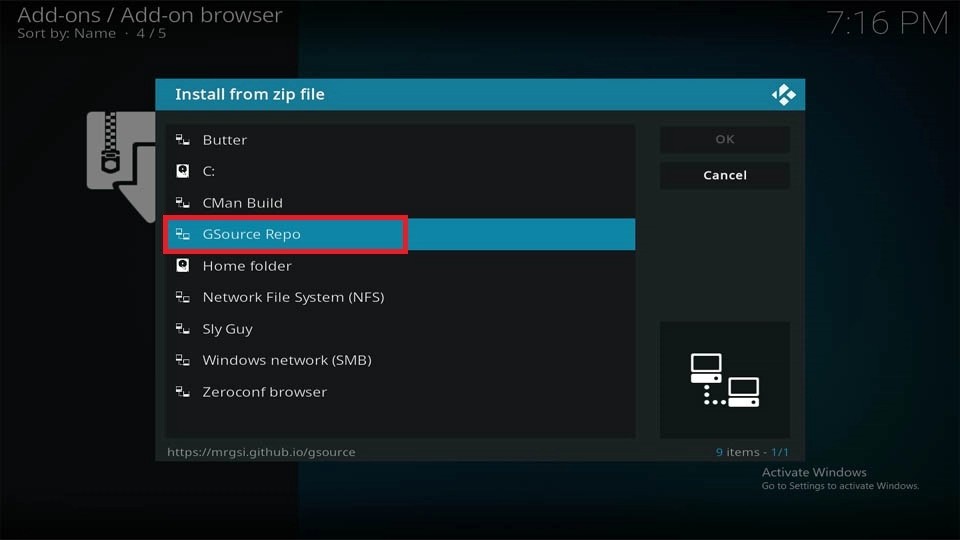 18. Press the zip file link. Wait for a few seconds for the zip file to get installed. Then, a successful installation prompt should appear on the top right corner of the screen.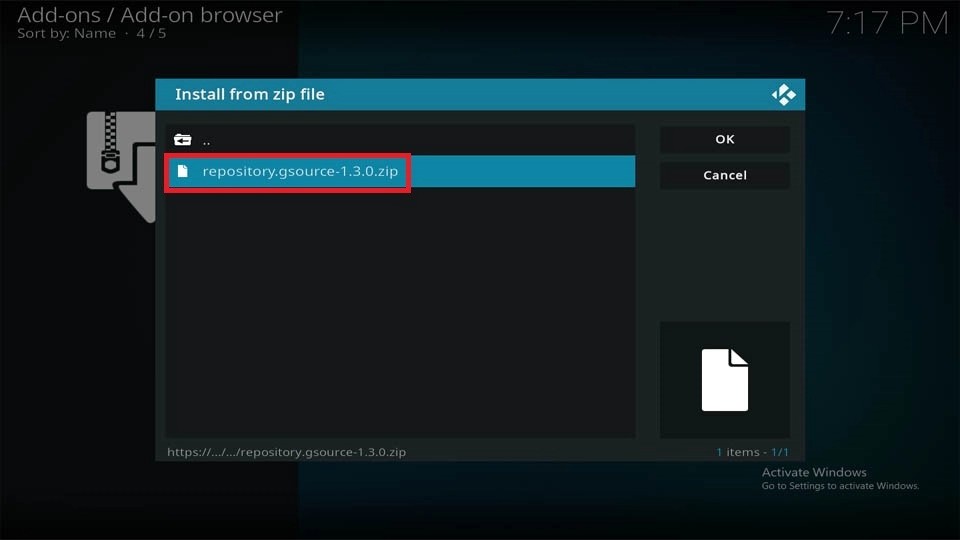 19. Once you have seen the repository installation success prompt on the screen, move back to Kodi's main home screen.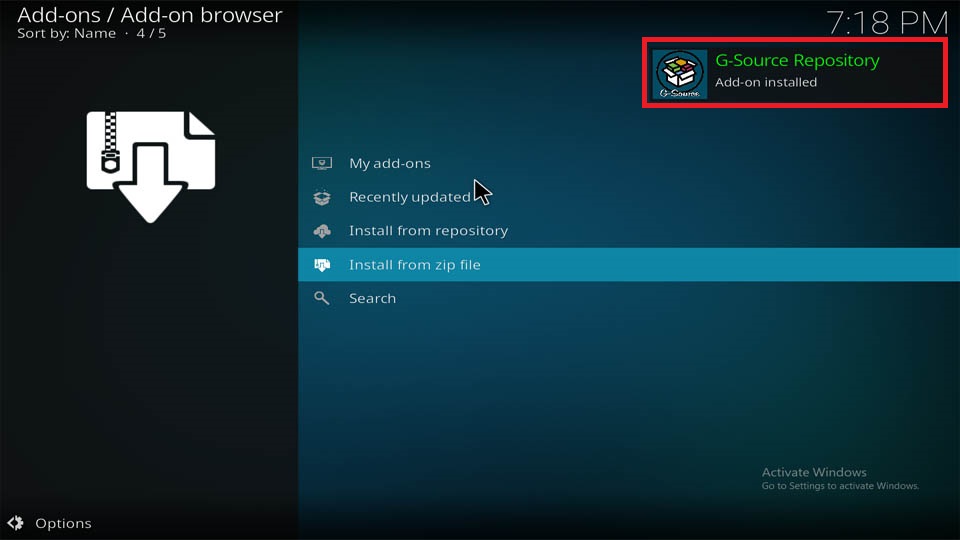 20. Press Settings.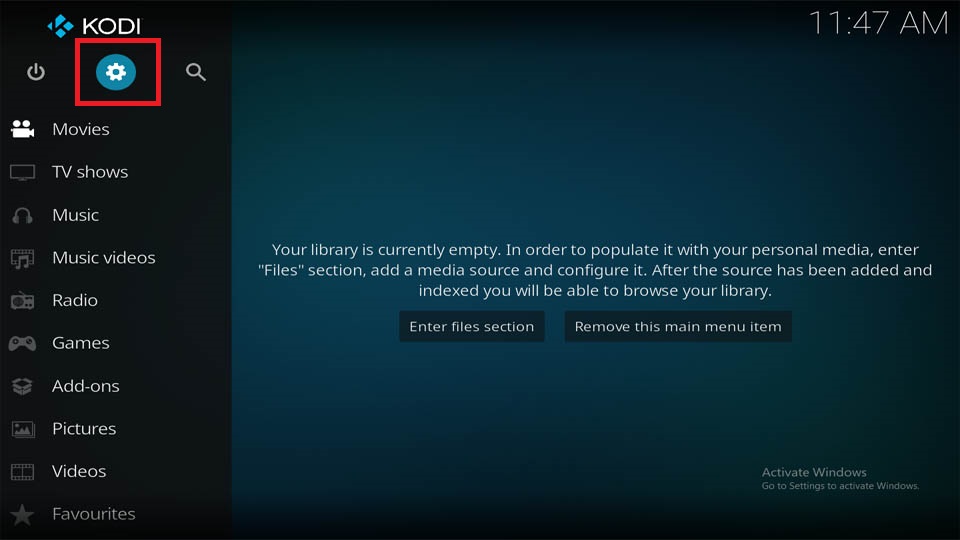 21. Press Add-ons.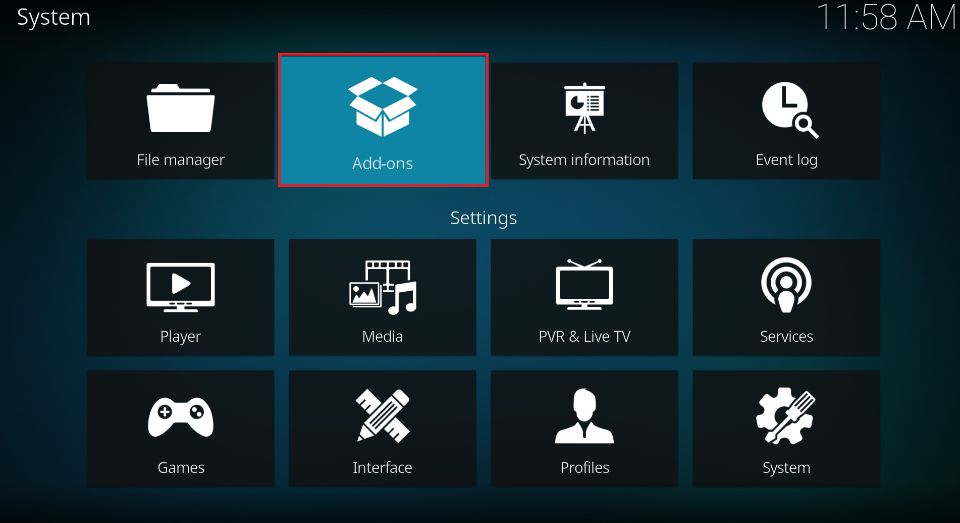 22. Press Install from repository.
23. Locate G-Source Repository on the screen and press on it.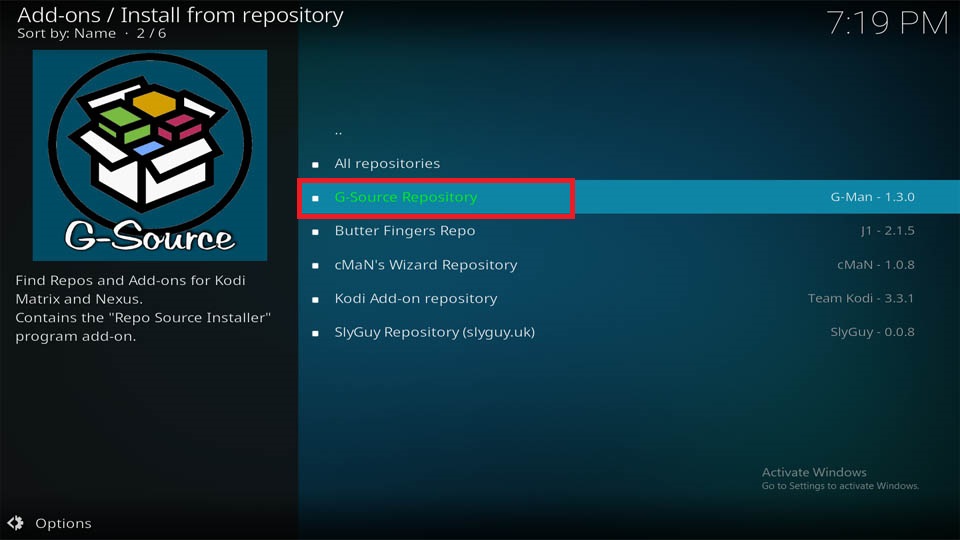 24. Locate and press Program add-ons.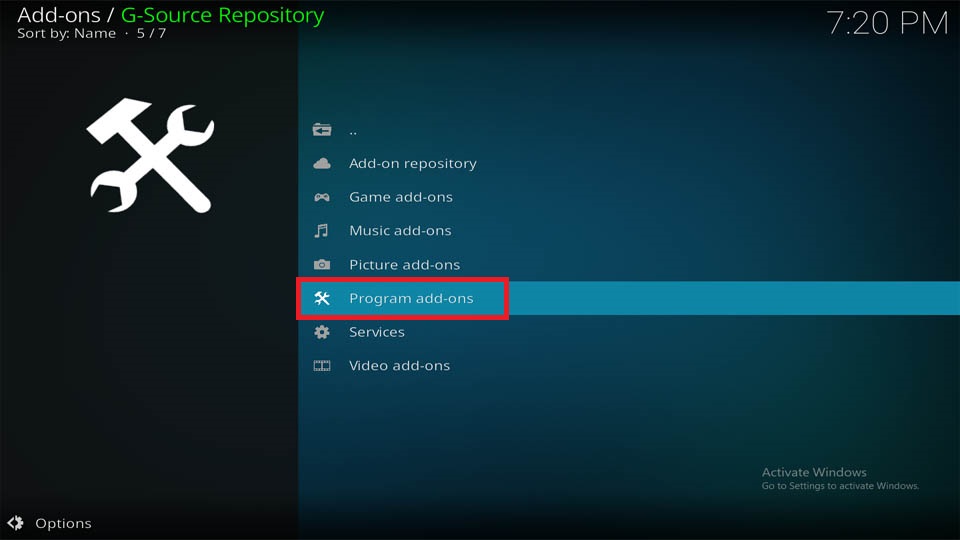 25. Find Simple Wizard from the list and press on it.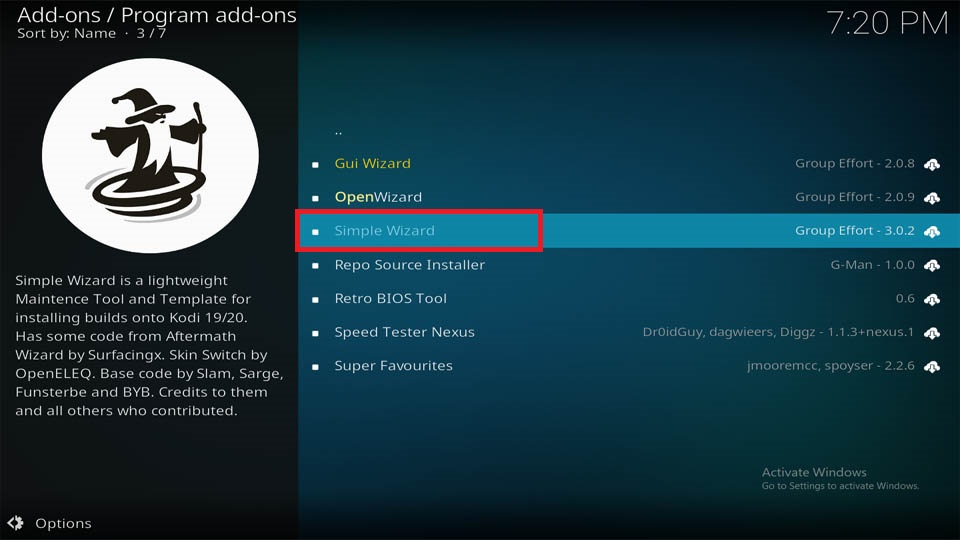 26. Press Install, located on the bottom of the screen. Wait on the screen for a few seconds. The installation is happening in the background, and the time taken depends on the speed of the internet on your device.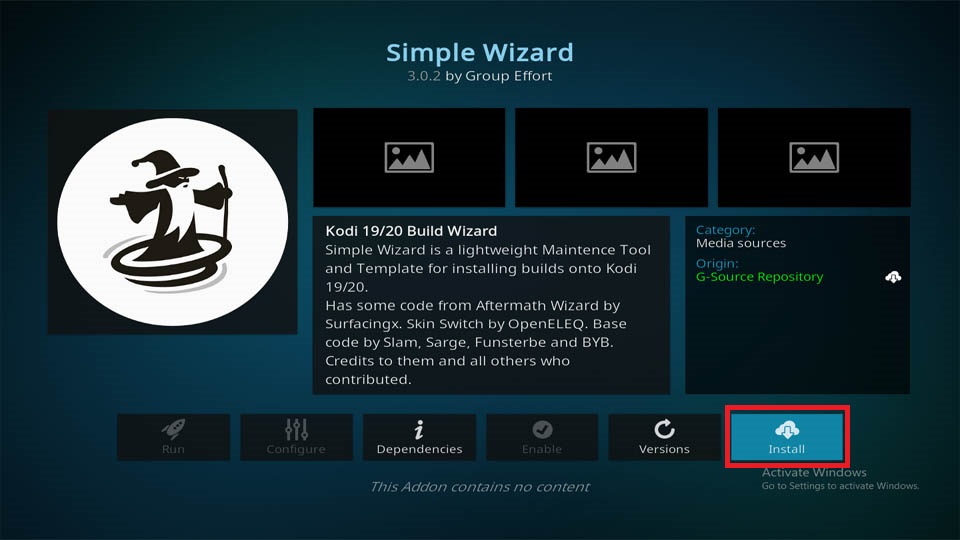 27. Select and press on each option and then press OK. You would like to keep these items during a build install.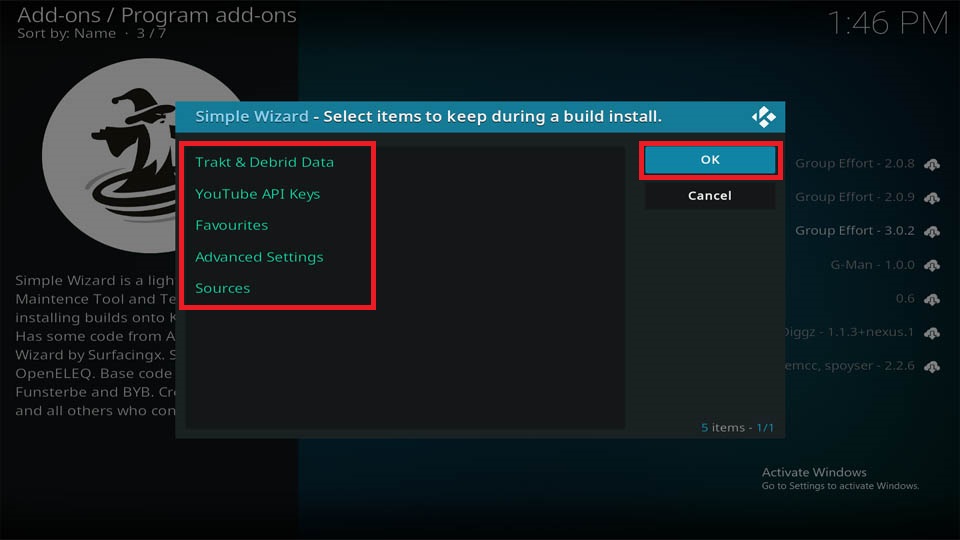 28. Press Close at the bottom of the screen.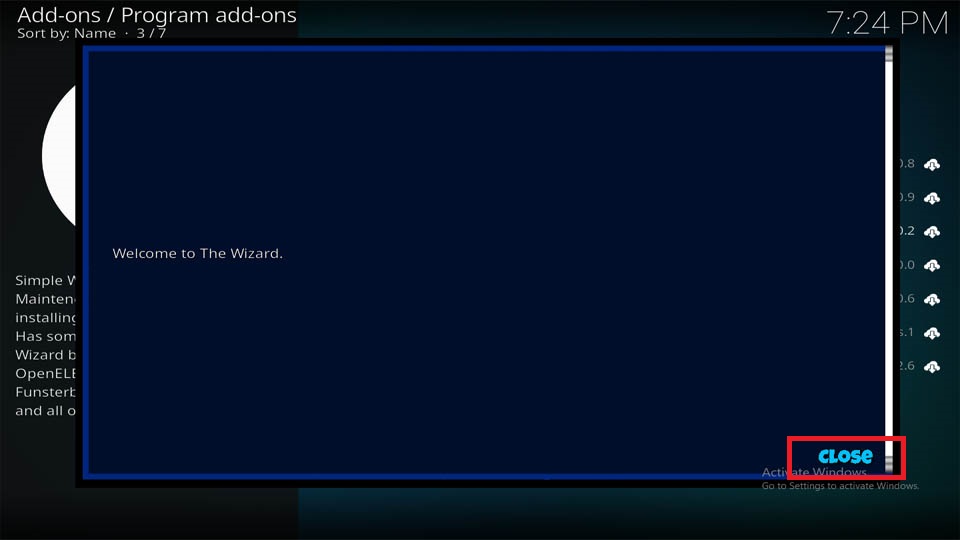 29. The system will prompt you to install the build now. Say NO to the prompt, as we will do this installation from Build's internal screen after opening it.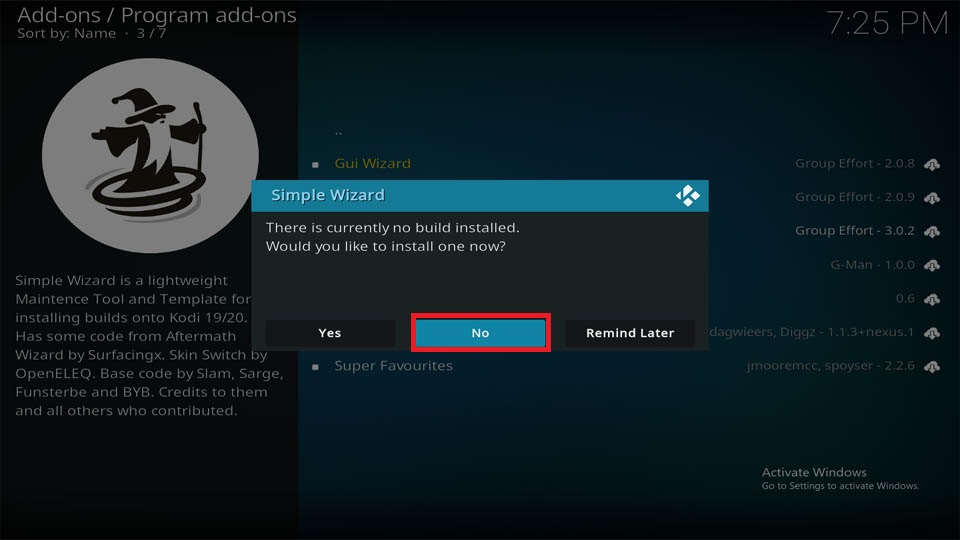 The installation of the Simple Wizard Build is complete now. So, we can go ahead and check out the wizard and follow the necessary steps for additional installations.
Wait! It looks like you are all set to start watching your favorite content on Kodi. But have you protected your online identity yet? You are under constant surveillance by the Government and ISP. They use your IP address 3.17.249.235 to track you. Streaming free or copyrighted videos may get you into legal trouble.
Thankfully, you can use a VPN to easily protect your privacy and go invisible from your Government and ISP. I use and recommend ExpressVPN with Kodi.
ExpressVPN is the fastest, most secure, and streaming-friendly VPN. It is easy to install and set up on any Kodi device, including FireStick, Smartphones, PCs, and more.
ExpressVPN, offers an unconditional 30-day money-back guarantee. So, if you do not like the service (I don't see why), you can get a full refund within 30 days.
Please remember that we encourage you to use a VPN to maintain your privacy. However, we do not condone breaking copyright laws.
Before you start using Kodi for streaming, here is how you can protect yourself with ExpressVPN:
Step 1: Sign up for ExpressVPN Here
Step 2: Download ExpressVPN on your device by clicking HERE
Step 3: Open the ExpressVPN app on your device. Sign in with your account. Click the connect/power button to connect to the VPN

Great! You have successfully secured yourself with the best Kodi VPN.
An Overview of The Simple Wizard Kodi Builds
As of writing this guide, the Wizard does not feature any installable builds. However, it is a work in progress, and the quality of utility services offered by the Wizard gives me confidence that it will soon have some decent builds.
Therefore, I will take you through the utility and maintenance tools the Wizard offers. Finally, I will let you know if the Wizard is updated with working builds.
On Kodi's home screen, select Add-ons on the left panel and then look for the Simple Wizard thumbnail. Press on the thumbnail.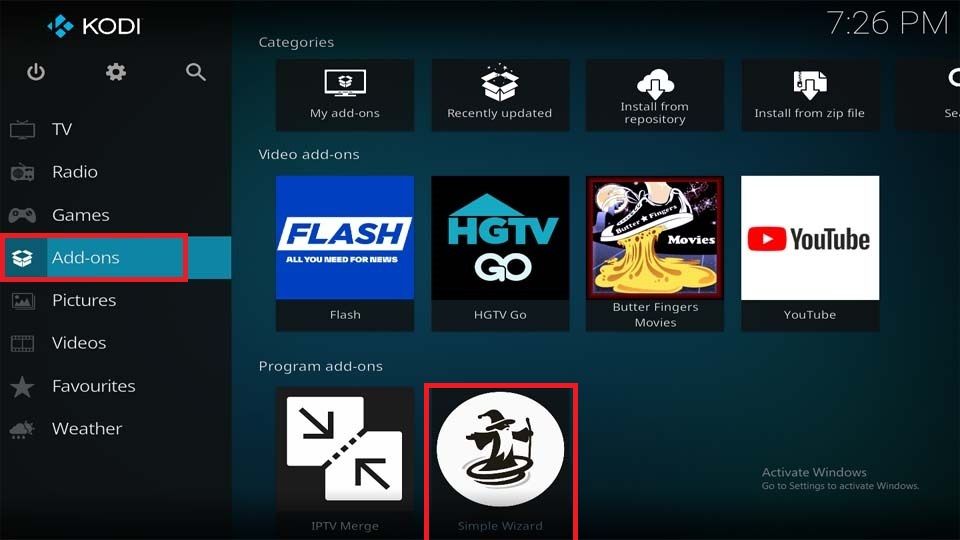 Once you open the Simple Wizard Main Menu, you will see the following options: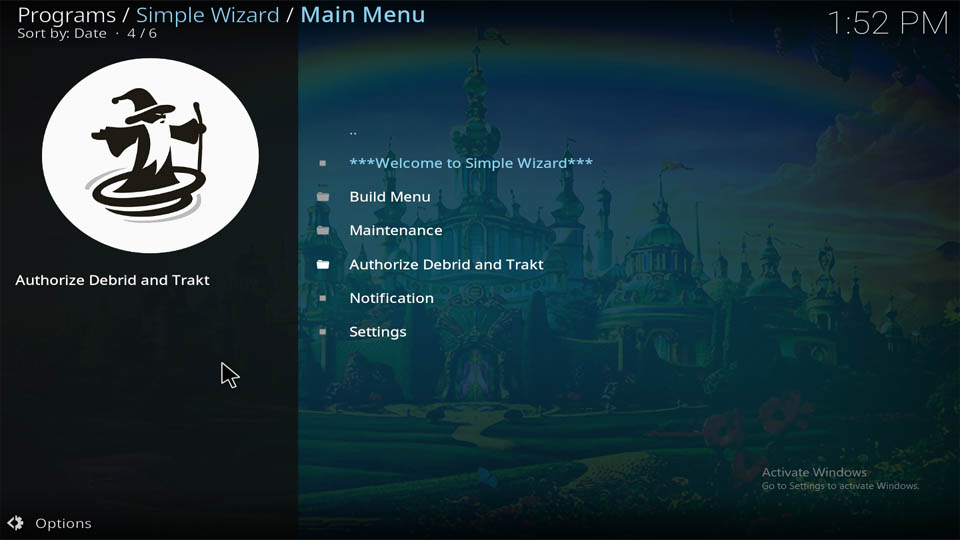 * Build Menu: It features the builds on the wizard. By default, you would see two builds listed within the menu, i.e., Sample Build Name 1 Version 1.0 and Sample Build Name 2 Version 1.0. This is a sample screen. Once the builds are installed, the screen will like this way.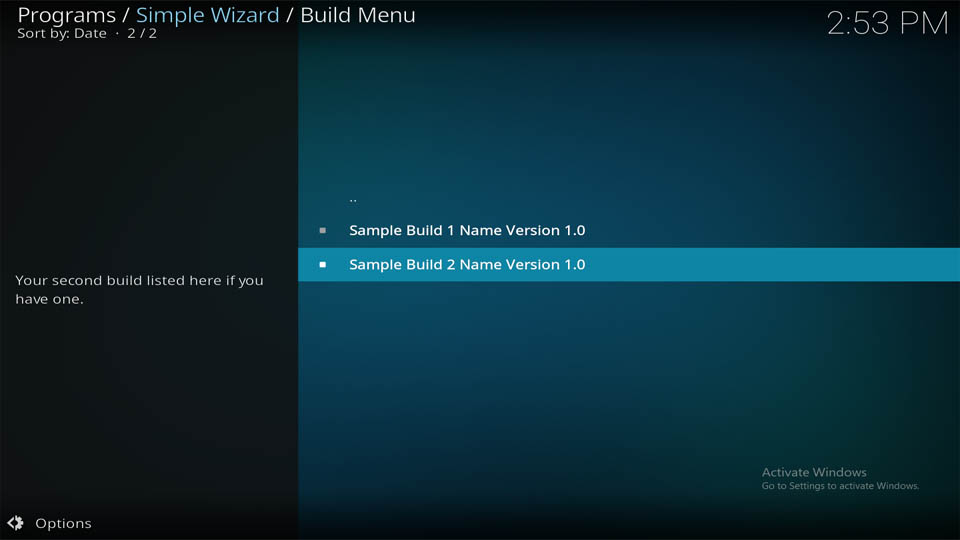 * Maintenance: Maintenance features options like Clear Packages, Clear Thumbnails, Fresh Start, Advanced Settings, Edit Whitelist, Backup/Restore Build, Restore GUI/Skin Settings, Force Close, Speed Test, and View Log. Each option is self-explanatory.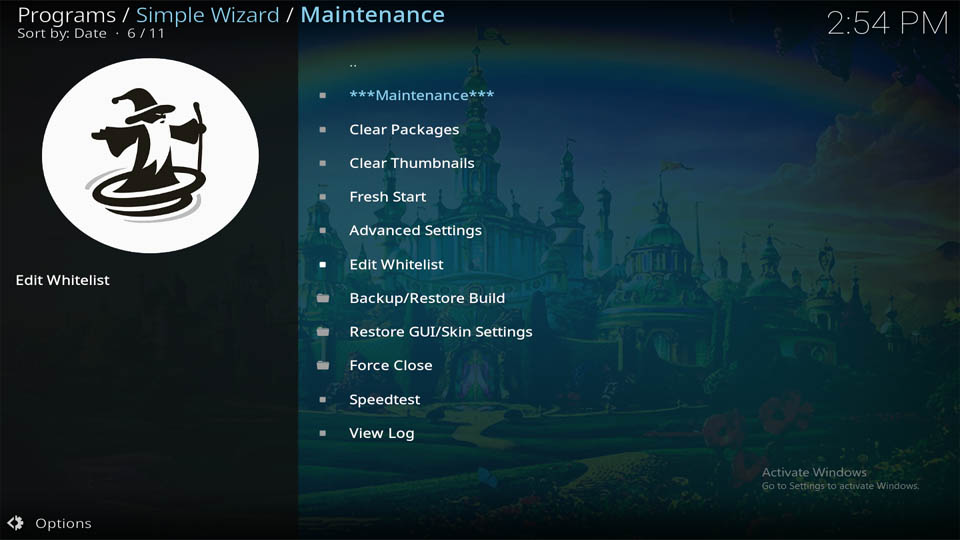 * Authorize Debrid and Trakt: Through this, you can authorize debrid. It has a specific menu for Real-Debrid, which we always recommend for a better streaming experience. Additionally, you can check our website as to how you can integrate Real-Debrid with a Kodi addon.
It's noteworthy that certain builds and addons work fully only if you have Real-Debrid connected to them. To authorize these debrid listed here, you can press on their specific tabs and authorize.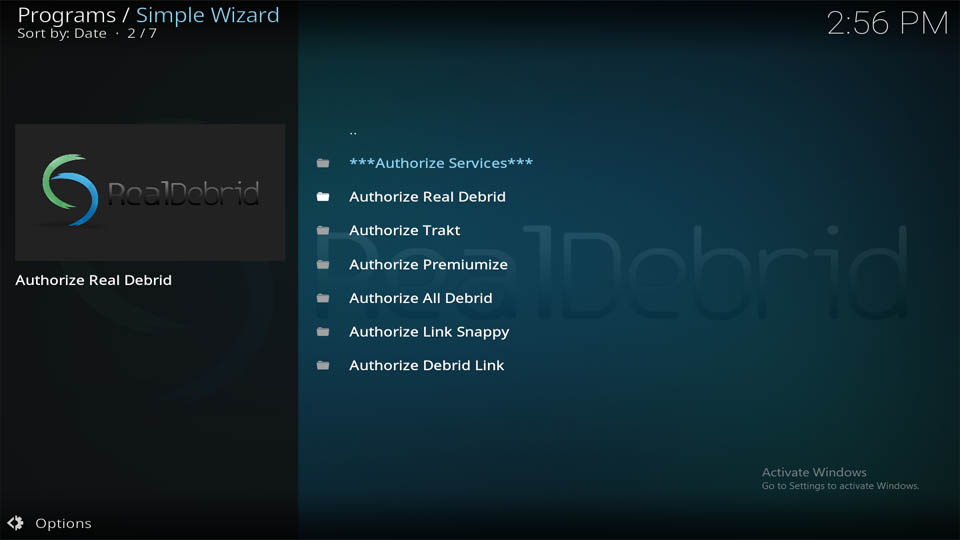 * Notification: By default, the notification will show you nothing (as you can see in the screenshot below) until you start using the wizard.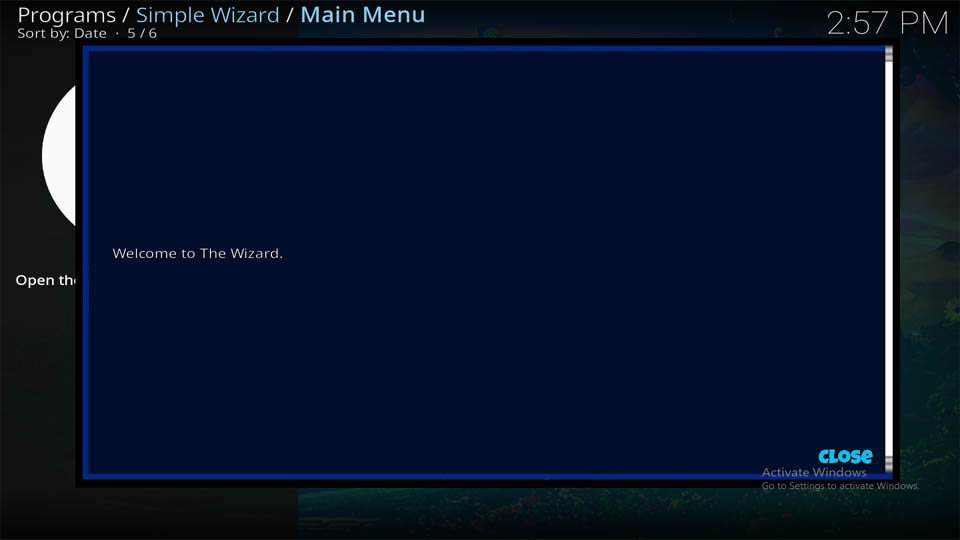 * Settings: Settings would give you options like the following screenshot. You can select items from here to keep them during a build install or fresh start.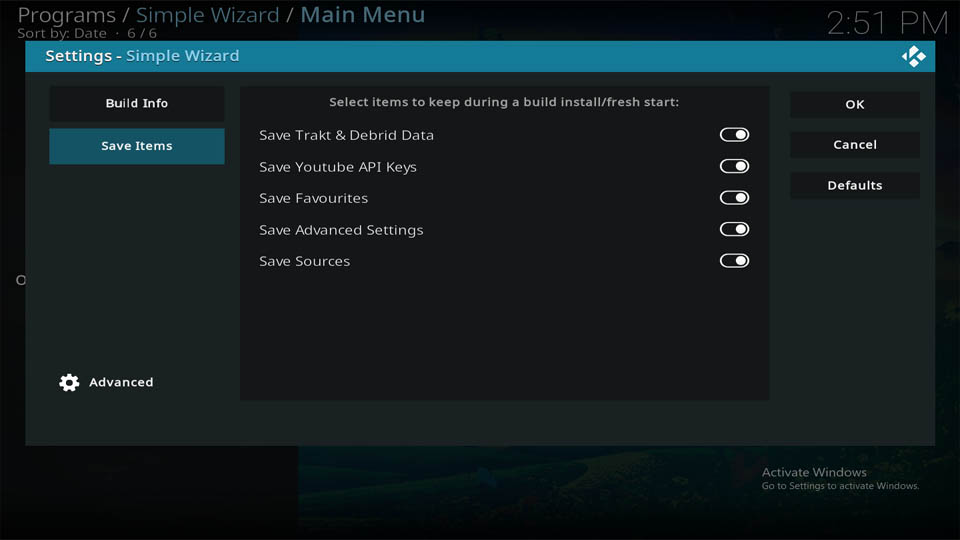 So, this was all about the Simple Wizard Kodi Builds. Last but not least, you should always use a VPN service while streaming from any addon or using any build on Kodi. It will keep you and your system safe by enhancing your accessibility and masking your IP address, providing anonymity. I would again recommend ExpressVPN based on my personal experience.
Conclusion
I hope the guide on how to install Simple Wizard Kodi Builds has been helpful to you. I am sure the wizard will soon offer installable builds with amazing features that you can enjoy. Whenever that happens, I will come up with dedicated guides for installing the builds. So do write below in the comment box if there is anything else you want to know about Simple Wizard Kodi Builds, and I would be glad to respond.
Related: