This guide covers the steps to install Fabulous 50s Kodi Build for all Kodi-compatible devices such as Smartphones, Computers, FireSticks, and others. I will also give you brief information about the features of the build and whether it is safe to use or not.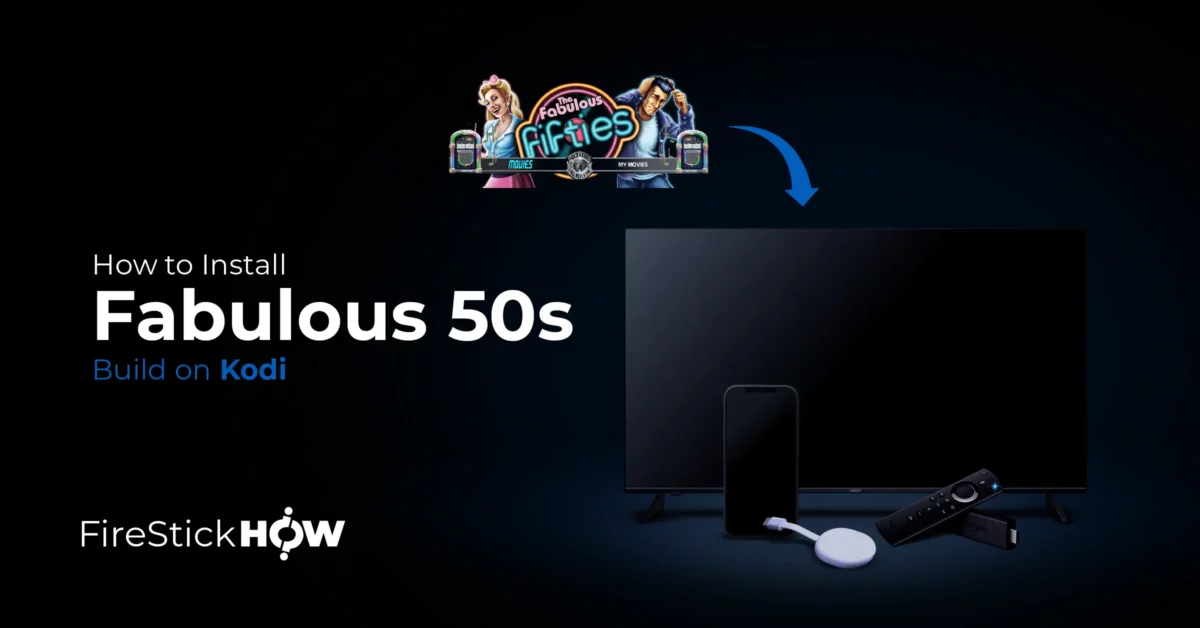 What is Fabulous 50's Kodi Build?
Fabulous 50's is an unofficial Kodi build offered by EzzerMac's Wizard Repository. The build offers free streaming of Movies, TV Shows, Sports content, Adult content, the latest movies, documentaries, WWE entertainment, live TV, and much more.
Fabulous 50's Kodi Build, as the name suggests, provides a retro user interface and classic movies from across the world. The collection of movies ranges from the 1930s until today, and the list is great to watch.
The Fabulous 50's Kodi Build enables the integration of Real-Debrid. This means that you can enjoy better streaming with less buffering. I will show the steps to integrate Real-Debrid by the end of this guide.
Fabulous 50's is also part of our list of best builds for Kodi.
Attention KODI Users: Read before you continue
Government and ISPs endlessly monitor your online activities using your IP address 3.17.249.235 (exposed to everyone). Kodi is an excellent platform for streaming movies, TV shows, and sports, but streaming copyrighted content can get you into legal trouble. 
You should use a reliable Kodi VPN and protect your streaming activities and privacy. A VPN will hide your IP address and bypass government surveillance and geo-restrictions.
I trust and use ExpressVPN, the fastest and most secure Kodi VPN. It's easy to install on any Kodi device, including Amazon FireStick, PCs, and Smartphones. In addition, it offers a 30-day money-back guarantee, and 3 free months with the annual plan.
Read: How to Install & Use the best VPN for Kodi.
Is Fabulous 50's Kodi Build Safe?
Kodi does not promote unofficial third-party builds and addons like Fabulous '50s. Unfortunately, we at FireStickHow.com do not have adequate tools to claim the safety of Fabulous 50's Kodi Build.
However, I ran a virus scan test on VirusTotal and found no security vendors flagged the repository URL as malicious. You can use the build as long as your device is adequately protected. See the virus scan report below to learn more about the safety of the build.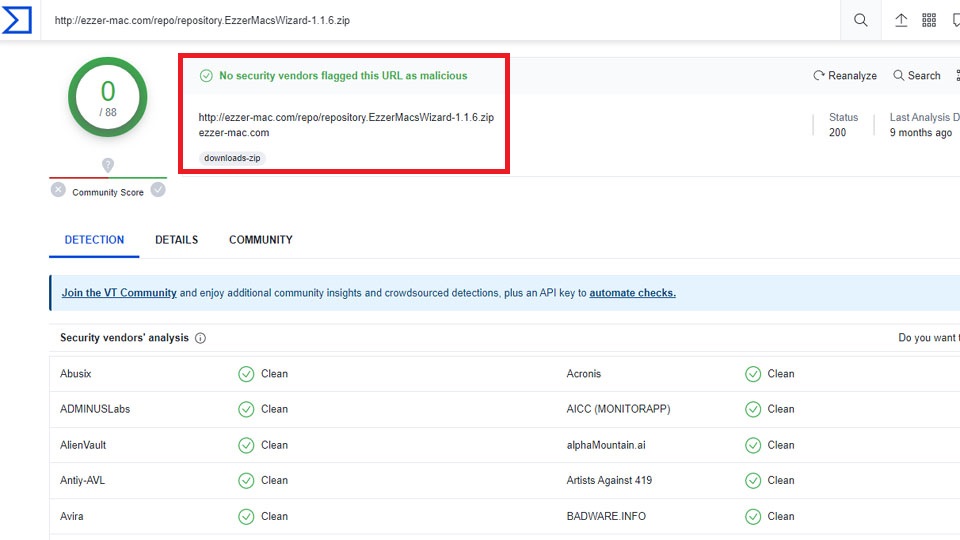 Is Fabulous 50's Kodi Build Legal?
Most third-party Kodi builds and addons are unregistered. Hence, they may be illegal. This holds true for the Fabulous 50's Kodi Build as well. While researching, I found no report suggesting Fabulous 50's Kodi is legal. However, there was no evidence it was illegal either.
You can stay safe and avoid legal troubles if you keep your online activities anonymous while using unregistered builds or addons. I use a trusted VPN service like ExpressVPN, which works perfectly on all my devices.
Steps to Install Fabulous 50's Kodi Build
I have classified the steps of installation into four main parts:
Allow the Unknown Sources
Add the repository link
Installing the repository
Installing the Build
I have provided a screenshot of every step. This will help you through the installation.
Part 1: Allow the Unknown Sources
We will modify the settings since Kodi does not promote adding unofficial links. Let's start.
1. Open Kodi and click the Settings Gear Icon on the home screen.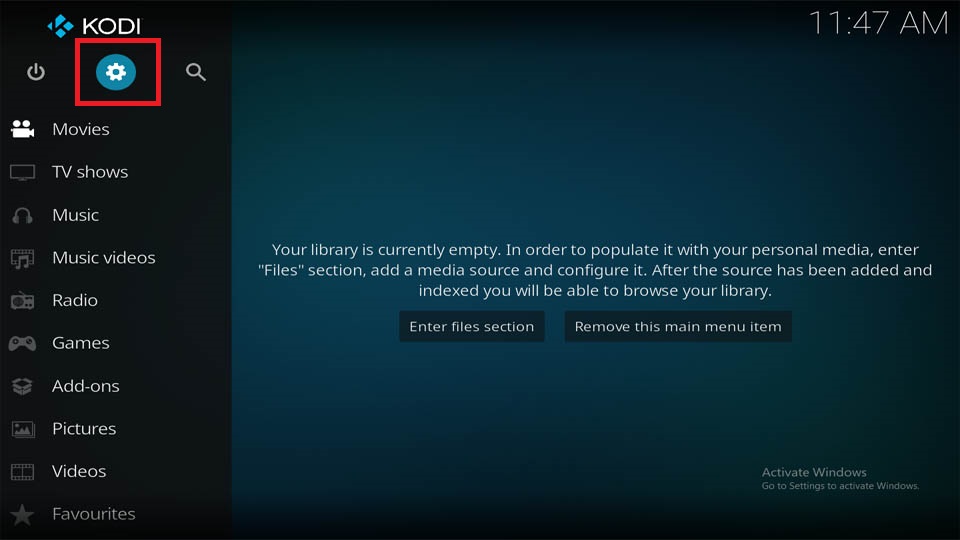 2. Select the System icon.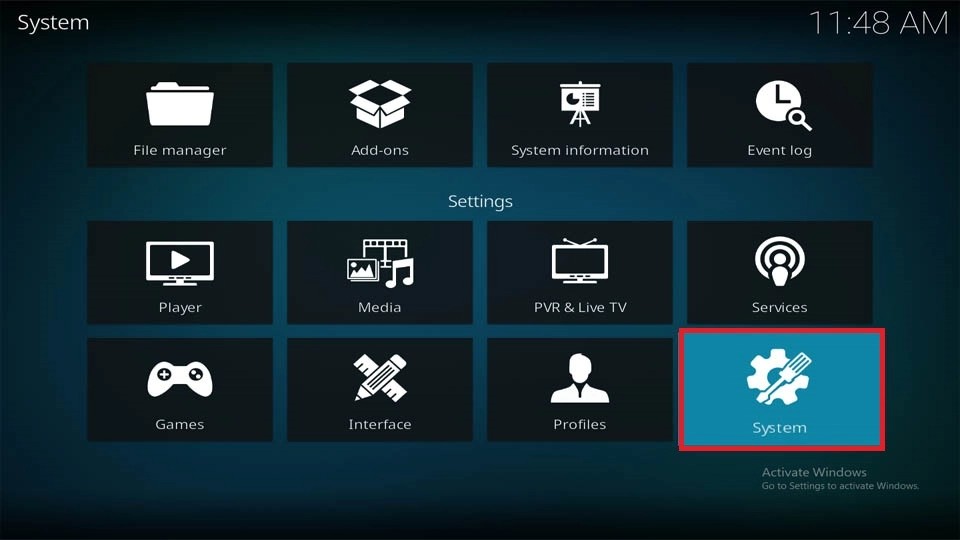 3. Hover over the Add-ons on the left panel of the screen. The Unknown Sources option should be marked ON. If it's not, enable it.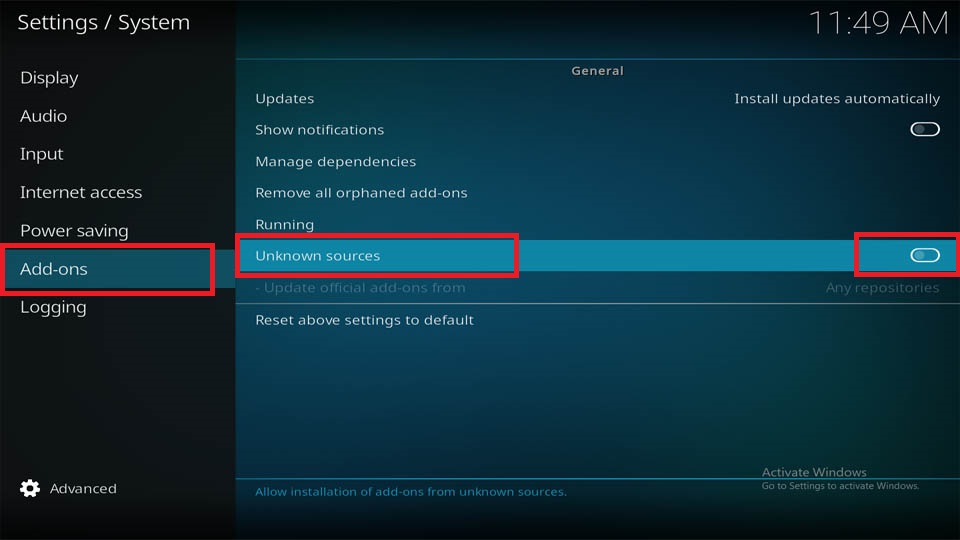 4. Click on Yes and return to the home screen.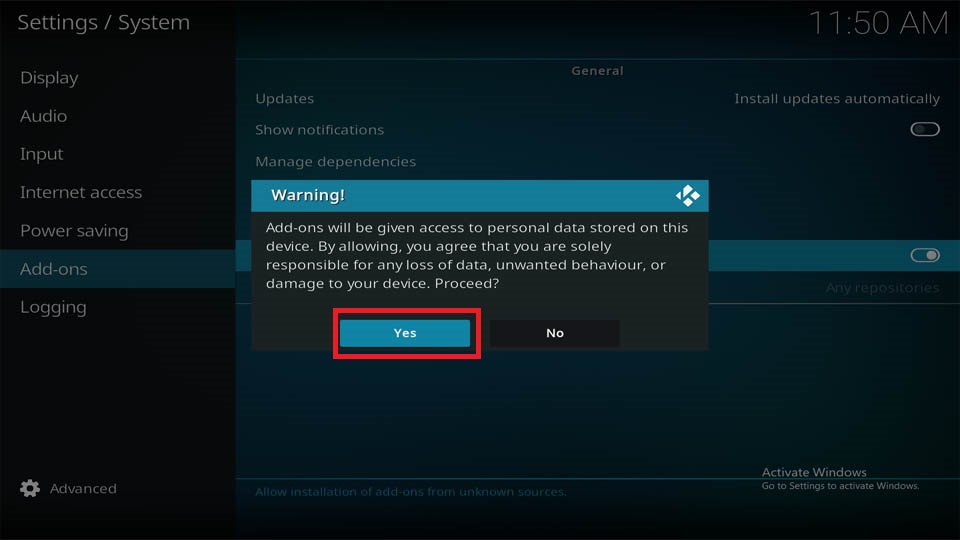 Part 2: Add the Repository Link
We will now add the link to install the repository that hosts the Fabulous 50s build.
1. Click on the Settings Icon.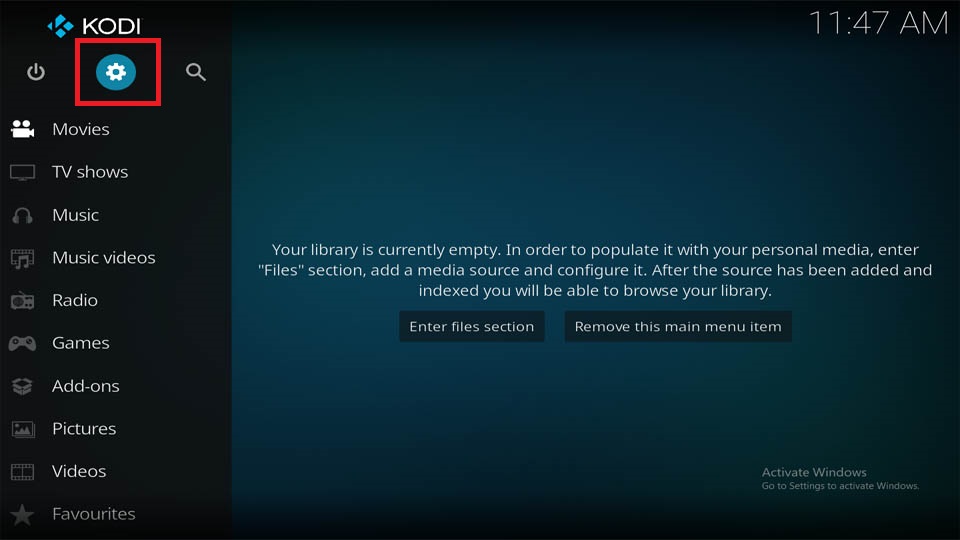 2. Select the File Manager icon.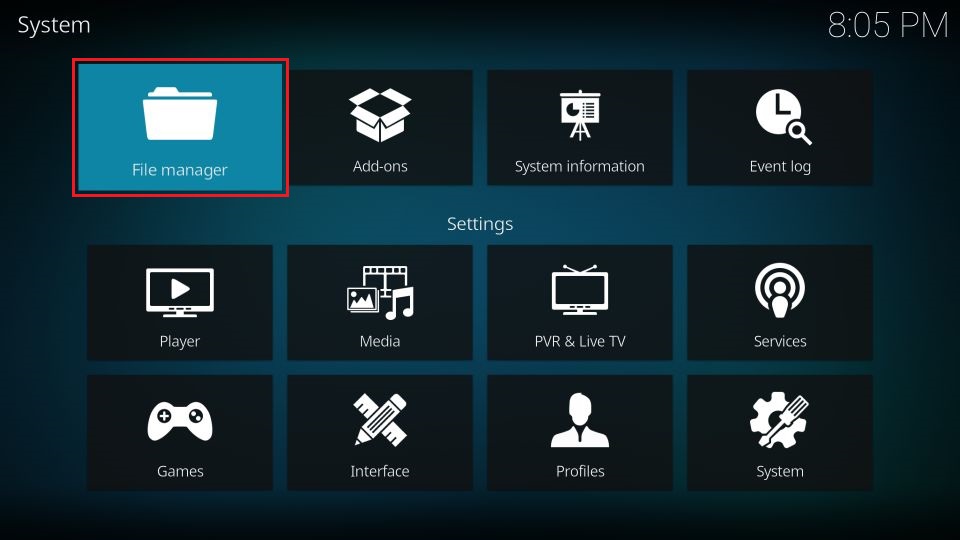 3. Click on Add Source. Double-click here if you are installing it on a computer.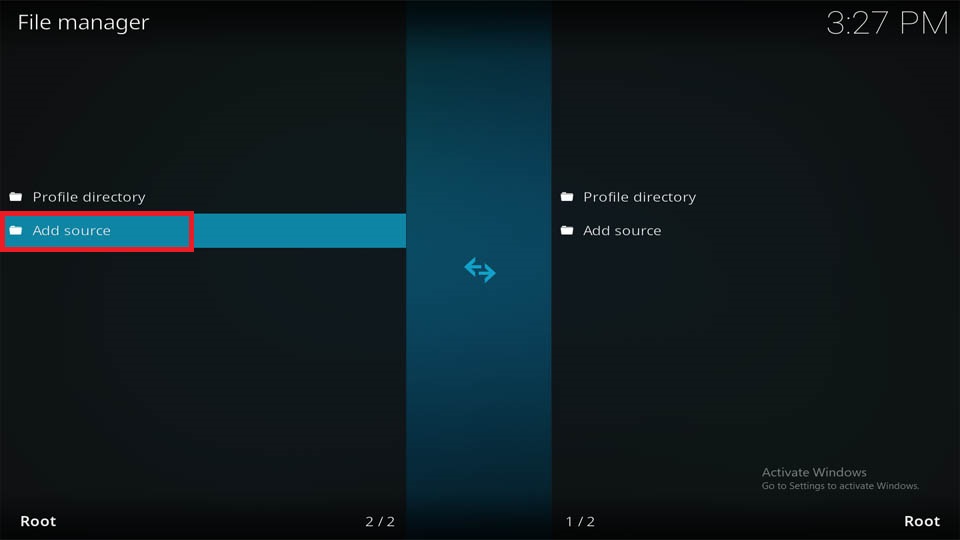 4. Select the <None> box.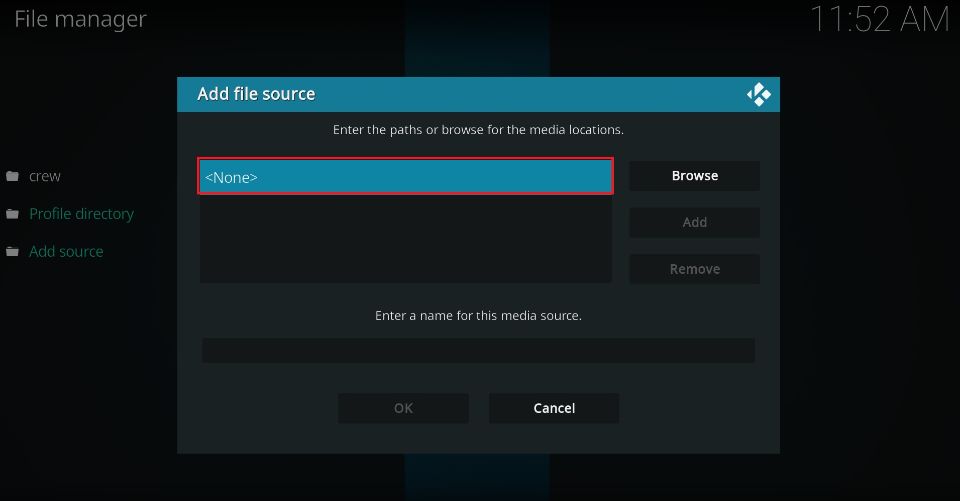 5. Enter the link http://ezzer-mac.com/repo/ in the box and select OK.
Disclaimer: FireStickHow is not associated with the developers of the repository. The URL redirects you to a source where the repository is located.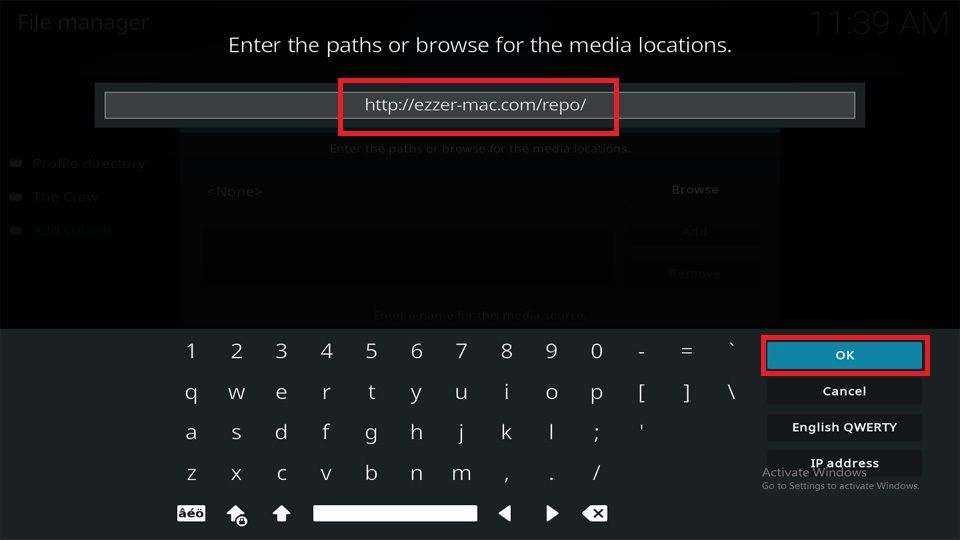 6. Click within the box. Enter the name.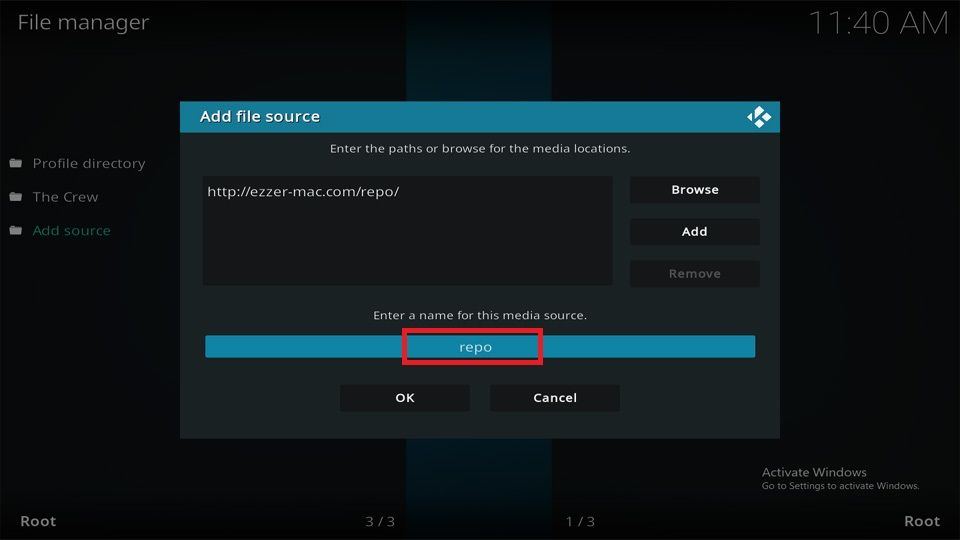 7. Give the media source a proper name and click OK. I have named it Ezzerman Wizard.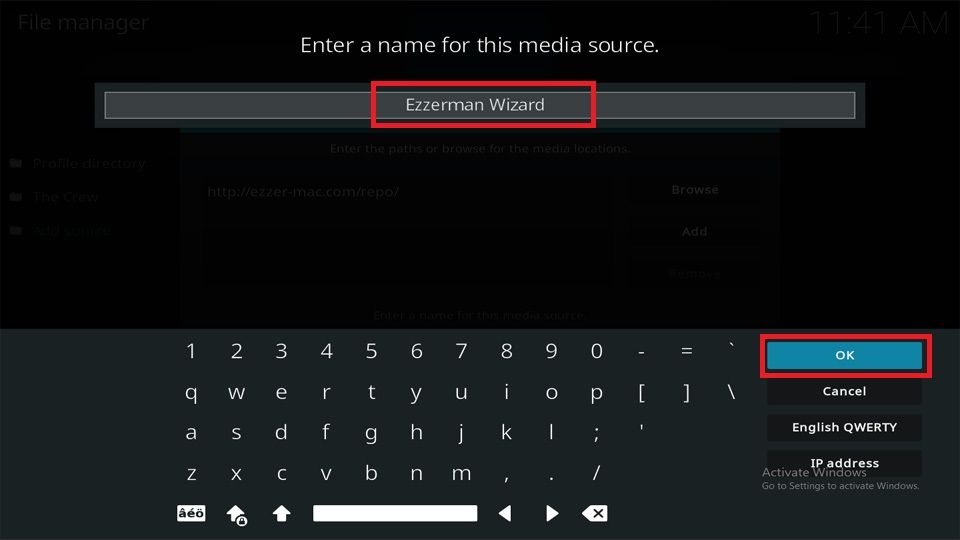 8. Select OK.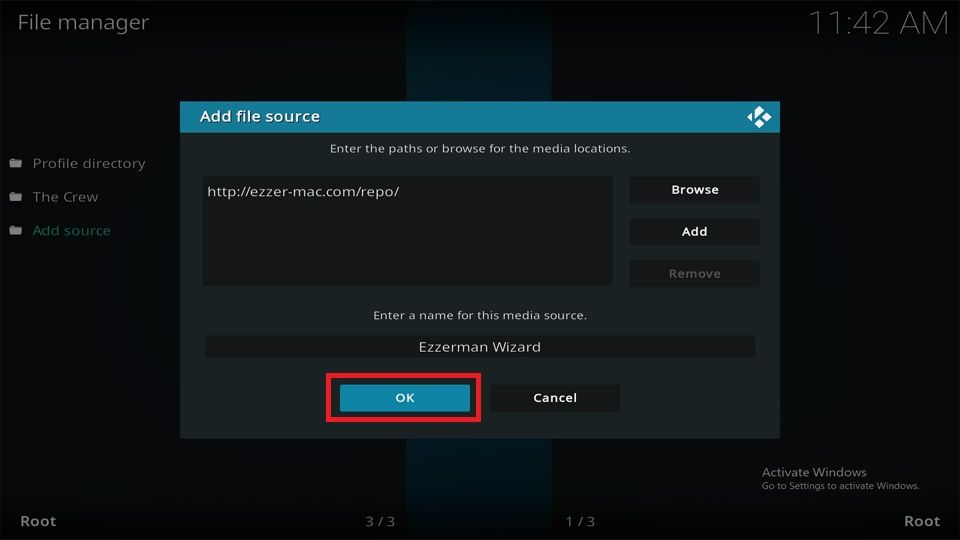 9. Check if the media source name appears here and return to the home screen.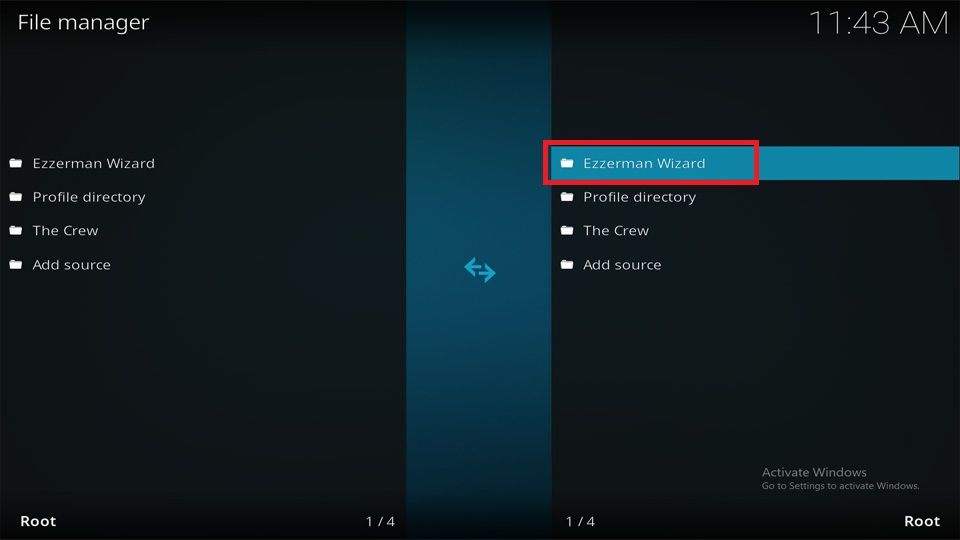 Part 3: Install the repository
We will install the EzzerMacs Wizard Repository in this part.
1. Click on the Settings Gear icon.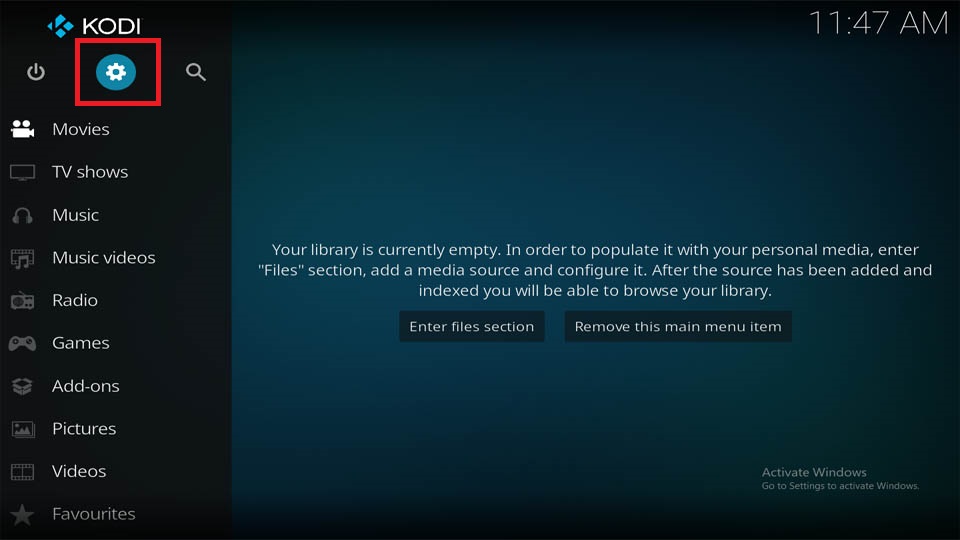 2. Select Add-ons.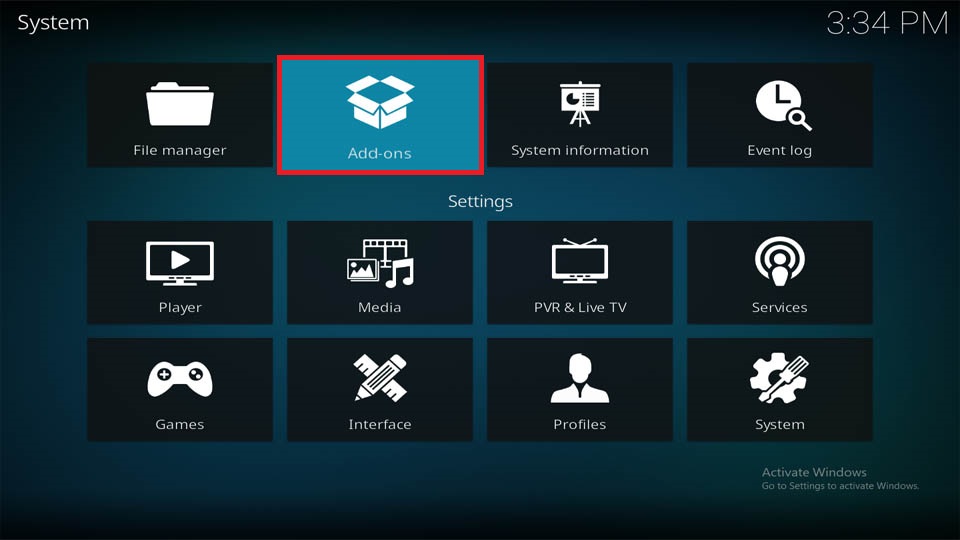 3. Select Install from zip file.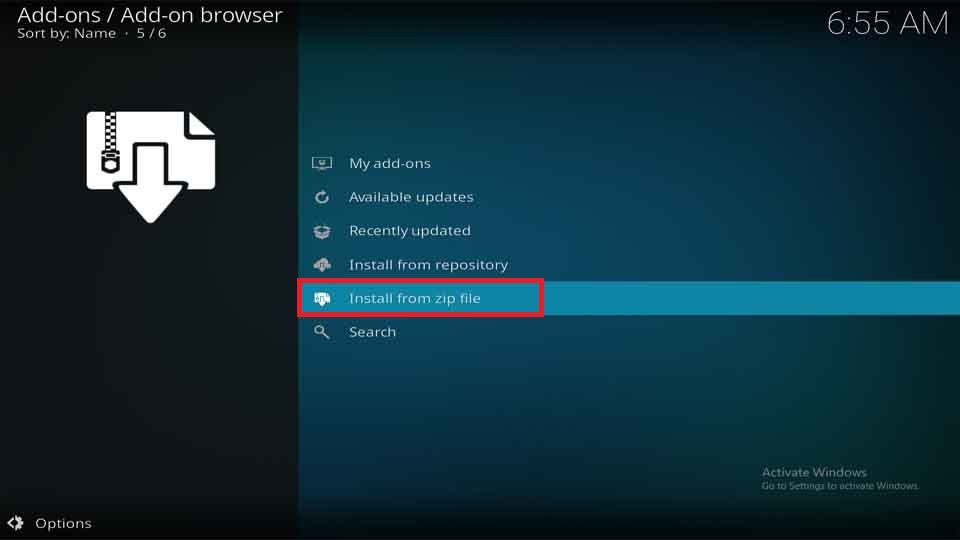 4. Click on the media source link you just named. I have selected Ezzerman Wizard.
5. Click on the link repository.EzzerMacsWizard-x.x.x.zip and wait on the screen for a few seconds.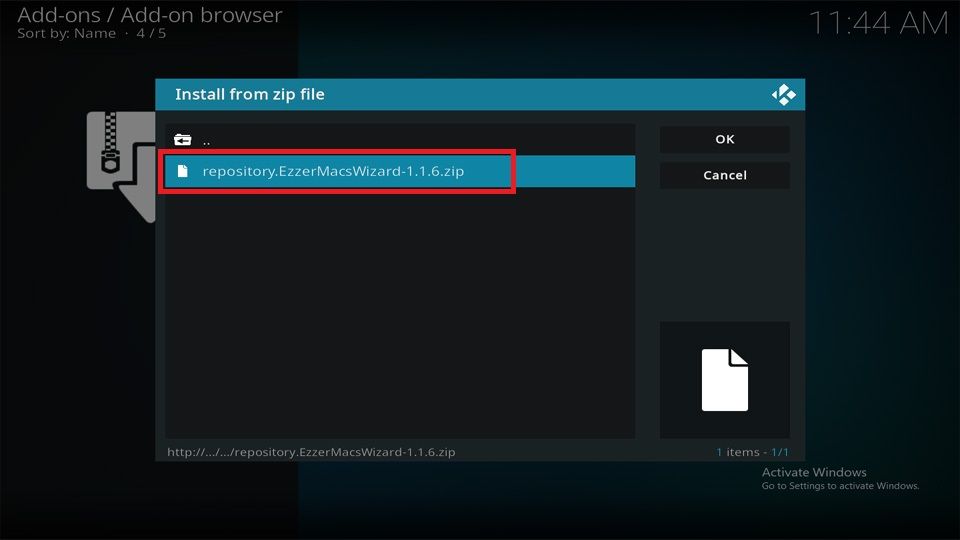 6. When you see the repository installation message on the top right corner of the screen (as shown in the image), move back to the home screen.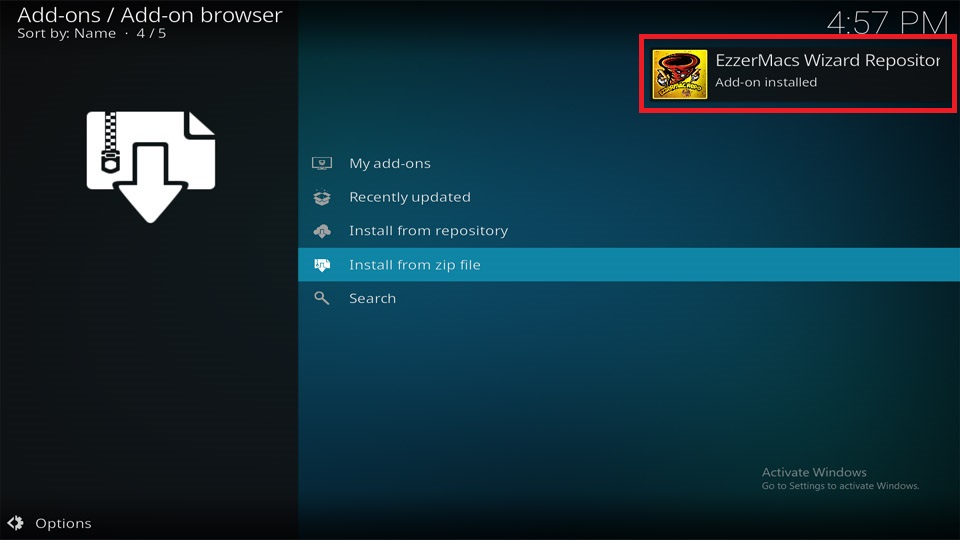 Part 4: Install the Fabulous 50's Kodi Build
This part will demonstrate the final installation of the build.
1. Click on the Settings icon.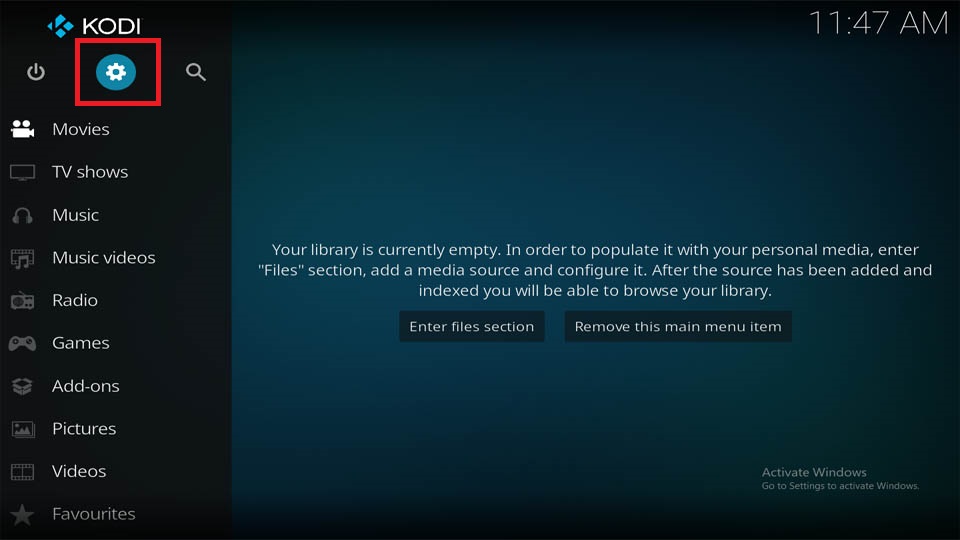 2. Select Add-ons.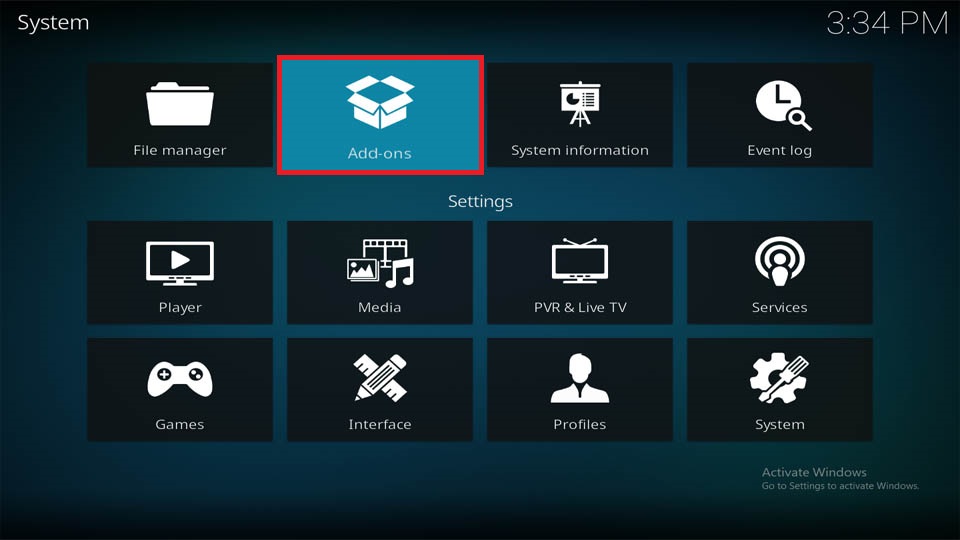 3. Select the option Install from repository.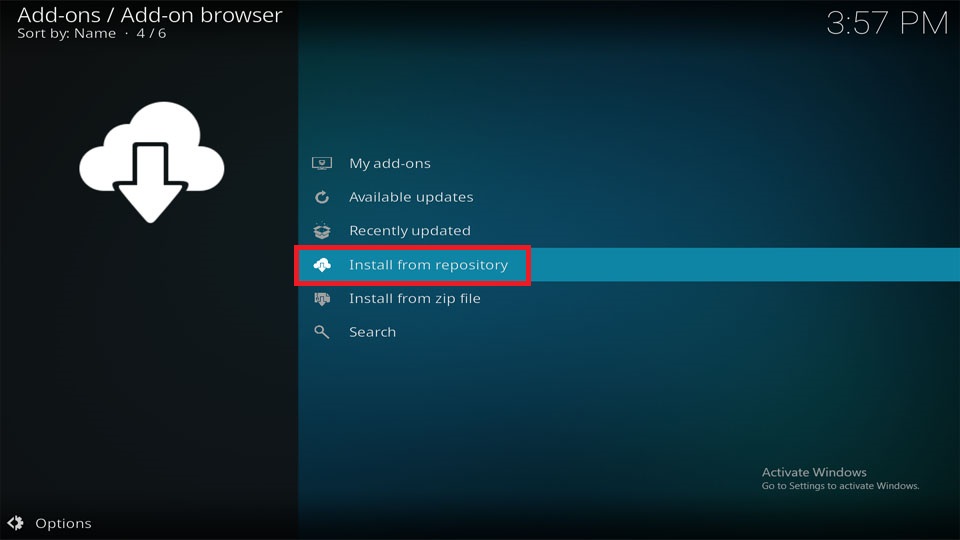 4. Select EzzerMacs Wizard Repository.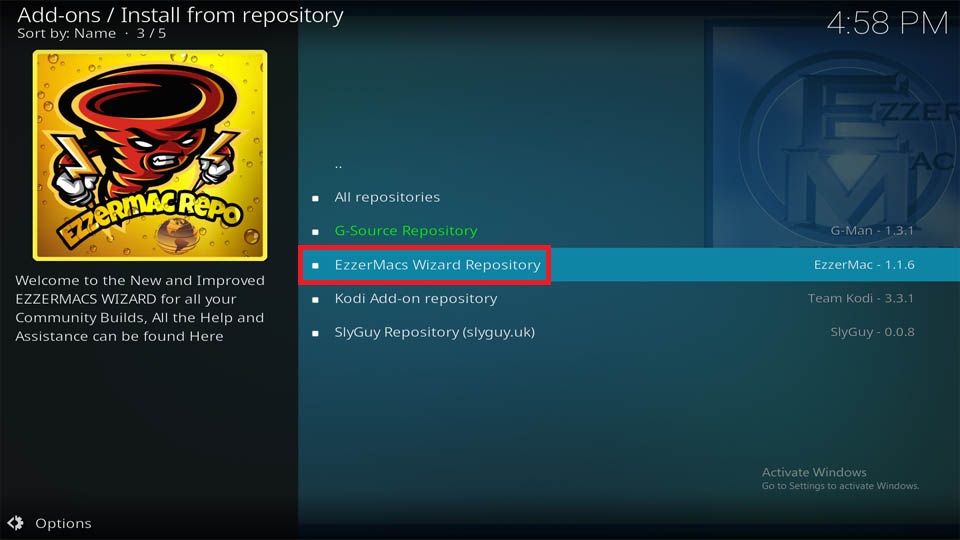 5. You may receive this error message. It happens when the internet service provider blocks the link to an unknown addon.
If you get such a prompt, switch ON the VPN service on your device. If you don't have a VPN on the device, subscribe for one and then follow the further instructions.
ExpressVPN is really good at unblocking repositories.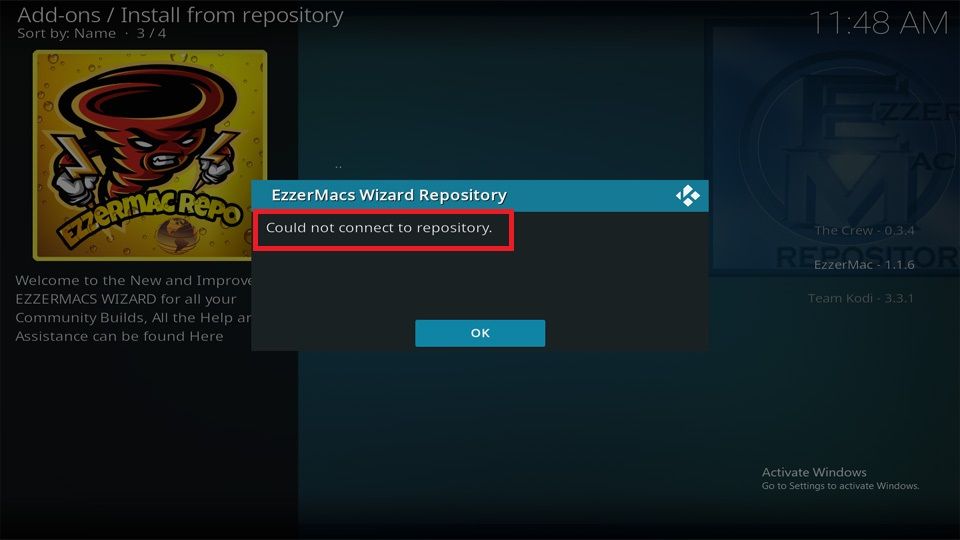 6. Select Program add-ons.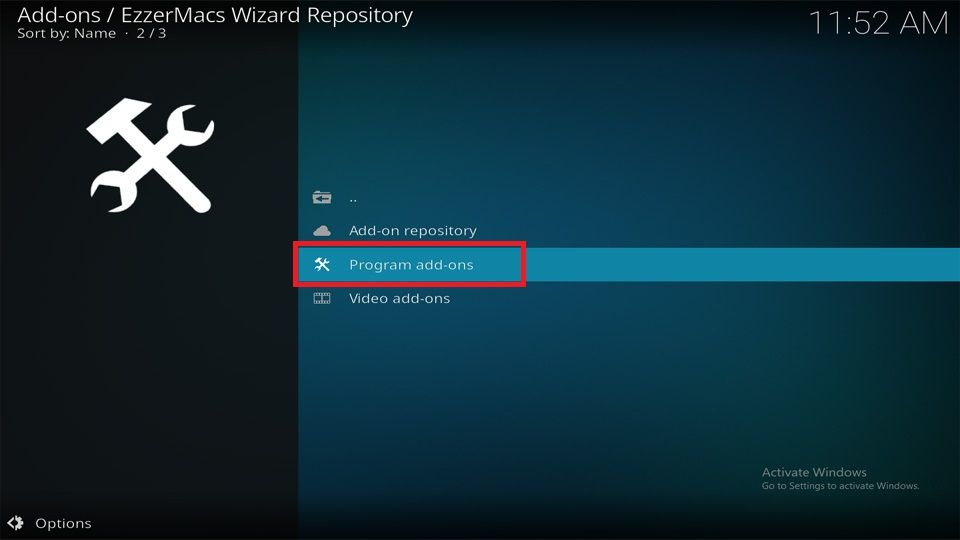 7. Select the program add-on EzzerMans Wizard.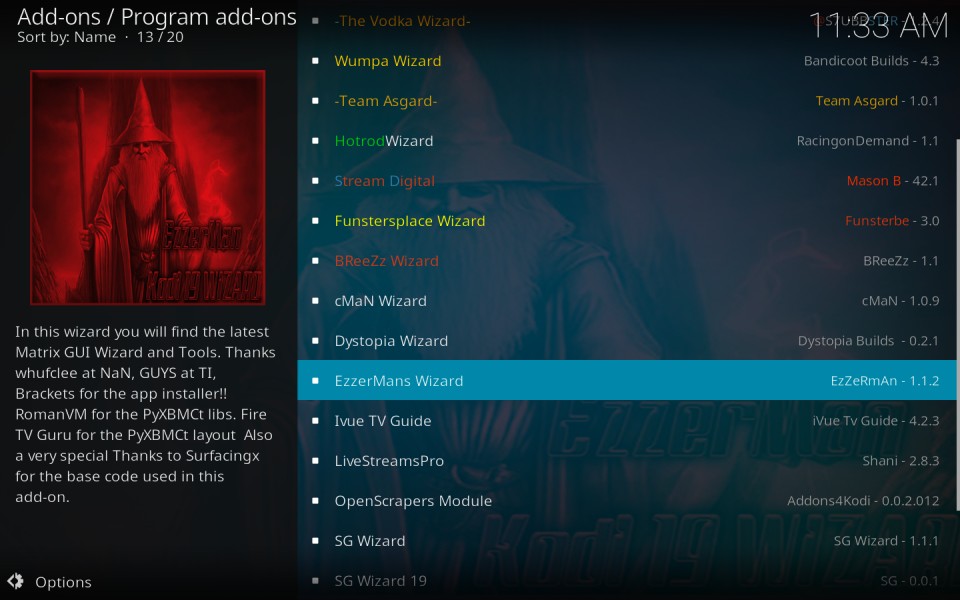 8. Click on Install.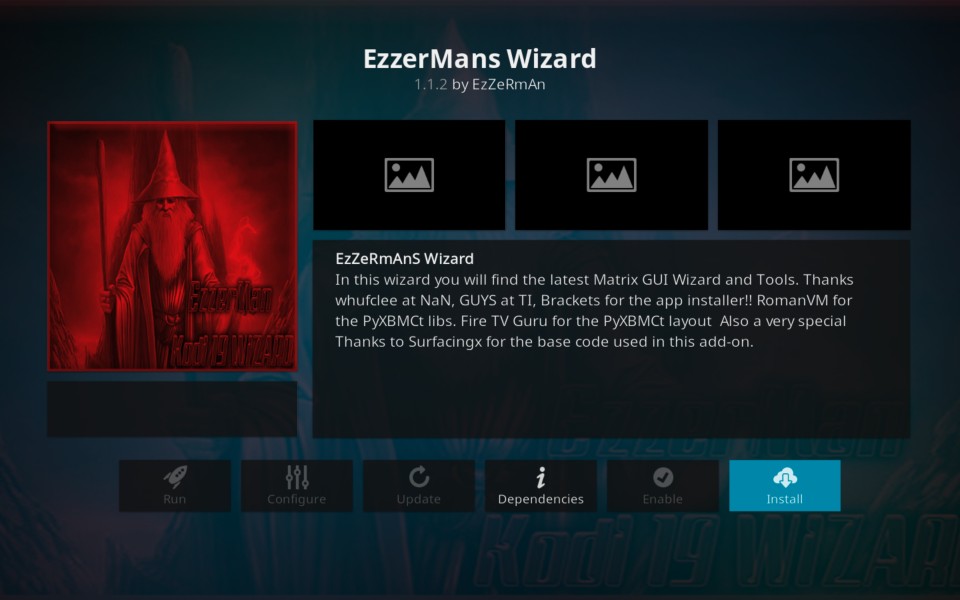 9. Stay on the screen when you see the EzzerMans Wizard installation message.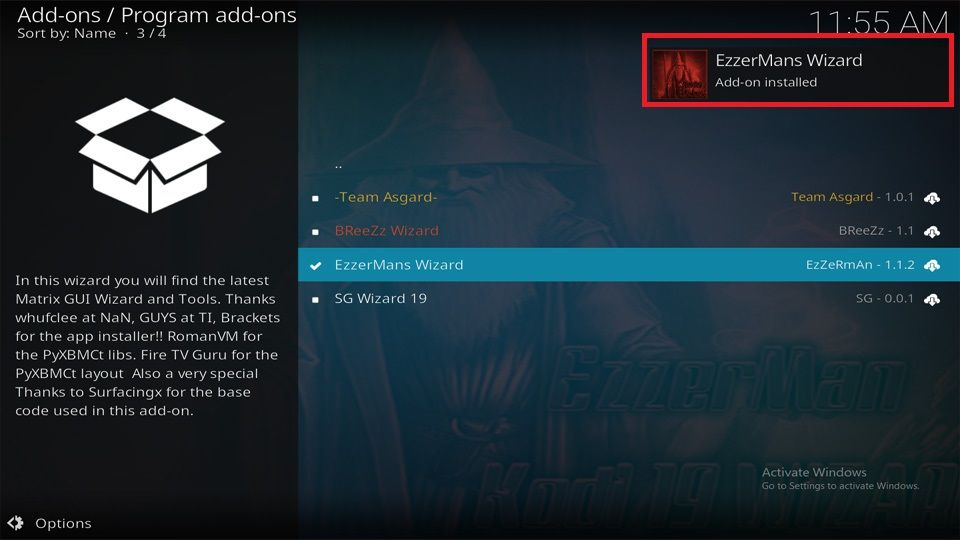 10. Select the setting options to keep with the new Fabulous 50s Kodi Build. For demo purposes, I have selected all.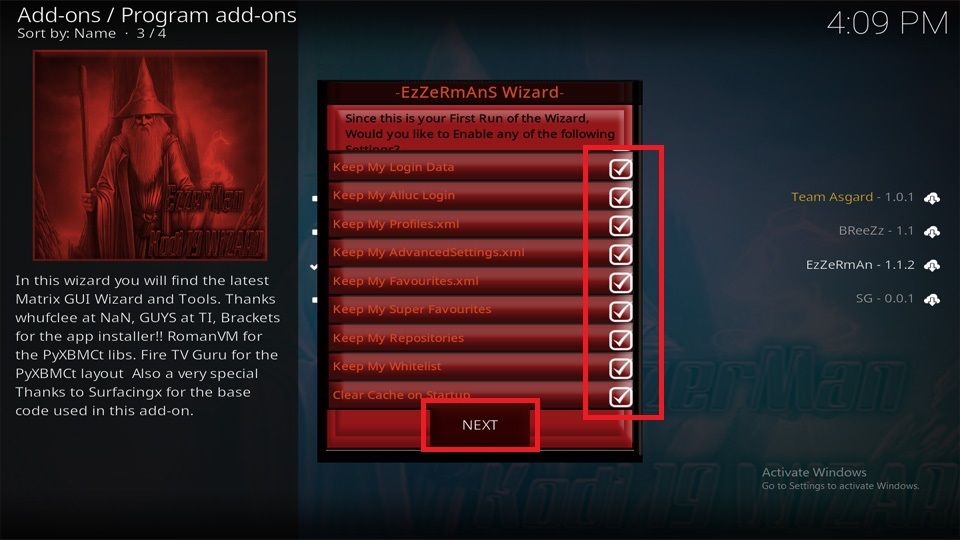 11. Choose the addons you want to keep with the build, then click Continue.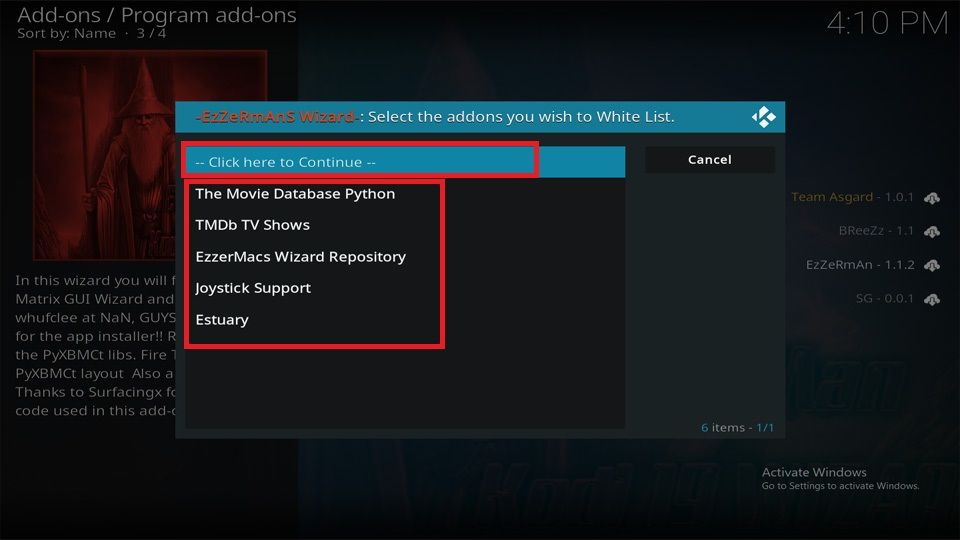 12. Select EzzerMans BUILDS.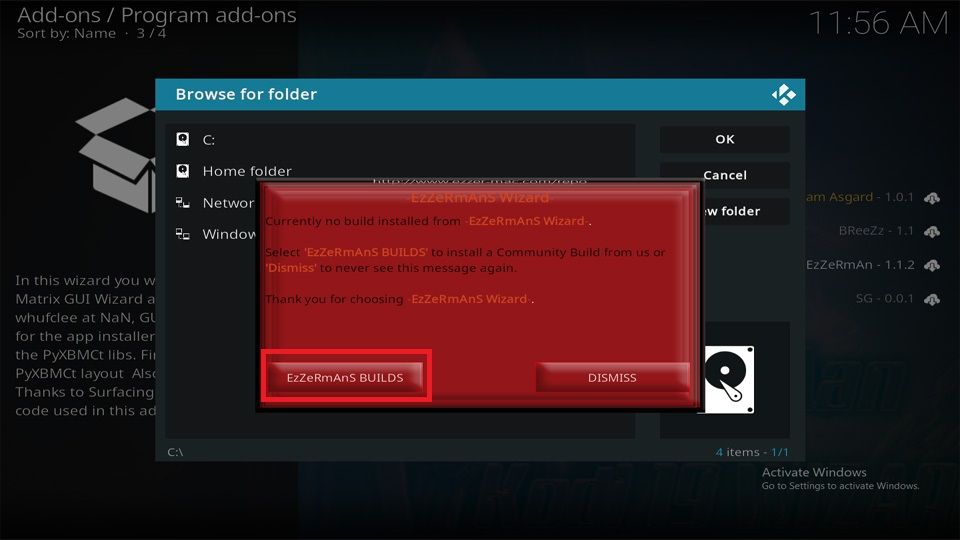 13. Click on Builds.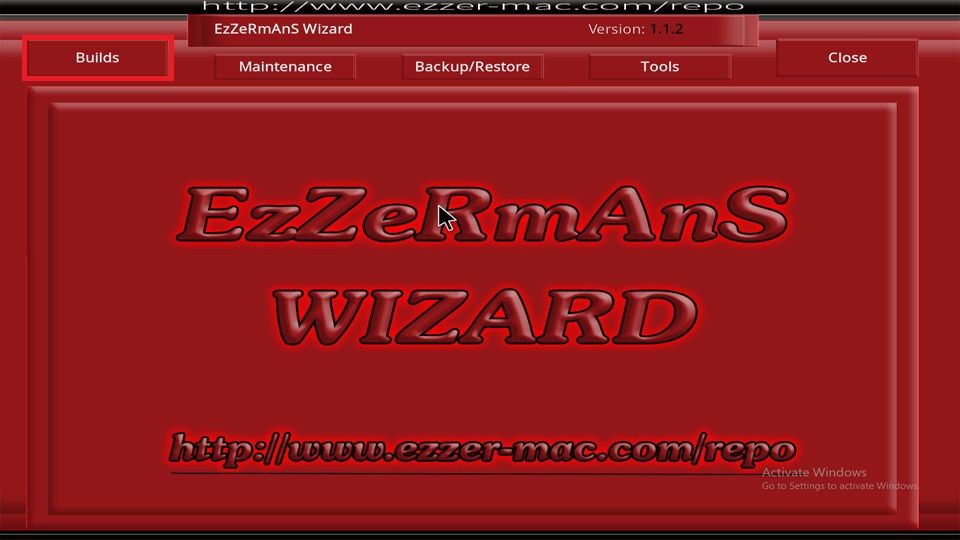 14. On the left panel of the screen, scroll down and select BigKev – FABULOUS 50'S, then click on Install.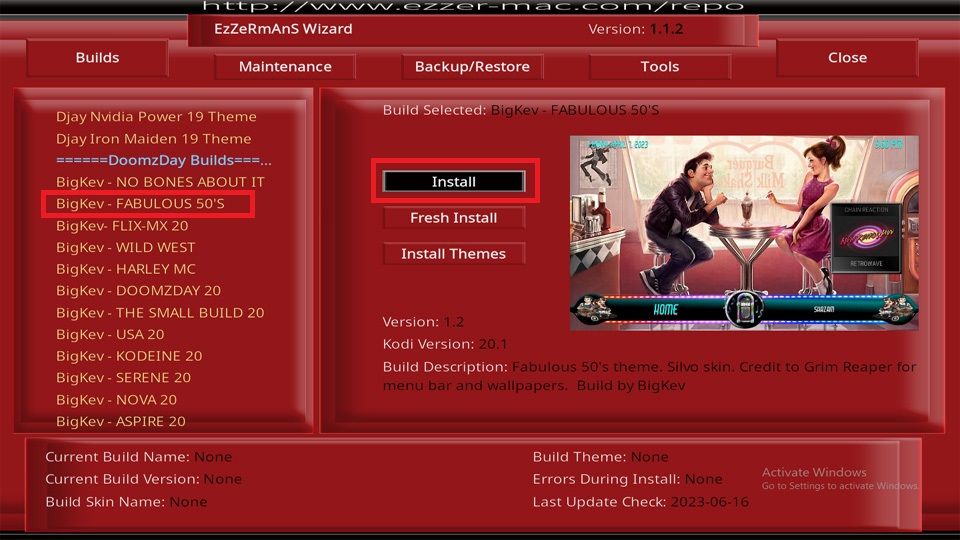 15. Once prompted, click on Yes, Install.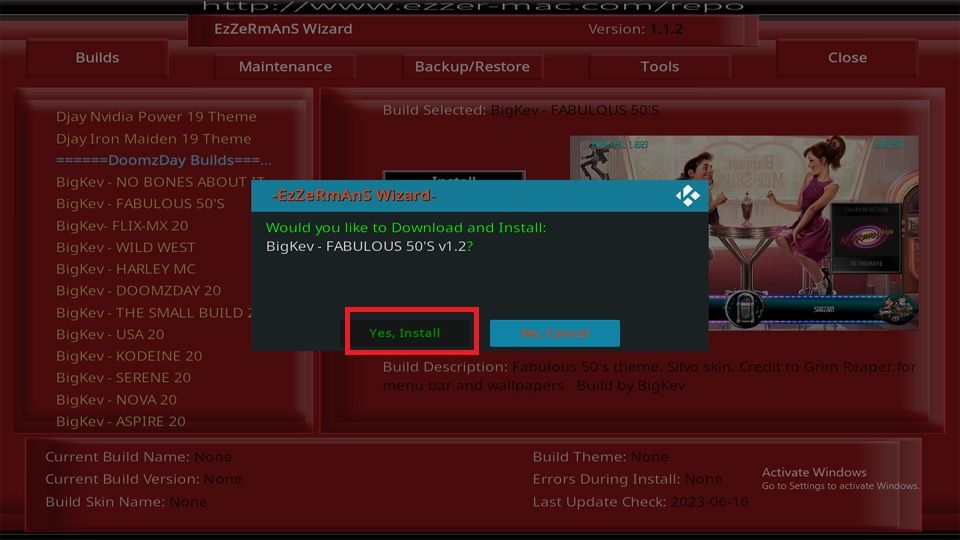 16. Let the installation happen. Do not close the screen or press any button. It will take a few minutes, depending on the internet speed on the device.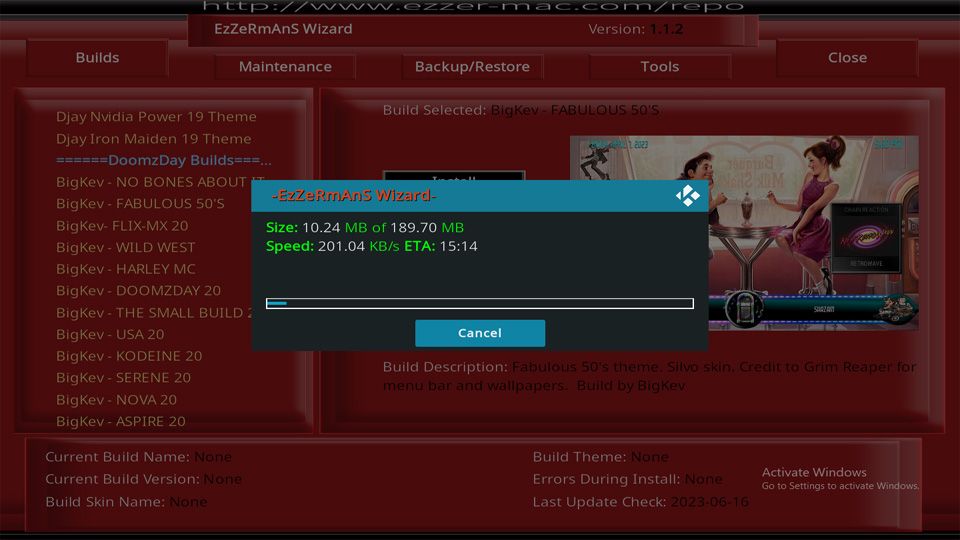 17. Wait until the installation completes.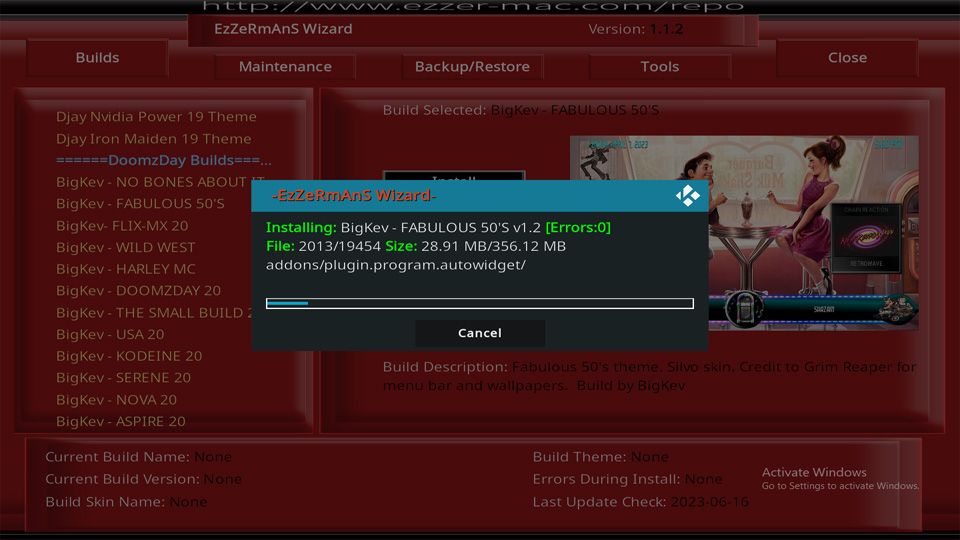 18. Click on OK. This will Force Close Kodi on the device. It would be best to restart Kodi to use the newly installed Fabulous 50s Kodi Build.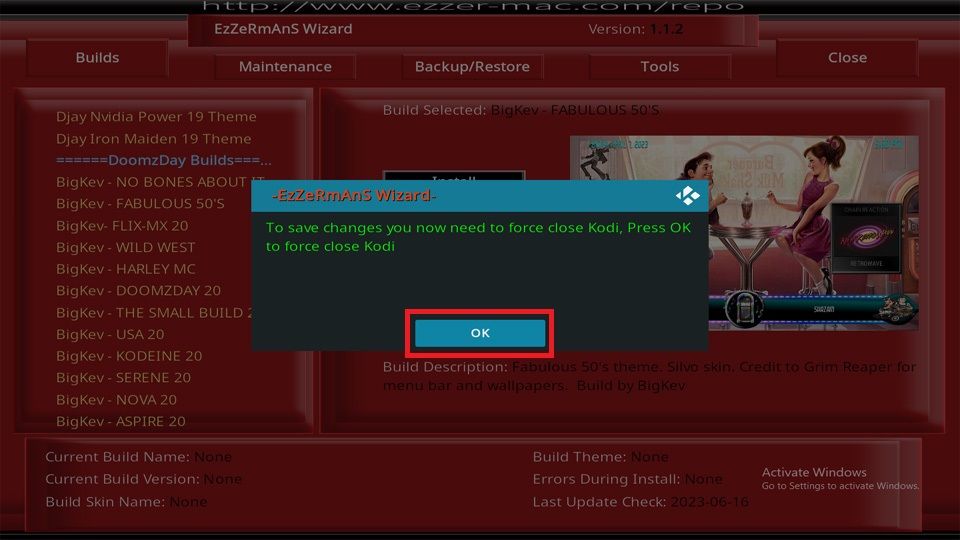 Let us now see what the Fabulous 50s build looks like.
Wait! It looks like you are all set to start watching your favorite content on Kodi. But have you protected your online identity yet? You are under constant surveillance by the Government and ISP. They use your IP address 3.17.249.235 to track you. Streaming free or copyrighted videos may get you into legal trouble.
Thankfully, you can use a VPN to easily protect your privacy and go invisible from your Government and ISP. I use and recommend ExpressVPN with Kodi.
ExpressVPN is the fastest, most secure, and streaming-friendly VPN. It is easy to install and set up on any Kodi device, including FireStick, Smartphones, PCs, and more.
ExpressVPN, offers an unconditional 30-day money-back guarantee. So, if you do not like the service (I don't see why), you can get a full refund within 30 days.
Please remember that we encourage you to use a VPN to maintain your privacy. However, we do not condone breaking copyright laws.
Before you start using Kodi for streaming, here is how you can protect yourself with ExpressVPN:
Step 1: Sign up for ExpressVPN Here
Step 2: Download ExpressVPN on your device by clicking HERE
Step 3: Open the ExpressVPN app on your device. Sign in with your account. Click the connect/power button to connect to the VPN

Great! You have successfully secured yourself with the best Kodi VPN.
An Overview of the Fabulous 50's Kodi Build
The home screen of the Fabulous 50s Builds is quite appealing. The menu options are simple and navigable. You can view the date, day, and time on the home screen. You can customize the screensaver of the build as per your liking.
I moved into one of the menu options, and the following screen shows what it looks like. You can view Movies, TV Shows, and playlists.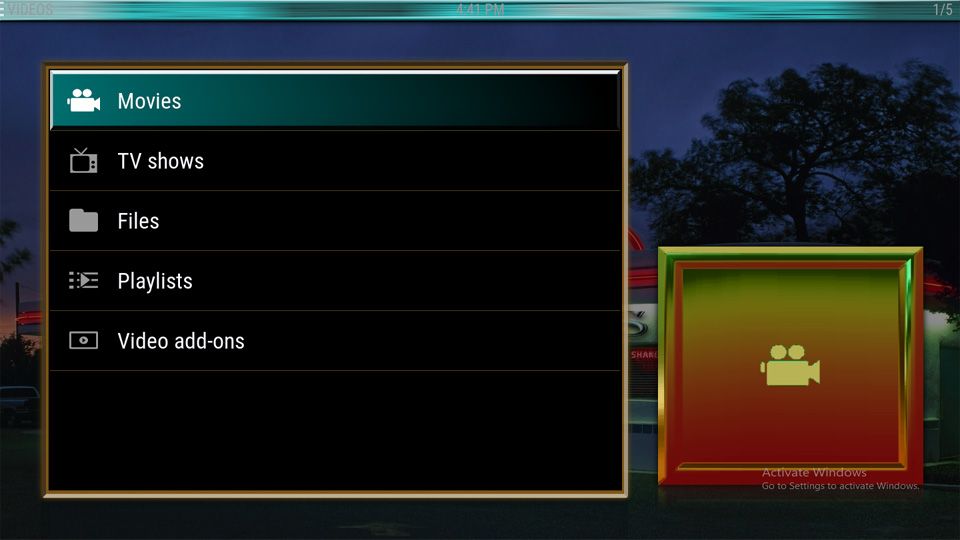 There are so many options within the build that I can't show you everything here. I am sure you can browse the vast content once you have installed the build on your device. There is also adult content within the build. Hence, user discretion is recommended.
How to Integrate Real-Debrid into Fabulous 50's Kodi Build?
Real-Debrid is a paid service that you can use with a Kodi Build or Addon for a better streaming experience. Moreover, it also minimizes buffering to a greater extent. I will show you how to integrate Real-Debrid into the build on Kodi. Visit the Real Debrid official website to sign up for the service. You can choose a plan at your convenience.
Follow our step-by-step guide on Real Debrid for detailed information.
1. Once signed up, return to the Fabulous 50's Kodi Build home screen and click on Debrid Zone. You can scroll sideways to find Debrid Zone.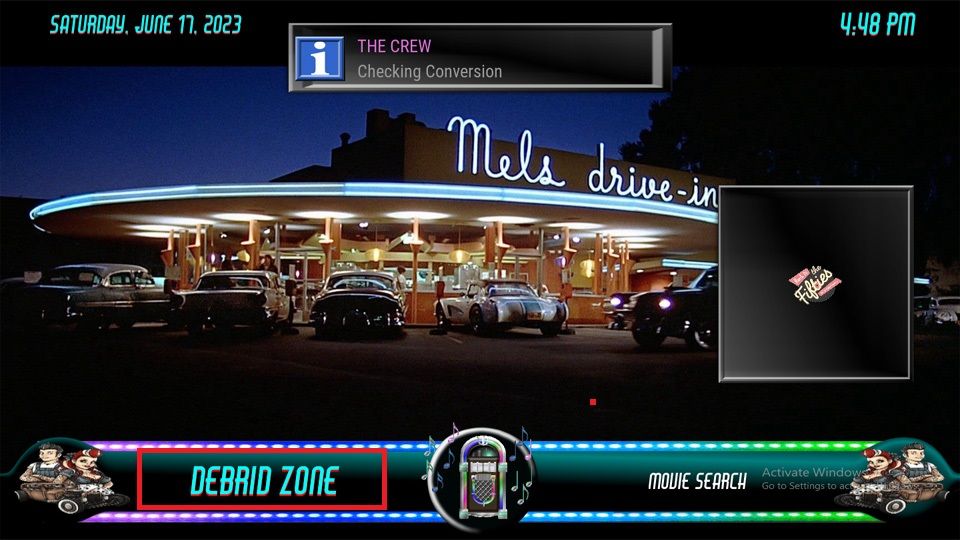 2. Scroll down and select Tools.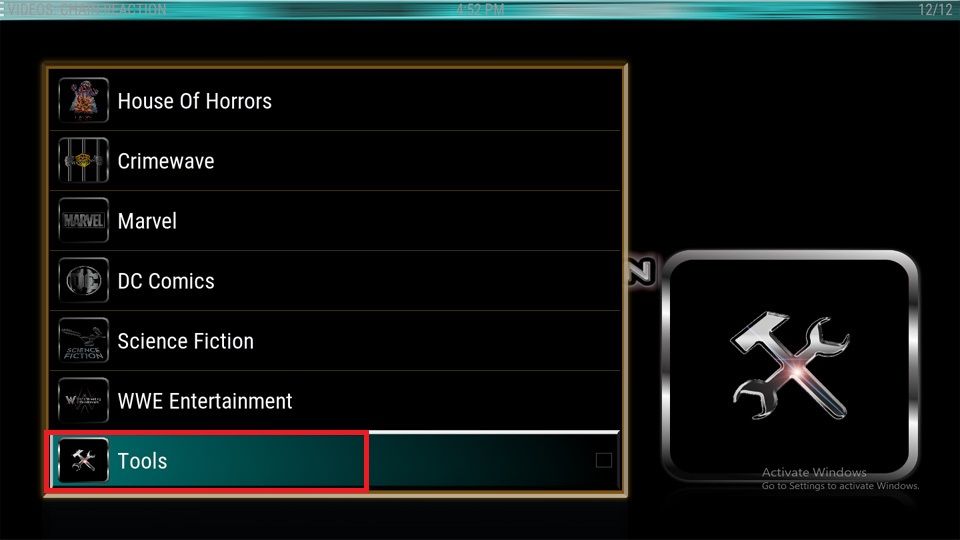 3. Select Debrid on the screen's left panel and then click Re-auth Real-Debrid.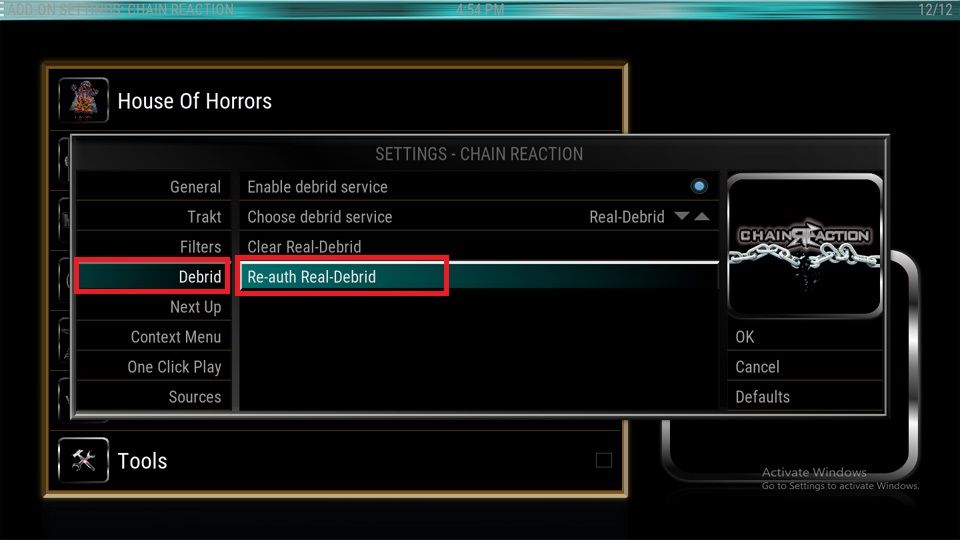 4. You will receive a link and a code on the screen. Note it down.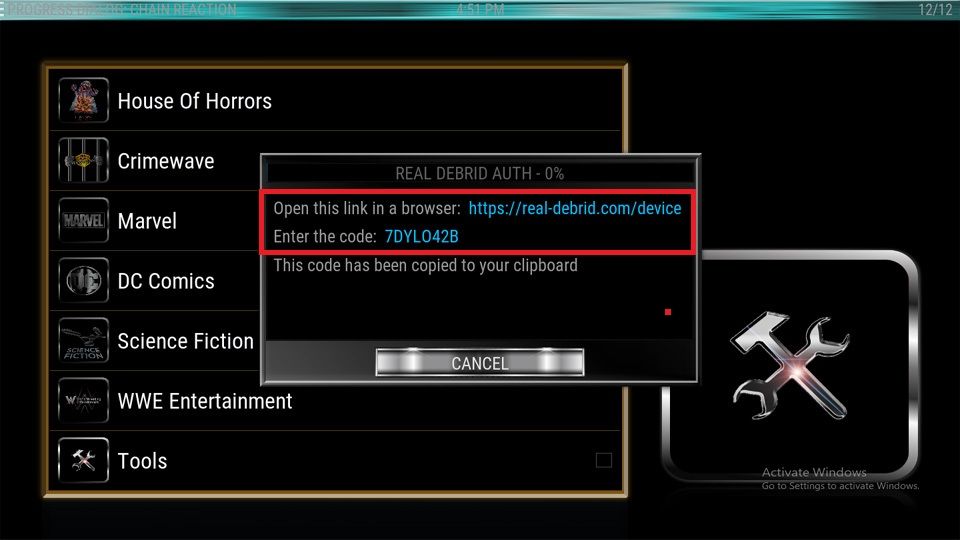 5. On the device's browser, open real-debrid.com/device, input the code you noted from the Kodi Build's screen and click Continue.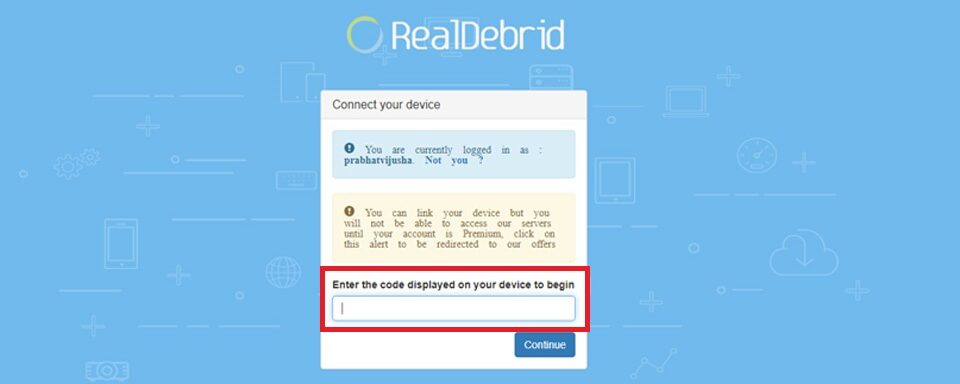 This process will integrate Real-Debrid into the build so that you can enjoy better streaming of your favorite programs. Lastly, I would like to reiterate the importance of using a trusted VPN. I have been using ExpressVPN, and it works great for me. It keeps your device safe and anonymous.
Wrapping UP
I hope this article on how to install Fabulous 50's Kodi Build has been helpful to you. If there is anything else you wish to know about the build or Kodi in general, please write in the comment section below, and I will be glad to respond with the best available information.
Related: