This article describes how to install Replay Me Kodi addon. Furthermore, it tells what's Replay Me, whether it's safe and legal, how to use it, etc. You are welcome to use this guide as a reference for any OS that supports Kodi 18 Leia, like Android, Windows, Mac OS, Linux, and more.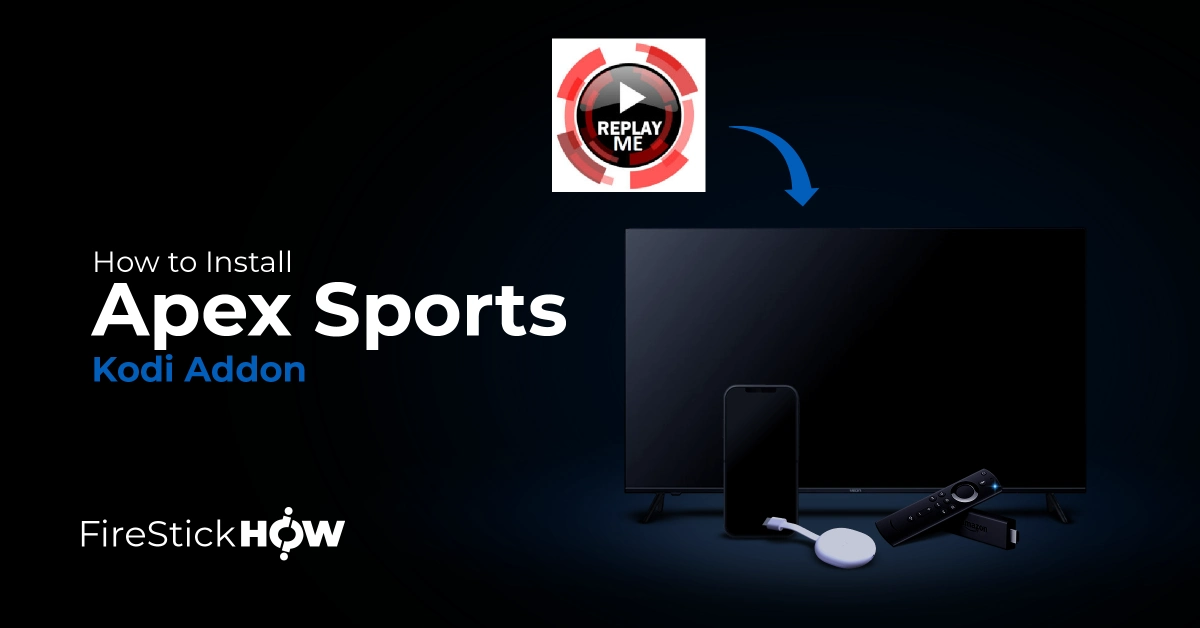 What Is the Replay Me Addon?
Replay Me is a video sports addon that only focuses on streaming replays of football, basketball, hockey, boxing, wrestling, and more. In addition, this addon features customized sections for every sport.
On Replay Me, you don't have to connect to a premium service to watch replays of your favorite sports. Instead, select an event, and you'll be provided with multiple streaming links. Then, choose one, and it'll start playing.
Replay Me is useful as it lets me easily stream replays of the football matches I miss.
Replay Me is one of the best video addons to stream sports replays and highlights. 
Note: Replay Me Kodi addon is only available on Kodi 18 Leia.
Attention KODI Users: Read before you continue
Government and ISPs endlessly monitor your online activities using your IP address 3.17.249.235 (exposed to everyone). Kodi is an excellent platform for streaming movies, TV shows, and sports, but streaming copyrighted content can get you into legal trouble. 
You should use a reliable Kodi VPN and protect your streaming activities and privacy. A VPN will hide your IP address and bypass government surveillance and geo-restrictions.
I trust and use ExpressVPN, the fastest and most secure Kodi VPN. It's easy to install on any Kodi device, including Amazon FireStick, PCs, and Smartphones. In addition, it offers a 30-day money-back guarantee, and 3 free months with the annual plan.
Read: How to Install & Use the best VPN for Kodi.
Is Replay Me Safe?
At FireStickHow.com, we don't possess the resources and authority to answer whether Replay Me is safe. And this goes for any third-party Kodi addon found on an unknown source repo.
Hear me out. Replay Me might be safe for your device. But as there's no tool to check it or an official Kodi authority backing it up, we can't comment that it's 100% secure.
That said, I checked the zip file of the Rising Tides Repository on a famous online virus checker. Gladly, it showed great results – here's the screenshot: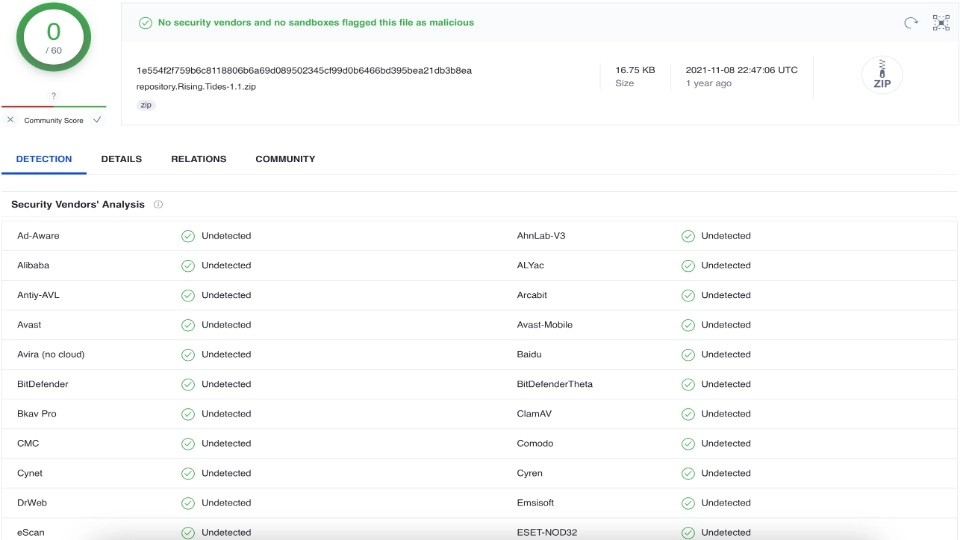 Is Replay Me Legal?
As the source of content available on Replay Me is unknown, we can't say if it's legal or illegal. Moreover, it's impossible for a layperson to figure out the origin of a single link on Replay Me, let alone thousands of replay links. So, at FireStickHow, we can't answer this question.
But I suggest using a VPN like ExpressVPN when streaming replays via Replay Me. And this way, you won't experience any safety or legality issues.
Features of Replay Me Addon
The following are some of the best Replay Me features:
Feature section for all types of sports

Multiple streaming links available for replays

No need to connect a premium service

It gets updated daily with new recaps
How to Install Replay Me Kodi Addon
As Replay Me is a third-party addon, you'll need to apply some extra measures to install it. But don't worry! This section teaches you how to install Replay Me from scratch. Starting with…
Note: Replay Me Kodi addon is only available on Kodi 18 Leia.
Part 1 – Turn On Unknown Sources
Firstly, enable Unknown Sources inside Kodi System Settings to install zip files from the internet.
1. First, explore Kodi Settings by hitting Gear – located on your top left under the Kodi logo.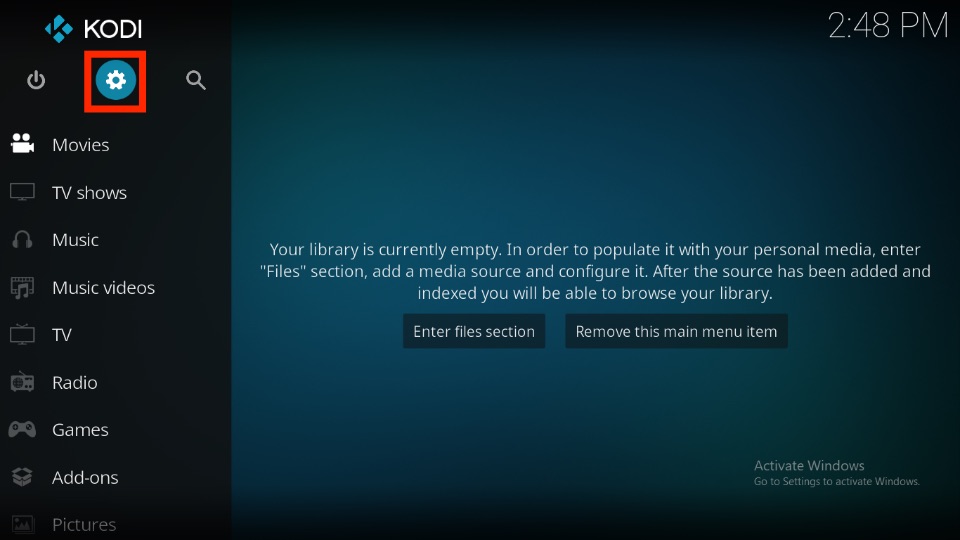 2. There are multiple sections available on Kodi Settings. Choose the one on the bottom right – System.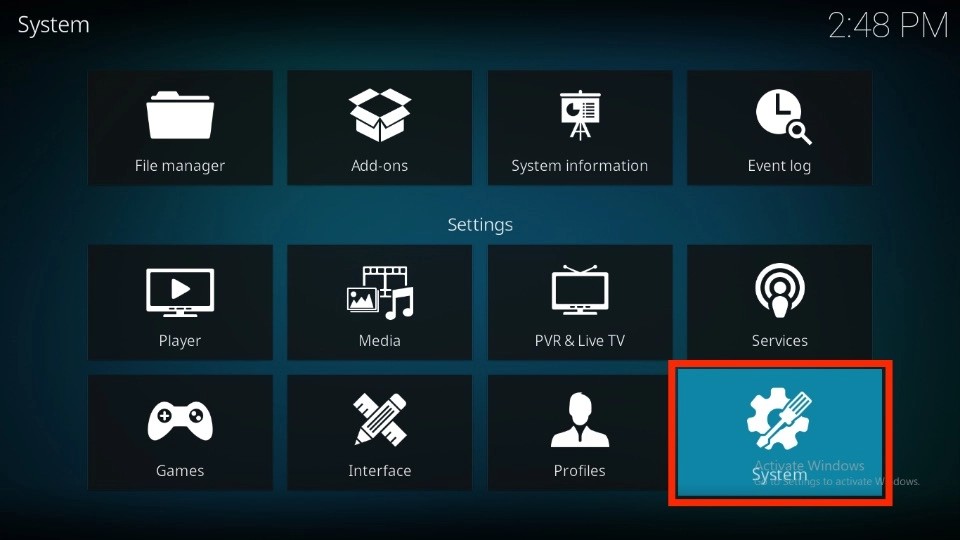 3. On the left menu with options like Display, Audio, Input, etc., choose Add-ons.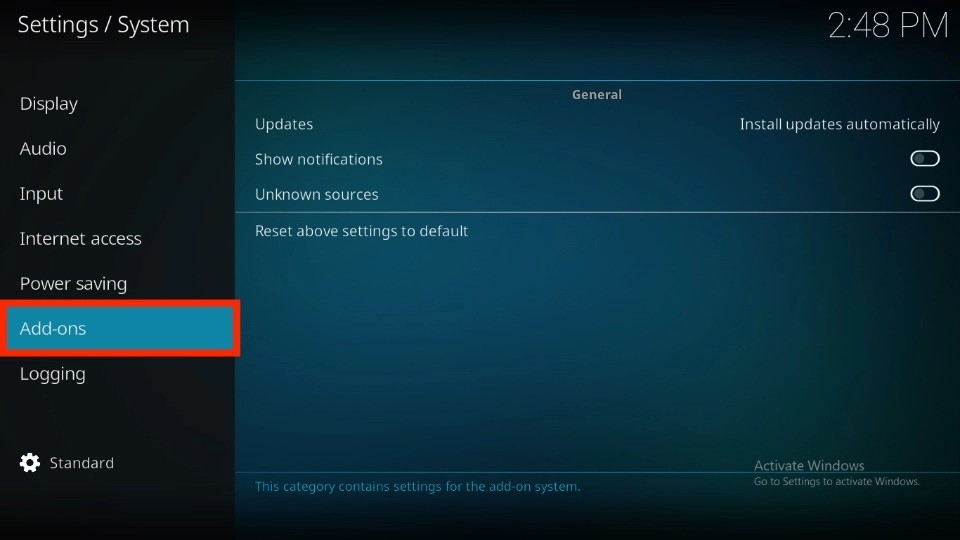 4. Locate Unknown sources on your right and switch it on.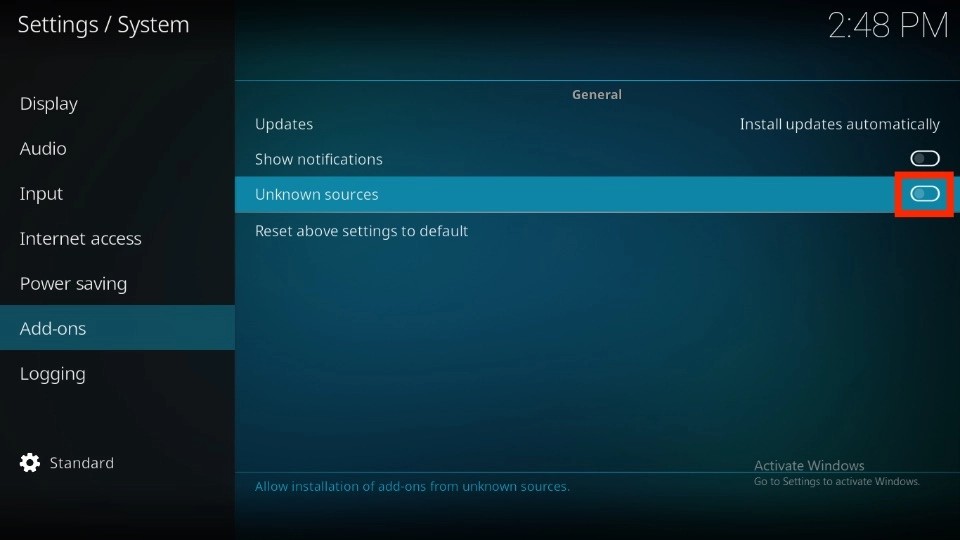 5. Choose Yes to continue. 
Note: If you accidentally pressed No, you'll have to turn on Unknown Sources again.
Part 2 – Install Rising Tides Repository
This part shows how to add the Rising Tides Repository source. And then how to install its zip file so you can access the repo.
1. Click the Settings Cog icon to open Kodi Settings – it will be located on your top left.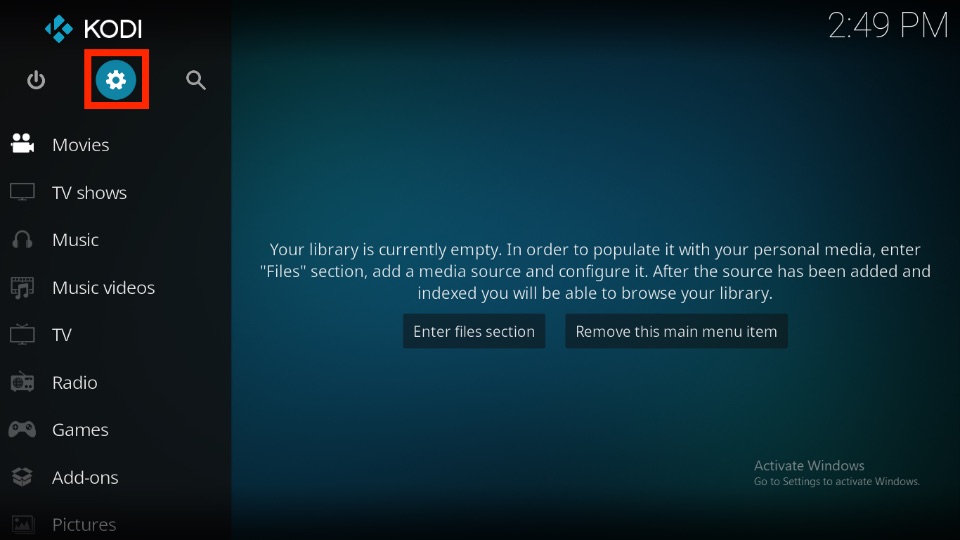 2. Out of all sections, launch File manager, as it's the only section that lets you add/remove sources.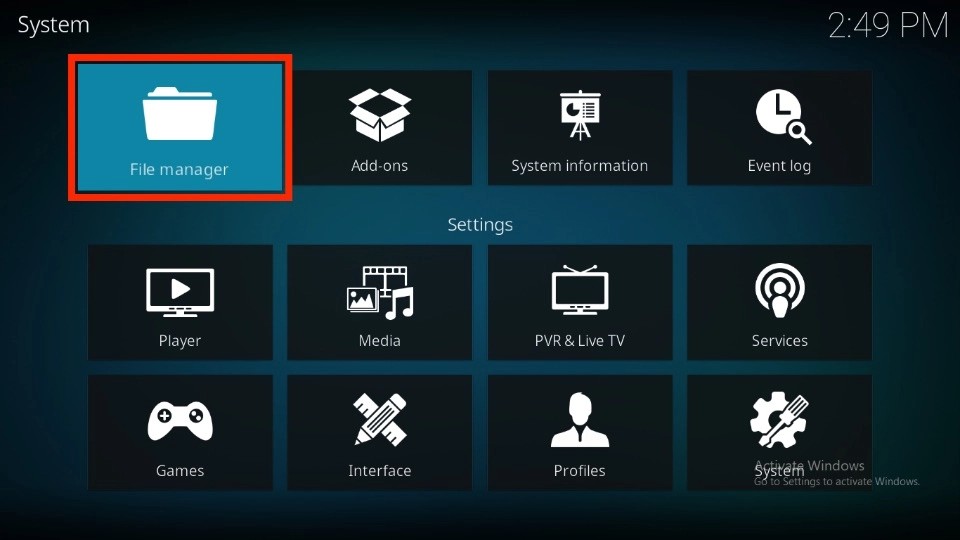 3. Open Add source.
Note: You can select any Add source option, the one on your left or your right.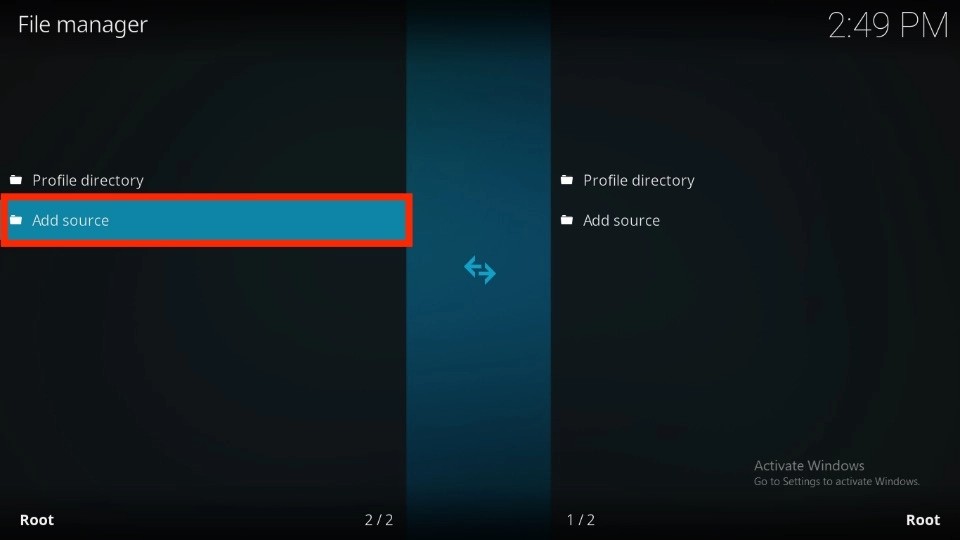 4. When Add file source appears, locate and open <None> – under the heading Enter the paths…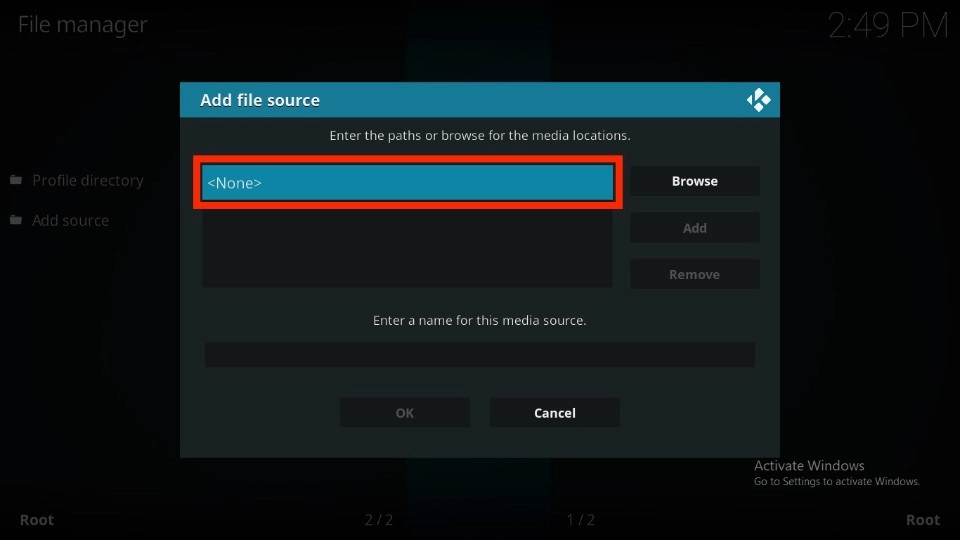 5. Enter the URL of the Rising Tides Repository – https://mullafabz.xyz/Repository. Then, hit OK.
Note: The above URL is the Rising Tides Repository's official website. I have added it so you can easily copy and paste it into your Kodi app. However, I want to clarify that at FireStickHow, we don't host/own any link or file.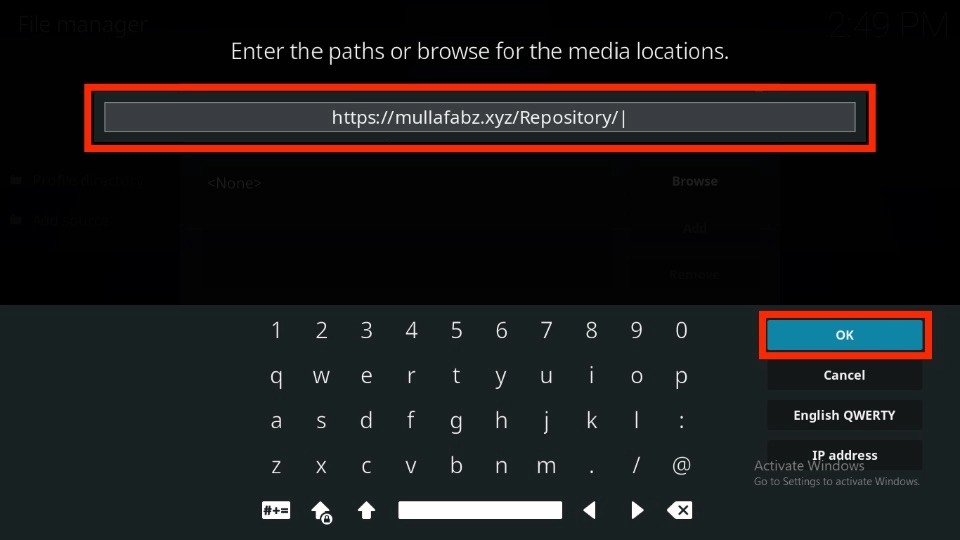 6. To change the default source name Repository, choose input just under Enter a name…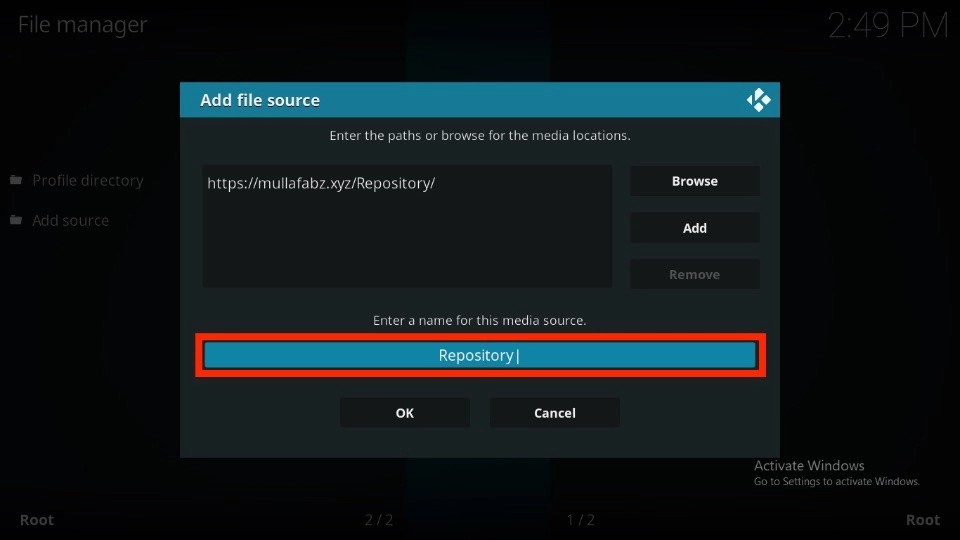 7. I'm choosing risingtides as the alias for the Rising Tides Repository URL source. But you are free to pick any name. And once done, press OK. 
Note: If you can't think of a name that's simple and easy to remember, I suggest using the one I picked.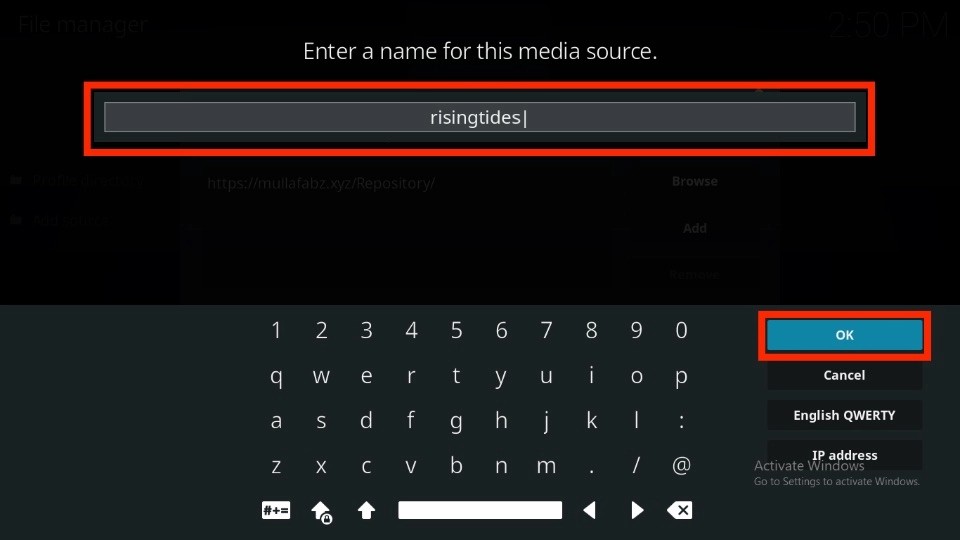 8. Hit OK once you are satisfied with the changes.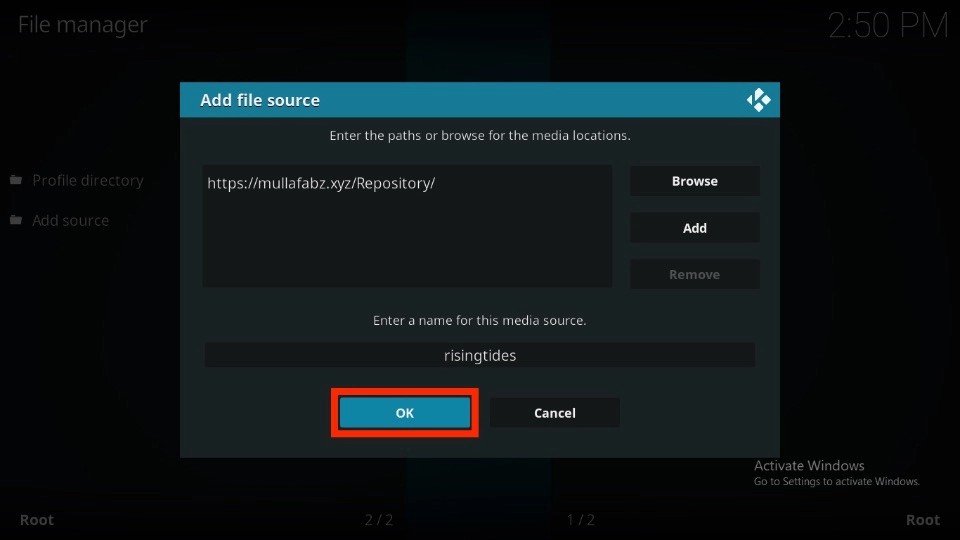 9. You are good to go if you don't receive an error and see the source name on the file manager's list.
10. From the Kodi Settings menu, open Add-ons.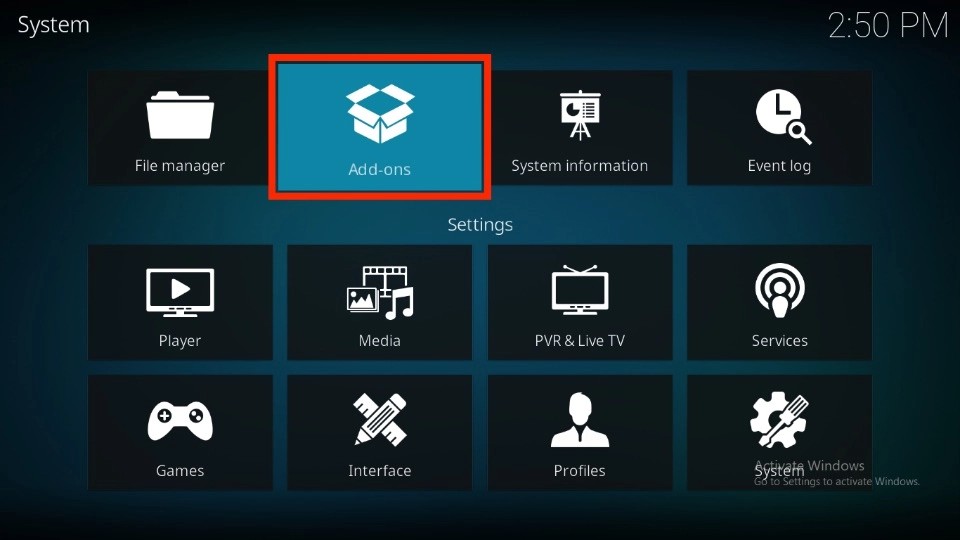 11. Choose Install from zip file.
Note: This option lets you access the sources you have added in the File manager section.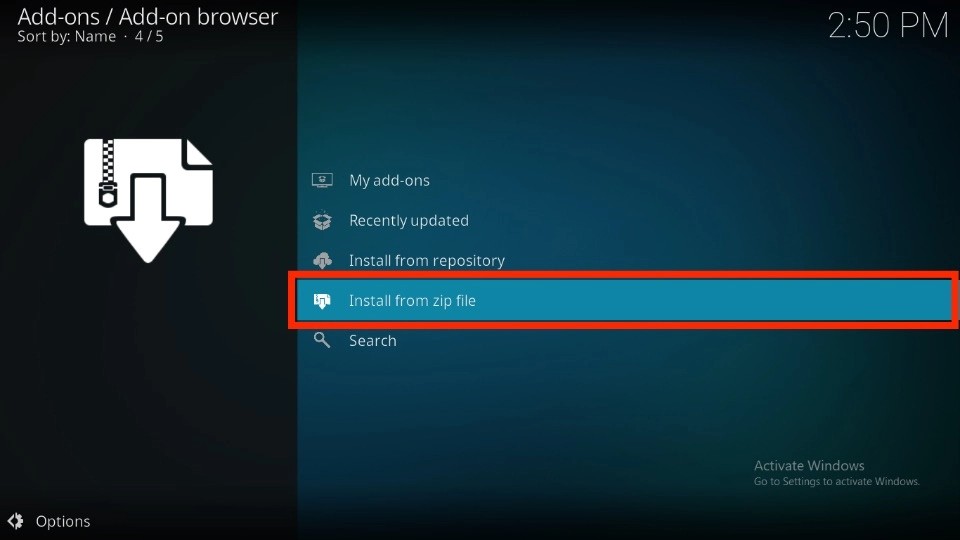 12. Choose risingtides or the source name you have settled for in step number 7.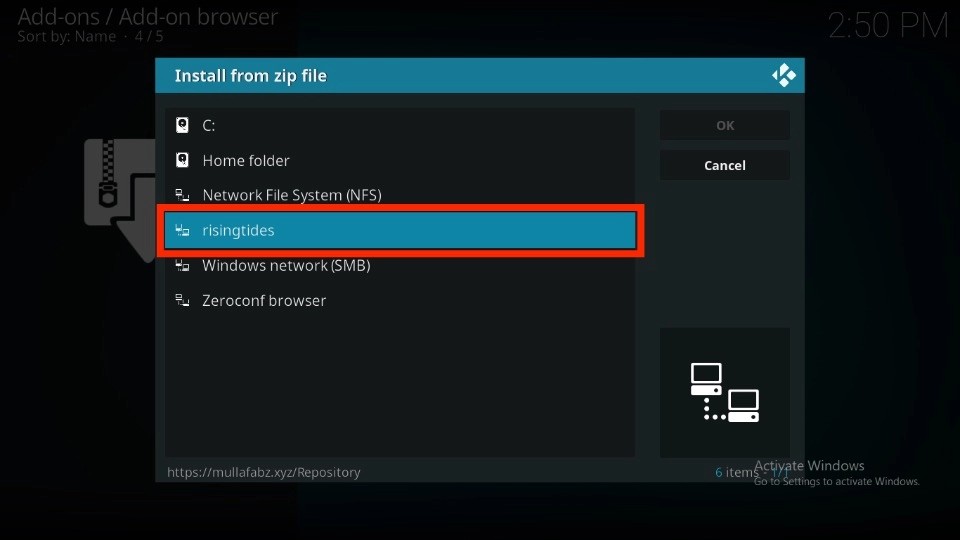 13. Click repository.Rising.Tides.1.1.zip.
Note: 1.1 was the version number of the Rising Tides Repository when I installed it. However, you can expect a different version or name when installing it in the future.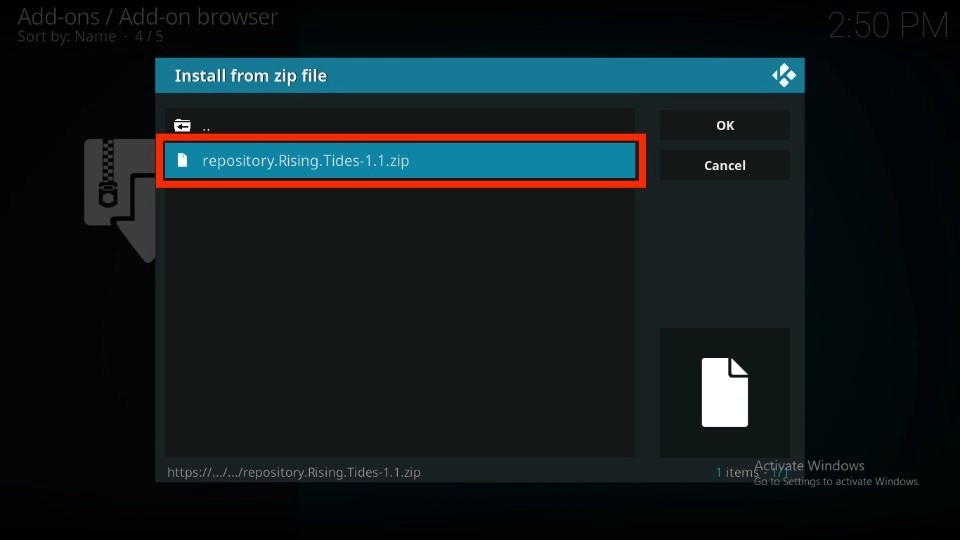 14. A confirmation message will appear after the installation – Rising Tides Repository Add-on installed.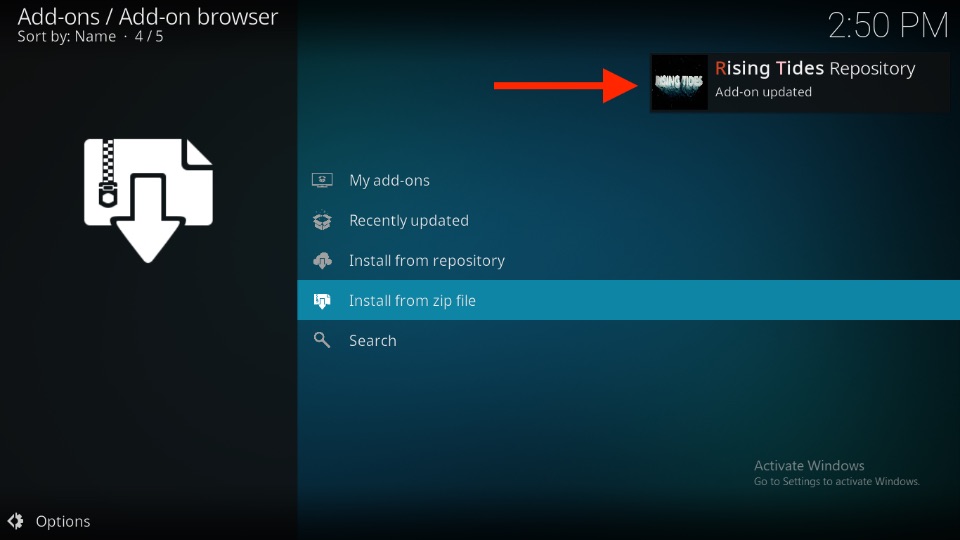 You can now access everything available on the famous Rising Tides Repository directly from your Kodi app.
Part 3 – How to Install Replay Me addon
At last, here's how to install Replay Me by accessing it via the Rising Tides Repository:
1. To access the Rising Tides Repository, open Install from repository.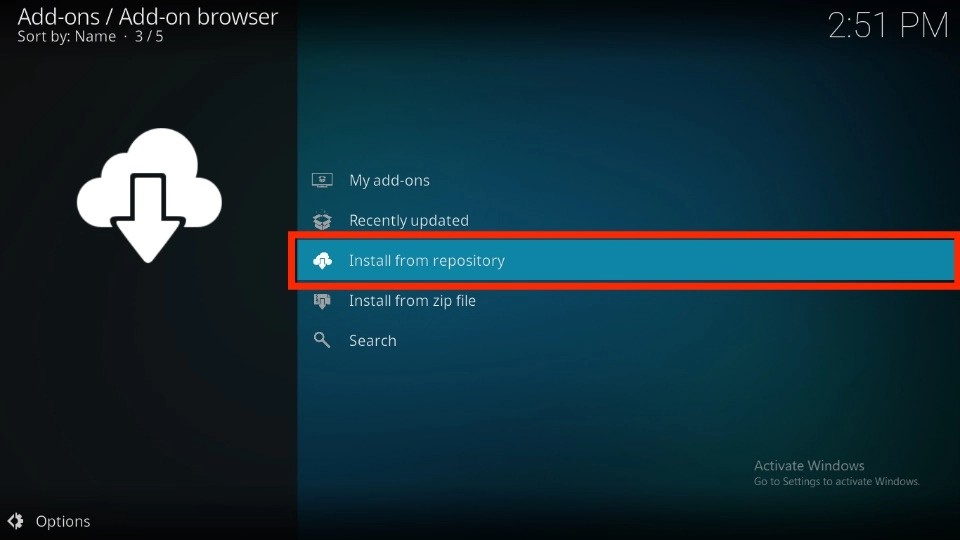 2. Choose the Rising Tides Repository from the list of available repos on your app.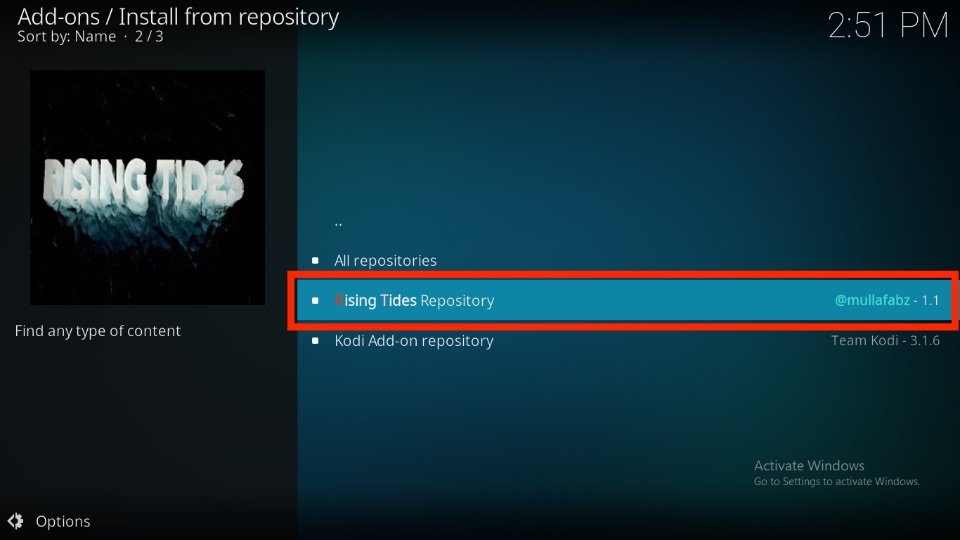 3. There are three sections available in the Rising Tides Repository. Choose Video add-ons.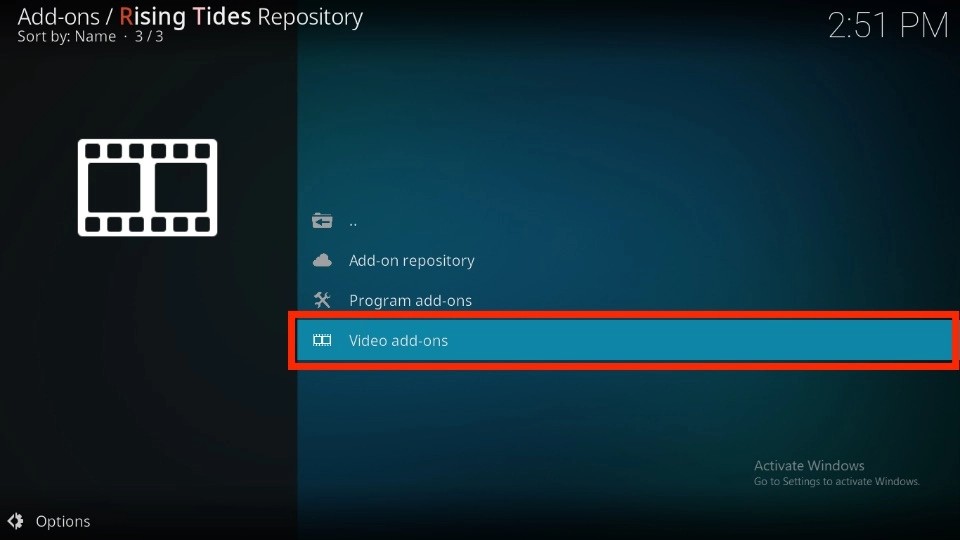 4. Select Replay Me.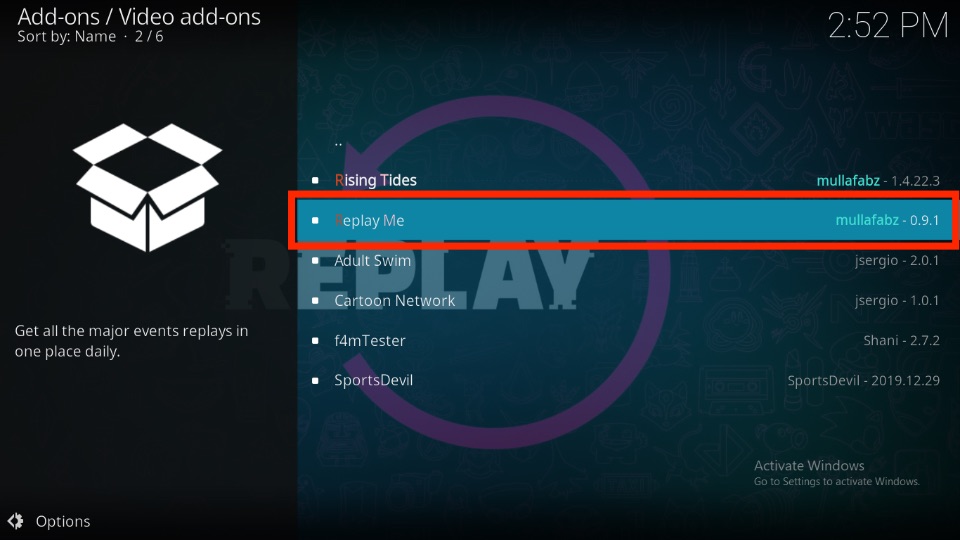 5. On the Replay Me dashboard, click Install.
Note: On the addon's menu, you can explore its Dependices, check its Summary, and more.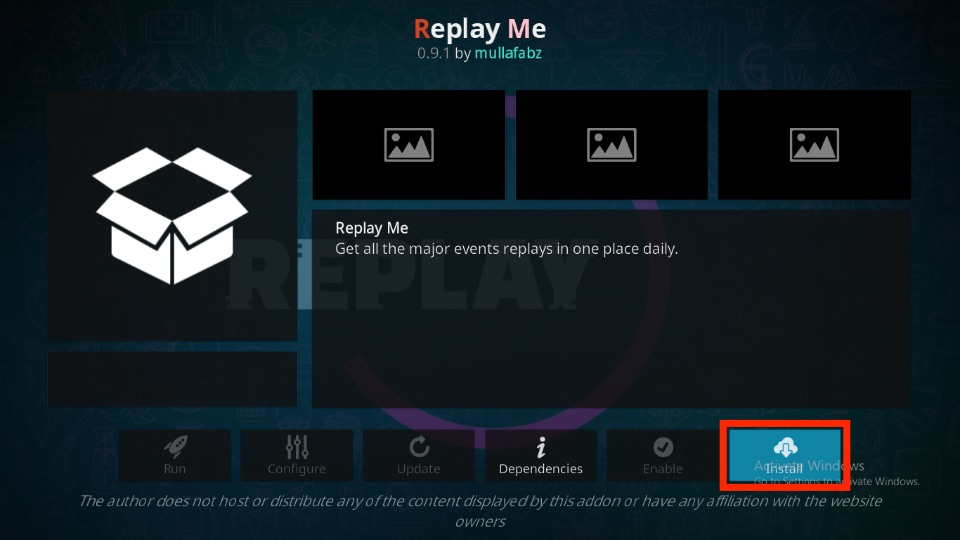 6. Replay Me Kodi requires a handful of additional addons to work correctly. So, Kodi will ask you to install them. Click OK to proceed.  
7. Let Kodi finish downloading the Replay Me addon files. And then wait for the app to install them.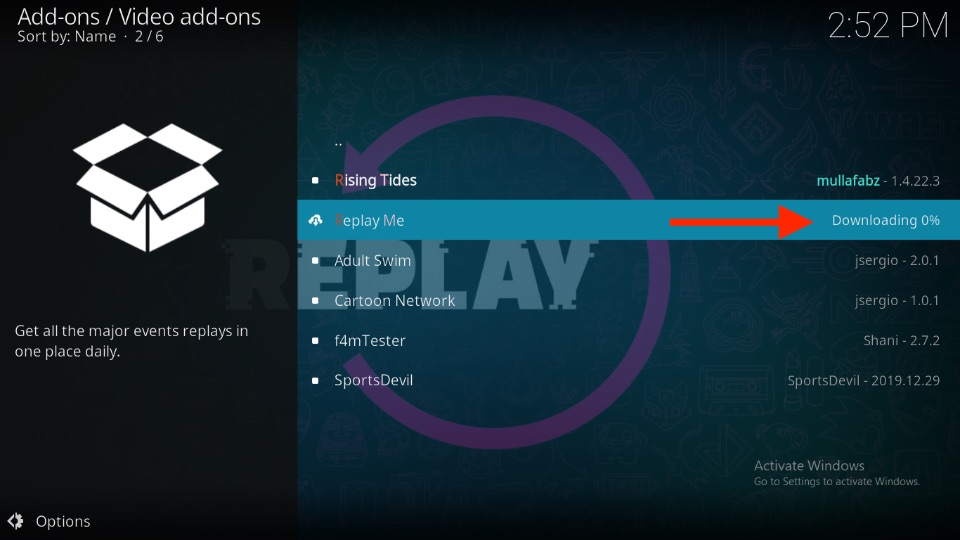 8. A notification will appear on success – Replay Me Add-on installed.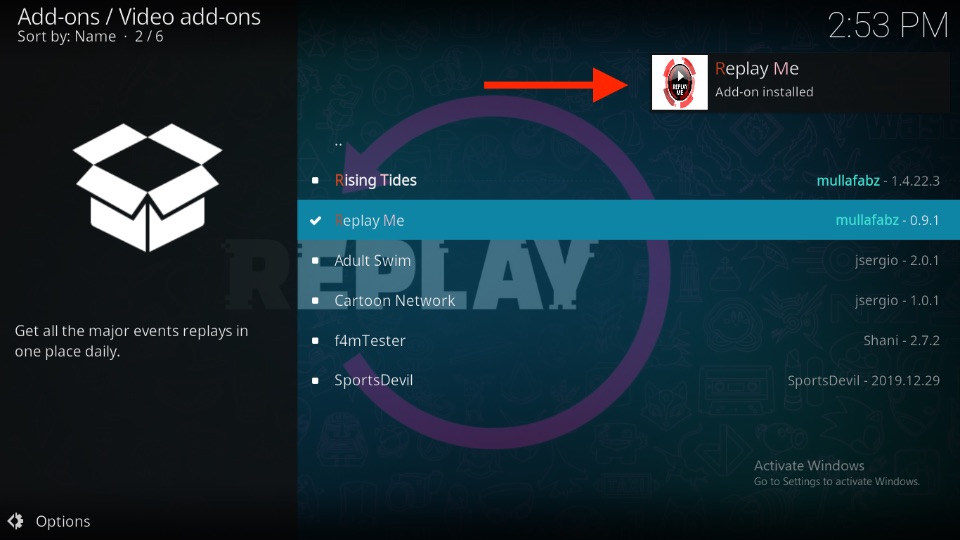 Replay Me is now locally available on your app. Now, you can enjoy replays of your favorite sports.
Wait! It looks like you are all set to start watching your favorite content on Kodi. But have you protected your online identity yet? You are under constant surveillance by the Government and ISP. They use your IP address 3.17.249.235 to track you. Streaming free or copyrighted videos may get you into legal trouble.
Thankfully, you can use a VPN to easily protect your privacy and go invisible from your Government and ISP. I use and recommend ExpressVPN with Kodi.
ExpressVPN is the fastest, most secure, and streaming-friendly VPN. It is easy to install and set up on any Kodi device, including FireStick, Smartphones, PCs, and more.
ExpressVPN, offers an unconditional 30-day money-back guarantee. So, if you do not like the service (I don't see why), you can get a full refund within 30 days.
Please remember that we encourage you to use a VPN to maintain your privacy. However, we do not condone breaking copyright laws.
Before you start using Kodi for streaming, here is how you can protect yourself with ExpressVPN:
Step 1: Sign up for ExpressVPN Here
Step 2: Download ExpressVPN on your device by clicking HERE
Step 3: Open the ExpressVPN app on your device. Sign in with your account. Click the connect/power button to connect to the VPN

Great! You have successfully secured yourself with the best Kodi VPN.
Overview of Replay Me Kodi Addon
Want to learn how to use Replay Me? I have your six! Just follow the walkthrough below:
First, open the Add-ons section on Kodi's home.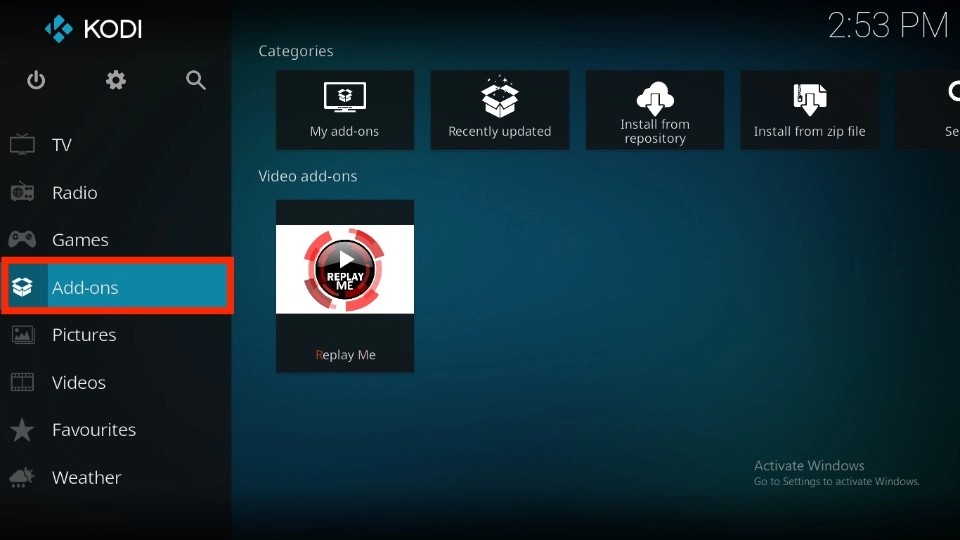 Then, on Video Add-ons, please switch to the list on the right, locate Replay Me and launch it.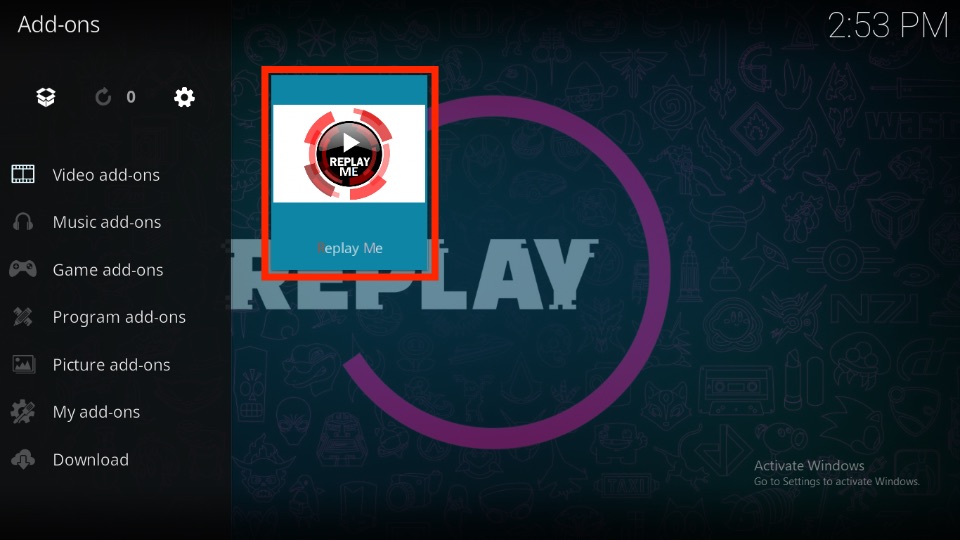 Welcome to Replay Me! An all-in-one hub to watch sports replays for free! This addon features sections like Soccer, Boxing, Others, Only Recent Events, and more.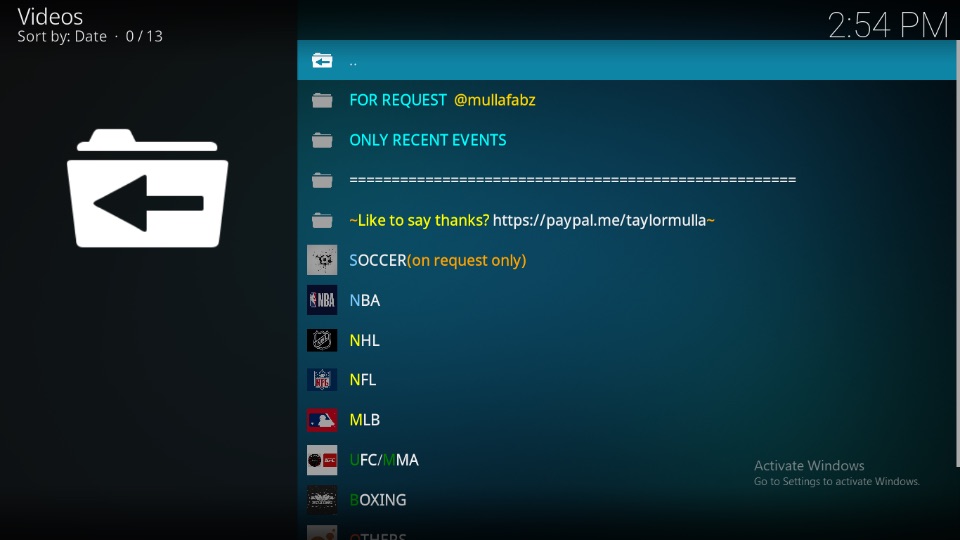 To watch soccer replays, open the SOCCER section.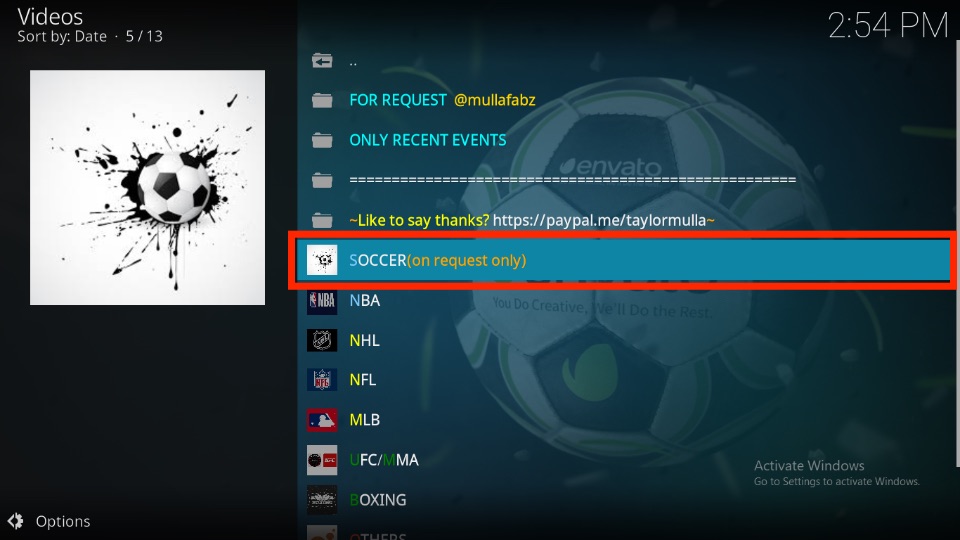 You'll come across a list of the latest replays available in soccer. Choose an event, pick a link, and the replay will play.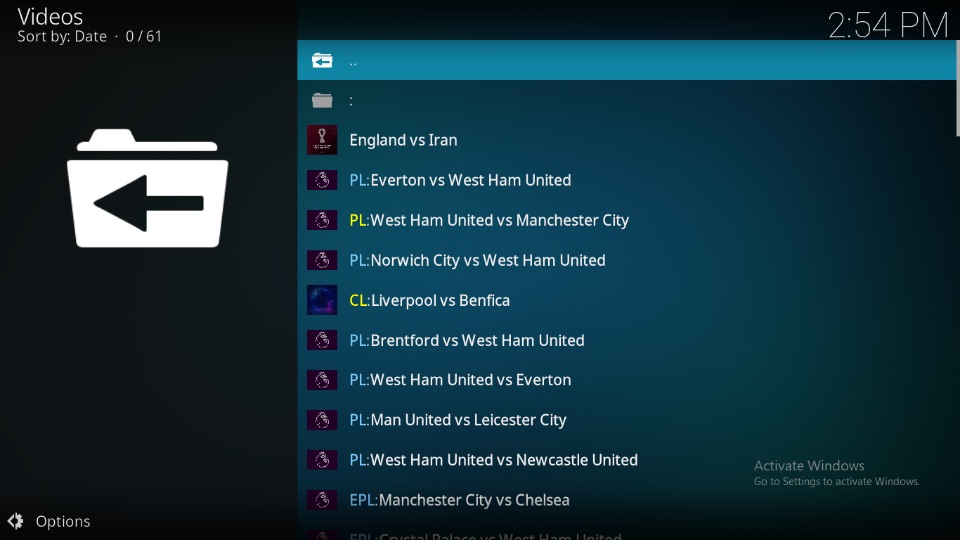 To watch basketball replays, open the Basketball section below SOCCER.
Inside, I see 389 replays, including folders. Feel free to play any replay you like.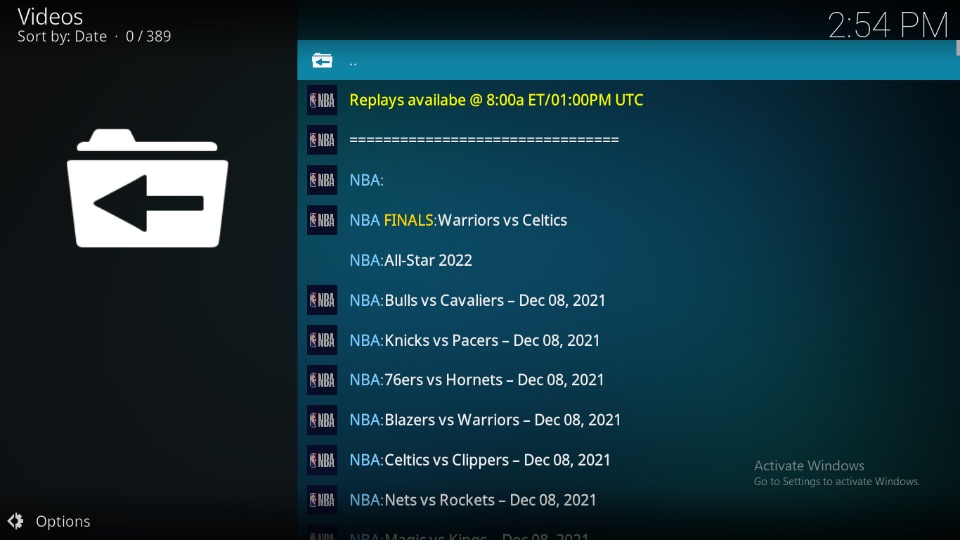 To stream hockey replays, explore the Hockey section below Basketball.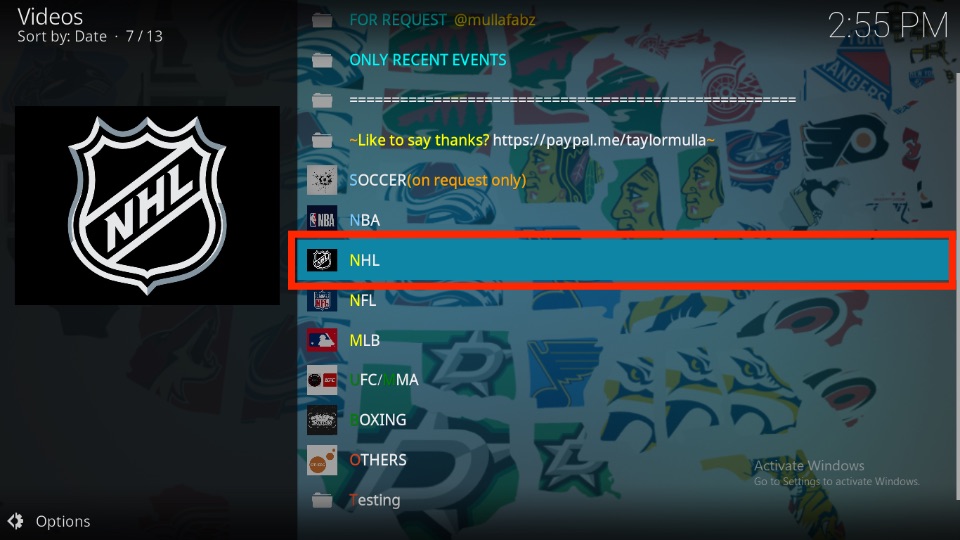 You'll see a list containing the replays of the latest Hockey events.
To stream boxing replays, open BOXING.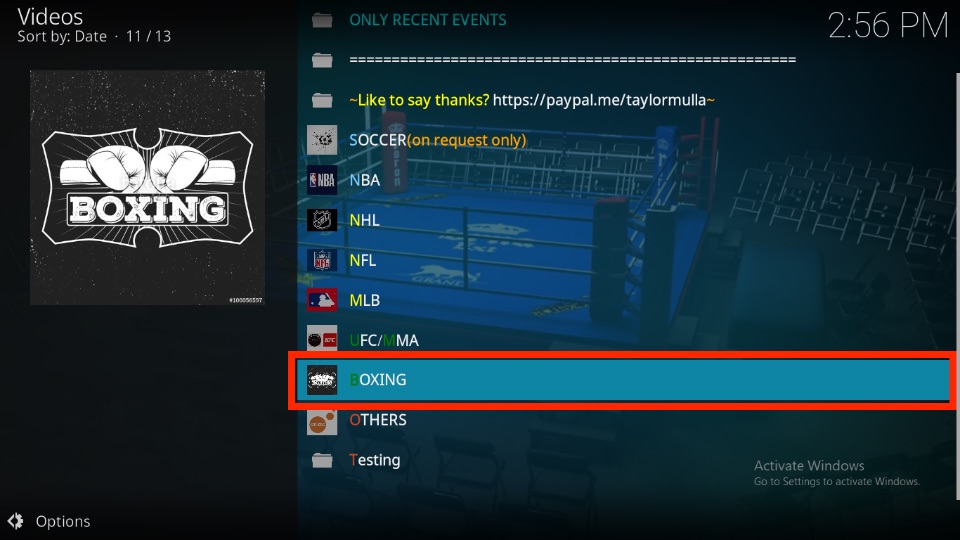 The list will contain replays of similar fighting sports, from wrestling to boxing.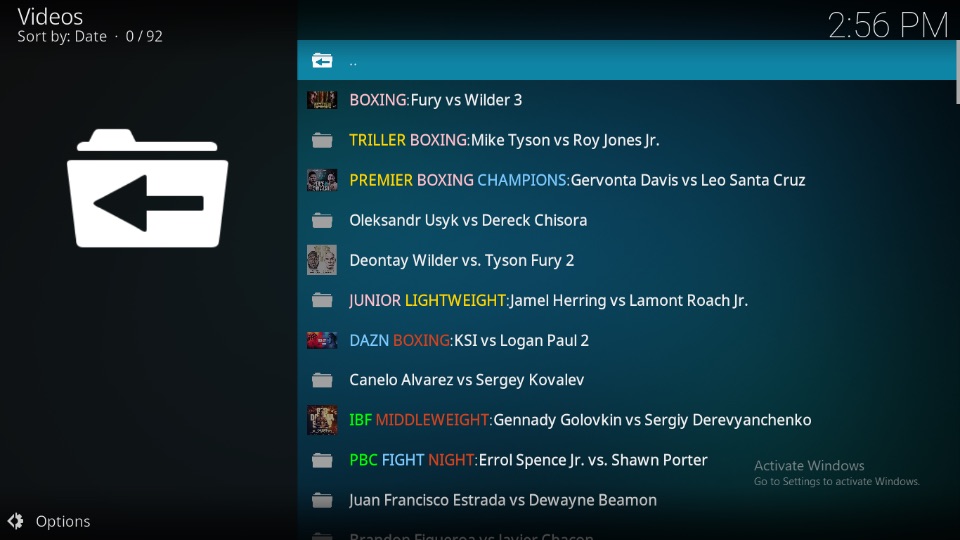 To watch replays of other sports, open OTHERS.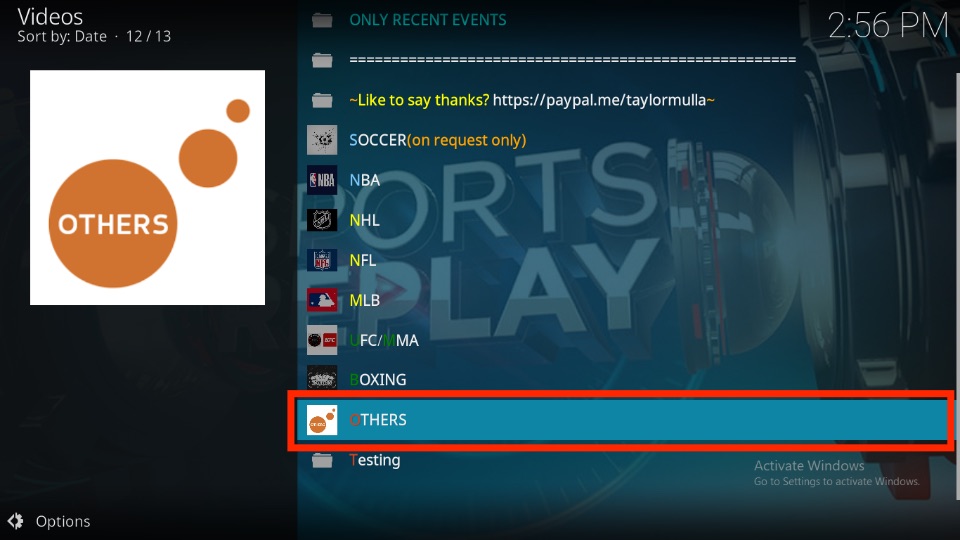 This section features replays of sports like racing, world wrestling, and more.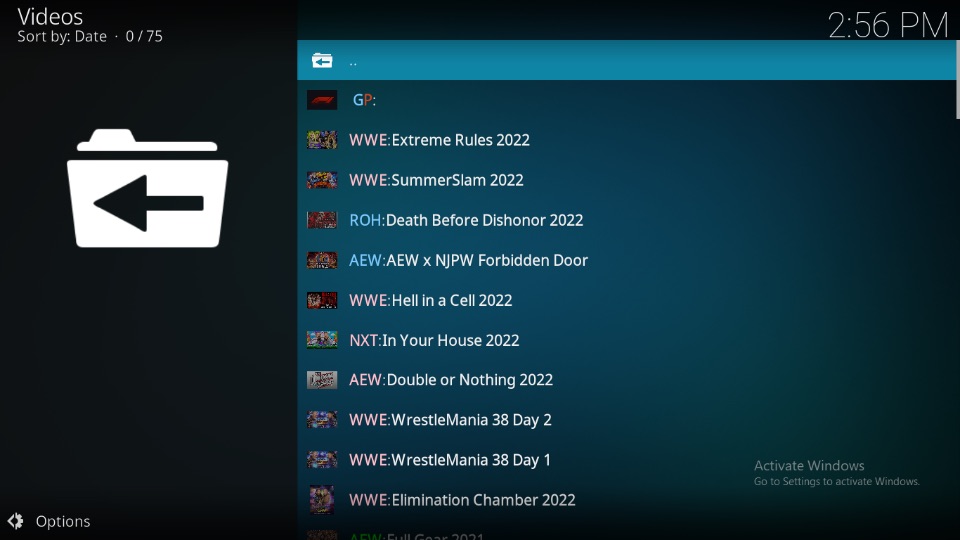 Lastly, explore other Replay Me sections to find replays of various types of sports.
Conclusion
With Replay Me, you can stream the replays or highlights of the matches you have missed for free. This guide showed you how to Install Replay Me Kodi addon and a handful of related stuff. If you have any queries, contact me in the comments section.
Related: