I will share the 20 best free sports streaming sites in this guide. These websites work on any device that supports a browser, including FireStick, Smartphones, TV Boxes, Windows, Mac, Linux, and more.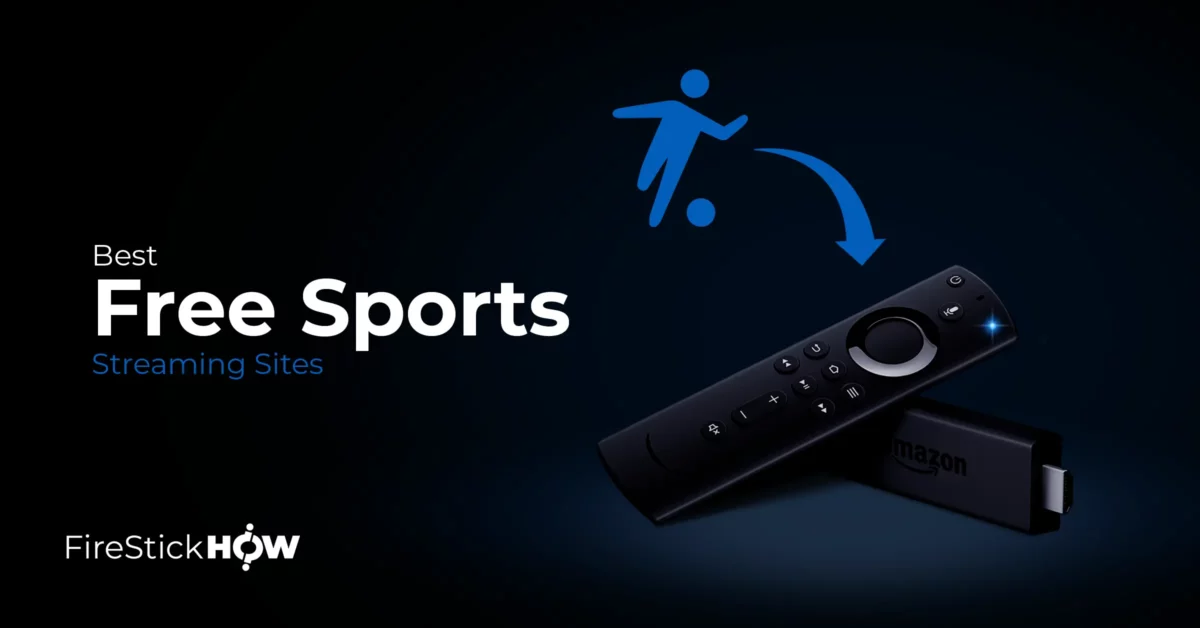 Sports are a popular source of entertainment for people all around the world. Hundreds of fans fill arenas to witness live action of their favorite sport, including football, basketball, tennis, and athletics.
For fans who can't access the arenas, they witness the live action on their TVs or streaming sites. However, you must have a subscription to watch these sports live on TV or online. If you are tired of pricey subscription fees to stream sports, there are certain streaming sites that offer free sports.
These free streaming sites occasionally get into legal trouble with the authorities for copyright infringement. For this reason, some of them go offline or are entirely shut down. I have done much of the work for you by testing the sports streaming websites that are still working. Below are the 20 best free sports streaming sites working today.
Attention Streamers: Read before you continue
Your government and ISP are probably monitoring your streaming activities using your IP address 3.17.249.235 (exposed to all). You may get into serious legal trouble for streaming copyrighted videos. 
I strongly recommend getting a trusted VPN to hide your IP address and protect your online identity.
I use ExpressVPN on all my devices as it is the most secure, fastest, and easy-to-use VPN. It comes with an unconditional 30-day money-back guarantee, and you get 3 free months with the yearly plan.
Don't miss out on the peace of mind and online security ExpressVPN provides.
Are Sports Streaming Sites Safe & Legal?
Most free sports streaming websites are unverified and designed by unofficial, third-party developers. Therefore, we cannot claim they are safe (or unsafe). However, before streaming from any such website, I always run it through a virus scanner.
For instance, I scanned the first website on our list, http://nflstream.io. The image below is the screenshot of the scan result. As you can see, one vendor has flagged the website as malicious. At the same time, 89 others have given it a pass.
The website did not cause any trouble on my devices. I used it for a few hours. However, I would recommend exercising caution.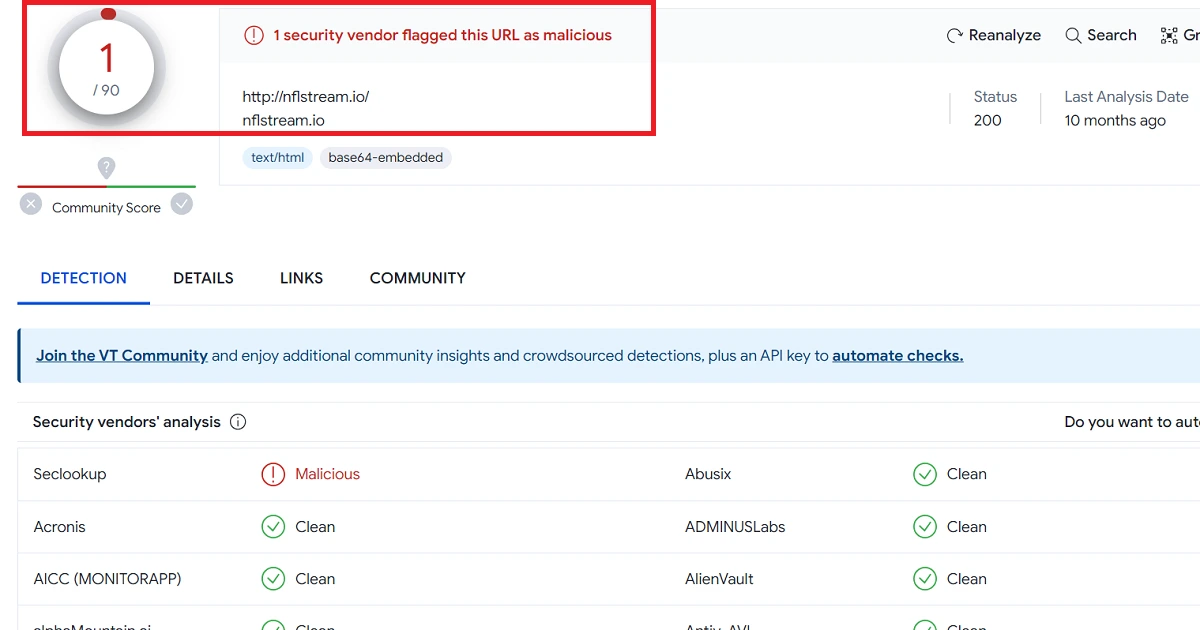 The legality of the third-party or unofficial websites is hard to determine. These websites pick streaming links from numerous unverified and untested sources. FireStickHow.com does not have the tools to verify if their sources are legal.
I recommend ExpressVPN while streaming to protect your online activities from prying eyes.
Best Free Sports Streaming Sites
In a hurry? Here are some of the best sports streaming sites featured on this list:
Disclaimer: This guide is purely educational. We neither own nor operate any of the services mentioned. Some of these may not be legally licensed, and we don't verify their legality in all regions. If you opt to use unverified apps/services/websites, ensure you're streaming only public-domain content. You bear the responsibility for any media you access.
Want a detailed list? Let's get to it.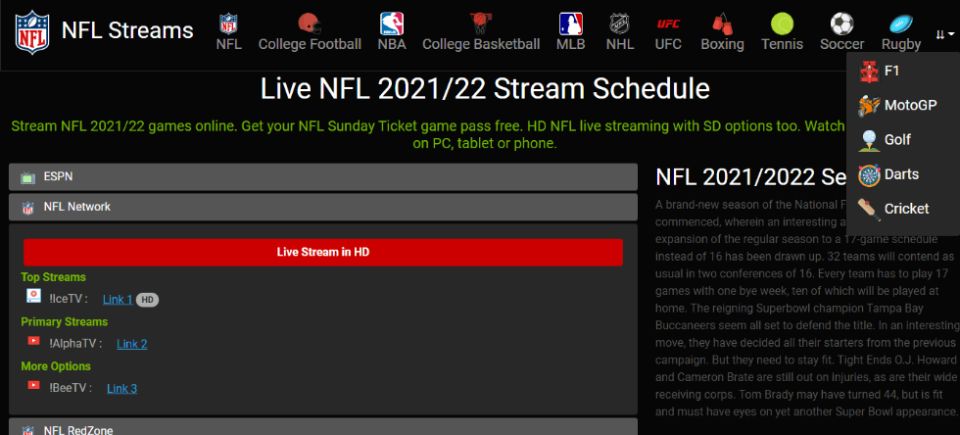 NFL Stream is a website that offers various sports, including football, combat sports, motor racing, and tennis. You'll find most professional sports leagues here, such as the NFL, UFC, Formula 1, and NBA.
It is a straightforward site with a fluid interface.
NFL Streams supports multiple languages to make content efficient for multilingual users. It also has a Chrome Extension that makes it easier to access your favorite sports.
Accessing the site for the first time requires verification. This includes registering a free account.
You may be required to switch off your VPN while registering the account because it blocks VPN services. However, you can use a VPN to access free live sports streams after registering.
The streaming site is built on a secure channel, guaranteeing user safety. It also has fewer promotional banners and ads. For a free streaming website, that's a bargain.
Pros
You can stream live sports in HD-quality.
Works on mobile devices.
Fewer pop-ups compared to other free sports sites.
User-friendly and easy-to-navigate website.
Cons
You need to register an account to have full access to the streaming service.
Major sports streams are available.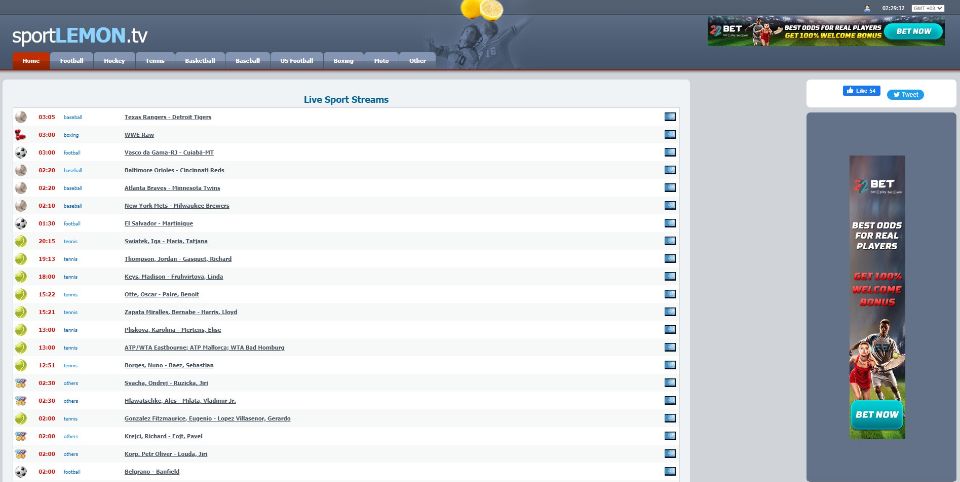 SportsLemon is another incredible site to add to our list. This website provides high-quality streams of multiple sports, including football, hockey, basketball, and tennis. It is a simple website with a straightforward menu.
The content on SportsLemon is easy to find and stream. It is categorized into eight main categories, each showing the available live streams.
You don't need to register for an account to access streaming links for your favorite sporting events.
Moreover, SportsLemon is accessible globally, letting you stream live games of top leagues and tournaments from anywhere.
On the downside, SportsLemon has a lot of ads, including display ads and embedded links. Be careful when browsing the site to avoid clicking an embedded link that leads to a new site.
Pros
Wide variety of sports content.
Intuitive user interface.
High-quality streaming links.
No need to register for an account to stream content.
Cons
Contains ads that may interfere with opening links or interrupt playback.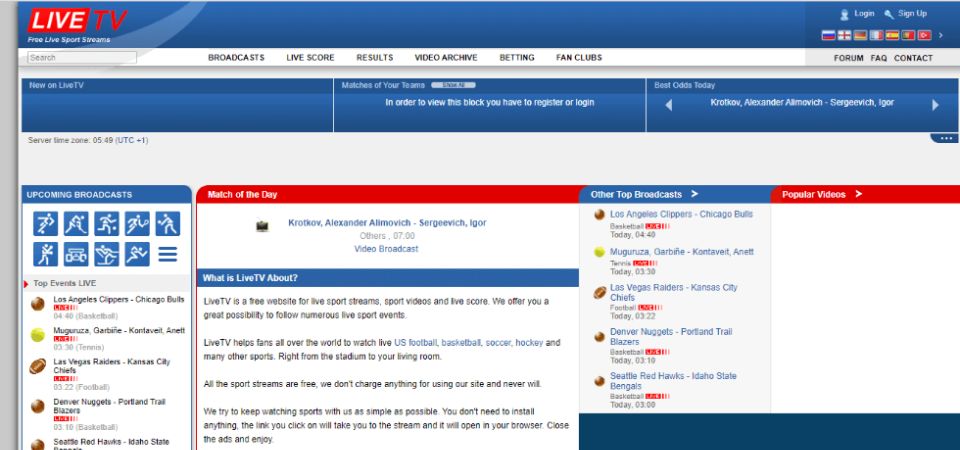 Next on our list of best sports streaming sites is Live TV. You are in luck if you are looking for a site that offers live games, sports videos, and live scores.
This site offers the best live matches and on-demand videos of popular sports. Experience the best action in US football, soccer, and other professional sports for free on Live TV.
The only downside with Live TV is its user interface is less attractive than other streaming sites.
The developer also needs to do a better job of making the site mobile-friendly. All in all, it's a decent sports streaming site once you get the hang of it.
The site displays each available stream alongside the streaming links when making a sports category selection. The downside is that some channels may not be available in some locations.
Pros
No account is needed to stream free live sports.
Easy-to-navigate website.
Multiple sports channels allow you to stream several sports events.
You do not need a cable.
Cons
Intrusive ads.
You need to be signed in to view the program schedule.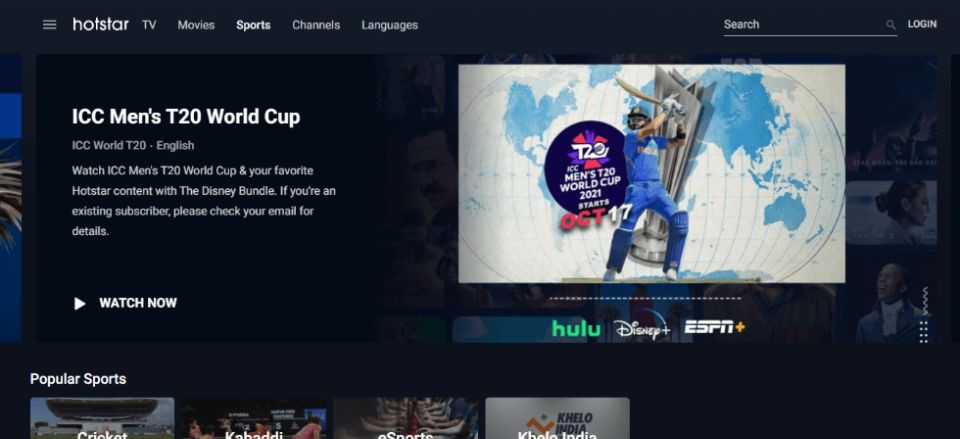 Hotstar is a renowned streaming site for sports, live TV, movies, and TV shows. Because our post focuses on sports streaming sites, we will focus on the sports content on the site.
Popular sports you can stream on Hotstar include Cricket, Kabaddi, Esports, and Khelio. Being an Indian-based website, it mainly focuses on popular Indian sports.
However, you can find interesting live matches tailored for users in the US and Canada.
Hotstar's content library is tailored to match your location. The streaming site is available in India, Canada, and the US. However, with a VPN service routed through any of these locations, you can enjoy full access to Hotstar.
Pros
No account is needed to enjoy live streams.
Free of intrusive ads and banners.
Seamless video playback.
Hot content catalog.
User-friendly interface.
Smart search feature.
Cons
Location restrictions.
The content library is more Indian-oriented.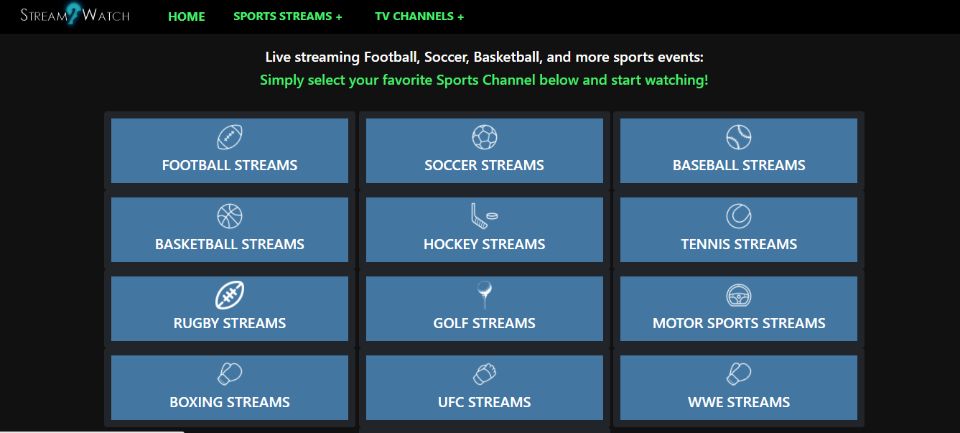 Stream2Watch is another gem that gets to feature on my list of the best free streaming sites.
Want a free sports streaming website that allows you to enjoy live sports streams in multiple languages? One of your streaming sites is Stream2Watch.
The site has a lot of sports content to offer, including live games and on-demand videos. Whether your interest is in boxing, motorsports, rugby, or golf, Stream2Watch has the streams. You will also find live TV streams from popular stations like Fox Sports, BT Sports, and ESPN.
With the Stream2Watch player, you can watch at home or on the go. Adaptive videos with a multi-language audio option will ensure a unique live-streaming experience for sports lovers.
In addition to that, they provide you with several live-streaming links for each match, game, or competition. The best thing about Stream2Watch is that it provides visitors with cable sports channels, and backup streams are available for every broadcast.
Pros
No geo-blocking.
Compatible with mobile devices.
No sign-ups nor accounts are needed to use the live sports streaming site.
No buffering.
Fantastic playback media.
Cons
Ads and promotional banners may get annoying when streaming sports.
It links to other sports streaming sites that may require you to register before you can watch live sports.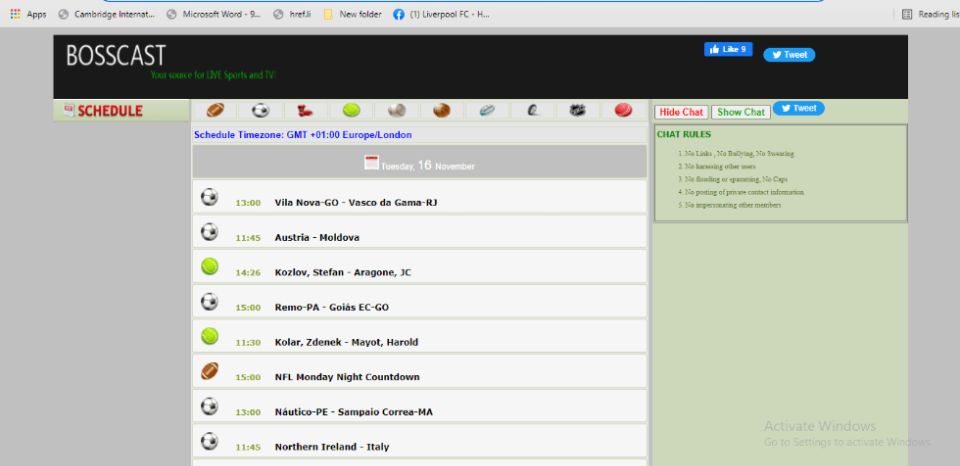 BossCast is a sports streaming website that features sports channels such as ESPN, Eurosport, NBA TV, and so on.
The website has a monthly visit rate of over 500k, so be assured that it is popular among sports fans. BossCast allows streaming live sports directly on its website, making it simpler to enjoy games.
Like other streaming sites, BossCast offers a live chat system where you can interact with other fans and sports communities during the game. The website allows you to change your time zone so you don't miss sporting events.
The chat system doesn't support bullying, racism, spamming, or posting links to other sports streaming sites. The punishment for breaking any of these rules is a direct ban.
Some cons to BossCast include pop-ups and ads that won't let you watch the stream uninterrupted. Another con is that links open in separate windows on new websites, resulting in redirections.
Pros
The events schedule is available.
You do not need an account to use the site.
Popular sports channels can be accessed.
Cons
Insistent ads.
Too many redirections.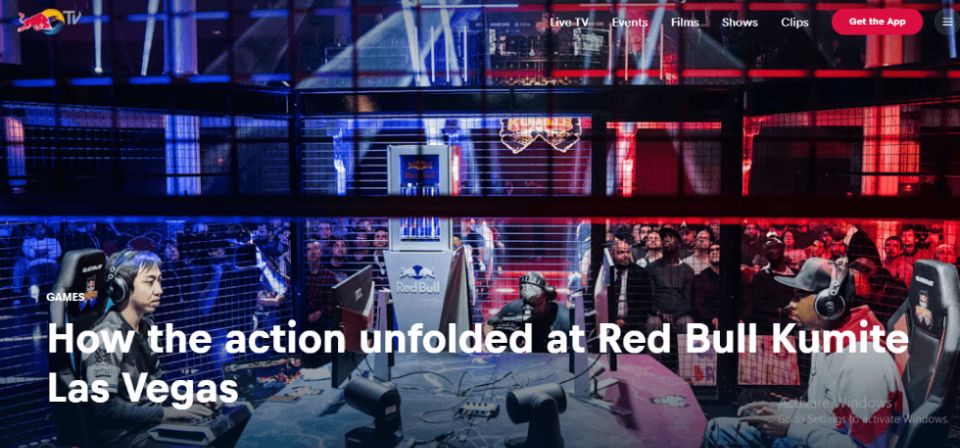 Redbull TV is the go-to website if you want to experience the best of adventure sports. I am talking about skiing, biking, enduro, and snowboarding. It is the perfect destination for this kind of content, boasting over 8 million monthly visits.
Besides the adventure sports, you'll also find popular events like soccer and basketball.
Redbull TV is free, and you don't need an account to stream content. It also has no geo-restrictions so you can stream sports from anywhere in the world.
Redbull TV is user-friendly and easy to navigate. It also features an interactive media player with options to change streaming quality and watch in full-screen or Windows mode.
If you would like to know more about your favorite sport or sports people, Redbull TV has a section for that. Its blog talks about celebrity facts and the history of various sports.
The blog also keeps you updated about upcoming events.
Pros
A subscription isn't required to watch sports.
Hosts engaging facts about athletes.
No location restriction.
Cons
It doesn't cover recognized sports.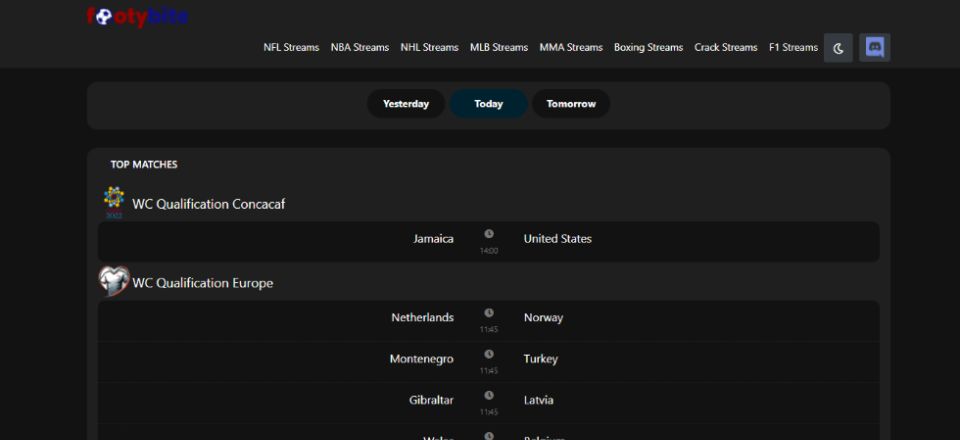 FootyBite is one of my favorite sports streaming websites. As the name suggests, Footybite is mainly focused on live football streams.
However, the site allows visitors to stream other sports like hockey, cycling, basketball, baseball, and cycling. The website also provides exciting sports news for fans and has a variety of football channels.
With a solid reputation amongst free sports streaming websites and over 700,000 monthly visits, FootyBite continues cementing itself as an excellent alternative to regular cable TV.
The website interface is as clean as possible and easy to navigate. The live streams are well-sectioned, which makes it easier for you to locate a stream. These categories include NFL Streams, NBA Streams, NHL Streams, MLB Streams, MMA Streams, Boxing Streams, Crack Streams, and F1 Streams.
Each livestream category has event scheduling, which provides information to the site user about the next event, including the date and time for such an event. The links to the live streams are authentic, and some sporting events are available in HD.
I observed that the live streaming is hosted on the FootyBite website, unlike other sports sites. This means you'd have a live-streaming experience free from redirections and annoying ads.
Pros
It doesn't redirect to other sites.
Few Ads.
It has a clean interface.
Cons
Limited sports coverage.
The website isn't secure.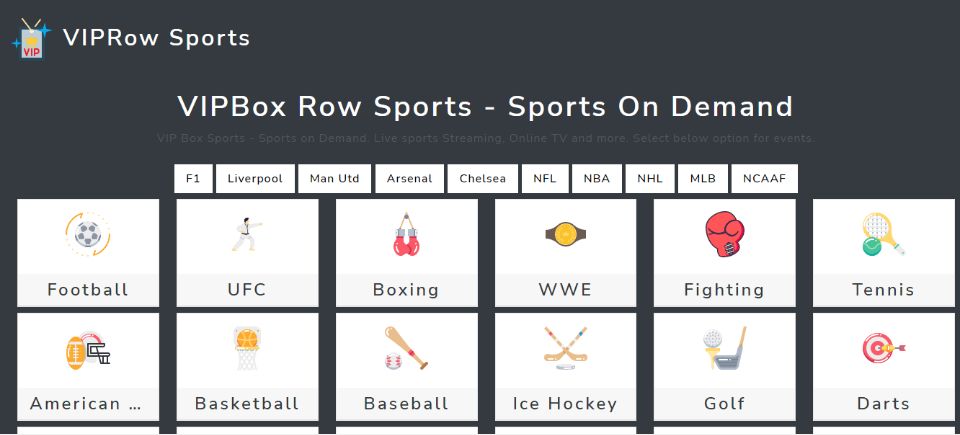 VIP Row Sports is one of the most popular sports streaming sites in the world, and rightly so. Although, at first sight, the website layout looks very similar to VIP League and VIP Box, which are both free sports streaming sites, VIP Row offers something entirely different from those two.
The free sports streaming site allows people to watch sports online, providing visitors with high-quality streaming links for each live stream. It features a wide variety of sports categories, including soccer, wrestling, MMA, tennis, American football, volleyball, racing, cycling, darts, volleyball, and handball.
If you love diversity and follow several sports, then VIP Row Sports is just what you need. A standout feature for me while inspecting the website is that you can also stream TV shows.
VIP Row is that flexible. The user interface isn't that attractive, but it is evident and easy to navigate. Besides, most cord-cutters are looking for a free sports streaming website. VIP Row Sports will remain one of the best free sports streaming sites as long as it continues to offer that.
Regarding streaming quality, you are assured of high-quality live streams in all sports categories. However, the free sports streaming site denies hosting any streams on its server. The common thing with sites like these is the constant redirections you may experience.
The constant redirections will mostly lead you to another website requesting that you sign up. All you have to do is close the newly redirected window and click the play button on the stream again. By doing that, you will be able to enjoy your sports matches.
Pros
No registration is needed to use the streaming site.
Wide variety of sports content.
Sports news category.
High-quality.
Cons
Constant redirects and ads.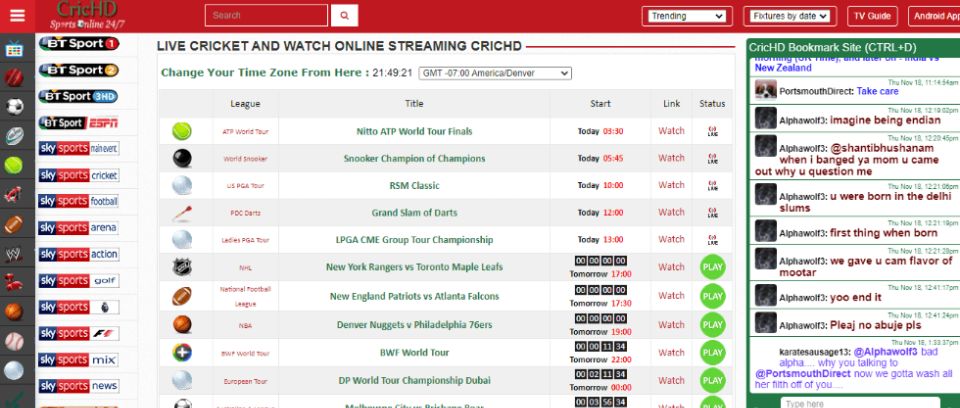 Yeah, I know what you're thinking, and fortunately, you're mistaken. CricHD isn't a streaming site strictly focused on cricket alone. You will find a vast sports library on this site, including football, soccer, boxing, and cycling.
It is an attractive website, with content displayed colorfully on the home page. There are event schedules, league tables, match stats, and matchups. It is also one of the few sites with a chat feature for streamers to interact.
Access to live TV channels isn't restricted, as you can stream all sports IPTV channels in real time without limitations.
If you have a fast and stable internet connection, expect your streams to be smooth and lag-free. You can choose between several streaming links to access the content when you select a stream.
The interface may seem cluttered from afar, but once you get the hang of it, you will find CricHD easy to navigate.
It also features upcoming streams on the home page, the exact time they happen, and their status to help you plan.
Some live sports streaming channels include ESPN TV, BT Sports, and BEIN Sports.
If you have a channel in mind, you can easily use the search bar to browse through the extensive library. The live sports streaming platform also has an Android app that you can use to access the full content.
Pros
No geo-restrictions.
Smooth and buffer-free streaming.
High-quality streams.
User-friendly interface.
Cons
It has pop-up and intrusive ads.
Sportsurge is one of the best free sports streaming sites. Although it wasn't around long ago and could only stream three popular American sports, it is now a leading site for sports fans.
It offers various sports, including football, hockey, and MMA.
The Sportsurge interface has a clean and elegant design that allows visitors to navigate the website easily. Its home page is designed with large icons that represent various sports.
The site displays more information about each stream, such as the time and number of ads displayed. It also shows the language, compatibility, and channel for each stream. Compared to other free sports streaming sites, Sportsurge may be behind, but it's still an excellent site.
Pros
A wide variety of sports, including football, hockey, and combat sports.
User-friendly and intuitive interface.
Offers content in multiple languages.
Cons
The website is not as advanced as most sports streaming websites.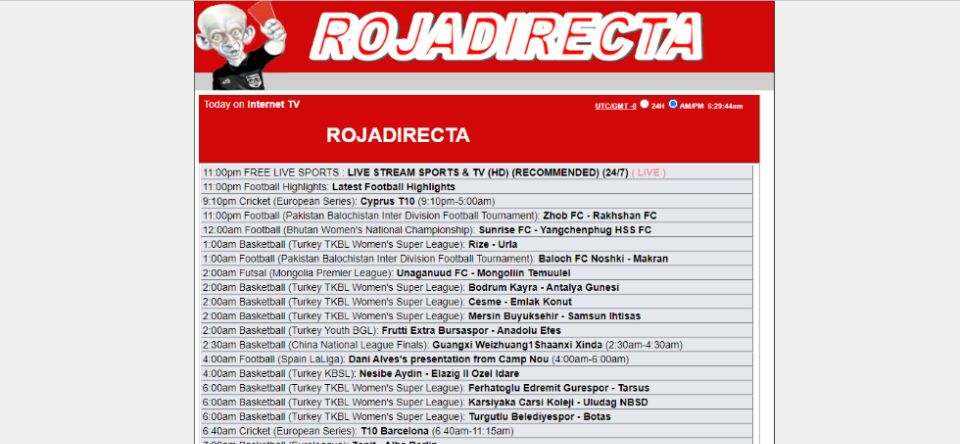 Rojadirecta also features on my list of the best sports streaming sites. On the website, you will notice a list of well-organized streams.
These streams are listed concerning the latest events. So, the event that's getting started first will be listed at the top, making it easier for users to manage their time.
Each event is also categorized into different sports, such as football, basketball, and cricket.
However, the website developers can do better with the interface to make it easy to navigate. You can also download full sports events for free.
Additionally, its robust community is also an excellent place for you to discuss topics of interest.
Pros
Wide variety of sports content.
High-quality streaming links.
Well-organized streams.
It doesn't have intrusive ads and integrates with ad blockers.
Cons
The website is not as advanced as most established sports streaming sites.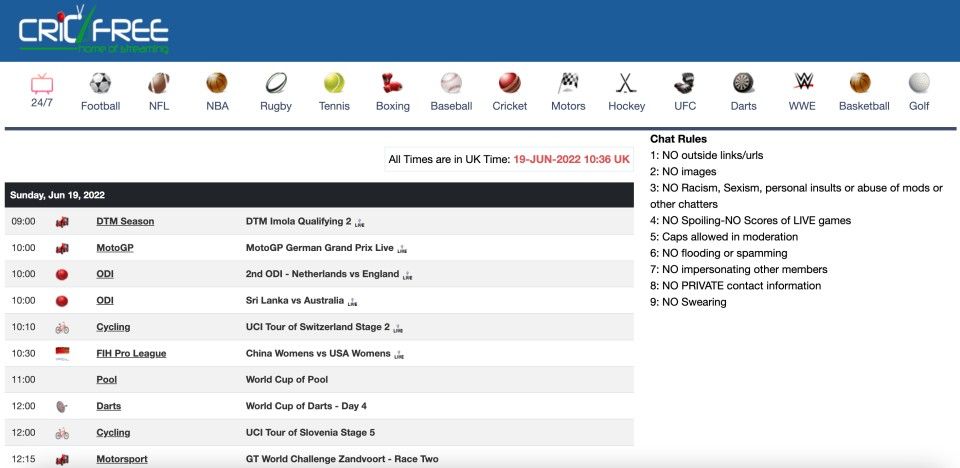 CricFree TV is one of the most recent free sports streaming sites. In terms of appearance, it is similar to BossCast, while in terms of how it works, it is similar to CricHD.
The site has a user-friendly interface that many new visitors will get used to. Scheduled games are displayed on the homepage, which makes it easier for visitors to select a game.
Like most sports streaming sites, CricFree allows users to stream sports matches in different categories, including football, basketball, cricket, and the NHL.
While using CricFree to watch sports online, I noticed that I didn't have to fight off as many ads as I usually would if I were using free sports streaming sites. The streaming site also has a live chat where visitors can interact with each other.
Pros
Intuitive user interface.
Shows live and scheduled games.
Offers a variety of sports, including cricket, football, basketball, and hockey.
Live chat for fans to interact as they watch their favorite sports.
Cons
It has a few ads but not as intrusive as in most third-party sites.

Mamahd is a sports streaming site that attracts many visitors due to its unique live-streaming content. The website does not feature sports categories as diverse as those on other live sports streaming sites like Hotstar and VIP Row.
However, it provides comprehensive coverage of American football, hockey, tennis, badminton, baseball, and basketball.
Mamahd comes with a user-friendly and easy-to-navigate interface. The home screen features a long list of events scheduled for the day.
You can browse the sports match schedule to find a live TV stream of your favorite sport. However, the site is riddled with ads and promotional banners.
Anywhere you click on the site, there is a high probability you will be redirected to another website. So, you may want to be careful with this website.
The site also lacks a search feature, which comes in handy, especially if you're engaging in sports streaming online. Nobody wants to scroll through several pages to watch live TV streams. I advise using a strong VPN like ExpressVPN to protect yourself. These incessant ads usually allow attackers or hackers to access your personal information, like credit card details and passwords.
Pros
Comprehensive coverage of American sports, including football, baseball, hockey, and basketball.
Beginner-friendly user interface.
Sports schedule to alert you on live and upcoming events.
Cons
It has a lot of intrusive ads.
It lacks a variety of global sports like soccer.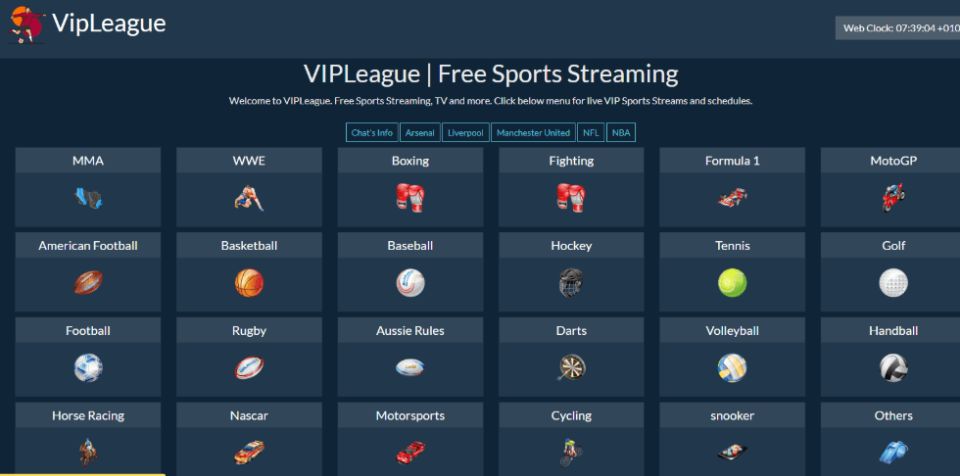 VIP League indeed gets a mention as we are nearing the end of this list. It has an attractive and easy-to-navigate interface that lets you stream multiple sports on the website. These sports include football, basketball, racing, hockey, baseball, and golf. The streams are all available in HD, with no unnecessary buffers.
However, I found the ads on the website annoying as they were very ongoing, and it seemed like there were ad links embedded everywhere I clicked on the website.
The good thing is that the site requires no sign-in or account registration, which comes in handy when rushing to catch up on a stream.
Pros
Wide range of sports content.
Intuitive and beginner-friendly user interface.
High-quality streaming links.
No registration to access content.
Cons
It contains incessant ads that make navigation challenging.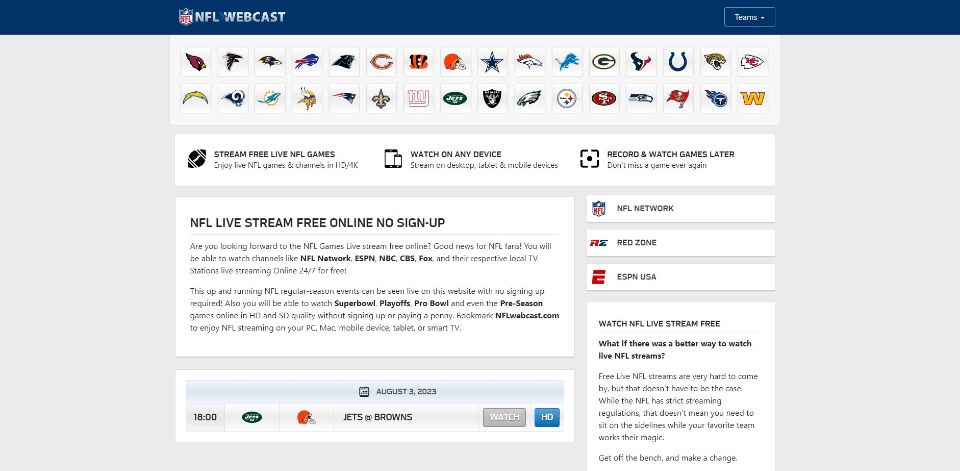 As the name suggests, NFLWebcast is a streaming site for NFL lovers. This site is a suitable option if you want a place to stream NFL live games.
It hosts links to official channels that broadcast NFL content, including preseason matches, playoffs, and the Super Bowl.
Unlike some unofficial sites that stream low-quality content, NFLWebcast broadcasts the live games in SD and HD quality.
All these incredible features are free; you don't need to pay a dollar or register to access the content.
Pros
High-quality streams.
A reliable source of NFL-related live games, including preseason, playoffs, and Super Bowl.
No intrusive ads.
Cons
It only focuses on NFL games.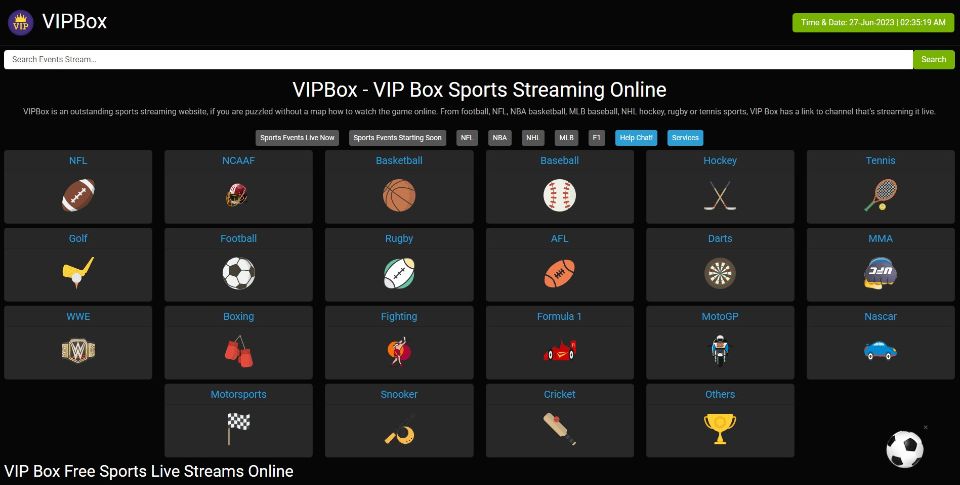 VIPBox is a suitable streaming site for an all-round sports fanatic. It contains various sports genres, and you can watch live streams of the major leagues in these categories. These leagues include the NFL, MLB, NHL, NBA, F1, MMA, and NCAAF.
The site has an eye-catching user interface, which adds to the beauty of streaming colorful live games. You can see the live matches and events starting soon on the home screen.
VIPBox doesn't host these live sports events. Instead, it provides a link to a channel that's streaming it live.
Pros
Wide variety of sports events, including darts, rugby, football, hockey, motor racing, and fighting championships.
Intuitive user interface.
Links to high-quality streams hosted on official sites.
Cons
Intrusive ads often lead to unsecured third-party sites.

If Sports Bay rings a bell, it is the sister site to Pirate Bay, one of the most visited sites for downloading movie and TV show torrents. For its part, Sports Bay focuses on sports, offering free links to stream various sports.
Sports Bay has various sports, from tennis, football, hockey, and cricket to motorsports.
The user interface is intuitive, easy to navigate, and lets you choose between a dark and light mode. At the same time, you can view content in multiple languages, including English and Spanish.
Pros
Wide variety of sports content.
High-quality and working links.
User-friendly user interface.
Secure and safe website, free from malware and intrusive ads.
Cons
Some links open in a new tab with pop-up ads.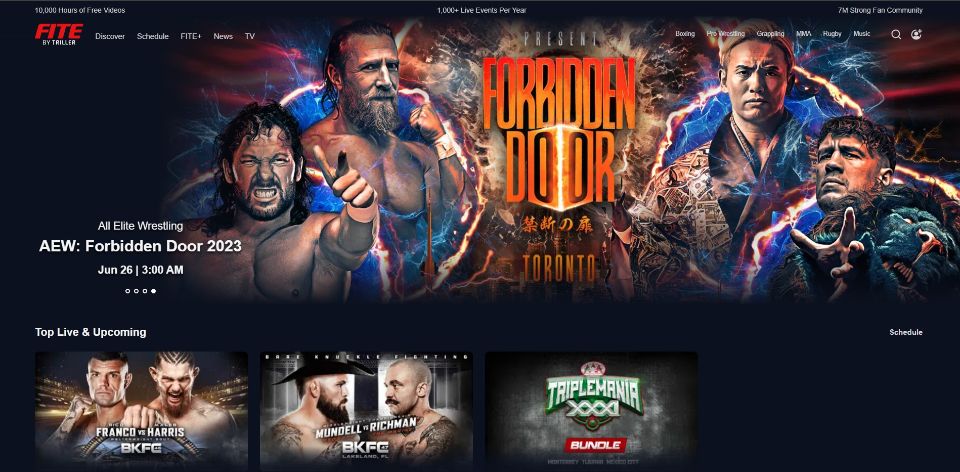 FITE is a popular name among combat sports fanatics. The website offers a variety of combat sports, including live battles, news, schedules, and replays.
Whether you want to stream pro wrestling championships, MMA tournaments, grappling, boxing, or rugby, FITE has got you covered.
While FITE is a free sports streaming site, you need to register for an account to access the content. Signing up for the service is brilliant because you'll get access to over 1000 live events every year, combat sports schedules, news, and live TV.
FITE offers content of high quality, including HD and UHD. The service is also available globally, and you can chat live with other fans as you watch the tournaments.
Pros
Variety of combat sports content, including pro wrestling, boxing, rugby, and grappling.
High-quality content in HD and UHD.
No intrusive ads.
Secure and safe site.
Cons
You need to sign up for an account to access content.
It is restricted to only combat sports content.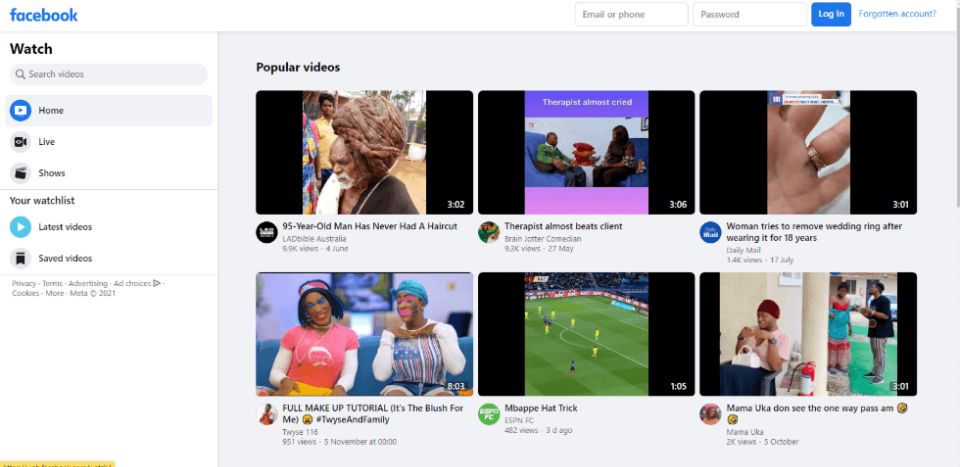 Yes, it's precisely what you're thinking. Facebook Watch earns a mention on my list. In an attempt to compete with other streaming sites in the industry, Facebook integrated the platform into its website.
It allows users to stream soccer, surfing, women's basketball, and other unofficial streams that cover most sports.
However, it contains a limited range of sports due to copyrights and can't operate like other sports streaming sites.
Pros
Free to use.
Has no ads.
Offers a decent variety of live sports, including women's basketball, soccer, and surfing.
Cons
You need to have a Facebook account to stream content.
Contains a limited range of sports compared to other streaming sites.
You are all set to watch your favorite content. However, remember streaming from third-party websites and apps can land you in trouble with authorities.
Always use ExpressVPN to safeguard your privacy and stream with complete anonymity in three easy steps:
Step 1: Click HERE to subscribe to ExpressVPN and enjoy a 49% discount with 3 months of extended service. You are also eligible for a 30-day, full money-return guarantee.
Step 2: Download and install ExpressVPN on your device.
Step 3: Choose a server and click the Connect/Power button.

Put your mind at ease now! You have successfully secured your streaming activities with ExpressVPN.
Do I Need a VPN to Use Free Sports Streaming Websites?
It is not mandatory to use a VPN when using streaming sites. However, aside from the fact that streaming is illegal in some countries, using streaming sites comes with a reasonably high level of risk. Failure to use a VPN on websites like these puts you at risk of exposure to attackers and scammers. Also, the government could easily track you if you live in a country where streaming is illegal.
Using a VPN protects you from these risks. I always recommend ExpressVPN, as it is a very reliable VPN service.
Wrapping Up
So, there it is—my list of the 20 best free sports streaming sites. I hope you have found a website that suits your streaming needs and is suitable for you. You can use these sites to stream live sports from anywhere as long as you are connected to a reliable VPN like ExpressVPN. If you found this article helpful, you may bookmark this page, as I'll update the list regularly. Happy streaming!
Related: