In this guide, I will share the top 20 free sports streaming sites.
Sports are a very popular source of entertainment for people all around the world. Millions of people watch sports every day including cricket, basketball, tennis, volleyball, soccer, and a wide variety of sports. In fact, the last World Cup tournament was viewed by love half the world population. That's over a whopping 3.5 billion.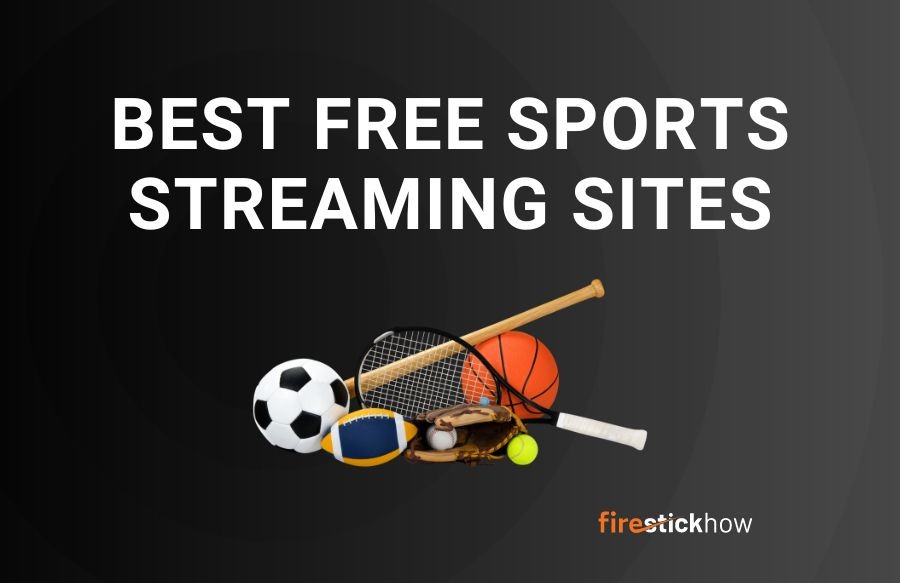 There have been a number of sportsmen and sportswomen that have made their names from sports. The likes of Cristiano Ronaldo, Virat Kohli, Naomi Osaka, Rodger Federer, Serena Williams, and lots more are sportsmen and women that have stayed dedicated and built a legacy over time.
The best thing about sports is they foster relationships amongst people for some, sports are just entertainment. For others, it's a way of life. Whichever category you belong to, I'd be providing you with a list of the best sports streaming sites in this article.
It should be noted that all sports streaming websites mentioned in this article are free to use and you can use them to stream sporting events and live games.
Best Sports Streaming Sites
In a hurry? Here are some of the best sport streaming sites featured on this list.
NFL Stream
123TV
Live TV
Hotstar
Stream2Watch
SonyLiv
BossCast
Redbull TV
FootyBite
VIPRow
Want a detailed list? Let's get to it.
Note: All the sites featured in this list are the best sites to watch sports online. However, this list has been split into 2 according to the functionality.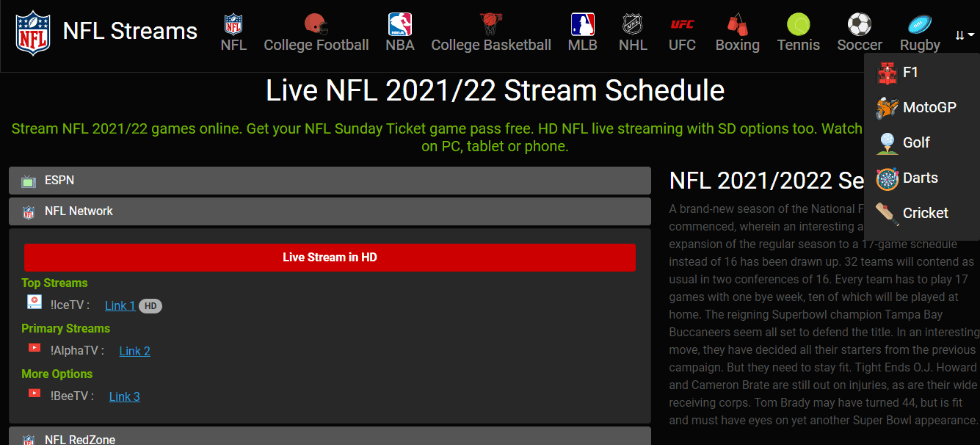 NFL Stream is a web app that can support multiple languages. This is very useful since it allows users to easily translate between different languages.
Visitors can choose from a variety of free sports content including NFL, UFC, NBA, boxing, F1, golf, tennis, and lots of other professional sports.`
NFL streams also has a chrome extension you can install. This means you can watch live sports on both mobile and computer.
Accessing the site for the first time requires verification. This includes registering a free account. You may be required to switch off your VPN while registering the account because it blocks VPN services. However, after opening the account, you can use VPN to access free live sports streams.
The streaming site is built on a secure channel hence guaranteeing user safety. It also has fewer promotional banners and ads. For a free streaming website, that's a bargain.
Pros
You can stream live sports in HD quality.
Works on mobile devices.
Fewer pop-ups compared to other free sports sites.
User-friendly and easy-to-navigate website.
Cons
You need to register an account to have full access to the streaming service.
Major sports streams are available.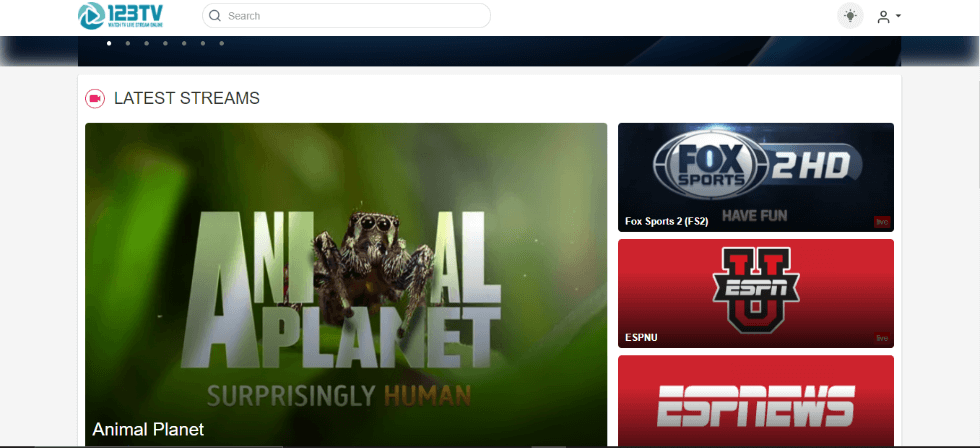 123Tv is also on my list of best sports streaming sites.
The Live TV streaming site allows sports enthusiasts to watch live games at their own convenience without ad intrusion.
The site features over 70+ free live sports channels including FOX Sports, ESPN, and NBC. In addition to these free sports streaming, 123TV offer live TV movie channels such as Disney XD, CBS, and HBO HD.
The website also has a mode toggle with which you can switch between light mode or dark mode. This is helpful for the eye.
One of my favorite features about the site is it has a program guide for live streams. This helps you schedule your streaming so you won't miss your favorite sport.
The website also has a very friendly playback which supports HD quality live streams. You can take snapshots, enter the picture in picture mode and also use the full-screen mode.
Pros
User-friendly and easy-to-navigate interface.
You do not need to register an account to use the streaming website.
The streaming site is VPN- friendly.
Free of intrusive ads and pop-ups.
you do not need a cable TV to use the site.
Cons
Not available on mobile
Fewer live streams that show sports content.
The site is less secure.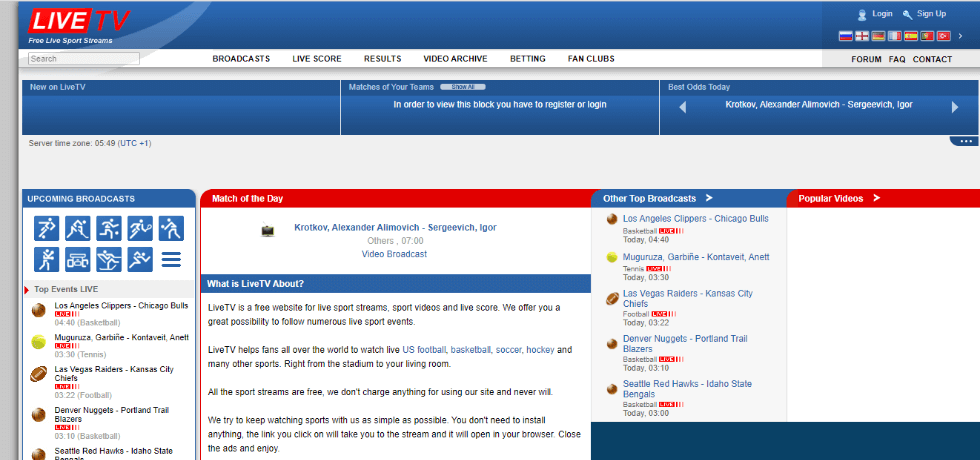 LiveTV is one of the earliest free sports streaming sites. This free sports streaming site was launched in 2006 and has since then become one of the best free sports streaming services.
The free sports streaming site allows sports fans to watch live sports streams, live scores, and sports videos. The live streaming site offers you a great possibility to your favorite sports.
LiveTV brings all the action right from the stadium to the living room as it helps sports lovers all over the world to watch live sports including US football, basketball, soccer, and hockey.
Regarding the user interface, I found it less attractive compared to other free sports streaming sites but I got used to it after a couple of minutes. I'd say they can do better in that aspect. The website is also not mobile-friendly.
The sports streaming site keeps it as simple as possible. You do not need to install any extension. However, to help you keep watching sports online, they entertain ads on their website.
On making a sports category selection, the site displays each available stream alongside the streaming links. The downside is that some channels may not be available in your location. An example is Eurosport which is not available in the US.
Overall, LiveTV is a very good sports streaming site to look at if you love diversity.
Pros
No account is needed to stream free live sports.
Easy to navigate website.
Multiple sports channels allow you to stream several sports events.
You do not need a cable.
Cons
Intrusive ads.
You need to be signed in to view the program schedule.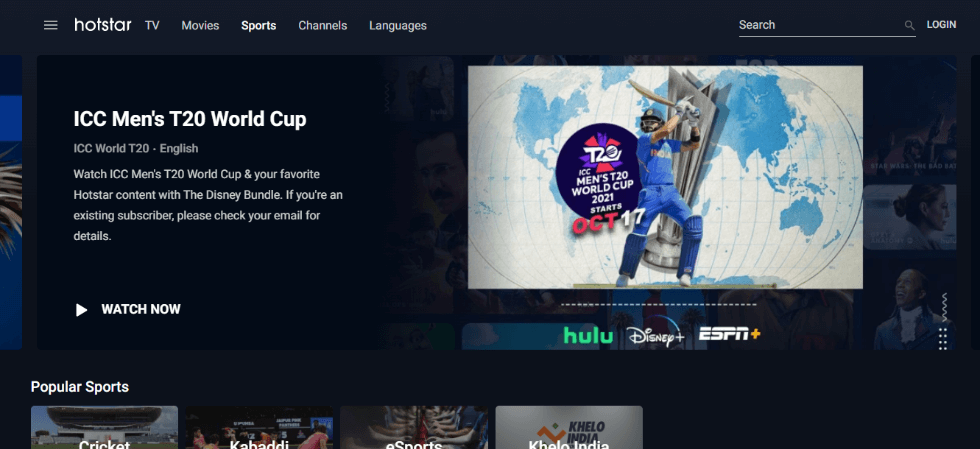 If you are familiar with free sports streaming sites, Hotstar will need no introduction.
It is one of the most visited websites worldwide as it sits 111th on the world ranking with over 316m visits. The sports streaming site is even more popular in India with a ranking of 11 among the most visited websites in India.
The free streaming has a dedicated sports category that features ICC, Kabaddi, esports and Khelio India live streaming channels. With these channels, you are guaranteed to never miss out on any action.
Hotstar content library is tailored to match your location and the slice streaming site is available in India, Canada, and the US. However, with a VPN service routed through any of these locations, you can enjoy full access to Hotstar.
Pros
No account is needed to enjoy live streams.
Free of intrusive ads and banners.
Seamless video playback.
Hot content catalog.
User-friendly interface
Smart search feature.
Cons
Location restrictions.
The content library is more Indian oriented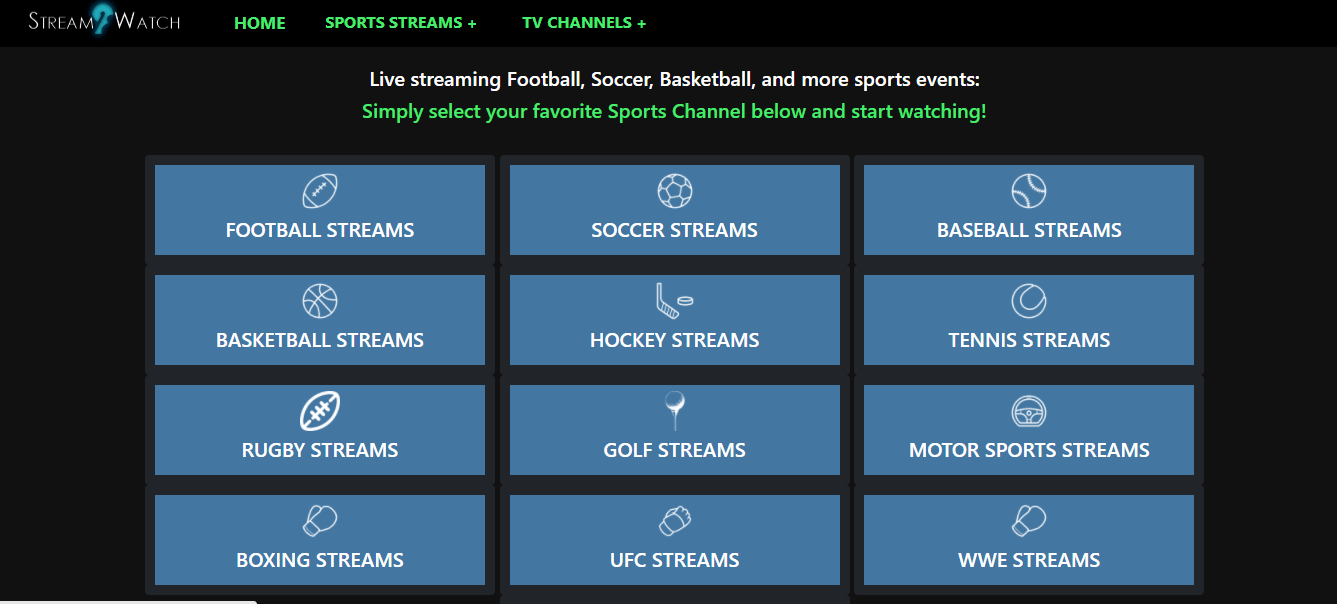 Stream2Watch is another gem that gets to feature on my list of best free streaming sites.
Want a free sports streaming website that allows you to enjoy live sports streams in multiple languages? Stream2Watch is one of the streaming sites for you.
On Stream2watch you can watch sports online and enjoy uninterrupted coverage of all the popular sports around the world. On-demand TV streams for all televised sports events. The free streaming site consists of different TV networks that cover major sporting events like Basketball, Soccer, American Football, Tennis, Golf, Rugby, and Hockey. Some of these channels include FOX Sports, ESPN, and BT Sport.
With the Stream2watch Player, you can watch at home or on the go. Adaptive videos with a multi-language audio option will ensure a unique live streaming experience for sports lovers.
In addition to that, they provide you with several live streaming links for each match, game, or competition. The best thing about Stream2Watch is it provides visitors with cable sports channels and there are backup streams available for every single broadcast.
Pros
No geo-blocking.
Compatible with mobile devices.
No sign-ups nor accounts are needed to use the live sports streaming site.
No buffering.
Fantastic playback media.
Cons
Ads and promotional banners may get annoying when streaming sports.
It links to other sports streaming sites that may require you to register before you can watch live sports.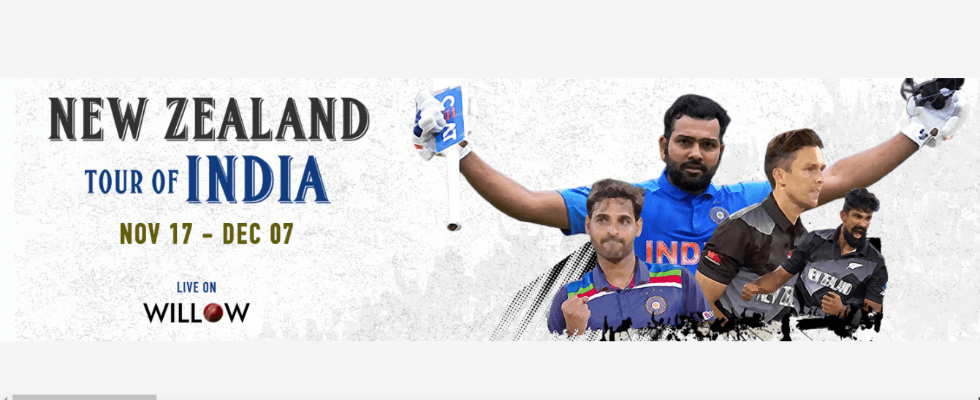 If you are looking for the best free sports streaming site that will allow you to enjoy live sports streaming without incessant ads and promotional banners, then you might want to check out Sony Liv.
Sony Liv has an extensive library of live sports streams channels that you can select from to stream sports online.
SonyLiv is popular amongst the Indian territory for the live sports teams.
Generally, SonyLiv is one of the best live sports streaming websites.
Pros
HD quality streaming is available
User-friendly interface.
Interactive live stream replay.
Cons
Location restrictions.
Very adblocker unfriendly.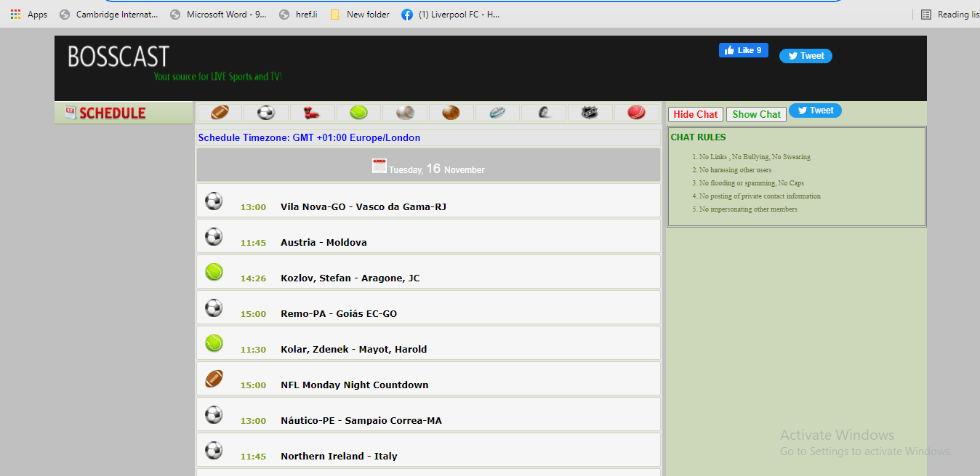 BossCast is a sports streaming website that features sports channels such as ESPN, Eurosport, NBA TV, and so on.
The website has a visit of over 500k monthly so be rest assured it is a popular website among sports fans. BossCast allows the streaming of live sports directly on its website, making it simpler to enjoy games.
Like other streaming sites, BossCast offers a live chat system where you can interact with other fans and sports communities during the game.
The website allows you to change your time zone, so you don't miss sporting events.
The chat system doesn't support bullying, racism, spamming, and posting links to other sports streaming sites. The punishment for breaking any of these rules is a direct ban.
There are some cons to using BossCast that may affect your viewing experience. One of the cons is that there are various pop-ups and ads that won't make you enjoy the stream. Another con is that links open on separate windows into new websites, resulting in redirections.
Pros
Events schedule is available.
You do not need an account to use the site.
Popular sports channels can be accessed
Cons
Insistent ads.
Too many redirections.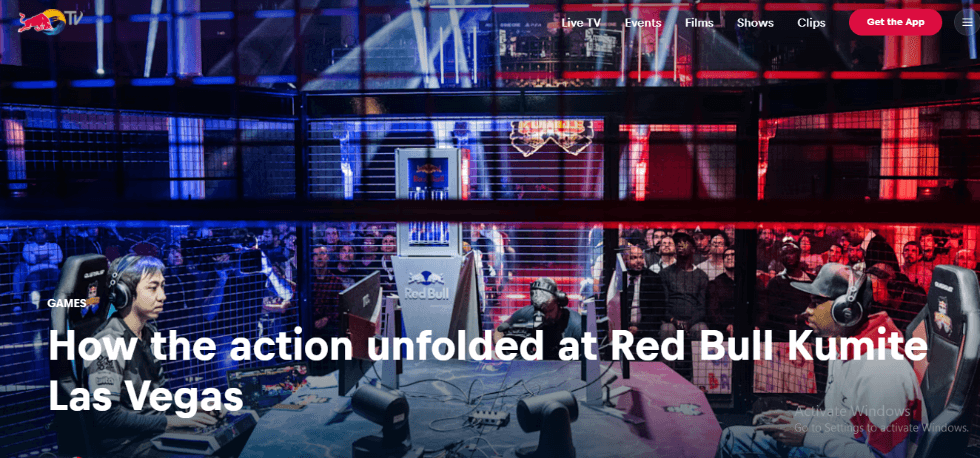 This is one of the best free sports streaming sites. If you are a fan of adventure sports like skiing, biking, enduro, or snowboarding, RedBull TV should be of particular interest to you.
With over 8 million monthly visits, it remains one of the most visited sports streaming sites. If you want to stream live sports like snowboarding, surfing, skating, racing, and so on, RedBull provides a solution.
Although sports streaming website is more focused on extreme sports, it also features other popular sports like soccer and basketball. The best thing about RedBull is it allows you to enjoy full access to all sports content without registering an account and there are no location restrictions.
In the midst of all these, the RedBull TV site is very user-friendly and easy to navigate. The media player is also interactive and allows you to perform several operations like increasing stream quality, and toggling between the full-screen mode and windows mode. The streaming website also has a picture-in-picture feature that allows you to continue watching your live stream while engaging in other activities.
Red Bull TV app is available for download on nearly all devices including Android, iPhone, iPad, Apple TV, Amazon Fire TV, Xbox, and even Play stations.
Overall, RedBull TV also offers facts on different athletes, sports, and upcoming, and past sports events. It is a great aid for adventure sports fanatics to know more about the sport and stay updated.
 Pros
A subscription isn't required to watch sports
Hosts engaging facts about athletes
No location restriction
Cons
Doesn't cover recognized sports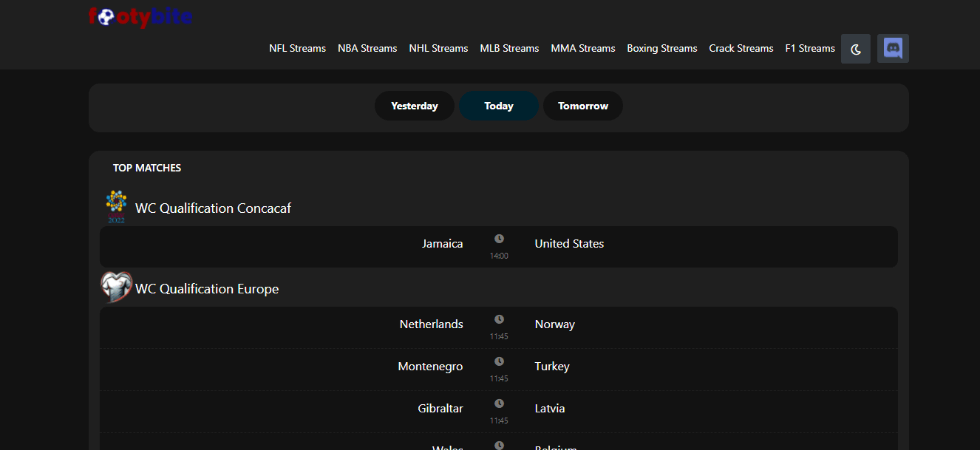 FootyBite is one of my favorite sports streaming websites.
As the name suggests, Footybite is mainly focused on live football streams. However, the site allows visitors to stream other sports like hockey, cycling, basketball, baseball, and cycling. The website also provides exciting sports news for fans and also has a variety of football channels.
With a solid reputation amongst free sports streaming websites and over 700k monthly visits, FootyBite continues to cement its place as a very good alternative to regular cable TV.
The website interface is as clean as you'd ever imagine and very easy to navigate. The live streams are well-sectioned which makes it easier for you to locate a stream. These categories include NFL Streams, NBA Streams, NHL Streams, MLB Streams, MMA Streams, Boxing Streams, Crack Streams, and F1 Streams.
Each live stream category has event scheduling which provides information to the site user about the next event including the date and time for such event.
The links to the live streams are authentic and some sporting events are available in HD. While inspecting the website, I observed that the live streaming is hosted on FootyBite website itself, unlike other sports sites. This means you'd have a live streaming experience that is free from redirections and annoying ads.
Overall, FootyBite is one of the best sites for live TV and free streams.
  Pros
Doesn't redirect to other sites
Few Ads
It has a clean interface
Cons
Limited sports coverage
The website isn't secure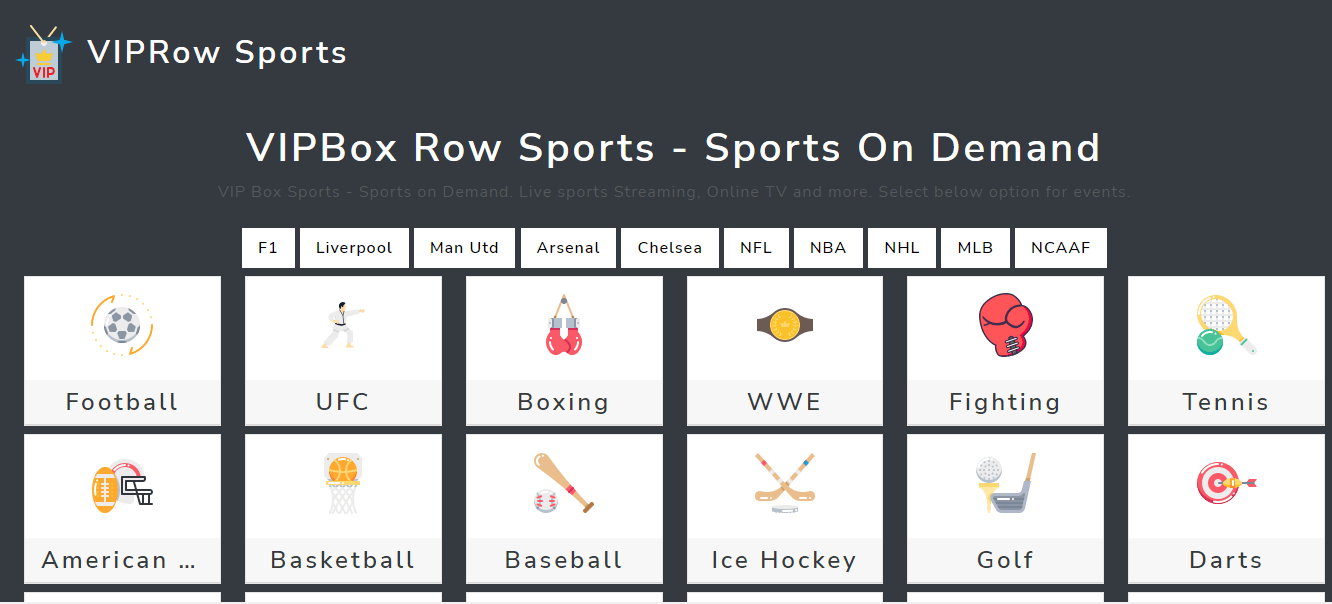 VIP Row sports is one of the most popular sports streaming sites in the world and rightly so.
Although at first sight, the website layout looks very similar to VIP League and VIP Box which are both free sports streaming sites, VIP Row offers something entirely different from those two.
The free sports streaming site allows people to watch sports online as it provides visitors with high-quality streaming links for each live stream. The good thing about the site is it features a wide variety of sports categories from which users can select to enjoy their live stream.
Also, the website features sports categories such as Soccer, Wrestling, MMA, Tennis, American Football, Volleyball, Racing, Cycling, Darts, Volleyball, Handball, and so on. How may streaming sites cover this much for free? Right, just a few.
If you love diversity and you are someone that follows several sports, then VIP Row sports is just what you need. A standout feature for me while inspecting the website is you can also stream TV shows on the website. VIP Row is that flexible.
In my opinion, the user interface isn't that attractive but it is very clear and easy to navigate. Besides, what most cord-cutters are looking for is a free sports streaming website. As long as VIP Row sports continues to offer that, I'd always see it as one of the best free sports streaming sites.
Let's talk about video quality. Be rest assured you'd be having access to high-quality live streams in all the sports categories. The free sports streaming site however denies hosting any streams on its server. The common thing with sites like these is the constant redirections you may experience.
The constant redirections will mostly lead you to another website that will request you to sign up. All you have to do is close the newly redirected window and click the play button on the stream again. By doing that, you will be able to enjoy your sports matches.
Again, if you are looking for streaming websites with a variety of sports categories, VIP Row is one of the best free sports streaming sites for you.
Pros
No registration is needed to use the streaming site.
Wide variety of sports. content.
Sports news category.
High-quality
Cons
Constant redirections and ads.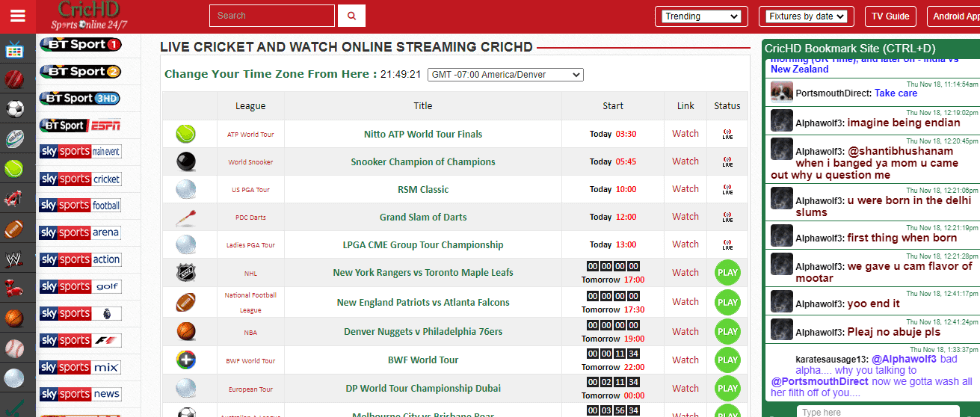 Yeah, I know what you are thinking and fortunately, you're wrong.
CricHD isn't a streaming site strictly focused on Cricket alone. In addition to Cricket streams, the free sports streaming platform offer s plethora of various sports like Basketball, Football, Soccer, Volleyball, Boxing, Wrestling, Cycling, and so on.
The website has a very attractive and easy-to-navigate website layout. CricHD also allows users access to events schedules, league tables, match stats, and matchups. There is also a live chat feature on the website where you can engage other streamers all around the world in discussions.
Access to live Tv channels isn't restricted as you can stream all sports IPTV channels in real-time without any limitations. If you have a very fast and stable internet connection, expect your streams to be smooth and lag-free. When you select a stream, you can choose between several streaming links to access the content.
These links may differ in speed and buffer rate so I advise people to go with the 1st or 2nd links as they are usually the best ones. In rare cases, you may also notice that some links do not work. If this happens, you can easily select another link and go on with your business.
CricHD's interface is well organized and easy to navigate. It however seemed busy to me but I got used to it quickly as I familiarized myself with the site. For people who don't have much free time on their hands, the website features the upcoming streams, time for the events, and the status of the event.
Some of the live sports streaming channels include ESPN TV, BT Sports, and BEIN Sports. If you have a channel in mind, you can easily use the search bar to browse through the extensive library.
The live sports streaming platform also has an Android App which you can use to access the full content.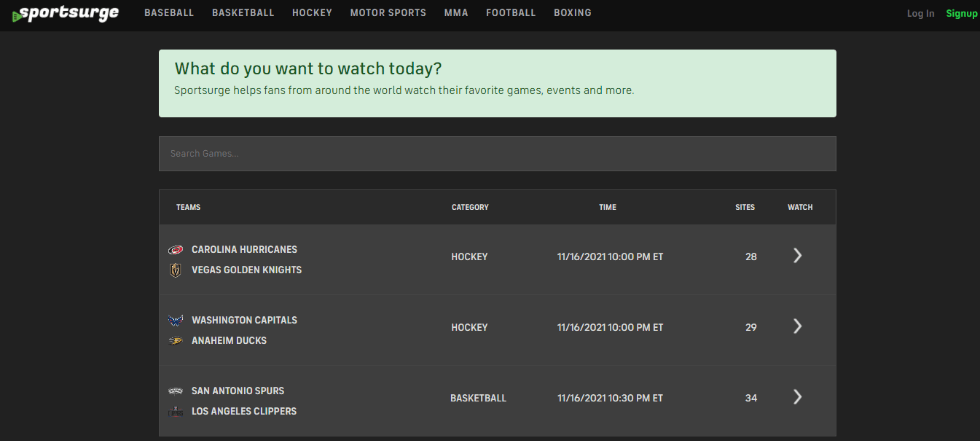 SportSurge is one of the best free sports streaming sites.
Although it wasn't around long ago that SportSurge was only able to stream three popular American sports, it is now a leading site for sports fans. Aside from these, it also offers a variety of other sports, such as football, hockey, and MMA.
The Sportsurge website interface has a clean and elegant design that allows visitors to easily navigate e the website. Its home page is designed with large icons that represent various sports. The site displays more information about each stream such as the time and number of ads that will be displayed in the stream. It also shows the language, compatibility, and channel for each stream.
In comparison to other free sports streaming sites, Sportsurge may be behind but it's still a very good site.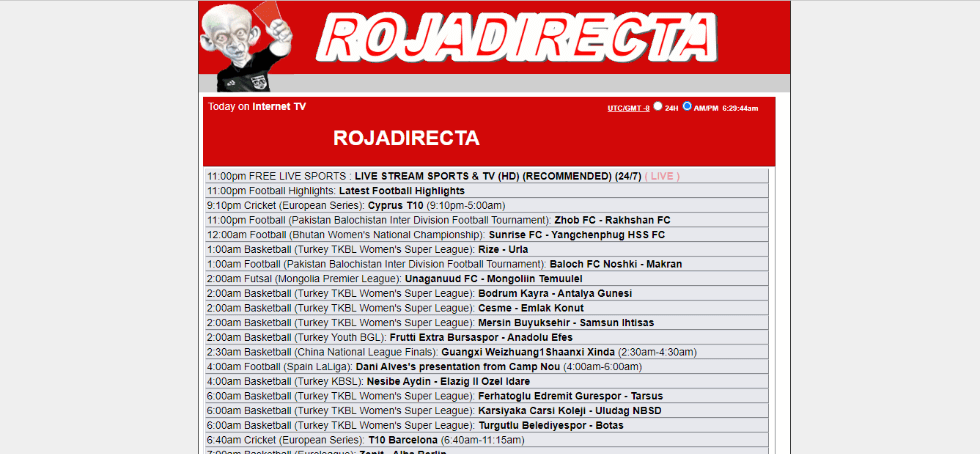 Rojadirecta also features on my best sports streaming sites list.
On visiting the website, you will notice a list of well-organized streams. These streams are listed with respect to the latest events. So the event that's getting started first will be listed at the top making it easier for users to manage their time.
Each event is also categorized into different sports such as football, basketball, or Cricket. However, the website developers can do better with the website interface, it is very easy to navigate and has no security issues.
You can also download full sports events for free and its robust community is also an excellent place for you to discuss topics of interest.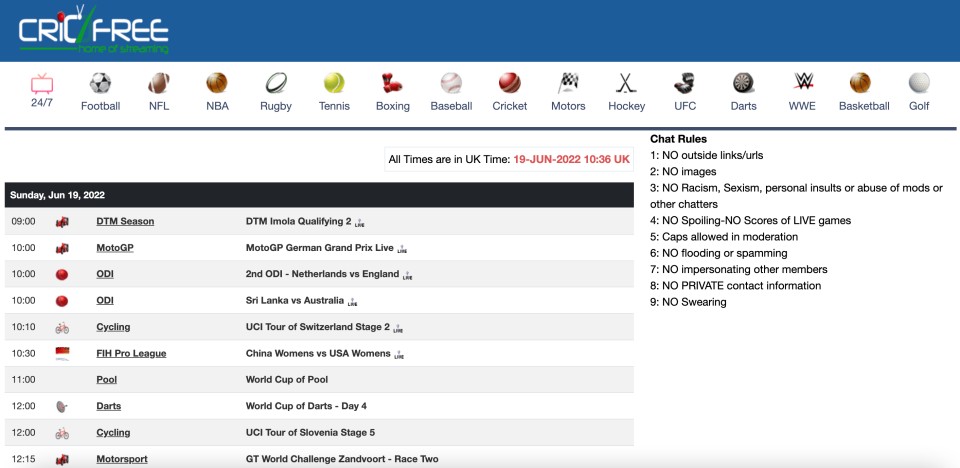 CricFree TV is one of the most recent free sports streaming sites.
In terms of appearance, it is similar to BossCast while in terms of the way it works, it is similar to CricHD.
The site has a user-friendly interface that many new visitors will get used to. Scheduled games are displayed on the homepage which makes it easier for visitors to select a game.
Like most sports streaming sites, CricFree allows users to stream sports matches of different categories including Football, Basketball, Cricket, NHL, and so on.
While using CricFree to watch sports online, I noticed that I didn't have to fight off so many ads as I normally would if I were using free sports streaming sites. The streaming site also has a live chat where visitors can interact with each other.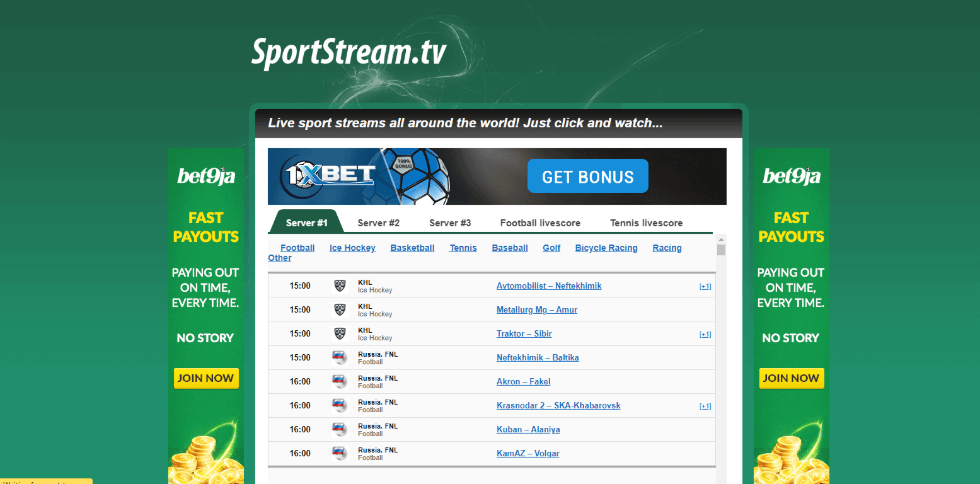 Sportstream isn't one of the well-known free sports streaming sites. However, it is up there with other live sports streaming sites.
The site allows you to stream sports including Football, Ice Hockey, Basketball, Tennis, Golf, Bicycle Racing, and so on. The website interface is unique and also easy to navigate which for me is a plus.
The video player runs smoothly without any lagging and there are several links for each stream. This ensures that no link is overcrowded. When a stream link is overcrowded, it may lead to the site users facing difficulties like slow live streams and buffering.
The con about this live sports streaming site is that before streaming sports, you will need to watch a compulsory 30-second advertisement. This may be annoying especially if you're just joining the stream in the heat of the moment.
Overall, Sportstream is good for streaming live sports.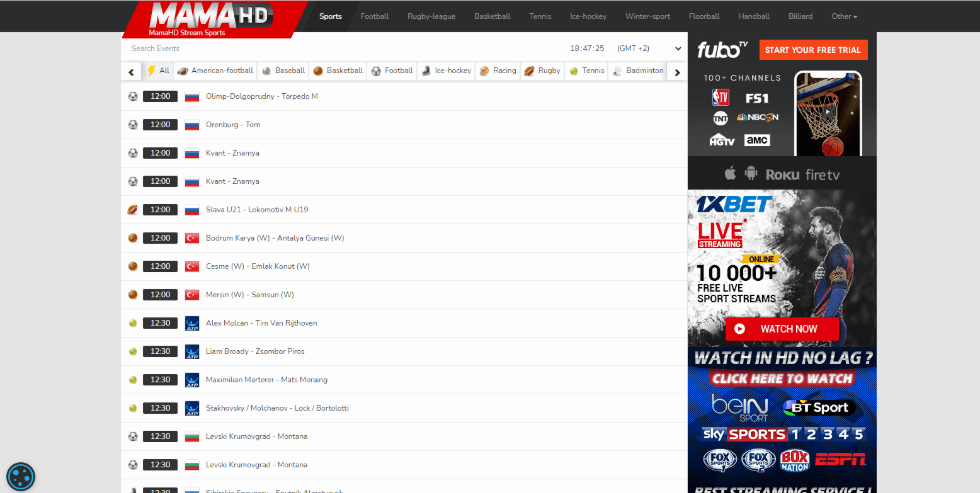 MamaHD is a sports streaming site that attracts a lot of visitors due to the uniqueness of the live streaming content it offers.
The website does not feature sports categories that are diverse as other live sports streaming sites like Hotstar, SonyLiv, and VIP Row. However, it provides wide coverage of sports like Soccer, American Football, Hockey, Tennis, Badminton, and several others.
MamaHD comes with a user-friendly and easy-to-navigate interface. The home screen features a long list of events that have been scheduled for the day. You can browse through the sports matches schedule to find a live TV stream of your favorite sport.
However, amongst other faults you may find on the website, the site is riddled with ads and promotional banners. Anywhere you click on the site, there is a high probability you will be redirected to another website. So, you may want to be careful with this website. The site also lacks a search feature which comes in handy especially if you'd be engaging in sports streaming online. Nobody wants to scroll through several pages to watch live TV streams.
I advise using a strong VPN like ExpressVPN to protect yourself as these incessant ads are usually an avenue for attackers or hackers to gain access to your personal information like credit card details and passwords.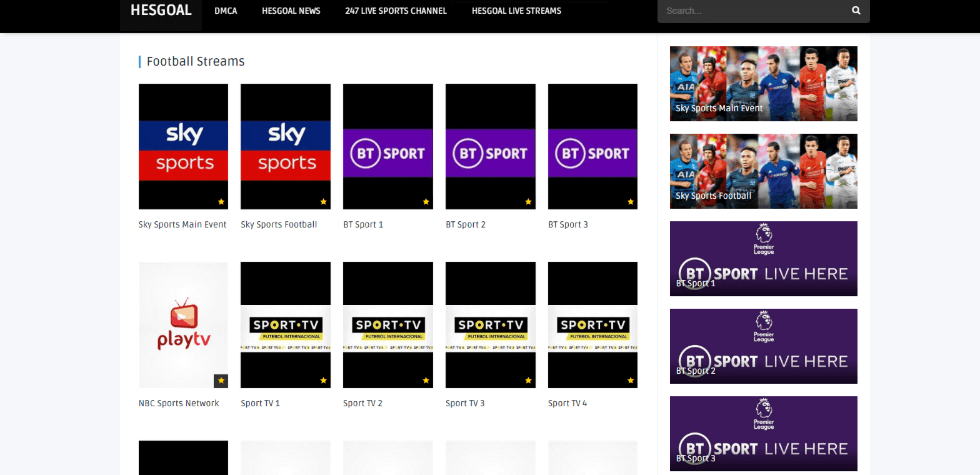 Of all free sports streaming sites, Hesgoal has a special place in my heart. Funny right? I can explain.
Hesgoal is one of the best football streaming sites and I have been using the website to stream live football games for over 2 years. During that period, I have always enjoyed a stress-free experience.
This site is a highly visited sports streaming site amongst football lovers. The site features popular TV channels like BEIN Sports, Fox Sports, ESPN, and Sky Sports Football. All these channels show live football matches from Europe's Top 5 leagues (La Liga, Premier League, Bundesliga, Serie A, and Ligue 1). All these streams are available in HD quality.
There is also a news category for people looking to get their hands on the latest happenings in the sports world.
However, you might be put off by the site interface and the number of ads you'd be shown daily. Even as the biggest fan of Hesgoal, I must admit that the number of ads and redirections you'd be forced to go through while trying to get into a stream is unreal.
But once you get past the ads and you can live with very loud Arabic commentators, you are sure to enjoy your stream.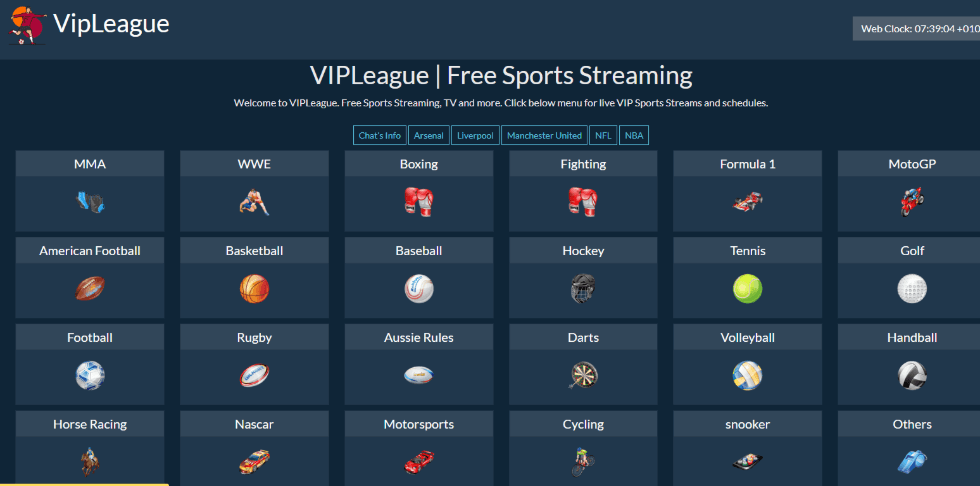 As we are nearing the end of this list, VIP League surely gets a mention.
It has an attractive and easy-to-navigate interface that lets you stream multiple sports n the website. These sports include football, basketball, racing, Hockey, Baseball, Golf, and more. The streams are all available in HD and there are no unnecessary buffers.
However, I found the ads on the website annoying as they were very incessant as it seemed like there were ad links embedded everywhere I clicked on the website.
The good thing is the site required no sign-in or account registration to use which really comes in handy when you're rushing to catch up on a stream.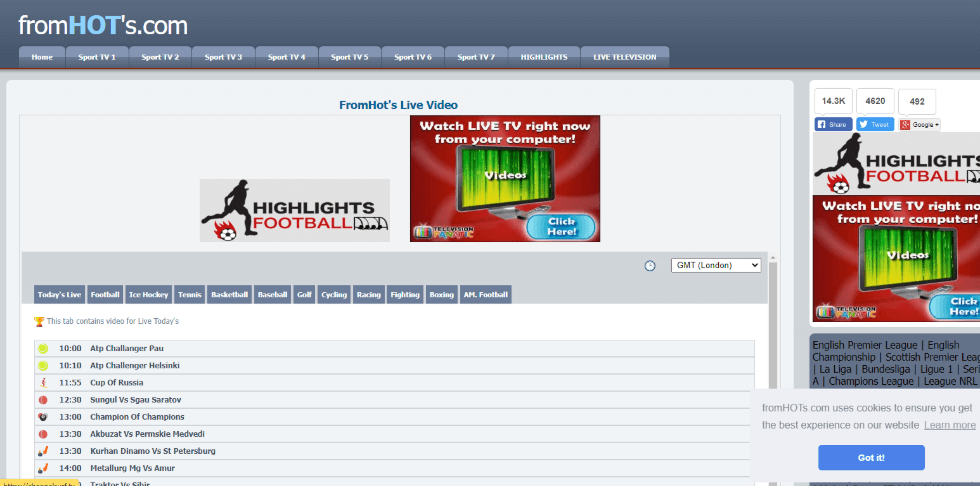 FromHot's is one of the most popular free sports streaming sites.
It is similar to Hotstar as it also offers a plethora of free sports streams to users.
On visiting the website, you will notice a schedule list that features upcoming events in all sports categories. These streams contain several links which is very helpful when it comes to streaming websites as it prevents stream overcrowding.
Most people will immediately fall in love with FromHot as it has a very attractive and well-updated website. The website was extremely easy to navigate and I found it very attractive.
The site offers a massive coverage of various sports including the UFC, NHL, Cricket, Football, Basketball, Golf, Hockey, Baseball, Tennis, and Combat Sports. Each sport has dedicated streams that allow you to enjoy HD streams.
I was very impressed by the video player as it looked faultless and enabled me to enter the full-screen viewing mode which is a feature not all sites have. The website also features popular TV channels like Fox Sports, ESPN, BT Sports, and others.
I observed that the ads on the site were quite disturbing I barely clicked any screen on the website before I got redirected to irrelevant ads. But as long as you use a VPN with an inbuilt adblocker, you'd be just fine.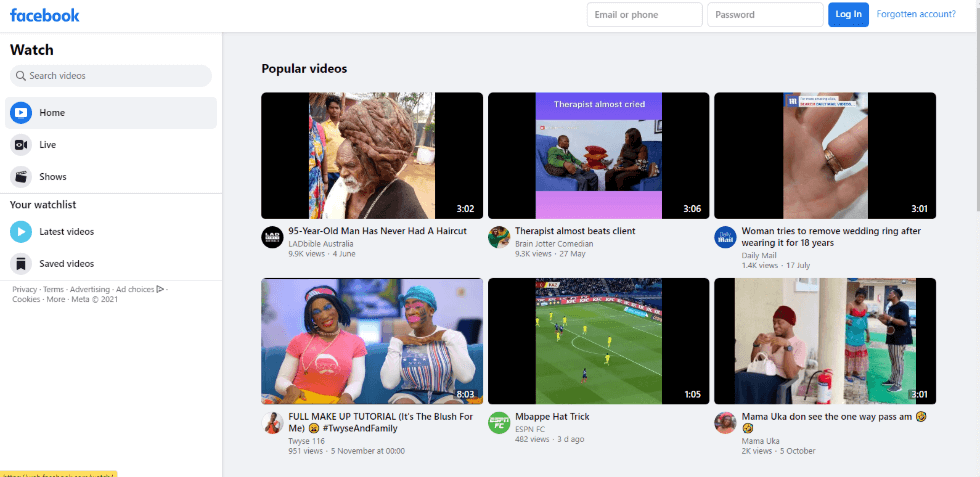 Yes, it is exactly what you're thinking.
Facebook watch earns a mention on my list.
In an attempt to usurp other streaming sites in the industry, Facebook integrated the platform into its website. It allows users to stream soccer, surfing, women's basketball, and other unofficial streams which cover most sports.
It however contains a limited range of sports due to copyrights and it can't operate like other sports streaming sites.
Do I Need a VPN to Use Free Sports Streaming Websites?
It is not compulsory to use a VPN when using streaming sites.
However, asides from the fact that streaming is illegal in some countries, using streaming sites come with a reasonably high level of risk.
Without using a VPN on websites like these, you risk exposure to attackers and scammers. Also, the government could easily track you if you are living in a country where streaming is illegal.
Using a VPN protects you from these risks. I always recommend ExpressVPN as it is a very reliable VPN service.
Conclusion
So, there it is. My list of the best free sports streaming sites.
As promised at the beginning of this article, I have provided you with a list of the 20 best sports streaming sites, some more detailed than others.
I hope you have been able to come across a website that suits your streaming needs and is right for you.
You can use these sites to stream live sports from anywhere as long as you are connected to a reliable VPN like ExpressVPN. If you found this article helpful, you may want to bookmark this page as I'd be updating the list regularly.
Happy streaming!
Related: