This guide shows how to install Neuromancer Kodi build! You will also learn how to use the build, whether it's safe and legal, features of the build, and everything in between. Furthermore, you can use this guide as a reference on any Kodi-supported devices like Windows PC, Android phones/tablets, Nvidia Shield, Amazon Fire FireStick, and more.
What Is Neuromancer Build?
Available on the Ghetto Astronaut Wizard, Neuromancer is one of the versatile Kodi builds. Whether you are looking forward to watching movies, sports, live channels, or DIY content, there are hand-made sections for everything.
Neuromancer build is powered by several preloaded Kodi addons. However, the absolute game-changer element of Neuromancer is its wide variety of sections. The build has numerous sections, from Kids to Music to Channels.
Another aspect people love about Neuromancer is its super-attractive user interface with high-quality wallpapers. Also, the System section of Neuromancer lets you tweak the minute details of the build to make it feel like home.
All-in-all, Neuromancer is one of the most potent and capable Kodi builds. 
Attention KODI Users: Read before you continue
Government and ISPs endlessly monitor your online activities using your IP address 3.17.249.235 (exposed to everyone). Kodi is an excellent platform for streaming movies, TV shows, and sports, but streaming copyrighted content can get you into legal trouble. 
You should use a reliable Kodi VPN and protect your streaming activities and privacy. A VPN will hide your IP address and bypass government surveillance and geo-restrictions.
I trust and use ExpressVPN, the fastest and most secure Kodi VPN. It's easy to install on any Kodi device, including Amazon FireStick, PCs, and Smartphones. In addition, it offers a 30-day money-back guarantee, and 3 free months with the annual plan.
Read: How to Install & Use the best VPN for Kodi.
Is Neuromancer Build Safe?
You know that Neuromancer is a third-party build, right? Well, that's why people are so conscious of its safety. So, no one on the internet can label Neuromancer as safe for Kodi until it's added to the official repo.
Not even we can thoroughly check whether Neuromancer is safe for your device or not. However, I ran a quick virus check on the Ghetto Astronaut Repository zip file. The results were quite pleasing – check it out: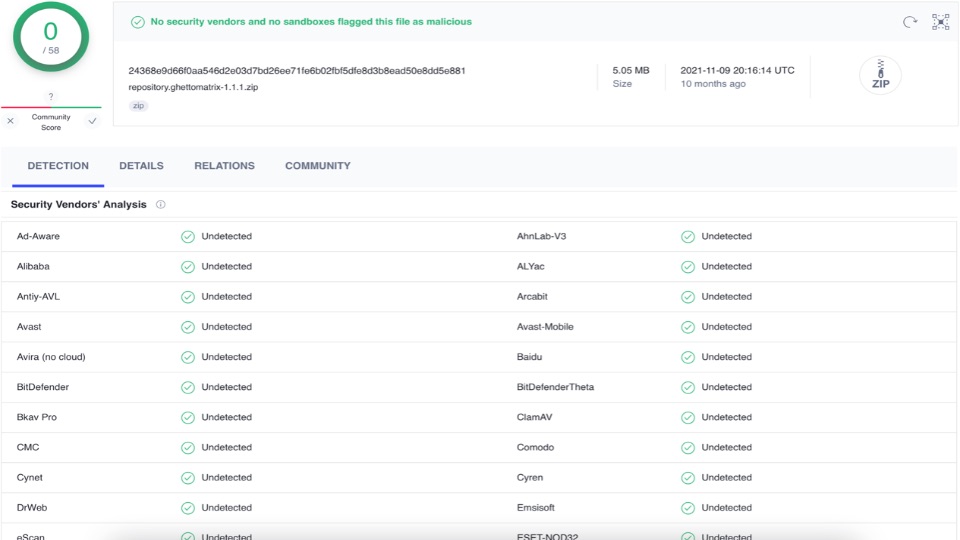 Is Neuromancer Build Legal?
Neuromancer is neither legal nor illegal. Its status is unknown – let me elaborate. 
As a third-party build, no party, including us, have the resources to identify the authenticity of content available in Neuromancer. So we can't determine whether Neuromancer's content, addons, and other stuff are 100% legal or illegal – it's impossible.
And this makes the status of the Neuromancer unknown.
But don't worry! To keep your data safe and your internet identity hidden (for worst-case scenarios), use ExpressVPN with Neuromancer.
Features of Neuromancer Build
The following features make Neuromancer a class apart:
Many specially designed sections.

Lightweight yet super-powerful build.

Works flawlessly on the majority of devices

Powered by multiple famous addons like Butterfingers

Unique sections like DIY, Risque, etc.
How to Install Neuromancer Kodi Build
Several steps and parts are involved in installing, but believe me, they are worth it!
So, let's kick things off.
Part 1 – Enable Unknown Sources
In this part, we'll enable unknown sources to let Kodi accept third-party repos/addons:
1. Click the Gear Cog icon on the top left side of your Kodi's home screen – below the Kodi logo.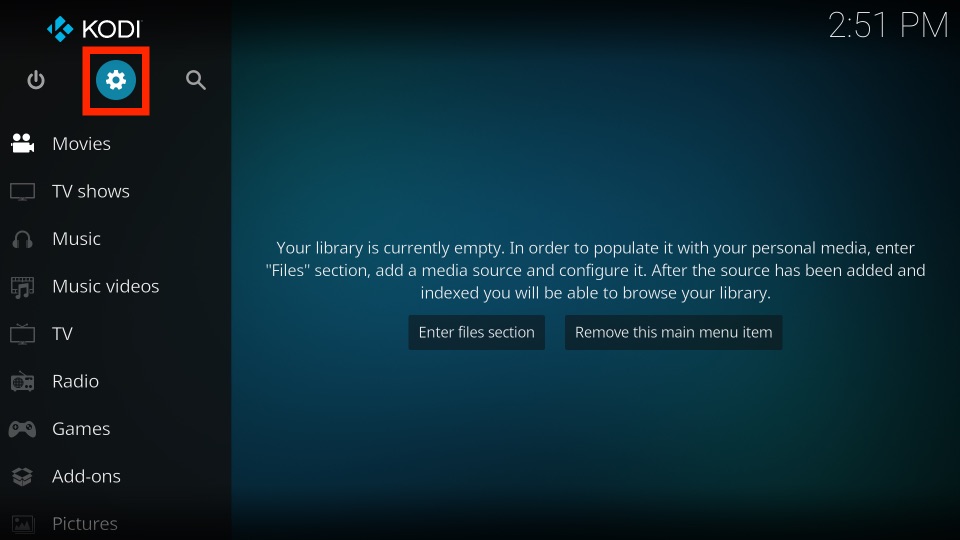 2. Open System – on your screen's bottom right side.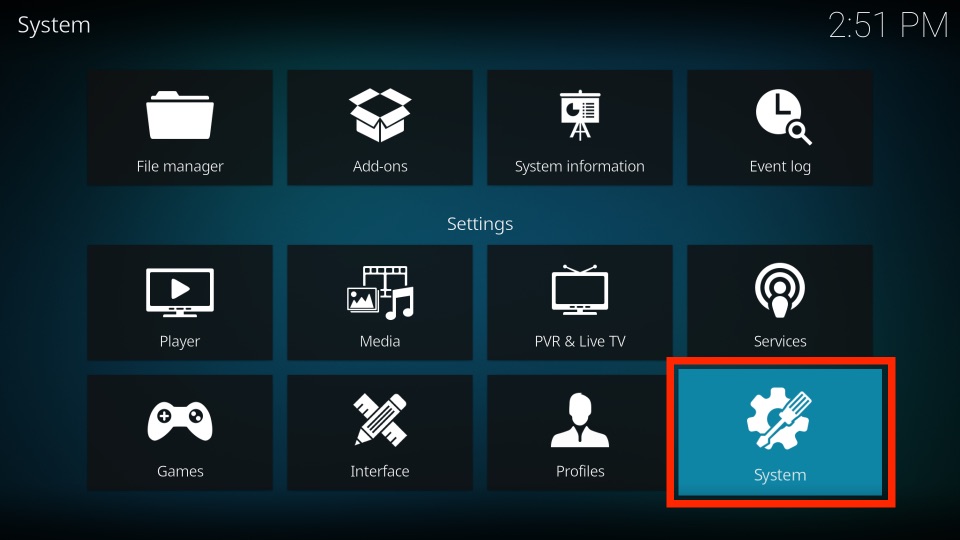 3. Scroll down to the Add-ons tab.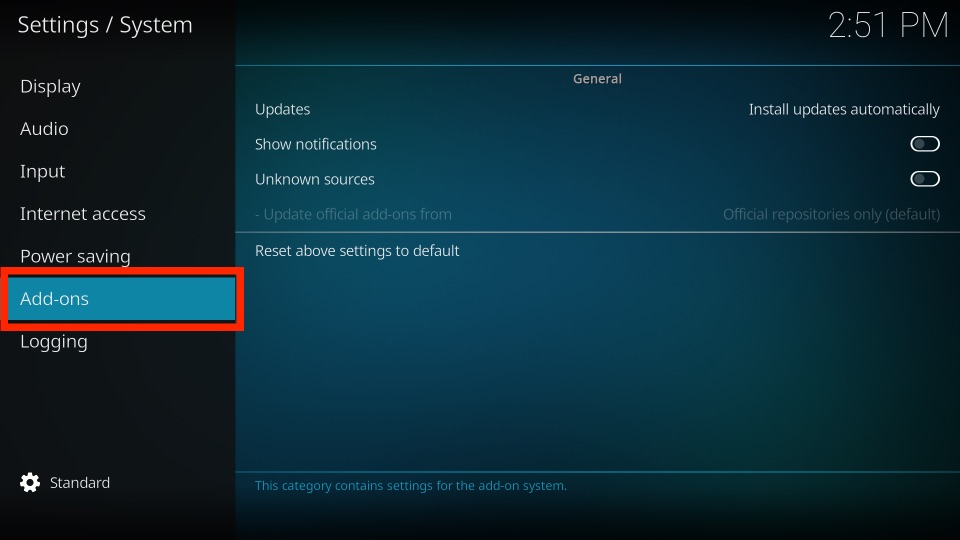 4. On your right screen, locate and enable the Unknown sources option.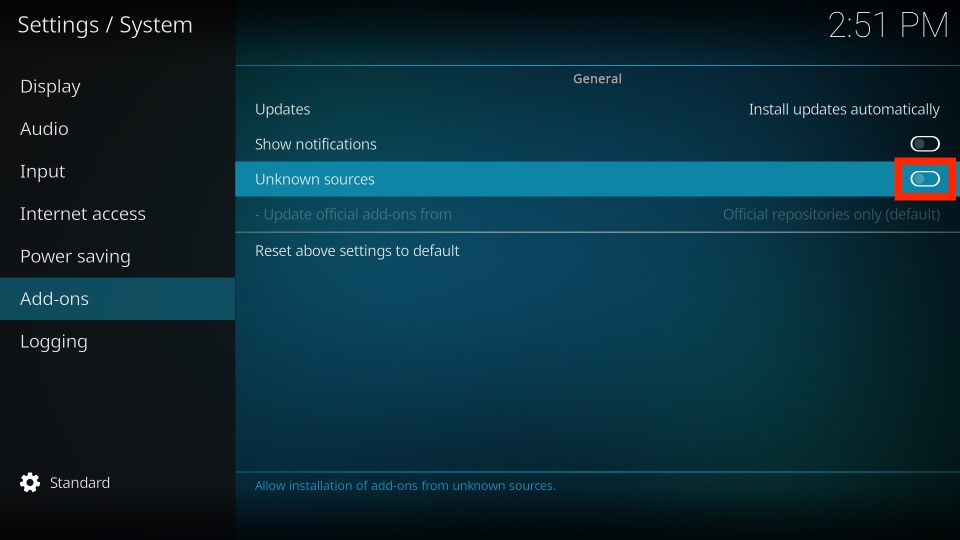 5. Kodi's warning message will inform you about the consequences of adding unknown sources. Click Yes to continue.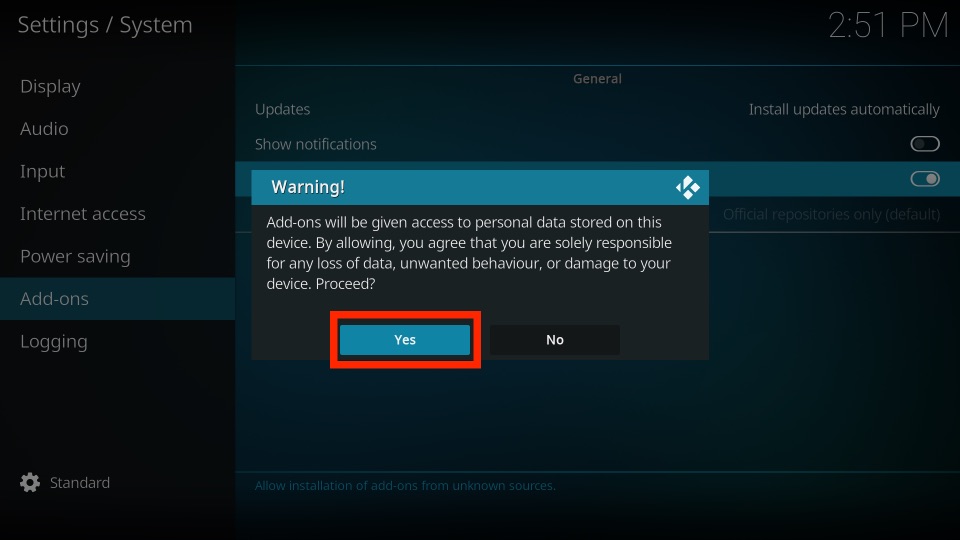 Part 2 – Add Ghetto Astronaut Matrix Repo Source
No repo, no party! Here's how to install Ghetto Astronaut Repo:
1. Fire up the Kodi settings menu by clicking the Cog icon on the app's home page.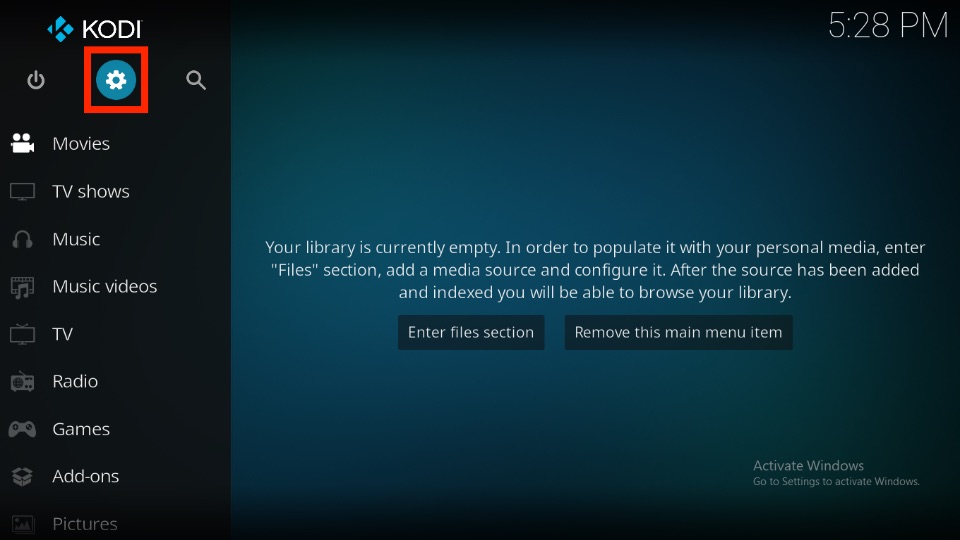 2. Open the File manager of Kodi.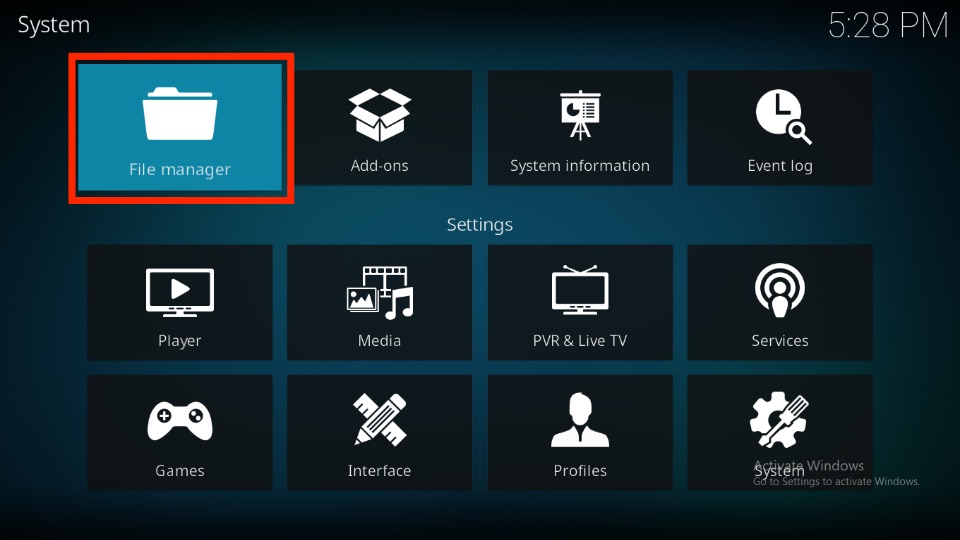 3. Click Add source.
Note: You can fire up the Add source window by clicking on the option on the right or left.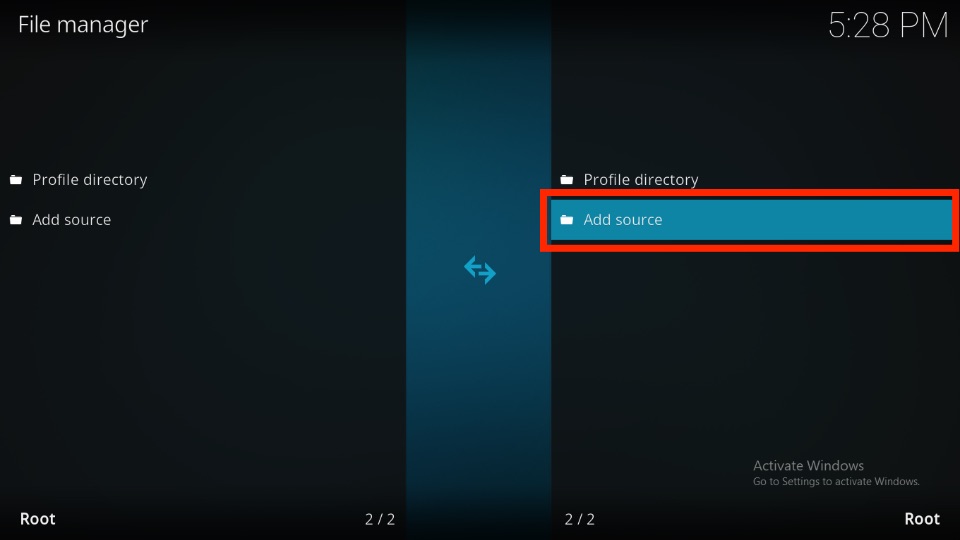 4. Choose <None> to open up the source entry window.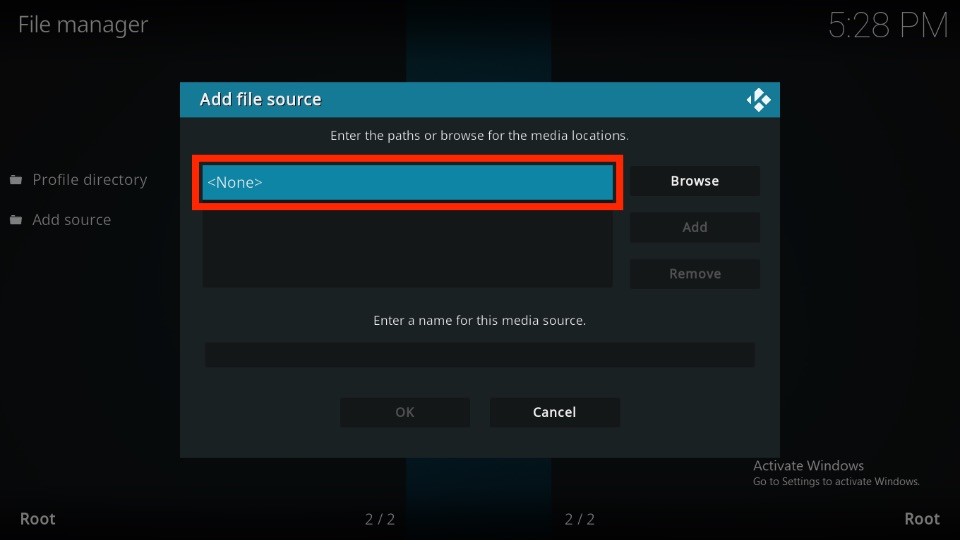 5. Enter Ghetto Astronaut Repository official URL – http://famdamnlyman.one/Matrix/Repo.
Press OK to save. 
Note: Mentioning the website of the Ghetto Astronaut Repository doesn't mean we at www.FireStickHow.com are connected with the repo. I have provided the link to the original source of the repository. We are not affiliated with the developers of this repository.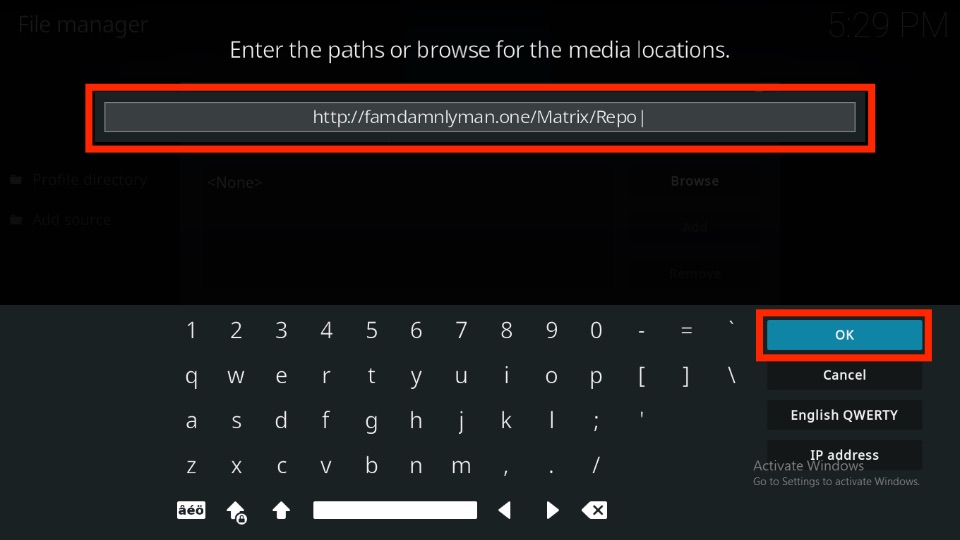 6. Repo is the default source name given by Kodi to the link you have entered, so let's change it. First, choose the input box where the repo name is mentioned.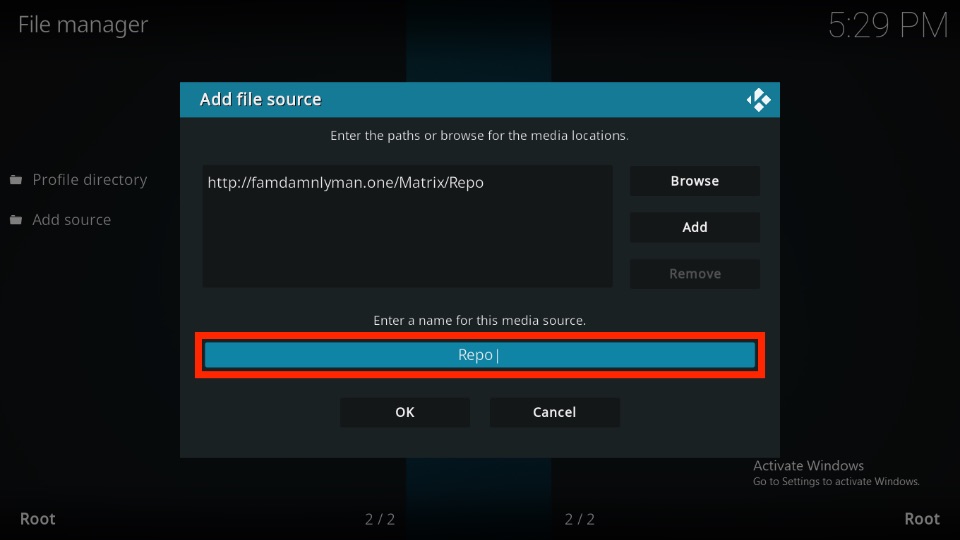 7. Change it to Ghetto or something easily recallable.
Note: I recommend choosing Ghetto as it's simple, memorable, and to the point.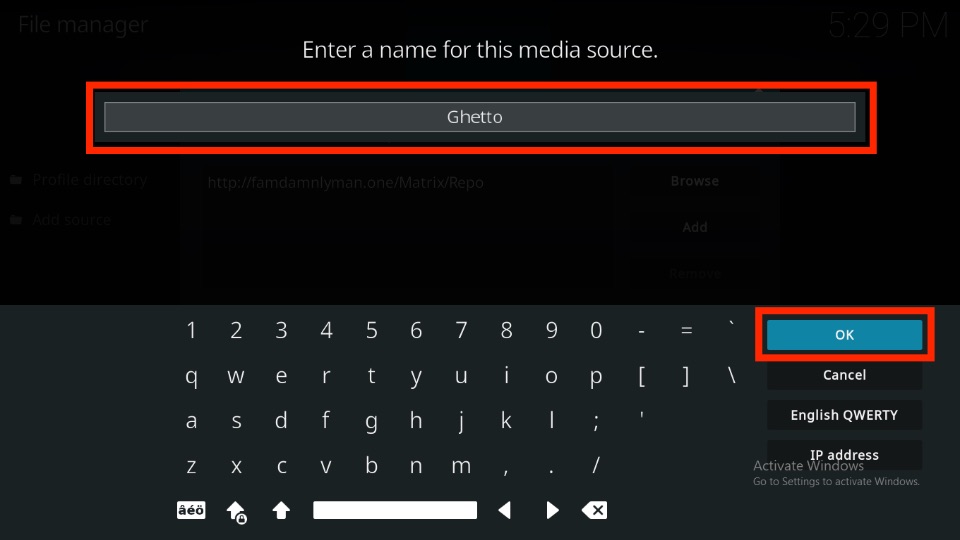 8. Give a quick re-check to the information and click OK.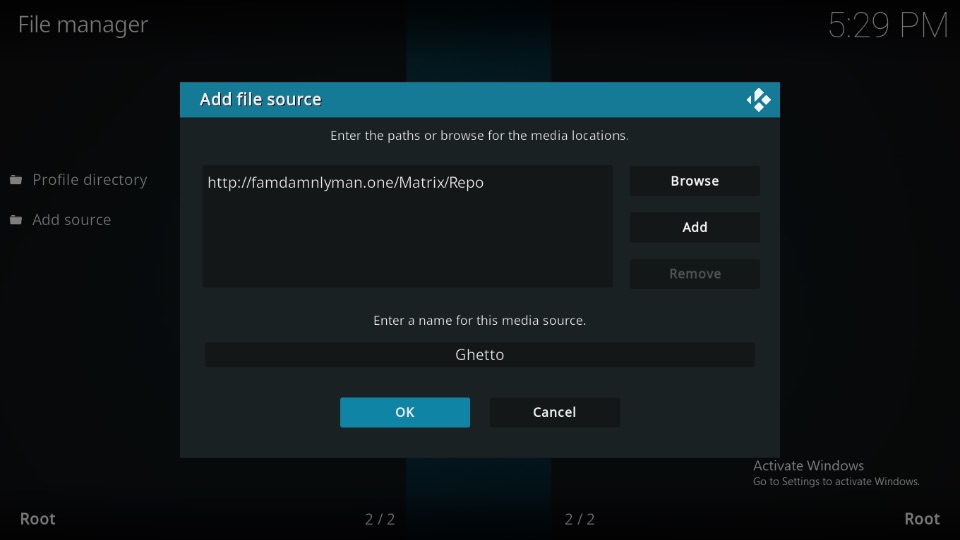 9. If you see the repo name on your File manager list without any error, everything went fine.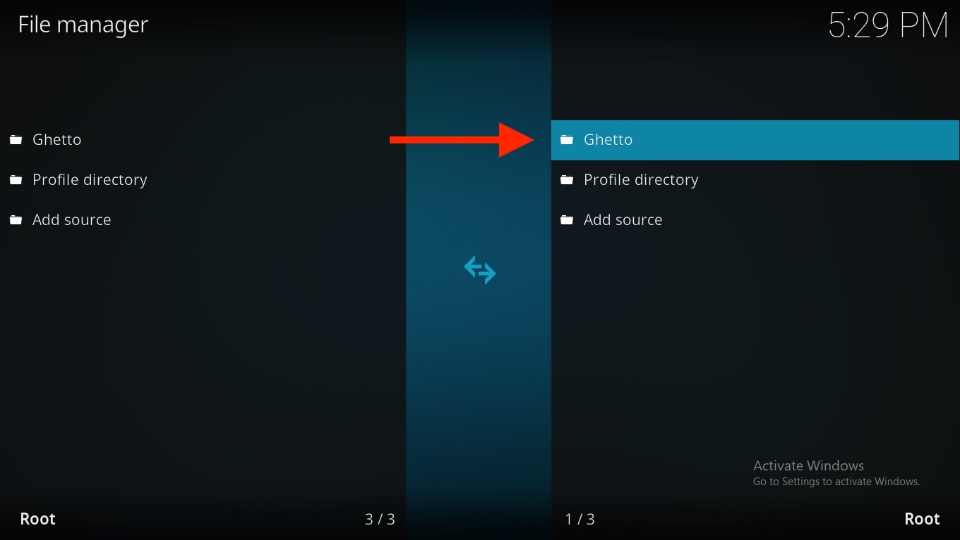 10. Exit the File manager page and pick Add-ons from the Kodi settings menu.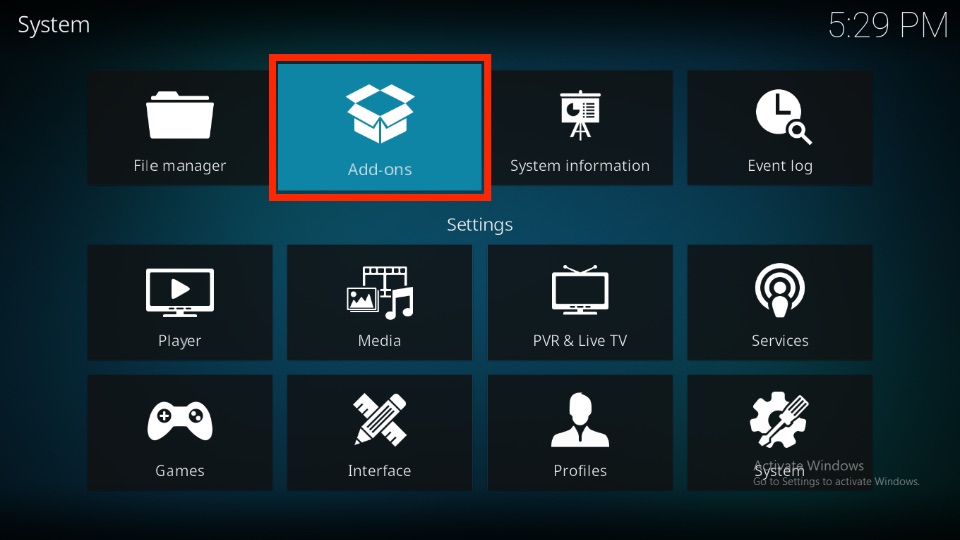 11. Open up the Install from zip file section.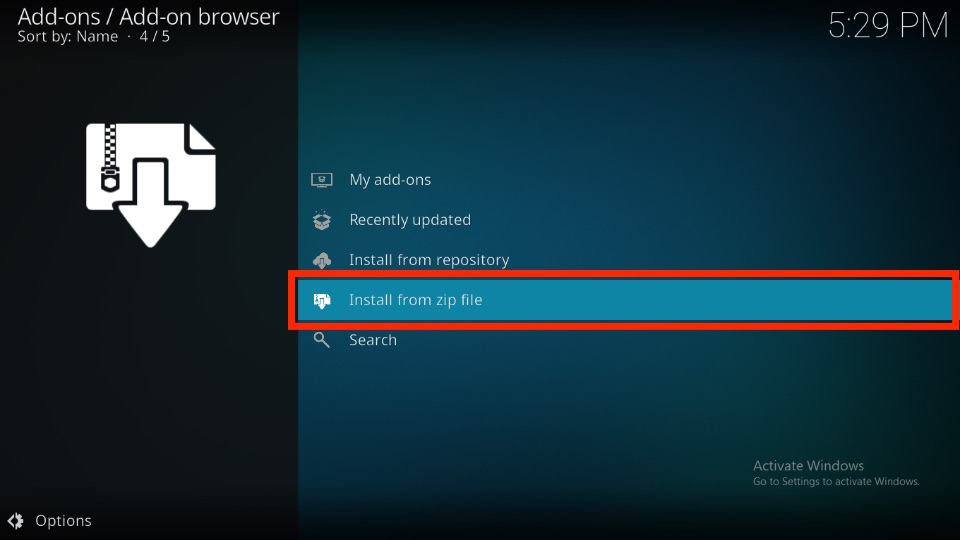 12. Kodi will send a warning regarding addon auto-update. Choose Yes to move ahead.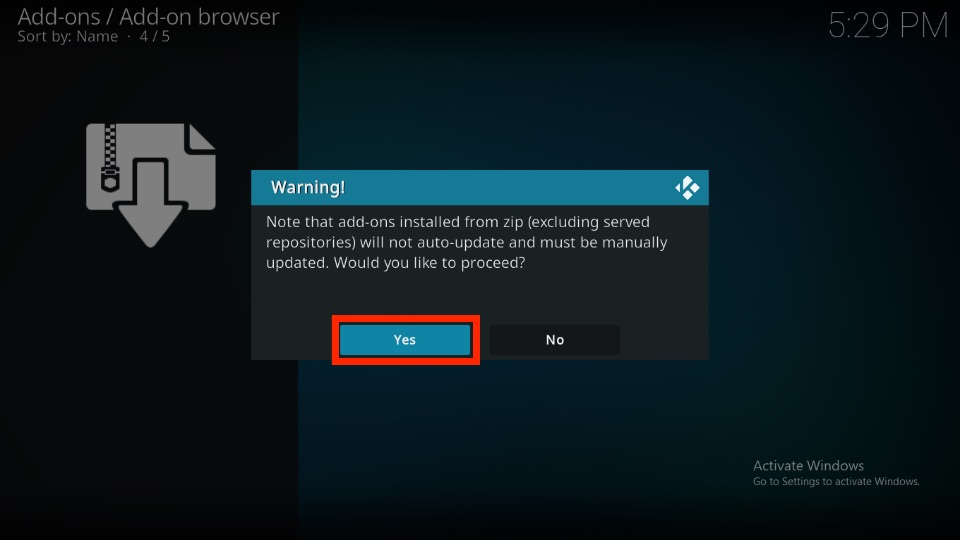 13. From the list, select the repo name.
Note: In my case, it's Ghetto – choose the one you set in this part's step 7.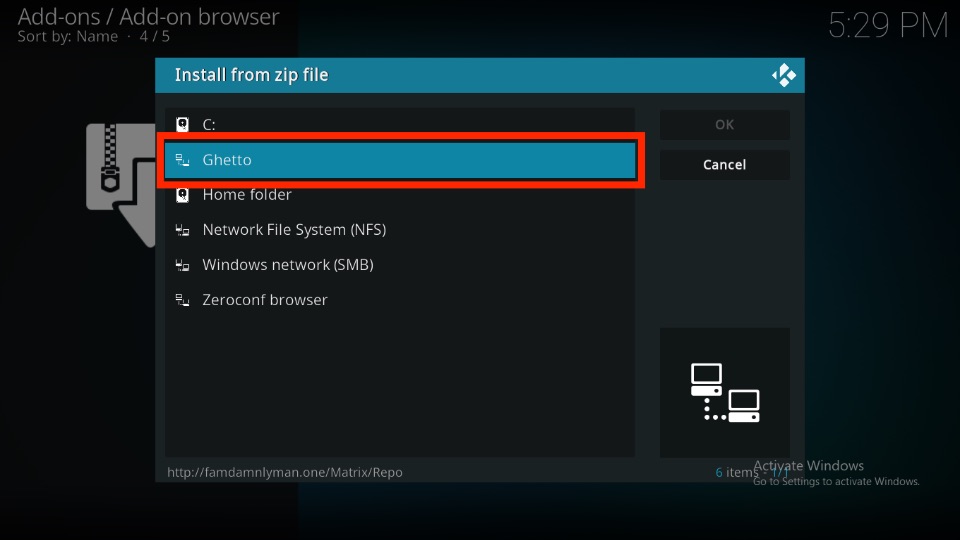 14. Select repository.ghettomatrix-X.X.X.zip.
Note: X represents the version number of the Ghetto Astronaut Repository. At the writing time, it's 1.1.1, but it can change.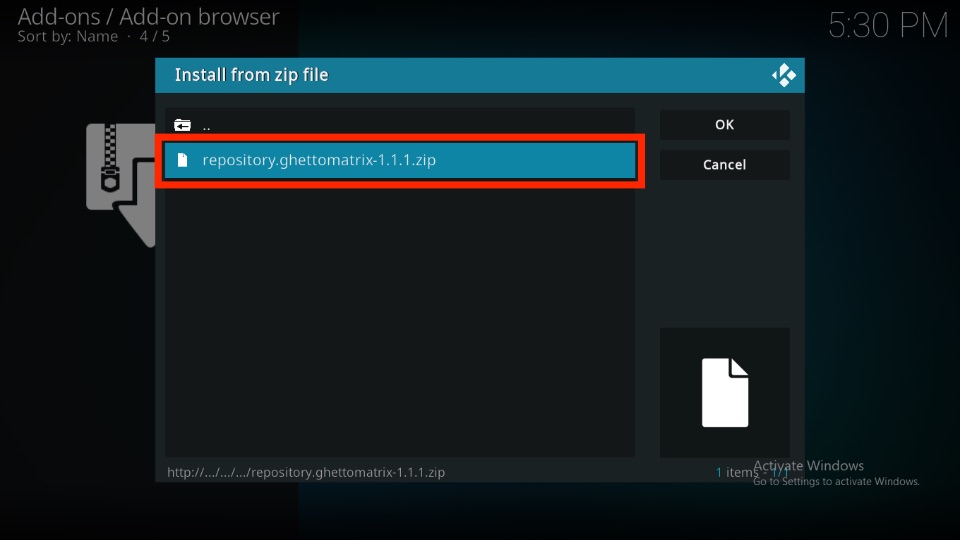 15. Wait for the Ghetto Astronaut Matrix Repository Add-on installed notification to pop up.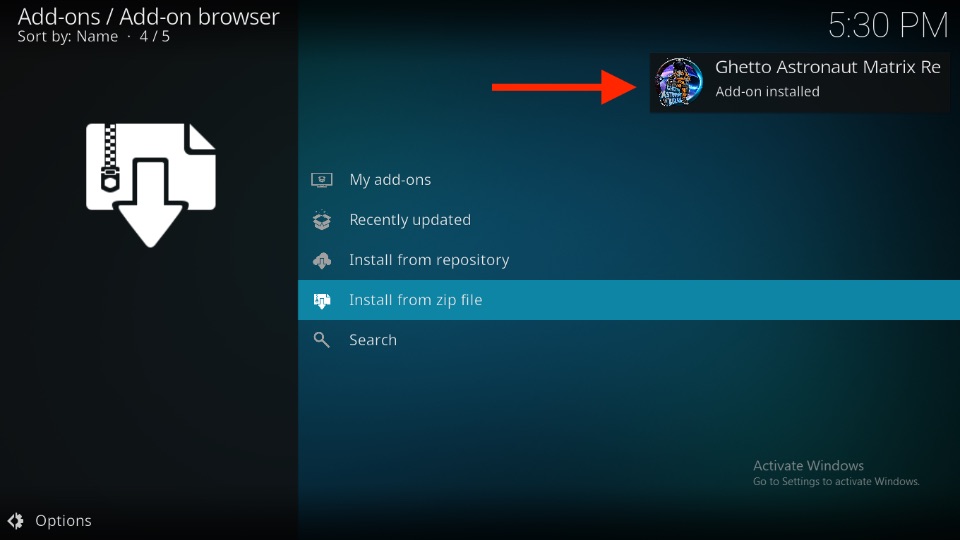 Part 3 – Install the Ghetto Astronaut Wizard
The second-last part involves installing the Ghetto Astronaut Wizard, where the build is hosted:
1. Go to the Install from repository section.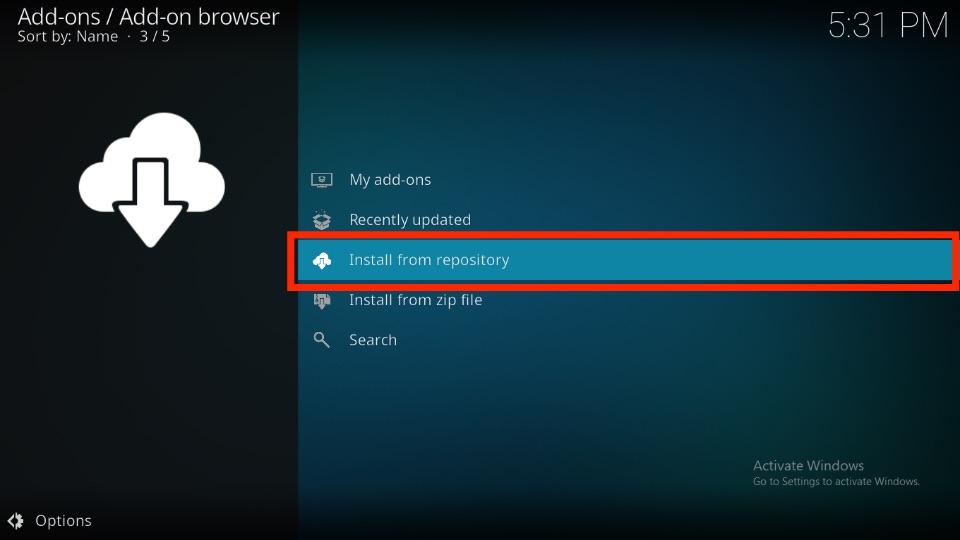 2. From the repository list, select Ghetto Astronaut Matrix Repo.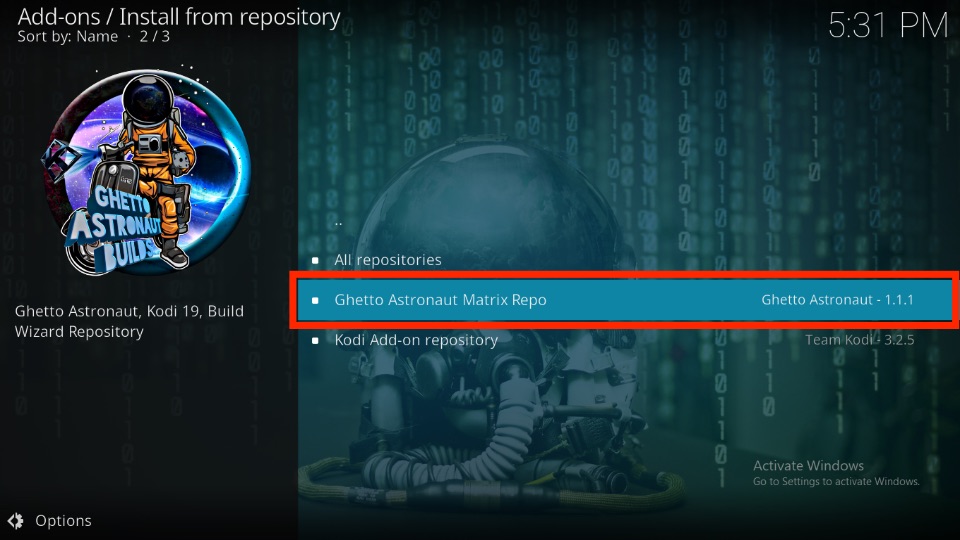 3. Step inside the Program add-ons sub-section.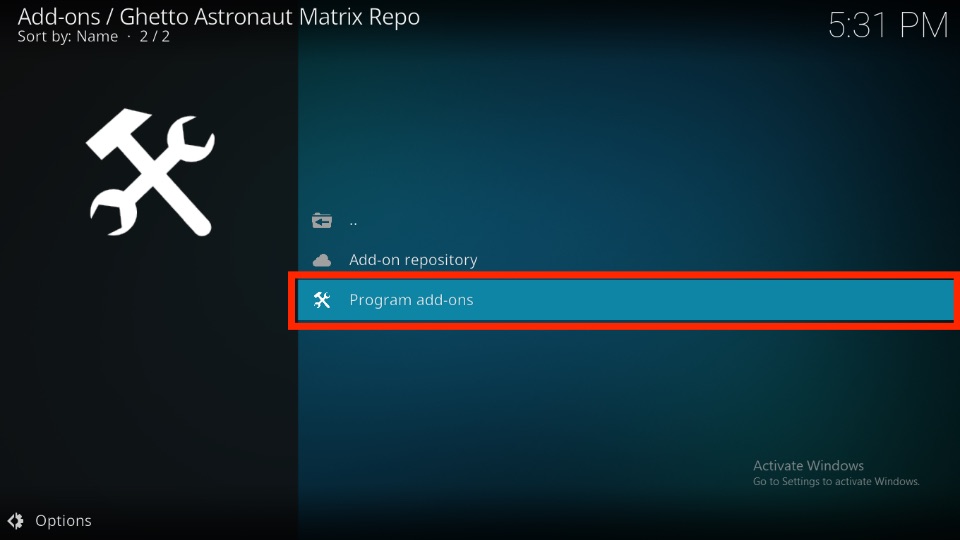 4. Open Ghetto Astronaut Wizard.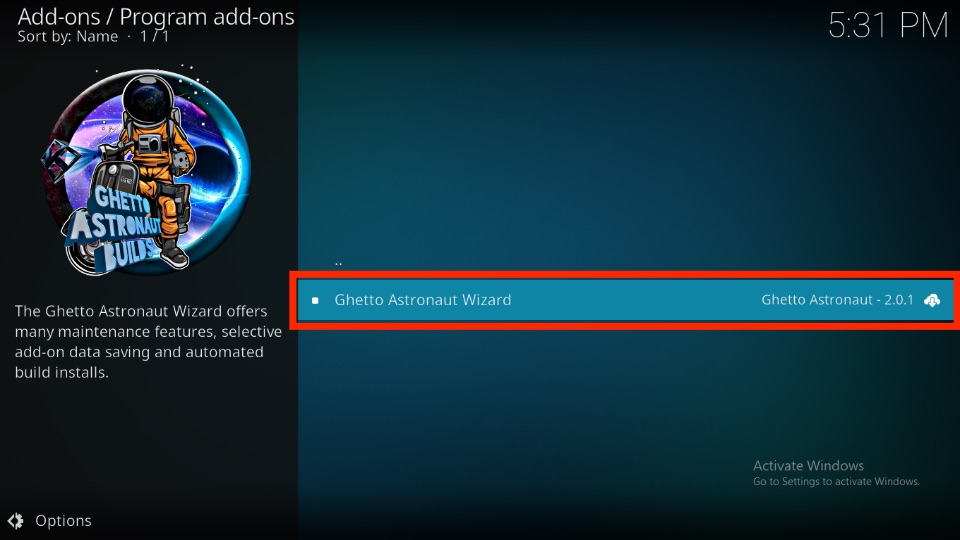 5. Ghetto Astronaut Wizard dashboard will appear with information like category, origin, dependencies, and more – choose Install.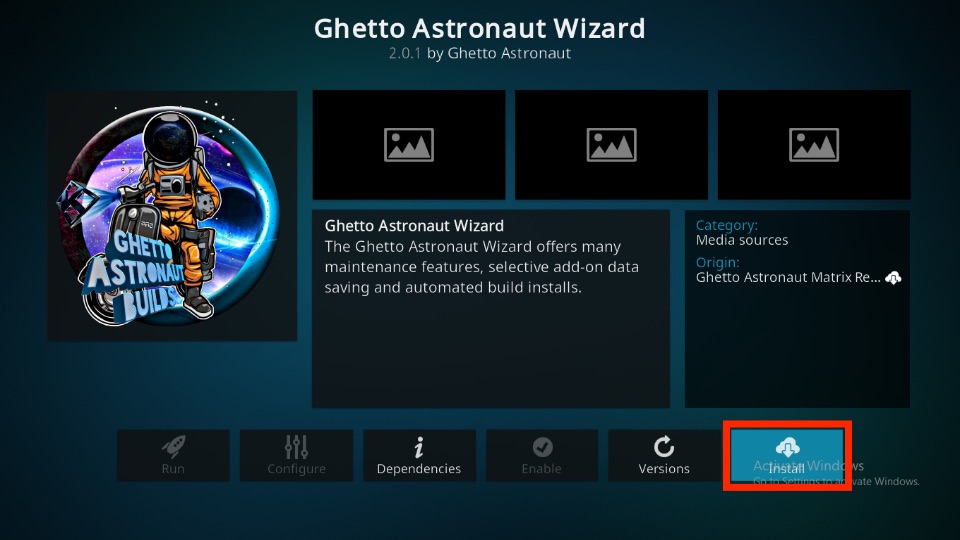 6. Script.kodi.android.update addon is required with Ghetto Astronaut Wizard. Click OK to allow.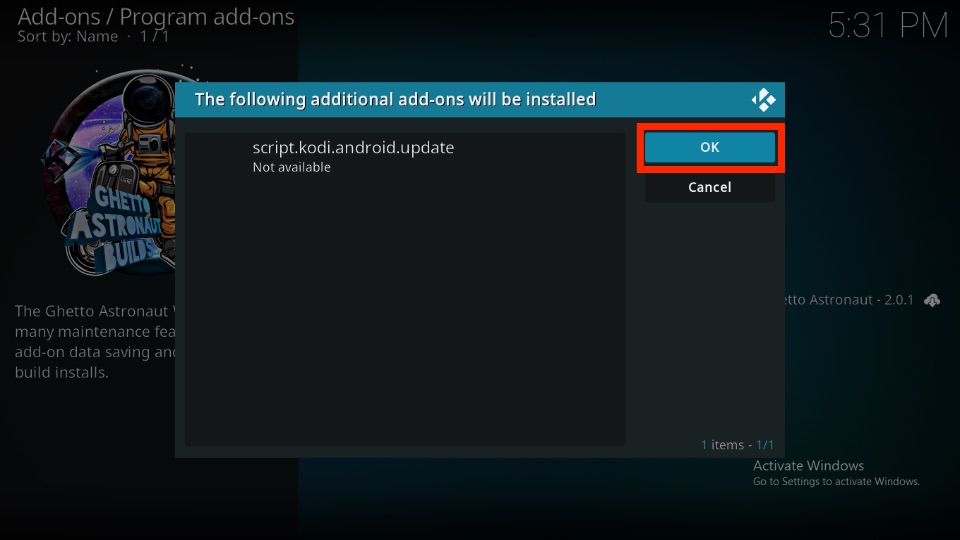 7. Kodi will start downloading and installing Ghetto Astronaut Wizard will automatically. And on completion, you'll receive a notification – Ghetto Astronaut Wizard Add-on installed.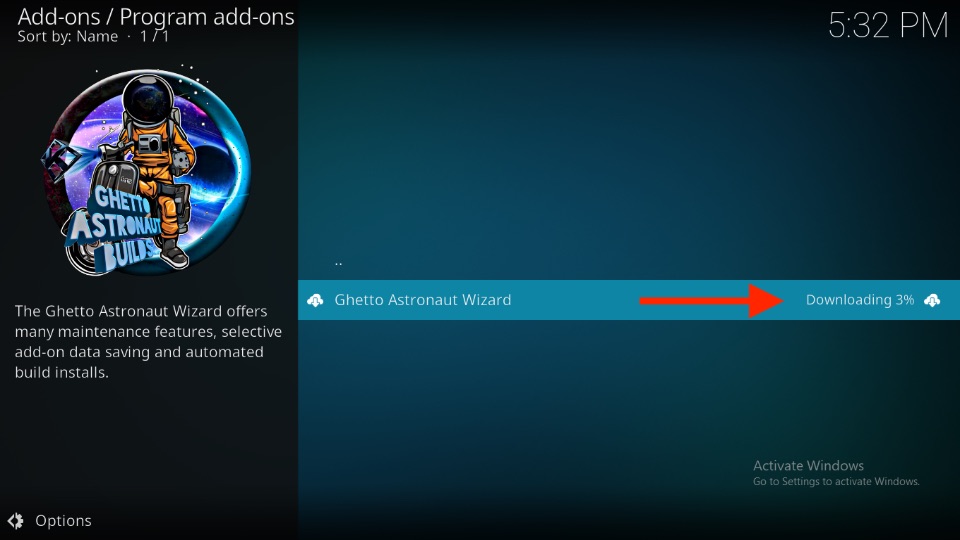 Part 4 – Install the Neuromancer Build
And last, here's how to use Ghetto Astronaut Wizard to install Neuromancer:
1. First-run menu of Ghetto Astronaut Wizard will appear. Tweak the settings as per your preference and click Continue.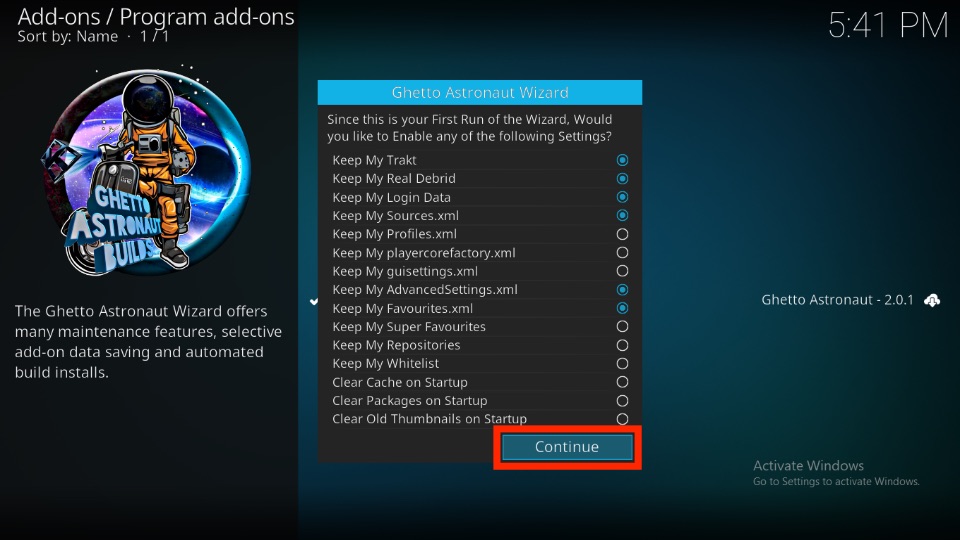 2. Build-menu window of the Ghetto Astronaut Wizard will pop up. Click Ignore.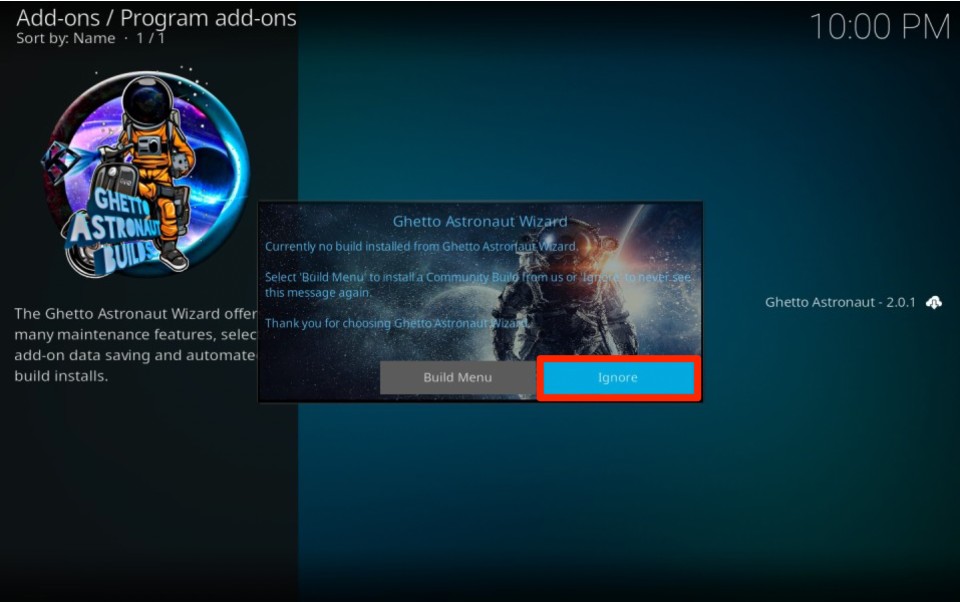 3. Choose the Dismiss button to close the Ghetto Astronaut Wizard news and notifications prompt.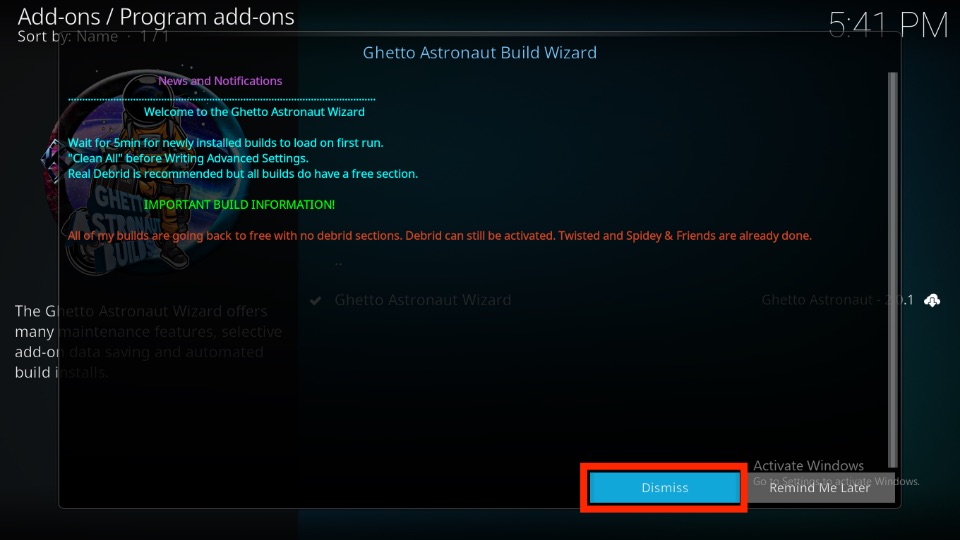 4. Open the Add-ons tab available on Kodi's home screen.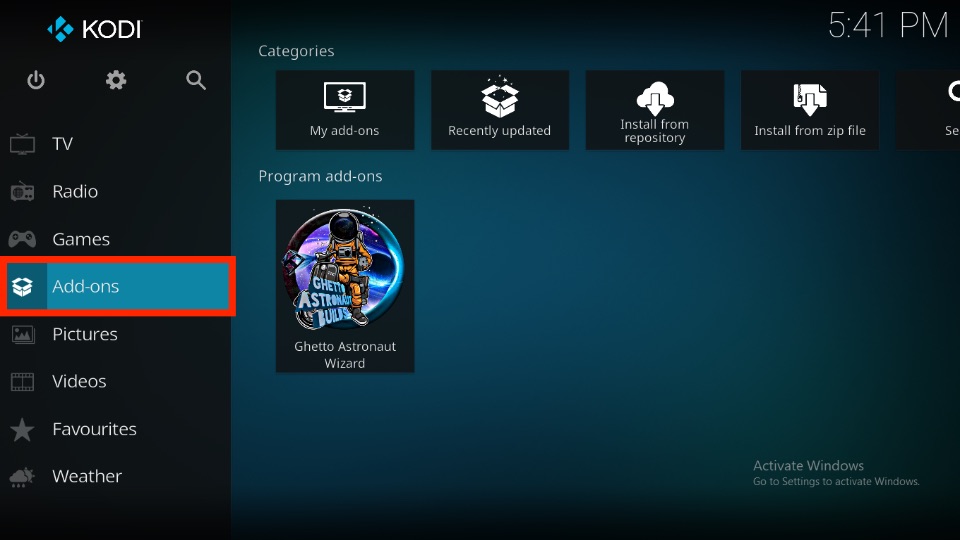 5. Go to Program add-ons and launch Ghetto Astronaut Wizard.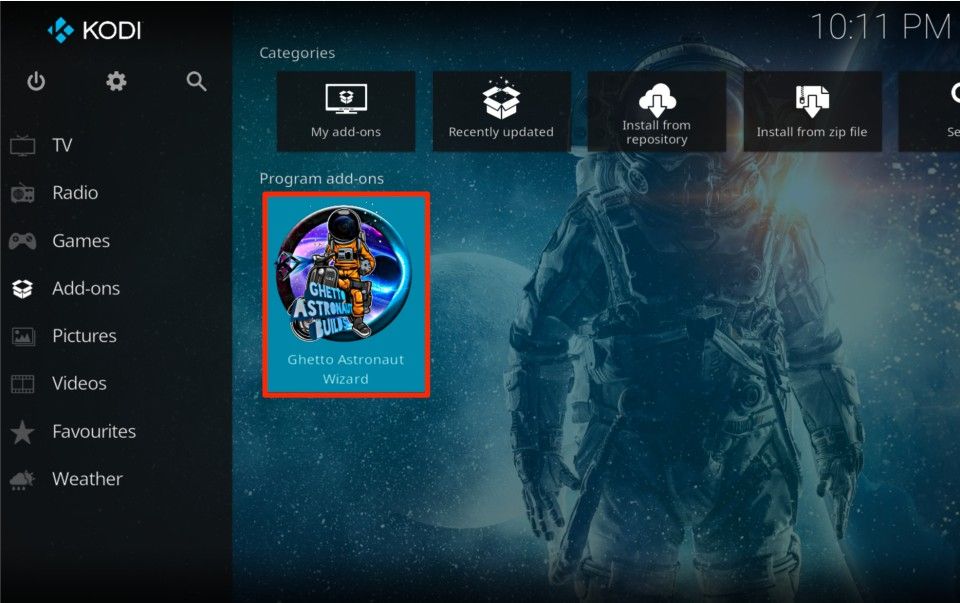 6. Open the Builds section.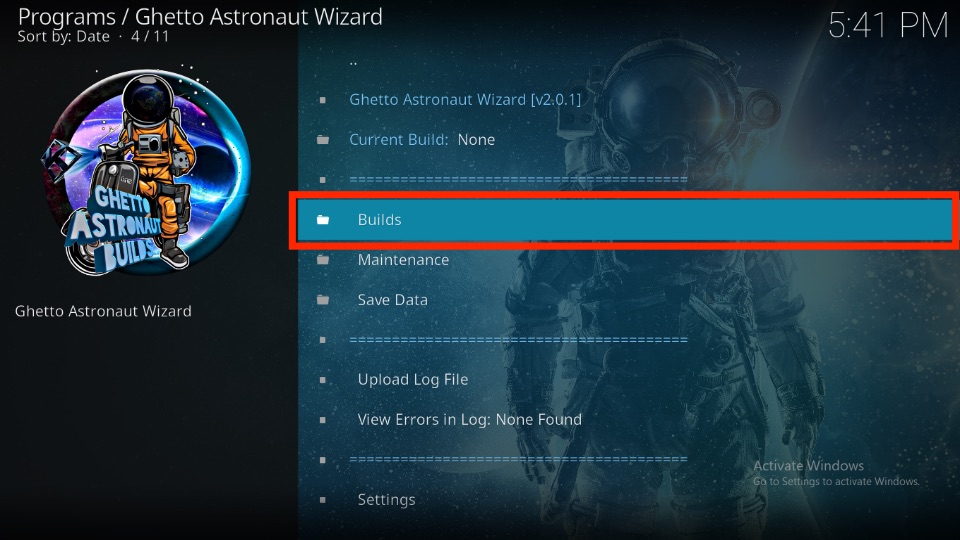 7. Locate and open Neuromancer from the available list of builds.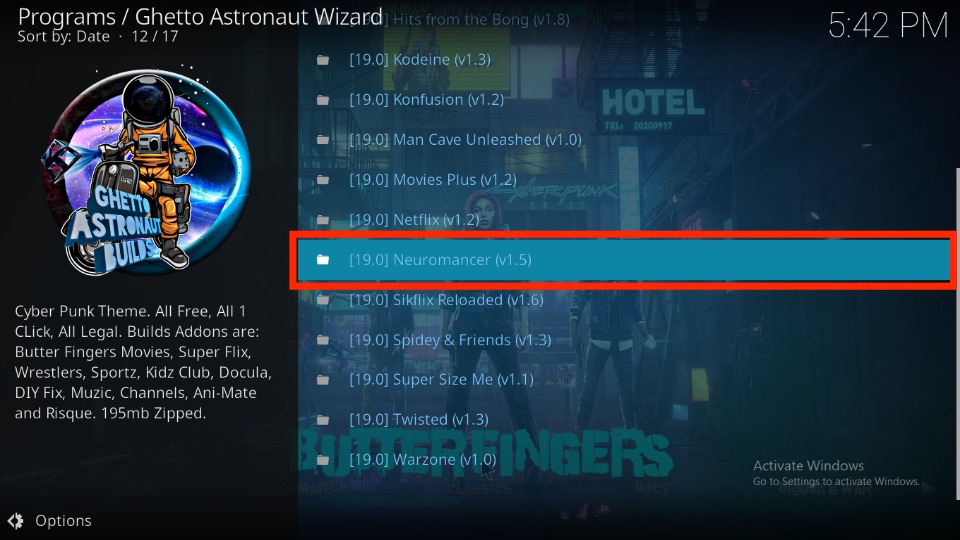 8. On the Neuromancer menu, choose Install.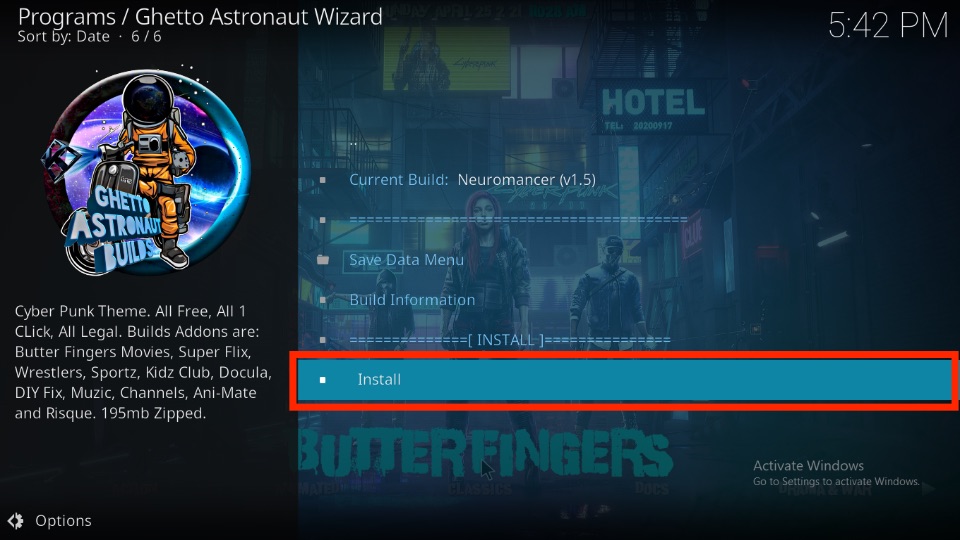 9. Ghetto Astronaut Wizard will ask if you want to download and install Neuromancer vX.X, click Yes, Install.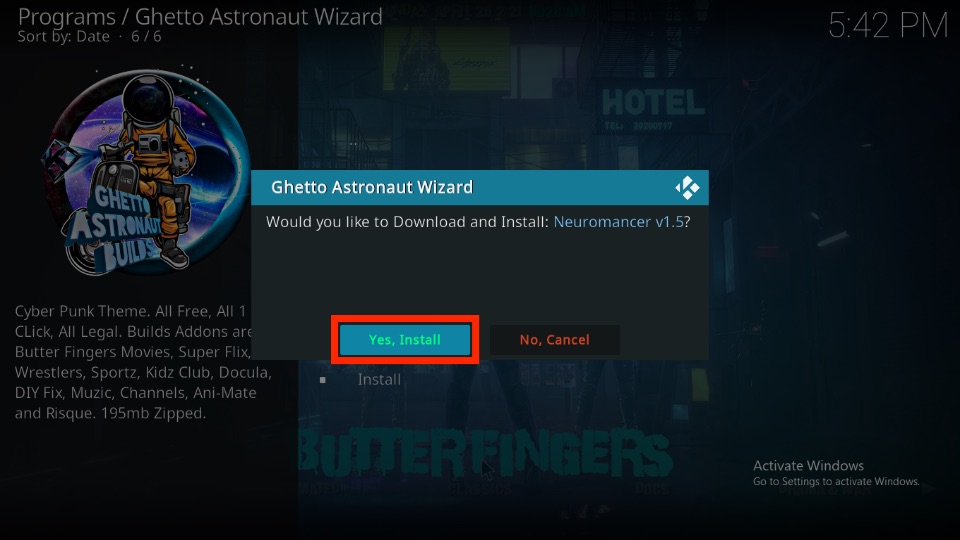 10. Let the wizard download the essential files for Neuromancer.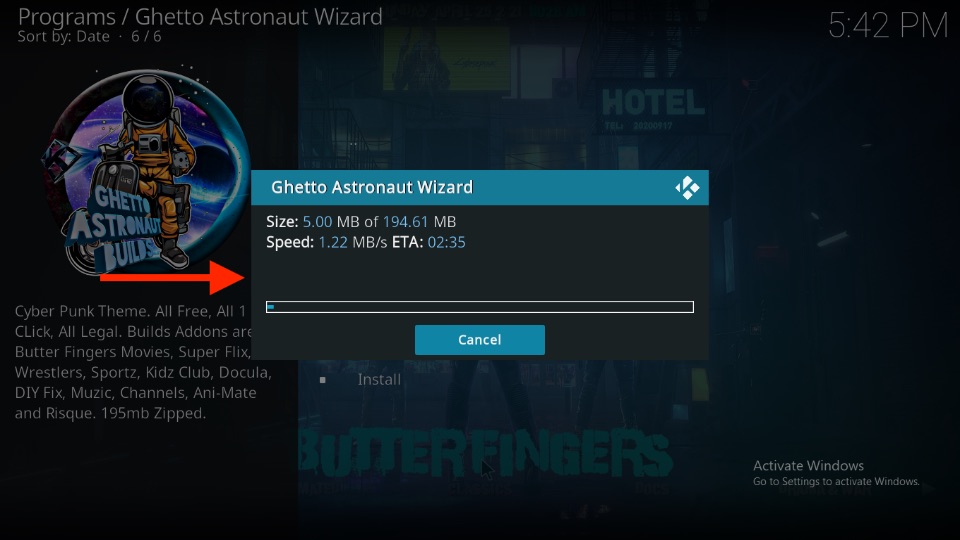 11. Before installation, Ghetto Astronaut Wizard, will ask if you would like to erase all data before installing. Click Fresh Install.
Note: You can choose No Thanks, but doing a fresh install is always recommended for the best results.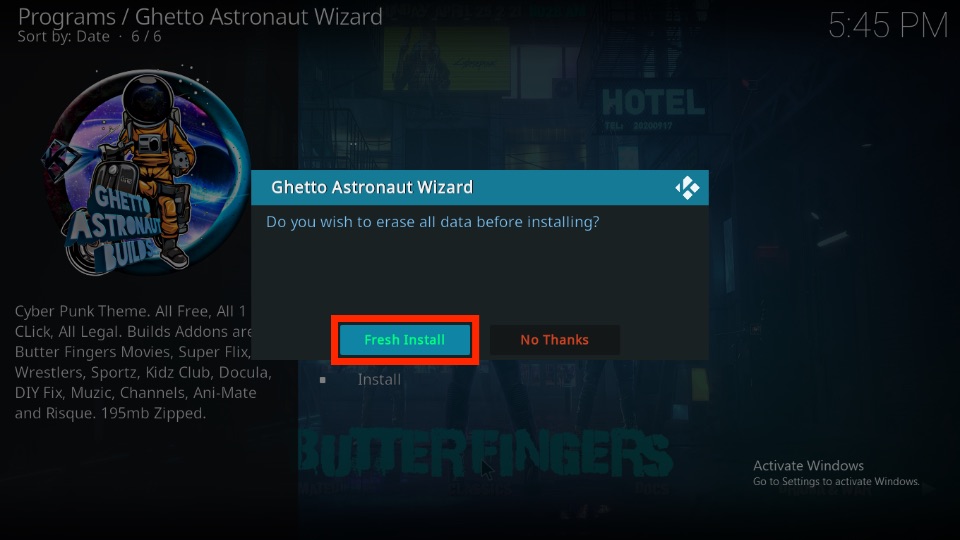 12. Wait for Kodi to load and install the files of the Neuromancer build.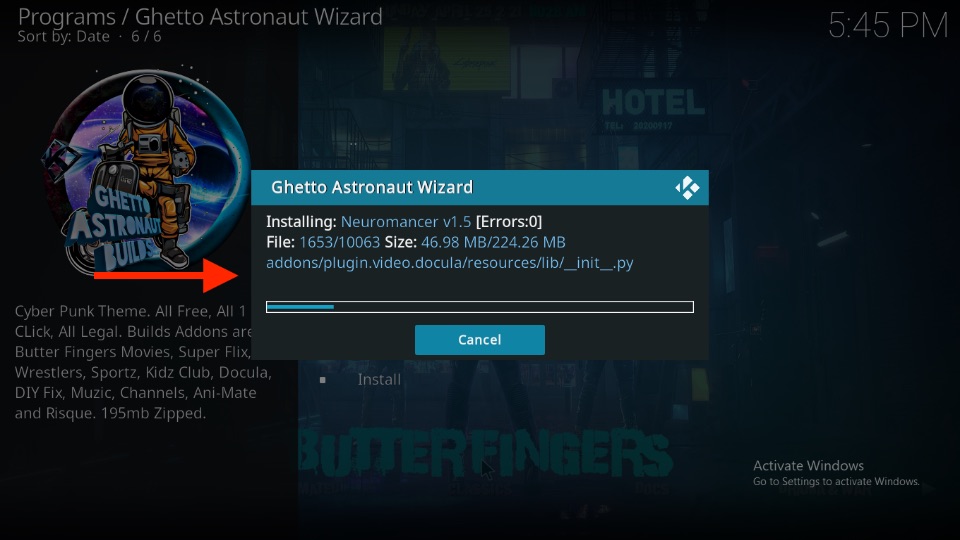 13. Finally, click OK to save changes and force close the Kodi app.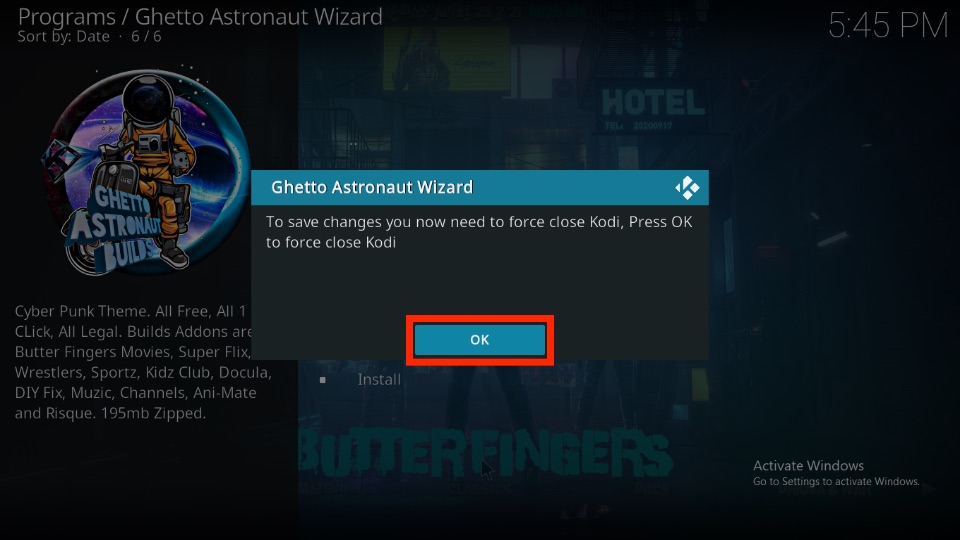 Phew! You can now enjoy the crowd-favorite Neuromancer build on your Kodi app.
Wait! It looks like you are all set to start watching your favorite content on Kodi. But have you protected your online identity yet? You are under constant surveillance by the Government and ISP. They use your IP address 3.17.249.235 to track you. Streaming free or copyrighted videos may get you into legal trouble.
Thankfully, you can use a VPN to easily protect your privacy and go invisible from your Government and ISP. I use and recommend ExpressVPN with Kodi.
ExpressVPN is the fastest, most secure, and streaming-friendly VPN. It is easy to install and set up on any Kodi device, including FireStick, Smartphones, PCs, and more.
ExpressVPN, offers an unconditional 30-day money-back guarantee. So, if you do not like the service (I don't see why), you can get a full refund within 30 days.
Please remember that we encourage you to use a VPN to maintain your privacy. However, we do not condone breaking copyright laws.
Before you start using Kodi for streaming, here is how you can protect yourself with ExpressVPN:
Step 1: Sign up for ExpressVPN Here
Step 2: Download ExpressVPN on your device by clicking HERE
Step 3: Open the ExpressVPN app on your device. Sign in with your account. Click the connect/power button to connect to the VPN

Great! You have successfully secured yourself with the best Kodi VPN.
Overview of Neuromancer Kodi Build
Neuromancer consists of the following main sections:
Butterfingers

Channels

Docula

Superflix

Kidz

Ani-mate

Sportz

Wrestlers

Muzic

DIY Fixes

Risque

Favs

System
Let's kick things off with the first screen of Neuromancer – Butterfingers.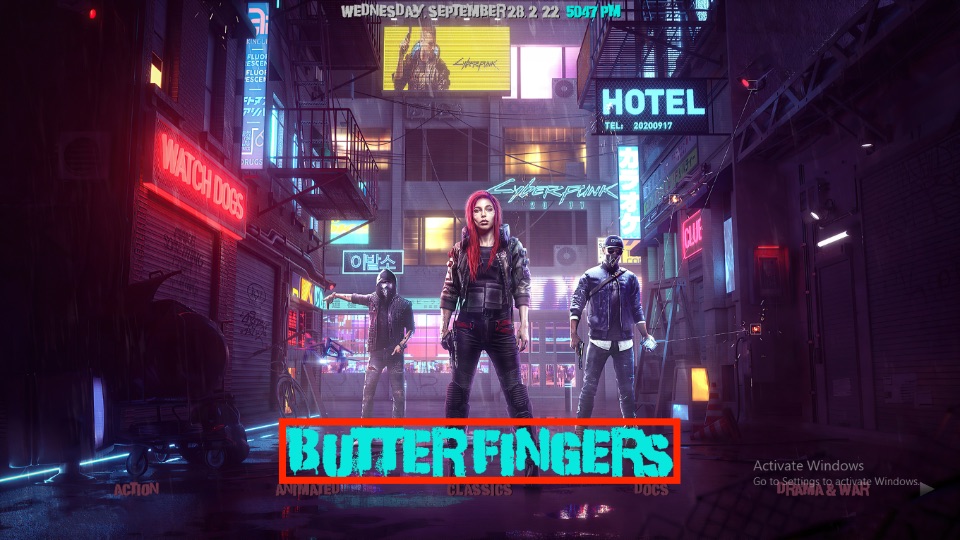 Exploring the section takes you to the movies section of the all-time favorite Kodi addon, Butterfingers.
Here, you can explore folders like Featured Movies, Action Movies, Animated Movies, Classic Movies, Comedy Romance Movies, and more.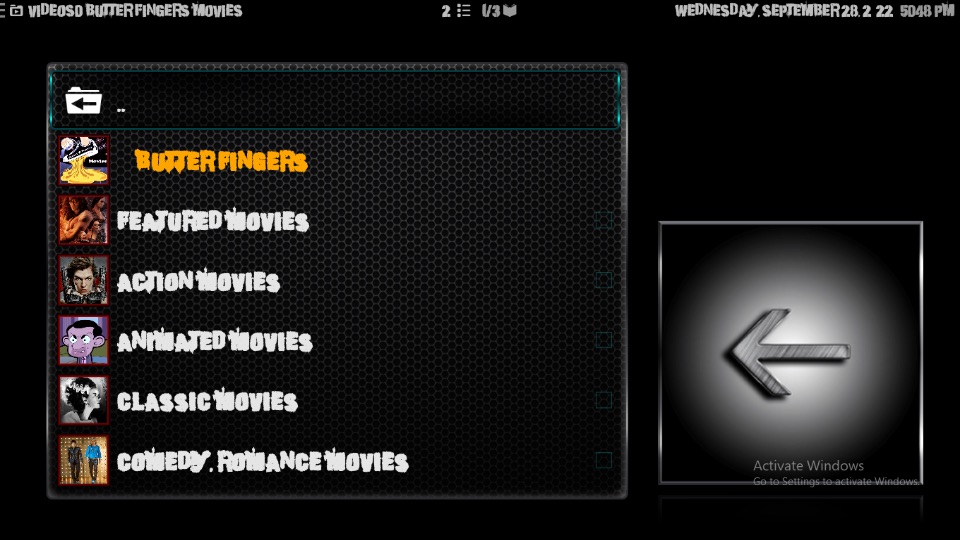 Next, you can choose the genre available in the sub tray of the Subfingers screen. For instance, I'm selecting Action.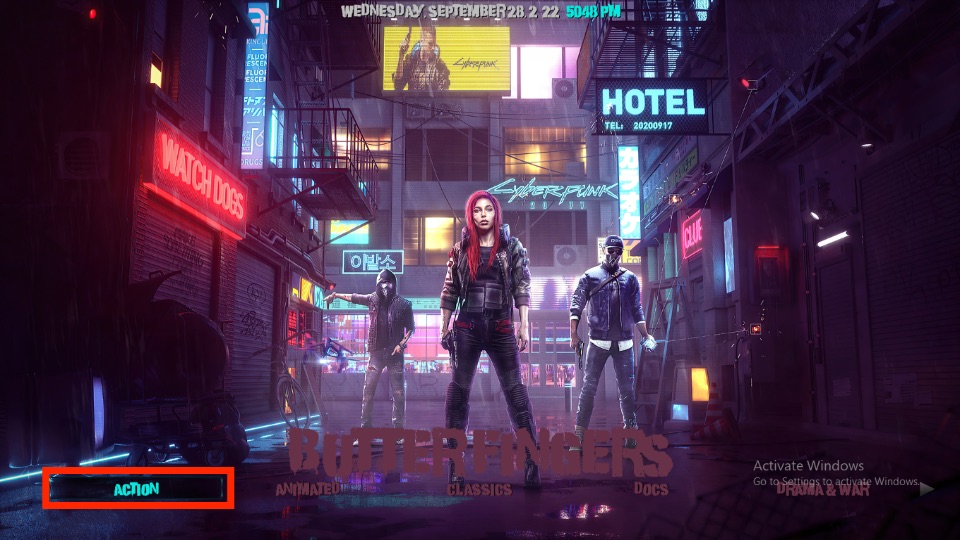 And then, you'll find sub-folders of the genre like Action Movies, Action Nerd Movies, Action Adventure Movies, etc.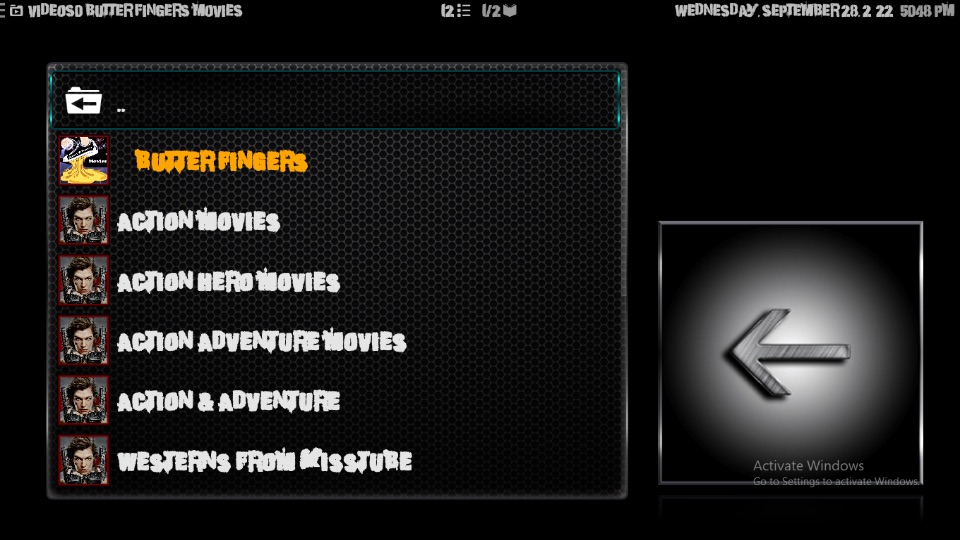 Are you looking forward to streaming live TV? Then, look no further than the Channels section of Neuromancer.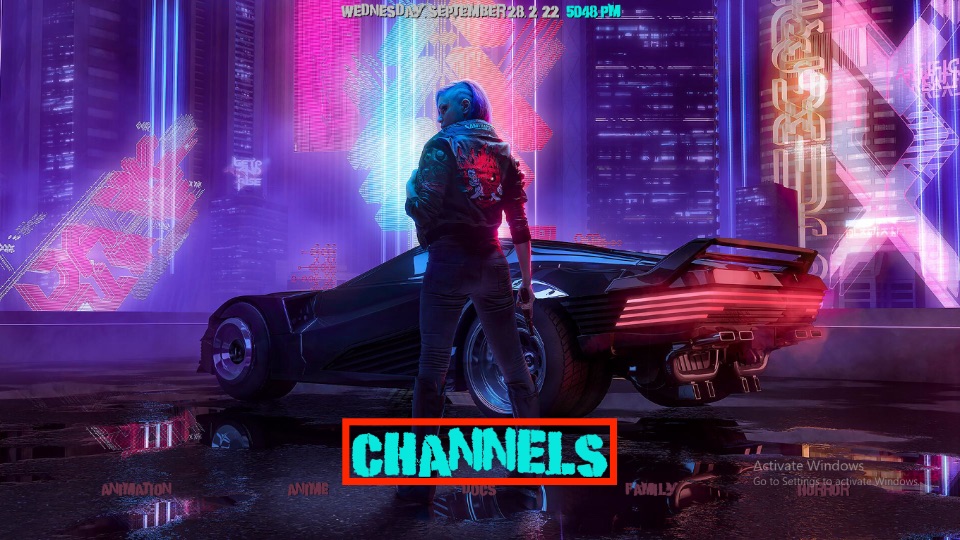 Channels, Live Channels, Horror Channels, Sc-Fi Channels, Family Channels, Anime Channels, etc., are some sub-folders you'll see inside.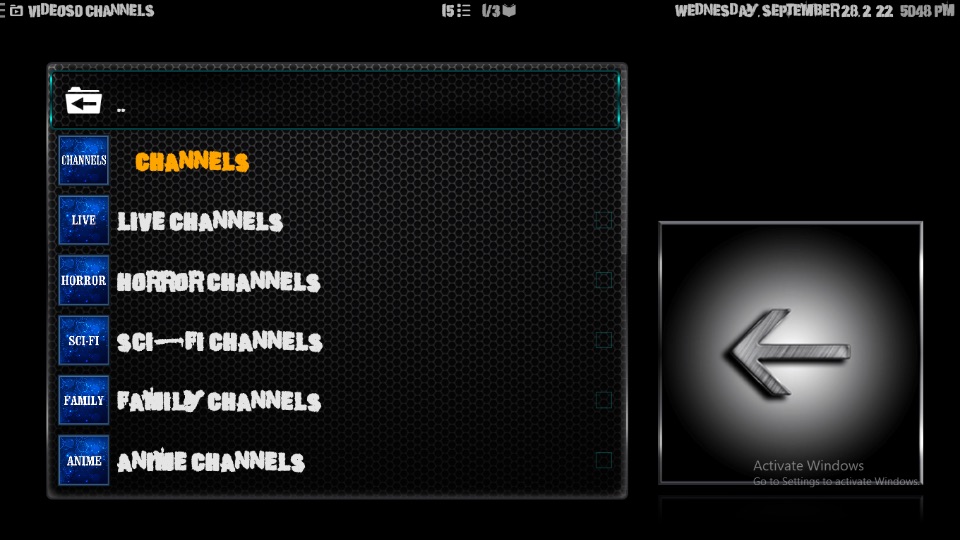 And guess what? Using the sub-tray menu, you can directly hop onto a sub-folder of Channels like Sports.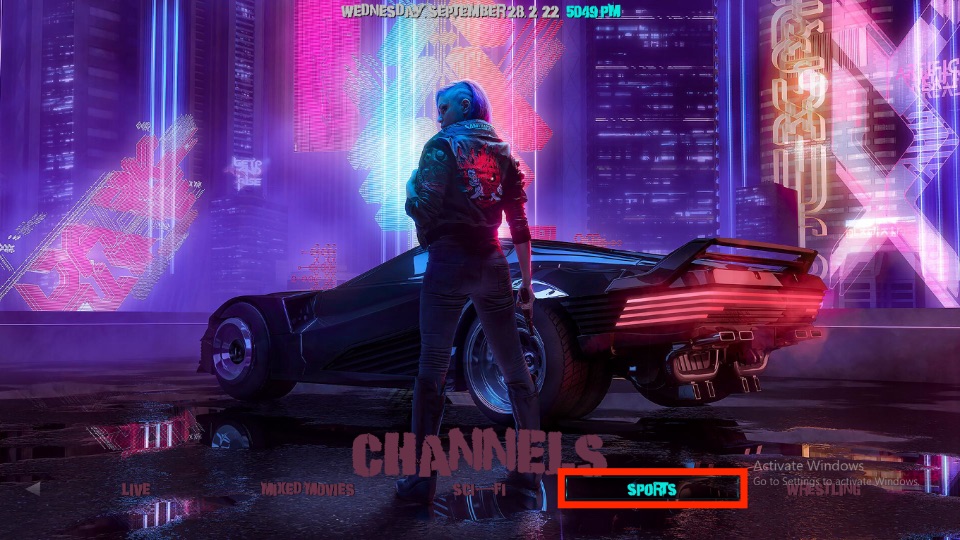 And inside, you'll find the relevant channels. For instance, in Sports, there are Motorcross Mix Rally Channel, Sports Legends Channel, Big Mind Sports Channel, and more.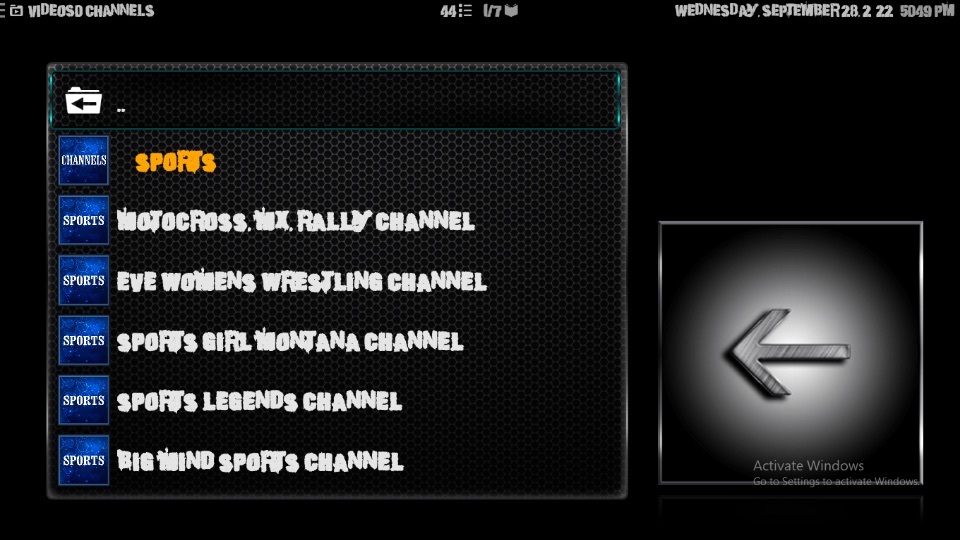 Love documentaries? Neuromancer has got your six with the Docula section.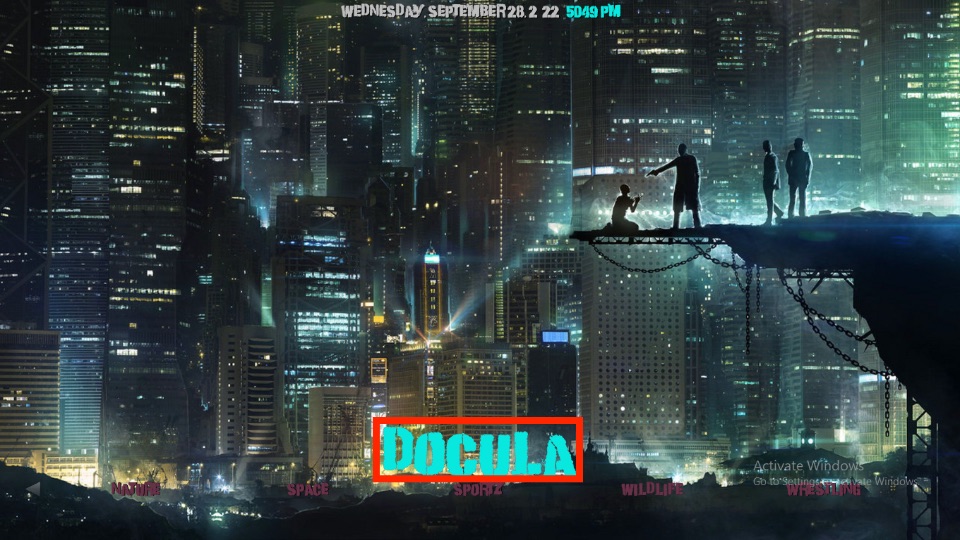 Inside Docula are sections like Documentary Live Streams, Documentary Music Docs, Documentary Sports Docs, Documentary Wrestling, etc.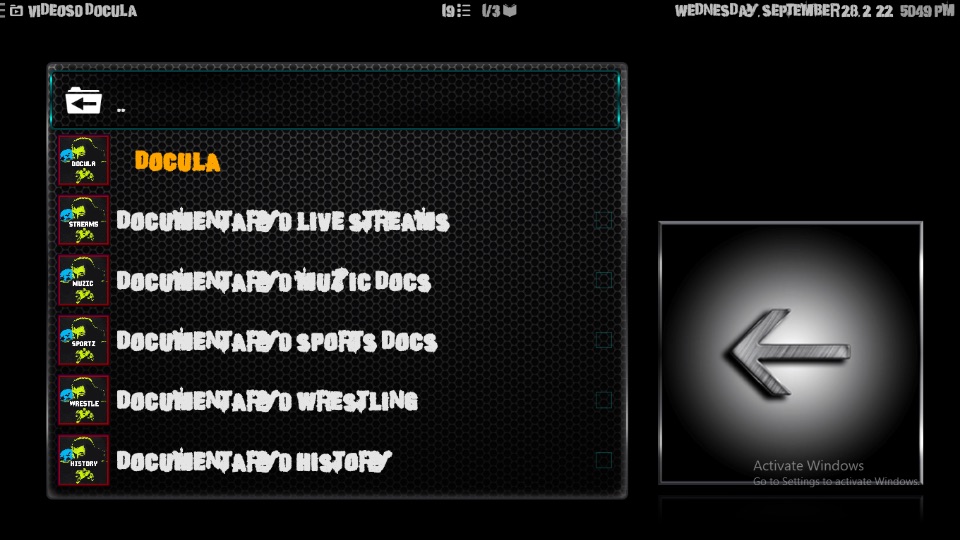 Want to watch the whole collection of superhero movie franchises? Head inside Superflix.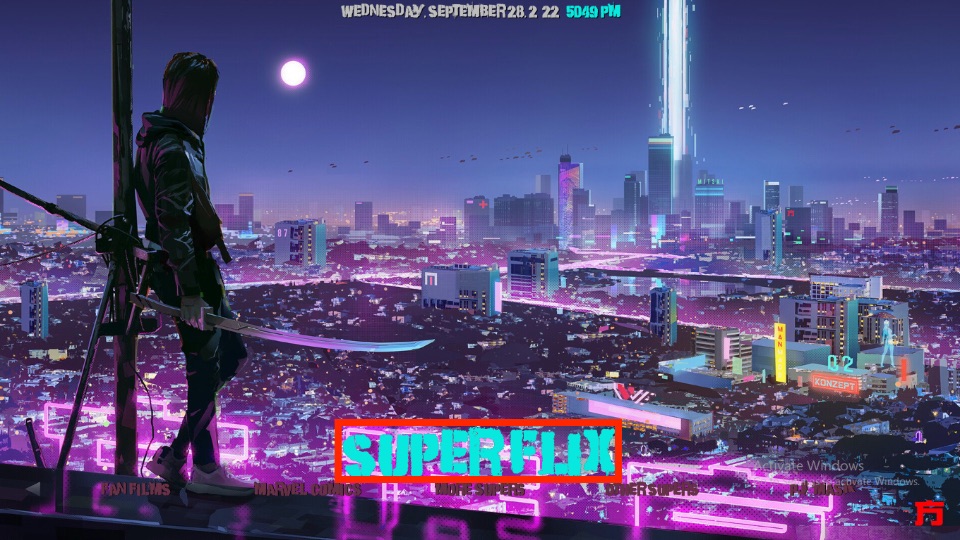 The section lets you discover every content related to superheroes. From live channels to docs and movie collections, you'll find everything here.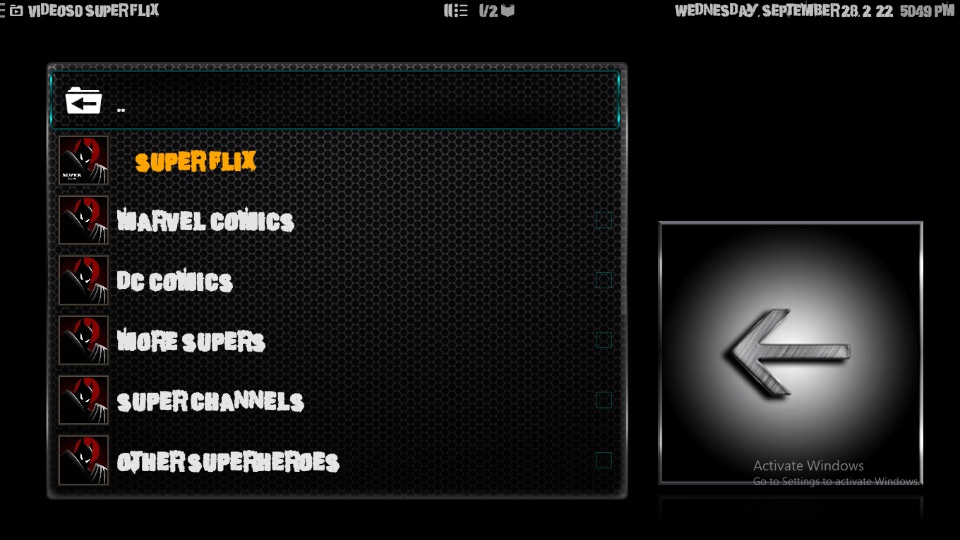 Why should the adults have all the fun? Right? That's where the Kidz section of Neuromancer comes into play.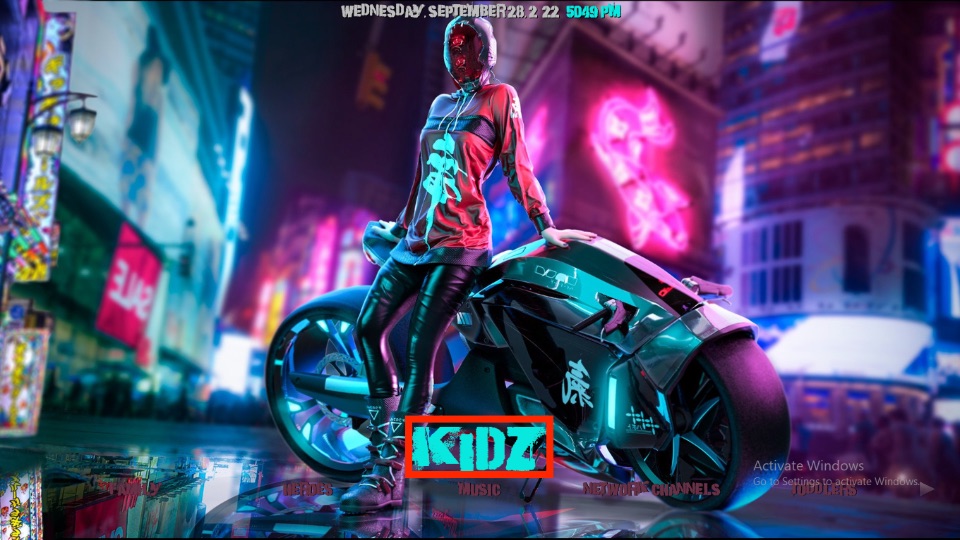 Made especially for kids, you'll find sub-sections like Kids Channels, Kids Network Channels, Comedy Shows, Kids Documentaries, Family Movies, and more.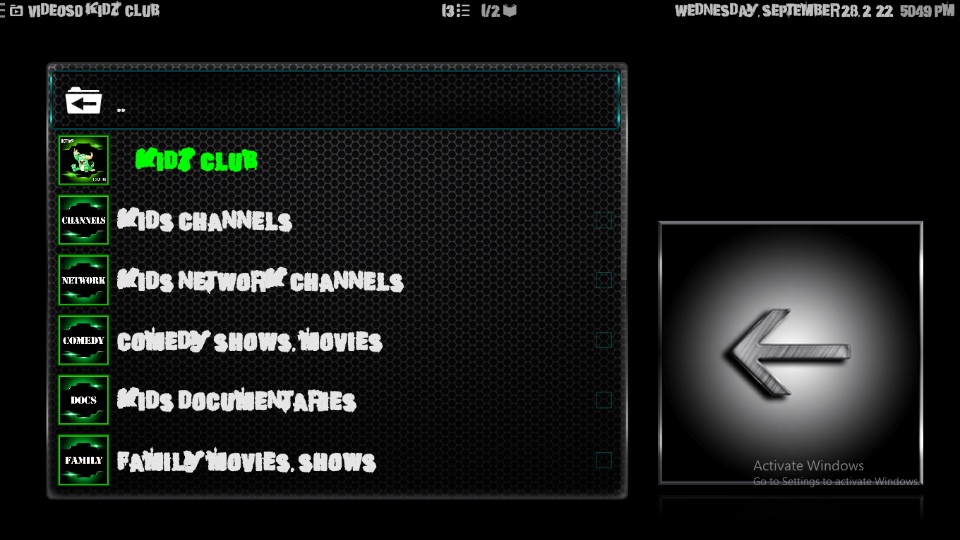 Who doesn't love animated content? And that's why Neuromancer has a separate section known as Ani-mate.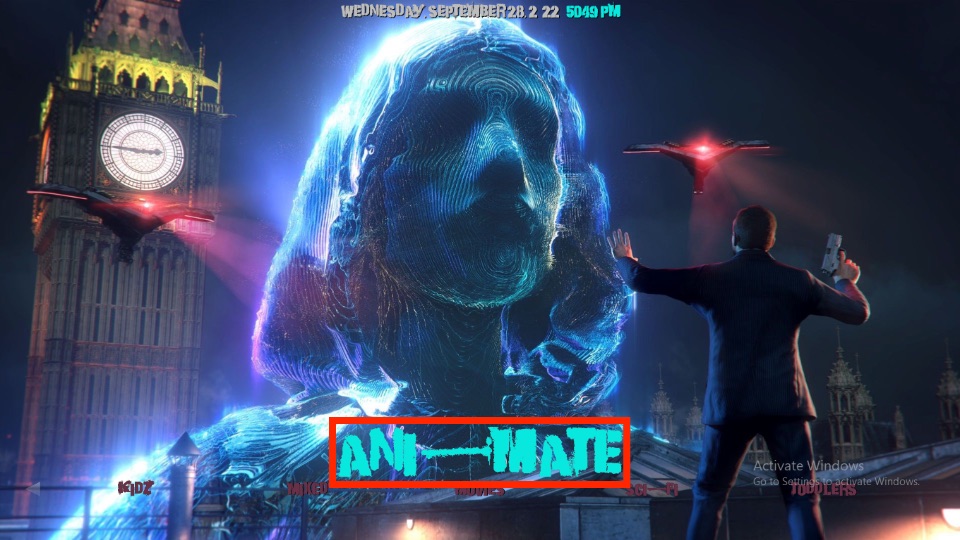 Anime, Sc-Fi, Kids, Toddlers, and you name it. You'll find all the animated content perfectly categorized inside the section.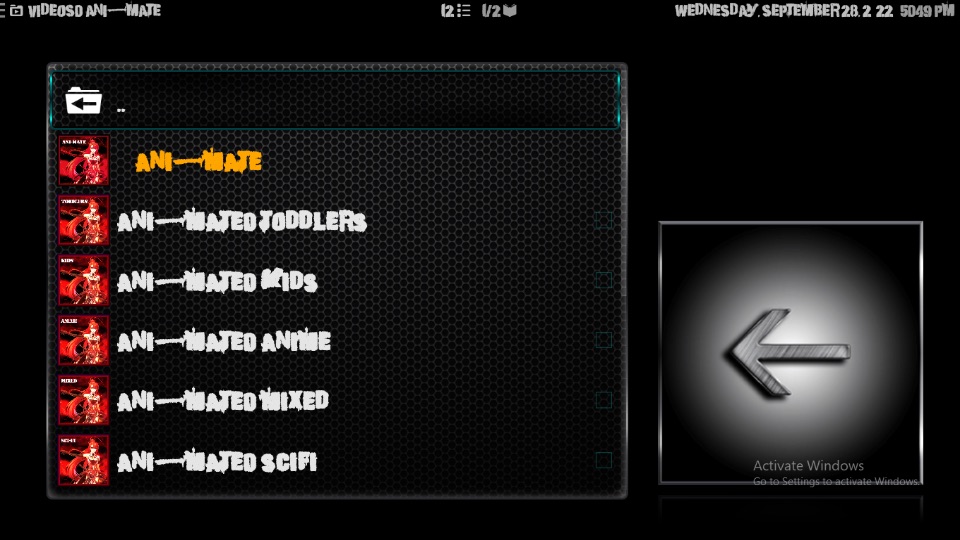 After religion, most people prioritize sports over anything else. So, if you are one of the sports fanatics, you'll love Neuromancer's Sportz section.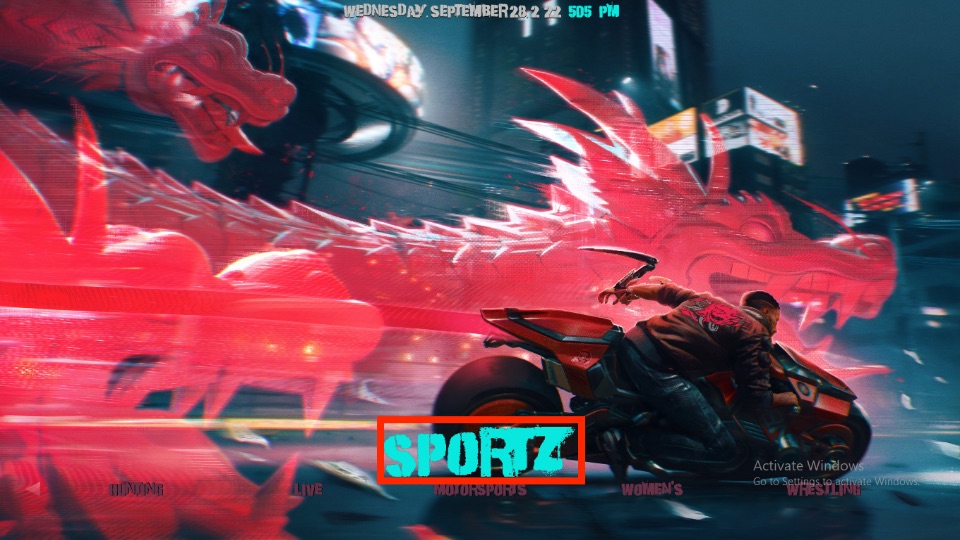 Live Sports, Wrestling Events, Sports Docs, etc., are some sub-folders inside Sportz.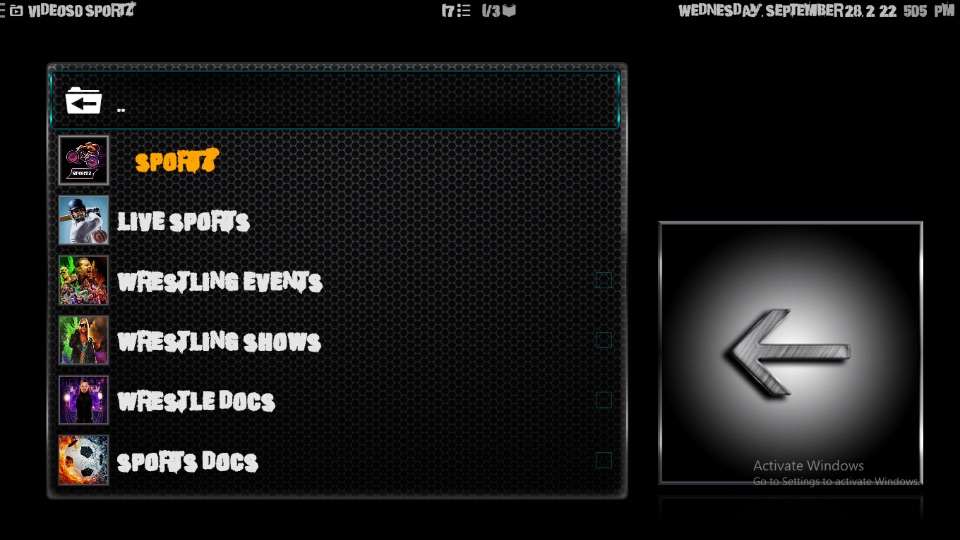 Want to tune nothing but wrestling? You'll love the Wrestlers section of Neuromancer.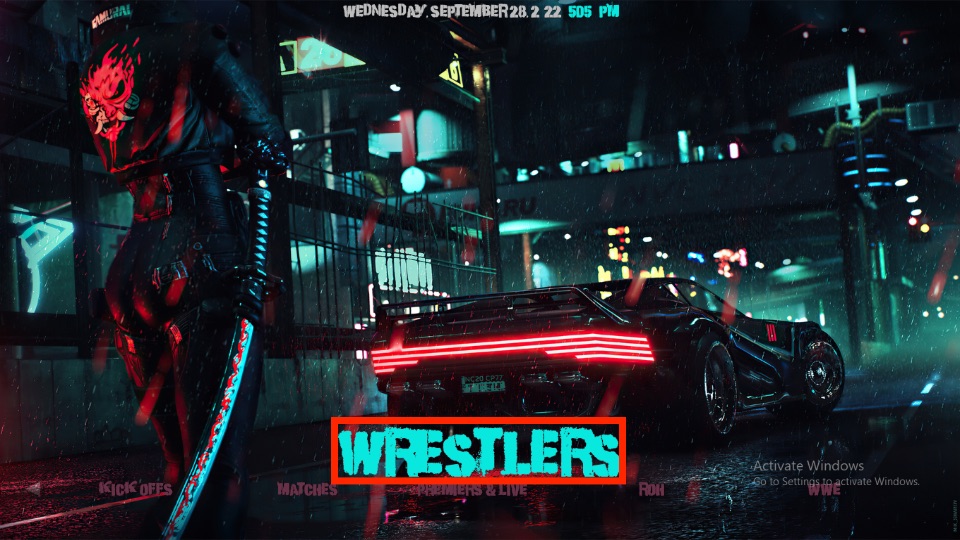 Inside, you'll find folders like Premiers & Live Shows, Episodes & Kickoffs, Wrestling Archives, Wrestling Matches, etc.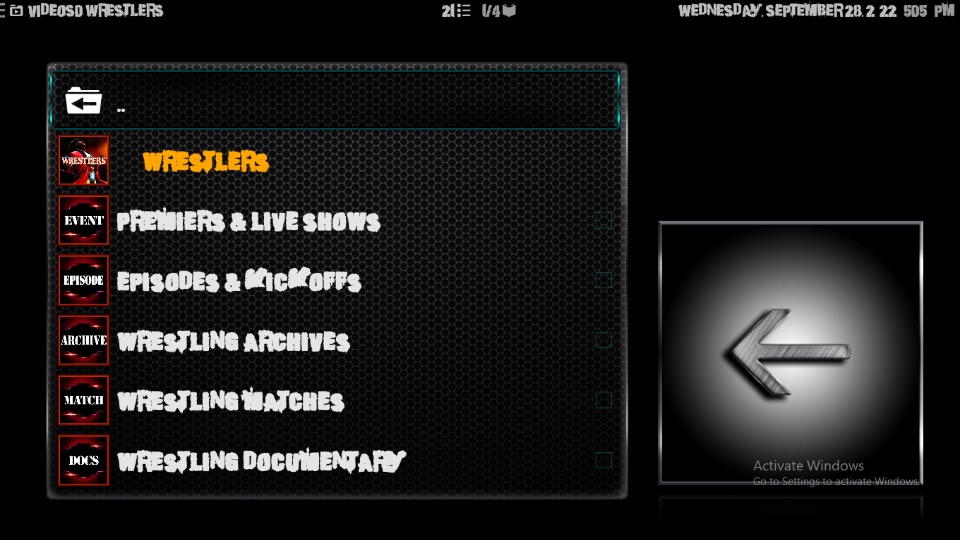 Lastly, feel free to explore other amazing sections by Neuromancer, like Muzic, DIY Fixes, Risque, Favs, and System.
Wrap-Up
Install Neuromancer on your Kodi app to enjoy a new world of content, addons, and more! This guide is your ultimate spot to learn all about Neuromancer! If you have any questions, comment below, and I'll reply ASAP!
Related: