This guide shows you how to get local channels on FireStick, New FireStick 4K, and New FireStick 4K Max. Several options exist, from paid and free apps to using additional hardware. The methods will work on any Amazon Fire TV device, so read on to discover the method that suits you best.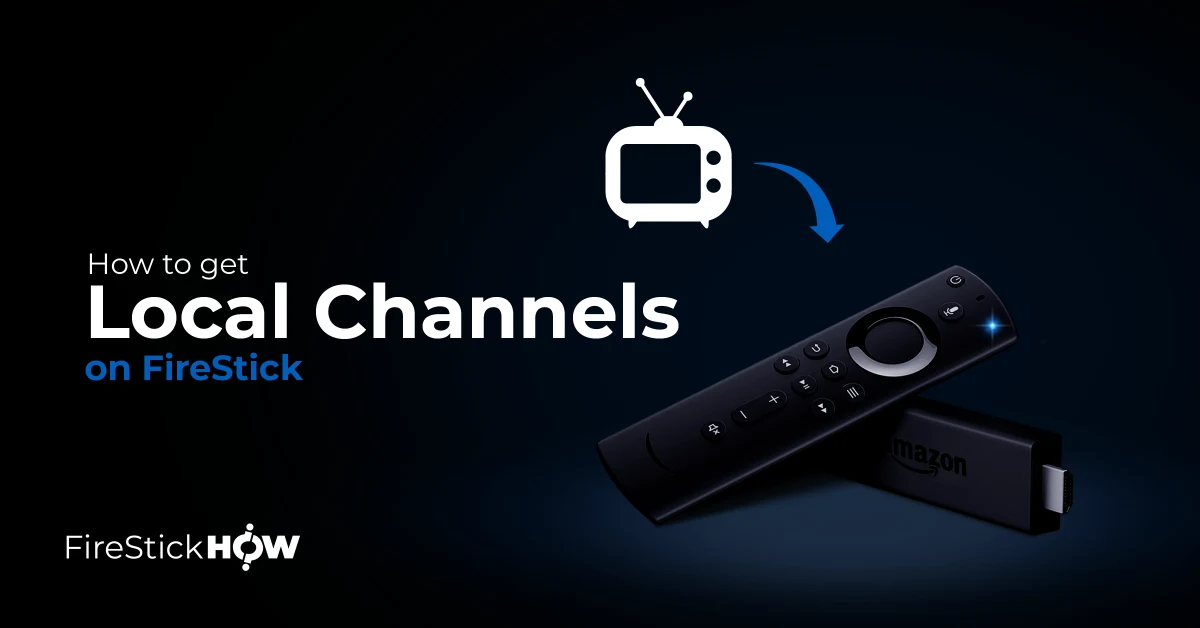 Amazon Fire TV Stick is a popular streaming device that transforms your TV into a home entertainment hub. You can install numerous apps on the device to stream on-demand content, including movies, TV shows, documentaries, reality TV, and online video games. Apps like Netflix, Amazon Prime, and HBO MAX entertain your household through high-quality content.
However, sometimes you might want to watch local TV for news, weather, sports, and other programming. Does it mean you cannot give up your cable subscription if you want to watch local channels?
Luckily, there are several ways to access local channels on your Fire TV device. These methods include using a digital antenna, subscription-based live TV services, channel-specific streaming apps, free apps, and Kodi. Let's discuss each method in depth below.
Attention FireStick Users: Read before you continue
Your government and ISP are probably monitoring your streaming activities using your IP address 3.17.249.235 (exposed to all). You may get into serious legal trouble for streaming copyrighted videos on FireStick. 
I strongly recommend getting a trusted VPN for FireStick to hide your IP address and protect your online identity.
I use ExpressVPN on all my devices as it is the most secure, fastest, and easy-to-use VPN. It comes with an unconditional 30-day money-back guarantee, and you get 3 free months with the yearly plan.
Don't miss out on the peace of mind and online security ExpressVPN provides.
Read: How to Install & Set up the best VPN on FireStick.
How to Get Local Channels on FireStick
Getting local channels on your FireStick is not hard and doesn't require you to be tech-savvy. Whether downloading an app onto your FireStick or connecting it to additional hardware, the methods are manageable. Below are the various ways to get local channels on FireStick.
Using Free Apps
You can watch local TV at no cost using free apps on the Amazon App Store. Below are the top 6 free apps to get local channels:
1. Very Local

Like its name suggests, Very Local airs free content related to your locality, including news, weather, original, and talk shows. You can stream local news on various topics, including politics, business, careers, and breaking news, from local stations. The app is lightweight, with a decluttered main menu consisting of Home, News, and Weather sections.
How to Install Very Local on FireStick
2. Local Now

Local Now is another app that provides local news from over 200 local media outlets. Besides news and weather updates, Local Now also offers hundreds of hours of on-demand content, including popular and classic movies and TV shows.
The app's user interface is easy to navigate, with content categorized into channels, movies, and TV shows. You can also tailor your content to what's relevant to you by customizing your location.
How to Install & Use Local Now on FireStick
3. LocalBTV

Local BTV is a California-based company that offers free streaming of local and national channels by partnering with media stations. It is available in 50 TV markets across the US, offering live TV streams and original programs.
You can stream a wide variety of content on the app, from sports, breaking news, business, and politics to weather forecasts.
How to Install LocalBTV on FireStick
4. Amazon News App

Amazon News app is one of the best free apps to watch local and global news on your FireStick. You can access live updates from local channels, including ABC and CBS, and global media houses like Reuters, Yahoo News, Bloomberg, and ET Live. Upon launch, the app detects your location to tailor your channel list to your locality.
Amazon News app comes preinstalled with FireStick.
5. NewsOn

Another free app that offers live updates from local TV channels on FireStick is NewsOn. Whether you want to watch the news from your local TV channel or the national media stations, NewOn offers all that.
Additionally, the app is not geo-restricted to your locality. Popular local channels on NewsOn include PBS, ABC News, CBS, FOX, and NBC.
You can download NewsOn from the Amazon Store or use the NewsOn Kodi Addon.
6. Haystack News

Haystack News is one of the most reliable sources of local channels on FireStick, with at least 400 channels offering local and global newscasts. If you want an app to stream political, technology, market, business, travel, and sports news, HayStack News is a great option. Popular local channels on the lineup include CNN, BBC, CNET, ABC, MSNBC, and EuroNews.
How to Install & Use Haystack TV on FireStick
Using Live TV Streaming Services
Live TV streaming services, commonly known as skinny bundles, are an alternative way to watch local TV at a fraction of the cost of a cable subscription. These services have become popular as streaming culture grows, and the availability of streaming devices improves.
Below are the top subscription-based live TV streaming services that offer local channels:
1. YouTube TV

YouTube TV is one of the leading and most affordable live TV streaming services that offers local channels. Besides live TV, the service offers on-demand content from various genres, including drama, action, lifestyle, documentaries, and kids' entertainment. With YouTube TV, you can access over 85 TV channels, including NBC, CBS, FOX, HGTV, TNT, and ABC.
YouTube TV is subscription-based, with a no-contract monthly subscription of $64.99 (first three months and $72.99 thereafter). Moreover, you can watch select local channels for free with a free trial between 14 and 60 days, depending on the season. Please visit the YouTube official website for the latest prices.
How to Install & Use YouTube TV on FireStick
2. fuboTV

Are you looking for a service that's big on sports channels? FuboTV is the self-proclaimed top sports-focused live TV streaming platform and is one of our best apps for streaming live sports. It offers over 100 HD TV channels, including sports, entertainment, news, kids' content, and lifestyle stations. Popular local channels in the lineup include NBC, CBS, FOX, ESPN, ABC, Telemundo, CW, and Univision.
In addition, to live TV, FuboTV offers a vast collection of on-demand content, including top TV shows like The Bachelor, Masked Singer, Yellowstone, and Saturday Night Live. The service has three monthly plans. Below are three packages and their prices (visit the FuboTV official website for up-to-date prices):
Pro plan at $74.99 per month
Elite plan at $84.99 per month
Ultimate at $94.99 per month
FuboTV has a 7-day free trial to give you a glimpse of what the service offers before committing to a plan.
How to Install FuboTV on FireStick
3. Sling TV

Sling TV is Dish Network's over-the-top live TV streaming service. You can subscribe to any of its three plans to access local TV channels across sports, news, lifestyle, reality TV, kids' entertainment, weather, and more. You can access a vast library of movies and TV shows alongside live TV channels.
The available local channels vary based on your Sling TV plan. Top local TV channels on Sling TV include BET, CNN, BBC America, FX, E!, History Channel, FOX, NBC, and ABC. Choose between the following three plans to watch local TV on the streaming service (please check the Sling TV website for latest prices):
Orange plan at $40 per month
Blue plan at $45 per month
Orange & Blue plan at $60 per month
You may get the first month at a discounted price. For instance, as I write this post, the Orange plan costs $15 for the first month. Blue and Orange & Blue cost $20 and $35 for the first month, respectively.
How to Install Sling TV on FireStick
4. AT&T TV (DIRECTV Stream)

AT&T TV is an over-the-top streaming service that offers an alternative to internet-based live TV for cord-cutters. The service rebranded to DIRECTV Streams in 2021 and offers about 140 live TV channels across kids' entertainment, news, sports, movies, and documentaries.
You can access local channels such as ABC, NBC, FOX, CW, and CBS with any of the four DIRECTV Stream packages. Below are the four plans and their prices at the time of writing (latest prices at the DirecTV official website):
Entertainment package at $64.99
Choice package at $84.99
Ultimate package at $109.99
Premier package at $154.99
How to Install DirecTV on FireStick
5. Hulu +Live TV

Hulu +Live TV is perfect if you are looking for the best of the two worlds of live TV and on-demand content. The streaming service offers a vast library of movies, TV shows, and over 85 live TV channels. With a Hulu +Live TV subscription, you can watch local TV channels like CBS, NBC, FOX, CNN, HGTV, and ABC on your FireStick.
The Hulu + Live TV package costs $69.99 per month, but there are pricier packages depending on the content. Check out the latest prices at the Hulu official website.
How to Install Hulu on FireStick
Using a Digital Antenna
Over-the-air DVR devices like the Amazon Fire TV Recast let you watch free-to-air TV channels through your FireStick. While other brands like Tablo and AirTV Anywhere connect to your TV via the HDMI port, the Amazon Fire TV Recast doesn't have an HDMI output. Instead, it connects to a nearby digital antenna via Wi-Fi and pulls OTA channels, providing live coverage.
The available channel lineup varies depending on your location. You can watch local channels using the Fire TV Recast, including CBS, FOX, ABC, PBS, and NBC. The device is somewhat expensive, but it's worthwhile if you intend to watch local channels for a long time without cable.
At the same time, Amazon disclosed it was discontinuing the device in August 2022 but would carry out security updates until 2026.
Using Channel-Specific Apps
Local TV channels have also embraced live streaming over the internet, thus unveiling streaming apps that offer their content and that of their affiliates. For instance, NBCUniversal offers Peacock TV, a streaming platform to watch live TV and on-demand content from channels affiliated with the media network.
This method may be overwhelming, seeing as you'd need to install several stand-alone apps to get the full coverage of local TV. At the same time, some apps let you stream live TV only when you log in with your pay-TV credentials. Check out the below channel-specific apps and find the ones that work for you:
Paramount+ for CBS and its affiliates
ABC app for ABC
Peacock TV for NBCUniversal affiliates
FOX NOW for FOX and its affiliates
Using Kodi
Lastly, you can use Kodi to tune in to your favorite local TV. You can install official Kodi add-ons from the official Kodi repository or sideload third-party add-ons for live TV. Through these add-ons, you access live TV channels for sports, news, entertainment, kids' content, and more. Here is our collection of the best live TV Kodi add-ons.
Some of these add-ons have stand-alone apps that also offer live TV. They include NewsOn Pluto TV, UK Turks, and iPlayer WWW. However, iPlayer WWW is only available to UK users, offering channels like BBC One, BBC Two, and BBC News.
Third-party Kodi add-ons like Fetch have a vast collection of channels from the US, UK, and Canada. However, I recommend installing ExpressVPN before using third-party add-ons. The VPN shields your IP location from the government and the ISP (internet service provider). That way, you won't get into trouble with the authorities if you accidentally stream illegal content via these unofficial add-ons.
Wrapping Up
There are various ways to watch local channels on FireStick. You can use an OTA DVR digital antenna, paid live TV streaming apps, channel-specific streaming apps, and free apps like the Amazon News app. Additionally, you can watch live TV on Kodi by installing the Live TV Kodi add-ons. Which is your favorite method to get local channels on FireStick?
Related: