In this article, I'll cover how to install & use Peacock TV on FireStick. The guide also includes what Peacock TV is, details about its pricing & plans, how to subscribe to the service, how to use the app, and more. In addition, you will find the instructions to install and use Peacock TV outside the USA. You can use this guide as a reference for all the Fire TV devices by Amazon, like Fire TV Cube, FireStick Lite, FireStick 4K Max, FireStick 3rd Gen, FireStick 4K, and more.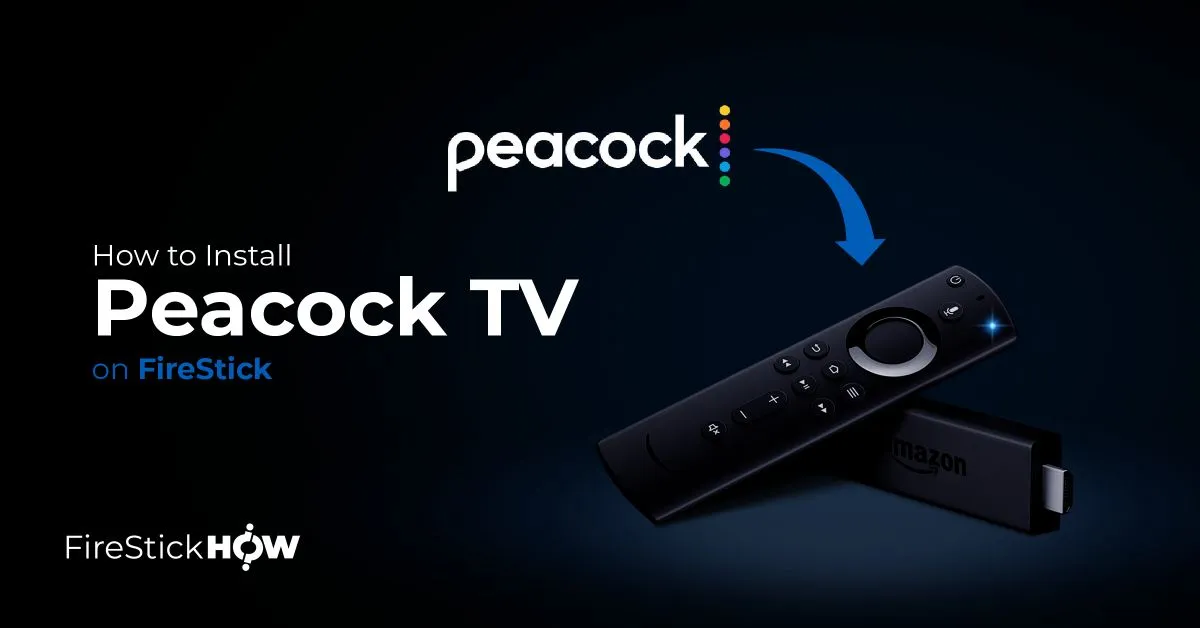 What Is Peacock TV
Peacock TV is an American over-the-top streaming service by NBCUniversal. Using the service, you can watch TV shows, movies, and live TV channels. You'll find new movies, old hit TV shows, Peacock Originals, Disney content, live channels, and more on Peacock TV.
You can access the service by creating a free account! However, the free account offers limited content. You can purchase a subscription plan to unlock its full potential. There's a lot to watch, from movies to live 24/7 channels on Peacock TV. And that's why it's one of the best American streaming services.
Attention FireStick Users: Read before you continue
Your government and ISP are probably monitoring your streaming activities using your IP address 3.17.249.235 (exposed to all). You may get into serious legal trouble for streaming copyrighted videos on FireStick. 
I strongly recommend getting a trusted VPN for FireStick to hide your IP address and protect your online identity.
I use ExpressVPN on all my devices as it is the most secure, fastest, and easy-to-use VPN. It comes with an unconditional 30-day money-back guarantee, and you get 3 free months with the yearly plan.
Don't miss out on the peace of mind and online security ExpressVPN provides.
Read: How to Install & Set up the best VPN on FireStick.
Peacock TV Pricing & Plans
You can sign up for Peacock TV without adding billing details to watch 10,000+ hours of free content. However, to go beyond that, you have two options – Premium and Premium Plus.
For just $4.99/month, the Peacock TV Premium plan gives you the following benefits:
80,000+ hours of movies, TV shows, and more
Fresh films right out of theaters
Next-day access to content from Bravo and NBC
Access to live sports like Premier League, WWE, MLB, and more
50+ always on channels
Coming at $9.99 per month, the Premium Plus plan of Peacock TV features all the benefits of Premium with added goodies like:
Ability to download and watch content offline
Stream everything ad-free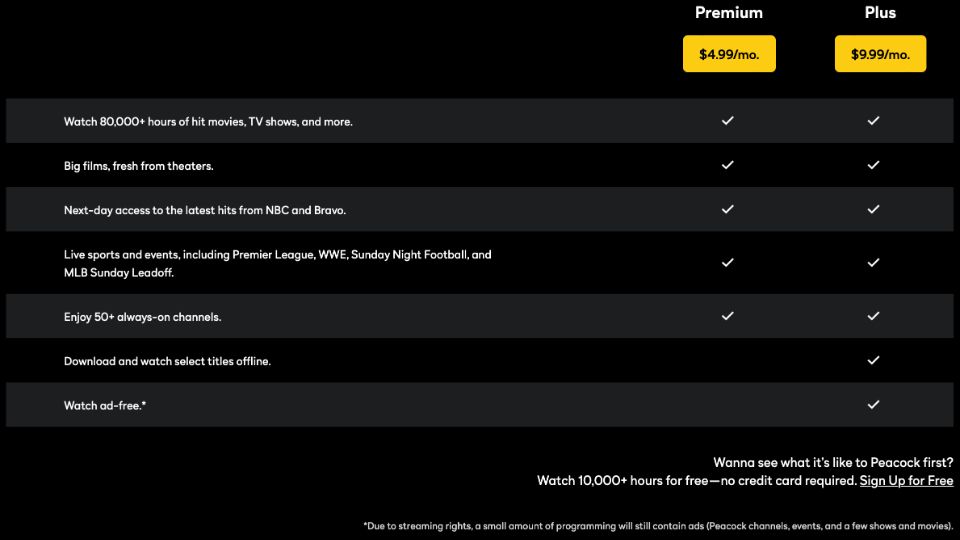 How to Subscribe to Peacock TV Subscription
Whether you are subscribing to the free, Premium, or Premium Plus Peacock TV plan, here's how to get started:
On your laptop/PC/phone, open a web browser and go to the official website of Peacock TV. After the website loads, select the Pick a Plan button.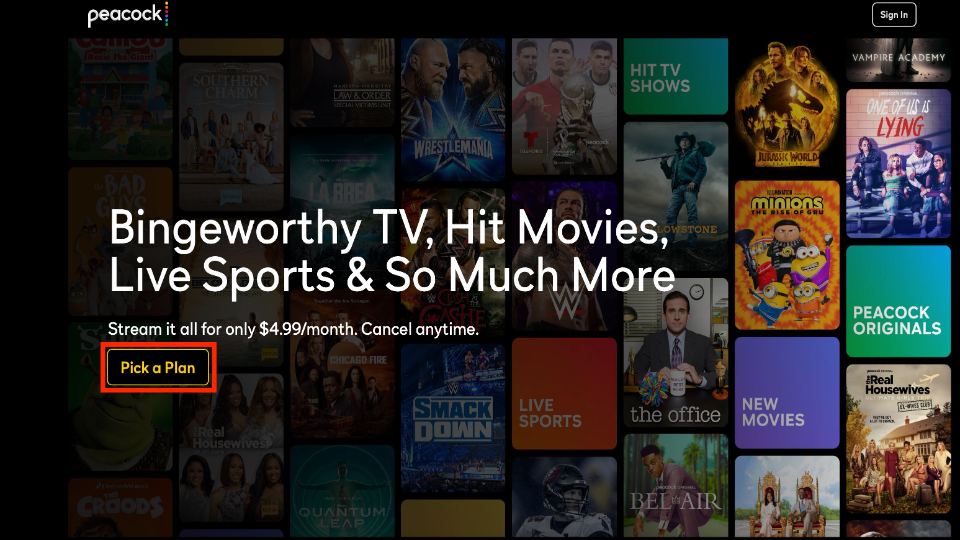 You'll be taken to the pricing and plans screen of Peacock TV. You can choose the monthly/yearly Premium or Premium Plus plan. But for the demonstration, I'll go with the free tier by selecting Sign Up For Free.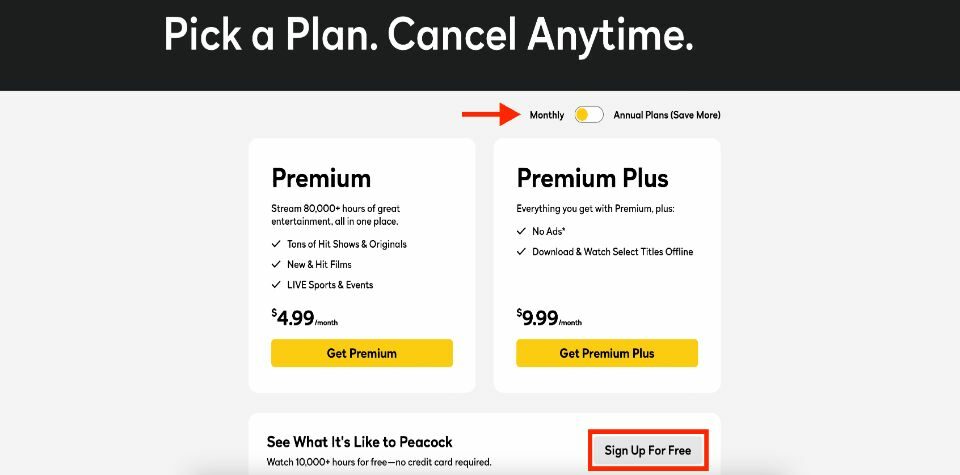 Next, Peacock TV will ask you to create your account. First, enter your Email Address along with your personal information like Name, Gender, Birth Year, etc. Also, set a Password for your account. Once done, click on the Create Account button.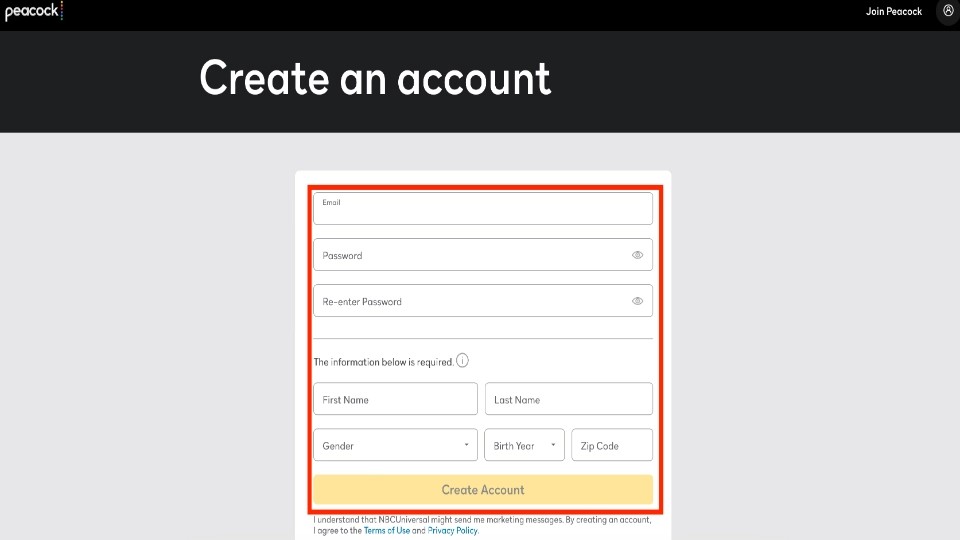 Peacock TV will send a verification email to the address you have provided. First, open your Email box and explore the mail sent by Peacock TV. Then, select the yellow Verify Email Address button.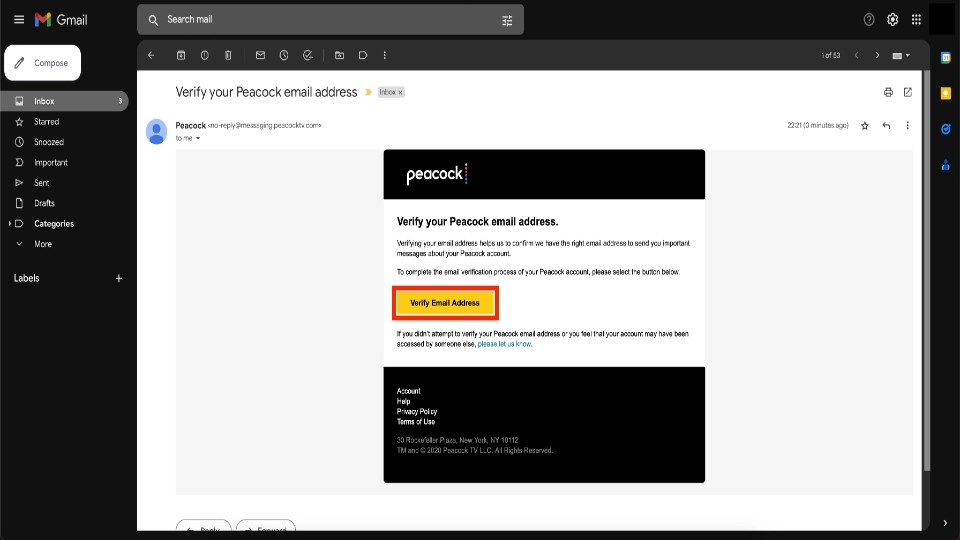 You'll be taken to the Peacock TV email confirmation screen. Congratulations! Your Peacock TV account is now ready to use.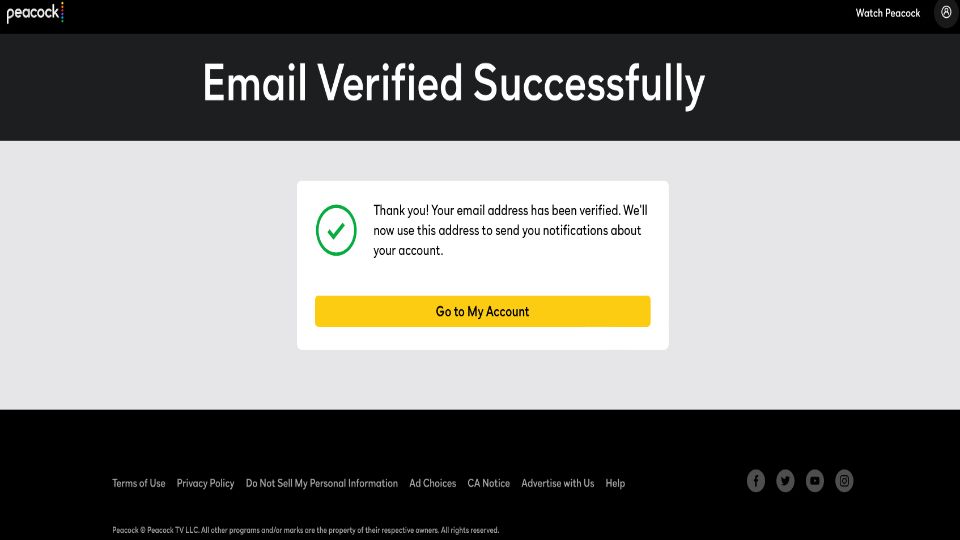 Features of Peacock TV
Here's why people across the world love Peacock TV:
10,000+ hours of free content
Availability of big films and TV shows
Live streaming of popular channels
Live sporting action from around the world
Ad-free experience (with Premium Plus)
80,000+ hours of world-class movies, TV shows, and more
How to Install Peacock TV on FireStick – Official Method
You will install the Peacock TV app from the Amazon Store in this method. However, if you live outside the USA and can't find the app on the Amazon Store, you may skip to the sideloading process, where I show how to install the app from a third-party source.
Here's the official way to install the Peacock TV app on your FireStick:
1. On your Fire TV home, choose Find.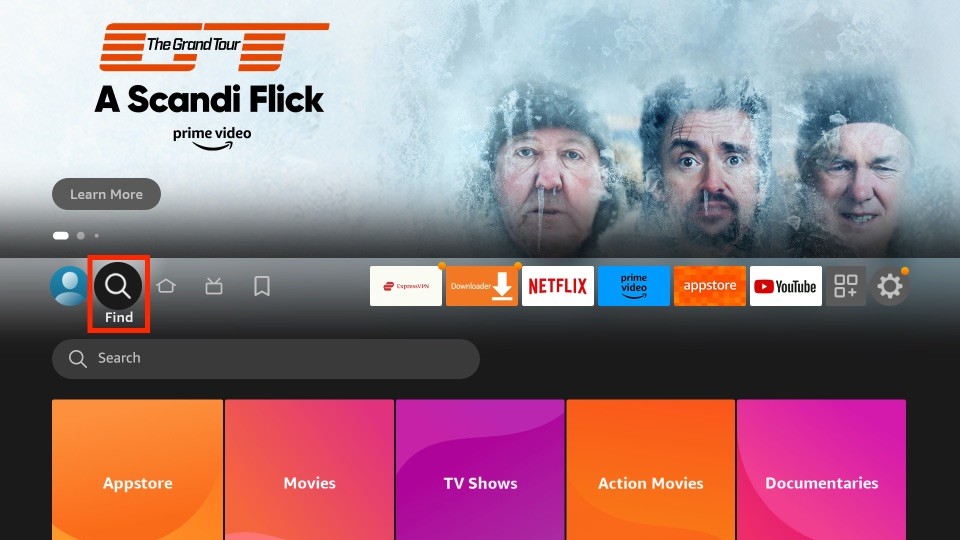 2. Move down and select the Search Input Box.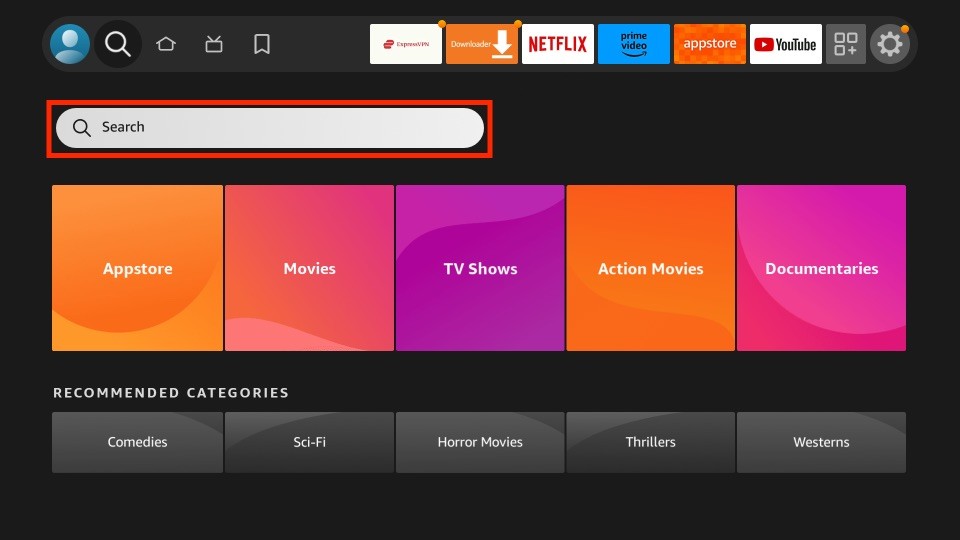 3. Start entering the characters to search for Peacock TV. Then, choose Peacock TV from the suggestions given.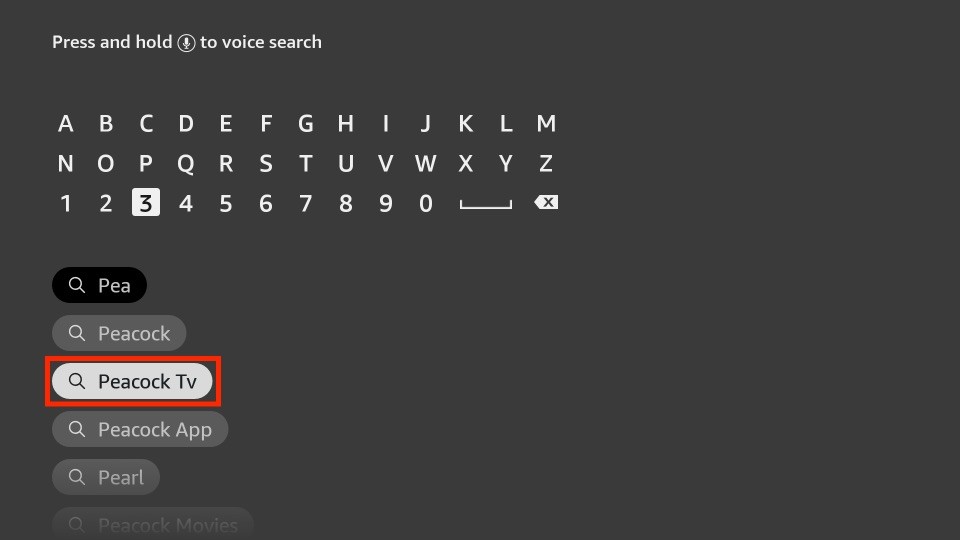 4. Choose the Peacock TV tile.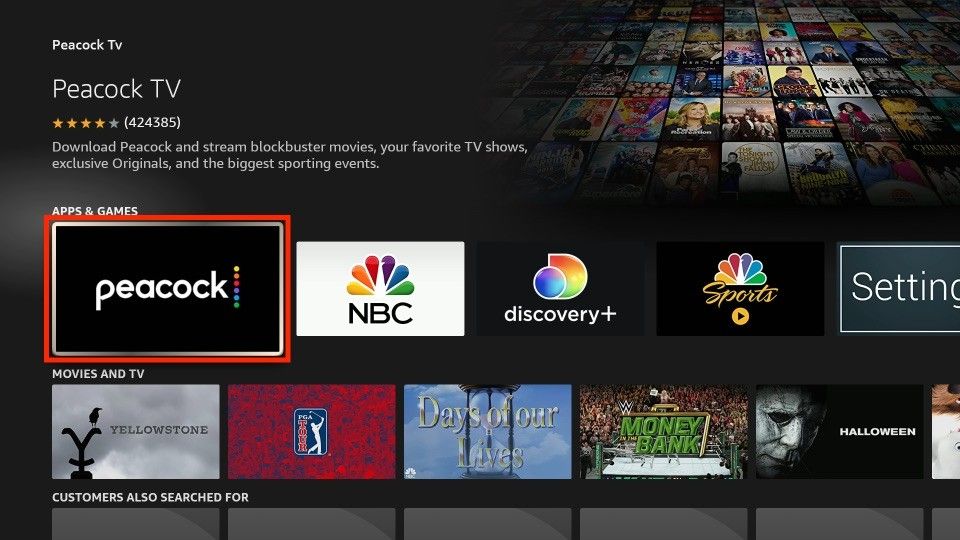 5. Click the Get button to start the installation process of Peacock TV.
Note: Members who have previously loaded Peacock TV on their FireStick will see a Cloud icon instead of the Get button.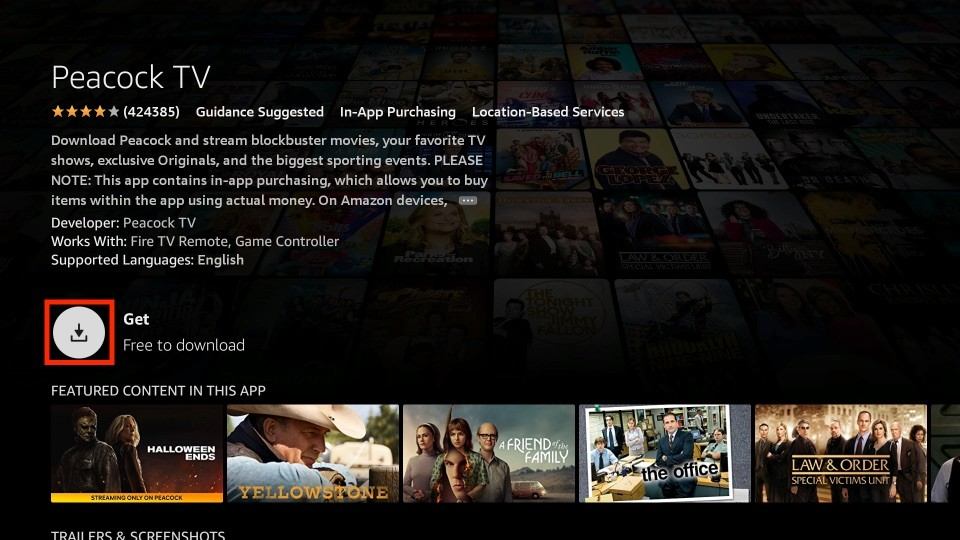 6. Your Fire TV will take a few seconds to download and install Peacock TV.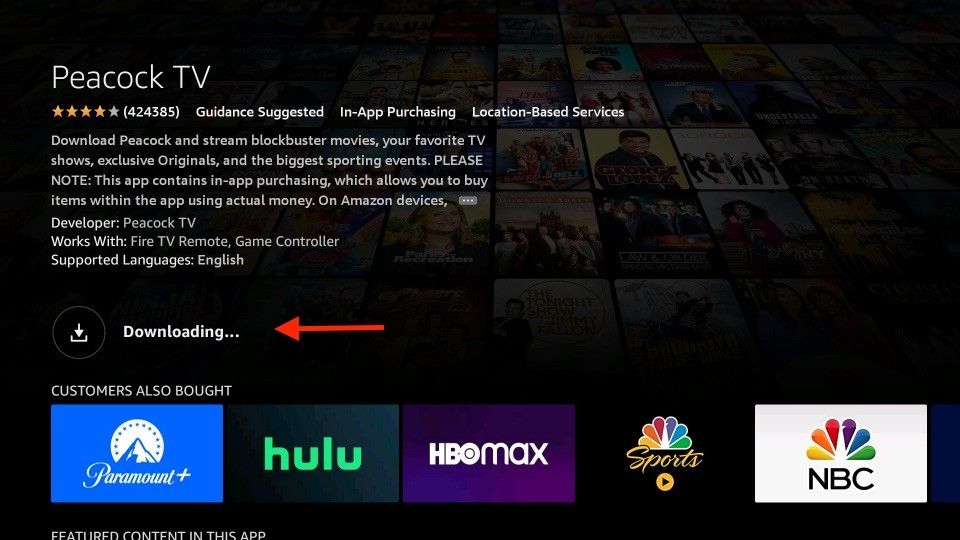 7. When the Peacock TV Ready to launch! notification appears, you are all set to use the app.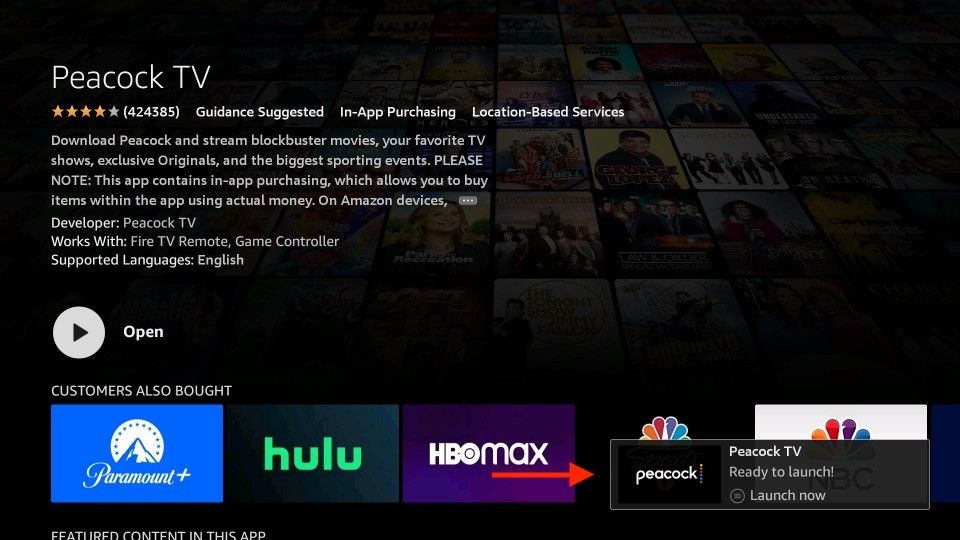 Hurray! The official Peacock TV app on Fire TV Amazon App Store is now installed on your FireStick.
Sideloading Method to Watch Peacock from Anywhere in the World
As I said, you can always sideload the app if you don't see the app in the Amazon Store. This section provides step-by-step instructions to sideload Peacock TV on FireStick.
Note: If you have already installed the app from the Amazon Store, you may skip this section.
Important!!! After sideloading Peacock TV, you will need a VPN to watch it outside the USA. I recommend using ExpressVPN. It is the best VPN for unblocking geo-restricted content.
Set Up FireStick for Sideloading
To sideload an APK file on FireStick, you'll need to set it up. This will involve installing Downloader from Amazon App Store and configuring it.
Please follow our detailed guide on installing and setting up Downloader for sideloading.
Here are the quick steps:
1. Open Find, go to Search and install Downloader from FireStick App Store.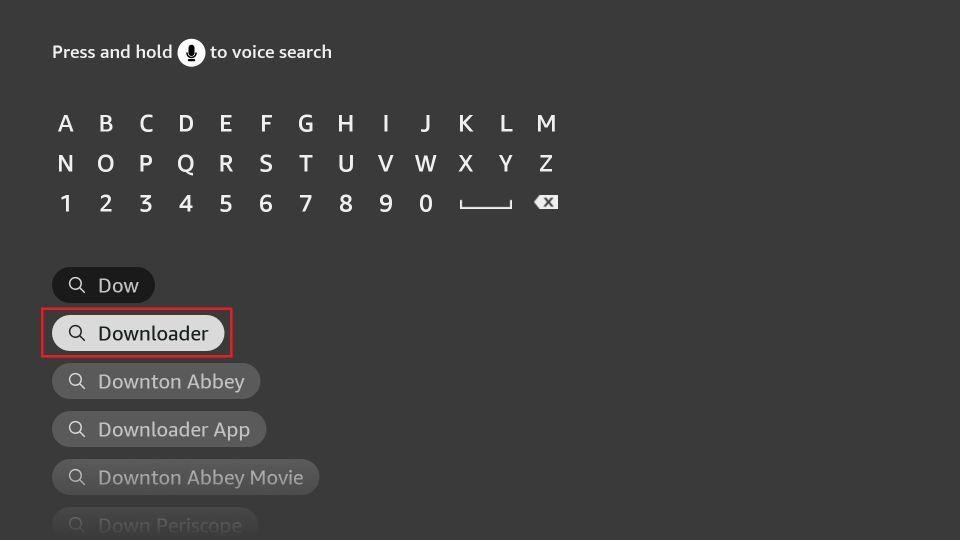 2. Explore FireStick Settings, open My Fire TV, launch Developer Options, and go to Install Unknown Apps to enable Downloader.
Note: If your device shows Apps from Unknown Sources, turn it ON instead.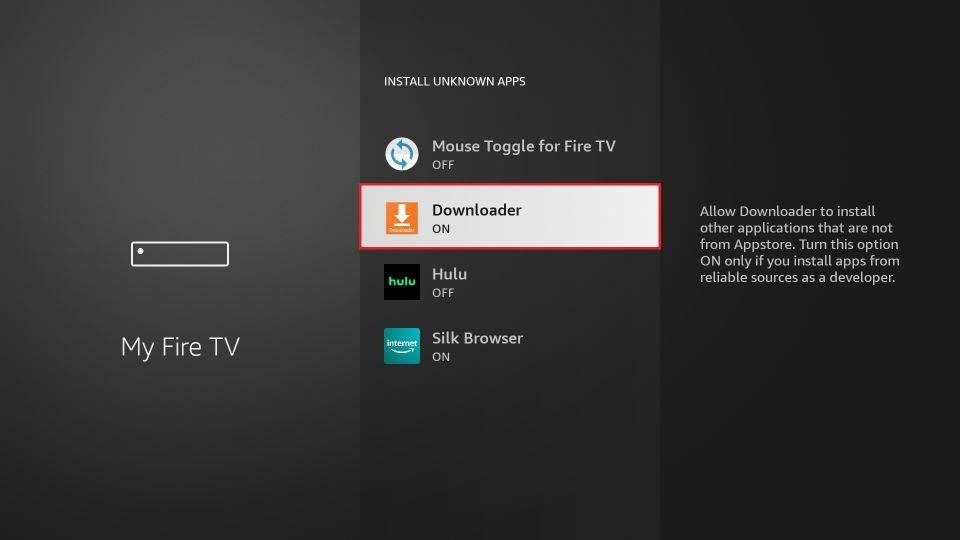 Steps to Sideload Peacock TV
Finally, here are the steps to sideload Peacock TV APK on your Amazon Fire TV:
1. Press the Home button on your FireStick remote until you see the smart-navigation menu. After that, select Apps.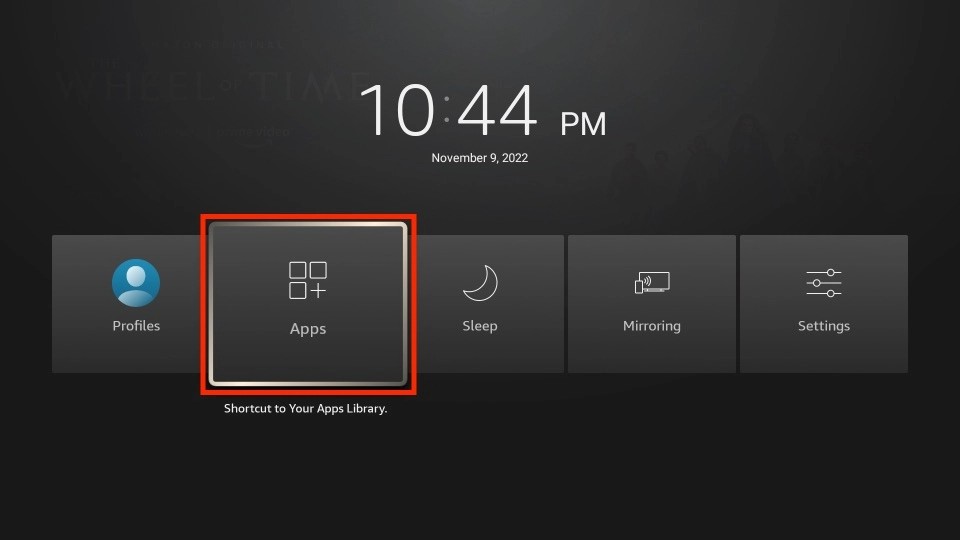 2. Launch Downloader from Your Apps & Channels section.
Note: You may not see the Downloader icon on the Your Apps & Channels section if you have just installed it. In this case, open App Library, and you'll find it there.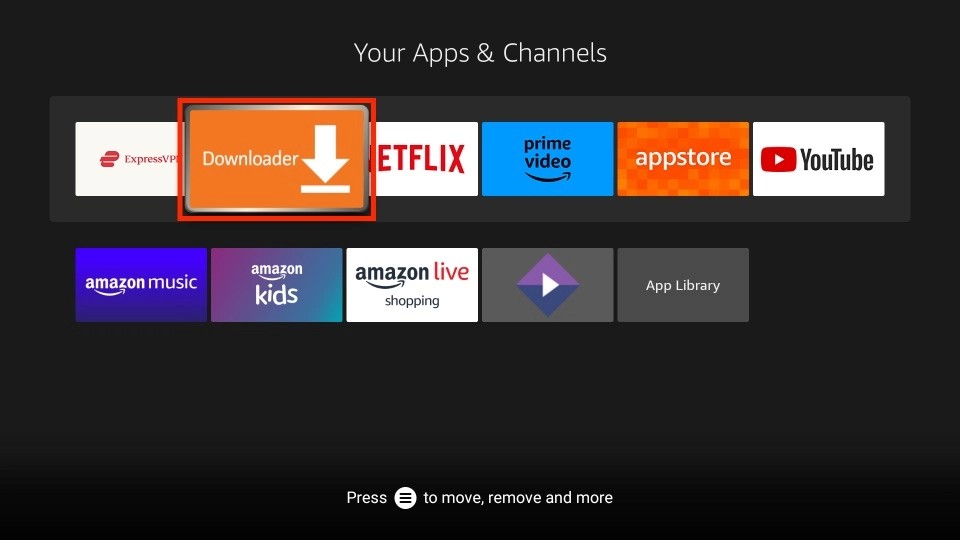 3. On the Home tab of Downloader, choose the Input Box on the right section under Enter a URL…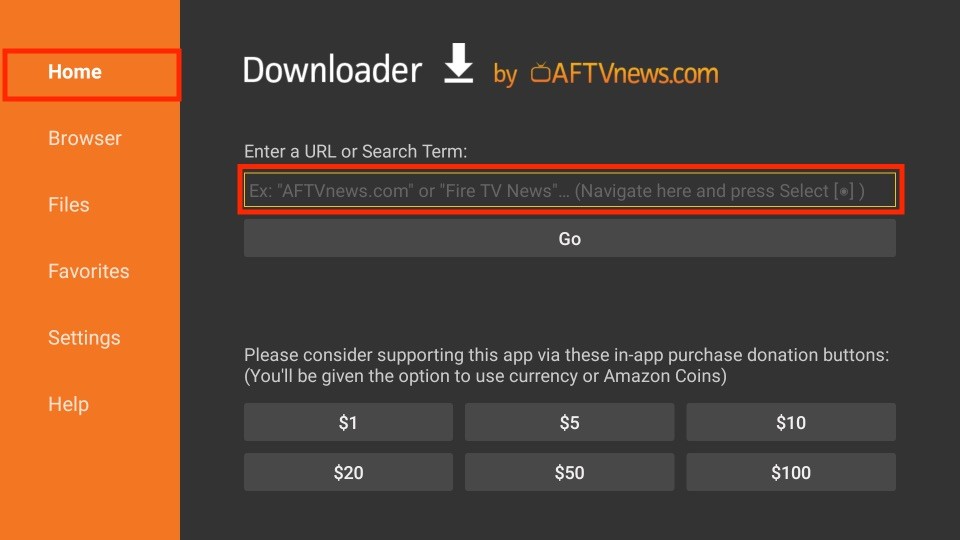 4. Enter firestickhow.com/peacock and choose Go.
Note: We never host any APK files on our personal servers. Instead, we provide a short link based on our website's domain so you can easily download the APK file we refer to.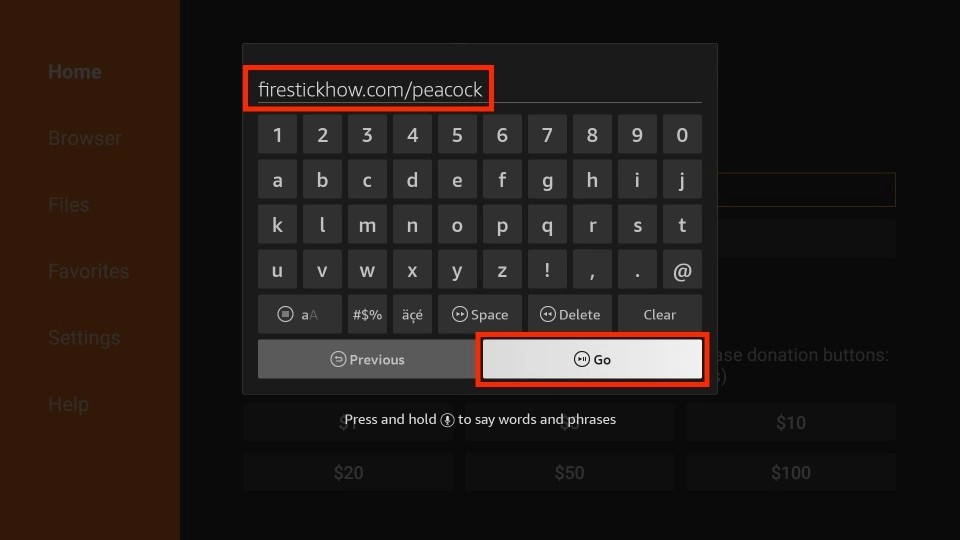 5. Let the app download the Peacock TV APK file on your FireStick.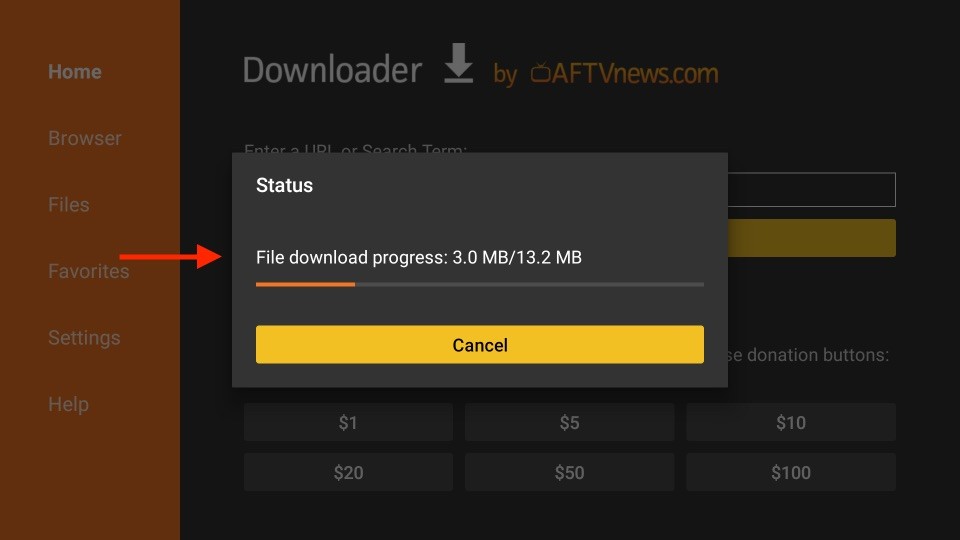 6. After a successful download, the Downloader will automatically stage the app for installation. Choose INSTALL.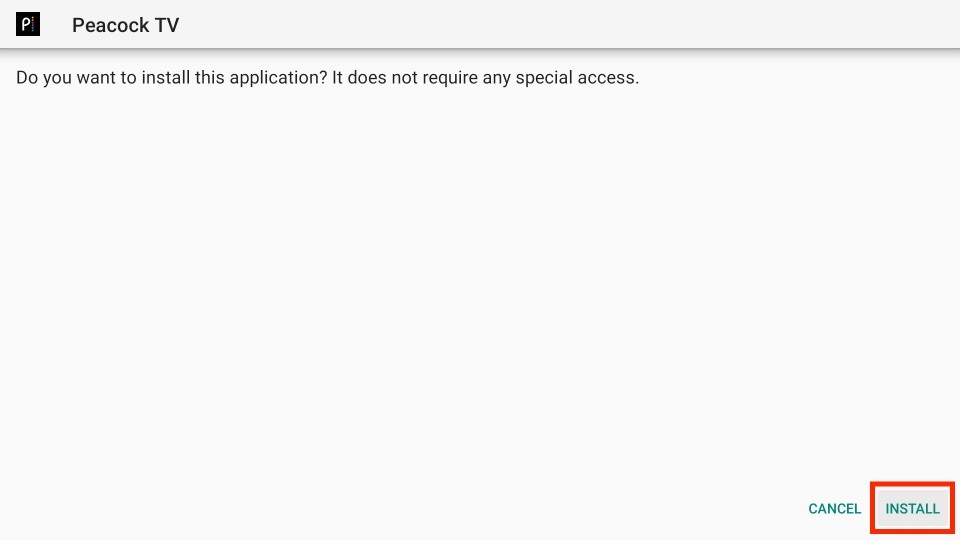 7. Wait for the installation to get completed.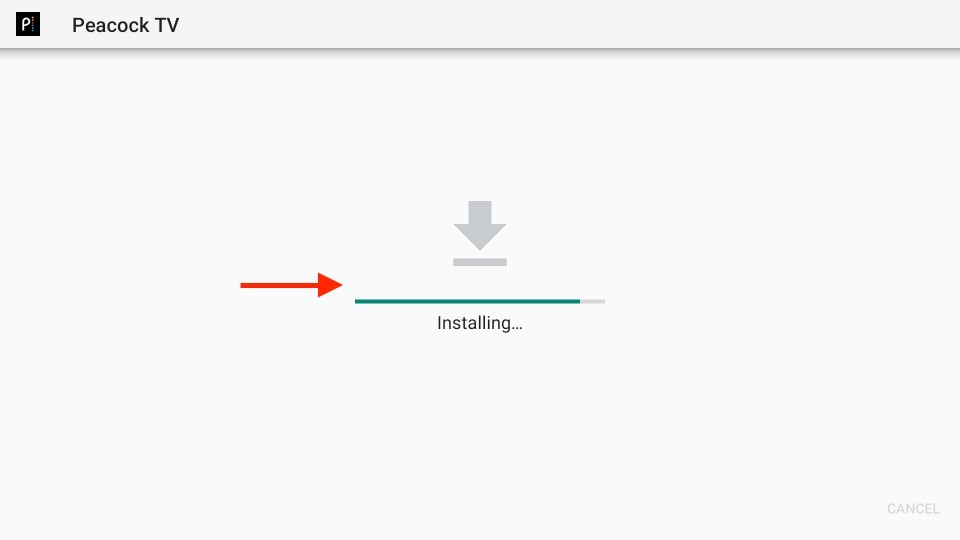 8. When the App installed message appears, click DONE to close the screen.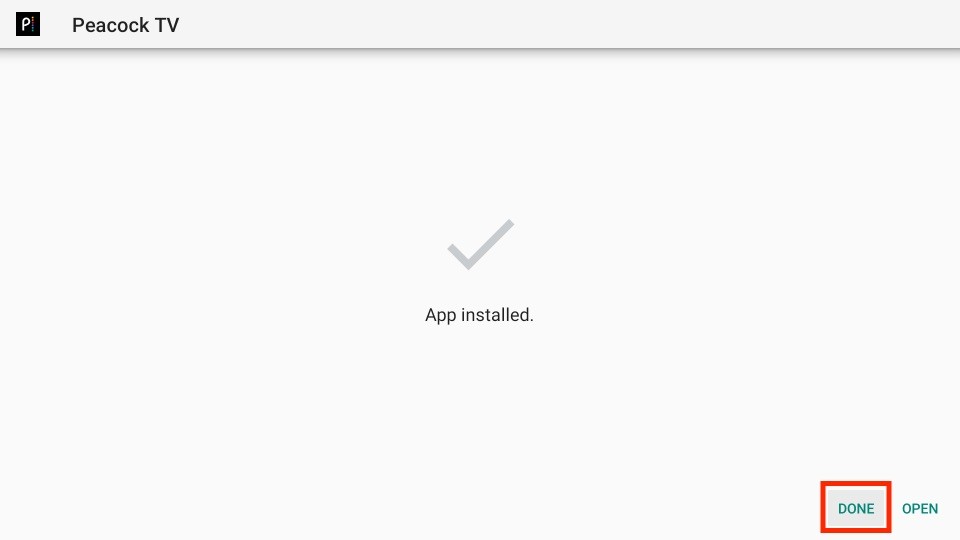 9. You are back to Downloader. Click the Delete button on Peacock TV APK status window to remove it.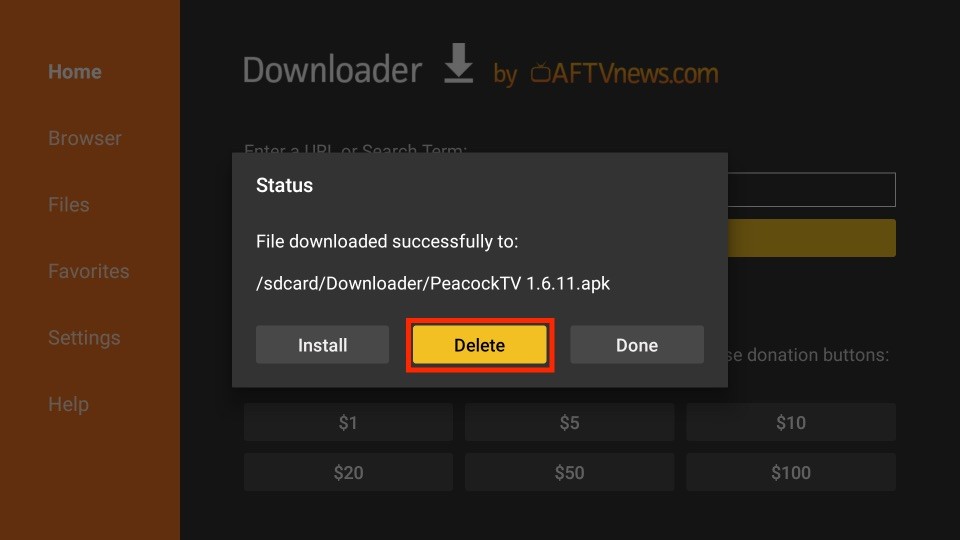 10. On the Confirmation dialogue box, choose Delete to confirm your choice.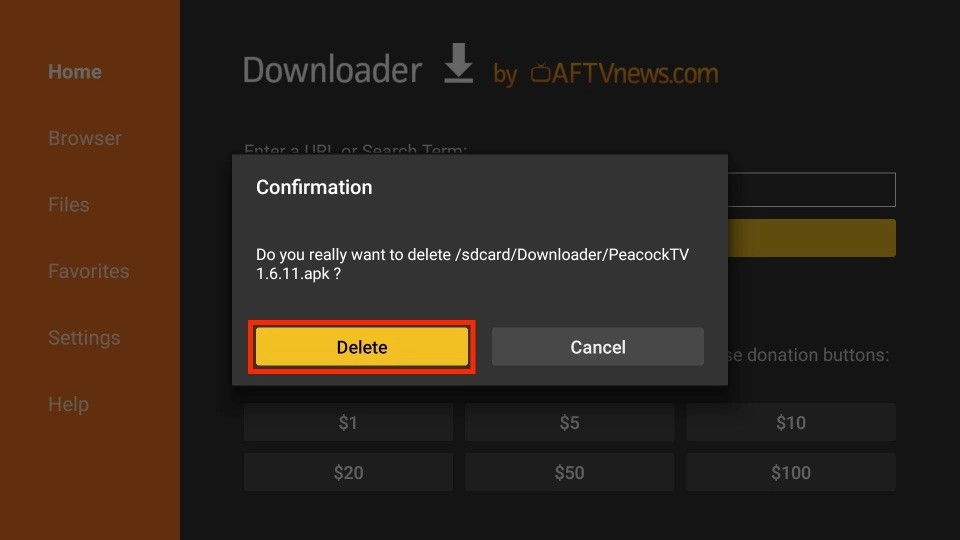 That's it! You have successfully sideloaded the Peacock TV APK on your FireStick.
Wait! It looks like you are all set to start watching your favorite content on FireStick. But have you protected your online identity yet? You are under constant surveillance by the Government and ISP. Free streaming of copyrighted videos may get you into legal trouble.
Thankfully, you can easily avoid online monitoring and safeguard your privacy with a trusted VPN on FireStick. A VPN will hide your IP address and online identity by encrypting your internet connection.
Please note that I am not encouraging you to violate any copyright laws. You should always watch the content available in the public domain. I am simply recommending the use of a VPN to maintain your privacy. You have every right to your privacy, which is constantly being breached these days.
I personally use ExpressVPN and have found it to be the fastest and most secure FireStick VPN. It is also the most streaming-friendly VPN I have ever used. Therefore, I highly recommend getting ExpressVPN for FireStick.
Here is how you can quickly get the ExpressVPN app on FireStick:
Step 1: Click HERE to subscribe to ExpressVPN and enjoy a 49% discount with 3 months of extended service. You are also eligible for a 30-day, full money-return guarantee.
Step 2: Download and install ExpressVPN on FireStick
Choose the Find > Search option on the FireStick home screen on the menu bar.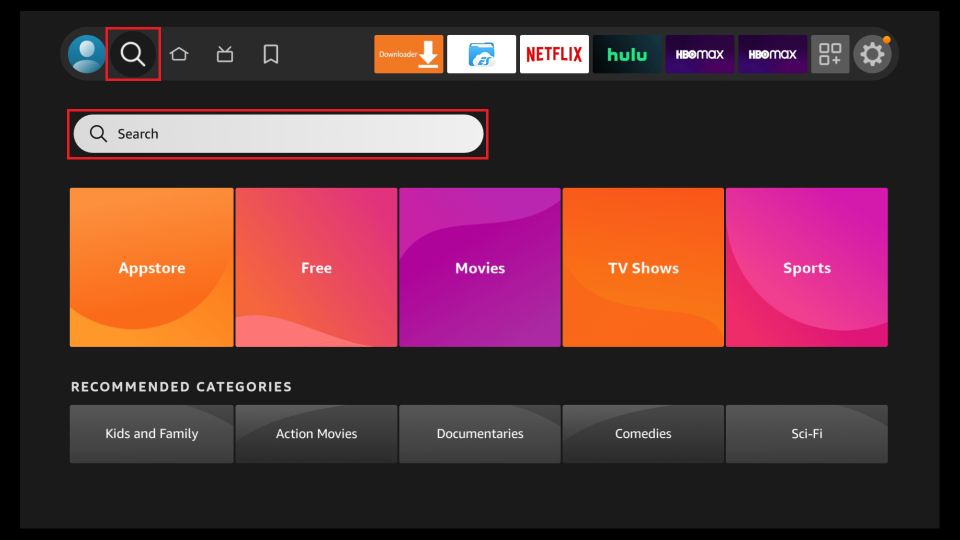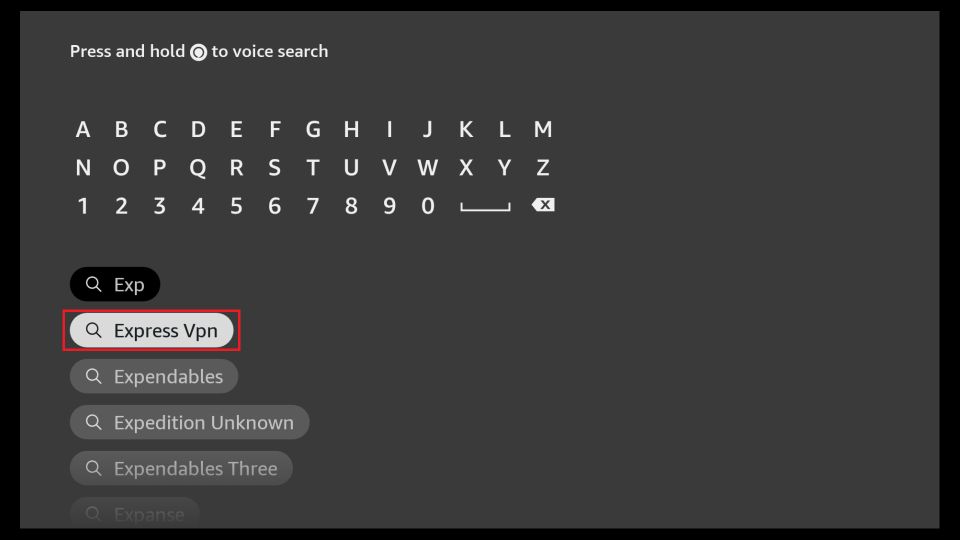 Click the ExpressVPN icon on the following window.

Click Download or Get on the next window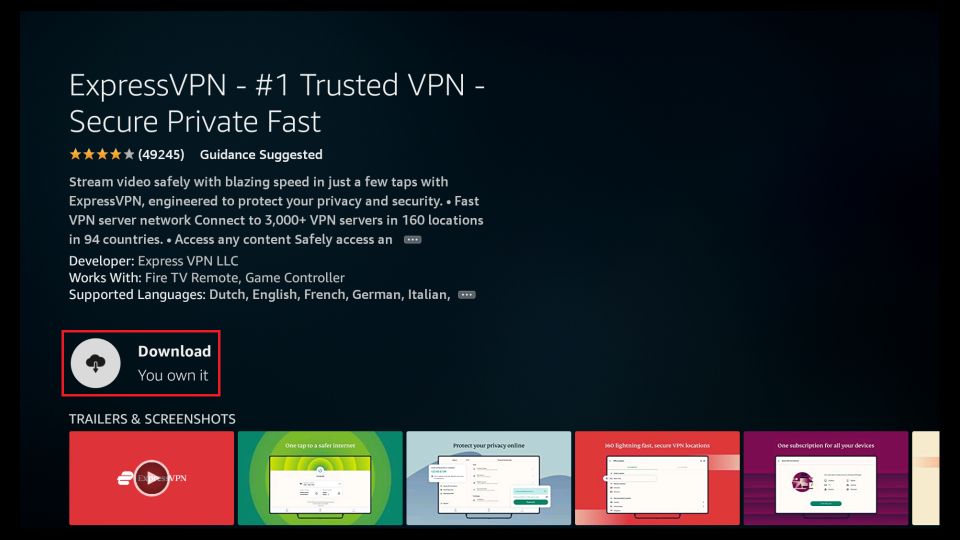 Step 3: Open ExpressVPN once you have downloaded it. Sign in with your account.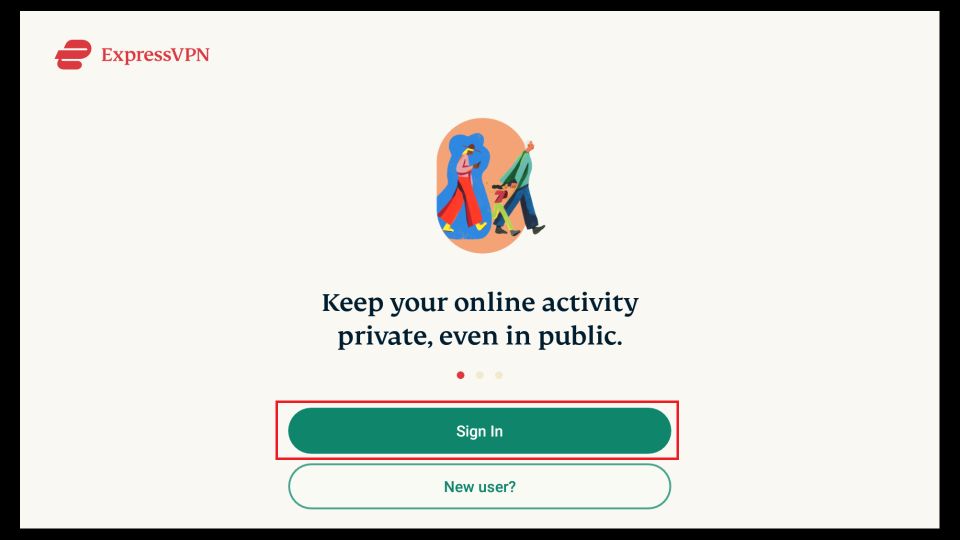 Step 4: Choose a server and click the Connect/Power button

Put your mind at ease now! You have successfully secured your streaming activities with ExpressVPN.
Overview of Peacock TV
Here's a quick overview of the Peacock TV app on FireStick. But before I dive into that, I'll show you how to move the app to your home screen.
Open the shortcut menu by holding the Home button on your FireStick remote. On its appearance, choose Apps.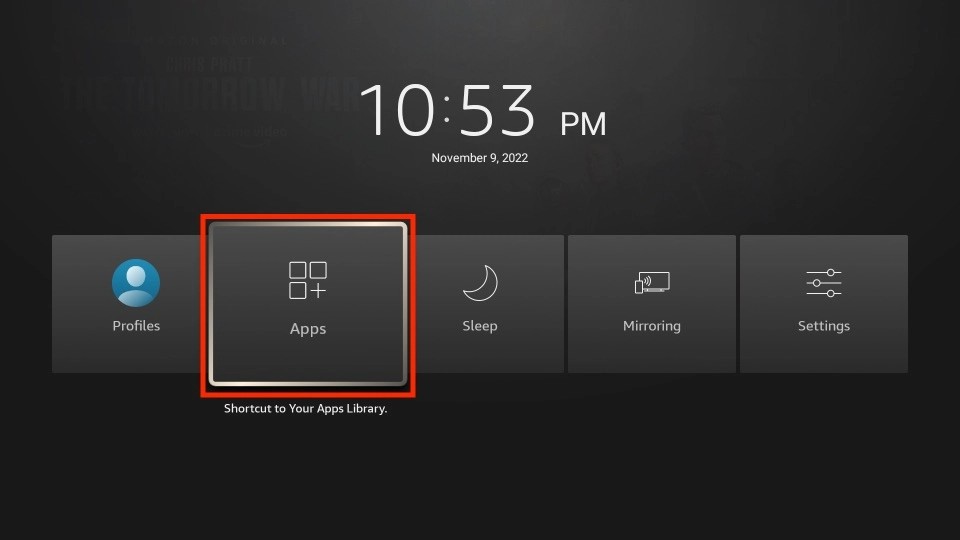 Navigate to the Peacock TV tile and press the Options button on your Fire TV remote. Then, choose Move.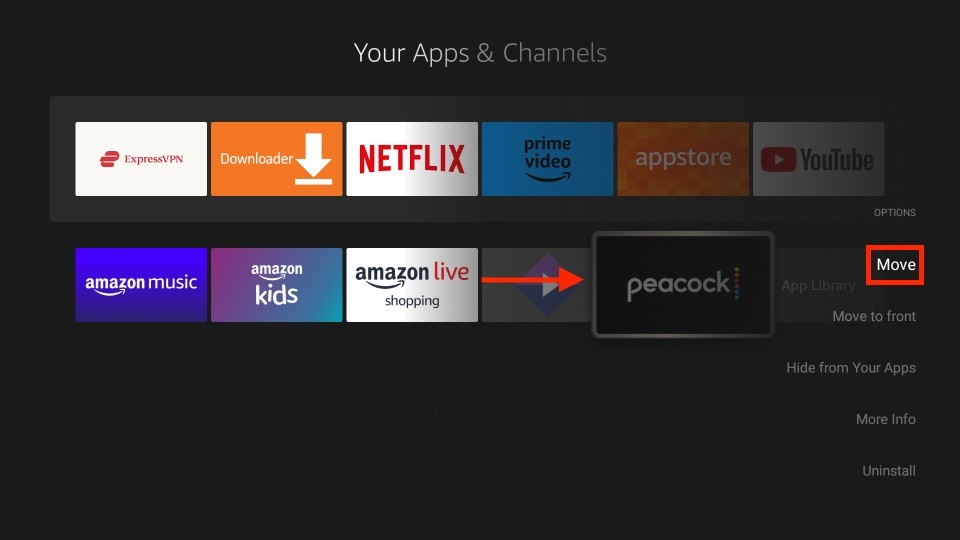 By using the Up/Down/Left/Right buttons on your FireStick remote, shift the Peacock TV logo to the first row. And when you are done, press OK on your device's remote.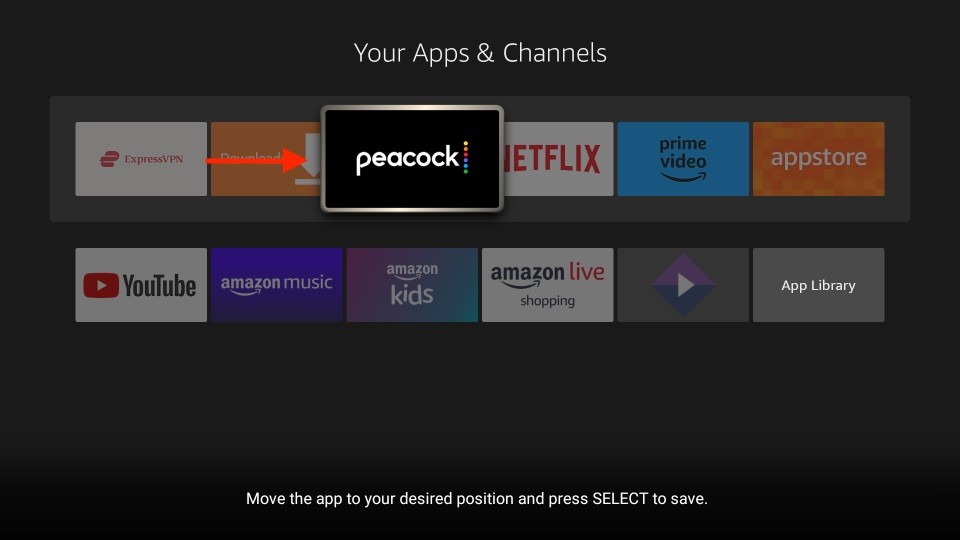 Now, launch Peacock TV from your FireStick home page.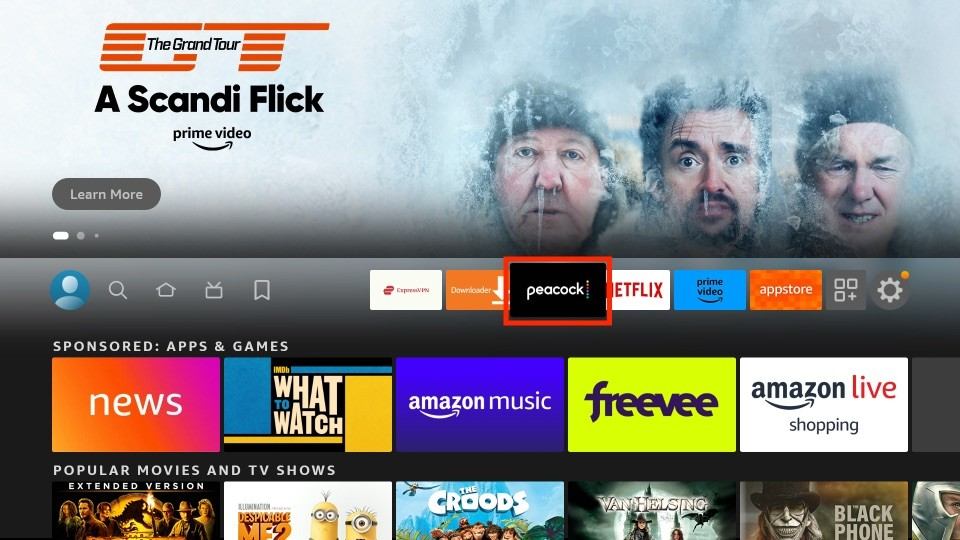 The logo of Peacock TV'll welcome you. Wait a bit to let the app load for the first time on your device.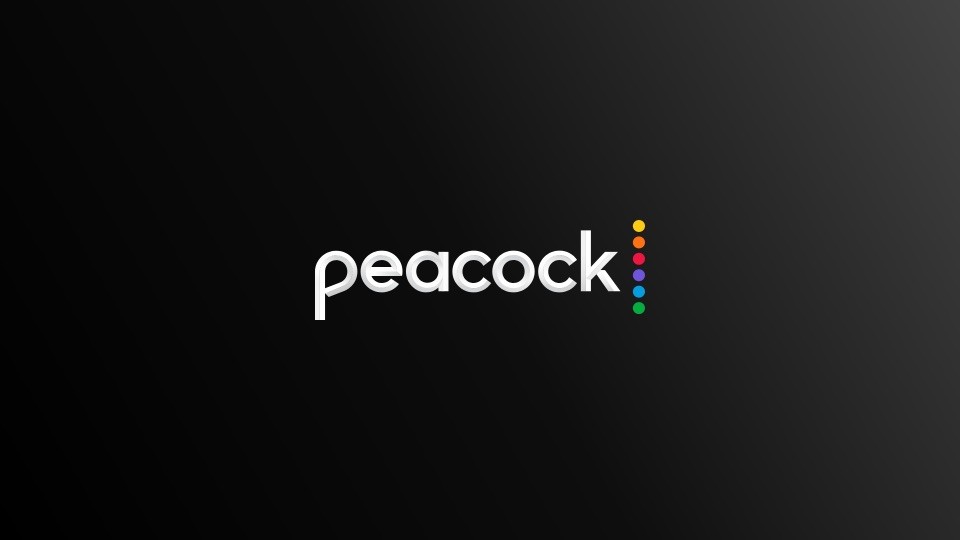 Then, you'll land on the sign-up/sign-in page of Peacock TV. Select the Sign In button to log into your Peacock TV account.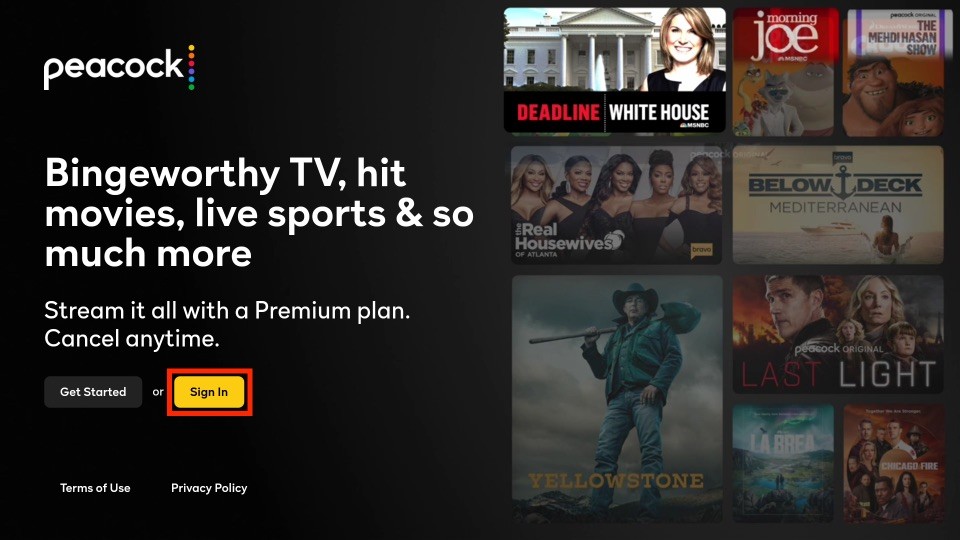 Enter your Peacock TV account Email Address and Password.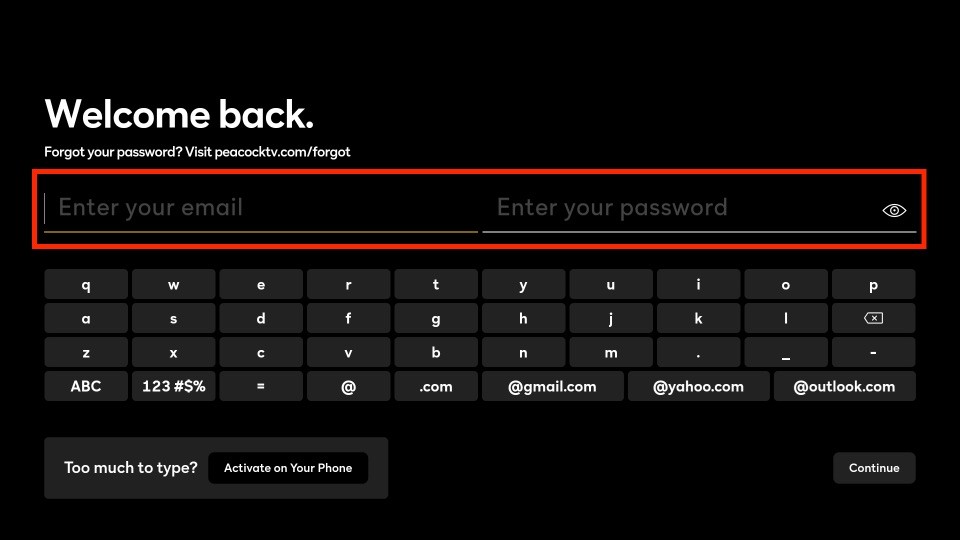 Click Sign In to log into your account.
As I'm using the free version of Peacock TV, the app suggests I look at the paid plans. However, I'll click Watch for Free to continue.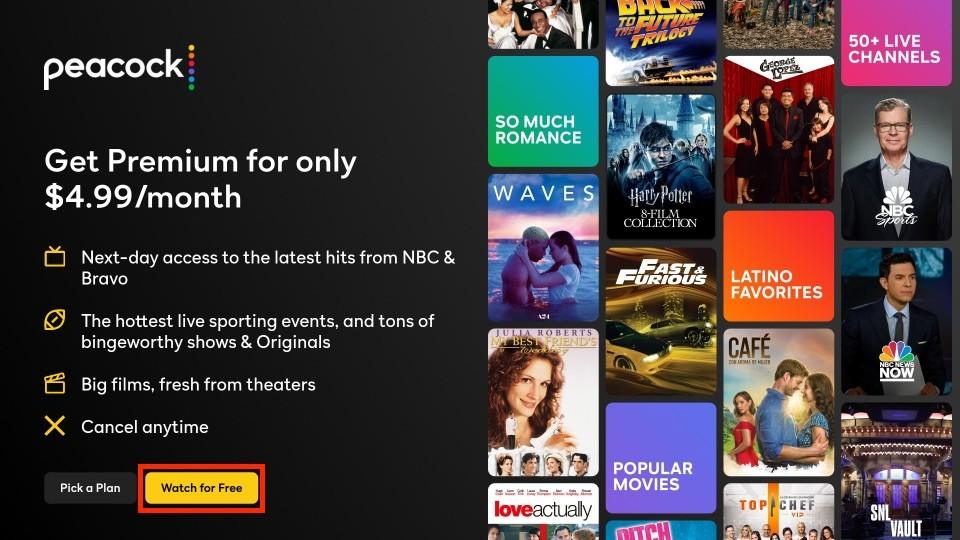 You'll have to set up your Peacock TV profile as a new user. Then, choose the Pen logo to continue.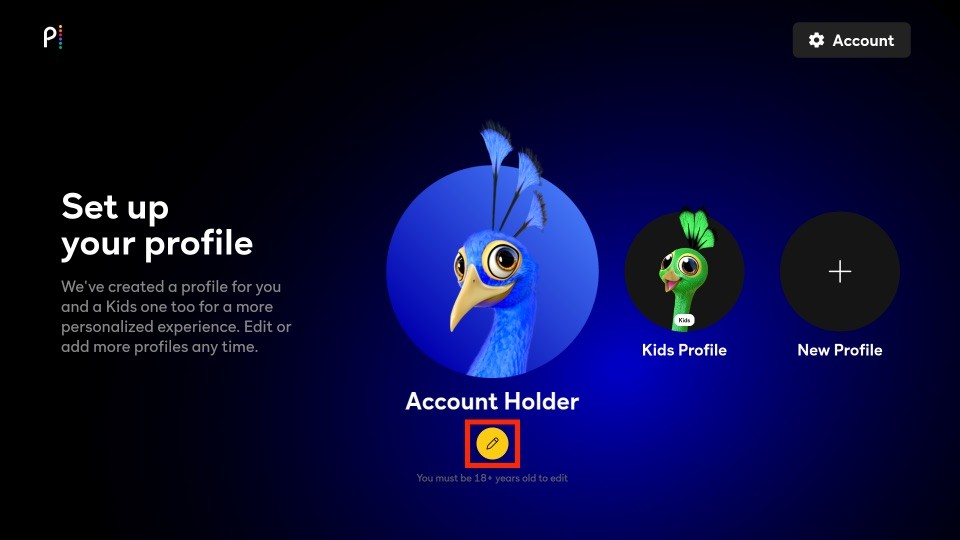 Now, feel free to customize your profile. Or you can do it later by choosing Finish Profile Later.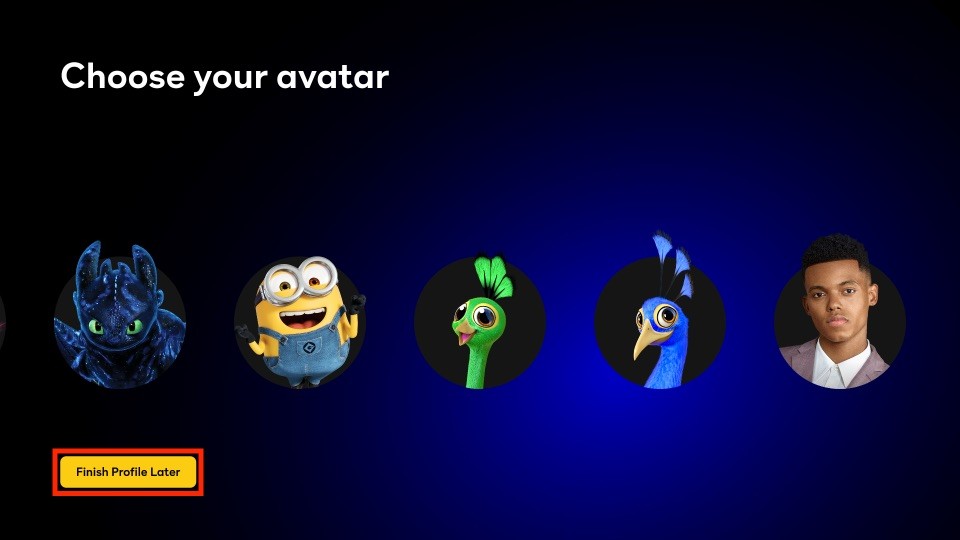 Select your unfinished profile to finally dive into Peacock TV.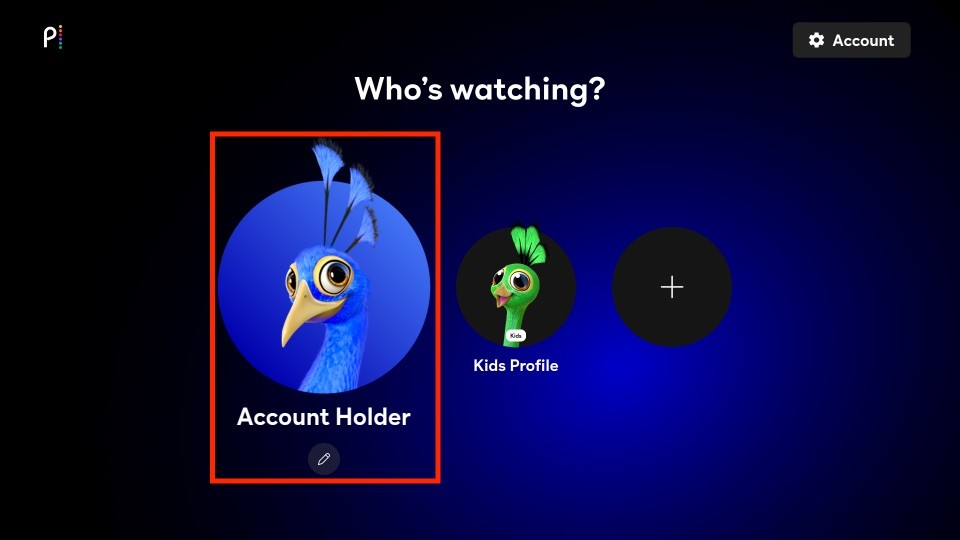 Welcome to the Home section of Peacock TV! Here, on the top, you'll see the slideshow of the trending and newest shows.
And as you go down, you'll see sub-sections like Peacock Picks, Just Added, and more. So, let's scroll down and explore.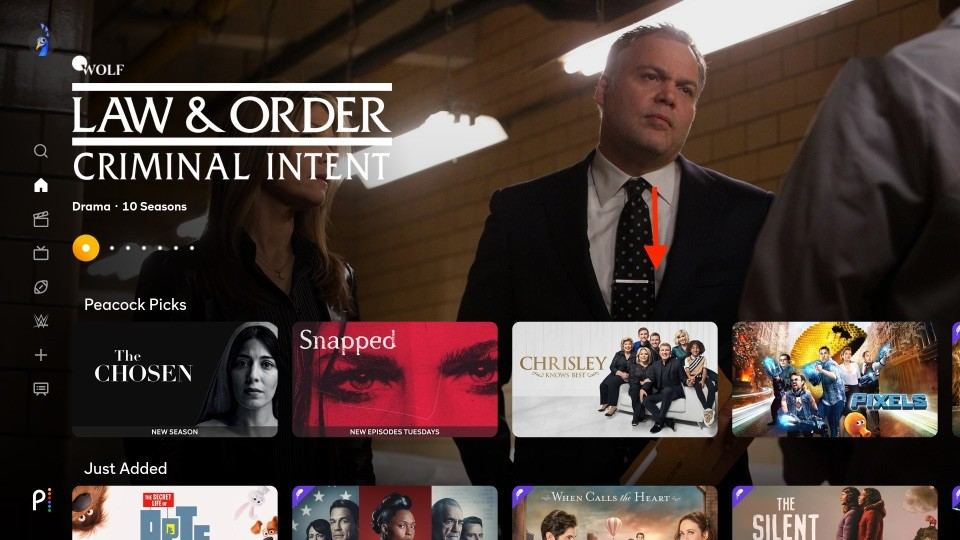 The Home section of Peacock TV comprises multiple sub-departments filled with different types of TV shows, movies, documentaries, live stuff, and more.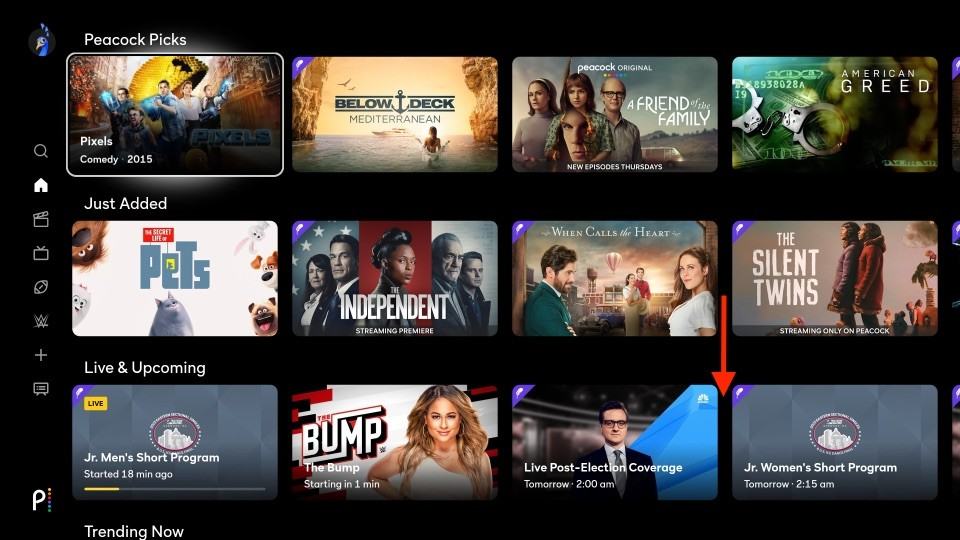 Scrolling down, you'll see more sub-sections like Trending Now, Hallmark, Must-See Peacock Originals, and more.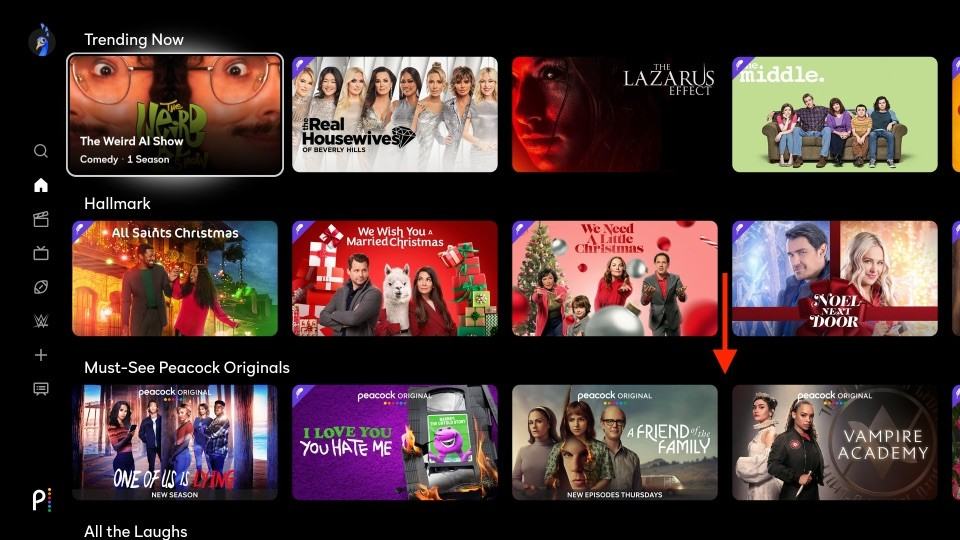 Further scrolling will reveal Featured Brands like Peacock Originals, NBC, Brave, WWE, MSNBC, etc. Also, some dazzling sections like Current TV, Drama Kings & Queens, True Crime Junkies, and more.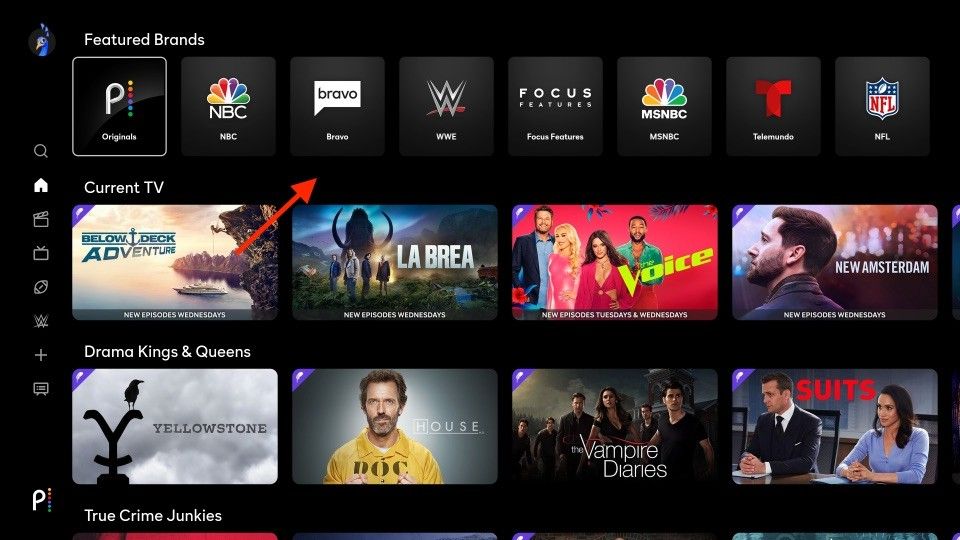 Let's switch up the scene by discovering other Peacock TV sections. First, open the side menu by clicking the left button on your FireStick remote. Then, choose Movies.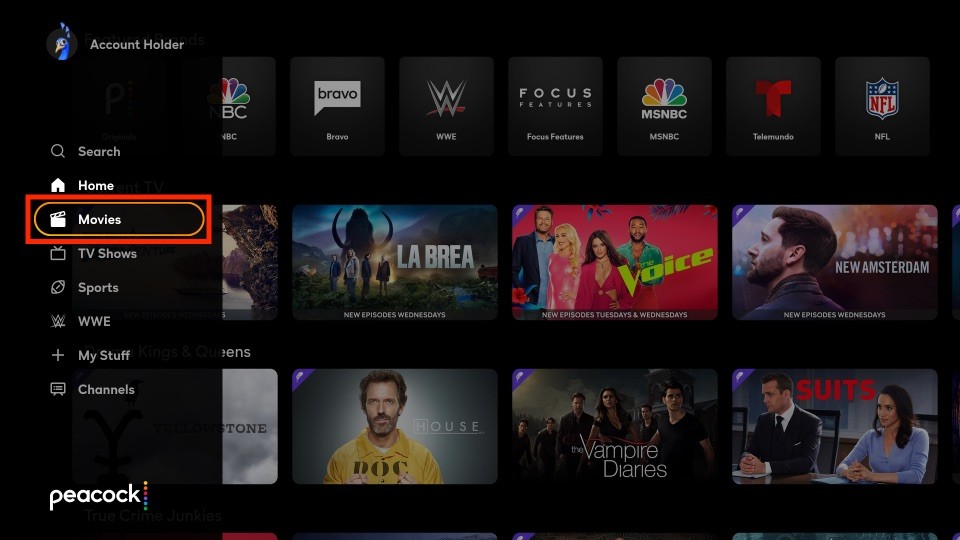 Here, you'll be able to explore movies! You can browse by genre and sneak-peak titles using personalized sub-sections like Just Added, and more.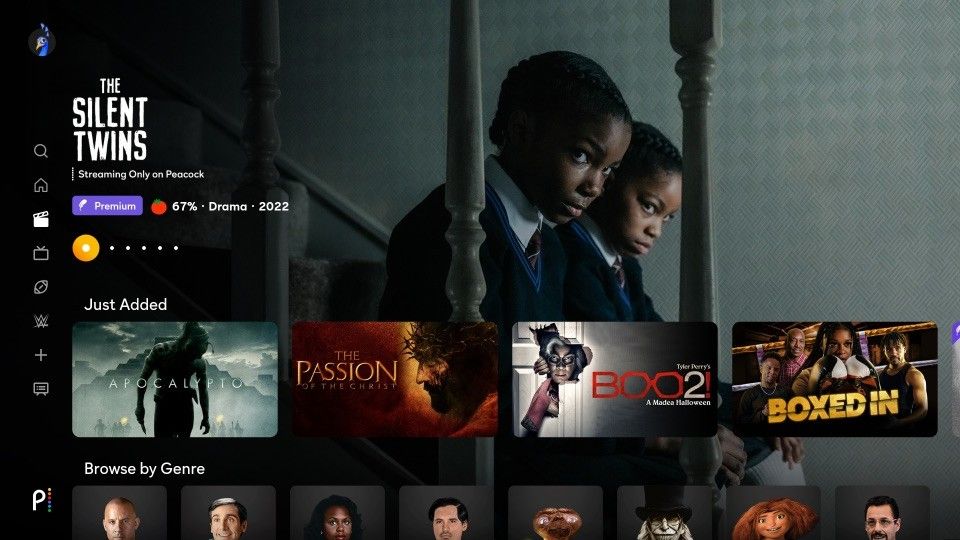 Are you into TV series? Then, peacock TV's TV Shows section will surprise you!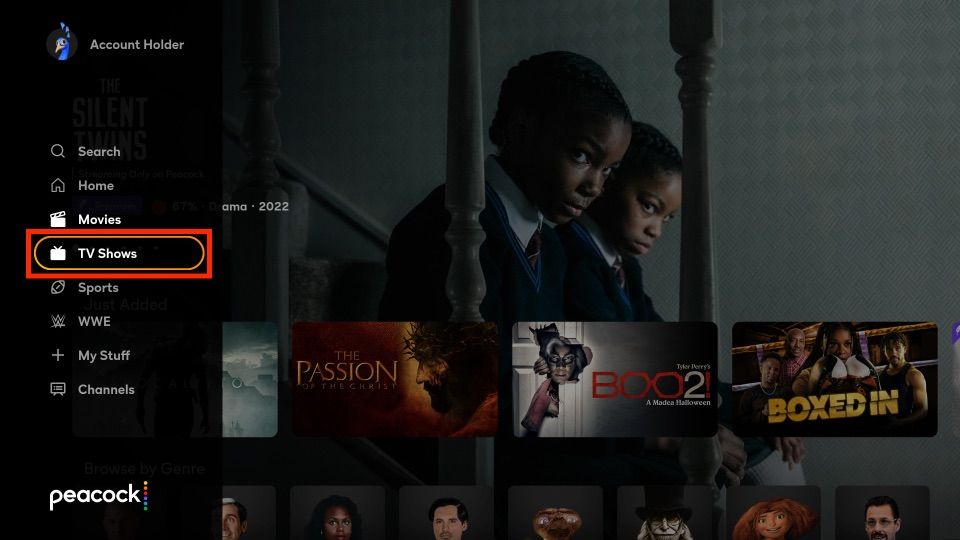 Once again, the section lets you explore TV series by genre and personalized sub-folders like Latest Episodes.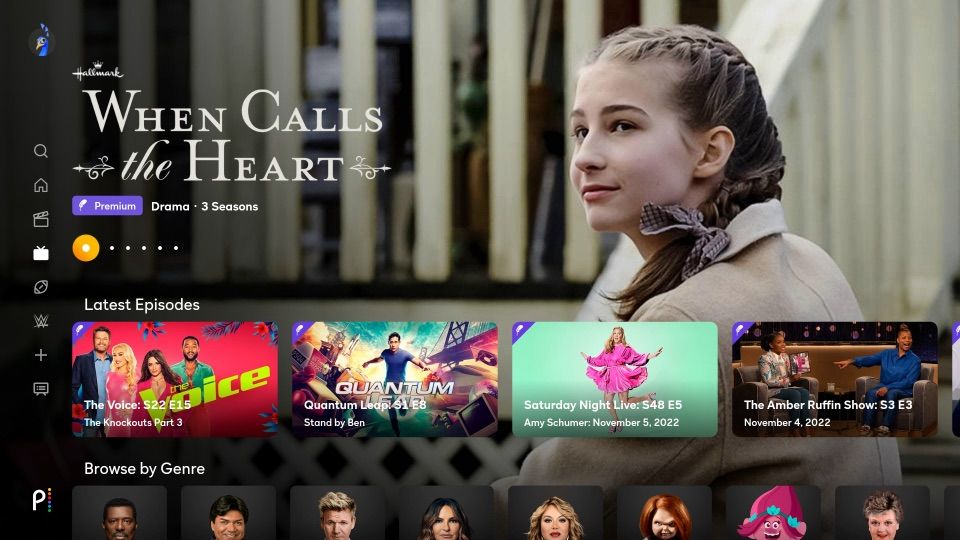 Are you looking forward to diving into the world of sports? Then, open the Peacock TV Sports section.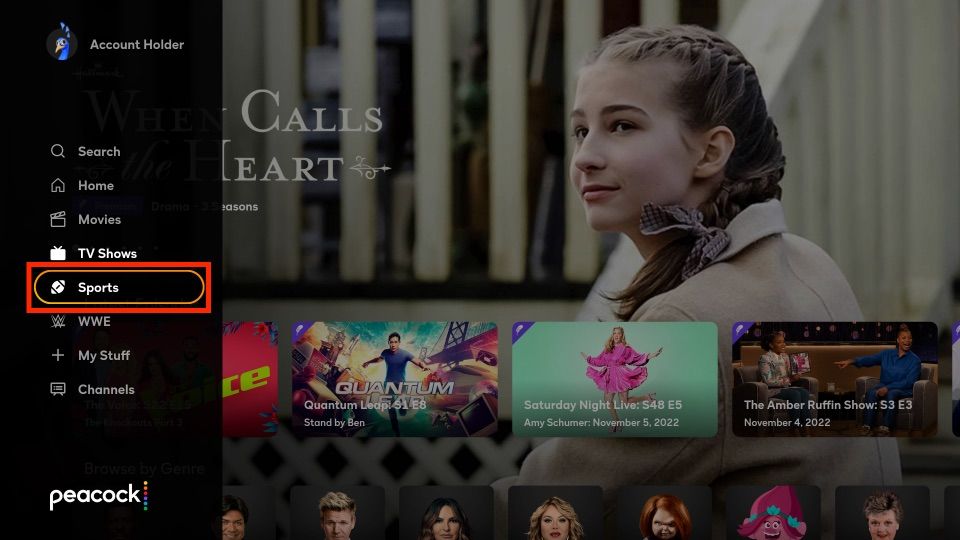 Here, you can explore the latest events, highlights, interviews, live events, and more about soccer, football, rugby, hockey, etc.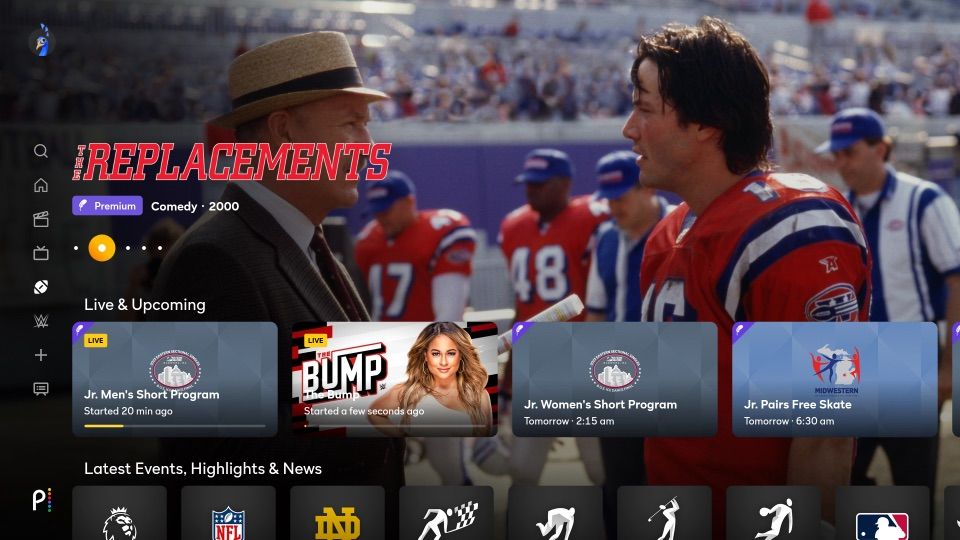 Want to watch live TV channels? Open the Channels bay of Peacock TV.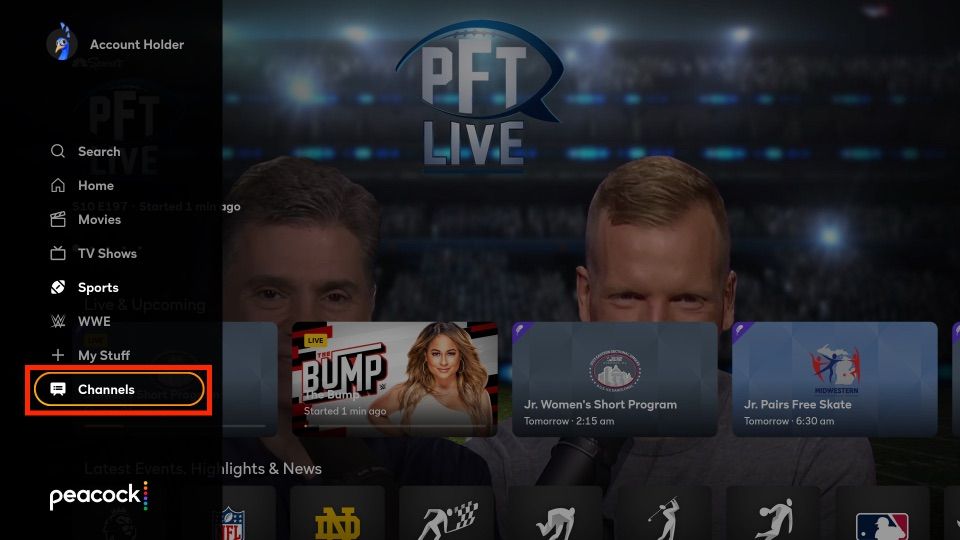 From checking what's upcoming to tuning into your favorite TV channel, you can do everything here.
Feel free to explore the remaining sections, like WWE, Search, My Stuff, and Settings.
Wrap Up
On Peacock TV, you can stream 80,000+ hours of great movies, TV shows, and documentaries, along with live TV channels. This article uncovered how to install & use Peacock TV on FireStick. Please use the comment box for your queries, suggestions, and feedback.
Related: