It's no secret that Kodi is popular and one of the most widely used media players on the market. From organizing and playing media in the local storage on your device to helping you stream movies, TV shows, and sports events online, Kodi is undoubtedly one of the best apps for FireStick. It is also compatible with multiple devices, which makes it too good to be true. But is it too good to be true? Is Kodi legal?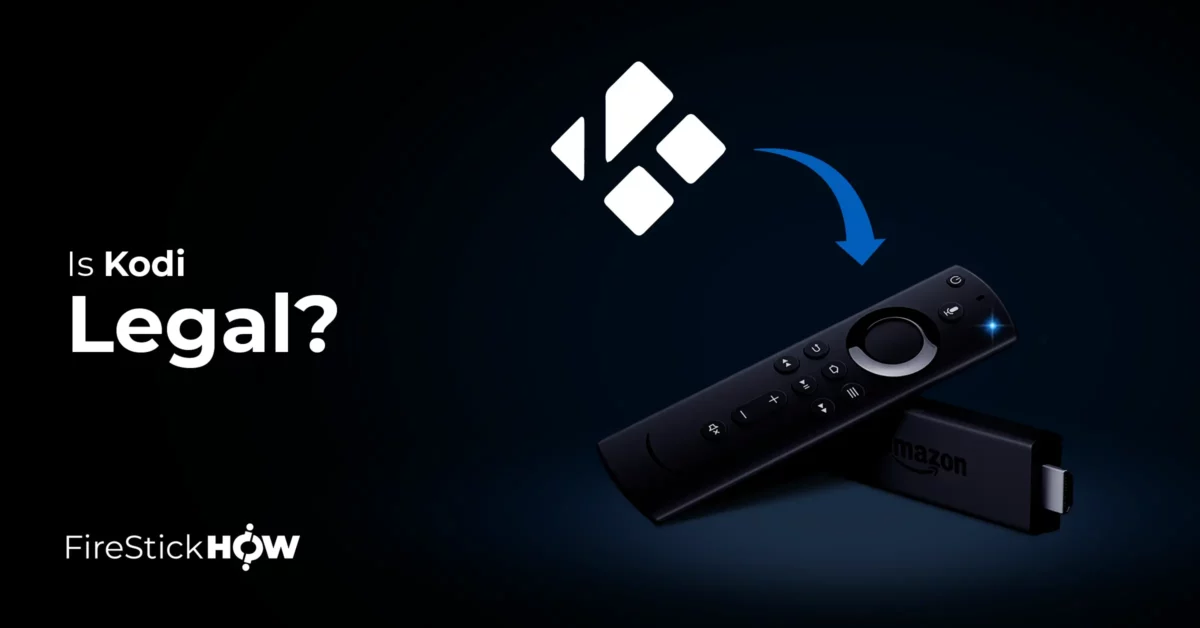 Kodi has been at the center of the legal debate around the world because it lets you access and stream copyrighted material. For instance, in 2017, a European Court ruled that fully loaded Kodi boxes are illegal and that lawbreakers would face up to 10 years in jail. Such news can be confusing, seeing as online reviews still vouch for Kodi as one of the best open-source media centers for home entertainment.
If you wonder whether Kodi is legal, this post is for you. I will unearth the legal status of Kodi, its safety, and how to stream on Kodi safely. Read to the end to make informed decisions regarding Kodi use.
Attention KODI Users: Read before you continue
Government and ISPs endlessly monitor your online activities using your IP address 3.17.249.235 (exposed to everyone). Kodi is an excellent platform for streaming movies, TV shows, and sports, but streaming copyrighted content can get you into legal trouble. 
You should use a reliable Kodi VPN and protect your streaming activities and privacy. A VPN will hide your IP address and bypass government surveillance and geo-restrictions.
I trust and use ExpressVPN, the fastest and most secure Kodi VPN. It's easy to install on any Kodi device, including Amazon FireStick, PCs, and Smartphones. In addition, it offers a 30-day money-back guarantee, and 3 free months with the annual plan.
Read: How to Install & Use the best VPN for Kodi.
Is Kodi Legal?
In simple terms, yes, Kodi is legal. The open-source media center is governed by the XBMC Foundation and was developed for public use by volunteers. It is perfectly legal, and you can find it on official app stores like the Google Play Store and the Microsoft Store. The fact that these mainstream app stores host and distribute the app is an assurance of its legality.
For this reason, you won't have any trouble downloading and installing the Kodi app on your device. Storing, organizing, and playing local media on your device is legal through Kodi. Additionally, you are within your legal rights when you install official Kodi plug-ins to access online content.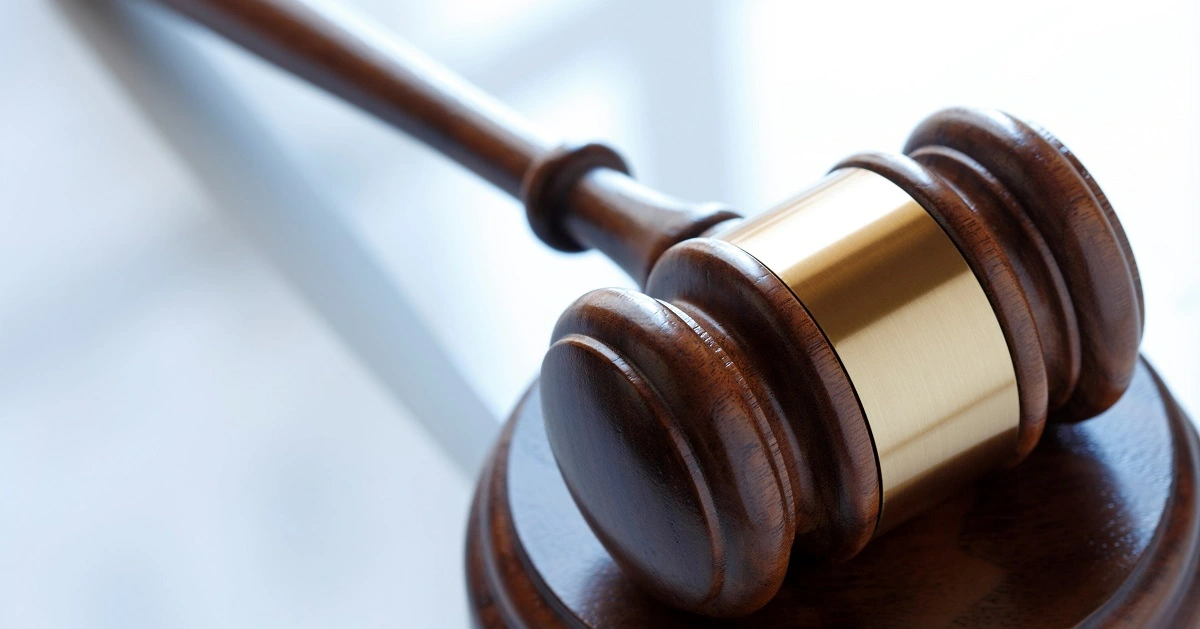 These plug-ins are known as Kodi add-ons. You can download them from the official Kodi repository. You can find a variety of legal add-ons in this repository, including sports, movies, TV shows, cartoons, anime, and music add-ons. Streaming content with these official add-ons is entirely legal, and no one can sue you for that.
At the same time, you'll come across hundreds of third-party add-ons not hosted on the official Kodi repository. Most of these add-ons offer content that's already in the public domain. However, some third-party add-ons let you stream unlicensed, copyrighted content.
For instance, some sports add-ons offer live football or soccer games that generally require a subscription. Streaming premium content for free using third-party content is not legal. You are infringing on copyright laws by illegally accessing unlicensed content.
Such actions will get you in trouble if your Internet service provider or local government catches you. If the responsible entity sues you, you may have to pay heavy fines or serve a jail term, depending on the laws of the land. For this reason, steer clear of third-party add-ons that offer illegal content.
It's best to stream content in the public domain through the unofficial addons. At the same time, I highly recommend using ExpressVPN to hide your online identity and avoid legal trouble.
Is Kodi Safe for FireStick?
Yes, Kodi is safe to use on FireStick. While its absence on the Amazon App Store raises a red flag, the app is hosted on trusted app stores like the Google Play Store and Microsoft Store. That said, beware of some third-party Kodi add-ons from the web. Some of them may contain malicious files and viruses.
The following screenshot shows that the Kodi APK is free of any malicious programs: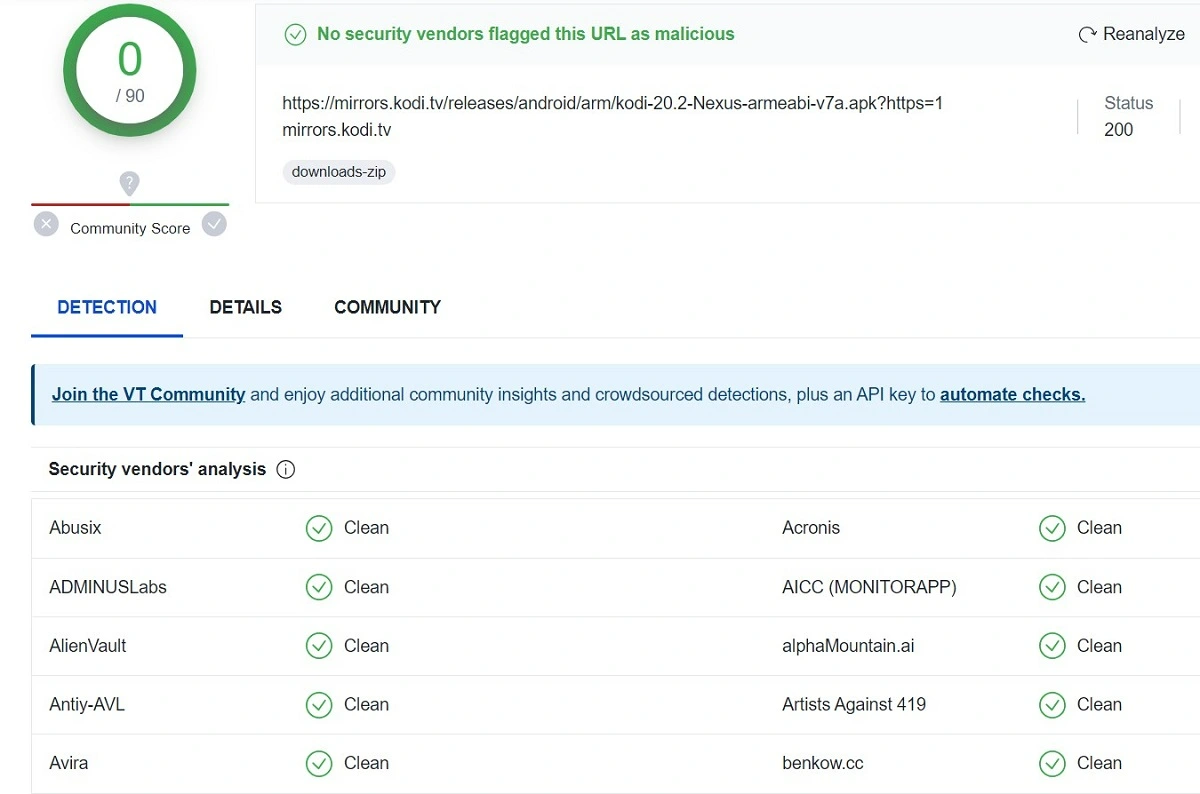 Is Kodi Legal in the United States?
Unfortunately, there are no clear laws governing the use of Kodi in the United States of America. Installing and using the app on compatible devices remains legal unless you stream illegal and unlicensed content. While no arrests have been made for streaming illegal content on Kodi, several users have received warnings when caught accessing content illegally on the platform.
For instance, you'll get into trouble for streaming, sharing, and distributing copyrighted content such as movies, TV episodes, sports events, music albums, and videos. If you come across third-party add-ons providing links to Netflix, Hulu, and other premium streaming services for free, they are probably illegal.
Is Kodi Legal in the European Union and Other Parts of the World?
Installing and using Kodi on a compatible device is legal in the European Union and other parts of the world. You can install the Kodi app on your FireStick, PC, Mac, or any other device to stream movies, TV shows, sports content, and music. However, European Union laws clarify that streaming copyrighted content from unlicensed sources on Kodi is illegal.
Additionally, dealers found selling hardware preloaded with unofficial Kodi add-ons that allow illegal streaming can be jailed for up to 10 years or pay hefty fines. This preloaded hardware is commonly promoted as Kodi boxes for unlocking premium content to stream it for free.
Despite the stricter laws surrounding the use of Kodi in the EU, the sale of Kodi devices remains legal. For instance, if a retailer sells a FireStick with a pre-installed Kodi app, it's not illegal. Everything is within the law as long as the pre-installed Kodi does not have third-party add-ons that access copyrighted content.
How To Safely Stream on Kodi
While streaming copyrighted content from unauthorized sources on Kodi is illegal, you can only be sued when the relevant authorities catch you. These relevant authorities include your local government, ISP, and content developers. How do you stream safely on Kodi without getting caught by any of these authorities?
A VPN for Kodi like ExpressVPN lets you safely stream on Kodi by hiding your internet activity. First, your browsing data is encrypted and then passed through private servers away from the prying eyes of your ISP or local authorities. Secondly, the VPN assigns you a false IP address to mask your actual IP address. No one can tell whether you are streaming legal or illegal content without knowledge of your location and browsing history.
Besides providing data privacy and anonymity on the web, a VPN helps you bypass geo-blocking placed by streaming sites like Netflix and BBC iPlayer. These streaming sites have official Kodi add-ons to make it easy to stream shows directly from the media center.
Suppose you want to stream a Netflix Australia reality TV show in the US. You can install the Netflix add-on on Kodi and then use a VPN to change your location to Sydney. With the VPN set to Sydney, your Netflix account will access Australian content, and you can seamlessly stream your TV show.
Now that we've seen the necessity of a VPN for Kodi does any VPN work with Kodi? Not really. A good Kodi VPN should be fast, compatible with Kodi devices, and have strong encryption. I recommend ExpressVPN for its incredible speeds and military-grade encryption.
Winding Up
Kodi is legal, and you won't get into any trouble for installing and using it on FireStick. You can stream content like movies, TV shows, cartoons, and music from authorized sources via official add-ons.
However, streaming copyrighted content from unlicensed sources is illegal and can attract fines or jail time. Always use a VPN for Kodi to be safe and hide your streaming history from authorities. I hope this post has clarified your 'Is Kodi legal?' concern.
Related: