This article shows you how to install HBO Max Kodi addon. Furthermore, it covers what's HBO Max addon, the HBO Max overview, and more. Moreover, this piece is valid for all Kodi-eligible platforms systems like FireStick, Linux, Android, Mac OS, Android, etc.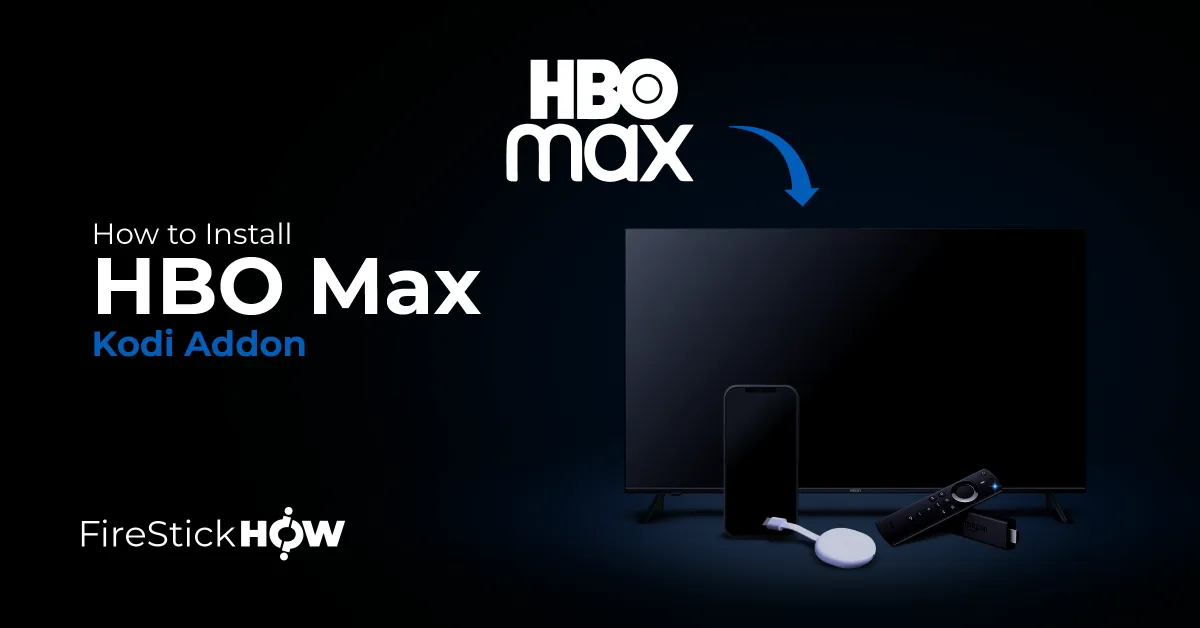 What Is the HBO Max Addon?
HBO Max is a custom-made third-party add-on that lets you access HBO Max directly from your Kodi app. Made by SlyGuy and hosted on the SlyGuy Repository, this addon gives you a complete HBO Max streaming experience.
You can stream films, TV shows, and more on the HBO Max Kodi addon. Also, you can access sub-folders of the sections similar to the ones on the official HBO Max app. But note that you'll need to sign in to your HBO Max account to access the service.
HBO Max is the best third-party addon that lets you easily access HBO Max content on Kodi.
Attention KODI Users: Read before you continue
Government and ISPs endlessly monitor your online activities using your IP address 3.17.249.235 (exposed to everyone). Kodi is an excellent platform for streaming movies, TV shows, and sports, but streaming copyrighted content can get you into legal trouble. 
You should use a reliable Kodi VPN and protect your streaming activities and privacy. A VPN will hide your IP address and bypass government surveillance and geo-restrictions.
I trust and use ExpressVPN, the fastest and most secure Kodi VPN. It's easy to install on any Kodi device, including Amazon FireStick, PCs, and Smartphones. In addition, it offers a 30-day money-back guarantee, and 3 free months with the annual plan.
Read: How to Install & Use the best VPN for Kodi.
Is the HBO Max Addon Safe?
Even though HBO Max is an official service, its addon comes from an unverified source. And like other addons from unknown sources, one can't give a verdict on its safety.
HBO Max Kodi addon used to be available on Kodi's official repository. But for a couple of years, it's been discontinued. And since then, an unknown addon developer, SlyGuy, has been keeping it up-to-date.
However, I used VirusTotal to test the SlyGuy Repository zip. And gladly, the file didn't show any red flags – check it out: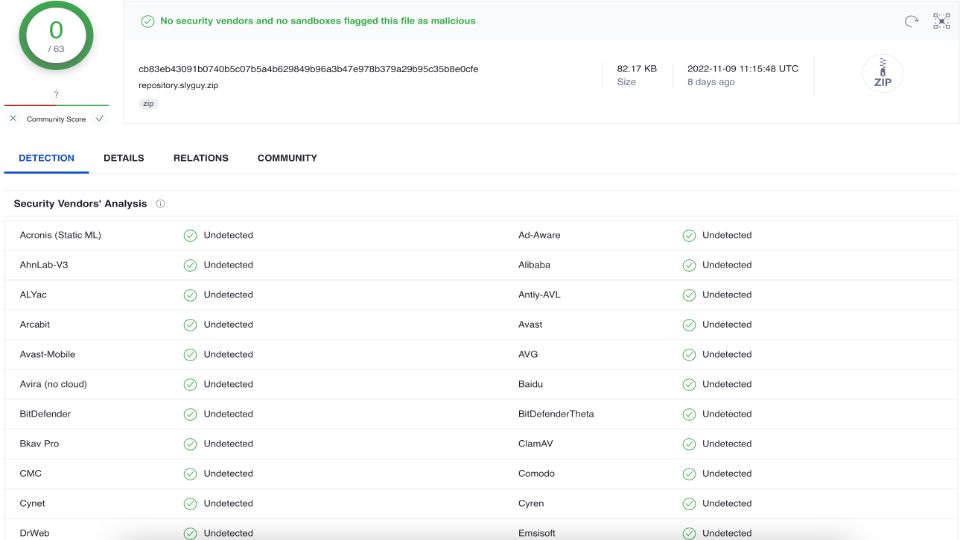 Is the HBO Max Addon Legal?
HBO Max by SlyGuy lets you sign in to your HBO Max account to watch movies and TV shows via the Kodi app. So there's no piracy or any similar concern. However, as the addon isn't created by the official team of the streaming platform, it may or may not be illegal.
Indeed, you are streaming 100% legal content via the HBO Max Kodi addon. But is the addon itself legal to use? Unfortunately, at FireStickHow.com, we lack the resources to find the answer.
So, to ensure your device data safety and avoid legal issues, I suggest using ExpressVPN or any other reliable VPN service.
Features of HBO Max Kodi Addon
HBO Max Kodi addon by SlyGuy packs the following features:
Easy-to-use interface

Lets you access all the sections available on the official HBO Max app

Smooth video streaming

Fully customizable
Installing HBO Max Kodi Addon
You won't find HBO Max on the official repository of Kodi. So, you'll have to install it via a third-party repo. Here's a complete guide split into three parts that teaches you how to install the HBO Max Kodi addon:
Part 1 – Enable Unknown Sources
You'll first need to toggle on unknown sources on Kodi to let the app load third-party repos/addons.
1. Open the Kodi settings page by clicking on the Gear Cog icon on the screen's upper left side.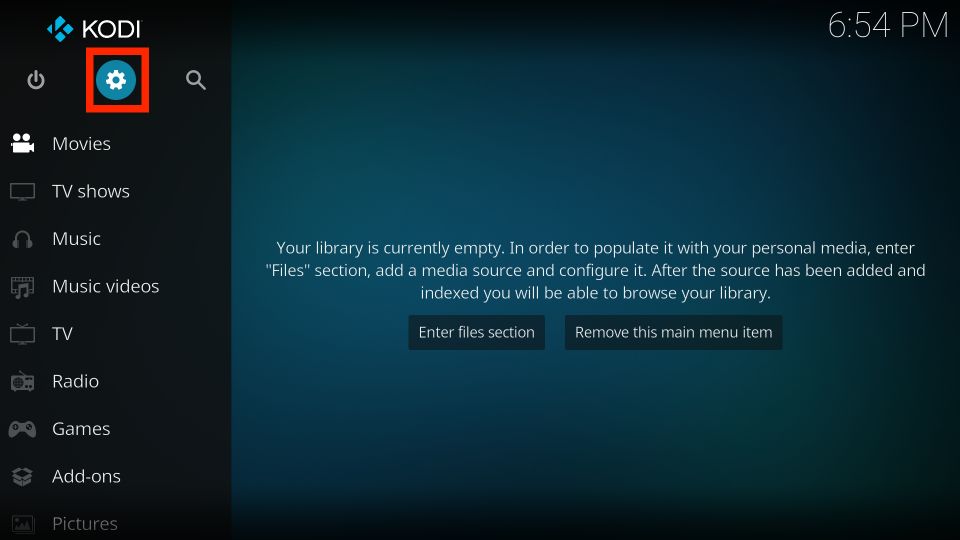 2. Scroll down to the bottom right side of your screen and click System.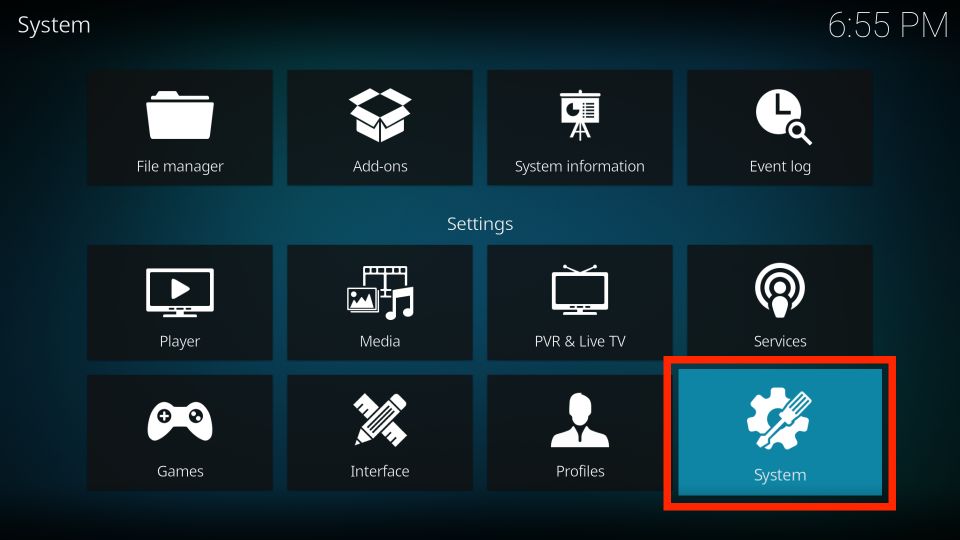 3. On the Settings / System screen, scroll down to Add-ons.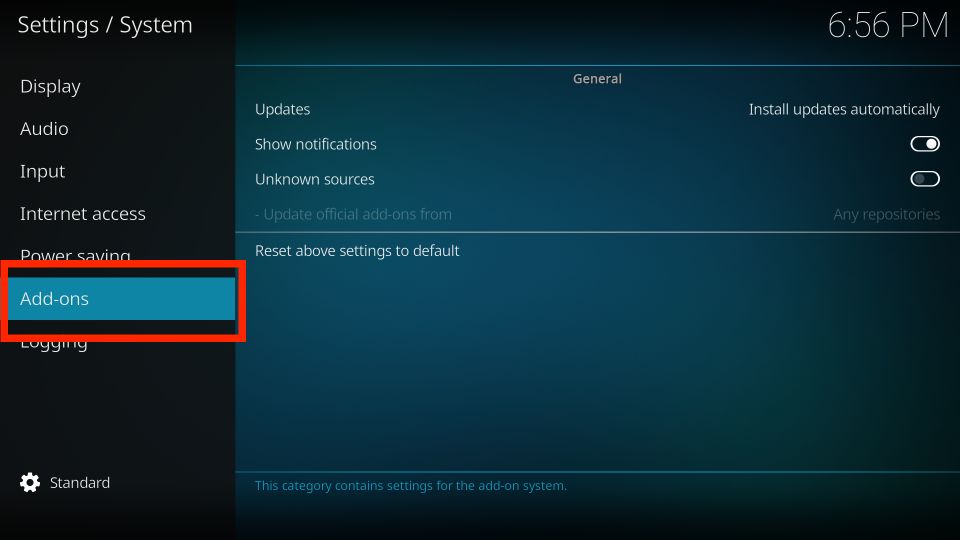 4. On your screen's right-hand side, turn on Unknown sources.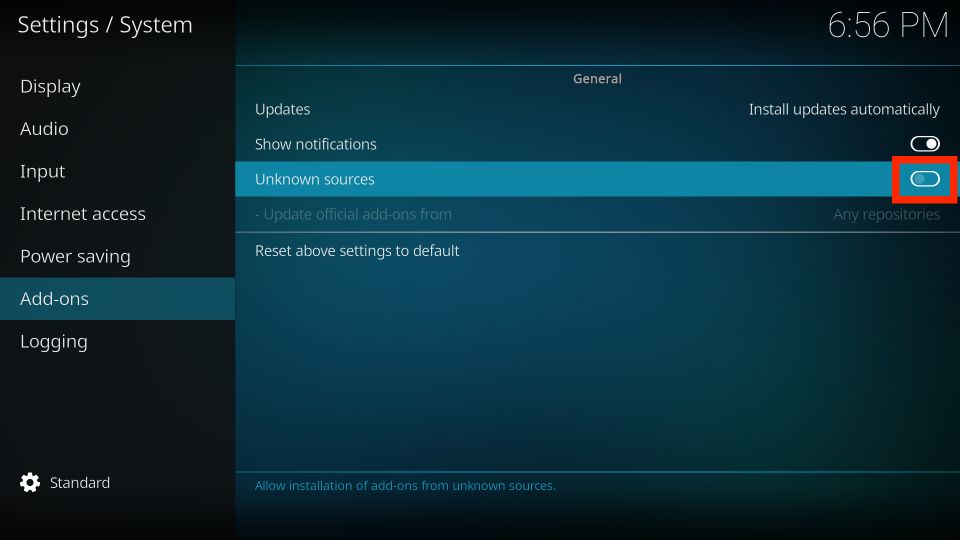 5. Kodi will warn you that third-party repos/addons might access your data. Press Yes.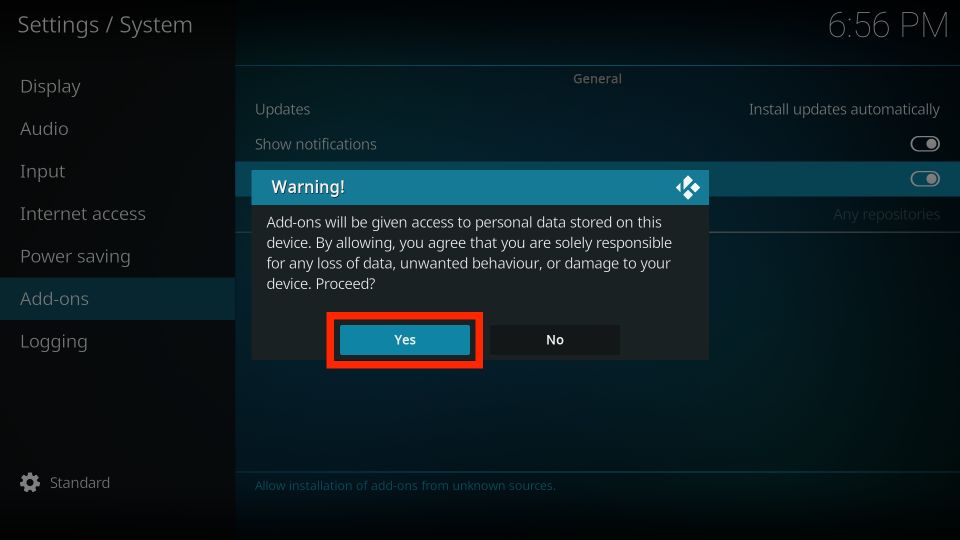 6. Scroll down to the -Update official add-ons from option.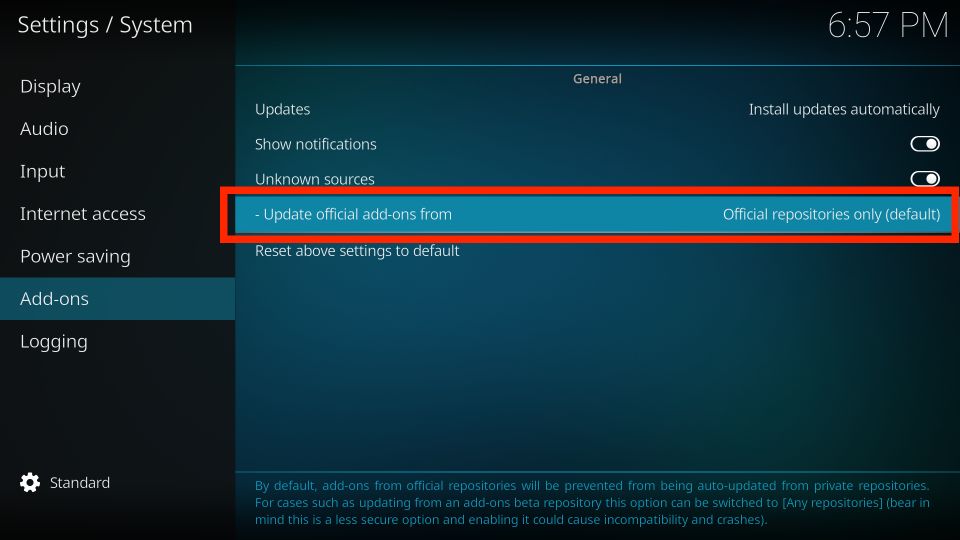 7. Choose Any repositories.
Note: Steps number 6 and 7 are based on allowing all types of add-ons for automatic updates.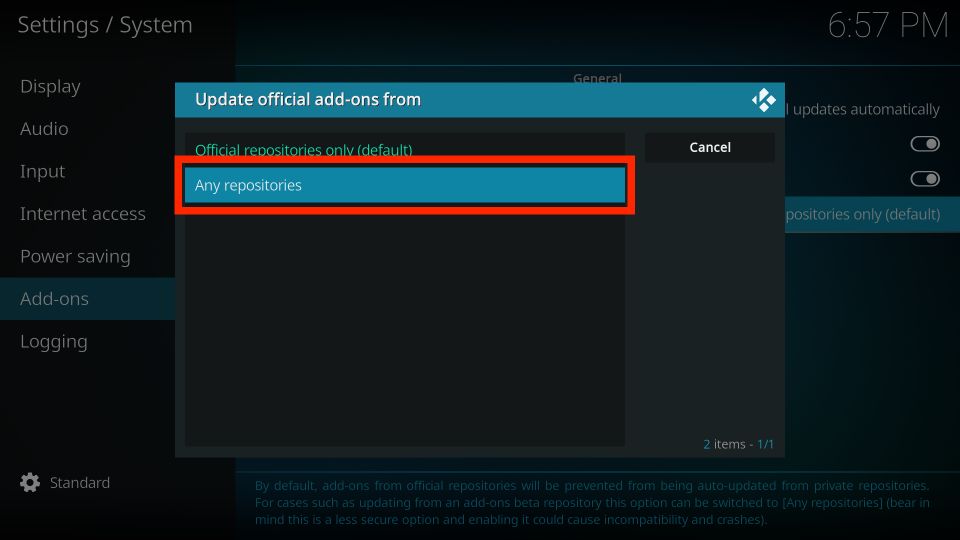 Part 2 – Load SlyGuy Repository
You need to install SlyGuy Repository, where the HBO Max Kodi add-on is available – SlyGuy Repository.
1. Click Settings Gear. You'll see it on the upper left side of your screen.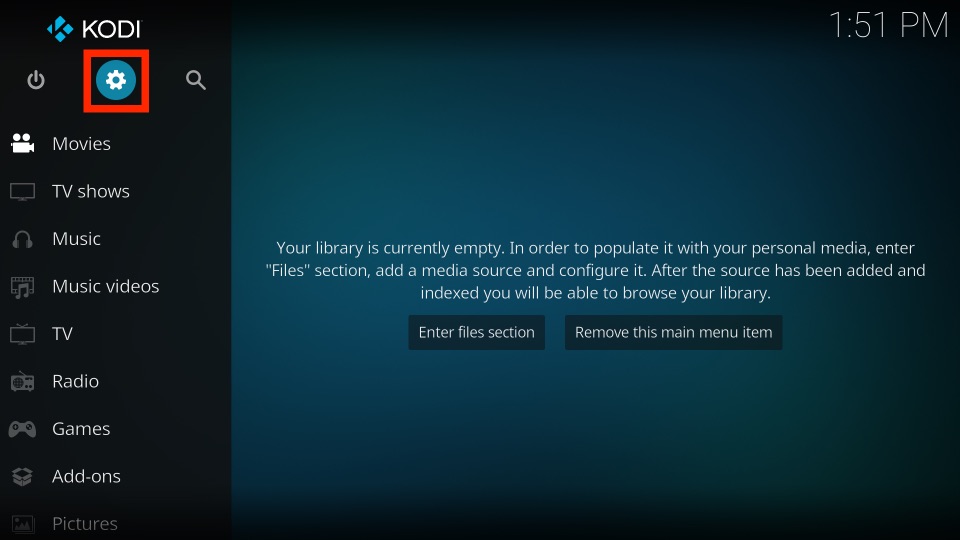 2. Open the File manager tab.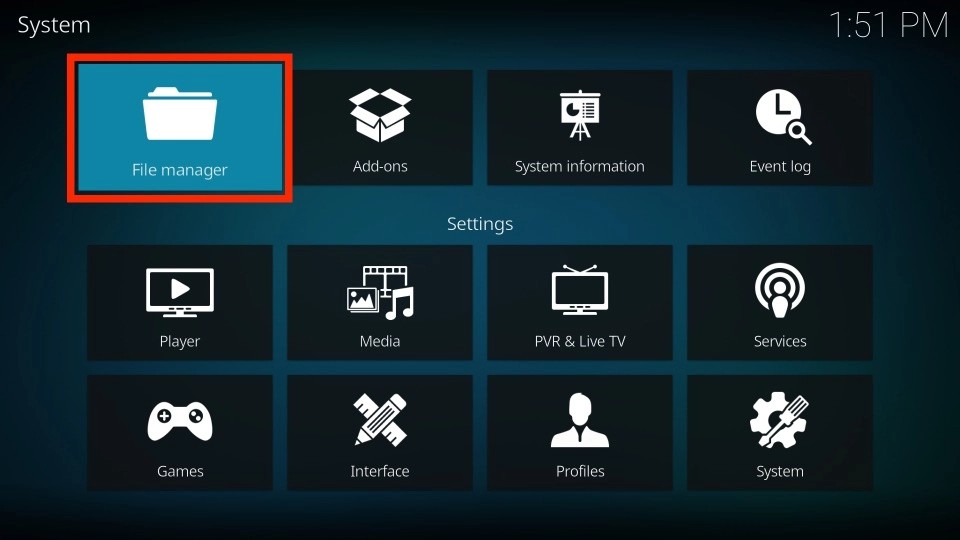 3. Click on the Add source option on the File manager page.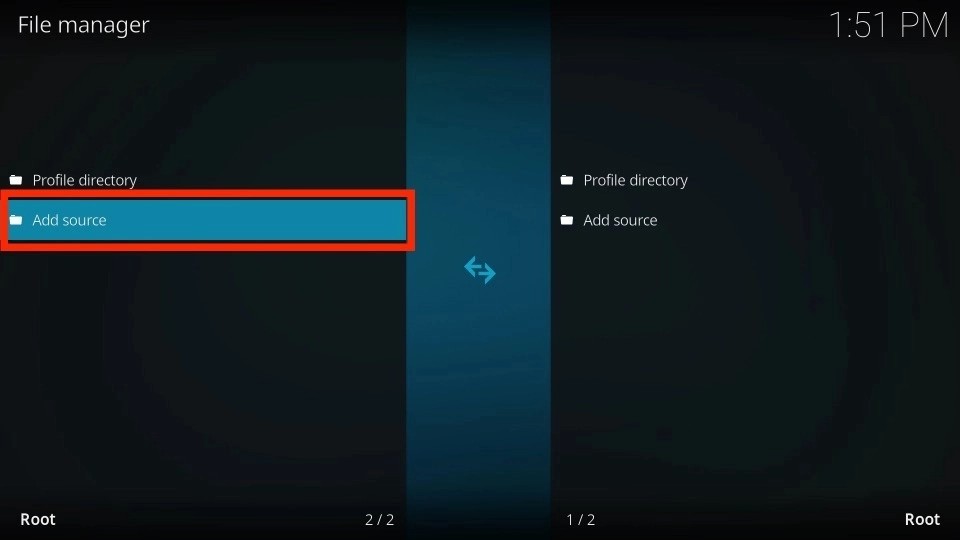 4. A new window will appear on your screen, select the <None> option under Enter the paths or browse…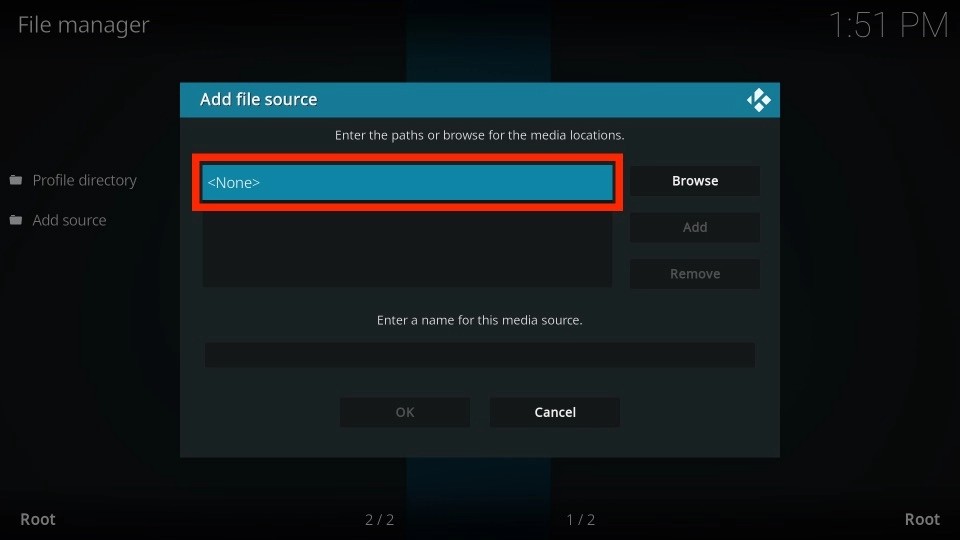 5. Type the official link of SlyGuy Repository – https://k.slyguy.xyz. Then, click OK to save. 
Note: At FireStickHow.com, we don't own/host any URL or file. This repo URL points to the original source of the repository.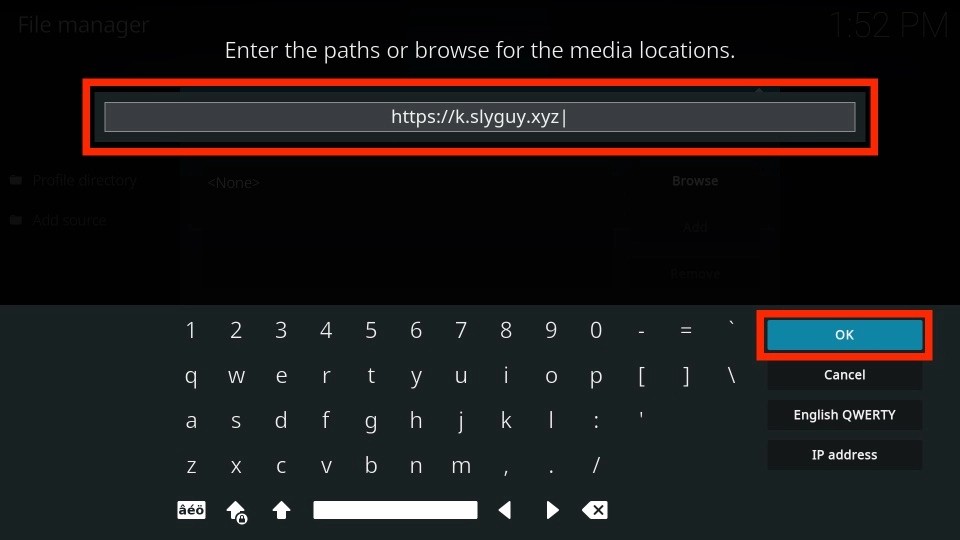 6. By default, no name will be given to the source. To do that, choose the Empty Box under Enter a name for…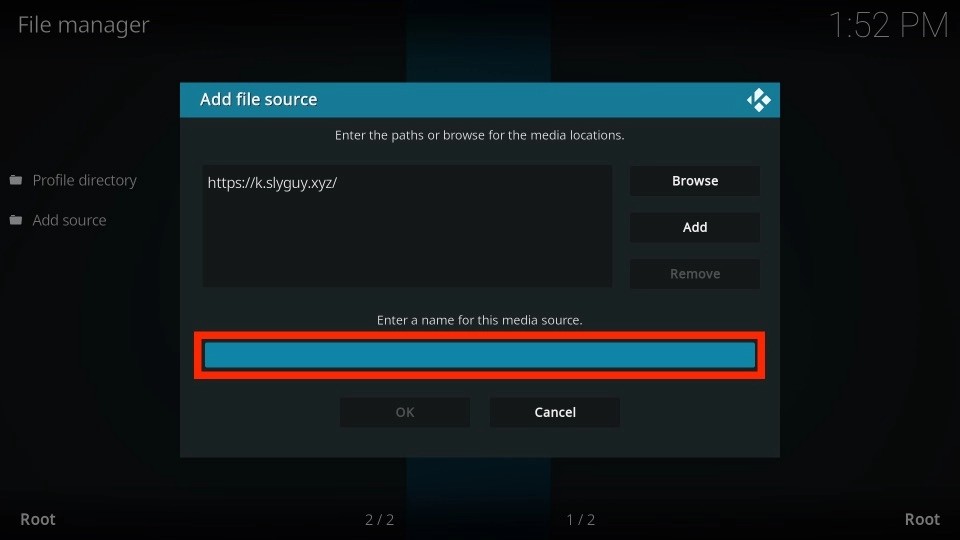 7. I'm naming the source slyguy. However, you can choose any name and click OK to preserve it.
Note: Choose a simple name, as it will be easy to remember.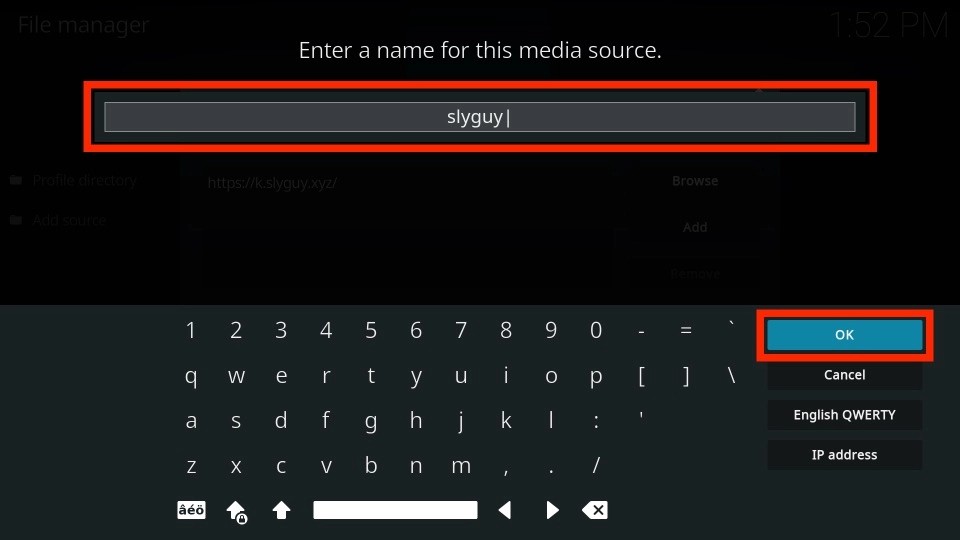 8. Finally, click OK to save changes.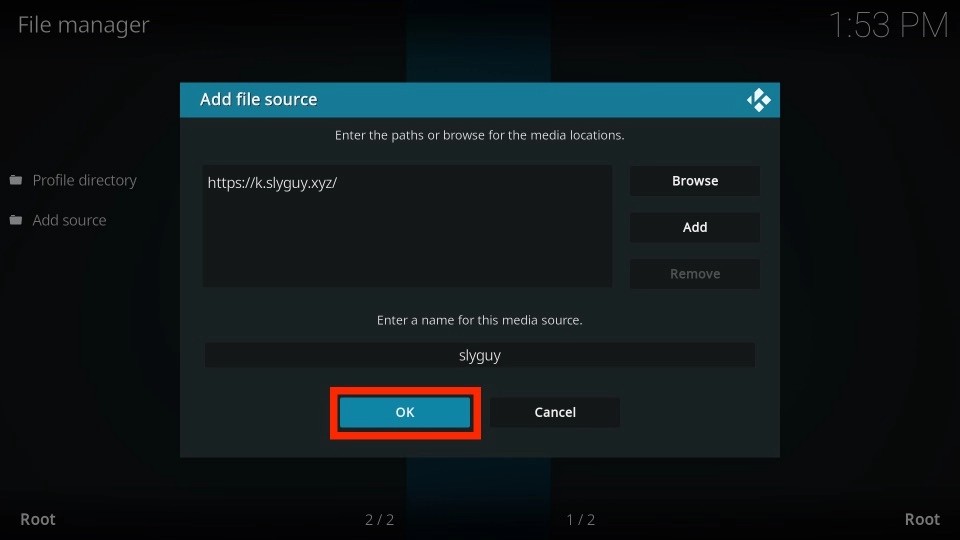 9. If you see the repo's name on the File manager list, it means the source has been added successfully. 
10. Return to the Kodi system settings page and open the Add-ons tab.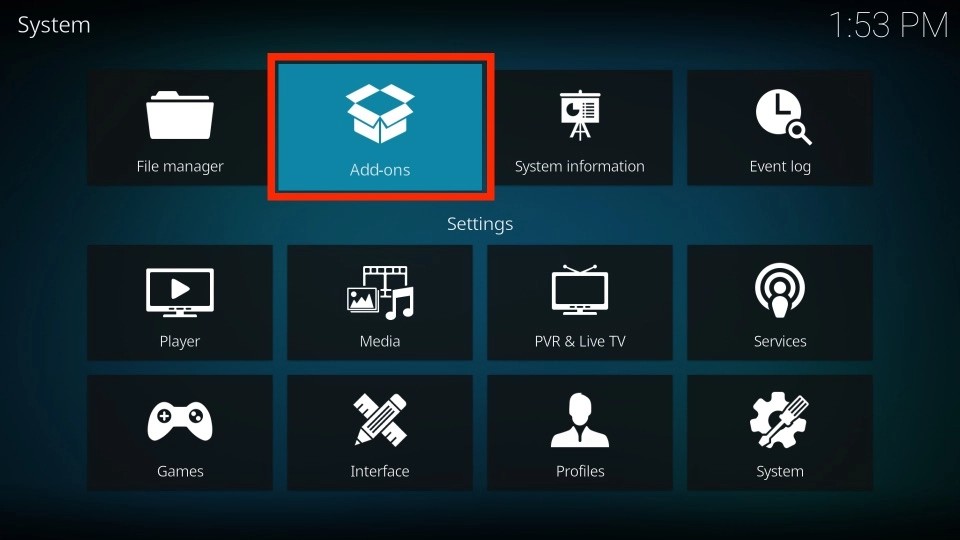 11. Select the Install from zip file option on the next screen.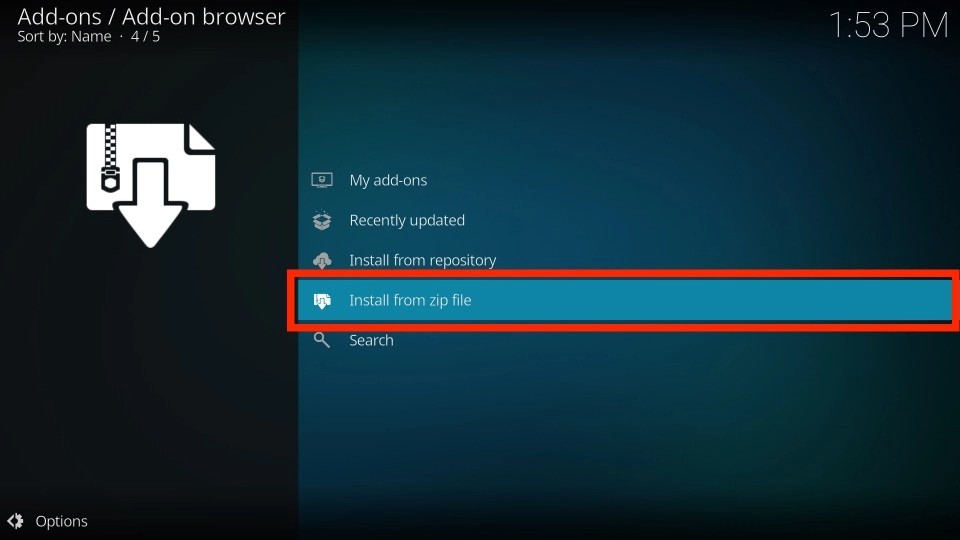 12. Kodi will send you a warning regarding manual updates. Click on the Yes button to continue. However, this message does not appear on Kodi 20.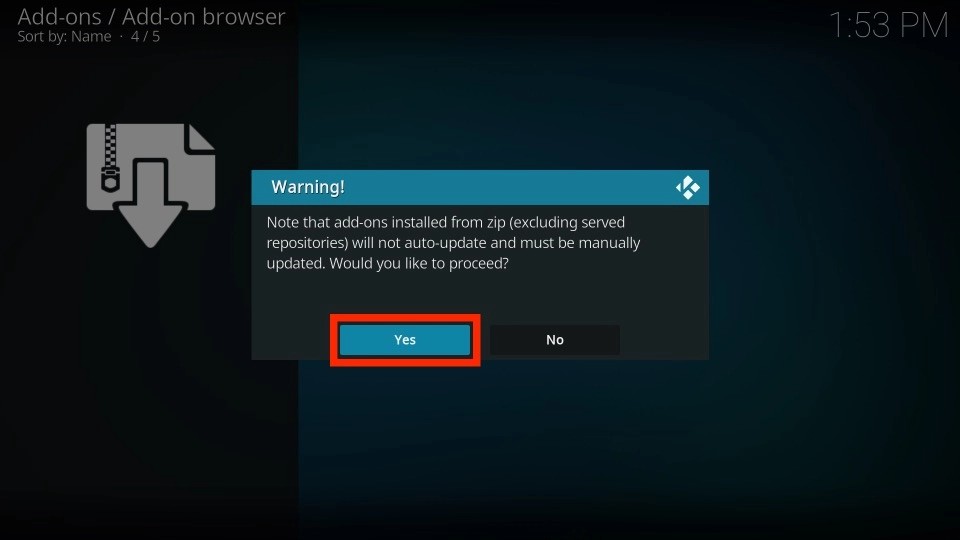 13. Select the repo name on the Install from zip file window. So, in my case, it's slyguy.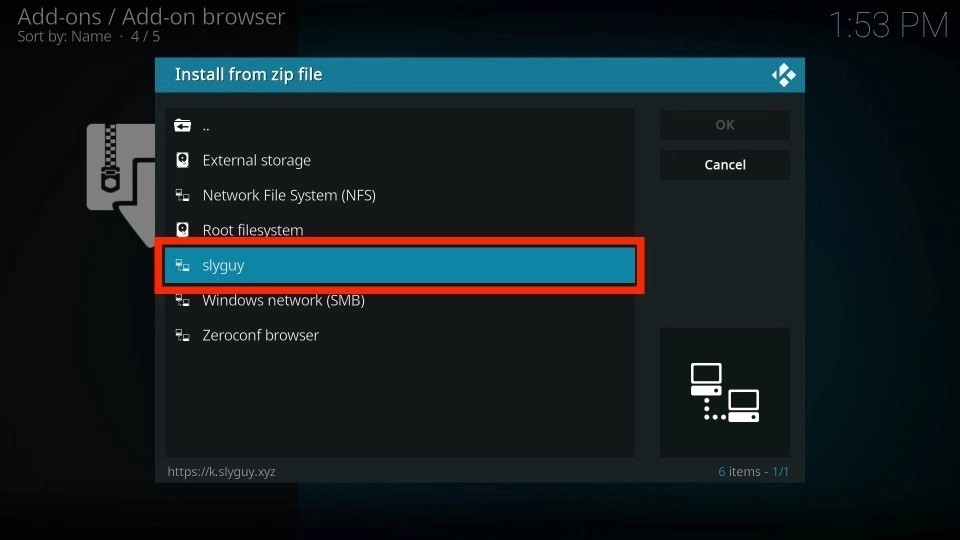 14. Choose repository.slyguy.zip.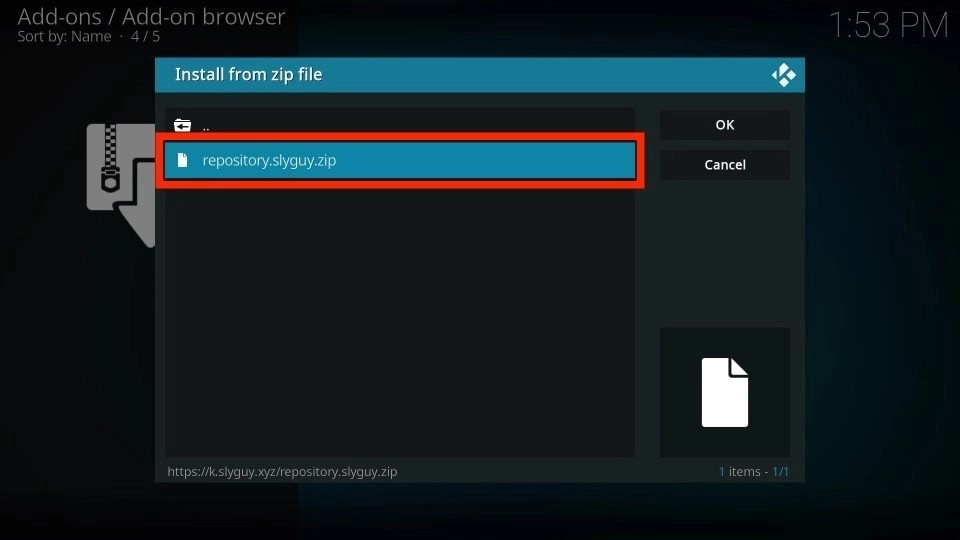 15. Wait for the success notification to appear – SlyGuy Repository Add-on installed.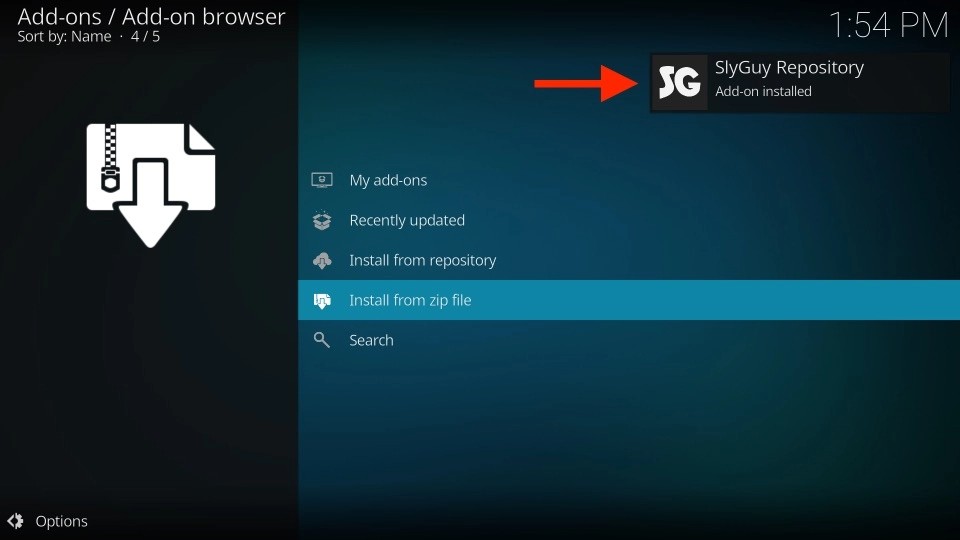 You can now access the SlyGuy Repository via your Kodi app.
Part 3 – How to Install HBO Max add-on
Lastly, here are the steps to install HBO Max via the SlyGuy Repository:
1. After the notification disappears, choose the Install from repository option.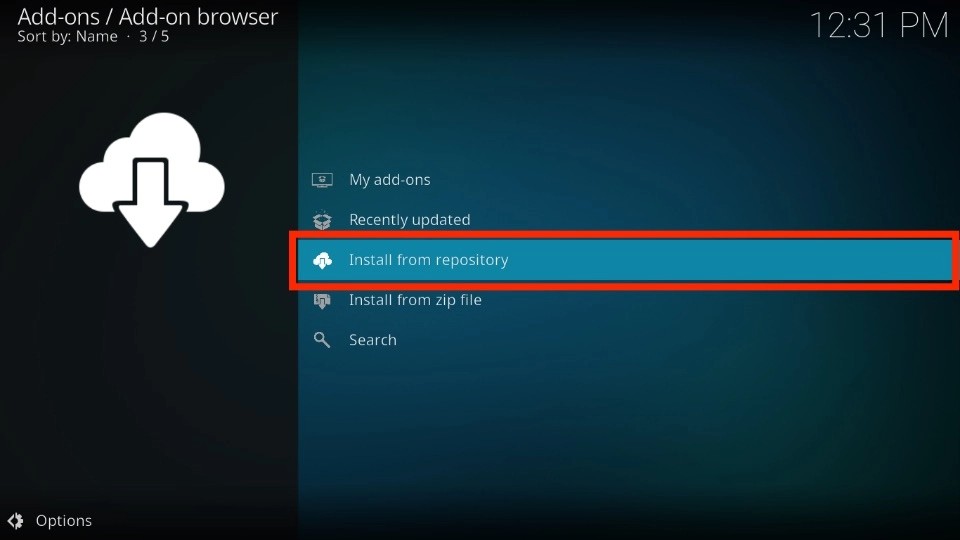 2. Choose SlyGuy Repository (slyguy.uk).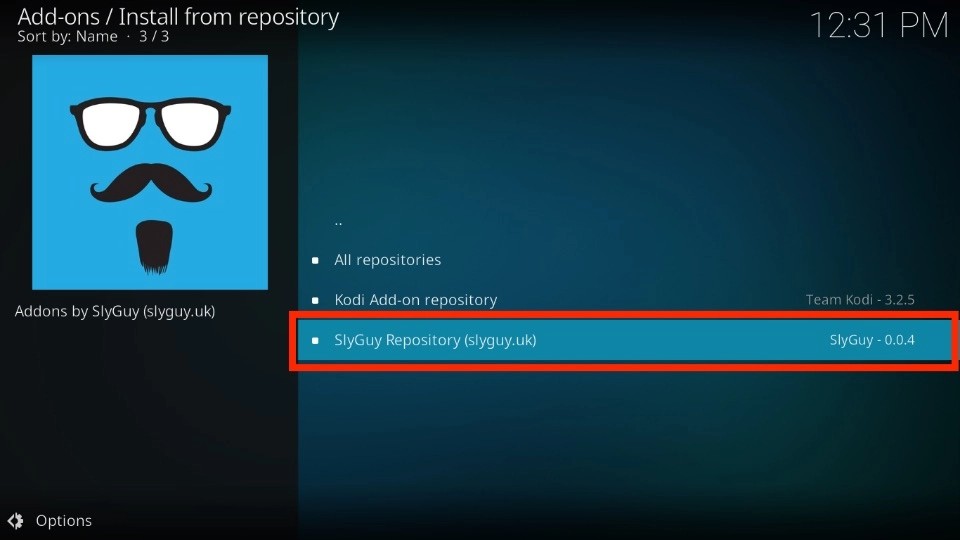 3. Choose Video add-ons.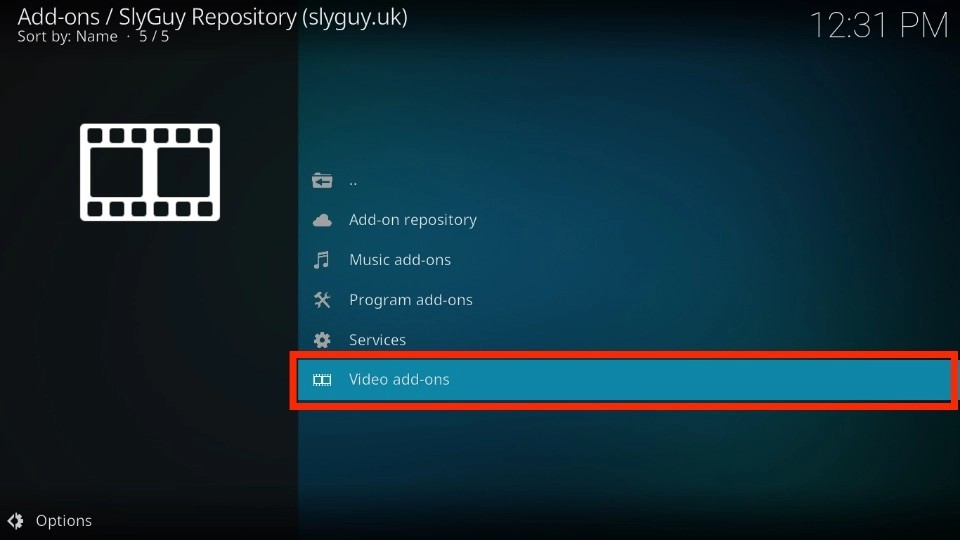 4. Go to the H section of the list and choose HBO Max.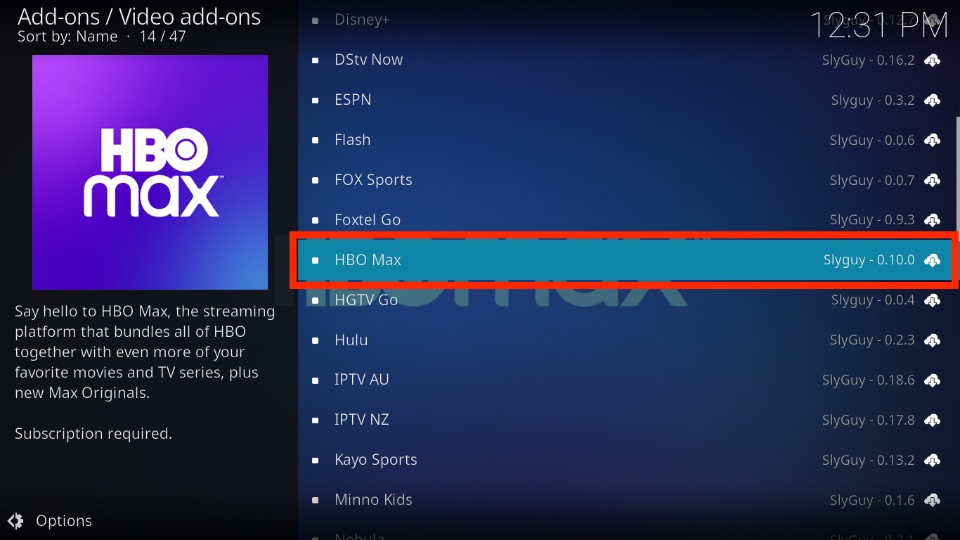 5. Click on the Install button.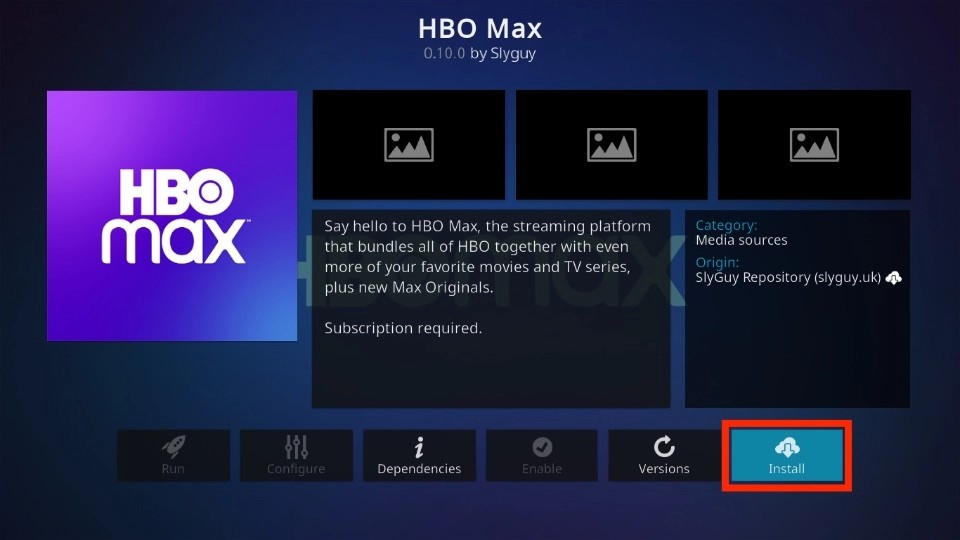 6. Kodi will ask you to install other additional add-ons with HBO Max. Click OK to give your permission.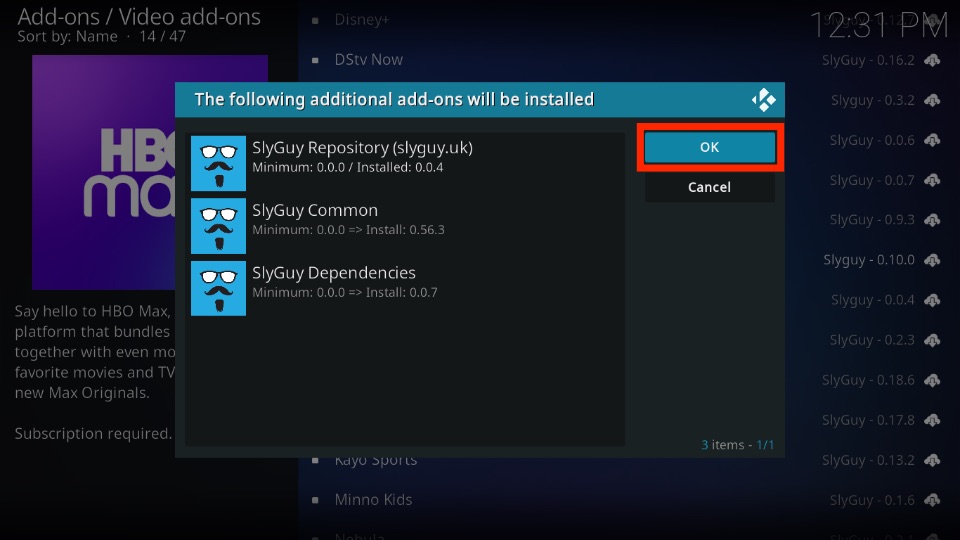 7. Let Kodi download the essential HBO Max files and install them.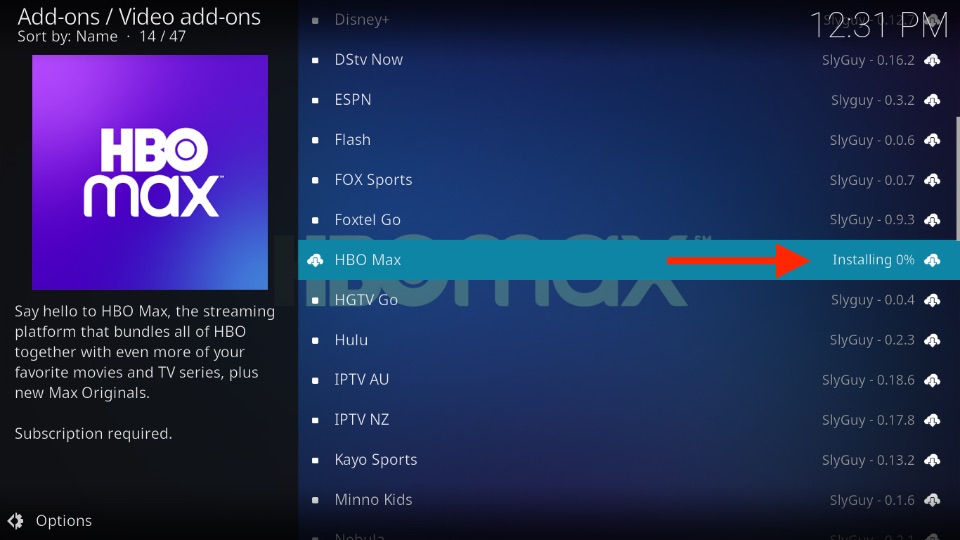 8. Once installed, you'll see a notification – HBO Max Add-on installed.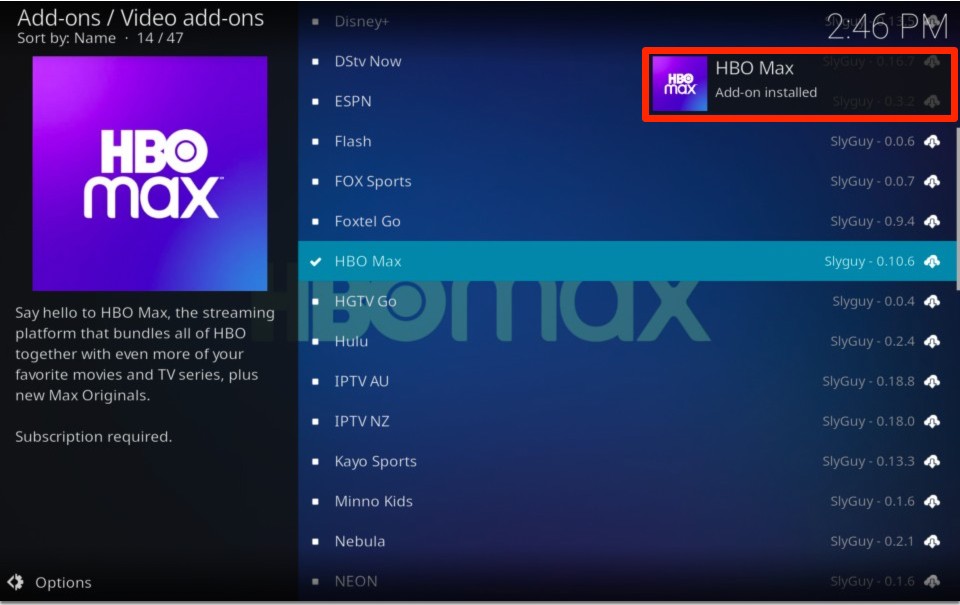 Congratulations! You have installed the HBO Max add-on on your Kodi app.   
Wait! It looks like you are all set to start watching your favorite content on Kodi. But have you protected your online identity yet? You are under constant surveillance by the Government and ISP. They use your IP address 3.17.249.235 to track you. Streaming free or copyrighted videos may get you into legal trouble.
Thankfully, you can use a VPN to easily protect your privacy and go invisible from your Government and ISP. I use and recommend ExpressVPN with Kodi.
ExpressVPN is the fastest, most secure, and streaming-friendly VPN. It is easy to install and set up on any Kodi device, including FireStick, Smartphones, PCs, and more.
ExpressVPN, offers an unconditional 30-day money-back guarantee. So, if you do not like the service (I don't see why), you can get a full refund within 30 days.
Please remember that we encourage you to use a VPN to maintain your privacy. However, we do not condone breaking copyright laws.
Before you start using Kodi for streaming, here is how you can protect yourself with ExpressVPN:
Step 1: Sign up for ExpressVPN Here
Step 2: Download ExpressVPN on your device by clicking HERE
Step 3: Open the ExpressVPN app on your device. Sign in with your account. Click the connect/power button to connect to the VPN

Great! You have successfully secured yourself with the best Kodi VPN.
How to Use HBO Max Kodi Add-on
The HBO Max add-on by SlyGuy is super easy to use. Here's a brief walkthrough:
Go to the Add-ons tab on the Kodi home screen.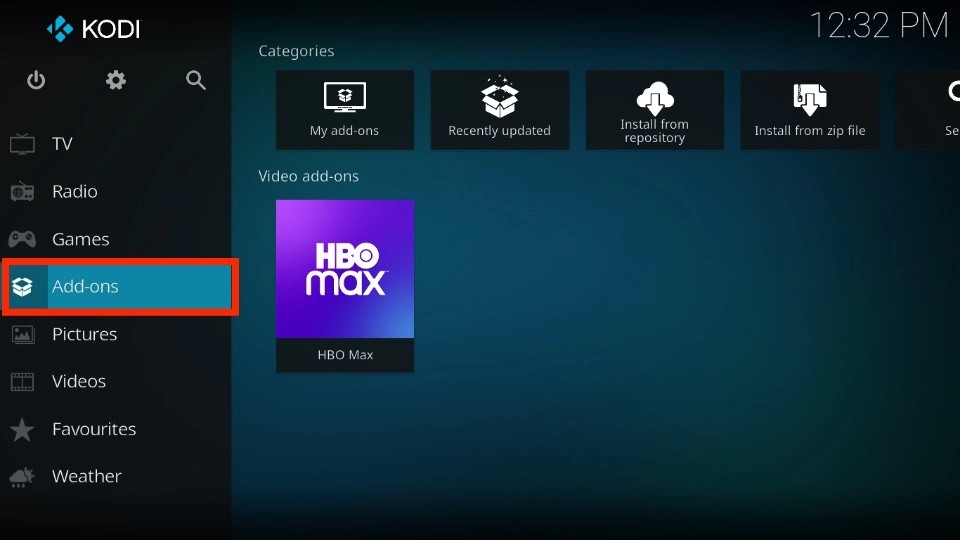 On the Video add-ons sub-tab, launch HBO Max.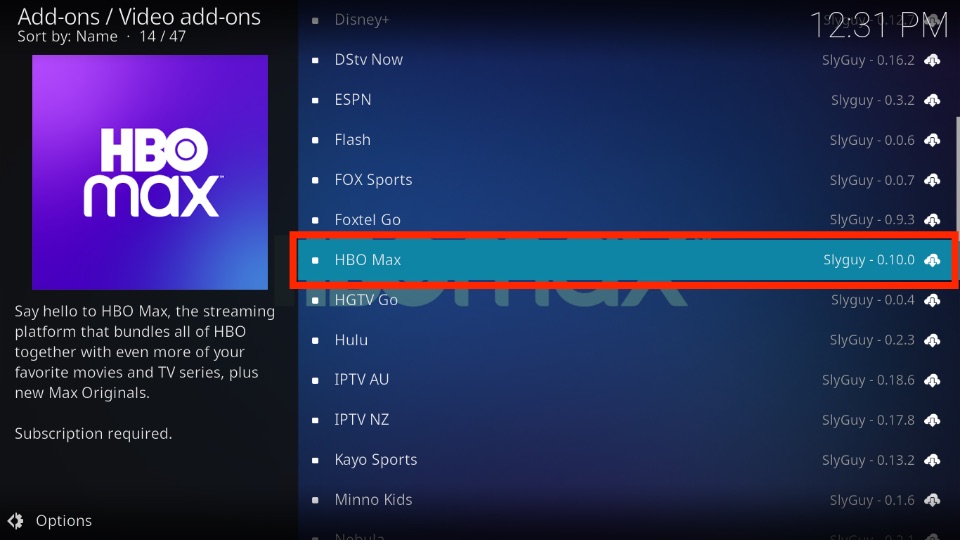 Select Login.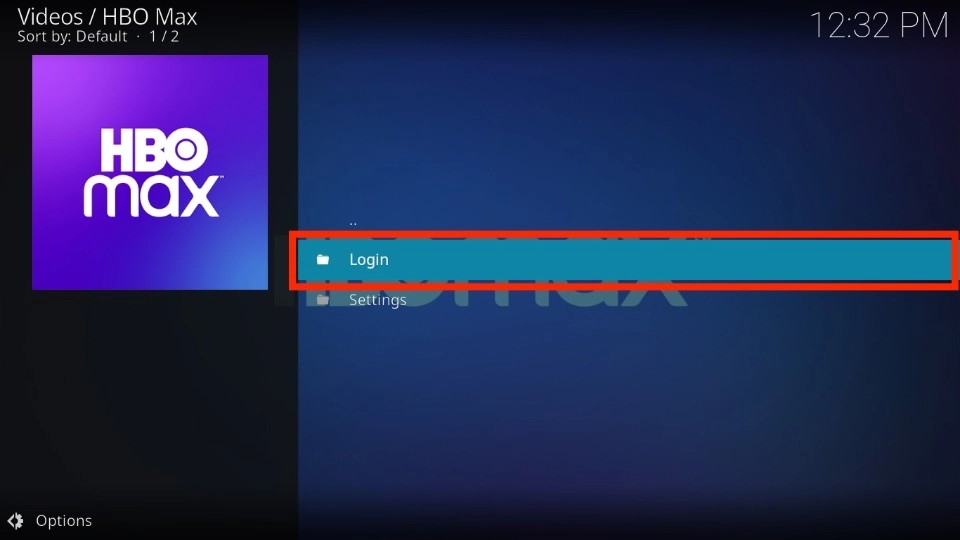 Choose Email / Password.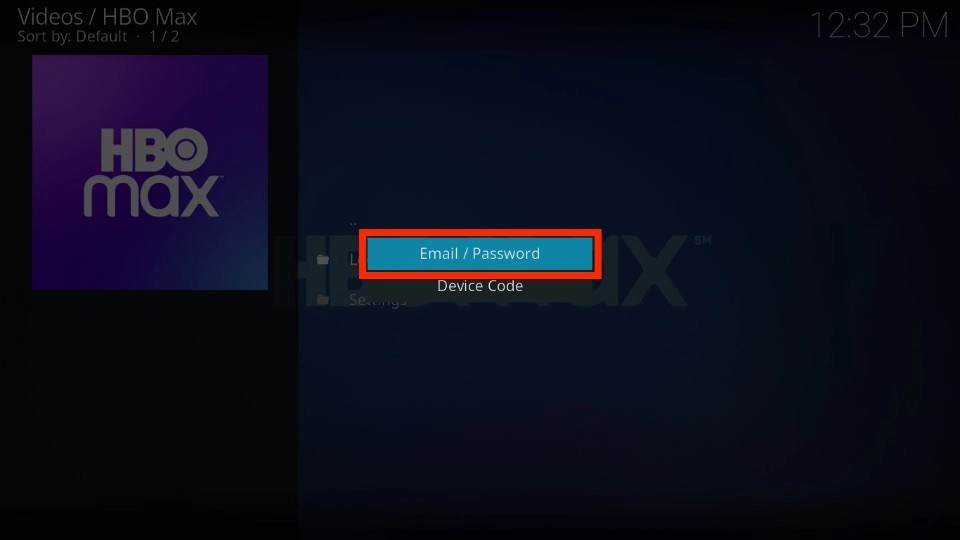 Enter the email address of your HBO Max account and click OK.
Next, enter your HBO Max account Password and click OK.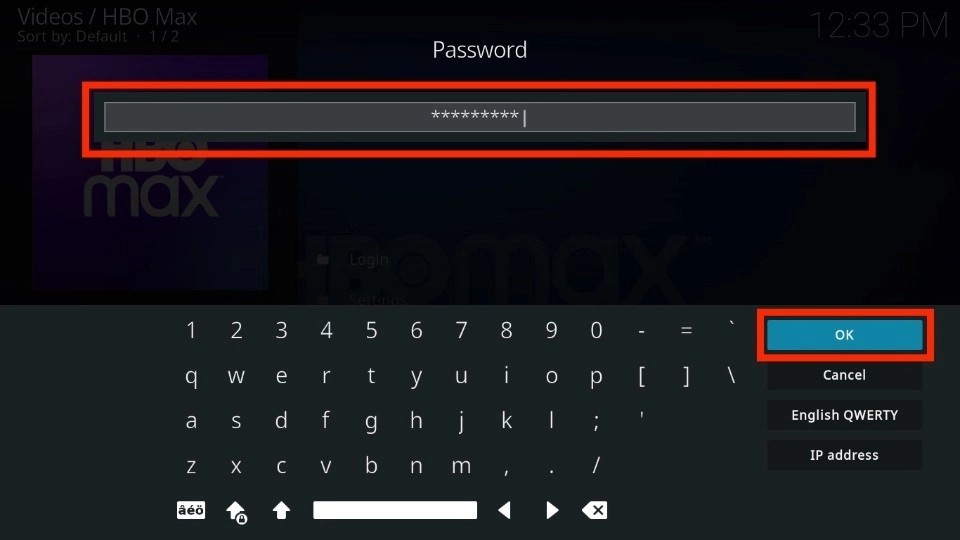 Note: You'll be asked to select your HBO Max profile.
On HBO Max welcome screen, you'll see the following sections. Let's start with exploring the first section of the HBO Max Kodi Add-on, Featured.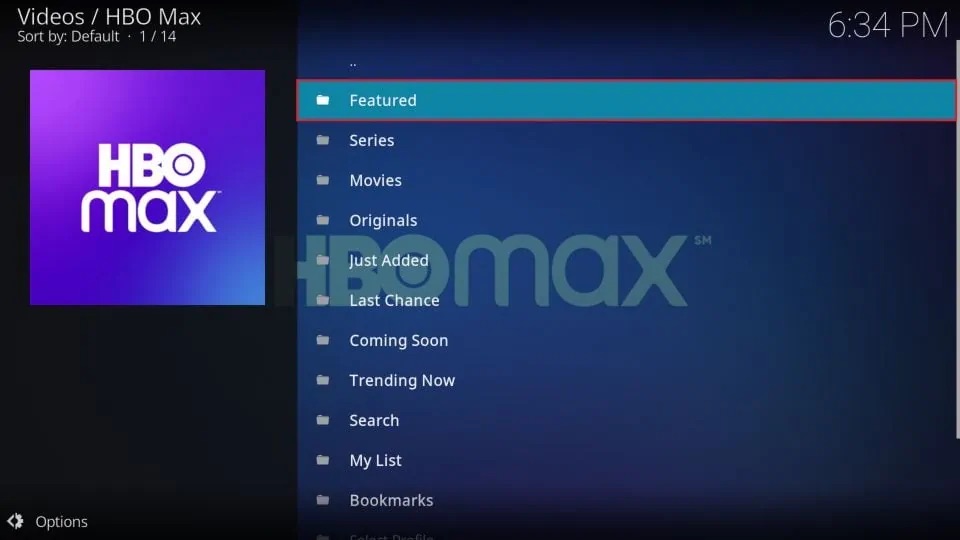 You'll see multiple sub-sections like Just Added, Popular Movies, Popular TV, Trending Action, and more.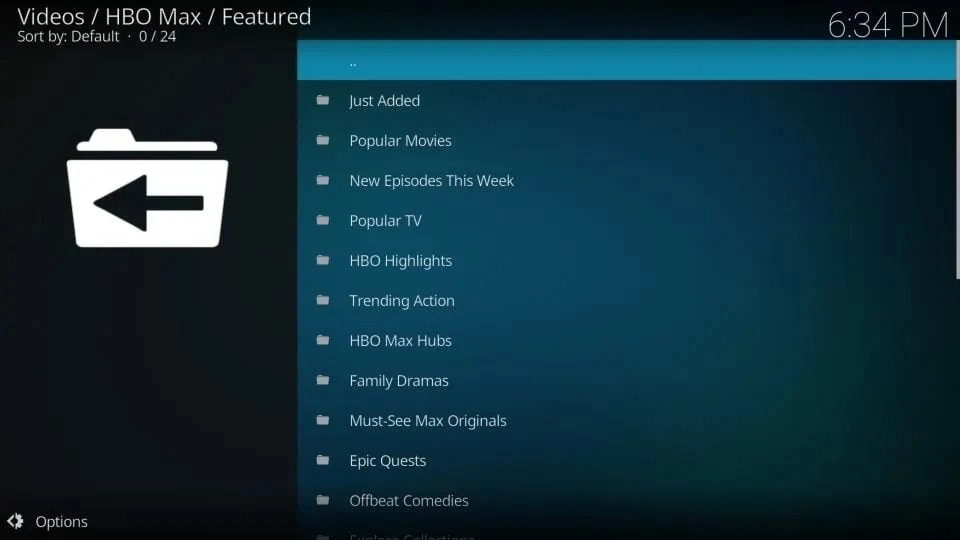 If you are into TV shows, open the Series section.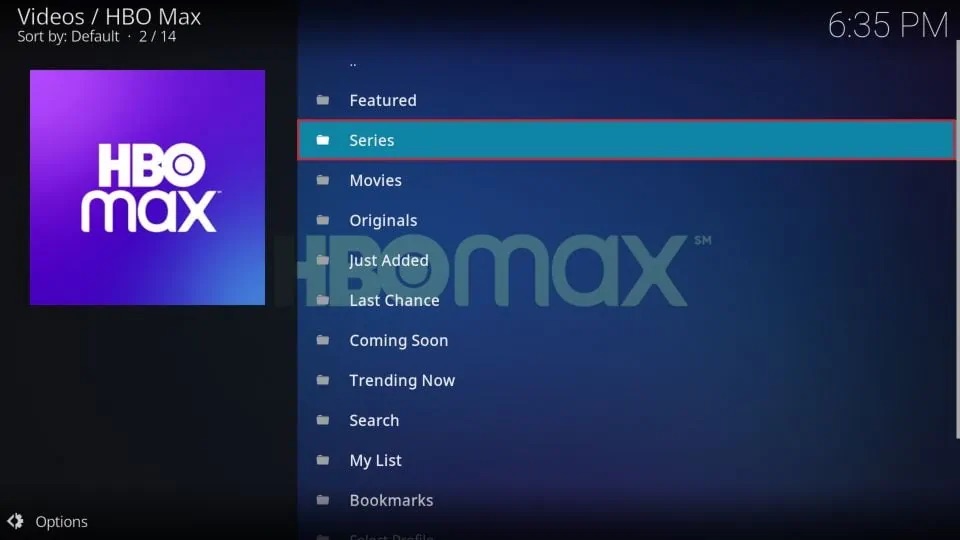 Here, you can explore TV shows using 19 sub-folders like Featured, Just Added, A-Z, Action, Comedy, Drama, and more.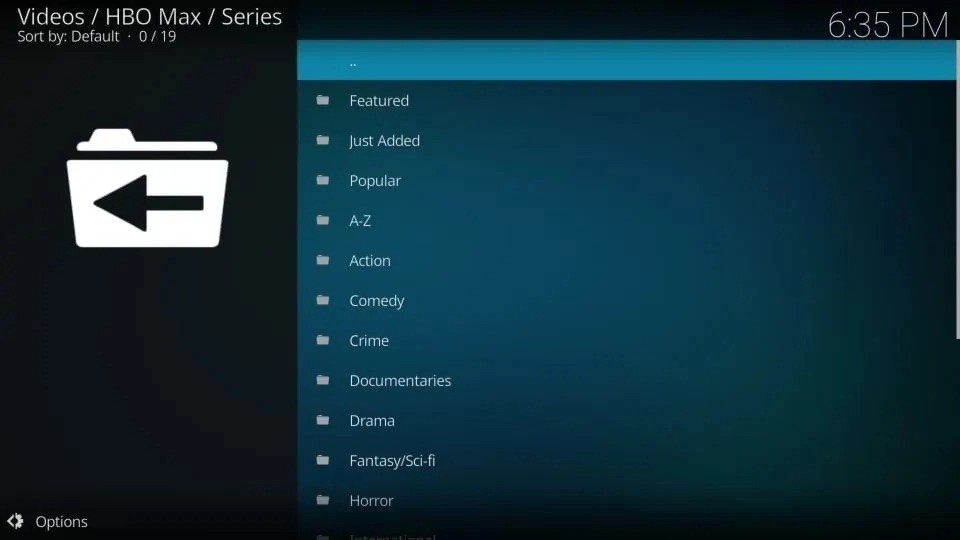 To explore films, open the Movies folder.
Similar to the Series section, the Movies folder feature sub-sections like Originals, Kids, Crime, Action, Comedy, Documentaries, etc.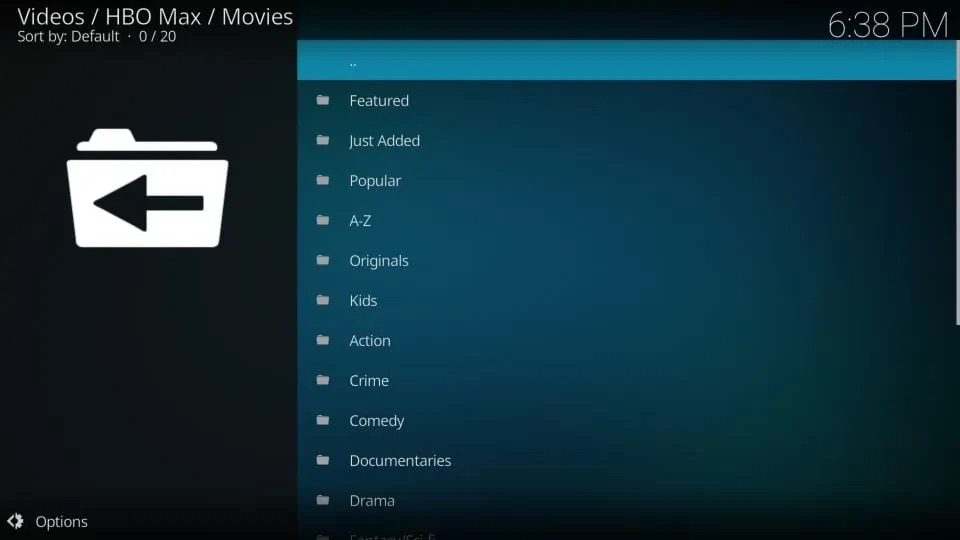 To find a movie/TV show on the HBO Max Kodi add-on, select Search.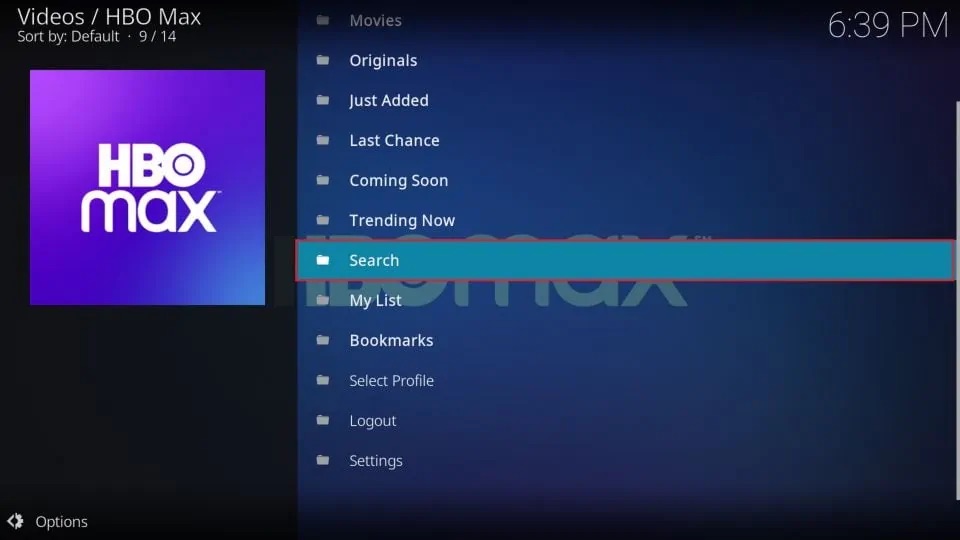 Choose New Search.
Note: Your search history will be available in a list form under New Search.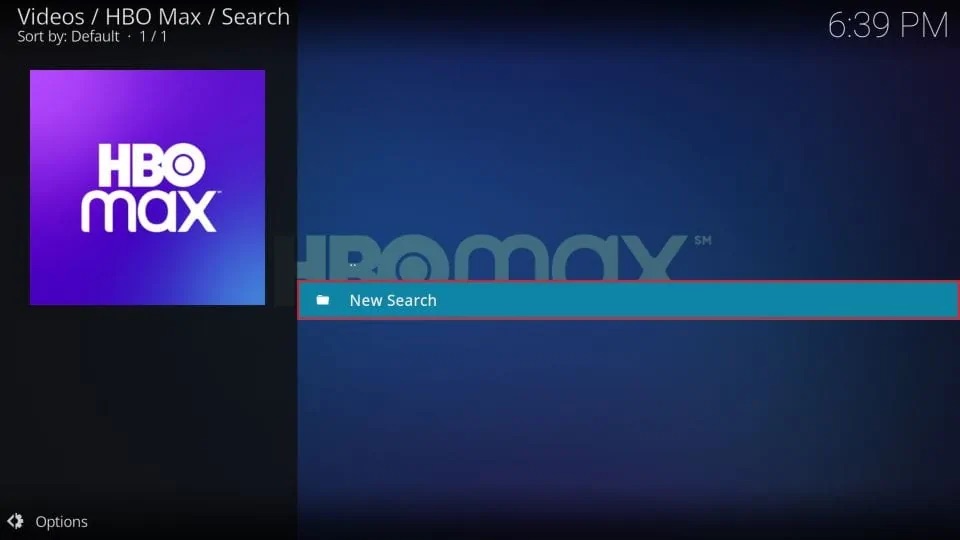 Enter your search terms and click OK.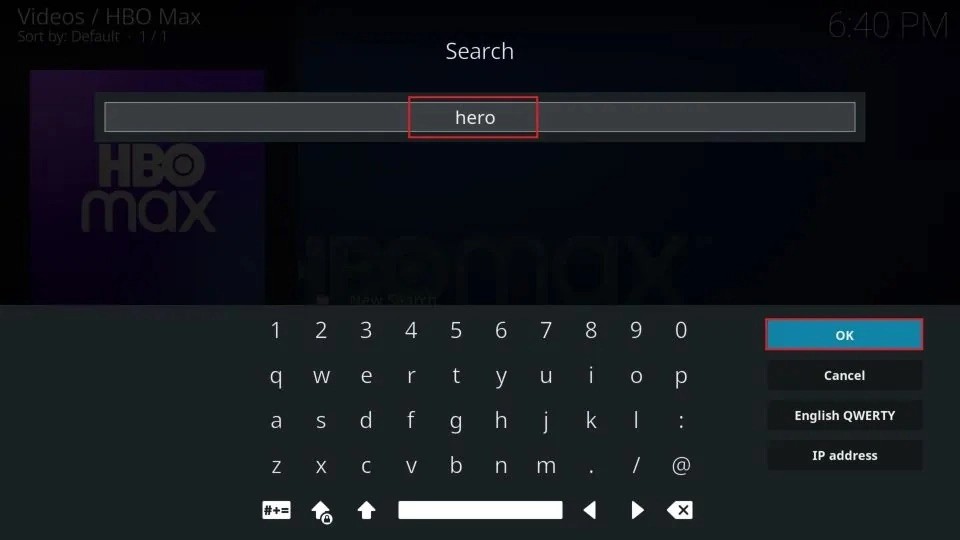 You'll see a list of movies/shows matching your search terms.

Conclusion
Thanks to SlyGuy, you can now access HBO Max from your Kodi app. This guide showed you how to install HBO Max Kodi addon, how to use it, and many other related things. Use the comments section below to ask a question or suggest something regarding the topic. 
Related: