This tutorial shows you how to install the Wolf Launcher on FireStick. The instructions apply to any Fire TV or Fire OS device, including FireStick 4K, 4K Max, FireStick Lite, Fire TV Cube, FireStick 3rd Gen, and TV sets with built-in Fire OS. I will also discuss the safety and legality of the app.
What Is Wolf Launcher?
Amazon has a basic User Interface for the FireStick TV with limited customization options. Seeing it every day can get boring. That's where a launcher comes in. Wolf Launcher changes the interface of Kodi and makes it more customizable.
Out of the many, Wolf Launcher does stand out for numerous reasons.
Firstly, it has great customization options. For example, you can modify everything from the background to the app tiles. Besides, it lets you make private folders with password protection. Finally, it removes unwanted promotions and advertisements.
Wolf Launcher on FireStick works perfectly. It is smooth, fast, efficient, and highly customizable, with many options. All you can ask for in this category.
We have selected Wolf Launcher for our list of Best Apps for FireStick.
Attention FireStick Users: Read before you continue
Your government and ISP are probably monitoring your streaming activities using your IP address 3.17.249.235 (exposed to all). You may get into serious legal trouble for streaming copyrighted videos on FireStick. 
I strongly recommend getting a trusted VPN for FireStick to hide your IP address and protect your online identity.
I use ExpressVPN on all my devices as it is the most secure, fastest, and easy-to-use VPN. It comes with an unconditional 30-day money-back guarantee, and you get 3 free months with the yearly plan.
Don't miss out on the peace of mind and online security ExpressVPN provides.
Read: How to Install & Set up the best VPN on FireStick.
Is Wolf Launcher Safe?
Wolf Launcher is not available on any of the major app stores. This includes the Google Play Store, Apple App Store, and Amazon App Store. This raises some questions, undoubtedly.
However, the app, even though not an official amazon one, still isn't that unsafe. We ran a test on VirusTotal, and the results were quite impressive. The APK didn't have any harmful files, as shown in the results.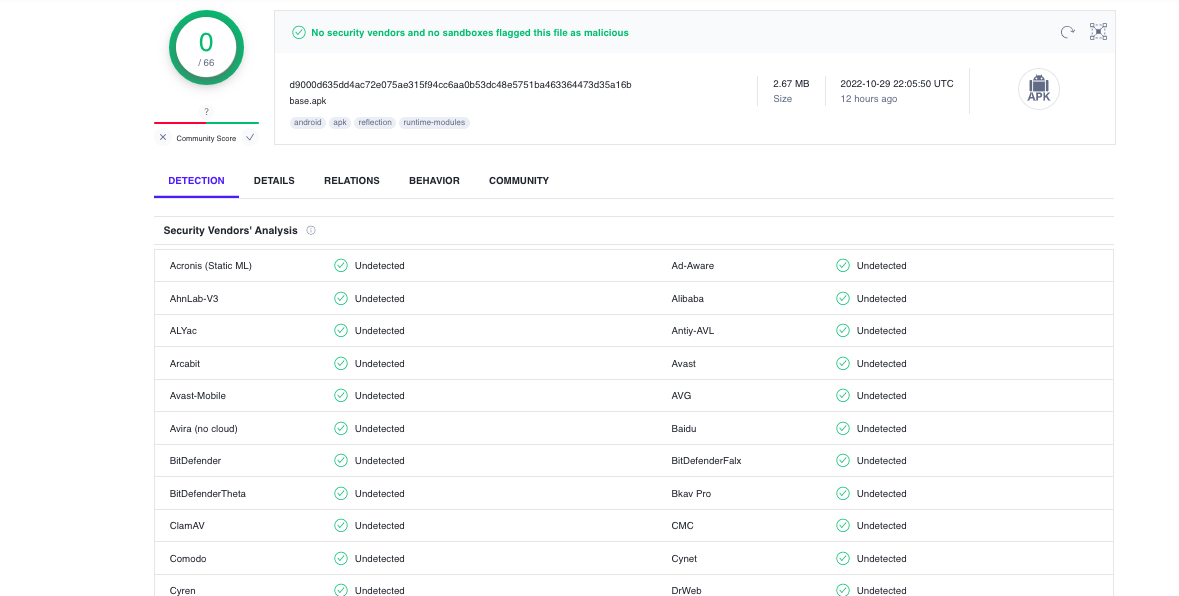 Is Wolf Launcher Legal?
We can't be 100% sure about the legality of Wolf Launcher. However, unlike third-party streaming apps, you do not use unverified links to watch videos while using the Wolf Launcher.
Instead, Wolf Launcher is merely a launcher that changes the dynamics of your interface. Not sure if there can be anything wrong with that.
If you have any doubts, I recommend using ExpressVPN with Wolf Launcher to hide your online activities.
Features of Wolf Launcher
Wolf Launcher is a feature-rich app with a lot to offer for free. It comes with many unique and exciting features:
Many customization options.
Different wallpapers to choose from.
Removes advertisements.
Efficient, fast, and smooth.
Attractive user interface.
Saves your data.
Password-protected folders.
Customized interface for sideloaded apps.
Easy to install and use.
Change the outlook of your FireStick TV completely.
How to Install Wolf Launcher on FireStick
As usual, the process to install Wolf Launcher differs from that of an official Amazon app. The reason's it being a third-party app. Therefore, the process involves two steps as follows.
Set Up FireStick for Sideloading
For sideloading, you need an app called Downloader. It allows the installation of any external app on your TV. You can install it directly from the Amazon App Store.
Secondly, you need to change the Unknown Sources settings. It is off by default. Turning it on is necessary to install APKs.
Please follow our detailed guide on installing and setting up Downloader for sideloading.
Here are the quick steps:
1. Go to Find > Search and install the Downloader app from the Amazon Store.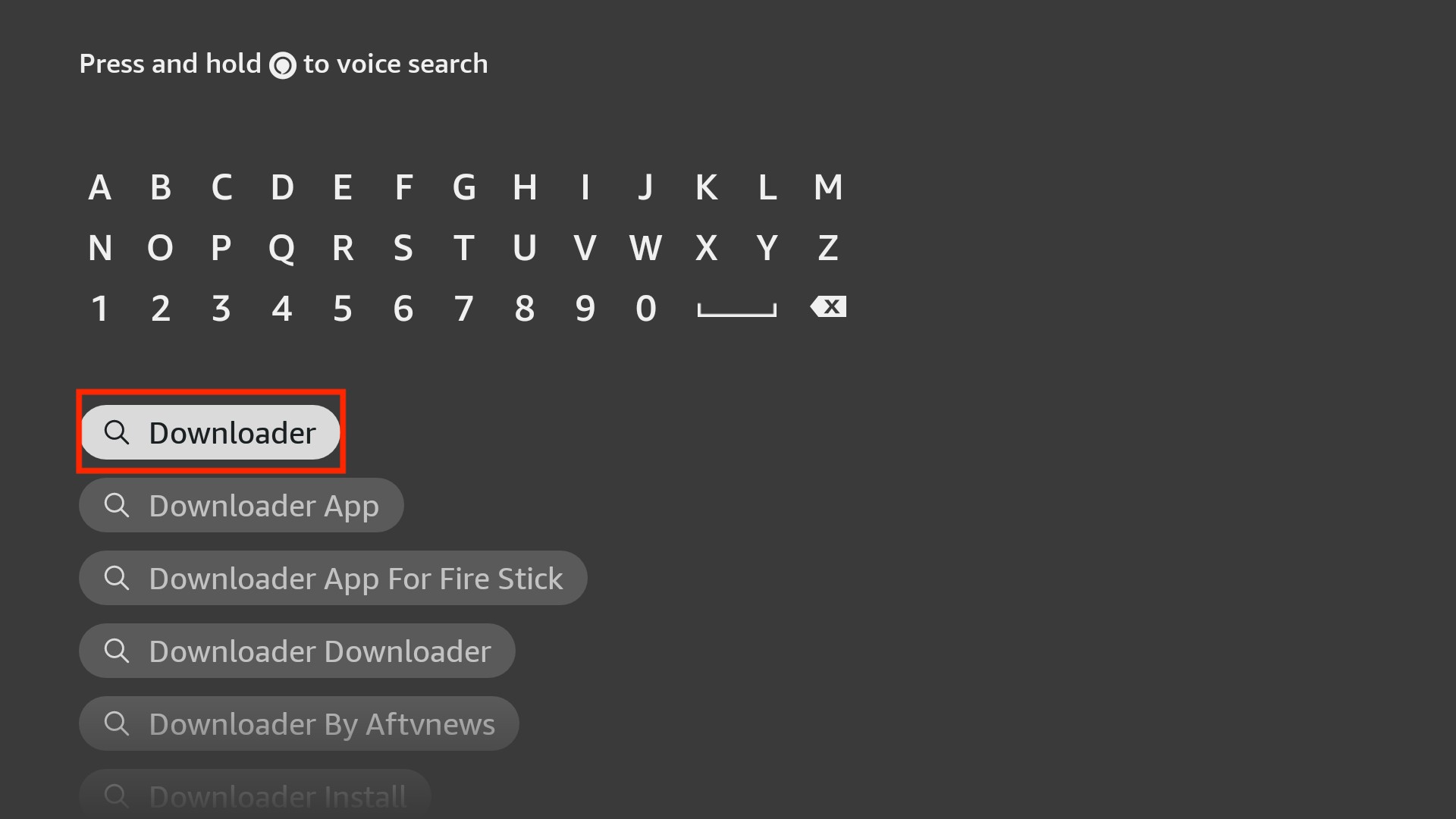 2. Next, go to FireStick Settings > My Fire TV > Developer Options > Install Unknown Apps to enable Downloader.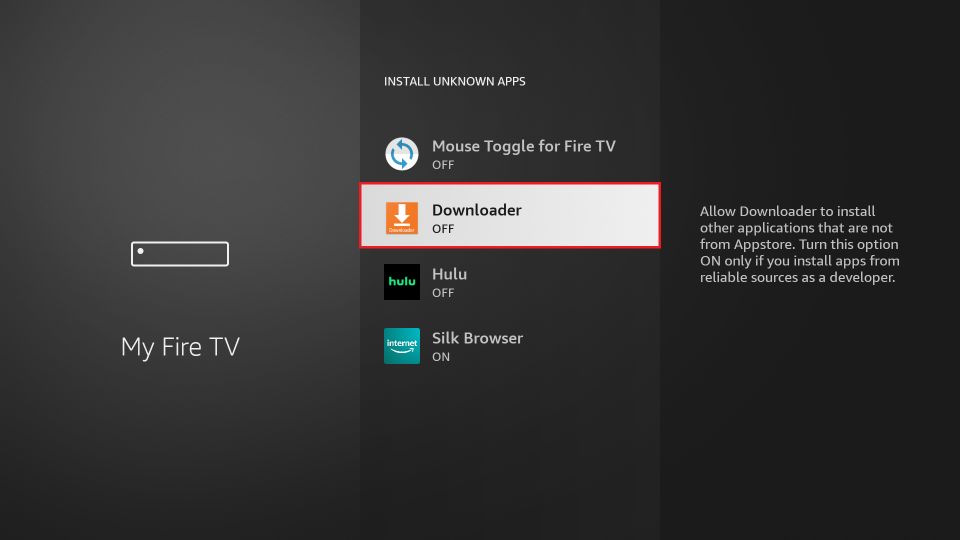 Note: If your device shows Apps from Unknown Sources, turn it ON instead.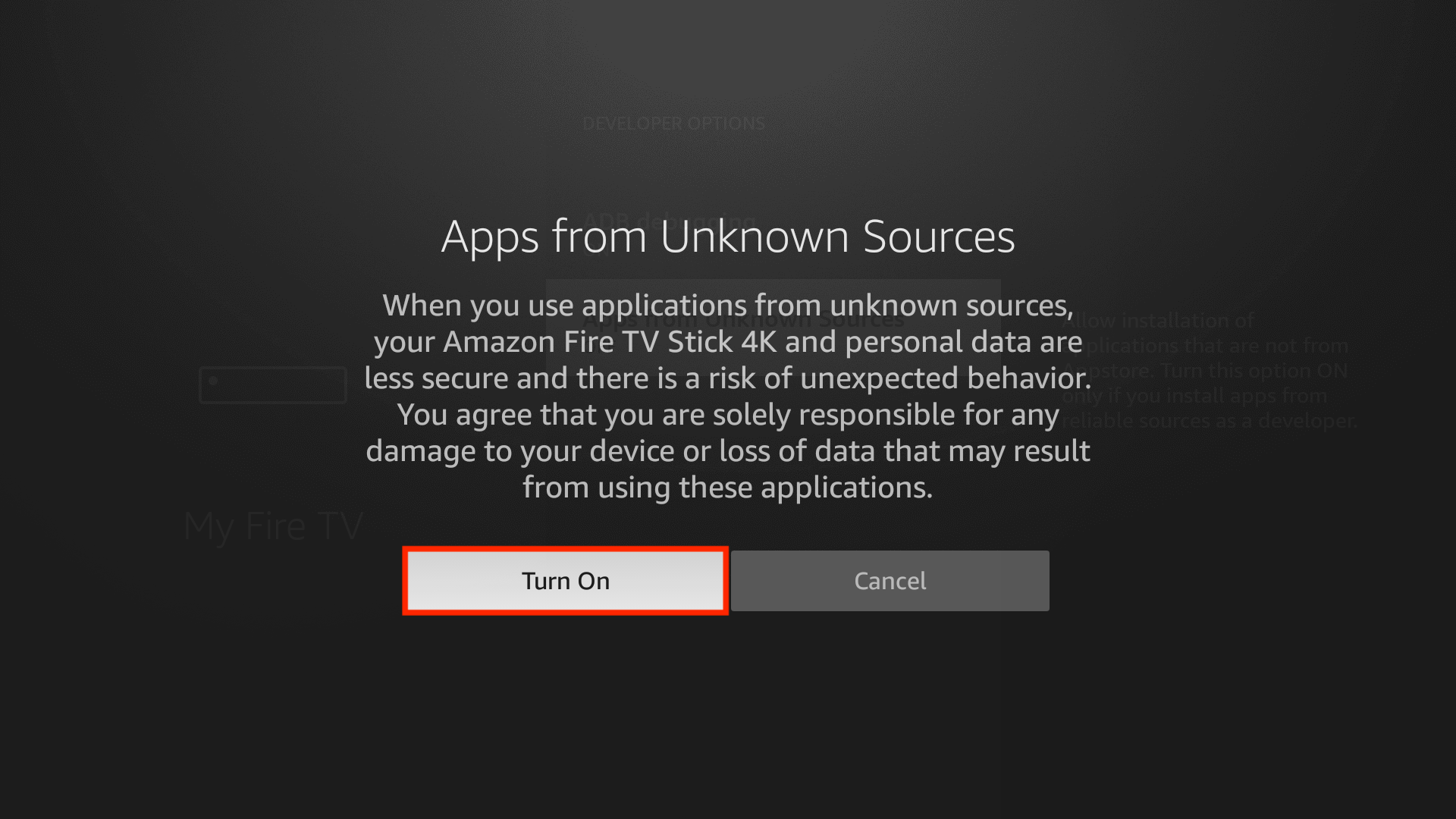 Steps to Install Wolf Launcher
Having set up your FireStick TV for installation, follow the steps below:
1. Open the Downloader application.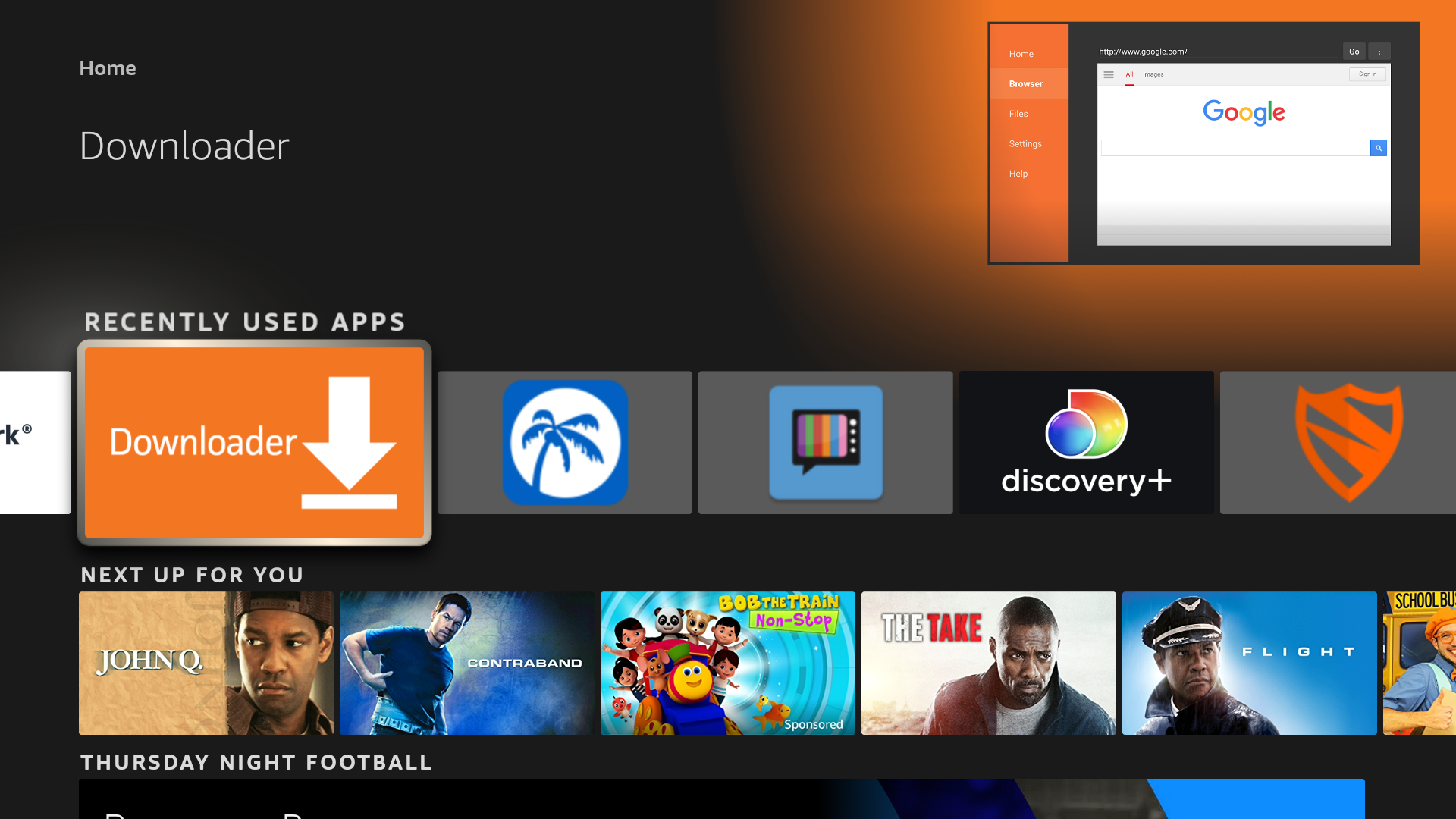 2. Select the URL bar. Type in firestickhow.com/wolf and click on GO.
Note: I have provided the shortened version of the original URL. FireStickHow does not host any APKs on its server.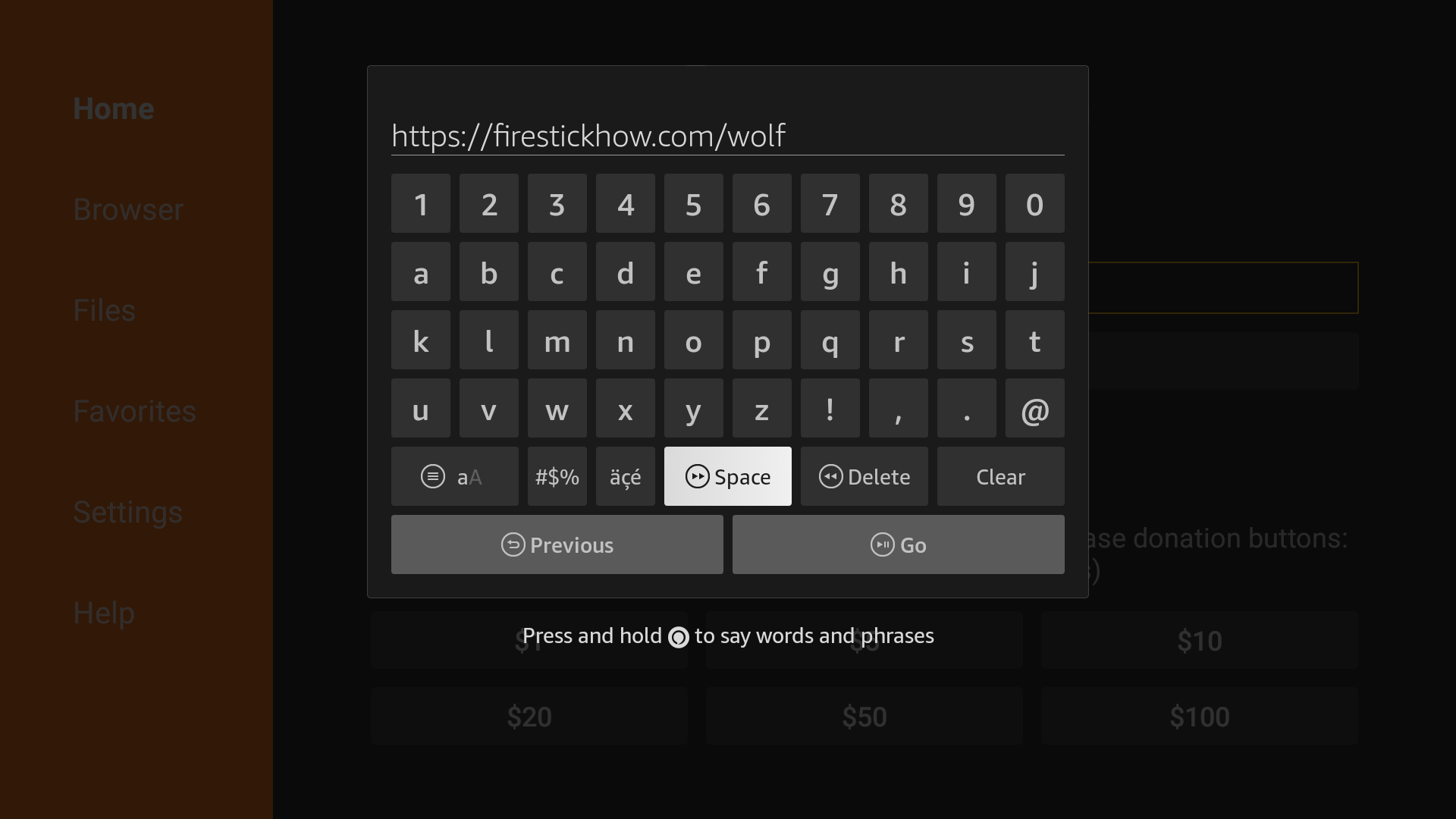 3. The download will begin shortly.

4. Once it is installed, Select Install on the installation prompt.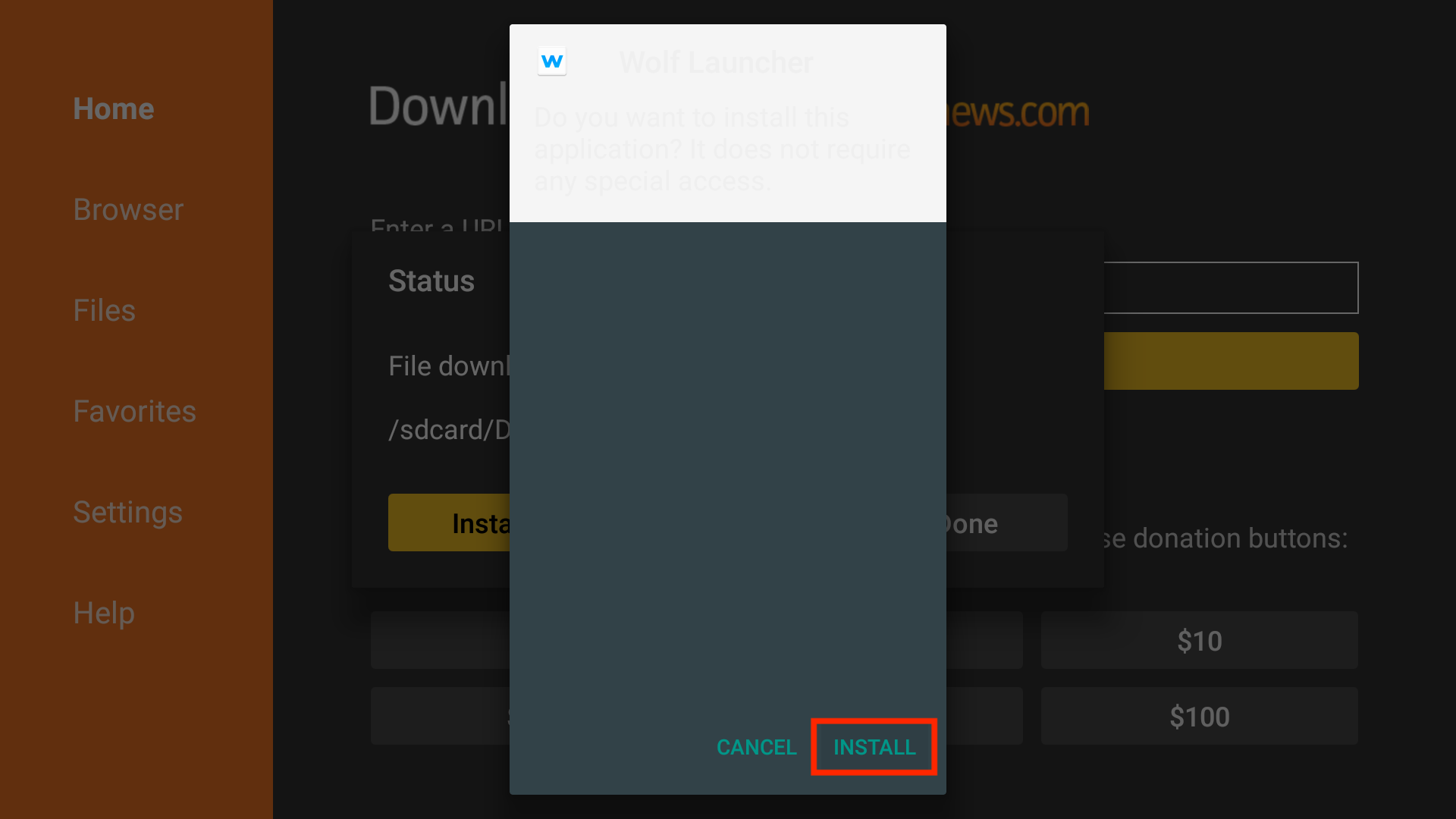 5. Now select Done.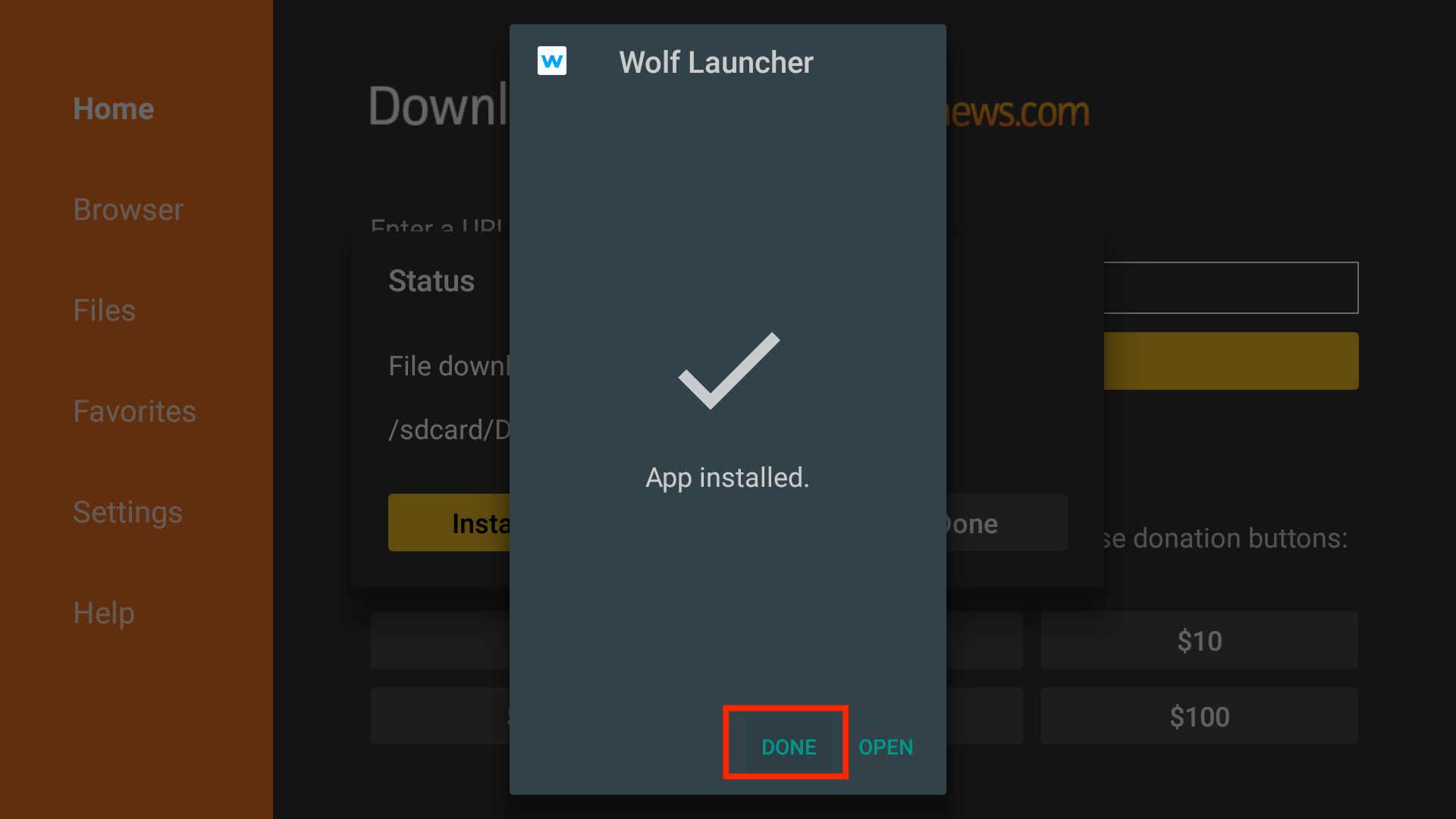 6. Select Delete. You do it to remove the APK file from your storage. Its work is done now that we have the app installed.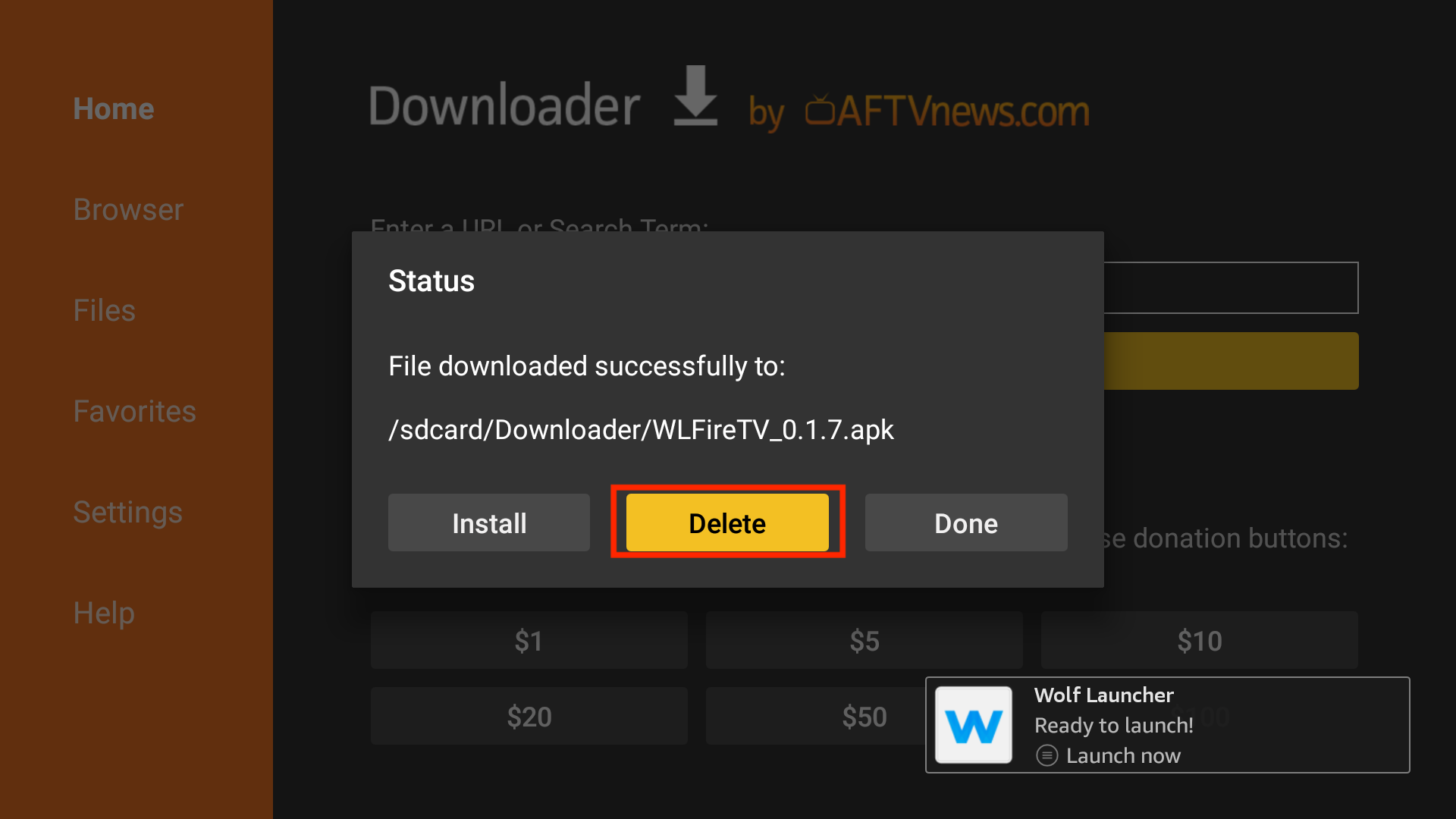 7. Again, select Delete.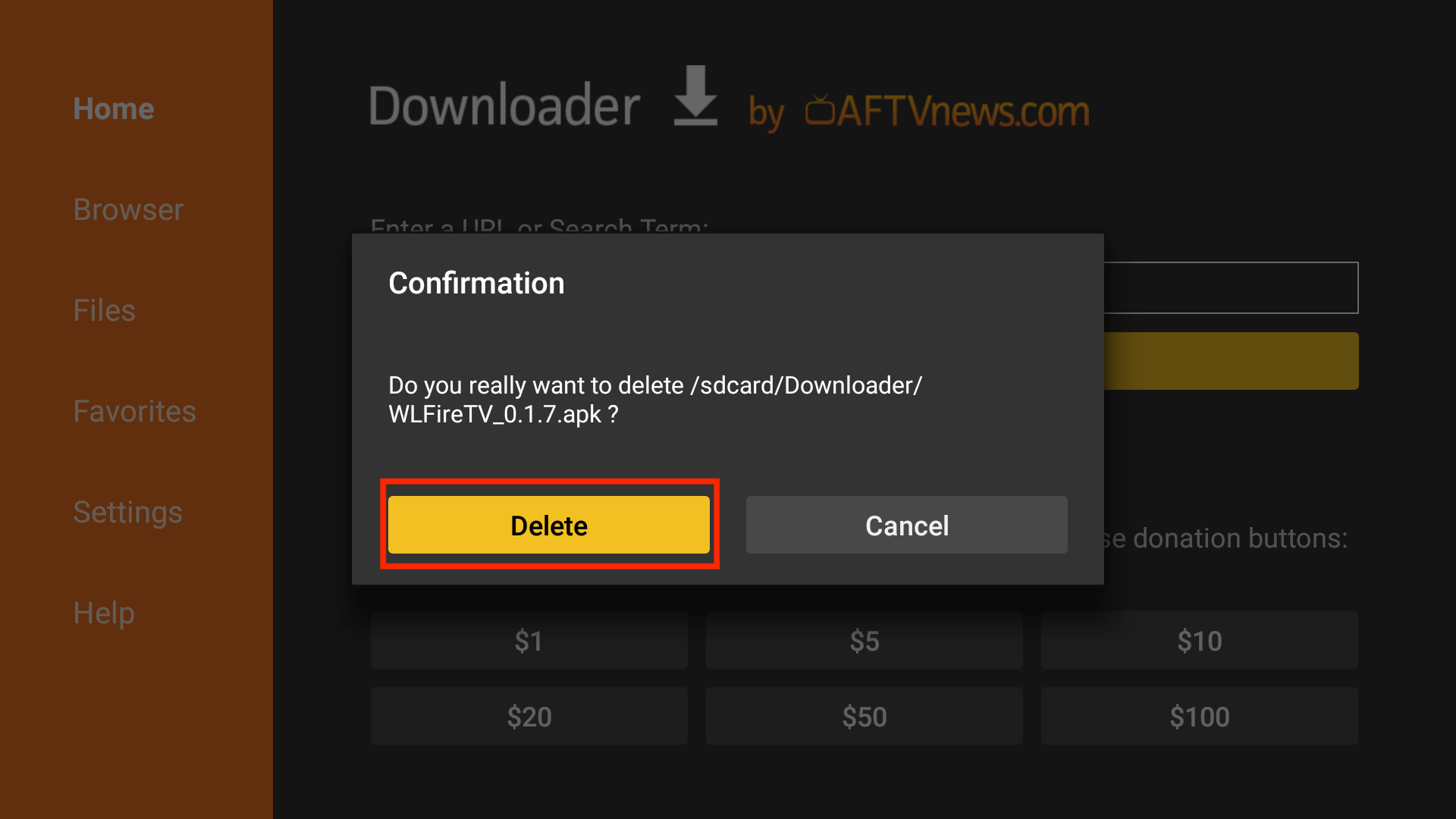 This is it. That's how to install Wolf Launcher on FireStick.
Wait! It looks like you are all set to start watching your favorite content on FireStick. But have you protected your online identity yet? You are under constant surveillance by the Government and ISP. Free streaming of copyrighted videos may get you into legal trouble.
Thankfully, you can easily avoid online monitoring and safeguard your privacy with a trusted VPN on FireStick. A VPN will hide your IP address and online identity by encrypting your internet connection.
Please note that I am not encouraging you to violate any copyright laws. You should always watch the content available in the public domain. I am simply recommending the use of a VPN to maintain your privacy. You have every right to your privacy, which is constantly being breached these days.
I personally use ExpressVPN and have found it to be the fastest and most secure FireStick VPN. It is also the most streaming-friendly VPN I have ever used. Therefore, I highly recommend getting ExpressVPN for FireStick.
Here is how you can quickly get the ExpressVPN app on FireStick:
Step 1: Click HERE to subscribe to ExpressVPN and enjoy a 49% discount with 3 months of extended service. You are also eligible for a 30-day, full money-return guarantee.
Step 2: Download and install ExpressVPN on FireStick
Choose the Find > Search option on the FireStick home screen on the menu bar.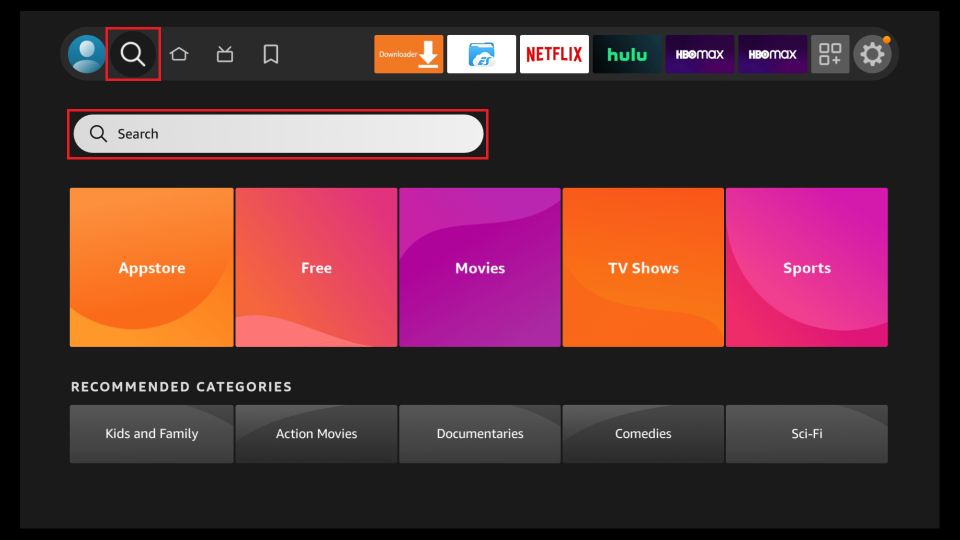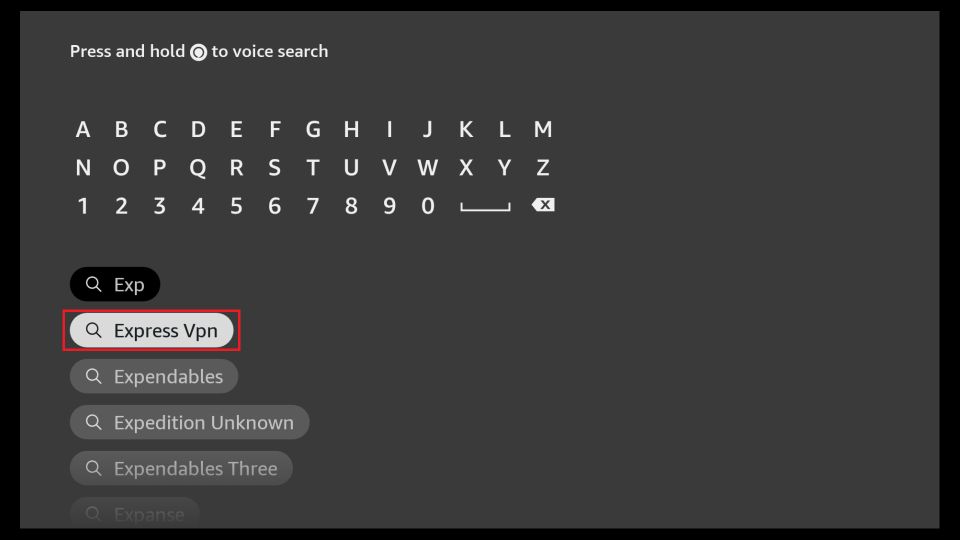 Click the ExpressVPN icon on the following window.

Click Download or Get on the next window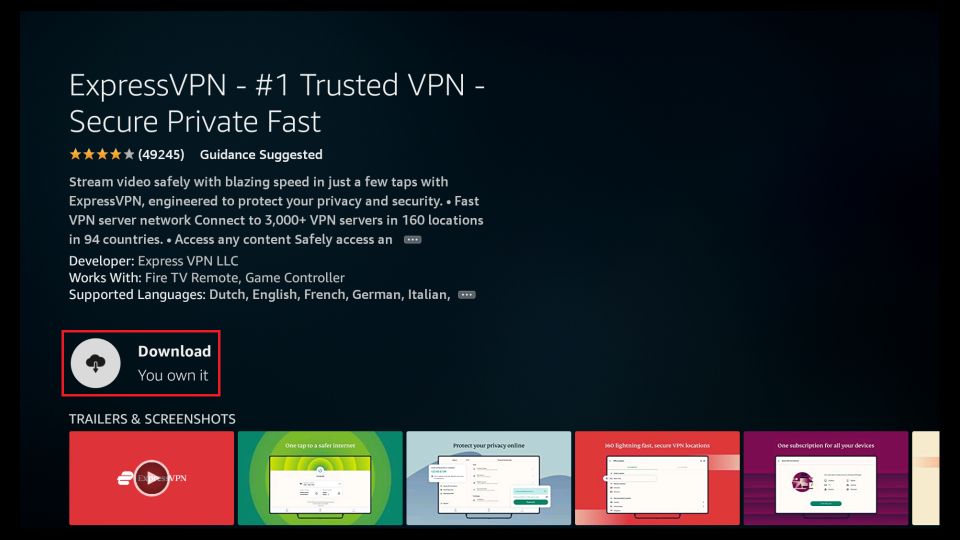 Step 3: Open ExpressVPN once you have downloaded it. Sign in with your account.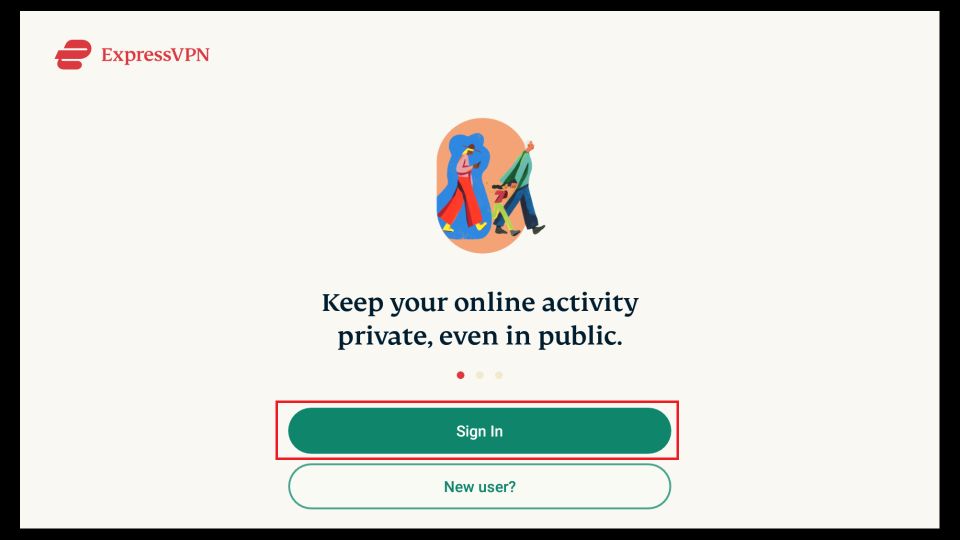 Step 4: Choose a server and click the Connect/Power button

Put your mind at ease now! You have successfully secured your streaming activities with ExpressVPN.
Overview of Wolf Launcher
Having looked at different angles of the launcher, let's see some of its features. Moving the Wolf Launcher on the home screen is unnecessary since you only need to activate it once.
How to Change Wallpaper on Wolf Launcher
There can be tons of backgrounds to choose from. It depends on how many you have downloaded. Here's how to do it.
1. On your remote, press the menu button.
2. Select Launcher Settings.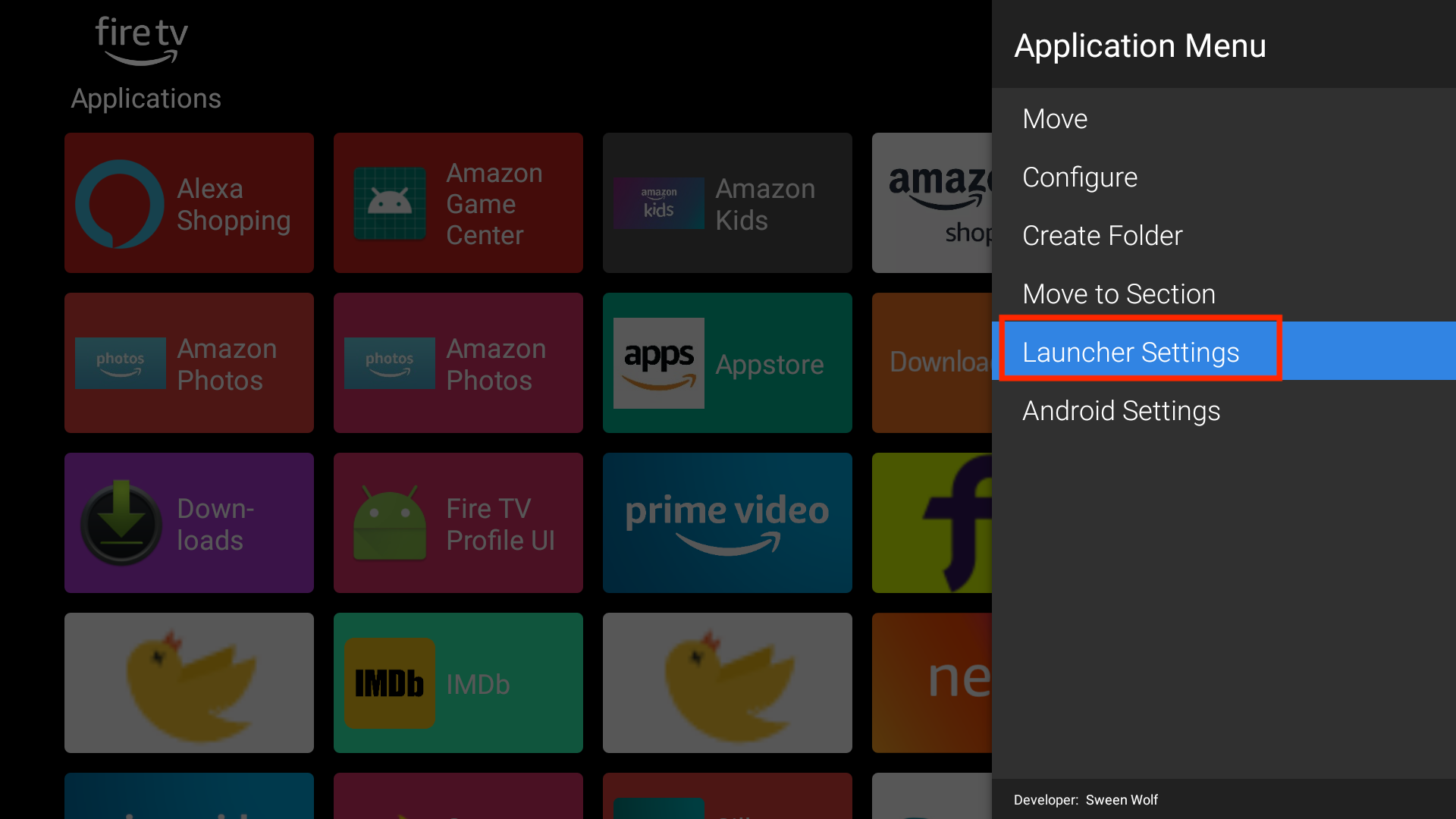 3. Click on Wallpaper.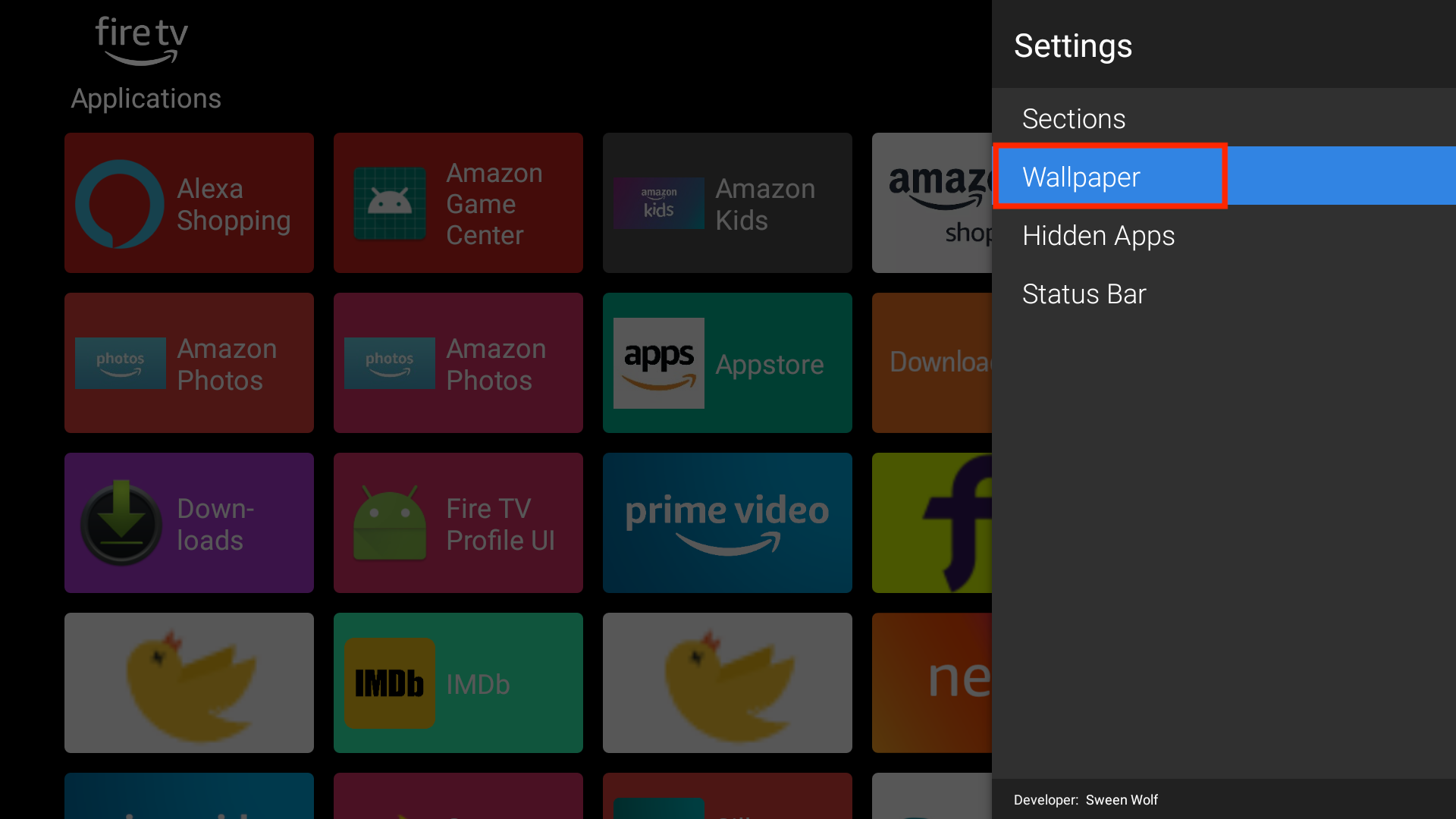 4. Now click on Select Wallpaper.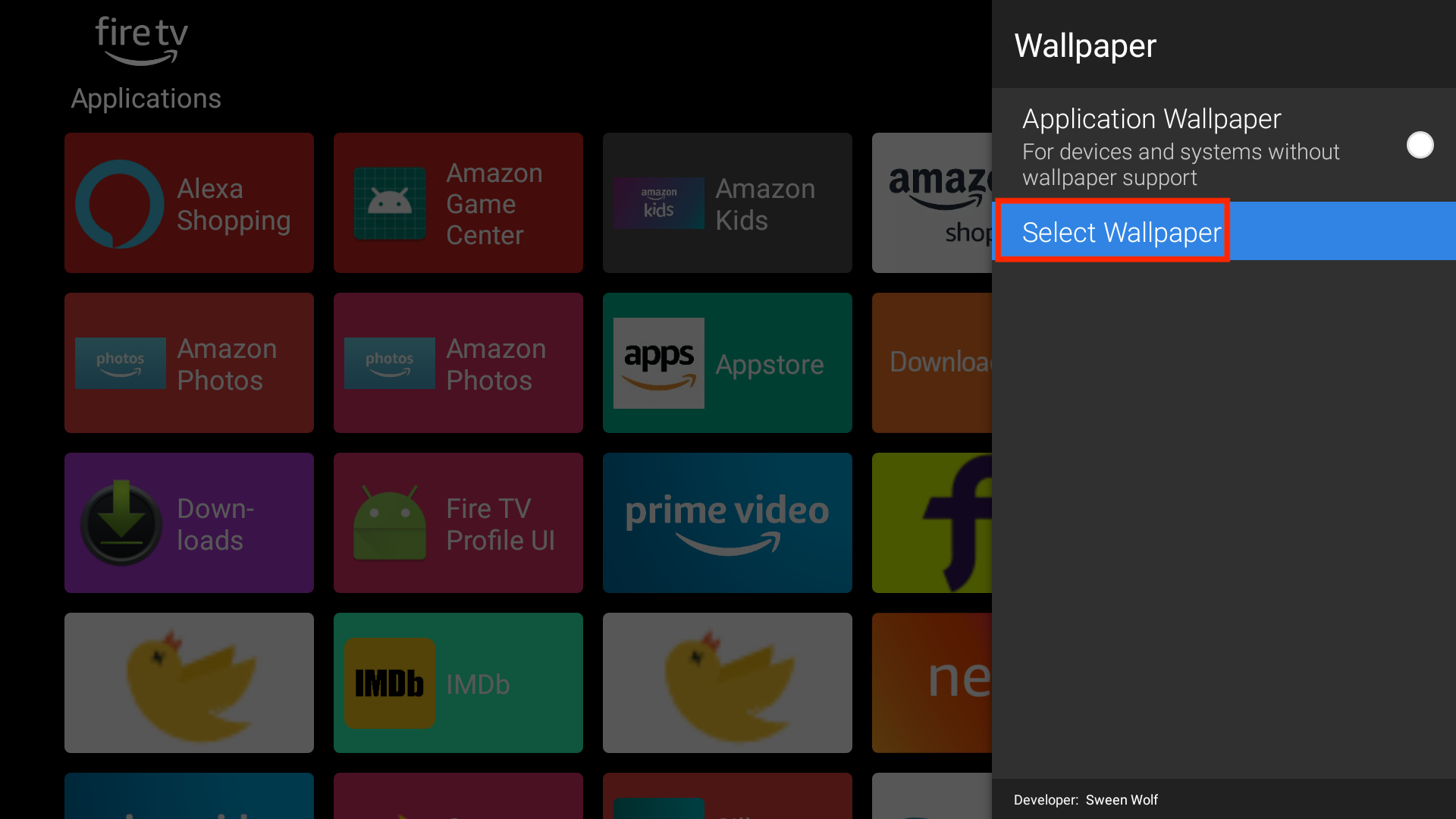 5. Go to the folder where the wallpaper image is saved and select it.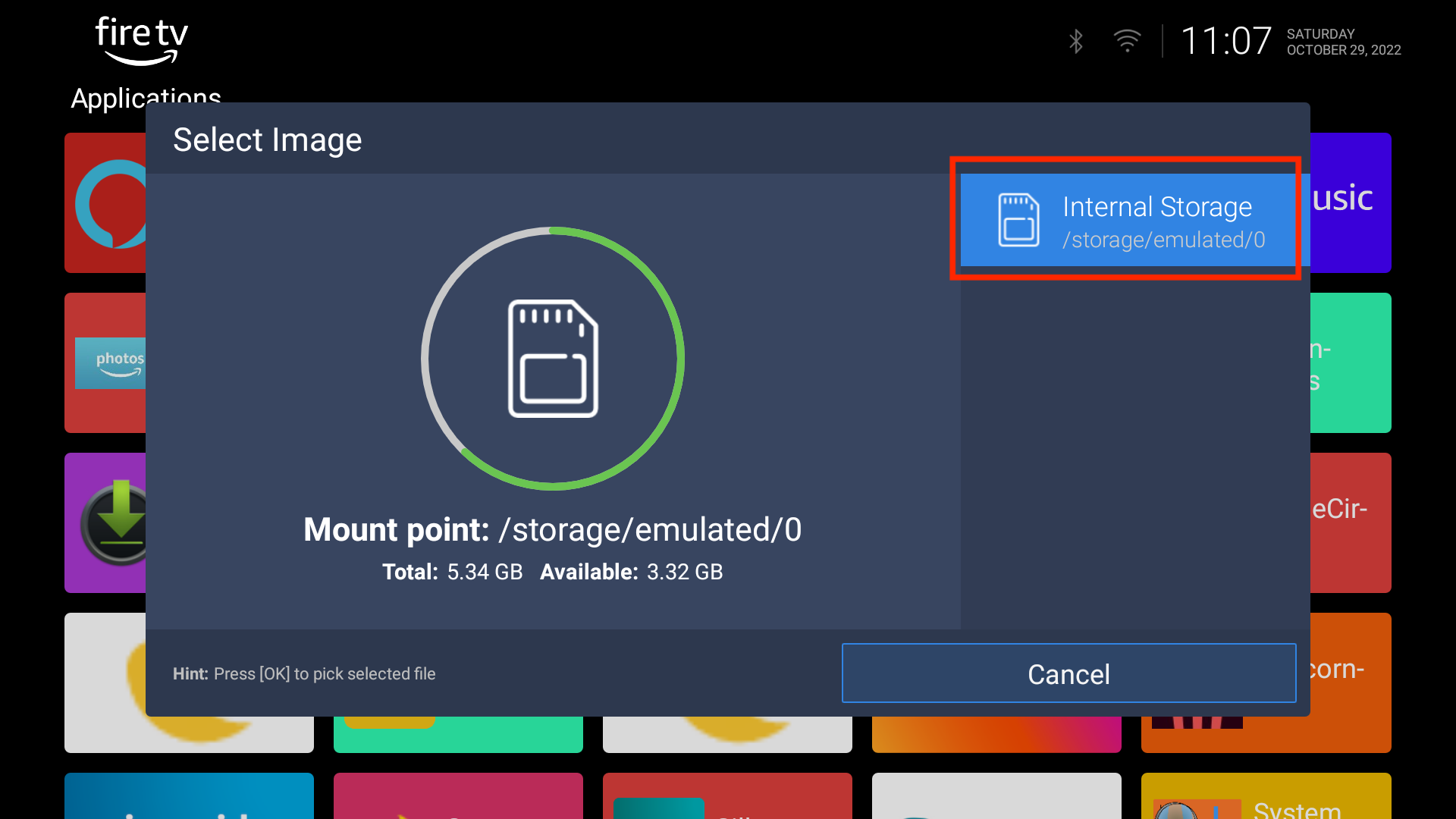 6. Click on Application Wallpaper to set the new background.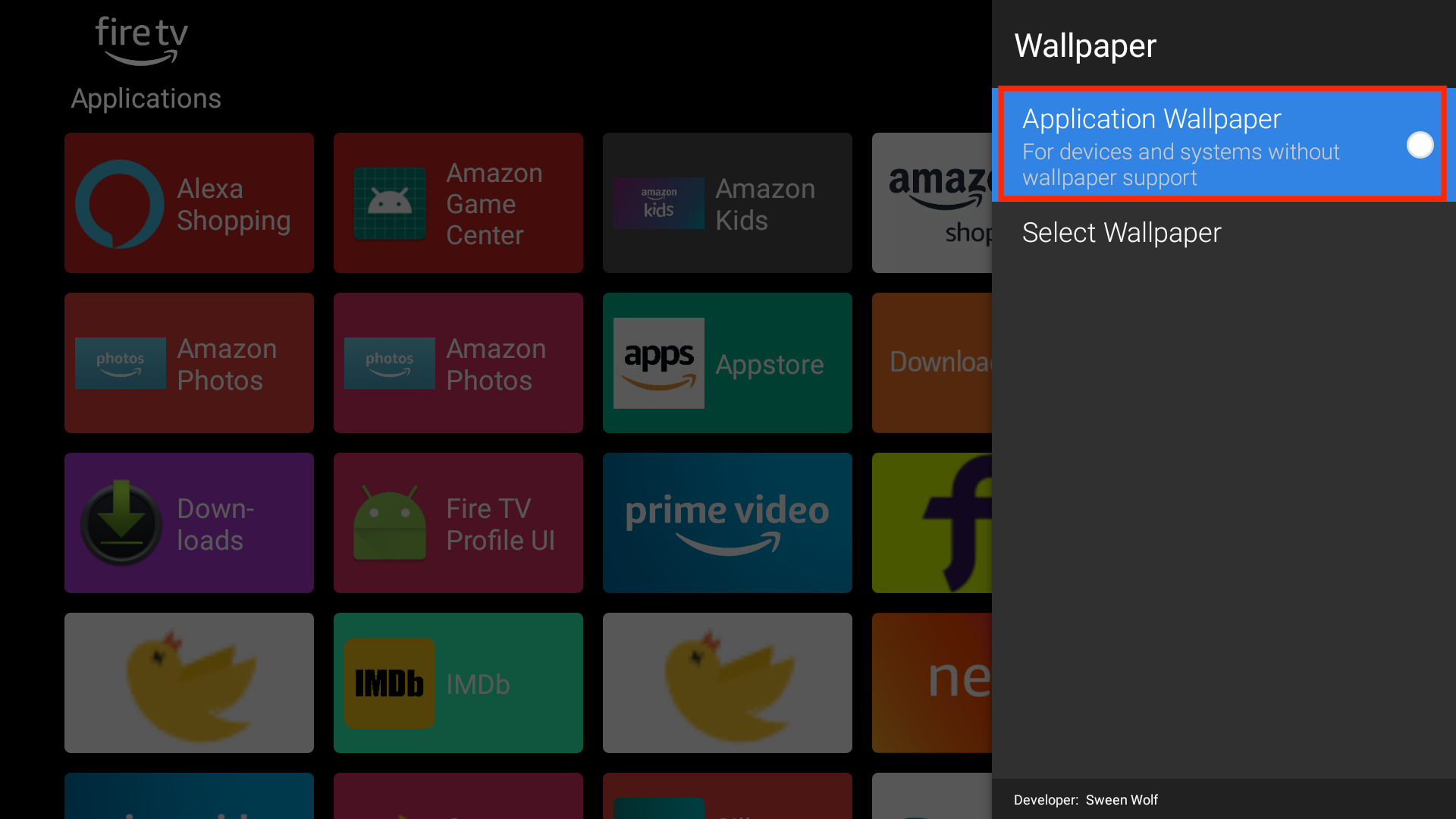 Congratulations, you now have new wallpaper on your FireStick. You can easily download the wallpaper using the Downloader app. You can have as much as you want, but keep the storage limit in mind.
Customizing App Tiles on Wolf Launcher
If you are tired of seeing the same old app tiles, change them to different designs using the Wolf Launcher. For example, you can change the following:
Install icon packs to change the icons of the tiles.
The tile name.
The tile color.
The tile shadows.
Corners of the tiles – Whether they are round or sharp.
Size of the tiles.
Option to show or hide a tile.
The changes you can make to the Application section are as follows.
The screen orientation of an app: You can make it vertical or horizontal.
Name of the section.
Width of the column.
How to Add New Sections and Move Apps between them
Creating specific sections will make the screen look cleaner and easier to access. You can, for example, create an area where all the streaming apps are stored. Likewise, the others.
Here's how to do it.
1. Press the menu button on your FireStick remote and go to Launcher Settings.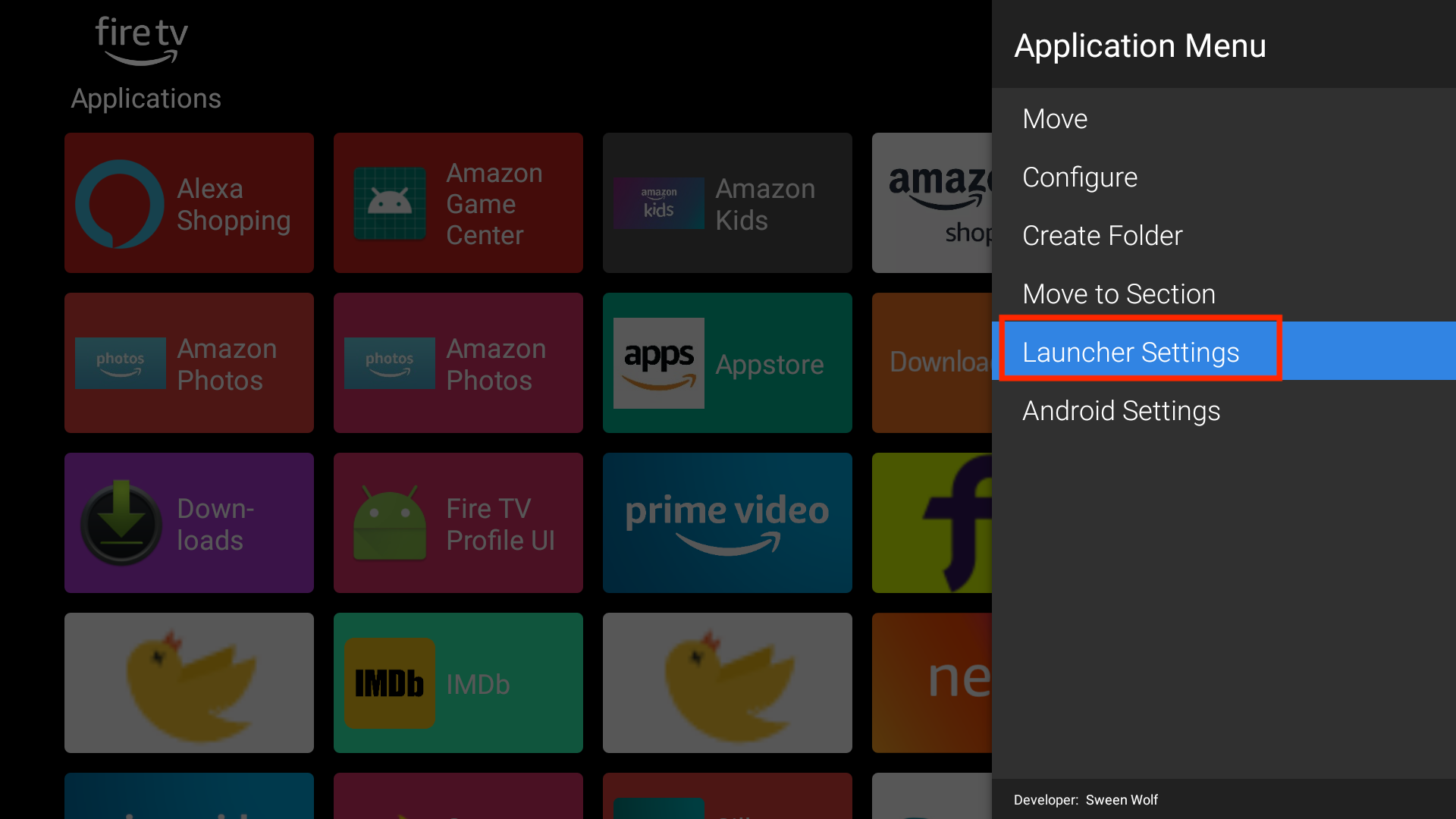 2. Go to Sections > Manage Sections.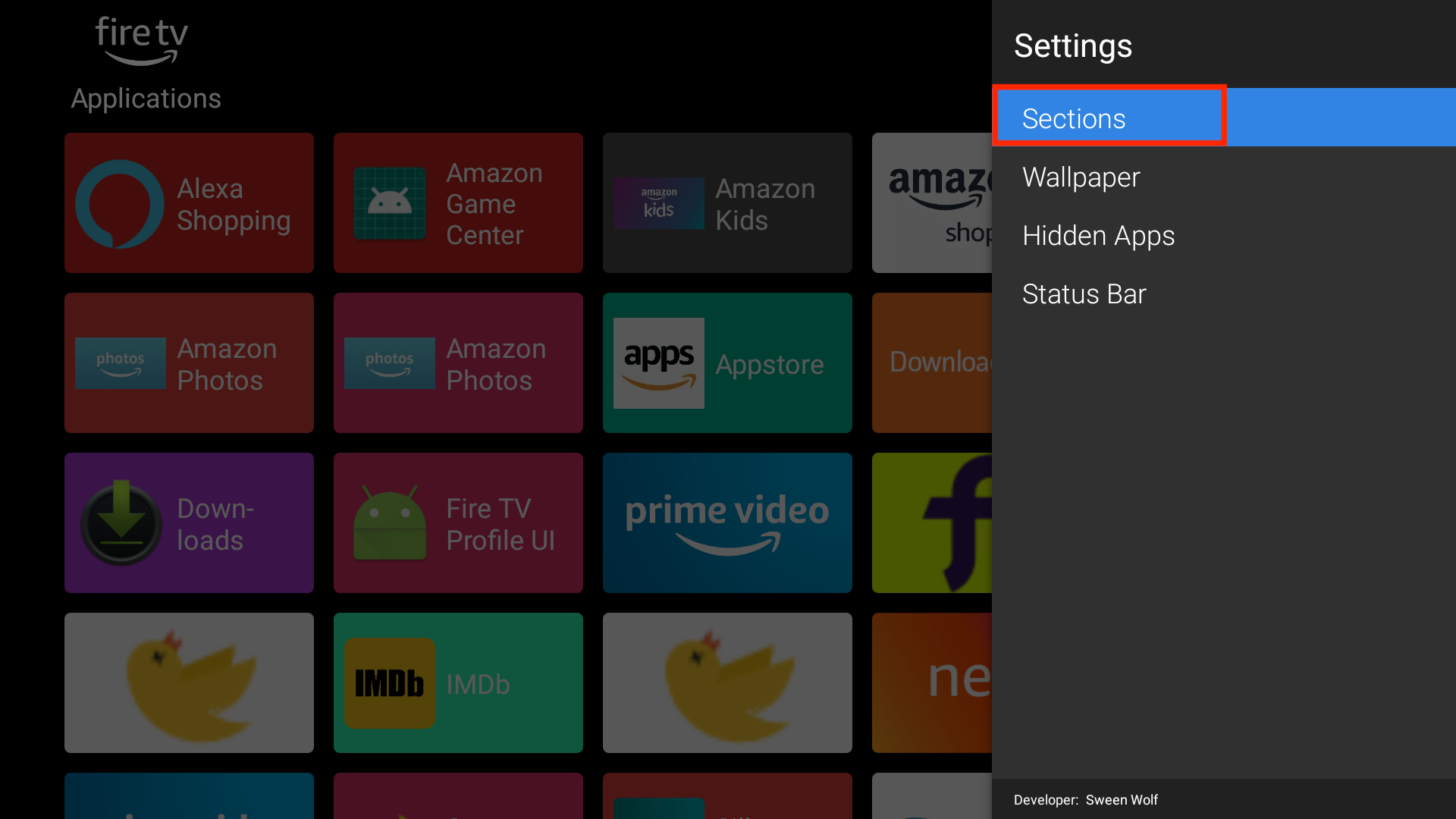 3. Click on Add Section and give it a name. For instance, name the section "Streaming Apps" to organize all the related applications there.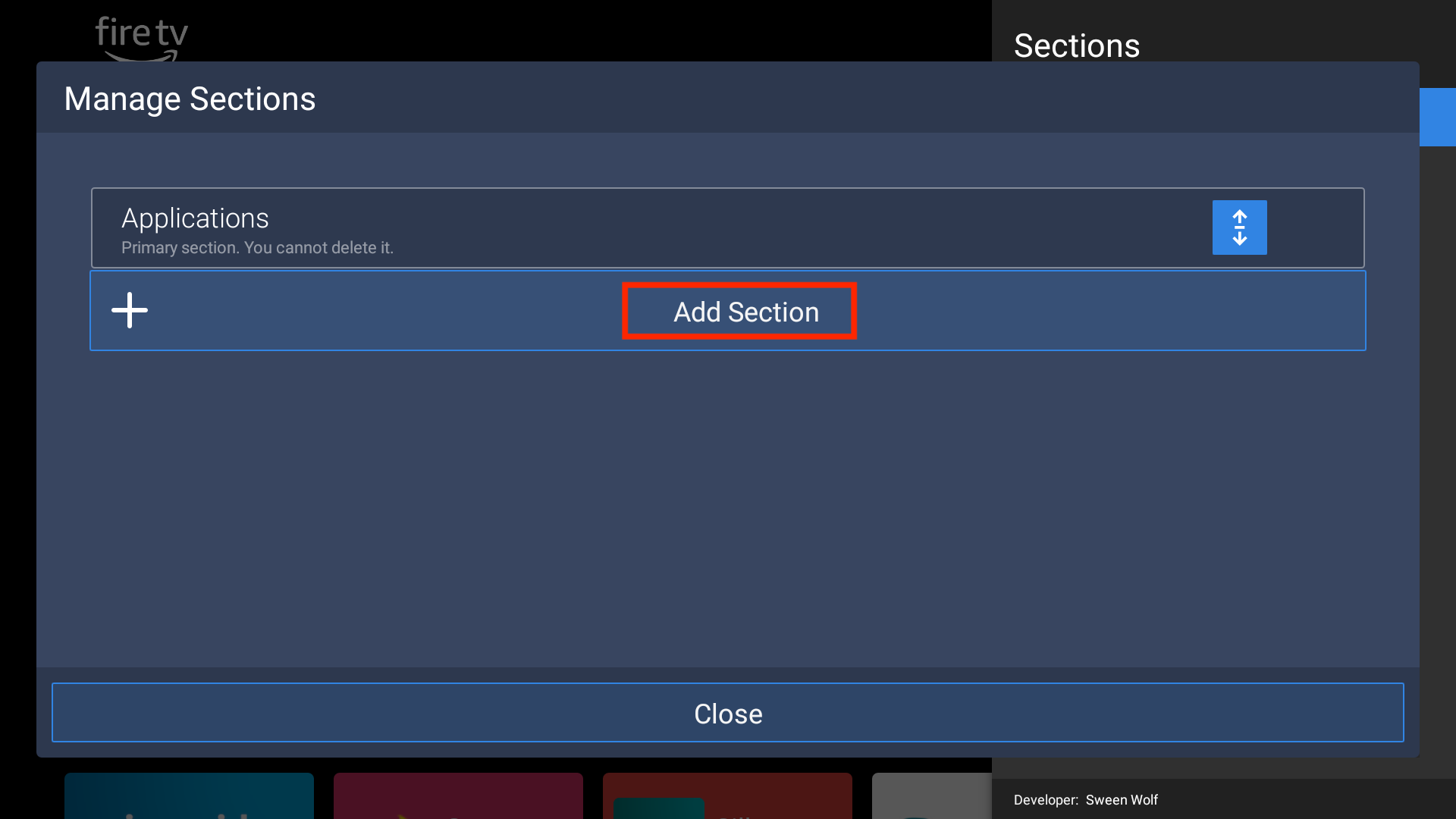 That's how you can create a section. If you have more than one, you can swap the order. Now let's see how to move some apps to a section.
1. Scroll over to the app you want to move. Don't just click on it yet.
2. Press the menu button and select Move to Section.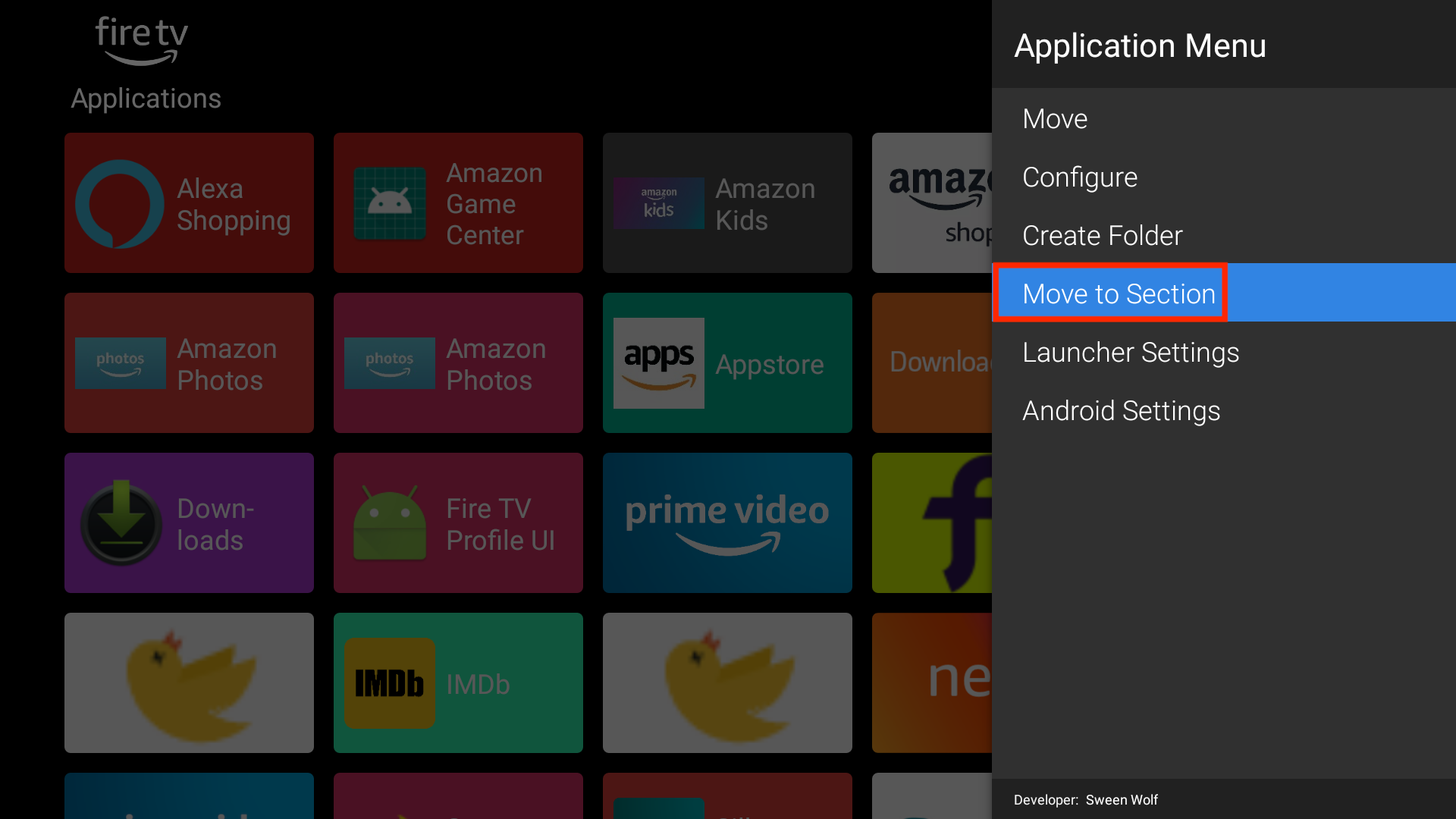 3. Choose the section where you want to move the app.
4. Open the section, and the app will be there now.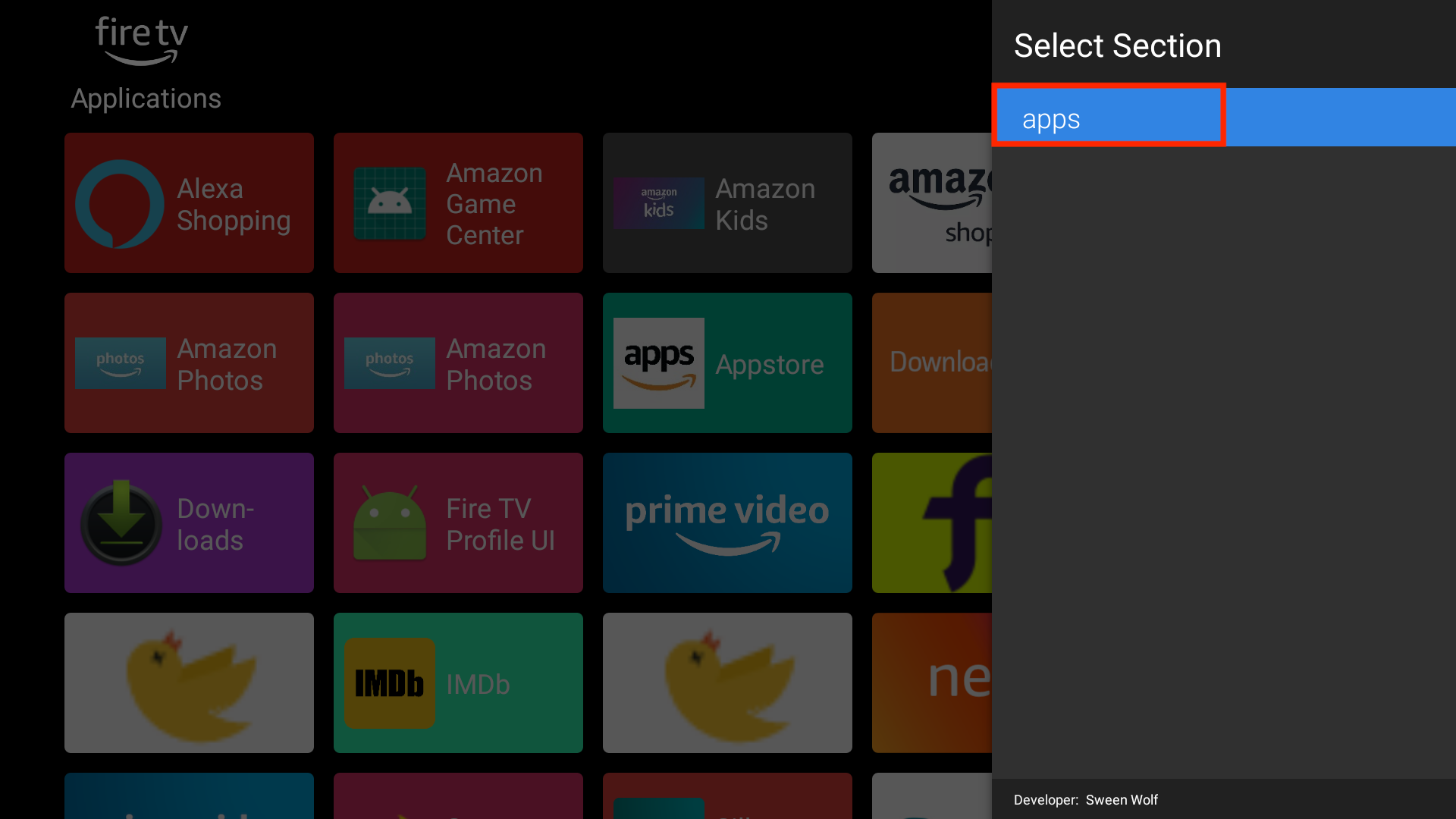 How to Hide Apps on FireStick
To hide certain apps on FireStick, follow the steps below.
1. Go to Launcher Settings after pressing the Menu button on the remote.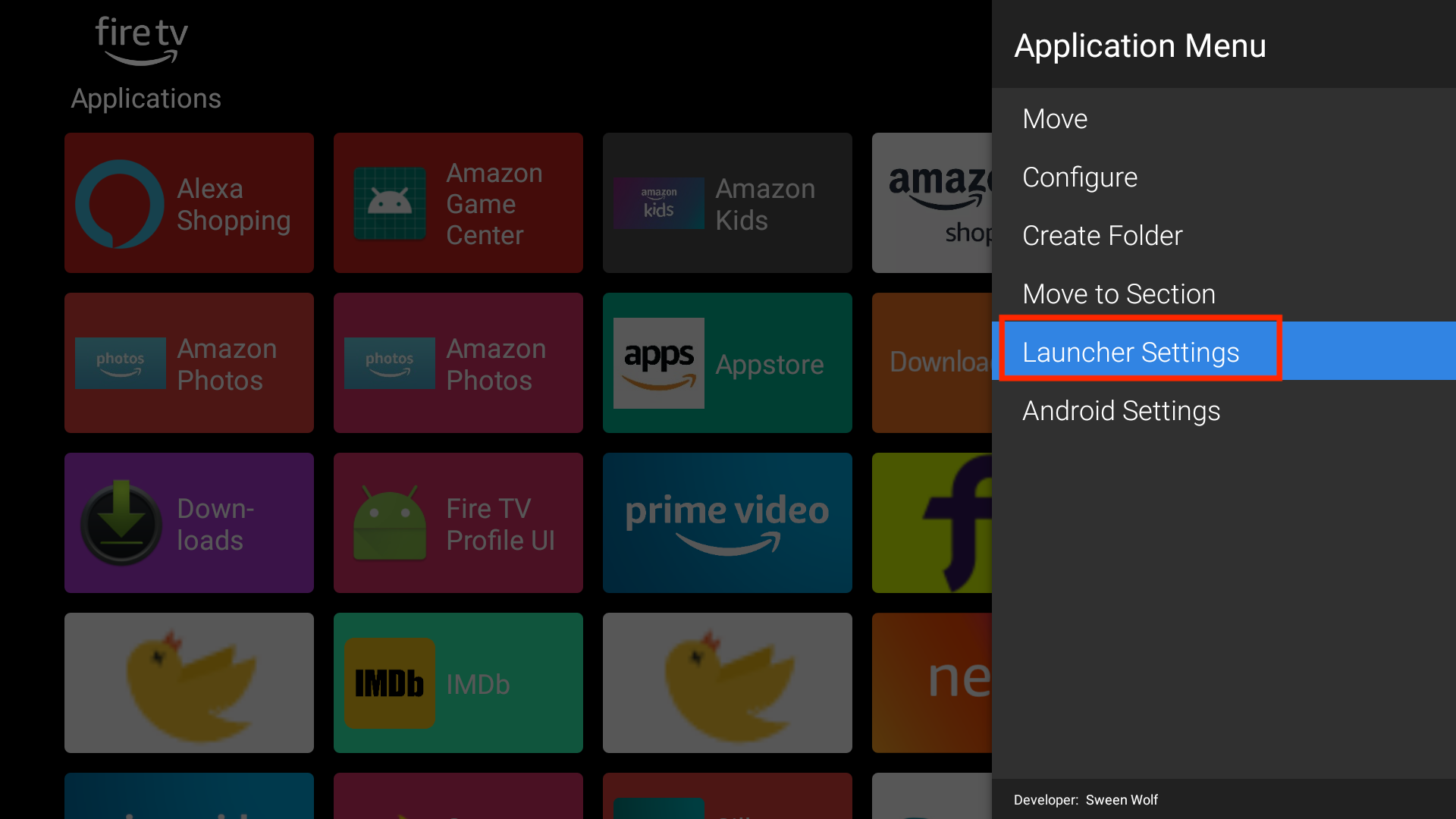 2. Go to Hidden Apps.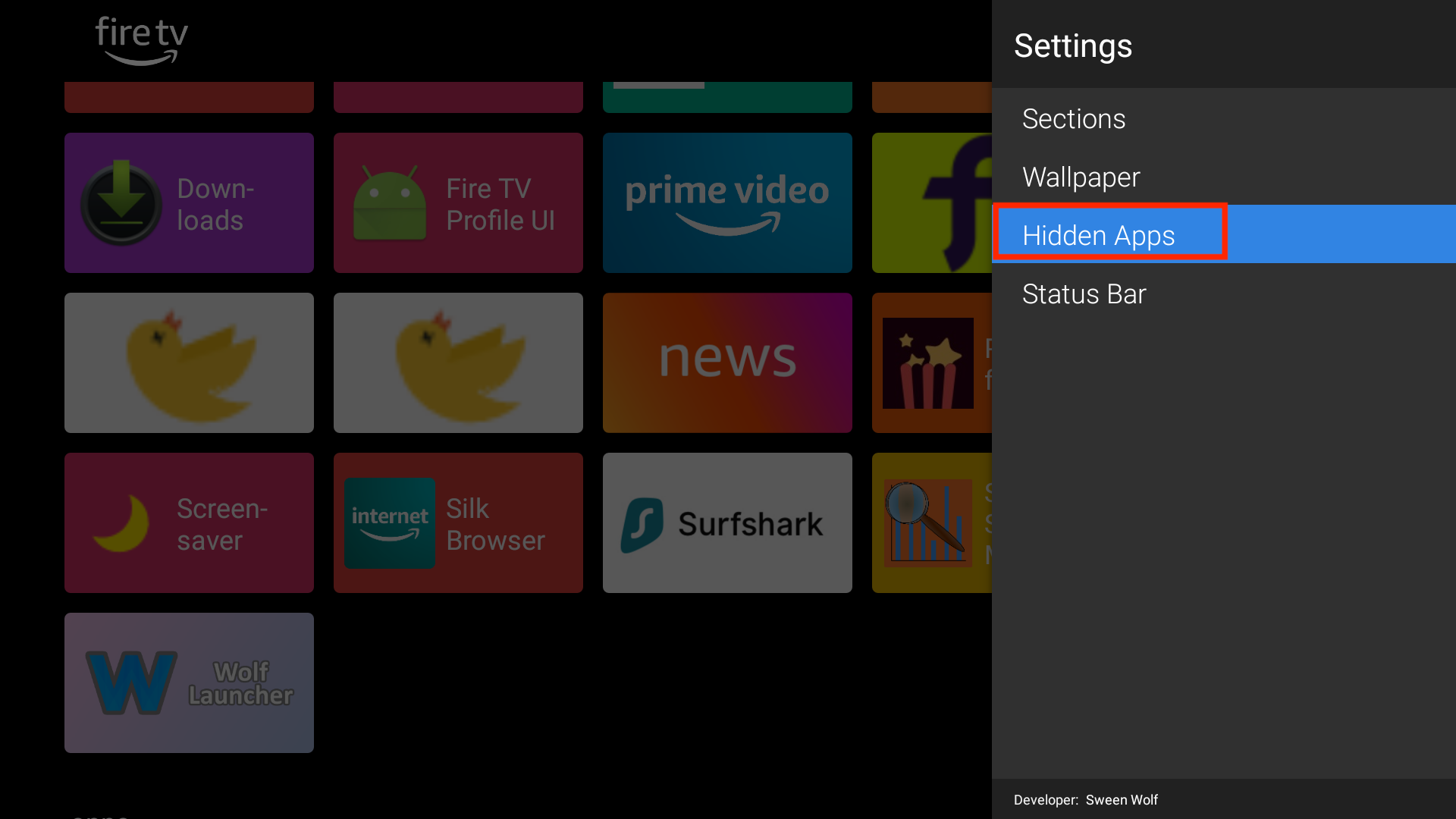 3. Select the apps that you want to hide.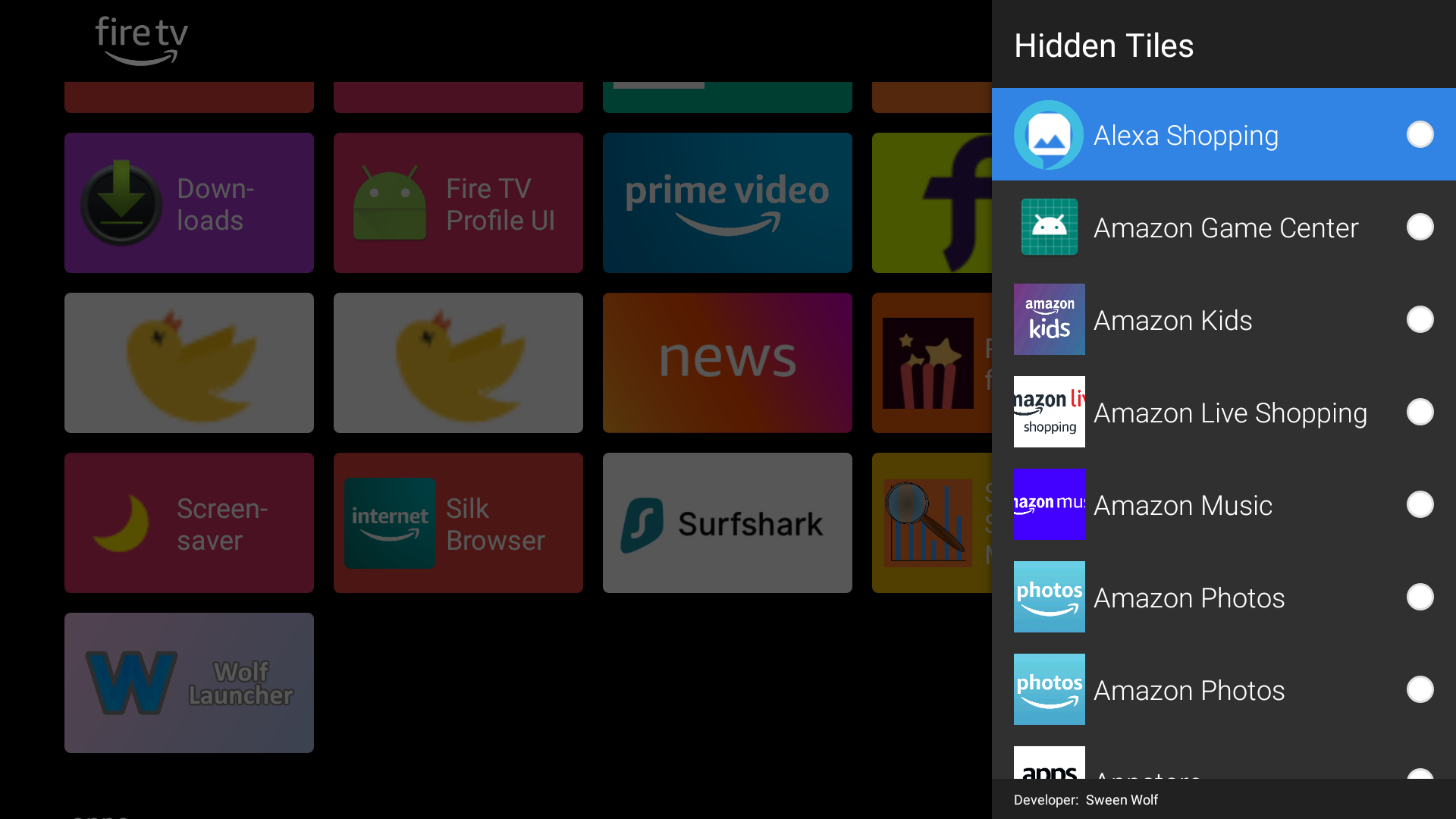 For unhiding, simply untick the apps from the hidden list.
Status Bar Customization
On the Status bar, you can change the following options.
Status Bar
Date
Clock
USB Icon
Bluetooth Icon
Network Icon
Again, go to the Launcher Settings by pressing the Menu button. From there, go to Status Bar and make the required changes.
Creating Password-Protected Folders using Wolf Launcher
For locking some apps in a folder you don't want anyone else to access, follow the steps below.
1. Press the menu button on your FireStick remote and select Create Folder.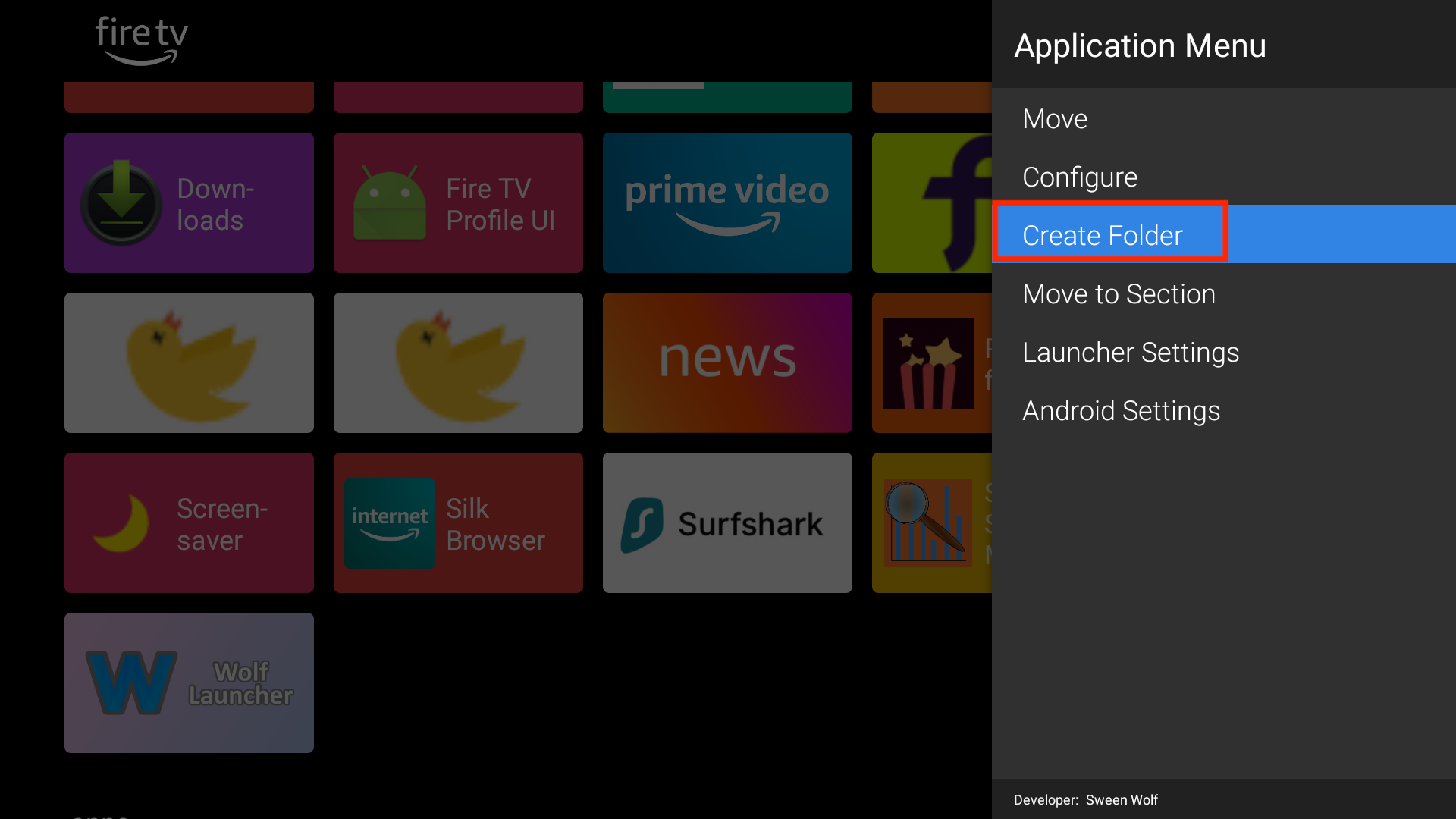 2. It will ask whether you want to add a password to the app.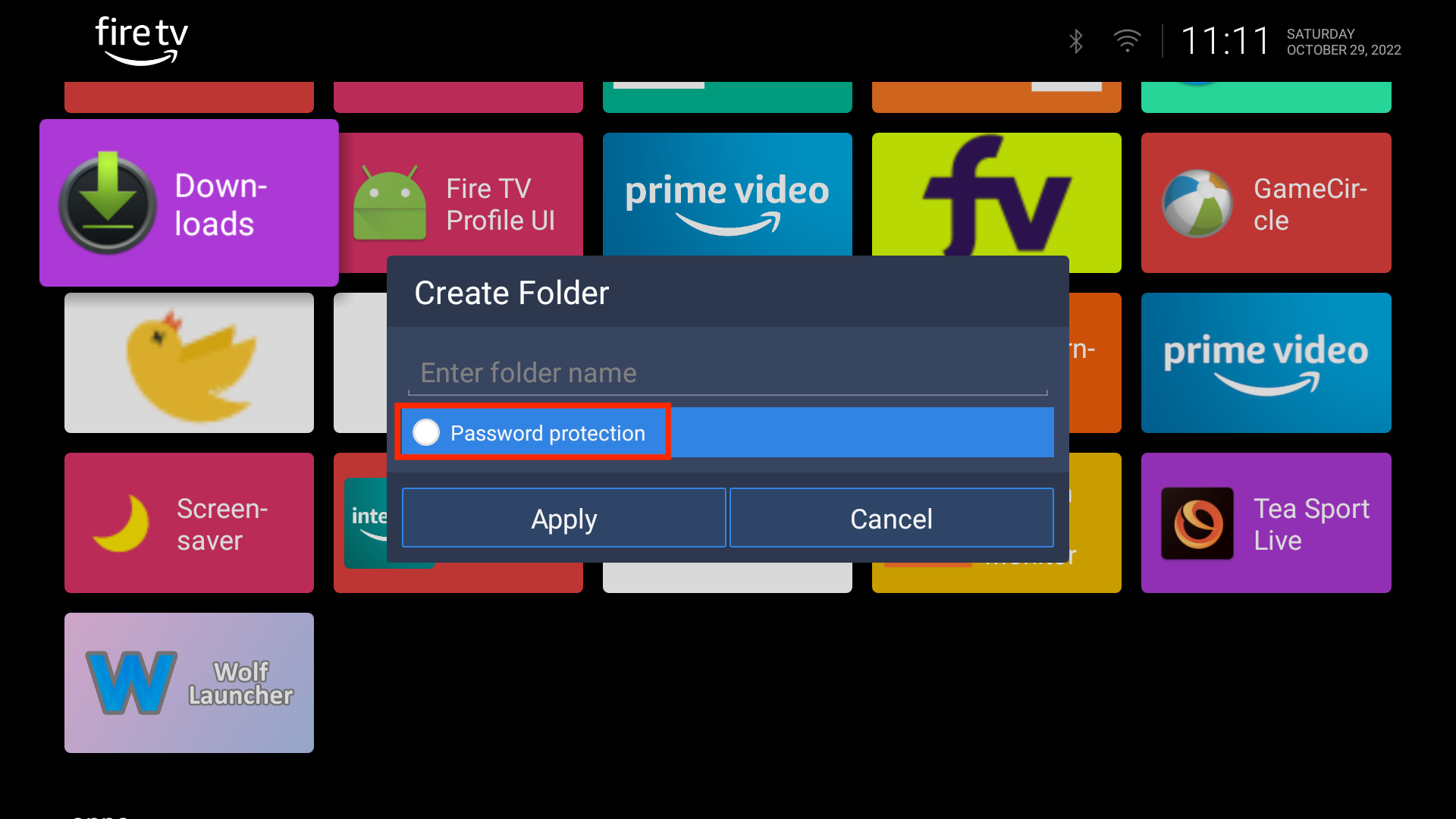 3. Now select Move to Folder and move the app to the desired one.
Multiple apps can be moved or removed from a folder. Besides, you can create as many folders as you want.
Wrap Up
This was all about how to install Wolf Launcher on FireStick. The launcher has it all to be at the top of its category. The features are unique. Customizations are many, and backgrounds and user interface light up the FireStick TV. A go-to if you are bored with the default UI. Install the Wolf Launcher and say welcome to a whole new dynamic experience of the Amazon TV. If you have used Wolf Launcher in the past, then let us know your reviews about it. If not, then now is the time to download it and bring a new feeling to your TV.
Related: