Today, I'll show you how to install Sportowa TV Kodi addon. Along with the installation, I'll share information like whether it's safe and legal, some of its features, how to use it, and more. Note that the instructions are valid for all Kodi-eligible devices like Windows PC, Android phones, Amazon Fire TVs, Nvidia Shield, Android TV Boxes, etc.
What Is the Sportowa TV Addon?
Sportowa TV is a famous live-sports streaming addon on the Mbebe repository. However, unlike other similar addons, this addon gives you direct access to the feed of third-party sports streaming sites.
On Sportowa TV, you'll find 11 popular third-party live-streaming site sections. Also, one section lets you directly access live sports channels. And all content available via the addon doesn't require any premium service.
All-in-all, Sportowa TV is one of the best sports streaming addons with multiple sections to choose from.  
Attention KODI Users: Read before you continue
Kodi is an excellent platform for streaming movies, TV shows, and sports, but it's important to remember that streaming copyrighted content can get you into legal trouble. Your IP address 3.17.249.235 is exposed to everyone. You should use a reliable Kodi VPN while streaming to protect yourself online. A VPN will keep your streaming activities private and bypass government surveillance and geo-restrictions.
I use ExpressVPN, the fastest and most secure Kodi VPN out there. It's easy to install on any device, including Amazon FireStick. Plus, it offers a 30-day money-back guarantee, and if you sign up for an annual plan, you get 3 extra months free. 
Read: How to Install & Use the best VPN for Kodi.
Is Sportowa TV Safe?
There's no official way to check an addon's safety like Sportowa TV, which belongs to an unknown repository like the mbebe repository. The creators of Kodi don't provide any support to third-party repos and addons. So, at FSH, we can't be 100% sure whether Sportowa TV is 100% safe for your device.
However, I tested the mbebe repository zip file on VirusTotal just out of curiosity to see whether it's safe. Thankfully, the file passed all the tests – here's the proof.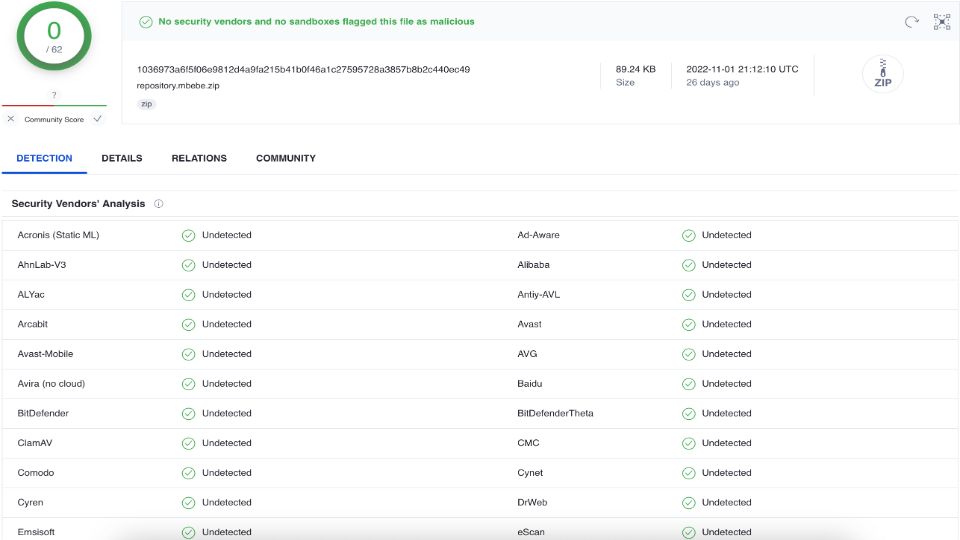 Is Sportowa TV Legal?
At FireStickHow.com, we lack the sources to verify whether the links available via Sportowa TV are legal or illegal. 
To keep yourself safe from legal and safety concerns when using Sportowa TV, use a VPN. A VPN like ExpressVPN will protect you from all potential safety and legality issues. 
Features of Sportowa TV Addon
Here are some top-notch features of Sportowa TV:
Up to 11 sections of popular third-party sports streaming websites.

One dedicated section for live sports TV channels.

It doesn't require you to sign in to a premium service.
How to Install Sportowa TV Kodi Addon
To install Sportowa TV, you'll need to enable unknown sources and load the mbebe repository. Sounds hectic? Don't worry. I have split the guide into three parts so you can easily follow the instructions. So, let's jump in.
Part 1 – Turn On Unknown Sources
Here's what you need to do to enable an option called Unknown Sources inside Kodi Settings:
1. Click Settings Gear under the Kodi logo on the app's home page.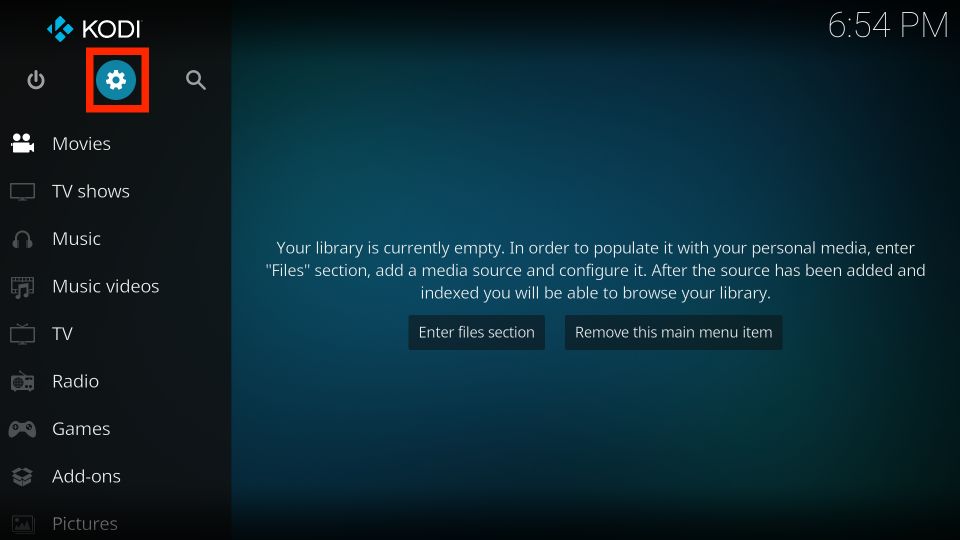 2. Next, navigate down to the bottom side of your screen and pick System – tile with Screwdriver and Cog icons.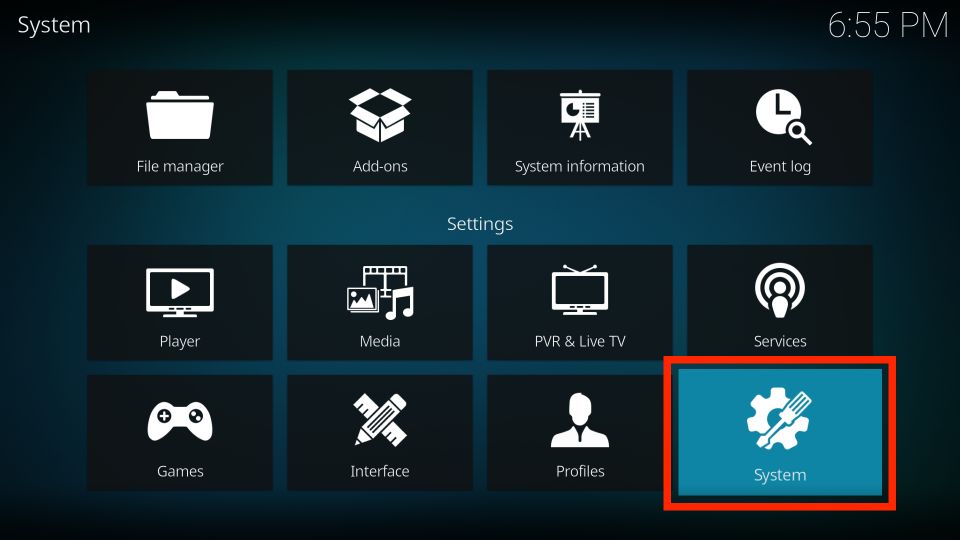 3. On Settings / System, use the left panel to navigate to Add-ons.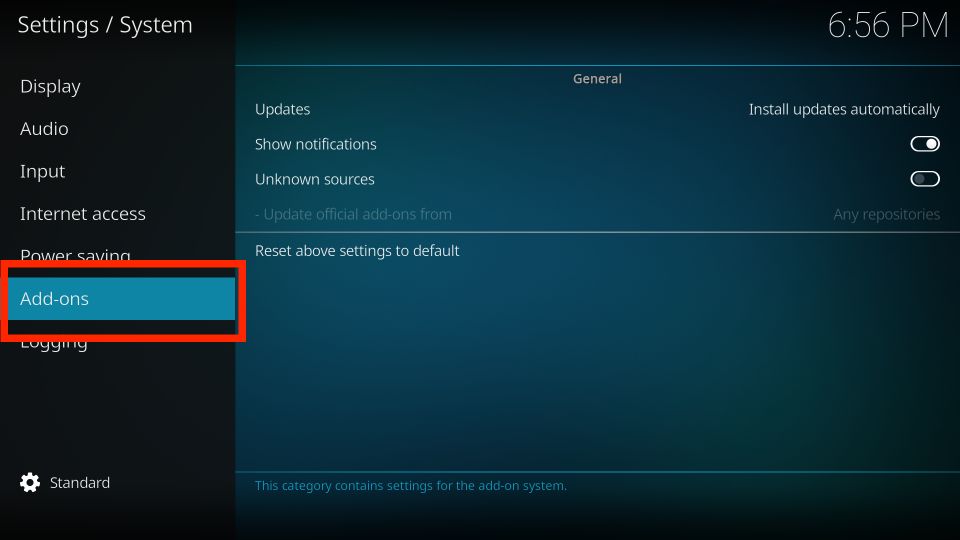 4. On your right side, turn on Unknown sources under General.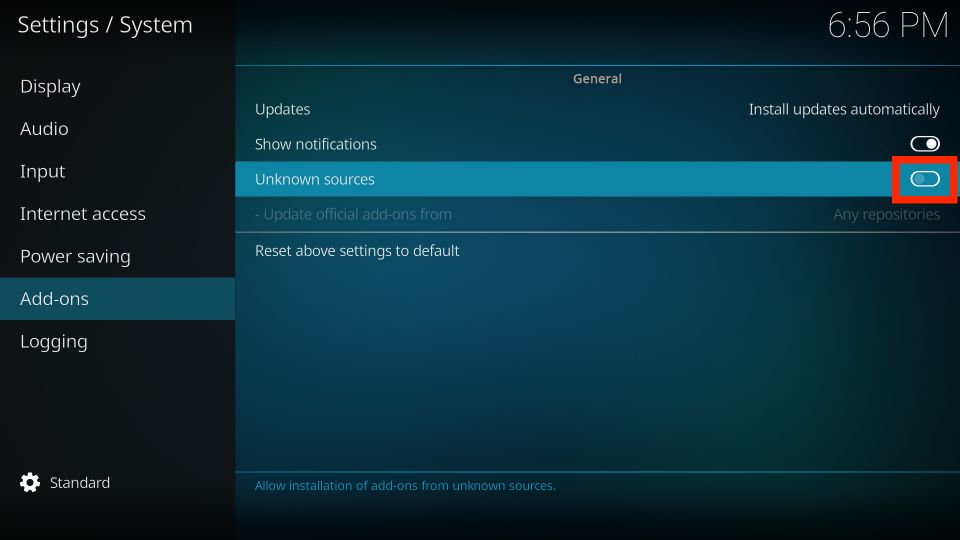 5. Kodi will warn that third-party addons will be given access to your personal data. To confirm, click Yes.
Note: If you click No, Unknown sources will not turn on.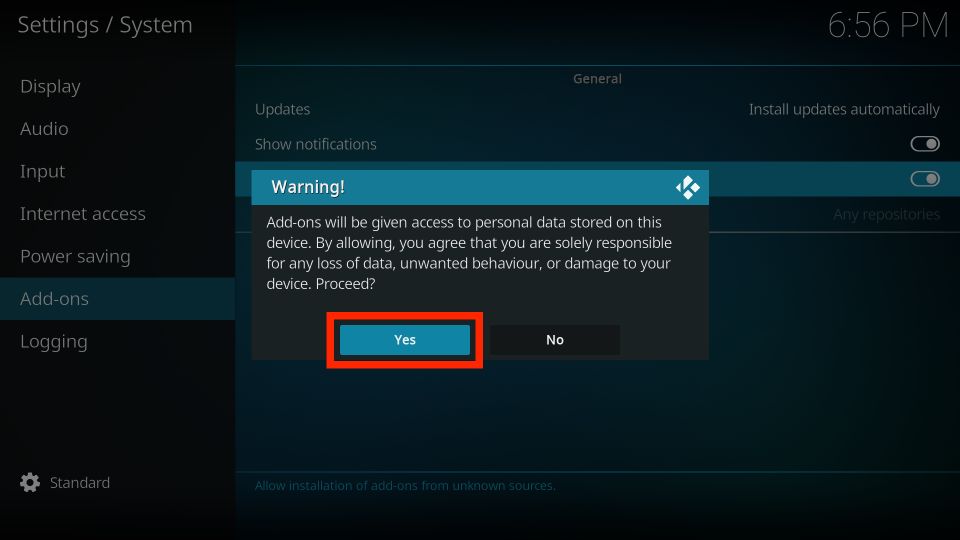 6. To change how your Kodi app updates addons using repos, open – Update official add-ons from.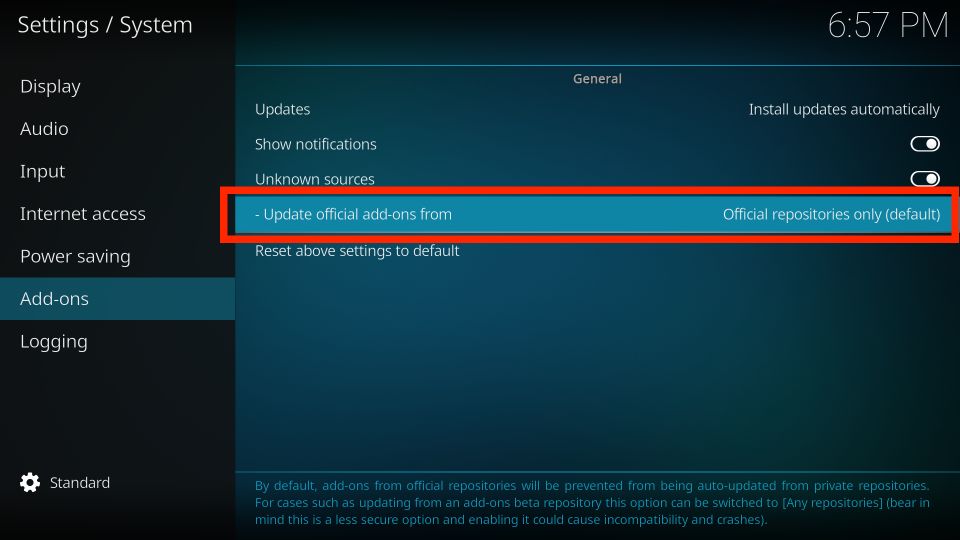 7. Now, pick Any repositories so your Kodi app can use any repository to update addons.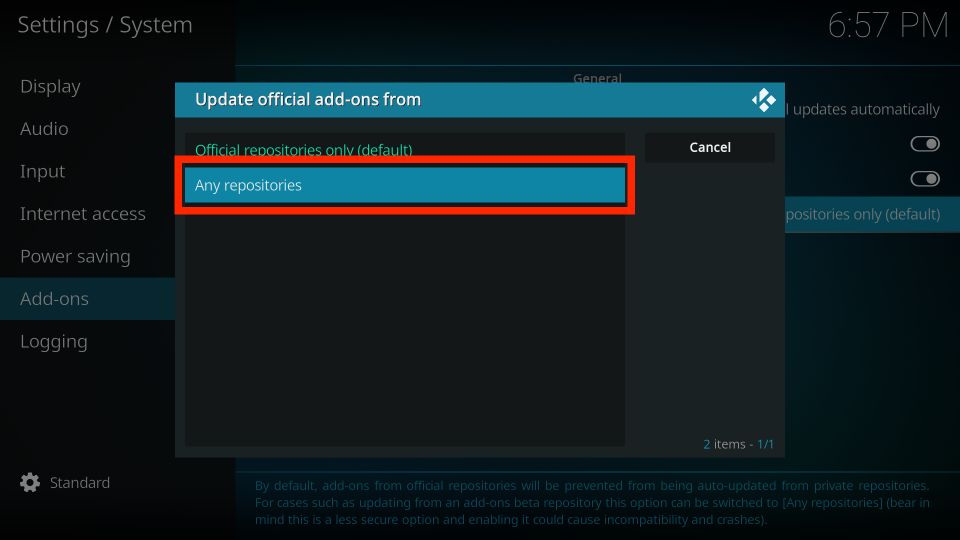 Part 2 – Install the mbebe repository
Enabled Unknown Sources? Here are the instructions to add the mbebe repository source and then install its zip file on your Kodi app:
1. To access Kodi Settings, hit Cog on your screen's top left.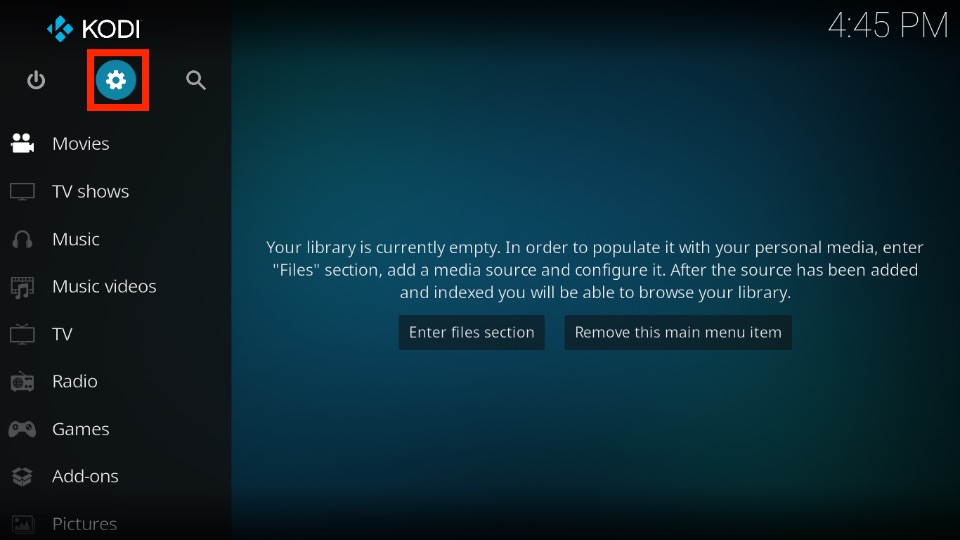 2. Open File manager.
Note: File manager lets you add/delete third-party sources.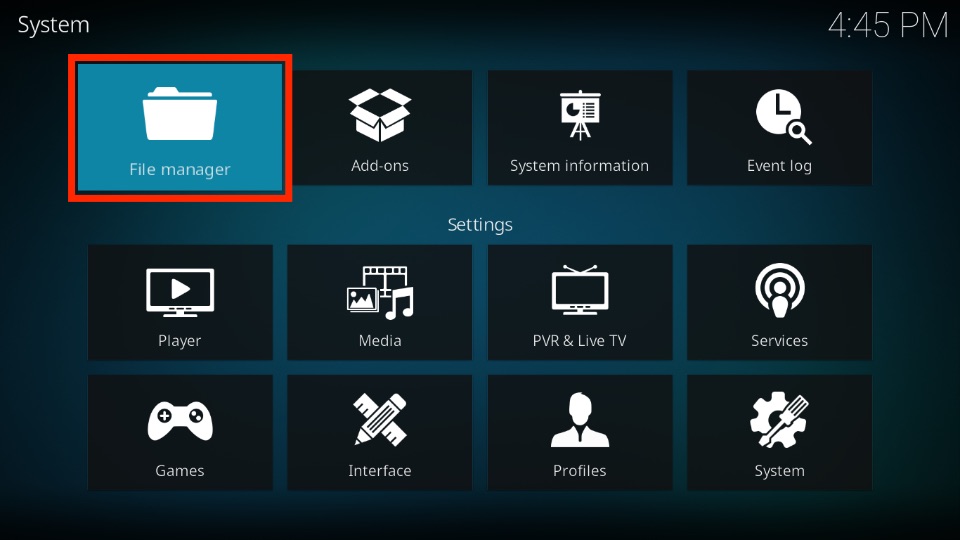 3. You'll see two options on a Fresh Kodi app, Profile directory and Add source. Choose the second option.
Note: There will be more than two options if you have added sources in the past on your Kodi app.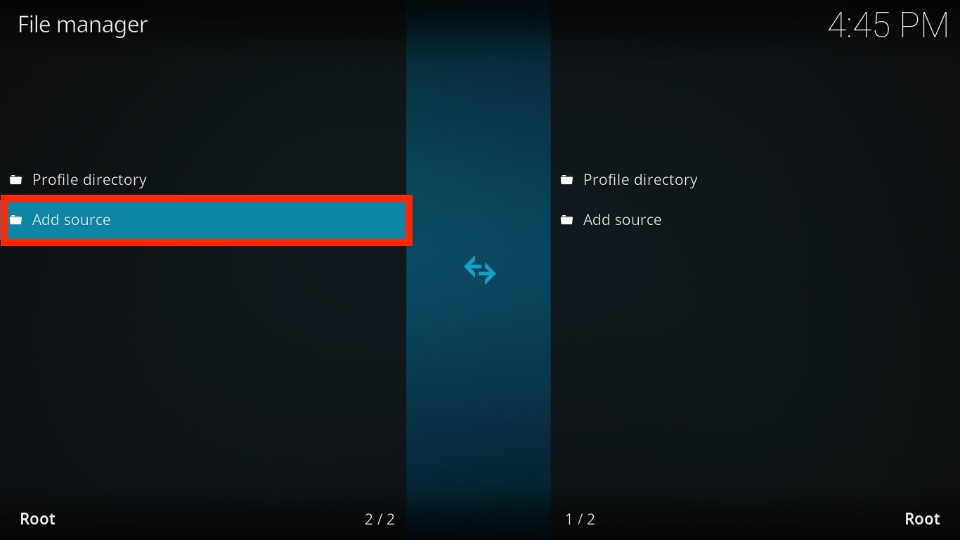 4. On the Add file source prompt, open <None> to enter the path of the mbebe repository.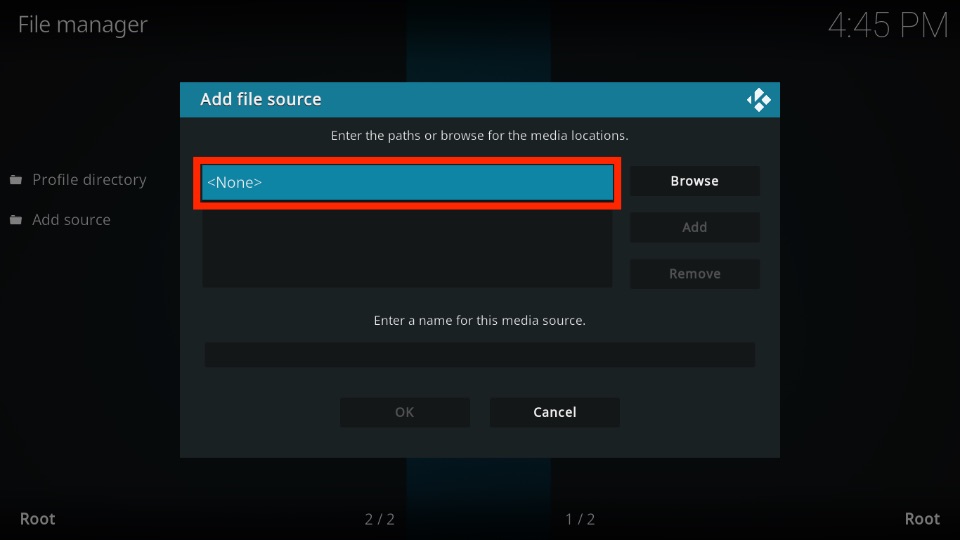 5. Enter the official URL of the mbebe repository – https://mbebe.github.io/blomqvist/. To commit the change, press OK.
Note: At FSH, we are strictly against third-party repos, addons, or apps that use piracy as their means of content distribution. I have only mentioned the URL of the mbebe repository for educational purposes.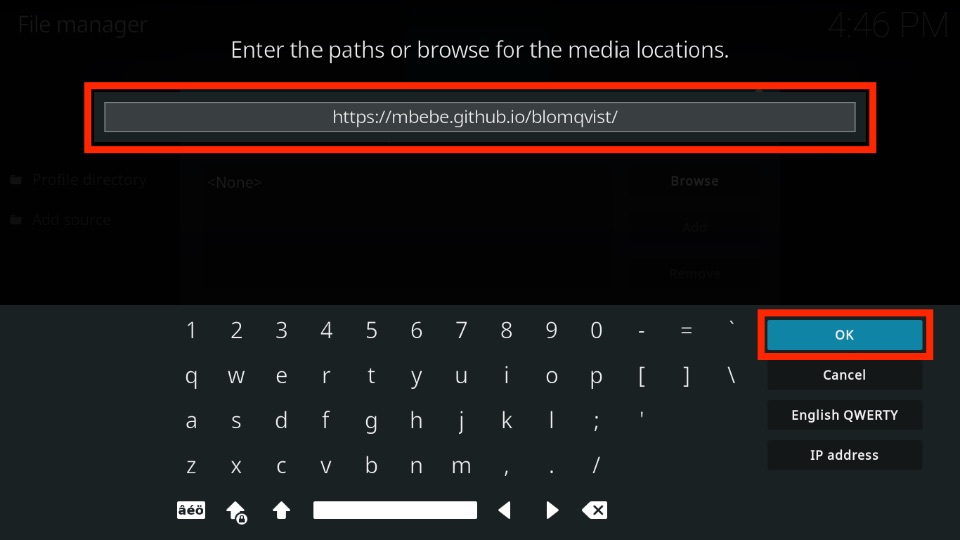 6. Blomqvist will be the default name of the source. If you want to change it, select the keyword.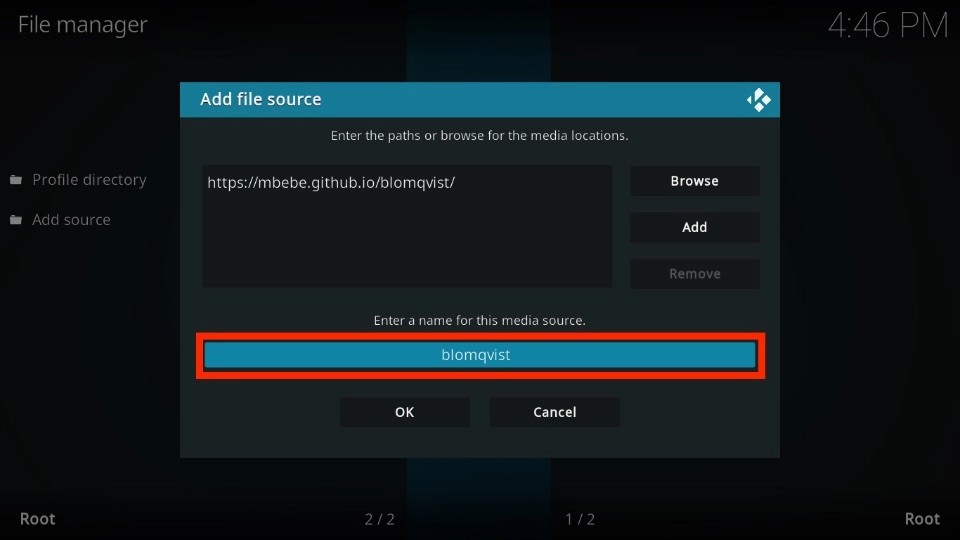 7. Now, clear the default name, enter a new alias and select OK to save it.
Note: I'll go with the default name as it will be easy to remember. That said, I advise you to set a simple name to recall it easily.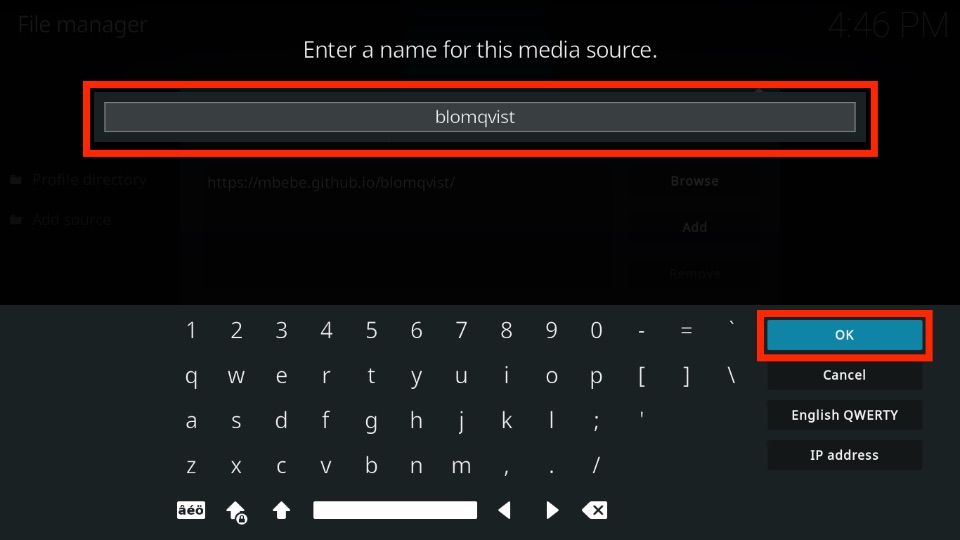 8. To save the mbebe repository source, hit OK.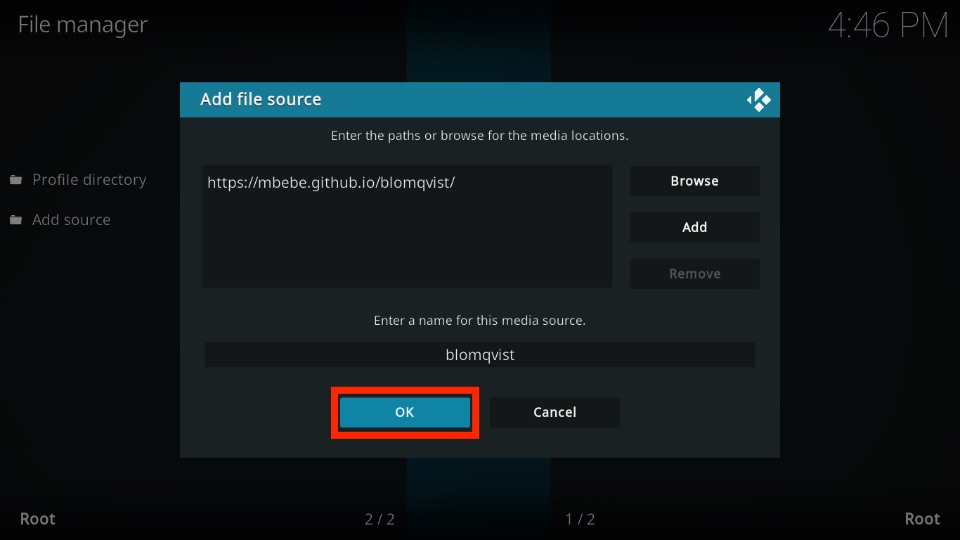 9. See blomqvist or the alias you picked on the list? This means you are all set. 
10. Go to Kodi Settings and explore Add-ons.
Note: Inside Add-ons, you'll find options to add/remove/update repos, addons, and sources.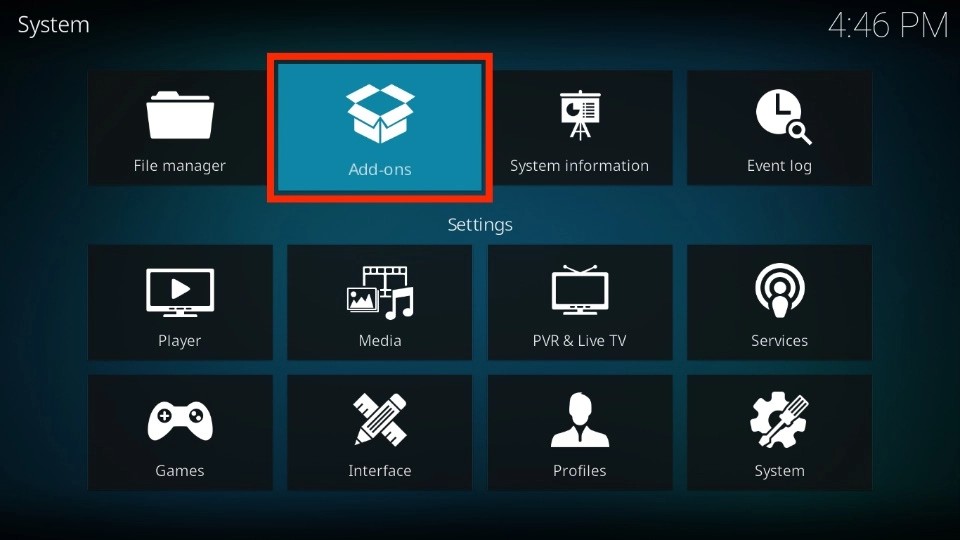 11. To access the Kodi source installation window, choose Install from zip file.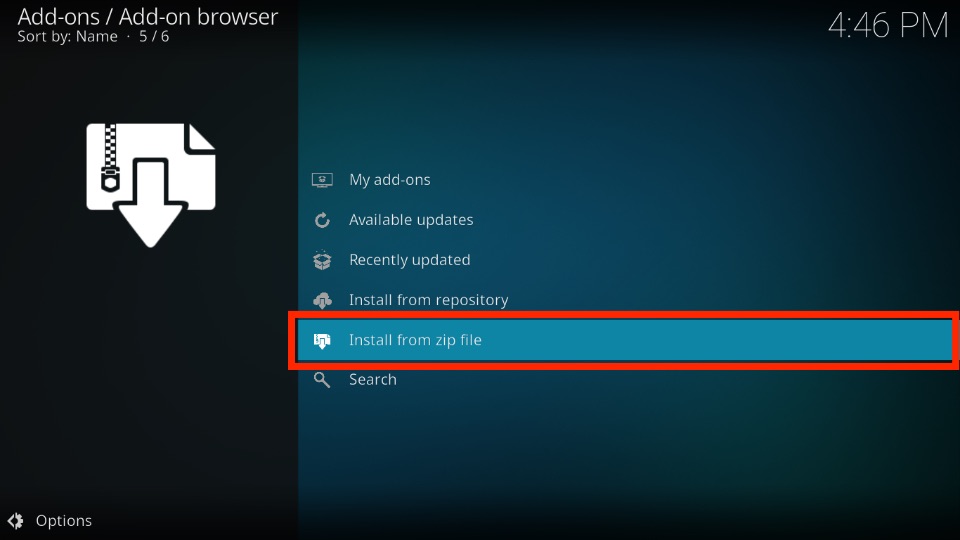 12. Hit Yes to proceed after reading the warning notification sent by Kodi regarding manual updates.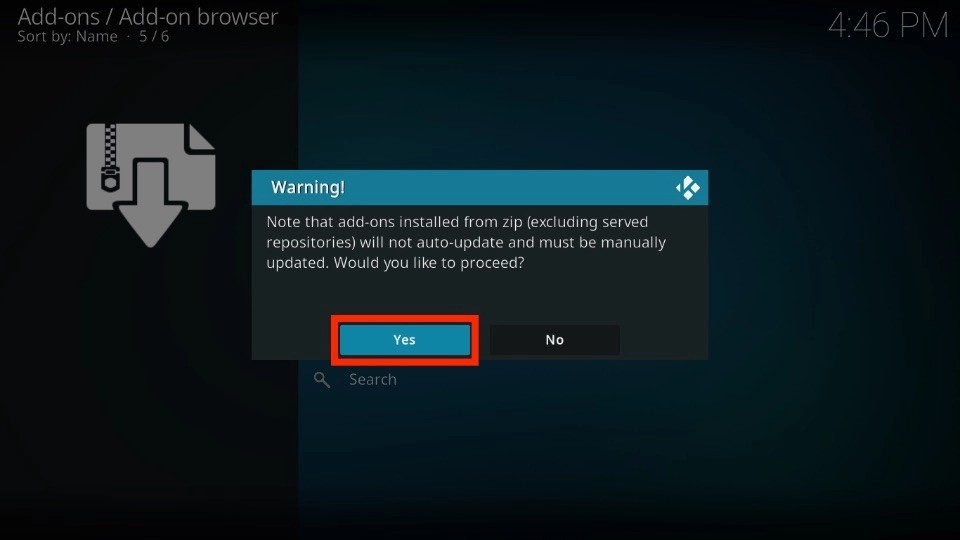 13. Pick the source name you have set in step number 7. In my case, it's blomqvist.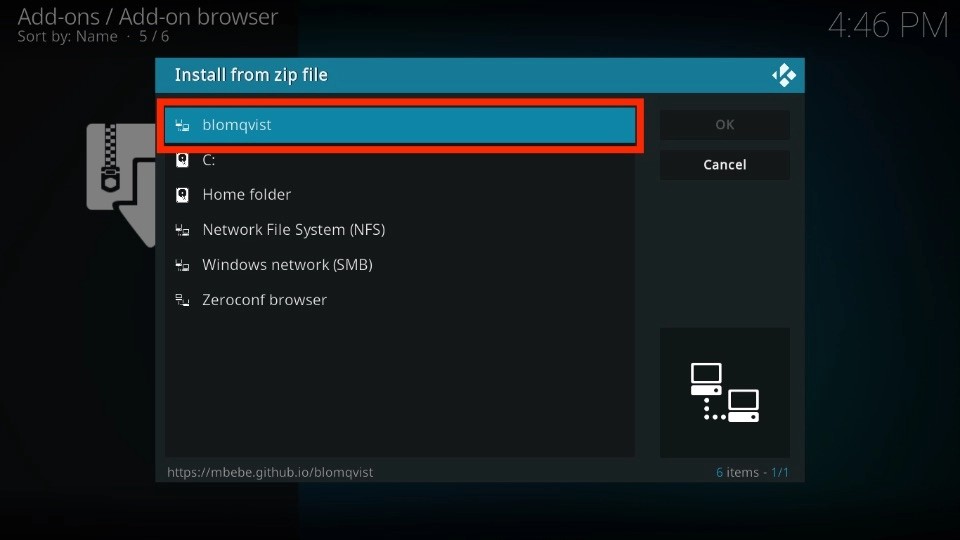 14. Choose repository.mbebe.zip.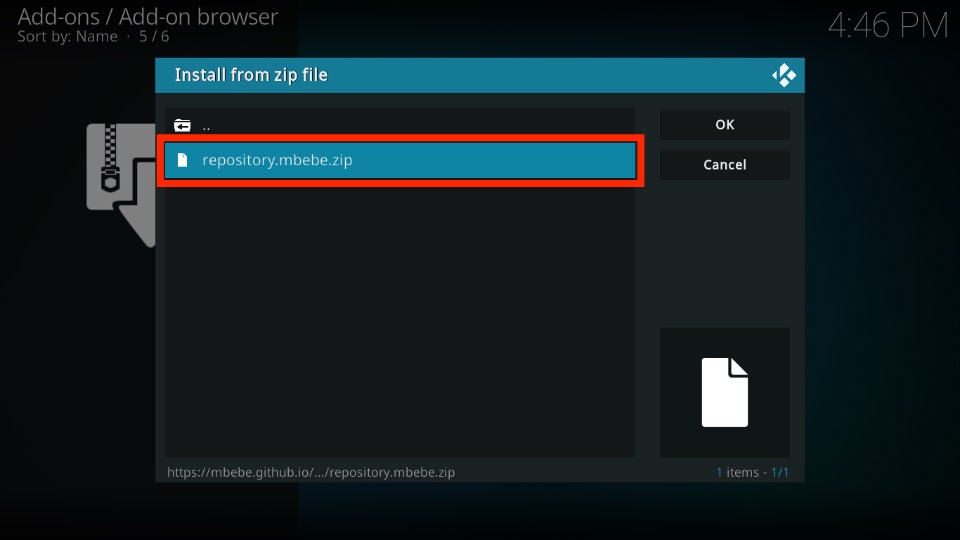 15. Kodi will show a notification – mbebe Add-on installed.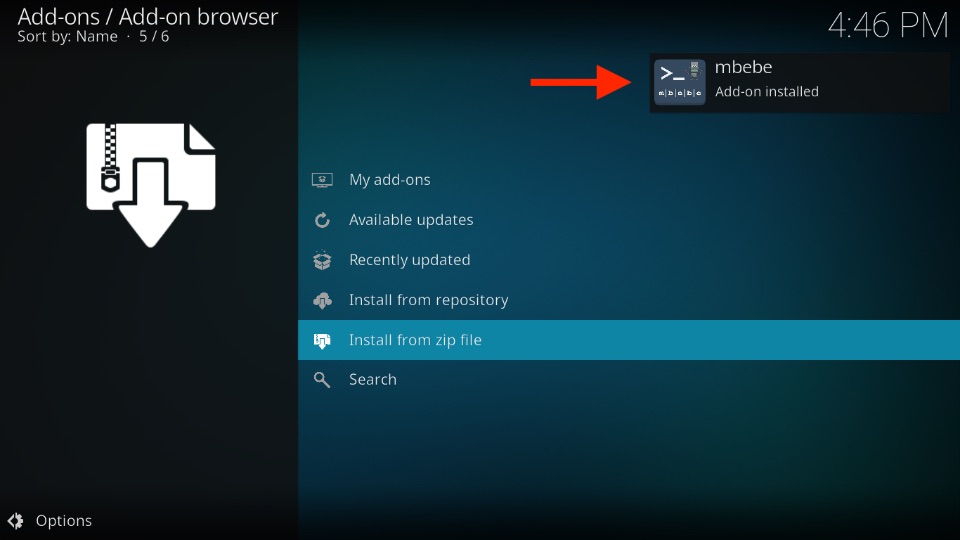 Congratulations! You now have direct access to the mbebe repository.
Part 3 – How to Install Sportowa TV addon
And finally, here's the breakdown that shows you how to install the Sportowa TV addon: 
1. Once the notification closes, choose Install from repository just above Install from zip file.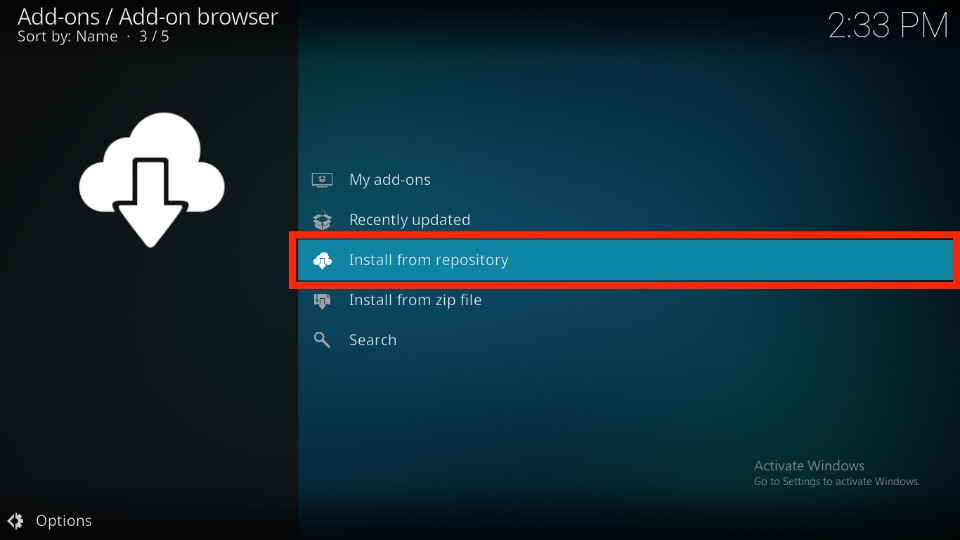 2. Inside, you'll see the repositories in a list form installed on your Kodi app. Choose mbebe.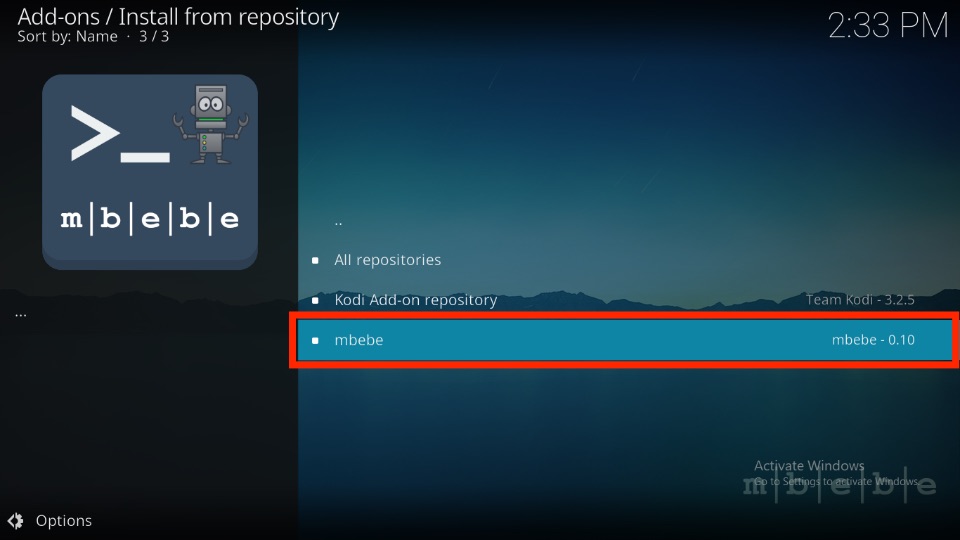 3. Mbebe repository is split into two sections: Add-on repository and Video add-ons. Open Video add-ons.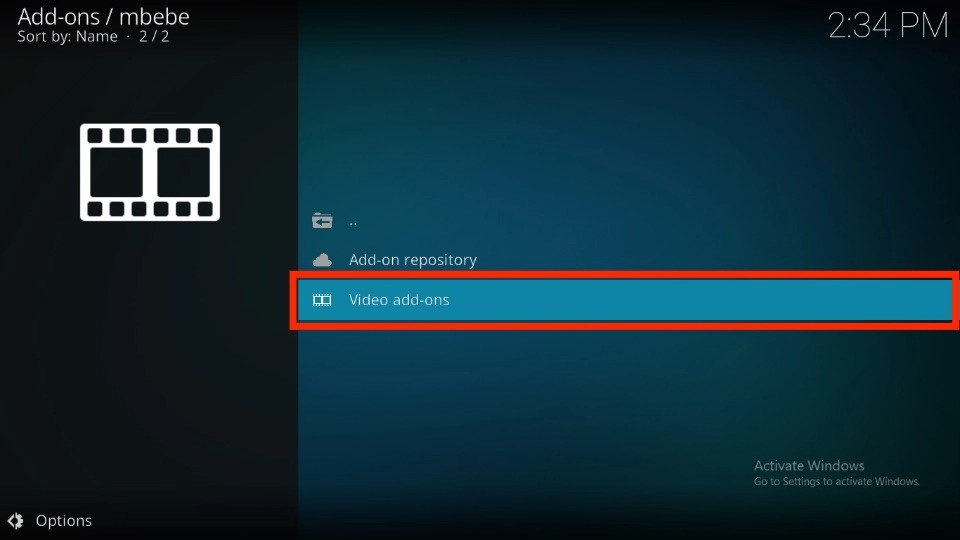 4. Go to the S section of the Video add-ons list, locate Sportowa TV and open it.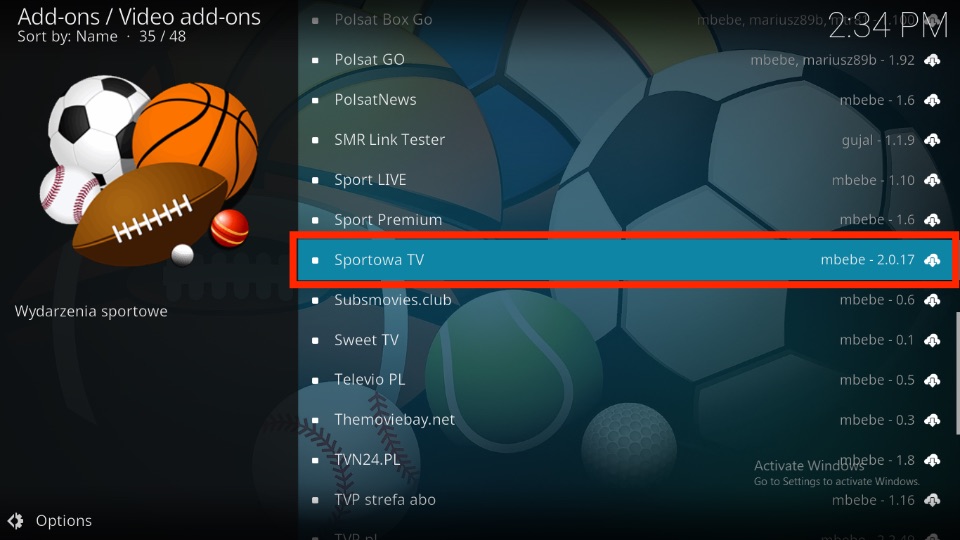 5. Sportowa TV's dashboard will come up. To start installing the addon, choose Install. 
Note: Inside the addon dashboard, you'll see multiple pieces of info like Category, Origin, Summary, and more.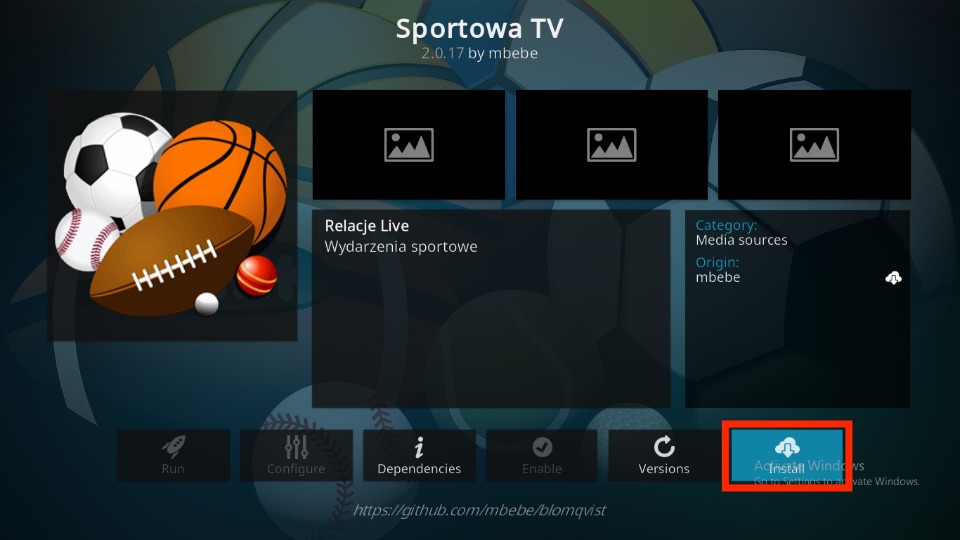 6. Kodi will ask you to install some additional addons with Sportowa TV. Choose OK to give confirmation.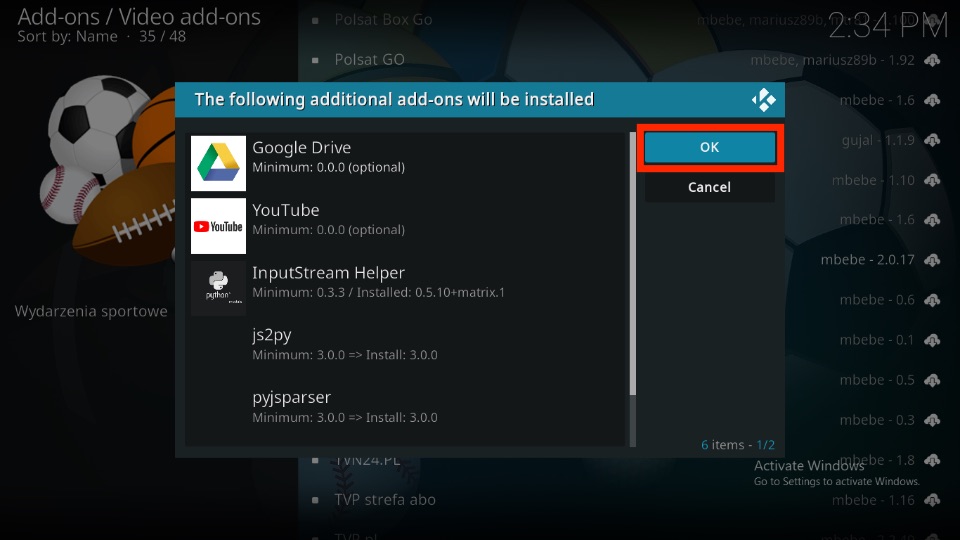 7. You can see the installation progress, as shown in the screenshot below.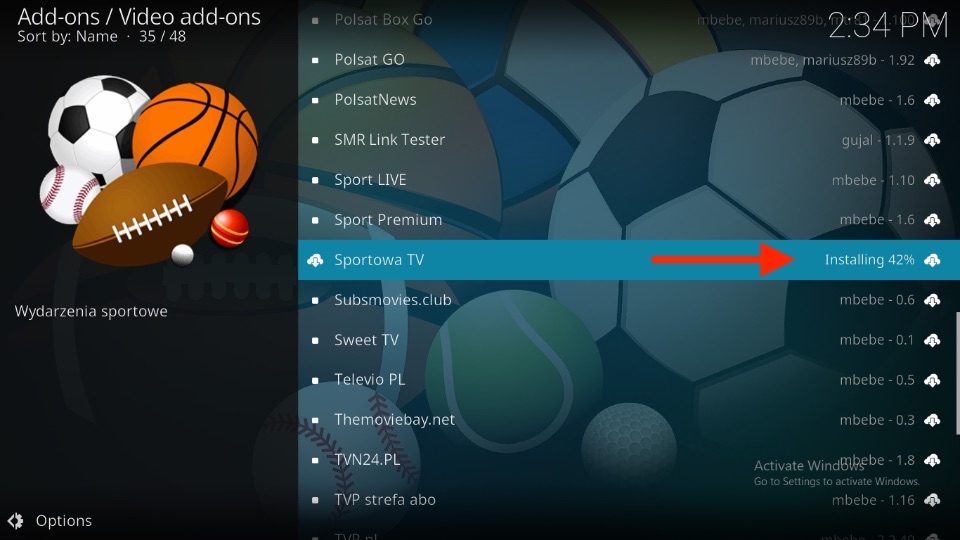 8. On the addon's successful installation, a pop-up will appear – Sportowa TV Add-on installed.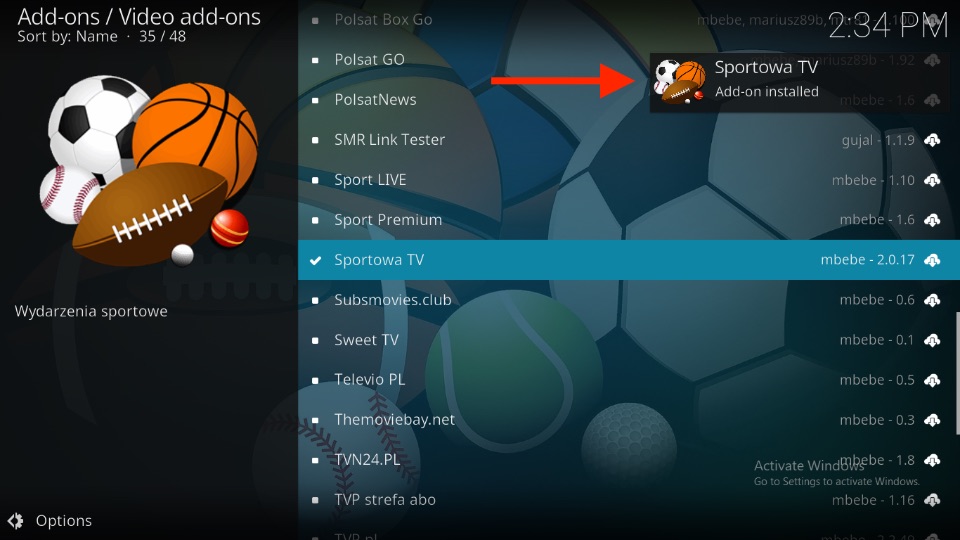 Congratulations! You can now stream your favorite sporting events using Sportowa TV.
It looks like you are all set to start watching your favorite content. However, do not forget that all your streaming activities and online identity are unprotected and exposed to your Government and your ISP. In addition, streaming with third-party services may cause legal trouble.
Thankfully, you can easily protect yourself and go invisible from your Government and ISP by using a VPN. Whenever I stream with Kodi, I always connect to ExpressVPN and recommend the same to you.
ExpressVPN is the fastest and the most streaming-friendly VPN. It is also the most secure VPN.
With ExpressVPN, you get a 30-day money-back guarantee as well. So if you do not like the service (I don't see why), you will get a full refund within 30 days.
Please remember that we encourage you to use a VPN to maintain your privacy. We do not condone breaking copyright laws.
Before you start using Kodi for streaming, here is how you can protect yourself with ExpressVPN:
Step 1: Sign up for ExpressVPN Here
Step 2: Download ExpressVPN on your device by clicking HERE
Step 3: Open the ExpressVPN app on your device. Sign in with your account. Click the connect/power button to connect to the VPN

Great! You have successfully secured yourself with the best Kodi VPN.
How to Use Sportowa TV Kodi Addon
Want to see what's inside Sportowa TV? And how can you use it? Stay tuned.
Navigate to Kodi's Add-ons tab on its home page and open it.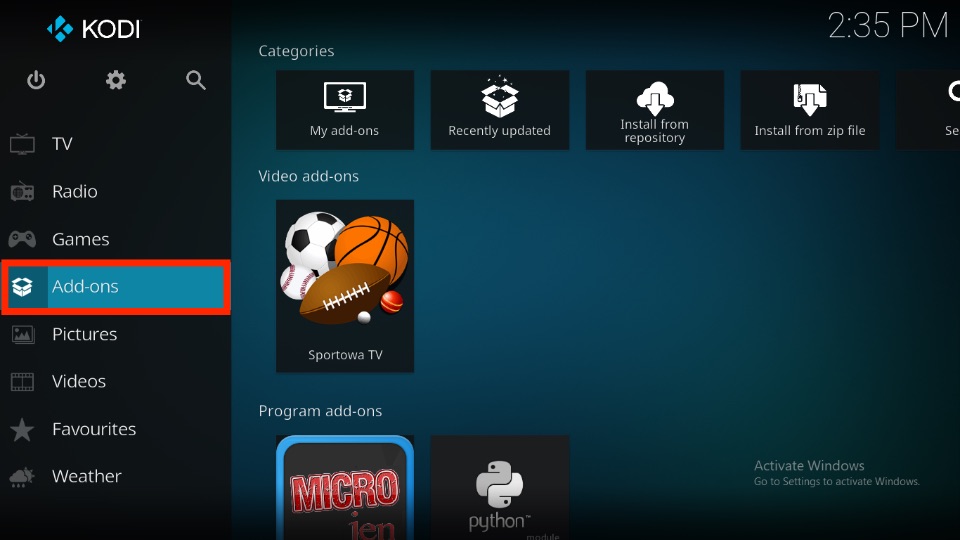 On the Video Add-ons sub-tab, scroll to the right, and pick & launch Sportowa TV from the list.
An Add-on required window will appear. Click Yes to download and install InputStream Adaptive.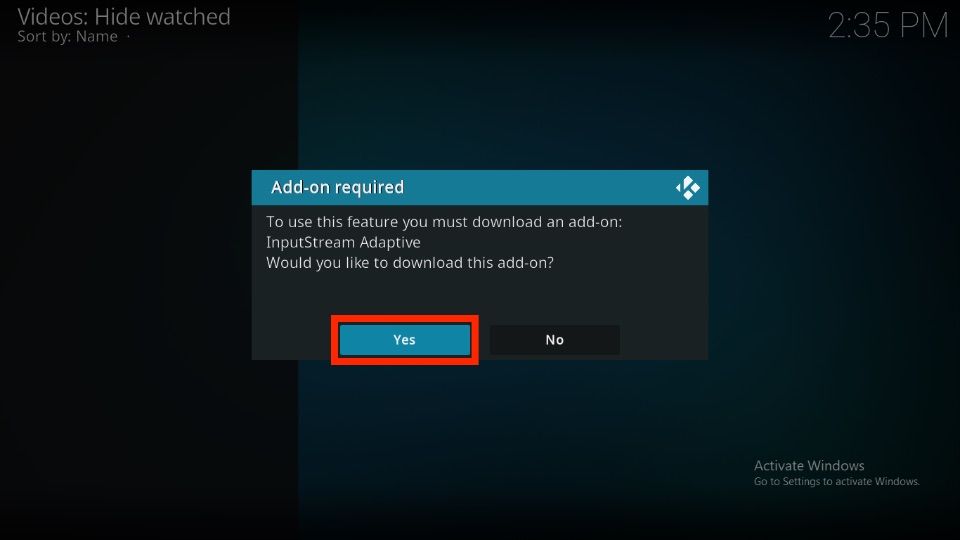 Let Kodi download InputStream Adaptive required files and install them.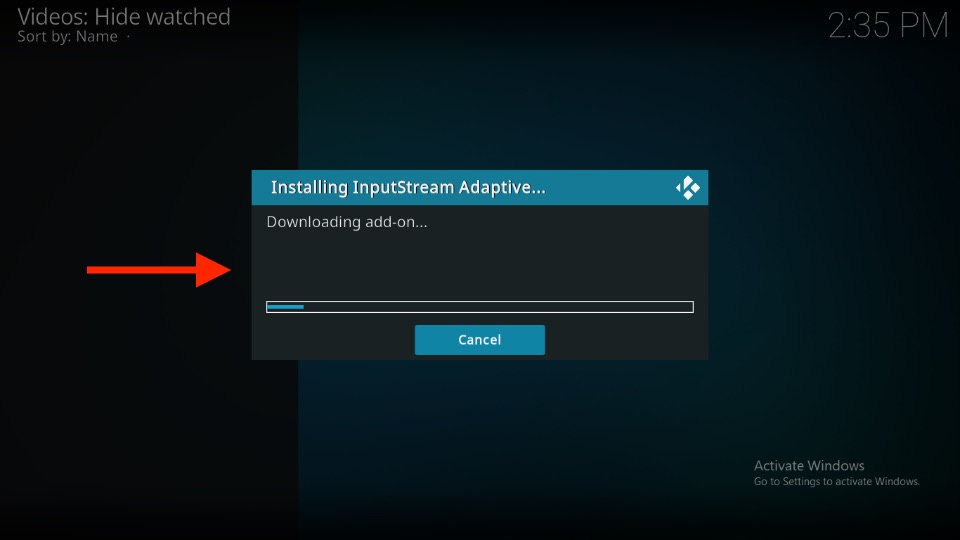 Another pop-up will come asking to install RTMP Input. Select Yes to confirm.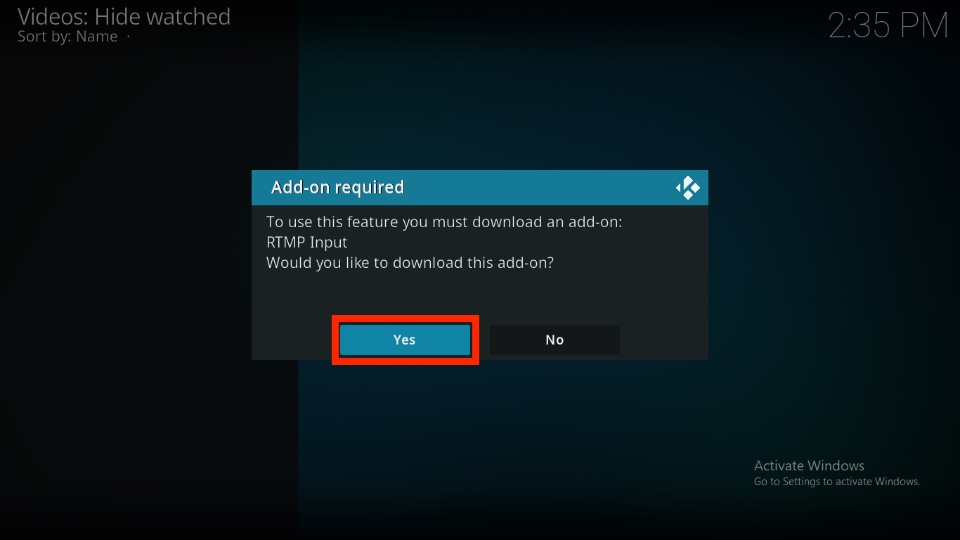 Wait for a few seconds to let Kodi install RTMP Input.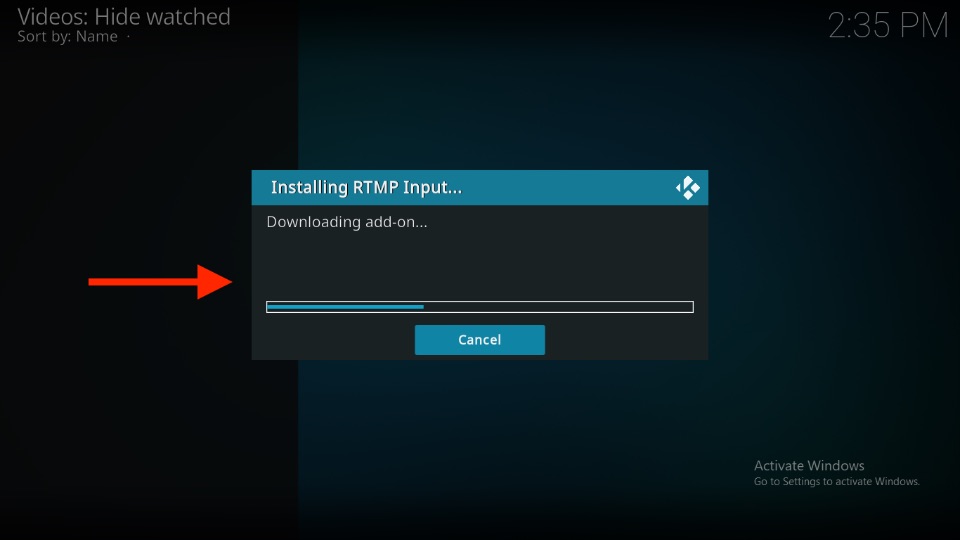 Once done, you'll land on Sportowa TV's home screen. Here, there are 12 main sections.
Note: The sections are third-party sports streaming sites. And sometimes, some sections work while others don't.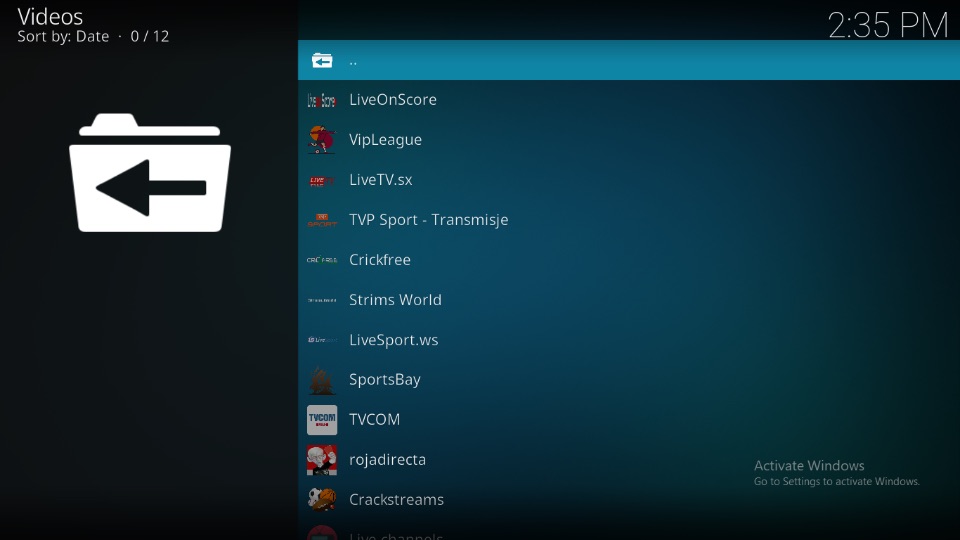 Choose a section. I'm selecting LiveTV.sx.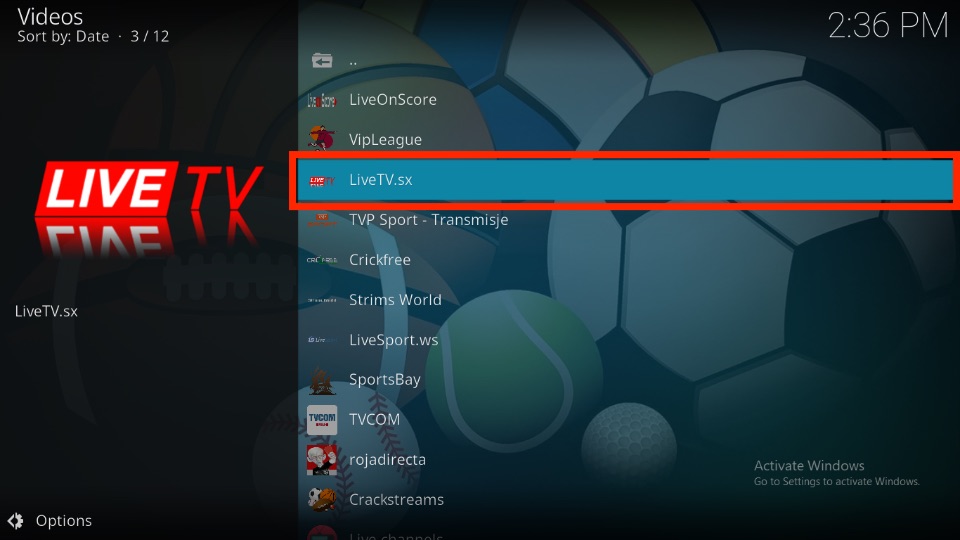 Inside, the streams are split into sports categories like Football, Volleyball, Futsal, Handball, and more.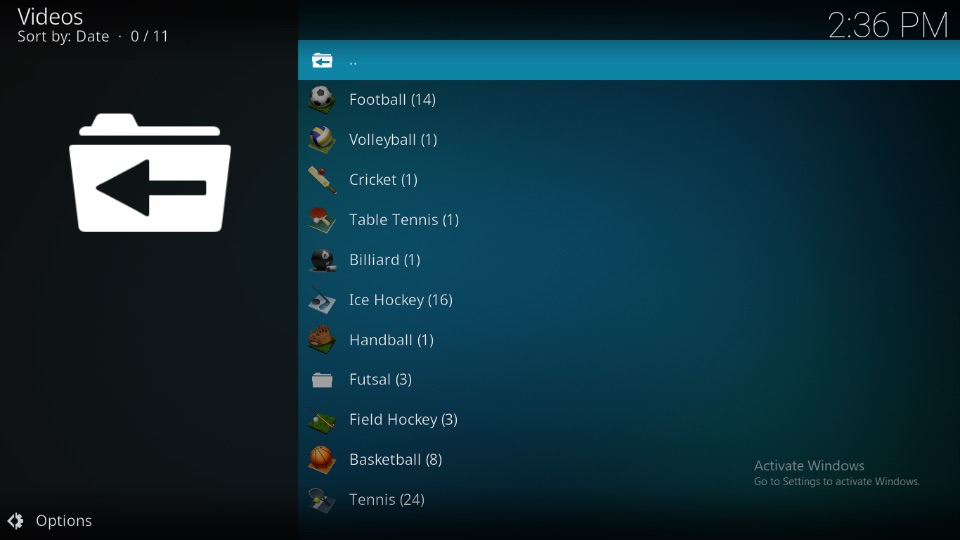 Next, we have rojadirecta.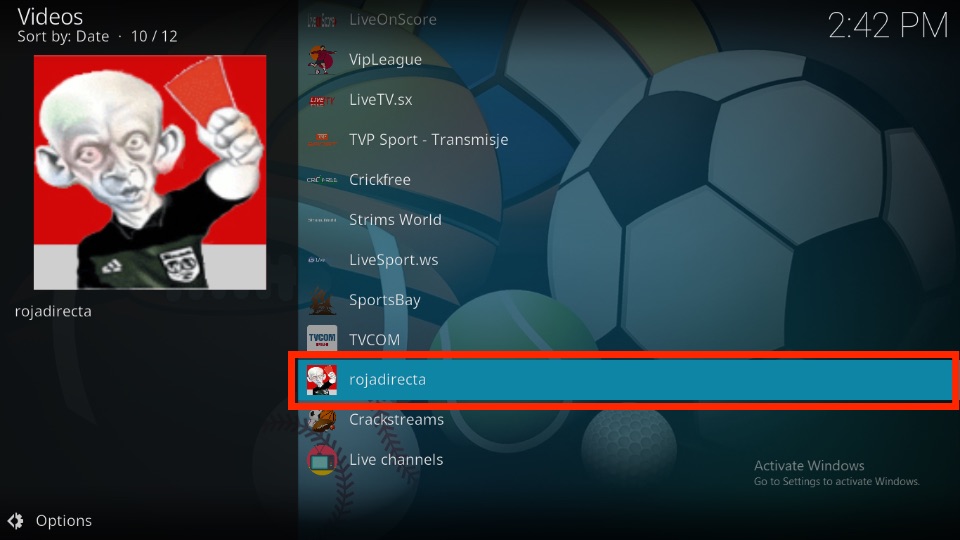 This section provides you with all the live/upcoming sports streams in the form of a list sorted by time.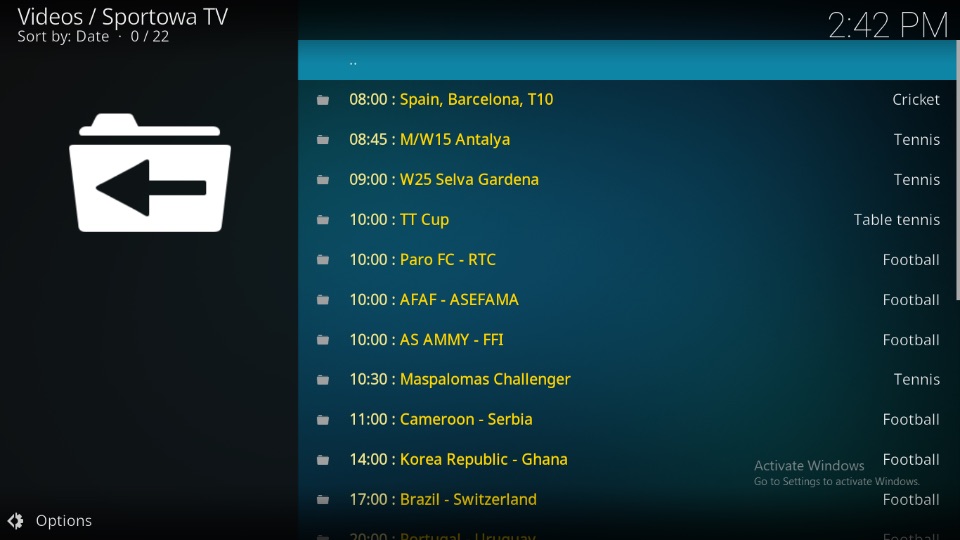 To watch sports TV channels, open Live Channels.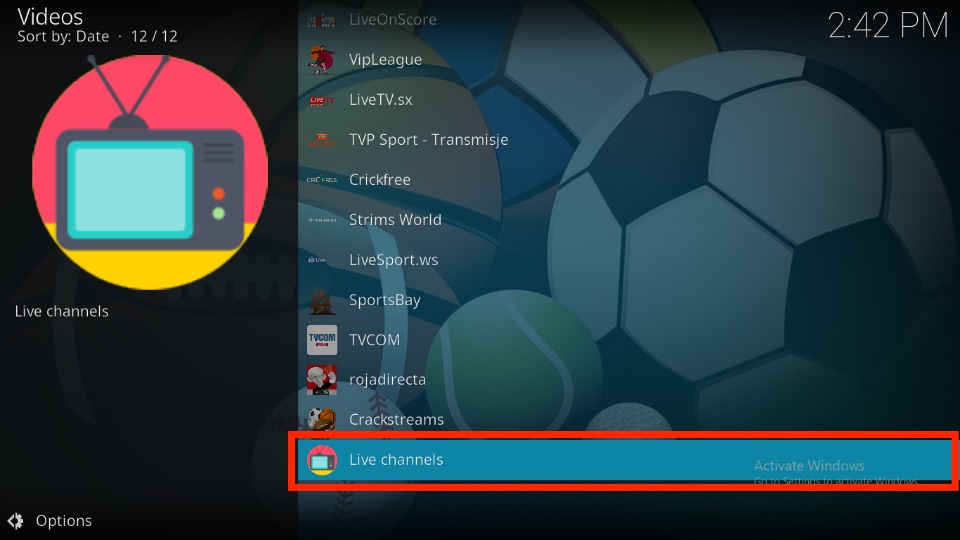 This section is further split into four sub-folders that give you access to the sports channels.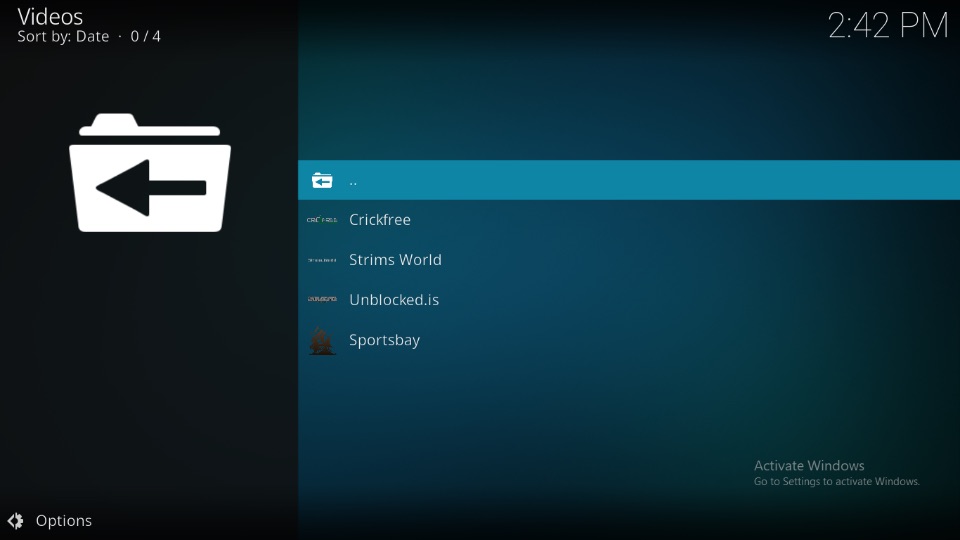 Lastly, don't forget to check out other sections of Sportowa TV!
Conclusion
With Sportowa TV, you can stream your favorite sports events! This guide showed how to install Sportowa TV Kodi addon. Use the comments section to drop your feedback and suggestions regarding the article.
Related: