This post will show you how to install the One Nation Portal builds on Kodi. You can use the steps in this guide and install the builds on various Kodi devices such as FireStick, Android TV Boxes, Windows, Mac and more.
One Nation Portal has a build menu that contains over a dozen Kodi builds for Kodi Leia as well as Krypton. I have tested several builds from this source and decided it would be necessary to write this guide. In fact, I have also added this build to our catalog of top Kodi builds.
I will use the Nebula build from the One Nation Portal build menu. It is one of the best builds in the collection. However, please feel free to try any other build you like. In fact, if there is any build you like in particular, please share your feedback with us. It will help others too.
Update: One Nation Kodi Builds are not available anymore
Attention KODI Users:
 Read before you continue
FireStickHow.com does not guarantee the legality, authenticity, or safety of any streaming services, addons, or builds covered on the website.
I highly recommend you to use a tested and trusted Kodi VPN to protect your online identity while using free or low-cost third-party streaming services. A secure VPN connection will mask your IP address with an encrypted connection and keep you 100% safe from any and all types of surveillance by your Government, ISP, and even hackers.
Your IP 104.203.205.96 is exposed right now.
I personally use ExpressVPN and recommend it as the best Kodi VPN. ExpressVPN is exceptionally fast and protects your streaming activities with military-grade encryption. It also maintains a strict zero-log policy.
ExpressVPN offers an unconditional 30-day money-return guarantee as well.
Click HERE to save 49% on ExpressVPN and enjoy 3-months of additional coverage.
Steps to Install One Nation Portal Kodi Builds
Here is the complete set of steps to install the Kodi builds from One Nation Portal:
1- Start from the Kodi home screen. Click Settings in the top-left. It is the cog symbol you should be looking at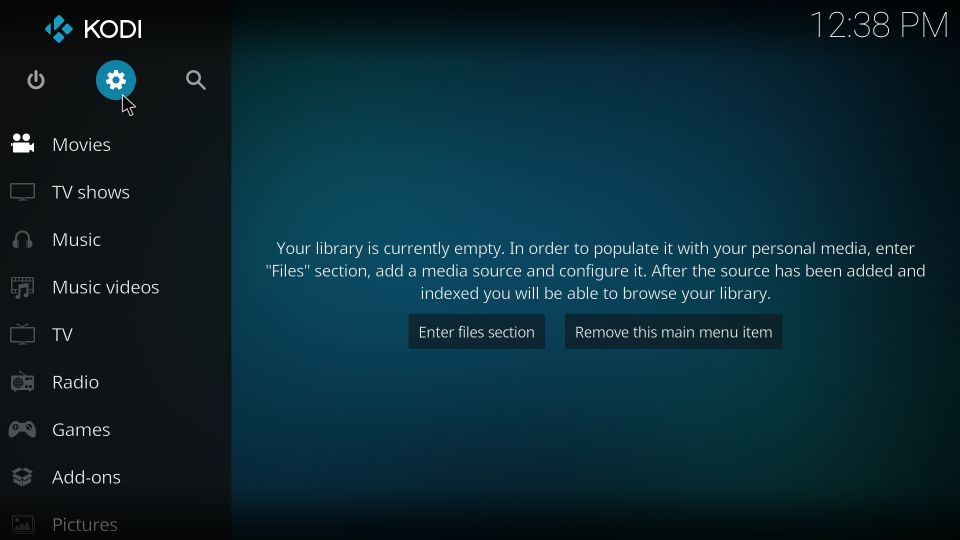 2- Go to System next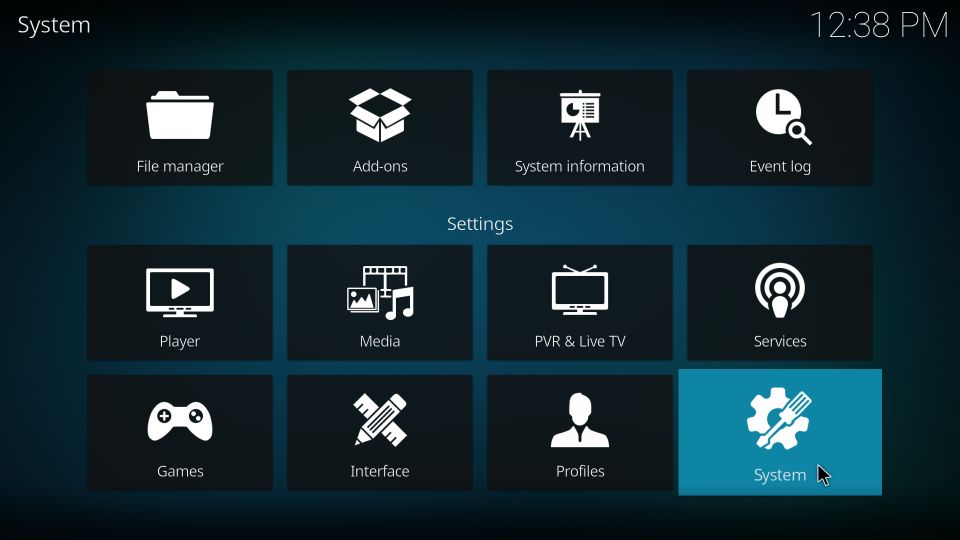 3- You should see a bunch of menu items on the left. Click Add-ons among them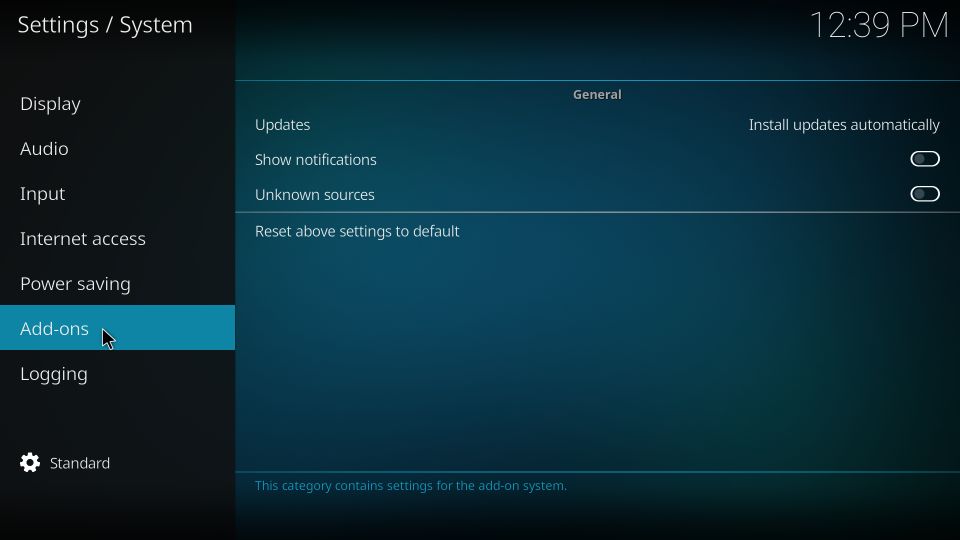 4- Now navigate to the right part of the same window and check Unknown Sources.
If this option is OFF, you want to make sure it is ON.
Click the switch next to it and turn it ON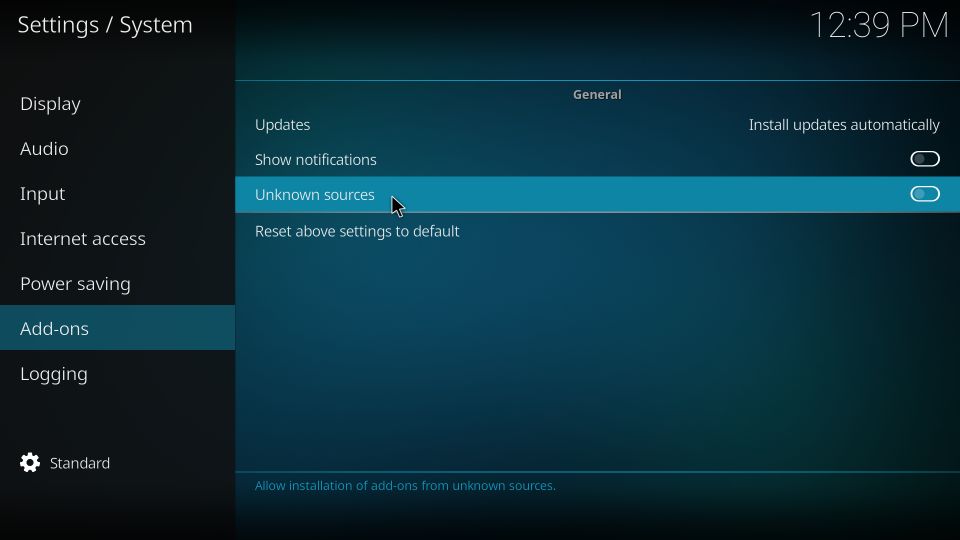 5- Now click Yes despite the warning. That's because One Nation Portal Kodi builds are completely safe. I use them all the time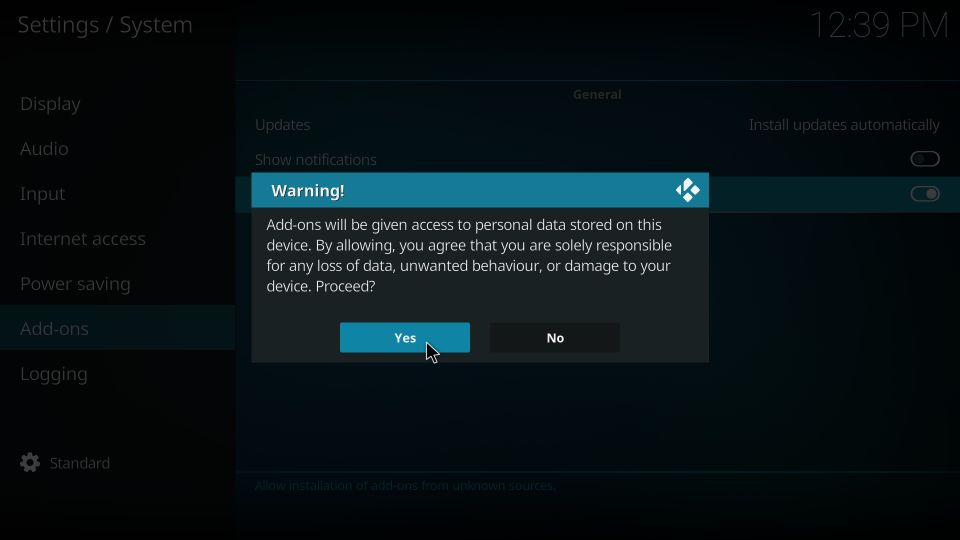 By enabling the Unknown Sources, you have given permission to Kodi to install the third-party builds like from the One Nation Portal.
6- Now press the back button one time or if you are back to the home screen, click Settings again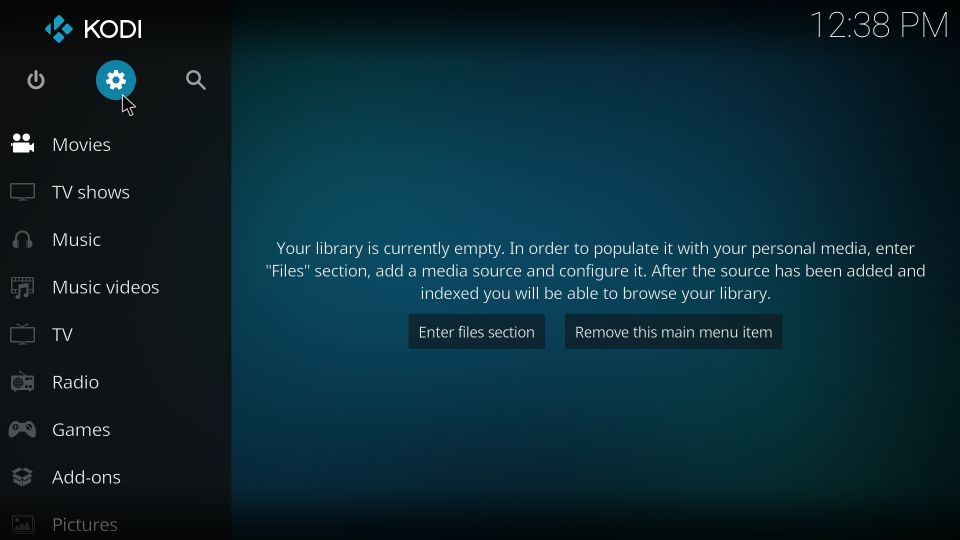 7- On this window, click File manager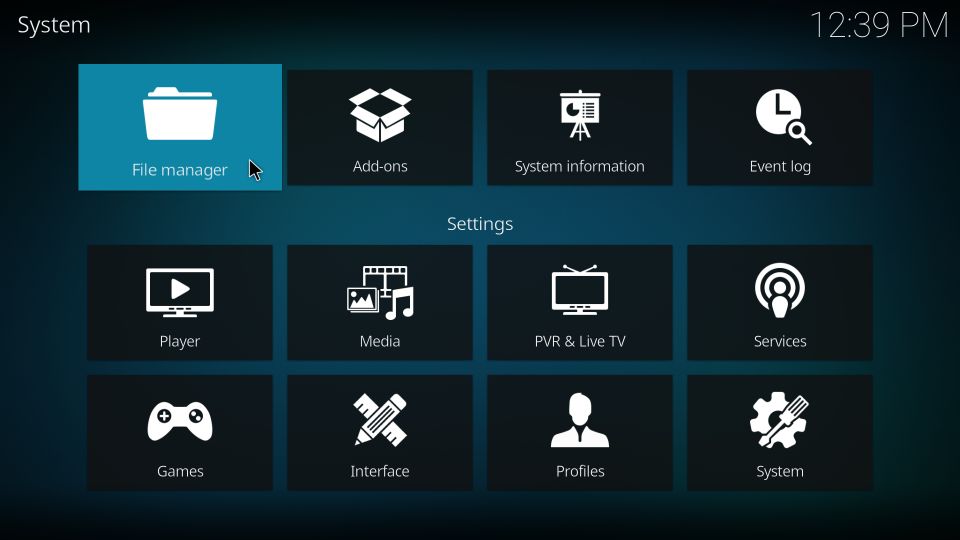 8- We will now click Add source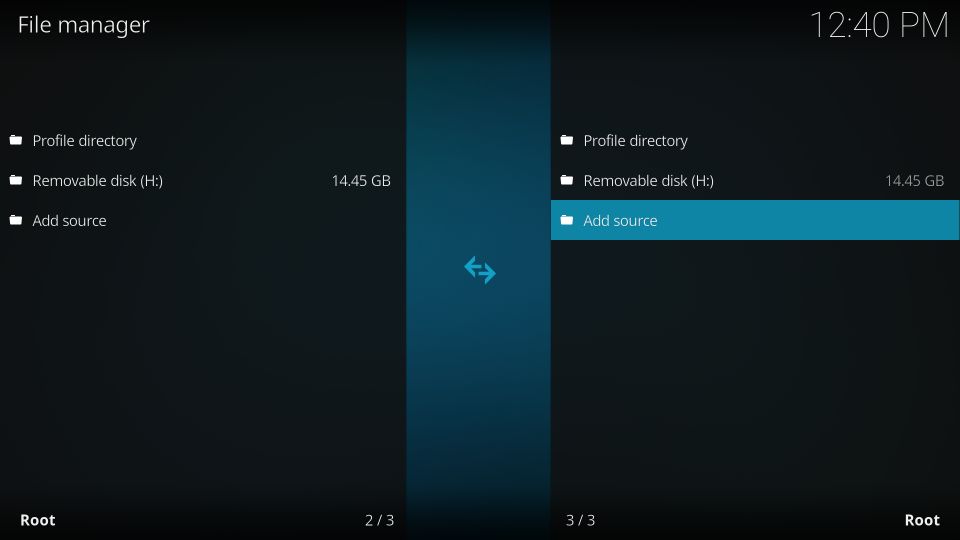 9- Click <None> when the following window is displayed on your screen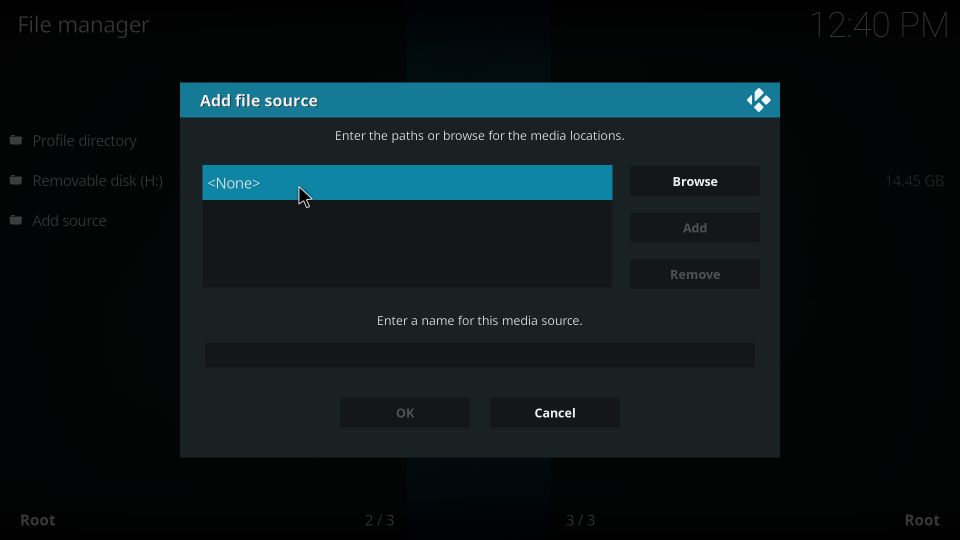 10- Go ahead and enter the following link on the window that is displayed next: http://www.onenation.info/Portal
You want to make sure there are no typos or misspellings in the link. It is also case sensitive
Click OK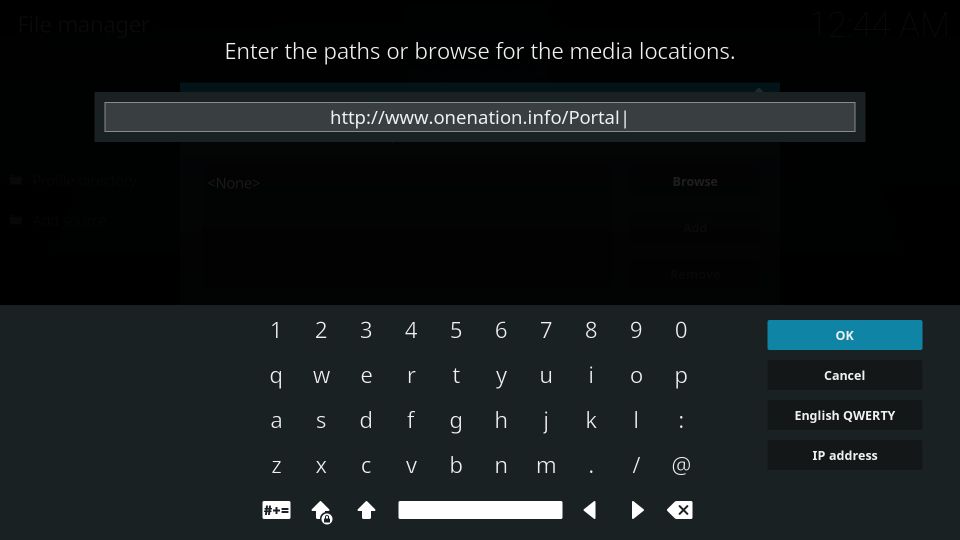 11- Let's name this source that we just provided above. There are no rules when it comes to naming it. However, it is best to make it relevant and memorable. We can go with Portal
Click OK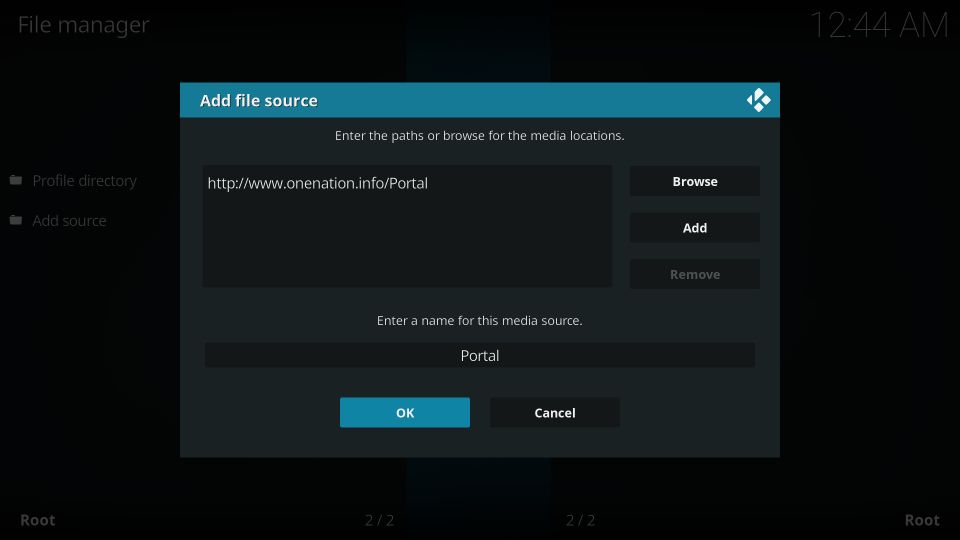 12- Again, press the back button one time to go back to the Settings window. Or from the home screen of Kodi, you may click Settings again.
Click Add-ons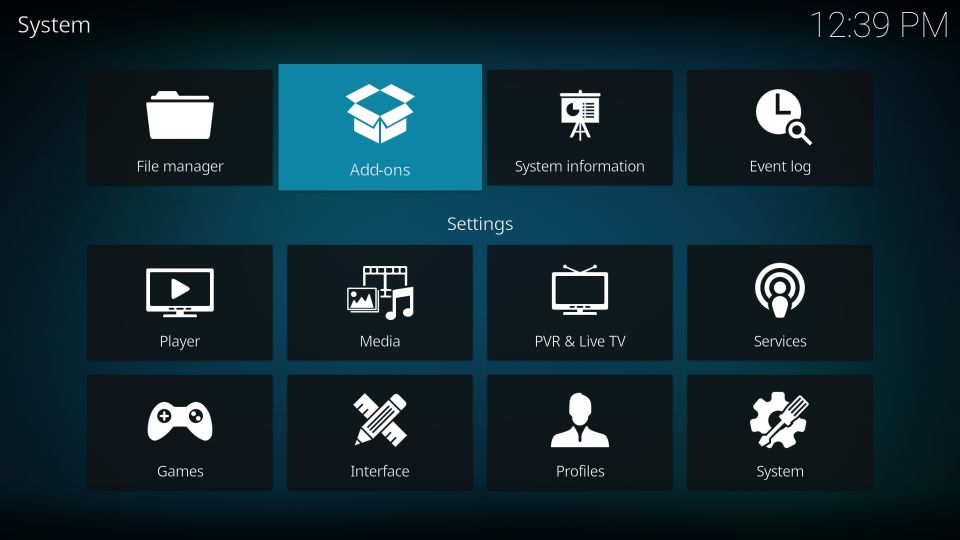 13- Click Install from zip file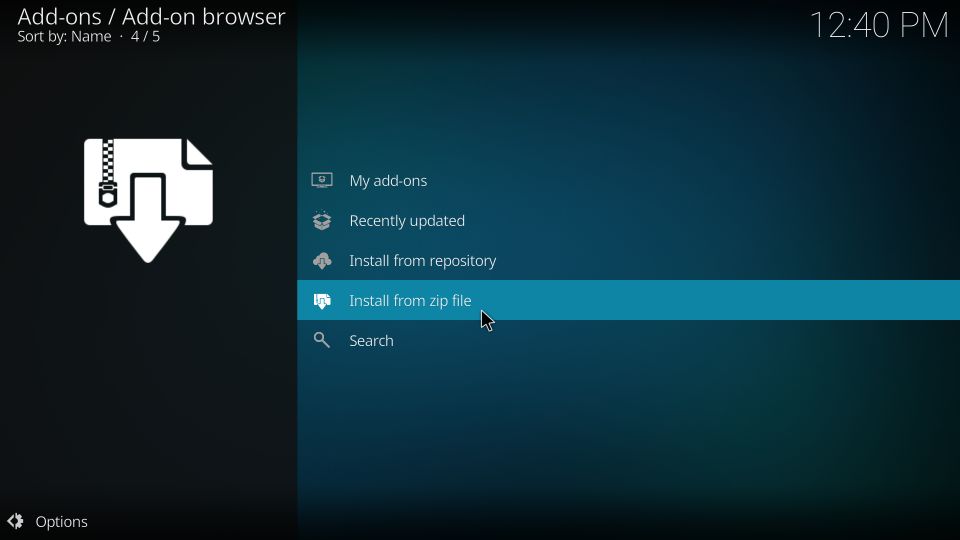 14- Click Portal (or the name you added earlier)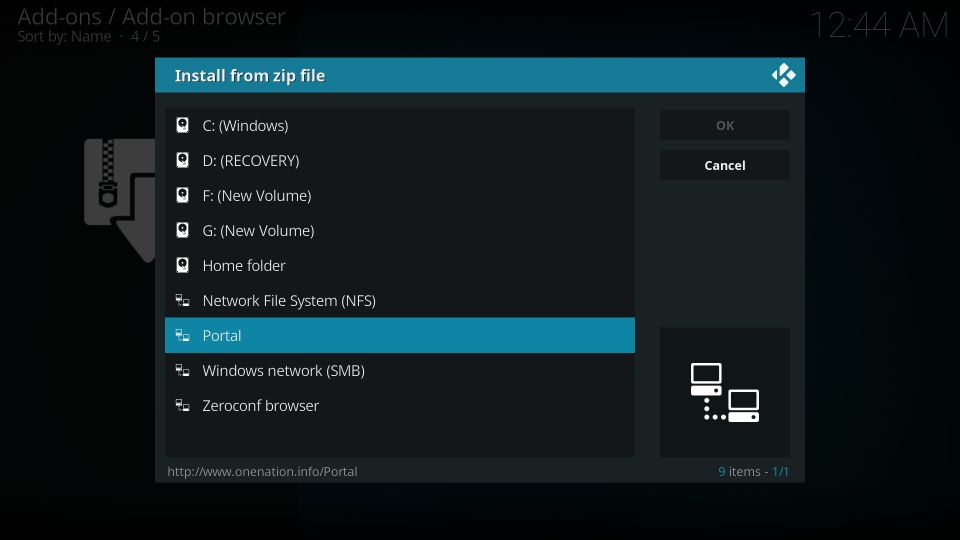 15- Open plugin.program.onenationportal-1.1.3.zip
Note: you may see a different version number of the file than I do. These files keep getting updated every now and then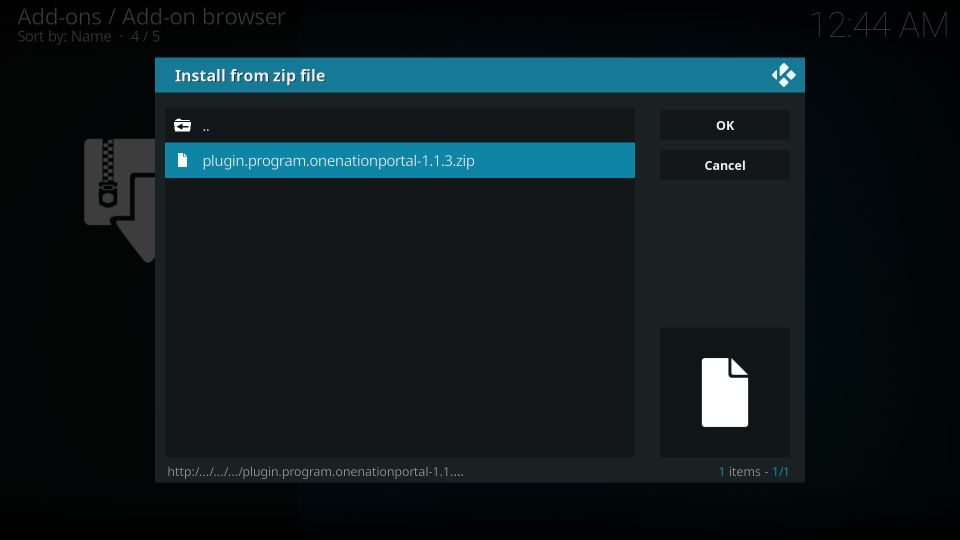 16- Now let's wait for the Add-on installed message. It slides out from the top right of the window.
Note: It may take a few minutes for One Nation Portal to install. Installation will take place in the background. On the front, you wouldn't know what's happening. Wait anyway.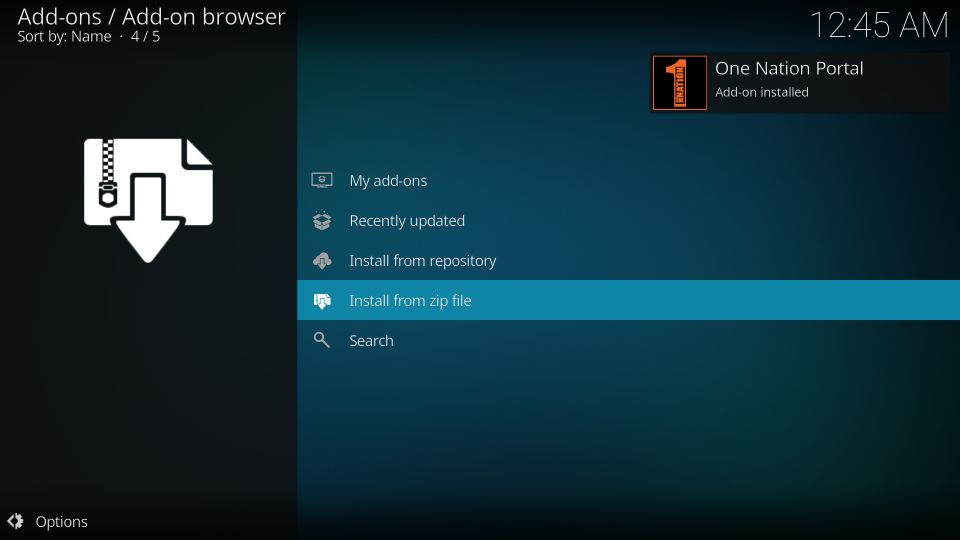 17- Click Continue on this window with the list of settings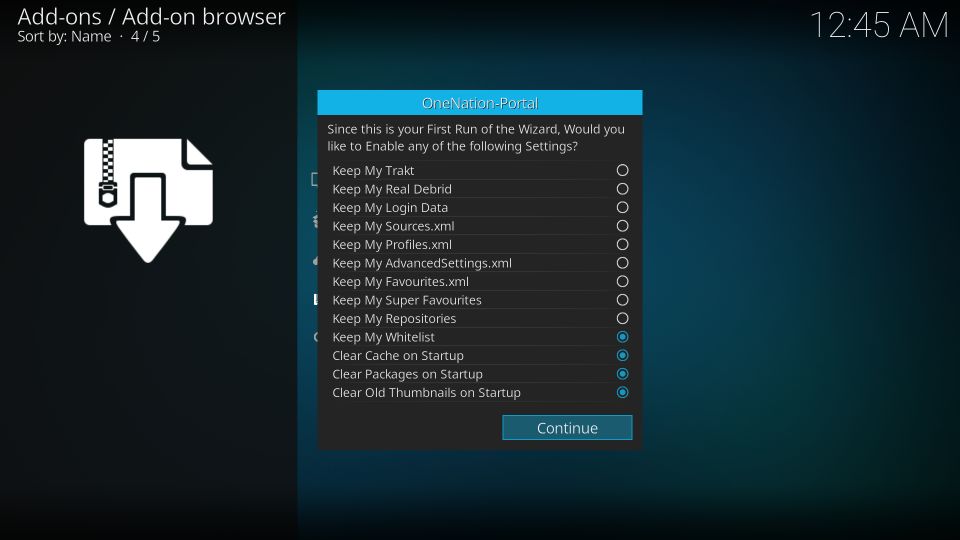 18- Click Build Menu next. It will lead you directly to the list of the One Nation Portal Kodi builds. If you are clicking build menu, skip steps 19 and 20 and jump to 21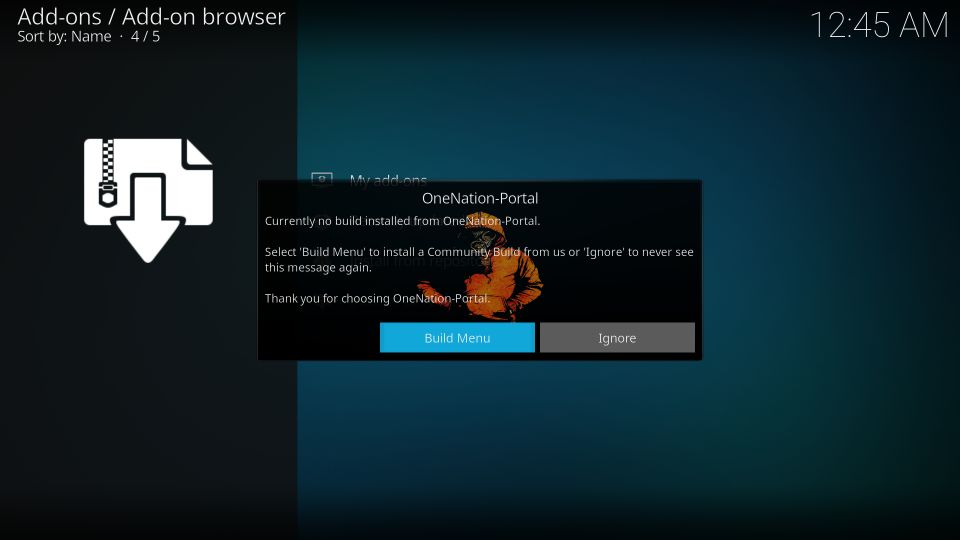 19- If you decided to install the One Nation Portal builds later, you can access the addon from the Kodi home screen. Go to Add-ons >> Program add-ons and click One Nation Portal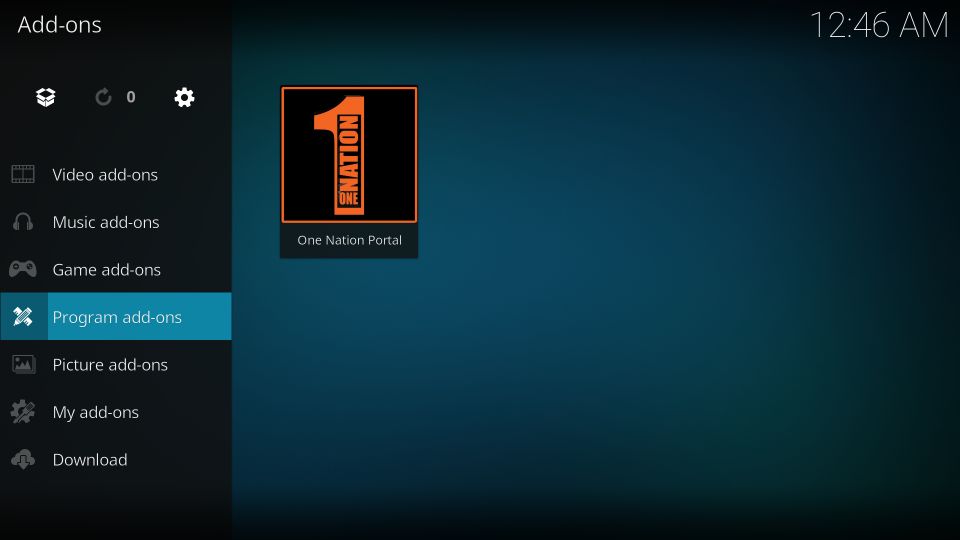 20- Click (One Nation Portal) Builds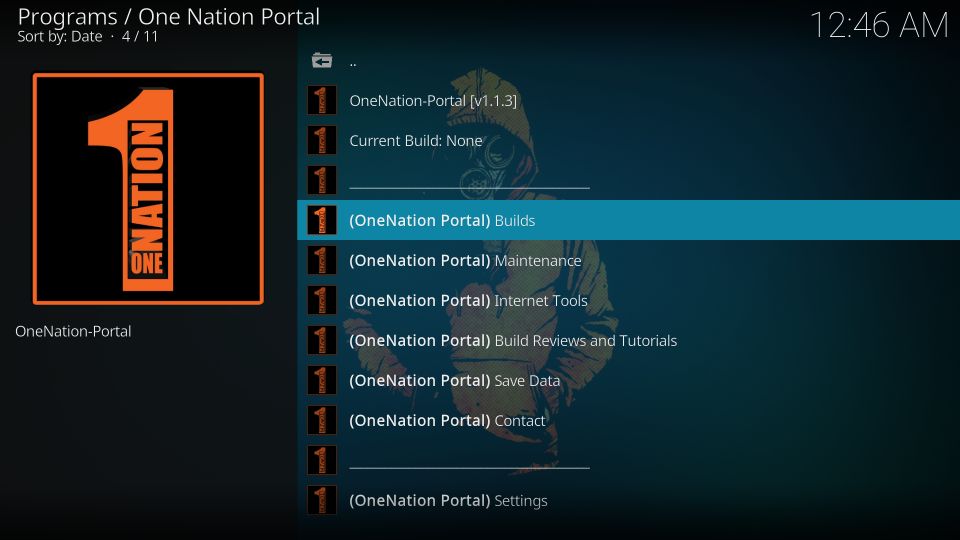 21- Here is the list of all the One Nation Portal Kodi builds. You may pick any build you want. For the purpose of demonstration, I am installing Nebula Leia build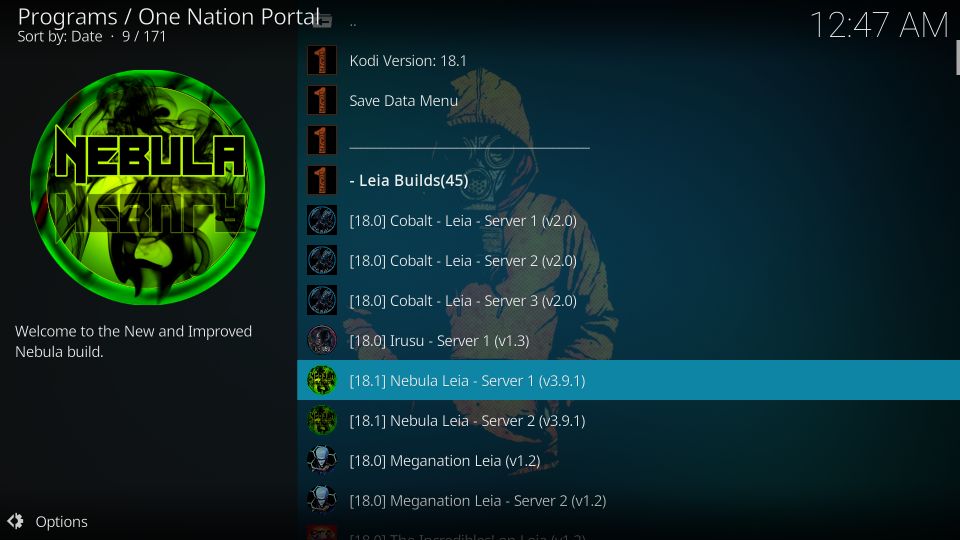 22- There are two installation options. I am proceeding with Fresh Install.
This will restore Kodi to default settings before installing the build. It is the recommended way to go. However, you may also try Standard Install.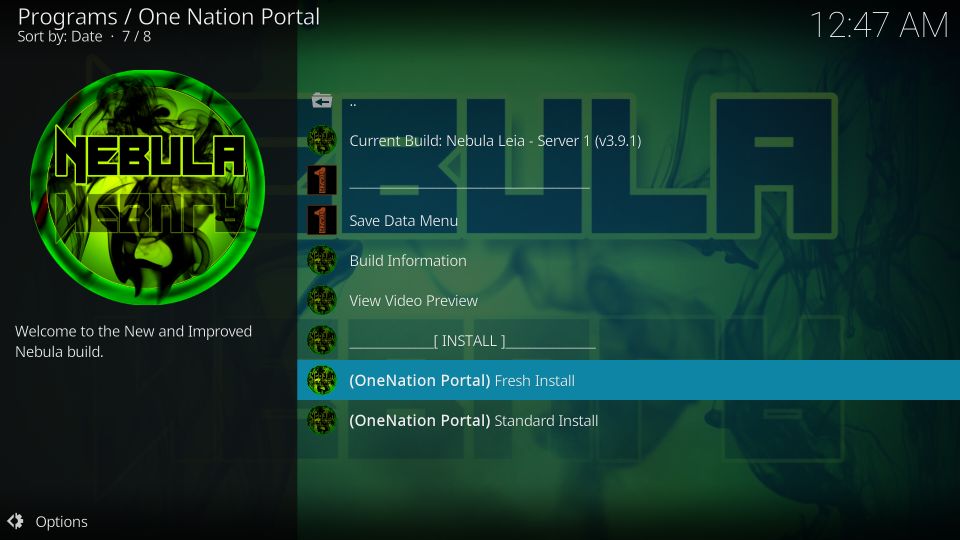 23- Click Continue to allow the OneNation Portal wizard to reset Kodi before installing the build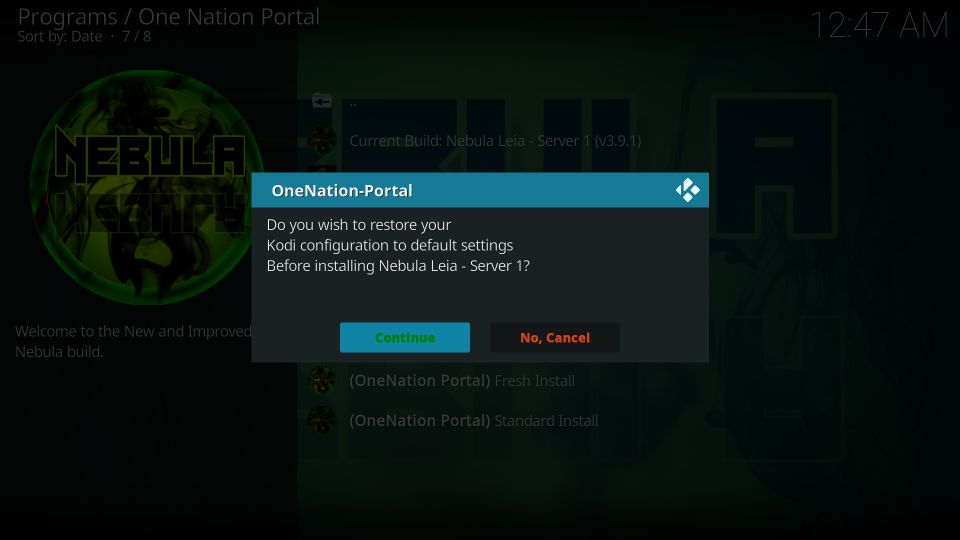 24- Nebula Kodi build should take 2-3 minutes to install depending upon your network connection. Wait!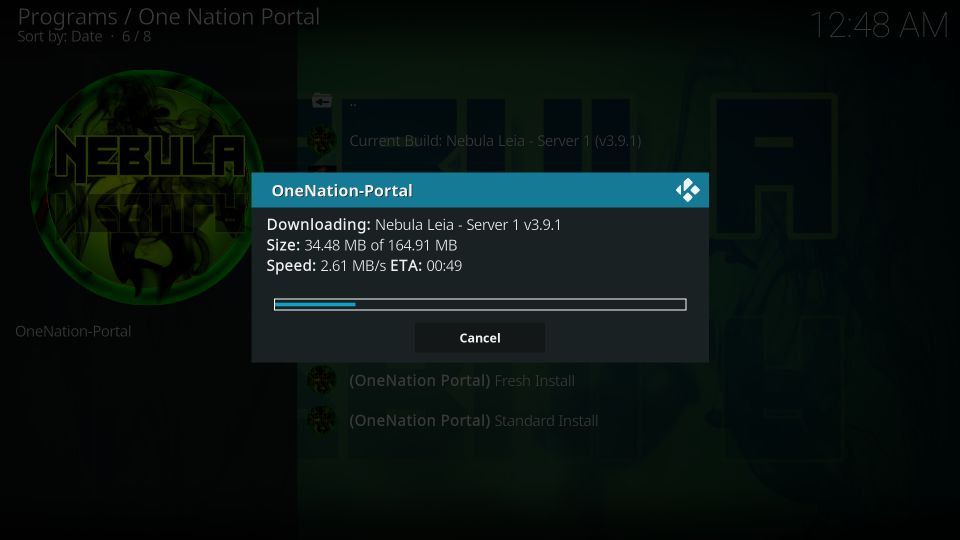 25- After the installation, click Force Close to conclude the process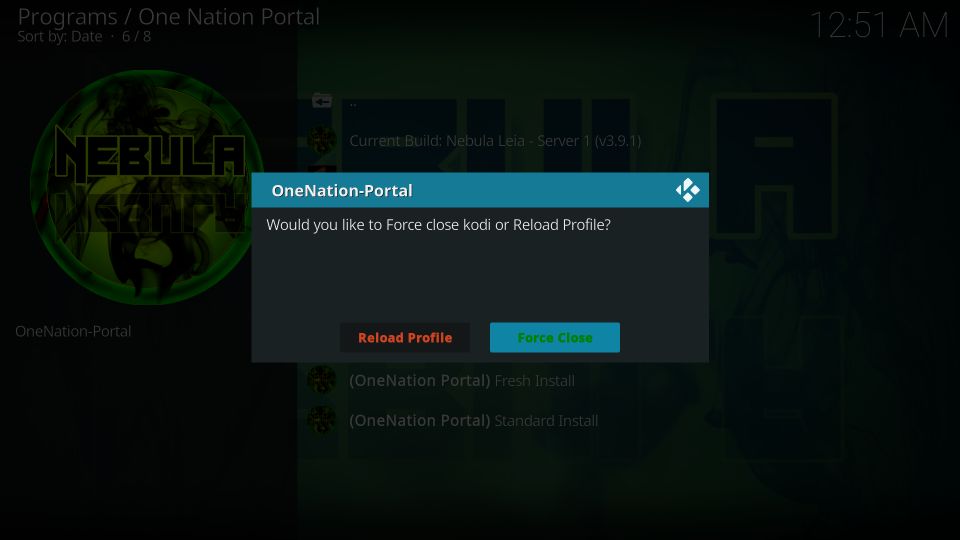 You may now restart Kodi and start using the One Nation Portal Kodi build you just installed.
Looks like you are all set to start watching your favorite content. However, do not forget that all your streaming activities and your online identity are still unprotected and exposed to your Government and your ISP. Streaming with third-party services may cause legal trouble.
Thankfully, you can easily protect yourself and go invisible from your Government and ISP by using a VPN. Whenever I am streaming with Kodi, I always connect to ExpressVPN and recommend the same to you.
ExpressVPN is the fastest and the most streaming-friendly VPN. It is also the most secure VPN.
With ExpressVPN, you get a 30-day money-back guarantee as well. Although I don't see any reason why, if you do not like the service, you will get a full refund within 30 days.
Please remember that we encourage you to use a VPN to maintain your privacy. We do not condone breaking the copyright laws.
Before you start using Kodi for streaming, here is how you can protect yourself with ExpressVPN:
Step 1: Sign up for ExpressVPN Here
Step 2: Download ExpressVPN on your device by clicking HERE
Step 3: Open the ExpressVPN app on your device. Sign in with your account. Click the connect/power button to connect to the VPN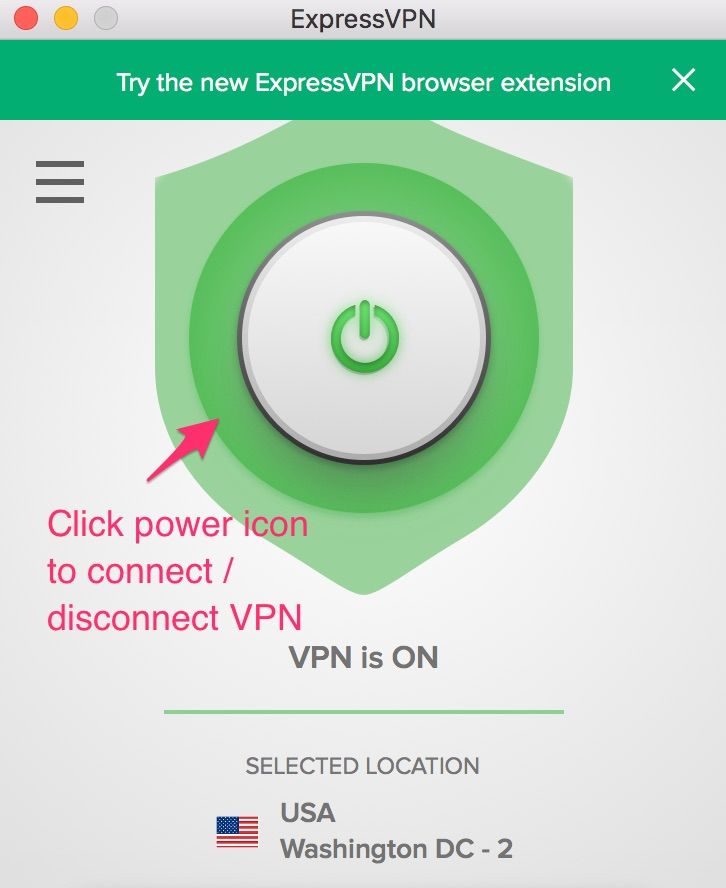 Great! You have successfully secured yourself with the best Kodi VPN.
A Quick Rundown of Nebula One Nation Portal Build
One Nation Portal Wizard has many builds. However, since we have installed Nebula, let's take a quick look at it.
This is the home screen of the Nebula build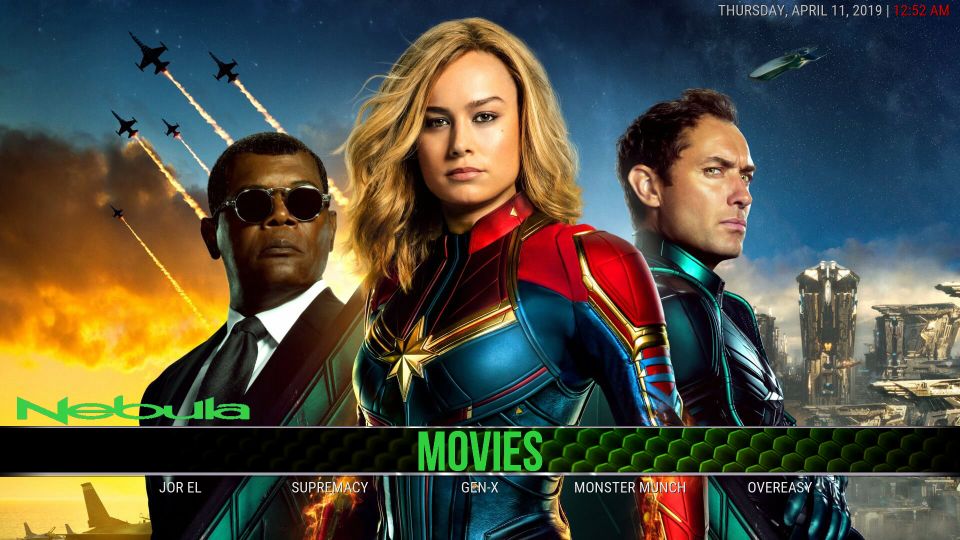 The home menu is a horizontal bar close to the bottom. It also has a submenu just underneath it. You can navigate left or right on the menu bar. Unlike many other builds, Nebula displays only one menu item at a time by default. You can change that in the skin settings. I took the above screenshot with Movies category selected. Nebula has the following other menu items:
– TV Shows
– Real Debrid
– 4K/UHD
– All in One
– Documentaries
– Paid Subs
– Music
– Sports
– Deceit
There are utility categories as well such as System, Add-on Hub, Portal, etc.
Nebula build uses Aeon Nox skin, which is also the part of our Best Kodi Skins list. This skin is highly customizable. Not only can you add new home menu items, but you can also remove or rename the existing ones. You may also change the background image for each menu item. Additionally, you can change the theme colors as well. Go to System > Skin Settings to explore all the available customizations.
As far as the addon list is concerned, Nebula has some decent ones including. These addons are more or less common among all the One Nation Portal Kodi builds with a few exceptions.
Go ahead and explore Nebula or any other One Nation Portal builds.
Wrapping Up
One Nation Portal offers a decent collection of a variety of Kodi builds. These builds are packed with the top Kodi addons letting you stream whatever you want. I installed the Nebula build in this guide. However, you don't have to do that necessarily. You may choose any build you like.
You may also like:
How to install Kodi No Limits Build
How to install Titanium Build
How to install Streamline build
How to install Misfit Mods Lite build