This tutorial teaches you how to install Kodi addons over a build. With these step-by-step instructions, you can quickly get addons for all devices supporting Kodi.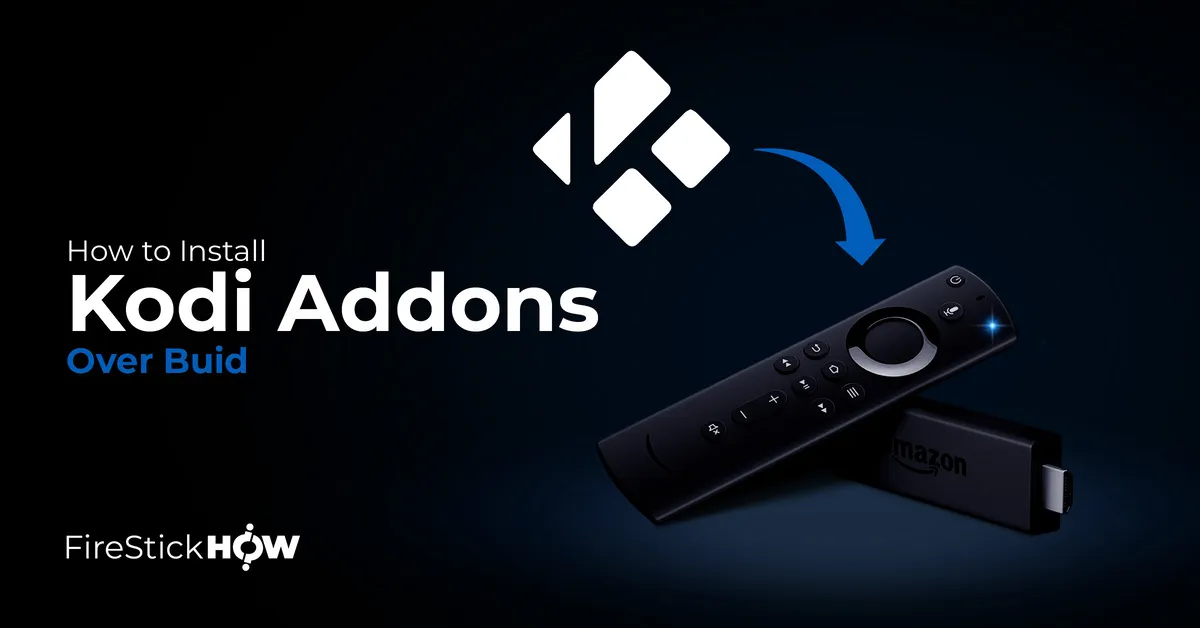 What is a Kodi Build?
A Kodi build is a pre-configured package of the Kodi media player that includes customized skins, addons, and settings. It allows you to set up Kodi with a specific theme or functionality. You don't have to install and configure addons or settings with a build. Kodi builds are often created by third-party developers.
You can easily download or install them on Kodi-enabled devices like computers, smartphones, and streaming devices. They also have custom themes and layouts that enhance the user interface.
While Kodi builds can offer a convenient way to customize Kodi, it's essential to use caution when installing them. Some may contain malicious addons or collect your data without permission. It's recommended to use trusted sources and to always research a Kodi build before installing it.
Attention KODI Users: Read before you continue
Government and ISPs endlessly monitor your online activities using your IP address 47.128.56.40 (exposed to everyone). Kodi is an excellent platform for streaming movies, TV shows, and sports, but streaming copyrighted content can get you into legal trouble. 
You should use a reliable Kodi VPN and protect your streaming activities and privacy. A VPN will hide your IP address and bypass government surveillance and geo-restrictions.
I trust and use ExpressVPN, the fastest and most secure Kodi VPN. It's easy to install on any Kodi device, including Amazon FireStick, PCs, and Smartphones. In addition, it offers a 30-day money-back guarantee, and 3 free months with the annual plan.
Read: How to Install & Use the best VPN for Kodi.
Why Install Kodi Addons Over Build?
Kodi builds come with some pre-installed addons. But that may not be enough sometimes. You should consider using these addons for a couple of reasons mentioned below:
The Kodi builds can take up extra space on your device. So, if you only install the necessary addons, it can save your device space. It can also boost your device's effectiveness.
Kodi builds have some addon versions that are no longer functional. In contrast, individual addons help you ensure that you are using the most up-to-date versions.
Individual addons are a great way to avoid unnecessary addons. It results in a more streamlined experience with Kodi.
How to Install Kodi Addons Over Build
I'm currently using the Green Monster build and installing the KodiVerse addon. The Green Monster is a Kodi build that offers several features, such as a user-friendly interface and customization options. KodiVerse is a popular addon that provides access to a range of content.
Note that installing a Kodi addon over a build follows the same steps. The installation process is pretty simple; all you have to do is follow this guide accordingly.
Part 1: Enable Unknown Sources
Enabling Unknown Sources in Kodi allows you to get third-party addons. These addons are usually unavailable in the official Kodi repository. Here are those simple steps to do it:
1. When you launch Kodi using Green Monster build, this is the window that you'll see. Select System.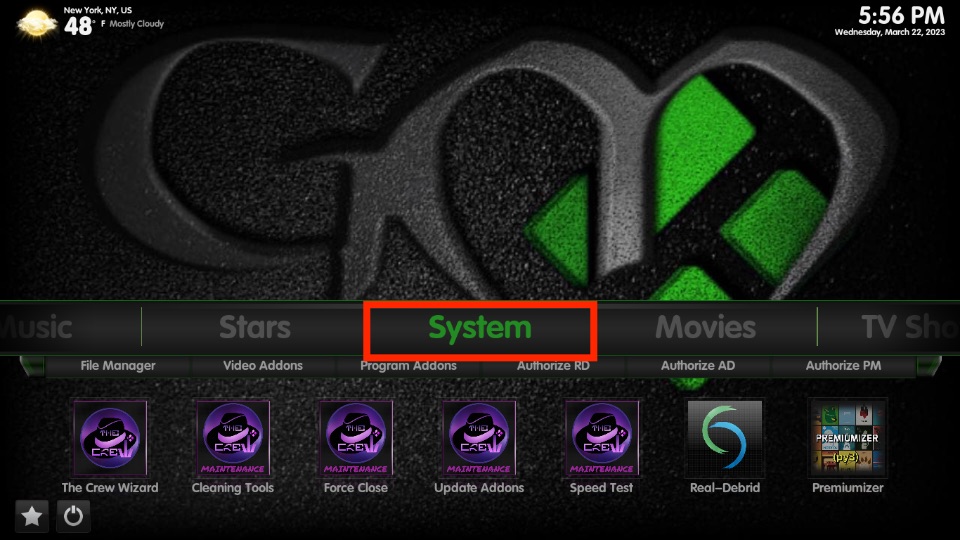 2. Here, select System.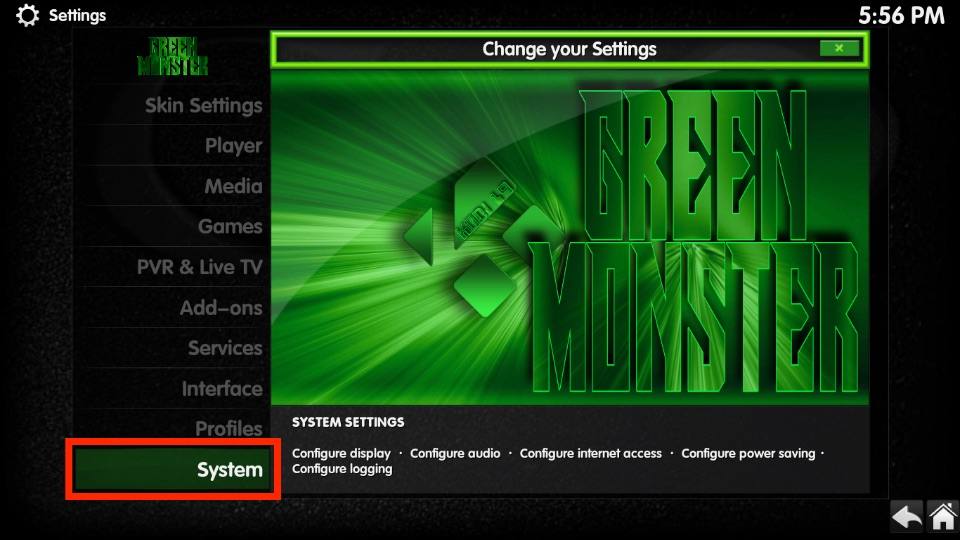 3. On the System Settings page, select Add-ons in the bottom left corner.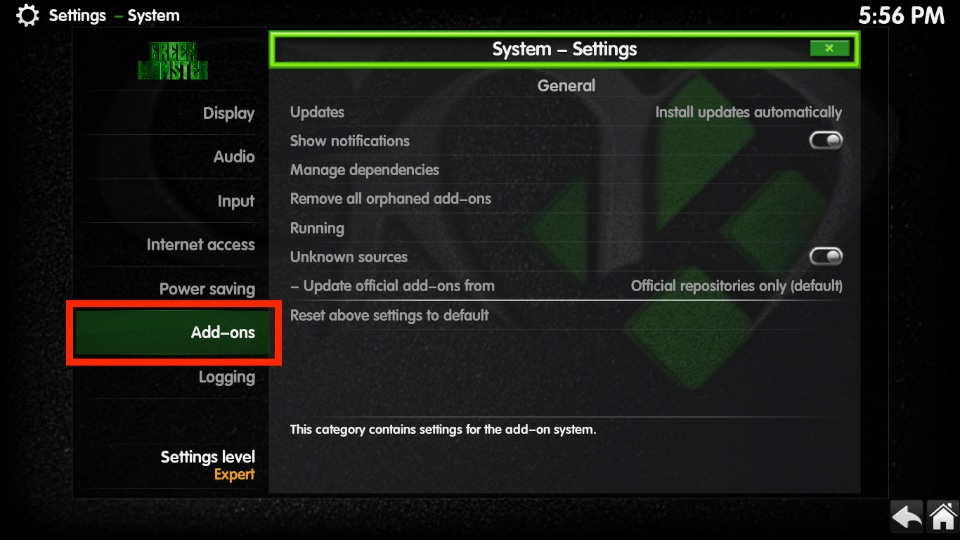 4. From this menu, enable Unknown sources.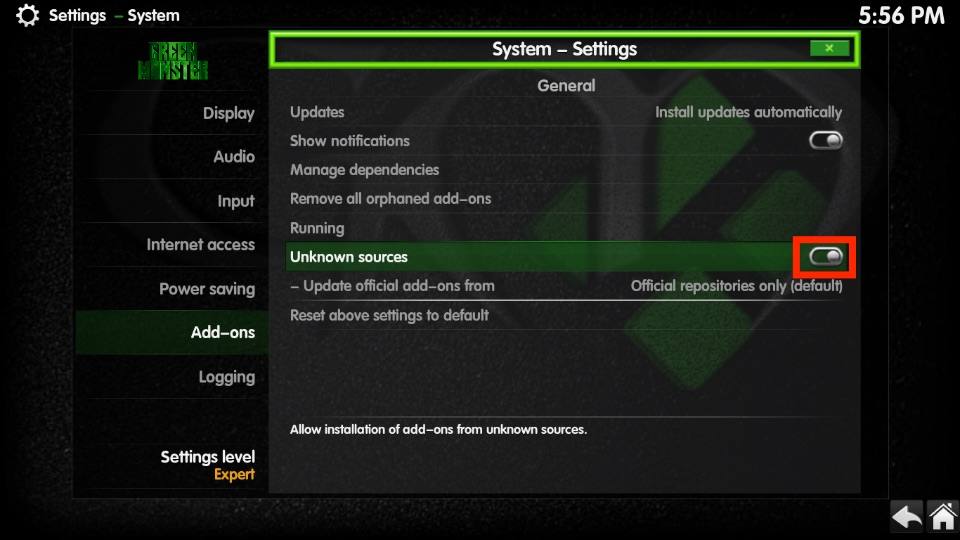 After allowing unknown sources, you can proceed to the next step: adding the addon repository. Let me show you how!
Part 2: Add The Addon Repository
Adding an addon repository to Kodi can access the variety of unavailable addons by default. Third-party developers created these addon repositories by making them available for free. For this demonstration, I'll be adding the Narcacist's Wizard Repository. Let's navigate through how to add it:
1. Again, Launch Kodi on your device and go to the System page.
2. In the bottom left, there will be a File Manager tab; go into it.
Note: Check it inside if you don't see File Manager on the System screen.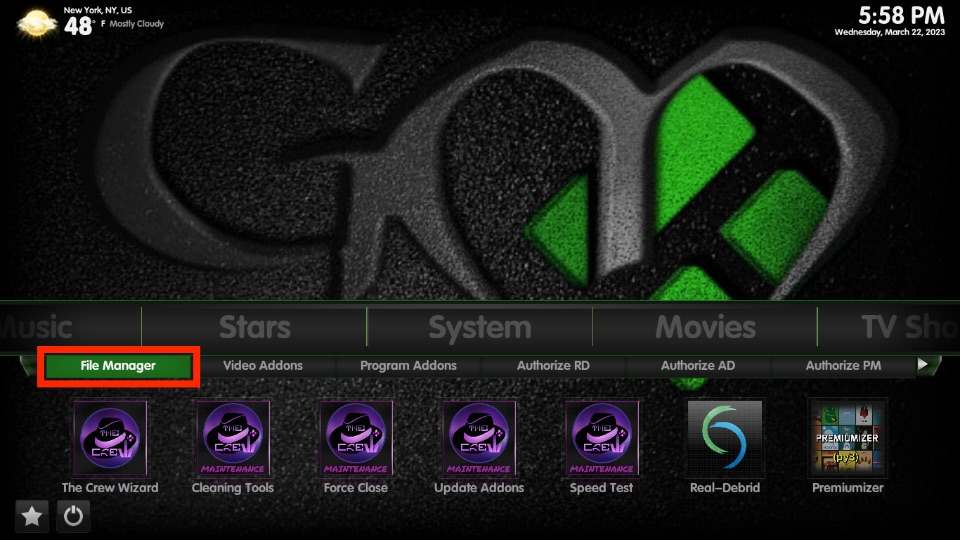 3. In the File Manager, the last option on the left panel is Add source.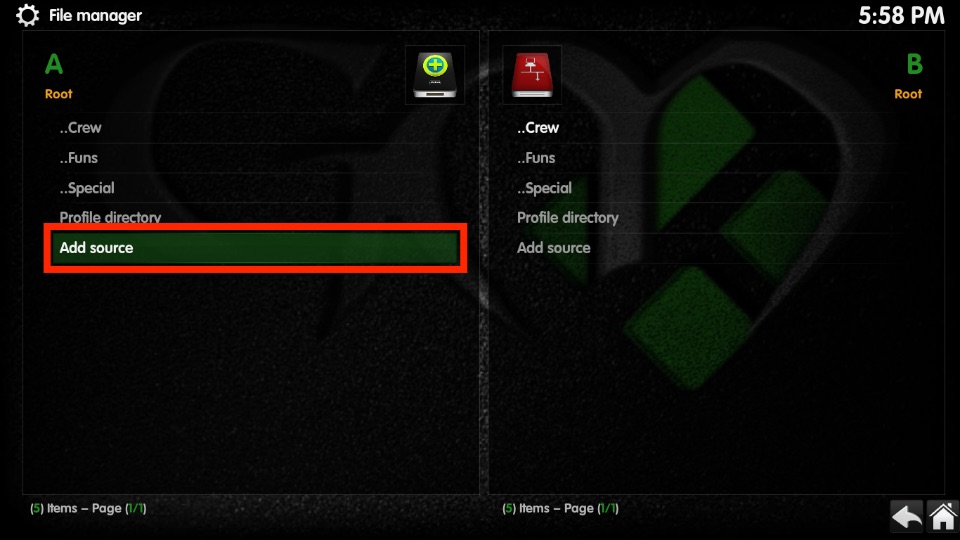 4. After clicking on Add source, an Add file source window with pop up. Click <None> the button.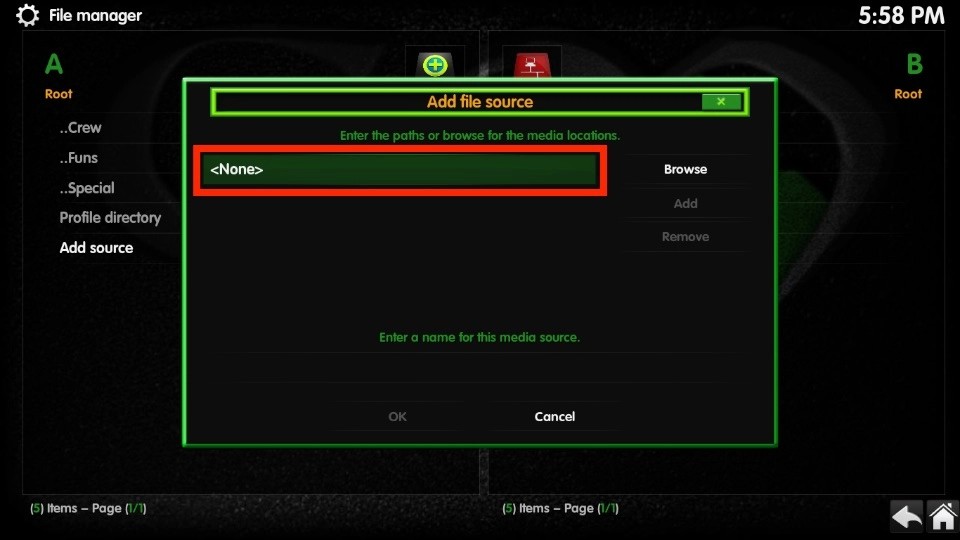 5. Enter the source link https://mylostsoulspace.co.uk/repo (ignore the URL in the image below) in the central pane, and click Done on the bottom left.
Disclaimer: FireStickHow.com does not host or own this URL. We are not affiliated with the developers of the addon used in this guide.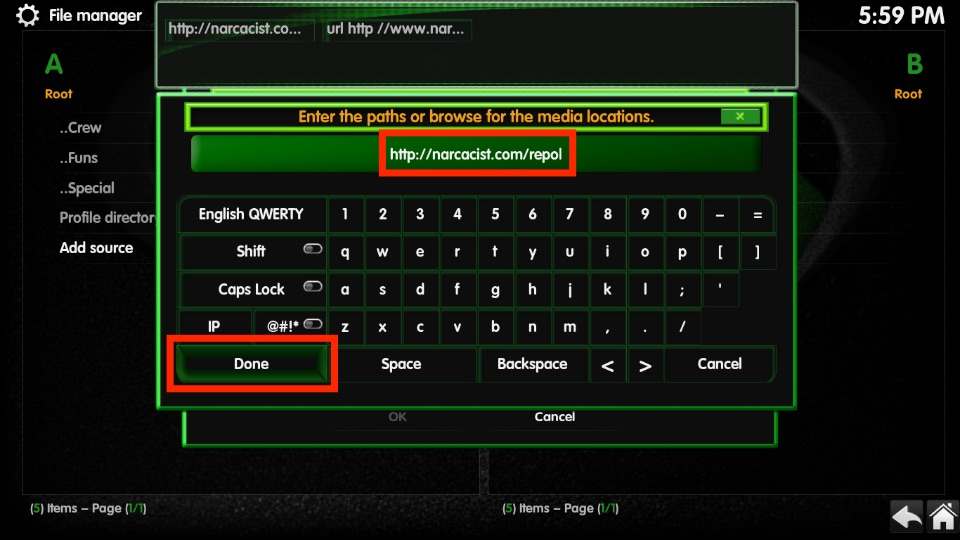 6. For customization, you can enter a name to this media source. To do this, select repo.
Note: Repo is the default name given to Narcacist's Wizard Repository.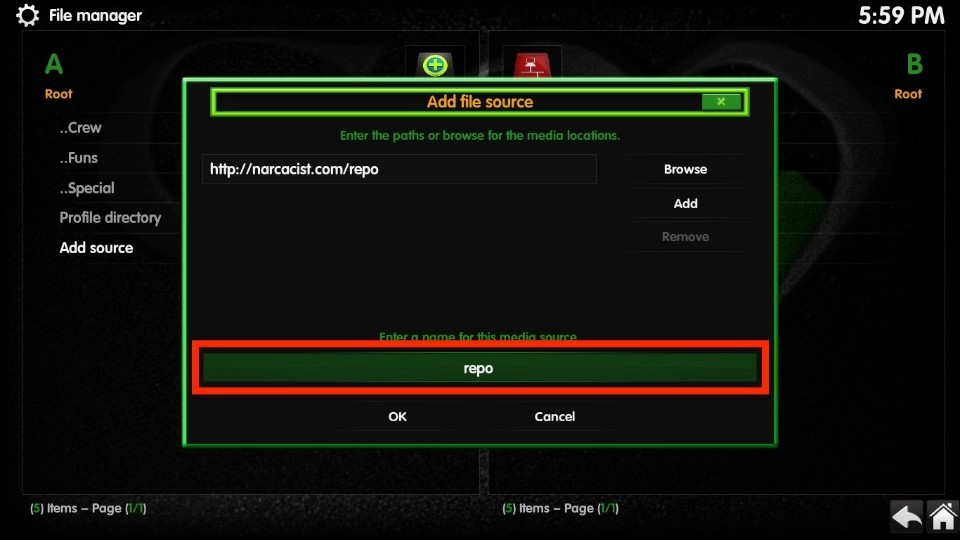 7. Write down the name you want to assign the source here and select Done. I'm naming it narcacist.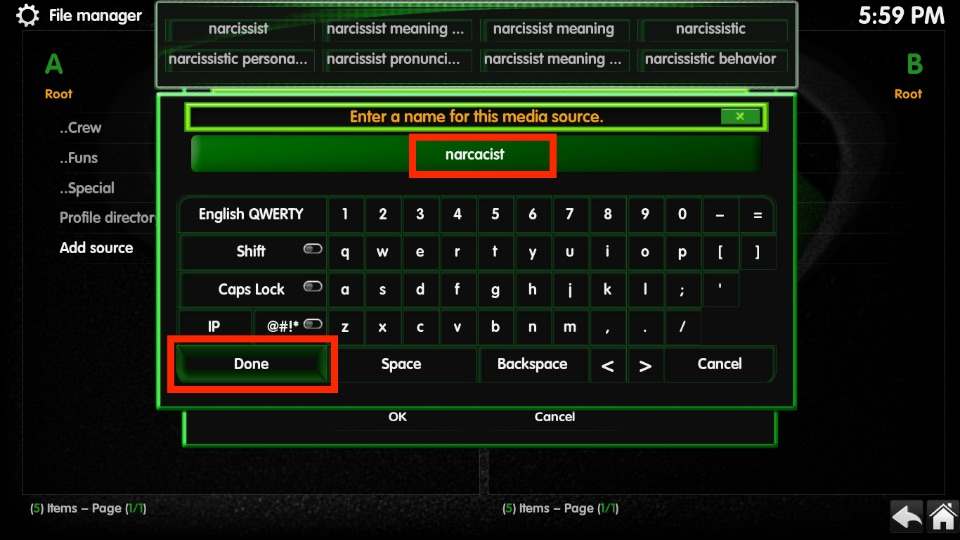 8. Now press the OK button.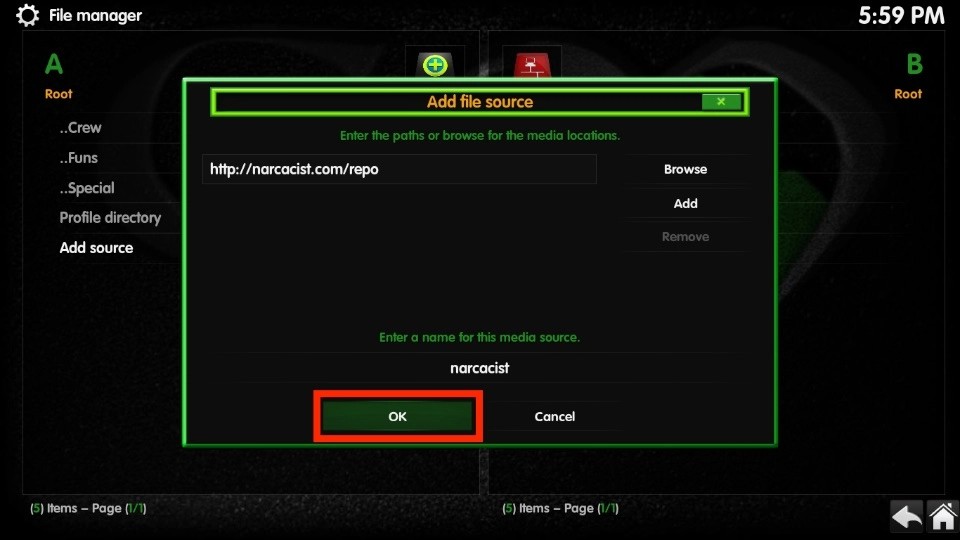 9. You'll see the narcacist source added to the File Manager list.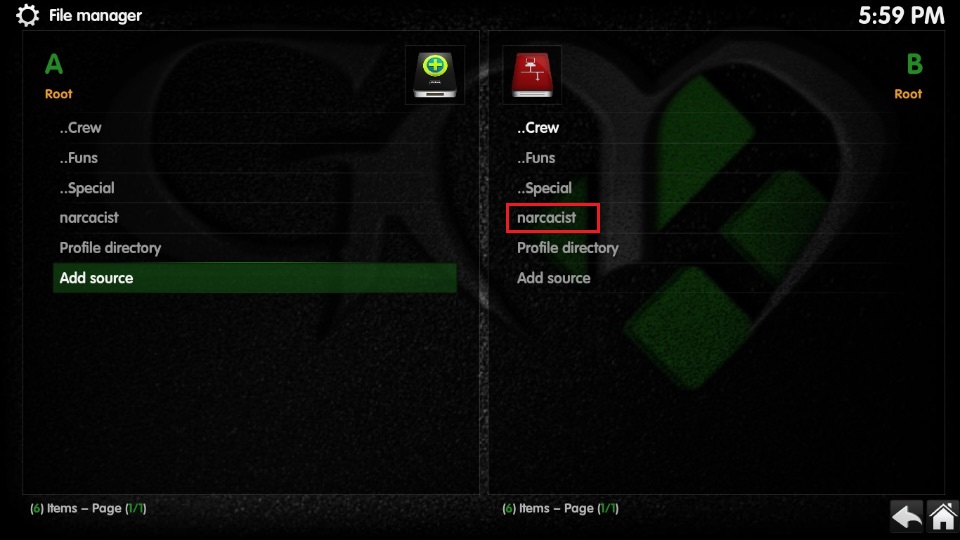 10. Move one step back. In the main menu, open System.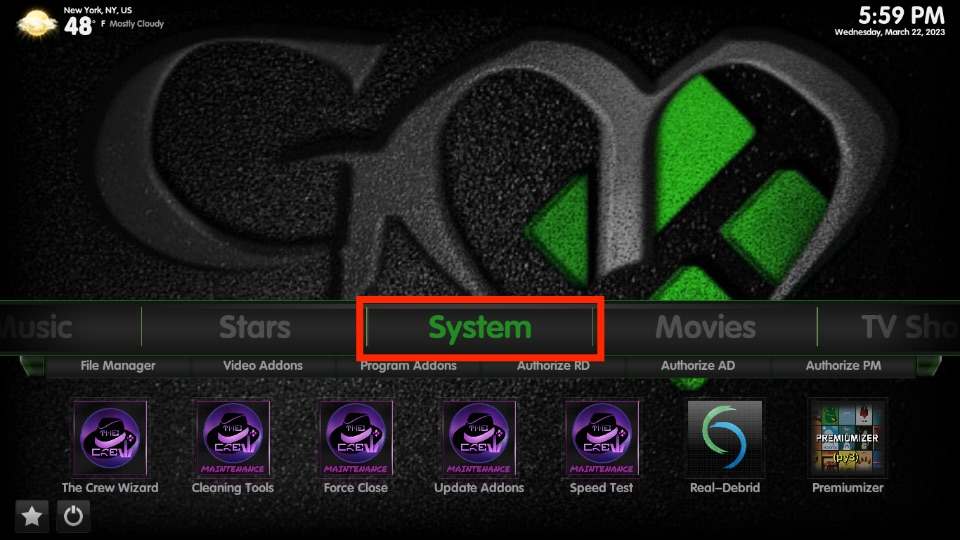 11. In the Setting window, select Add-ons.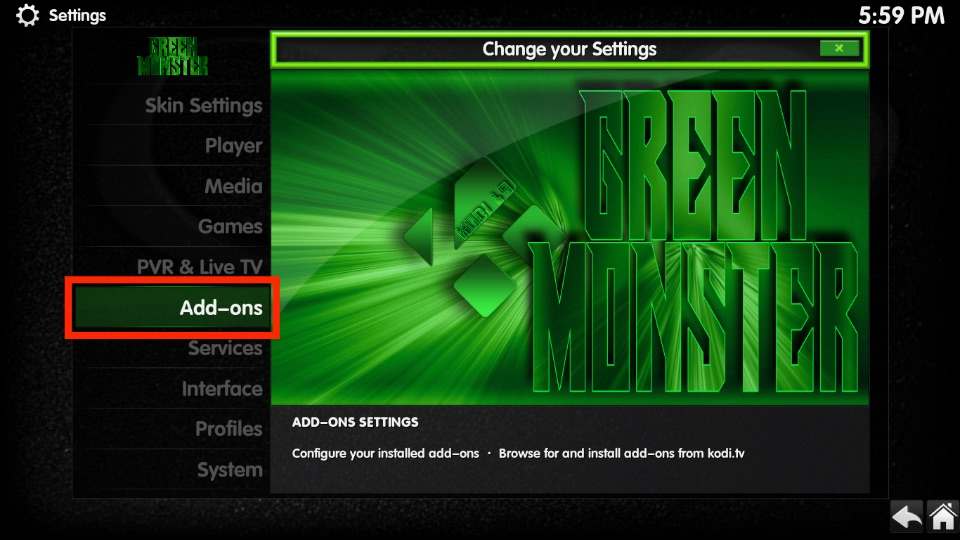 12. Select Install from zip file.
13. Here, you can see that your added source is here in the list. Open narcacist.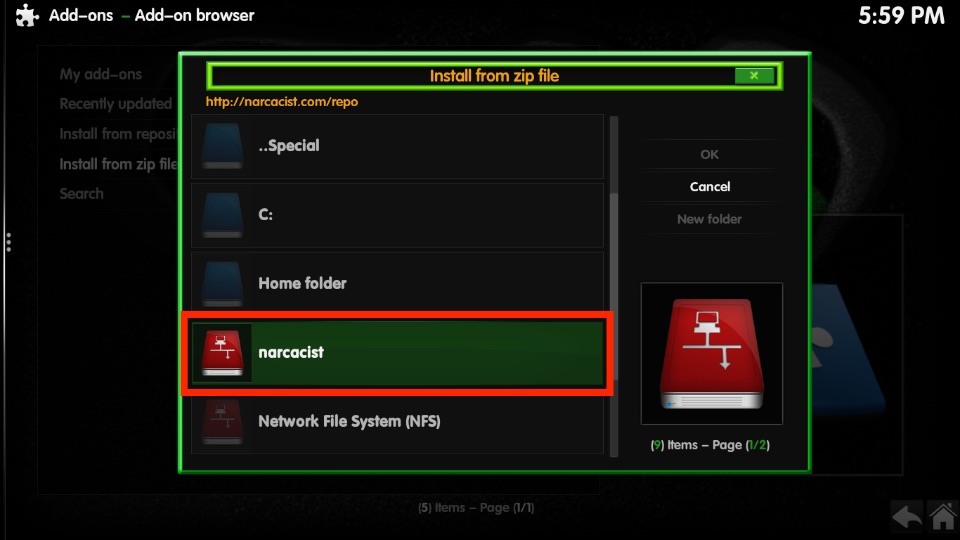 14. In the Add-on browser, click repository.NarcacistWizard-x.x.x.zip.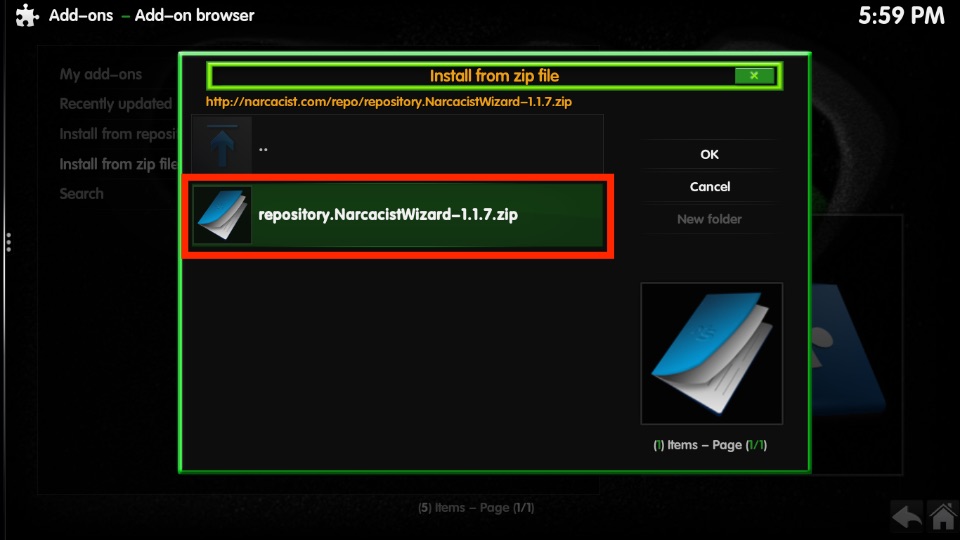 15. On successful installation, a message will appear – Narcacist's Wizard Repository Add-on updated/installed.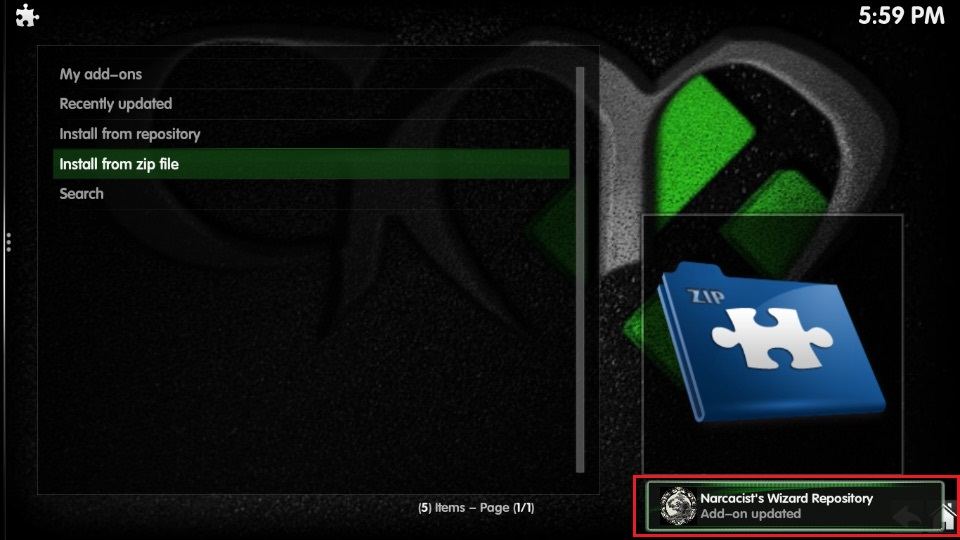 Part 3: Install the Addon Via The Repository
Now, I'll use the Narcacist's Wizard Repository to install the KodiVerse addon.
1. Click on the Install from repository above the Install from zip file option.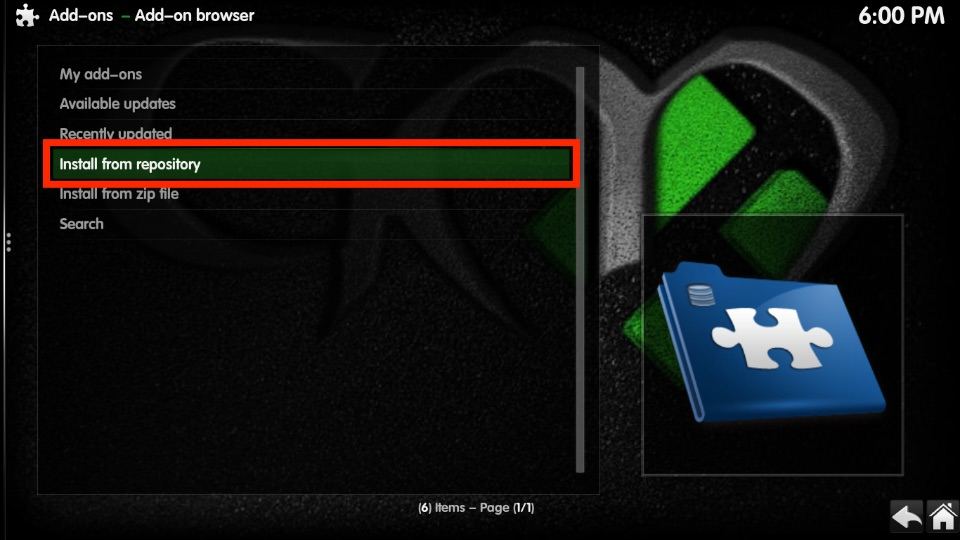 2. You'll find a list of repositories on the left panel. Open Narcacist's Wizard Repository.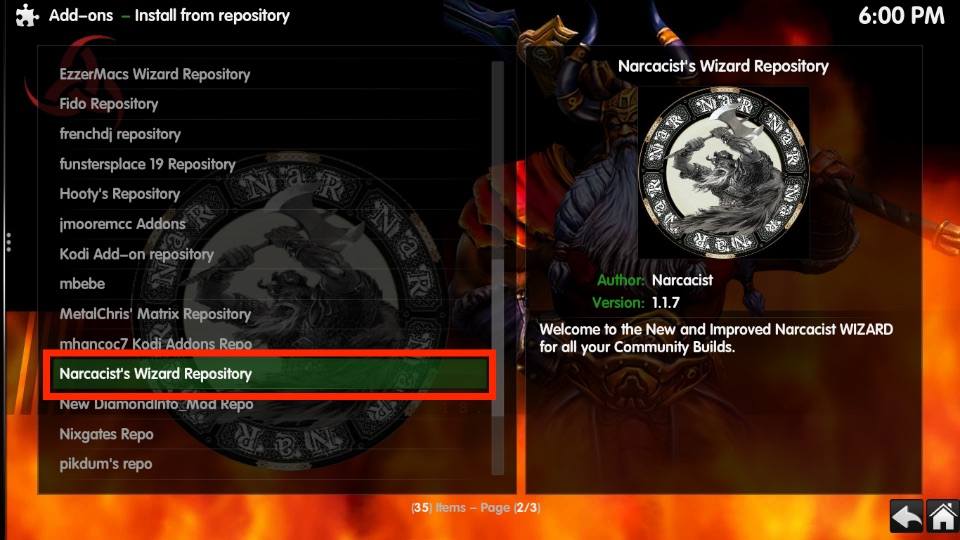 3. After selecting the repository, click on Video add-ons.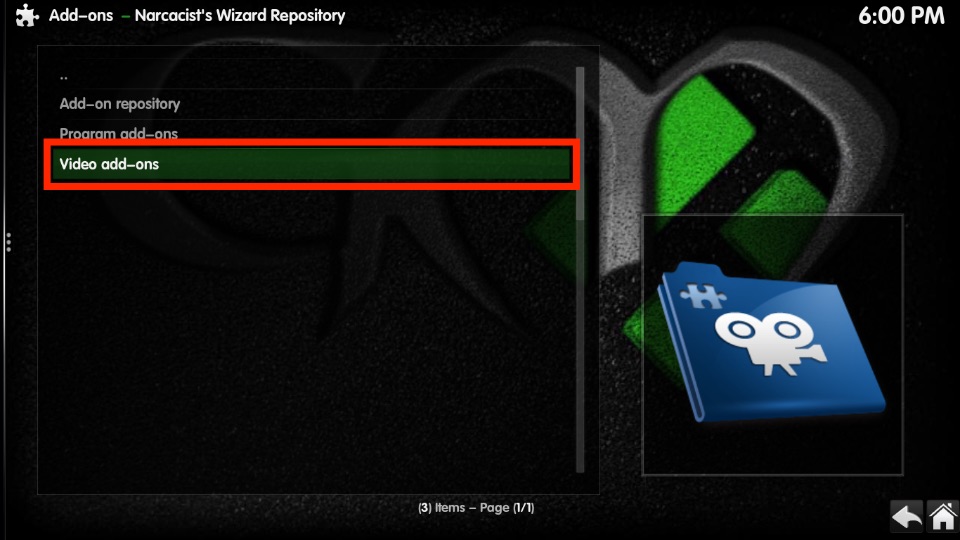 4. Choose KodiVerse from the list.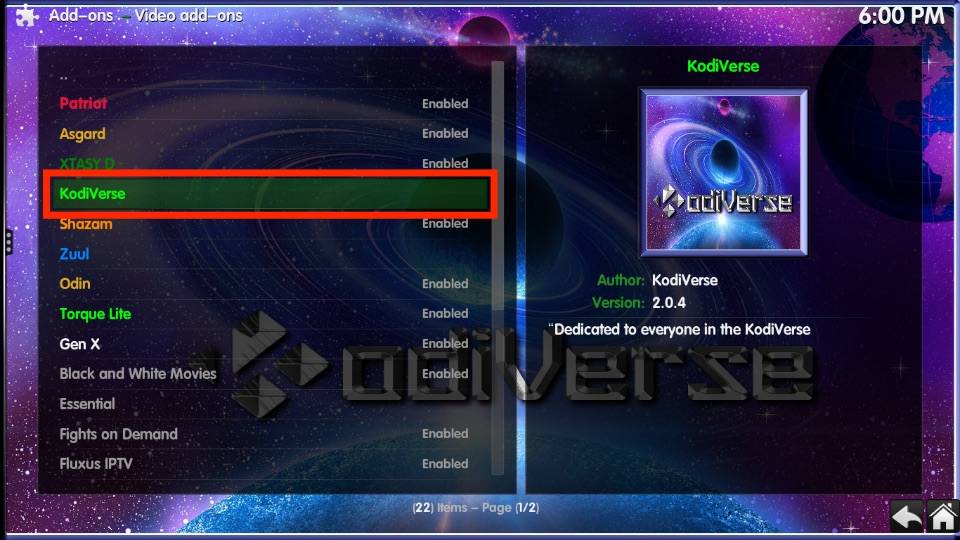 5. Press Install.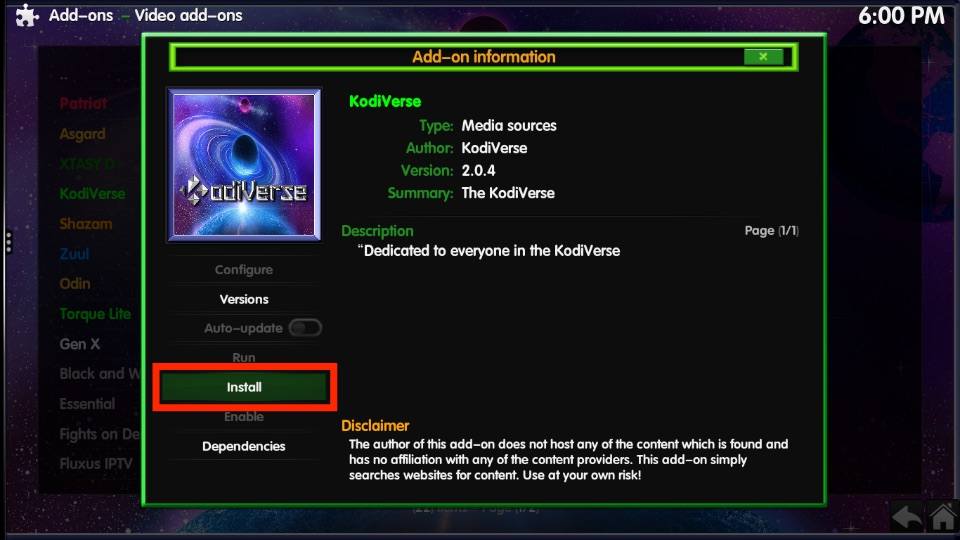 6. Click the OK button.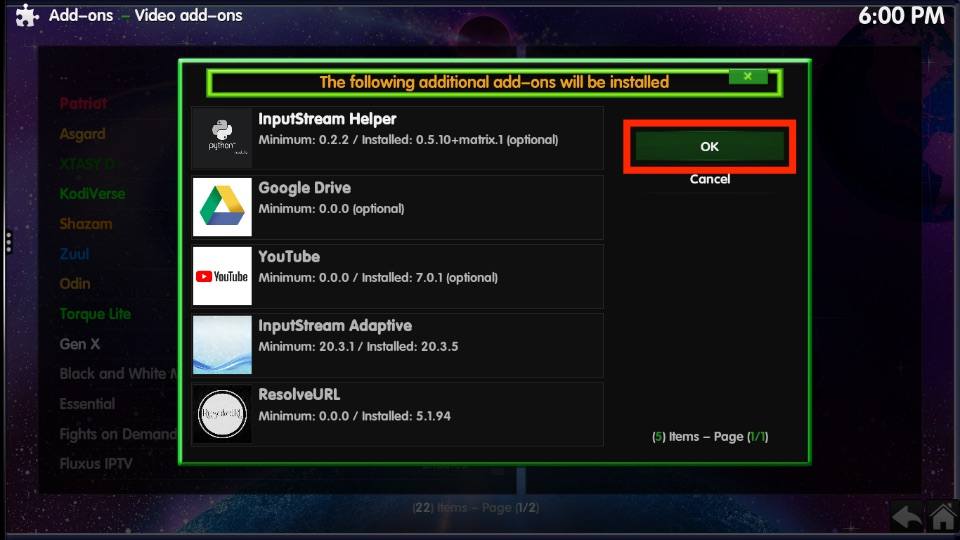 7. Wait for a while unless the addon is installed completely.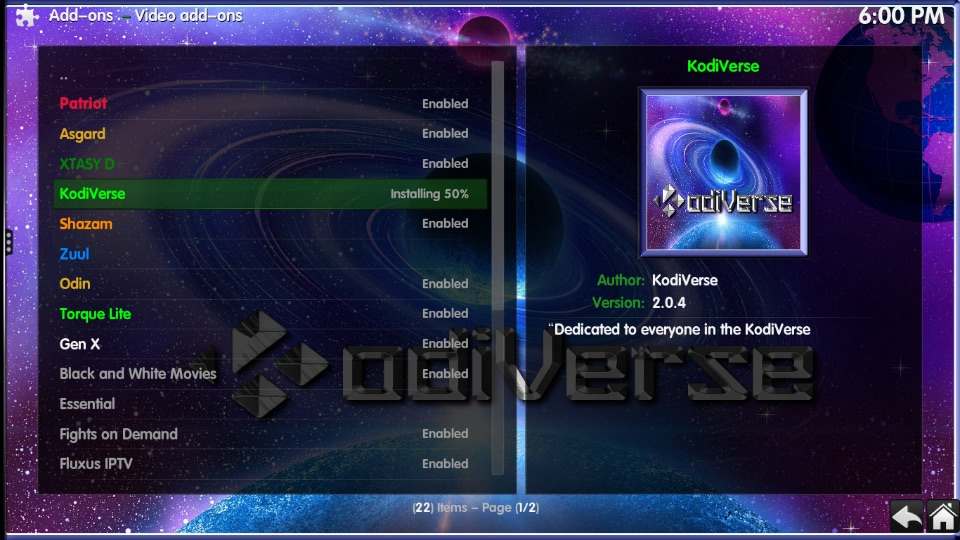 8. After that, you can see that the video addon is now enabled on your device.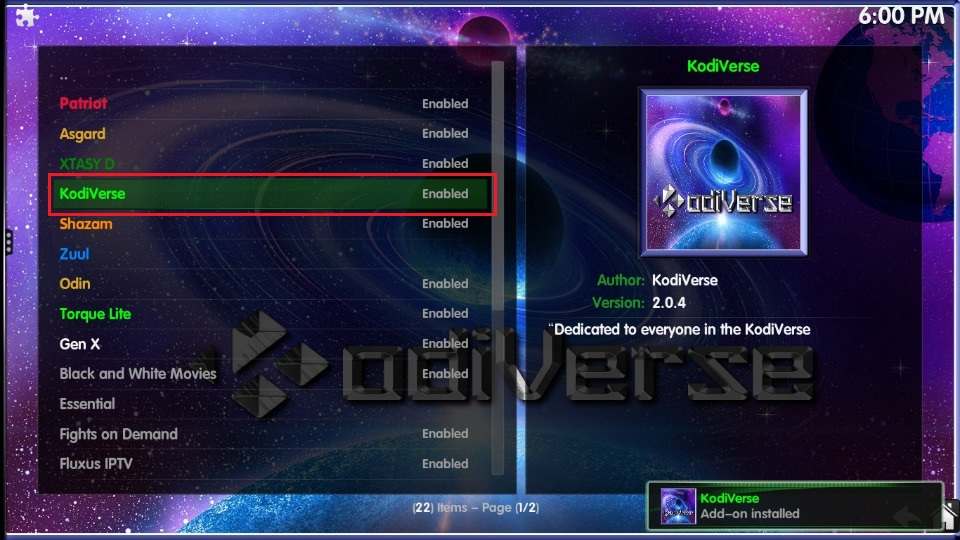 This is how you install an addon over a build.
Wait! It looks like you are all set to start watching your favorite content on Kodi. But have you protected your online identity yet? You are under constant surveillance by the Government and ISP. They use your IP address 47.128.56.40 to track you. Streaming free or copyrighted videos may get you into legal trouble.
Thankfully, you can use a VPN to easily protect your privacy and go invisible from your Government and ISP. I use and recommend ExpressVPN with Kodi.
ExpressVPN is the fastest, most secure, and streaming-friendly VPN. It is easy to install and set up on any Kodi device, including FireStick, Smartphones, PCs, and more.
ExpressVPN, offers an unconditional 30-day money-back guarantee. So, if you do not like the service (I don't see why), you can get a full refund within 30 days.
Please remember that we encourage you to use a VPN to maintain your privacy. However, we do not condone breaking copyright laws.
Before you start using Kodi for streaming, here is how you can protect yourself with ExpressVPN:
Step 1: Sign up for ExpressVPN Here
Step 2: Download ExpressVPN on your device by clicking HERE
Step 3: Open the ExpressVPN app on your device. Sign in with your account. Click the connect/power button to connect to the VPN

Great! You have successfully secured yourself with the best Kodi VPN.
Final Words
I hope I kept the guide simple enough to follow and get those individual addons. With these steps, you can easily install Kodi addons over a build and customize your Kodi experience.
Related: